Travel Checklist: Everything You Need to Prepare For Your Trip to Korea!
All you need is this checklist when you're preparing for your trip!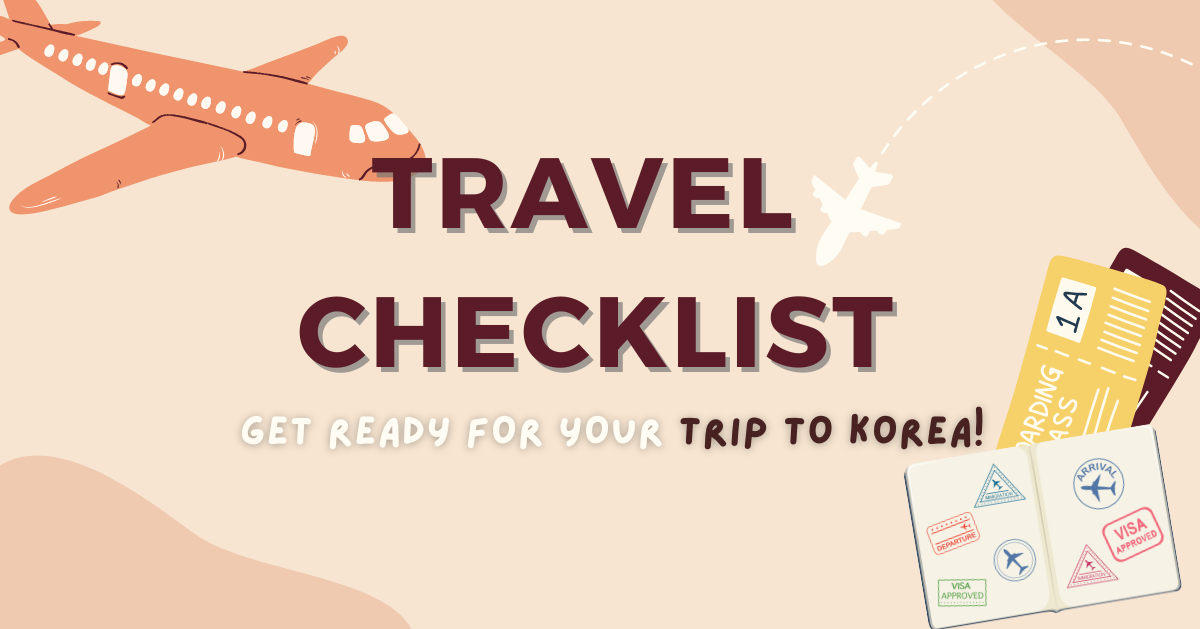 The excitement and thrill you feel when you first decide to go on a well-deserved trip and finally book your flight is indescribable! It can also be overwhelming as you prepare for your journey, as you may be traveling to a destination where the language and culture may be foreign! You may feel worried something might go wrong and want things to go as smoothly as possible. Don't worry, we've got you here at Creatrip. We've developed a travel checklist to guide you through your preparation process! This checklist will consist of everything you need before you need to prepare before you board your plane!
---
Travel Checklist
Step 1. Choose Location
Step 2. Apply for K-ETA or visa
Step 3. Purchase travel necessities
Step 4. Download coupons/Buy discounted vouchers
Step 5. Pack your bags!
Step 6. Enhance your Korea experience with secret tips and tricks!
---
Step 1. Choose Location
Choosing where you decide to stay during your trip is an extremely important step when preparing for a trip! This will be your home for the duration of your trip and will have a big part in your overall impression of your travels. We've curated a list of recommended neighborhoods (in Seoul) depending on what type of traveler you are!
Click here for our guide on how to pick which neighborhood to get a room depending on what type of traveler you are!
---
Step 2. Appy for K-ETA or visa!
Did you know you can't even board your flight to Korea without a K-ETA? K-ETA (Korean Electronic Travel Authorization) is a mandatory electronic travel authorization that all visitors entering the Republic of Korea without visas must apply for and receive approval for prior to boarding a flight.
Use Creatrip's quick & easy K-ETA application! All you need is a picture of your passport and a link to your accommodation and we'll take care of the rest! Read more about it on our detailed blog about K-ETA application.
Quick & Easy K-ETA Application
---
Step 3. Purchase Travel Necessities!
Although there is free WIFI all over Korea, you're still going to want to get a SIM card for data access. We have an array of SIM cards available here at Creatrip, so choose what you think will be fitting. A lot of them can be picked up right at the airport so you will have access to the internet as soon as you get here!
Check out the different types of SIM cards that can be picked up at the airport in the link below.
Rent WIFI and SIM Cards at Incheon Airport
Before you travel, what's the number one most important thing you need? Clothes? Toiletries? It's money! How are you going to get around without money? Normal tourists would bring cash and get it exchanged at a foreign exchange. But it's 2022, who carries around cash? The NAMANE Card is a debit card that can be easily issued as a foreign tourist AND it's also a transportation card as well. You can charge the card by visiting one of the 200+ kiosks all around the country or you can charge it up right on the app! You won't have to stop by a foreign exchange or even carry around cash!
Click on the link below for a detailed explanation of the NAMANE Card and why it is a must-have travel item!
Speaking about getting around, transportation is another important aspect of travel. Okay, so you've arrived in Korea and you're now at the airport. Now what? If you're heading to Seoul, the AREX Express Train is the perfect choice for you. The AREX Express Train is the fastest, easiest, and most convenient way to get from Incheon International Airport to Seoul. Taking the direct train will guarantee you a comfortable seat, and there will be plenty of storage space for your luggage! Each seat has outlets available for use and there even is a spacious bathroom on the train! Don't haul your suitcase around the metro and sit comfortably on the AREX Express Train.
Check out the link below for more information about the AREX Express Train!
The AREX Express Train + NAMANE Card Package is on sale from Oct. 26 until it sells out.
We have a limited number of 500 sets available for sale. The package worth 16,500 KRW (11.50 USD) will be sold at only 9,800 KRW (6.80 USD)! What a steal!
Get the AREX Express Train + NAMANE Card Package here!
---
Step 4. Buy Discounted Vouchers and Download Coupons
Special prices that are only available on Creatrip!
Be Smart! Save money with free coupons and discounted vouchers from our site! There is an array of products you can get at a discounted price on Creatrip! For example, Lotte World admission tickets are 59,000 KRW but here at Creatrip, we have them available for 35,000 KRW.
Admission Tickets
Lotte World - 59,000 KRW 35,000 KRW
Everland - 64,000 KRW 38,800 KRW
COEX Aquarium - 32,000 KRW 23,000 KRW
N Seoul Tower - 16,000 KRW 12,000 KRW
Lotte Tower Seoul Sky Observatory - 27,500 KRW 22,500 KRW
Lotte Tower Seoul Sky Observatory
...and more!

Activities
Eden Meerkat Friends - 15,000 KRW 13,000 KRW
Eden Meerkat Friends Myeongdong
Haewadal Hanbok Rental - 25,000 KRW 20,000 KRW(all day rental price)
Danyang Paragliding - 110,000 KRW 90,000 KRW
...and more!
Hair & Beauty
JUNO Hair - 20% off at certain branches; Click on the link below for the price of different procedures:
PPEUM Clinic - Affordable Cosmetic Procedures! Foreigners charged the same price as Koreans so you don't have to worry about getting ripped off! Click below for the price of different procedures:
We also have coupons for a lot of cafes and restaurants in Korea! You can save so much money with these coupons! If you're on a budget or just because it's the smart thing to do, look through our coupons list to use on your trip!
C27 Sinsa & Hongdae - 10% Discount
r.about Sinsa & Itaewon - 10% Discount
Seoul 88 Beer - 20% Discount
Shoopen Hongdae - 10% Discount
Kyochon (Dongdaemun 1) - Free Potato Wedges
...and so much more!
Other than vouchers, we have tours that are both affordable and convenient as you won't have to worry about transportation! It's a great way to explore more of the country other than Seoul! There are tons of cities and sites in other parts of Korea but most people tend to stay within Seoul because of its convenience. These tours will show you a different side of Korea that you may not have gotten the chance to see.
Currently, we have Ski tours where you can choose to ski, snowboard, or ride a snow sled at Korea's biggest ski resorts! Check them out in the link below:
Click here for tours to some of the most popular tourist attractions in Korea!
---
Step 5. Pack Your Bags
The seasons in Korea are all very distinct. It gets super cold in the winter and sweltering hot in the Summer! You will need to pack the right clothing to be comfortable! Check out the blog below for what clothes to pack depending on the weather in Korea!
more information will be added soon!
---
Step 6. Enhance your Korea Experience with Secret Tips and Tricks!
(Coming soon)
Here at Creatrip, our mission is to provide local insight on how to travel Korea so you get the most out of your trip.
---
We hope that you have ease preparing for your trip with this travel checklist! If you have any questions or concerns, please leave a comment below or send us an email at support@creatrip.com! You can follow us on Instagram, TikTok, Facebook, and Twitter to stay updated on all things Korea!
---