Kyochon Chicken | Dongdaemun 1st Location
The biggest Kyochon location in Korea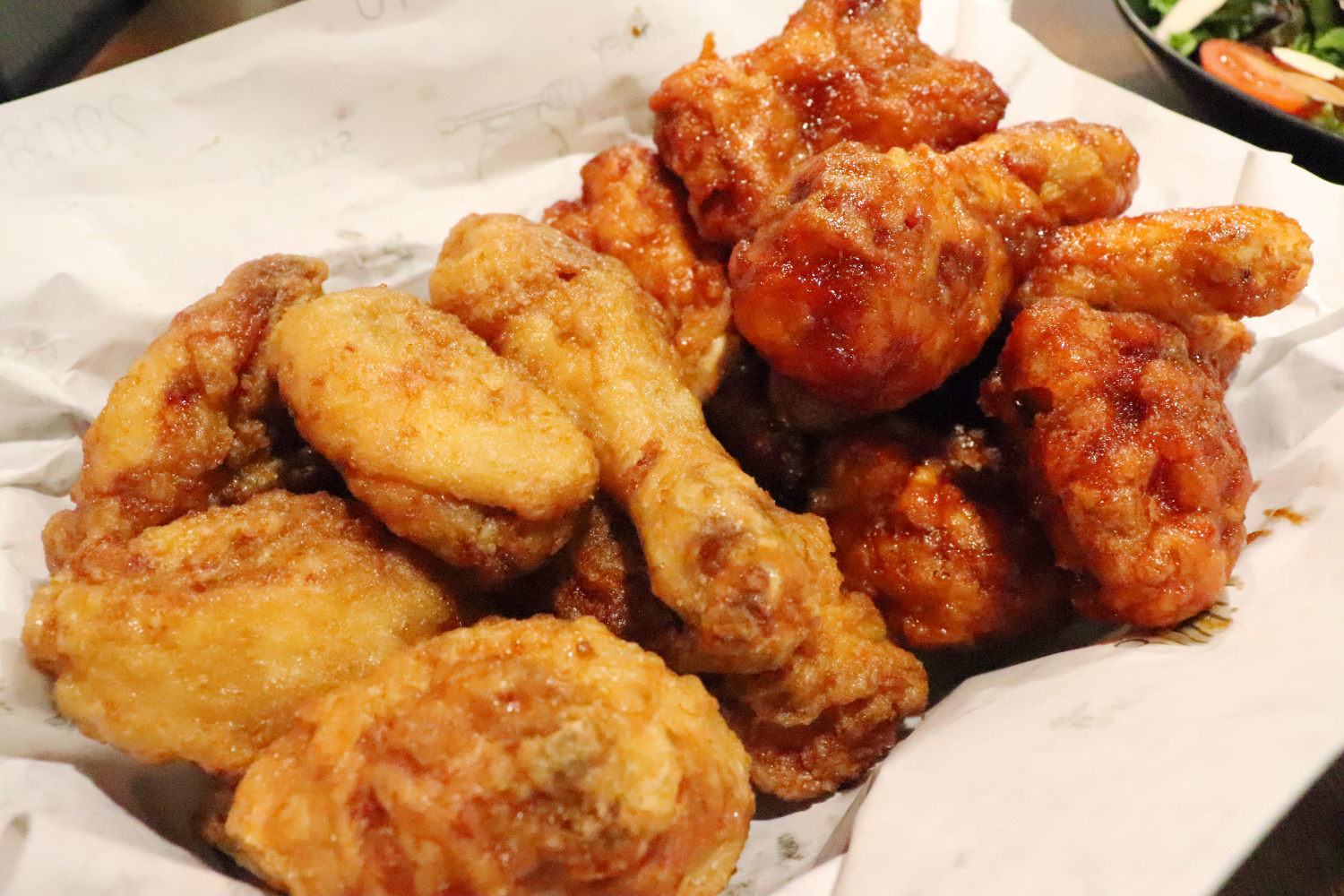 Kyochon Chicken is a brand that represents quality Korean fried chicken here. The brand rose to fame with its soy sauce-based Original flavor, their special savory sauce brushed over crispy fried chicken. Kyochon's Dongdaemun 1st Location is the biggest one of them all, operating 24 hours a day, 365 days a year. As if to prove its place in tourist-filled Dongdaemun, Kyochon here tries to accommodate foreign guests as much as possible by staffing servers who can speak English, Chinese and Japanese.
---
Kyochon Chicken Dongdaemun 1
---
Things to Keep in Mind
The coupon is only available for use at Kyochon Chicken Dongdaemun 1st location.
The coupon is only available for use between 03:00-18:00.
Outside food and drinks are not allowed.
---
Menu
Black Secret Original

20,000 KRW

Half and Half Original (Soy Sauce + Red)

Kyochon Dakgalbi Fried Rice

3,500 KRW
*Free with Creatrip coupon!

Tteobokki

9,000 KRW
*The above prices are for takeout, if you dine in, an extra 1,000KRW will be added for each menu item.
---
Location
Address: 서울 종로구 창신동 464-6, 2층(Right behind Dongdaemun Station exit 6)
2nd floor, Changsin-dong, Jongno-gu, Seoul
Hours: 24 hours
---
Our Review
Walk up to the second floor.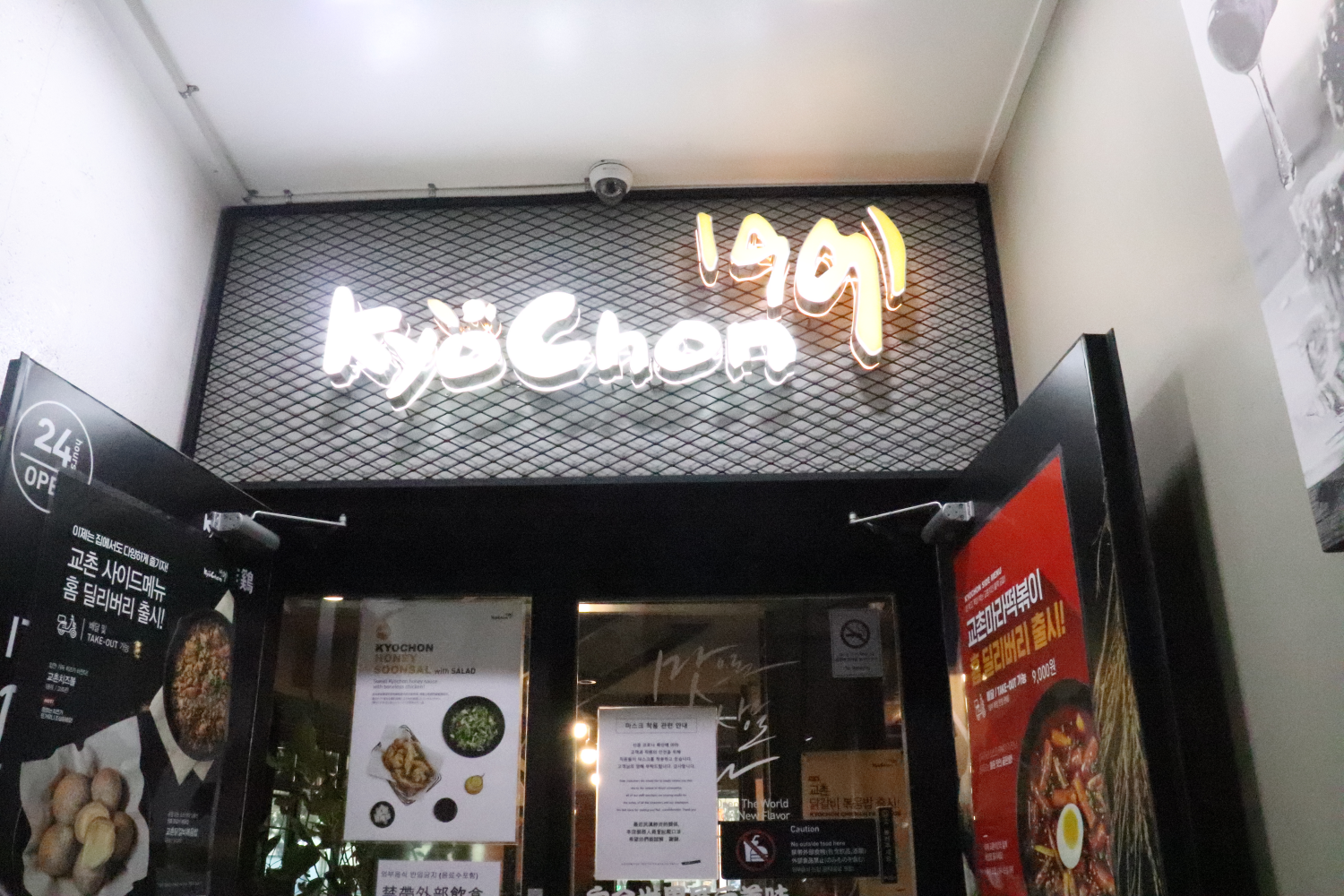 You'll see the sign saying Kyochon 1991. 1991 indicates the year Kyochon's brand started its business! Inside you'll see a large dining hall with lots of tables and chairs as it is one of the biggest Kyochon locations in Korea. The tables by the windows were especially nice as they had a nice view overlooking the busy Dongdaemun area.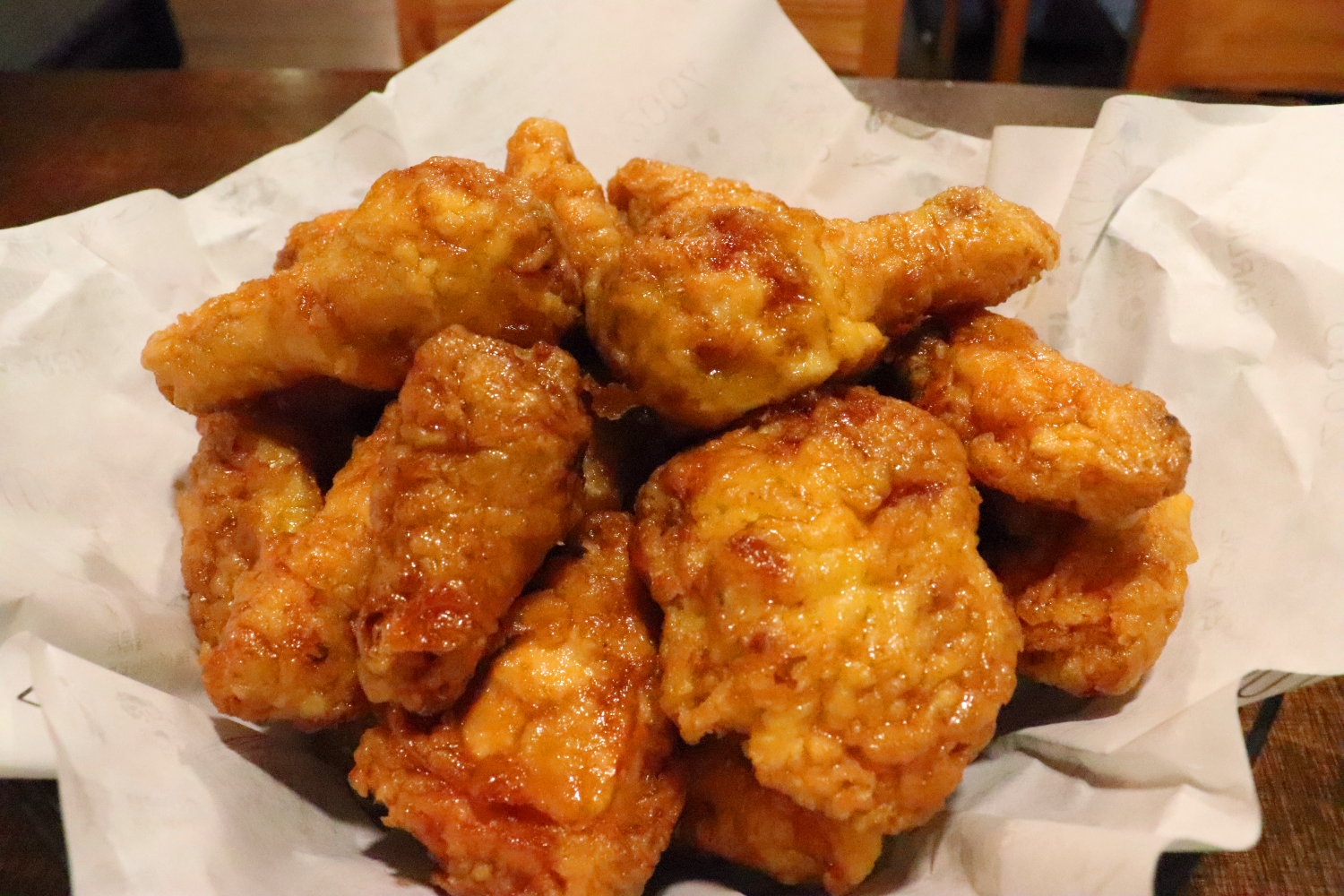 Honey Original is one of the most popular flavours of chicken at Kyochon with a perfectly crispy texture on the outside brushed with the sweet savoury honey sauce. It's a simple flavour that could satisfy most palates.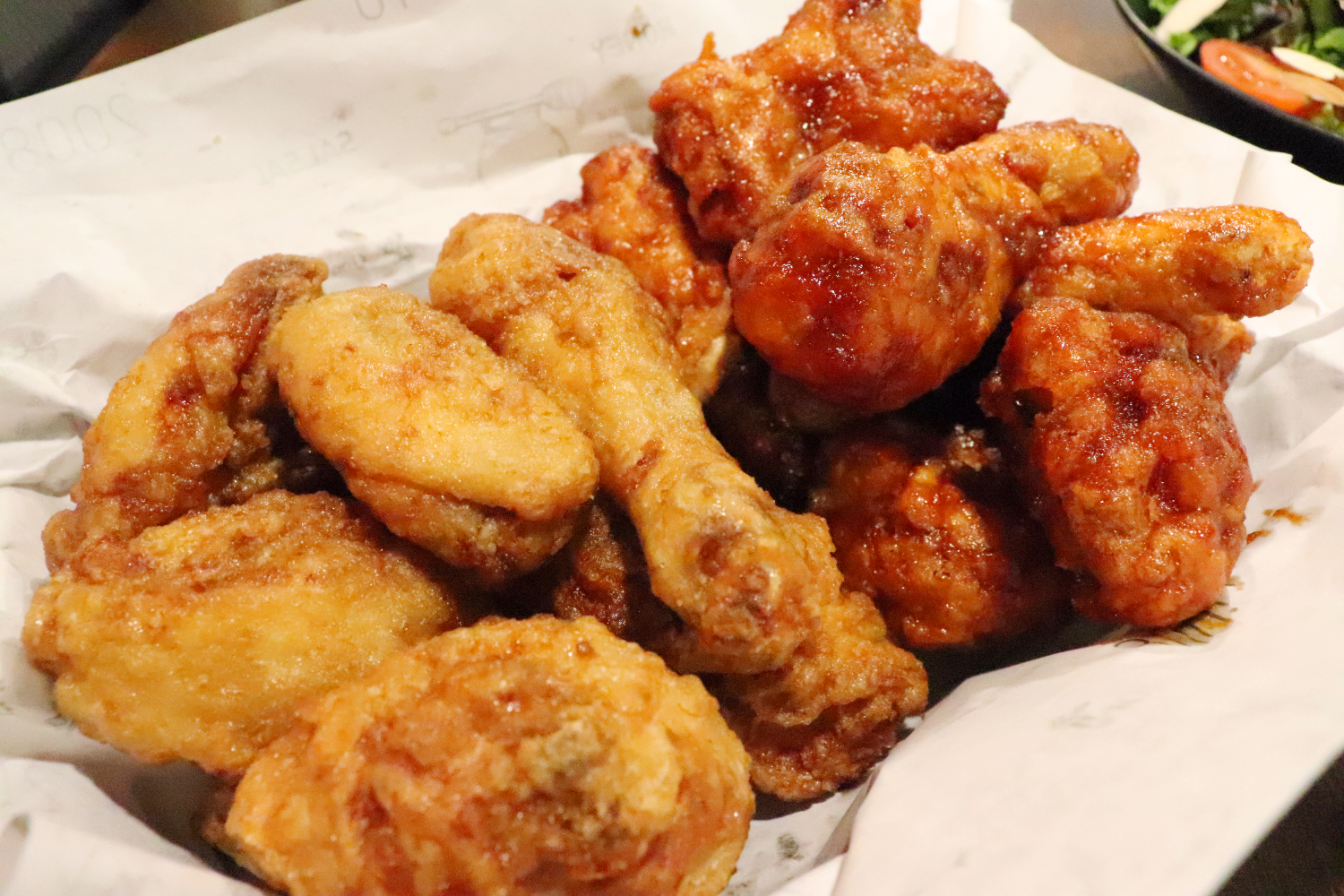 Half and Half is great because you can go back and forth between the two flavours of Original and Red.
Kyochon's soy sauce-based Original flavour is what brought the brand to fame. Lots of Korean chicken brands use soy sauce on their chicken, but none has managed to replicate the special soy sauce flavour of Kyochon's. Red Original is my personal favourite, featuring the spiciness of Korean red pepper mixed with garlic and honey. Red Original is for those who love food with a little bit of spiciness.
I highly recommend you get half and half as the two flavours balance out very well and you get to taste a little bit of both flavours!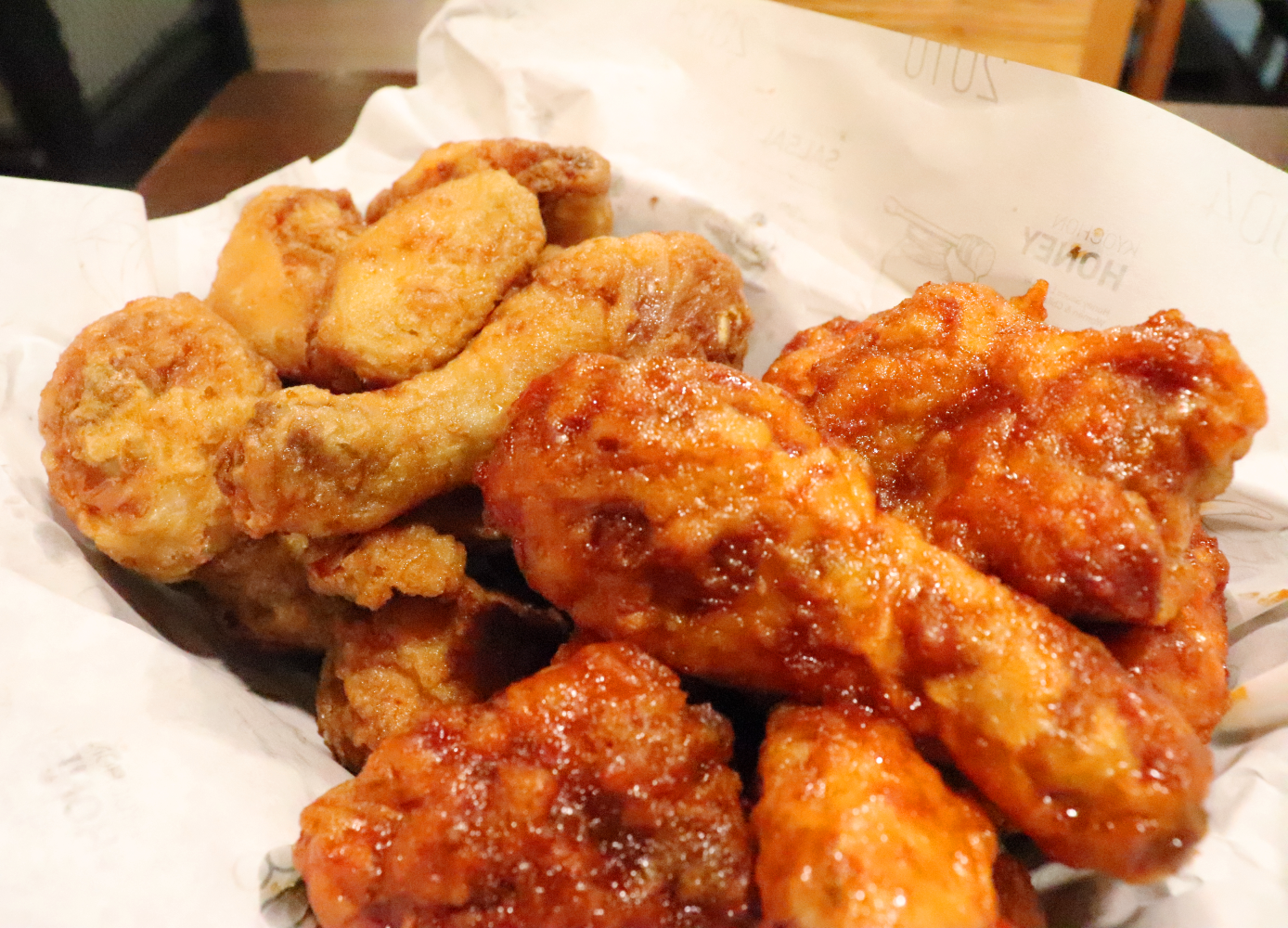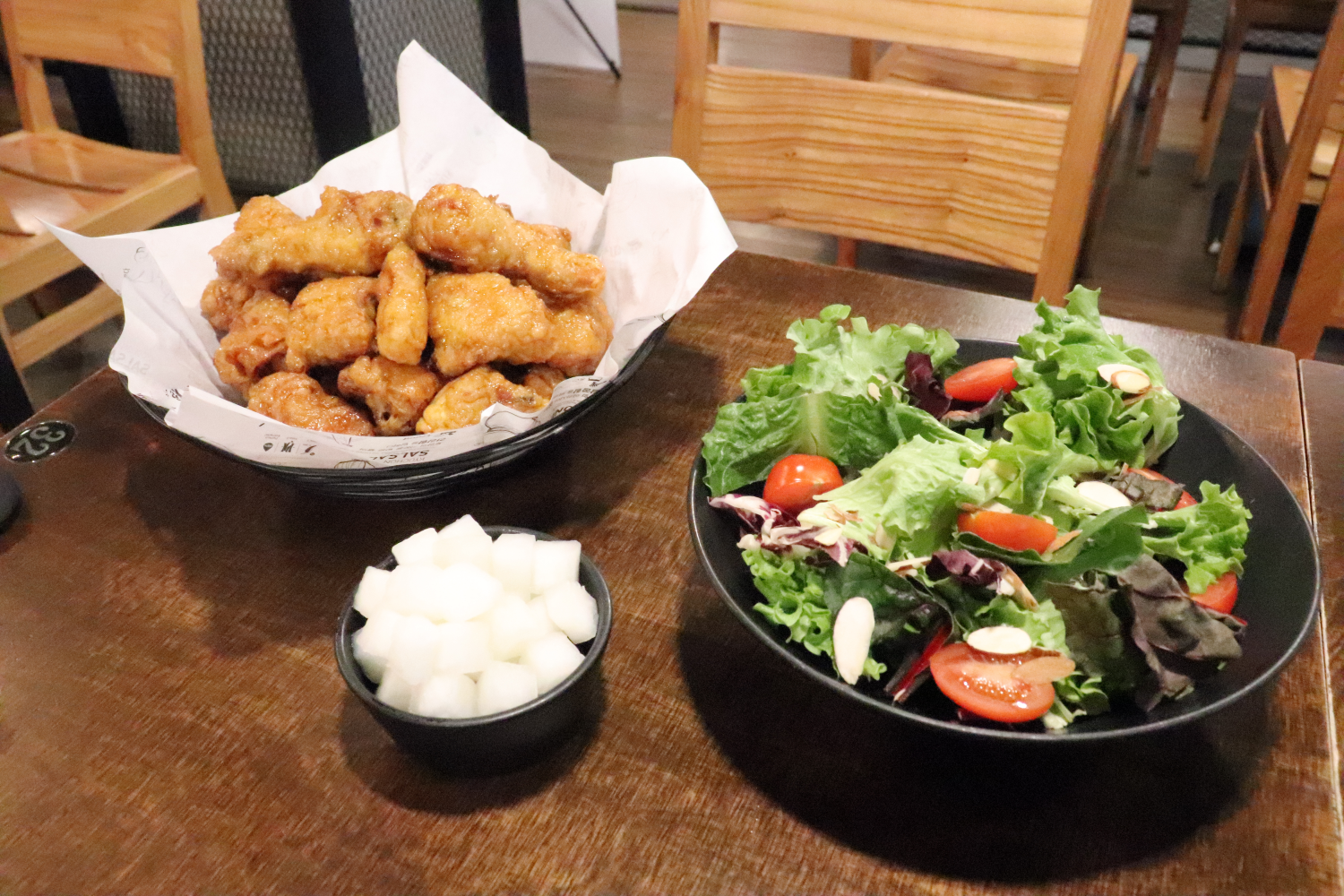 We also had Kyochon salad with the chicken. The Kyochon specialty orange-based dressing was especially tasty and the salad worked as a good refreshment in between bites of the fried chicken. For 5,000KRW, I wouldn't personally order a salad at a chicken place, but Creatrip members get it for free with the coupon!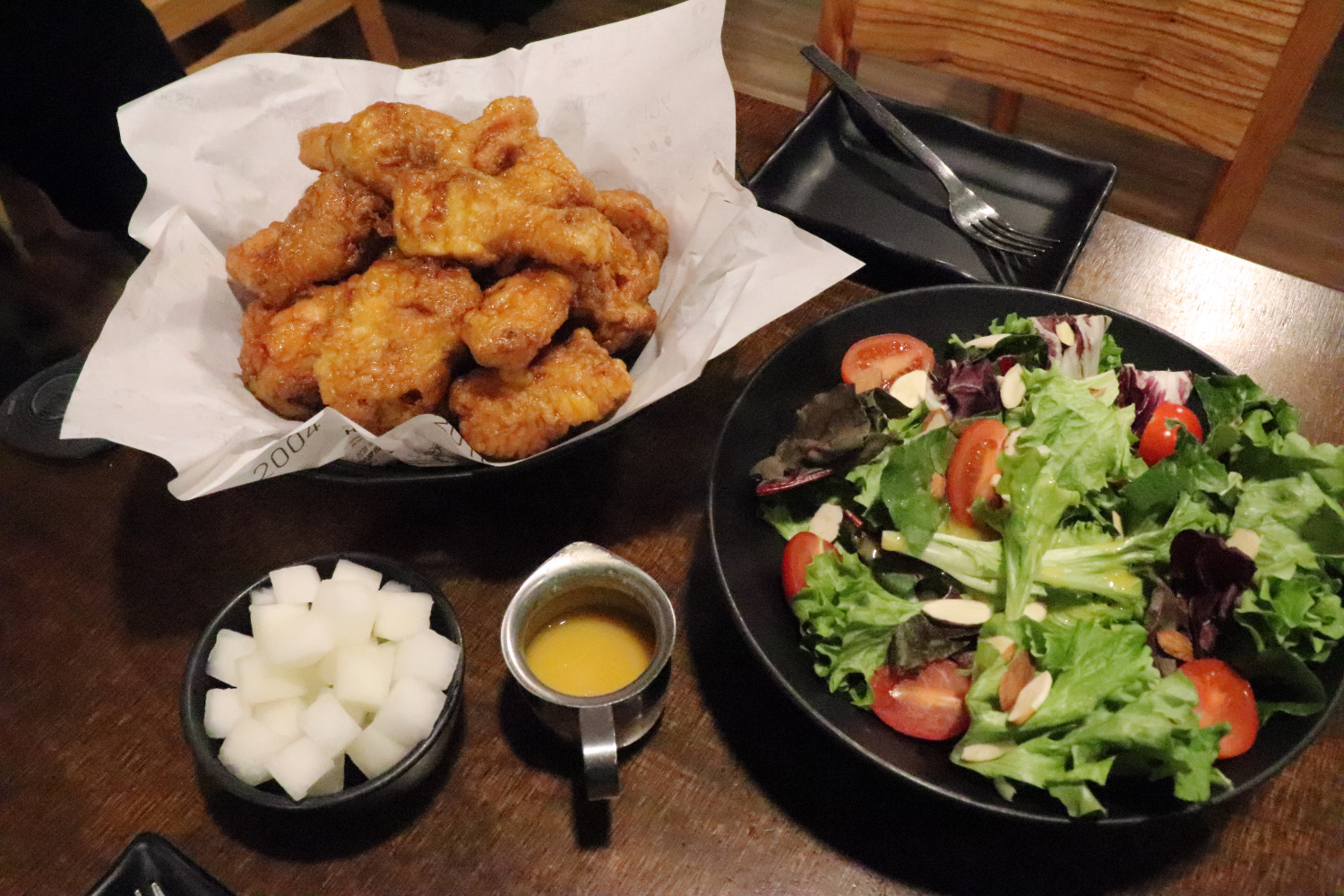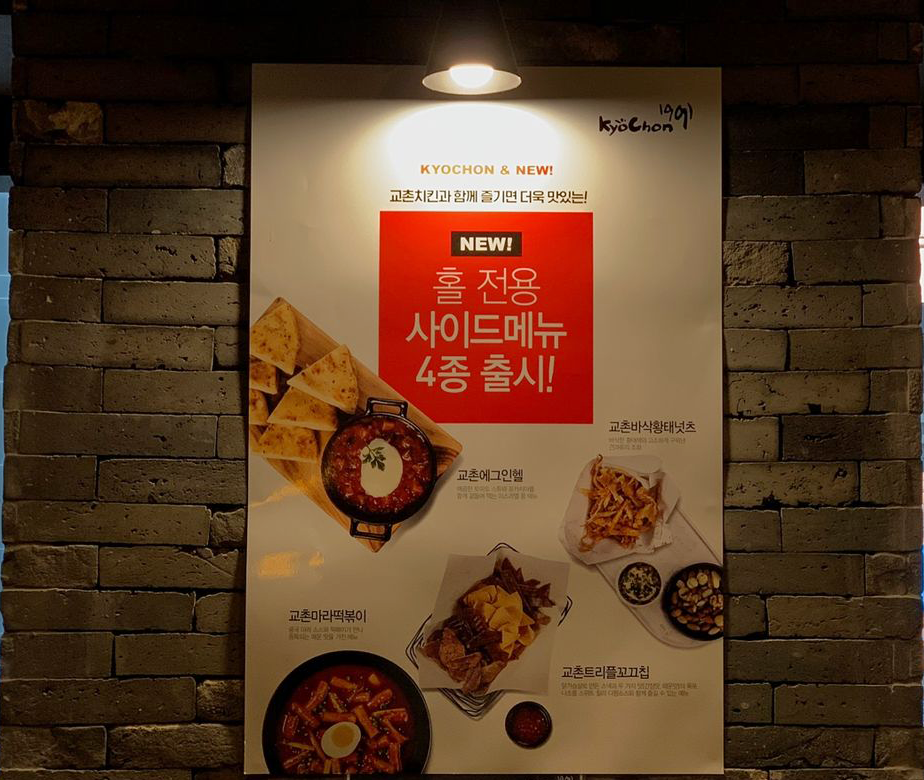 The 4 side dishes displayed on the wall are only available at the restaurant and cannot be ordered through delivery. Kyochon side dishes are great when you feel like you've ordered enough chicken but you still need a little bit of something extra to go with it.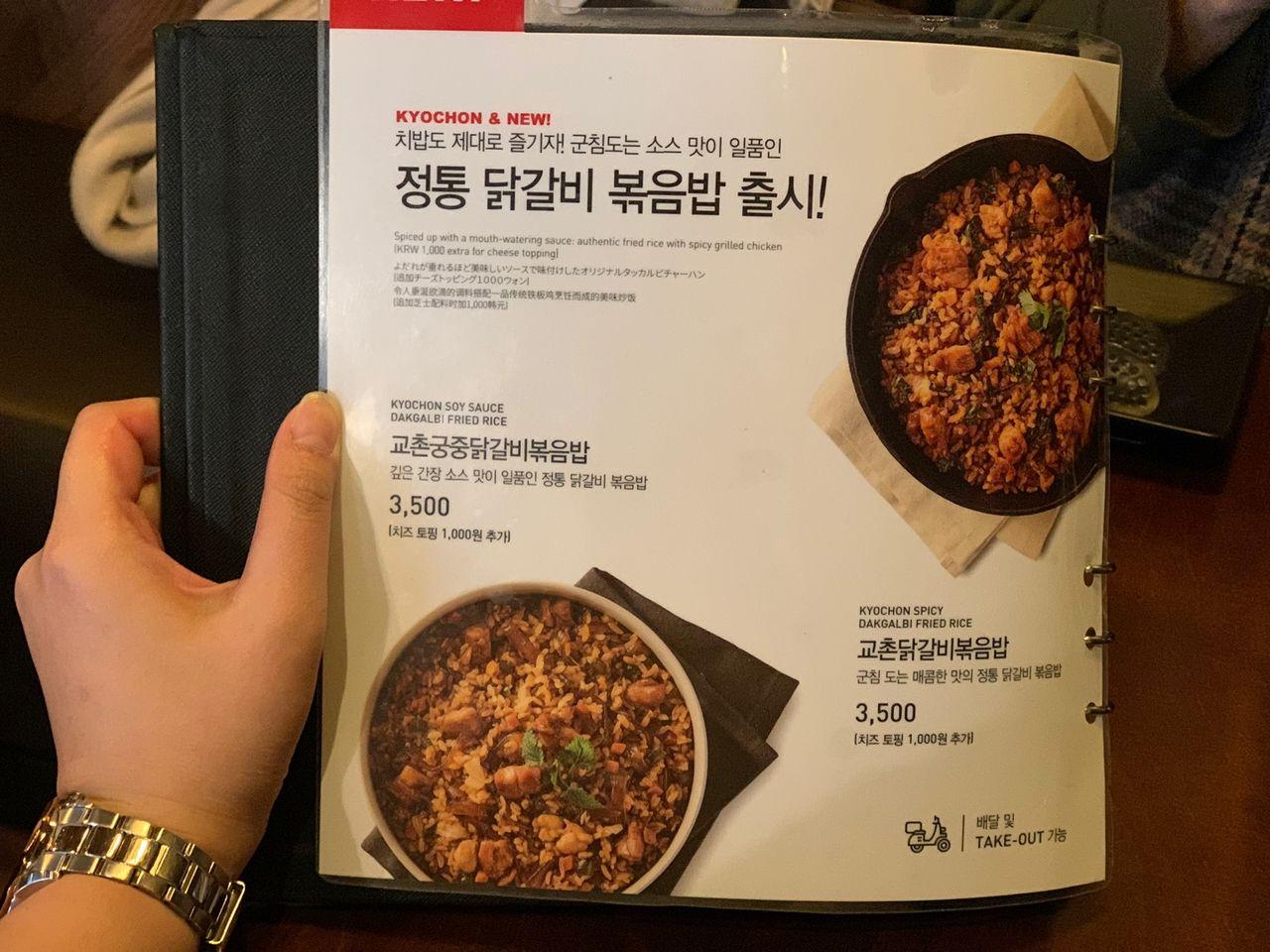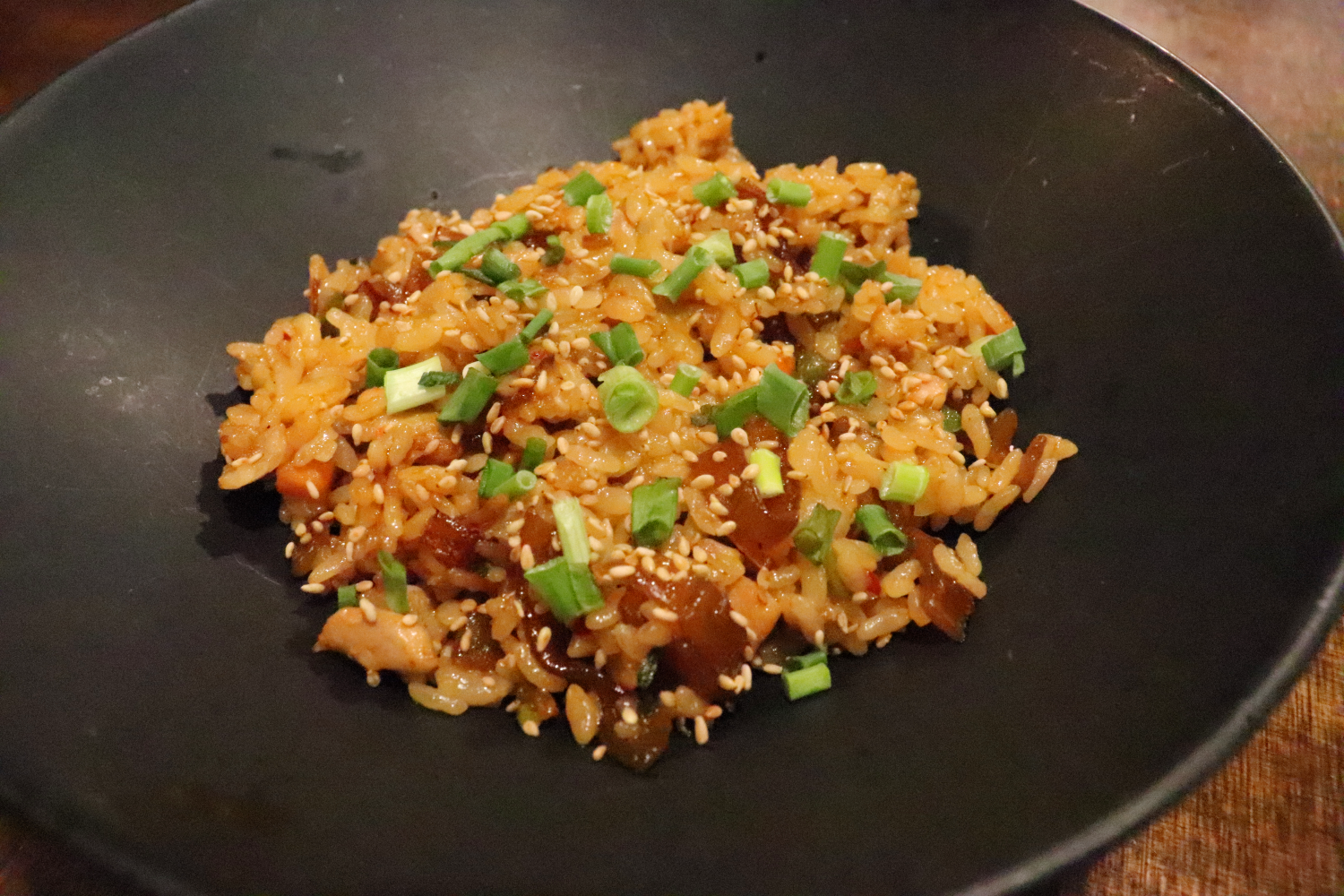 Kyochon Dakgalbi Fried Rice (3,500KRW) is thick noodles and chicken pieces fried with rice in soy sauce. It's not super huge in portion, but you get quite a bit for the price. It works great as a finishing dish or with fried chicken as well. Look at how shiny the noodles are!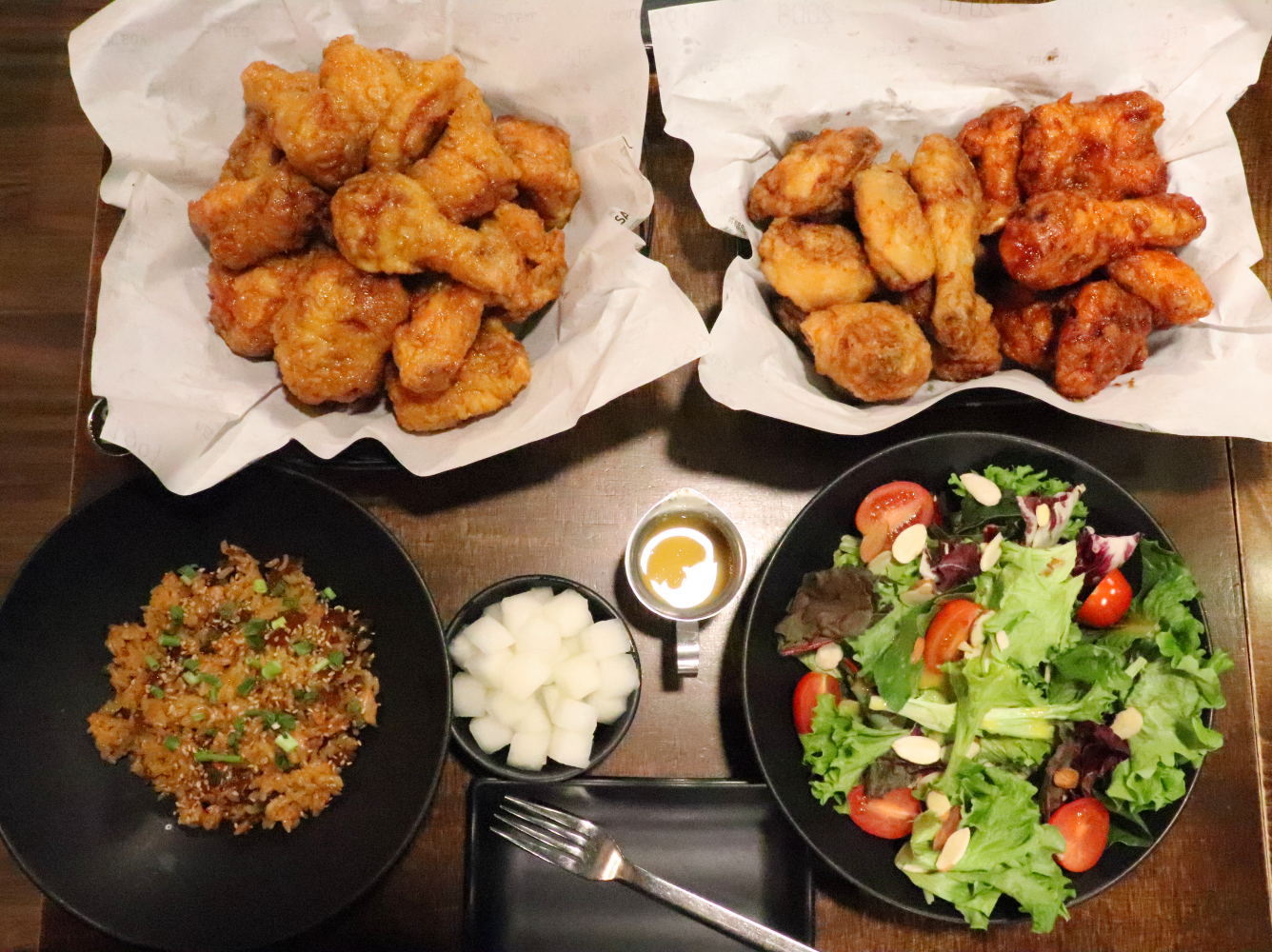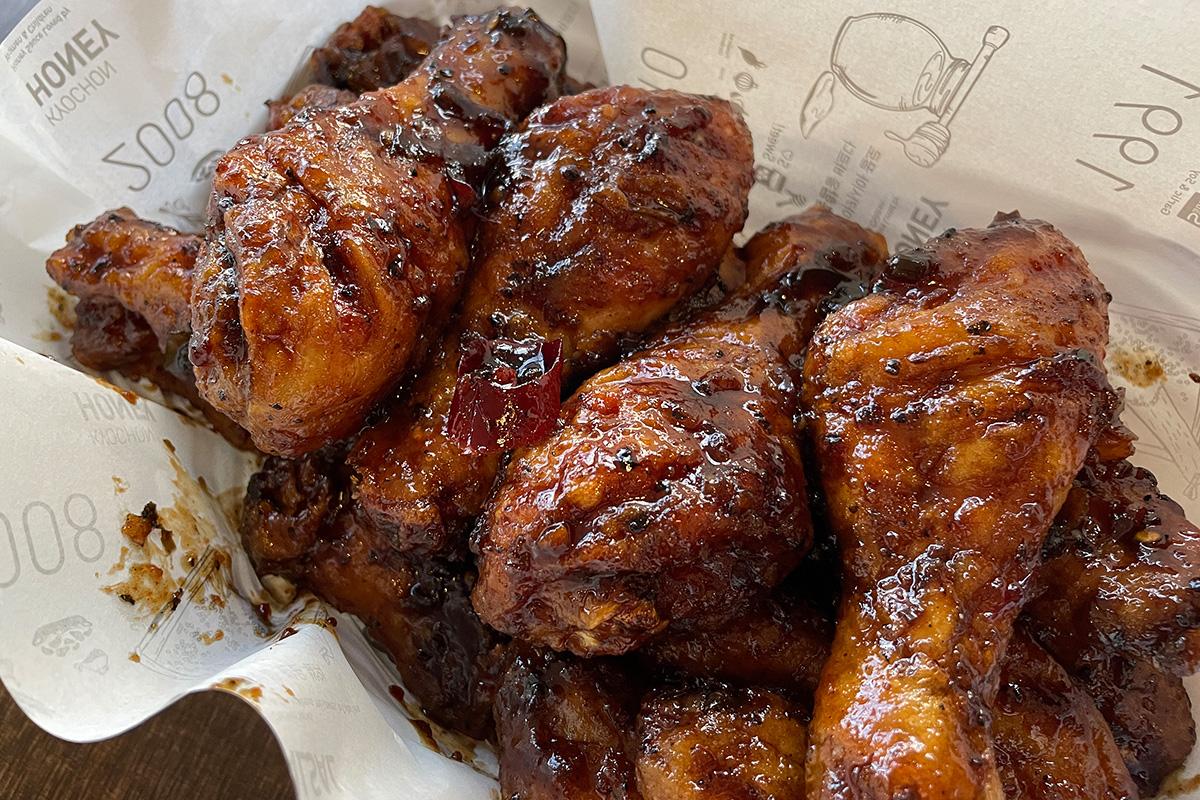 This is Gyochon's new menu item. The Black Secret Chicken has five different flavors: soy sauce, black sesame, peppers, etc. The flavor is quite strong, so it may not be suitable for people who prefer cleaner flavors.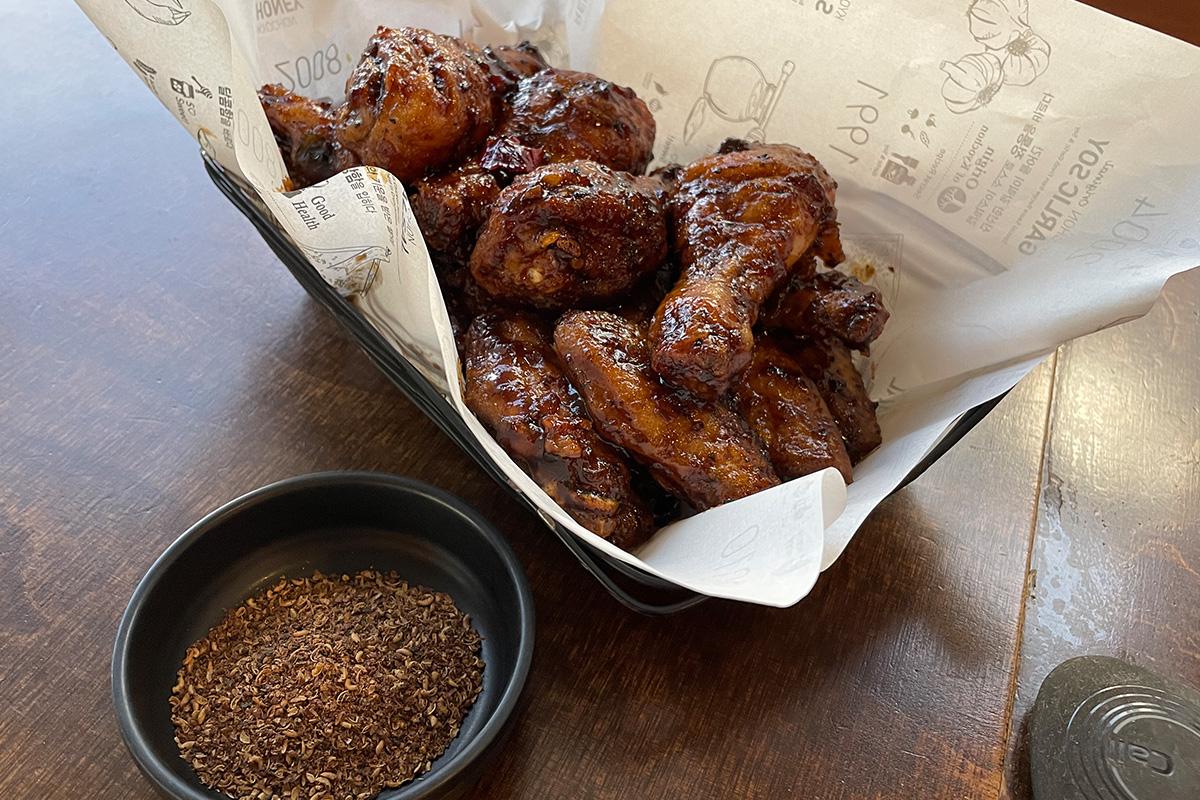 Personally, I didn't find it too strong. It was packed with savory flavor from the soy sauce and black sesame. It was incredibly addicting. For those who want an extra kick, you can order additional pepper seasoning.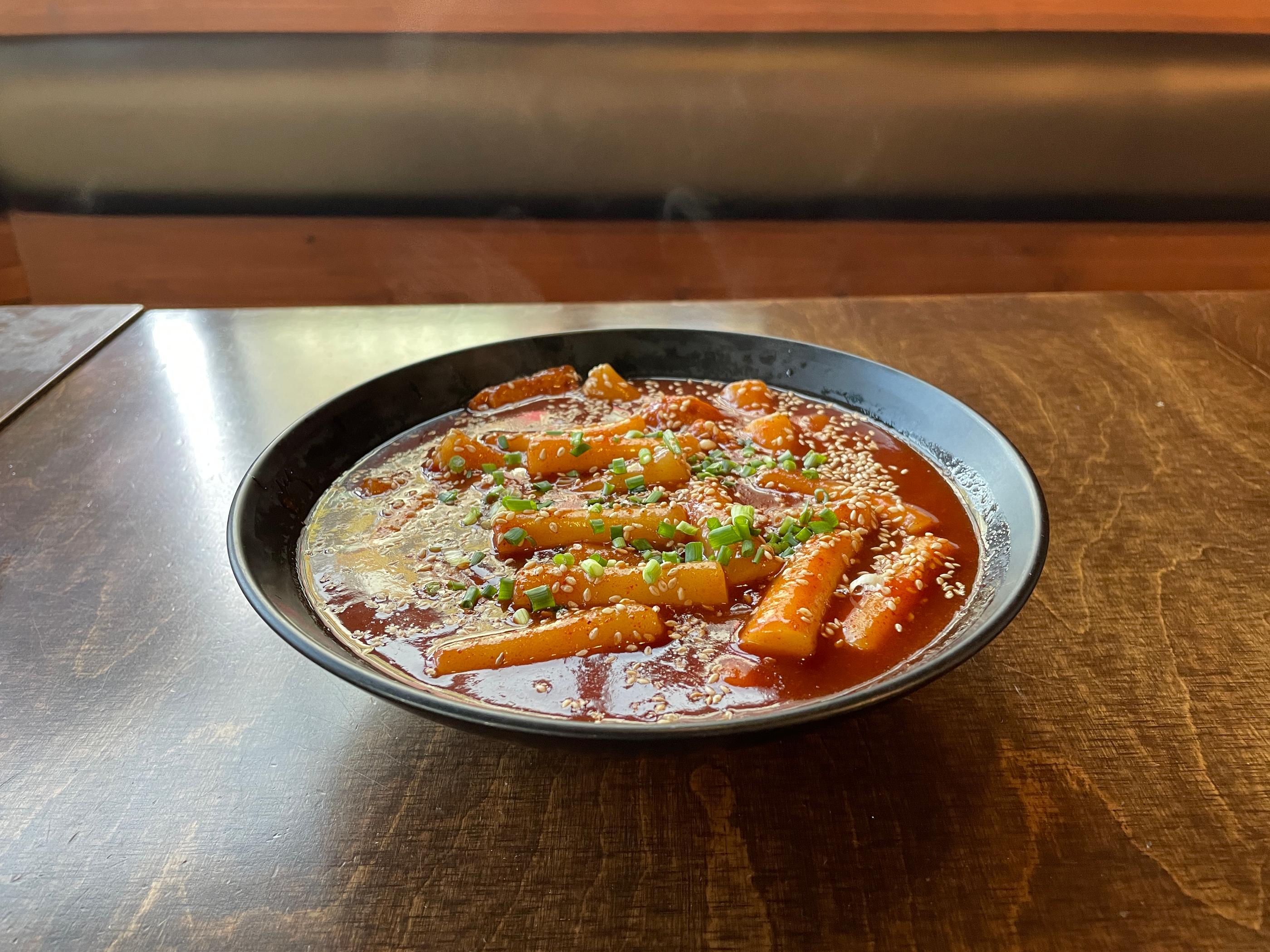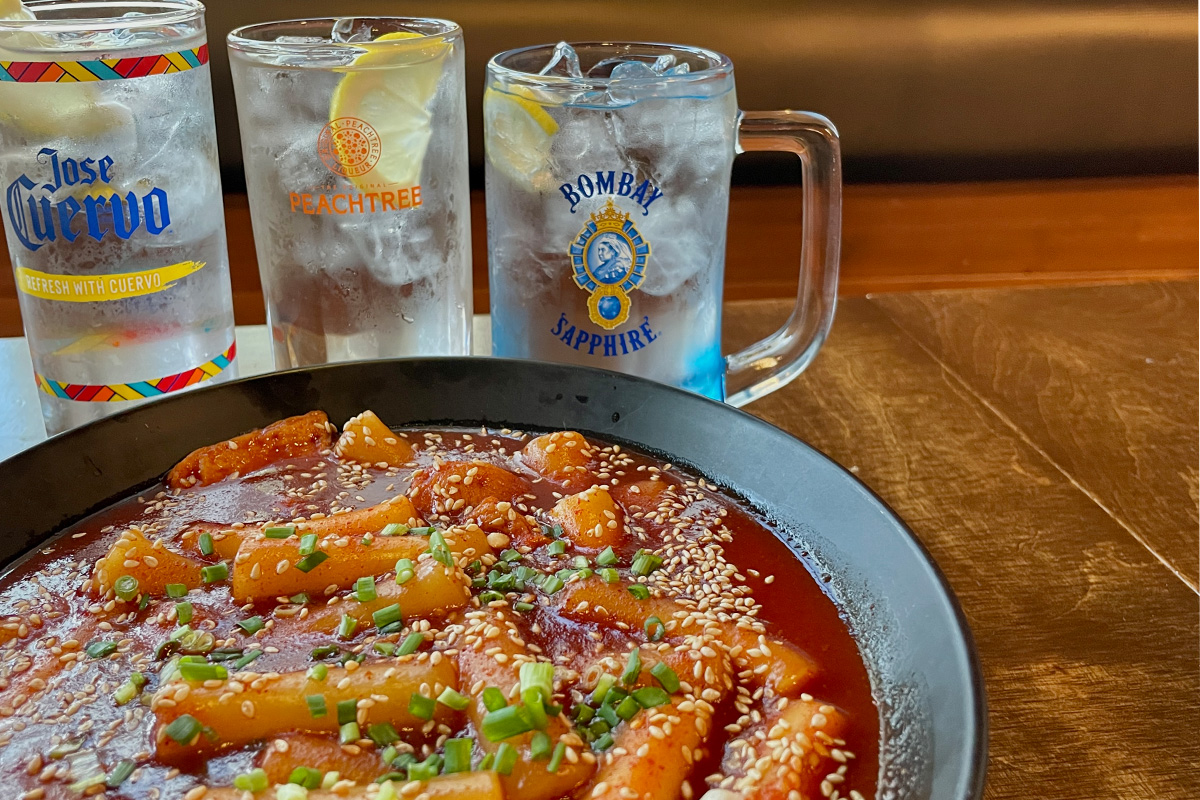 We ordered the tteokbokki as a side as well. It depends on the person, but some may find this too spicy. However, it paired nicely with the Black Secret Chicken, so we recommend trying it out! The portion was quite large, enough for 2 to 3 people, at 9,000 KRW.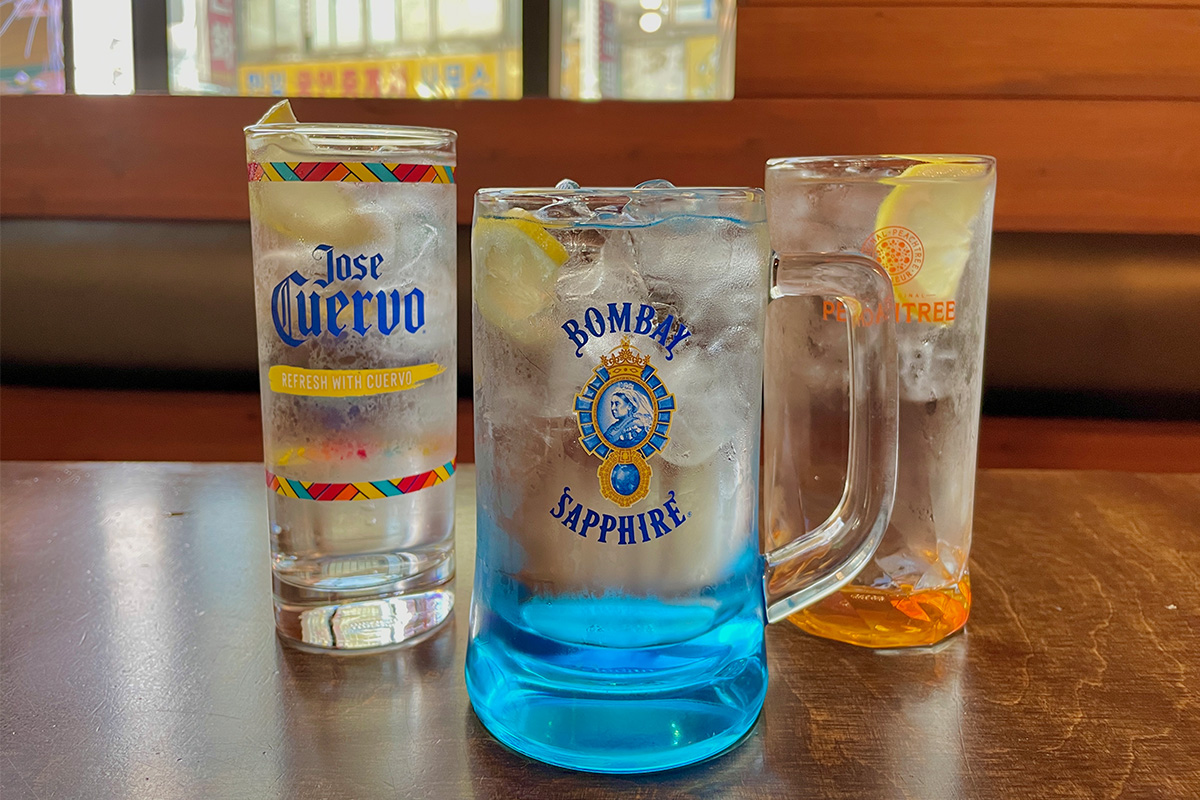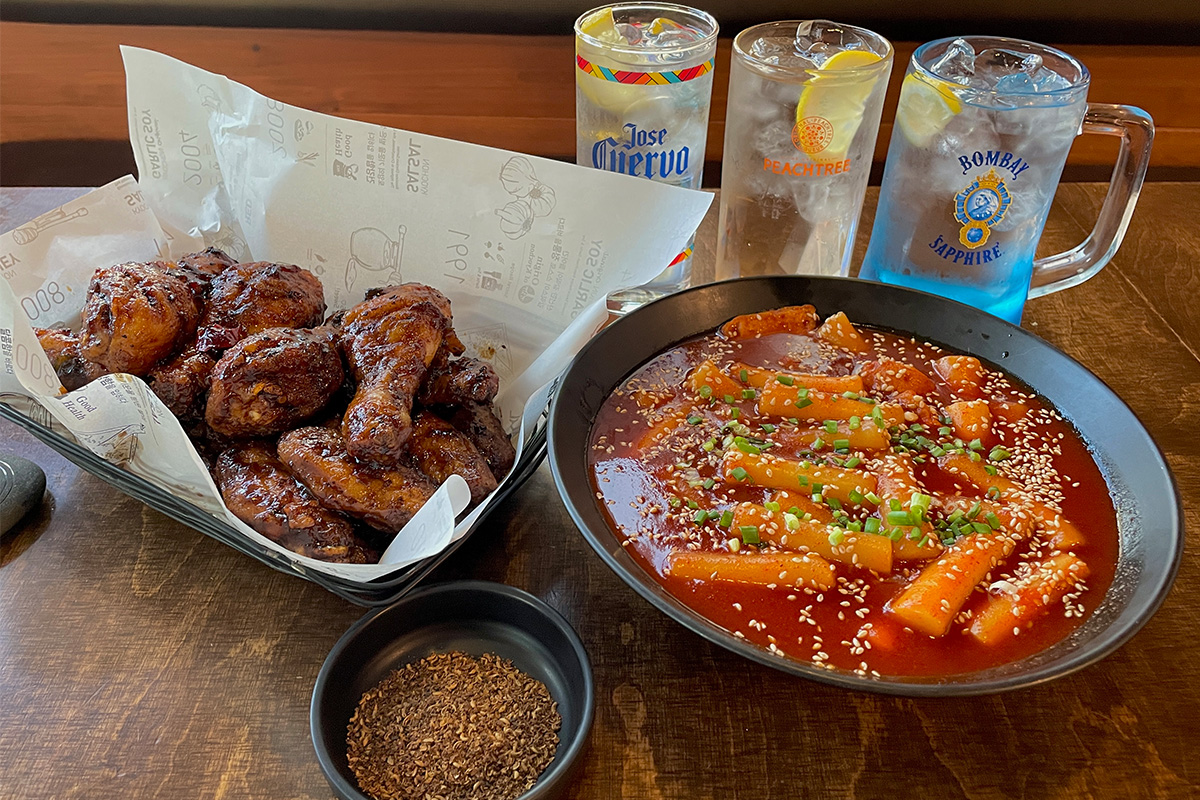 You cannot have chicken without an ice-cold beer. We ordered the highball, Sapphire, and Peach Tree tonic. The fruity cocktails and cold beers washed down the grease of the chicken and are must-order items.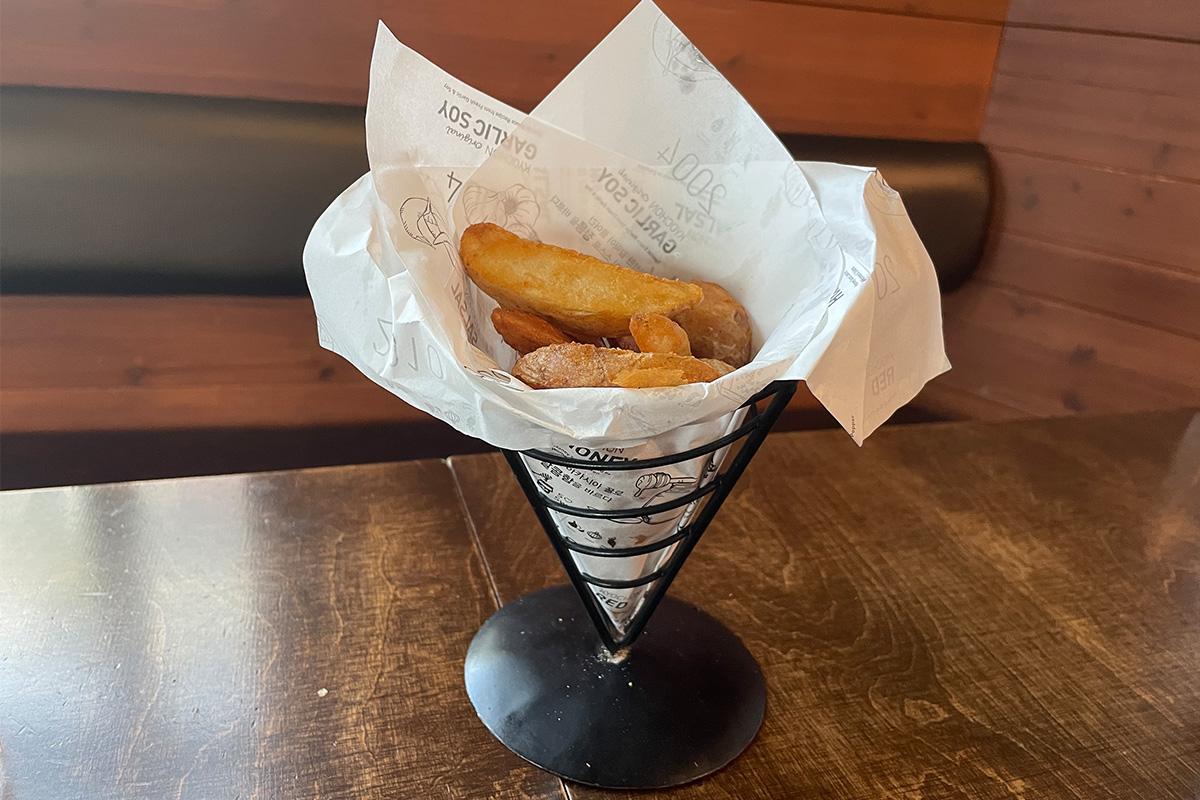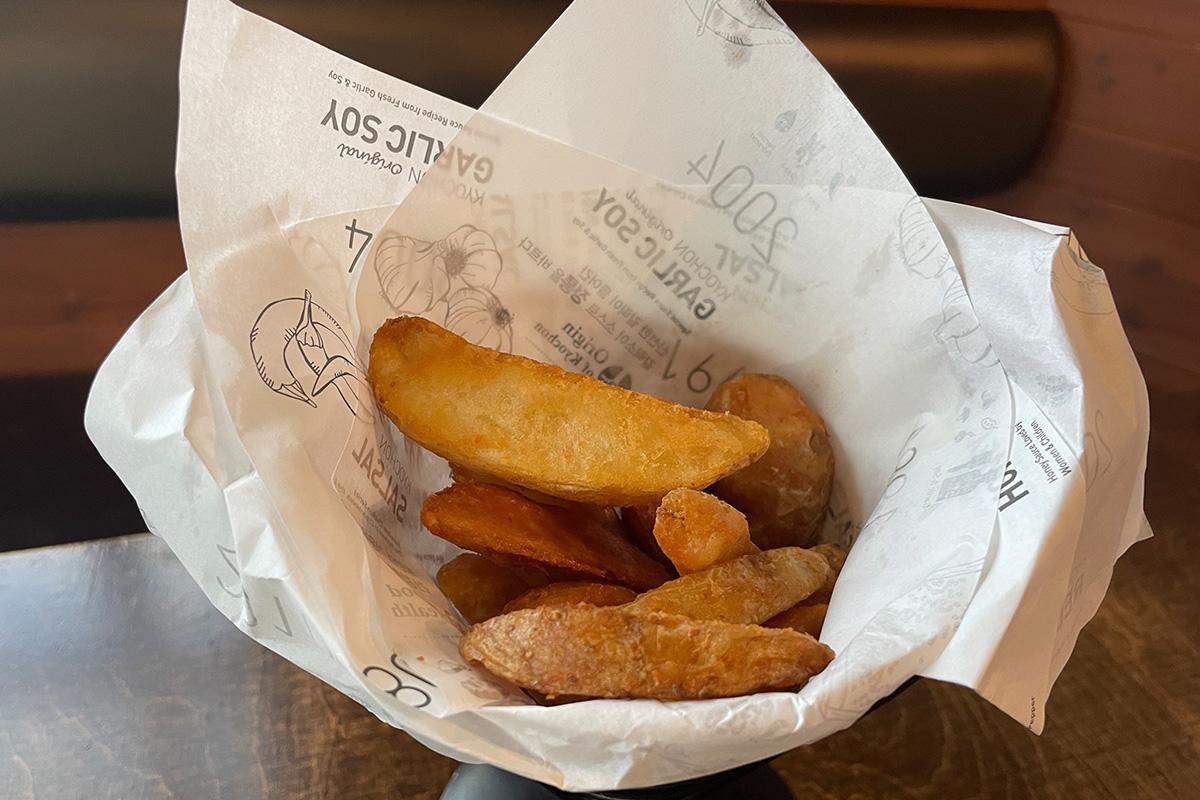 With the Creatrip coupon, you can free potato wedges! These are sold separately on the menu for 3,500 KRW but Creatrip members can get them for free!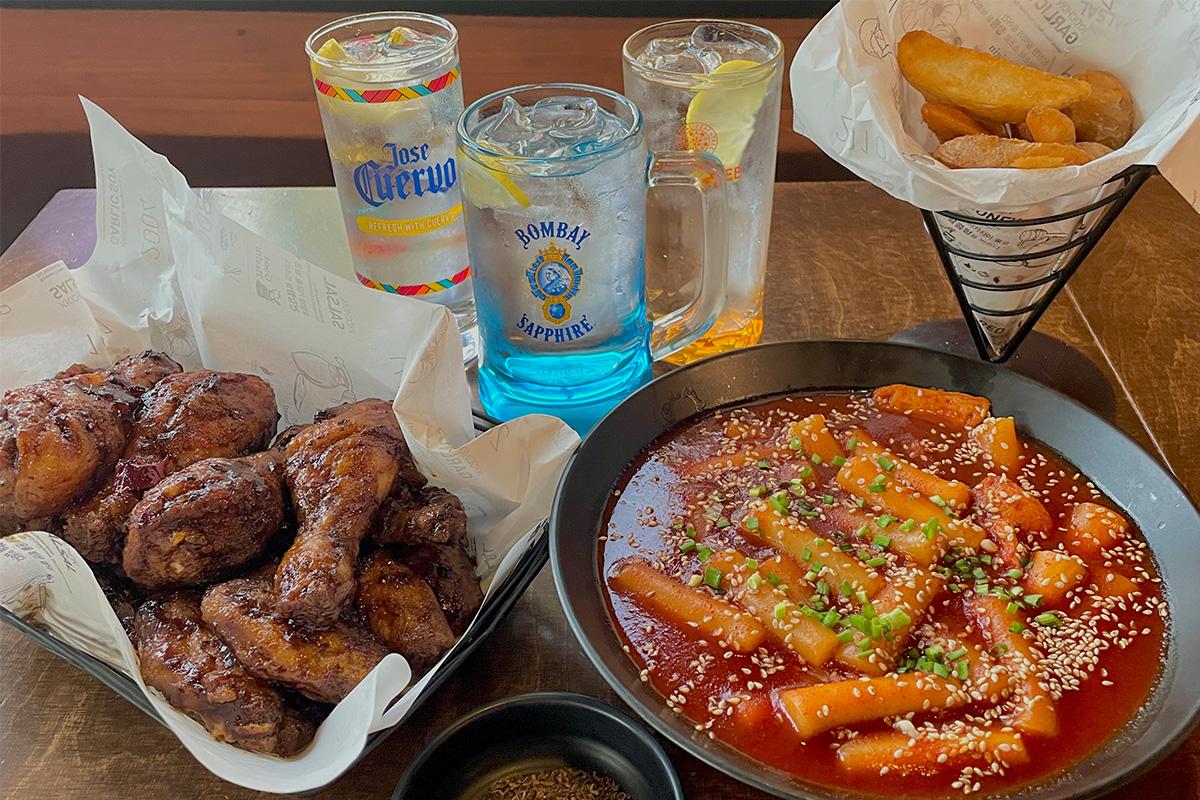 Korean fried chicken is a must-eat for travelers in Korea and I definitely recommend you stop by Kyochon Chicken, a brand that represents great fried chicken here, in between shopping in Dongdaemun.
---
How to Get There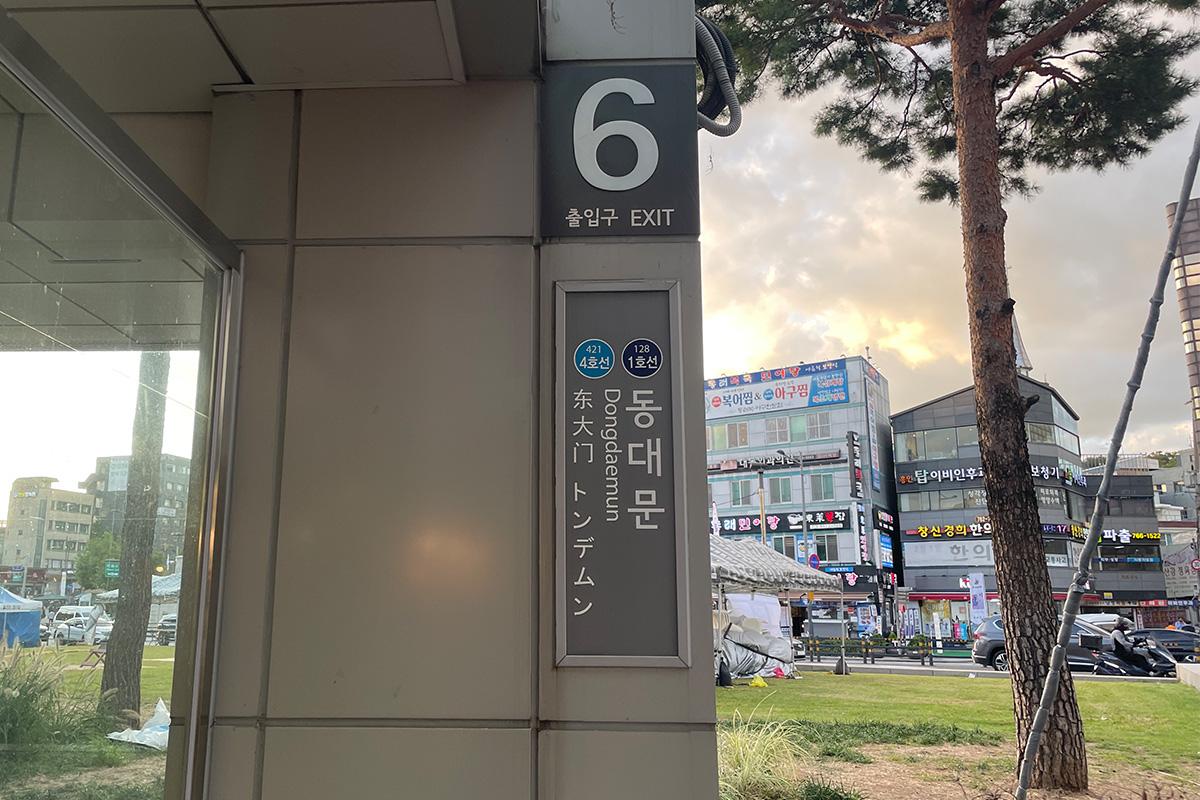 Exit Dongdaemun Station Exit 6.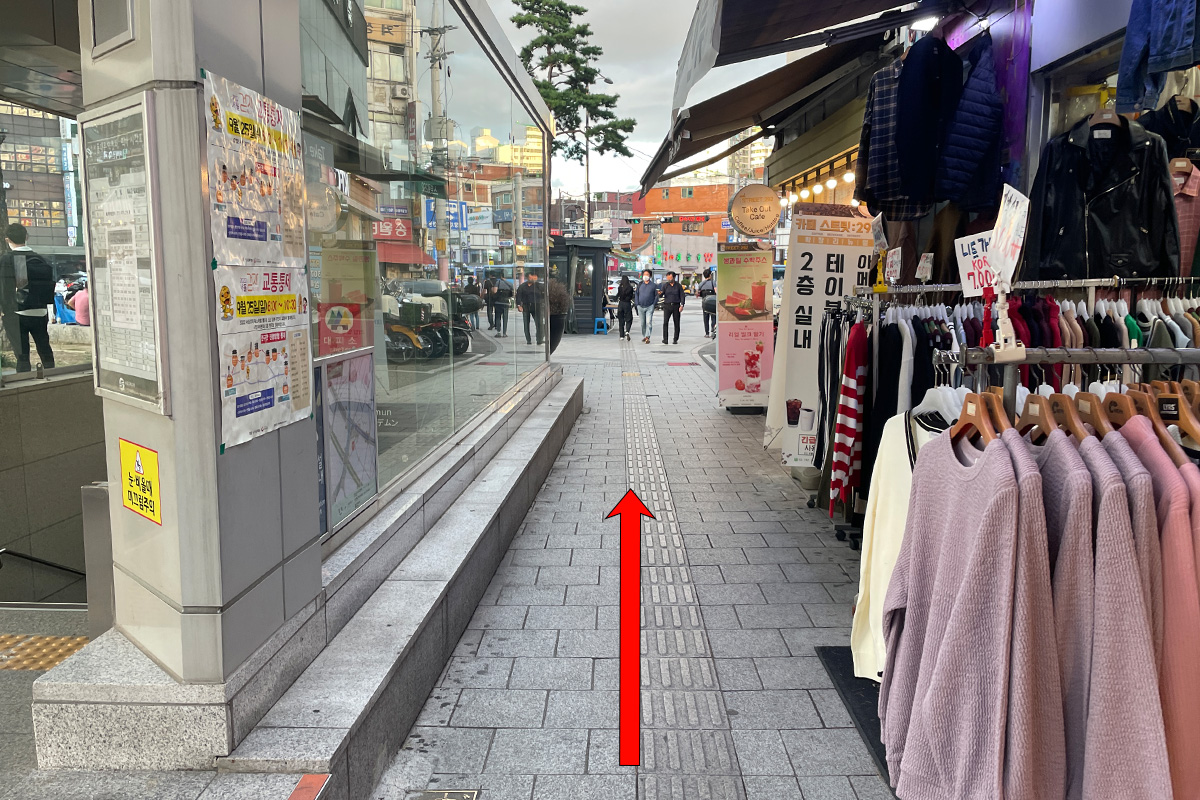 Go to the sidewalk on the right and walk straight.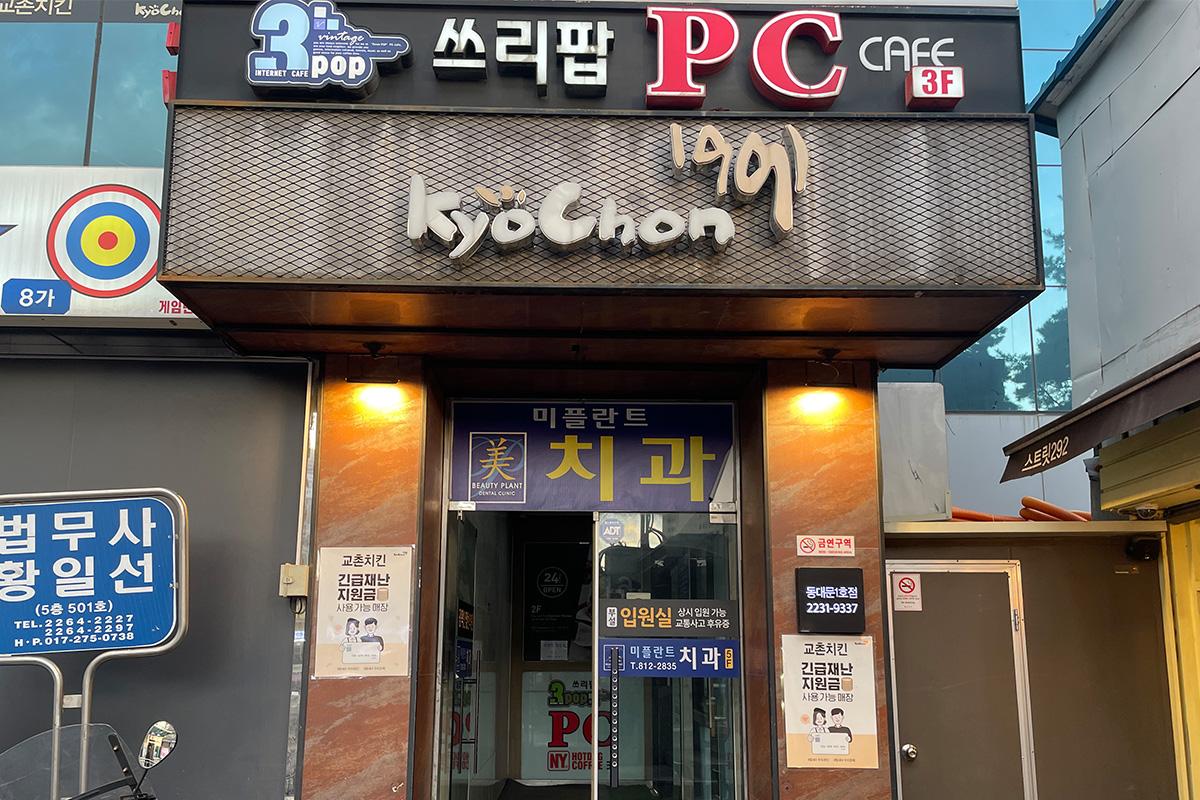 Kyochon Chicken is on the right.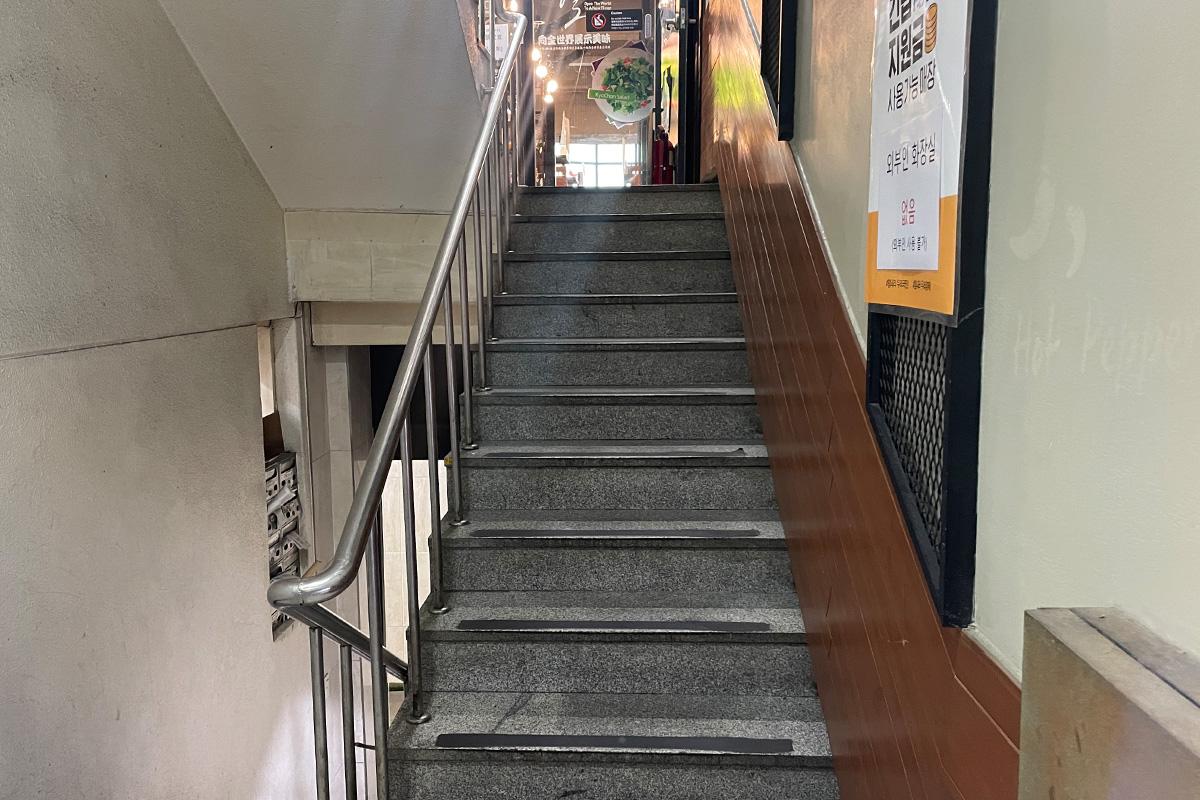 Come into the building and go up the stairs to the 2nd floor.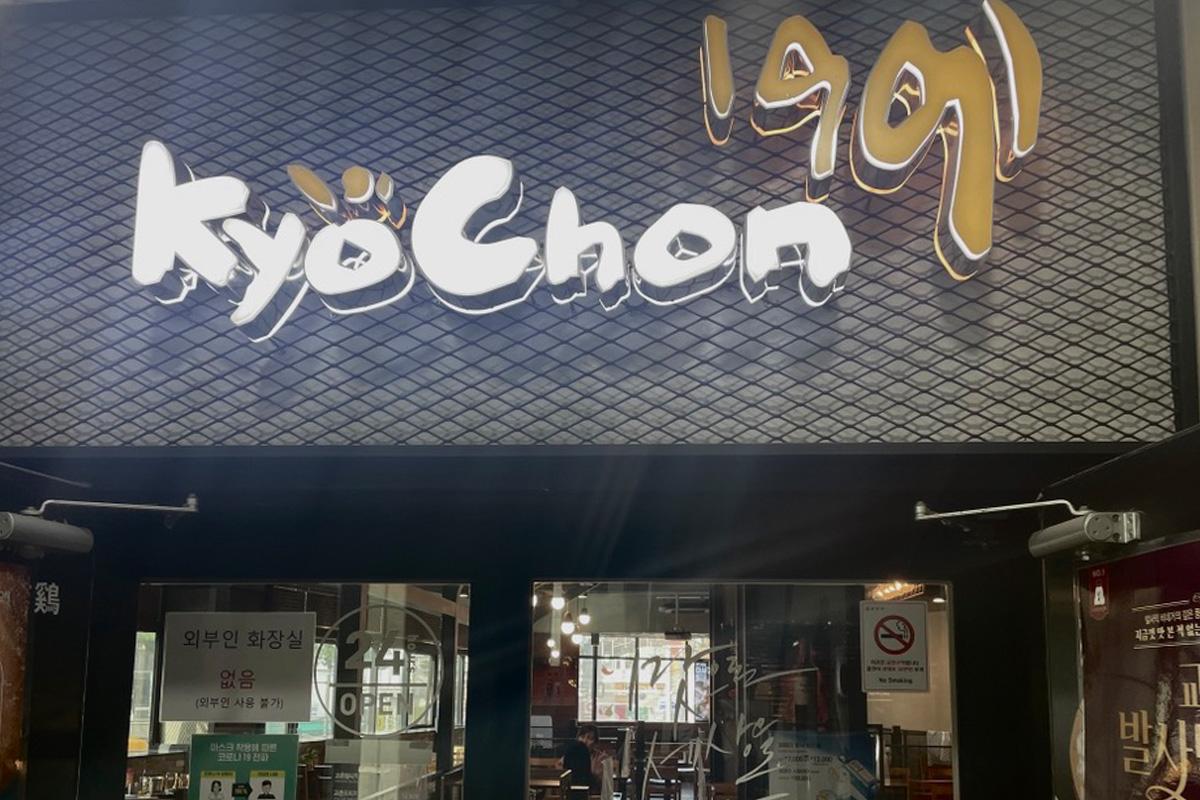 You've arrived at Kyochon Chicken!
---
Kyochon Chicken Dongdaemun 1
---
For those of you staying far away from Dongdaemun, we're also offering Kyochon Chicken delivery services! Click the link below to get your chicken delivered.
Kyochon Chicken | Order Delivery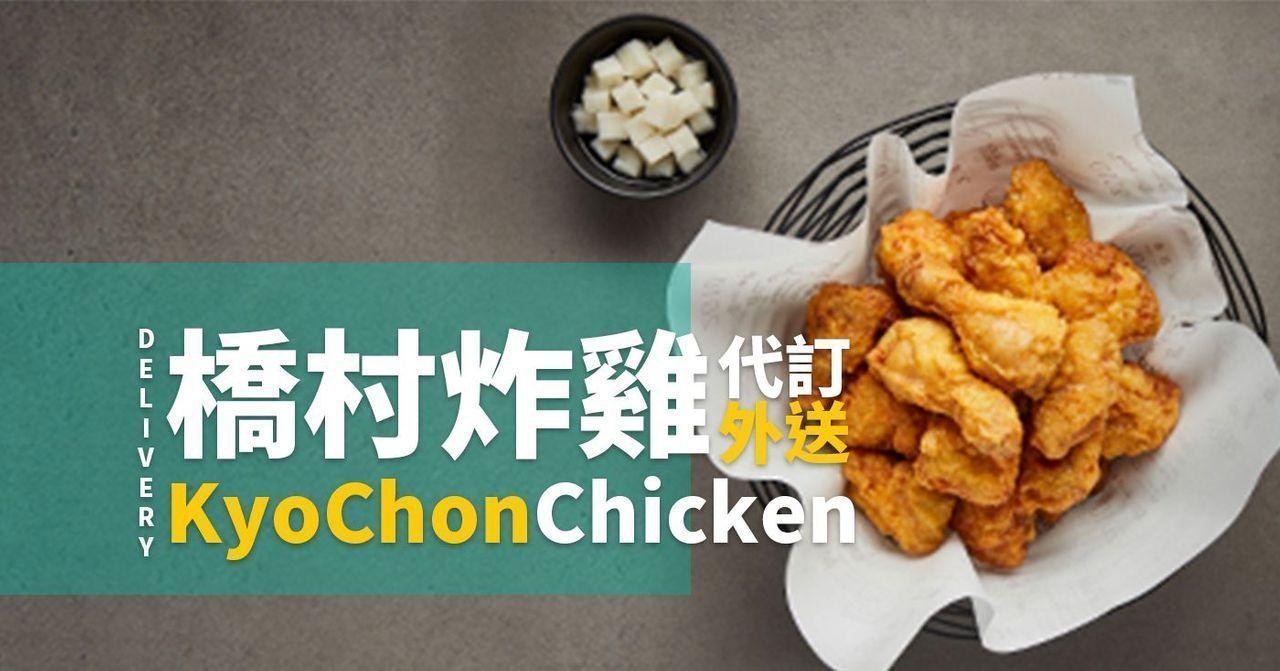 ---
This blog post is about Kyochon Chicken Dongdaemun 1st Location. If you have questions or comments about information not covered in the post, please leave a comment below or email us at support@creatrip.com.
---