TOP Must-buy Korean Souvenirs!
Check out Creatrip Editor's handpicked must-buy souvenirs in Korea!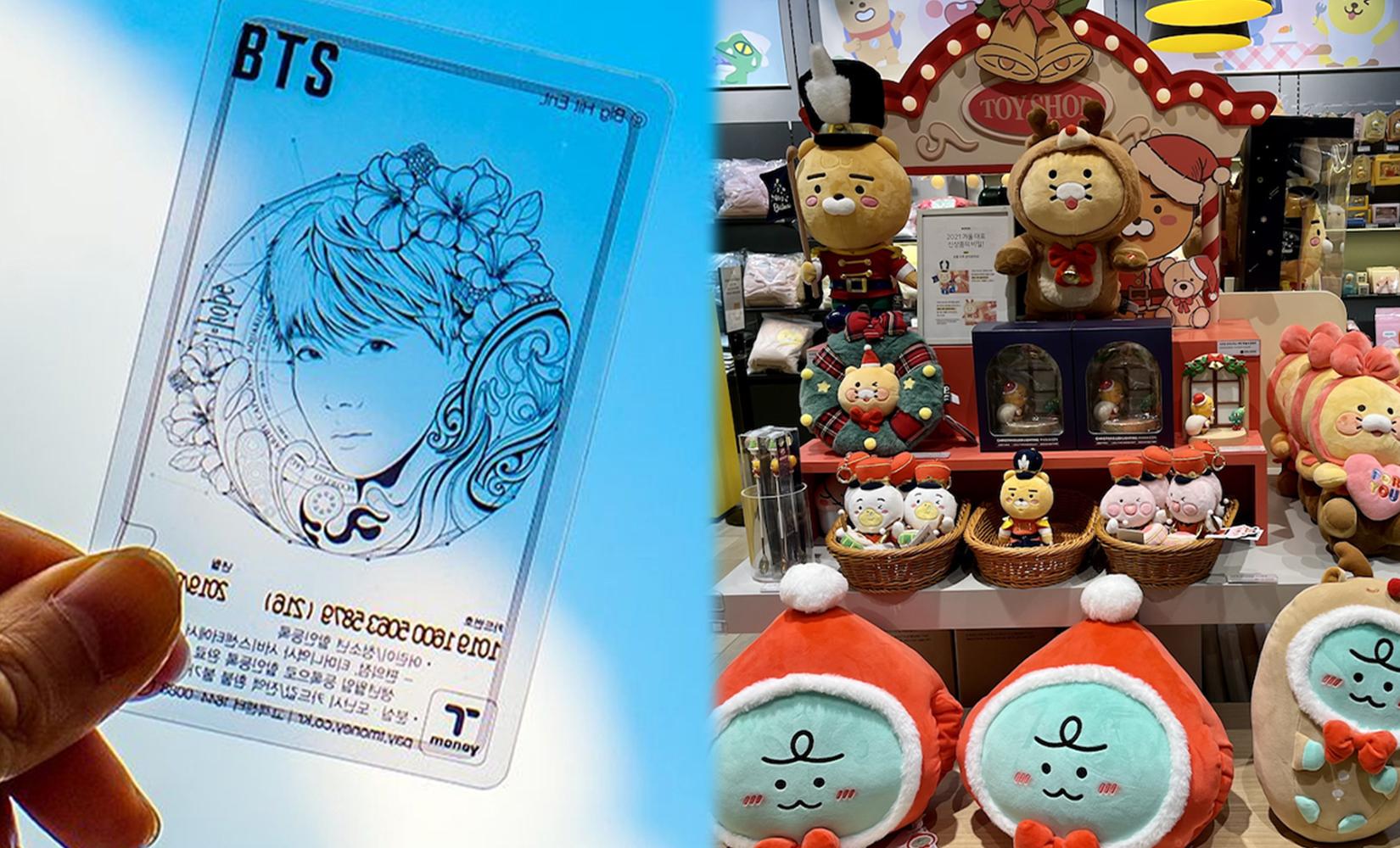 I think the highlight of a trip to Korea should be buying souvenirs.
Many of you might wonder what and where to buy gifts that best represent Korea.
So, I am about to share with you some souvenir items you should not miss out on in Korea!
---
Korean Packaged Food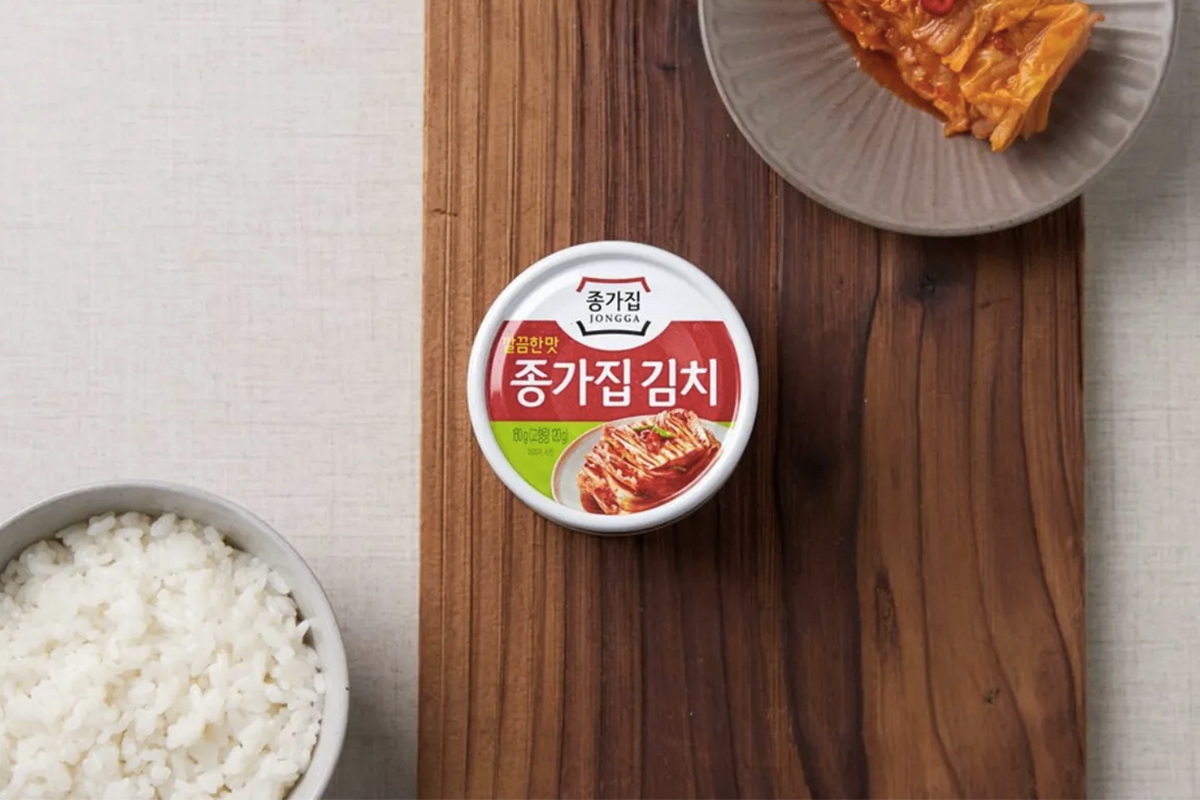 The first Korean must-buy souvenir is the easy pre-packaged food. It may sound too basic, but there are plenty of easy-fix meals in Korea and they usually come with nice packages. You can buy Tteokbokki (spicy rice cake), Samgyetang filings (ginseng chicken soup ingredients), Naengmyeon (cold noodles), and so on.
Recently, the fast food industry has been emerging with the increasing number of "one-person" families in Korea. These kinds of easy cooking products only require hot water or a microwave. These pre-packaged foods are super popular among Korean families too. You can easily bring your favorite South Korean food back home.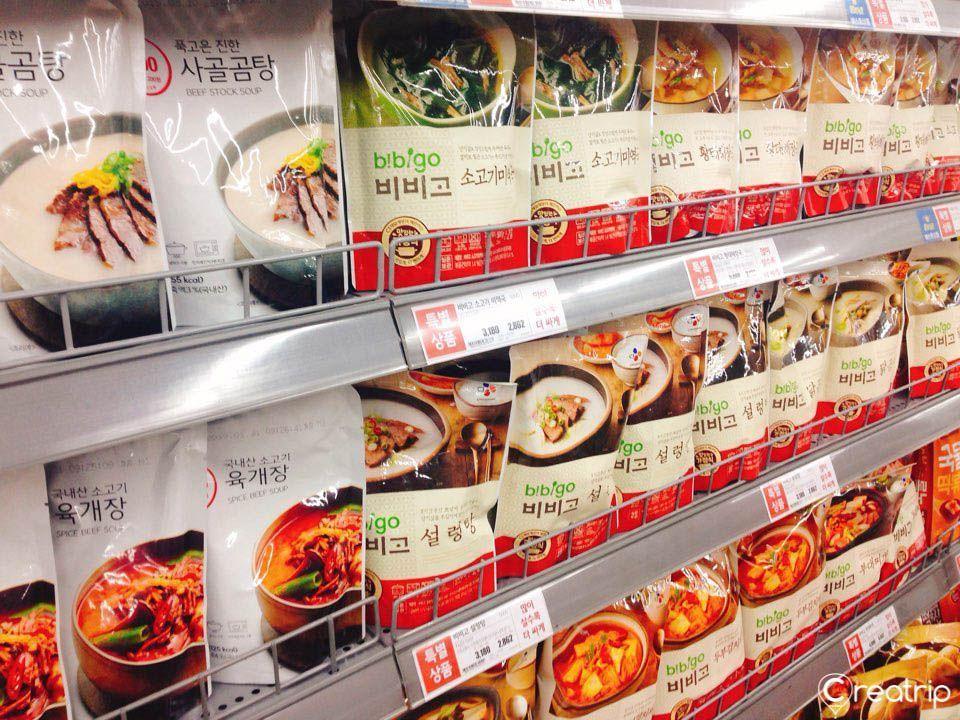 The concept of these easy-fix fast food packages is similar to instant noodles. However, these packages are more special than regular instant noodles. When you give these packages as a gift, you are giving the Korean culture to your friends and loved ones.
Not only you can share your experience with the Korean culture, but also can invite your friends to appreciate Korean food with you. These packages are usually heavy. Make sure you can carry these packages before you start stocking up on them!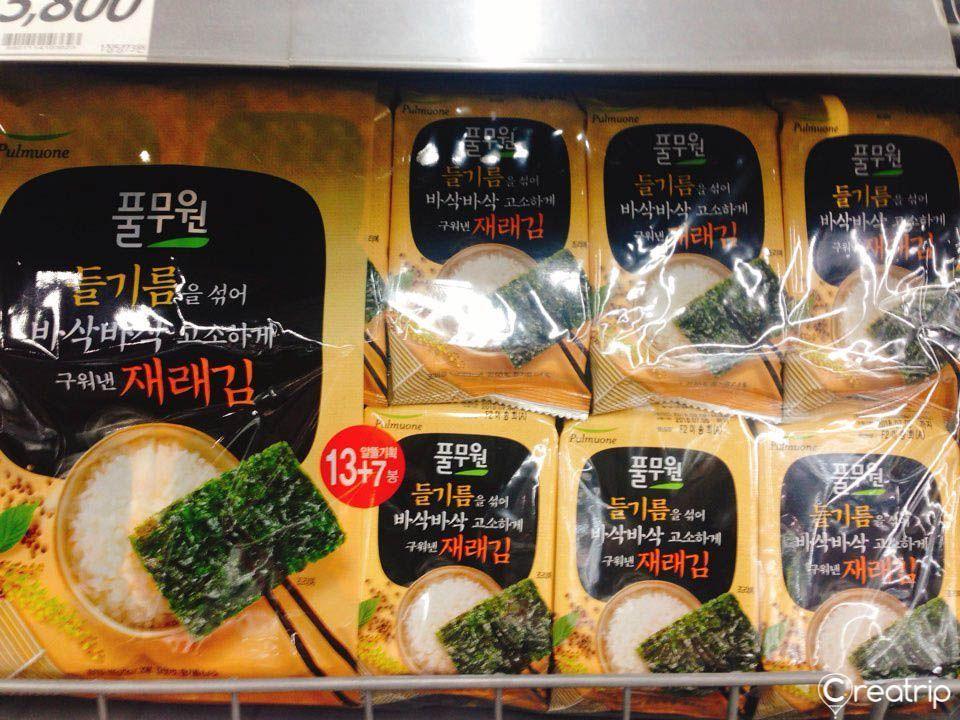 You can easily find the pre-packaged food from all small, medium and large supermarkets. They are extremely cheap, and they make a perfect gift for you and your friends. If you are not sure what to buy for your friends from Korea, consider buying seasoned dry seaweed. Seasoned seaweeds are light and compact.
Click here to shop for some Korean packaged food.
---
Korean Instant Noodles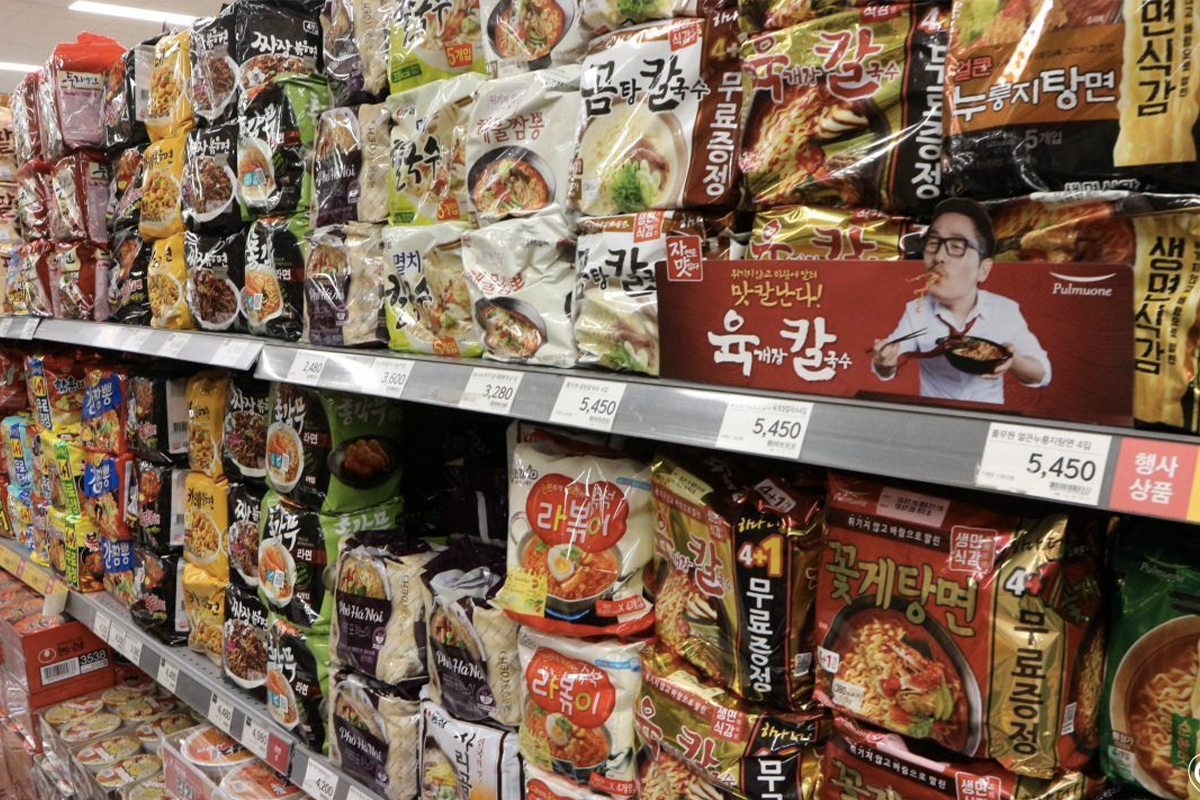 The second must-buy souvenir item is Korean instant noodles. Koreans are very creative with instant noodles. There a lot of creative ramens with exotic flavors and surprisingly, most of them are delicious. Before you stock up on the items, make sure you do your research first. Many instant noodles are extremely spicy or salty. Make sure you get the list of the ones that you like before you go on shopping.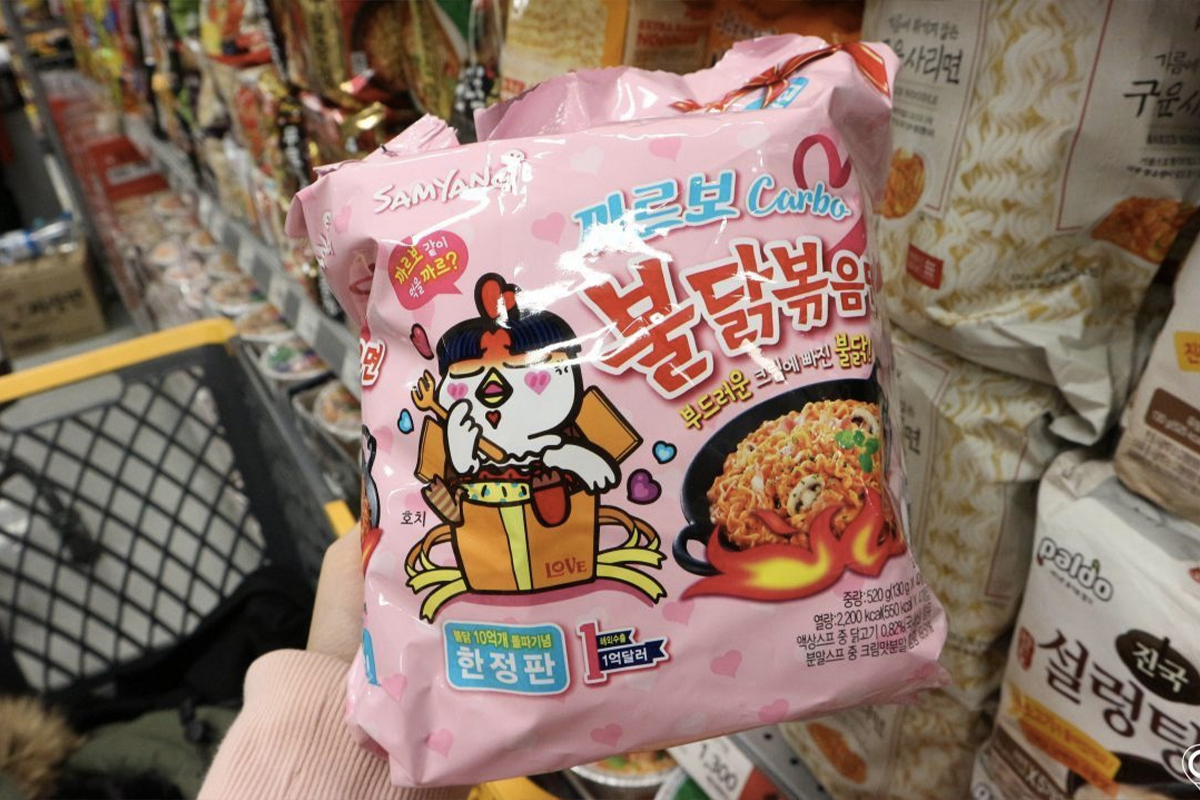 When you are purchasing instant noodles as souvenirs, I would recommend you to buy the special ones. Consider the Carbo Buldak Bokkeummyeun or Shin Ramen black. These instant noodles are rare and go easily out of stock even in Korean supermarkets.
Although I am sure you can buy the basic Korean instant noodles from your home country as well. For instance, Nongshim Shin Ramen is one of the most popular instant noodles in the world. Although Shin Ramen is popular worldwide, I would recommend you to try "Jin Ramen" and "Beef Soup Instant Noodles." These are Korean locals' favorite instant noodles. Plus, these two instant noodles are milder than Shin Ramen.
Click here to shop for Korean instant noodles.
---
Korean Snacks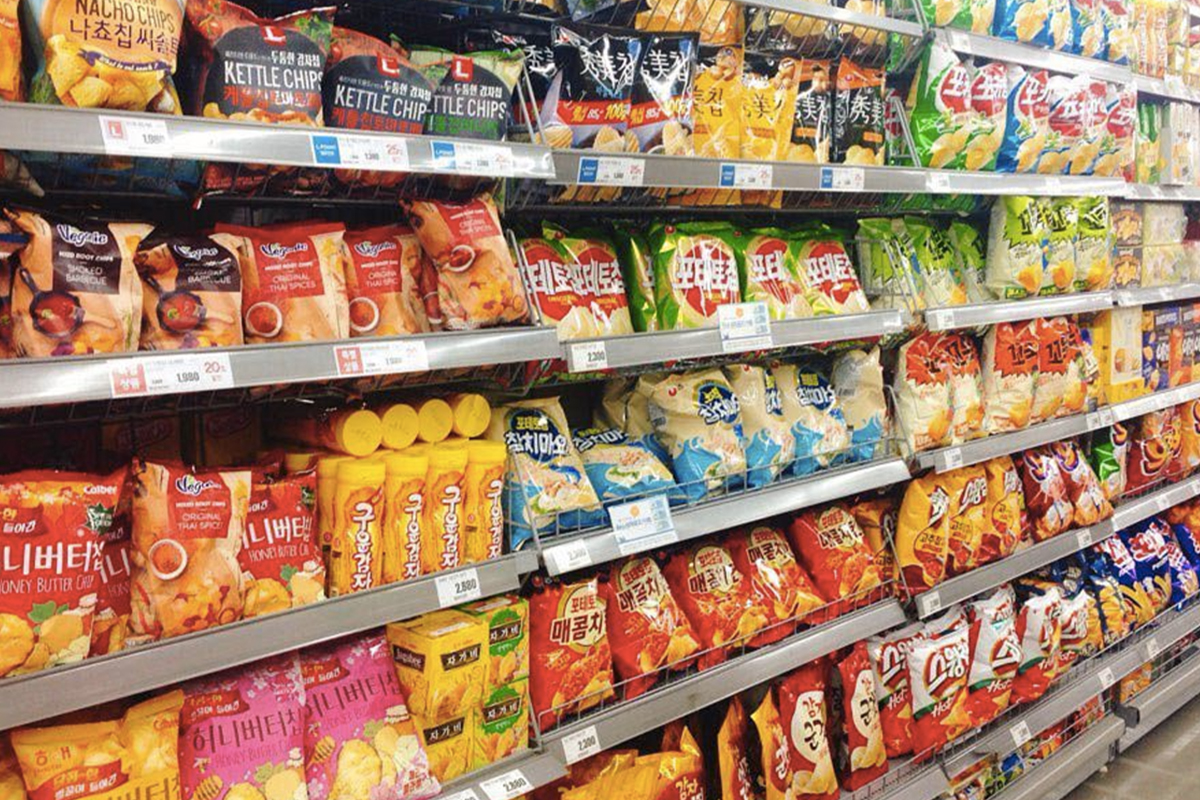 South Korean snacks can be simple, convenient, and delicious souvenirs. Before you purchase South Korean snacks, make sure you go to the local supermarket first. The local supermarkets usually have promotions and you can get multiple snacks for less.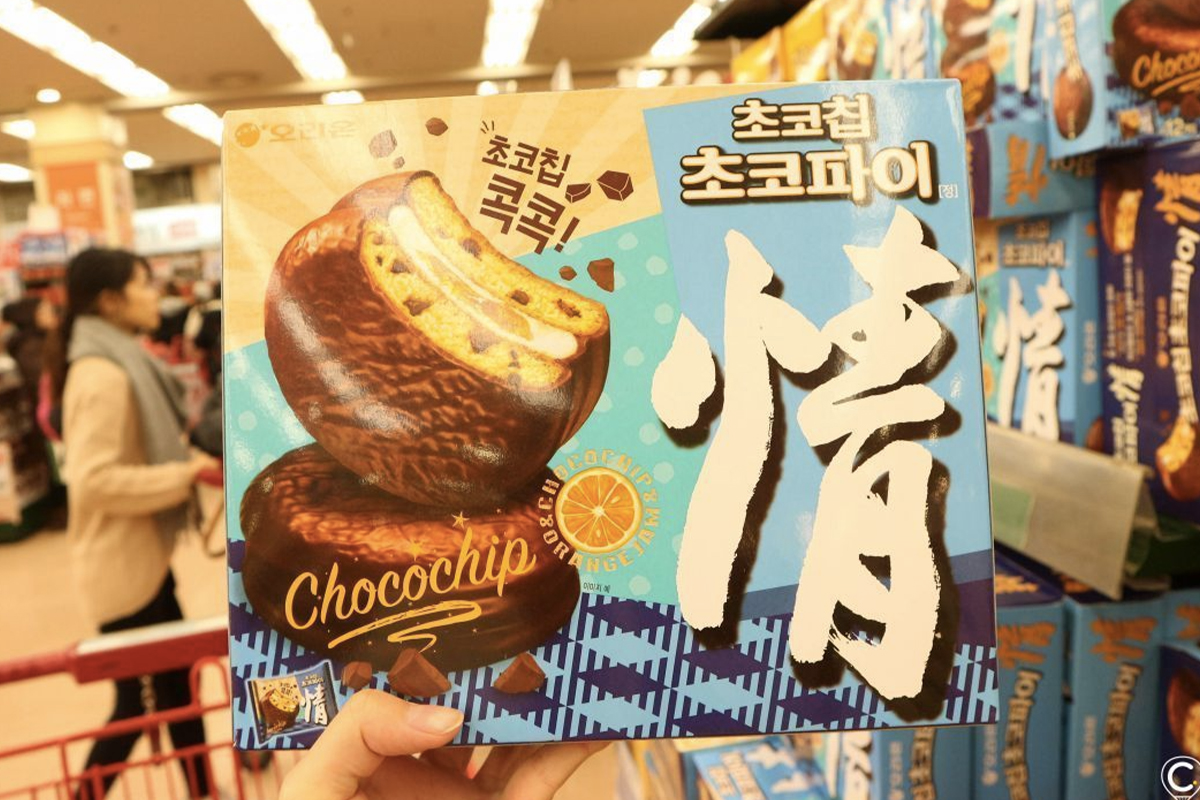 When we are talking about South Korean gifts, we must not dismiss the famous Korean chocolate pie. This chocolate coated marshmallow cake is one of the best-selling Korean snacks of all time. Recently, Lotte released a series of new flavors (such as Cheese and Banana). Check these flavors out!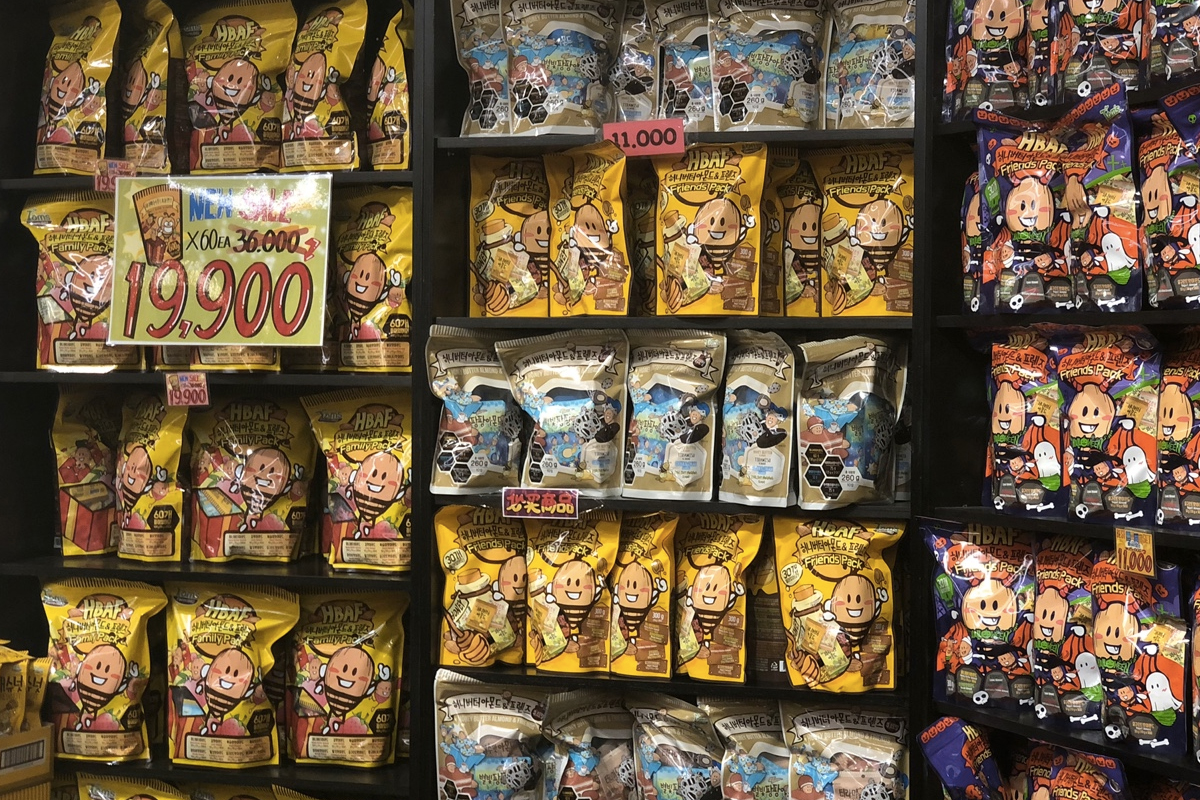 Sweet and salty Korean snacks are so addictive that once you start eating them, you won't be able to stop. These Honey Butter Almond snacks are especially addicting and they come in various flavors, such as wasabi, caramel almond, and roasted corn, and they're bite-sized so you can enjoy them as a side dish for beer.
Click here to shop for Korean snacks.
---
Dried Food Snacks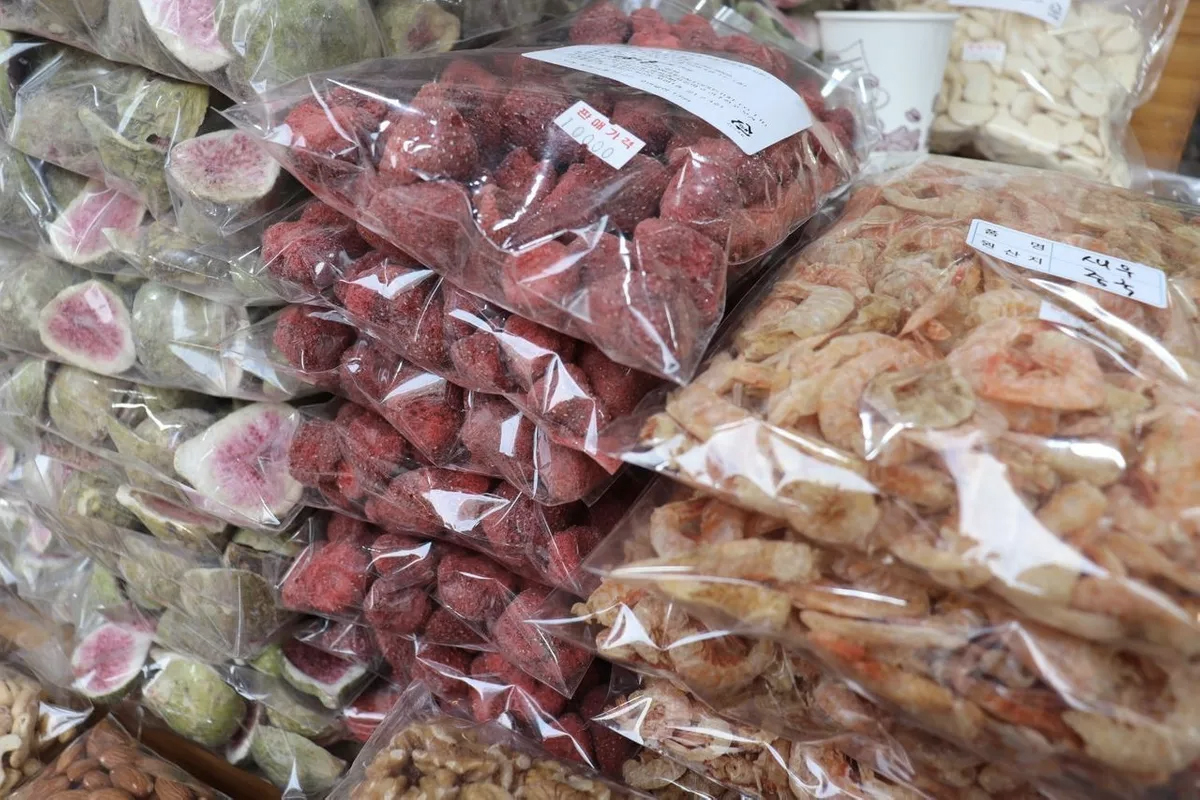 If you have a chance to visit a traditional Korean market, we recommend you purchase dried fruits, a very addictive snack. Since it is a natural snack made by drying fruits, it is healthier than regular snacks and they can be stored for a long time in the refrigerator.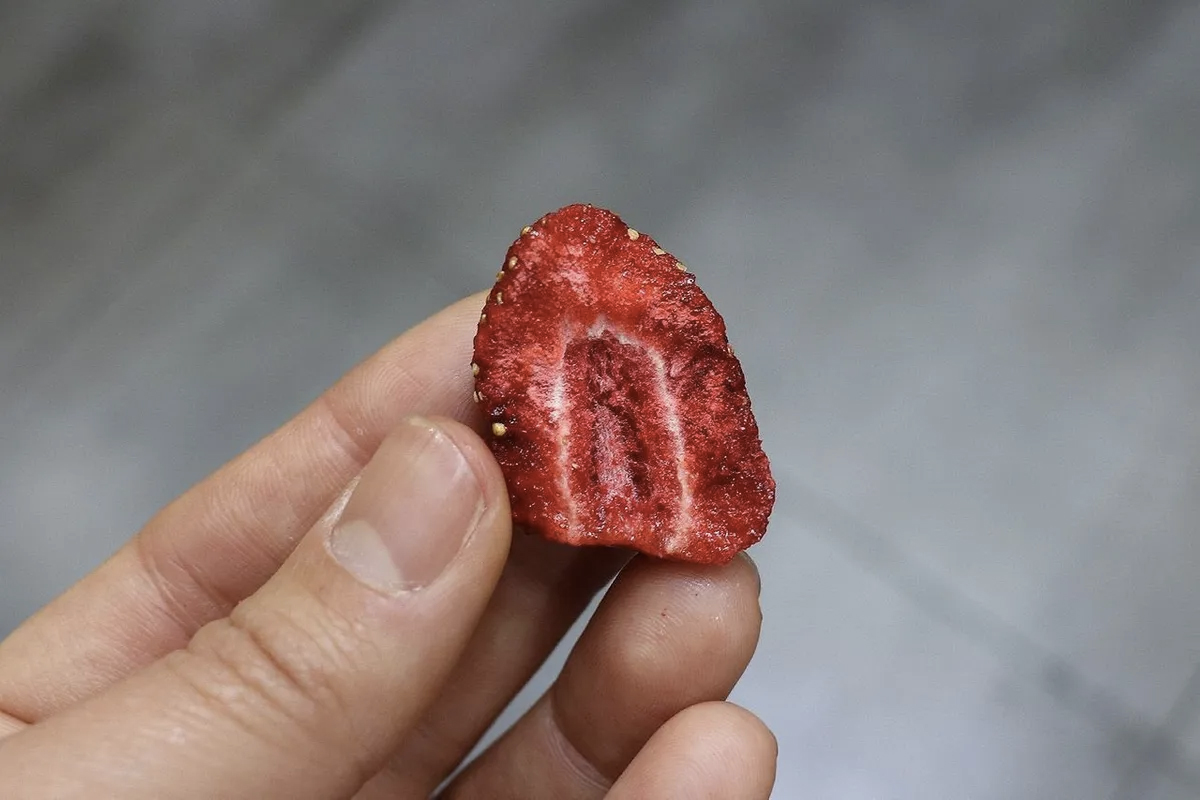 It's crispy when you chew it at first, but it's very addictive to melt away when you taste it in your mouth. Also, it doesn't taste sour at all and is sweet, so it's good to eat as a snack, and it's very good to eat with milk or cereal.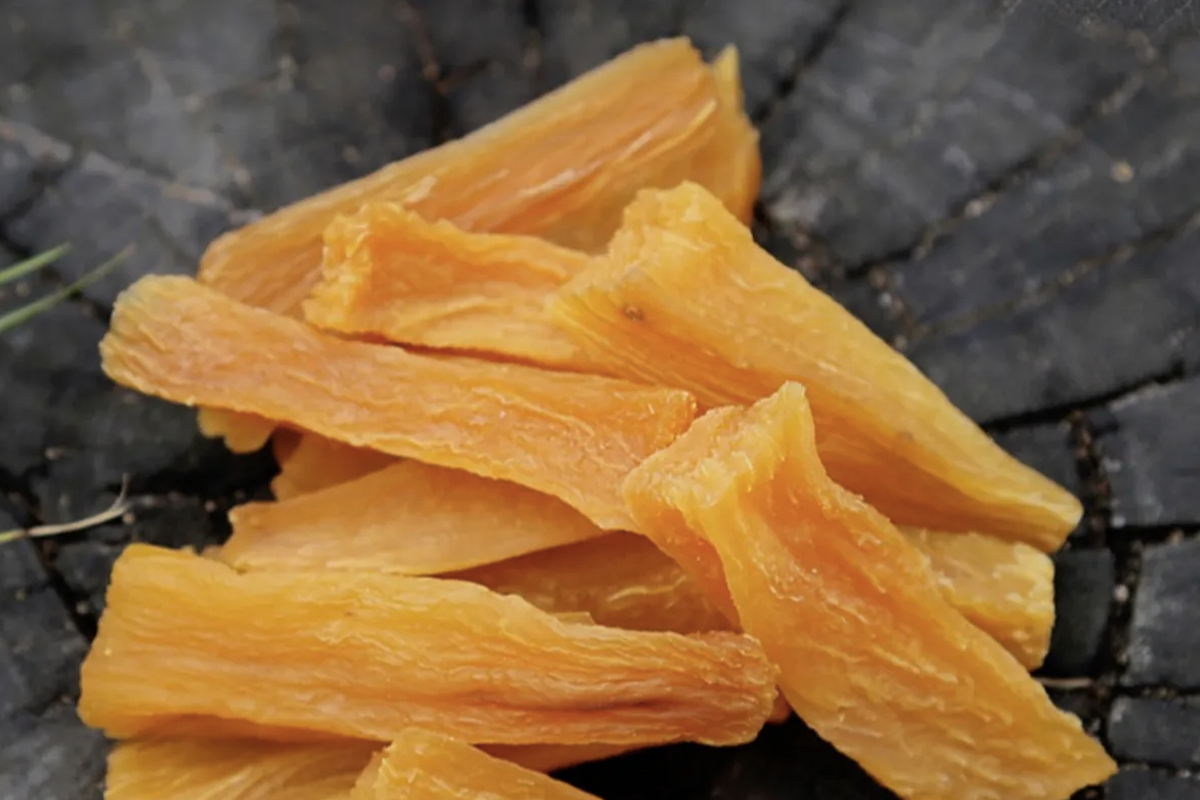 There are dried sweet potatoes that are similar to dried strawberries. This snack can be easily purchased not only in traditional markets but also in large marts. The sweet taste of sweet potatoes remains the same, and the chewy texture is added to it, making it a sweet snack that both children and adults like.
Click the following links to order dried strawberries and shop for other dried snacks.
---
Ginseng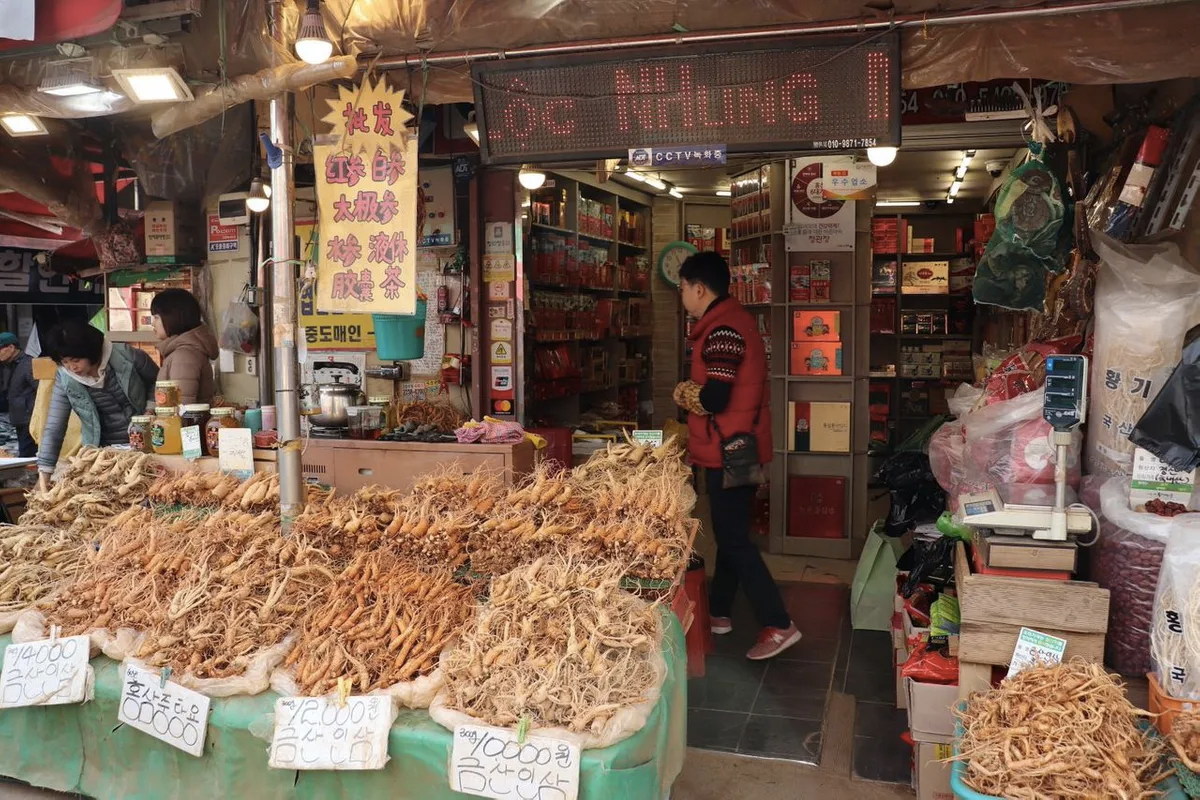 Ginseng is well known as a famous Korean specialty, but there are probably some people who couldn't buy it because they didn't know where and how to buy it. For those people, we recommend the ginseng market located in Jegi-dong.
You can purchase a variety of ginseng here, including raw ginseng, dried ginseng, and ginseng extract. It depends on your budget, but most tourists purchase products worth 50,000 won to 80,000 won.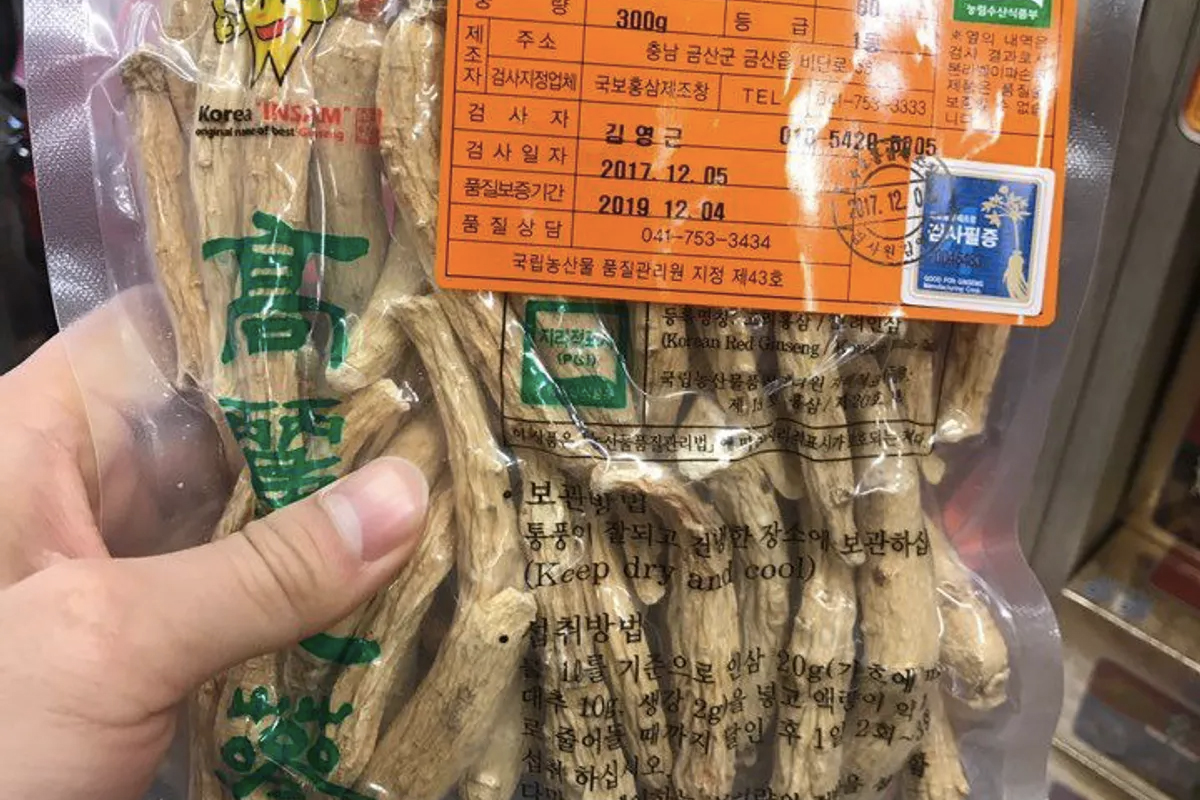 You can take ginseng purchased here back home without any problems because they are vacuum-packaged. There are various ways to eat ginseng. You can eat it raw, make it into a shake with honey, ginseng, and milk, or grill it and eat it using various recipes.
Click here to read more about the Jegidong Ginseng Market and here to read about famous ginseng markets in Korea.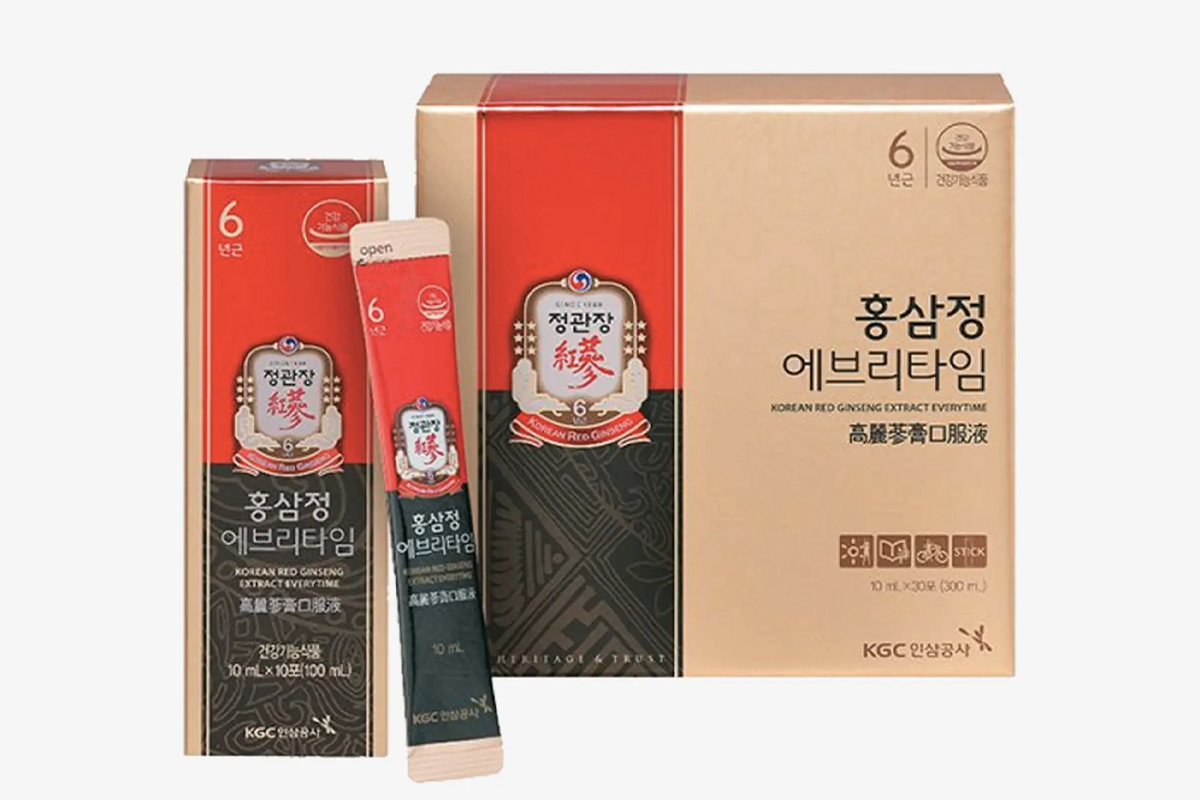 If you find it difficult to buy ginseng at the market, why don't you buy Hong Sam Jung (홍삼정), a brand that sells red ginseng extract in plastic packs? It can be purchased at marts, department stores, and online, and it is a simple health food and you only need to take one pack a day.
Click here to purchase red ginseng extract.
---
Korean Cosmetics and Skin Care Products

The next Korean must-buy souvenir would be Korean beauty products!
The Korean beauty products are really cheap. Korean brands make quality makeup products too. Consider buying a skin lotion and emulsion from a road shop brand. You will be surprised by the quality and texture.
Need some base cosmetics that enhance skin moisture and colored cosmetics that enable various styles? There are many high-quality products at reasonable prices in Korean cosmetic stores, so we recommend you buy them when you come to Korea.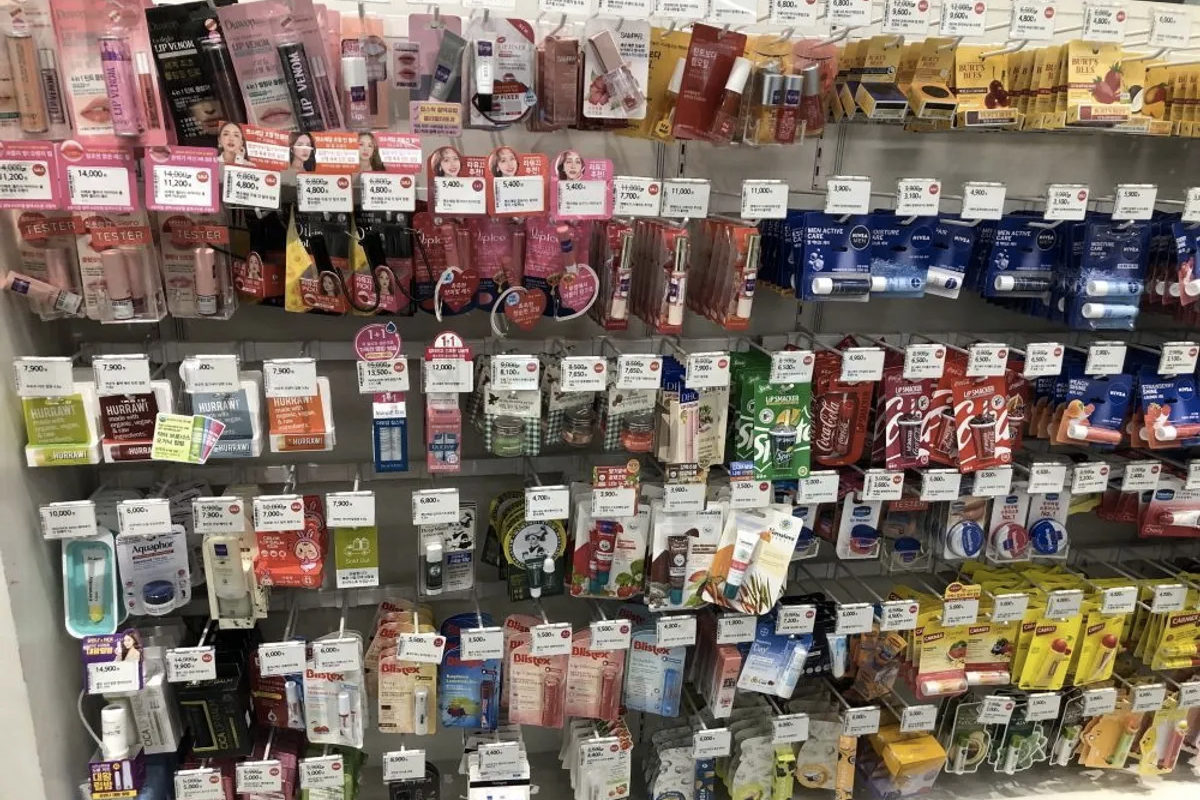 Lip balm, simple beauty tools, etc. are also very high-quality and come in cute packaging, so they're easy to carry and use. You won't be able to find better gifts for girls than Korean beauty items.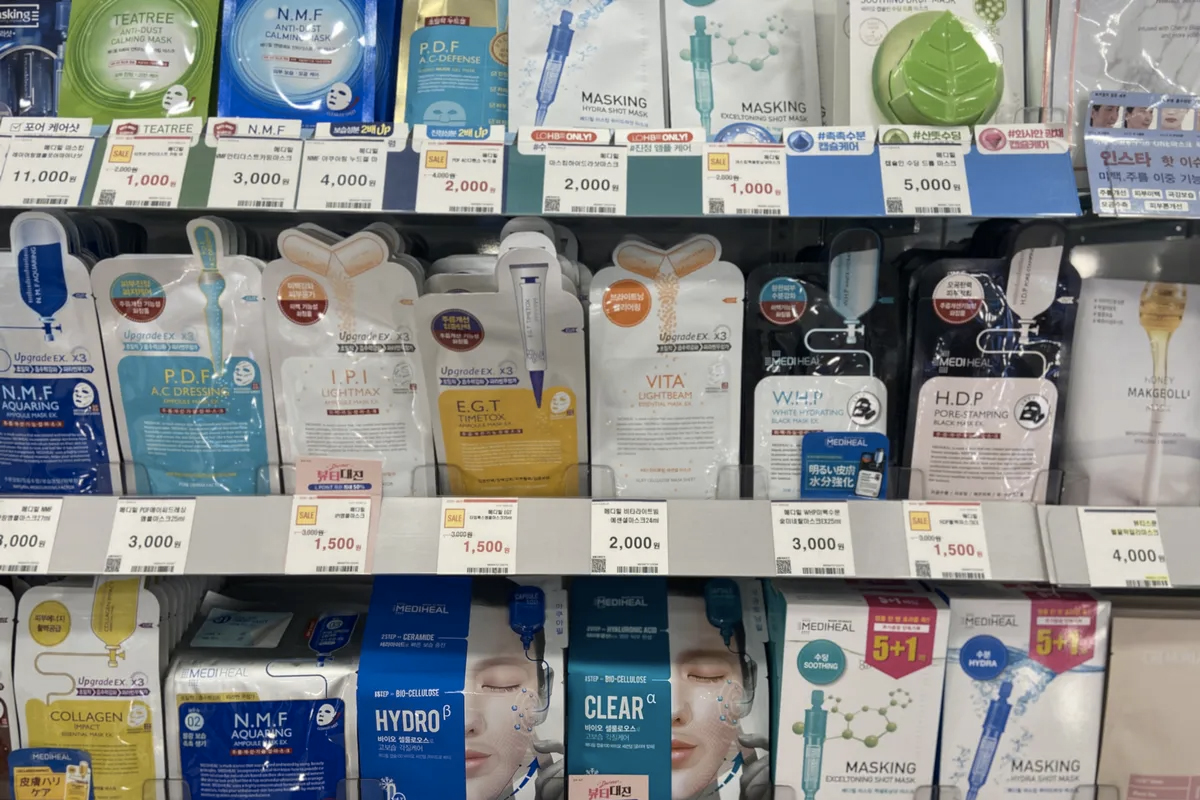 I am a fan of Korean facial masks, and I always give facial masks as gifts whenever I visit my friends' countries. Many Korean facial masks provide rich hydration and are in unique designs. You can buy cheap facial masks from Daiso, Artbox, and many road shop stores.
You can also buy lip balms, hand cream, and brushes from a beauty store like Olive Young and Lalavla. You can buy many cute, inexpensive gifts in Korea.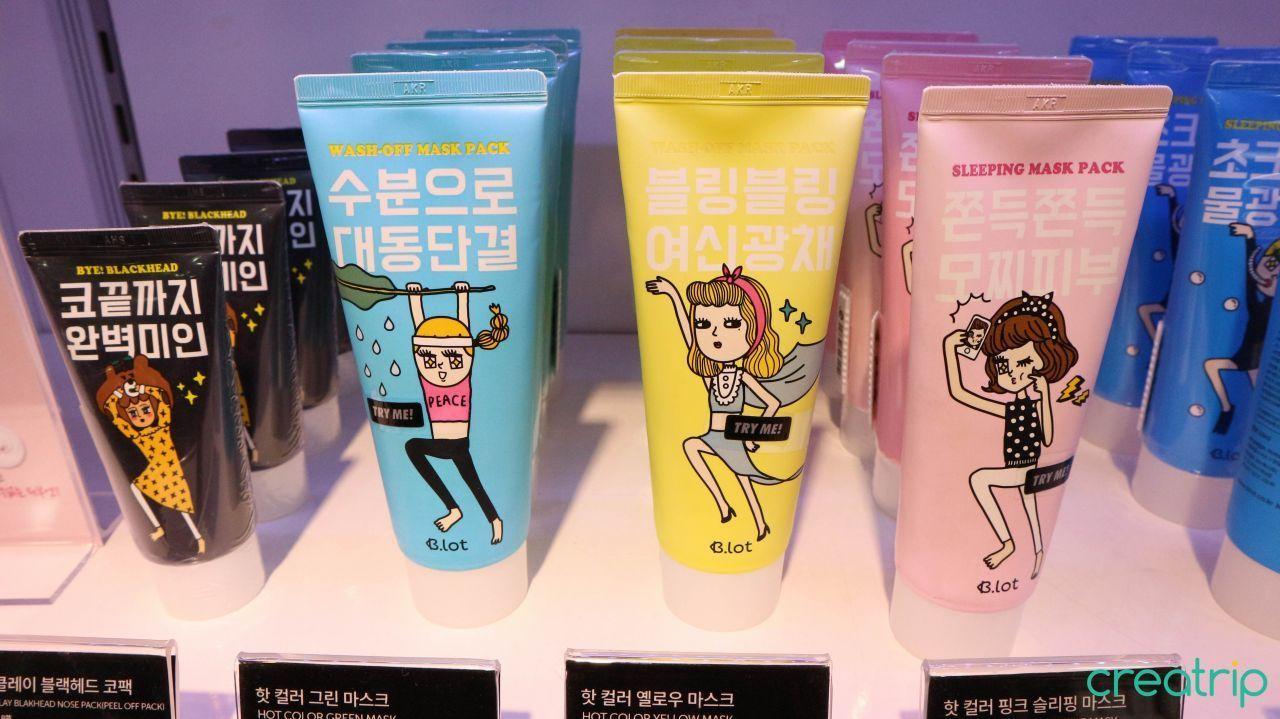 Korean beauty items are indeed must-buy gifts in Korea. The packaging of many Korean beauty products has cute and girlish designs. These beauty items will make great gifts for girls!
Click here to shop for Korean beauty products.
---
Korean Beverages
#Those who are below 20 years old are banned from consuming and purchasing alcohol in Korea.
Alcohol (Soju)

Soju is a representative alcoholic beverage in Korea. Soju is inexpensive. Once you get back home, you will be missing this bottle of soju soon. Once you start tasting different types of fruit soju, you will end up loving it!
Jamong-ae Iseul (Grapefruit flavored Soju) is super popular among Korean girls. Soju is indeed has become one of the must-buy gifts in Korea.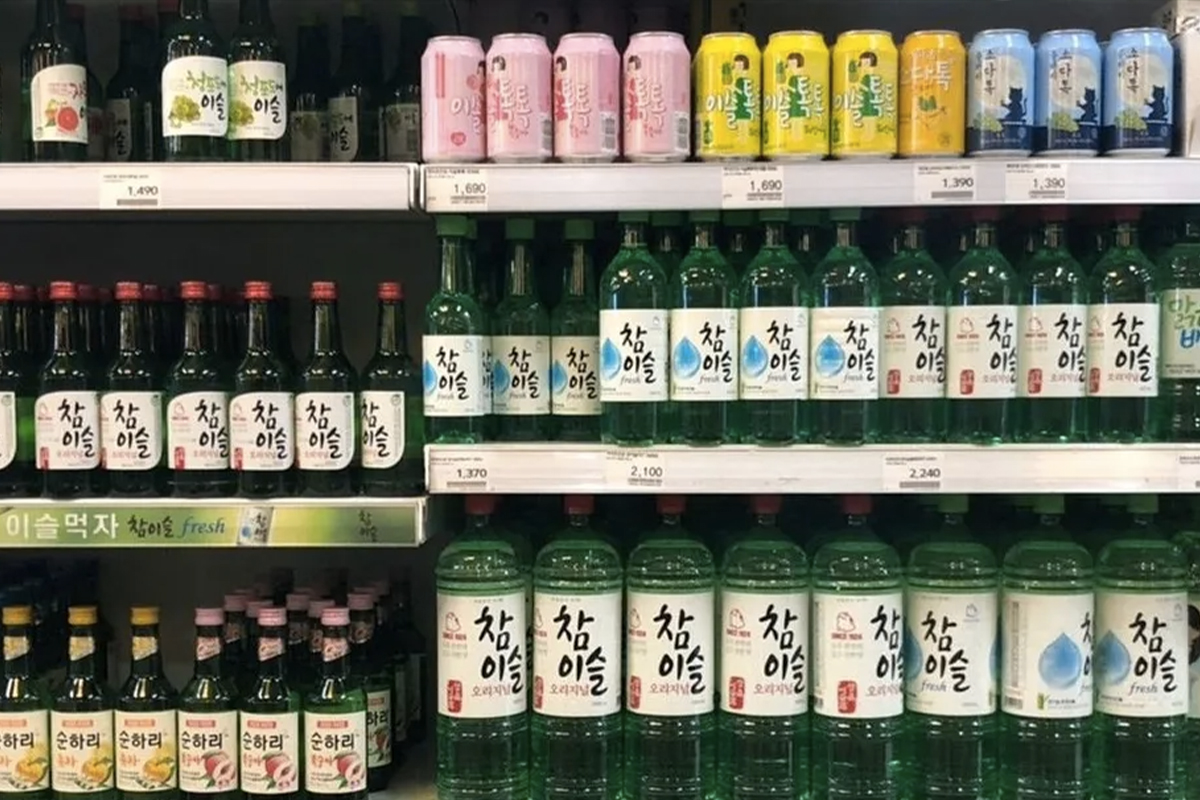 One good news! Soju used to be sold in glass bottles, but now many manufacturers use light plastic bottles. Soju in plastic bottles makes a perfect souvenir because you don't have to worry about the glass breaking or about weight!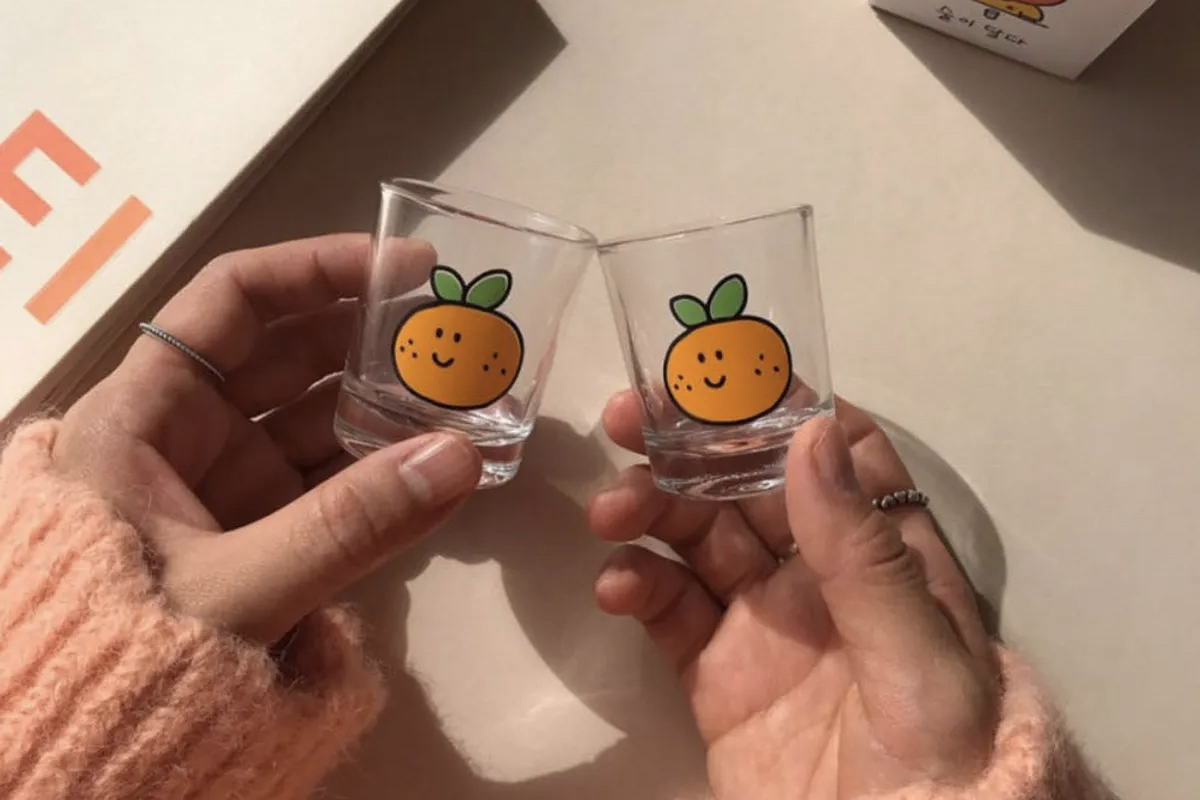 Just as the shape and size of the glass used are determined by the type of alcohol you're drinking, there is a separate glass dedicated to soju. Some people who fall in love with soju on their trips to Korea buy soju glasses as souvenirs, especially special soju glasses with cute paintings, which are very meaningful souvenirs for soju lovers.
Click here to shop for soju glasses.
Makgeolli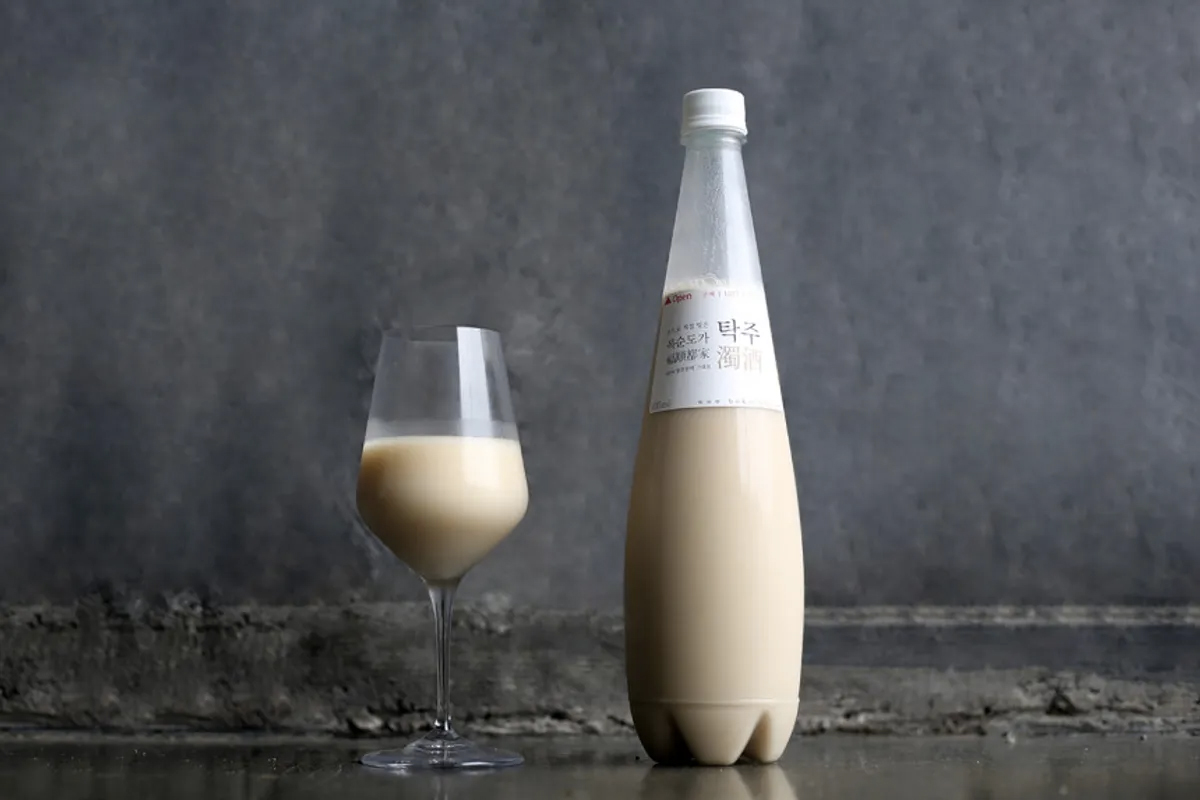 Source: 복순도가 (Boksoondoga)
In addition to Soju, another traditional alcohol called Makgeolli, which is also a great gift that can only be bought from Korea. This drink is rare outside of Korea. The taste of Makgeolli is very soft and women especially love to drink it.
Recently, new flavors were fused with the traditional Makgeolli and you can find them in various packagings.
Coffee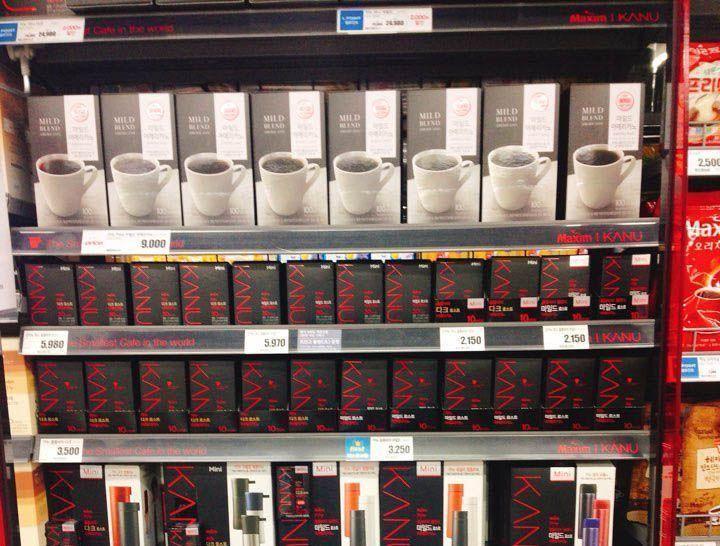 Koreans simply love coffee. KANU is known for selling more than 10 billion coffee mix sticks every year. This coffee mix is famous for having a rich coffee aroma and taste.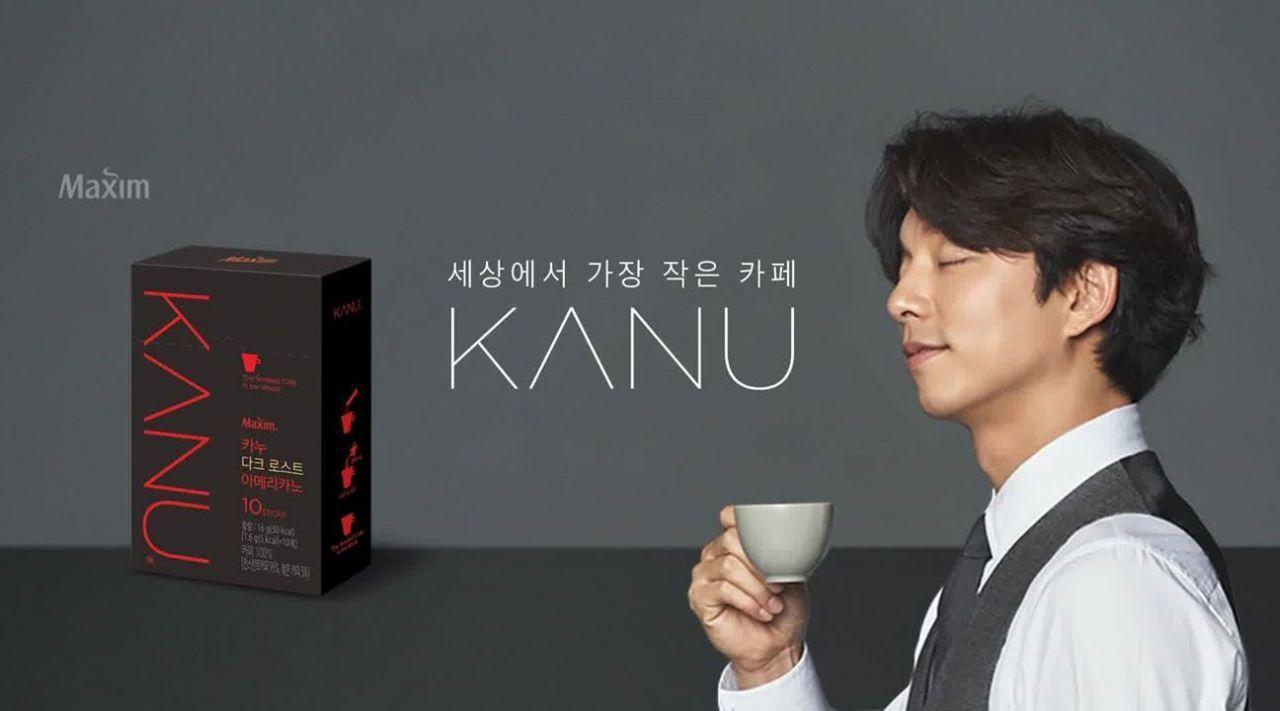 MAXIM.KANU
Gong Yoo, who starred in the famous Korean drama, "Goblin", has been a model for KANU for years. KANU is known for its sugar-free latte. FRENCH CAFE's three-in-one coffee is also famous too.
Click here to shop for Korean coffee.
Korean Citron Tea

The Korean citron tea is made with honey and Korean citrons. This tea is delicious!! Even if you buy a small and medium-sized bottle, you can make tea for a long time. I usually buy a big bottle of citron tea at the beginning of the winter. This would be a perfect gift for those who love honey and lemon tea. This would be the perfect gift especially for the elderly.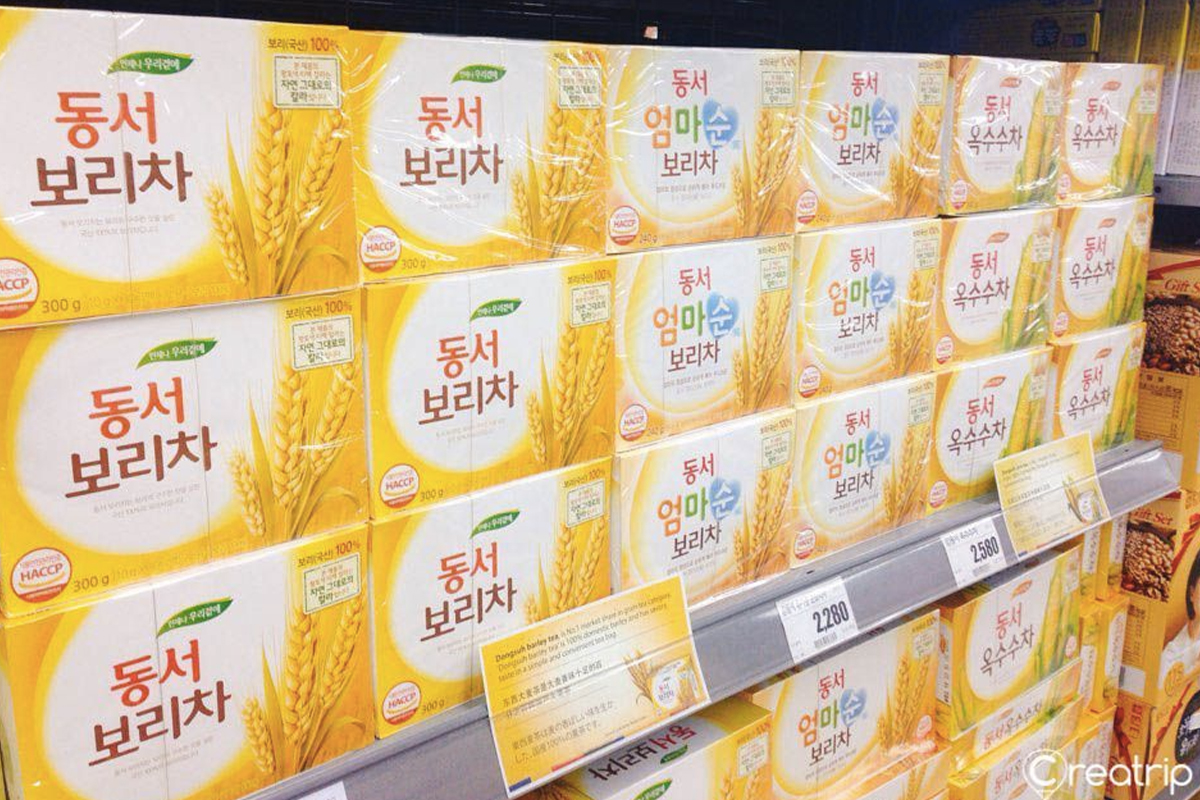 The original citron tea is a great gift for the elderly, but it weighs a lot. If you want to reduce your luggage, I'd recommend you to buy tea bags. You can buy tea in different flavors, such as wheat, Schisandra and so on.
Click here to purchase Korean tea.
---
Korean Socks

Another candidate for perfect souvenir would be socks! Wherever you buy socks from Korea, you will be surprised by the variety and cheap price! Korean socks are so cute and made with high-quality cotton. You can use them for many years. Many tourists buy colorful socks with cute characters.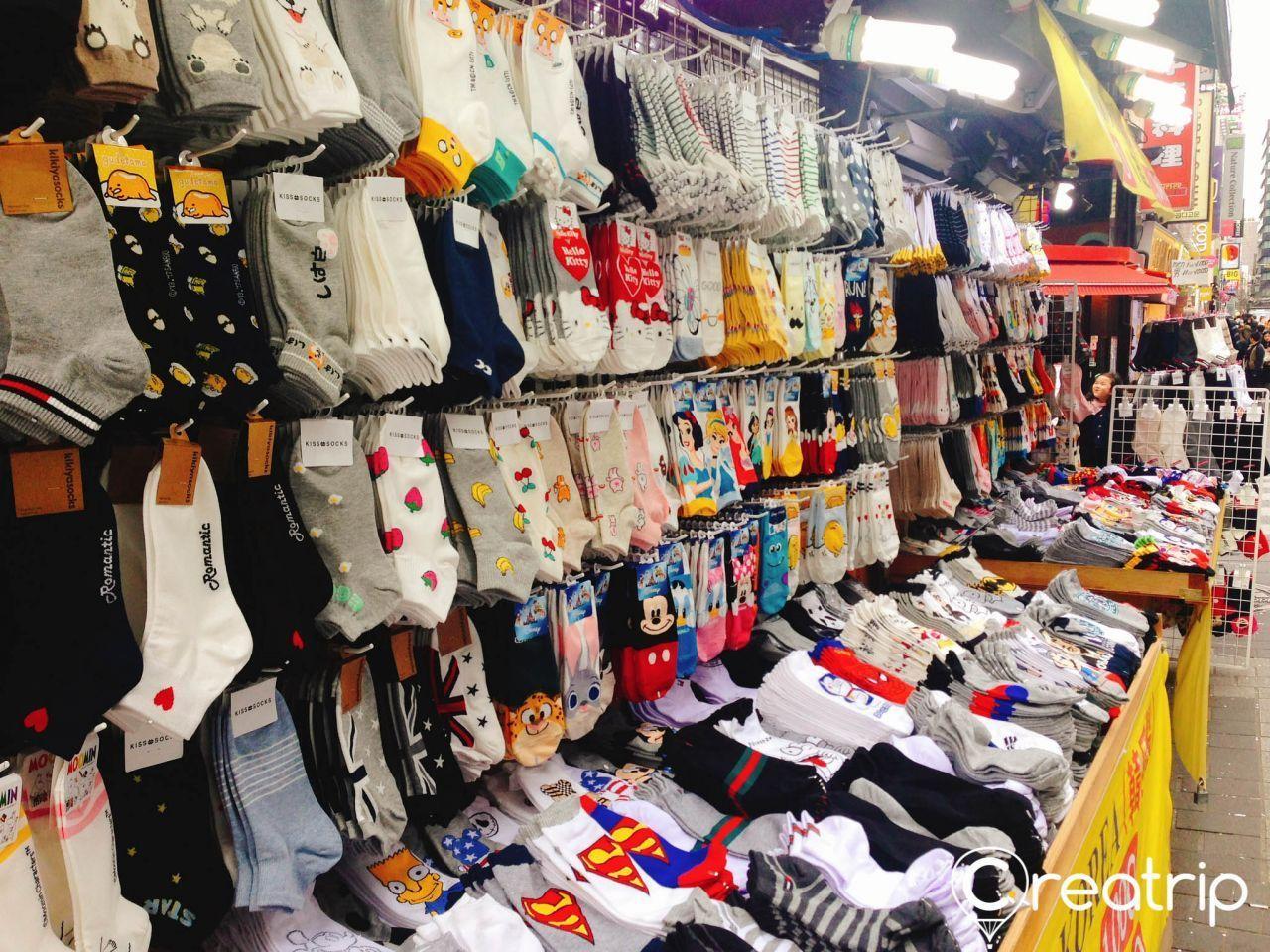 The price of socks in Korea is super cheap, and you can find them in unique designs. These socks usually cost between 1,000 Won to 3,000 Won.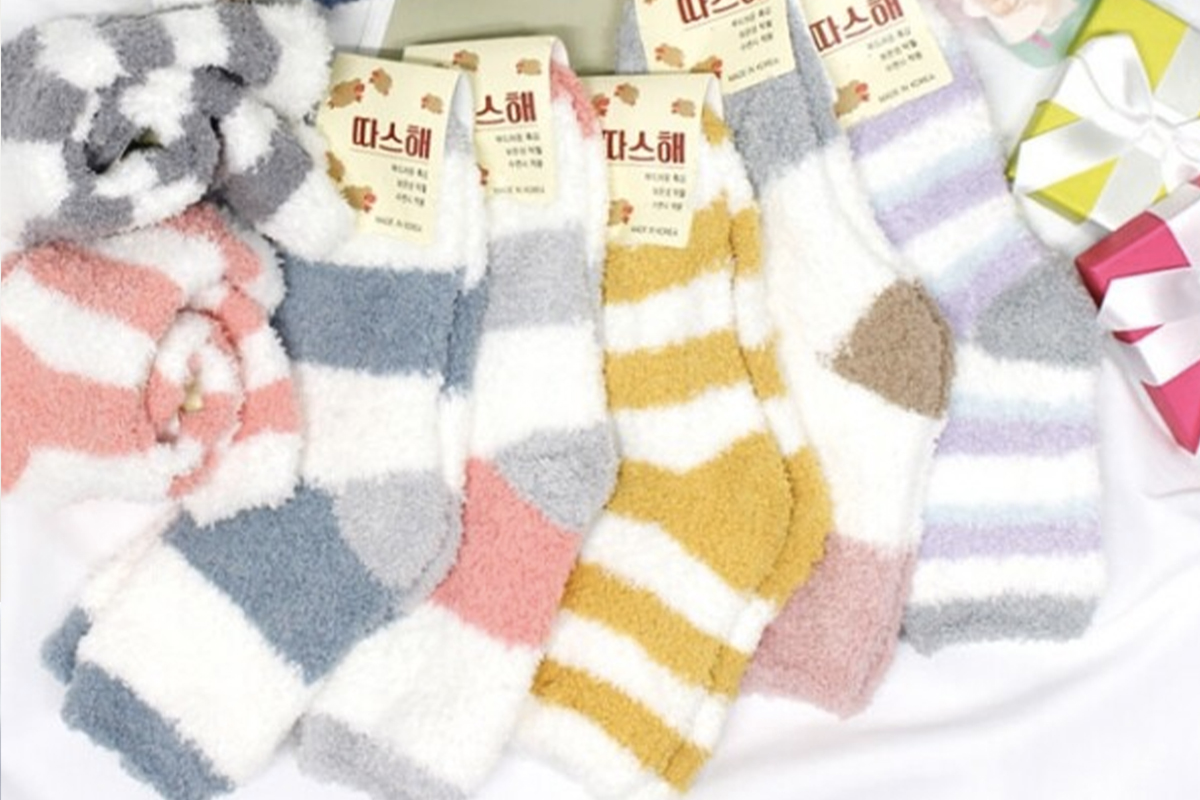 If you have cold hands and feet, we strongly recommend you to buy fuzzy sleeping socks! They are basically 2,000 to 3,000 won per pair, and like regular socks, they come in various colors and patterns.
As the name suggests, they're especially good to wear when you sleep and your feet will be very warm and cozy.
---
Korean Traditional Souvenirs
DAISO
There are many tourists who would still prefer traditional souvenirs. Bookmarks, postcards, and stickers with Korean traditional patterns and designs can make great souvenirs.
There are many symbols for the Korean traditional culture. Korean traditional cuisine, clothing, and patterns can be occasionally found in many souvenirs. Some of them are in cute designs.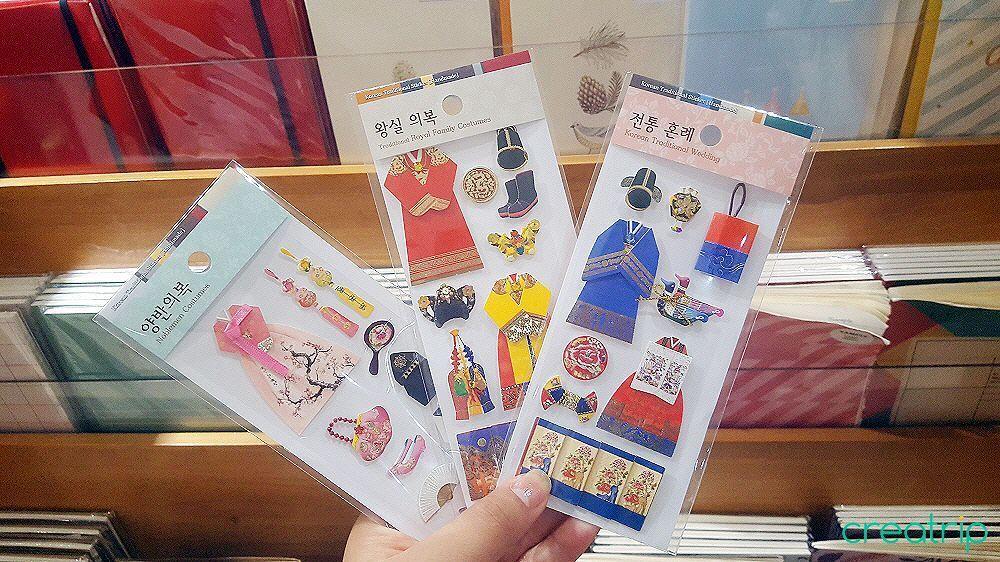 There are many places where you can buy traditional souvenirs. You can get them from museums, souvenir shops, and shopping malls (Daiso and ArtBox are great for buying souvenirs). You will be surprised by the variety of different souvenirs.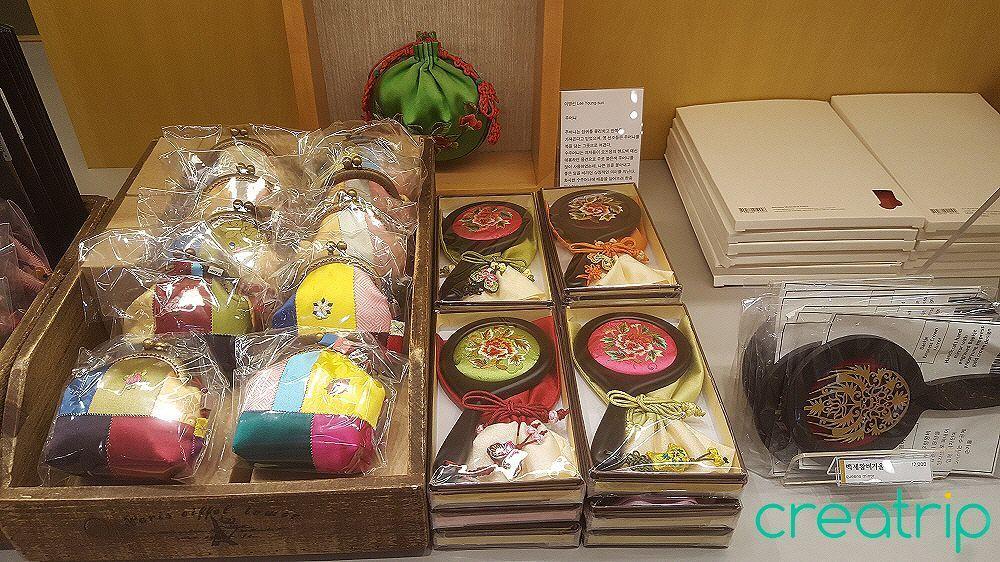 The Korean traditional markets (Guangjang Market, Namdaemun Market, and Insadong) are great shopping venues where you can get these traditional souvenirs. When you shop at these markets, I would recommend you to compare prices before making the purchase. The stores usually have overlapping items and sell them at different prices.
---
Korean K-Pop Goods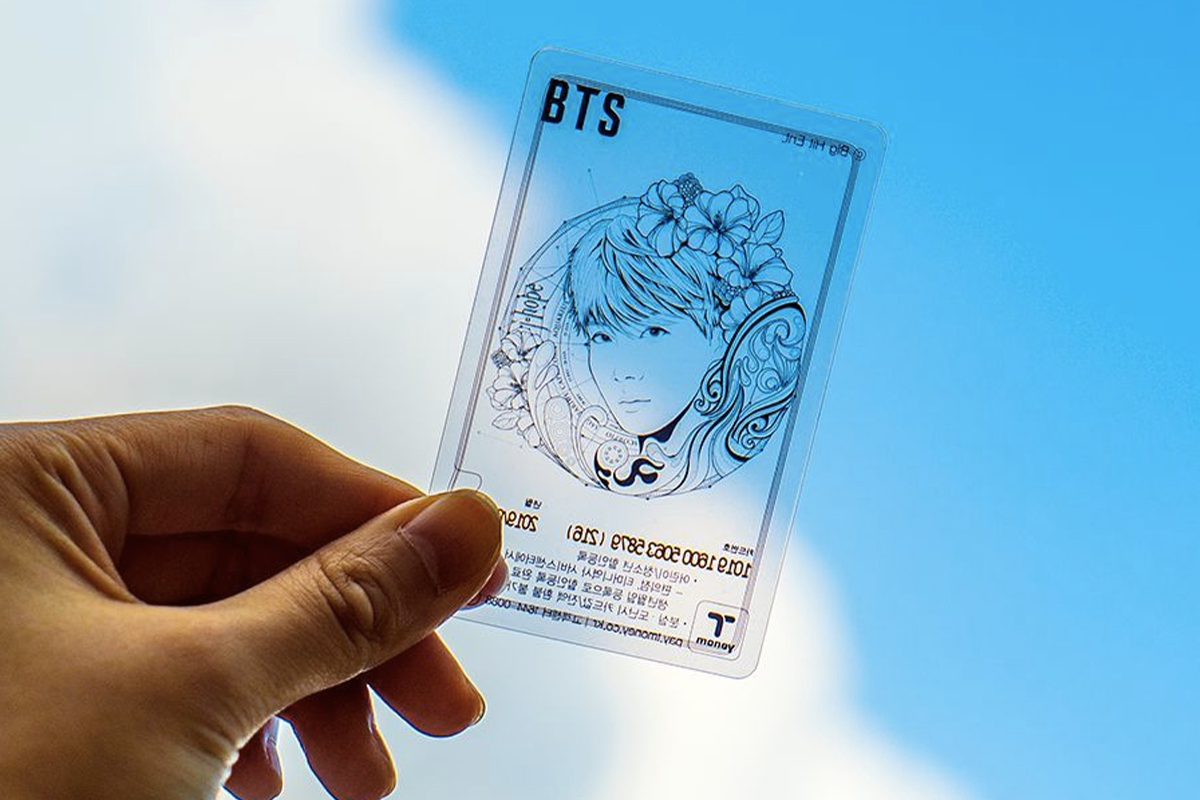 If you have friends and family members who are crazy about K-pop and idols, there is no other gift better than K-Pop goods. Nowadays, K-Pop is gaining worldwide recognition, and it is easy to buy official CDs and goods items in Korea.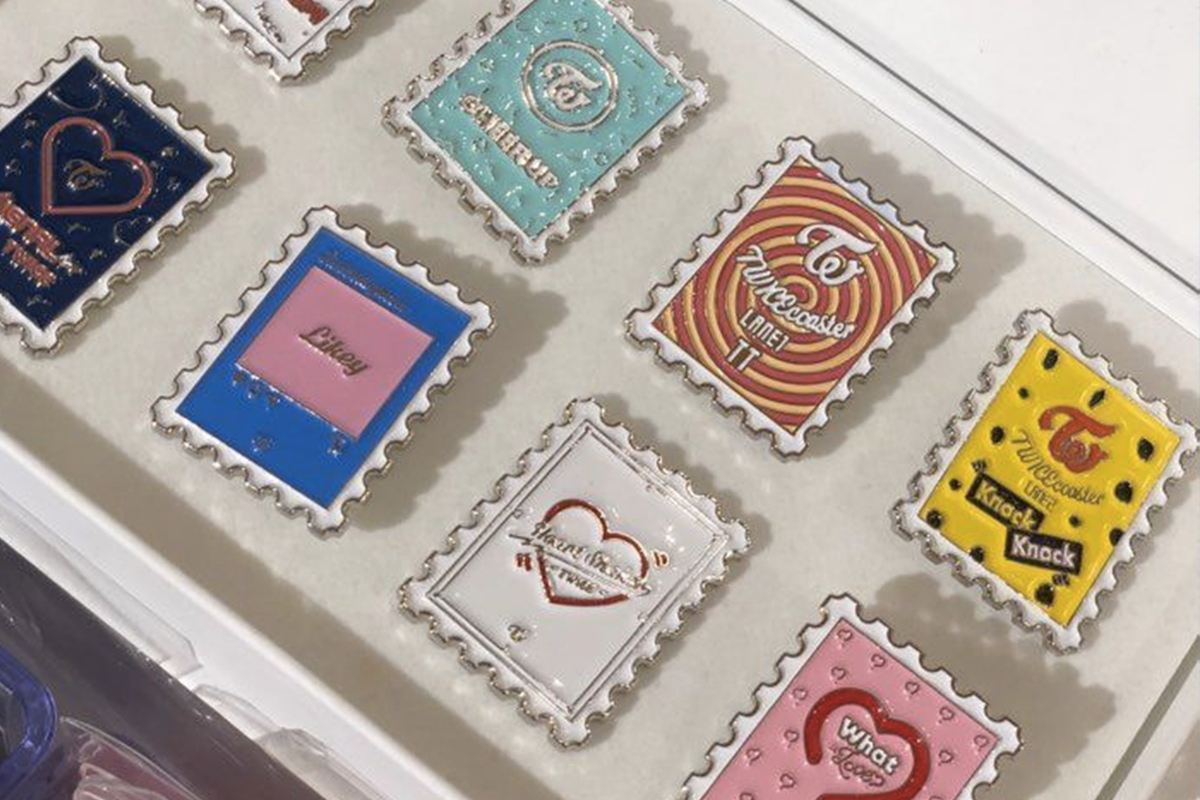 Many entertainment companies have their own souvenir shops. Some of the stores hold flash sales. If you are lucky, you might be able to see your favorite artist during your visit to these entertainment companies.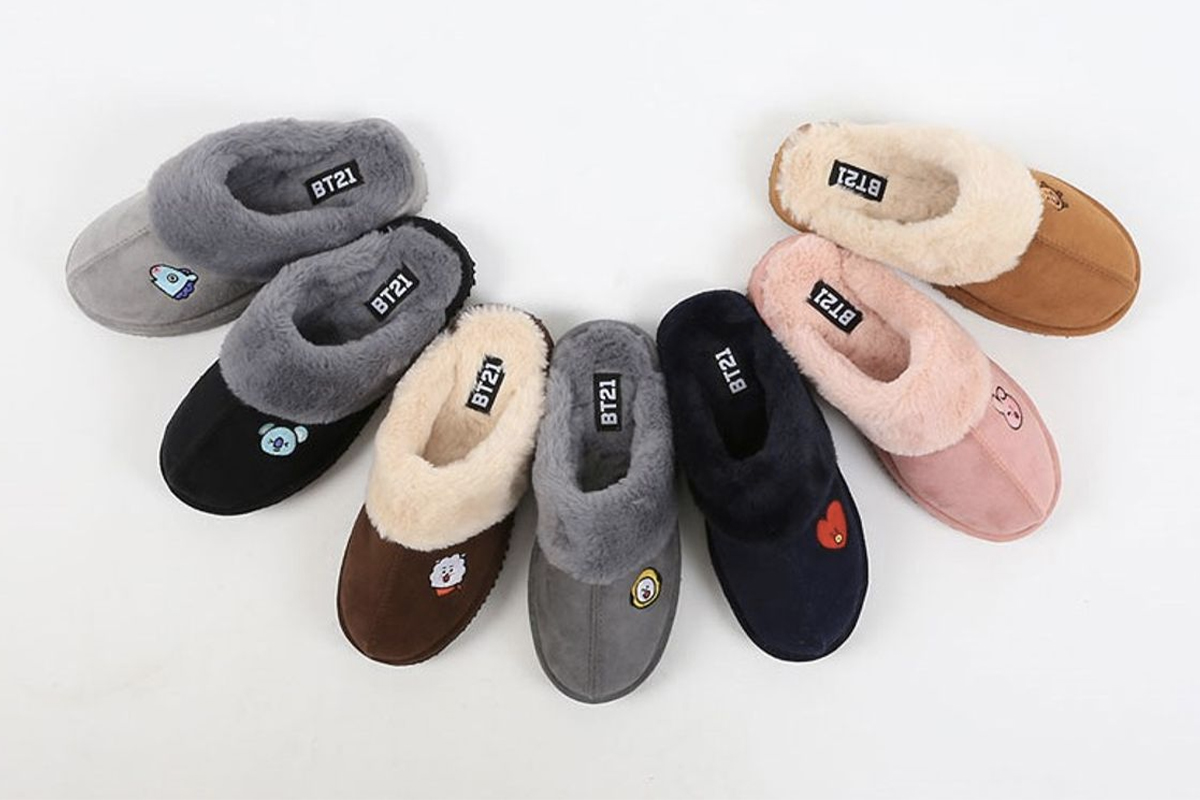 In addition to collectible CDs, pins, and posters, practical goods such as indoor slippers embroidered with BTS BT21 characters can be meaningful gifts for K-pop fans.
Click here to purchase BT21 slippers.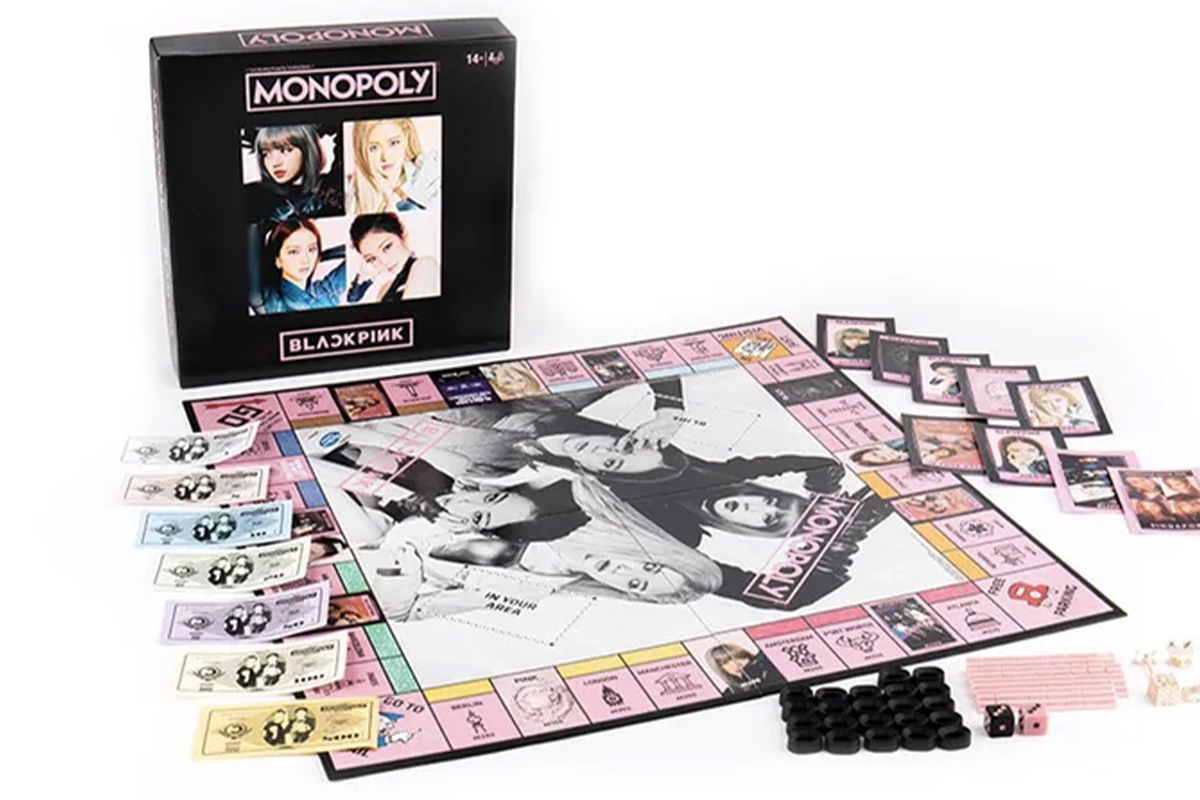 Source: YG select shop
Official idol goods can be purchased at official offline stores or Myeongdong underground shopping mall goods shops, and if you plan to stay in Korea for a long time, it is also a good idea to order online.
---
Starbucks Goods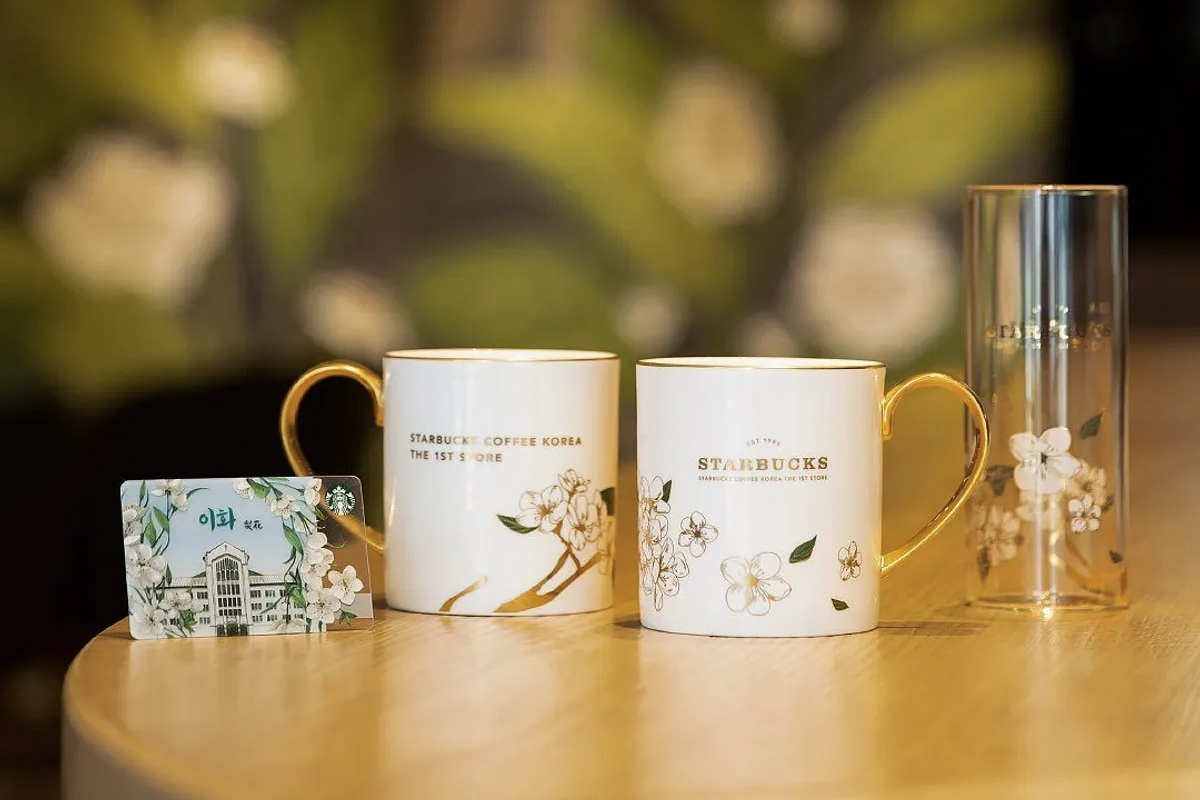 Source: Instagram @starbuckskorea
Of course, Starbucks is not a Korean brand, but Starbucks enthusiasts will definitely be interested in the limited Korean Starbucks goods that can only be purchased in Korea.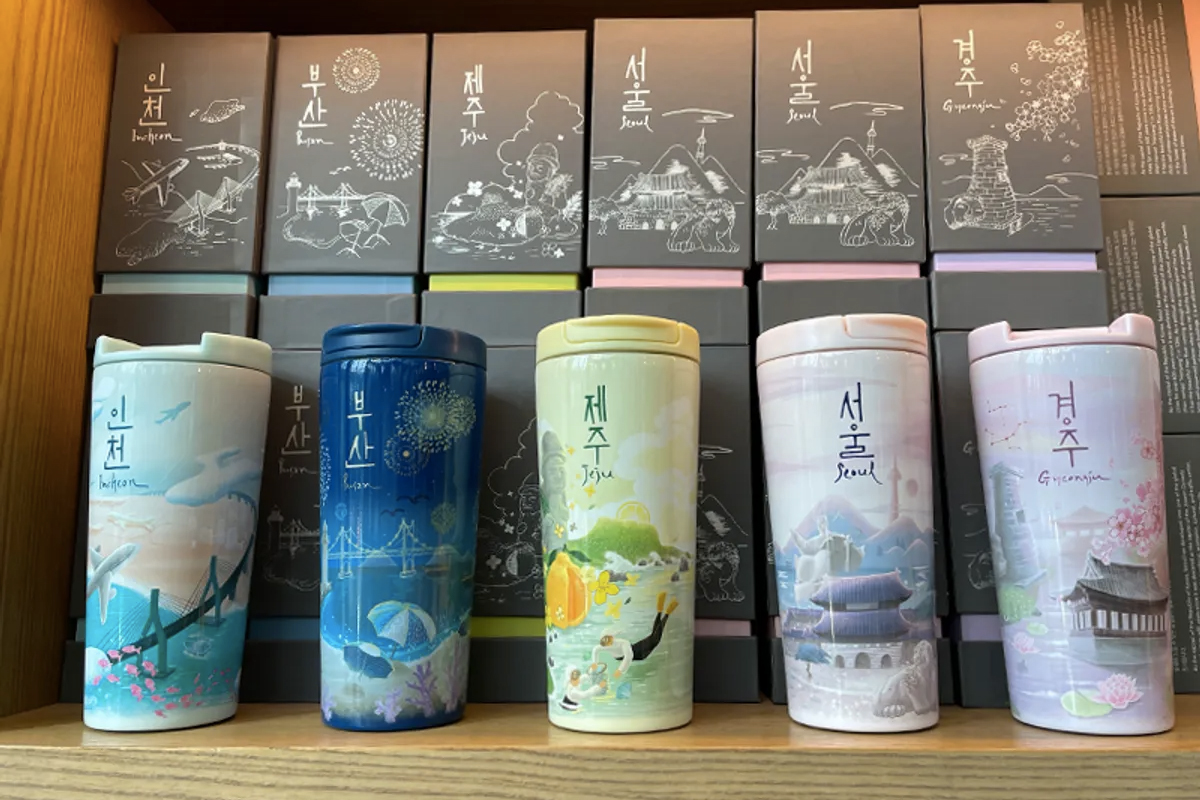 Starbucks is one of the most beloved coffee franchises in Korea, so you can easily find stores anywhere. Starbucks goods are always sold in the store, and you can purchase unique limited items that can only be purchased in Korea, such as tumblers with Korean letters, mugs with Seoul landscape illustrations, and Starbucks cards.
---
Korean Postcards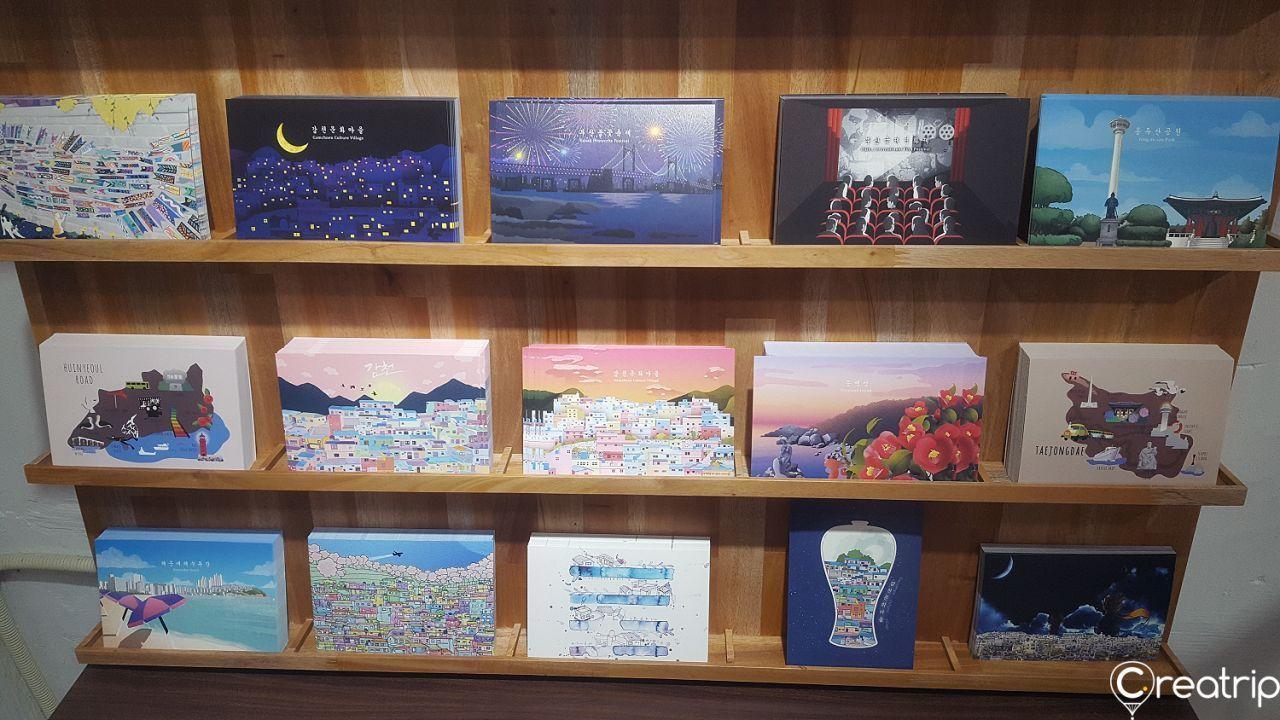 Next, I recommend Korean postcards! This souvenir contains beautiful scenery or image about Korea. You can write a handwritten postcard to your friend. Buy local stamps, and send them with a lot of love. This postcard could be a personal gift for your loved ones.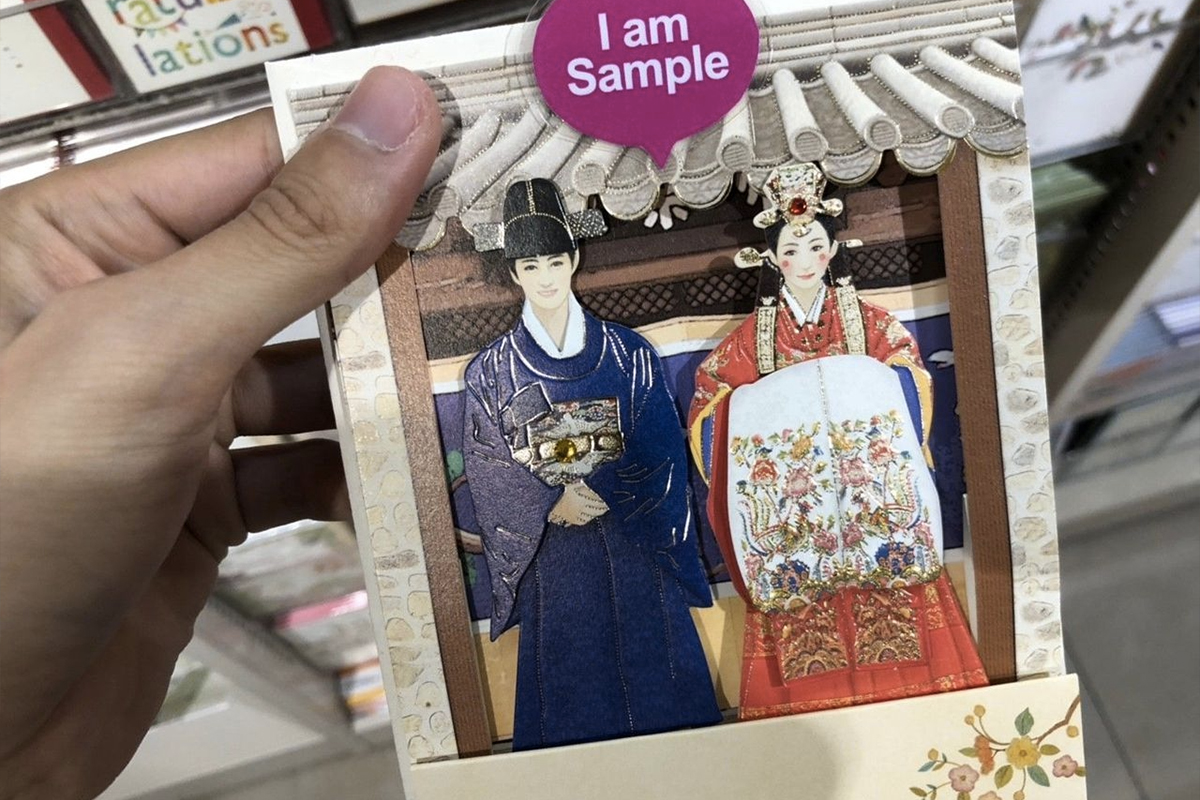 Seoul Metropolitan Library, one of the best South Korea's sightseeing spots, sells many exquisite Korean souvenirs. In addition to buying handmade cards and postcards, you can also find pretty bookmarks. You can make unforgettable gifts by leaving your personal messages to your friend. Send a gift with class!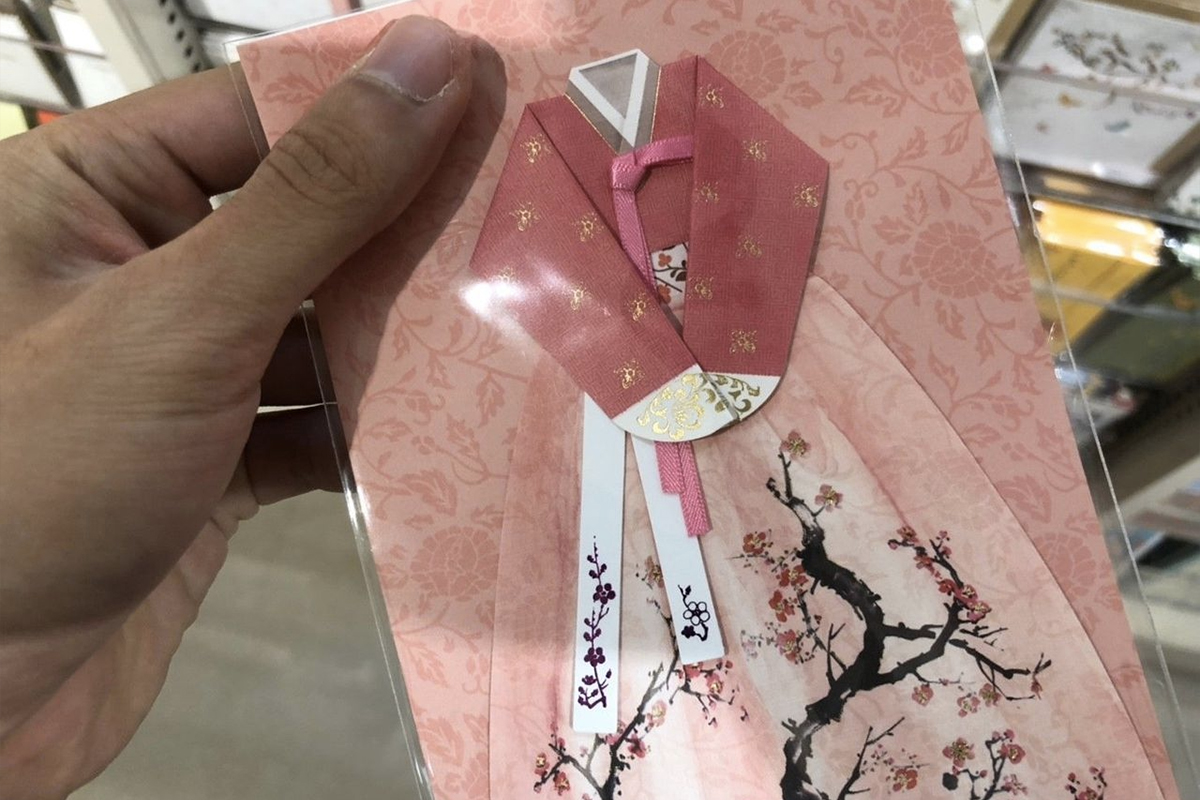 I recommend this "Hanbok Postcard" series. These postcards are thin, light and full of Korean atmosphere. Reminder: if you want to send out postcards in Korea, you must go to the post office and buy stamps during the office hours. Usually, post offices close at 5 pm.
---
Stationery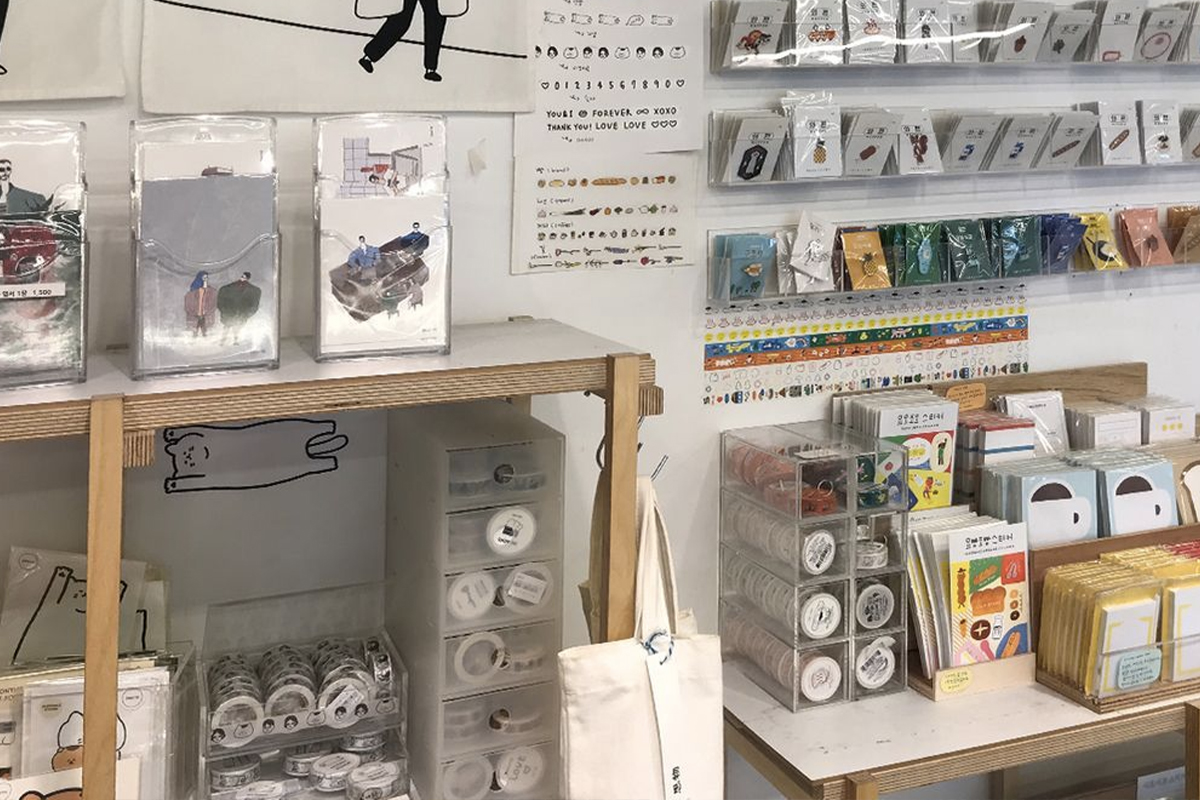 If you get souvenirs at Korean stationery store, you can choose souvenirs that can impress your friends at a relatively low price.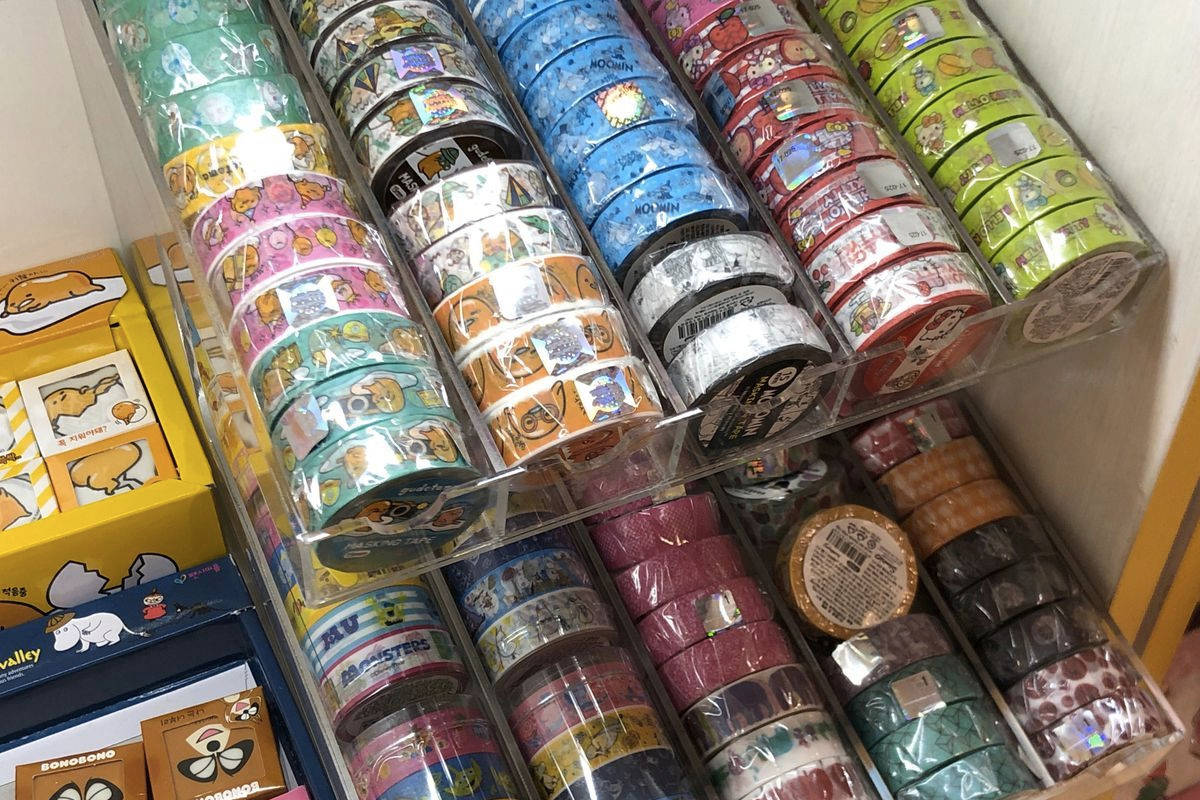 Washi tape, pens, laptop pouches, etc. are decorated with adorable pictures, so you can't fail if you give stationery to people that like these items!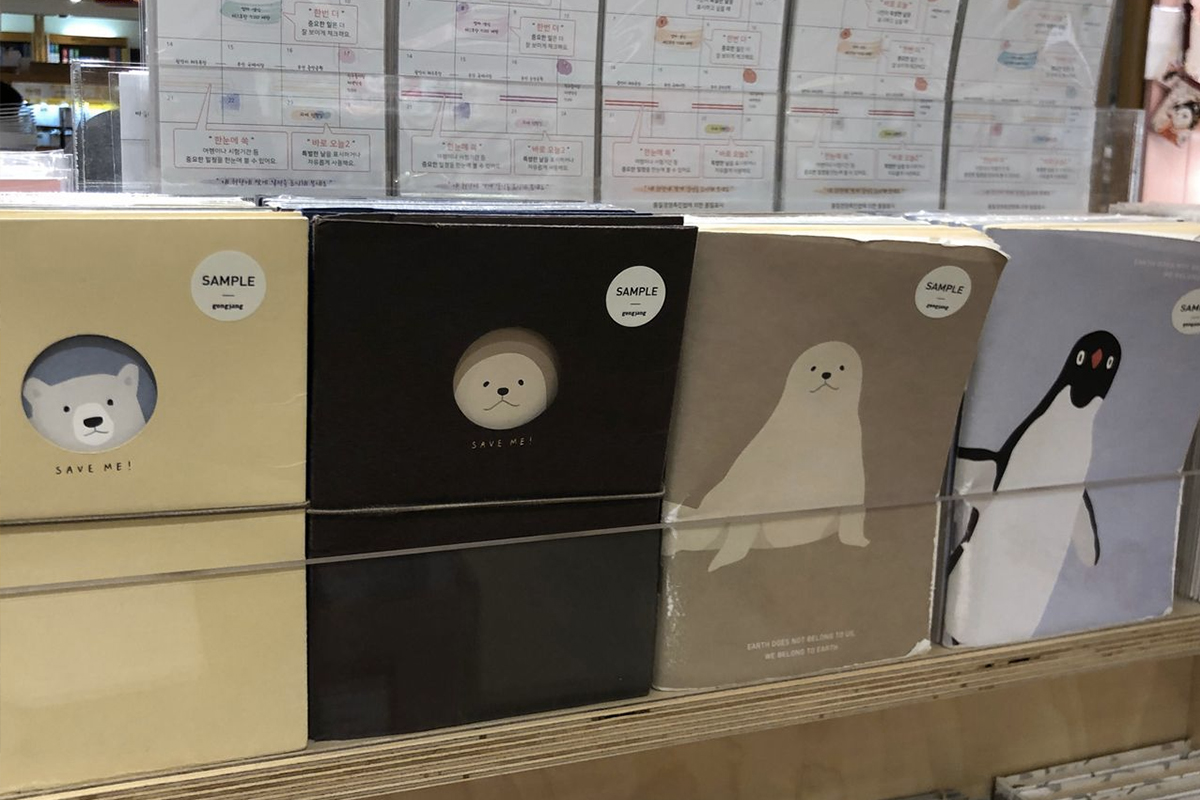 If you are not familiar with your friends' tastes, why don't you buy illustration design products produced by Korean designers? It's a little more expensive than regular products, but thanks to its neat and well-loved designs, people who receive these gifts will be satisfied.
---
Kakao Friends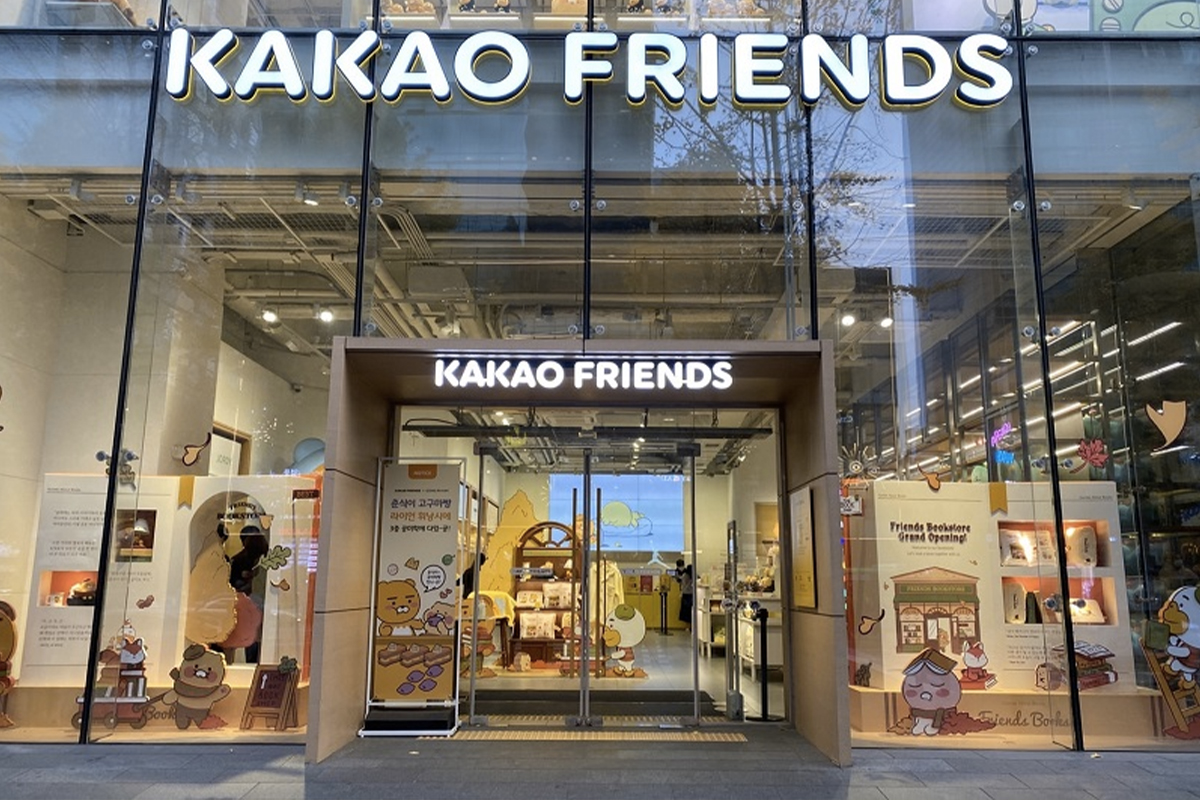 One of the most beloved characters in Korea is Kakao Friends, and if you like cute things, you should visit the Kakao Friends Shop.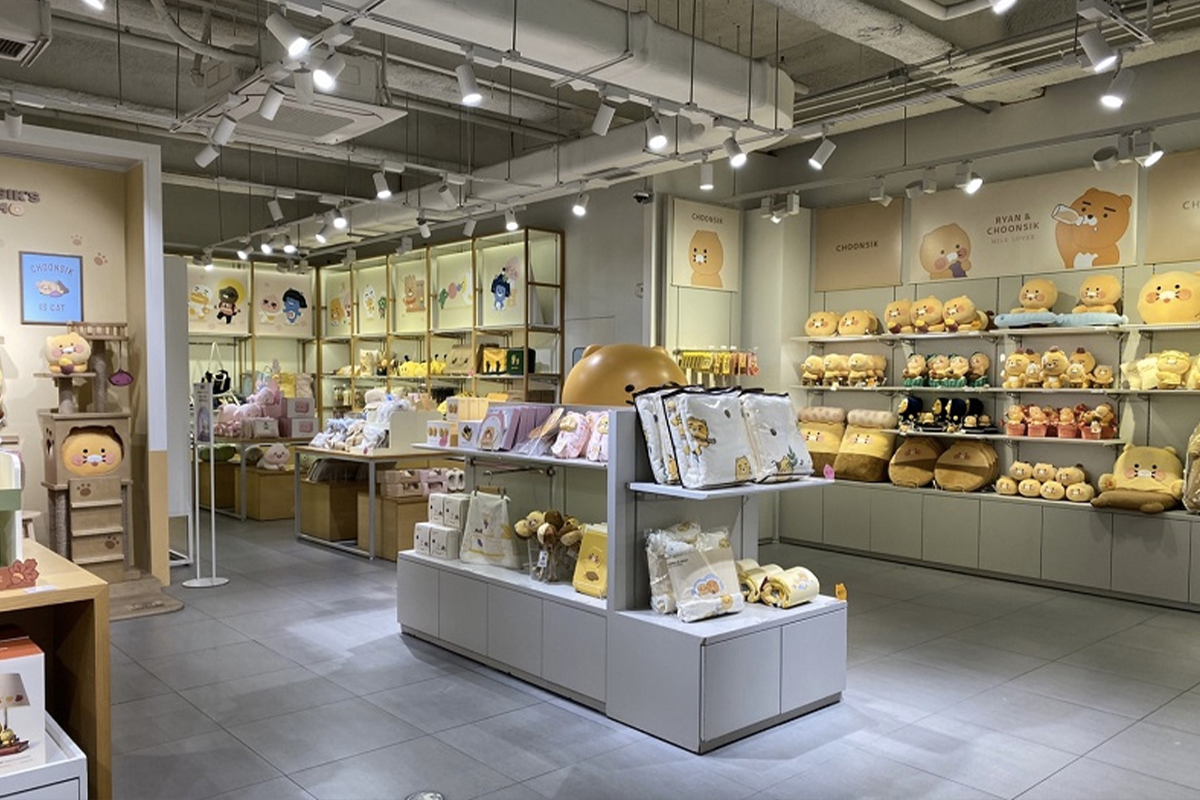 Kakao Friends characters, which were released as emoticons available in the KakaoTalk chat app, are now being released in various types of products such as dolls, household goods, and home appliances thanks to their huge popularity.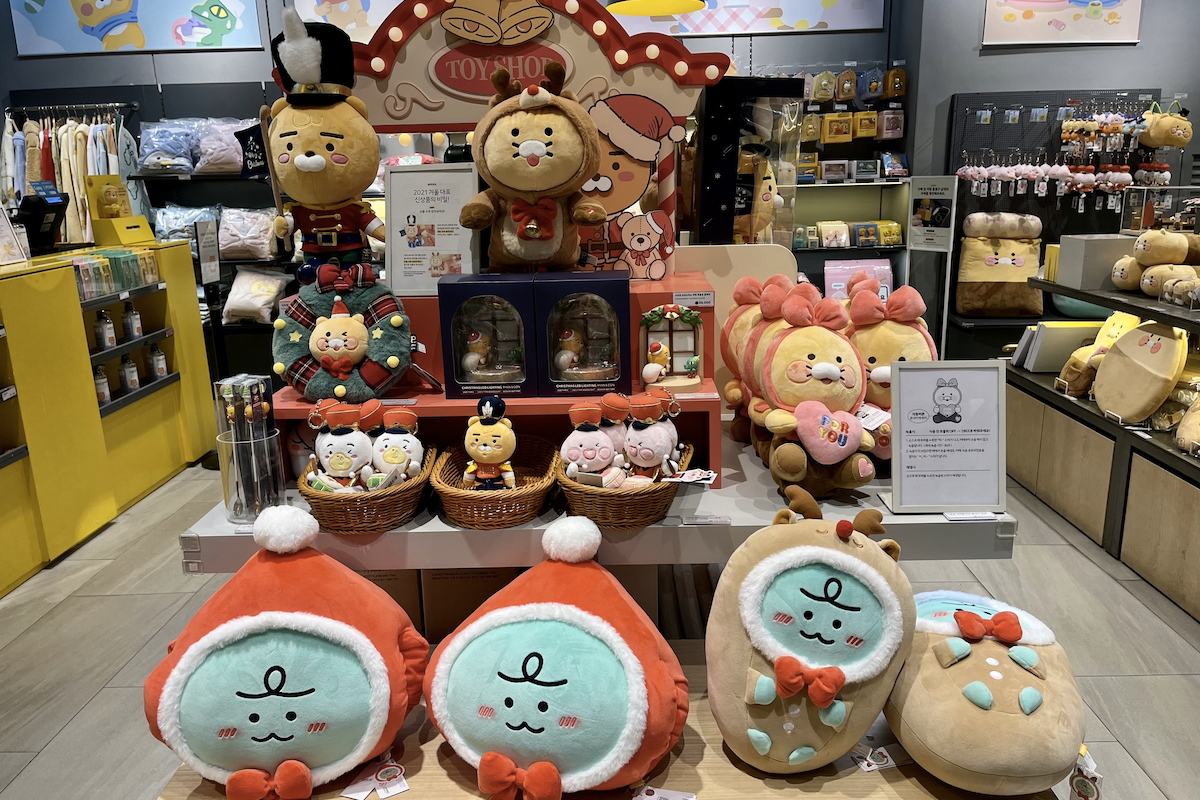 Aren't they just so cute? They're not only cute, but also very useful as they have released various products such as socks, mouse pads, humidifiers, toasters, cushions, and bags.
There are official stores in major tourist areas in Seoul such as Hongdae, Gangnam, Dongdaemun, Myeong-dong, Jamsil, COEX, and Yeongdeungpo, so you can easily visit while traveling to Seoul.
---
Phone Accessories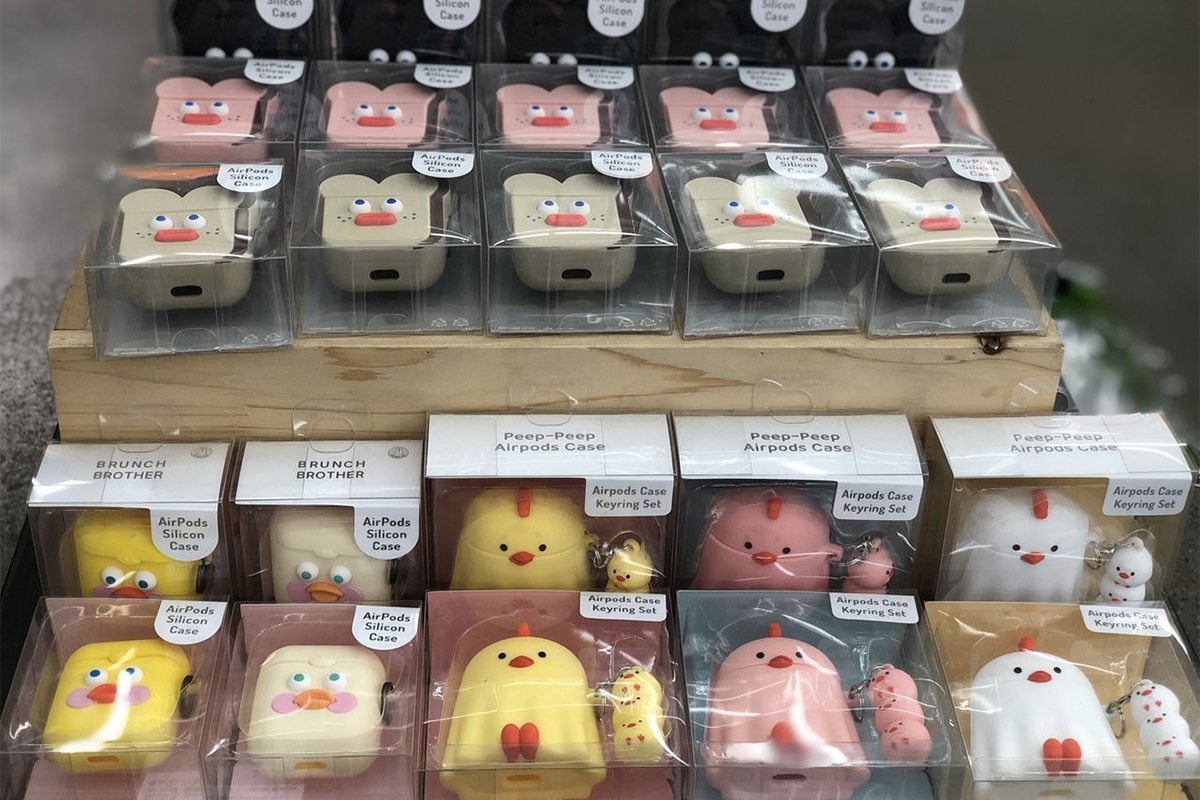 Young Koreans use iPhones and AirPods a lot, so you can see many pretty and cute accessories that Apple product users can use. You can easily find products with unique designs in various road shops on the street.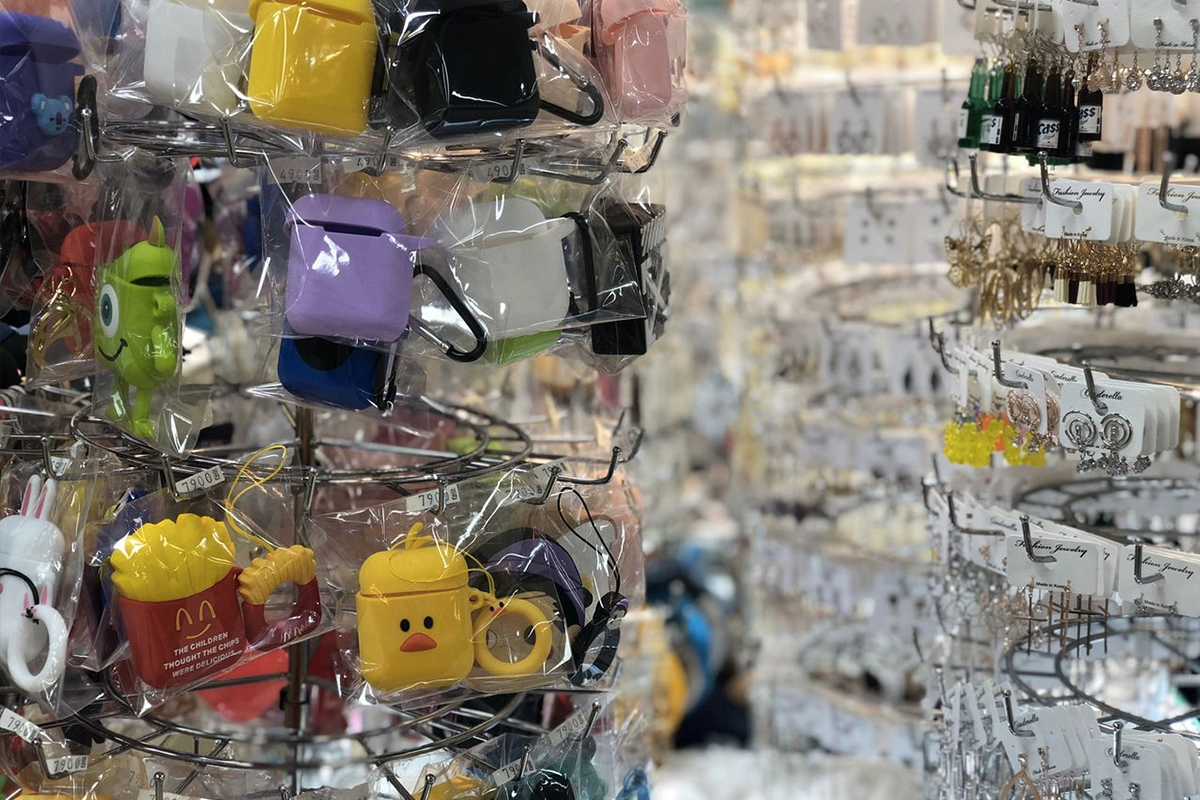 Korean AirPods cases are really cute and inexpensive, and there are many styles you can't see anywhere else. If you use Apple products, find your own unique case when you come to Korea!
It is a great souvenir that can be gifted to family and friends.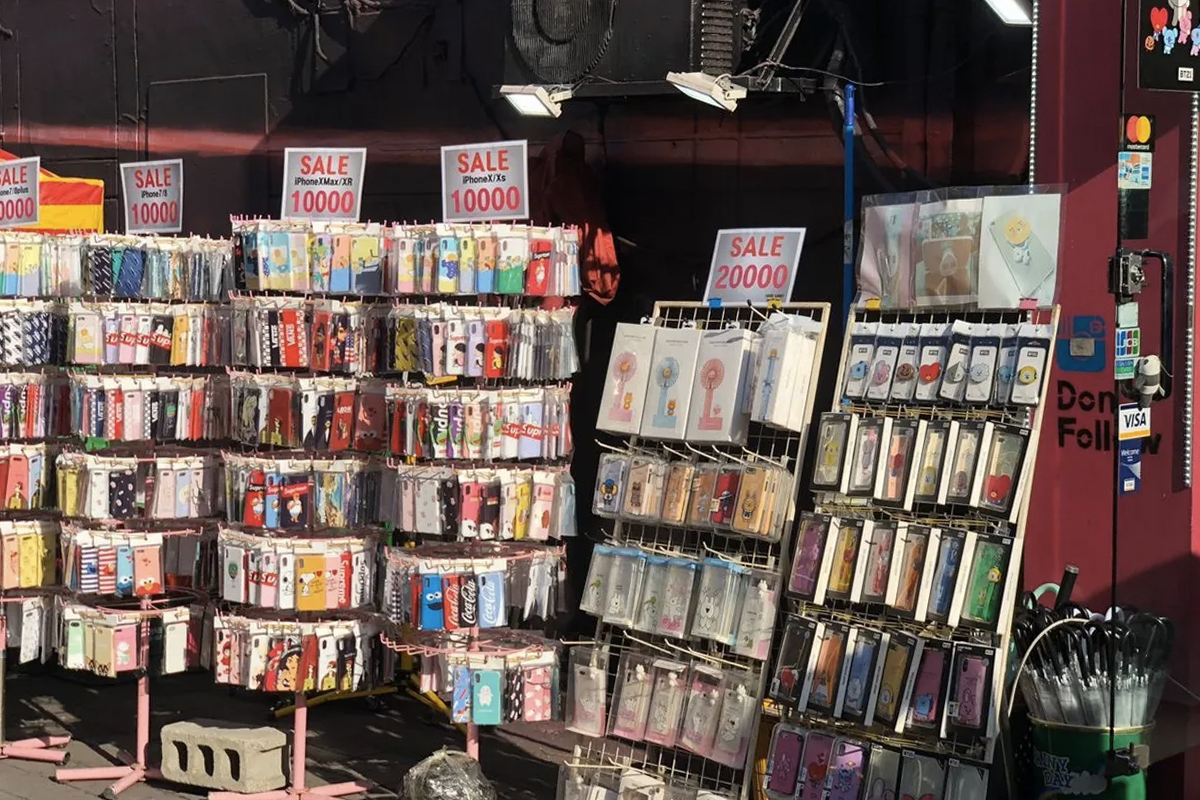 Of course, you can easily purchase accessories for Samsung productsin addition to Apple products. Samsung Galaxy phone cases and Galaxy Buds cases are also being released with various character and illustration designs, so look out for them when you visit Korean road shops!
Click here to read where to find phone cases.
---
Summer Items
Source: 다이소몰
For those who visit Korea in the summer, Korean summer goods will be good souvenirs and must-have items for travel. It's a good idea to carry a light fan when you go outside in the humid and hot summer in Korea.
You can use it to cool down, and if you spread out the fan and cover your face, you can prevent it from burning in the blazing sunlight. Also, when these fans are not used, they can be easily folded, so they don't take up much space.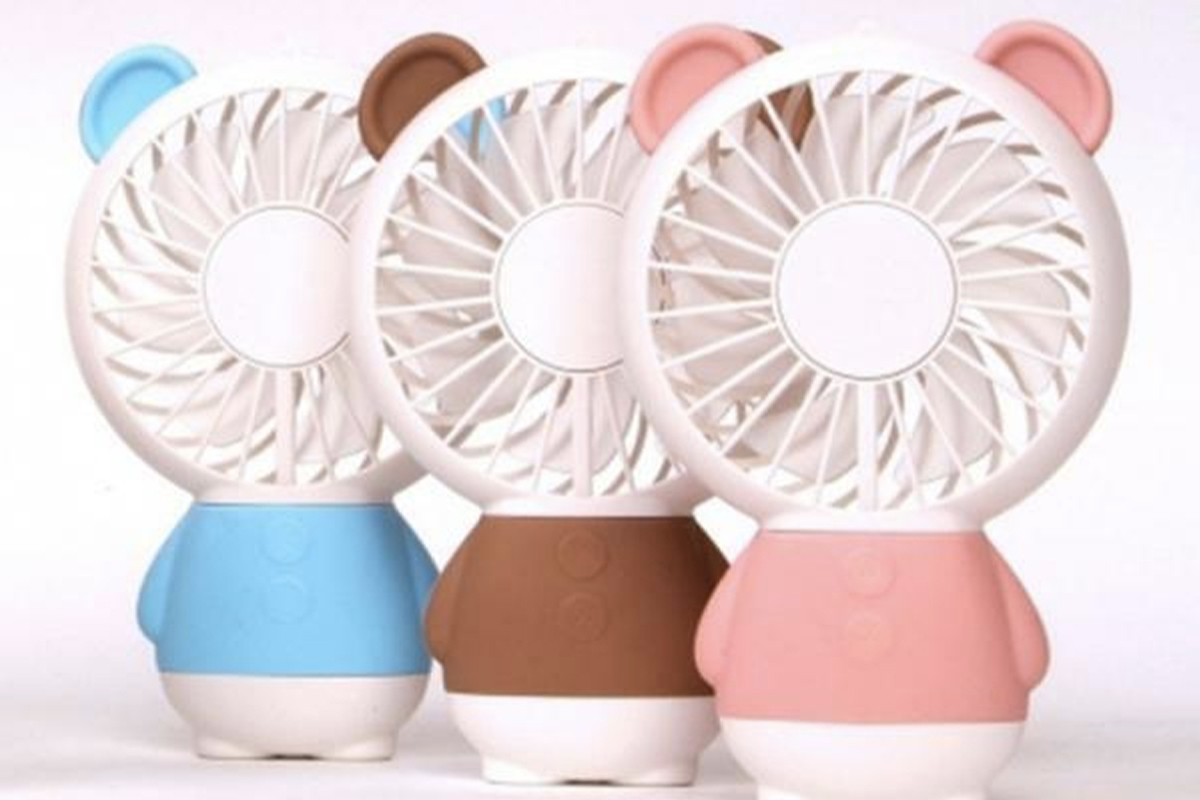 Source: 다이소몰
The fan I explained earlier is attractive because of its traditional style, but if you want something more effective, I highly recommend a hand-held electronic fan.
It is very essential for summer trips because it is operated by batteries or USB rechargeable, and you can get cool air anytime outside when you turn it on. In addition, it has a strap so that it can be hung around the neck, so you can carry it easily without worrying about losing it.
---
Today, I gave you the list of must-buy souvenirs in Korea. Of course, these souvenirs will make perfect gifts for your loved ones, but don't forget! What makes a great gift is showing your care for the person. Make sure you send a gift with sincerity.
Everyone, I will see you again in my next post.
Bye Bye!
---