Unique Collaboration Snacks In Korea
From chocolate-flavored soju to Puldak beer. Have you heard of any of these fun food combinations?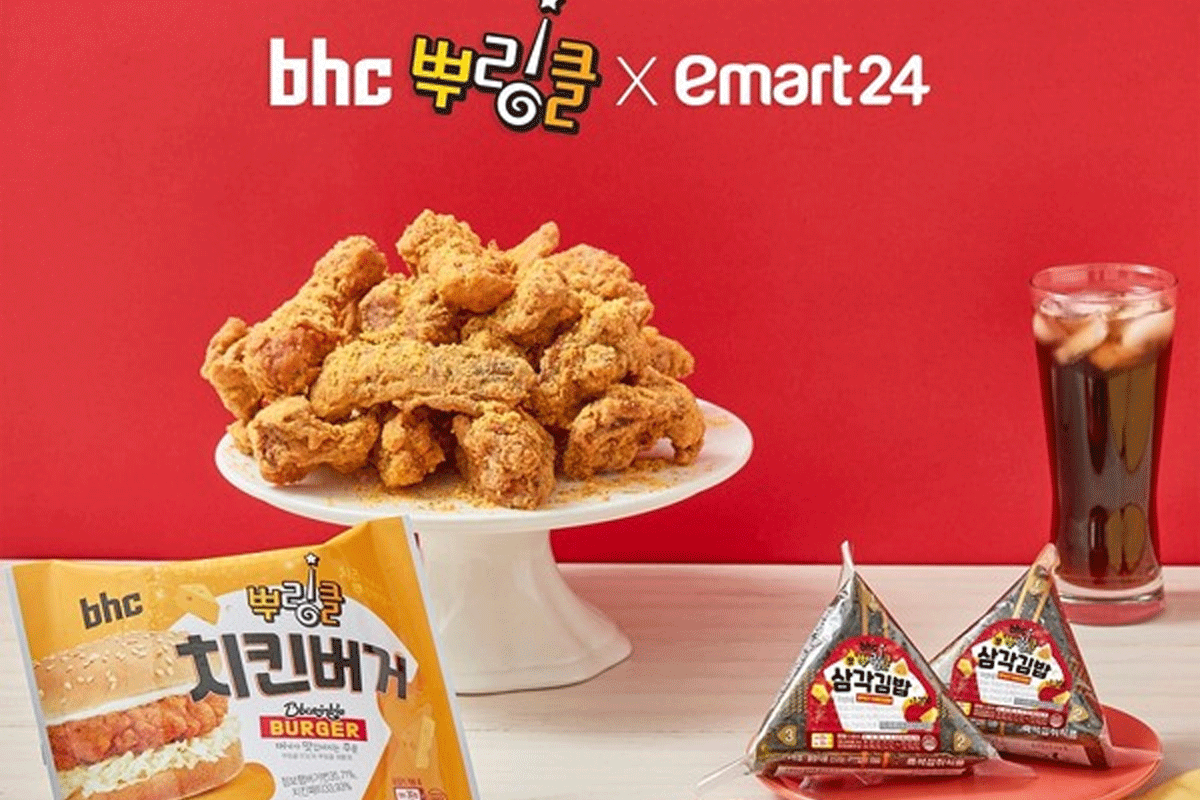 Photo Cred: SINGLE LIST
You might have heard of dipping french fries in your milkshake, but what about a potato chip milkshake? Or what about chocolate flavored soju? Sound strange? Well, these are some of fun collaborations that have been popping up in Korea amongst famous brands.
Not only are some of these collaborations fun to look at, but they can also be delicious! Check out some of Korea's trending food collaborations with us and let us know which one you'd want to try.
---
Flour Brand x Beer
Photo Cred: 곰표 공식 홈페이지/bgf 리테일
This is a collaboration between the domestic beer company 7bräu and the flour company Gompyo. You'll see the white beer can with a polar bear and other designs painted in green and yellow!The fruity flavor makes this beer refreshing and delicious. It was so popular in Korea that its initial production of 250,000 cans was sold out within just 3 days!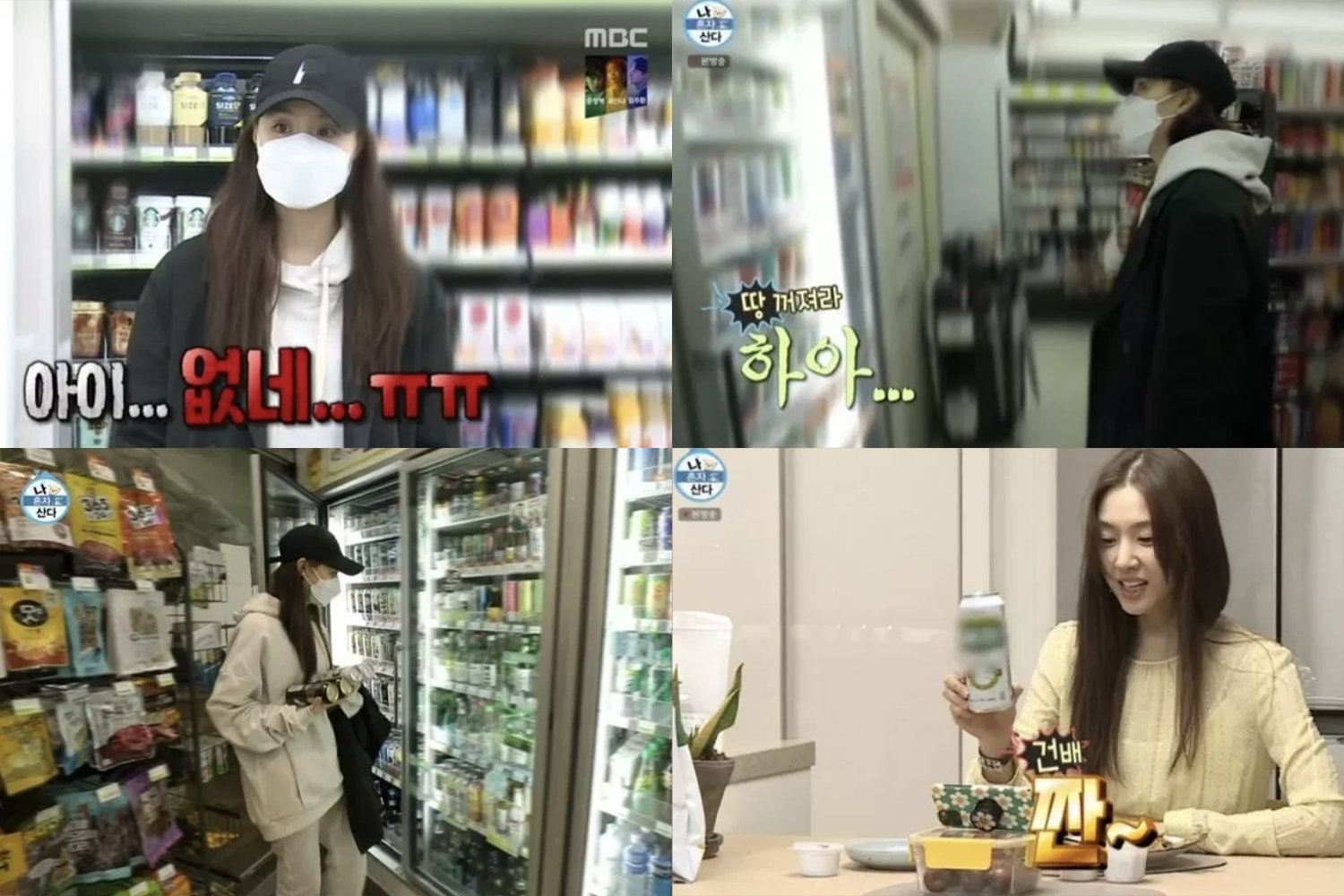 Source: MBC R
In October 2020 on Korea's entertainment show I Live Alone, actress Seo Ji-hye was seen hitting up three different convenience stores looking for the Gompyo beer saying she HAD to drink it.
One of our Korean editors especially wanted to try this beer, but failed to find a single can after visiting five different convenience stores. 😅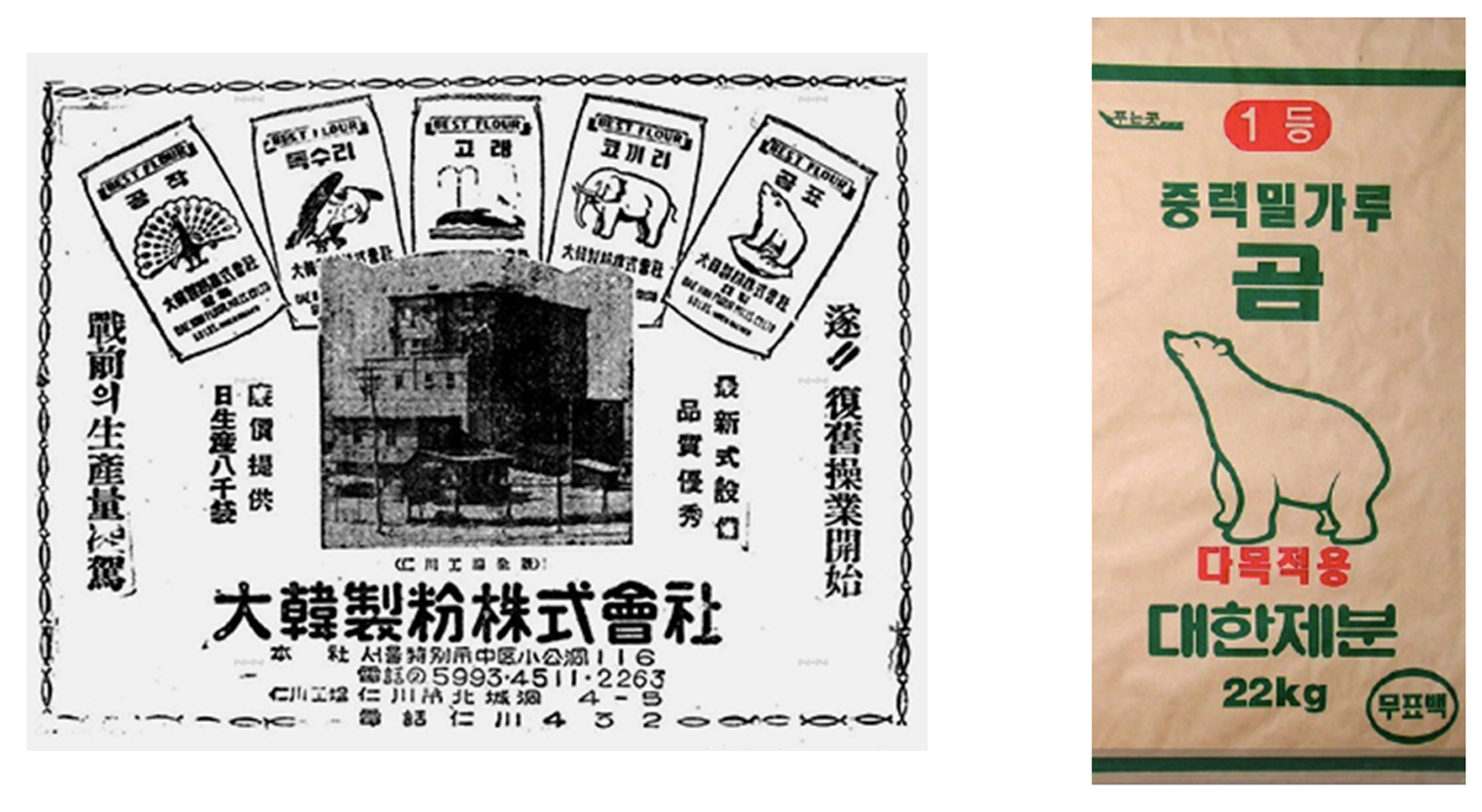 Photo Cred: 곰표 공식 홈페이지
Daehan Flour was established in 1952 and owns the Gompyo brand. They have been manufacturing flour for almost 7 decades now.
Because it's a brand that has been around for a long time, it's a well-known brand among older generations, but the MZs (Millennials and Gen Z) often found this brand out of style and tacky.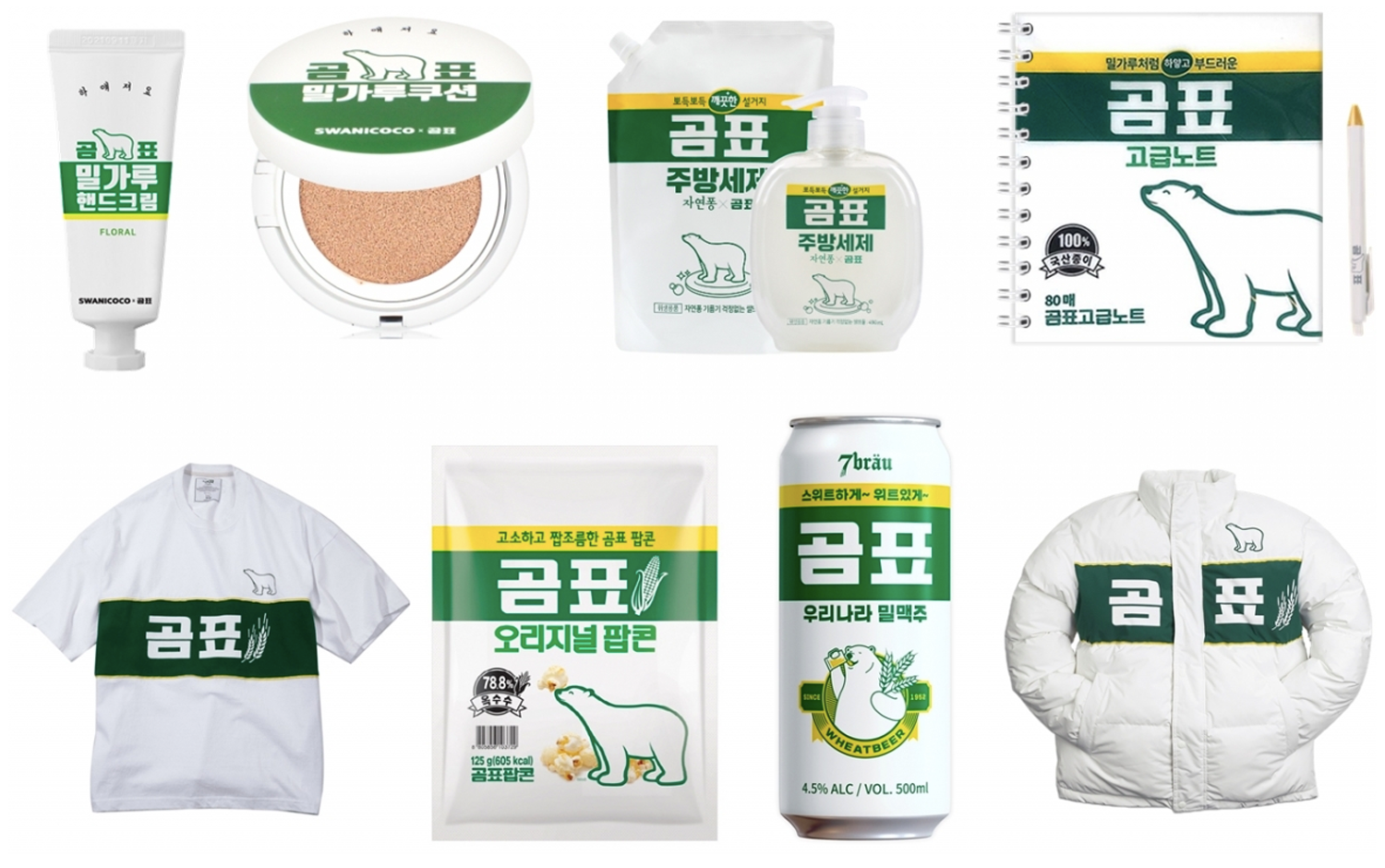 Sources: 곰표 / bigtanews.co.kr
It wasn't until Newtro (New + Retro) became a thing in Korea that MZs started noticing the brand with its yellow and green design. Because goods were made with this uber retro design, they started selling really well all of a sudden. How interesting, right?
---
Brand Collaborations Become Mainstream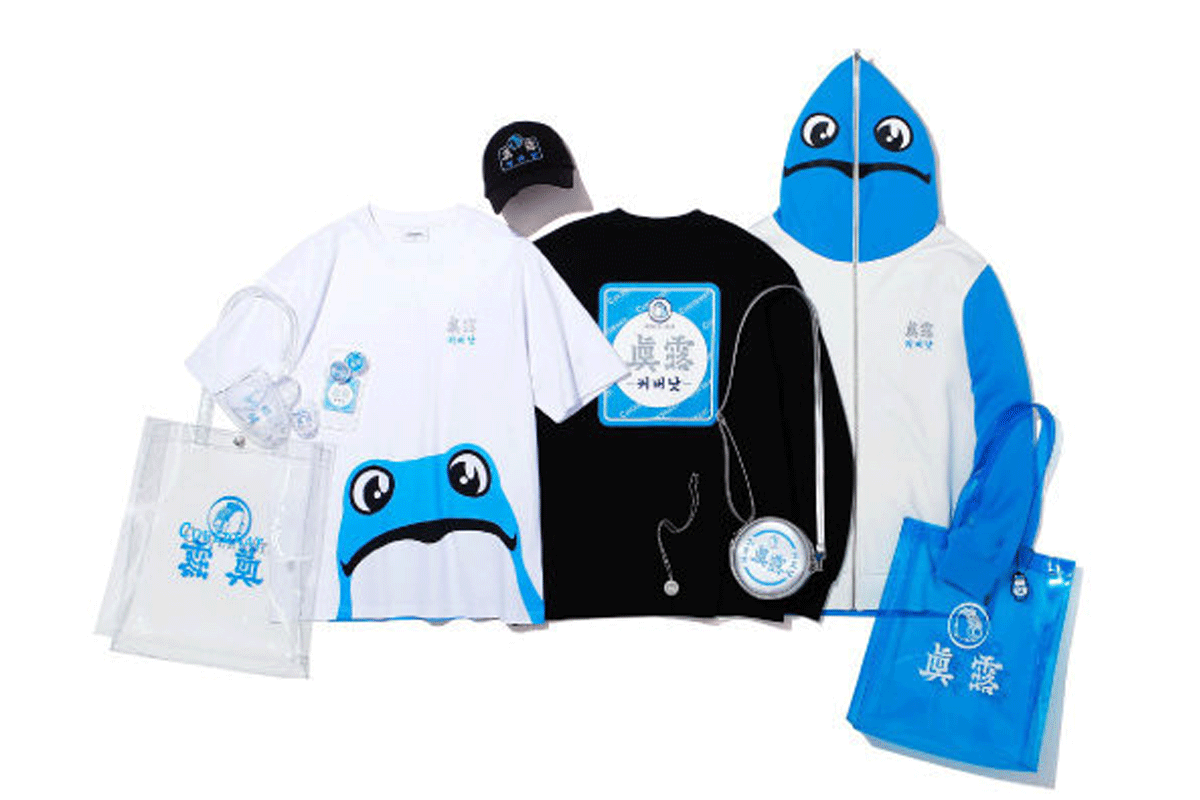 With the success that Gompyo experienced came a series of companies riding those waves of success. 2020 brought on a wave of collaborations that many could not expect in an attempt to appeal to the MZ generation, which worked. Multiple companies' collaborations resulted in success and popularity of the products.
We will now introduce more food collaborations that came to be following this new business venture that took Korea by storm.
---
Ottogi Pure Pepper x Ottogi Cup Ramen

Photo Cred: E-Mart24
This product is likely to catch people's attention due to the familiarity of the design amongst the stack of ramens. Ottogi, which creates a variety of food products, is well known for its pepper, so seeing that same design applied to a ramen back can be quite surprising for some.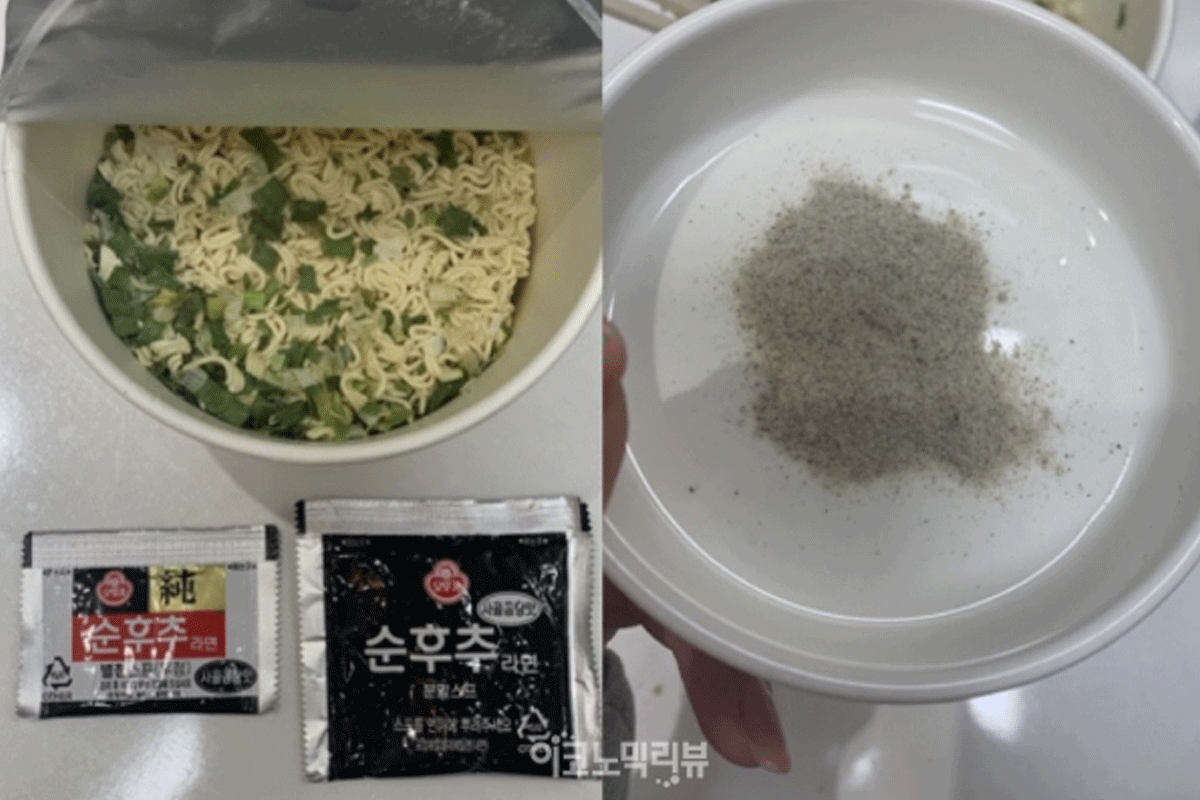 Photo Cred: Economic Review
The Pure Pepper Ramen comes in two flavors, beef bone soup and spicy. Both flavors contain a strong pepper-scented soup.

Photo Cred: Economic Review
There is not much to this ramen other than the addition of the pepper soup, but thanks to the clever and familiar design of the package, it did well! In fact, the ramen made headlines a week after its launch for ranking third in cup noodle sales.
---
Korean Pizza Hut x Paldo Bibimmyeon
Name: Palpulchul Pizza
(Sale Ended)

Photo Cred: Korean Pizza Hut
The sauce from Paldo's Bibimmyeon was served on top of Pizza Hut's Bulgogi Pizza in order to create a spicy and sweet pizza expereince.
Paldo Bibimmyeon is known for going will with various foods like pork belly, raw fish, and raw beef (it's better than it sounds 😅). This, plus the fact that the current generations enjoy these types of collaborations, the two brands were able to join the successful brands on this collaboration.
---
BHC Bbrinkle Chicken x E-Mart 24
Name: Bbrinkle Chicken Burger/Triangle Kimbap/Popcorn/Pretzels/Bokkeummyeon
Price: 1,200 - 3,200 KRW

Photo Cred: E-Mart 24
BHC Chicken and E-Mart 24 joined hands to introduce a collaboration product of their own — Bbrinkle products. Bbrinkle is a sweet cheese powder that is sprinkled on their Bbrinkle Chicken that is quite popular for the brand. This powder was used to make the triangle kimbap and the hamburger which were released on October 1, 2021. The familiar flavor of the cheese seasoning created a unique taste for both products and became a best seller for E-Mart 24 within 4 days of its launch.


Photo Cred: E-Mart 24
Following the success of their first two collaborations, the two brands launched three more snacks on October 25, 2021: Bburinkle Popcorn, Bbrinkle Pretzel Original and Spicy. These snacks were charcterizd by the combination of the crispy textrure of the snack and the savory seasoning of the Bburinkle.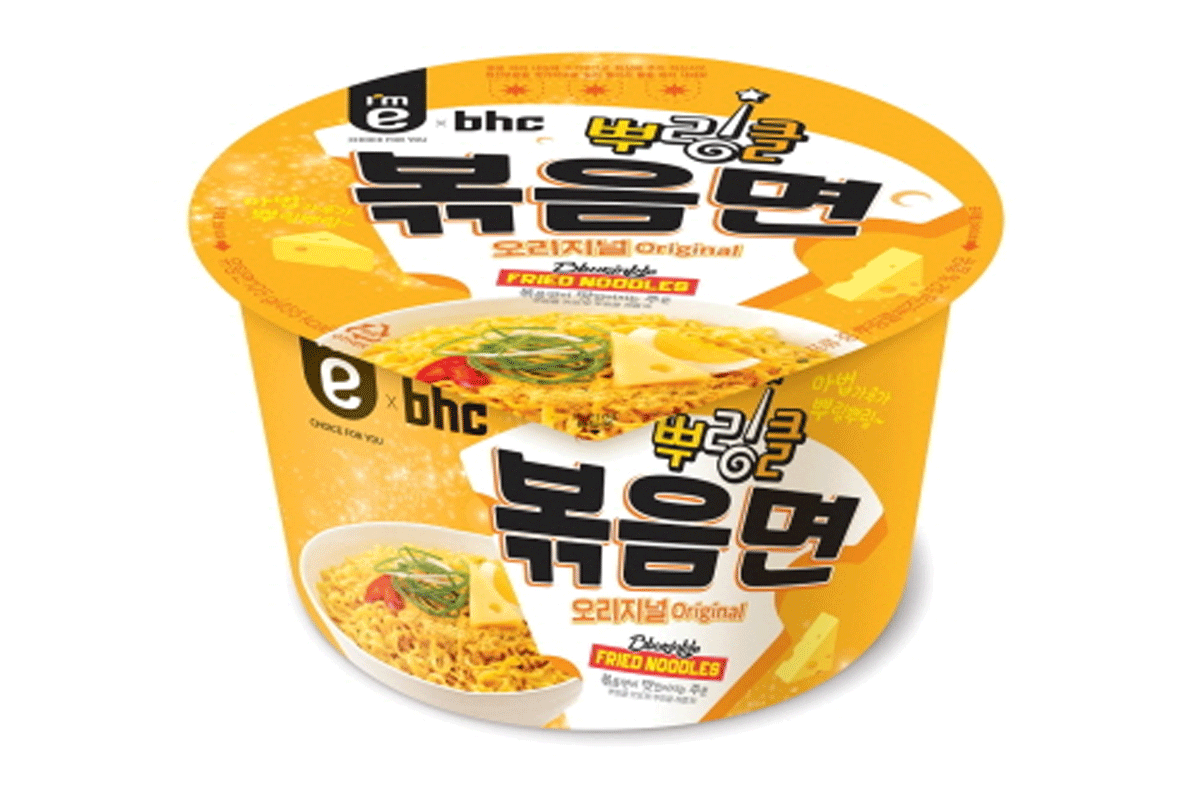 Photo Cred: E-Mart 24
After two successful series launches, on November 15, 2021, the two brands launched yet another product, Bburinkle Fried Noodles. Deemed another success, this further solidified the power of brand collaborations and their ability to capture the MZ generations attention and buyership.
---
Samlip Hoppang x Hershey's Mint Chocolate
Name: Samlip Hoppang Hershey's Mint Chocolate Bread
Price: 4,500 KRW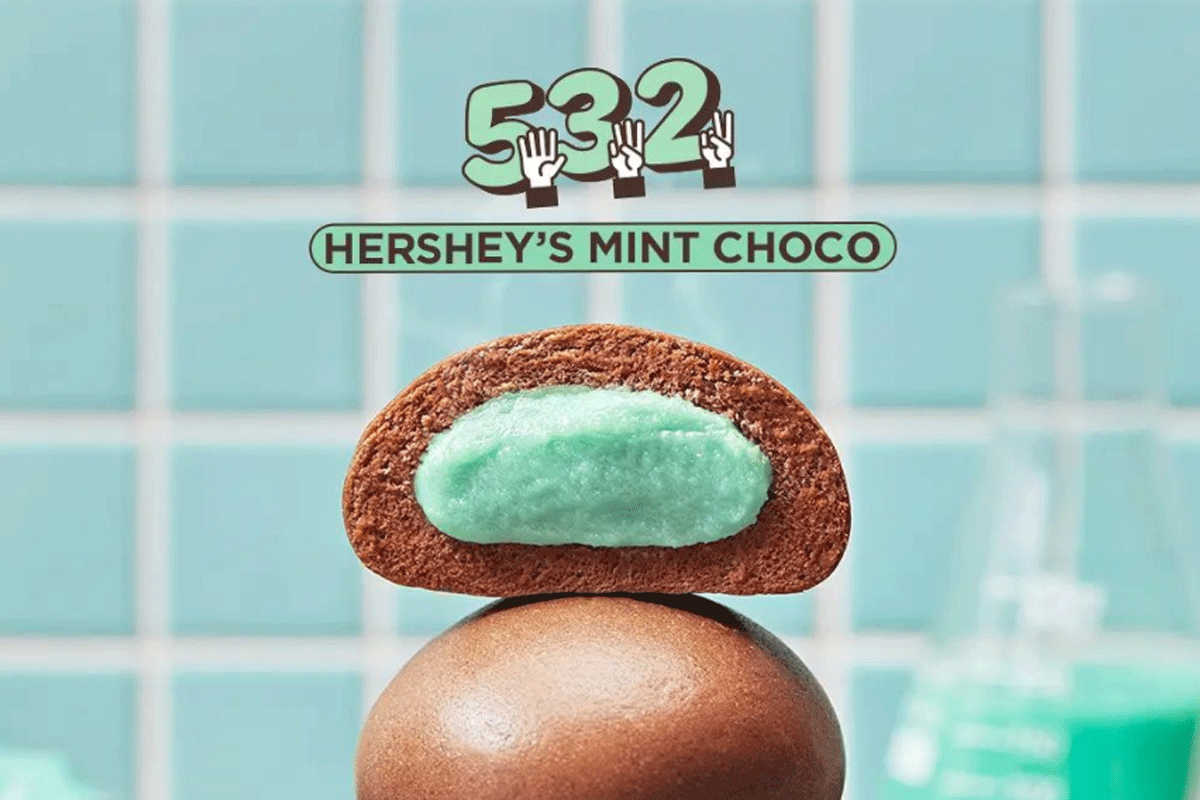 Photo Cred: SCP
Thanks to the Korean mint-chocolate craze, mint chocolate hoppang, a mixture of hoppang and refreshing mint chocolate, has been released. It made news after it sold 400,000 units within 10 days of its release since it was such a new taste.
While there is still mixed-reviews about how people feel about mint-chocolate being a flavor, it is still a fact that those who love it....love it! More and more mint chocolate products are being released as a result: macaroons, lattes, scones and now hoppang. Who knows what's next?
---
Lotte Chilsung Beverage Milkis x Tous Les Jours
Name: Milkis Milk Bread Flavor
Price: 2,100 KRW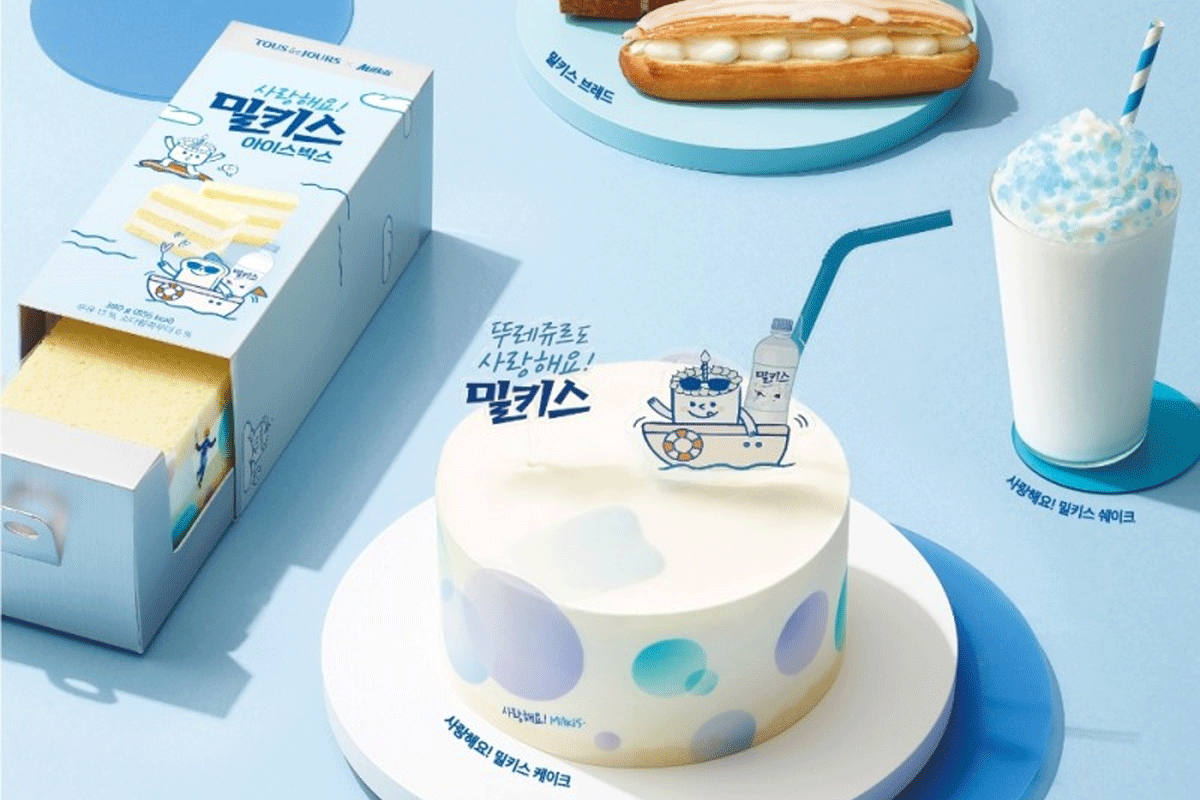 Photo Cred: CJ푸드빌
In the summer of 2021, Lotte Chilsung Beverage Milkis and Tous Les Jours, a popular bakery in Korea, did a collaboration to introduce a bakery product that tastes like the popular milk soda. Milkis' limited summer edition items had their own refreshing taste and quickly become popular with young people.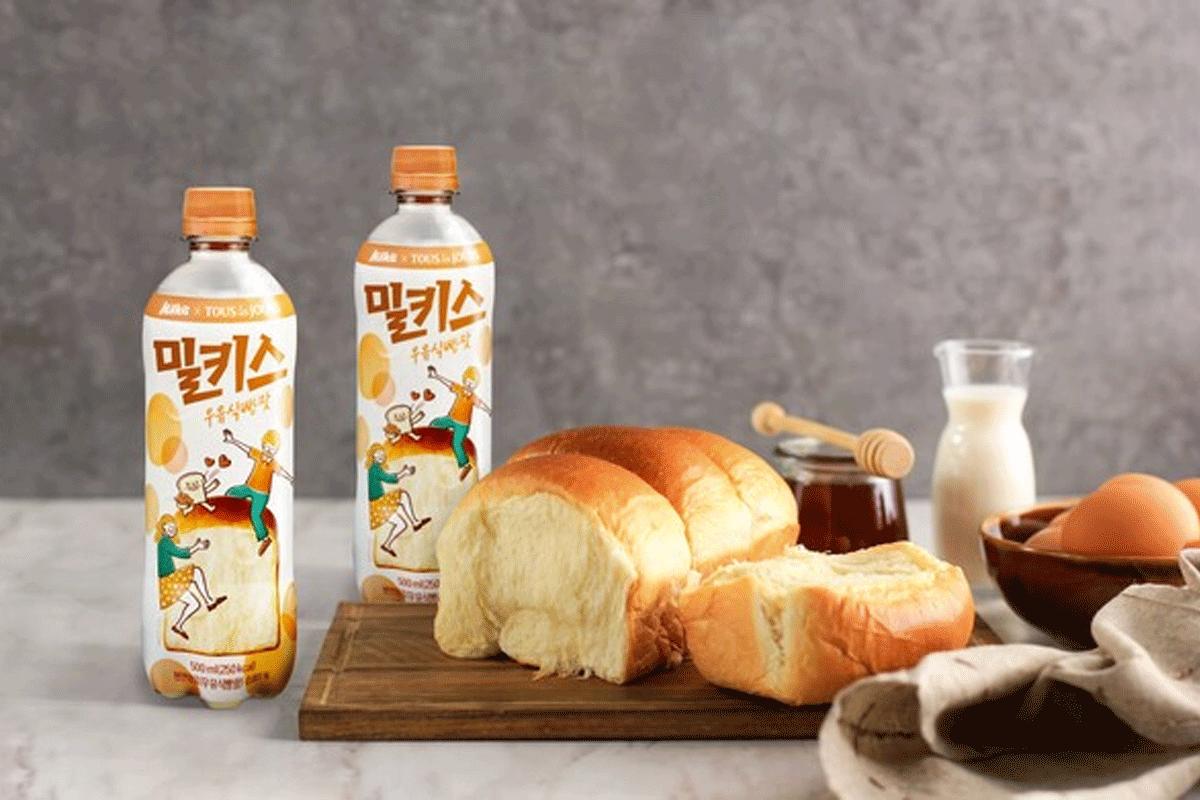 Photo Cred: Lotte Chilsung Drink
But this collaboration was not one-sided. Not only did Tour Les Jours make Milkis-flavored products, but Milkis made a bread-flavored beverage. The Milkis Milk Bread drink had a unique soft carbonated, sweet bread taste which is surprisingly delicious. While this may sound strange at first, we used to think the same thing about milk soda, and now it's an easy favorite for anyone who tries it.
---
Paris Baguette x Paldo
Name: Paldo Bibim Bread
(Sale Ended)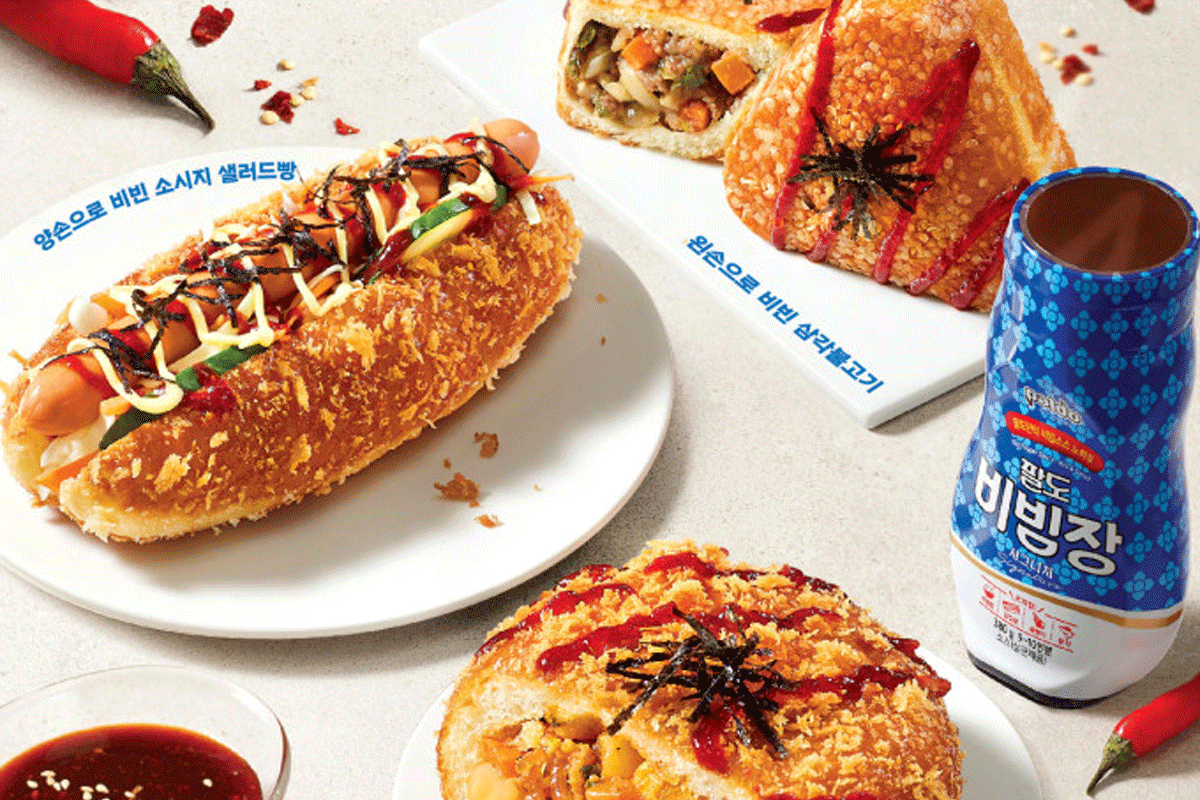 Photo Cred: Paris Baguette
Paris Baguette (similar to Tour Les Jours), is another brand loved by Koreans. They took their shot a fun collaboration with a brand we mentioned earlier, Paldo!
Pari Baguette and Paldo released a sausage salad bread, croquette, and triangle bulgogi with the sweet and spicy sauce of Paldo Bibimmyeon. All of these treats created a sweet, spicy and savory experience that all Koreans could enjoy.
---
Ediya Coffee x Nongshim Post Sticks Milkshake
Name: Post Stick Shake
(Sale Ended)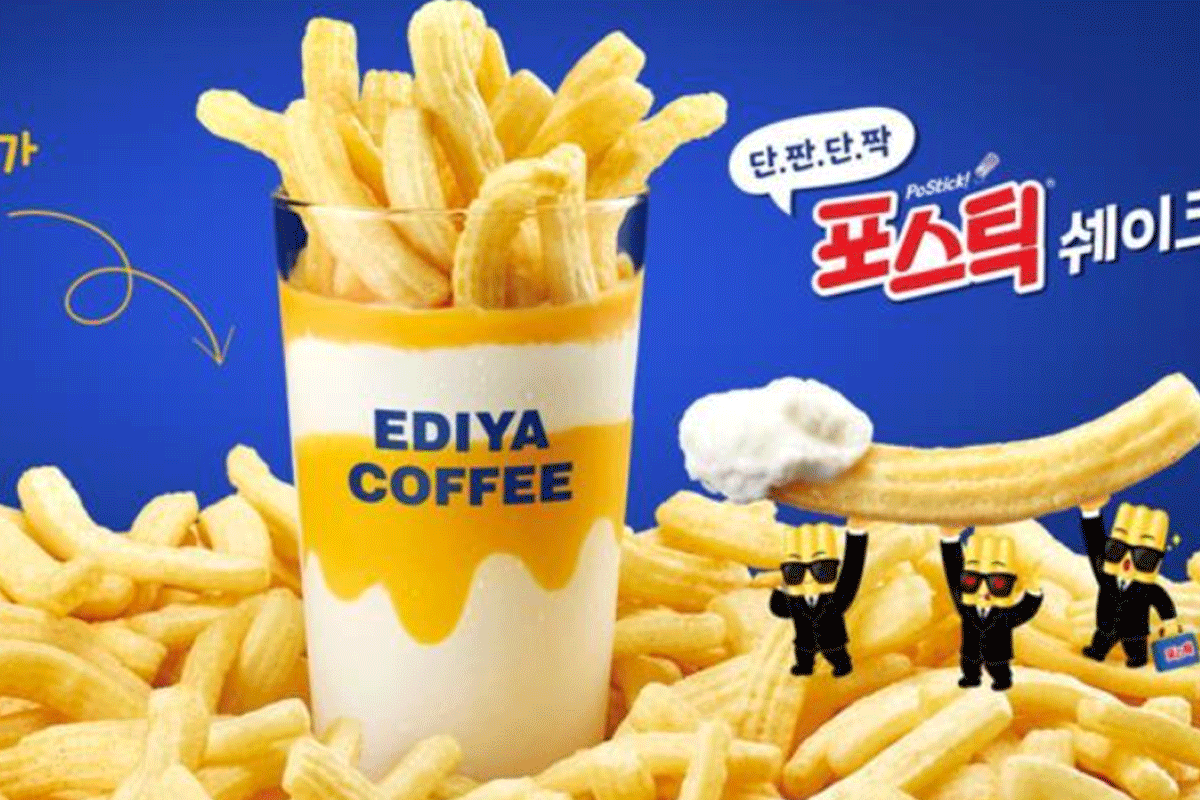 Photo Cred: Ediya Coffee
Ediya Coffee and Post Sticks came out with an...unusual collaboration — milk shake with cheese and and chips on the top? For those who are a fan of sweet and salty treats, this is a collaboration you should definitely try out.
---
theVenti x Ottogi Sesame Oil
Name: Melting Sesame Latte
(Sale Ended)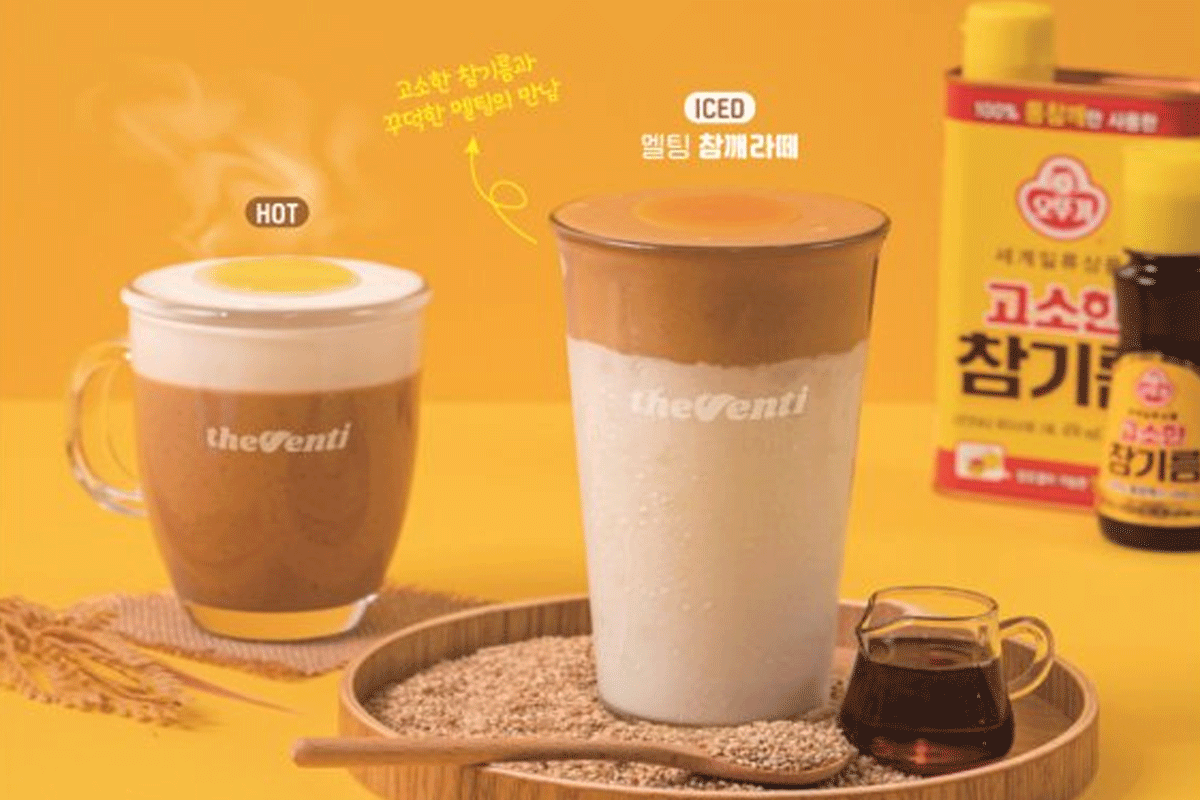 Photo Cred: theVenti
The Korean coffee franchise, theVenti released the Melting Sesame Latte with Ottugi (remember them?). This interesting drink contained a new combination of a mixed grain powder base and Ottogi Sesame Oil.
The beverage was available at over 800 different branches of the chaine nationwide until they ended the sale in December 2021.
---
Lotte Chilsung Beverage Choeum Chorom Soju x Lotte Food Ppappico
Name: Choeum Chorom Ppappico
(Sale Ended)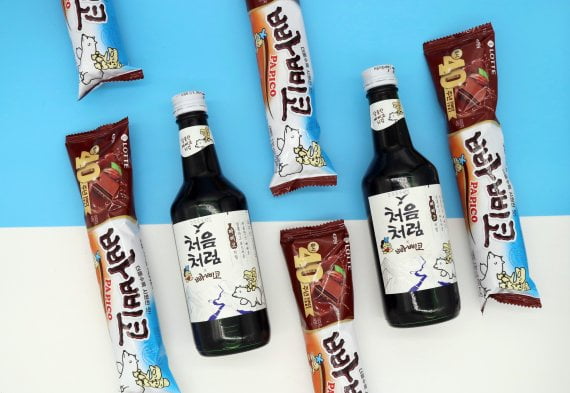 Photo Cred: Lotte Chilsung Drink
According to a survey conducted by the "Top 20 Research Institute for University Tomorrow" in August of 2021, 65.5% of the MZ generation had purchased an exotic collaboration drink within the past year. Unique alcohol collaboration products, as a result, continue to a be a popular item amongst them as well.
Ppappico, a chocolate ice cream that has been loved in Korea for over 40 years, and Choeum Chorom Soju collaborated to make a sweet chocolate-flavored soju. Flavored sojus are not a new concept, but they typically tend to be fruity flavors, so the chocolate was an interesting take. This soju had a lower alcohol content, so even those who have a low tolerance can enjoy the sweet drink (that is if you're old enough 😉).
---
Hite Jinro Chamisul x Binggrae Melona
Name: Melona's Dew
(Sale Ended)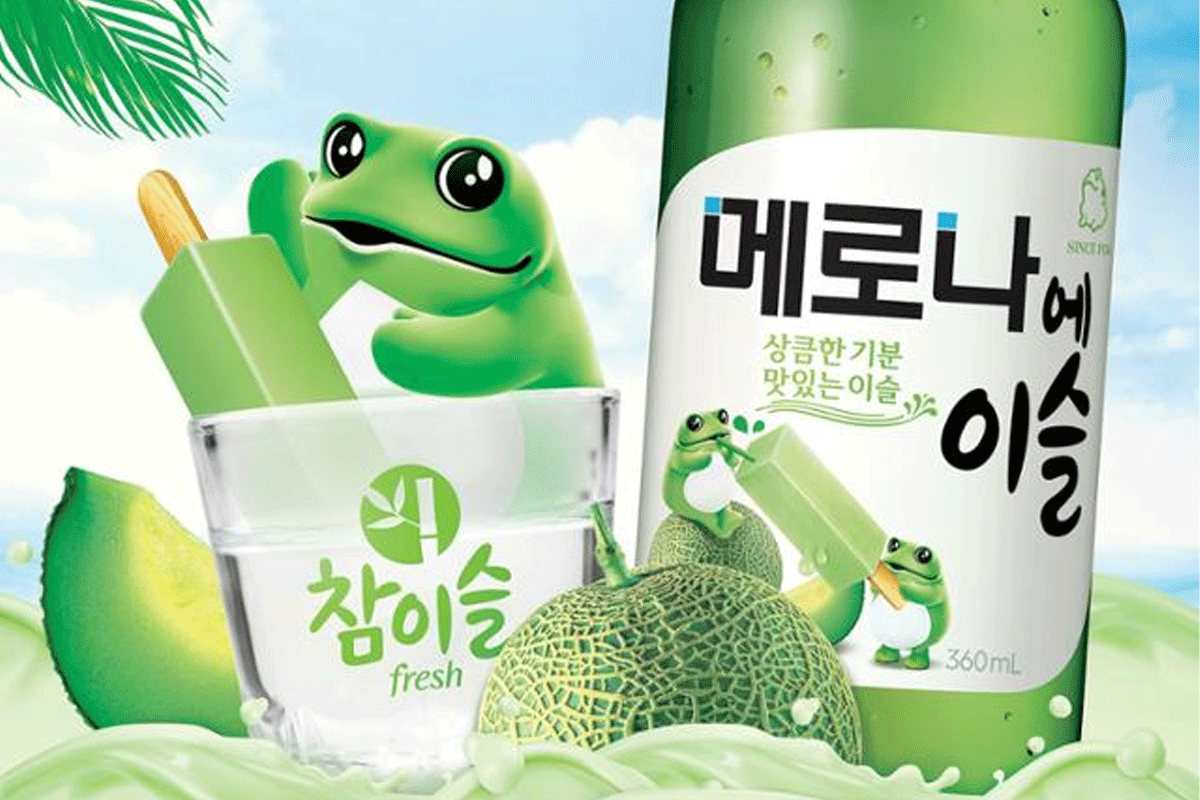 Photo Cred: Hite Jinro
Melona's Dew, which was created by Hite Jinro (a popular soju brand) and Binggrae, combines the milky, melon flavor of Melona with soju. Just like the Ppappico soju from before, the alcohol content of this soju is lower so more people can enjoy the drink without worry.
Hite Jinro previously made a Grapfruit's Dew, and Green Apple's Dew soju as well, which all did quite well. Since fruity flavors of soju are quite common, they have a very sweet guarantee. We look forward to see what they develop next.
---
Guksoondang Rice Makgeolli x Crown Confectionery Jollypong
Name: Guksoondang Rice Jollypongdang
(Sale Ended)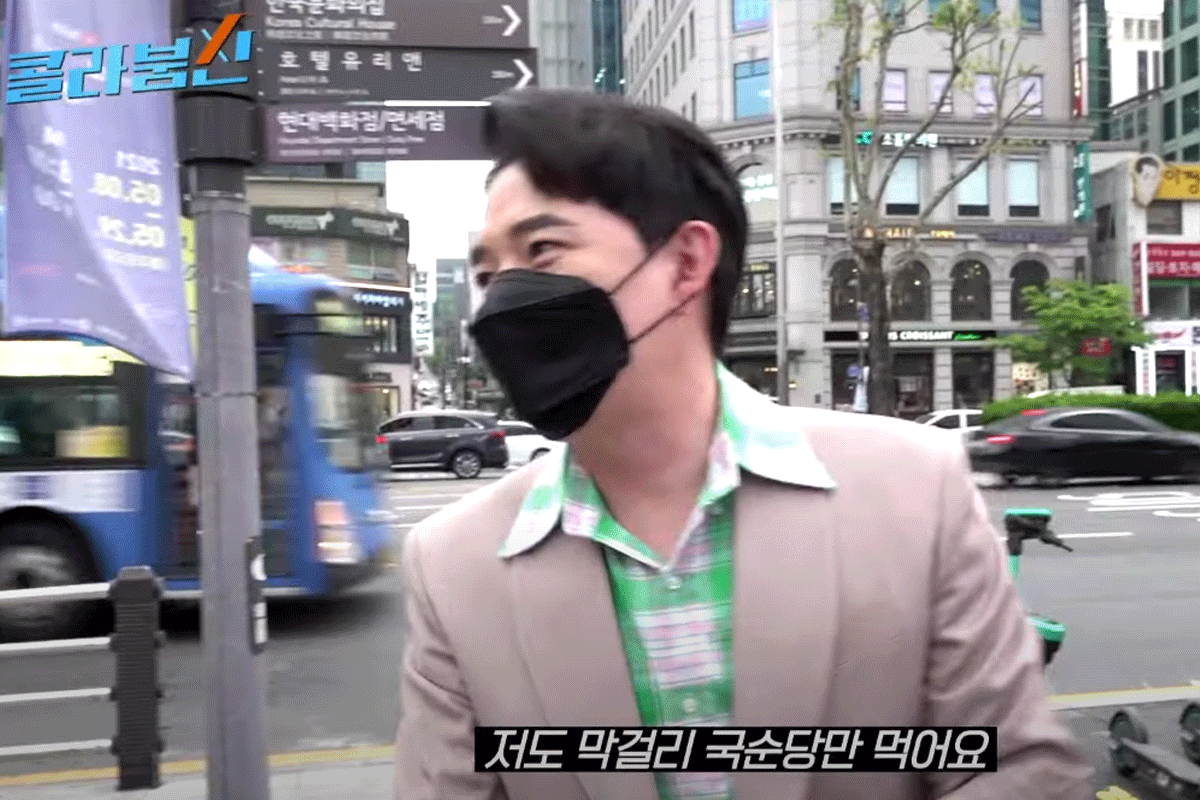 Photo Cred: SBS MediaNet
Makgeoli, a traditional Korean rice wine, is entering the collaboration business.
SBS MediaNet's YouTube series "Collaboom Shin" is a program where the host, Boom, matches two companies to develop and launch collaboration products.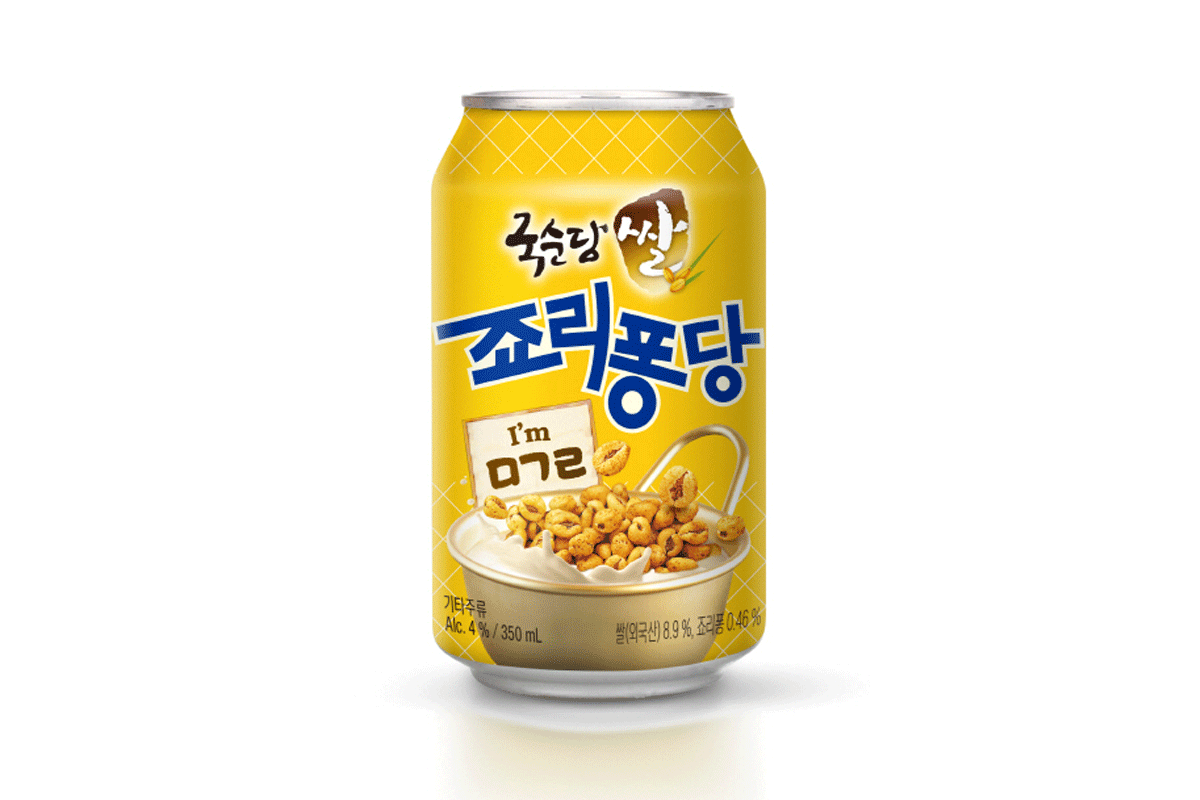 Photo Cred: Guksoondang
The first planned product in this series was Guksoondang Rice Jollypongdang, a collaboration between Guksoondang Rice Makgeolli and Jollypong Snacks.
The caramel-coated wheat puff snack and the sweet makgeolli went very well together, causing a HUGE response. At the beginning of its development, it was planned to be a limited product of only 100,000 cans, but due to the large demand, they increased production to 300,000 cans.
---
Guksoondang Makgeolli x Haetae Ice Cream Babamba
Name: Guksoondang Babambabam
Price: 2,500 KRW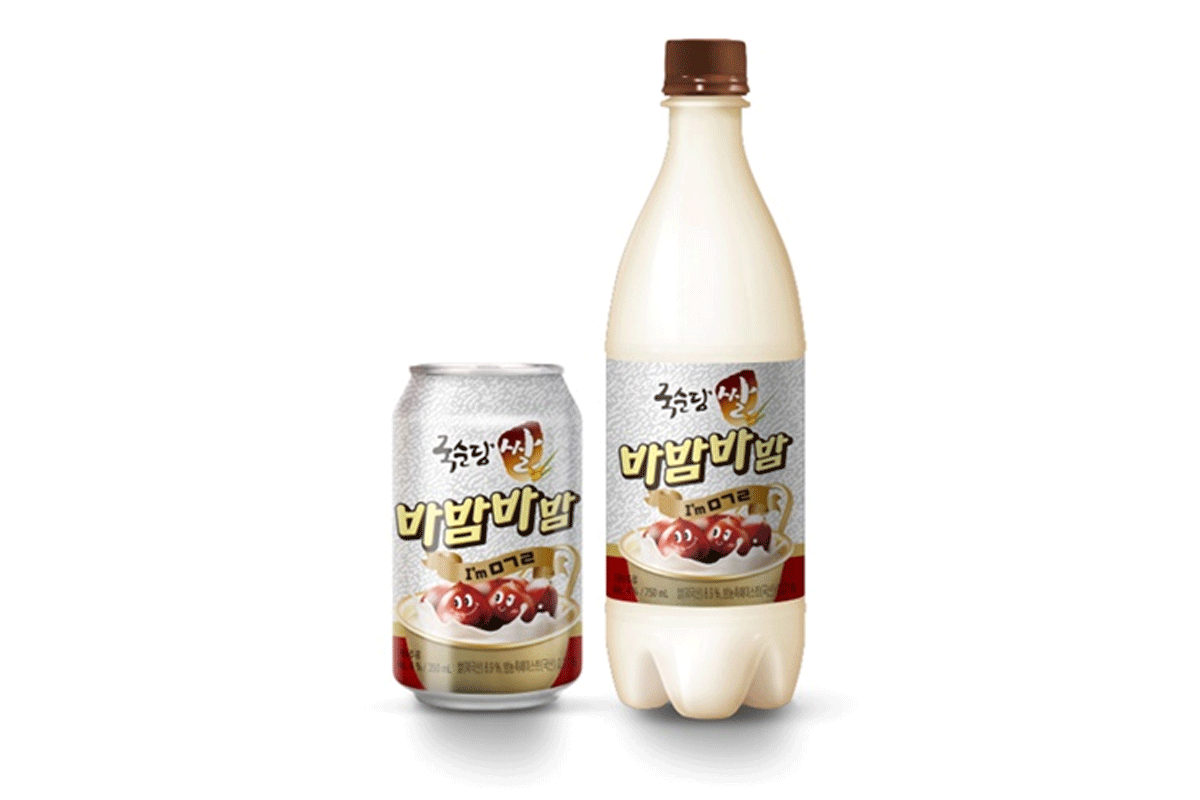 Photo Cred: Guksoondang
Another collaboration with Guksoon Makgeolli is Guksoondang Rice Babambabam, which combines the flavor of sweet makgeolli with the Babam Bar ice cream. However, it is not just a simple combination, but an amplified version due to the process of fermentation and aging of the ingredients.
In the two years that it took them to finalize the product, they developed nine different versions fo it. You can see how much effort is really put into the seemingly simple collaborations. 😲
---
Jeju Beer x Blue Bottle
Name: Coffee Gold Ale
Price: 10,000 KRW per bottle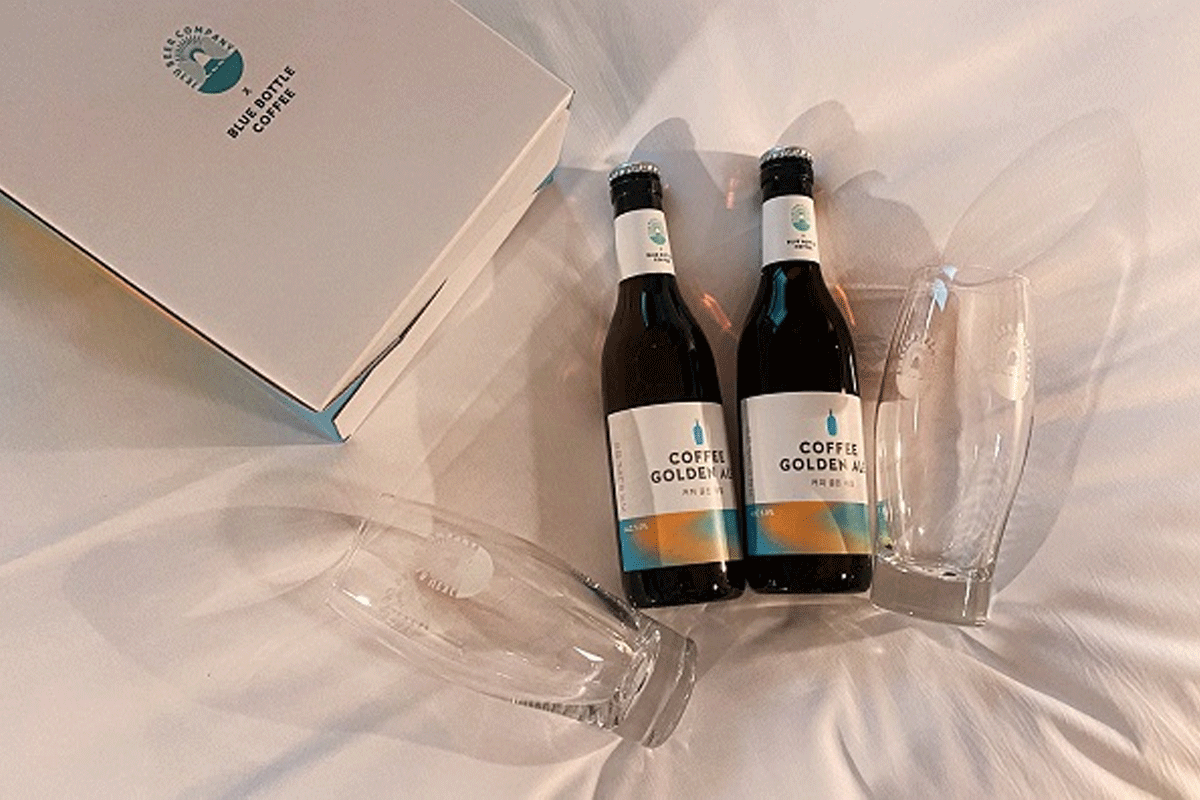 Photo Cred: Discovery News
We've covered soju and makgeolli, so let's move on to beer! Jeju Beer, a popular handmade beer brand, collaborated with Blue Bottle cafe to introduce a coffee-flavored beer.
The meeting between the the luxury coffee brand and Jeju Beer is expected to contribute greatly to the perception of Jeju Beer and the growth of the Korean beer industry.
---
Ottogi Jin Ramen x Amazing Brewing Company
Name: Jin Lager
(Sale Ended)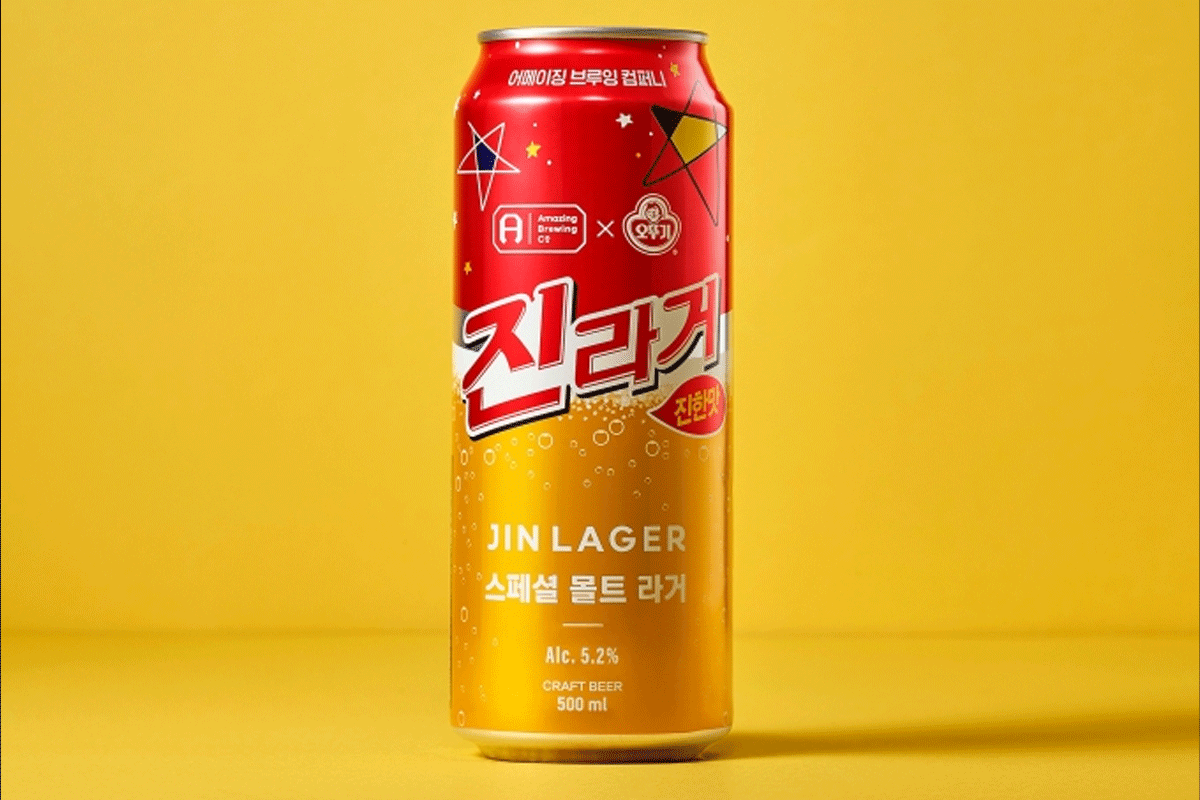 Photo Cred: Amazing Brewing Company
Jin Lager is a handmade beer that is pure and dark without using any artificial scents or sweeteners. The use of German malt give it a savory scent similar to caramel and bread.
Jin Lager, which only competes with quality beer, was launched under the Jin's motif of "dark taste". The beer itself does not actually taste like ramen, but it contains a deep and strong flavor, just like the deep flavor of Jin Ramen, which is faithful to the essence of the brand.
---
Samyang Puldak Stir-Fried Noodles x Cerlite Brewing
Name: Puldak Mango Ale
(Sale Ended)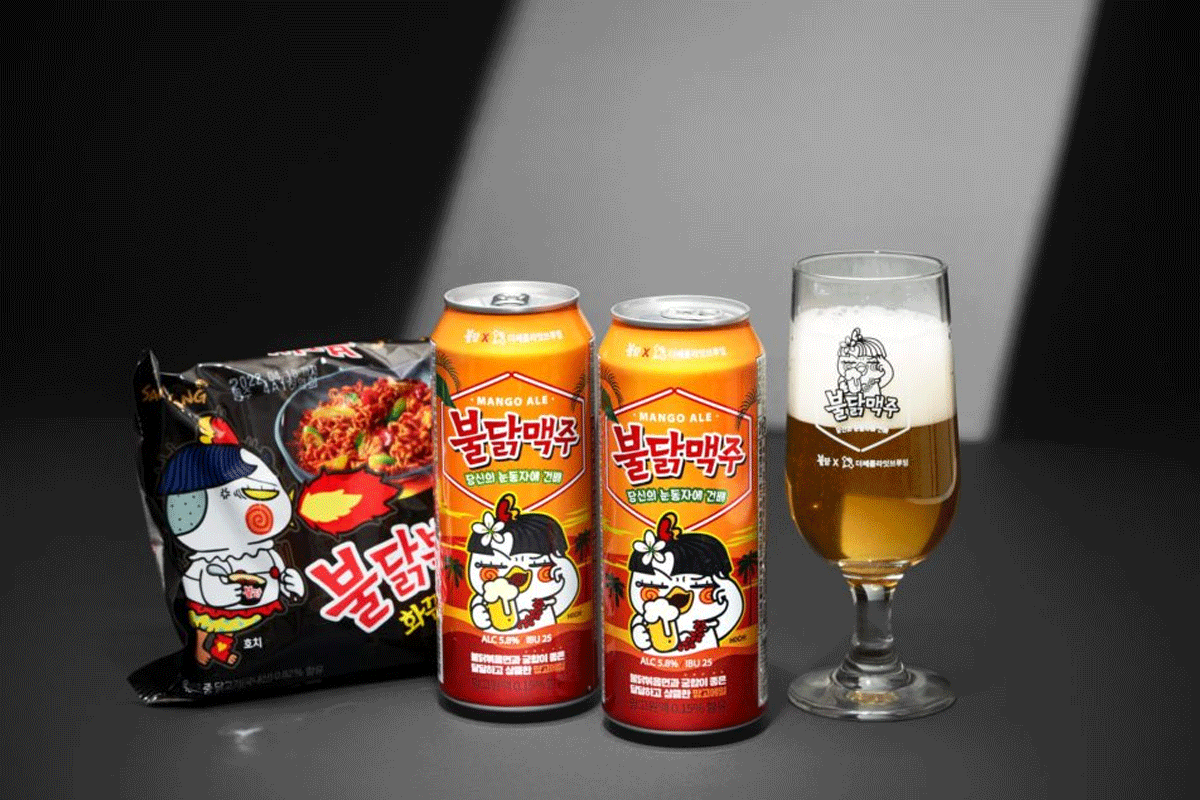 Photo Cred: The Cerlite Brewing
The previously mentioned products were all simply two products combined into one, but this next collaboration, was created with pairing in mind. Just as you pair a wine with a meal, you can pair a beer with your nuclear chicken noodles 😅. These two companies came together to do just that.
Puldak Mango Ale has a refreshing and sweet scent with a taste less bitter than other ales, due to the addition of the mango extract. Uniquely, unlike other beers, this one paired particularly well with spicy food.
Now bring in the fire noodles. 🔥 Puldak Stir-Fried Noodles has gained immense popularity through the Spicy Noodle Challenge, which has been done by people all over the world. With this beer, finishing a bowl of these noodles doesn't seem so bad!
---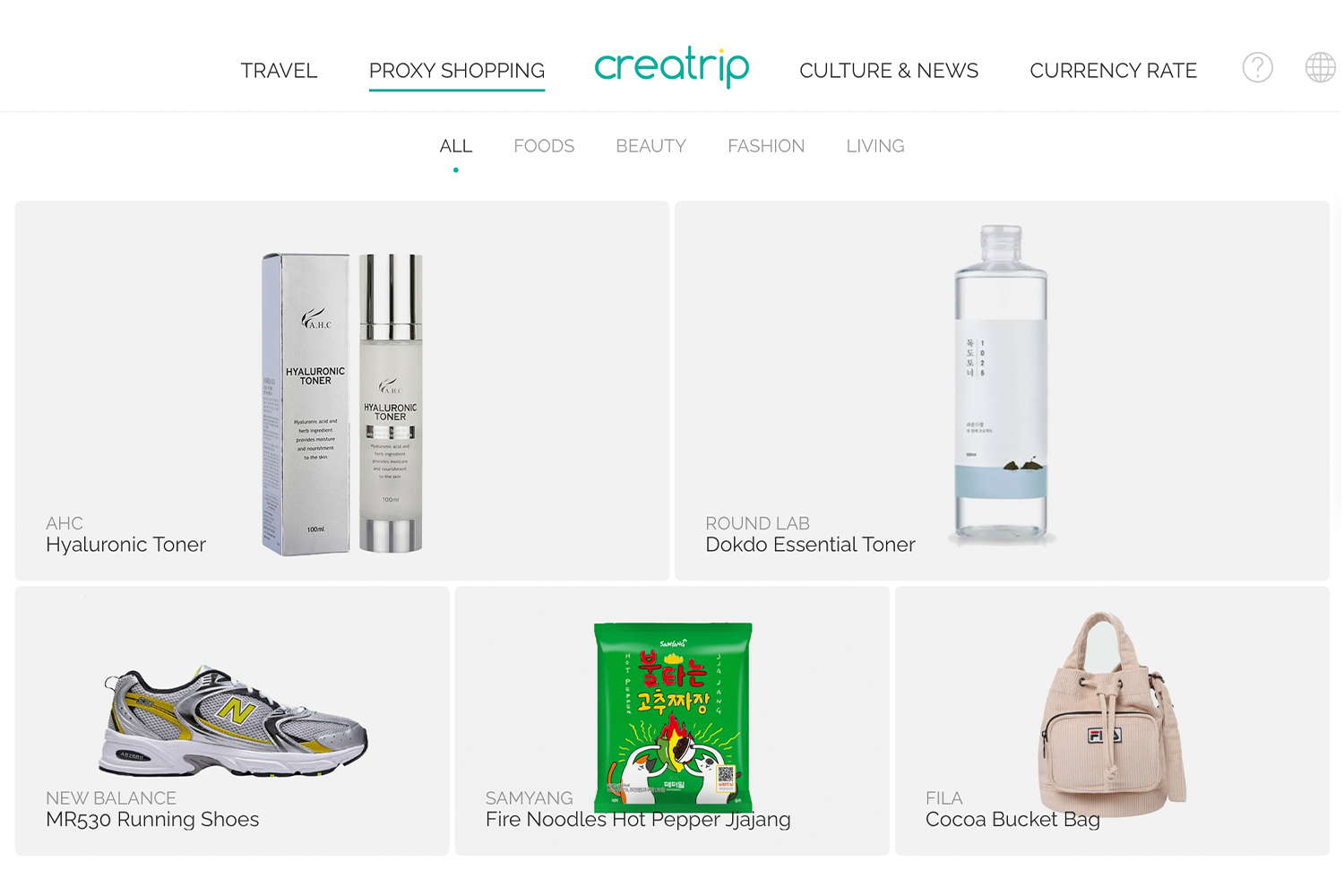 And that is it for our list of fun collaborations of Korean brands. Who knew food could be so much fun? Please note that various brands and their products can be purchased directly through Creatrip! Now you can better imagine what some of these limited-edition products tasted like (since many of them are no longer available 😢). However, we look forward to many new collaborations coming in the future!
---
As always, if you have any questions, feel free to reach out to us at support@creatrip.com or join our Facebook group to ask questions as you like. Also make sure you are following us on Instagram, TikTok and Facebook to get our latest content about all things Korea.
See you next time!
---