Daegu Palgongsan Cable Car - The Easiest Way To Enjoy The Mountain
Take Yourself Up To An Altitude Of 820m On A Cable Car And Enjoy The City's Biggest Nature Landscape!
Daegu, not specifically recognized for tourism among international visitors, strikingly offers a lot to experience from a selection of delicious regional specialties and adorably-themed cafes to a night market featured by street food booths and live music.
In between your itinerary, it is highly recommended that you step away from the buzzing cityscape and show yourself to Daegu's nature landscape. The best place to do so is none other than Palgongsan, the most renowned mountain in the city.
I was told by a number of Daegu locals that the least challenging way of going up was by Palgongsan Cable Car.
This blog covers how to get to the cable car platform from downtown, what to see and eat up on the mountain, charming cafes around the area, and finally, how to get back to the city from the mountain.
---
HOW TO GET TO PALGONGSAN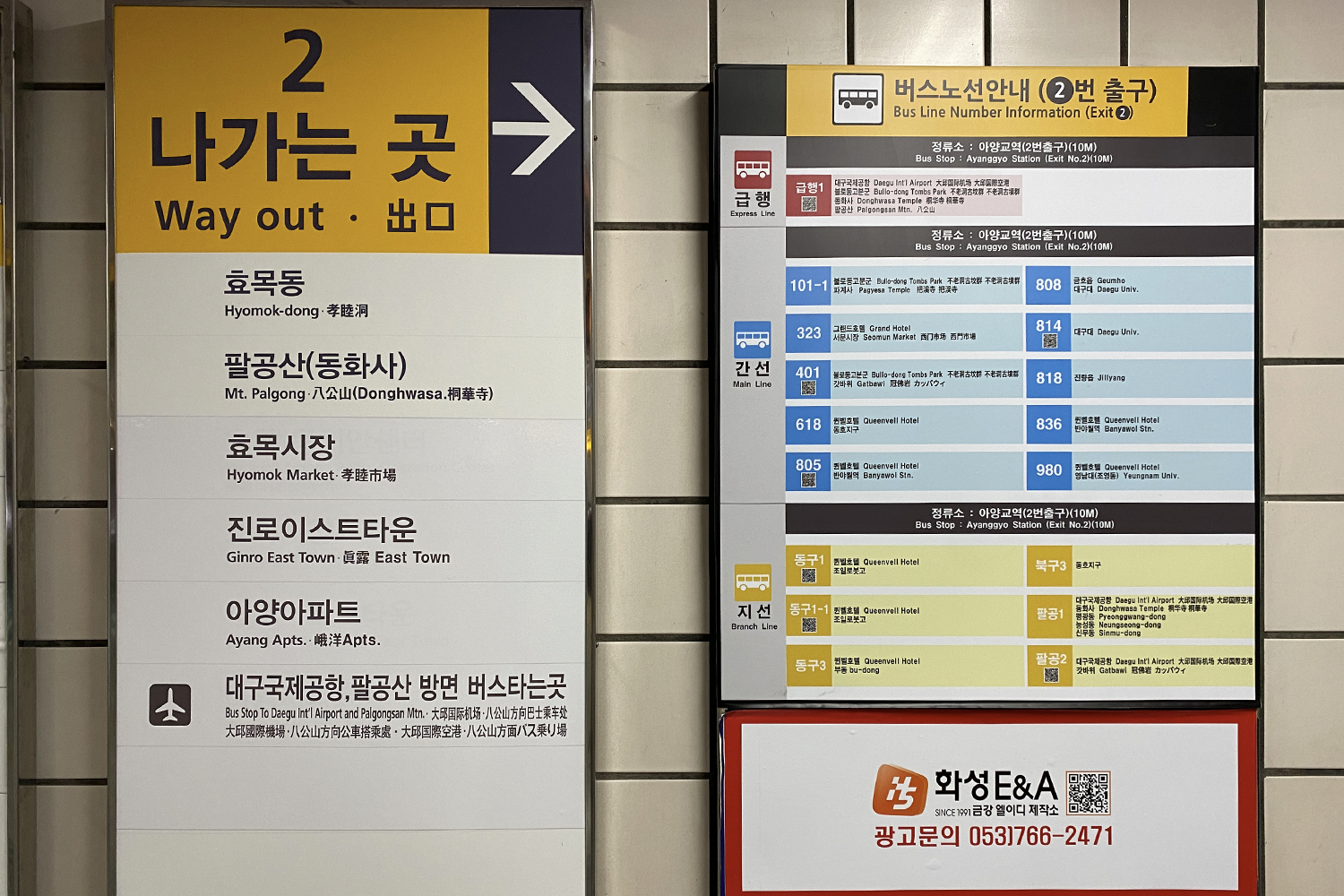 If you're going by public transit, take the subway to Ayanggyo Station and get out exit 2. Before you leave exit 2, it'll show all the buses that stop and you want to take the red bus, which is the express bus.
Just outside the exit, you'll see the bus stop. Make sure the route map shows the red express bus 1, 급행 1.
The express bus is ₩1,800 when you pay cash or ₩1,650 with a transit card.
It's also generally easier to get around the city with a transit card, so it's highly recommended that you get one at the first subway stop you get to in Daegu.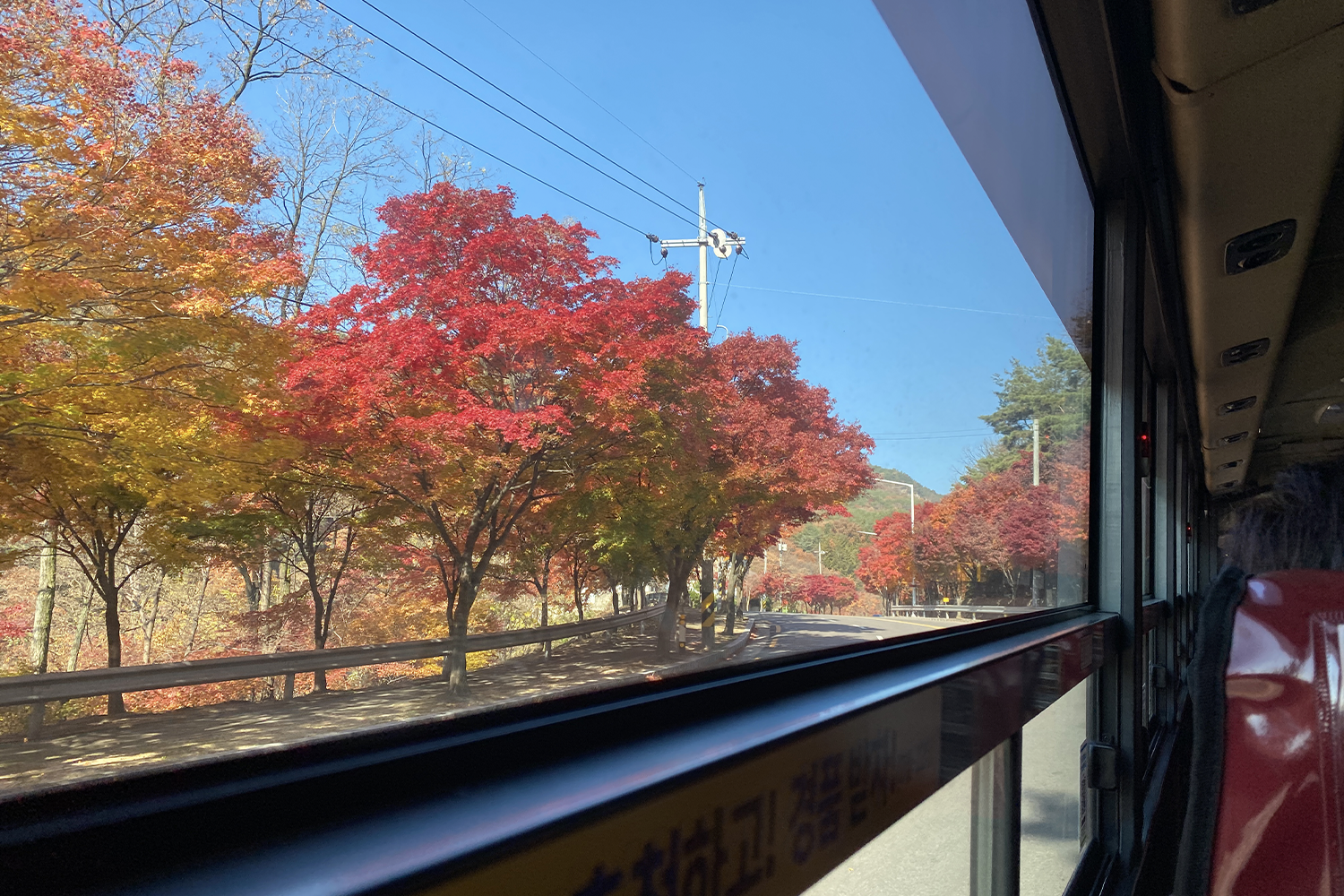 After 18 stops, or a 40-minute bus ride, you'll get to Palgongsan. Get off at the terminal station.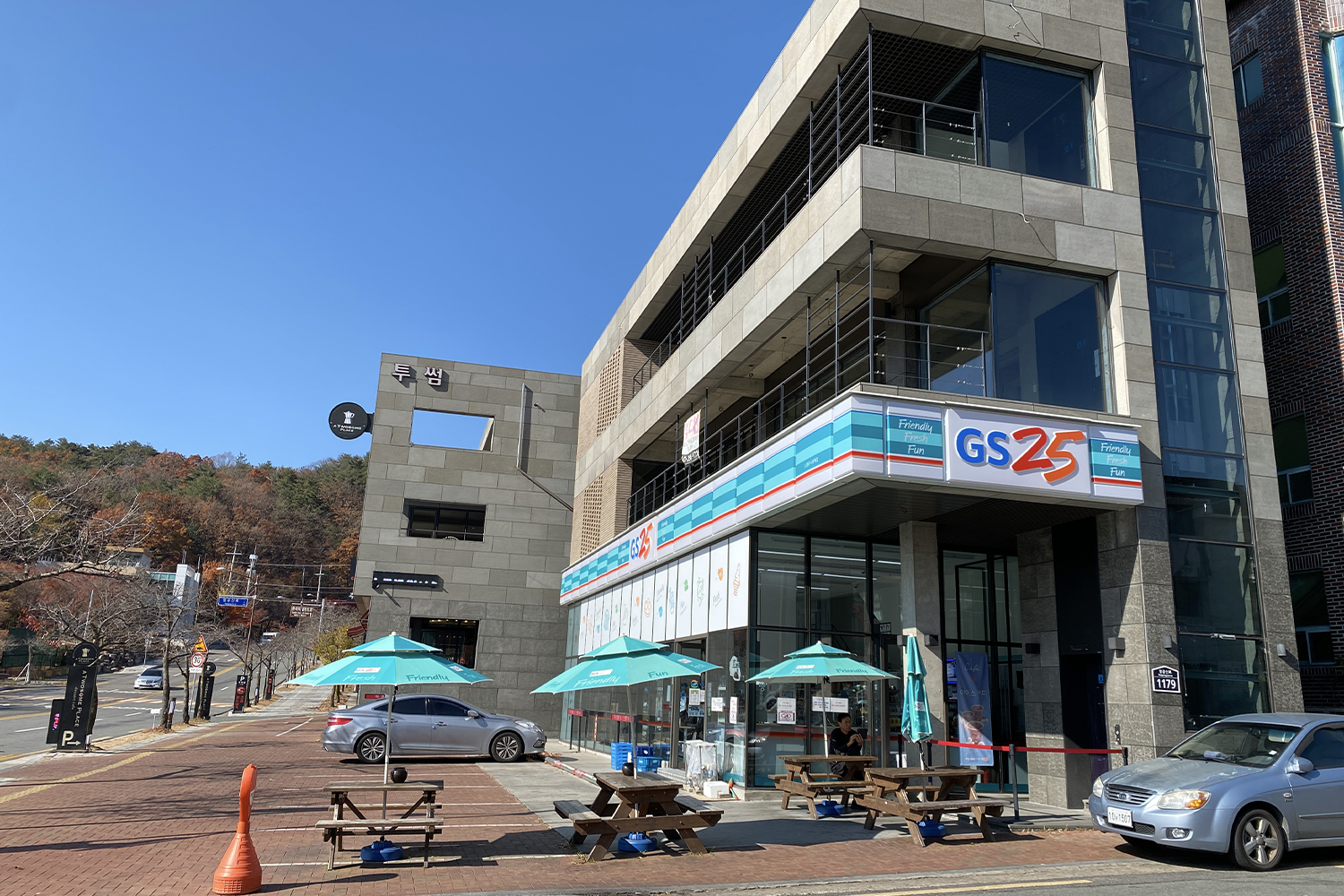 Walk towards GS25, turn right and walk up the hill.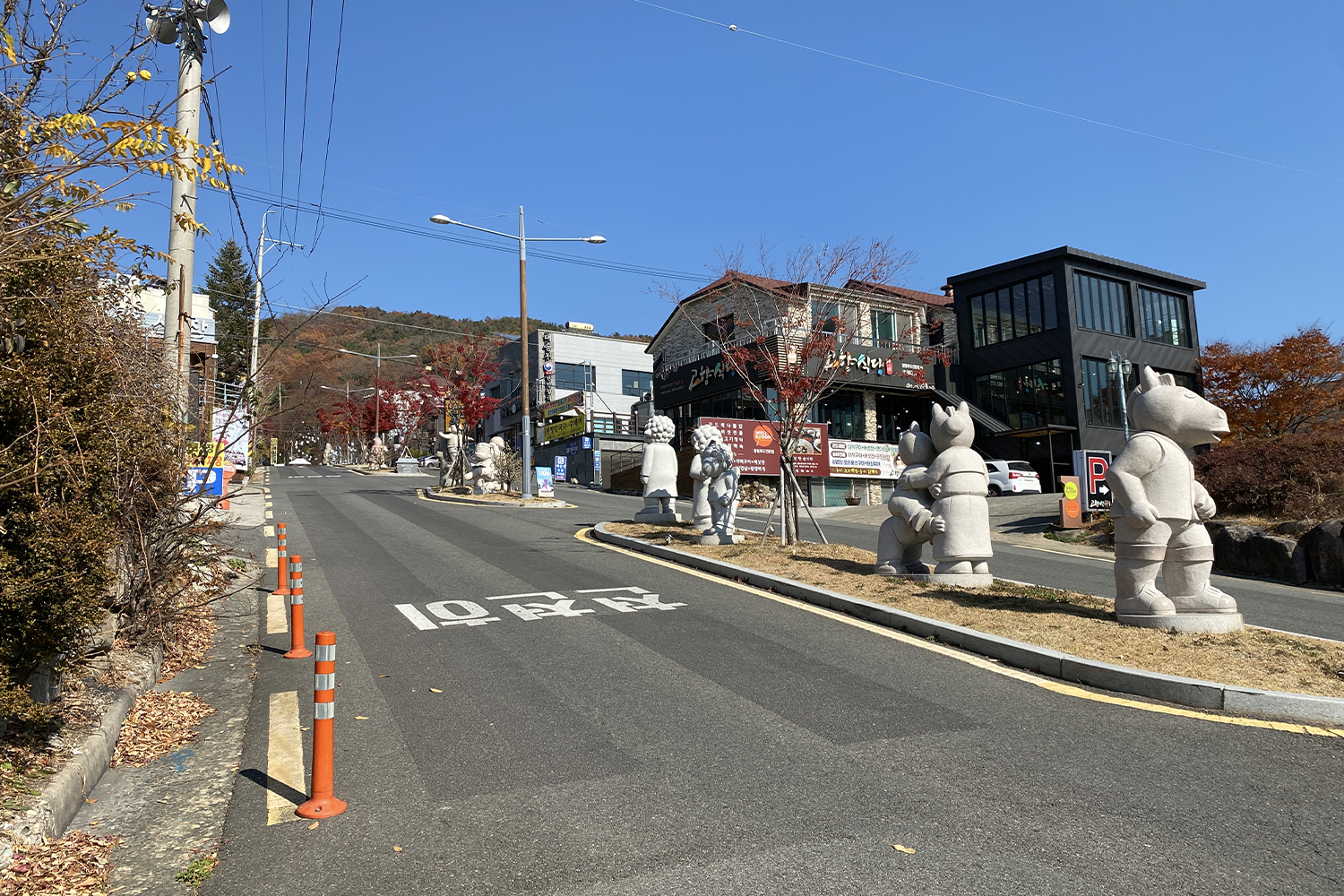 Walk past these statues and keep walking.
At the end of your short hike, you'll see the entrance to Palgongsan Cable Car.
Walk up these stairs and you're there!
If you're driving, put in this address (대구 동구 팔공산로185길 51 팔공산케이블카) into your navigation and you should be able to get there without hassle. The parking lot is on the right-hand side of the staircase.
---
BUYING YOUR TICKETS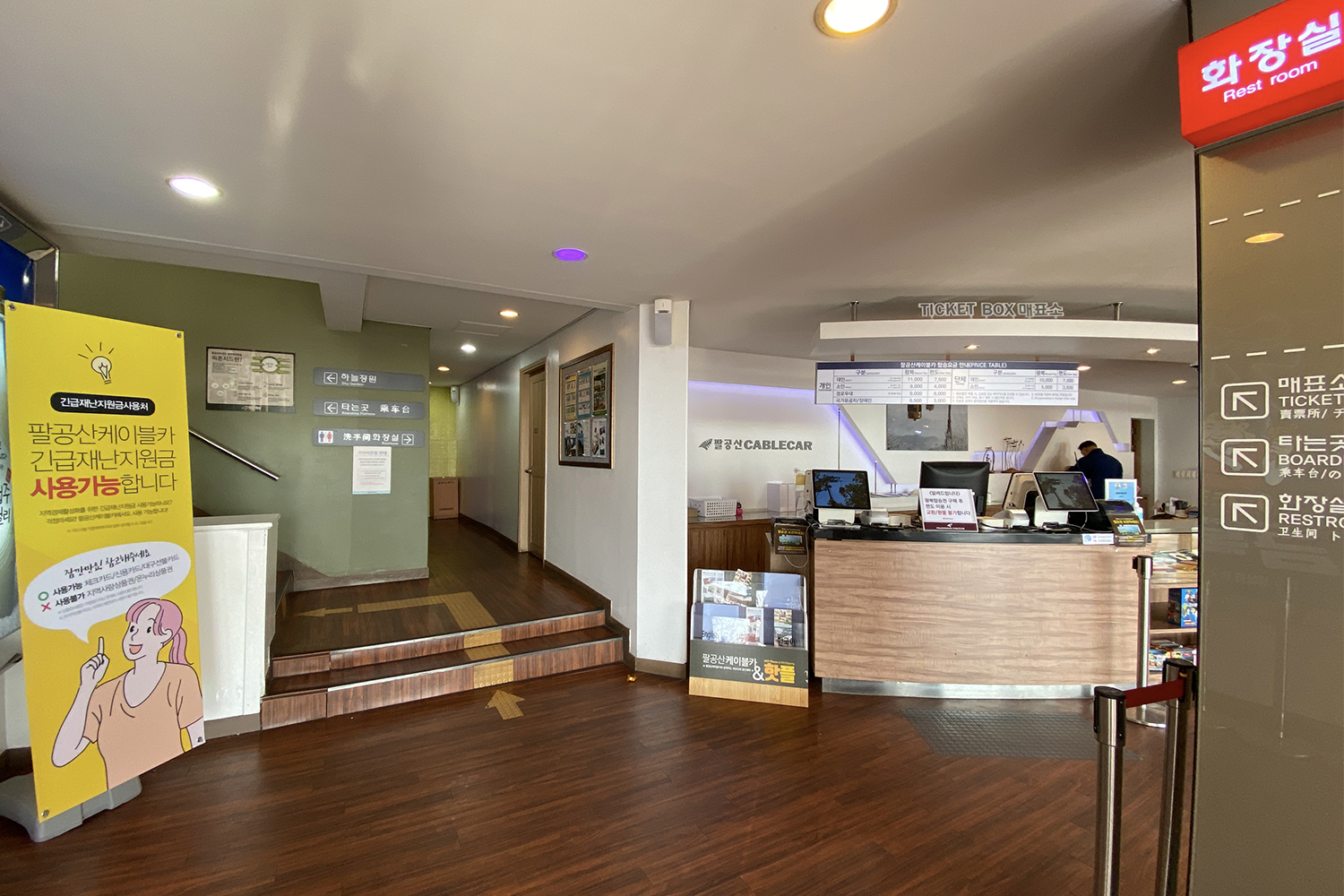 Enter the building and you'll be able to spot the ticket booth.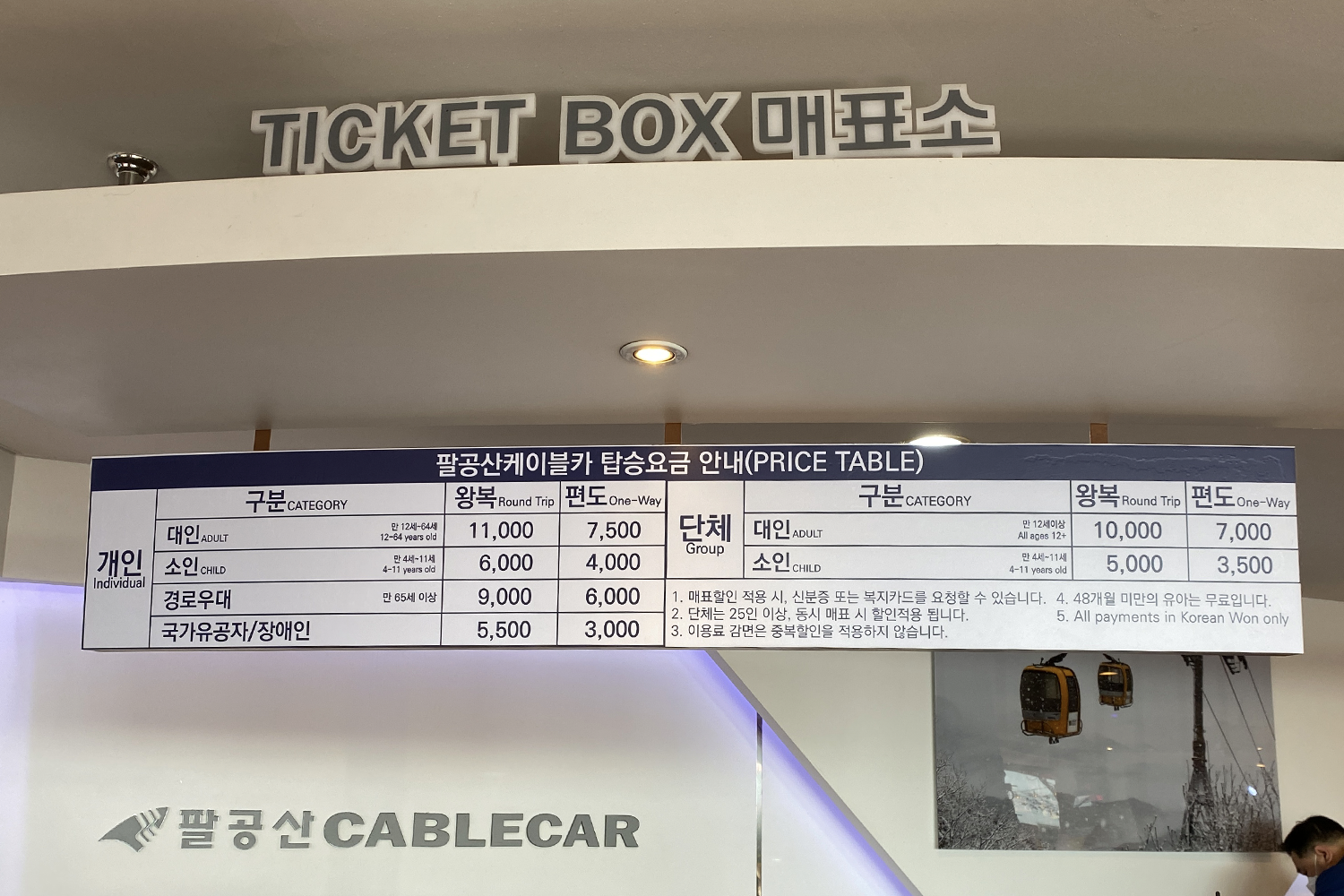 Adult
(Ages 12-64)

11,000

7,500

Children
(Ages 4-11)

6,000

4,000

Senior
(Ages 65 and up)

9,000

6,000

Veterans / Disabled

5,500

3,000
There is a one-way ticket you can purchase, but hiking down was not recommended by locals (Unless, of course, you're an avid hiker!). I went with a return ticket as suggested.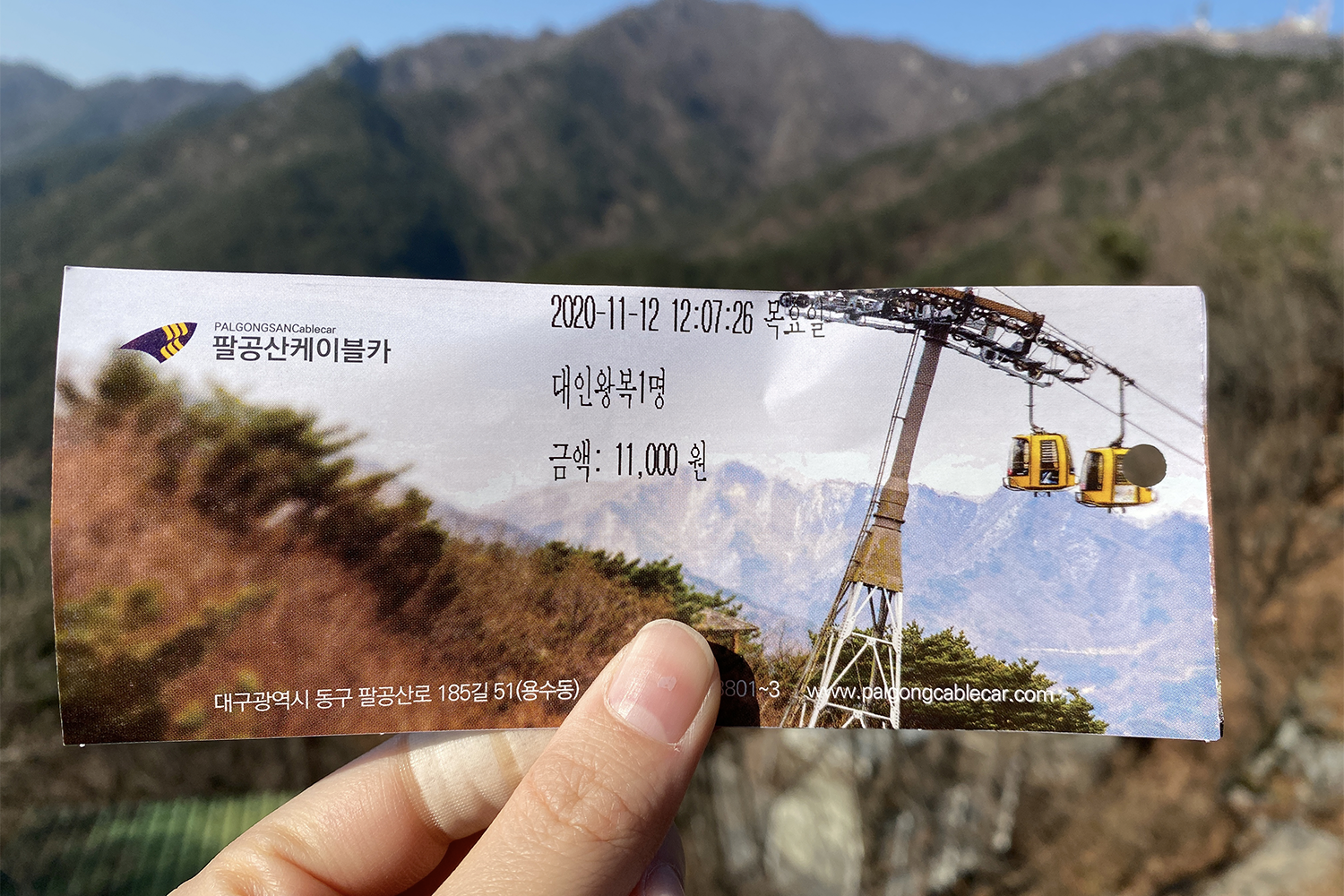 ---
THE MOUNTAIN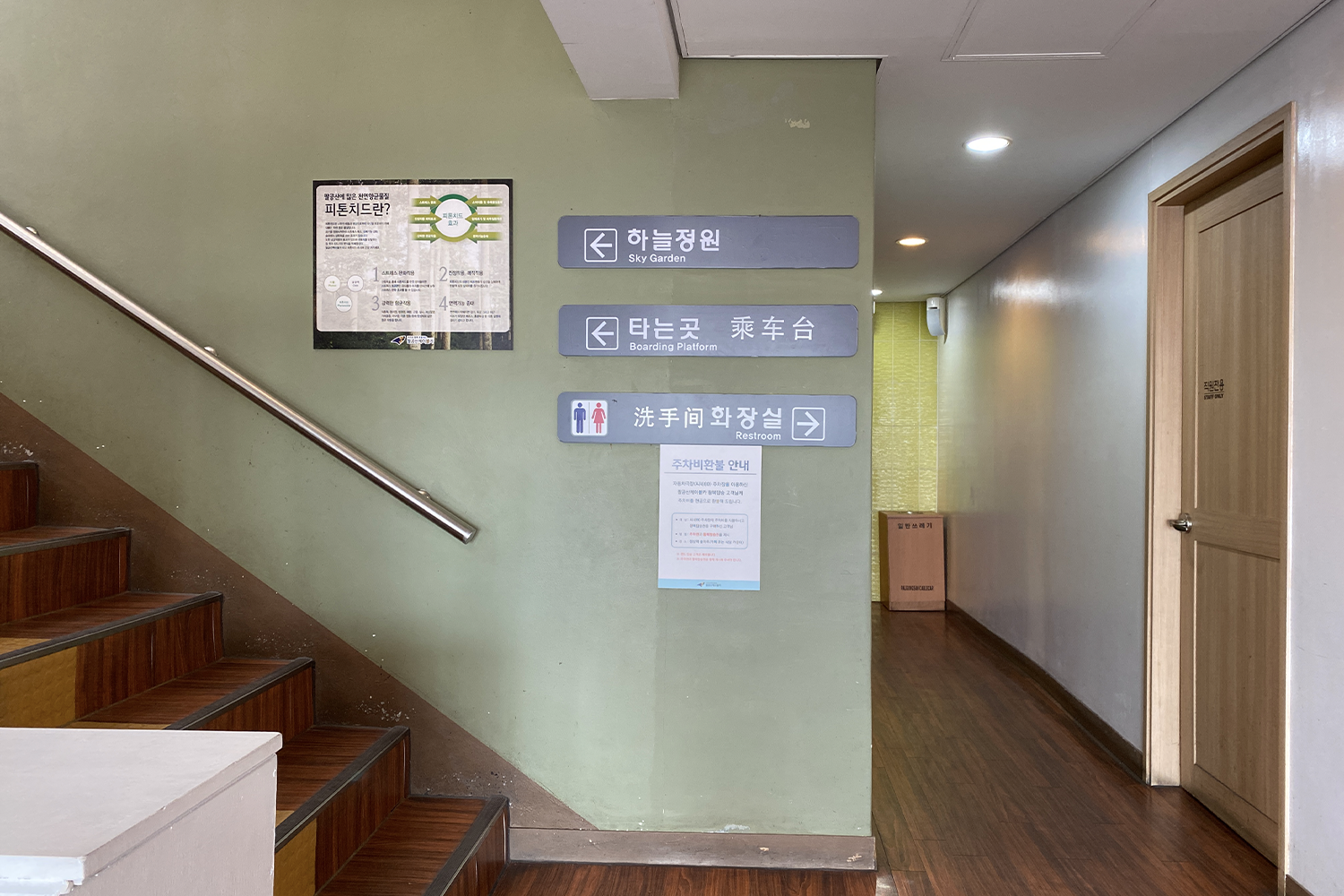 To the left of the ticket booth, you'll find the stairs that will lead you up to the cable car platform.
The yellow cable cars are so adorable! On my visit especially, they magnificently matched the fall foliage hues covering the mountain.
The cable car gives an expansive 360-degree view of Palgongsan's landscape. The short 7-minute ride was simply breathtaking.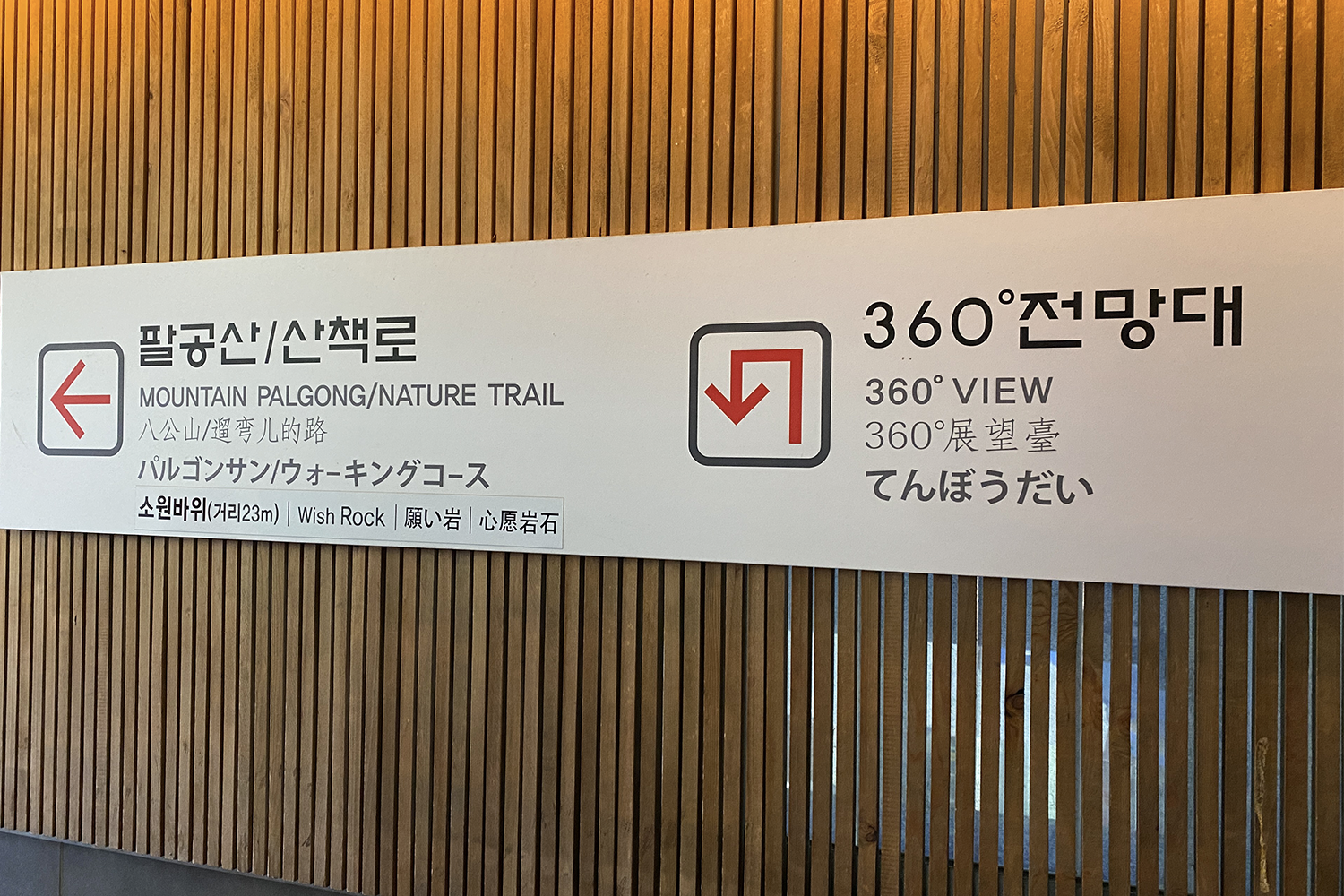 Right when you get off, there will be signs that tell you where to go. Upstairs of the platform is the famous restaurant which I'll also cover in the blog.
I decided to check out the mountain and its nature trails first.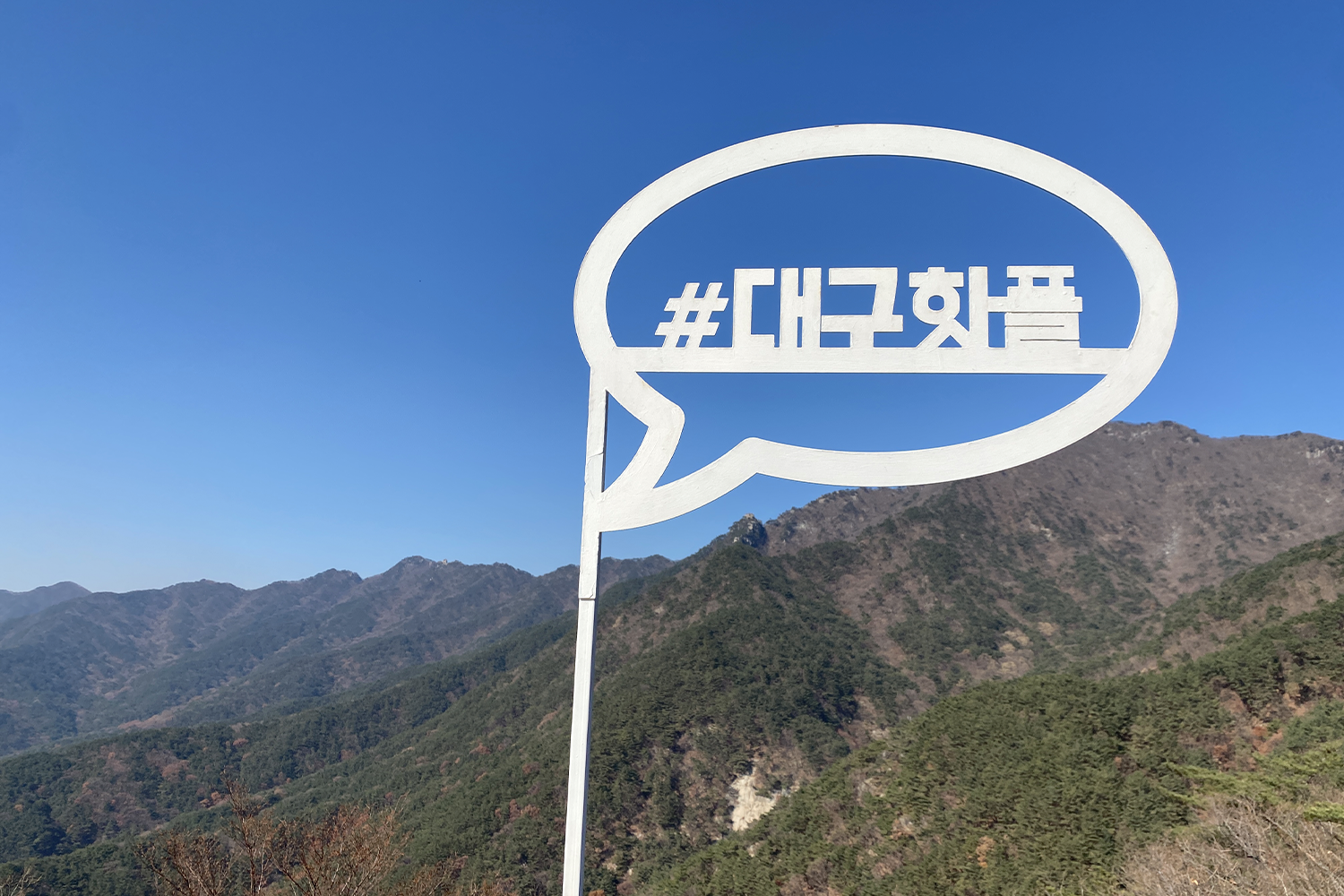 Throughout the mountain, you'll find cute signages that you can take photos of. This one said, 대구핫플, which means "the hot place in Daegu."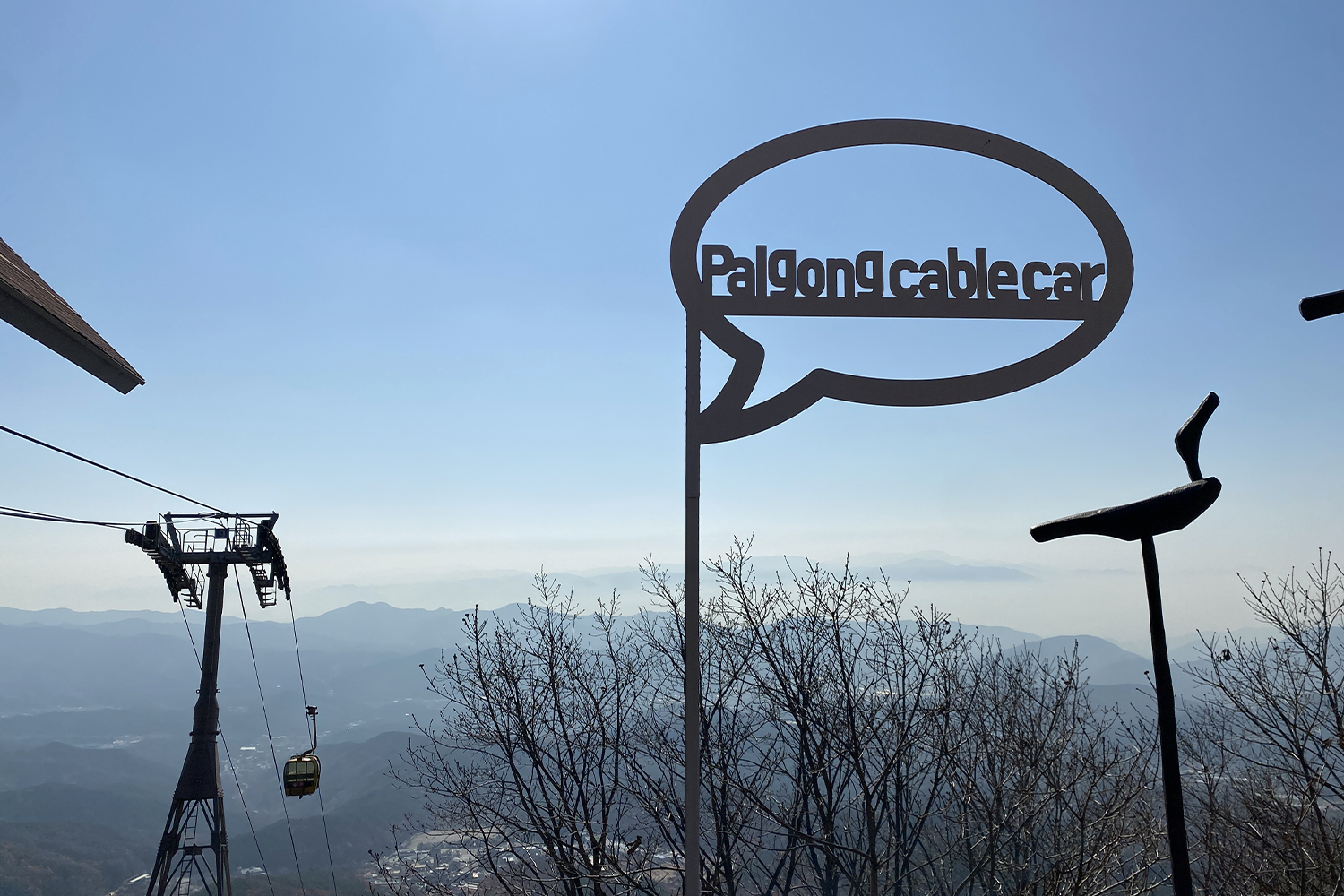 This signage is worth a snap or two as well! The backlight created a nice effect with the mountains as the backdrop.
In the main courtyard, you'll find many entrances and trails that branch out.
This entryway was full of love. Maybe because the sign hanging behind reads The Tunnel Of Love (사랑의 터널).
Along the trails, they have checkpoints named Beautiful Love (아름다운 사랑), True Love (진실한 사랑), Forever Love (영원한 사랑), Healthy Love (건강한 사랑), Happy Love (행복한 사랑).
Loads of heart-shaped messages written by couples hang at each checkpoint, as you can see from the picture above of Beautiful Love.
Along the trails, you'll find lots of places to sit and rest. Many people brought their own food and were eating at these outdoor tables surrounded by nature and a stunning view.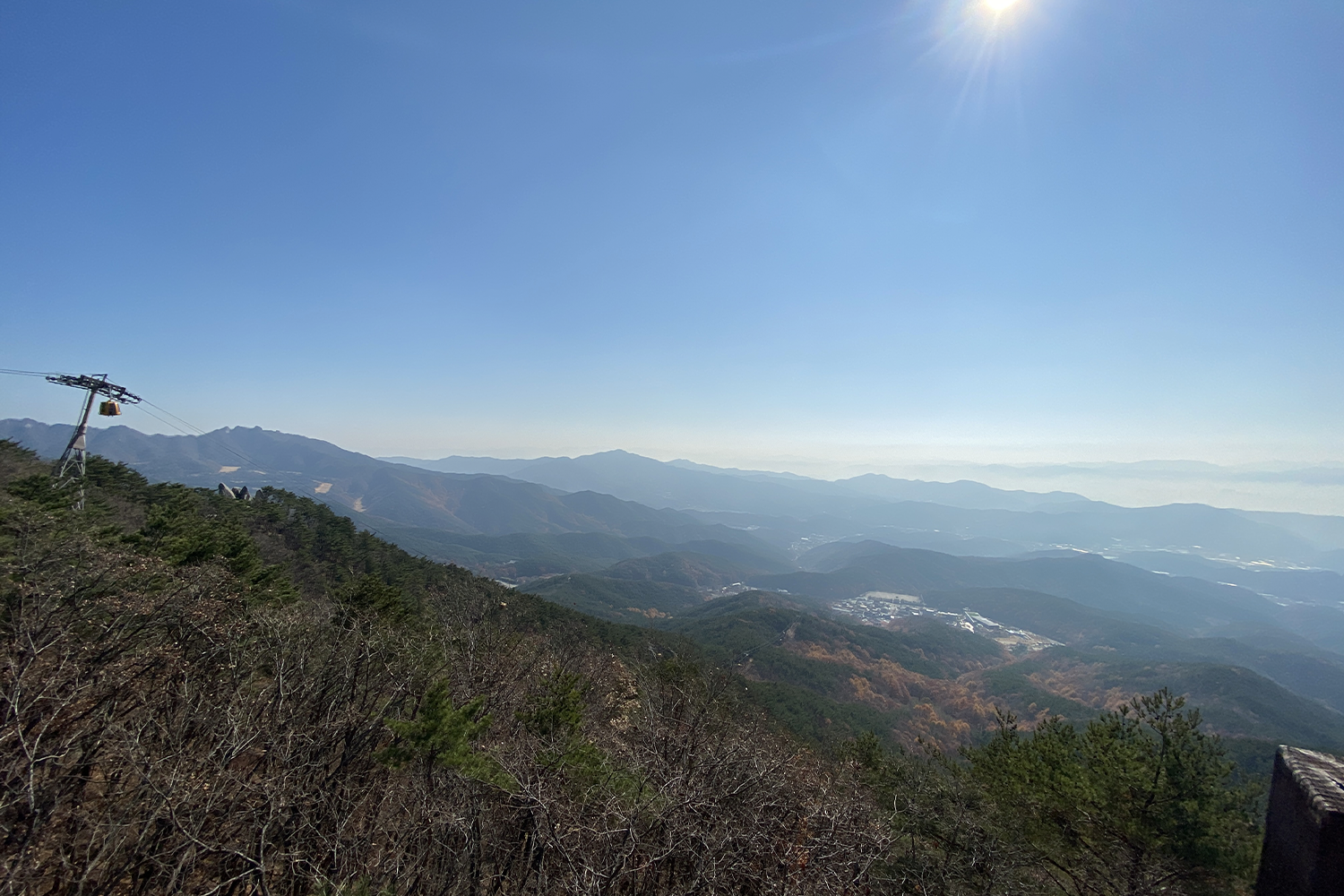 Palgongsan is 1,192m tall, so the vista up here is undoubtly refreshing and invigorating.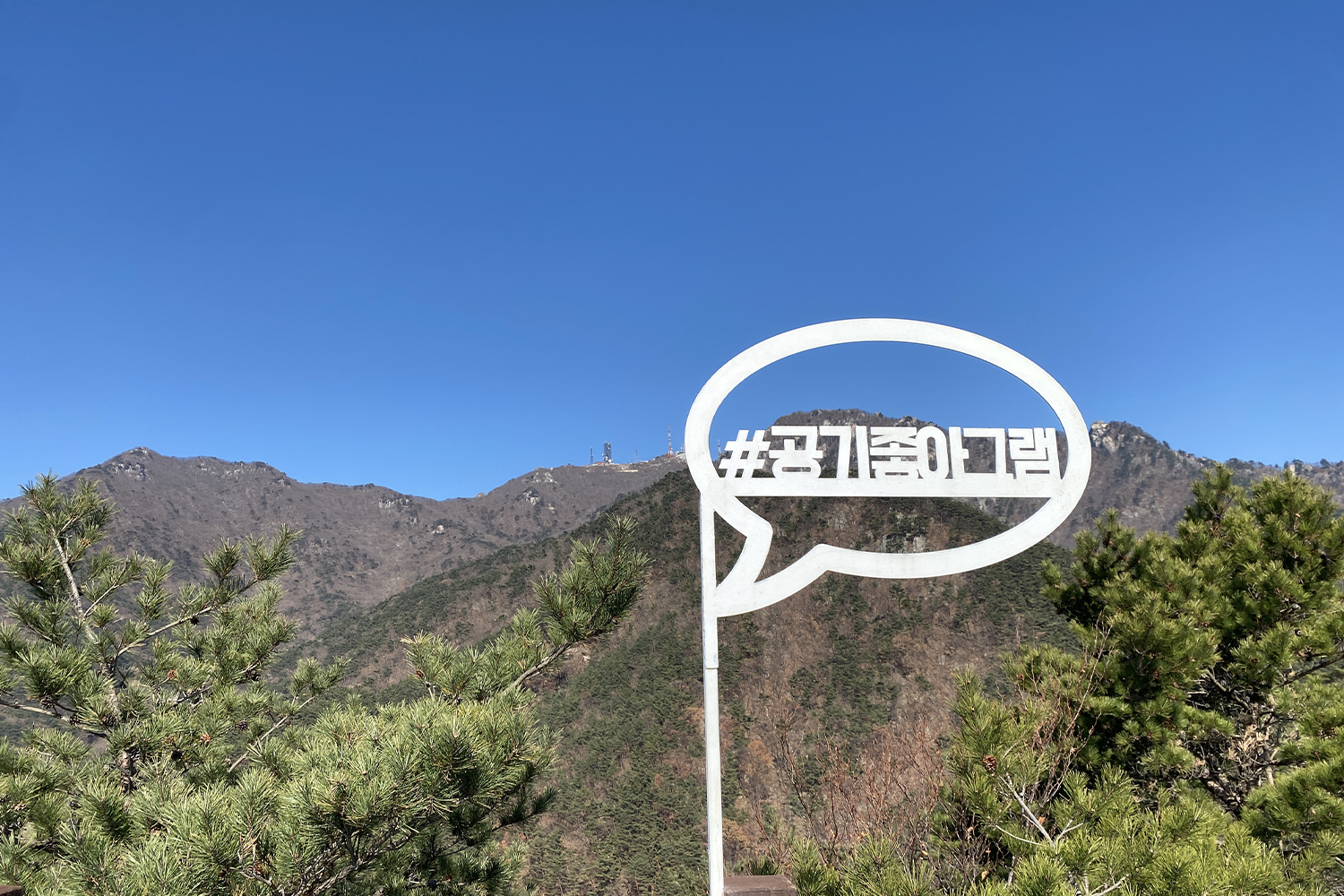 During my walk, I found another signage which read #공기좋아그램, which roughly translates to, "The air is great-gram," "gram" short for Instagram.
Undoubtedly, the view was Insta-worthy!
It was really cute seeing couples sitting on the wooden swings and enjoying nature together.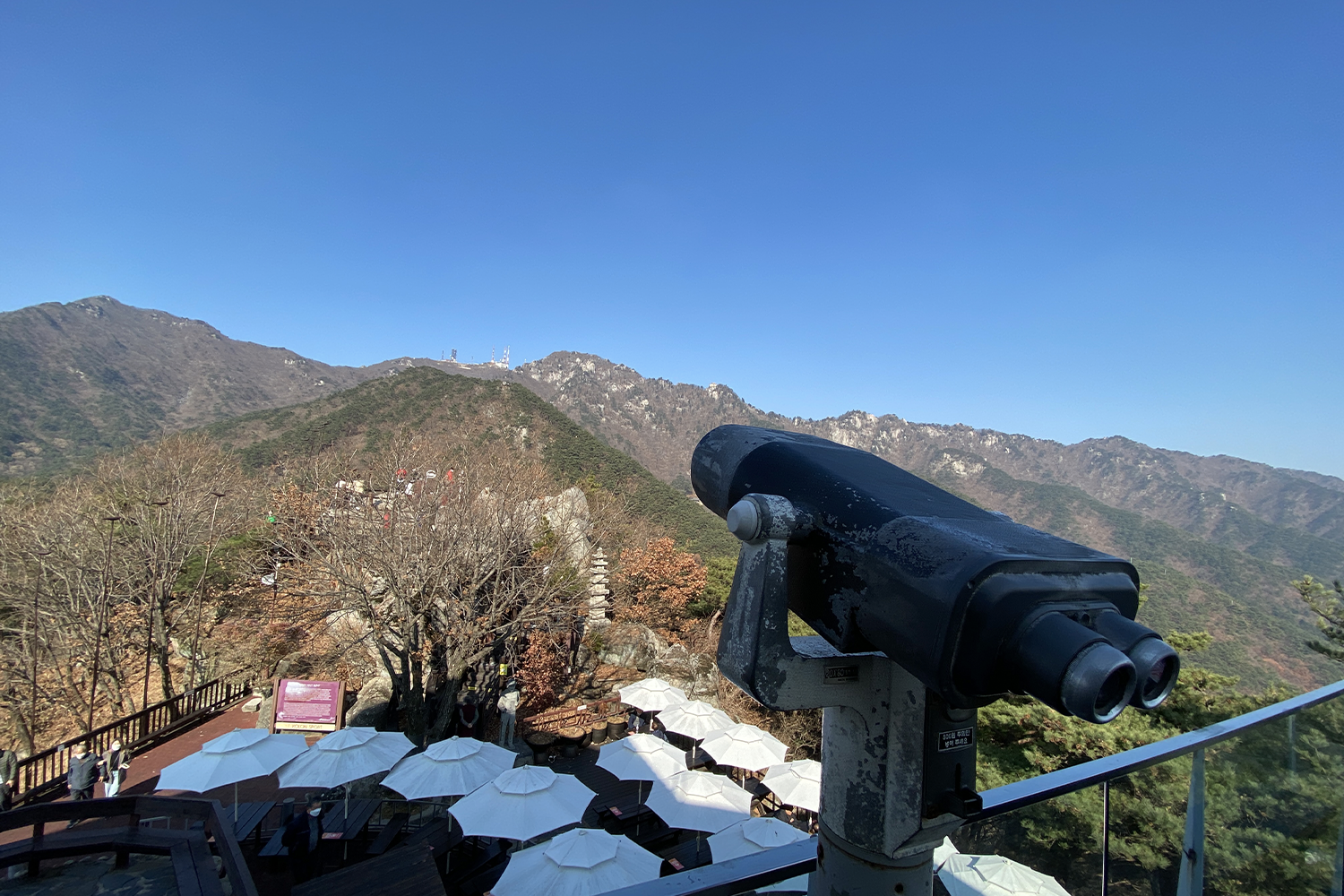 Close-up, anyone?
Once you're back in the main courtyard, look for the stone status, which reads Shillimbong (신림봉). It will take you to the peak at 820m.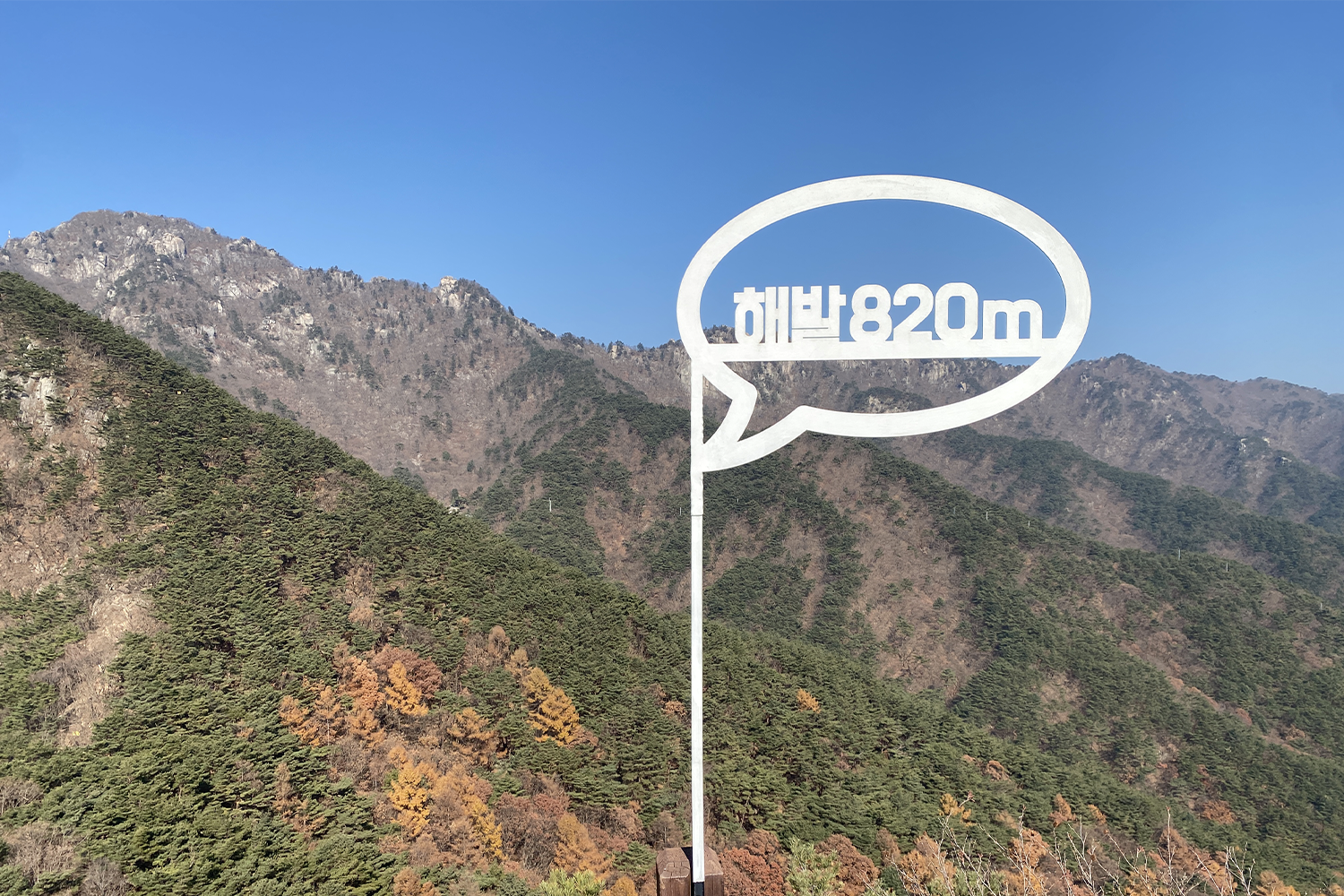 At an altitude of 820m!
Explore another entryway and you'll find this nicely paved trail that's perfect for a short, mild hike.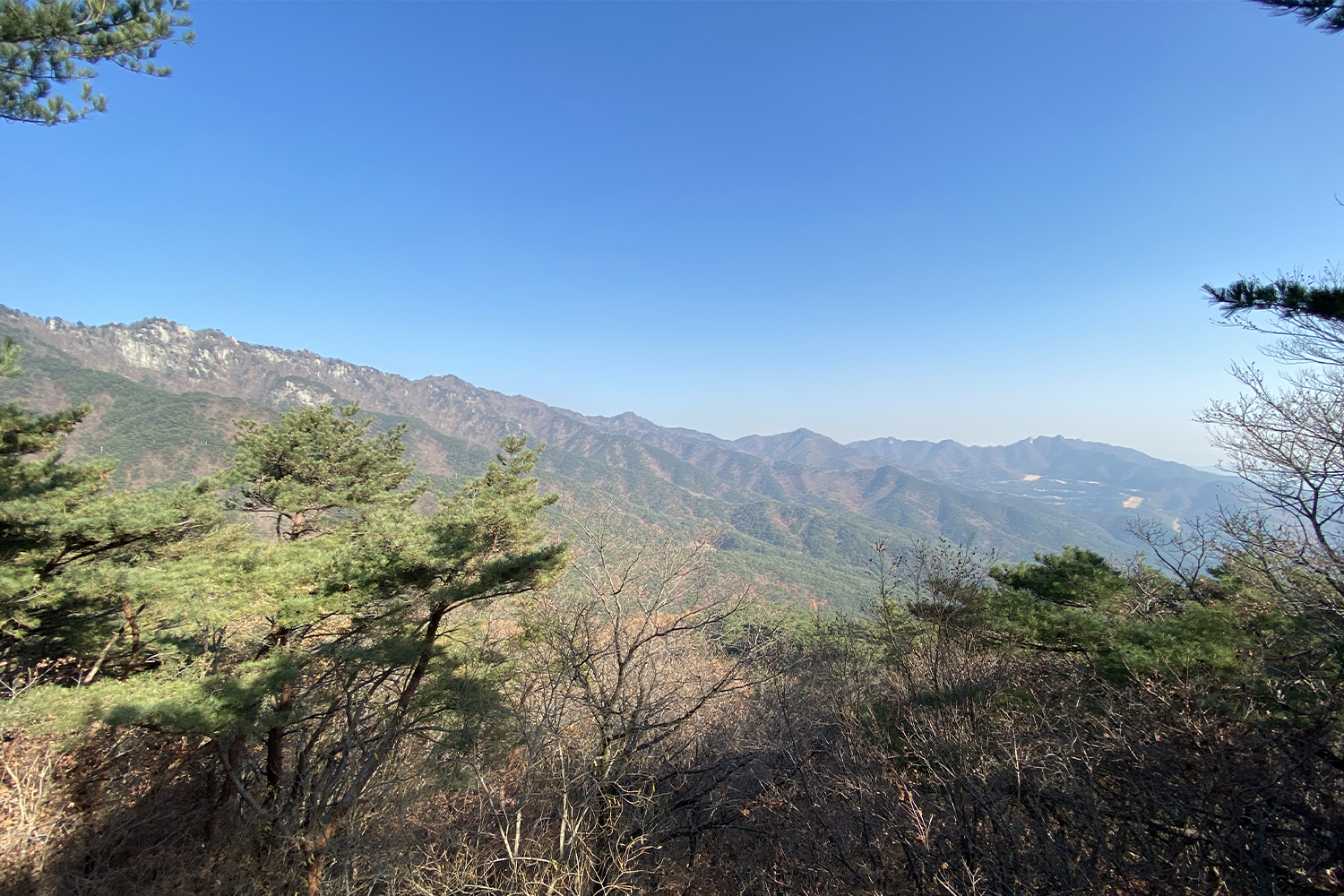 Along the way, don't forget to snap photos of scenic landscapes!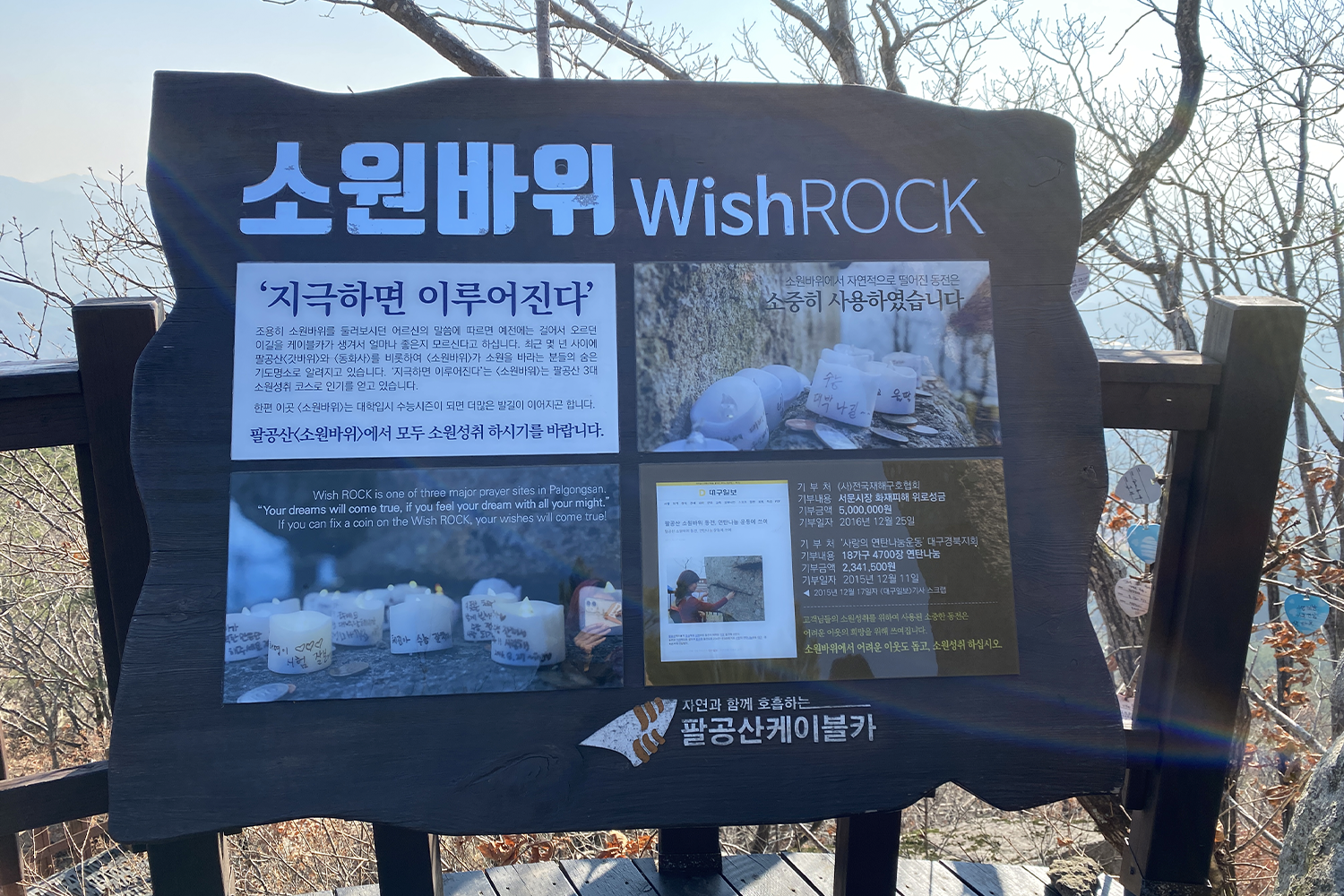 You'll also find a sign that says, Wish Rock · 소원바위. People believe sticking a coin on the rock and making a wish will make it come true.
A closer look at the rock, lots of coins could be seen stuck on it.
There are traces of glue being used, but doing so probably isn't very ethical. Simply placing a coin on the rock and making a wish should suffice.
Right beside the rock, you'll also see a tree with more heart-shaped notes with wishes written down hanging.
A fountain that resembles a famous Korean folktale the Tortoise and the Hare (토끼와 자라), a different story from the popular Aesop fable we know of, could be spotted.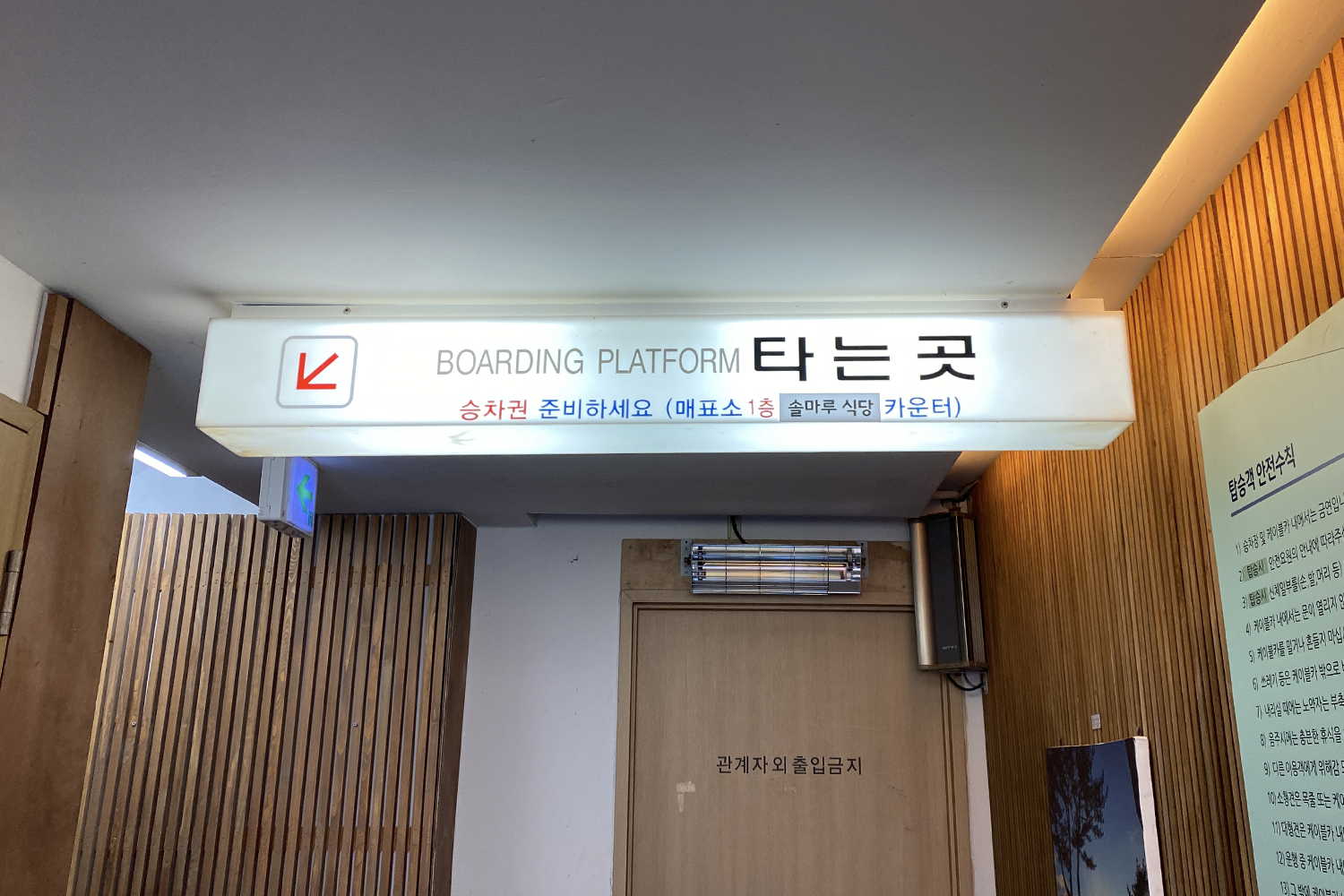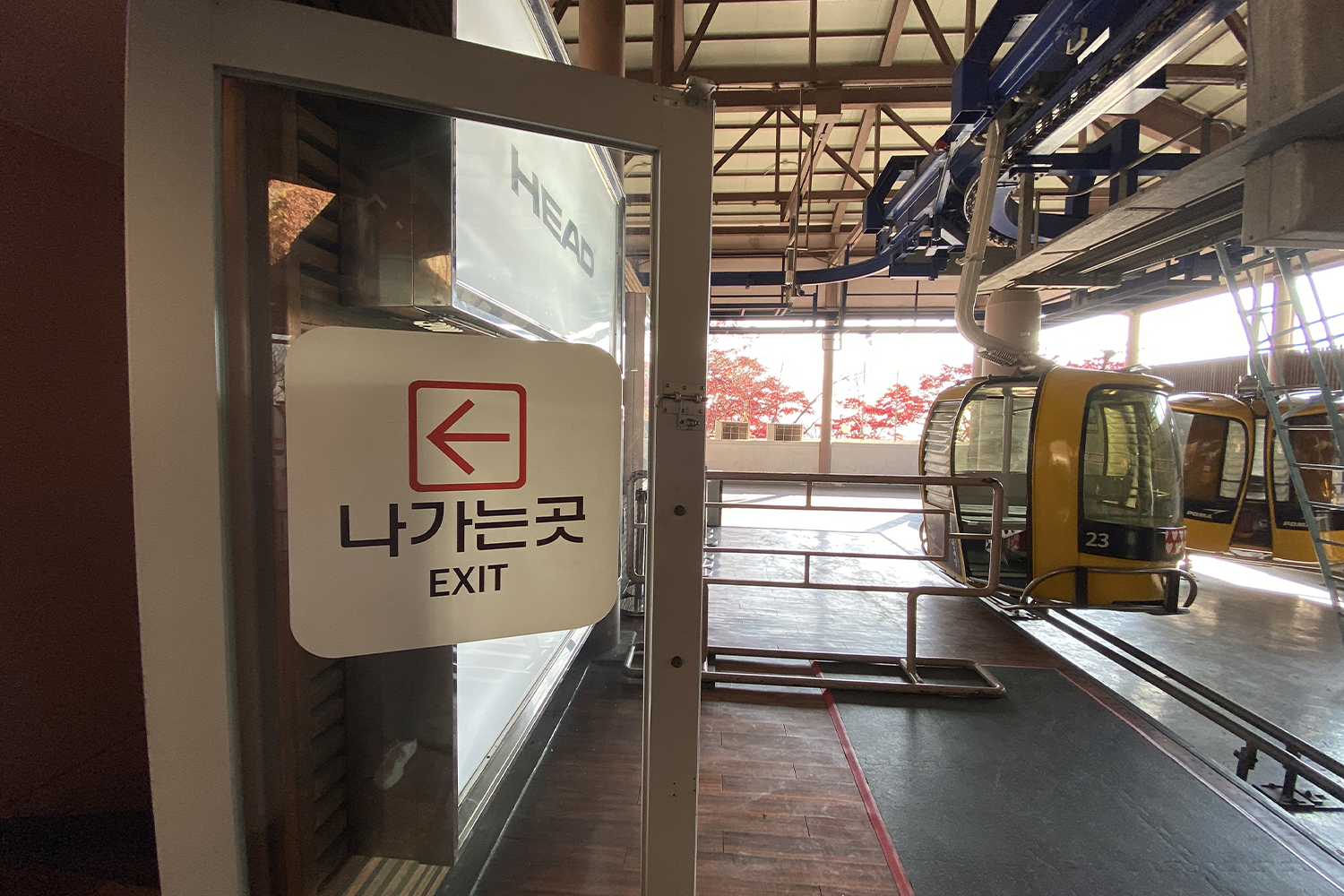 Follow the boarding platform sign and the cable car will lead you right down to the ticket office.
---
WHAT TO EAT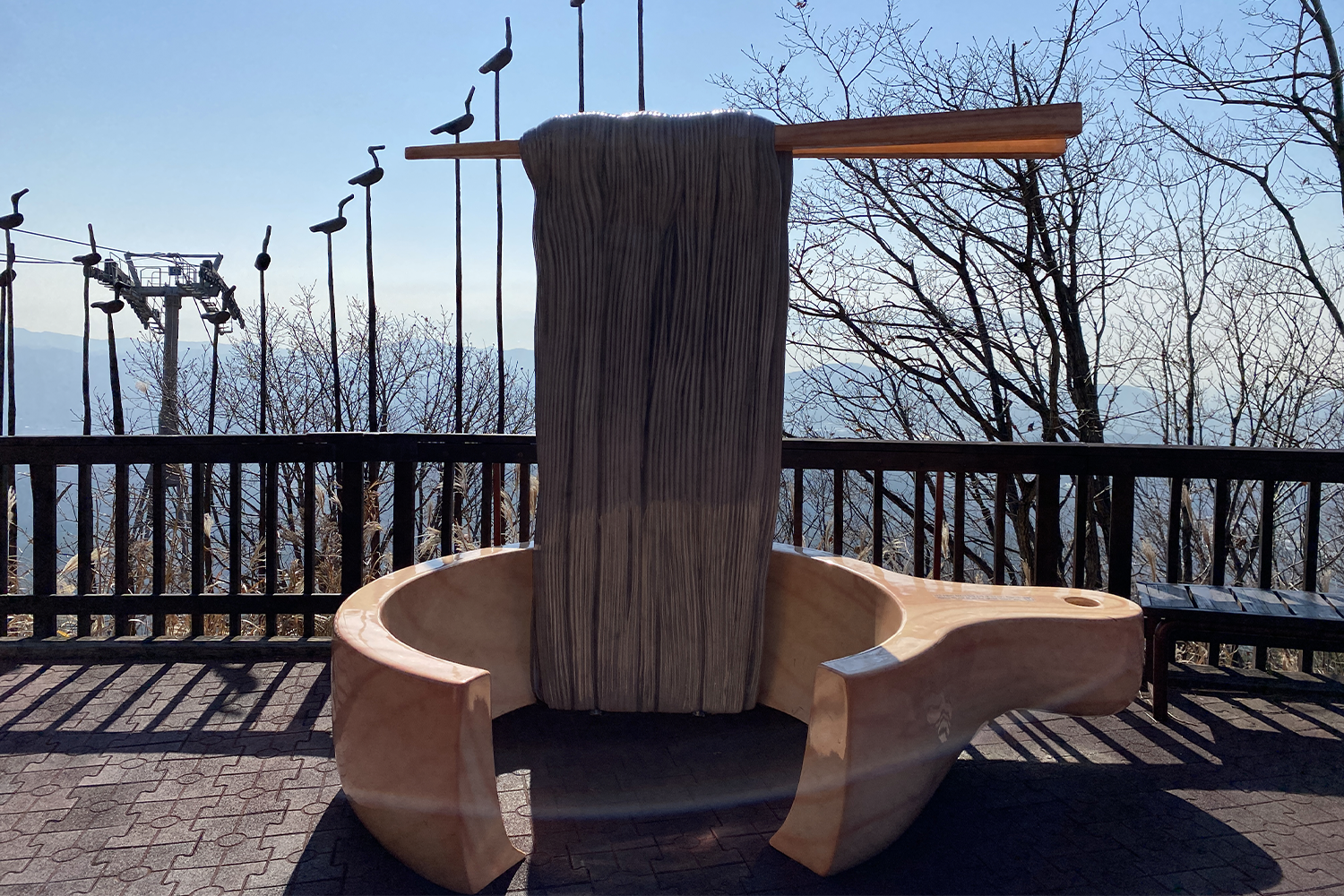 The signature dish up on Palgongsan that even has a huge statue of itself is flying maemil (플라잉 메밀), which is cold buckwheat noodle served on flying chopsticks.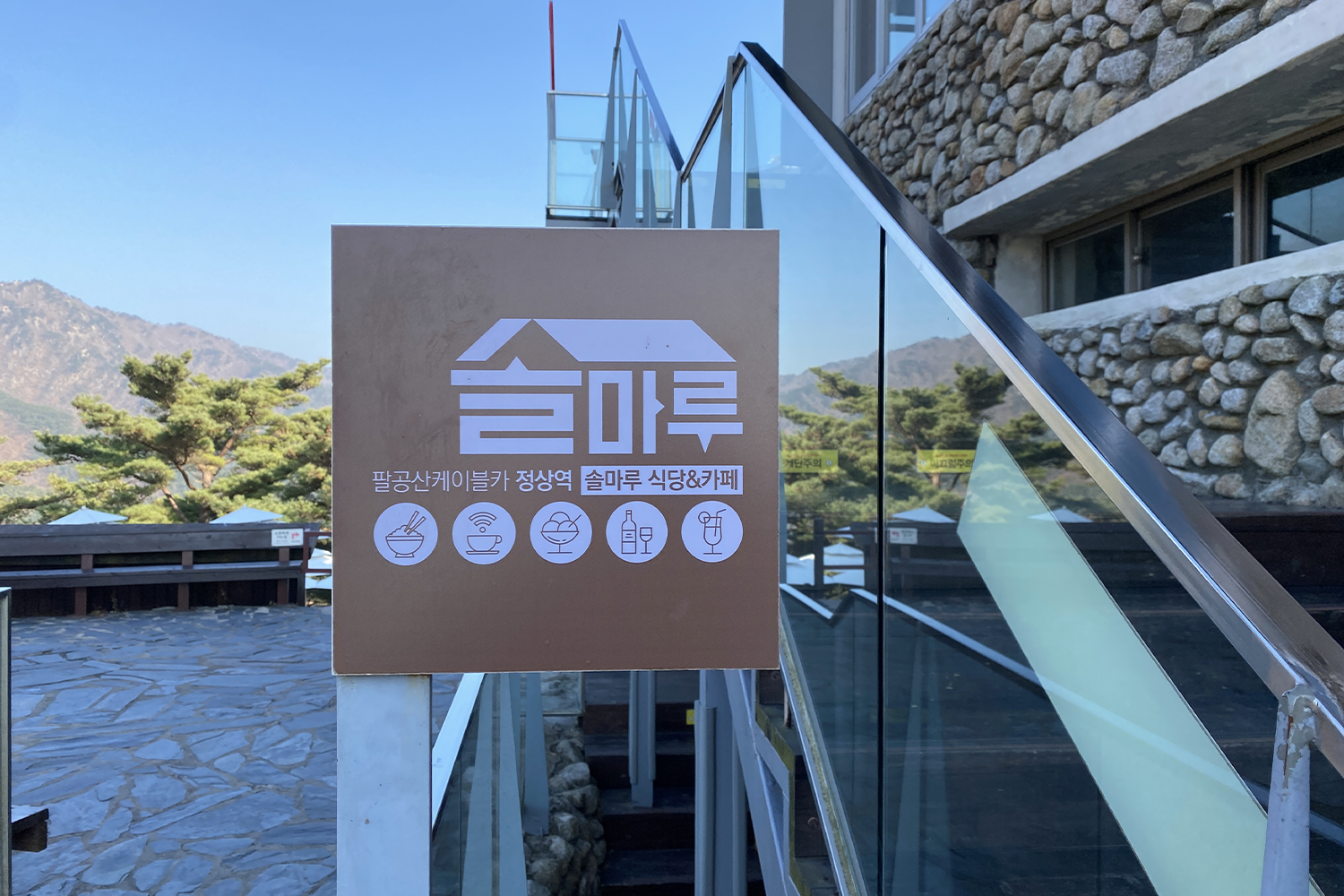 From the main courtyard, you'll easily find the restaurant that serves it on the second floor, named Solmaru (솔마루).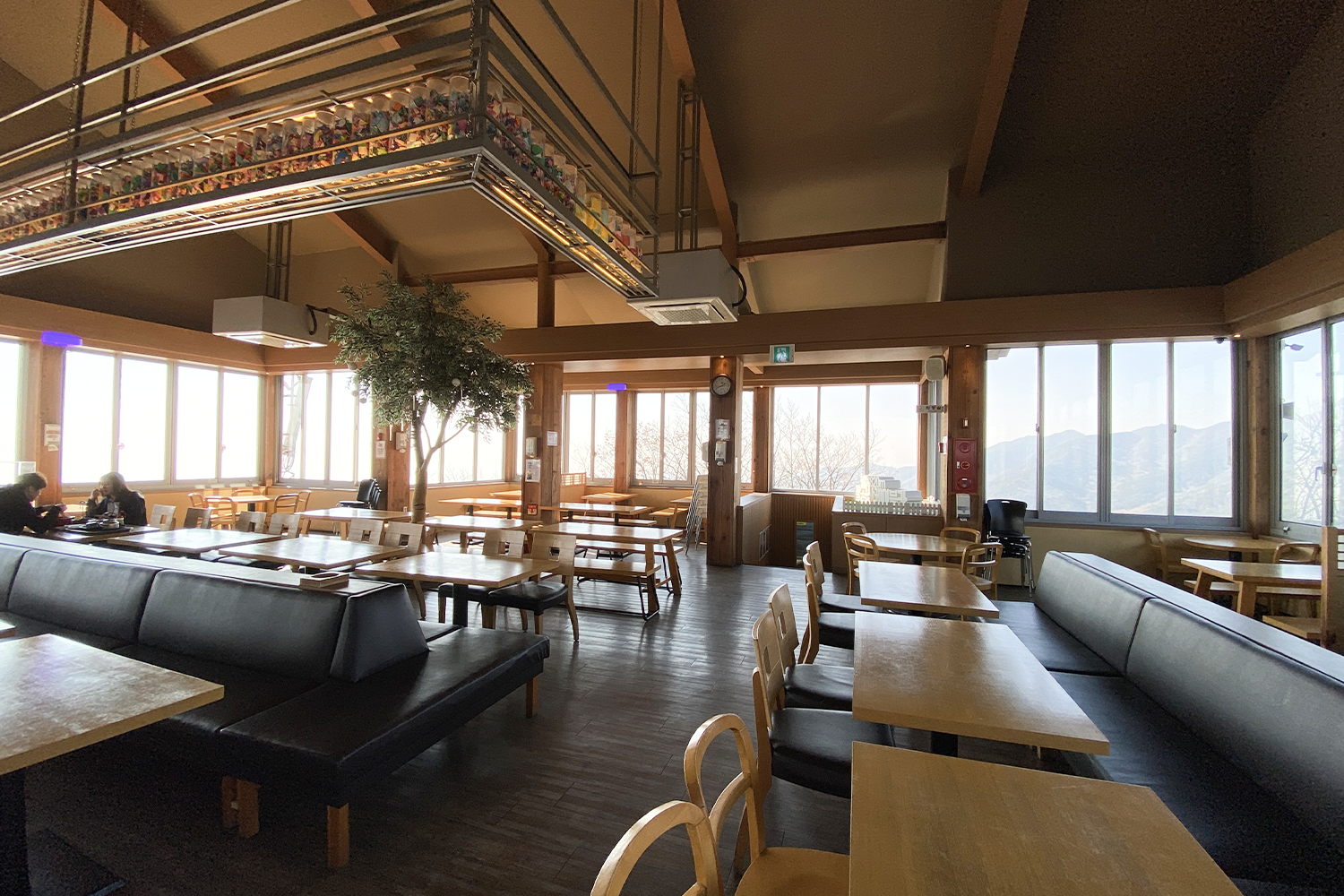 The restaurant's interior is modern and clean, which makes for a perfect meal. But sitting outside is more recommended because they've got amazing outdoor tables overlooking the mountains.
The nature scene and fresh air add onto this unique food experience.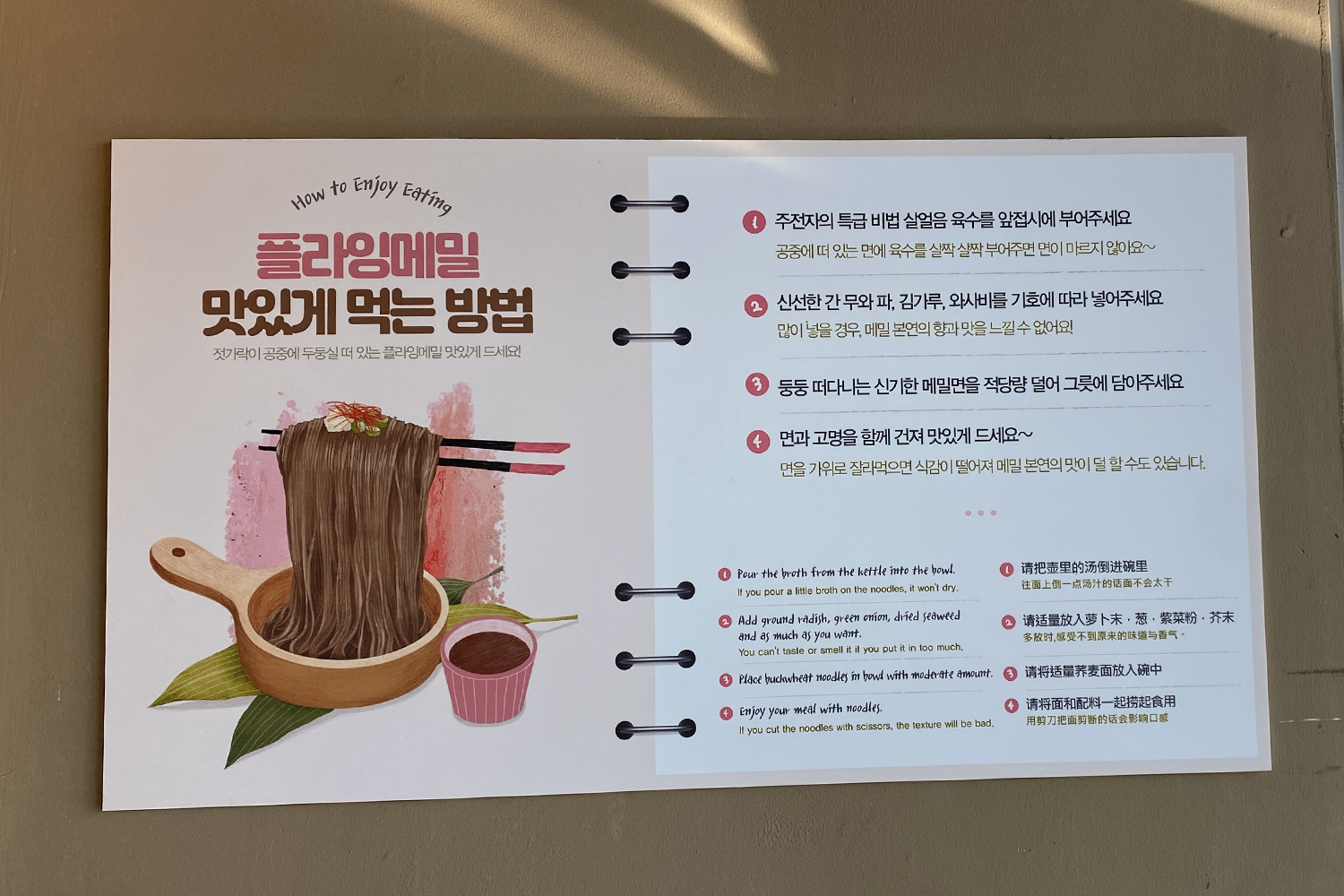 Right beside the counter, you'll find instructions on how to devour the flying noodles, which will be explained in this blog below.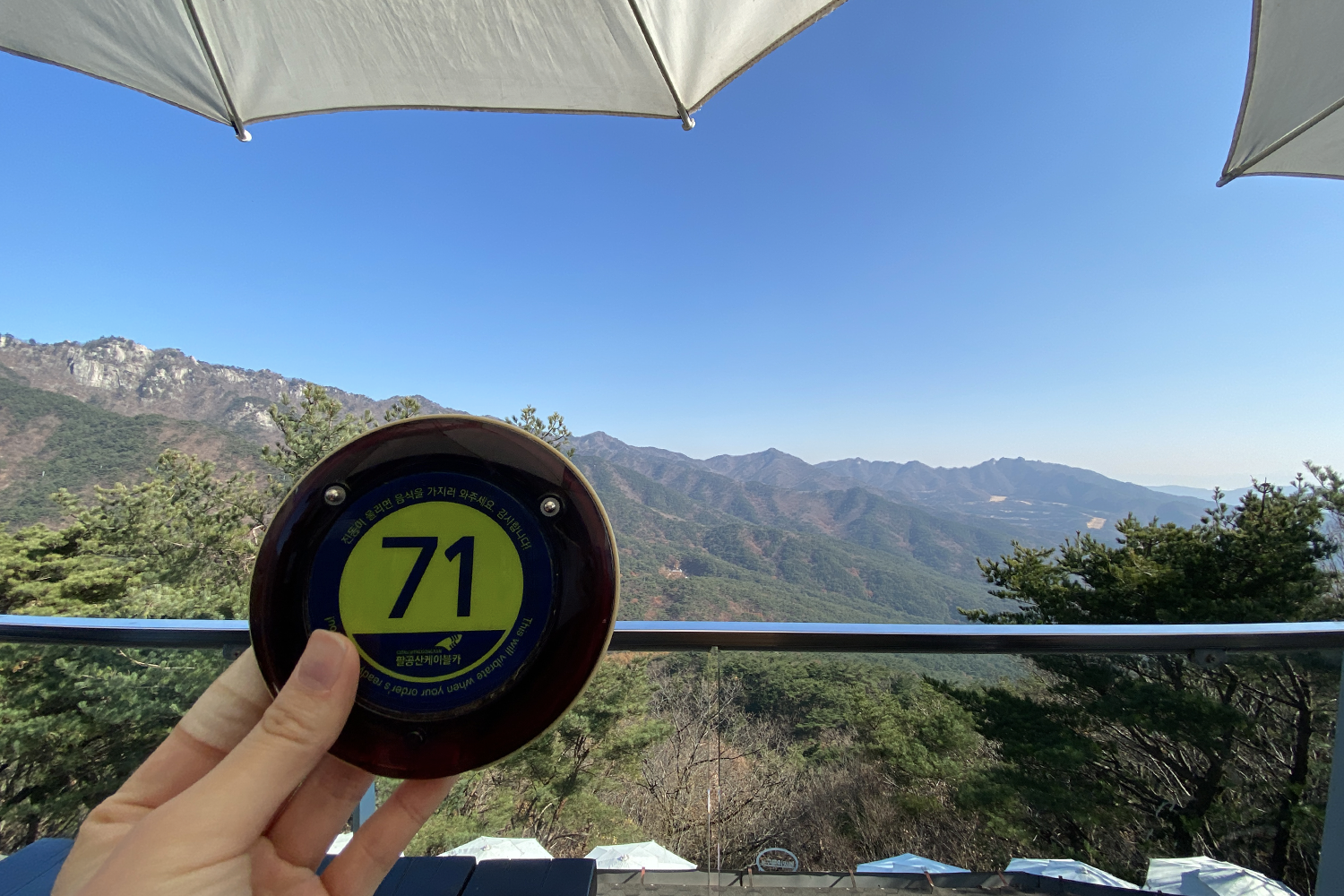 Once you go up to the counter, order and pay, you'll be given the bell which vibrates once your food is ready.
The combination that many people seem to proudly display on their social media is flying maemil, pajeon · 파전 (green onion pancake) and dongdong-ju · 동동주 (rice wine).
Because I went early in the day, I decided to stay away from alcohol, but I didn't shy away from pajeon (₩12,000) and the famous flying maemil (₩10,000).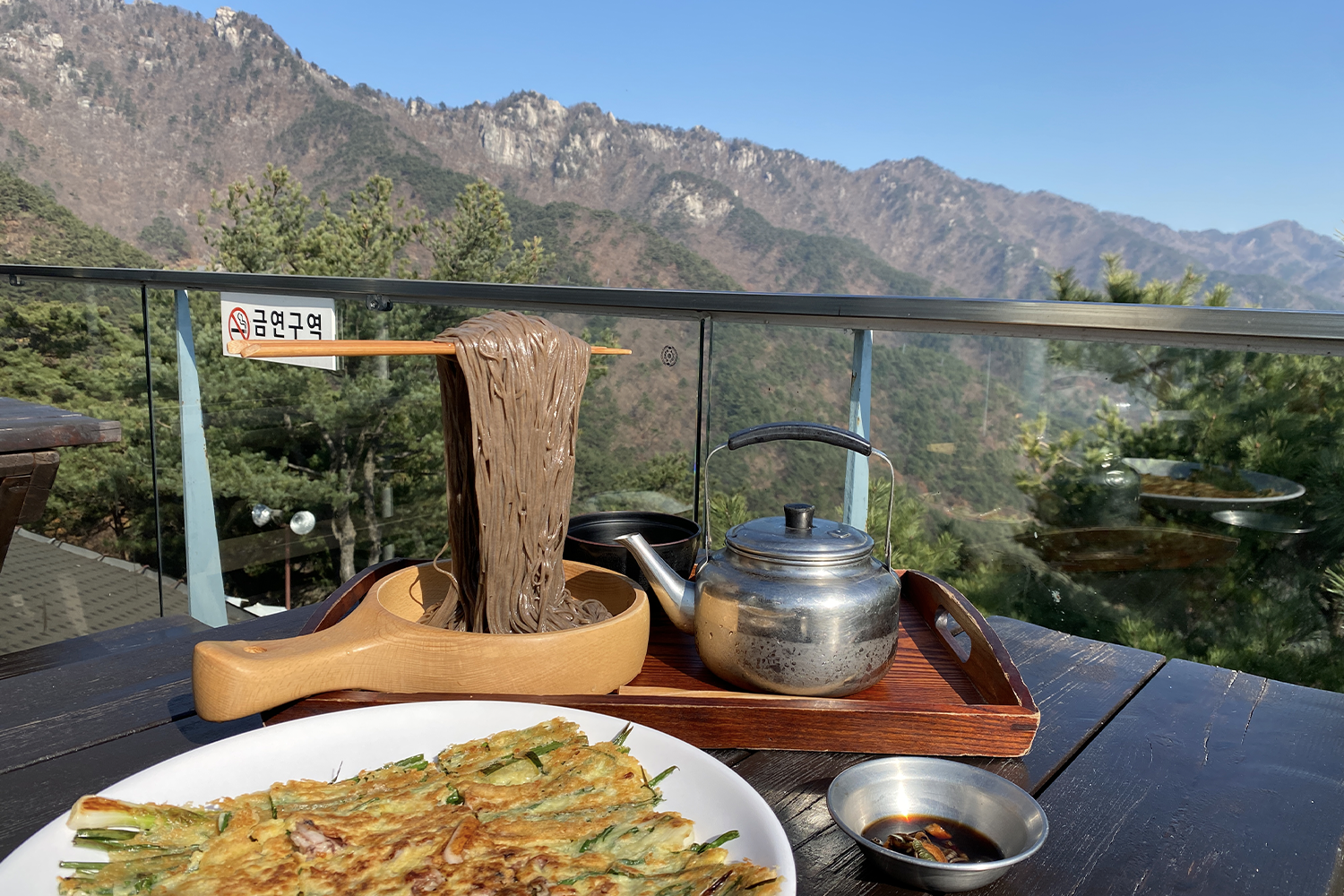 To prevent the noodles from drying, pour a little bit of the broth onto the noodle to keep it moist.
Try and not to cut the noodle with scissors as they will change the texture of the noodle.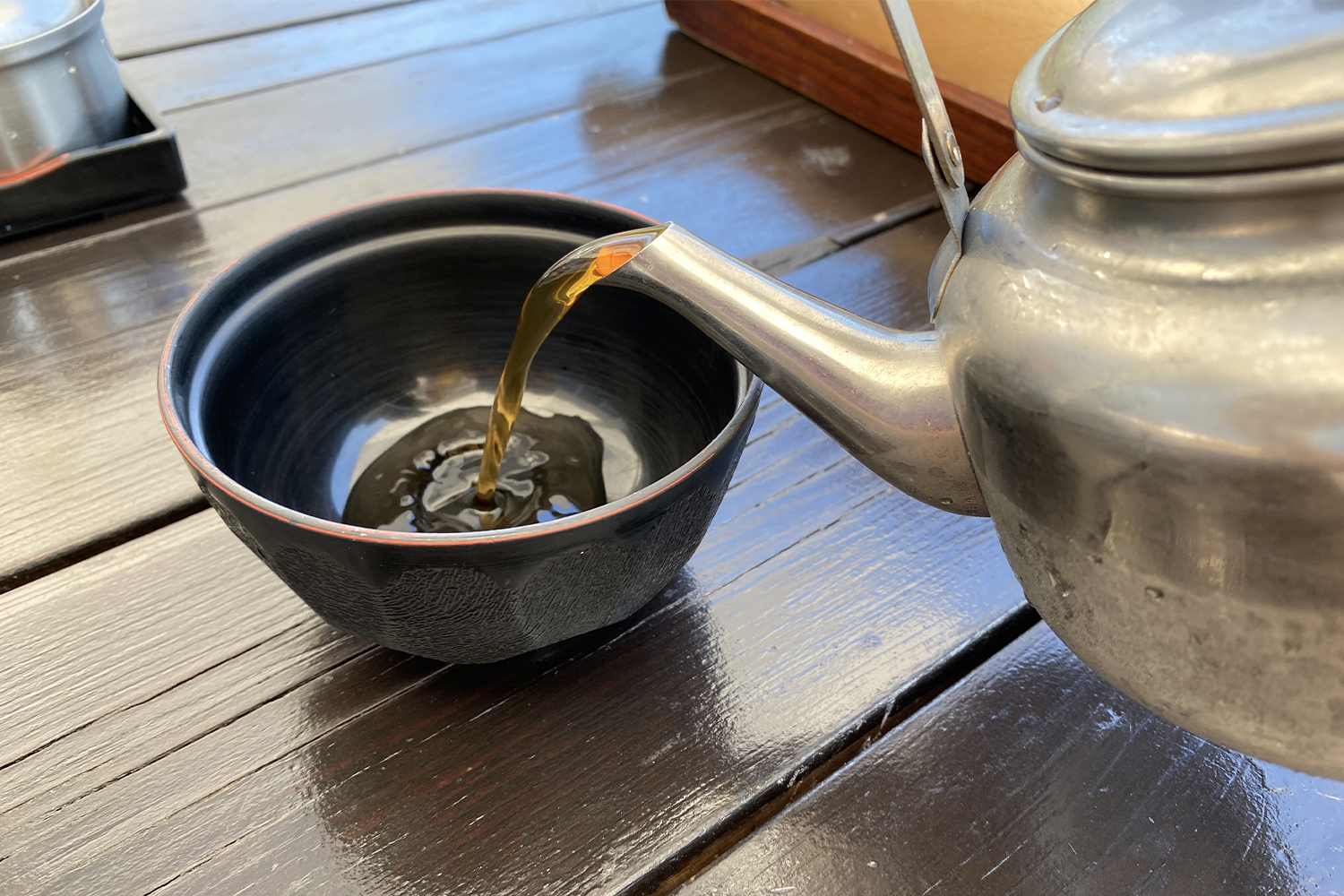 Then, pour a generous amount of the broth into the bowl.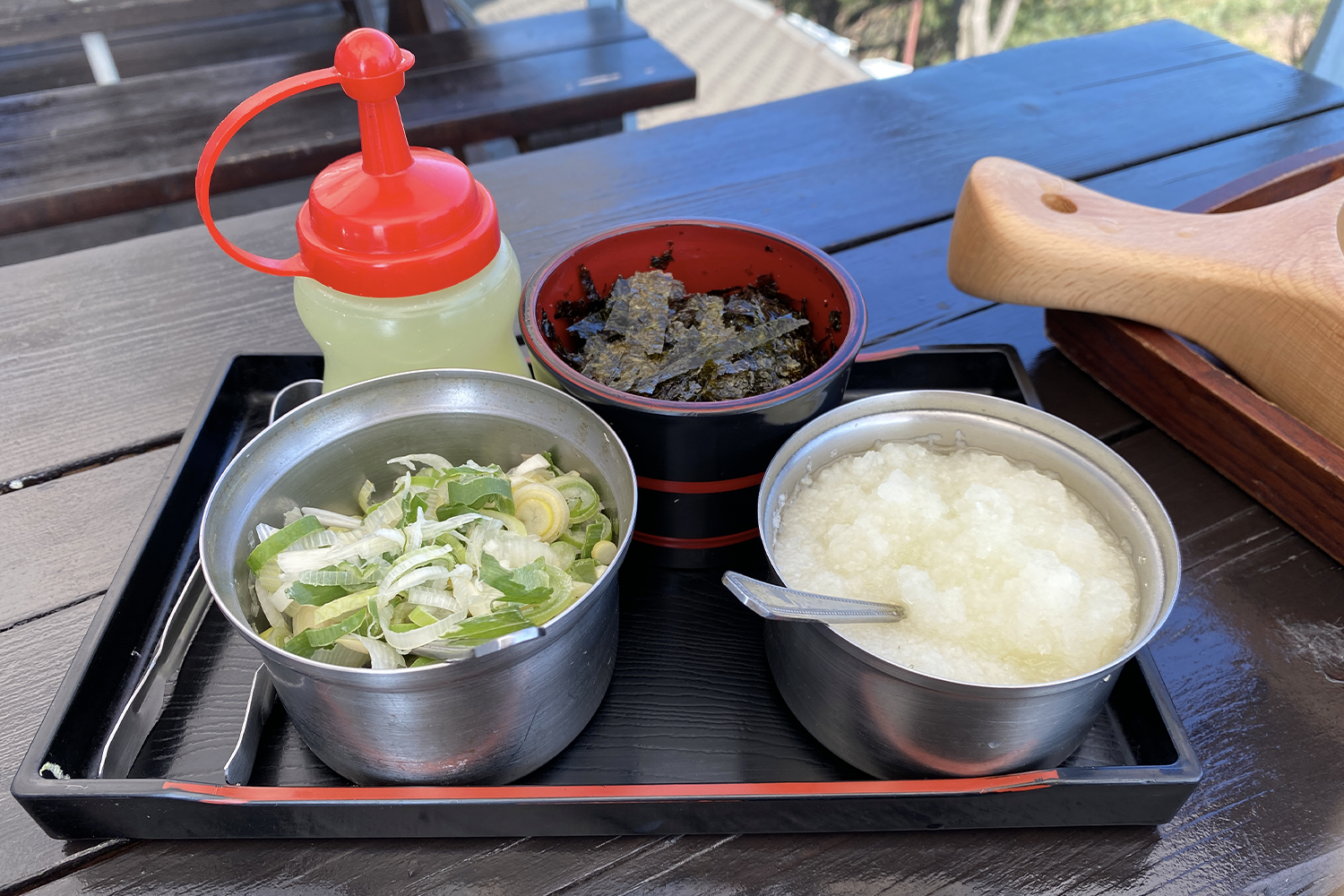 The noodle comes with condiments that add flavours including sliced green onions, minced garlic, seaweed pieces and spicy mustard.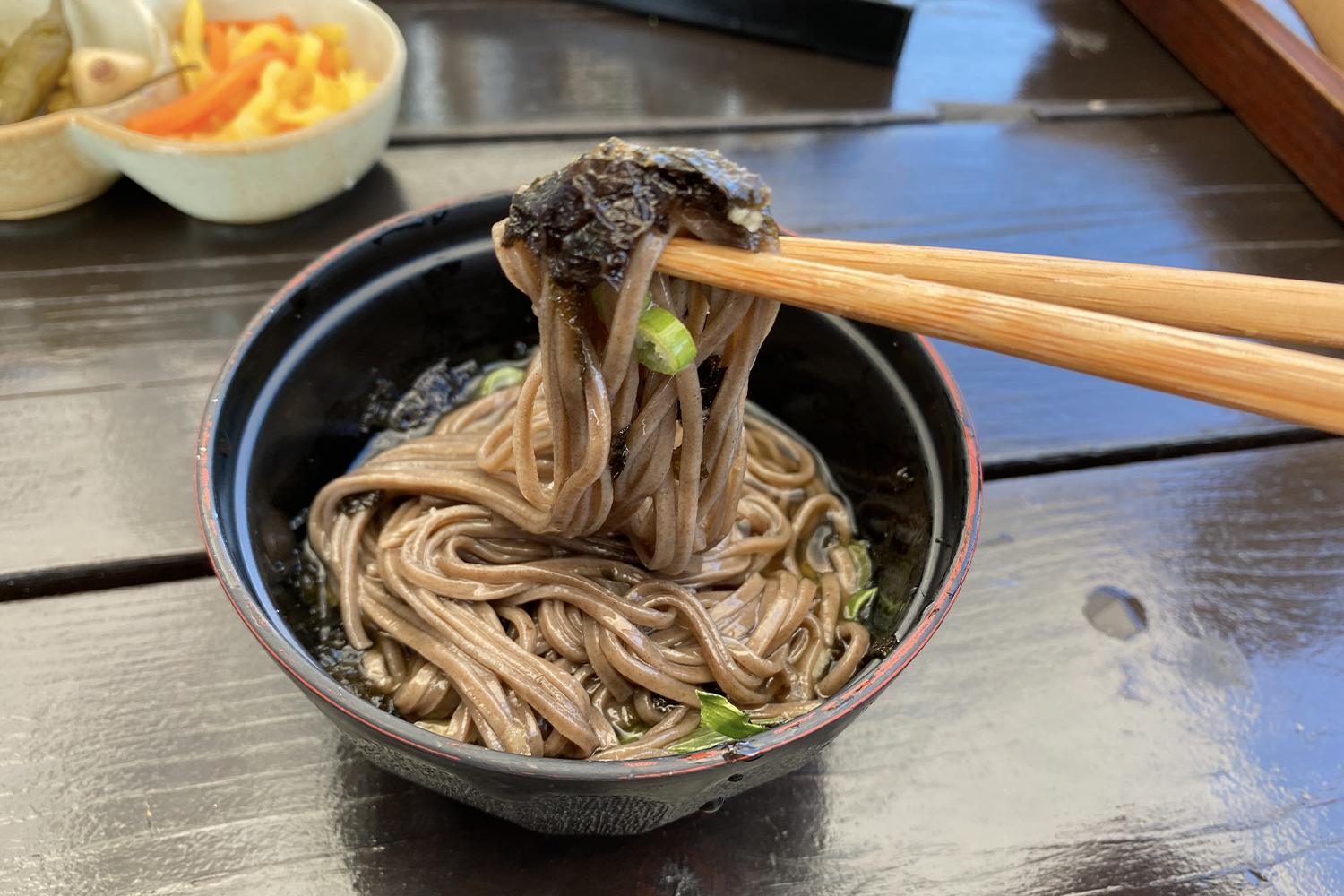 Add the condiments into the bowl to your liking and take a bite.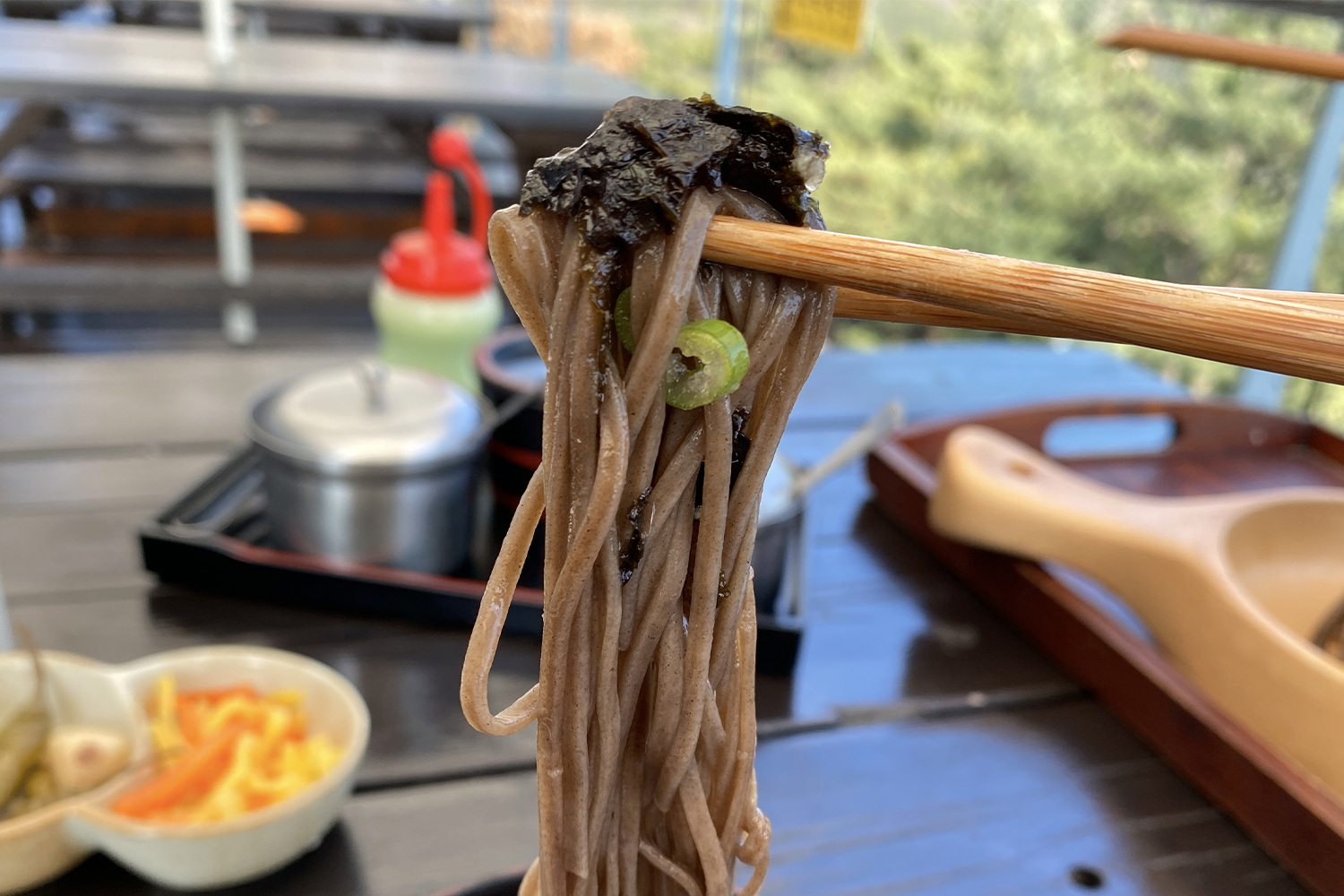 Pretty tasty!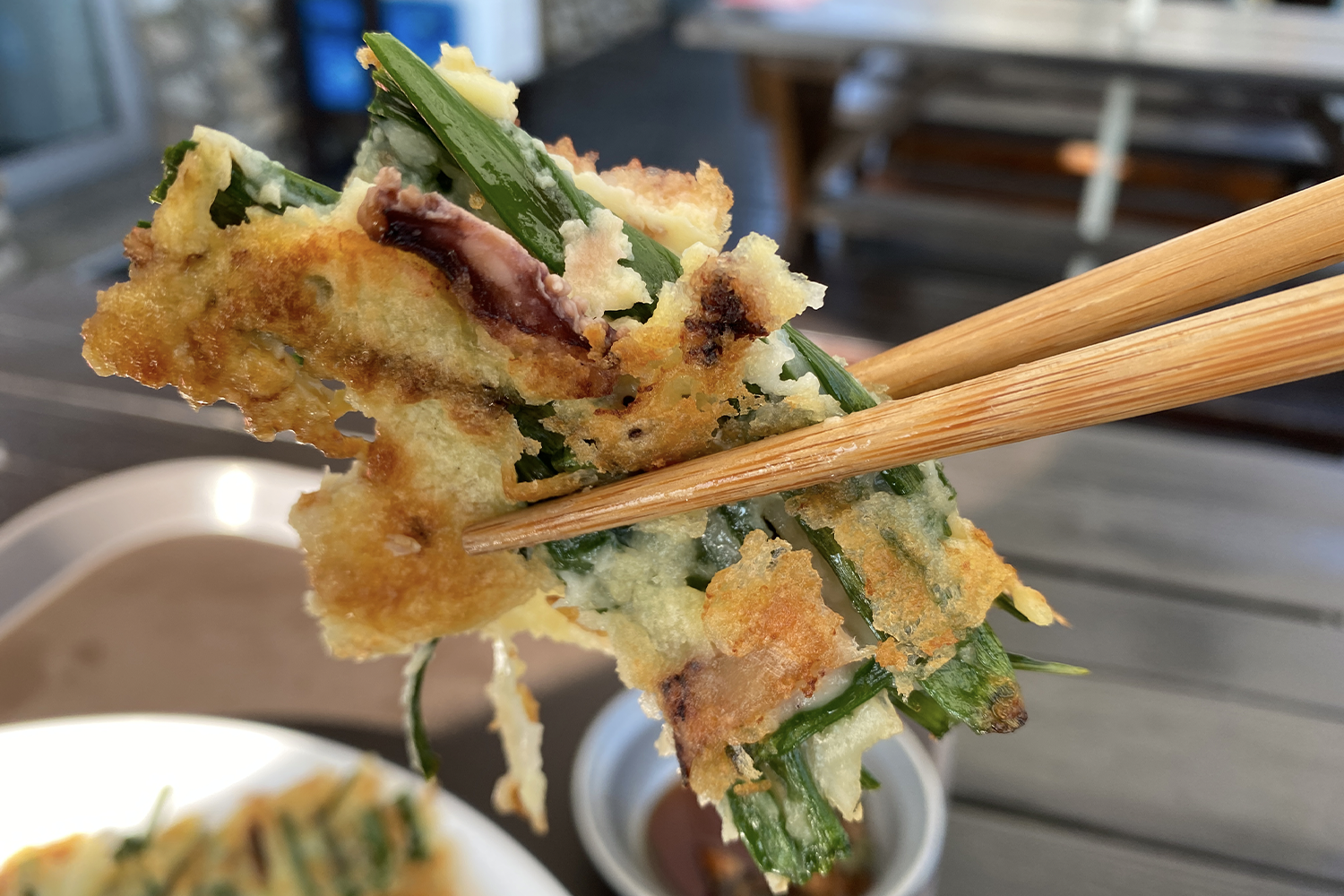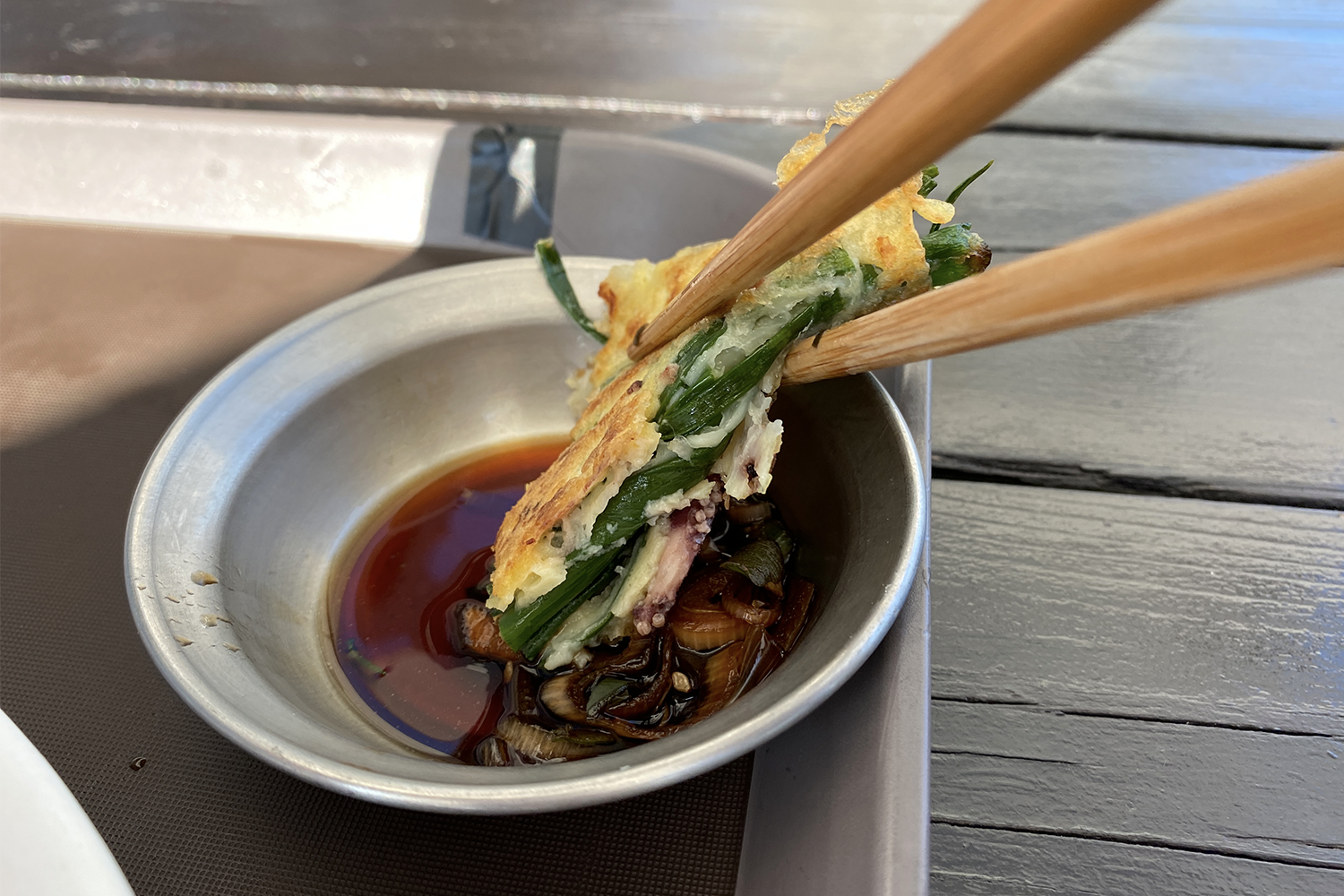 Now, grab a huge piece of pajeon and dip it in soy sauce. It tasted so good!
Personally, I felt like the flying maemil was a bit bland and it's worth getting once on the mountain just for the fun of it. It's mostly for the view and the atmosphere.
The pajeon, on the other hand, had generous amounts of green onions along with plump chunks of squid, which tasted heavenly.
Those two, along with some dongdong-ju, would set the mood up here just right.
---
CAFES ON PALGONGSAN

Right when you get off the bus to Palgongsan Cable Car and walk towards GS25, you'll see a good number of cafes, some cafe franchises like Pascuzzi and Twosome Place, and others being independent cafes.
I found the two cafes below especially delightful and highly recommend them.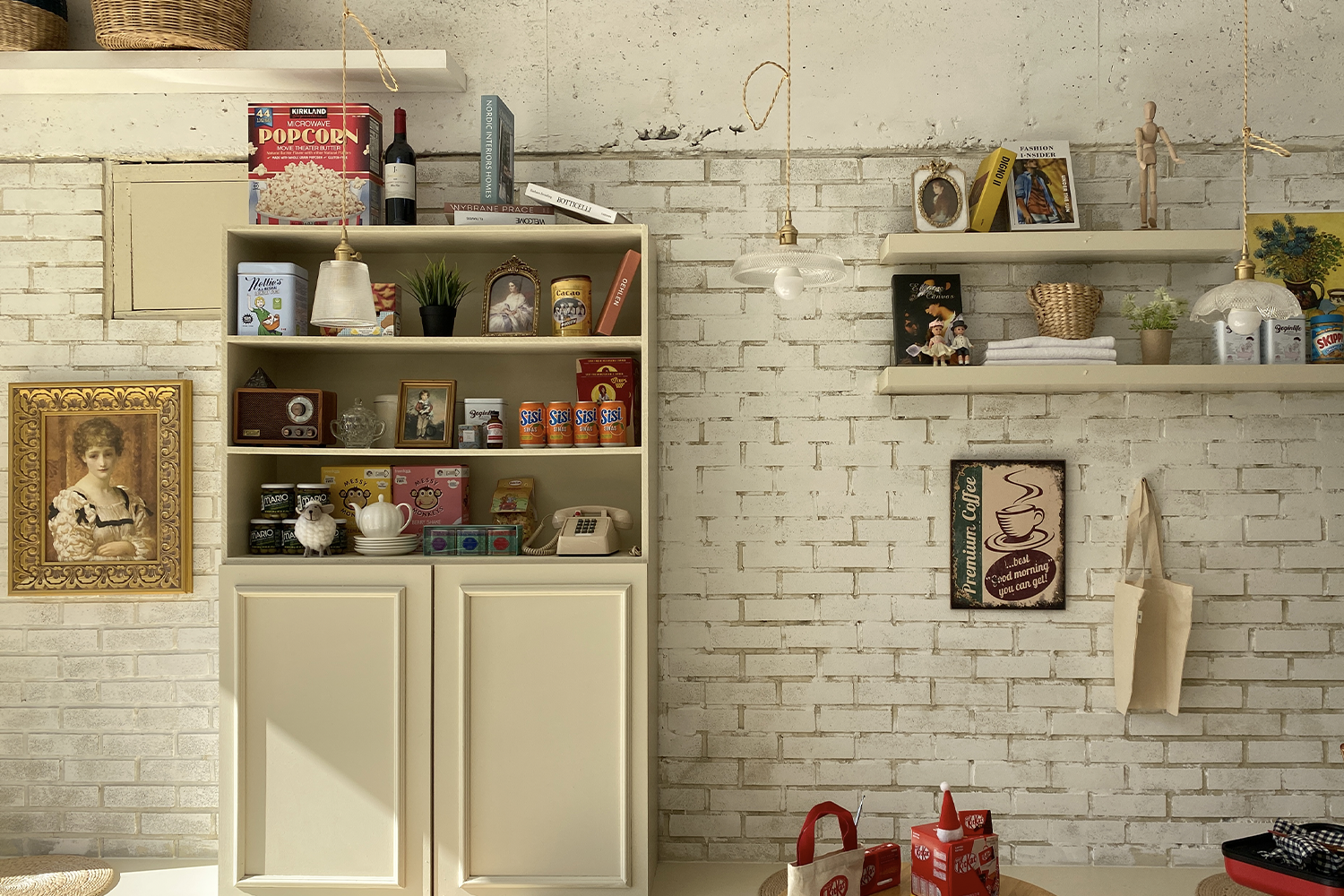 A cozy cafe situated inside a pastel yellow house, Jammy Finger features stylish rooms, some modern and some country chic, with different themes as well as unique drinks and crunchy croffles.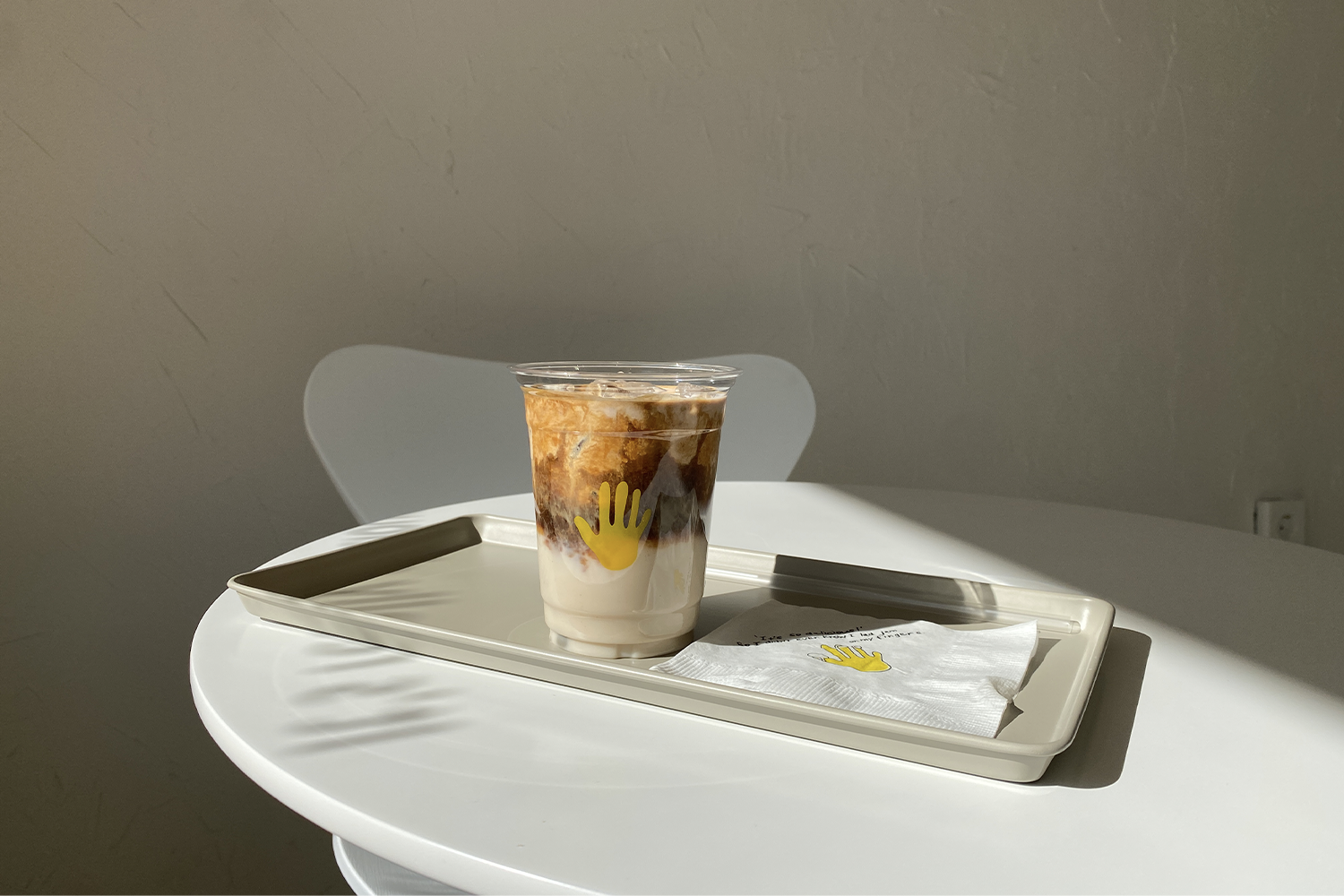 If you have a sweet tooth but also crave coffee, try their Peanut Mond Jam Latte (₩6,000).
If you're down for some dessert or light brunch, their croffle is worth a taste. The flavours range from regular french (₩5,500) and sweet chocolate (₩6,500) to savoury pepperoni (₩7,000).
It's a picturesque place to kick back and relax before or after your trip up the mountain.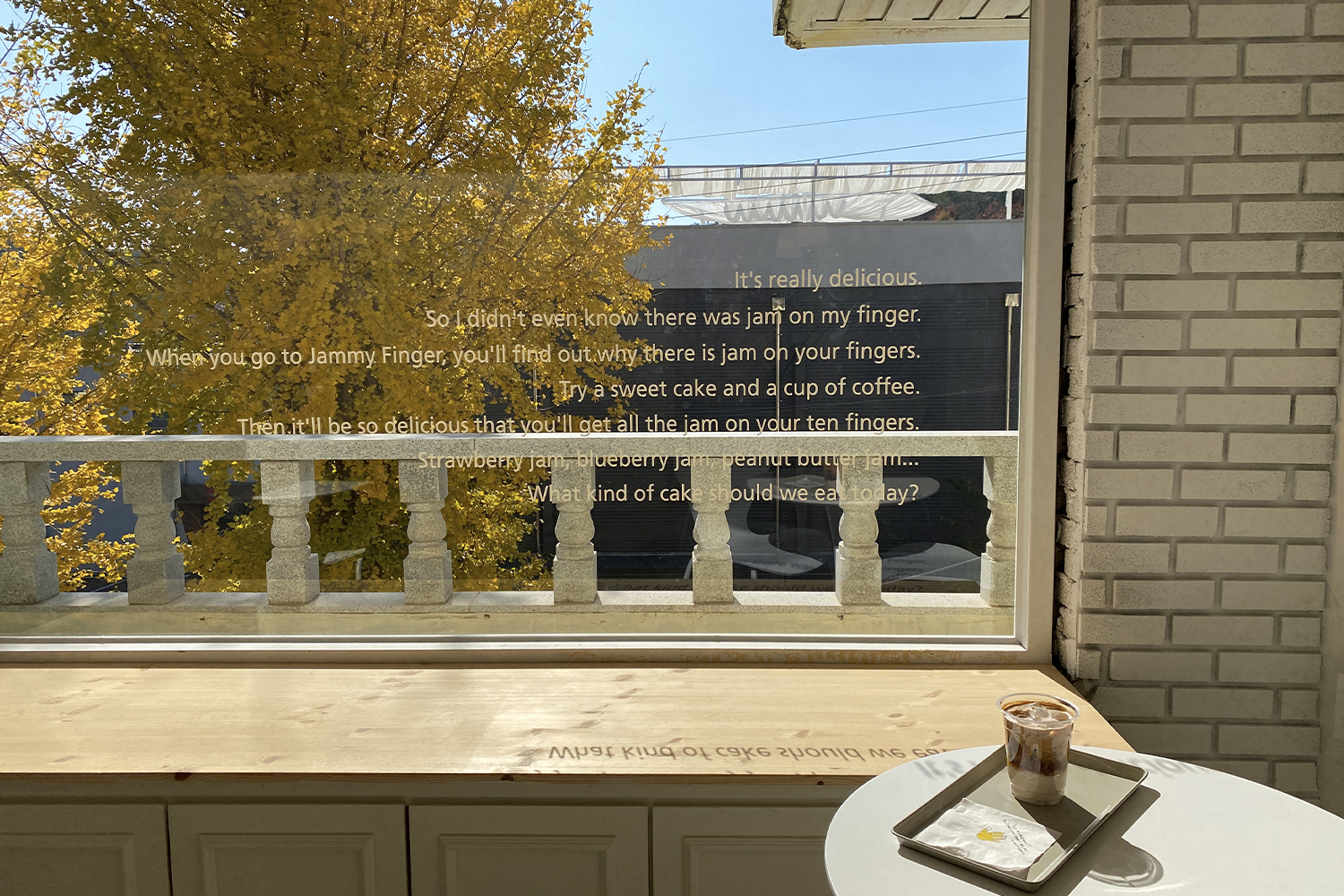 Address: 대구 동구 팔공산로 1165-7
Hours: 11:00-22:00
_

TITF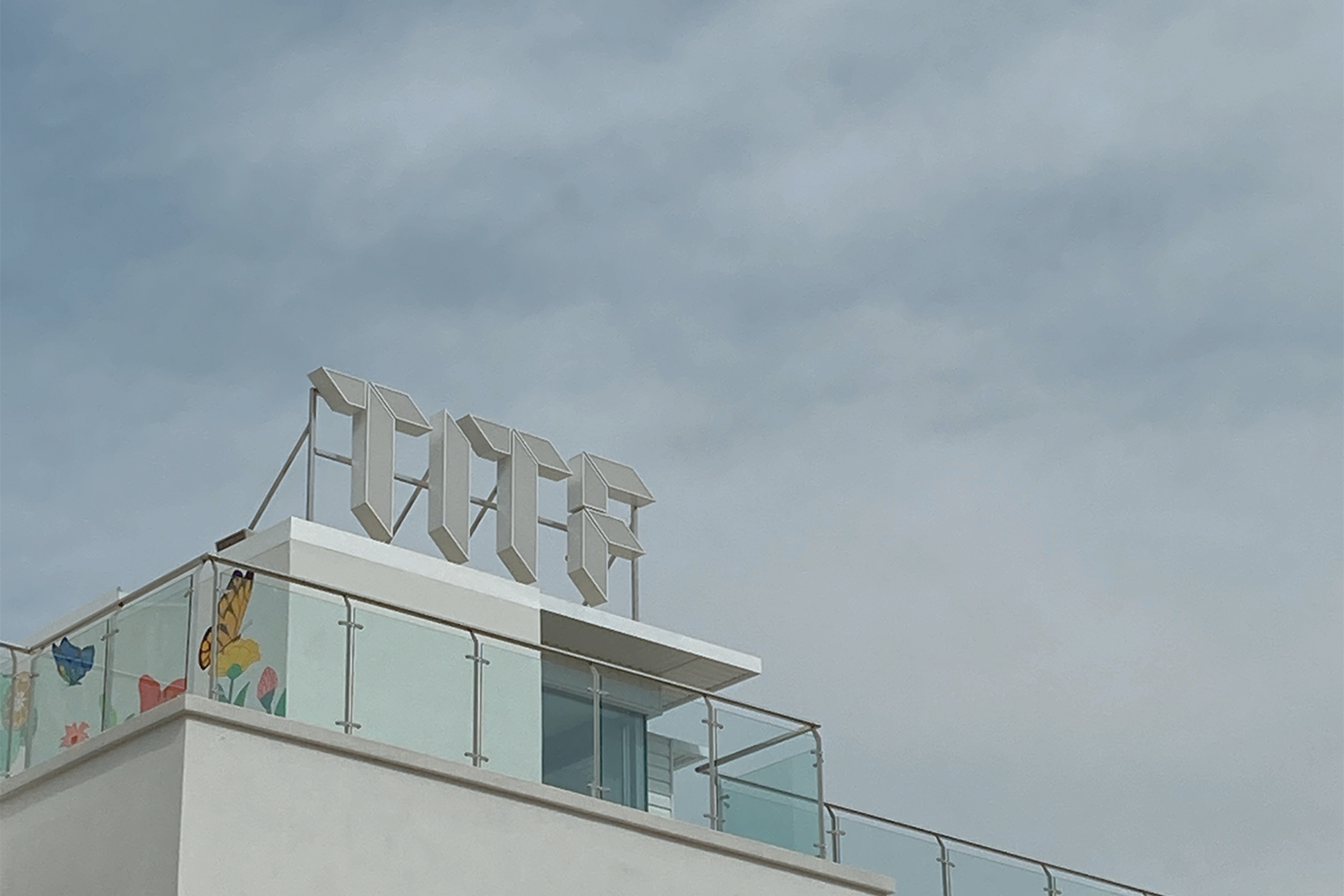 This stylish space that is a gallery cafe features a wide open space with large windows that look out to the mountain.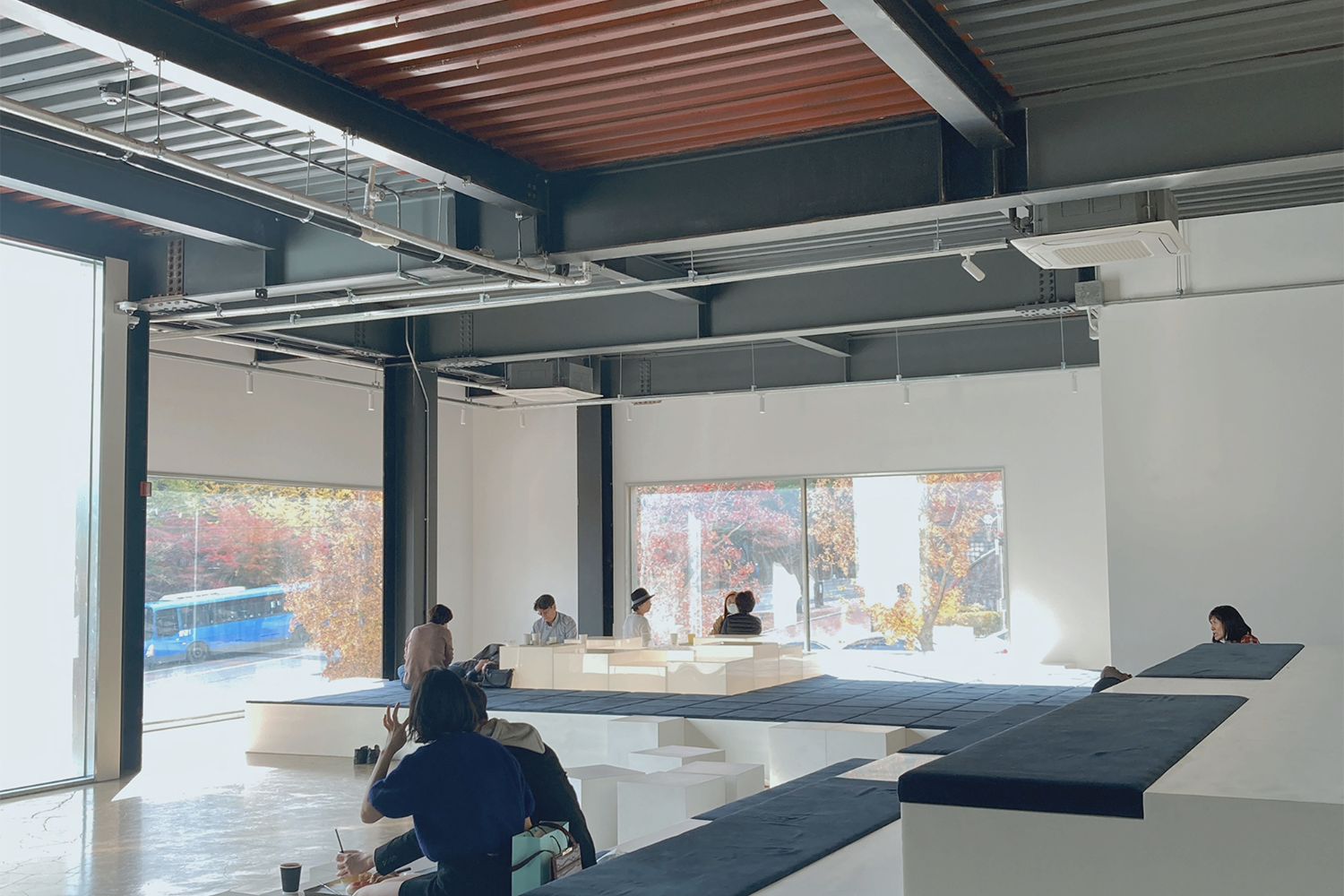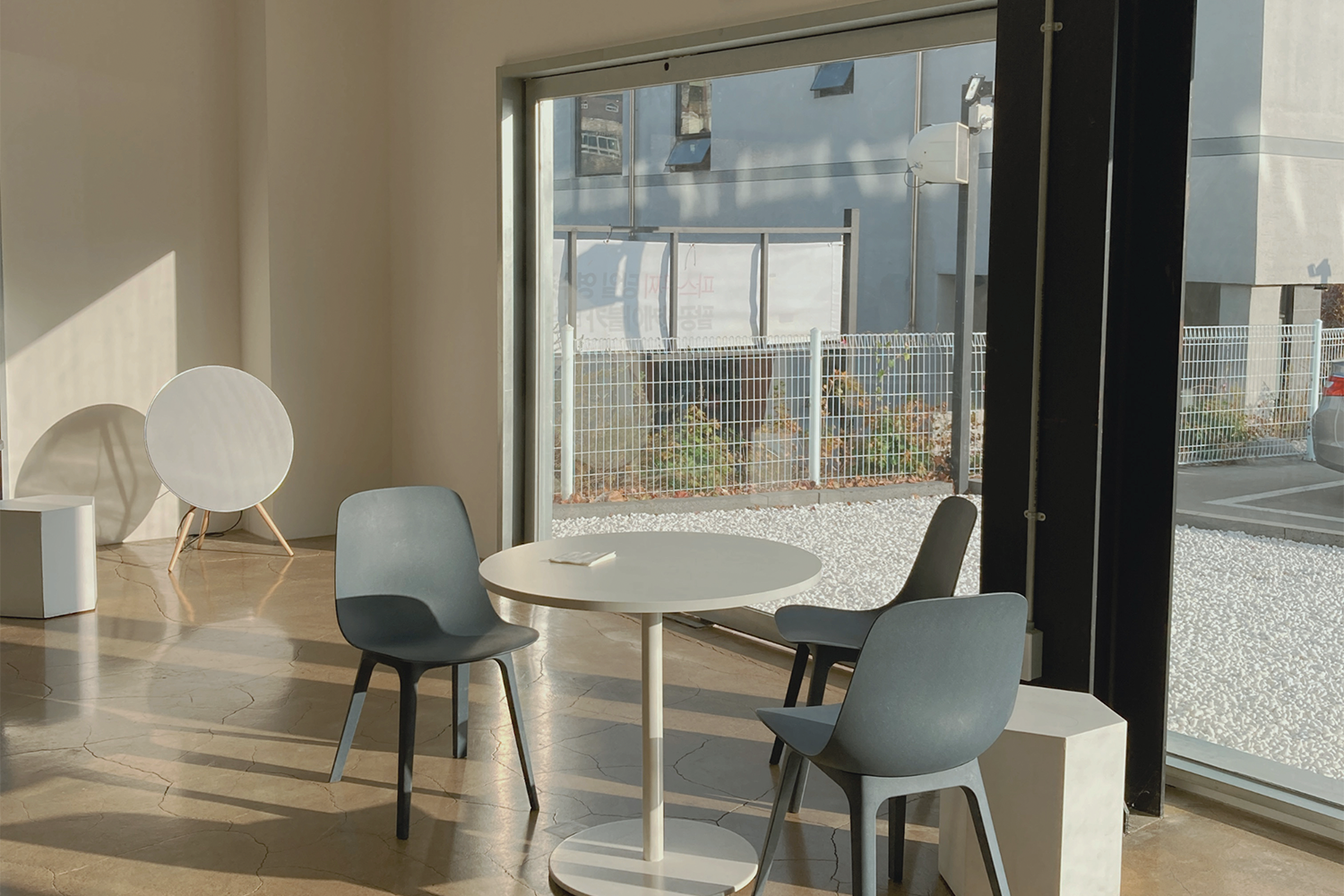 Their signature beverages are Brewed Coffee (₩4,500), Cream Latte (₩6,000) and Almond Cream Latte (₩6,000).
Feel free to enjoy a refreshing drink either outside on their rooftop or inside with lots of sunlight.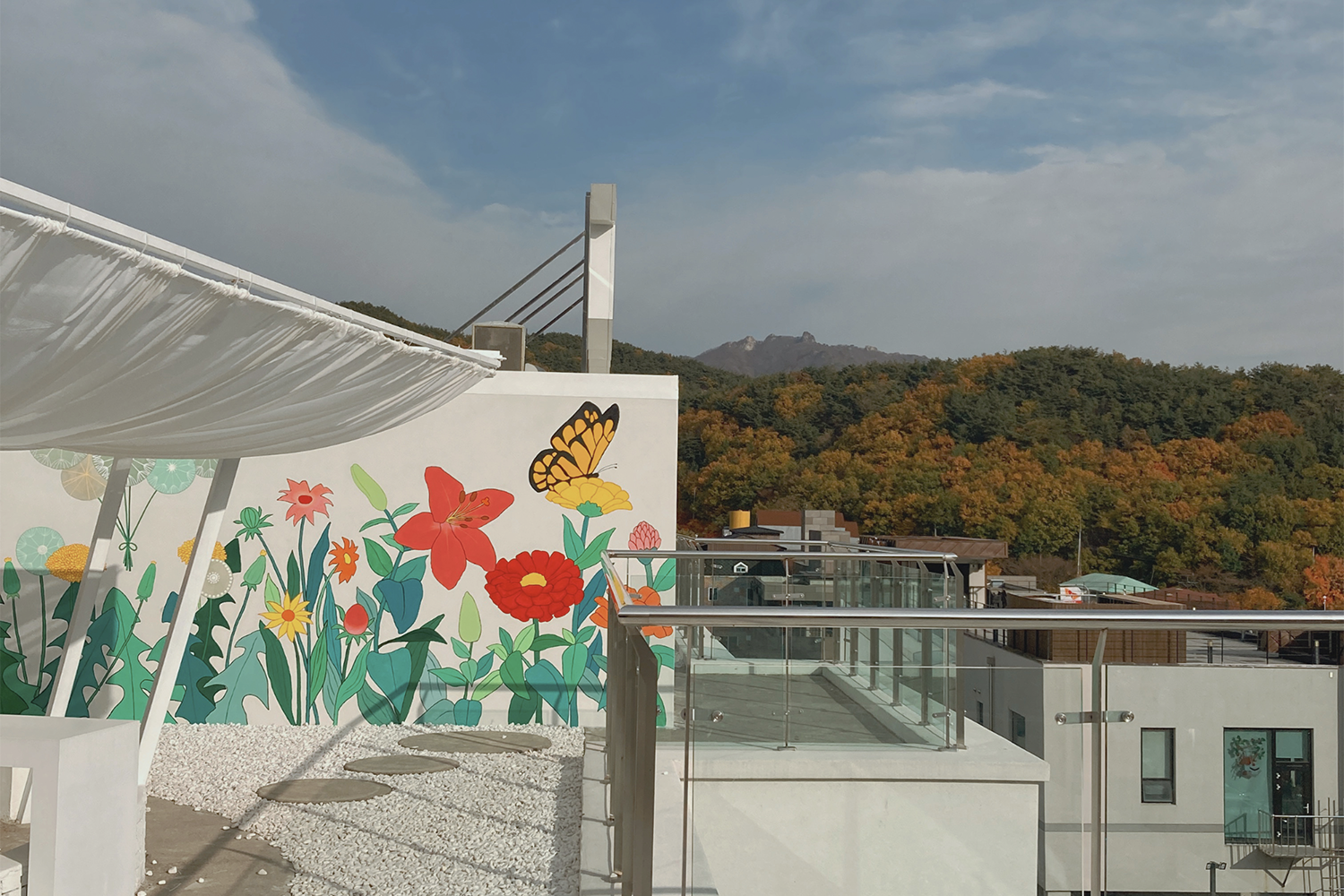 Address: 대구 동구 팔공산로 1169
Hours: 11:00-23:00
Last Order: 22:00
---
HOW TO GET BACK TO THE CITY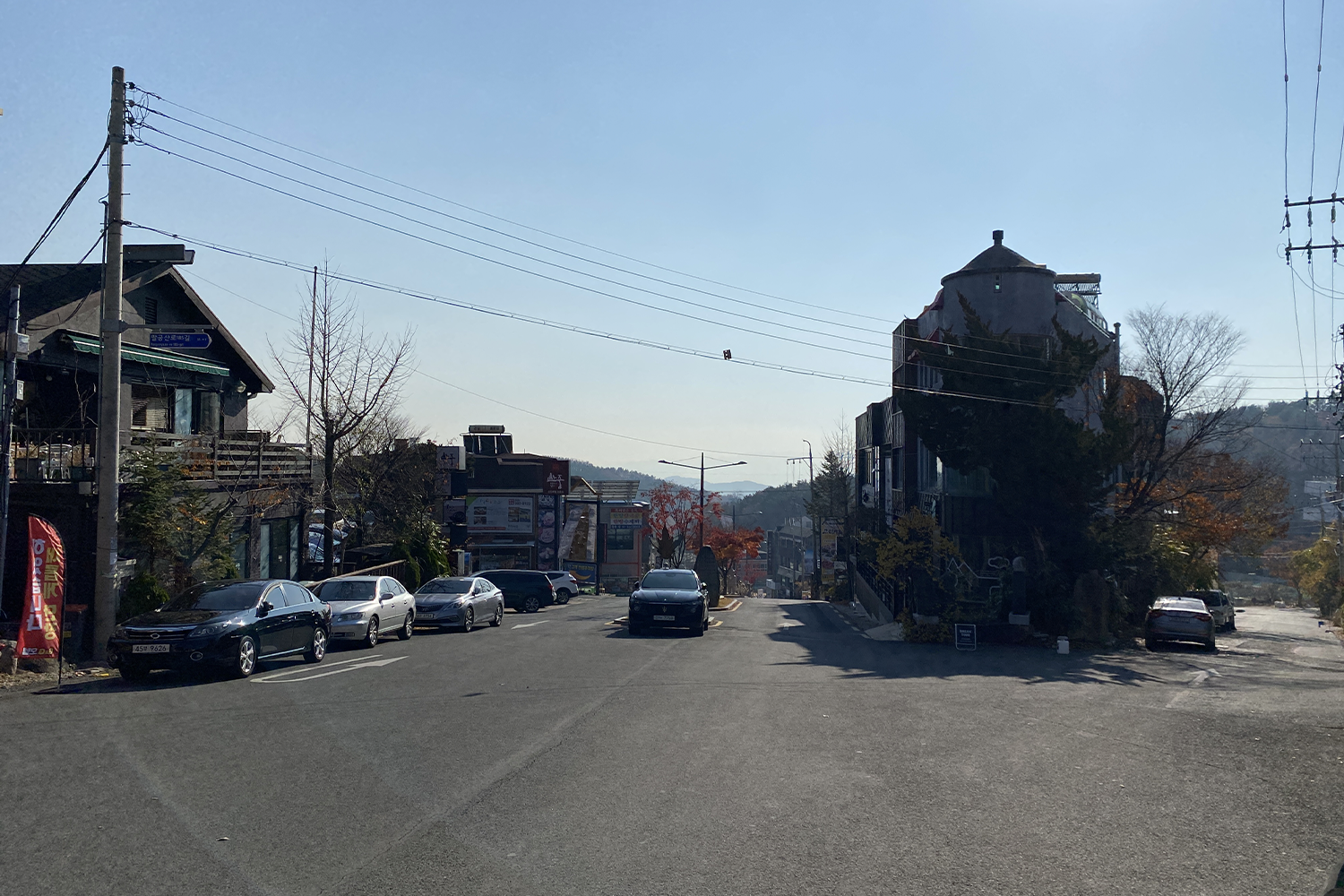 Walk back down the hill from Palgongsan Cable Car ticket office.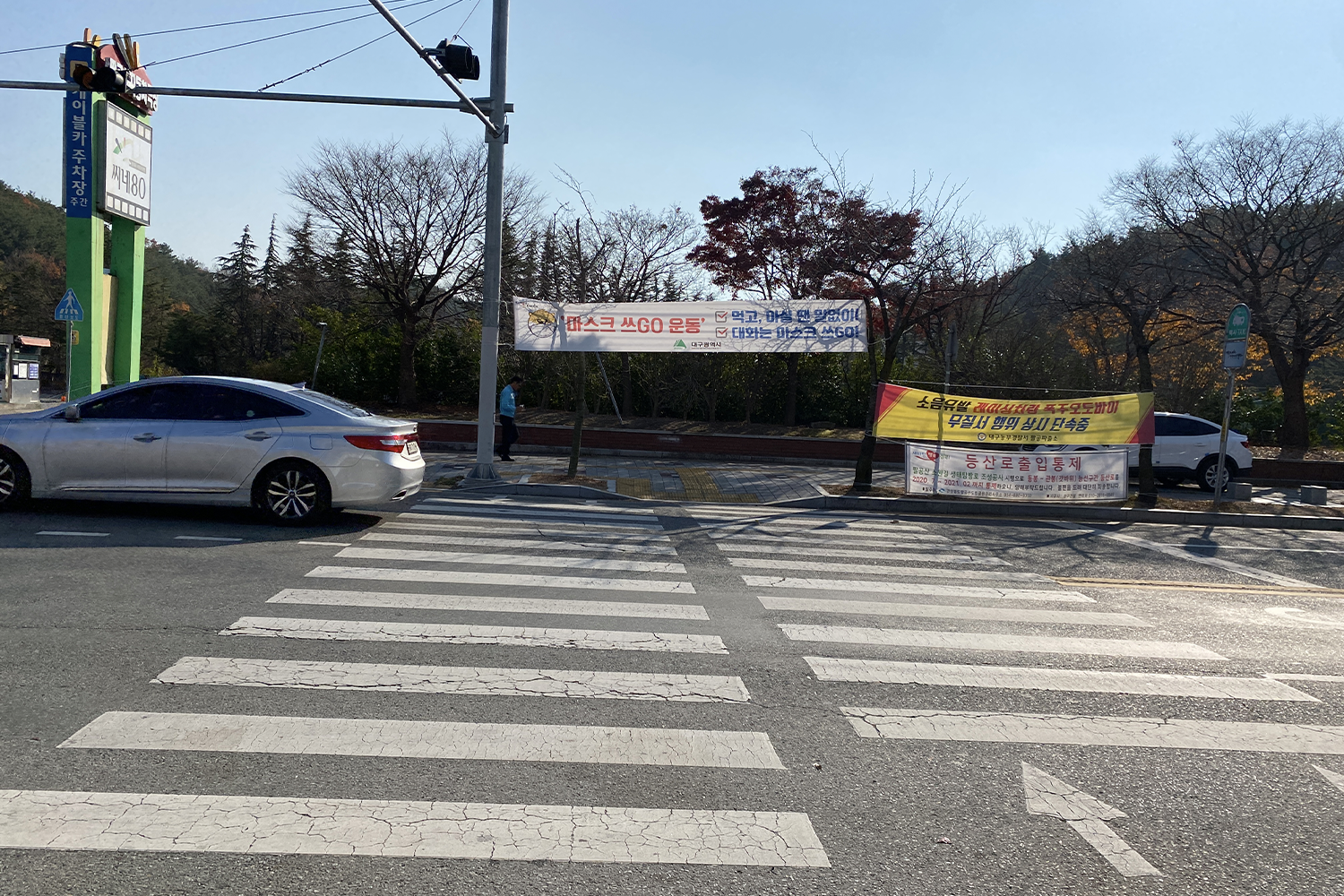 When you reach the same GS25, cross the street and turn left.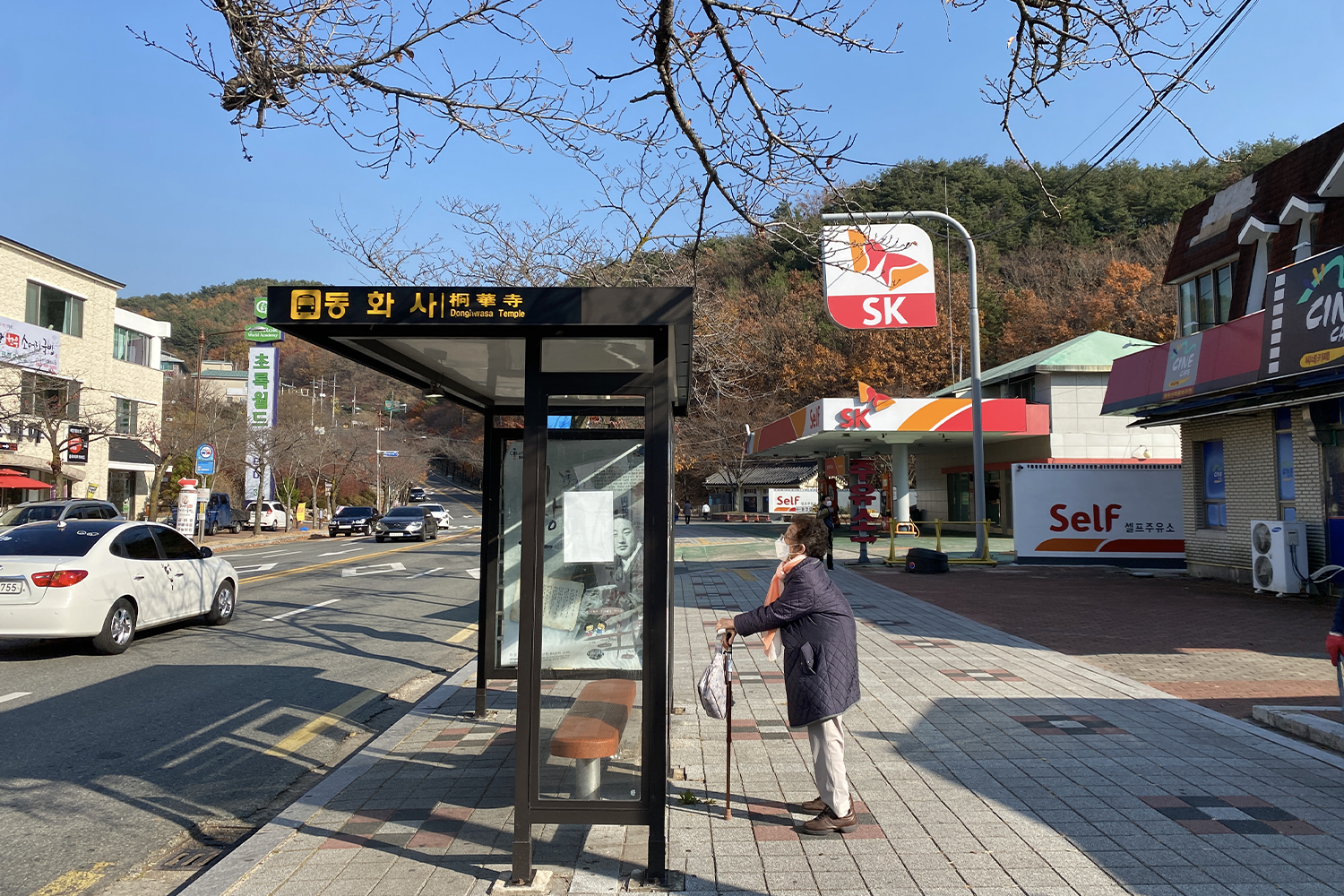 Walk towards SK gas station and the bus stop you want to wait at is right there.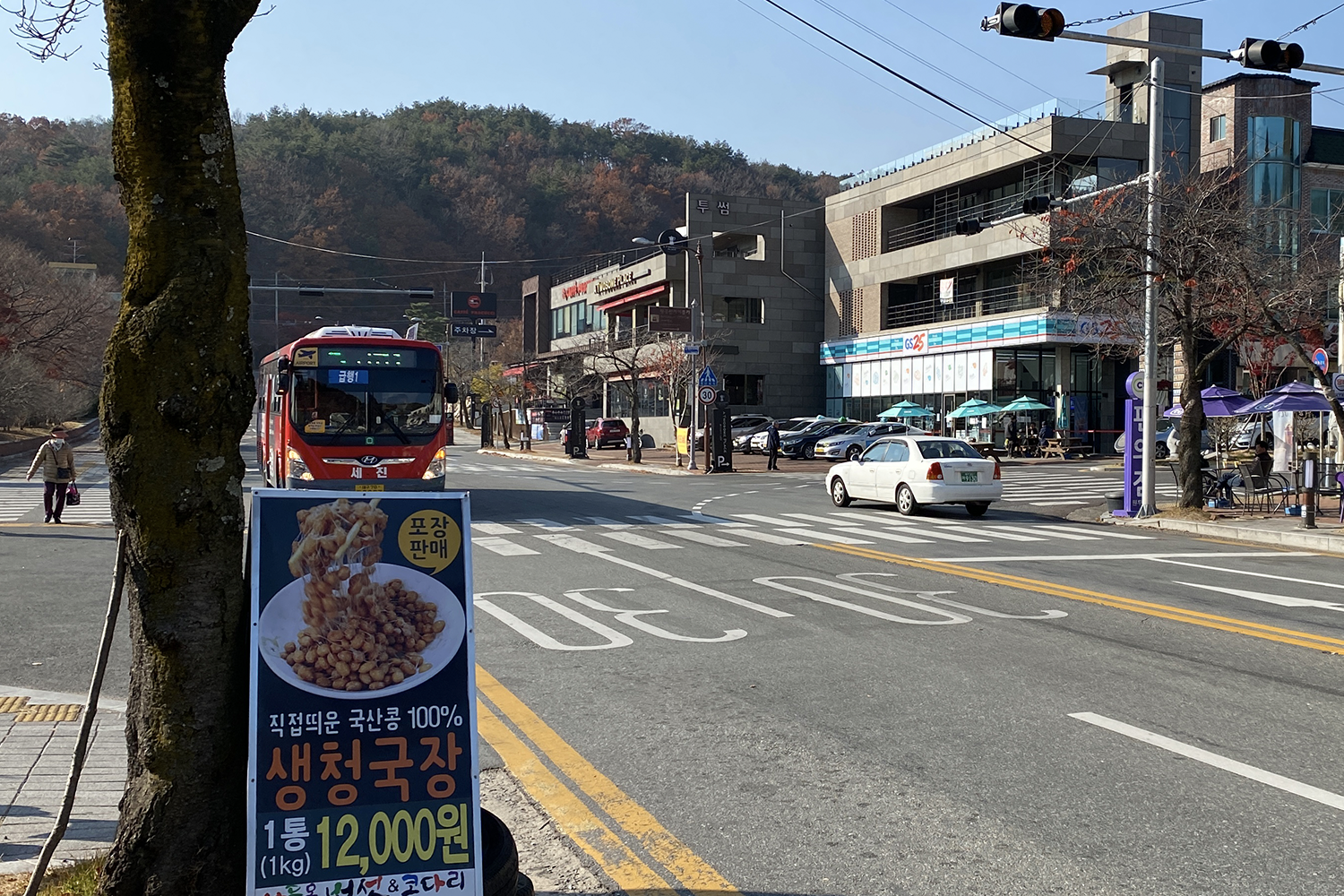 Take the same red bus back to the city and get off at Ayanggyo Station to get back on the subway.
---
What did you guys think of Palgongsan and what it offers?
Daegu's downtown scene full of delicious food and amazing things to do is already very exciting, but Palgongsan is the ideal destination for enjoying nature in the city.
Remember, for the best (and least energy-consuming) way to enjoy the mountain's scenery and its unique flying noodle dish, you want to take the cable car!
---