Where to Visit in Gangneung 2022
A 'What to do in Gangneung' Guide! Visit the new ARTE Museum, eat clam bibimbap, and more exciting things to add to your itinerary!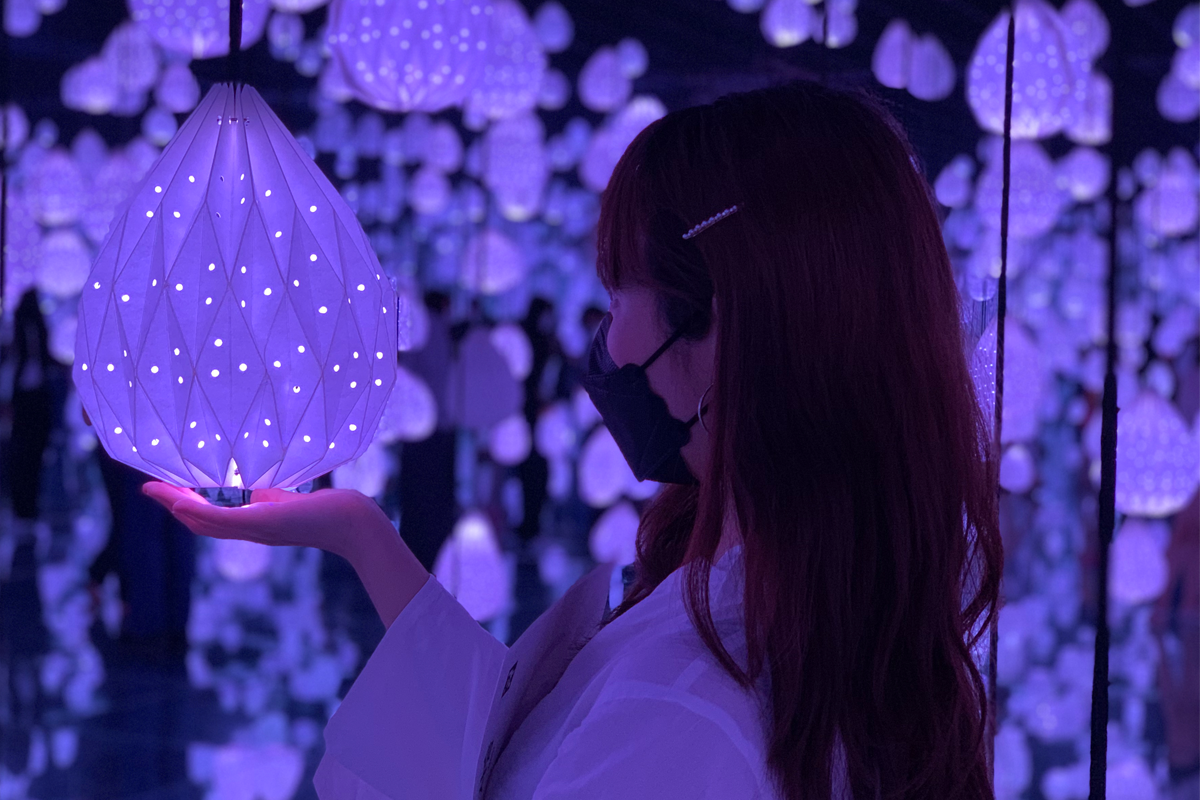 Travel is back in Korea after a long pandemic and there are so many places to visit! Today, we're going to be introducing the hottest, must-visit locations in Gangneung, some new and some oldies-but-goodies. Read more to find out which places we recommend!
---
How to Get to Gangneung
(from Seoul)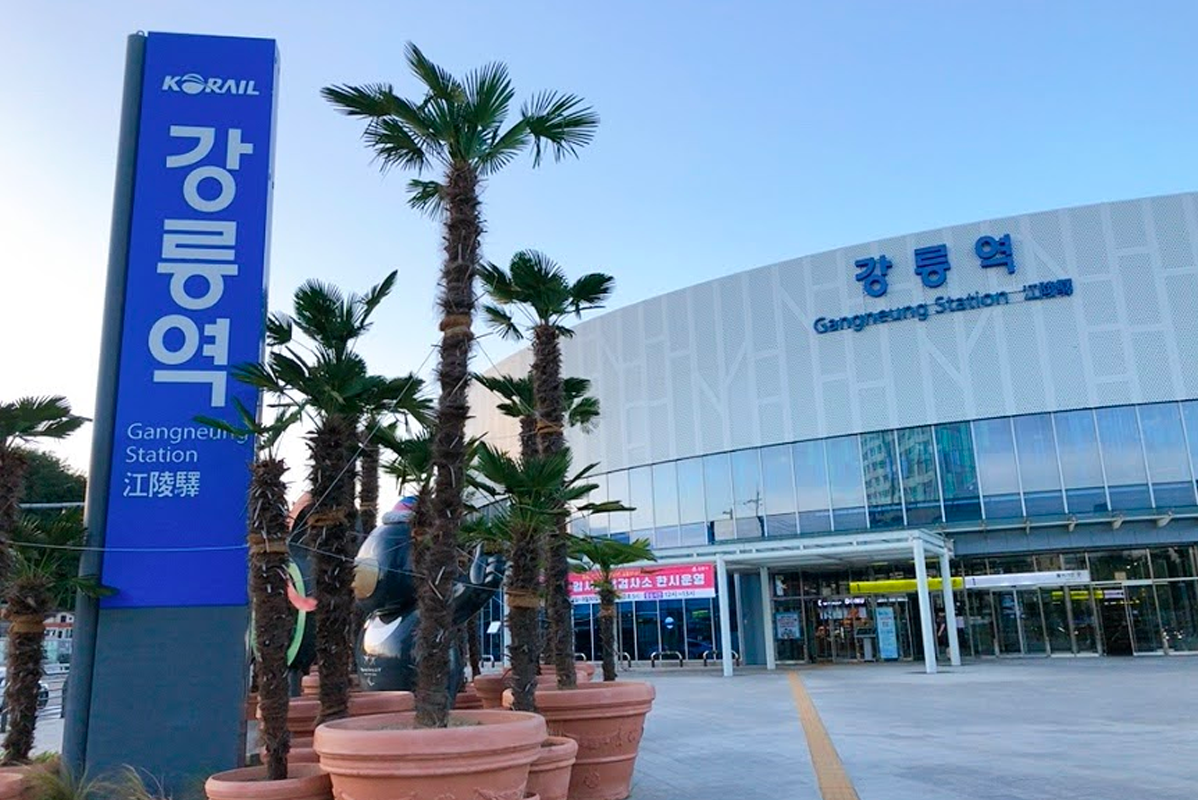 There are a couple of ways to get to Gangneung from Seoul. The fastest way is by taking the KTX, which directly takes you to Gangneung Station in 2 hours. If you want to save a bit of money, you can ride the express bus, which takes approximately 3 hours. You can get tickets at the station on-site or book them online beforehand here. You can do the same with return tickets(get them on-site or book online).
---
Places to Visit In Gangneung
Ojukheon (오죽헌)
Address: 강원도 강릉시 율곡로3139번길 24
24, Yulgokro3139beongil, Gangneung-si, Gangwondo
Hours: 09:00至18:00(售票至17:00)
Price: Adults 3,000 KRW, Youth/Military 2,000 KRW, Children 1,000 KRW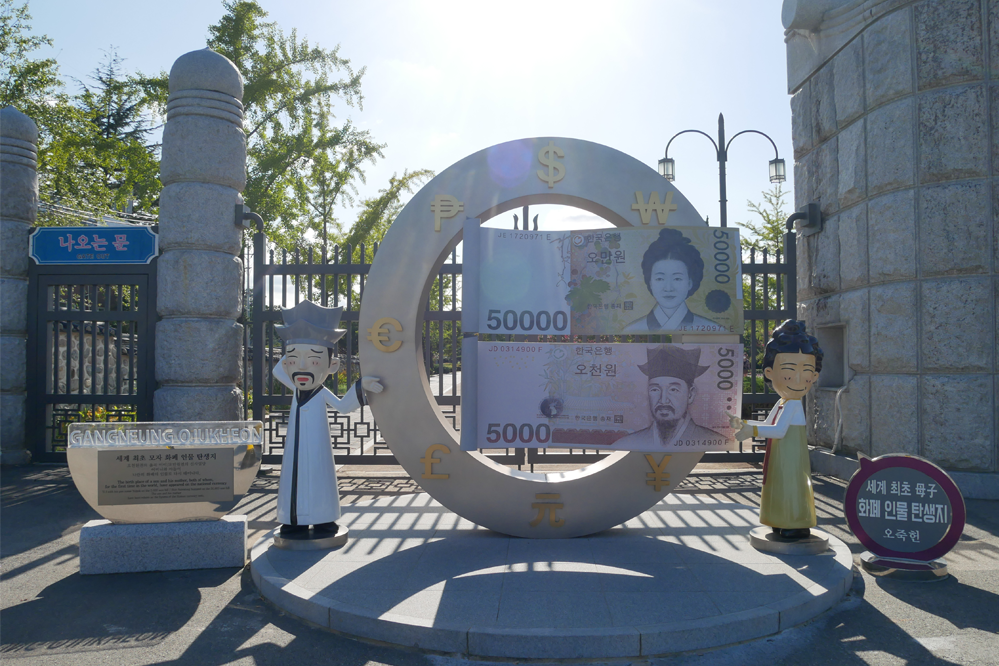 If you've heard of Gangneung, you've probably heard of Ojukheon. Ojukheon is where Yi I, the most prominent Korean Confucian scholar of the Joseon Dynasty, and his mother, Shin Saimdang, was born. Yi I is featured on the 5,000 KRW note and Shin Saimdang is on the 50,000 KRW note.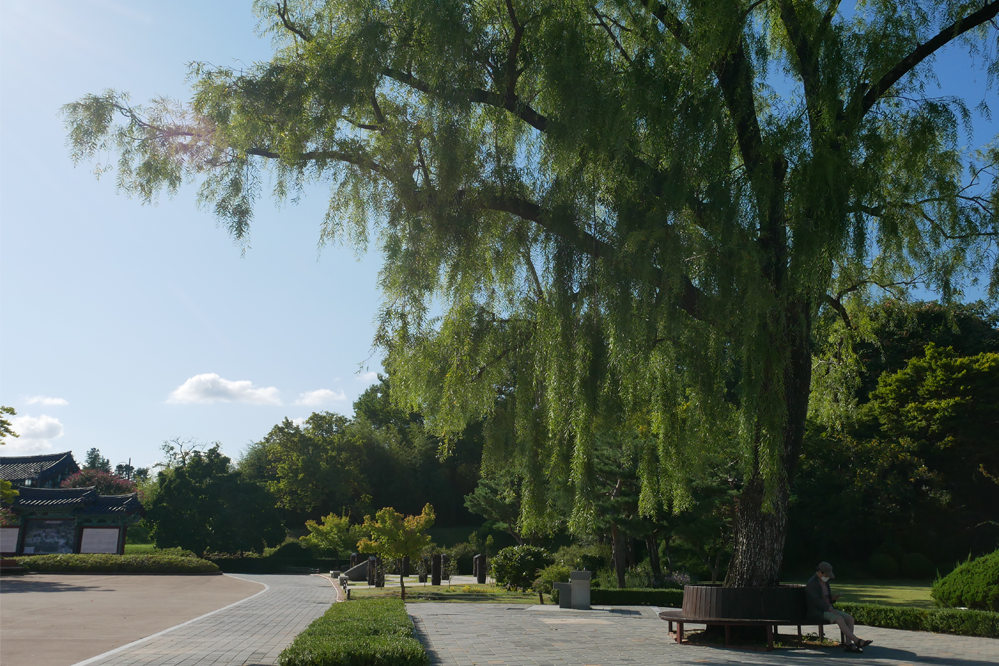 Ojukheon, designated as the 165th national treasure of Korea, is the oldest wooden building in Korean housing and is of high importance in the history of Korean architecture.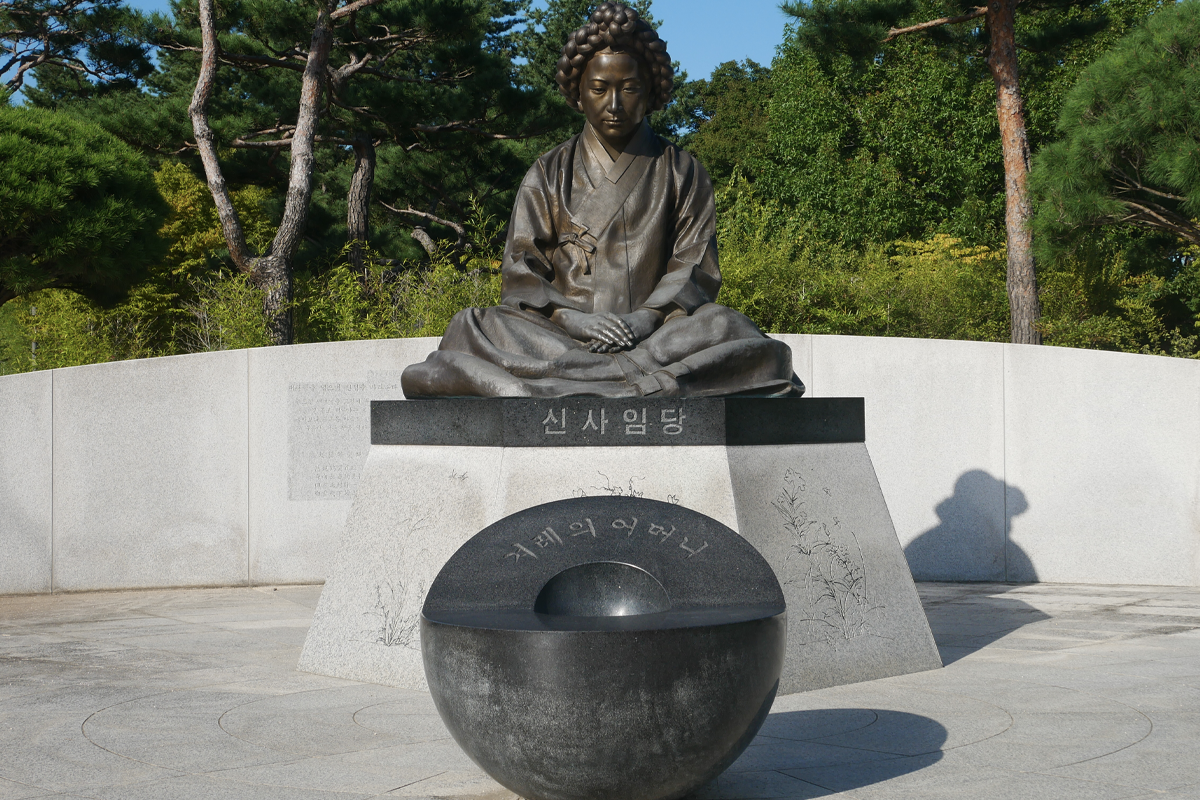 Shin Saimdang was a female calligrapher, writer, Confucian scholar, and poet in the Joseon Dynasty and is the model of a good mother in Korean history.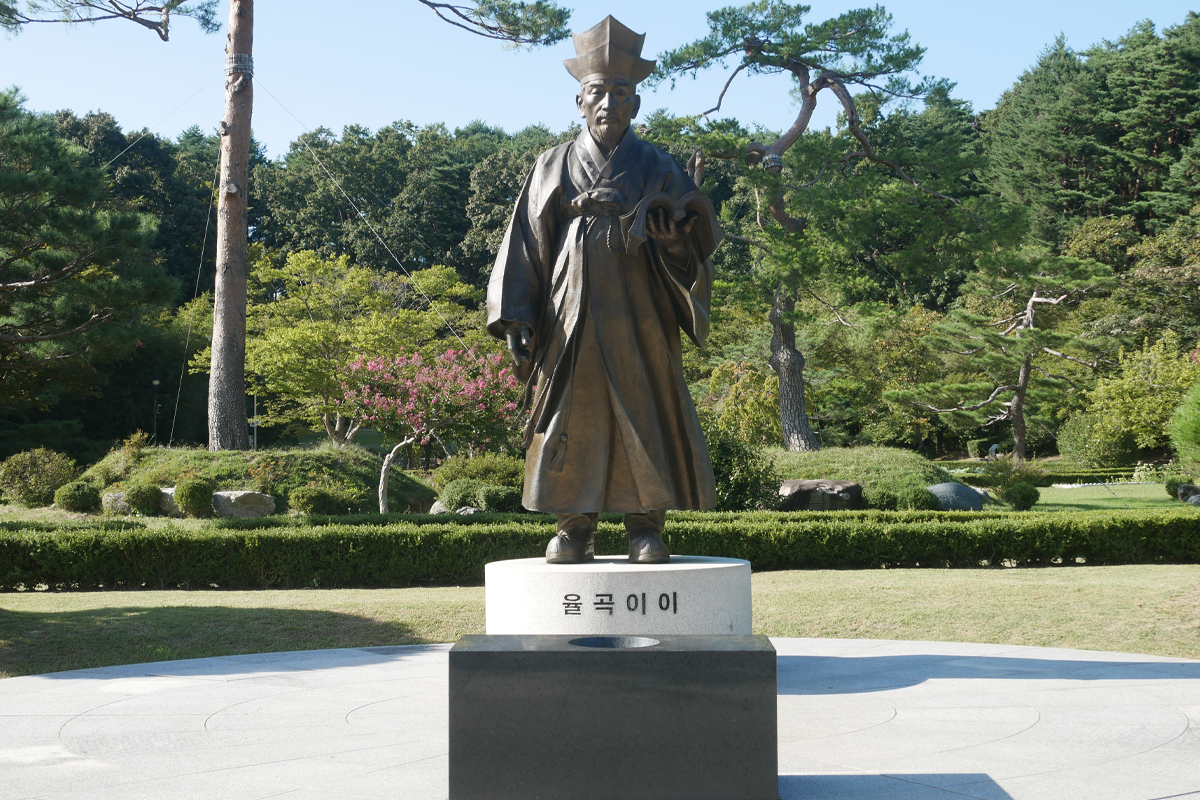 Yi I is the third son of Shin Saimdang and Yi Wonsu. He is a well-known Confucian scholar and is admired for his contributions to state affairs and education.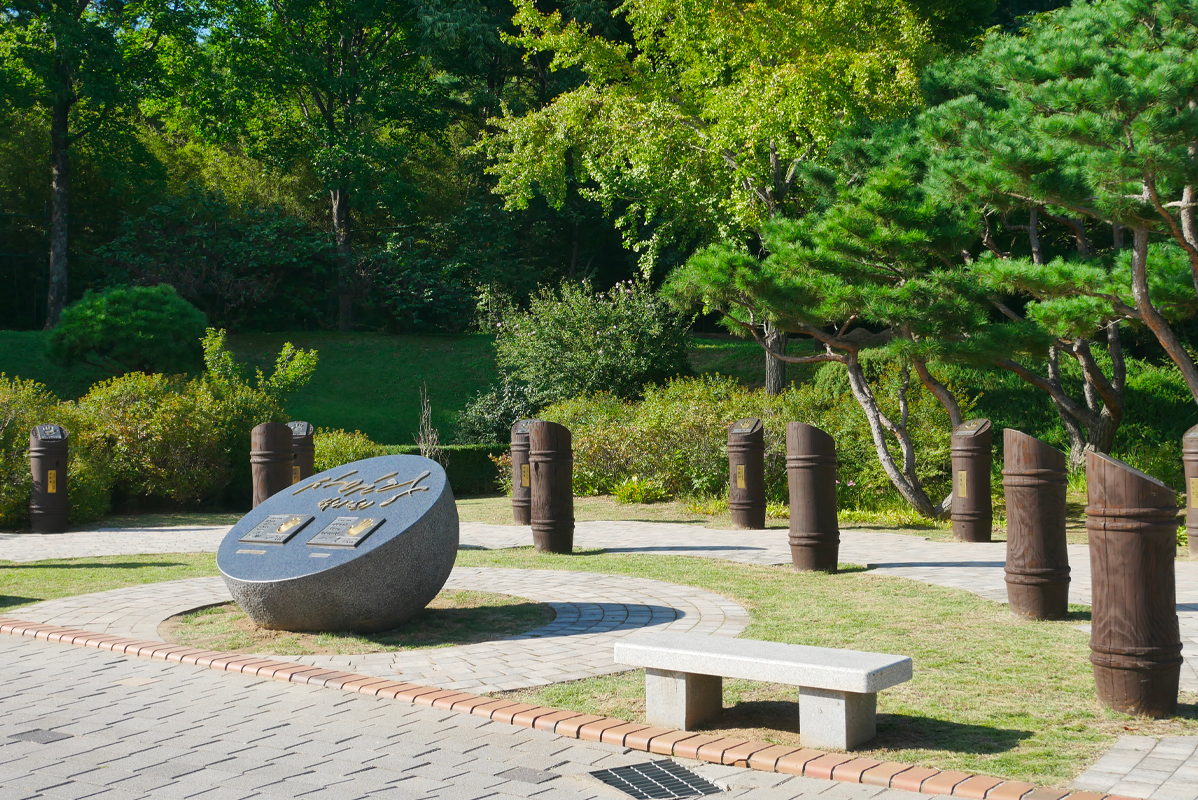 There is a well-known K-drama about Shin Saimdang where Shin Saimdang was played by Lee Youngae. She left an imprint of her hands when she visited the site to film the TV show. In addition to the outdoor park, there are indoor exhibition areas where you can find out more about Shin Saimdang and Yi i's stories and contributions.
Anmok Beach (안목해변)
Address: 강원 강릉시 창해로14번길 20-1
20-1, Changhaero14bun-gil, Gangneung-si, Gangwon
Hours: Every July and August at 06:00 - 22:00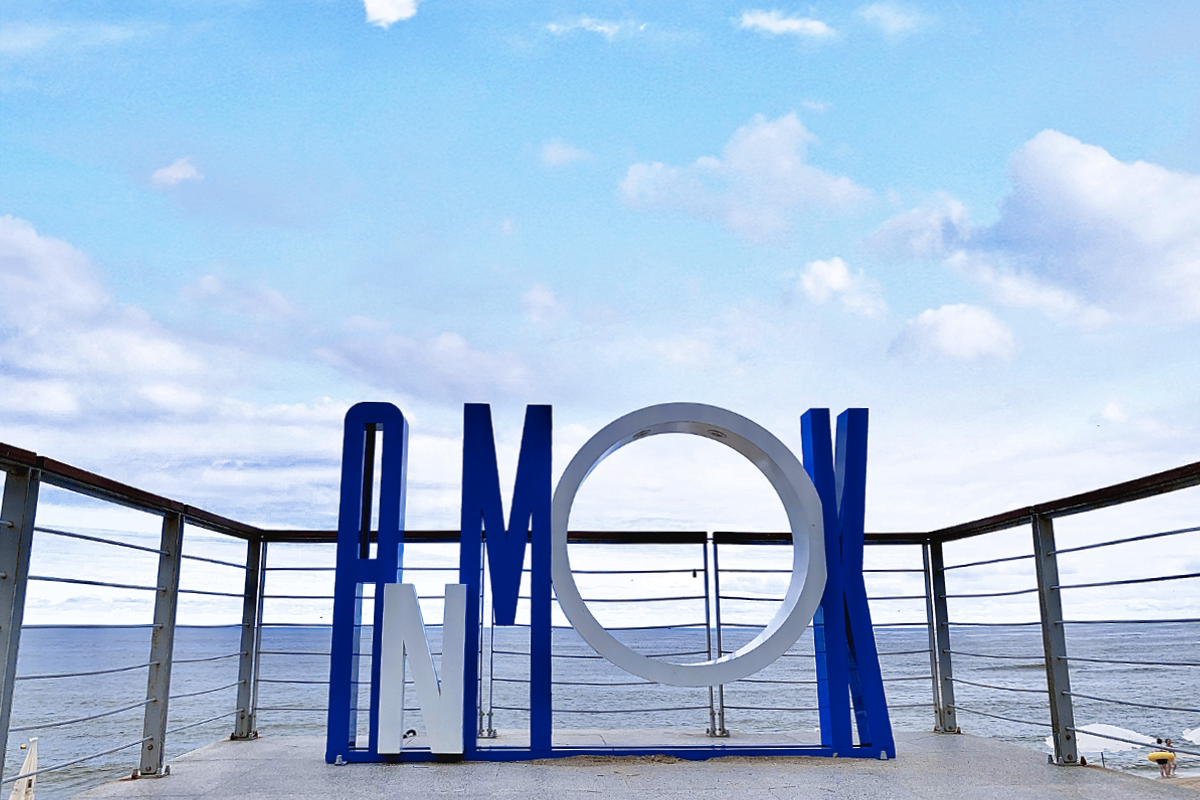 The beach stretches out at 500 meters and is surrounded by the Anmok Fishing Port and coffee shops. You can visit the beach and grab some food nearby.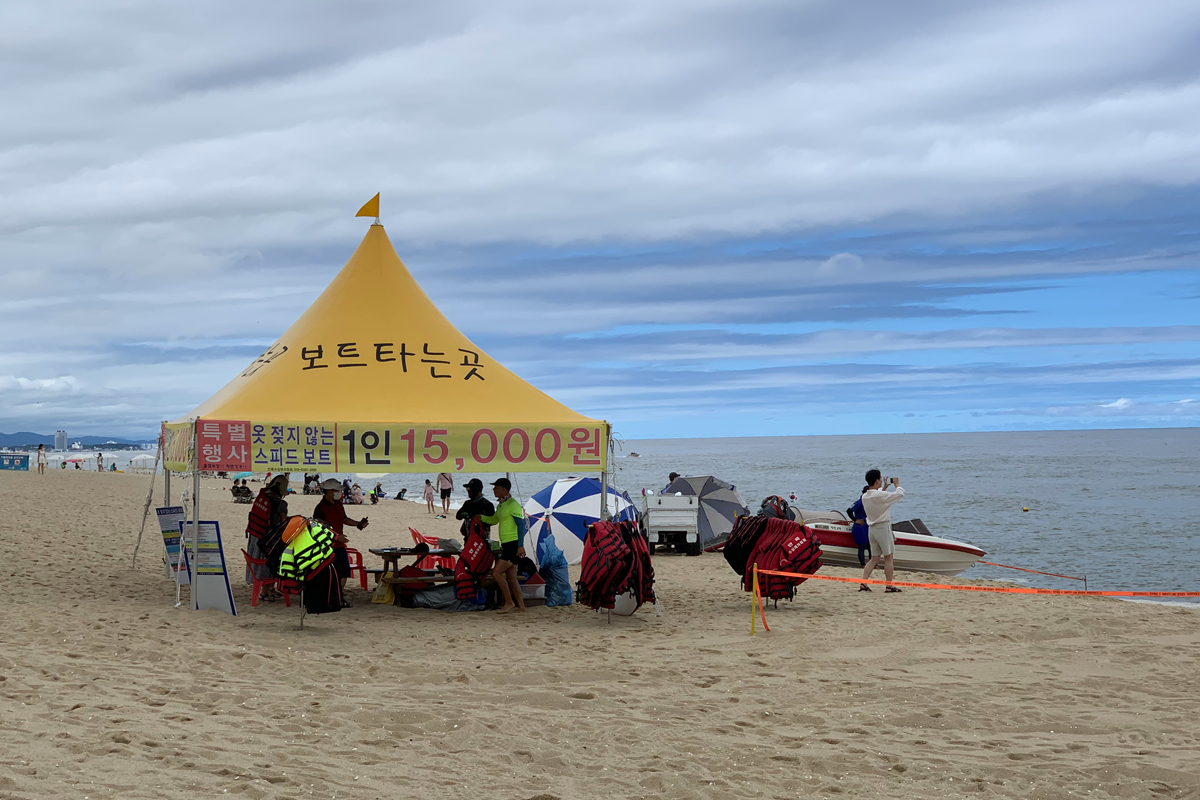 You can also enjoy water sports like yachting and motorboat rides. This beach is great for just chilling at the beach and getting a tan.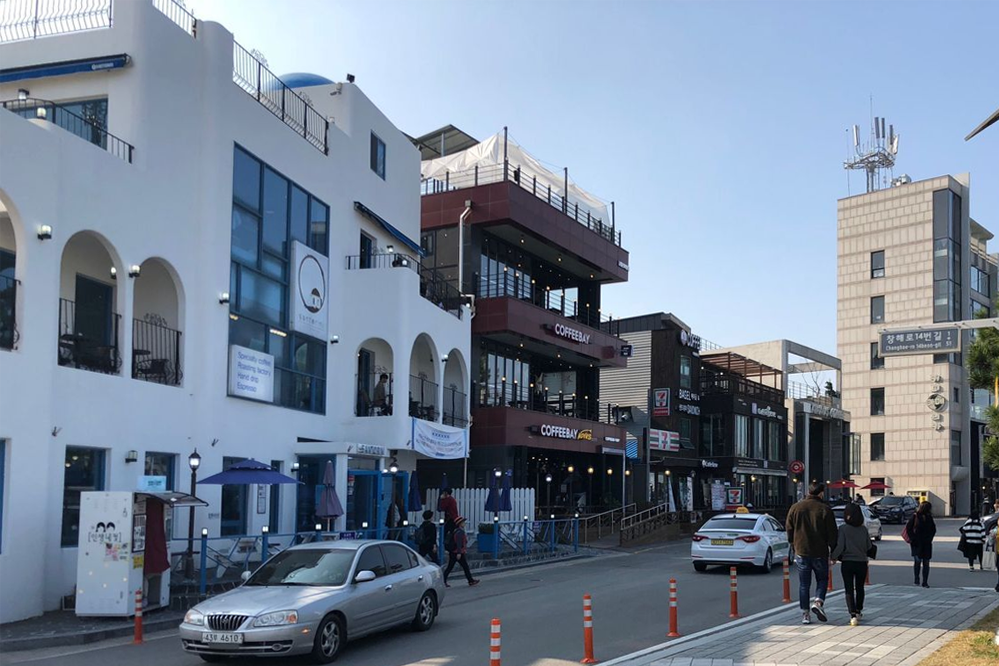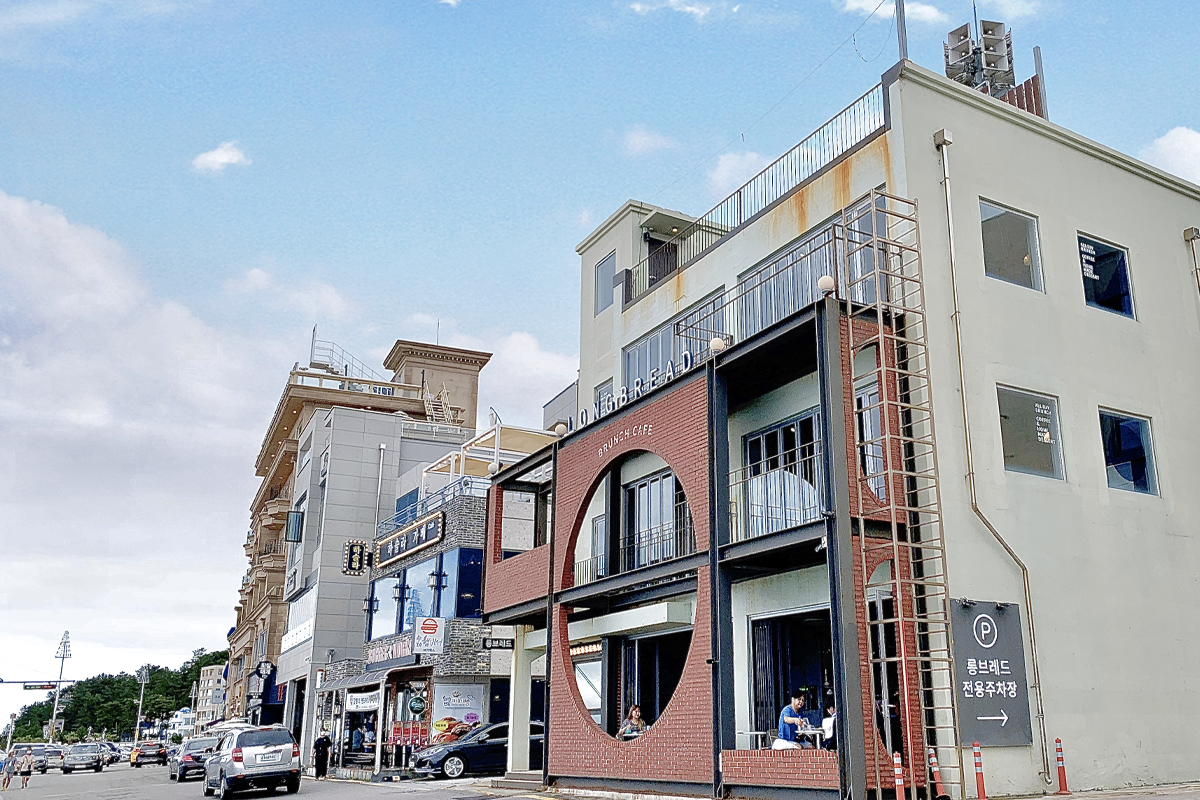 Gangneung is famous for having great coffee. The coffee street by the coast gathers quite the crowd! Tourists like stopping by at a cafe for a pastry and coffee for breakfast.
Umjine Pojangmacha 1 (엄지네 포장마차)
Address: 강원 강릉시 남구길30번길 22
22, Namgugil30beongil, Gangneung-si, Gangwon
Hours: 11:00 - 23:00 (Last order: 22:00)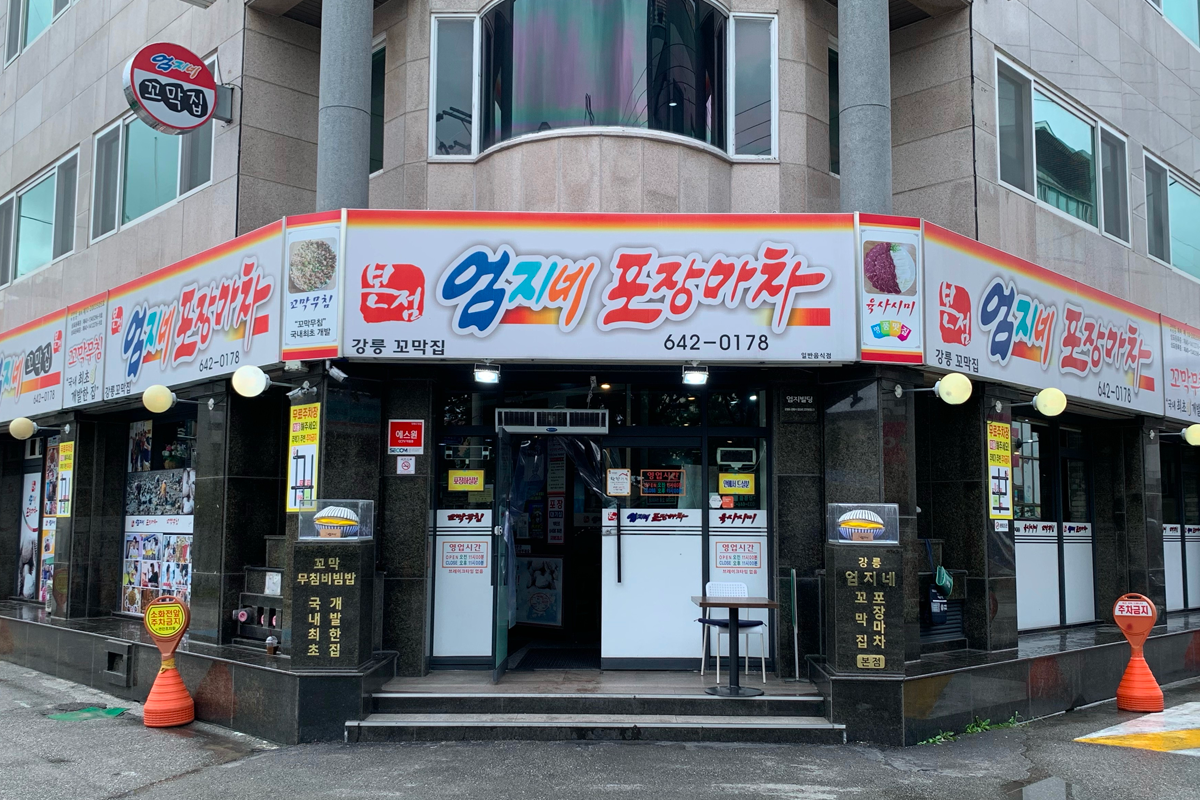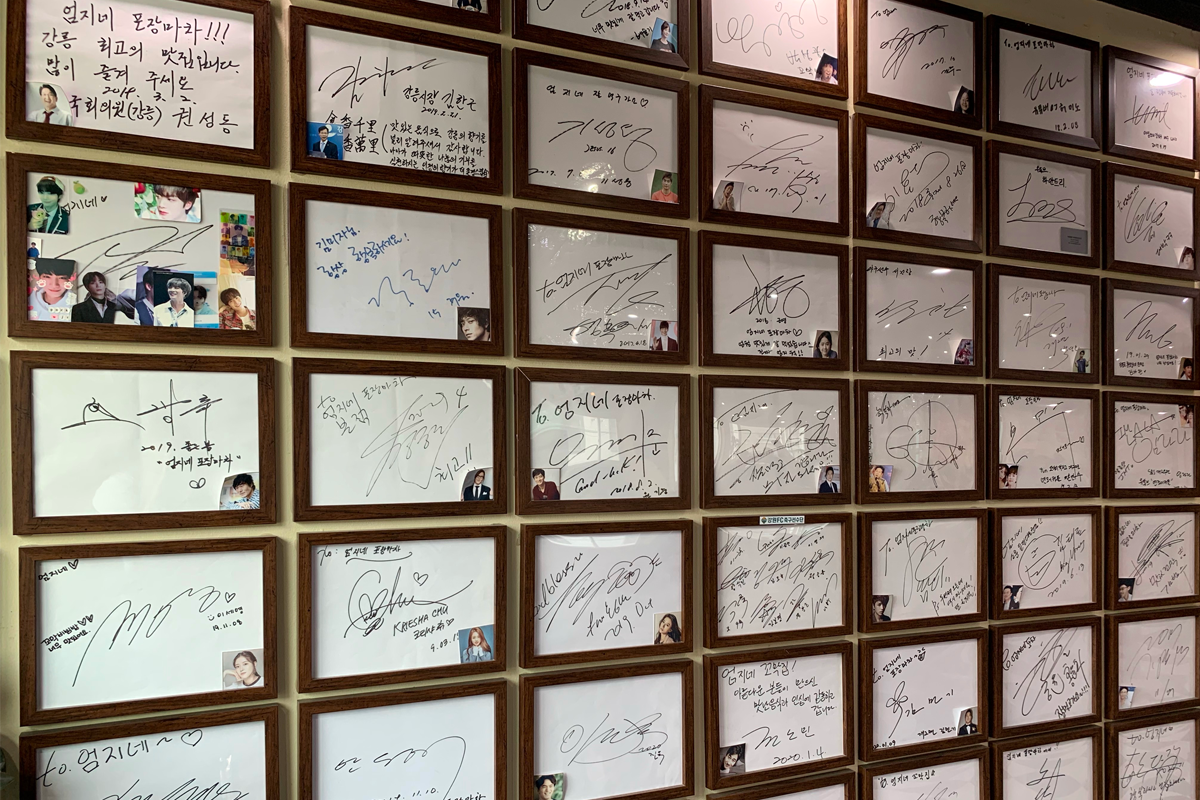 Umjine Pojangmacha might be Gangneung's most popular restaurant. We visited at 10:55 in the morning, and the shop was already so packed! The walls are covered with celebrity autographs, so you can definitely tell that they are well-known.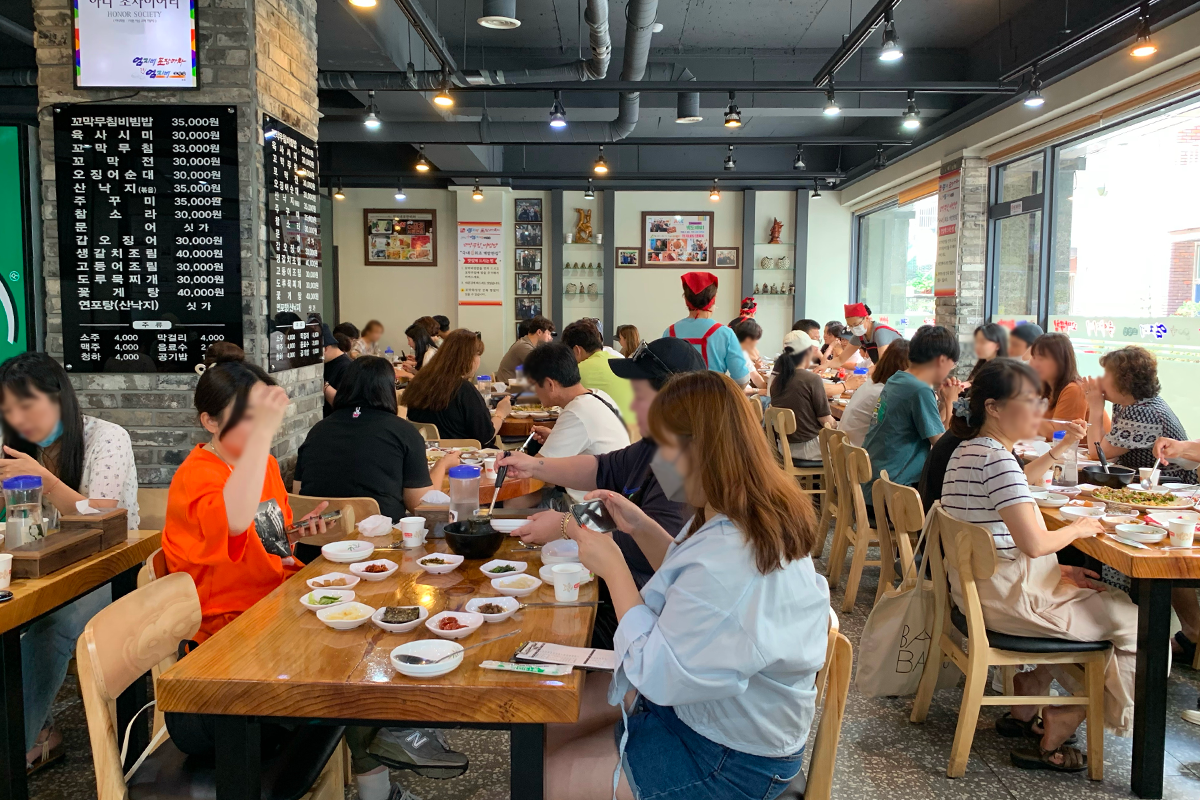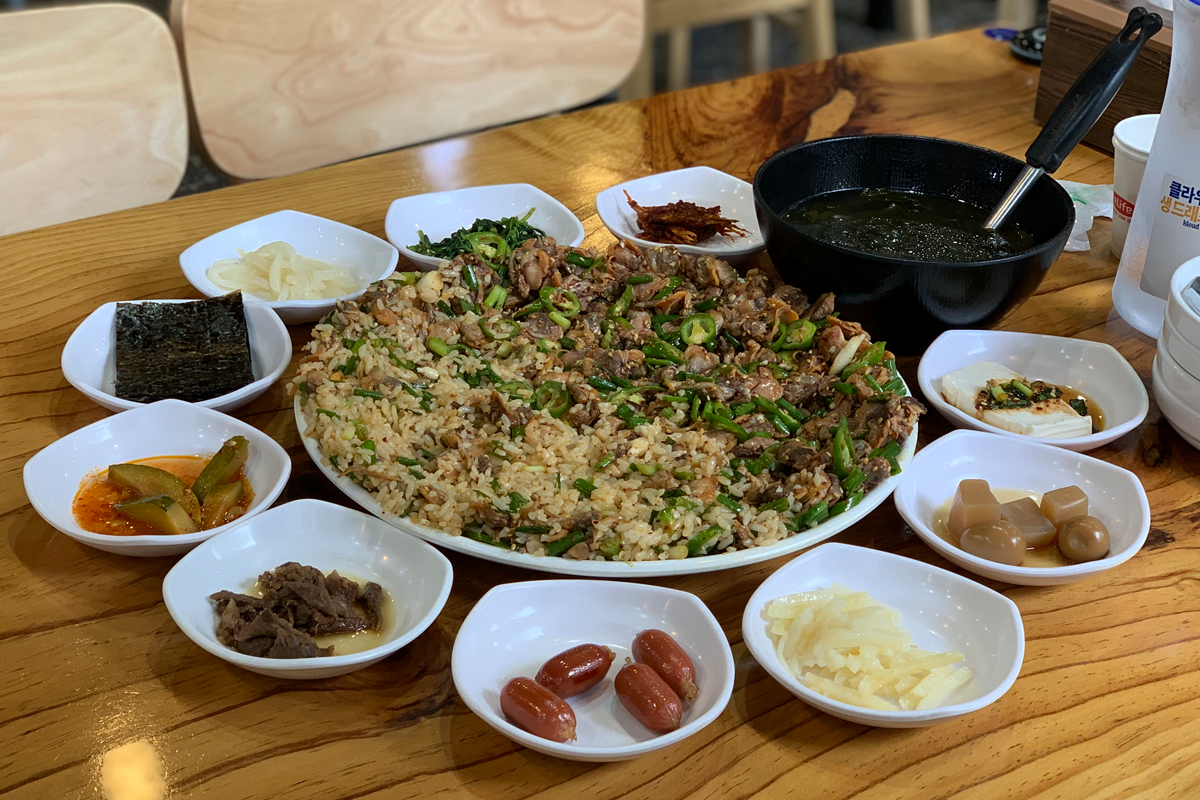 Cockle Bibimbap (꼬막무침비빔밥) 35,000 KRW

Right after ordering, the table is covered with an assortment of banchan(side dishes). More than ten side dishes and a large plate of cockle bibimbap was served. An individual side seaweed soup was served as well.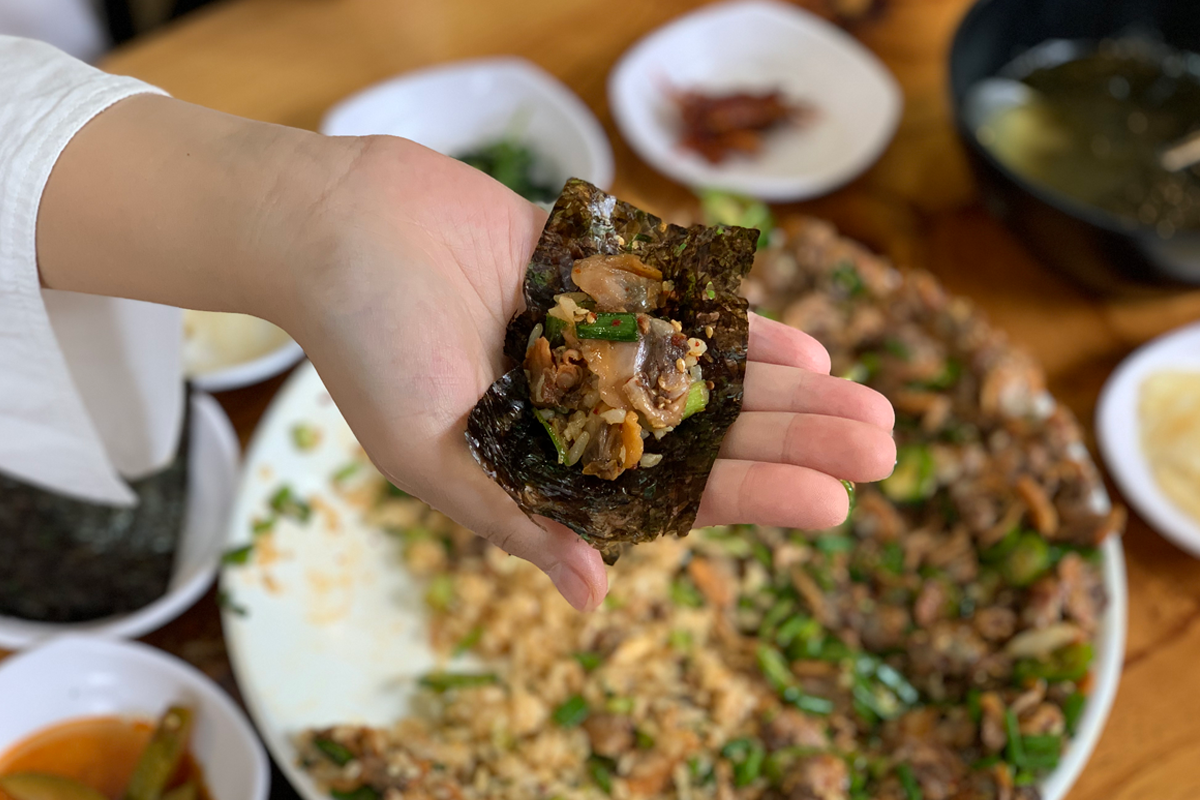 The bibimbap consists of cockles, scallions, sesame seeds, shallots, chili peppers, etc. For those who are not into spicy foods, you can pick out the peppers before consumption. The marinated cockles are served cold, and half of it is mixed in with warm rice. Unlike some shellfish, this dish did not have an unpleasant seafood taste and was a pleasant mix of flavors. Once you take a bite, you cannot stop until the whole plate is polished.
Gangneung Jungang Market (강릉 중앙시장)
Address: 강원 강릉시 금성로 21
21, Geumseong-ro, Gangneung-si, Gangwon
Hours: 08:30 - 21:00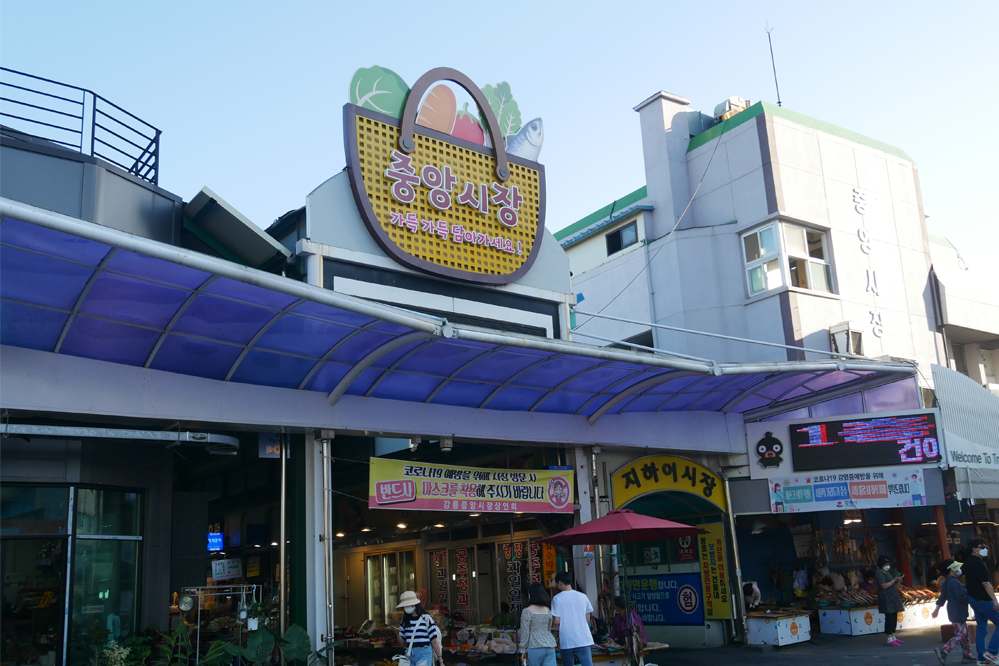 The Gangneung Jungang Market is very large, and it is also very close to Gangneung Station. The market is divided into two sections: the traditional market and fish market.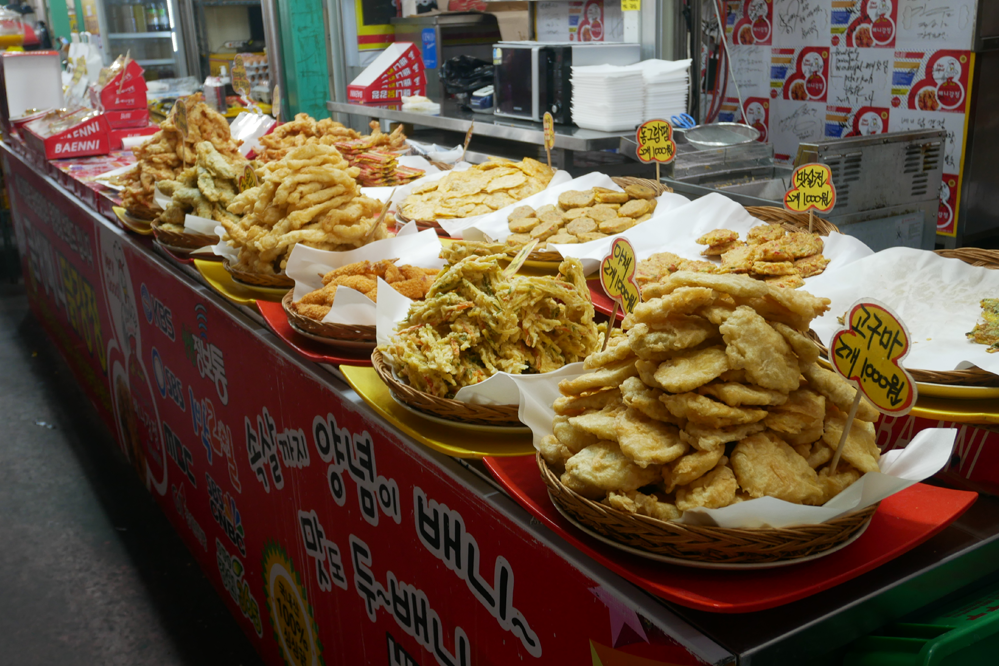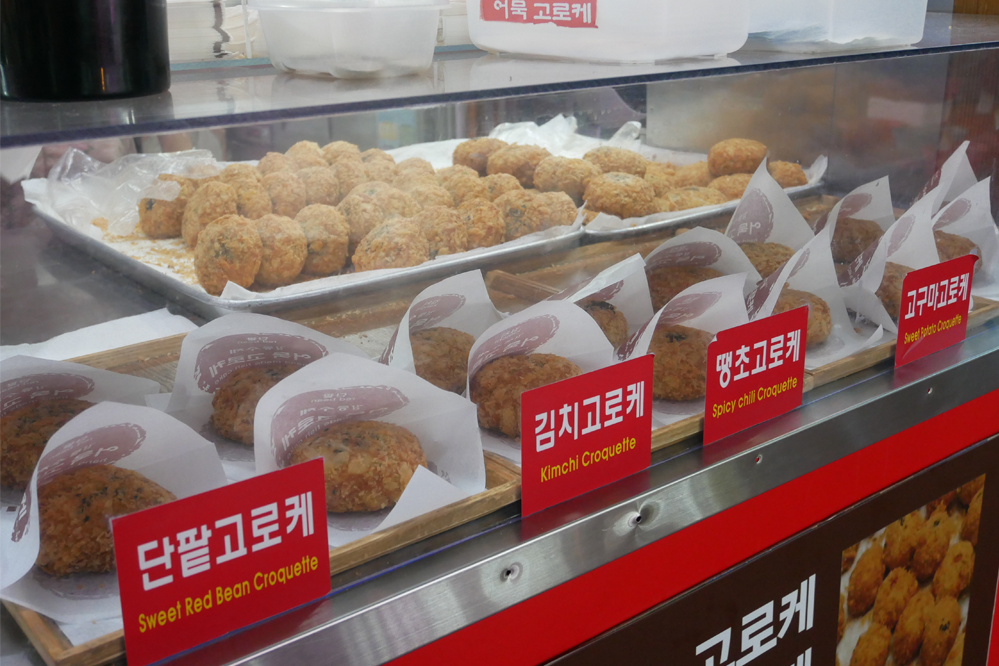 Cheese Fishcake Croquette(치즈 어묵고로케)2,500 KRW
These cheese fishcake croquettes are among the most popular street foods at the market. The owner suggests that you eat the croquette within the next 40 seconds when it is hot, so you can see the cheese pull. The outer layer was super crispy and the inside was soft and had a nice chew. The cheese was warm and melty; the croquette overall was so good!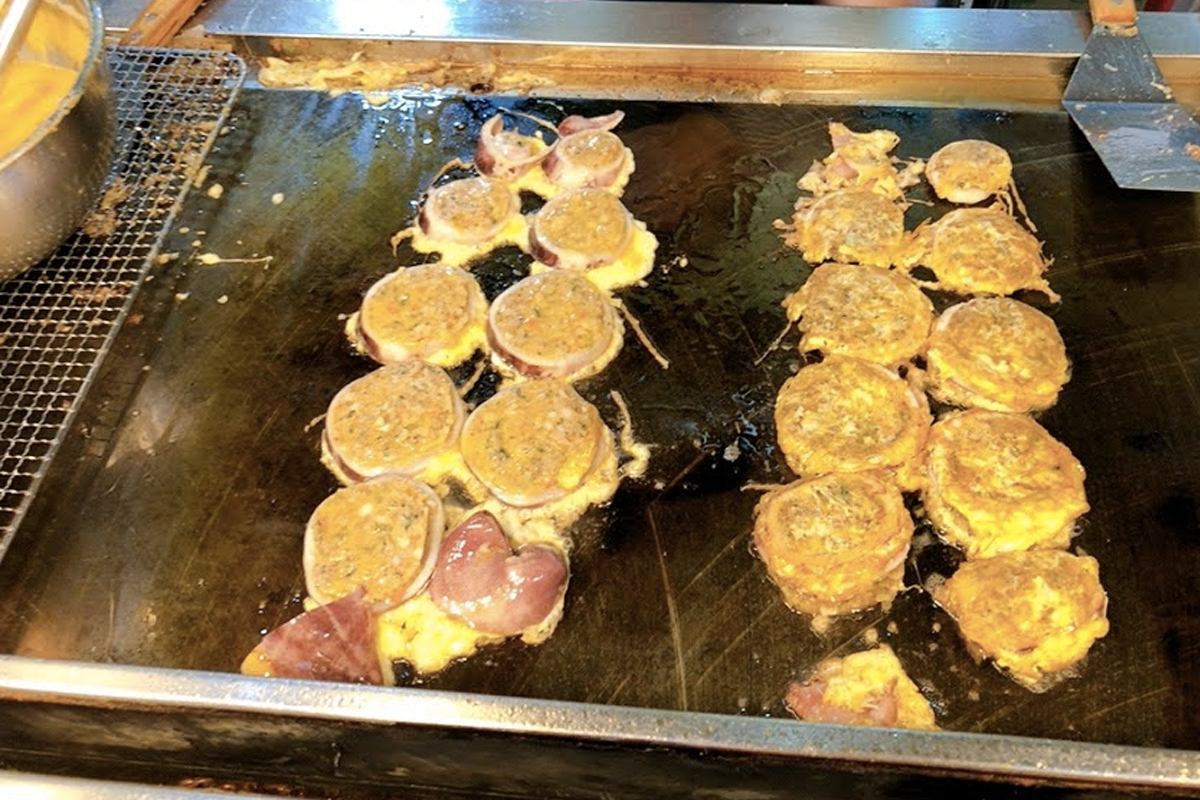 Squid Sundae(오징어순대)13,000 KRW
Another local delicacy is the Squid Sundae. The body of a squid is stuffed with noodles, tofu, vegetables, and more. This dish is also famous in Sokcho, another Gangwon coastal city. It is named after sundae, which is blood sausage because the way it is prepared (stuffed and cup up) is similar. After it is cut up, it is dipped in egg and fried until golden brown.
ARTE MUSEUM (아르떼뮤지엄)
Address: 강원 강릉시 난설헌로 131
131, Nanseolheonro, Gangneungsi, Gangwon
Hours: 10:00 - 20:00 (Last entry 19:00)
Price: Adults 17,000 KRW, Teens 13,000 KRW, Children (8 -13 years old) 8,000 KRW, Infants (under 36 months) Free of charge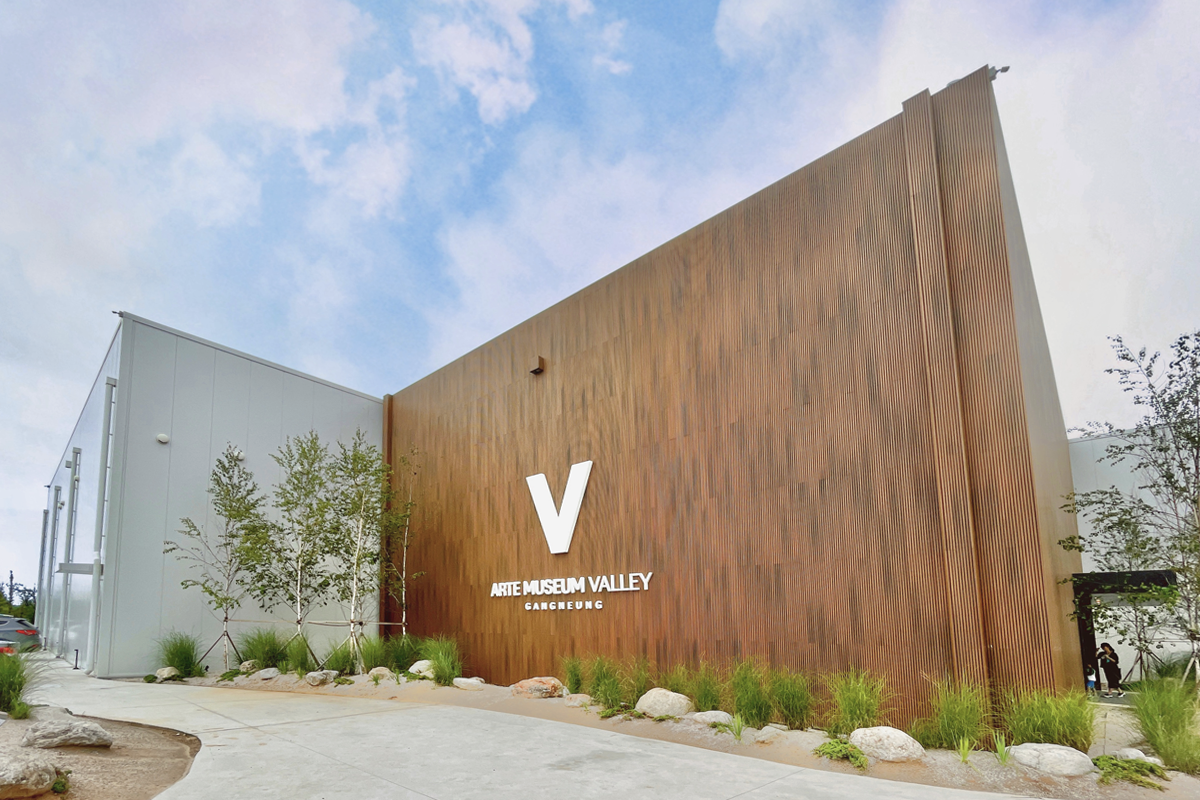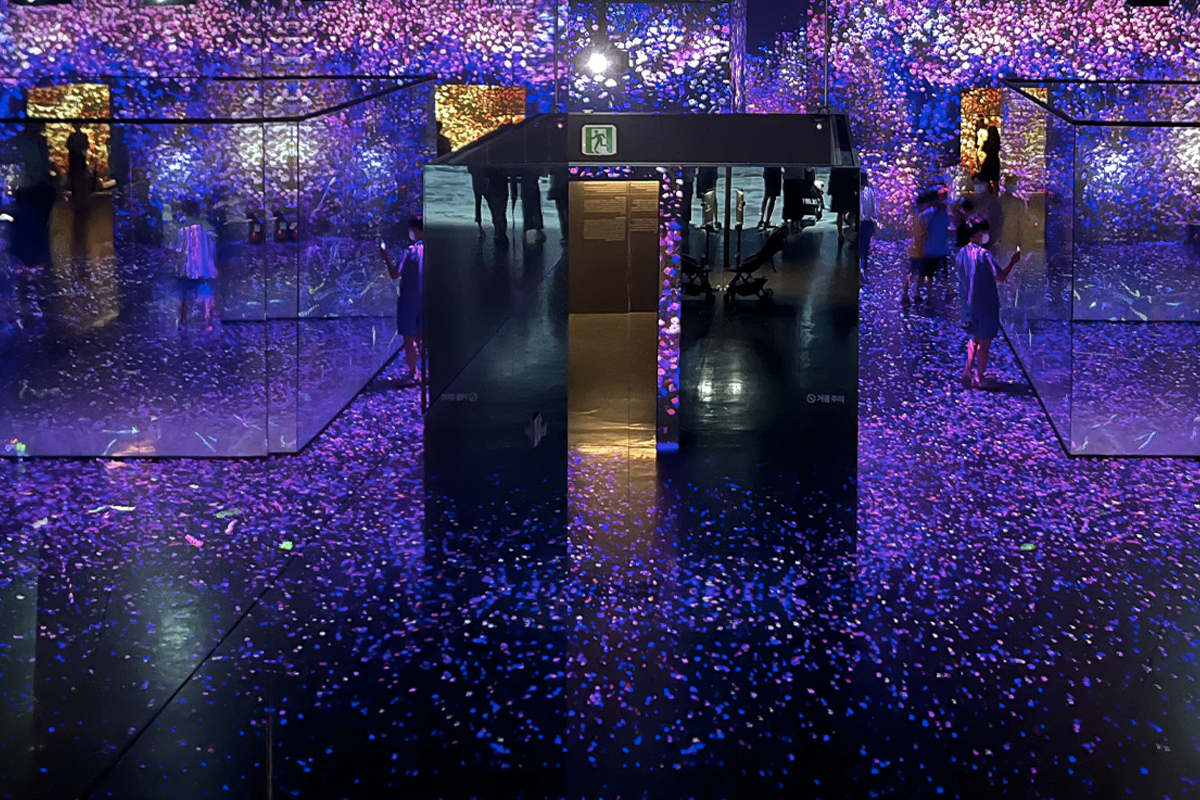 The new ARTE Museum is a 4,600 square meter space that used to be an abandoned factory. The building is now a state-of-the-art media exhibition hall that uses digital images, lights, and shadows to make art onto the walls.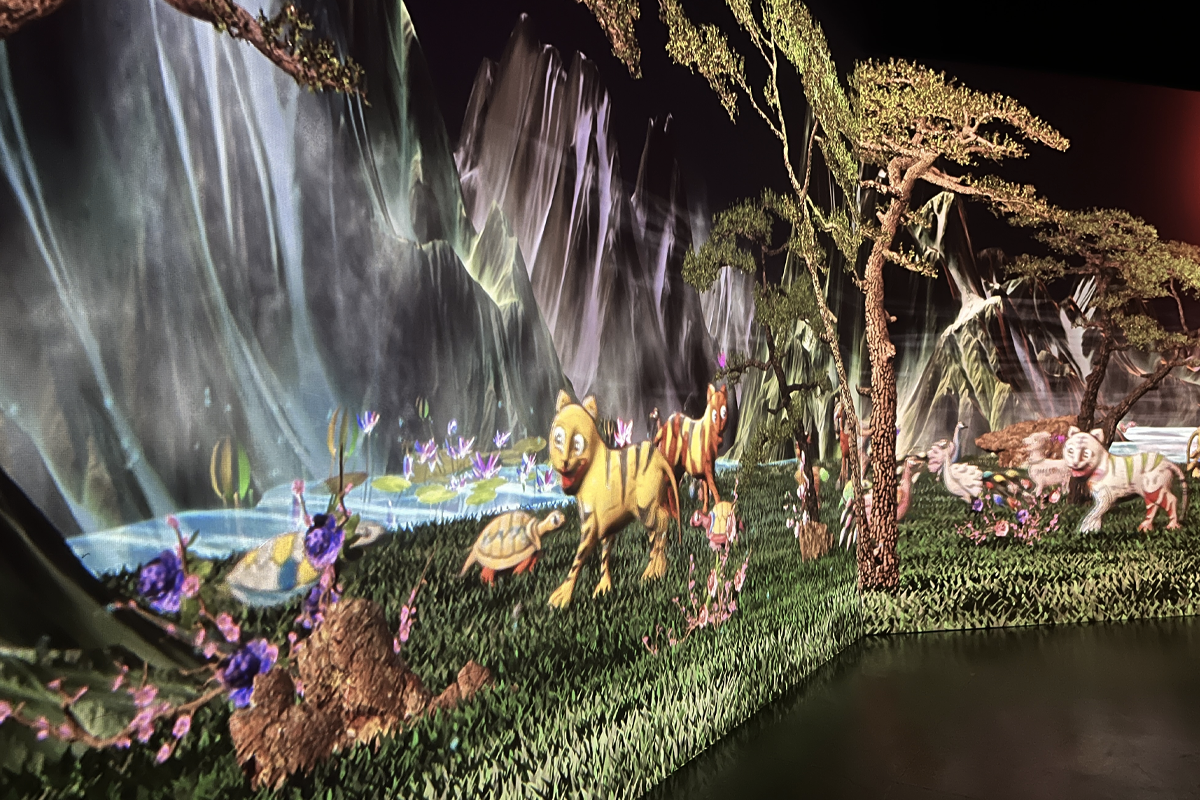 Among all the exhibitions, the one we found most interesting was the exhibition where you could take part in making the art! You draw an animal on a piece of paper, scan it, and it will be shown on the wall along with everyone else's creations. You can see both adults and children have a good time participating in the activity.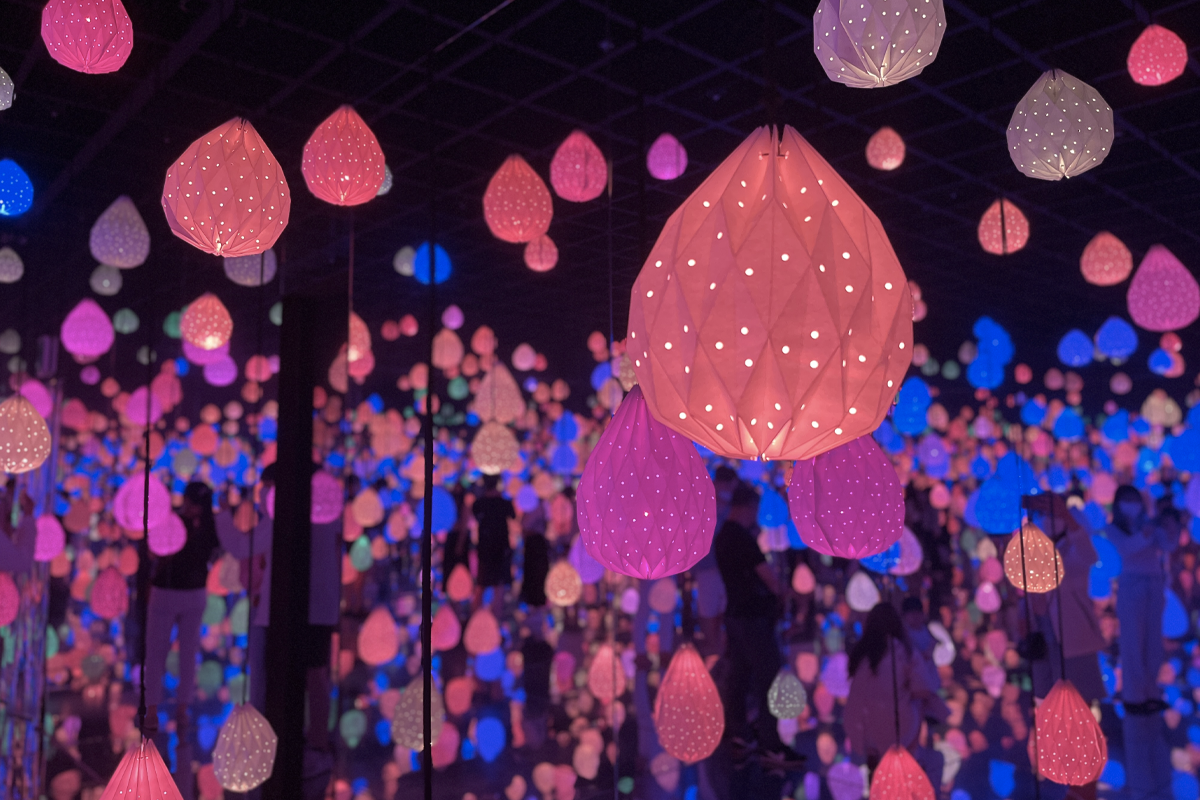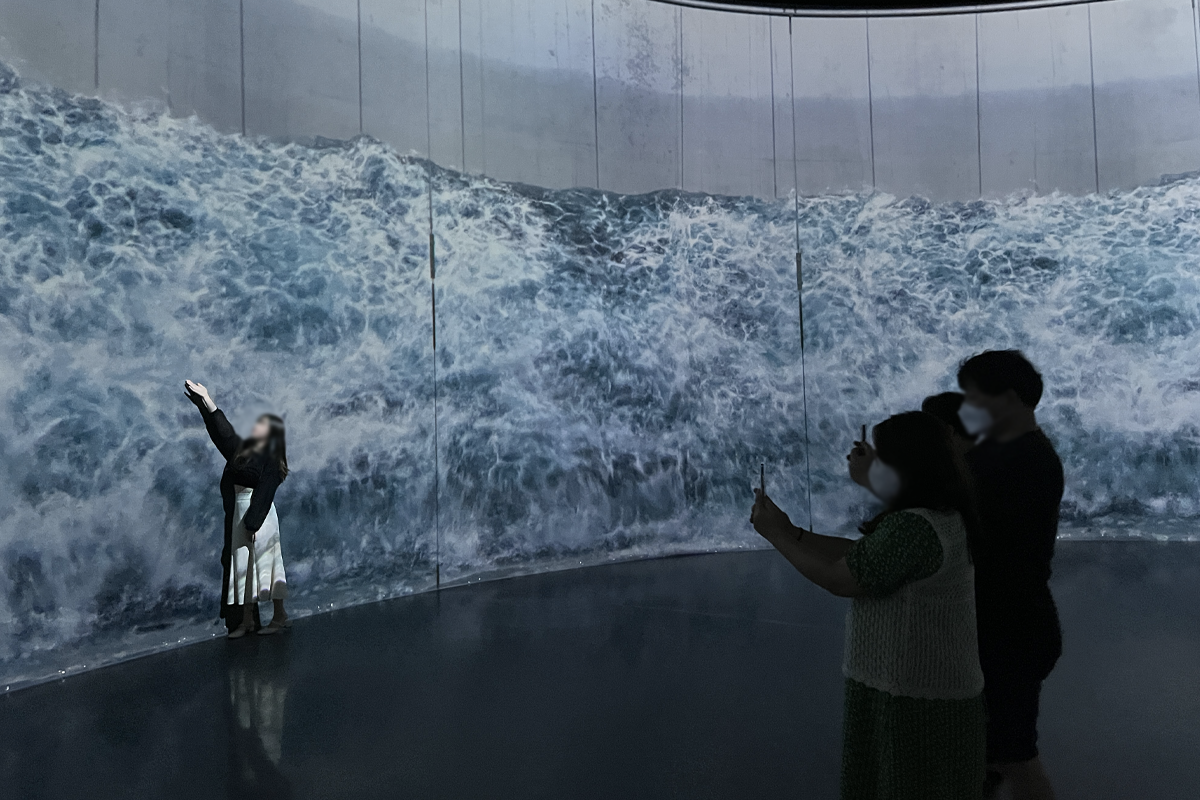 There are several exhibition halls that have different concepts: thunder, outer space, forest, cave, sunshine, grassland, etc. Light and sound are combined to make each exhibition hall feel realistic. You can take millions and millions of insta-worthy pictures here!
Gangneung Gyeongpo Lake Park (강릉경포호수공원)
Address: 강원 강릉시 초당동 459-28
459-28, Chodang-dong, Gangneung-si, Gangwon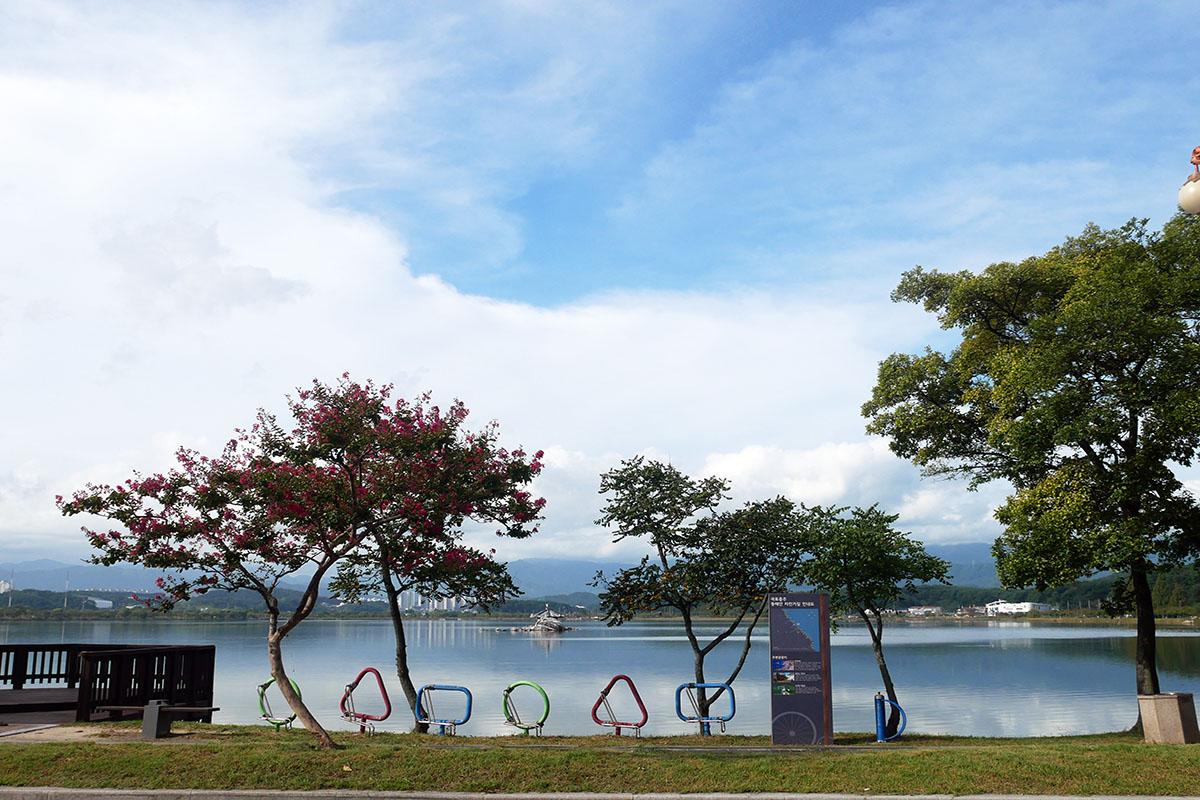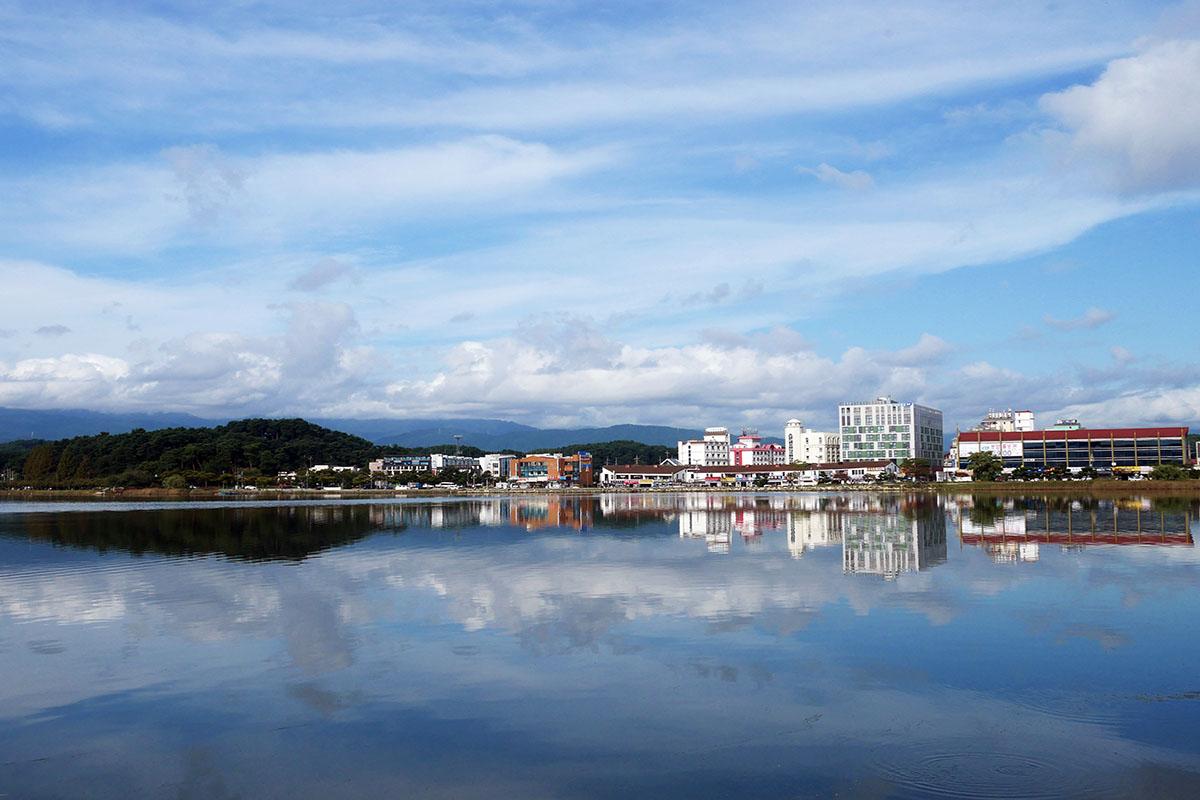 Gyeongpo Lake is so clear that it looks like a mirror. It is known to be a lake haven for migratory birds in the winter. The Gyeongpo Pavillion sits at the end of the lake on a small hill, a must-visit if you want to take pictures!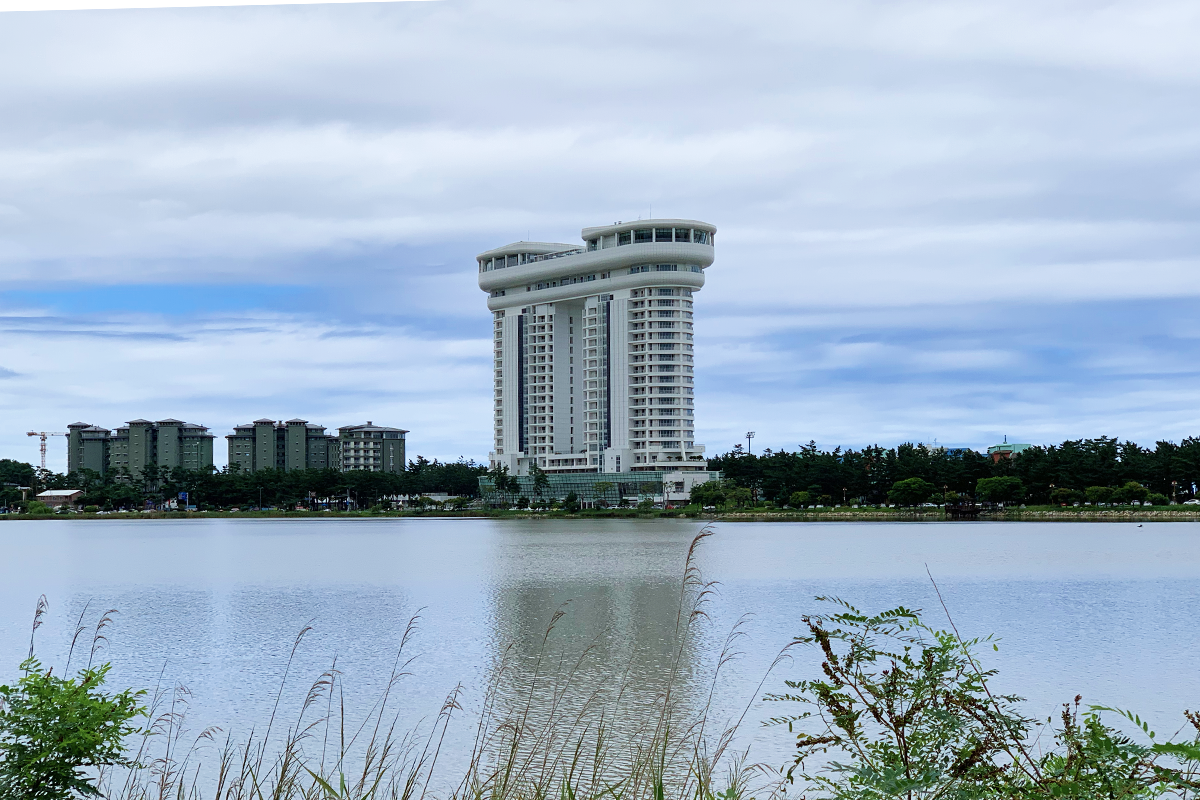 At the other end of Gyeongpo Lake is the Sky Bay Hotel. You can see the reflection of the building on the lake.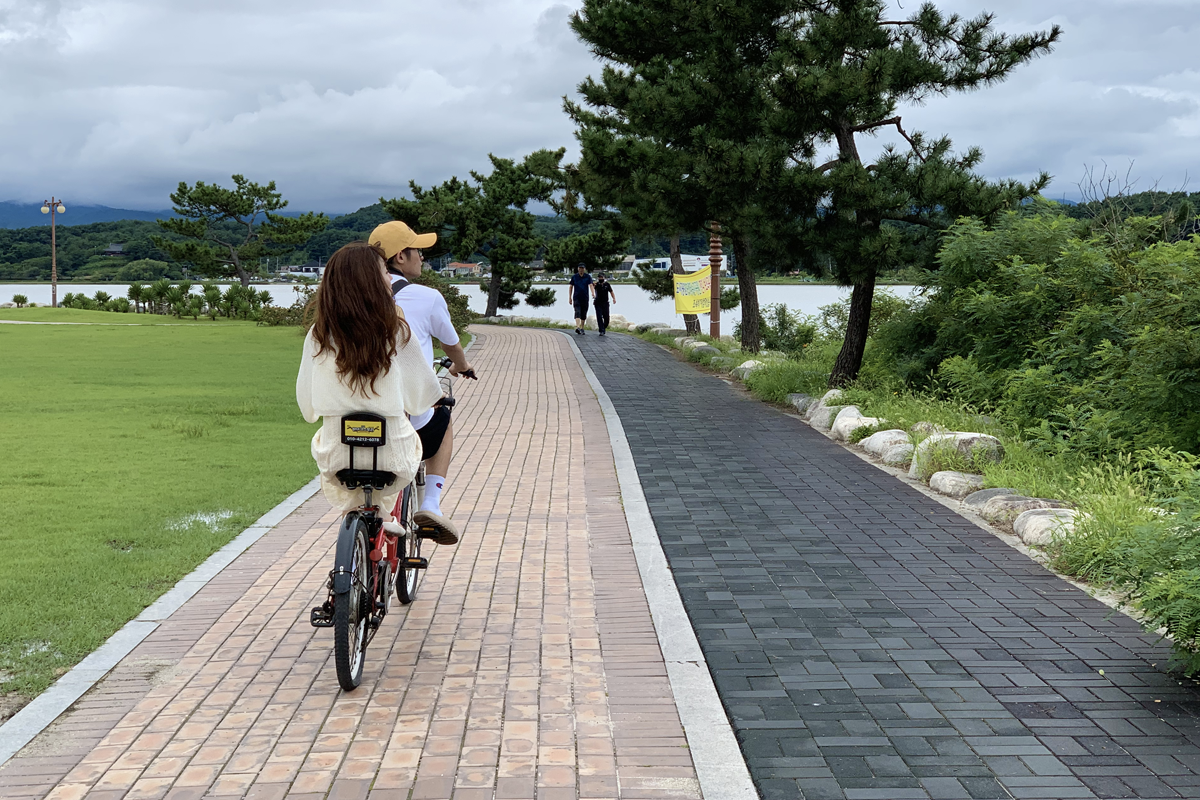 Because Gyeongpo Lake is really big, many tourists like to rent a bike and ride along the edge of the lake. There are also tandem bikes, so if you come in twos, try renting the tandem bike!
Gangneung Chodang Soon Tofu Village (강릉 초당순두부마을)
Address: 강원도 강릉시 초당순두부길 89-8
89-8 Chodangdoondubu-gil, Gangneungsi, Gangwon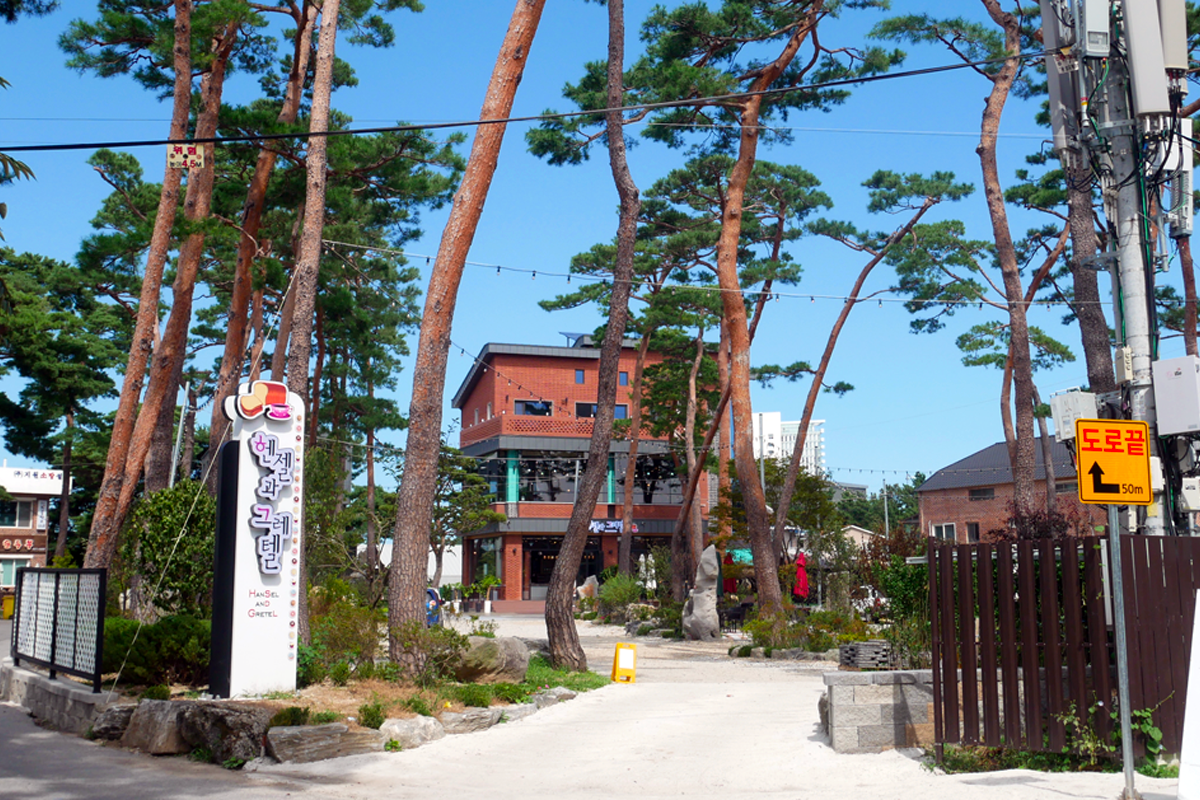 The Gangwon area, especially in Gangneung, is famous for soft tofu. There is a village in Gangneung that specializes in soft tofu, known as soondubu in Korean, and is quite popular among tourists.
Hawoldang (하월당)
Address: 강원 강릉시 초당순두부길 89-12 1층 하월당
Hawoldang, 1F, 89-12, Chodangsoondubu-gil, Gangneung-si, Gangwon
Hours: Weekdays 10:00 - 18:00 (Lunch break: 15:30 - 16:00, Last order: 17:30; Weekends 10:00 - 19:00 (Lunch break: 15:30 - 16:10, Last order: 18:30)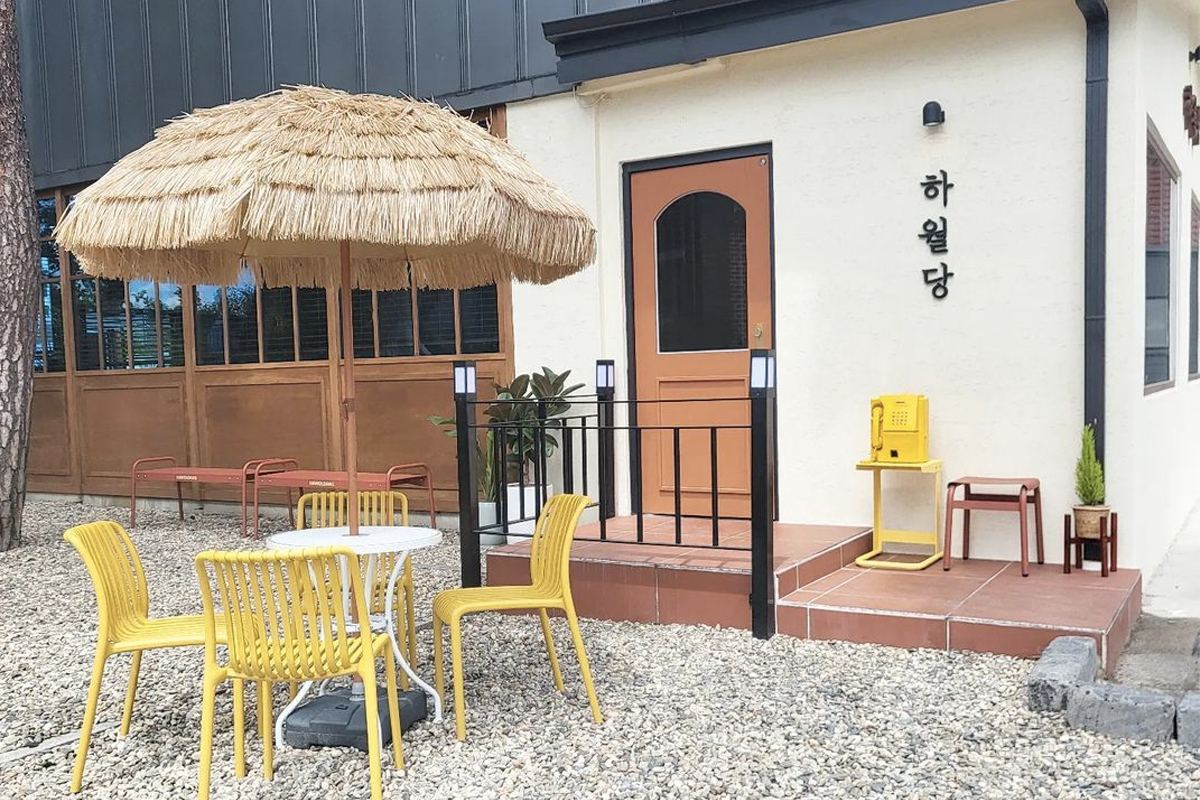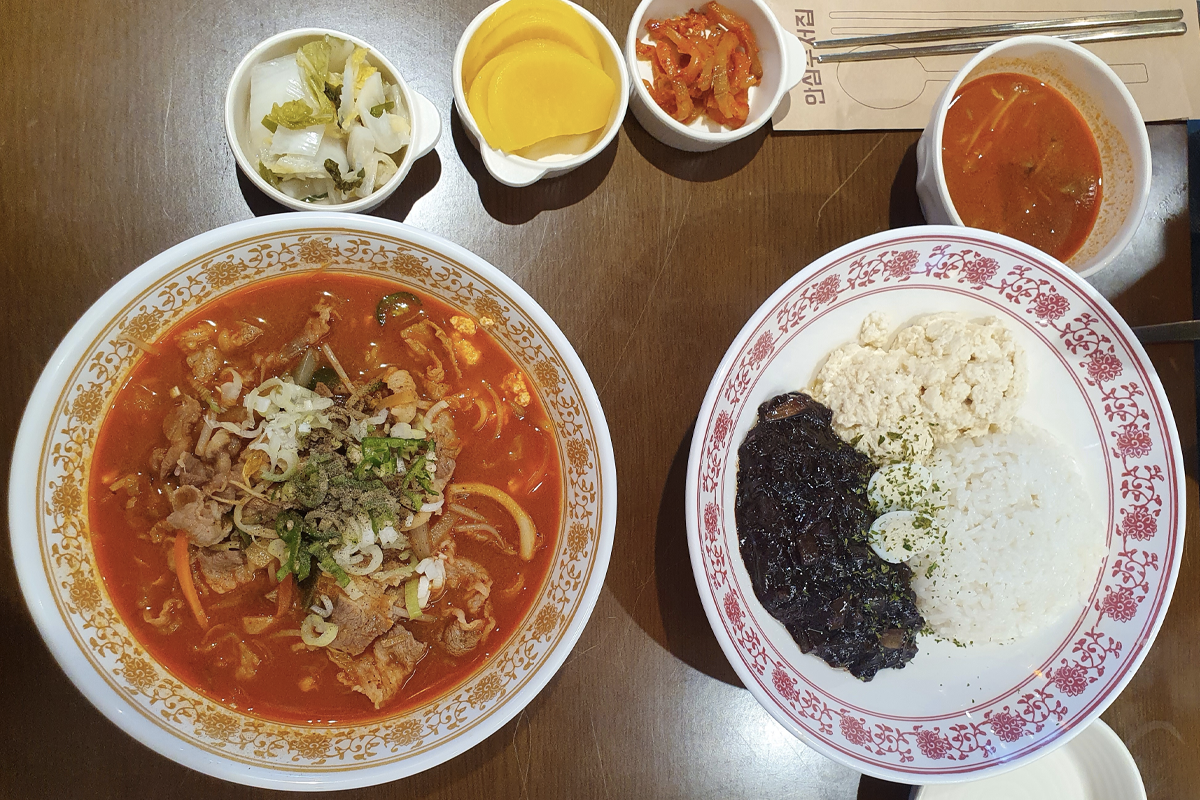 Soft tofu Brisket Jjamppong(순두부차돌짬뽕)12,000 KRW
Soft tofu Jjajang Rice(순두부짜장밥)8,000 KRW
Among the hundreds of restaurants to visit, this particular store was visited by a famous youtuber called Fion. This location is fairly popular and may have a queue, so keep that in mind.
Soon Tofu Gelato (순두부젤라또)
Address: 강원 강릉시 초당순두부길 95-5
95-5 Chodandsoondubu-gil, Gangneung-si, Gangwon
Hours: 10:00 - 19:00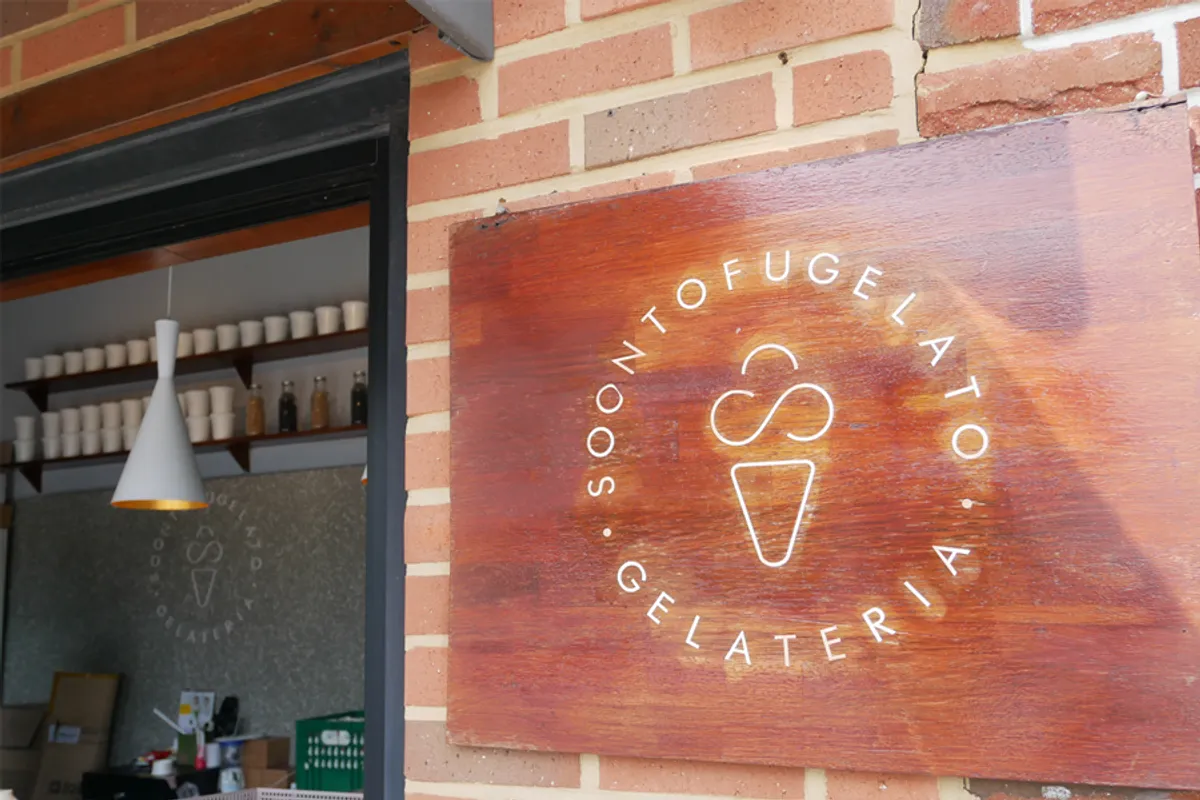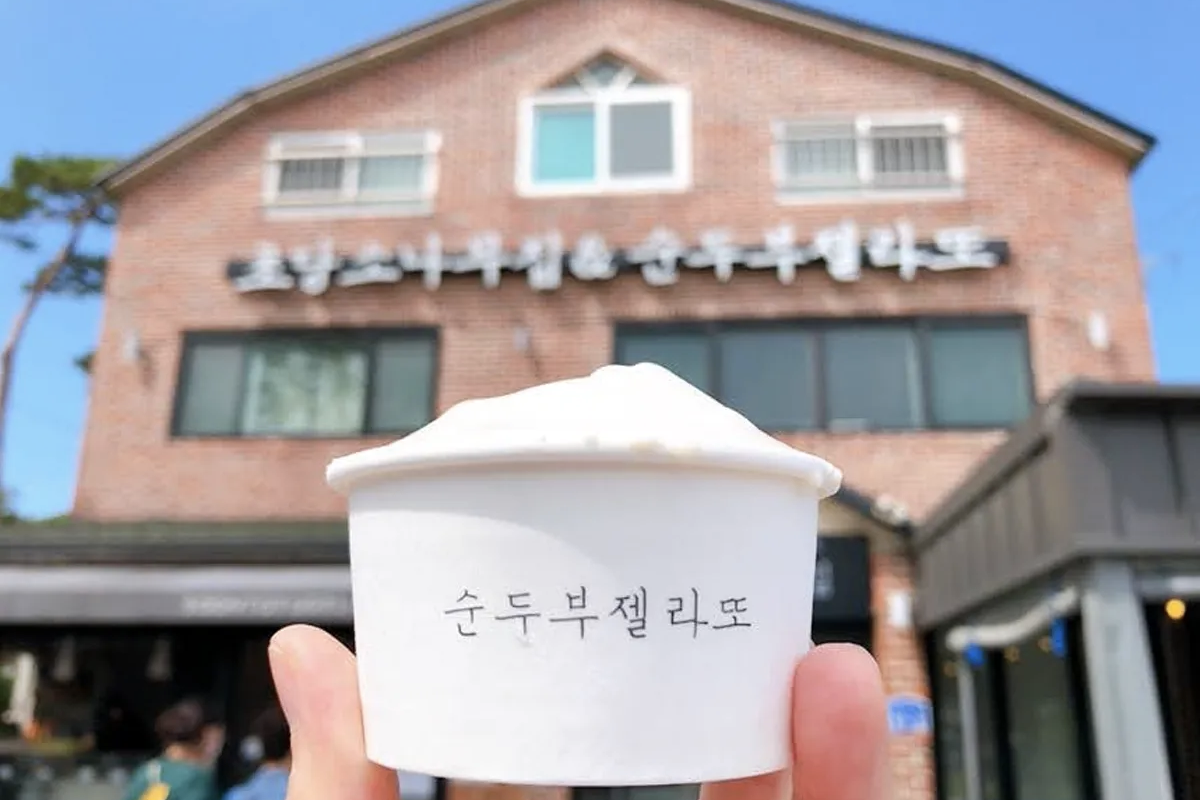 Soft Tofu Gelato(순두부젤라또)4,000 KRW
This place specializes in gelato made out of tofu! This might sound gross, but it is actually pleasantly sweet and has a light tofu flavor. There are other flavors as well like matcha and black sesame, so try it out if you're in the area!

Terarosa Roasters(테라로사 강릉본점)
Address: 강원 강릉시 구정면 현천길 25
25 Hyeoncheon-gil, Gujeong-myeon, Gangneung-si, Gangwon
Hours: 09:00 - 21:00 (Last order: 20-30)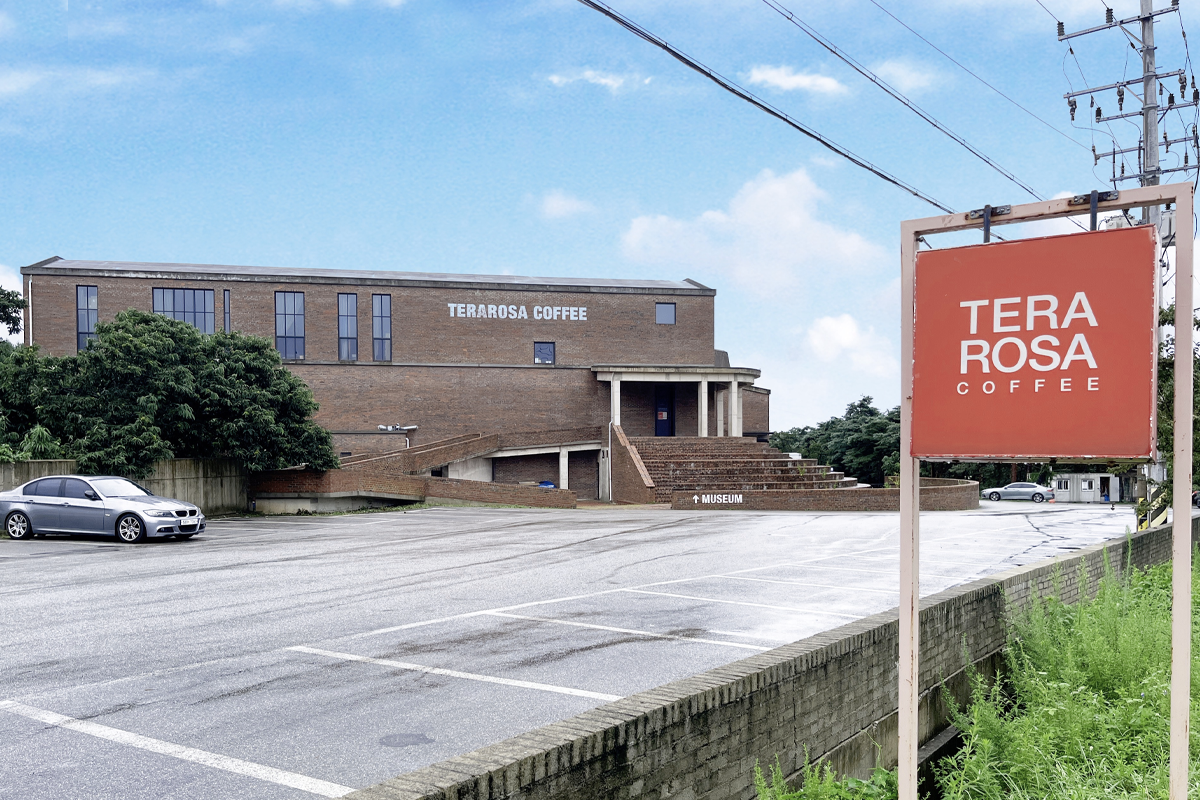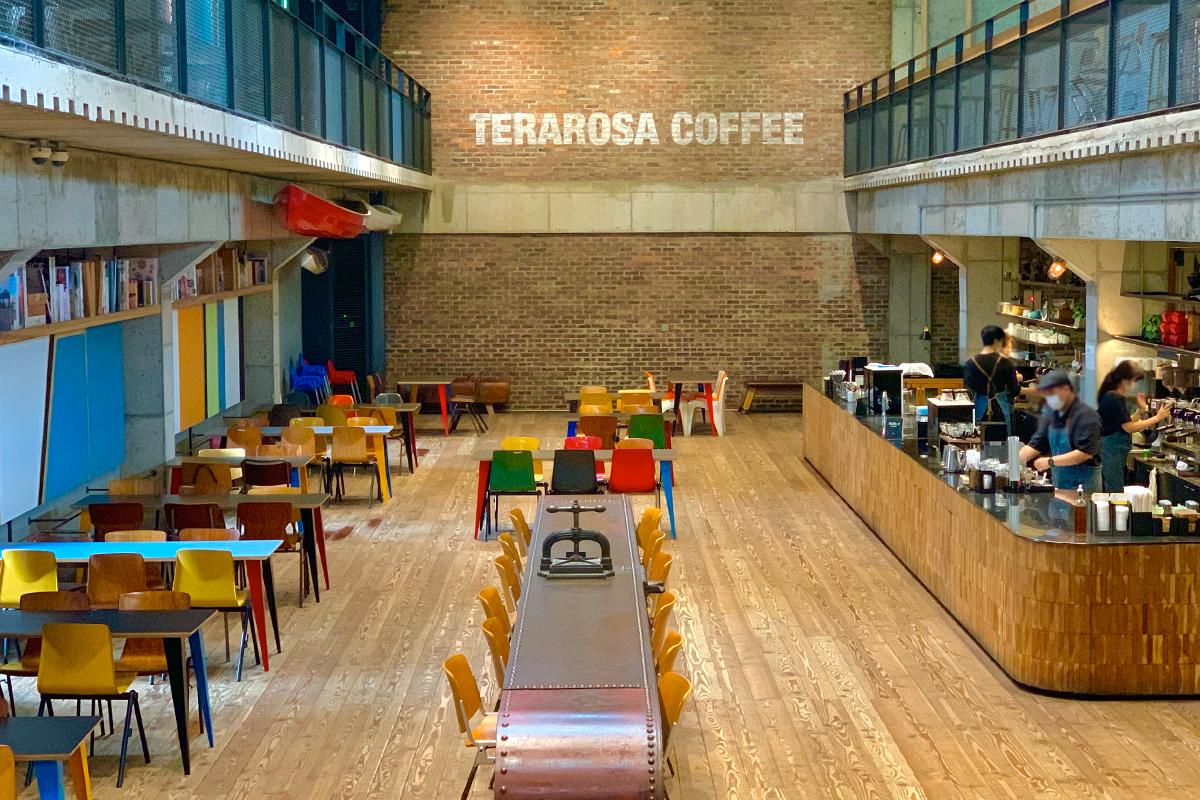 Terarosa Coffee is a coffee chain that started in Gangneung. They have their headquarters and manufacturing factory here in Gangneung and have shops all over the country. They are known for roasting high-quality coffee beans from all over the world.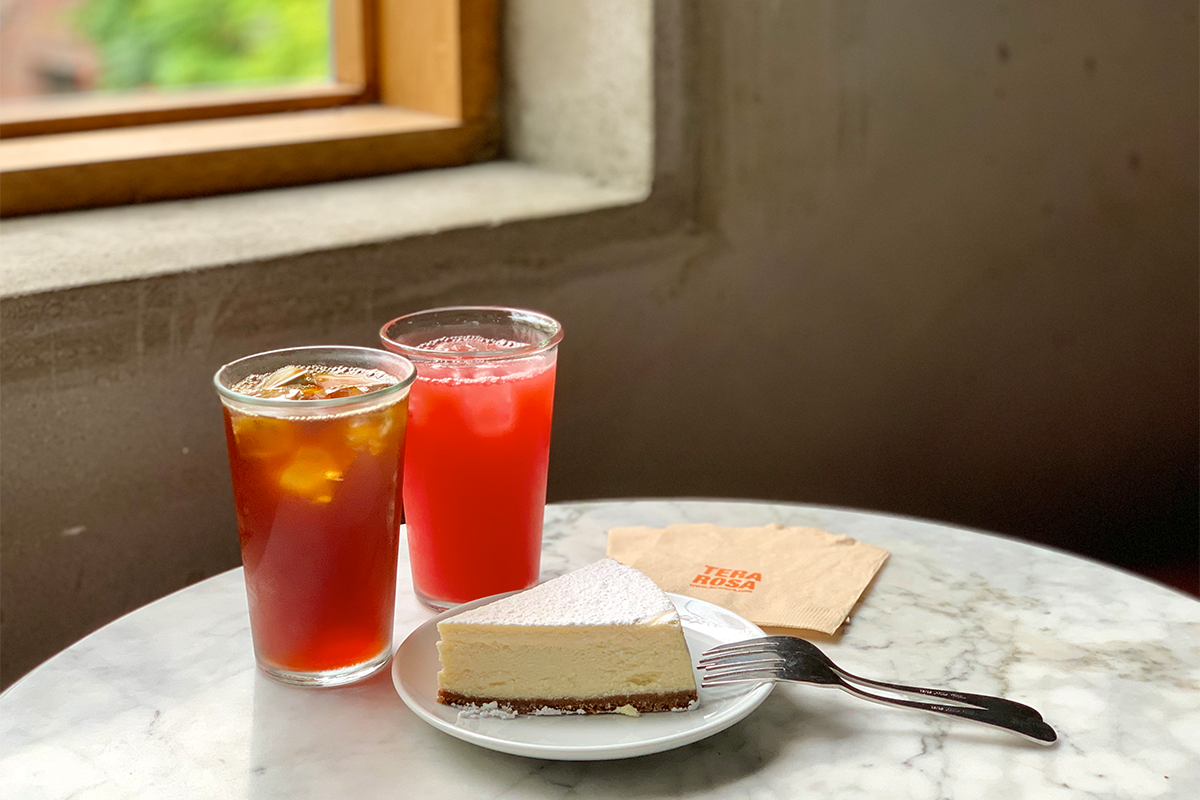 Lemon Cheesecake (레몬 치즈 케이크) 5,500 KRW
The Lemon Cheesecake is dense and sweet. You can taste the tanginess of the lemon and cream cheese in each bite.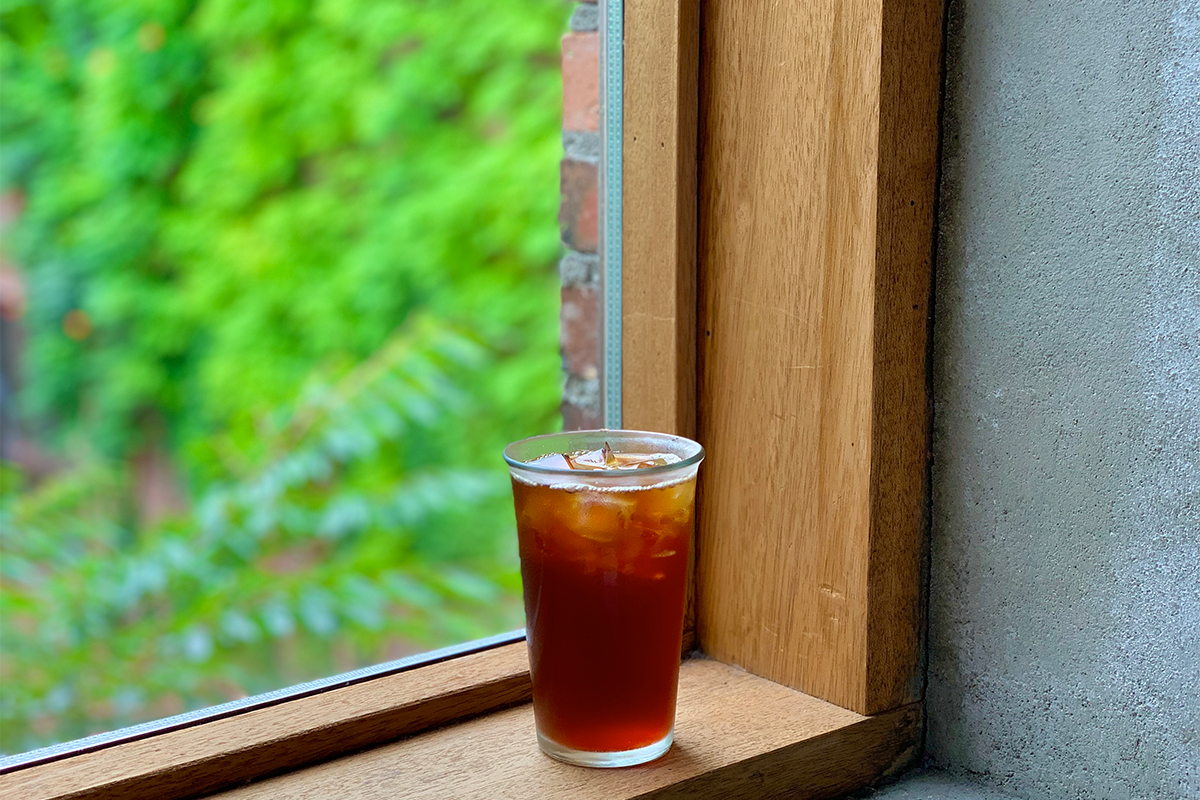 Colombia Jose Florez (콜럼비아 호세 츨로레즈) 6,000 KRW

And of course, since you're at one of Korea's best coffee manufacturers, you have to try their coffee. This specific blend has scents of kiwi fruit, almonds, and plum, so it was very fruity and acidic.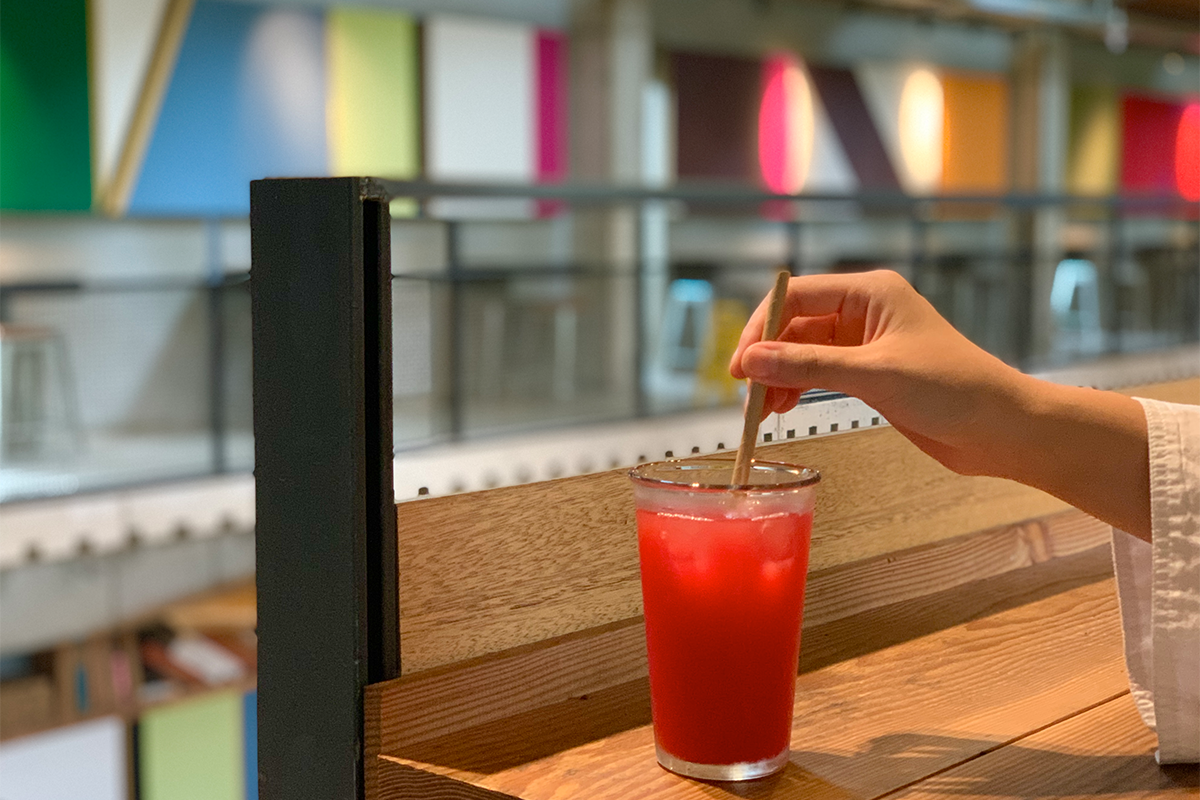 House Juice (하우스주스) 7,000 KRW
House Juice is the juice of whatever fruit is in season. Since we visited in the summer, watermelon juice was available. It was super refreshing and perfect for the hot summer's day.
---
Gangneung Private Taxi Tour for Foreigners
Address: 강원 강릉시 용지로 176
176, Yongji-ro, Gangneung-si, Gangwon
Hours: 09:00 - 18:00
Price: 20,000 KRW per taxo (max. 4 people) for 3 hours
Gangneung Private Taxi Tour for Foreigners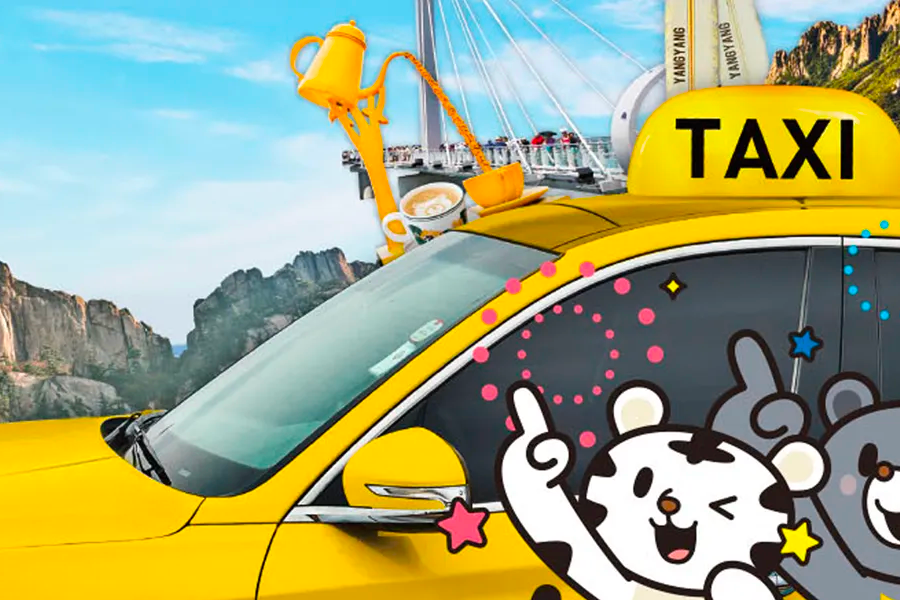 Other than the locations mentioned above, there are so many things to do in Gangneung! You can't forget about the bus stop featured in BTS's album cover, Jumunjin Port, etc.! You can add and take out whatever locations you want in the tour itinerary and ask the driver to take you to certain locations. Keep in mind that the price (20,000 KRW) is for 3 hours and if you want to add hours, it is 15,000 KRW per hour.
Gangneung may be on the other side of the Korean peninsula when comparing it to Seoul, but it is only a 2-3 hour ride away. If you want to take a trip out of the bustling city, Gangneung would be a great choice!
---
We hope that you can enjoy a day in Gangneung! If you have any questions or concerns, please leave a comment below or send us an email at support@creatrip.com! You can follow us on Instagram, TikTok, and Facebook to stay updated on all things Korea!
---