What to eat in Hongdae - 10 Best Restaurants
A list of the best restaurants in Hongdae! You gotta check these out while you're there!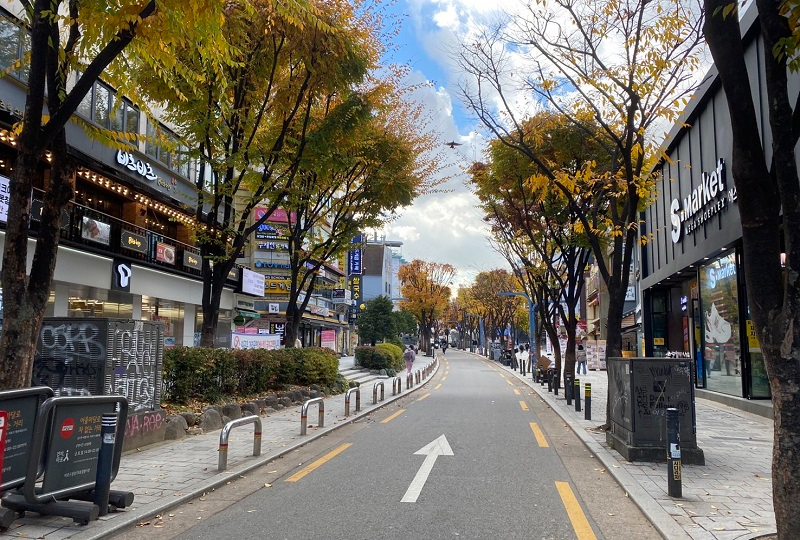 In recent years, Hongdae has earned its status as one of, if not the number one most popular destinations in Seoul. It is a bustling melting pot where both university students and business professionals mingle. It's known to be a youthful and cheery location.
Along with cosmetics, clothes, and snack shops, there are also numerous restaurants in the Hongdae area worth sampling. If fact, there is such a wide variety of worthwhile options, it can be too difficult to decide which one to actually try.
To aid your decision-making, we've compiled a list of Hongdae's best restaurants to take the guesswork out of your trip and set you up for a successful dining experience any time of the day.
---
Hongdae Seabooung
홍대씨부엉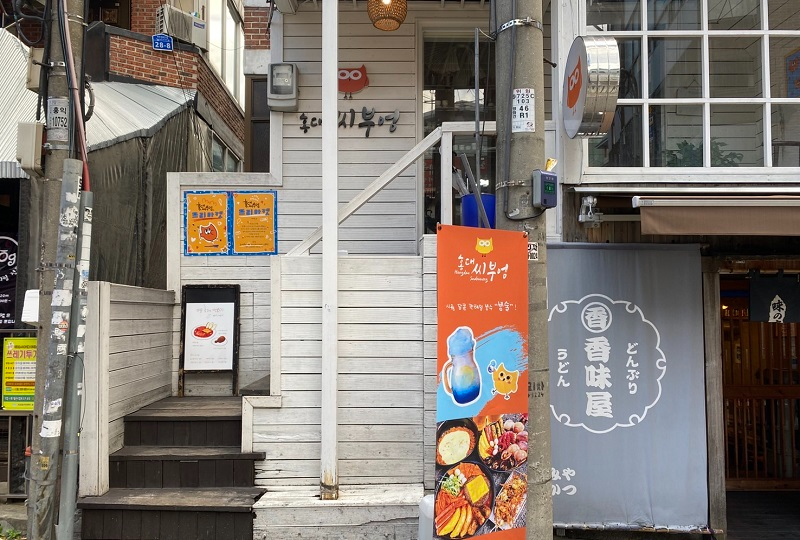 Hongdae Seabooung is a popular Hongdae restaraunt known for their seafood tteokbokki!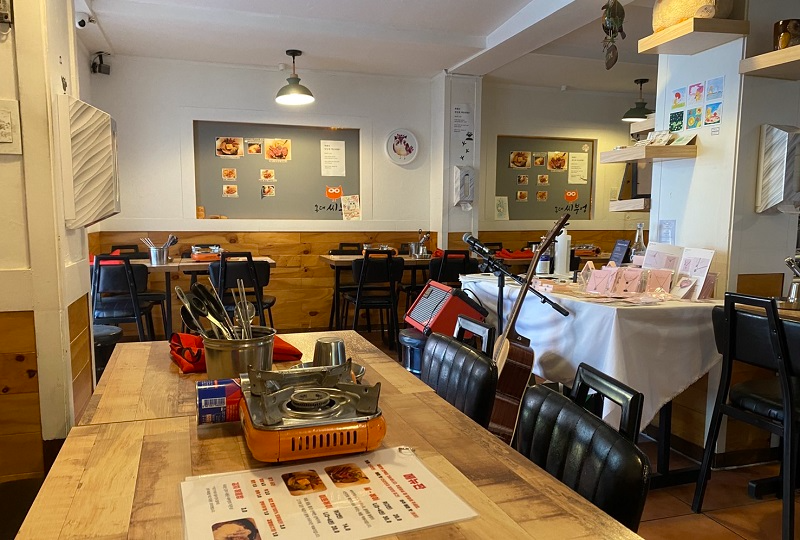 Although the restaruant itself is not that big, there is enough seating inside! The inside is very clean as well. Along with delicious food, they have a mini flea market stand where they sell little goodies and souvenirs. The goodies are made by Hongik University students and when purchased, the money is sent to the student!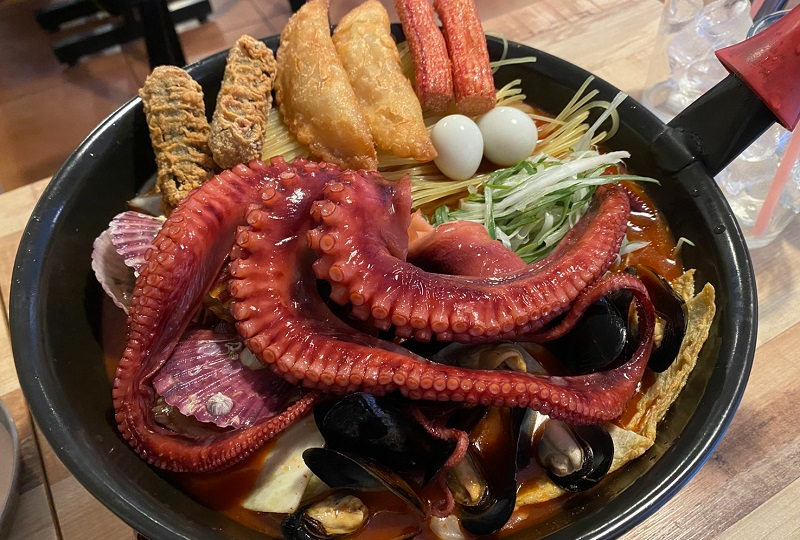 We ordered the Seapokki (23,000 KRW) which contained octopus, shellfish, fried foods, rice cakes, and noodles! There was a good amount of food so we were pleasantly surprised! It can easily feed 2-3 people.
Also, the seafood smell was not strong so it is easy to eat, even for those that are not good with seafood.
Address: 서울 마포구 와우산로 21길 28-6
28-6 Wausan-ro 21-gil, Mapo-gu, Seoul
Hours: 11:00-00:00
---
Hongdae Dalkgalbi


신미경홍대닭갈비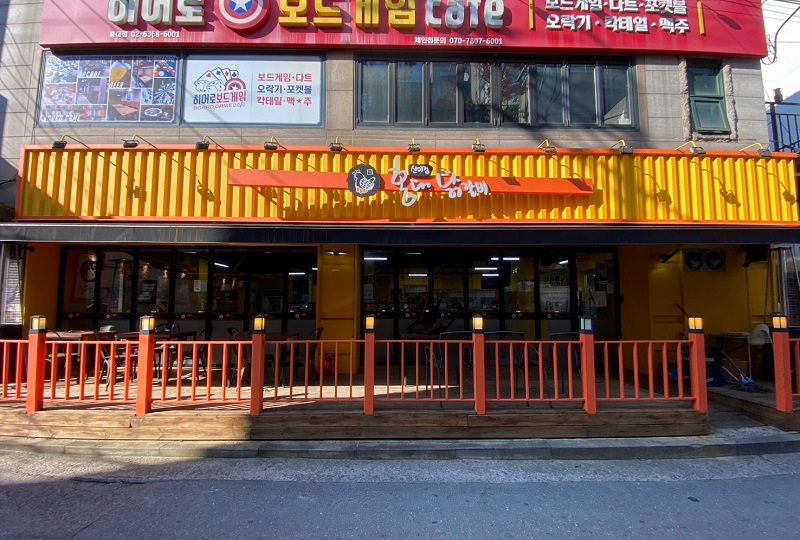 Hongdae Dalkgalbi is located right off the main street of Hongdae! There are always quite a few customers here at any time of the day due to it's popularity.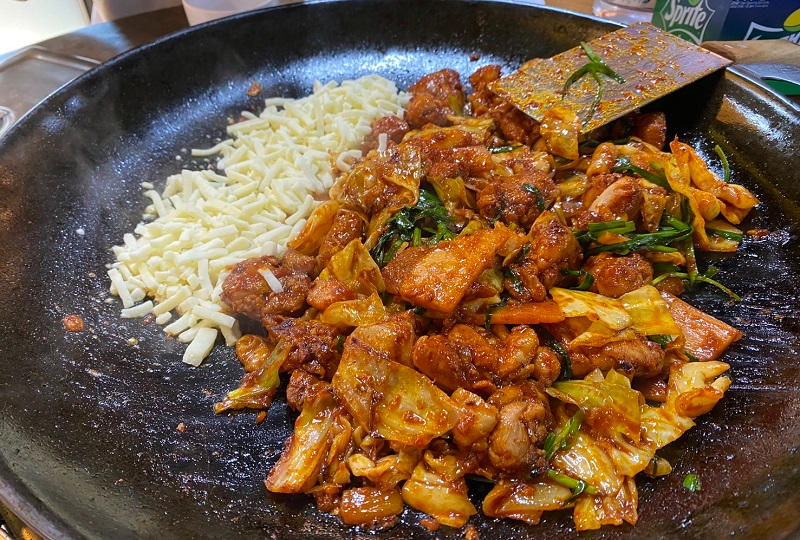 We ordered the Cheese Dalk Galbi (13,000 KRW) which came with cheese, veggies, and the dalk galbi! The sauce was not spicy and the cheese tasted delicious when melted into the sauce.
Information: 서울 마포구 와우산로 21길 31-10
31-10, Wausan-ro 21-gil, Mapo-gu, Seoul
Hours: Weekdays: 11:00-23:00, Friday and Saturday: 11:00-24:00
---
Baeddegi Gopchang
배떼기 곱창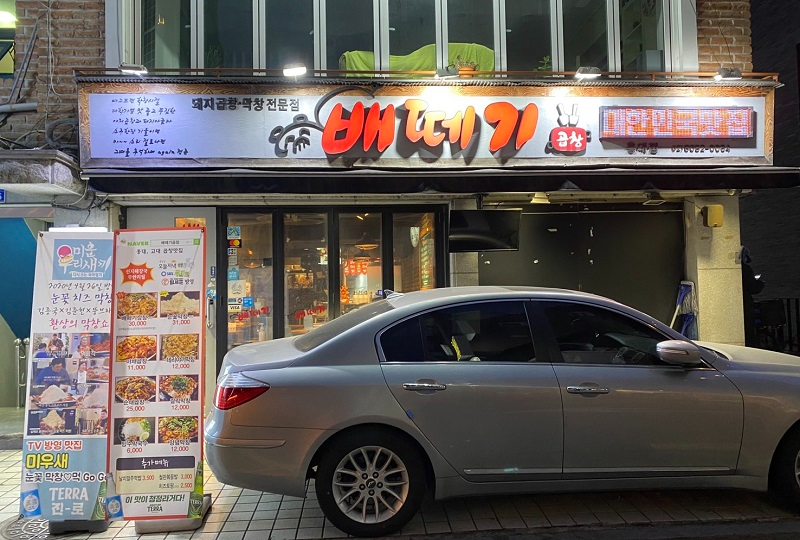 Baeddegi Gopchang quickly rose to popularity after being featured on a KBS broadcast TV show! They are famous for their Gopchang, which is a cut of meat that is popular amongst Koreans.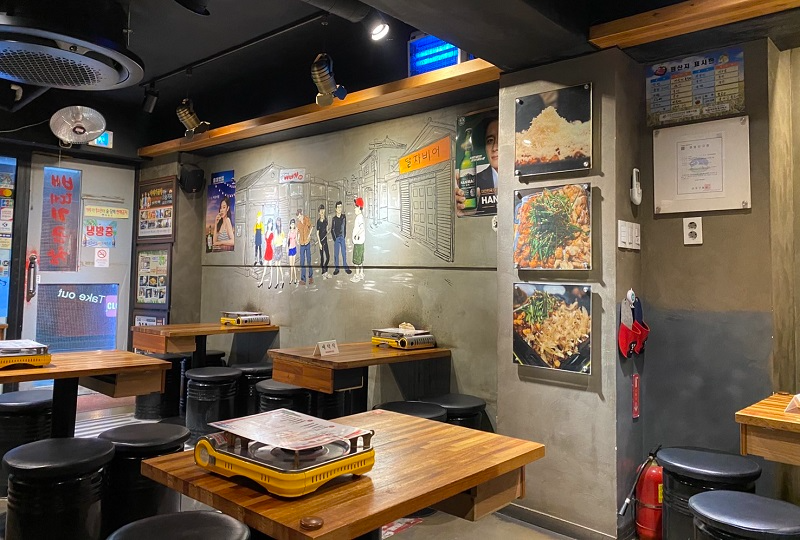 The restaurant itself is not too large, however the tables are well spaced out, giving each party enough room and a comfortable seating arrangement. The way that the place is decorated also gives it a retro vibe, which is a current trend in Korea!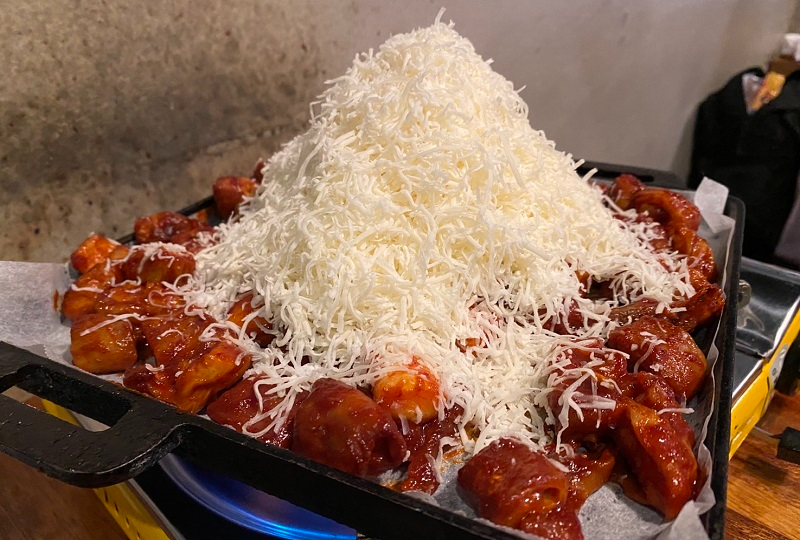 We ended up getting the Makchang (31,000 KRW) which was topped with a mountain of cheese! The makchang itself was covered in a spicy sauce, but the cheese helped with the spice. For those that are not good at eating spicy foods, we suggest trying it with the cheese to help! Even if you are good with spice, the cheese is a delicious touch...who doesn't love cheese? 🧀
Address: 서울 마포구 양화로 18안길 260-6
26-6 Yanghwa-ro 18an-gil, Mapo-gu, Seoul
Hours: Daily 15:00- 00:30 (Last order: 11:30)
---
Honkaz
혼카츠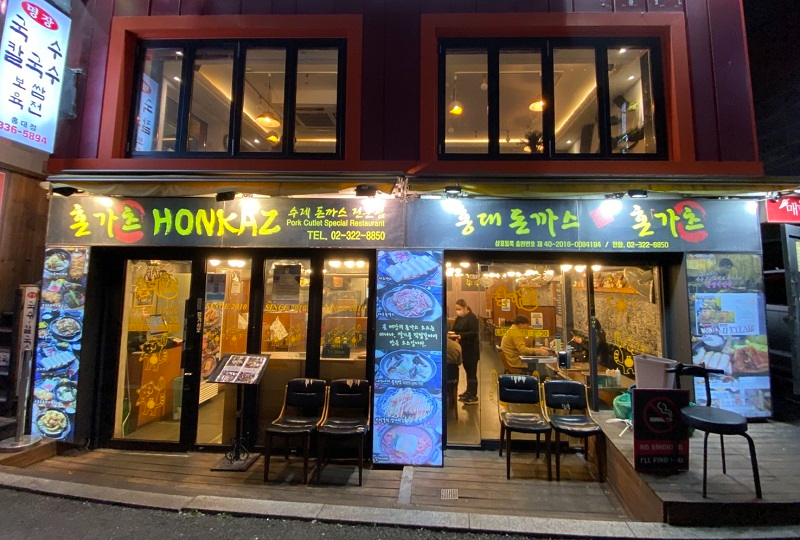 Honkaz is a pork cutlet shop that was also featured on a TV show in Korea. It was on the popular "Baek Jong Won's Top 3 Chef King", which is a popular cooking and food program in Korea.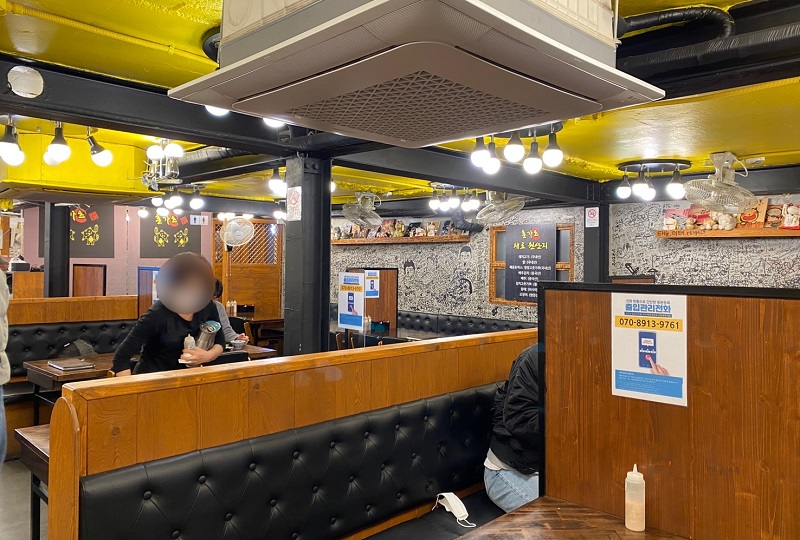 The inside of the store is very large, and here are many seating options! There was also a wall filled with memos and graffiti on the wall, creating a retro vibe in the whole restaurant.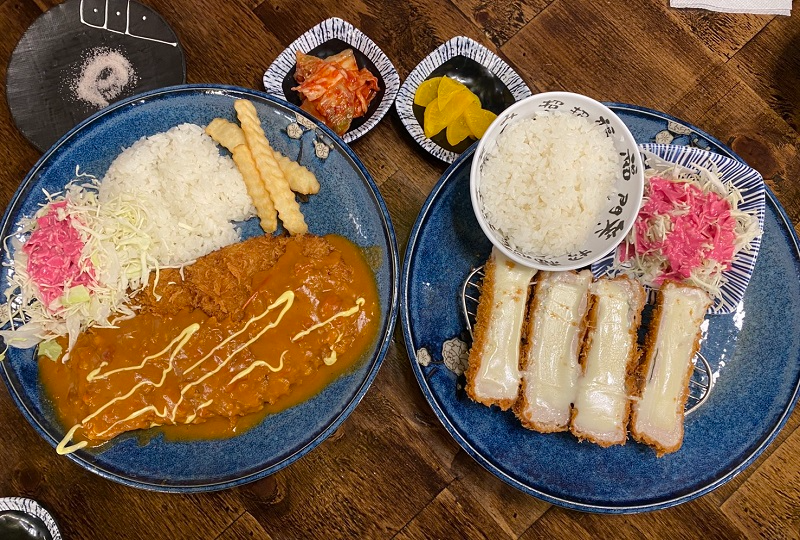 At this shop, you can try out Korean-style pork cutlets! There are a variety of types that you can get, like varying cuts of meat and types such as cheese!
We tried out the Wang Tonkatsu (11,000 KRW) and the Cheese Tonkatsu (10,000 KRW). The Wang Tonkatsu was very big and filling! The Cheese Tonkatsu is perfect for cheese lovers as it is filled with cheese like pictured above.
Address: 서울 마포구 와우산로 21길 36-6
36-6 Wausan-ro 21-gil, Mapo-gu, Seoul
Hours: 11:30-21:00
---
Ongdare Jjim Dalk


옹다래 찜닭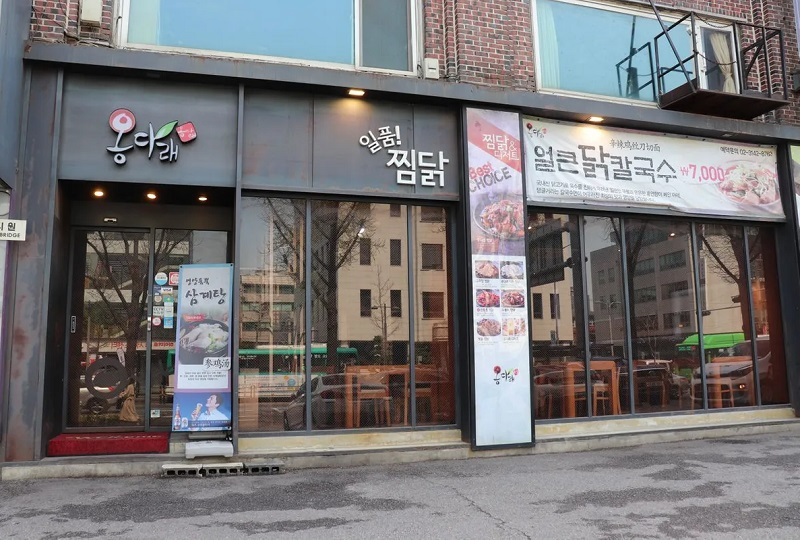 Jjim Dalk is a Korean chicken dish where chicken, noodles, and vegetables are soaked in a delicious soy sauce marinade and cooked together. This restaurant was visited by the popular American comedian Conan O'Brien!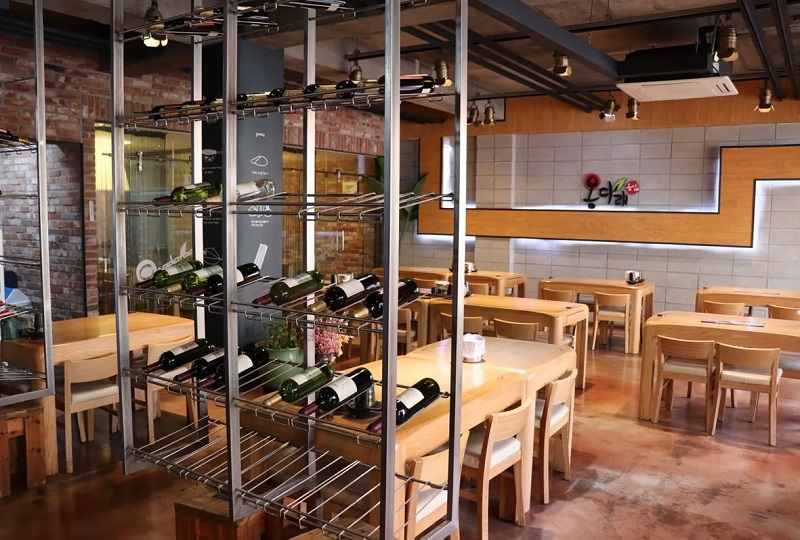 The inside of the store is large and the brick walls create a warm and cozy environment. Also, there are bottles of wine that are lined up around the store, which creates a classy and sophisticated interior.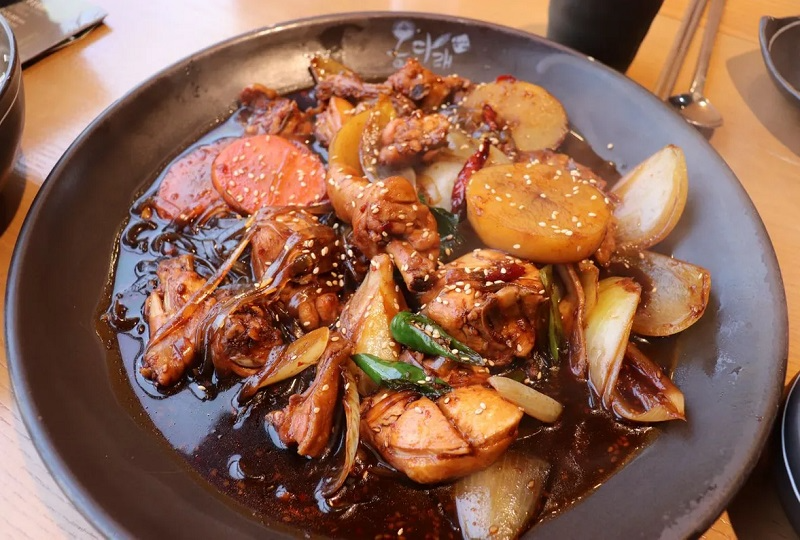 We ordered the Ondare Jjim Dalk S which can feed around 2 people! There is plenty of meat in it for we think that it's possible that even three people could eat one serving!
Address: 서울 마포구 양화로 122
122 Yanghwa-ro, Mapo-gu, Seoul
Hours: Mon - Sat 10:30 ~ 23:00; Sun 10:30 ~ 22:00
---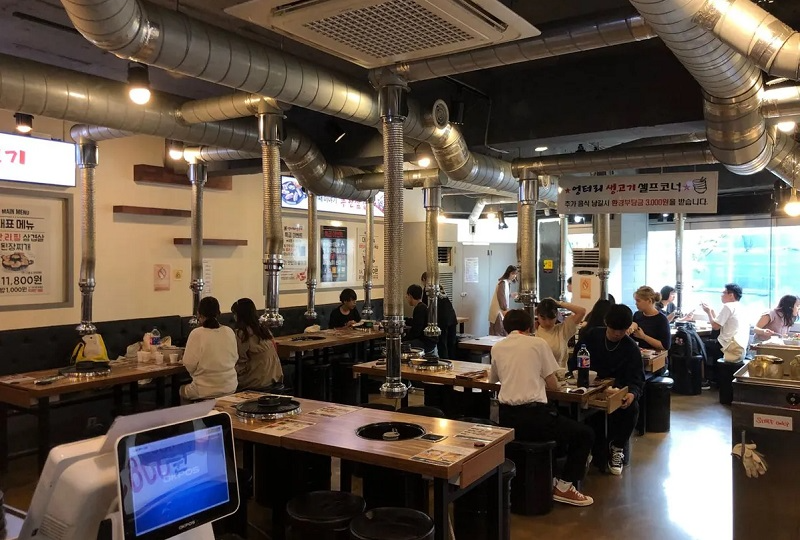 Ungteori Saenggogi is a famous all-you-can-eat samgyeopsal restaurant in Korea.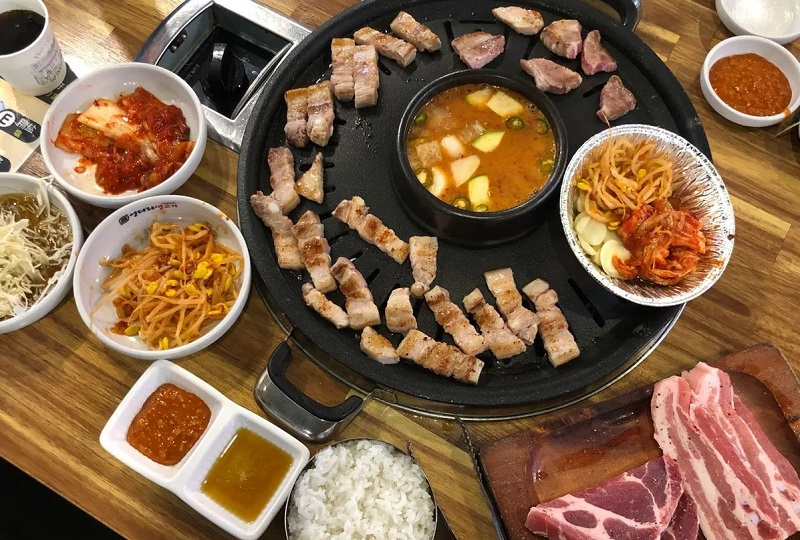 It is a famous and authentic restaurant so many people enjoy coming here even during the lunch hours! It is extremely popular at dinner, so you should expect a line if you come here at night.
Not only is it AYCE samgyeopsal, but it is also ACYE for other meat parts, soup, lettuce, and side dishes that come along with your meat. The AYCE is very affordable at just 16,800 KRW per person(if you come in a group of 2 or more people) and 1,000 KRW for rice! We recommend this place for those ready to eat! Creatrip members can also get 5% off!
Address: 서울 마포구 어울마당로 118 2F
118 Eoulmadang-ro, Mapo-gu, Seoul
Hours: 11:00-23:00
---
Gangnam Pig Company BBQ (Hongdae Branch)
강남 돼지상회 무한리필 홍대점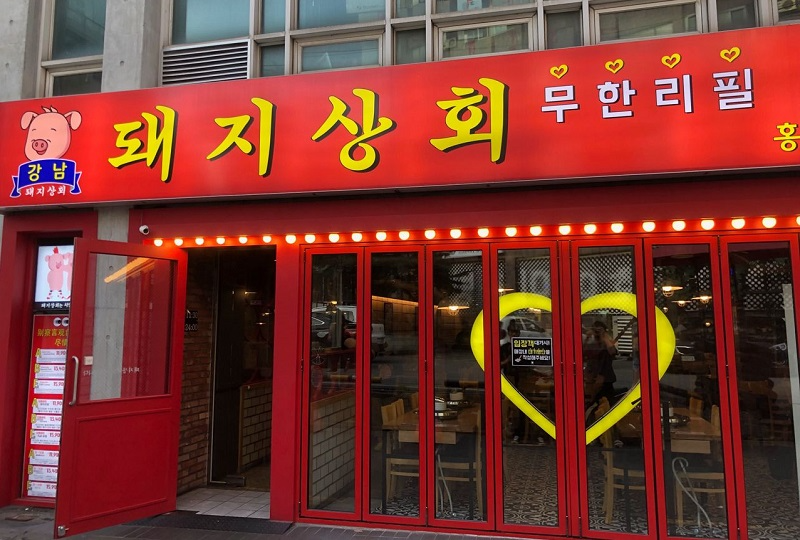 This is another AYCE Korean BBQ place in Hongdae!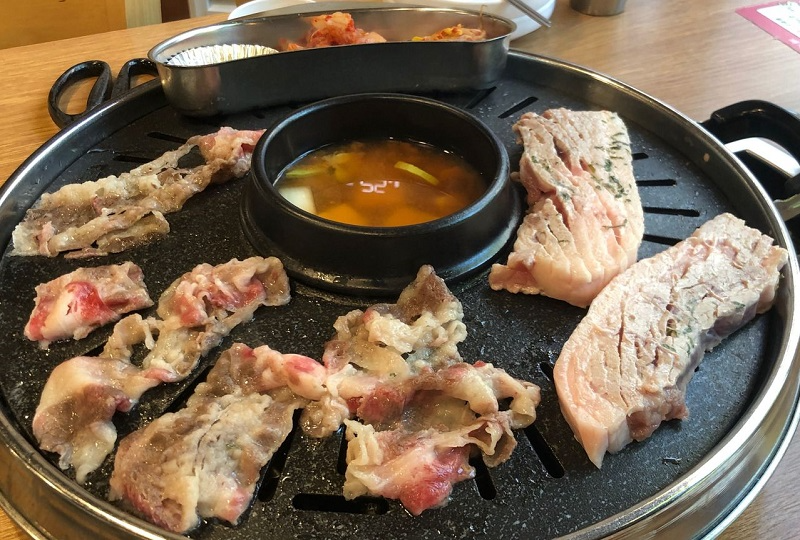 The interior is very simple, it is clean and you can eat in a spacious and clean environment. There is a variety in types and cuts that you can enjoy ranging from samgyeopsal to shoulder loin!
Additionally, you can eat pork and chicken which is recommended for those who want to enjoy both KBBQ and Korean style fried chicken!
The AYCE pork course is 13,900 KRW. The full course is17,900 KRW and includes AYCE rice and cold noodles as well as AYCE meat!
Address: 서울 마포구 서교동 홍익로 5안길 28
28 Hongik-ro 5an-gil, Seogyo-dong, Mapo-gu, Seoul
Hours: 11:30-24:00
---
Idejo Pyodagi
이대조뼈다귀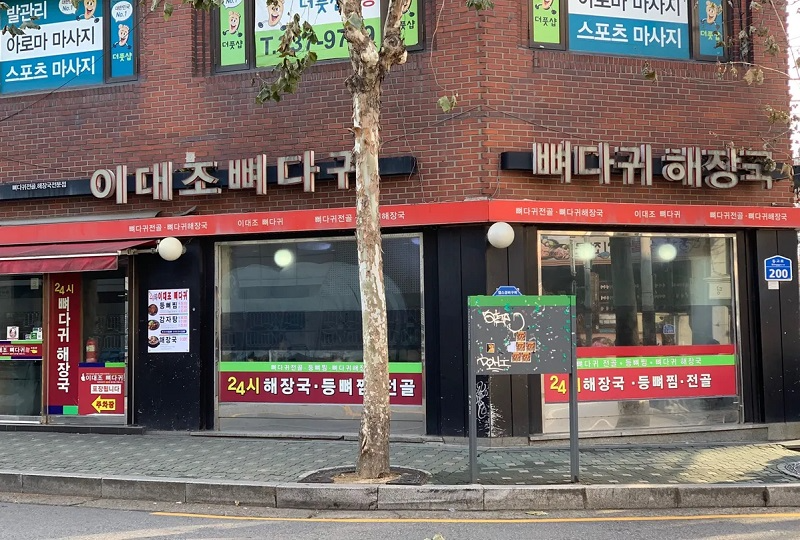 This is a 24 hour restaurant where you can enjoy Korean style soups that are perfect to warm you up on a cold day!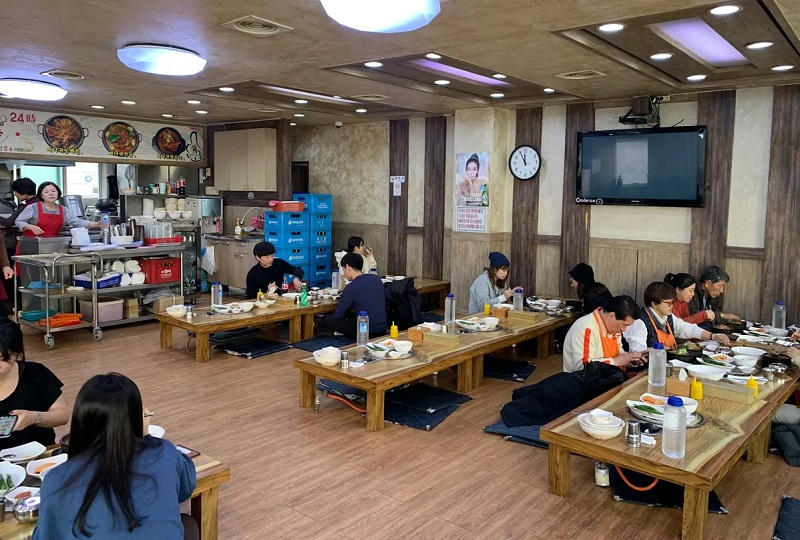 You can feel the traditional atmosphere of the whole restaurant as soon as you enter! The seating is all on the floor, like a true traditional Korean restaurant. Here you can get Gamjatang (9,000 KRW), which is a loved Korean soup dish made of pork meat and veggies!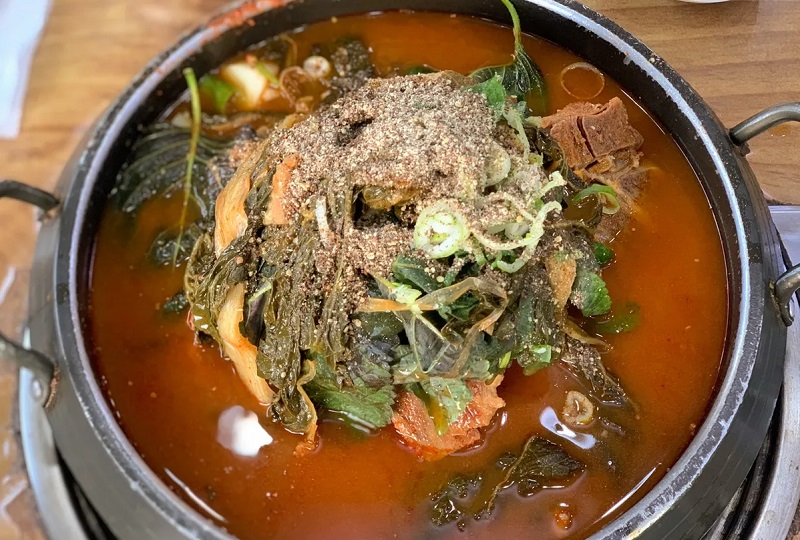 The meat is simmered for a very long time and is very tender and delicious! The meat practically falls off the bone. Many Koreans eat this dish when they are suffering from a hangover, or when it is a cold day out to warm themselves up!
Address: 서울 마포구 동교동 동교로 196
196 Donggyo-ro, Donggyo-dong, Mapo-gu, Seoul
Hours: 00:00- 24:00
---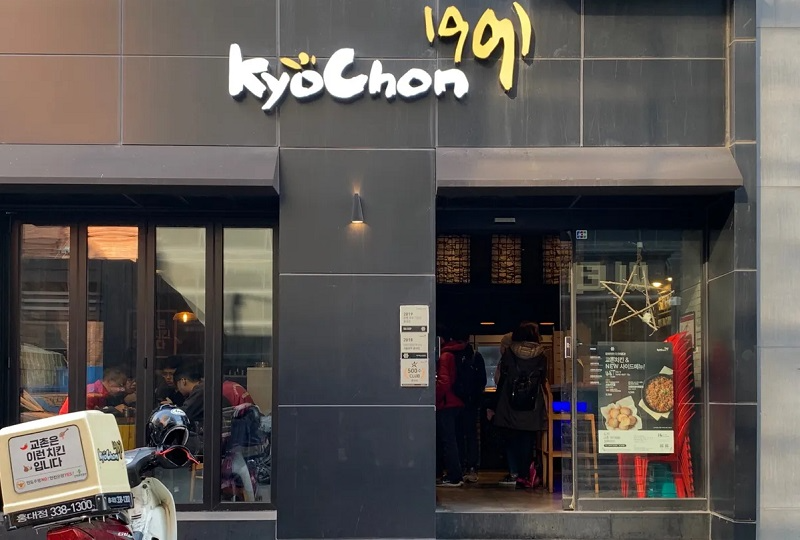 Kyochon Chicken is a popular Korean chicken brand! They are most famous for their soy sauce chicken.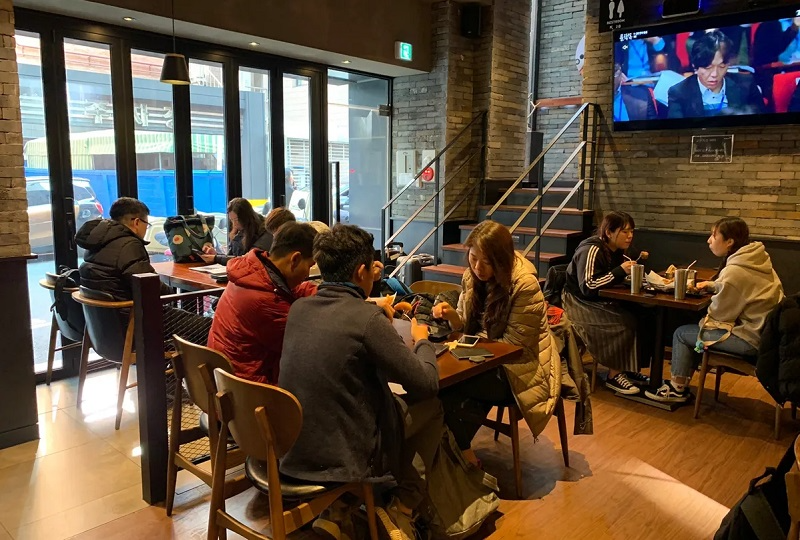 Kyochon Chicken in Hongdae has a large 2nd floor with lots of spacing. This makes it perfect for those looking to come and enjoy some drinks and chicken.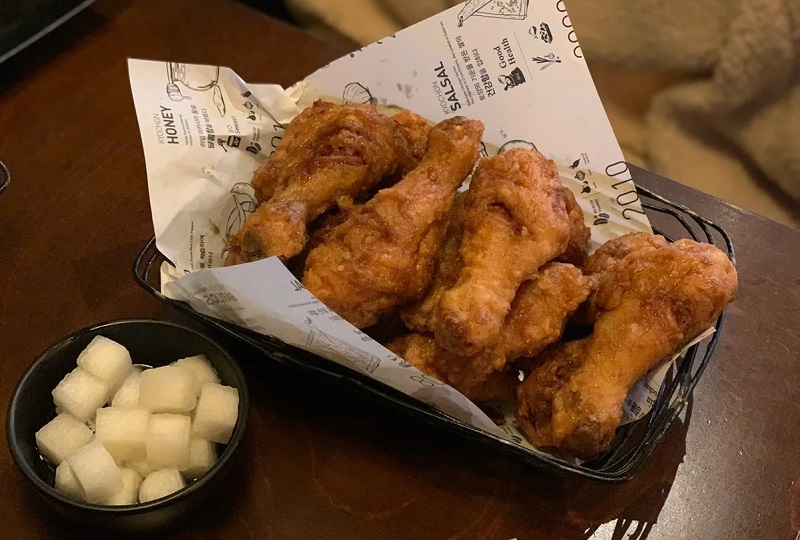 If you make your way out here, make sure to try the Kyochon Combo which is a chicken with garlic soy sauce that contains legs and wings! Their Honey Chicken menu is also very popular, so you can try that as well. You can also order Kyochon Chicken for delivery using the link below!
Address: 서울 마포구 서교동 371-3
371-3 Seogyo-dong, Mapo-gu, Seoul
Hours: 12:00- 02:00
---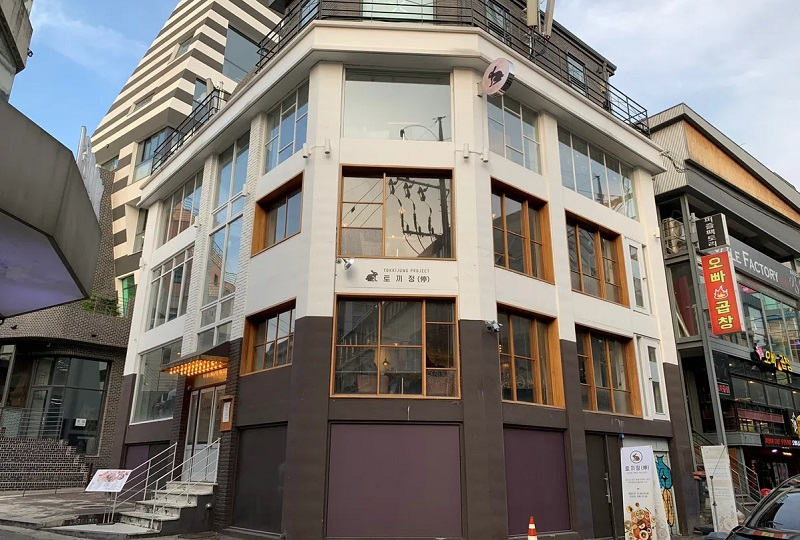 Tokkijung is most well known for their curry udon. They are a popular Korean franchise shop where you can enjoy Korean-style Japanese food items.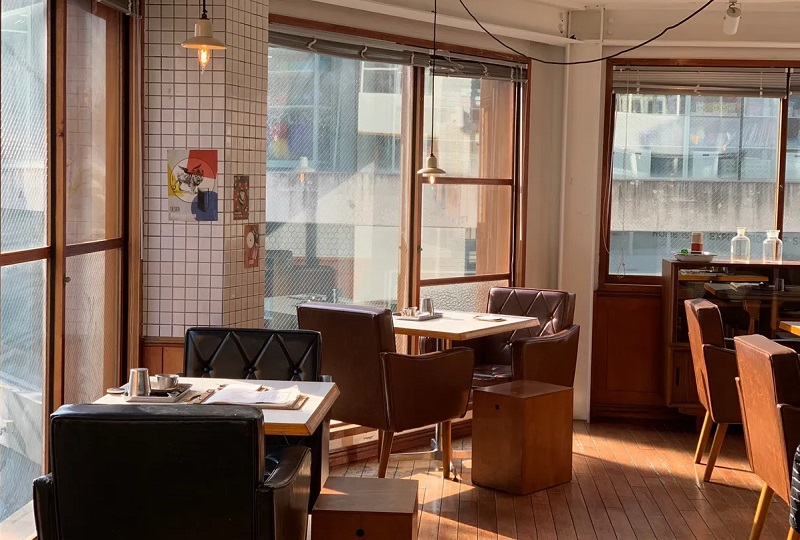 The Hongdae branch is a three-story building and has a cute aesthetic inside. The space is filled with large windows so there is a lot of light that comes through, making it a perfect place to take photos!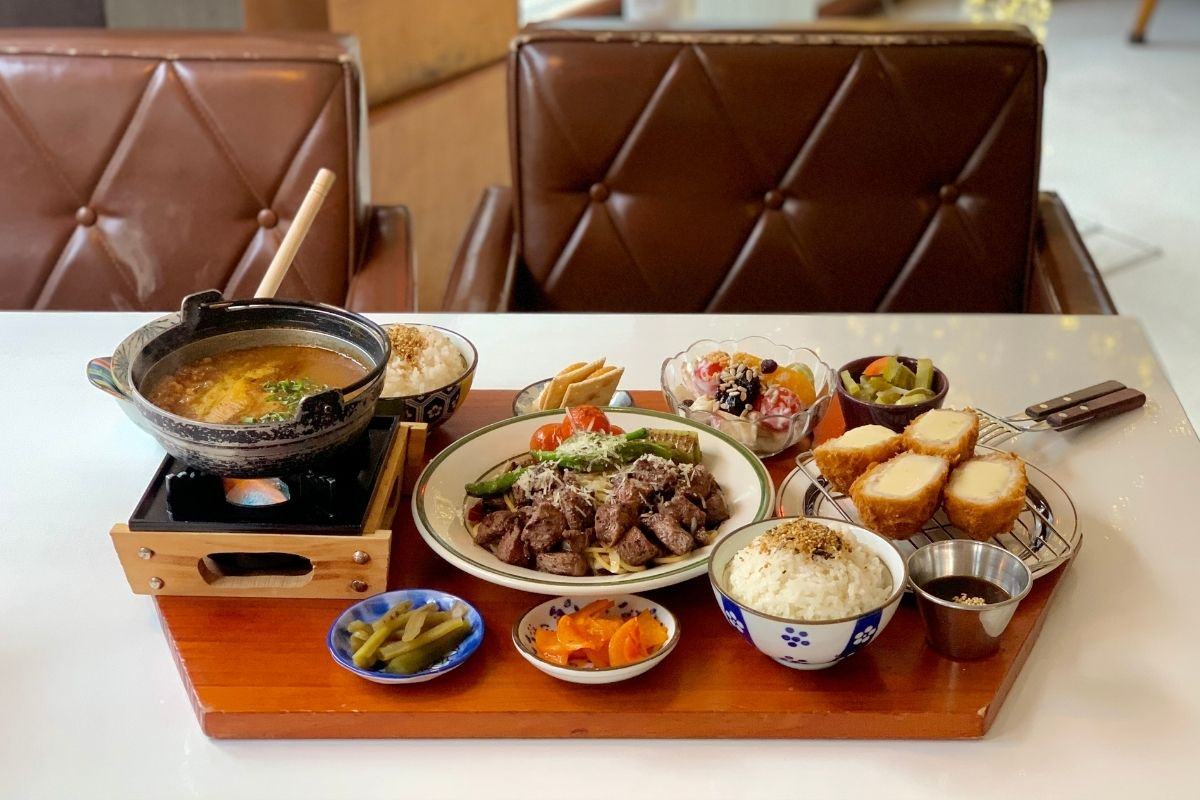 Everything here is beautifully plated, making them all perfect for Instagram photos! We recommend trying some of the set menu deals that they have so that you can try a variety of different food options. We tried the Pasta Tonkatsu Set (34,800 KRW) and enjoyed it as we were able to try pork cutlet as well as pasta and other side dishes!
They are also most well known for their cream curry udon, so we also suggest that you try that as it is what they are best known for! Download the coupon below for 10% off the entire menu!
Address: 서울 마포구 서교동 잔다리로 2길
13 Jandari-ro 2길, Mapo-gu, Seoul
Hours: 11:30 - 22:00 (Last order 21:00)
---
Miss Jokbal
미쓰족발

Miss Jokbal is a Jokbal shop located in the main streets of Hongdae. Jokbal is a Korean pork leg dish and Miss Jokbal specializes in Jokbal!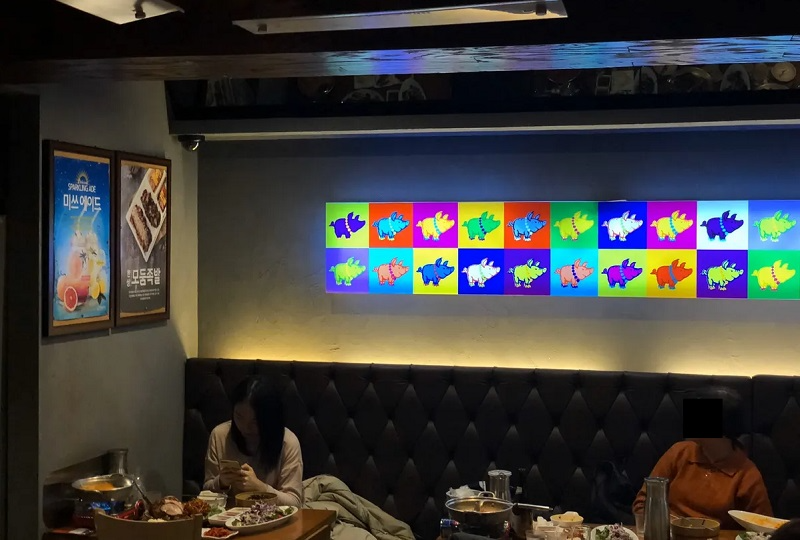 This place is not only famous for their jokbal, but also for their delicious salad and Korean-style udon!
Their most popular menu item is the Garlic Jokbal (35,00 KRW) which is a jokbal dish topped with lots of garlic!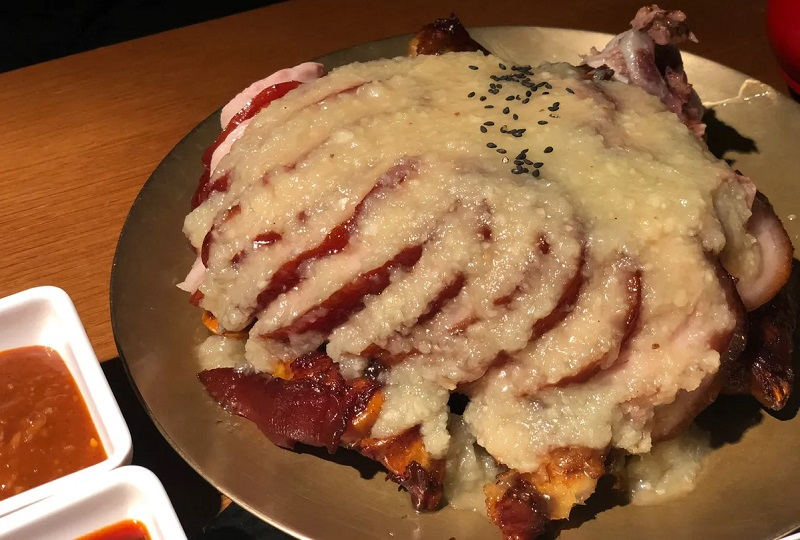 The garlic on top is sweet, so those that do not like the bitter taste of garlic will be able to enjoy this place! Although it looks as though the jokbal is covered in red sauce, it is not spicy, so those that are not good with spice do not need to worry!
Address: 서울 마포구 울마당로 123-1
123-1 Eoulmadang-ro, Mapo-gu, Seoul
Hours: 12:00- 04:00
---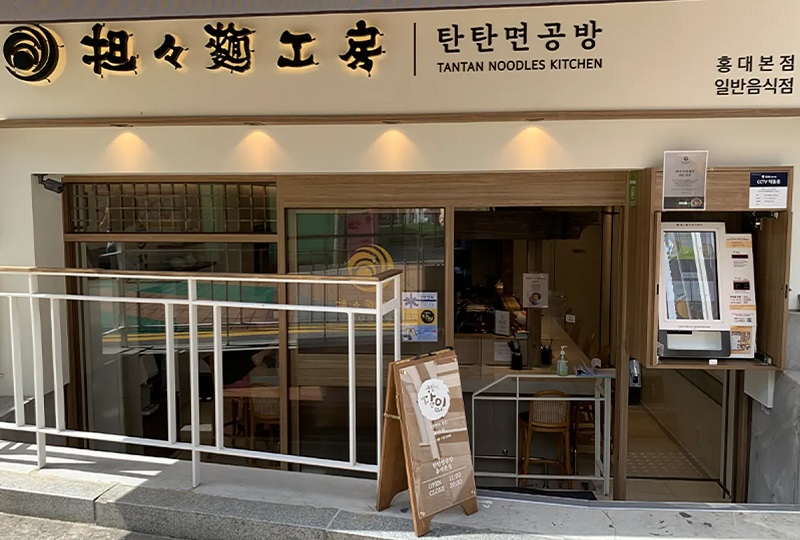 TanTan Noodles Kitchen is a very popular Korean franchise restaurant that has been featured on various Korean TV programs. They are known for their delicious noodle dishes that are loved by Koreans for their variety of flavors and delicious and thick noodles!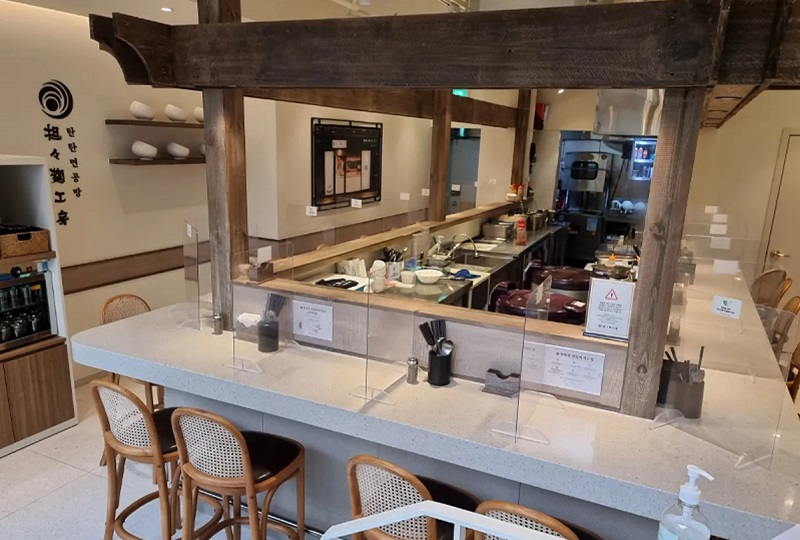 Although the shop is not that large, you can still sit comfortably at the counter! This place is known for being efficient. You just place your order at the kiosk at the front of the store and then sit down and eat. The kiosk also has all the prices and photos of the menu items, so you can scope out the whole menu before deciding on something!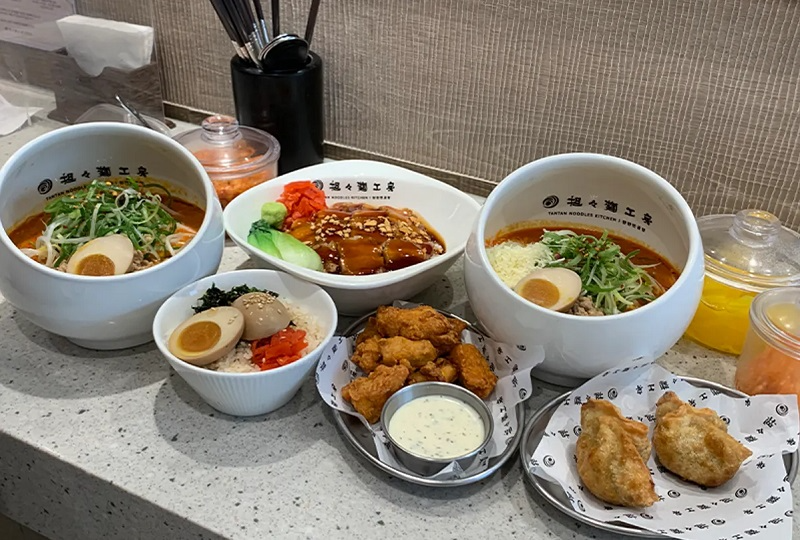 The menu was curated by a chef that has over 30 years of experience, and you can truly tell when you look at the dishes! There are many delicious options like the Cheese Tan Tan Noodles (11,500 KRW) and the Tan Tan Set for 1 (13,800 KRW). Also, Creatrip members can get free fried dumplings by presenting our coupon! You can find the coupon below:
Address: 서울 마포구 잔다리로 6길 25
25 Jandari-ro 6-gil, Mapo-gu, Seoul
Hours: 11:00-20:30 (Last Order: 20:00)
---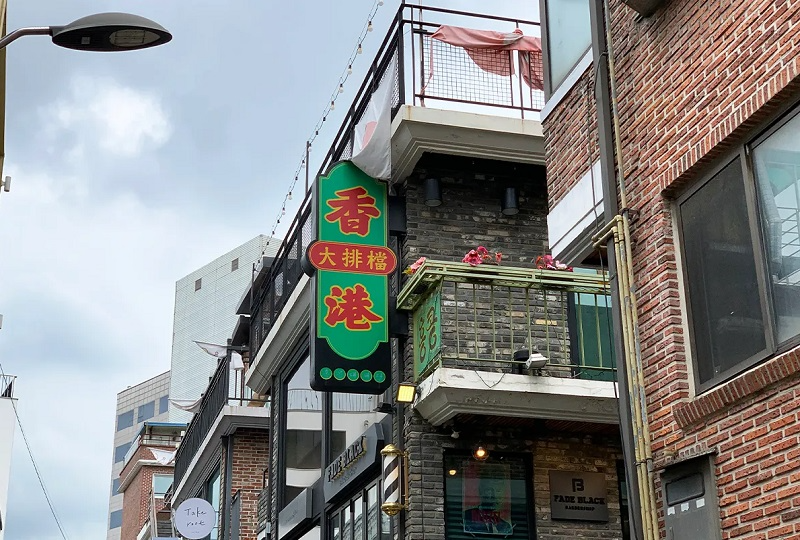 At Hong Kong DaePae Dang, you can enjoy authentic Hong Kong cuisine. There are not that many Hong Kong restaurants in Korea, but this one is the most famous because it is very authentic out of the many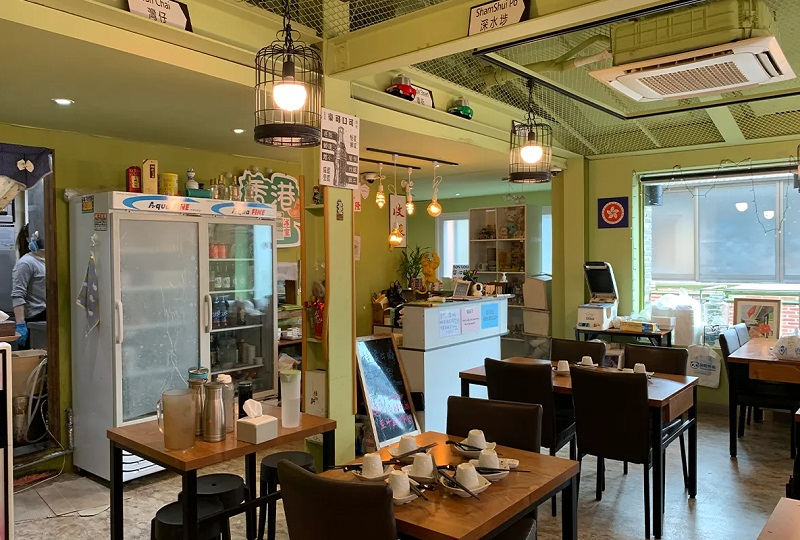 The store is spacious and decorated with Hong Kong signboards and accessories, which makes you feel as though you have traveled to Hong Kong!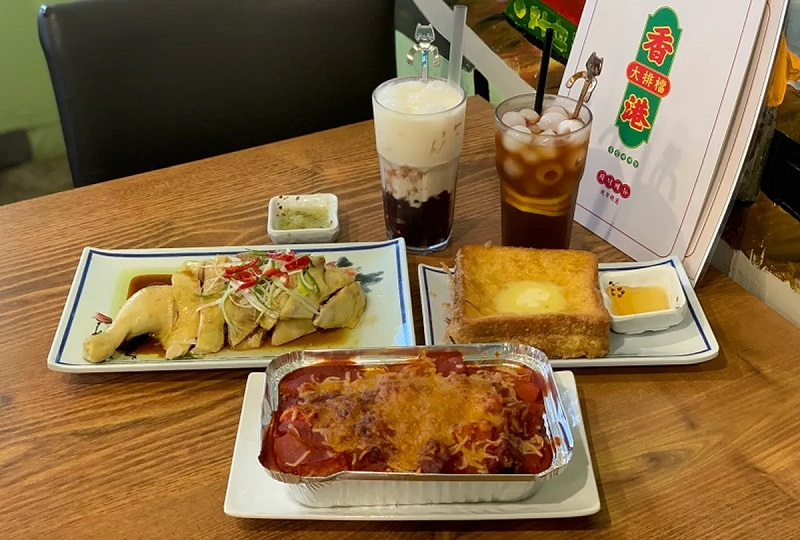 The lunch and dinner menus vary a little so make sure to check beforehand! We got the Hong Kong-style steamed chicken (19,000 KRW) and Pork Tomato Gratin (16,000 KRW) lunch menu items, which were very delicious. Get 10% off the entire menu with the Creatrip coupon!
Address: 서울 마포구 양화로 23길 10 8 2층
2F 10 8 Yanghwa-ro 23, Mapo-gu, Seoul
Hours: Tuesday- Saturday 11:00- 21:00, Sunday 15:00- 21:00, Closed on Mondays
---
Amazing Nongkhai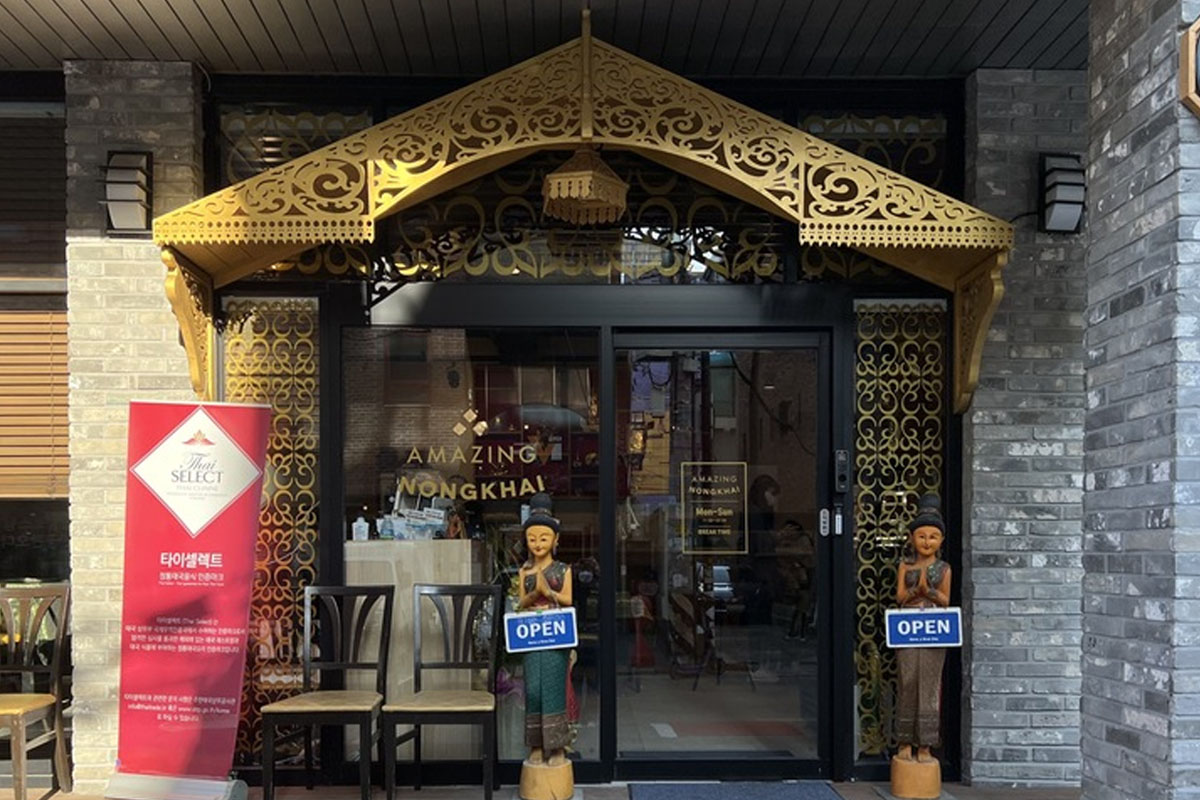 Amazing Nongkhai is a Thai restaraunt that became popular for being a filming location in many dramas and TV programs. The food here is known for being authentic and tasting just like food sold in Thailand!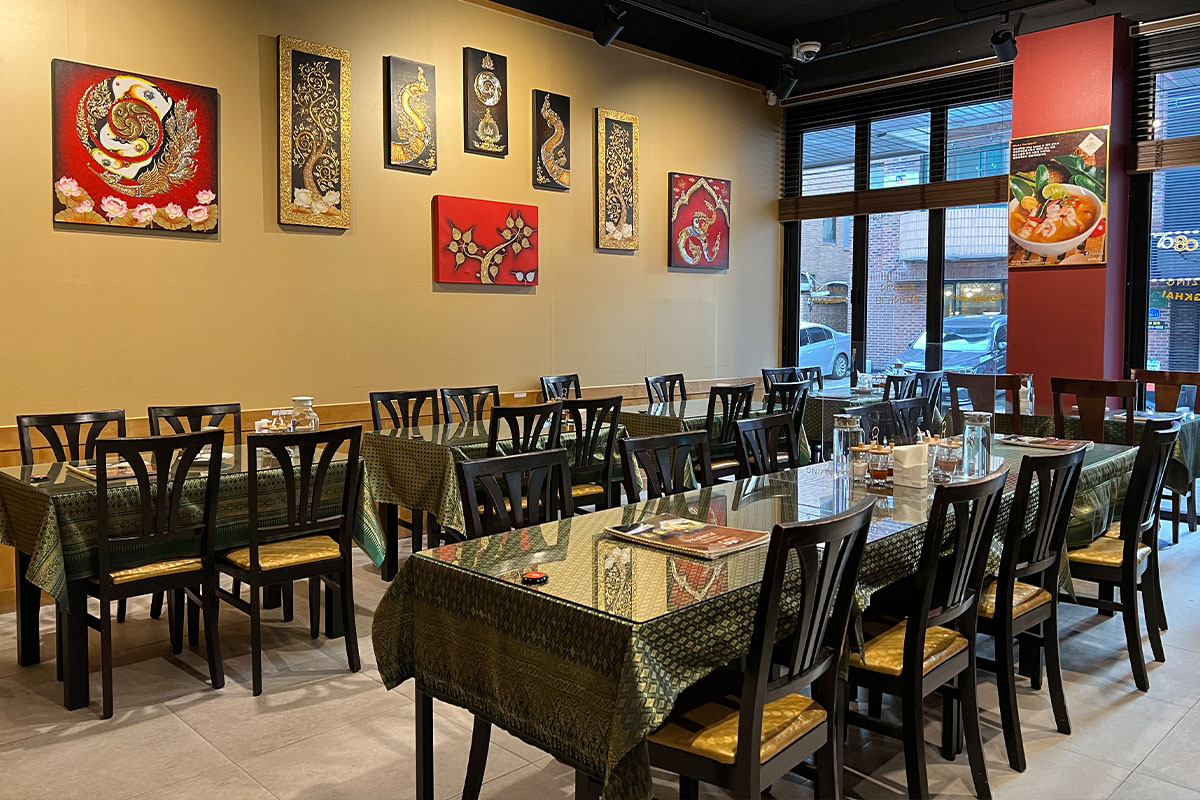 The store is decorated in a manner that makes it feel as though we have come on a trip to Thailand! It is said that many celebrities such as BamBam and Yugyeom of Got7 came and dined here. This restaurant was also the filming location for the Korean drama "Let's Eat" and became highly popularized.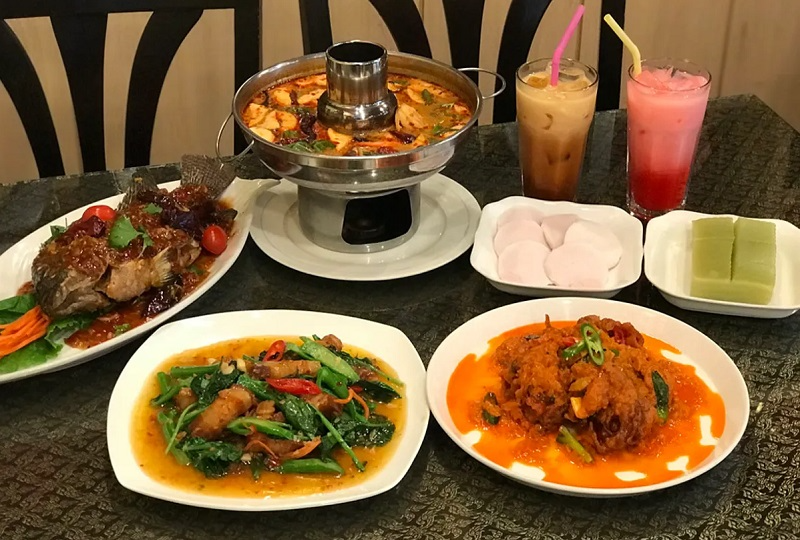 We recommend this place for those that want to try out some delicious Thai food! We got the Tom Yum Kung Hot Pot (20,000 KRW), and the Poo Pad Pong Curry (25,000 KRW)!
Address: 서울 마포구 동교로 156-11
156-11, Donggyo-ro, Mapo-gu, Seoul
Hours: Mondays-Thursday 11:00-20:40 (Break Time: 15:40-17:00) Saturdays, Sundays and Holidays: 11:00-19:40 (Break Time: 15:40-17:00)
---
Hongs Zzuggumi
홍수쭈꾸미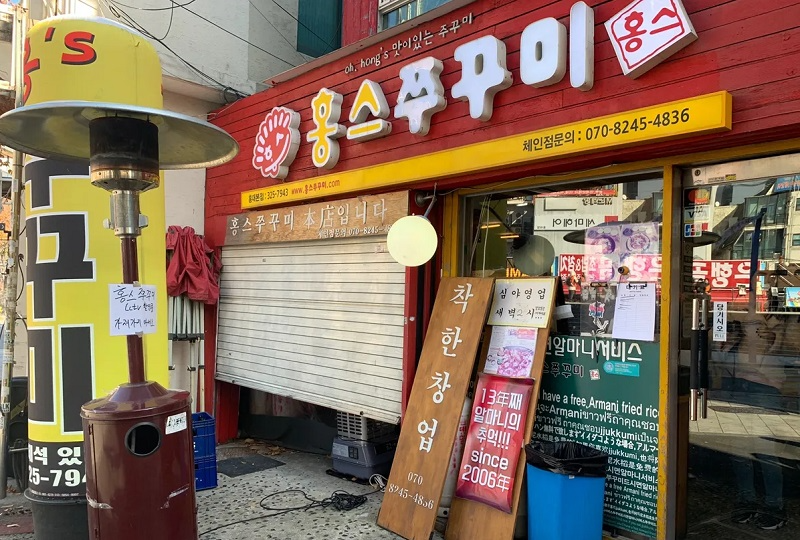 This popular chain restaurant in Korea specializes in spicy squid! Although they are a well-known chain around Korea, their main branch is located in Hongdae!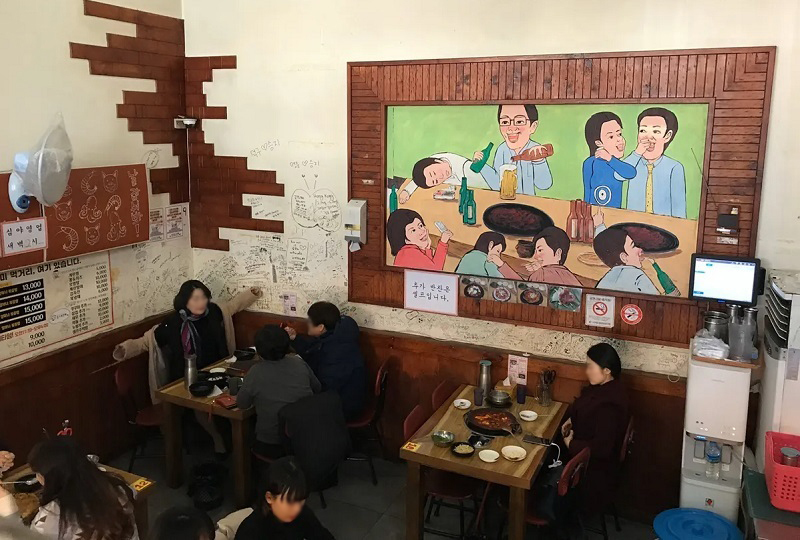 The Hongdae branch has three floors, but when we visited, it was packed!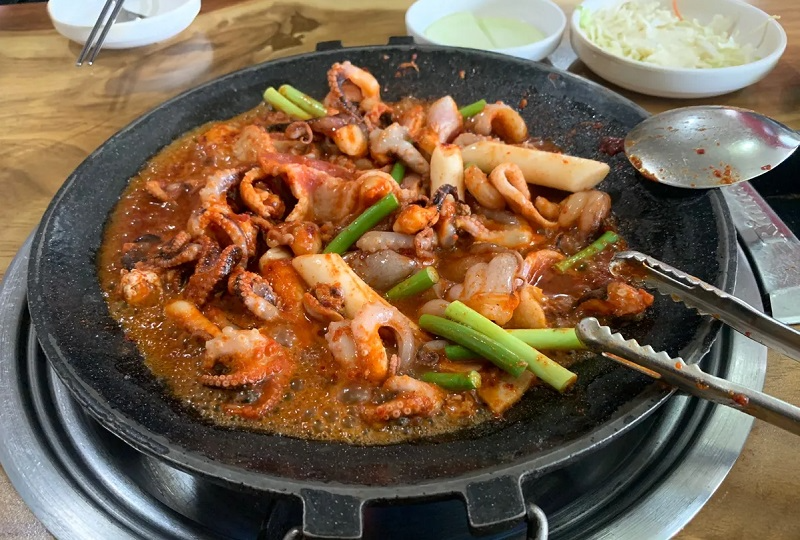 The menu is very simple, you just pick whether you want the spicy squid to be mixed with shrimp or meat (choice of pork or beef). Additionally, all menu items are fried with rice towards the end of your meal! You can eat fried rice and the stir-fried spicy squid for just 13,000 KRW. Rice and spicy stir-fried squid are a perfect combination and loved by many Koreans! For those that like spicy food and seafood, we highly recommend this place!
Address: 서울 마포구 어울마당로 146
146 Eoulmadang-ro, Mapo-gu, Seoul
Hours: 11:30-00:00
---
Hongik Gejang
홍익게장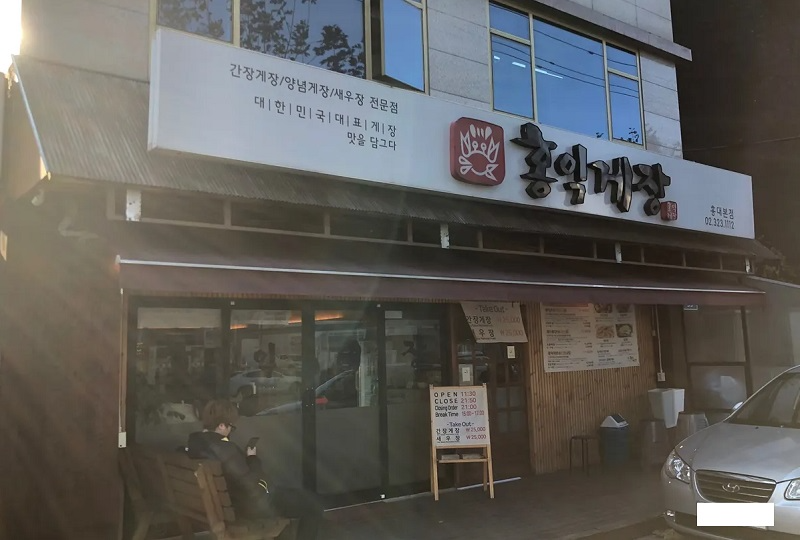 At Hongik Gejang, you can eat crab to your heart's desire! This place is an AYCE Soy Sauce Crab place in Hongdae.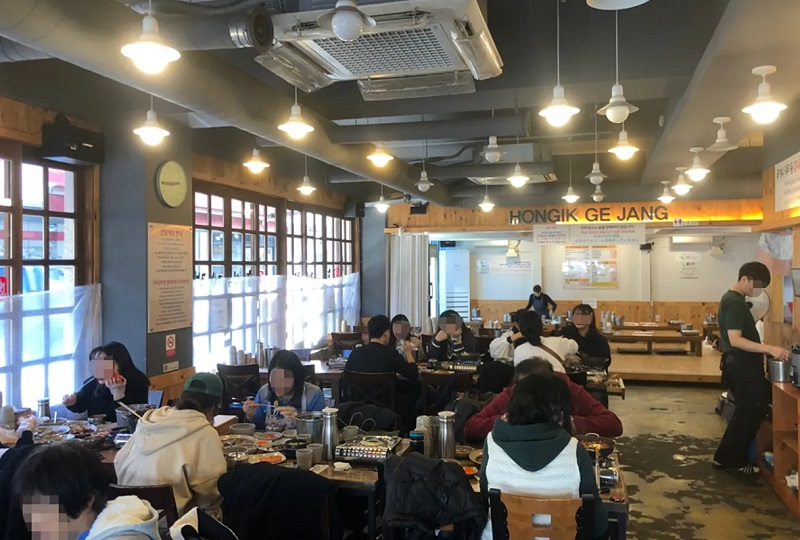 There is both floor and table seating, so you can choose as you please.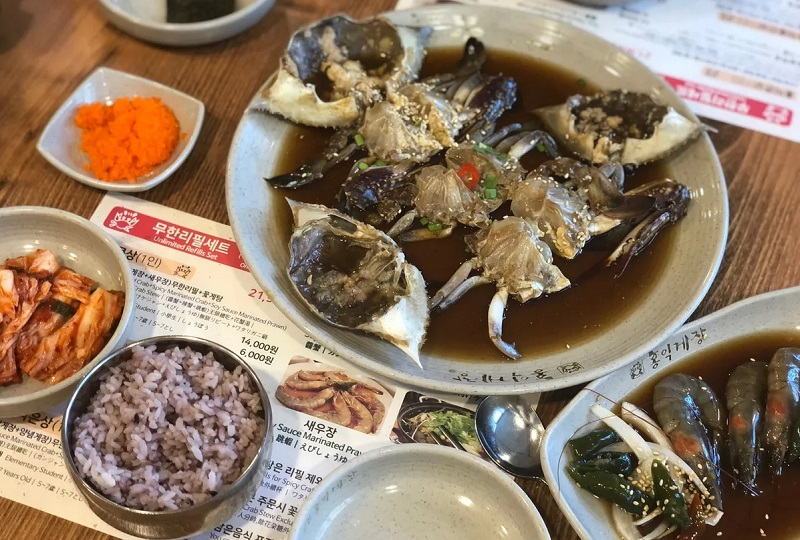 Depending on the type of set that you get, you can either get Soy Sauce Crabs (pictured above) or Yangnyeom Crabs (spicy and sweet sauce crabs). They are known for their Soy Sauce Crabs though, so make sure to at least try those! The Special Set is 23,900 KRW per person and the Normal Set is 21,900 KRW per person!
Address: 서울 마포구 성산동 232-12
232-12 Seongsan-dong, Mapo-gu, Seoul
Hours: 11:30-22:00 (Break Time: 15:00-17:00)
---
Hongdae Cafe Guide
---
We hope that the next time you are in Hongdae, you can make it out to one of these delicious restaurants! Please let us know in the comments below if you have any additional questions, or send us an email at help@creatrip.com! Also make sure to follow us on Instagram, Tik Tok, Twitter, and Facebook to stay updated on all things Korea!
---