Tokkijung | Popular Korean-Japanese Restaurant In Hongdae
Cream x Curry x Udon noodles? Try it at Tokkijung, the hottest Japanese-style restaurant in Seoul!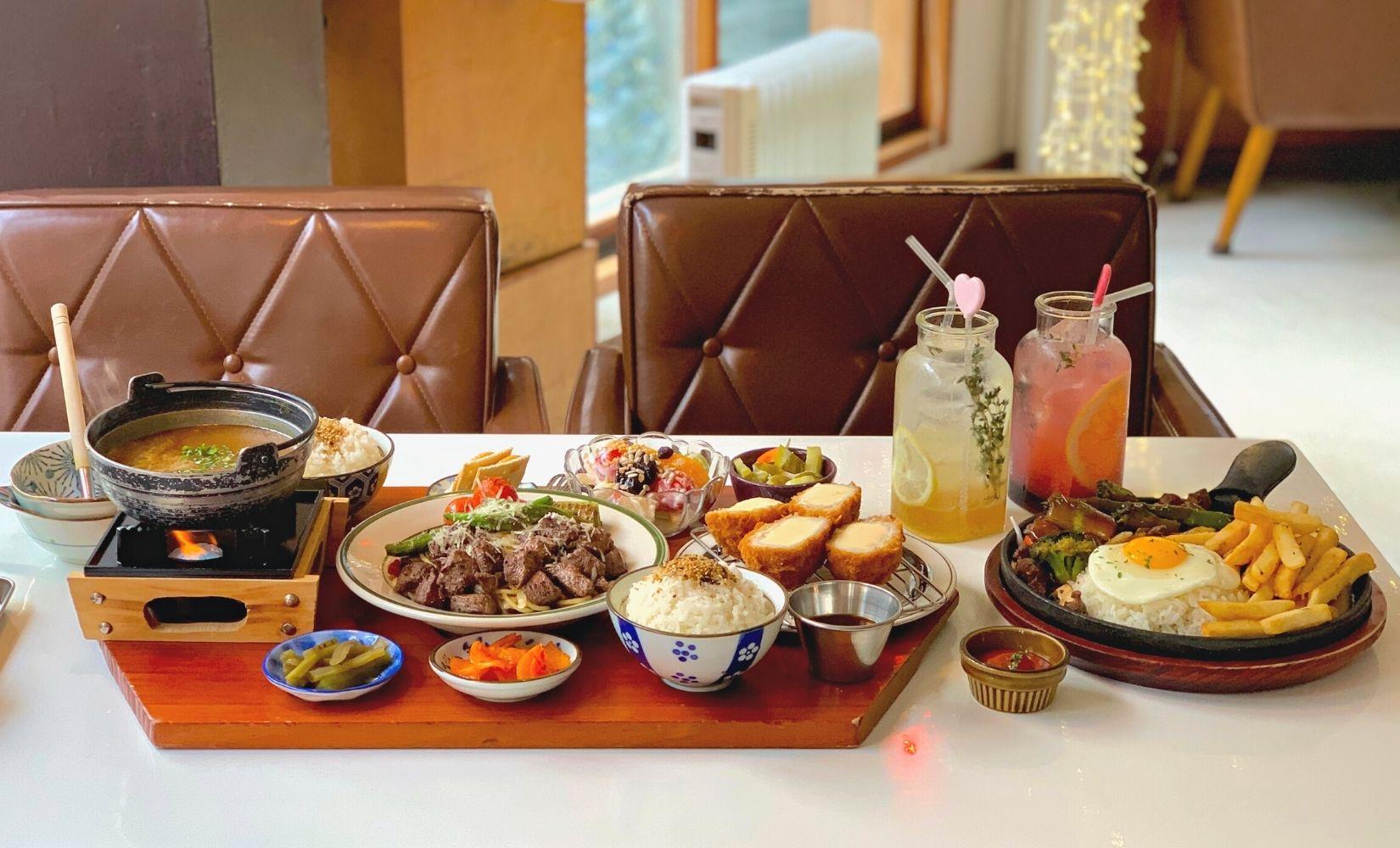 Tokkijung means "the stop of rabbit" in Korean, which is a franchise Korean-Japanese restaurant. You might not recognize the name, but many of you have probably seen it somewhere on Instagram. Many customers choose to come here because the interior is beautiful, the food is delicious, and the price is cheap compared to the quality of the service.
If you get a chance to visit, don't forget to enjoy a 10% discount with Creatrip at Tokkijung!
---
10% Off Tokkijung
---
Information
Address: 서울 마포구 잔다리로2길 13
13 Jandari-ro 2-gil, Mapo-gu, Seoul
Hours: Every day 11:30-22:00
Last Order 21:00
Transportation: 9-minute walk from Hongik Univ. Station Exit 9
---
Why We Recommend It
Tokkijung is a very famous Korean-Japanese restaurant in Hongdae.
The Cream Curry Udon and Steak Pasta here are not visually aesthetic, but also delicious! Even if you have to wait in line, it will definitely be worth it.
The Bapsang menu is especially beautiful, delicious, and high quality.
The restaurant has large windows and a nice interior, so it's always bright and cozy.
---
Things To Keep In Mind
Show the Creatrip coupon to the staff at the counter before paying to receive a 10% discount off the entire menu.
A reservation is not required.
If you have any problems using the coupon, please contact us at help@creatrip.com.
---
Menu
Menu


Price


Food

Pasta Tokki Bapsang
파스타 토끼밥상


35,800 KRW


Cream Curry Udon

토끼정 크림 카레 우동


12,500 KRW


Cast Iron Cube Steak Meal
철판 큐브 스테이크 정식


18,800 KRW


Drinks

Yuzu Tokki Soda
토끼소다 달빚유자


5,800 KRW

---
Our Visit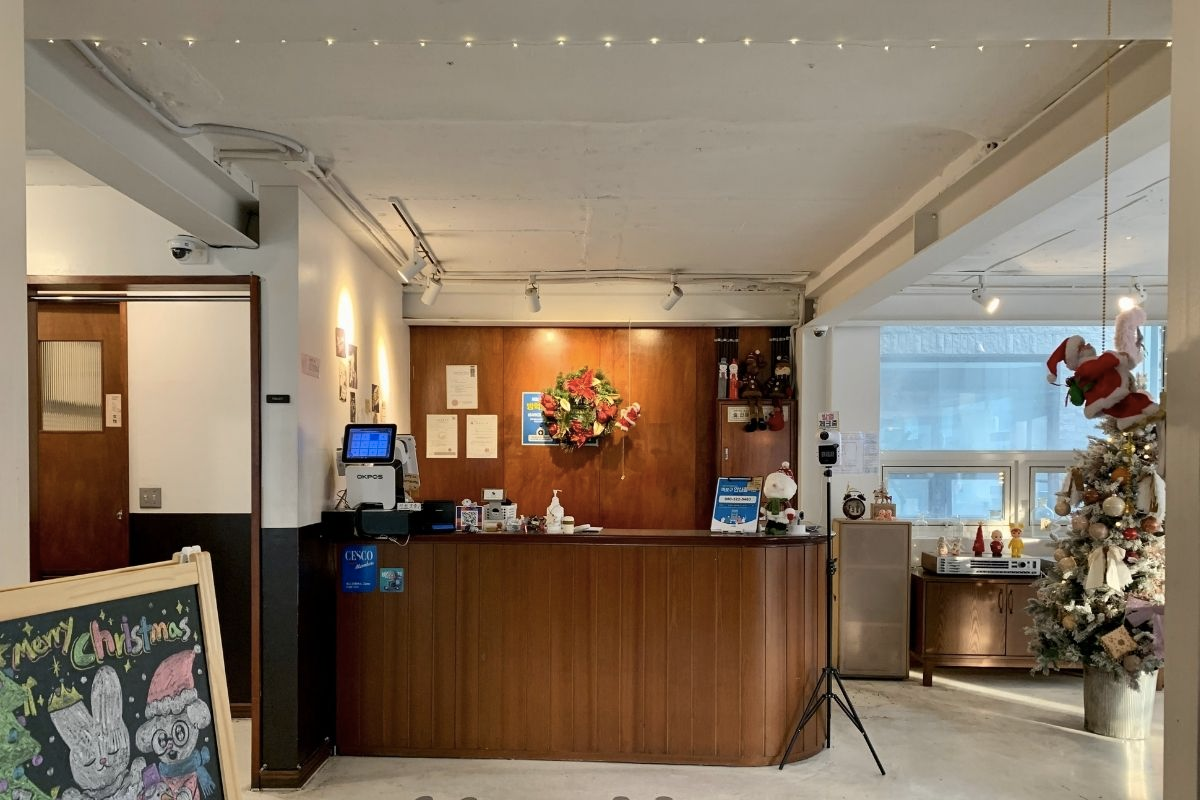 Tokkijung is a restaurant franchise. The Hongdae branch has a total of 4 floors. B1 is the kitchen and the 1st to 3rd floors provide seats for customers. The restaurant is so big that you don't have to worry about there being no space.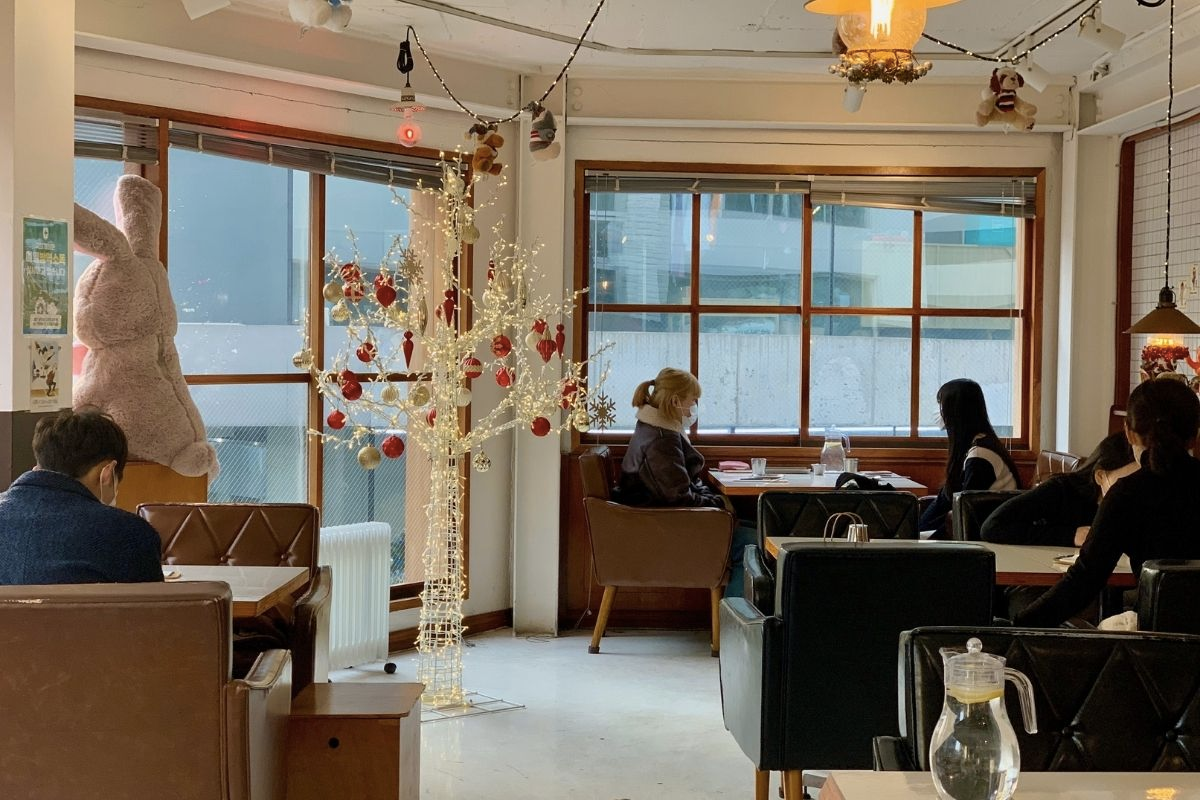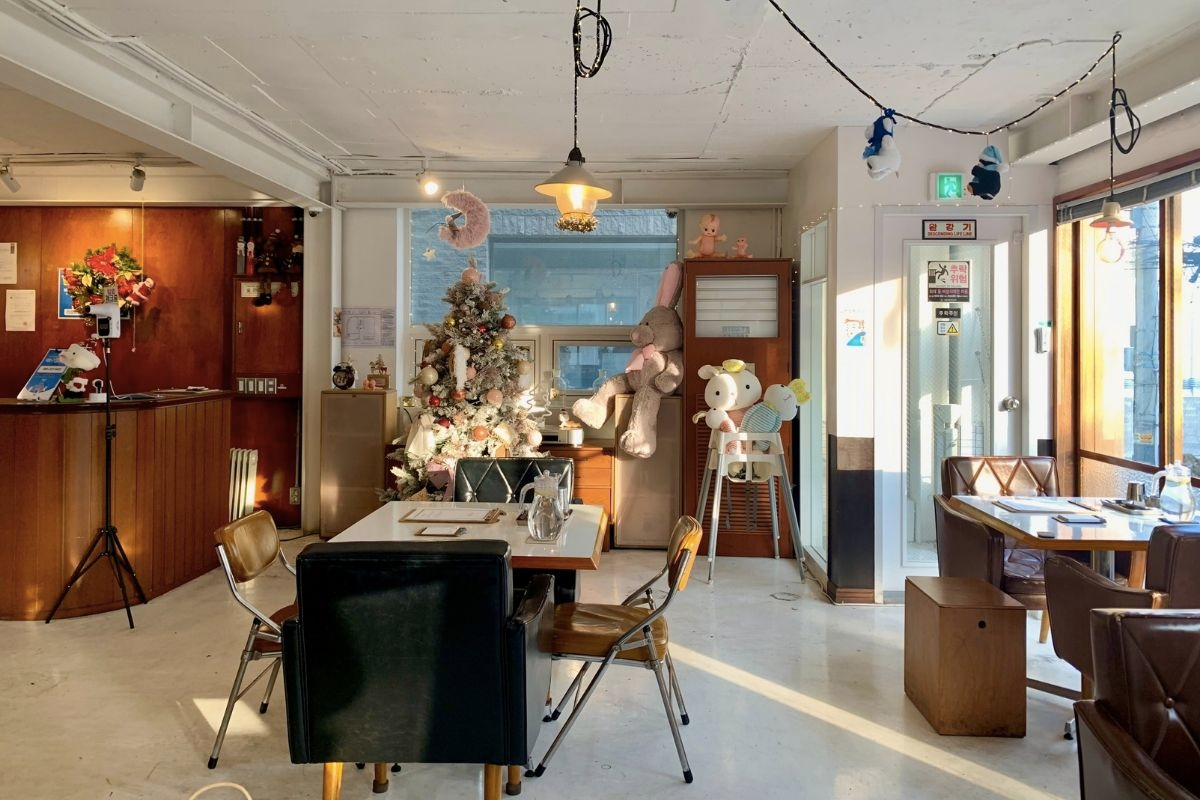 This is the seating area on the first floor. It's the end of the year, so it was decorated for Christmas. It's cozy with a Christmas tree and golden light coming through the windows.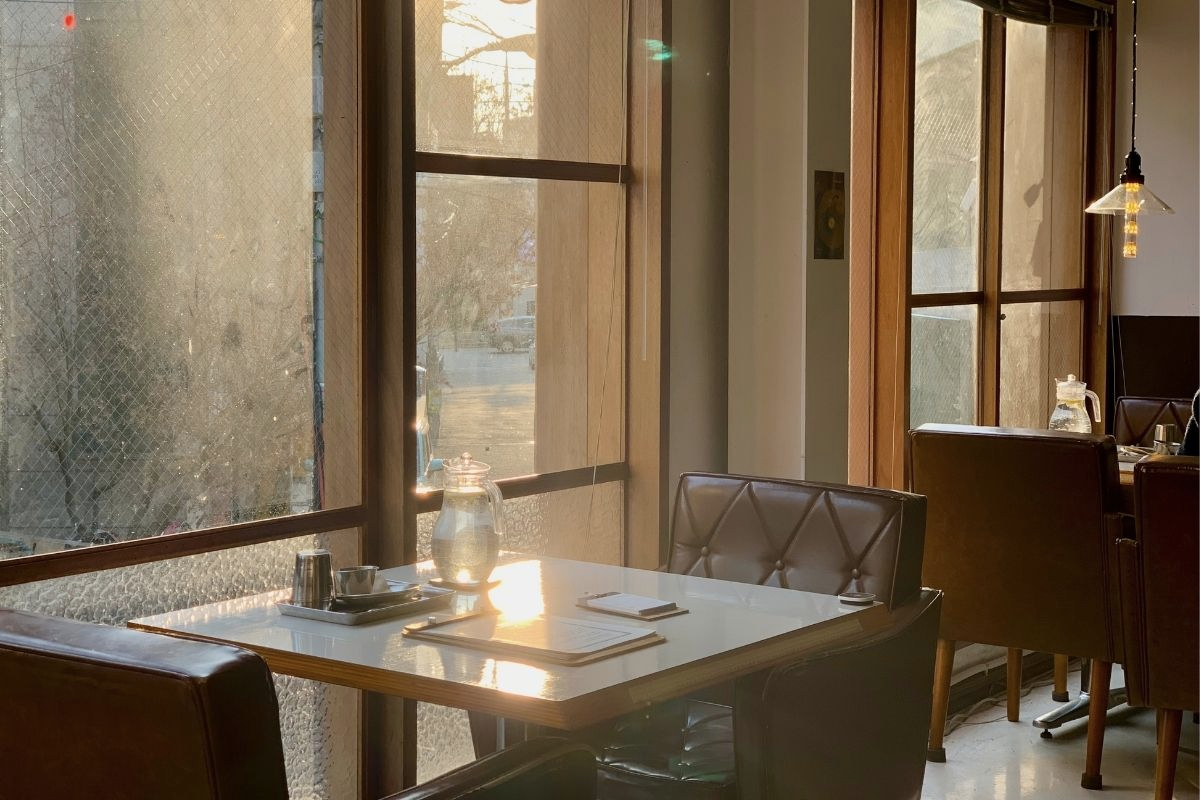 If it is not so crowded, I recommend you to have a window seat. If there is sunlight, the pictures will come out more romantic.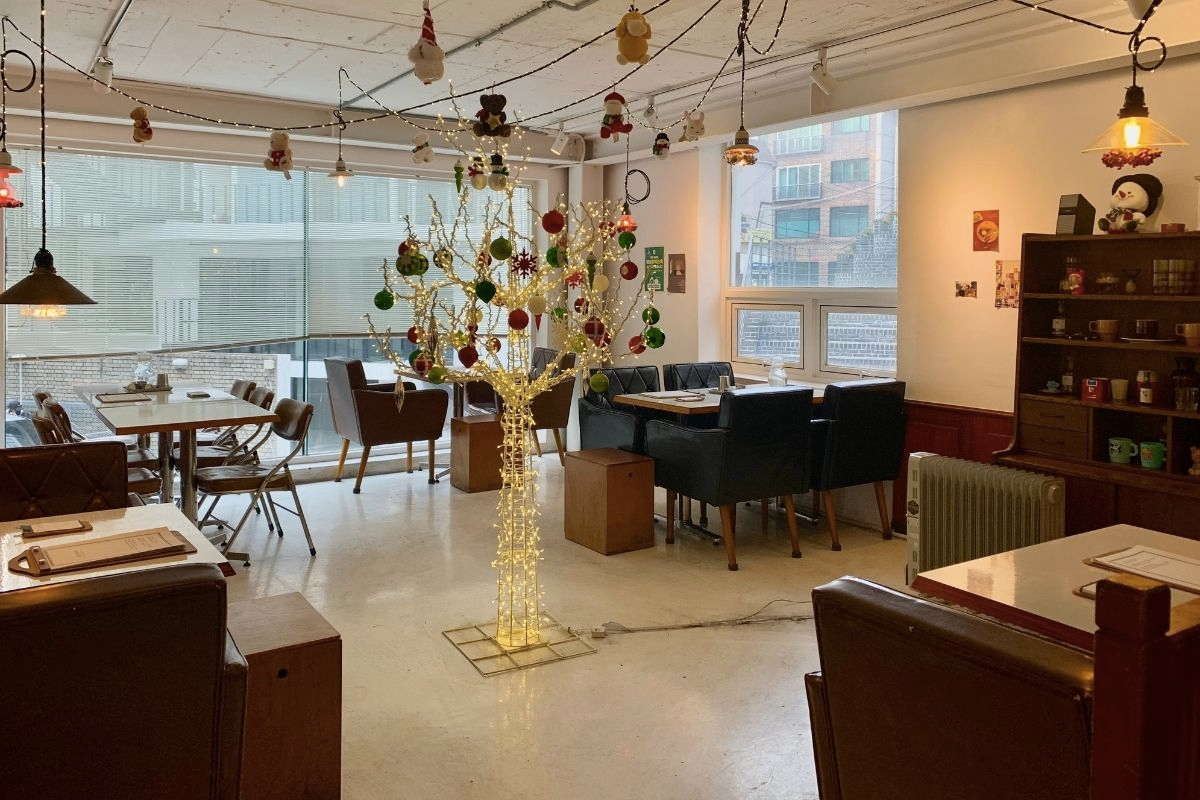 There are quite a few tables on the first floor and every corner is elaborately decorated. The wooden furniture combined with white tones gives this place both a retro and a modern feeling.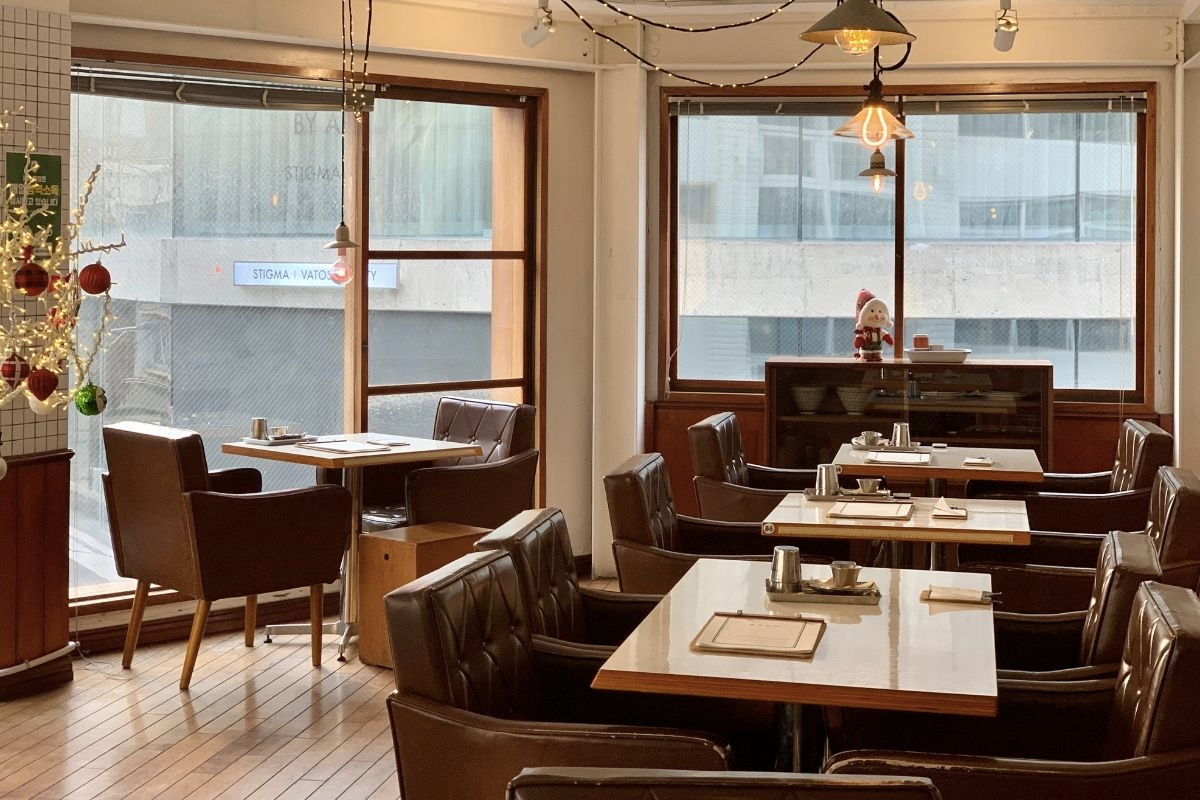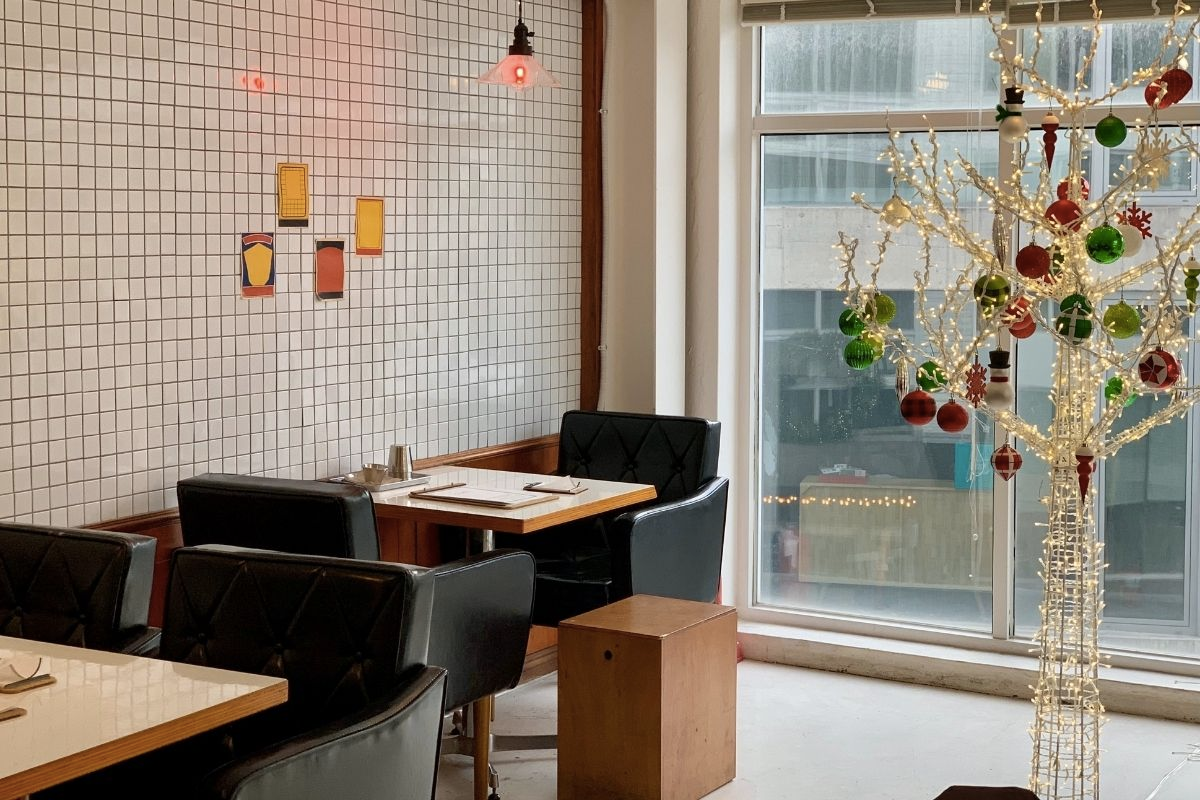 If you want a higher view, go up to the 2nd floor. The second floor also has a great vibe!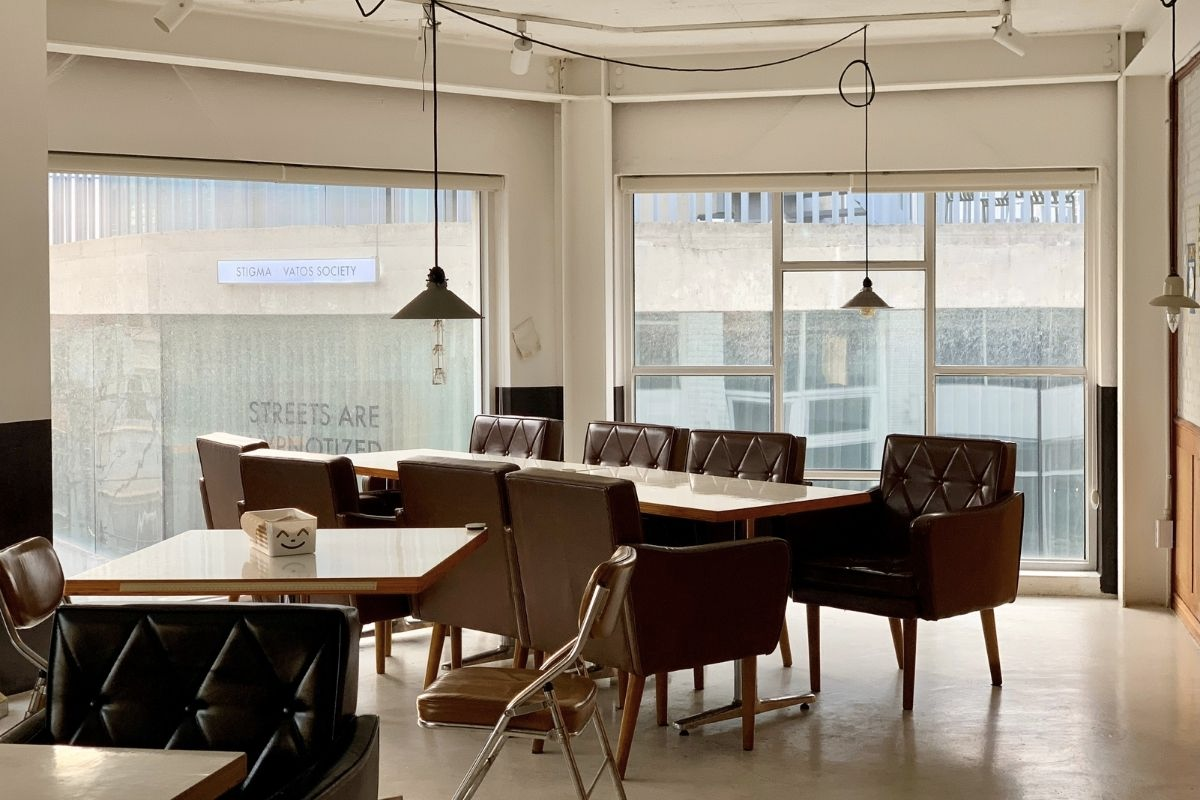 Unfortunately, the lights didn't turn on on the 3rd floor, but it still looks cute, right?
Tokkijung's food is famous for being both delicious and beautiful. The portions are also huge, so it's worth the money. We ordered a lot of dishes and will review them for you.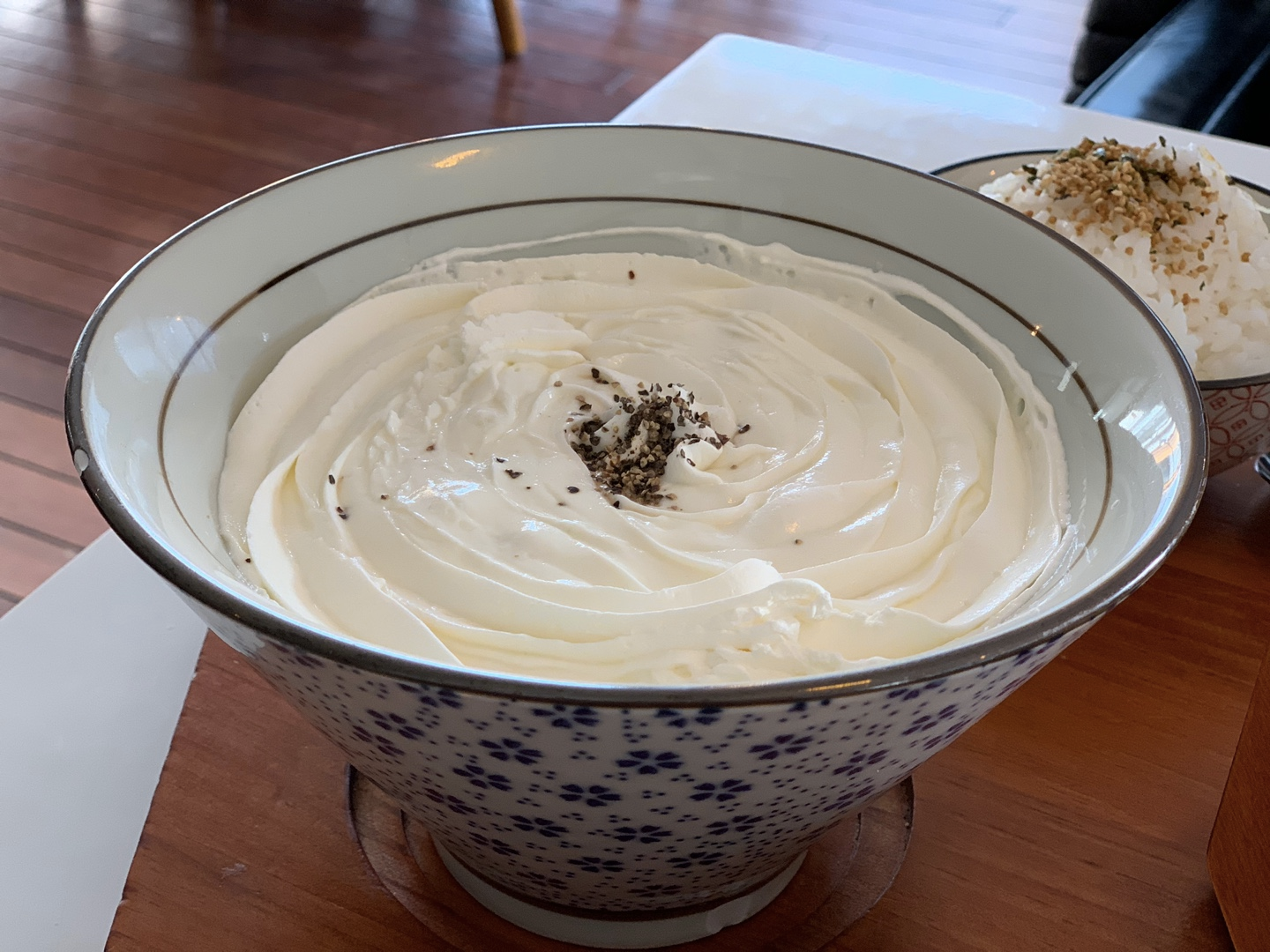 Cream Curry Udon (토끼정 크림 카레 우동)
12,500 KRW
One of the most popular dishes here is the super yummy Cream Curry Udon. If you visit, you definitely have to try it! The white cream makes it look like a dessert instead of a pasta.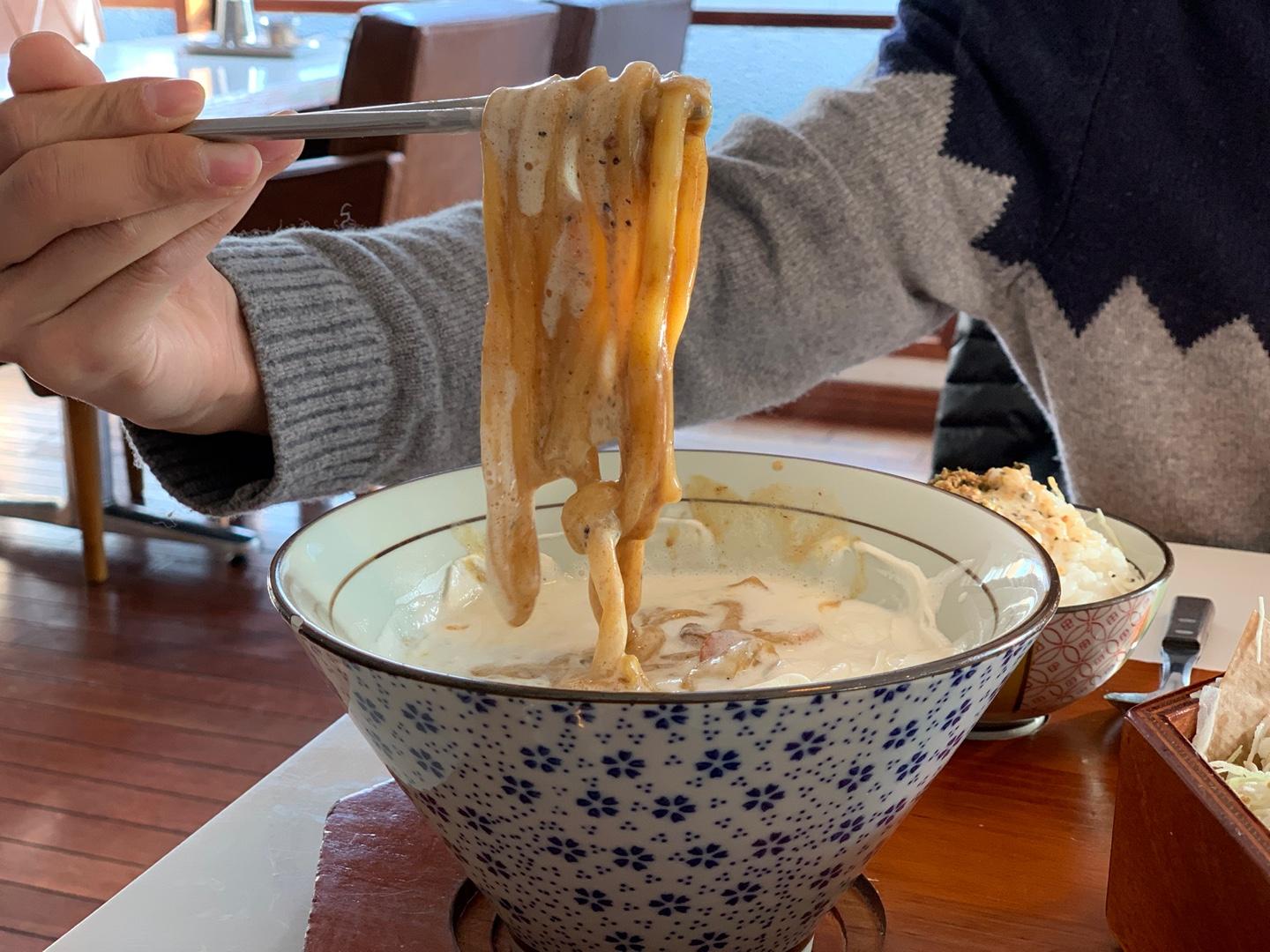 Now, let's enjoy the udon! The manager suggested that it tastes better to eat directly from the bottom and instead of mixing it.
When we first saw the amount of cream, we thought that it would be too greasy after eating a few bites. However, the more you eat, the more addictive it is, and it's super delicious! Even once you're finished eating, you'll want to eat it again.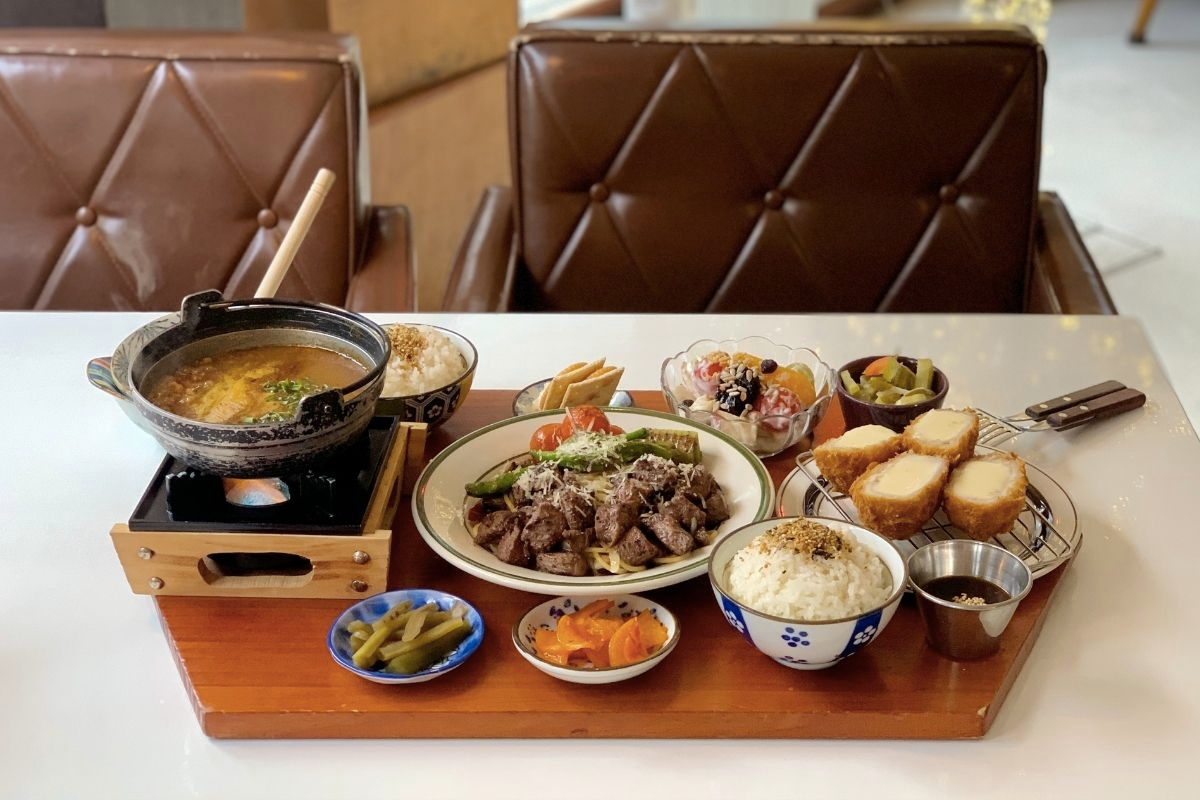 Pasta Tokki Bapsang (파스타 토끼밥상)
35,800 KRW (+1,000 KRW for cheese pork cutlet, +1,500 KRW for cube steak oil pasta)
When it comes to Tokkijung, you can't leave out the Bapsang sets. It's a set for two people, but honestly, it could probably feed three people.
The basic set, which costs 35,800 KRW, includes premium pork cutlet (프리미엄 카츠), a curry and a pasta. For curry, you can choose between Tokkijung curry (토끼정 카레), tomato curry (토마토 카레), or Vermont curry (바몬드 카레). You can adjust the spice levels.
For pasta, you can choose from basil shrimp cream pasta (바질 새우 크림 파스타), Neapolitan Hamburg pasta (나폴리탄 함바그 파스타), truffle mushroom oil pasta (트러플 머쉬룸 오일 파스타), and pollack roe cream pasta (명란 크림 파스타).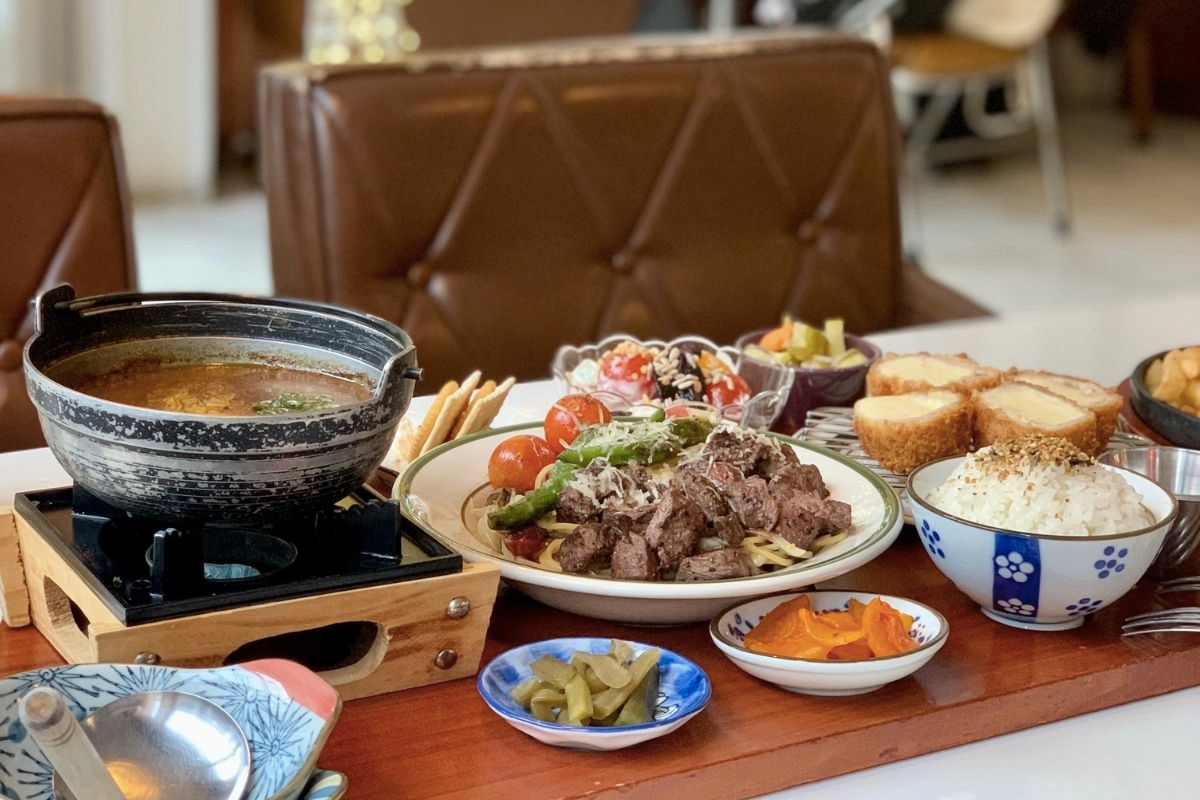 We changed it to cheese pork cutlet (치즈 카츠), so we had to pay an extra 1,000 KRW. It's an extra 1,500 KRW to change the pasta to cube steak oil pasta (큐브 스테이크 오일 파스타).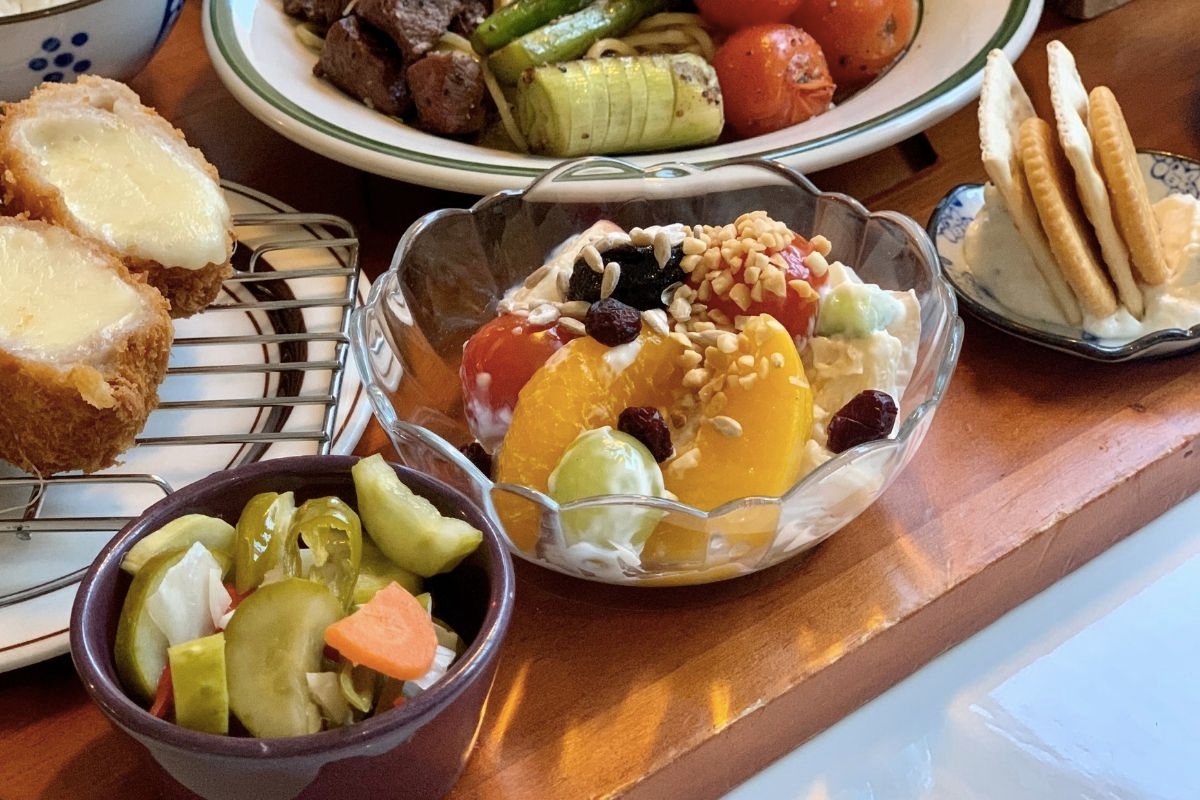 It also comes with two bowls of rice, some side dishes, fruits and cookies for dessert!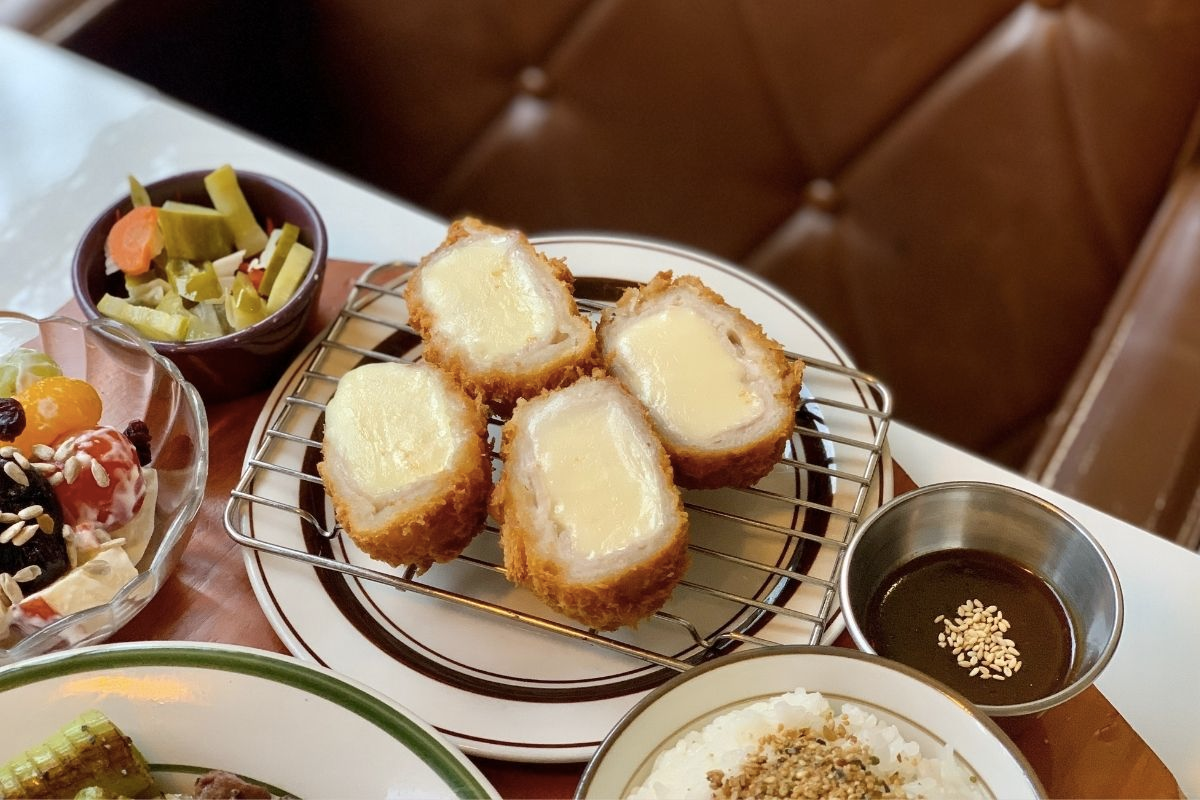 First, let's eat the cheese pork cutlet. How delicious does the meat filled with cheese look?
Eat it while it's still warm! The meat is crispy, flavorful, and matches with the cheese to be the perfect amount of savory and greasy. Just one bite and the rich flavor will fill your tastebuds.
You can dip it in the sauce or curry.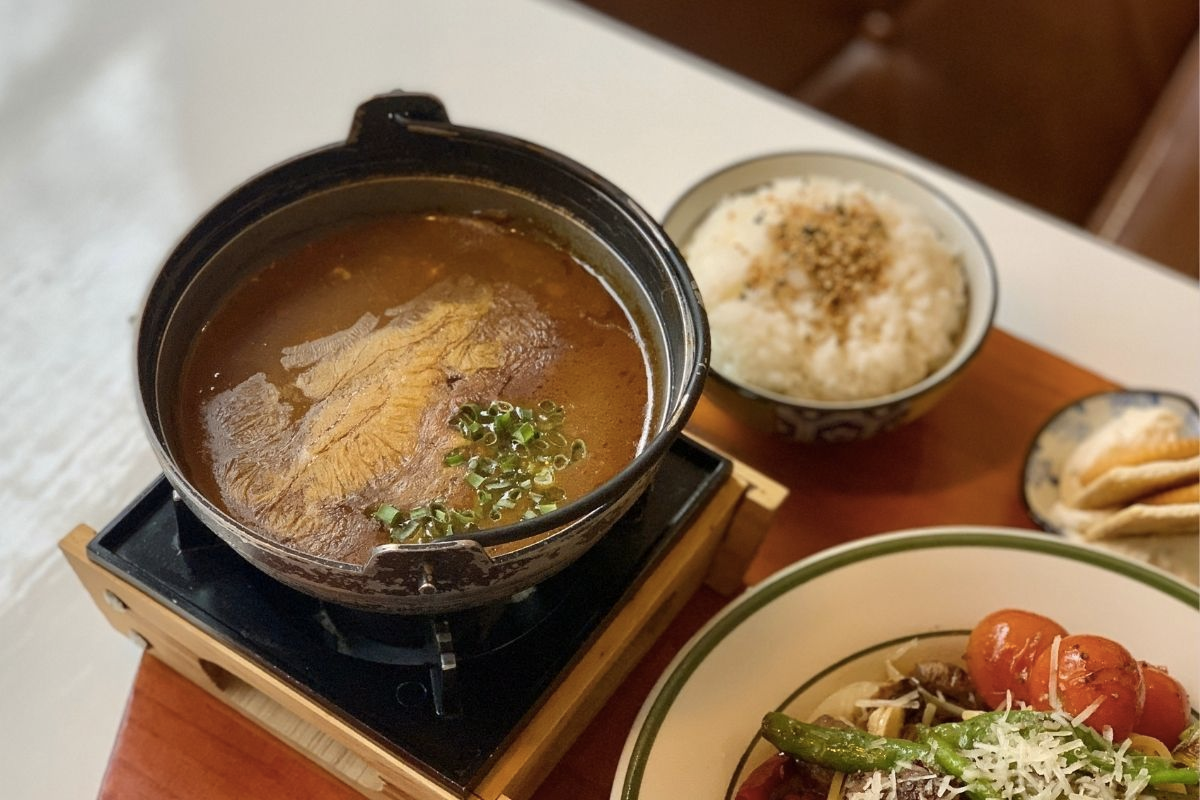 For curry, we chose Tokkijung Curry. It's basic and easy to eat. I don't really like curry, but it's really good here. It's not too salty and is thick. There's a bit of minced meat, green onions, and it's really tasty.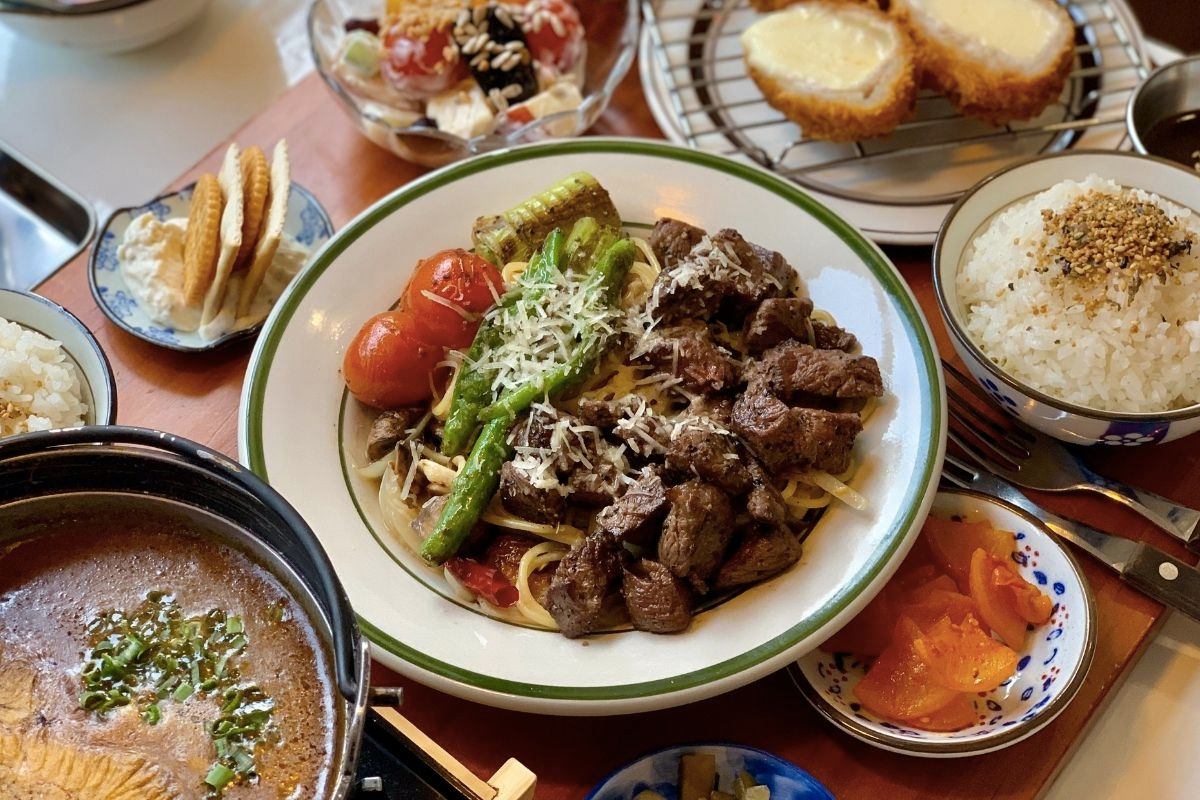 If you don't want the Cream Curry Udon, you can try this cube steak oil pasta. There's other toppings, but you'll be super impressed by the generous amount of steak on the plate.
The steak is very soft, fragrant, and well-cooked, so it retains its flavor and doesn't get tough.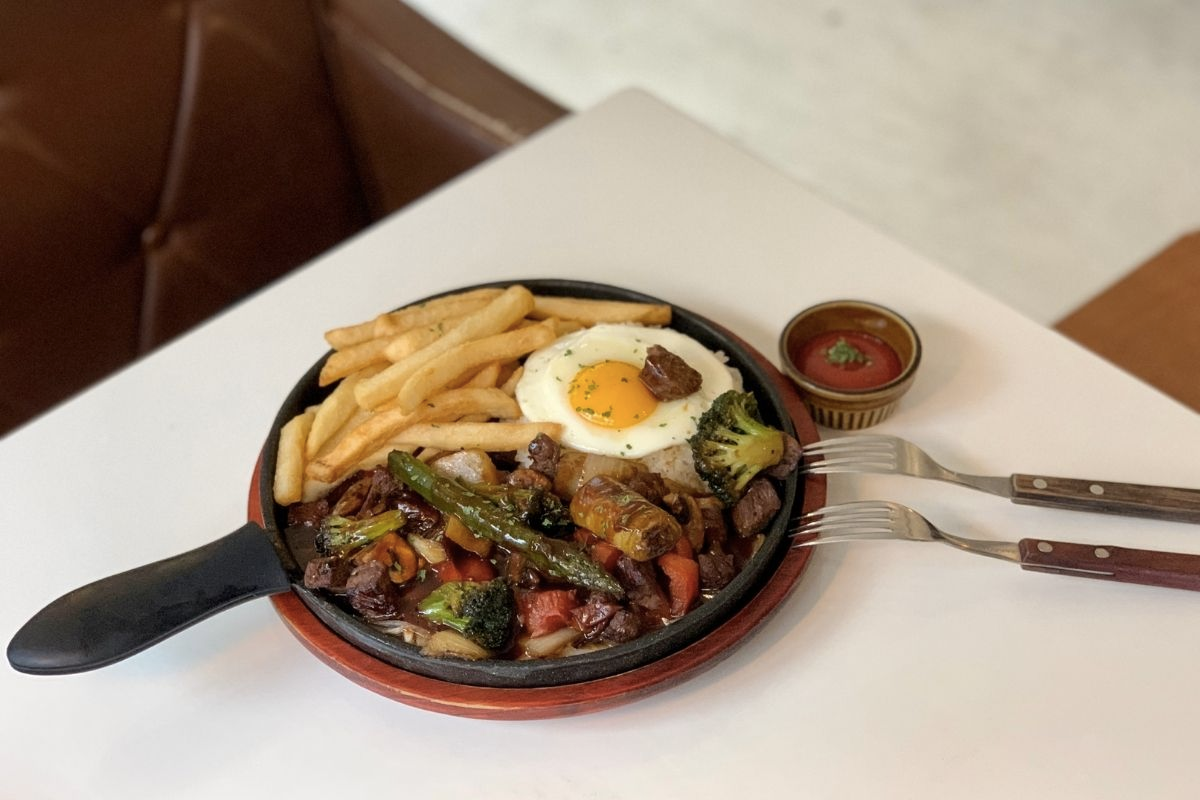 Cast Iron Cube Steak Meal (철판 큐브 스테이크 정식)
18,800 KRW
Since we were already here, we decided to order more steak. This steak pan is huge with lots of pieces of steak along with french fries, rice, egg, broccoli, and asparagus. There were many ingredients.
Tokkijung's steak never disappoints. It's delicious, juicy, and soft and goes well with their sweet sauce. You can fully enjoy many delicious foods with this dish without having to order other items.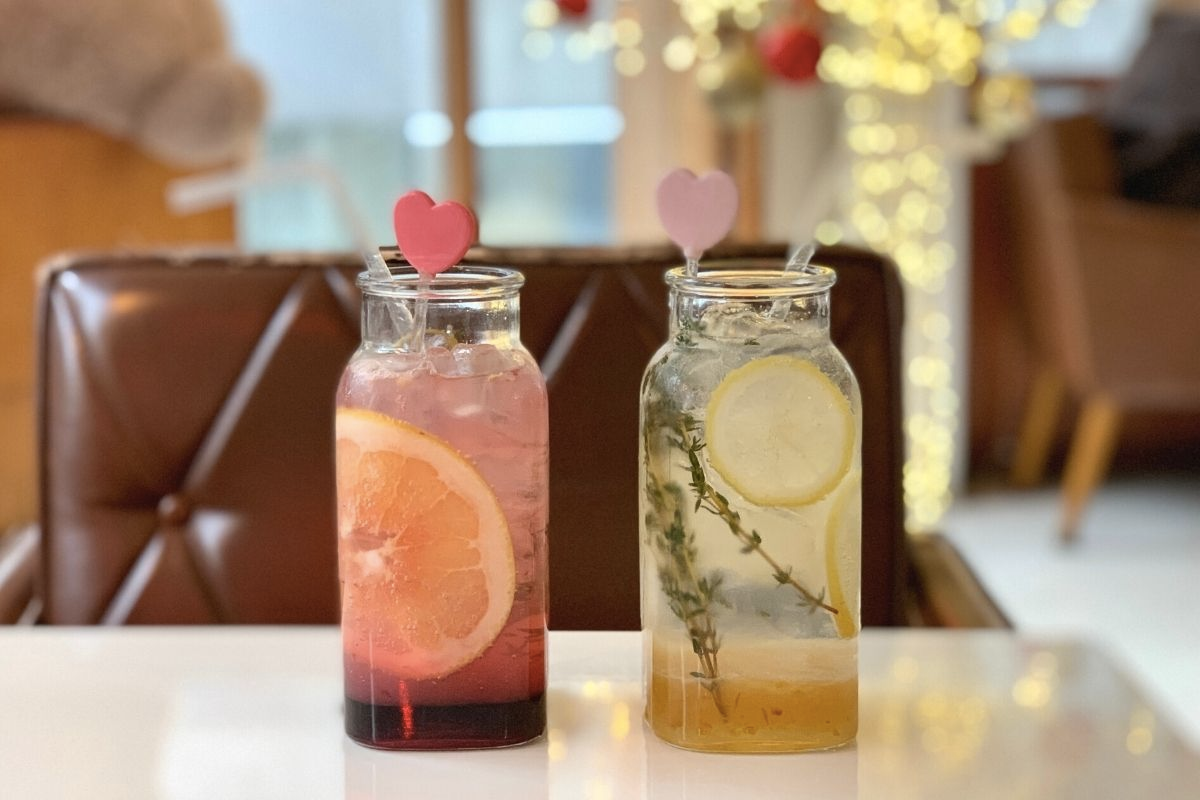 Pomegranate Tokki Soda (토끼소다 노을석류) 5,800 KRW
Yuzu Tokki Soda (토끼소다 달빚유자) 5,800 KRW
Tokkijung's drinks are also really good. One drink is big enough for two people!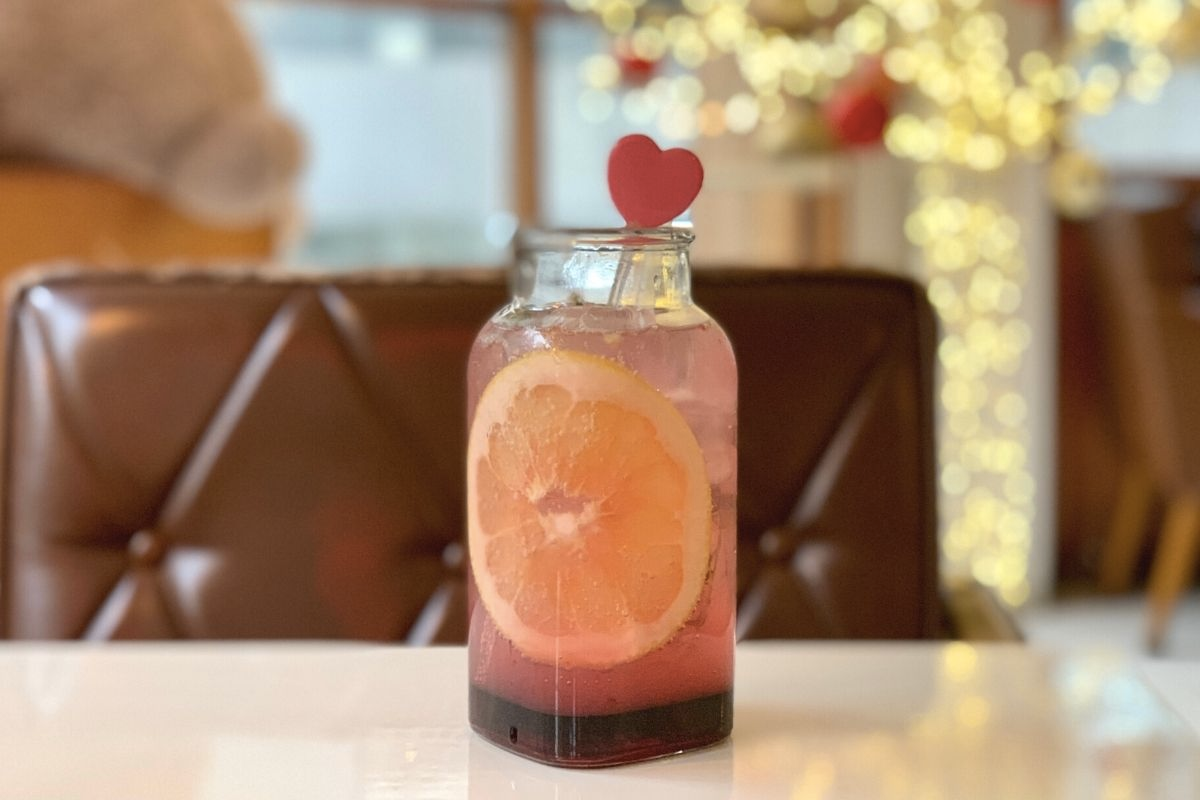 It's supposed to be pomegranate, but there was also a strong grapefruit flavor. It's sour and refreshing, so perfect to drink with greasy food.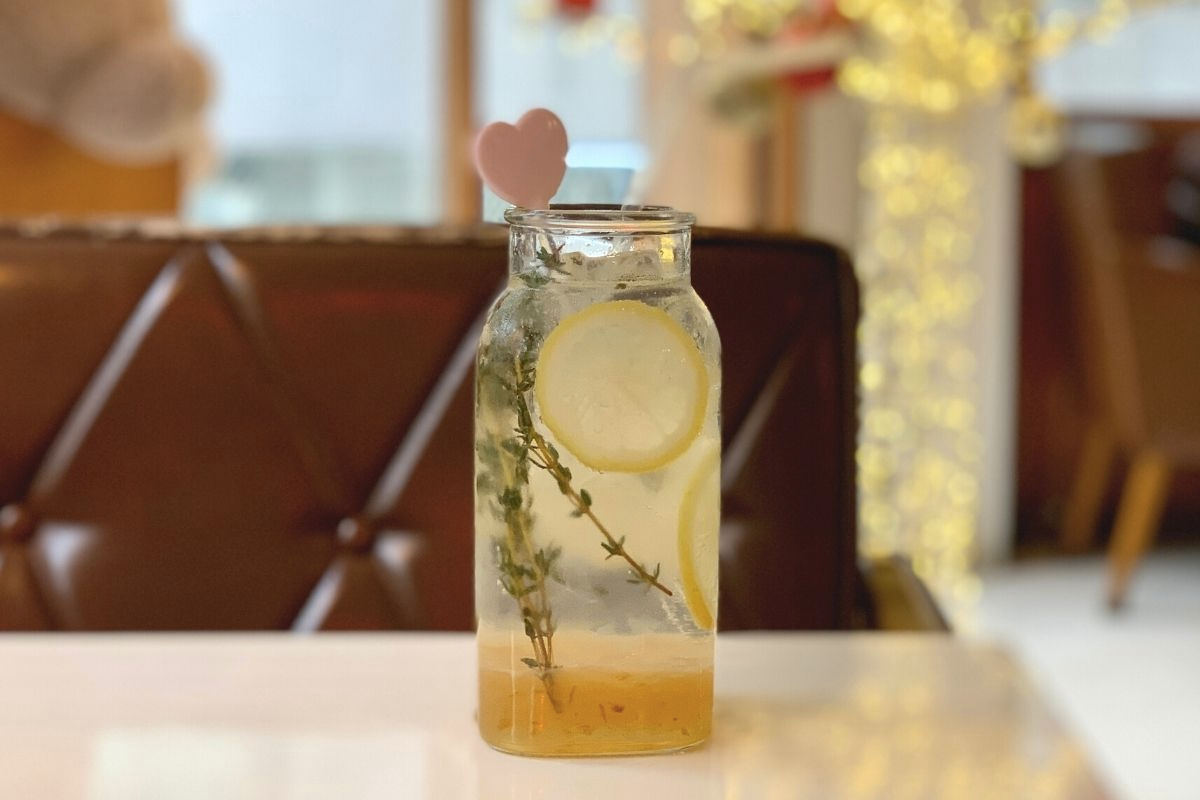 The Yuzu Tokki Soda combines the sweet, citrus taste with soda to create a refreshing drink.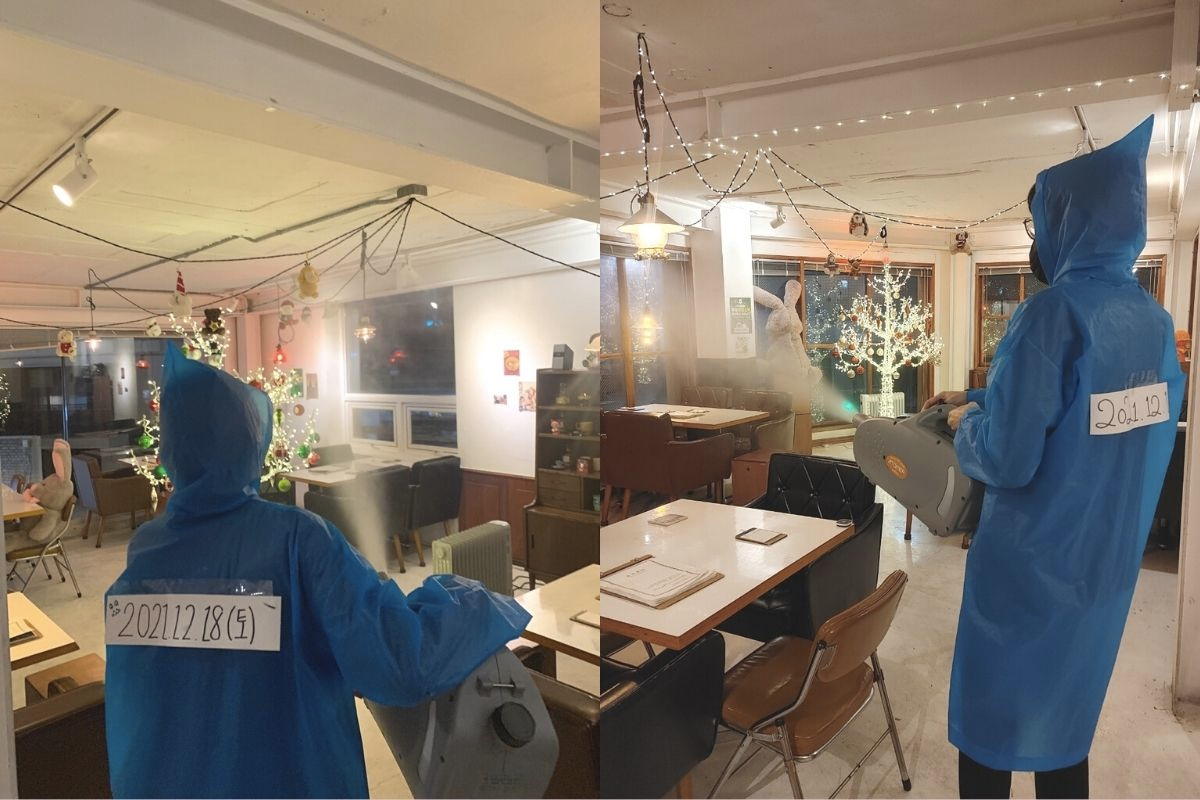 Another reassuring thing about visiting Tokkijung is that the restaurant is very invested in hygiene. They have a sterilizer and disinfect the entire restaurant every day.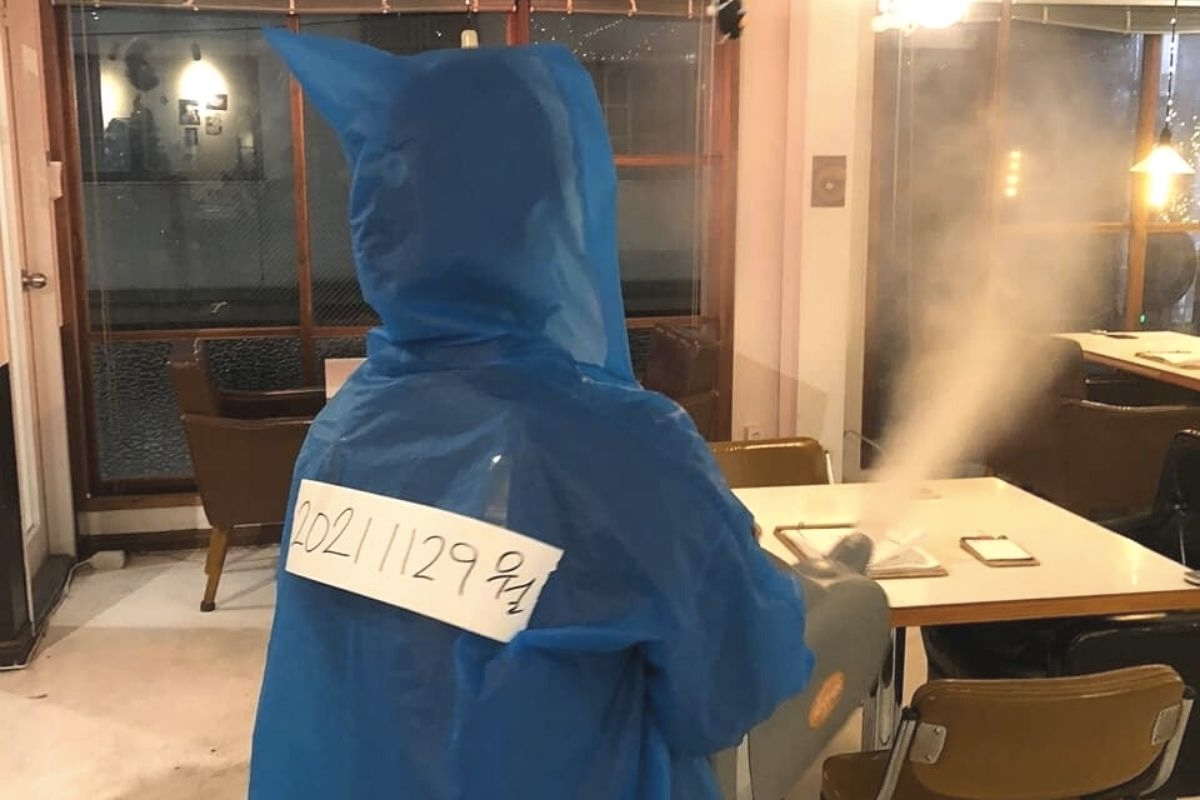 Here is the daily disinfection being completed. This ensures the safety of their guests when they visit!
Overall, we had a really good experience at Tokkijung. Delicious food, beautiful interior, and caring employees, what more could you ask for? If you are heading to Hongdae, you should definitely visit. Tokkijung will satisfy both your eyes and tastebuds, and don't forget that Creatrip members get a 10% discount here.
---
How To Get There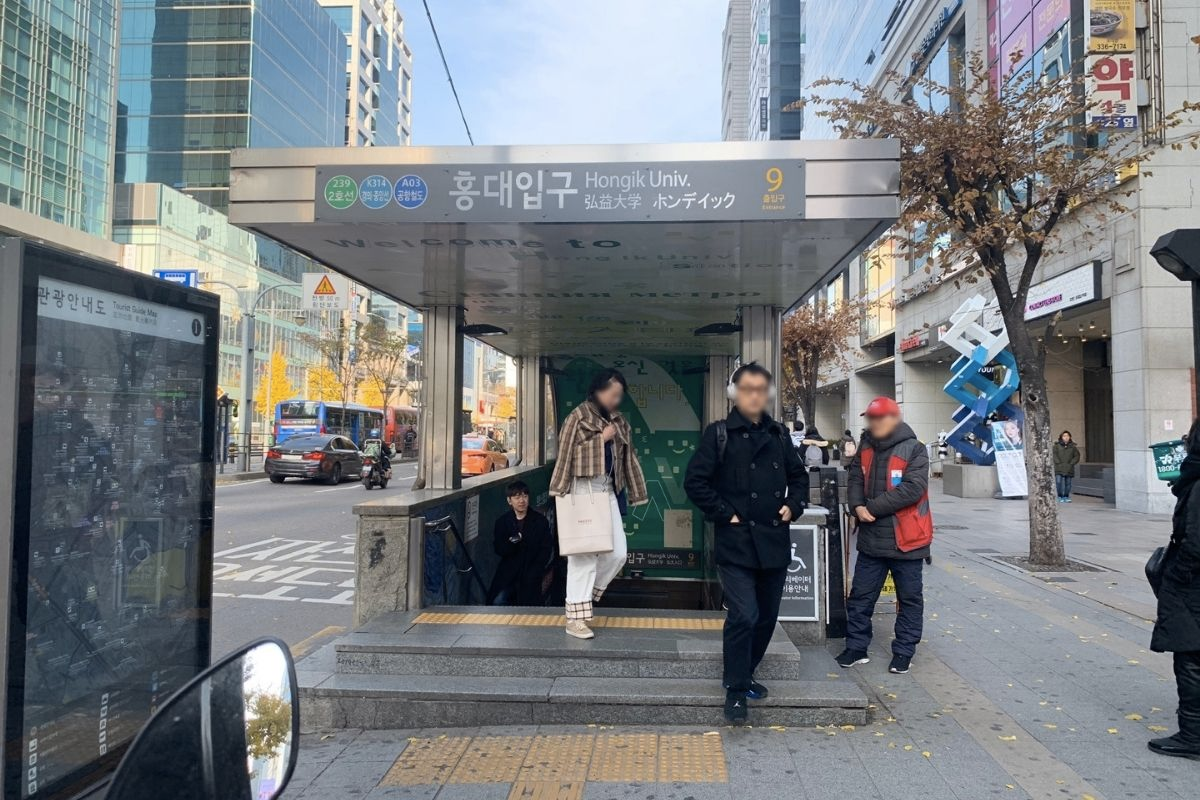 Head out of Exit 9 of Hongik Univ. Station.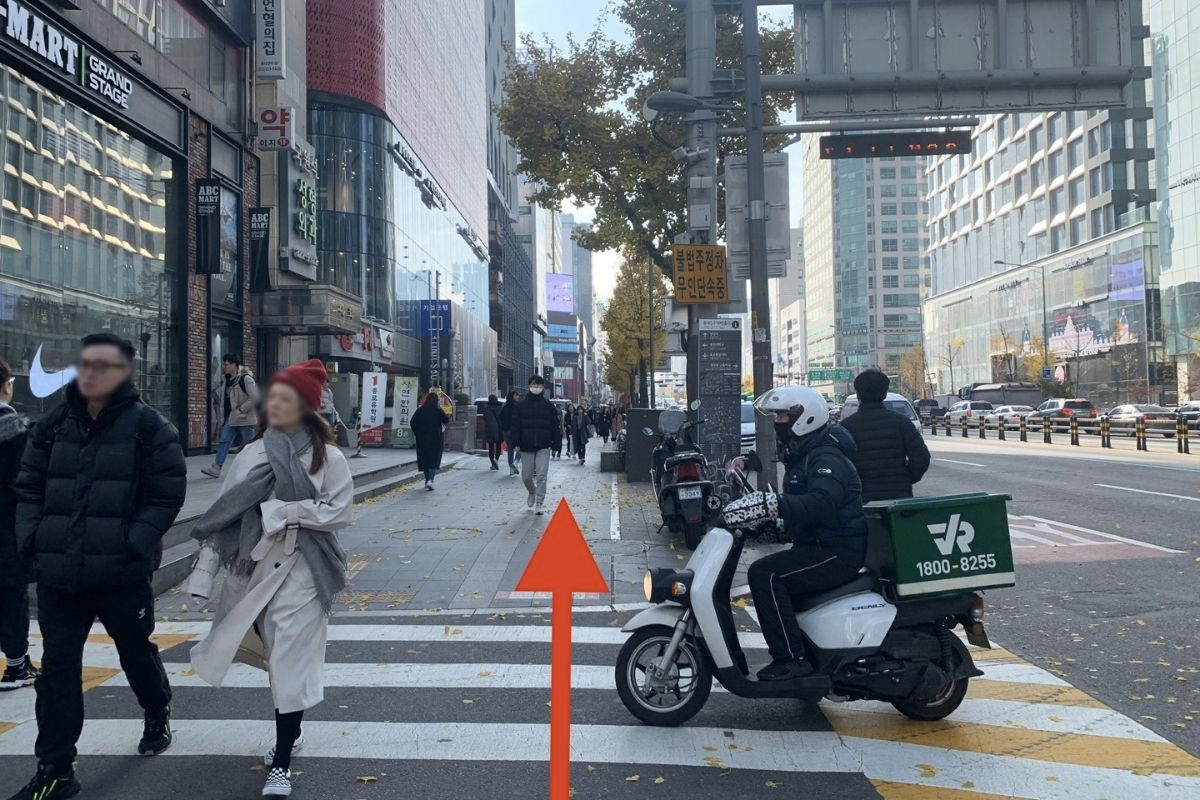 Go straight.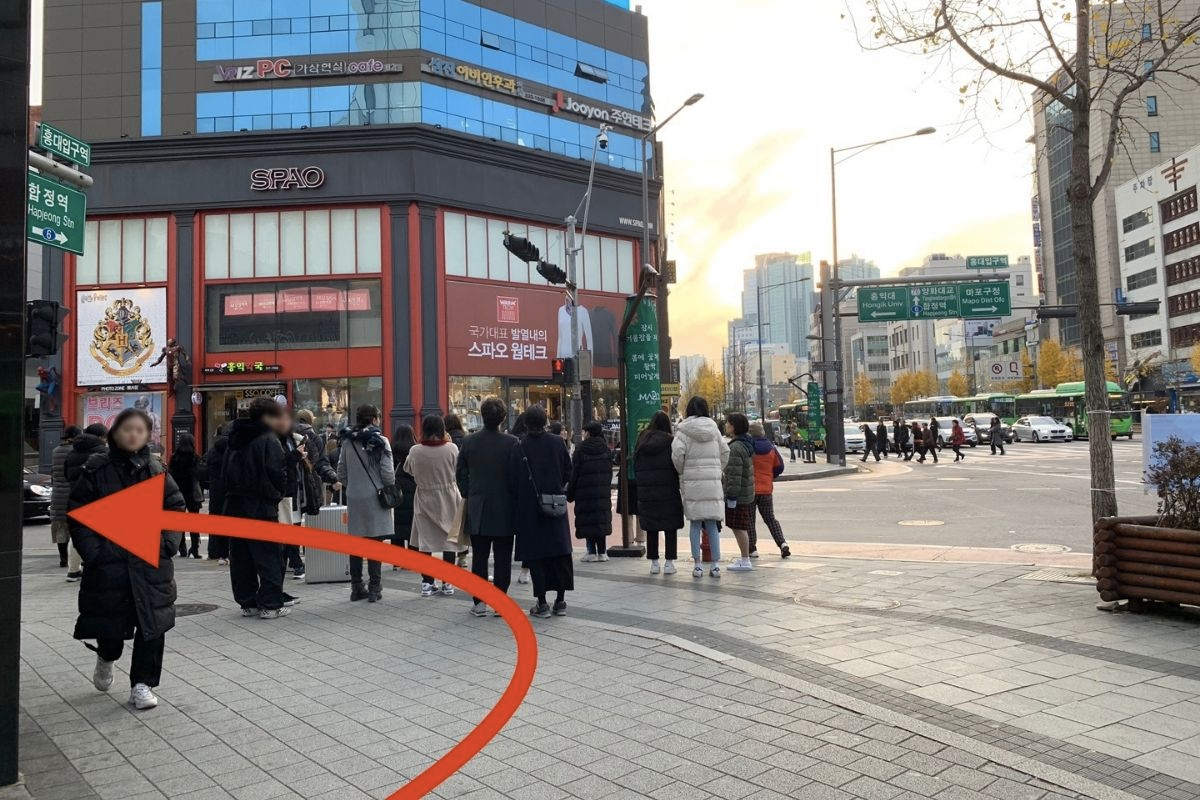 Turn left when you see SPAO.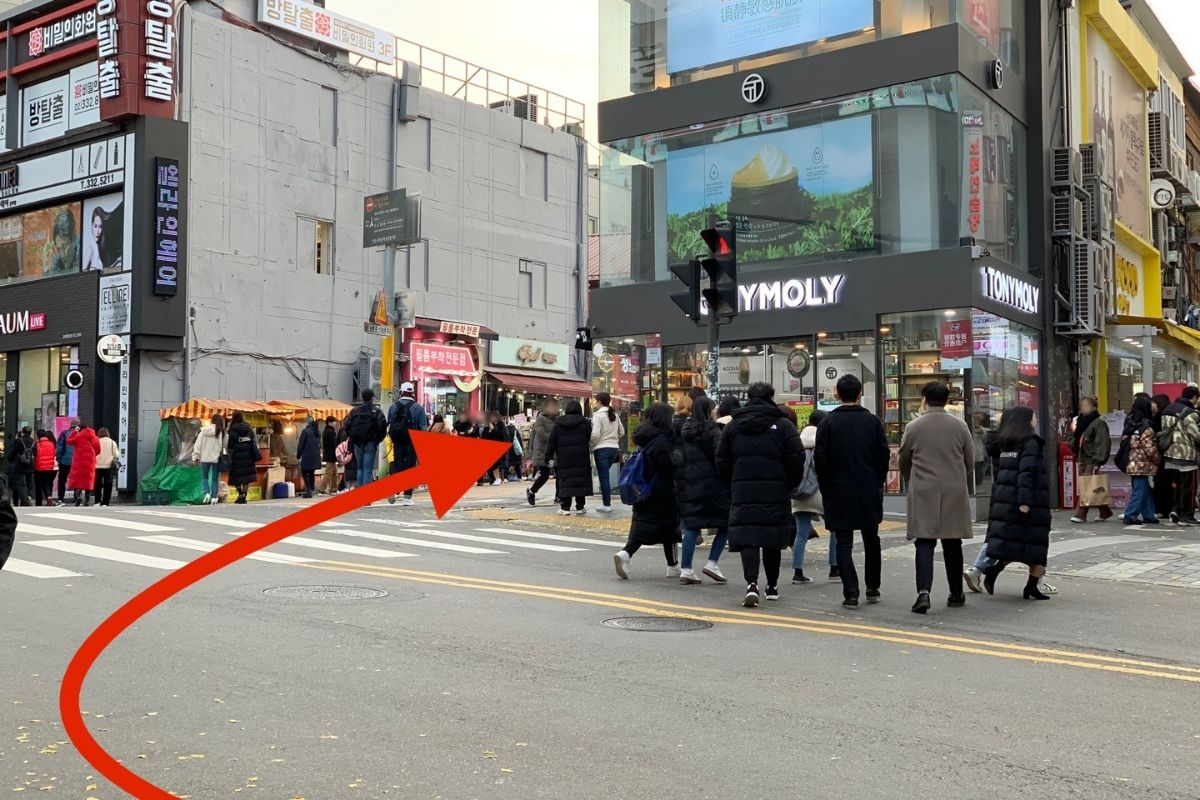 Cross the street and go straight until the end of the street.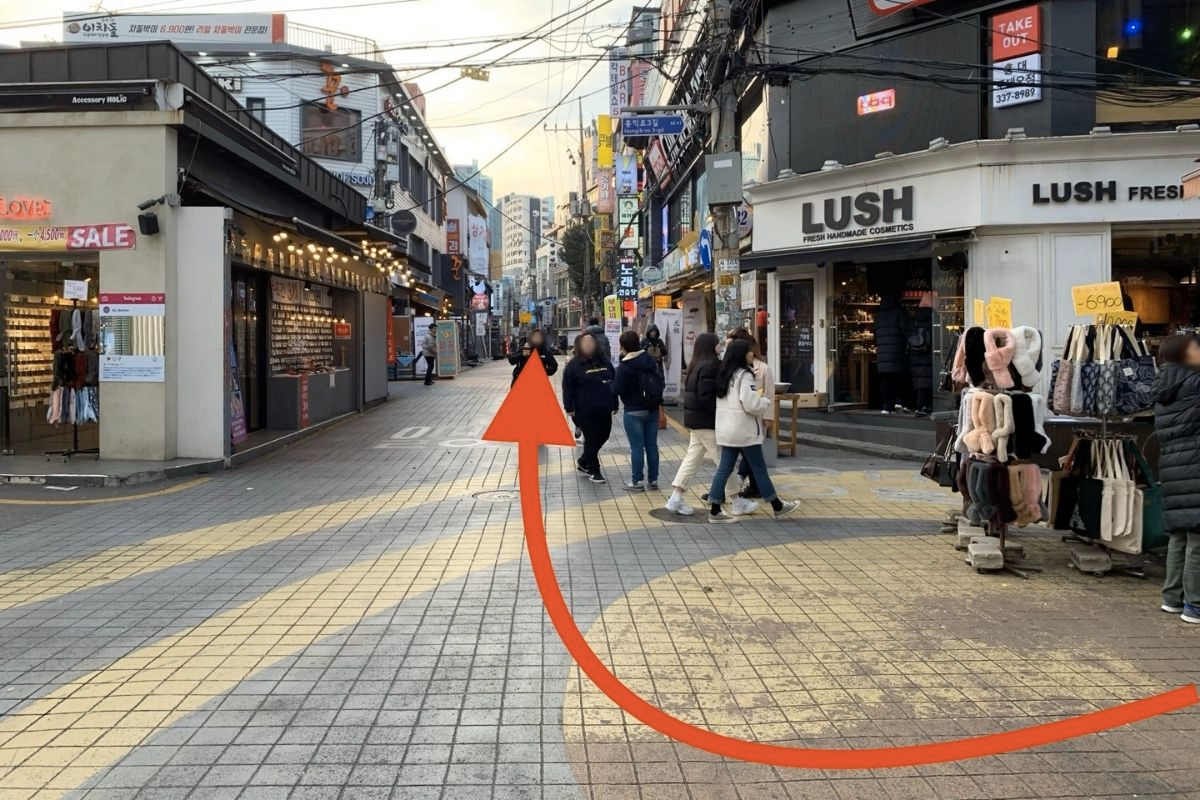 Turn right at Lush then go straight again.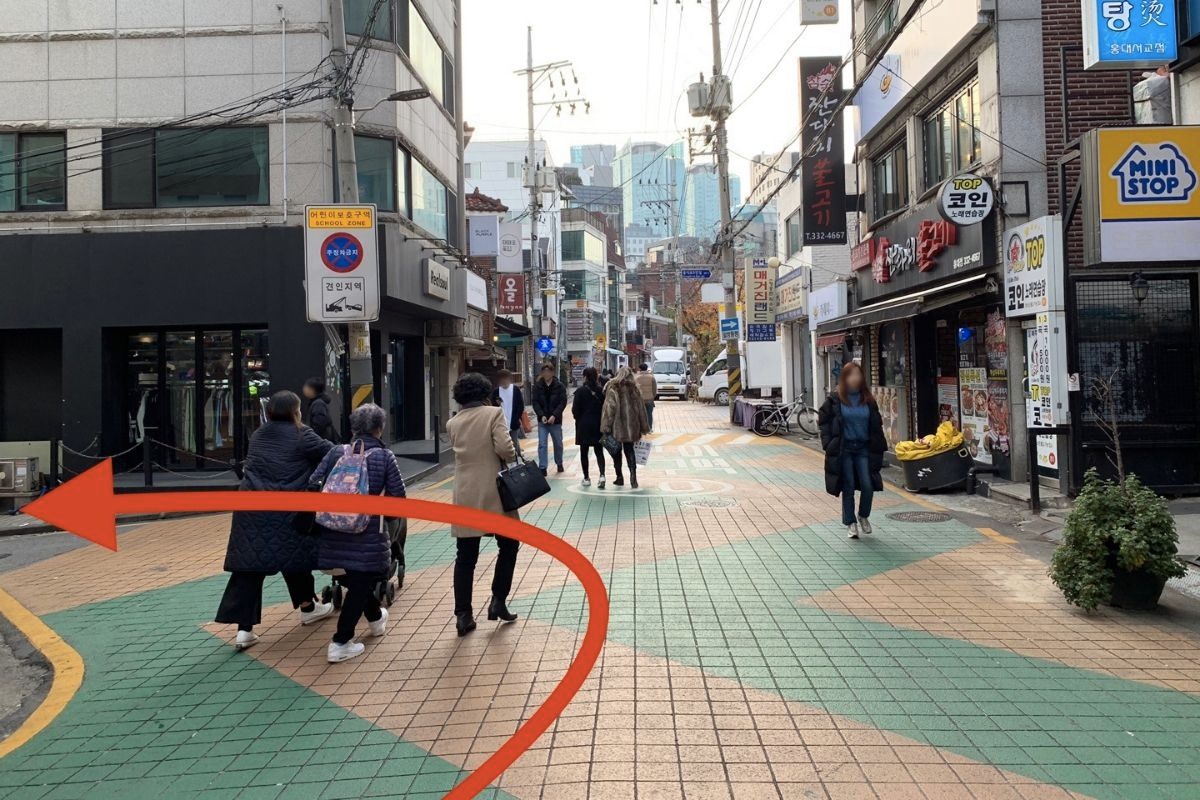 Turn left at the cross road.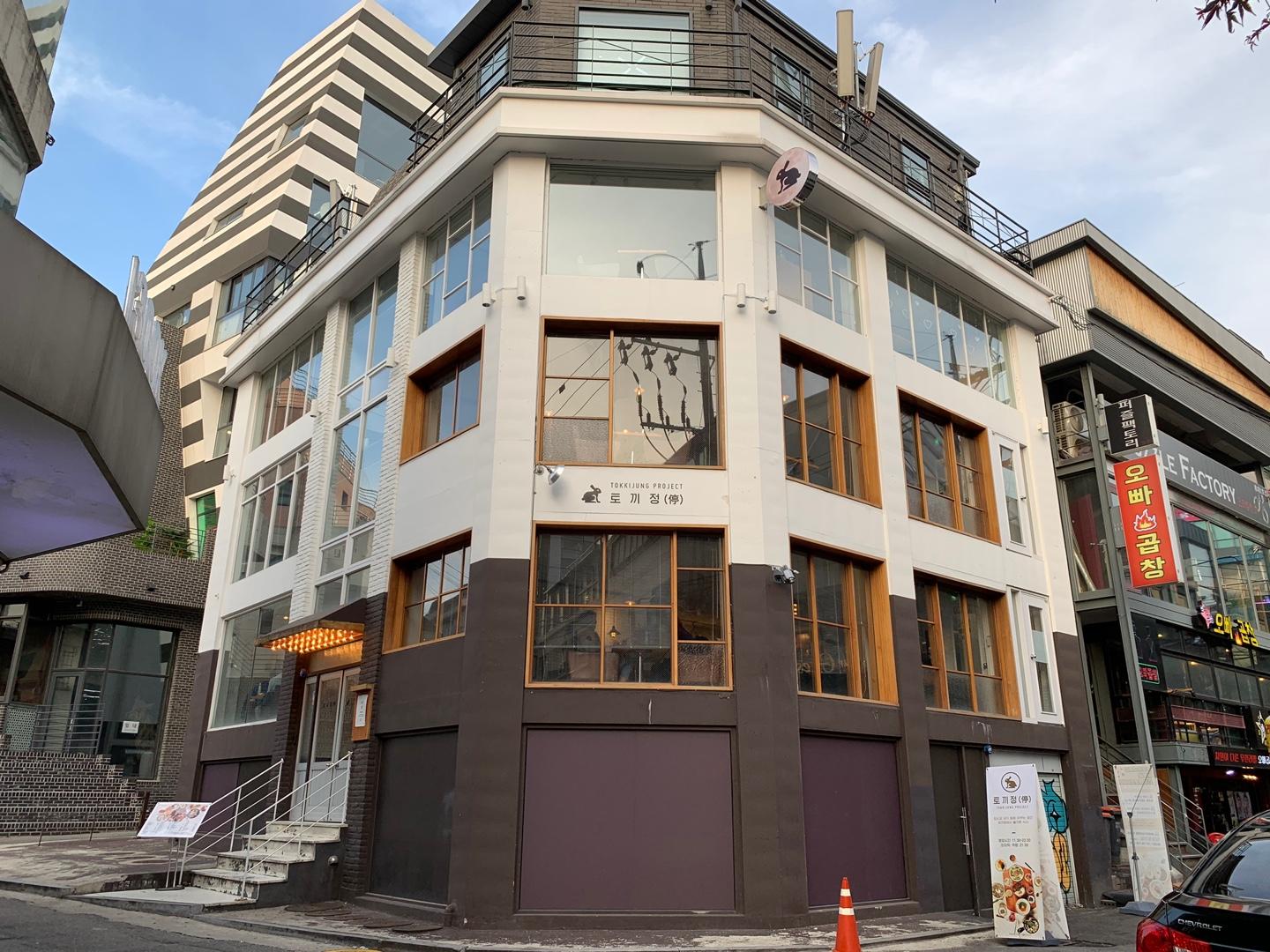 You will see Tokkijung on the left!
---
10% Off Tokkijung
---
We hope you can enjoy a delicious meal at Tokkijung and enjoy 10% off with the Creatrip coupon! If you have any questions or concerns, please leave a comment below or send us an email at help@creatrip.com. You can follow us on Instagram, TikTok, Twitter, and Facebook to stay updated on all things Korea!
---