A Day in Myeongdong: What to do in Myeongdong and the surrounding neighborhoods!
Don't just spend the whole day in Myeongdong! Walk around and stop by the neighboring areas as well! Jongno, Namsan, City Hall, etc.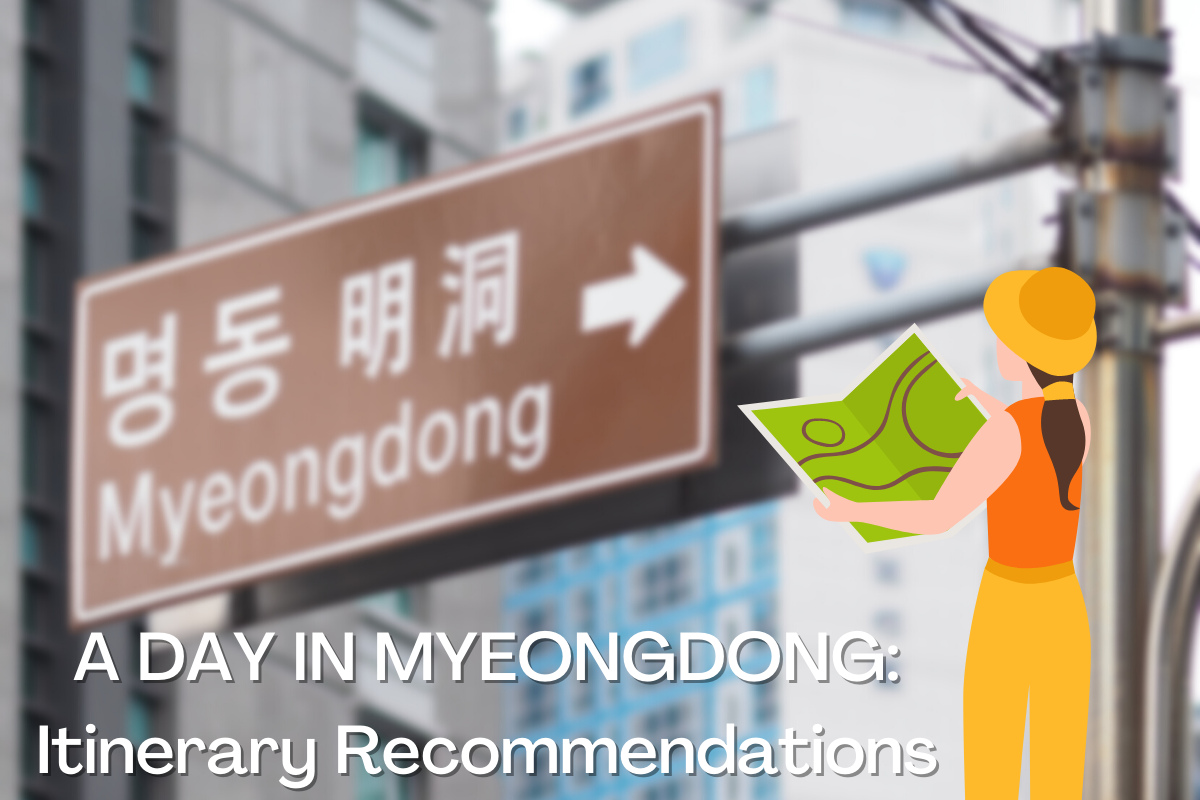 Myeongdong is the beating heart of Seoul, South Korea, and a popular destination for locals and tourists alike. This bustling shopping district is a hub of vibrant activity, boasting an array of trendy boutiques, street vendors, and international brands. Not only is it a shopping haven, but it also offers a range of tantalizing culinary delights, from traditional Korean street food to trendy cafes and upscale restaurants. Whether you're seeking an unforgettable shopping spree, a mouthwatering culinary adventure, or simply a glimpse into the vibrant and modern side of Korean culture, Myeongdong has something to offer everyone.
You may already have your day in Myeongdong planned out, but we're here to recommend the ultimate day course in Myeongdong so you can use your time and energy wisely. Here's how we, as locals, recommend you spend the day in Myeongdong and the surrounding areas:
---
Course 1. For the Gram: a day of visiting the hottest Insta-worthy locations near and in Myeongdong!
Isaac Toast - 4-minute walk → Myeongdong Cathedral - 9-minute walk → Ground Seesaw Myeongdong - 12-minute walk → Deokdugung Palace → Deoksugung Stone Wall Stroll - 17-minute walk → Seosomun History Park - 12-minute walk → Coffee and Cigarettes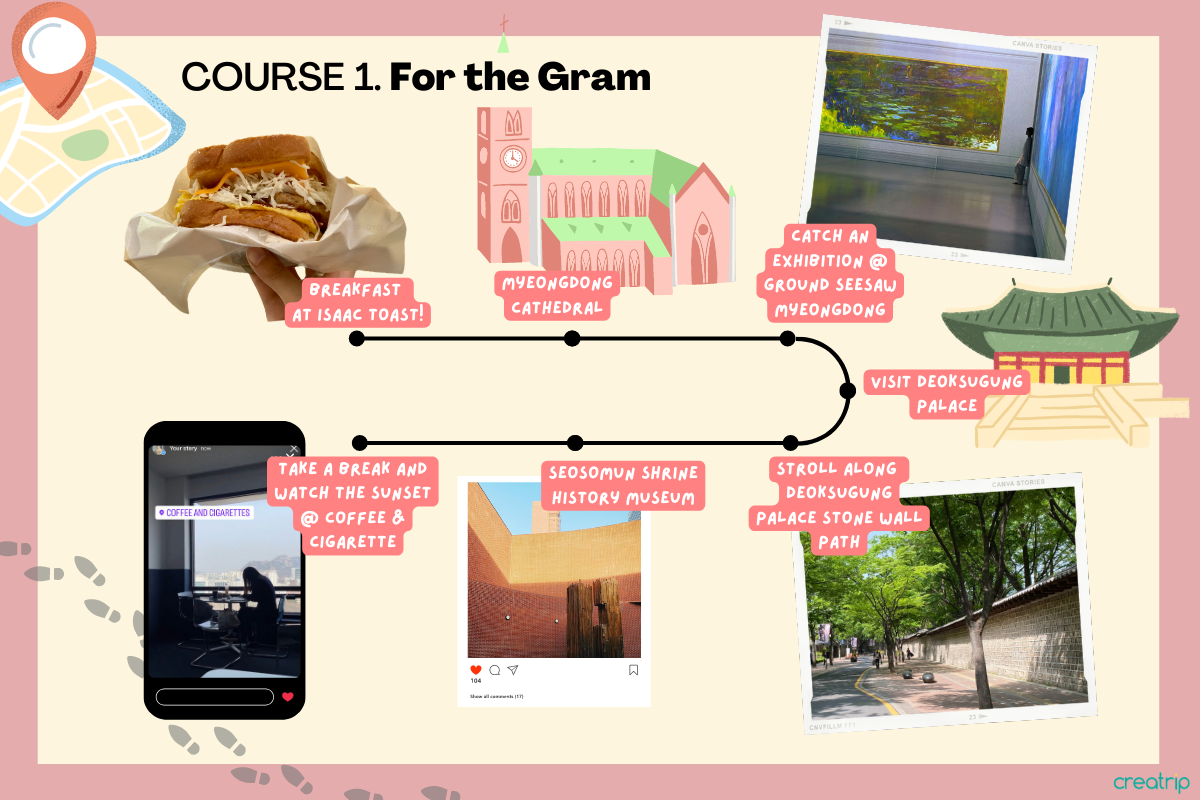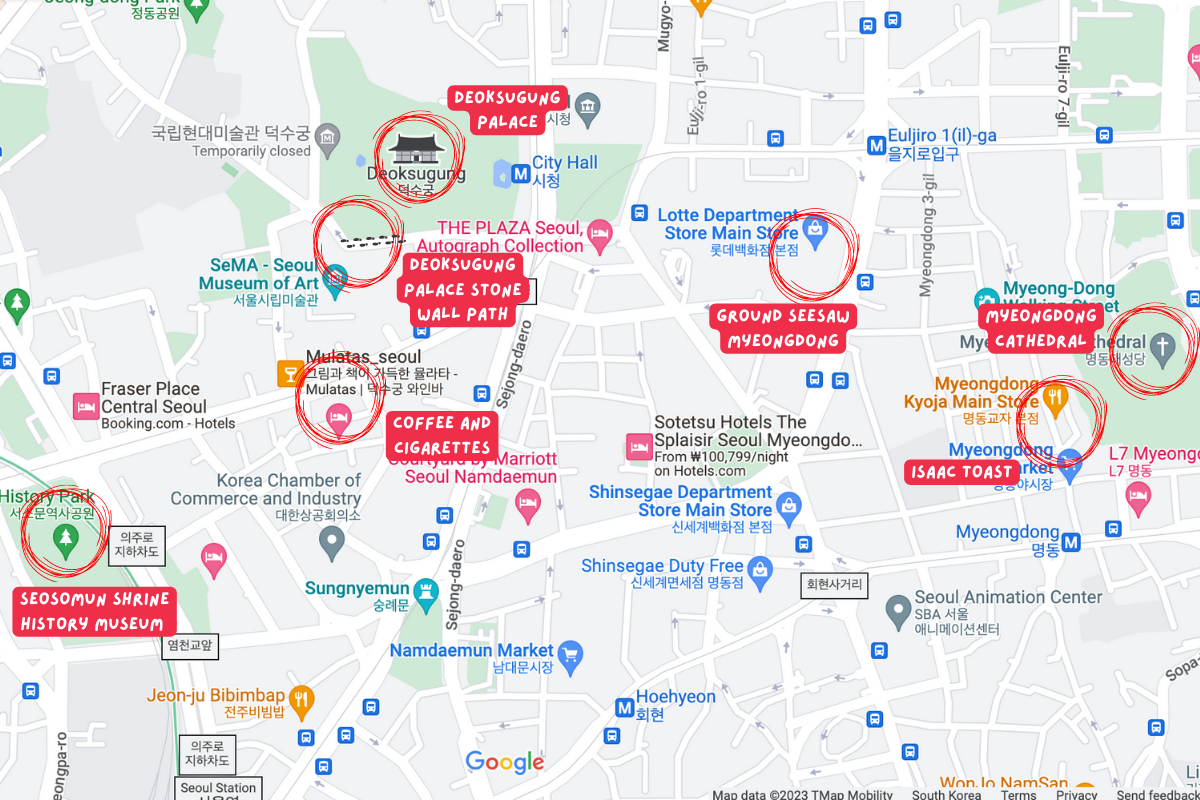 Isaac Toast - All days should start off with a hearty meal. For those who have the habit of eating breakfast, and even for those who don't, Isaac Toast is perfect for you! The affordable sandwich shop has gained a cult following both domestically and internationally for its unique and delicious sandwiches. First time hearing of the brand and what more information? Check out our review to see what menu items you should get!
Isaac Toast Myeongdong Cathedral Branch Review
Myeongdong Cathedral - Since its establishment in 1898, Myeongdong Catholic Church has a history of more than 100 years. It is the oldest catholic church in Korea. A symbol of faith for Korean Catholics, the church holds both historical and religious significance. Myeongdong is an urban area with tall office buildings and heavy traffic so the cathedral is a breath of fresh air amidst the hustle of the city. Click here for more information!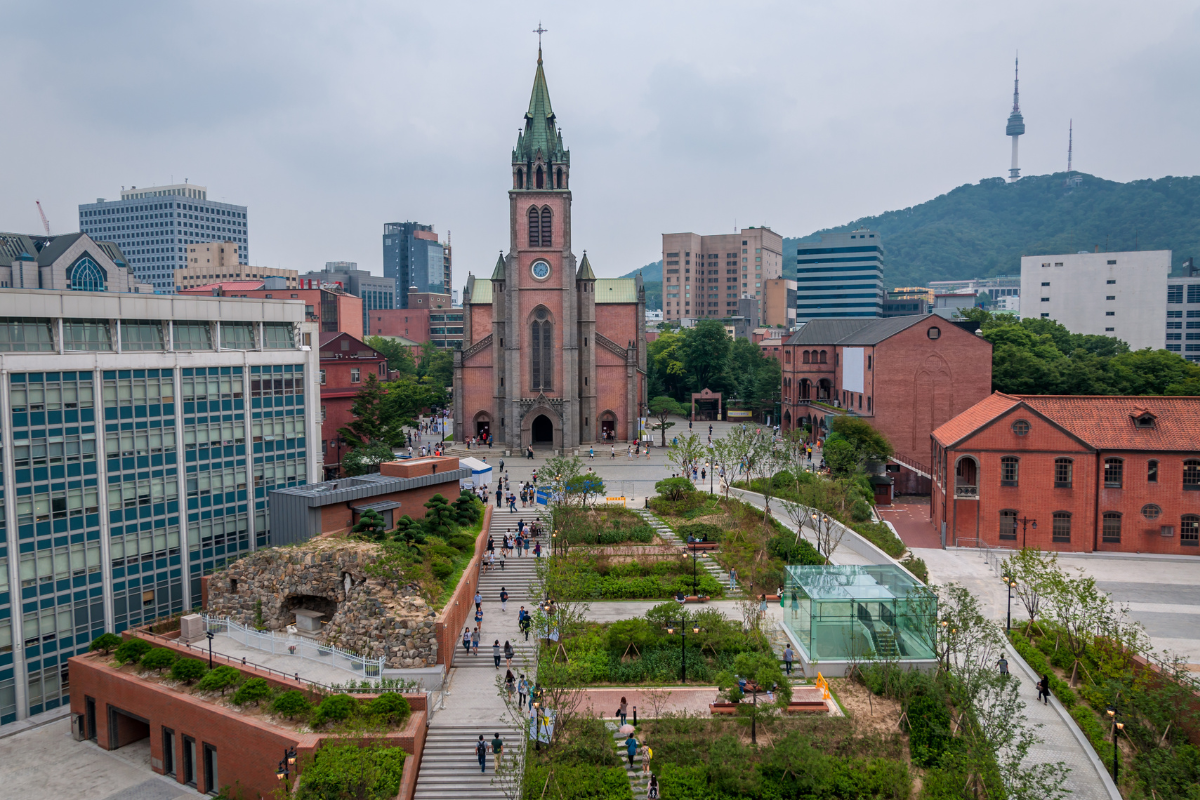 A Visit to Myeongdong Cathedral
Ground Seesaw Myeongdong - Seoul is a city where you can indulge in cultural arts since there are several affordable, and mostly free, exhibitions all over the city. Ground Seesaw, a cultural complex that has multiple branches in the city, is known for its trendy selection of exhibitions. Ground Seesaw Myeongdong is currently showing a media art screening of Monet's artwork so you're guaranteed to take good pictures for your Instagram posts! Search for the #그라운드시소명동 to get a glimpse of what the exhibitions are like!
Deoksugung Palace - When tourists come to Seoul, everyone usually checks out Gyeongbokgung Palace, as it is the biggest and most significant palace in Korea. Deoksugung Palace, which is a short walk from Myeongdong, has a different atmosphere than Gyeongbokgung Palace due to its Western influences. The combination of traditional Korean and Western architecture gives off a sophisticated vibe. Check out the link below for more details!
Deoksugung Palace Stone Wall Path - On the outer left side of Deoksugung Palace is the Deoksugung Palace Stone Wall Path. Seoulites like to walk along the wall because of the romantic atmosphere. However, couples are told to refrain from going to the stone wall together as there is a superstition that states that the stone wall breaks up relationships. The myth started because the Supreme Court and Seoul Family Court used to be located where the current Seoul Museum of Art is.
Seosomun Shrine History Museum - The Seosomun Shrine History Museum is a museum located in Seoul, South Korea, that is dedicated to preserving and promoting the history and culture of the Seosomun Shrine. The shrine was a sacred site for Korean Catholics during the late Joseon Dynasty, and it was the site of brutal persecution by the Korean government in the 19th century. The museum was established in 2015 as part of an effort to commemorate the history of the shrine and the suffering endured by Korean Catholics during the Joseon Dynasty. The museum is known for telling stories of desolate times through artistic and aesthetic methods.
Coffee and Cigarettes - Coffee and Cigarettes is a cafe that sells high-quality coffee and cigarettes. The unique theme is not what attracts people the cafe but the incredible view from the 17th floor of a Seoul office building is what people flock from all over the city to see. To get to Coffee and Cigarettes, you need to walk into one of the ordinary office buildings by the City Hall. You might feel like you're intruding but take the elevator up to the 17th floor and you'll be welcomed by a busy cafe behind glass doors with huge windows overlooking downtown Seoul. If you're lucky, you'll get a seat by the window and be able to see the Seoul sky turn colors due to the sunset. Even if you don't get a seat by the window, the cafe's modern mid-century interior looks great in photos.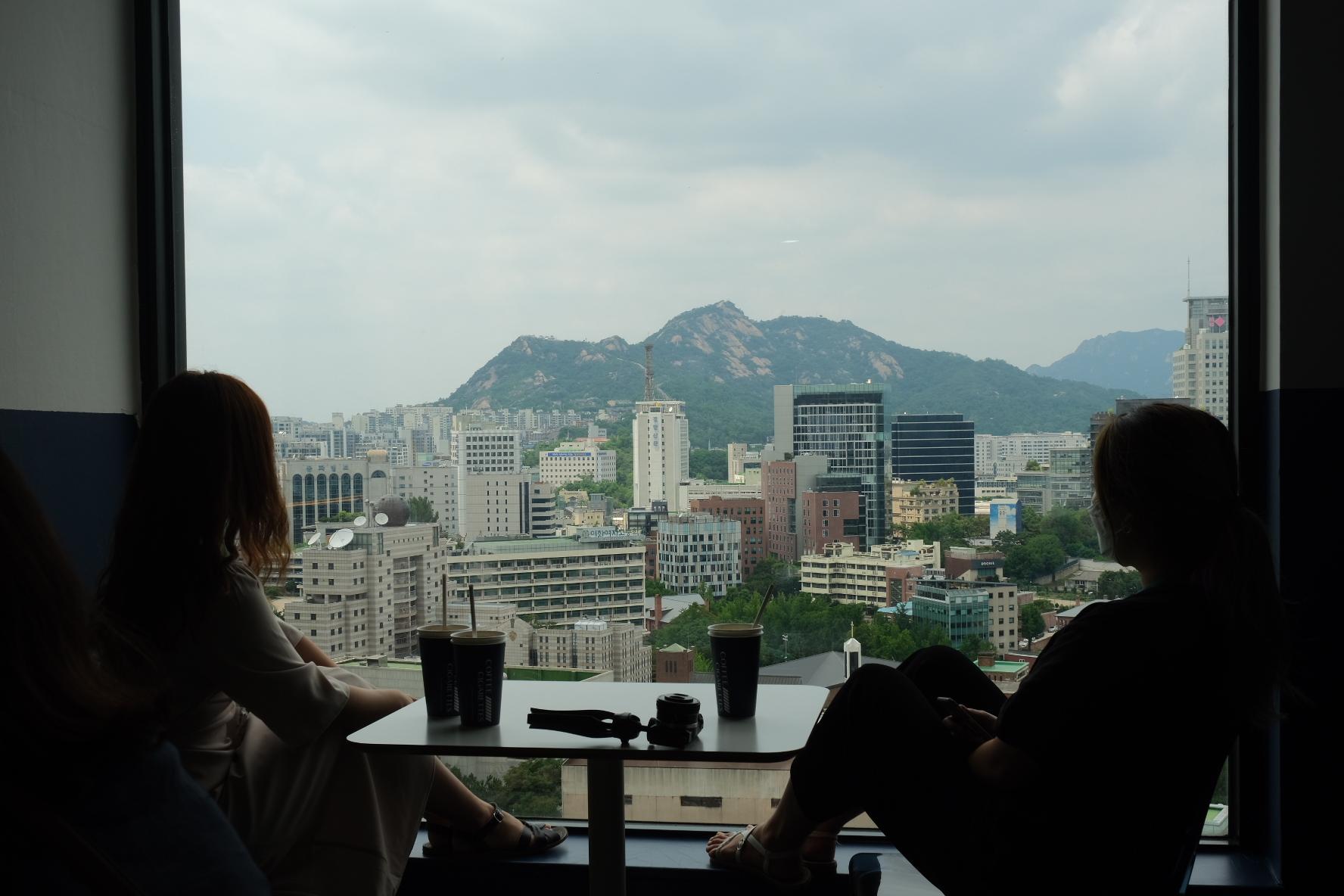 ---
Course 2. Soak Up the Sun:
Days of clear skies and the perfect temperature are ahead of us now that the cold winter is passing. Spend most of the day outdoors and soak in the Seoul sun.
Gwangjang Market - 1-minute walk → Cheonggyecheon Stream - 13-minute walk → Euljiro Cafe - 9-minute walk → Namsan Hanok Village - 15-minute walk → Myeongdong Streetfood - 15-minute walk → Namsan Hike - 30-minute hike → N Seoul Tower Observatory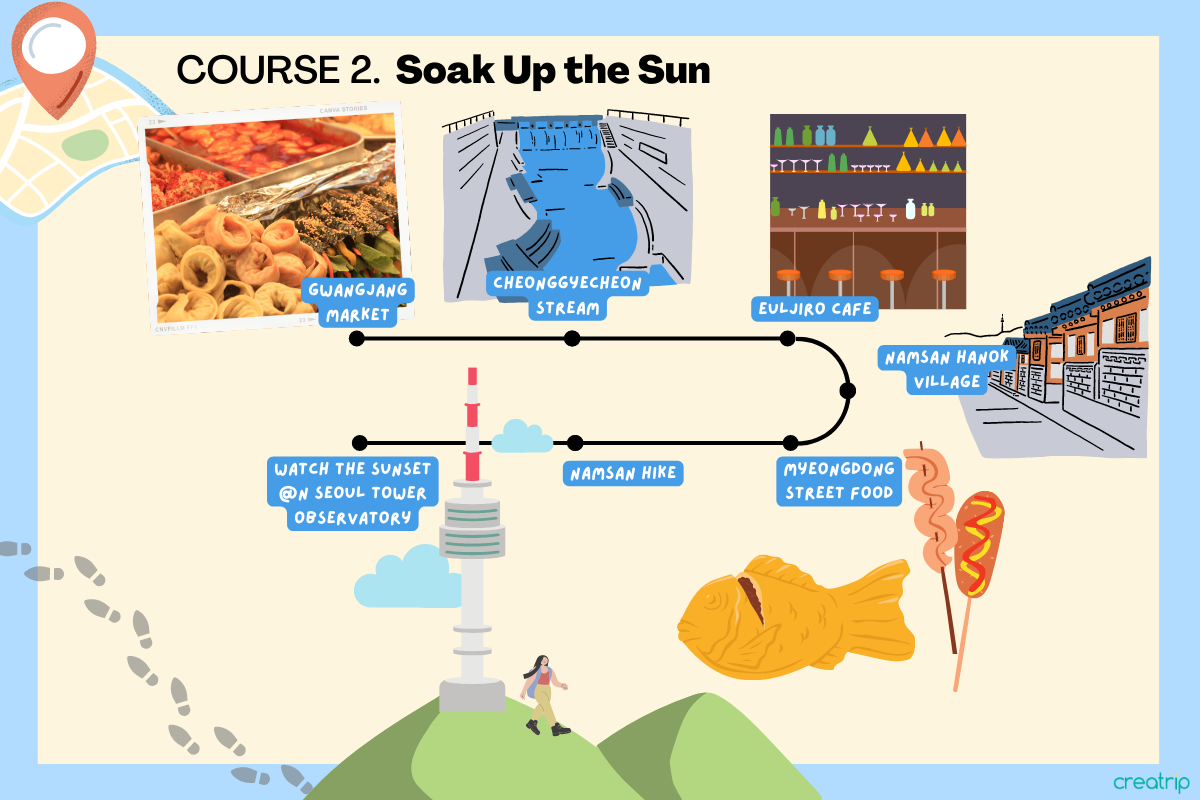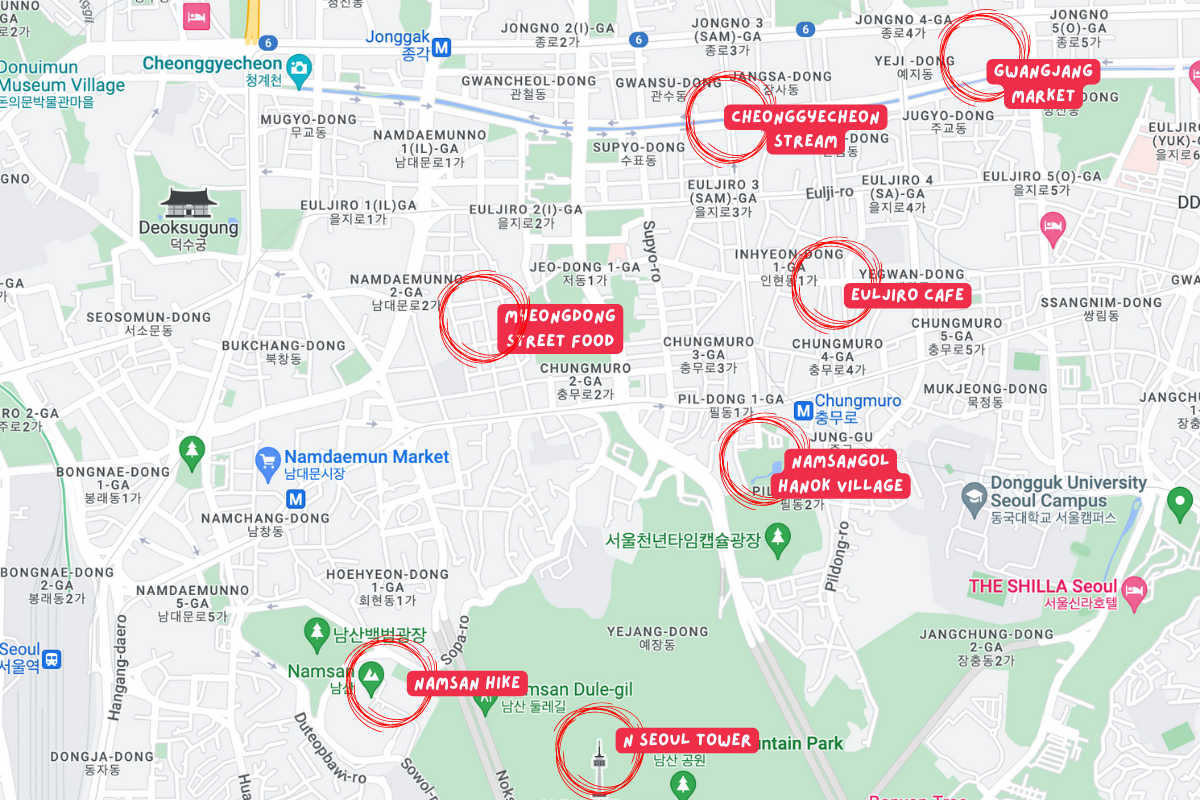 Gwangjang Market - Gwangjang Market is a bustling traditional market located in the heart of Seoul. The market features hundreds of vendors selling a wide variety of goods, including traditional Korean clothing (hanbok), silk fabrics, jewelry, pottery, and souvenirs. The market is renowned for its food stalls, which offer a wide range of Korean street foods such as bindaetteok (mung bean pancakes), tteokbokki (spicy rice cakes), gimbap, knife-cut noodles, and more! Grab a hearty breakfast before your jam-packed day!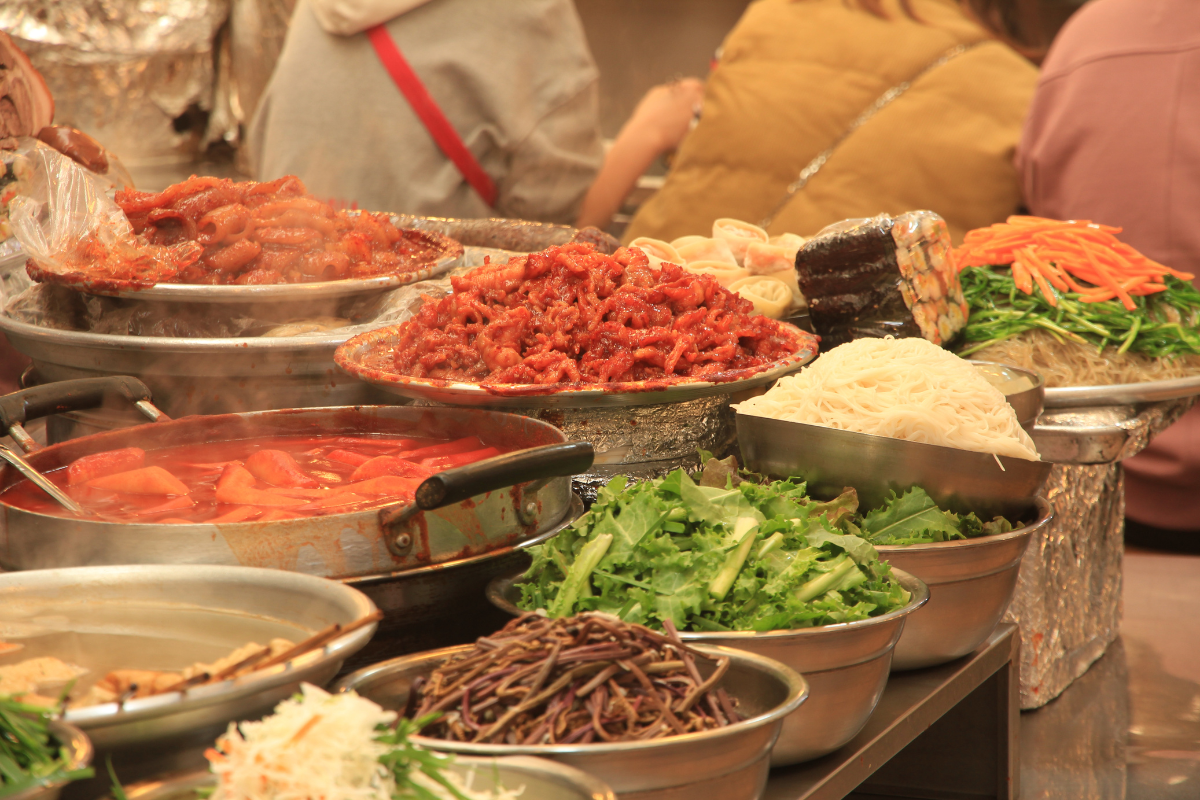 Cheongyecheon Stream - Cheonggyecheon stream is a refreshing oasis in the middle of Seoul. It is a 5.8-kilometer-long waterway that flows through the bustling urban center and has been a popular attraction for locals and tourists alike since its restoration in 2005. The stream's restoration project is considered one of the most significant environmental and urban restoration projects in Korea's history. The stream is lined with walking paths, bridges, and parks, making it a great spot for a peaceful stroll, picnic, or even a romantic evening walk. The stream is accessible from multiple points through stairs leading down to the main sidewalk. Once you're down by the stream, you'll be surrounded by greenery but look a little further higher and you'll see the Seoul skyscrapers towering above.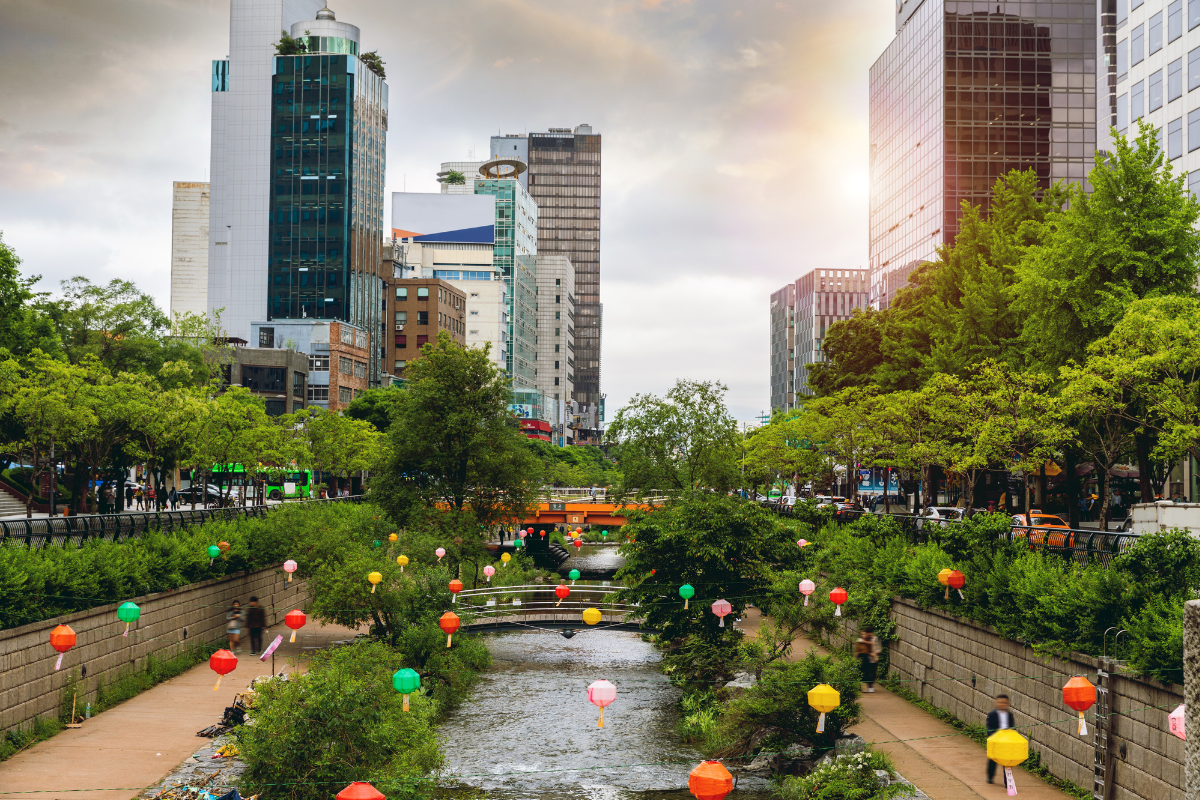 Euljiro Cafe - Euljiro is a neighborhood located in central Seoul. It used to be mainly known for its historic markets, small businesses, and manufacturing industries but nowadays, the neighborhood has been popular among young adults as a trendy, hip neighborhood with aesthetic cafes and bars. There are several cafes in the area that are worth a visit and it is a great place to go cafe hopping. Check out our Euljiro cafe recommendations in the link below!
Namsangol Hanok Village - Namsangol Hanok Village is a beautiful and peaceful oasis in the middle of a bustling city and is a must-visit for anyone interested in traditional Korean culture and architecture. The village was constructed in 1998, in an effort to preserve and promote traditional Korean culture and architecture. It features five restored traditional Korean houses (hanok) that were relocated from other parts of the city and restored to their original beauty. The village is nestled in the beautiful Namsan Mountain and features a traditional Korean garden, a pavilion, and a water mill. Visitors can take a leisurely walk through the village and experience traditional Korean life, including traditional food, clothing, and music.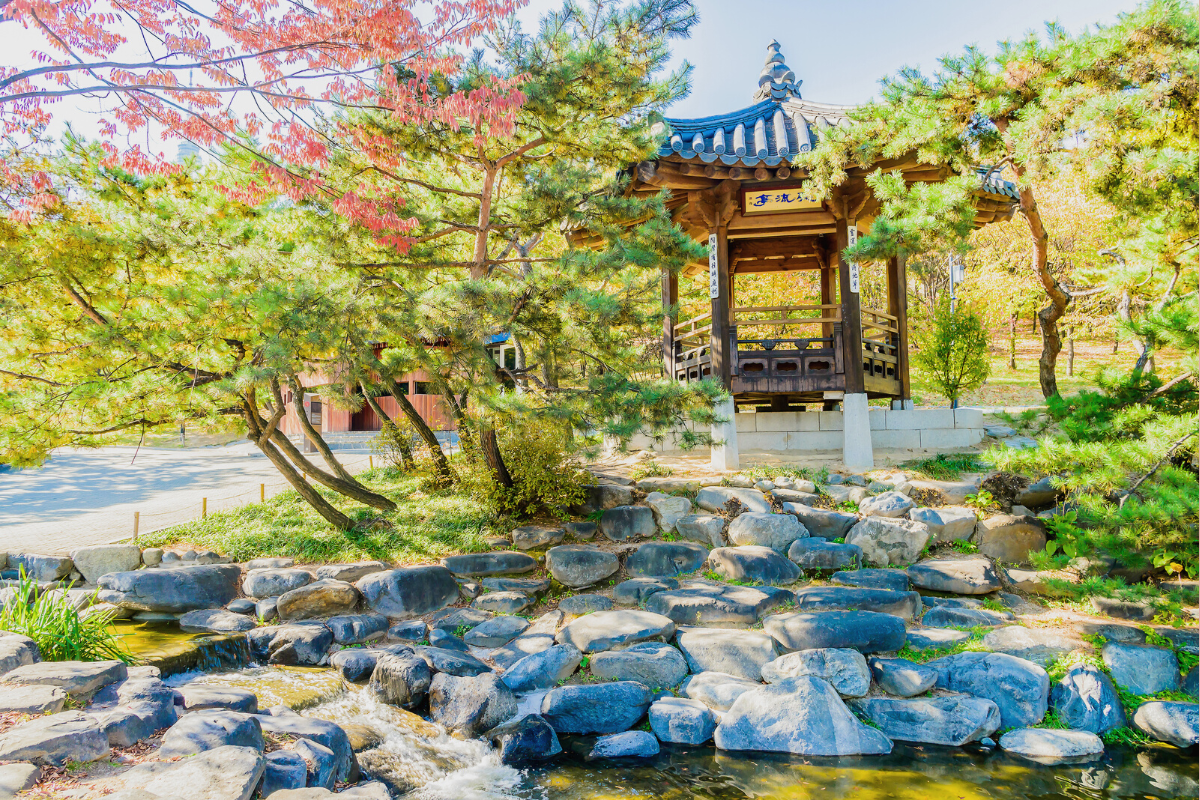 Myeongdong Street Food - If Gwangjang Market has more of a traditional selection of street food, Myeongdong has more of a diverse selection of vendors lining the streets offering a variety of snacks and dishes. There are things that you won't be able to find in other street food markets like grilled cheese(not the sandwich but literal cheese grilled), broiled lobster, giant lamb skewers, oreo churros, croissant taiyaki, and more! Grab a bite to eat before your trek up Namsan Mountain!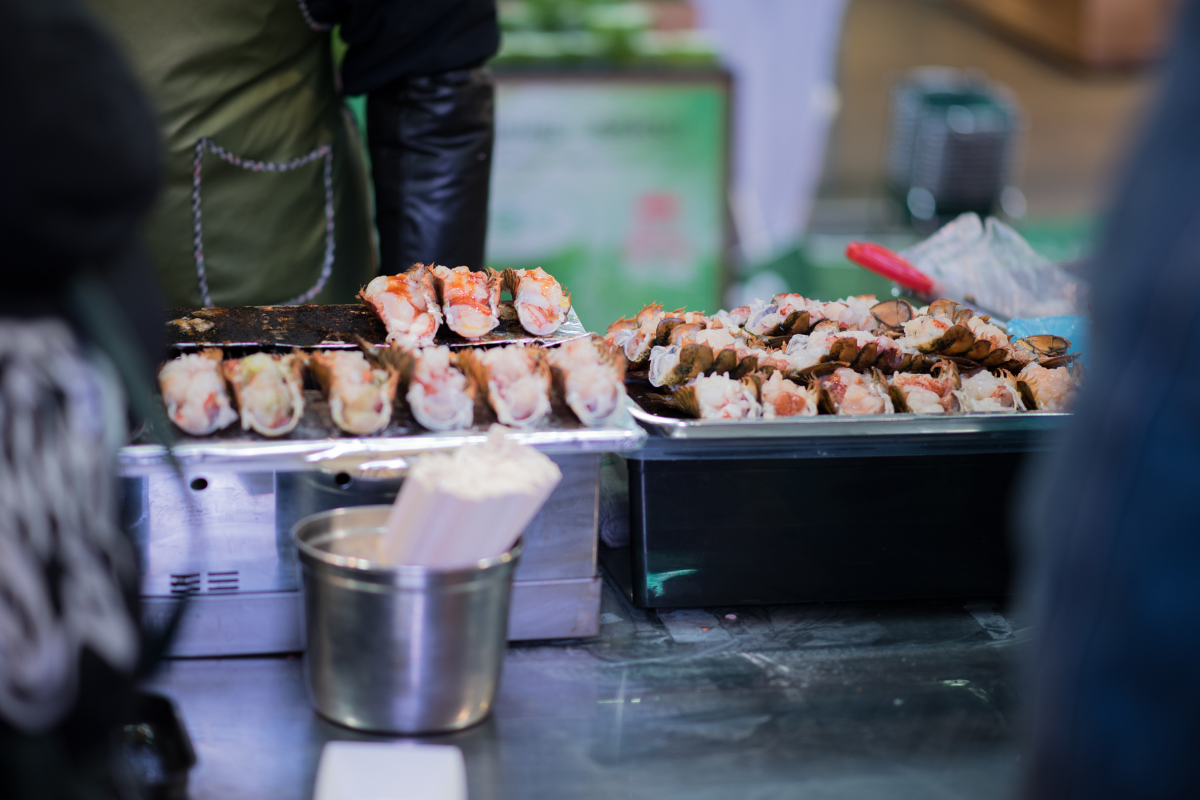 Namsan Hike - People usually take the bus or cable car up to N Seoul Tower, but if you're looking to get your steps in, why not hike up the mountain? The hike isn't bad and is quite easy if you go at a leisurely pace. The trail is easy enough to follow and is quite short so you'll be at the top in no time! The easiest way to find the trail is to head over to Namsan Library and then up the hiking trail.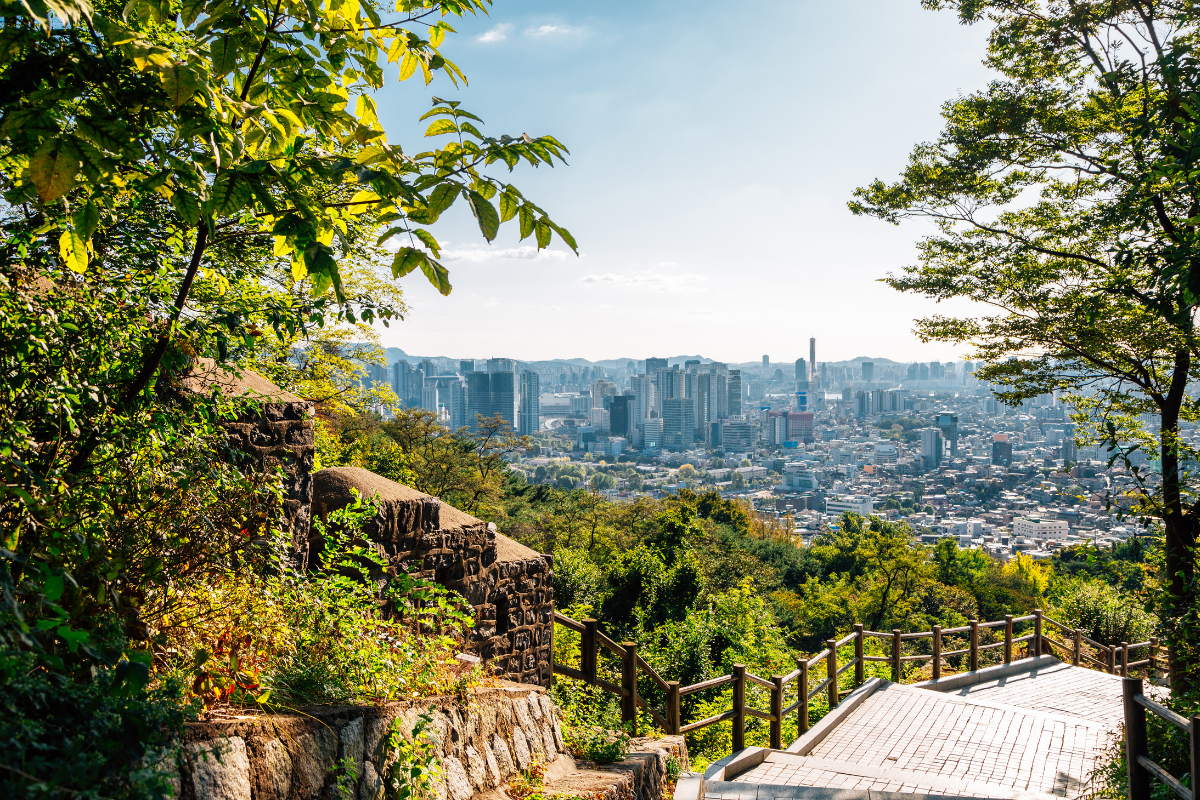 N Seoul Tower Observatory - N Seoul Tower, also known as Namsan Tower, is a popular tourist destination and a landmark of Seoul. The tower was first opened in 1980, and since then it has been a major attraction for visitors from all around the world. N Seoul Tower is famous for its colorful lighting that illuminates the tower at night in colors that symbolize a certain meaning like the time it was lit purple in celebration of BTS. The tower has several observation decks that offer panoramic views of the city, including the Han River, the surrounding mountains, and downtown Seoul. Watch the sunset at the observation deck and end your day with the best view of Seoul.
---
Course 3. Shop until you-need-to-buy-an-extra-suitcase-for-your-new-things :)
Main Shopping Street > Myeongdong Station Underground Shopping Center > Lotte Uplus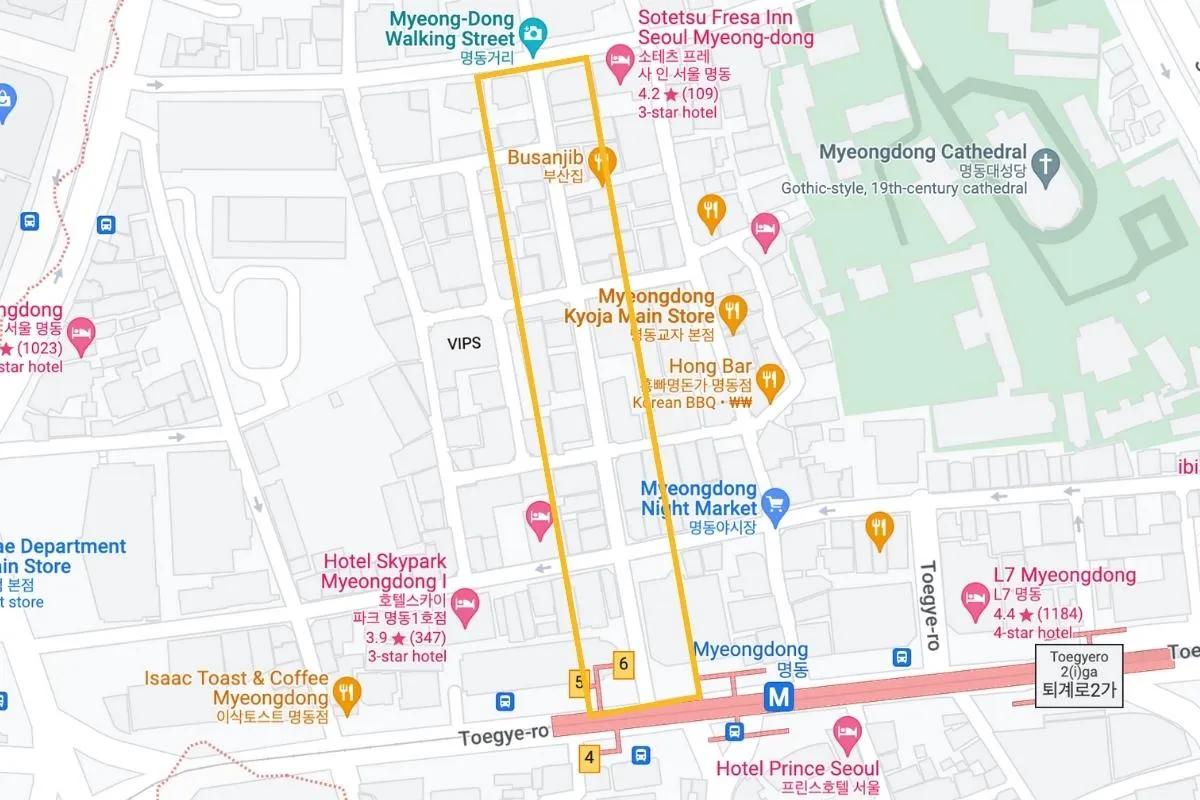 Myeongdong is most and foremost known to be the epicenter of shopping in Seoul. From world-famous fashion brands to K-beauty galore, Myeongdong has it all! The area is catered towards tourists' shopping needs so you're most likely going to be comfortable regarding communication. Check out our Myeongdong Shopping Guide, the only shopping guide you'll ever need, in the link below.
---
We hope that you can enjoy a day out in Myeongdong! If you have any questions or concerns, please leave a comment below or send us an email at help@creatrip.com! You can follow us on Instagram, TikTok, Twitter, and Facebook to stay updated on all things Korea!
---