Crime In South Korea & 5 Movies Based On Real Cases
How Safe Is South Korea Really? A Closer Look Into Crime Rates In South Korea And The Justice System As Well As The Crime Cases That Shook The Country And Were Made Into Movies.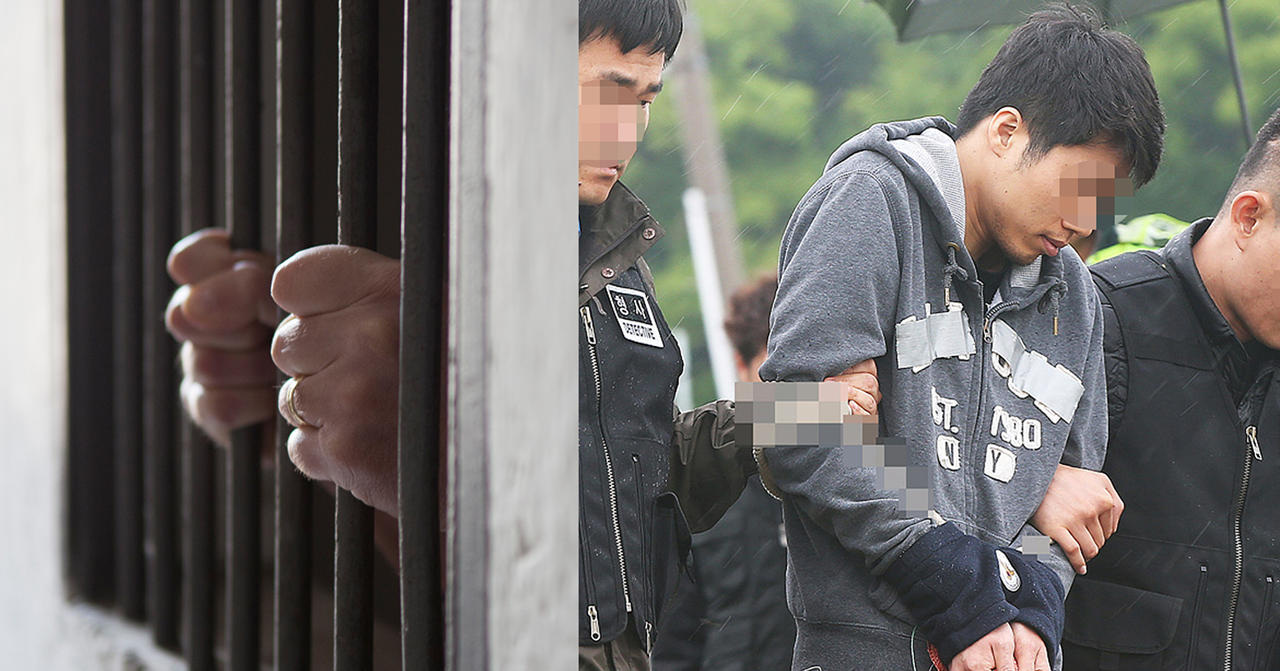 South Korea is known to be a fairly safe country.
You can wander around the streets drunk at night without getting assaulted, and girls walk home on their own without fear of being molested.
However, if you look at the actual crime rates in Korea, you will find that it is not necessarily low.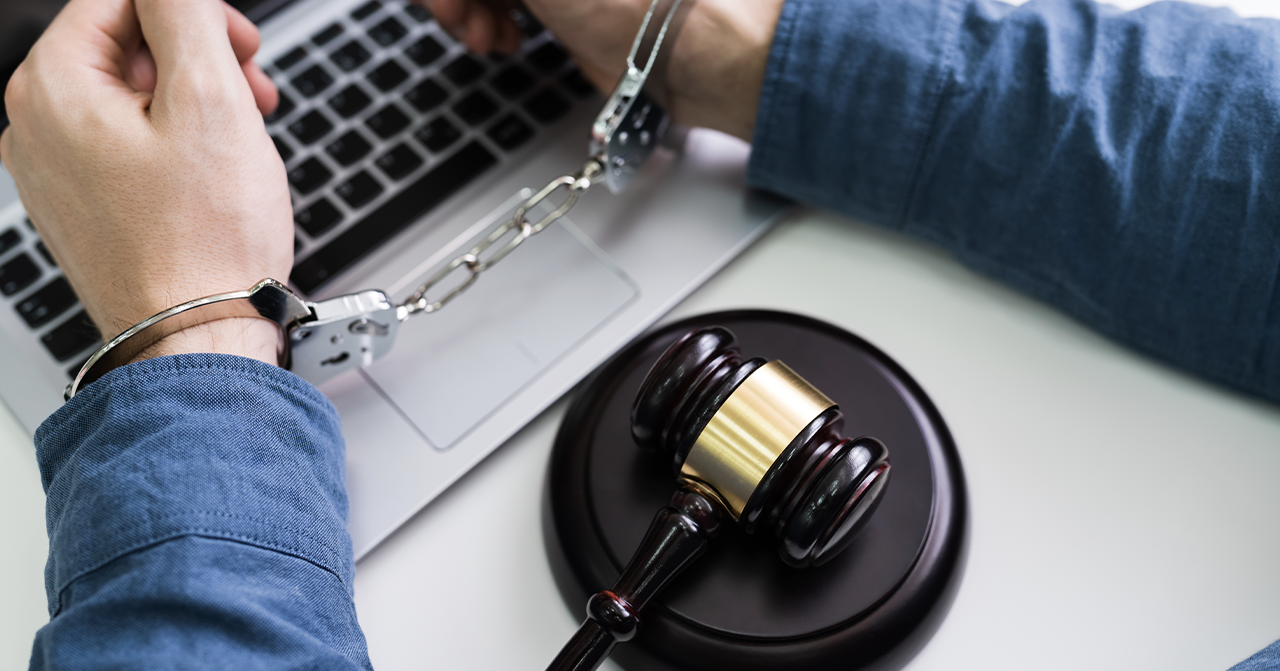 Today, we will double down and take a look at crimes in South Korea, including its crime rates, its criminal justice system, and some violent crime incidents that shocked the entire nation.
We will also introduce Korean crime movies that are based on these horrible crime incidents.
---
SOUTH KOREA'S CRIME RATE

South Korea's Crime Rate (Source: E나라지표)
The crime rate is the number of crimes reported per 100,000 population, and serves an indicator of the level of safety and security in a society.
As we can see, the crime rate in South Korea has more than doubled over the past 30 years.
Historically, it decreased from 935 cases per 100,000 people in 1981 to 558 cases in 1991, but it has increased rapidly since the 2000s.
A reason for this increase is likely the inclusion of certain economic crimes, violent acts, and sexual assault crimes - previously seperately counted in a "special crimes" category - in the statistics during this period.
In 2018, 1,915 crimes were reported per 100,000 population.

South Korea's Crime Rate (Source: E나라지표)
Looking at trends of major crimes such as homicide, robbery, sexual assault, assault, and theft, we find that robbery decreased by more than 80% between 2000 and 2018, and murders also been on the decline recently.
However, during the same period, sexual assault (including rape) increased by 320%, and assault increased by 790%.

South Korea's Crime Rate (Source: E나라지표)
It is difficult to make a fair comparison of crime rates between countries since rules and methods of counting crimes differ from country to country.
However, homicide statistics are measured similarly across the world, so we may compare this rate with that of other countries.
The homicide rate in Korea is relatively low in an international comparison, at 0.6 cases per 100,000 population in 2018. However, it is double the 0.3 cases of its neighboring country, Japan.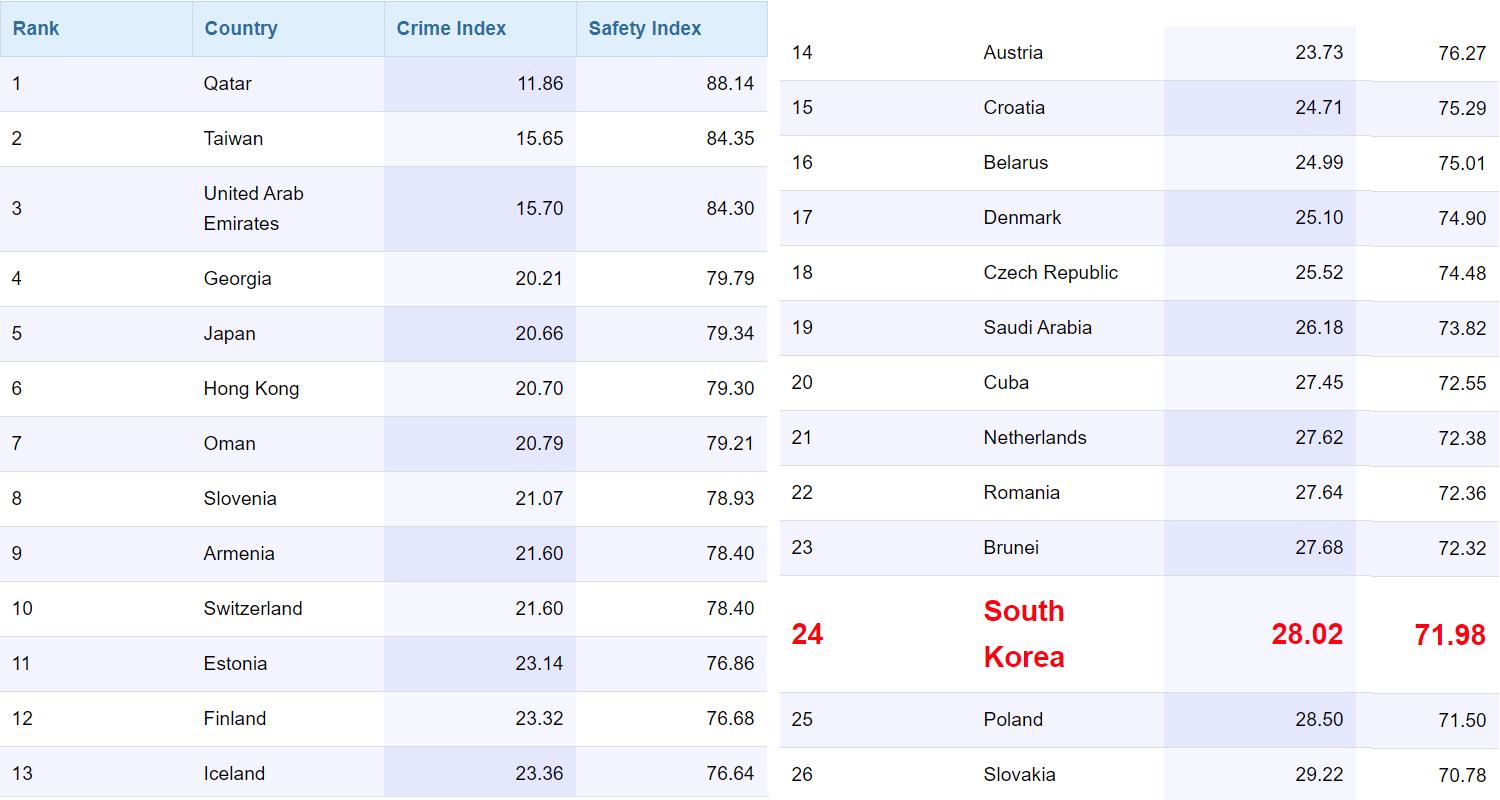 Crime Rate Index from 2020
According to statistics measuring the relative safety of countries, Korea ranked 24th in the world with a crime index of 28.02 and a safety index of 71.98.
It ranks low compared to Taiwan (crime index 15.65, safety index 84.35), Japan (crime index 20.66, safety index 79.34) and other countries that are found at the top of the ranking.
---
DEATH PENALTY IN SOUTH KOREA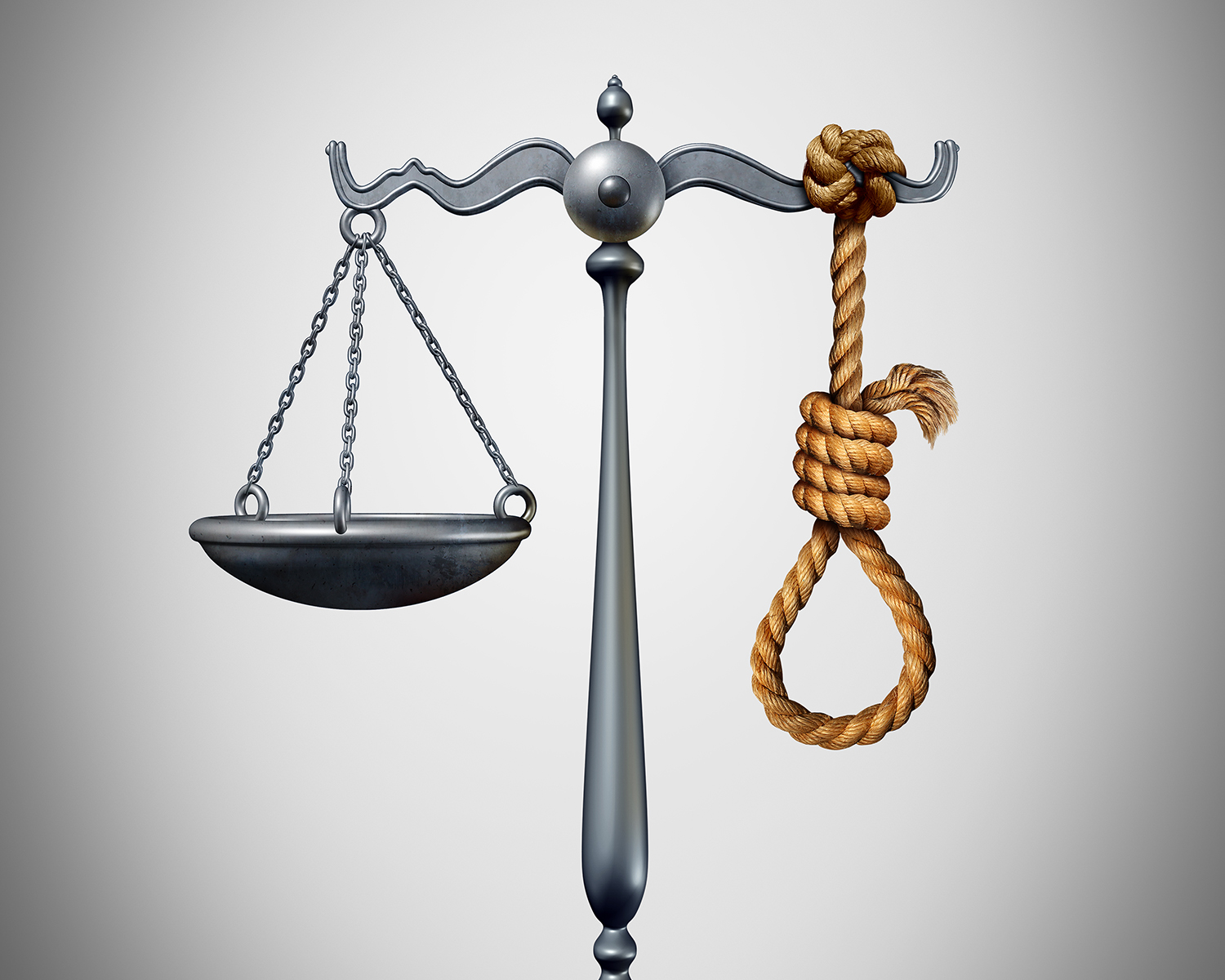 Death penalty is still a legal penalty in South Korea.
According to data from the Ministry of Justice submitted to the National Audit in 2009, the Korean government executed 920 people between July 14, 1949 and December 30, 1997.
The most recent execution to be carried out in Korea was on December 30, 1997. 10 years later, in December 2007, Amnesty International classified South Korea as a "de facto abolitionist nation" regarding capital punishment.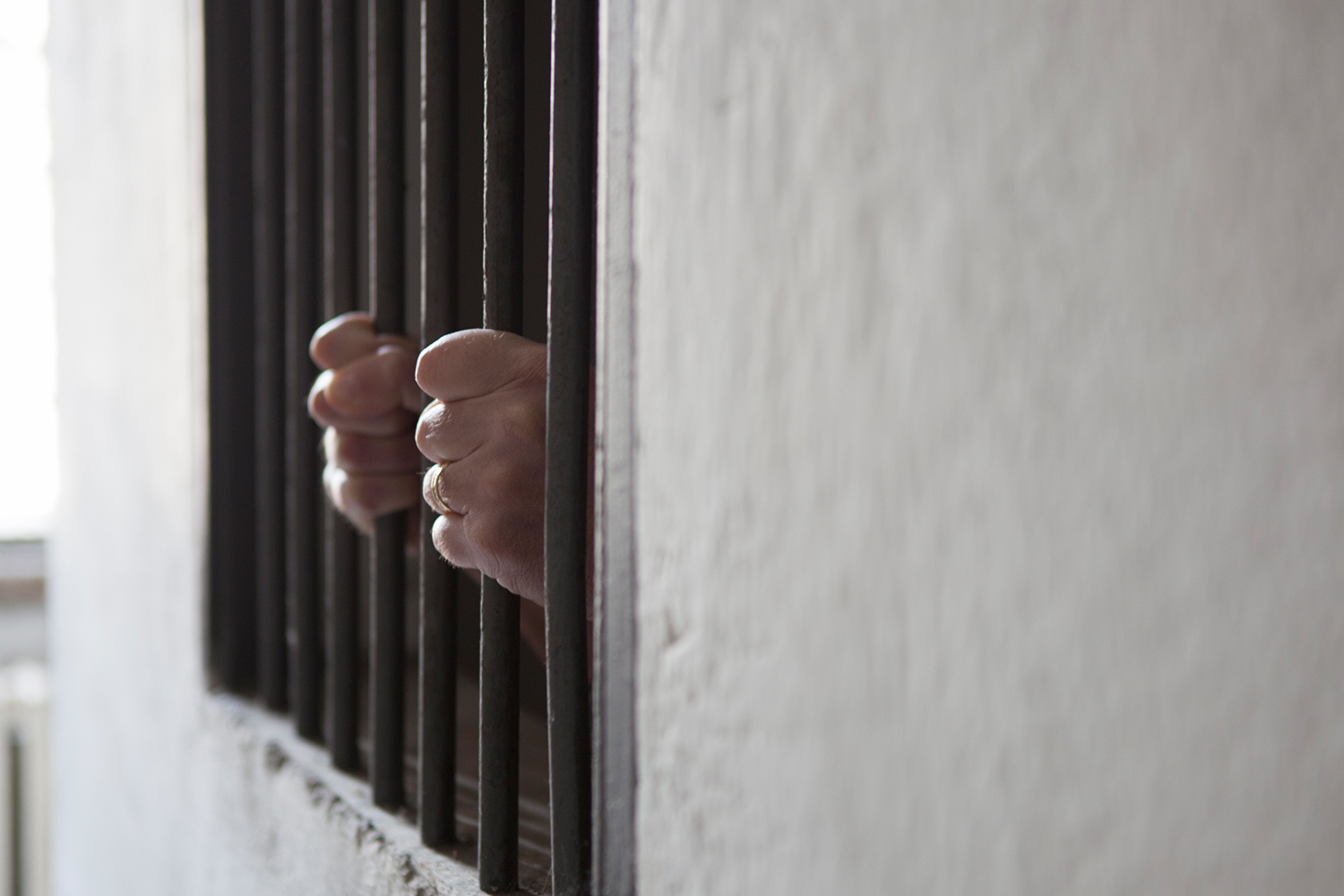 According to data from 2009, South Korea at the time had 74 people on death row that had been in prison for 20 years or more.
Of these, the one serving the longest time had been in prison for 27 years.
To this day, South Korea retains the death penalty, but they haven't executed anyone since 1997.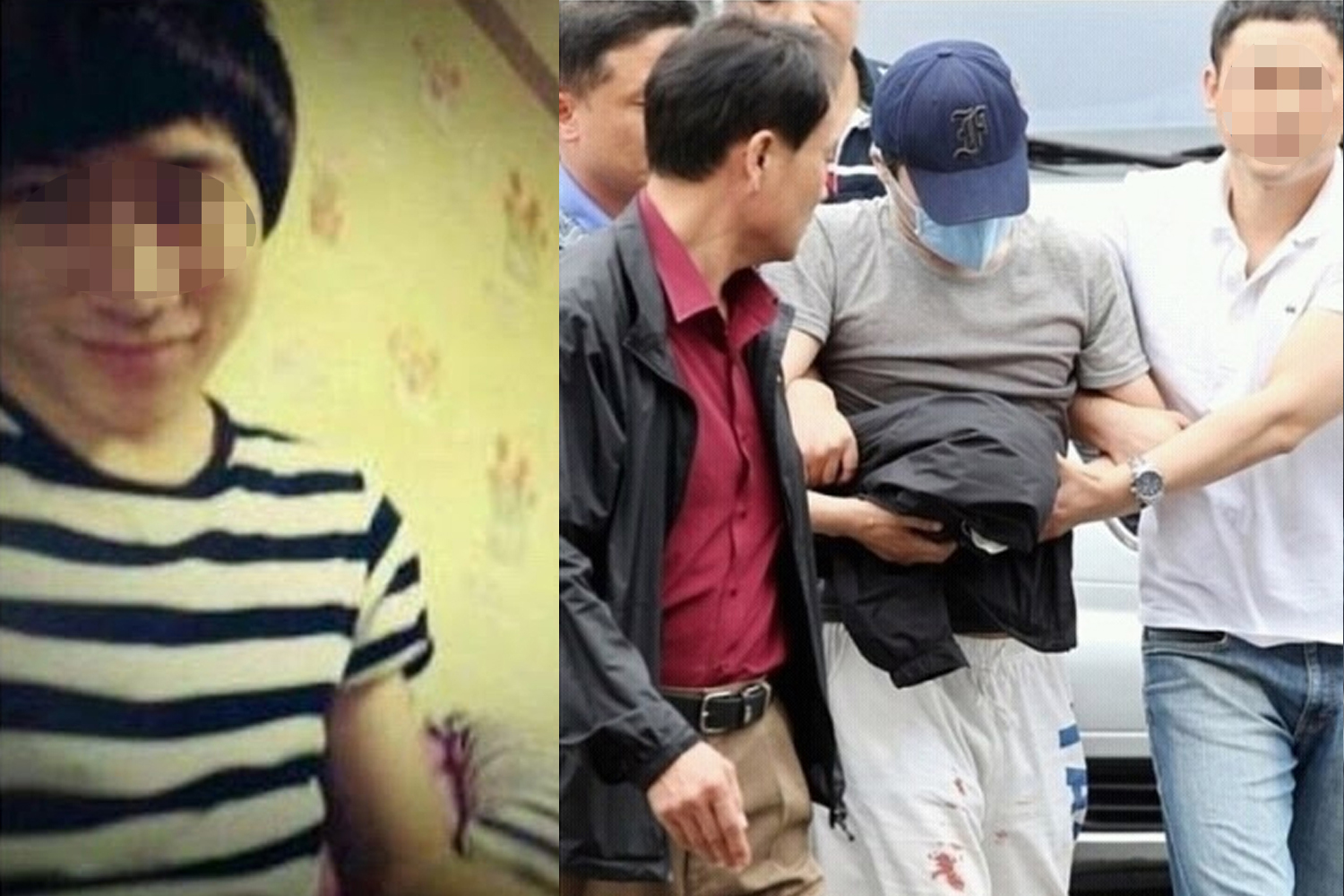 The most recent death sentence was handed down in 2015.
On August 28, 2015, Jang Jae-jin, a 25-year old criminal who disguised as a plumber and murdered the parents of his ex-girlfriend before raping her, was sentenced to death.
Although the number of people he murdered was relatively low compared to other prisoners on death row, he was handed the death sentence due to the fact that it was a planned crime and that it had a major impact on Korean society.
As we have seen, serious or shocking crimes can to this day result in a death penalty in South Korea.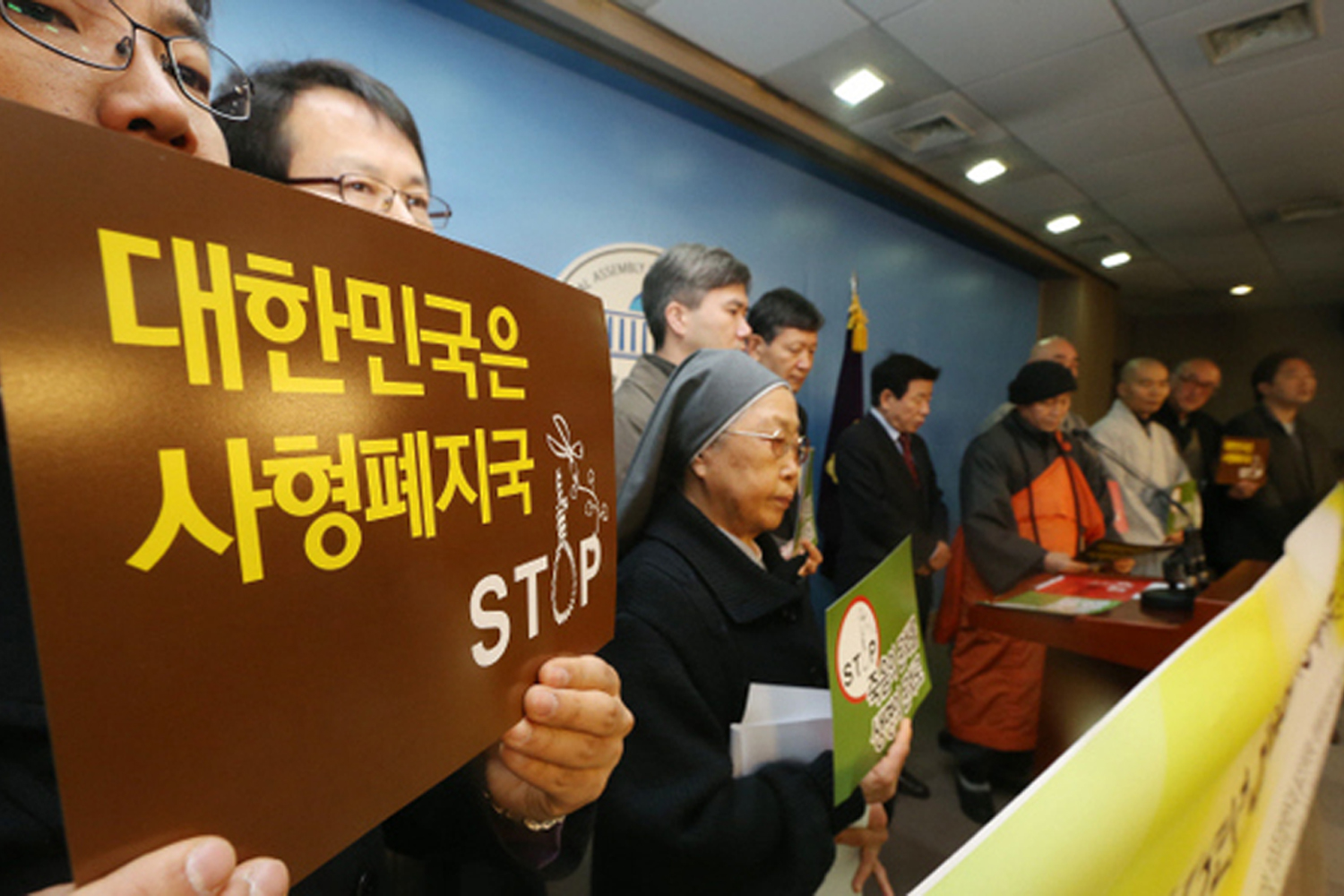 In recent times, capital punishment has been abolished in many developed countries due to concerns about the human rights of criminals.
Of course, there are also voices in Korea that ask for the abolition of the death penalty.
In 2008 and 2009, legislation was proposed in the Korean National Assembly to abolish the death penalty.
One of the reasons was that no executions had been carried out since December 30, 1997, and Amnesty International had already declared South Korea as a "de facto abolitionist nation".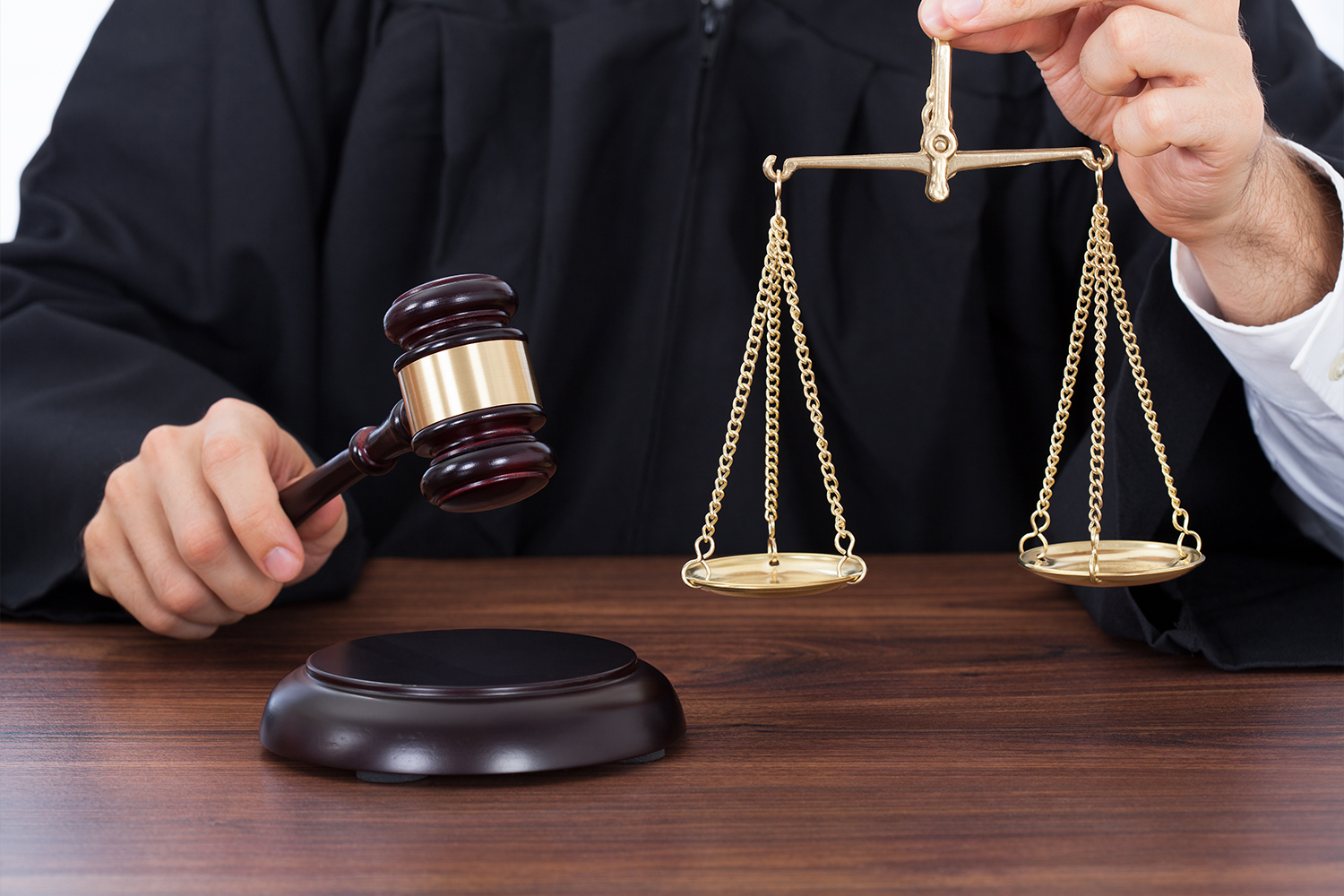 However, the Constitutional Court of Korea decided to keep the death penalty as it was, deciding that it was an extreme but necessary option to have when protecting other lives from criminals.
Since then, no executions have been carried out, but the death penalty system still looks the same.
---
CRIME SCENE REENACTMENTS

In South Korea, crime scene reenactments are often conducted for violent crimes such as murder and rape.
The reason behind these reenactments is to better be able to judge the reliability of confessions in trials, as well as secure further evidence.
Jo Sung-ho At The Scene To Re-enact How He Killed And Dismembered His Male Lover (2016)
Crime scene reenactment is a procedure in which the crime is re-enacted at the place where the actual crime was committed, and in most cases it is open to reporters and general public.
As such, there are cases in which the human rights of the suspect may be violated, in the form of abusive language from bystanders at the on-site reenactment, or objects being thrown at the suspect.
When this happens, police officers can be seen protecting the suspect and his rights.
Although the suspect may be the perpetrator of a horrific crime, the law stipulates that the suspect and his/her human rights must be protected.
Reenactment Of A Crime Scene Where The Suspect Was Said To Have Abused And Killed His Own Daughter Before Hiding The Body In The Mountains (2018)
Since 2018, crime scene reenactments have lost some of its importance, and they are today often conducted without letting the general public know, or not at all.
The exception is for controversial and violent crimes, when the investigations are under the scrutiny of the public eye; in this case crime scene reenactments are still announced in most cases.
However, it looks like crime scene reenactments will continue to play an important role for collecting evidence on the suspect's actions on the scene, helping to clear any doubts about the suspect's statements by examining the place of the crime.
---
5 MAJOR CRIME CASES THAT SHOCKED SOUTH KOREA

Below we will list five shocking crime cases that shook South Korea.
We will also introduce movies that are based on the cases, so you may watch the movies after finishing reading if you want to gain a deeper understanding of each case.
-
1. The Hwaseong Serial Murders
(1986-1991)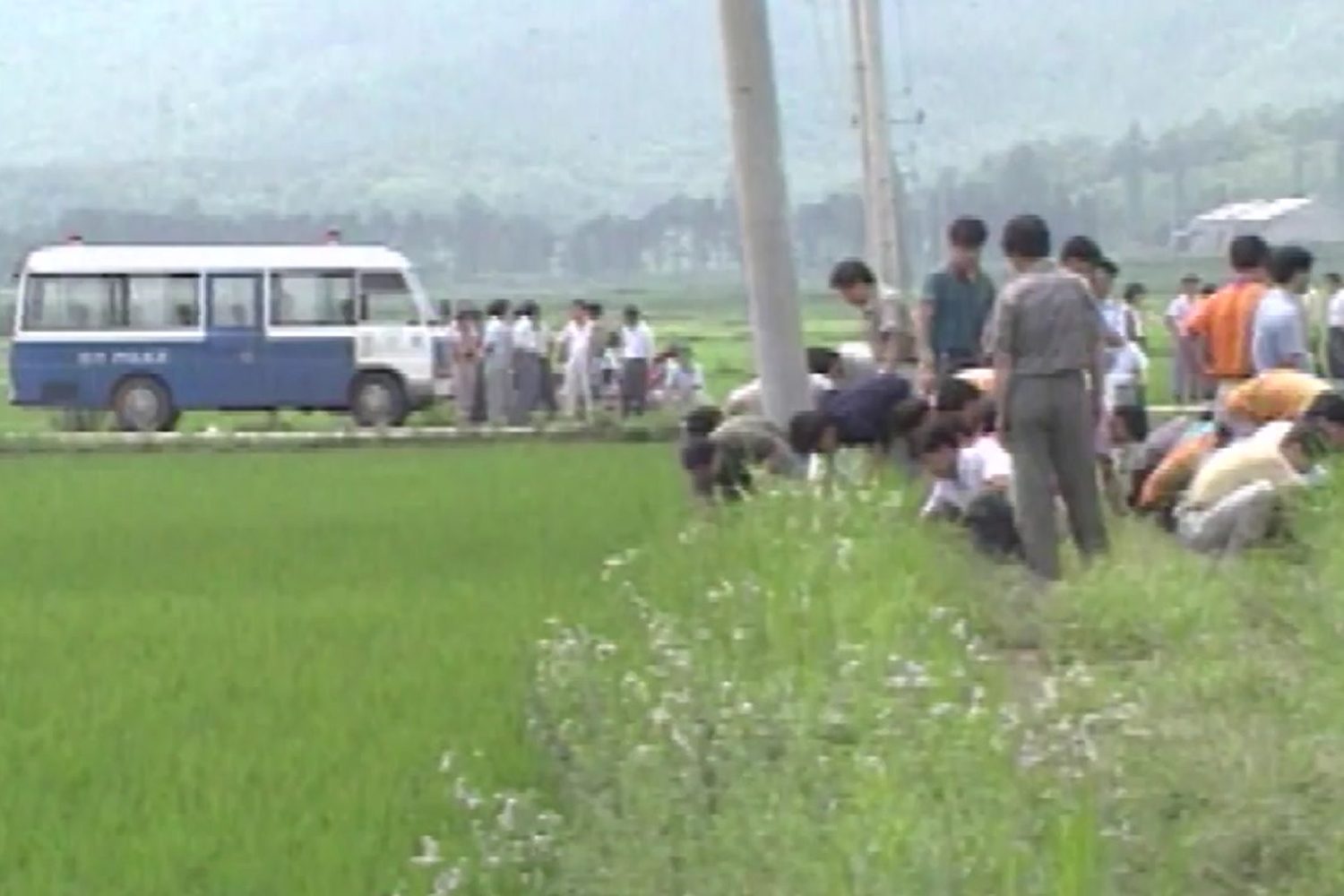 This crime case began on September 19, 1986 in Hwaseong county, Gyeonggi-do, when a 71-year-old lady was found dead.
She had been partly undressed and was found to have been strangled.
Many incidents followed. Between 1986 and 1991, another 10 women, seemingly randomly, were raped and murdered, all within a 2 km radius from Taean-eup in Hwaseong county.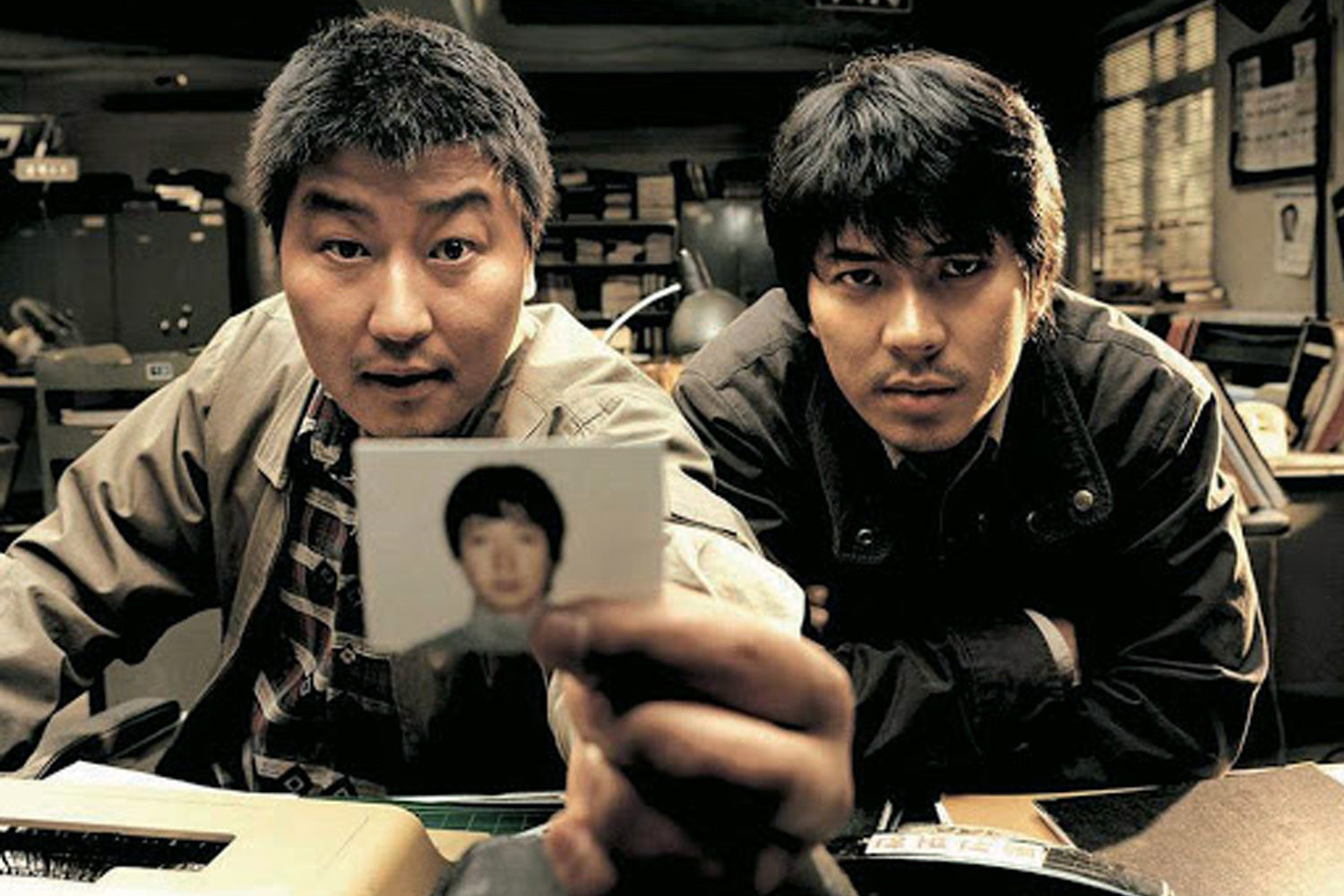 This was the first serial murder case in South Korea, and the fact that years went by without it being solved had people living in fear.
Although a total of 1.8 million policemen were mobilized, with 3,000 suspects being investigated, the case remained unsolved and no perpetrator was arrested.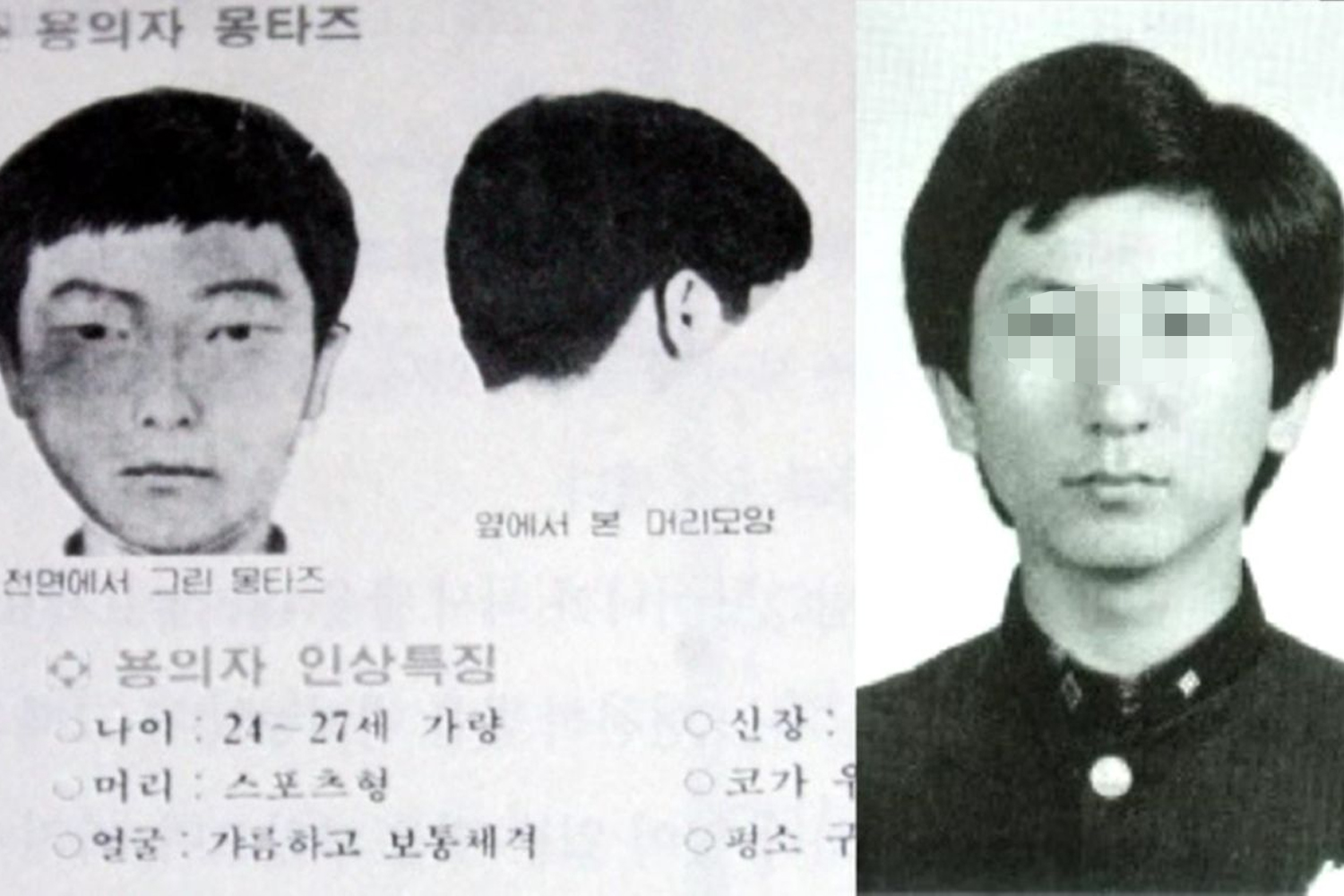 Facial Composite From The Time And Actual Appearance Of Lee Chun-jae
Then, in September 2019, it was confirmed that the DNA of Lee Chun-jae, who was serving a sentence in Busan prison, matched with the DNA of the criminal obtained one of the crime scenes.
He had been passed a life sentence for murdering his younger brother's wife, having first sexually assaulted her, in 1994.
Lee Chun-jae soon confessed that he was the perpetrator of all murders of the Hwaseong investigation, and that he committed a total of 14 murders and 34 sexual assaults in addition to these cases.
In July 2020, the police confirmed that a total of 14 murders and 9 sexual assaults could be confirmed based on his testimonies as well as DNA found among the victims' belongings.
However, as the statute of limitations had expired for all crimes, the investigation was closed without any punishment handed out.
The police determined that Lee Chun-jae had clear psychopathic tendencies, and that to fulfill his frustration, he would assault and turn women into sexual tools.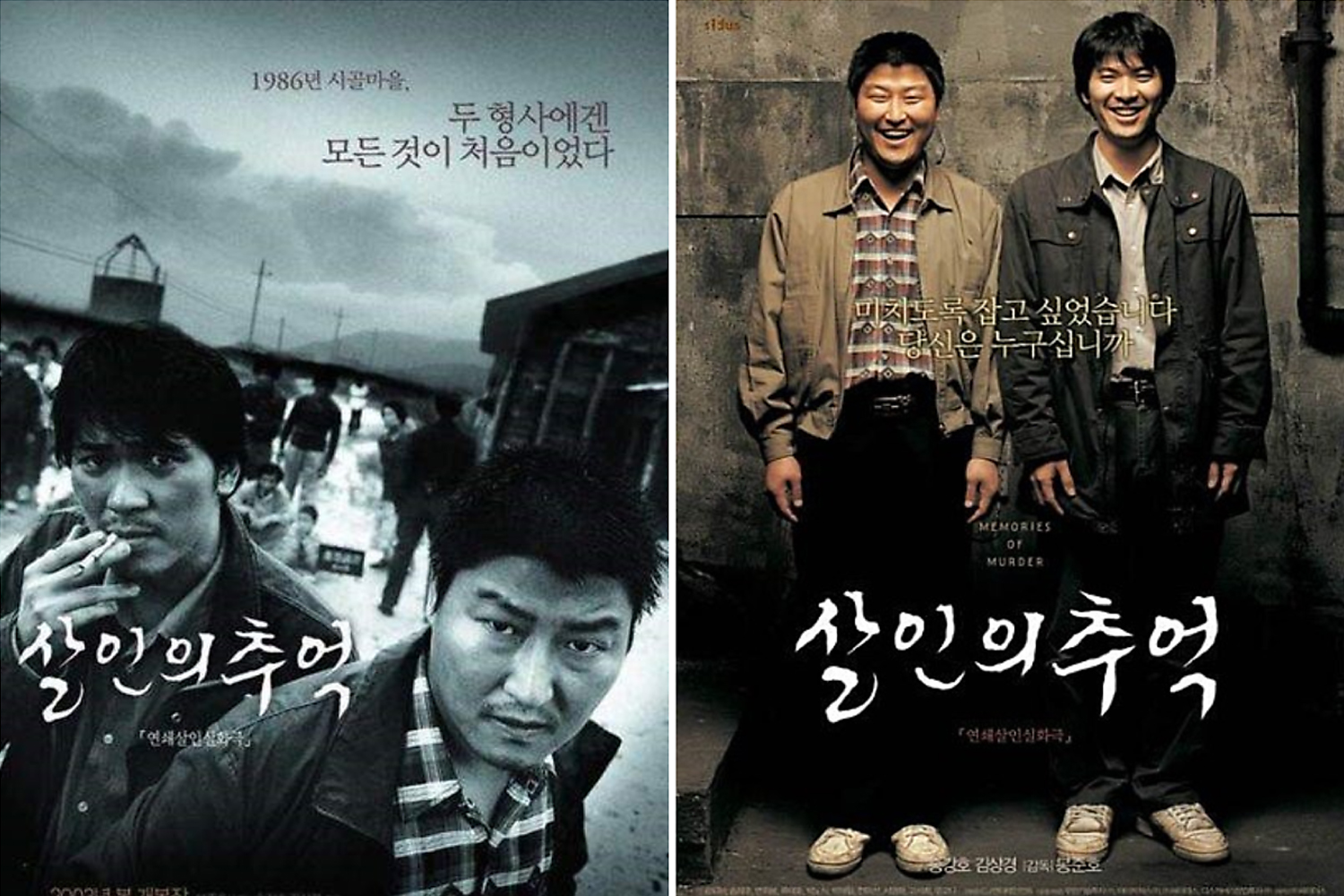 Memories of Murder (2003) - based on the Hwaseong Serial Murders
Starring: Song Kang-ho, Kim Sang-kyung
Director: Bong Joon-ho
Running Time: 132 minutes
-


2. Frog Boys Of Daegu




(1991)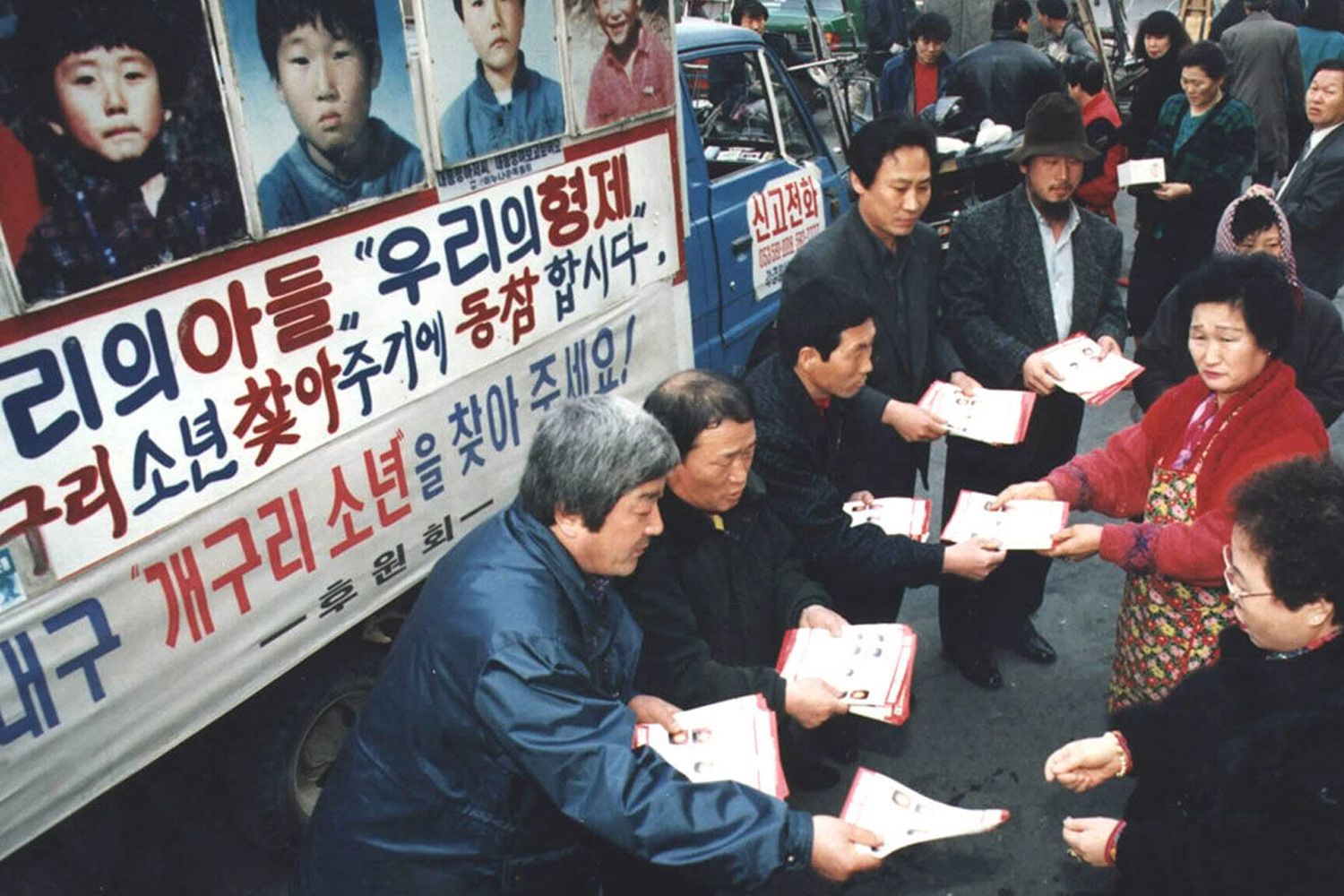 Parents Of Victims Handing Out Flyers To Find Their Children
In 1991, a group of five elementary school students living in Daegu went missing after having left their houses to look for salamander eggs.
Their remains were found first in September 2002, 11 years and 6 months later.
The children, who were on a temporary school holiday, were last seen by schoolmates and villagers before they disappeared in the foothills of Mt. Waryeong.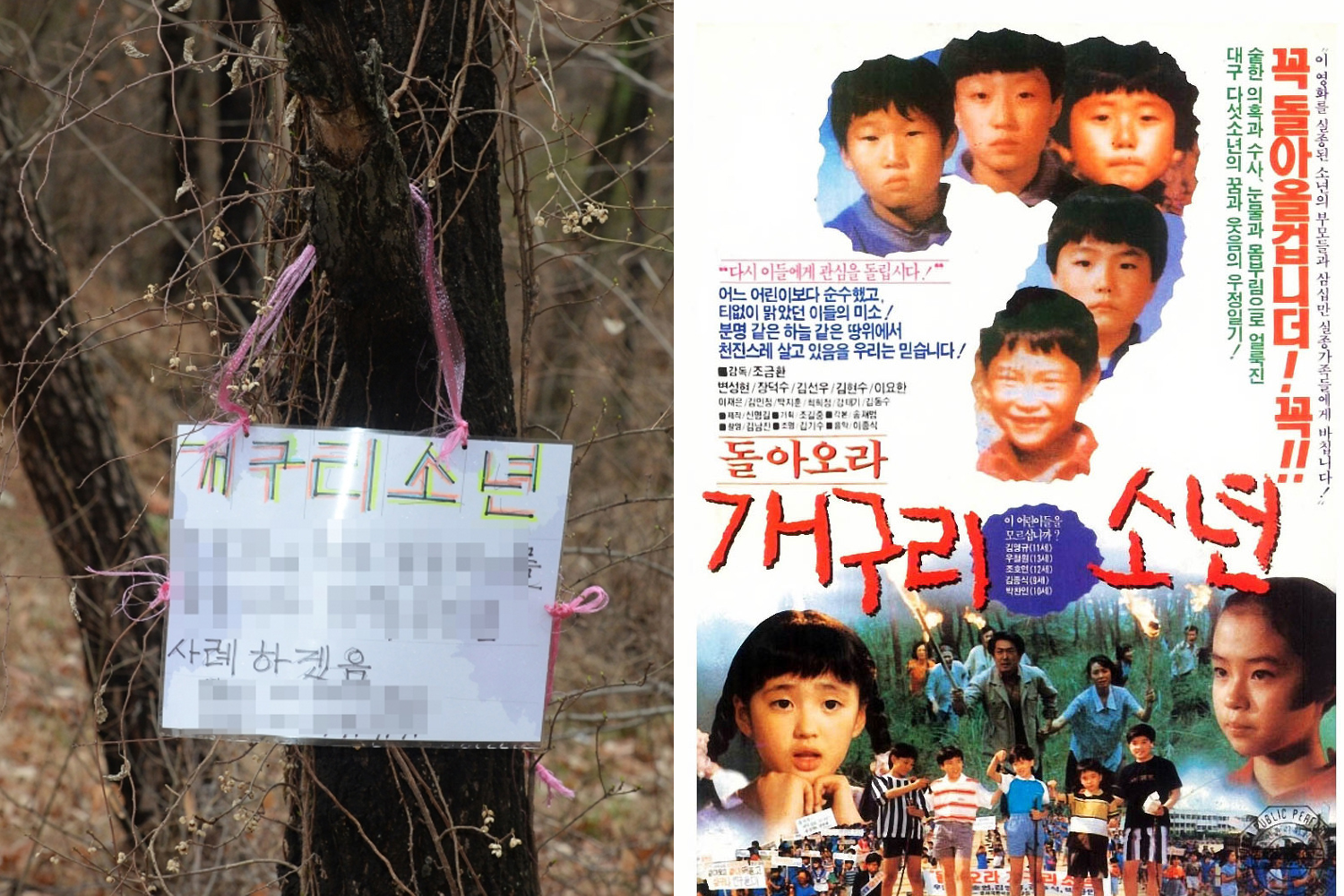 Sign And A Poster For The Lost Children. The Poster Says: "You Must Come Back."
After their children went missing, the parents gave their everything in their search, and even made movies and songs about their "Frog Boys", trying to rally people across the country to help their efforts.
Despite a special order from the President at the time, a reward of 42 million won and a record 350,000 investigators, the children were not found.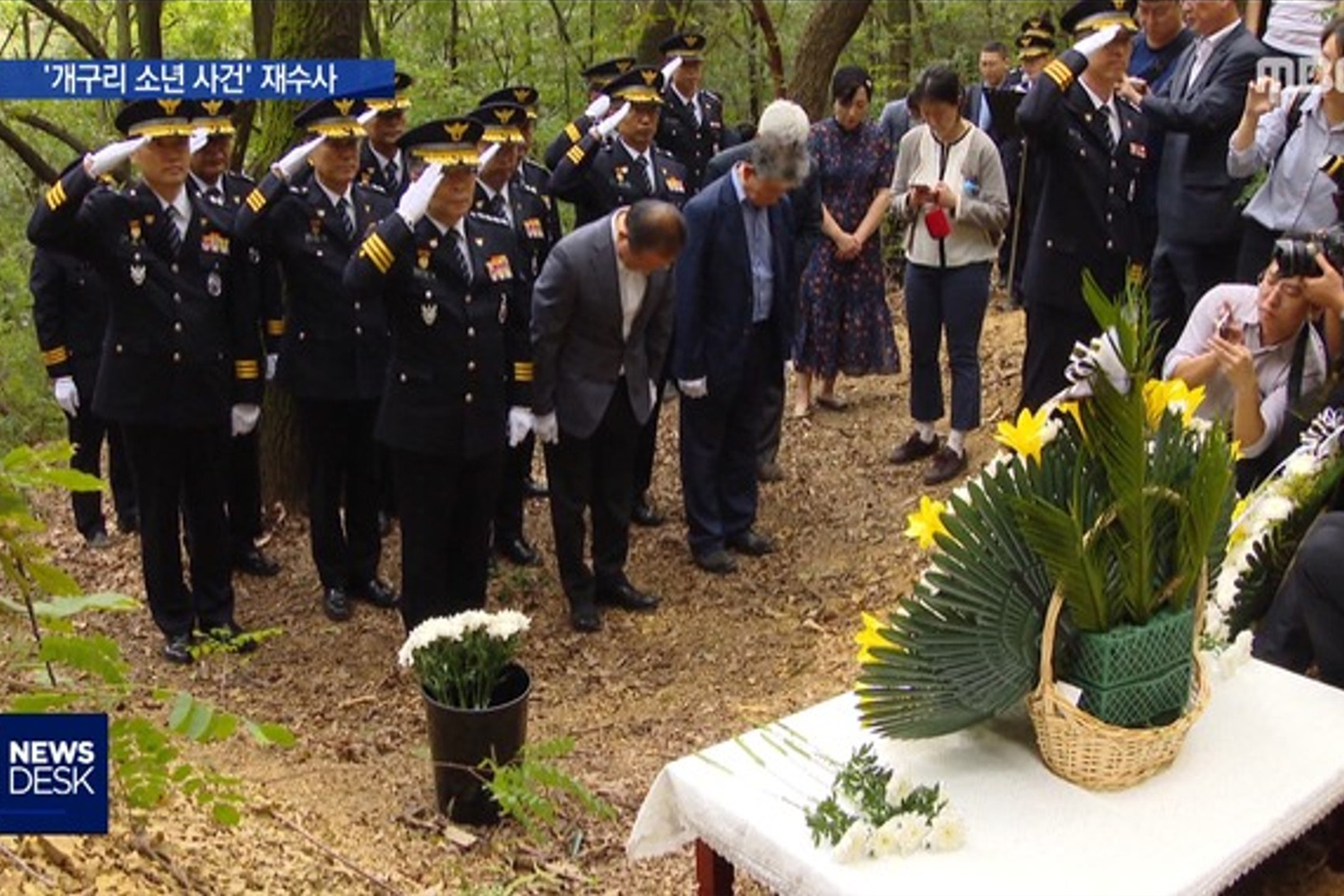 The Police Chief Performing A Memorial Service In The Mountains Where The Boys Were Found
Then, on September 26, 2002, 11 years and 6 months after their disappearance, the remains of 4 bodies and 5 pairs of shoes were found in the hillside of Mount Waryong, 500m behind a construction site.
The forensic team that was in charge of the autopsy concluded that it was most likely a case of murder, but there was no progress in the investigation afterwards.
Although experts speculated that it was a planned crime, based on how the boys had been tied up, the Frog Boys case remains unresolved until this day.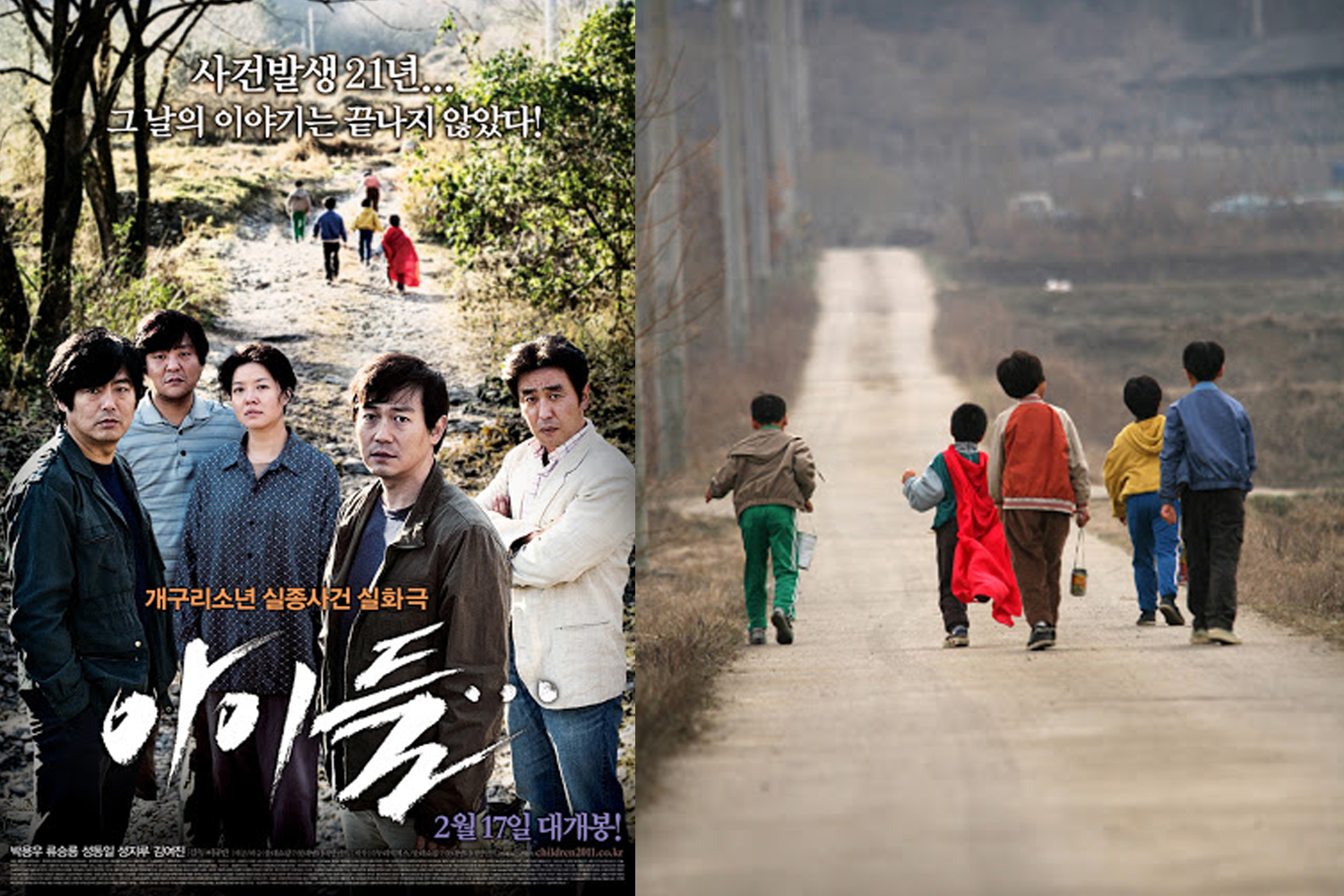 Children... (2011)
Starring: Ryu Seung-ryong, Sung Dong-il
Director: Lee Kyu-man
Running Time: 132 minutes
-
3. Gwangju Inhwa School Case
(2000-2005)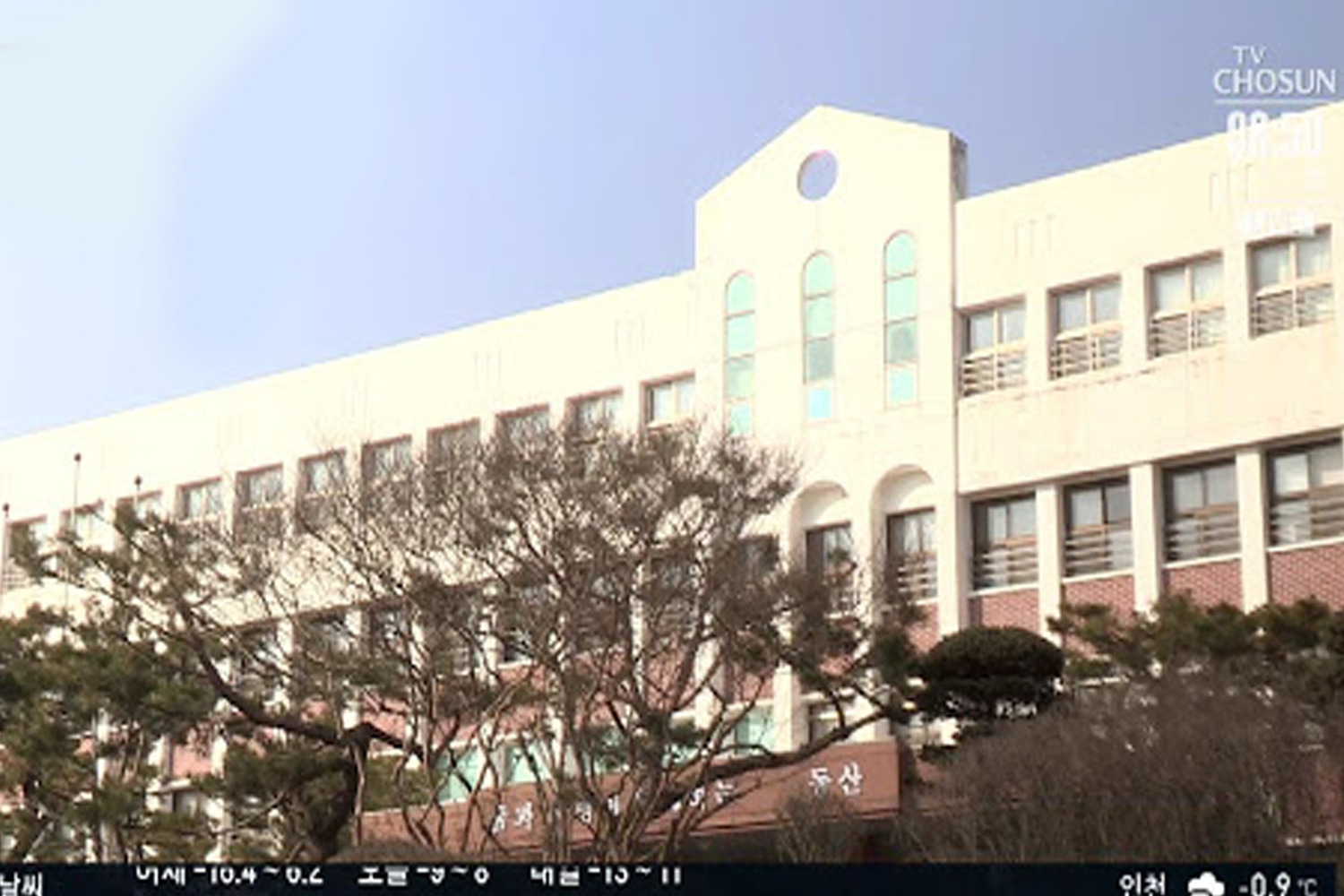 The next shocking case is about the principal and several teachers of Gwangju Inhwa School, a school for hearing-impaired students, being found to have sexually assaulted their students.
Several students were molested in 2000, but the crimes of the principal and other teachers were initially exposed five years later.
That it took several years for the crimes to be reported was likely because the principal was the son of the founder of Gwangju Inhwa School, and other members of the family had a monopoly on administrative positions at the school.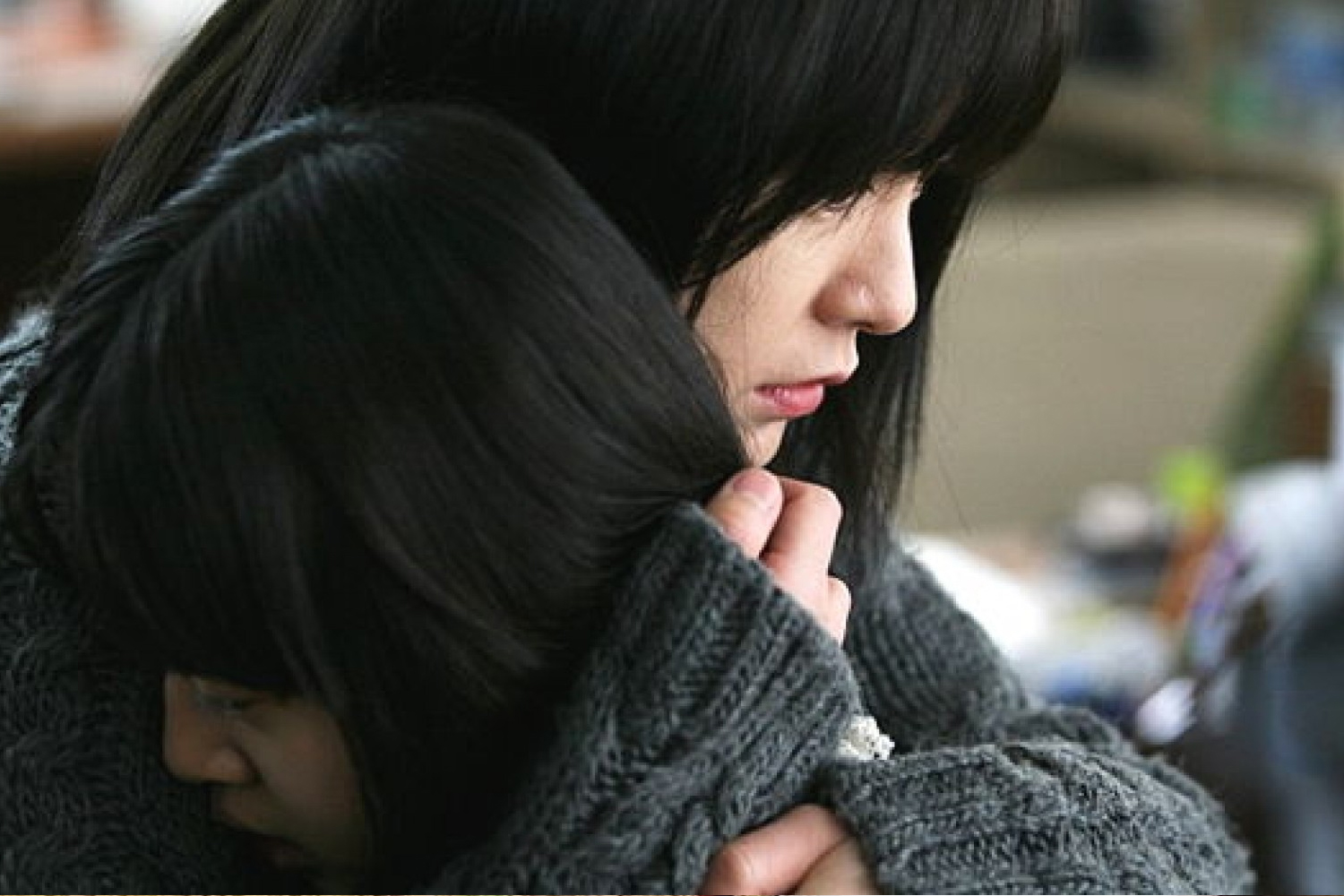 From The Movie Silenced
Then, in June 2005, a newly appointed teacher at the school alerted a support group for human rights, and a police investigation began.
During the investigation and trial, a newly formed committee against sexual violence consisting of civic groups and parents actively urged the resolution of the case by holding sit-down strikes and shaving their heads in protest.
However, of the five suspected perpetrators, one was found not guilty, two were released on probation, and the remaining two were sentenced to between 6 and 8 months in prison.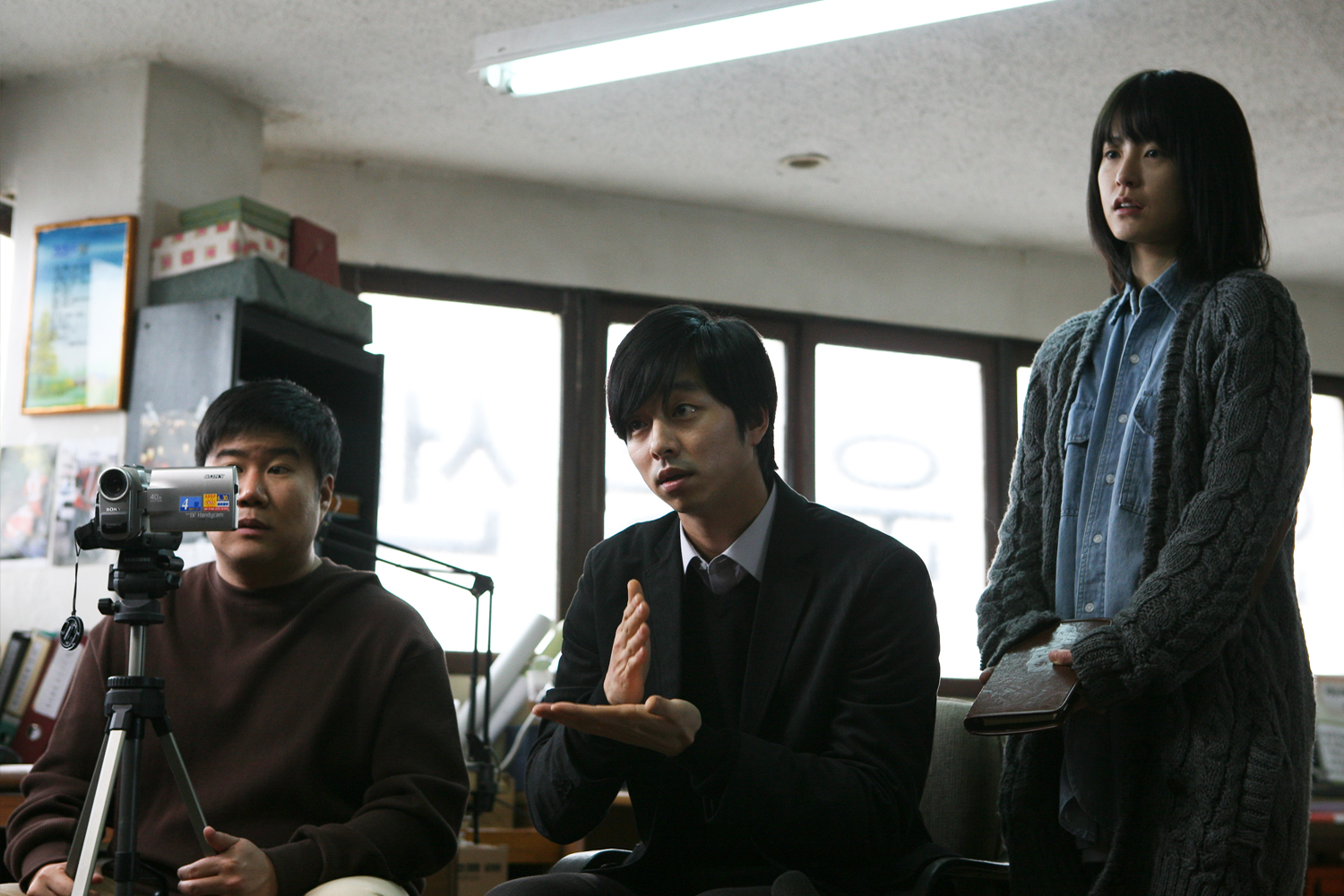 From The Movie Silenced
The incident became known to the world with the release of a book (The Crucible) and a movie (Silenced) about the incident.
After they had been released, there was a public outcry in Korean.
In 2011, the "Crucible Bill" was passed, strengthening the rights of children and disabled in cases of sexual assault.
Gwangju Inhwa School was closed in 2012.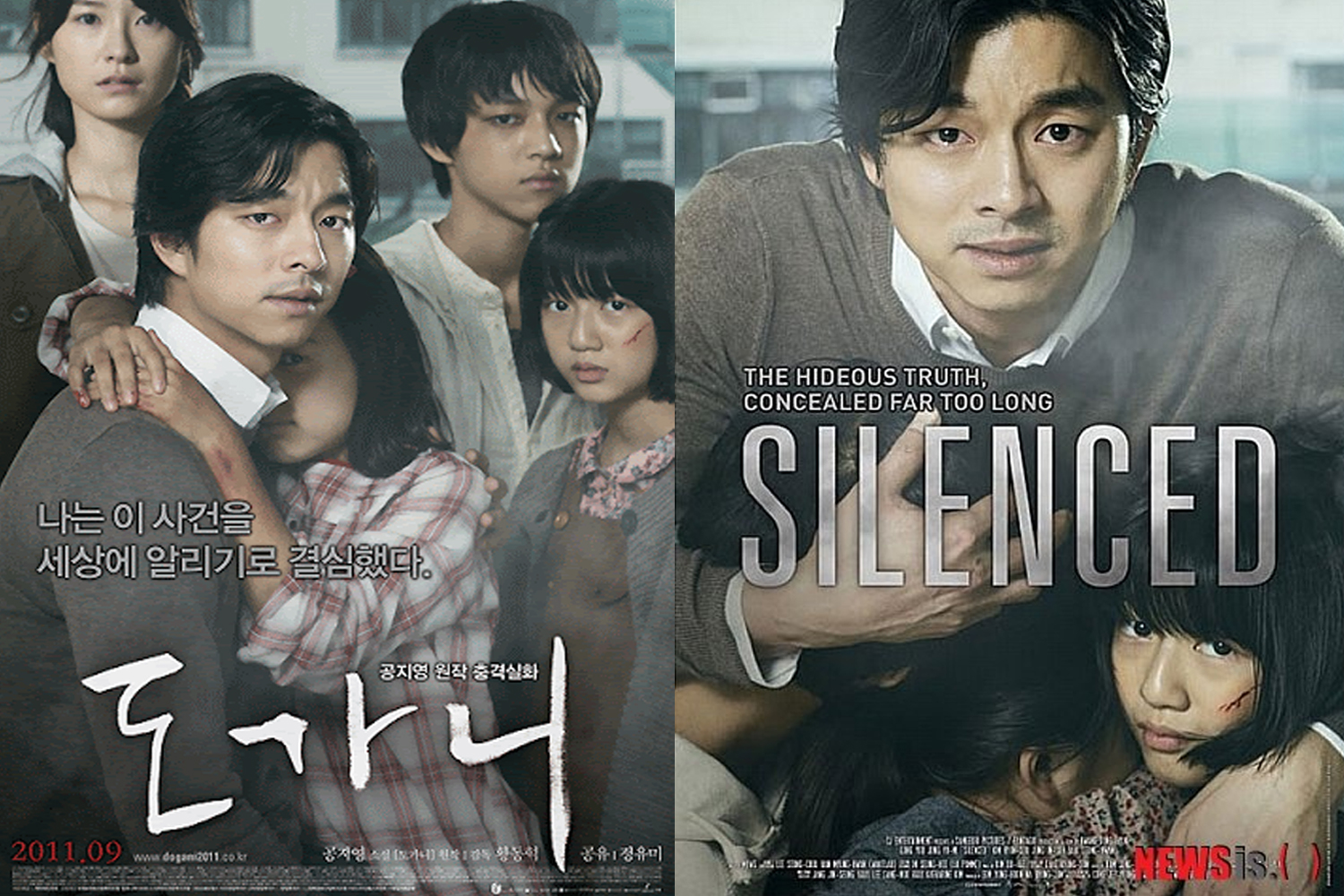 Silenced (2011)
Starring: Gong Yoo, Jung Yu-mi
Director: Hwang Dong-hyuk
Running Time: 125 minutes
-
4. Serial Killer Yoo Young-chul
(2003-2004)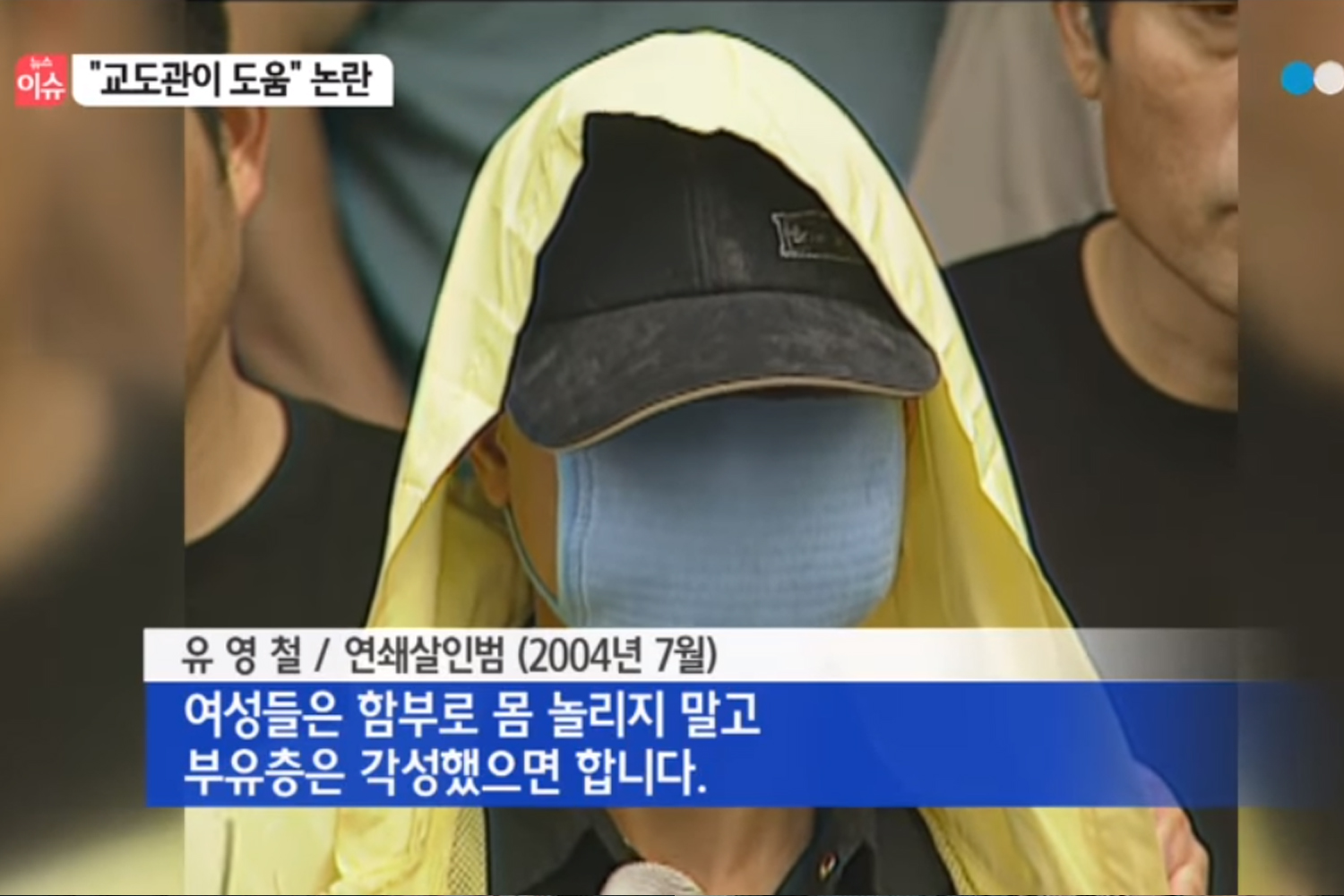 After His Arrest, Yoo Young-chul Said: "Women Shouldn't Be Sluts, And The Rich Should Know What They've Done."
Another criminal case that shocked South Korea was the serial killings by Yoo Young-chul.
He murdered at least 20 people, mostly either wealthy senior citizens or women, in a series of brutal ways, using tools such as hammers and knives.
It seems like his motives were dissatisfaction with the wealthy and the misogyny he had harbored since he was divorced by his wife.
Having married in 1991, Yoo Young-chul was divorced by his wife in 2002, after which his hatred towards women seem to have grown.
Between 1993 and 1995, he received medical treatment at a hospital for epilepsy.
In November 2003, his then girlfriend broke up with him after she found out that he was an ex-convict and a divorcee.
A combination of these factors led to him harboring a feeling of injustice and lust for revenge from the mid-90s, and experts believe that this is what triggered the serial killings.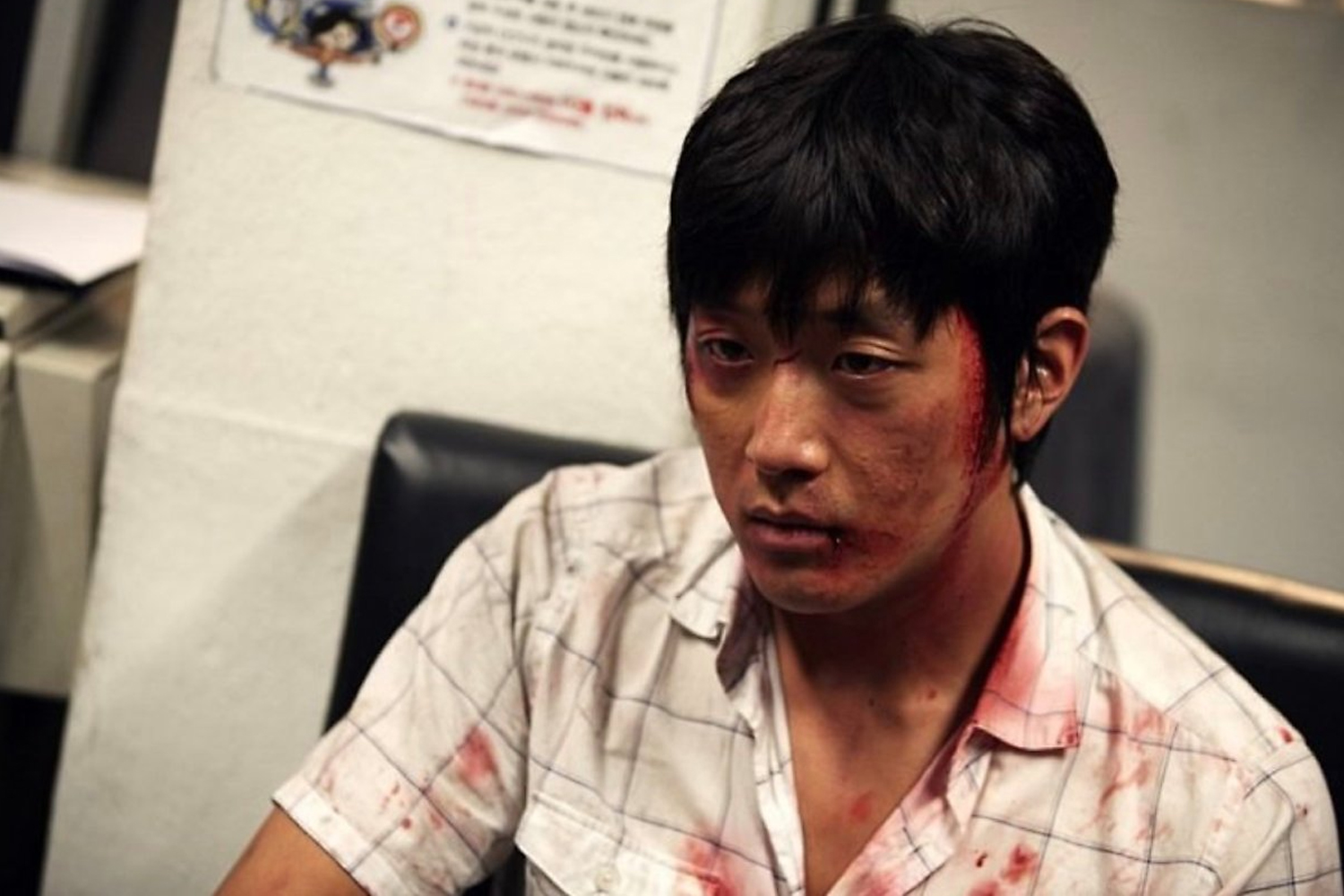 From The Movie The Chaser
In September 2003, Yoo's first victims, a professor and his wife, were killed in their house in Gangnam, Seoul.
Yoo would continue to murder one victim after another until July 2004. Although a total of 20 victims have been confirmed, there may have been even more.
As mentioned before, his targets were mainly wealthy elderly and women. Yoo Young-chul was both bold and precise, leaving very few traces behind.
He used hammers or knives that he had made himself as his weapons, and he would set fire to crime scenes to remove evidence and bury the bodies in the hills after dismembering them.
In addition to dismembering his victims, Yoo would use methods such as cutting and destroying their fingerprints to make their identification more difficult.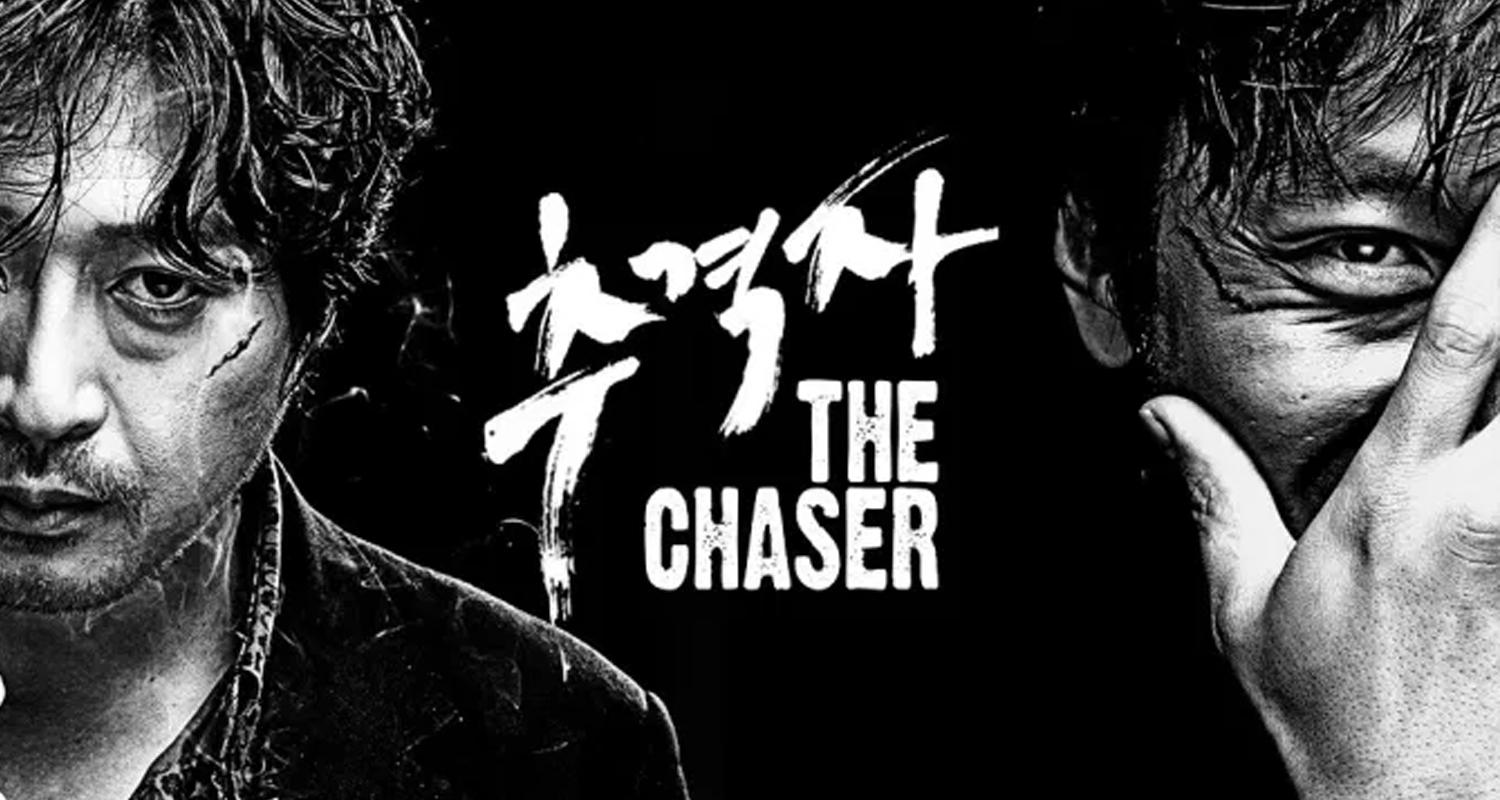 The Chaser (2008)
Starring: Kim Yoon-seok, Ha Jung-woo
Director: Na Hong-jin
Running Time: 123 minutes
-
5. Cho Doo-soon Case
(2008)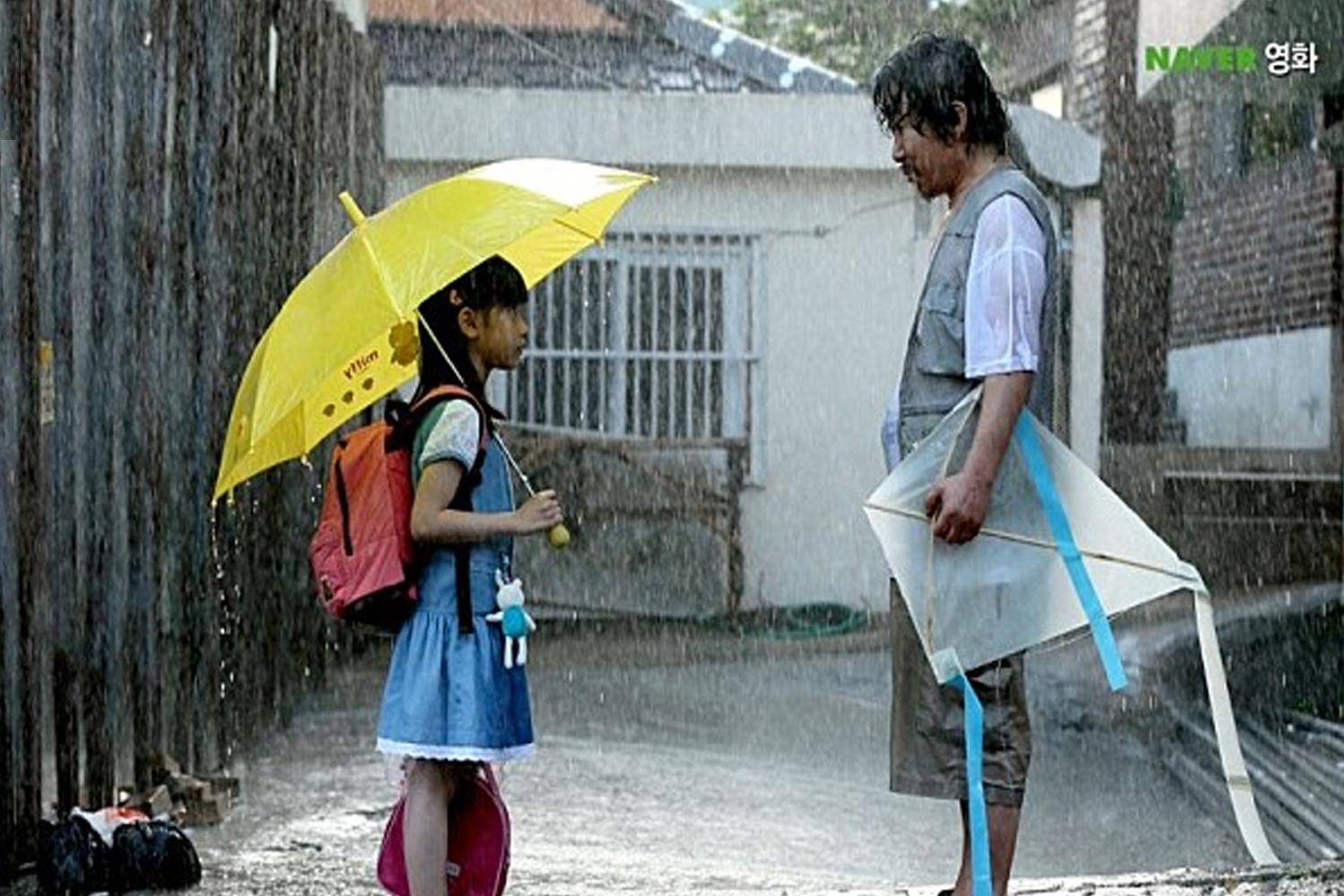 From The Movie Hope
In December 2008, the criminal Cho Doo-soon sexually assaulted and injured an 8-year-old girl in Ansan, Gyeonggi-do.
Cho Doo-soon, lured the 8-year-old girl who was at her school at the time, saying that she had to go to church. After having kidnapped her, he raped her in a bathroom in the church.
As a result of the assault, the victim suffered severe damage to the extent that some of her organs fell outside her body.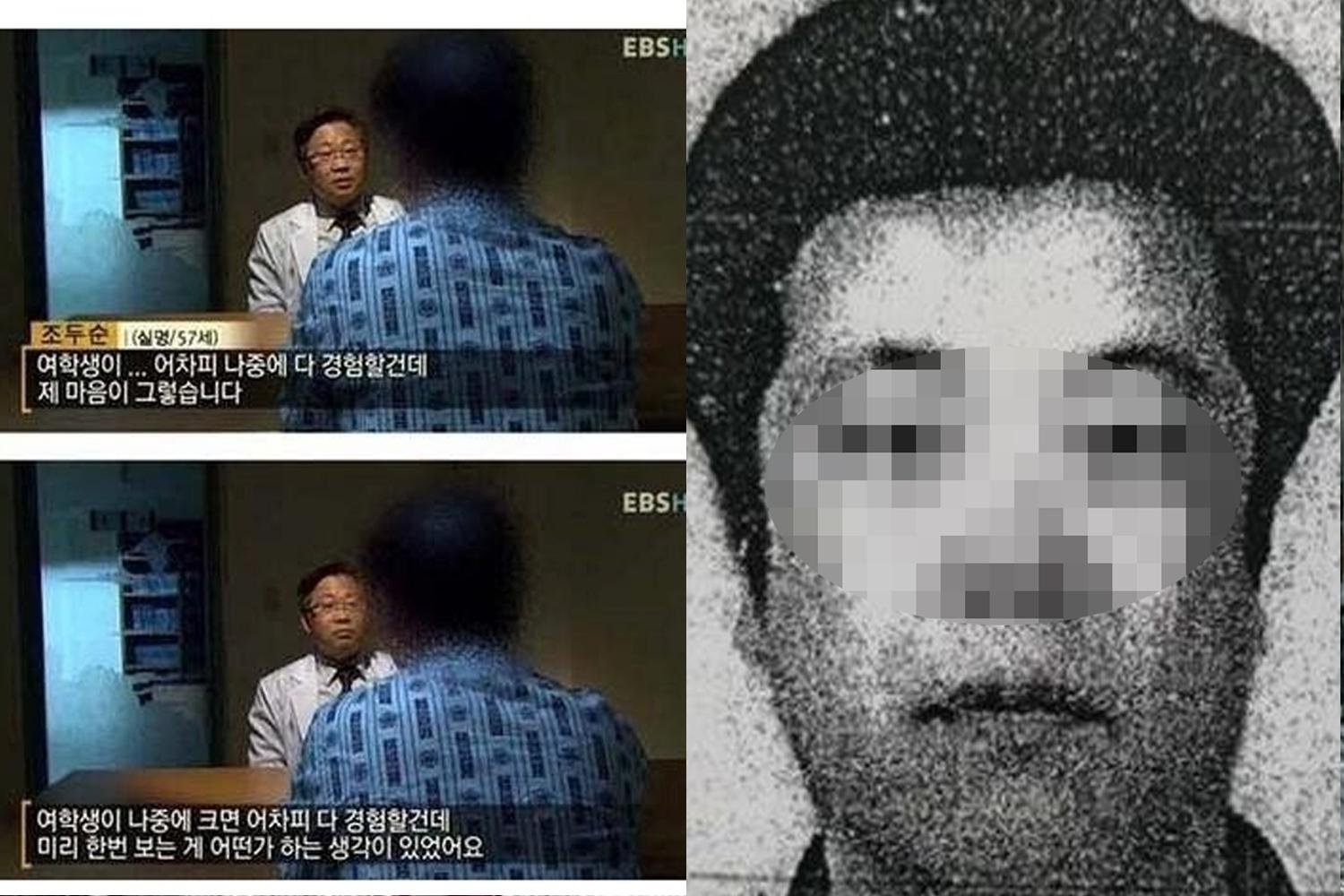 Cho Doo-soon during police interrogations: "All girls are going to experience it anyways, so I though 'why not earlier?'"
Cho Doo-soon was sentenced to 12 years in prison, after factors such as him having been drinking prior to the assault and his mental and physical weakness being taken into account.
This means that Cho Doo-soon is set to be released very soon, on December 13, 2020.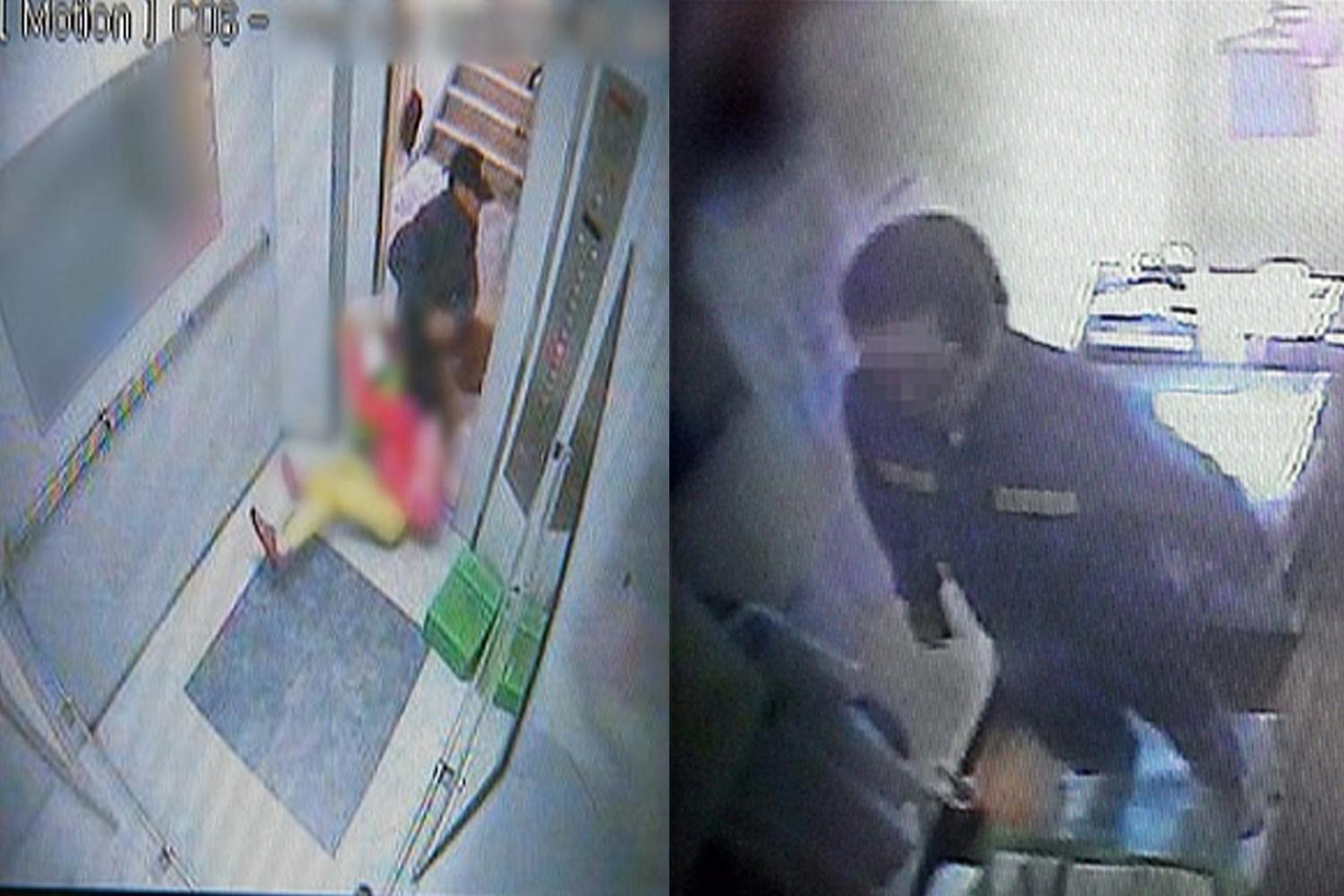 Pictures Of Cho Doo-soon From The Scene Of The Crime And Later In Prison
In fact, a petition opposing the release of Cho Doo-soon was filed on September 6, 2017, eventually gathering the signatures of 615,000 people.
Cho Doo-soon must wear an electronic ankle monitor for 7 years after his release.
Furthermore, personal information such as his place of residence and recent photographs will be publicly available on a government website for 5 years after release.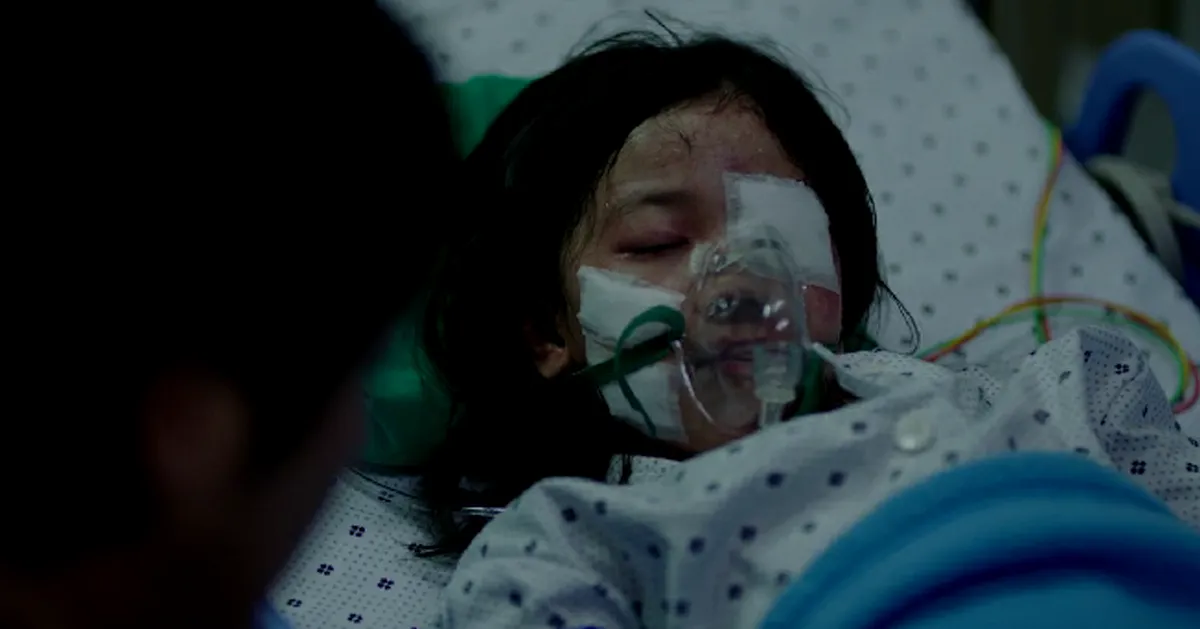 However, many argue that the victim's situation must be taken into consideration, as Cho Doo-soon announced that he will return to his residence in Ansan after being released, the same city where the victim and her family still live.
Some 4,942 citizens, frustrated with the fact that Cho Doo-soon will return to the town of Ansan where the crime happened and the victim still lives, participated in a fundraising to help the victim's family move.
A total of around 250,000,000 KRW (Approx. 230k USD) was raised and the victim's family announced that they were able to successfully sign a lease in a different region.
Hope (2013)
Starring: Sol Kyung-gu, Uhm Ji-won, Lee Re
Director: Lee Joon-ik
Running Time: 122 minutes
---
If you have questions or comments about the blog post, please leave a comment below or email us at help@creatrip.com.
---