KOREA CAFE GUIDE 2020 | Creatrip Locals' Guide
Complete List Of Must-Visit Cafes In Korea From Traditional Hanok Cafes And Delicious Desserts To Franchise Brands And More!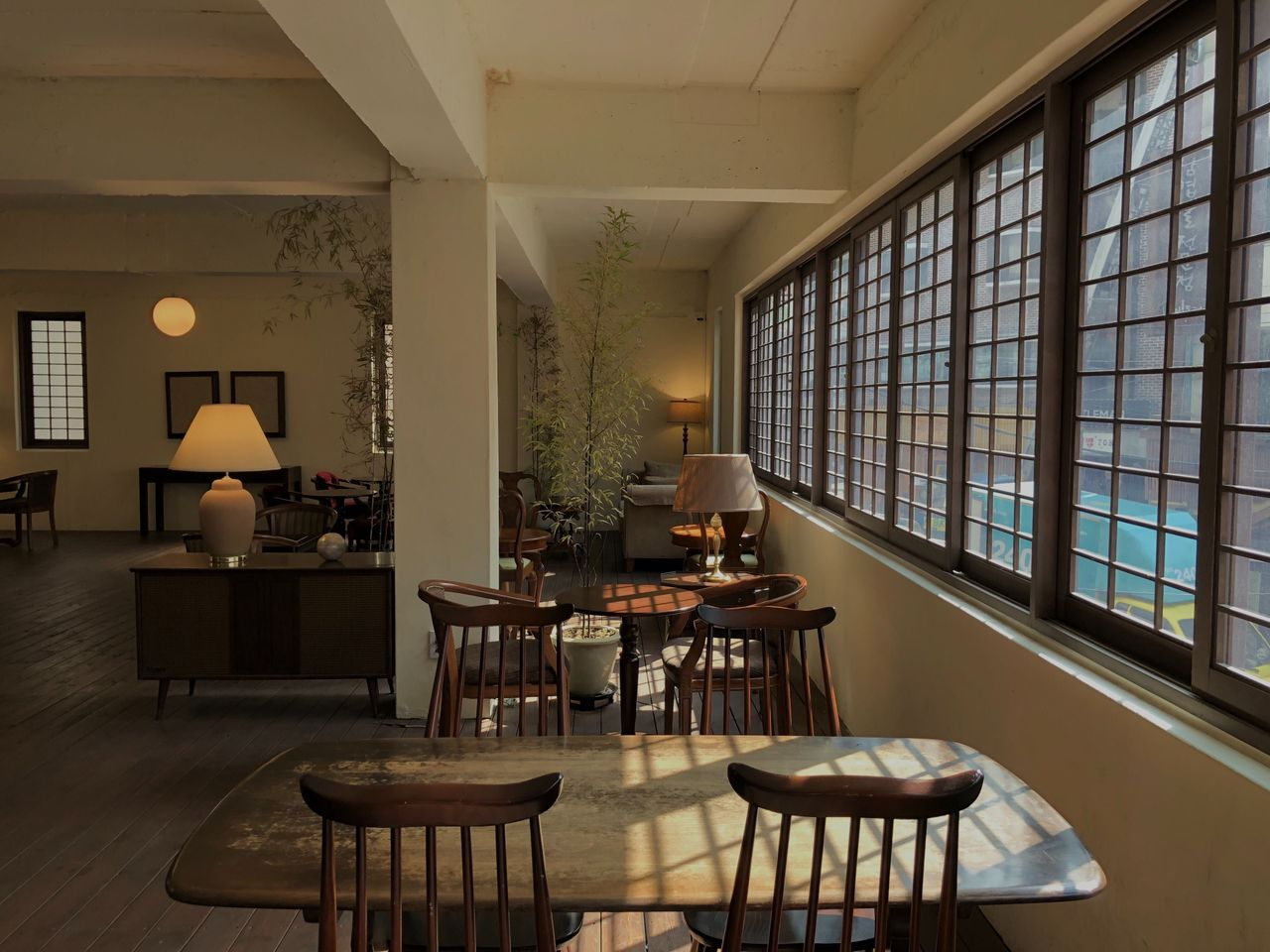 Coffee culture in Korea is huge. We're not just talking quality roast and experienced baristas, what people look for in cafes here range from cafes decked out with flowers and colourful beverages to cafes situated in traditional hanoks as well as tranquil cafes hidden amidst greenery.
As you move down our list categorized by characteristics and regions, you'll see that options surely are abundant. We hope this guide helps you with adding touches of Korea's unique cafe experiences into your itinerary.
---
SEOUL
---
Traditional Vibes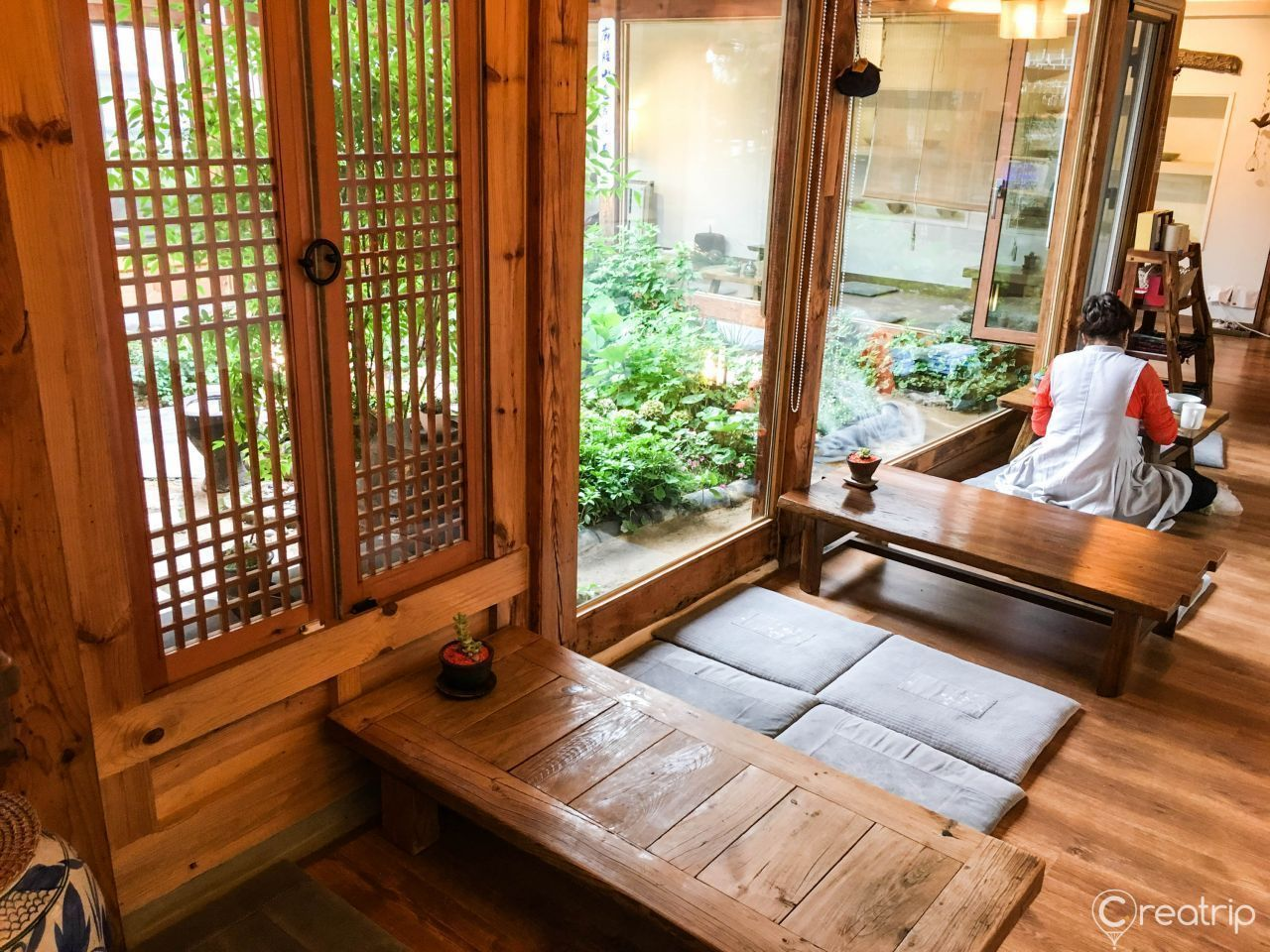 One of the best ways to experience unique cafe scenes in Korea is to explore the cafes situated inside traditional hanoks. Some cafes will serve traditional Korean desserts that are unique in texture and taste which pair especially well with a pot of tea.
Seoul Hanok Cafe Recommendation: Cafes and teahouses in hanoks provide experiences only unique to Korea.
Banjak Banjak Bitnaneun (Insadong): You'll find a wide range of Korean dessert selection here.
Cafe Bora (Samcheongdong): Bora is the word for the colour purple in Korean and as the name indicates, all traditional desserts served here are in beautiful bora tones.
---
Bingsu (Shaved Ice)
A popular dessert for the summertime, bingsu, or shaved ice dessert, can be found in a lot of cafes. Check out our List of Bingsu Places and see which bingsu you'd want to try the most.
Maman Gateau in the trendy street of Garosu-gil, Sinsa, serves amazing caramel bingsu.
Cacao Green in Myeongdong, serves shaved ice with a generous amount of toppings poured over.
---
Good Coffee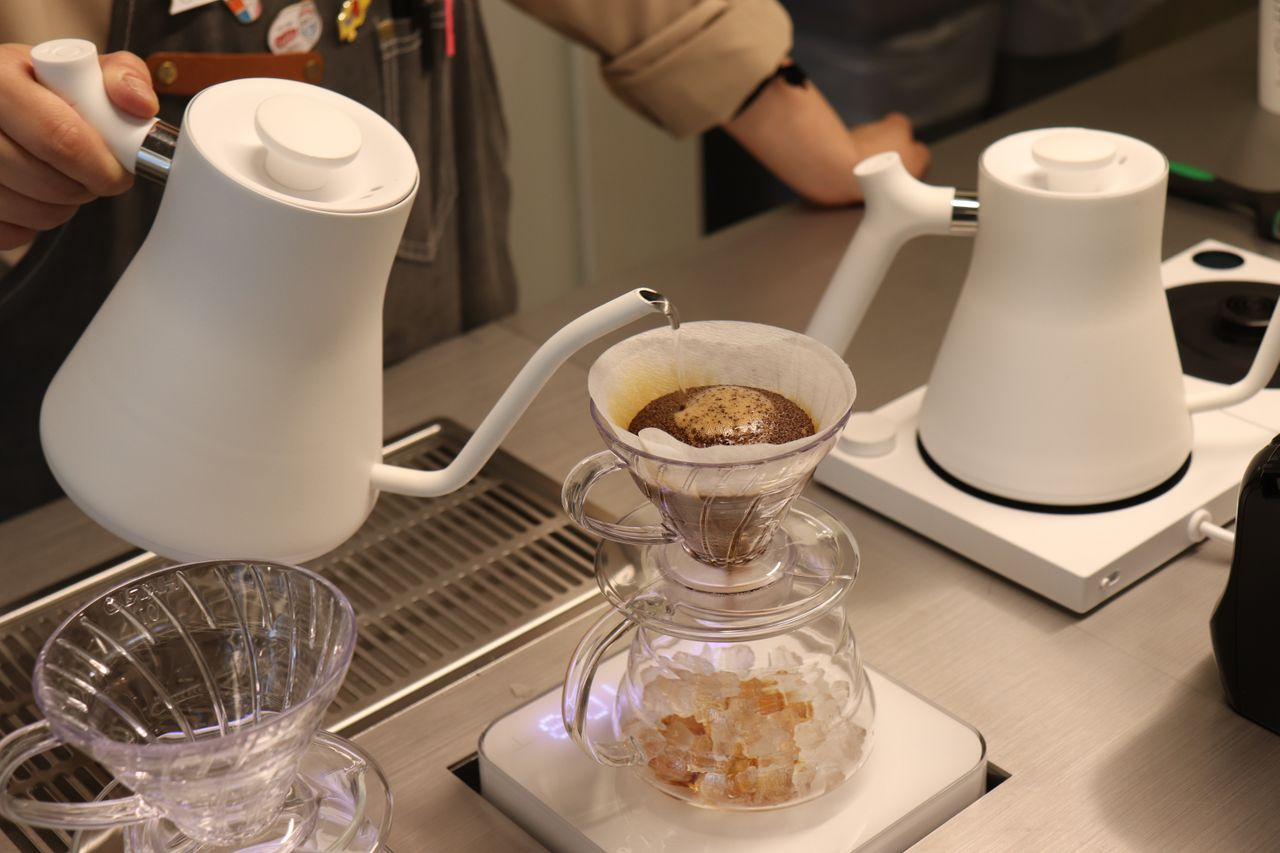 Blue Bottle (Samcheong): Blue Bottle was a sensation in Korea a few years back, easily seeing flocks of people lining up just to get a taste of their coffee. You might have tasted their coffee in the US or Japan, but if you haven't, it's worth trying out a sip of their premium coffee.
Luft Coffee (Hapjeong/Hongdae, Mangwon, Gwanghwamun, Myeongdong): This coffee brand operates a farm in Pahala, Hawaii, showing their passion for great coffee beans. As well, Luft Coffee operates a roasting factory that supplies quality coffee beans to over 2,000 places in Korea.
Bean Brothers (Hapjeong, Gangnam): Founded by three coffee enthusiasts, Bean Brothers regularly tastes over 50 beans, then selects a couple that suit the current season and trends and roasts them in-house for optimal tastes.
bjorlunds (Jamsil Songlidan-gil): As the first cafe location in Korea featuring premium coffee beans from a Swedish roastery, bjorklunds provides a comprehensive experience of great import coffee and teas as well as art exhibitions and a comfortable environment (especially from its quiet zone upstairs).
---
Instaworthy Cafes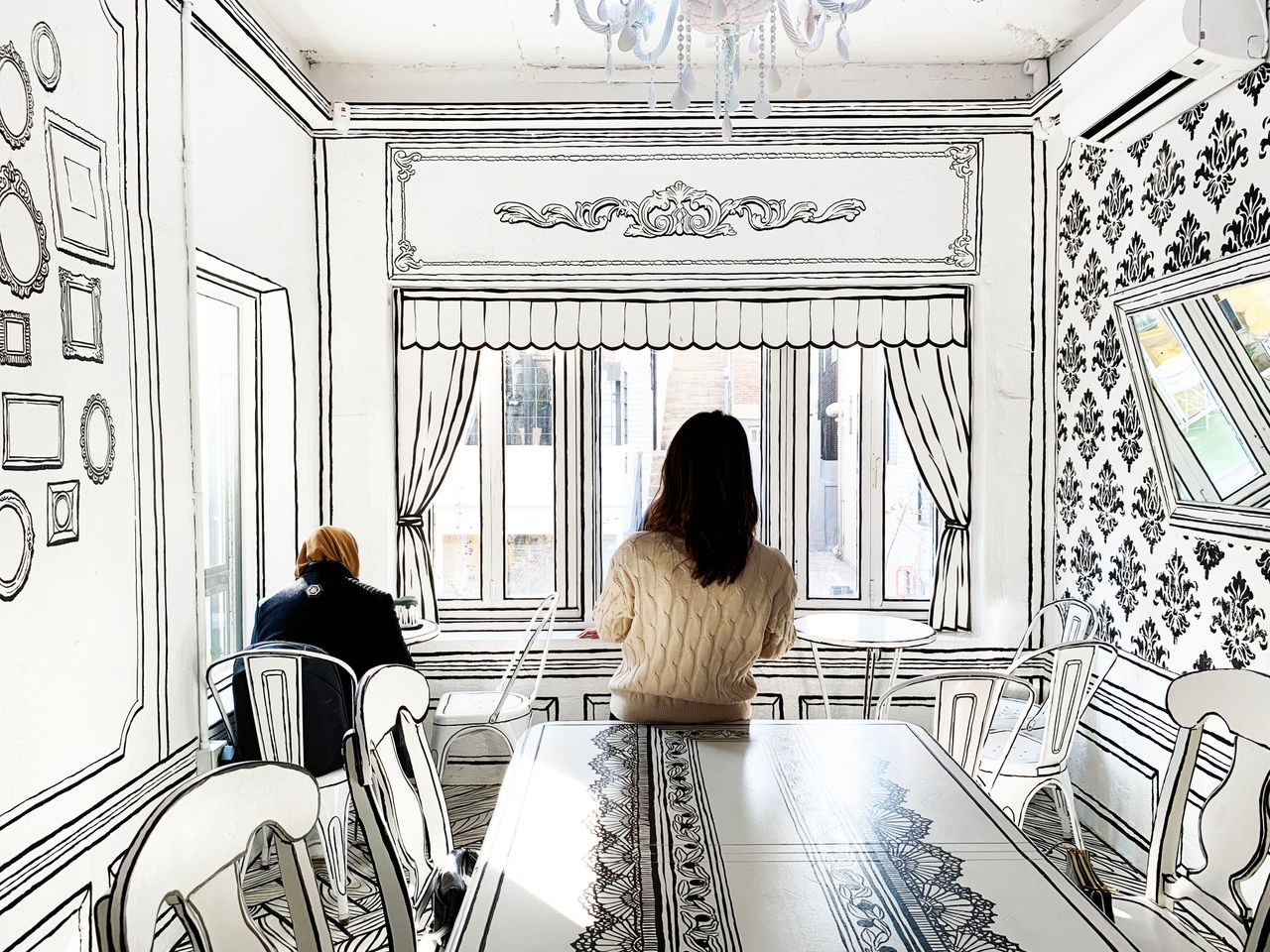 Yeonnamdong 223-14 (Yeonnamdong/Hongdae): An Insta-famous spot, Yeonnamdong 223-14 will make you feel like you've stepped into a cartoon space. When we went at 11:30am on a weekday, we lined up outside for about 30 minutes, but the friendly staff, delicious desserts and the atmosphere all made up for it!
Cafe Highwaist (Yeonnamdong/Hongdae): Another cafe located in the trendy Yeonnamdong area of Hongdae, this cafe features loads of desserts and specialty drinks that get served in wine glasses. Personal opinion, I can't say the desserts tasted great, but it's the perfect place for spending a slow afternoon with a couple of girlfriends in a cute environment.
Dinga House (Yeonnamdong/Hongdae): Green walls, low ceilings and items of different shapes displayed about, Dinga House feels like a house from a fable. Try one of their cakes decorated with characters and flowers of funky colours!
Cafe Skon (Yeonnamdong/Hongdae): Artsy place with a fairly large balcony upstairs. Cute cookies and drinks are available. You'll find stationeries on sale too.
CARIN Lounge (Hongdae): CARIN Lounge has aesthetic pastries of all shapes like trees, hearts and flowers. Pink chairs with golden touches make this place perfect for selfies. You can also purchase CARIN sunglasses modelled by K-celebrity SUZY here too.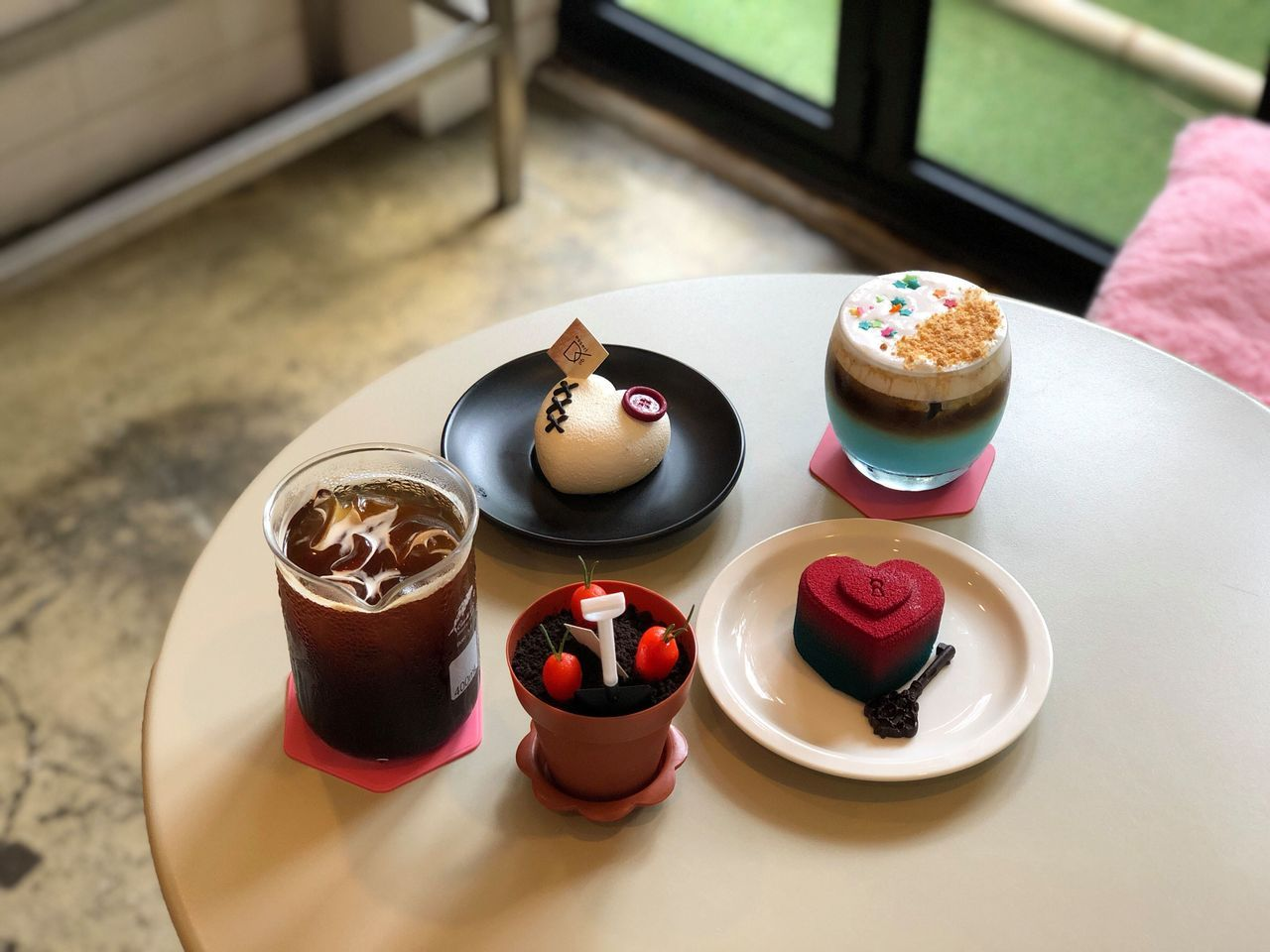 Dessert Lab (Myeongdong, Hongdae): A carrot pot, a shovel for a spoon, a peach-shaped raspberry cheesecake... This lab is full of surprises!
Harry Potter Cafe 943 King's Cross (Hongdae): It's a Harry Potter-themed cafe. Need I say more?
Ojamajo Doremi Mabeobdang (Hongdae): Anyone familiar with the cartoon character? It takes along the road of nostalgia, classic cartoon-like desserts and props make for a fun cafe adventure.
3CE Pink Pool Cafe (Hongdae, Myeongdong): As the name suggests, everything is pink on the inside and you'll also find a pool in one corner of the cafe. This place is especially recommended for Stylenanda lovers!
Cafe Jogyok (Hongdae): Dip your feet inside one of the small tubs of colourful waters with flowers floating on the surface while your drink and snacks are served. Don't forget to hit all the pressure points on your feet using a massage tool after the bath to help your body with circulation.
Cafe El Cielo (Sinsa): Cloud-shaped fixtures of different sizes hanging from the ceilings, this cafe's artistic touches make you feel like you've stepped into another dimension. If you're not feeling for coffee, try one of their cocktails.
c.through (Itaewon): Run by one of the most prominent baristas in Korea, Lee Kang Bin, C.Through is the perfect place for latte art lovers.
---
Rooftop Cafes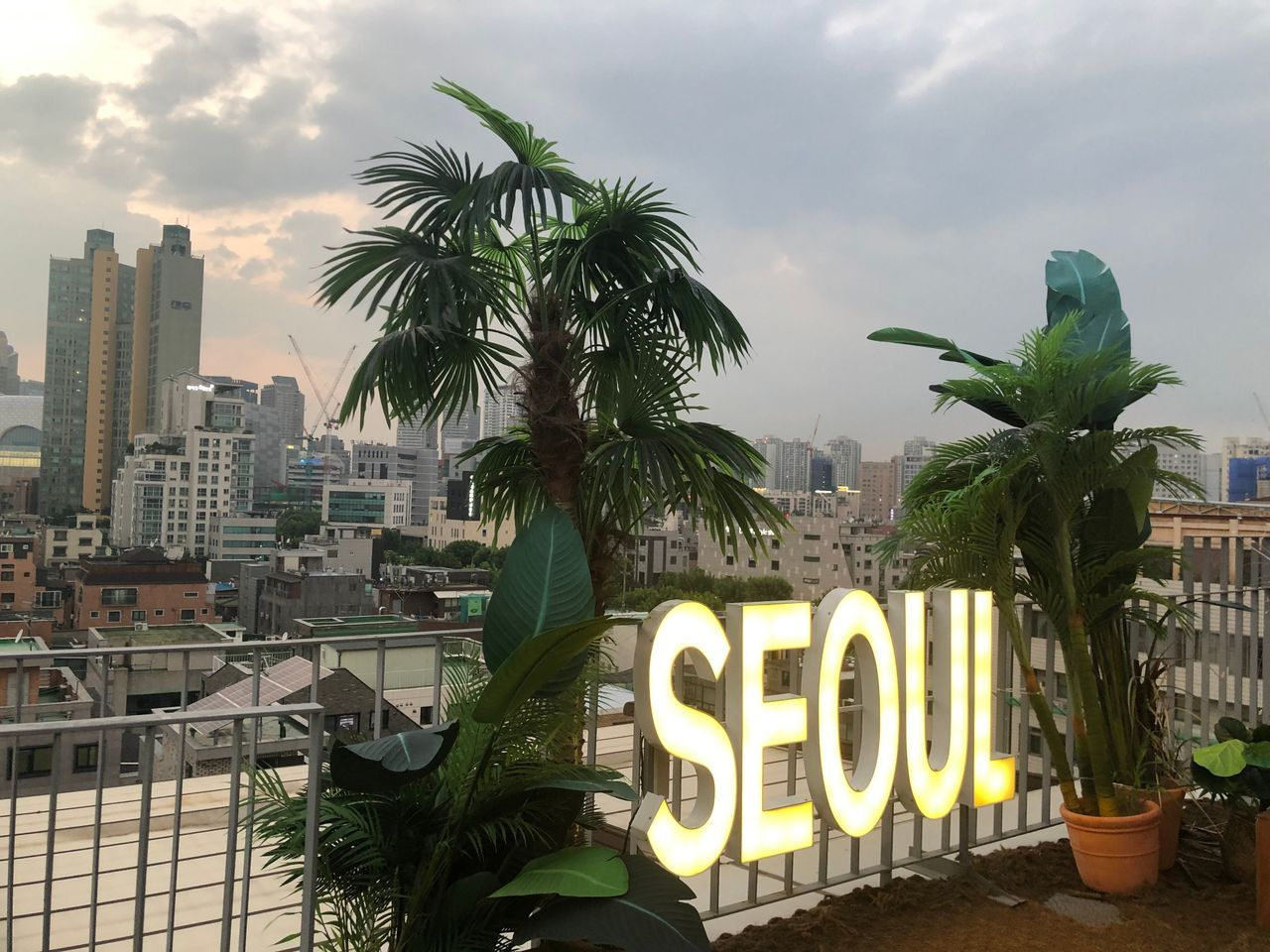 Cafe Zelda (Sinsa Garosu-gil): Cafe Zelda is hidden from the busy scenes of Garosu-gil. Look down the small alley as you slowly enjoy the cold brew!
Super Matcha (Sinsa Garosu-gil): You'll find everything matcha here! Sipping on your matcha drink while sitting under the warm sunlight on the rooftop will provide you with a nice break in between your Garosu-gil itinerary.
Seoulism (Jamsil): One of the most popular rooftop cafes in Seoul, Seoulism offers amazing sight of the Lotte Tower. Try their cocktails after sunset too.
Rooftop Urban Beach (Hongdae): Think of this place as a little tropical paradise in Hongdae. This cafe/bar has beautiful drinks that complete your Hongdae rooftop chill session.
Graddhyllan (Itaewon): Sit and enjoy the panoramic view of Itaewon.
---
Delicious Desserts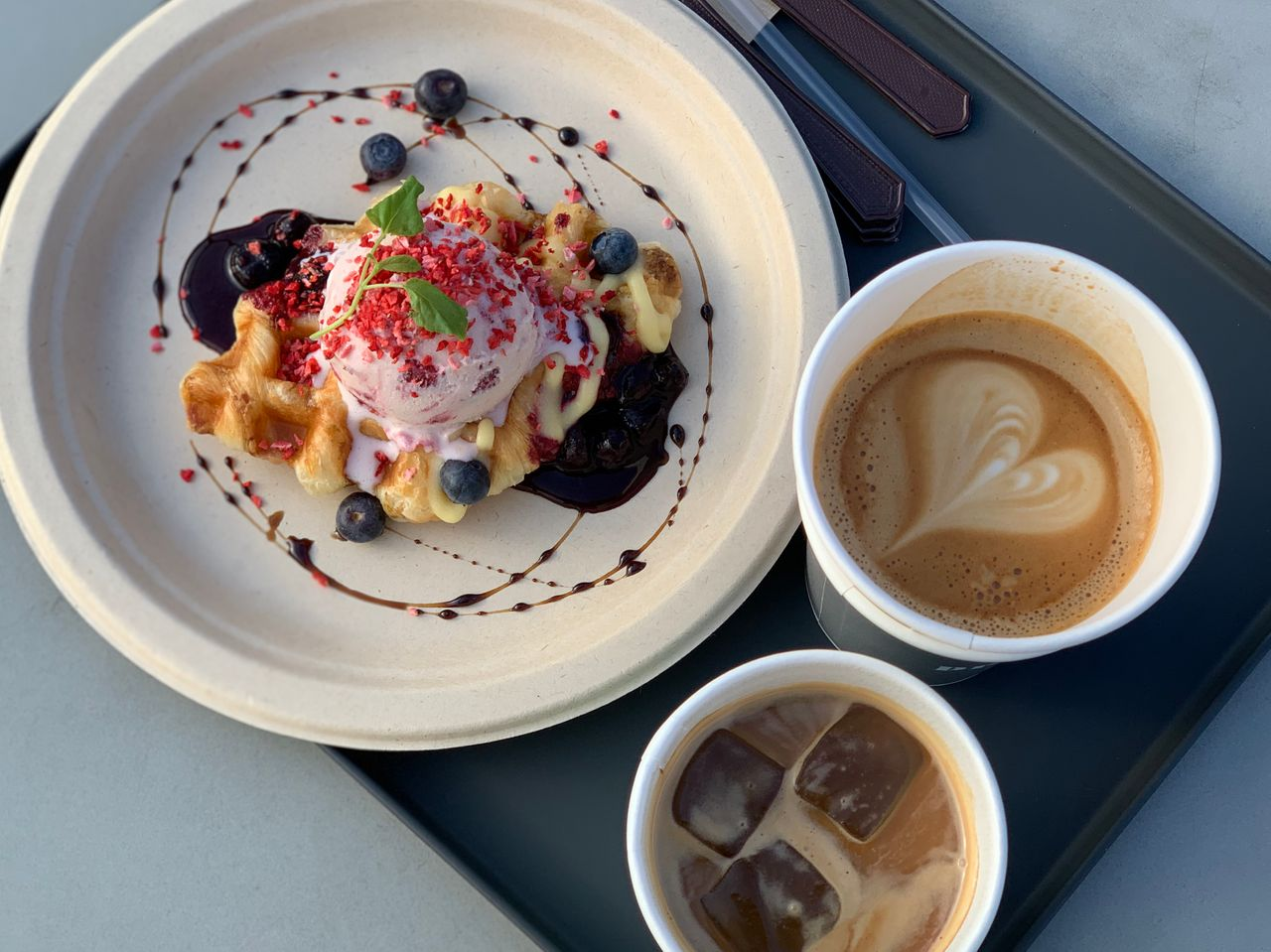 Waffles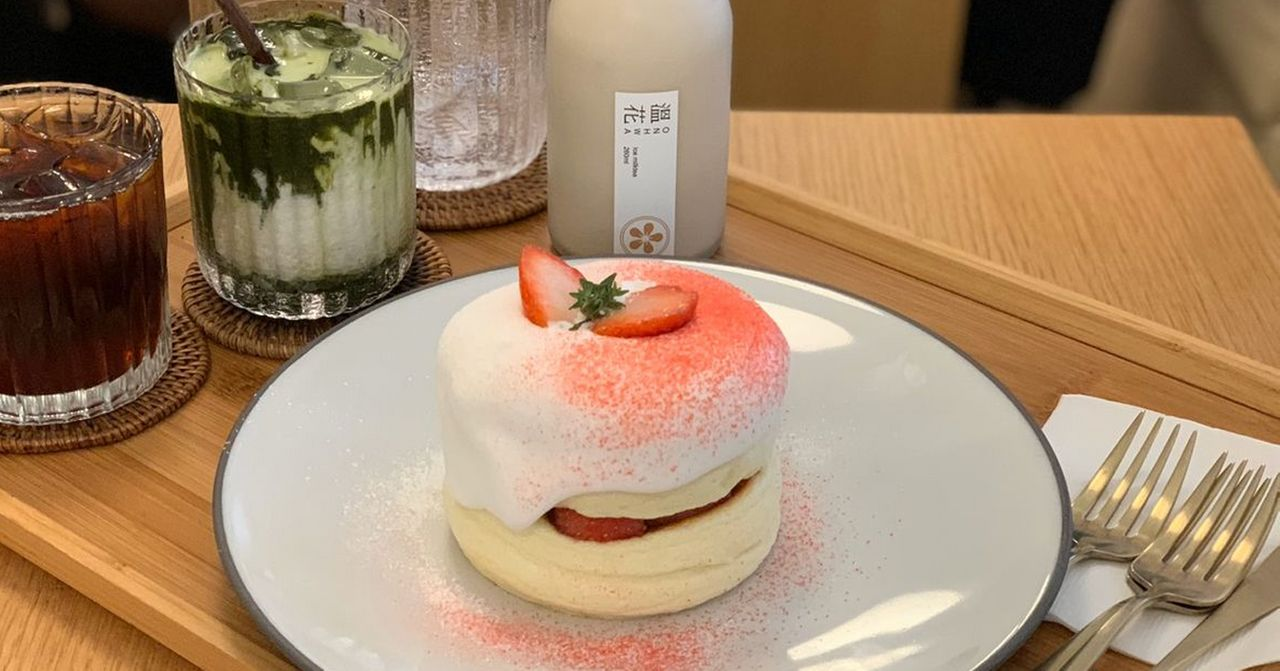 Souffle
Fruit Sandwich
Bite-sized Cheesecake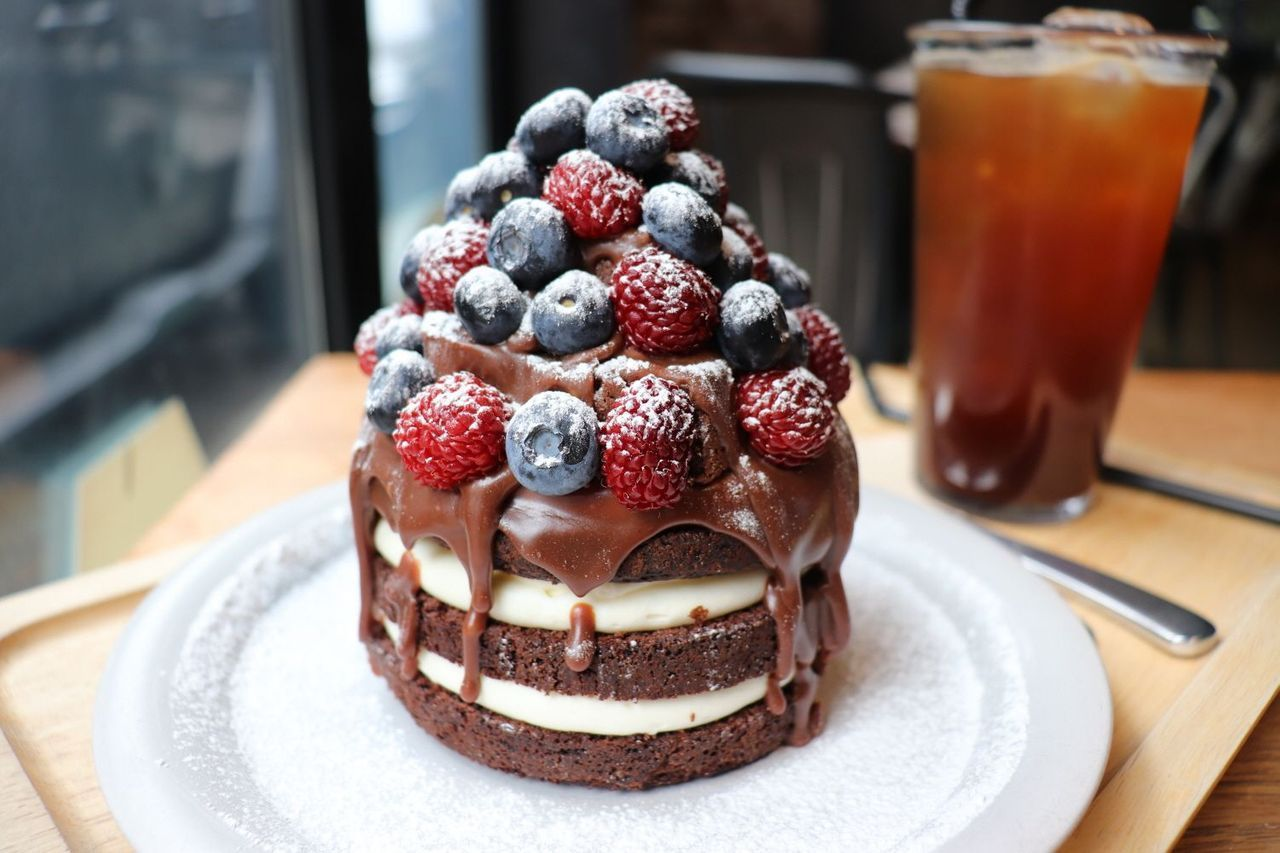 Whoopie Cake
Tarts
Chiffon Cake
Pancakes
French Toast
Aesthetic Desserts
---
Cafes With Gorgeous Flowers & Plants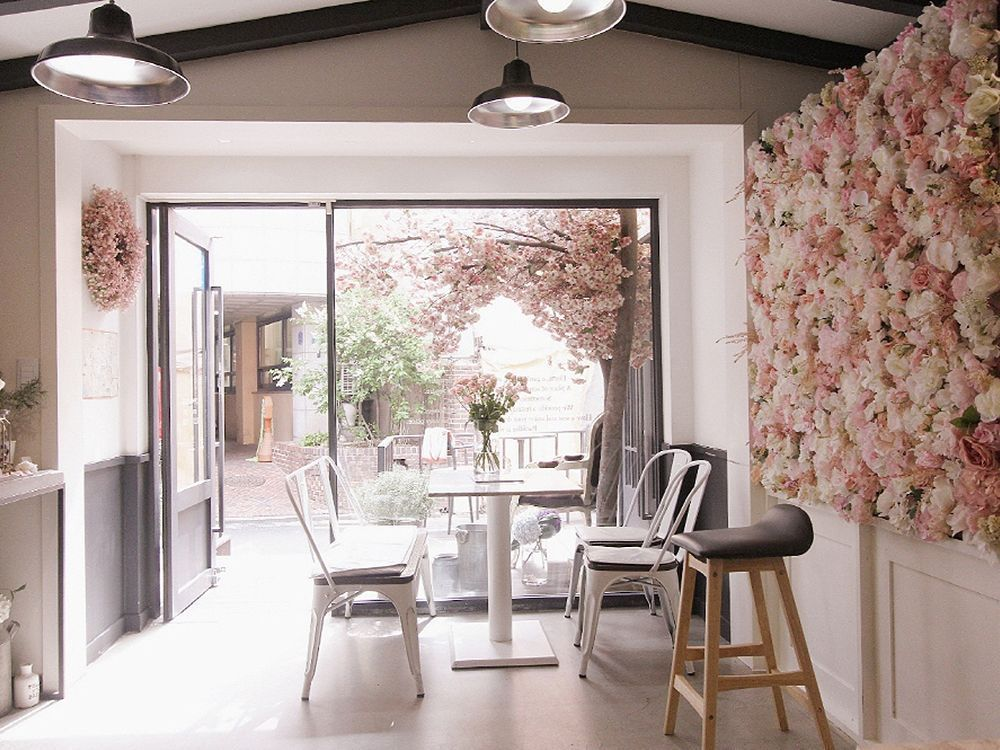 If you're in the mood for a cup of coffee inside a nature-friendly environment, check out these cafes.
Lovin' Her (Hongdae): You'll find flowers laid out in every corner of the cafe and a wall filled with flowers! The desserts and beverages are very cute as well, matching the aesthetics of the cafe well.
Urban Space (Myeongdong): This cafe/cocktail bar has an indoor ball pit and colourful drinks everywhere! Don't miss out on the photo zones either.
Bloom Story (Hongdae): Cute desserts and drinks surrounded by flowers! Try their specialty Jollypong Bingsu and Jollypong Latte.
One in a Million (Itaewon): Pink brick walls anyone? The atmosphere of this cafe is just gorgeous from the first step in. Walk past the pink wall and the outdoor terrace, you'll find a charming cafe filled with plants and drinks served in pink cups.
---
Franchise Brands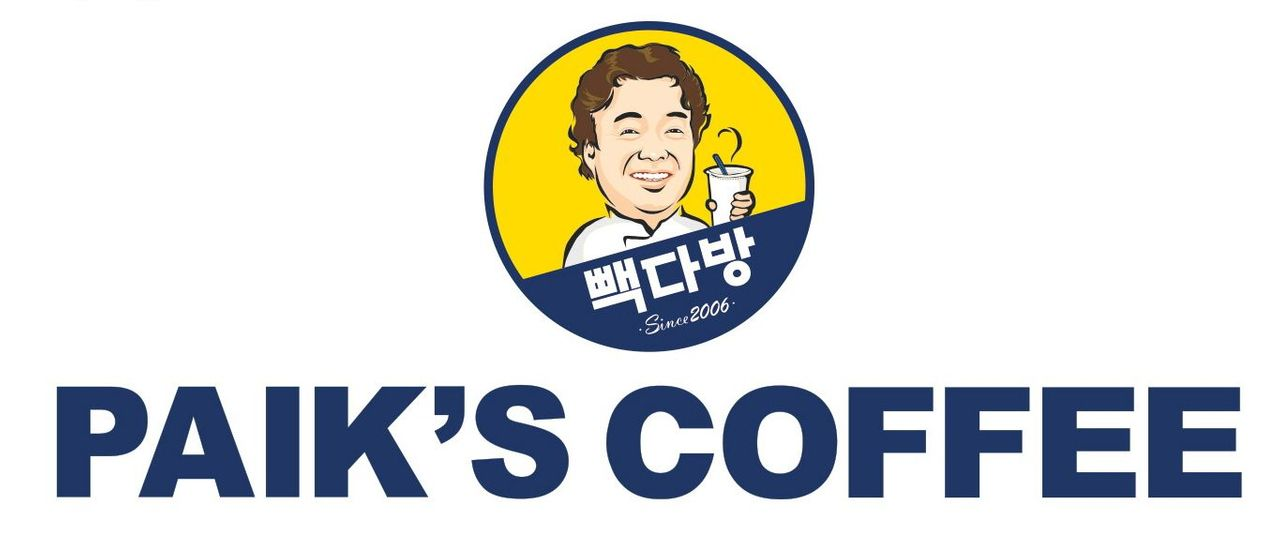 Rolling Pin: You'll find a large selection of pastries and brunch options.
Holly's: A lot of Holly's locations will have one-person seatings and outlets throughout, making them perfect for those who need to work or study on their laptops.
Angel-inus: Overall, most locations are clean and comfortable. Try their specialty drinks like Americcino which looks similar to beer.
TOM N TOMS COFFEE: This franchise offers more pastry options than drink options, the most popular one being the honey butter bread.
Twosome Place: Twosome Place offers lots of dessert options including scoopable tiramisus and scoopable apple new york cheese.
Ediya: The price range is a bit lower than the other franchise brands. Popular menu items include toffee nut latte and honey peach flatccino.
Paik's Coffee: Paik's Coffee, one of the many culinary brands owned by star chef Baek Jong Won, offers even cheaper options than Ediya. Try different flavours of Paiksccino as they seem to get lots of great reviews from locals.
Starbucks: As the most-visited coffee franchise in Korea, you can expect great services and large spaces suitable for chatting and working.
Not sure what to get at each franchise brand? Check out our list of favourites for each!
---
Tea Shops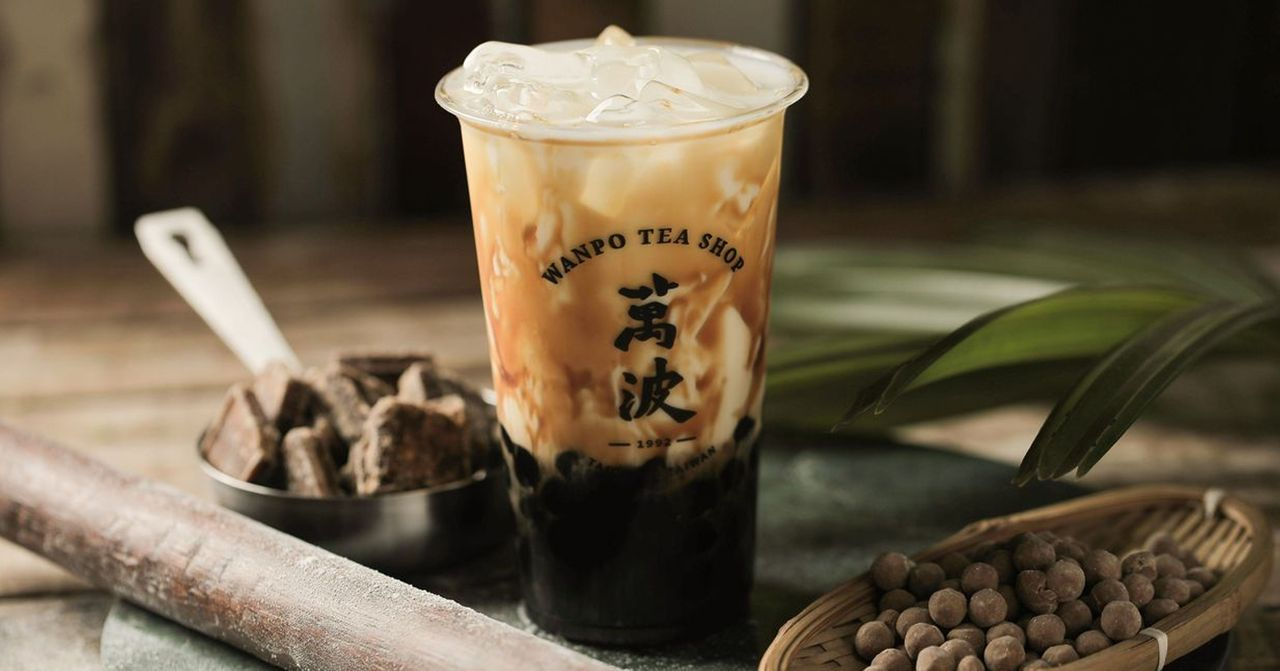 Wanpo Tea Shop (Hongdae) Bubble tea
Super Matcha (Sinsa Garosugil) everything matcha + rooftop
Gabiter (Gangnam) Afternoon tea set
Tianpang Afternoon Tea (Ewha Womans University Area)
---
CAFES BY DISTRICT
---