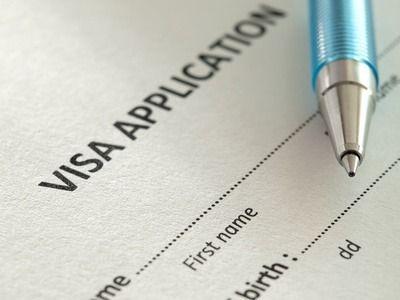 Hello, everyone! We are Creatrip, a group of Korean travel experts.
There are many people that are curious about what kind of visas they need when traveling abroad especially to Korea~ Today, I will introduce what kind of visa you need and the documents you need to submit to travel to Korea by nationality!
Unfortunately, due to COVID-19, there have been some changes to visa issuance.
Prepare a comfortable trip to Korea together with Creatrip!
---
Korea Visa Types

There are various Korea Visas depending on the purpose of visit and stay period. You will be familiar with the B-1, B-2 Visa needed to visit Korea or the D-2, D-4 Visa to study Korean~ I will also introduce other various Visas that you may apply for when visiting Korea.
Purpose of Visit

Stay Period

Under 90 Days

Over 90 Days

Diplomacy, official affairs, agreements
A-1 (Diplomat)
A-2 (Government Official)
Travel, tourism, events and meetings
B-1 (Visa Exempted)
B-2 (Tourist/Transit)
C-3 (Short-Term Visit)


Academics
C-3 (Short-Term Visit)


D-2 (Student)
D-4 (General Trainee)
Job Employment
C-4 (Short-Term Employment)
E-1 (Professor)
E-2 (Conversation Guidence)
E-3 (Researcg)
E-4 (Technical Guidence)
E-5 (Professional)
E-6 (Art Show)
E-7 (Specific Activites)
E-9 (Non-professional Employment)
E-10 (Sailor)
H-1 (Tourism Employment)
Business
C-3 (Short-Term Visit)


D-7 (Expat)
D-8 (Business Investment)
D-9 (Trade Management)
Visiting Relatives, Living with Family, Accompany, Overseas Koreans
B-1 (Visa Waiver)
B-2 (Tourism)
C-3 (Short-Term Visit)
F-1 (Domestic Visit)
F-2 (Residence)
F-3 (Accompany)
F-4 (Overseas Koreans)
F-5 (Permanent Residence)
Other
C-1 (Temporary Coverage)
C-3 (Short-Term Visit)
D-1 (Culture and Art)
D-3 (Technical Training)
D-5 (News Coverage)
D-6 (Religion)
D-10 (Job Search)
B Group: B1 and B2 are the status of residence for citizens of countries that have a visa exemption agreement with Korea. You can stay in Korea for various purposes, such as traveling, sightseeing, attending an event, attending a meeting, or visiting a relative, even if your passport does not have a separate visa sticker.
C Group: C1 is a status of residence granted to foreigners for the purpose of temporary coverage and C4 for short-term employment activities, while C3 is issued for various purposes such as B1 and B2. Short-term visas that can stay for less than 90 days, such as the B Group, are different in that the B Group does not require a visa application process, while the C Group requires a visa application process.
D Group: Foreigners who wish to study in Korea are granted D2 qualifications, and students who wish to study Korean are granted D4 qualifications, which are language study visas. In addition to this, D1 is for studying Korean culture and arts while D5 is for those who want to report through long-term stays, D6 is for religious activities such as missionary activities, D7 is issued to people working in domestic branches of foreign companies, and foreigners. There are D8, D9 visas that are issued to investors, and D10 visas for those seeking jobs in Korea.
E Group: E1 is for native speakers in university, E2 is for native speaking instructors in an academy, E3 is for researchers, E4 is for providing or transferring skills in special fields, E6 is for broadcasting / performance activities. In the case of specialized work for foreigners such as translation and overseas marketing, E9 is given. E9 is for those who do non-professional work in the manufacturing industry, and E10 is for sailors.
F Group: F1 is for those who are visiting relatives, F2 is for foreign residents to reside in Korea, F3 is for families of foreigners with work visas, F4 is for Overseas Koreans, F5 is for Korean permanent residents. Foreign nationals with F2, F4, F5 and F6 status are allowed to work.
---
2021 Visa Information

Following is just a general guide, but we highly recommend that you contact or check the embassy website of your home country for more specific information.
Short-Term Visas
All short-term visas issued before April 5, 2020 have been cancelled and holders must re-apply. So, C-3 visa categories issued before this date are invalid, but C-4 visa categories and long-term stay visas are still valid.
Visa-Waiver & Visa-Free Entry
Due to COVID-19, as of April 13, 2020, visa-waiver and visa-free entry programs have been temporarily suspended for 90 countries, so citizens of those countries wishing to enter Korea must apply for a visa. In addition, diplomats must also apply for a visa prior to their diplomatic mission.
In addition, travelers that don't need a visa to enter Korea can apply for K-ETA to travel more conveniently. Starting September 1, 2021, it will be made mandatory to apply. Also, 28 more eligible countries have been added, so please check the link mentioned for more information.
You must apply at least 24 hours before boarding. K-ETA will be valid for multiple trips over 2 years and the application fee is 10,000 KRW/person.
A list of eligible countries can be found here.
Long-Term Visa Holders
All long-term visa holders (except A-1, A-2, A-3, F-4 holders) must submit a re-entry permit to enter the country. You can apply at your local immigration office or the airport.
The documents needed when applying for a re-entry permit are: Passport, copy of alien registration, re-entry permit application, letter of explanation, and consent for medical examination and submission of diagnosis.
As of January 8, 2021, all foreigners entering South Korea with a re-entry permit are required to submit a negative COVID-19 PCR test certificate issued within 72 hours prior to departure. The medical examination exemption certificate is no longer accepted.
Visa Application
Currently, only single-entry visas are being issued for both short-term and long-term visas and there is also a restriction on tourism visa issuance.
Please check with your embassy office to find the application form, required document, and to check if you need to make an appointment. The main documents needed are an application form, valid passport, passport photo, health status report, and consent to quarantine form. There is a 14 business day screening period for your application.
As of July 1, 2020, all Korean embassies have stopped issuing visa labels and will notify applicants of their visa details by issuing a "Visa Grant Notice" online. Applicants can print out this document by entering their passport information and must present it to immigration officers during immigration clearance.
---
List Of Visa Waiver Countries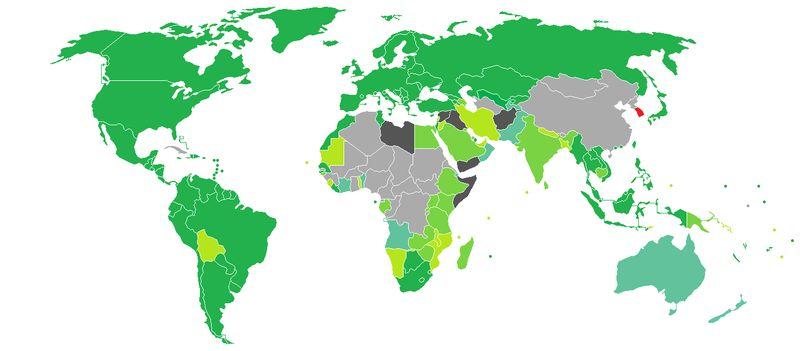 Green : Visa Waiver Agreement CountriesThe Visa Waiver Agreement is a system where entry into another country without a visa is possible through unilateral or mutual agreements. Due to COVID-19, Visa Free entry has been temporarily suspended for 90 countries and citizens of these countries must apply for visas to enter Korea.
I will now guide you on Visa Free entry by nationality.
Regular Passport Holders

If you have a separate purpose where you need to visit Korea for longer than 90 days, please go ahead with the Visa issuance process that matches your purpose. Visa issuance is available through the Korean Embassy in each country. Please refer to the embassy links shown above for the required documents for the visa.
*Diplomats/Government Official passport holders from China, Vietnam, India, Indonesia, Philippines can enter Korea without a visa.
---
China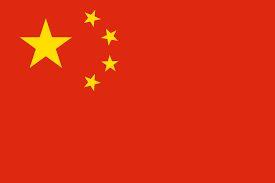 You can find the following information at the Korean Embassy Site. Korean Embassy in China
1. Required Documents for Regular Tourism (C-3-9) Visa
Visa Application Form link

1 Photo

Passport

Identification

Proof of Financial Ability
1. Certificate of Employment and Employment Social Insurance Proof
2. If the above documents do not exist, the original bank statement of the last six months and the original proof of payment of personal income tax for the last six months can be used.
*The following people will be omitted for proof of financial ability.
Large city residents : Replaced with identification and passport copies

Elementary, Middle School Students : Replaced with certificate of enrollment

University Students : Replaced with electronic transcripts (www.chsi.com.cn)

Excellent travel agency applicant

Foreigners in China

Persons who have visited 22 countries among OECD countries: Visa, Immigration Stamp, Immigration Stamp, Immigration Records (issued by Public Security Bureau)
2. General Procedure for Visa Application
Please apply at your local jurisdictions.
Visa Registration and Issuance Time
Reception : 09:00~11:30
Grant : 14:00~17:00
3. How to apply visa and the scope of application for proxy
Regular Passport Holders can apply through the Chinese Ministry of Foreign Affairs

Visa application can be made through the designated agency
4. Visa Examination Fee
Type of Visa

Fee

Rush Fee

Singular Visa
Short Term Visa
(Within 90 Days)
280RMB
420RMB
Long Term Visa
(Over 91 Days)
420RMB
560RMB
Double Visa
Individual Visa
490RMB
630RMB
Multiple visas (includes long and short term)
630RMB
910RMB
Re-entry Permit Extension
140RMB
-
---
Vietnam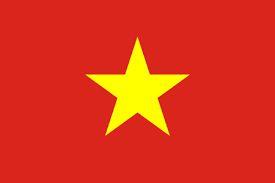 You can find the following information at the Korean Embassy Site. Korean Embassy in Vietnam
1. Required Documents for C-3 Short Term Visa
Korea Travel Schedule (English or Korean)

Hotel Accommodation Certificate in Korea

Original copy of invitation letter and invitation copy of guest's passport

Copy of Alien Registration Card

Certificate of employment and enrollment of inviter

Required Documents

Copy of original passport and national ID card

Visa application form (1 Photo 3.5 x 4.5cm Included) link

ID Document

Proof of Economic Capability (Bank Account Copy and Bank Statement Copy)
2. Review Period:
Designate Travel Agency : 12 Days

General Travel Agency : 15 Days
3. Review Fee: $20
---
Indonesia
1. Required Documents for C-3-9 Short Term Visa
Visa application form link

1 Passport Photo (White background 3.5cm x 4.5cm) Attached to visa application

Original passport and copy of passport and personal details

Applicant's identification card

Employed : Certificate of employment

Student : Certificate of enrollment

Business : Certificate of business registration

Indonesia Family Relation Certificate

Financial Capability Documents (Choose 2 from below)

Bank Transaction Statements of the last 3 months

Pay Checks for the last 3 months

Proof of tax payments of the most recent year

Copy of vehicle ownership (STNK)

Credit card statement for the last 3 months
2. Reception
Embassy : A-1, A-2, Group Visa

Korea Visa Application Center : Other visas besides the ones mentioned above
Address : KVAC, 5th floor,Lotte Shopping Avenue, Jalan Prof.DR.Satrio No.3-5, Jakarta Selatan.
3. Reception Hours: 09:00 ~ 15:00
---
India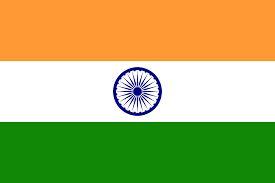 You can find the following information at the Korean Embassy Site. Korean Embassy in India
1. Documents Required for C-3 Visa
Visa Application Form link
When applying for a C-3 visa, you only need to fill out the four required items below.

1. Personal Information

2. Passport Information

3. Contacts

4. Visit Information

2 Passport Photos

Original Passport (At least 6 months left before expiry date)

Certificate of tax payment for the past year or bank statement of the past 6 months.
2. Reception
New Delhi VFS centre or Delhi VFS centre Official Homepage
3. Reception Fee
Visa Types

Fee (INR)

Rush Fee (INR)

Short Term Visa
(Within 90 Days)
2,800
4,900
Long Term Visa
(Over 91 Days)
4,200
6,300
Double Visa
4,900
7,700
Multiple visas (includes long and short term)
6,300
9,100
---
Philippines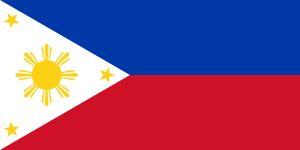 You can find the following information at the Korean Embassy Site. Korean Embassy in Philippines
1. Documents required for C-3 Visa
Visa Application Form link

1 Passport Photo

Valid Passport (Over 6 months before expiry date)

1 Copy of Passport (Side of photo)

1 Copy of Visa for Tourist Visa Holders of OECD countries

Original ID Card of Applicant (Work Certificate, School ID, Business Registration Card)

Original copy of applicant's bank balance (Parent's documents in the case of a student)

Copy of applicant's most recent 3 month bank transaction (Parent's documents in the case of a student)

Copy of income tax payment certificate (Not required for students)
* For personal invitation : 1 copy of invitation letter, and Korean ID card
* For company invitation : 1 copy of invitation letter with a seal, and copy of business registration certificate
2. Location to apply for Visa
3. How to apply for visa
Submit all documents to the designate travel agency. Designated Travel Agency List

However, if it pertains to citizens of Korea, holders of visa issuance certificates, people on public business trips, or people with an urgent need to visit Korea, they can come apply for the visa at the Korean embassy directly between Mon~Fri 8:30 - 11am.
4. How to get visa
Visit the designated travel agency and pick it up.
The date of pickup does not mean the date the visa has been issued and additional documents and interviews may be required depending on the individual.

If you apply directly for the visa at the embassy you can bring your receipt and pick up the visa between Mon~Fri 1:30 - 4pm.
Period to Process: 10 Business Days
---
This blog post is about Visa Summary Upon Entering Korea. If you have questions about information not covered in the blog post, please email us at support@creatrip.com