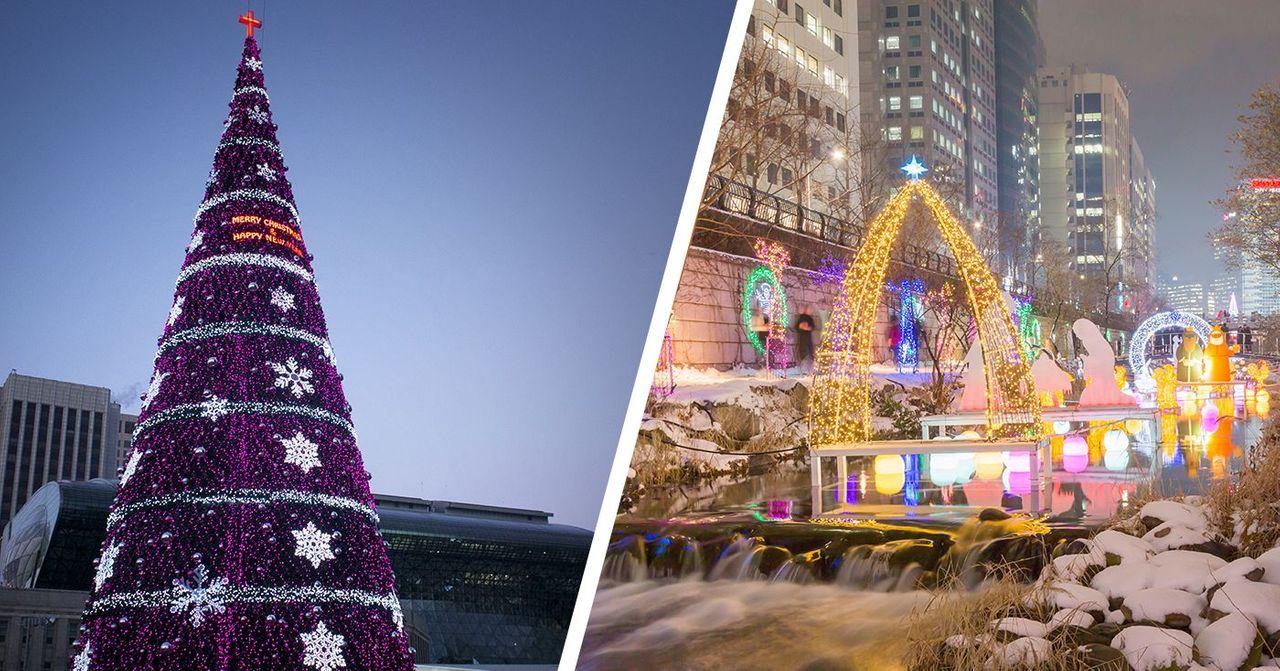 Koreans think of Christmas as a romantic holiday more than a religious holiday. Lovers usually spend Christmas together as it is considered a very special day.
They visit giant Christmas trees, exchange gifts and dine out at fine restaurants.
Creatrip editors are about to share the list of the best Christmassy places in Korea so that you can spend this time of the year with full of pleasant surprises!
⭐️Please keep in mind that due to the pandemic, some of these places may not be operating Christmas specials this year.
---
SEOUL CITY HALL SQUARE

Location: Seoul City Hall

During the Christmas season in Korea, the City Hall Square (also called Cheonggyechon Square) becomes a very vibrant place for celebrating the end of the year.
Every year, a cone-shaped giant Christmas tree sparkles at the square. Many Seoul couples visit this place for a romantic evening out.

Along Cheonggyecheon, an artificial stream that runs through key parts of the city with beautiful trails, Christmas monuments are installed.
The Cheonggyechon River is a place for hanging out for many local families, couples and friends all throughout the year.
During the Christmas season, you can see many Christmas decorations and lightenings, you'll definitely feel the holiday vibes here!
---
MYEONGDONG CATHEDRAL

Address: 서울특별시 중구 저동1가 명동길 74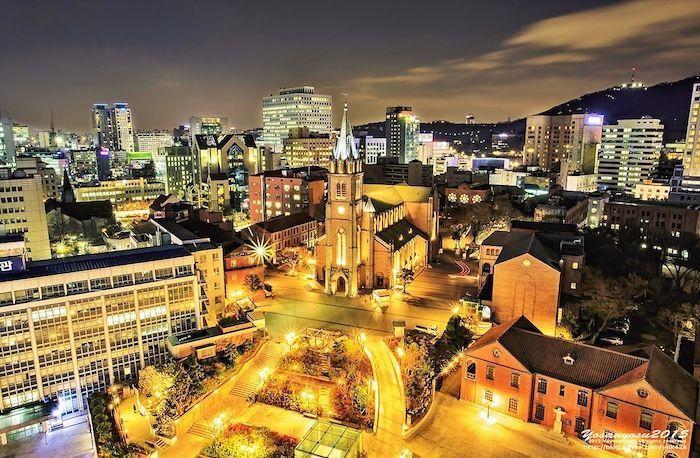 South Korea probably might have the highest proportion of believers in Christianity and Catholicism out of all East Asian countries.
You can see Christian and Catholic churches almost around every corner, and that's why you can feel Christmas well in Korea. Plenty of Christmas decorations can be found at many of the churches.
A beautifully lit Myeongdong Catholic Church is by far the best place to feel the holiday charms.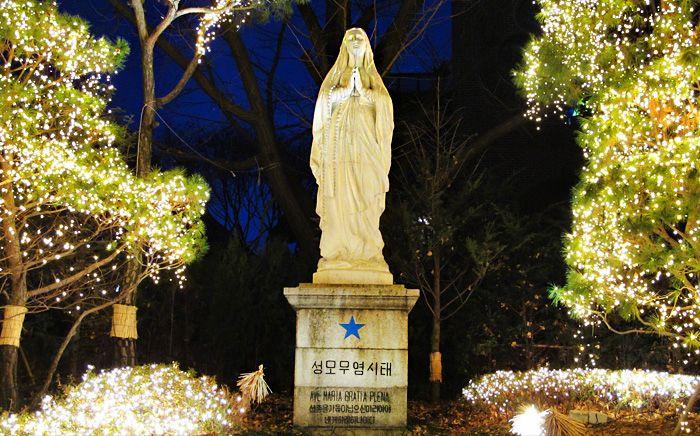 My friends and I visit this Myeongdong sanctuary every week to practice Catholicism.
If you come to Myeong-dong during the Christmas season, you may want to see the Christmas decorations in Myeongdong sanctuary.
---
LOTTE WORLD

Address: 서울특별시 송파구 잠실동 올림픽로 240
Dates: Until December 31, 2020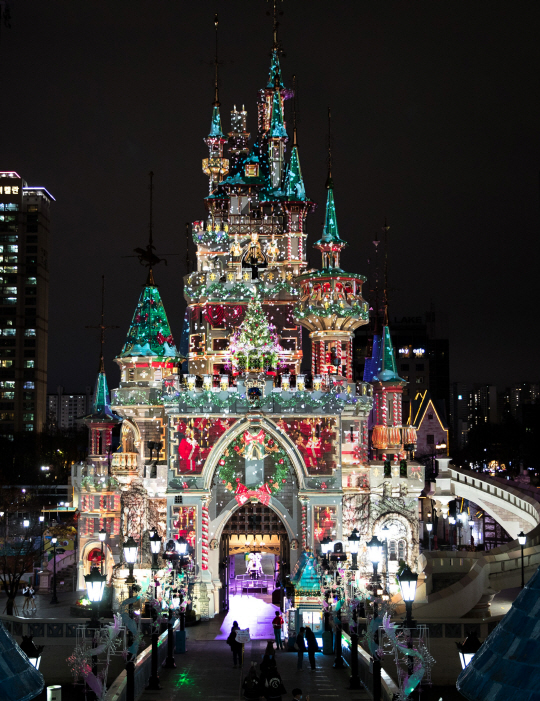 Starting at 6pm each day, Lotte World's Magic Castle will put on sparkling holiday lights. At 8:30pm, you'll be able to catch the 3D digital show, Magic Castle Lights Up.
You'll also find a giant Christmas tree that's 7.5m tall in the main courtyard.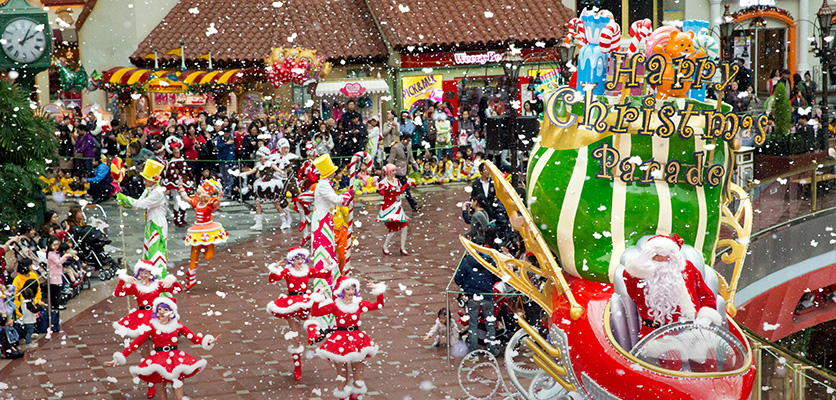 Don't miss out on the joyful performances including live jazz music, children's Christmas Dreams, Cinderella's Christmas Party, and the famous Christmas Party Parade.
---
EVERLAND

Address: 경기도 용인시 처인구 포곡읍 에버랜드로 199
Dates: November 20, 2020 - January 3, 2021
How To Get There:
Shuttle Bus & Ticket Services From Hongdae & Myeongdong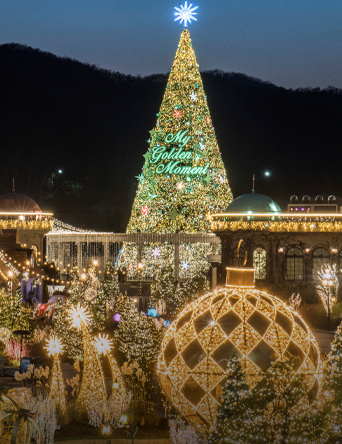 Everland is another famous amusement park in South Korea, and this place also holds a grand celebration during the Christmas season.
The entire park is filled with a celebratory Christmas atmosphere. Make a wish in front of the giant Tower Tree!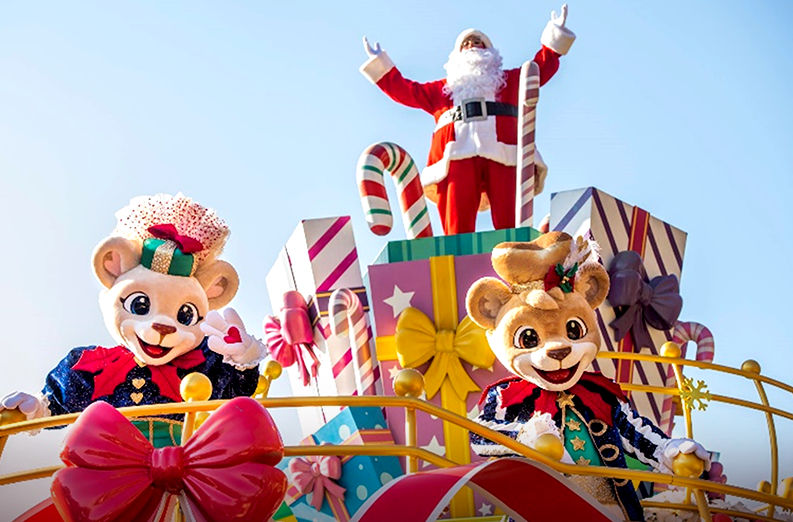 Although located outside Seoul, many locals make it a day trip to feel the festive moods in the big amusement park.
Along with the Christmas Parade, enjoy their many rides and other amusement facilities.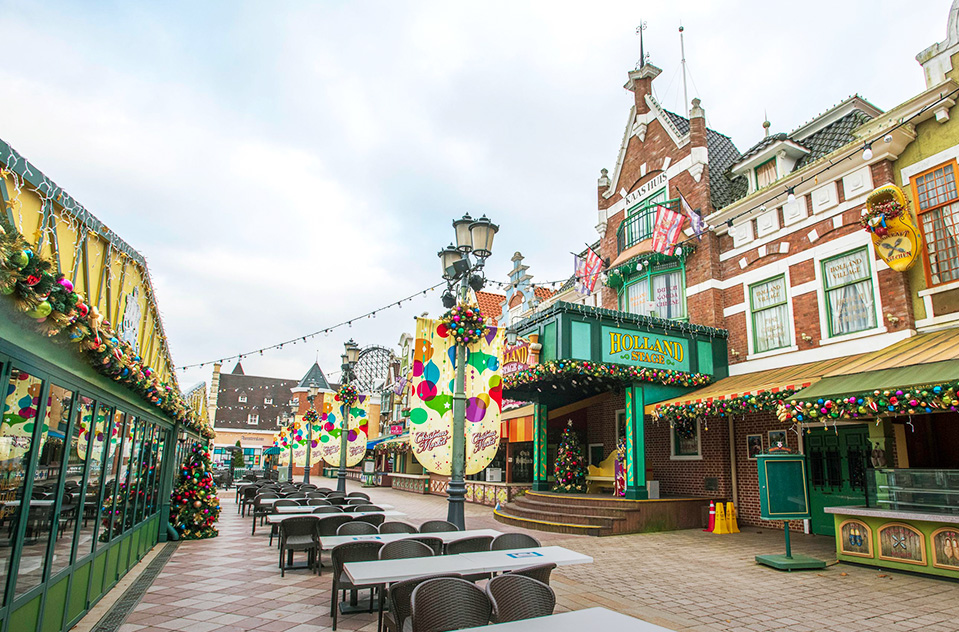 If you get hungry or want to shop for holiday souvenirs from all over the world, stop by the Christmas Market.
---
NAMSAN MOUNTAIN

How To Get There: Walk around 10 minutes from Myeongdong Station Exit 4, take the cable car up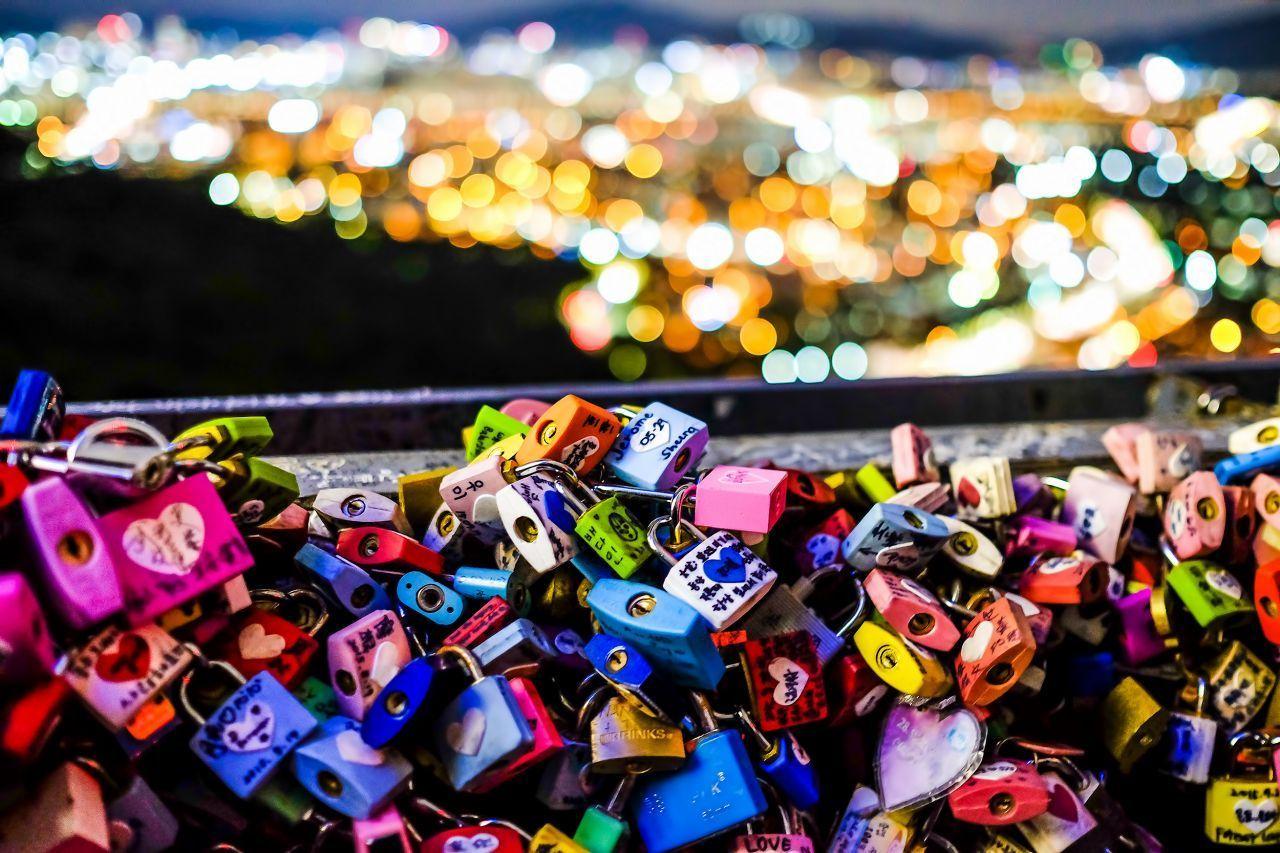 Another very romantic place to spend Christmas in Seoul, N Seoul Tower sees many couples who come up to secure and promise their love with a lock.

Every Christmas, N Seoul Tower will light the famous love lock trees. It's an alluring array of medium-sized Christmas trees.
Especially when it snows, the branches of the love lock trees are covered with snow and become very picturesque.

If you are not a huge fan of a massive Christmas crowd, maybe you want to avoid Seoul N Tower during the Christmas season. If you are a solo traveler, you could feel lonely as well.
---
SINCHON YONSEIRO

Location: Sinchon Station Exits 2 & 3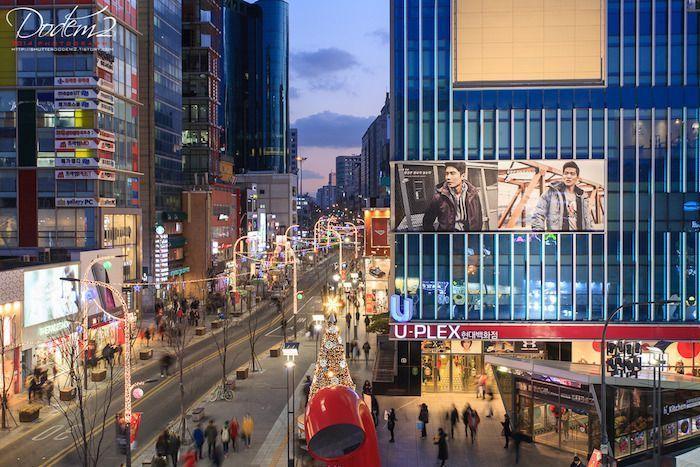 If you want to feel the Christmas atmosphere in the downtown of Seoul, you should check out Yonseiro in Sinchon.
A busy business district and a college town in Seoul, Yonseiro is always full of lively college students.
On New Year's Eve, a huge Christmas tree lights up on Yonseiro.
For Seoulites, Sinchon is an accessible place for feeling the Christmas atmosphere. On Christmas Day, you see colorful Christmas decorations and join the celebratory crowd.
At that time, the surrounding area of Shinchon usually gets very crowded.
---
Which place are you keen on visiting the most? Let us know in the comments below.
We wish you happy holidays and the best in the coming year!