TOP 5 Dongdaemun restaurants
Still Dining at a Touristy Restaurant? Local Koreans Recommend Their Favorite Restaurants!
---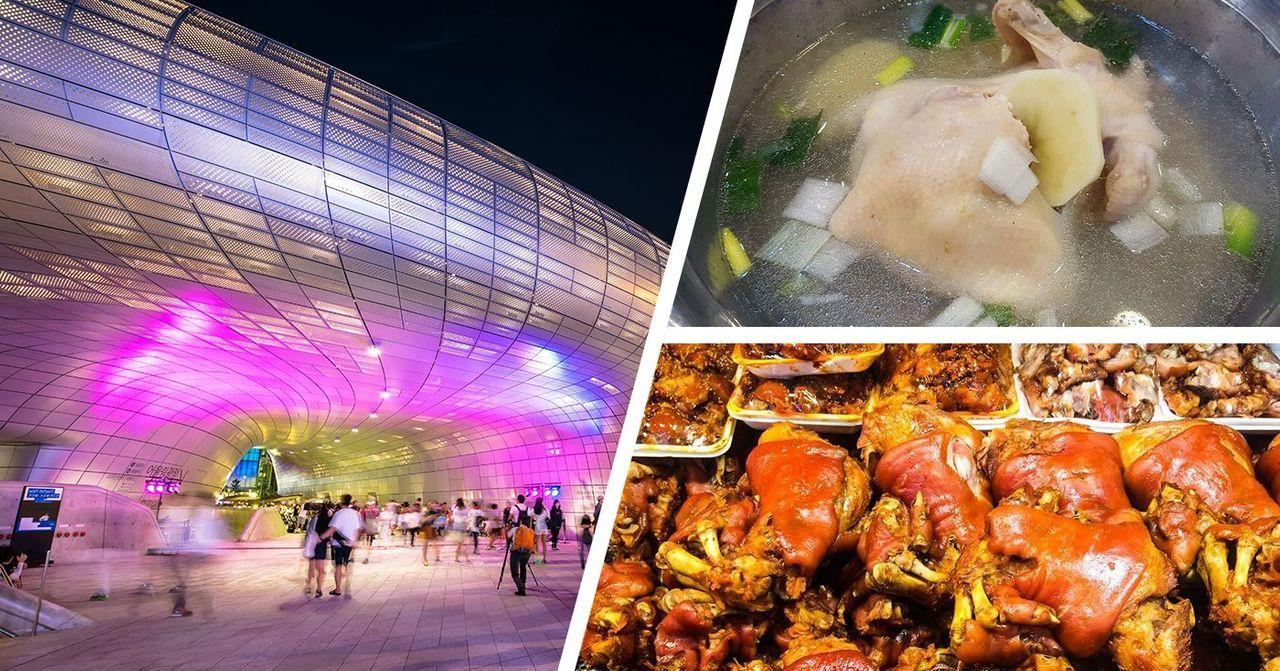 If you are planning to visit Seoul, Dongdaemun DDP is one of the best places worth visiting.
DDP is located in Dongdaemun, which is one of the most famous shopping districts in Korea. Many Koreans and foreign tourists visit Dongdaemun to keep up with fashion trends. After a shopping spree, you would feel hungry, so we would like to give you some recommendations.
Let's unlock the TOP 5 Dongdaemun restaurants!
---
Jinokhwa Halmae Wonjo Chicken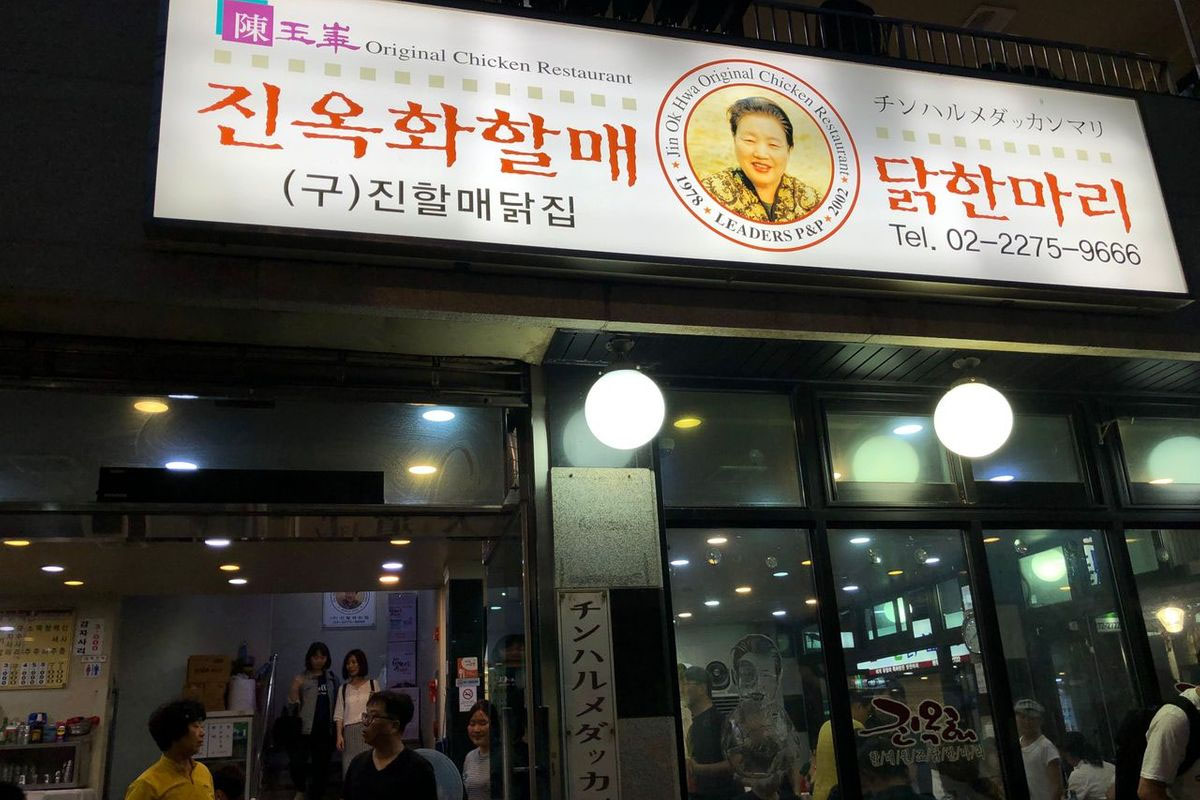 Jinokhwa Halma Original Dak Hanmari is Dongdaemun's most-known chicken soup restaurant. At peak hours, there it is always full and you may have to wait in line for more than 30 minutes if you're unlucky.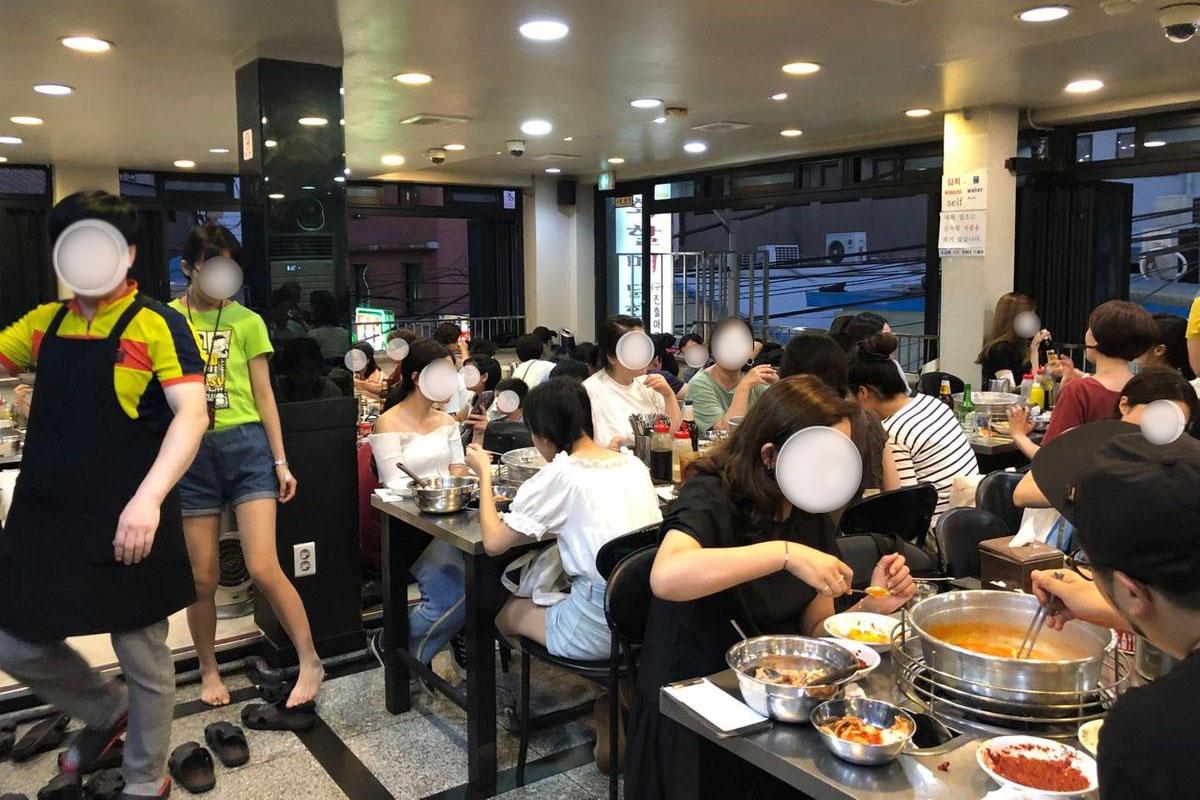 See how all seats are taken? This restaurant was featured in a TV program called Sik Gaek Huh Youngman's Baekban Trip, episode 105.
Located in the Dongdaemun Market Food Street, it opened in 1978 and has grown to be one of Dongdaemun's most beloved restaurants.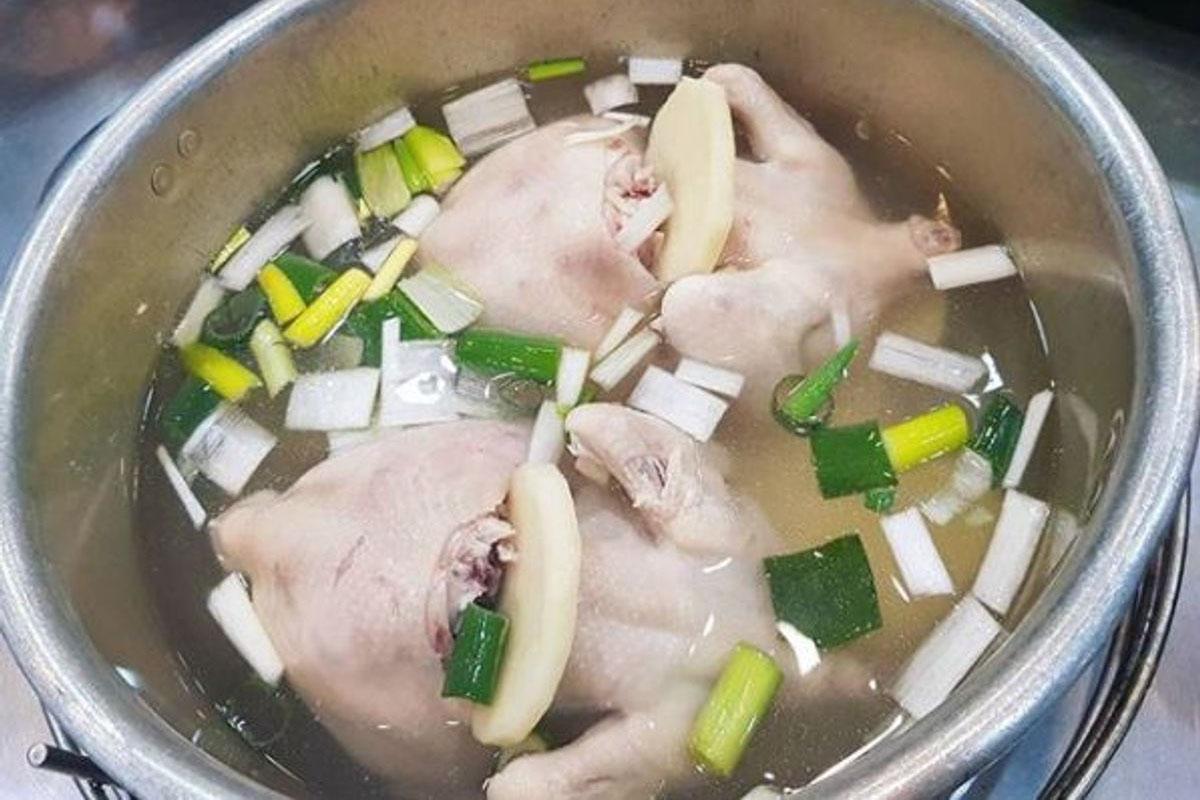 When Korea was underdeveloped and people did not have enough money to eat, Jin OkHwa, the founder of the restaurant, fed them like they were her own grandchildren.
Order a serving of rice cakes and put it in the soup. Later when you've almost finished the chicken, order some knife cut noodles, and finally finish off your meal by adding some rice in the leftover soup to make fried rice! This is how you properly enjoy Dak Hanmari.
Address: 서울특별시 중구 종로40가길 18
18, Jongno40gagil, Jung-gu, Seoul
Hours: Every day 10:30 - 01:00 (Last order at 23:30)
Signature Menu: Dak Hanmari 25,000 KRW
---
Dokkebi Bulgogi
A rare find in Dongdaemun, a 24 hour traditional Bulgogi Restaurant, Dokkebi Bulgogi!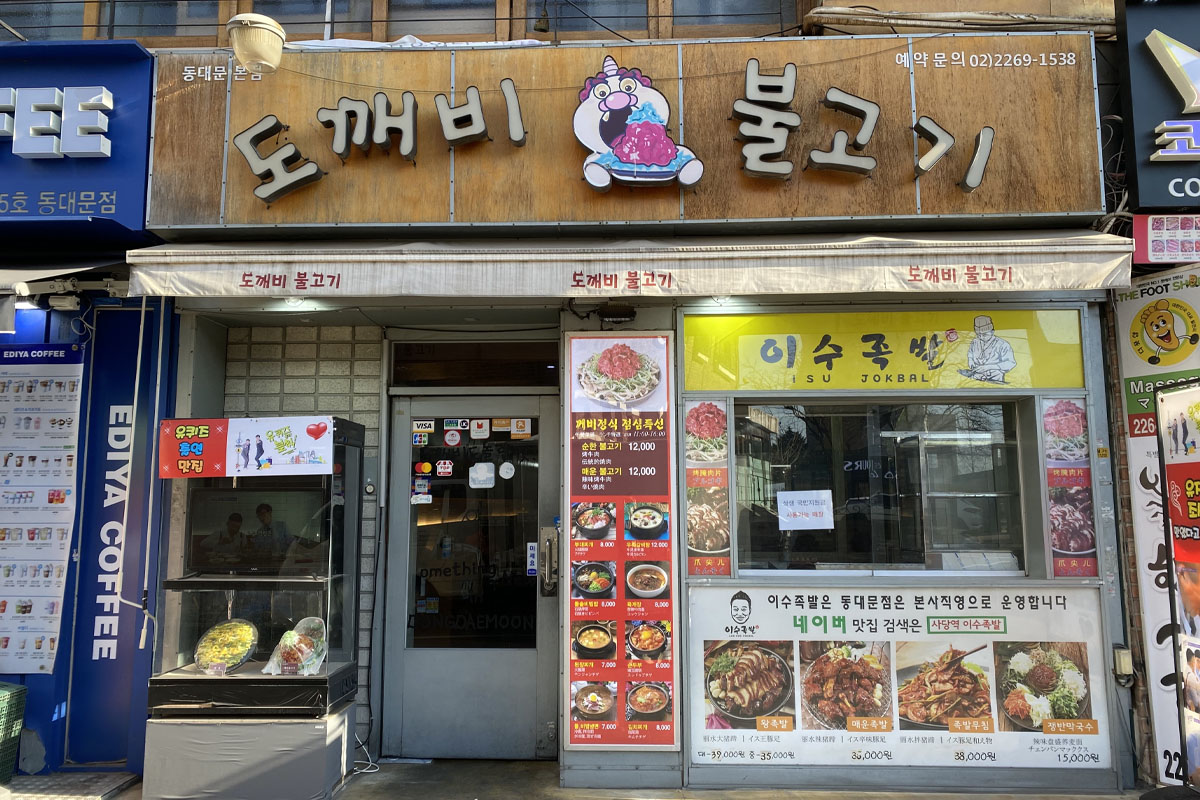 Their signature menu, the Kkaebi Bulgogi, comes with bulgogi, glass noodles, green onions in a broth simmering in a pot right in front of you.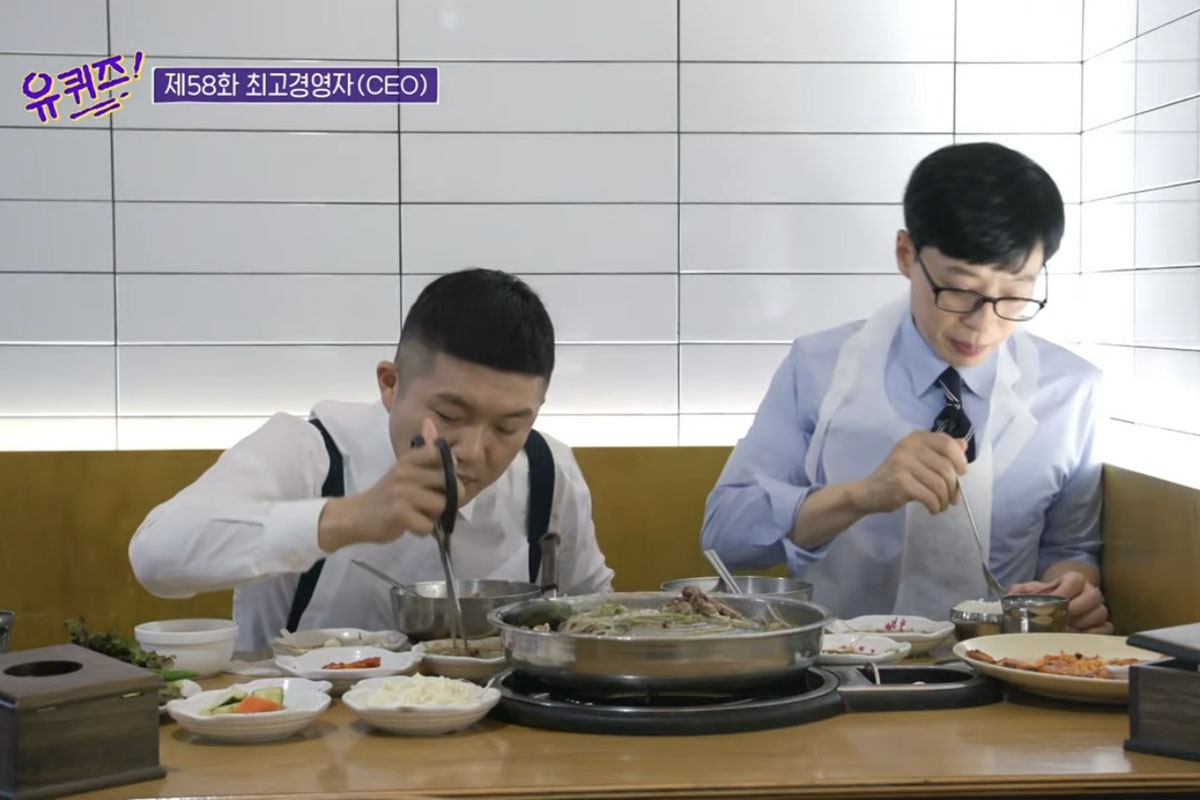 This restaurant was featured in Yoo-Quiz, episode 58, where Yoo Jae-seok and Cho Seho came and had lunch. They also have jokbal, pig's trotters, on the menu which is unique from other bulgogi restaurants! There are menu items that come in single servings as well like the Galbi Soup, Yukhyejang, Korean Army Stew, Soybean Soup, and more, so don't feel bad if you're dining alone.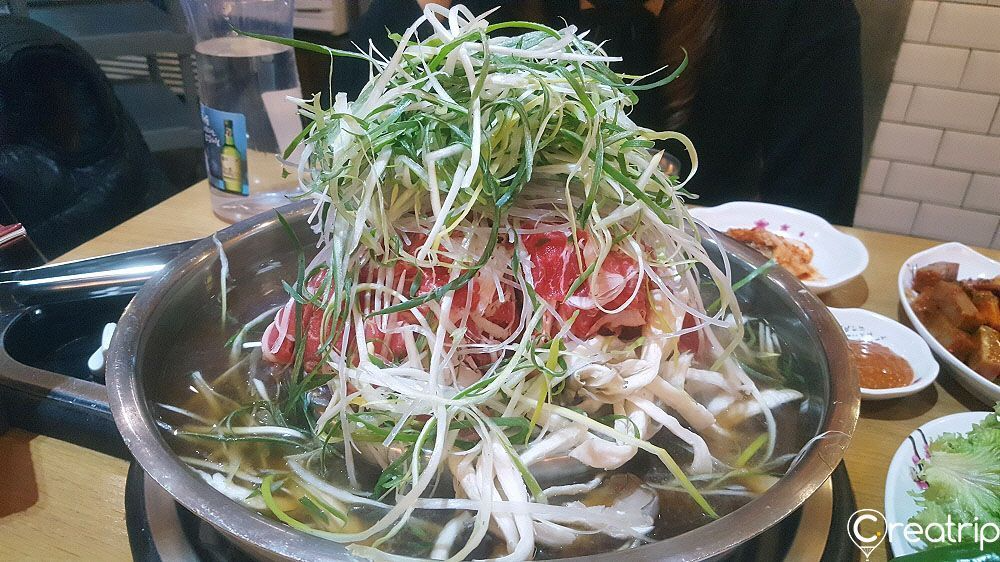 This is their signature menu, the Kkaebi Bulgogi. This menu comes with beef Bulgogi, mushrooms, and sweet onion slices staked like a mountain.
Address: 서울특별시 중구 을지로43길 38
38, Euljiro43gil, Jung-gu, Seoul
Hours: Everyday 24 hours
Signature Menu: Kkaebi Bulgogi 17,000 KRW
---
Changshindong Spicy Jokbal Original Store
Dongdaemun's best spicy Jokbal!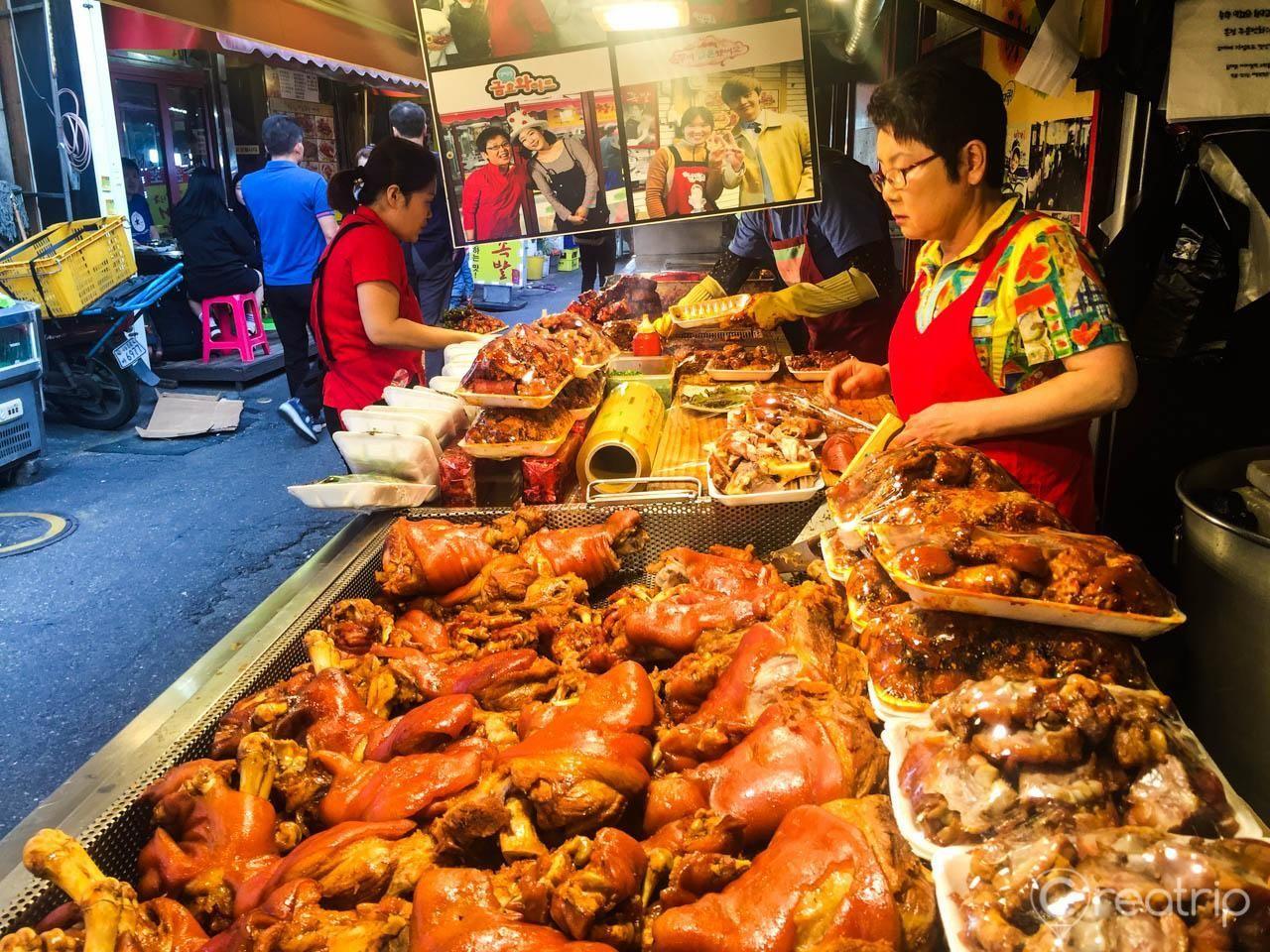 Did you know that Dongdaemun has a famous alley for Jokbal which is boiled pig's feet?
The Changshindong Spicy Jokbal Original Store sells amazing Jokbal and has a very long history.
Unlike other regular Jokbal, Changshindong Spicy Jokbal is famous for its delicious and spicy Jokbal. You can always find a long queue in front of the restaurant waiting to be served.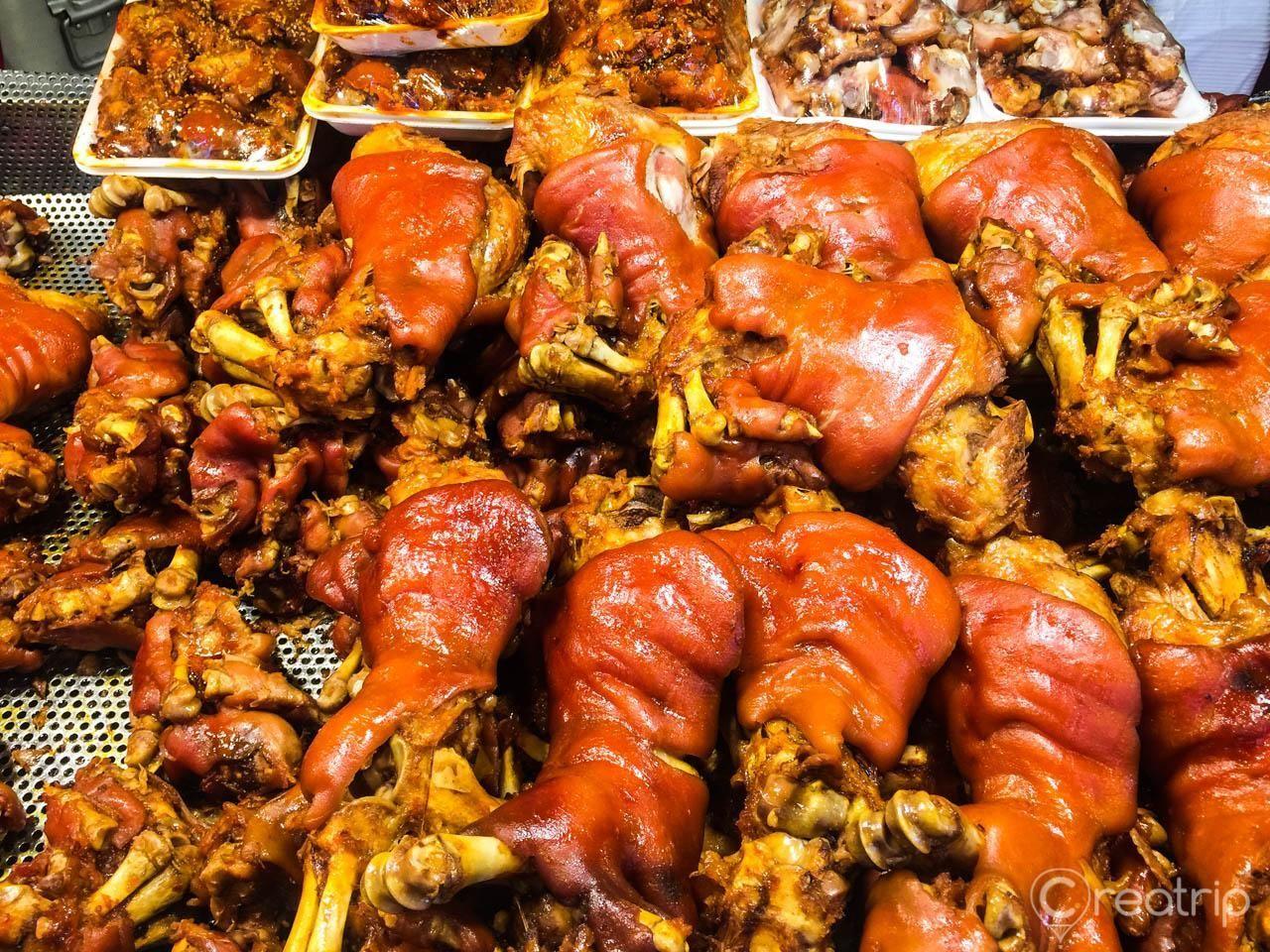 When you approach the entrance of the store, you can see a huge bucket with boiled pork in the color of coffee. On the right side, there is a huge grill. The cook first places the Jokbal on the grill and smears them with a spicy sauce. He roasts the Jokbal on top of the charcoal fire. The important thing is that you can see the whole process of production right on the spot.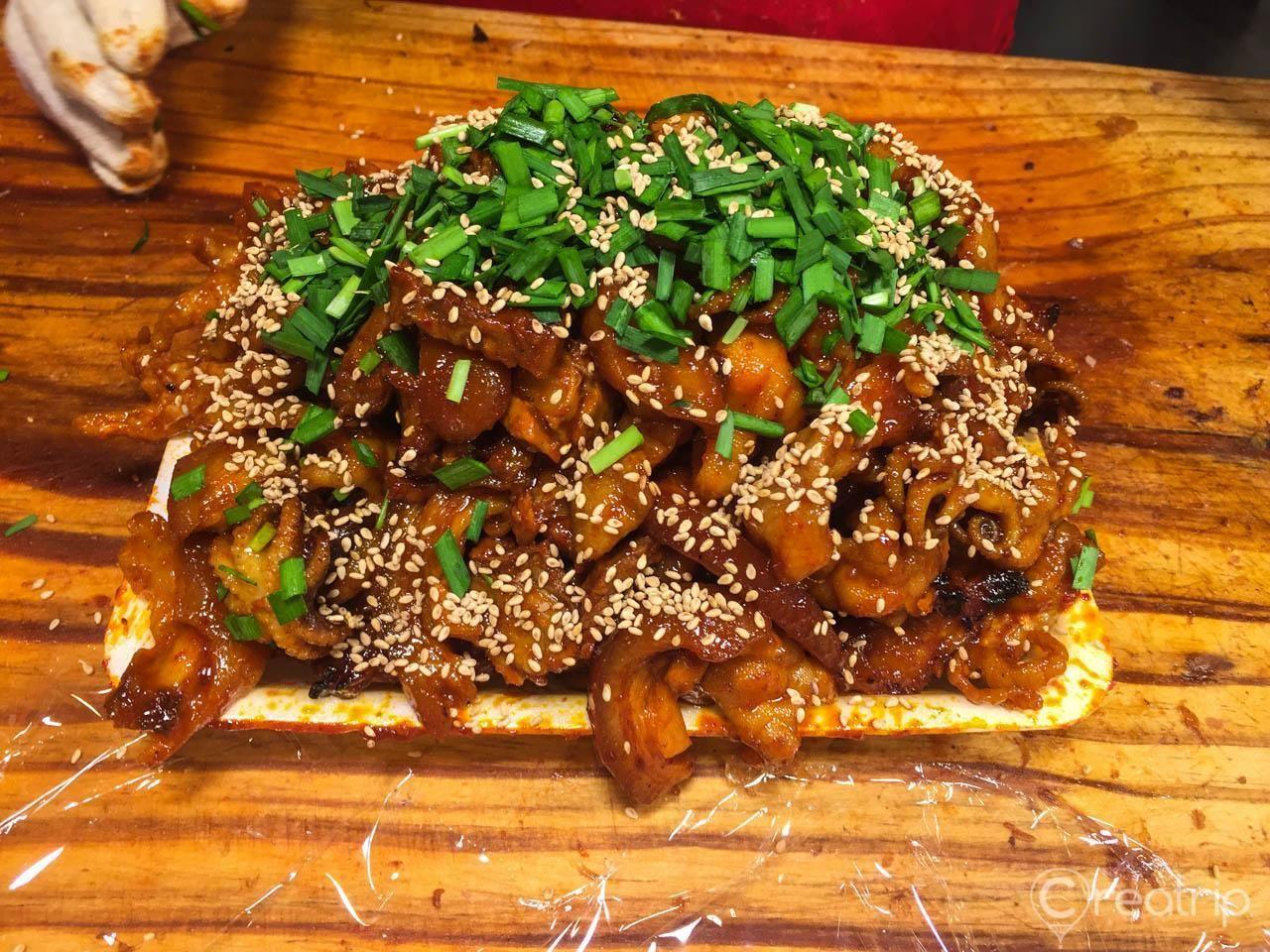 Spicy Jokbal is so spicy that it will make you sweat. But it is very delicious and addictive, and you won't be able to stop eating it.
This is a great place to experience Korean spicy food. If you're not good with spice, order a serving of rice and it'll subdue the pain a little!
Address: 서울특별시 종로구 창신2동 687-40
687-40 Changsin2dong, Jongno-gu, Seoul
Hours: 10:30 - 00:00 (Closed every Monday)
Signature Menu: Spicy Mini Jokbal (Large) 30,000 KRW
---
Dongdaemun Butcher Restaurant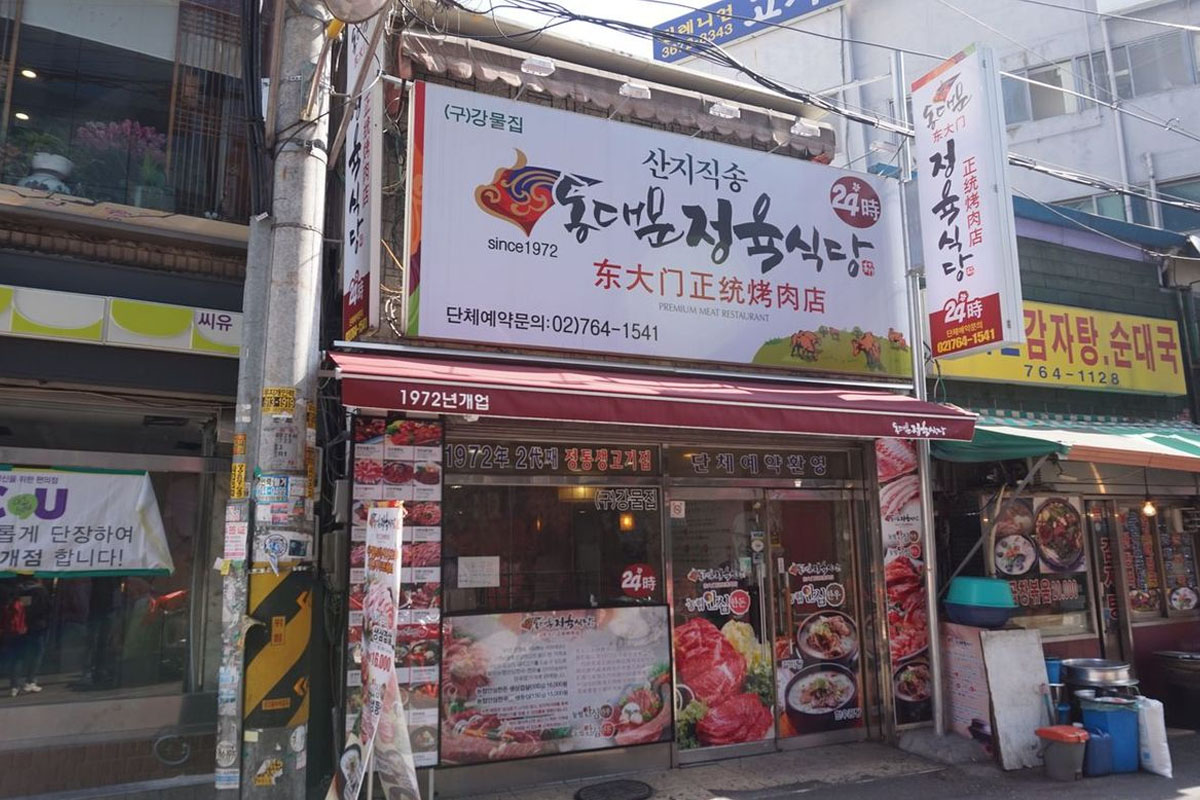 Foreigners that come to Korea always look for the Korean Barbeque experience. However, a lot of them go back unsatisfied because there are Korean barbeque restaurants that are too pricey and have below-average quality meat. The solution to that is right here!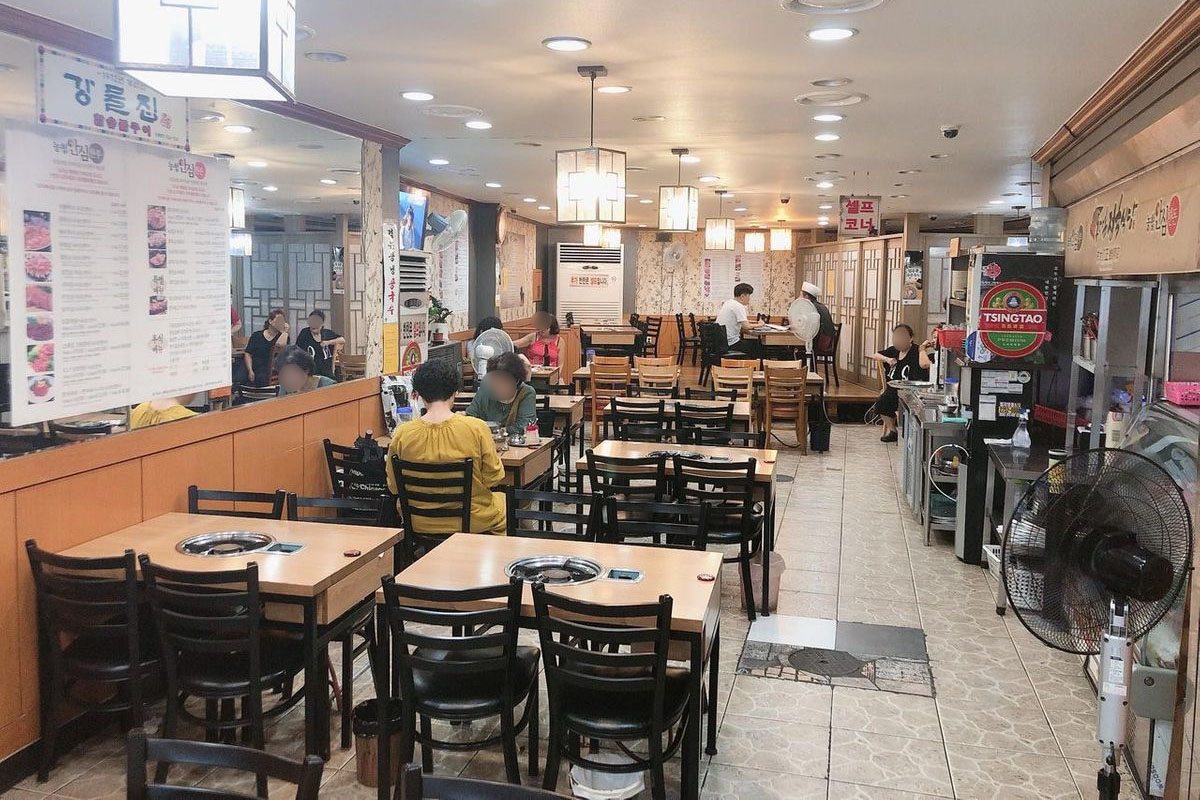 Dongdaemun Butcher Restaurant gets their Korean beef directly from the meat supplier and butchers it themselves so they can provide high-quality beef at affordable prices. The restaurant is also open for 24 hours so you can stop by at any time during your trip.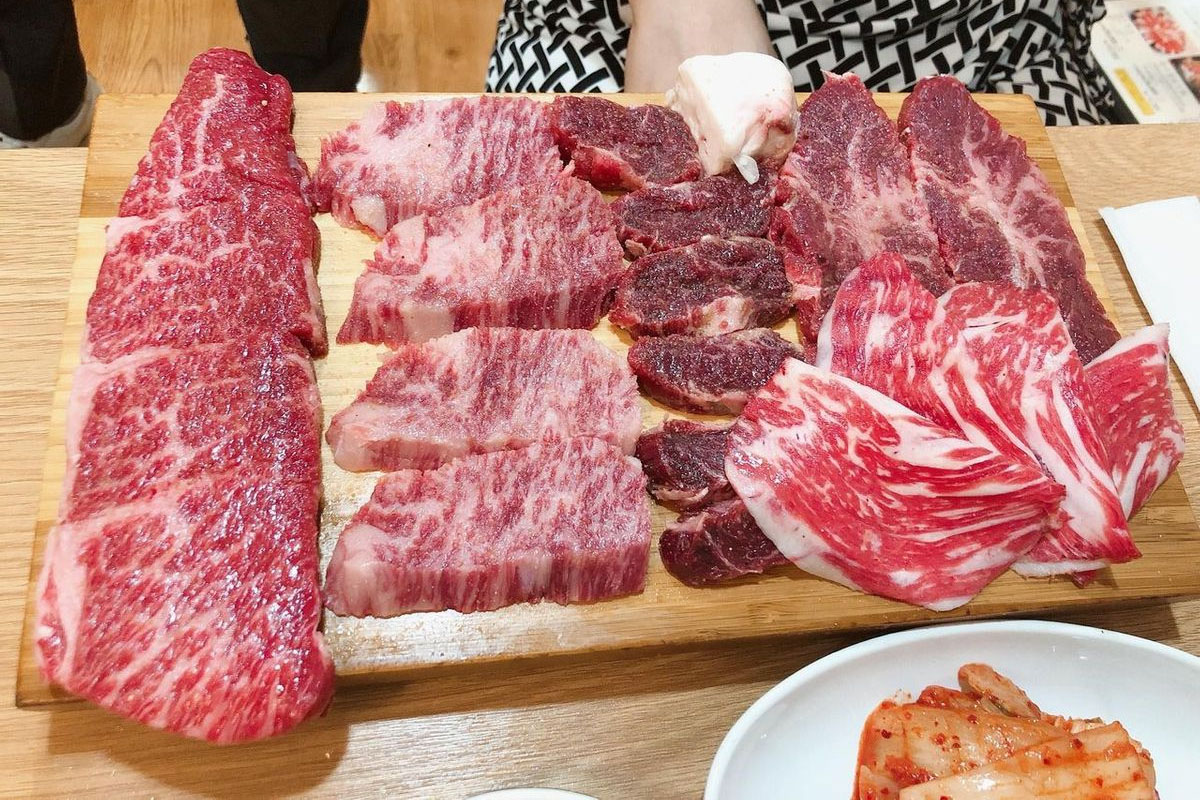 You can taste a variety of special cuts of beef at Dongdaemun Butcher Restaurant. They've gained the love of locals since 1972.
Address: 서울 종로구 종로 46길 7
7, Jongno46gil, Jongno-gu, Seoul
Hours: Every day 24 hours
Signature Menu: V.I.P. Beef Set 95,000 KRW
---
Kyochon Chicken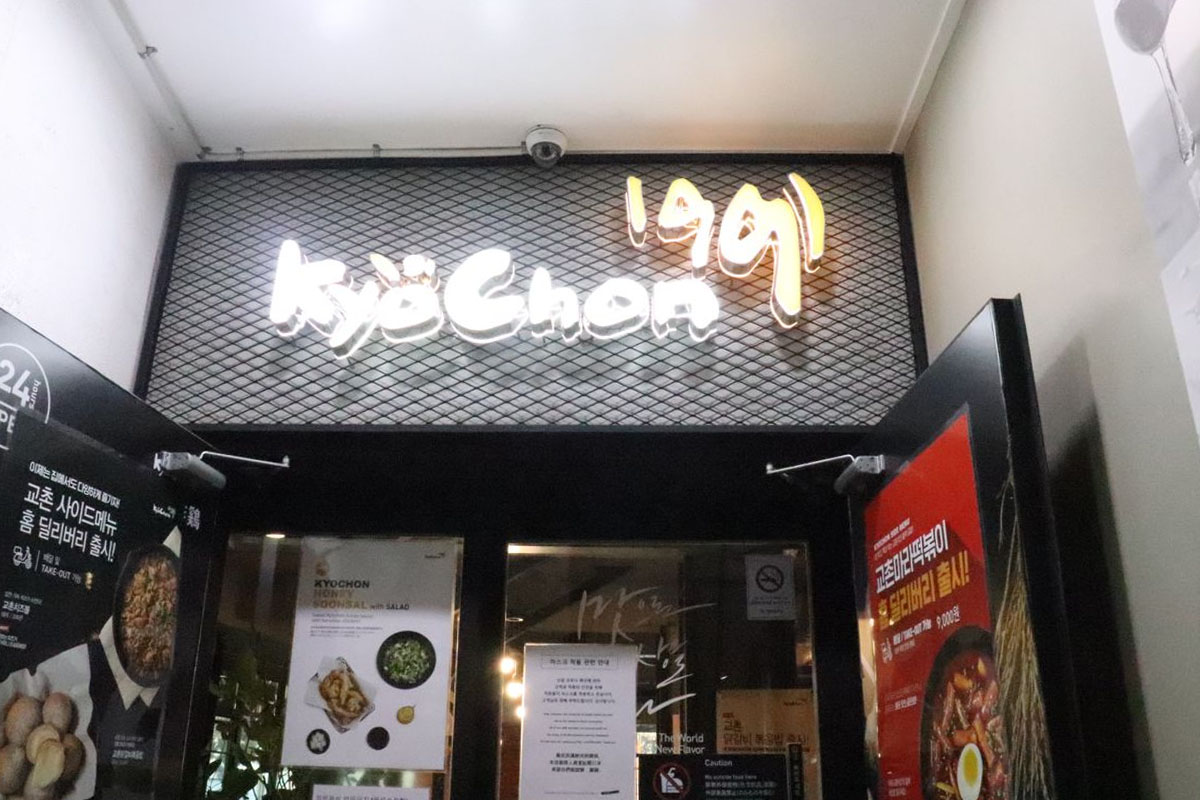 You have to have Korean fried chicken at least once during your trip. We recommend you choose to dine at Kyochon Chicken in the middle of your day of shopping in Dongdaemun. See 1991 on the sign? Kyochon chicken has been open since 1991.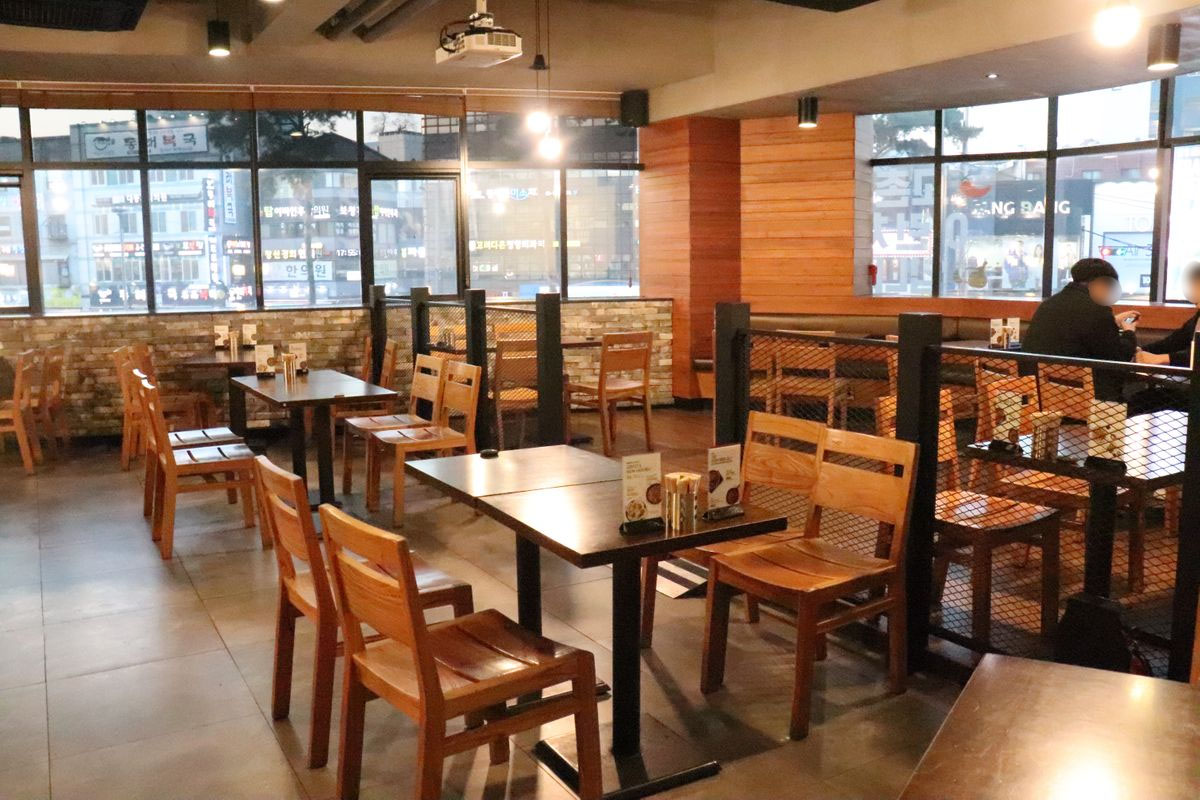 The Dongdaemun Branch is one of the biggest Kyochon stores in Korea, so it is very spacious and has plenty of seats. A lot of Korean chicken franchises have a signature Soy sauce but Kyochon doesn't seem to have one. Instead, they have a signature sauce called the Red Original which is flavored with garlic, honey, and Korean chilis. If you like spicy food and the taste of garlic, this is the one for you.
Address: 서울 종로구 종로 294 2F
2F, 294, Jong-ro, Jongro-gu, Seoul
Hours: Every day 24 hours
Signature Menu: Half and half Original 17,000 KRW
Get free potato wedges with the Creatrip coupon!
---
Byeolnan Ori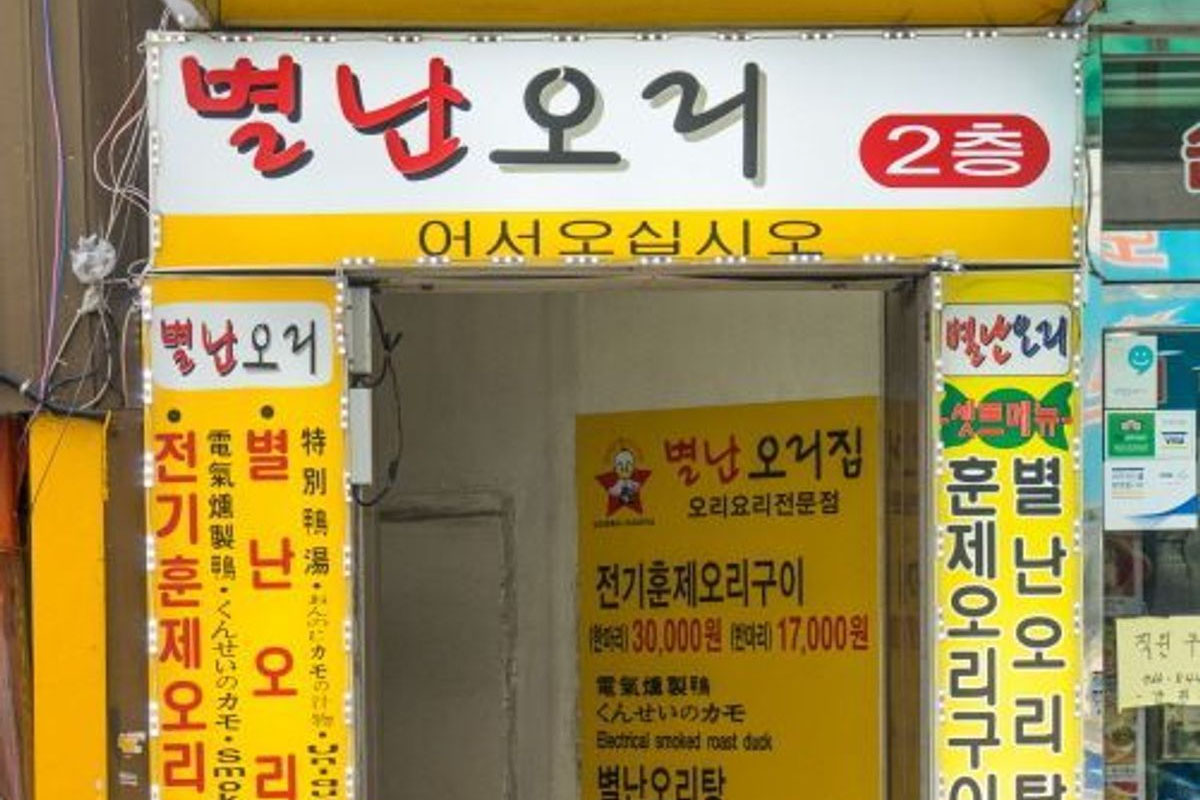 Duck meat is loved by Koreans because it is not as heavy and has a nice chew. It is also high in protein and healthy fats so people like to eat it when they are on a diet. Some restaurants do not prepare the duck meat properly and so it may have a distasteful smell, but here at Byeolnan Ori they have exceptional standards and have been in Dongdaemun for 17 years.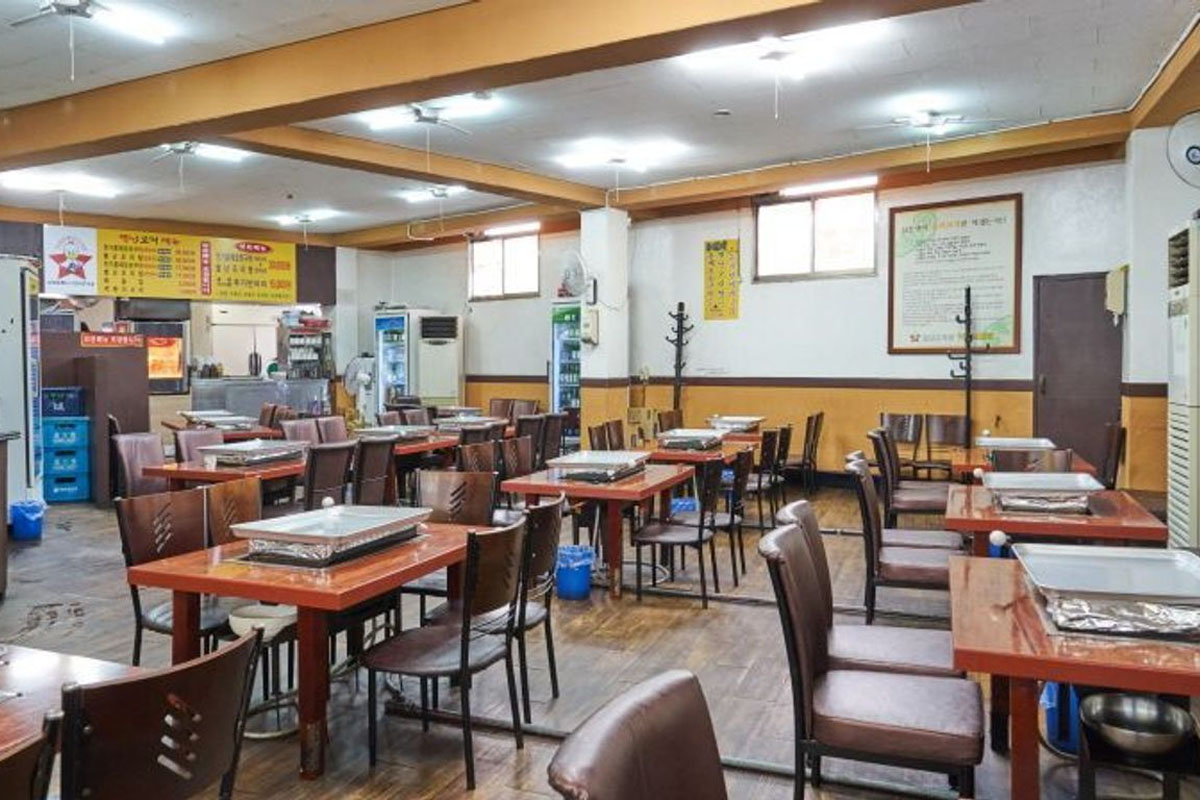 This restaurant is Halal certified and is Muslim-friendly, so it is visited frequently by foreign visitors. Even though the restaurant is quite spacious, you might have to wait in line at dinner hours, so make sure you arrive a little early.
This place attracts a lot of people because you can enjoy a spicy duck stew and smoked duck at the same time. If you finish the duck stew, mix in some rice in the remaining broth and eat that with the smoked duck.

Address: 서울 종로구 종로 46길 12 2F
2F, Jongro46gil 12, Jongno-gu, Seoul

Hours: Mon - Fri 11:00 - 23:00; Sat 11:00 - 22:00 (Closed every Sunday)

Signature Menu: Half Grilled Duck + Half Byeolnan Ori Stew 34,000 KRW
---
Jomaru Ppyeodagwi (Jomaru Gamjatang)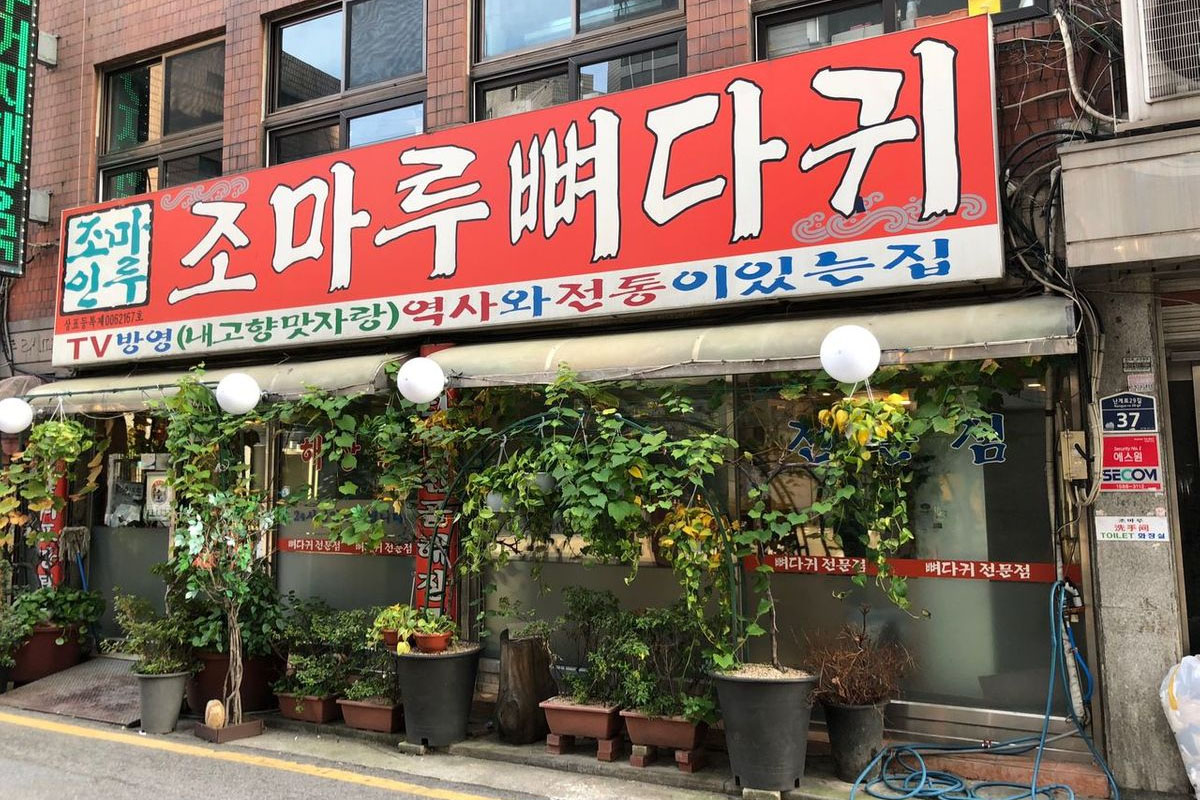 Gamjatang is not named after gamja, which is potato in Korean, but because the bone in the spine meat they use resembles a potato. This restaurant with a rich history as a local favorite was featured in the TV show 'My hometown, Flavor Boast (내고향맛자랑)'.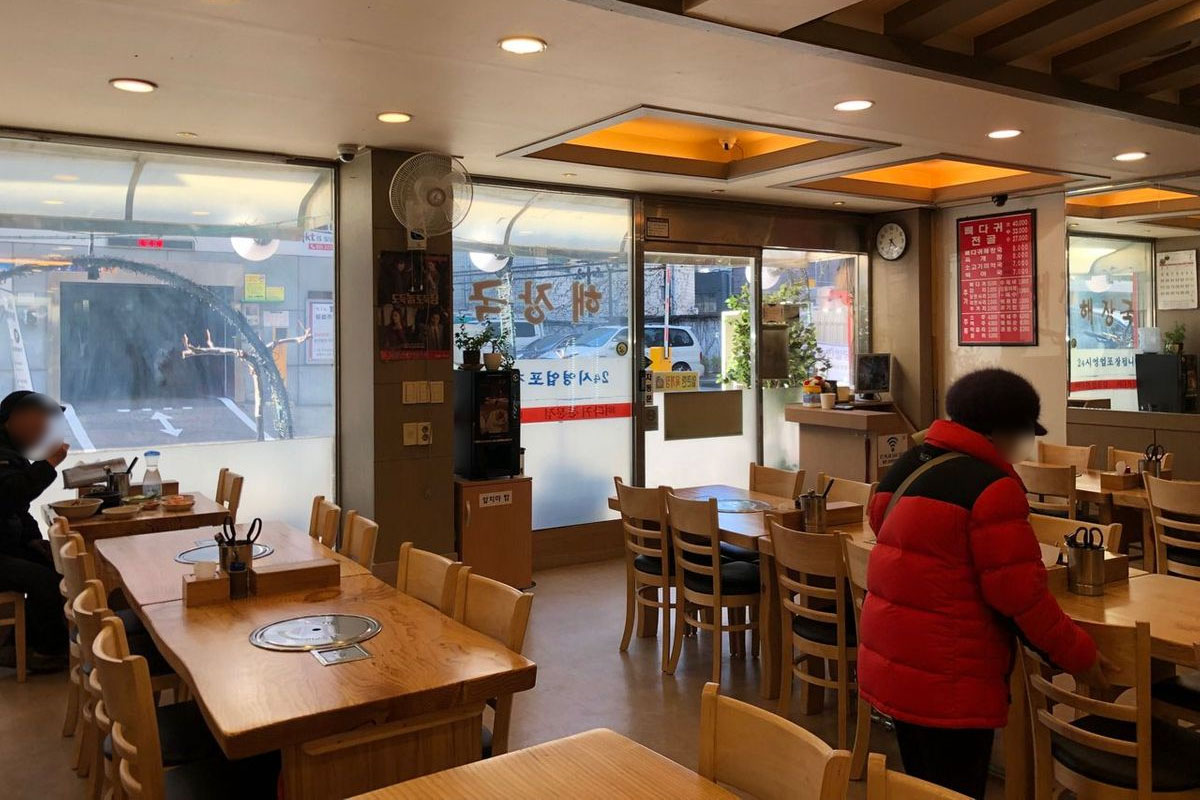 The restaurant is spacious so you can dine comfortably. Koreans like to eat Gamjatang the morning after a night out to cure hangovers. We recommend you do the same after a few shots of soju.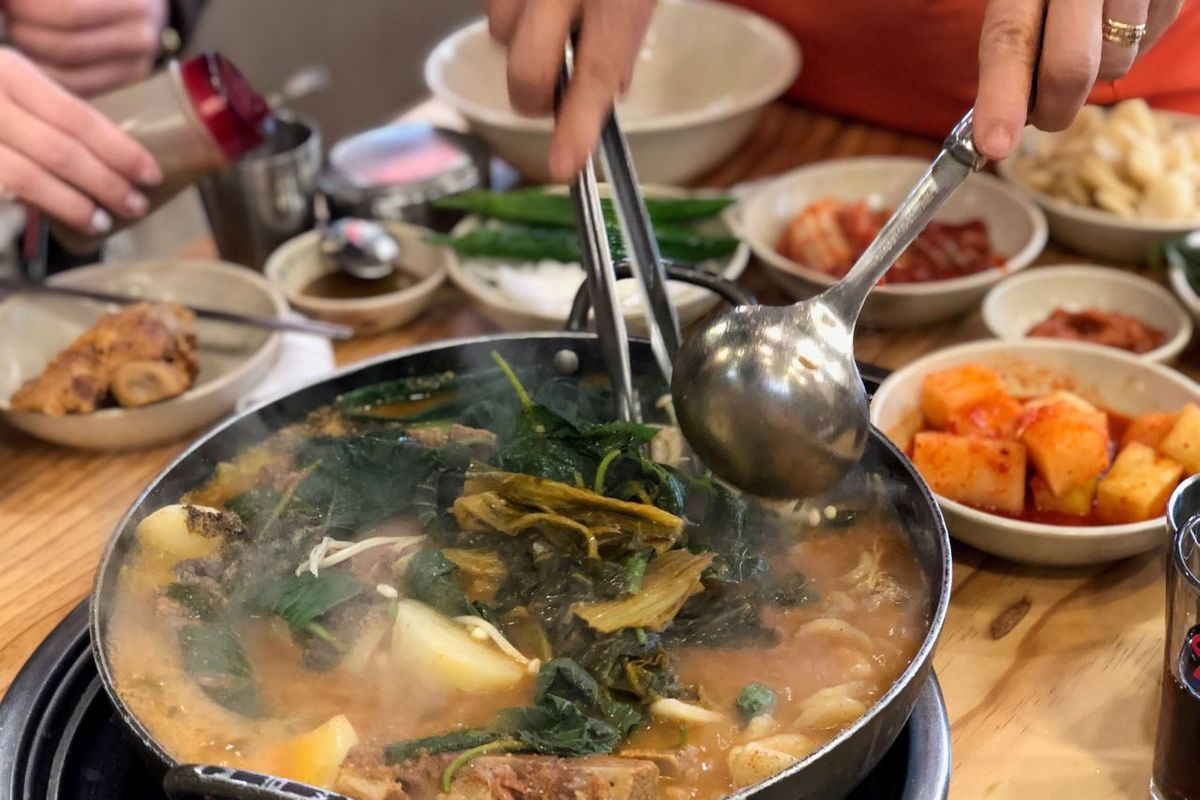 Eat it with radish kimchi or add some noodles for some extra carbs. When you're almost done, add rice to the leftover broth and make fried rice. Can you tell that Koreans eat a lot of carbs? Maybe that's why this is a hangover cure...
Address: 서울 종로구 난계로 29길 37
37, Nangyero29gil, Jongno-gu, Seoul
Hours: Everyday 24 hours
Signature Menu: Back bone Stew Large 40,000 KRW / Medium 35,000 KRW / Small 30,000 KRW
---
Bamboo Pork Belly DDP Branch
(Daetonglyeong Samgyeopsal)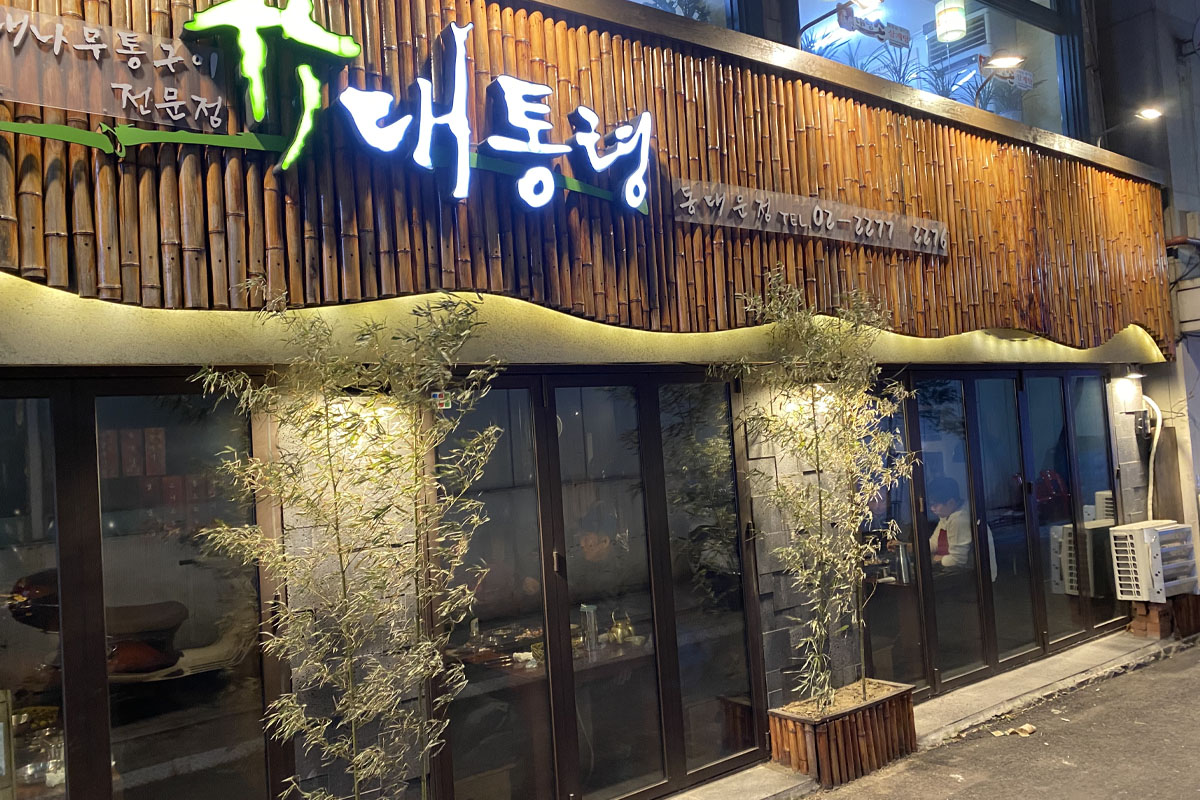 A Korean Barbeque restaurant near DDP! Bamboo Pork Belly brings their own bamboo from Damyang, a region famous for bamboo forests, and uses it to cook the pork belly. An aroma of bamboo is infused into the pork and it also helps it drain out the grease, so it is deemed to be healthier!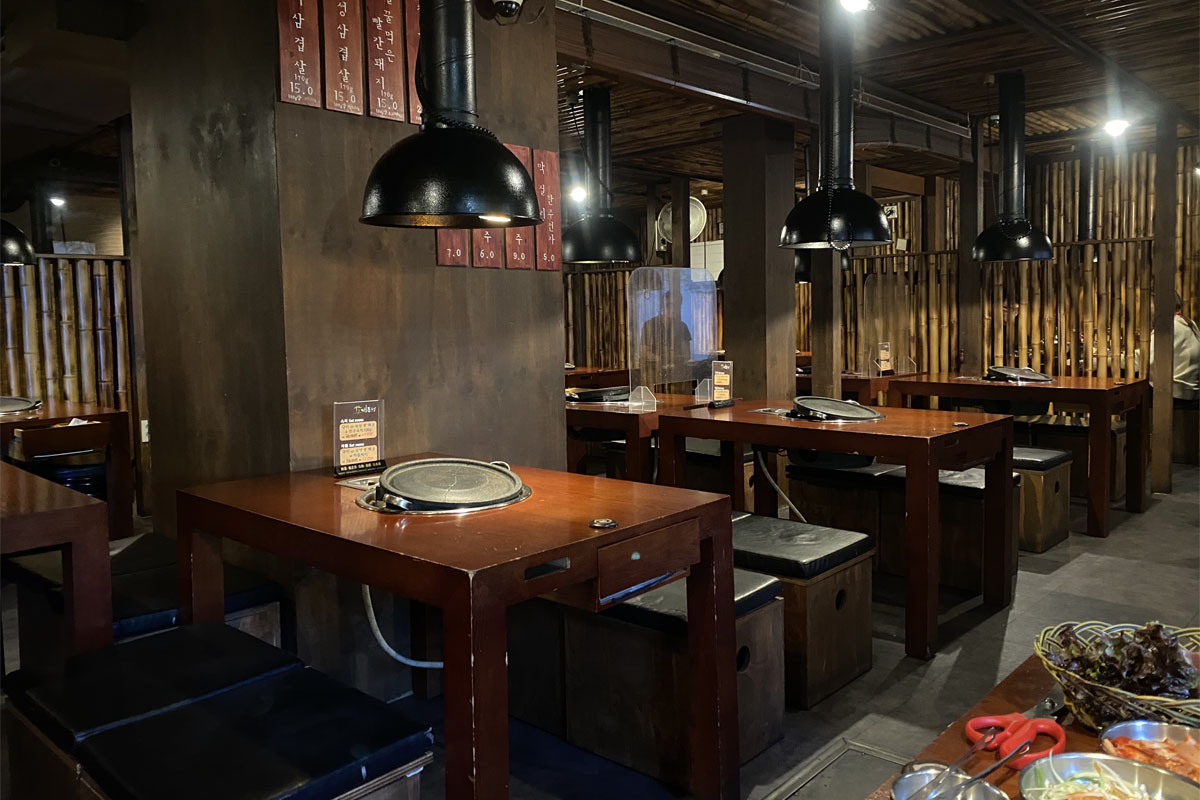 When we arrived at 5 PM, the seats weren't filled but when the clock strikes 6, people started to come in. Don't worry though, because the restaurant is spacious, even if you come at a late time, you won't have to wait long.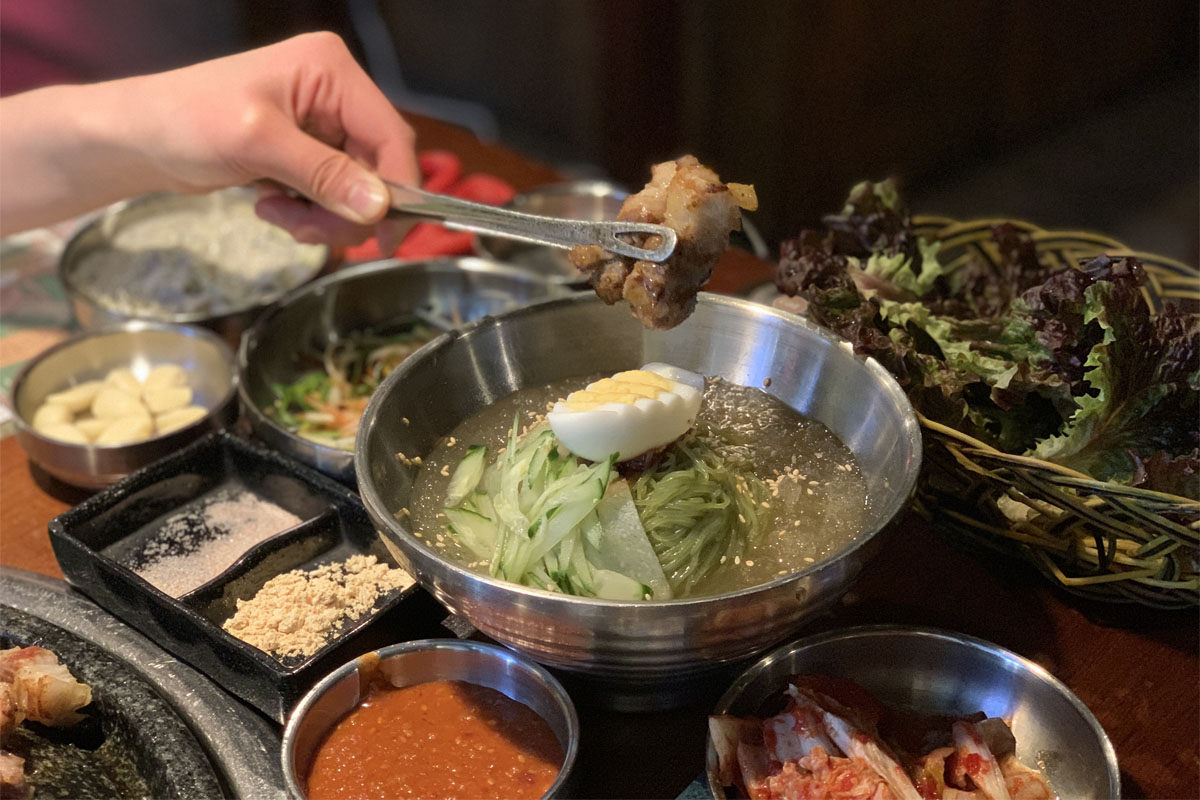 Do you see the sauces next to the meat? First, take a bite of the pork with a pinch of salt, then try it with the soybean powder, to add more flavor. Give all the sauces a try, but at the end, order a bowl of cold noodles as the finale to cleanse your palate.
Address: 서울 중구 장충단로 249-24
249-24, Jangchungdanro, Jung-gu, Seoul
Hours: 11:30 - 23:00
Signature Menu: Pork Belly 16,000 KRW / Cold Noodles 7,000 KRW
---
Jeonju-jip
The smell of grilled fish will lure you into the grilled fish street. There is an array of spots to use from but Jeonju-jip was featured on the TV program 'Live Info Show' a whopping 7 times.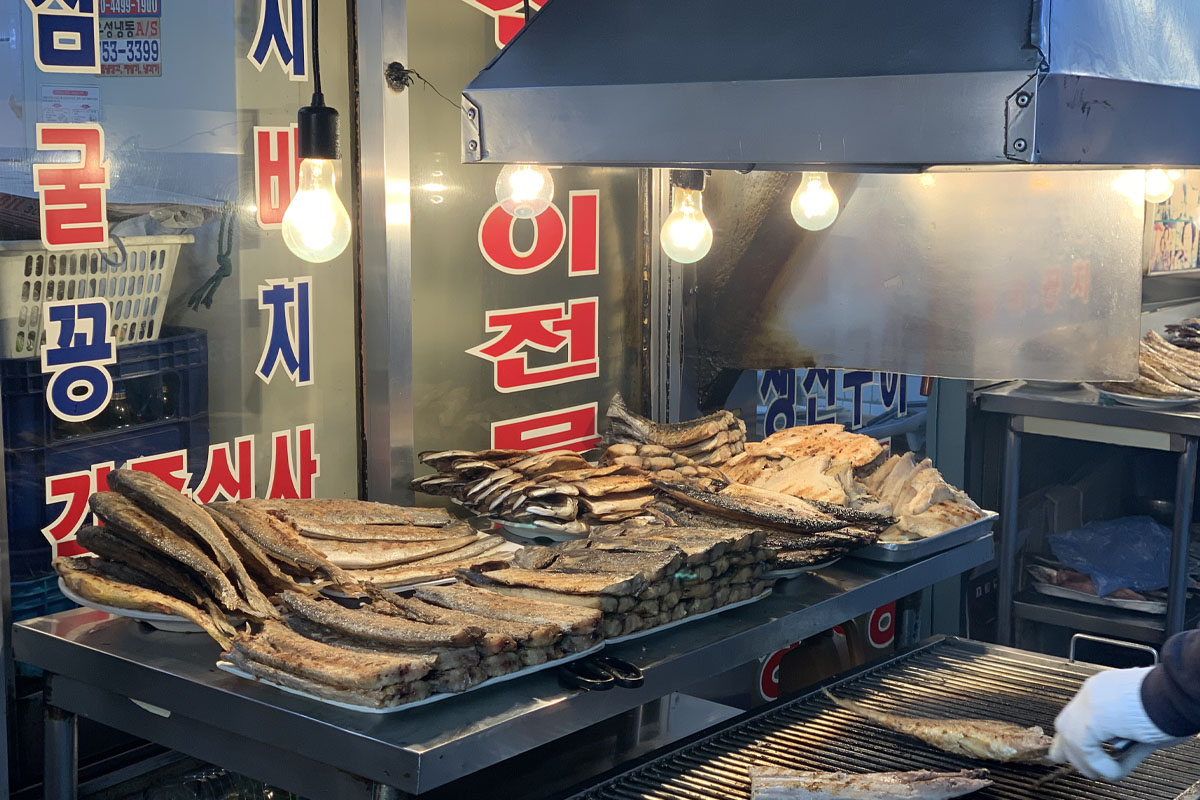 They grill the already grilled fish to make it soft on the inside, and crispy on the outside. The fish is infused with a smokey flavor from being cooked directly in the fire in pieces, so it is cooked evenly.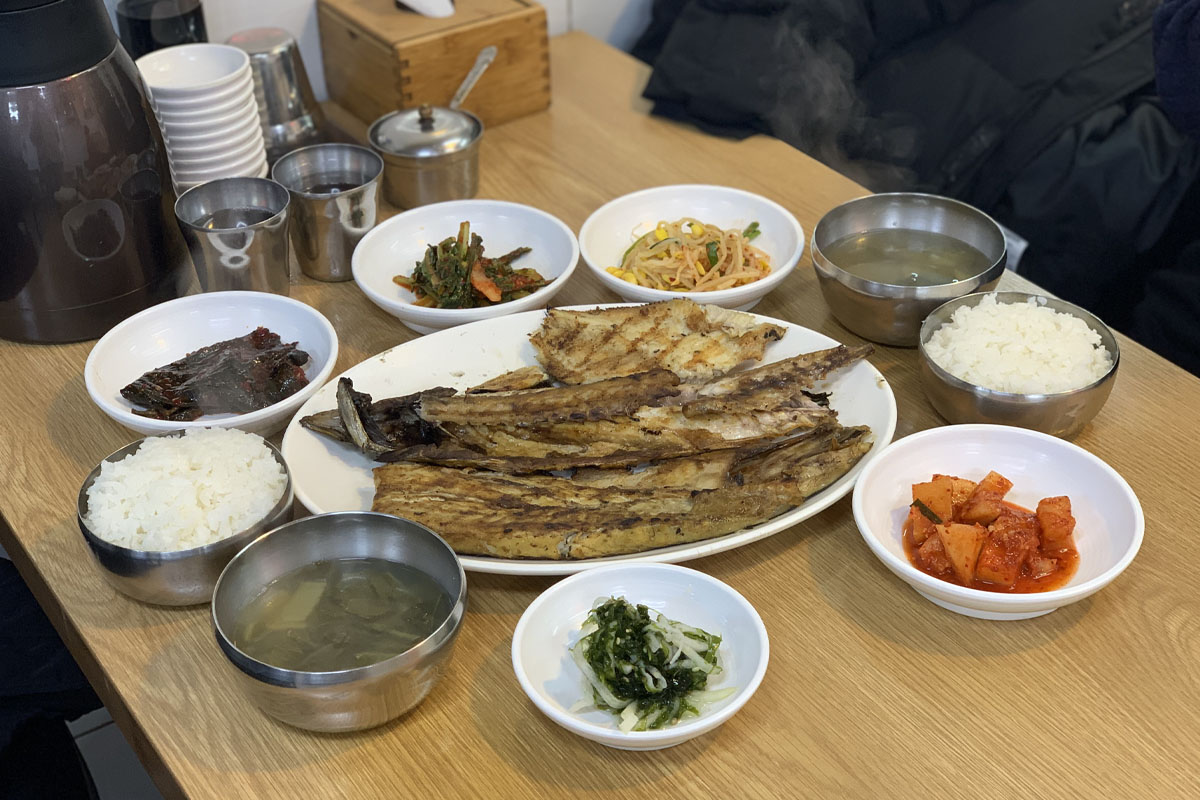 They have a variety of fish like mackerel, mackerel pike, Spanish mackerel, and more. The side dishes are also a favorite, especially the pickled perilla leaves that were aged underground in a traditional clay crock.
Address: 서울 종로구 종로 40가길 5
5 Jongno30gagil, Jongno-gu, Seoul
Hours: 05:30 - 21:00 (Last order at 20:00; Closed on Sundays)
Signature Menu: Grilled Mackeral 10,000 KRW / Grilled Spanish Mackeral 11,000 KRW
---
Yeongsuninae Gopchang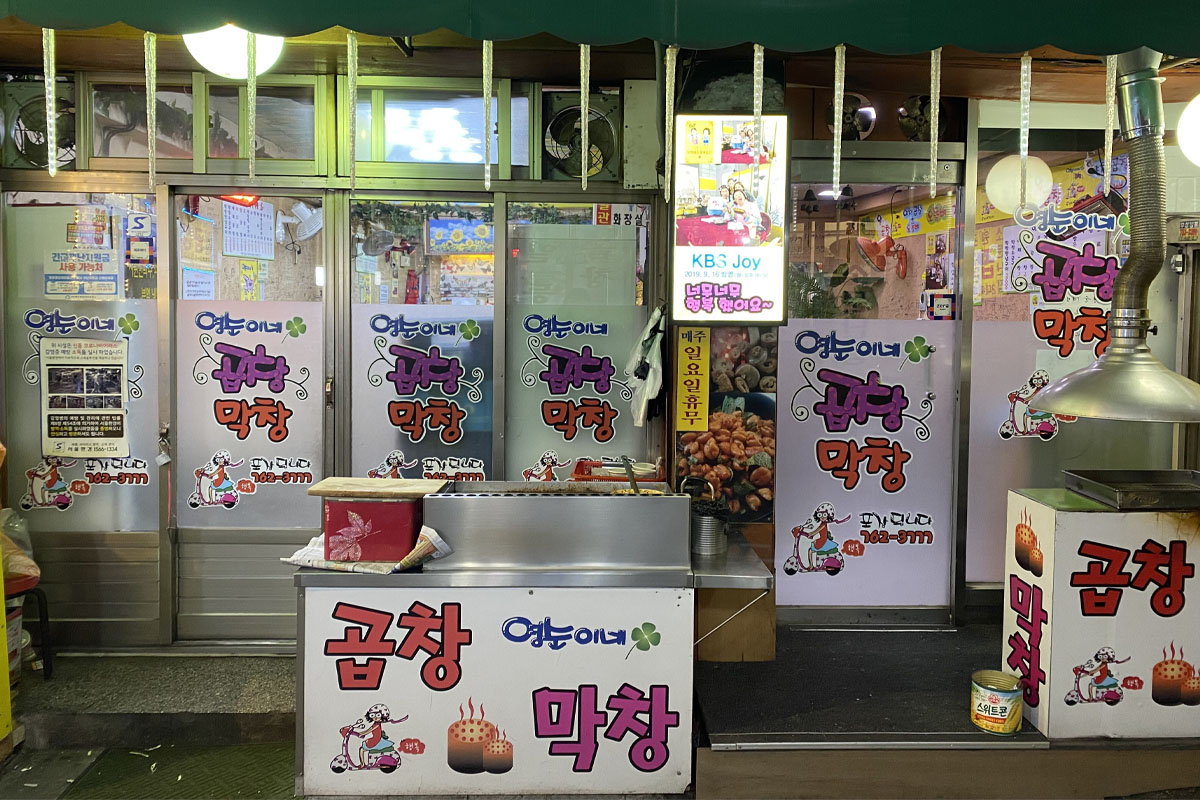 The service at Yeongsuninae Gopchang is so good that I still think about how kind they were now. They were featured on a TV show called 'Ask Me Anything' on KBS in 2019.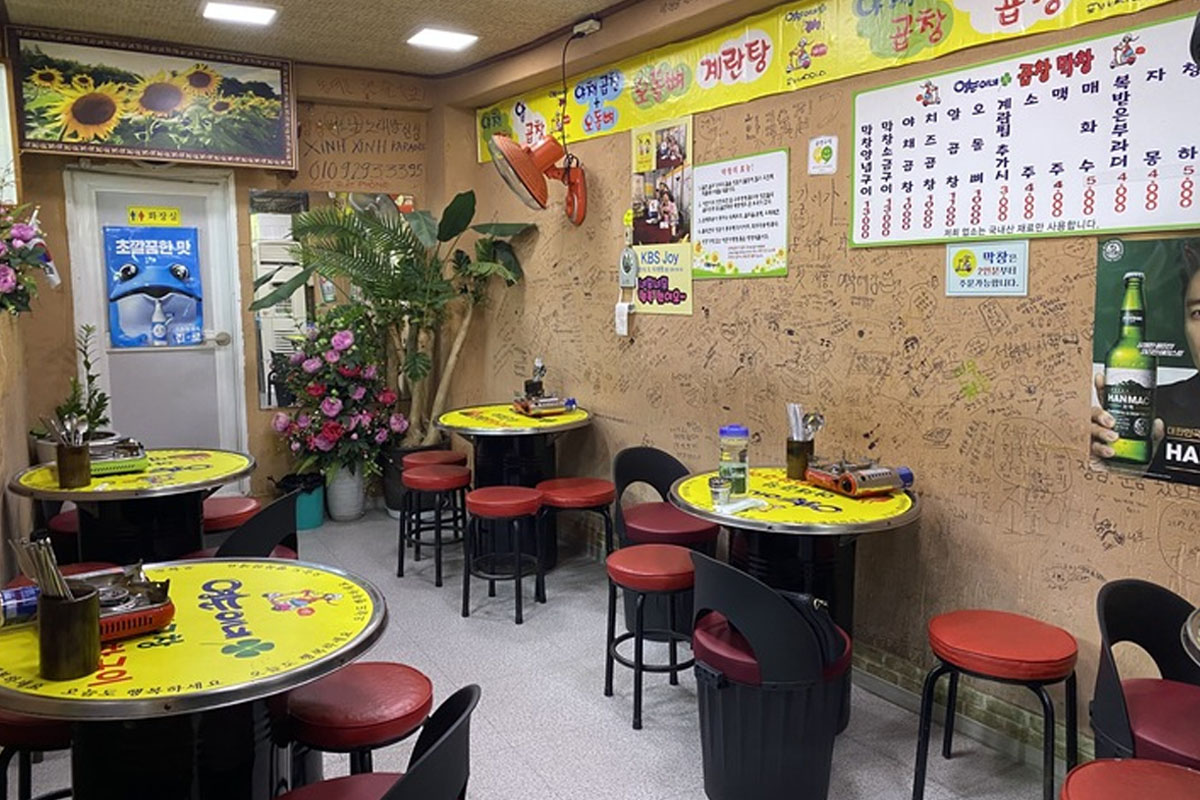 The space may be small but it gets crowded at night. Makchang, which is the intestine of a big, is higher in calcium than other cuts of meat, high in protein, and low in cholesterol so it is good for growing kids and adults that have osteoporosis.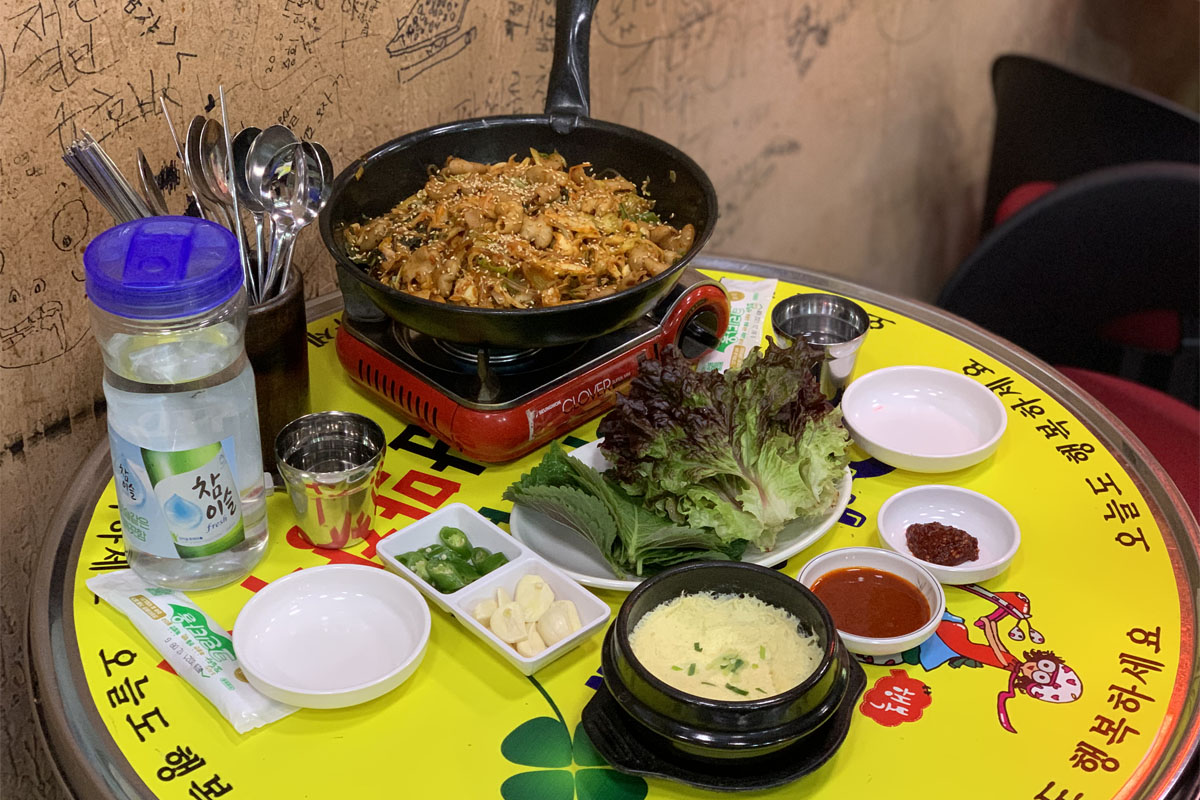 The gopchang, another part of the intestine, has a nice chew and flavor and though we ordered just two servings, it was more than we expected. We even got a complimentary steamed egg(3,000 KRW).
When there is only a little bit of gopchang left, add some rice to make a gopchang fried rice!
Address: 서울 종로구 창신2길 3
3 Changsin2gil, ,Jongno-gu, Seoul
Hours: 13:00 - 01:00
Signature Menu: Gopchang vegetable stirfry 10,000 KRW / Makchang grilled with salt 13,000 KRW
---
Sunminae Happy Marinated Raw Crab
(Sunminae Happy GyeJang)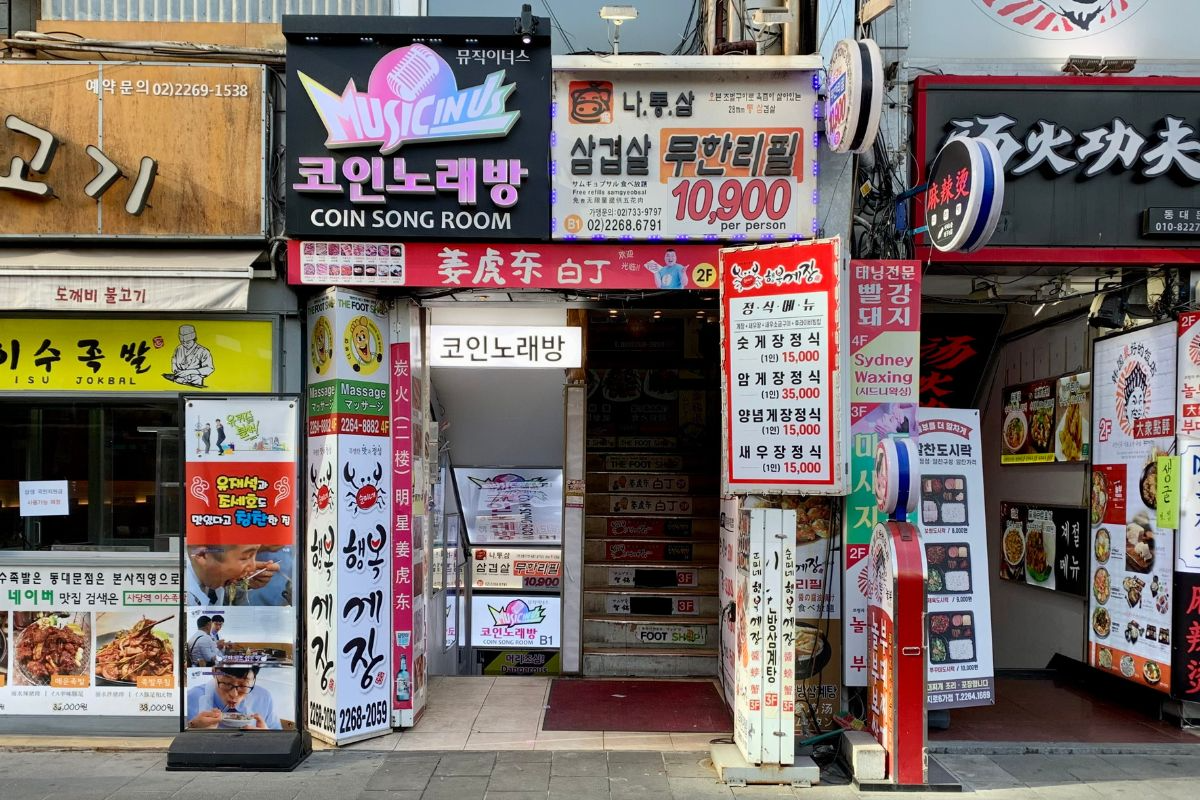 Have you always wanted to try an all-you-can-eat in Korea? Why don't you start here! All-you-can-eat Soy sauce marinated crab and Chili marinated crab can be enjoyed at 30,000 KRW per person!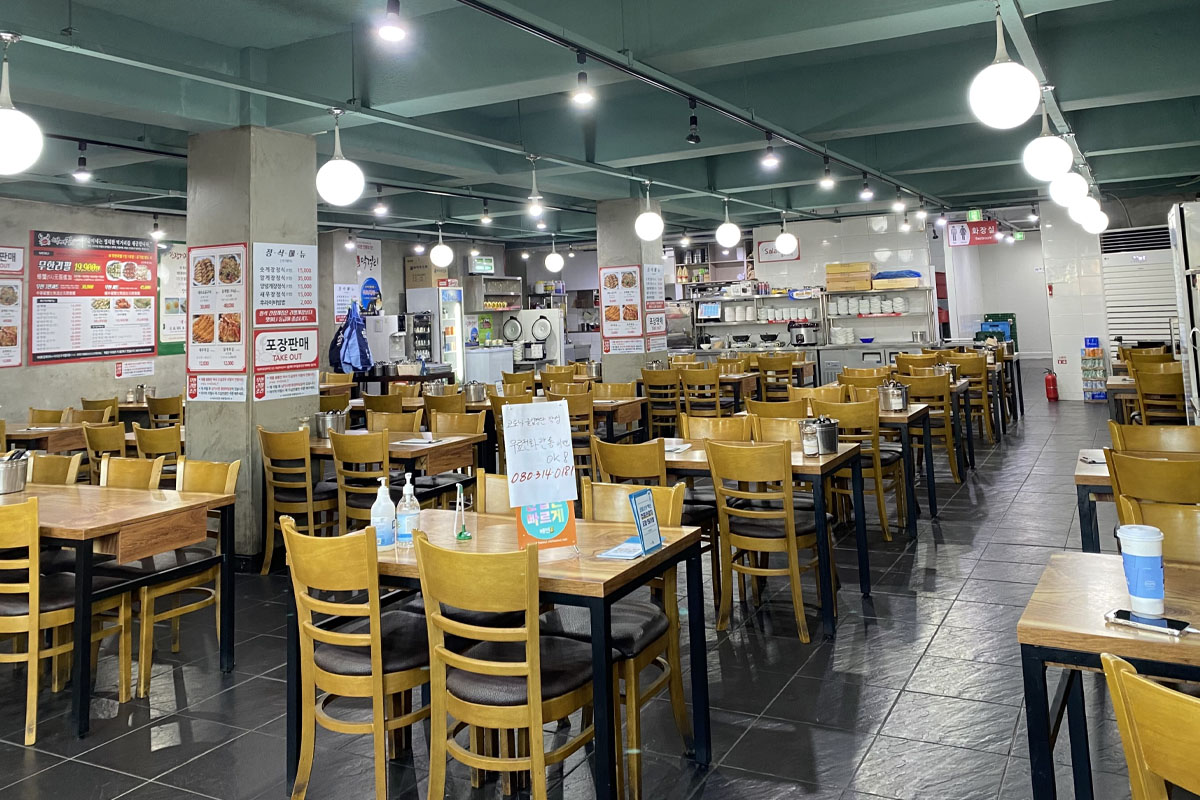 There are a lot of seats so there probably won't be a line. This establishment doesn't use any MSG but used natural ingredients like traditional herbs, vegetables, and fruits to make their marinade!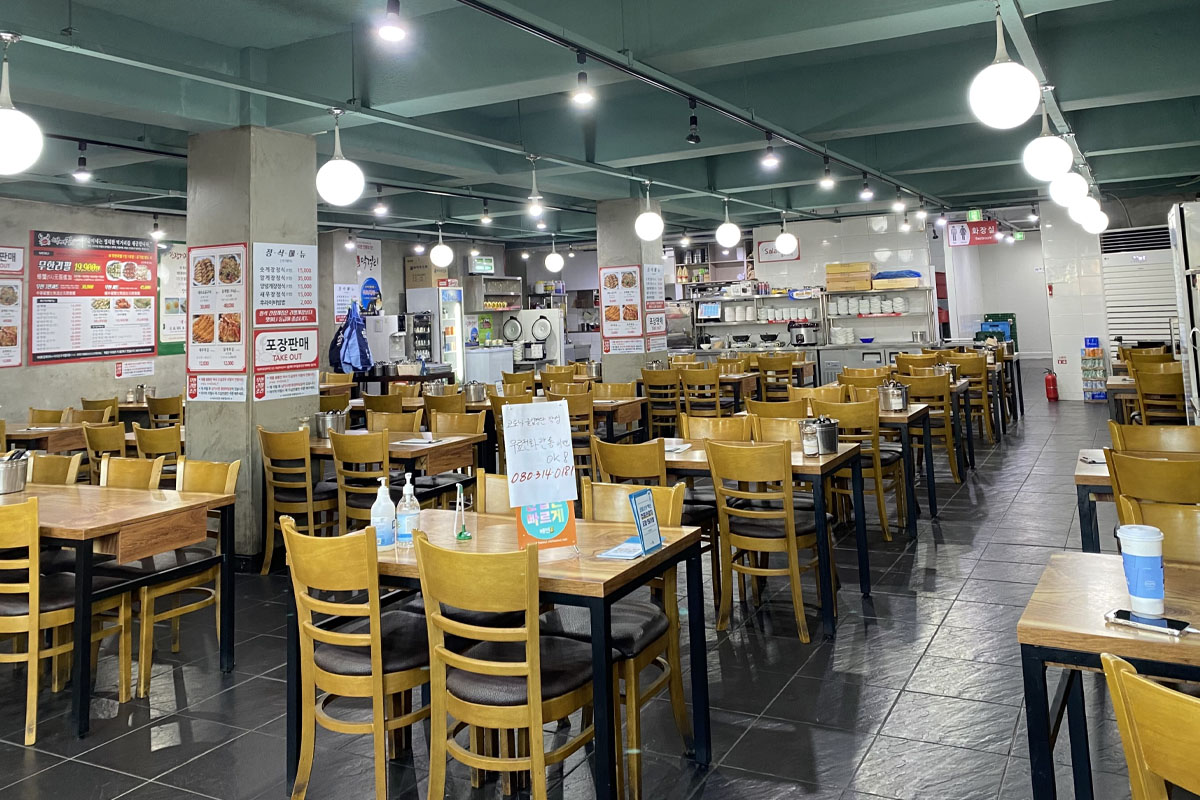 Not only do they have marinated crab, but they also have marinated shrimp, fried crab, grilled shrimp, steamed egg, and rice all included in the all-you-can-eat price! However, only one can of drinks is included in the price.
Address: 서울 중구 을지로43길 38
38 Euljiro43gil, Jung-gu, Seoul
Hours: Every day 10:00 - 22:00 (Last order at 21:00)
Signature Menu: All-you-can-eat Gyejang for 1 Person 30,000 KRW
---
Mies Container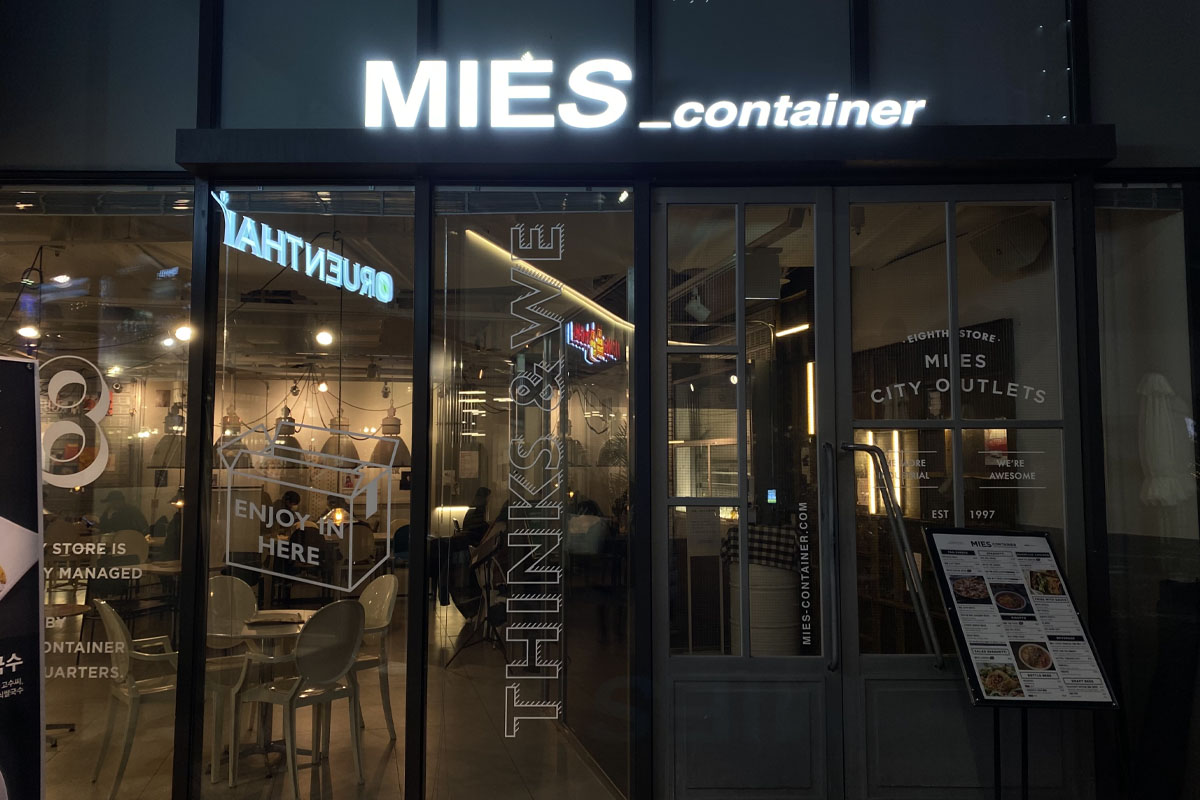 When you order, the waiter will shout out, "Lots of food, Deliciously!" in Korean, so don't get too surprised. Mies Container is an American-style fusion restaurant that serves a large quantity of delicious food.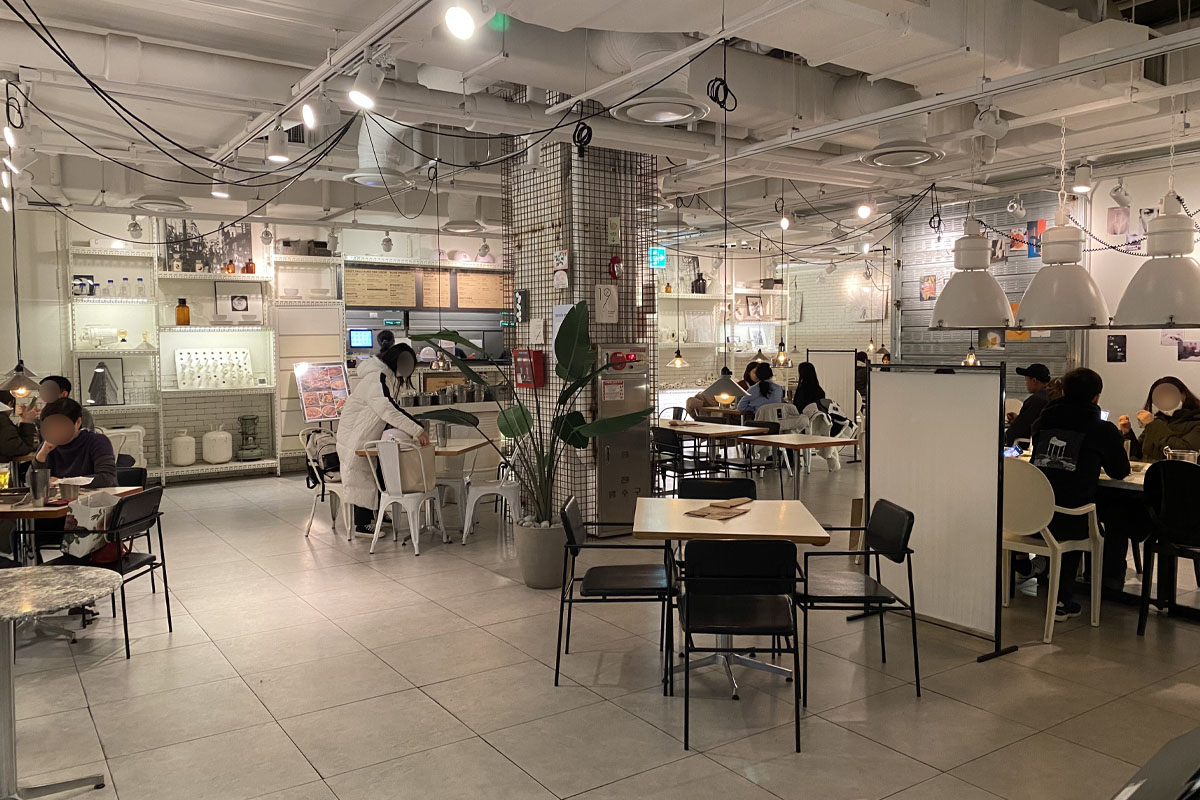 Isn't the interior eye-catching? The trendy restaurant was designed to be a multi-cultural space where the guests' eyes, ears, and mouths are stimulated by good interior design, music, and food.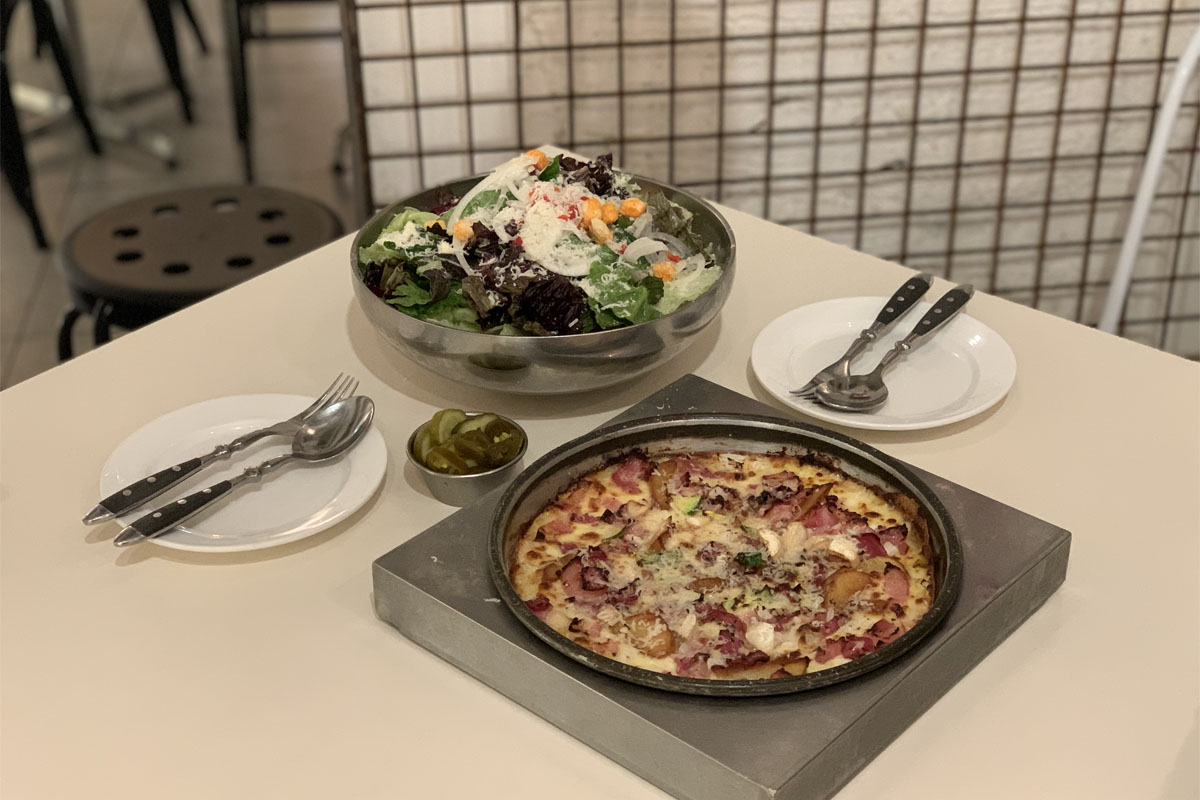 We ordered the Salad Pasta and Bacon Potato Pan Cheese Pizza. First, when we read salad pasta, we were confused, but it was the perfect pair for the pizza. Make sure to try out the salad pasta when you're at Mies Container.
Address: 서울 중구 장충단로 13길 20 B1
Hours: 10:30 - 21:30 (Last Order)
Signature Menu: Bacon Potato Pan Cheese Pizza 16,500 KRW / Salad Pasta 15,500 KRW
---
Crepe Grandpa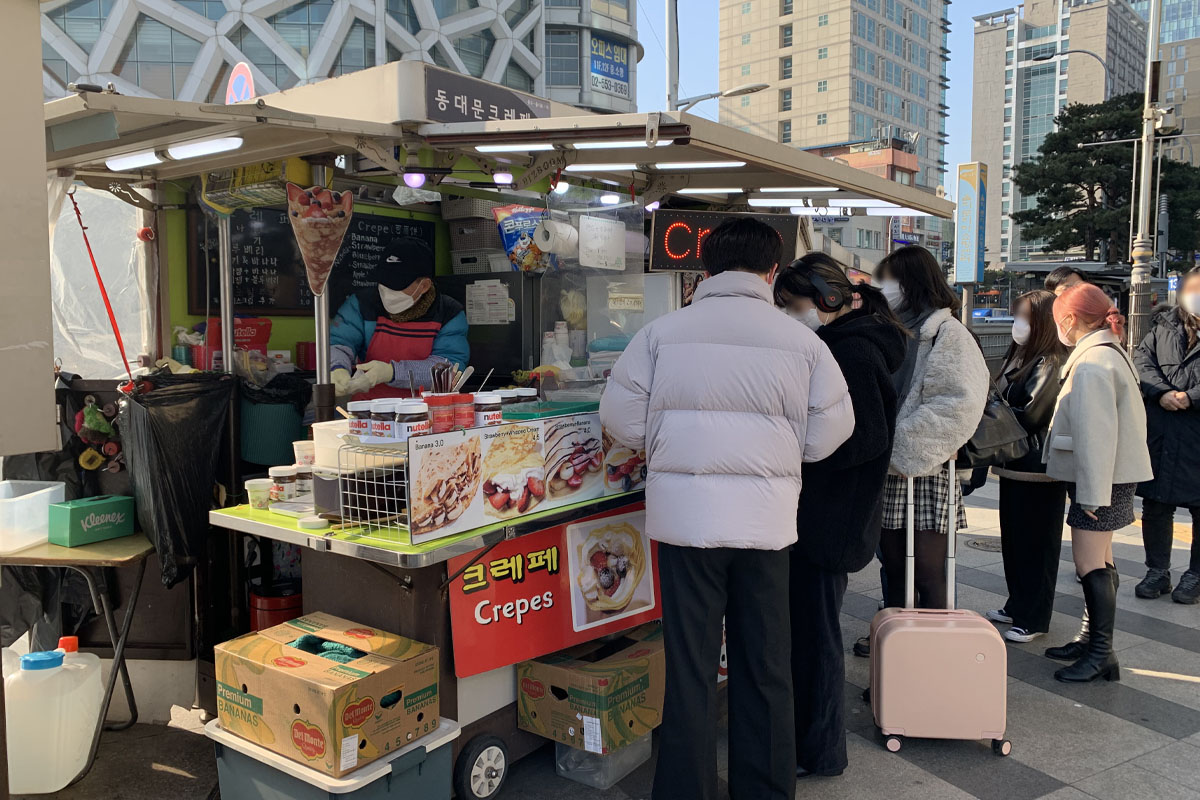 The Crepe Grandpa opens his cart and soon after runs our of ingredients because his crepes are that popular. This isn't an official restaurant, but a booth near Dongdaemun Historical Culture Park Exit 13.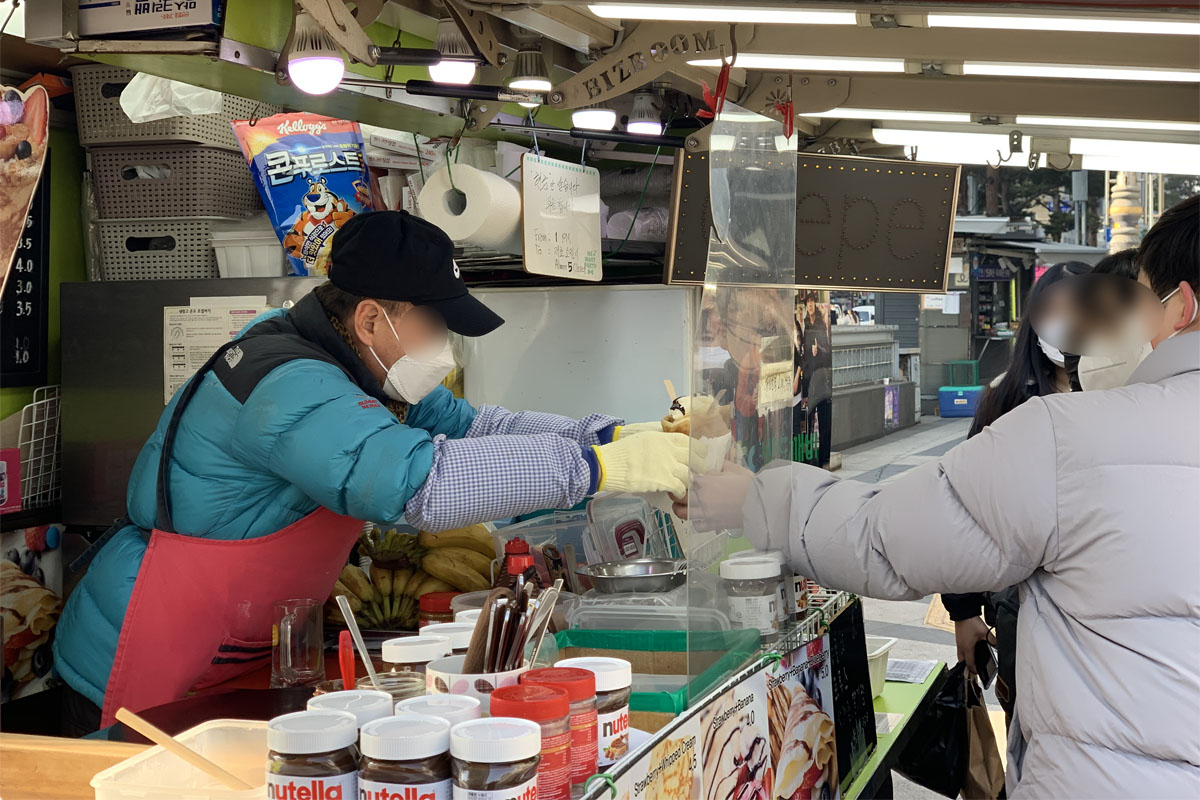 The booth is so popular because the elderly owner greets everyone with kindness and makes the crepes filled to the brim with toppings. He was featured on the TV show 'Night Dokkaebi'.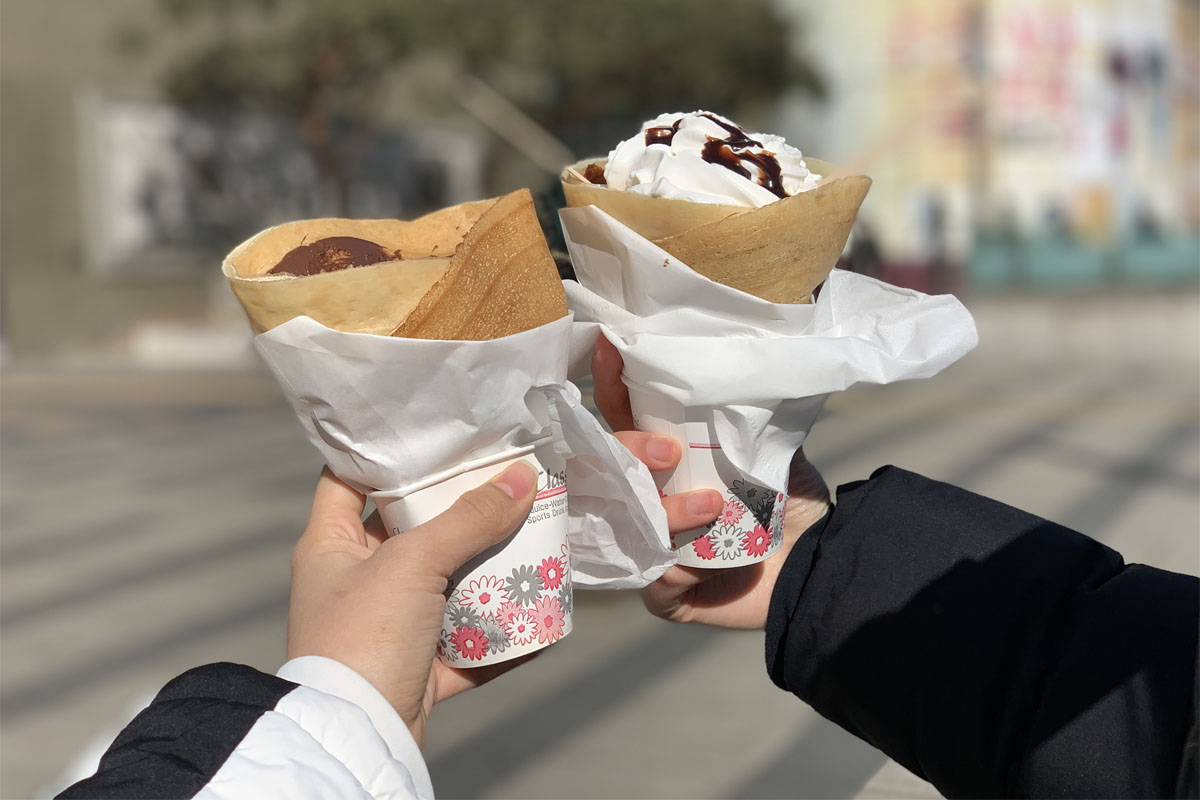 We couldn't help but get in line and get a crepe. The crepes were filled with so much fruit and cream, that it was almost hard to eat! This place only accepts cash or bank transfers, so keep that in mind!
Address: 서울 중구 을지로6가 동대문역사문화공원 13번 출구 뒷편
Behind Exit 13 of Dongdaemun Historical Culture Park Station, Euljiro6ga, Jung-gu, Seoul
Hours: 13:00 - 17:00 (or when run out of ingredients)
Signature Menu: Strawberry Banana 4,000 KRW / Strawberry Cream 4,500 KRW
---
Dongdaemun Fabric Market Food Street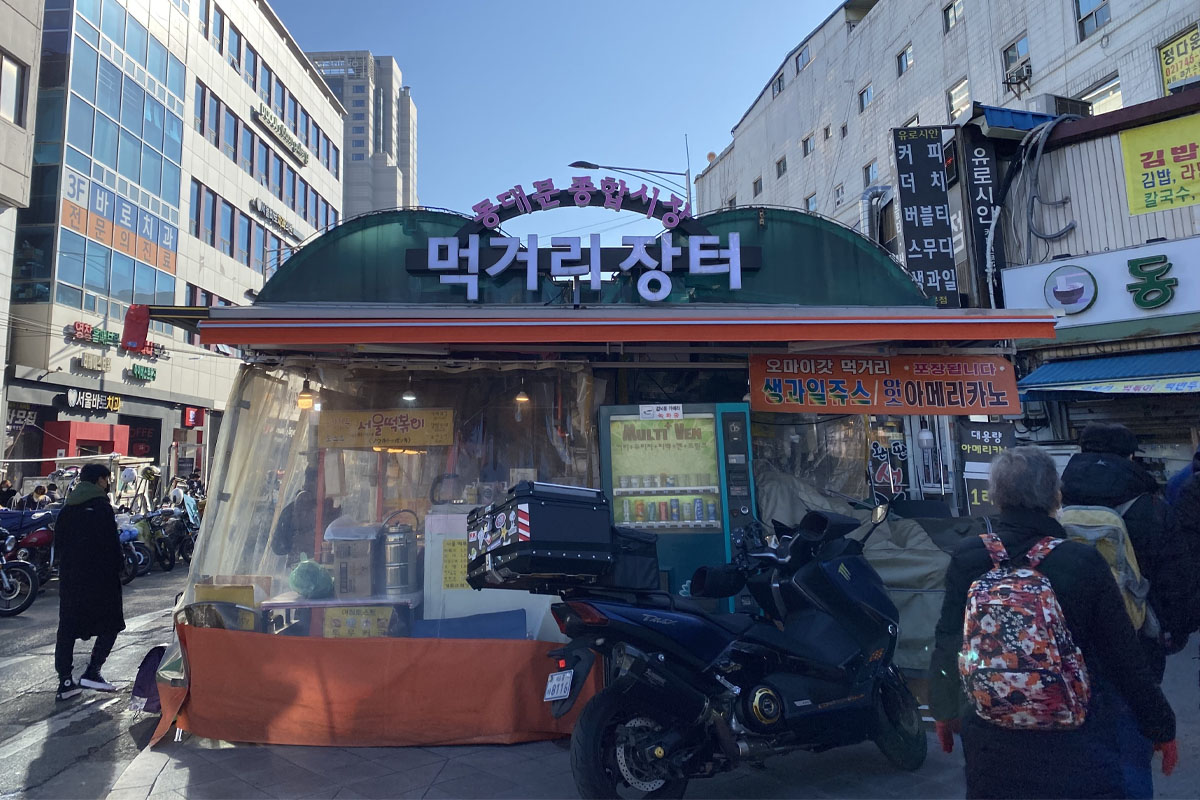 Behind the Dongdaemun Fabric Market is a food street that sells tteokbokki, takoyaki, skewers, and so much more. They also have booths selling fruit juice!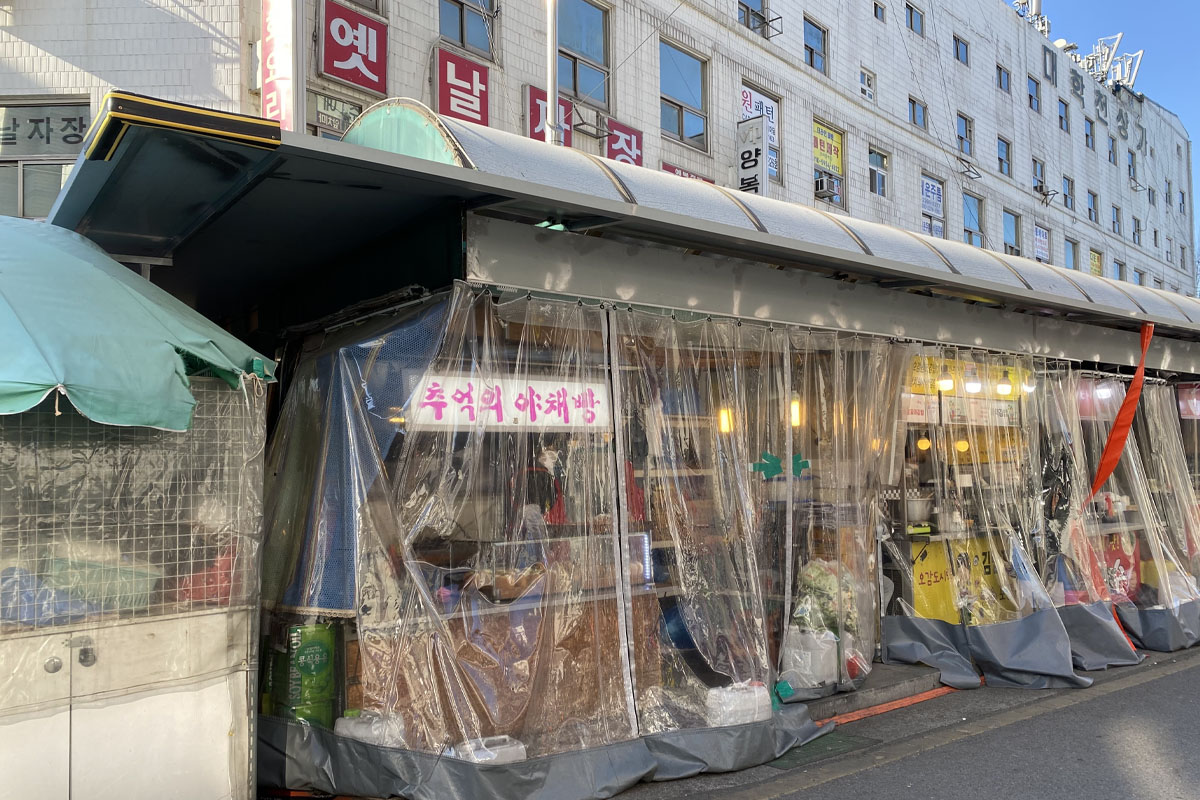 Our top recommendation is the Vegetable Donut! A salad of an assortment of vegetables are dressed in a signature sauce and sandwiched into a fried donut! Topped with some more mustard and ketchup, with a slice of ham, you can't go wrong with this combination.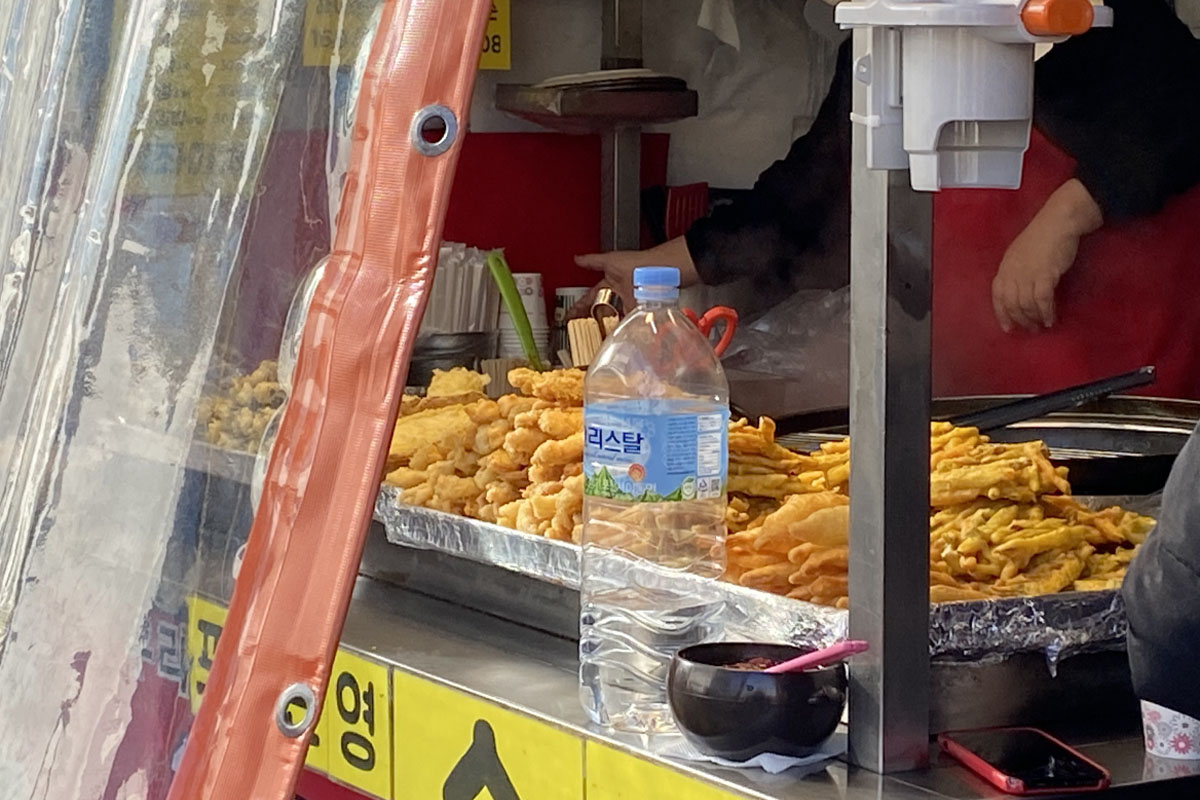 After a long day of shopping, you can get extremely hungry. Stop by a booth and get a few snacks at the many booths at Dongdaemun Fabric Market Food Street.
Address: 서울 종로구 종로 5,6가동 종로 248
248, Jongno, Jongno 5,6ga-dong, Jongno-gu, Seoul
Hours: Mon - Fri 10:30 - 22:00; Sat 11:00 - 23:00: Sun 13:00 - 22:00
Signature Menu: Vegetable Donut 2,500 KRW / Bappeul&Yaki 4,000 KRW
---
We hope that you can enjoy a day of shopping in Dongdaemun and stop by at one of these restaurants to grab something to eat! If you have any questions or concerns, please leave a comment below or send us an email at help@creatrip.com! You can follow us on Instagram, TikTok, and Facebook to stay updated on all things Korea!
---