A Night at Incheon Airport's Capsule Hotel "Darakyu"
Say goodbye to restless layovers and red eye flights! This is everything you need to know about Incheon Airport's very own capsule hotel!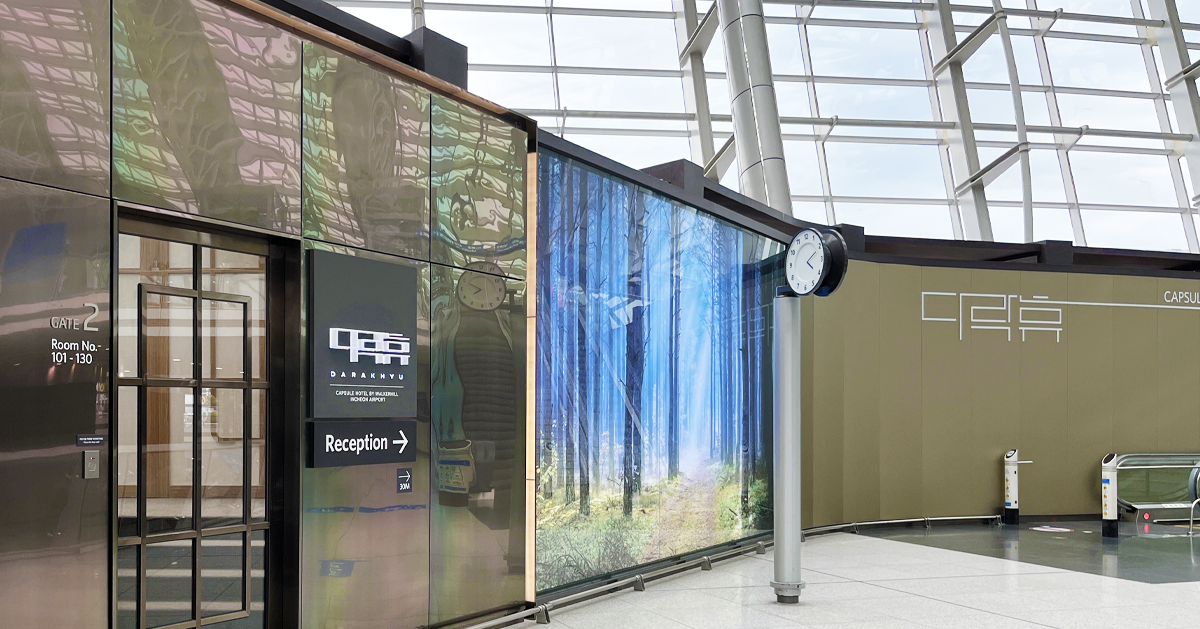 Have you ever been stressed out because you have a red-eye flight but have no way to get to the airport? Sometimes we get stuck with flights that are at inconvenient times and getting to the airport is difficult. For times like this, taking advantage of the facilities at the airport such as the capsule hotel is a great way to rest assured and make your flight on time. For those that are travelling to Korea you can stay at Incheon Airport's very own capsule hotel!
---
Incheon Airport Darakhyu T1
Location: T1, 1F, Central near the traffic center
Hours: 00:00 - 24:00
Korea's first airport capsule hotel, "Darakhyu", is located in Incheon Airport in both Terminal 1 and Terminal 2. Today we visited the branch located in Terminal 1. You can learn more and reserve through the official website.
08:00 to 20:00
(3 hour stay between these hours)
Single(shared bathroom)
₩24,200
Single(private bathroom)
₩28,600
Double(shared bathroom)
₩33,000
Double(private bathroom)
₩38,500
20:00 to 08:00
(12 hour stay between these hours)
Single(shared bathroom)
₩58,000
Single(private bathroom)
₩66,000
Double(shared bathroom)
₩73,000
Double(private bathroom)
₩79,000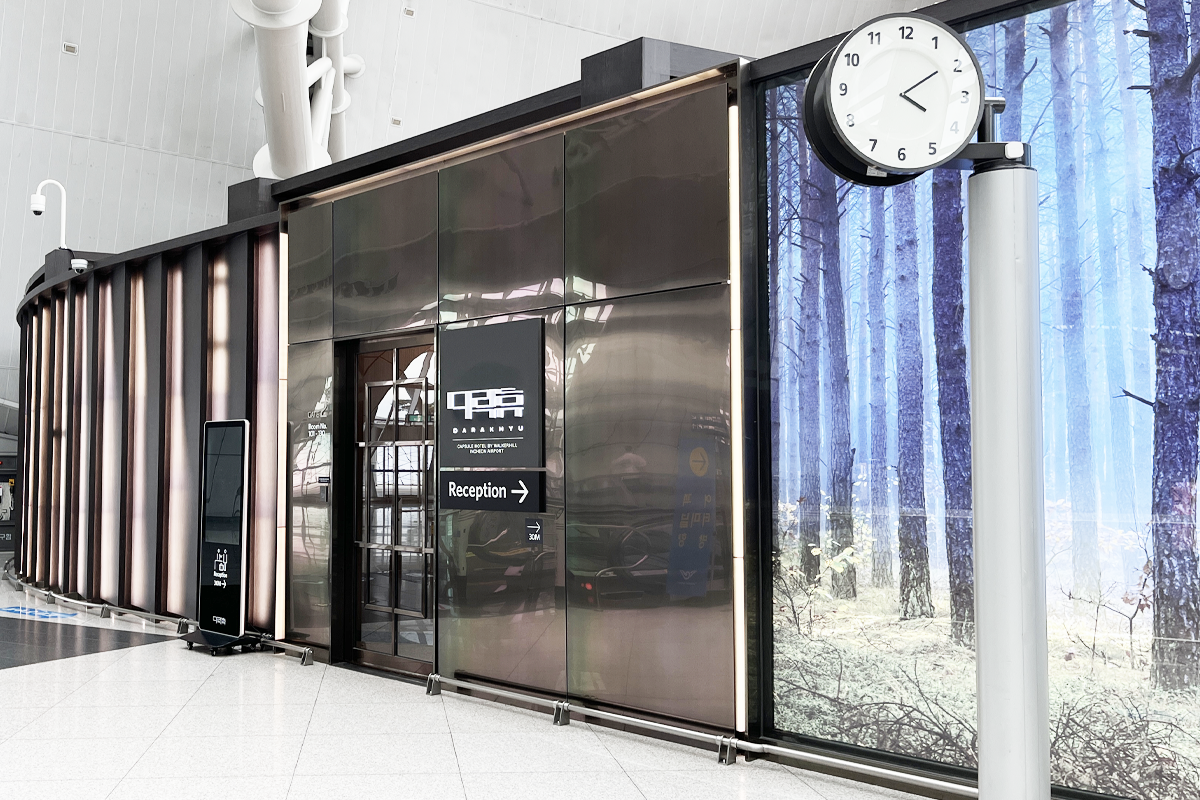 Near the hotel there are facilities such as CGV, KFC, convince stores, and other facilities near the hotel so you can grab food or any essential items that you might not have packed.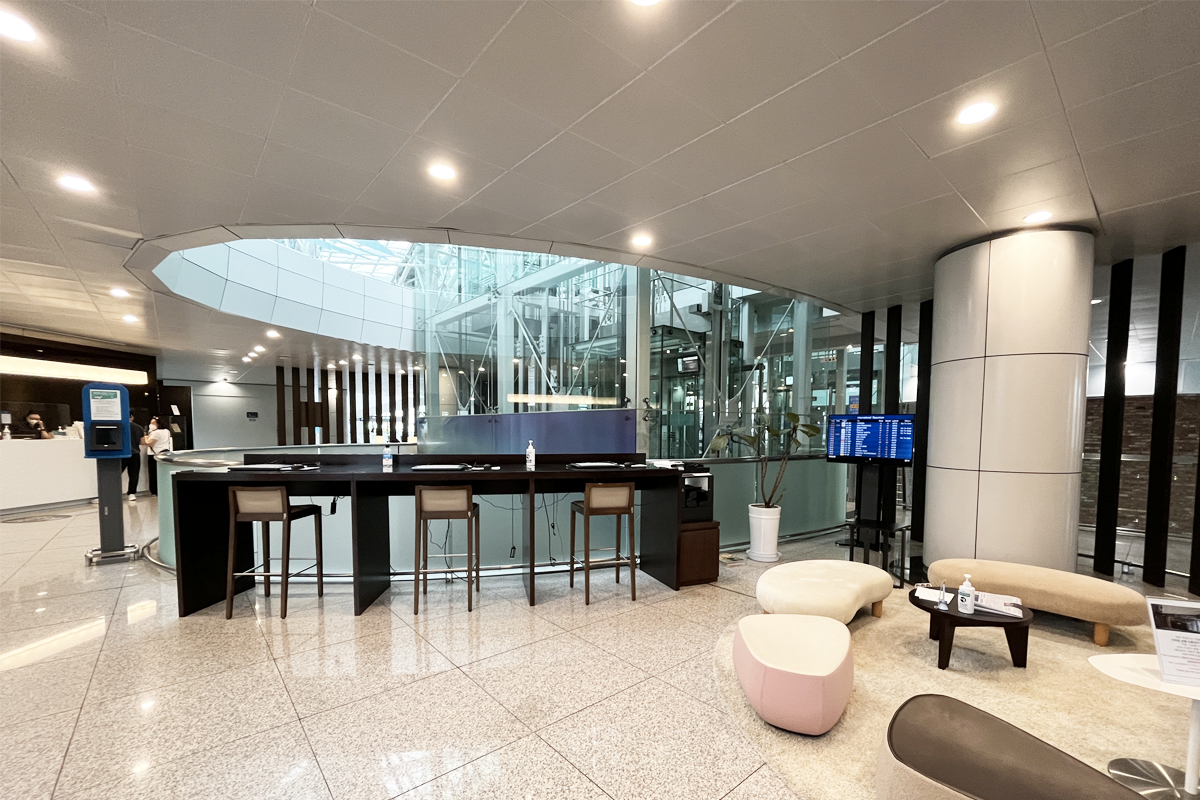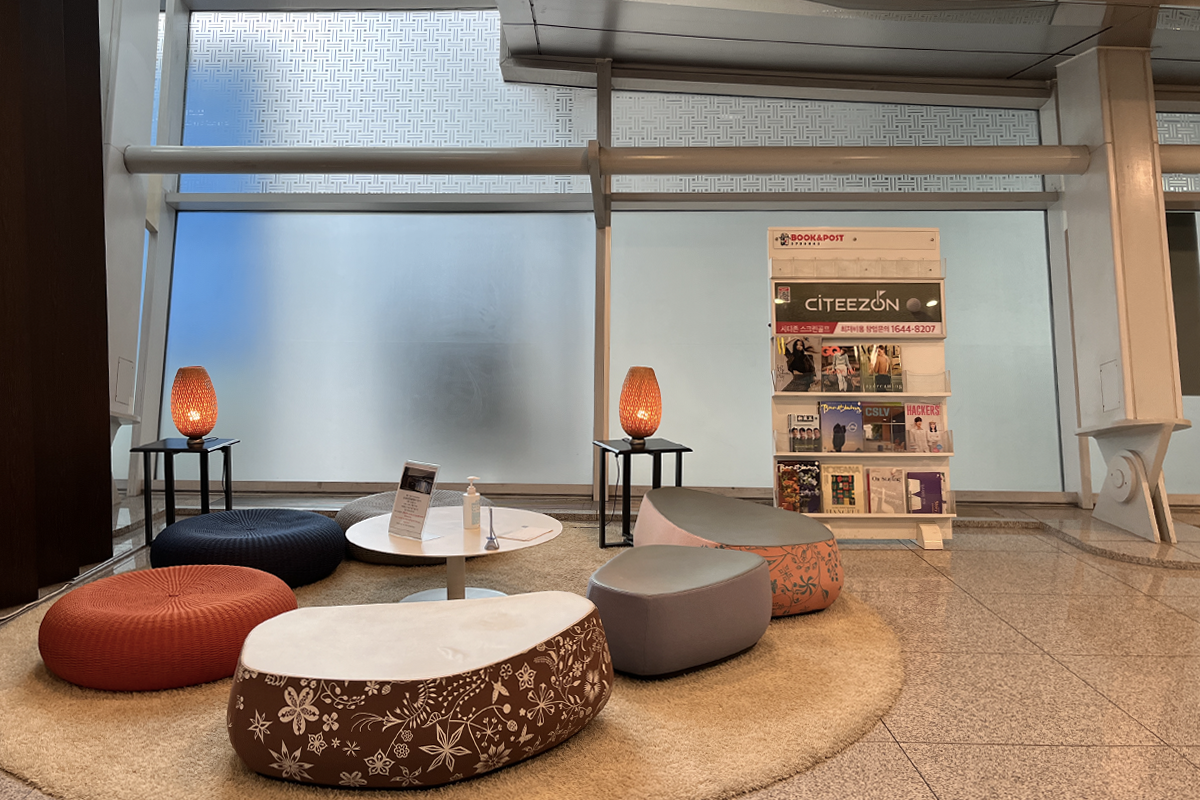 Although the lobby of the hotel is not that big, it has an area for resting, newspapers, magazines, and a computer area. You can also store large luggage at the counter if needed.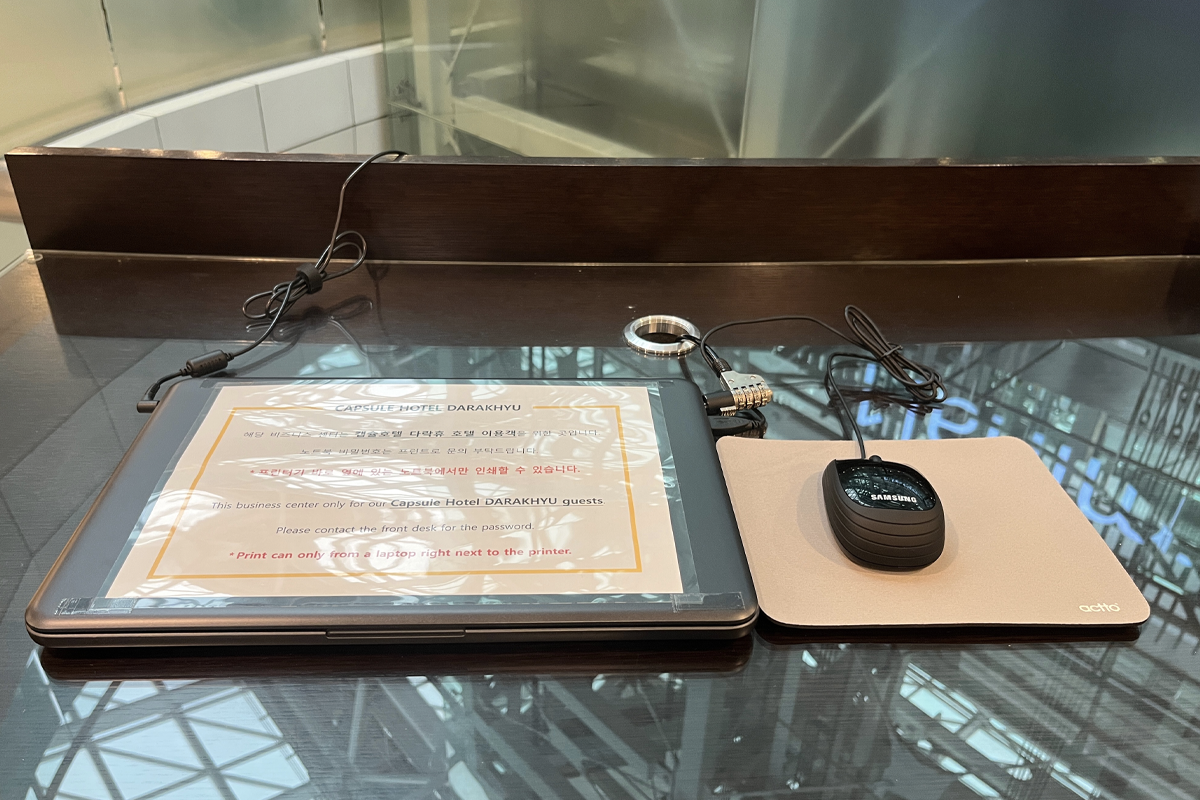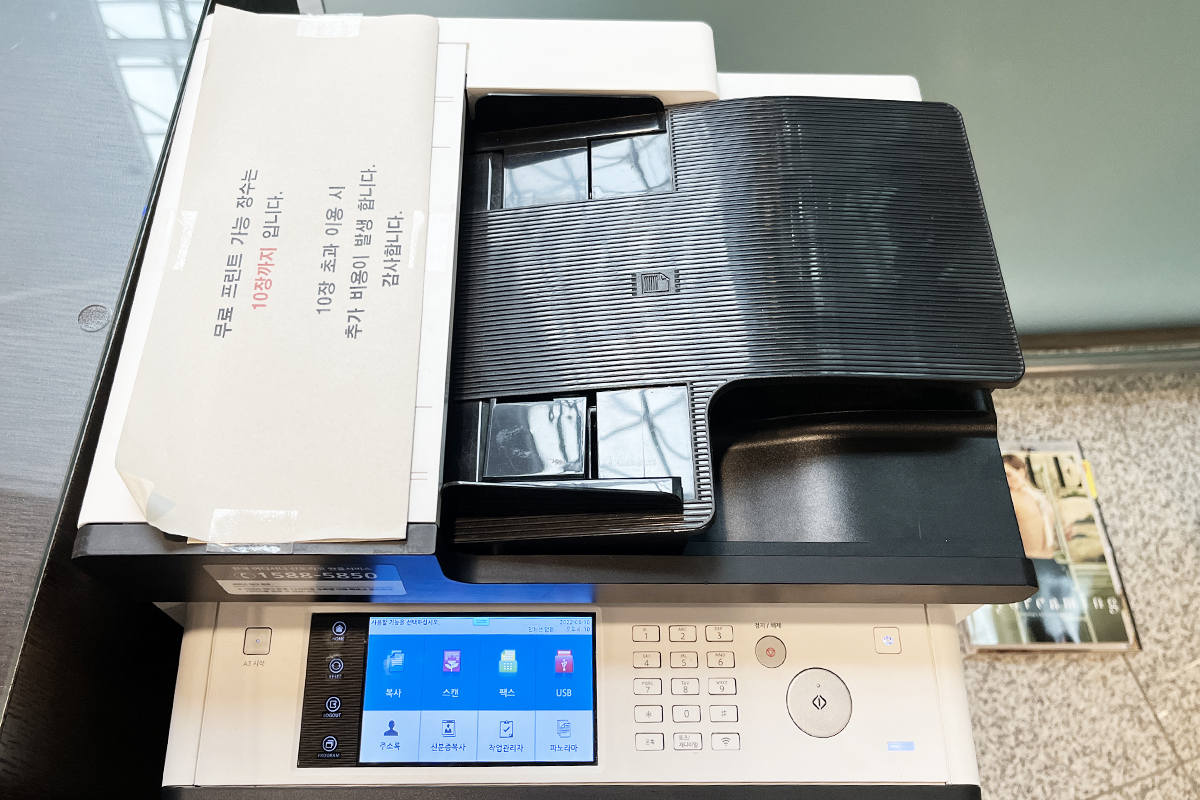 For business travelers, there are also computers and photocopy machines that can be used free of charge. One person can print up to ten copies and the additional fees will occur.This is perfect for those that need to print documents or want to make copies of their documents as well.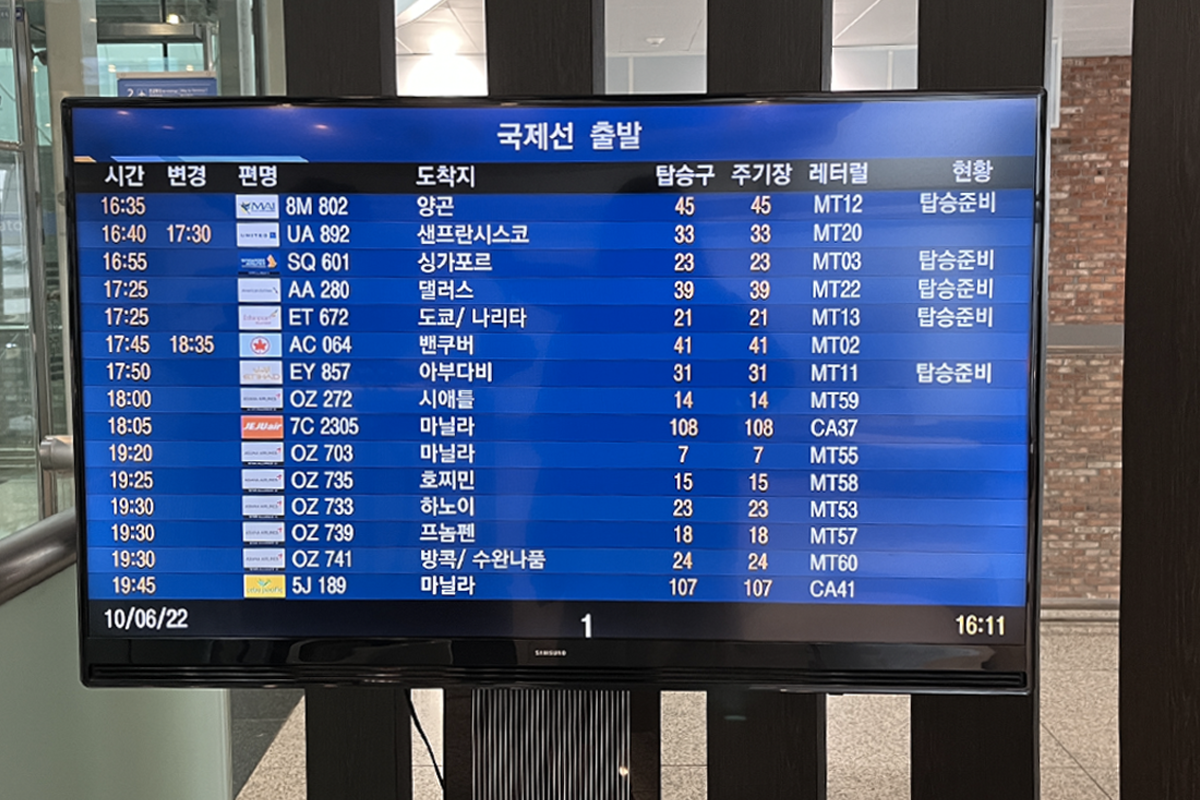 In the lounge lobby, you can also directly see the entry and exit status of the flights at Incheon Airport so you can keep track of time while you are resting.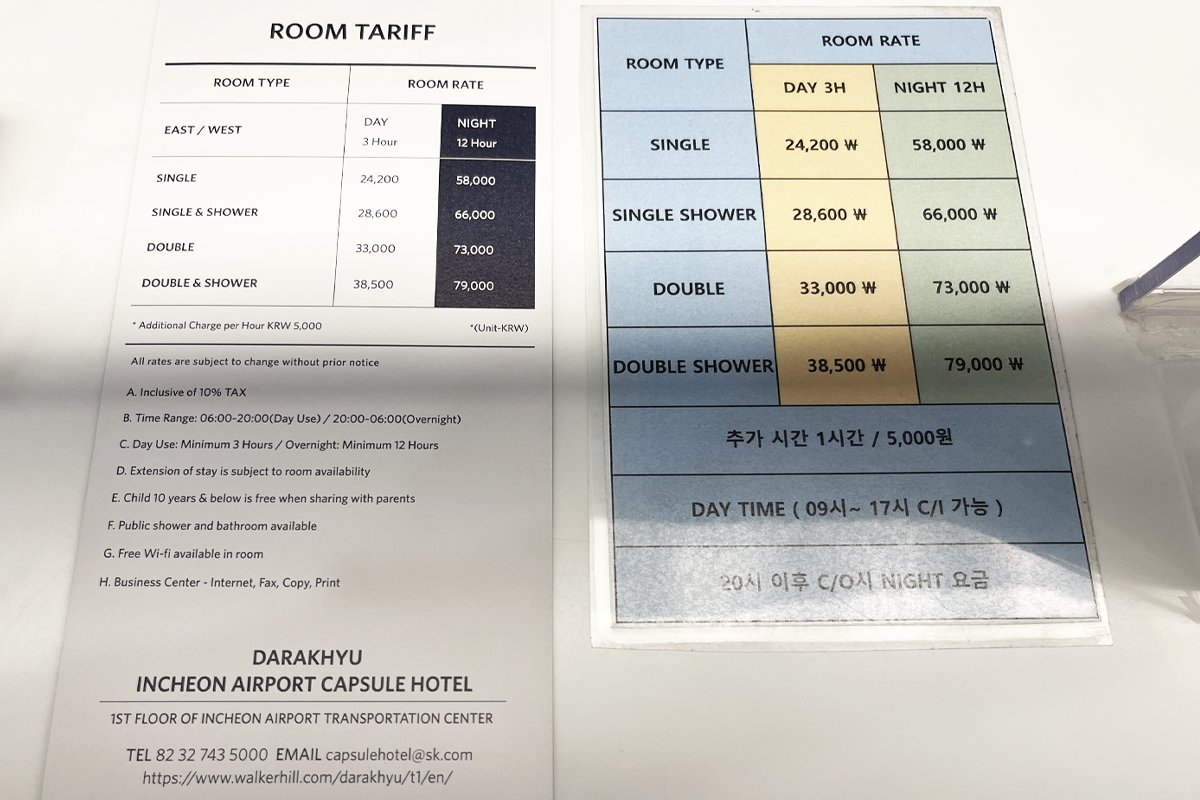 We personally think that the biggest perk of staying here is the transparency of the pricing. The pricing and the packages are very flexible as well, you can stay for just a few hours or longer if needed which means that no money needs to be wasted and that you can make the most of your time.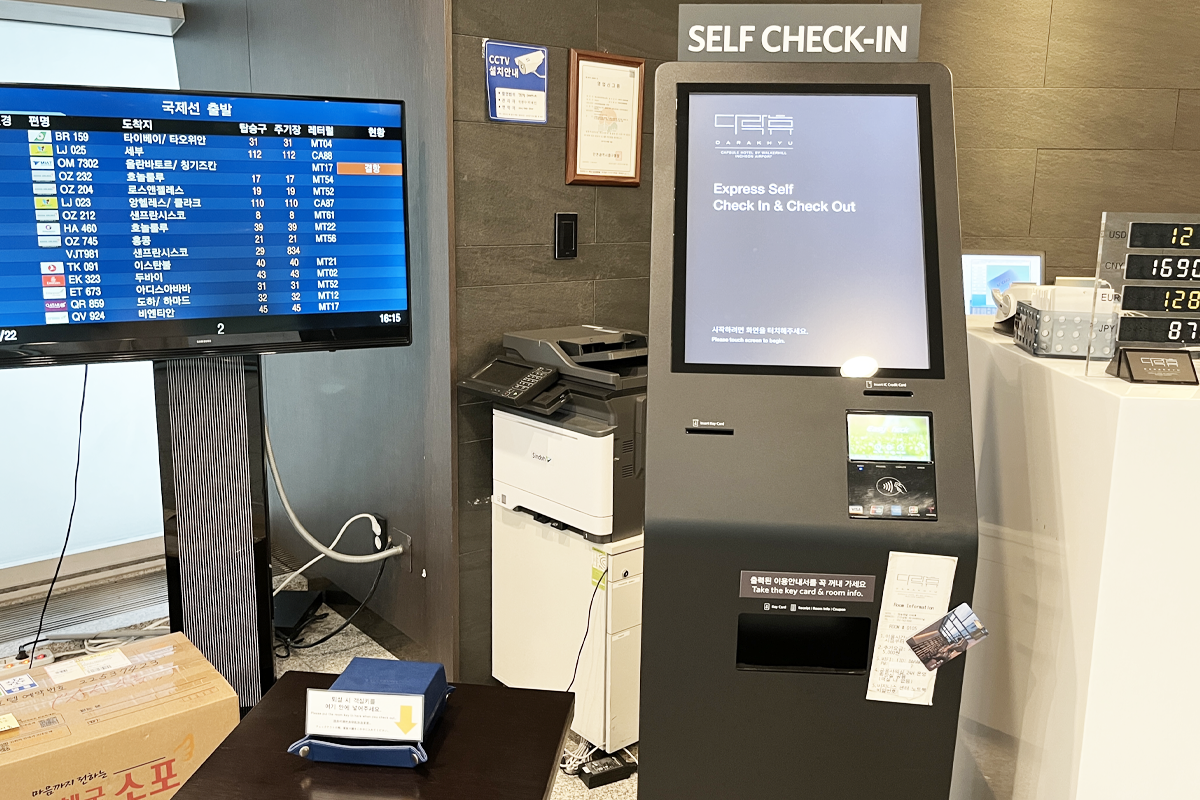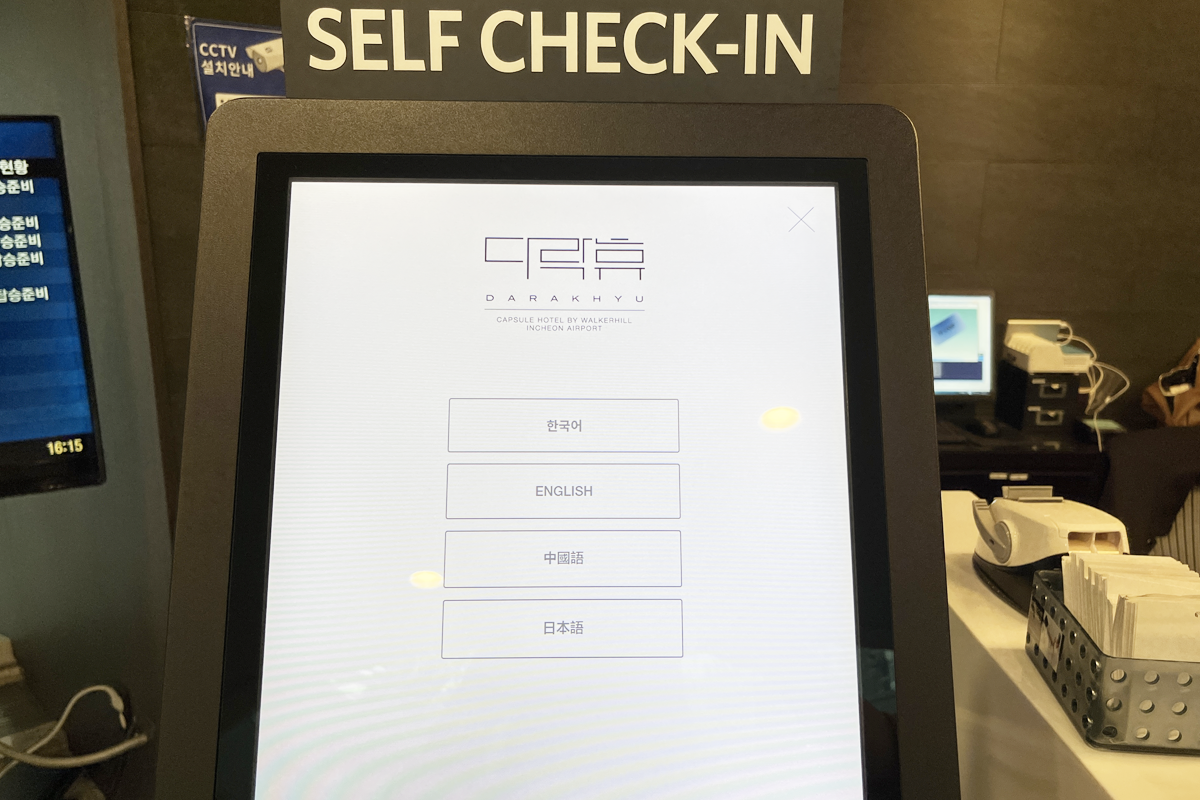 There is a check-in machine next to the counter for those that want to do self check in. You can only pay by card here. The machines also operate in Chinese, English, Korean and Japanese. If there is a long wait at the counter, it may be efficient to use the self check in machine here.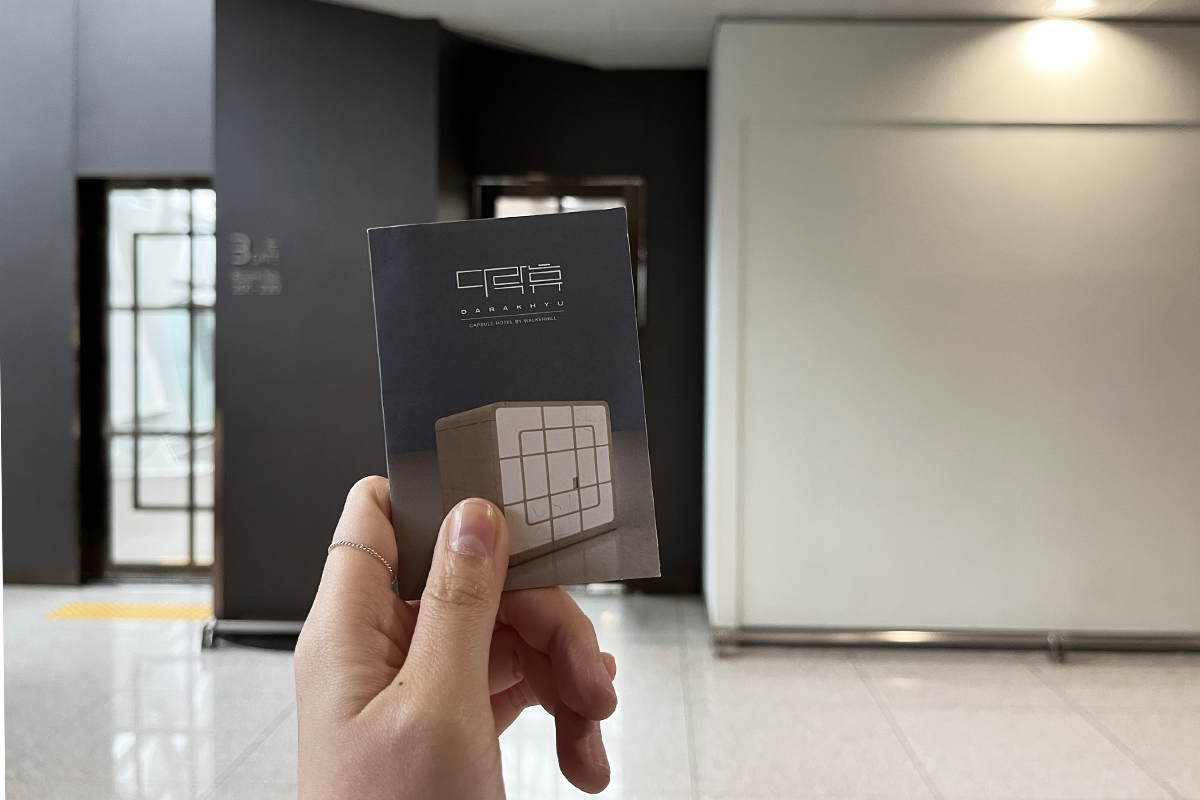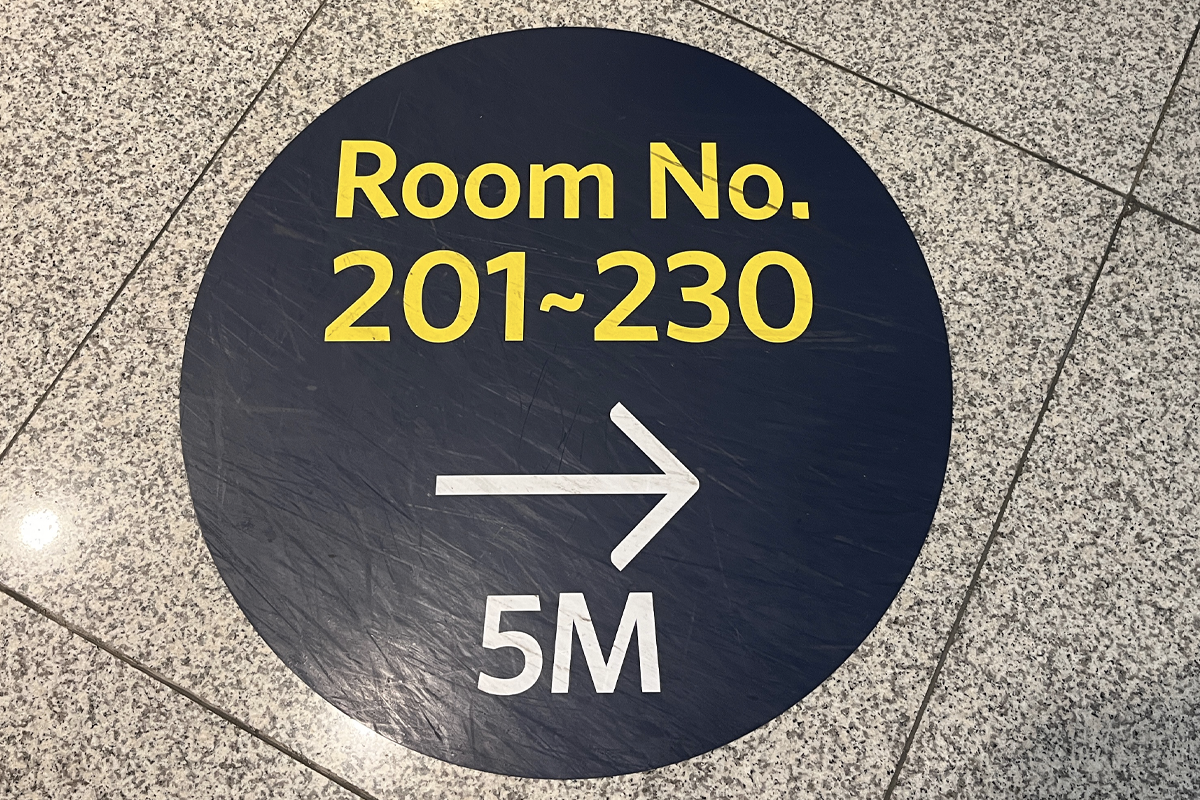 After you pay and provide your ID, you will get the contactless key card to your room. When entering or leaving the hotel you can use your card as a key. The card also has the wifi password on it so make sure you do not lose it!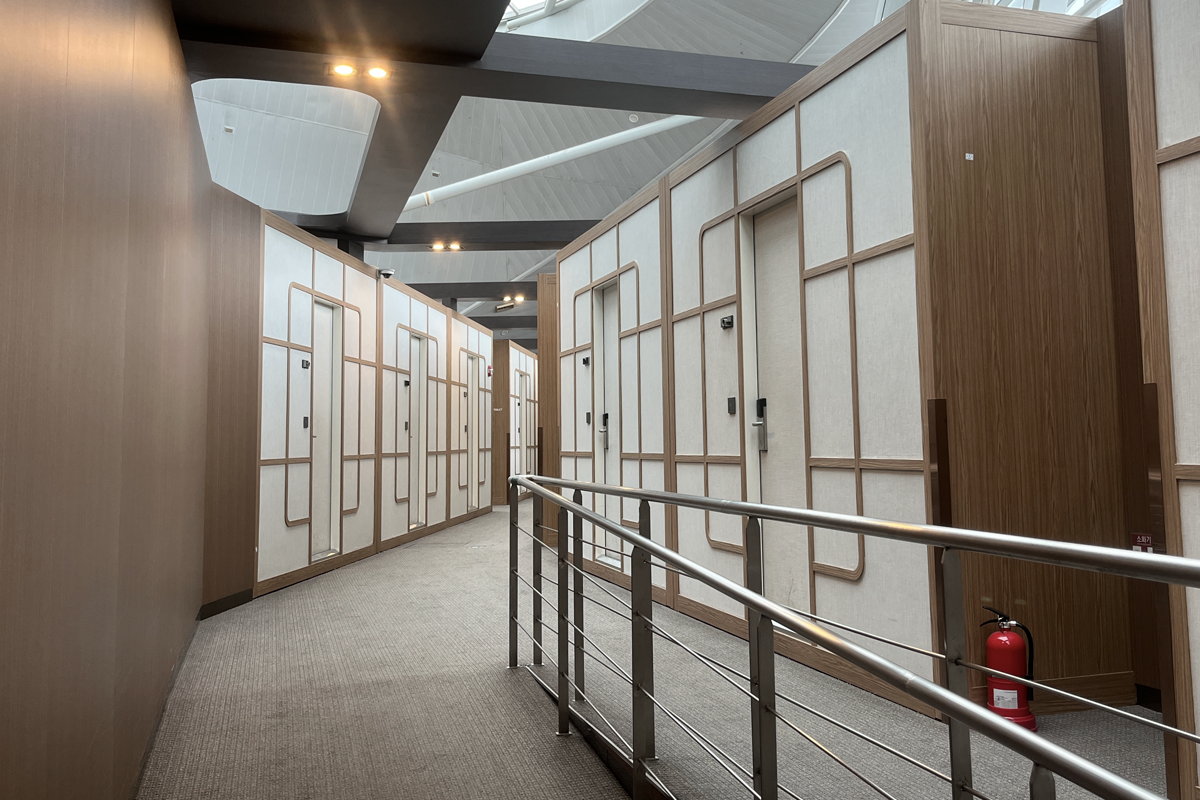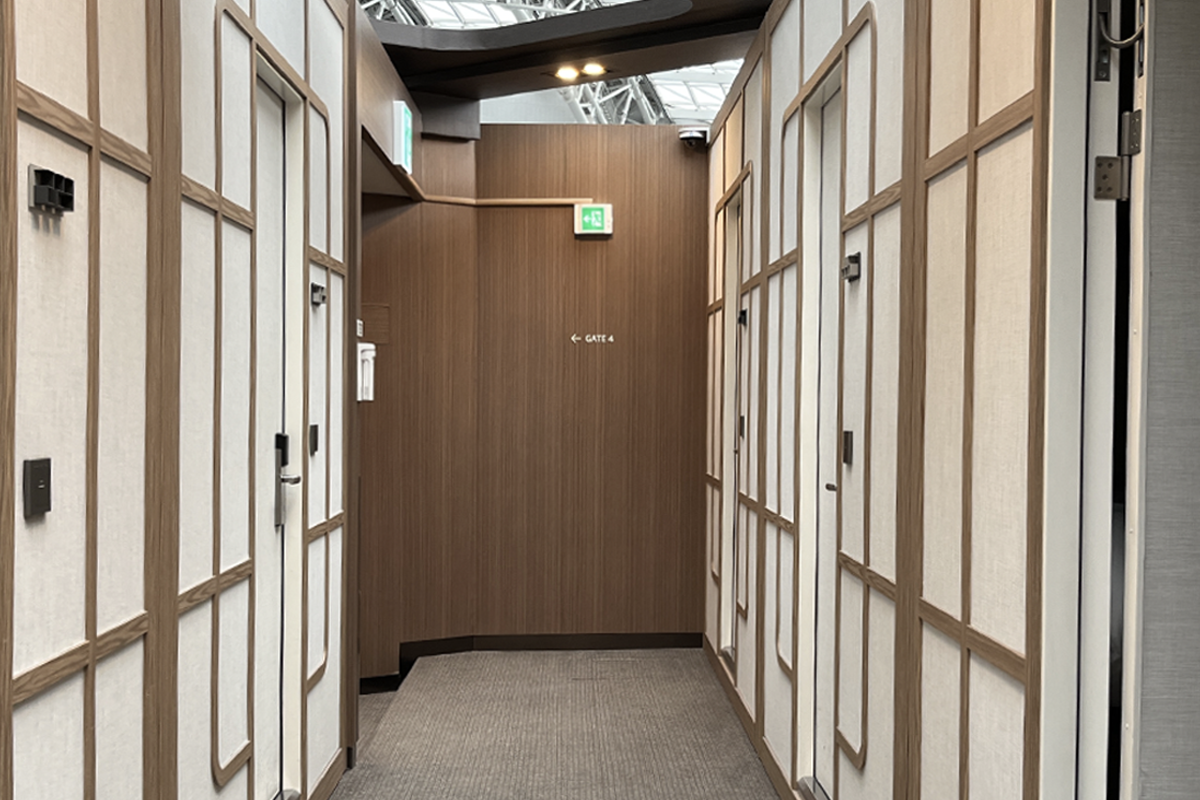 This capsule hotel is divided into four gates, with a total of 60 rooms. The interior is decorated with Japanese style gray, brown and white doors which create a comfy and cosy atmosphere.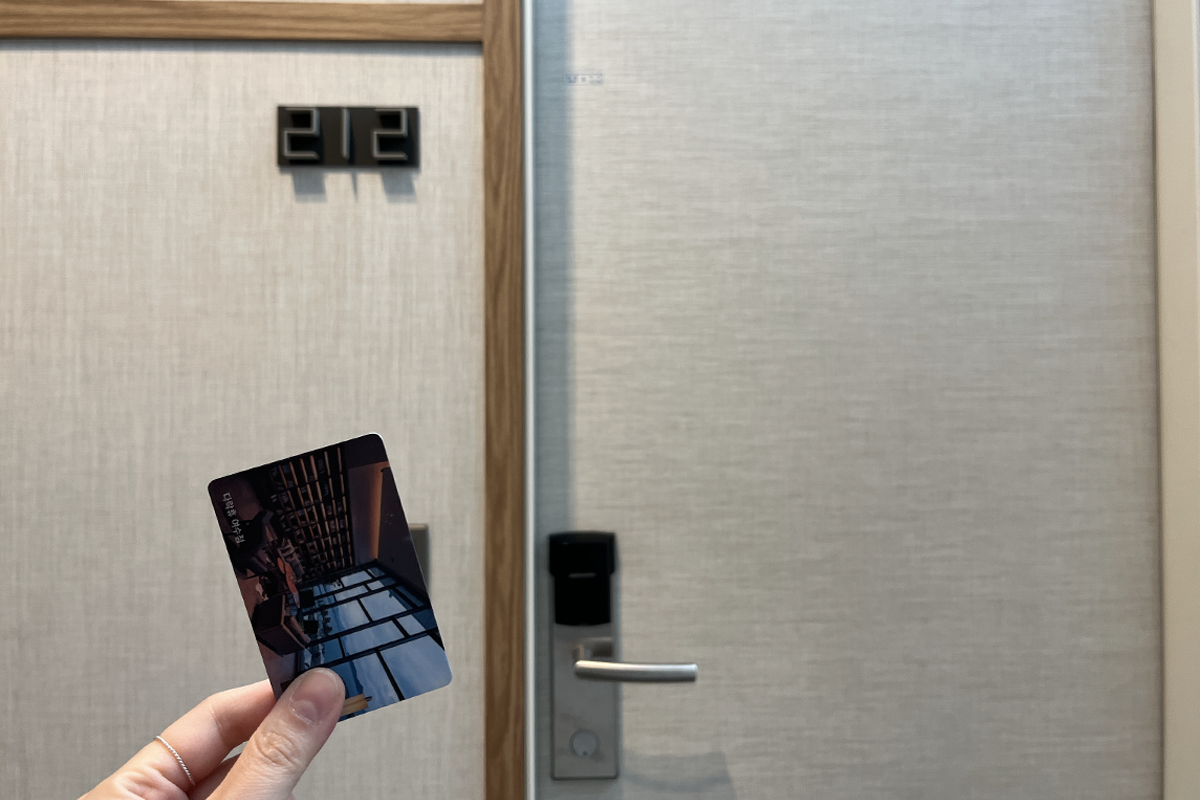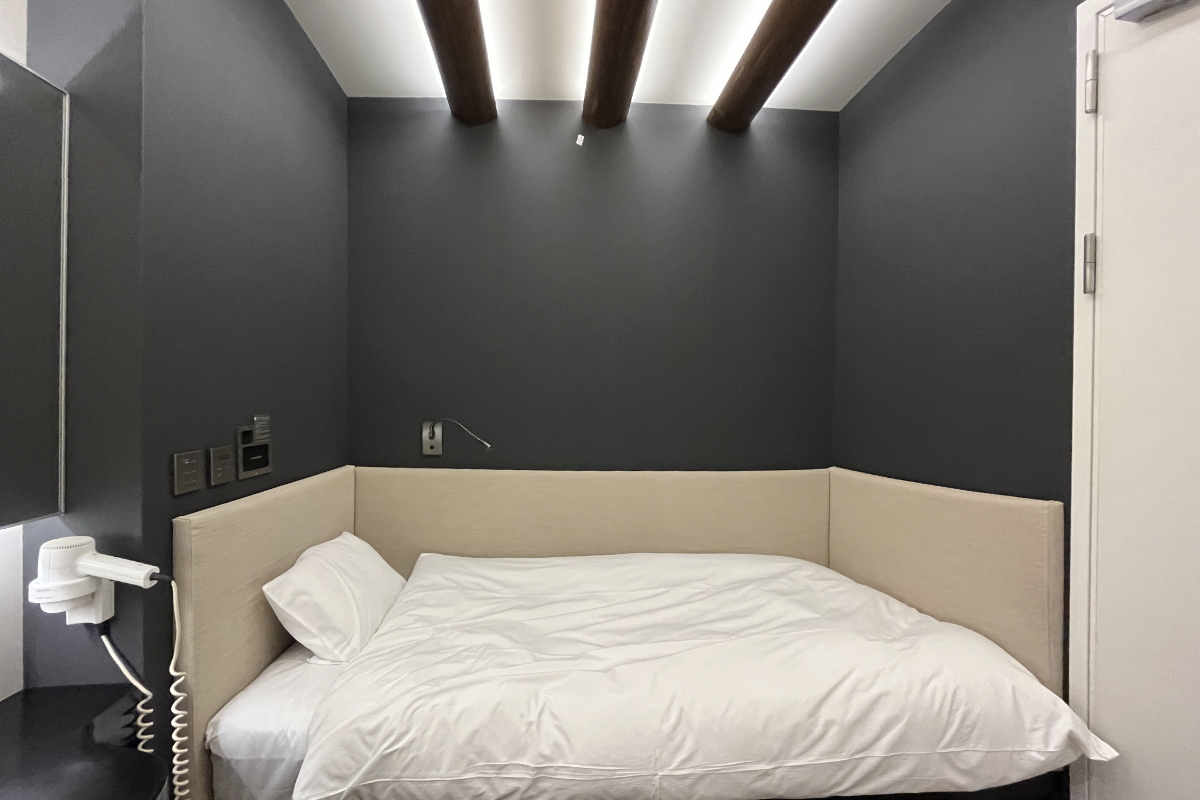 When you enter your room, it will look like the photo above. Because it is a capsule hotel, we expected it to be much smaller, but it was more spacious than we had originally thought. Although the space is not large, it is not as cramped as many other capsule hotels.
The space was also very tidy and clean with excellent sound insulation. You will not have to worry about hearing your neighbors. This is a great place to take a nap or get some quiet time before your flight.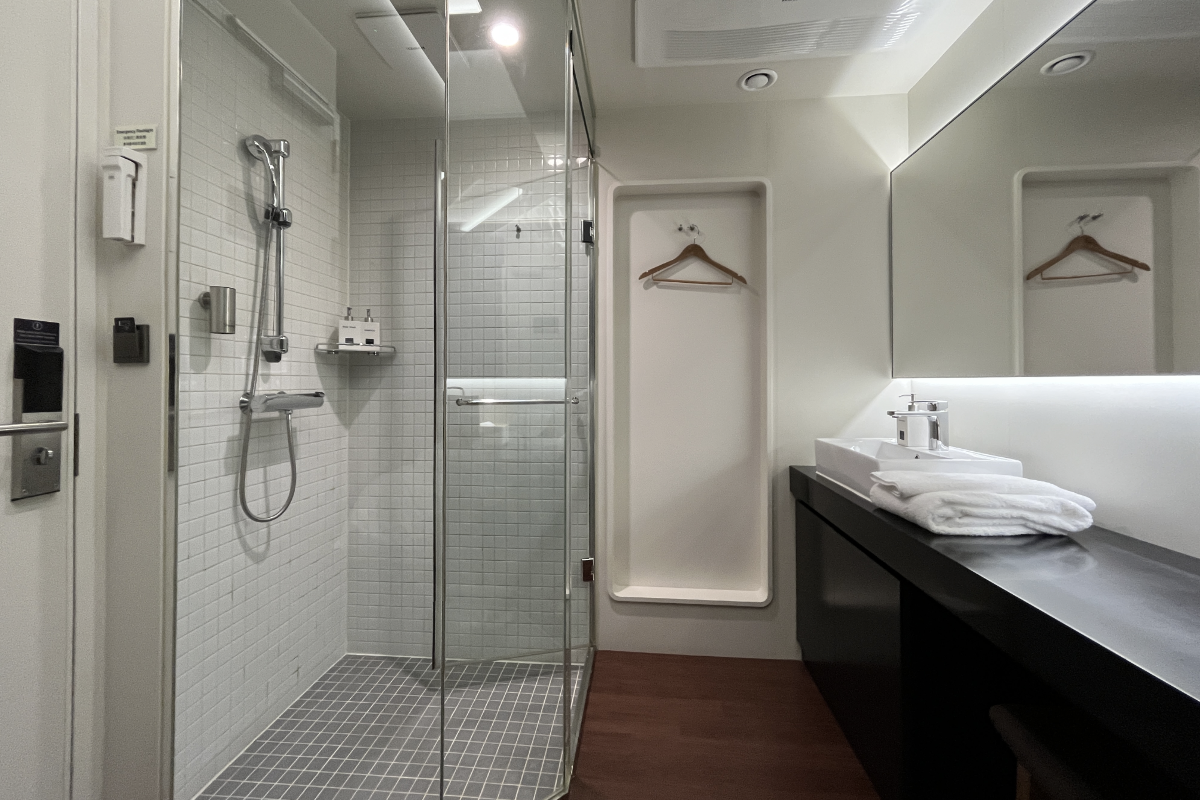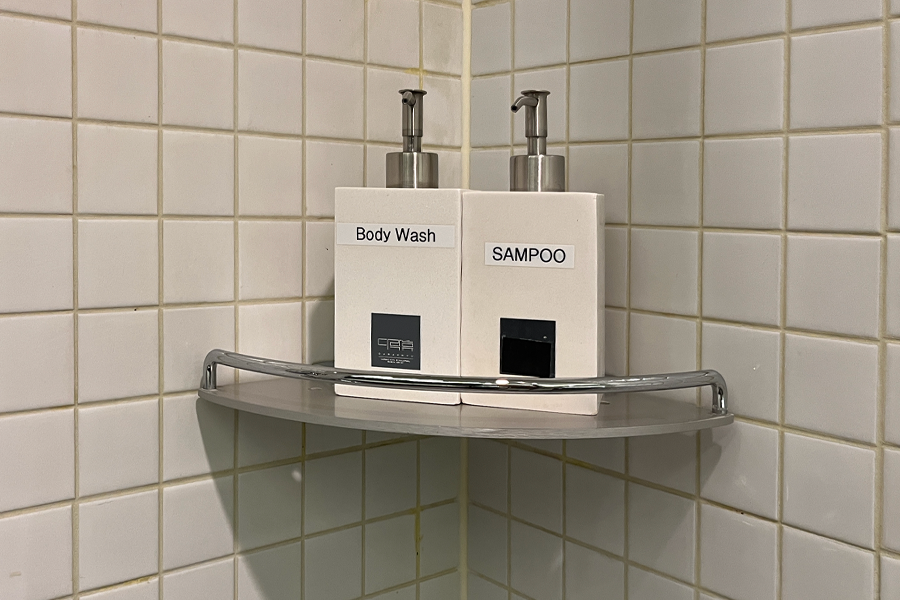 The room type that we had gotten had an attached bathroom. In the bathroom there were simple toiletries such as shower gel, shampoo, bath towels, towels, and slippers. However there is no toothpaste or toothbrush so make sure to bring one before coming here.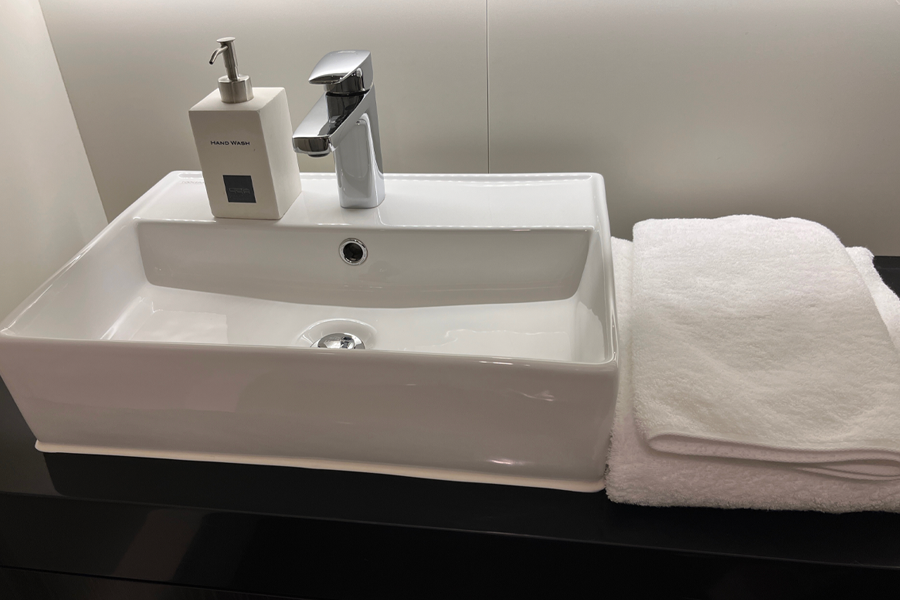 The washbasin in the room is set outside the bathroom and is very clean as well.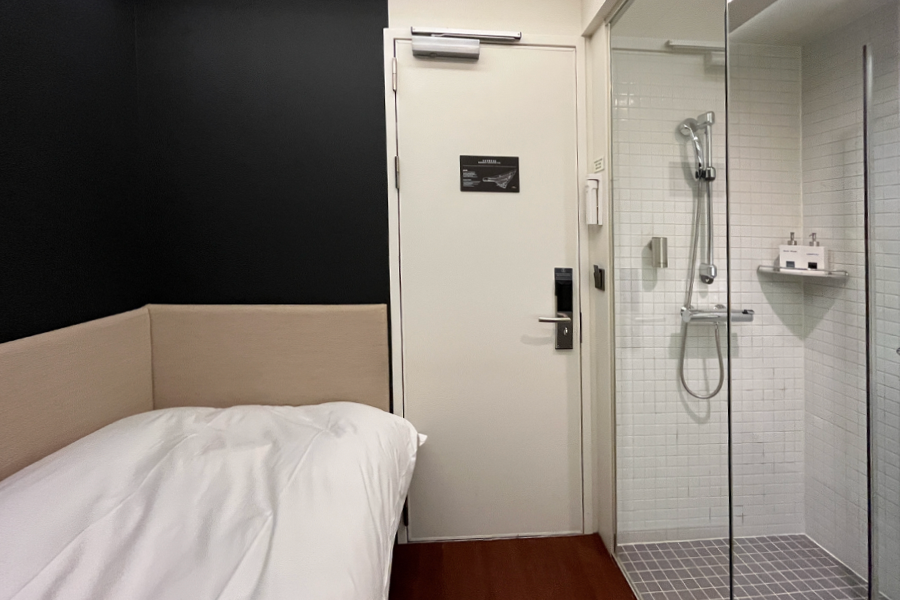 In order to allow guests who are tired to get a good quality of rest, Darakhyu uses Simmons mattresses. This came as a pleasant surprise !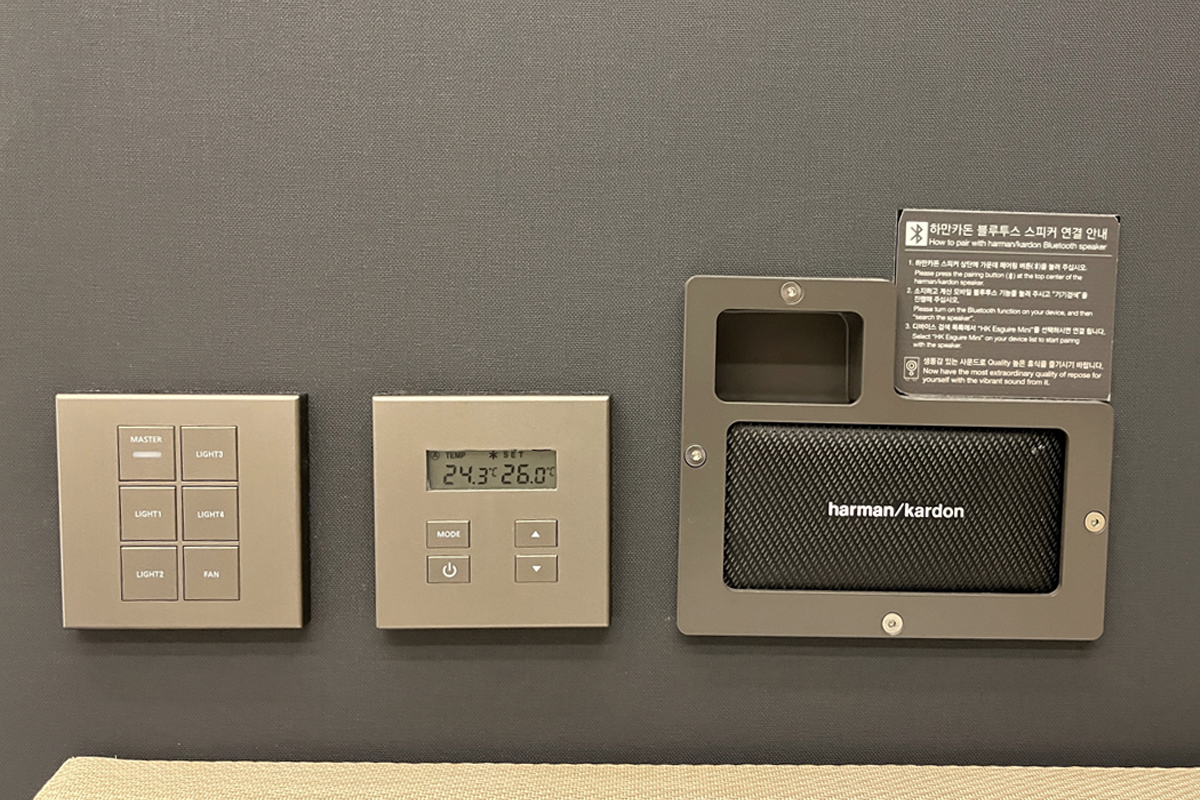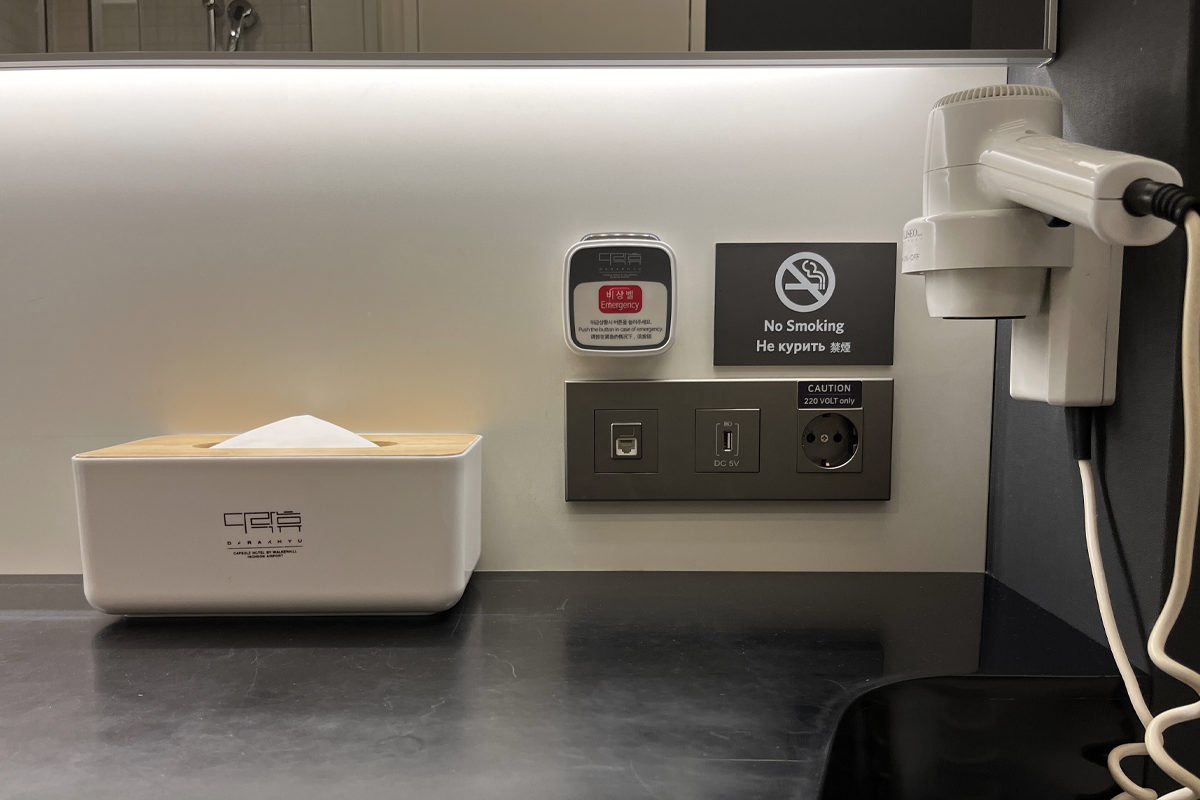 The bedside is also equipped with various sockets, a hairdryer, bluetooth speaker and lighting. There is also an air conditioner that you can use to adjust the temperature in your room to your preference.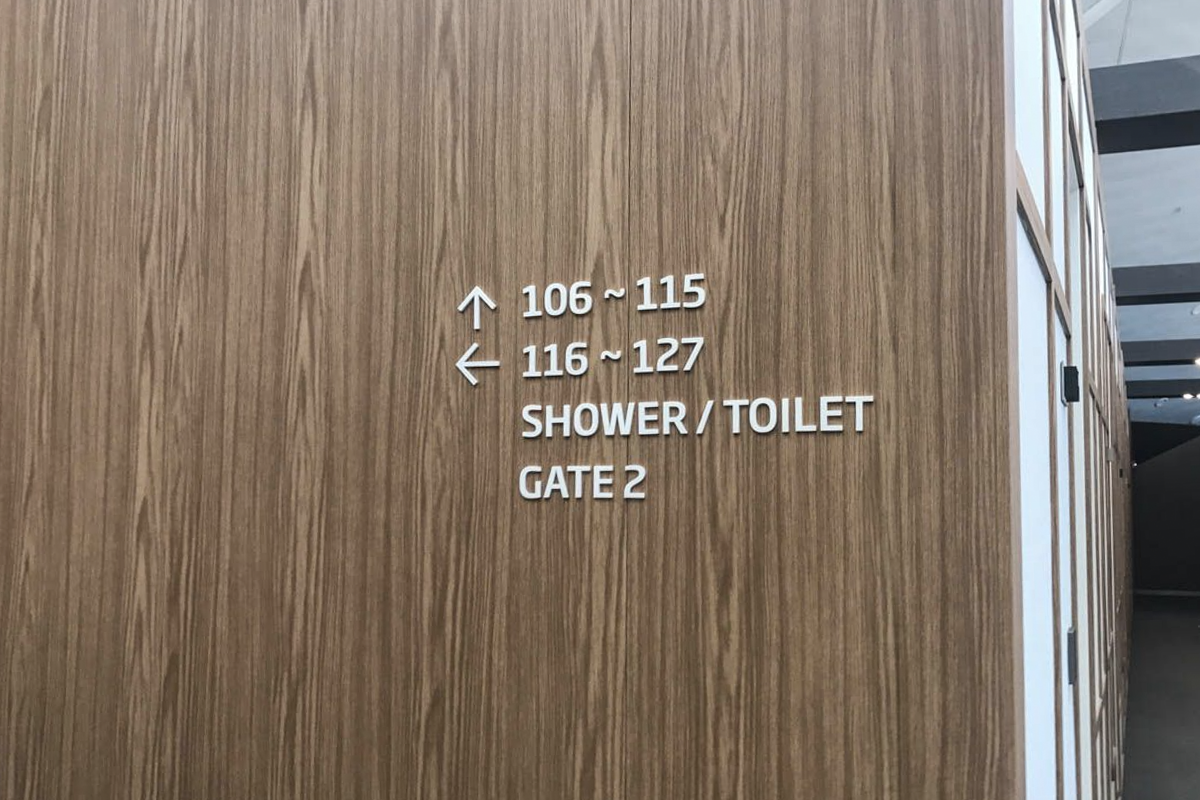 In addition to the rooms that provide a personal bathroom, there are also types with shared bathrooms. These come at a cheaper rate.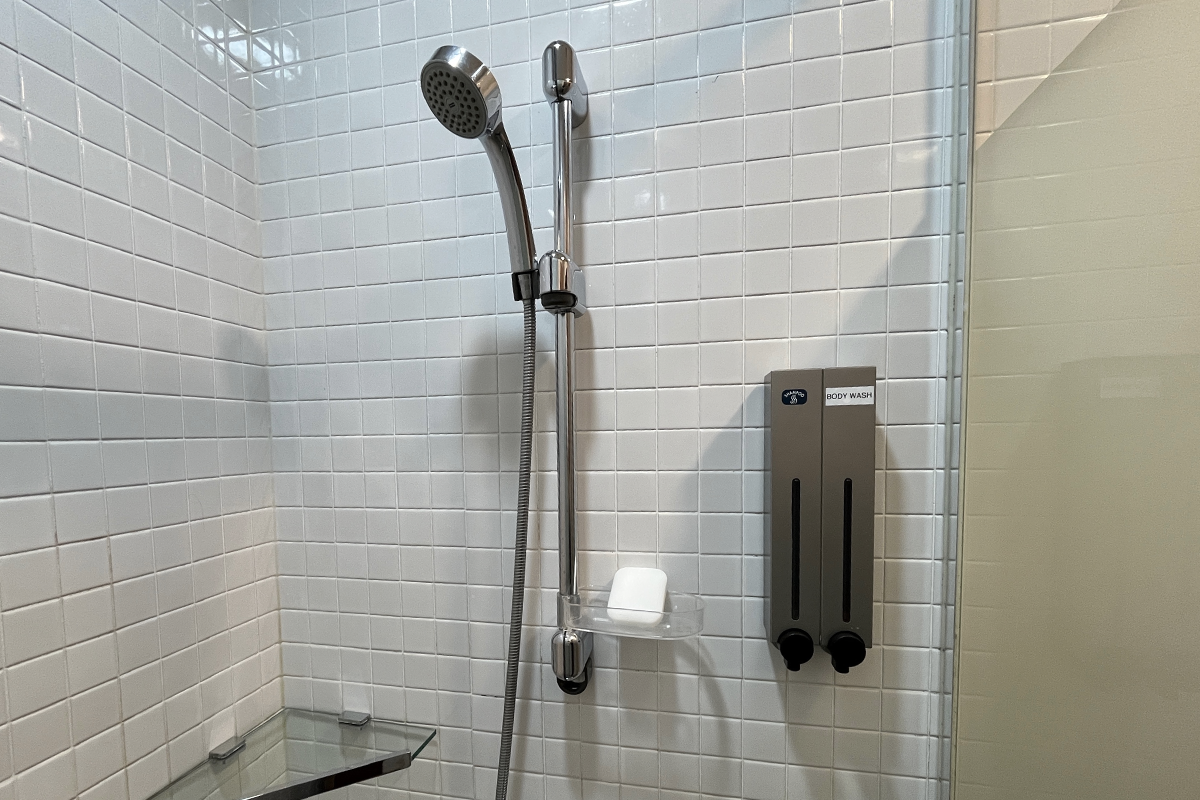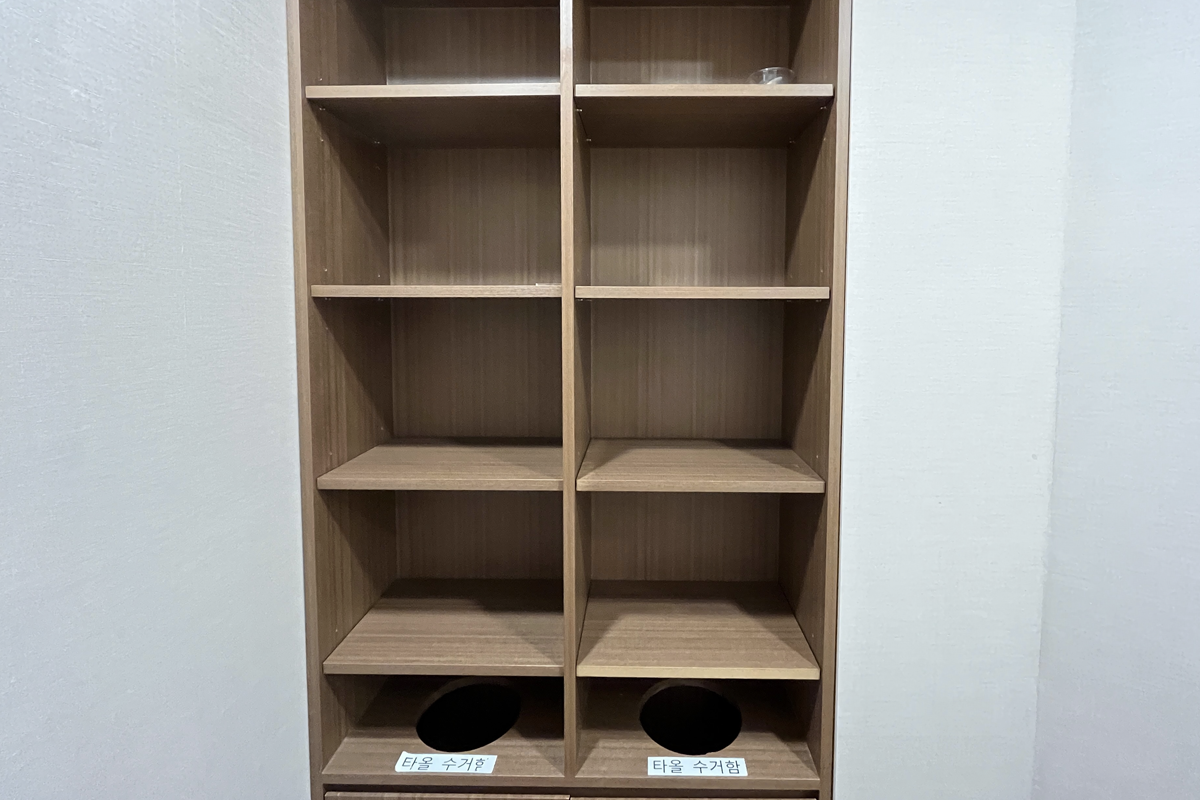 Each shared bathroom space has two shower rooms that can be used, but it can get crowded. There is a locker at the door to temporarily store personal clothes as well, which is convenient.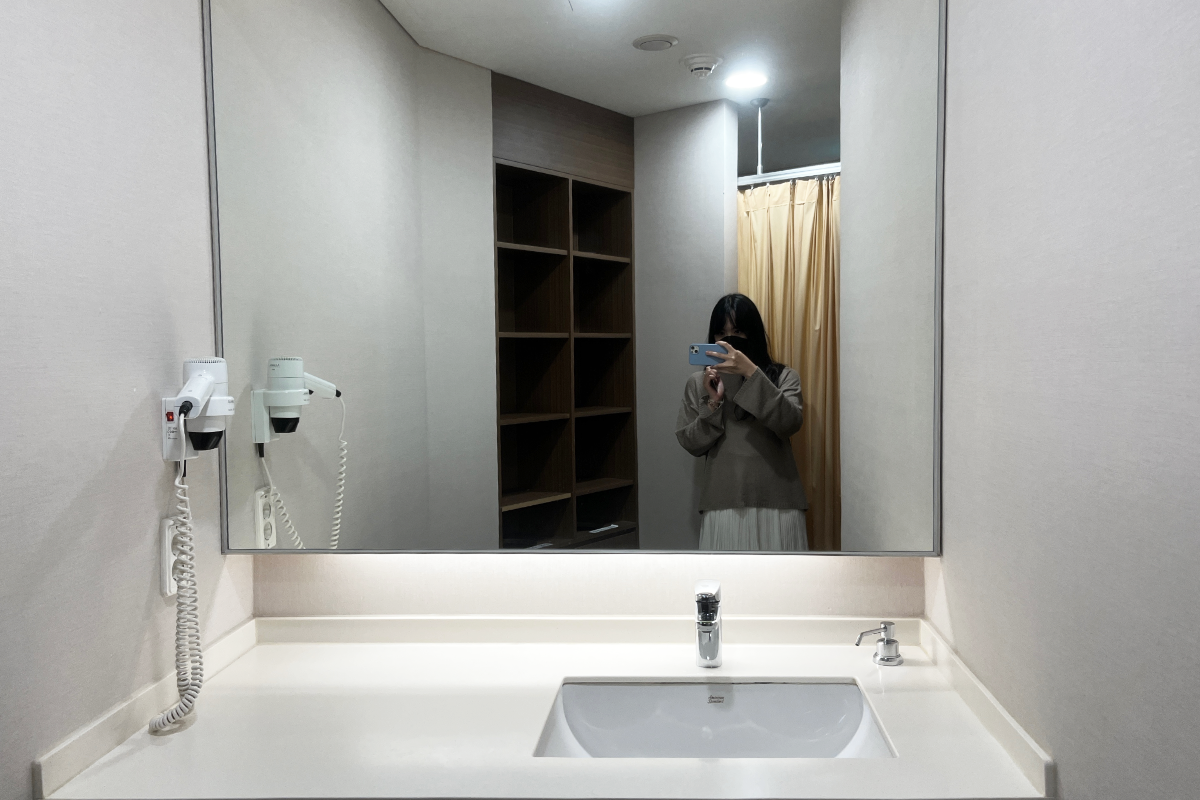 The public bathroom is also quipped with a hairdryer, but as the space is a bit tight, it might not be the best place to dry your hair. We suggest that you try to get a room that comes with a bathroom for your convenience.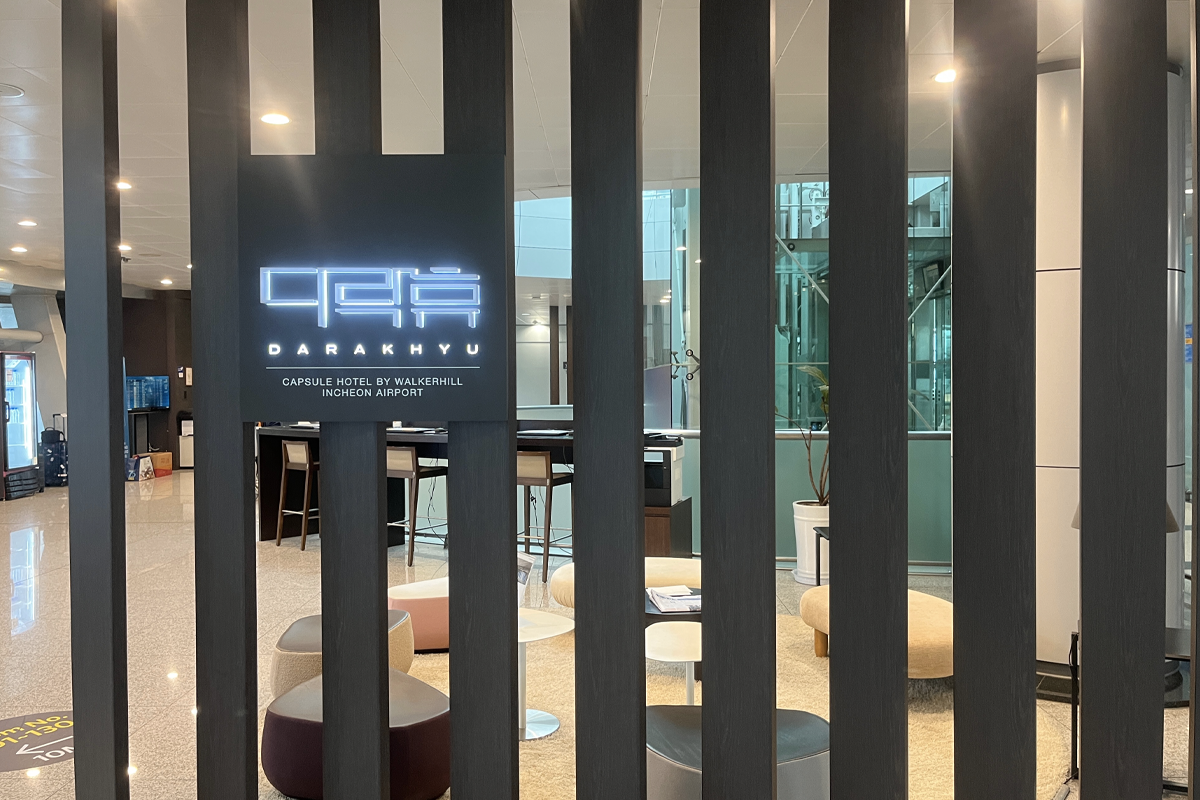 For those that are looking to rest, wash up, and get some quiet time in before their flight, make sure to take advantage of the capsule hotel at Incheon International Airport.
---
How to Get There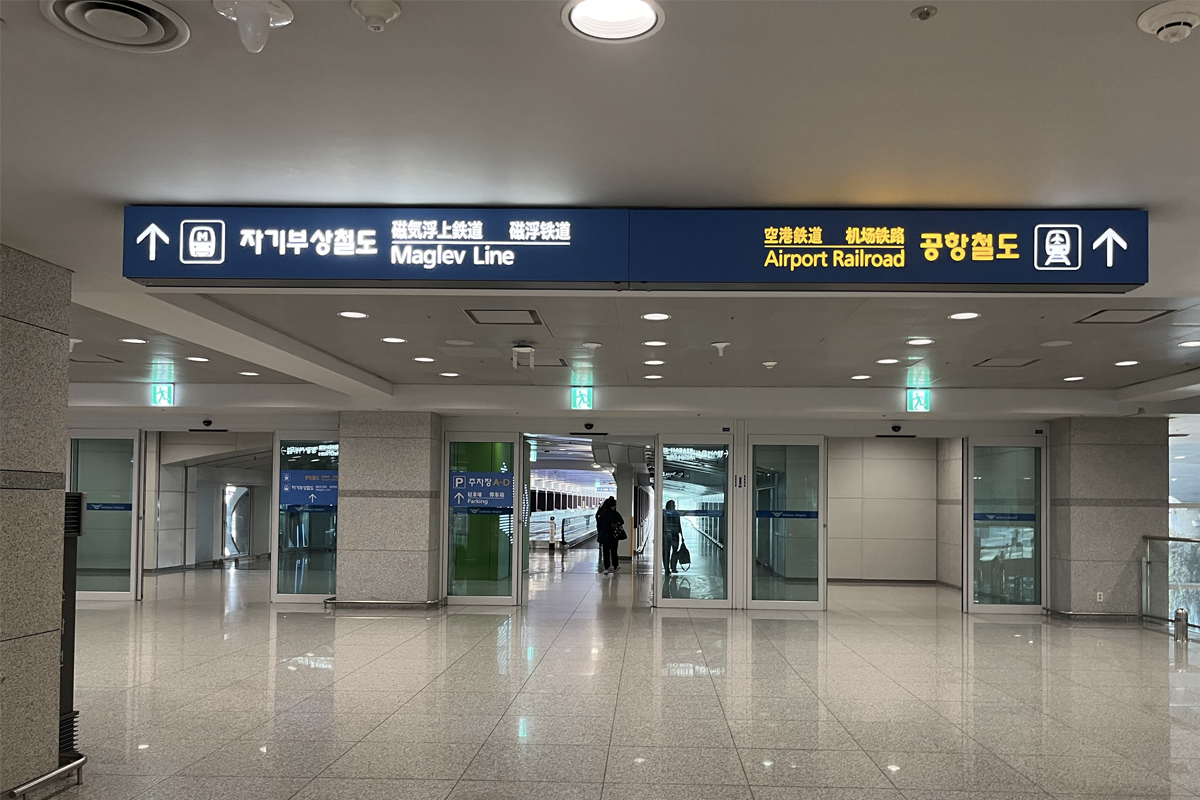 At Terminal 1 of Incheon Airport, head towards the Airport Railroad and the Maglev Railroad.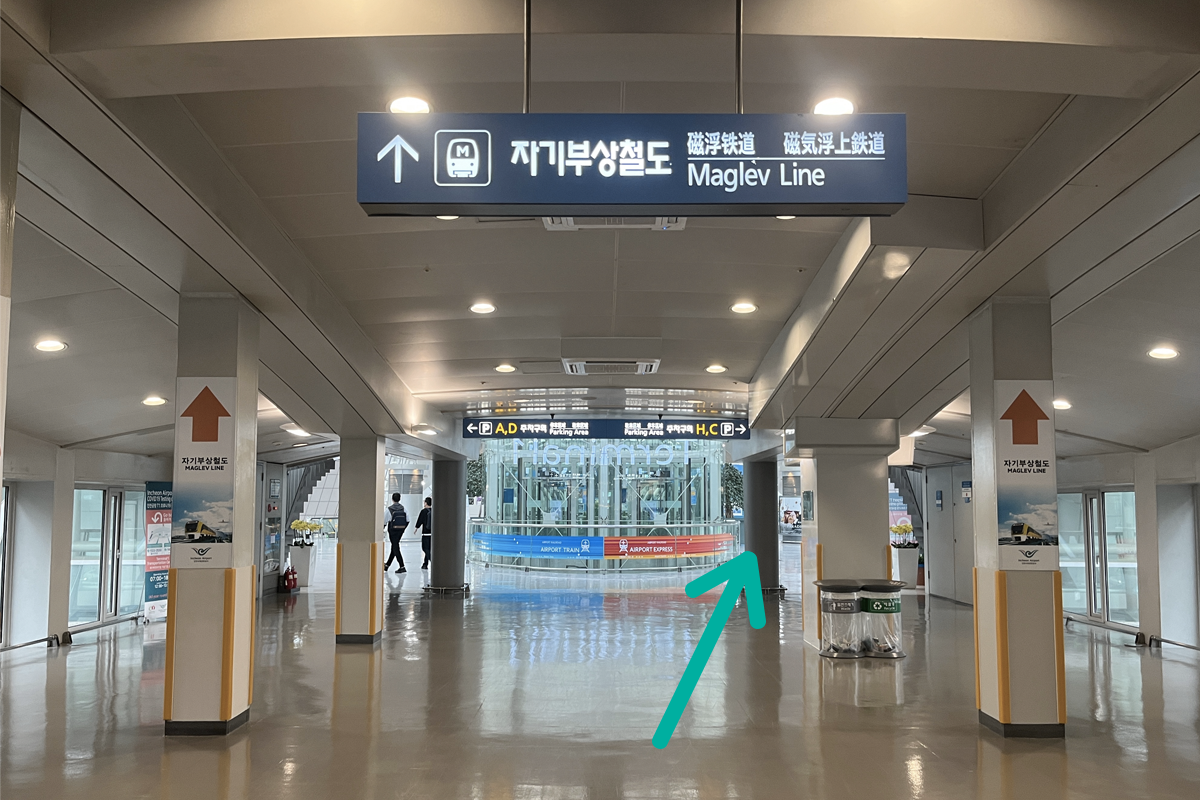 Then head down the escalator on the right.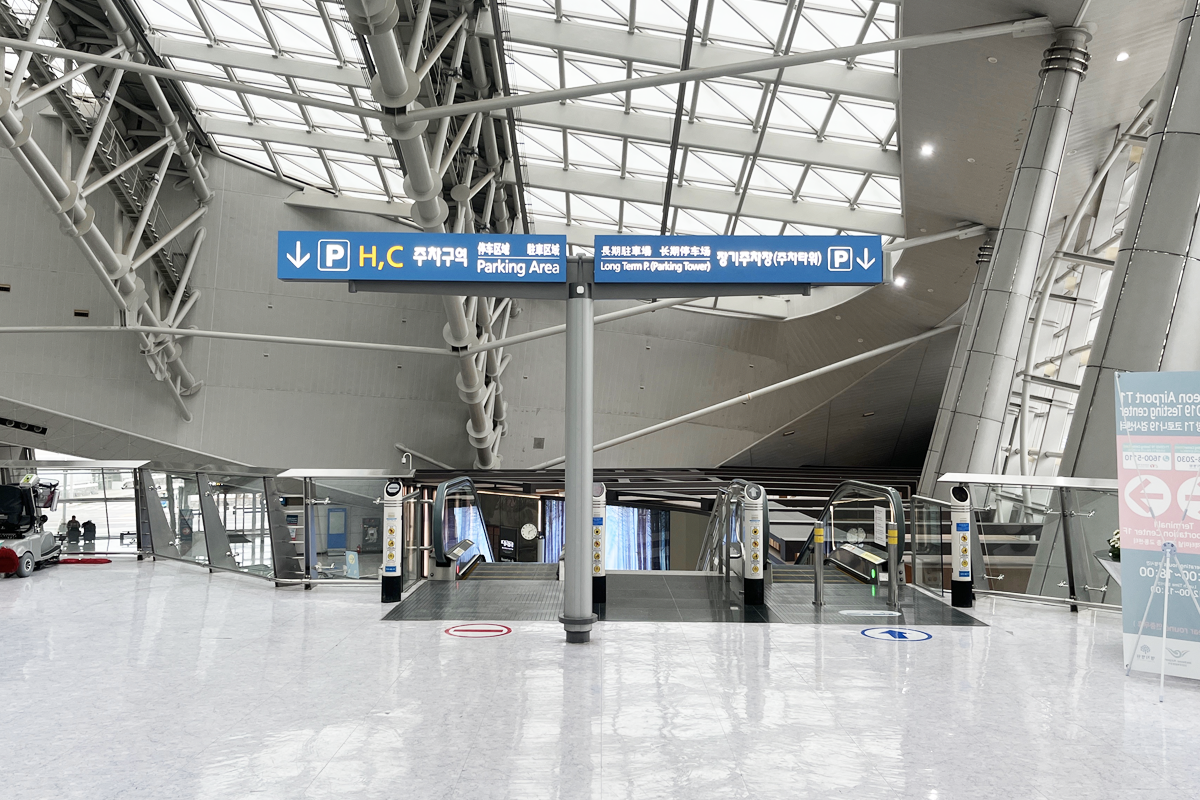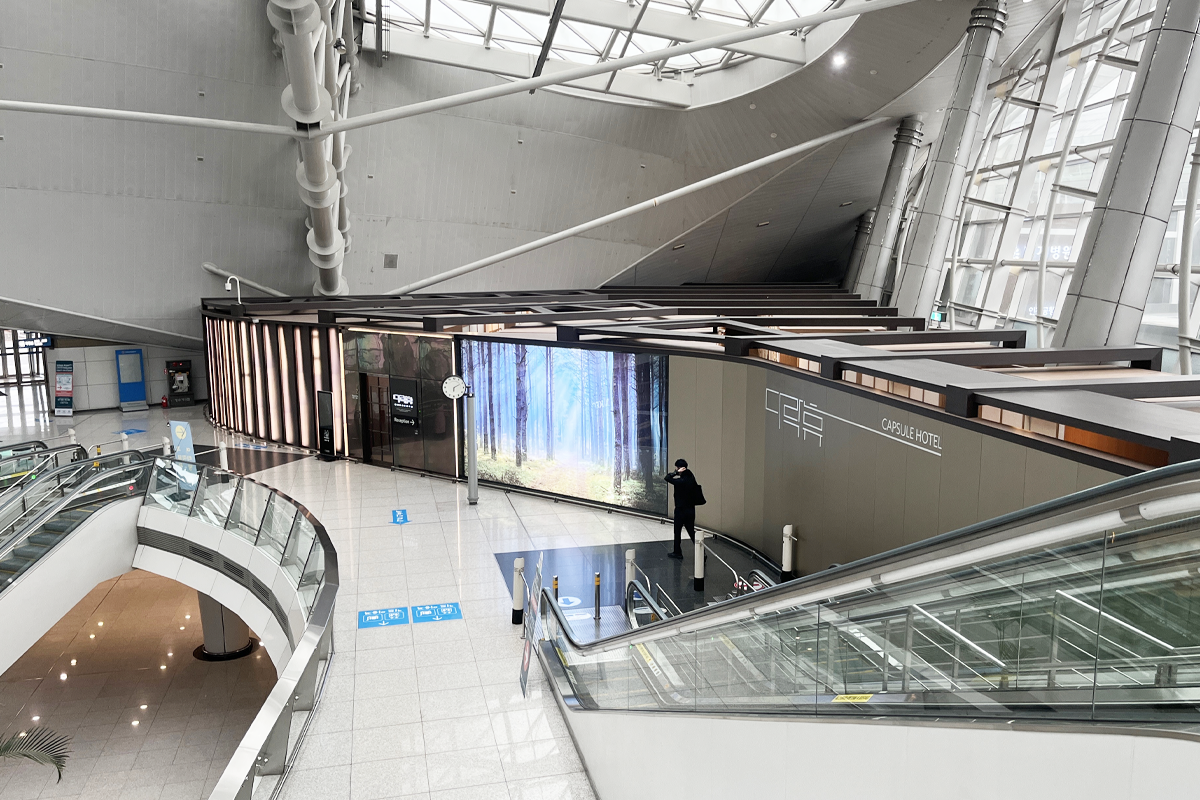 You will see the hotel at the bottom of the elevator.
---
We hope that you can enjoy a comfortable stay here when you are travelling through Incheon Airport. If you have any questions, please leave a comment below or send us an email at support@creatrip.com! You can also follow us on Instagram, TikTok, and Facebook to stay updated on all things Korea!
---