Kamong | The Waffle Cafe Owned By EXO Kai's Sister
Check out one of the top waffle cafes in Seoul!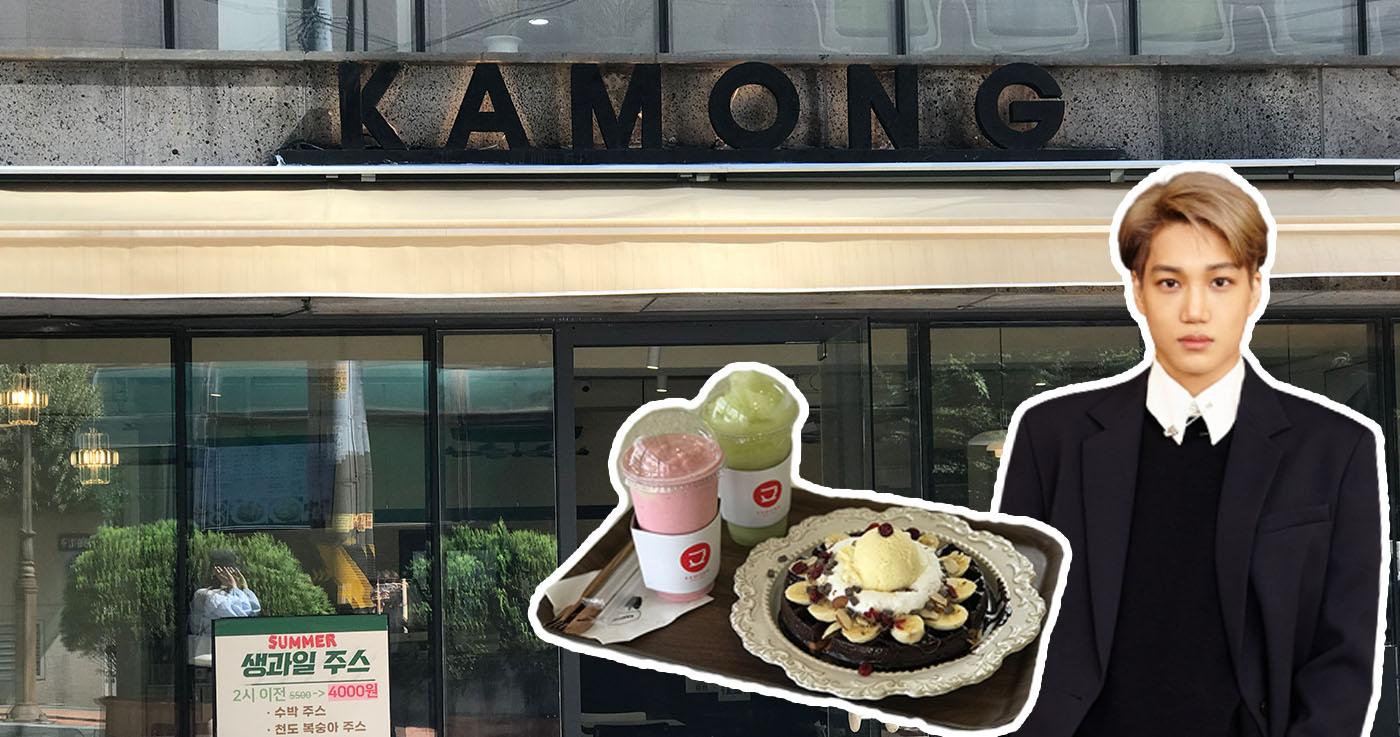 One thing that Seoul has no shortage of is interesting and unique cafes, whether in atmosphere and decor, or the food and drinks offered.
Cafe culture has taken over and honestly we're here for it.
When it comes to waffle cafes one of the most well known is Kamong (카몽).
Not only are the waffles amazing, but this cafe is owned by EXO Kai's sister, so many EXO-Ls come to visit and show support.
---
Information

Address: 서울 서초구 서초대로42길 17
17 Seocho-daero 42-gil, Seocho-gu, Seoul
Hours:
Mon-Fri: 8:30-21:30
Sat-Sun, Public holidays: 11:00-21:30
Closed the first Saturday of the month
Public Transportation: 3 minute walk from Seocho Station (서초역) exit 1.
---
Our Visit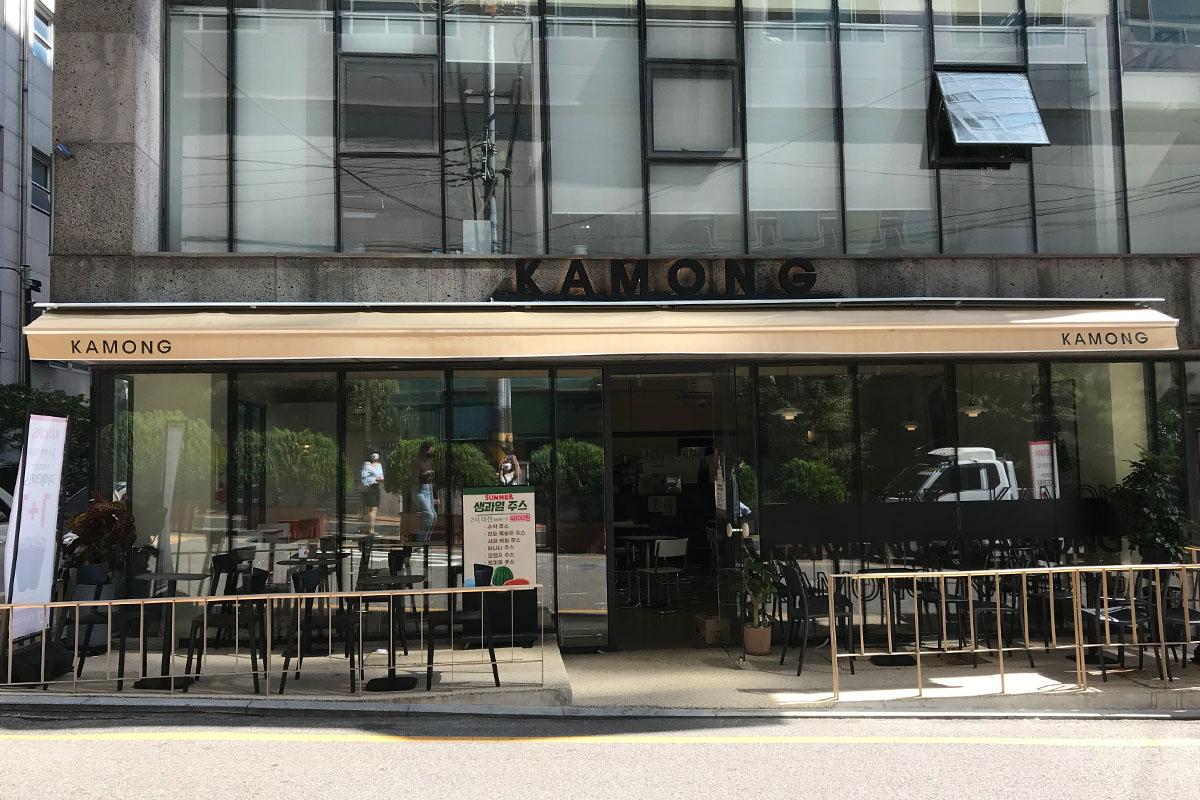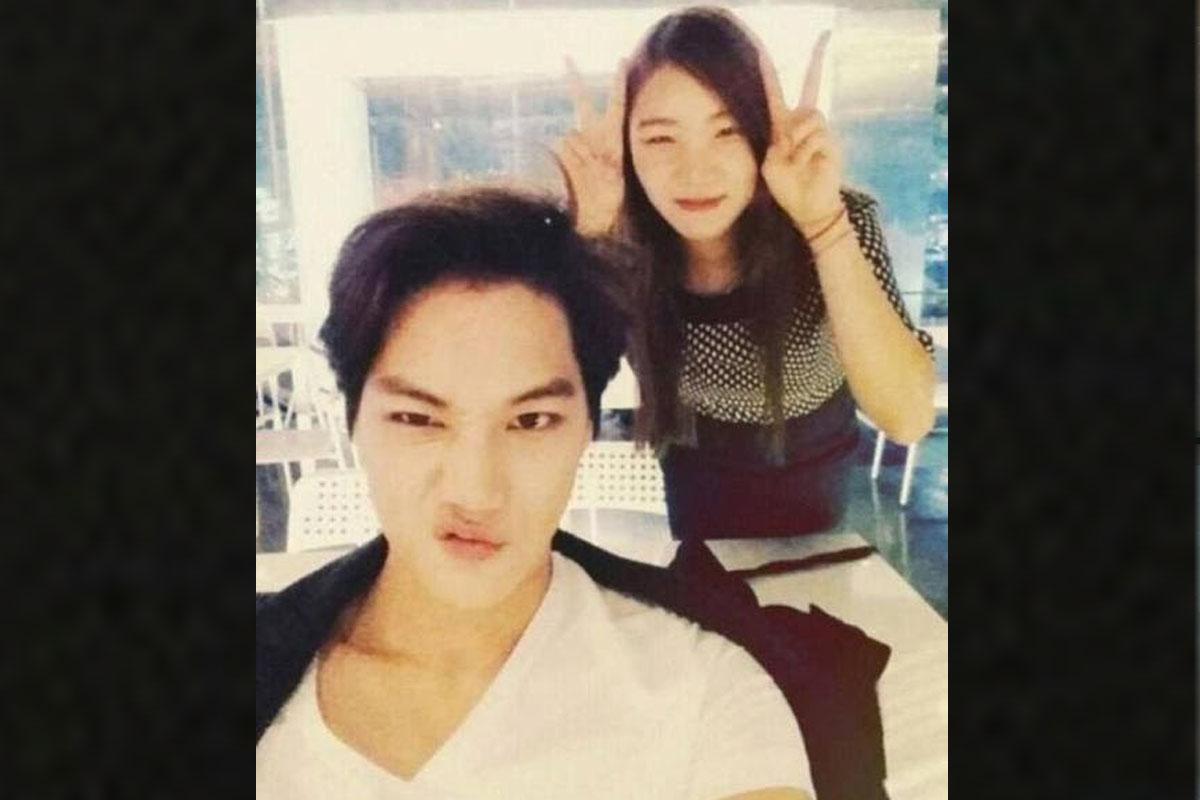 Source: pinterest
Many fans of K-Pop have already heard about this cafe because of Kai.
The name came from Kai and Mong from the family dog Monggu.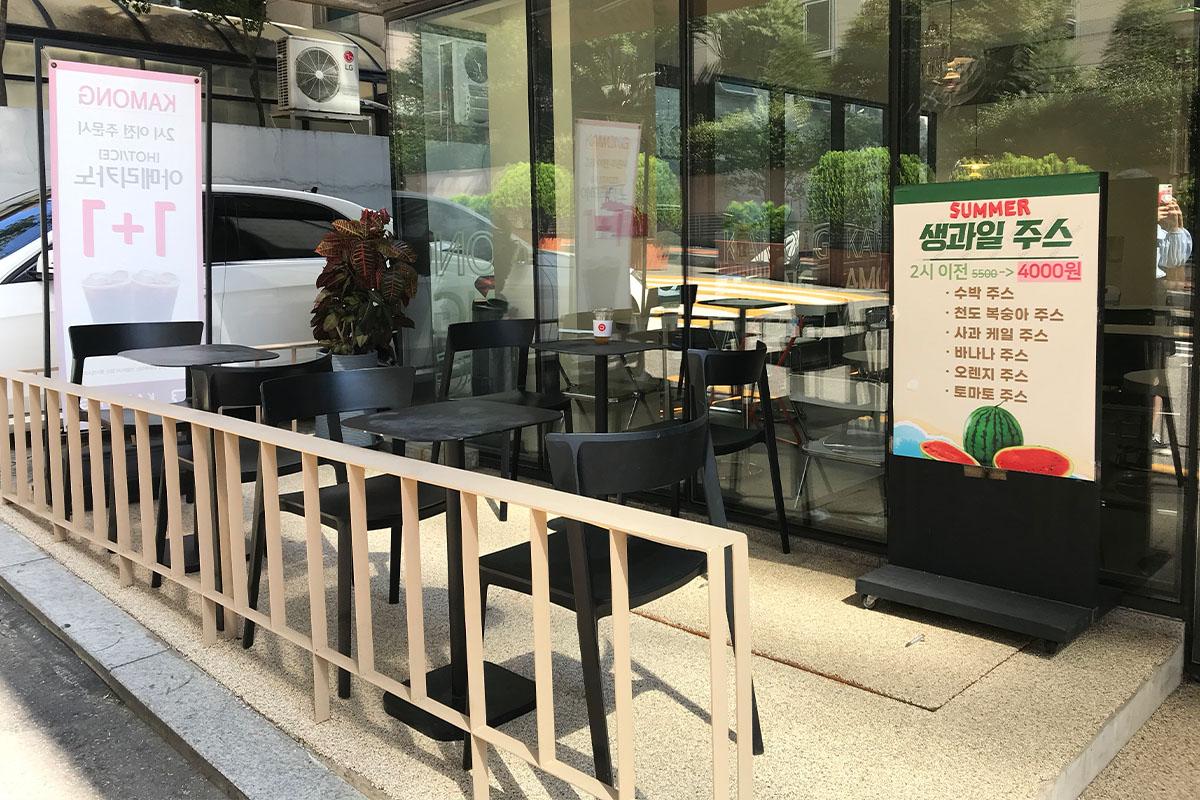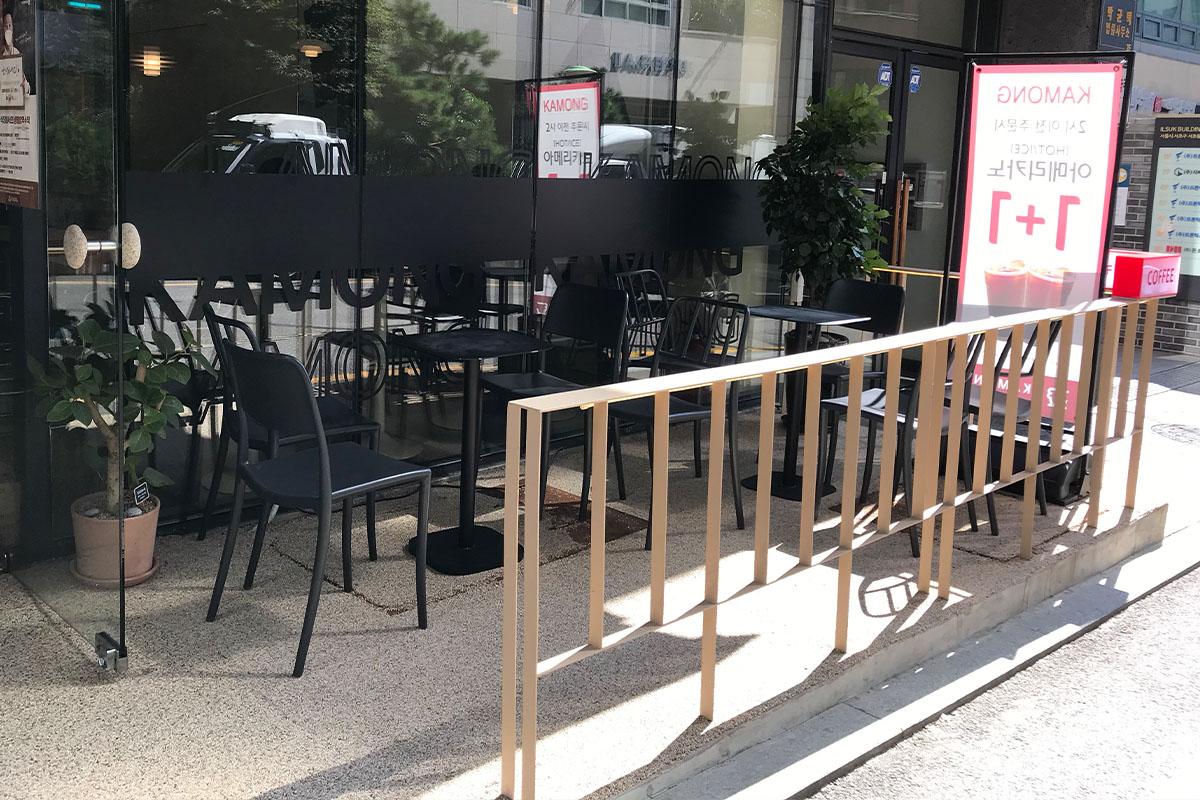 Getting to there is pretty simple. Just take exit 1 out of Seocho Station and its a short walk there.
There is patio seating in front so you can sit outside and enjoy the breeze if you like.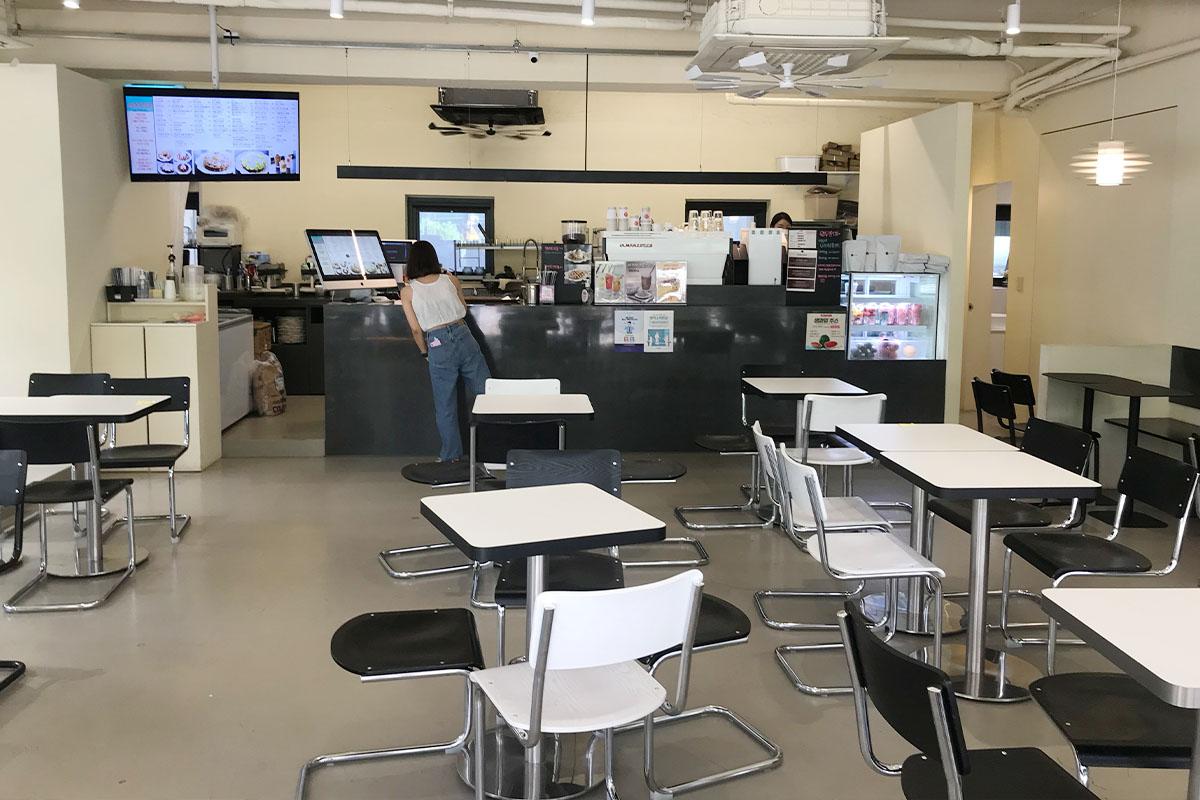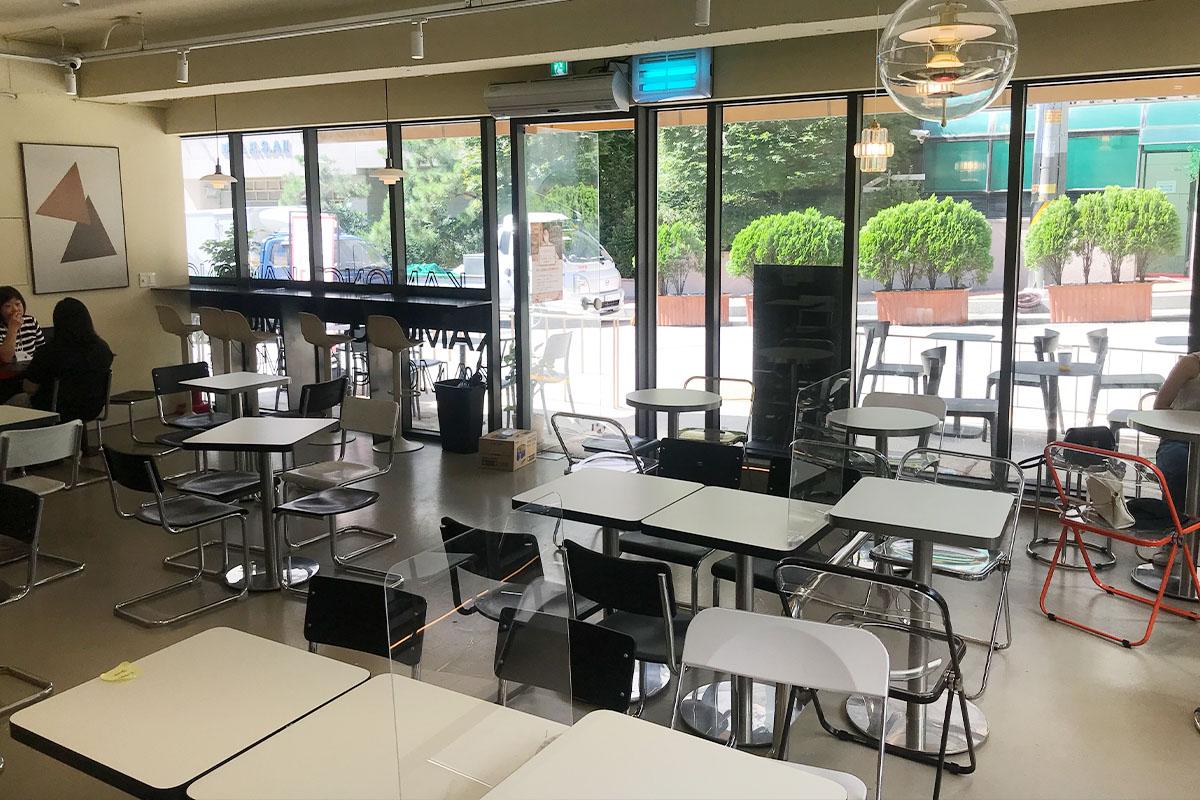 The interior is not very large, but the tables are arranged nicely.
There are also some counter seats, so it can accommodate a decent number of people.
Because of the pandemic, there are partitions that have been put up between tables.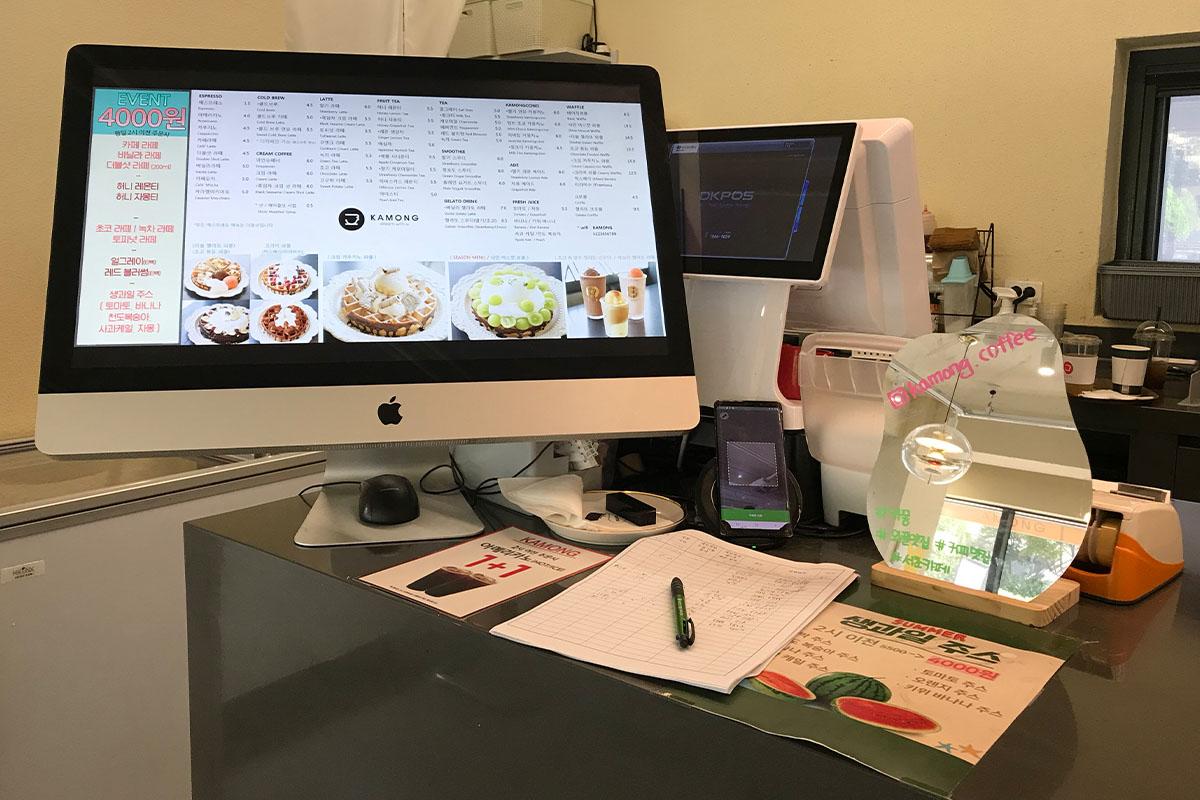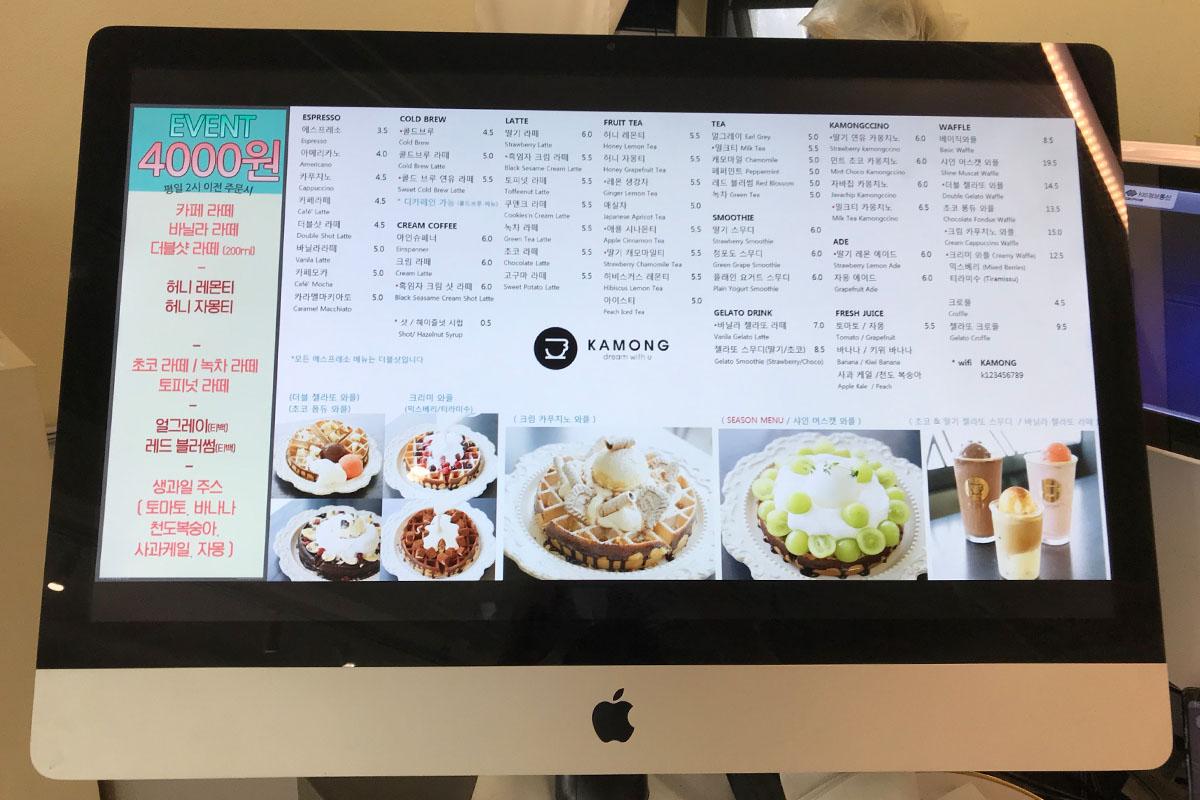 The menu can be viewed from the screen of this iMac.
And promotions are clearly displayed her and posted in front, so you won't miss out on them.
When we went there was a 1+1 (buy one get one) offer on Americanos and juice was on sale for 4,000 won if you purchased before 14:00.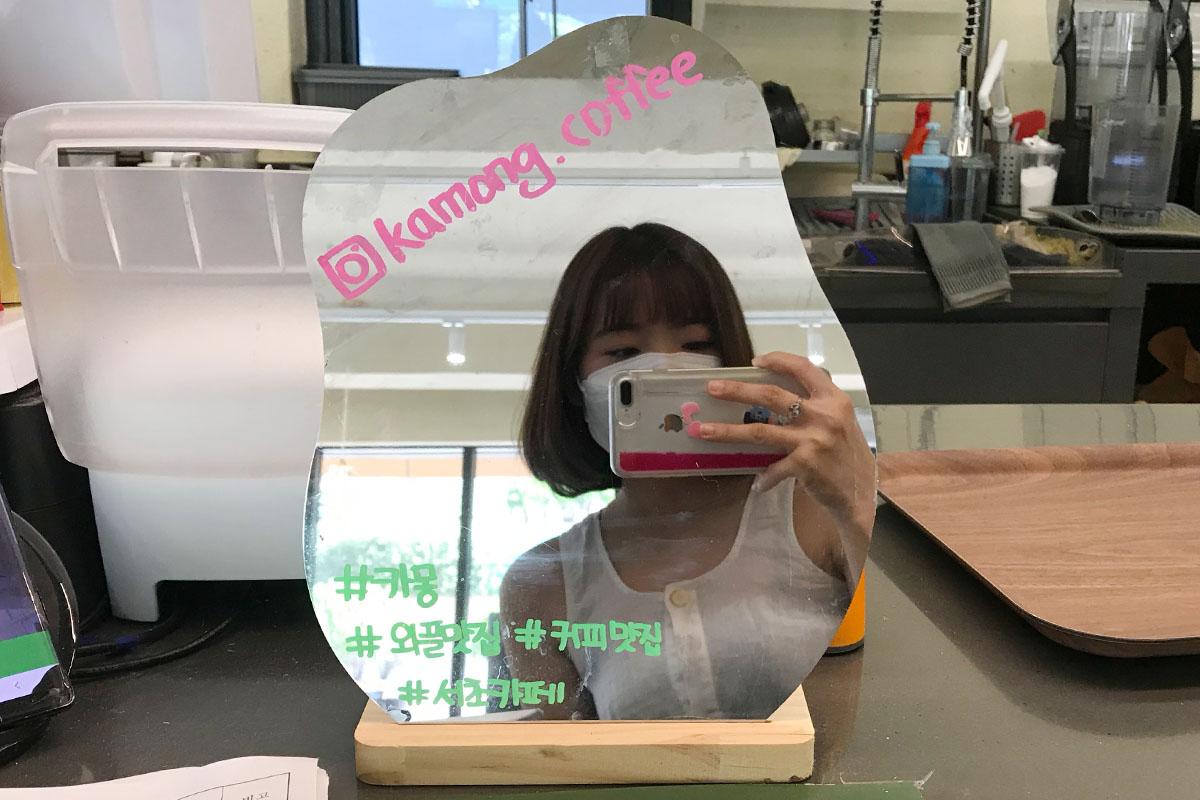 When we arrived, we first had to take some souvenir selfies.
Take a mirror selfie and show people that you went to Kamong.
It has their IG and hashtags written on it so you can tag them.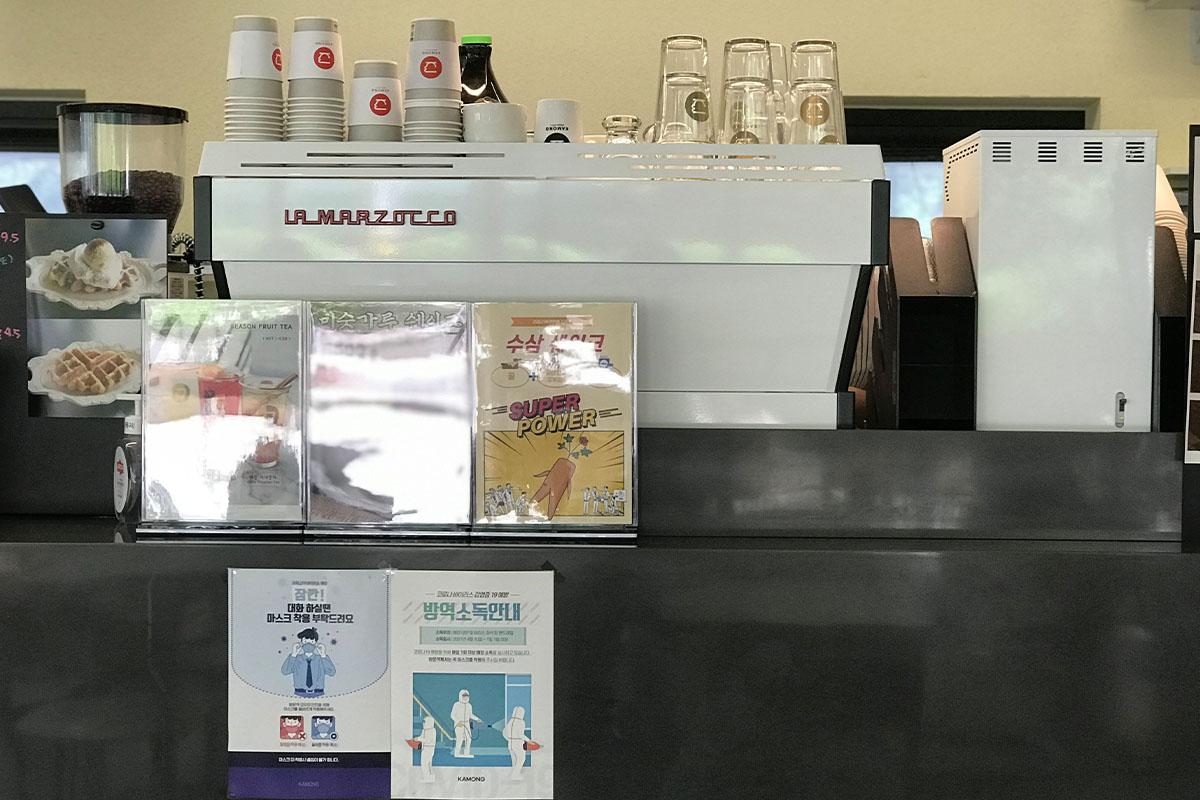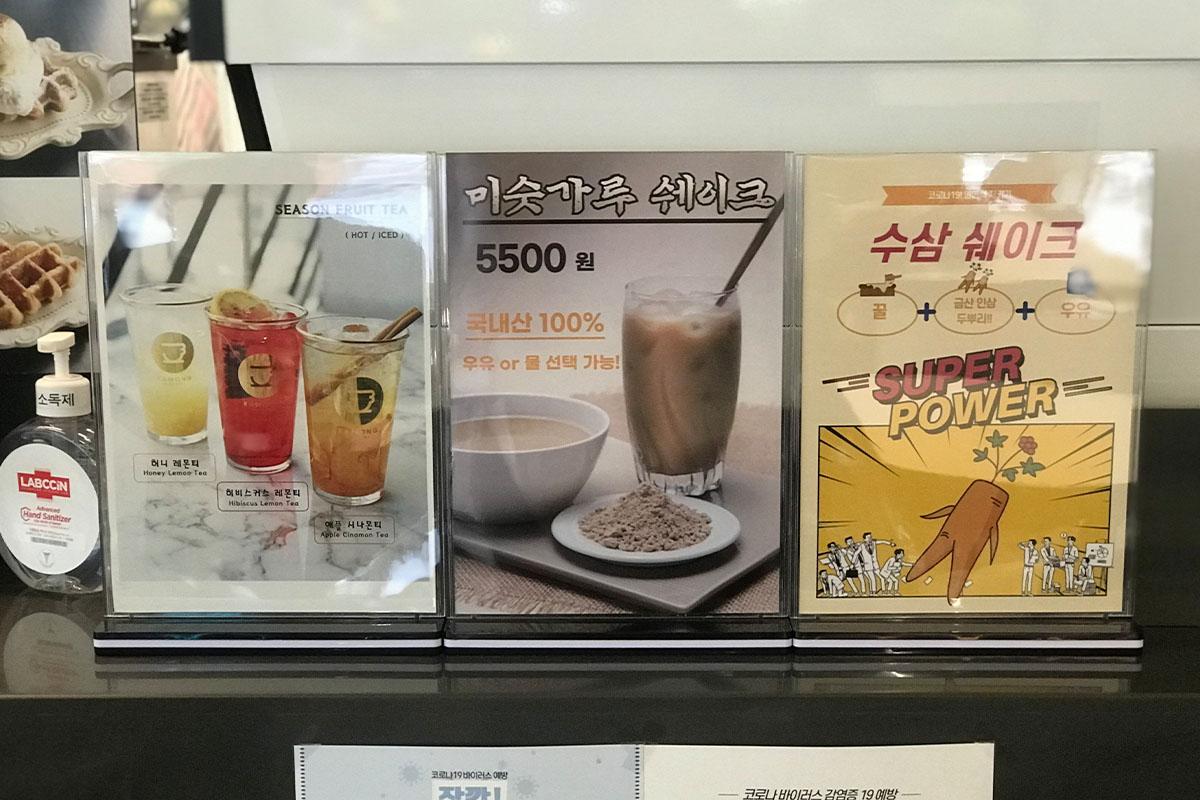 Even the coffee machines match the overall aesthetic of the shop with simple and clean lines.
One thing Kamong is known for aside from waffles is their seasonal and signature drinks.
They have a ginseng drink that contains honey and fresh milk. If you need an energy boost, try this!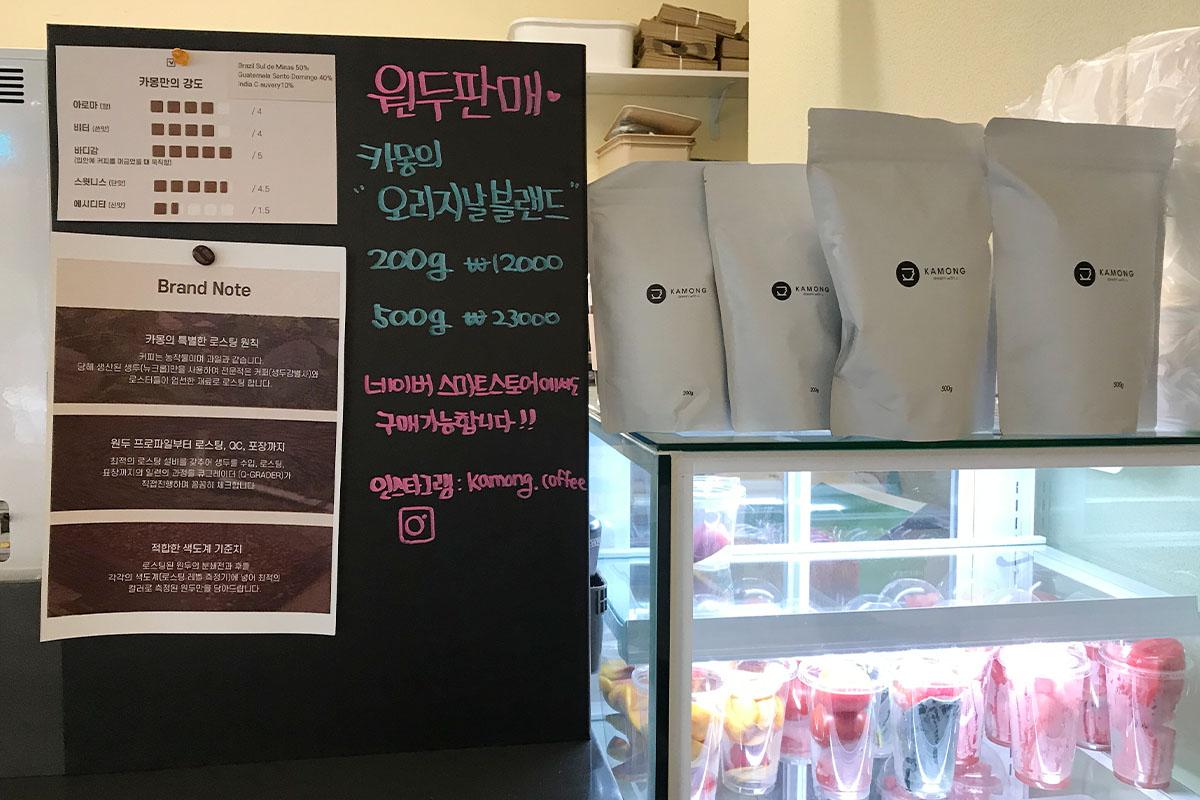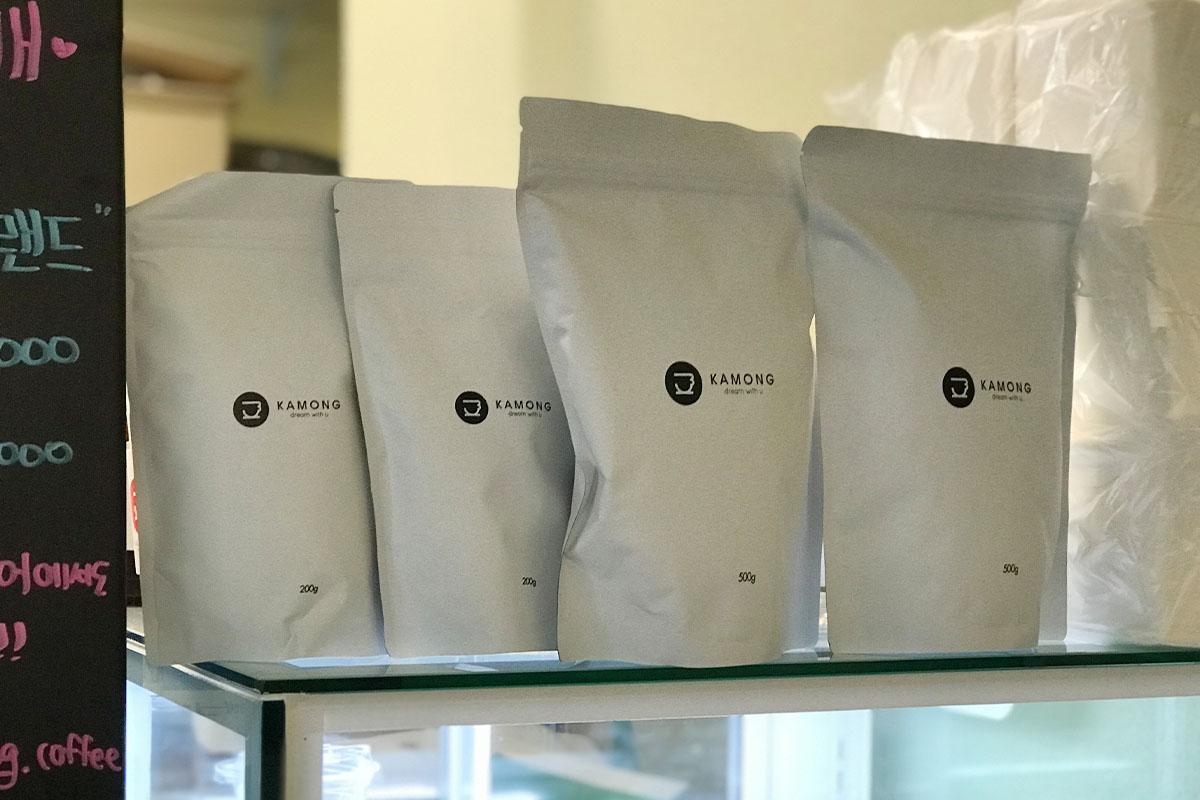 This shop also sells coffee beans they roasted themselves.
If you need a souvenir for a coffee-lover, this would be a great option, or if you enjoy the coffee while you're there, you can always get some beans for yourself too.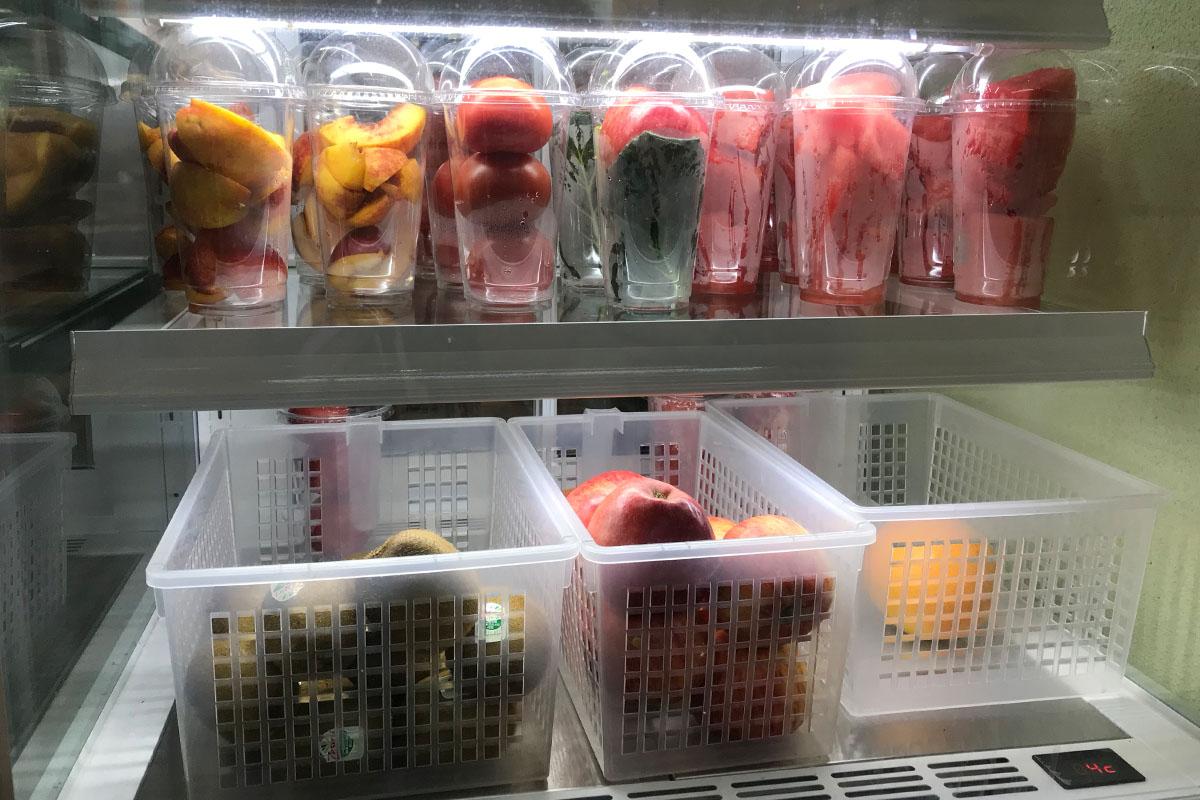 You can rest assured their juices are 100% real fresh fruit!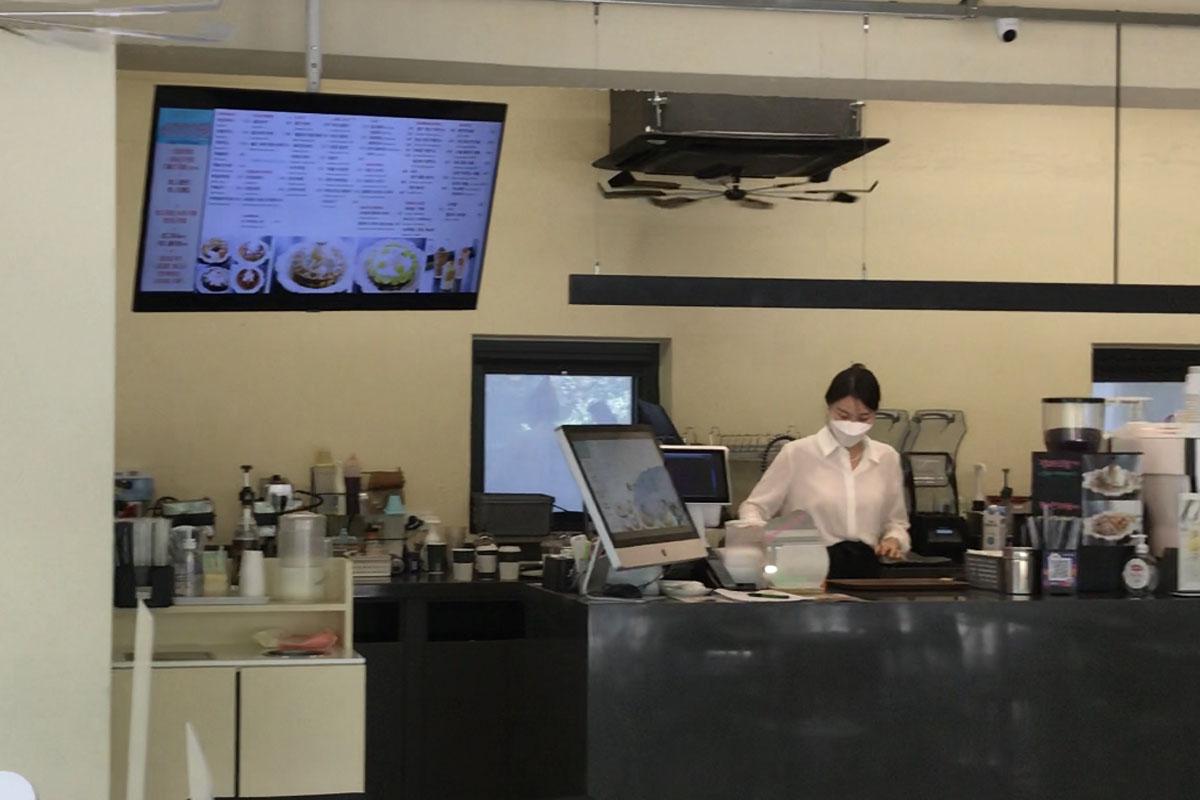 The day we went we were lucky enough to meet two of Kai's sisters!
You could see the similarities, even with masks on.
They took our orders and prepared them themselves.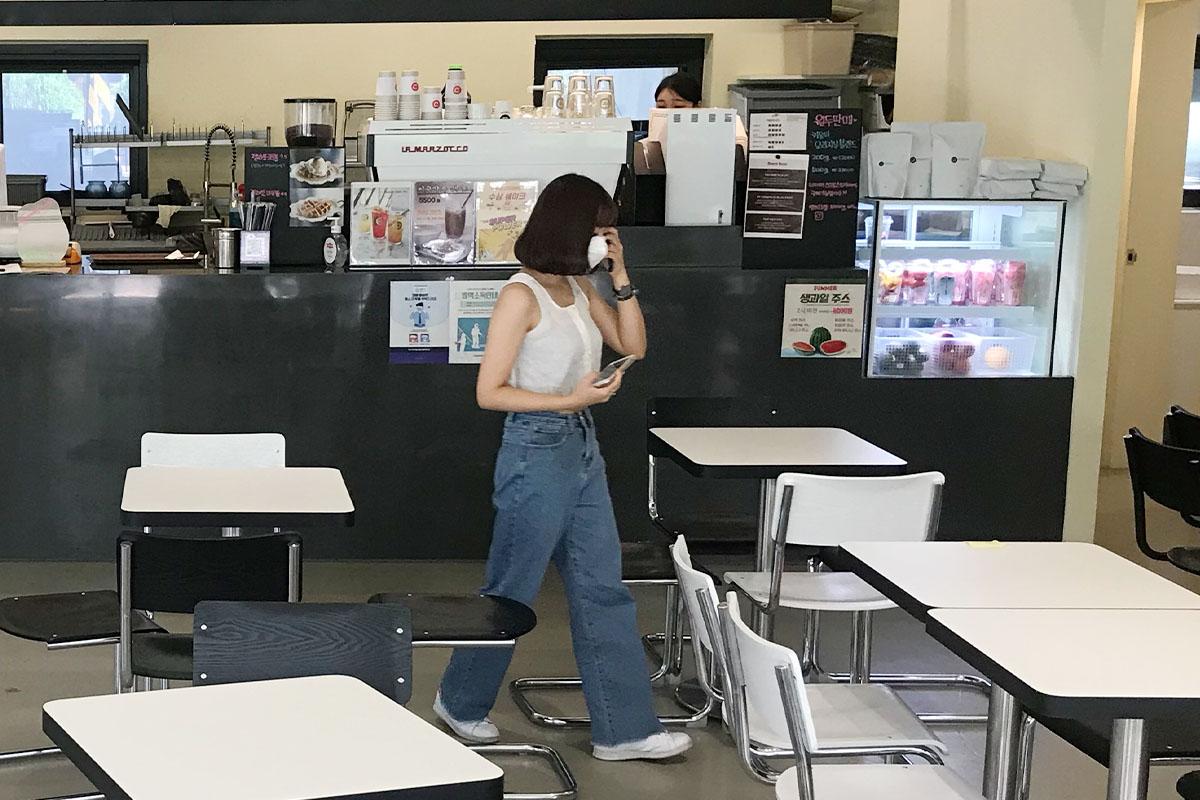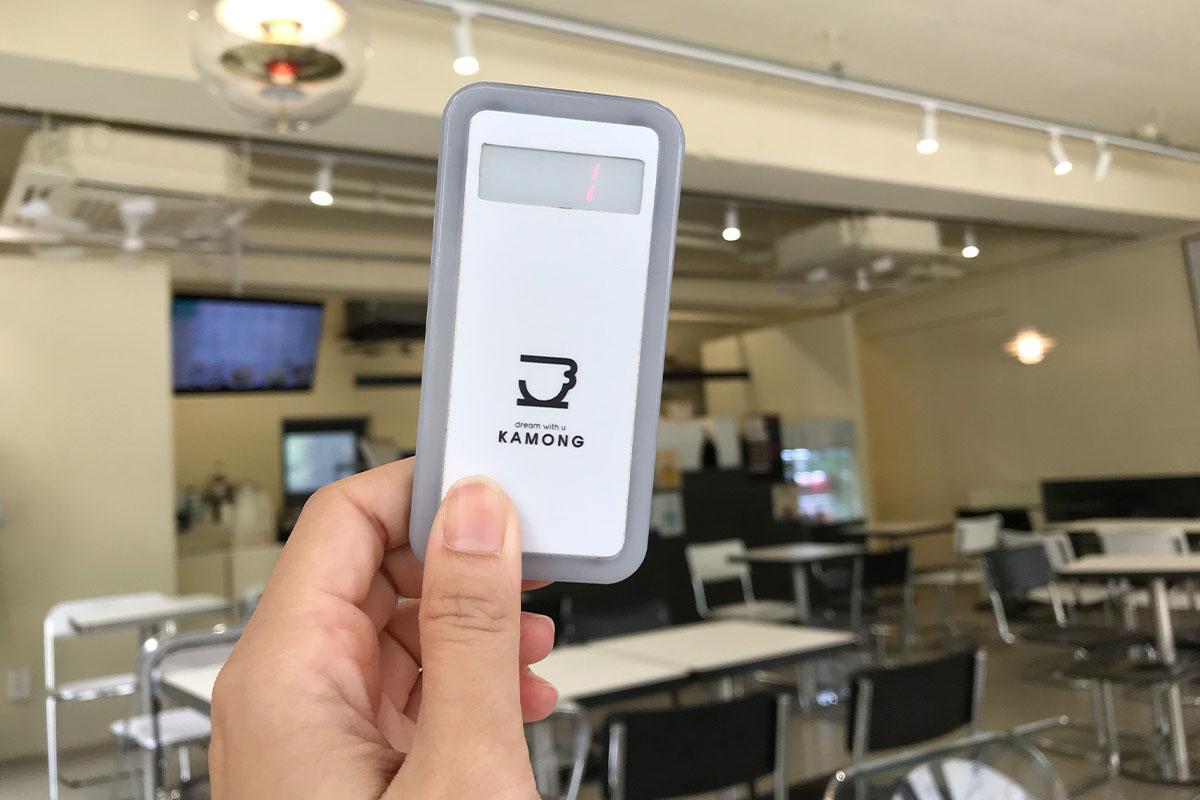 After ordering you are given a buzzer that will alert you when you food and drinks are ready.
We found a seat and waited for our orders to arrive.
We ordered a total of three items: the Chocolate Fondue Waffle, a Strawberry Kamongccino, and a Green Grape Smoothie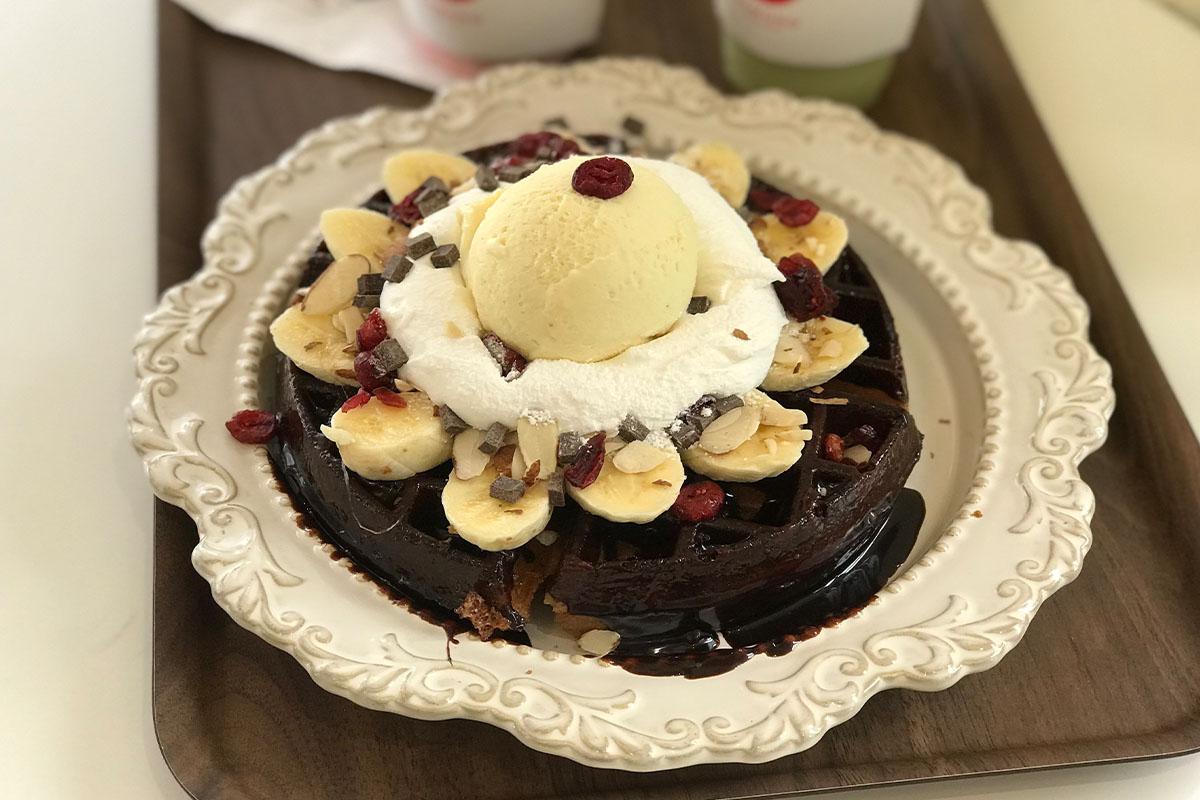 Chocolate Fondue Waffle
13,500 won
This shop is so famous for its waffles that HYPEBEAST Korea has classified it as one of the 6 best waffle shops in Seoul.
So if you come here, be sure to try the waffles!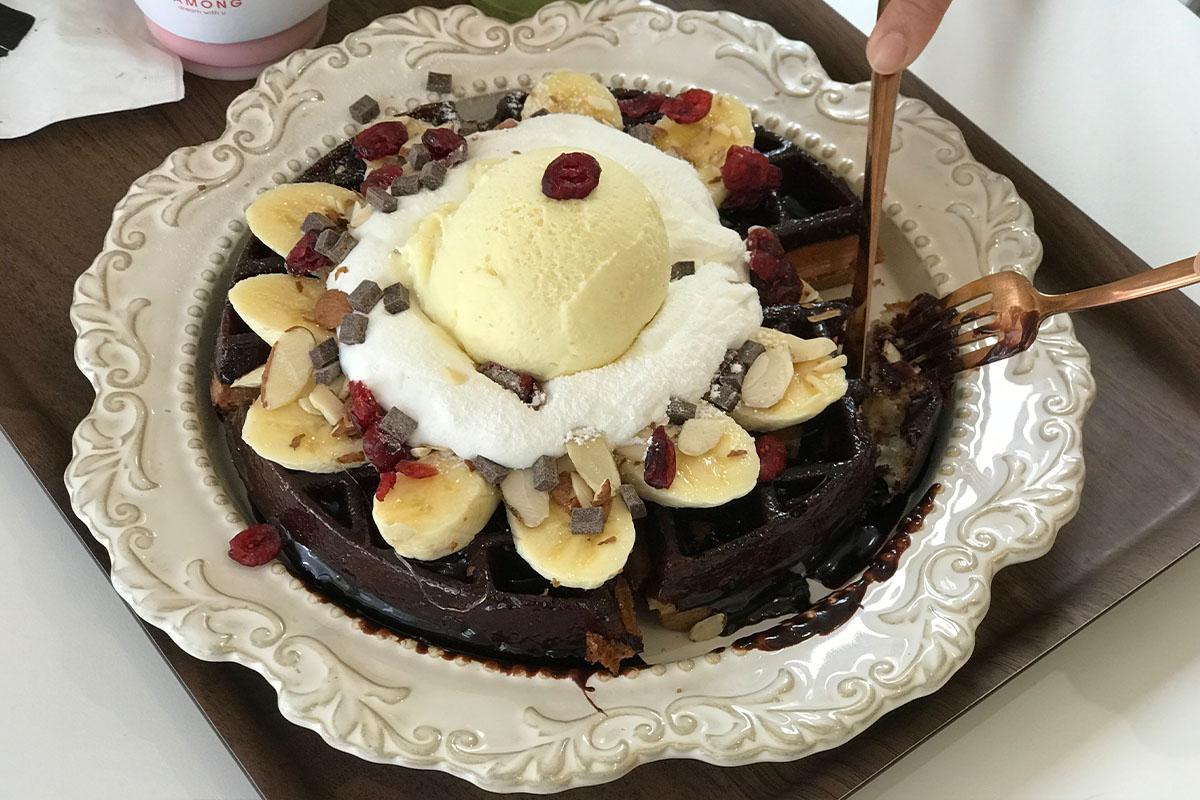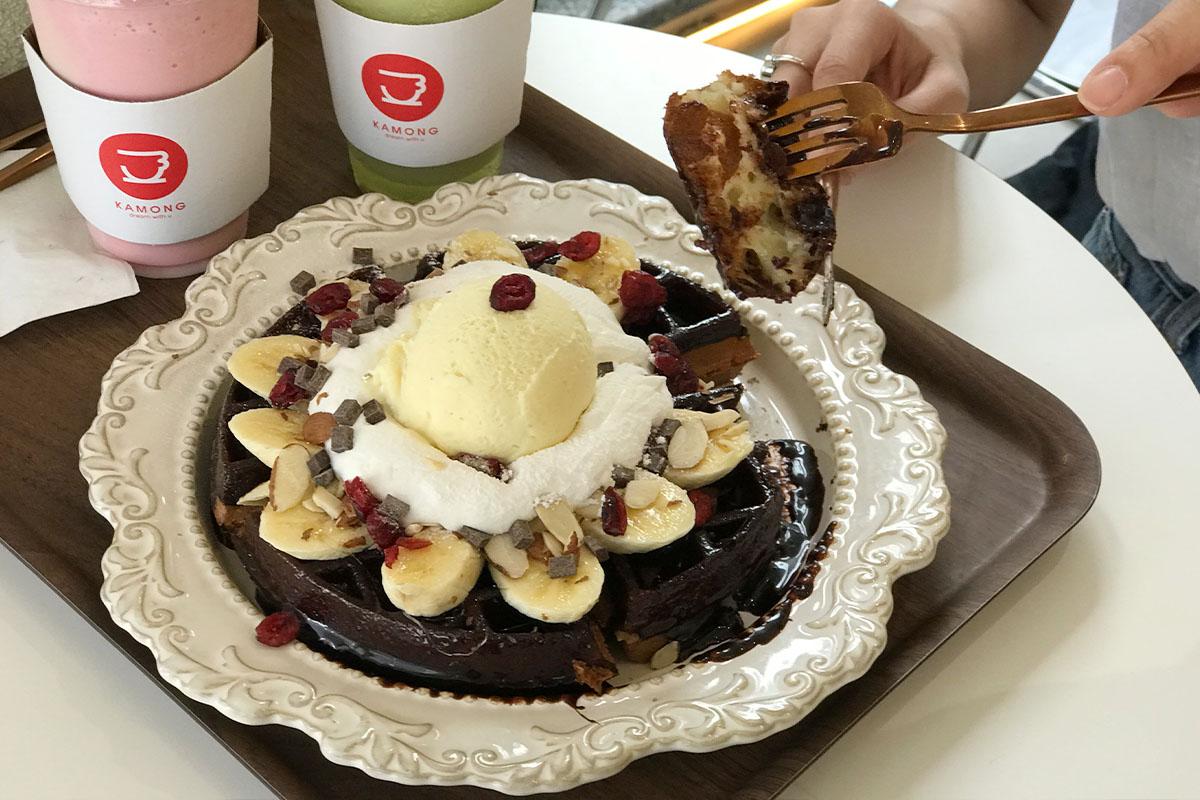 When I cut into it, the scent of chocolate and waffle tickles my nose.
The waffle is drenched in chocolate, not just poured lightly on top.
Chocolate-lovers take note.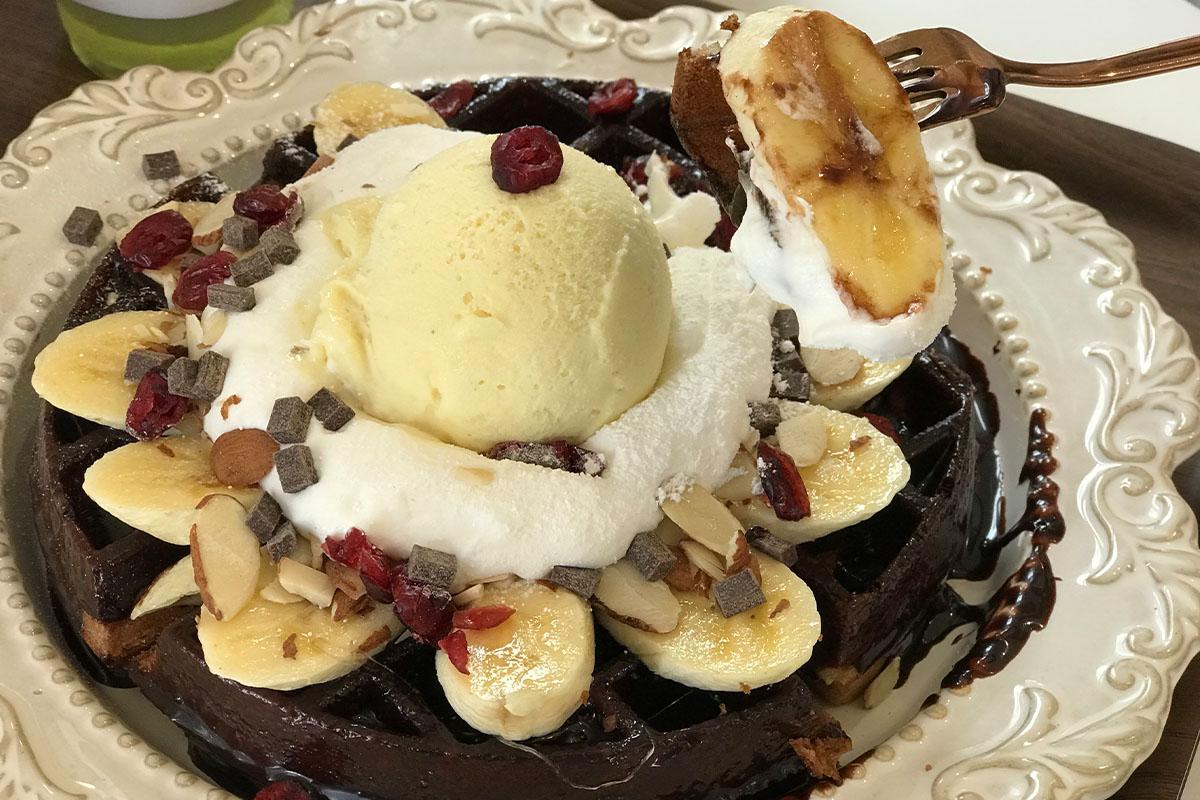 The sweetness of the chocolate is paired harmoniously with fresh whipped cream, banana slices, and vanilla ice cream, with a sprinkle of dried cranberries to add a bit of tartness.
It's so delicious that I can understand why people say that the waffles are some of the best. They really are!
Now let's take a look at our drinks, the Strawberry Kamongccino and Green Grape Smoothie.
I noticed that they didn't start making our drinks right away, but waited until the waffle was close to being done so that they would be fresh and not be melted by the time the waffle was ready.
They have it all timed out perfectly, and you can tell through their attention to details like this that they really know what they're doing and care about the integrity of the products they serve.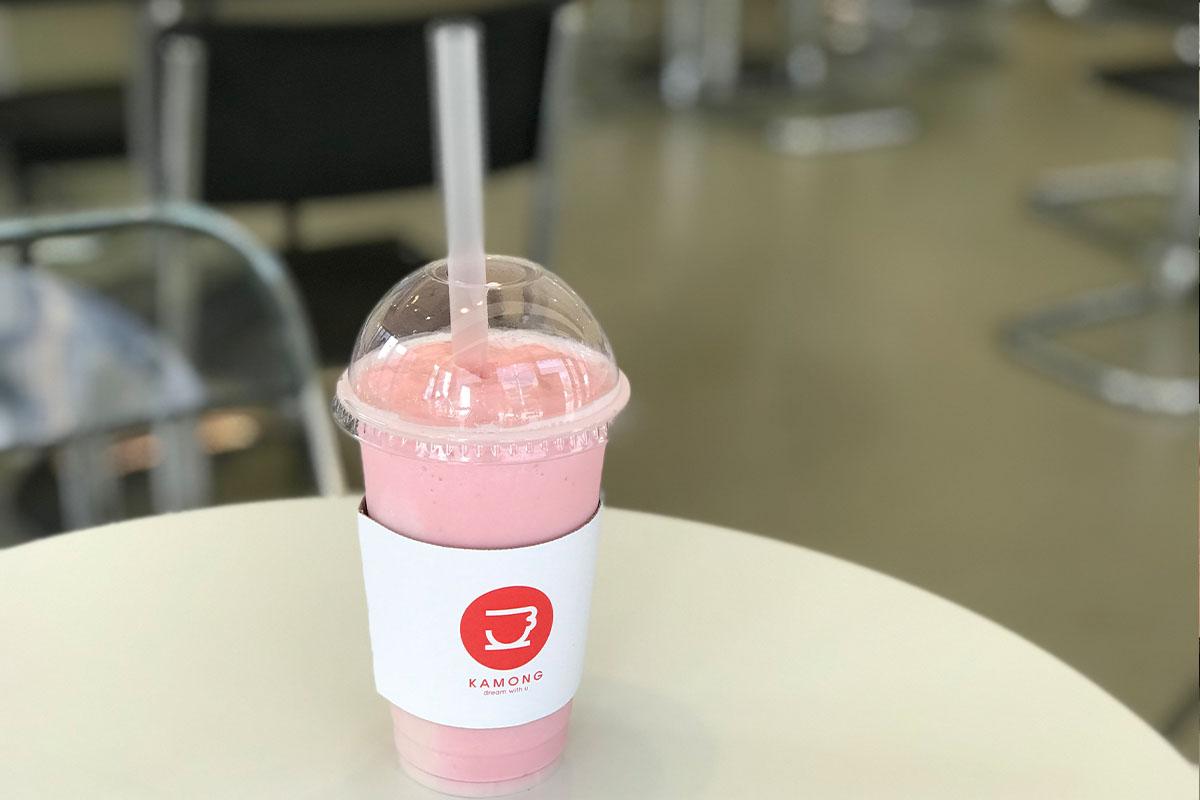 Strawberry Kamongccino
6,000 won
This fun drink is a recommended menu item. It's s strawberry smoothie with ice cream mixed in.
The taste is well balanced and not too sweet, though you might think it would be.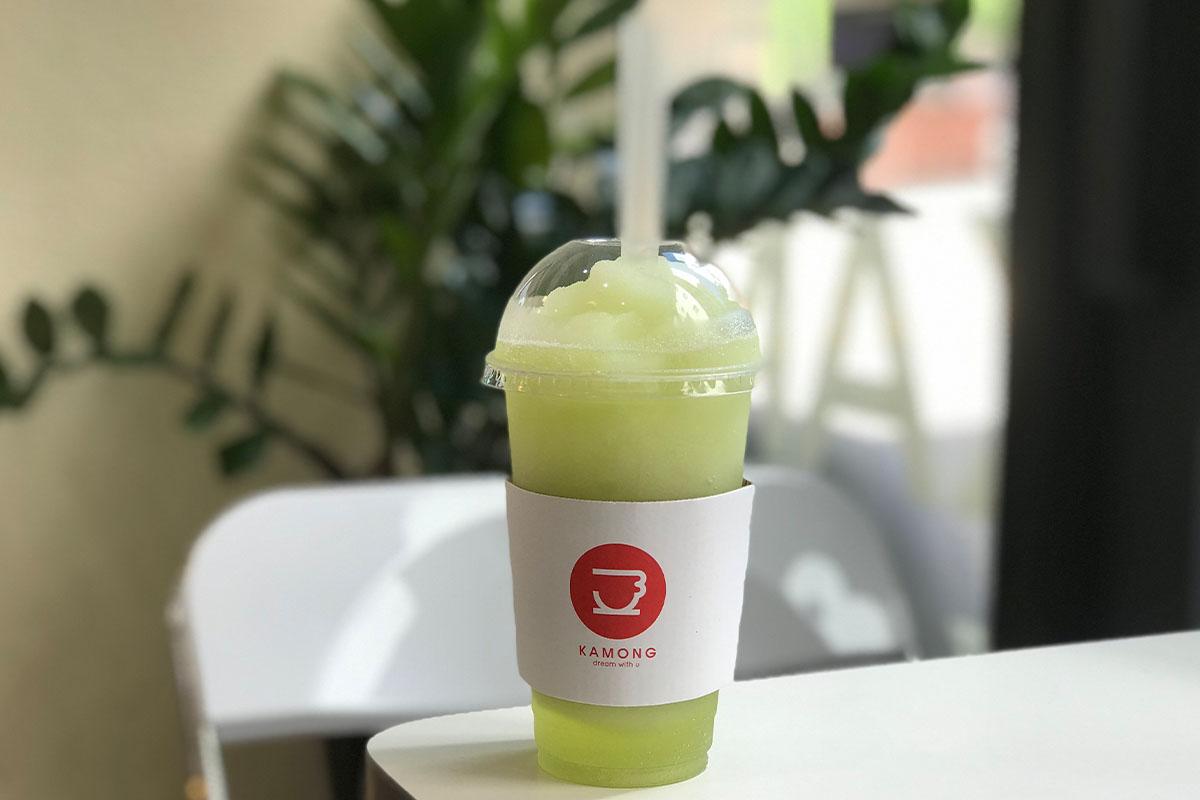 Green Grape Smoothie
6,000 won
This is a something that you can't easily find in other shops and the taste is also not too sweet.
It's like drinking fresh grape juice without any added sweetener.
It pairs very well with the rich waffles!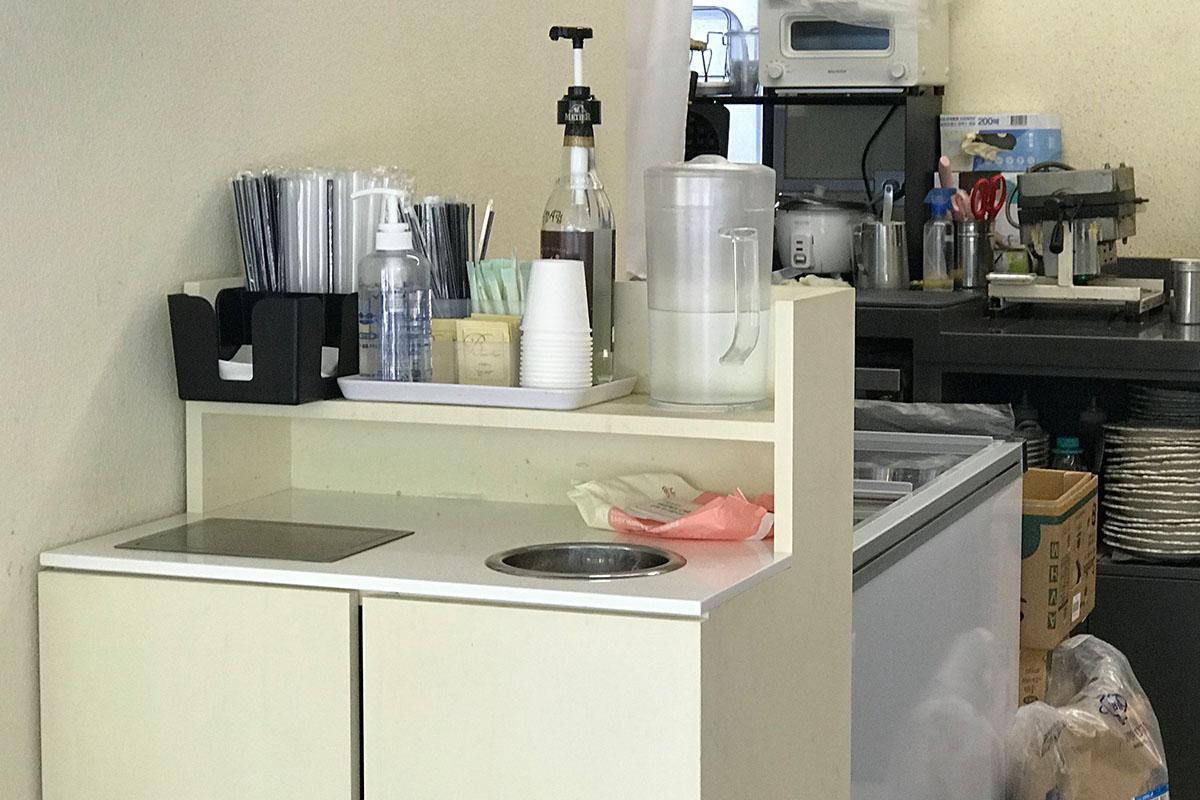 When you're done eating, you can bring your dishes to this counter.
There is also a pitcher of water and cups here where you can serve yourself.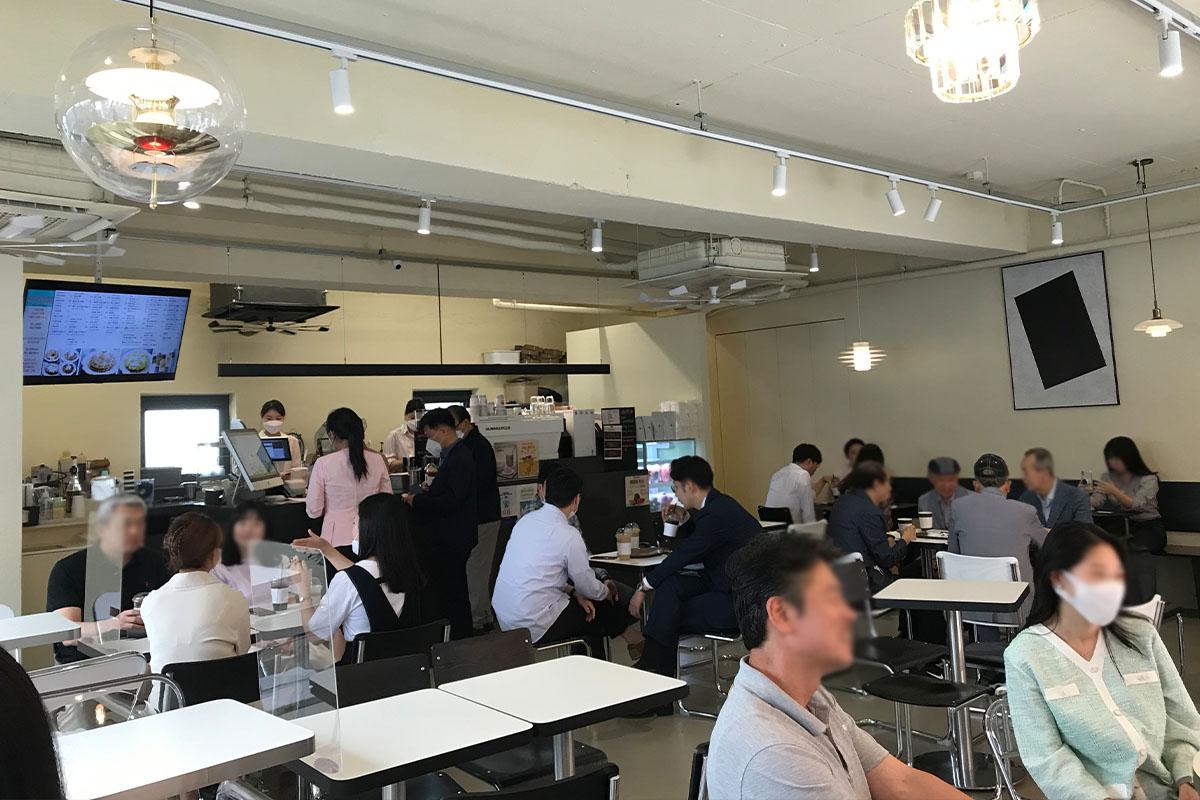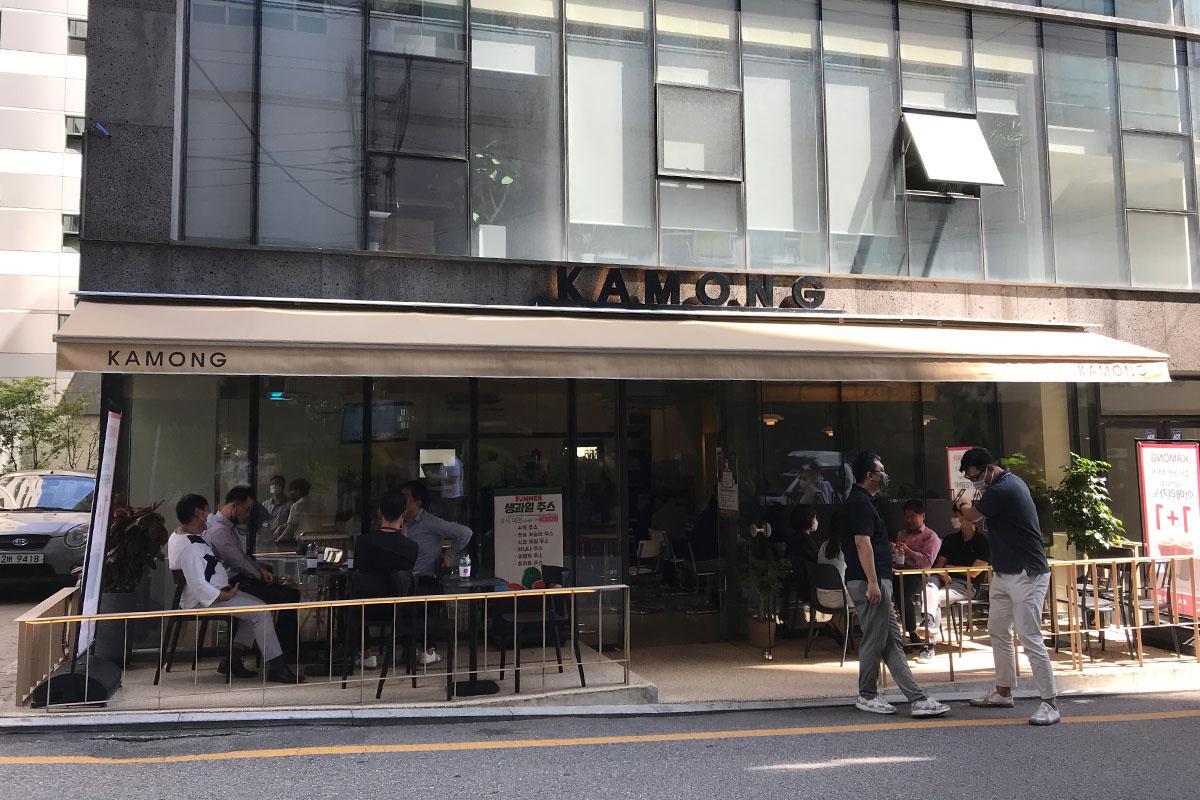 Kamong is a very popular shop in this area, it was pretty busy when we went.
This is definitely a great place to check out when you visit Seoul.
---
That was our review of Kamong, the waffle cafe owned by EXO Kai's sister.
It was very delicious and we are glad to have had this experience!
If you like waffles and/or EXO, you don't want to miss out on this place when you come to Seoul!
---