Must-Visit Cherry Blossom Spots in Seoul
These are the best spots to visit in Seoul for cherry blossoms during the spring!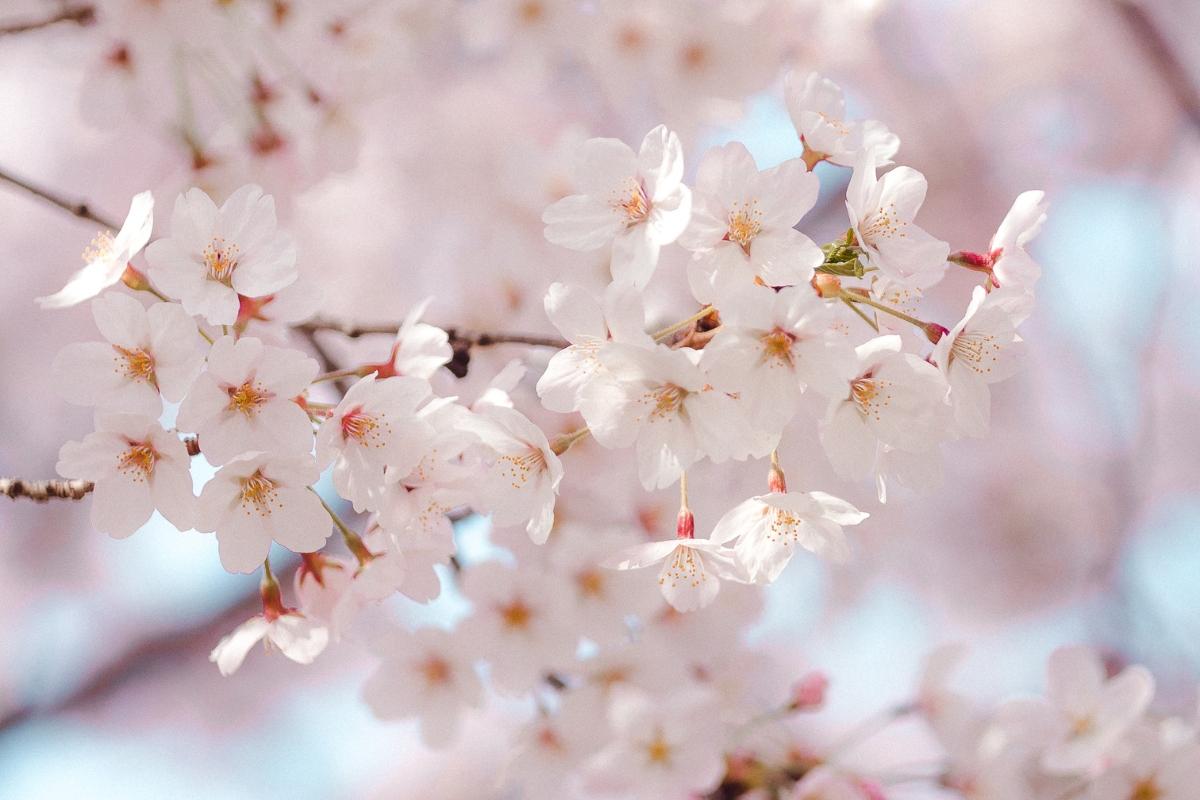 Spring in Korea is absolutely beautiful, especially when the cherry blossoms are in full bloom! The streets and parks become sprinkled with pink and white petals and the weather is absolutely amazing! There are many spots to enjoy the cherry blossoms all throughout Korea, and all kinds of cherry blossom festivals across the country as well. But don't worry - there are many beautiful spots in Seoul to visit too! Make sure to bring your camera and picnic mat, because these places are the perfect spot to get Insta-worthy photos!
---
2023 Cherry Blossom Tours
2023 Seoul Cherry Blossom Tour
---
2023 Cherry Blossom Forecast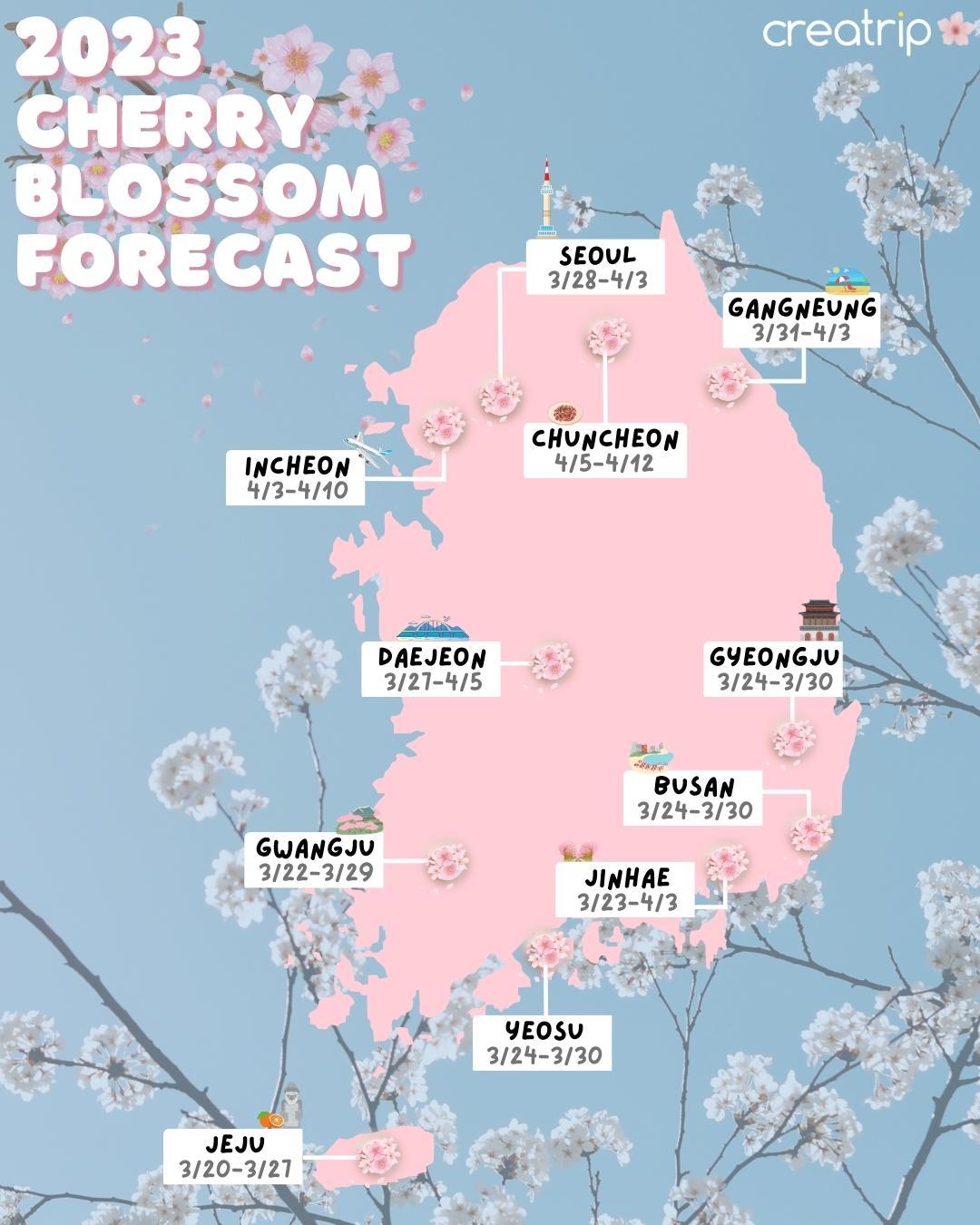 Note: This is a forecast. Actual dates could be different.
This year, the expected cherry blossom period is from late March to early April. Many forecasts are stating that the peak bloom in Seoul will happen a bit earlier this year, during the last days of March and into the first few days of April. Feel free to save the 2023 Creatrip Cherry Blossom Forecast for reference! Keep reading to find the most beautiful spots in Seoul to enjoy the cherry blossoms!
---
Seokchon Lake
석촌호수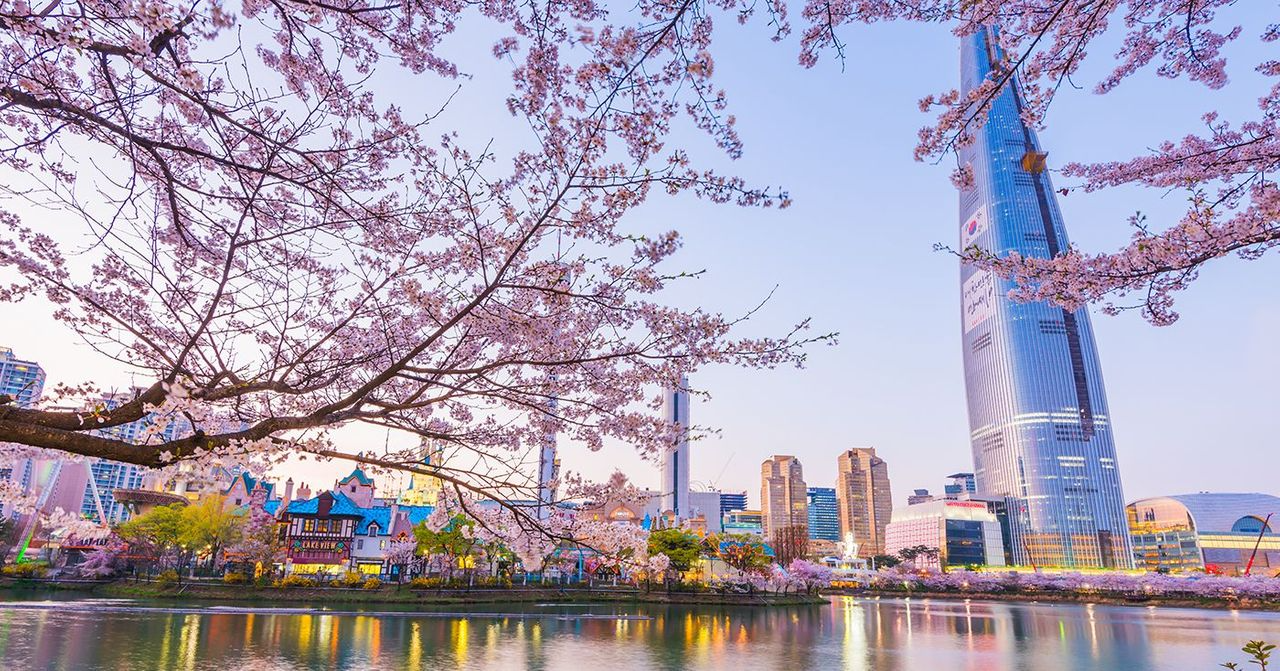 Seokchon Lake, located next to the Lotte World in Jamsil, is one of the most famous spots for cherry blossoms in Seoul. It's easy to get to and has a beautiful and unique atmosphere with the shimmering lake, Lotte Tower, and Lotte World's Magic Castle in view! Make sure to visit Seokchon Lake and watch the cherry blossoms fall alongside the lake. You'll definitely be able to enjoy spring to the fullest here!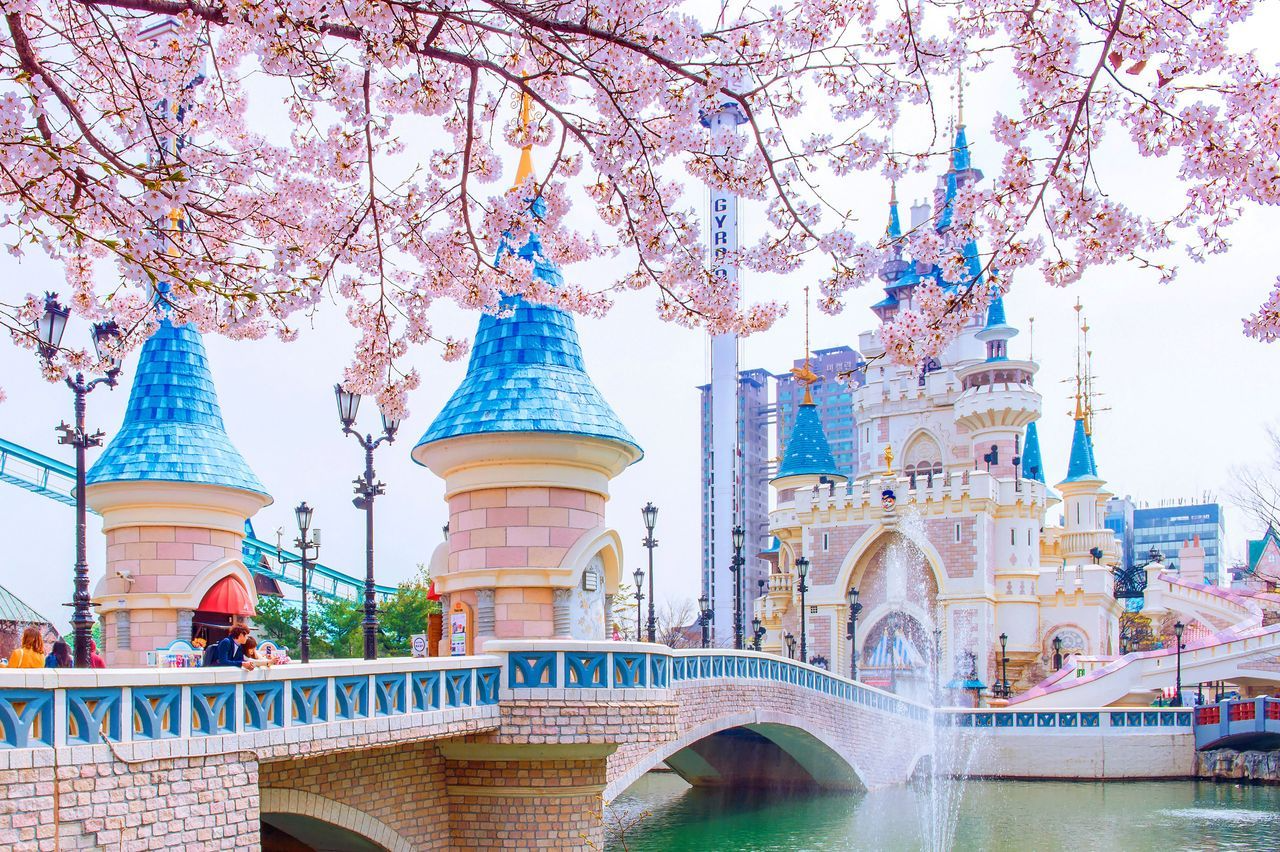 The Seokchon Lake Cherry Blossom Festival is held every year during peak blooming season, and it is one of the most popular festivals in Seoul. It is so much fun to watch the cherry blossoms bloom against the backdrop of Lotte World and we guarantee that you will feel as though you have been swept away to another world!
Address: 서울 송파구 잠실 6동
Jamsil 6-dong, Songpa-gu, Seoul
Transportation: Exit 3 or Exit 10 of Jamsil Station
Seokchon Lake Cherry Blossom Festival: Early- to Mid-April
---
Yeouido Yunjung-ro
여의도 윤중로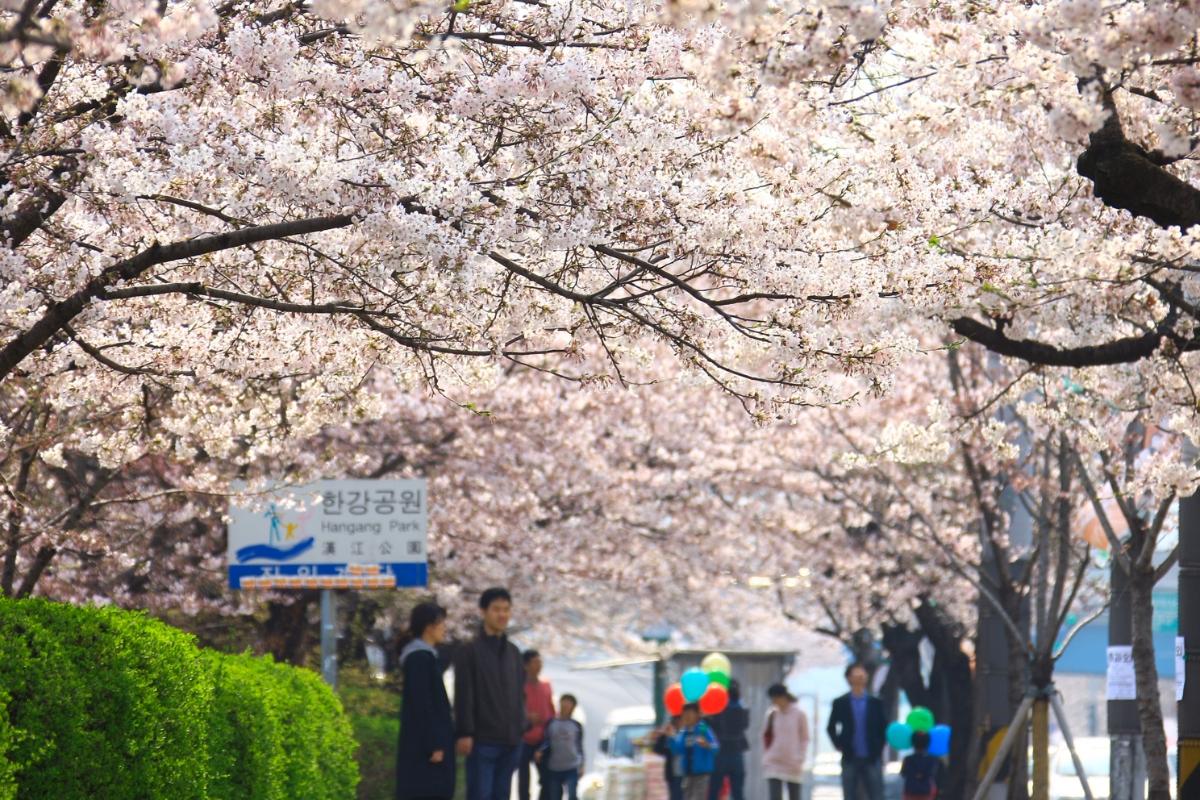 Yeouido is another extremely popular spot for cherry blossoms! After getting off at Yeouinaru Station you will see Yunjung-ro Cherry Blossom road, which is a street along the Han River. It's a great place to walk around and look at the cherry blossoms. During peak blooming season, this road gets extremely crowded, so be prepared to see lots of other people!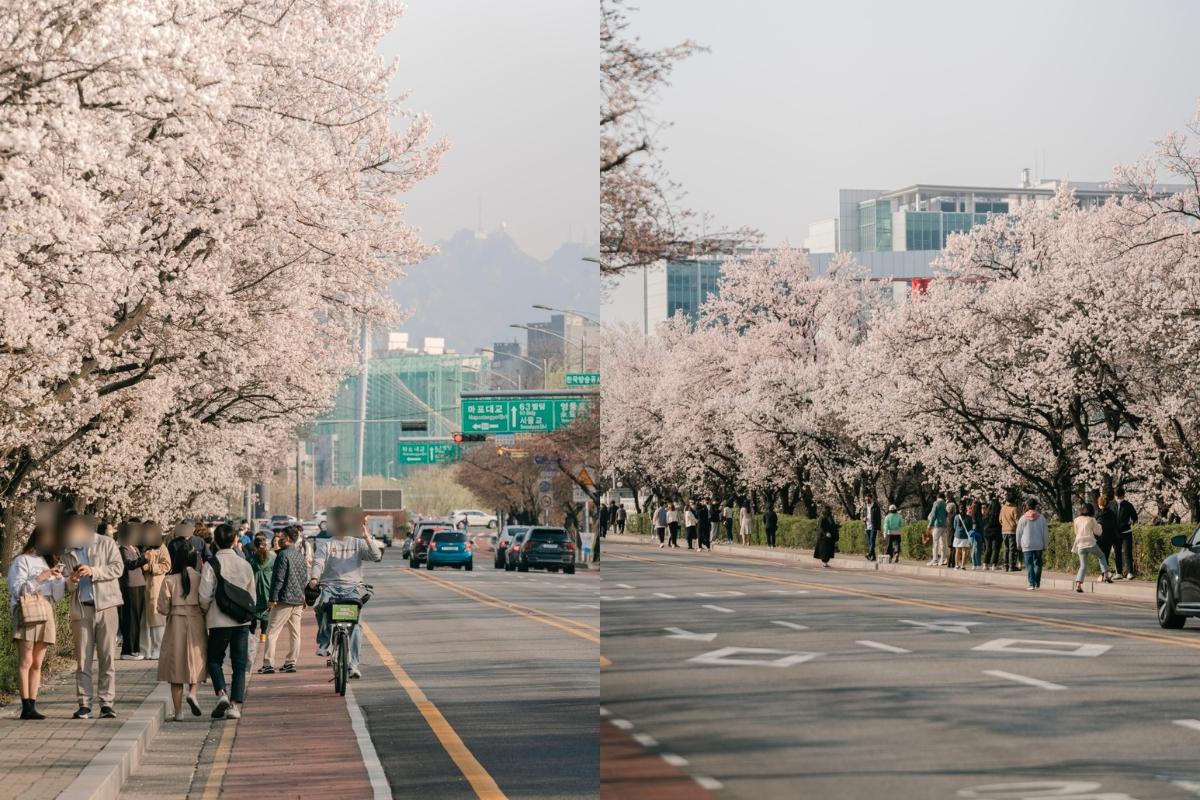 This is the perfect spot to take a stroll or go biking around the river while enjoying the scenery of the cherry blossoms. Many people will sit out and order chicken and drinks and have a fun picnic with their friends and family as well!
Address: 서울 영등포구 여의도동 13-25
13-25 Yeoui-dong, Yeondeungpo-gu, Seoul
Transportation: Line 5 Yeouinaru Station, Line 9 National Assembly Station
---
Kyunghee University
경희대학교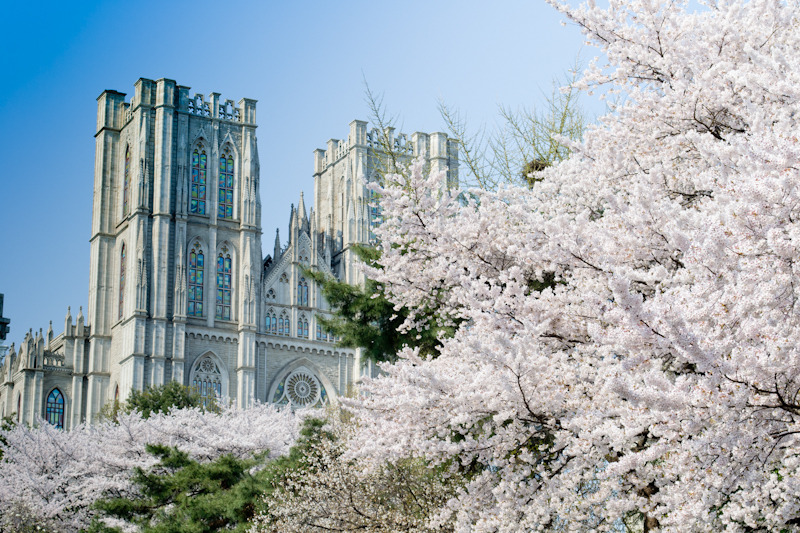 Source: Photo Korea
Kyunghee University, located near Hoegi Station, is a magnificent campus with beautiful architecture. Many people flock to this campus during the fall and winter to enjoy the gingko and maple leaves. In the spring, it is a popular site for those looking to enjoy the cherry blossoms.
You can walk along the roads and hills for this romantic scenery! It is the perfect place to come with your significant other and take photos and have a fun date. You can also pretend to be a university student!
Address: 서울 동대문구 26 경희대로
26 Kyungheedae-ro, Dongdaemun-gu, Seoul
Transportation: Hoegi Station Exit 1
---
Hyehwa Naksan Park
낙산공원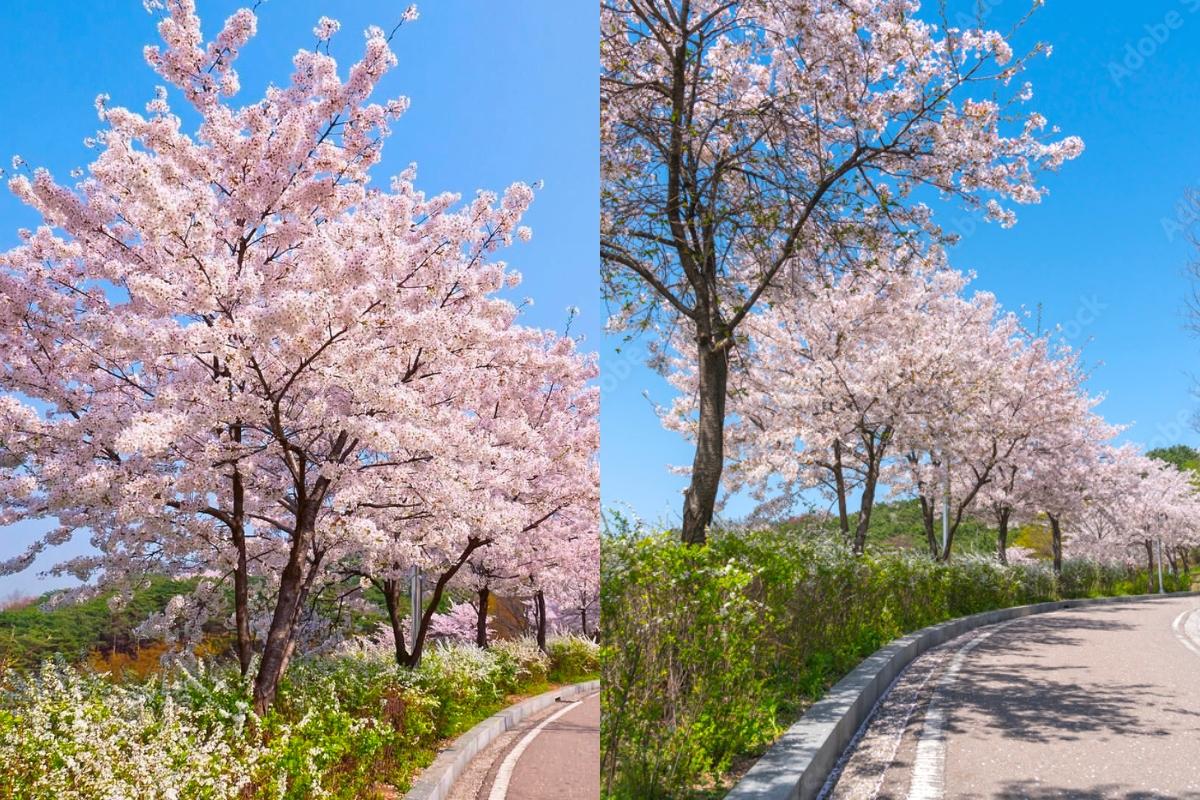 Credit: Pinterest / Adobe Stock
Naksan Park is located at the roadside of Hyehwa Station, in the heart of Seoul. Naksan Park has a beautiful view of Seoul and the beauty of Korea's traditional architecture is seen in the old city walls that have been retained from the past. It is known to be beautiful both during the day and at night.
We recommend trying to come at a time where you can enjoy the day and also see the sunset as this park is known for it's beautiful views and night scenery of Seoul. You can get a good view of the skyline from this park!
Address: 서울 종로구 낙산길 41
41 Naksan-gil, Jongro-gu, Seoul
Transportation: Line 4 Hyehwa Station
---
Seoul Forest
서울숲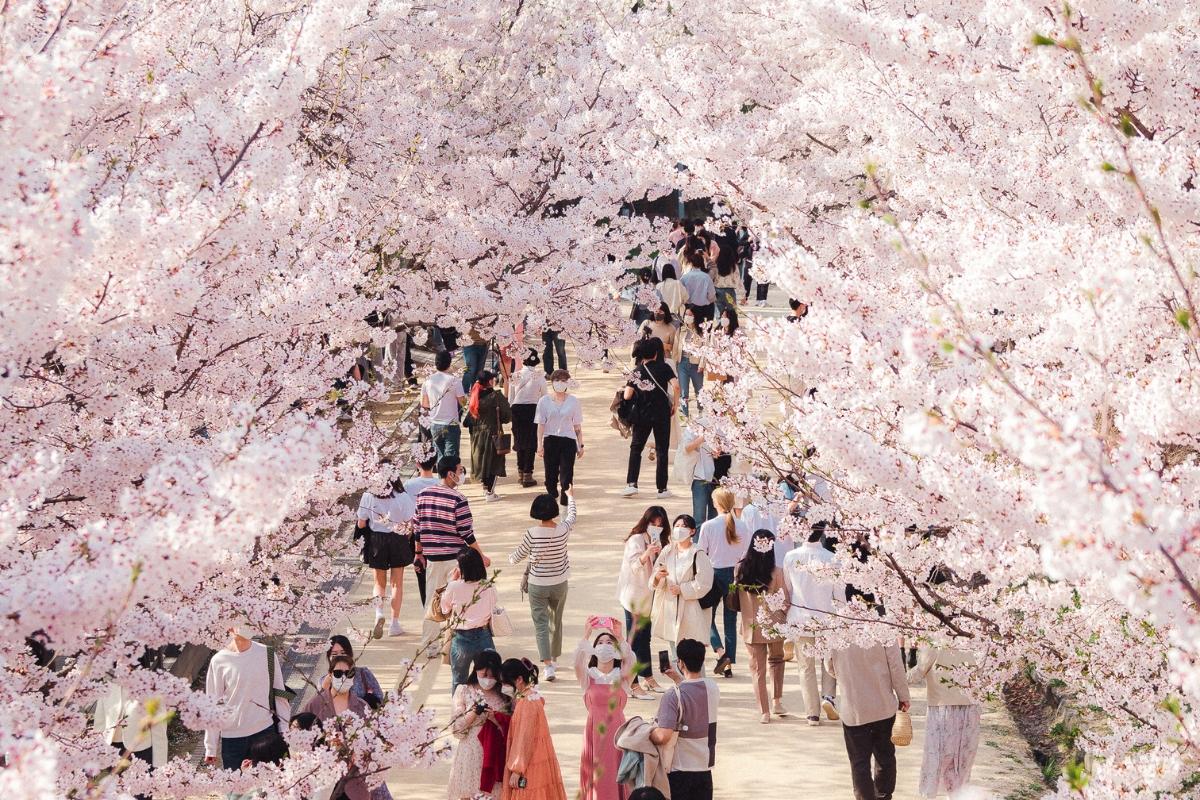 Credit: Instagram @hnry_tr
Seoul Forest is a popular spot year-round as it has so much to offer! From beautiful picnic spots and fountains to nearby cafes and even deer feeding! It is especially popular to visit during the spring because of the beautiful cherry blossoms that bloom along the trails. You can enjoy a wonderful spring day here!
Credit: Instagram @from_marcus
Seoul Forest first opened in 2005 and is the third largest park in Seoul. It consists of 5 parks; the Culture & Art Park, Eco Forest, Experiential Learning Park, Marsh Plants Garden, and Hangang Riverside Park. You can spend an entire day exploring Seoul Forest, then head to the nearby streets for tons of great restaurants and cafes!
Address: 서울특별시 성동구 뚝섬로 273
273 Ttukseom-ro, Seongdong-gu, Seoul
Transportation: Line 2 Ttukseom Station / Suin-Bundang Line Seoul Forest Station
---
Walkerhill Street
워커힐 벚꽃길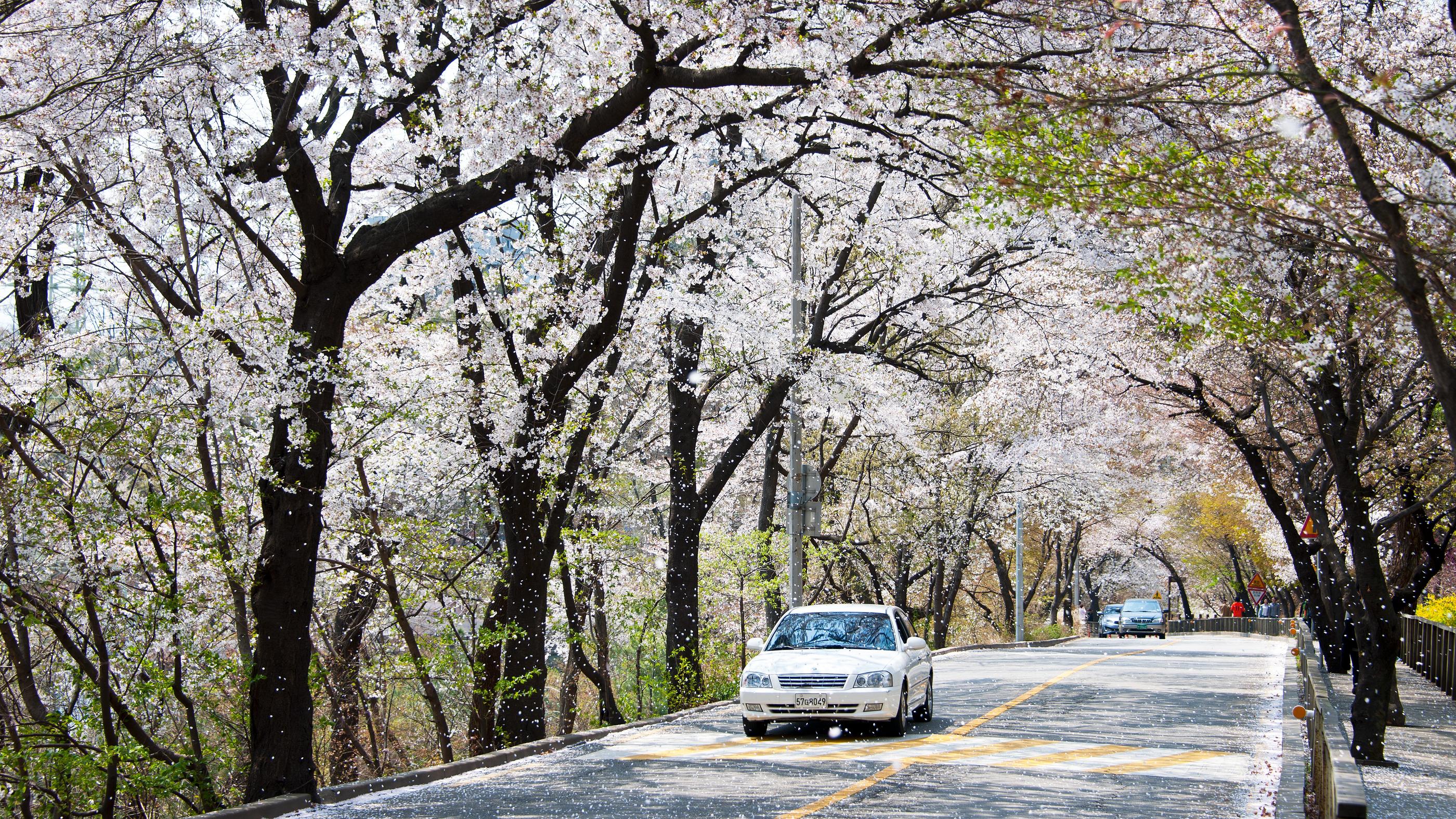 From Exit 2 of Gwangnaru Station, there is a shuttle bus that you can take to get to the famous Walker Hill Cherry Blossom Road!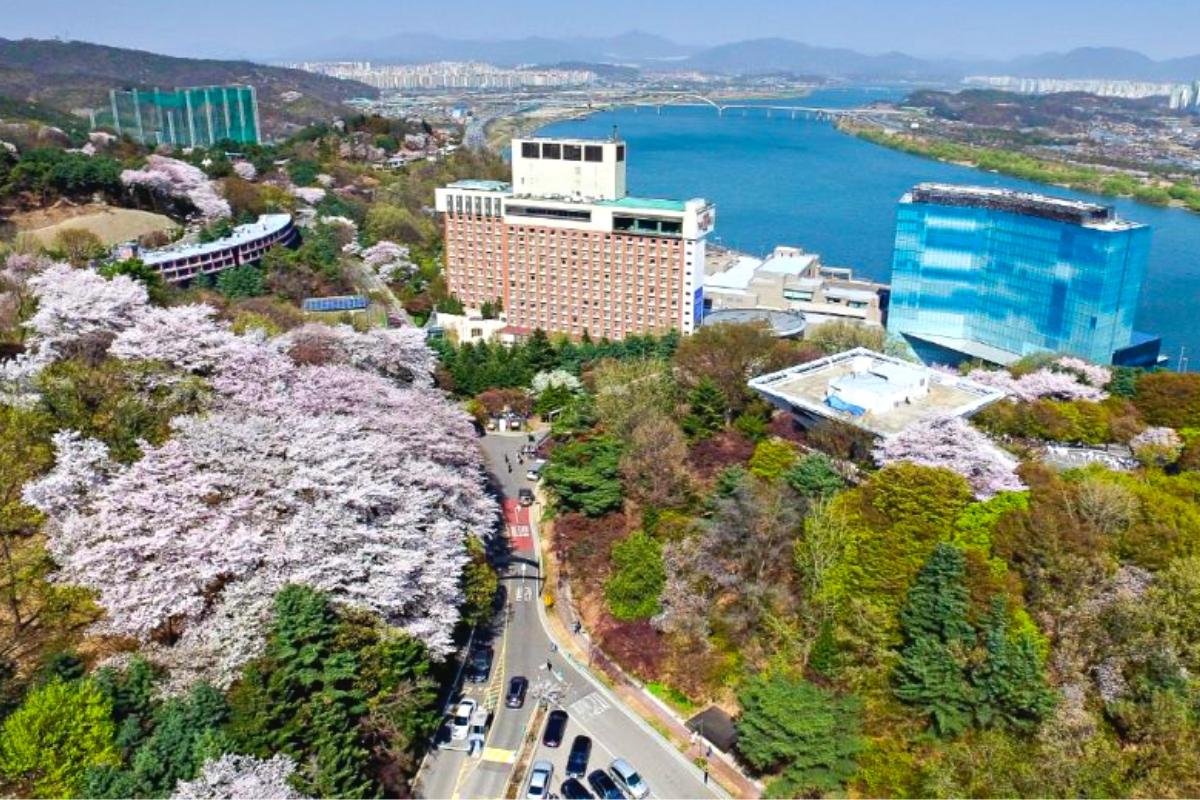 Credit: Walker Hill Story Official Site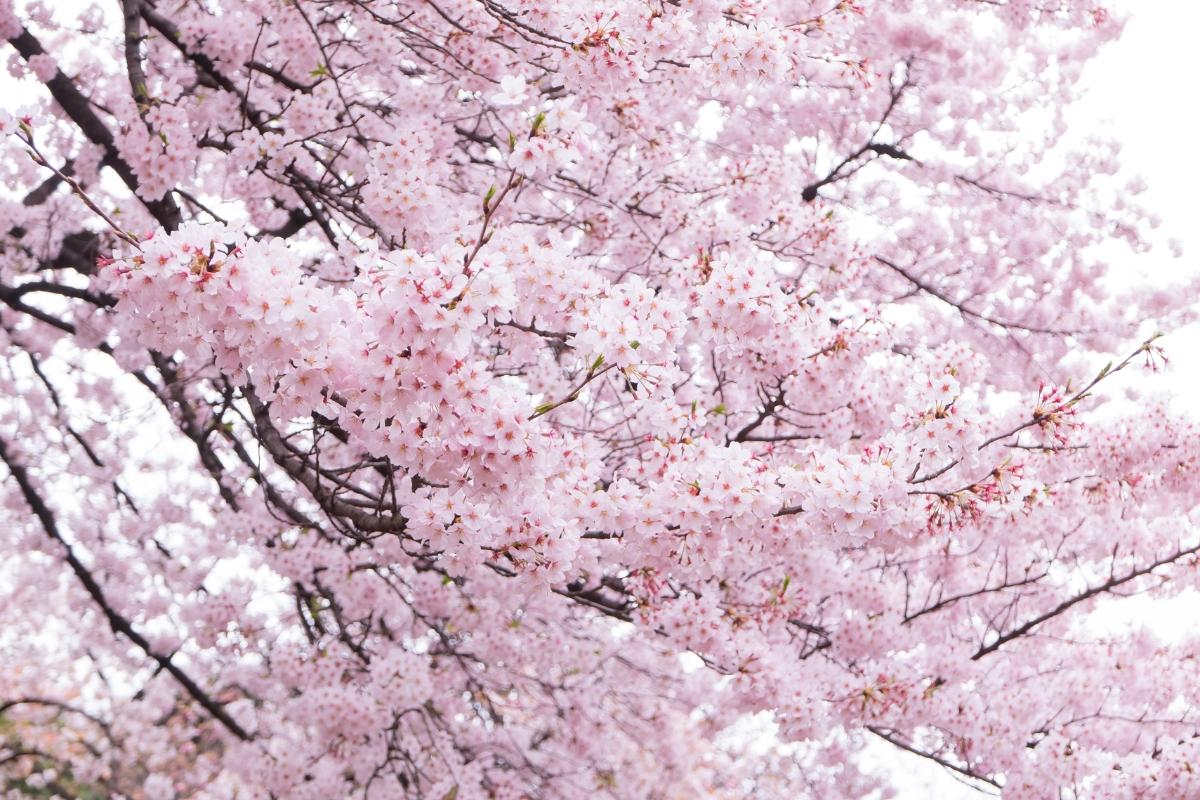 Credit: Walker Hill Story Official Site
Every spring, this quiet street is filled with stunning cherry blossoms. Compared to other places that are famous for cherry blossoms, this location is a bit quieter. It is recommended for those who are looking for a quiet stroll with a great view!
Address: 서울 광진구 광장동 44
44 Gwangjang-dong, Gwangjin-gu, Seoul
Transportation: Line 5 Gwangnaru Station
---
Namsan N Seoul Tower
N 서울타워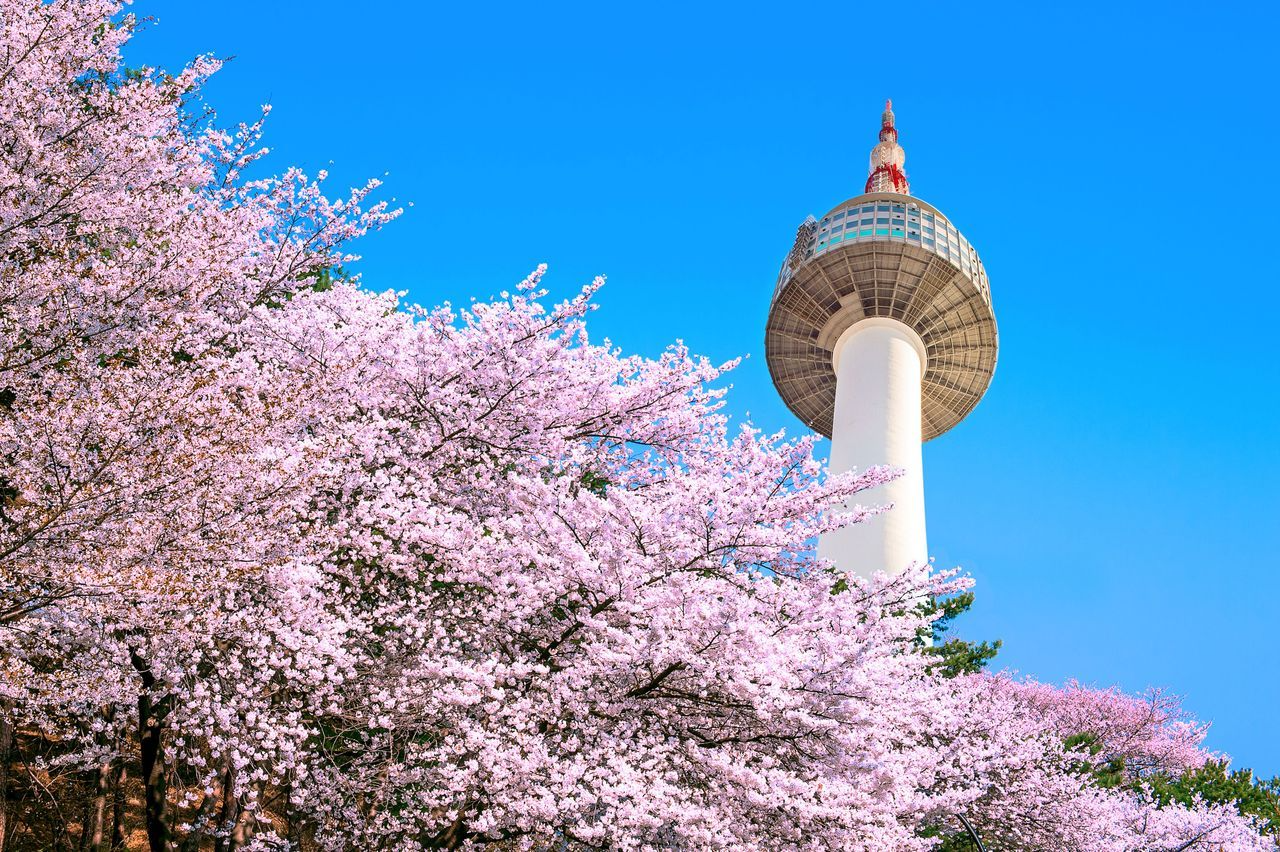 Get your hiking shoes on! This one requires a bit of a hike, but we promise that the view of the cherry blossoms against Namsan tower will truly be worth it. Climbing the trail up Namsan is a great activity to do with friends or family! It is the perfect way to get a light workout in while enjoying the scenery.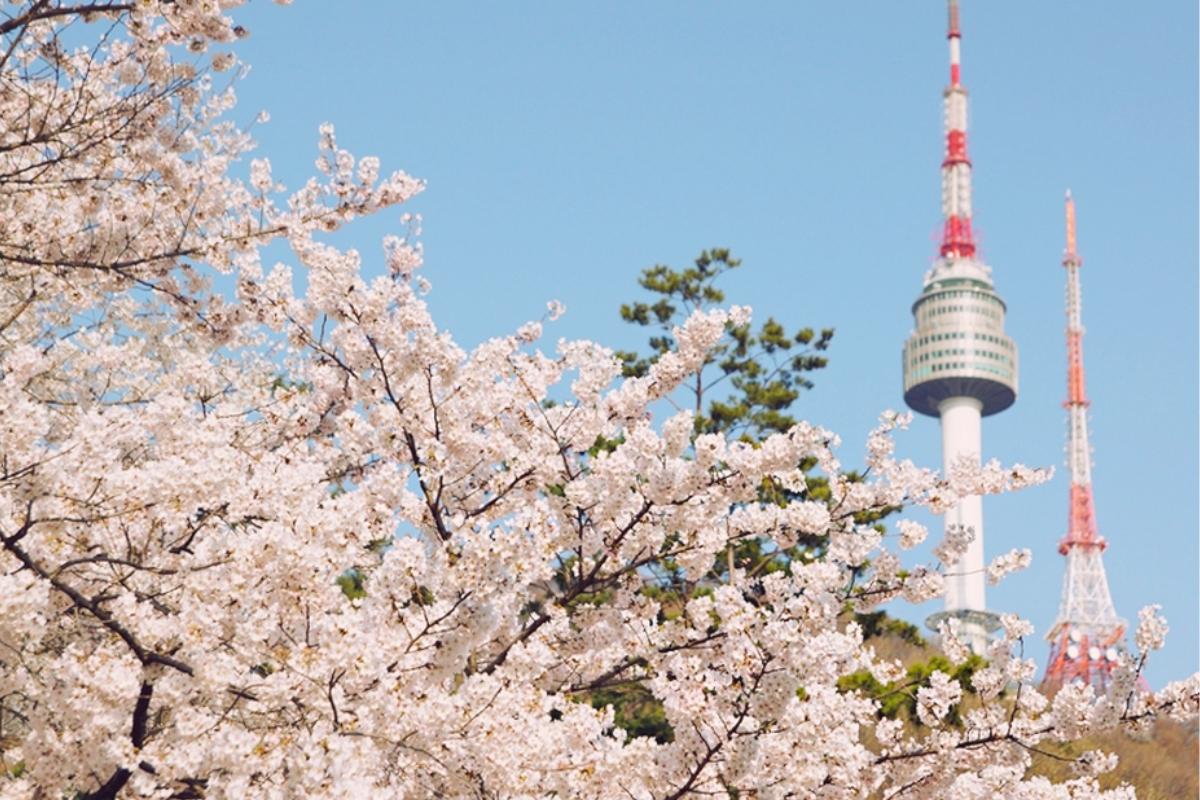 Address: 서울 용산구 나만공원길 105
105 Namsangongwon-gil, Yongsan-gu, Seoul
Transportation: Line 4 Myeongdong Station
---
Seonyudo Park
선유도공원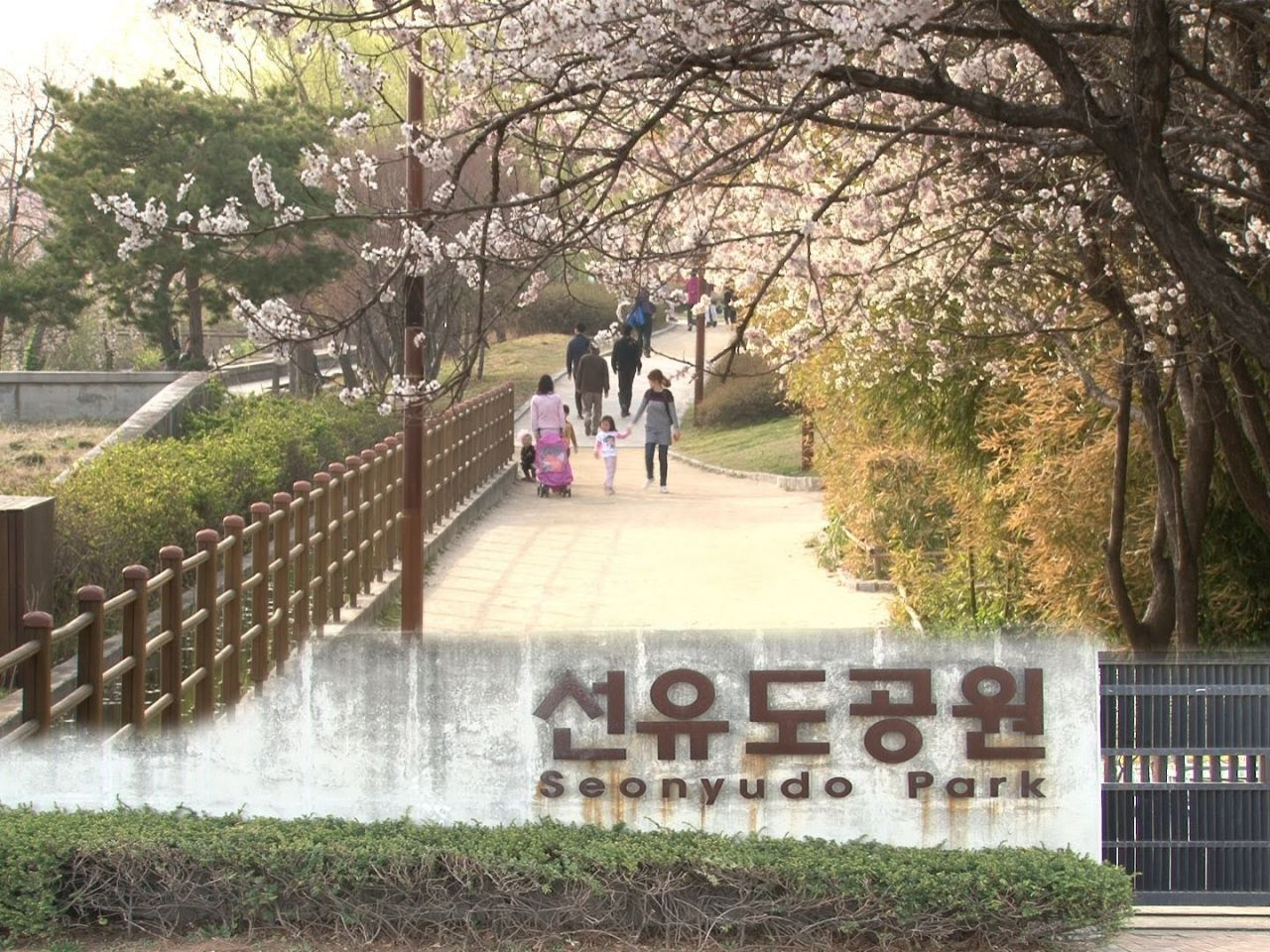 We saved the best for last! This park is a hidden spot in Seoul and is much quieter than the other spots. The park's name is Seonyudo, which means "god's playing island" and like its name, it is a quiet place to enjoy cherry blossoms in the middle of the Han River.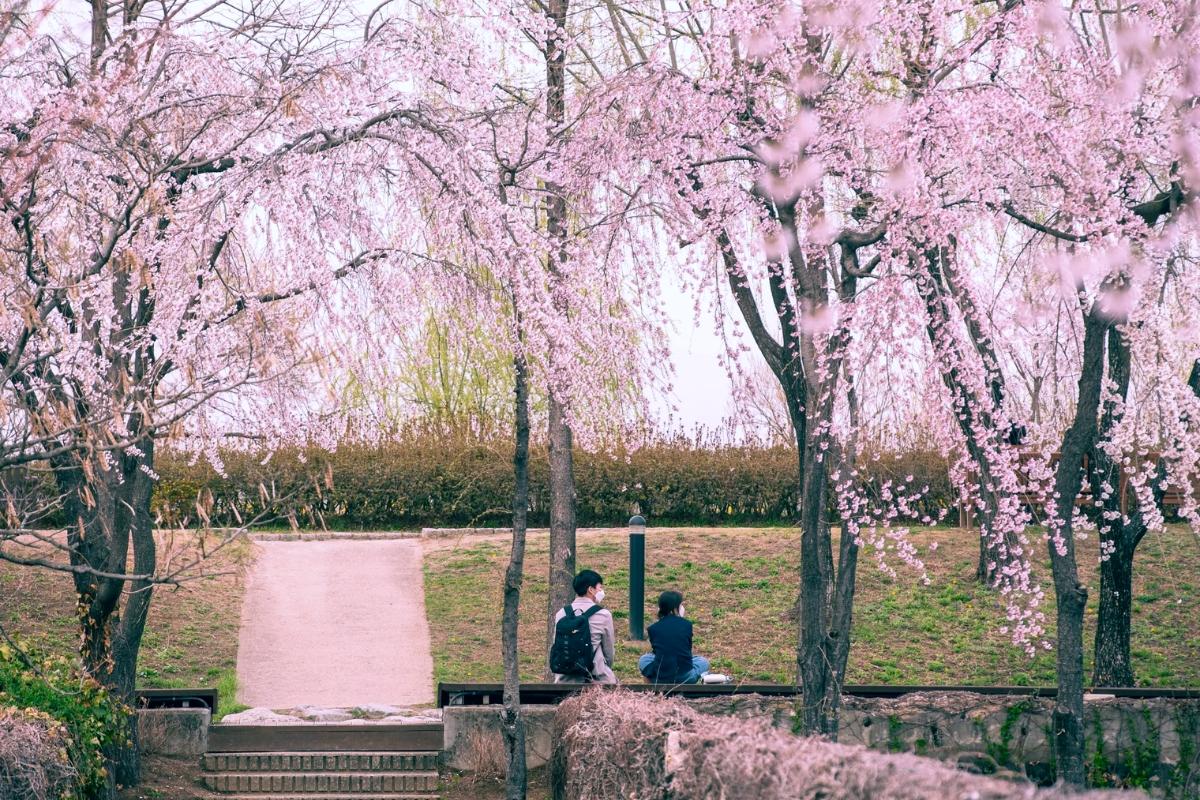 Every cherry blossom season, many young people come to the island with chicken and beer, enjoying the beauty of spring and cherry blossom. It is also a popular place for taking wedding photos. You will see the best of Seoul here! Definitely check it out!
Address: 서울 영등포구 선유로 343
343 Seonyu-ro, Yeongdeungpo-gu, Seoul
Transportation: Dangsan Station Exit 13
---
For more guides on cherry blossoms in Korea, check out the links below!
Best Cherry Blossom Spots In Korea (2023)
---
With Korea's cherry blossom season soon approaching, we hope that this list can help you figure out which spots you will visit in Seoul! If you have any other questions, make sure to leave us a comment or send us an email at help@creatrip.com. Make sure to stay connected with us on Instagram, Tik Tok, Twitter, and Facebook for more information on all things Korea!
---