All About Bibimbap | History, Regional Characteristics, Recipes & More
The Origin, The Recipes, And Everything Else You Need To Know About This Signature Dish!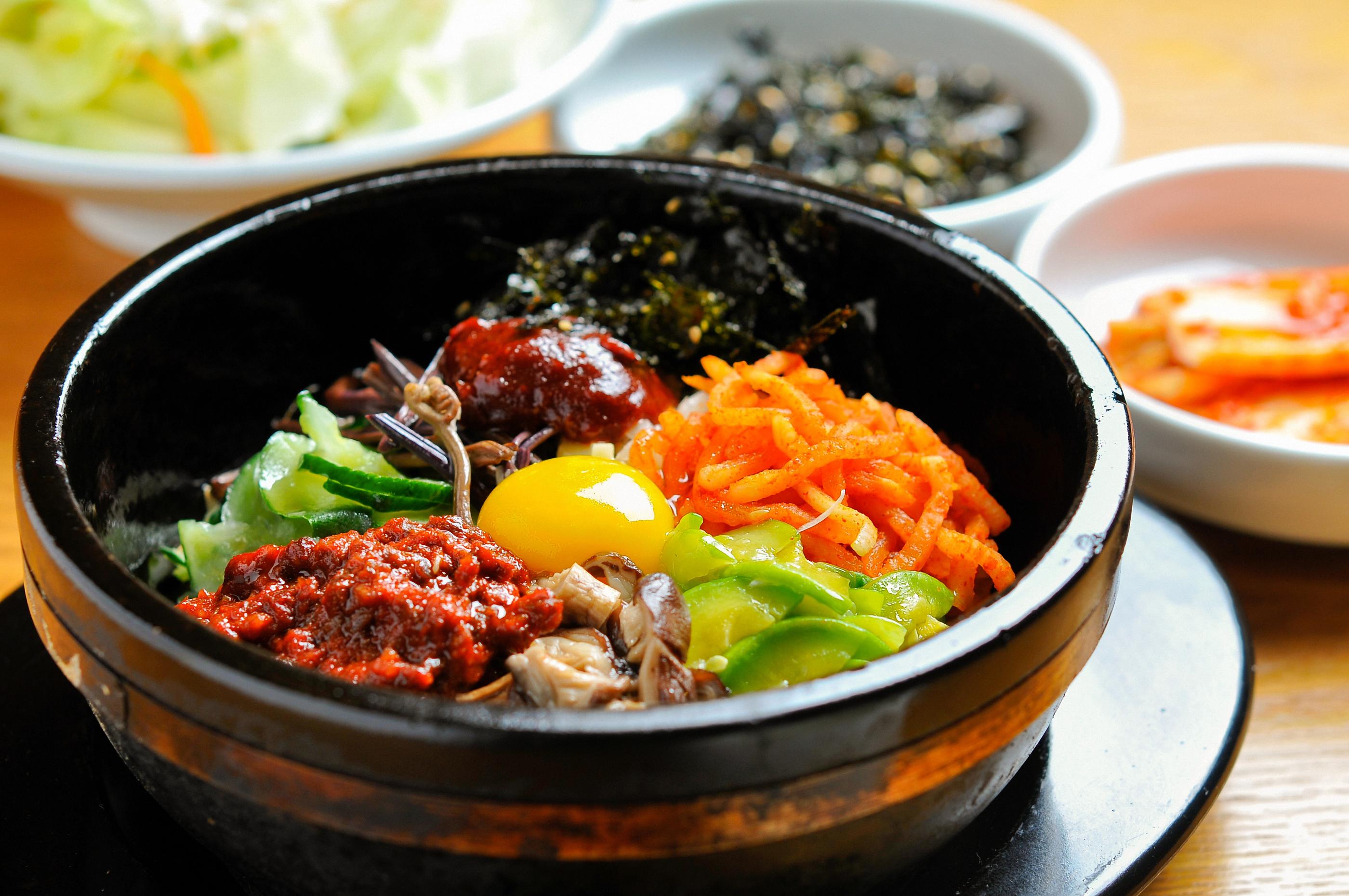 You've heard about bibimbap, right?
Bibimbap is one of the most representative Korean dishes. It is usually eaten with various vegetables, eggs, and spices such as red pepper paste, soy sauce, and sesame oil.
In addition to seasonal foods, there are variants that are also served with things like raw beef and kimchi.
Bibimbap, which is also included in the in-flight menu of various airlines around the world, is loved by many as a simple and reliable dish that everyone can enjoy.
Today, we will tell you all about this famous and popular Korean dish, where it started, the historical background, regional specialties and recipes!
---
MAIN INGREDIENTS OF BIBIMBAP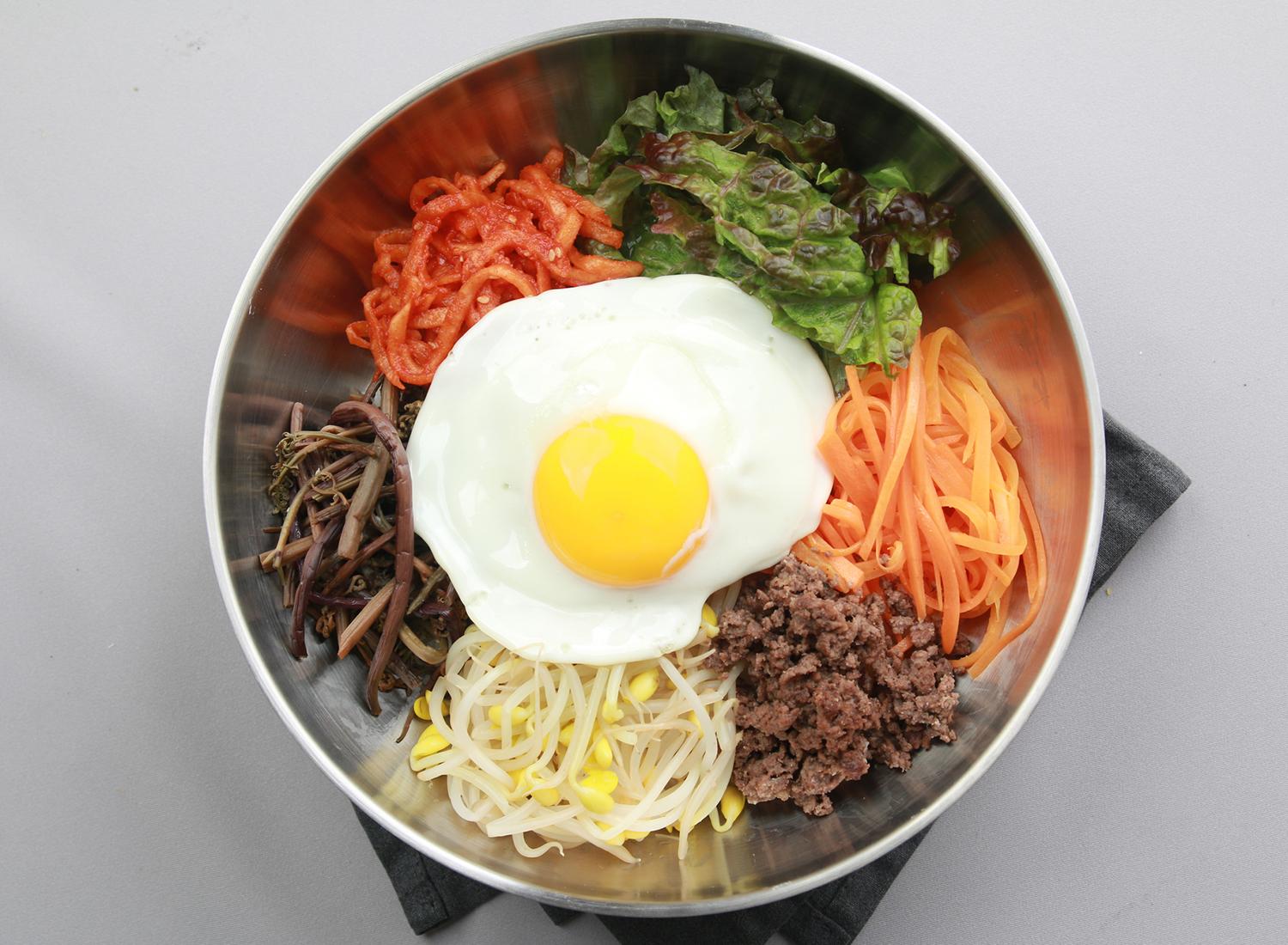 One of the main reasons this traditional dish has been loved by Koreans for such a long time is because it has the advantage of being simple and easy to make.
Mixing rice with various side dishes and ingredients that you already have at home will not only guarantee a delicious, fresh meal, but also provide excellent leftovers. Of course, the main benefit is that it's extremely easy to prepare!
Common ingredients include stir-fried zucchini and carrot, boiled and seasoned bean sprouts, bracken, and lettuce or radish salad.
Sometimes, adding ingredients such as raw beef and/or egg can really take it over the top. Mixing it all together with sesame oil, red pepper paste, or soy sauce adds the final touches.
Bibimbap is a healthy meal with many vegetables, some meat, eggs, and sesame oil. It contains all the macronutriens: carbohydrates, protein, and fat. It is also high in fiber!
---
THE ORIGINS OF BIBIMBAP

There are several hypotheses regarding the exact year and origin of bibimbap. Let's examine each one:
_

HYPOTHESIS 1.
Originated From Ritualistic Customs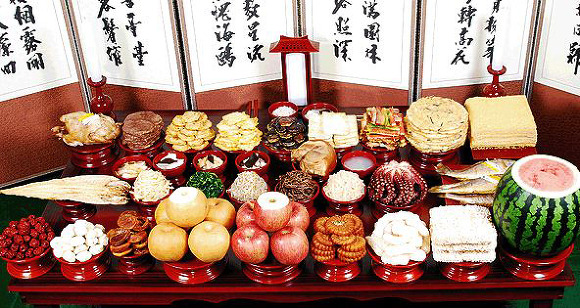 Common Ancestral Rites Ceremony
Traditionally, ancestral rites have been held on the anniversary of a family member's death in Korea.
Rice, meat, fish, and vegetables are served neatly on the table, and the food is shared among the descendants. At that time, bibimbap was born from mixing rice with food.
_

HYPOTHESIS 2.
Originated From The Last Night Of The Year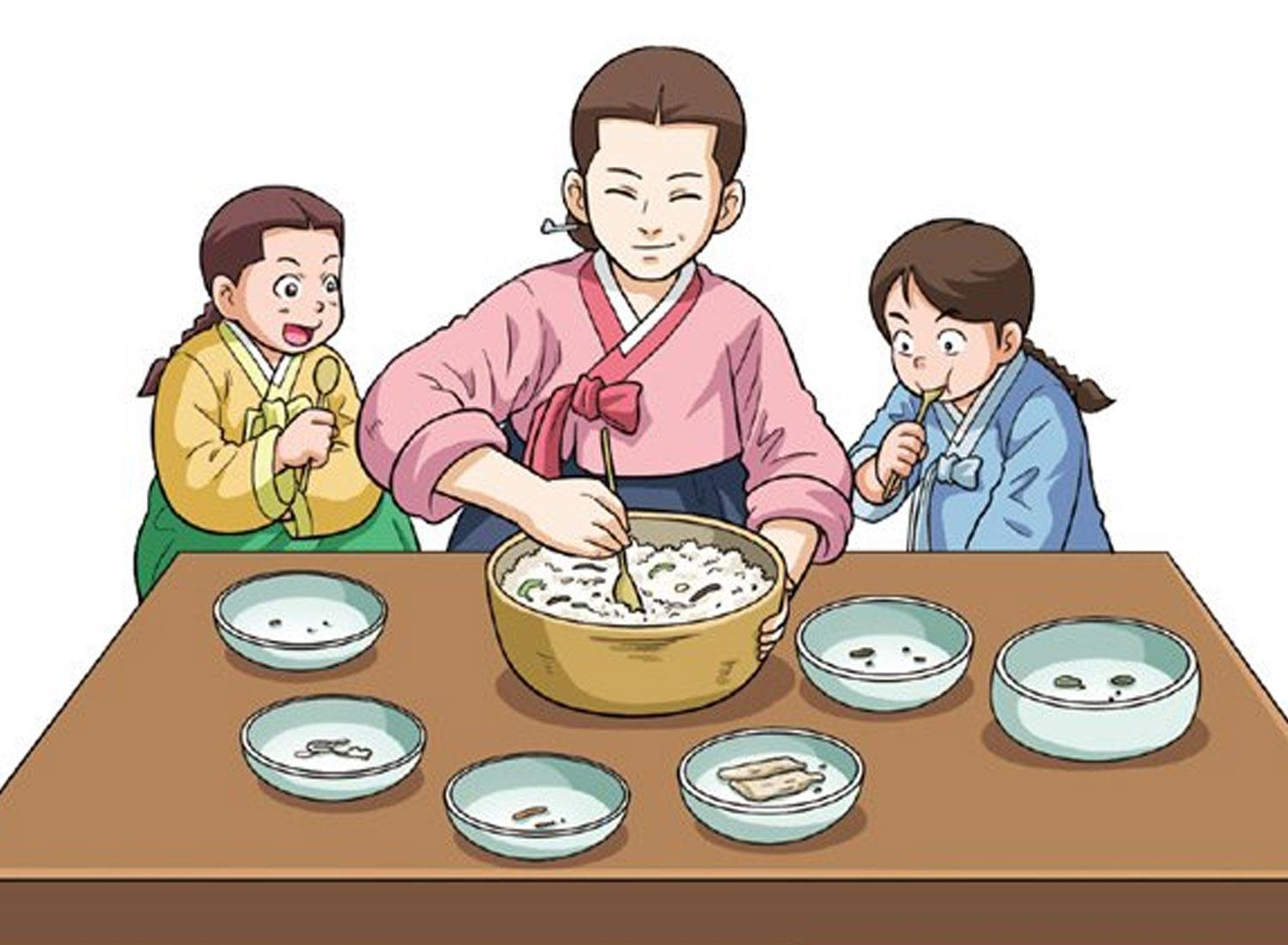 It is believed that bibimbap originated from the custom of mixing leftover rice with all the side dishes and eating it at night to bring in the New Year.
Even modern Koreans can relate to this hypothesis!
Not only in the past, but also in the present, Koreans eat bibimbap with the leftover ingredients at home when they want to process the leftovers in the refrigerator (waste not, want not).
_

HYPOTHESIS 3.
Originated From The Custom Of Eating In The Rice Paddy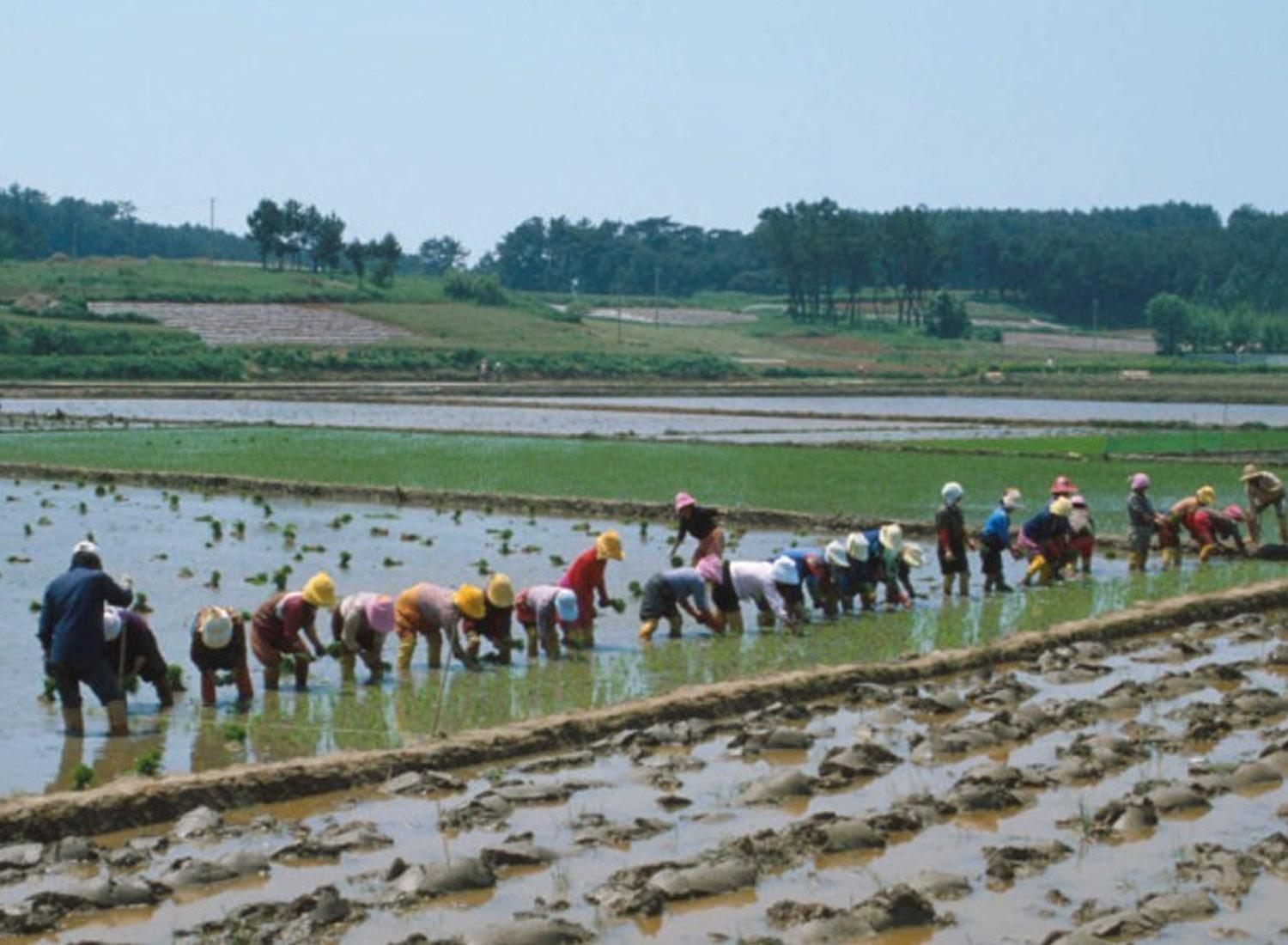 Neighbors All Gather To Help Each Other's Harvest
The third hypothesis is that bibimbap originated from the custom of eating in the field. Up until the Joseon Dynasty, 80 percent of Koreans were engaged in agriculture, so Koreans spent a lot of time in rice fields.
In addition, there had long been a custom in which neighbors would gather to help each other when planting rice or harvesting it.
The third hypothesis is that they took food ingredients to the fields and mixed them together to save time and shared them together.
_

HYPOTHESIS 4.
Originated From Heotjesatbap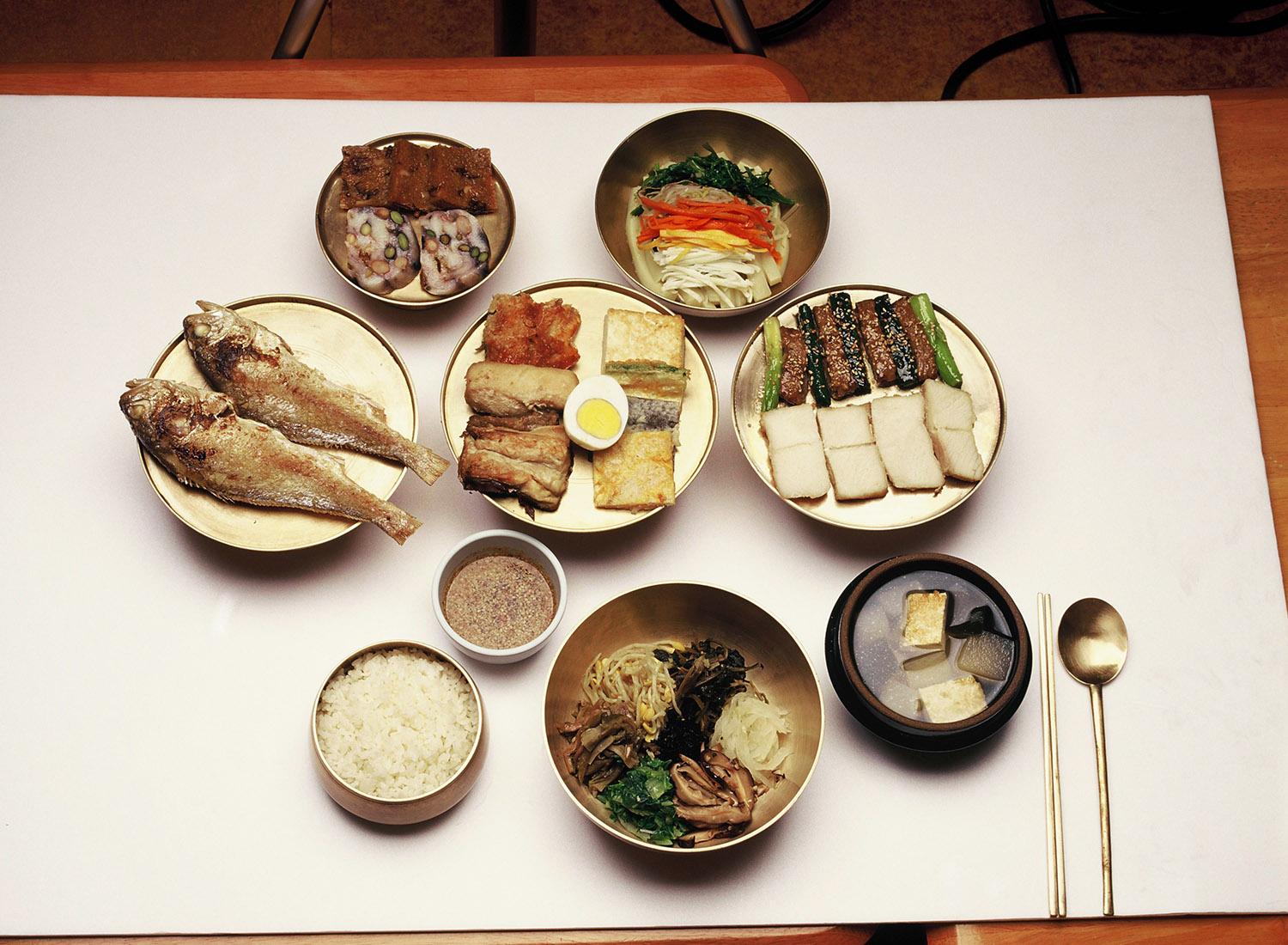 Heotjesatbap In Andong, Gyeongsangbuk-do
The fourth hypothesis is that bibimbap originated from heotjesatbap in Gyeongsang-do.
The "jesa" part is the same word for the ceremonial food, and the "heot" means to mock or mimic something. So it's a meal meant to mimic the ceremonial food served to ancestors.
Some say that it originated from the fact that aristocrats who wanted to eat delicious sacrificial food often enjoyed it after pretending to hold ancestral rites, and others said that it originated from poor people who could not hold ancestral rites.
---
ETYMOLOGY OF BIBIMBAP

Bibimbap is a compound word of "bibim," which means to mix things together, and "bap," which means cooked rice.
So it quite literally means a simple food that mixes various ingredients with rice.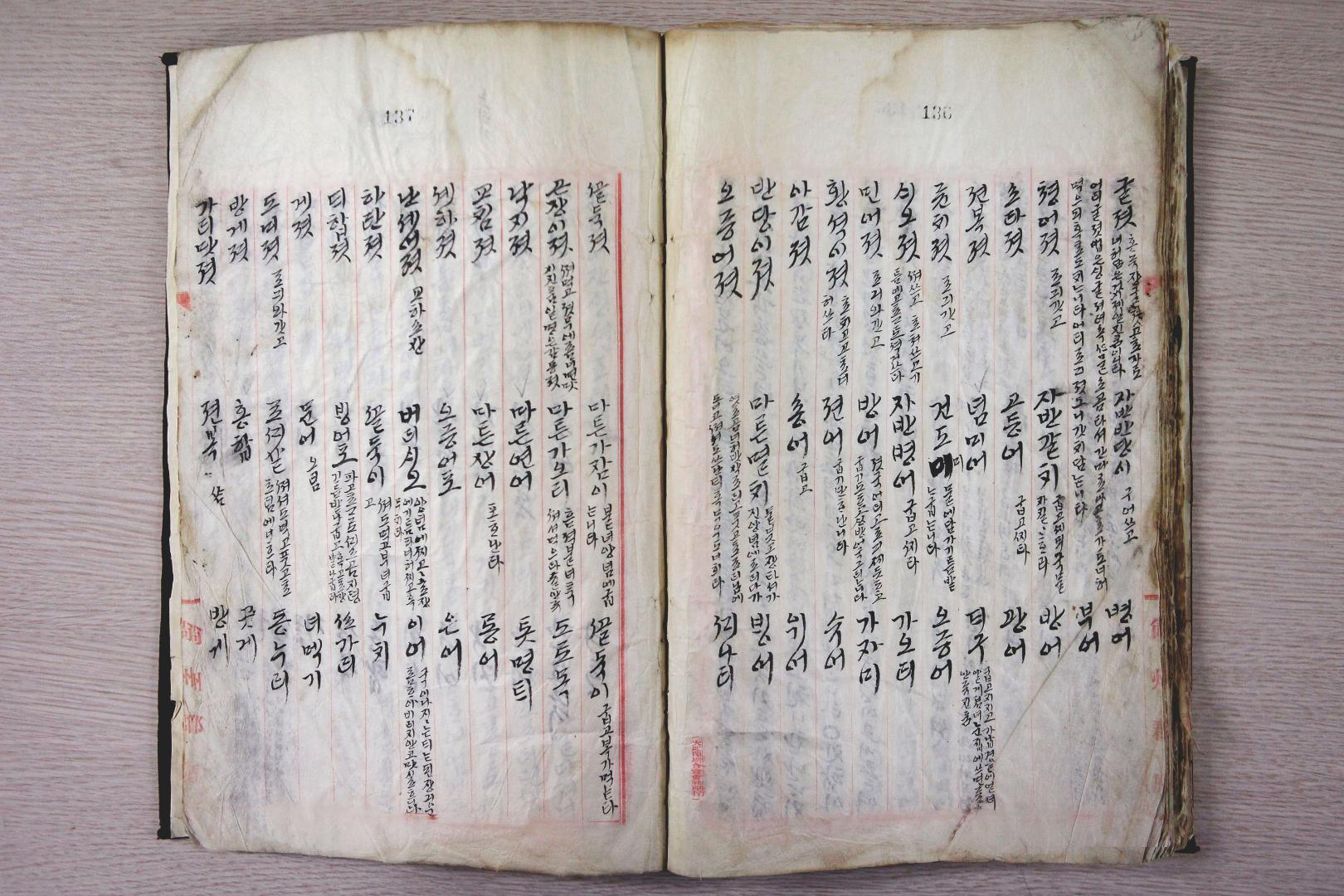 Going back to the mid-Joseon Dynasty, the name of bibimbap was a little different.
Bibimbap was first mentioned in a cookbook called Siuijeonseo (시의전서 是議全書) meaning, "All About Poems" written in the 1800s.
Back then, bibimbap was called goldongban or hwaban.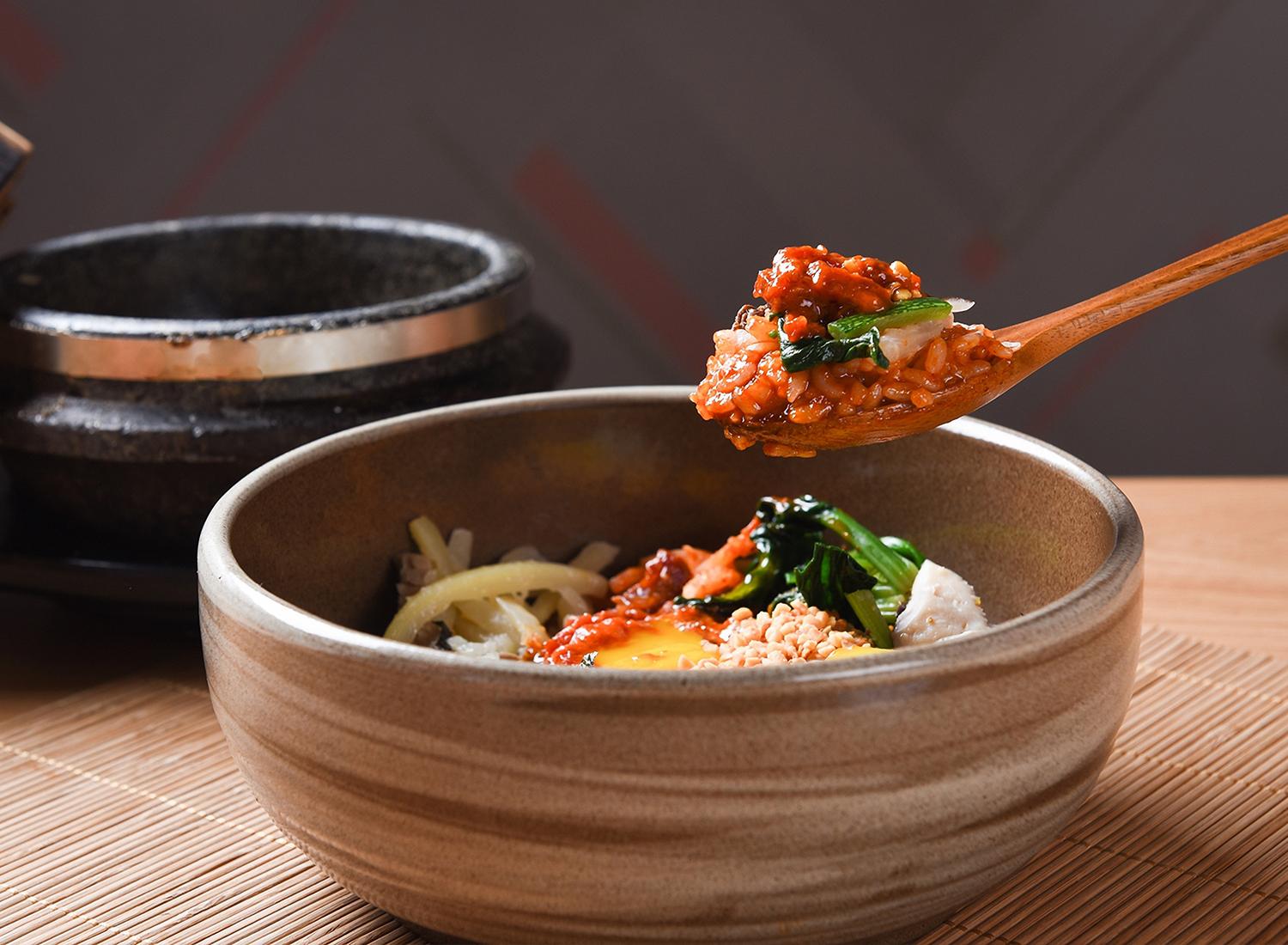 In the case of the former, "goldong 骨同/骨董" means "mixing messily" in Chinese.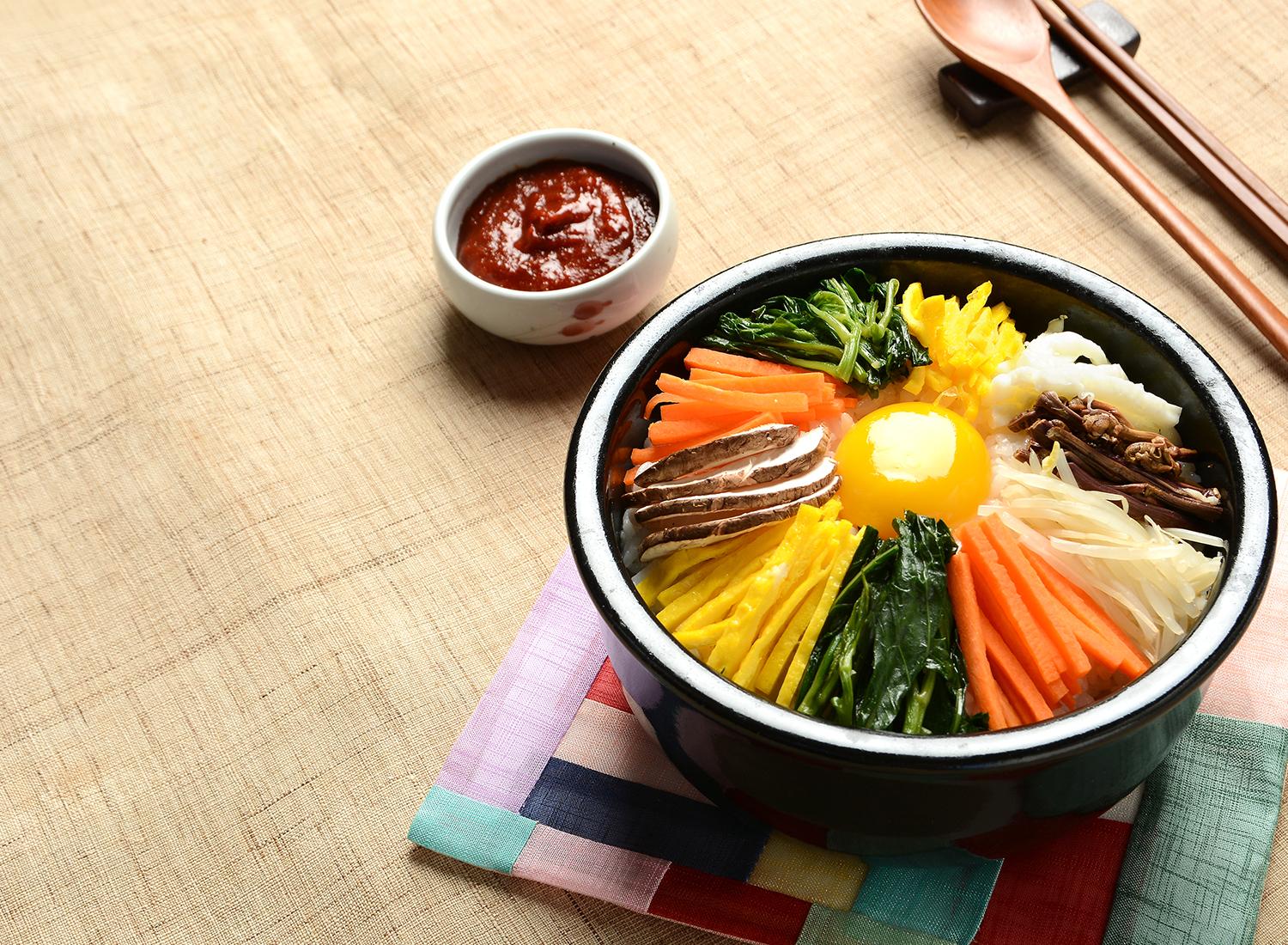 The the case of the latter, "hwa 花" means "flower" and "ban 飯" means "rice" in Chinese.
It's meant to capture the flower-like appearance of bibimbap when it is covered in colorful ingredients.
---
VARIETIES OF BIBIMBAP

The experience and taste of bibimbap can vary depending on the ingredients you put in.
There are so many different kinds of bibimbap, but I will introduce the five most representative and loved ones in Korea.
_

JEONJU BIBIMBAP
전주비빔밥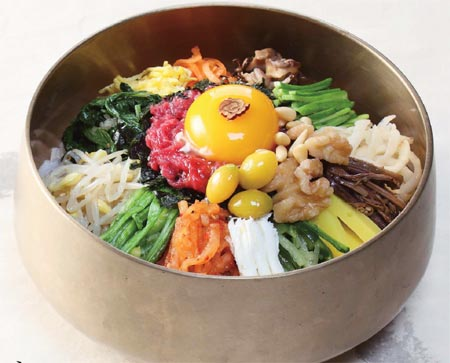 Source: Chosun Ilbo
Jeonju, which is also known as the birthplace of bibimbap, is home to an especially luxurious and specialized version.
It's still unclear why Jeonju is famous for bibimbap, but Jeonju enjoyed bibimbap more than other regions for more than 200 years, which shows that its history is deeper than other regions.
Bibimbap at a regular snack bar or a student restaurant in Seoul costs 4,000 won to 5,000 won, while Jeonju Bibimbap is sold at an expensive price ranging from 10,000 won to 13,000 won.
This is due to the carefully selected ingredients at peak quality, paying attention to the size and color of vegetables.
Comparing normal bibimbap and Jeonju bibimbap is like comparing microwaved spaghetti and homemade spaghetti at a restaurant.
One is much more fresh and of a considerably noticeable quality.
_

JINJU BIBIMBAP
진주 비빔밥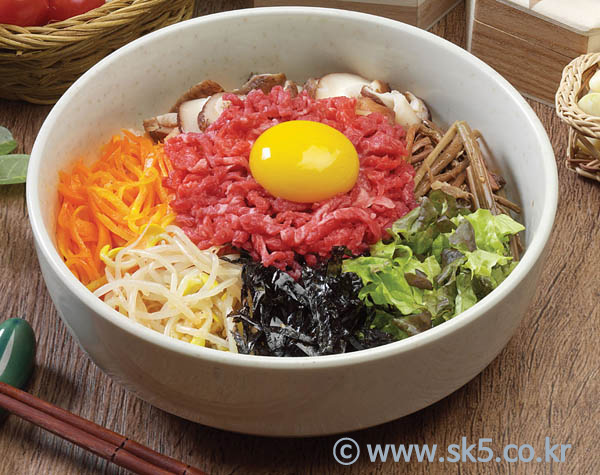 The history of Jinju bibimbap goes back to the Japanese Invasion of Korea in 1592.
Ahead of the battle against Japan, the military and the people of the castle caught a cow and had a final dinner.
Due to a lack of bowls, all the ingredients were mixed together instead of separating them.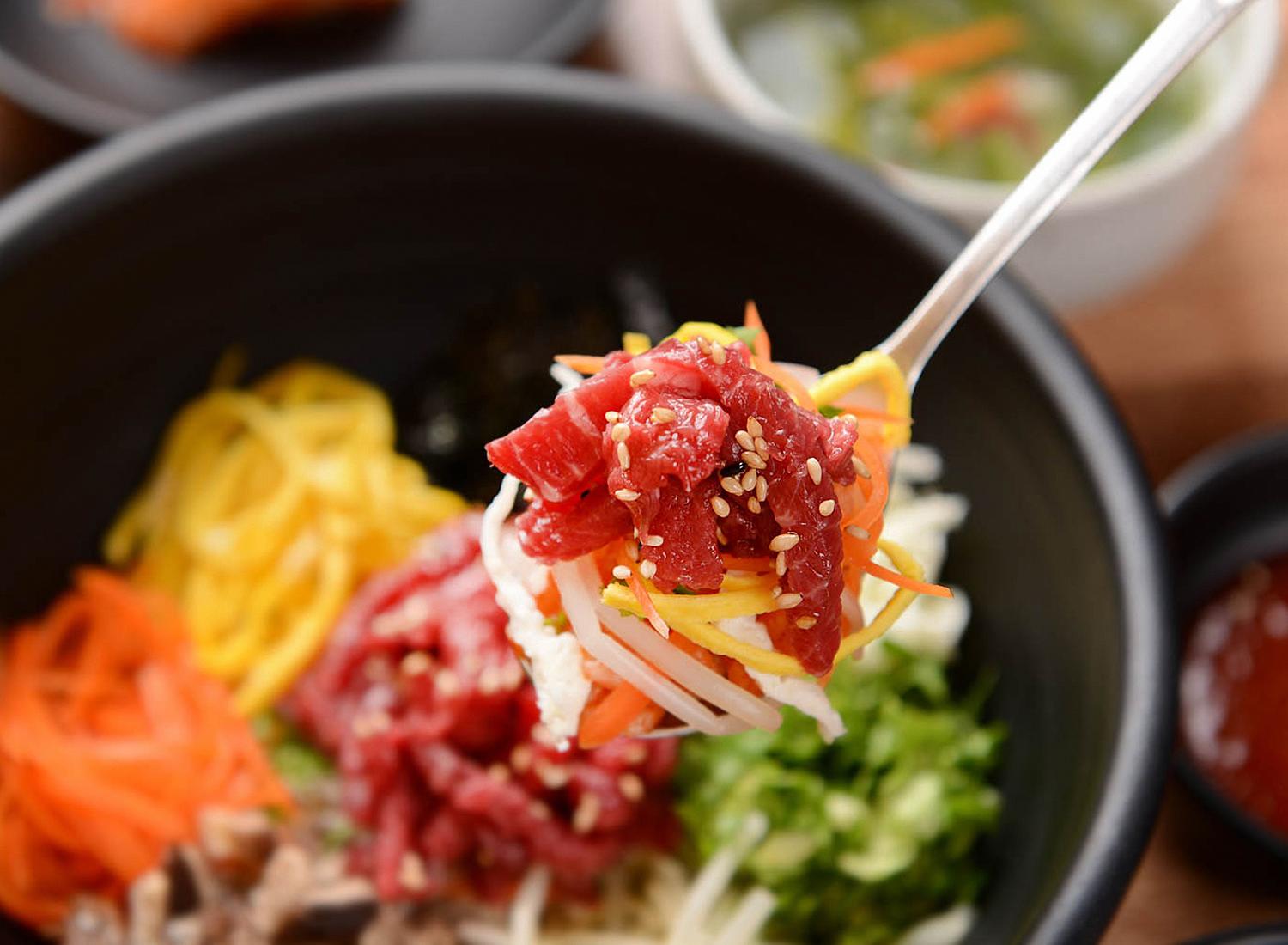 Sliced raw beef and sweet sauce mixed with the spicy bibimbap has become a flavor that distinguishes Jinju bibimbap from the rest.
_

YEOLMU BIBIMBAP
열무 비빔밥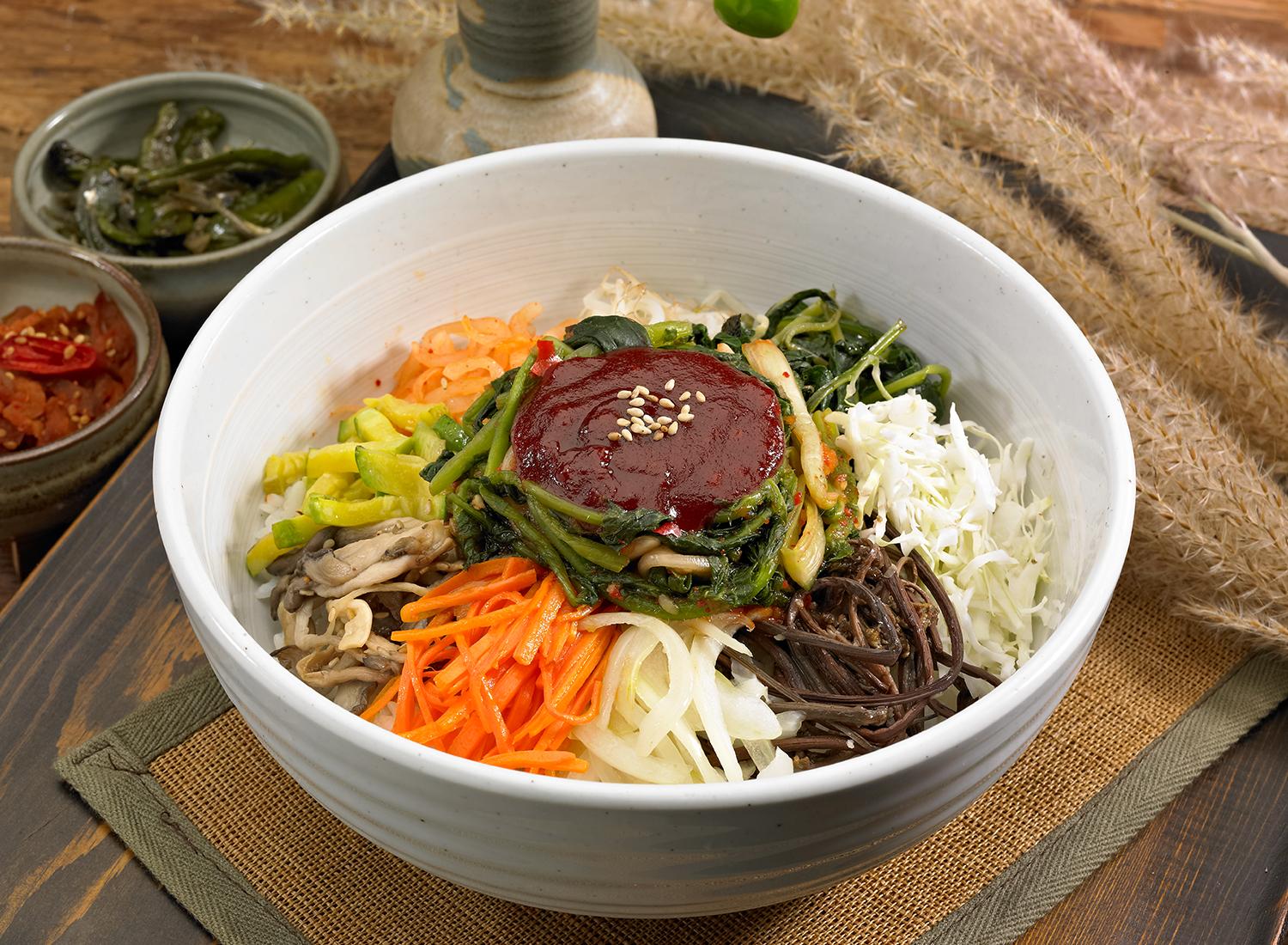 Yeolmu bibimbap is bibimbap mixed with young radish kimchi.
Yeolmu Kimchi, the main ingredient of Yeolmu Bibimbap, is one of many Koreans' favorite kinds of kimchi because of its cool taste and texture.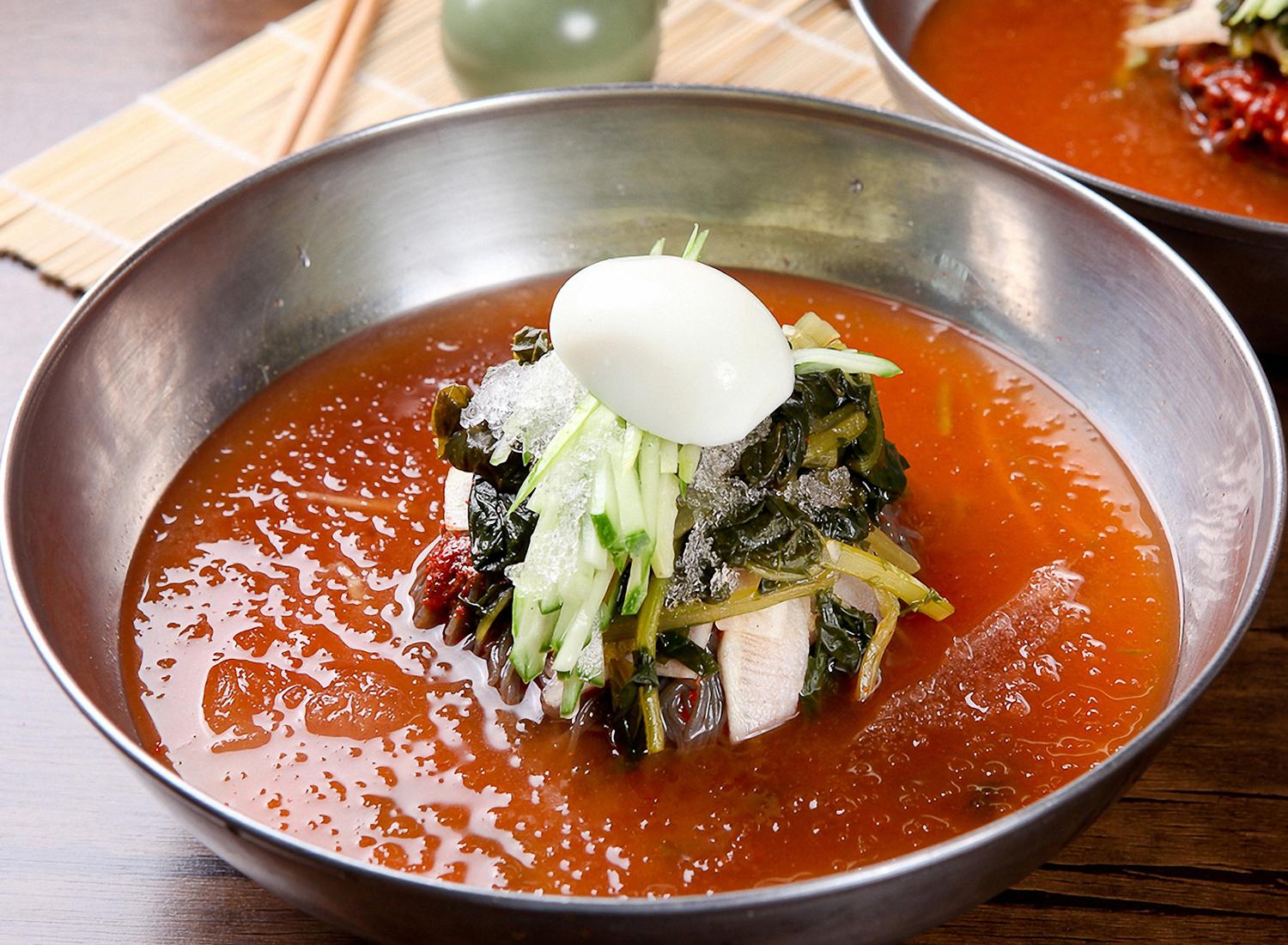 Yeolmu naengmyeon, a must-have dish for summer
Therefore, Yeolmu is used not only for bibimbap, but also for cool summer foods such as naengmyeon. Yeolmu Kimchi is not too spicy and has a cool, mild taste, so I recommend it to those who don't like normal kimchi or don't like spicy food.
_

SOY SAUCE BIBIMBAP
간장 비빔밥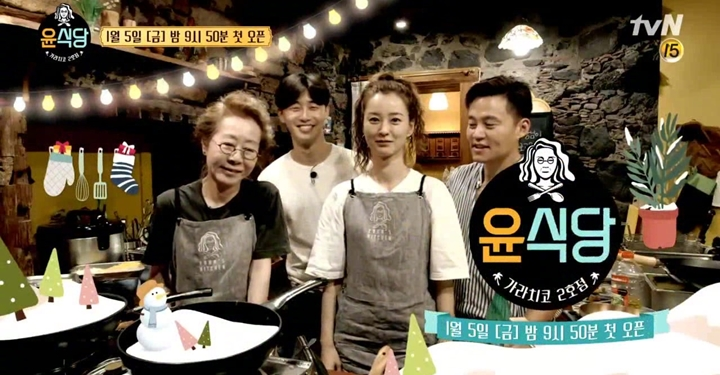 Source: tvN's Yoon Kitchen 2
Soy Sauce bibimbap is a type of bibimbap that is seasoned with soy sauce instead of red pepper paste. It has been very popular in Korea since Yoon's Kitchen 2 aired in 2018.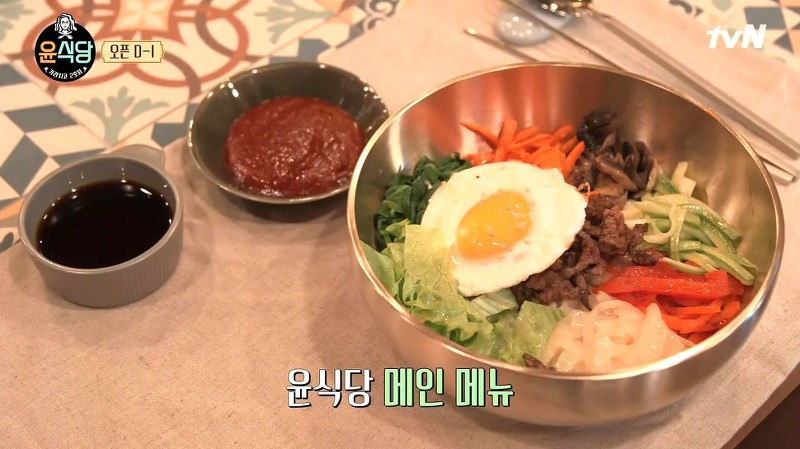 Under the concept of opening a restaurant selling Korean food overseas, this program made bibimbap with a soy sauce similar to bulgogi sauce instead of red pepper paste.
They were concerned the red pepper paste could be too spicy for foreign customers.
This recipe was popular not only among foreigners but also among Koreans and received a lot of love.
_

HOT STONE BIBIMBAP
돌솥 비빔밥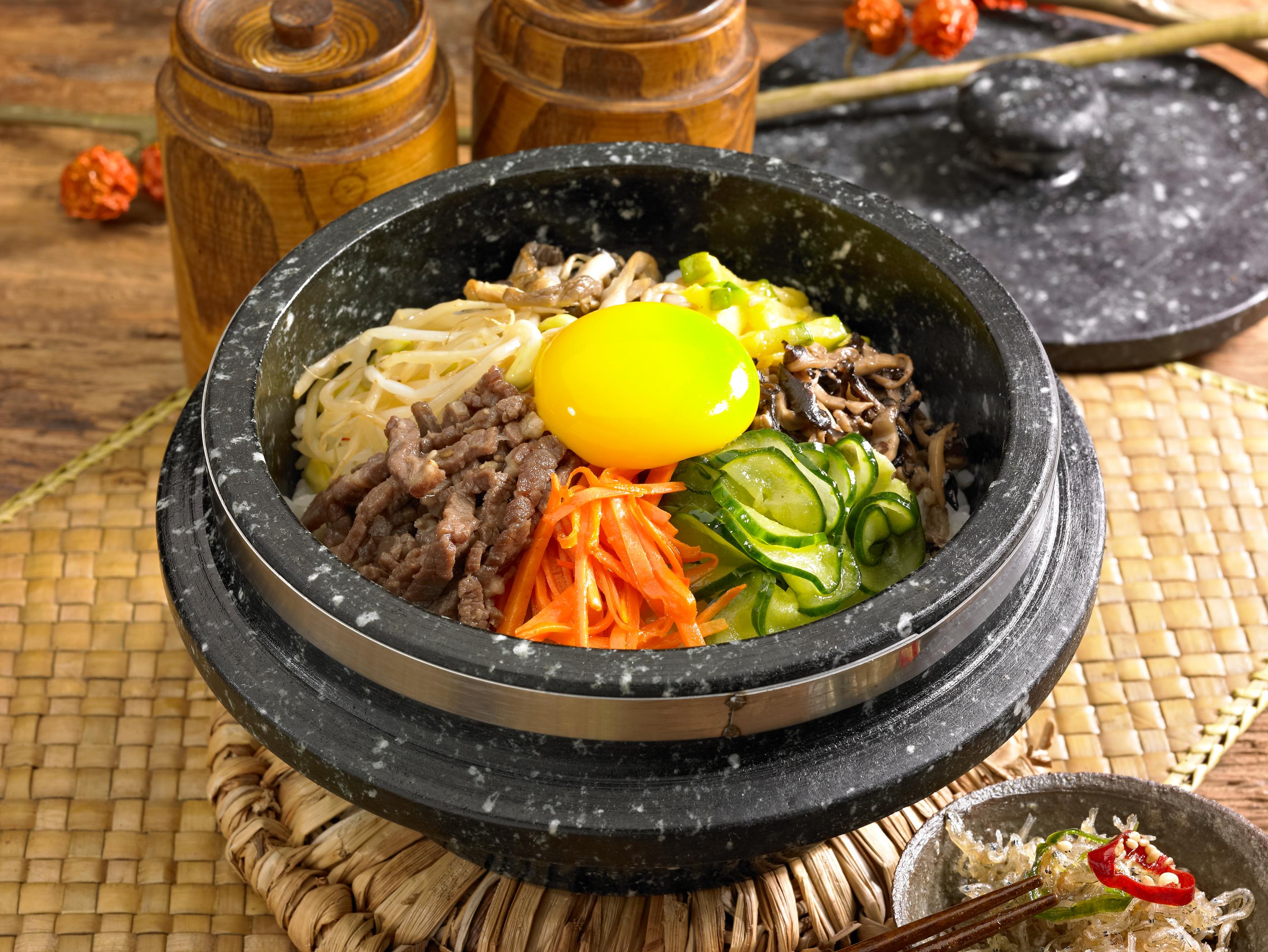 Hot stone bibimbap, or dolsot bibimbap, is a kind of bibimbap that is eaten in a stone bowl, as shown in the picture above.
If you mix bibimbap within a really hot stone pot, you can not only keep it warm until you finish eating, but also eat the bibimbap that's stuck to the hot stone pot.
Being able to eat crispy, moderately burnt bibimbap is the biggest reason Koreans love it!
---
MODERN BIBIMBAP

Is bibimbap for poor people? Is it a quality dish? Below you'll find out what local Koreans actually think of the dish.
Up to this point, we've focused on restaurant-style bibimbap.
But the truth is that most Koreans do not order bibimbap when they go out unless there is a particularly famous or delicious restaurant. This is because bibimbap is a food that you can make at home.
As in the pictures, the traditional vegetable bibimbap is often eaten during holidays.
So, when do Koreans usually eat bibimbap in their daily lives, except in cases of eating it at holidays or expensive restaurants?
It can be narrowed down to two main cases.
_

HOMEMADE BIBIMBAP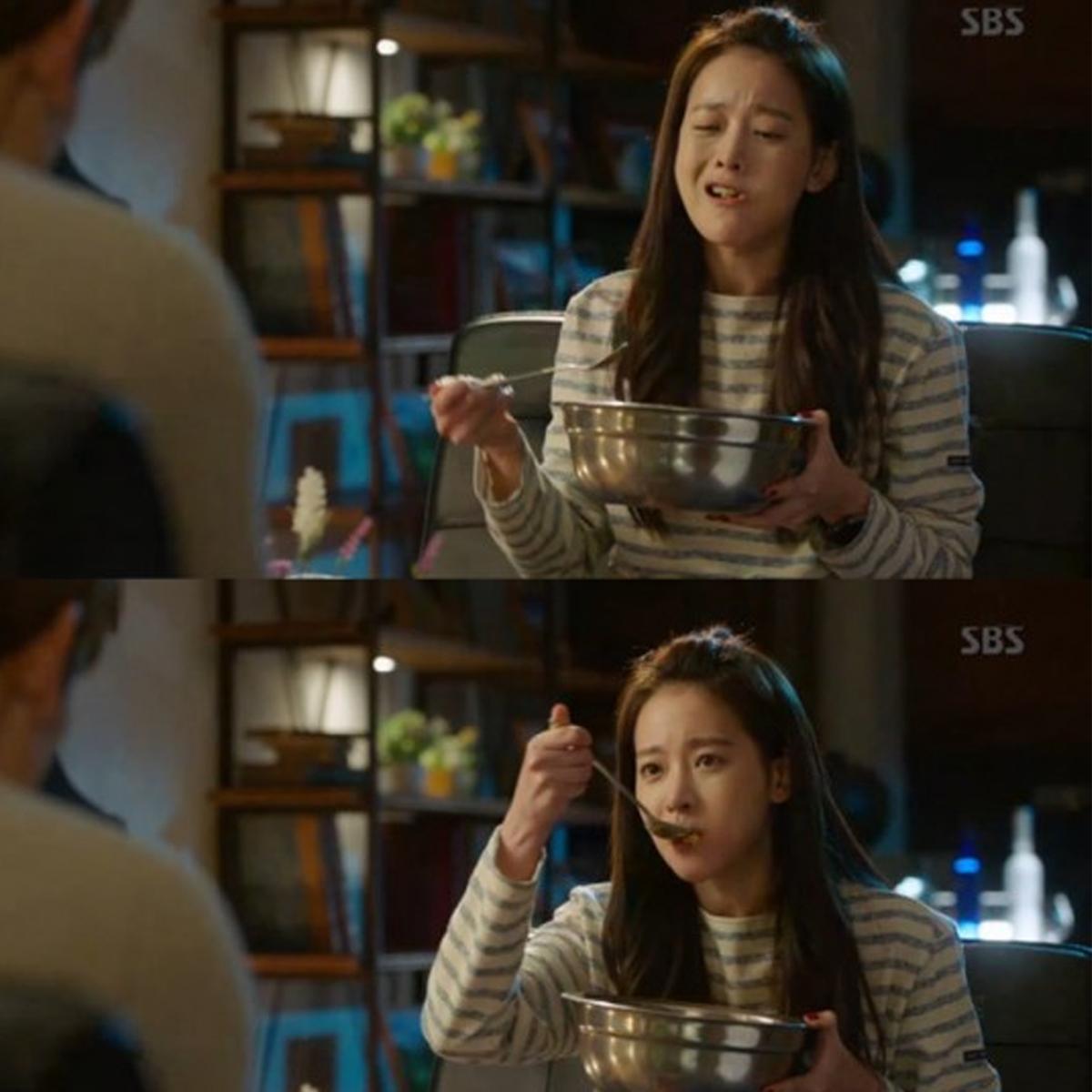 Source: SBS
Have you ever seen a Korean drama in which a main character dresses comfortably at home, takes out side dishes from the refrigerator, puts a spoon of red pepper paste on top of the rice, and mixes bibimbap? This is a very realistic scene!
To that extent, bibimbap CAN be a high-end dish for Koreans, but it is also a daily dish that can be easily mixed with side dishes at home.
Since fried zucchini, carrots, and seasoned bean sprouts are mostly side dishes in Korea, it is common for Koreans to mix the side dishes at home and store them in copious quantities rather than trim all these ingredients specifically to eat bibimbap.
_

BIBIMBAP AT CHEAP RESTAURANTS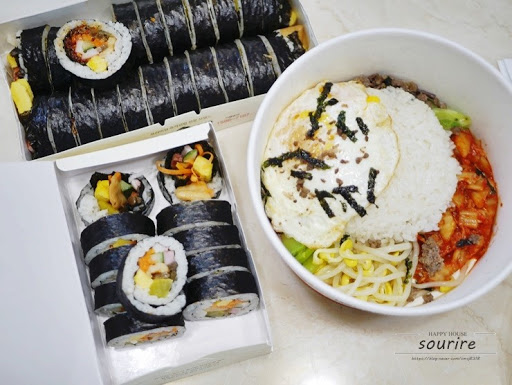 Source: Naver Blog
Restaurants such as Gimbap Heaven sell many cheap dishes like tteokbokki and gimbap.
But you can also buy some delicious bibimbap there for 6,000-7,000 won. So you can get a wholesome meal at a great price.
_

FUSION BIBIMBAP WITH NEW INGREDIENTS

Recently, bibimbap has been undergoing various changes according to recent food trends.
From avocado to avocado pollack bibimbap -- which has become popular in Korea -- to Japanese-style soboro bibimbap with pretty colors and mouthwatering colors, bibimbap is undergoing interesting and delicious changes.
There are many new bibimbap concoctions that do not miss out on the appearance and taste of the traditional dish, so the newer versions are still loved.
_

BIBIMBAP, A STAPLE OF KOREA'S ADVERTISEMENTS
Bibimbap is a food that symbolizes Korea, with various ingredients on top of white rice.
As a result, bibimbap has been used as an advertising prop for promoting Korea due to its stability and pretty colors.
One of them is the New York Times Square ad. In the fall of 2010, the Korean Food Foundation, which appeared on the electronic display board of Times Square Square in New York, USA, produced a bibimbap-themed advertisement.
More than 200 cast members participated in the video advertisement with colorful colors that were created by combining traditional Korean culture such as Nanta, Taekwondo, Samulnori, Ganggangsullae, masked dance, and Bukcheongja Nori.
Through this, you can see that it is a simple home-friendly dish, a traditional food that shows local colors, and, at the same time, is a dish that symbolizes Korea.
---
MUST-TRY BIBIMBAP RESTAURANTS
_

THE PALACE
Jeonju
The Palace (고궁) located in Jeonju is famous for appearing on TV several times and always having many customers.
This restaurant, which was first opened in 1973 and has been going strong for 50 years, is a must-try restaurant for Korean tourists as well as natives.
With a lot of unique ingredients including zucchini, spinach, radish salad, and dried pollack, this bibimbap is made with the finest ingredients grown right in Jeonju.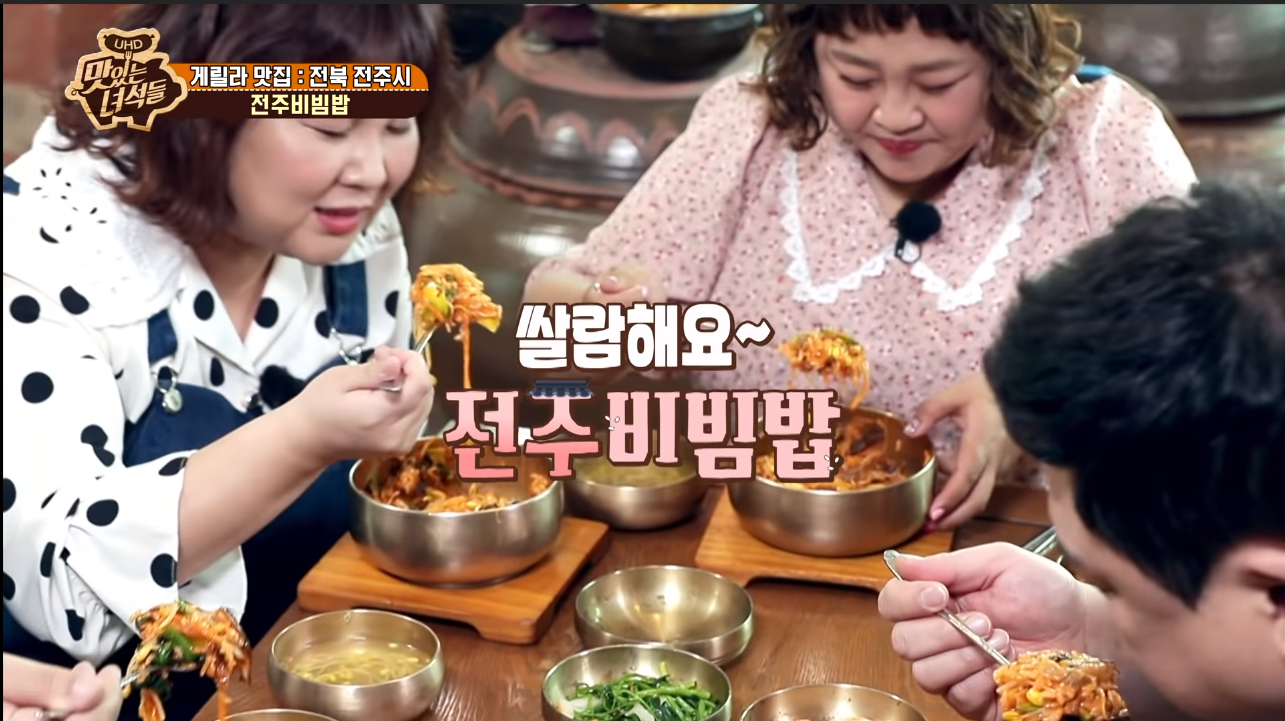 Source: COMEDY TV Delicious Fellows
Not only does it deliver on the promise of using the freshest and best ingredients, its bibimbap accurately and proudly represents the ubiquitous traditional Korean dish.
Address:
전북 전주시 덕진구 송천중앙로 33
33 Songcheon Jungang-ro, Deokjin-gu, Jeonju-si, Jeonbuk
Hours:
Weekdays: 11:00-21:00
Last Order: 20:30
Price:
Jeonju Traditional Bibimbap (전주 정통 비빔밥): 10,000 won
Raw Beef Bibimbap (육회 비빔밥): 13,000 won
_

HAMYANG RESTAURANT
Gyeongju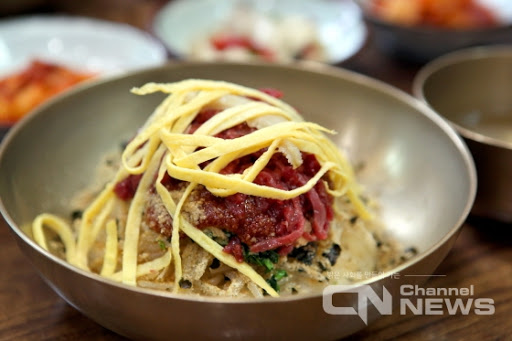 This restaurant has been standing strong for 90 years!
Spinach, egg garnish, radish greens, water parsley, bracken, sesame oil, and fresh yukhoe bibimbap, which is served with garnish on top of the rice, offers a rich taste of the tradition of this place that has been in the family for four generations.
Moreover, it is a popular local restaurant with a lot of Koreans, so they line up even during lunchtime on weekdays! This restaurant is especially good for those who like or want to try raw beef.
It can be a somewhat controversial dish that people either love or hate, so it is worth it to at least have the best version of it.
The restaurant offers a variety of dishes featuring raw beef, so if you want to try something other than bibimbap, you can.
Address:
경상북도 경주시 북군1길 10-1
10-1 Bukgun 1-gil, Gyeongju, Gyeongsangbuk-do
Hours: 10:00-21:00
Thu: Closed
Price:
Traditional Bibimbap (정통 비빔밥): 12,000 won
---
HOMEMADE BIBIMBAP RECIPE

Are you sad that you can't buy bibimbap in Korea? Don't worry! If you have some ingredients, you can cook it at home as easily as Koreans do! All you need are:
_
1. Stir-fry marinated beef such as soy sauce and sugar.
2. Cut the vegetables such as zucchini, carrot, mushroom, onion into similar sizes, season them with salt, and stir-fry them.
3. Boil vegetables such as bean sprouts, bracken, and bellflower roots and season them with salt and sesame oil.
4. Add prepared ingredients to the white rice and lightly coat with sesame oil.
5. Put gochujang or soy sauce sauce on top of it, add a fried egg, and sprinkle sesame salt on it to finish!
_
In addition to the vegetables mentioned in the recipe above, add the ingredients you want according to your taste to make it more delicious!
For detailed recipes, please refer to the YouTube video below, which explains the bibimbap recipe well.
The origin of bibimbap, Koreans' thoughts on bibimbap, and even bibimbap restaurants! I introduced everything about bibimbap. How was it?
I hope this article will help you understand bibimbap and why it's so popular.
In addition, if you are curious about bibimbap or other Korean cultural topics, please leave a comment!
---