Seongsu & Konkuk University Food Guide
Check out the wide variety of foods you can find at Seongsu & Konkuk University Stations!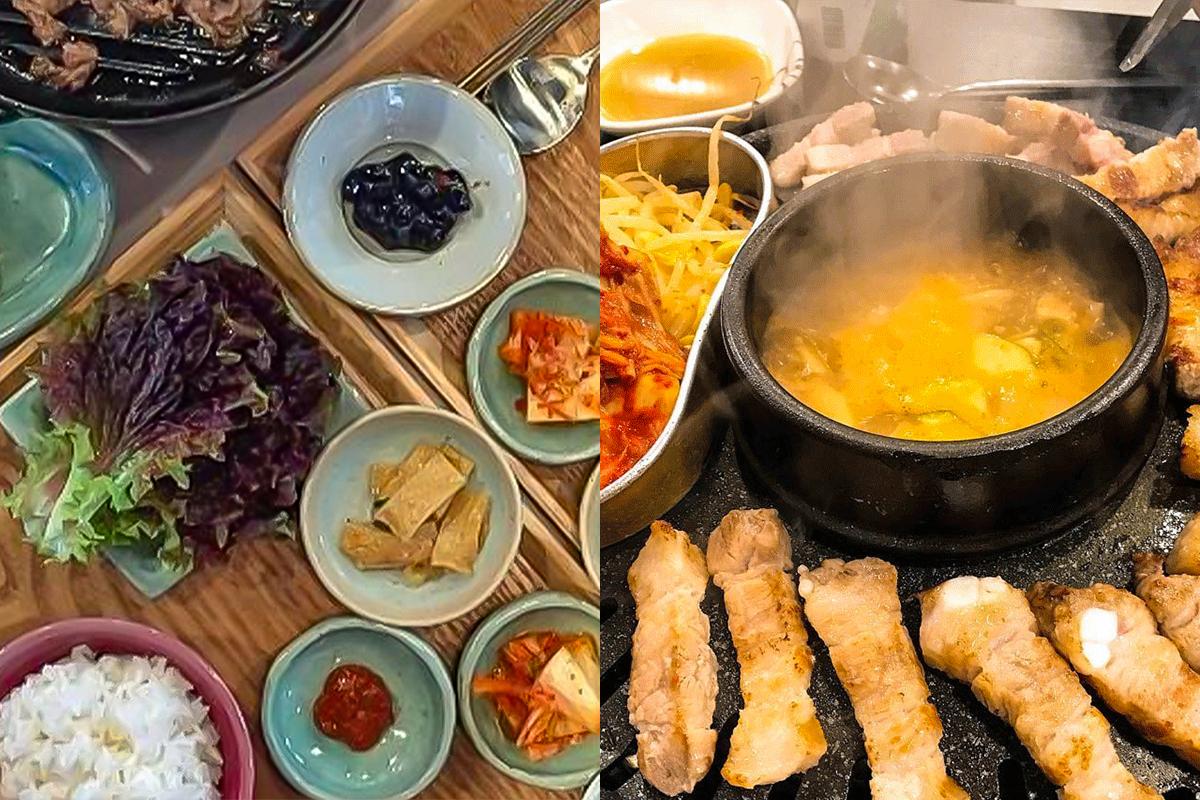 Today, I will introduce special restaurants that you must visit when you visit the Seongsu and Konkuk University Station areas, the latest trending spots in Korea!
For more information about what to eat, drink, do, and more in the Seongsu and Konkuk University Station areas, click this link.
---
Zesty Saloon
제스티살룬 버거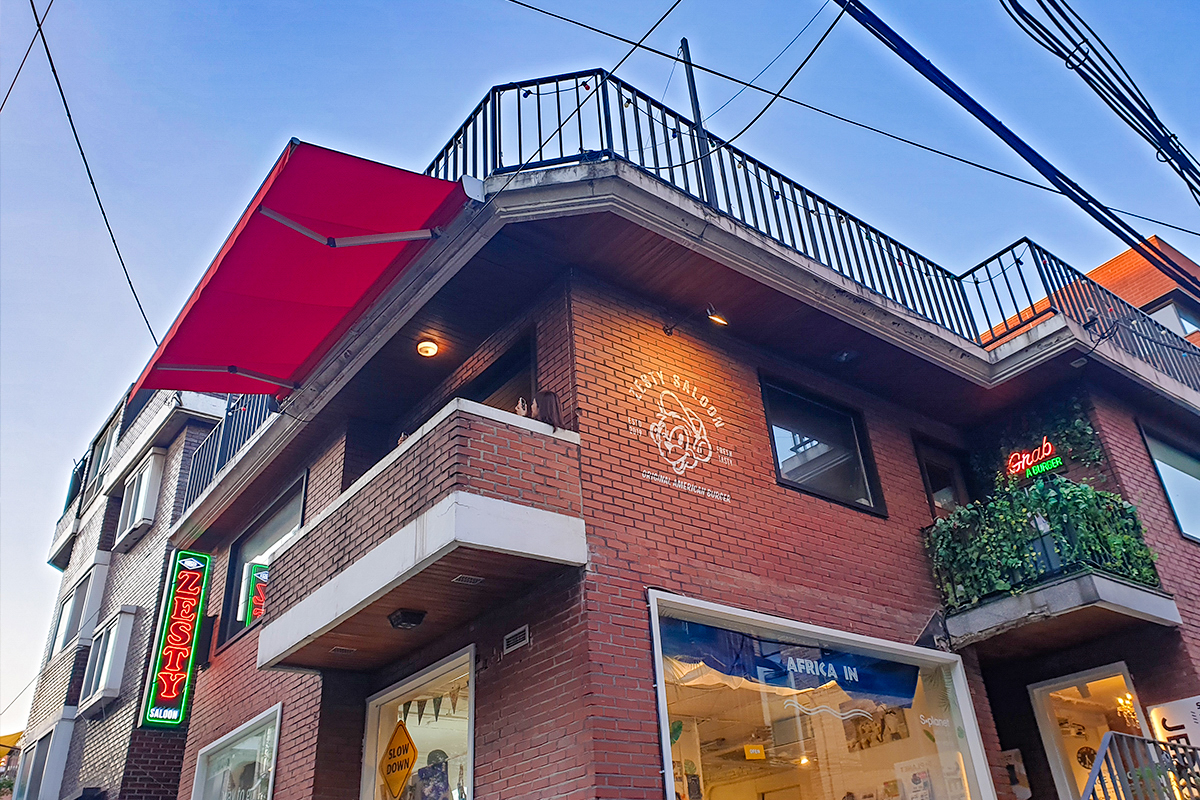 You may think you don't have to eat hamburgers in Korea, but I recommend you visit a handmade burger restaurant at least once.
These handmade burger restaurants are worth visiting because they develop their own unique recipes to attract customers.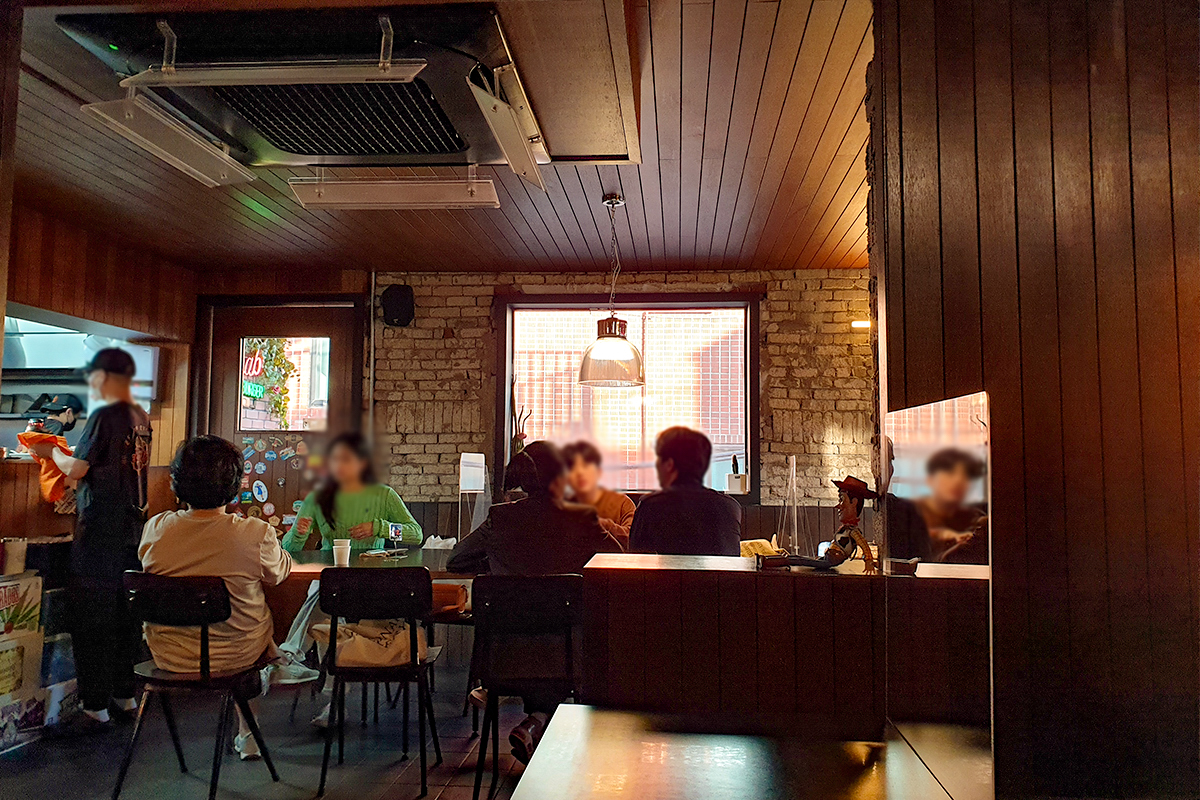 In addition to their special recipes, they also have unique interiors, making it fun to visit.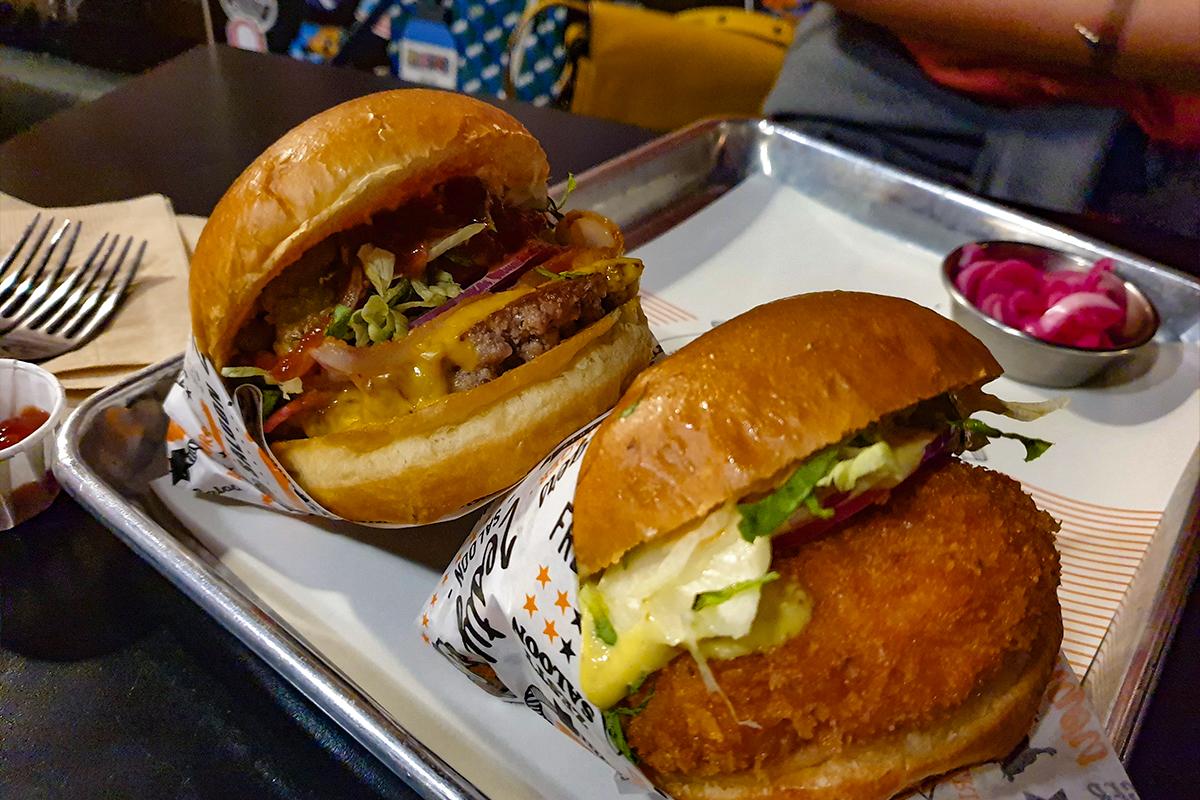 The patties of the Chipotle Chili Burger and Wasabi Shrimp Burger, a limited menu item, were very thick and delicious, overflowing with sauce and juice.
Address: 서울 성동구 서울숲2길 19 2층
19 Seoulsup 2-gil, Seongdong-gu, Seoul
Hours: Tue-Sun 11:30-21:30
Price: Burgers 8,300 won-10,300 won
---
HDD Pizza
HDD 피자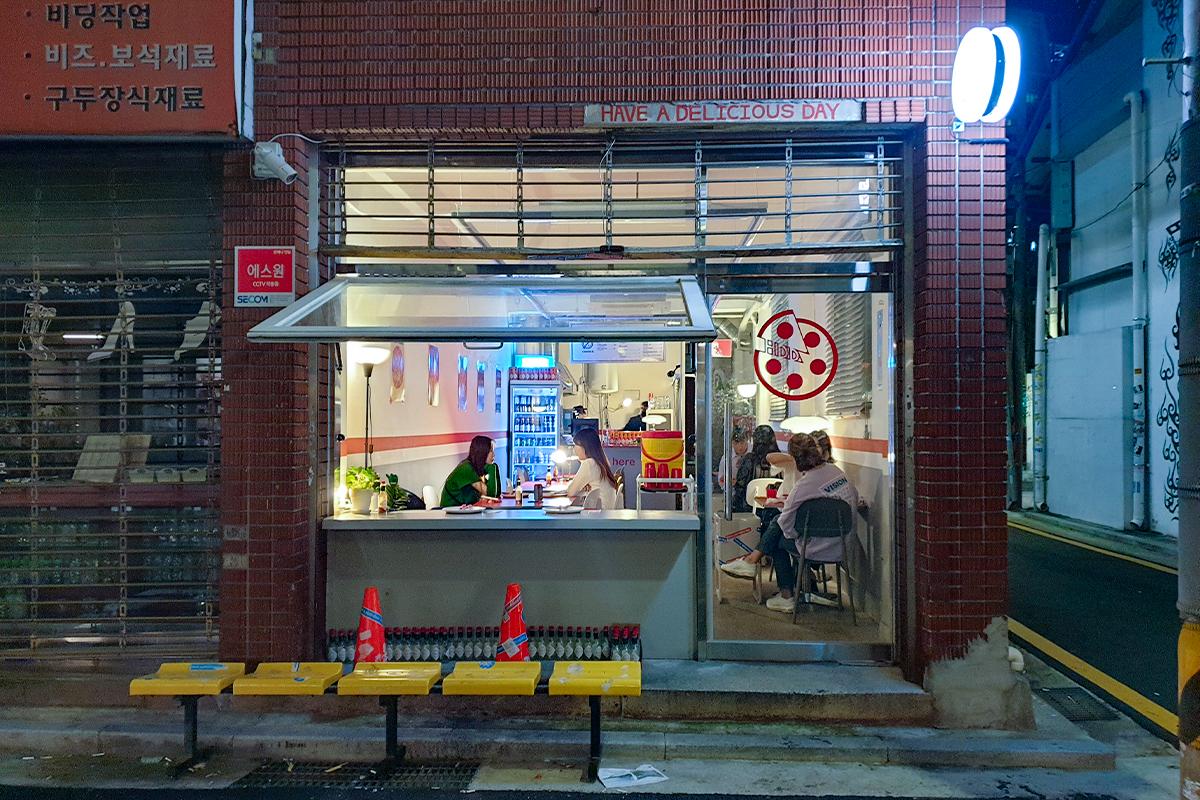 While walking on the streets of Seongsu-dong, there is a restaurant that has a different atmosphere than other restaurants. HDD Pizza catches people's attention with its cute exterior.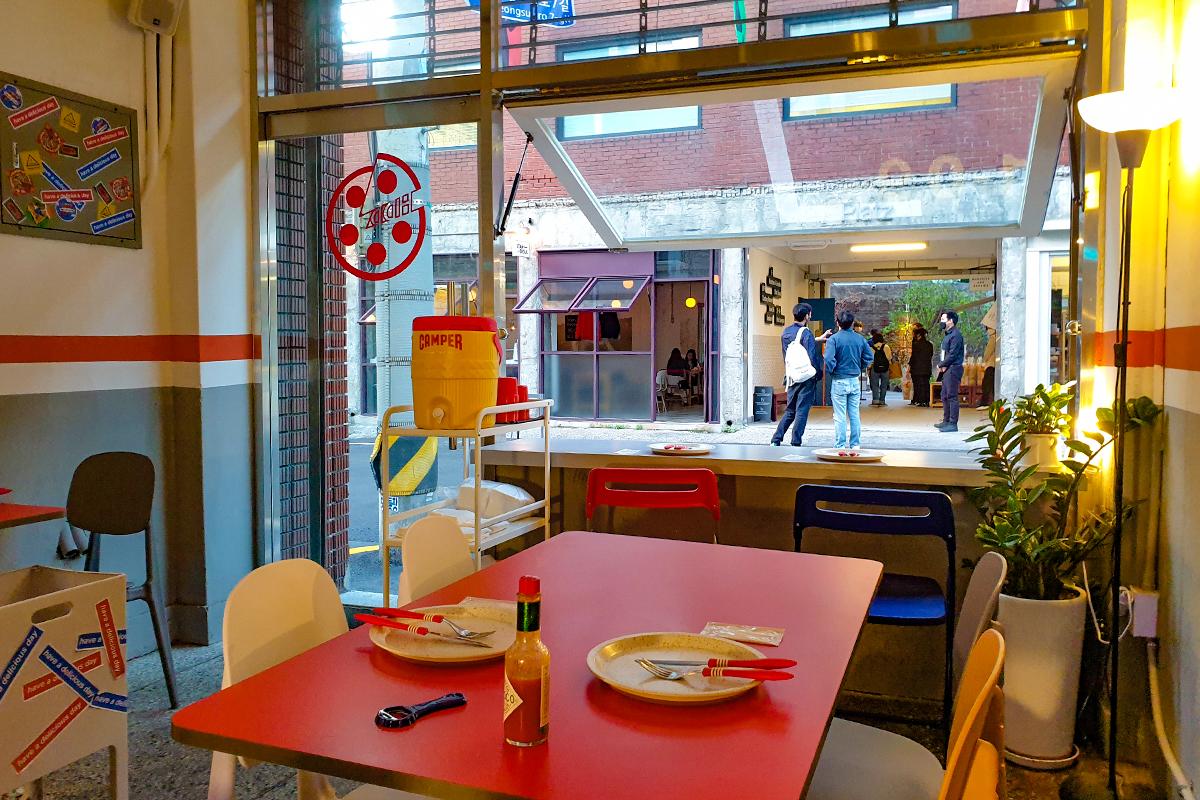 It is a cute, small restaurant with only six tables and one table by the window. Therefore, the restaurant was already full even though I visited a little past 5pm on a weekday.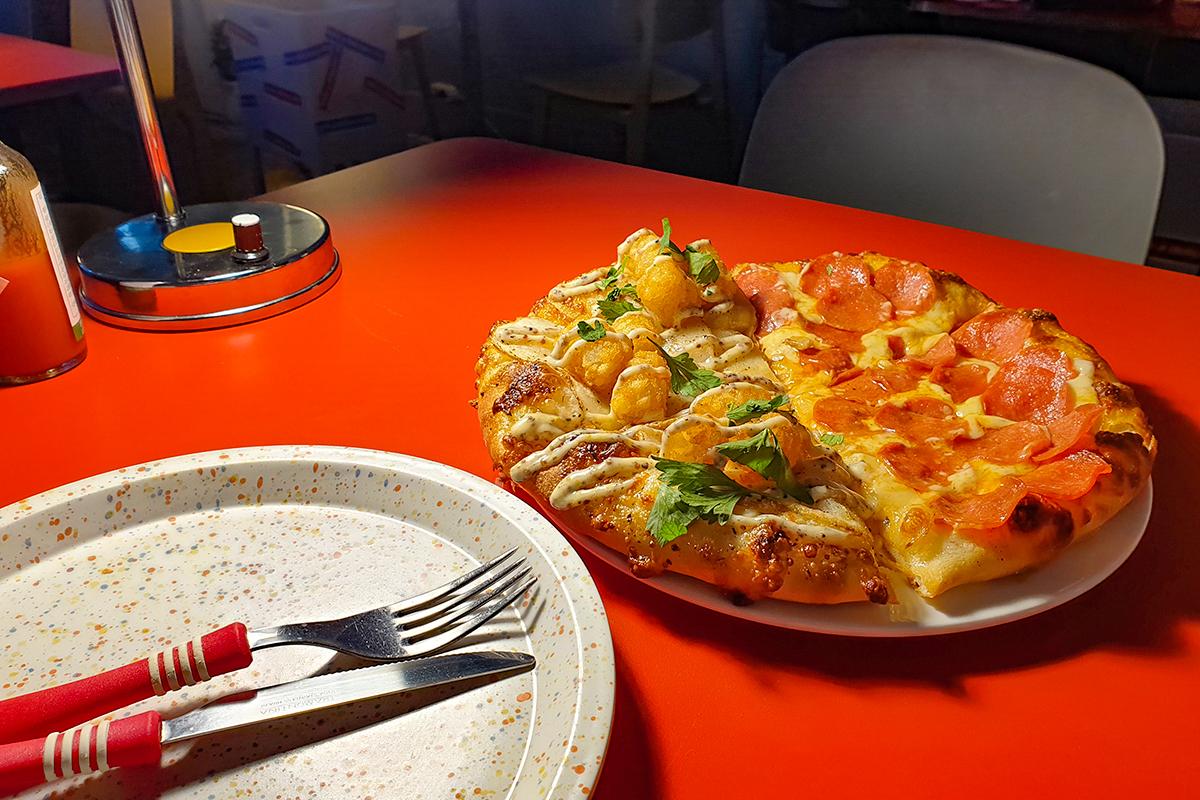 If you order the Half and Half pizza, you can try two kinds of pizza at once. Try one of the basic flavors, pepperoni, with a unique pizza, like this truffle potato one!
Address: 서울 성동구 성수이로7길 46
46 Seongsuiro 7-gil, Seongdong-gu, Seoul
Hours: 12:00-22:00
Price: Pizza 18,000 won / 20,000 won
---
Grandma's Recipe
할머니의 레시피
If you want to taste proper Korean food, you should visit a home-style restaurant. Korean home-style food uses ingredients that are very nutritious, so it's good for your body. It's also cooked with sincerity, so everything tastes very good.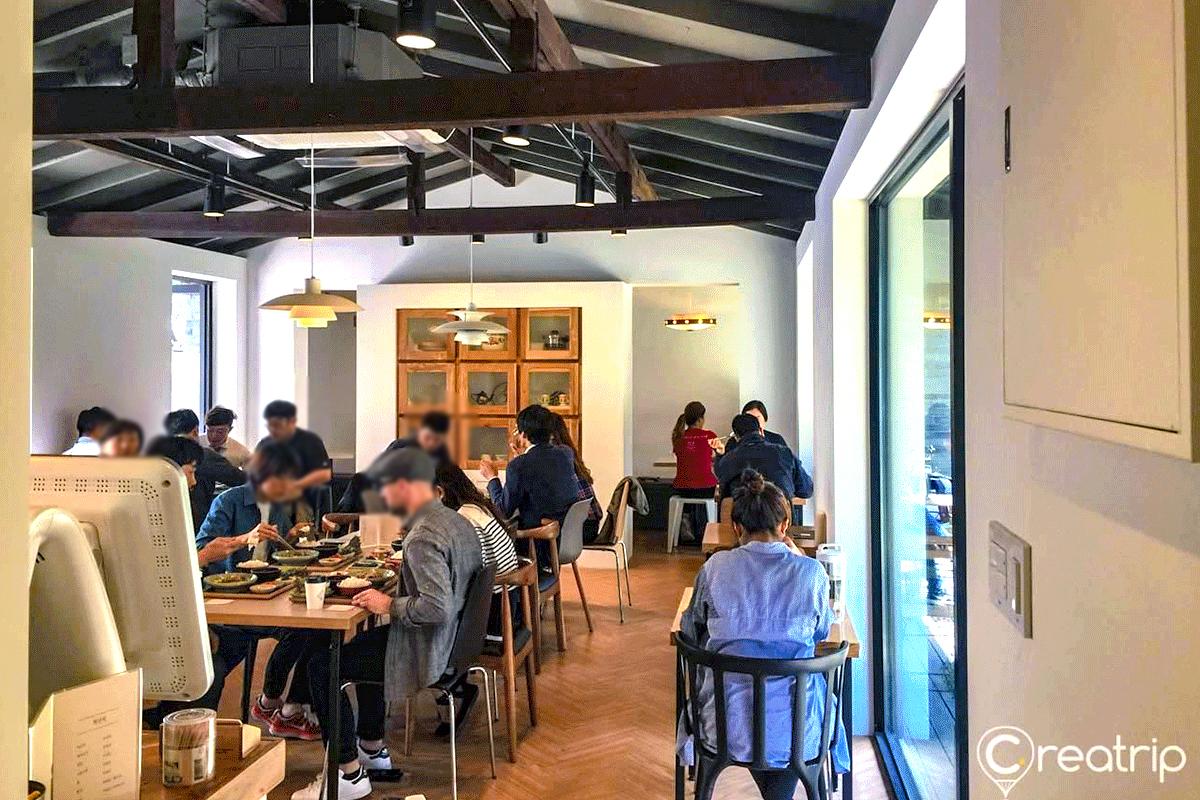 The menu at Grandma's Recipe reproduces secret recipes that the owner's grandmother passed on to his mother, who passed them on to him and his wife. The restaurant's menu is filled with the heart and sincerity of the grandmother and mother preparing food carefully for their children.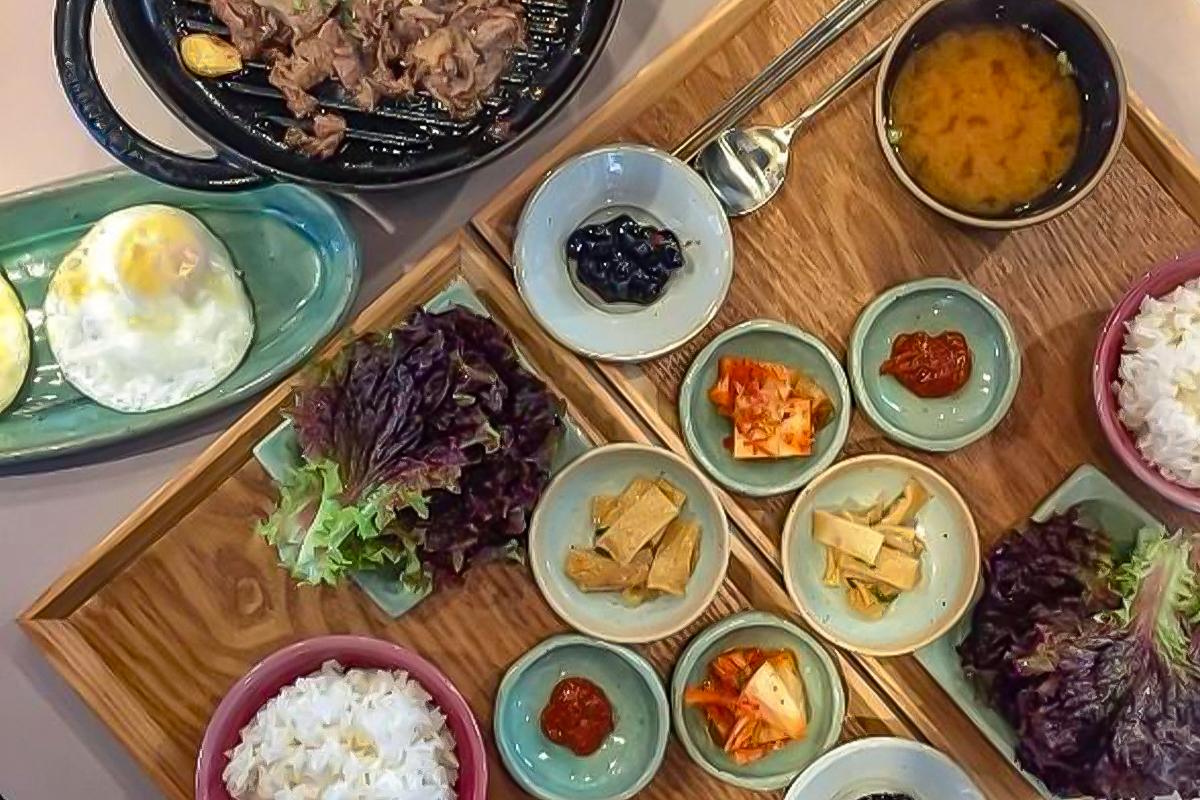 White rice, soybean paste soup, bulgogi, various side dishes, and lettuce to wrap all of them together, is exactly what the grandmother made for the owner when he was a child.
Address: 서울 성동구 서울숲2길 44-12
44-12 Seoulsup 2-gil, Seongdong-gu, Seoul

Hours: Wed-Mon 11:30-21:00
Break 15:00-17:00
Price: Rice, soup, banchan 1 person set 10,000 won
---
Daesung Galbi
대성갈비
Before it became the hip area it is today, Seongsu-dong was an industrial complex where factory complexes were built in the 1980s and 1990s. At that time, workers ended a hard day by eating affordable pork ribs.
More than 20 years have passed, but this street is still called Galbi Alley and contains traces of the old days.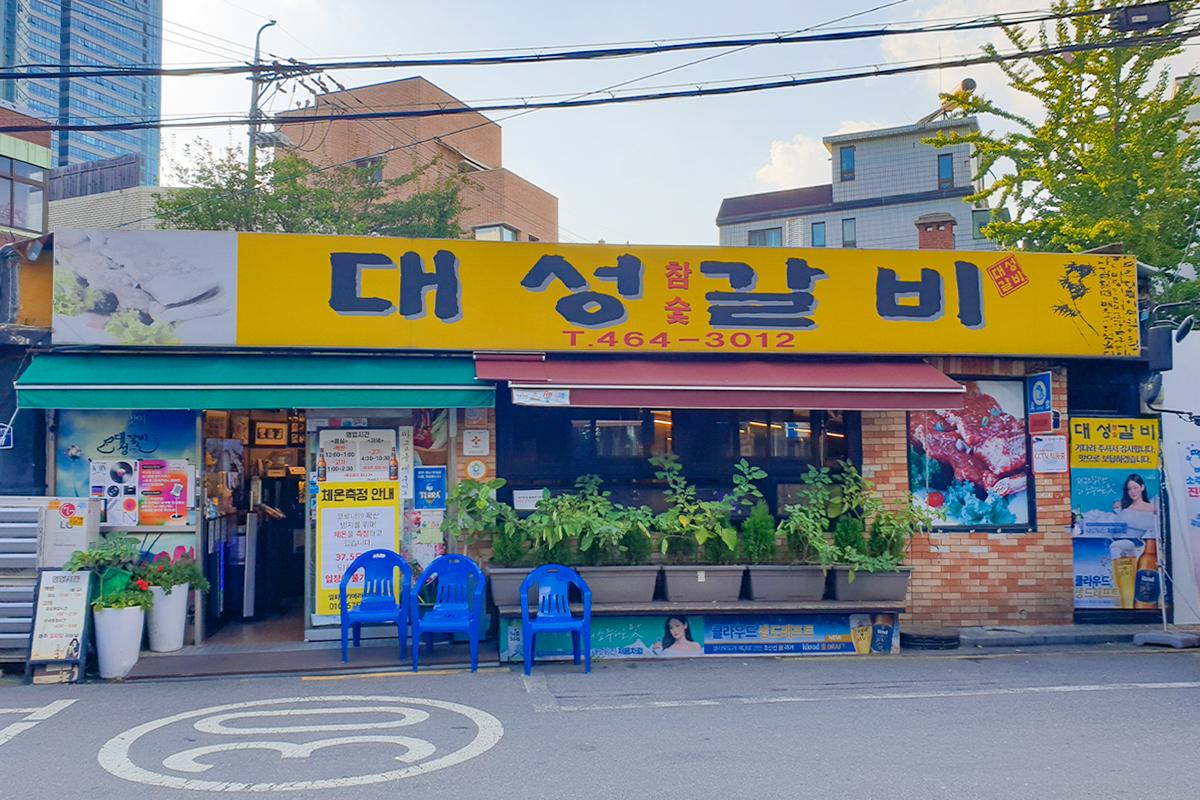 Daesung Galbi is a restaurant that started operating in the Galbi Alley in 1999 and is a famous restaurant in the Seongsu area. It has become more popular since it was introduced on the Korean TV show Wednesday Food Talk, and it is is said that there is now a wait in the evenings.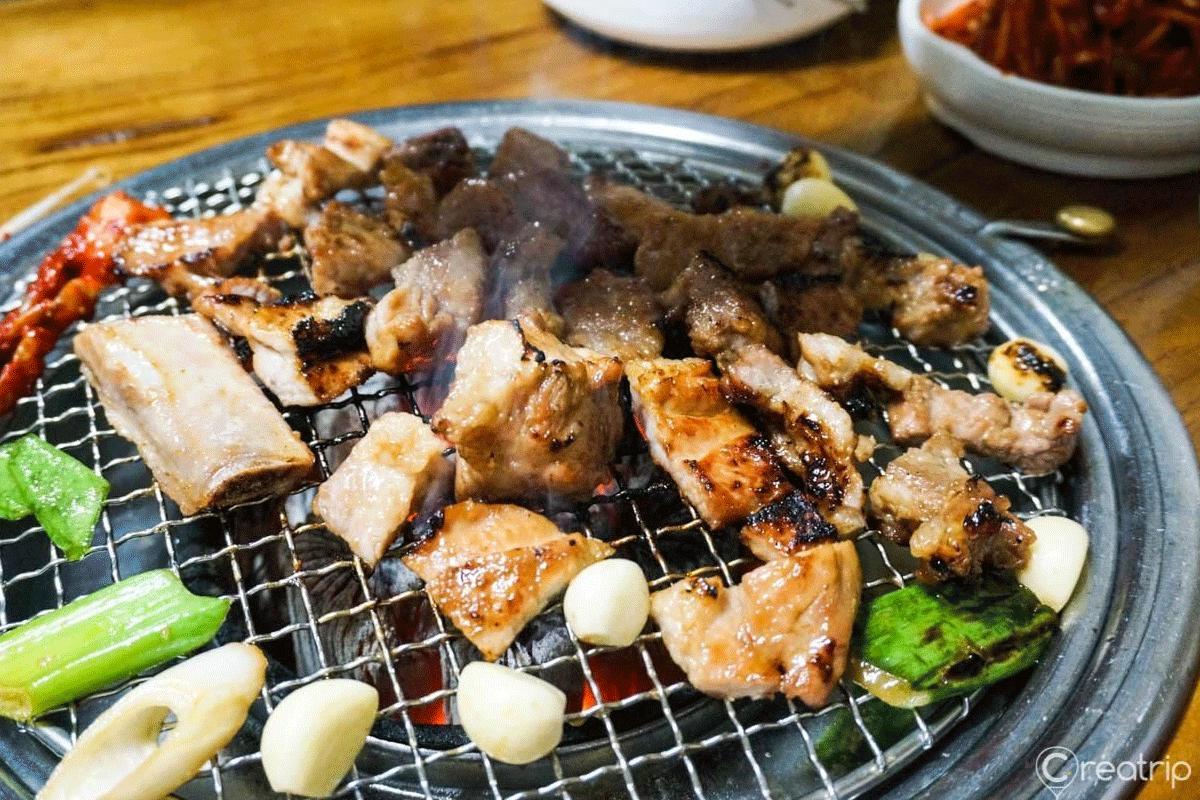 Unlike ordinary grilled pork belly, Daesung Galbi grills pork ribs over charcoal, so you can enjoy the scent of charcoal and the taste of fire together. It goes well with the moderately sweet galbi sauce and the fragrant charcoal scent.
Daesung Galbi is also famous for its good cost-effectiveness. Kimchi stew, steamed eggs, and plenty of vegetables to eat with the galbi are all provided with the galbi.
Address: 서울 성동구 서울숲4길 27
17 Seoulsup 4-gil, Seongdong-gu, Seoul
Hours: Tue-Sun 12:00-21:00
Break 14:30-16:30
Price: Pork Galbi 1 Serving (200g) 15,000 won
---
Sommunnan Seongsu Gamjatang
소문난 성수 감자탕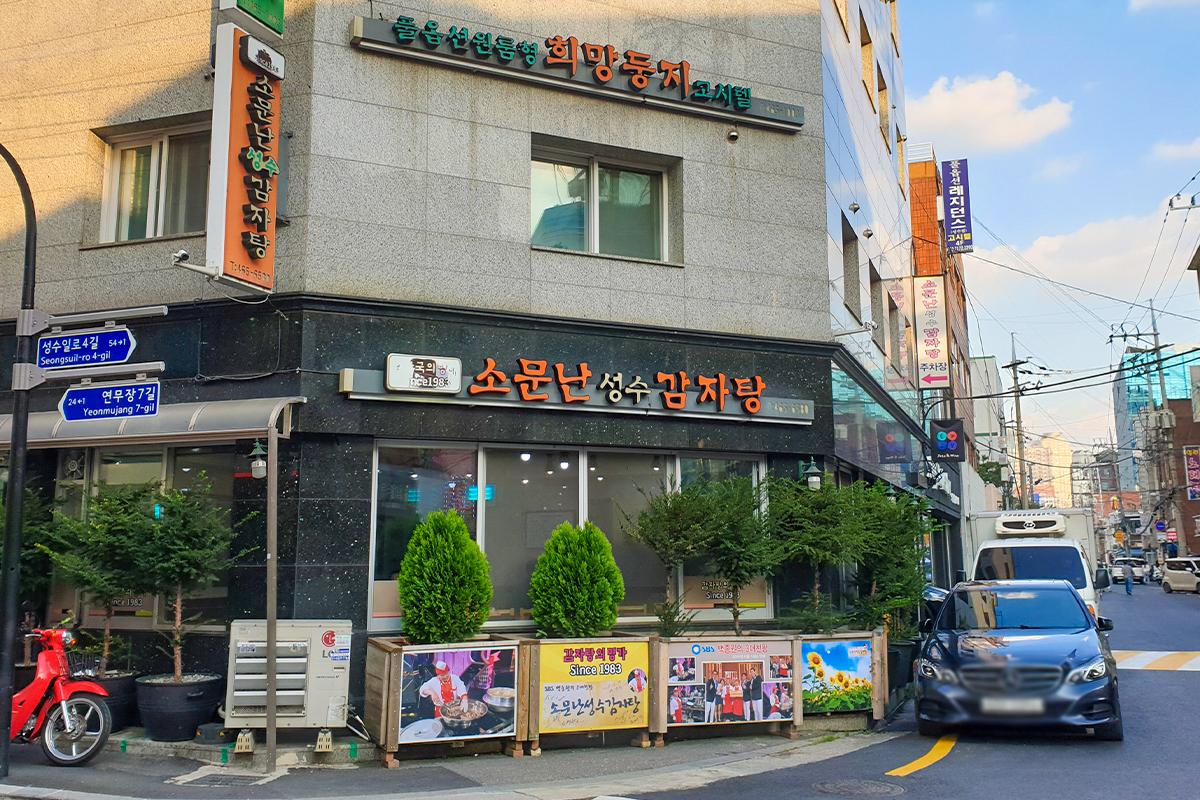 This gamjatang (pork back-bone stew) restaurant was introduced on SBS's Baek Jong-won's Top 3 Chef King.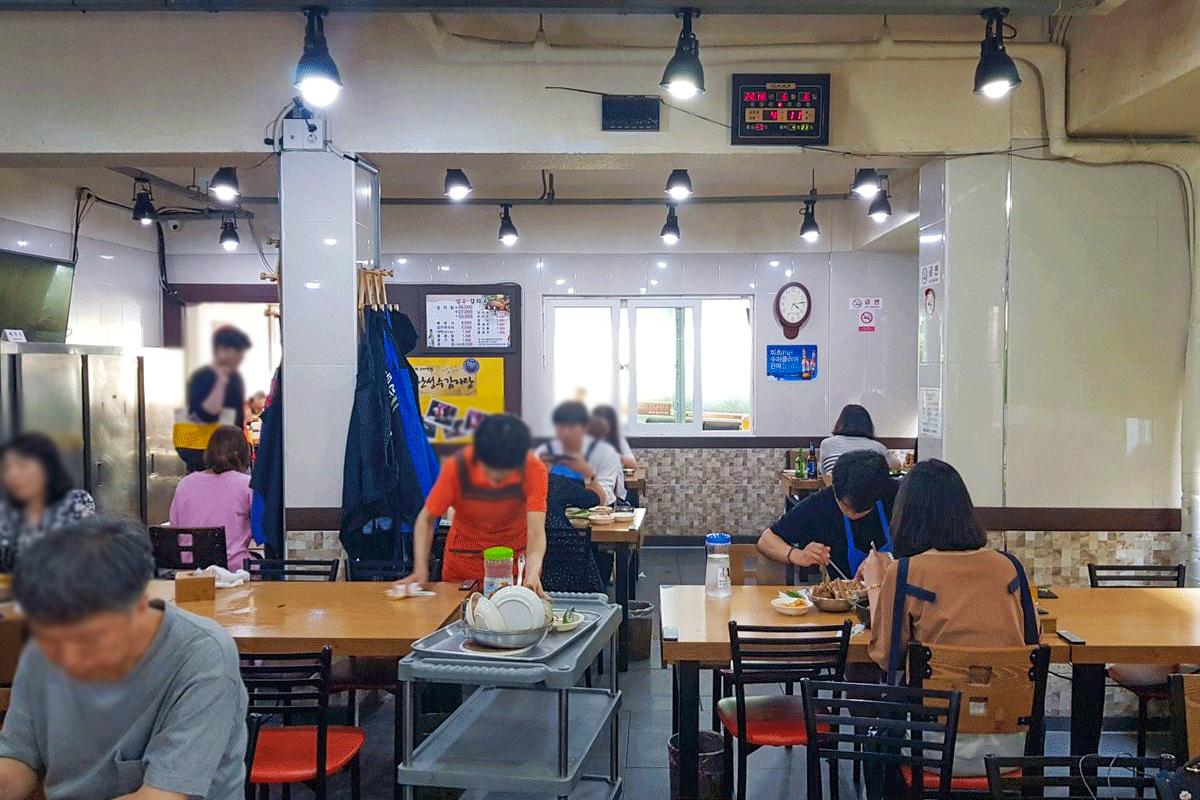 They sell three sizes of gamjatang, small, medium, and large, but they also sell a one person serving size of gamjatang. The amount of food they give here is so generous that I recommend ordering the gamjatang for one person.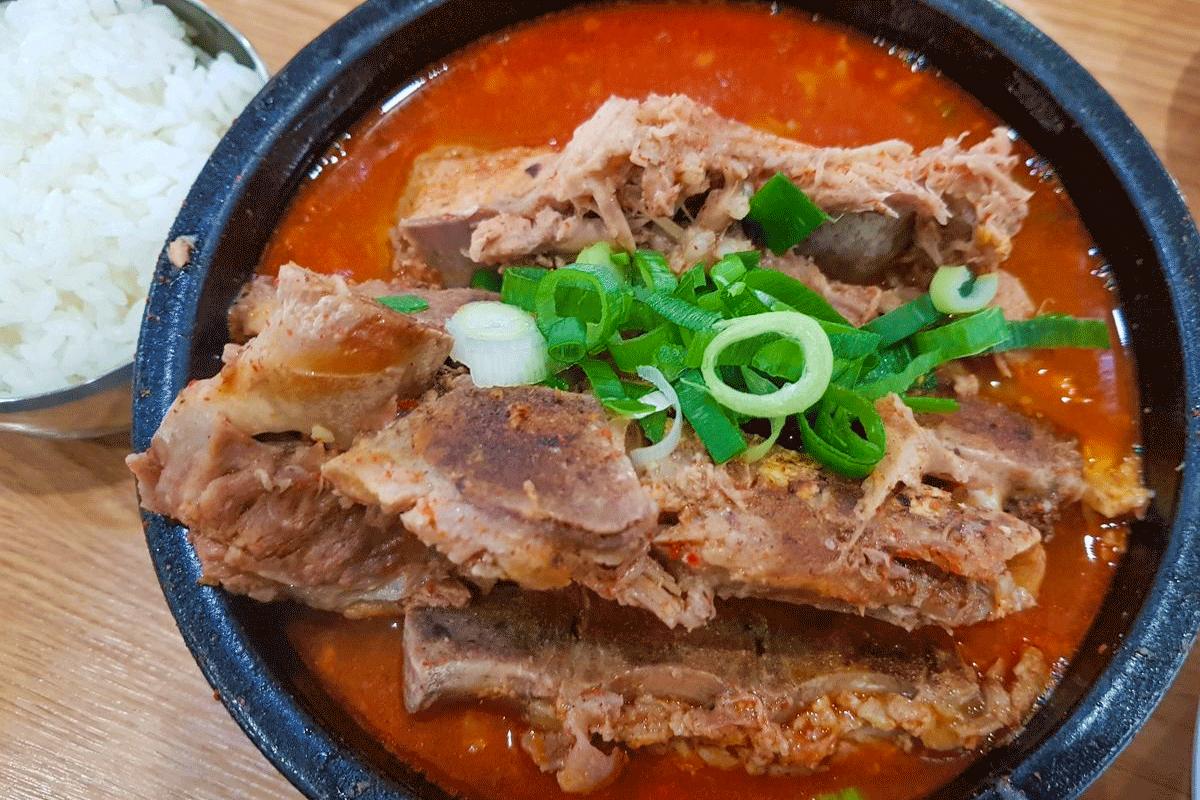 Gamjatang is a spicy food made by boiling pork backbone for a long time. It may be a little hard to eat for those who can't eat spicy food, but the large amount of meat and spicy soup are very addictive.
Address: 서울 성동구 연무장길 45
45 Yeonmujang-gil, Seongdong-gu, Seoul
Hours: 00:00-24:00
Price: Gamjaguk (Potato Soup, 1 serving) 8,000 won
Gamjatang Small (2-3 servings) 24,000 won
---
Gogong


고공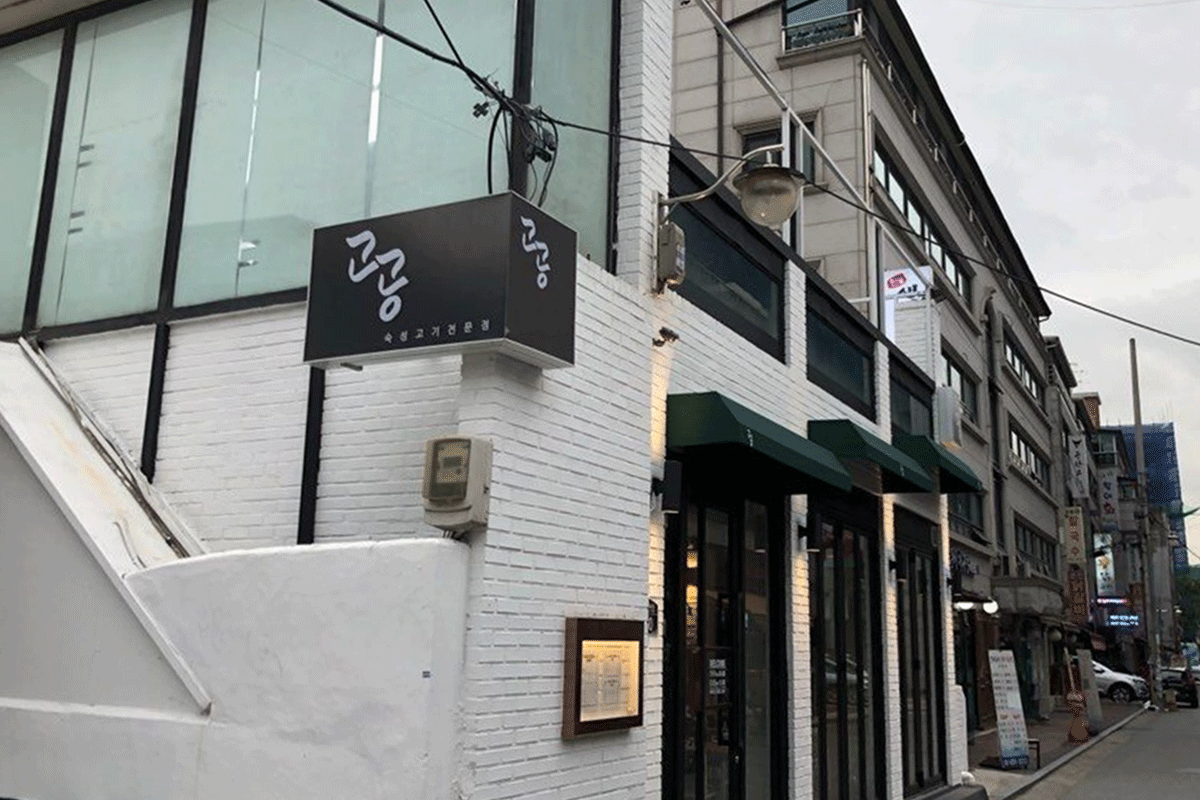 It may look like a cafe because of the neat exterior of the building, but you will be surprised if you go inside. This is because this is actually a Korean barbecue restaurant.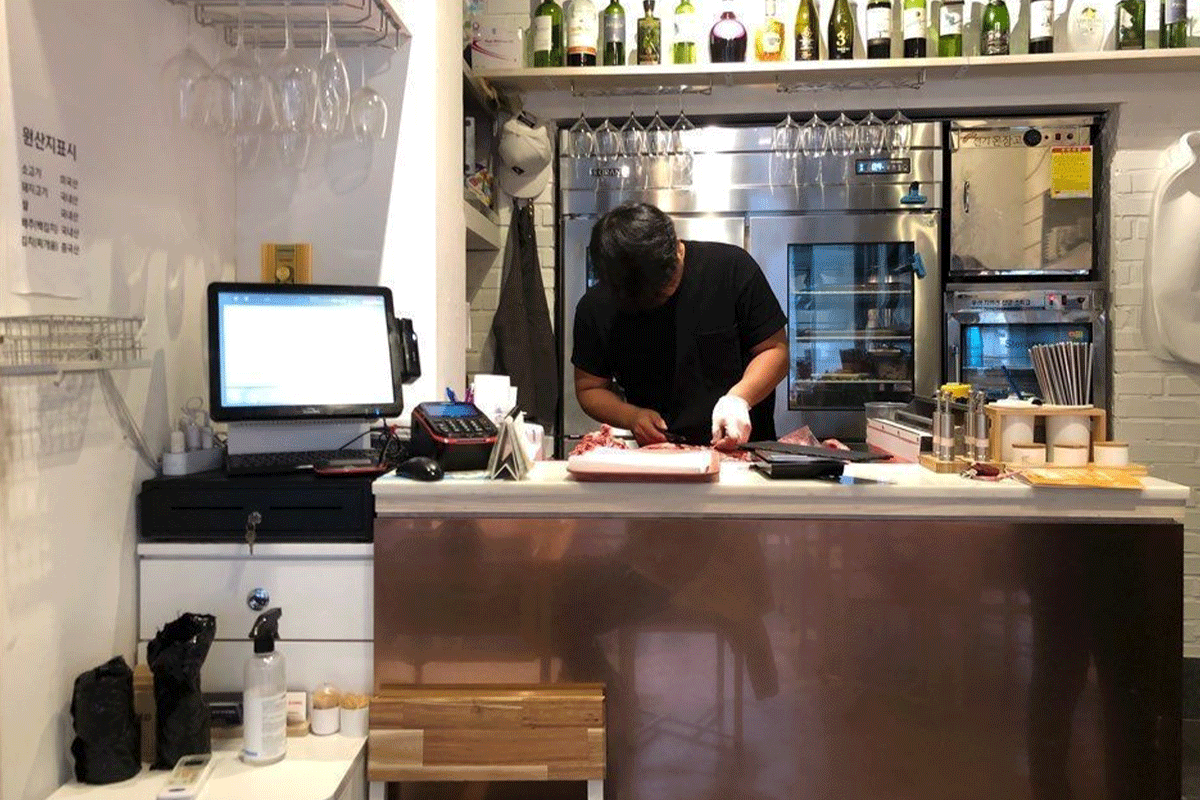 Gogong only uses fresh meat, not frozen meat. You know the restaurant is trustworthy because you can see the staff prepare the meat right in front of you.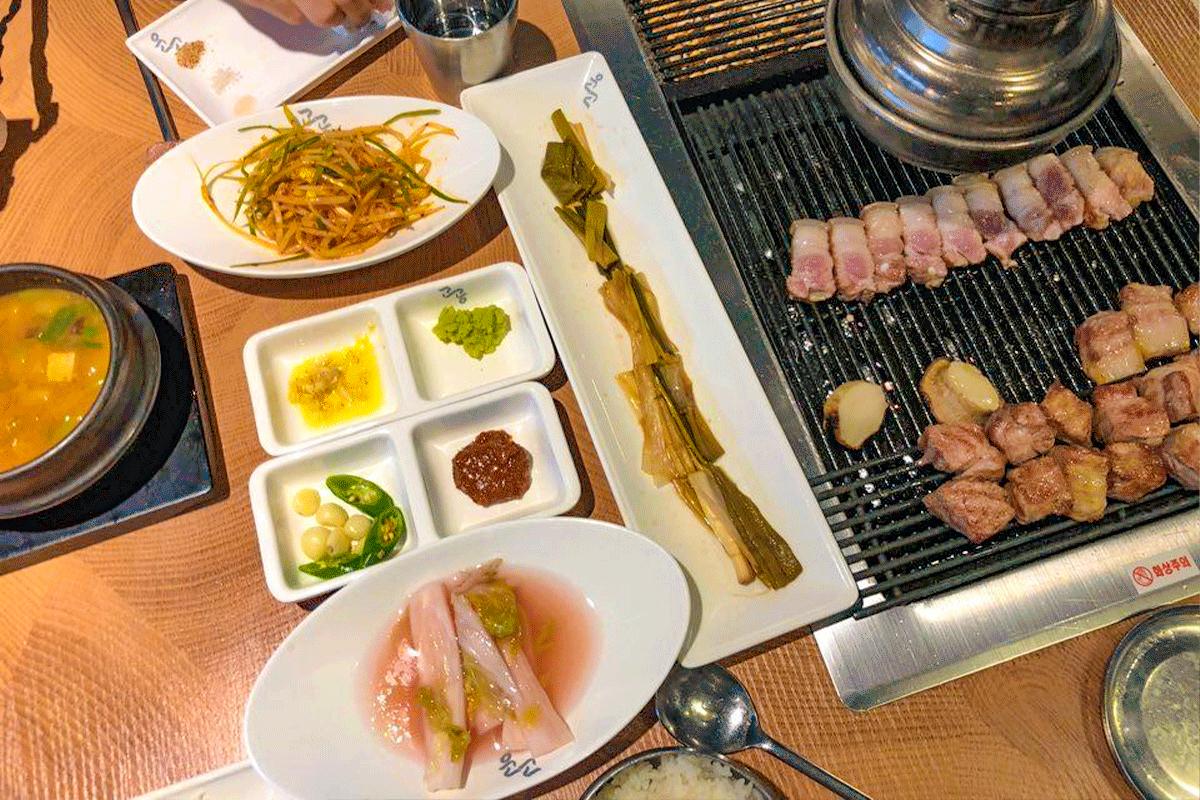 The employees help you grill the meat, so you can taste the best Korean barbecue!
Address: 서울 성동구 왕십리로8길 10
10 Wangsimniro 8-gil, Seongdong-gu, Seoul
Hours: 17:00-24:00
Price: 1 serving of pork neck, pork belly (180g) 14,000 won
---
Maple Top Pancake Club


메이플탑 팬케이크클럽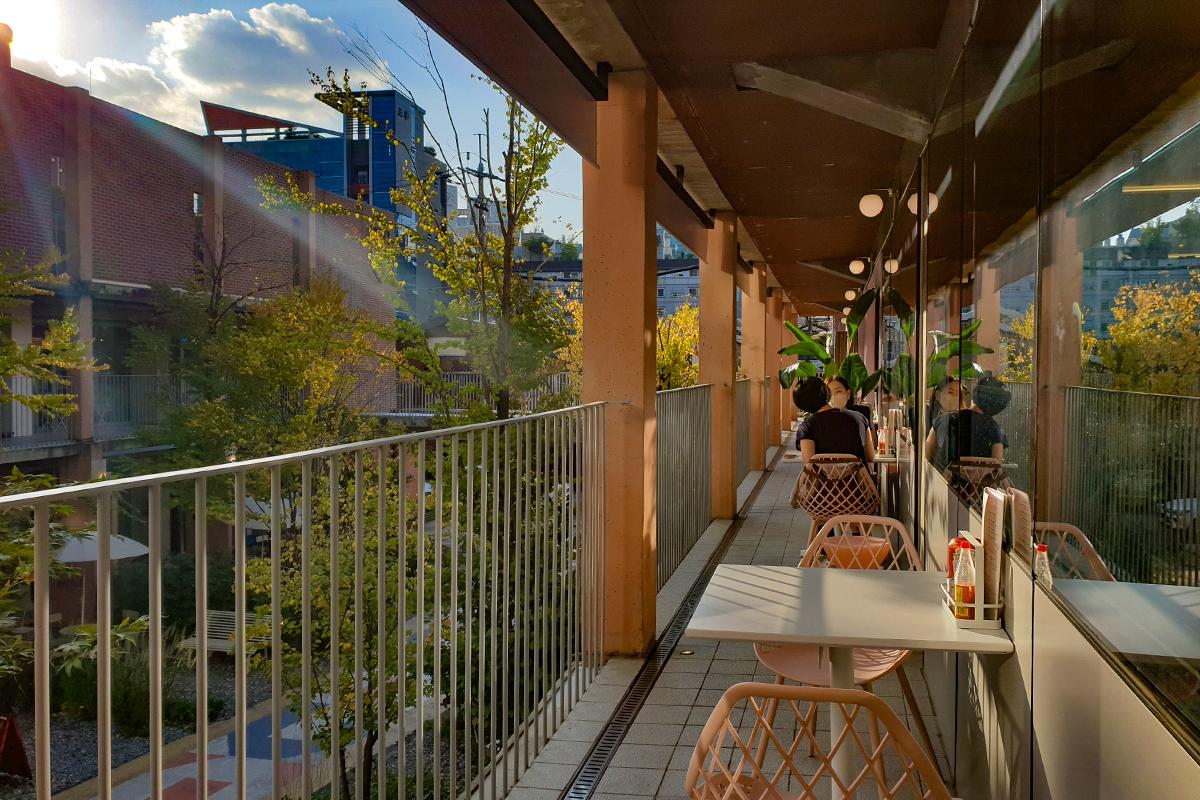 Around Seongsu and Kongkuk University, there's a lot of varieties of food besides Korean food, such as Western and Chinese food. Maple Top is located in the popular Seongsu Yeonbang and serves American-style brunch.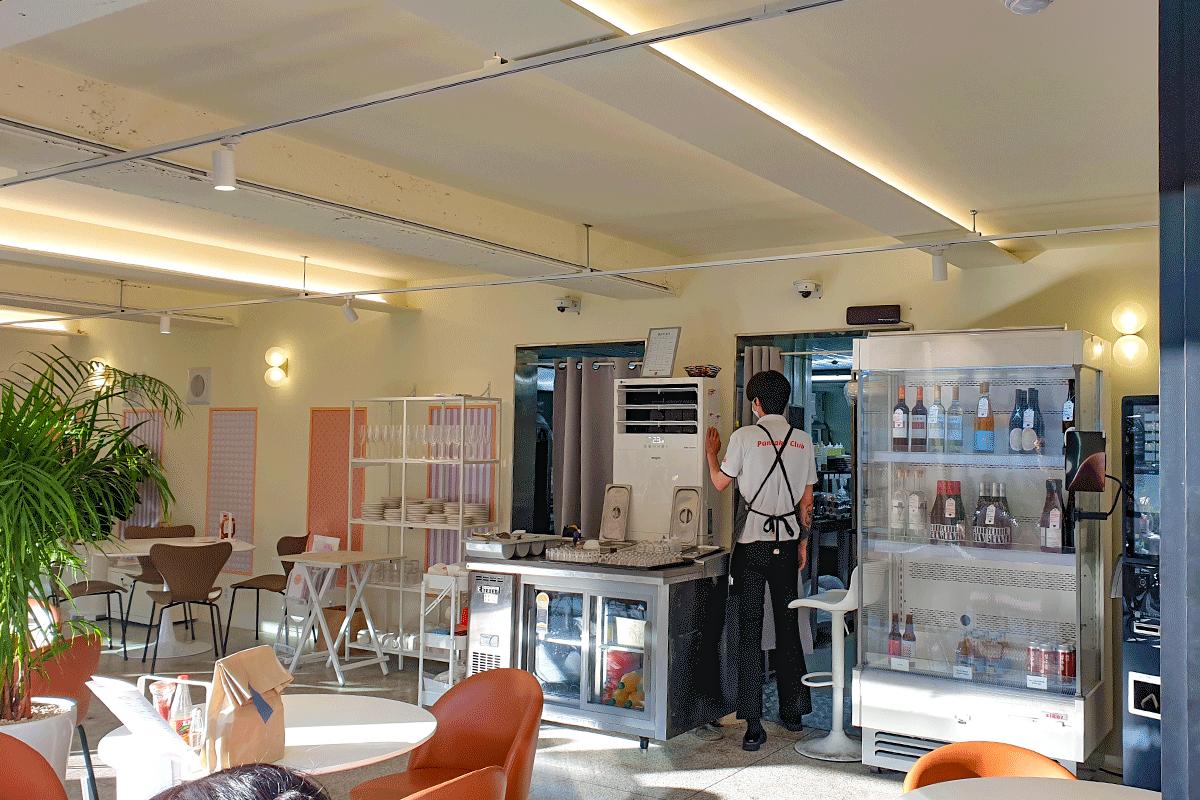 Especially in Seongsu, there's many Western restaurants that have unique and modern aesthetics. Of course, it's great to eat delicious food, but it's even better if the restaurant is cute as well!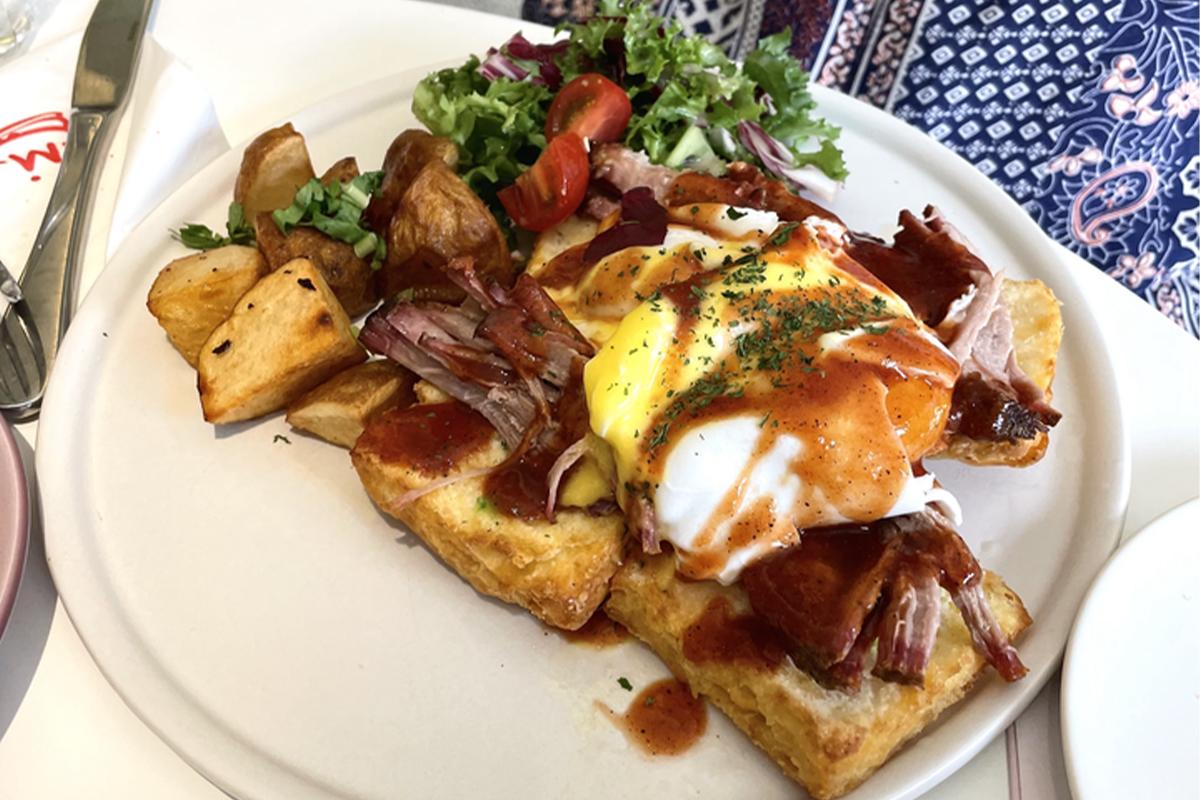 Above is their Eggs Benedict with pulled pork topped in a sweet tomato-based barbecue sauce. There's also bottomless mimosas for 2 hours for 20,000 won!
Address: 서울 성동구 성수이로 14길 14 성수연방 2층
Seongsu Yeonbang 2F, 14 Seongsuiro 14-gil, Seongdong-gu, Seoul
Hours: Mon-Fri 11:00-20:00
Sat-Sun 10:00-20:00
Price: American Breakfast 15,000 won / Mimosa Boozy Brunch (2 hr bottomless mimosas) 20,000 won
---
Meal°


밀도 성수 본점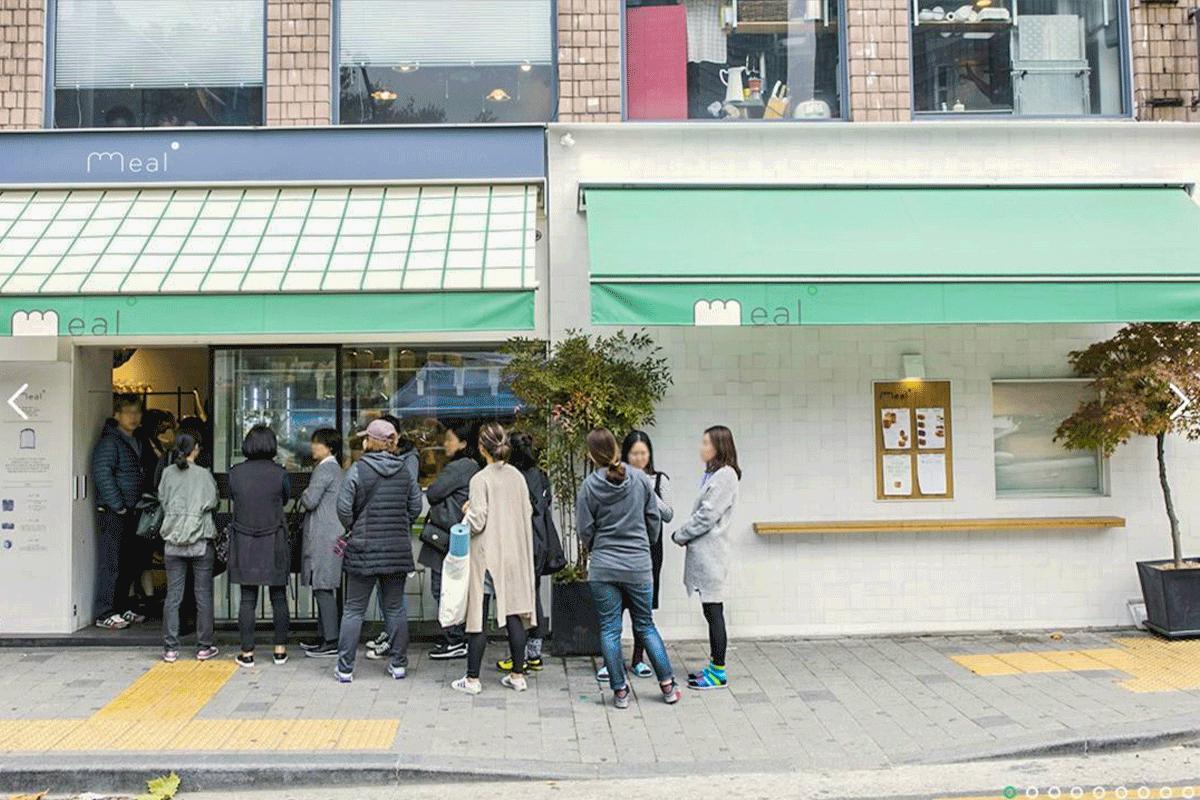 This bakery honestly might be the most popular one in Seongsu-dong! There's no seating inside, but there's always a line no matter the time of day.
Their bread has a very soft texture and strong cream smell. I recommend you have a slice with a glass of milk.
Their chestnut toast is always sold out, so it's hard to purchase. Try going early right when they open to get the bread you want!
Address: 서울 성동구 왕십리로 96 1층
96 Wangsimniro, Seongdong-gu, Seoul
Hours: 11:00-21:30
가격: Dambaek Bread (담백식빵, bestseller) 6,200 won
---
Hotbird
핱버드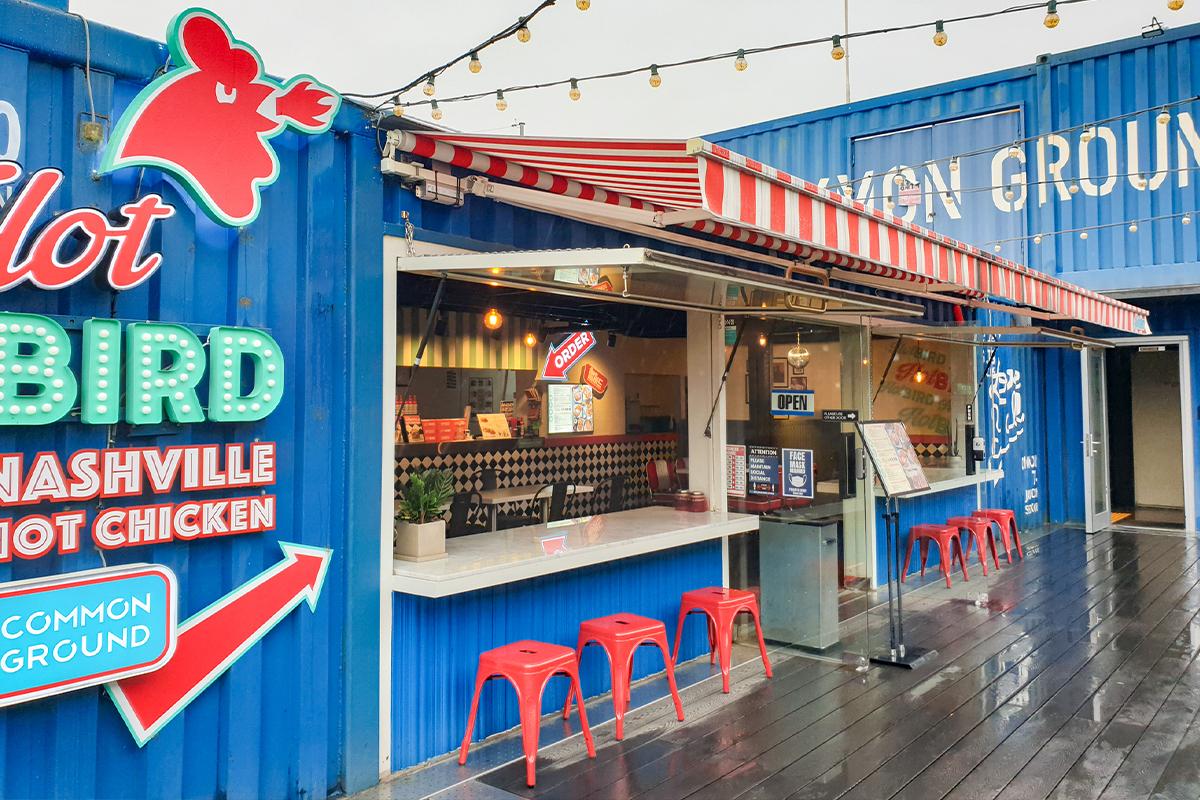 On the rooftop of the popular Common Ground, you'll find lots of different restaurants. Hot Bird is a restaurant selling handmade Nashville hot chicken burgers, a burger style from the city of Nashville in America.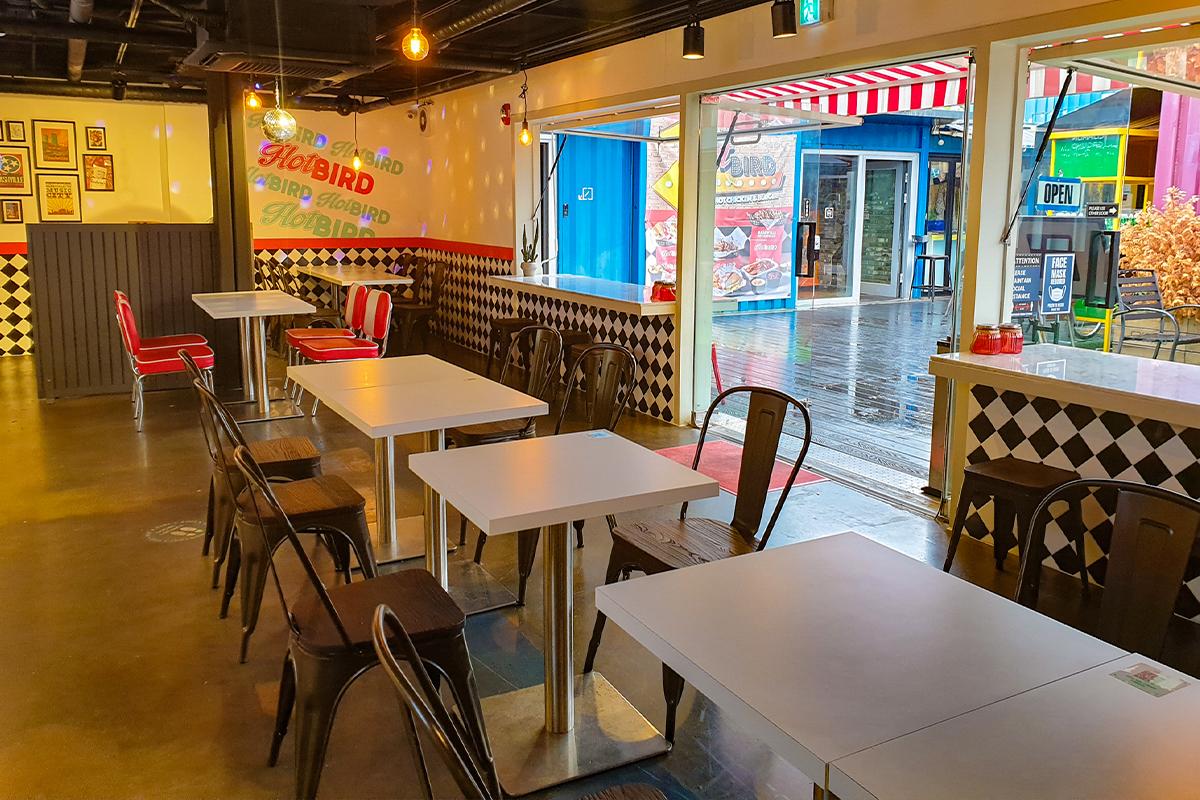 The interior is very hip and decorated like what you'd see in a 70s or 80s American movie.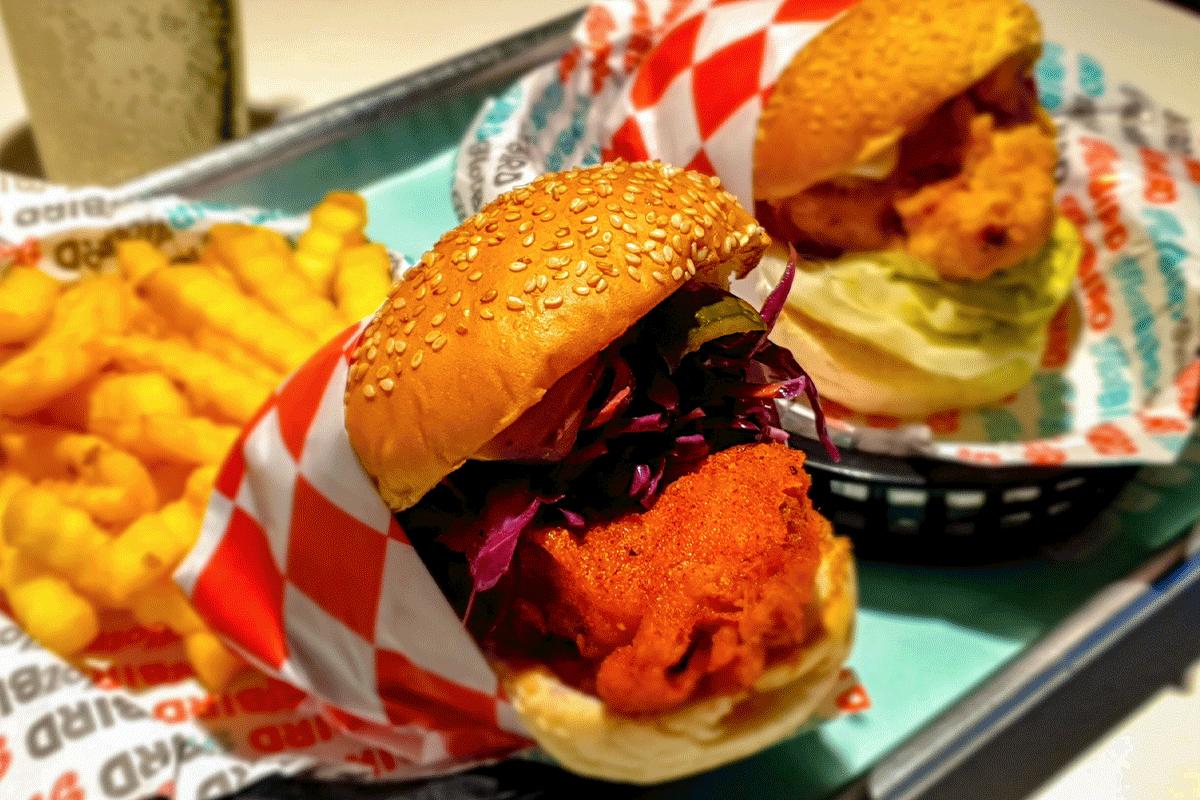 The patty is so thick that it's hard to take a bite! The patty is made with fried chicken and you can choose to spice level to suit your taste.
Address: 서울 광진구 아차산로 200 커먼그라운드 마켓홀동 3층
Common Ground 3F, 200 Achasan-ro, Gwangjin-gu, Seoul
Hours: 11:00-22:00
Price: Burger 7,500 won-8,000 won
---
Ungteori Meat
엉터리생고기 건대점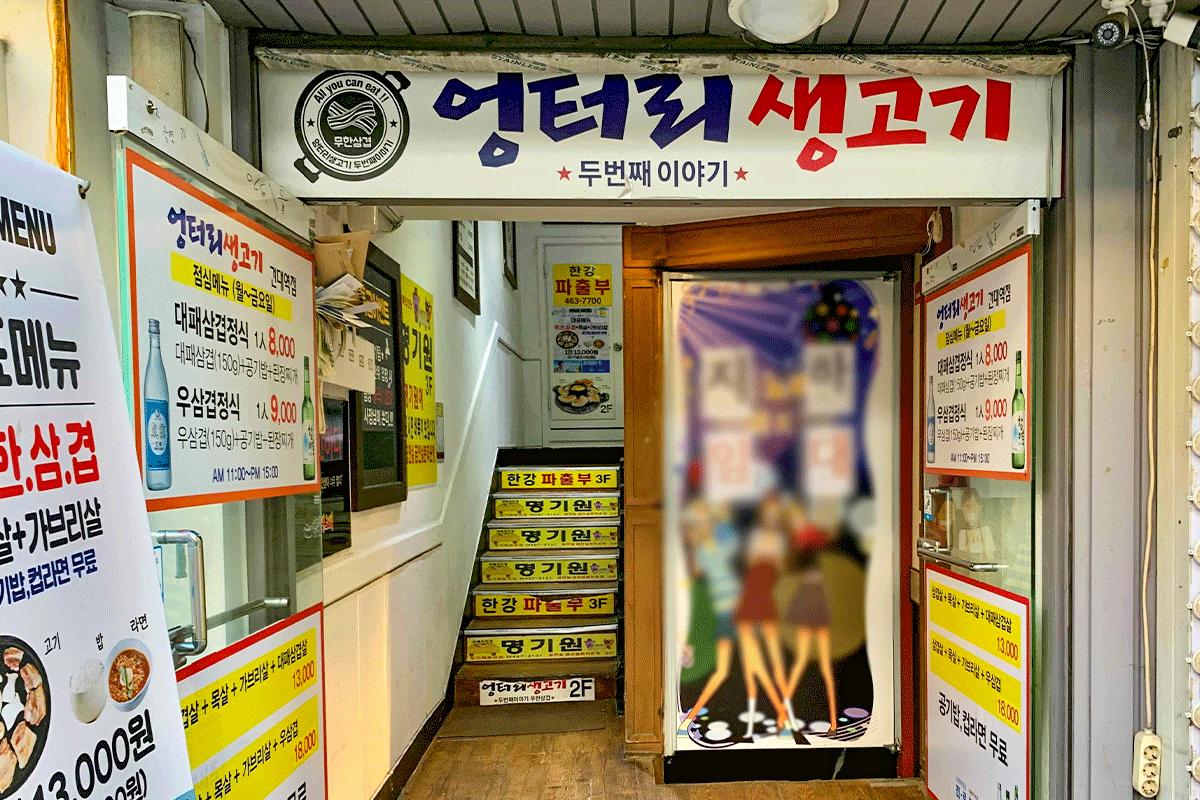 University areas in Korea are the best places to eat Korean barbecue. There are many restaurants where you can have Korean barbecue for a low price.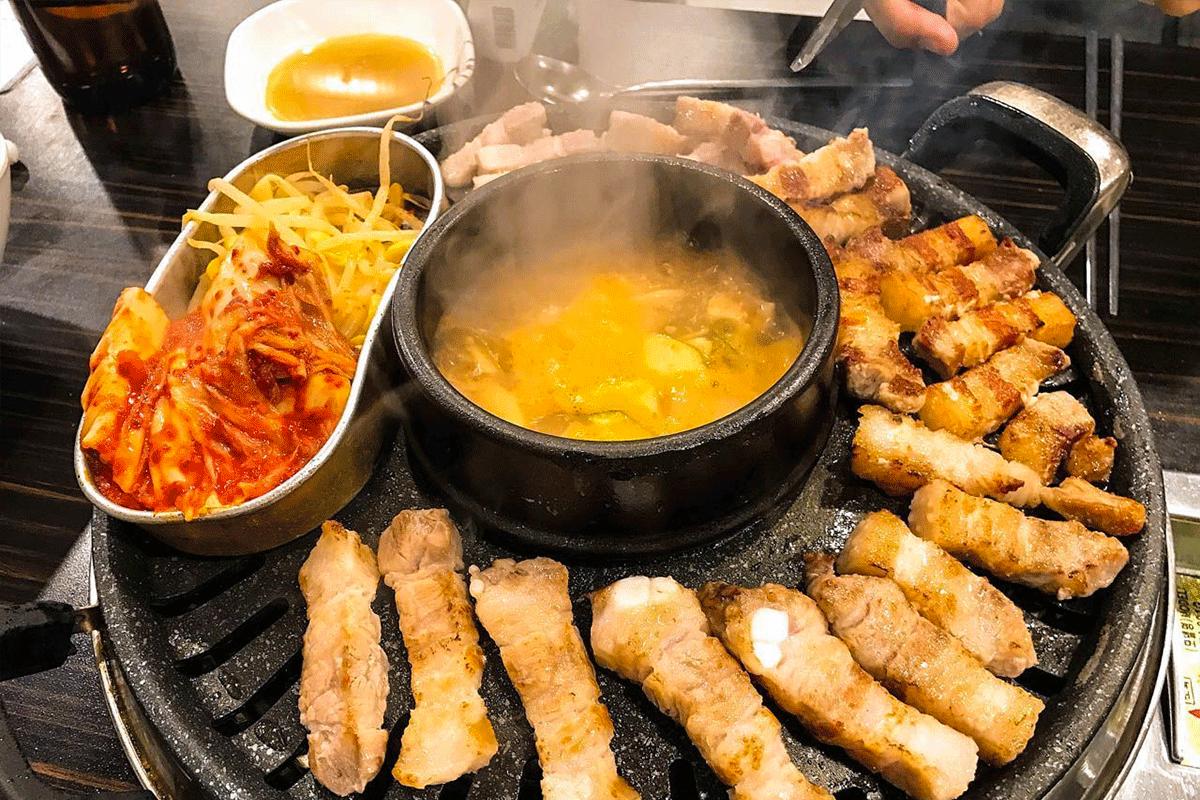 Ungteori Meat is a Korean barbecue franchise. The Konkuk University location offers unlimited meat, so you get a lot of bang for your buck!
Address: 서울 광진구 아차산로 218 성원빌딩 2층
218 Achasan-ro, Gwangjin-gu, Seoul
Hours: 11:00-24:00
Price: Unlimited pork belly + soybean paste soup 11,000 won
---
Ppulnan Hwangso Gopchang
뿔난 황소곱창 건대 본점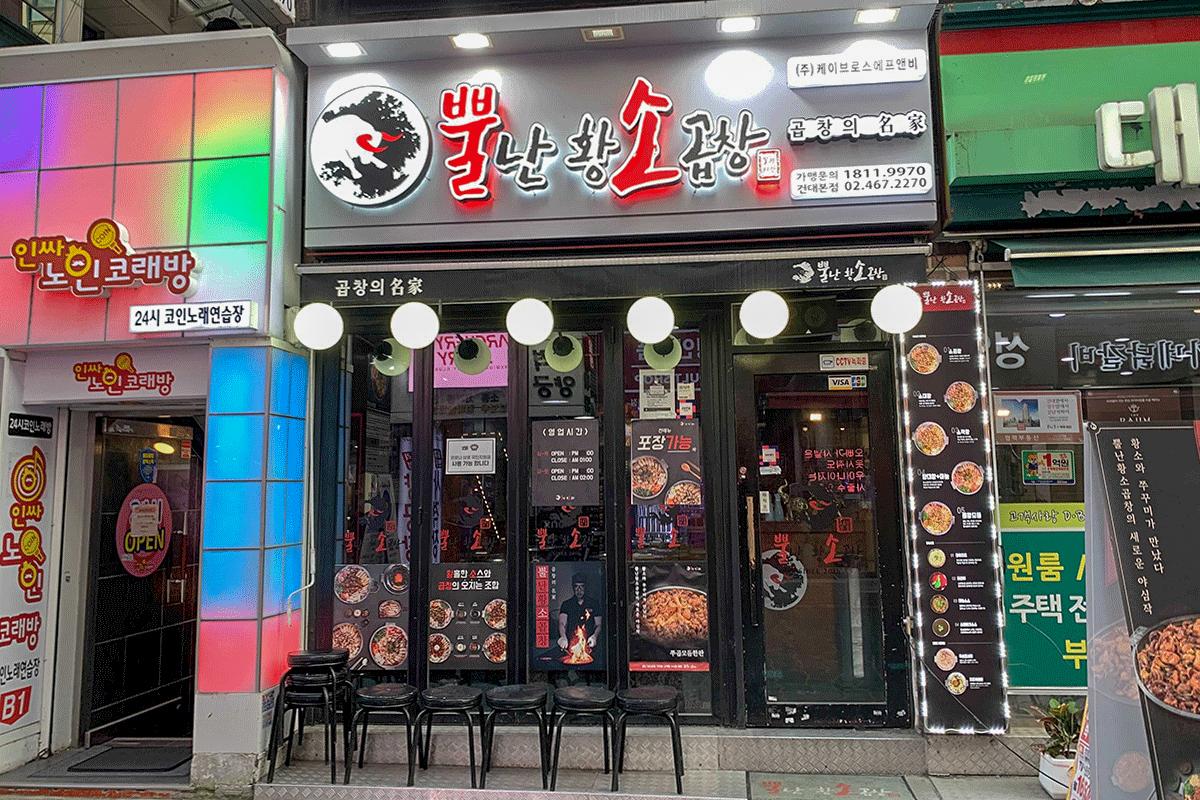 You can't leave out this restaurant when thinking of where to eat gopchang (grilled intestine) by Kondae. It recently underwent a name change from Hwangso Gopchang to Ppulnan Hwangso Gopchang.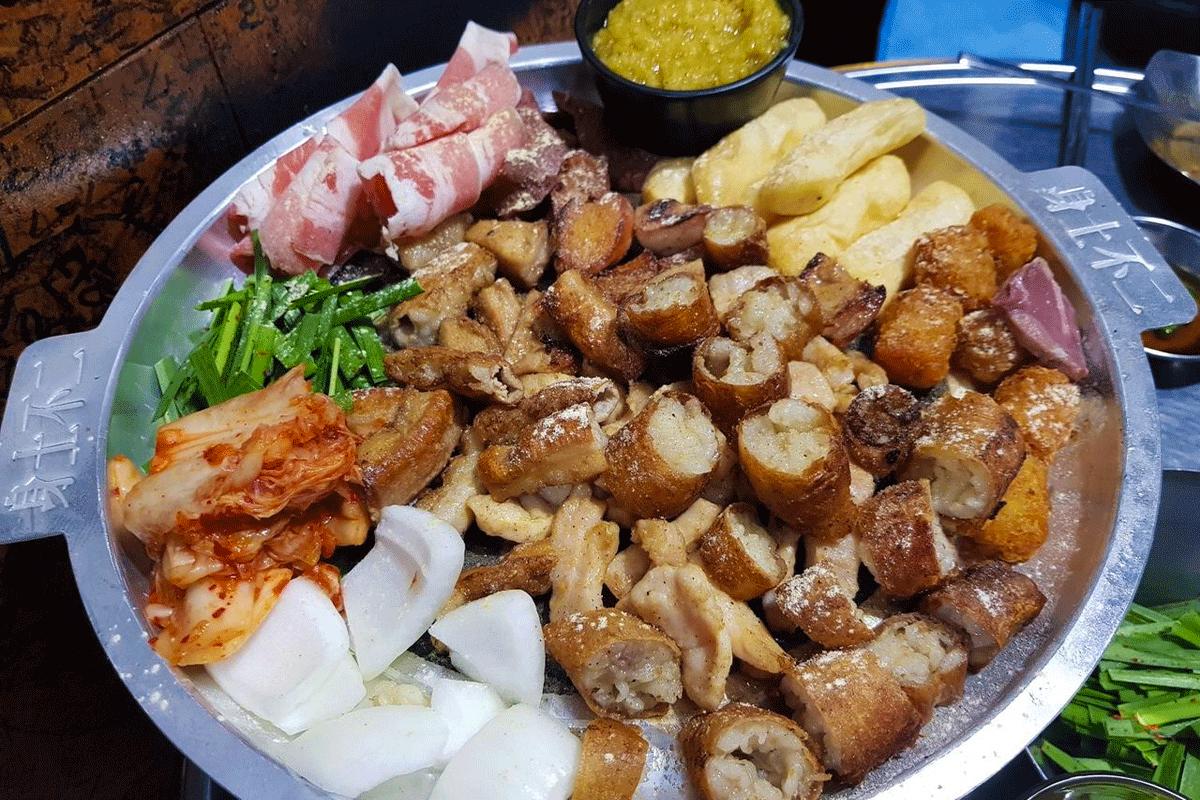 Their chewy, savory beef gopchang is excellent and the gopchang here is very thick and soft, so I think everyone will like it!
Address: 서울 광진구 아차산로29길 16
16 Achasan-ro 29-gil, Gwangjin-gu, Seoul
Hours: 17:00-02:00
Price: Hanwoo Beef Gopchang 1 serving (한우 소곱창, 250g) 19,000 won
---
Bulmak Yeolsam
불막열삼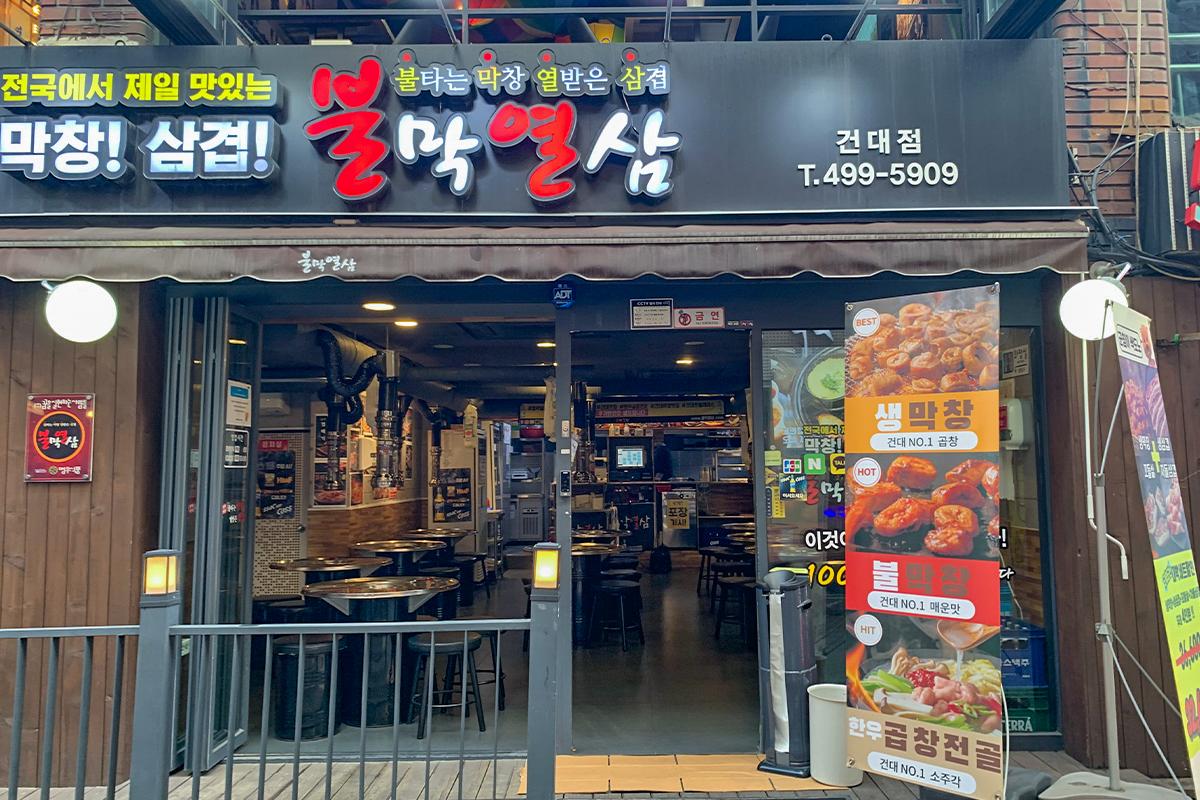 Along with samgyeopsal and gopchang, another meat dish college students love is makchang, which is another type of grilled intestine. You'll see many barbecue restaurants around the Kondae, since it's a famous university area.
Once you go in, the interior is very clean and organized. Bulmak Yeolsam had some of the highest reviews among the meat restaurants in Kondae.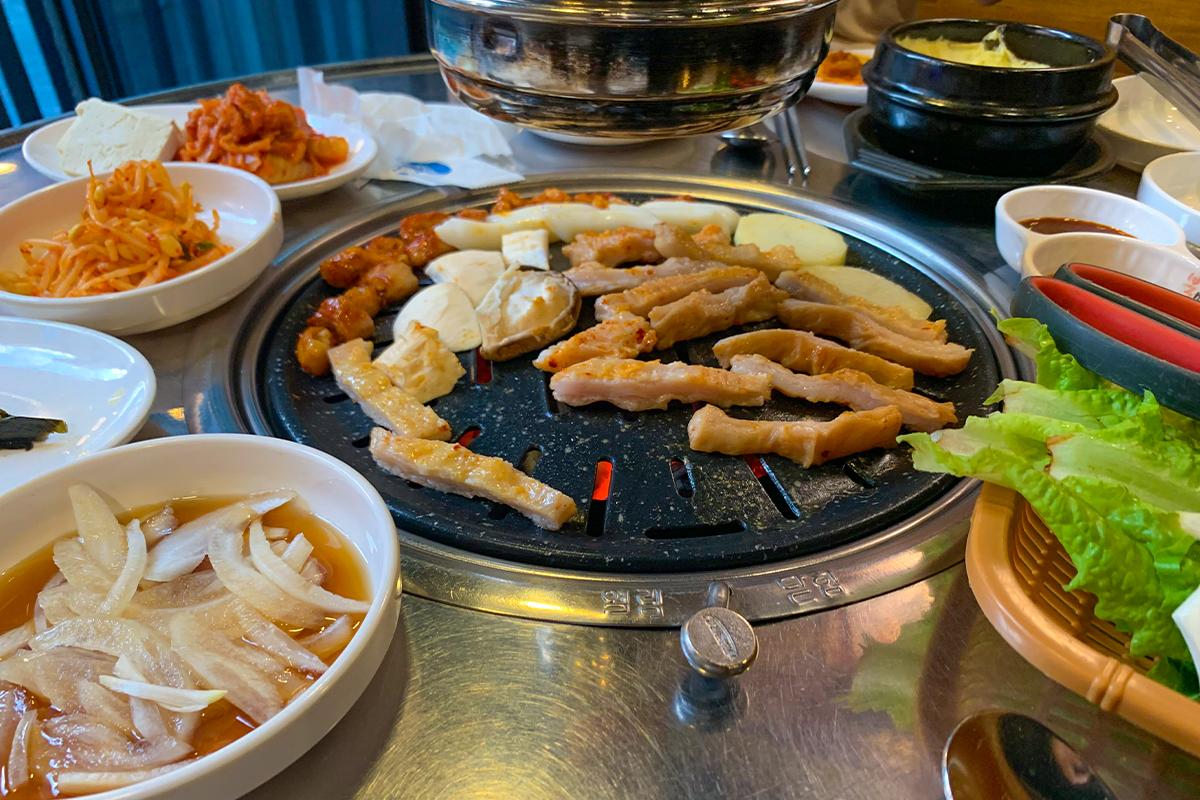 Try ordering both the basic and spicy flavors. In addition to the meat, various side dishes, lettuce, and steamed eggs are also provided, so you can have a very filling meal.
Address: 서울 광진구 아차산로33길 24 1층
24 Achasan-ro 33-gil, Gwangjin-gu, Seoul
Hours: 17:00-03:00
Price: Makchang 1 serving(150g) 9,900 won
---
That's it for our list of restaurants you must visit when you are visiting the Seongsu and Konkuk University areas!
We hope this post was useful for you and that you found a few to add to your itinerary.
For more information about what to eat, drink, do, and more in the Seongsu and Konkuk University Station areas, click this link.
---