What to Wear on Your Trip to Korea | Seasonal Guide
Guide for packing your suitcase with proper clothes and layers by season!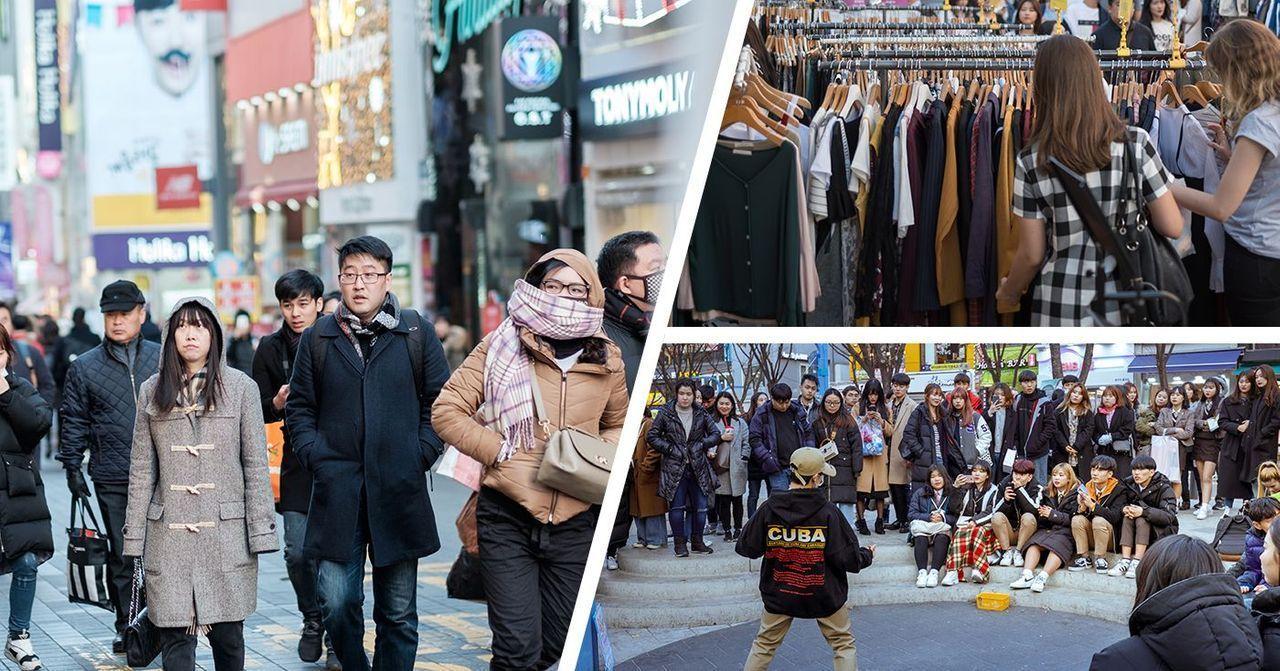 In South Korea, you can enjoy four distinct seasons. During the summer season, the temperature goes up to 30 °C, which can be annoyingly hot and humid. On the other hand, the temperature falls below 0 °C often and it's very dry. The seasons between these two, spring and fall, are a bit short compared to summer and winter but have the perfect weather to dress up and go for a picnic.
The annual temperature difference is over 40 °C, and the daily temperature difference is significant during spring and fall. If you are lost on what to pack for your upcoming trip to Korea, read this blog and you will get an idea of what to expect.
---
1. Spring
Months:March, April, May
Average Temperature:0 to 22 °C
After a long winter, Korea finally gets warmer with flowers blooming everywhere. March is when most of the days are gloomy with a huge gap in temperature difference. When April and May hit, the weather gets warmer and warmer every day, with an average temperature of 22°C.
You will be able to see cherry blossoms in April and royal azalea in May, which are beautiful!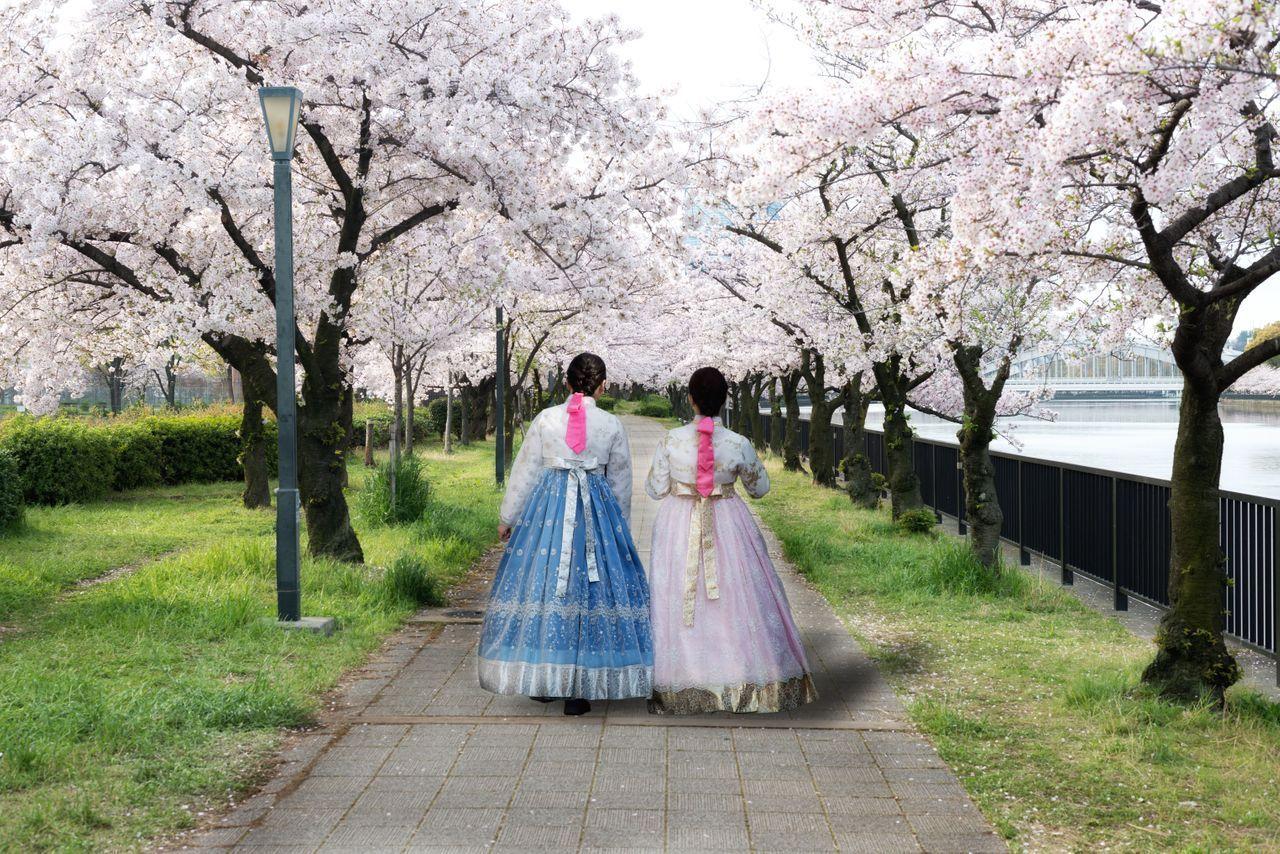 Let's take a look at the recent weather in Korea. The photo below is the weather in Korea during March, April, and May 2020.
As you can see, the temperature drops frequently due to rainfalls. You don't need to bundle up like you do during the winter, but I would suggest dressing in layers. In May, you can start wearing short-sleeves and shorts, but still have to consider the temperature difference during the day and night. Cardigans or jean jackets are necessary during spring in Korea.
The necessary clothing items include long sleeves, blazers, jackets/cardigans and light sweaters. If you are curious about what Koreans wear in March and April, take a look at some of the photos below! The average temperature is around 10-20 °C, so pack a good amount of layers!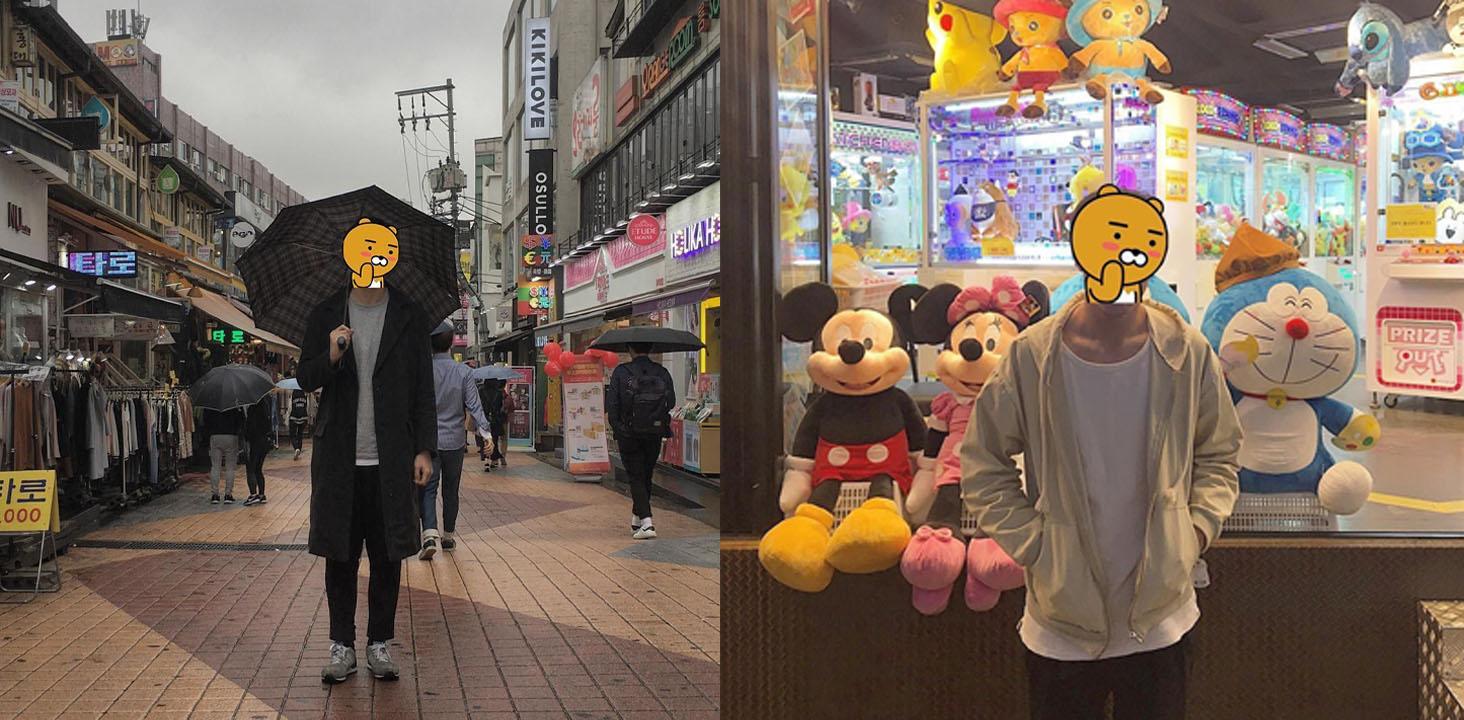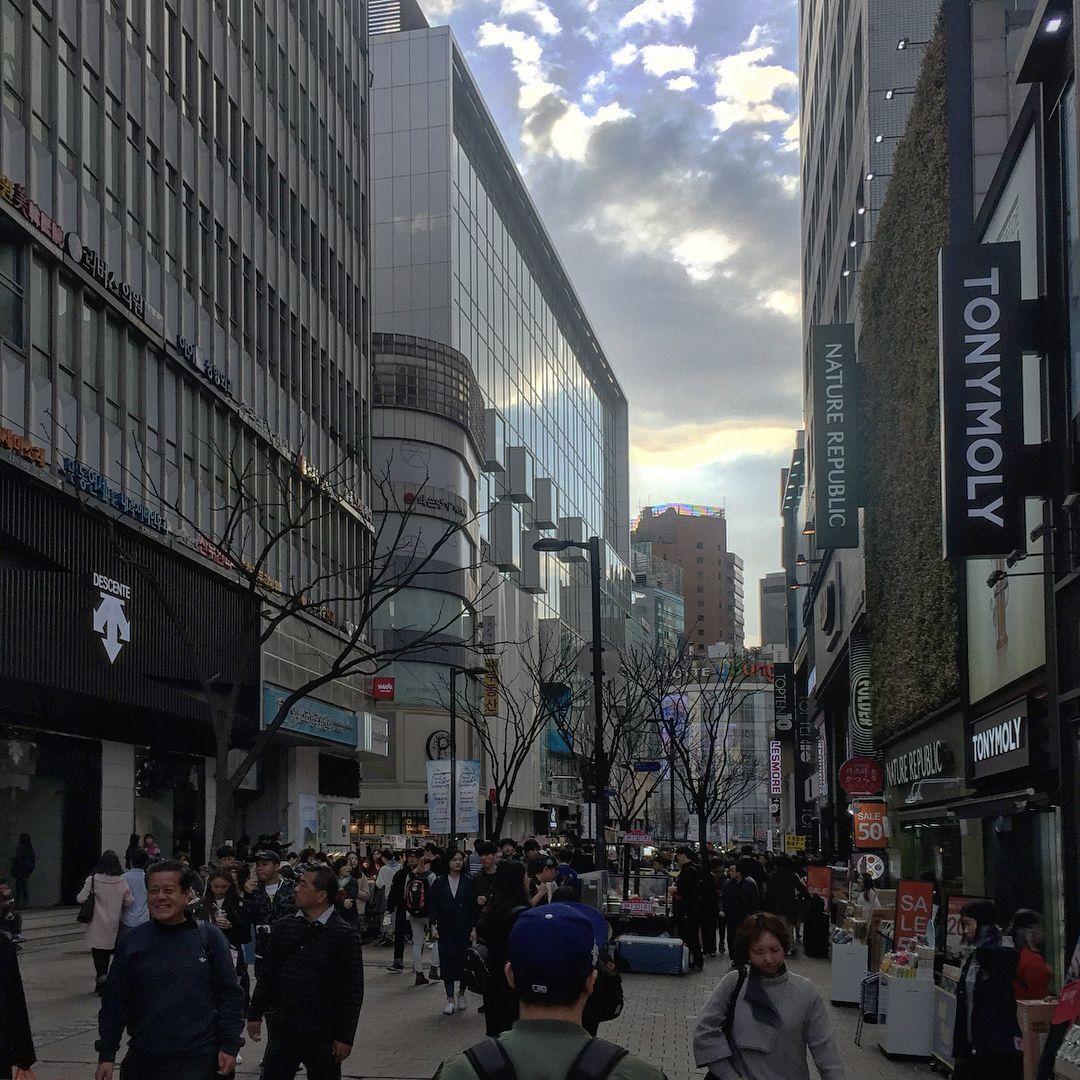 The attached photos above show how people usually dress up in March. These photos were taken in Myeongdong and Hongdae. Instead of bundling up and wearing heavy jackets, most of the people wear light-weight coats, cardigans, or long-sleeved jackets which are more suitable to transition between seasons.
As I have mentioned earlier, the cherry blossom season starts in April; but to be more exact, it starts around the end of March in Busan (the southern part in Korea) and the peak moves up to the northern region part later on. 🌸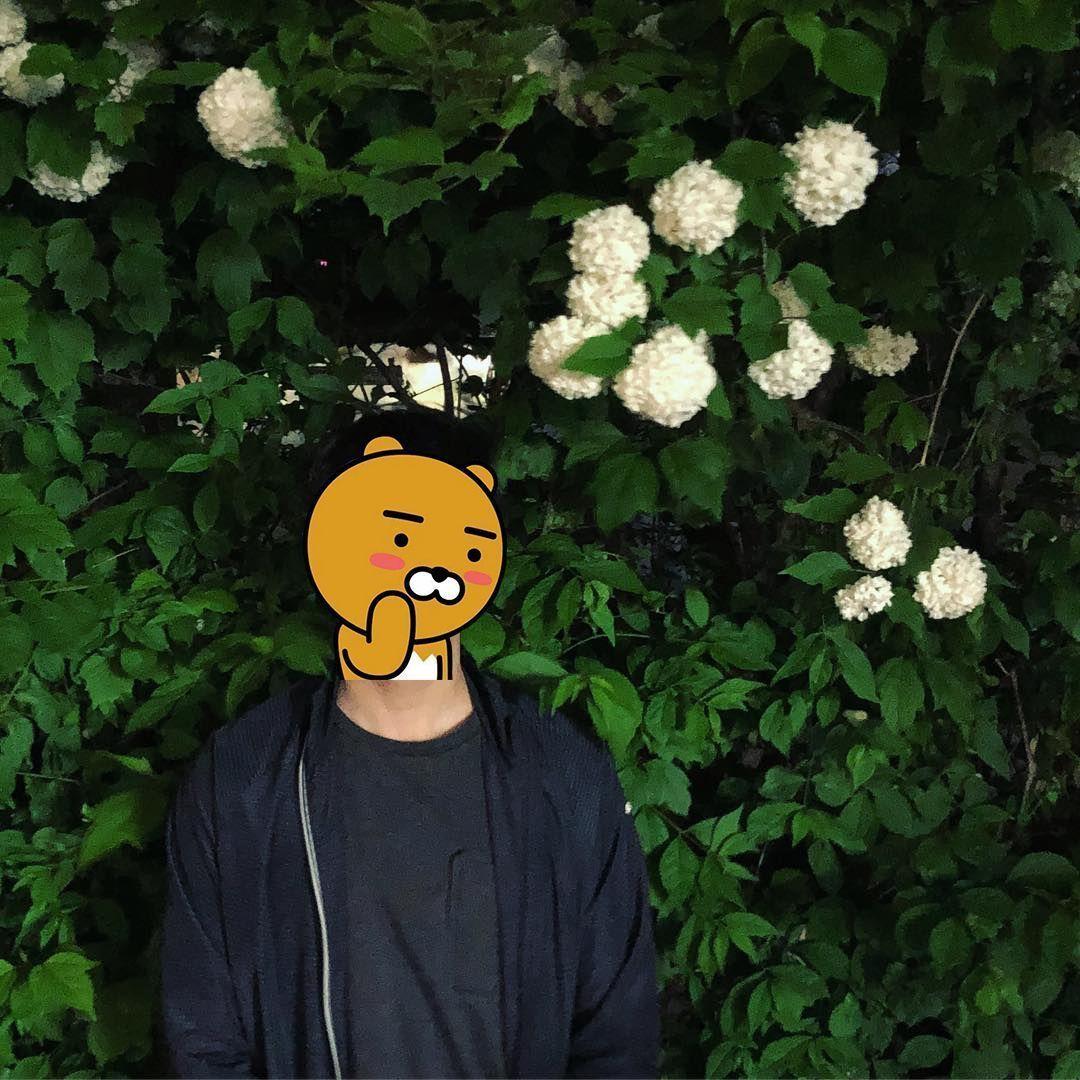 The Spring season officially starts in May in Korea. The weather is not as cold as in March or April, but the temperature difference between day and night is still large. If you are visiting from a place with a warmer climate, you might find Korea chilly, so bring lots of thin layer shirts and cardigans, so that you can adjust your clothing according to the temperature.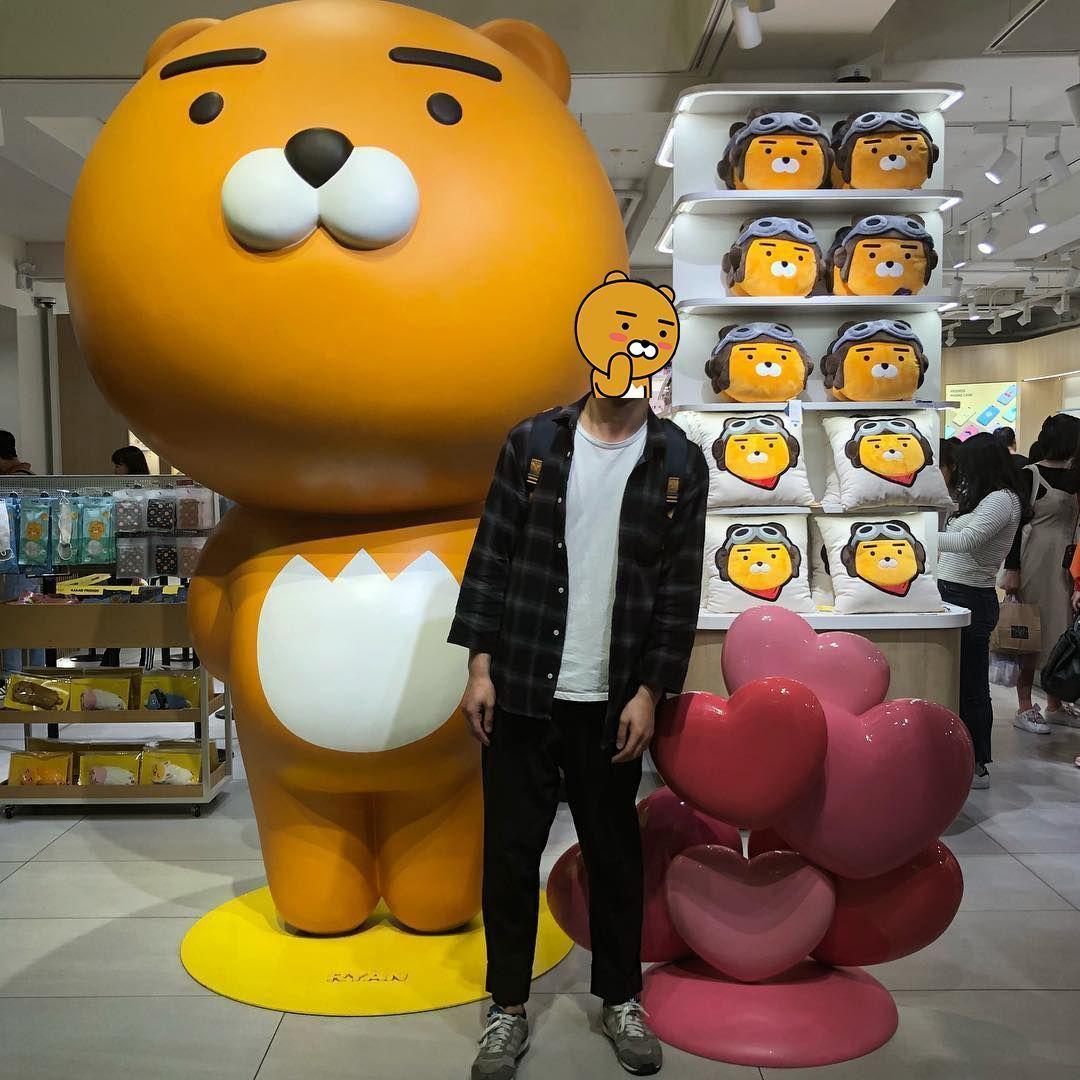 ---
2. Summer
Months:June, July, August, September
Average Temperature:22 to 38 °C
After May, the average temperature gradually rises to 33 °C, which is a great time of the year to travel and do outdoor activities in Korea. Summer in Korea starts from mid to late June, and when July starts, the rainy season starts as well. As soon as the rainy season ends, the heatwave takes over the country in August.
If you are planning on visiting during this season, do not forget sandals and umbrella! It won't be easy to keep your clothes dry.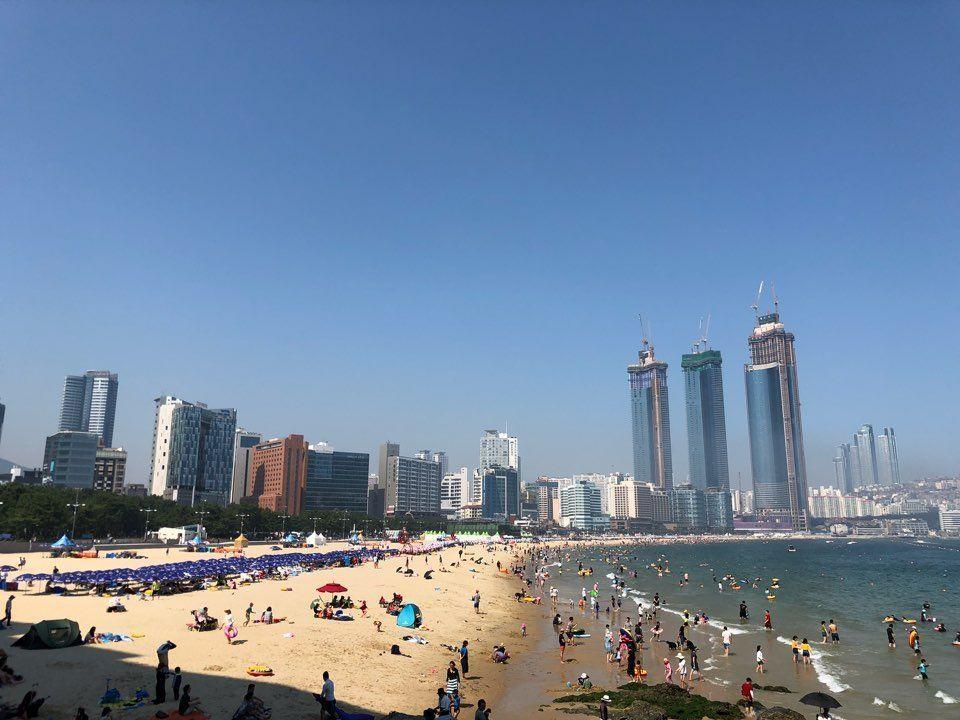 Around the end of June, South Korea enters the 'Haji' season according to the traditional solar calendar. Haji is the hottest season and the longest day of the whole year.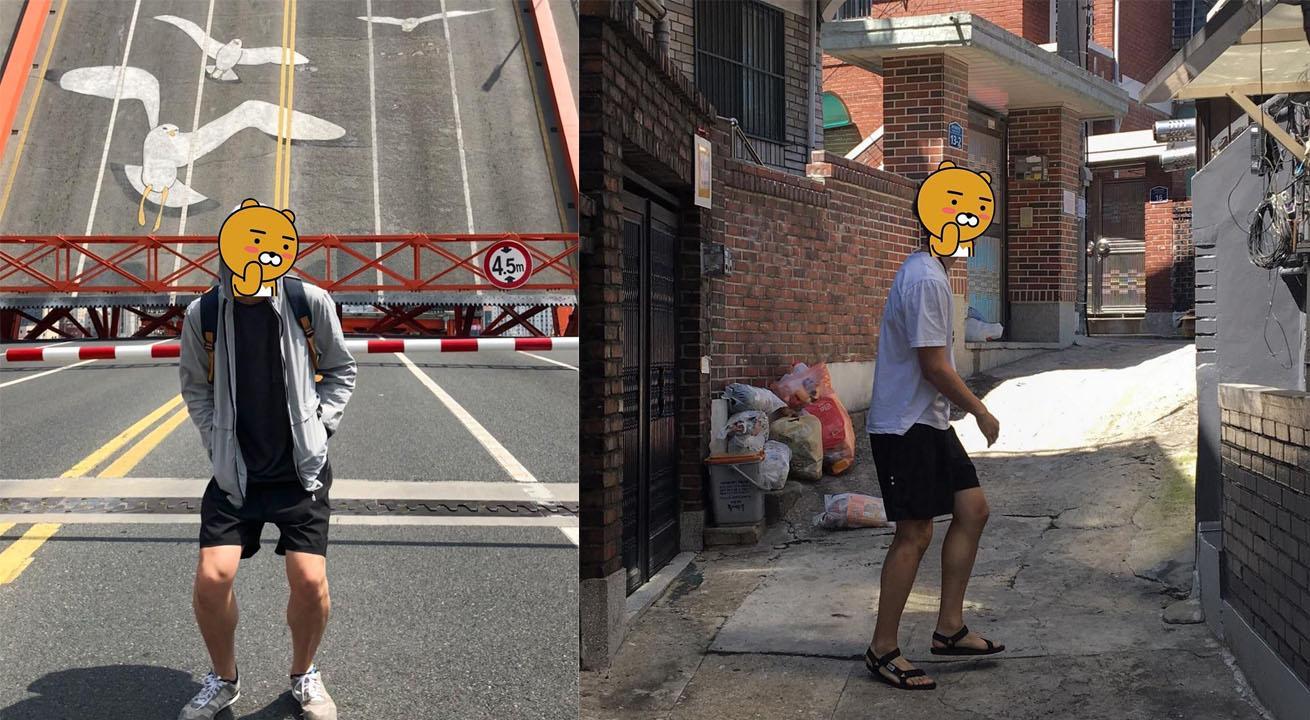 South Korea in June isn't too bad. Before the rainy season starts, you can still wear thin coats and long pants even in Busan. But after the rainy season, You won't be able to wear outers because it gets too humid and hot. There is a significant difference between before and after the rainy season. Before mid-July, the temperature is around 33°C which isn't too bad. You won't sweat too much since the humidity isn't too high. After the rainy season, both temperature and humidity go up dramatically.
Summer of 2018 was one of the hottest summers in Korean history, which marked 39°C in Seoul, and 47°C for the highest average temperature.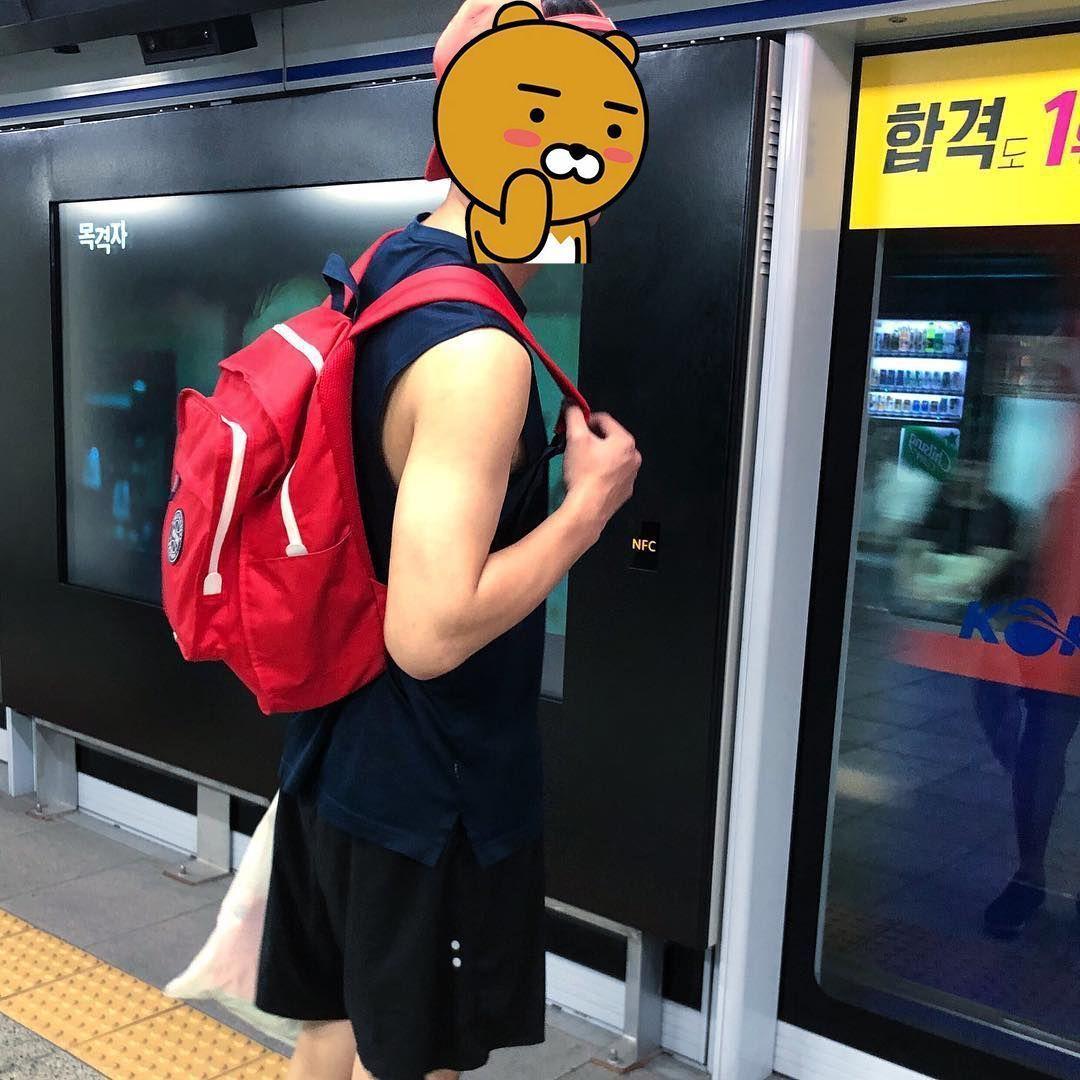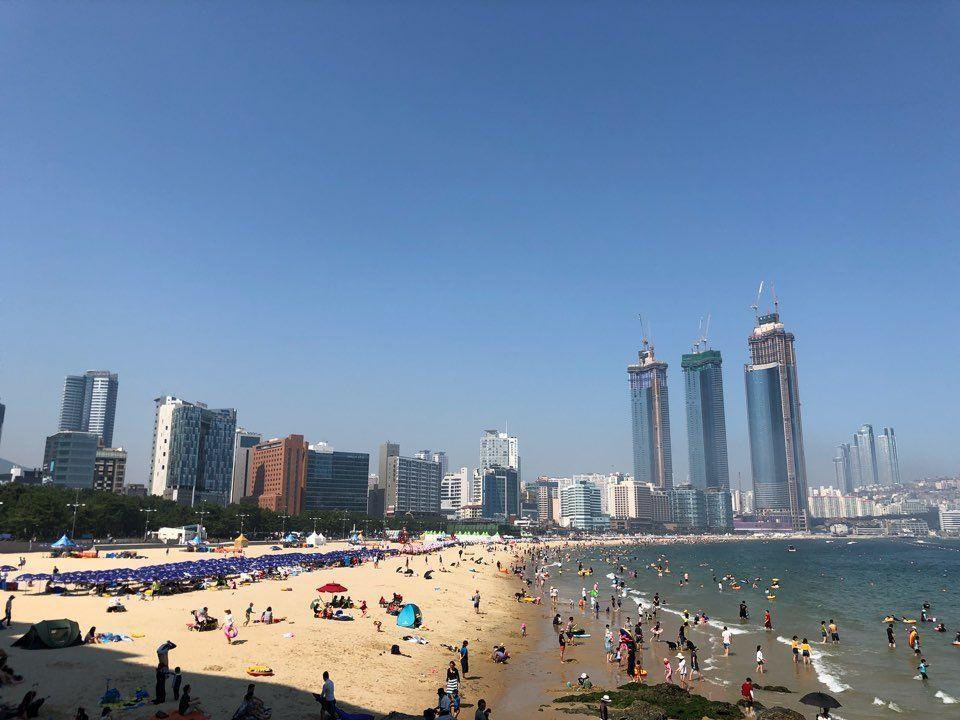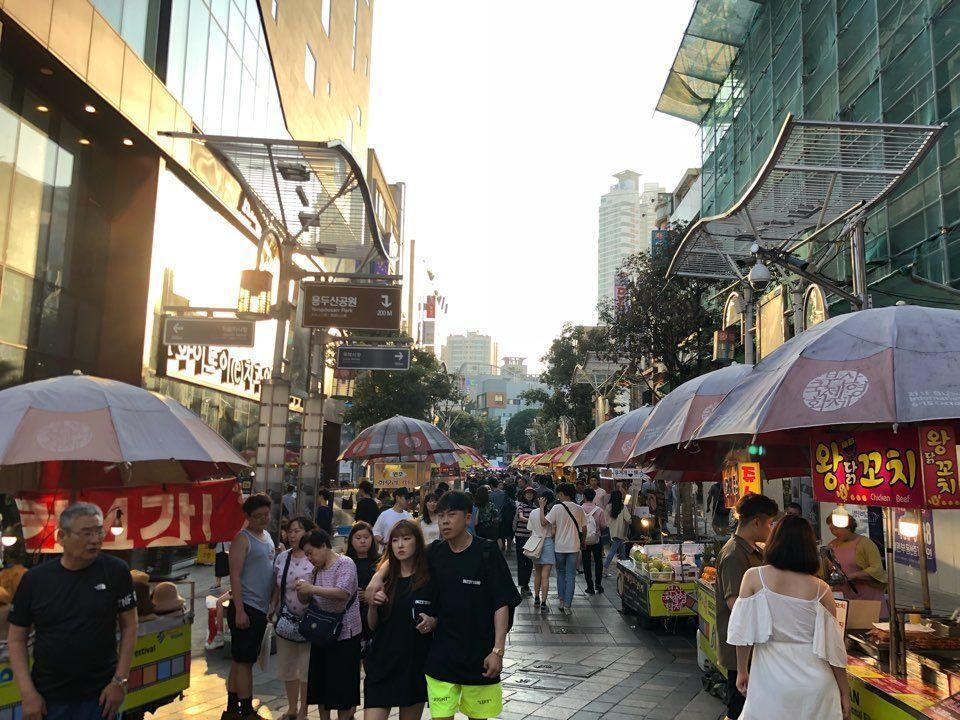 You will be sweating so much even if you are wearing sleeveless and shorts. This level of heat is still hot for many Koreans and suffer.
July and August are the most painful months to survive in Korea during the summer. Beaches get filled up with thousands of people during the weekend, or their summer vacation. On the other hand, people will stay indoor, doing a staycation in a hotel or at home. Make sure you protect yourself from strong sunlight!
---
3. Fall
Months:September, October, and November
Average Temperature:3 to 25 °C
Fall in South Korea is very similar to spring. In September, you will experience a very large temperature difference between day and night. During the day time, the temperature goes up to 30 °C, but it drops to about 15 °C after sunset. Therefore, we suggest wearing lots of layers as we have mentioned before.
From October till November, the temperature goes down dramatically and marks about 0 °C the lowest. Fall weather will be so much nicer with cool breeze compared to summer in Korea. Just keep yourself healthy and don't catch a cold. Wear a light knitted sweater or jean jacket. This is the perfect season to dress up!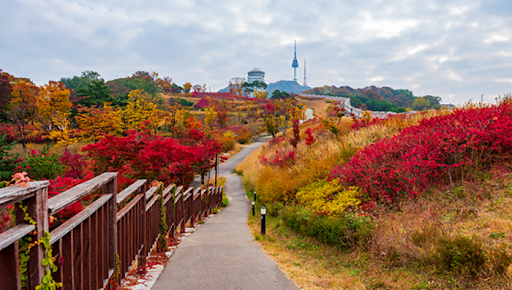 According to my experience, the deciduous leaves start to fall from late October. The peak season for watching deciduous leaves starts from the end of October and lasts until mid-November in Seoul. The best time to enjoy Korea's fall foliage season is from mid-September to the end of October. Koreans often go to Seoraksan to enjoy the fall leaves. During this time of the year, the temperature gets a bit more chilly, but humidity stays the same; very dry. It's a great time to travel around Korea!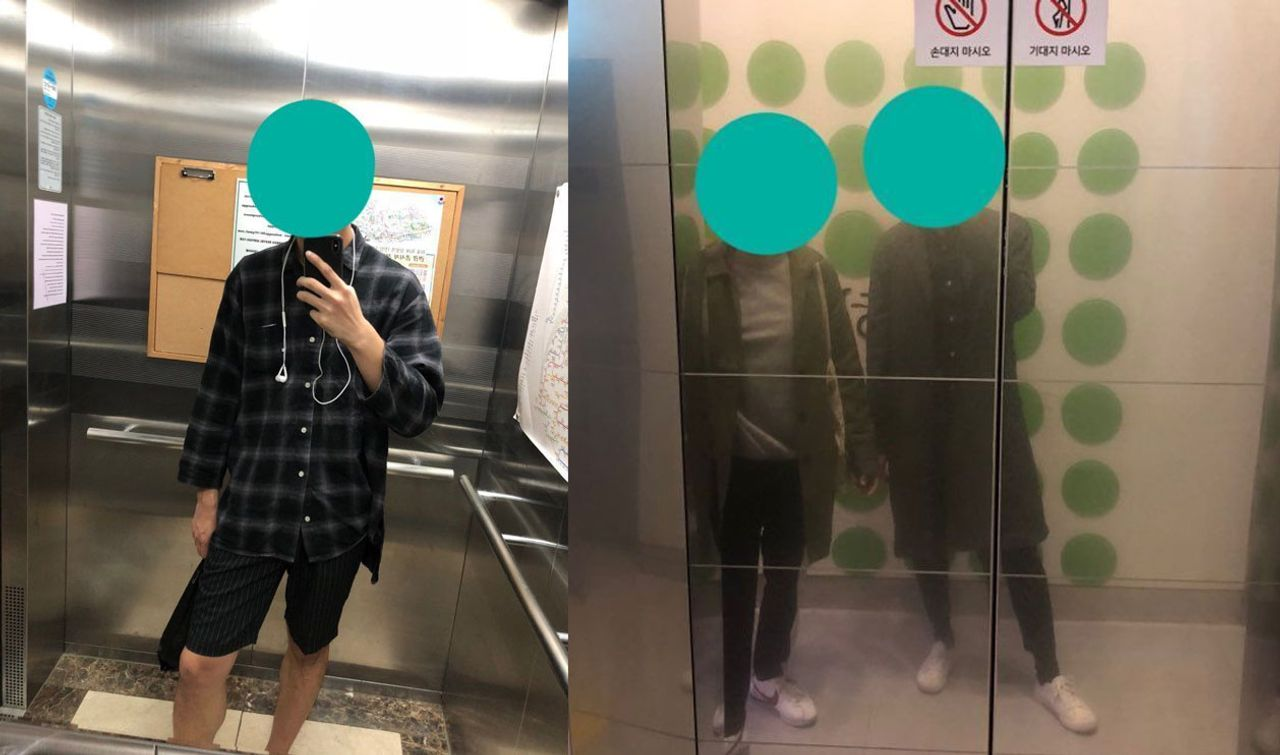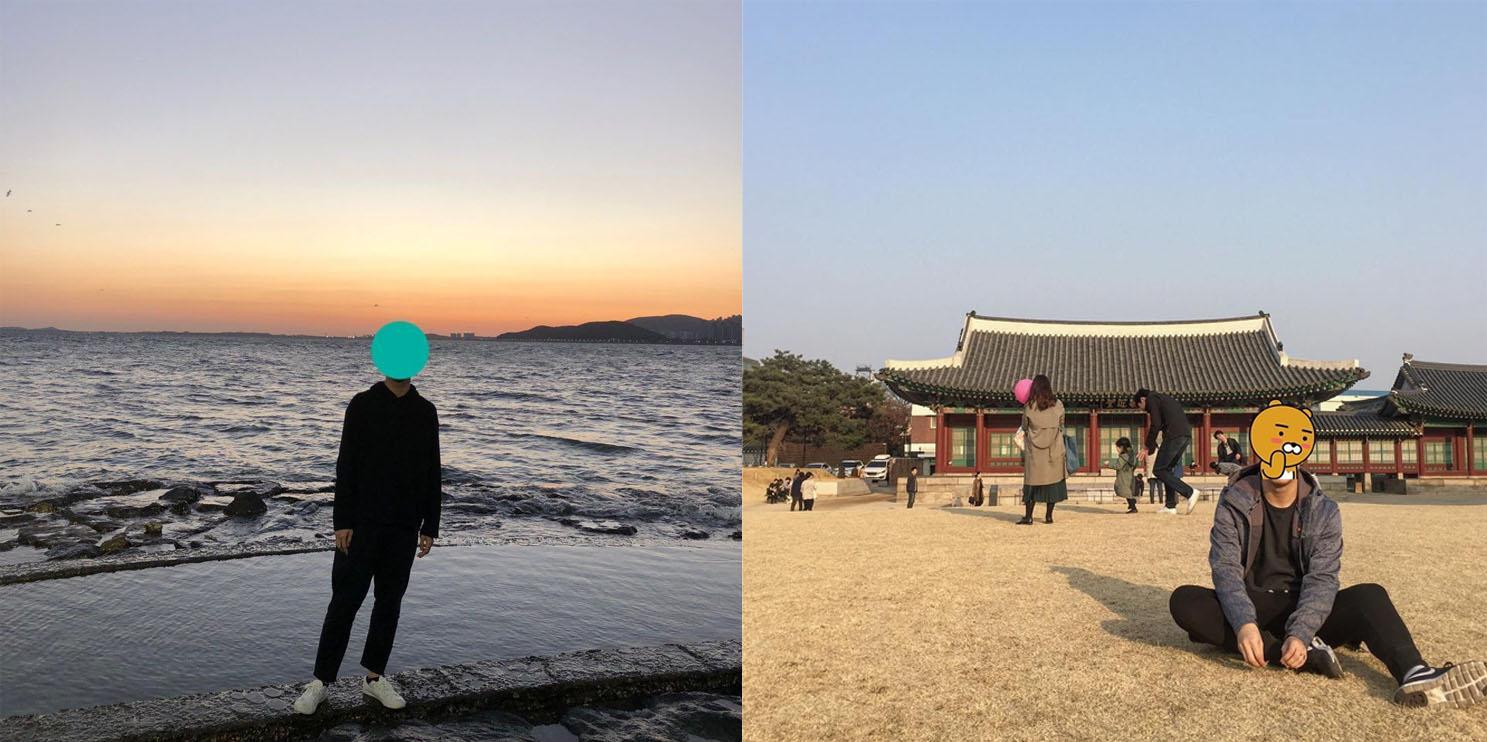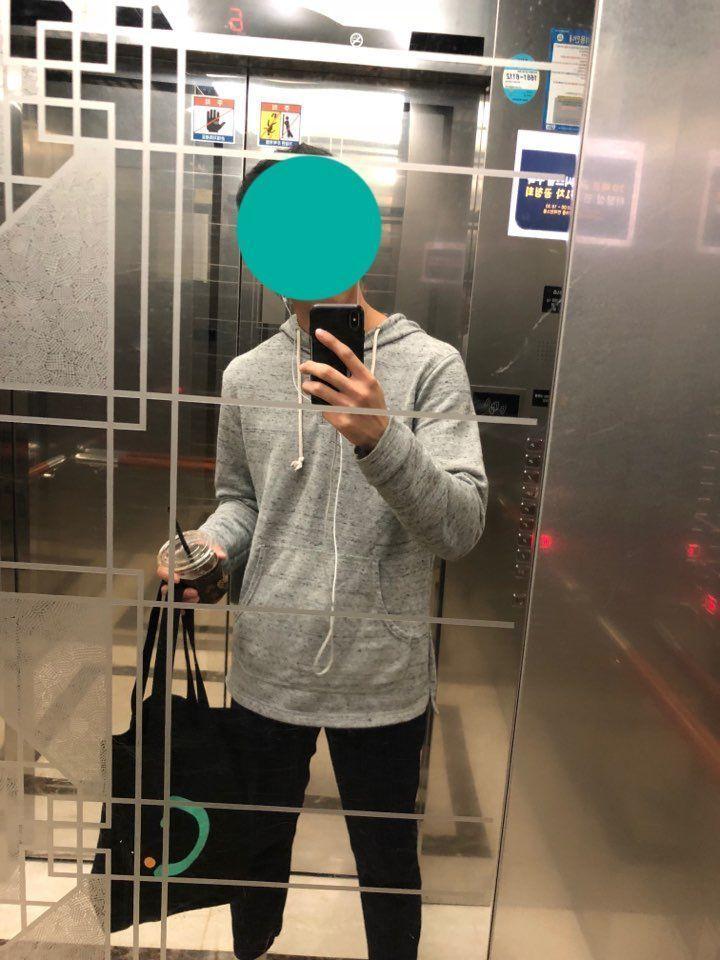 However, this season is very easy to catch a cold, due to the temperature difference and flu. Don't forget to bring thin layers of clothing when you are visiting Korea around this time.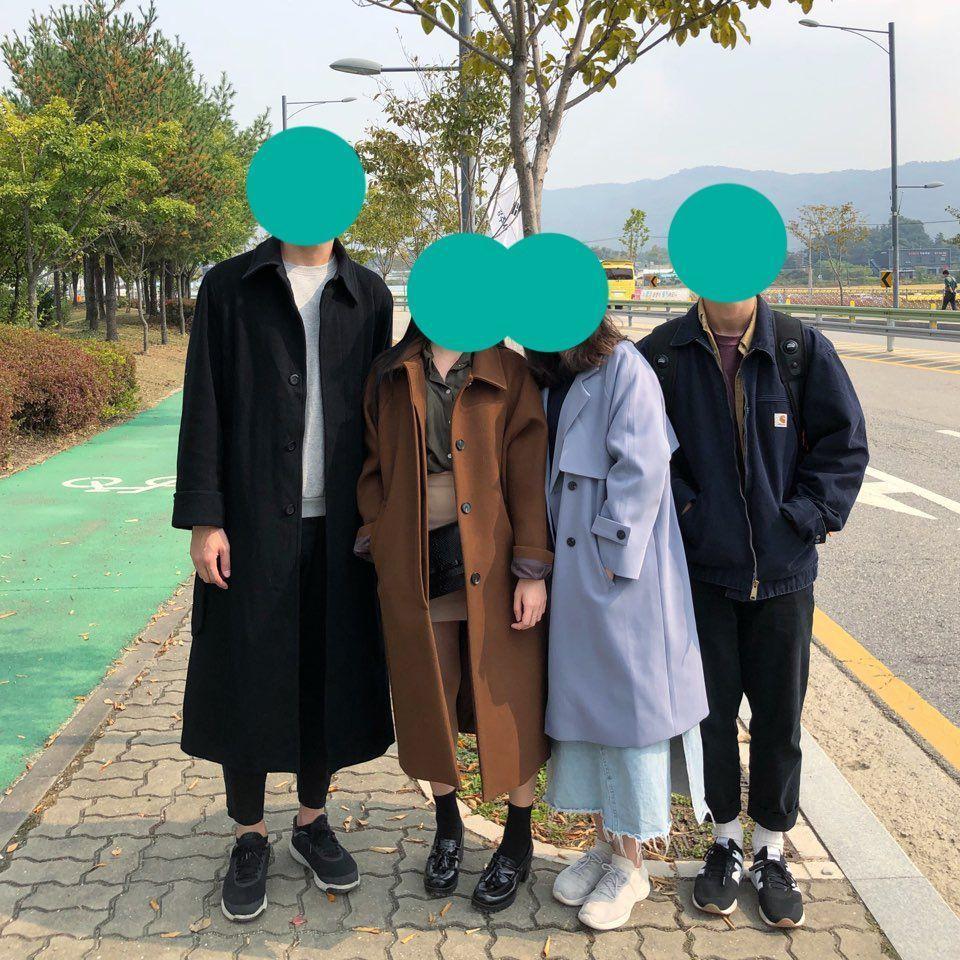 After mid-October, the average temperature drops very quickly. In November, the ginkgo and maple leaves start to fall. It is common for the temperature to drop to 0 degrees at night.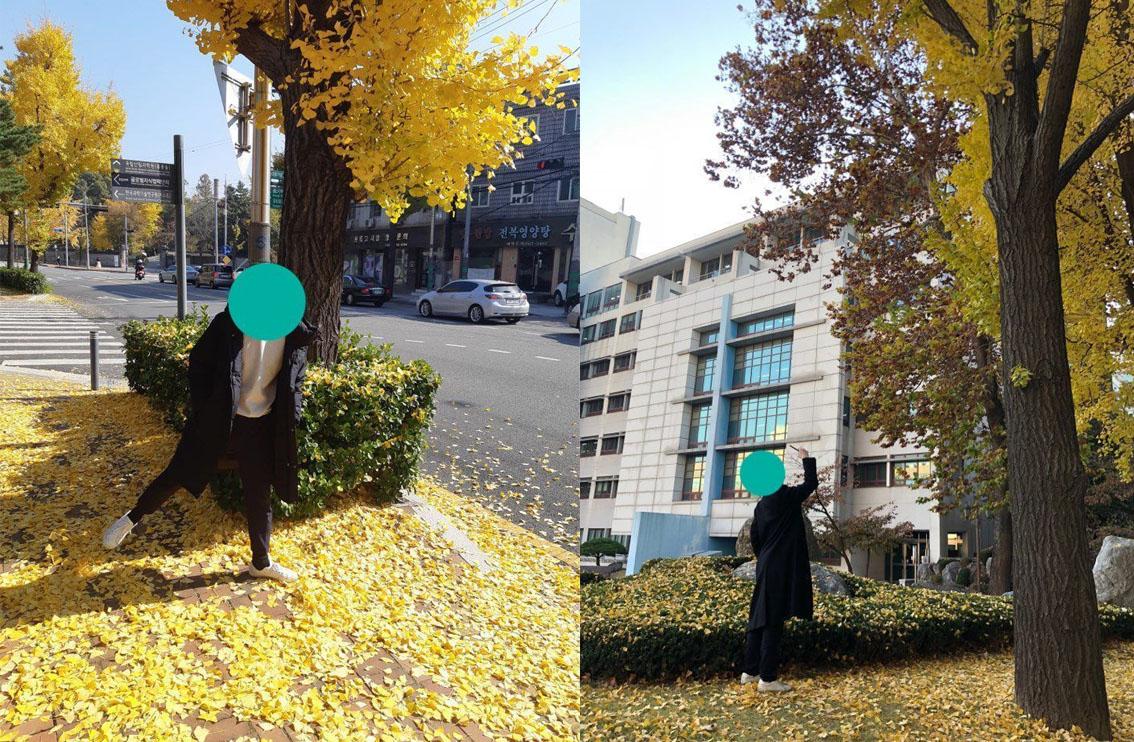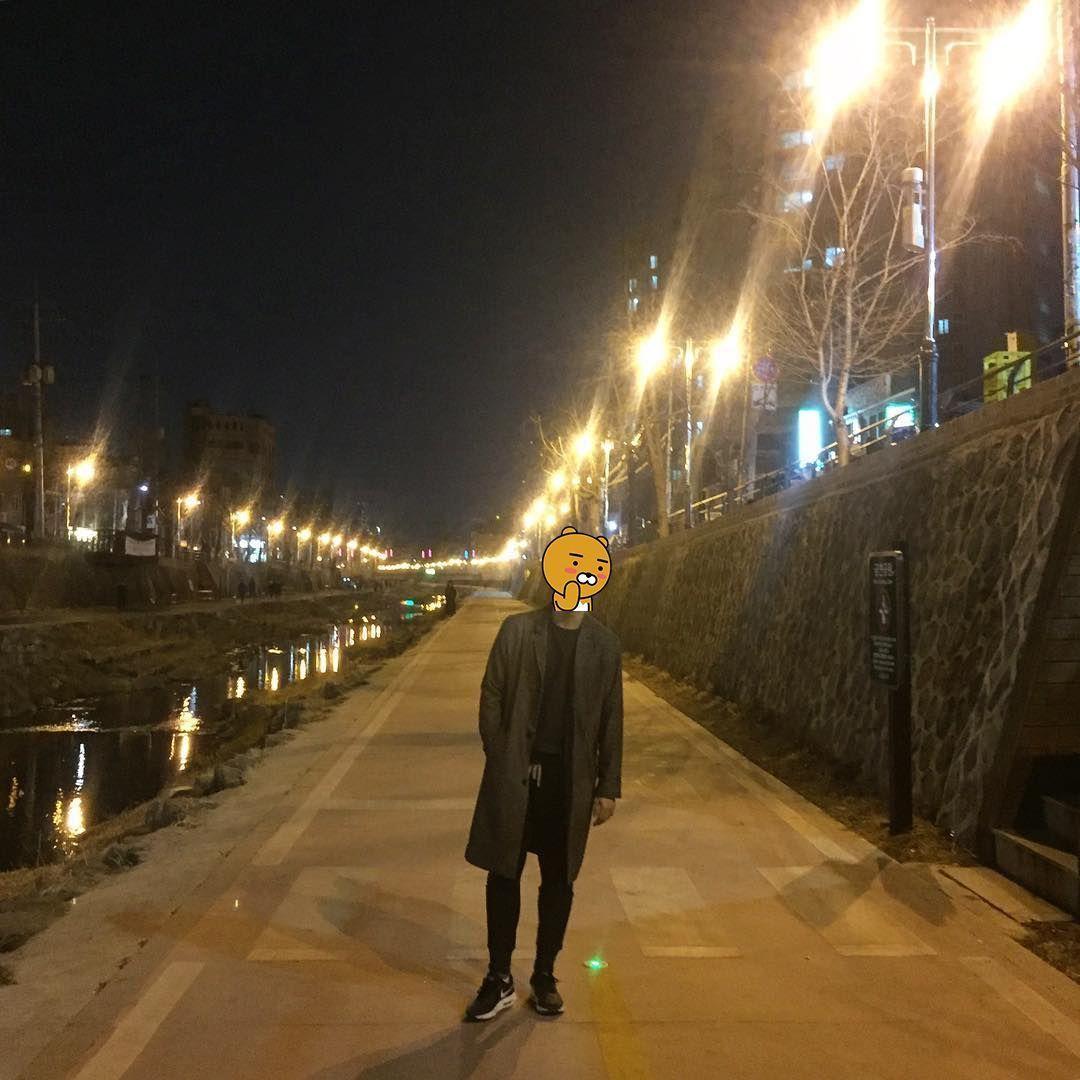 The beginning of November marks the end of the autumn in Korea. The temperature falls below 0°C. The weather is mostly sunny and the climate is still dry and mild. It does not normally get too cold and windy. However, you should apply moisturizer to hydrate your skin.
---
4. Winter
Months:December, January, February
Average Temperature:-15 to 5 °C
The first snowfall in Korea starts around the end of November and early December. However, due to global warming and extreme weather changes, it's hard to expect the exact date for the first snowfall of the year. Seoulites couldn't see much snow during the last winter; it is rare to see snow piling up in Seoul these days.
After mid-October, the temperature decreases below zero. You will feel the weather is getting chillier day by day. The night temperature easily reaches zero degrees, and by the end of November, you will have to wear thick winter jackets to keep your body safe and warm from the cold.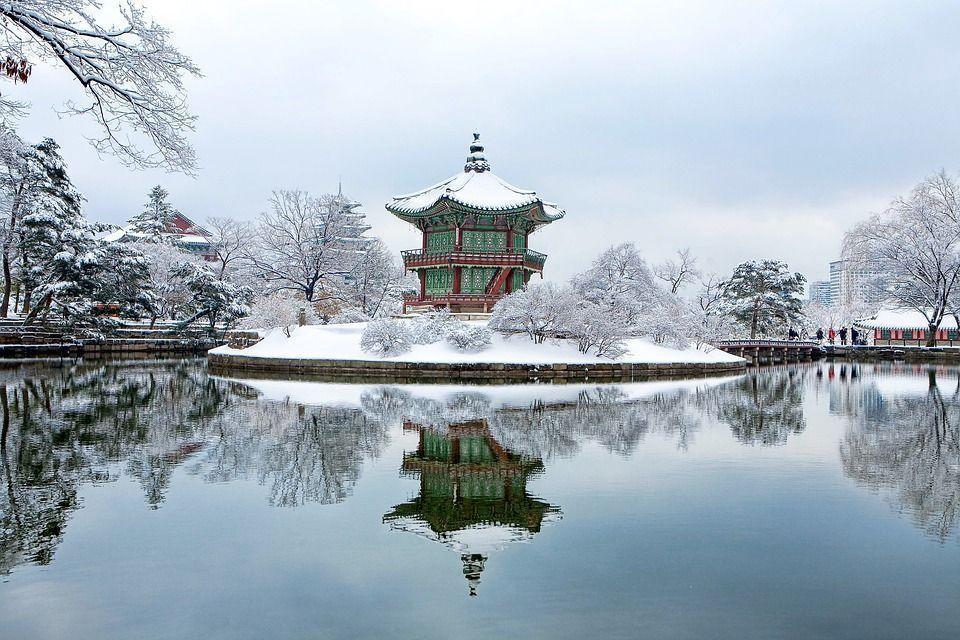 You will be able to experience the first snow by the beginning of December usually. By the end of the month, the temperature goes below zero almost every day. Also, you will find Korea very dry during this season, so don't forget to moisturize your face and body regularly.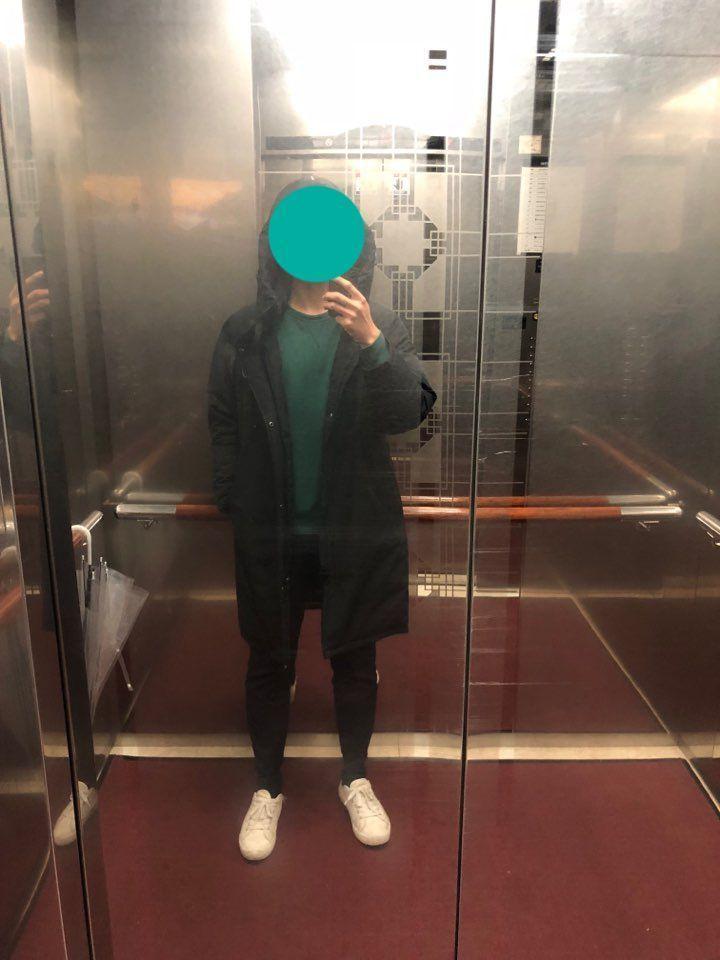 January and February are the snowy months in Korea, and there are high chances of experiencing heavy snowfall. However, the southern cities such as Daegu or Busan have less chance to watch heavy snowfalls. Korean winter is more humid compared to winter in North America; the temperature might not be as low as your home country, but the cold with humidity may freeze you up in your bones!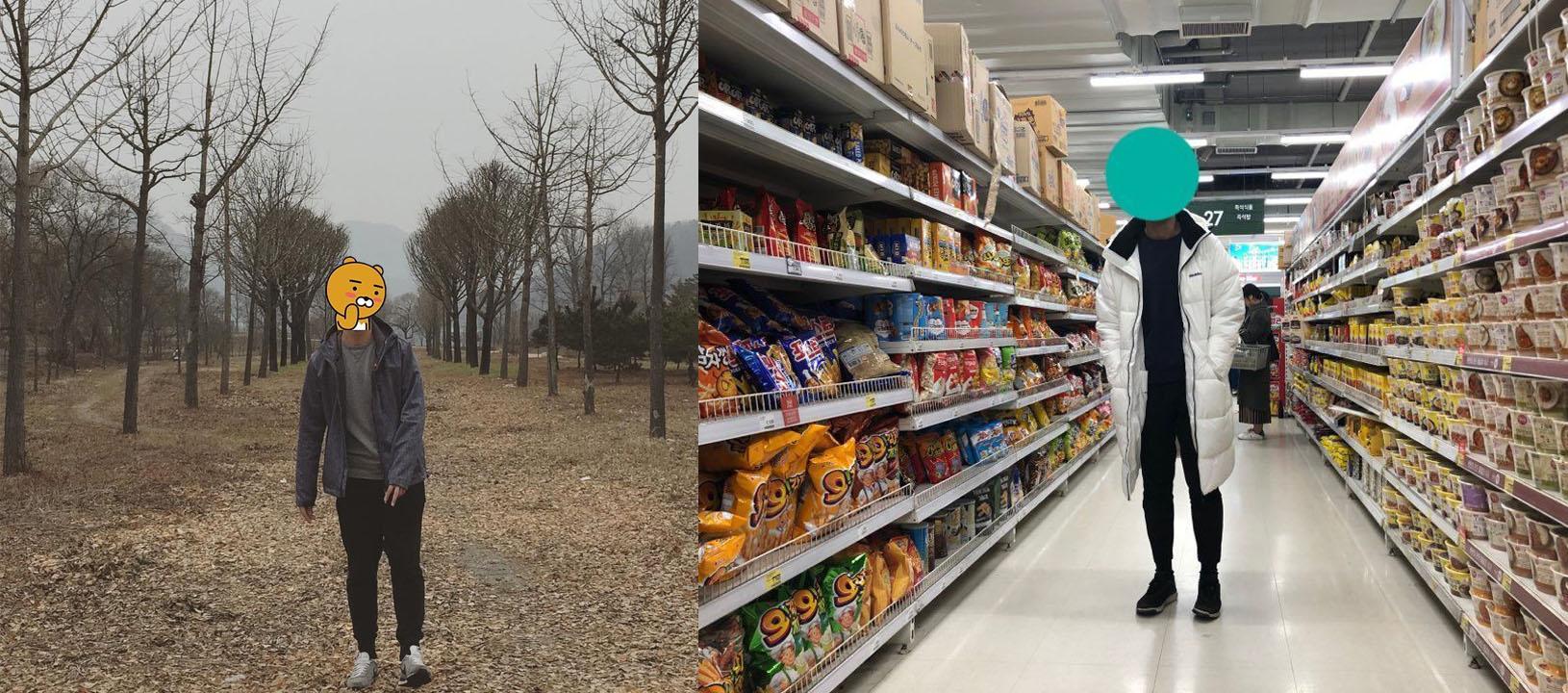 I will highly suggest wearing heavy windproof jackets for anyone who is visiting Korea during the winter. Gloves are scarves would be very useful too.
---
5. South Korea's Average Temperature Throughout the year
27 degrees or higher (July and August ): sleeveless shirts, short sleeves, shorts, sun protection, sunshade, and mini electric fan

17 degrees to 27 degrees (May, June, and September): short sleeves, and thin cotton coats
9 degrees to 17 degrees (April, October): long sleeves shirts, trousers, thin cotton coats, and thin jackets
5 degrees to 9 degrees (March, April (in the evenings), and November): thermal clothes, long sleeve shirts, trousers, jackets, and coats

5 degrees below zero (November (in the evenings), December to February): Warm winter clothes, and moisturizer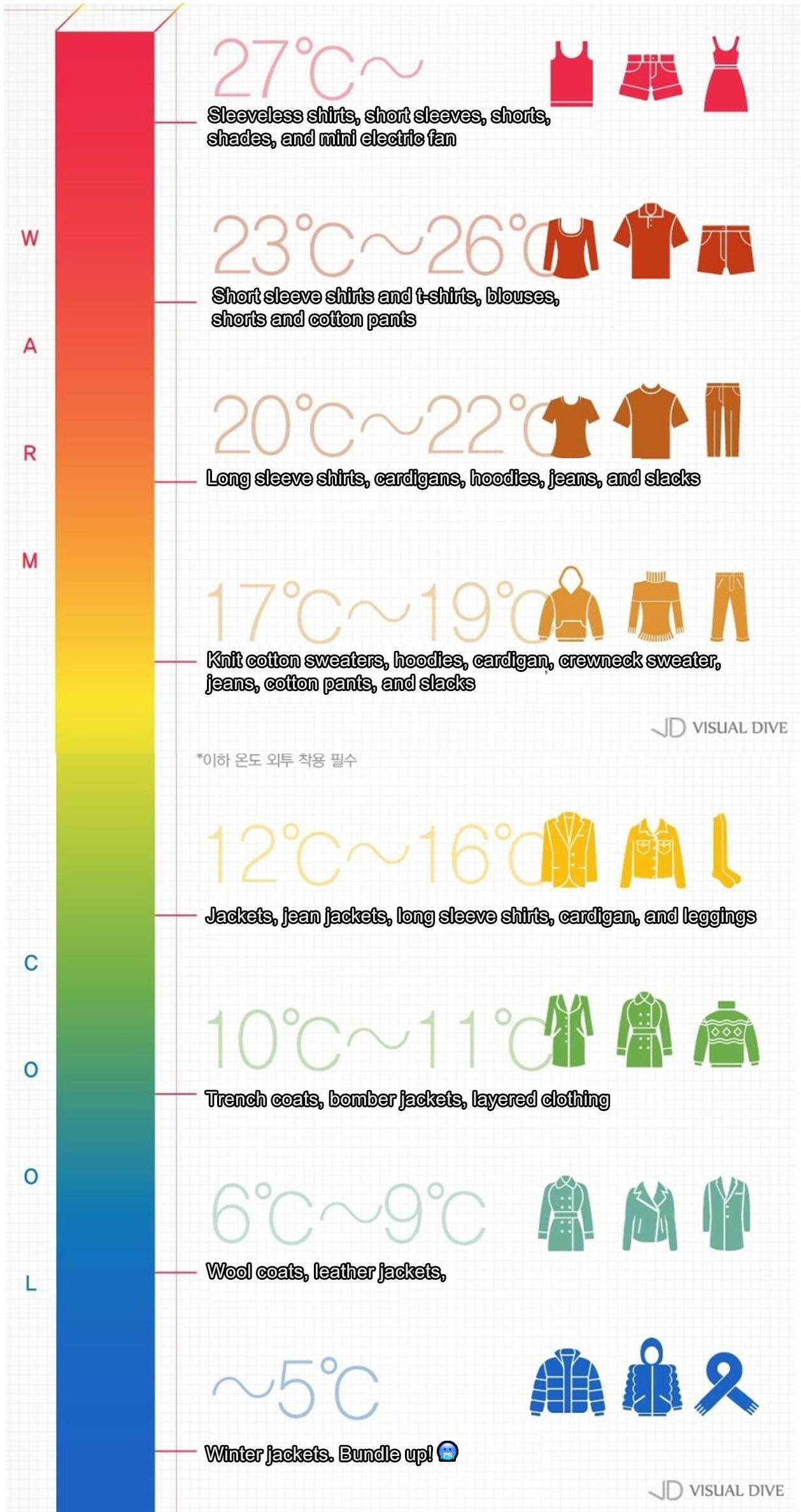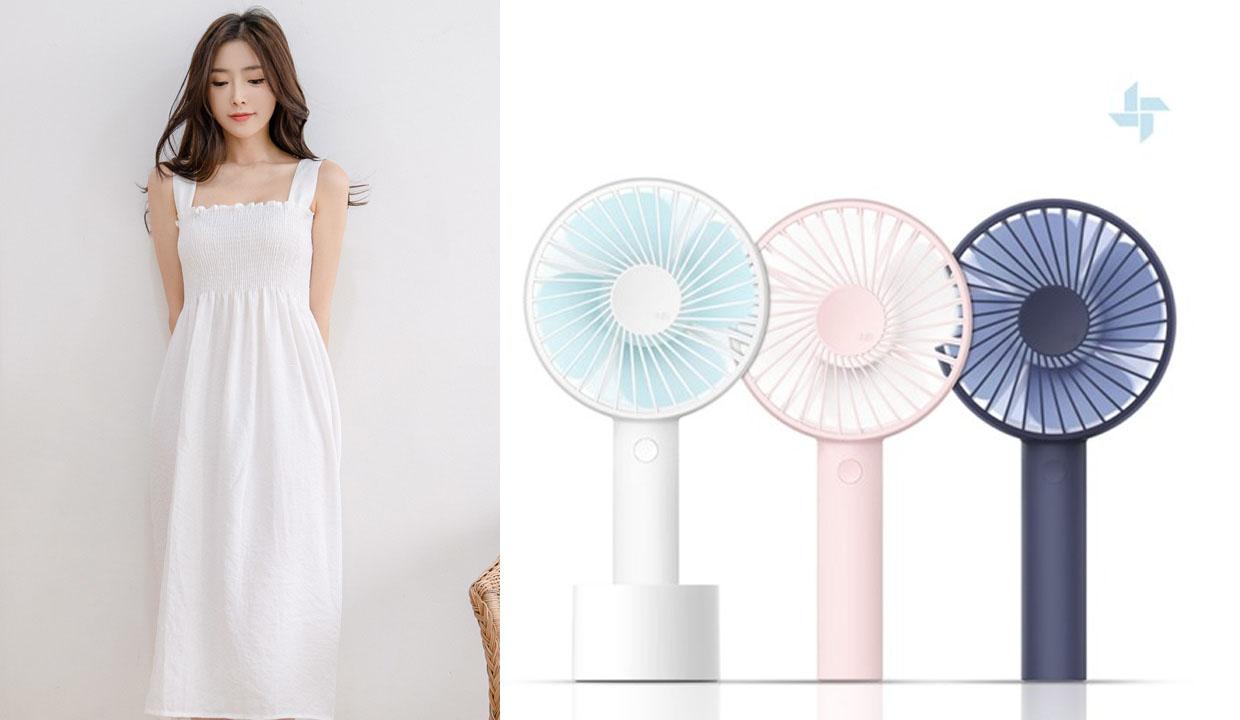 July and August are the hottest months in Korea; it's way too hot and humid. Make sure you hydrate yourself with drinking lots of water and taking proper rest at chilled places. Apply UV protector regularly and cool yourself with mini electric fans! You can buy them anywhere in Korea, which will be your lifesaver during the summer.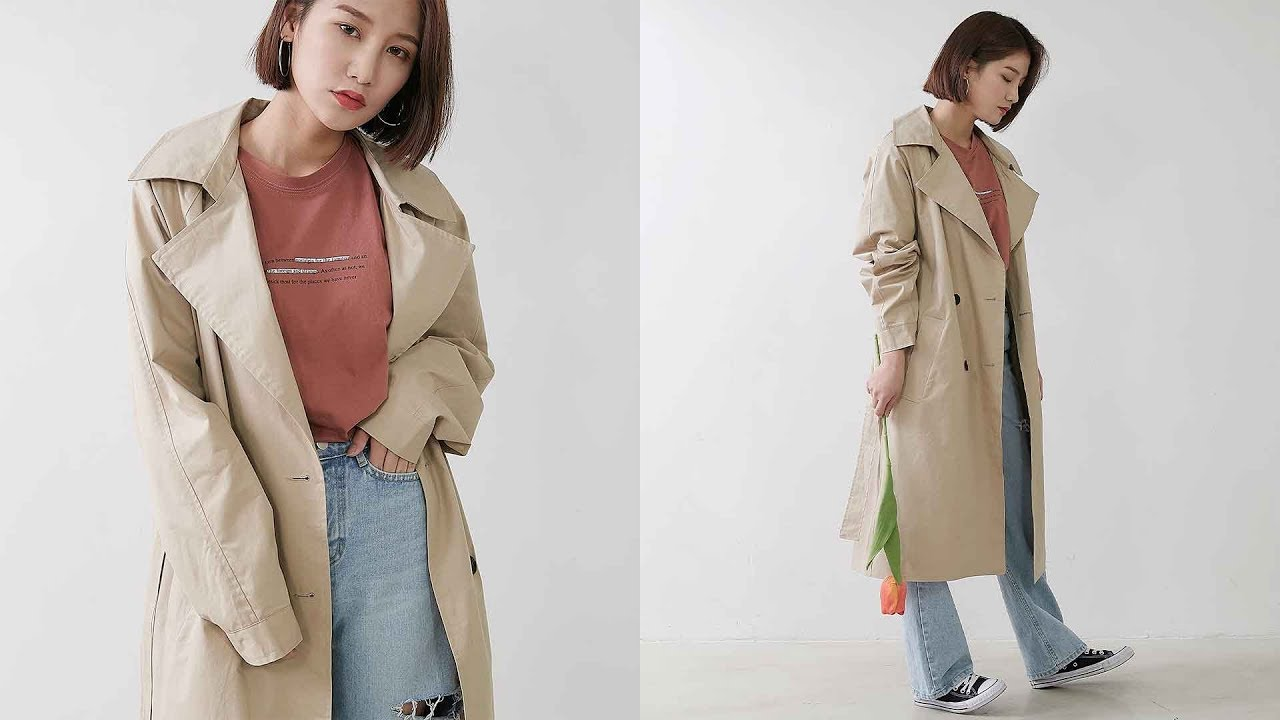 Spring and fall is the best season for visitors to travel to Korea. You can rock whatever you would like to wear and be one of the fashionistas. Wear many layers so that you can adjust to the sudden temperature drop after the sunset.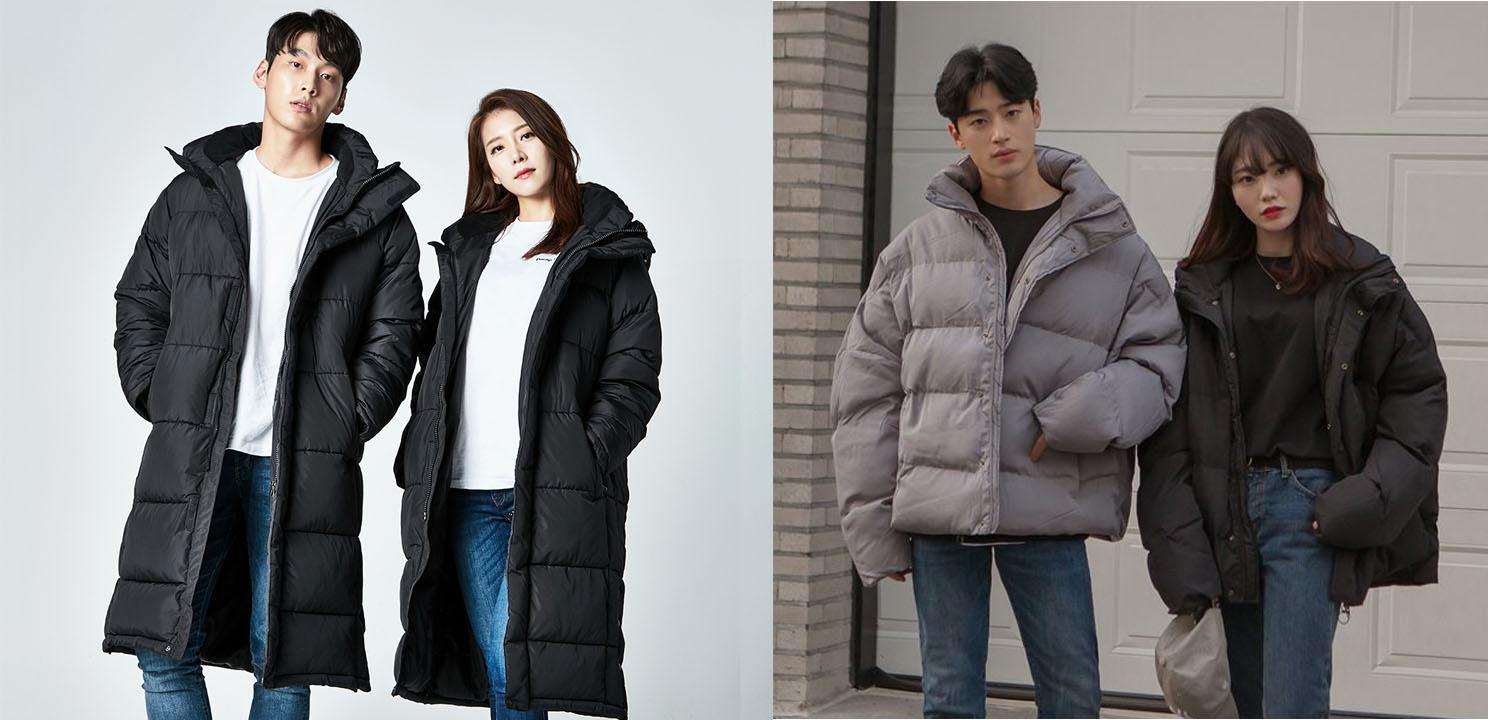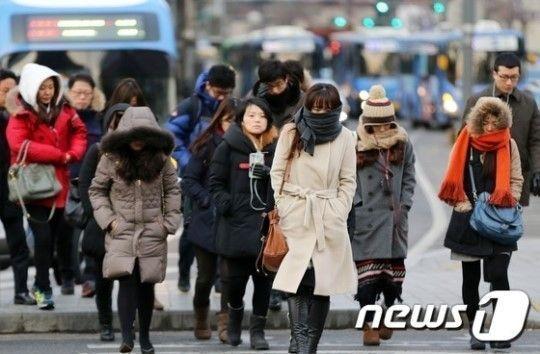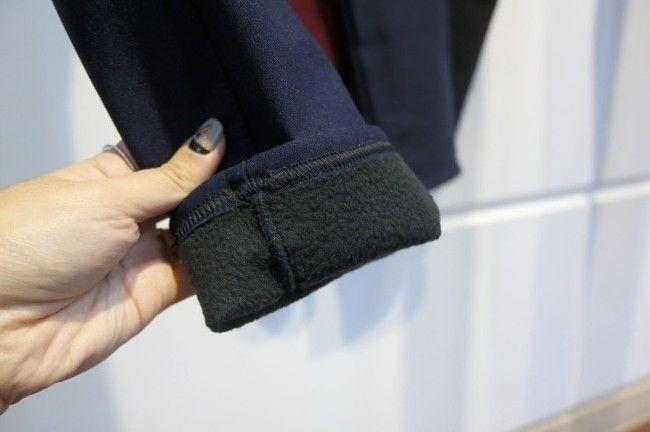 Koreans tend to wear a light cotton jacket with a sweater during winter. The majority of people are more concerned about cold temperature than hot. Another big trend was the long puff jackets that can warm you up from your chest to your toe!
Are you ready to pack up for your travel to Korea? ?I hope this information gave you an idea of what to wear and prepare.
---
If you have any questions or suggestions, please leave a comment or contact us at support@creatrip.com
---