Incheon International Airport Terminal 2 Guide
An introduction to the airlines, currency exchange, tax refund, amenities, and eateries you can find at the Incheon International Airport Terminal 2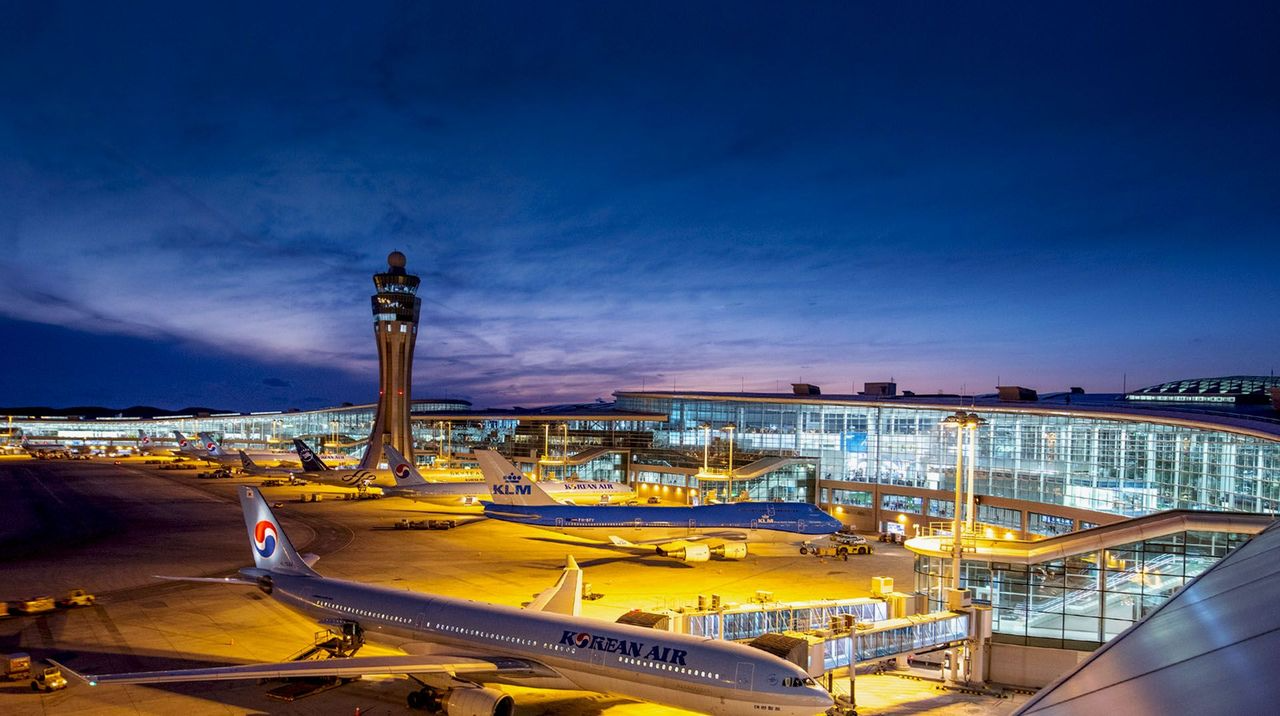 If you are travelling to Korea, you will most likely enter the country via Incheon International Airport. This airport is divided into two terminals. Terminal 2 is one of the two terminals that you may end up travelling through if you are on a trip to Korea. We compiled all the relevant information that we think you might need to know before you com through Terminal 2!
---
Incheon International Airport Terminal 2
Address: 인천 중구 공항로 272
272 Gonghang-ro, Jung-gu, Incheon
Hours: Open 24 Hours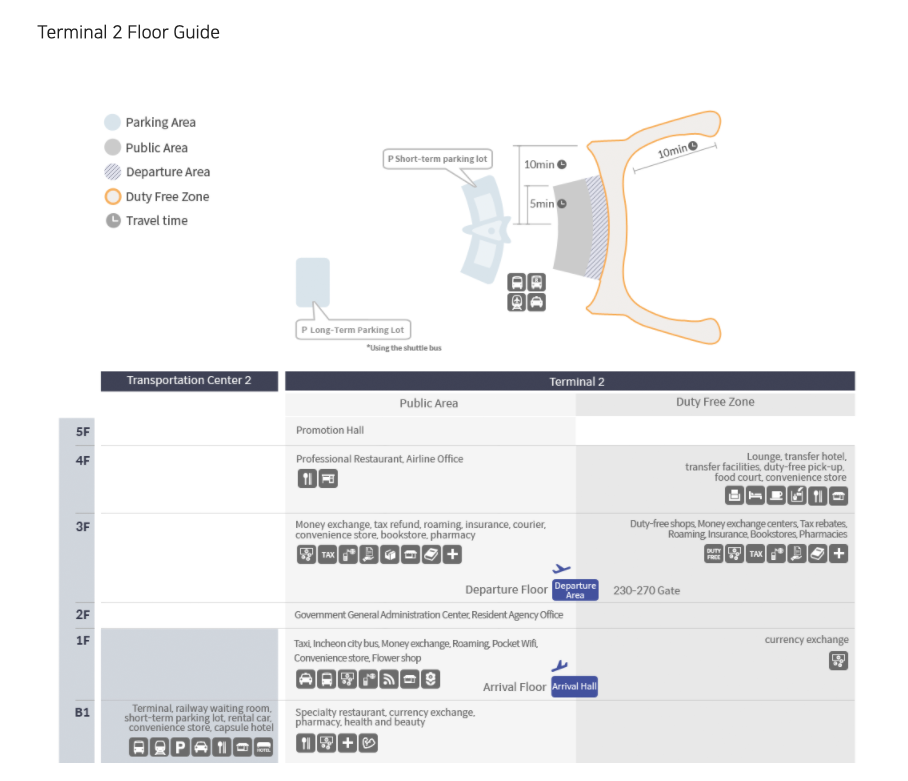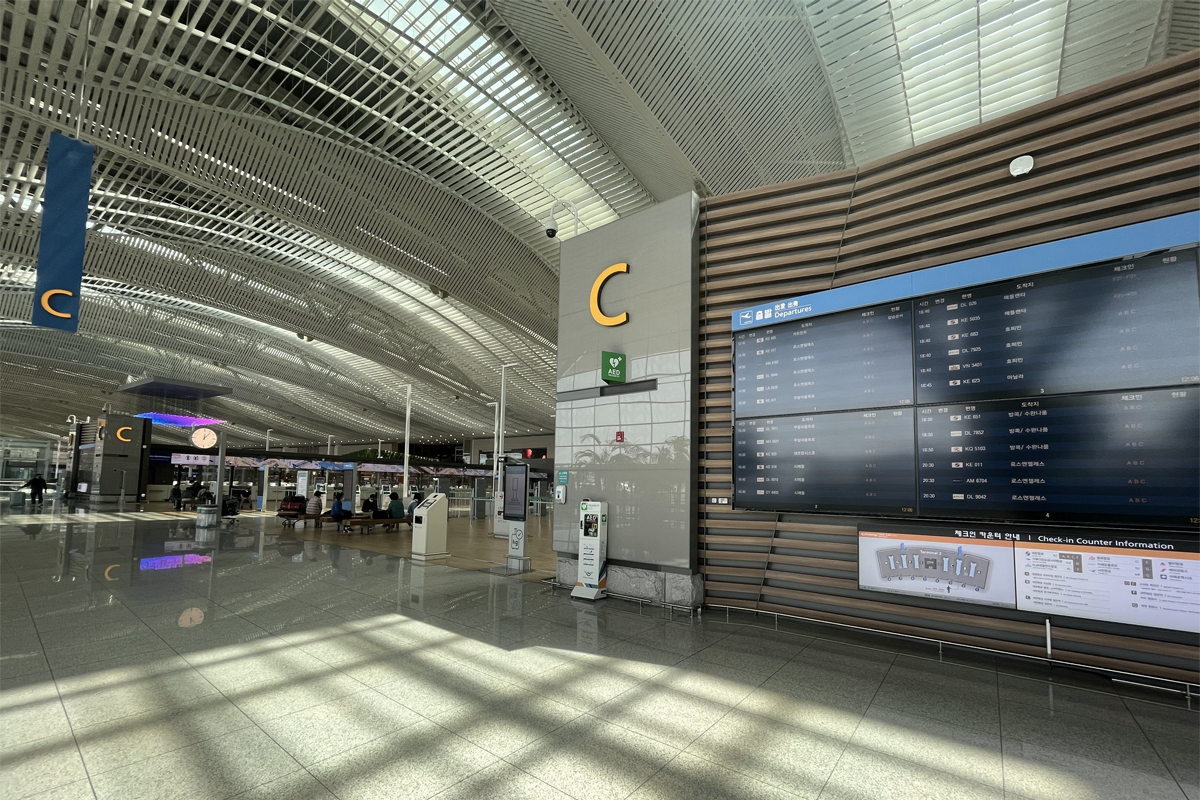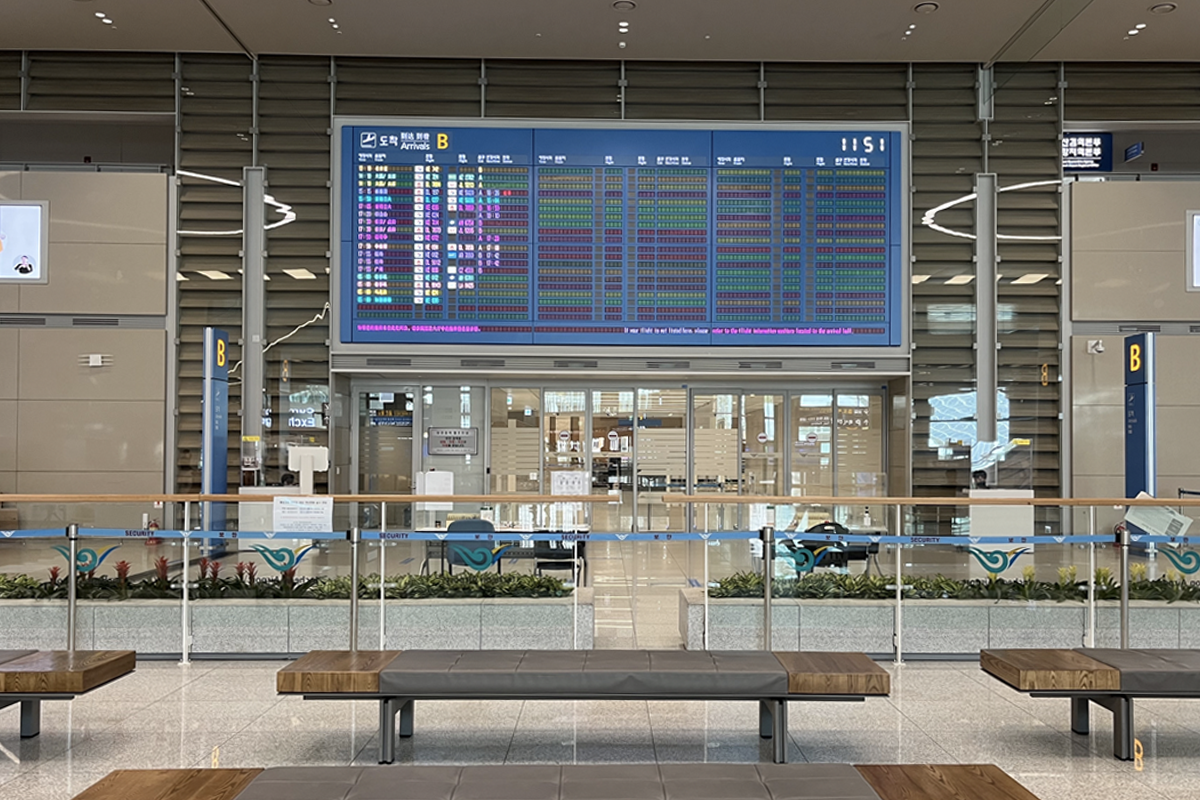 There are five floors in Terminal 2. B1 is where you can catch public transportation such as the subway and buses. The first floor is for arrivals, the second is the airline office, the third floor is the departure floor and the fourth floor is the food area. The fifth floor is the publicity hall and observation deck. For specifics regarding entry to Korea, check our guidelines blog here!
---
Checking In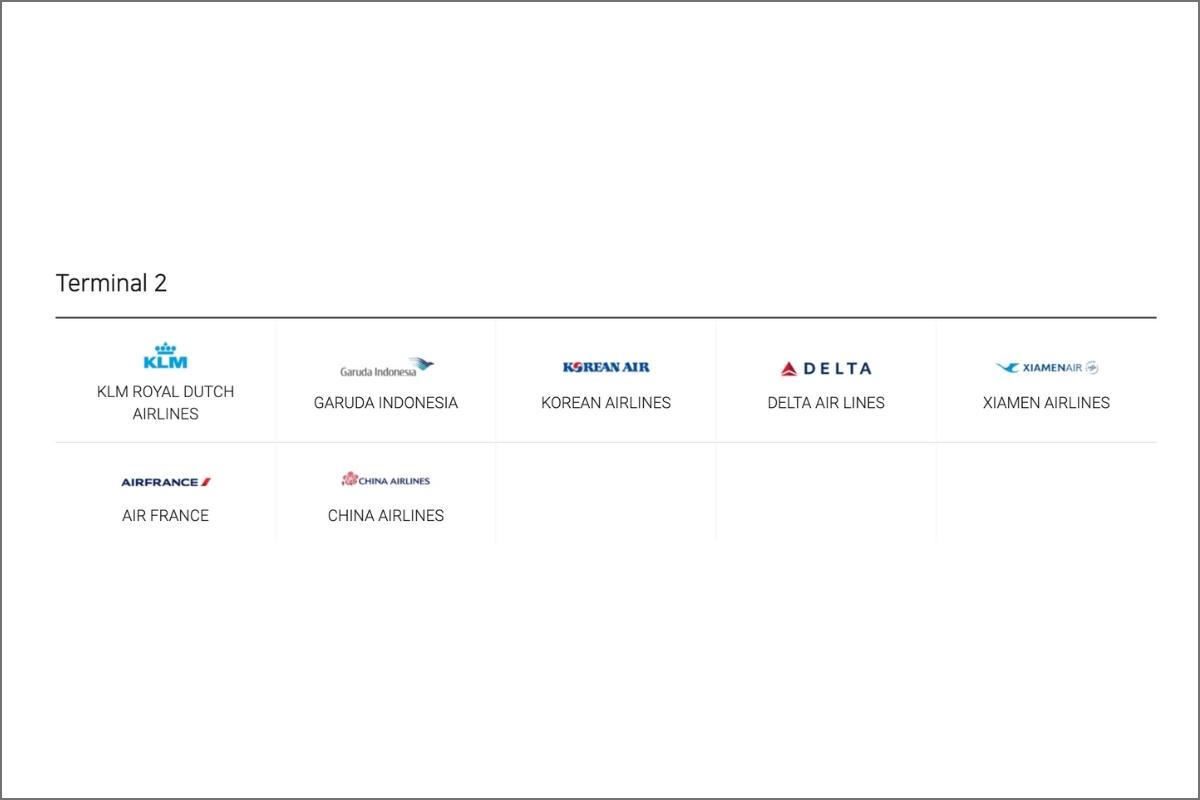 Airlines stationed in Incheon Airport Terminal 2 are Korean Air, Delta, Air France, KLM, Aeromexico, China Airlines, Xiamen Airlines, Aeroloft Russian Airlines, and Garuda Indonesia Airlines.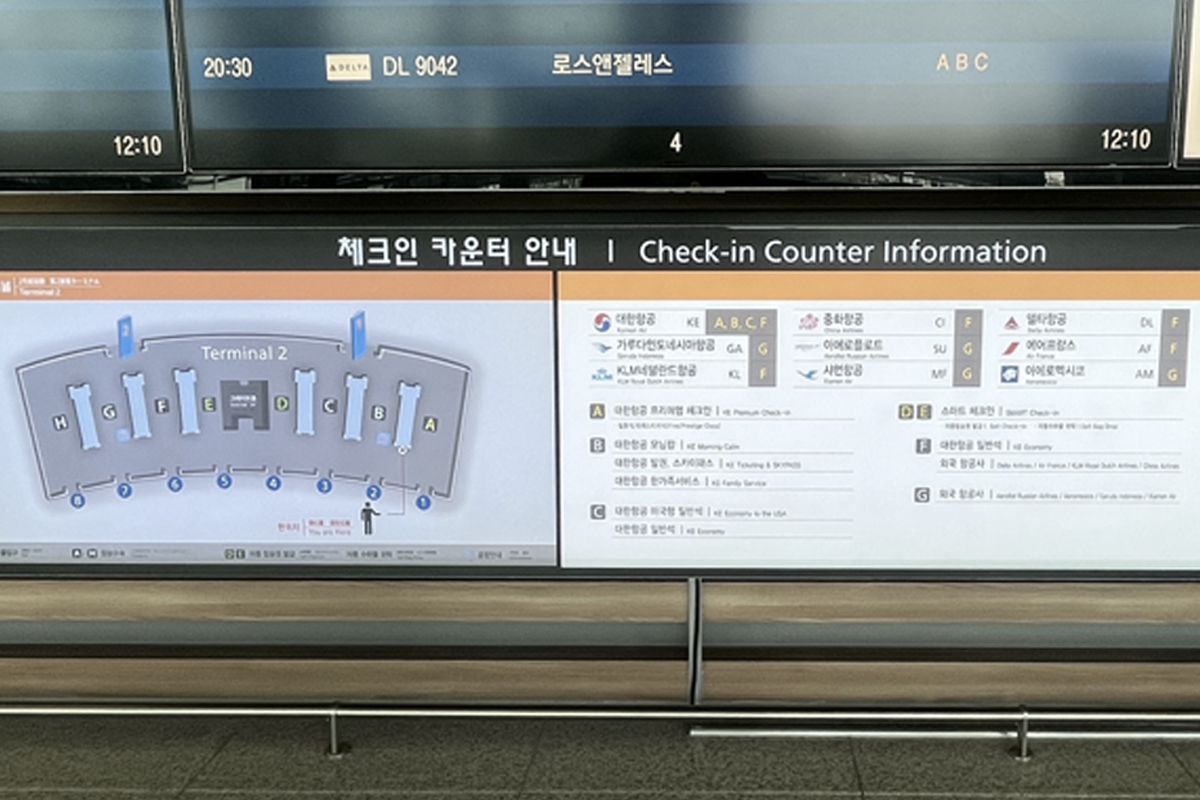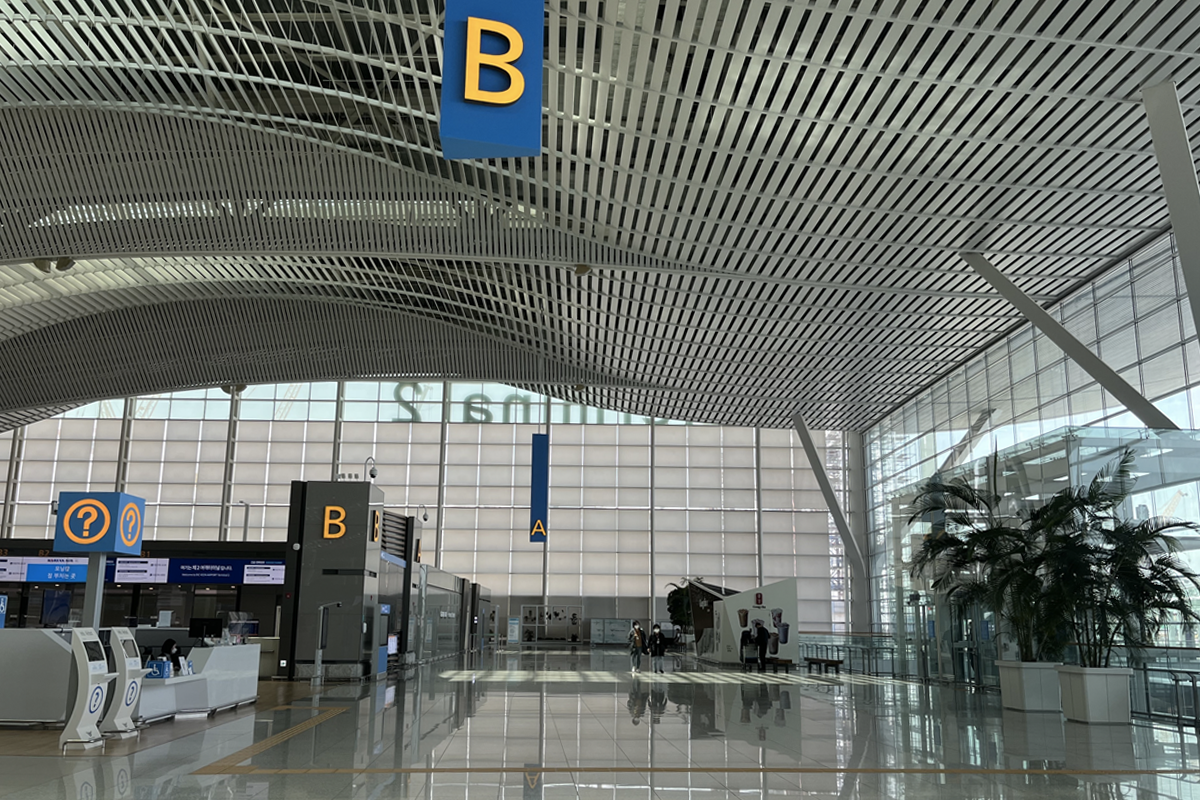 There are check-in counters A to G on the departure floor on the third floor. You can find the corresponding counter according to the airline code to go through the check-in procedures.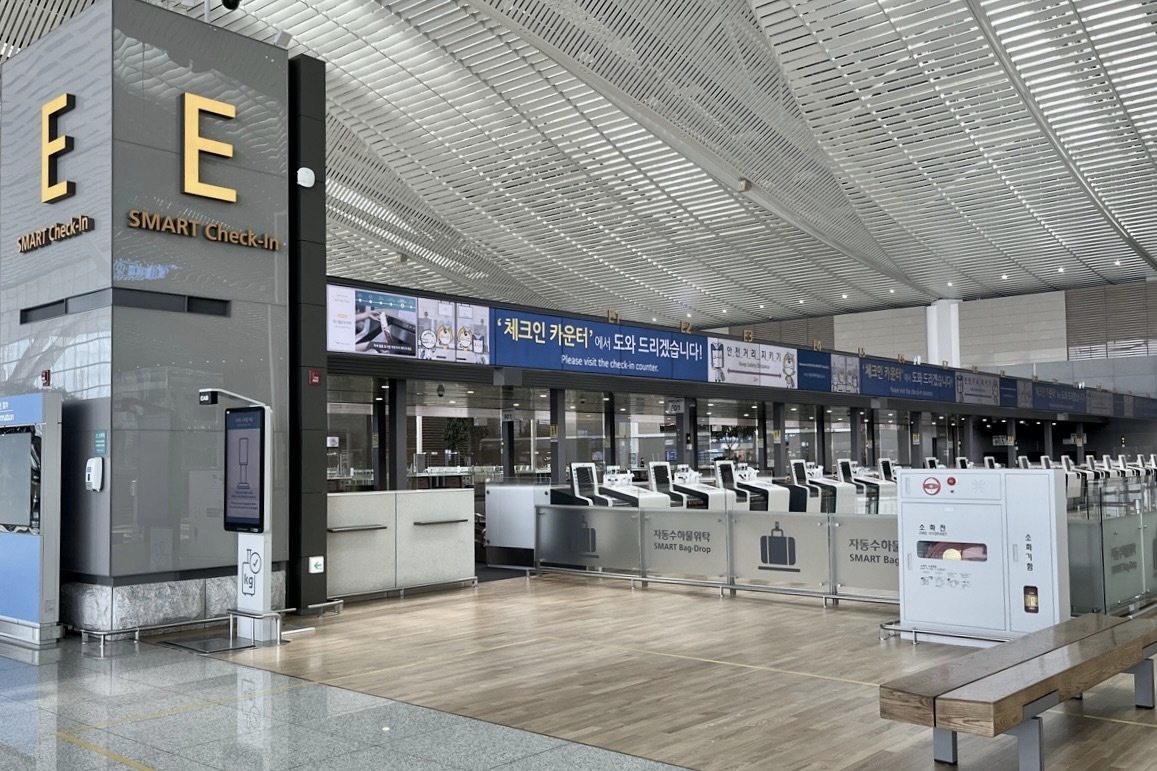 Self-check-in is available in Area E, where you can print your boarding pass and hang your luggage, but it is currently closed due to the pandemic.
---
Transportation
AREX: B3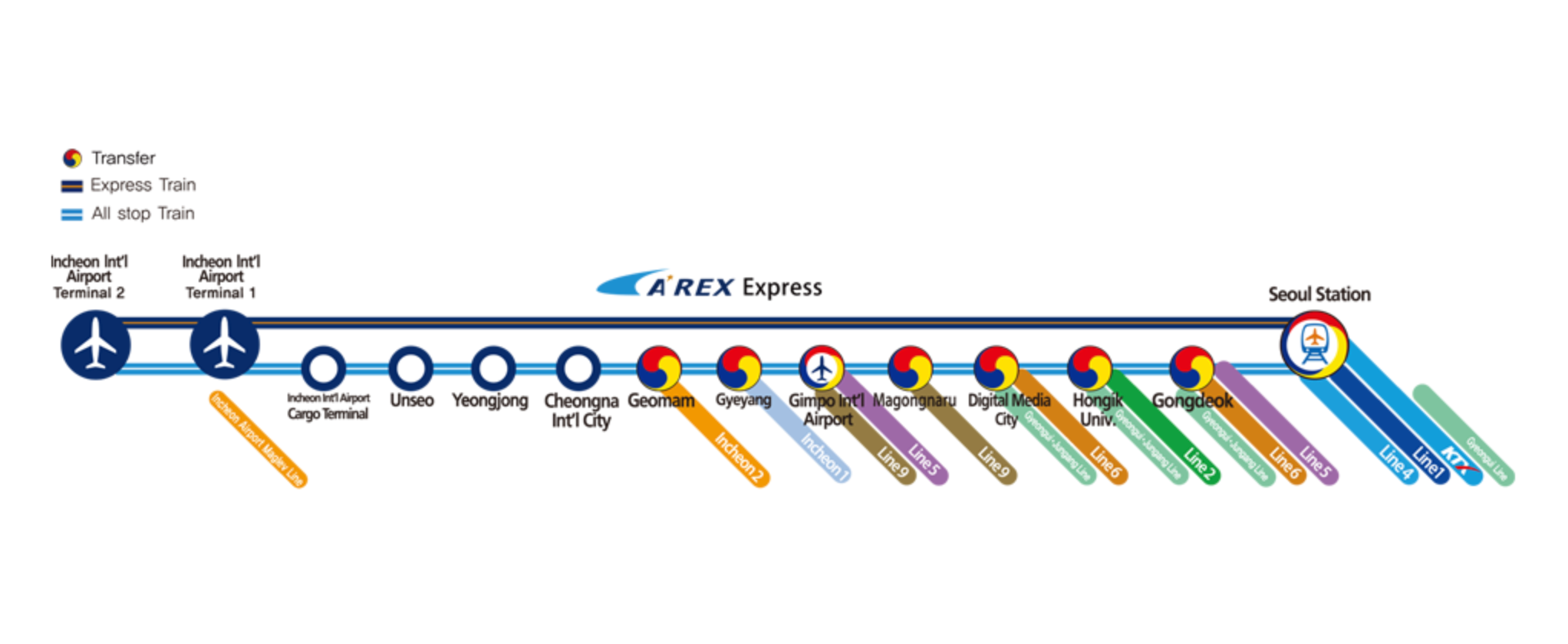 AREX, otherwise known as the Airport Railroad Express is one of the most convenient ways to get to Incheon Airport Terminal 2. Airport railroads are divided into two types. One is the regular train that stops at 13 different stations and the other is the direct train that goes directly from Seoul Station to Incheon Airport.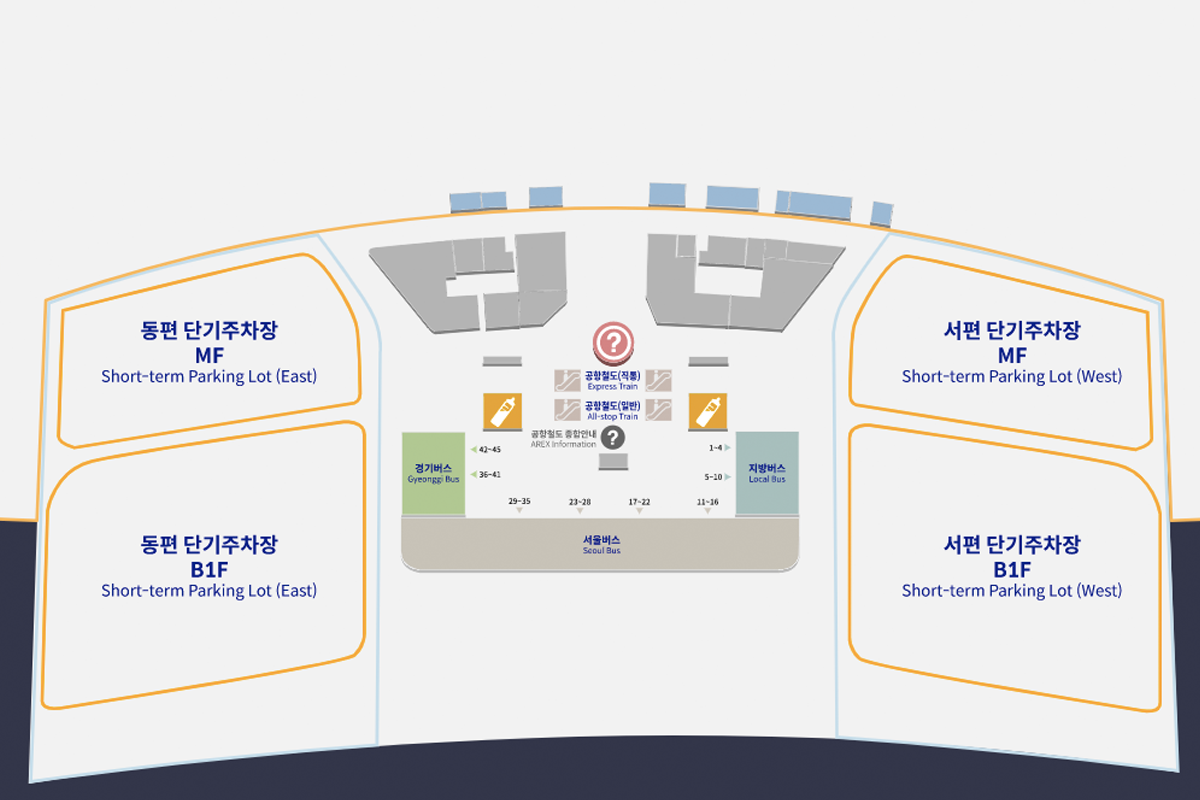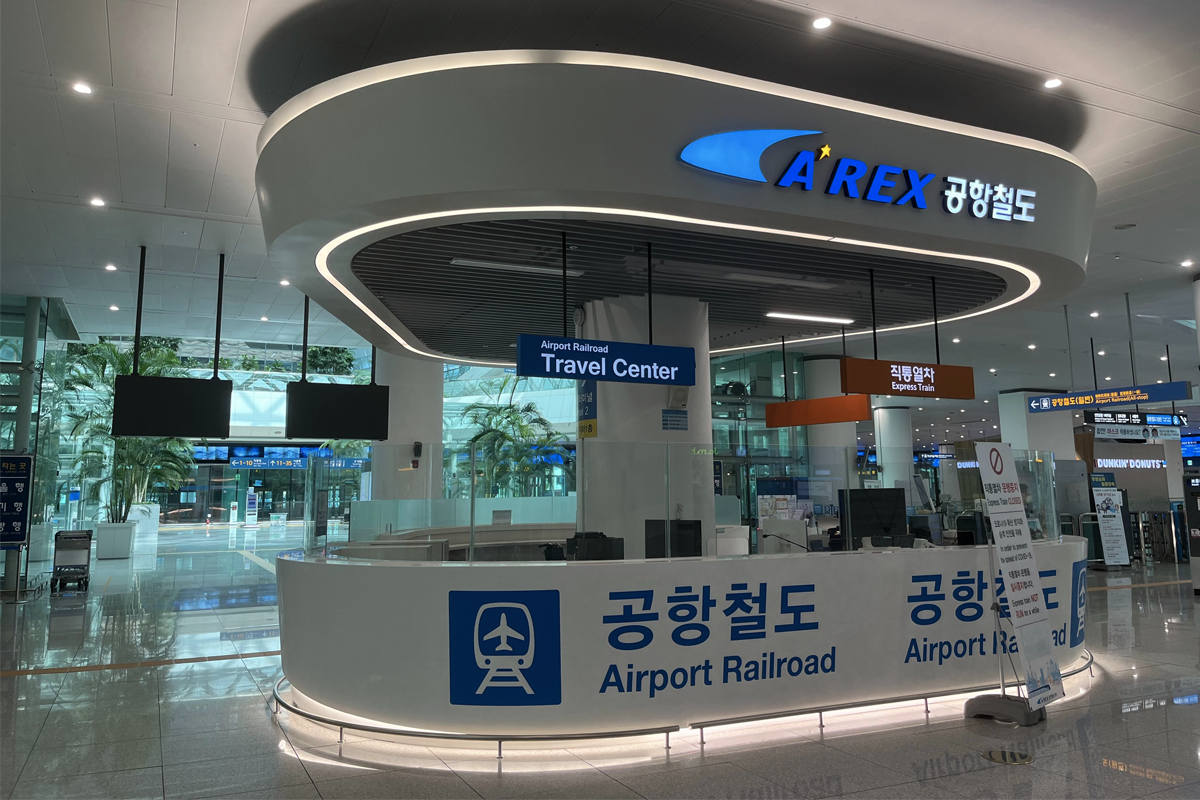 The AREX ticket office is located in B1 and the boarding area for the AREX is located in B3 of the airport. In front of the boarding area, you will also be able to find the airport railroad service desk where you can buy tickets as well.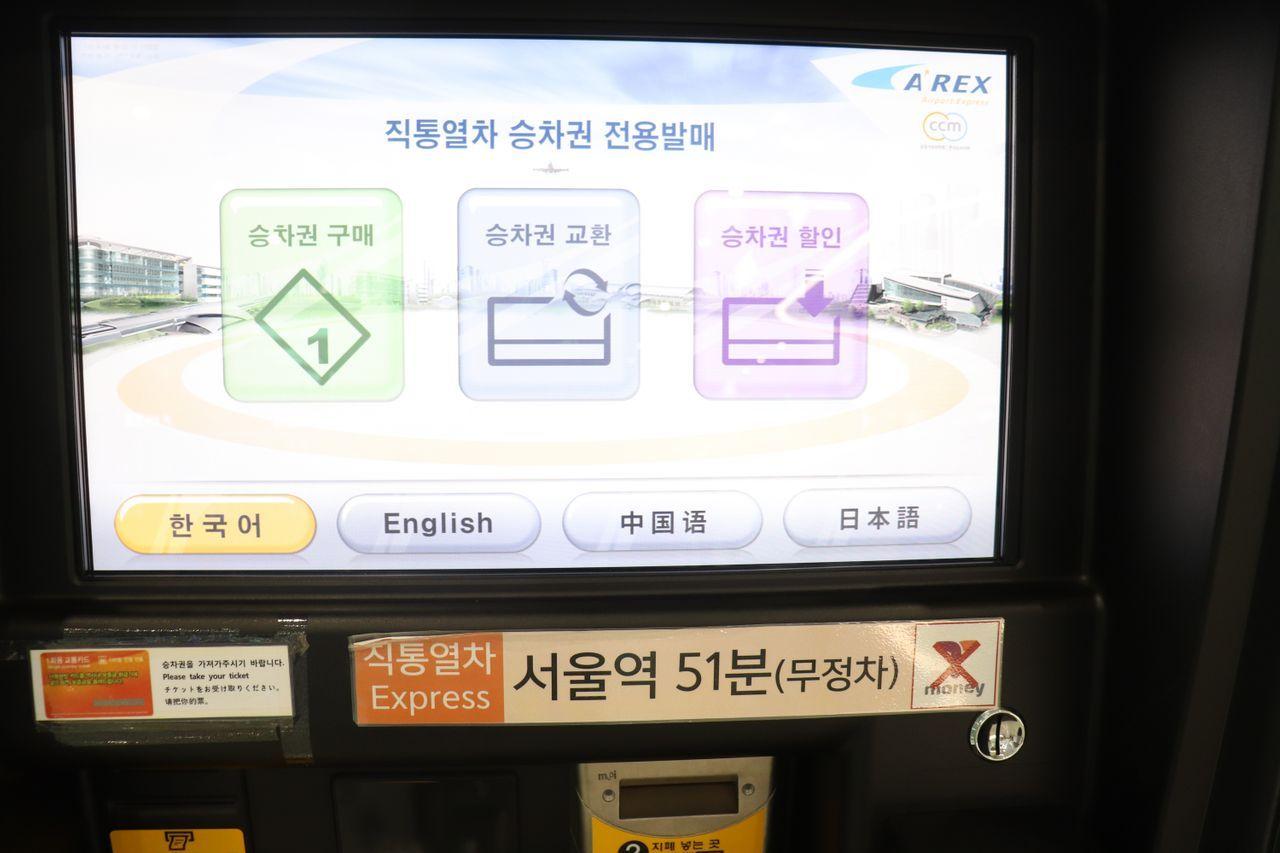 The ticket machines are in Korean, English, Japanese, and Chinese. However, discounts are not available when you purchase on site at the machine. We suggest that you make a reservation online through us to take advantage of the discounts!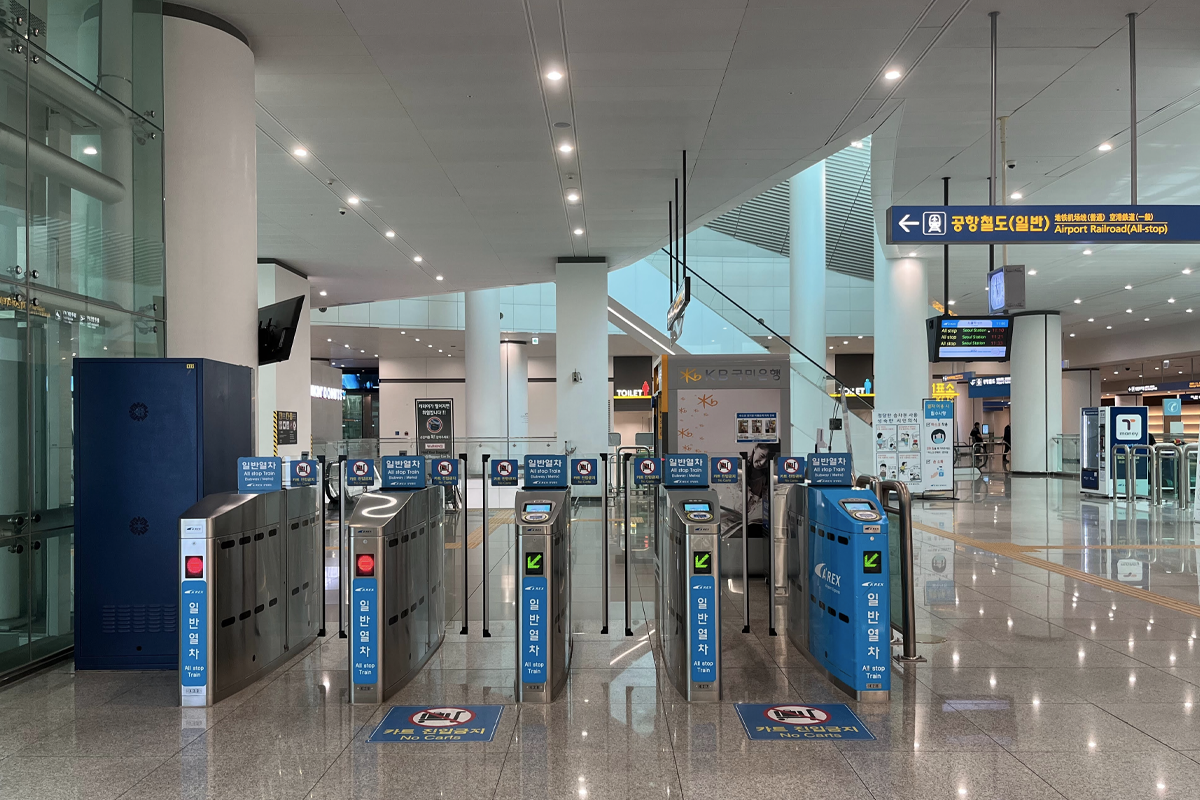 Incheon Airport Express Direct Train (AREX)

Adult 9,500 KRW 7,350 KRW

Seoul Station ⇆ Incheon Airport T1: Around 43 minutes
Seoul Station ⇆ Incheon Airport T2: Around 51 minutes


First Train

Last Train

Incheon T2 → Seoul Station

22:40

Seoul Station → Incheon Airport

22:50

Incheon Airport Railroad Regular Train (All-stop)

Adult 4,750 KRW
Child 2,200 KRW

Terminal 2 ⇄ Seoul Station: Around 69 minutes

First Train

Last Train

Incheon T2
5:25

Incheon T2 → Seoul Station
23:32

Seoul Station
5:20

Seoul Station → Incheon Airport
00:38
The earliest train from Terminal 2 to Seoul is 05:18 in the morning, and the last train is 23:50. The early train from Seoul Station to Terminal 2 is 05:20 and the last train is 00:00 during peak hours. There are at least five trains. We suggest checking out the official website if you want more detailed information.
Airport Express Bus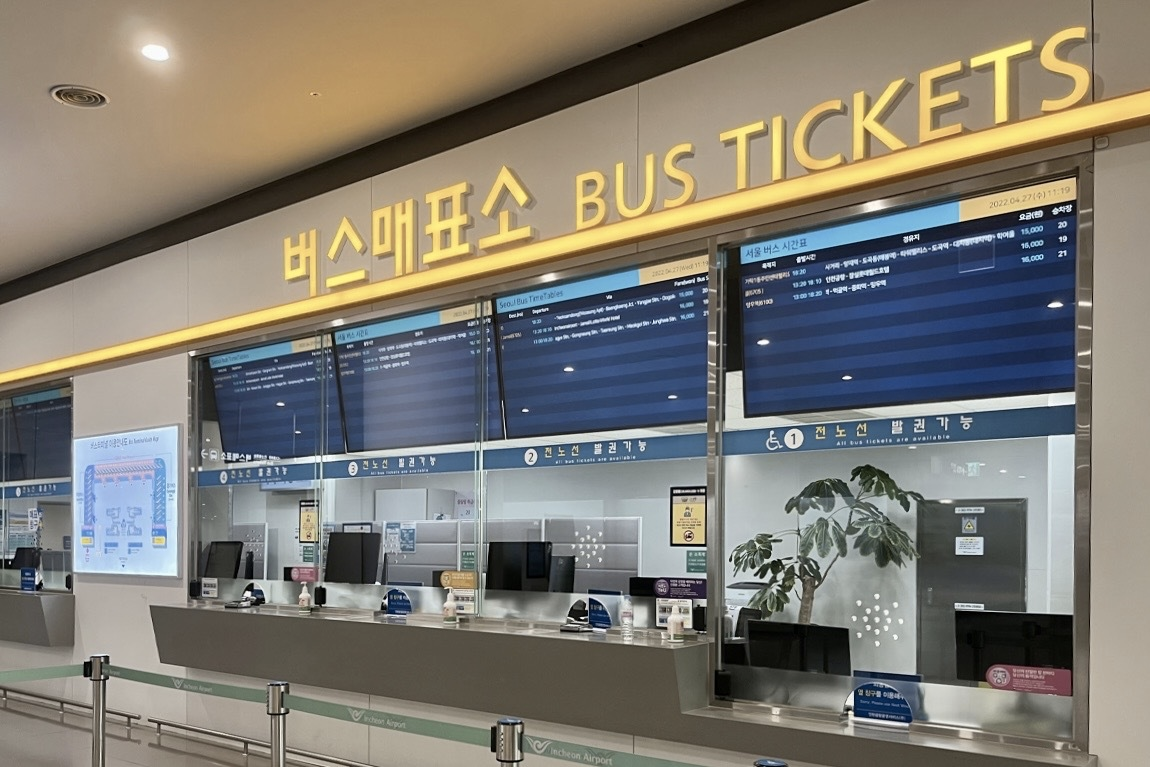 Incheon Airport Terminal 2 has passenger transportation that can take you to many different parts of Seoul, as well as Gyeonggi-do. This is a great option for those that arrive at the airport during the later hours. The part of the ticket marked in pink in the picture is where the ticket machines are located. This is on the ground floor of Incheon Airport Terminal 2.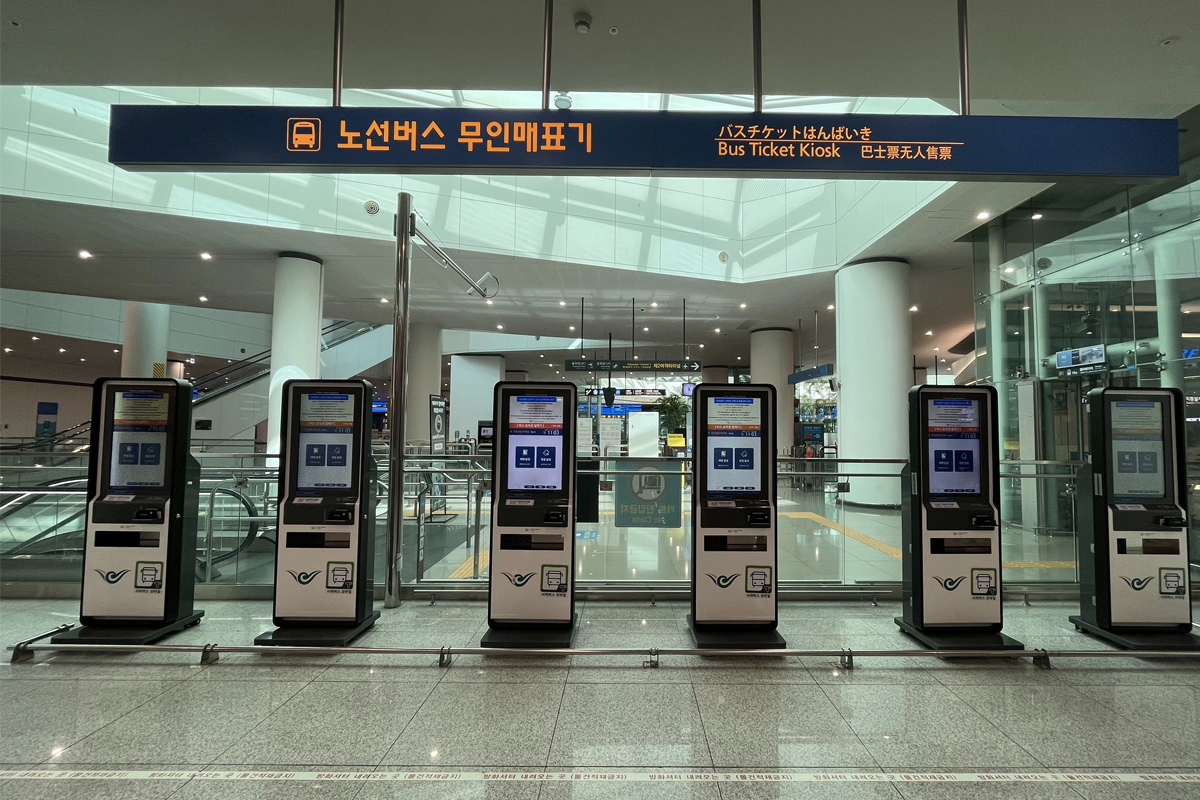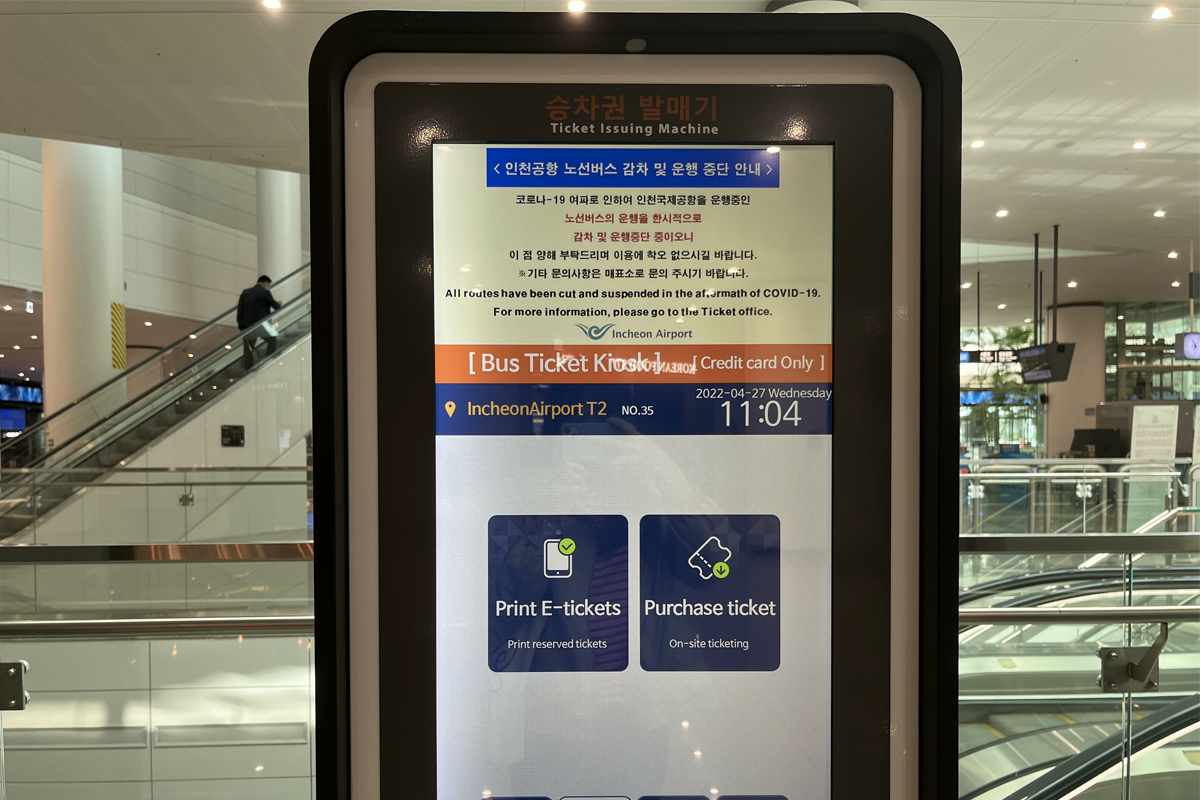 The ticket machine can be operated in Korean, English, Chinese and Japanese. They do not take cash, so please make sure that you pay via credit card.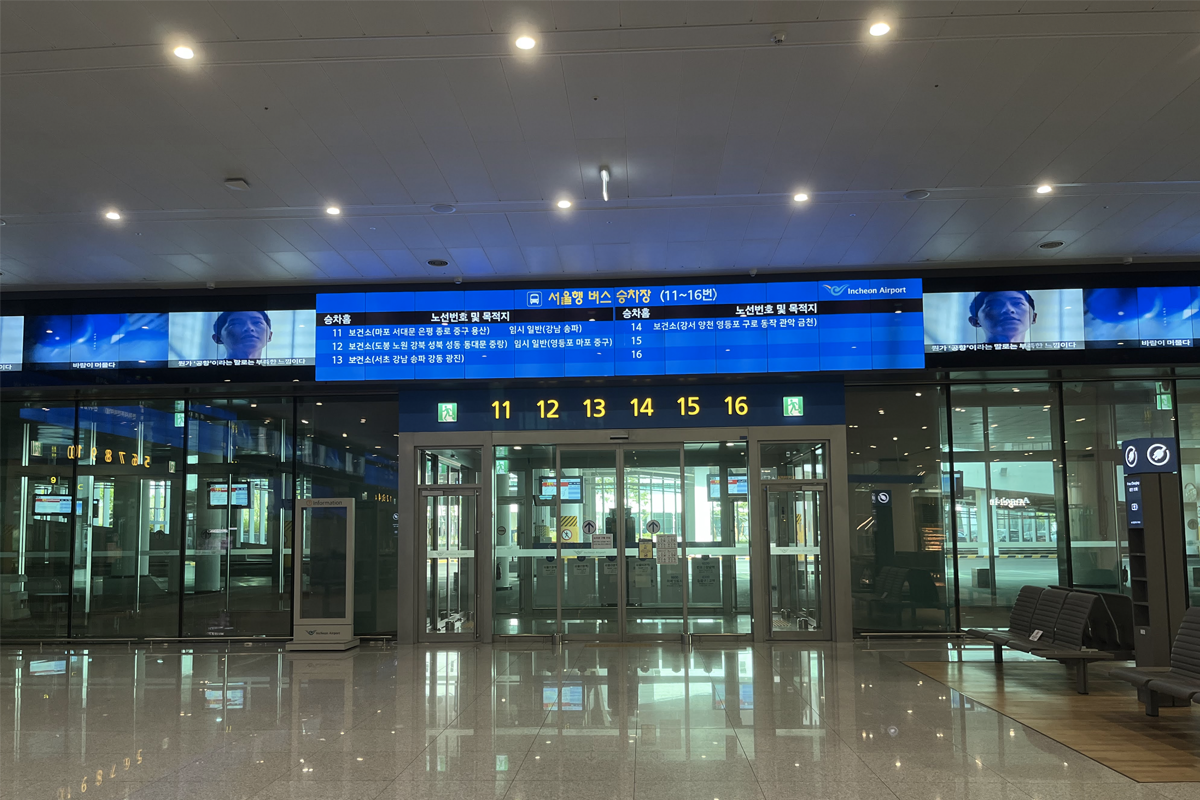 Platforms 1-10 are for local buses to Chungcheong-do, Gyeongsang-do, Gangwon-do etc. Platforms 11-35 are for buses to Seoul and platforms 36-45 are for buses to Gyeonggi-do.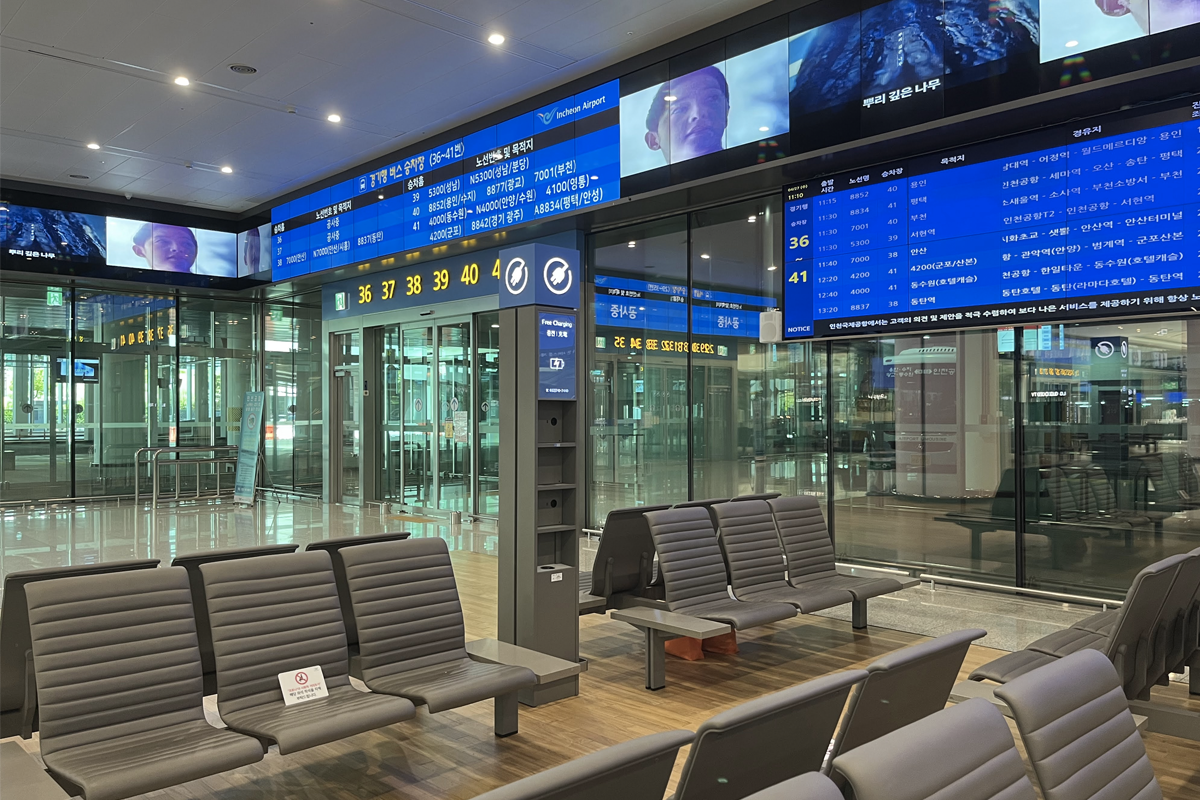 To Seoul

First Bus: T1 Departure 5:50 / T2 Departure 5:30

Last Bus: T1 Departure 23:00 / T2 Departure 22:40

First Bus: T1 Departure 5:10 / T2 Departure 4:50

Last Bus: T1 Departure 23:10 / T2 Departure 22:50

First Bus: T1 Departure 5:45 / T2 Departure 5:25

Last Bus: T1 Departure 23:20 / T2 Departure 23:00




Price: 16,000 KRW


First Bus: T1 Departure 5:50 / T2 Departure 5:30


Last Bus: T1 Departure 23:10 / T2 Departure 22:50

As scheduling may differ, we recommend that you refer to the official website to get accurate information about airport express buses and night buses.
Taxi
After exiting from the arrival area on the first floor, you can take a taxi in the direction of Seoul from platform 5C. If you are going to Gyeonggi, go to platform 4D and if you are heading to Incheon, get a taxi from platform 3C and 3D.
If you are worried about the language barrier and want to communicate with the taxi driver in a different language, you can try to take an international taxi from platform 1C, or take advantage of one of the pick-up services that we have here at Creatrip.
Reserve Seoul - Airport Taxi Service (International Taxi)
Reserve 12 Person Limousine (Seoul to Airport)
Reserve 12 Person Limousine (Airport to Seoul)
Free Terminal Shuttle Bus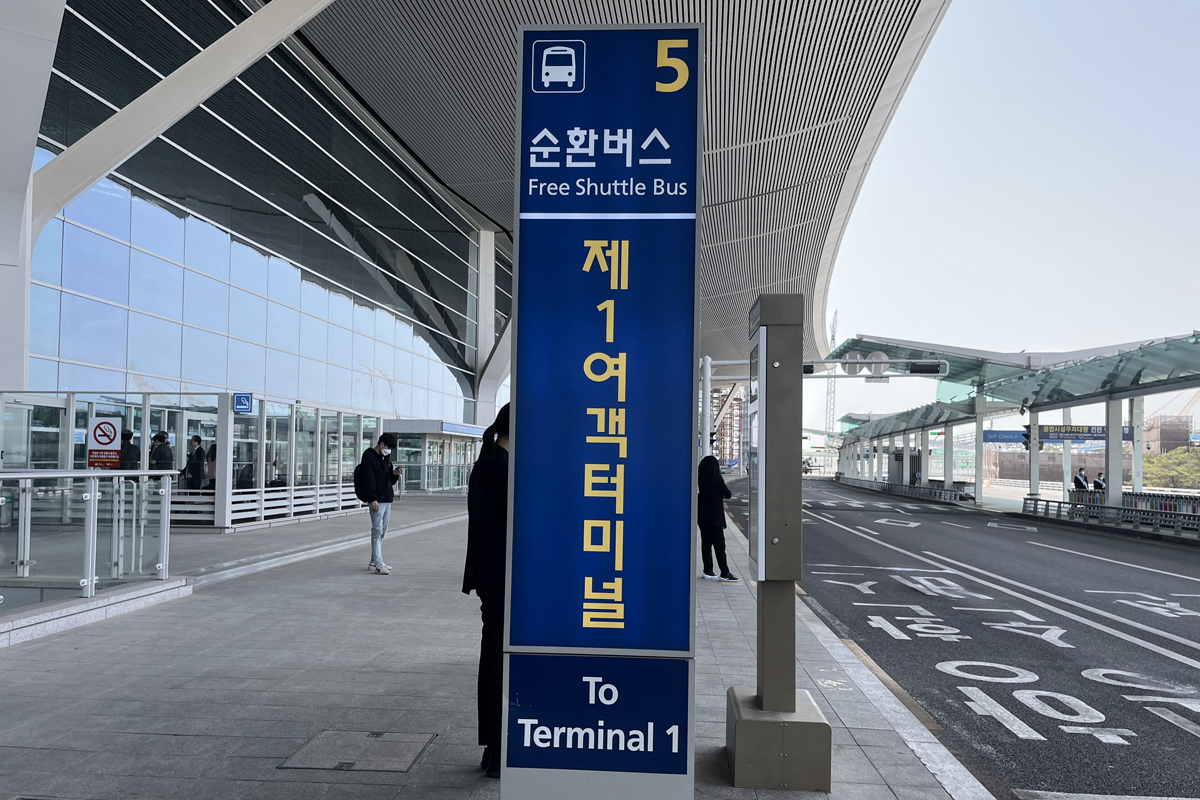 There are also circular buses that go from Terminal 1 at Exit 4 and 5 of the departure area on the third floor. These buses come every ten minutes.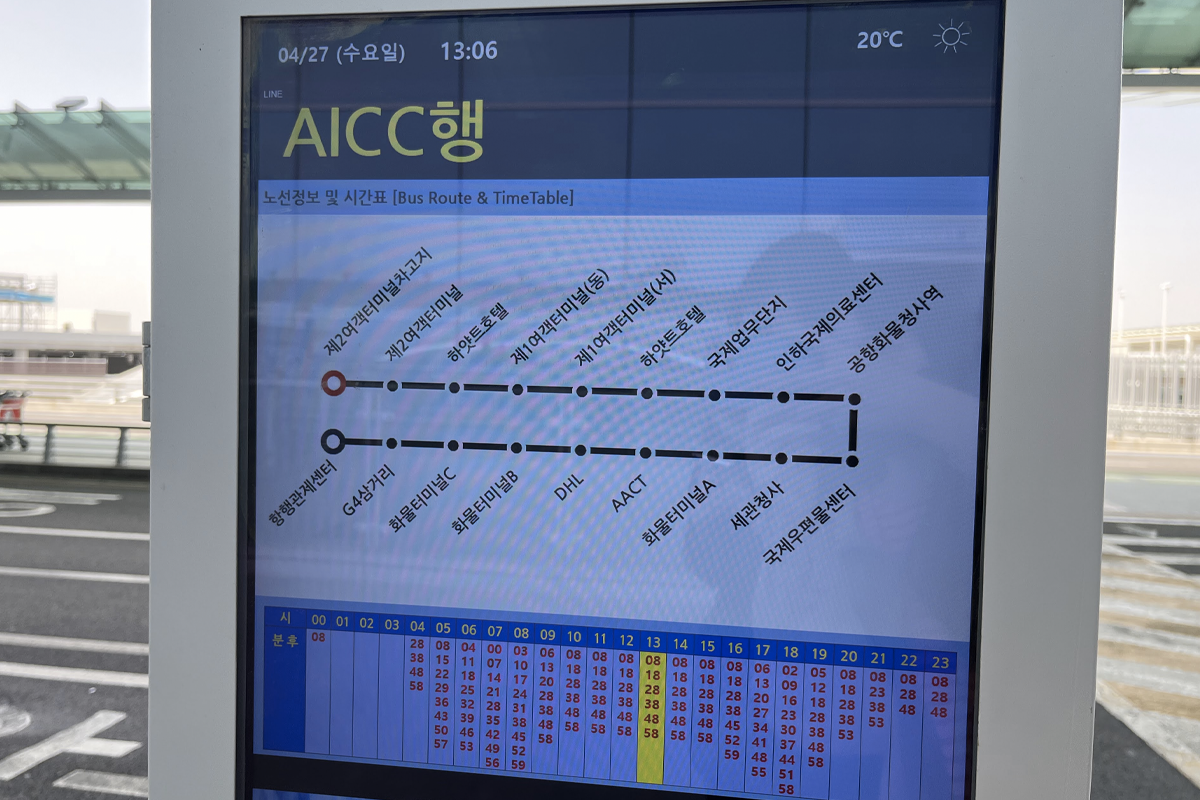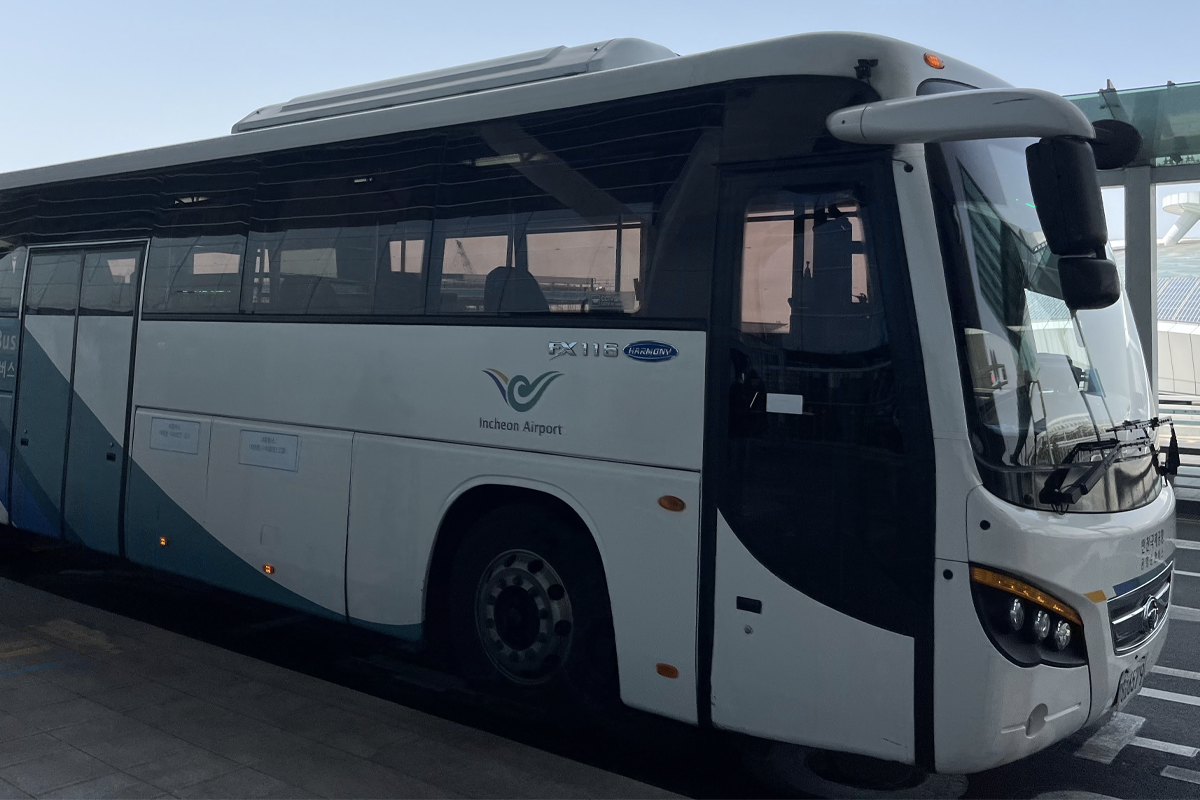 Incheon Airport Terminal Shuttle Bus

T1 → T2

T2 → T1


Board from Terminal 1, 3F, Exit 7 and 8



Board from Terminal 2, 3F, Exit 4 and 5

Shuttle departure time
04:50(Start)
00:30(End)
04:28(Start)
00:08(End)
It takes about 20 minutes to get to Terminal 1. If you have spare time waiting for the plane, or need to get to T1, you can take the free shuttle bus.
Hotel Shuttle Bus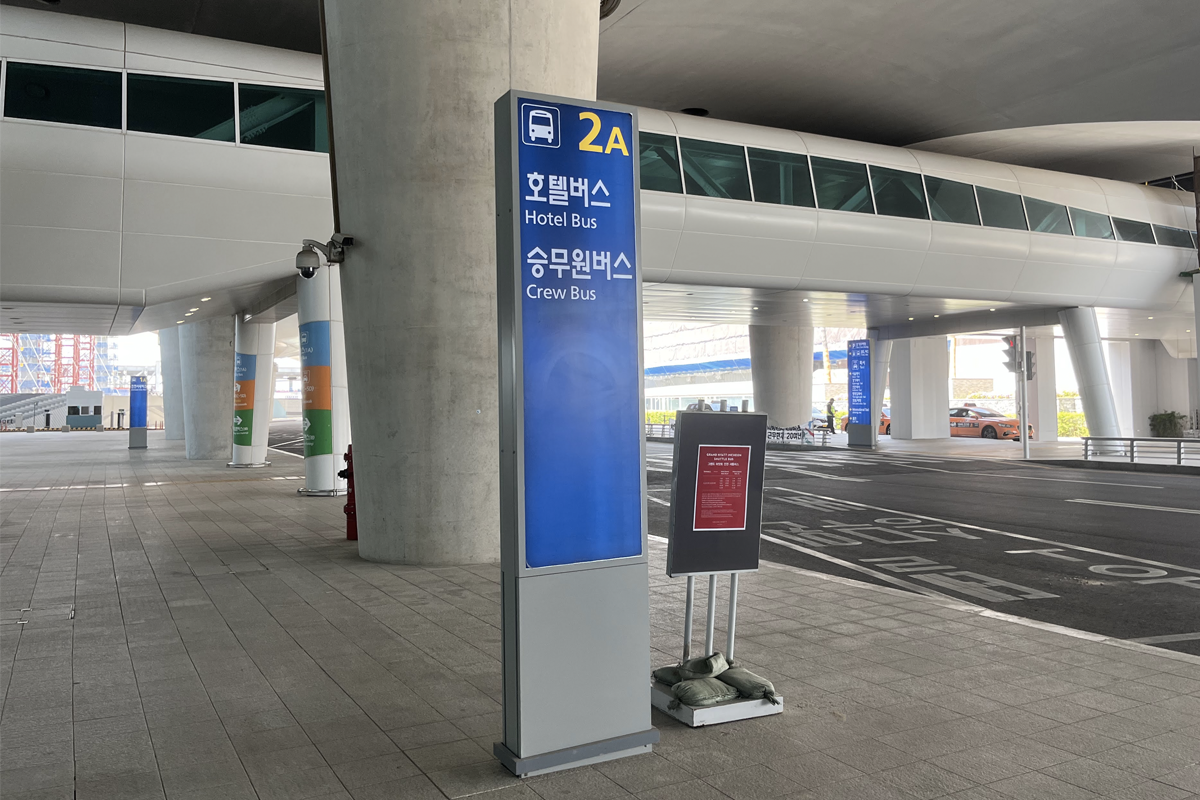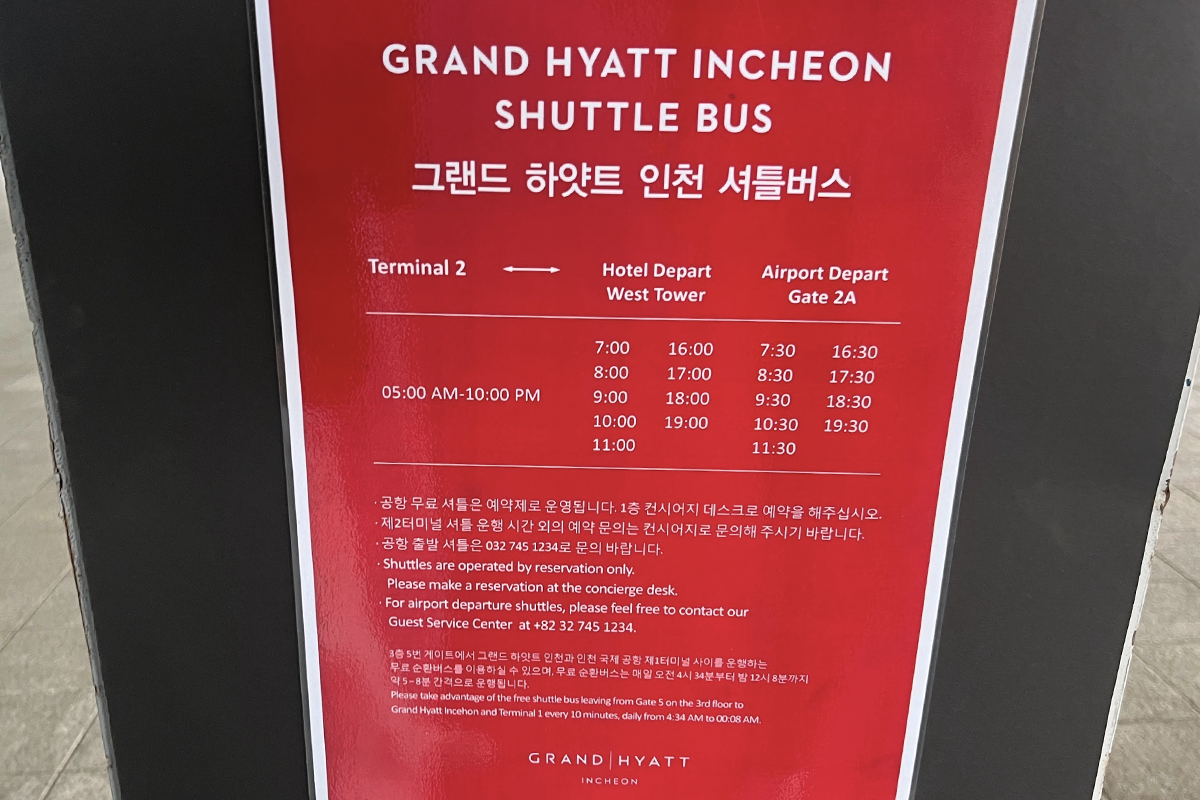 There is also a hotel shuttle bus at 2A on the immigration floor. Currently, they are not operating due to the pandemic. At this time, only shuttle buses to Grand Hyatt are operating.
---
Facilities
Currency Exchange at the Airport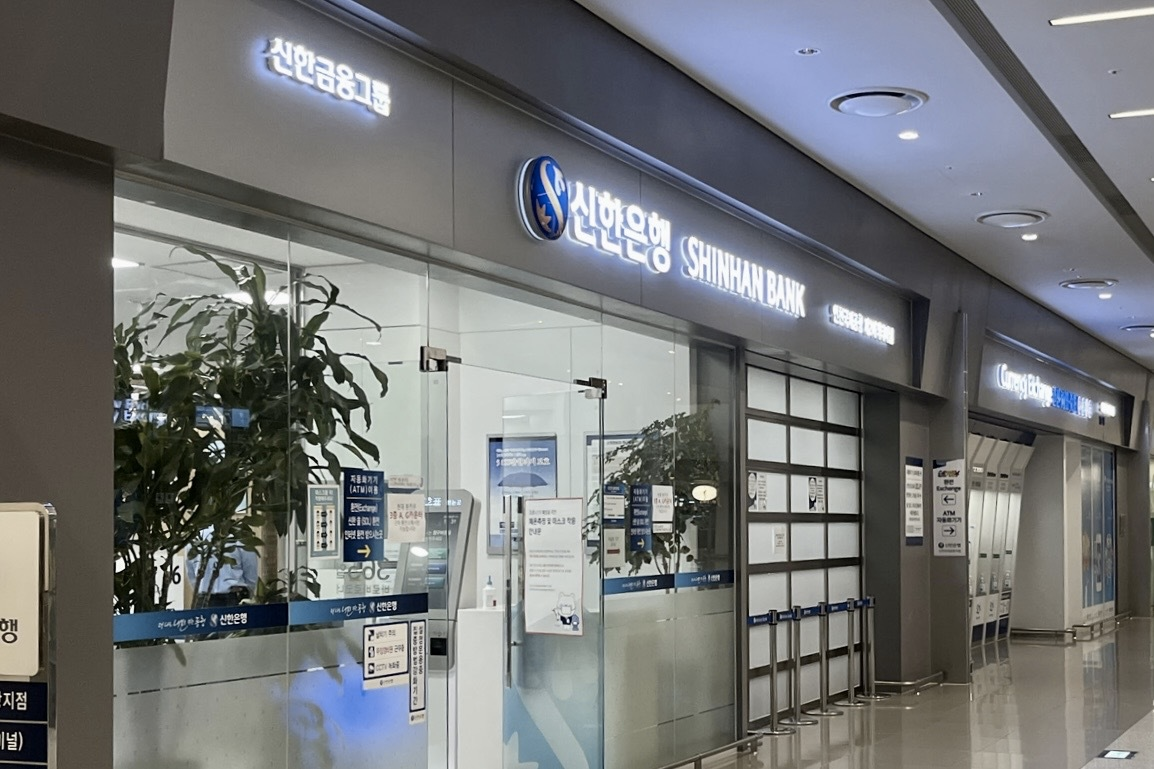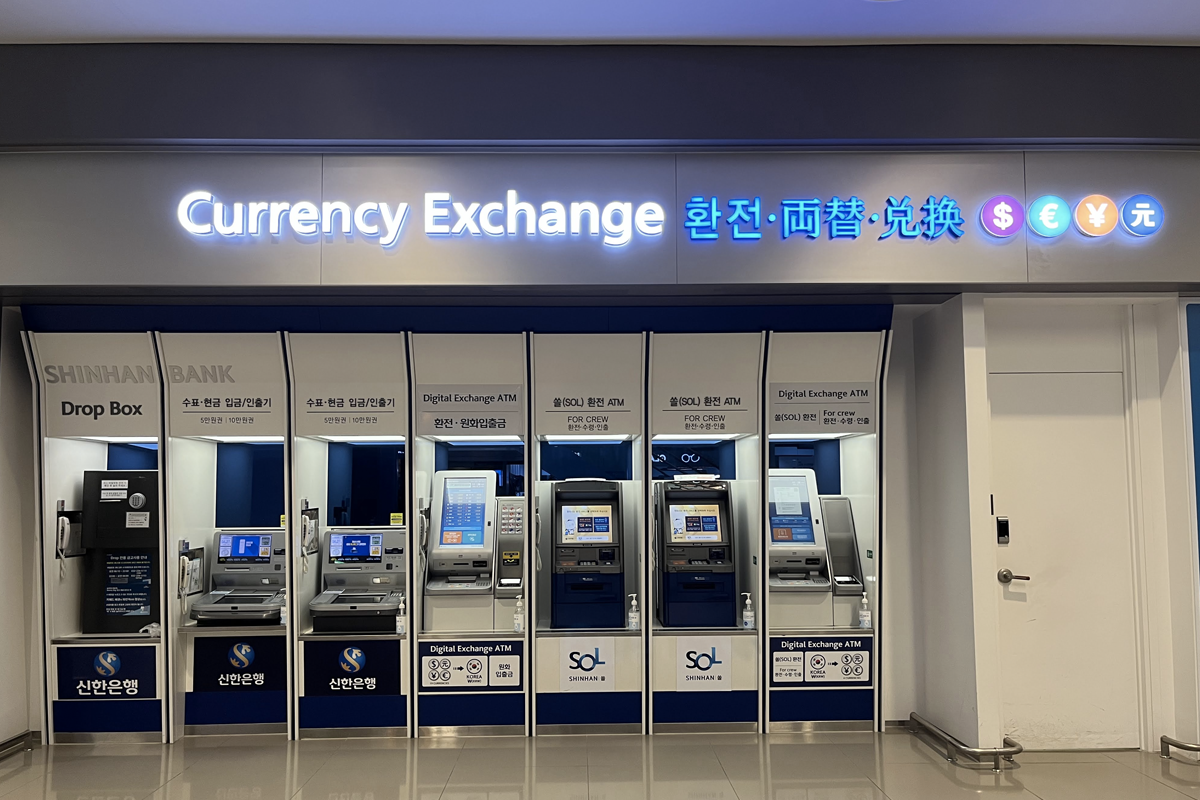 Most currency exchange places in Seoul close at around 20:00, so if you arrive too late and need to exchange money, there are many banks at the airport that provide currency exchange services. However, banks at the airport provide much worse exchange rates than private currency exchange services in the city. If you need cash right away, it is recommended to only exchange the amount needed.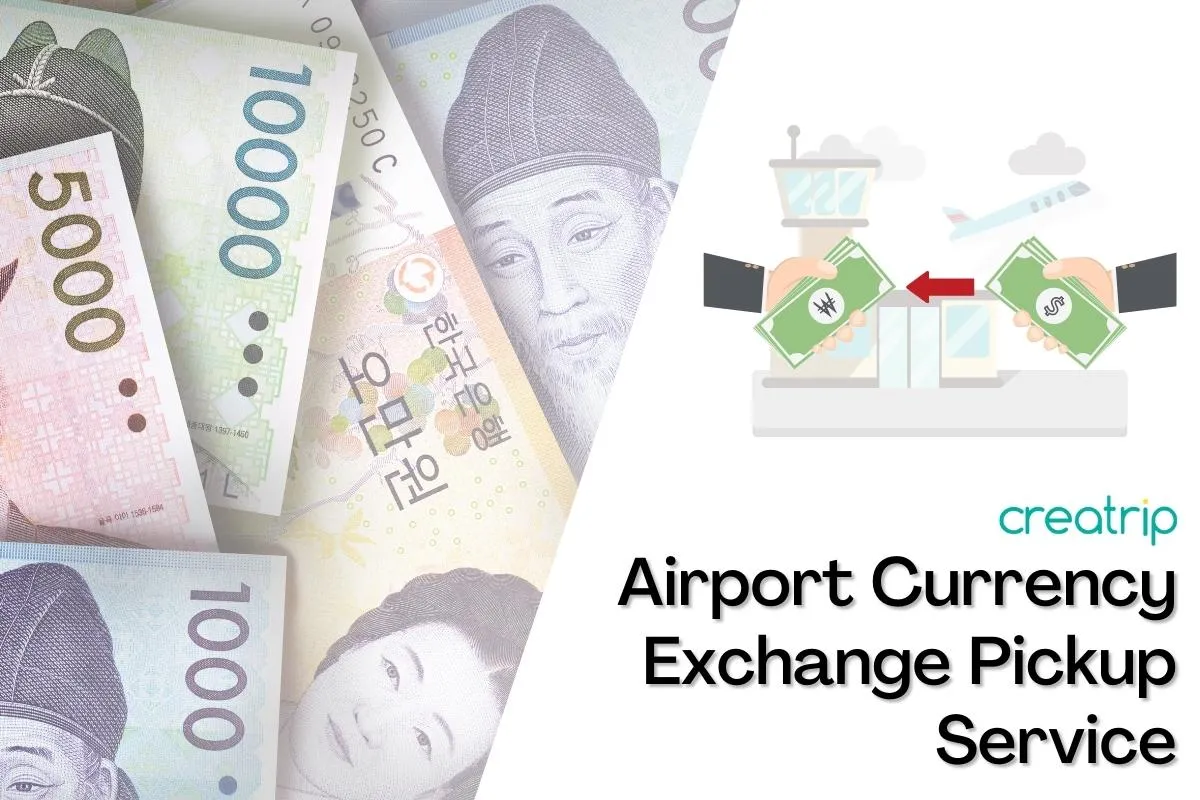 Good news for you is, there's a way to exchange currency directly at Incheon Airport without getting ripped off at the airport banks! With the Creatrip Airport Currency Exchange Pickup Service, you can make a reservation ahead of time with just a 10,000 KRW deposit payment (which will be refunded once you arrive at the airport) and exchange money right at the airport at much better rates!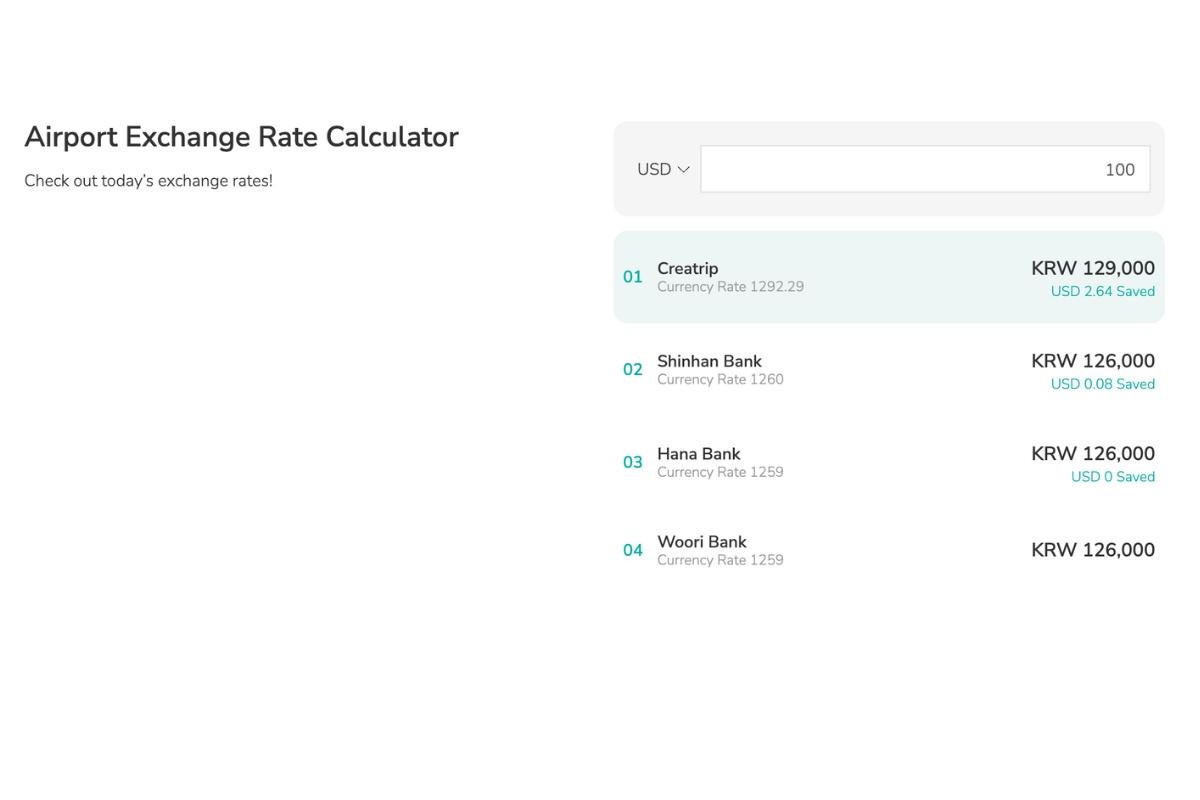 (Not a fixed rate)
You can use the Creatrip Exchange Rate Calculator to calculate exactly how much you can exchange USD to KRW for and how much you can save! The calculator is updated twice a day at 12:00 PM and 12:00 AM. Click the link below to check the current rates and make a reservation for currency exchange at the airport!
Creatrip Currency Exchange Service
For more information regarding currency exchange in Korea, check out our blog in the link below!
Foreign Currency Exchange Guide
Tax Refund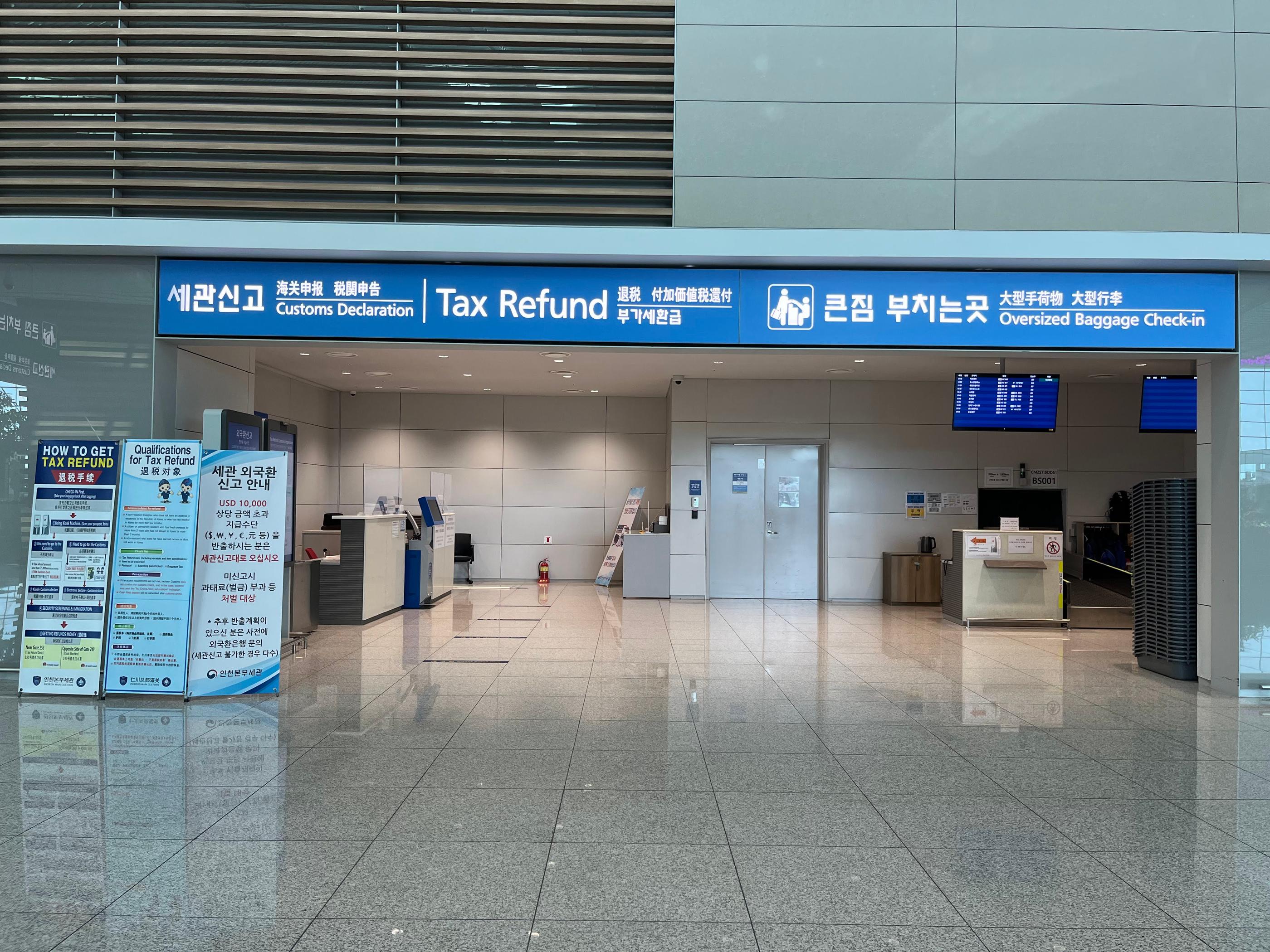 The tax refund machines in front of counters D and E on the 3rd floor are for tax refunds. If you need help, you can ask the staff to assist you with your refund.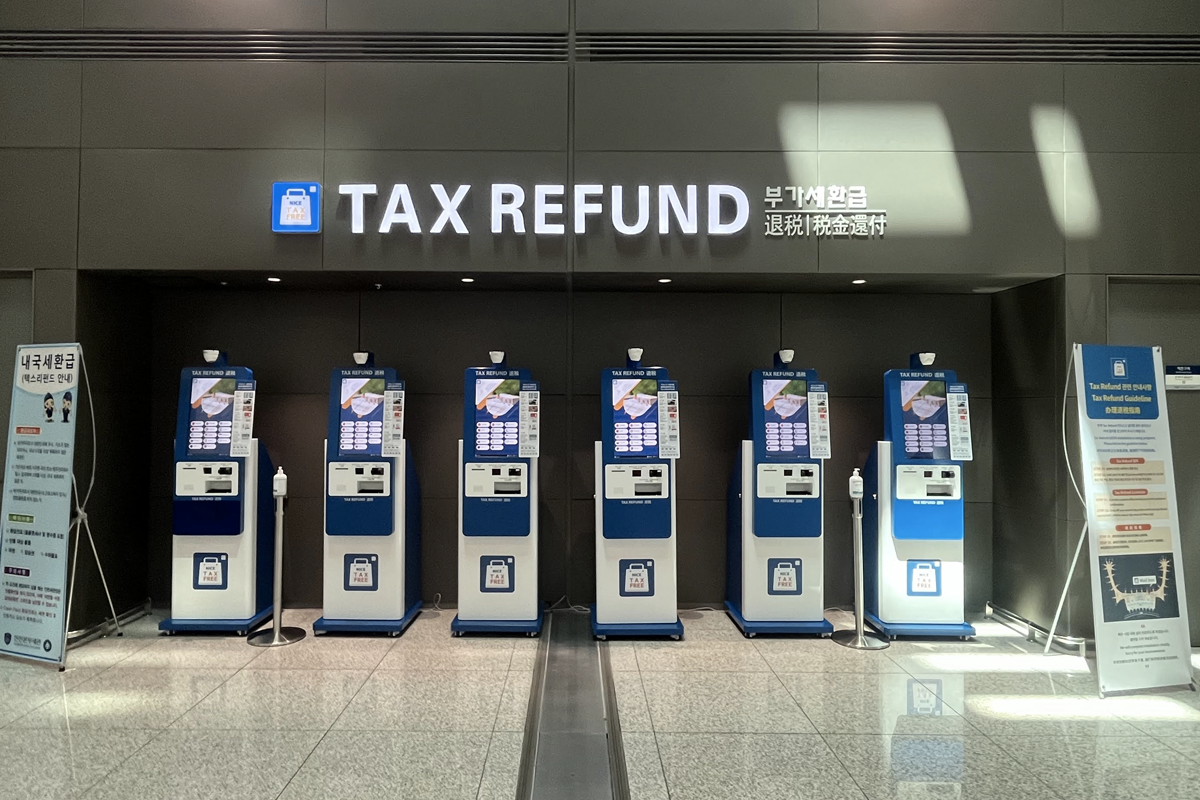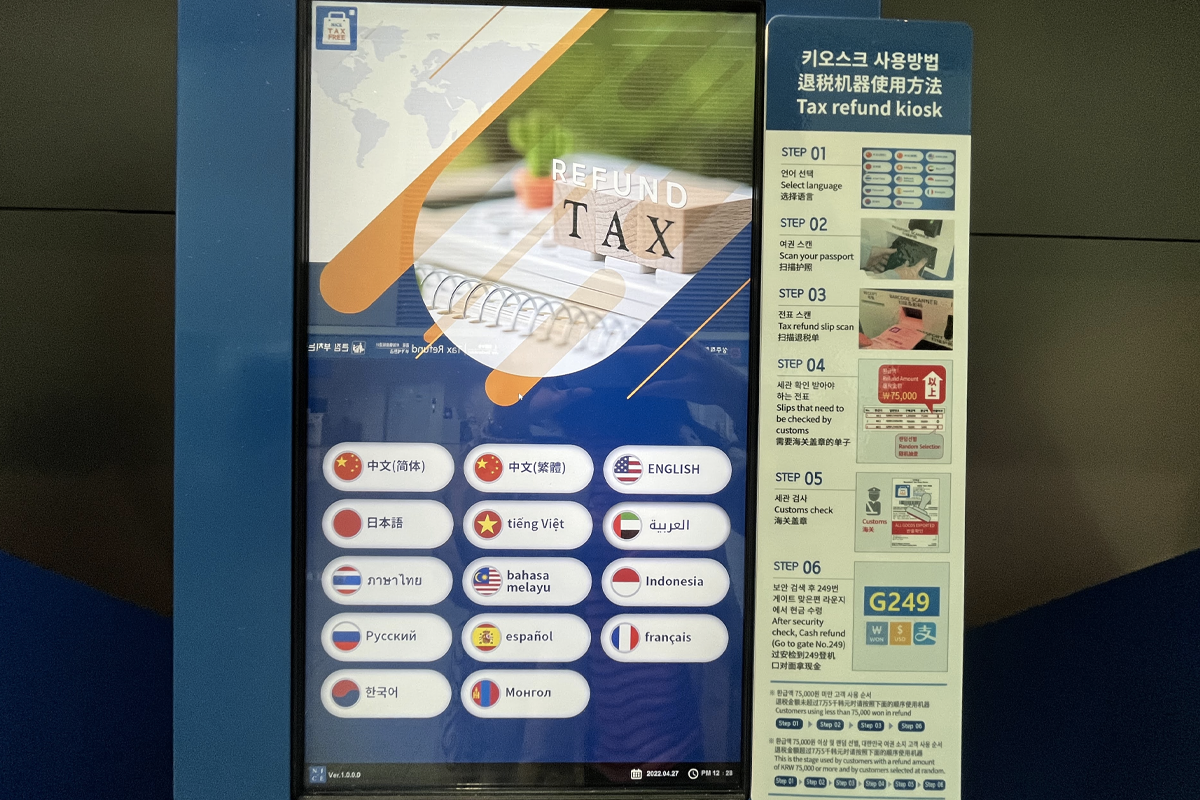 The automatic tax refund machine provides multilingual services as well so you can use them in the language you are most comfortable with.
How to Get a Tax Refund In Korea
SIM Card and Wifi Rental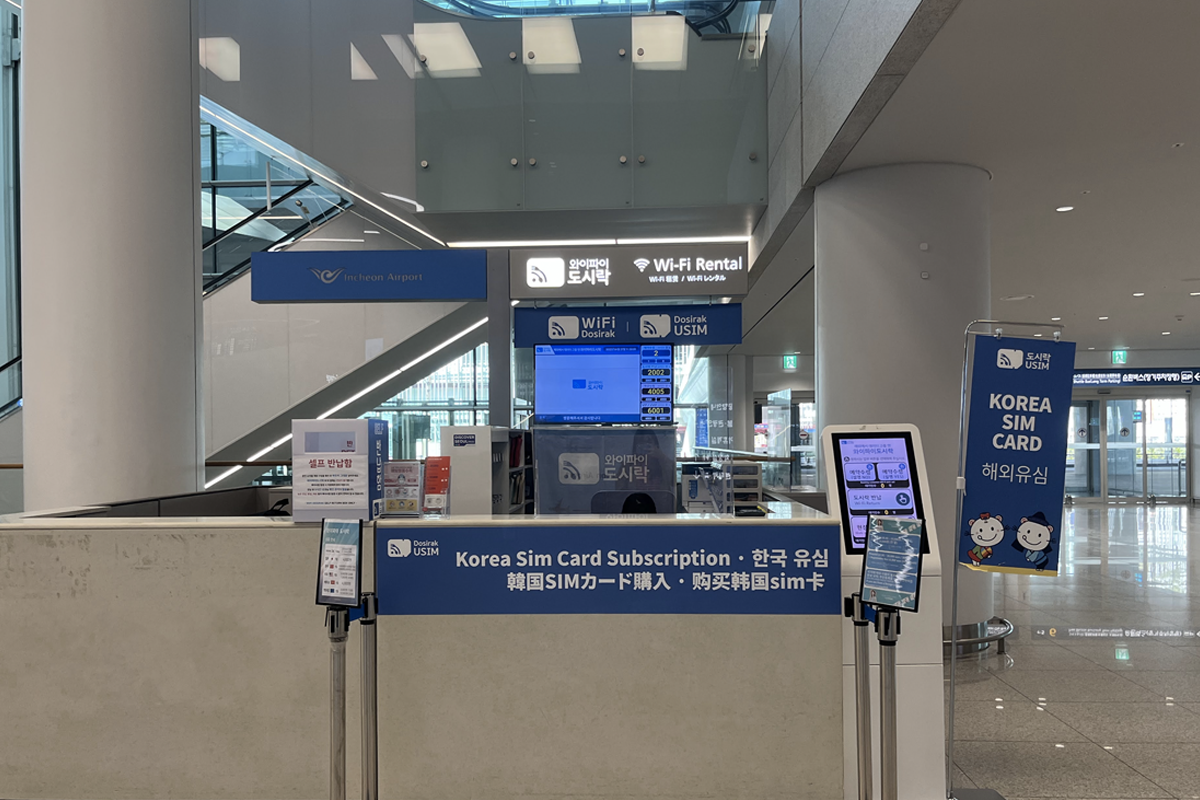 1F 1(temporarily closed)、Exit 6

06:00 to 22:00(temporarily closed)

KT

LG U+
You can reserve wifi and SIM cards beforehand online and pick them up at the airport. This is one of the easiest ways to ensure that you have data and access to the internet all throughout the duration of your trip. Click the link below to see all the SIM card and portable Wi-Fi options!
---
Facilities
Information Desks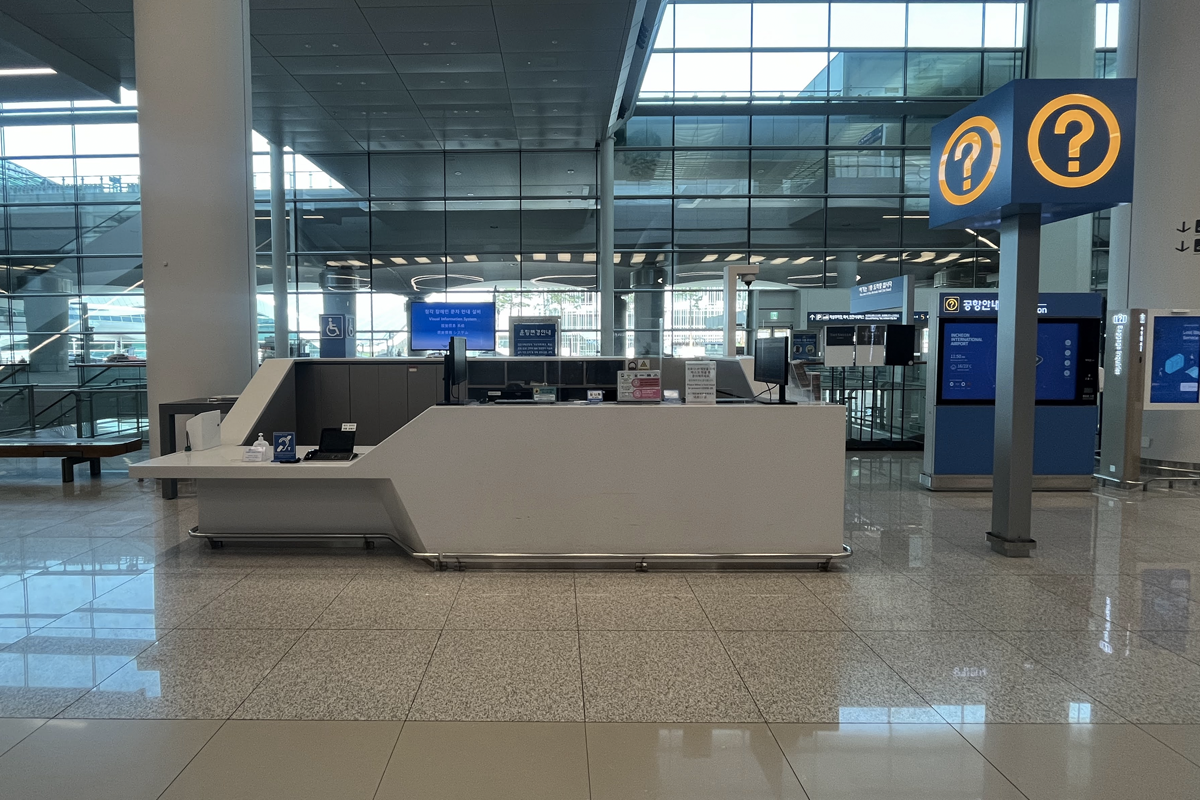 Location: Exit 2 and 5 on the west side of the first floor (until 24:00)
Hours: 05:00-23:00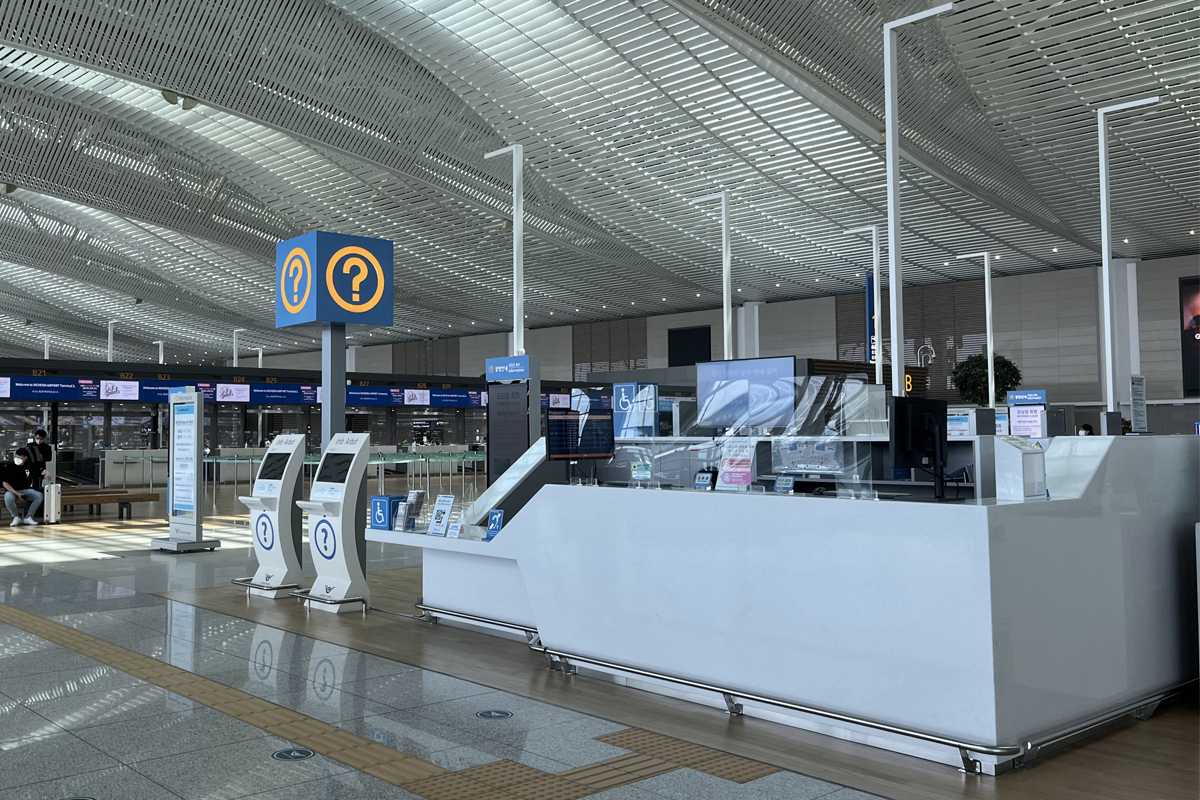 Location: Counter B and G on the third floor (until 24:00)
Hours: 05:00 - 23:00
There are information and service desks at B and G in the departure hall on the third floor, and there are free printers next to them. If you find that you need to print documents before you go on your flight, you can reprint them here.
Airstar
At the airport, you may encounter a customer service robot called "Airstar". Airstar can provide assistance in Chinese, English, Japanese, and Korean. If you get lost or need assistance, you can ask it to help guide you in the right direction!
Post Office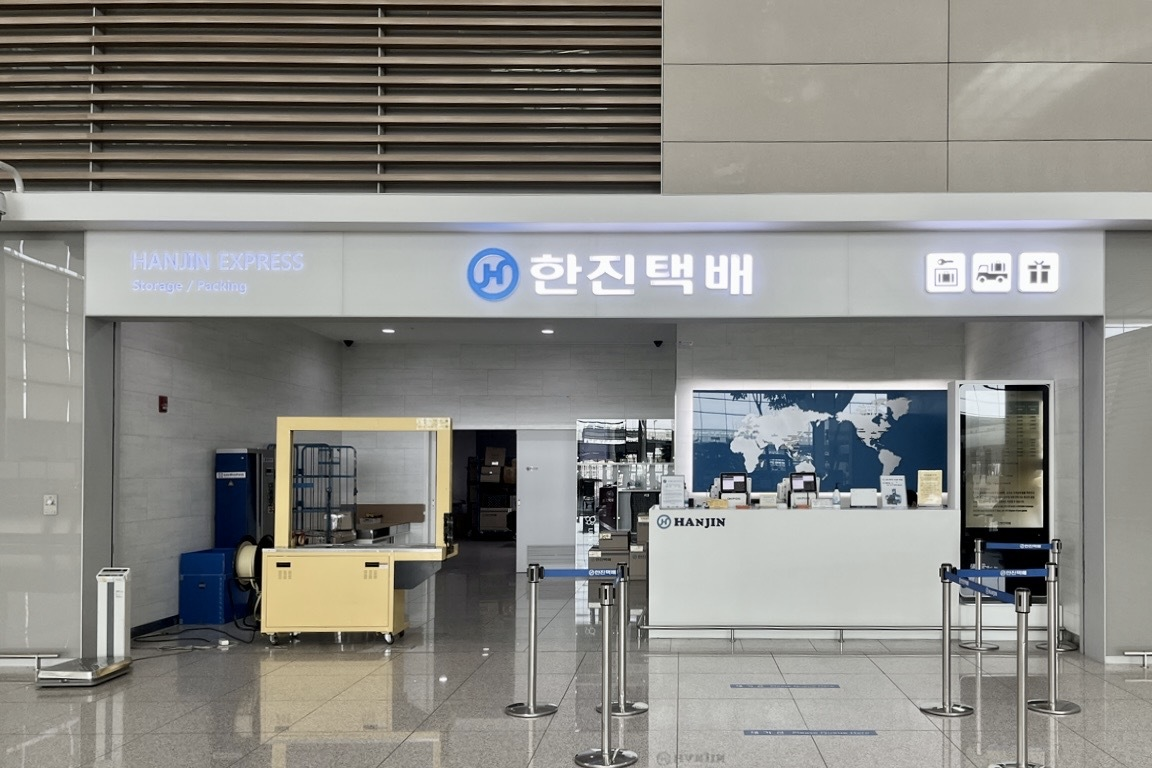 Hanjin Express
Location: counter H on the third floor
Hours: 07:00 to 21:00
There is no post office in Terminal 2. If you need to deliver, store or pack your luggage in Korea, you can go to Hanjin Express to store your luggage. The average price is 4,000 KRW per piece for any type of luggage for every four hours.
If you do not want to go through the hassle of dropping off your luggage here, you can also take advantage of TRIPEASY. TRIPEASY allows you to easily deliver your luggage around so you do not need to travel and move with so many luggage pieces.
Creatrip is also partnered with TRIPEASY so you can also get a hefty discount if you reserve with us!
Hospitals
Inha Hospital
Location: West side of B1
Hours: Weekdays 08:30-18:00 (Lunch Break 12:00-13:00) / Weekends & Holidays 8:30-15:30 (Lunch Break 12:00-13:00)
There is a hospital that is attached to the airport for passengers who arrive at the airport and get sick. Both Korean nationals and foreigners can come here for treatment.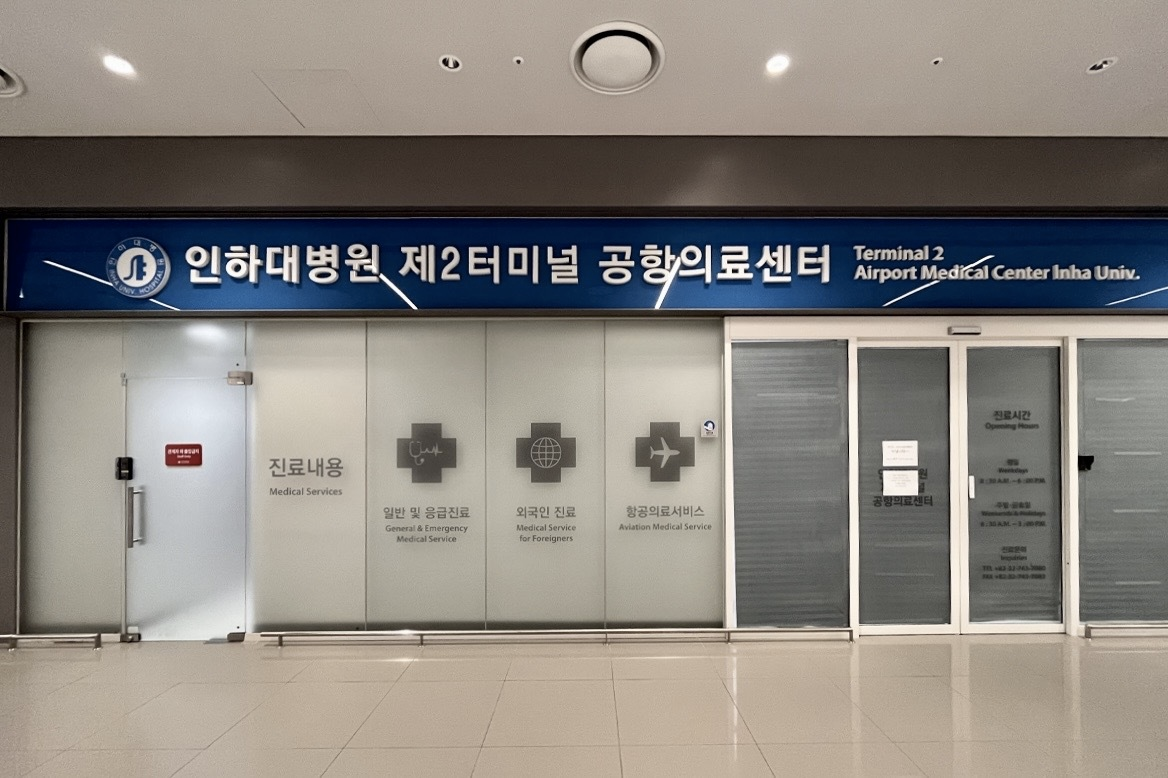 Pharmacies
Balance Pharmacy
Location: West side of B1
Hours: 07:00-10:00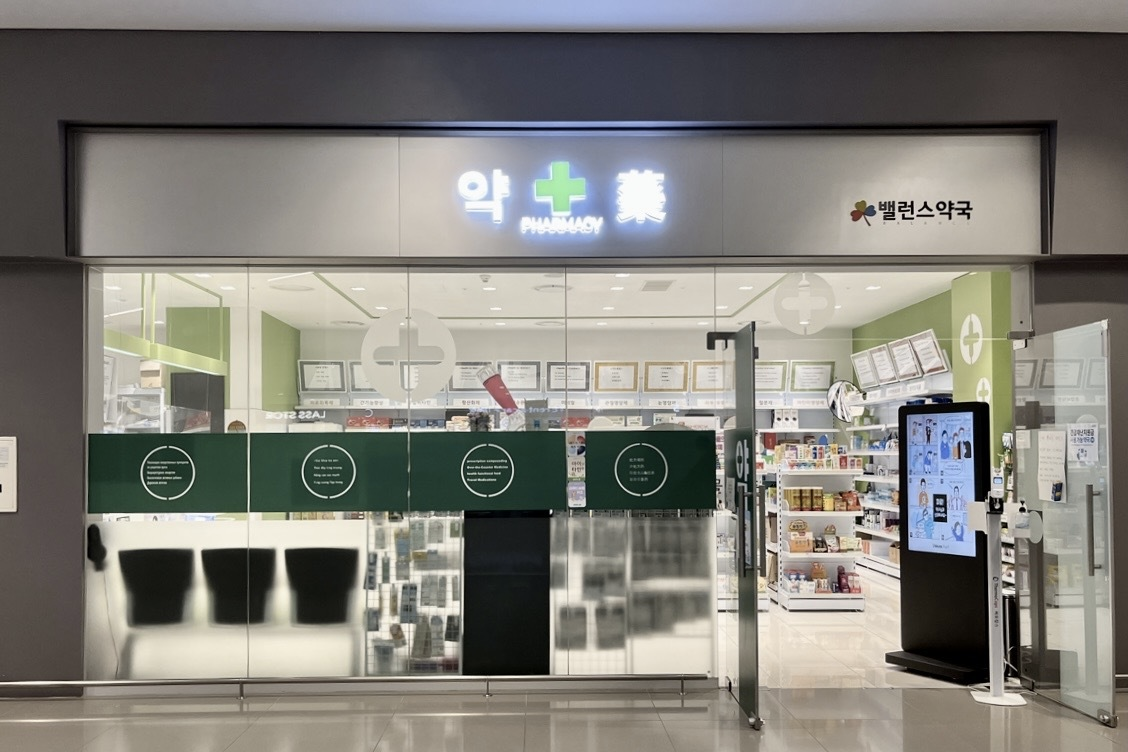 Sky Pharmacy
Location: Central area of the third floor
Hours: 07:00-21:00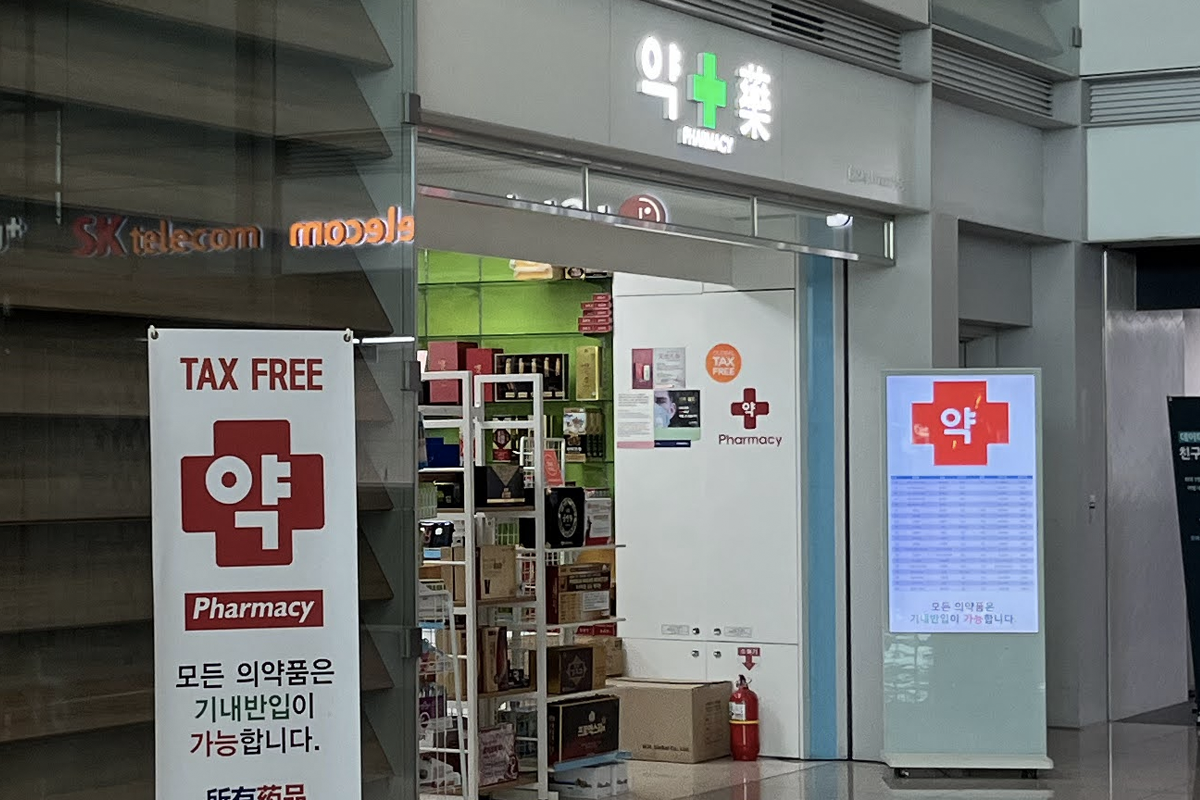 Travelers who don't want to go to the hospital or are short on time can go to the pharmacy and get medicine to treat symptoms. There are two pharmacies in Incheon Airport Terminal 2 and both can be used by passengers before their departure!
Mask Vending Machine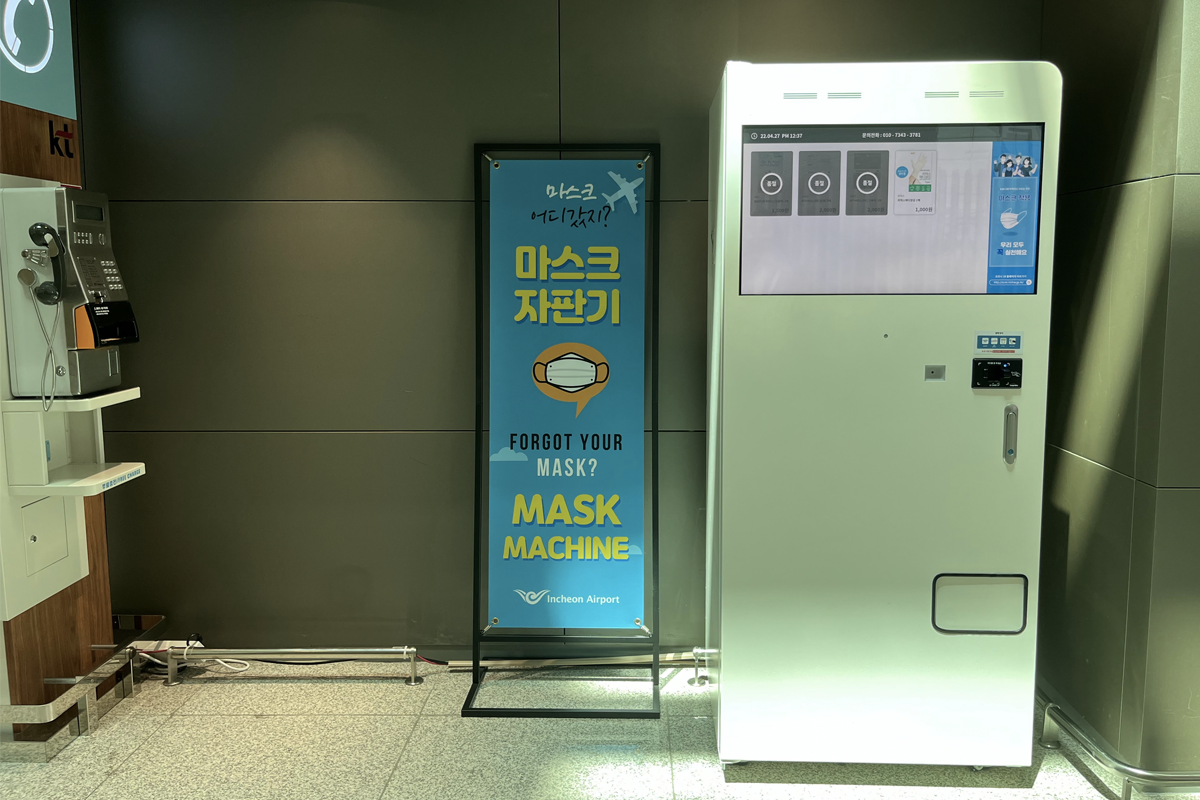 There is also a mask vending machine opposite the Central District Pharmacy on the third floor. If you are in a hurry and need to buy a mask, or something got on your mask, or you lost your mask, you can quickly grab one here.
Nursery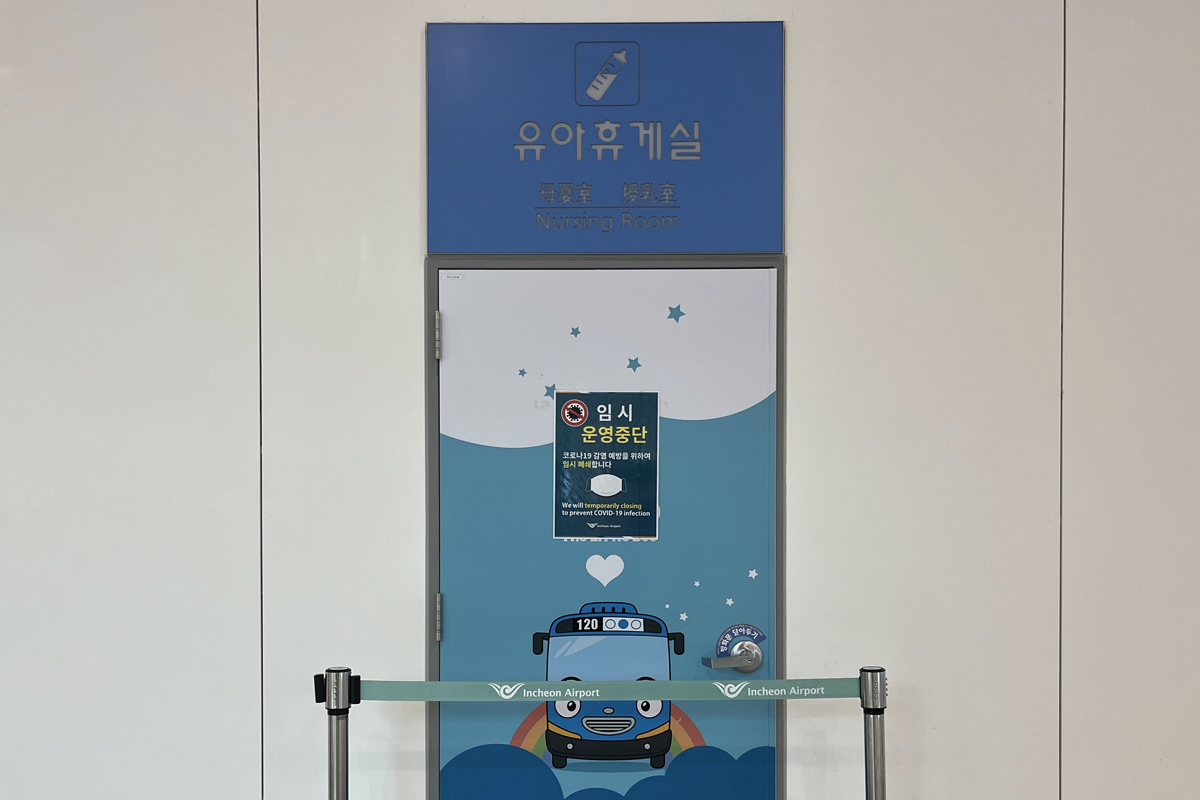 B1 Nursery Room
Location: Easy and West side of the bus stop
Hours: 00:00 to 24:00
1st floor
Locations: Multiple across the west and east side of the floor
Hours: 00:00- 24:00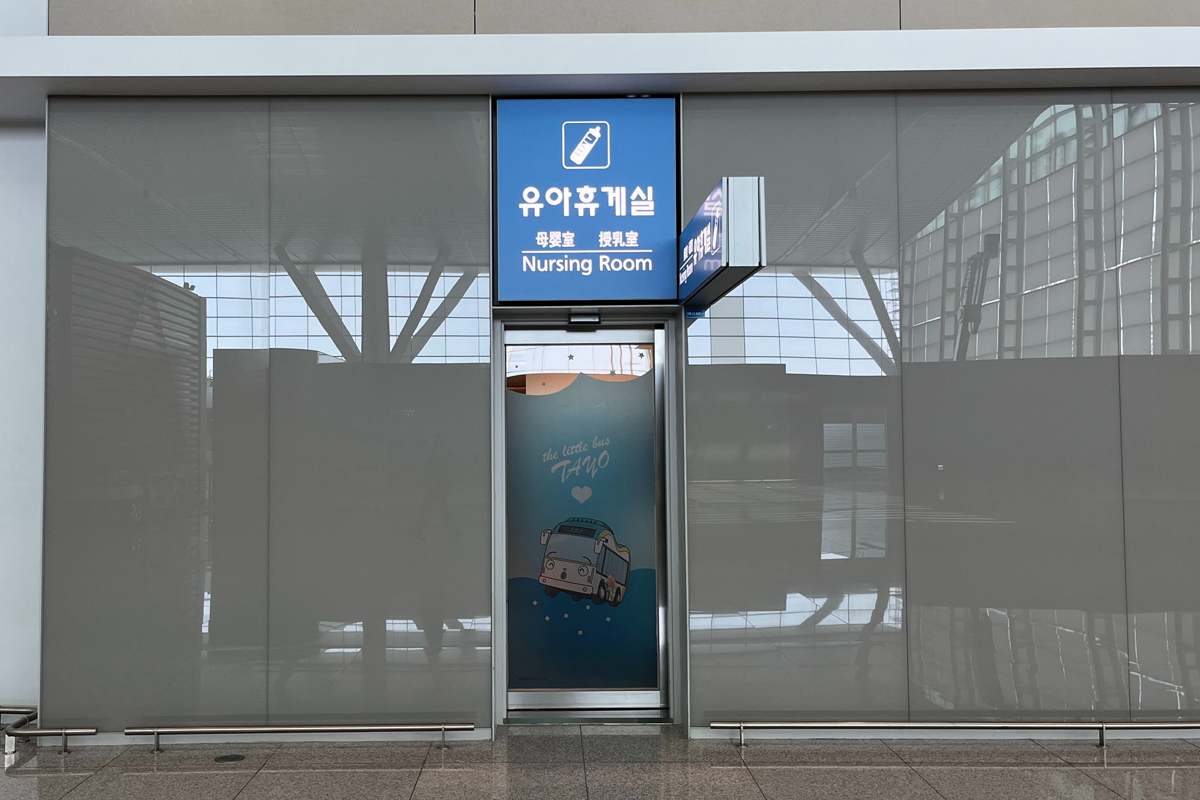 3rd Floor
Location: Multiple across the west and east side of the floor
Hours: 00:00-24:00
Incheon Airport Terminal 1 also has many nursery rooms for mothers on B1, 1st and 3rd floor. Currently, there are a few that are not in operation due to social distancing measures, but the nursery that are located on the east side of the terminal all tend to be open.
Insurance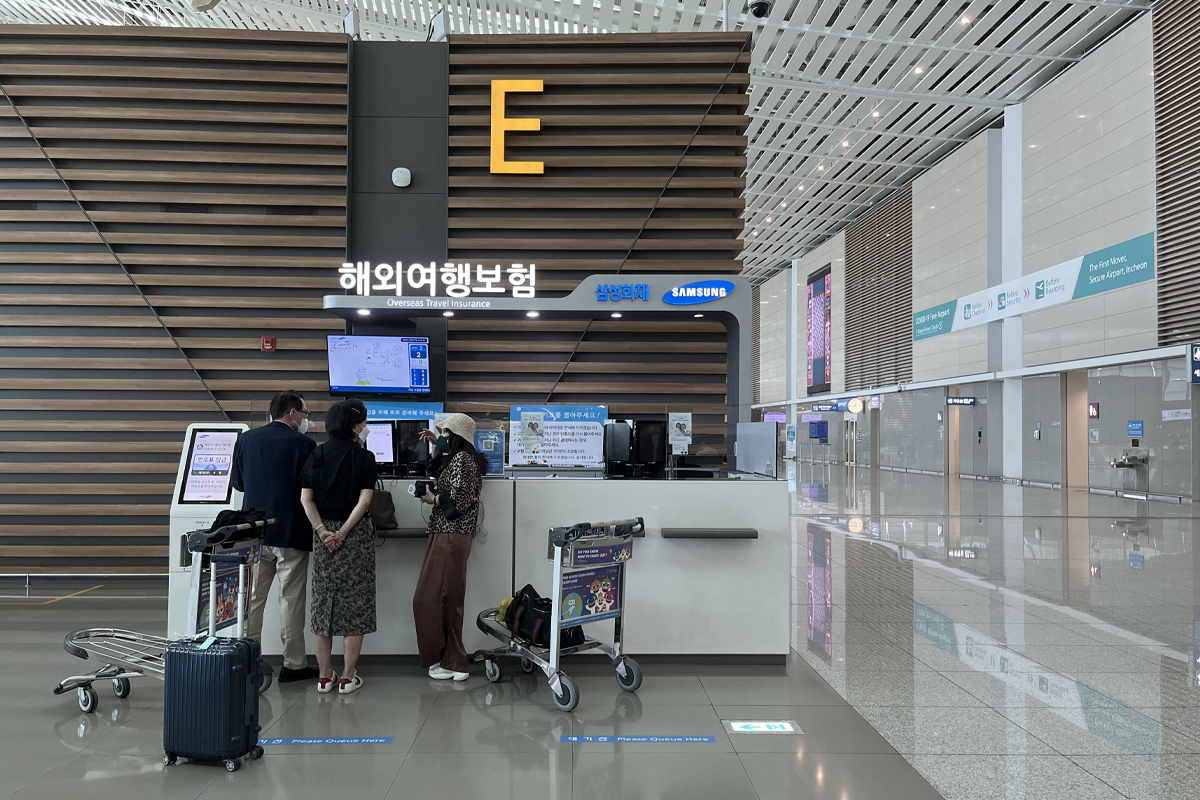 Samsung Insurance
Location: Counter E, 3rd floor
Hours: 07:20 to 19:30
Those that want to get insurance can do so here. You can get a variety from travel insurance to study abroad insurance.
Airport Hotels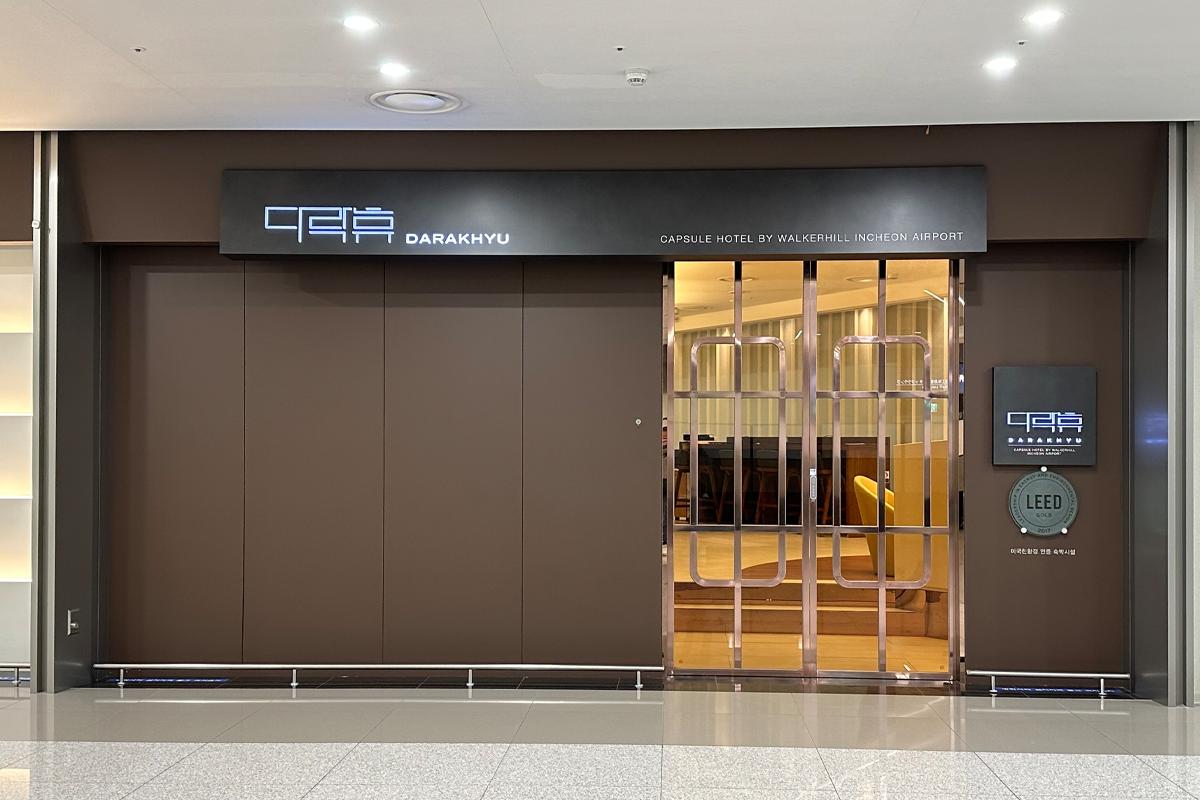 Darakhyu (Capsule Hotel)
Location: East of B1 Traffic Center
Hours: 24 Hours
Usage Time

Single

Single + Shower

Double

Double + Shower

08:00 to 20:00
Darakhyu is a capsule hotel that is operated by the well-known Korean hotel "Walker Hill Hotel". It is open 24 hours a day and is open all year round, so it is a very popular destination for travelers that need a place to catch up on some sleep or rest before their flight.
Shower Room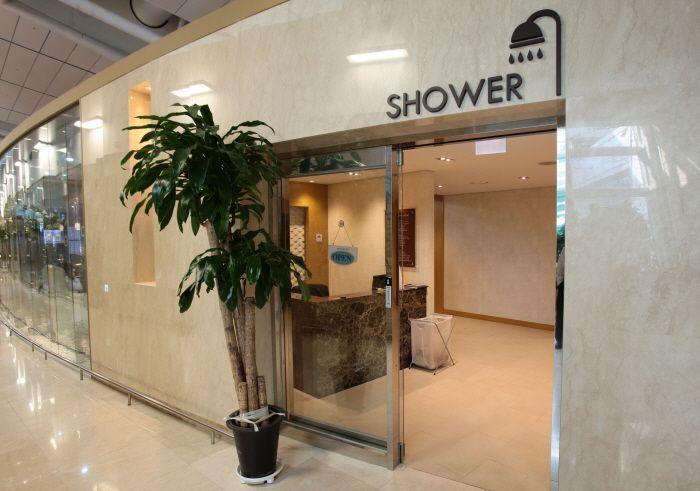 Location: 231, 268, 4th Floor, T2
Hours: 24 Hours (Currently not operating due to COVID-19)
Price: 3,000 KRW
The shower room at Incheon Airport is located in the middle of the 4th floor of the terminal building. It can be used when you want to freshen up from your travels or have an overnight layover at the airport!
Rest Area and Charging Station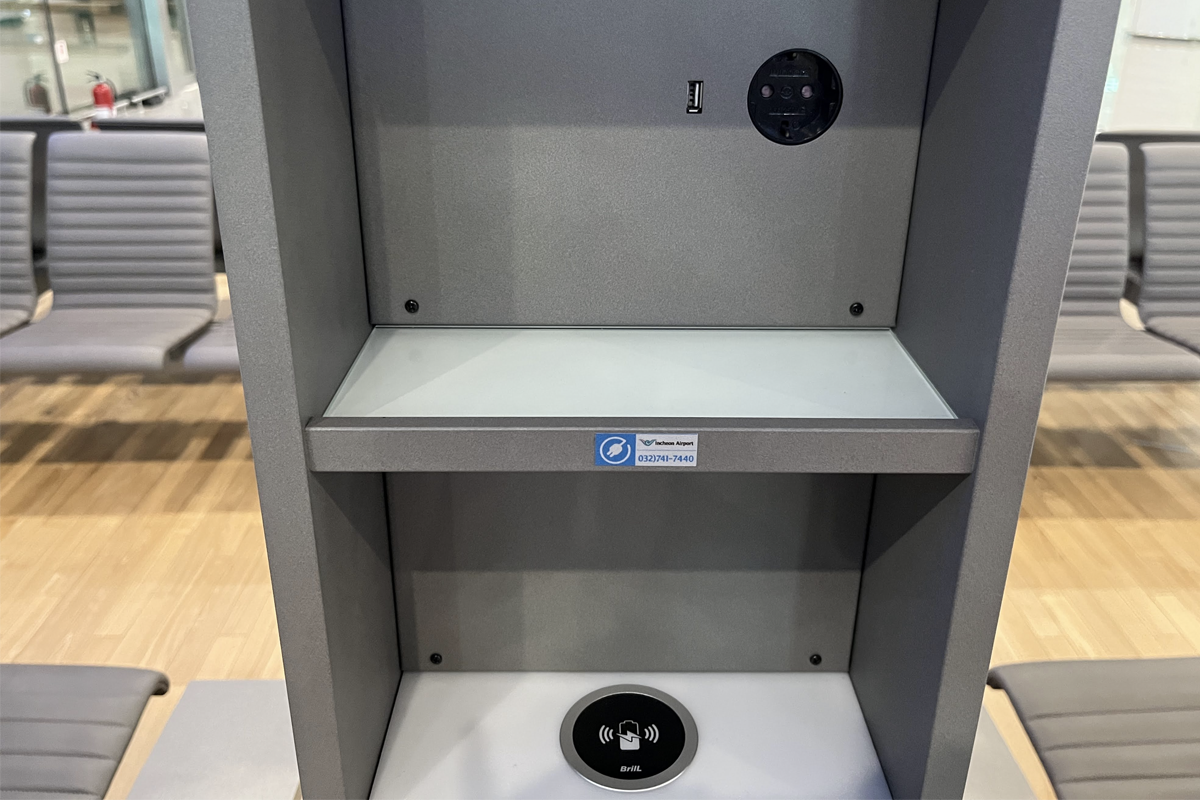 There are charging stations on the first and third floor of the airport and a seating area in B1. Both of these areas have charging stations that support both wireless and wired charging methods.
Airport Lounge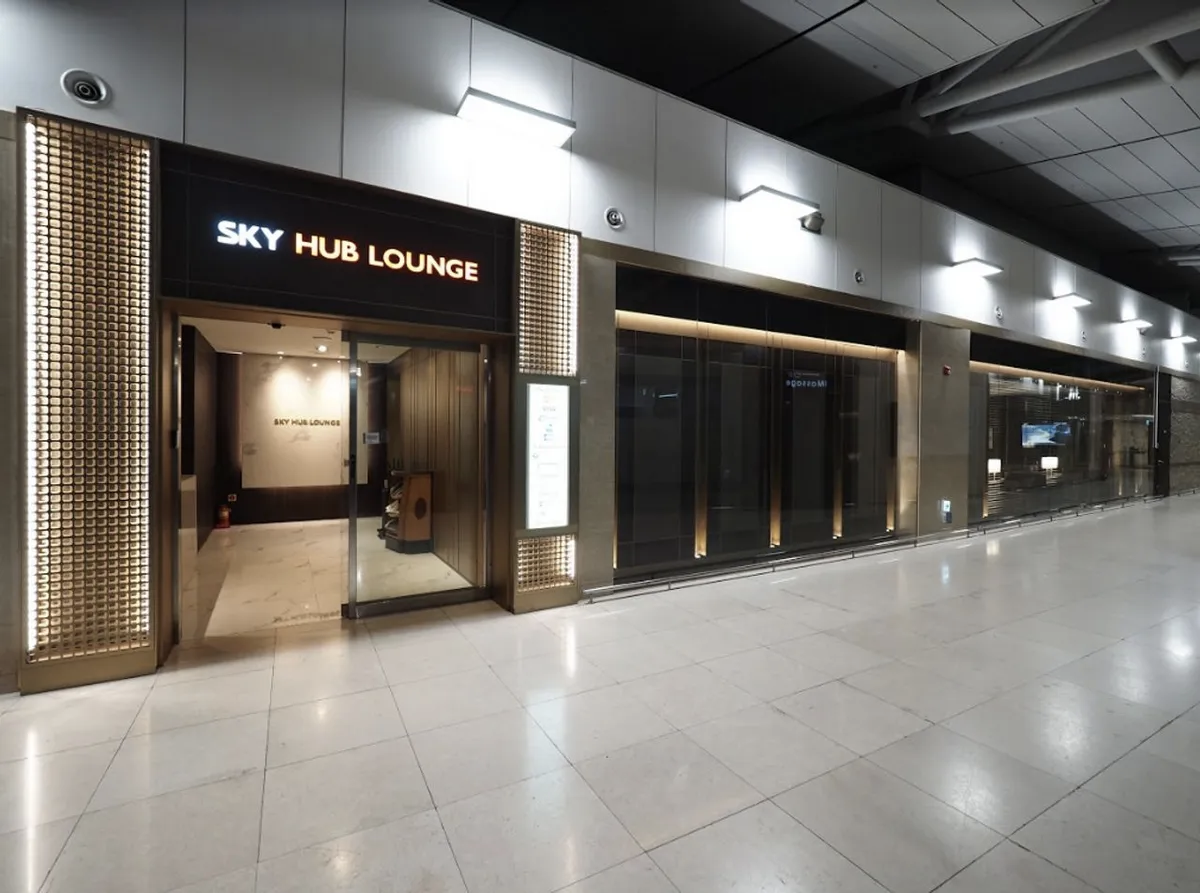 If you still have a lot of time to kill before boarding your flight, you can opt to wait in the comfortable airport lounge. These lounges are equipped with high speed internet, snacks, drinks, and a comfortable waiting area. They are the perfect place to sit back down and relax or get a grab to eat and get some work done before your flight leaves.
Reserve Airport Lounge Voucher
Restaurants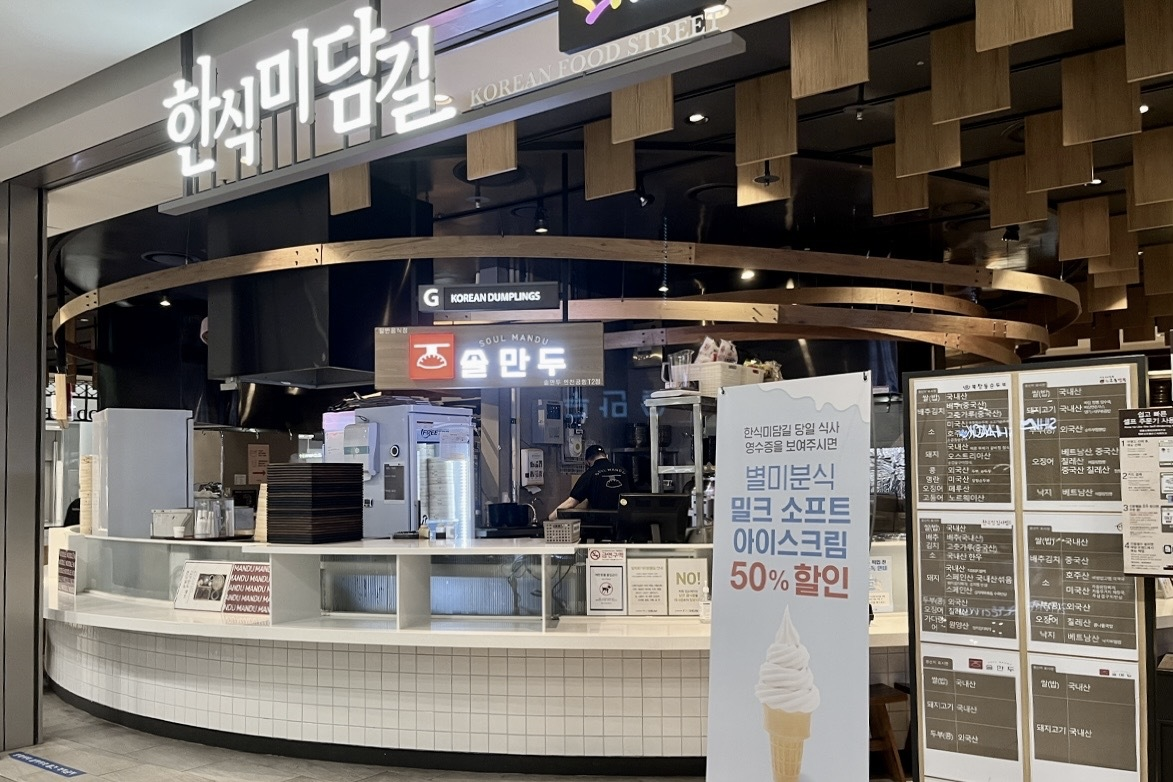 There is an assortment of delicious restaurants and food shops in Terminal 1 as well. You can try a variety of food options, as well as an extensive amount of Korean foods such as noodles, seafood, and tofu dishes!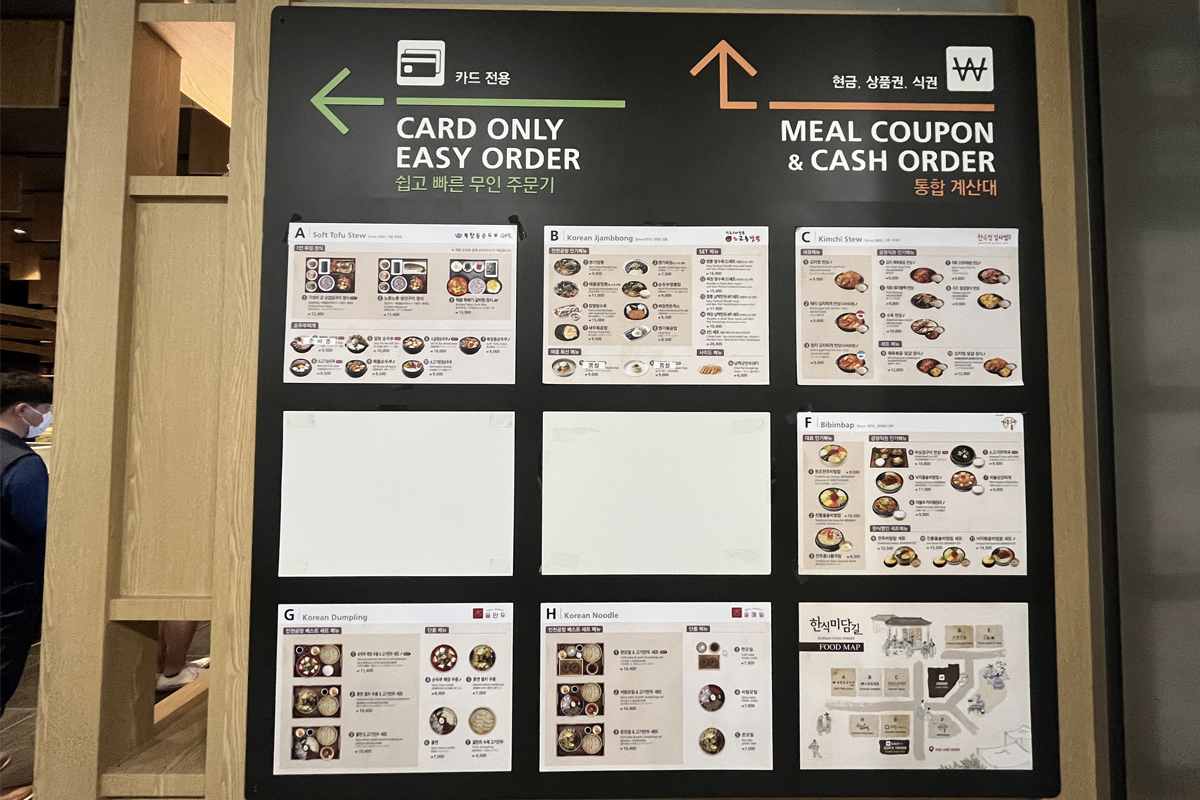 You can also find menus that are translated into English, Chinese, and Japanese which make it easy for travelers to decipher menus and pick out what they want to eat.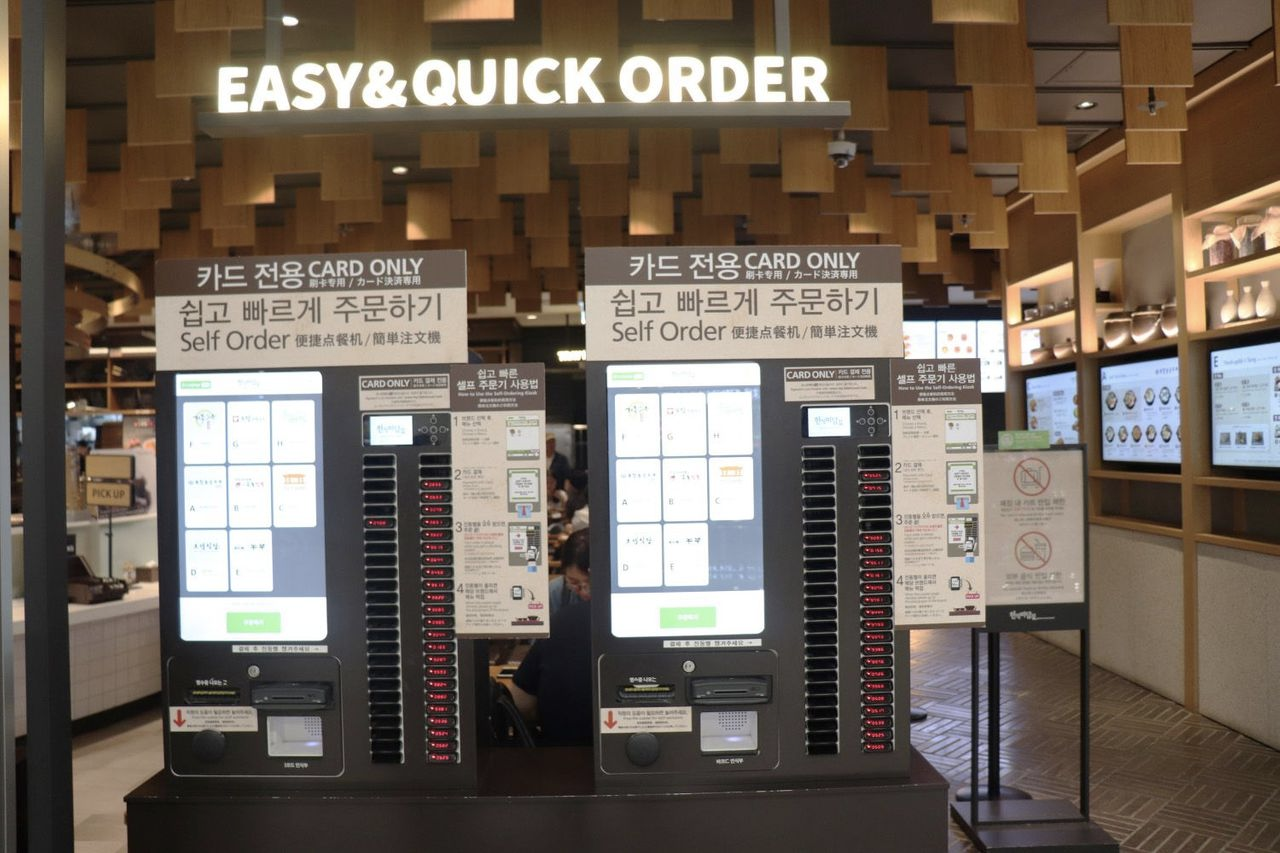 The self-checkout area is a dedicated checkout area for those that are paying via card. In addition to operating in a variety of languages, this method of ordering is much easier and quicker for travelers.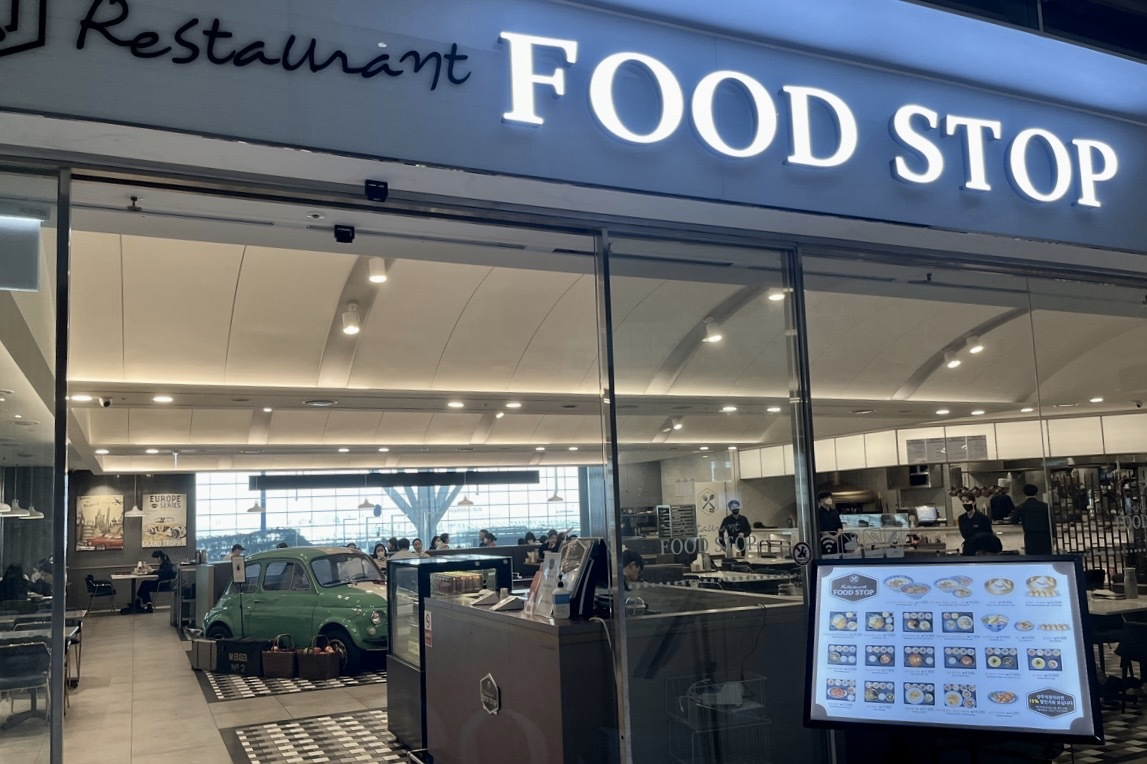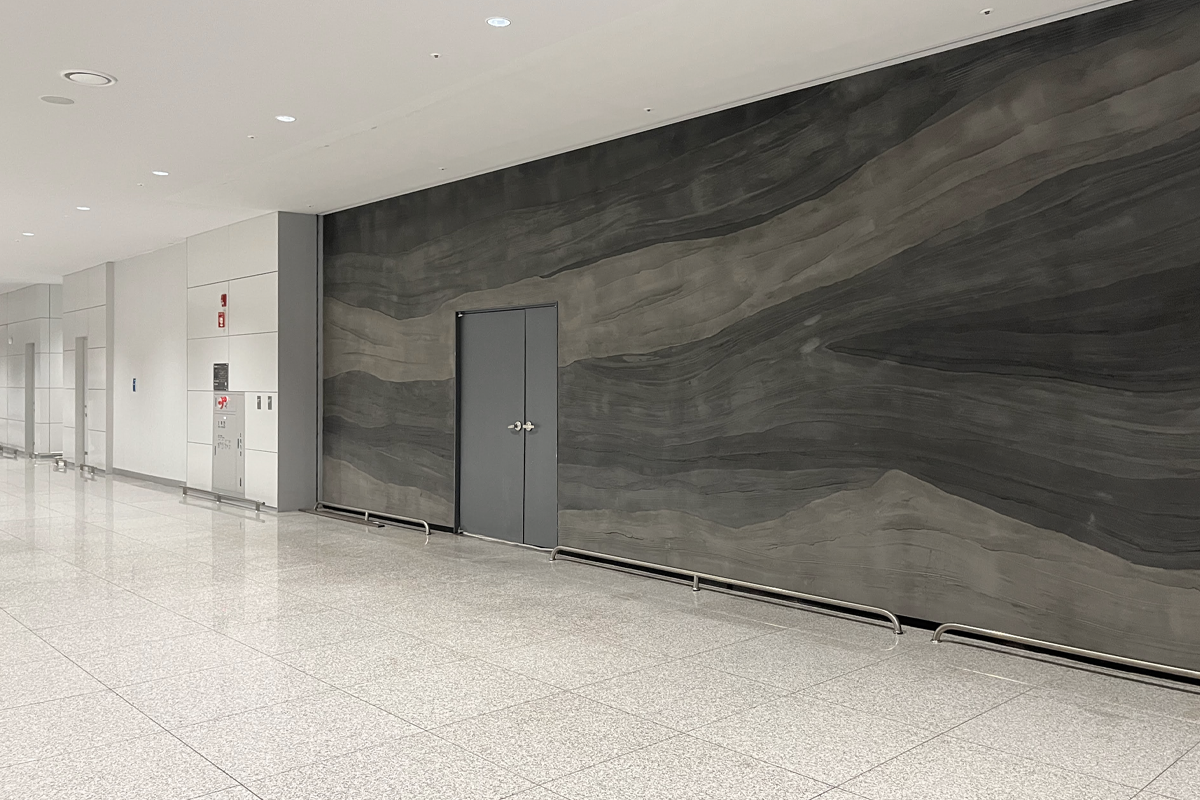 On the 4th floor you can find more gourmet restaurants. This is not a food court style, so you can sit down and have a relaxing, delicious meal.
Cafes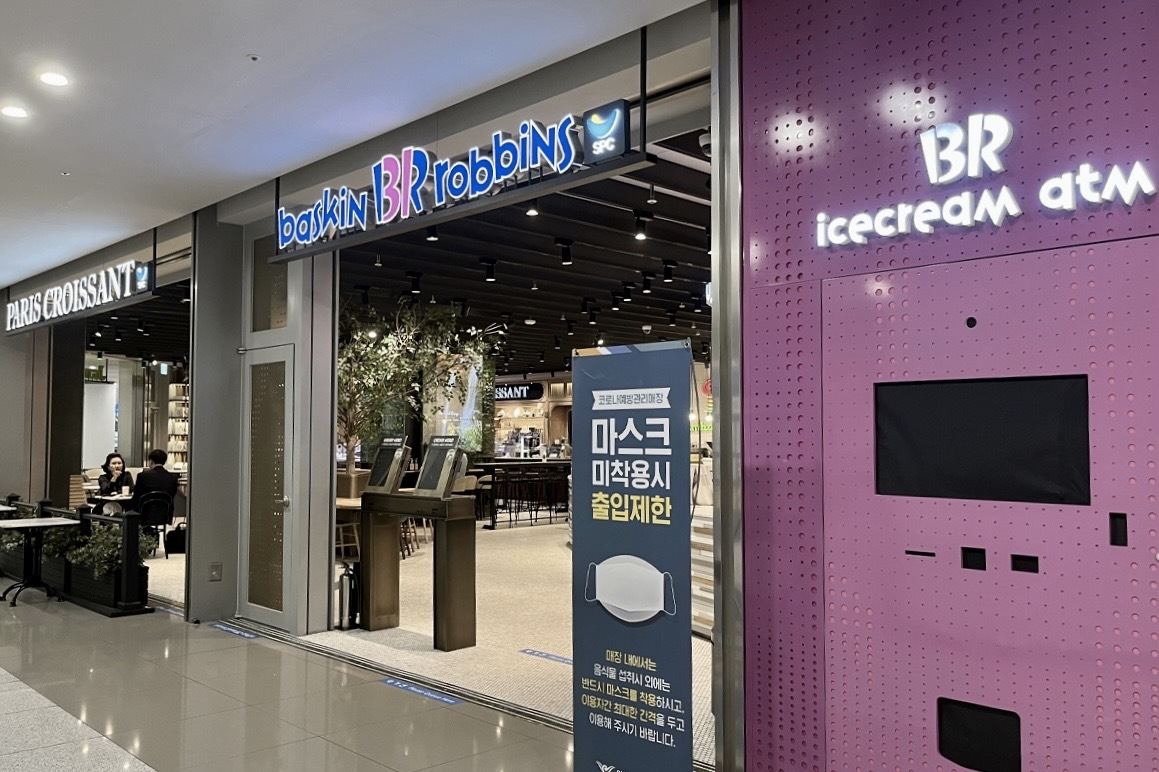 Baskin Robbins
Location: B1 Central Area
Hours: 09:00-21:00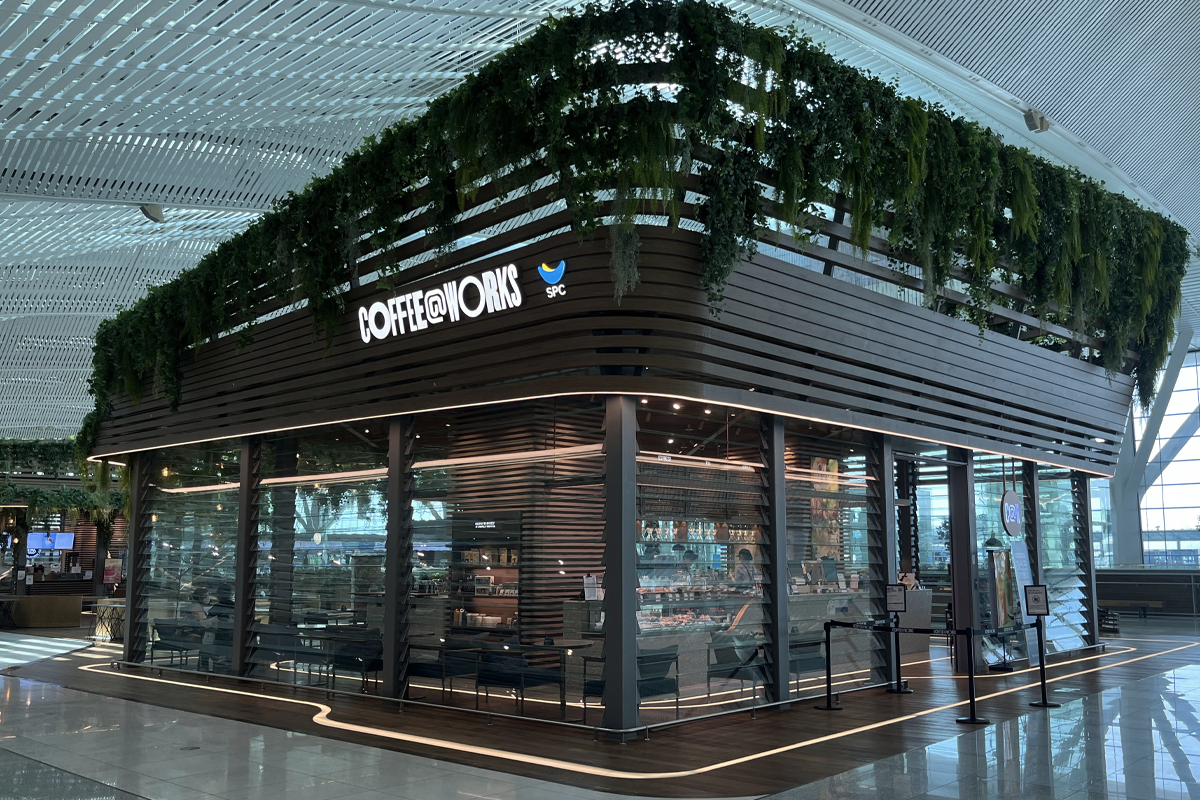 Coffee@Works
Location: 3F Central Area
Hours: 06:00 to 21:00
In addition to these cafes, you can also find a Paris Baguette, Angel-in-us and Starbucks on B1 of the terminal.
Shopping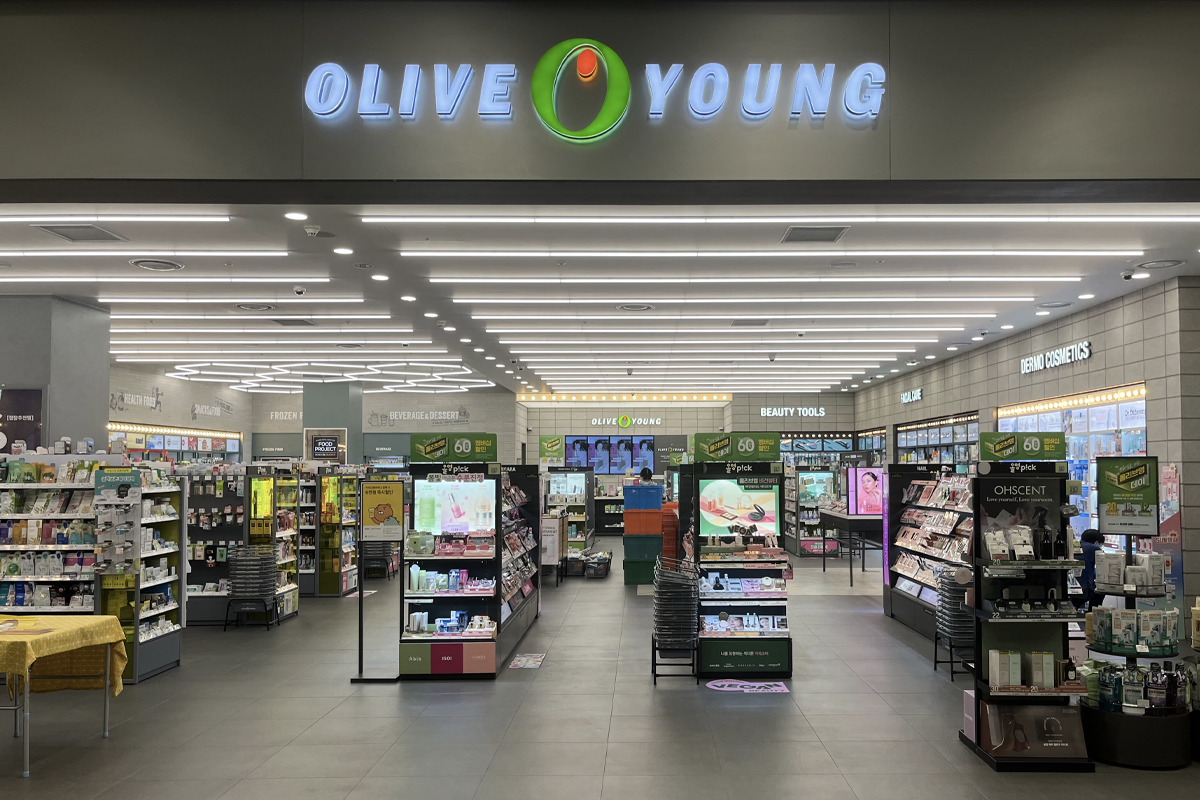 Olive Young
Location: B1 Central Area
Hours: 07:00-21:30
Olive Young is located in the middle of the basement floor, and you can get any last minute skincare, snack or lifestyle purchases here before you board your flight! Most of their prices are very reasonable and are great for any small items that you might need during your flight.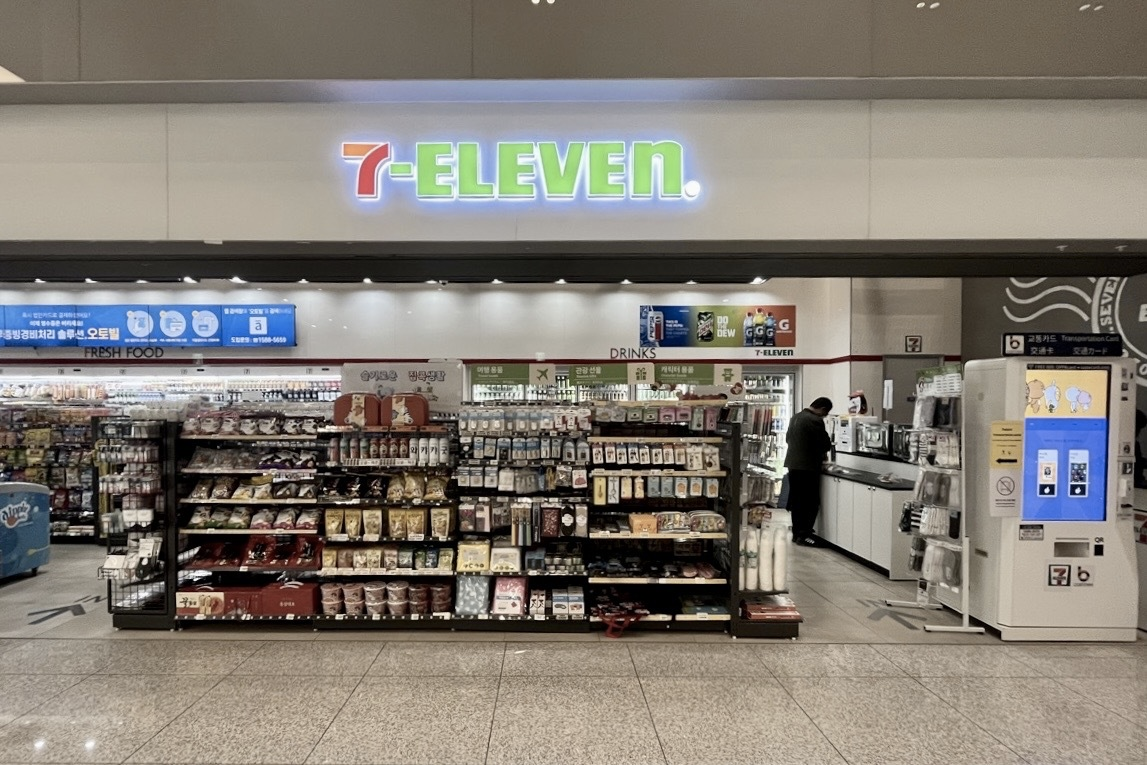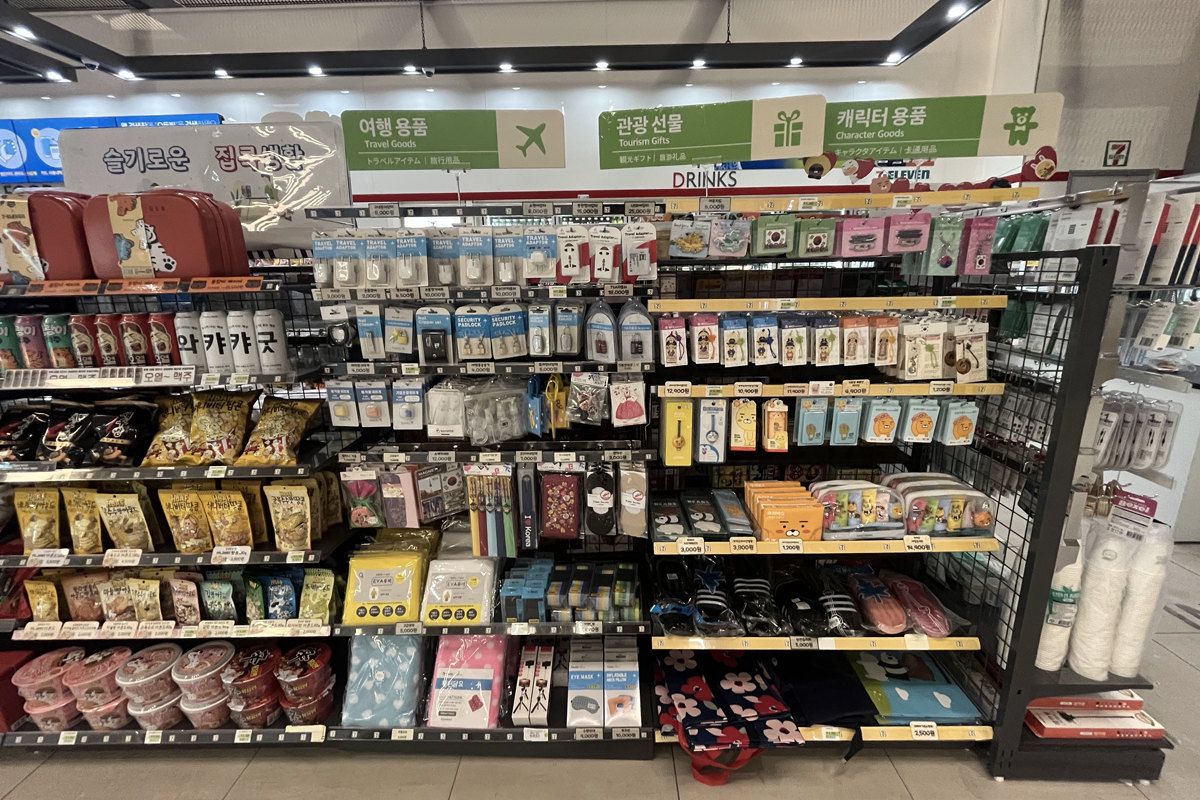 There is also a convenience store that is located at the B entry port on the basement floor that sells travel related goods, souvenirs and items such as adapters and transportation cards.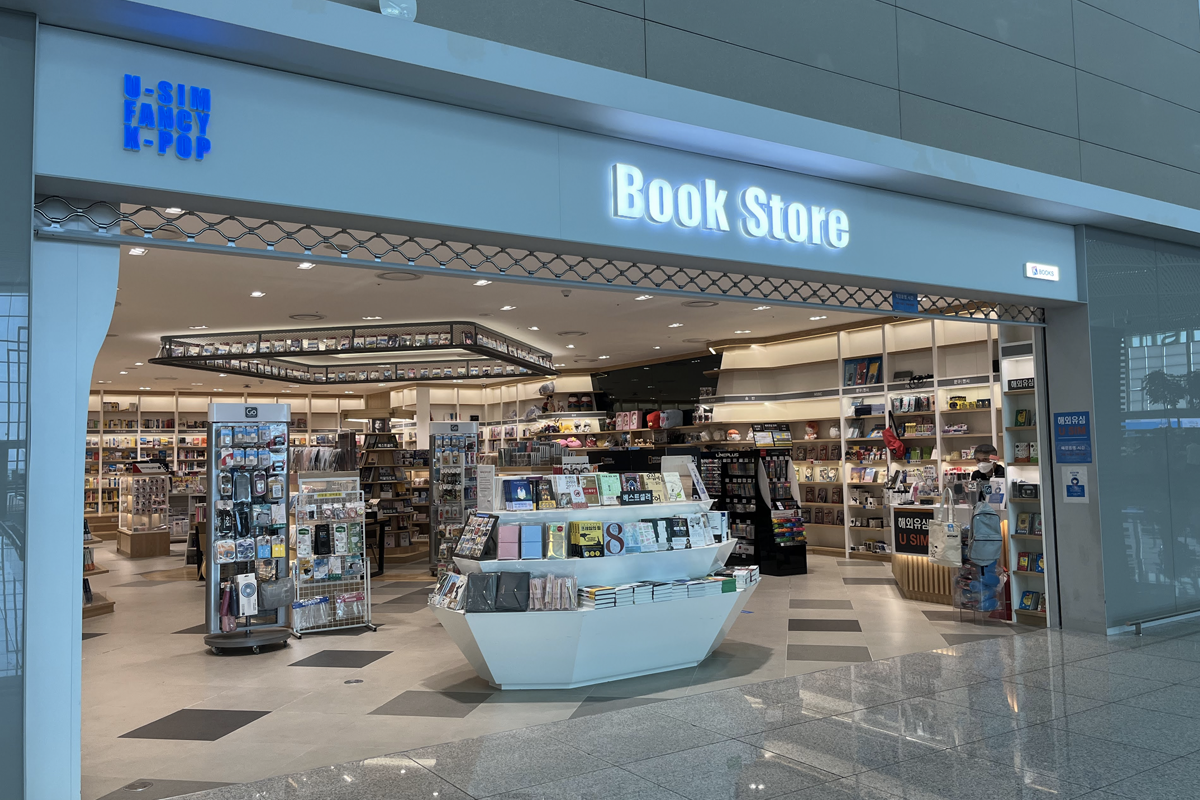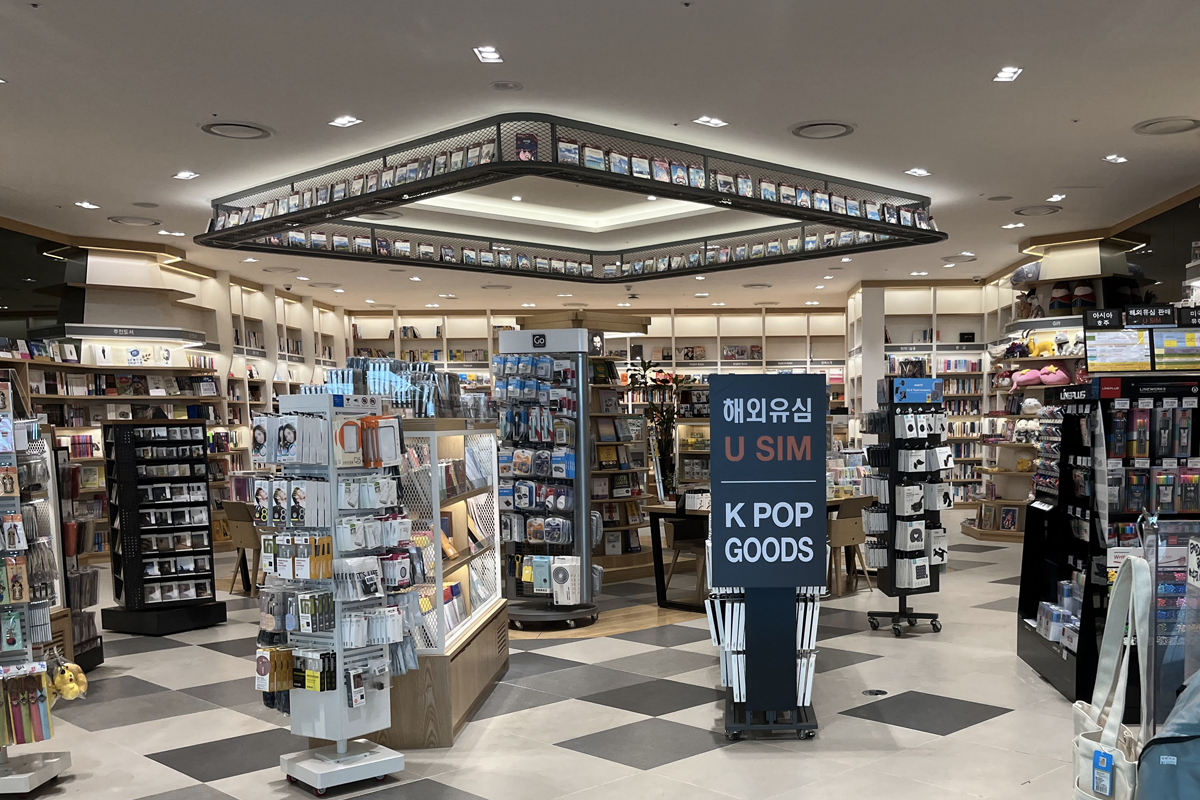 Gyeongin Library
Location: 3F Central
Hours: 07:00-21:00
If you are bored before you get on the plane, you can also head to the bookstore to look at souvenirs. You can also purchase SIM cards as well here
Recreation
Public Halls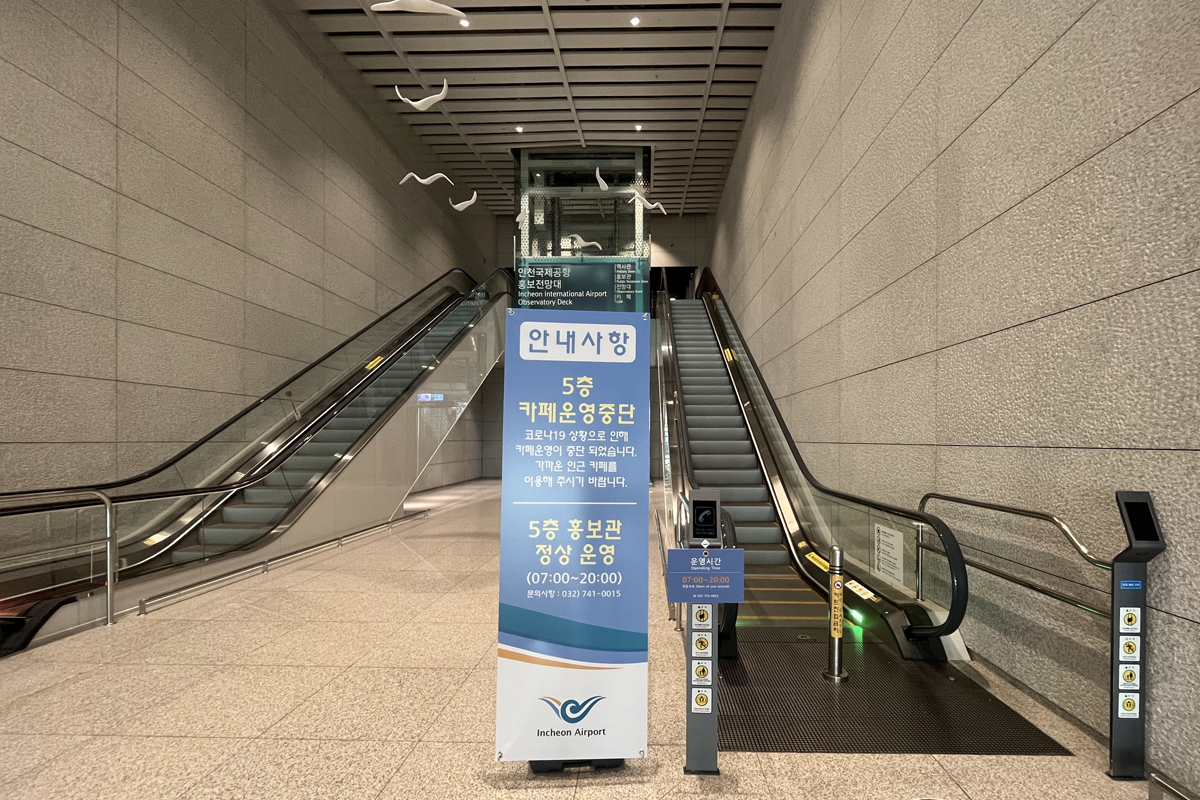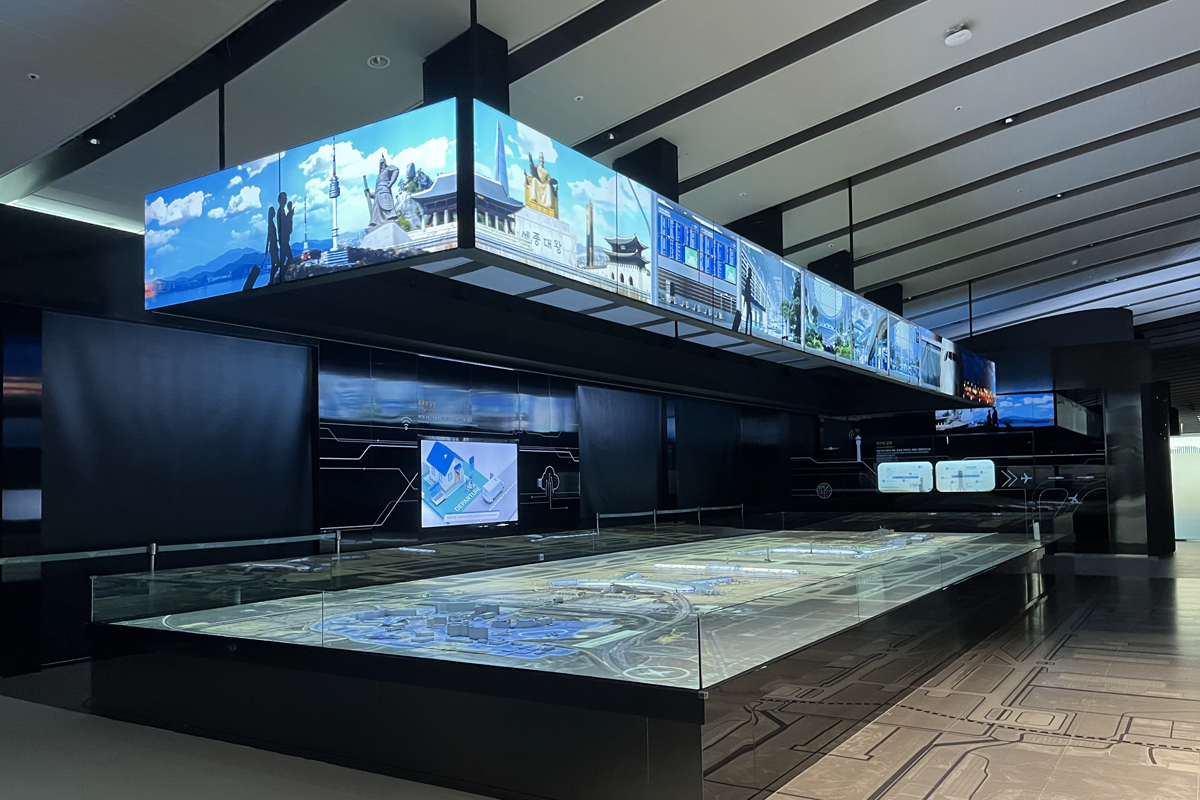 The public halls on the right side of the fifth floor is an area where you can learn about the history and a brief introduction about Incheon Airport. You can come here and take a quick stroll around before you board.
Observatory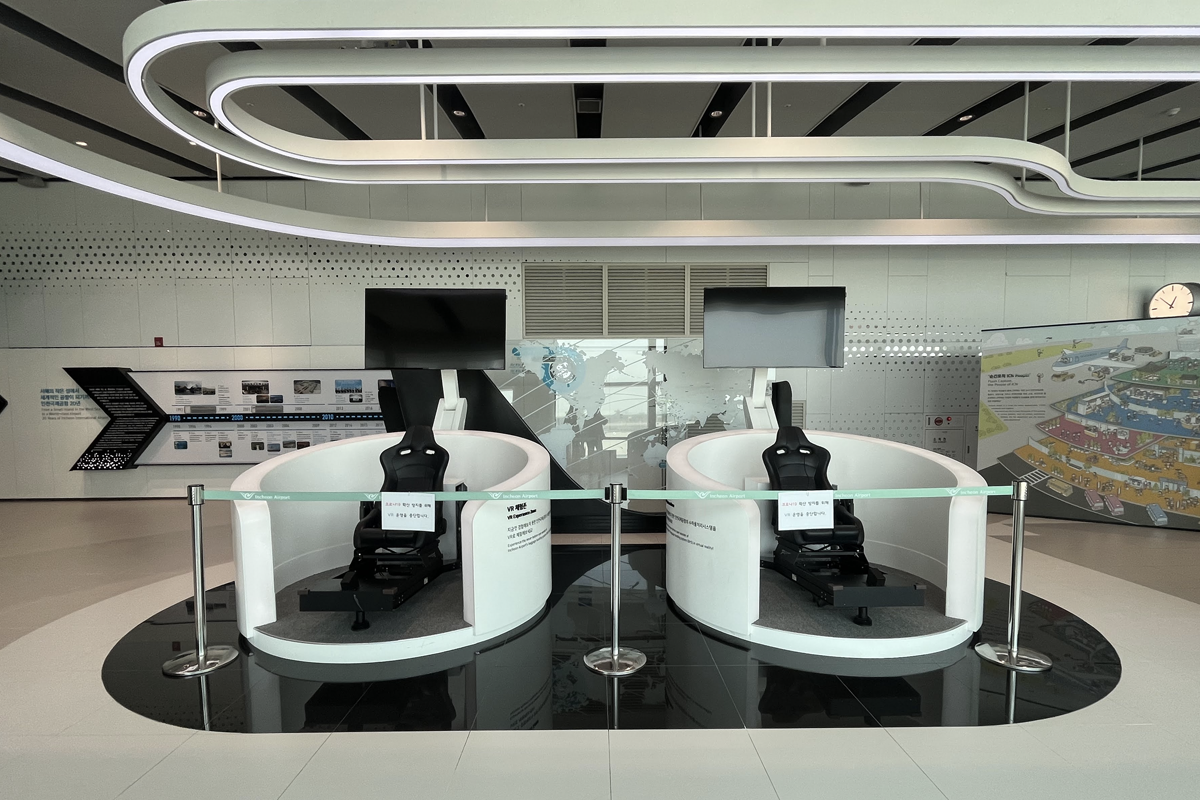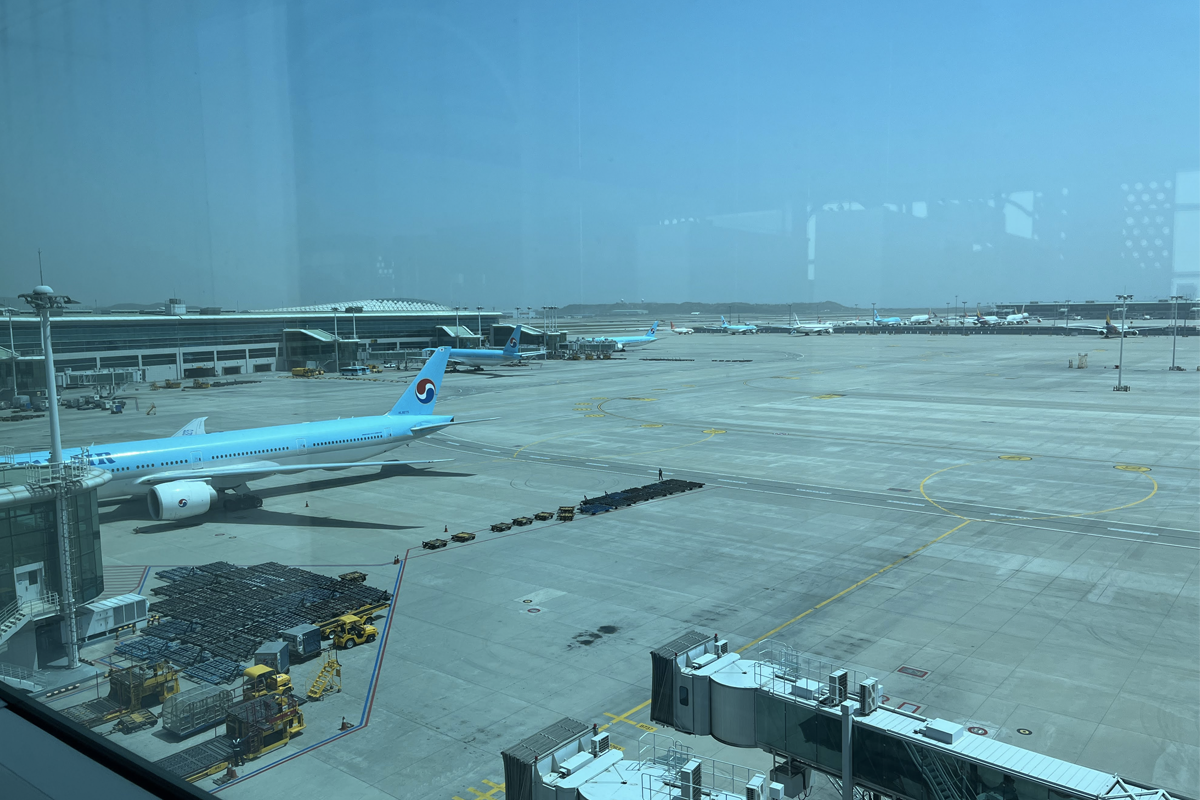 On the left side of the escalator on the fifth floor is the observation deck, where you can come and watch the planes take off and land. It is a great place to come with children, as they tend to enjoy watching the planes!
---
Duty Free Zone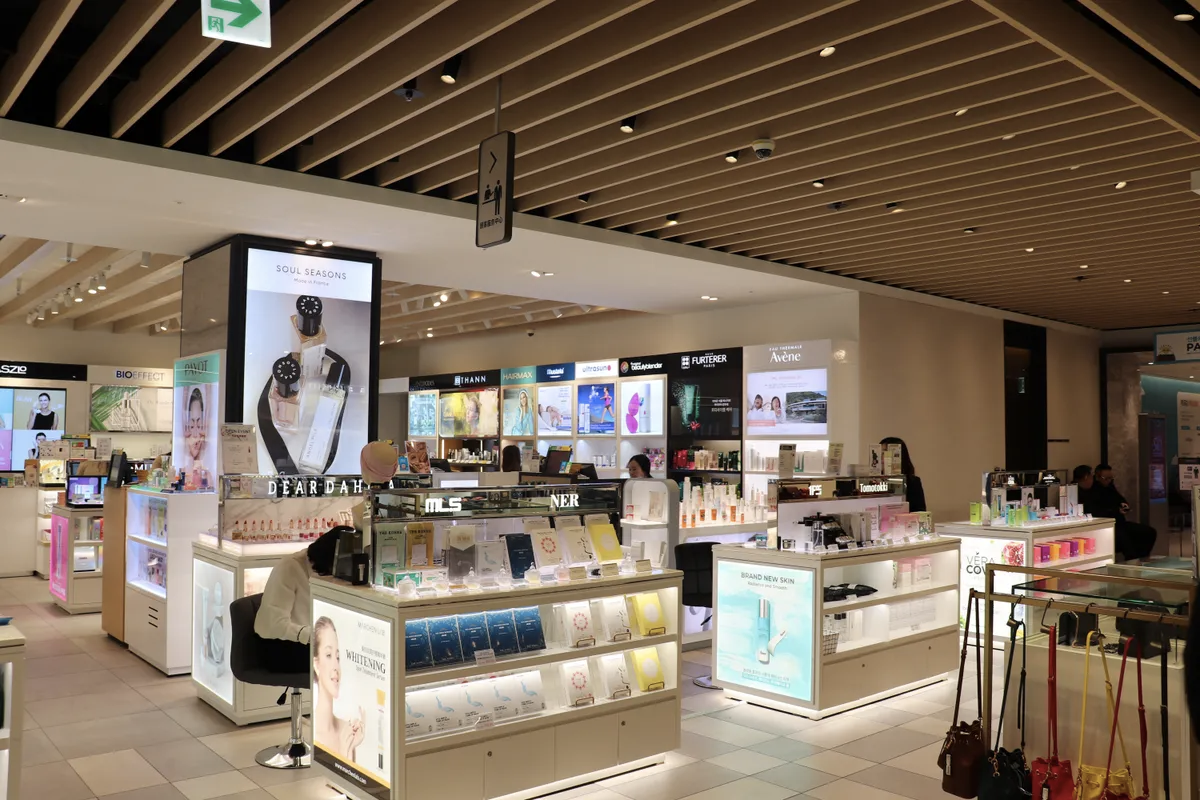 How can you skip out on shopping duty free in the airport? In Incheon Airport Terminal 2, there is a variety of items that you can buy such as tobacco, alcohol, cosmetics, snacks and electronic products that can be purchased at the entrance!
---
F.A.Q
Q. How much earlier than my flight should I arrive at the airport?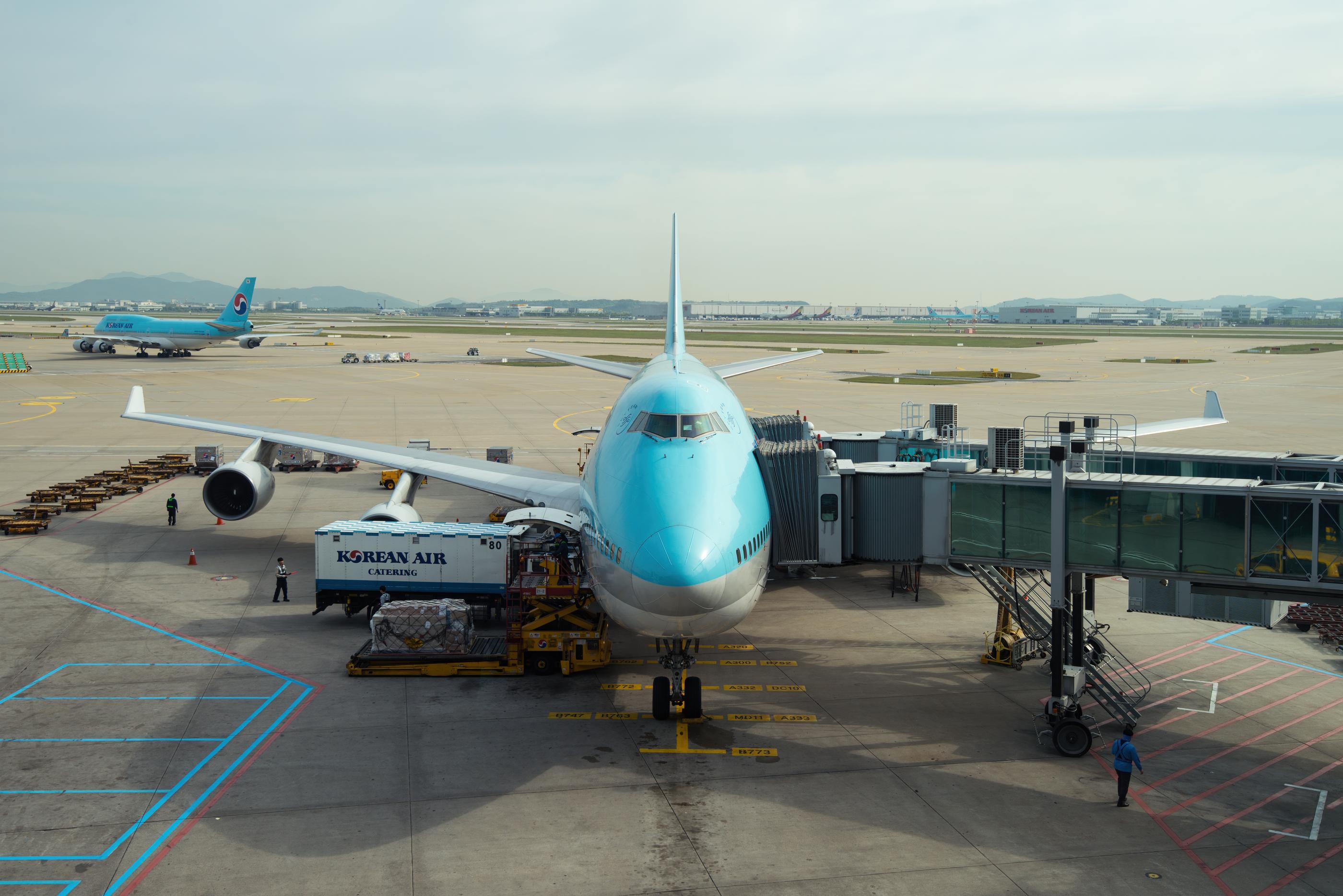 The operating hours of the check-in counters of different airlines are different. It is recommended that you arrive at the airport 2.5 hours to 3 hours before departure for check-in.
Q. What is not allowed on the plane?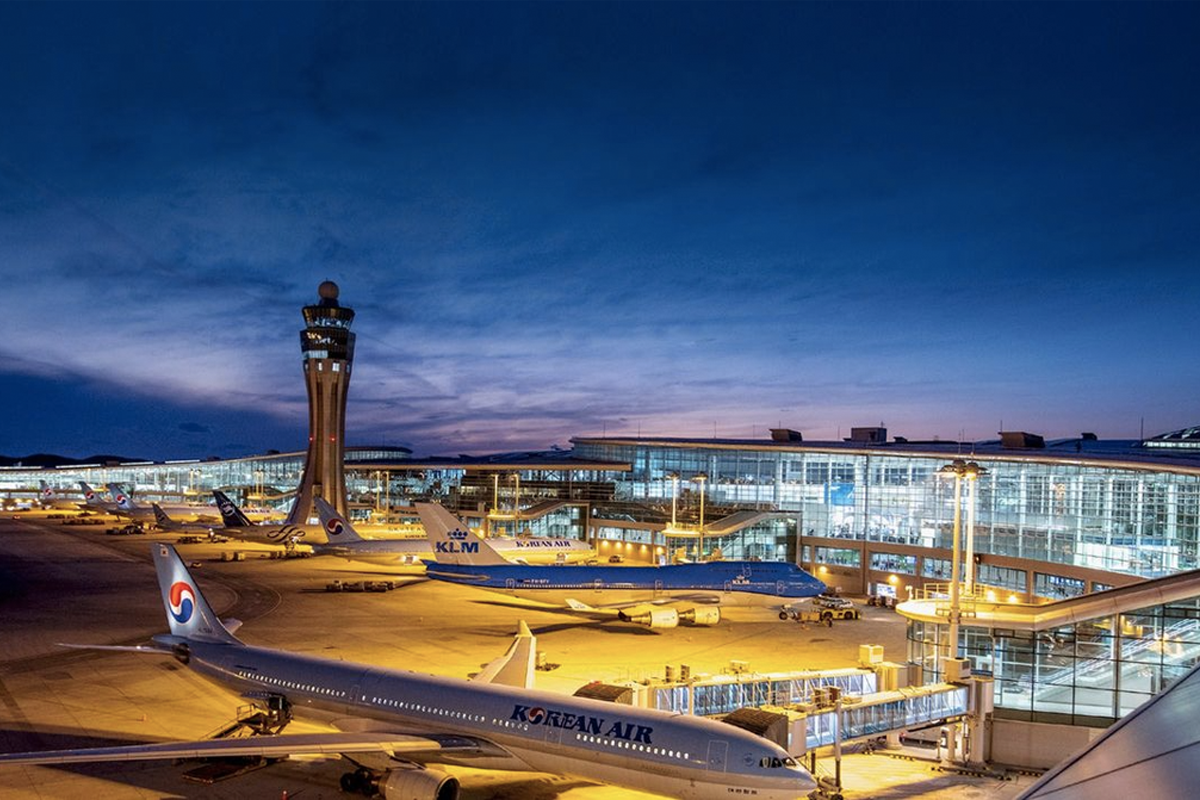 Liquids such as water, beverages, cinnamon, sauces, cosmetics, toothpaste are allowed as long as they are brought in an amount that is less than 100ml per container, and does not go past 1 liter total. Please refer to the airport regulations as well.
Q. What do I do if my luggage is missing?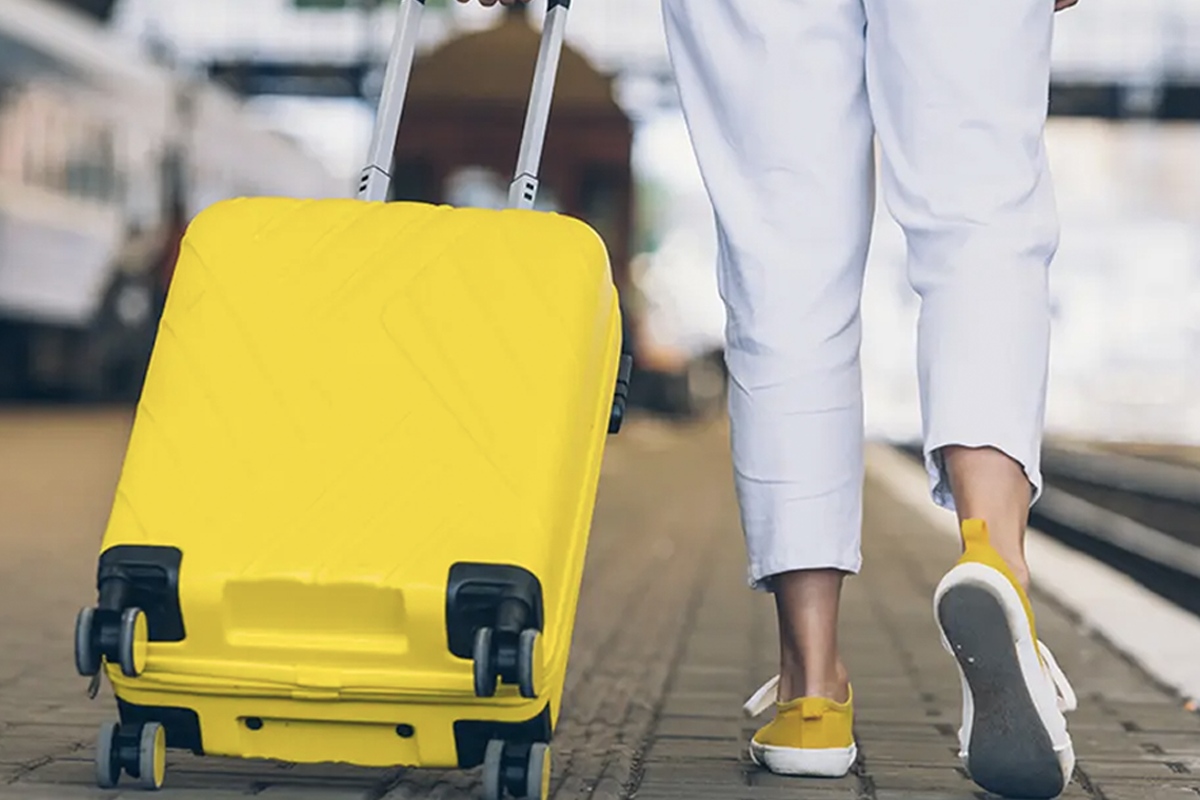 There are two areas for lost luggage in the center of the first floor of Terminal 1. If you drop something at the airport, you can go to the Lost and Fount center on the west side of the basement floor for further help.
---
We hope that this information was helpful to those that are looking to come to Korea for their travels. If you have any questions, please leave a comment below, or send us an email at help@creatrip.com! You can also follow us on Instagram, TikTok, Twitter, and Facebook to stay updated on all things Korea!
---