943 King's Cross | Harry Potter themed cafe in Hongdae!
If you are a Harry Potter fan, you must visit the Harry Potter-themed cafe in Hongdae!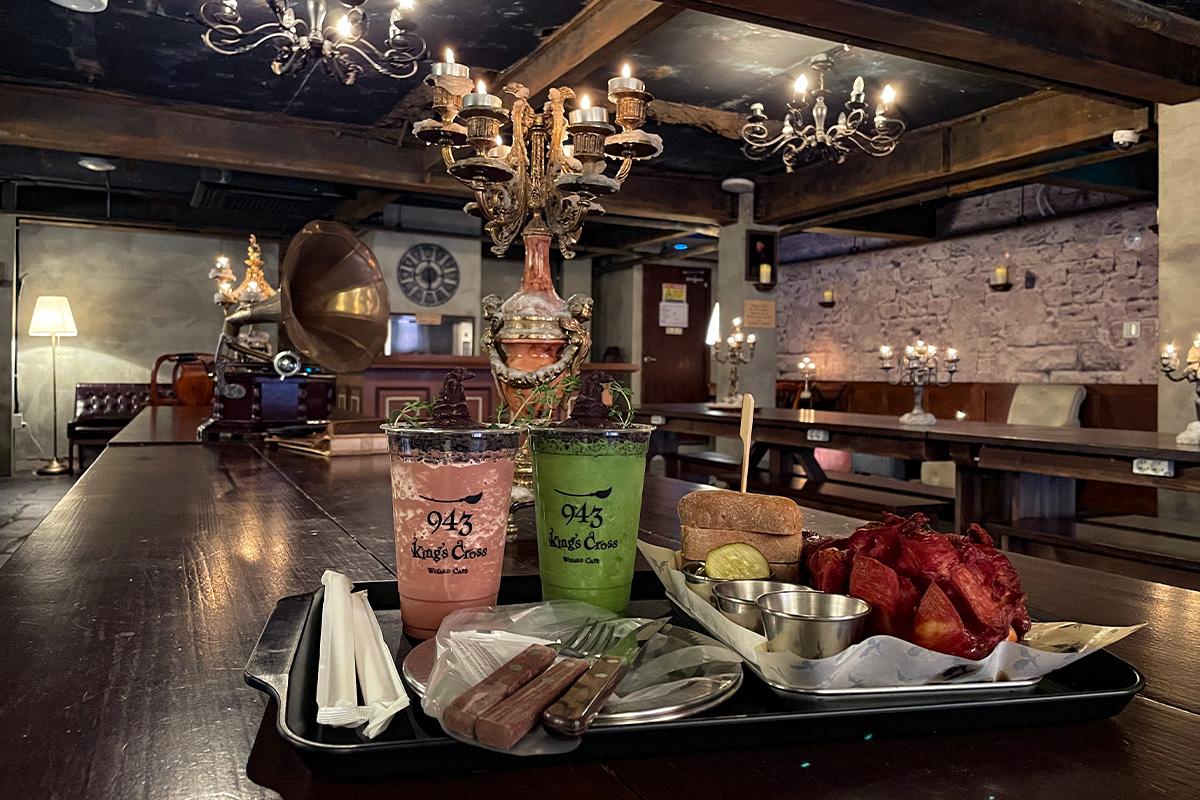 When foreign travelers visit Korea, they never miss out on a trip to Hongdae, and we have a cafe to introduce that's a must-see for anyone exploring the area. It's called 943 King's Cross and we've packed it with various attractions and photo zones. This place is a Harry Potter-themed cafe that exudes a mysterious and charming atmosphere. So, let's dive in and discover the story behind 943 King's Cross firsthand!
---
943 King's Cross Hongdae
---
Information
Hours: Mon - Thu 11:30 AM - 9:30 PM / Fri - Sun 10:00 AM - 9:30 PM (Last order at 9:00 PM)
Available Reservation Hours: Mon-Thu 11:30 AM - 8:30 PM / Fri-Sun 10:00 AM - 8:30 PM
Address: 서울특별시 마포구 양화로 16길 24, 지1, 1~4층(서교동 성화빌딩)
24 Yanghwaro16-gil, Mapo-gu, Seoul
---
Why We Recommend It
Step into a magical world of Harry Potter as you venture through our space, spanning from underground floor 1 to the fourth floor. From themed movie scenes to photo spots, we've got it all!
On the fourth floor, you can even dress up in our prepared uniforms and take your own magical shots!
But wait, there's more! Indulge in unique drinks and various foods that you won't typically find in your average cafe.
Don't miss out on this incredible experience, available at a special discounted price with Creatrip x 943 King's Cross. Come and enjoy the magic with us!
---
Things to Keep In Mind
Including admission fee, one drink is included per person, so even if you order a set, you must purchase drinks according to the number of people.
Please wear the 4th floor uniforms within 5 minutes so that other guests can also wear them.
If you want to add other items in addition to the reserved product, please pay on-site.
Please select the exact date and time on the reservation page for smooth processing.
For reservation changes or other inquiries, please contact help@creatrip.com.
---
Price
Menu

Price (KRW)

BEST SET
Dragon Leg Plate + 2 Drinks
59,000


57,000

2-Person FOOD SET
European Sausage or Fruit & Cheese Plate + 2 Drinks
42,000
40,000
1 Person FOOD SET
Dragon Leg Plate or French Fries or Nacho Coleslaw + 1 Drink
24,000


22,000
*Please make a reservation at least 2 days before your visit.
*For detailed menu items such as drinks, please refer to the menu board in the 'Our Visit' section.
Refund Policy
| | |
| --- | --- |
| Canceled at least 2 days before reserved date | 100% refund |
| Canceled 1 day before reserved date and later | No refund |
---
How to Reserve
Step 1


Make a reservation on the Creatrip reservation page.
Reserve Here


Step 2


Enter all required information in detail.


Step 3


After the reservation is completed, it will be confirmed within 1 business day.


Reservation changes and cancellations are possible up to 2 days prior to the date of use.




Step 4


Please make sure to arrive at the store at the reserved time.


Once you enter, please present your reservation details to the staff.




Step 5

Enjoy your time.

---
Our Visit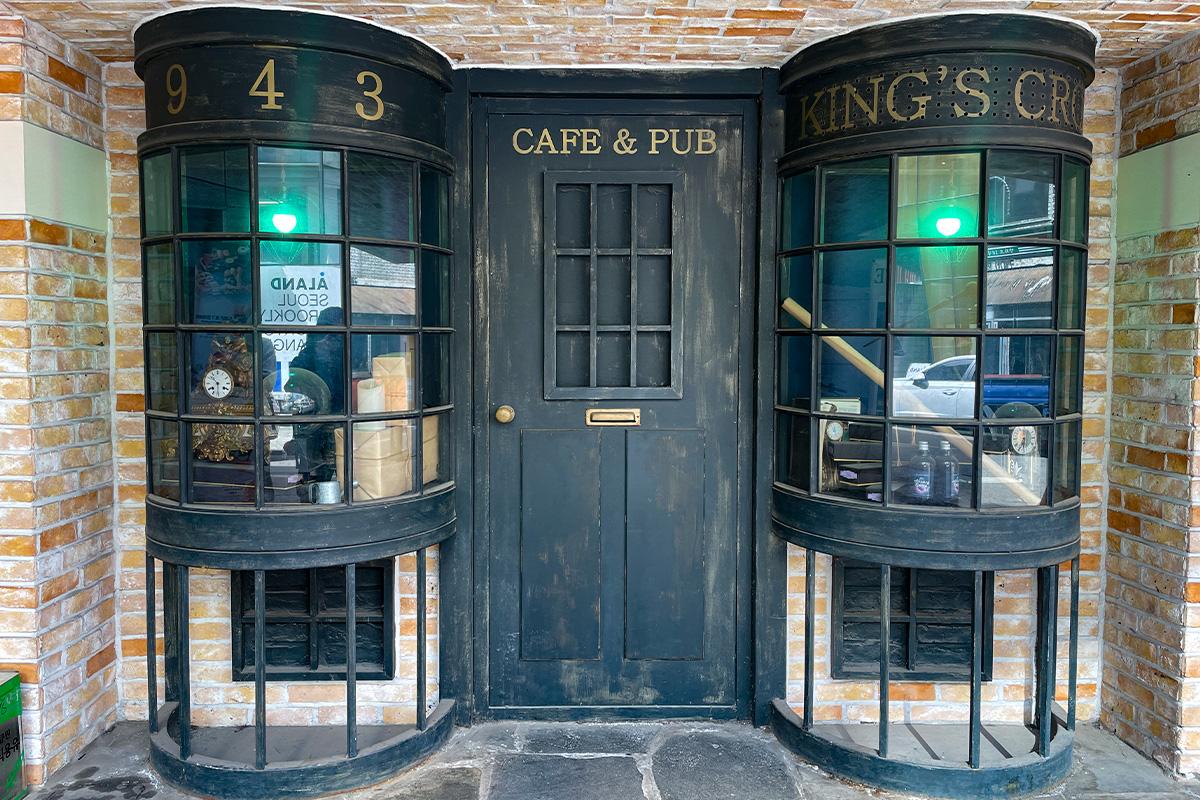 Today, I visited "943 King's Cross," a Harry Potter-themed cafe located in Hongdae.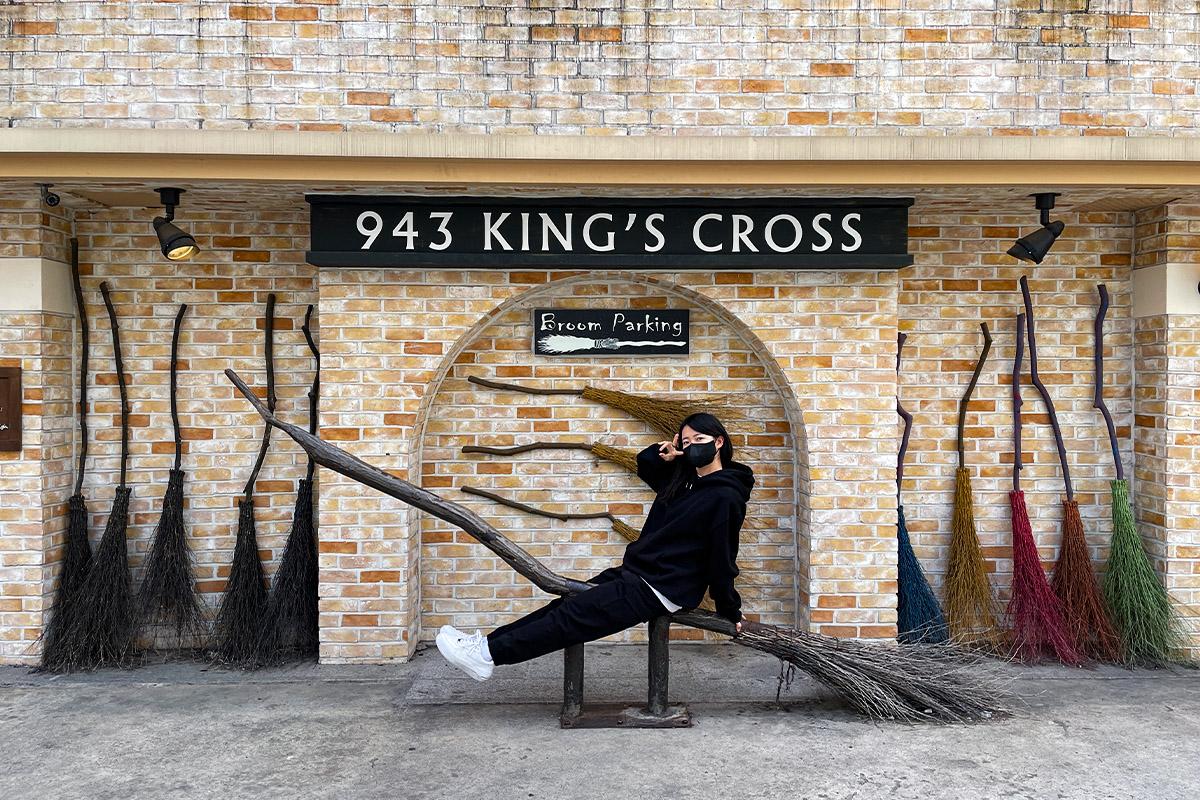 I passed by this place before and saw foreign tourists lining up to take pictures riding on this broomstick. It's a very popular spot among foreign visitors in Hongdae! If you go early, you can avoid the crowds and take pictures without having to wait in line, so keep that in mind.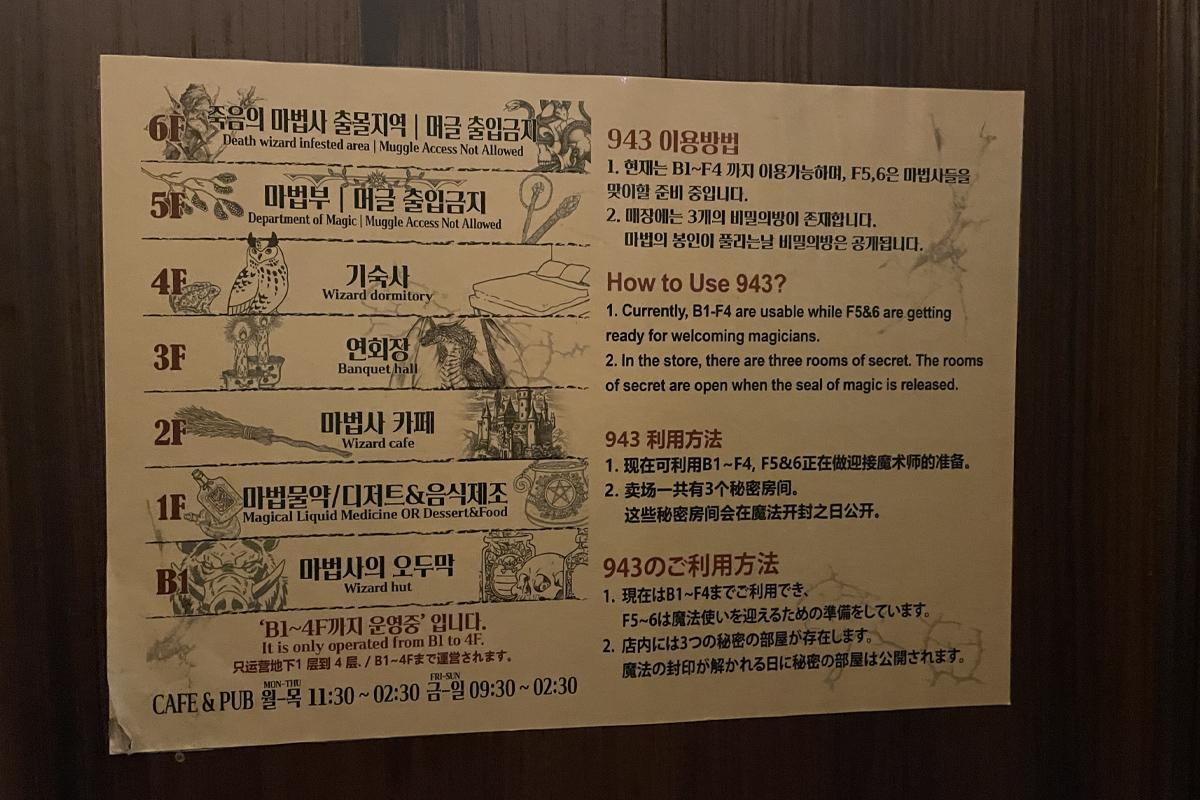 943 King's Cross has a total of eight floors, from the basement first floor to the seventh floor, and visitors can explore five floors from the basement first floor to the fourth floor. The basement first floor is decorated as a wizard's hut, the first floor is a counter, the second floor is a wizard cafe, the third floor is a banquet hall, and the fourth floor is a dormitory, each themed differently.
1F: Potion making / Kitchen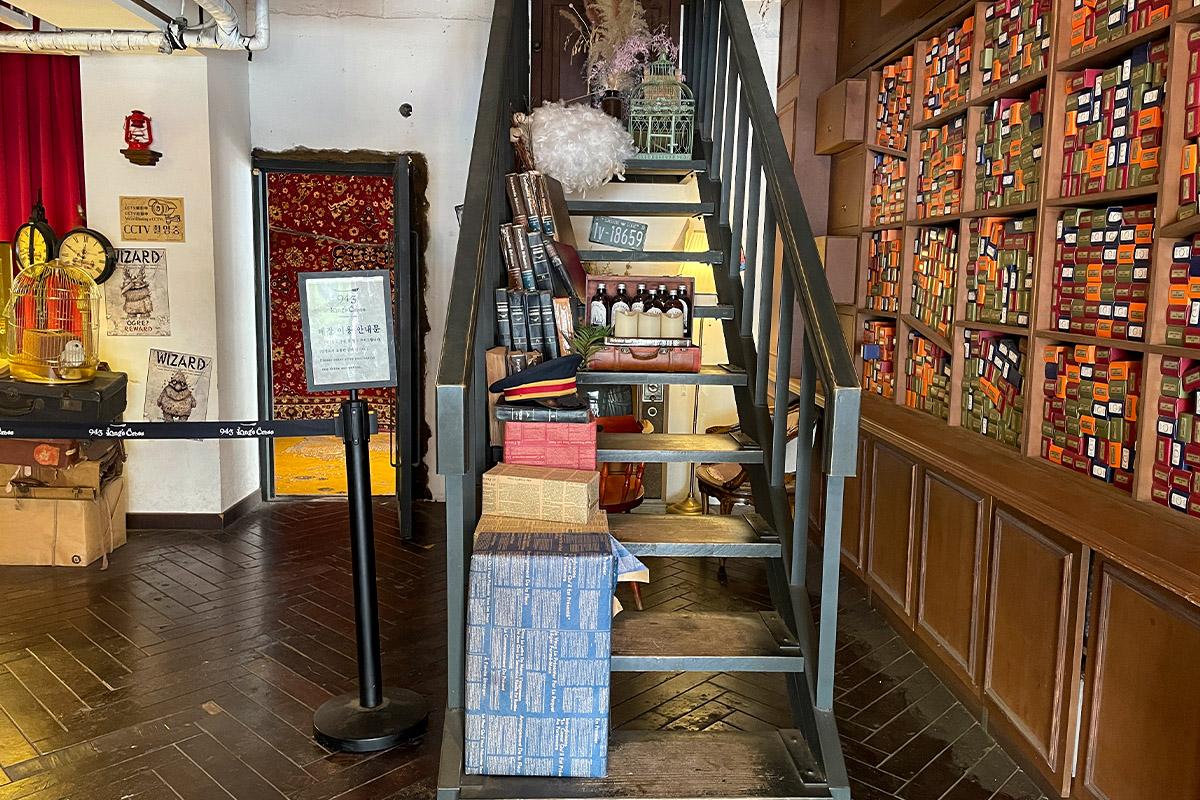 As soon as I entered the entrance, I saw a staircase that reminded me of the room under the stairs in Harry Potter. The bookshelf on the right was filled with magic wands.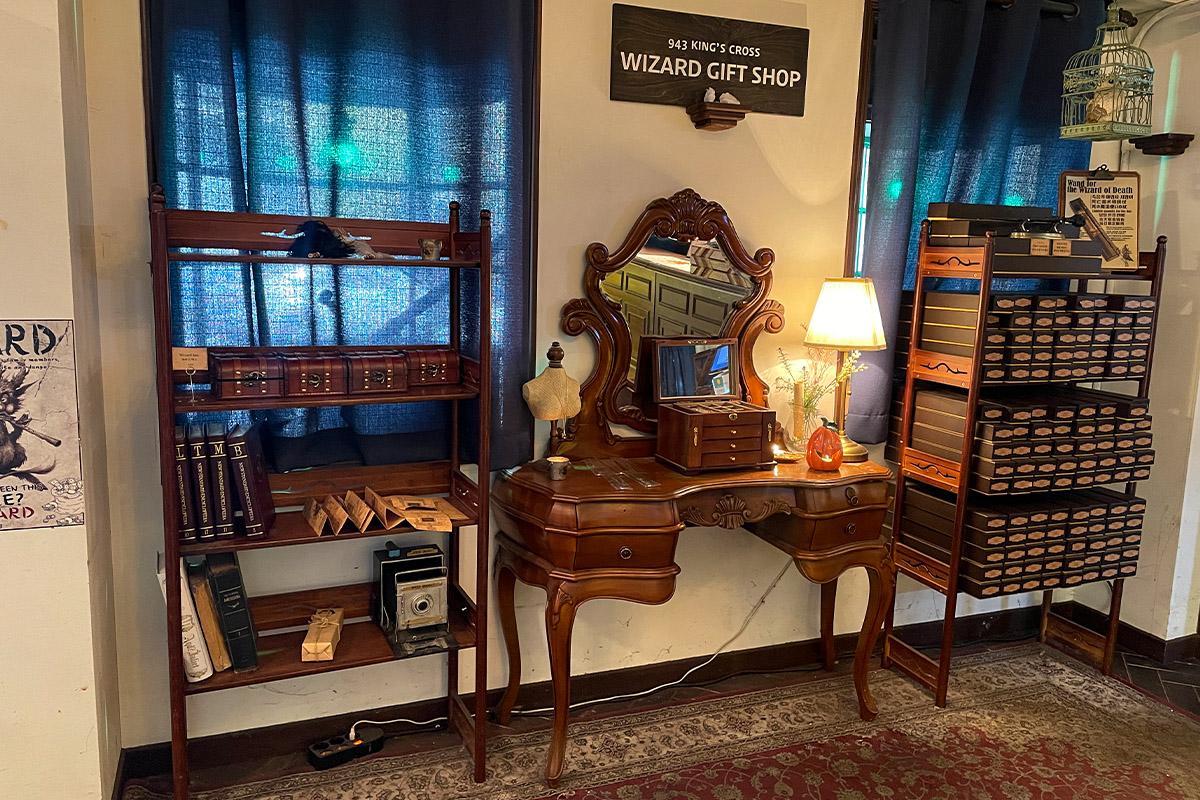 On the left side of the counter, there is a gift shop where you can purchase Harry Potter-related merchandise.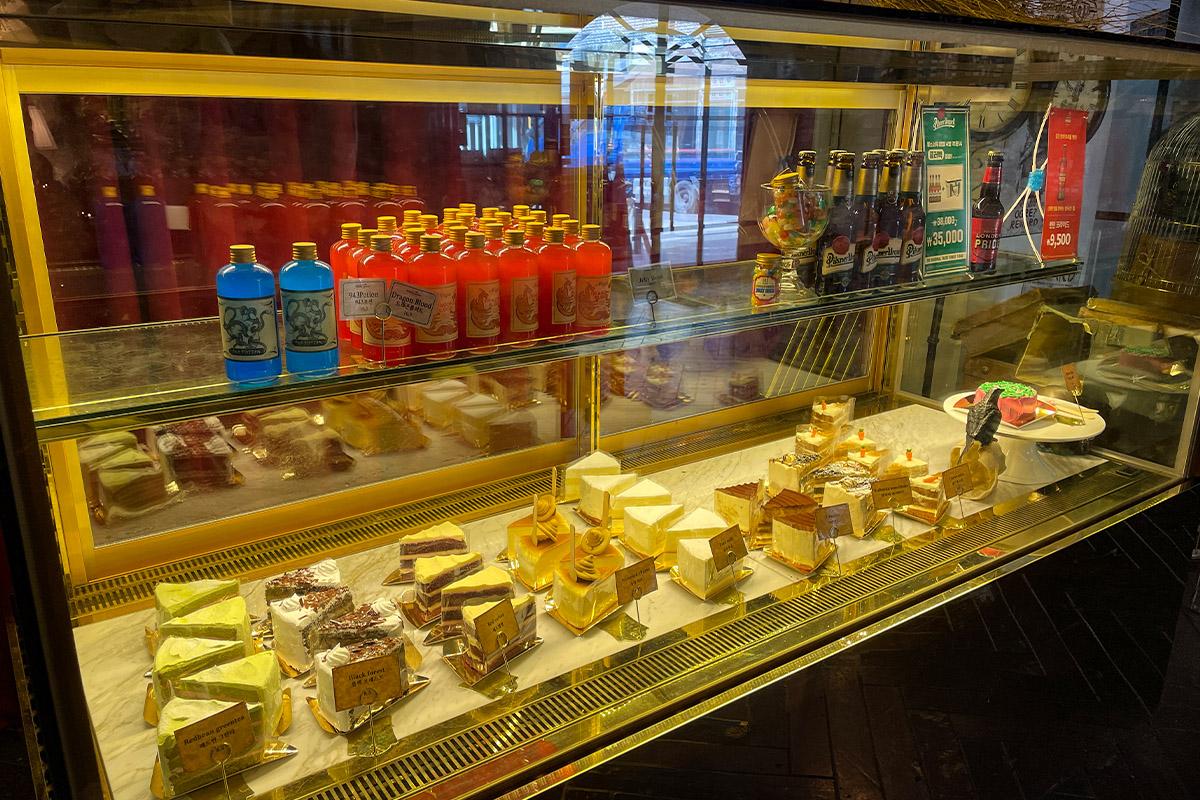 On the right side of the counter, there are cakes and beverages displayed in a refrigerator. There are various types of cakes, from creatively decorated cakes to basic cakes, and they all look amazing. The cakes are definitely a must-try!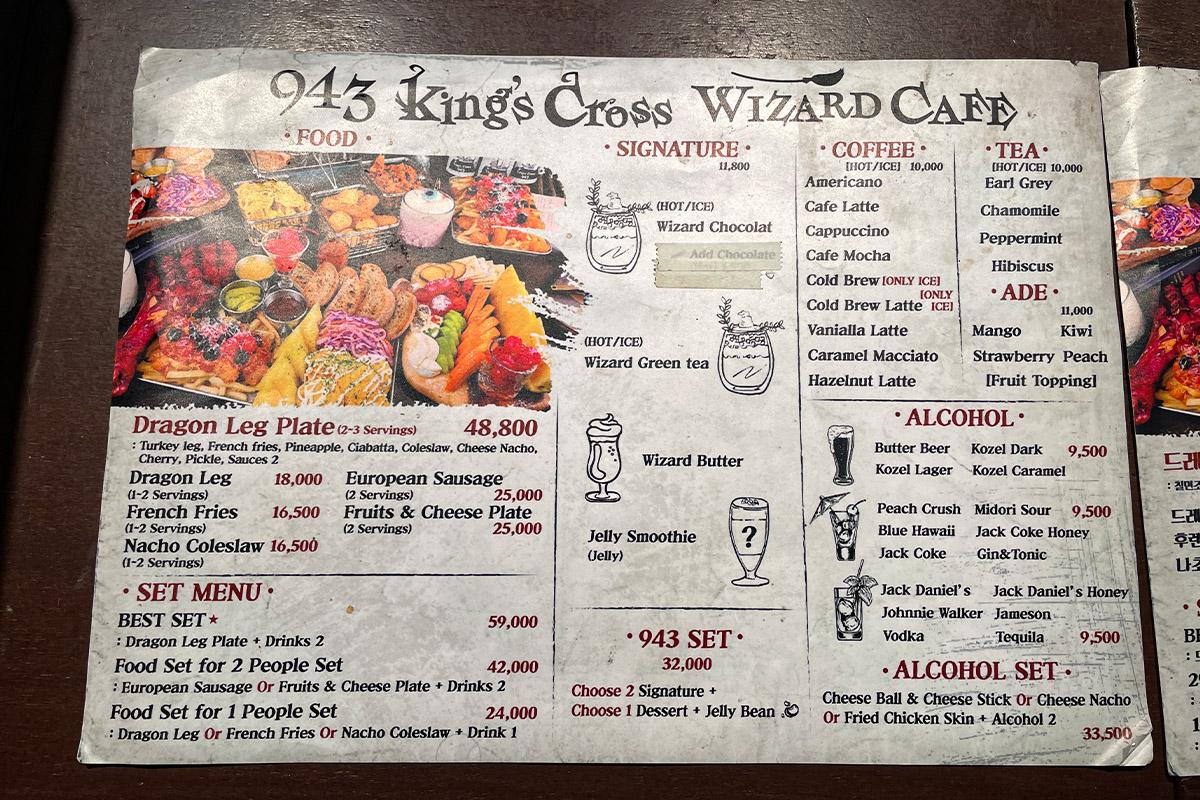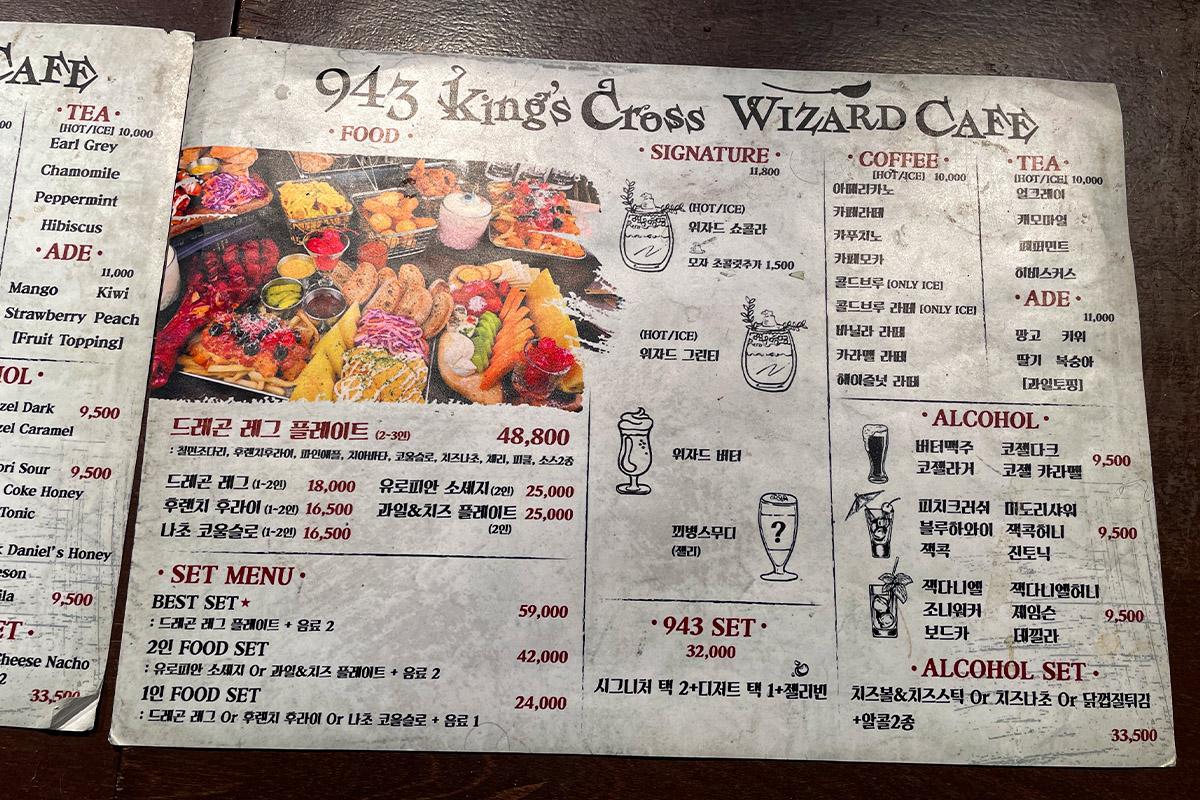 The menu is available in both Korean and English, and you can choose your drink by referring to the menu. By the way, you don't have to worry if you're not good at Korean because communication in English is possible at 943 King's Cross. The editor ordered Dragon Leg, Wizard Chocolate, and Wizard Green Tea.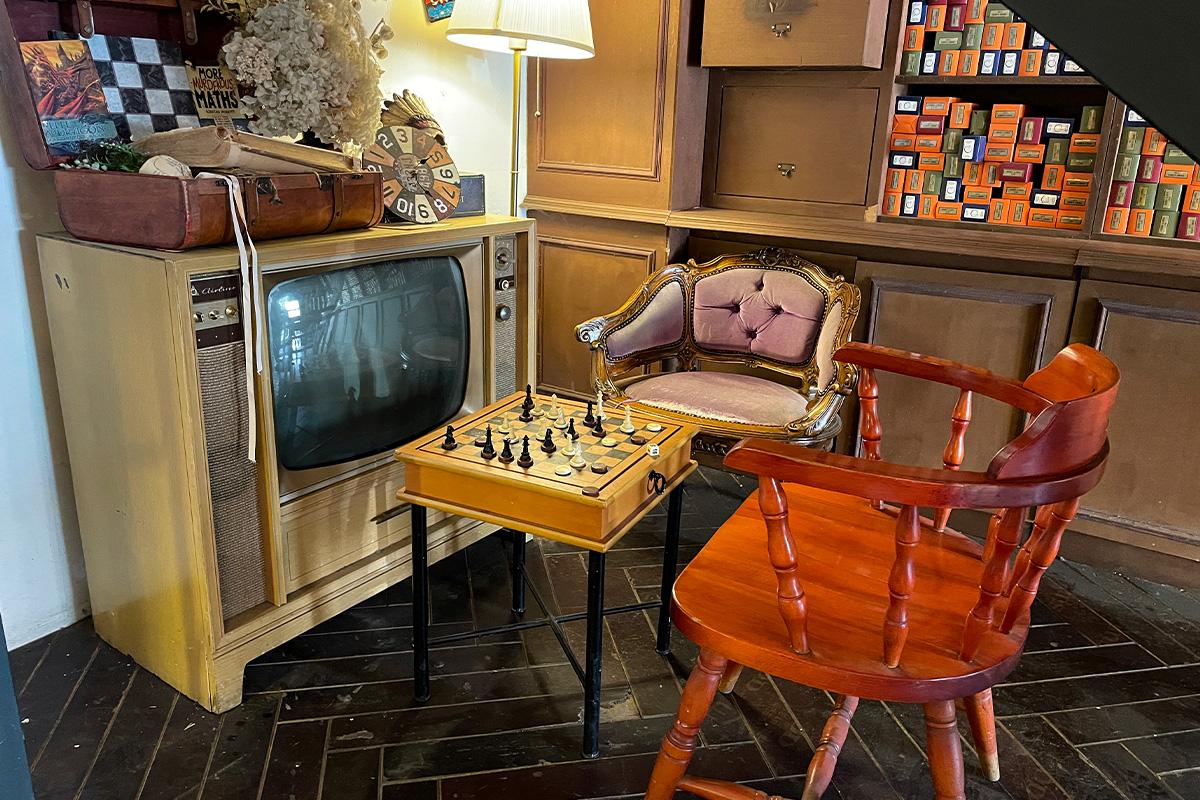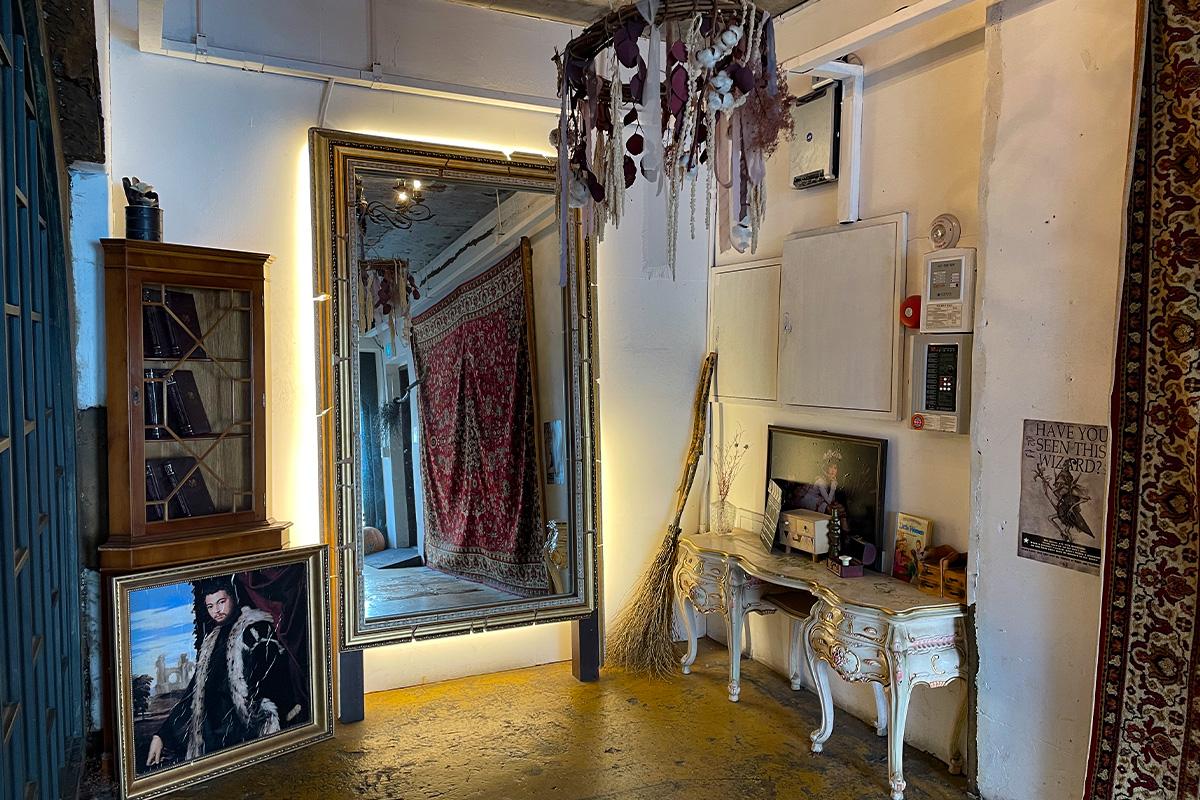 I went to check out the Wizard's Cabin on the basement floor, and even before going down the stairs, there were various photo zones decorated, so it was great for taking pictures and enjoying the sights.
B1: Wizard's Cabin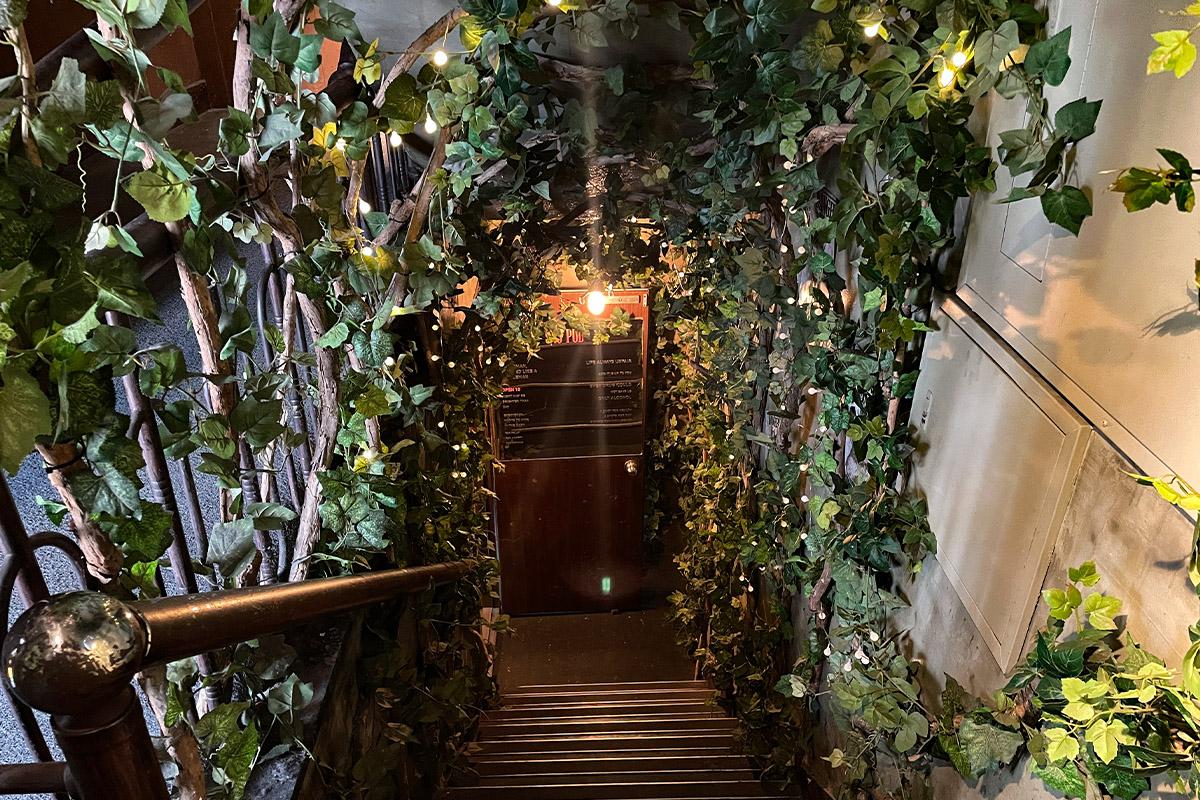 From the stairs leading down, there were vines of wood wrapped around, giving a feeling of a cabin. It felt like this before entering Hagrid's cabin.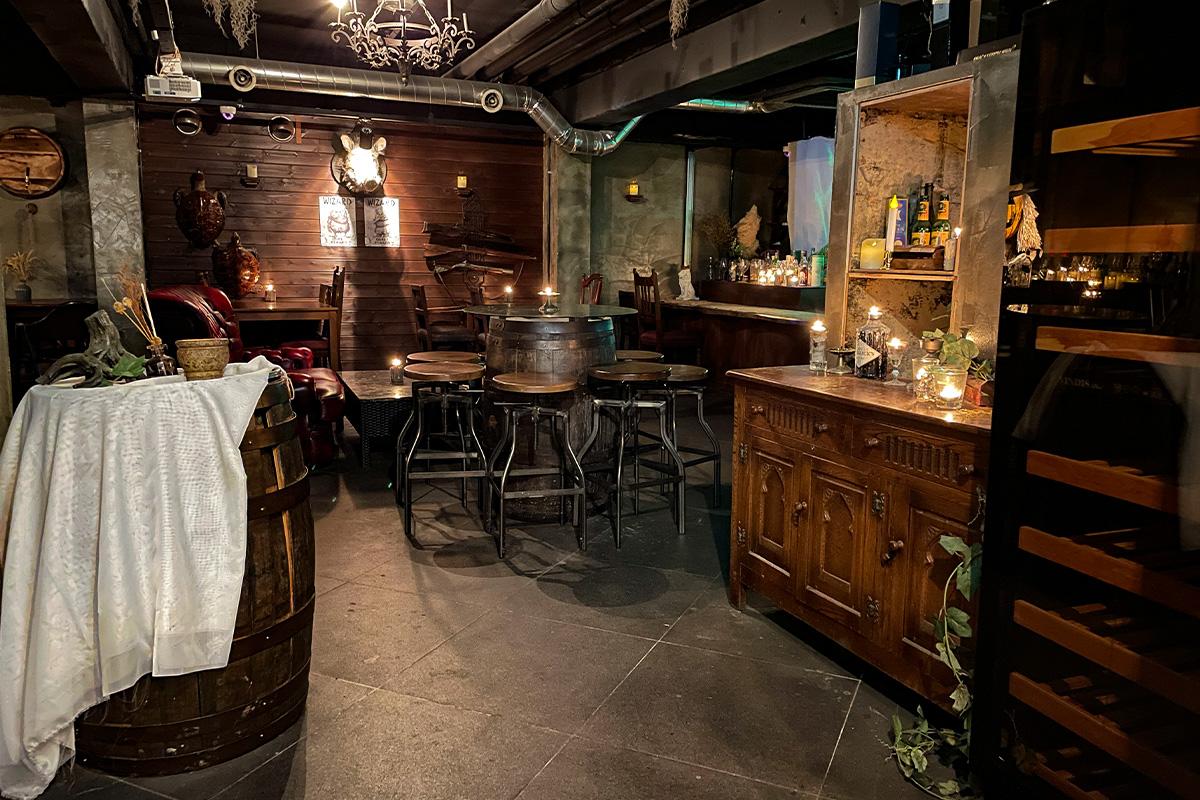 As I was going down the stairs, I thought of Hagrid's cabin, but when I entered inside, I remembered the bar where Harry Potter and his friends were drinking butterbeer.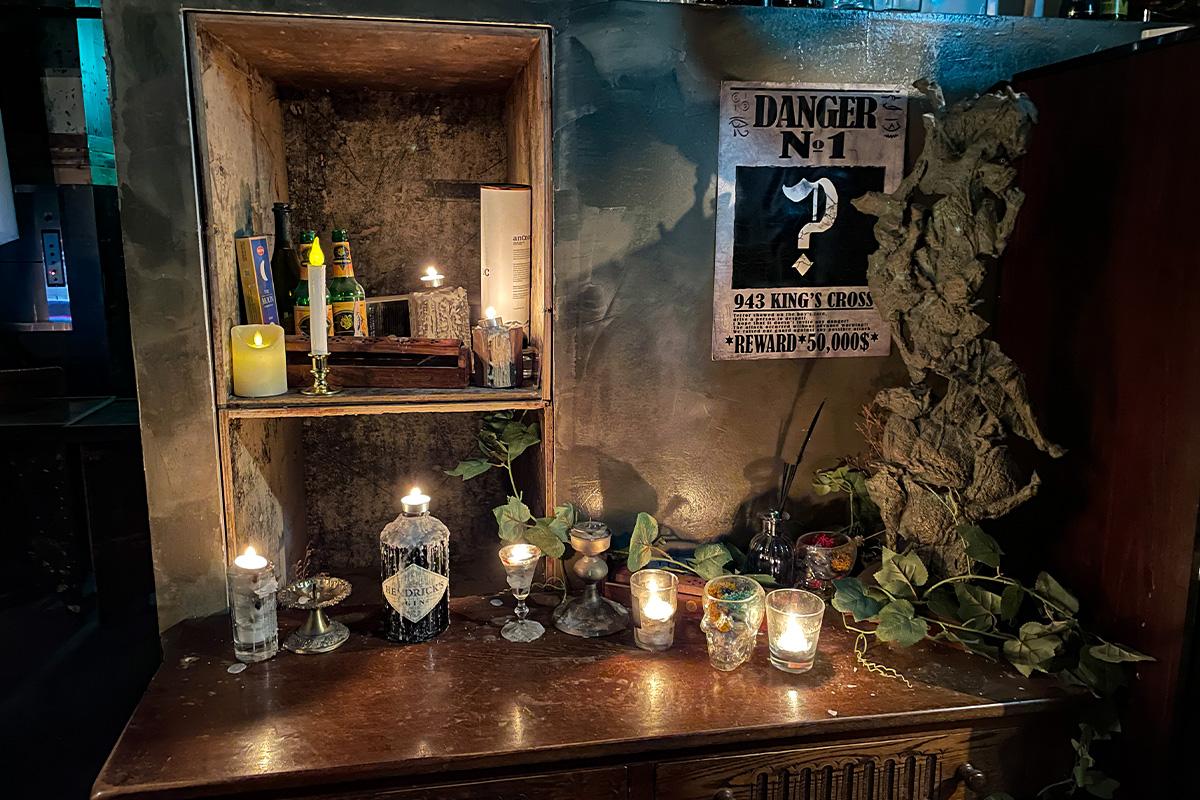 At the entrance, there were candles spreading a mysterious atmosphere.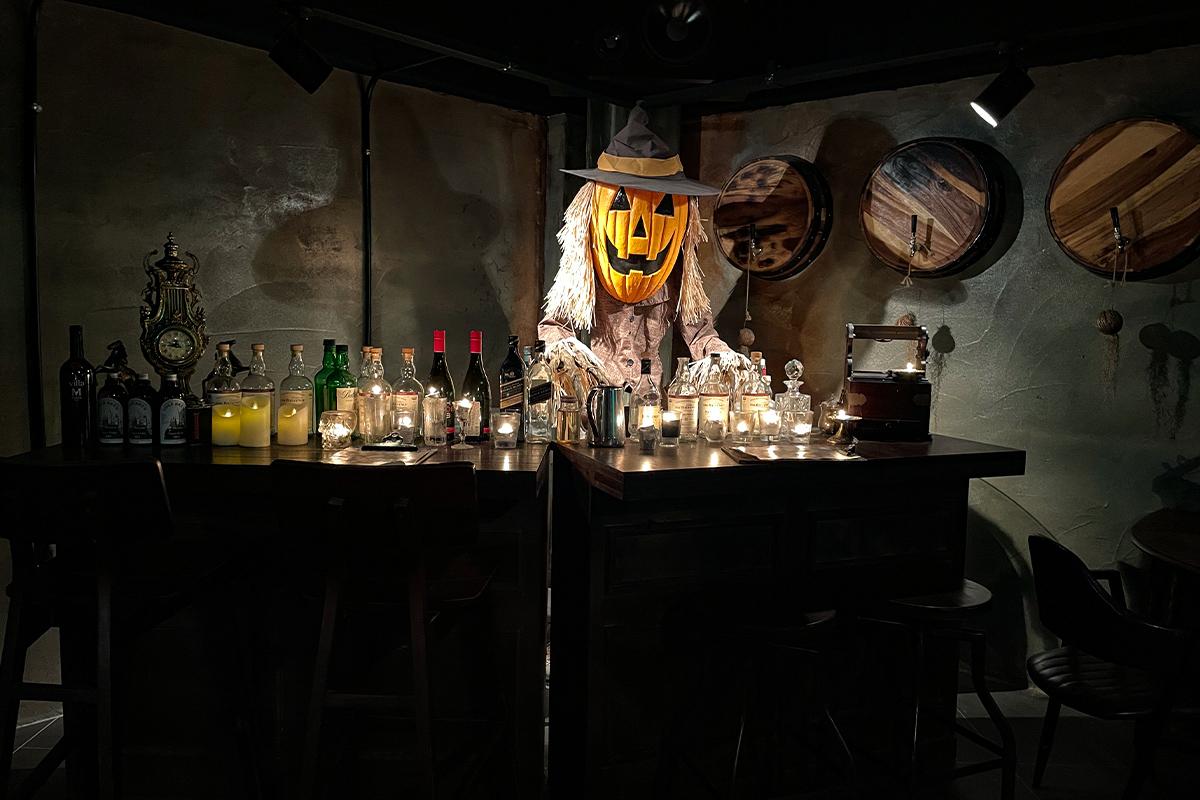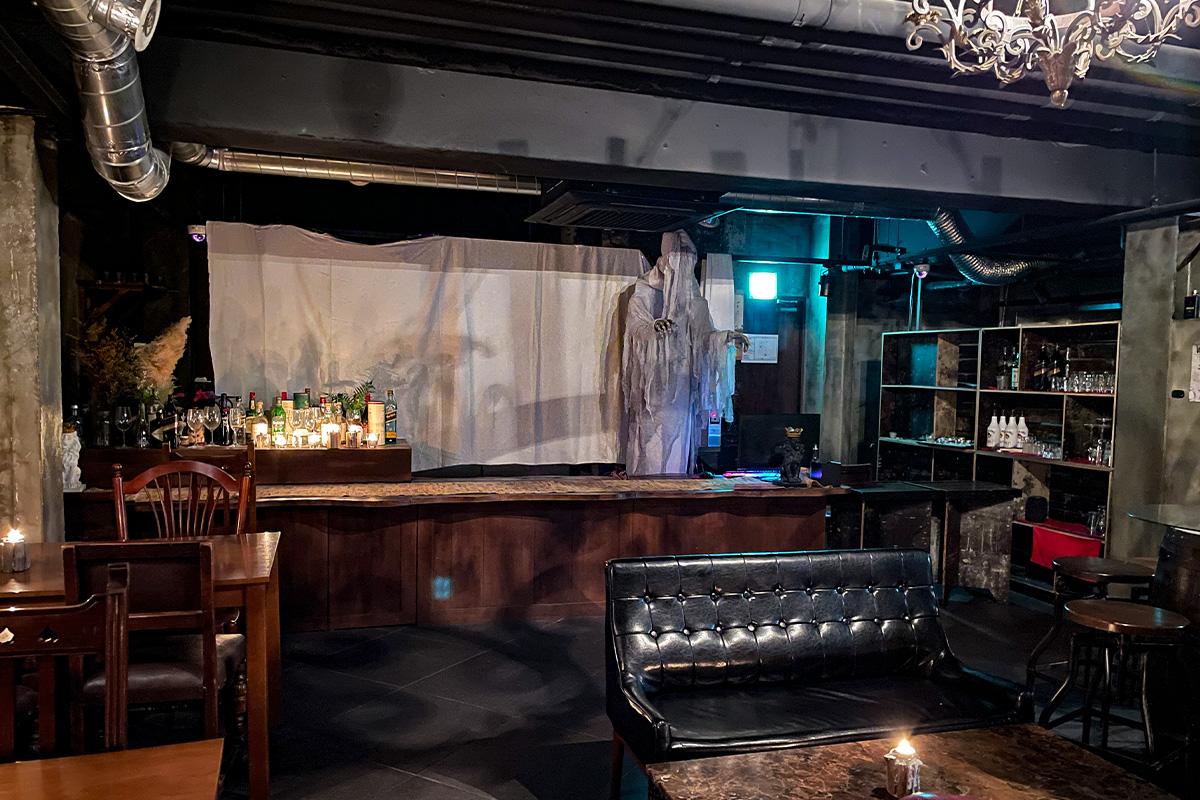 Inside, it was designed like a cocktail bar, and when I turned around, there was a ghost wandering on the screen, making me feel like I had stepped into a scene from a Harry Potter movie.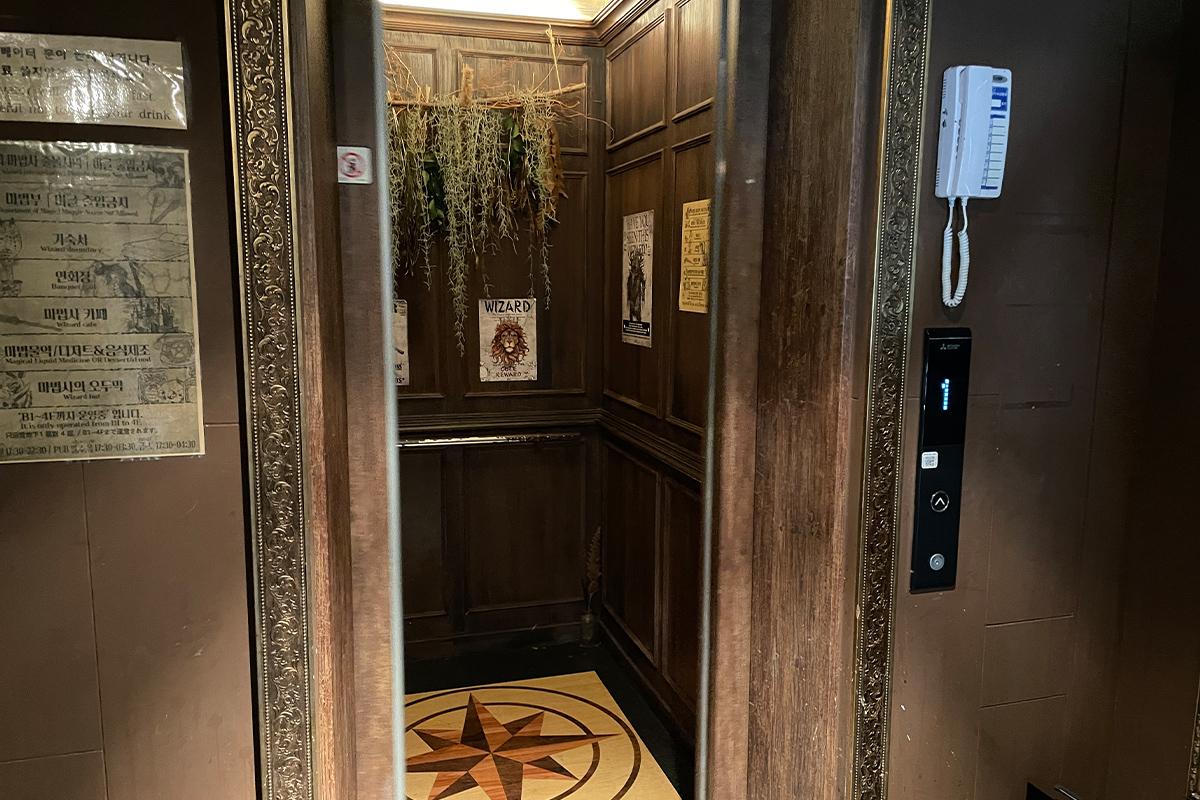 943 Kings Cross has an elevator, making it convenient to move around. Now, I'll take the elevator to the 2nd floor!
2F: Wizard's Cafe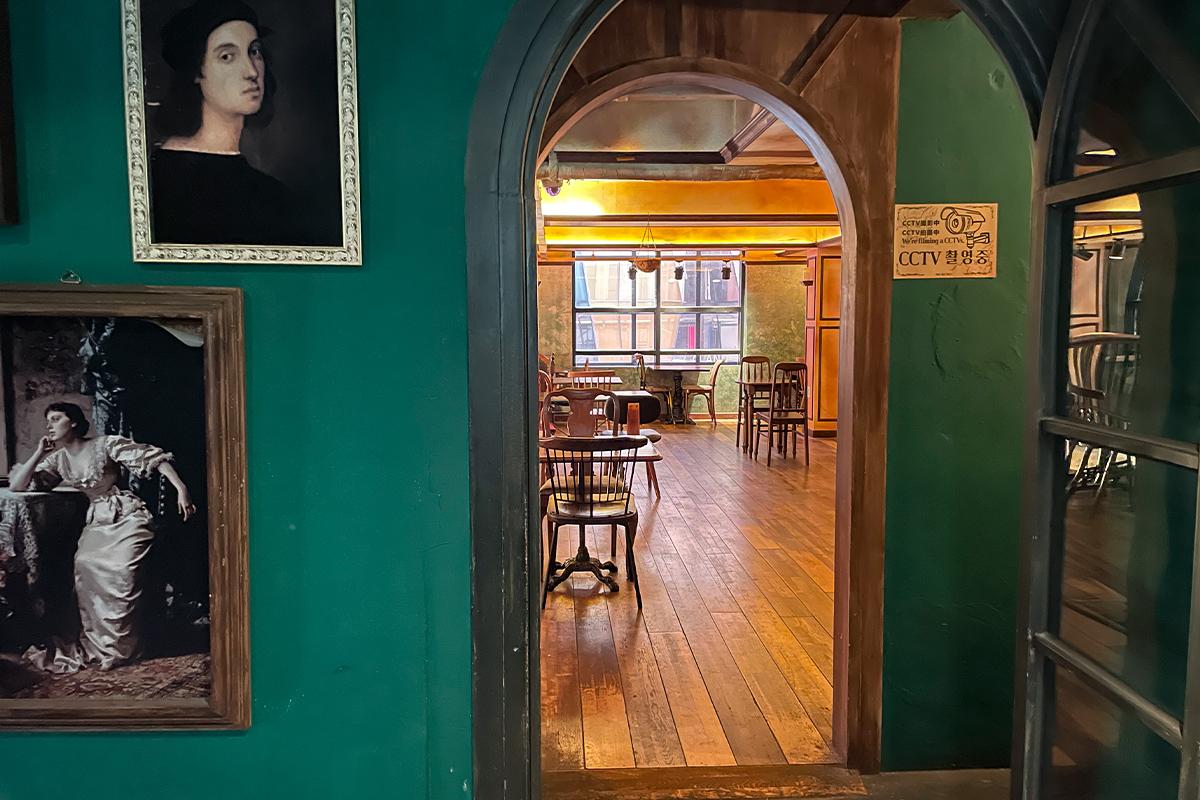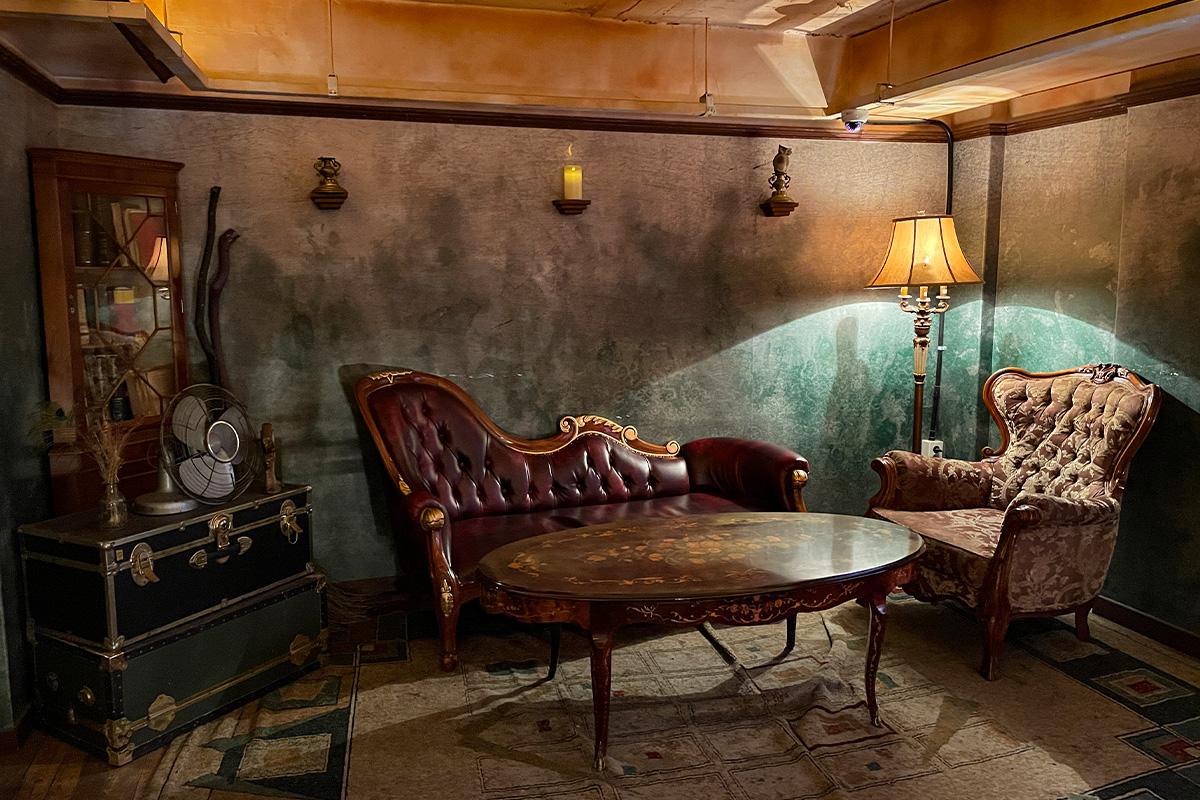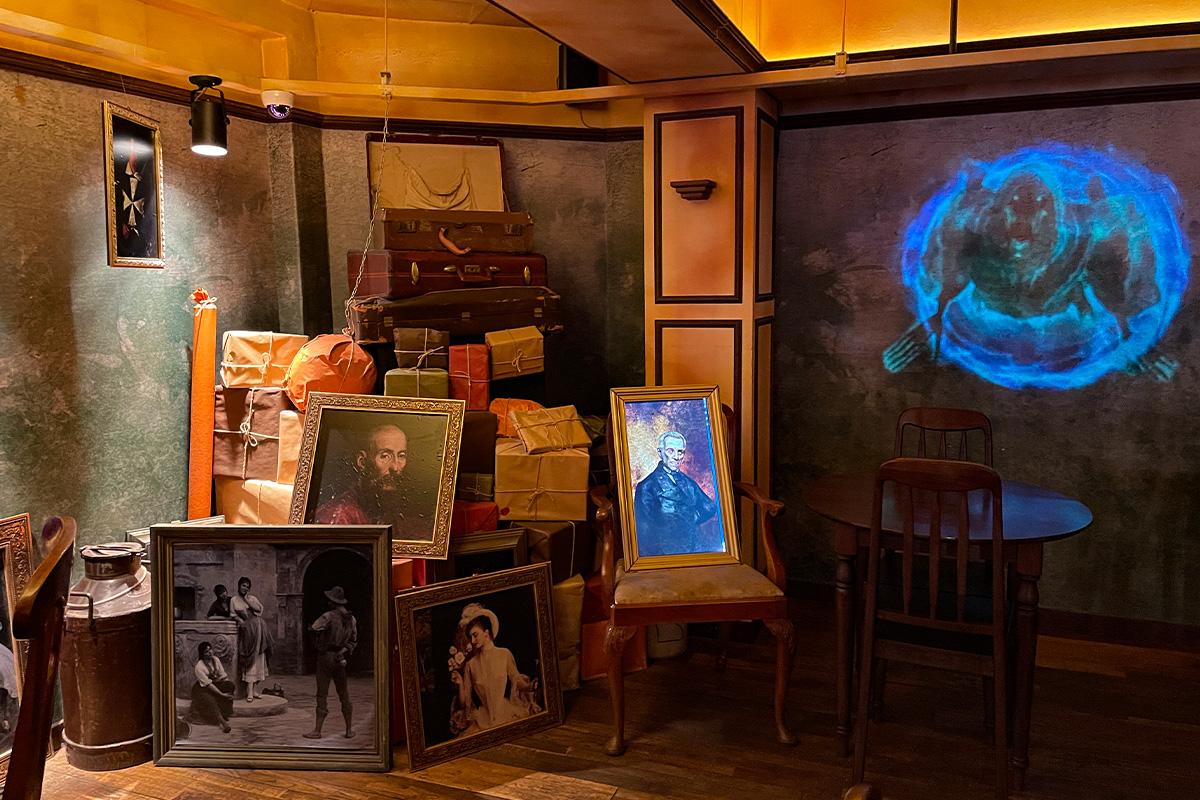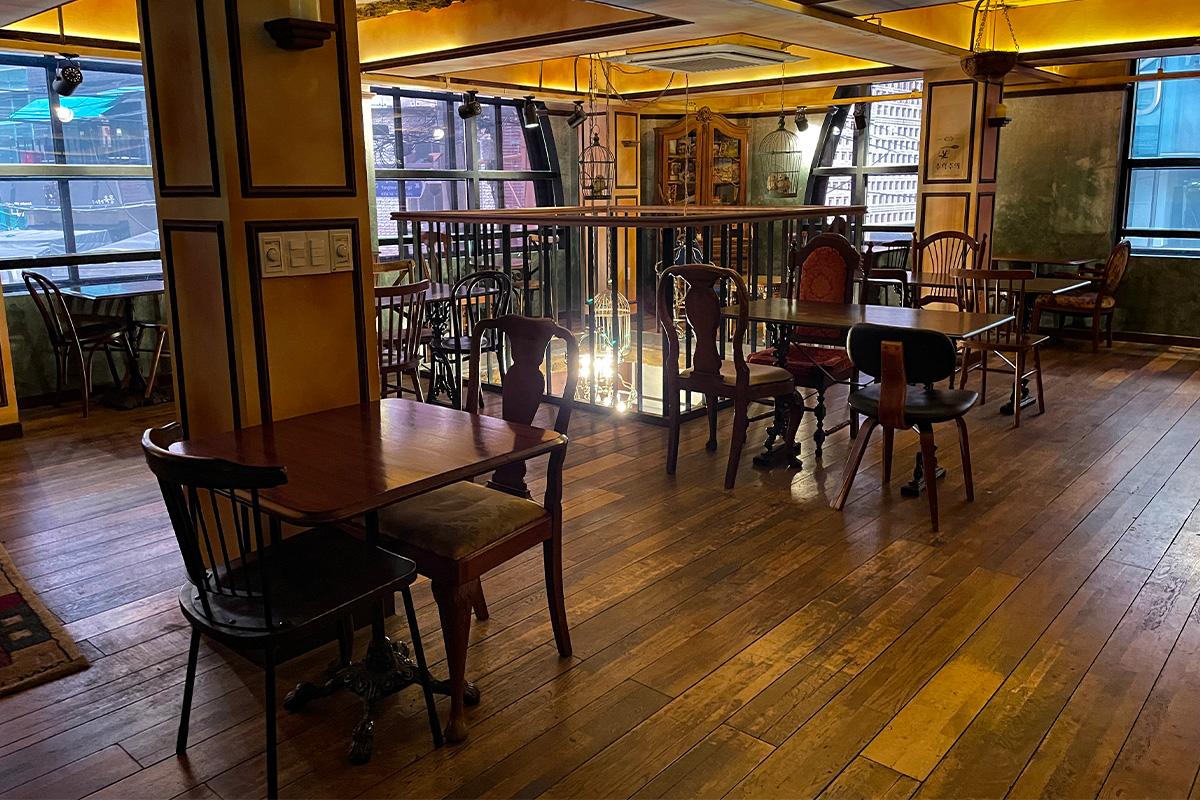 The 2nd floor is decorated like a real cafe, and at each end, there are also photo zones implemented.
3F: The Banquet Hall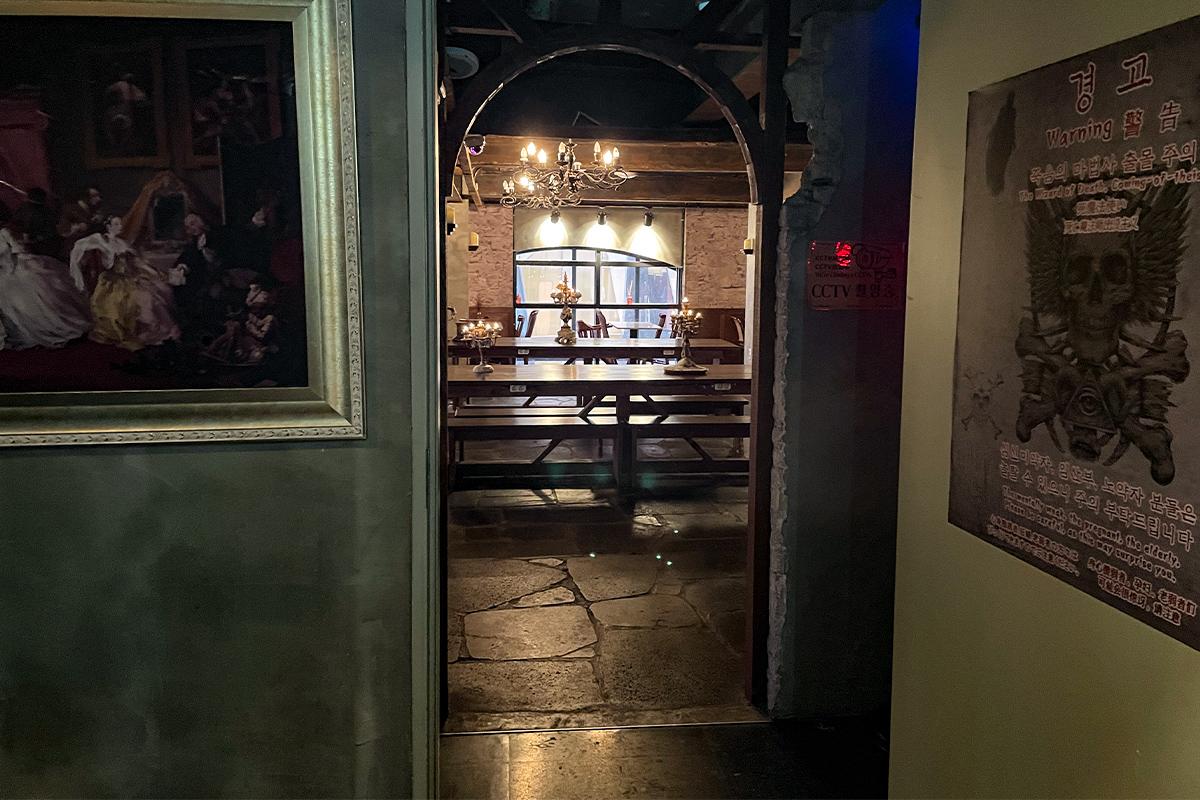 Finally, the long-awaited banquet hall! Personally, this place feels the most like a scene from a Harry Potter movie. Shall we go in and take a look?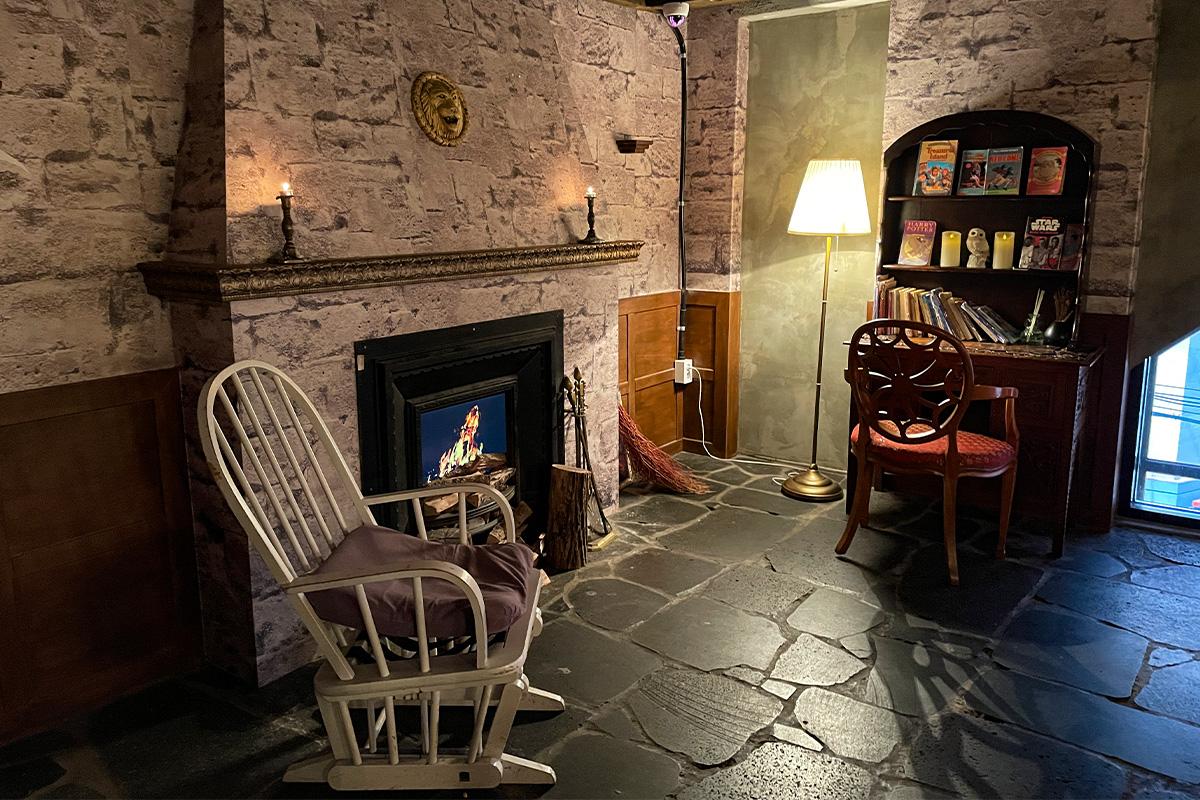 On one side, the space was decorated like Gryffindor dormitory. The books on the bookshelf were all original versions! I recommend taking a picture while sitting on the rocking chair after setting the concept.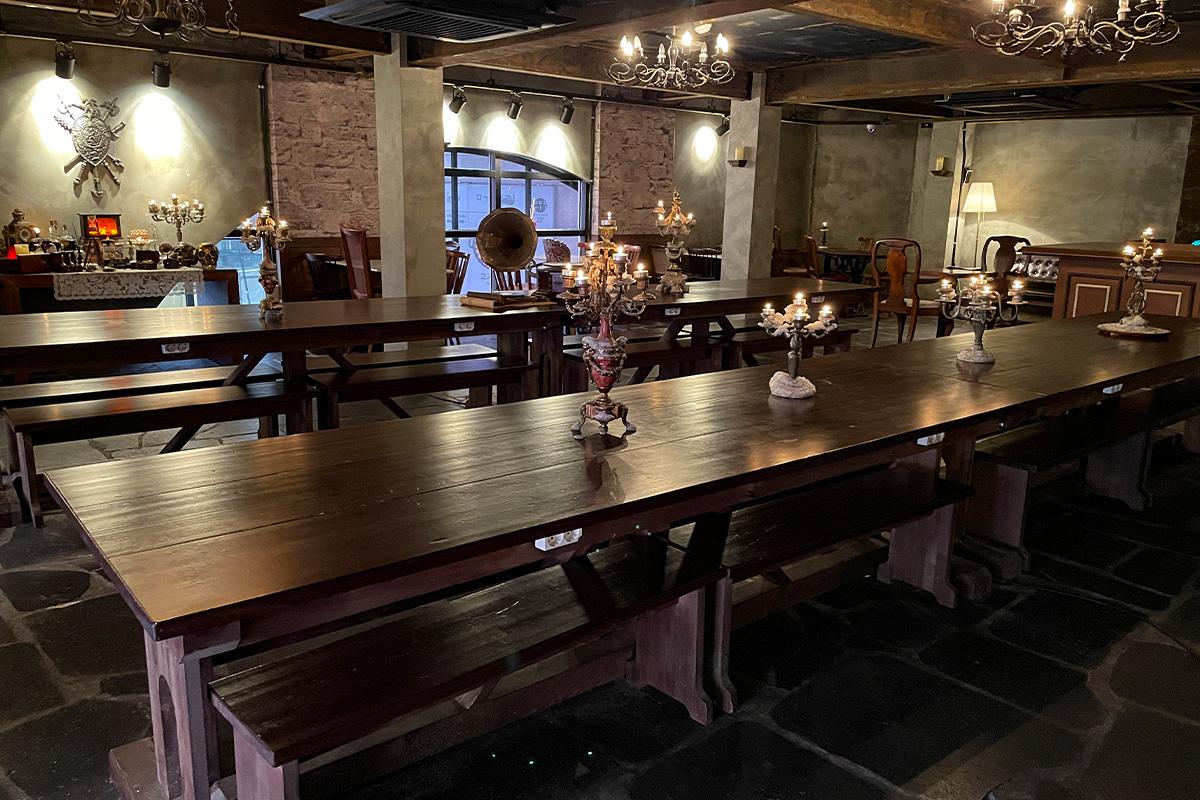 When I see this picture, what comes to mind is the dining hall where Harry Potter and his friends were eating. It's implemented so similarly to the movie that as a Harry Potter fan, my heart was pounding heavily.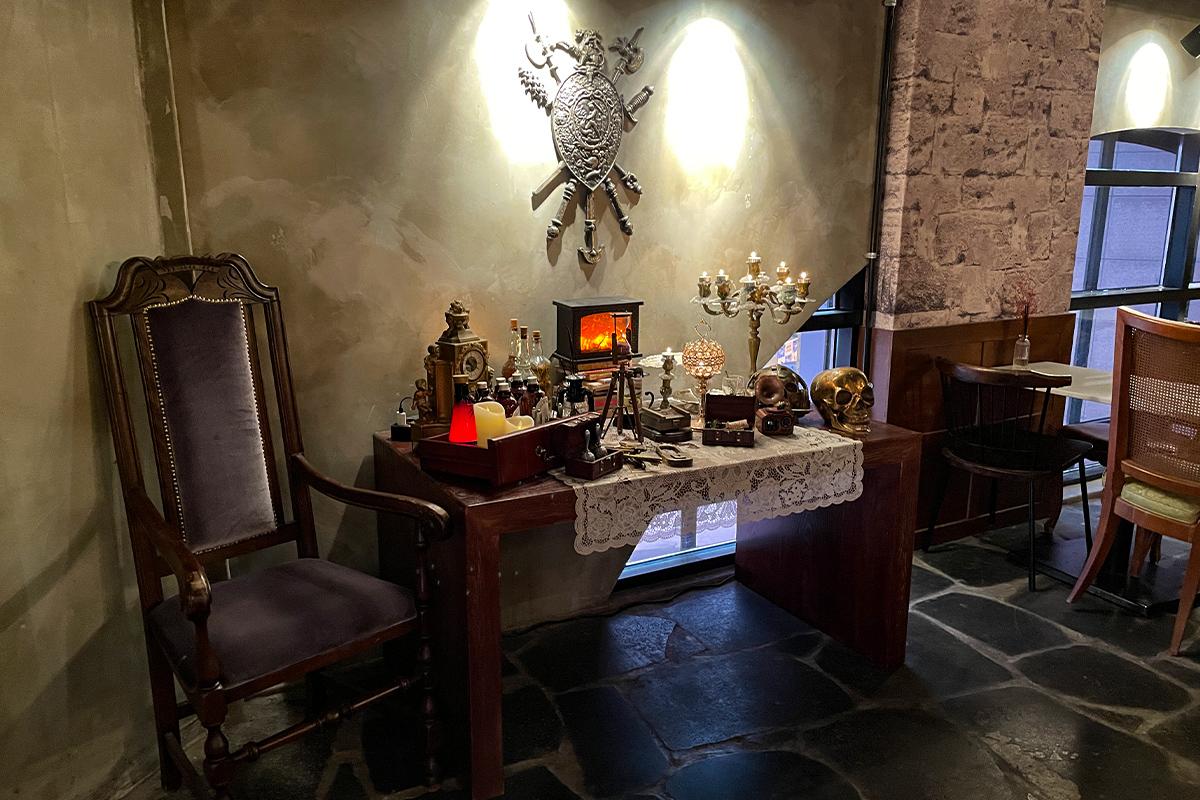 This is a table right behind the banquet hall table, and it looked like the desks of Hogwarts professors.
4F: Dormitory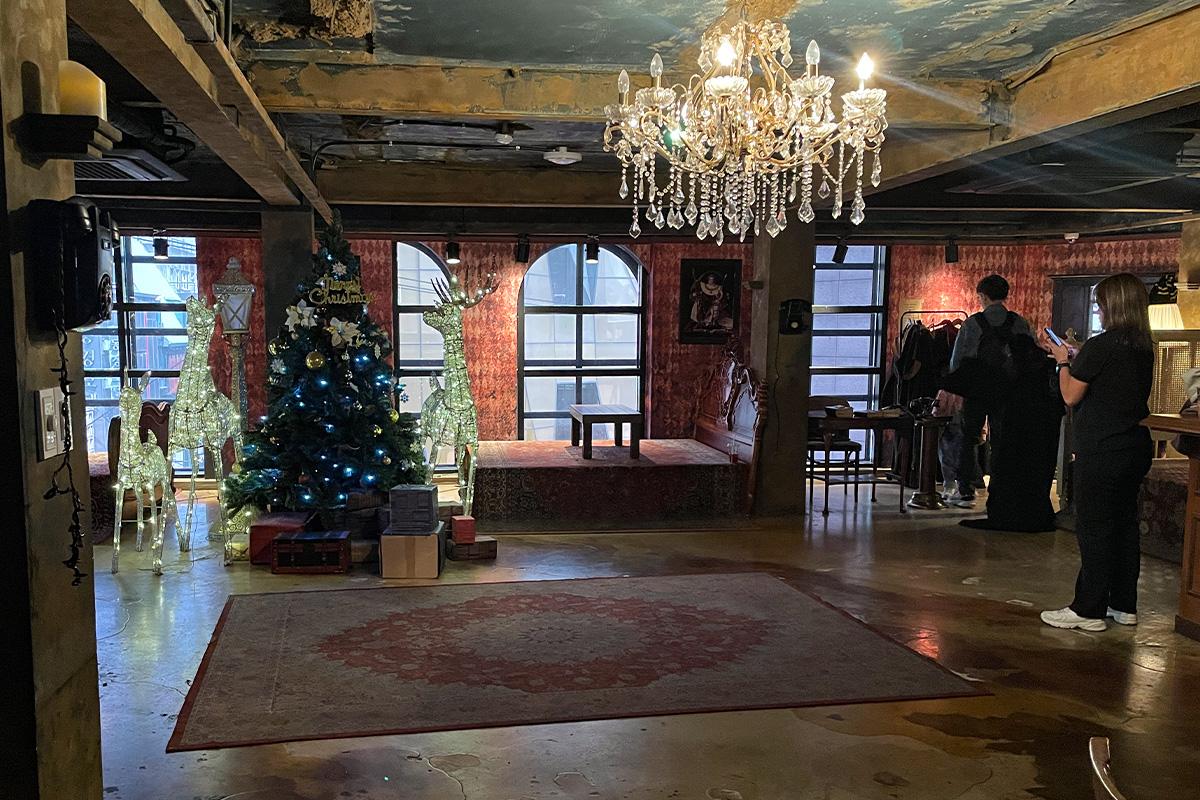 On the fourth floor, there is a dormitory where you can experience wearing the Harry Potter cloak.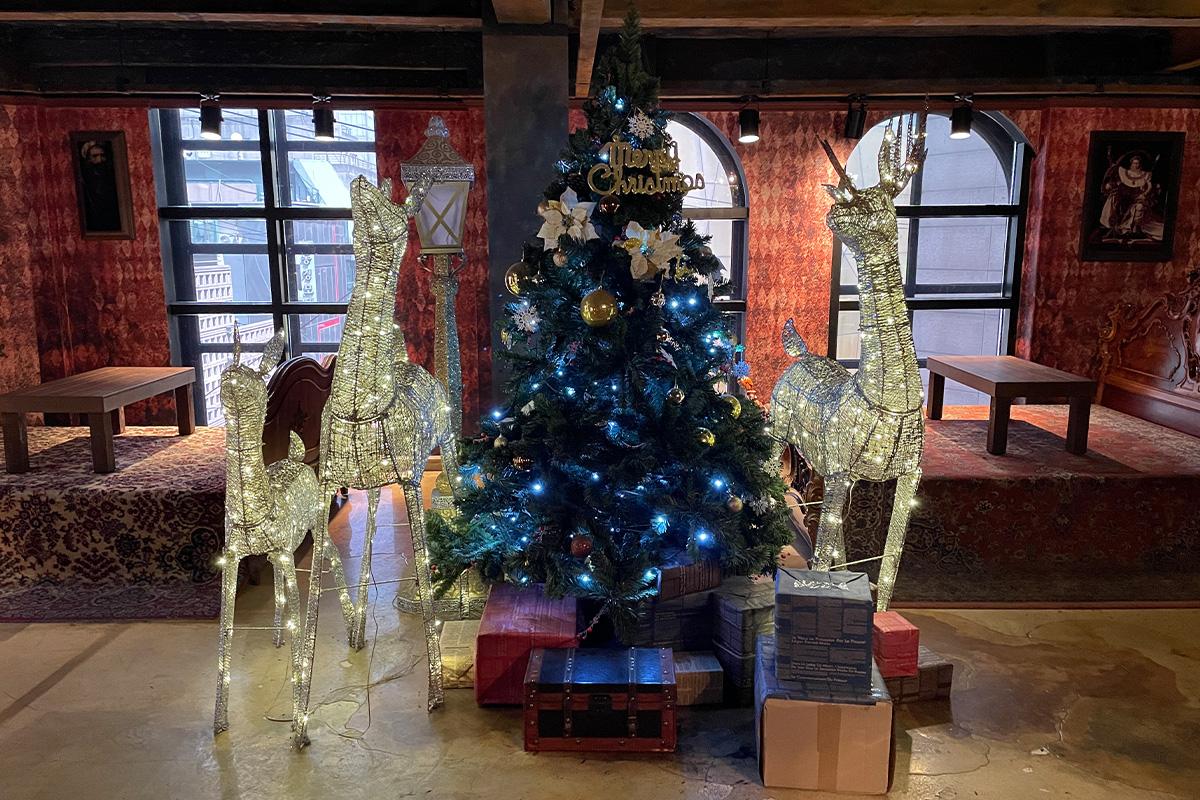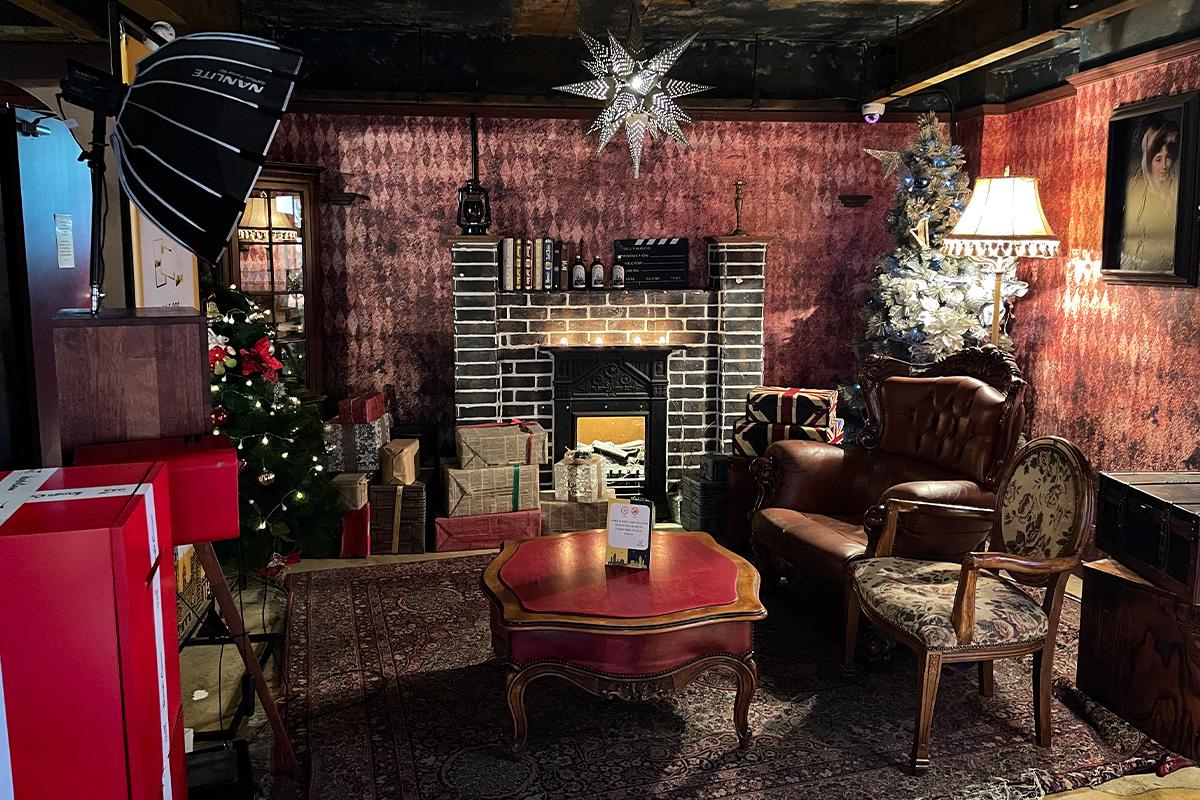 Finally, the fourth floor is the dormitory, and there's a Harry Potter cloak-wearing experience prepared for you. Speaking of Harry Potter, Christmas comes to mind again, and if you put on the cloak and sit in the photo zone, you'll take a really nice picture!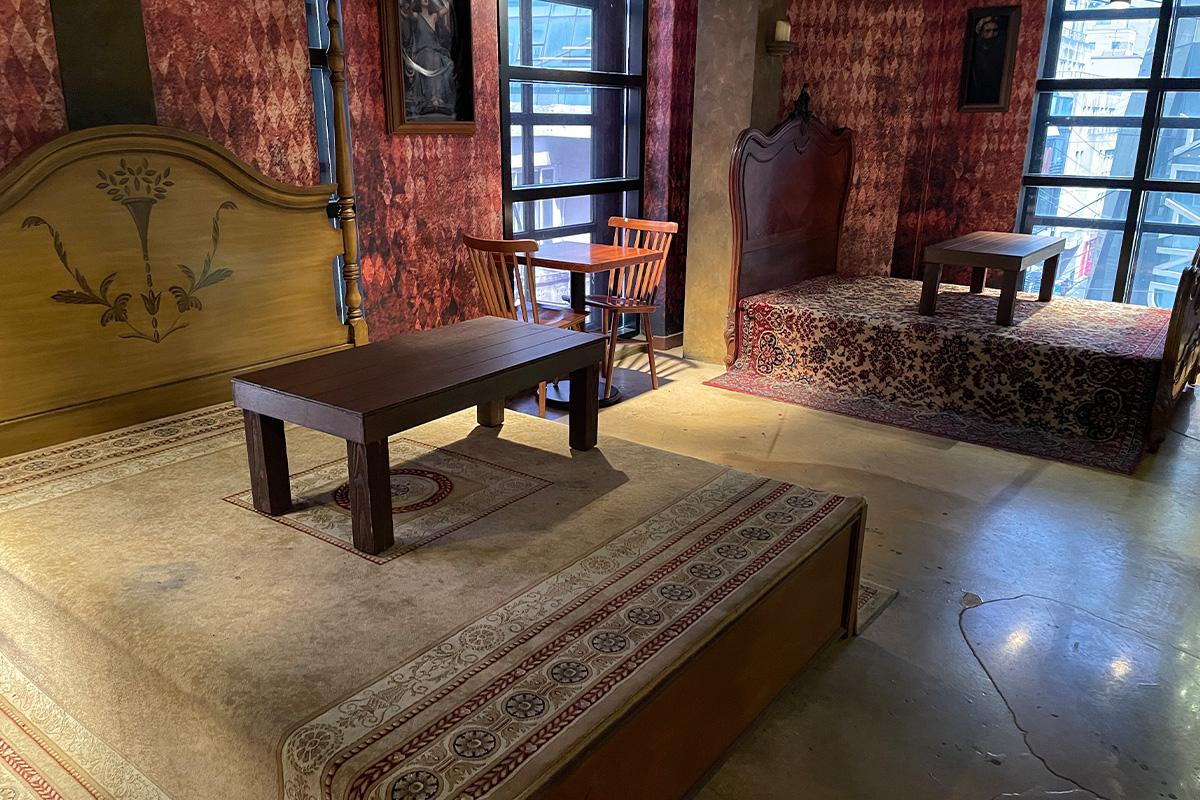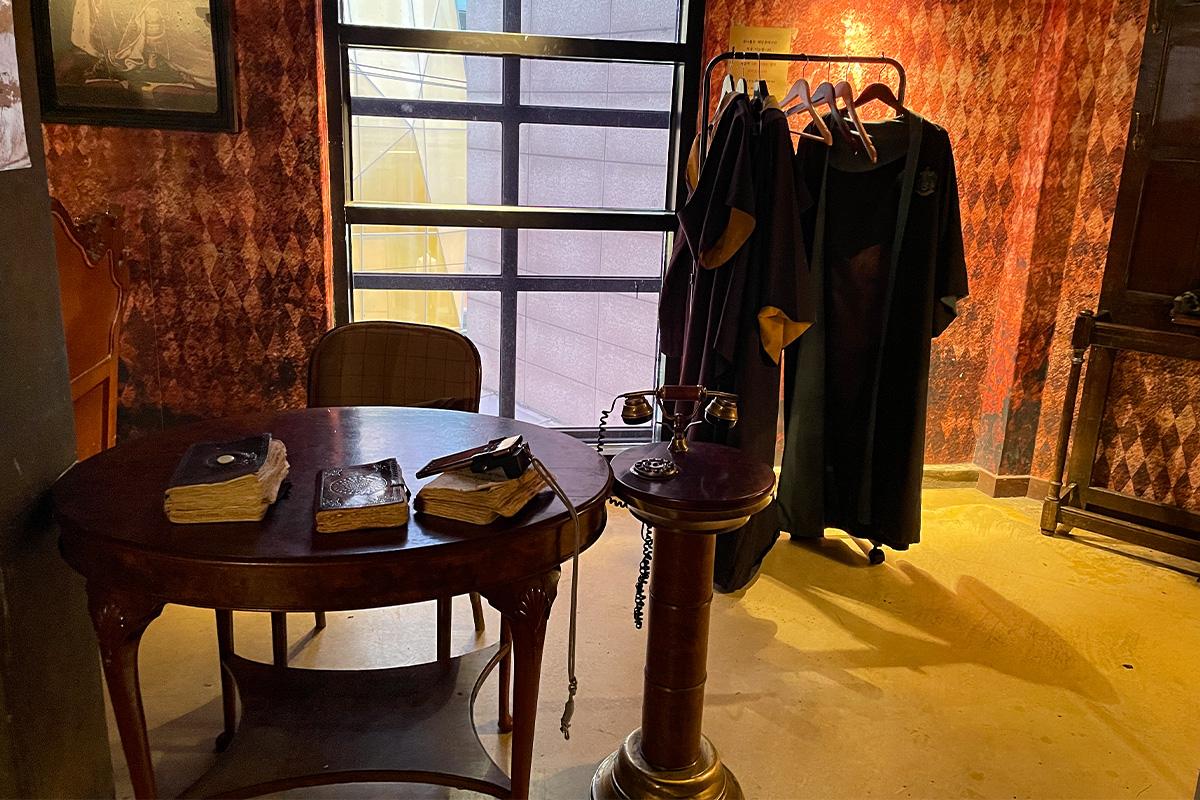 The cloak fitting has a time limit of 3 minutes, probably due to the high demand during peak hours or weekends.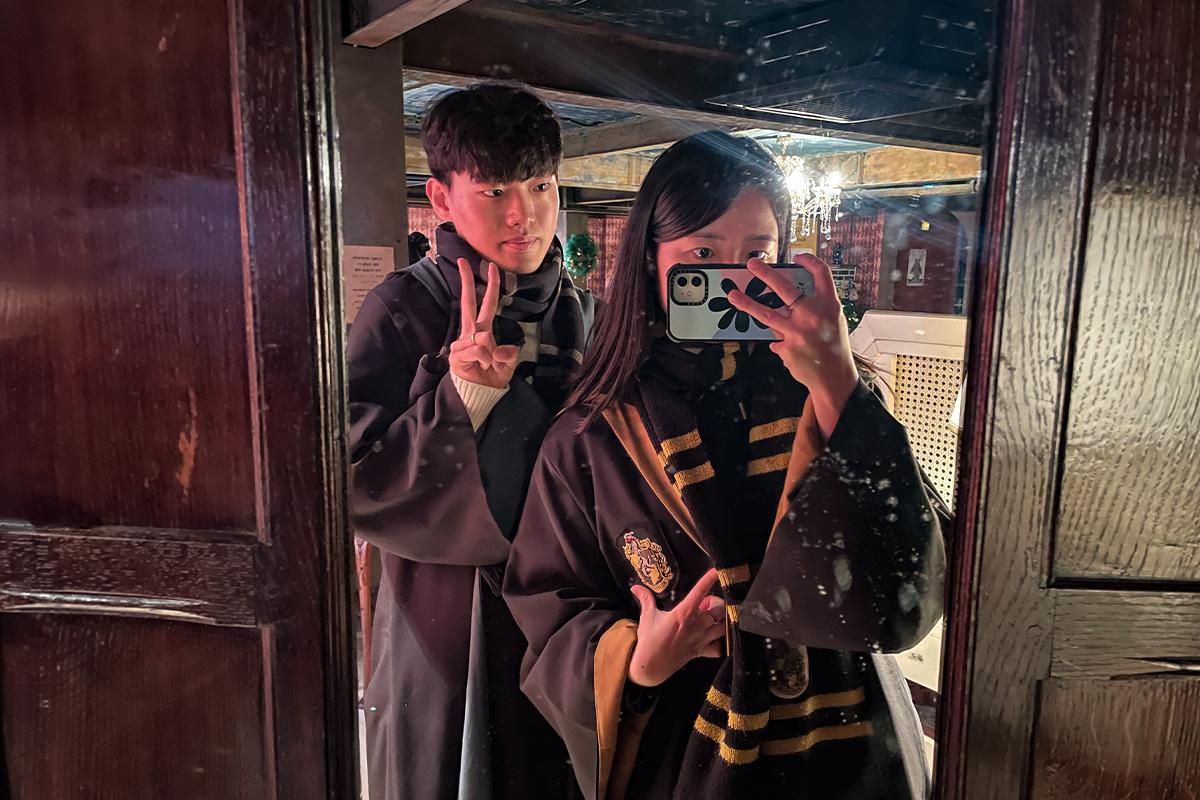 Make sure to wear the cloaks and take pictures like we did in the picture above.
FOOD: Best Set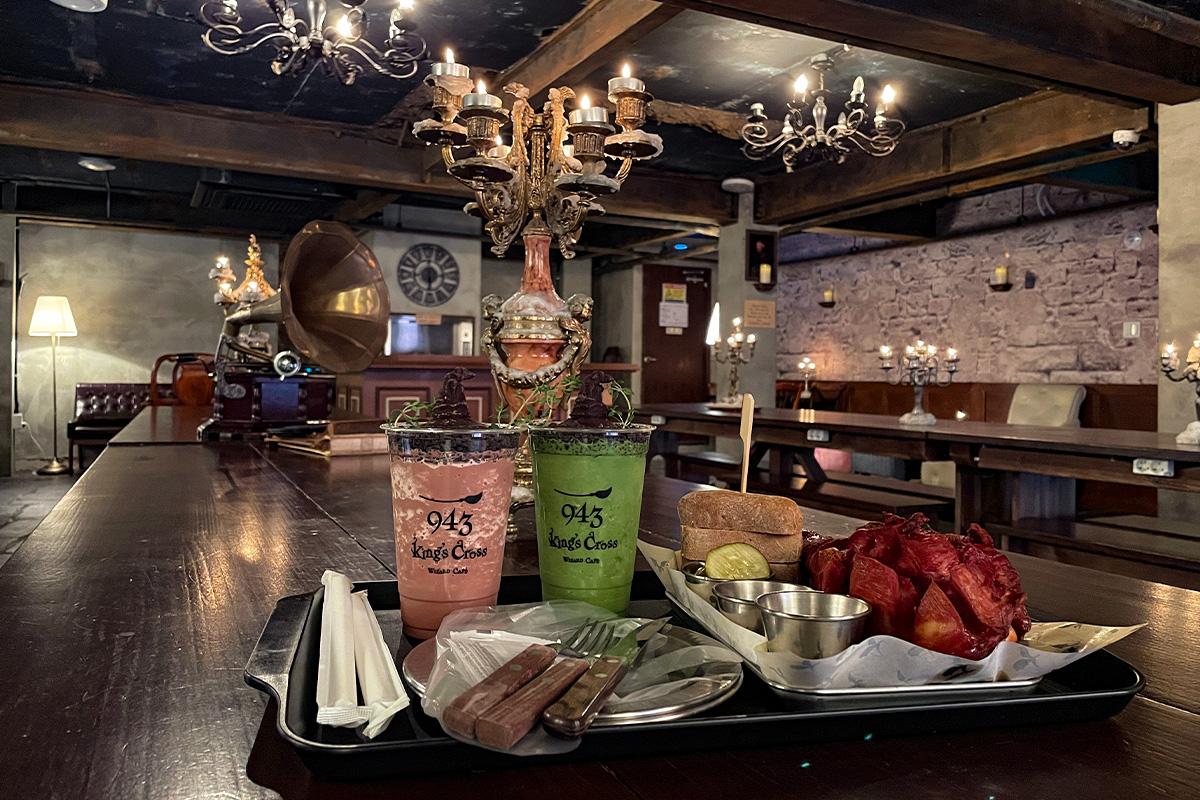 We ordered the Best set and chose Wizard's Chocolate and Wizard's Green Tea as drinks. Wizard's Chocolate and Green Tea are signature drinks of 943 Kings Cross with a magic hat on top as the key point.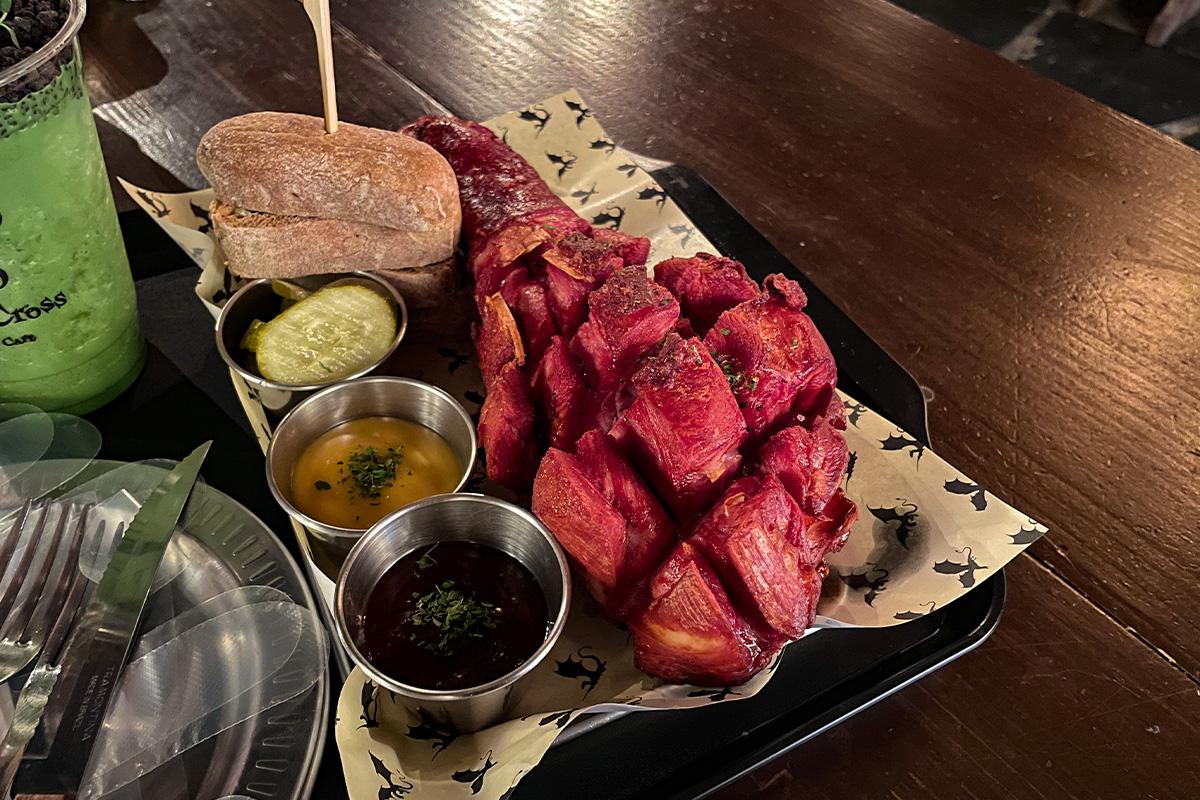 Dragon Red is a dish made by deep-frying a whole turkey leg, and it has a slightly salty and savory flavor that would pair well with beer.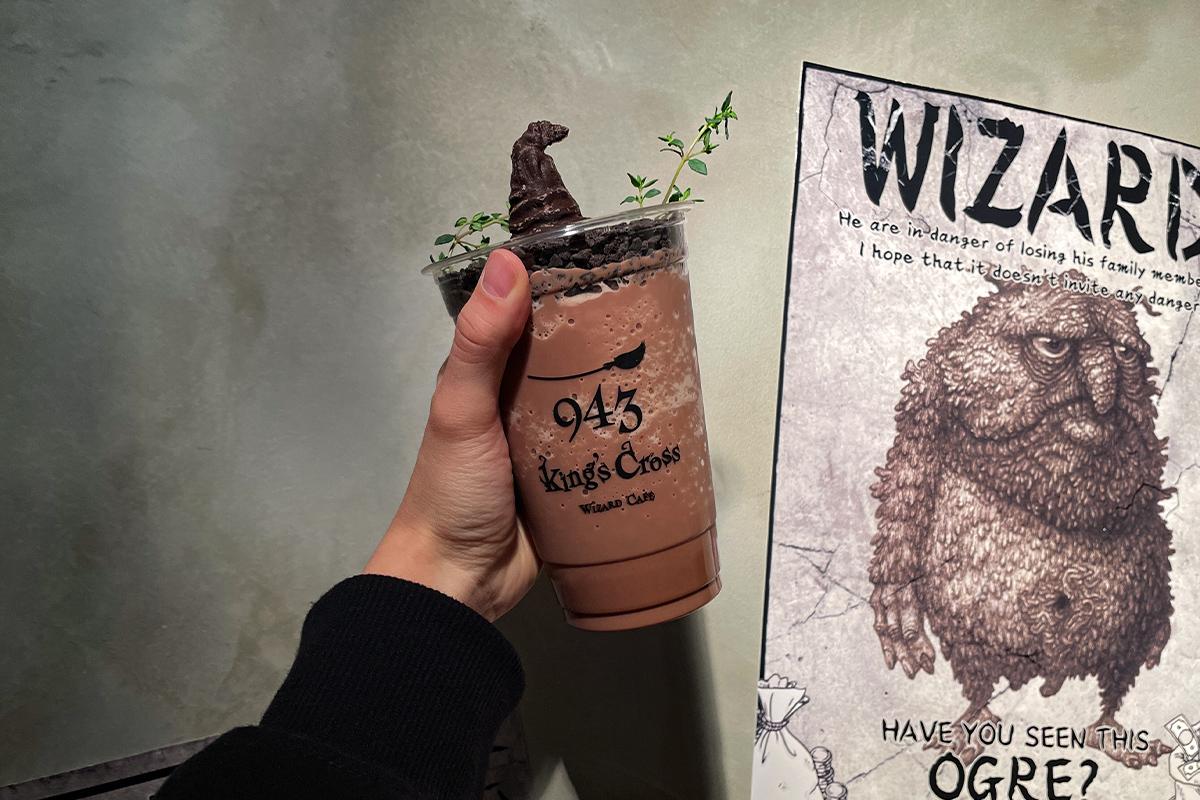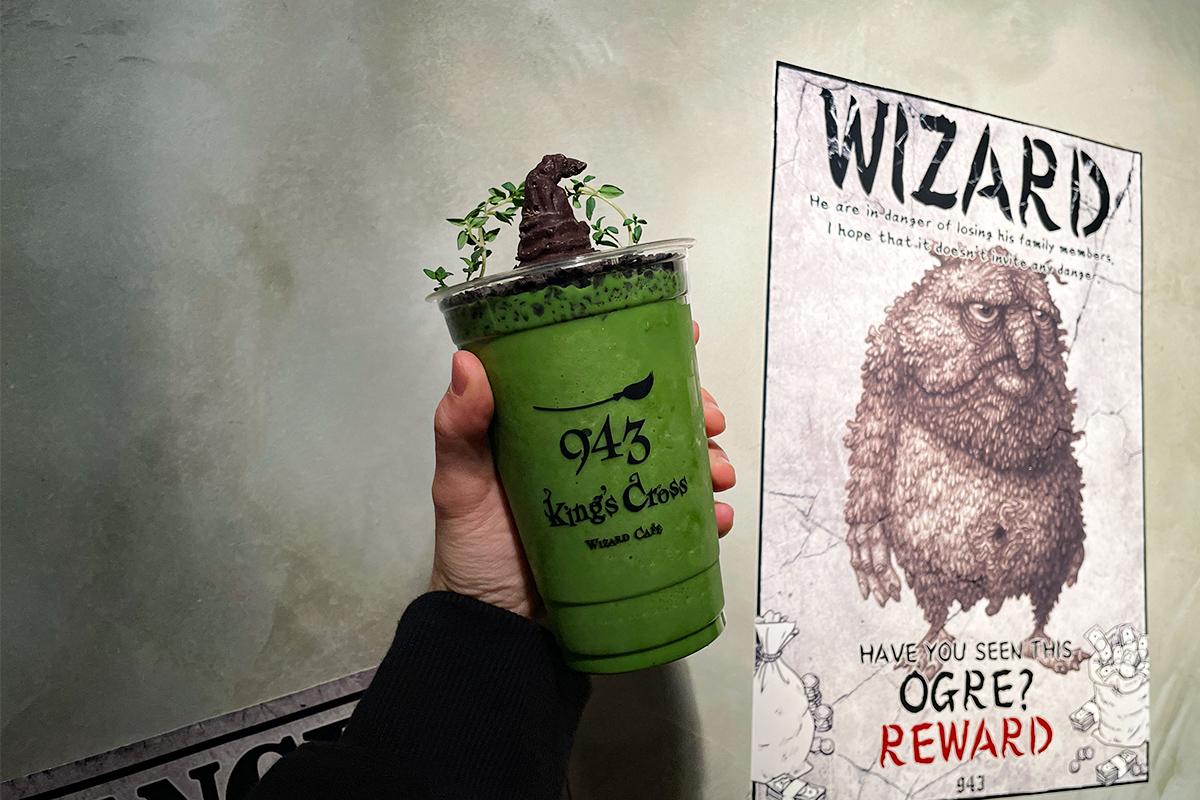 The Wizard's Chocolate and Green Tea are drinks with a chocolate hat on top, which tastes similar to the Starbucks blended series.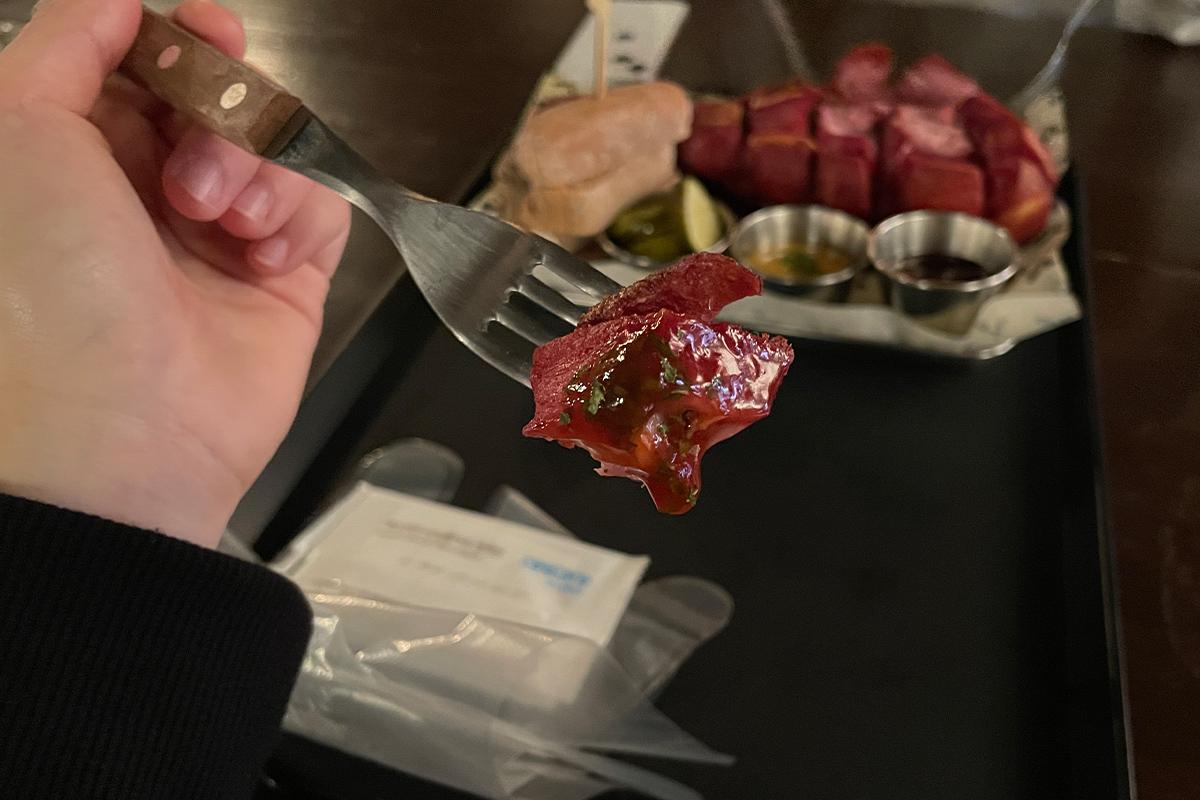 It sounds like the sauce that comes with the Dragon Red is a combination of mustard and steak sauce, creating a balance of tanginess from the mustard and sweetness from the steak sauce that complements the savory meatiness of the dish.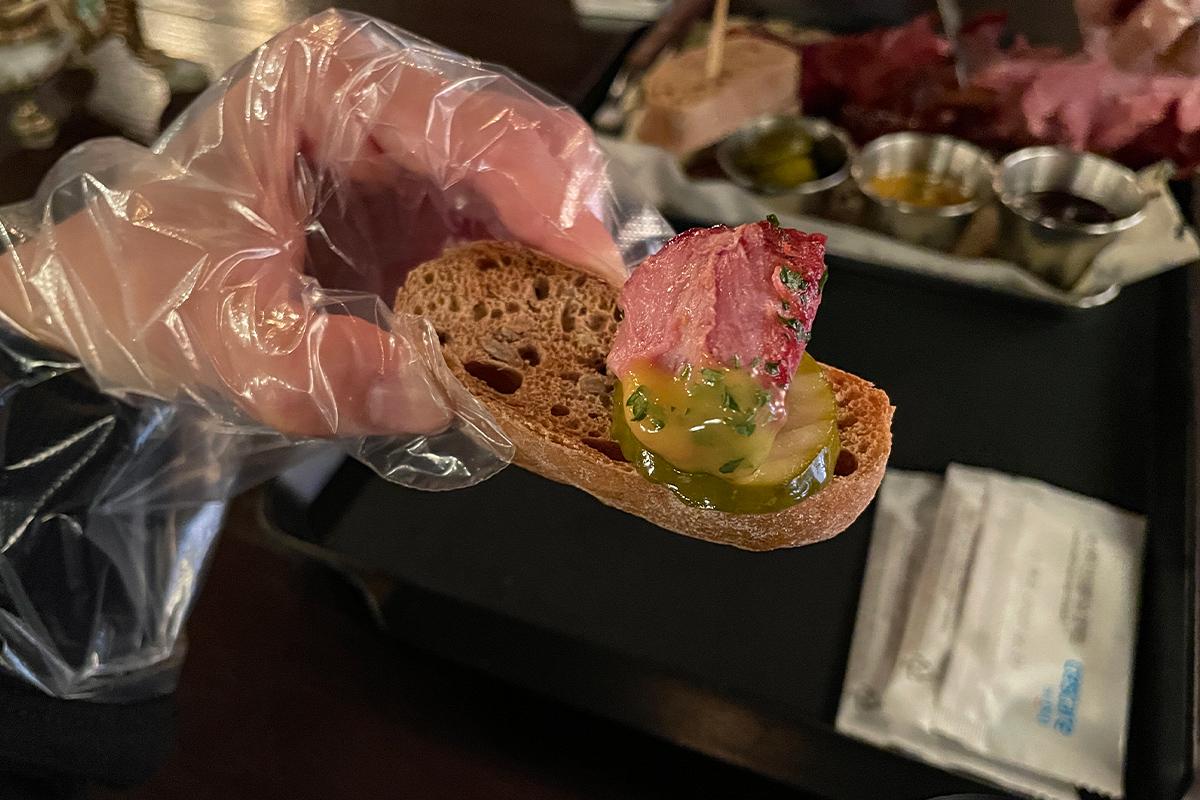 It also comes with a baguette and you can make your own sandwich by putting the meat and pickles on top of it! The pickles help balance out the rich flavor of the meat and eating it with bread makes it a satisfying meal in itself :) If you're a Harry Potter fan, this cafe is a must-visit. It's a great place for a unique and fun experience with friends or a romantic date. Have a great time at 943 King's Cross!
---
How to Get There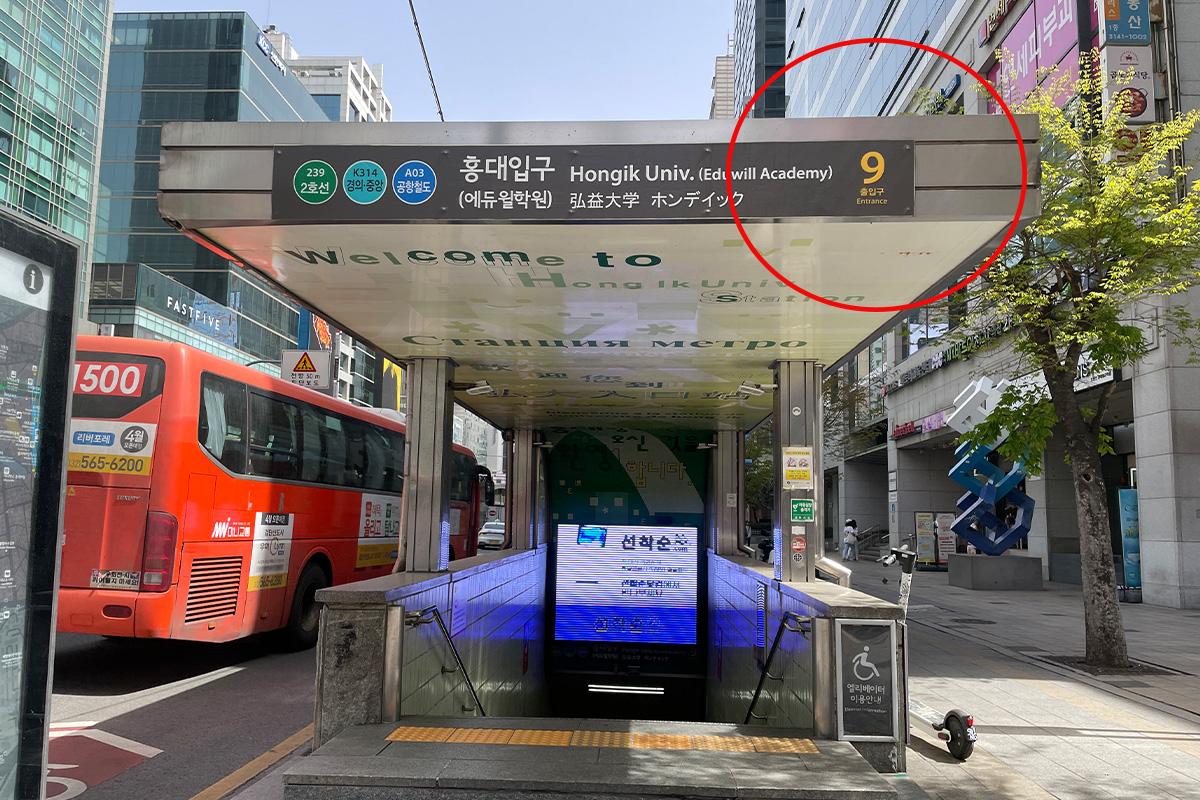 Exit through the 9th exit of Hongik University Station.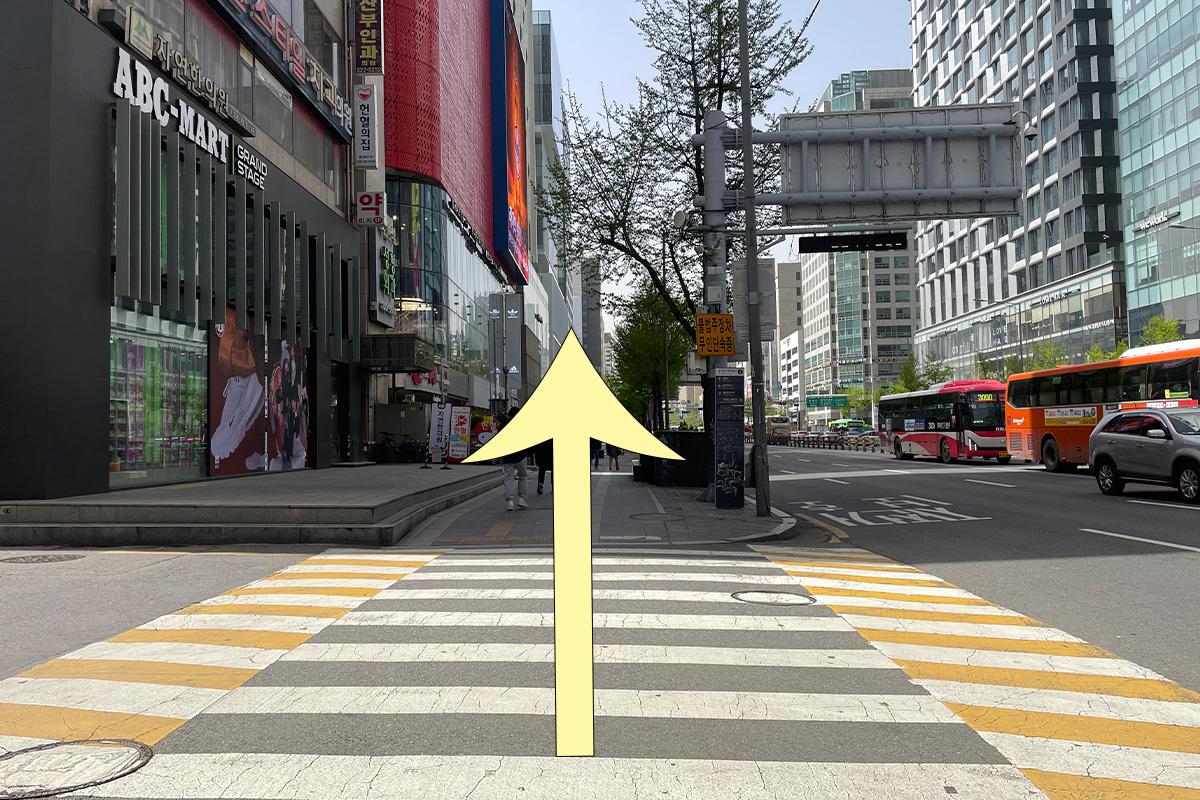 Please exit through Exit 9 and go straight.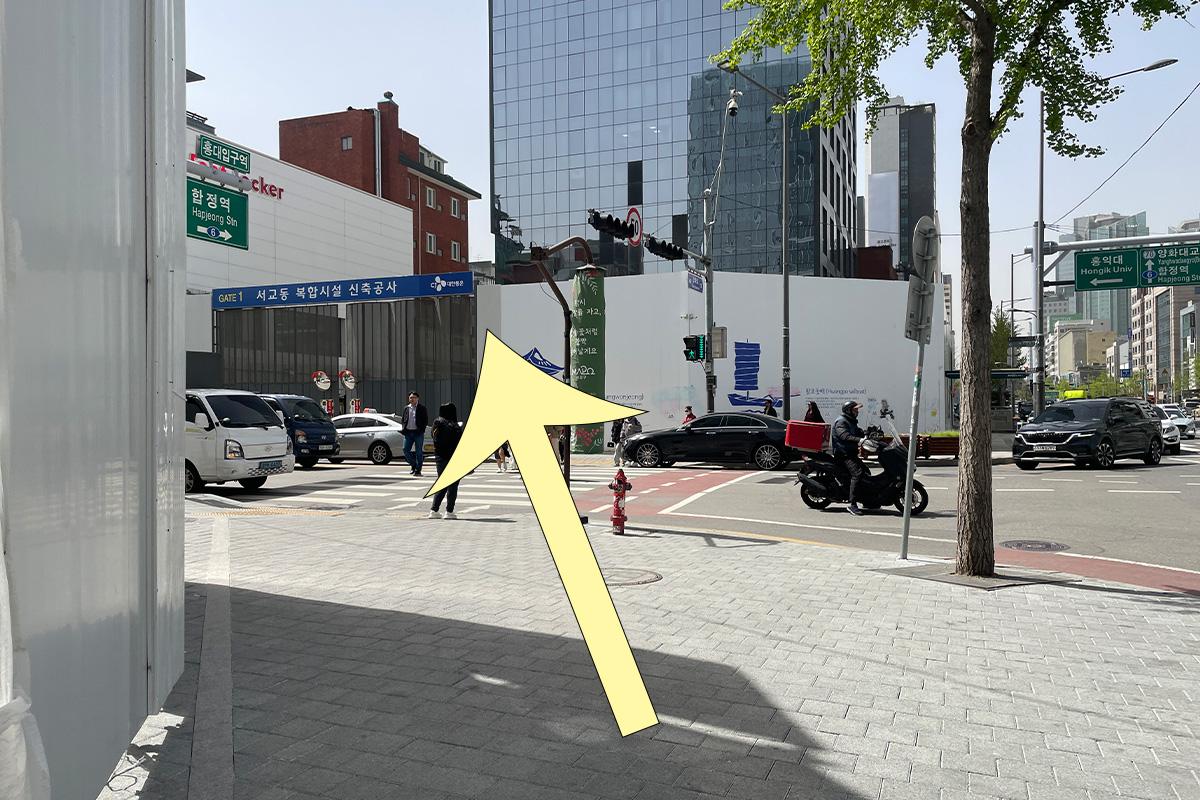 Cross the first pedestrian crosswalk and go left.
Go straight ahead.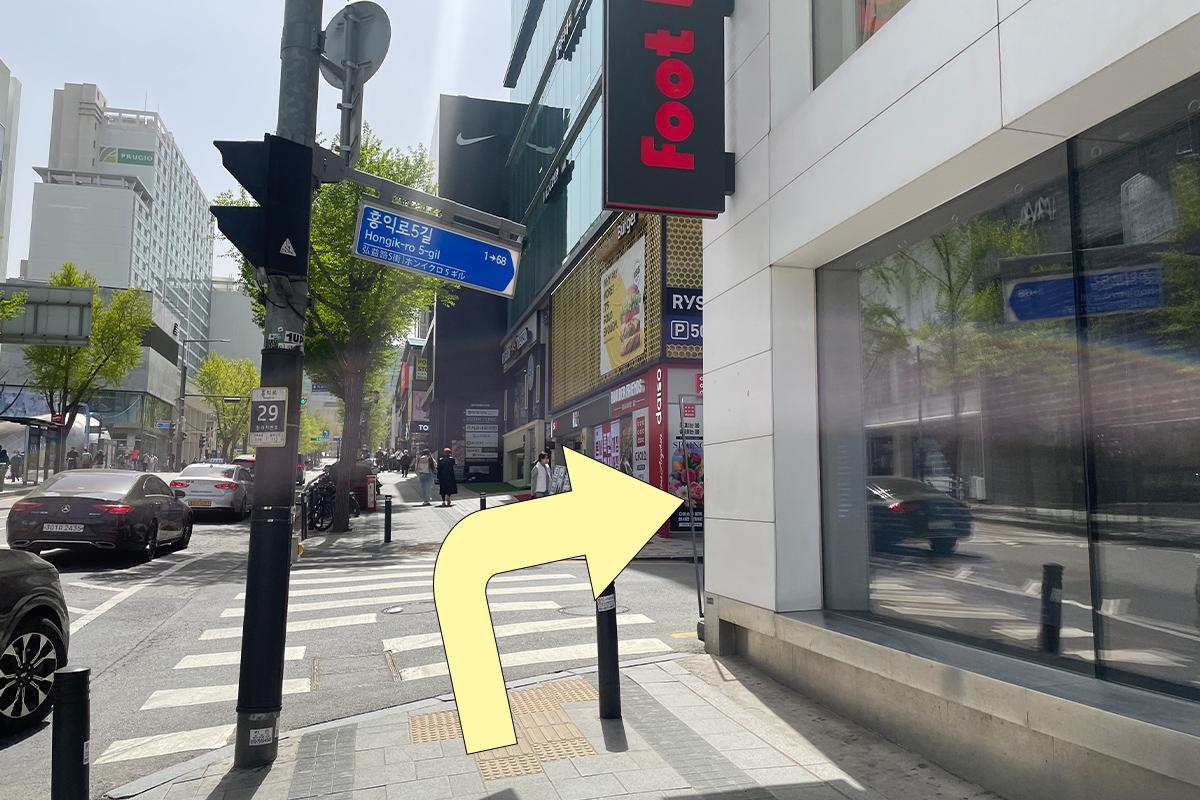 Turn right at the first alley.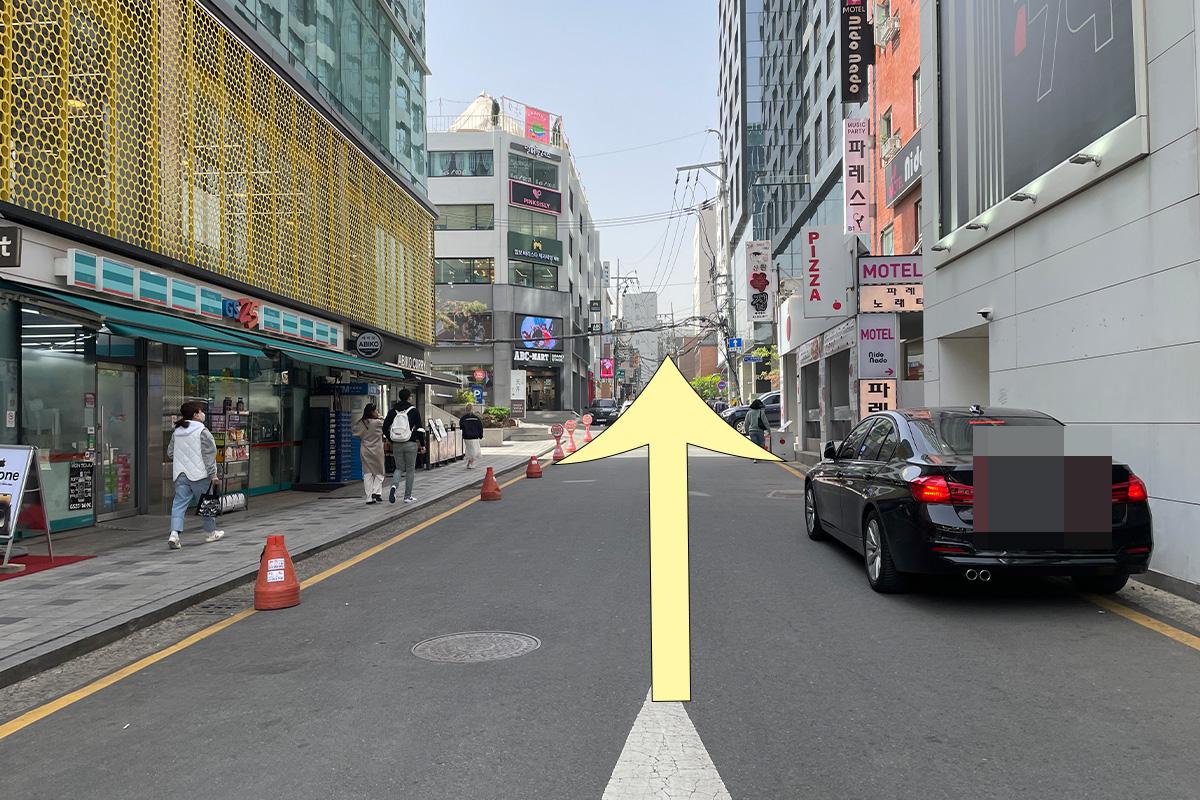 Go straight ahead.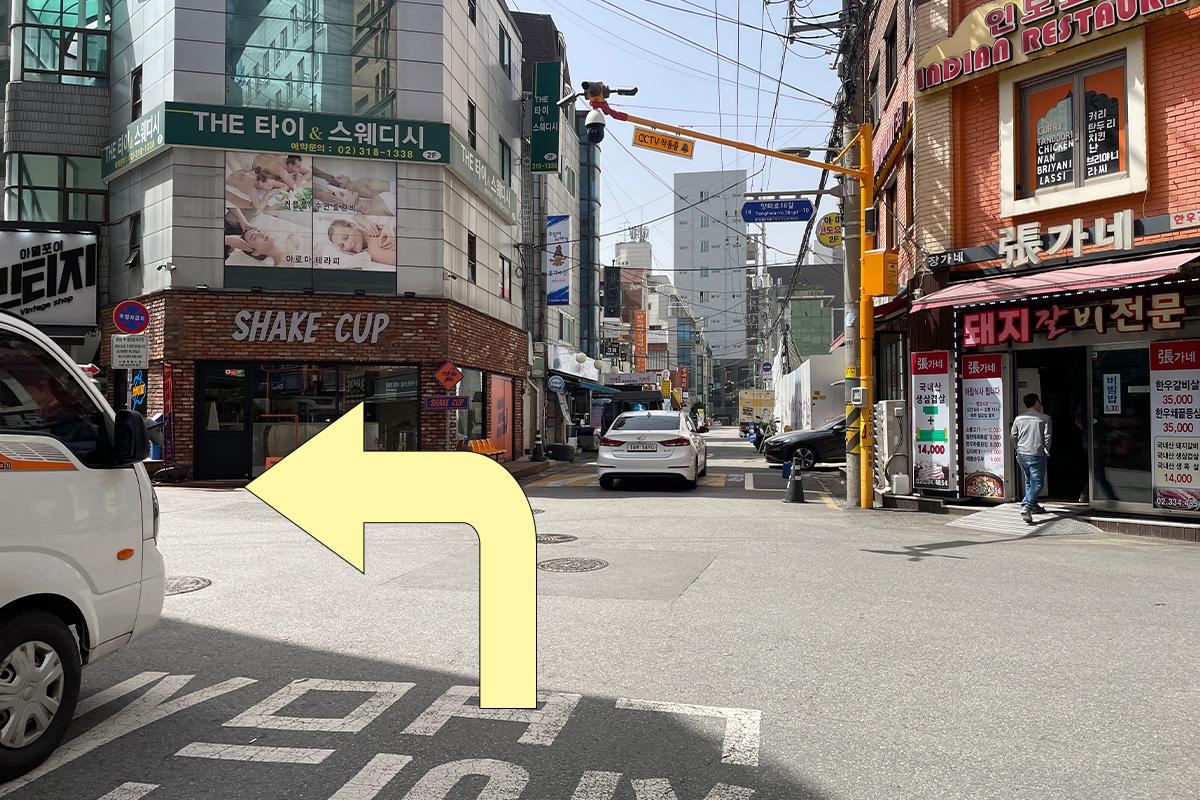 Turn left at the second alley (intersection).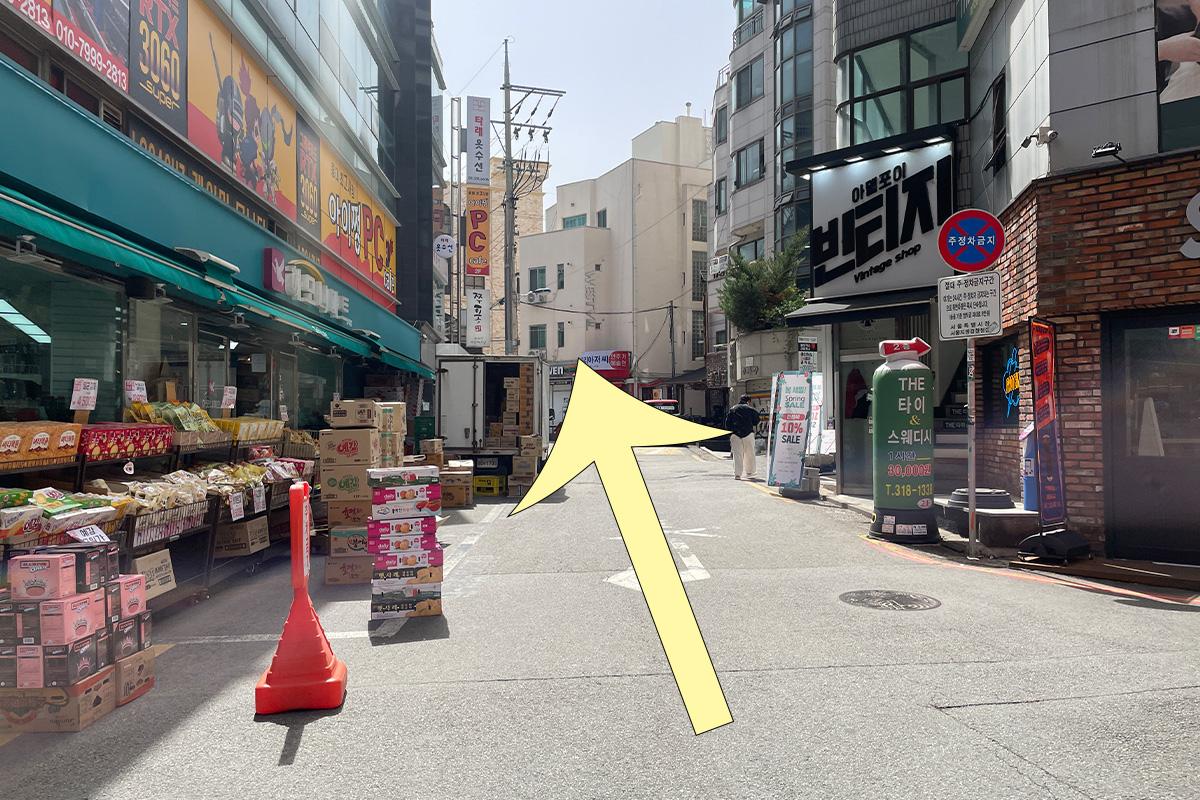 Go straight ahead.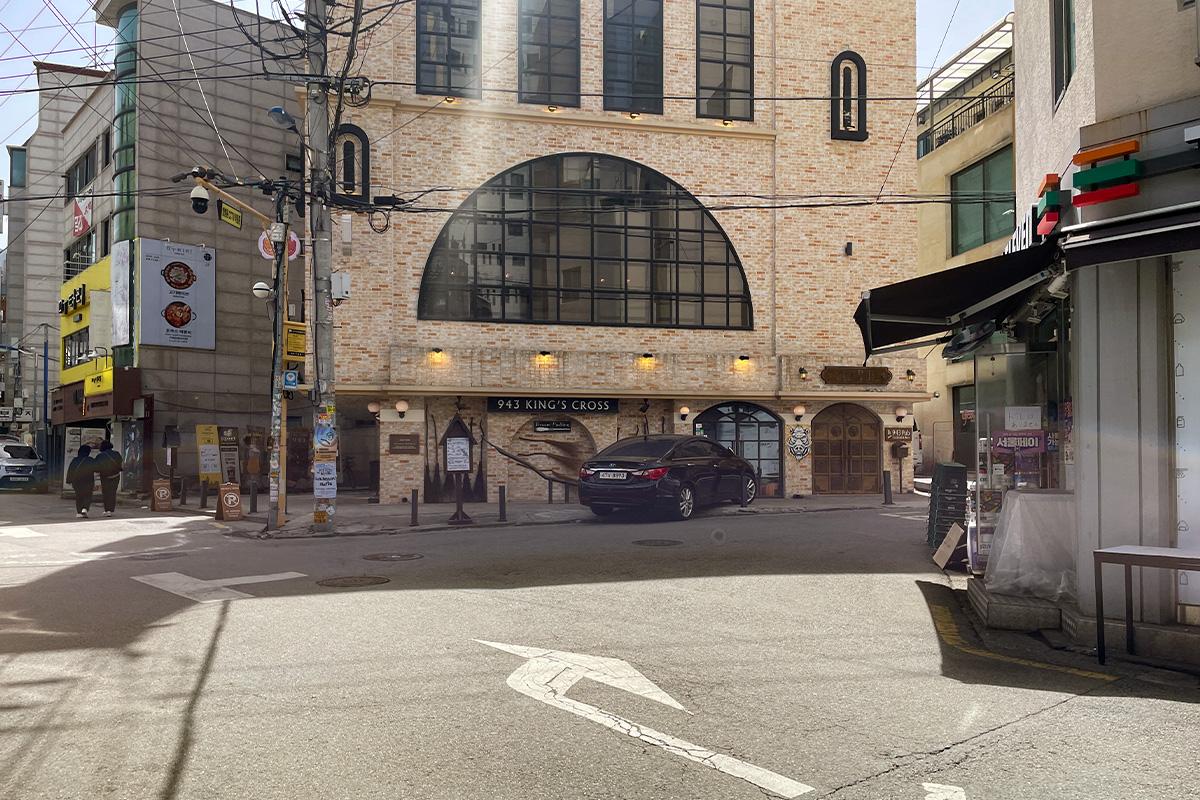 You've arrived.
---
943 King's Cross Hongdae
---
We hope that you can enjoy your time at this Harry Potter themed cafe in Hongdae! If you have any questions or concerns, please leave a comment below or send us an email at support@creatrip.com! You can follow us on Instagram, TikTok, Twitter, and Facebook to stay updated on all things Korea!
---