KTX Ticket Guide | Booking Tickets Online
Here's your step-by-step guide for riding the KTX. (feat. Seoul Station)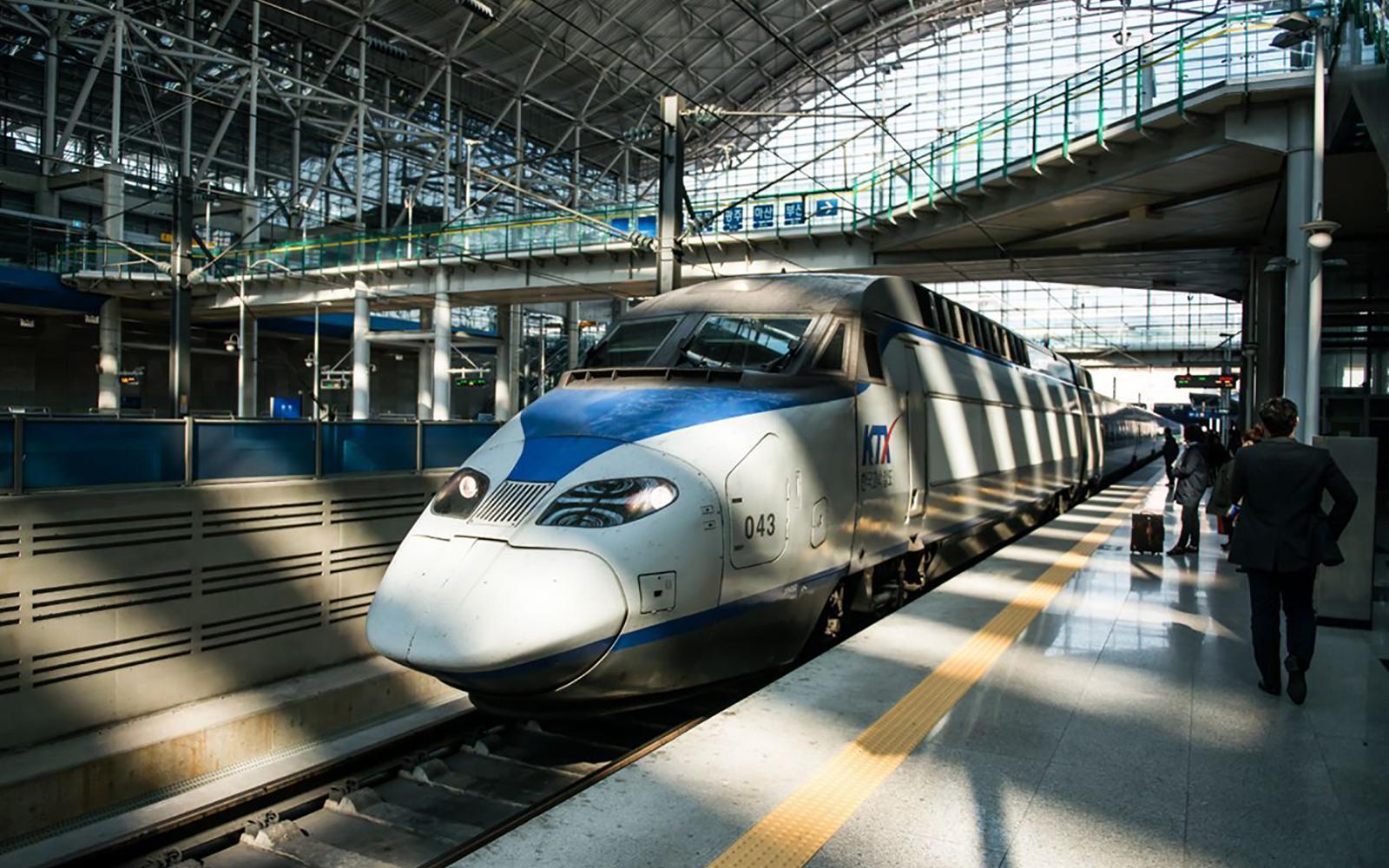 While much of the lore and appeal of Korea is due largely to the country's capital, Seoul, there is so much more that Korea has to offer in the travel area. From the beaches of Busan to the your favorite idol's hometown, there is much to be seen, explored, and experienced in South Korea. One of the easiest and fastest ways to travel around the country is by the fastest train in Korea, the KTX. In less than three hours, you can board a train in Seoul and arrive as far as Busan!
Today, we're going to show you to make your KTX experience as smooth as possible!
*If you want to know about other modes of transportation, check the following.
Incheon Airport ↔ Seoul Station Airport Road
---
Reserving Your Train Ticket
There are a total of three ways to buy a train ticket (four if you count Creatrip 😉). You can either buy the day of at the station, book them on the Korail website, or finally, through the Korail app. However, if you wait to buy a ticket on the day of your trip, it is likely that tickets will be sold out, so it's always best to book in advance.
The official KTX website and app are available in Chinese, Japanese, and English so you should be able to make a reservation with little trouble. 👍
Reserving on Creatrip
Creatrip offers an online train reservation service designed for tourists.
Here you can book tickets to the five following major cities: Seoul <--> Busan, Seoul <-->Gangneung, Seoul <--> Daejeon, Seoul <--> Daegu, and Seoul <--> Jeonju
Simply book your ticket in your native language on Creatrip and print out your ticket, which will be delivered by email, to get on the KTX.
Creatrip can help you book tickets easily, without a huge overcharge!
For more information on how to book with Creatrip, check the following:
KTX Ticket Reservation | Creatrip
Reserving Tickets on the LetsKorail Website
If Creatrip doesn't offer a ticket to the location you are trying to go to, you can make a reservation directly on the LetsKorail website.
You will be greeted by the main Korean homepage, but don't panic! If you look to the top right of the screen, you will find a 'Language' drop down menu where you can select the language of your preference. English, Japanese, and Chinese are available.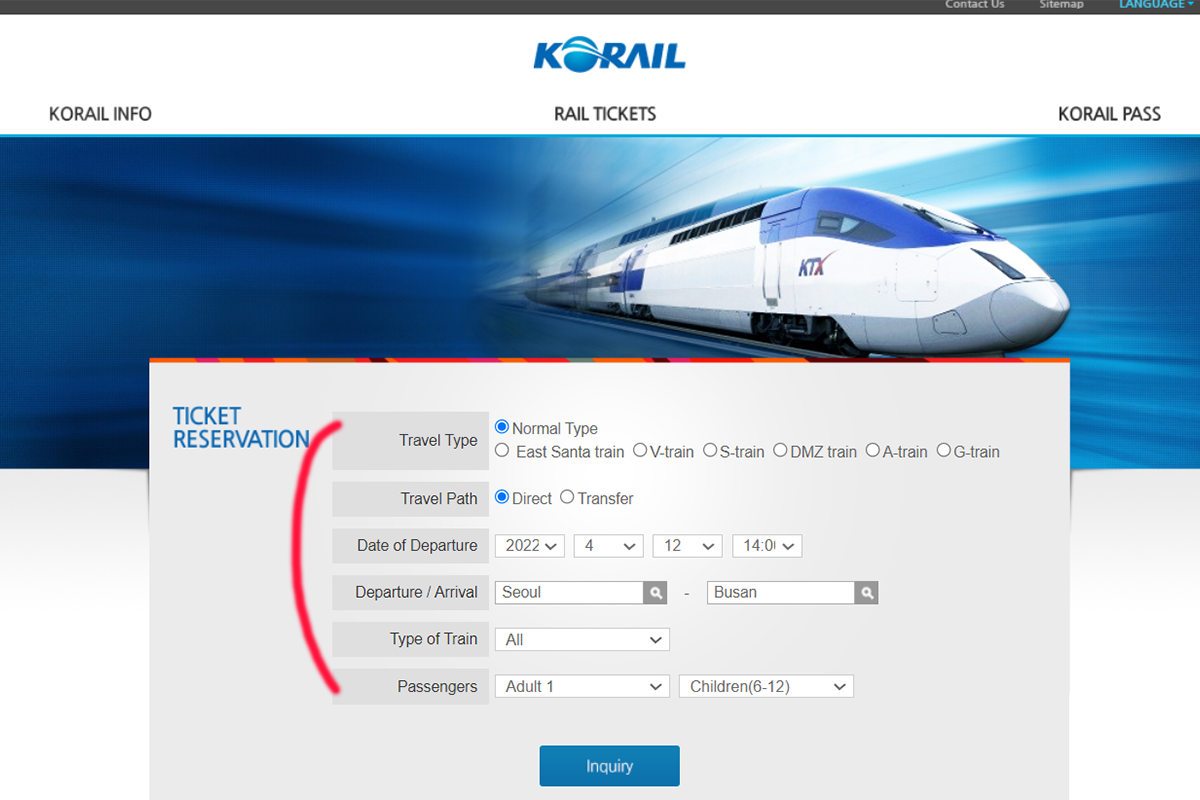 By selecting a language, you will automatically be redirected to a simplified version of the Korail homepage.
Next, you will need to enter the information pertaining to your desired trip and press the 'Inquiry' button.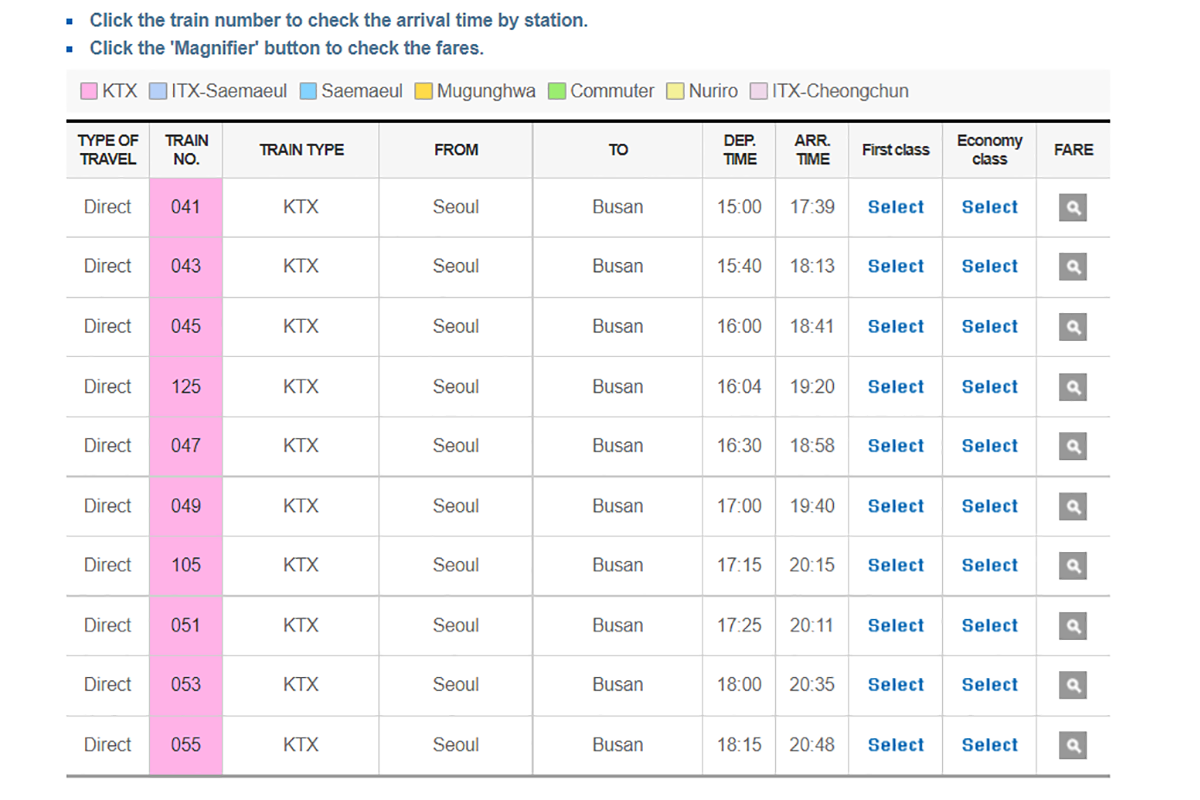 Based on the specifications of your search, trains that meet the requirements will populate the page. In order to find out the corresponding price, you will need to click the 'Fare' button located to the far right.
You may notice at the top that there are other types of trains available. These trains also go to a wide variety of locations but take much longer than the KTX. The KTX has limited stops and travels at a faster speed than the other trains indicated, so make sure to always check the train type. They are also the most expensive tickets available so please consider all factors when booking your trip.
You will be able to choose between a First Class ticket or an Economy Class ticket. First Class tickets are much larger and provide the best comfort for longer trips.

Please keep in mind that you won't be able to book tickets on the website or app within 20 minutes of the departure time, only in person.
Once you have selected a ticket, you will need to enter your personal information. Fill in all the required information and check the 'Agree' button.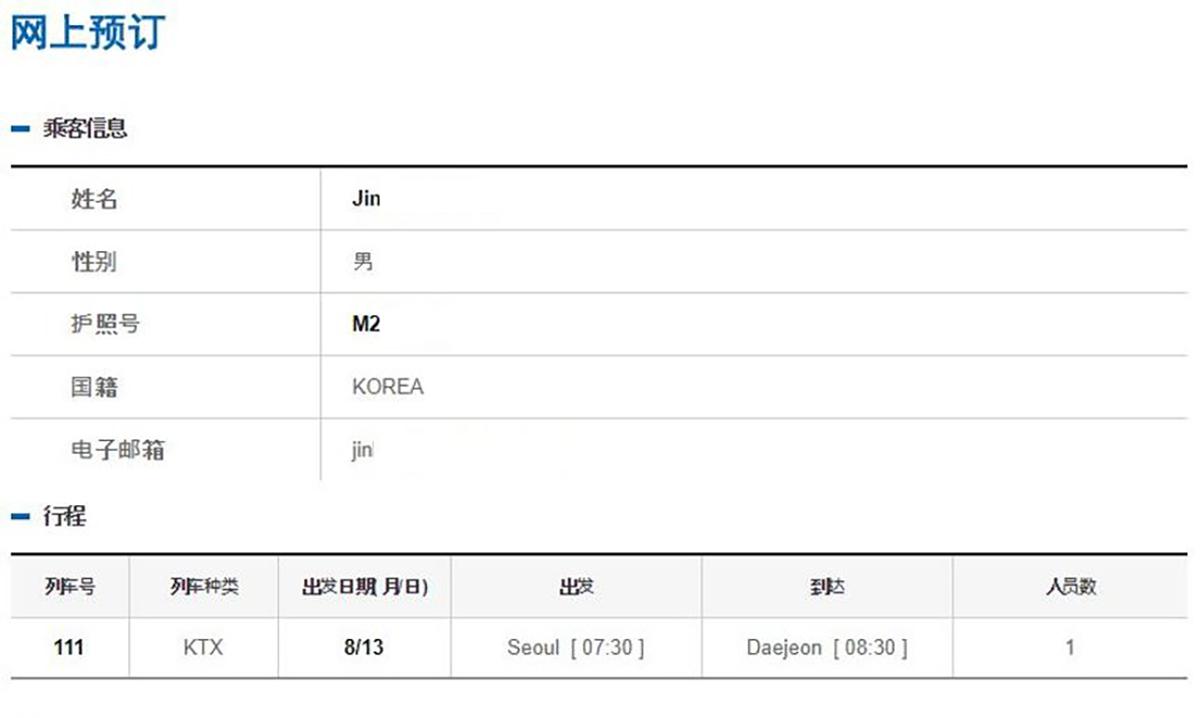 Confirm that all your personal information and train details are correct before confirming your purchase.
If everything is correct, enter your card information and pay to complete your reservation.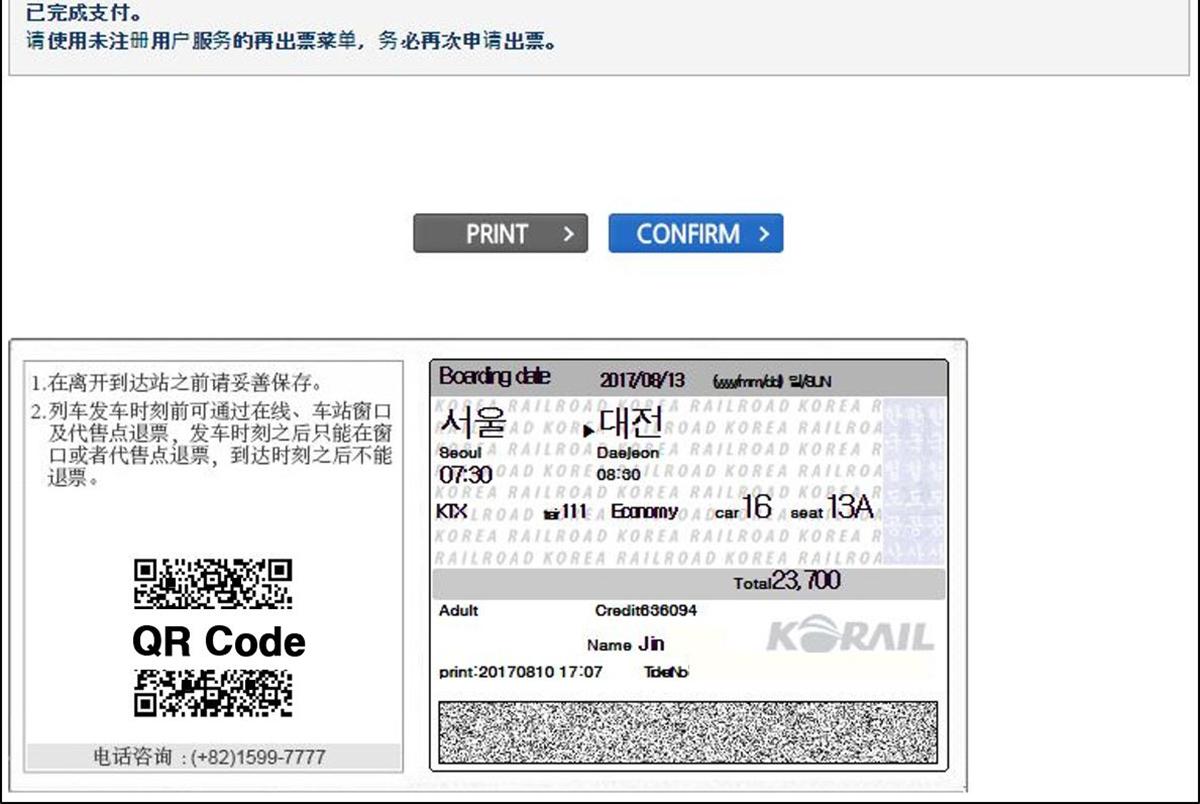 When the payment is completed, the ticket will come out as shown in the picture above, which you will need to print and bring with you to the train. If you are unable to print your ticket, then go to the train station counter, tell your reservation information, and they will give you your ticket. However, if you must do this, remember to show up a bit earlier so you have time to board the train!
How to Use the Korail App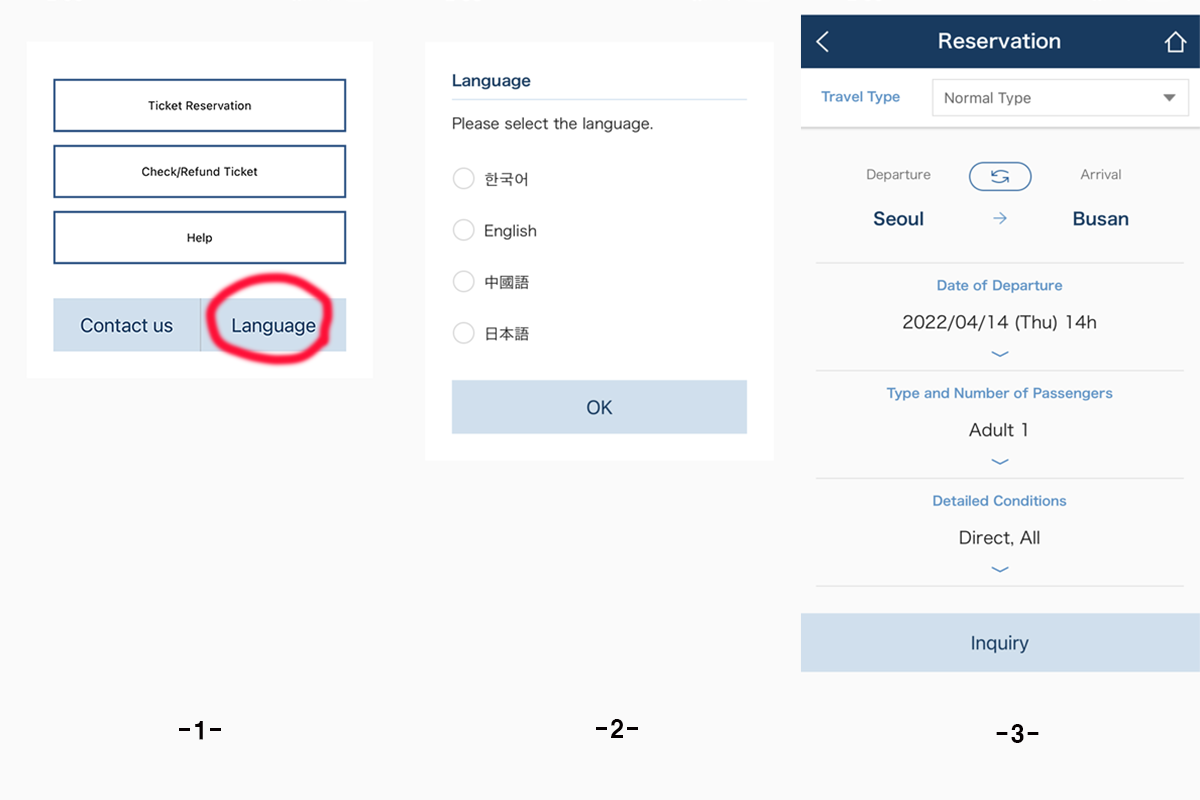 Download the Korail Talk app and select your preferred language on the main page. (English, Chinese, Japanese and Korean are available.)

Enter the details for your desired trip such as travel type, arrival and departure location, date, number of people, etc.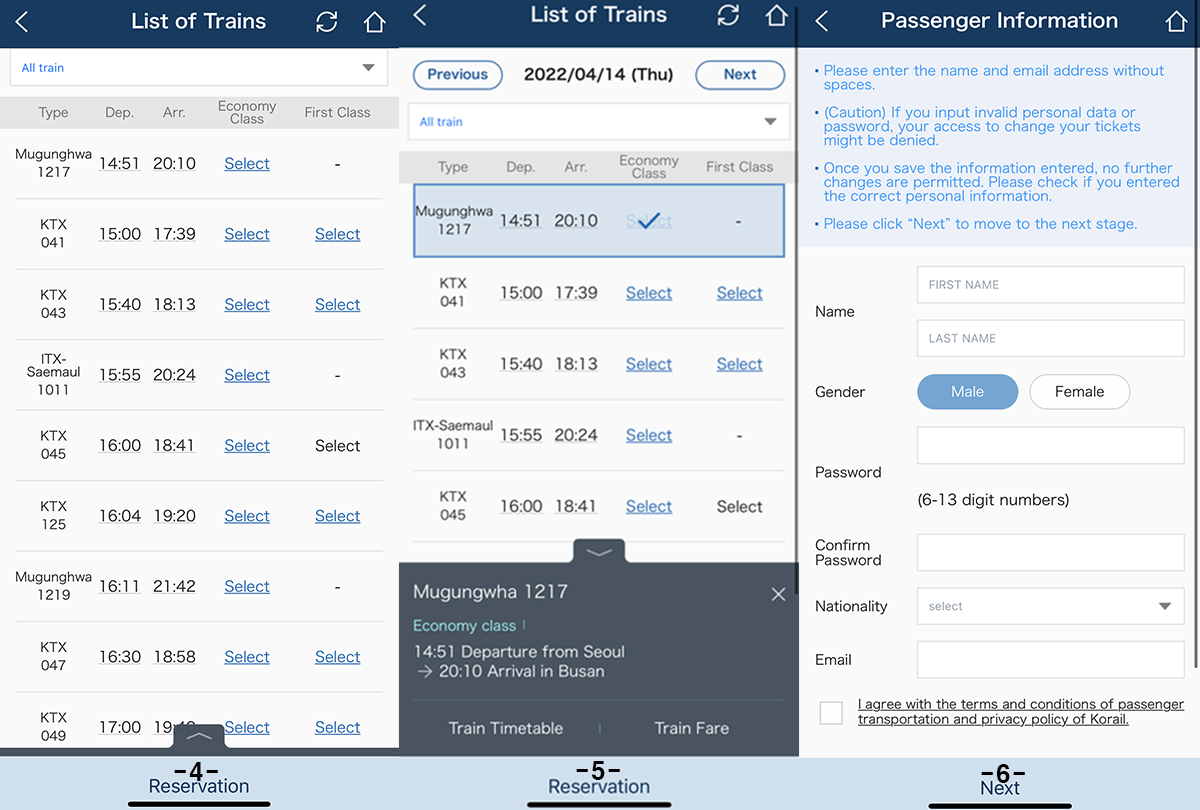 Once you have entered all applicable information, you will be presented with the trains that correspond to the desired location.
Press 'Select' for the train that you want and 'Train Fare' to see the price of the train selected.
Once you have made your final choice, you will be taken to a screen to enter your personal information. Again, remember that you will be unable to book any trains that depart within 20 minutes.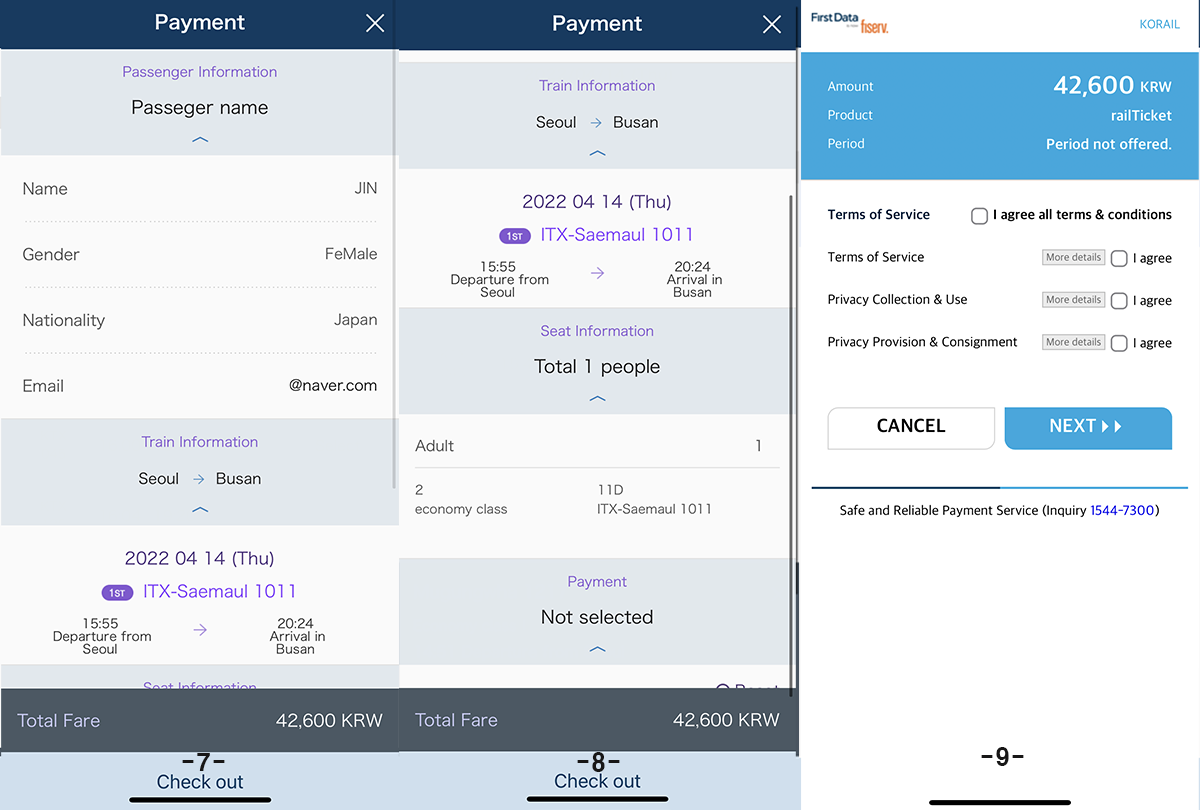 Confirm that all your personal information is correct and that the ticket chosen meets all your travel needs.
Press the 'Payment' button on the bottom of the screen to select a payment card. You are able to use either a foreign card or Korean card to make your purchase. When you have entered the card information, click 'Check Out.'
Once you have confirmed your purchase, the booking process will be complete! Once the reservation is complete, you will be able to check the ticket from the 'Reservation' tab on the app. Another benefit of using the app is that you don't need to print out your ticket, you can just show it on your phone.
Buying Tickets On-Site (feat. Seoul Station)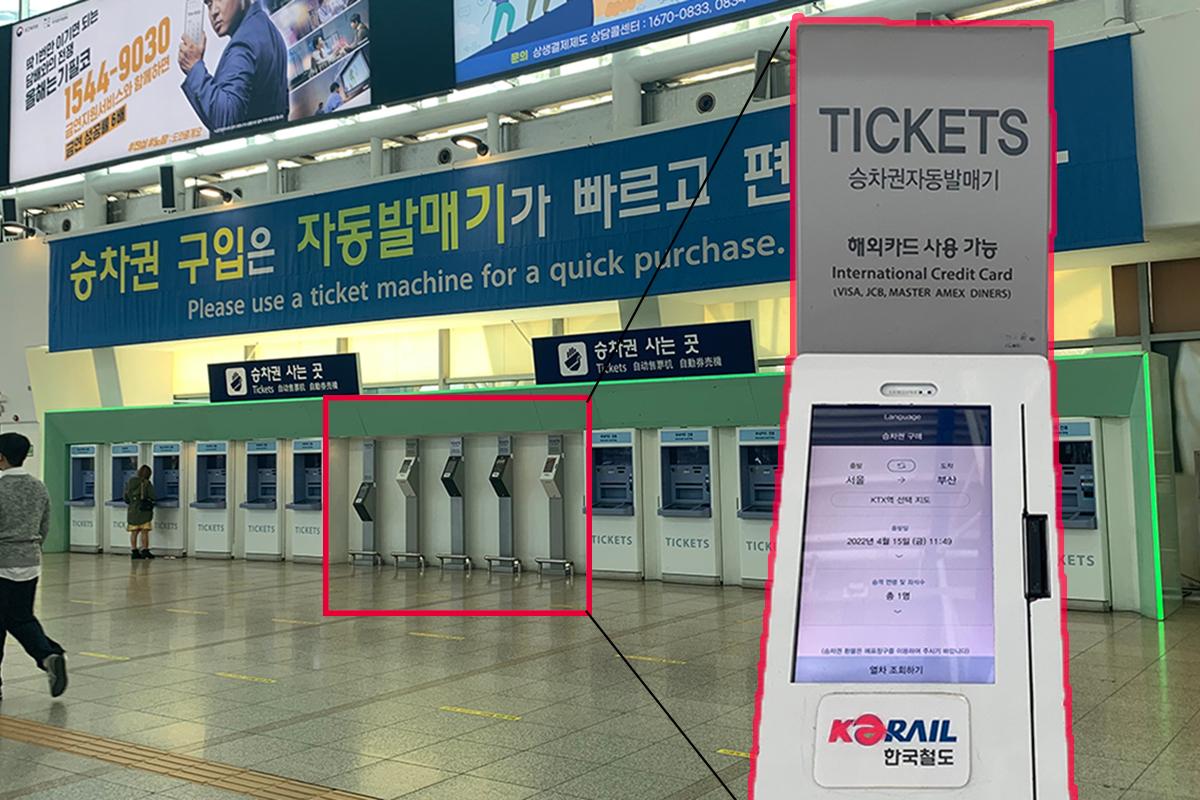 When you arrive to the train station, depending on the station, there may be automatic ticket machines. If you don't have a Korean card, there are specific machines indicated that work with foreign cards. Make sure to check before using the machine.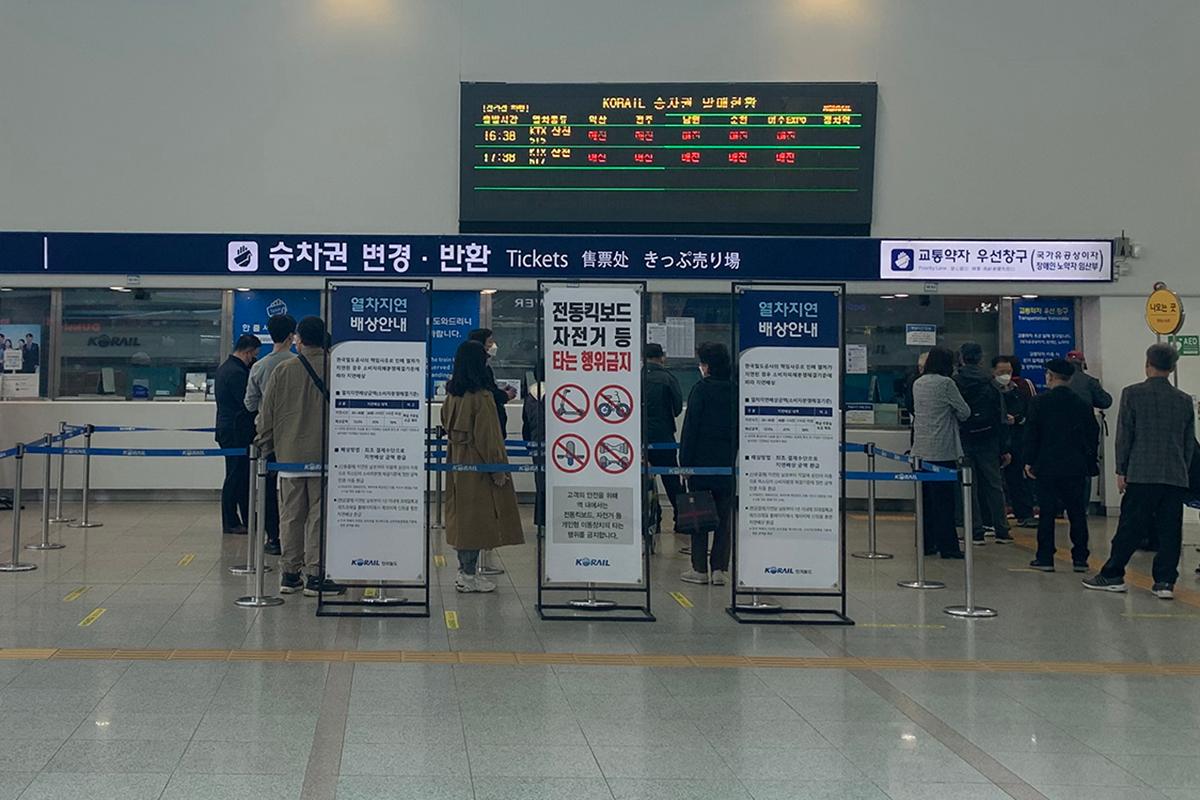 If you have trouble with the automatic machines or by chance the station you are at does not have them, you can always go to the ticket booth. The staff will be able to assist you in purchasing a ticket at the counter.
Also remember that if you reserved your ticket on the website, you can come to this same counter to get your ticket printed.
KR Pass
If you are travelling to Korea and want to go to many different cities, using KTX is the most convenient and fastest method. However, the KTX ticket price is not that cheap, so we suggest that you buy a KR Pass to be able to use the KTX unlimitedly for a certain period of time.
There are 3 types of KR Passes:
Select Pass: Unlimited 2 or 4 days KTX train ride in 10 days with no need to use them consecutively.
Consecutive Pass: Unlimited rides on KTX trains for three or five consecutive days
Saver Pass: Up to 10,000 KRW discount per person when buying Select Pass or Consecutive Pass in groups of 2 or more.
---
Taking the KTX at Seoul Station
Now that we've officially booked our ticket, let's take a look at the boarding process. We will be boarding the train at Seoul Station, but the boarding process is very similar for most train stations.
If you take Line 1 or 4 on the subway, you will arrive directly at Seoul Station.
Once you go inside, you will see that this station in particular is quite large. In the red box above, you will find the areas where you can get your train ticket. In the yellow box indicated above, you will see the entrance to the boarding areas.
If you plan to buy your ticket on-site, you will need to stop at the red area indicated above. If not, feel free to head straight to the yellow area.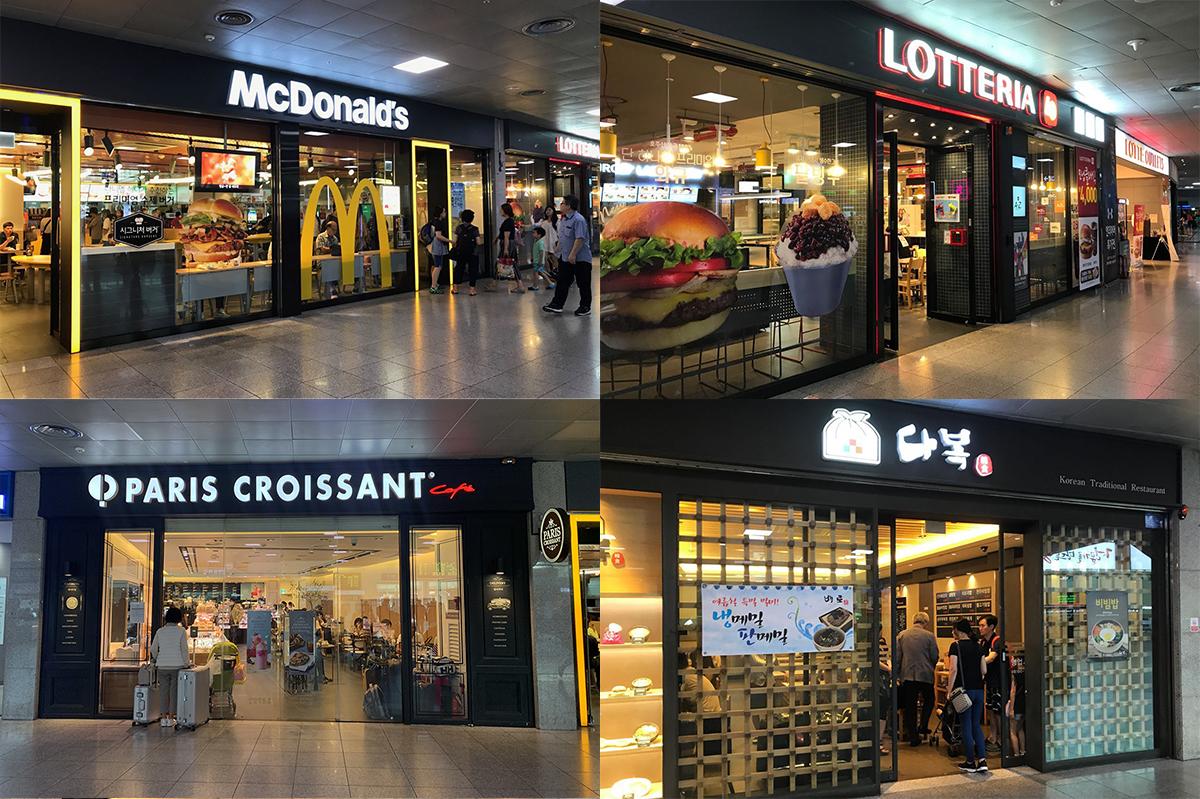 On the other side of the ticket booths are some food places and stores (Baskin Robbins, Dunkin' Donuts, restaurants, etc.) so if you arrive early and have some extra time, you can pass the time at some of them.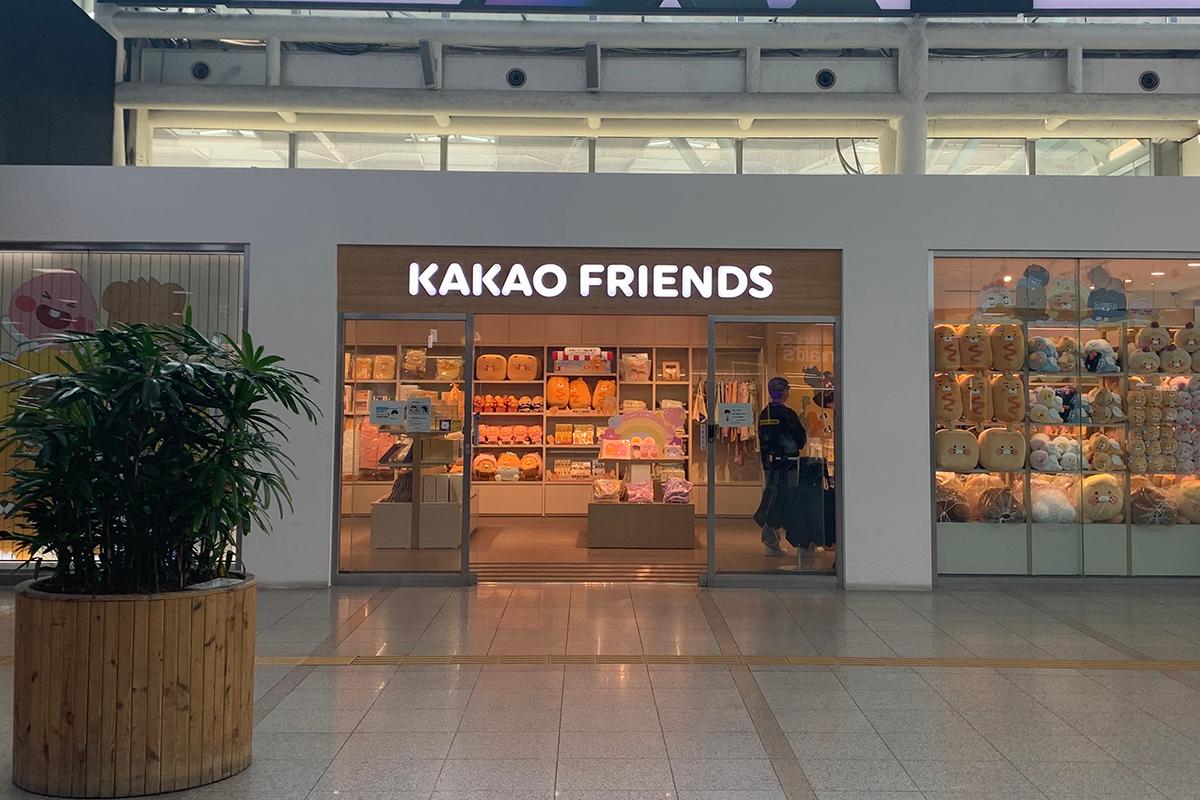 There's even a Kakao Friends store at the station so you can add some more friends to you collection.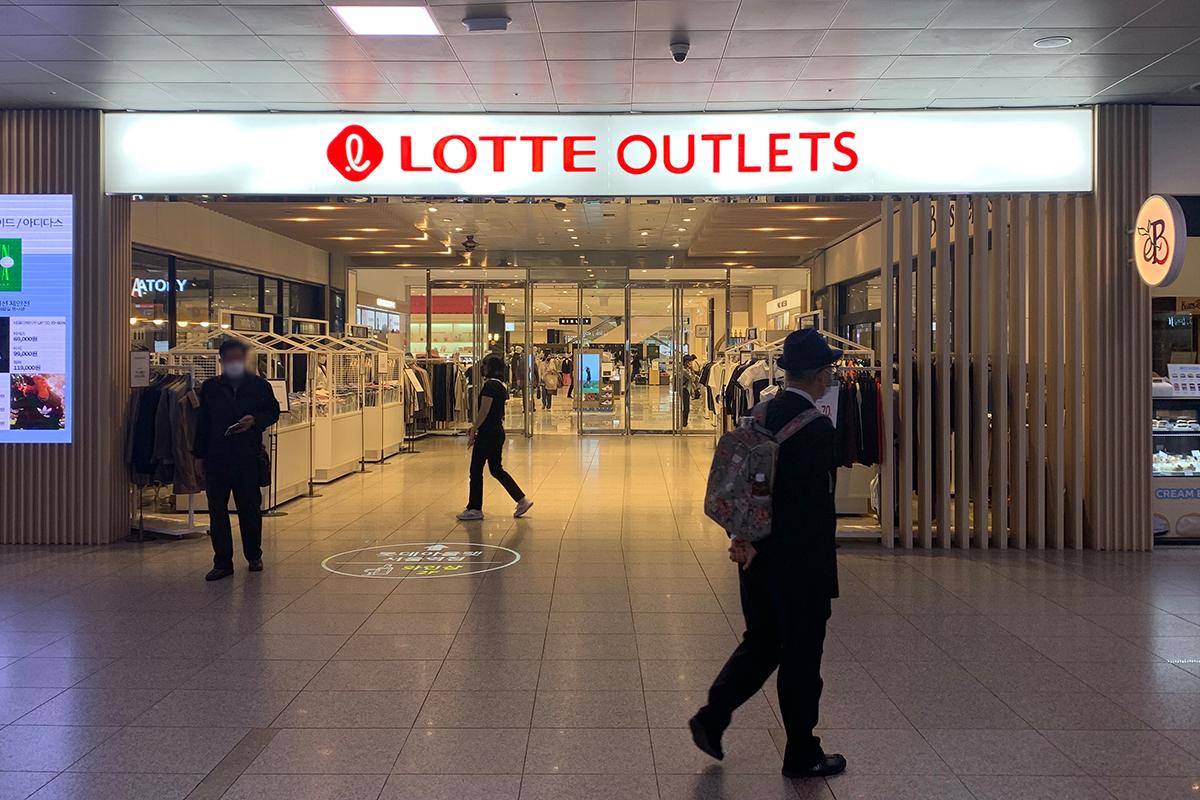 Seoul Station is also attached to the Lotte Outlets so even if you arrive a few hours early, you'll have plenty of ways to pass the time.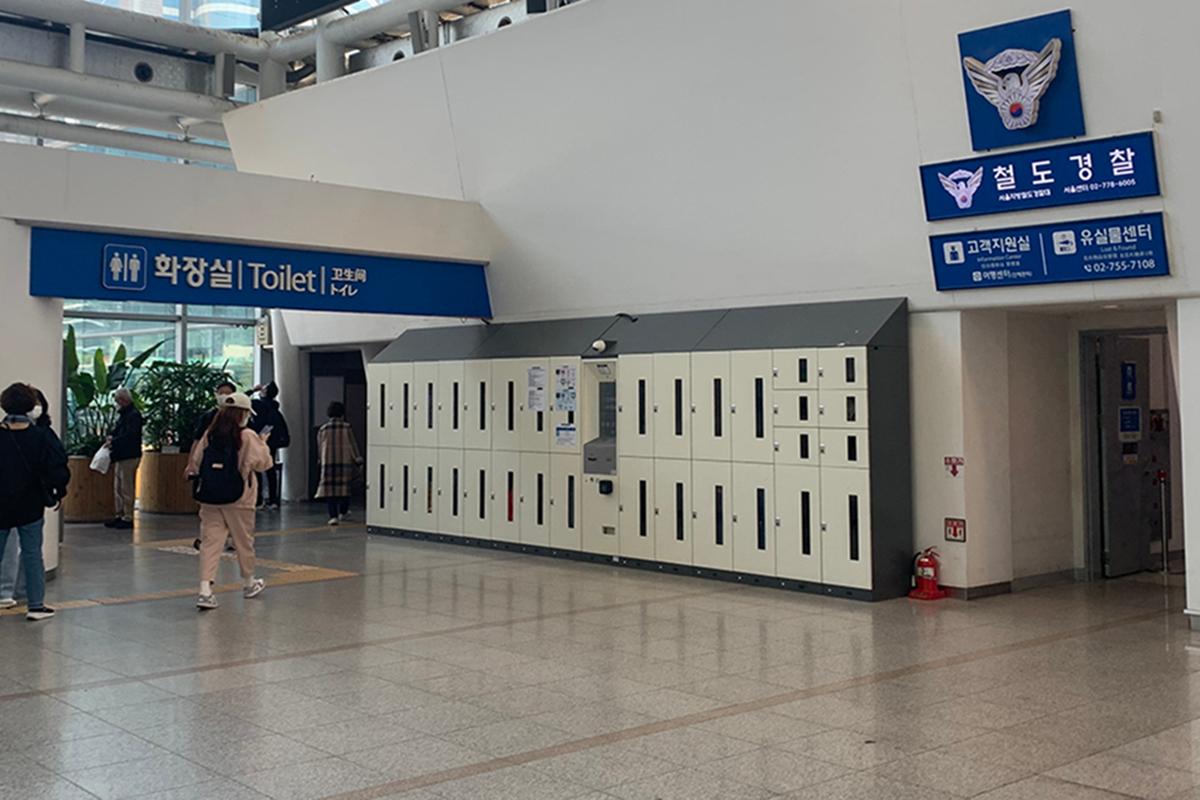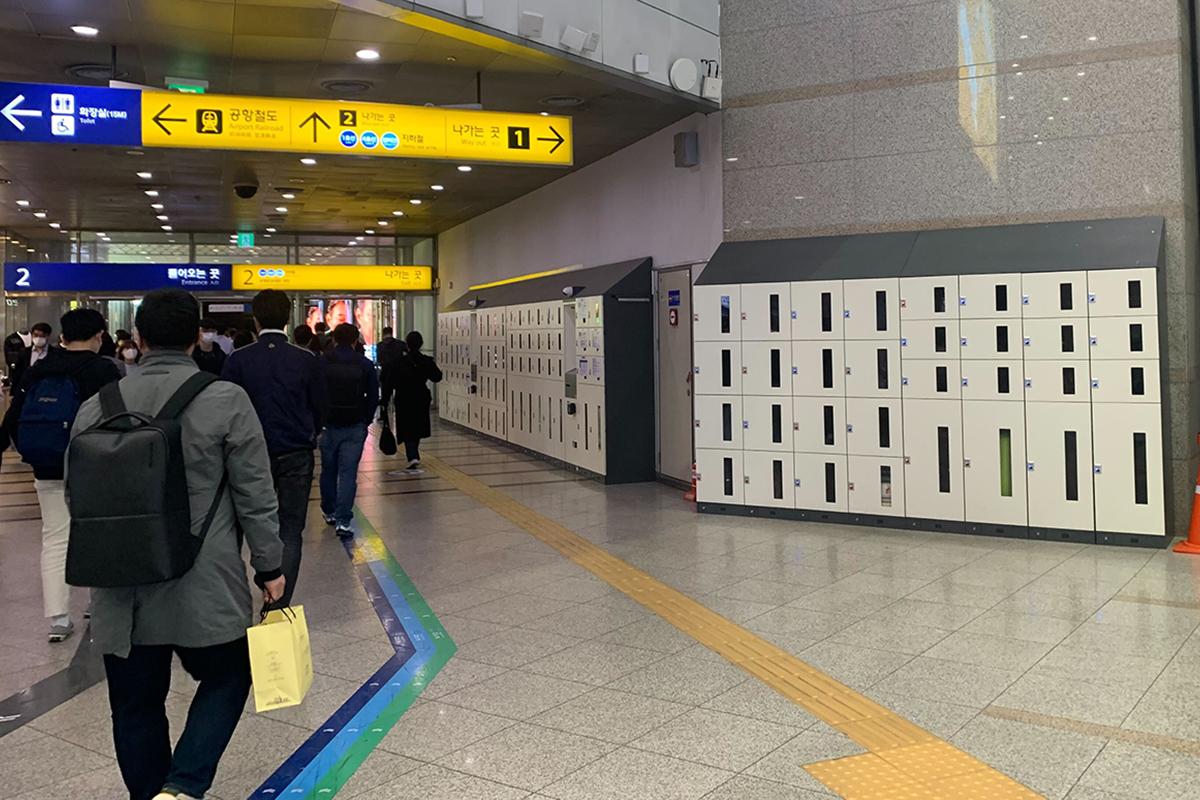 If you're only going to be in Seoul for a short amount of time but don't want to carry your luggage, there are some lockers that you can rent for extended periods of time. They have multiple sizes to accommodate different sizes of luggage.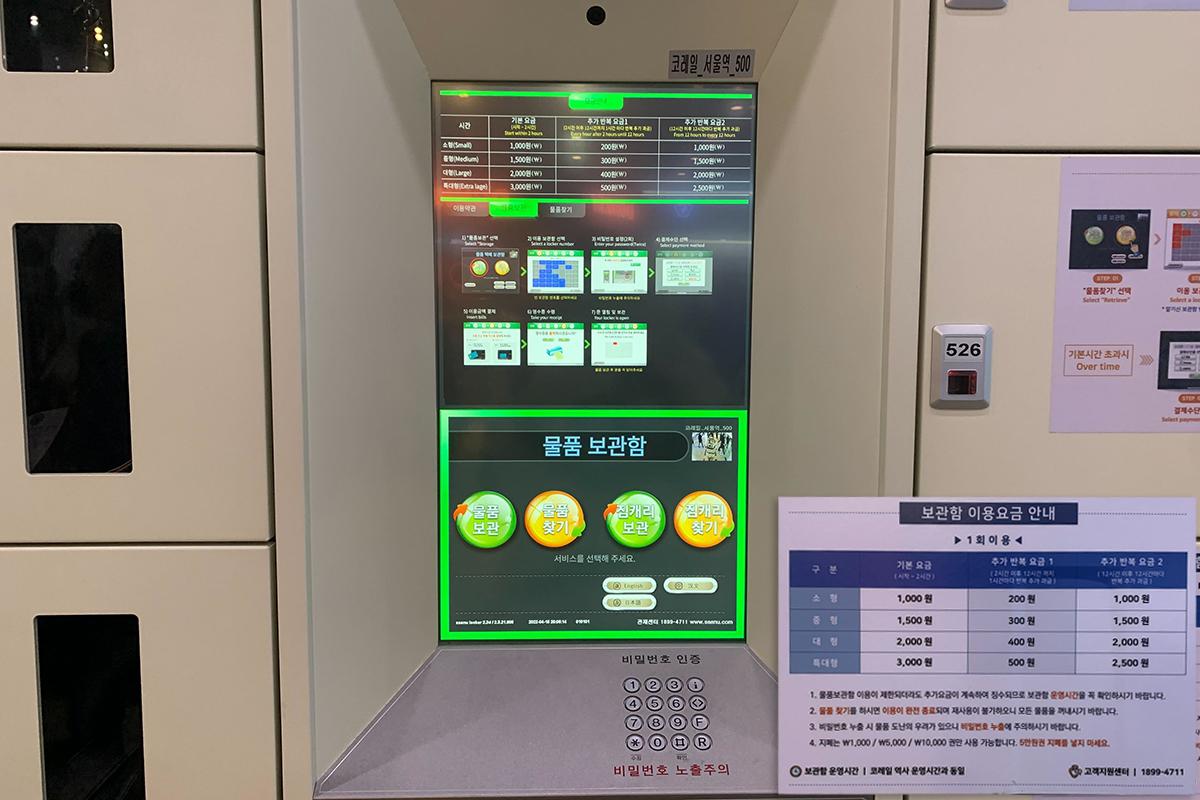 The lockers are self-operated and are available for use in English, Chinese, Japanese, and Korean. You can pay using either cash or card.
The base fee is fixed depending on the size of the locker. Following the first two hours, there will be a charge for every additional hour. If you leave your items in the locker for longer than 12 hours, the charge will be even higher so make sure you plan accordingly. 😅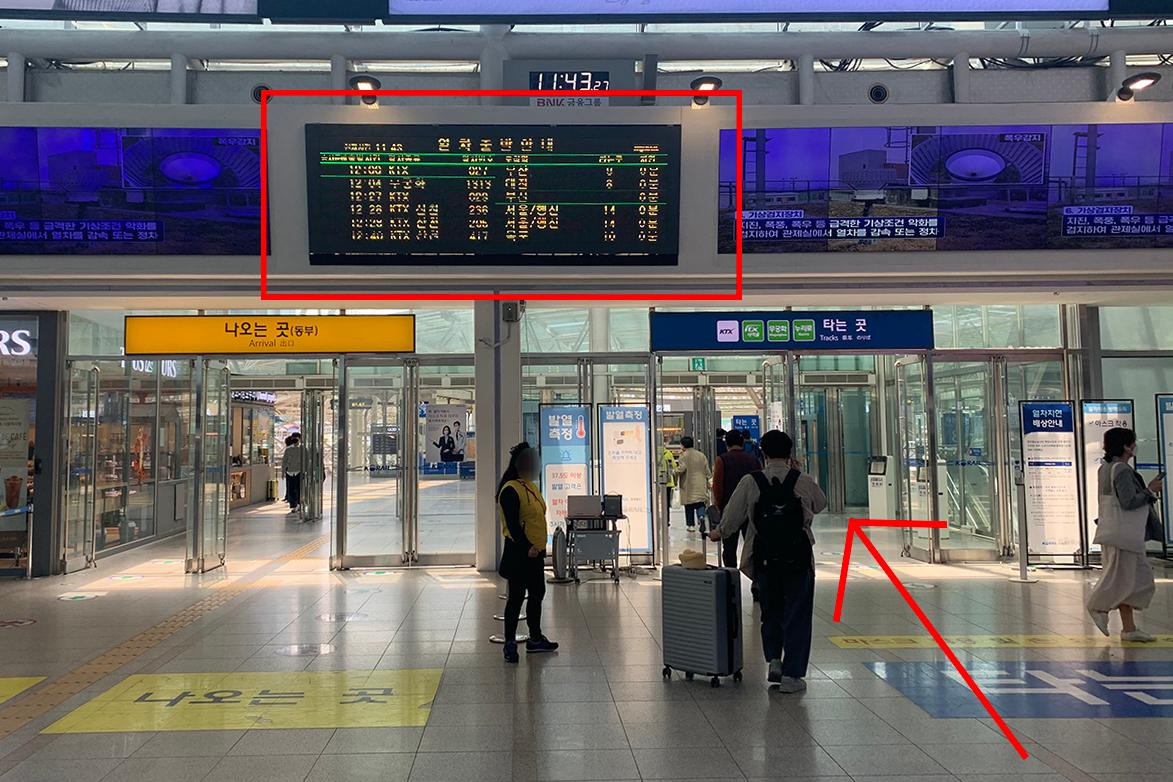 Now that we've explored the station, we should get ready to board our train. You can check the status of your train via the digital panels that are placed throughout the station. You will be able to see your departure time, train type, train number, terminal station, boarding place, and delay time. Make sure your ticket matches the information of your train before you board.
Please keep in mind that the departure time is exactly that. Unless there is a delay, your train will leave immediately once that time arrives. So to be safe, it's best to board the train 10 to 15 minutes early.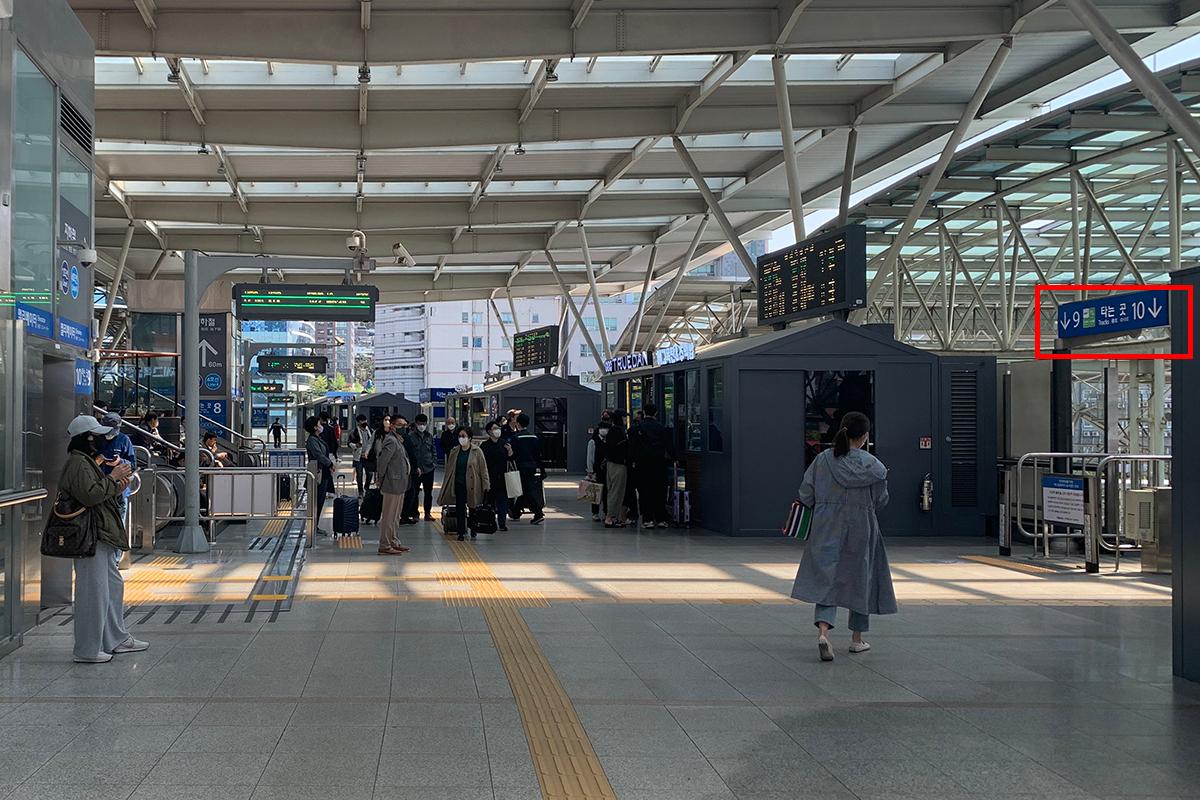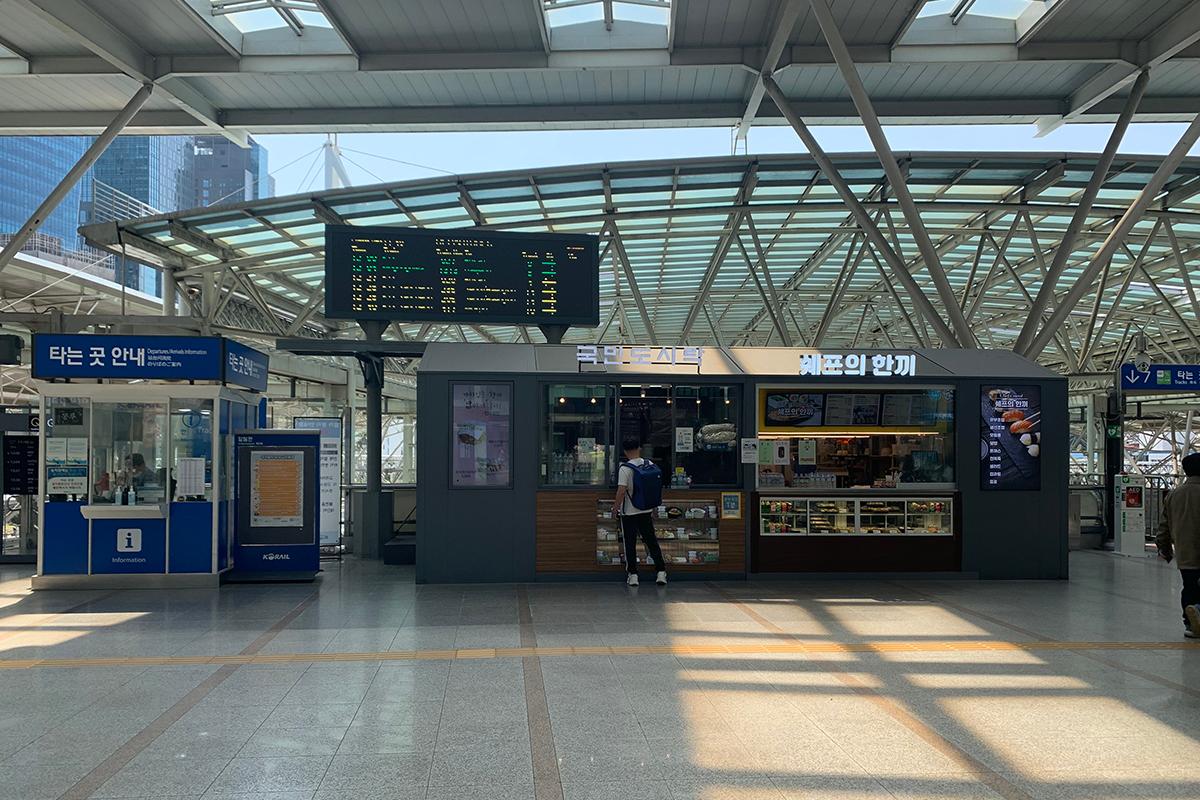 One you enter the boarding area, you will find places where you can sit, snack shops, and a boarding information area. If you have any questions, feel free to ask any of the officials for help.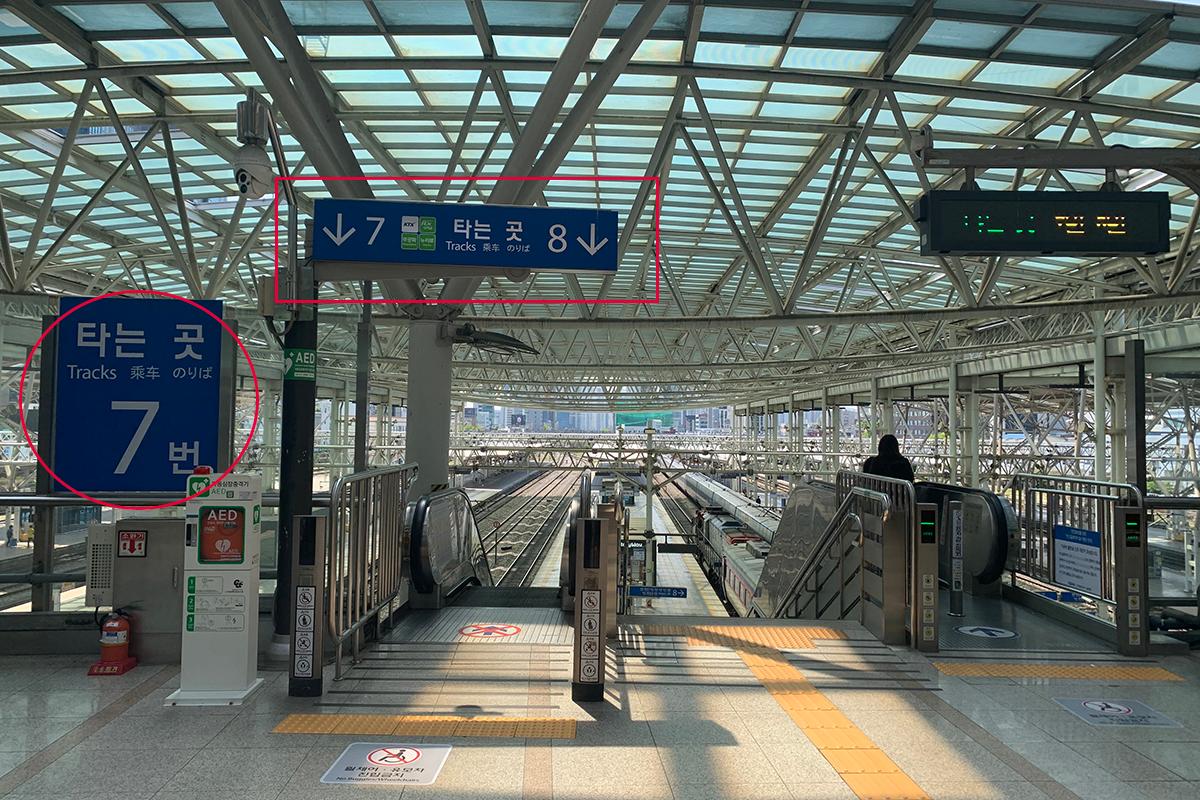 The boarding platforms are located from 3 to 14. You can find the number of the platform you are on, on your ticket. Once you find the number that correlates with your ticket, you can head to the platform.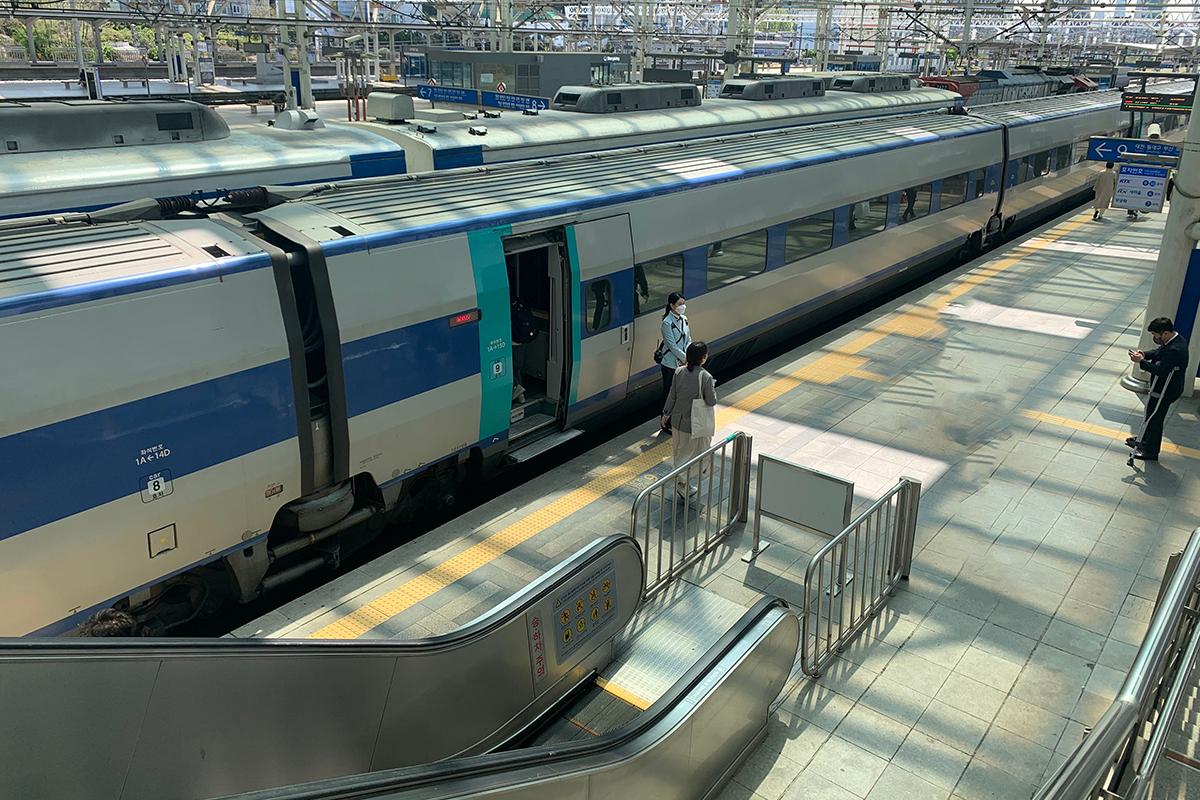 Once you ride down the escalator, you can finally see the train! As you can see, the station staff is right in front of the train so if you have any issues, ask them at any time.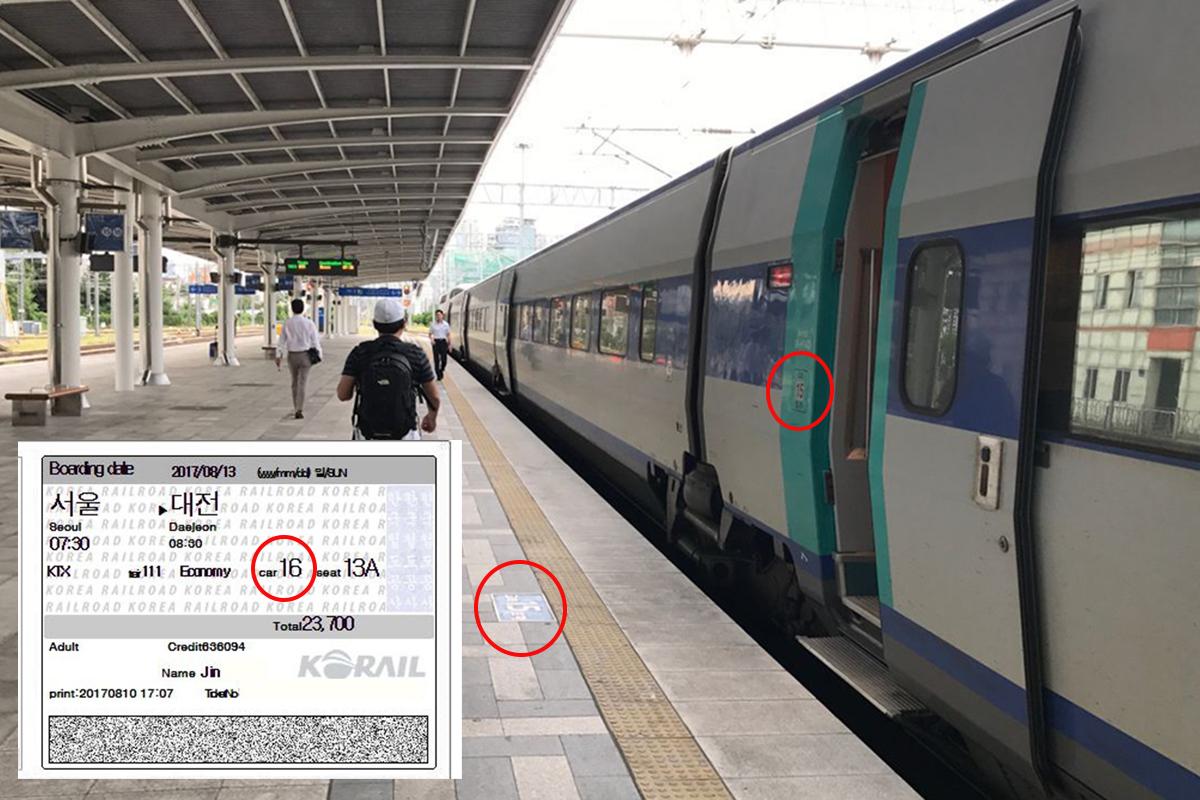 Now that you're on the platform, check your ticket to see in which train car your seat is located. You will be able to find the car number near the door of each train car.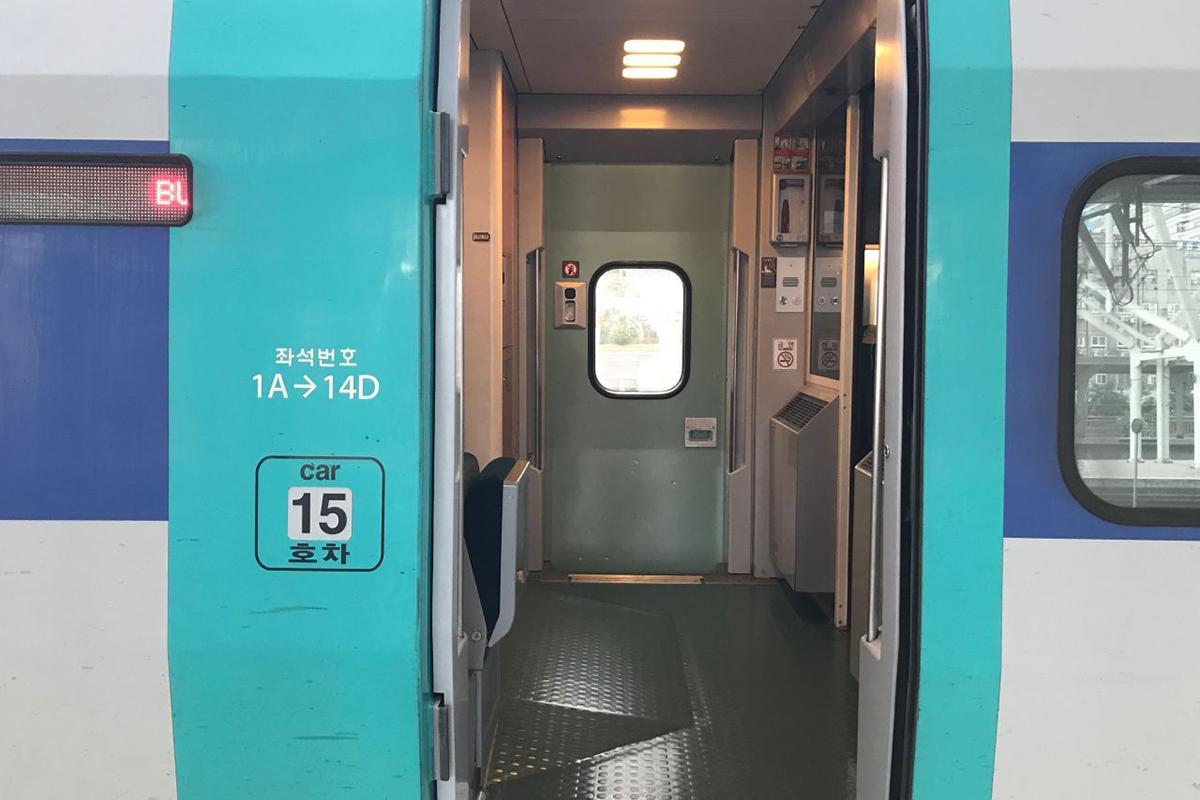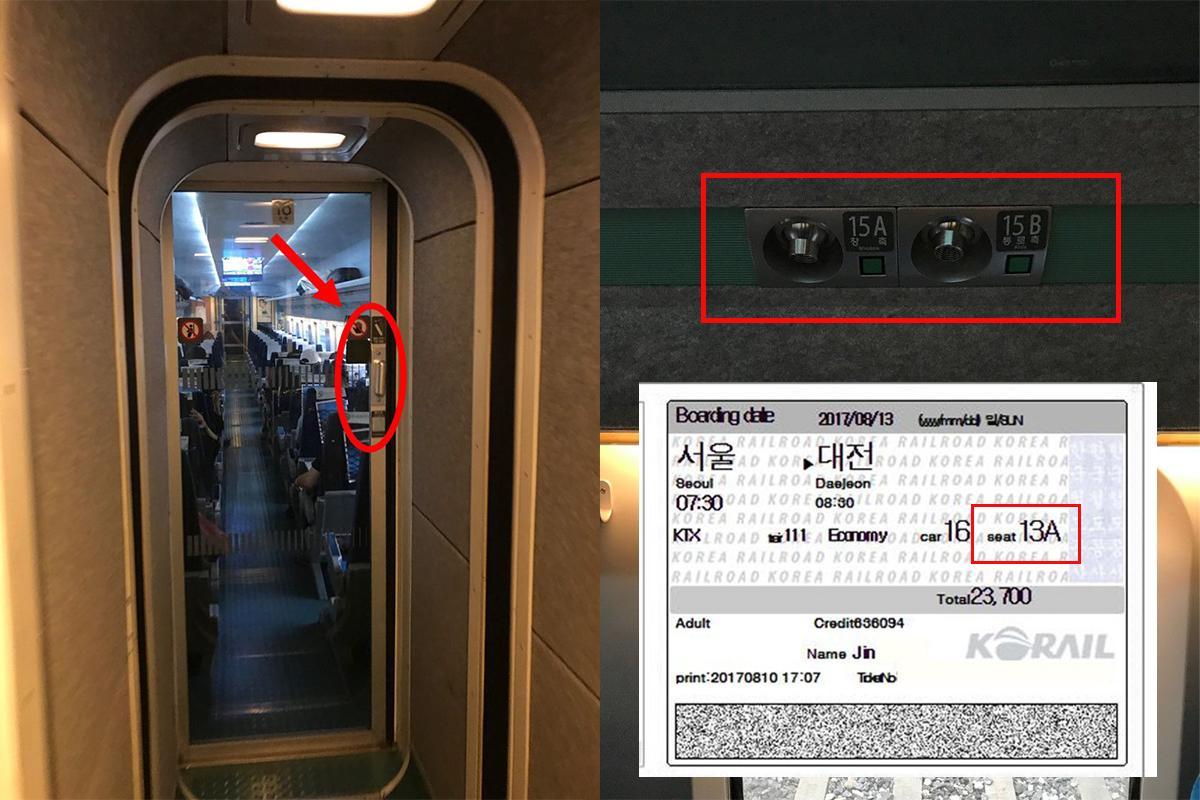 Once you get on the train, you can enter your assigned train car and search for your seat. Make sure both the number and letter are correct and take a seat. You don't need to show your ticket to anyone to board the train. Later, after the train has departed, an attendant will walk down the cars to see if the proper seats are filled. If anything seems off, only then will they ask to see your ticket so it's a good idea to have it handy, just in case.
Tip: By chance, if someone is already in your seat (it happens 😅) just kindly show them your ticket and they should move without issue.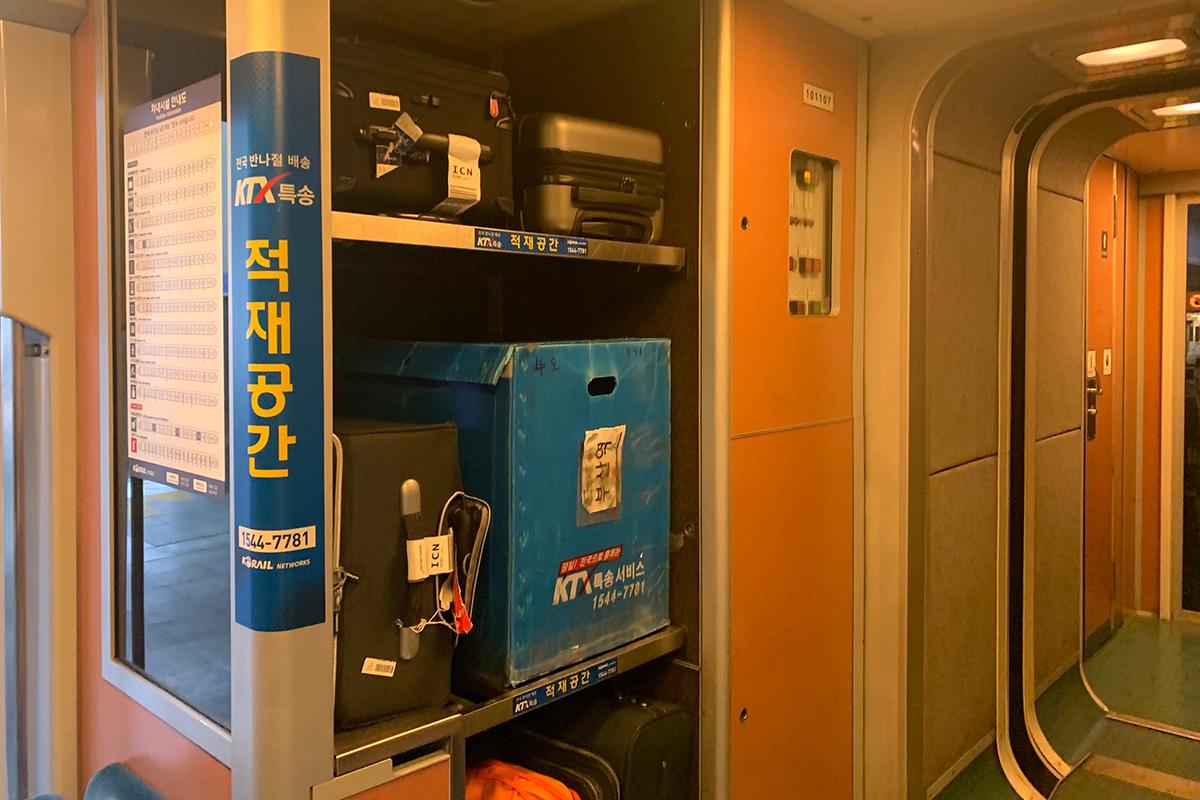 During your trip, if you need to use the restroom on the way to your destination, you can find them located in between train cars. They are usually separated by gender, so check carefully before entering one! There is also extra storage for large luggage located in between cars so if needed, so don't worry if you're traveling with a large suitcase.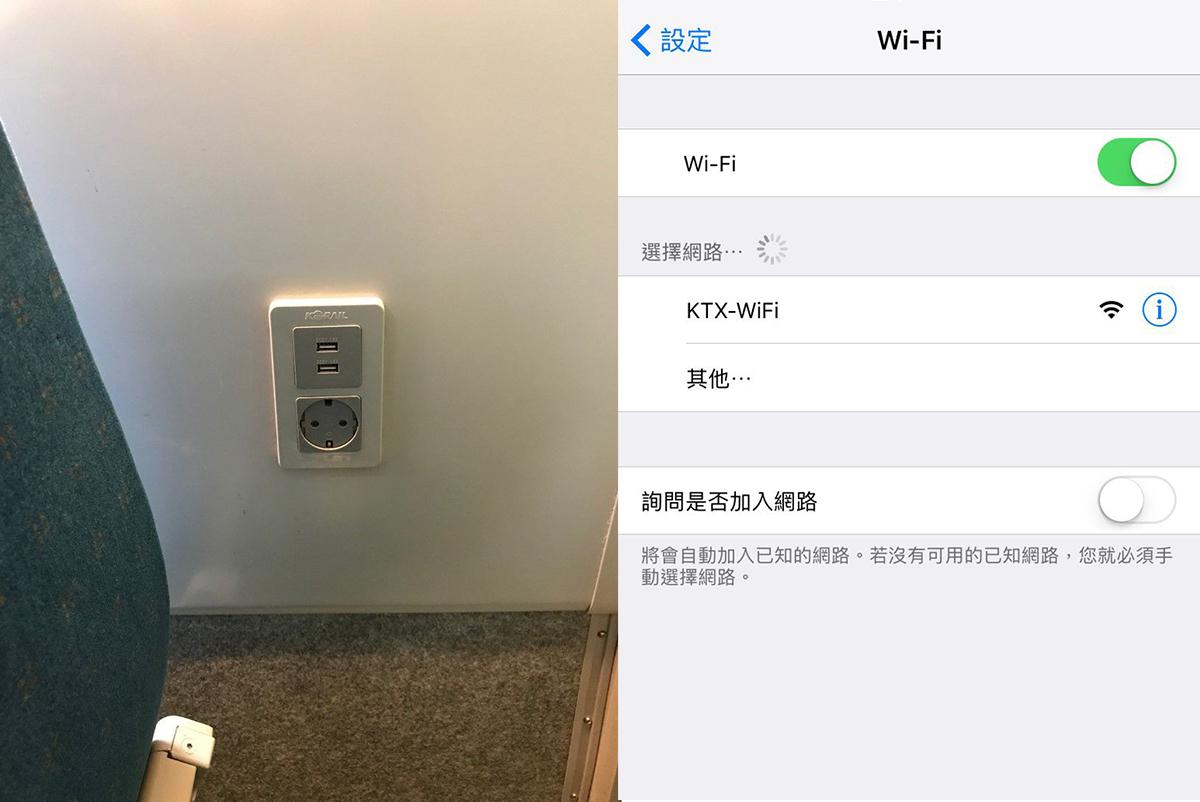 On KTX trains, you can charge your phone and use Wi-Fi. Even the longest trips aren't a problem when these available.🤩 There is no password for the Wi-Fi though, so keep that in mind when connecting.
---
Major KTX Station Locations
As mentioned before, there are multiple types of trains in addition to KTX, however KTX is not the most widely available. If you plan to travel by KTX, make sure the station you have in mind offers KTX tickets. Also consider whether your destination can be reached by KTX. In order to make your search a bit easier, we've compiled a list of the major train stations that have KTX for your convenience.
---
Seoul Station (서울역)
Location: 서울 중구 한강대로 405 서울역
405 Hangang-daero, Jung-gu, Seoul
Directions: Ride subway Line 1 or 4 to Seoul Station and go out of Exit 1. You will arrive in after walking about 60ft/19m.
---
Busan Station (부산역)
Location: 부산 동구 중앙대로 206
Directions: Take subway Line 1 to Busan Station and leave out of Exit 6. You will arrive after walking about 430ft/131m
---
Daejeon Station - Gyeongbu Line (대전역 경부선)
Location: 대전 동구 중앙로 215 대전역
215 Jungang-ro, Dong-gu, Daejeon
Directions: At Daejeon Station, take Exit 4. You will arrive after walking about 111ft/34m.
---
East Daegu Station (동대구역 경부선)
Location: 대구 동구 동대구로 550
550 Dong-daero, Dong-gu, Daegu
Directions: Take subway Line 1 to Daegu Station and take Exit 3. You will arrive after walking about 500ft/151m.
---
Jeonju Station (전주역)
Location: 전복 전주 덕진구 동부대로 680 전주역
680 Dongbu-daero, Deokjin-gu, Jeonju, Jeonbok
---
Gangneung Station (강릉역)
Location: 강원도 강릉시 용지로 176 강릉역
176 Yongji-ro, Gangneung, Gangwon-do
---
We know that was a lot of information to take in, but we hope it was helpful in helping you book and board your KTX train. If by any chance, you arrive to the station and can't figure something out, don't waste time trying to figure it out. Make sure to ask one of the workers on site so you can get to your train on time. Trains very rarely delay, so they will leave with or without you. 😬
As always, we are here to help you however you may need. If you have any questions, feel free to contact us at support@creatrip.com. Also make sure to follow us on Instagram, TikTok and Facebook to stay up to date on all things Korea.
Have a great trip!
---