Explore Jeonju Hanok Village with us!
Jeonju Hanok Village, where you can find the best Korean food, hanok, and hanji!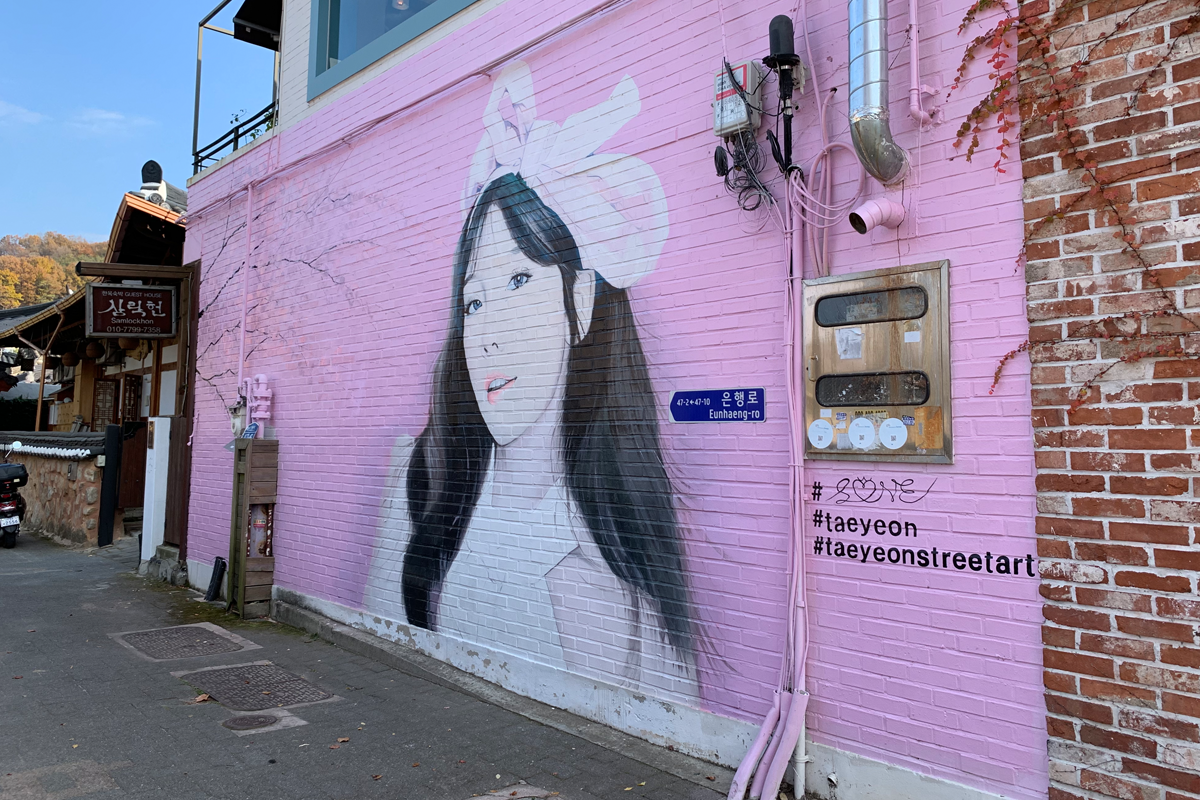 Jeonju Hanok Village, located in Jeollabuk-do, is the largest traditional Hanok village in all of Korea. There are approximately 700 hanok houses gathered in this area alone! The village is visited all year round but we visited in autumn when the fall foliage was at its peak! Let's take a look at where we went!
---
A Visit to Jeonju Hanok Village
Jeonju Hanok Village (전주한옥마을)
Address: 전북 전주시 완산구 기린대로 99
99 Girindae-ro, Wansan-gu, Jeonju-si, Jeonbuk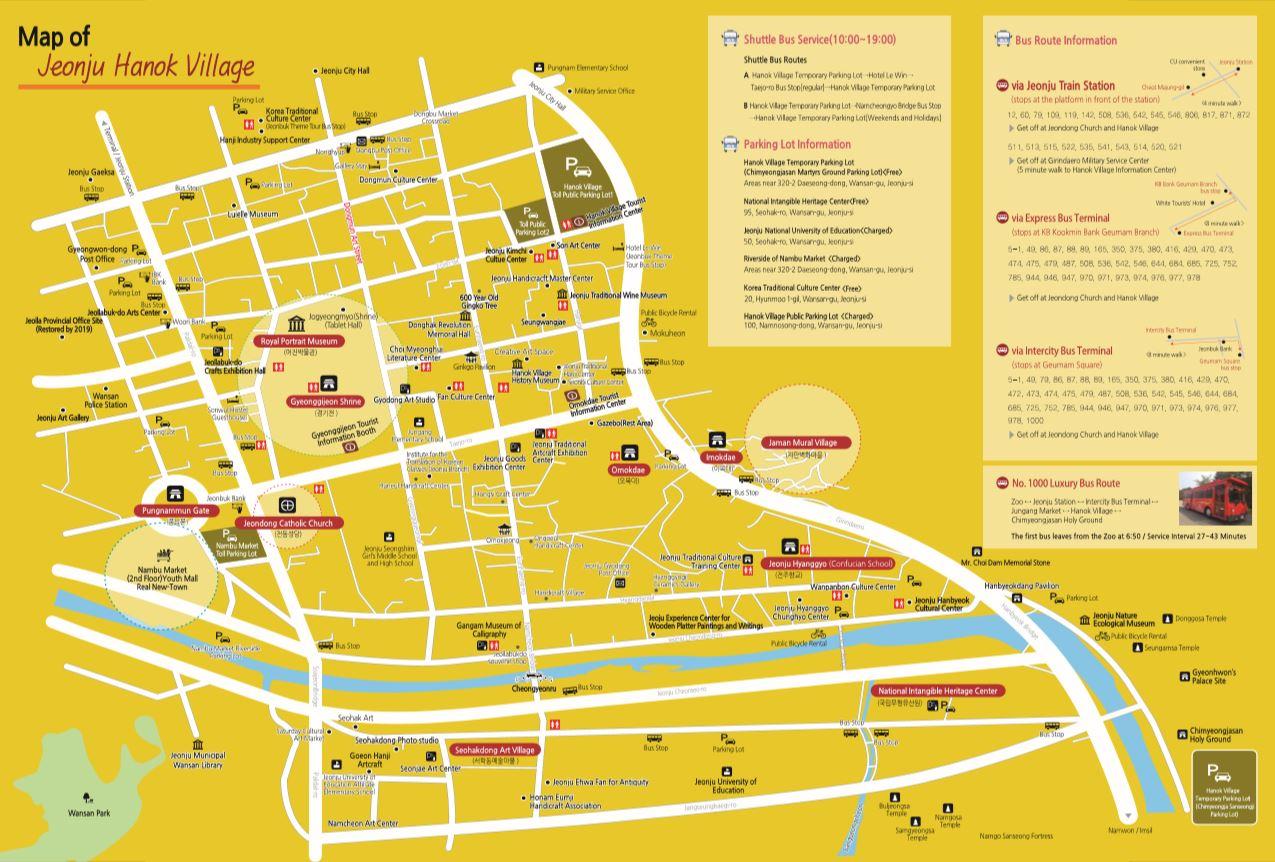 Before we take a look at all the things we did, refer to the map above to get a glimpse of what you can find in the village.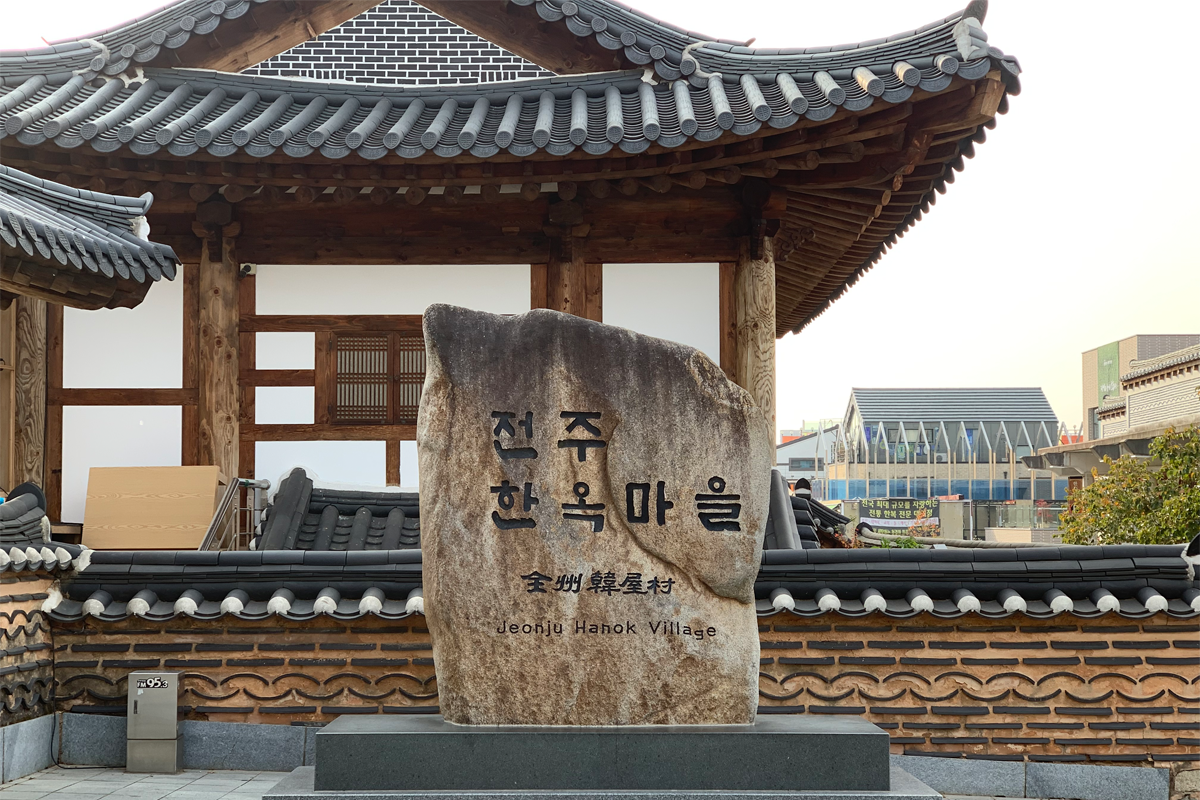 Jeonju Hanok Village is not only a place where you can experience traditional Korean culture like wearing Hanbok, eating Korean food, admiring Hanoks, etc. but there are also 20 historically important heritages like Gyeonggijeon, Omokdaem, Jeonju Hyanggyo, and more! There really is quite a lot to see/do at Jeonju Hanok Village.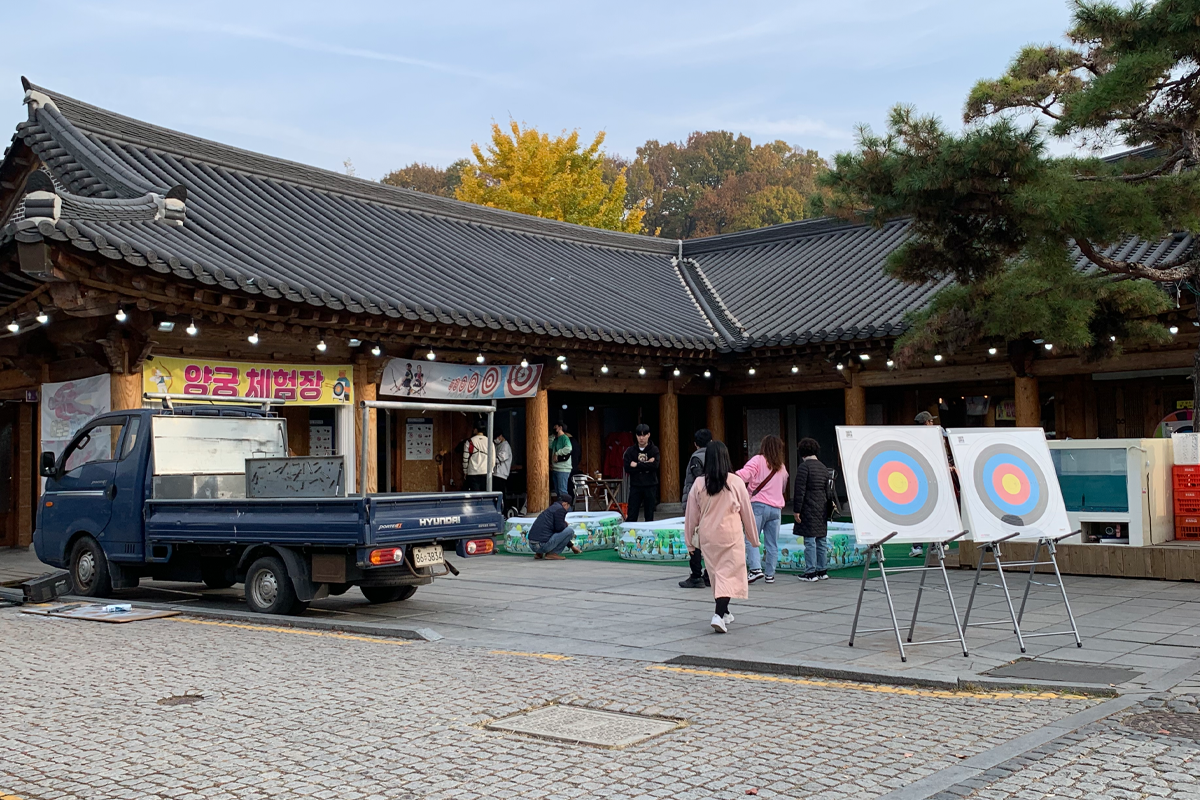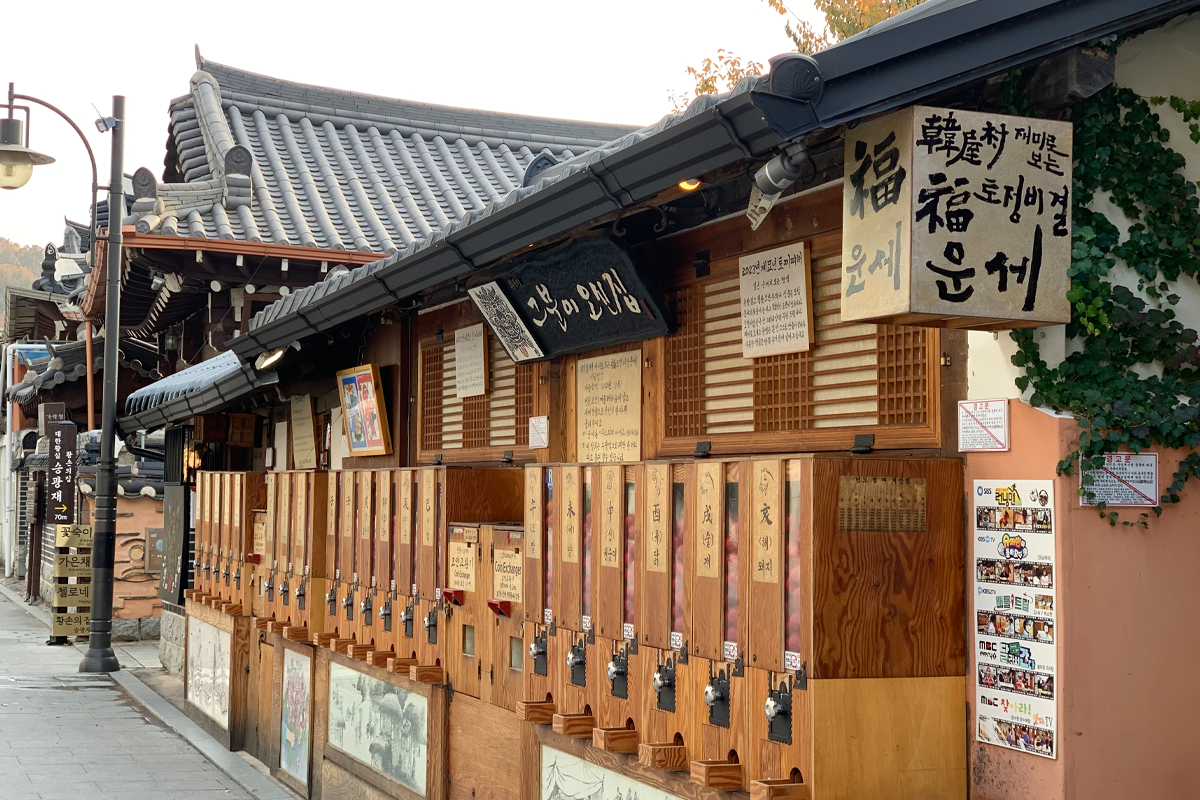 Jeonju Hanok Village isn't that large but it isn't too small either. All around the village, there are activities that can be enjoyed by people of all ages like retro children's games, fortune-telling eggs, archery, etc.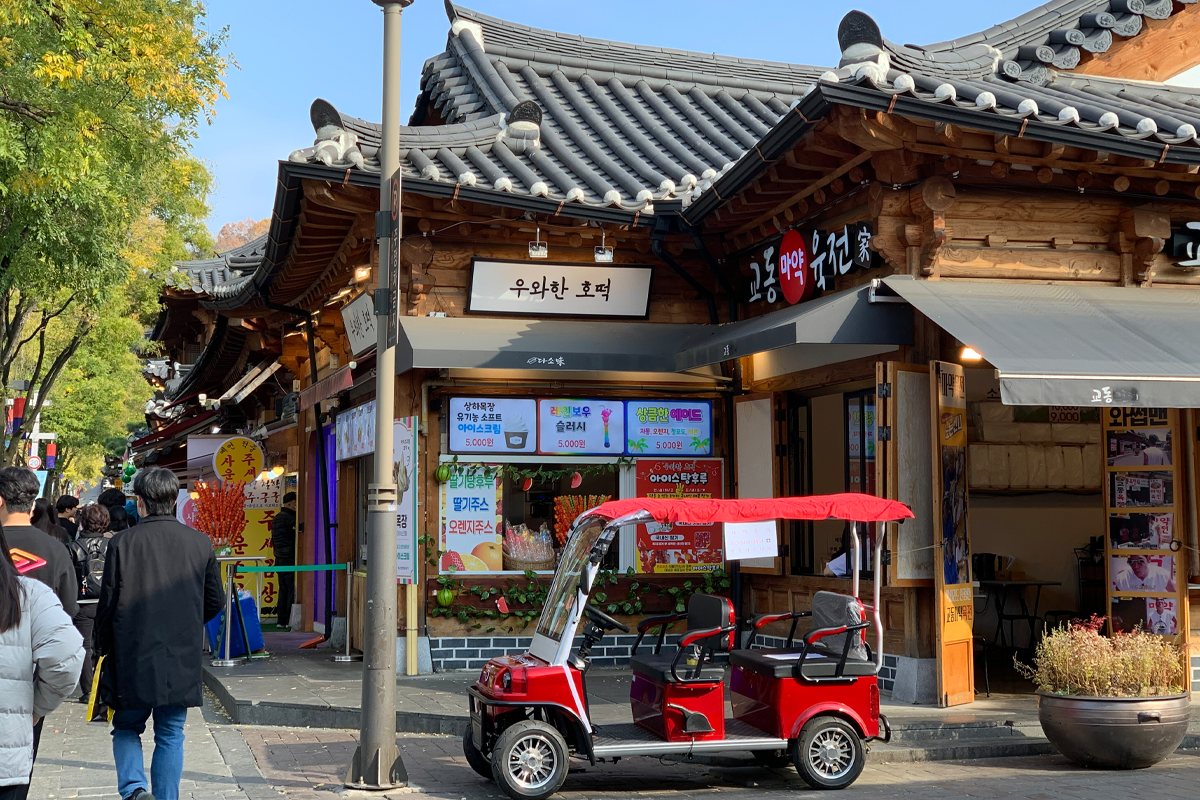 We suggest that you spend a full day in the village, slowly exploring all there is and savoring every moment. If you're worried about the amount of walking you'll have to do, you can always rend an electric car.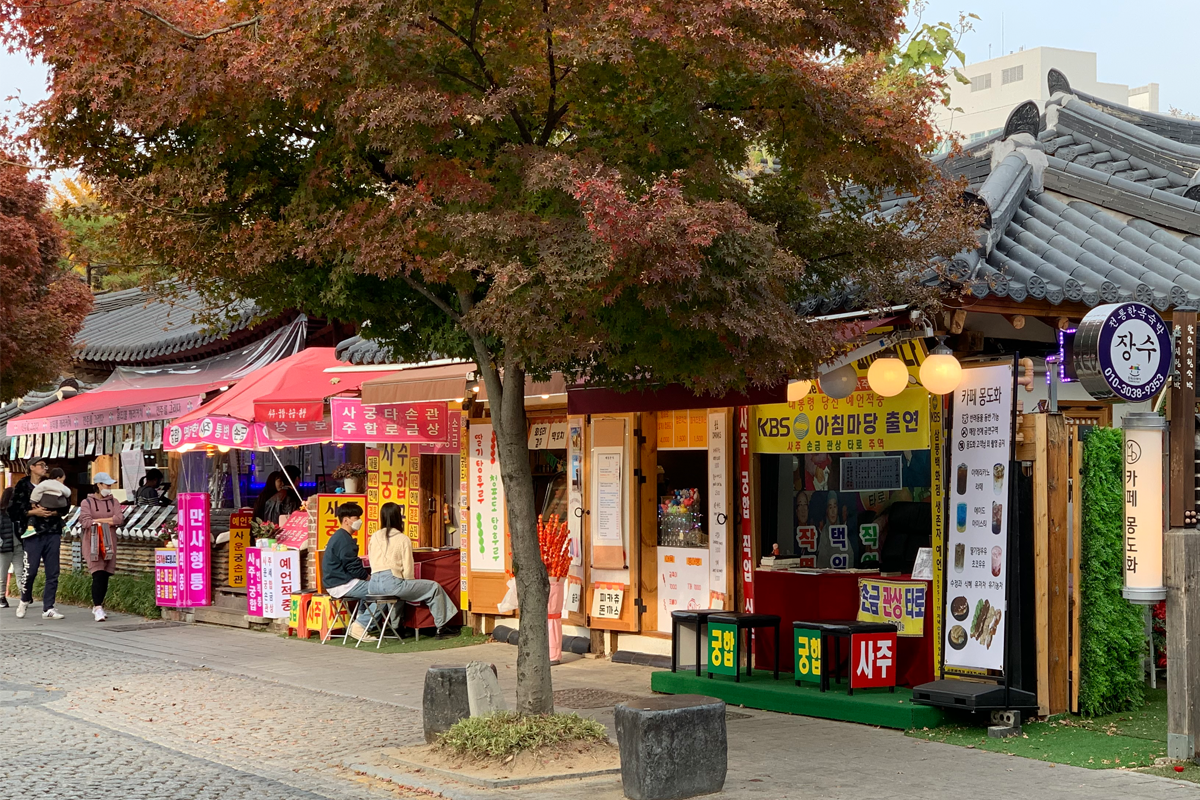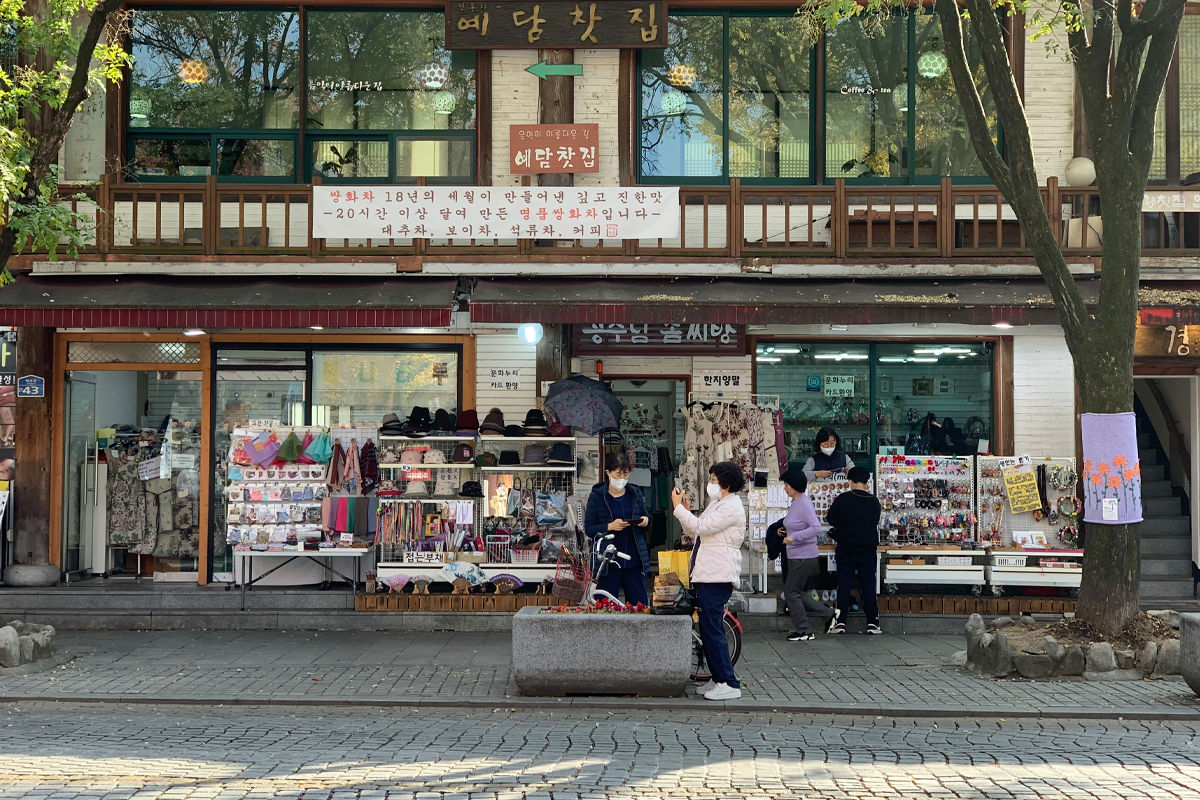 There are tons of quaint, small Korean restaurants throughout the village, as well as snack stalls that sell goodies like chicken skewers, fried squid, candied goods, etc. There are also several stalls that sell souvenirs like silk scarves, hats, fans, etc. along the street. All of these items have significance to Korean culture and will surely remind you of your trip to Korea when you're back home.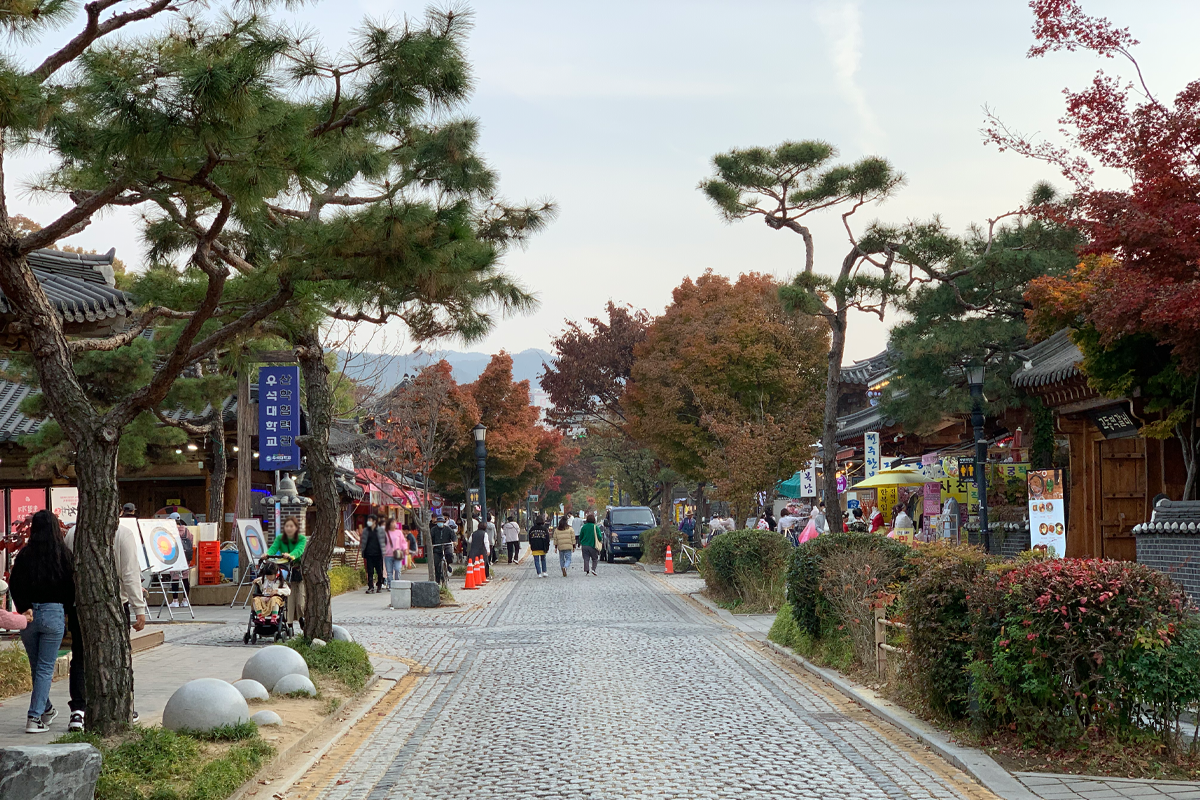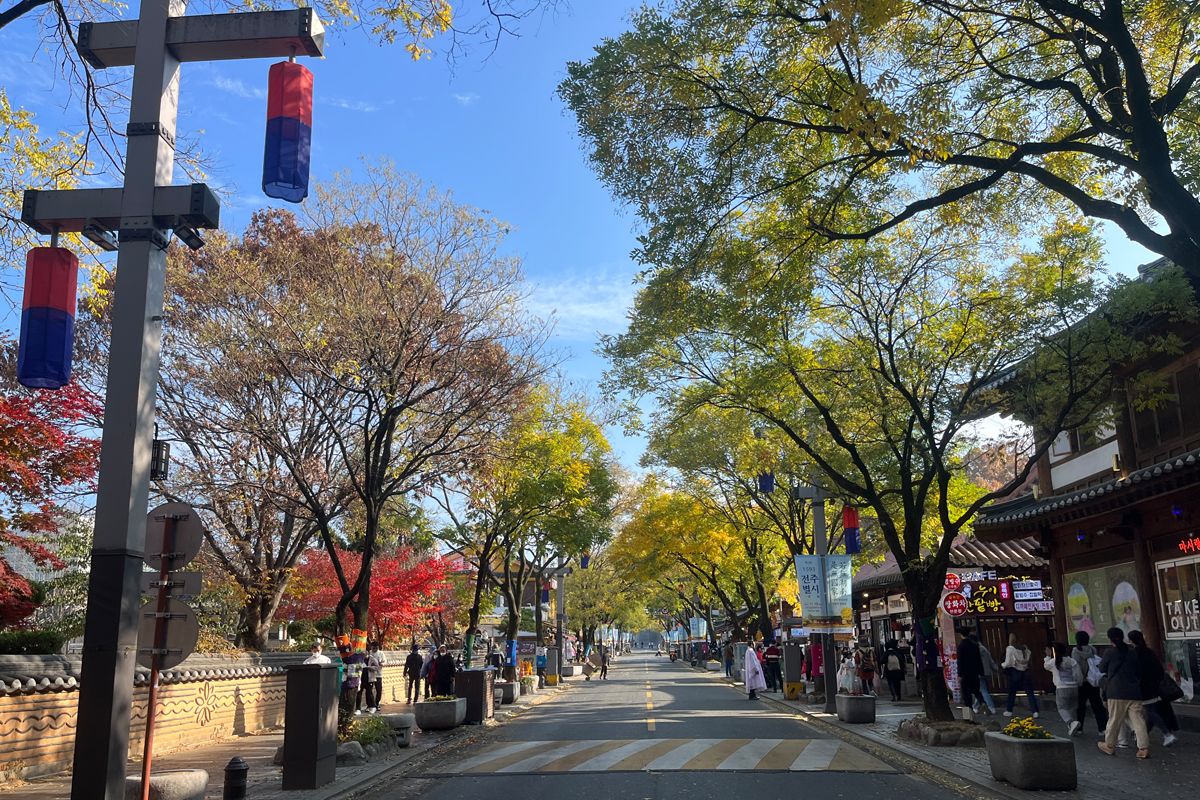 If someone asks us when they should visit Jeonju, we'd definitely recommend coming in the autumn! The Hanok village is lined with vibrant ginkgo trees that liven up the streets even more!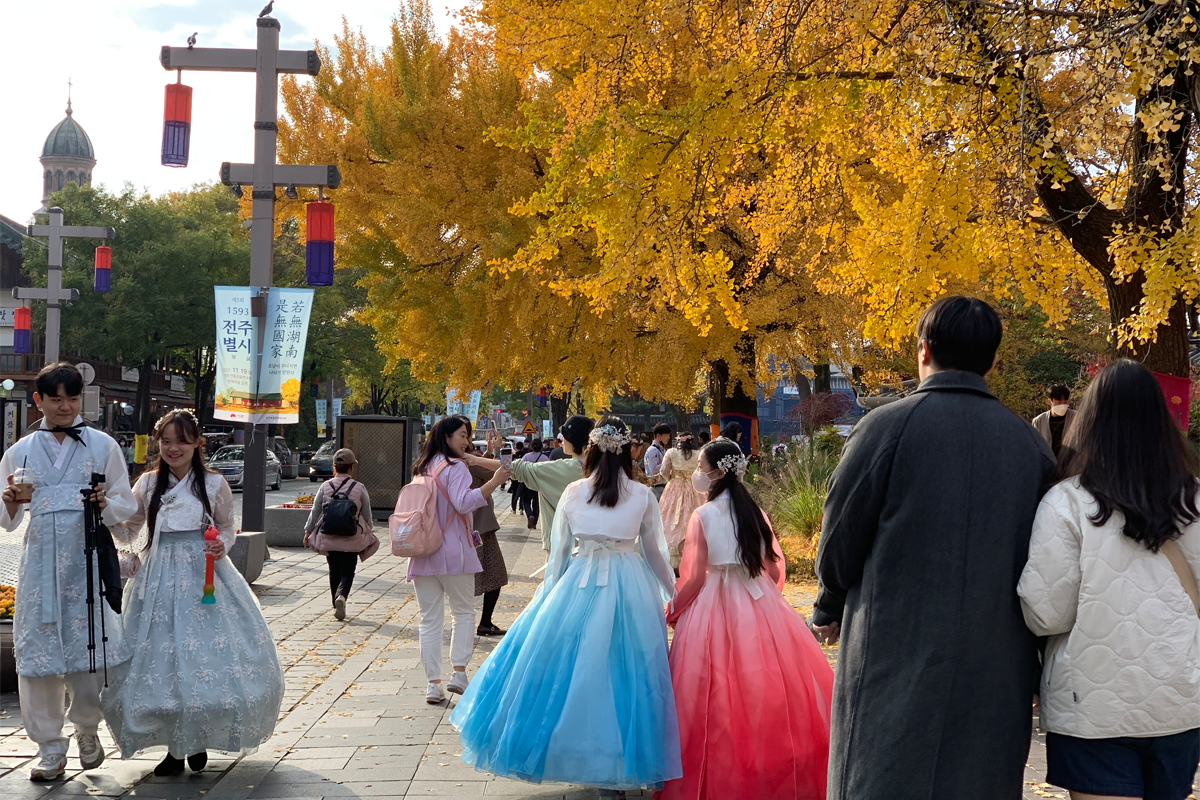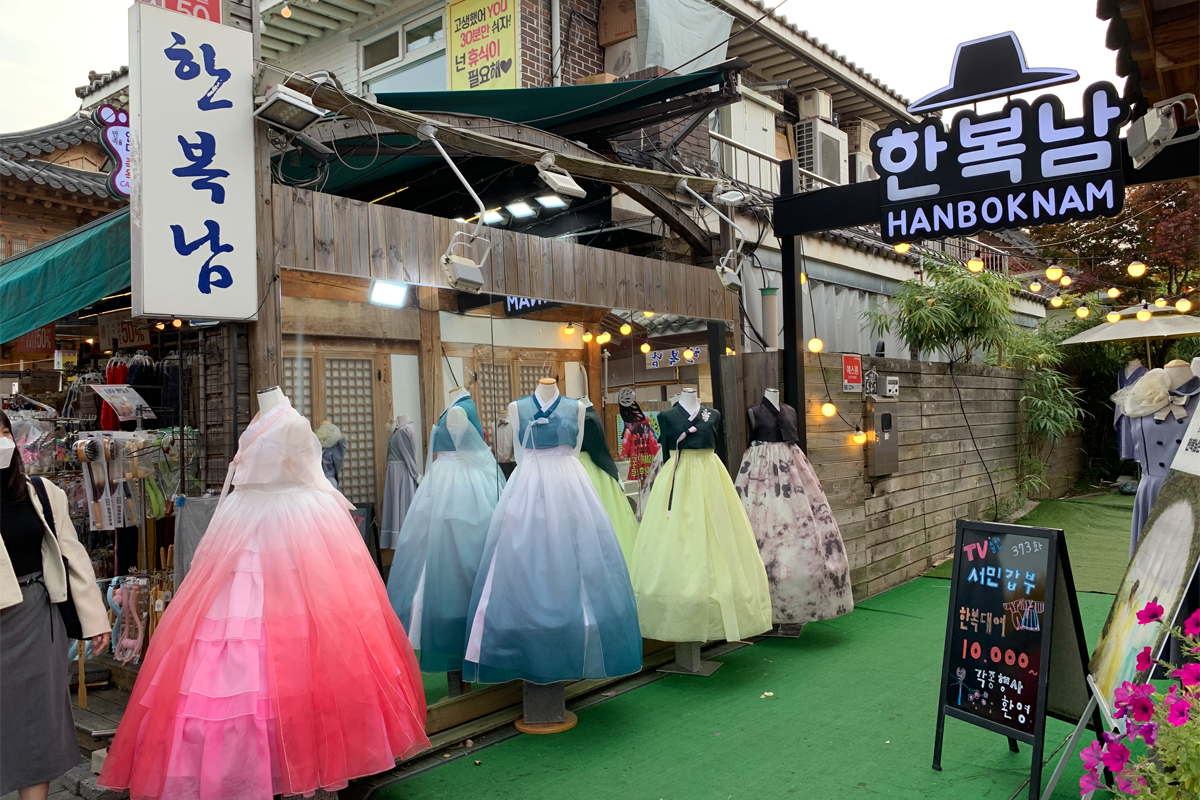 Renting and wearing a hanbok at Jeonju Hanok Village is a must and all the other tourists are doing it! It'll enhance your trip and make you feel like you're a true Korean in the Joseon Dynasty!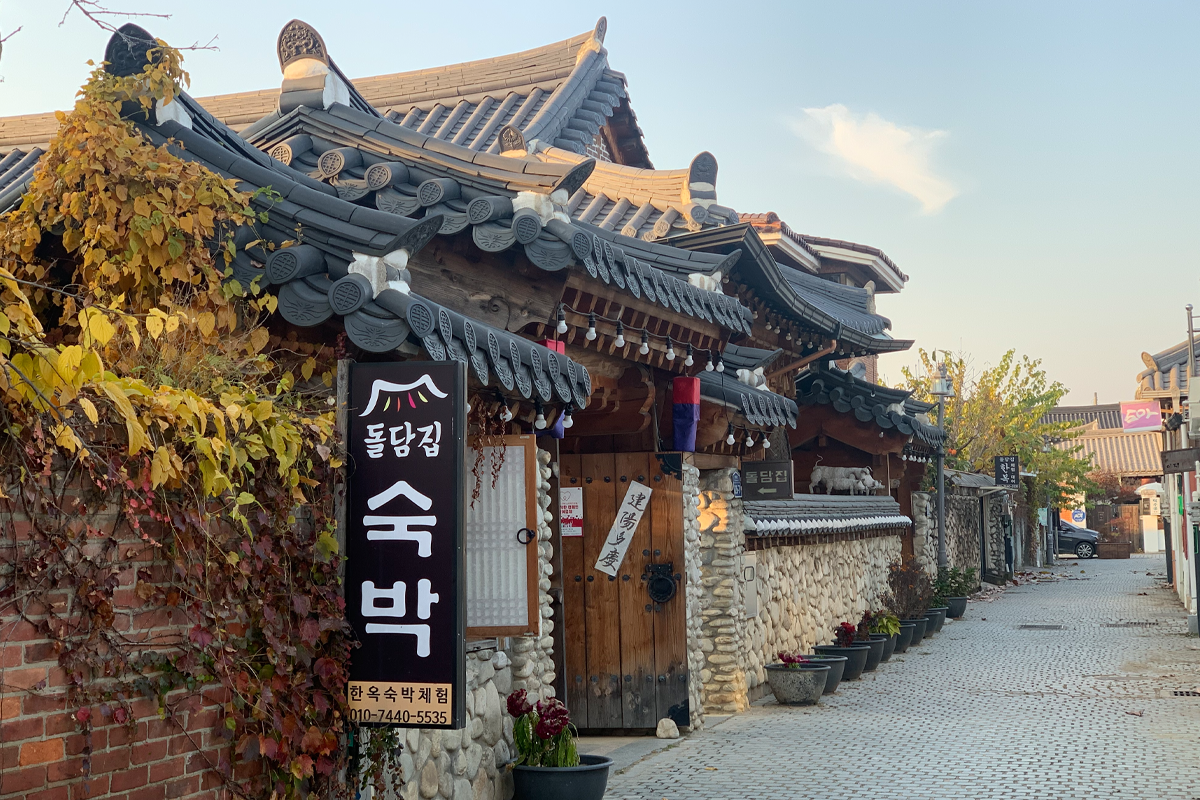 There are tons of Hanbok rental shops in the village and most of them are pretty affordable and have better quality hanboks than the ones in Seoul.
Jeonju Nanjang (전주난장)
Address: 전북 전주시 완산구 동문길 33-20
33-20 Dongmun-gil, Wansan-gu, Jeonju-si, Jeonbuk
Hours: Mon - Thurs 10:00 - 19:30; Friday 10:00 - 20:00; Saturday 09:30 - 20:00; Sunday 09:30 - 19:30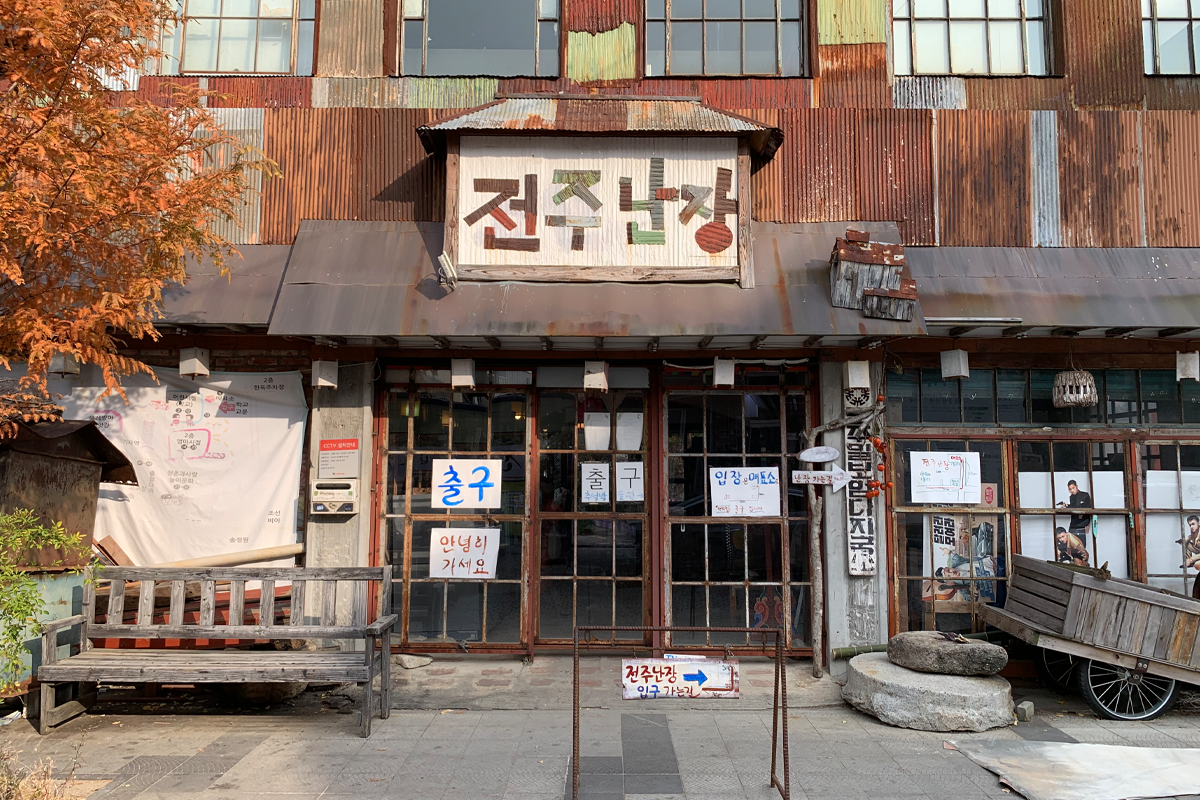 While the rest of Jeonju Hanok Village takes you back to the Joseon Dynasty, Jeonju Nanjang takes you back to your childhood with its knick-knacks that would've been in any Korean household.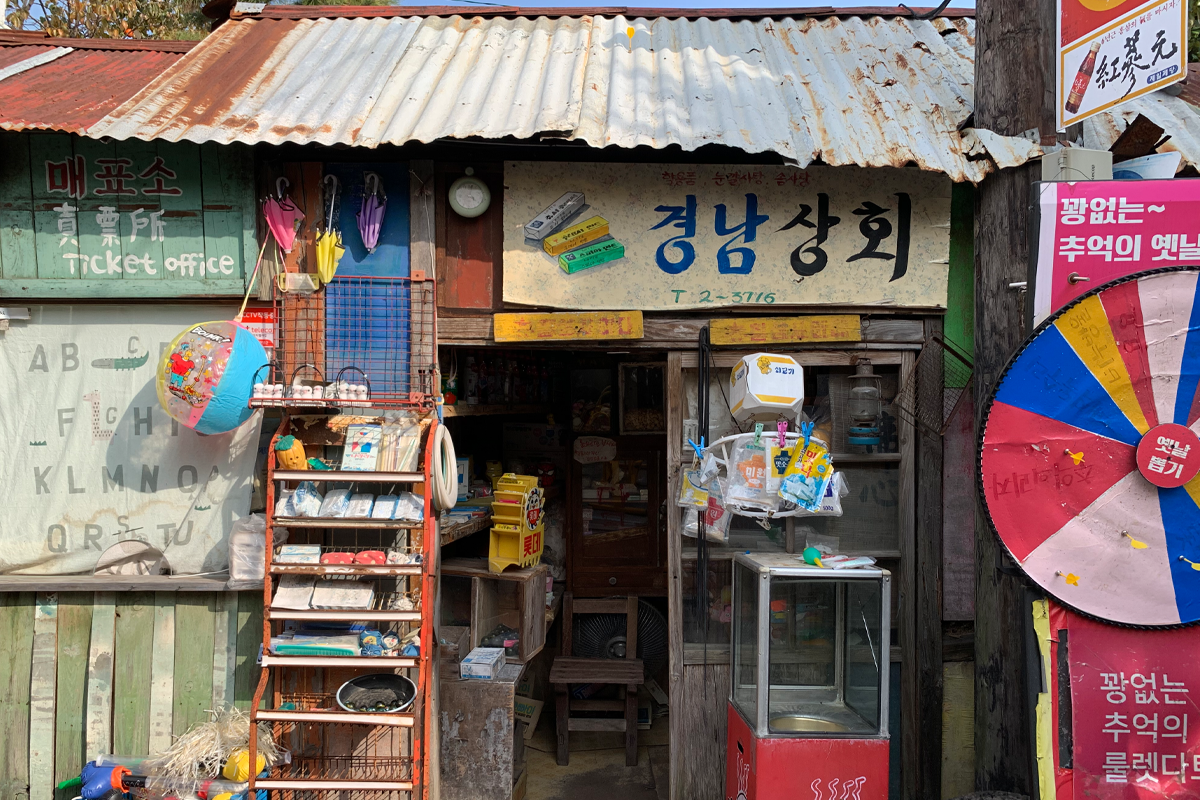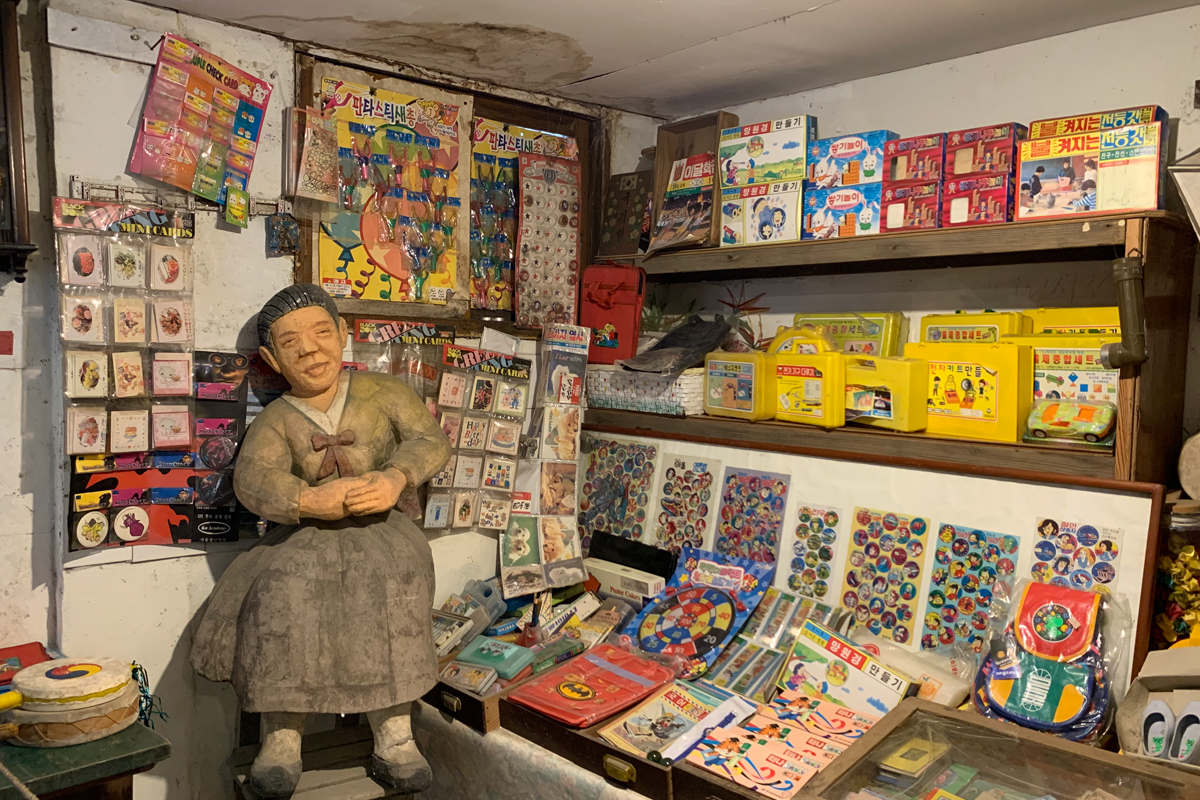 Jeonju Nanjang, nanjang translating to 'chaos', looks like a museum of Korean modern history, where you can see what a real Korean kid in the 1960s life would've been like. Walking through the labyrinth-like nostalgic rooms, it's like taking a time machine back to the 60s.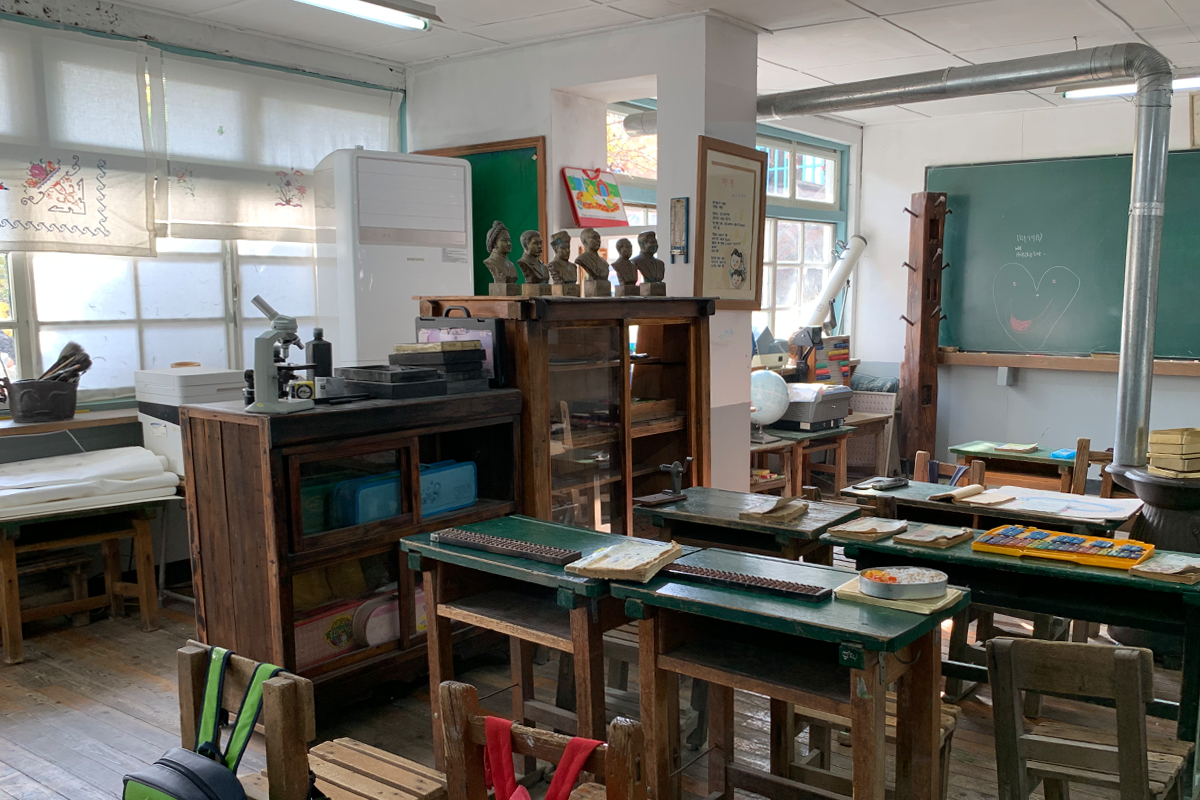 Jeonju Nanjang has become a must-visit when coming to Jeonju Hanok Village. Even top stars like HoYoung Son, SeungKi Lee, TaeHyun Cha, and more have visited!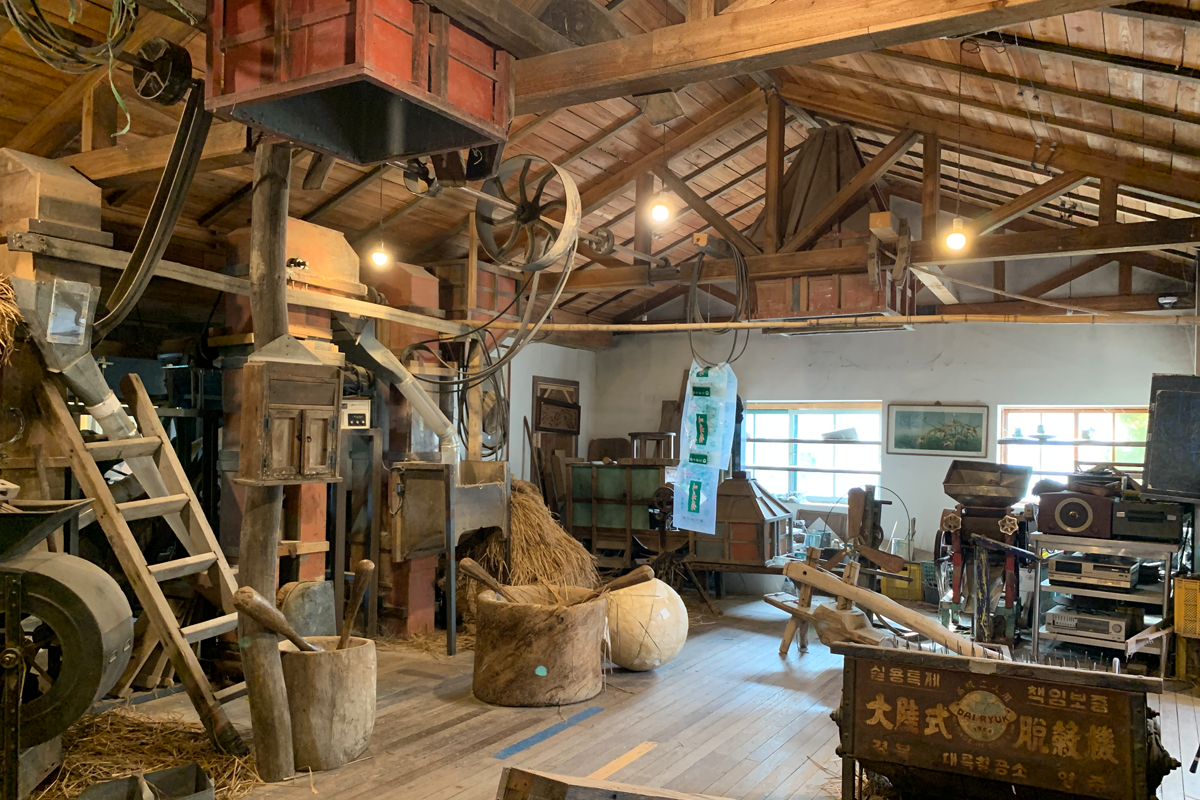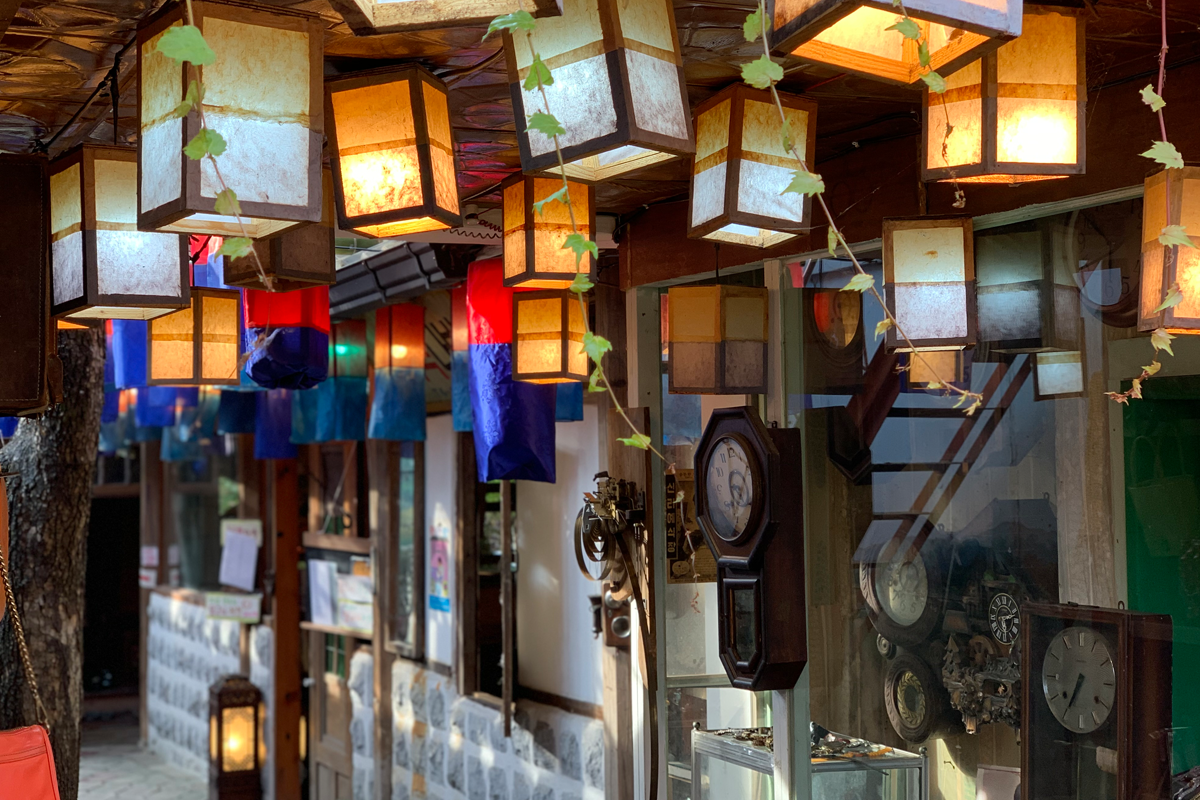 Want to get a taste of what Korea was like in the 1960s? Stop by Jeonju Nanjang!
Jeonju Crafts Exhibition Hall (전주공예품전시관)
Address: 전북 전주시 완산구 태조로 15
15 Taejo-ro, Wansan-gu, Jeonju-si, Jeonbuk
Hours: 10:00 - 18:00; Closed on Monday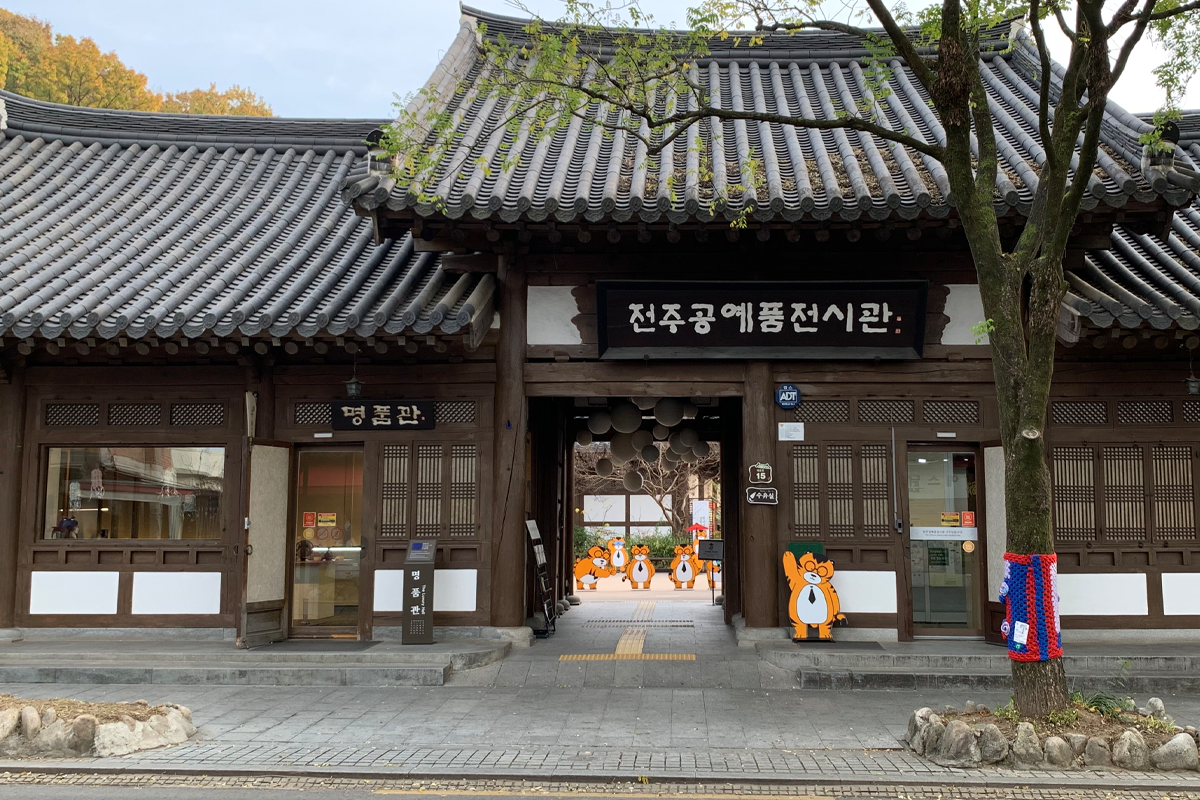 In collaboration with the Korean Arts and Crafts Design Institute brings you top tier Korean-made traditional crafts. This is a space that promotes Korean local artists and their talent.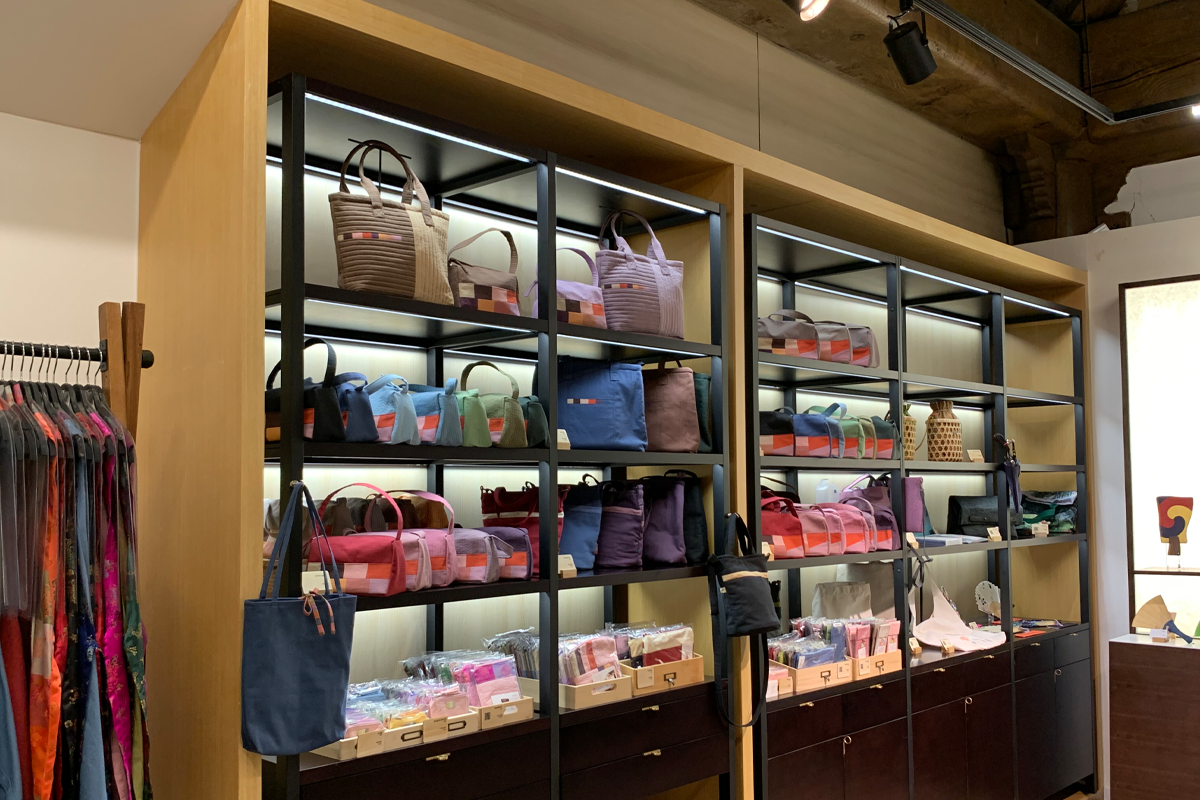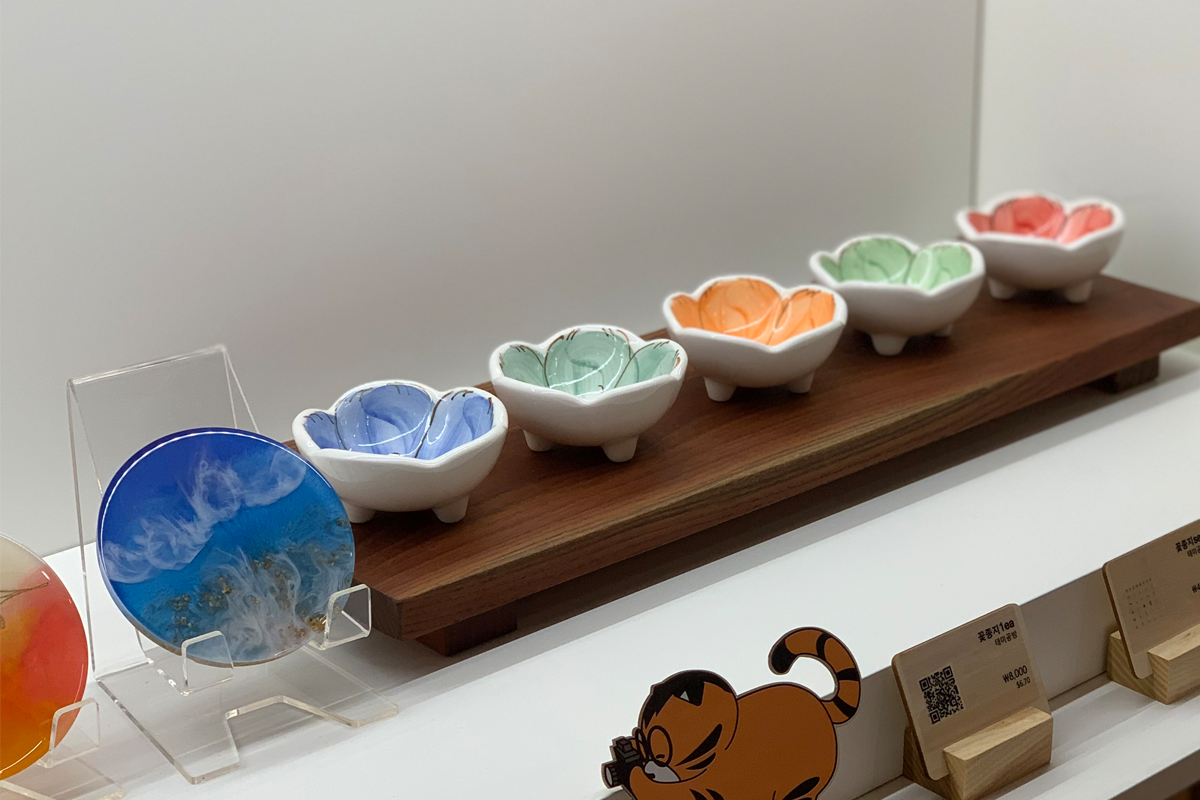 Here you can see various traditional handicrafts with unique characteristics, and surprisingly so, they had a lot of affordable items! For example, a small coin bag only cost 6,000 KRW. This would be a great place to buy souvenirs for friends and family back home.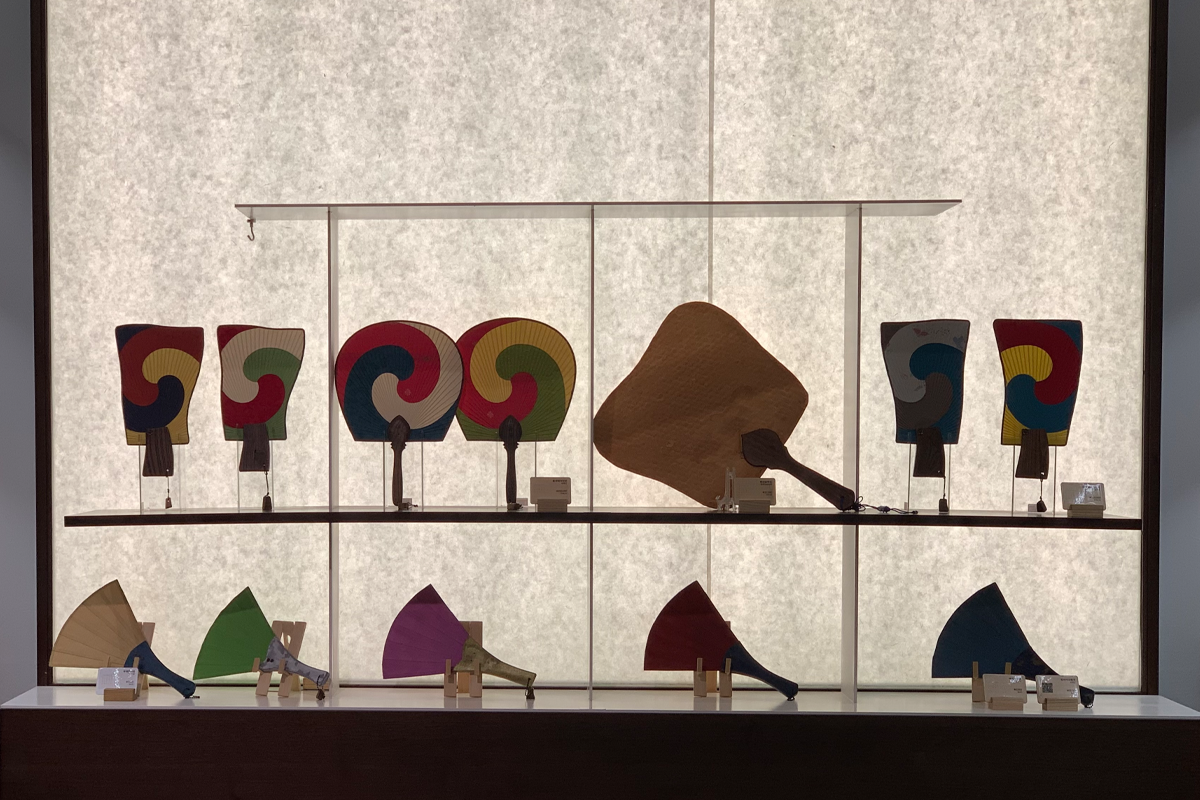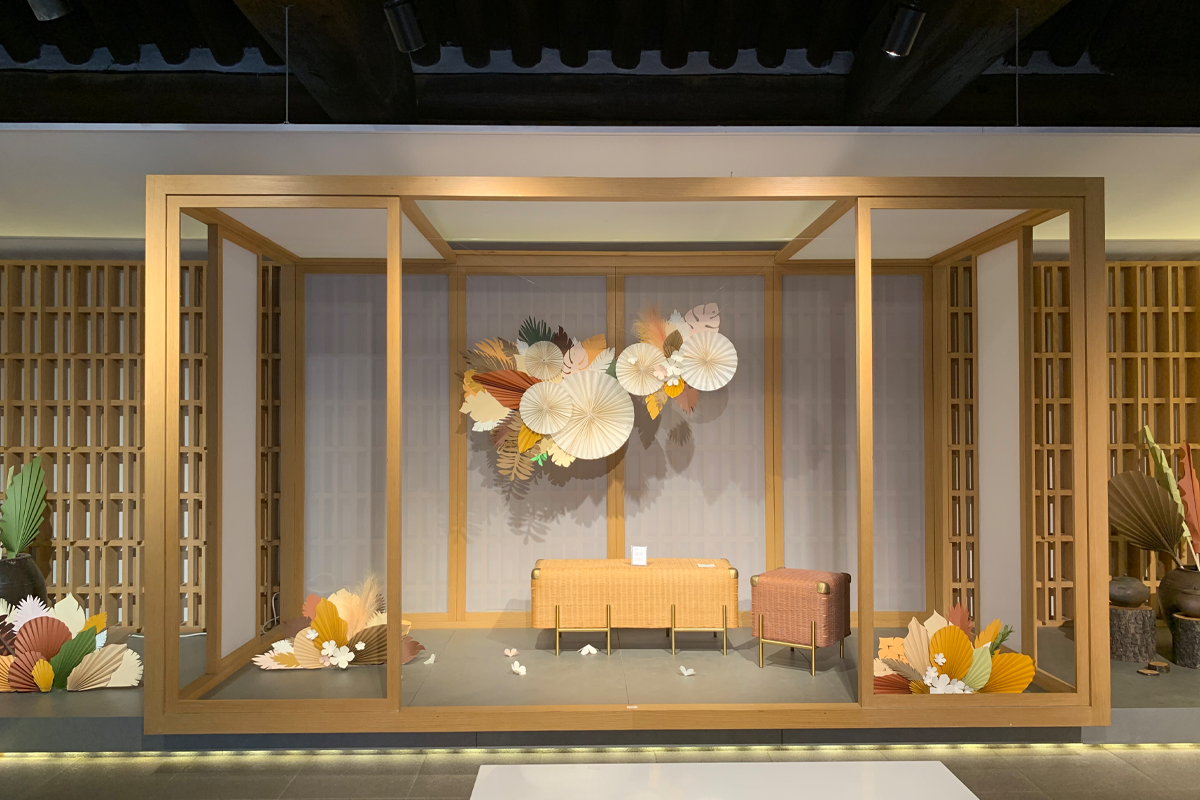 In addition to the exhibitions and gift shop, they have classes where you can learn how to make traditional fans or sew cloth bags. You will, however, need to make an appointment beforehand. You can do so here: Jeonju Crafts Exhibition Hall website(Korean).
Jeonju Korean Liquor Museum (전주전통술박물관)
Address: 전북 전주시 완산구 한지길 74
74 Hanji-gul, Wansan-gu, Jeonju-si, Jeonbuk
Hours: 09:00 - 18:00; Closed on Mondays
Contact number: 063-287-6305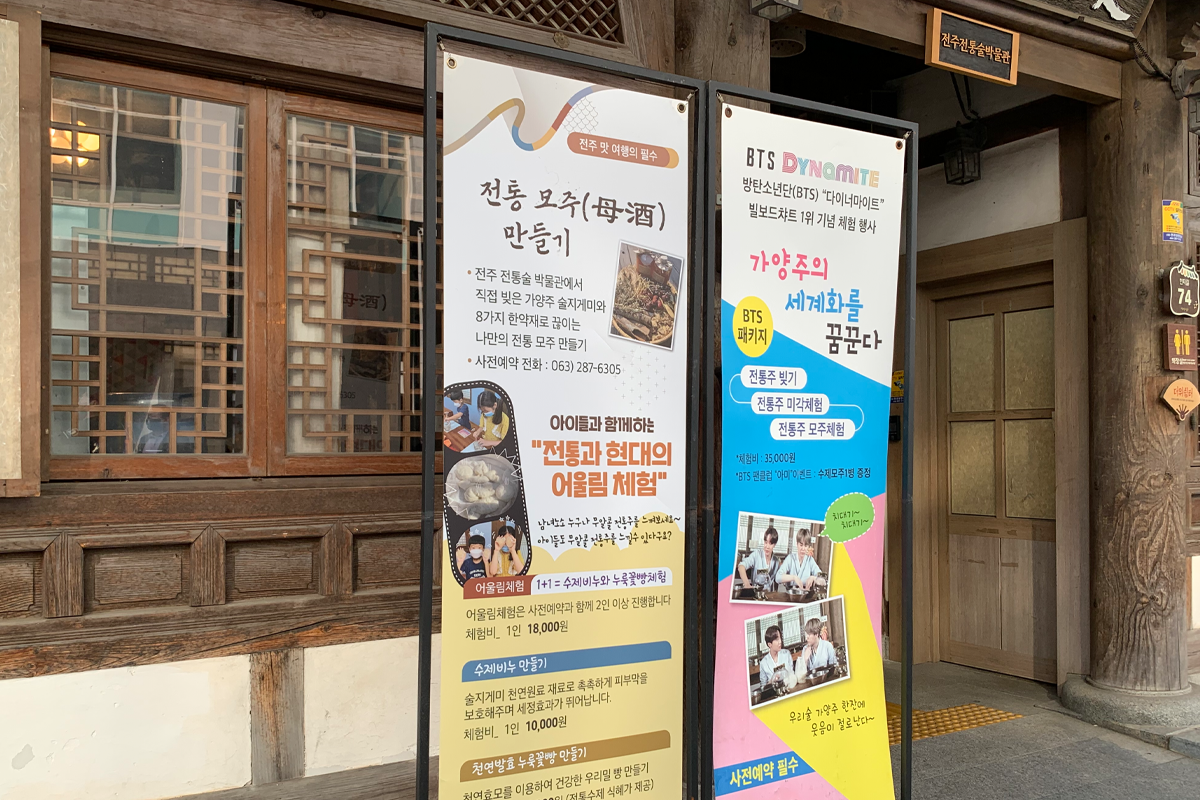 When you come to Jeonju, you will notice that there are a lot of stalls that sell alcohol, especially Moju, which is directly translated to 'Mother Wine'. The alcohol concentration is very low, at a 1%.
You learn how to make moju at the Jeonju Korean Liquor Musuem. However, because they need to prepare the ingredients beforehand, you will need to call in and make an appointment at least 2 days before your desired date.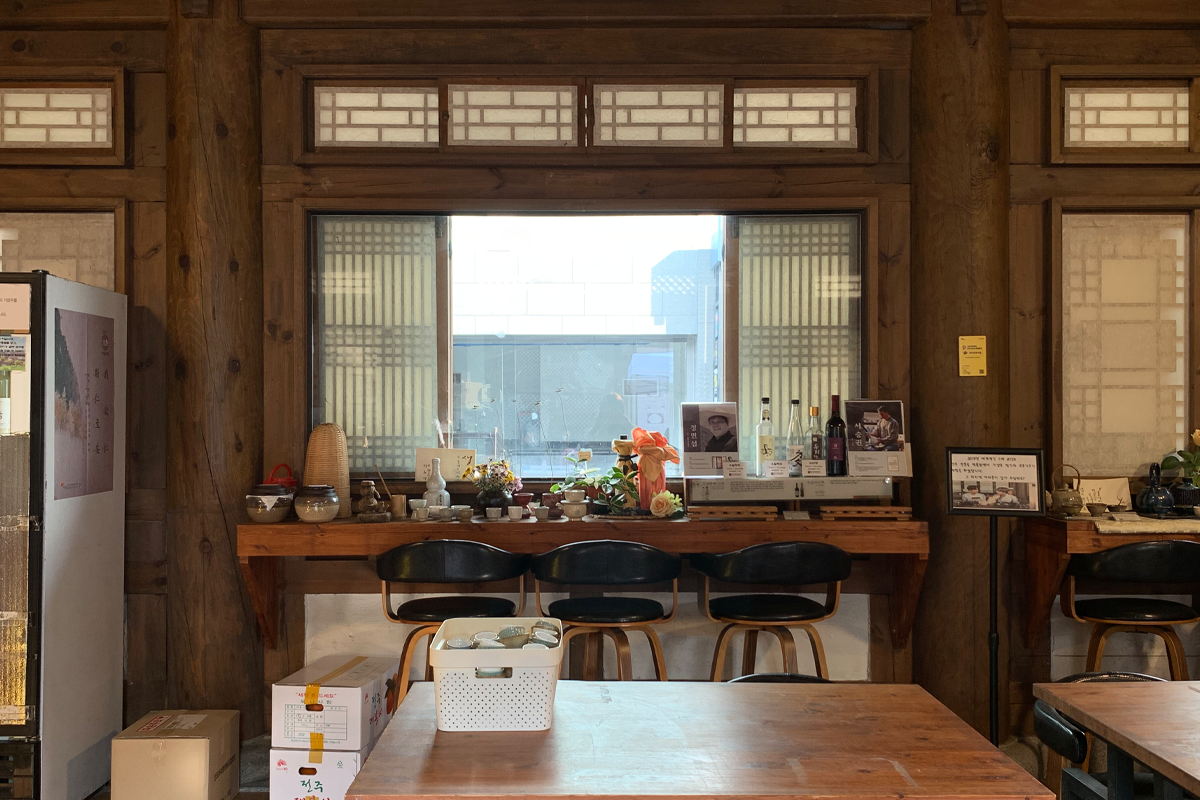 The wine-making experience is quite popular, even BTS has visited to make their own wine.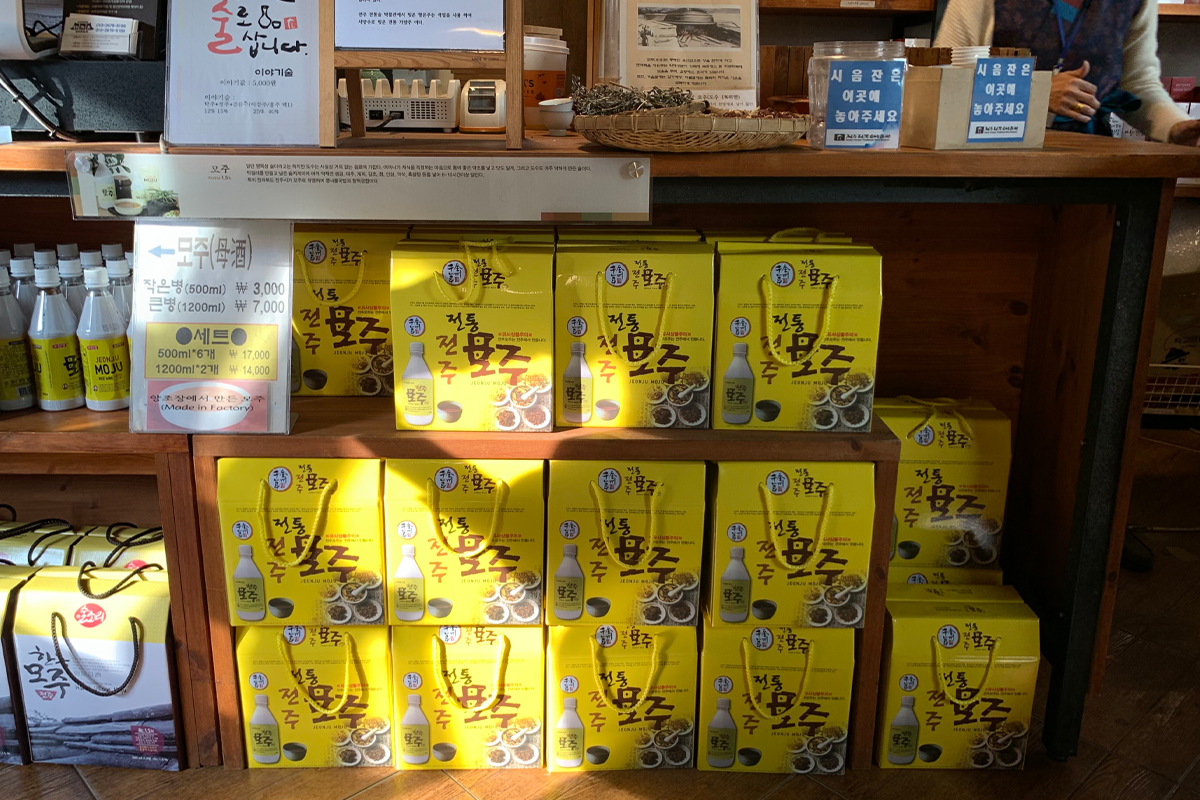 Even if you can't experience making the moju yourself, you can learn about the process that it takes to make the moju. You can also buy a bottle for yourself for only 3,009 KRW. Get a bottle and try it out! Don't expect to get drunk because it is only 1% alcohol.
Pungnammun (풍남문)
Address: 전북 전주시 완산구 풍남문3길 1 풍남문
Pungnammun, 1 Pungnammun3gil, Wansan-gu, Jeonju-si, Jeonbuk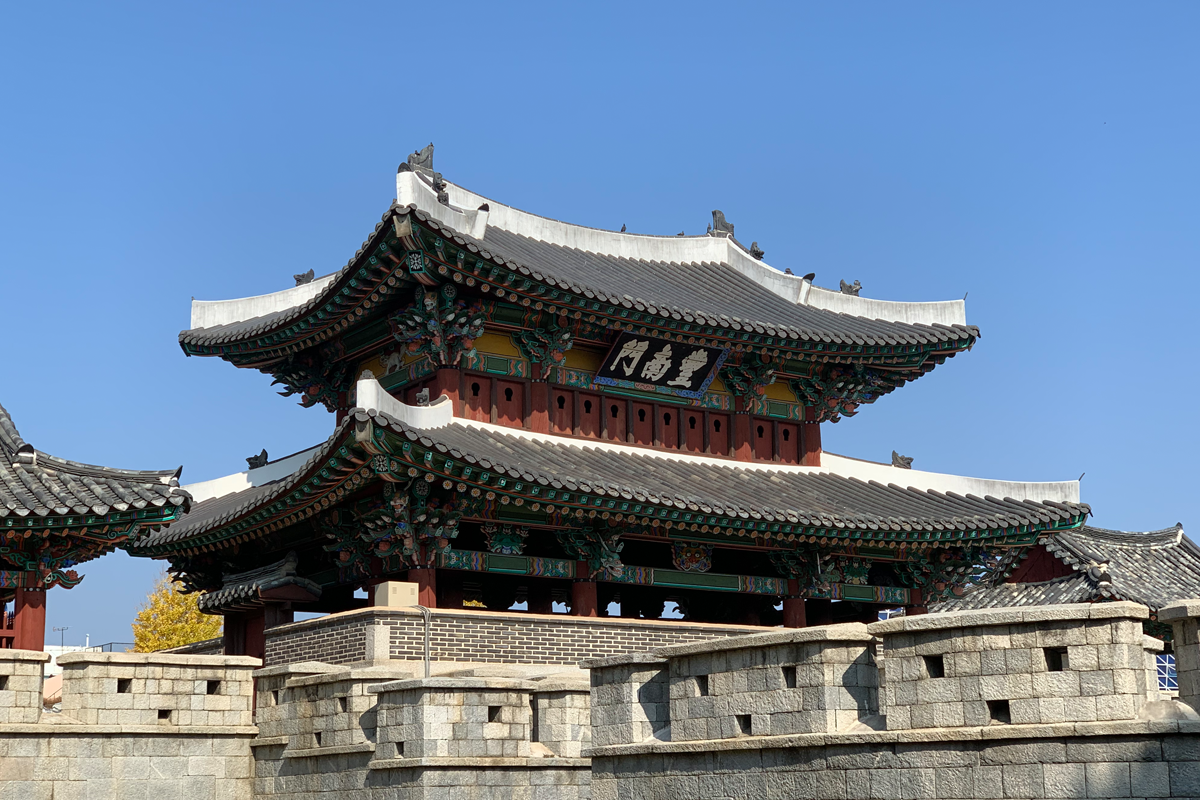 Pungnammun Gate was built during the Joseon dynasty under the rule of King Taejo. Pungnammun Gate is the southernmost gate out of the 4 gates of Jeonju. It is now designated as a National Treasure.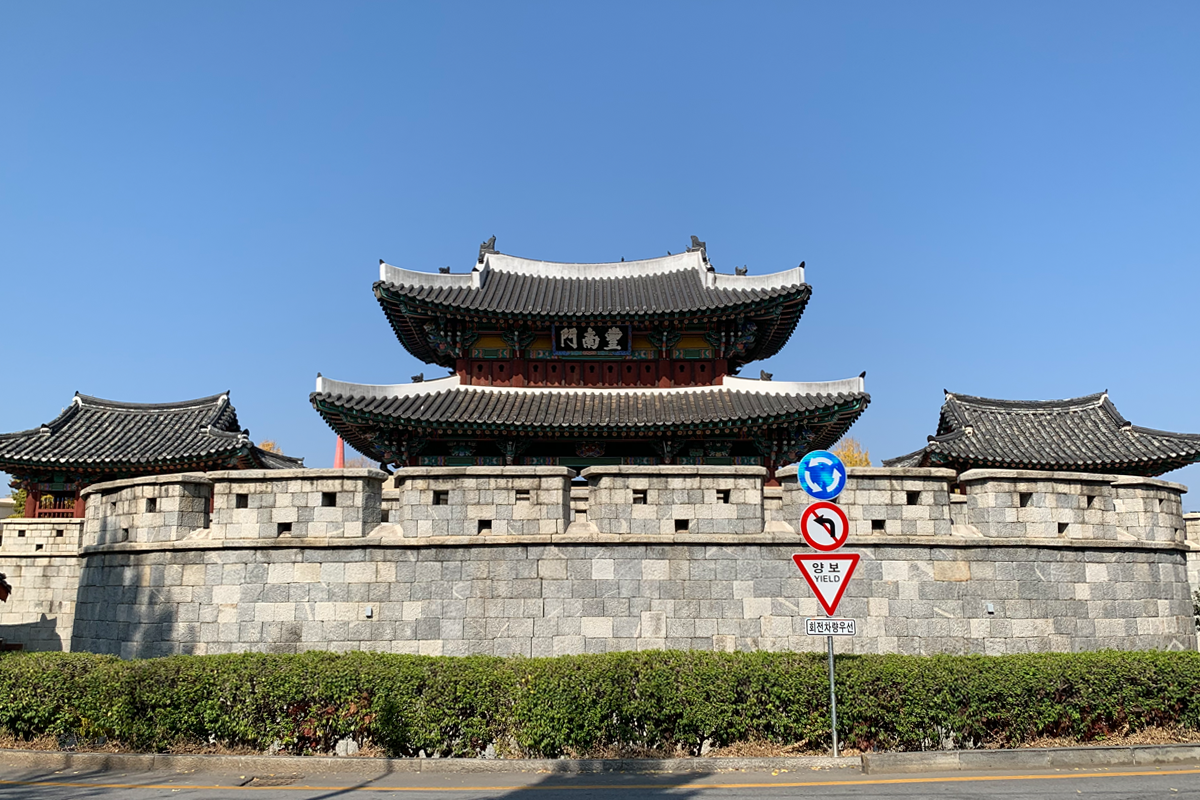 As the country's 308th national treasure, Pungnammun Gate is a symbol that represents Jeonju's history. The gate was destroyed several times during war, one of those wars happening during the Imperial Japanese Invasion.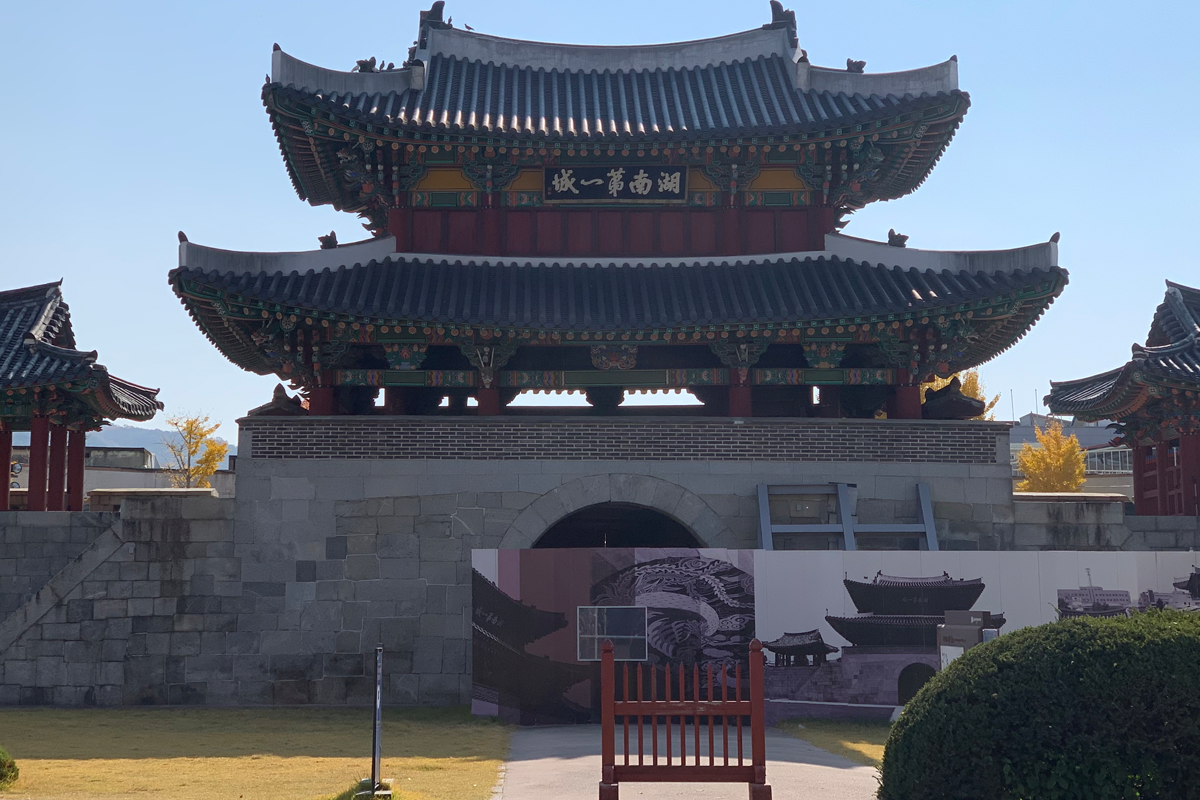 The grand bell that can be seen hanging inside of Pungnammun Gate rings at 12 o clock at midnight on January 1 every year, as if to wish Jeonju citizens happy new year.
Jeonju Hanok Village Observatory Cafe (전주한옥마을전망대카페)
Address: 전북 전주시 완산구 어진길 15
15 Eojin-gil, Wansan-gu, Jeonju-si, Jeonbuk
Hours: 09:00 - 23:00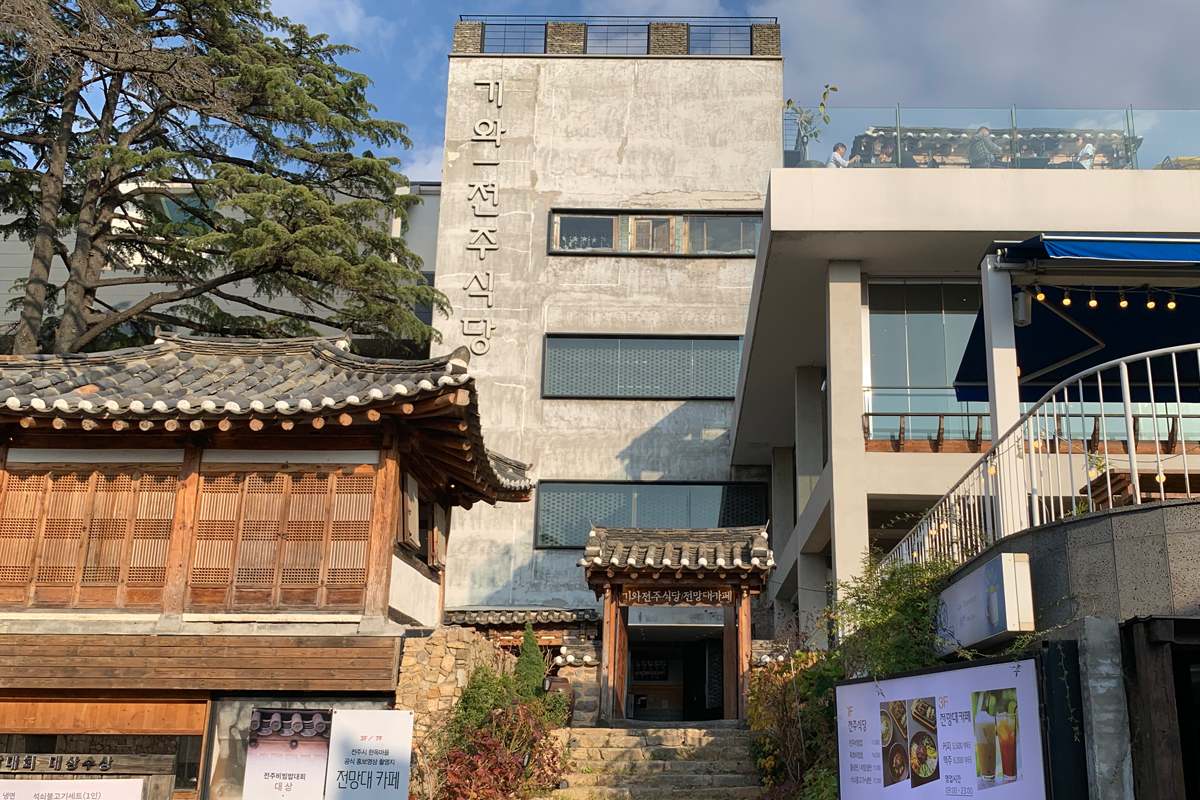 You're going to be tired from walking around the hanok village all day. Take a break at the Jeonju Hanok Village Observatory Cafe! Although there are tons of cute, unique cafes around the village, if you want to the most beautiful sunset above Jeonju Hanok Village, you need to come here!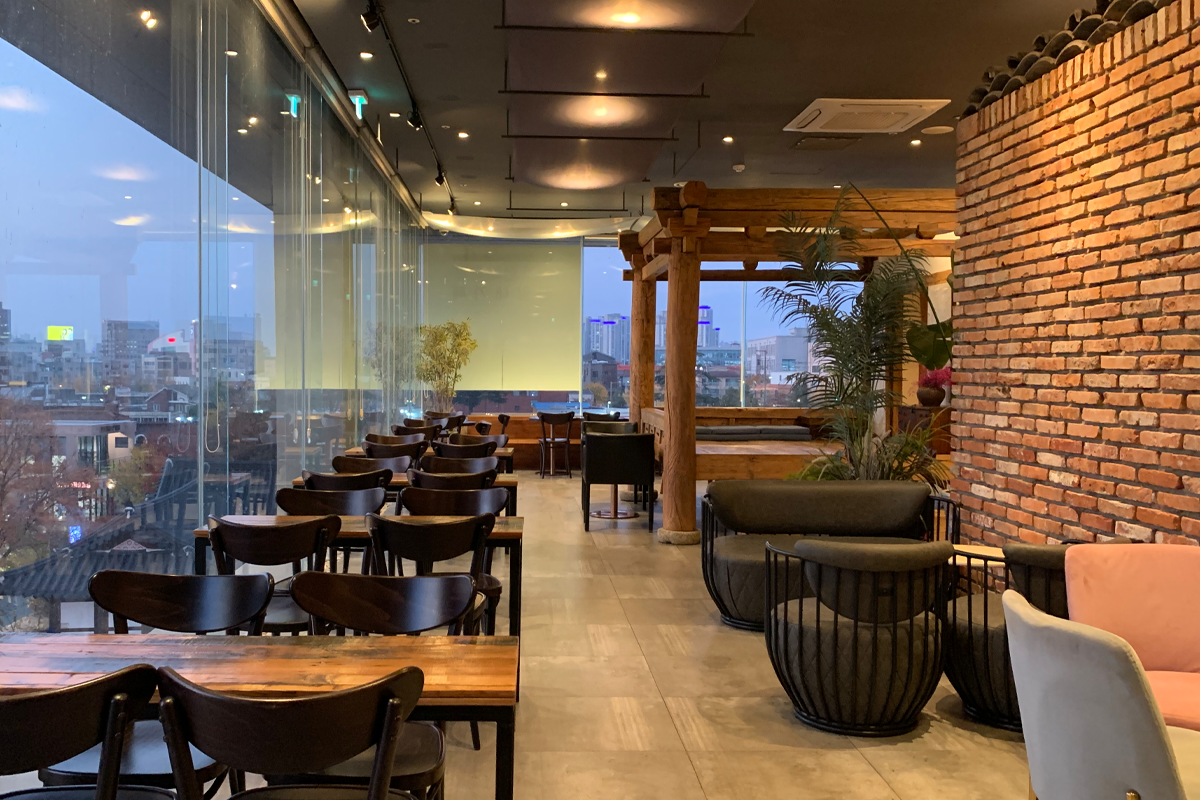 Green Tangerine Mojito(청귤모히또) 7,500 KRW
Black Sesame Latte(흑임자 라떼)7,800 KRW
Earl Grey Shiffon Cake(얼그레이쉬폰) 8,800 KRW
The Green Tangerine Mojito is an ade and is not an actual alcoholic drink, so keep that in mind if you decide to order the mojito. The sweet, citrusy drink was perfect after a full day of exploring. Also, the Black Sesame Latte was creamy and nutty and pretty filling as well. The Earl Grey Shiffon Cake is covered with a very thick layer of cream and is fragrant with the aroma of earl grey tea. Every bite melts in your mouth and goes well with any drink.
The picture above is the sunset we saw when we were at the cafe. The view of the sun setting above the hanok roofs is still clear in our minds. What a way to end the best day exploring Jeonju Hanok Village!
Travel down to the central part of the Korean peninsula to visit Jeonju, a city full of culture and history! Experience Korean traditional cuisine, culture, and fun activities while you're here. Stay tuned and come back for more blogs about our trip to Jeonju!
---
We hope that this blog was helpful in deciding what to do in Jeonju! If you have any questions or concerns, please leave a comment below or send us an email at help@creatrip.com! You can follow us on Instagram, TikTok, Twittter, and Facebook to stay updated on all things Korea!
---