Lotte Tower
A Shopping Paradise Located in the Heart of Seoul With the Largest Duty Free in Korea!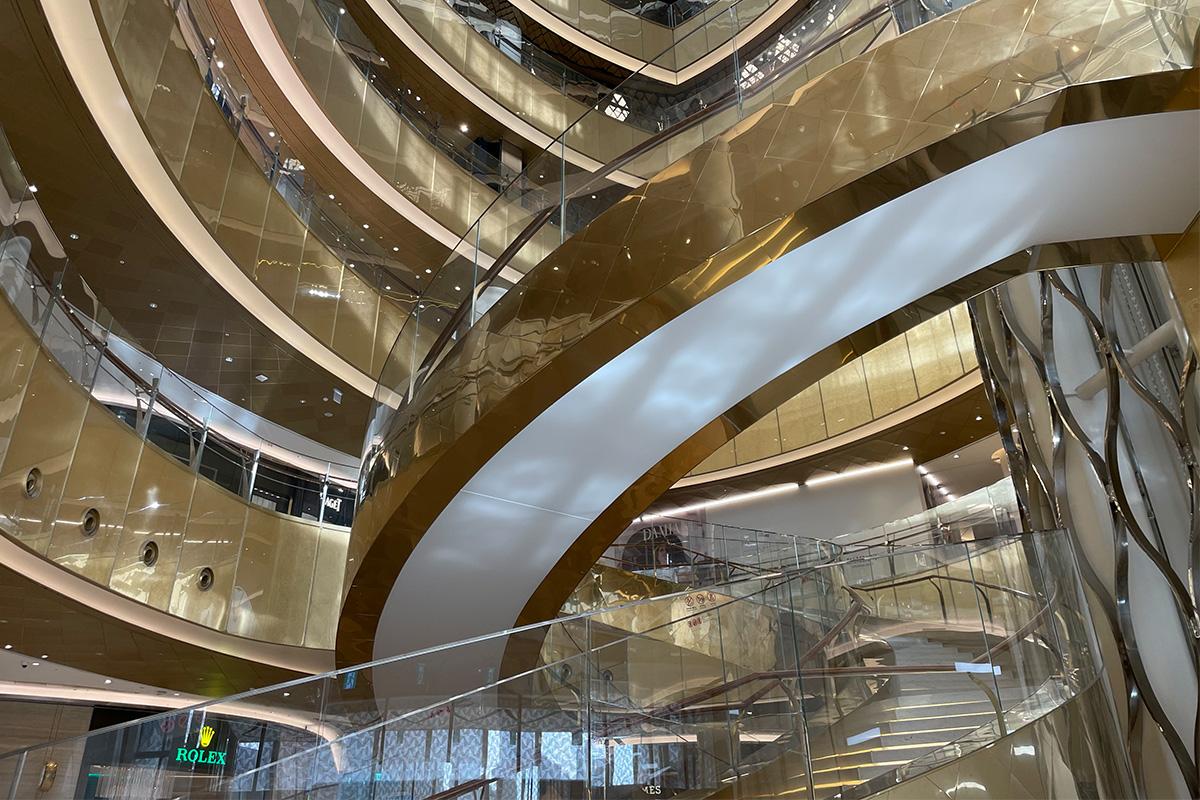 Lotte World Tower is a literal tower in Seoul, packed with so many facilities and things to do. From cinemas to boutiques, hotels and even an aquarium! There is so much to do here and to explore! Today, we brought to you a condense, yet informative deep dive into all that Lotte World Tower has to offer!
---
Information
Address: 서울특별시 송파구 올림픽로 300 롯데월드타워
300 Olympic-ro, Songpa-gu, Seoul
Hours: Daily 9:30-11:00 (Every zone has different opening and closing times so please check with specific shops as well. You can check here for details!
---
Why We Recommend It
It is located in the heart of Seoul, which is easily accessible by public transportation such as subway and bus!
You can shop at Lotte World Tower and visit the Lotte World theme park, Lotte Aquarium, or take a walk around the surrounding Seokchonhosu Park.
It is the tallest building inKorea. You can get an amazing view of Seoul from the 117 to 122 floor of the Sky Tower.
It has the largest Duty Free Zone in Korea.
---
Our Visit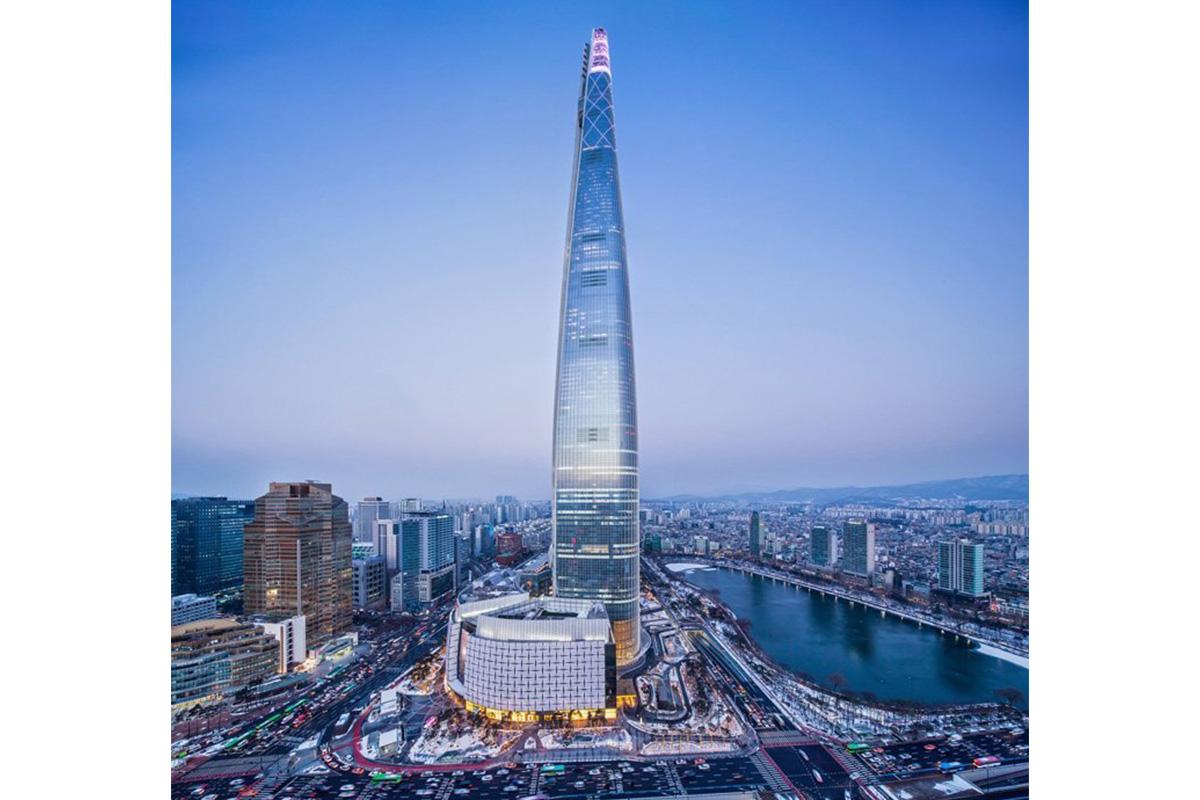 Lotte Tower is divided into 3 buildings, Lotte World Tower, the Shopping Mall, and Avenuel World Tower!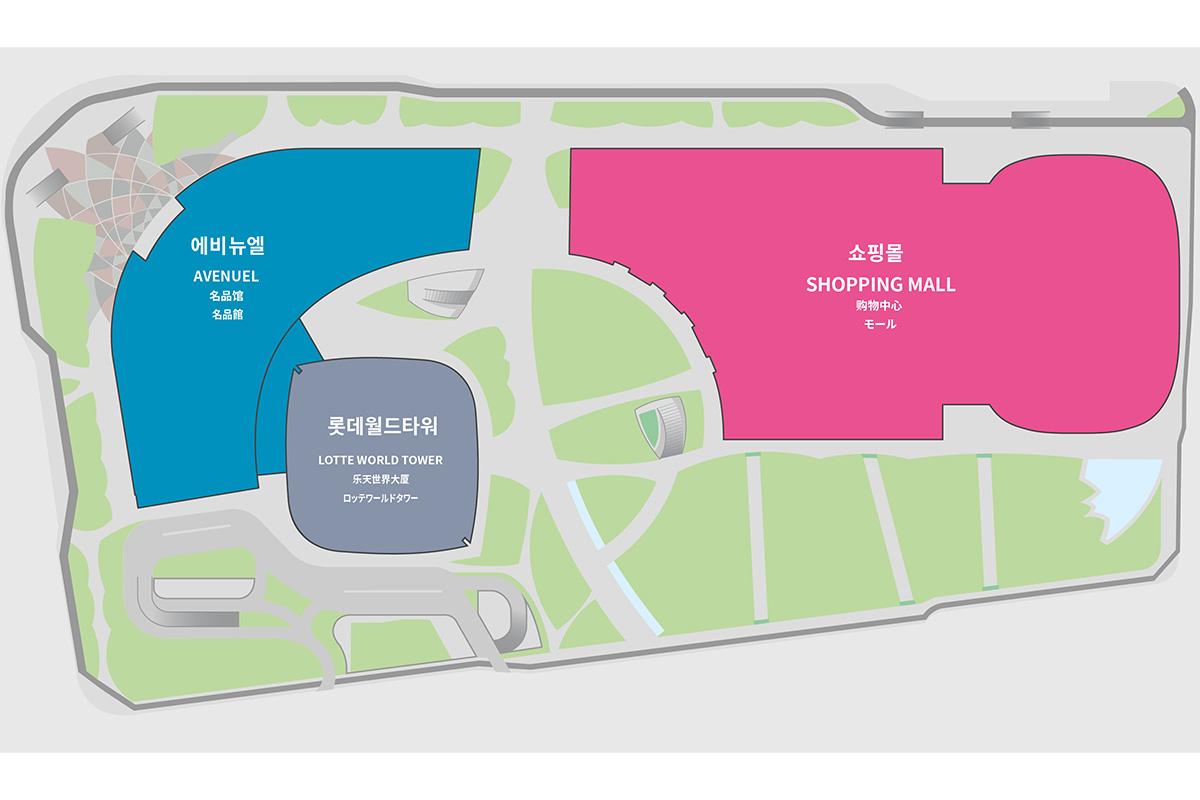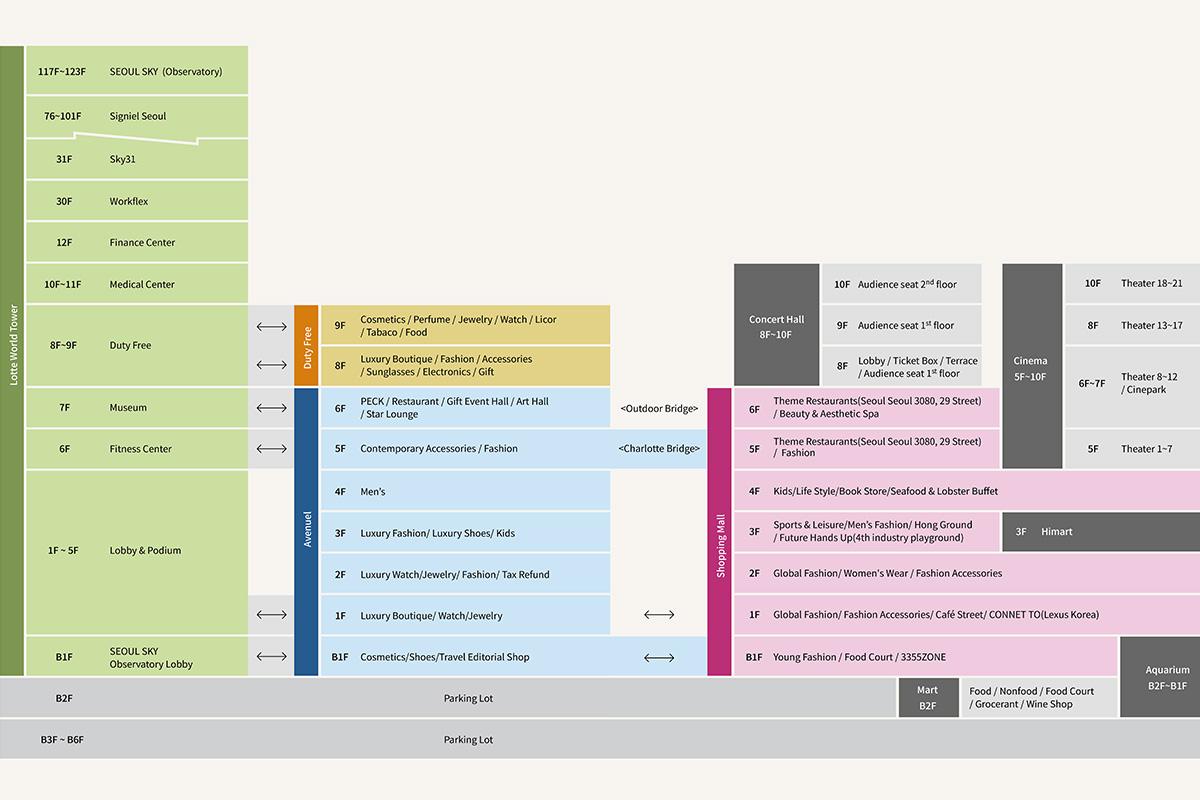 1. Lotte World Tower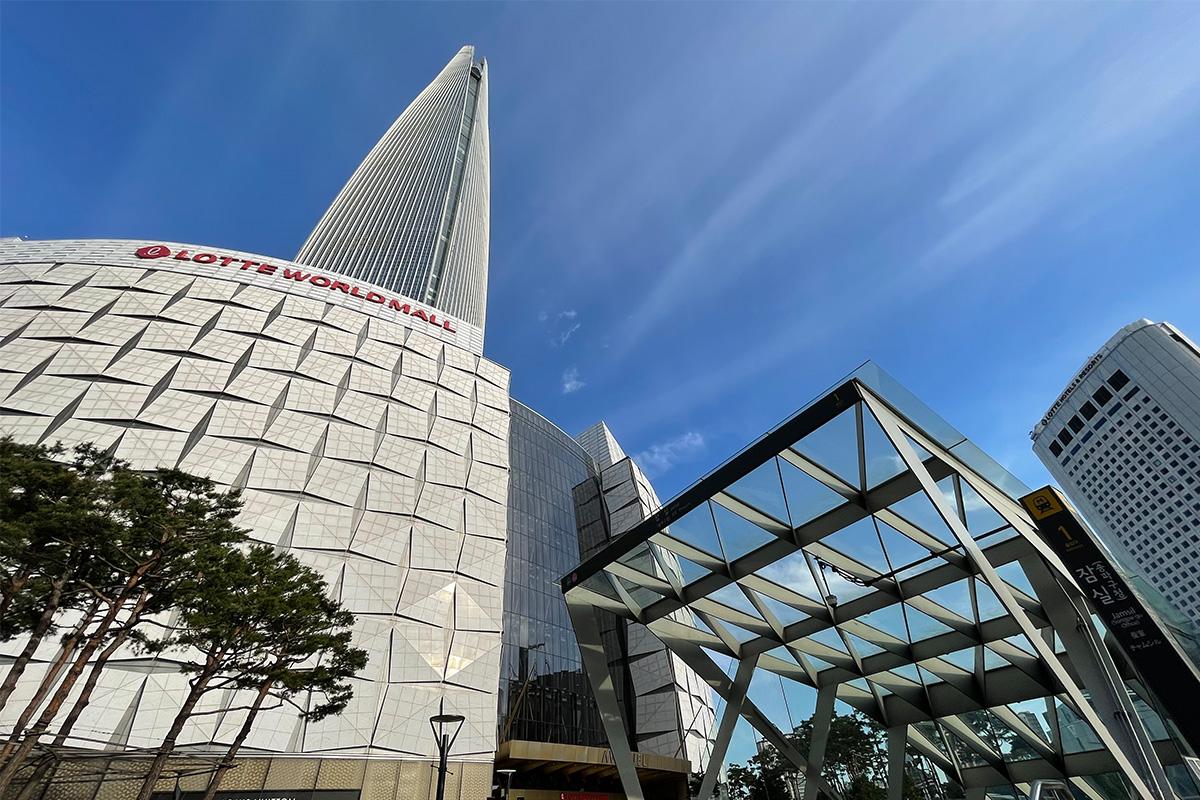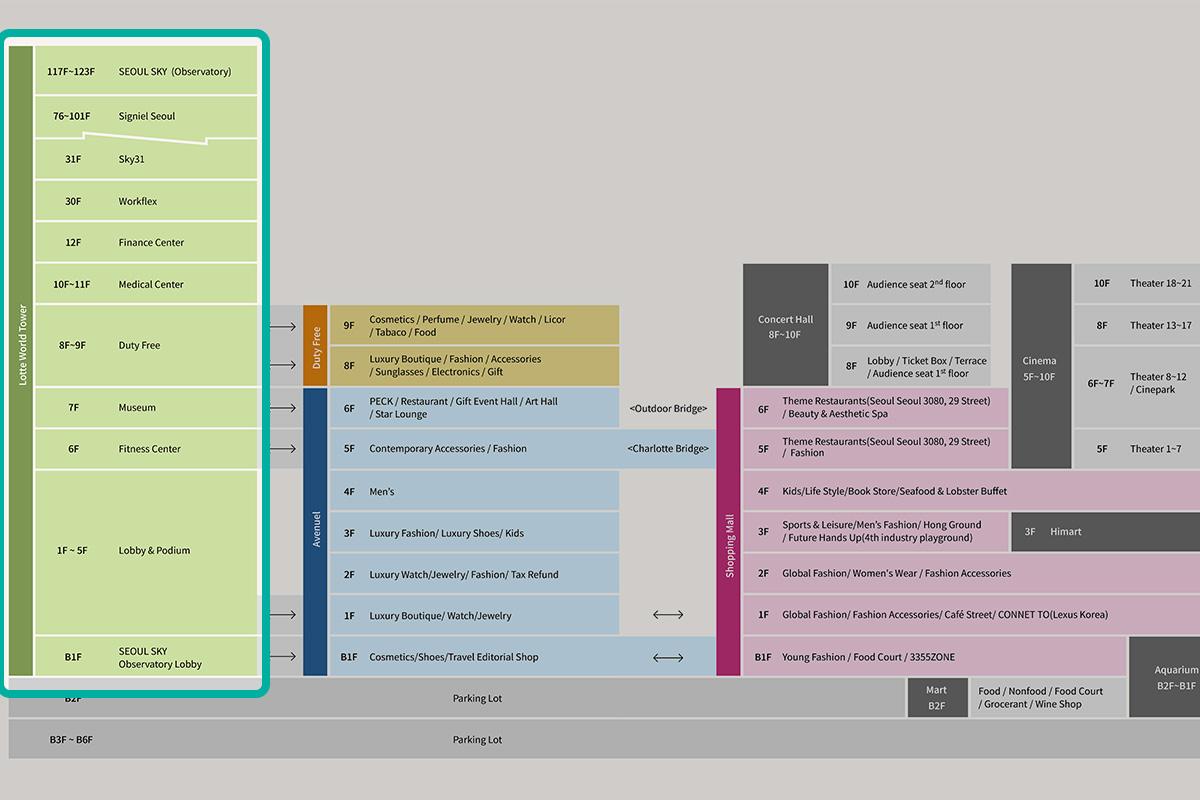 The building has 123 floors and it consists of facilities such as shopping, hotels, aquarium, and even office space! It is the tallest building in Korea, and the 6th tallest building in the world! If you want to get some amazing views of Seoul, we suggest coming here and enjoying the views from above!
B1 Floor: Seoul Sky Observatory Ticket Office
Hours: Sunday- Thursday: 10:30 - 22:00 (ticket sales close and last group admission is 21:00) / Friday- Saturday 10:30 - 23:00 (ticket sales close and last group entry is 22:00)
Price: As low as 17 USD when you book with Creatrip!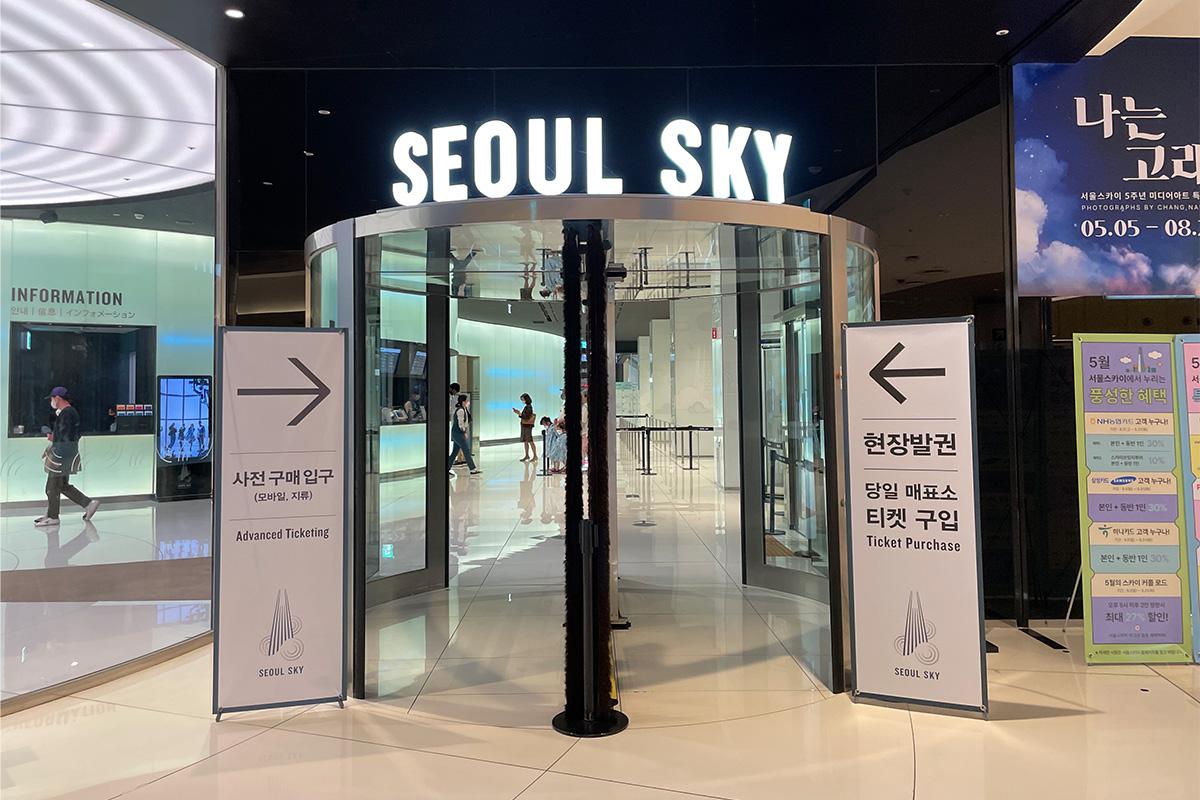 From Seoul Sky tower on B1 floor, you can also walk to Lotte World theme park. Creatrip has great offers for our members so make sure to reserve through us to get a special deal on your entry ticket into Lotte World!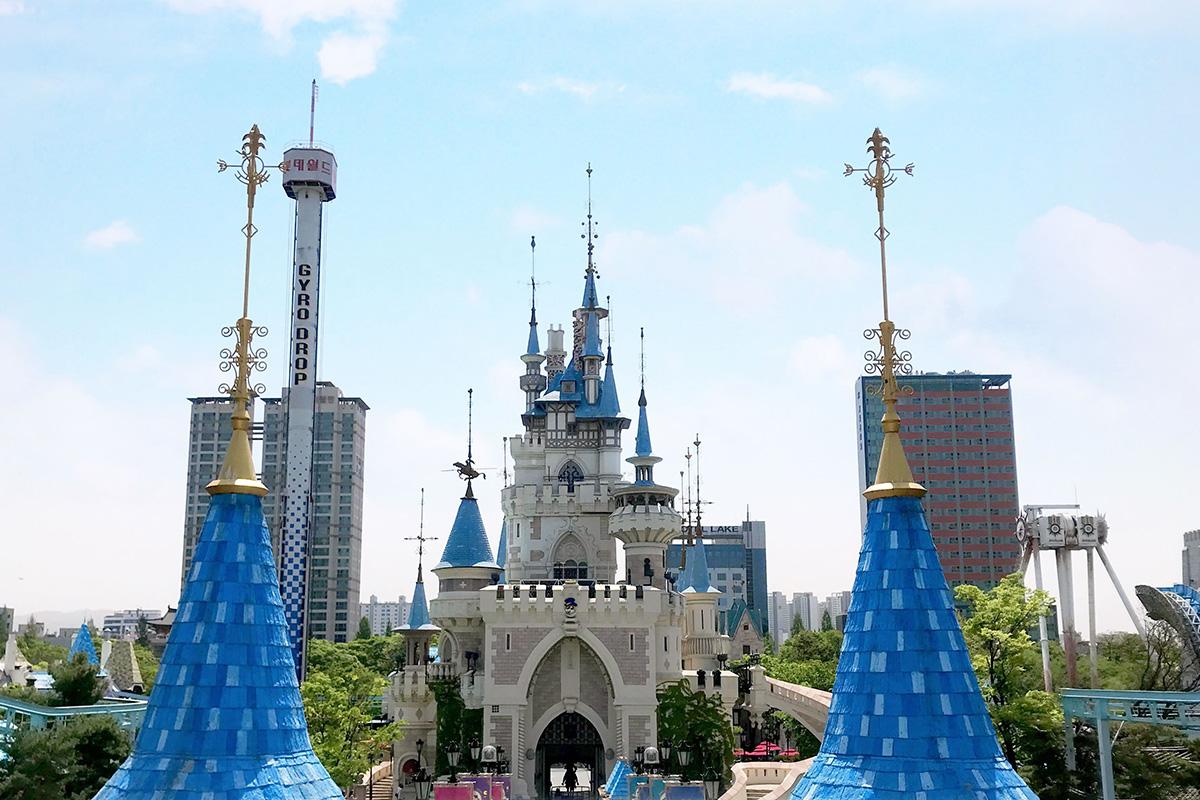 7F : Lotte Museum of Art
Hours: Daily 10:30-19:00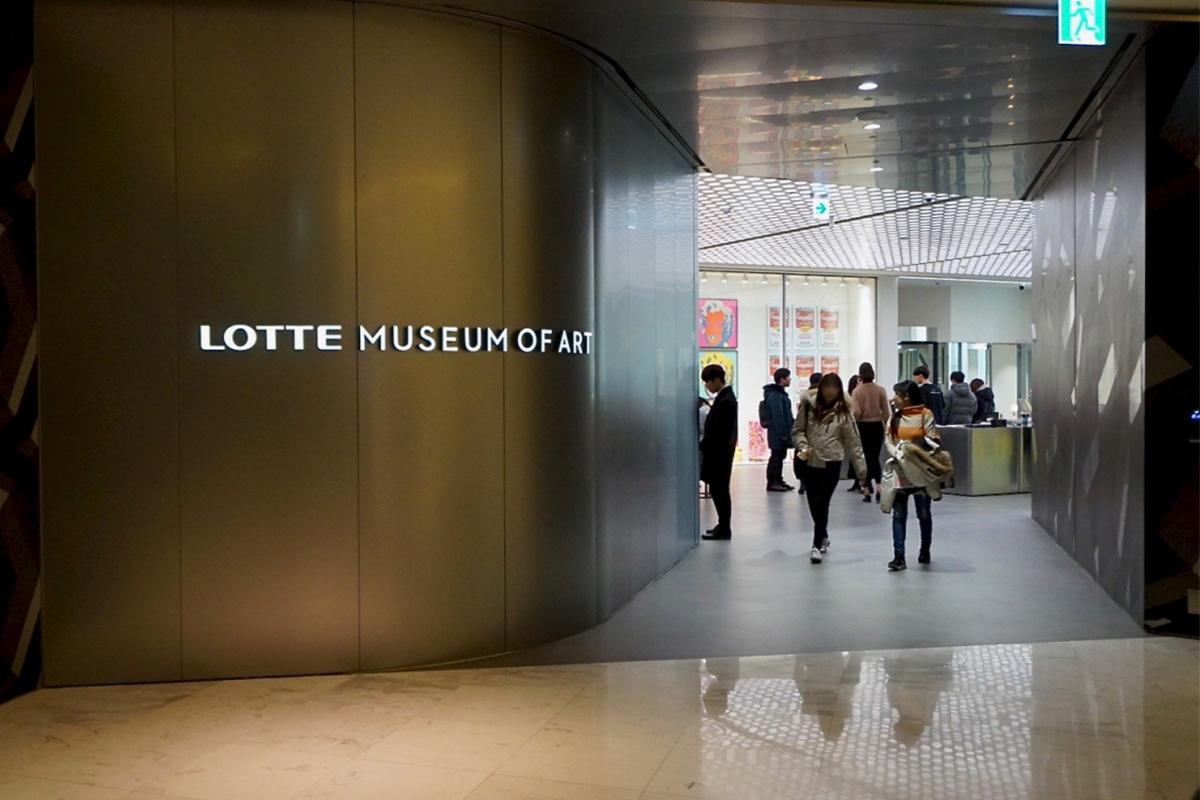 In this area, various shows and exhibitions are always held. You can check out what fun exhibitions are going on each month here.
8, 9F: Lotte Duty Free
Hours: Daily 09:30 - 06:30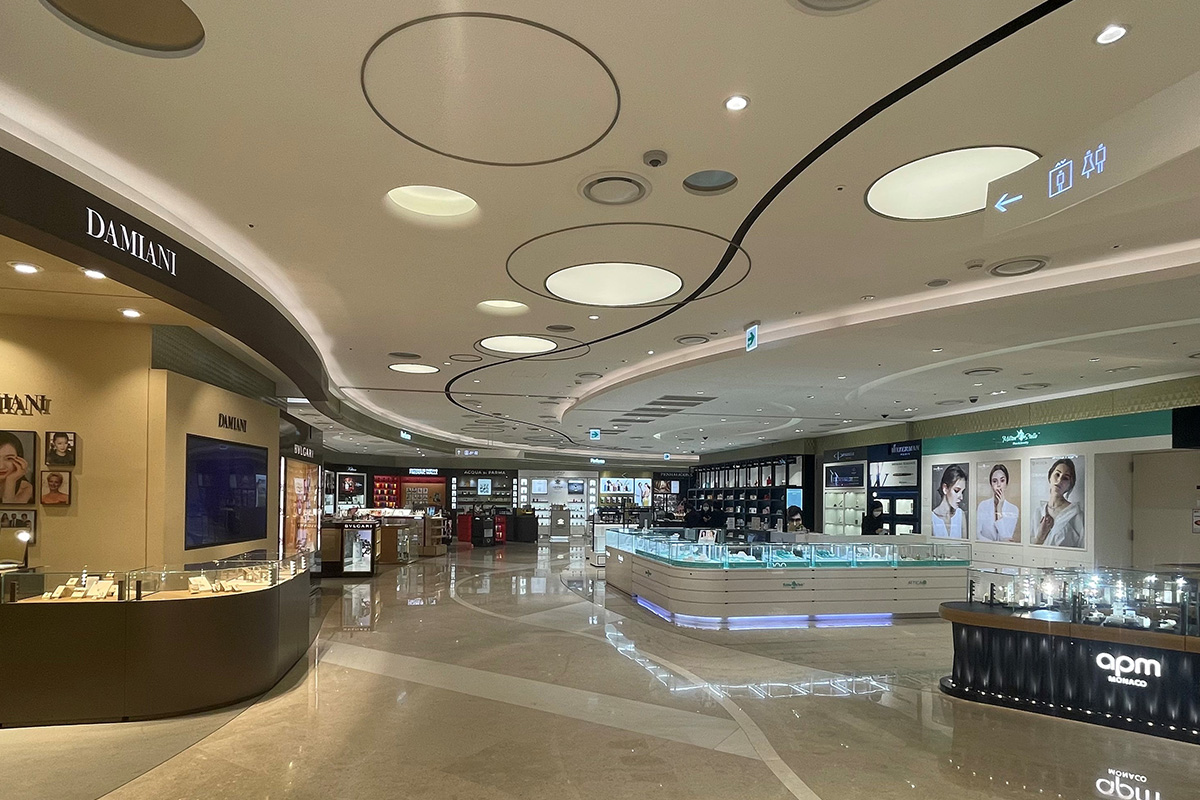 In this area, you can shop luxury brands such as Chanel, Cartier, Tiffany, and Hermes duty free! There is also a large selection of Korean cosmetic and clothing brands that you can shop from as well. If you are looking to get a good deal on luxury goods or want to buy some Korean products, make sure to look around this area!
76th-101F : Signiel Seoul Hotel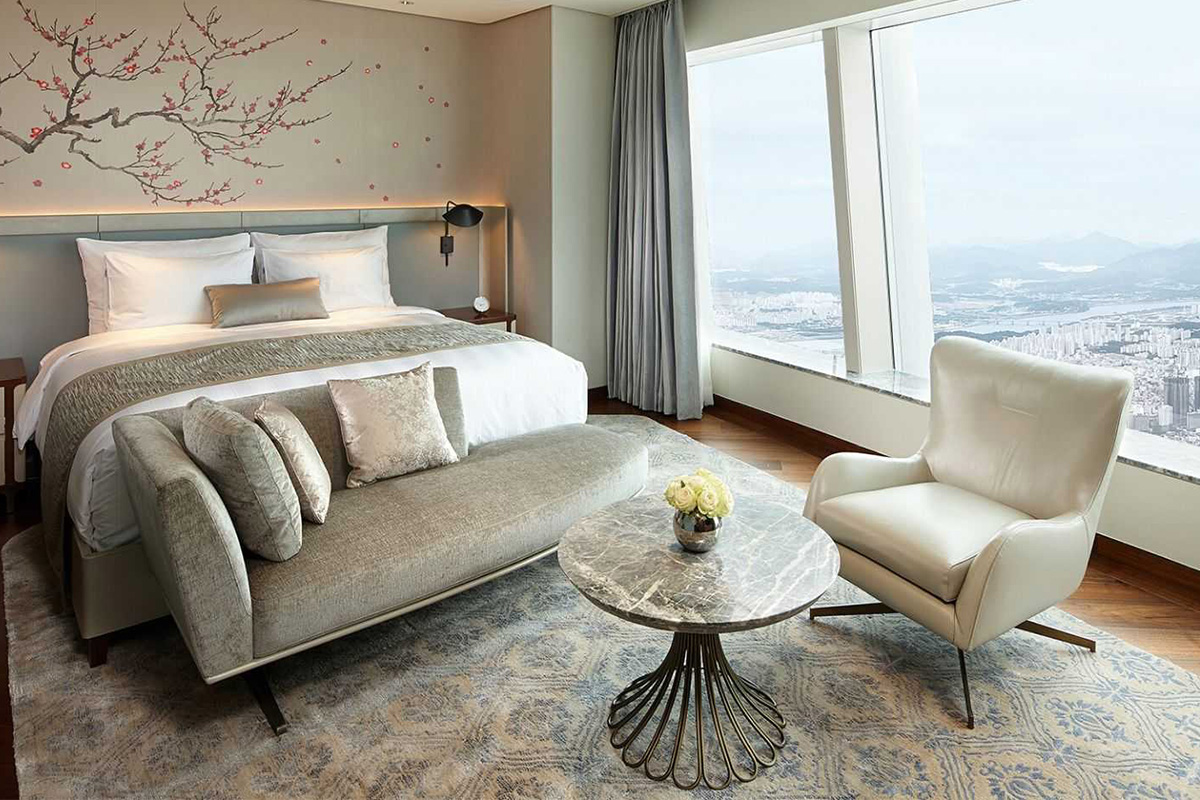 Signiel Seoul is the first luxury hotel in Korea and has a perfect blend of western and Korean elements in the hotel. They are known for having extremely good customer service as well as a very luxurious services and amenities for guests. Prices of Signiel hotels start at 650,000 KRW a night. You can take a look at detailed information and prices here.
117-123F: Seoul Sky Observation Deck
Hours: Sunday - Thursday 10:30 - 22:00 (ticket sales close and last group admission is 21:00) / Friday - Saturday 10:30 - 23:00 (ticket sales close and last group admission is 22:00)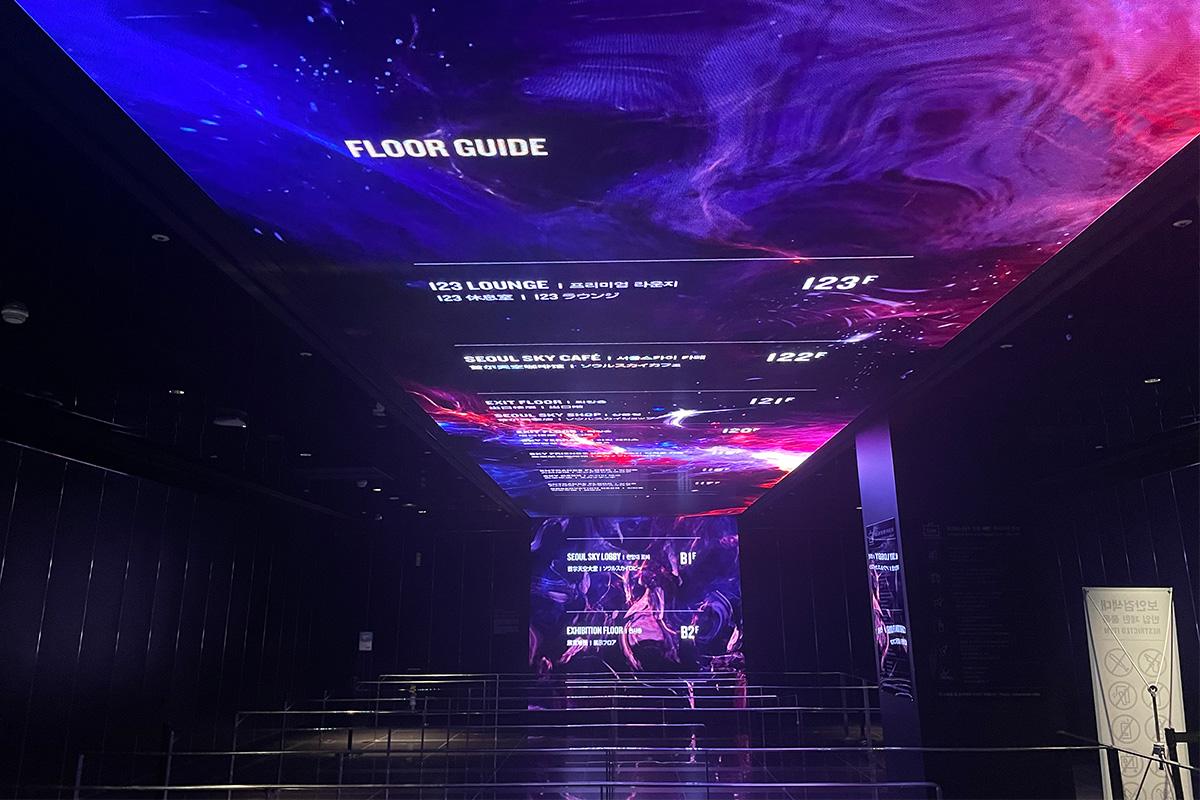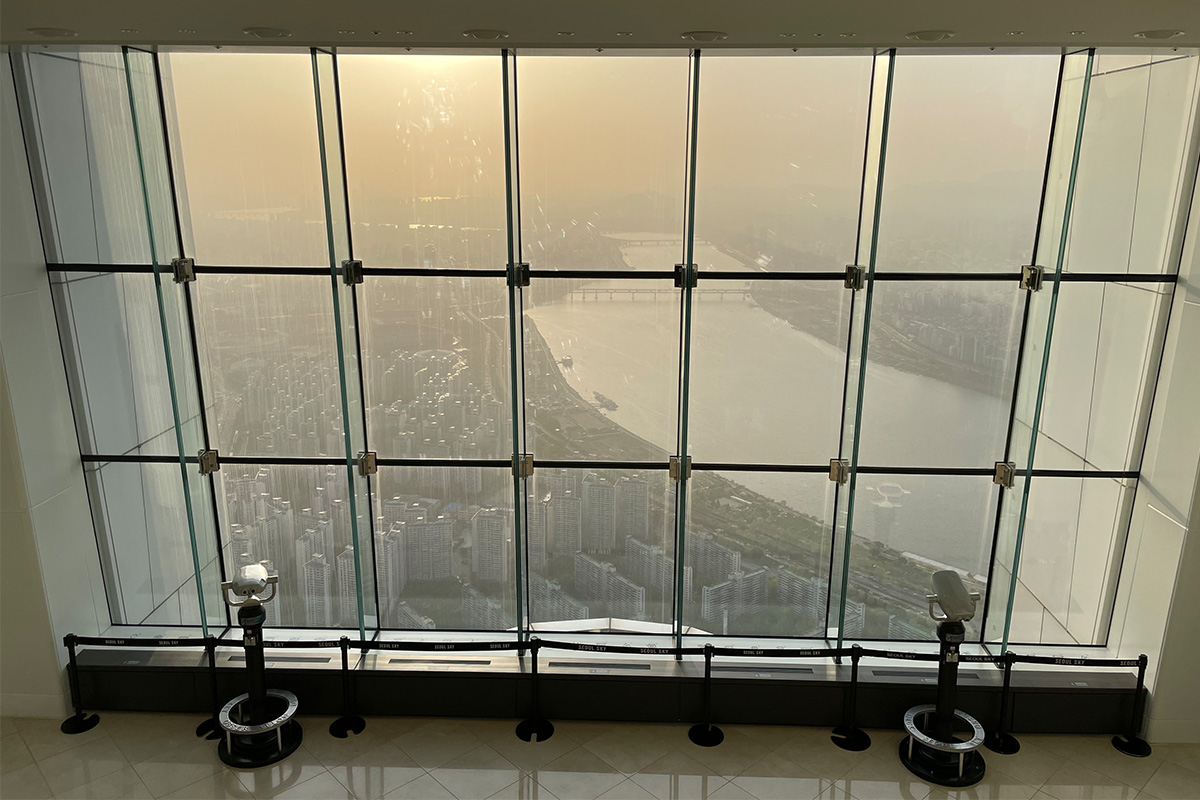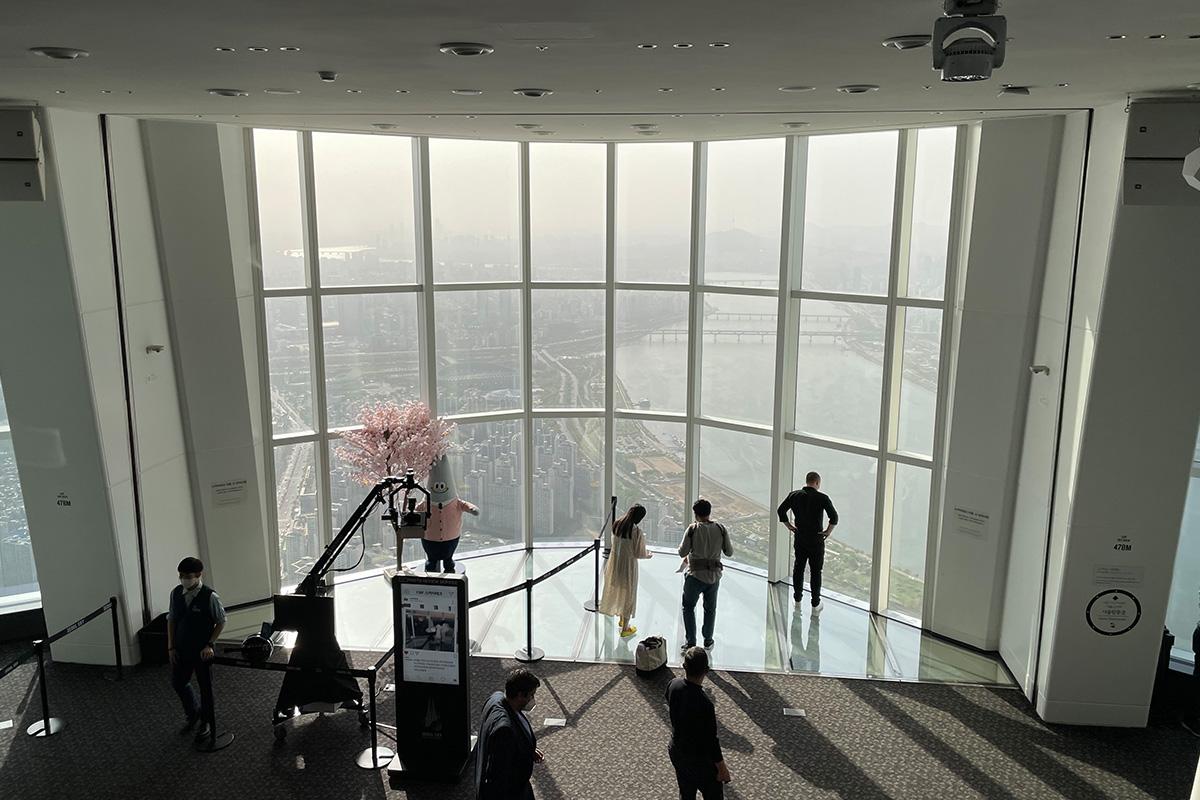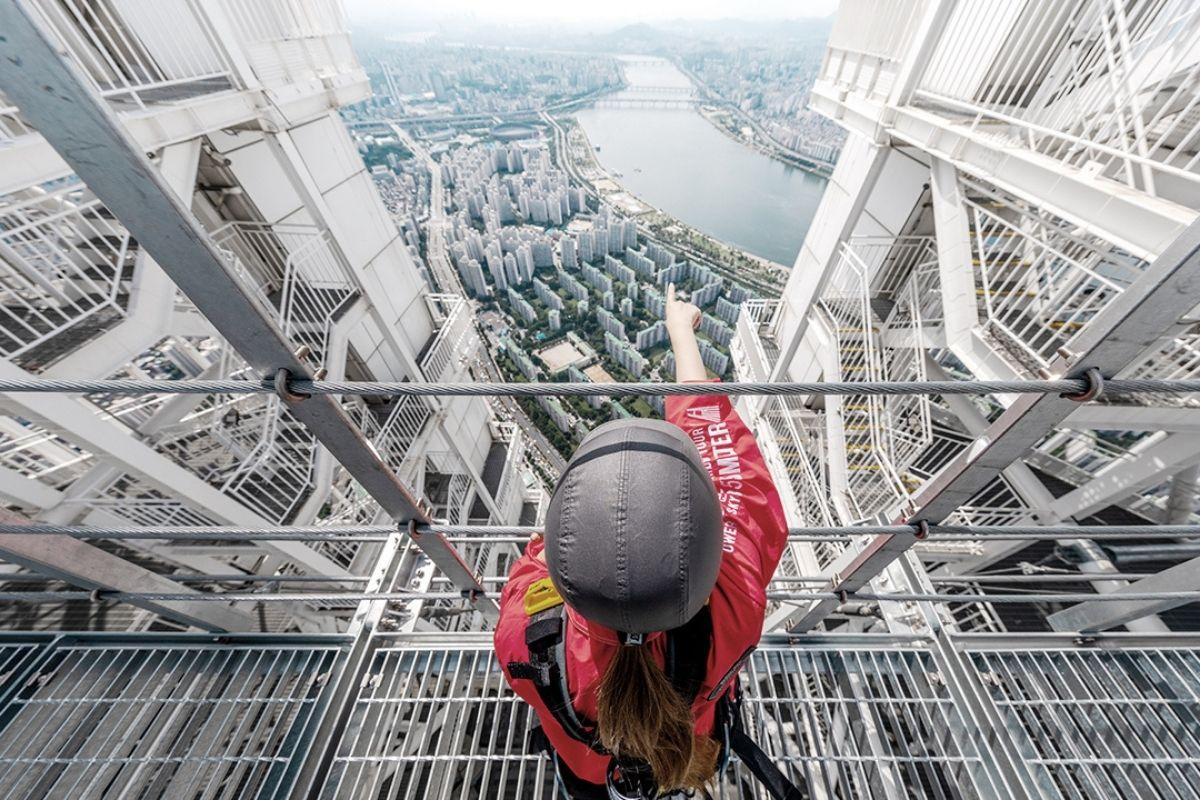 This is the tallest observatory in Seoul. You can overlook the beautiful skyline and views of Seoul from above and even get a discount if you book through Creatrip! There is also a very fun Sky Bridge Tour, where you can walk on the 541m tall bridge that connects the Lotte Tower buildings. If you are not afraid of heights and looking for a bit of an adrenaline buzz, this is perfect for you.
2. Avenuel
Hours: Monday - Thursday 10:30 - 20:00 / Friday - Sunday 10:30 - 08:30
Restaurant: Daily 10:30 - 21:00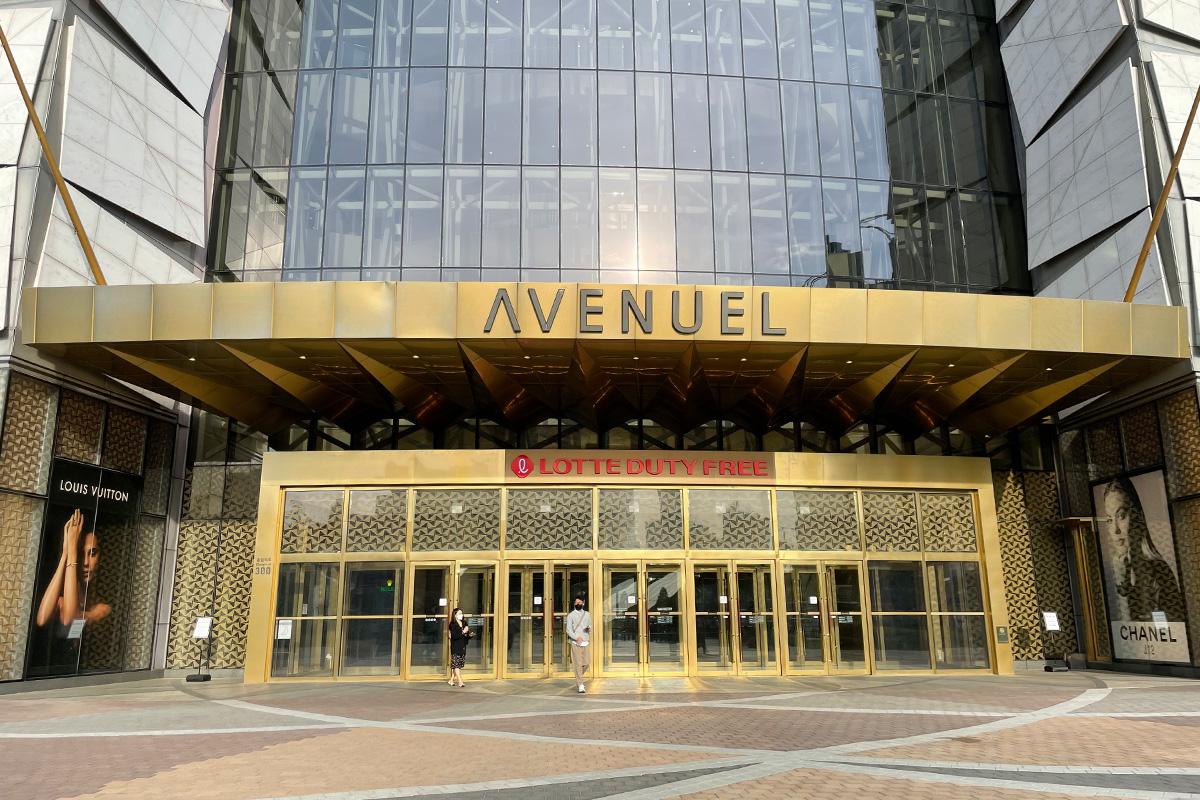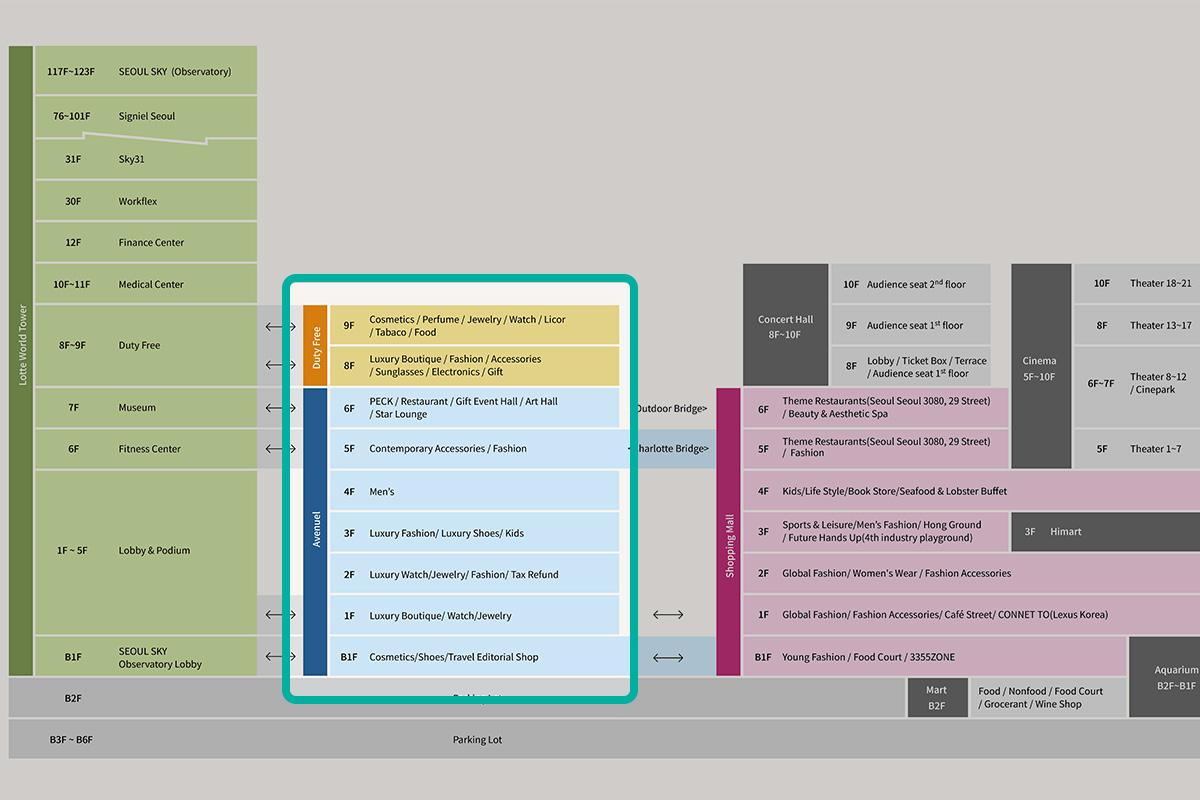 Most of the brands available here are famous luxury brands such as Gucci, Dior, Diptique, Chanel, Louis Vuitton! This is a heaven for those that want to partake in some luxury shopping!
B1 F: Cosmetics
When entering the first floor, you will see the cosmetic department. There are also chocolate shops such as Godiva, as well as cafes like Angel-in-us where you can sit and relax and eat some snacks to replenish your energy after some shopping!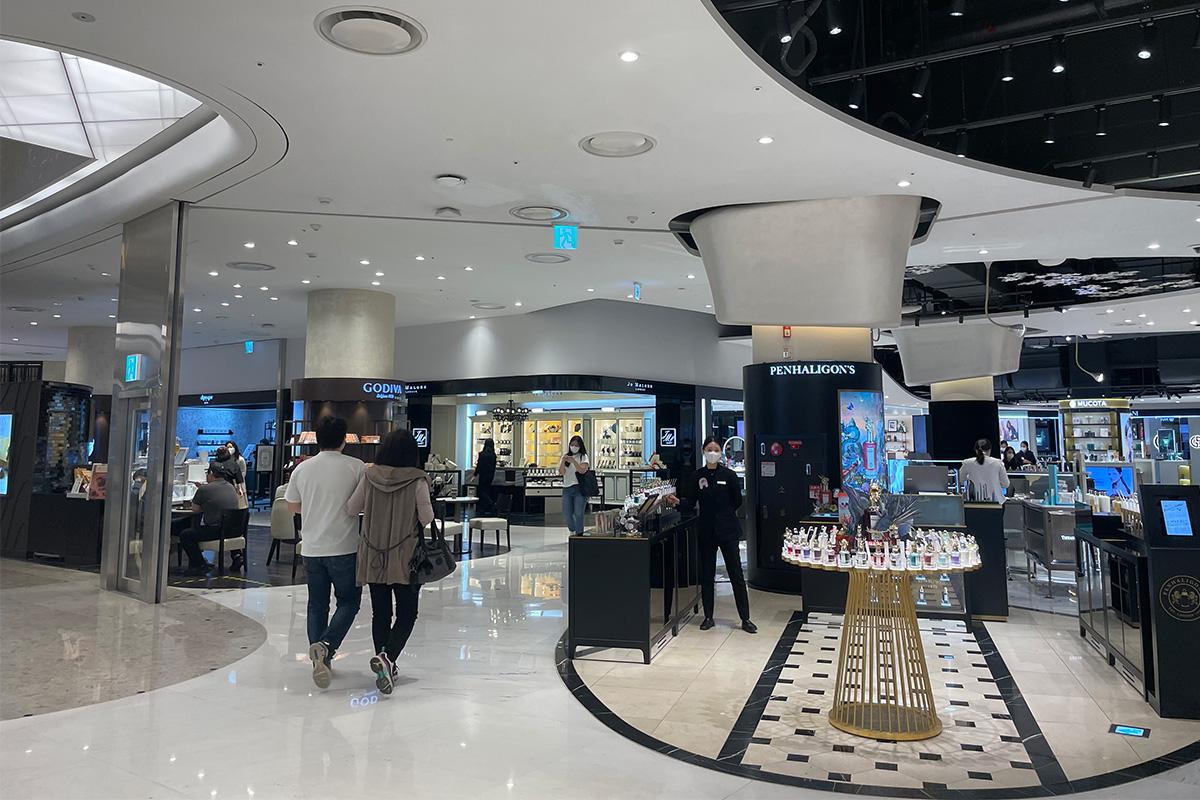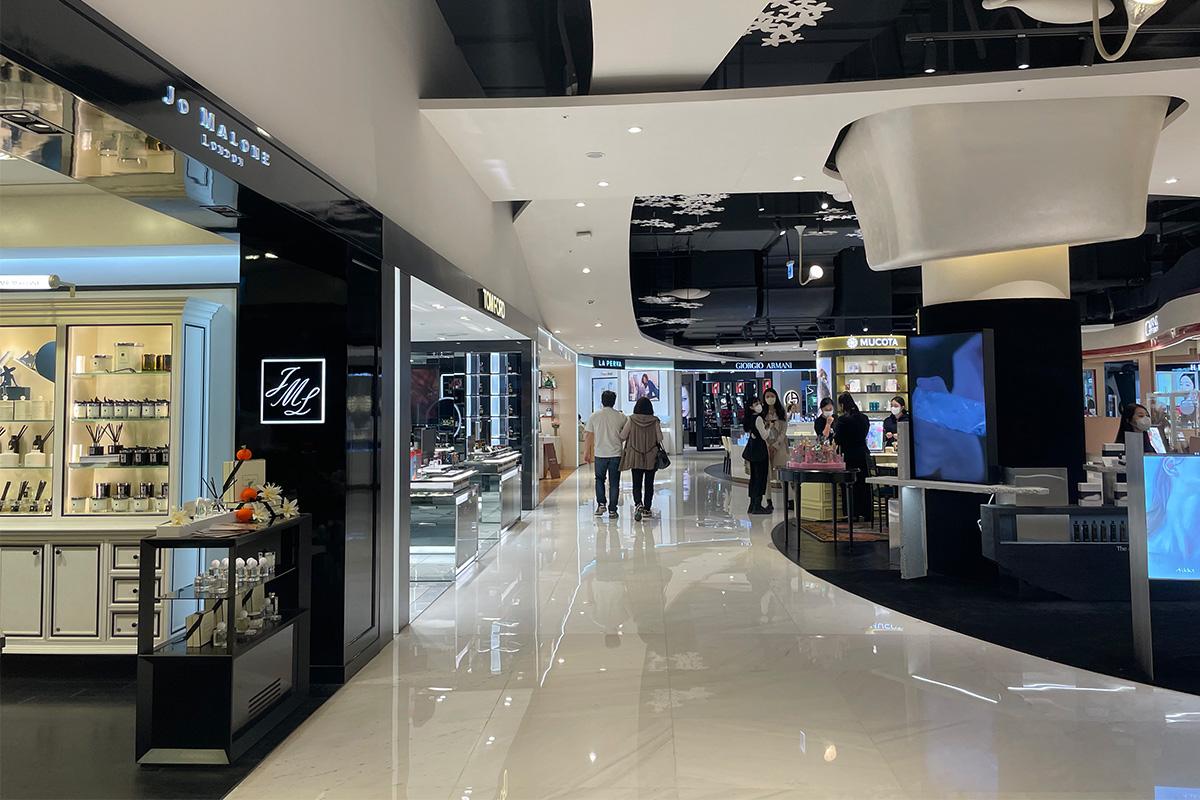 1-3 F: Luxury Products
The 1-3 floor also has many luxury products and brands that you can shop from. We recommend that you go on weekdays as these shops can get really long lines and very crowded on the weekend. Brands and shops here range from Gucci to Chanel and sell everything from bags to watches and other accessories!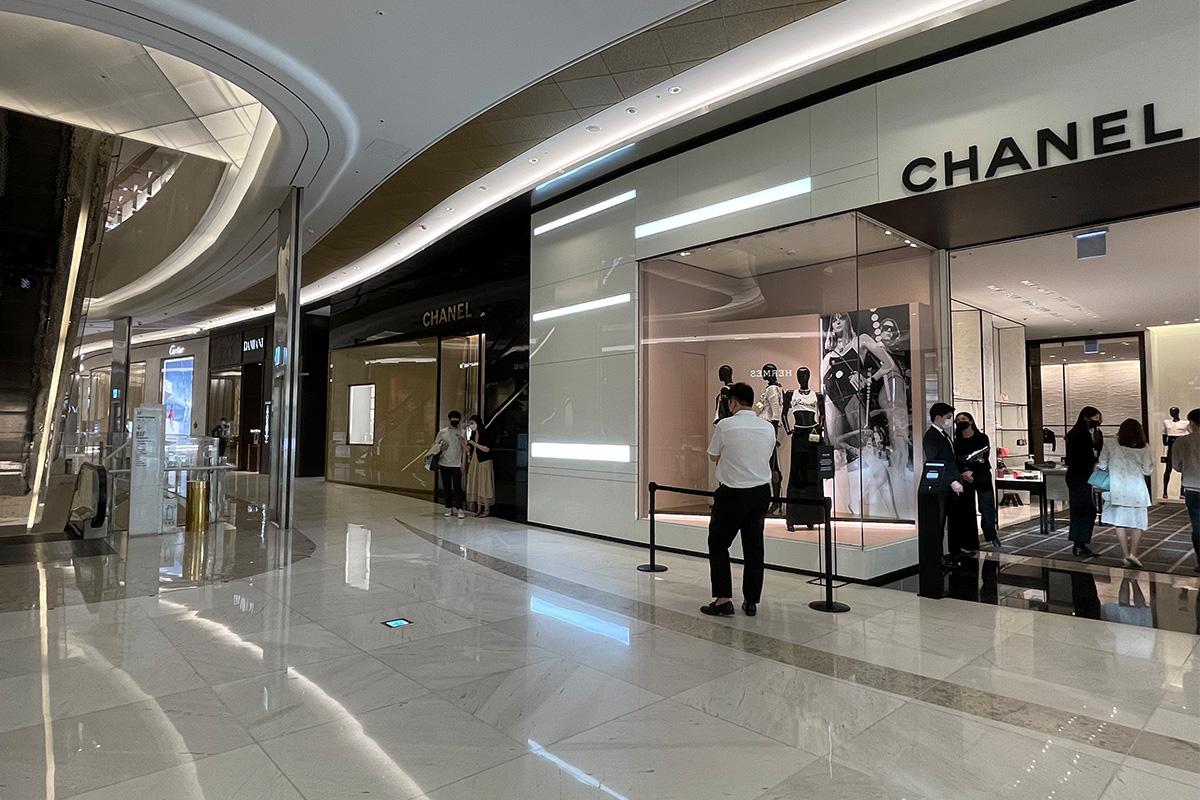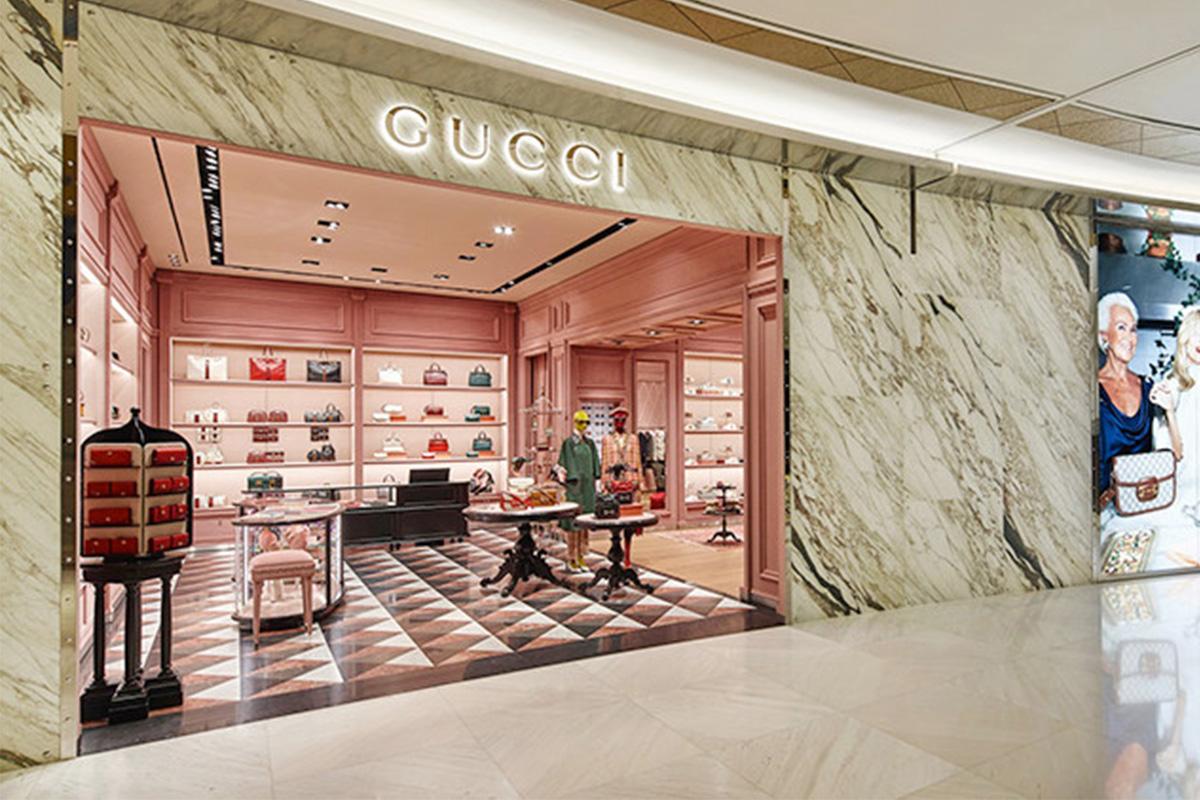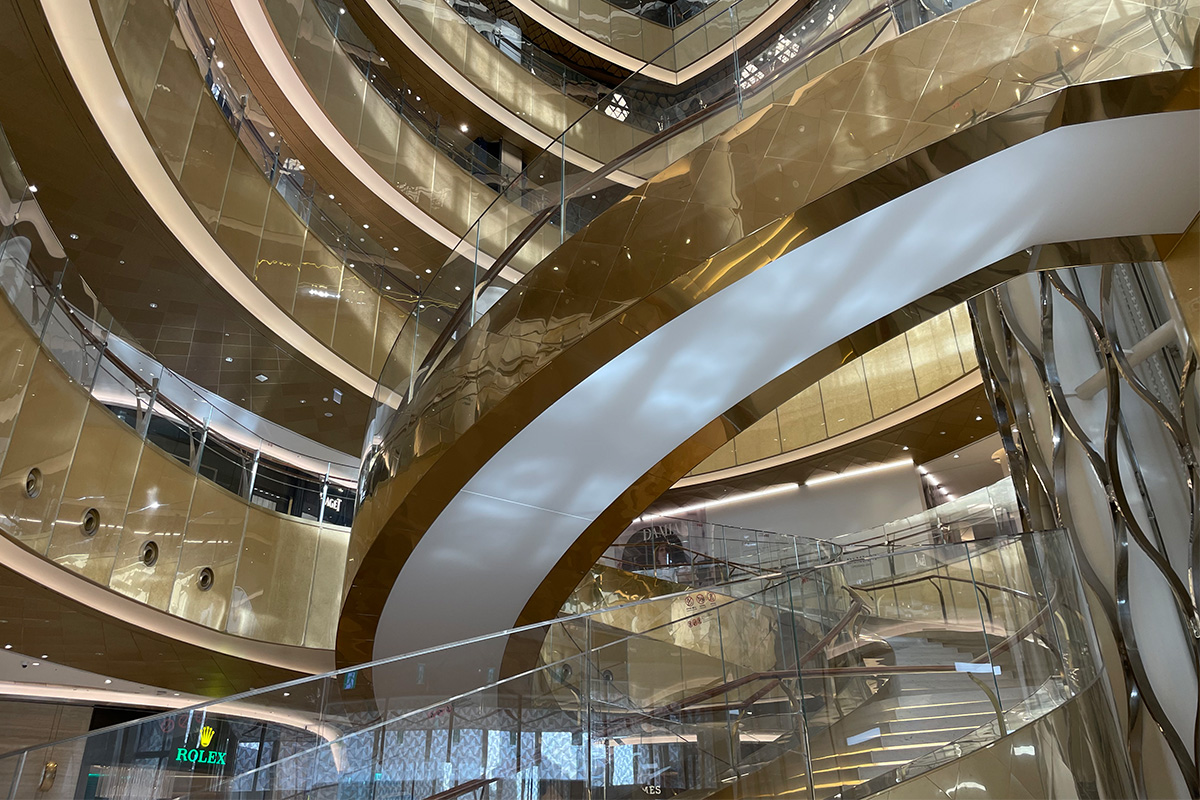 4-6 Floor: Men's clothing, accessories, restaurants, and cafes
If you are hungry you can walk up to this area and enjoy some of the restaurants and cafes here. You can sit and relax after shopping and replenish your energy (to continue shopping of course!)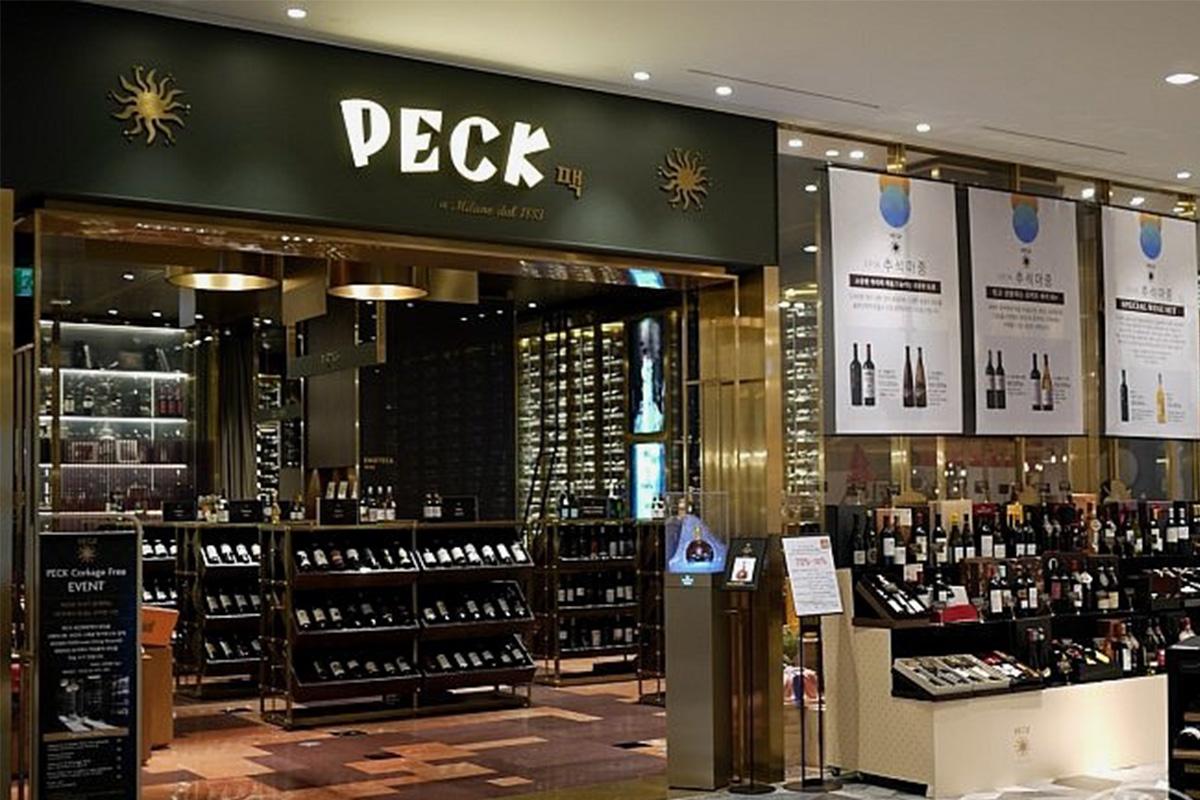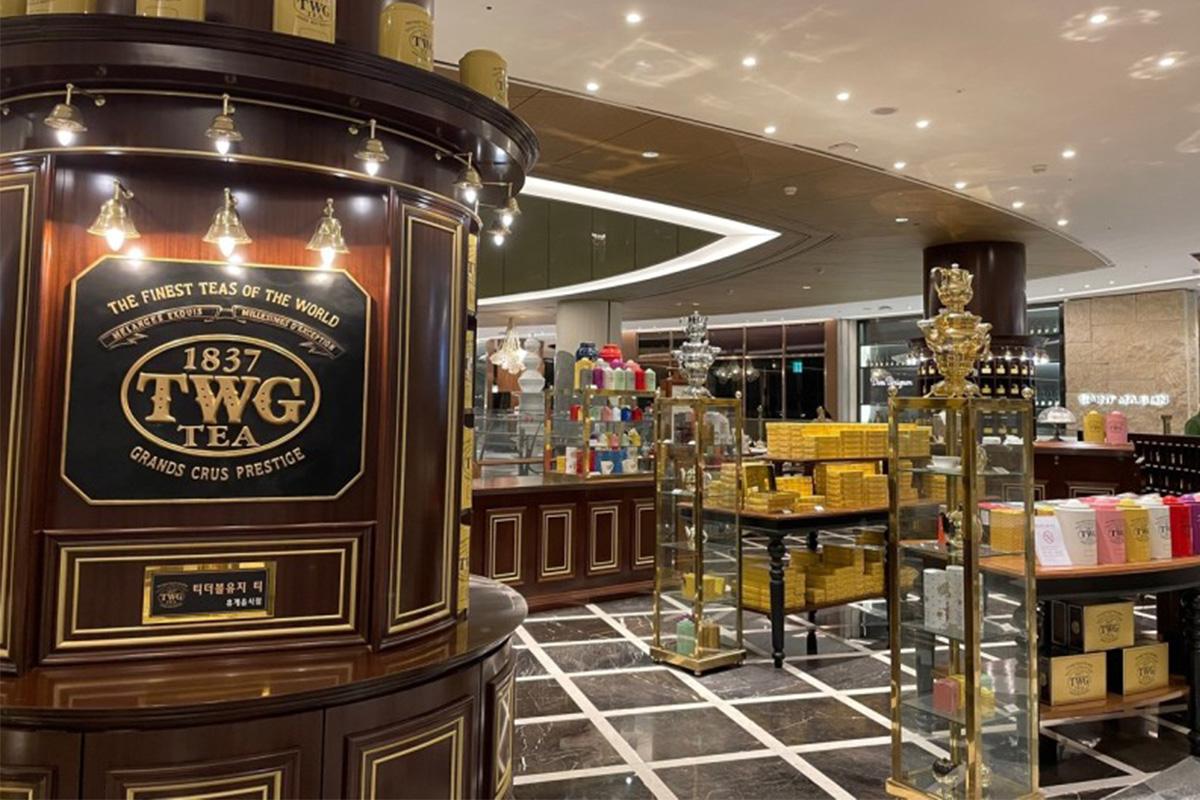 8-9 F: Lotte Duty Free
H0urs: 09:30 - 06:30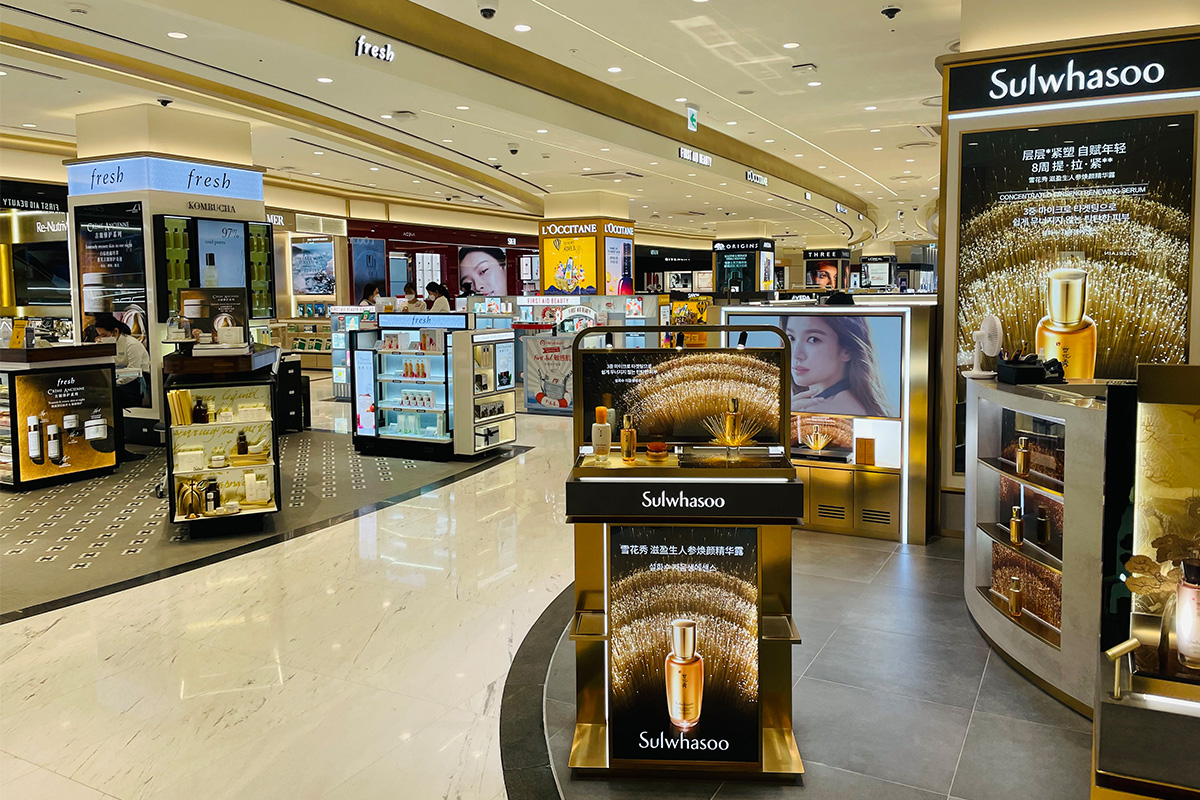 This duty free area is the largest in Korea! Check out all the selection of stores here.
3. Shopping Mall
Hours: 10:30 - 22:00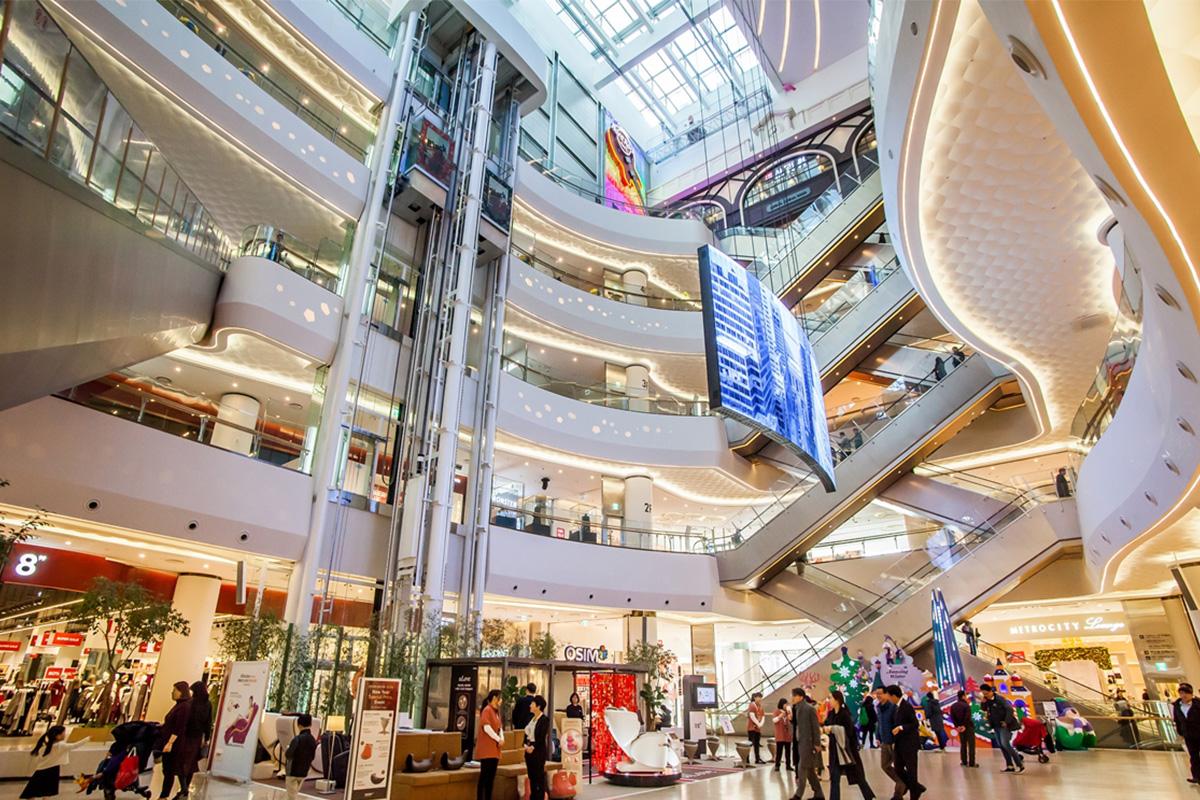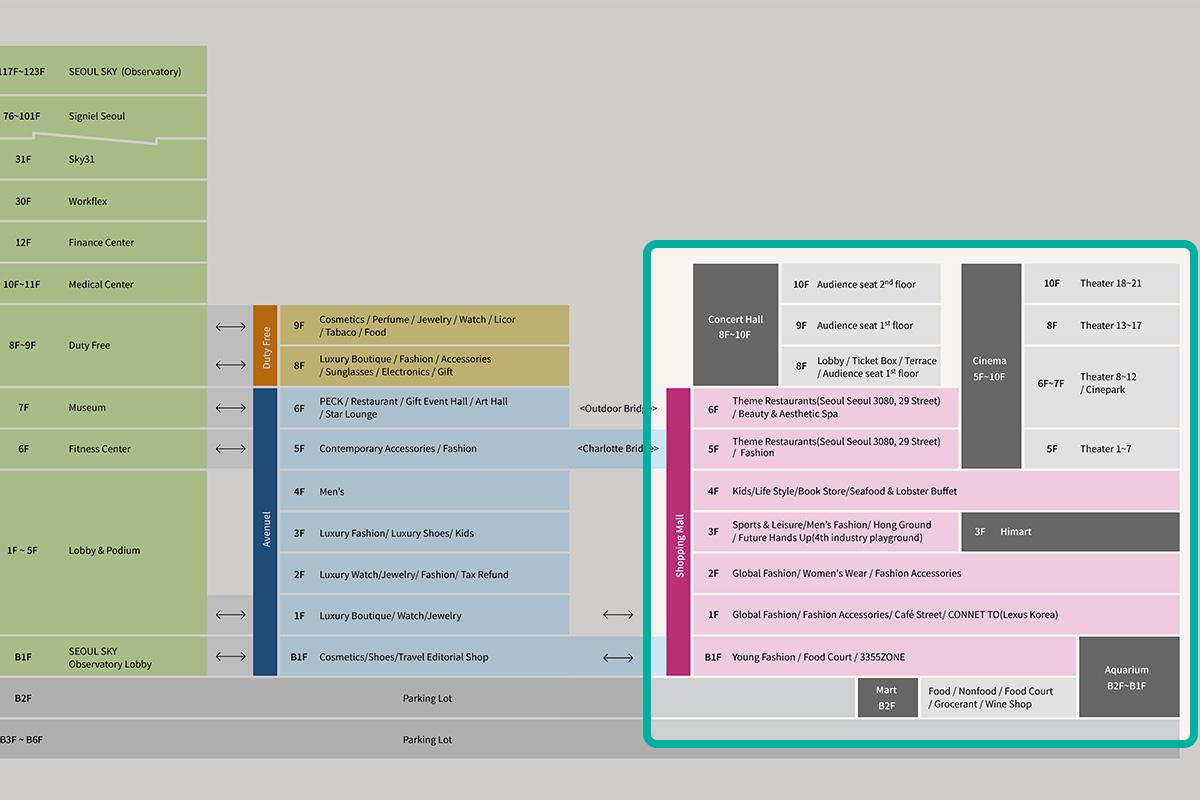 In the shopping mall zone, this area also has a cinema, supermarket, aquarium, and concert hall!
B1-B2 F: Lotte World Aquarium, Lotte Mart
Hours: Monday- Thursday 10:00- 20:00 / Friday - Sunday, Public Holidays: 10:00 - 22:00
Price: ~ 16 USD if you book through Creatrip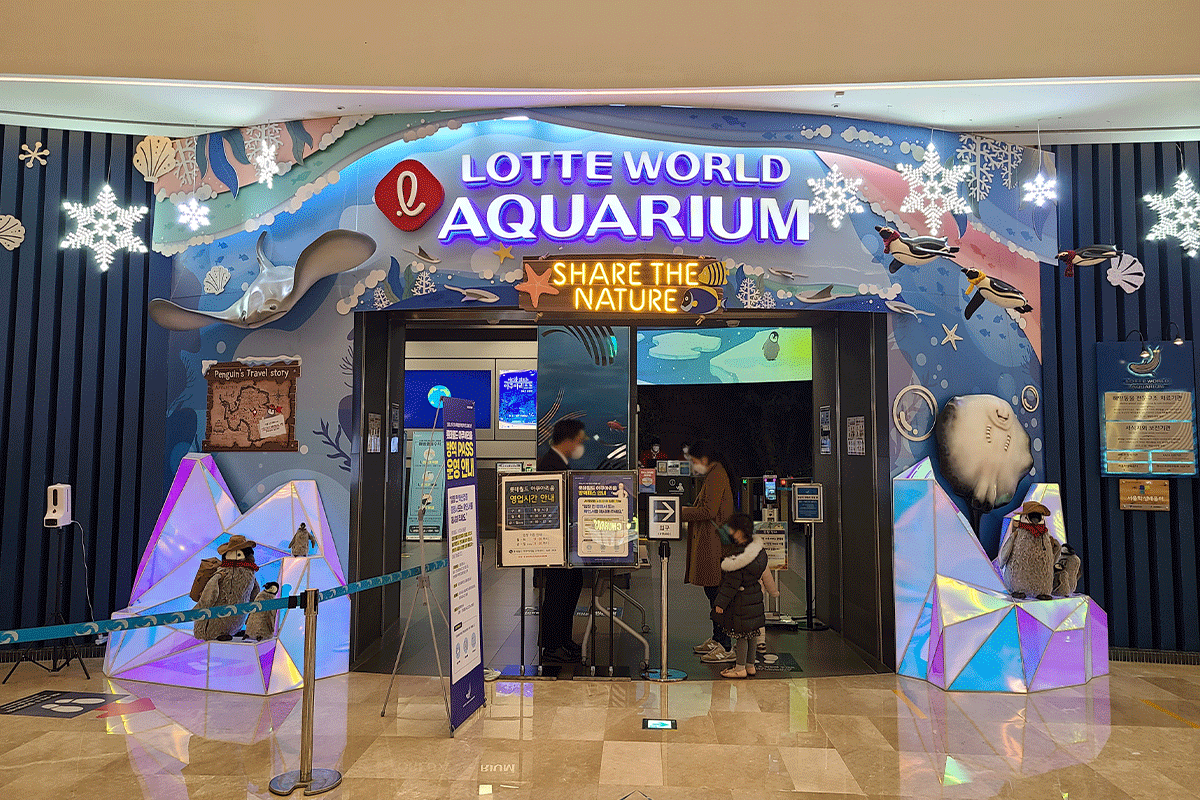 The Lotte World Aquarium is home to a total of 55,000 marine creatures from 650 different species! For those that reserve entry tickets via Creatrip, you can get them at a discounted price!
There is also a mart here called Lotte Mart. At this mart, you can get a huge variety of fresh produce as well as a food court with a large variety of options to eat! Many of the options at the food court are very affordable, so if you are on a budget you can get a meal here.
Hours: 10:00 - 23:00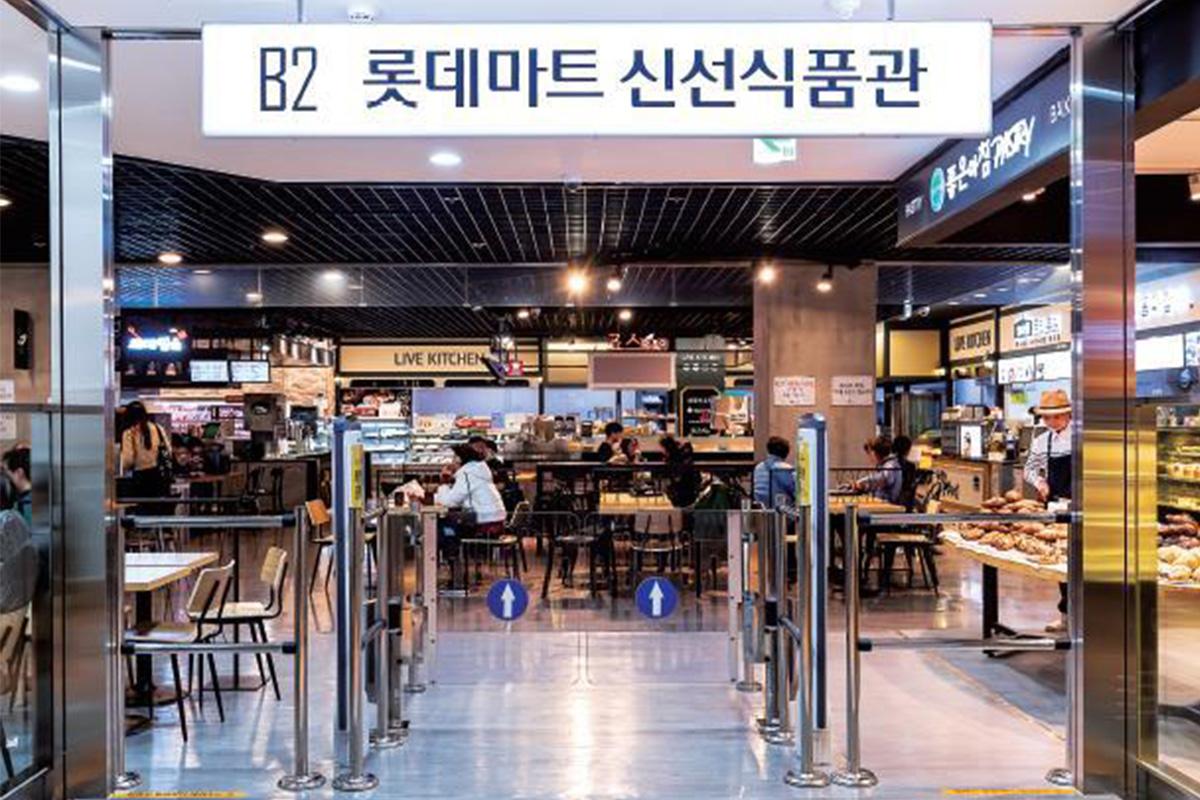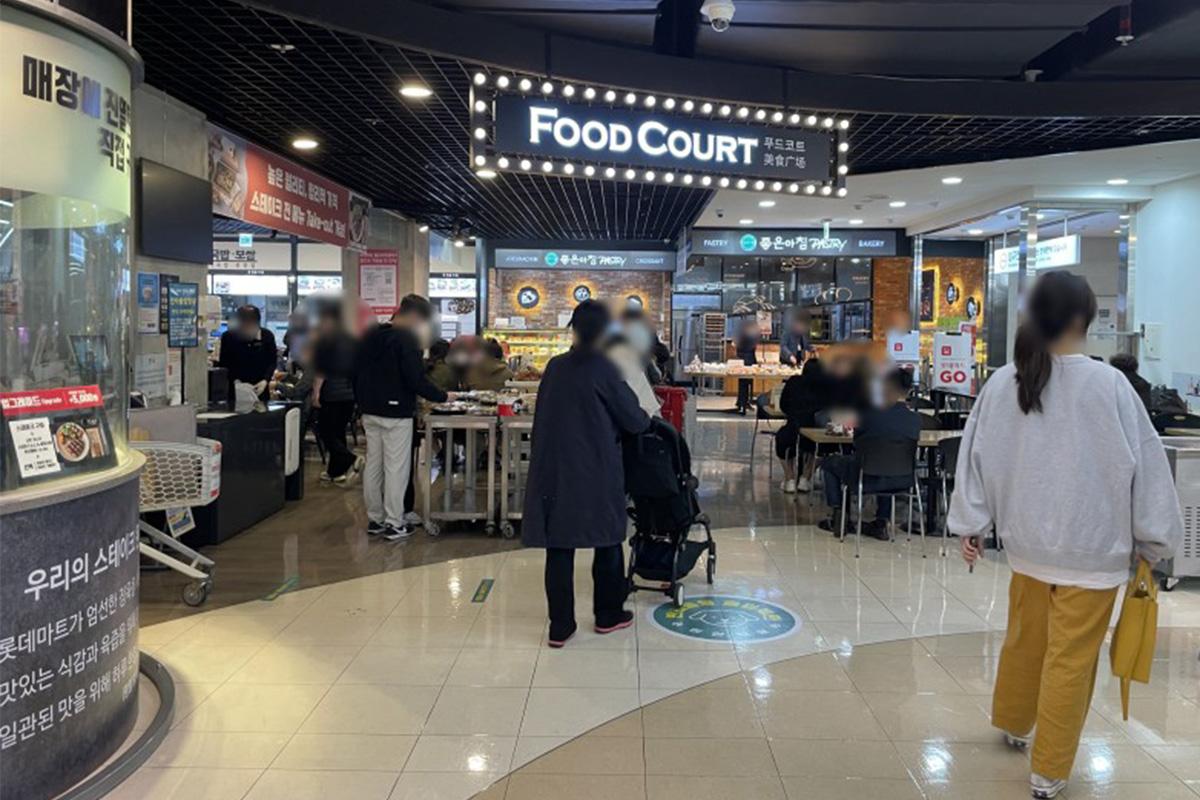 B1-2: International Fashion Brands
In this two-floor area houses many international brands such as Gentle Monster, Dior, H&M, Zara, NBA and Maison Margiela as well as many Korean multi-shops such as ALAND. If you want to shop for more affordable and accessible brands, you can take a look around this area of the mall.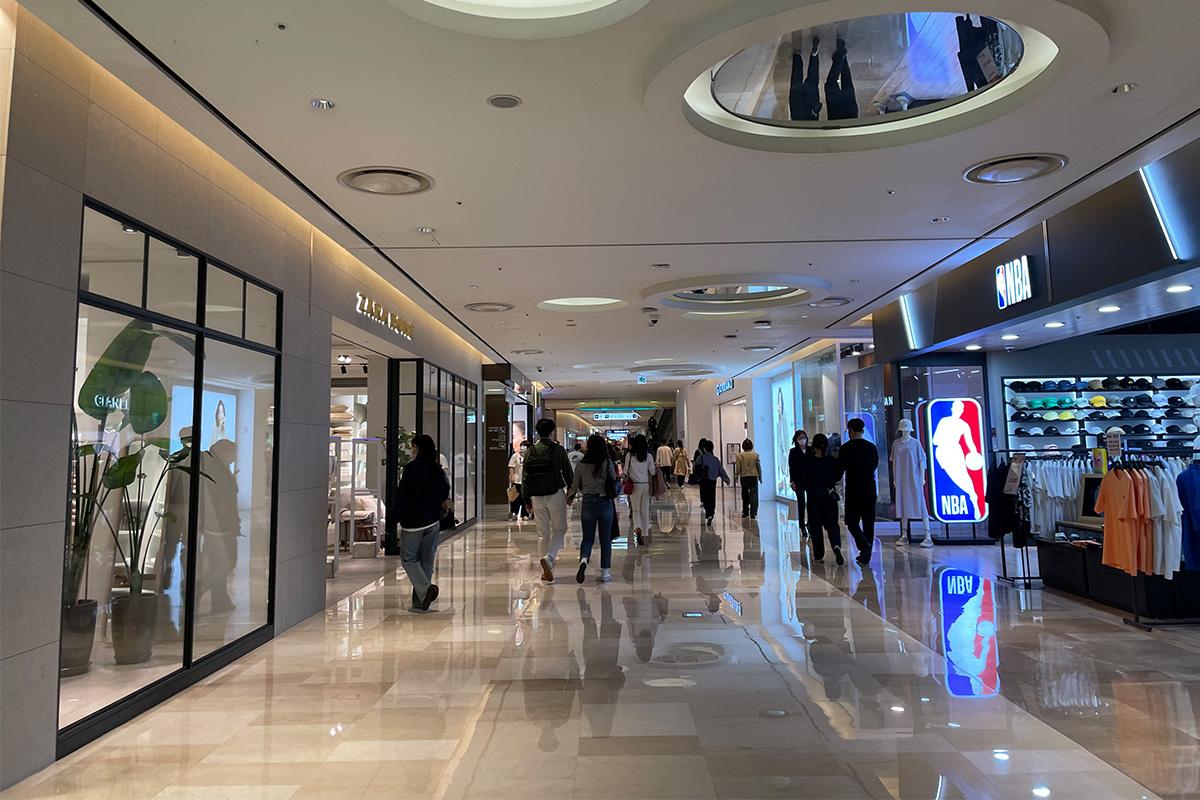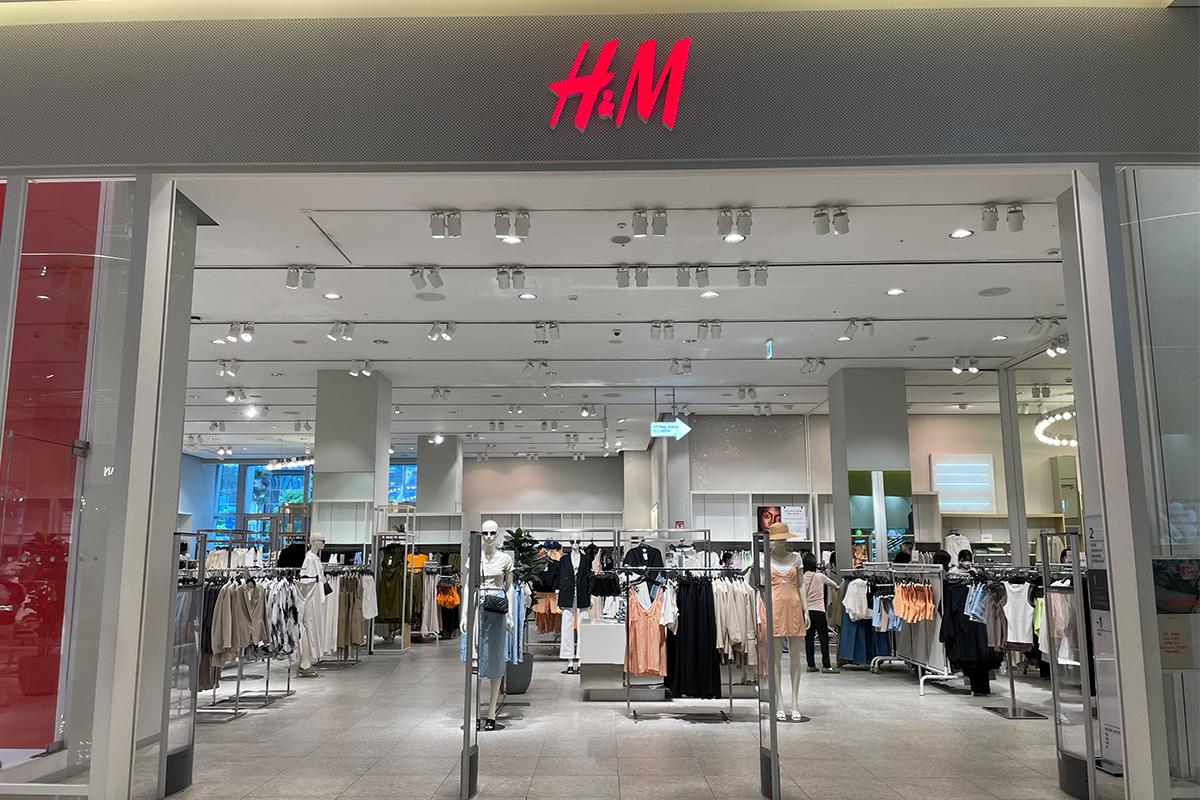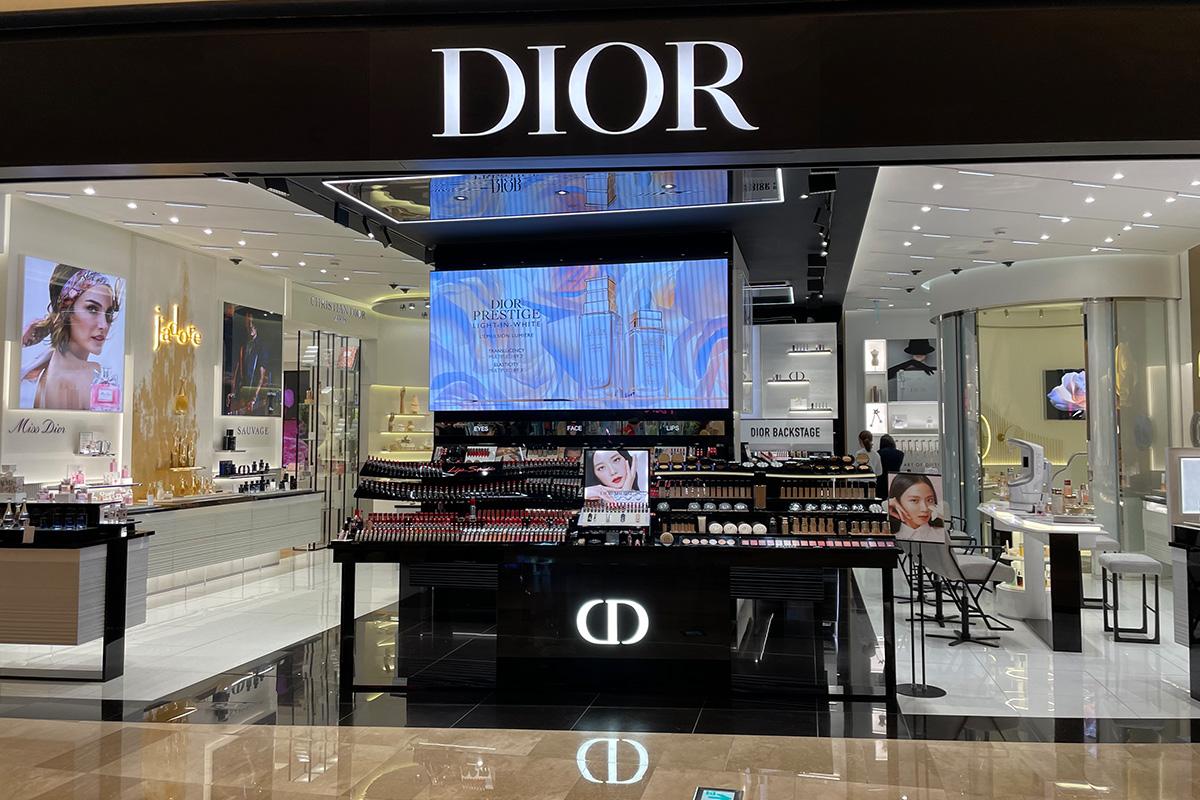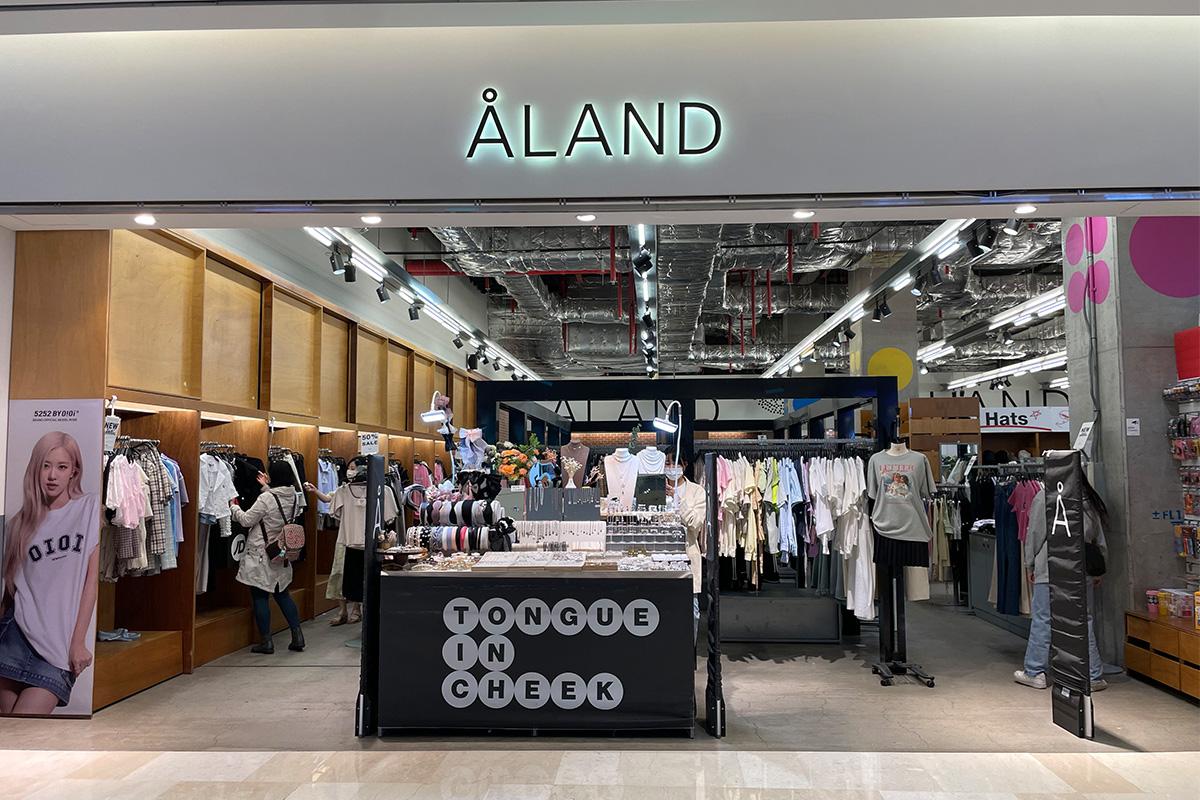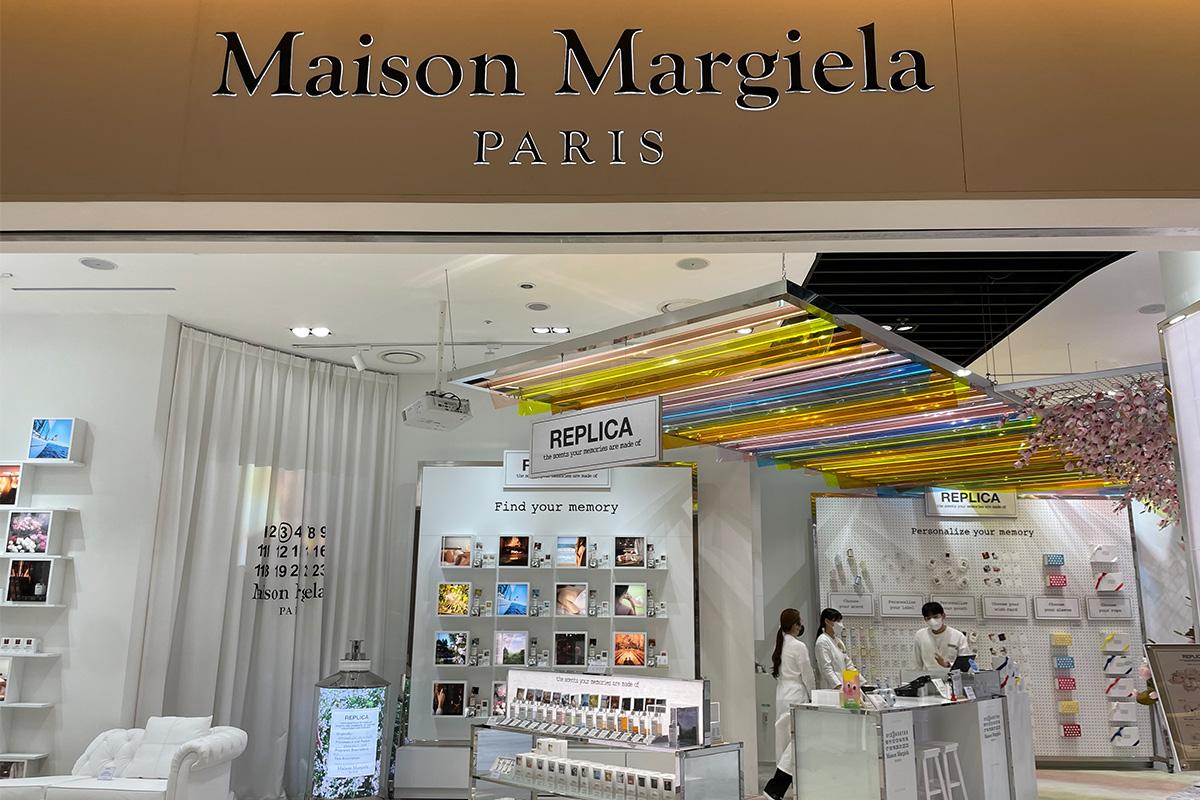 3-4 F: Lotte Himart, Children's Zone
Hours: 10:30- 22:00
If you are on the 3rd floor, check out Himart, which is a store that sells various electronic items such as rice cookers, TVs, and also small electronic items such as phones and headphones.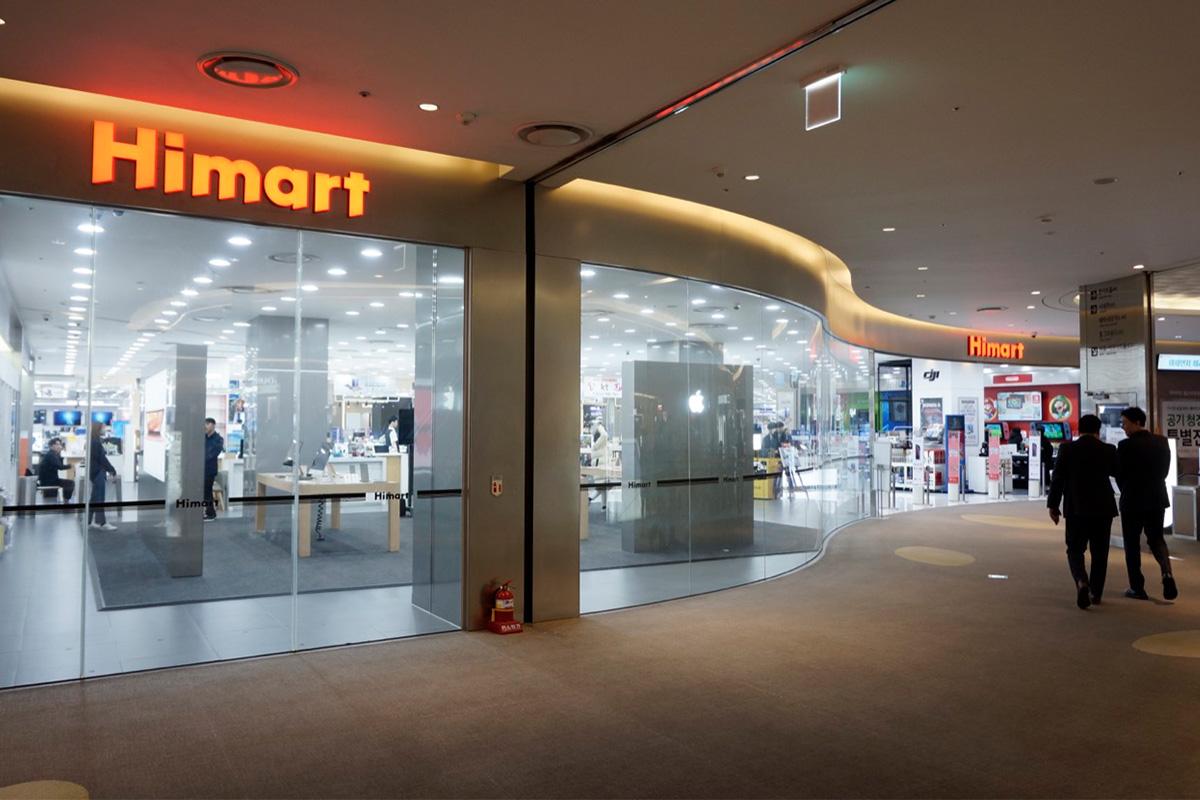 Also on the 4th floor, there are many children's play zones and game zones for children to play and spend time at.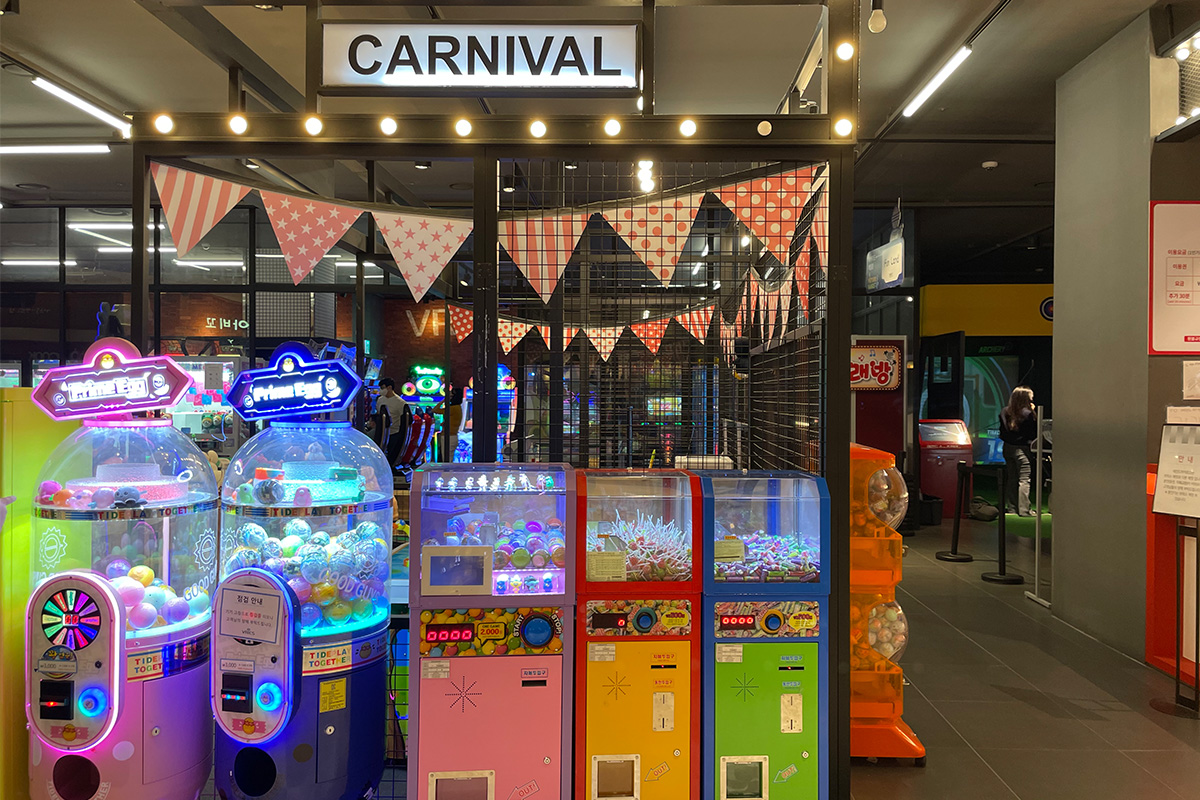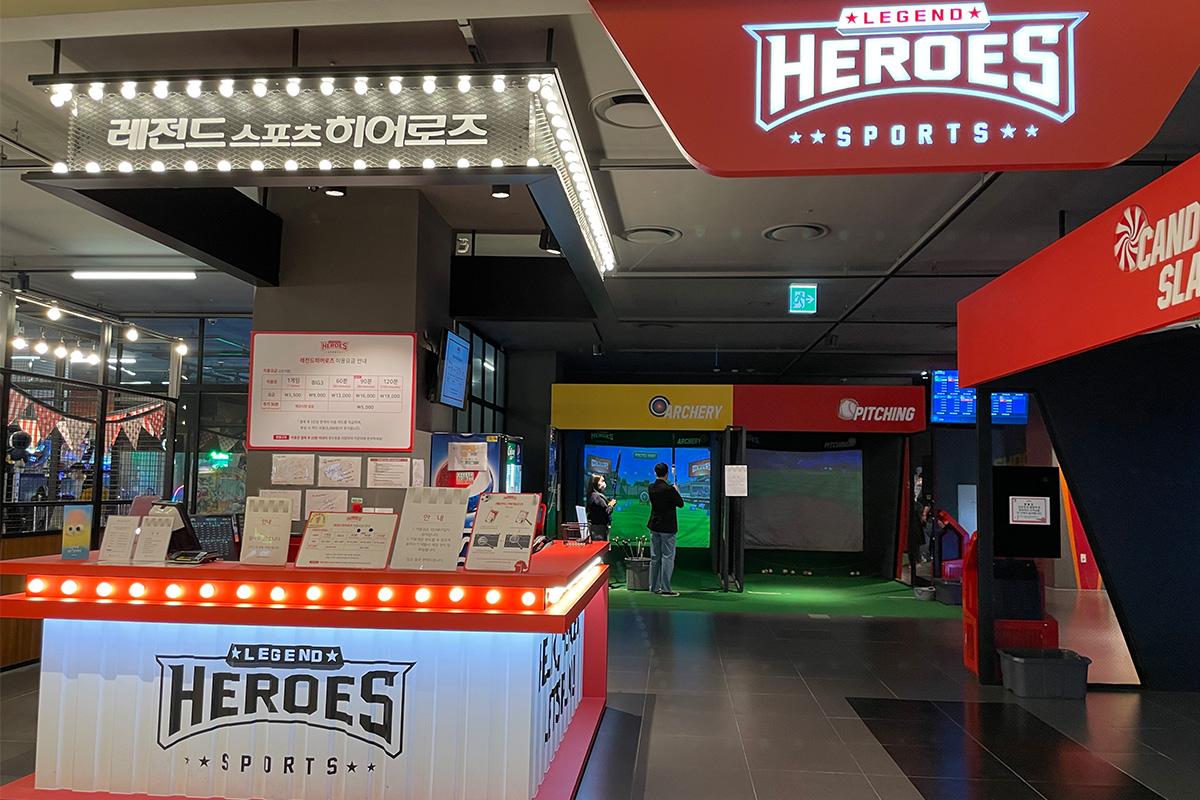 5-6 F: Restaurants, Lotte Cinema
On the 5th and 6th floor, there are many restaurants for everyone to choose from. There is a large selection of food options ranging from Korean food to western food and even a large selection of cafes!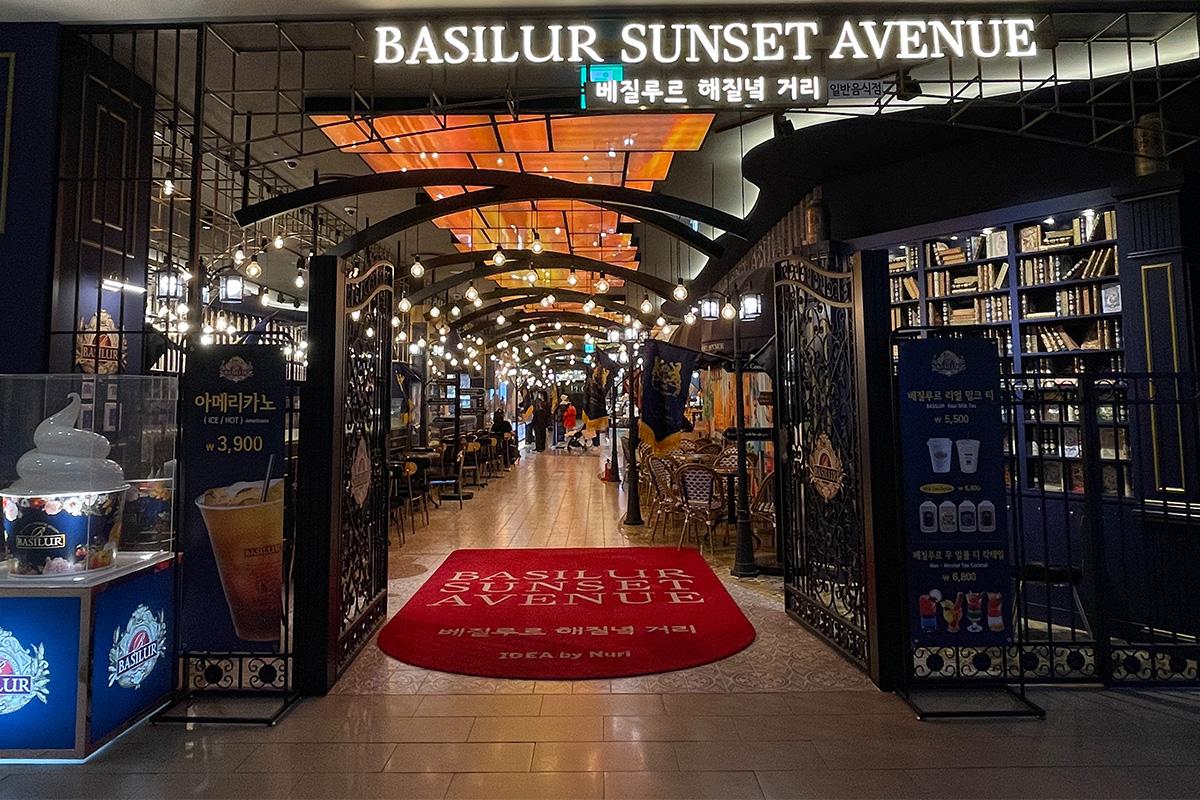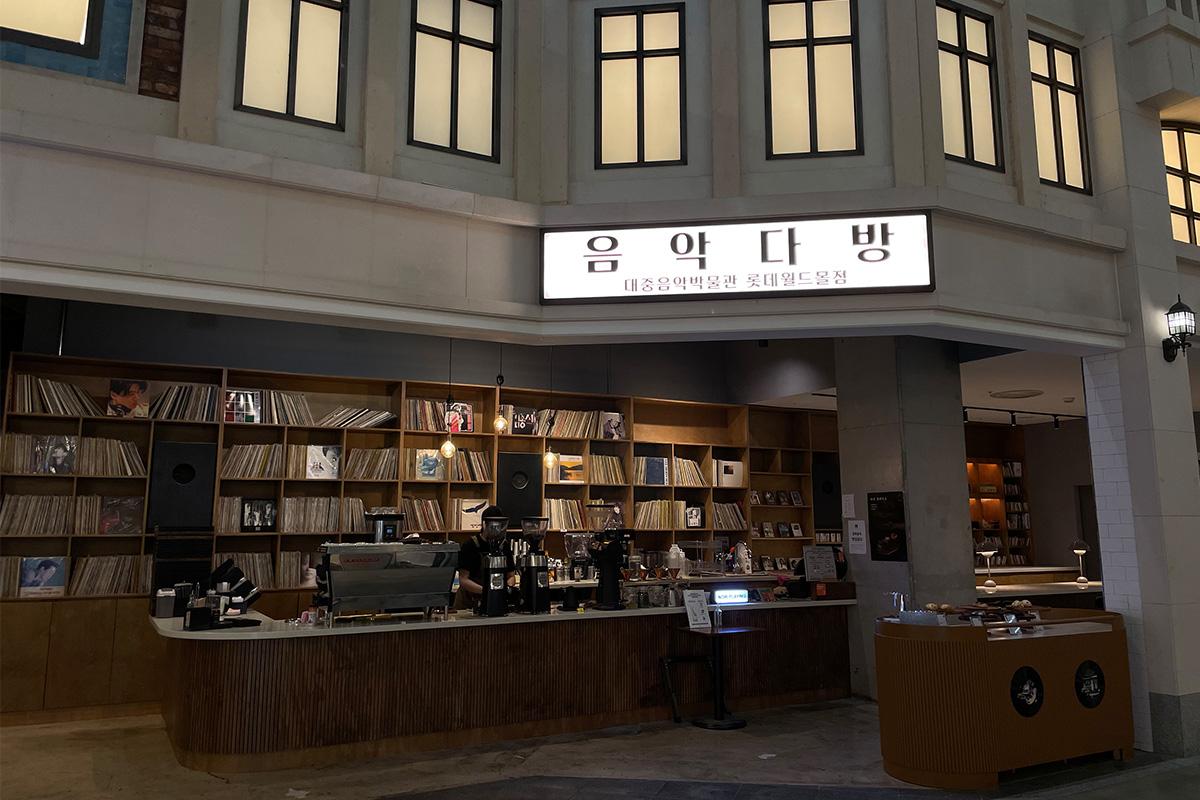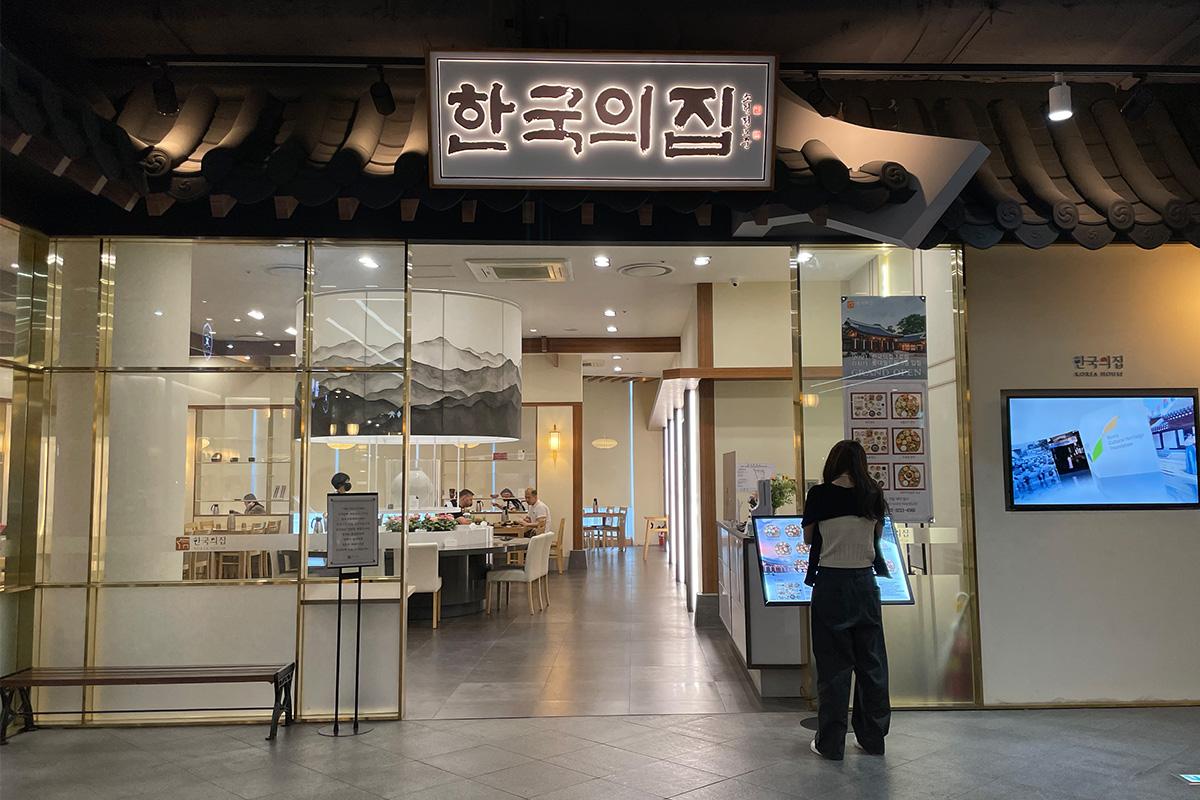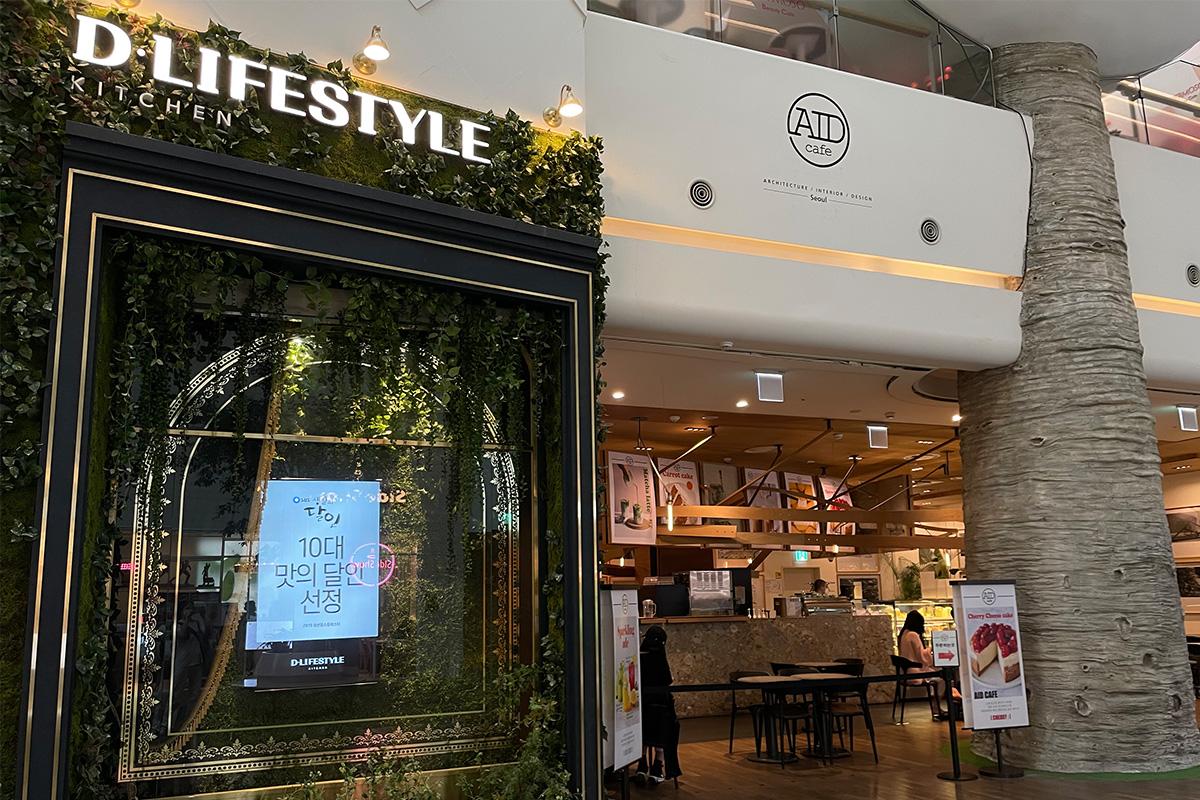 In addition, from the 6th floor onwards, there is also a Lotte Cinema. There are many different types of screens and the screens are very big so many Koreans love to come here to watch action movies!
Hours: According to the movie showtimes (The schedule for each day is different)
Sky Bridge Tour Travel
When getting off at Jamsil Station, walk to exit 1,2 and you will find the entrance of Lotte World Tower on the shopping mall side of the building.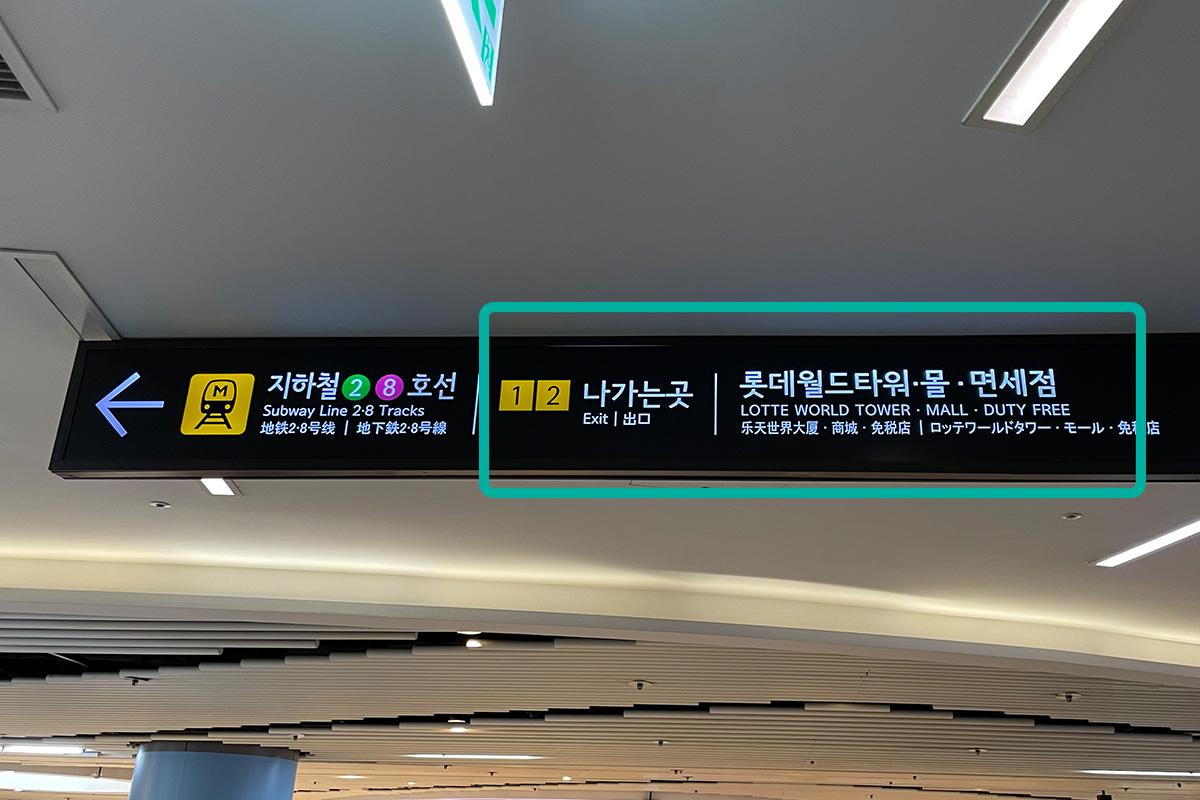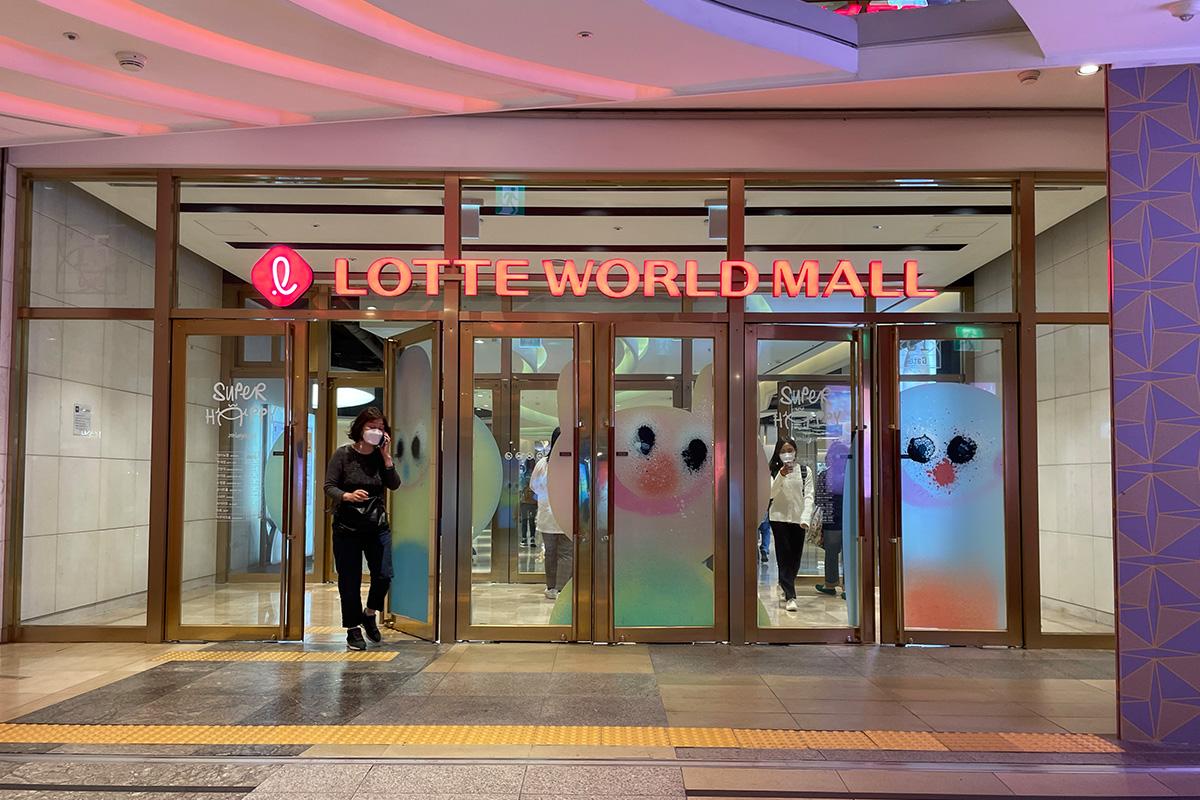 Because the 3 buildings of Lotte World Tower are connected, we suggest that you take a look at all the different paths and ways to navigate through the buildings so you can properly get to your desired destination.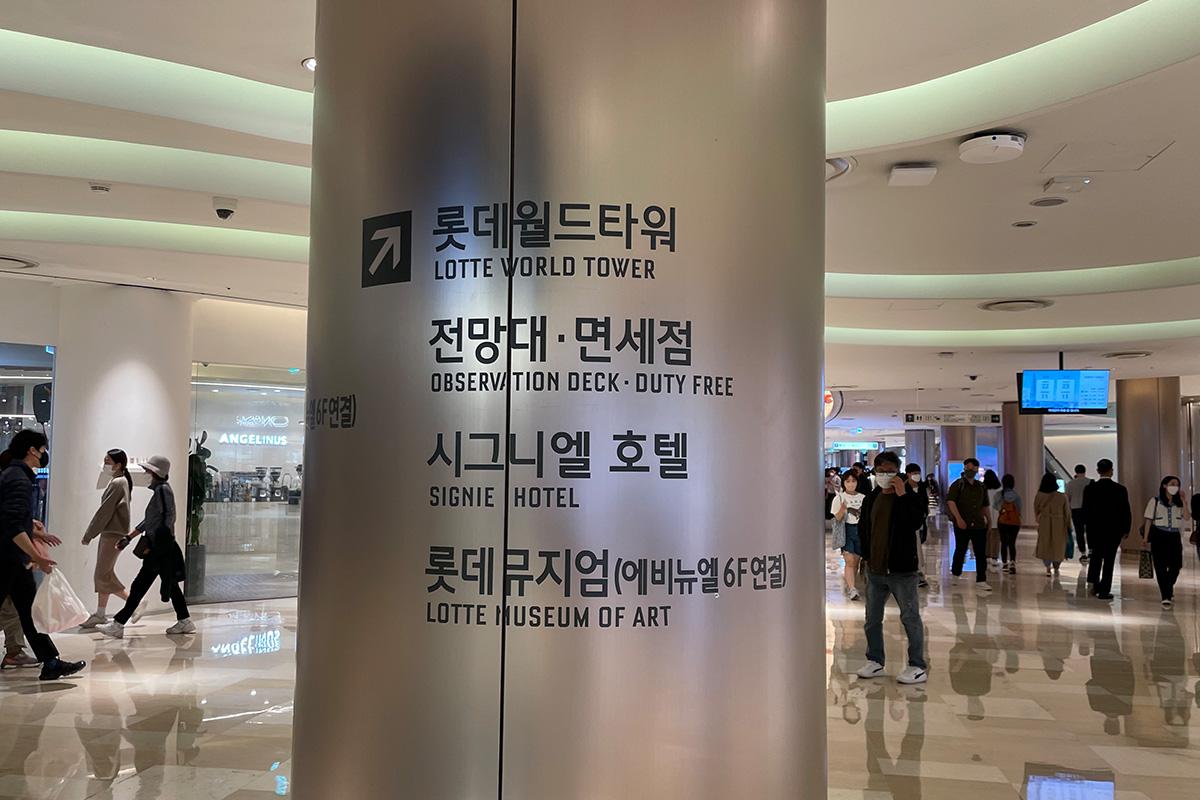 You can use the map displayed in the photo above. The machine will map out the route and explain how to get to your destination so you do not have to worry about getting lost!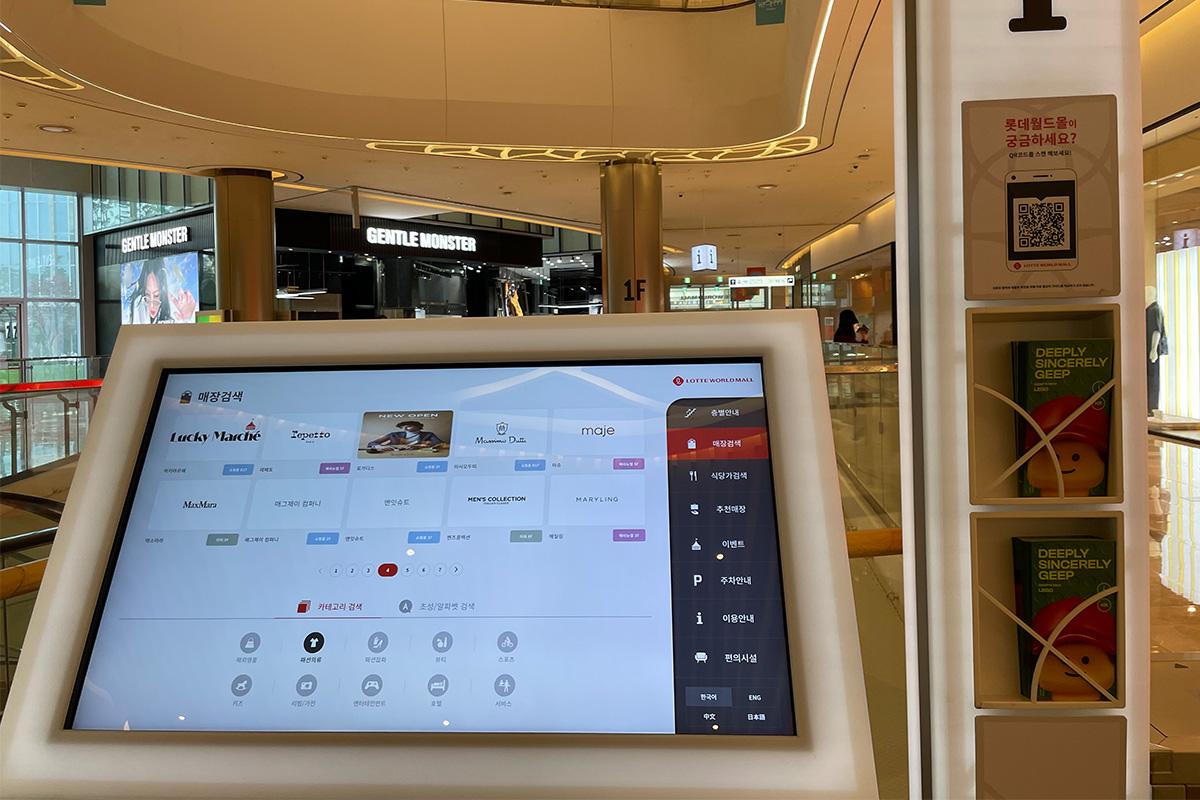 ---
We hope that you can enjoy a trip to Lotte World and enjoy all the amenities that it has to offer. If you have any questions, you can leave a comment below or send us an email at help@creatrip.com! You can also follow us on Instagram, TikTok, and Facebook to stay updated on all things Korea!
---