CATCHBALL CLUB | Doughnut Cafe By Konkuk University
Introducing the latest trendy doughnut cafe you need to visit in Korea!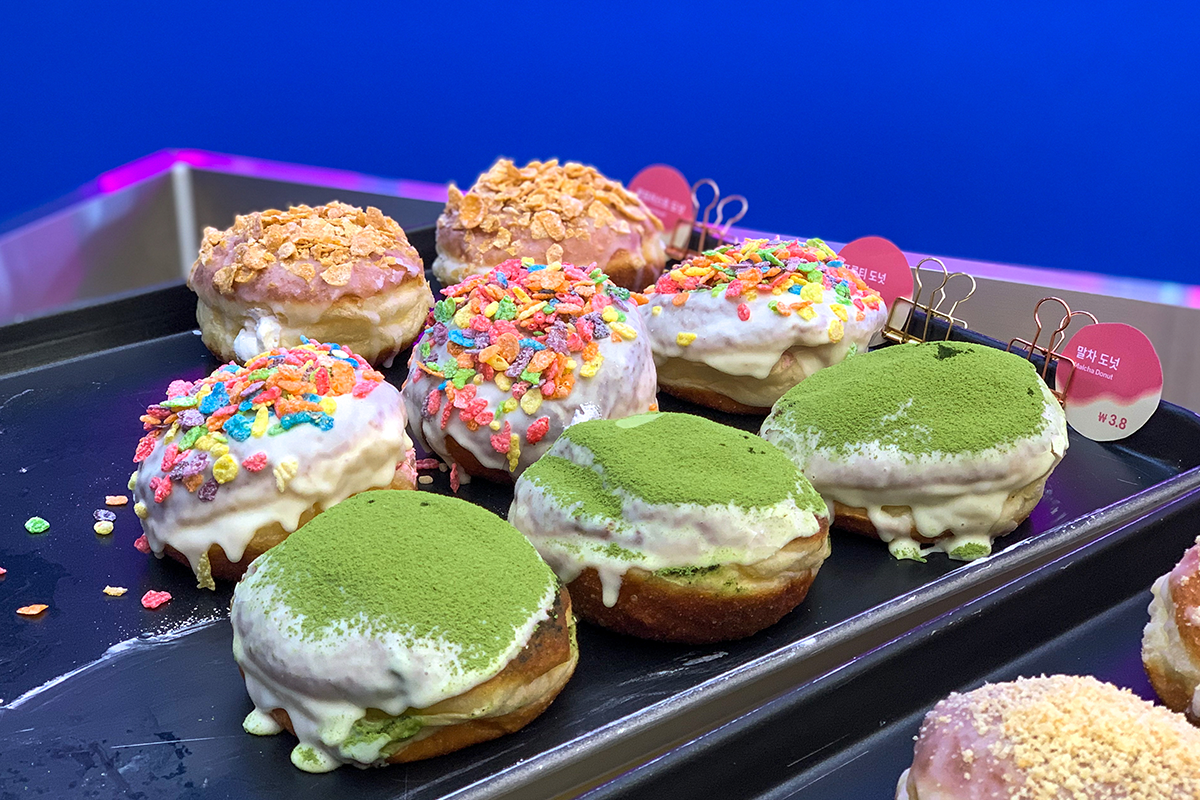 Today, we are introducing CATCHBALL CLUB, a cafe that's popular these days in the Konkuk University area.
This cafe has become so popular that people have lined up to get in since it opened on December 1, 2021.
The interior of the store is also very stylish and appeals to young people in Korean, so you definitely must stop by!
Creatrip members can even get a 10% discount with this coupon.
---
Information
Address: 서울 광진구 동일로30길 51 지하1층
51 Dongil-ro 30-gil, Gwangjin-gu, Seoul
Hours: 11:00 - 22:00
Transportation: About a 5 minute walk from Children's Grand Park Station Exit 4
---
Why We Recommend It
You can eat fresh donuts made at 5 am every morning by a pastry chef with more than 10 years of experience.
It has a gorgeous interior with lots of trendy photo spots.
It is located near Konkuk University, Sejong University, and Sangsu Station, and is easily accessible.
Donuts are popular in Korea these days, and many foreign students as well as Koreans visit.
There are more than 20 kinds of donuts made every day, and new flavors appear every week, so no matter how many times you visit, you won't get tired of it.
Donuts may sell out quickly, so if there's a flavor you want, we recommend you go early.
---
Benefits
If you present this coupon at the time of payment, you will get a 10% discount on all items.
You don't need to make a reservation in advance.
For coupon inquiries, please email support@creatrip.com.
---
Things To Keep In Mind
It cannot be used in conjunction with other promotions (e.g. random boxes, etc.)
The store is a "No Kids Zone" and children cannot enter, but you may order takeout.
Donuts are best when eaten on the day of purchase. If you can't eat them right away, keep them out of sunlight and store at room or low temperature.
If you can't eat them right away in summer, please keep them refrigerated.
---
Menu
Price (KRW)

Green Tea Signature Latte
녹차시그니처라떼

Strawberry Ade
딸기에이드

Dessert

Price (KRW)

Corn Frost Donut
콘 프러스트

우유크림


Fruity Donut
프루티
---
Our Visit

CATCHBALL CLUB, which already stands out just from its exterior, is extremely popular these days.
There are three entrances: photo spots on the left, cafe entrance in the middle, and takeout on the right.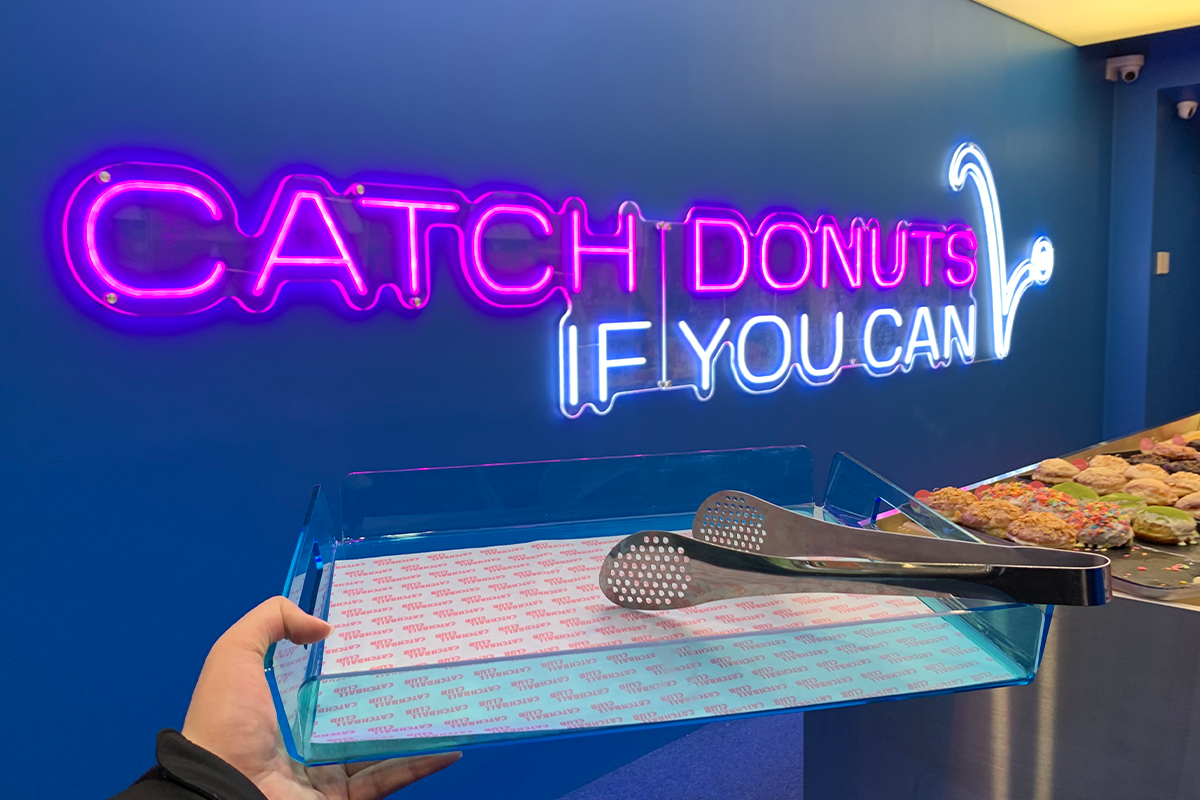 We went into the take-out entrance on the right.
Pick out the donuts you want with a tray and tongs.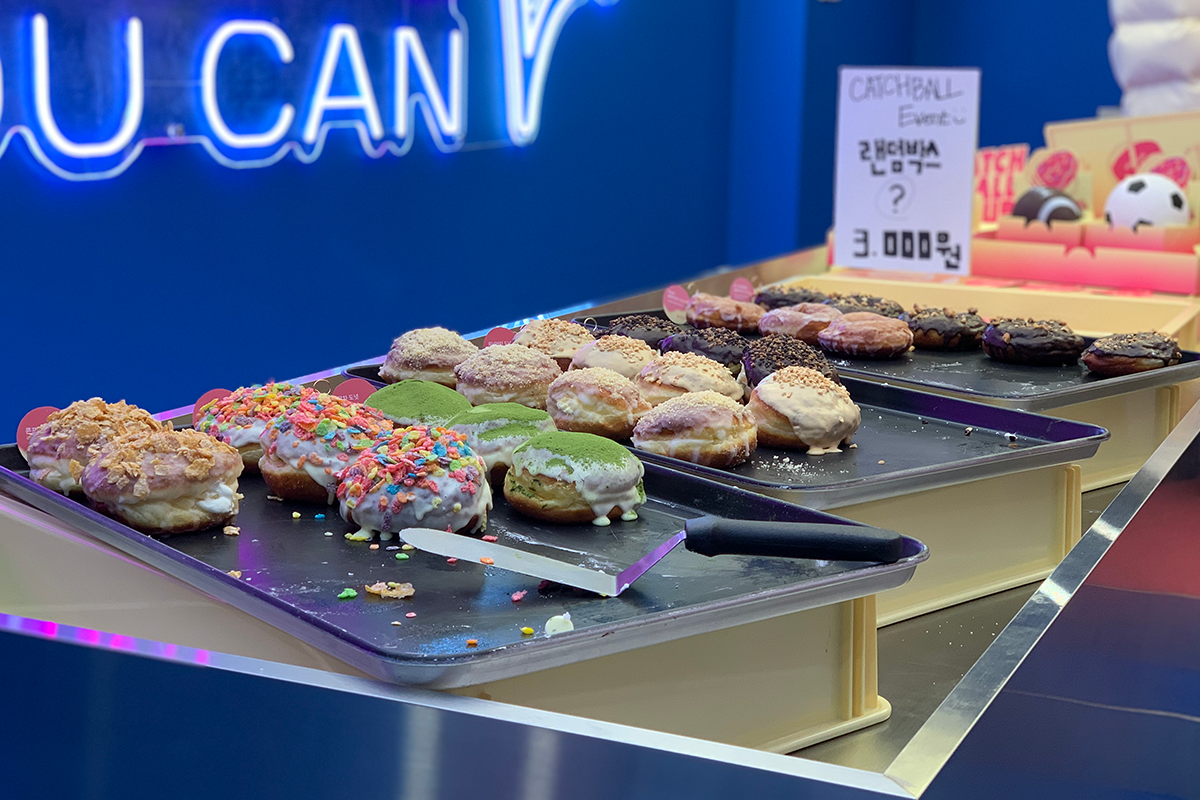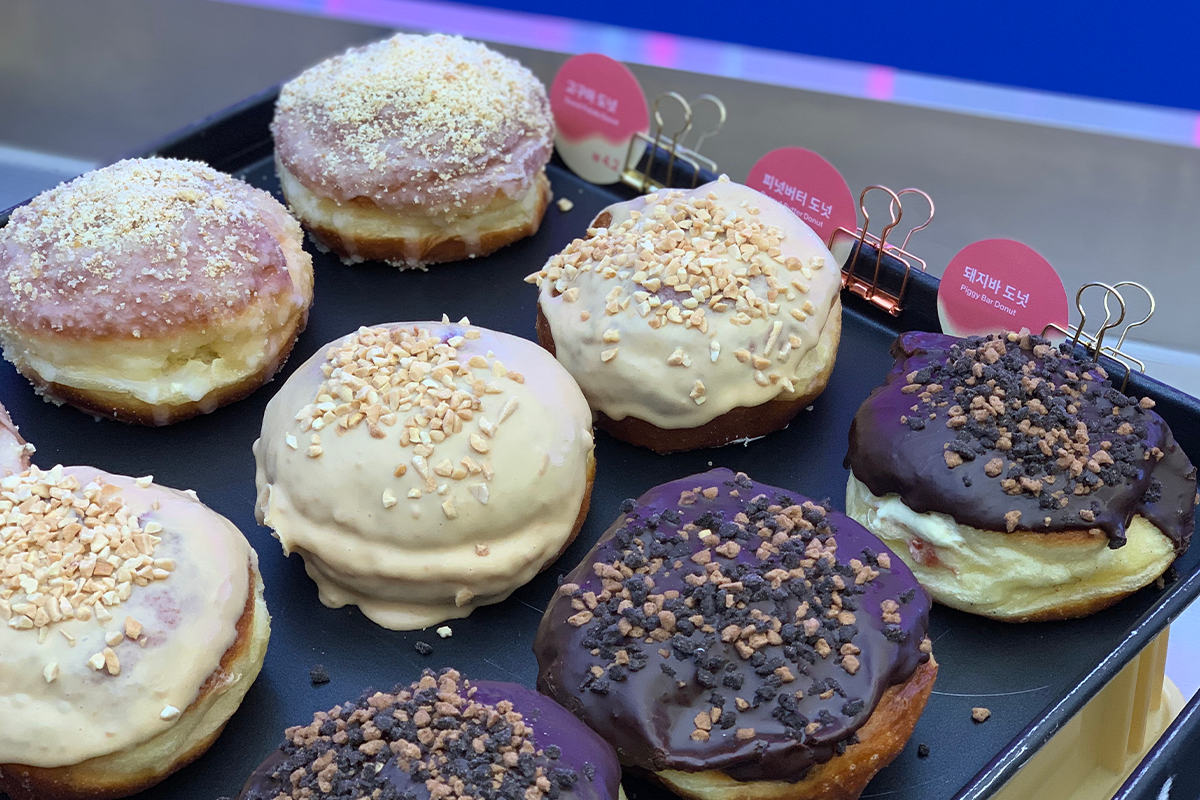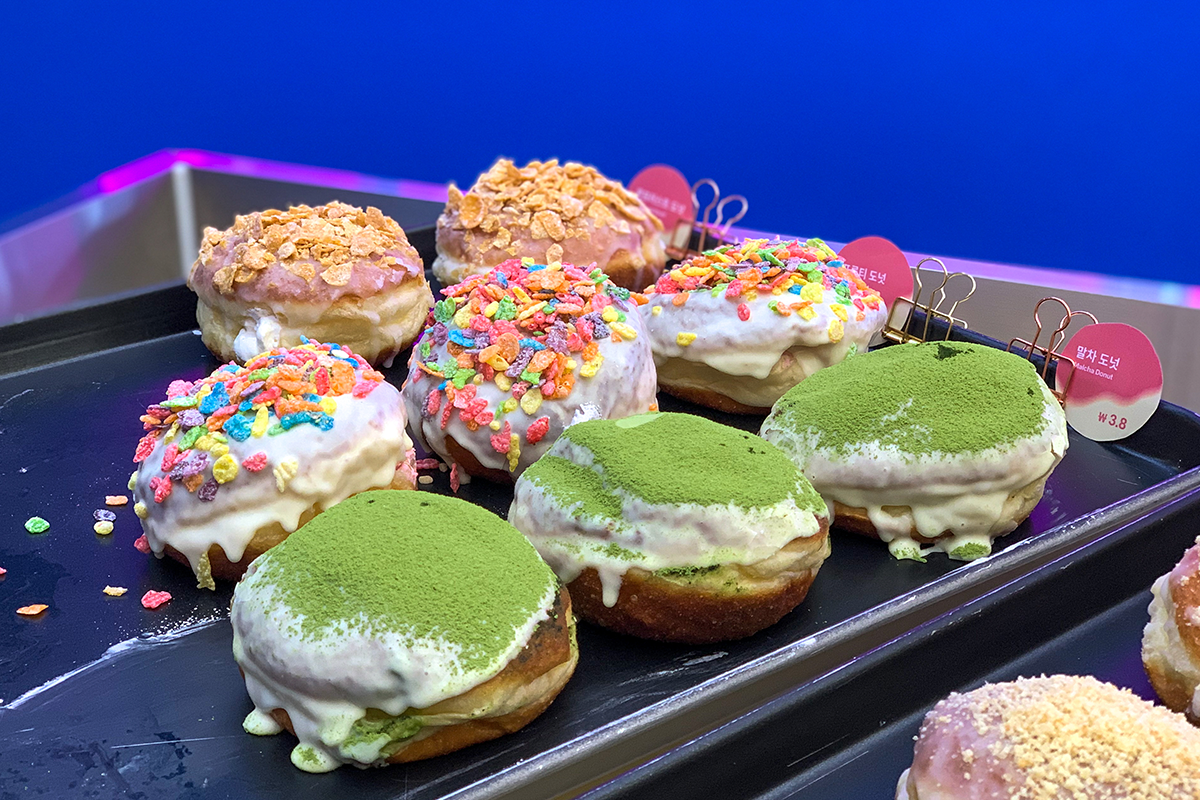 CATCHBALL CLUB starts making doughnuts at 5 a.m. every day and sells them all on the day they're made.
The donuts are big but not that expensive!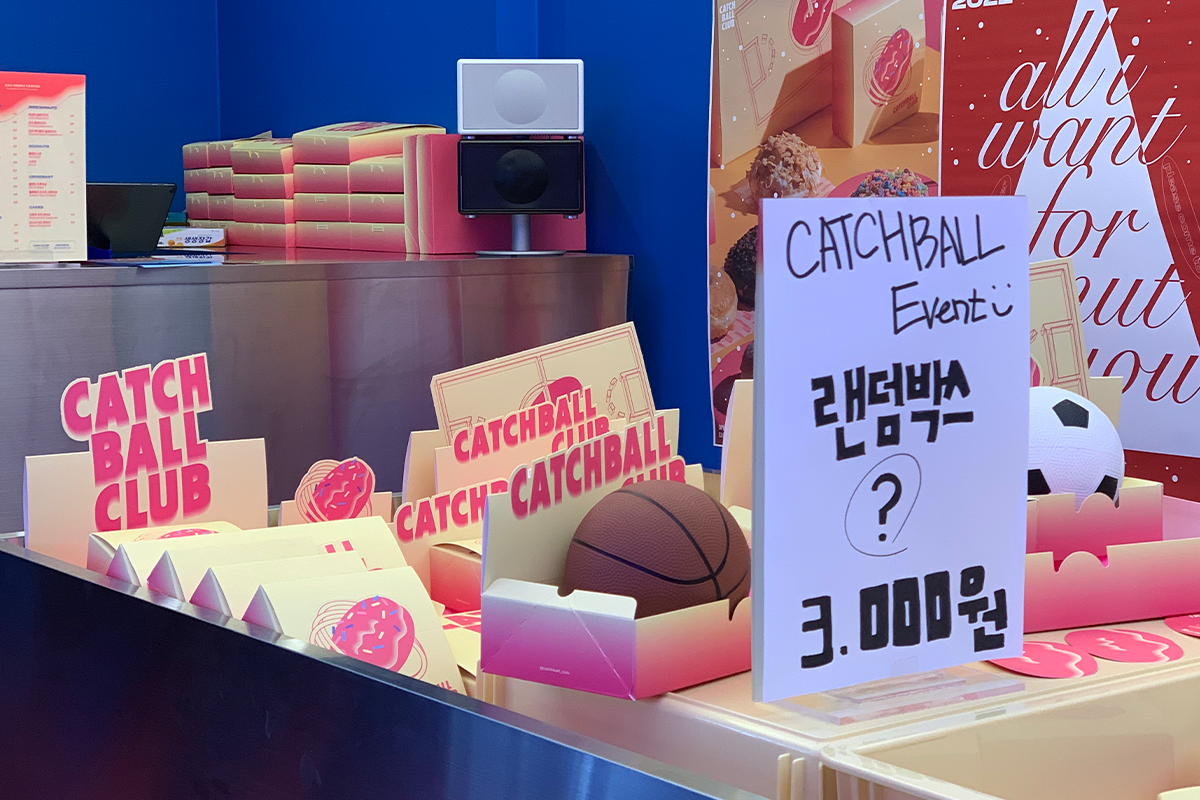 If you are not sure what to choose, you can also purchase a random box.
The box is only 3,000 won, which is cheaper than other doughnuts!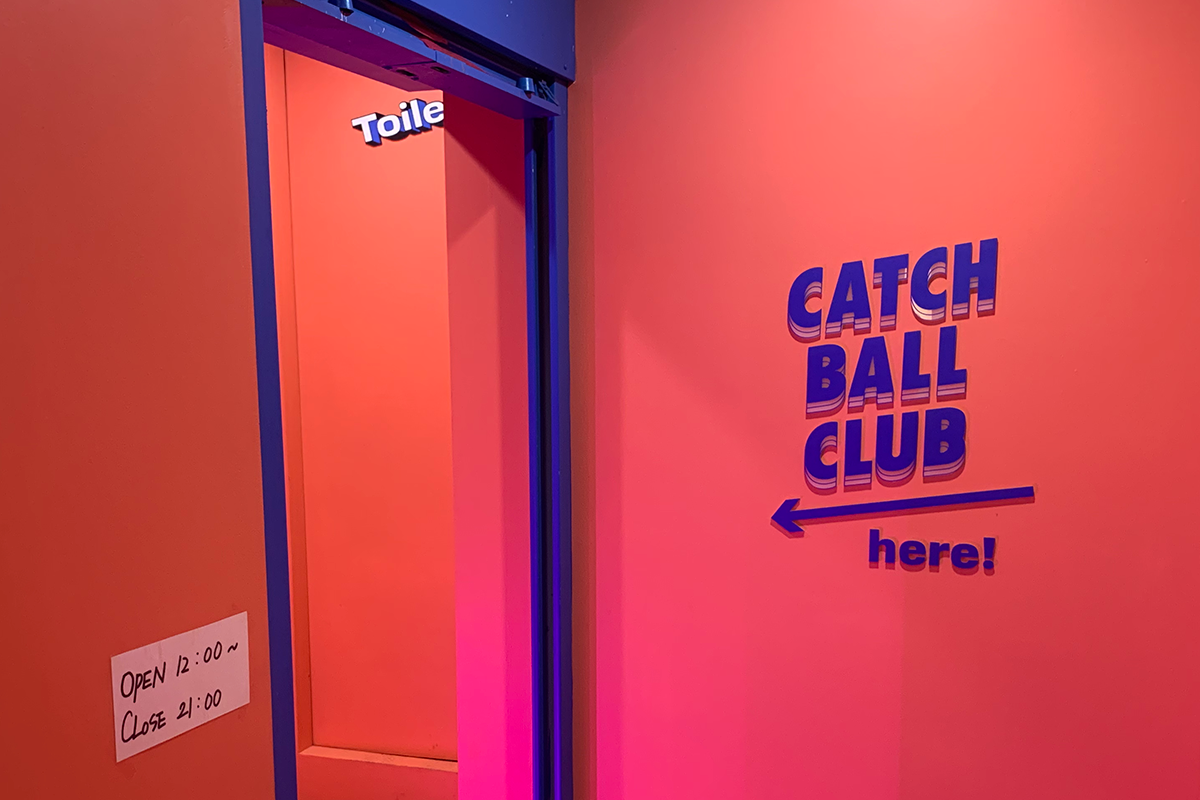 Next, we headed to the cafe on the basement level.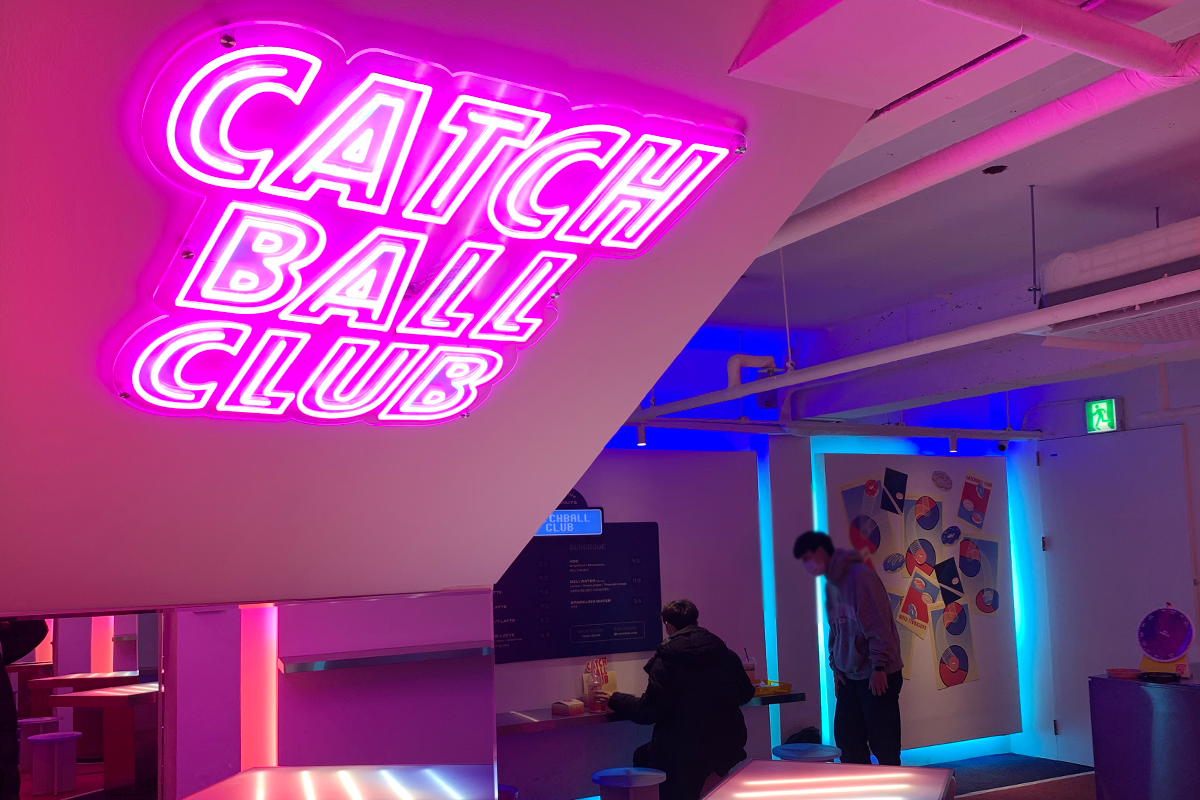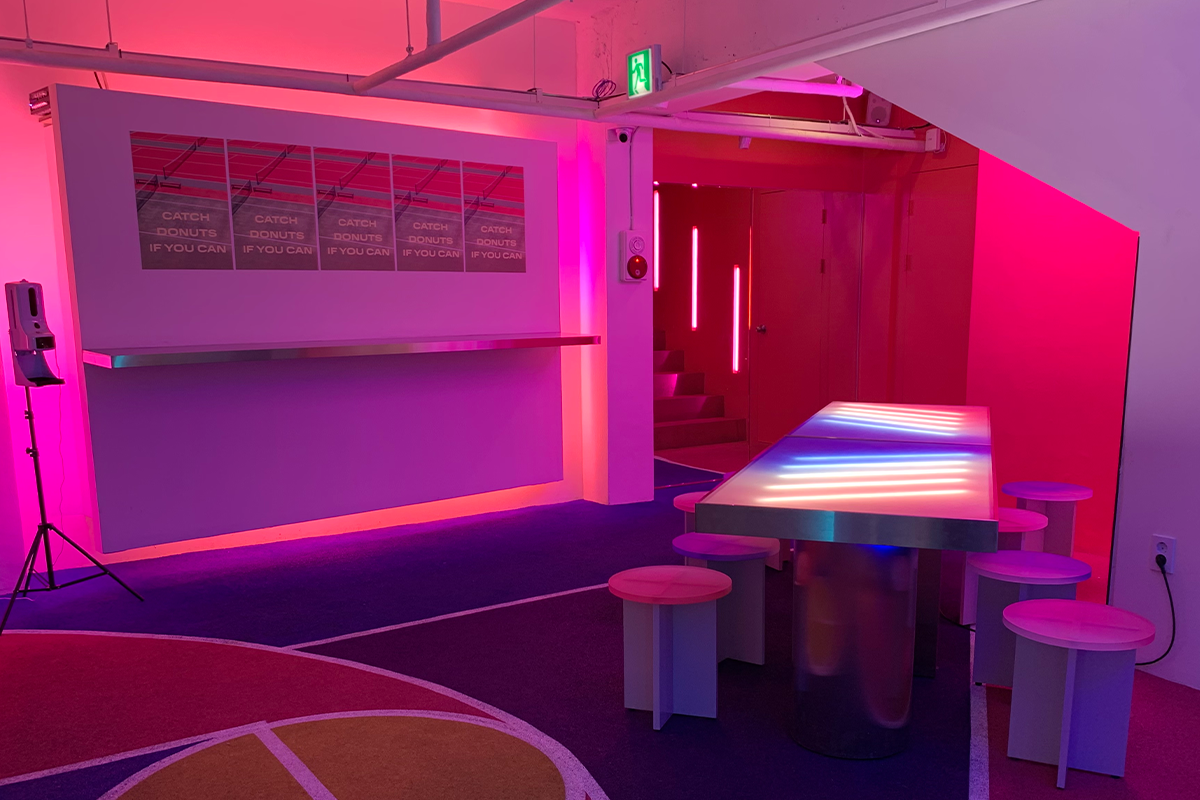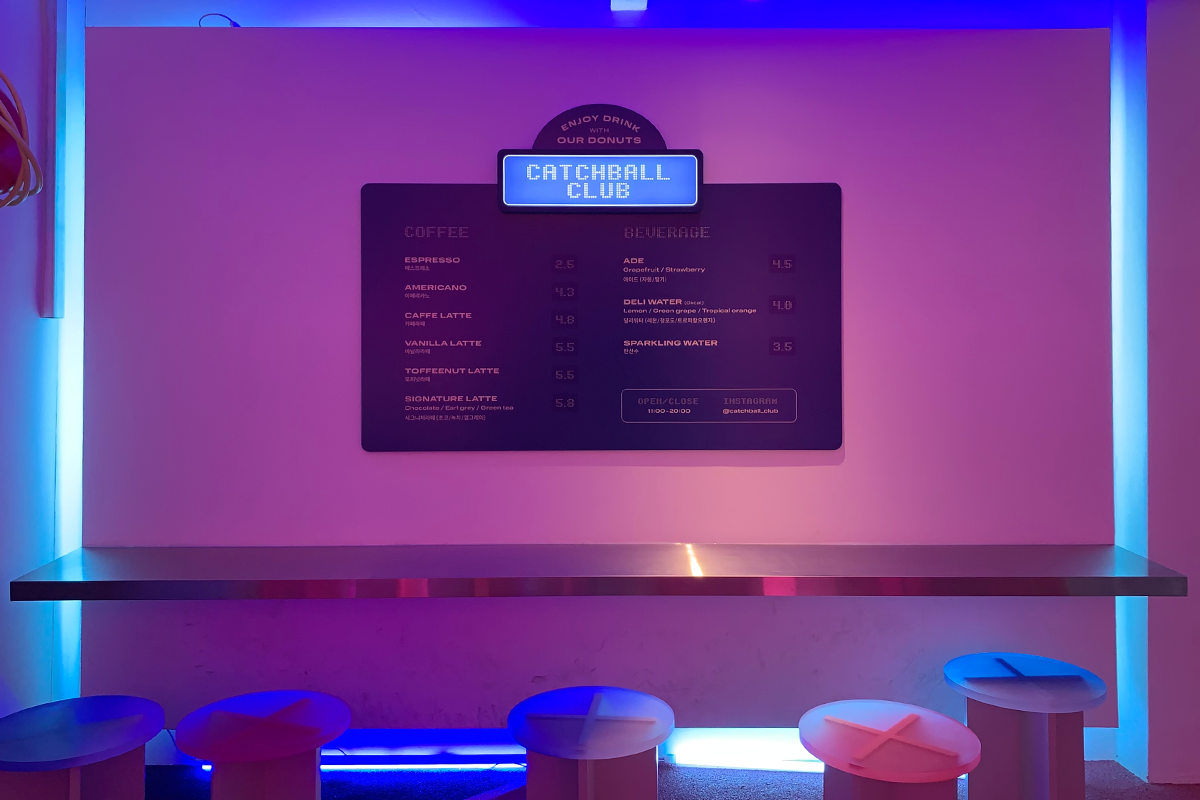 The interior is very trendy and perfect for Millennials and Gen Z!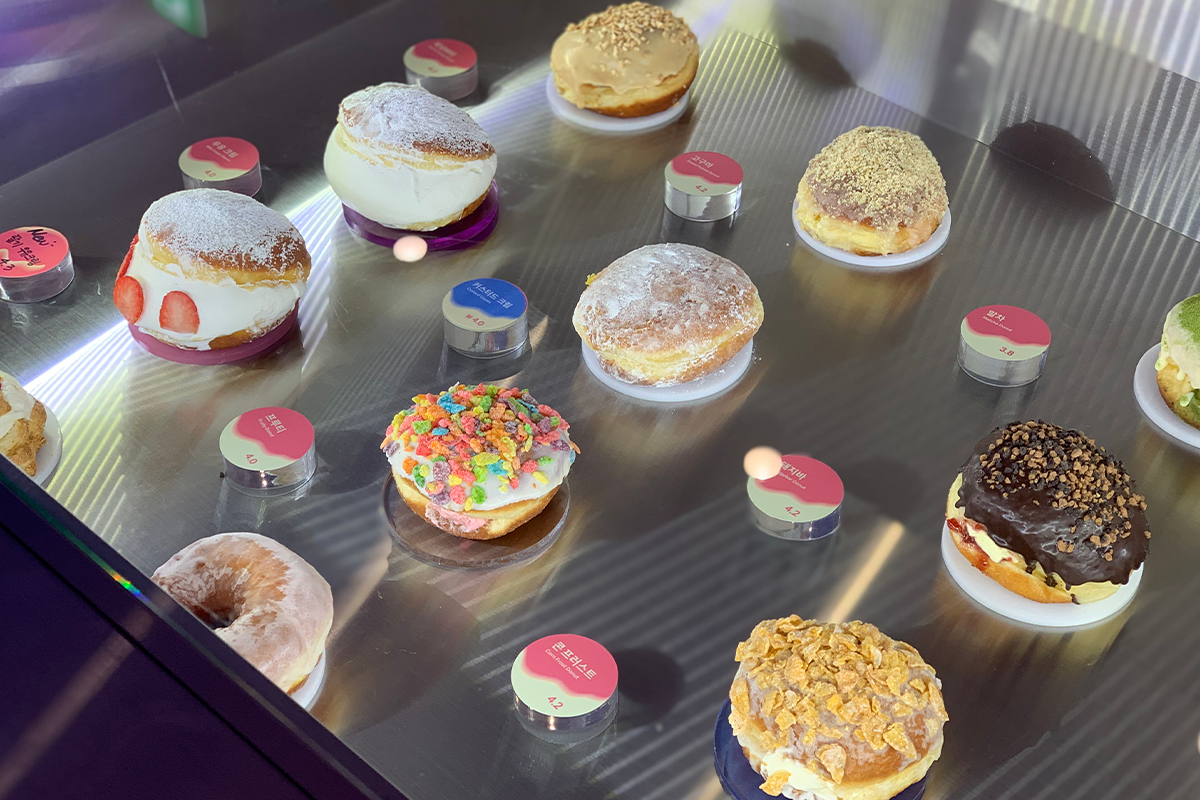 There are more donut flavors on the basement level than are available for takeout, so be sure to take a look.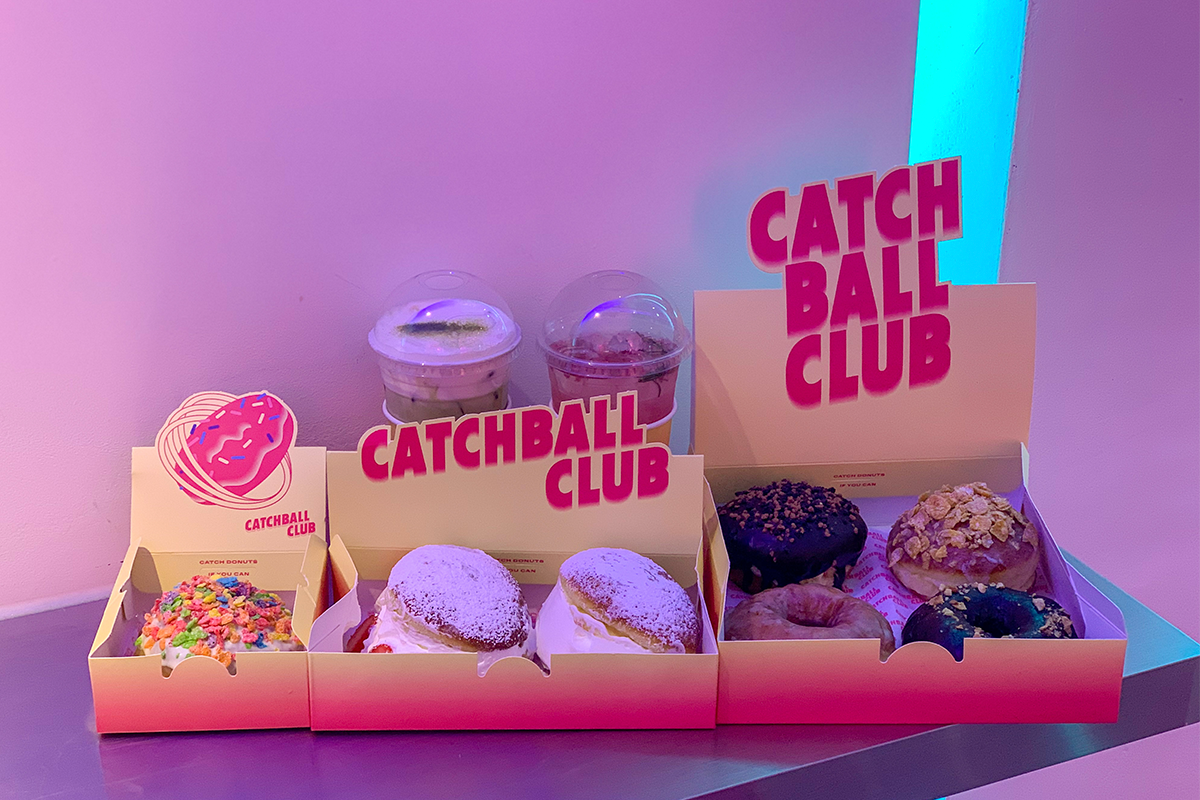 Now, we'll show you what we got!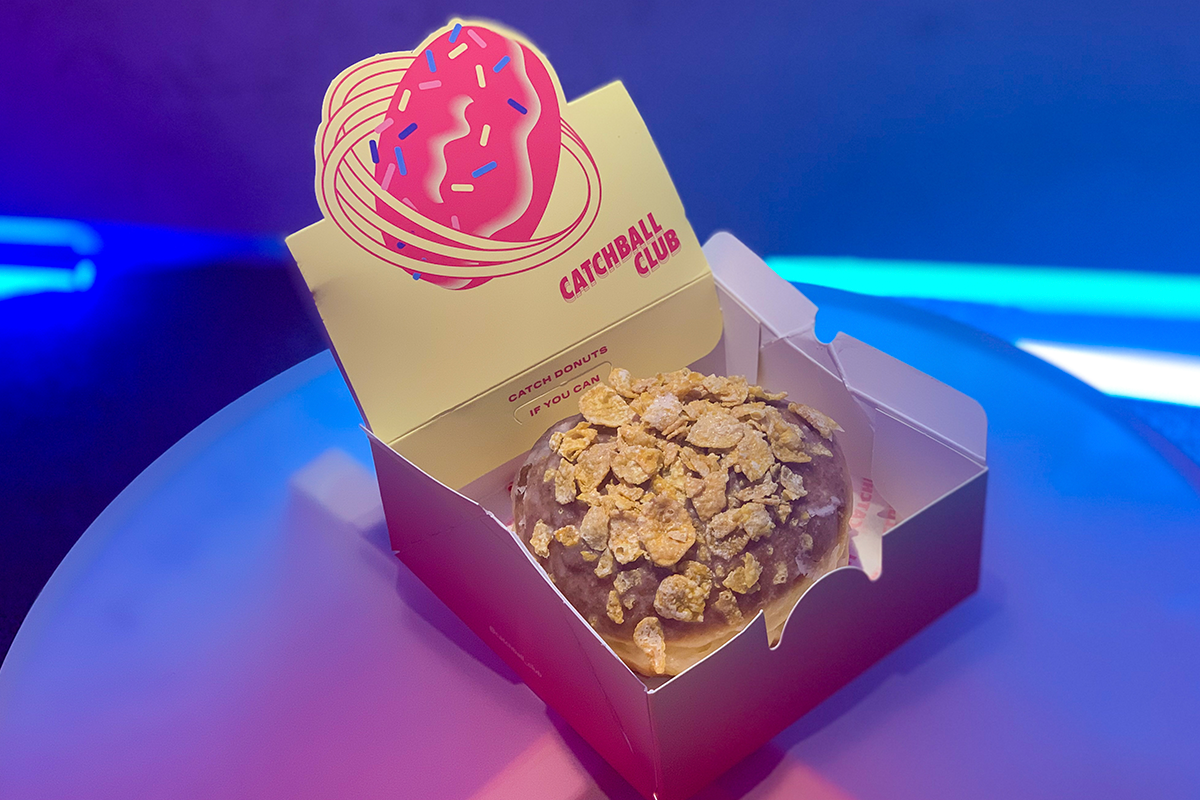 Corn Frost Donut (콘 프로스트)
4,200 won
This is one of the signature donuts at CATCHBALL CLUB.
The donut is topped with crispy frosted corn flake cereal and the bread is very soft.
There's cereal in the doughnut, too!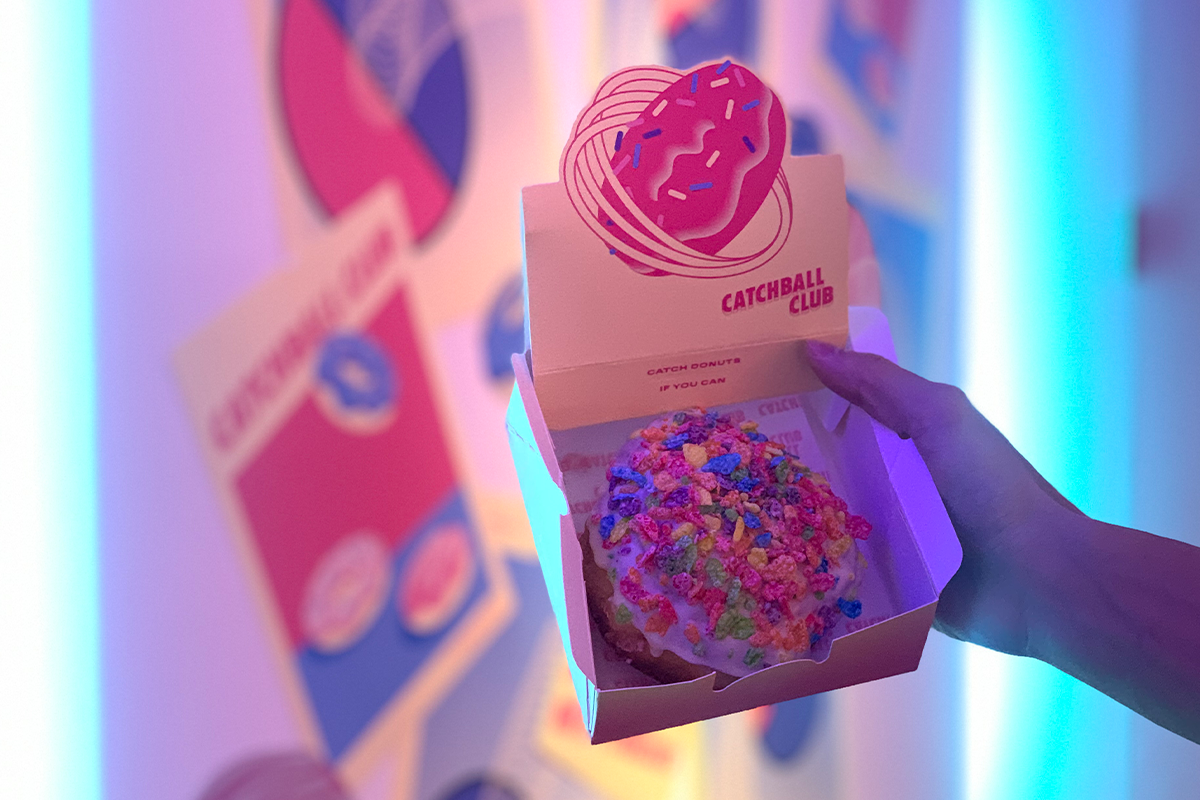 Fruity Donut (프루티)
4,200 won
This donut is very colorful and looks yummy.
The strawberry cream inside is not too sweet and refreshing.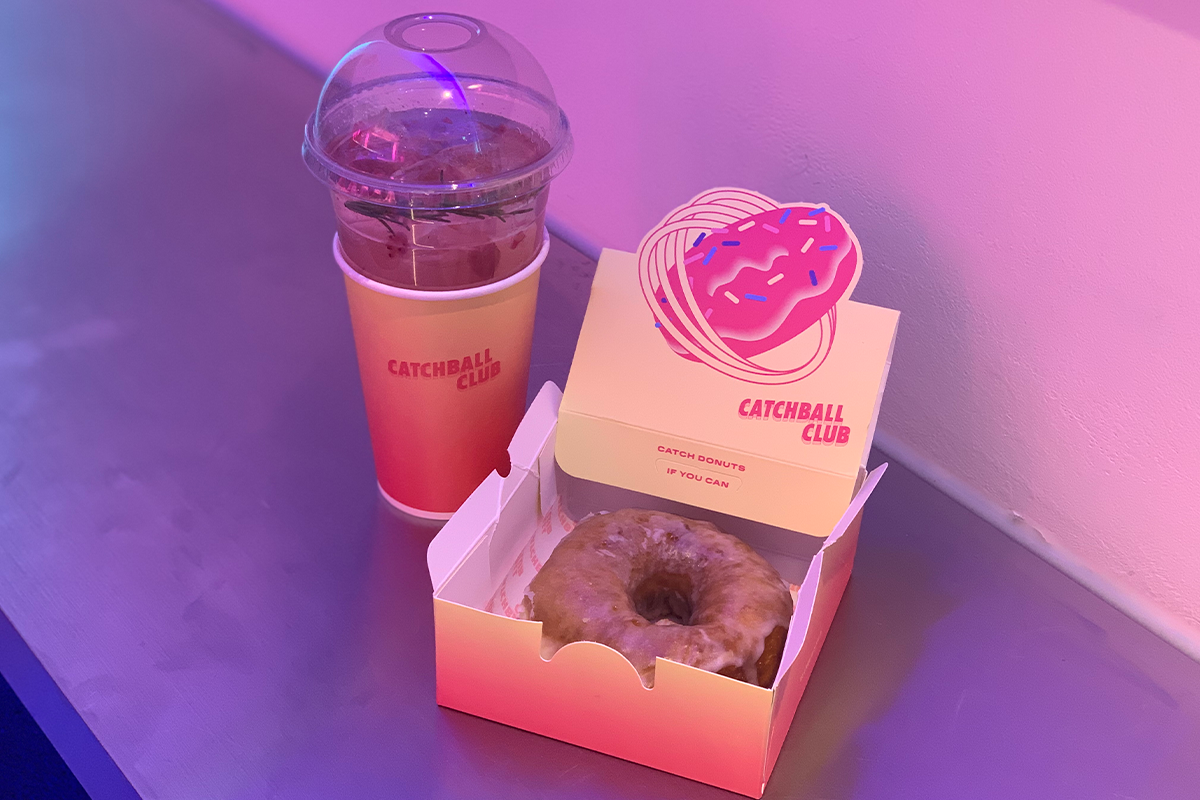 Vanilla Glazed Donut (바닐라 글레이즈드)
3,500 won
This one is a basic donut topped with glaze. It was sweet and delicious!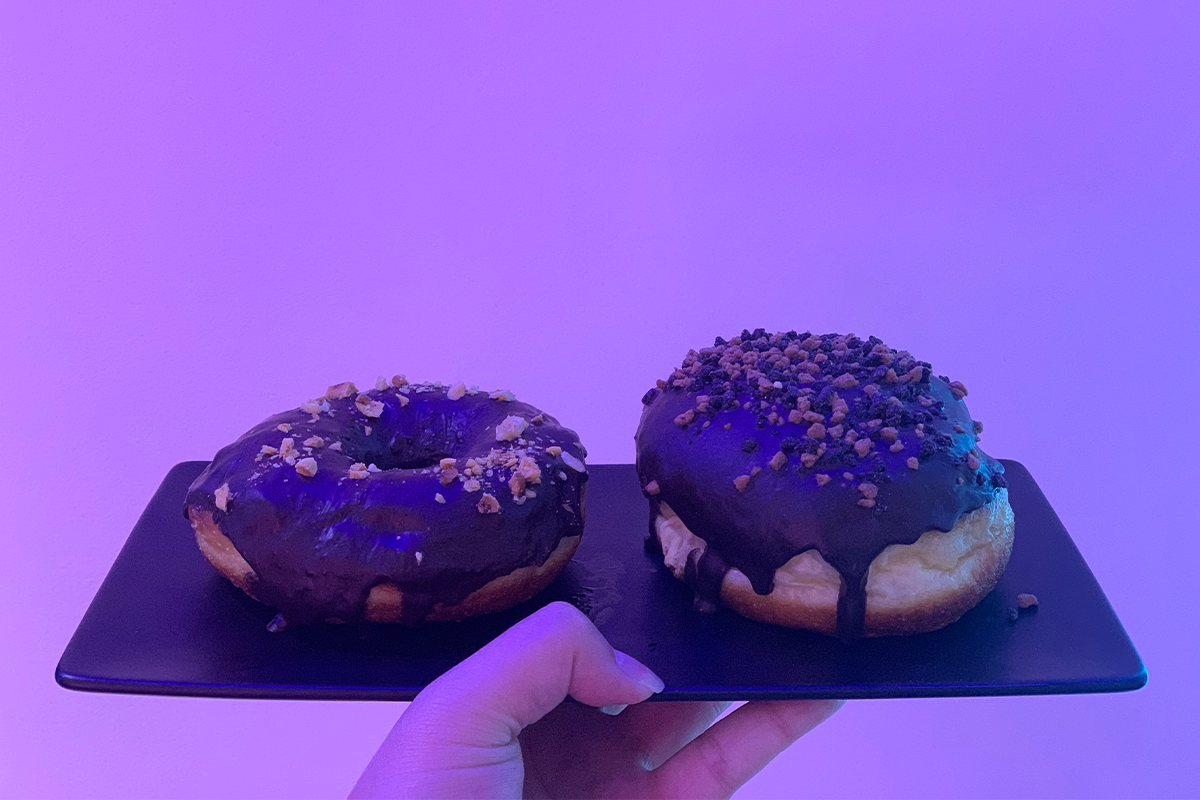 Next up are the chocolate donuts!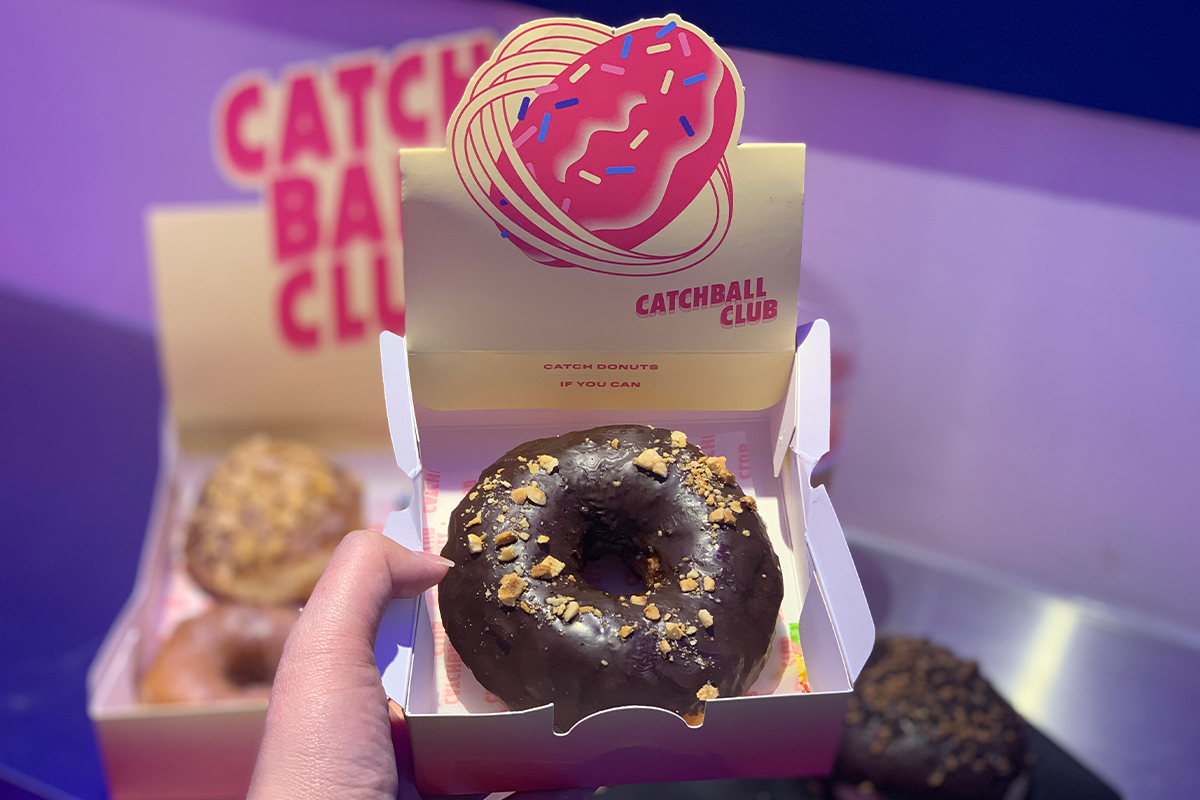 Chocolate Hazelnut Glazed Donut (초코 헤이즐넛 글레이즈드)
4,000 won
It's a donut with chocolate frosting topped with hazelnuts.
The chocolate has a strong flavor and we recommend it to chocolate lovers!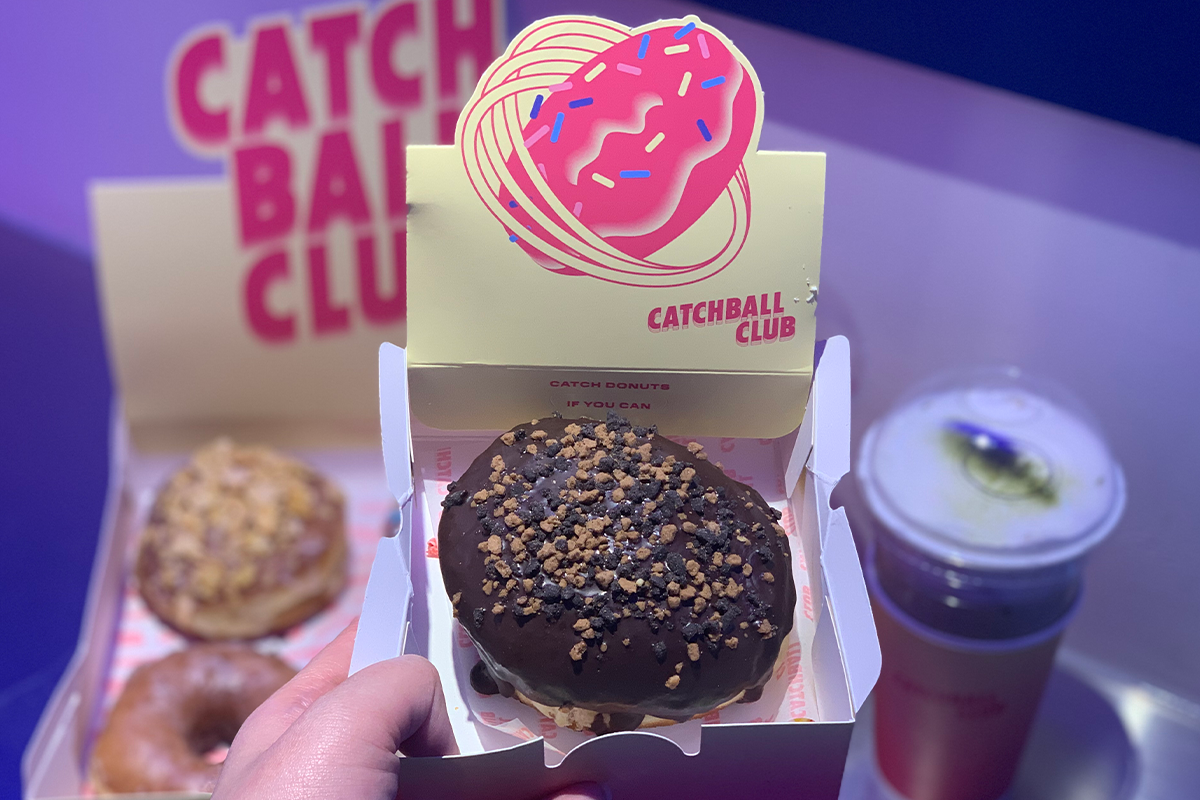 Piggy Bar Donut (돼지바)
4,200 won
Do you know the Korean Pig Bar (돼지바) ice cream?
This donut has the same name and tastes almost exactly like the ice cream it's named after.
There's cream and strawberry jam filling.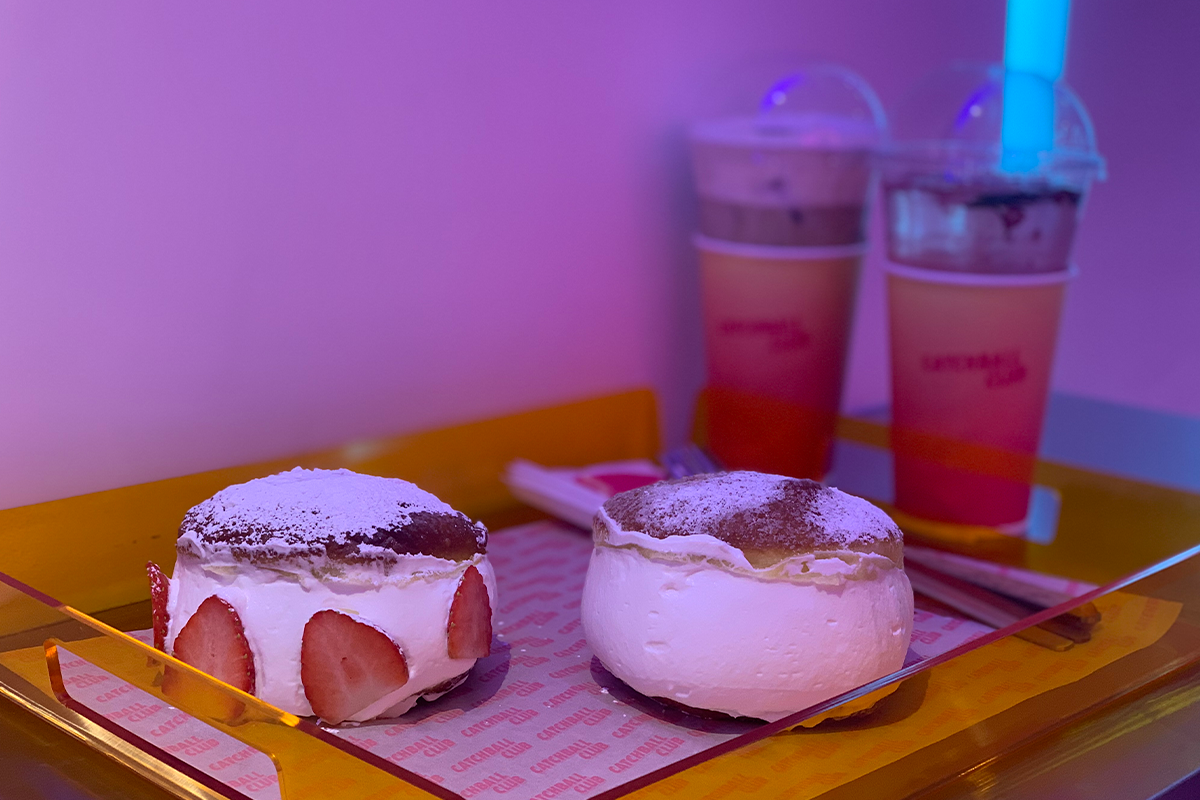 If you like whipped cream, we recommend these next donuts!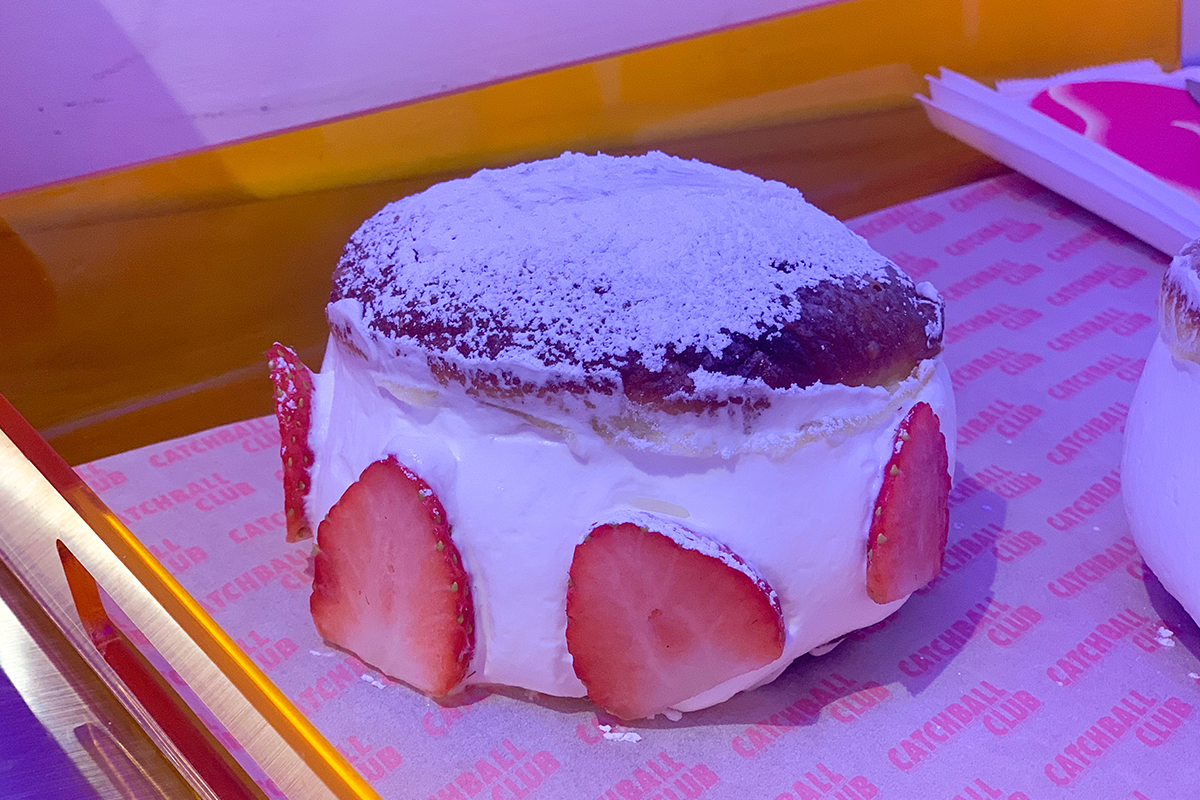 Strawberry Cream Donut (딸기 크림)
4,200 won
The strawberry cream donuts are available for a limited time only.
The combination of sweet strawberries and cream were soft and very delicious!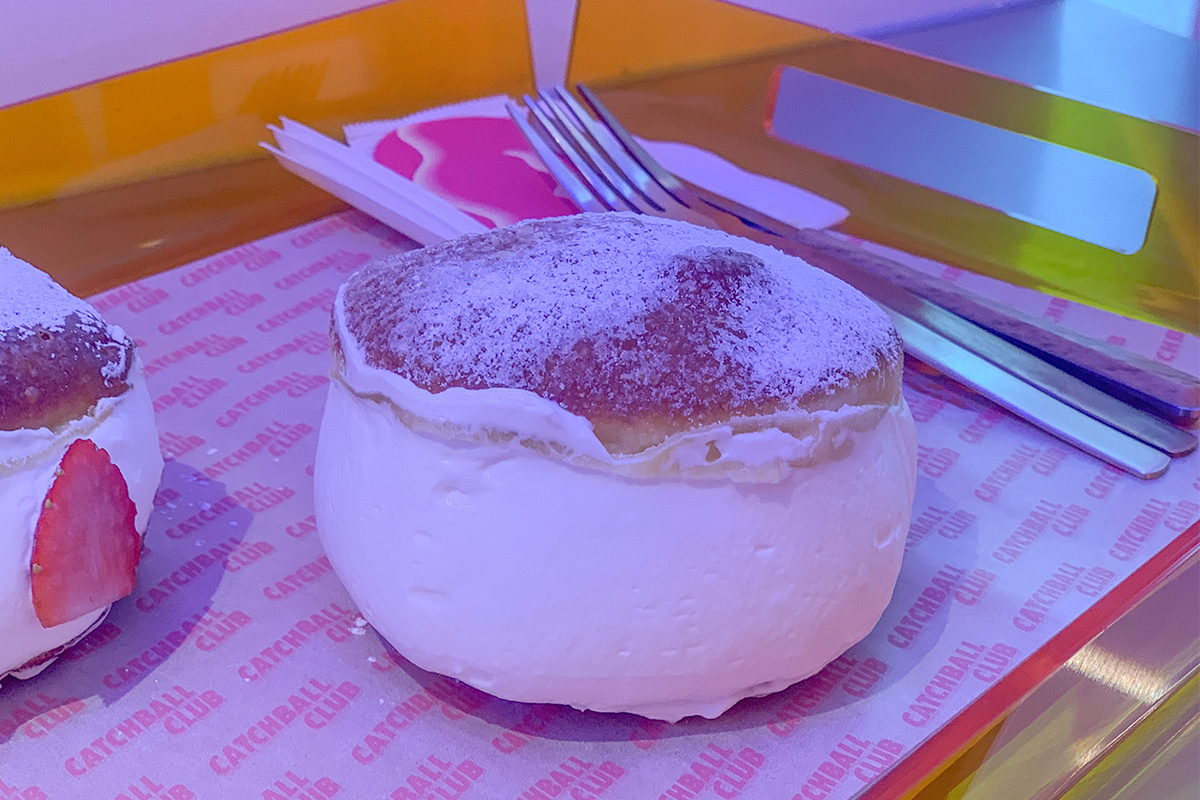 Milk Cream Donut (우유 크림)
4,000 won
Milk cream donuts were very popular and many people bought them.
It features a thick layer of rich whipped cream that won't see anywhere else.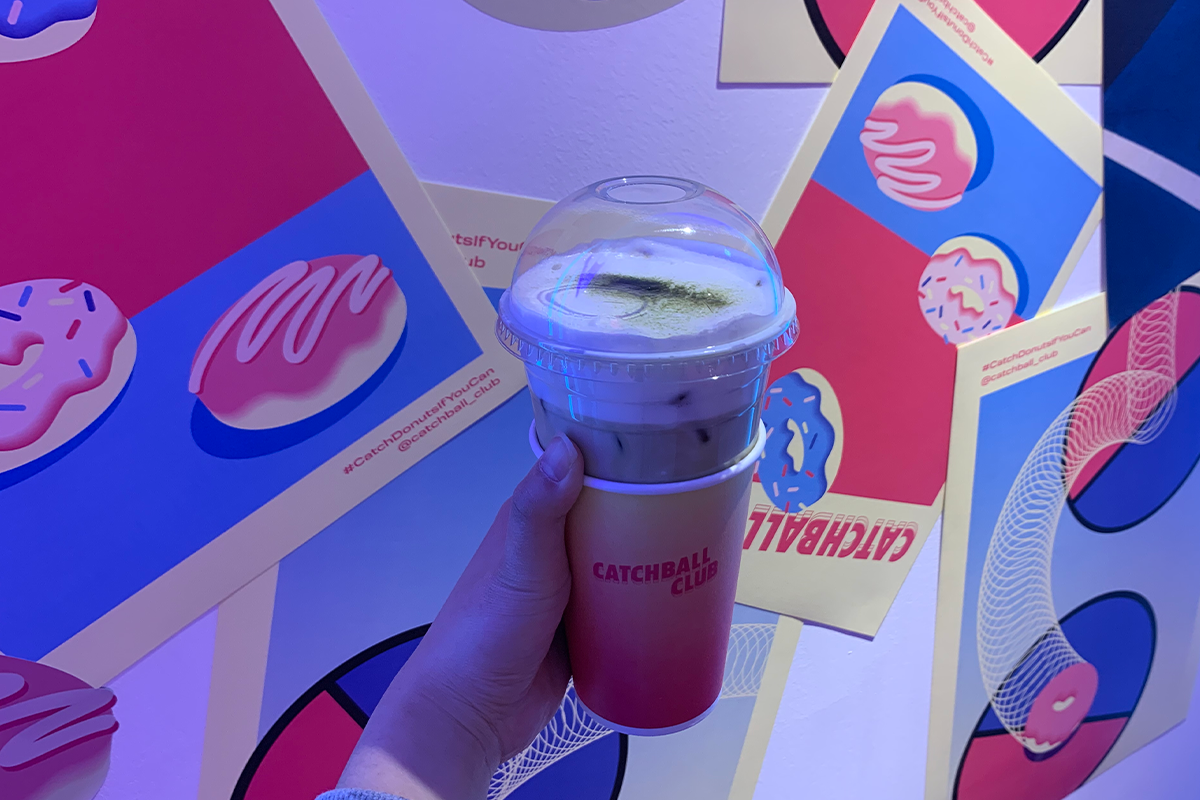 Green Tea Signature Latte (녹차시그니처라떼)
5,800 won
CATCHBALL CLUB's signature drink, their Signature Latte, comes in four flavors: chocolate, earl grey, green tea and hazelnut.
We ordered a green tea latte, but the taste of coffee was stronger than that of green tea.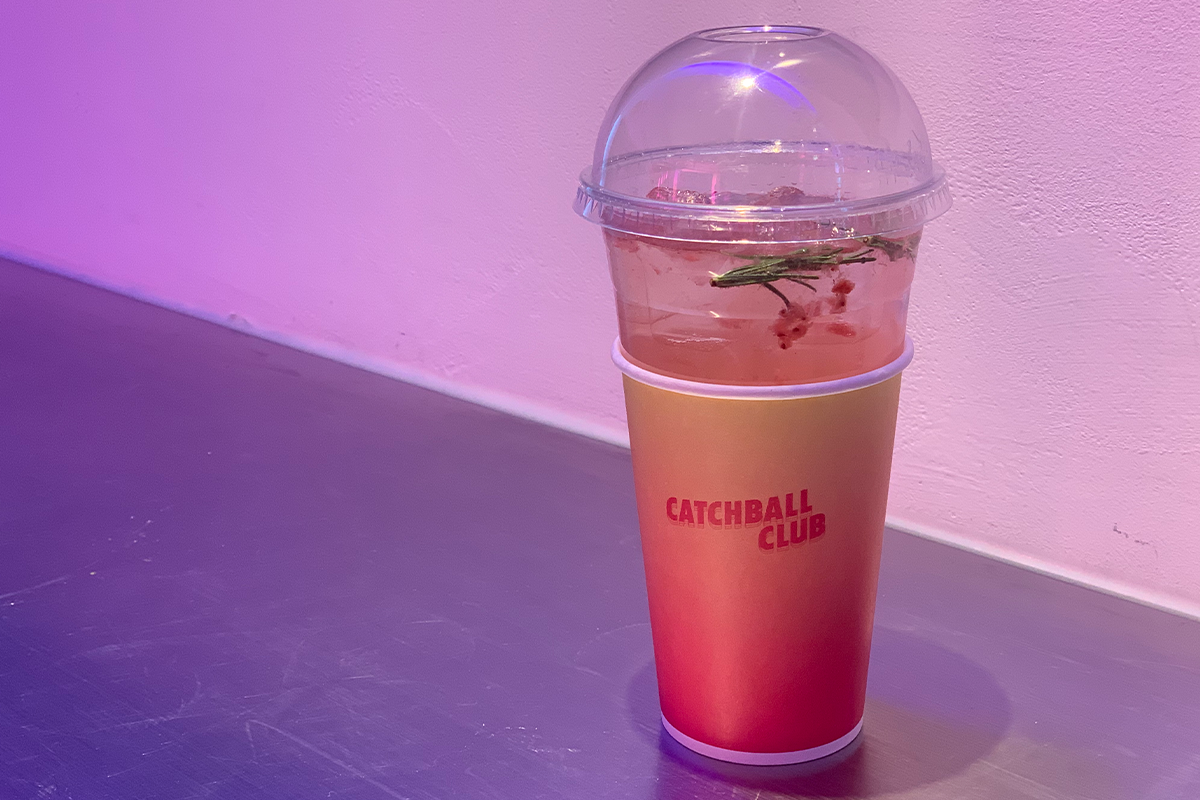 Strawberry Ade (딸기에이드)
4,500 won
Strawberry ade is an uncommon drink.
The sweetness and refreshing taste match well and it's delicious, so you should definitely try it!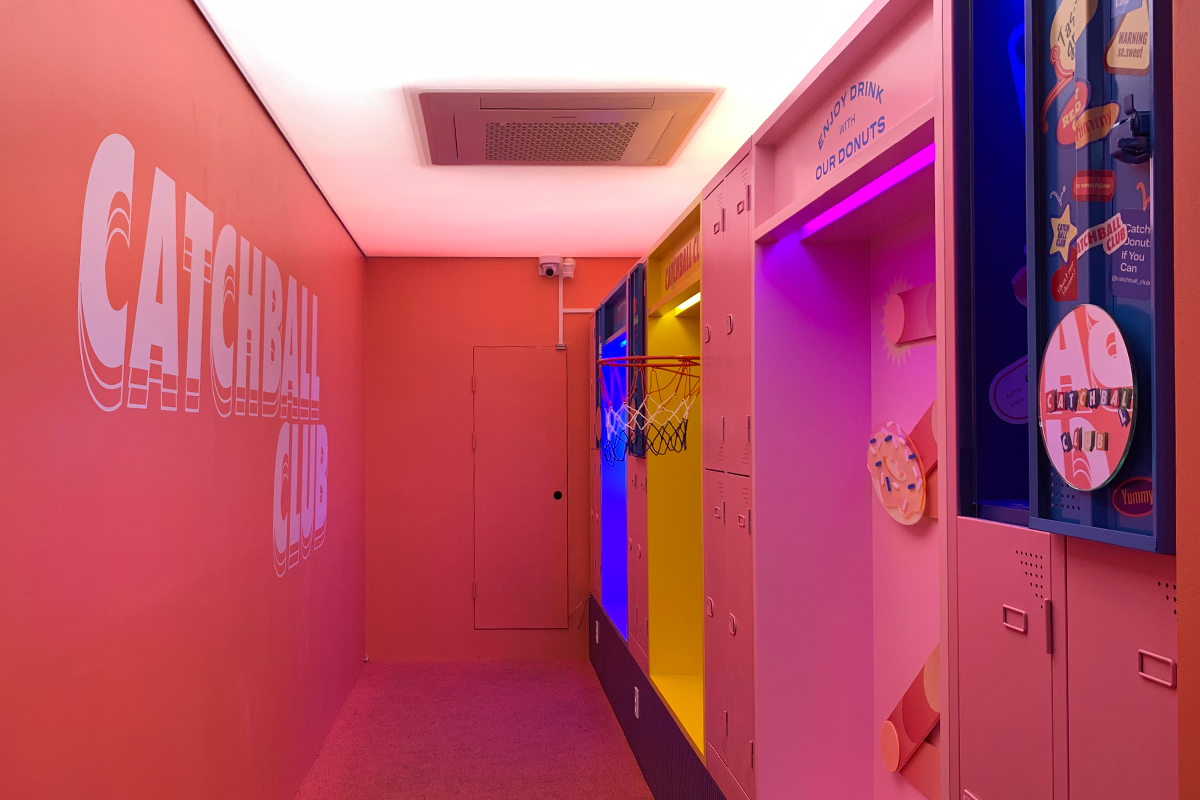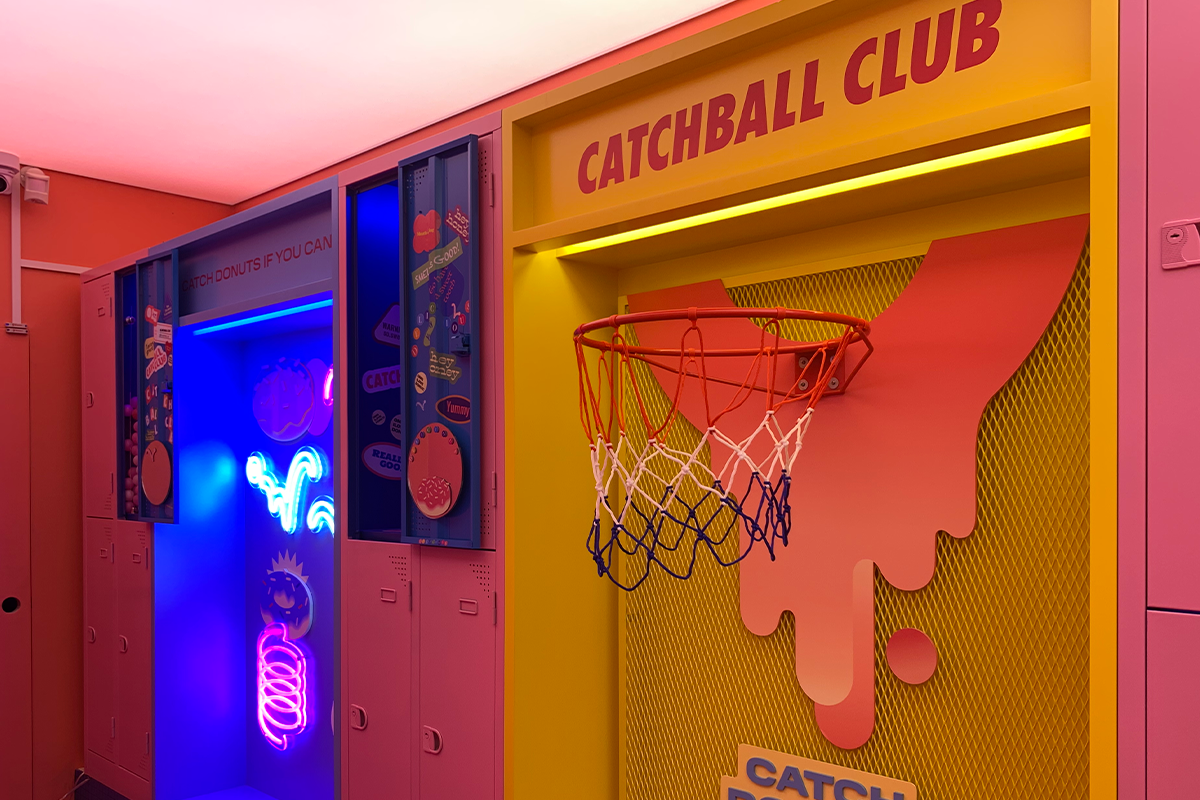 Lastly, we visited the photo zone.
It's a small space, but there are different concepts and you can take as many pictures as you want.
If you're looking for a spot to take trendy pictures, we recommend CATCHBALL CLUB!
---
How To Get There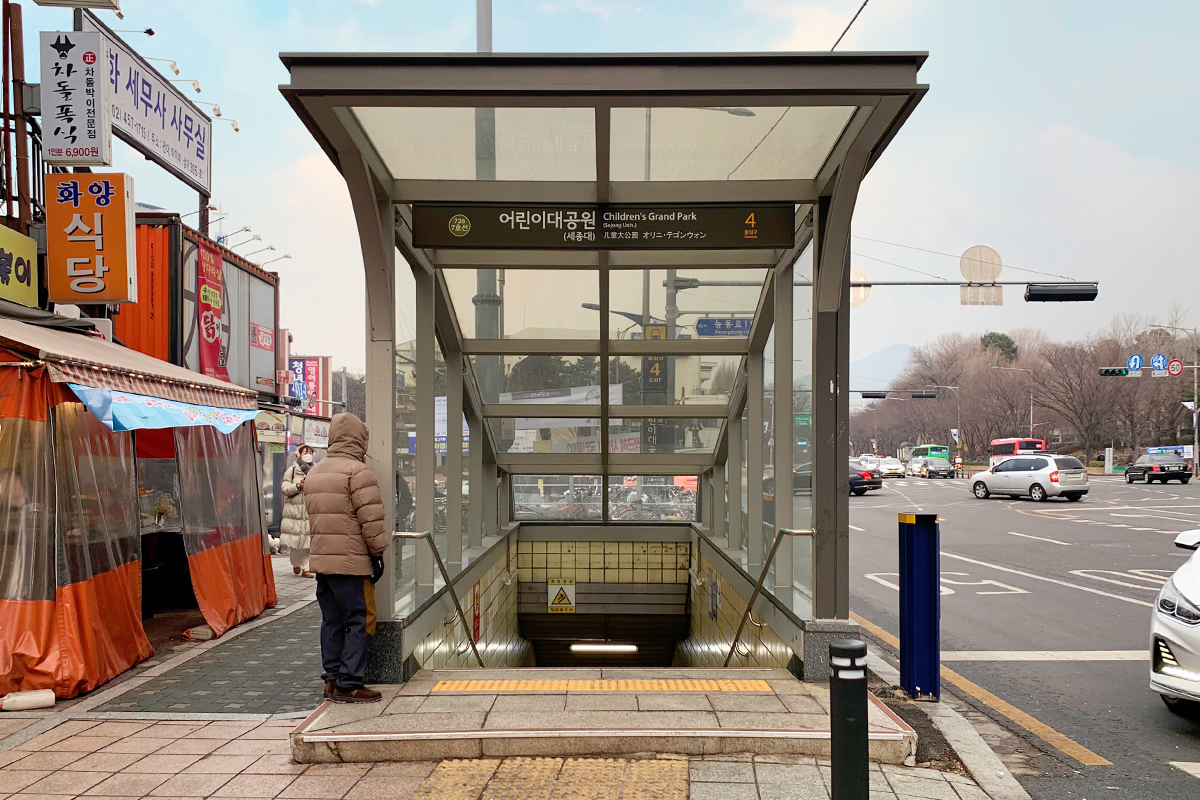 Go out of Children's Grand Park Station Exit 4.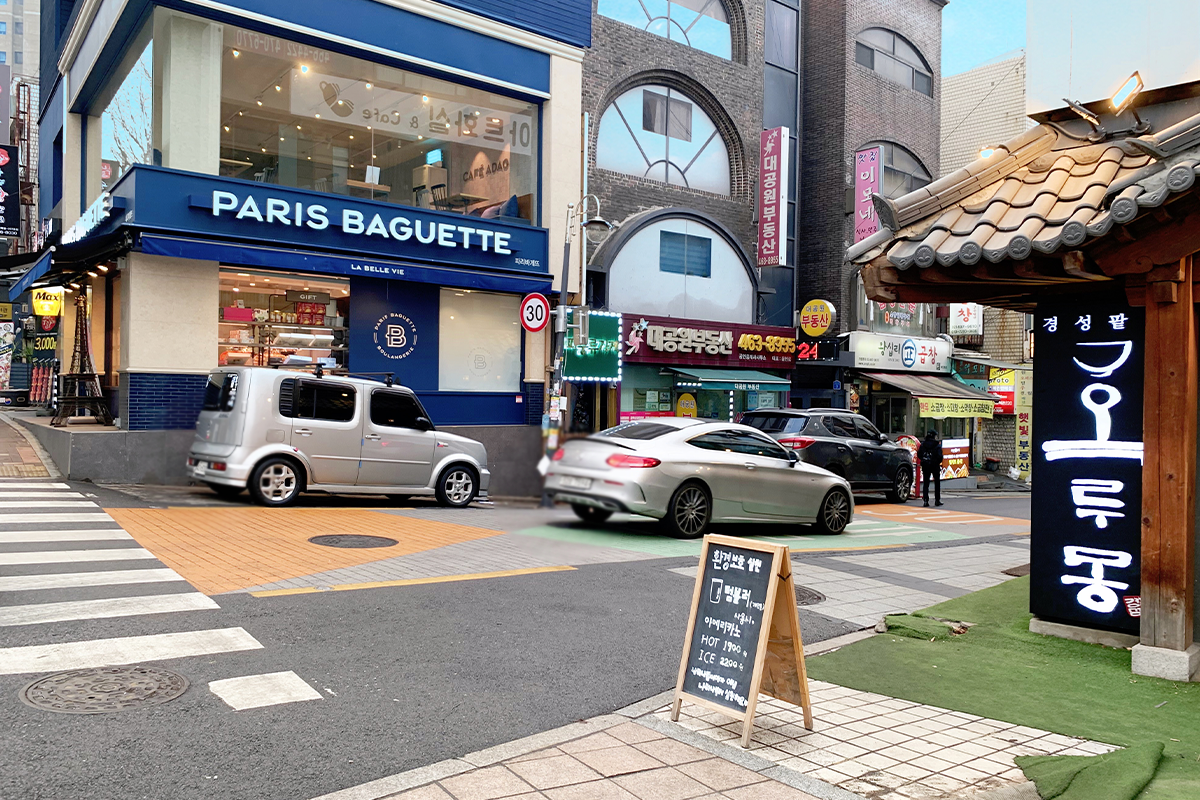 Turn right when you see Paris Baguette.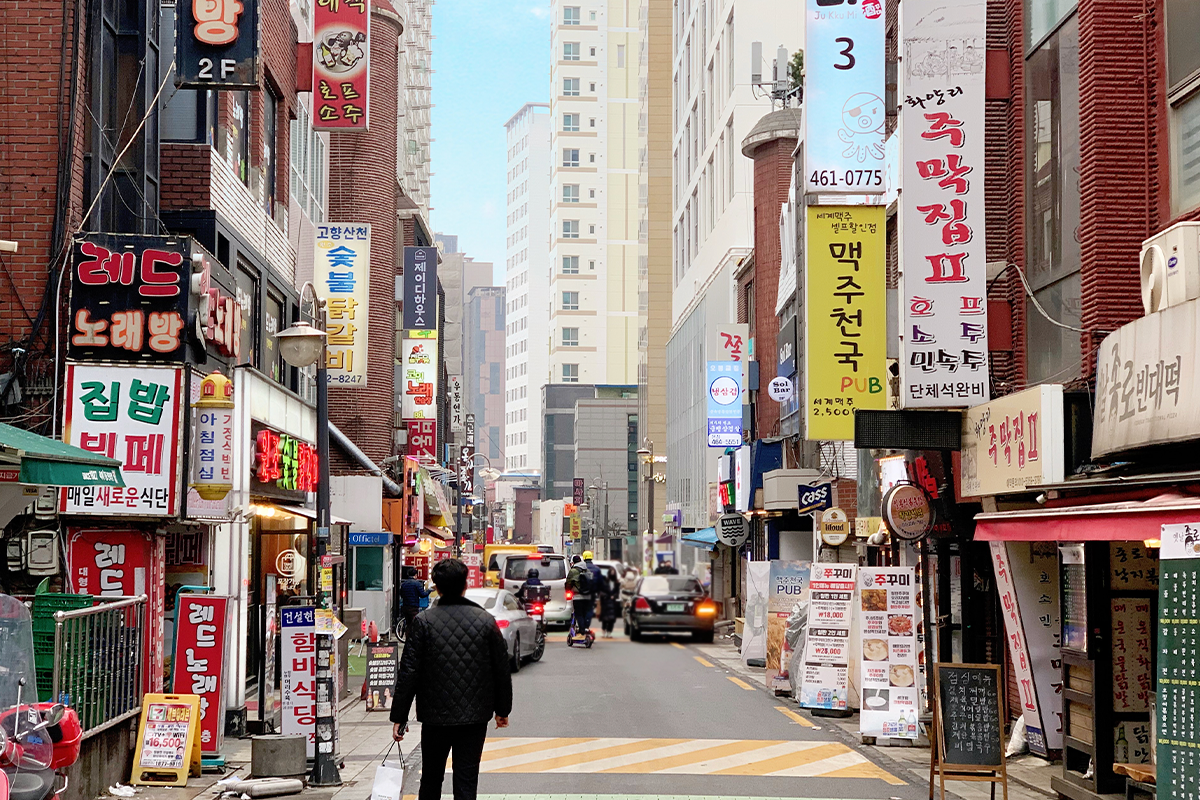 Go straight.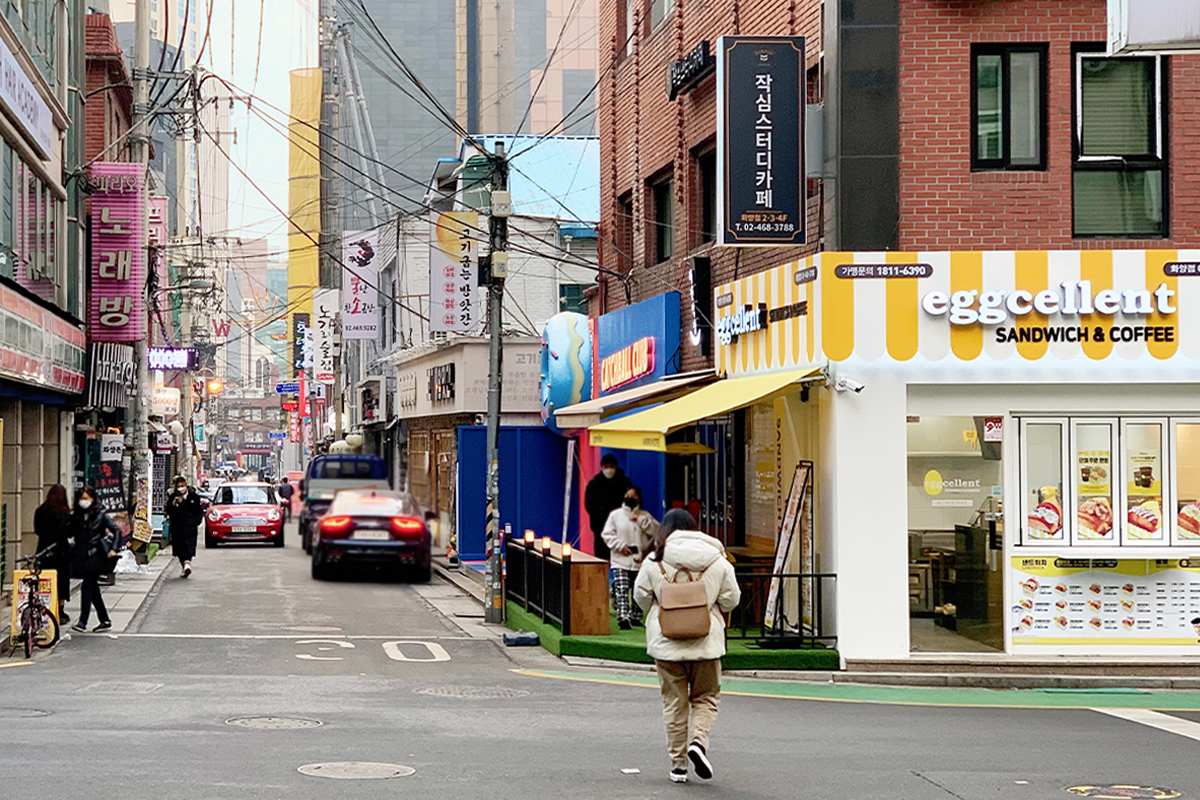 When you get to the intersection, you'll see CATCHBALL CLUB ahead of you.
---
That's all for our introduction of CATCHBALL CLUB, a popular dessert cafe by Konkuk University.
What did you think? If you want to find trendy cafes in Korea, you should pay it a visit!
Don't forget, you can get 10% off by showing this coupon to the staff when paying.
---