A Complete List Of Seaside Cafes In Busan | Locals' Recommendations
13 of the most visually stunning ocean view cafes in Busan!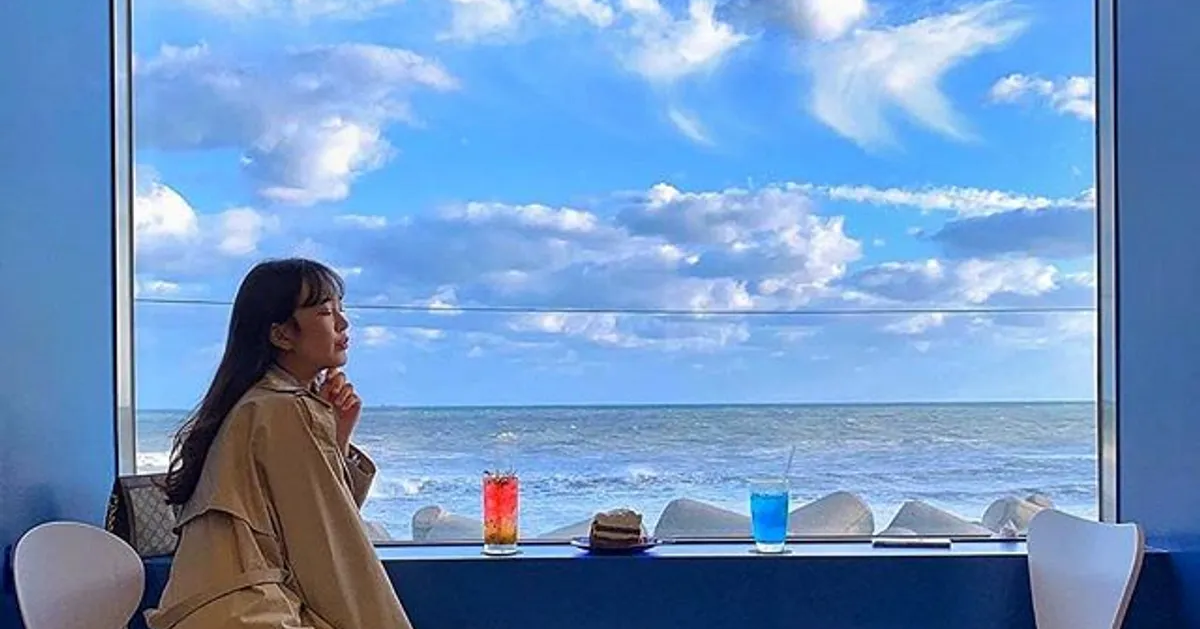 When you think of Busan, one of the first things that comes to mind is the gorgeous ocean views. There are many lovely cafes with amazing views of the ocean in Busan. You can enjoy being on the beach while cooling off with some delicious drinks and desserts. These are some of the best ocean view cafes that we think are worth a visit next time you are in Busan!
---
WAVEON COFFEE
웨이브온 커피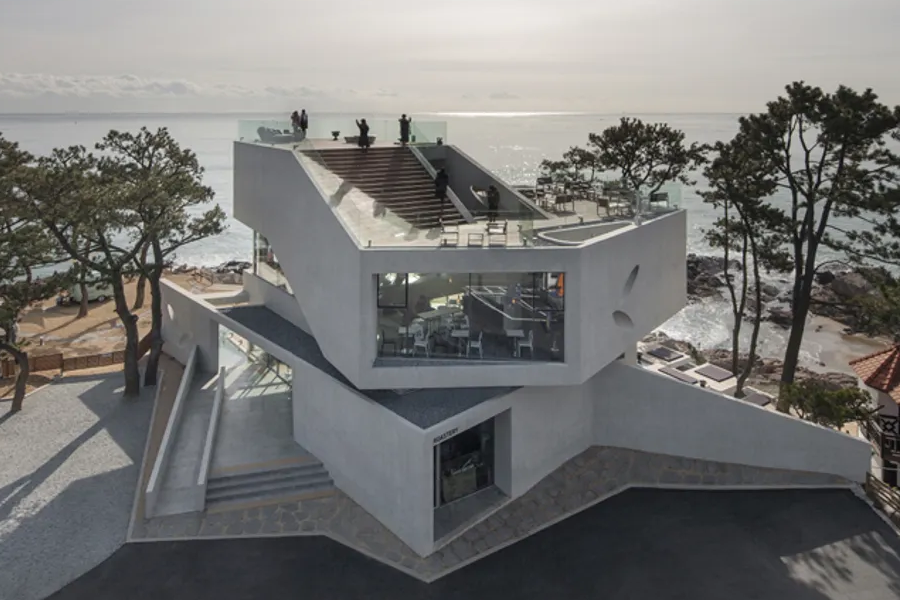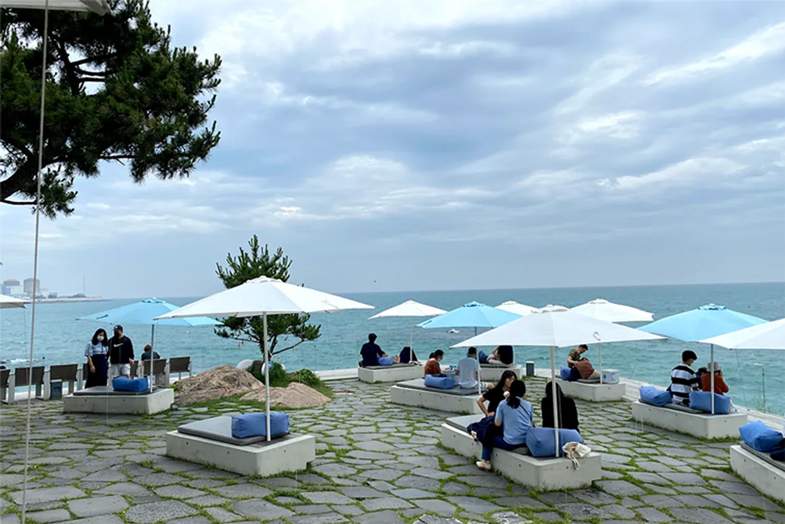 Located in Gijang County on the outskirts of Busan is the famous WAVEON COFFEE.
From every corner of this coffee shop you can see the beautiful ocean.
The building itself is a work of art, created by renowned architect Kwak Hee Soo (곽희수) and has received a Korean Architecture Award.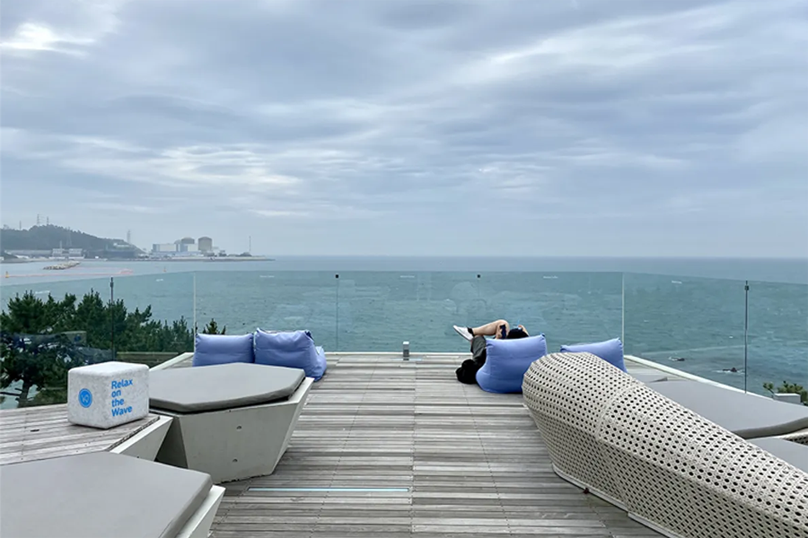 The whole cafe, inside, and out has a laid-back feel and the seating is comfortable, so you can relax and unwind while taking in the view of the seemingly endless sea.
If you want to check out more info on this cafe, you can refer to our more in depth blog here.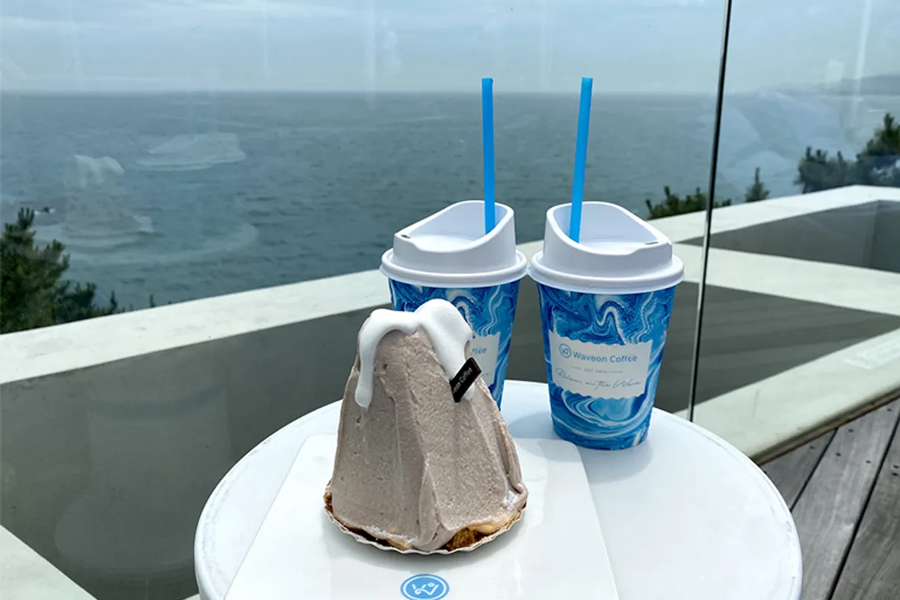 Address: 부산 기장군 장안읍 해맞이로 286
286 Haemaji-ro, Jangan-eup, Gijang-gun, Busan
Hours: 10:00-00:00 / Last order 23:00
Promo: Free Americano with purchase of 10,000 won. Click here for details.
---
H.US Coffee
에이치어스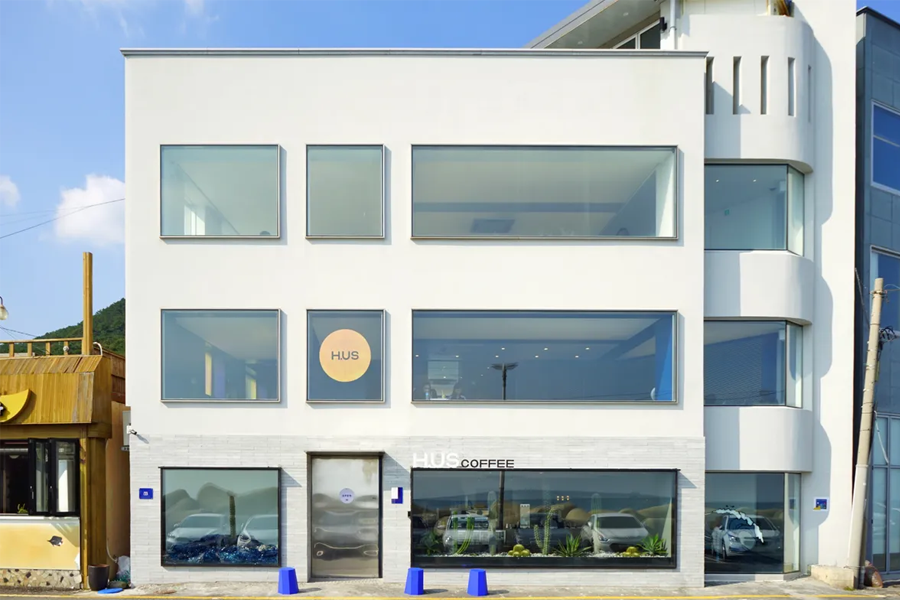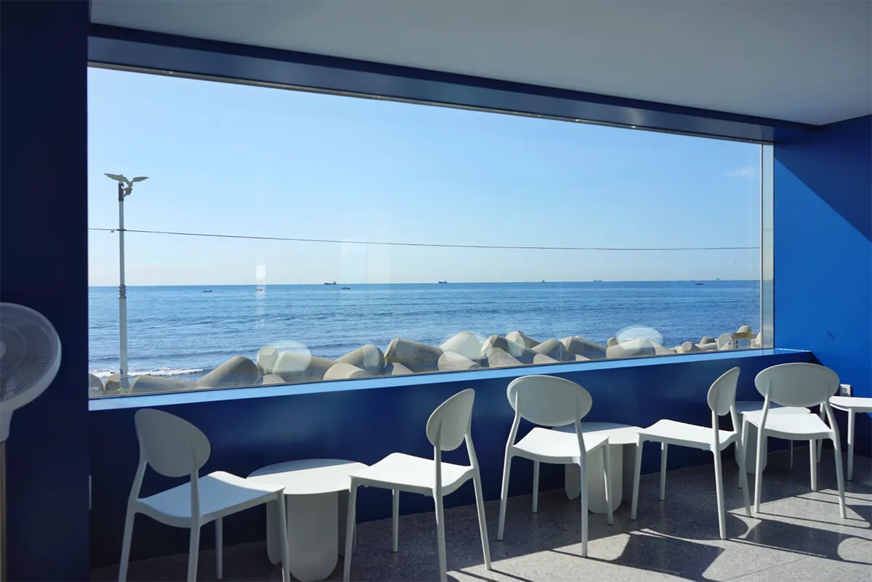 Cheongsapo is famous for its sparkling seascapes, punctuated by white and red lighthouses, and there, on the coast by the breakwater, is the three-story cafe H.US Coffee.
Each floor of the cafe has a different color scheme, with the unifying theme of clean and simple elegance.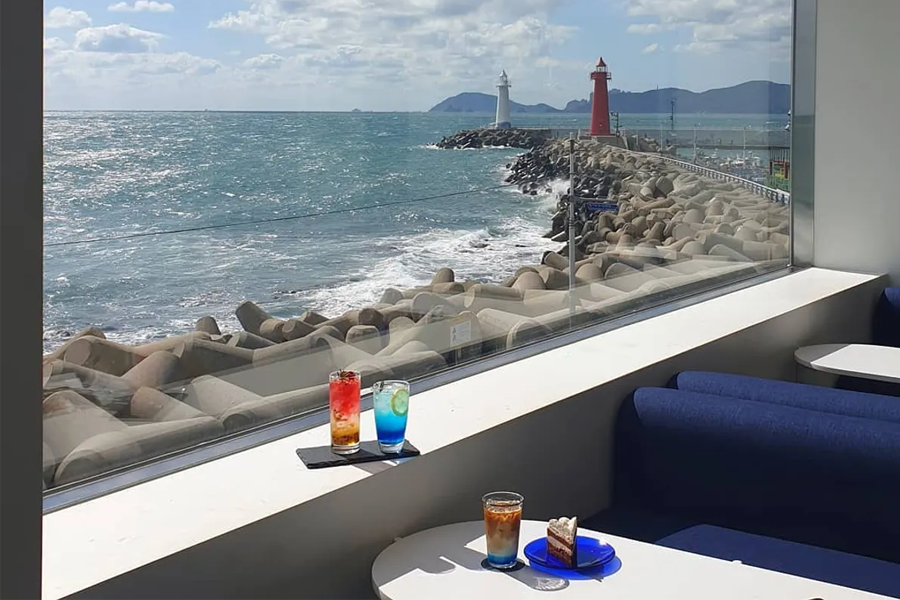 You can capture some gorgeous photos here in front of the oversized windows overlooking the ocean.
Plus their drinks are very pretty and match the seaside aesthetic perfectly.
Address: 부산 해운대 청사포로 135
135 Cheongsapo-ro, Haeundae, Busan
Hours: Weekdays 11:30-18:30, Weekends: 11:30-19:30
Promo: 10% off beverage menu. Click here for details.
---
Edge 993
엣지993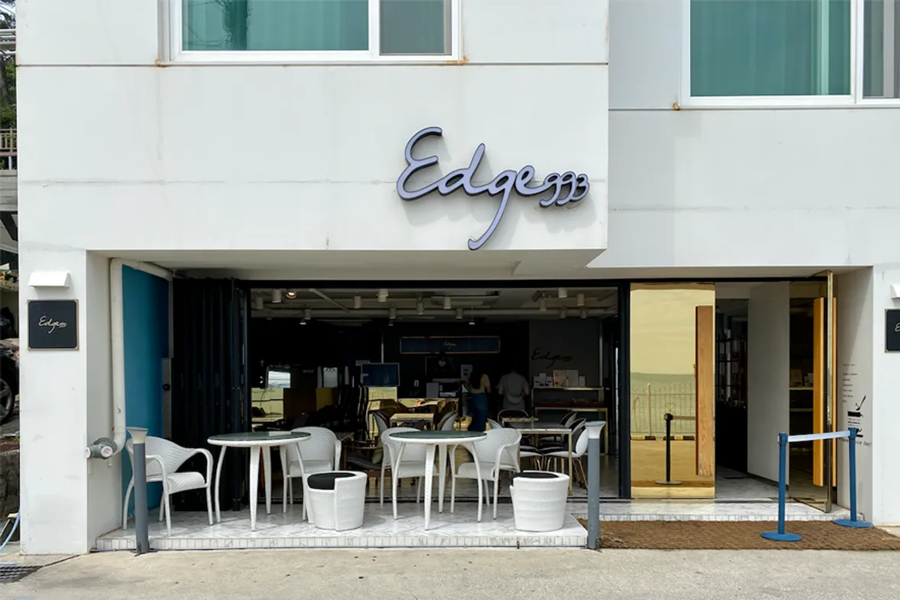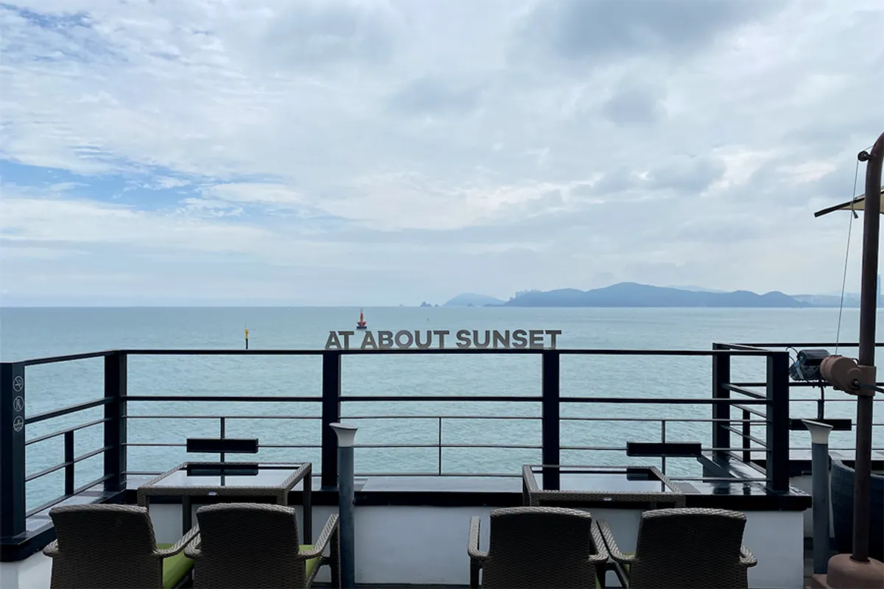 Since Haeundae Blueline Park opened in late 2020, it has become much easier to get from Haeundae to Cheongsapo, and along the railway there are many beautiful cafes facing the sea.
Out of all of them, Edge 993 is the one that impressed us the most.
Although the space is small, the view is unforgettable!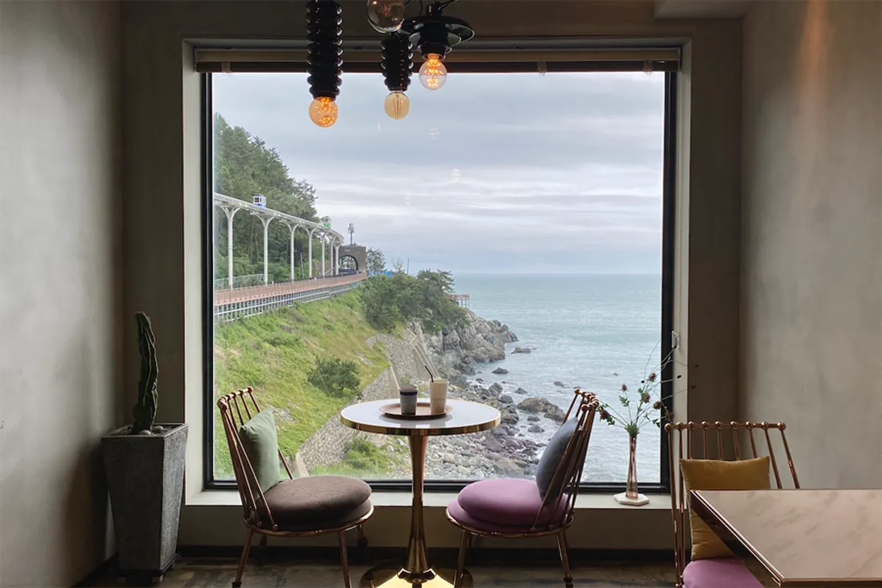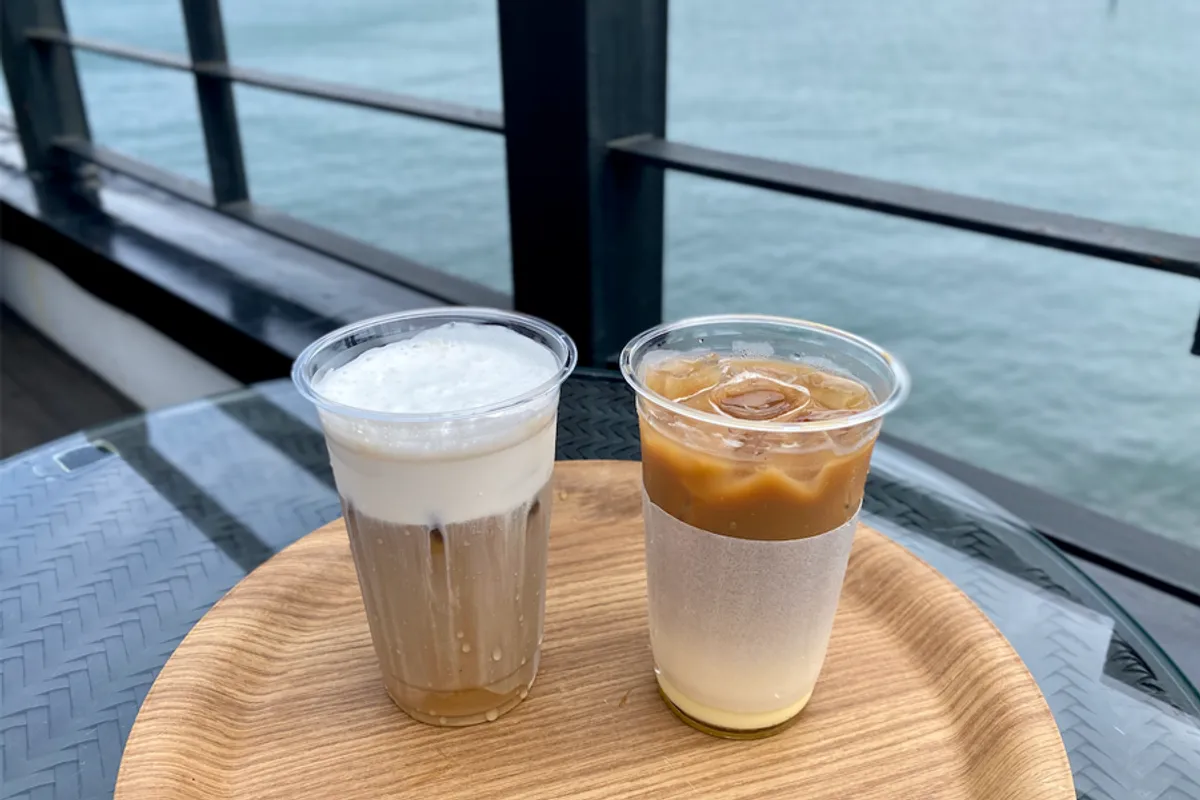 Sitting by the window and watching the colorful trains pass by is very calming and comforting.
In addition, the drinks here are excellent, so I recommend you check it out!
Address: 부산 해운대구 달맞이길62번길 78
78 Dalmaji-gil 62-beongil, Haeundae-gu, Busan
Hours: Mon-Thu: 11:00-21:00, Fri-Sun: 11:00-22:00
---
Byul Bed
별침대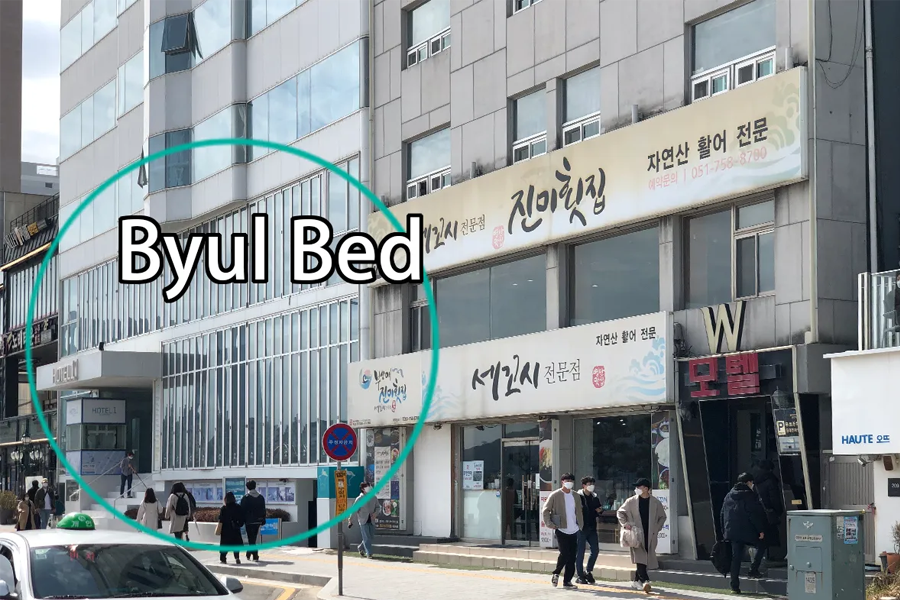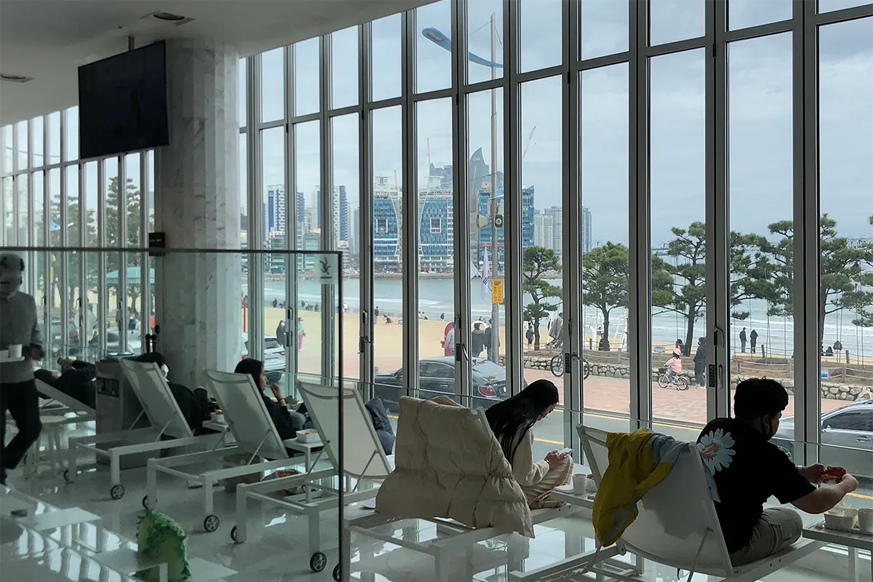 In addition to Haeundae, Gwangalli Beach is a must-see, when you come to Busan.
The cafe I want to recommend here is Byul Bed, which combines hotel accommodation and landscape cafe (self-service bar).
It is located on the beach, so you can enjoy a comfortable coastal view indoors from the first floor.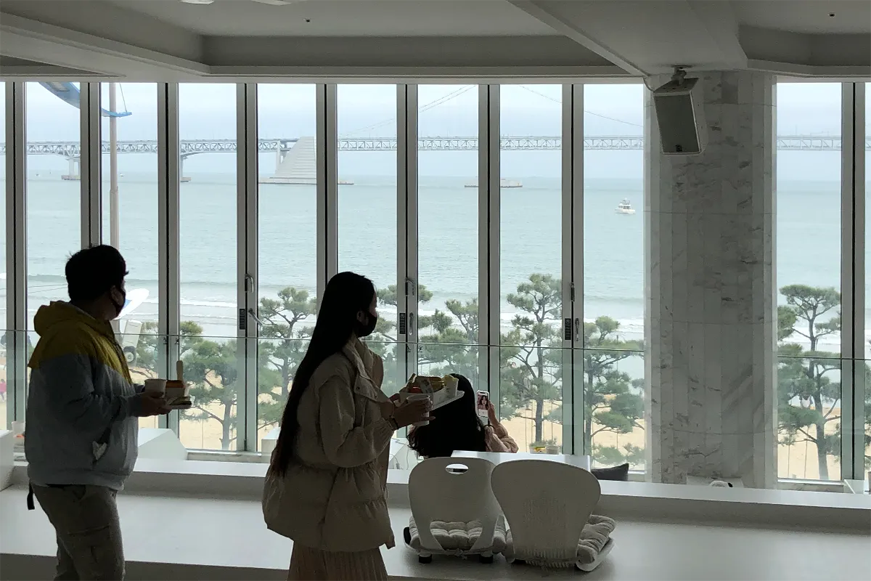 Even if you don't book a stay here, you can purchase a pass for 11,800 won to use the second floor seating area and enjoy unlimited access to the self-service bar.
The view from the second floor of the Gwangan Bridge is spectacular!
And if you do stay here you can enjoy the guest only facilities, like access to the higher floors for even more incredible views.
Address: 부산 수영구 광안해변로 203
203 Gwanganhaebyeon-ro, Suyeong-gu, Busan
Hours: 10:00-00:00
---
Maison Cote
메종꽃떼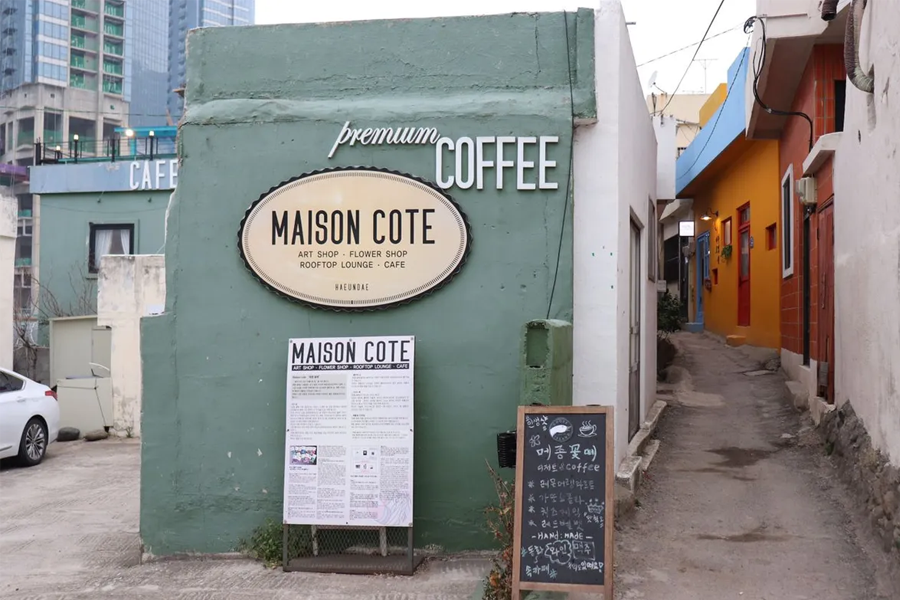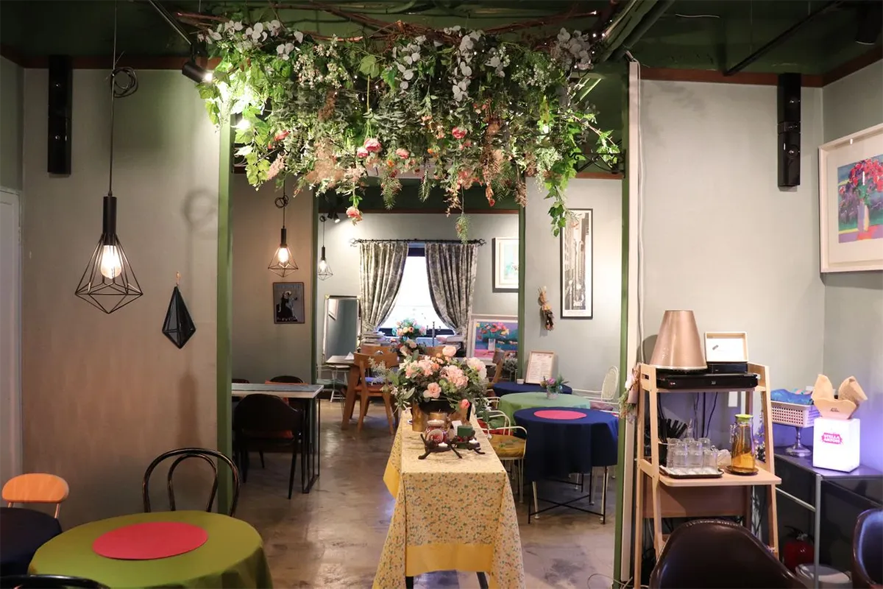 Hidden in the alleys of the Haeundae business district, the cafe Maison Cote has an impressive and romantic atmosphere.
It's like an art exhibition. Every corner is decorated and color coordinated beautifully.
Even without going up to the second floor for the ocean view, the cafe's first floor will put you in a good mood.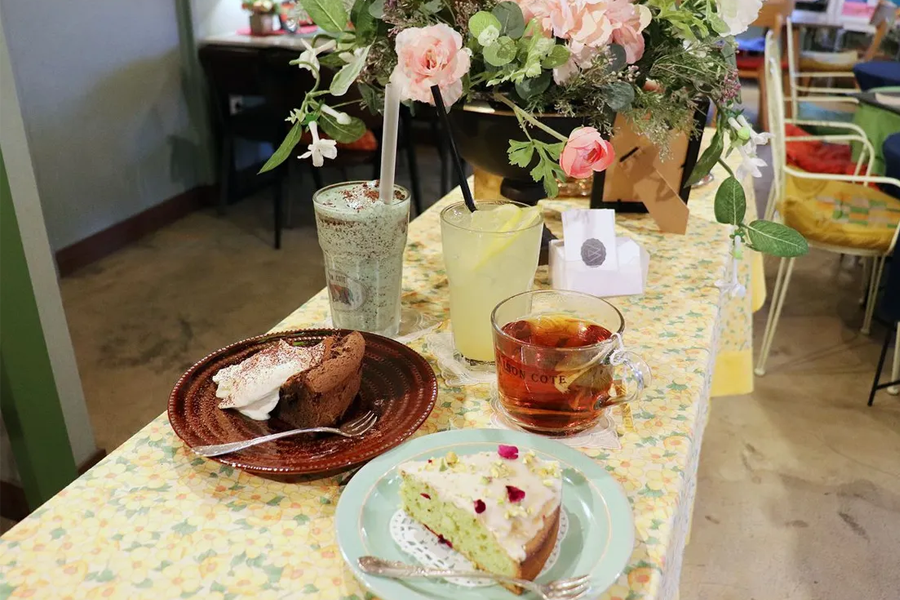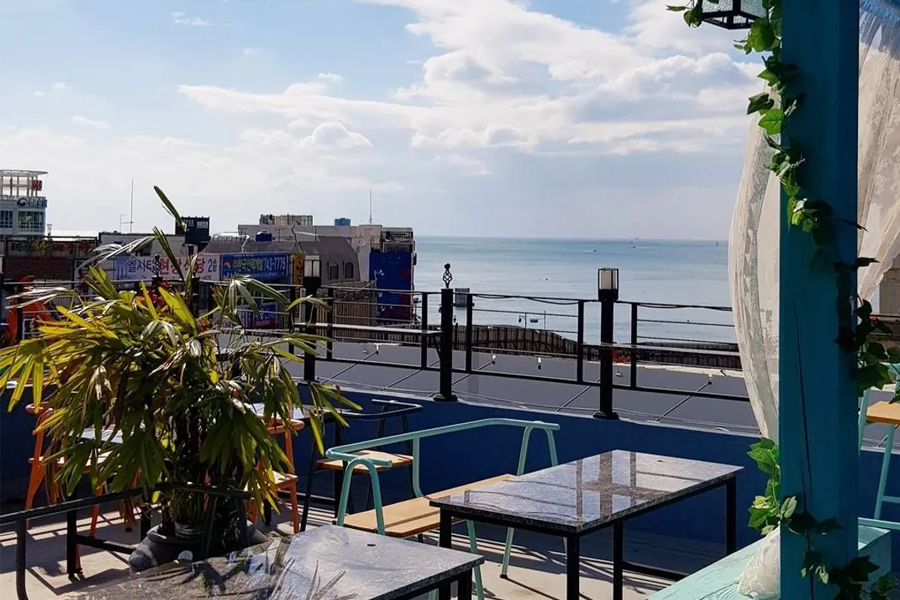 Upstairs you will find the terrace and since there are not many buildings in front of the cafe, you have a great view of the ocean from here.
It's such a charming and unique spot, tucked away from the usual tourist spots.
Address: 부산 해운대구 달맞이길50번길 20
20 Dalmaji-gil 50-beongil, Haeundae, Busan
Hours: Mon-Fri: 11:00-21:00, Sat-Sun: 10:00-2:00
Promo: Enjoy 10% off drinks and 5& off desserts! Click here for details.
---
Cafe In Busan
카페 인 부산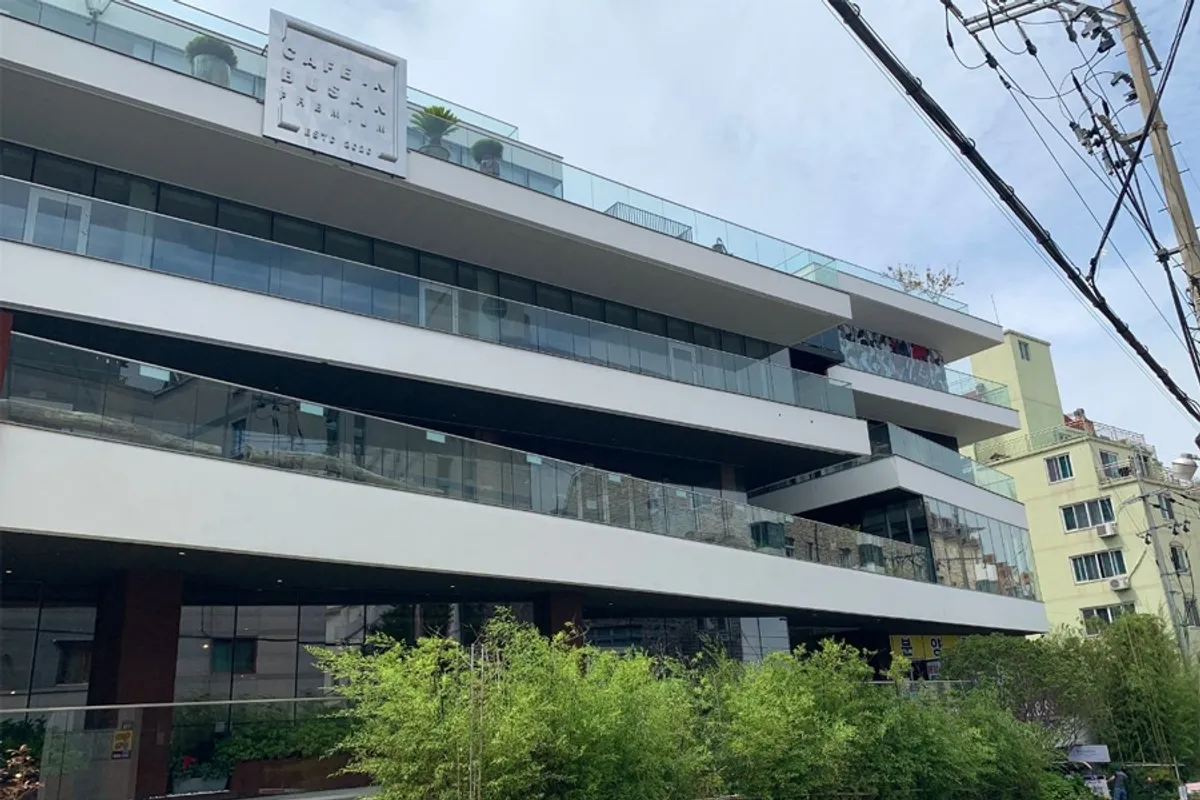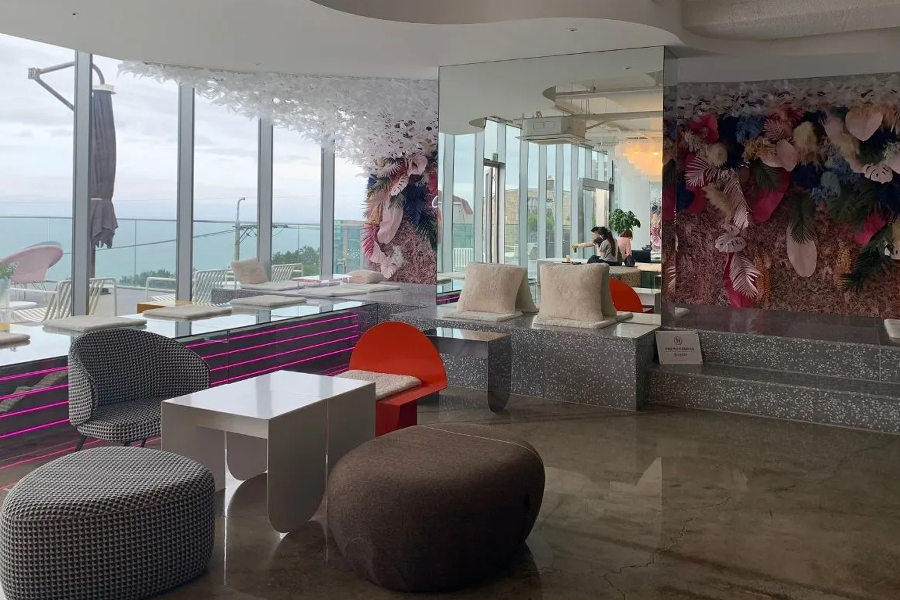 Cafe In Busan is a super stylish cafe on the coast of Haeundae, with an interior like an art gallery.
Full of color, this modern and chic spot impresses all who visit.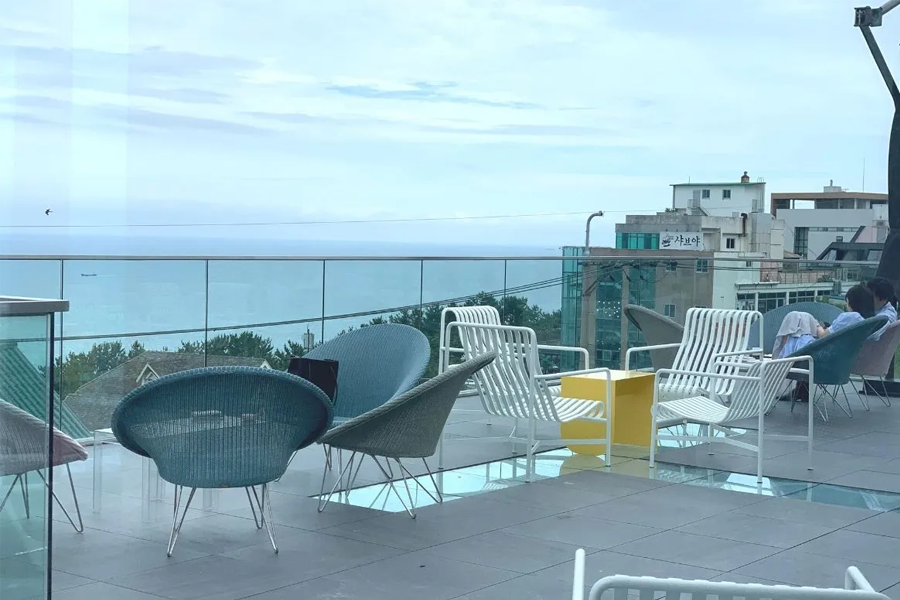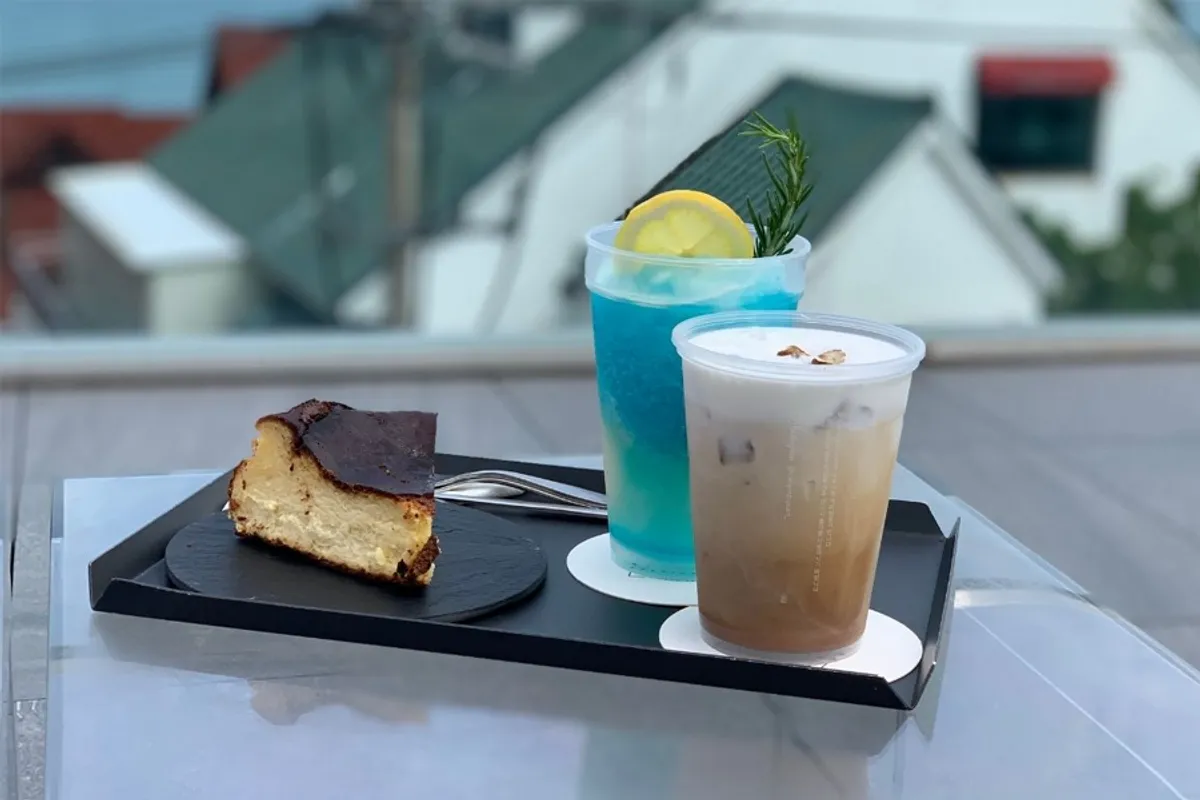 On the terrace, you can find comfortable seats with a panoramic view, like a personal villa.
When the weather is good, you can sit on the terrace and take beautiful pictures; and when the sun is too intense, go back inside and enjoy the gorgeously decorated interior, also great for snapping enviable IG photos.
Address: 부산 해운대구 달맞이길117번가길 175 4F
4F 175 Dalmaji-gil 117-beongil, Haeundae, Busan
Hours: Mon-Sat: 11:00-02:00, Sun: 11:00-00:00
---
Cafe Roof Top
카페 루프탑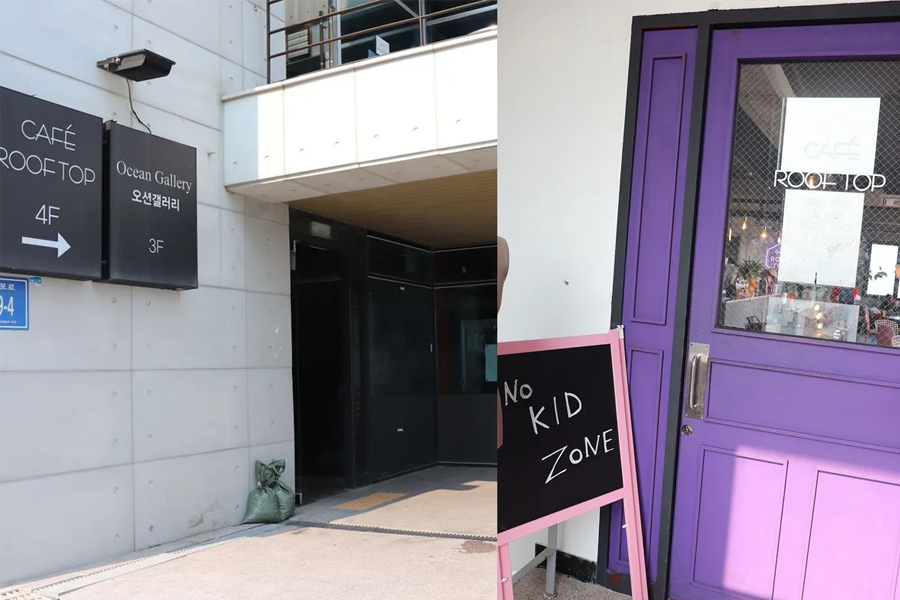 It can be said that Cafe Roof Top is the most well-known cafe in the Haeundae and Cheongsapo area.
Every time I visit, I have to wait for a while to get a beautiful seat, but if you go with friends you can strategize and while one person orders, another can go find a seat.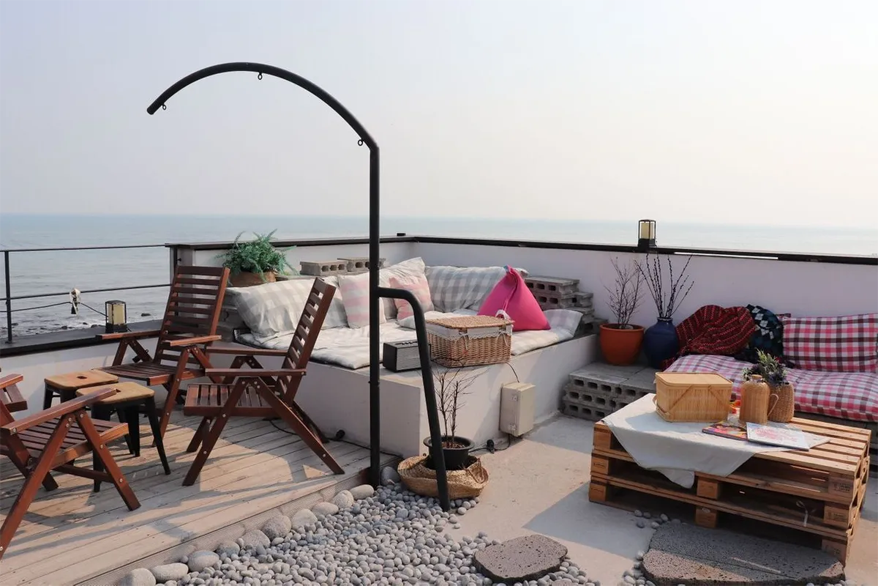 As the name suggests, the most attractive thing about Cafe Roof Top, is the terrace on the roof.
It is divided into many seating areas with different styles, but the side close to the sea is the most popular.
You can choose a seat you like and snap some photos of your desserts and drinks. There are cute props and decorations, so pictures come out amazing.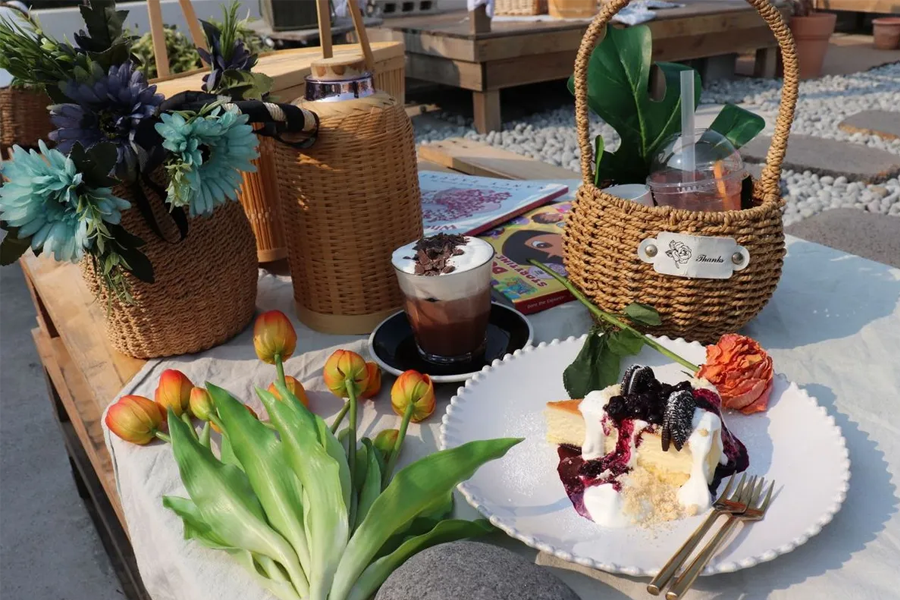 Address: 부산 해운대구 청사포로 139-4
139-4 Cheonsapo-ro, Haeundae-gu, Busan
Hours: 11:00- 22:00

Promo: 10% off entire menu. Click here for details.
---
Sonmokseoga
손목서가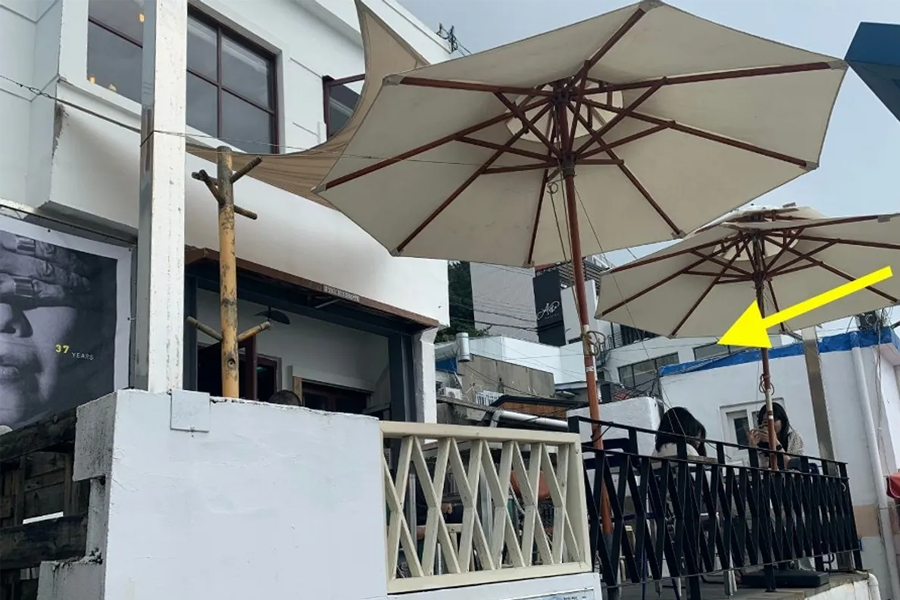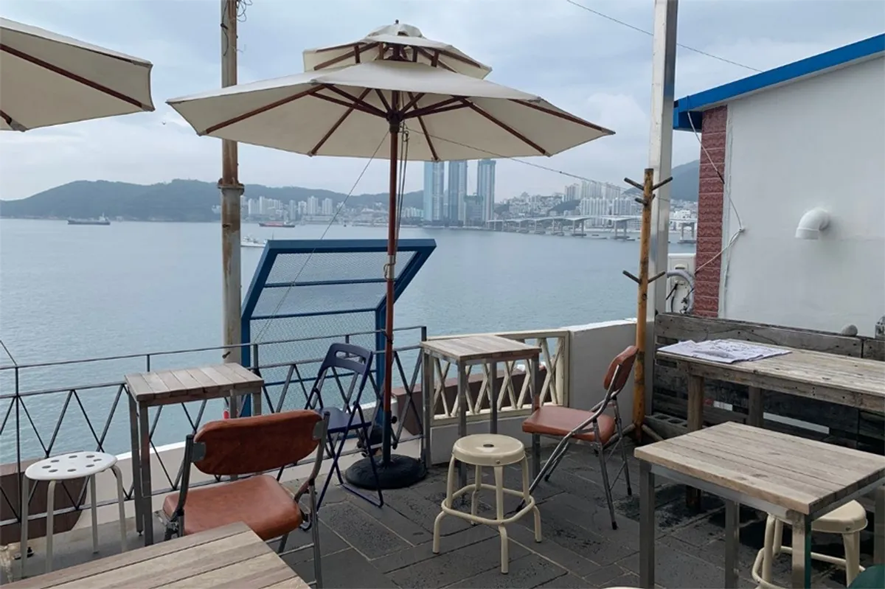 Have you heard of Huinnyeoul Culture Village? In contrast to Gamcheon Culture Village which is very popular with international tourists, Huinnyeoul is more popular with locals.
It's a small town along the coast with intricate alleys, but the cafes, bookstores, and restaurants hidden in it always give tourists a lot of surprises, especially Sonmokseoga.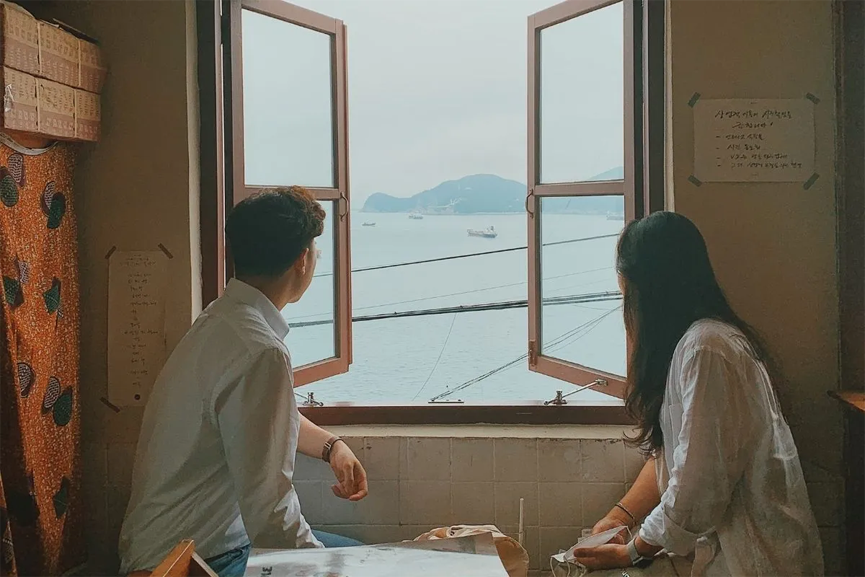 Sonmokseoga is an independent bookstore that also offers drinks like coffee and tea.
The most desirable seats are by the windows where you can look out at the sea and read a book.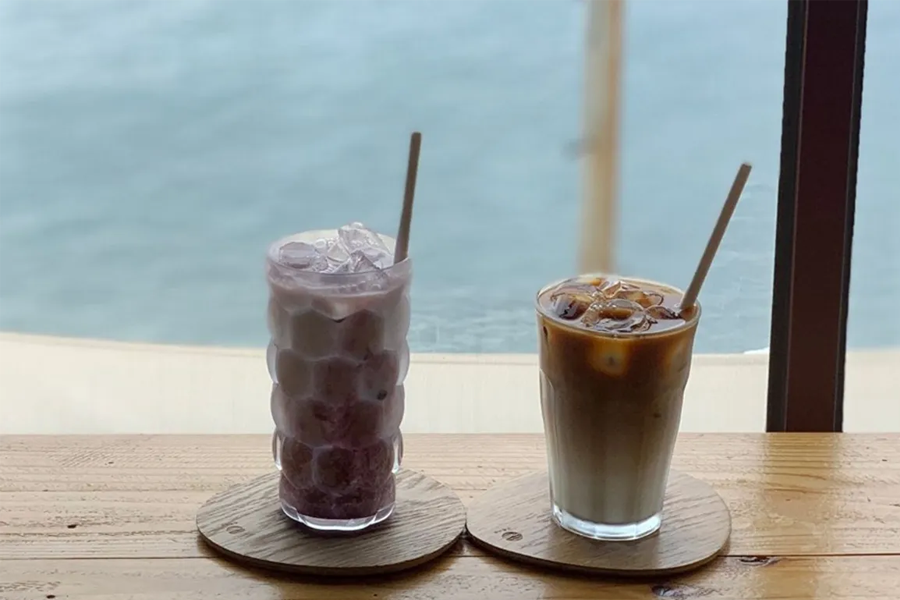 Address: 부산 영도구 흰여울길 307
307 Huinnyeoul-gil, Yeongseon 2 (i)-dong, Yeongdo-gu, Busan
Hours: 11:00-19:00
---
Montée 104
몽떼104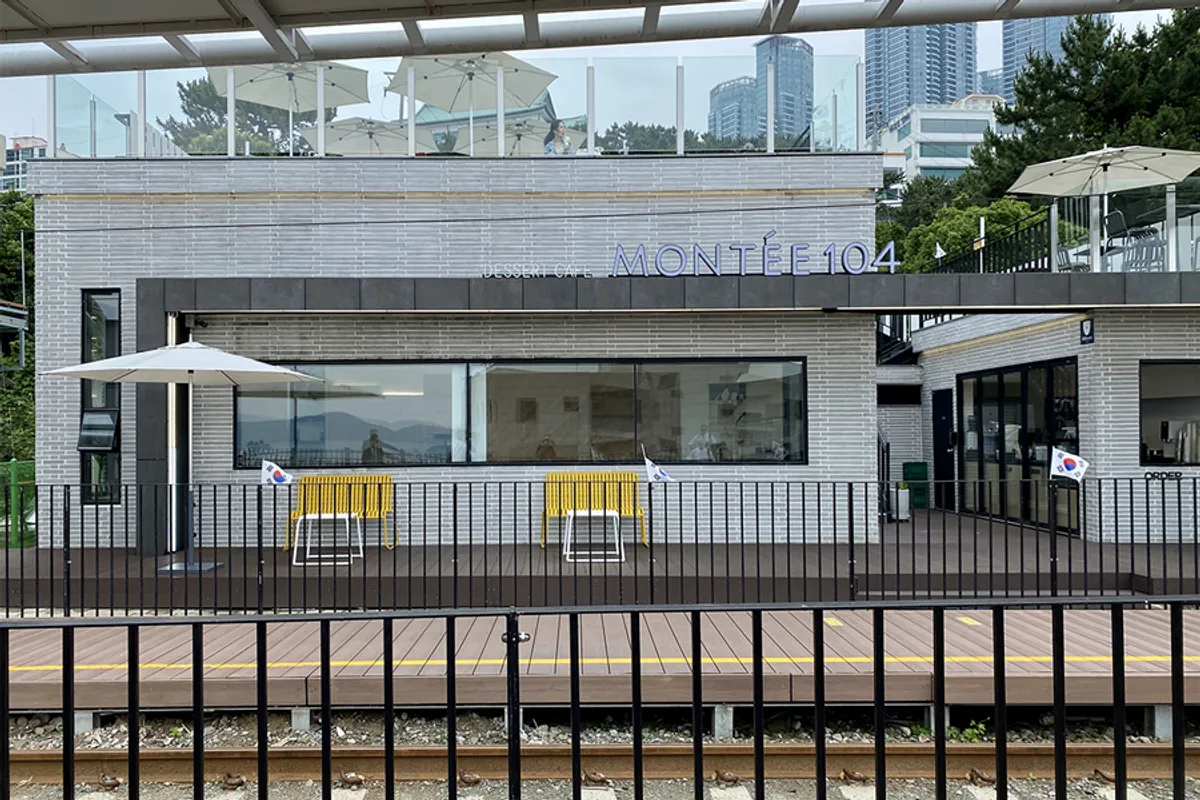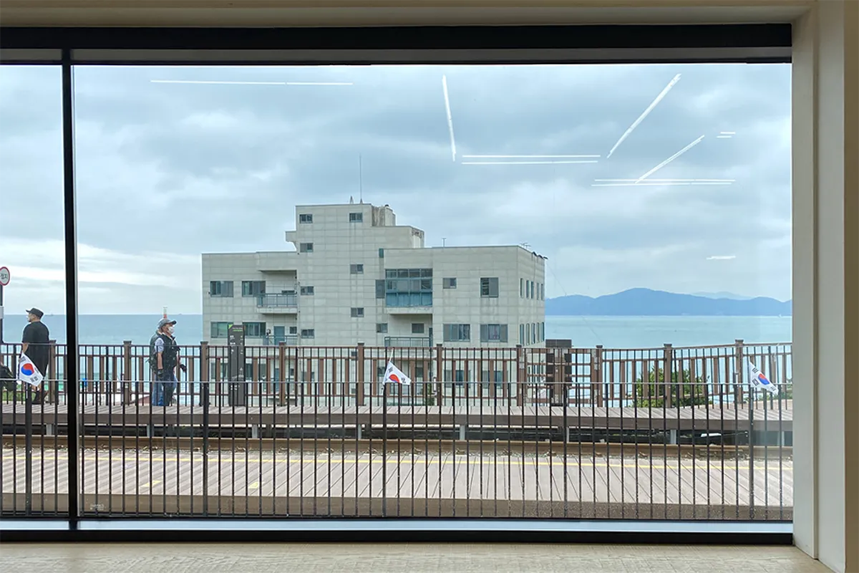 On the other side of Edge 993, which we introduced earlier, is Montée 104, another cafe where you can enjoy the ocean view while watching the trains pass.
Even if you don't go up to the top floor, you can still see the sea and trains well.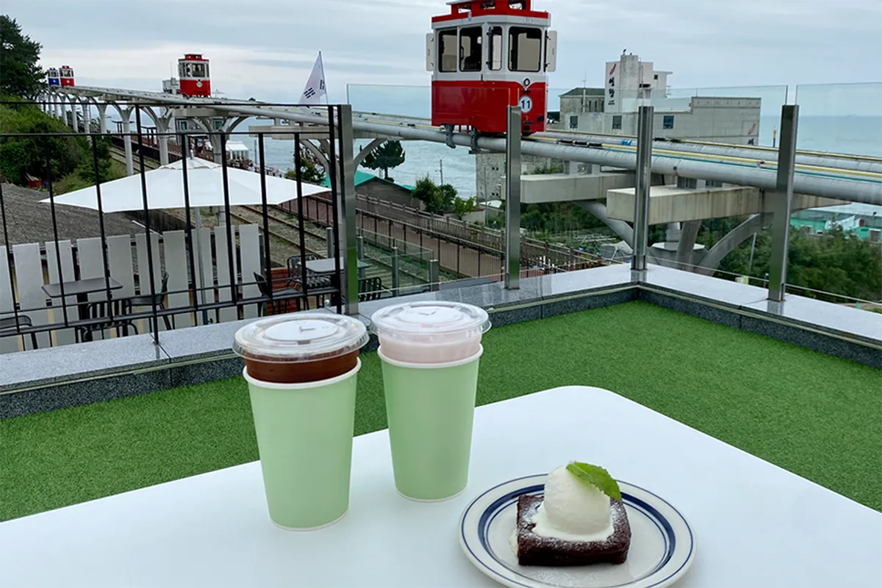 If you go up to the top, you can take a memorable photo with the colorful monorail as a backdrop.
Address: 부산 해운대구 달맞이길104번길 18-19
18-19 Dalmaji-gil 104-beongil, Haeundae, Busan
Hours: 10:30-19:00
---
e.c.t.
에쎄떼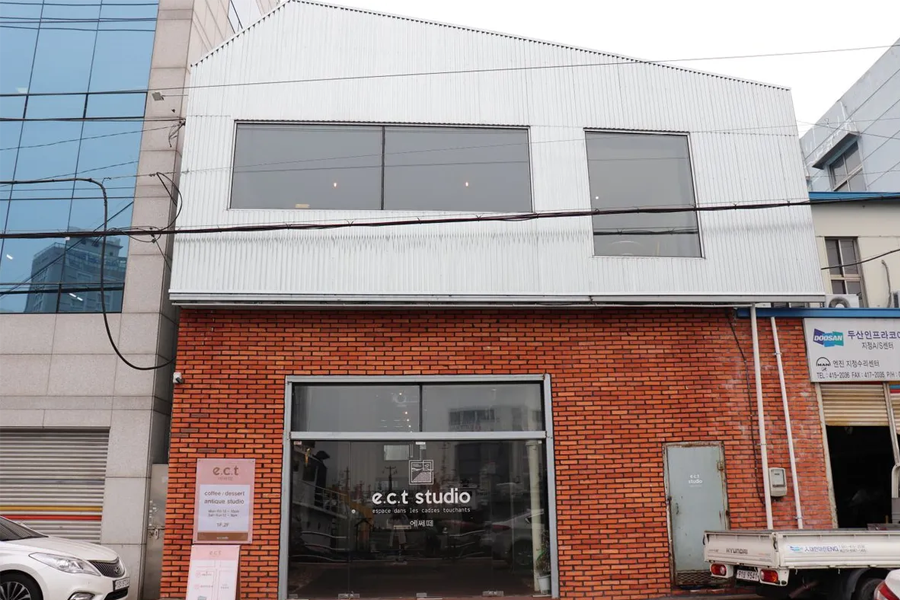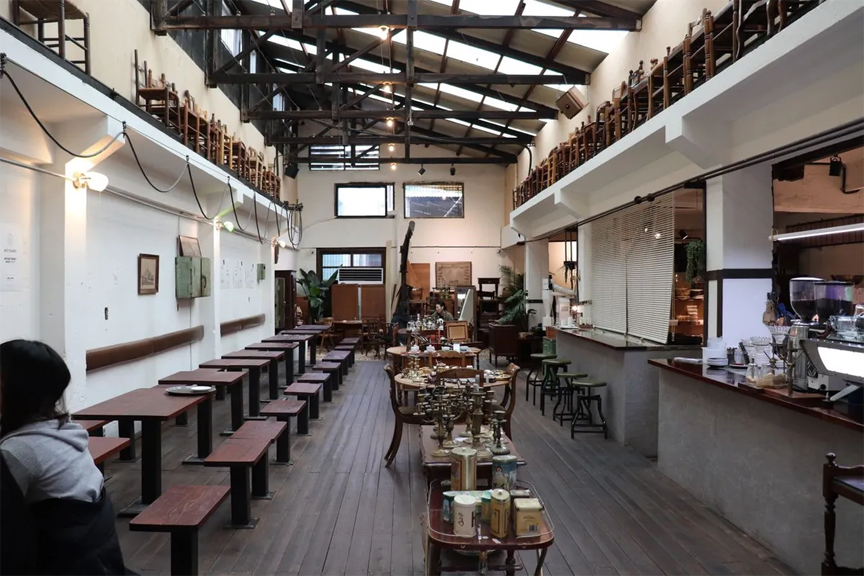 e.ct. is a unique cafe in a remodeled shipyard with an antique theme, where many Koreans come to take stunning photos.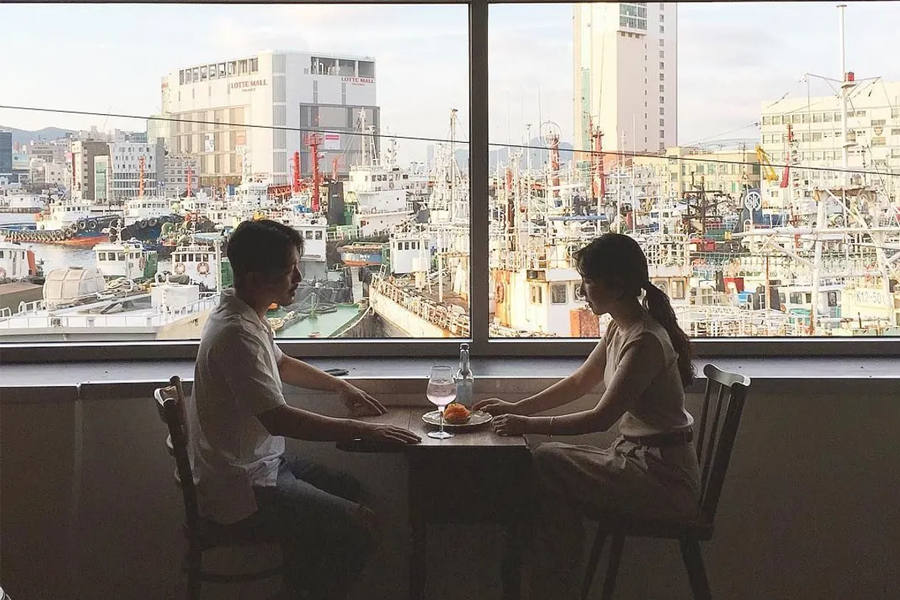 Although the ocean view here may not be as clear as in the other cafes introduced, the atmosphere here is really something special and seems to transport you back in time to the heavy industrial era of the 70s, very different from your standard cafe.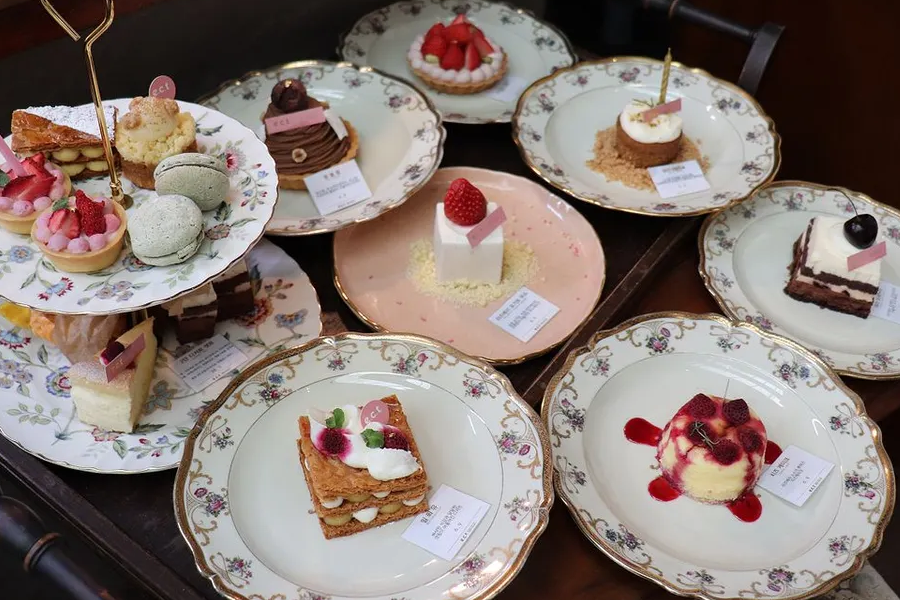 Address: 부산 영도구 대평북로 29
29 Daepyeongbuk-ro, Yeongdo-gu, Busan
Hours: 11:30- 19:40
Promo: 10% off entire menu. Click here for details.
---
Huinnyeoul Beach
흰여울비치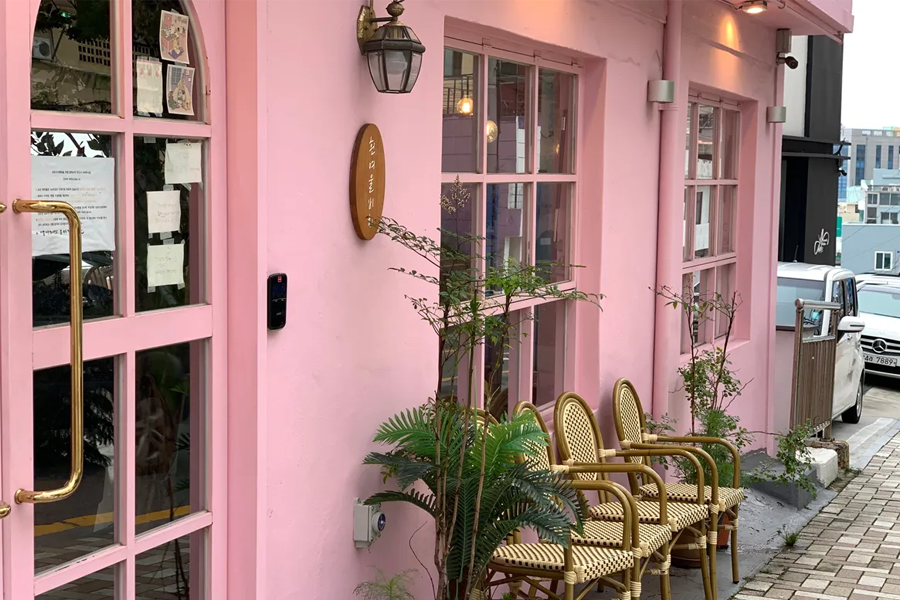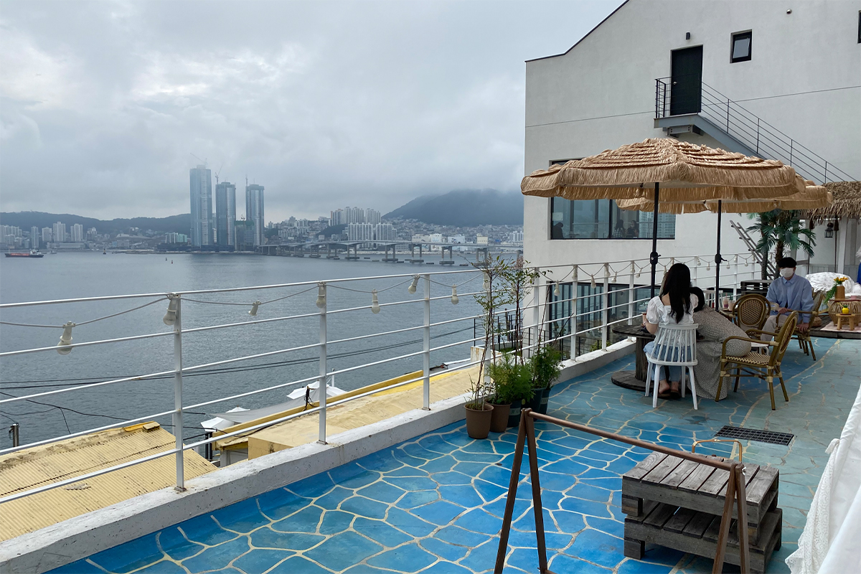 Huinnyeoul Beach checks all the boxes for a perfect seaside instagram photo.
There is an outdoor terrace area in addition to the indoor space and it is a great place to sit and enjoy the sea breeze.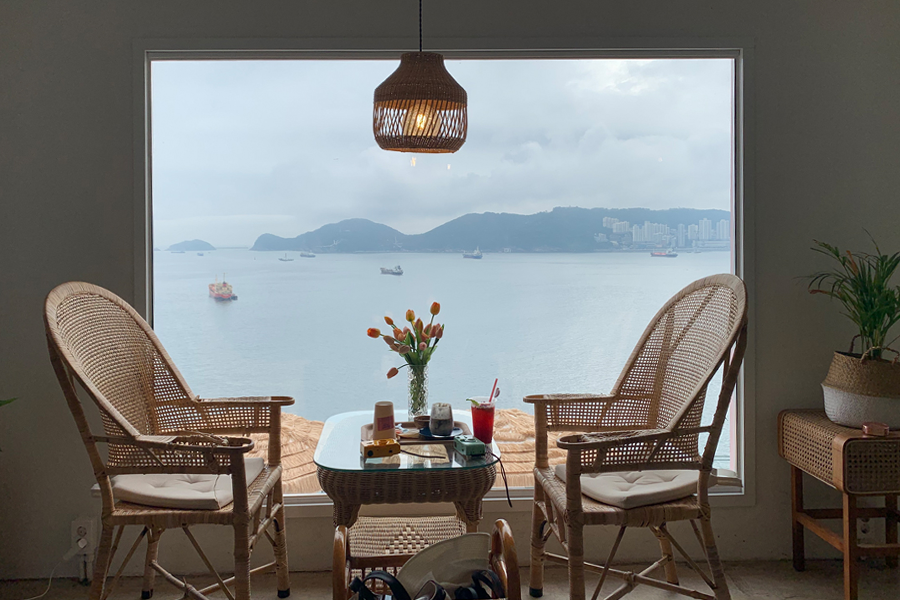 There are soft chairs, tents, outdoor umbrellas, and large windows with ocean views that are perfect for snapping a photo.
Address: 부산 영도구 절영로 236
236 Jeolyeong-ro, Yeongdo-gu, Busan
Hours: 11:00-20:00, Closed Wednesday
\
---
Cafe Wooin
우인 카페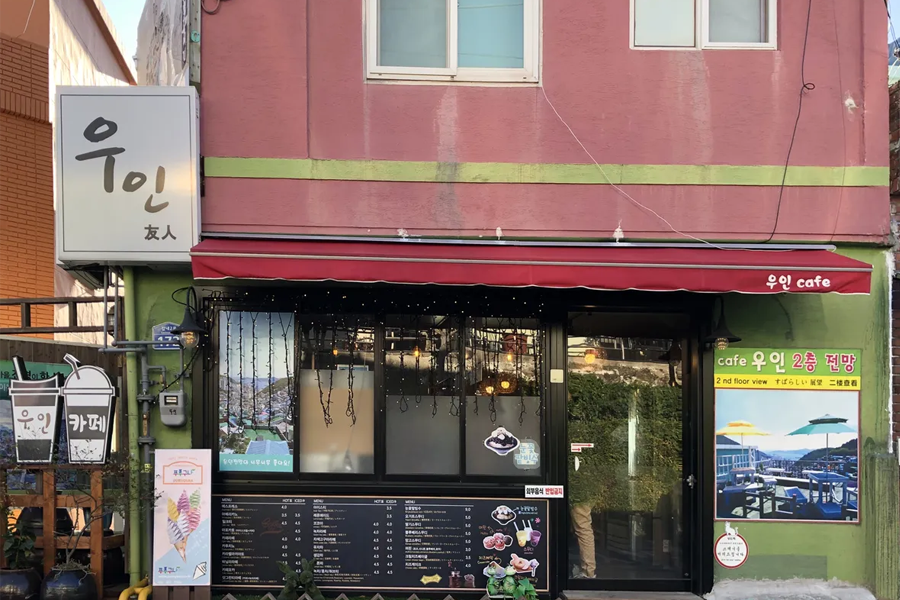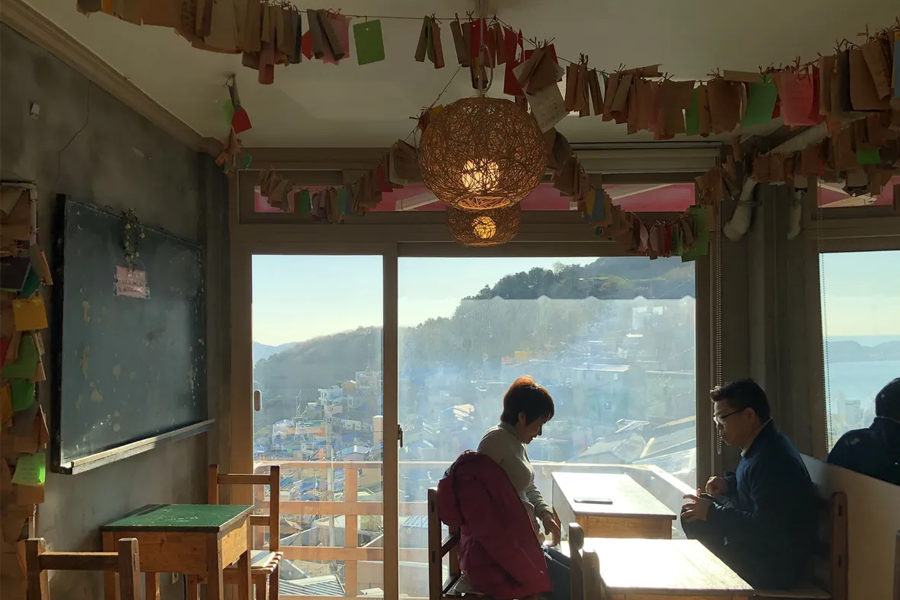 Of course now that I've introduced you to Huinnyeoul Culture Village, I have to also mention Gamcheon Culture Village.
Although it is more inland, the higher terrain allows for gorgeous views of Busan Port.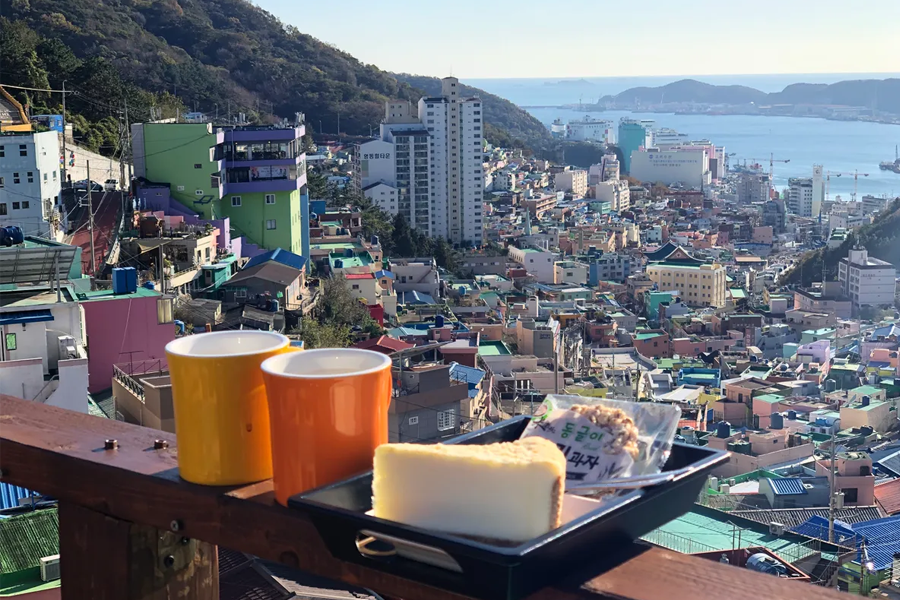 Wooin Cafe was used for a Samsung mobile phone advertisement before because of the amazing view from the balcony.
In addition to the dazzling view of the colorful houses, you can also see the ocean and bridge in the distance.
Address: 부산 사하구 감내2로 172
172 Gamnae 2-ro, Saha-gu, Busan
Hours: Spring & Summer: 9:00-20:00, Fall & Winter: 9:00-19:00
Promo: Free rice cracker with purchase of a beverage. Click here for details.
---
CUP&CUP
컵앤컵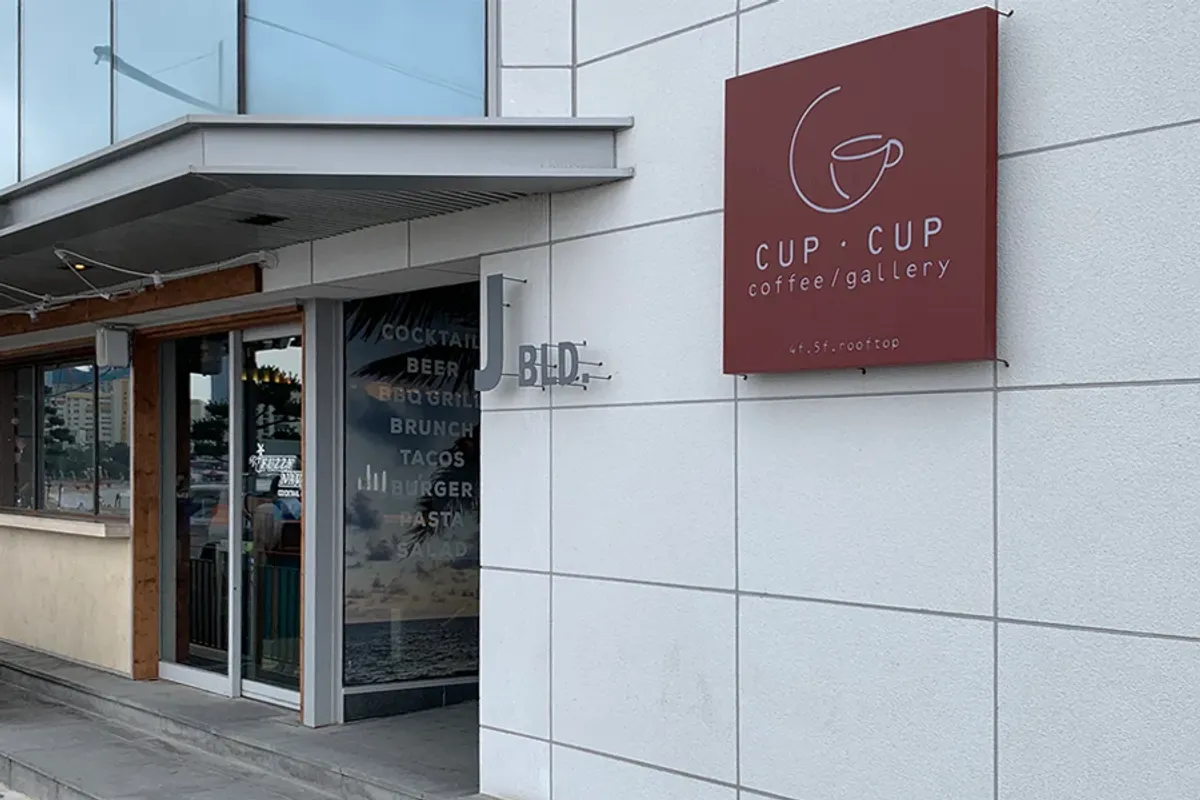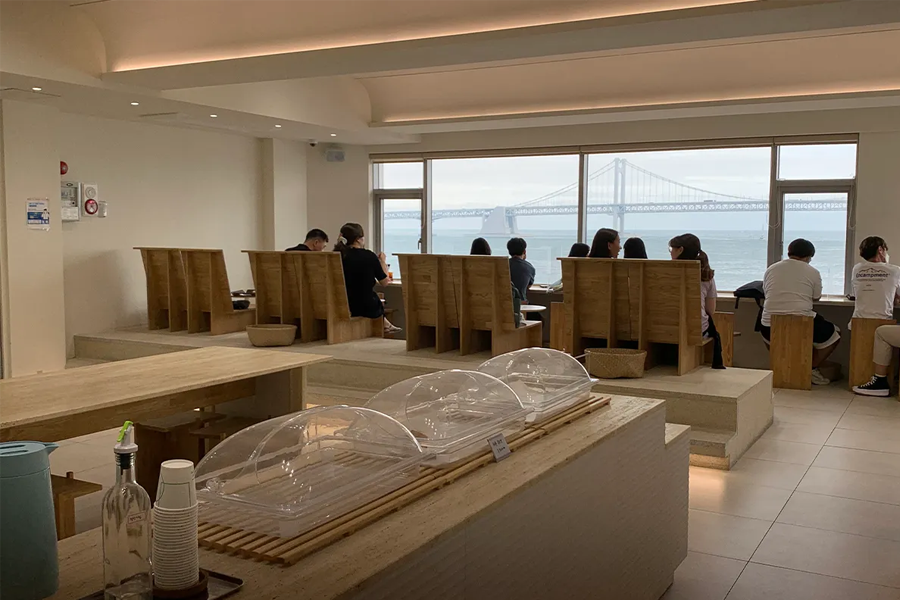 Our final cafe on the list is CUP&CUP by Gwangan Bridge.
The cafe is on the 4th floor, so when you arrive, take the elevator up.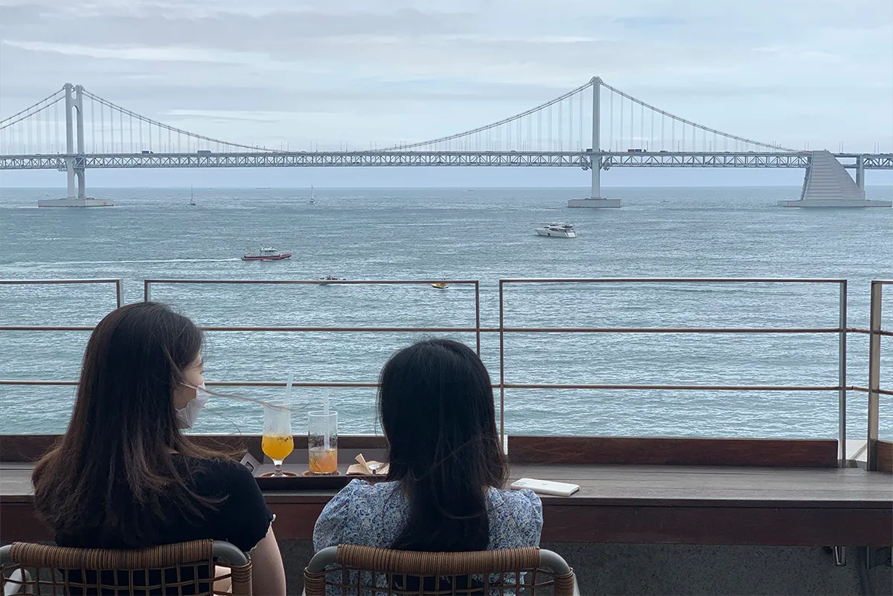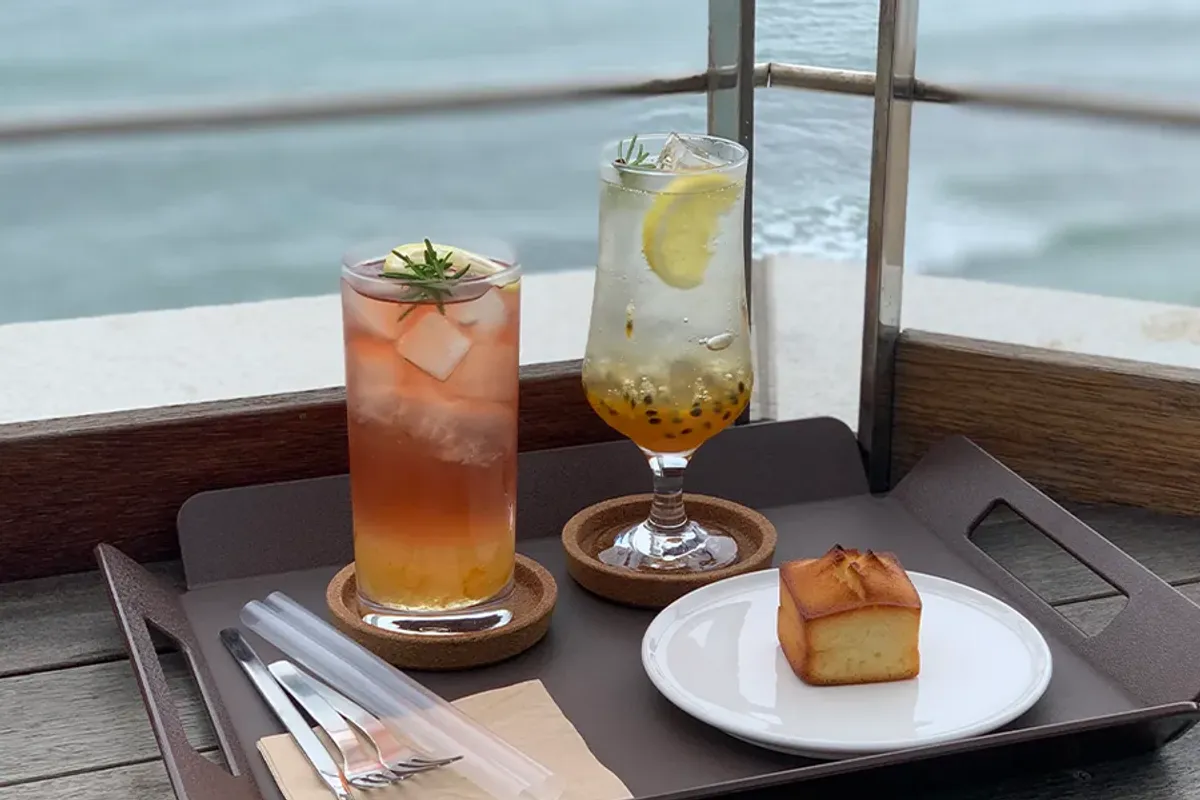 This cafe does not dissapoint! From the inside, you can look out at the Gwangan Bridge with an unobstructed view, and if you go to the top floor terrace, you can also enjoy the sea breeze.
When you come to Gwangalli, apart from surfing at the beach, you can also come to CUP&CUP to relax and enjoy the view.
Address: 부산 수영구 광안해변로 177 4F
4F 177 Gwanganhaebyeon-ro, Suyeong-gu, Busan
Hours: 11:00-21:00, Top floor open till 20:00, Last order 20:30
---
There are so many beautiful cafes in Busan! Which one caught your eye most? Let us know in the comments. Also make sure to follow our Instagram, Tik Tok, and Facebook to stay updated on everything related to Korea and email us at support@creatrip.com if you have any other further questions!
---