Our Visit To HYBE Insight In Seoul
Experience the artistry and success of HYBE at HYBE Insight in Seoul!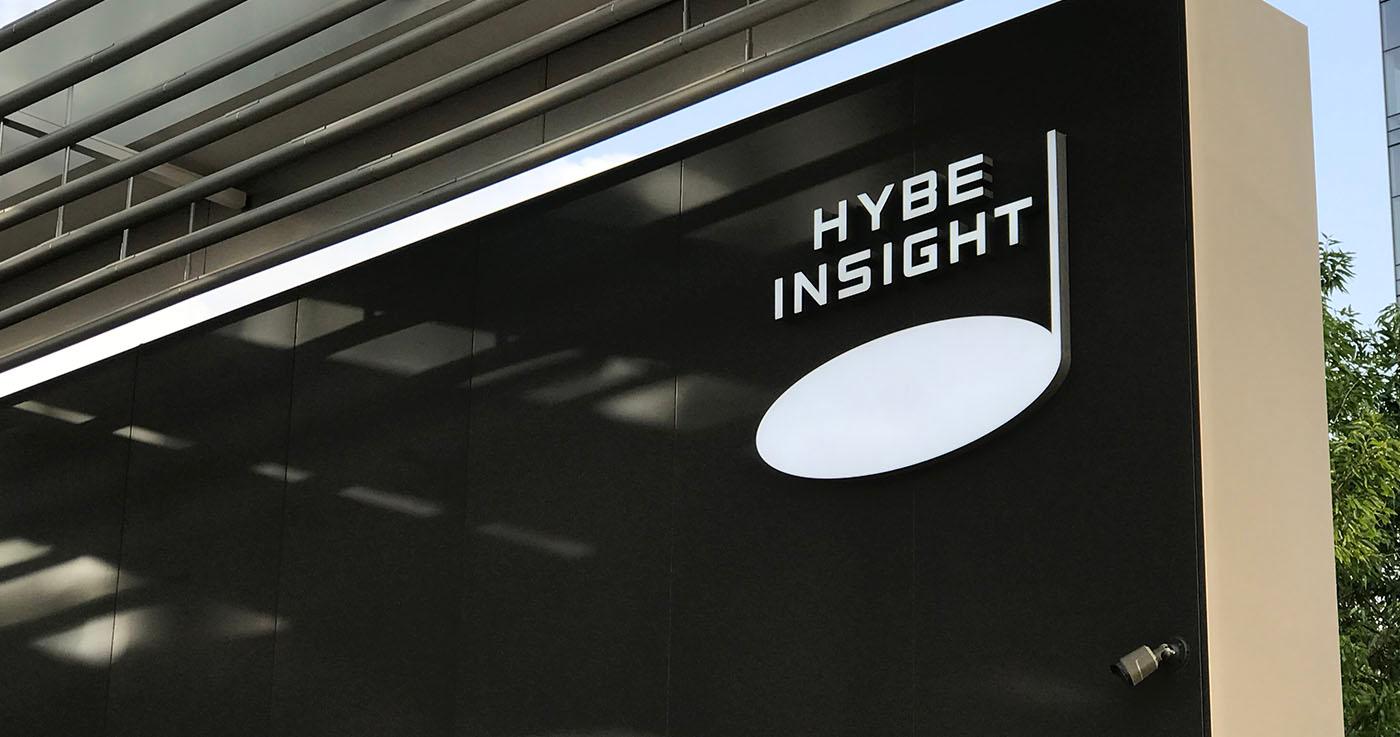 We are so excited to share with you our visit to HYBE Insight.
Formerly known as Big Hit Entertainment, HYBE opened a multiplex exhibition space in May to celebrate its artists, their music, and their fans.
HYBE Insight features a museum and cultural exhibition space on the two basement floors of its new headquarters in Seoul.
This place is a must for fans of HYBE's artists - BTS, Tomorrow X Today, Enhypen, NU'EST, Seventeen, and GFriend.
Let's go check it out!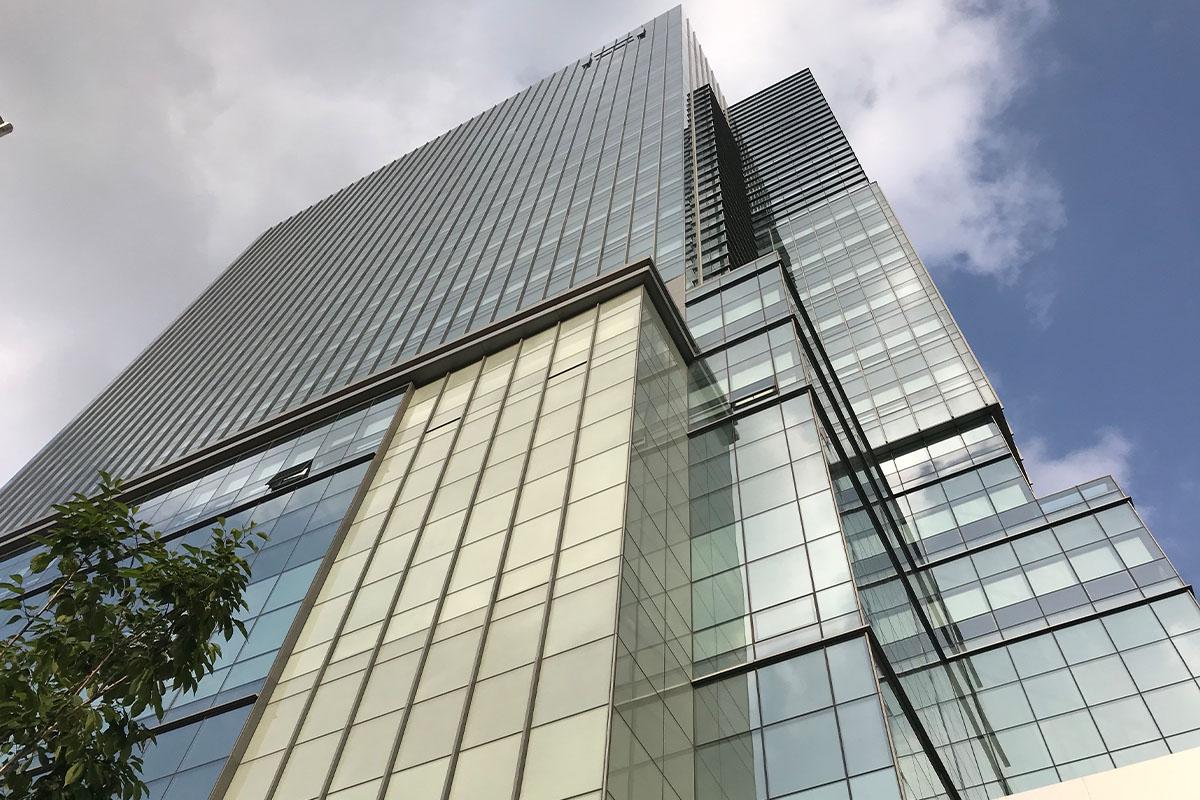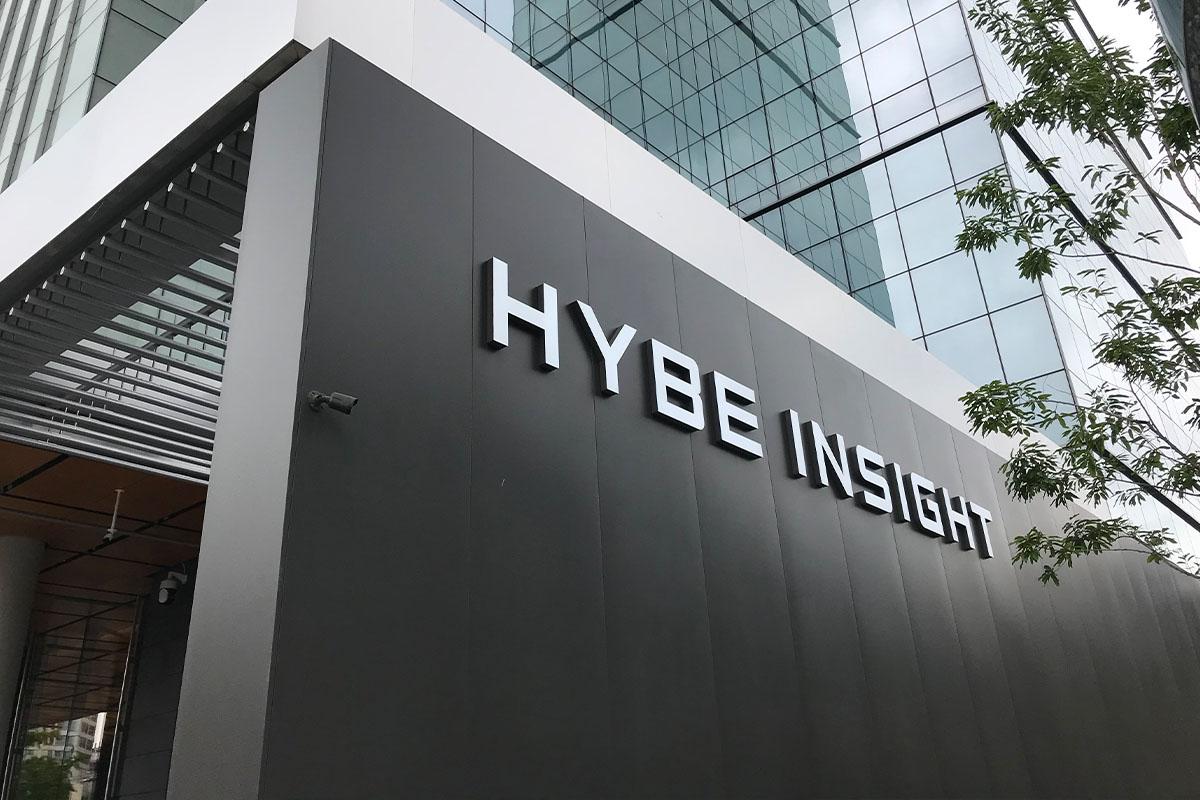 The exterior of HYBE's headquarters was beautiful.
Its design was modern and sleek.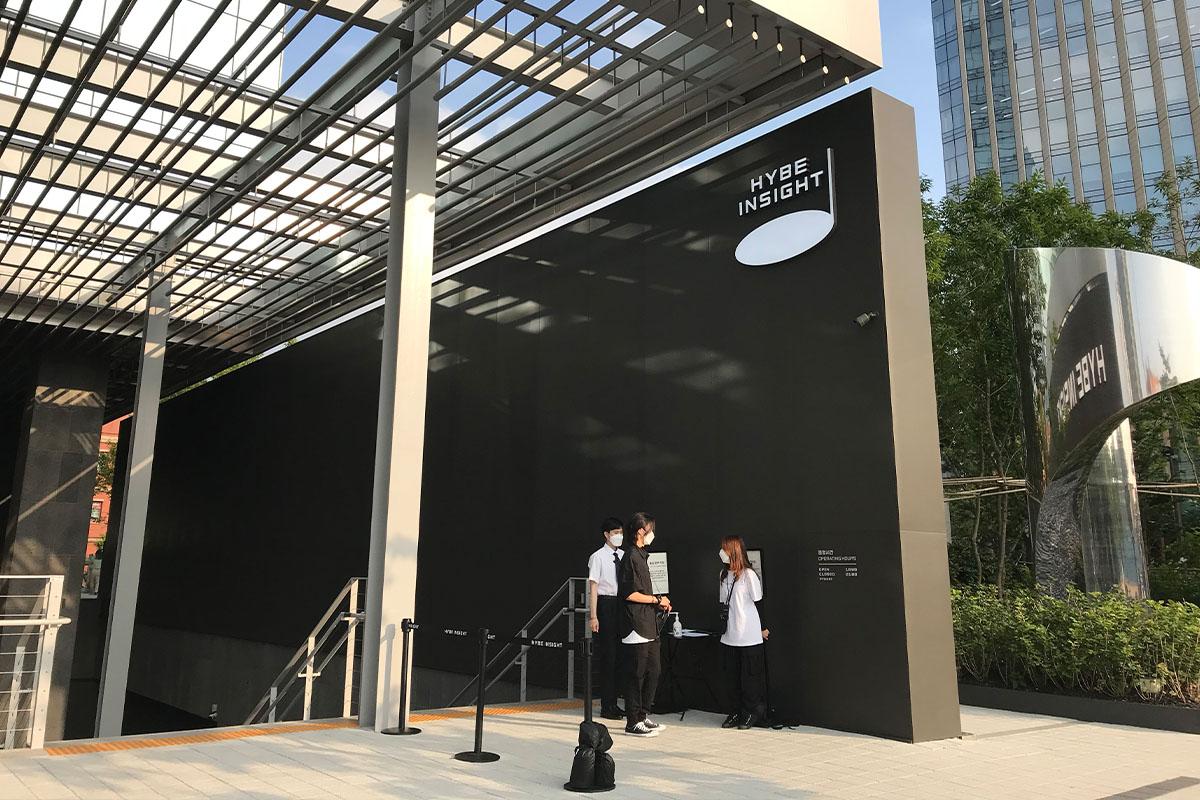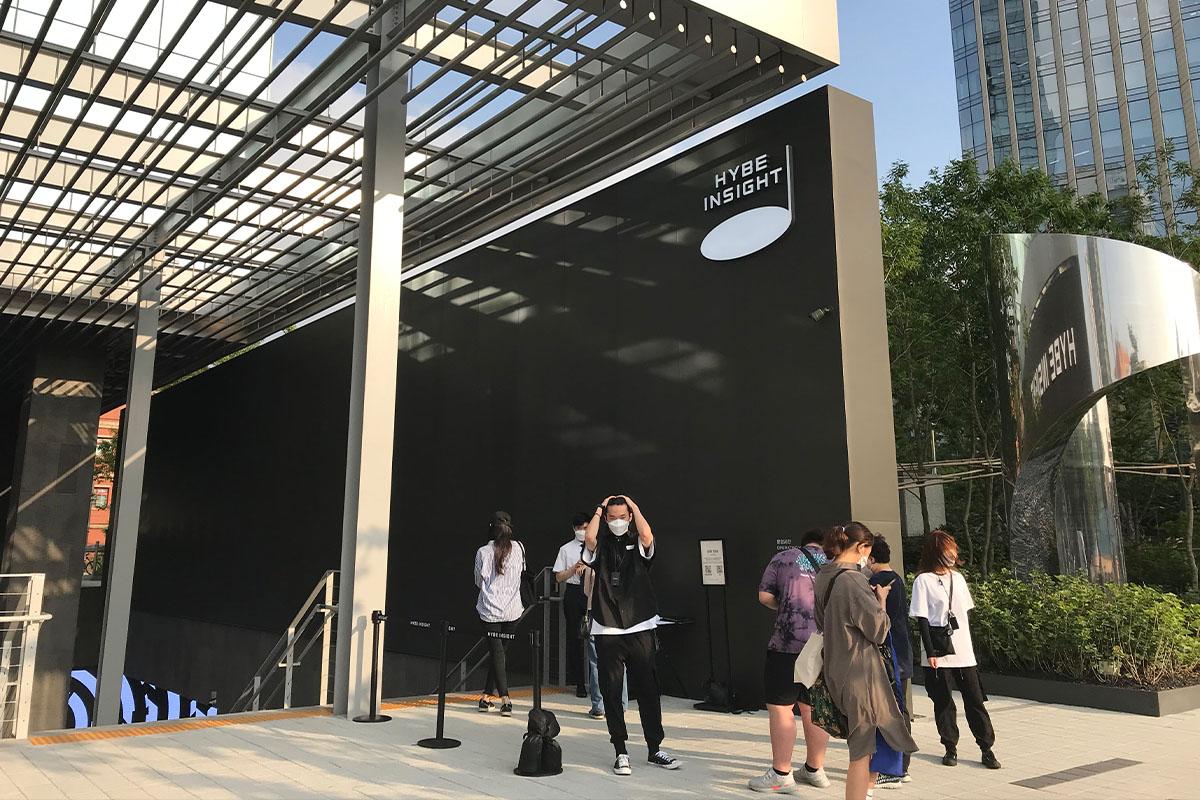 This is the entrance to HYBE Insight.
In order to visit the museum, be sure to make a reservation via HYBE Insight's website where you can log into your Weverse account.
Before your visit, you will need to download their app, HYBE Insight.
As soon as you make a reservation, it will link to the app.
You can then show your QR Key via the app at the entrance.
Due to COVID-19 safety precautions, all visitors will need to check in with their personal QR code via Kakao or Naver.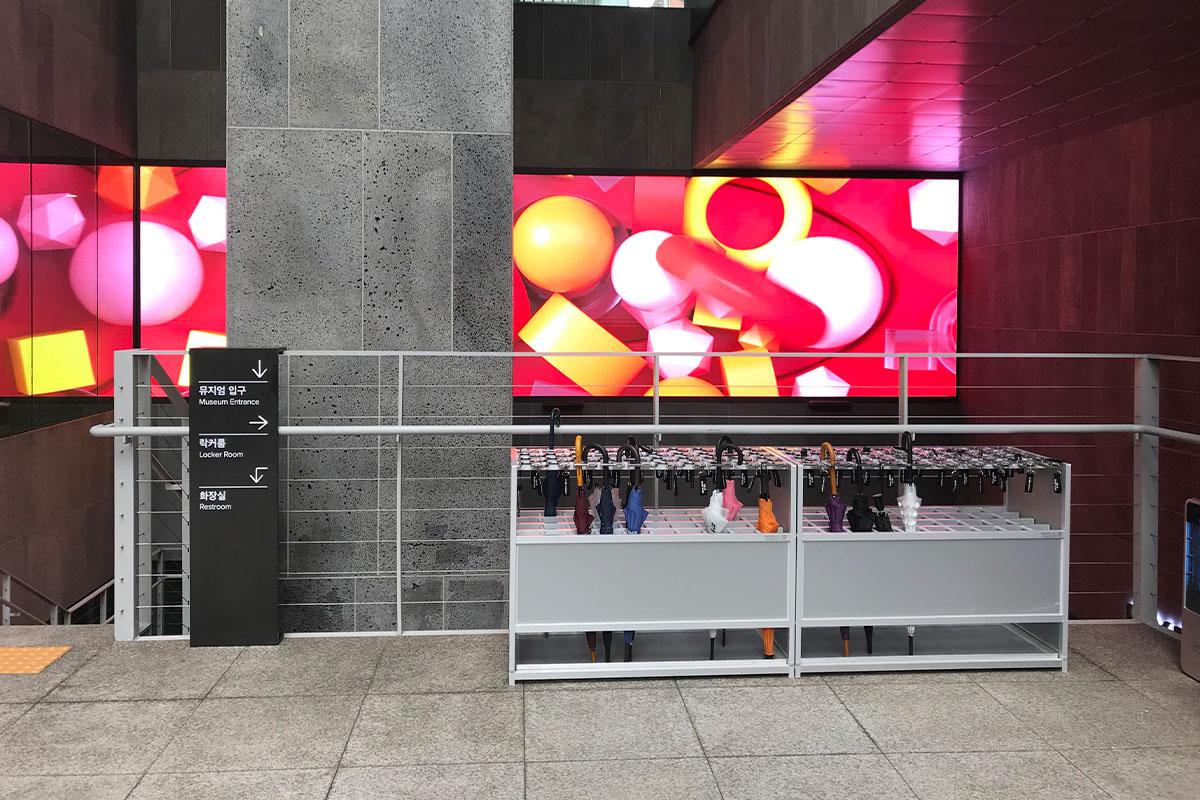 After walking down the entrance, you'll see a place where you can store your umbrella if it's raining.
Each cubby has its own lock combination, so you won't have to worry about someone grabbing your umbrella by mistake.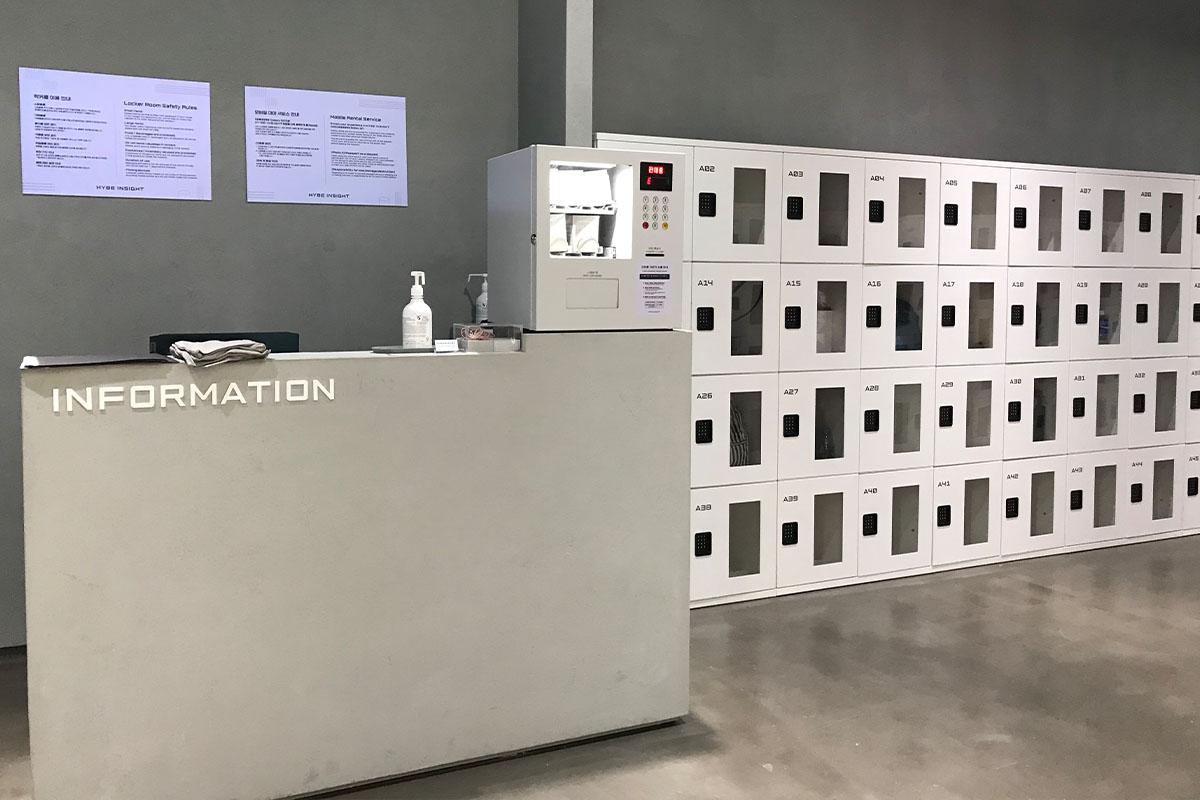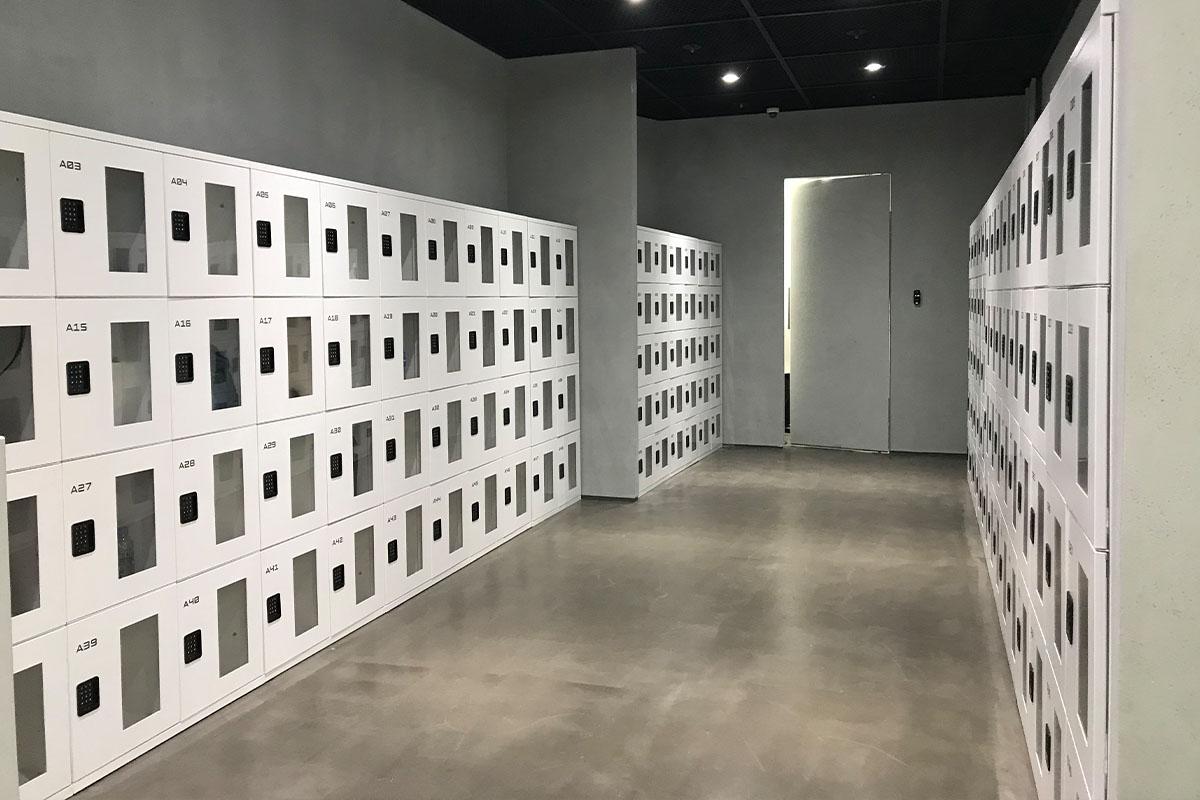 Lockers are also available for visitors who would like to store their belongings during their visit.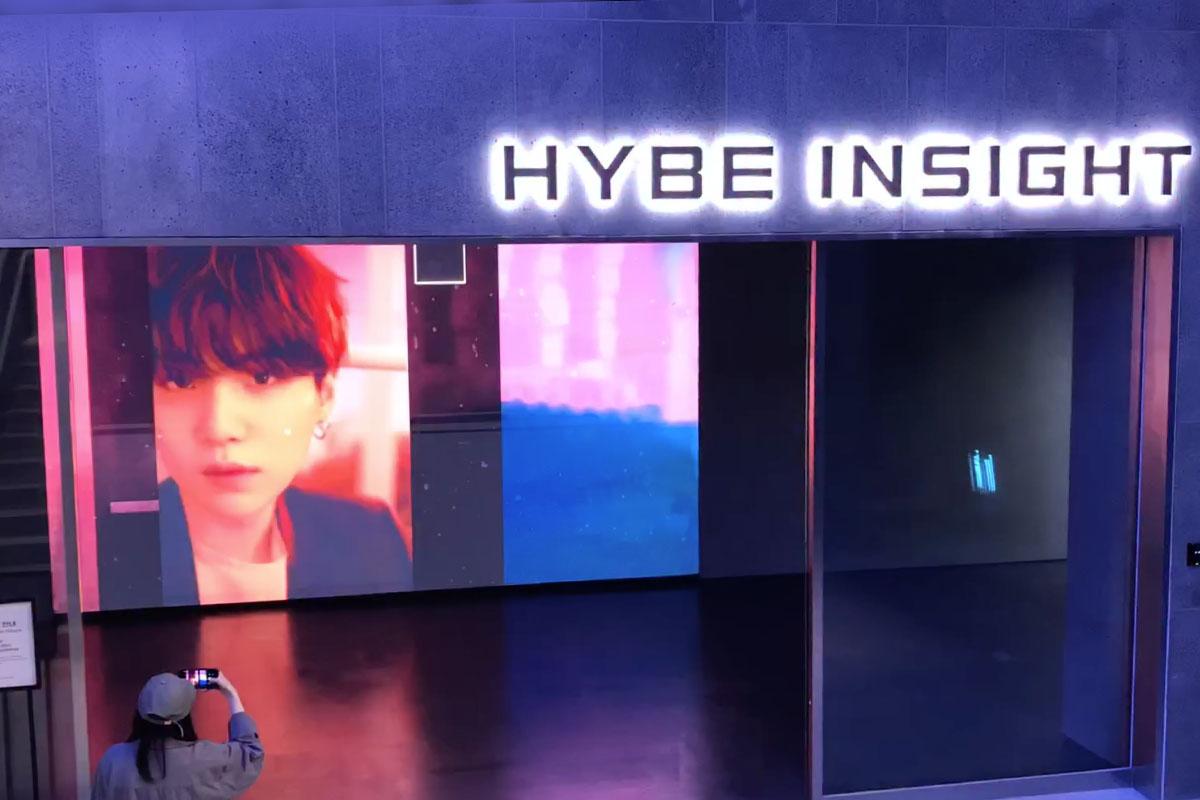 Let's start our tour!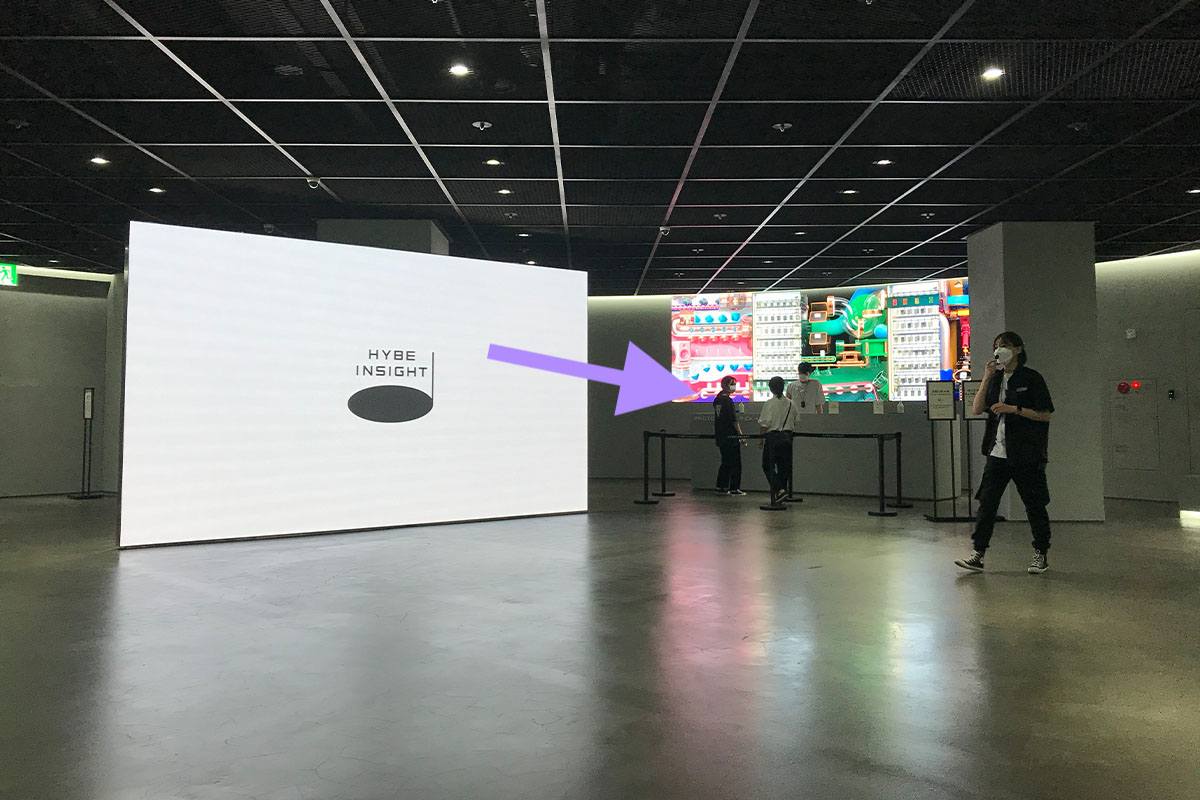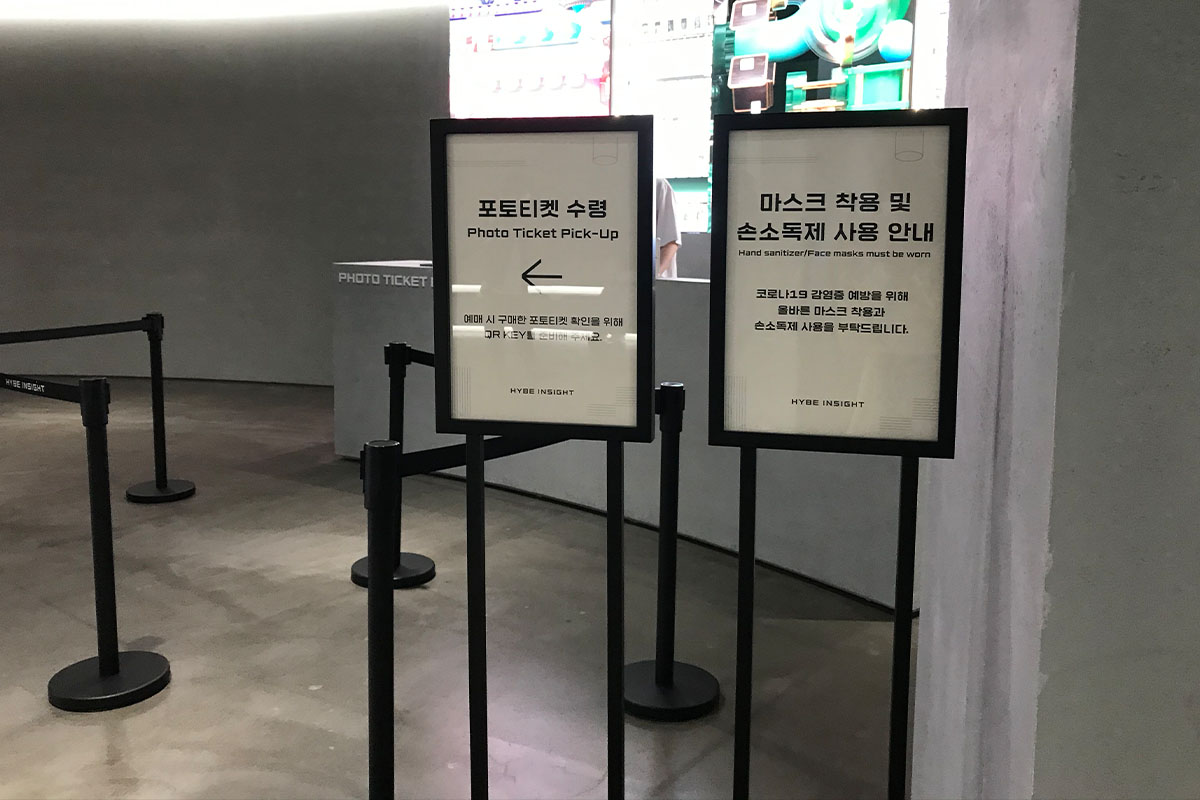 If you bought a photo ticket like we did, you can pick it up here.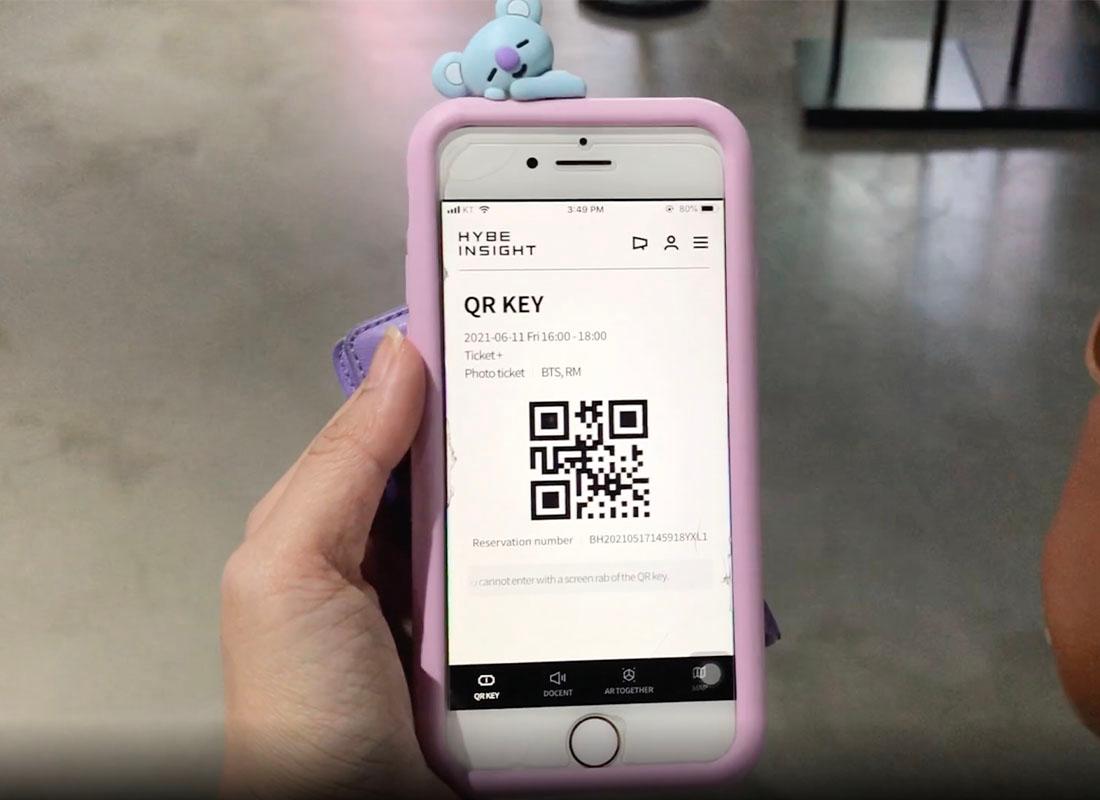 We made sure to have our QR Key via the HYBE Insight app ready to scan.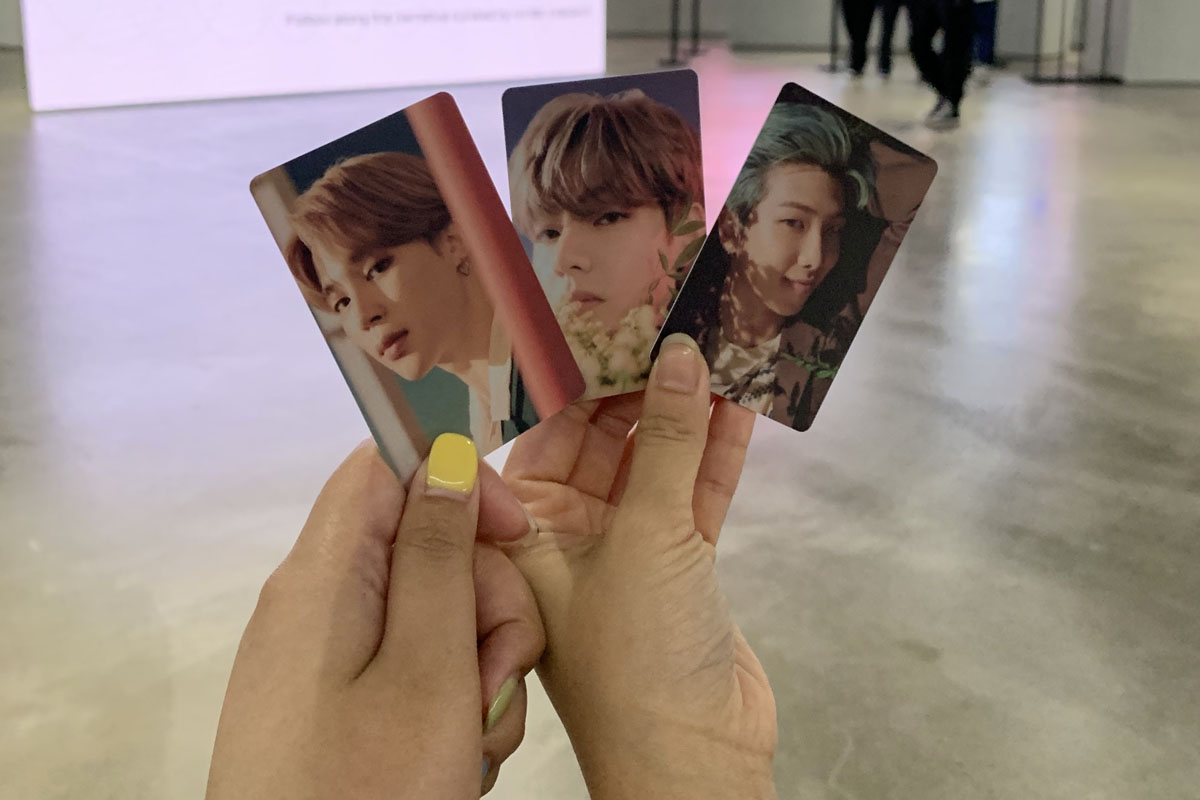 When you purchase your ticket via the HYBE Insight app, you can pick from an array of photo tickets available.
We were so glad that we got these!
Aren't they so cute?!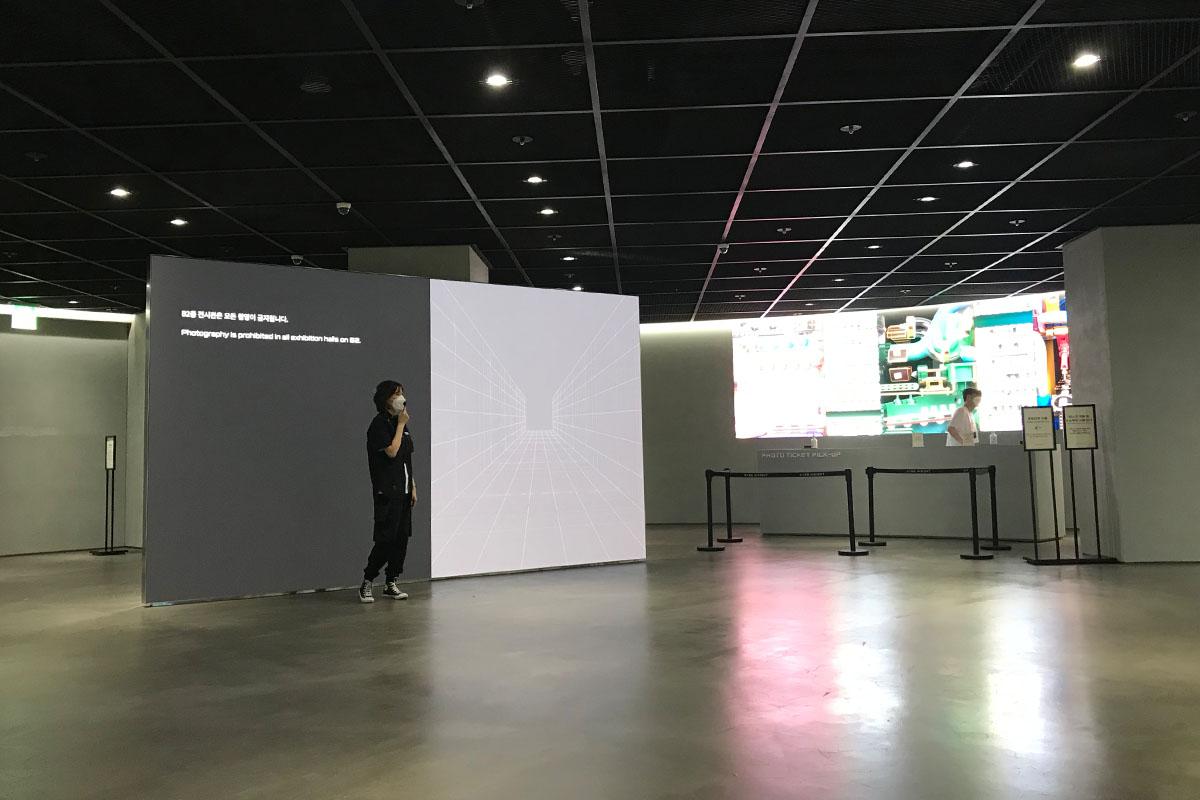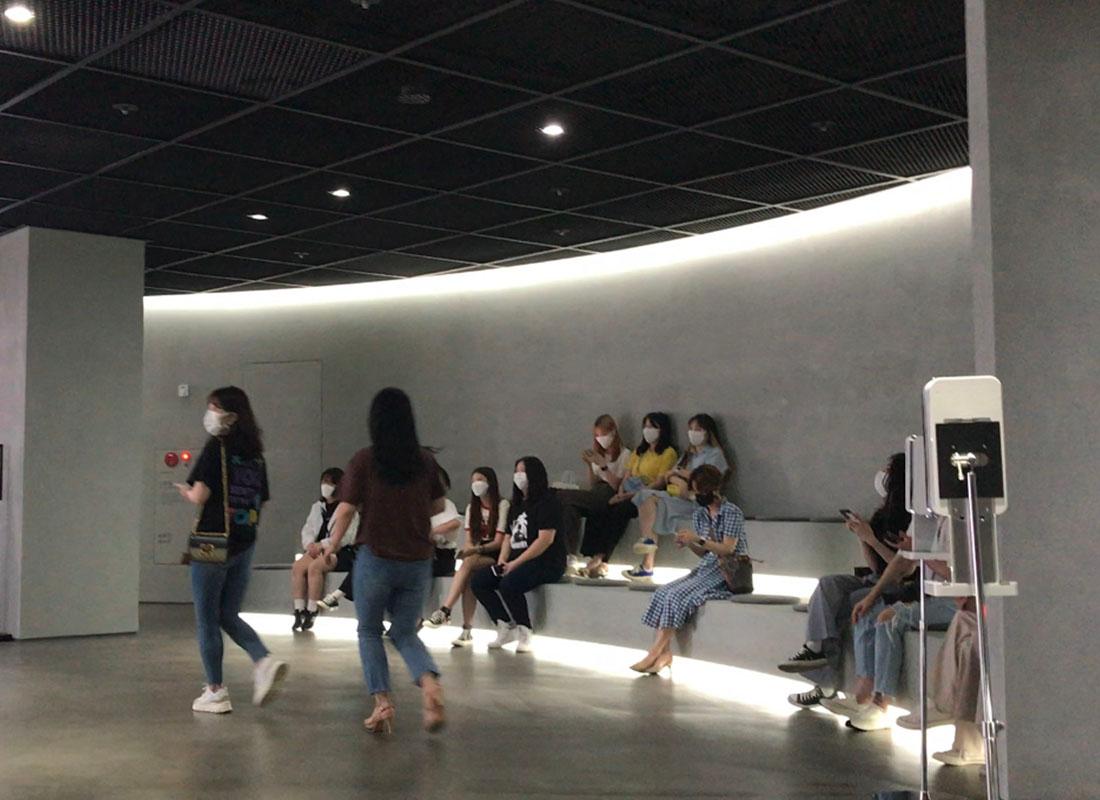 After picking up our photo tickets, we made our way to the waiting area.
A staff member welcomed us and explained to us how to access the museum.
They also shared with us that filming inside the museum was not allowed and that we could only take pictures in specified areas.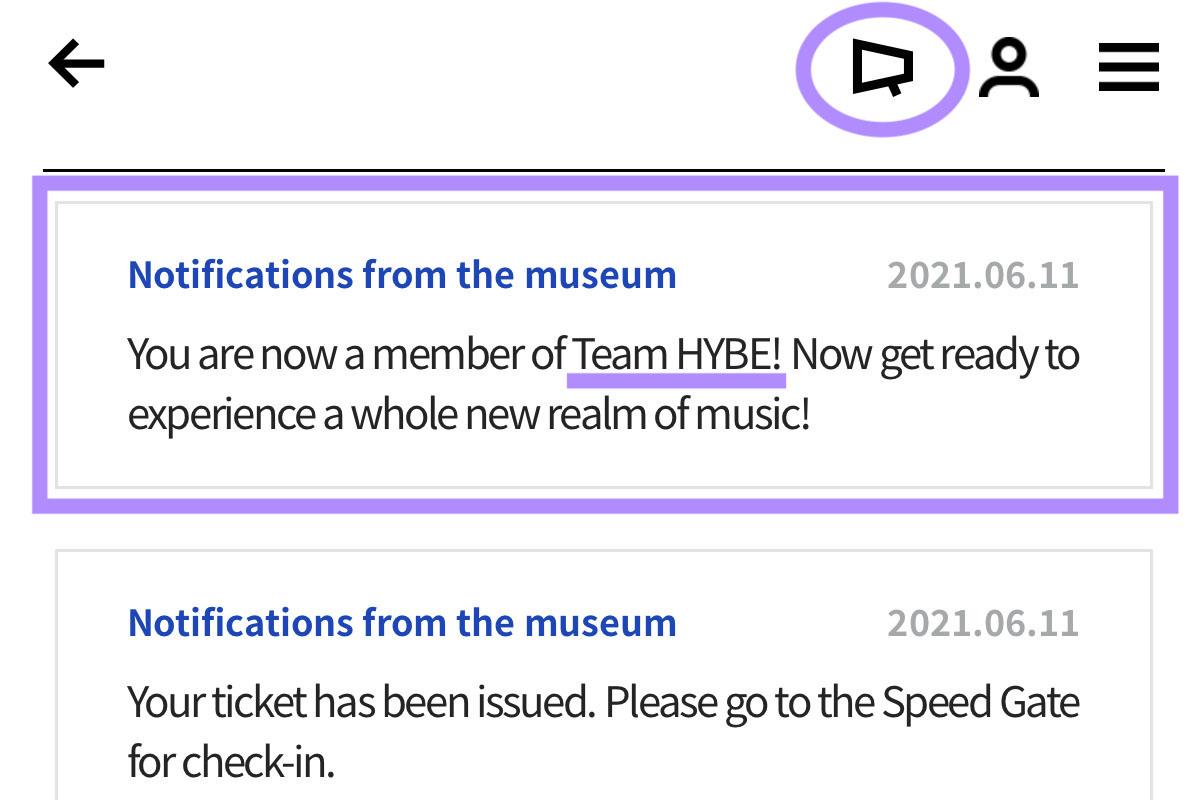 Afterwards, we received a notification from our HYBE Insight app letting us know that we could enter the museum.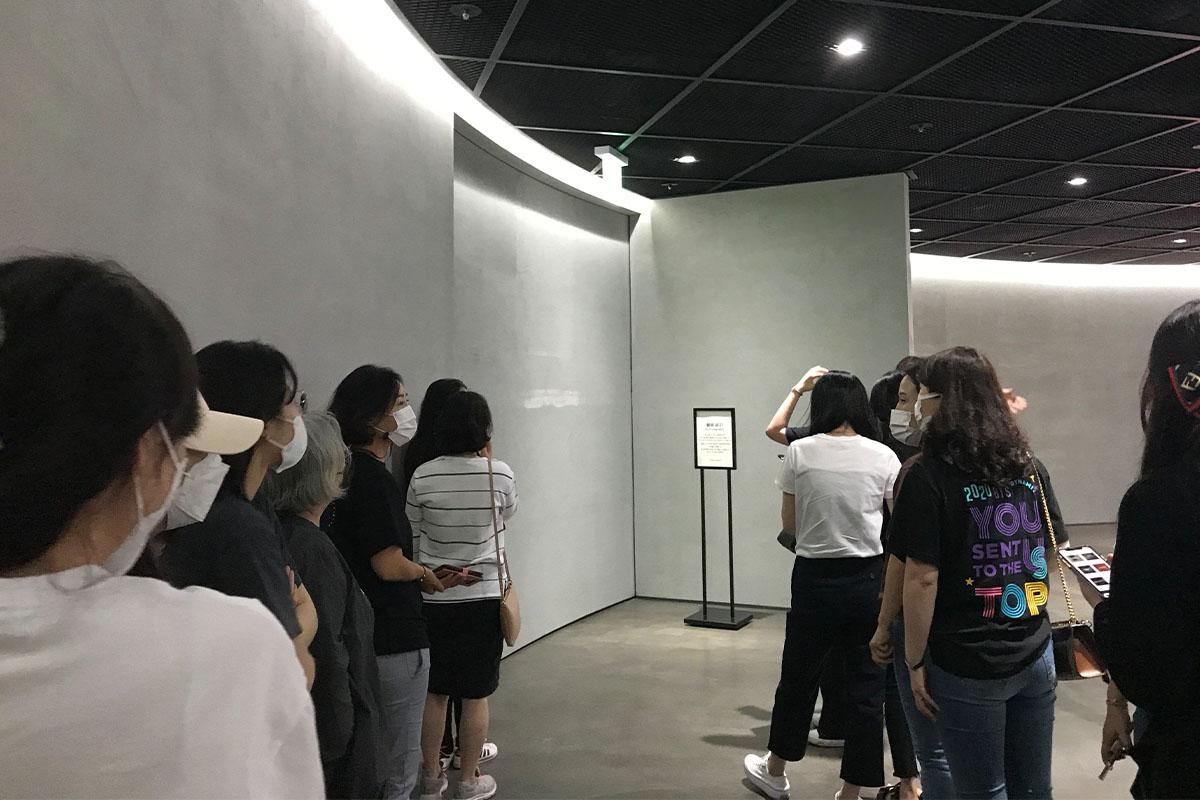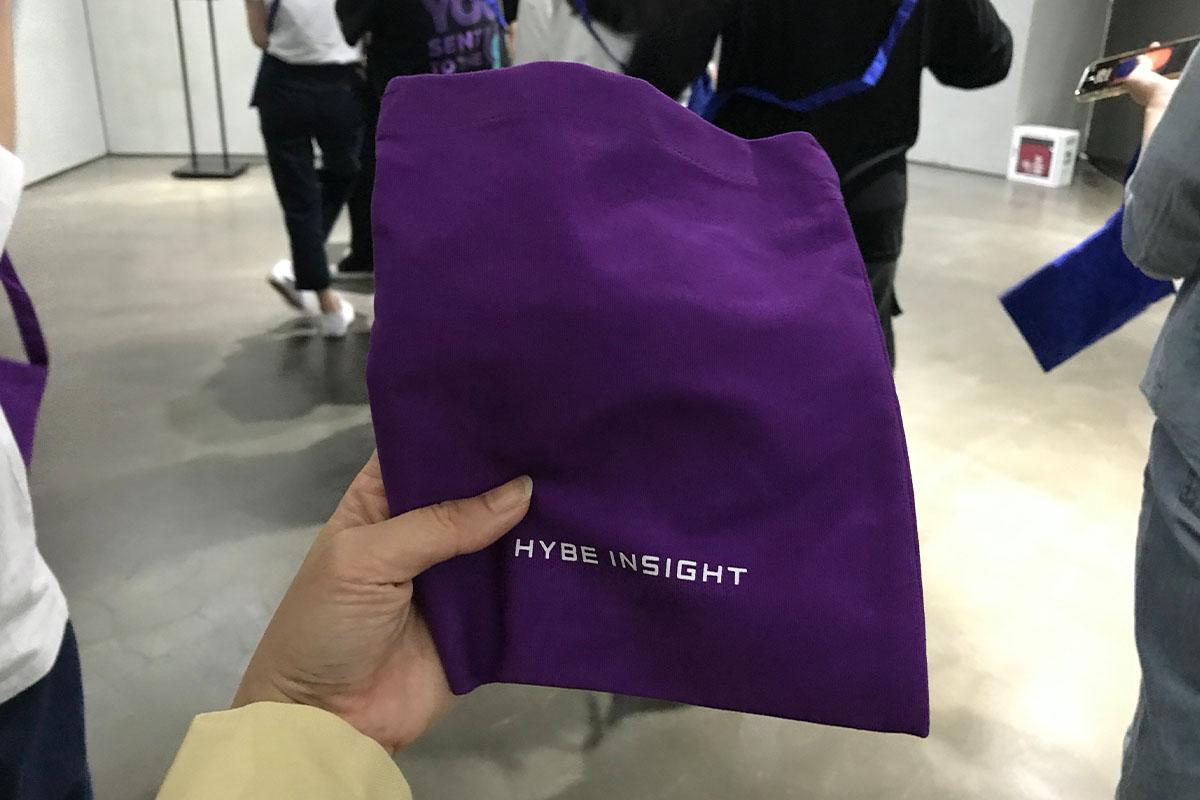 The staff asked us to line up in groups and gave each group member a specific colored bag.
We got dark purple!
In case we got separated from our group, we could easily spot other members from our group and join them again.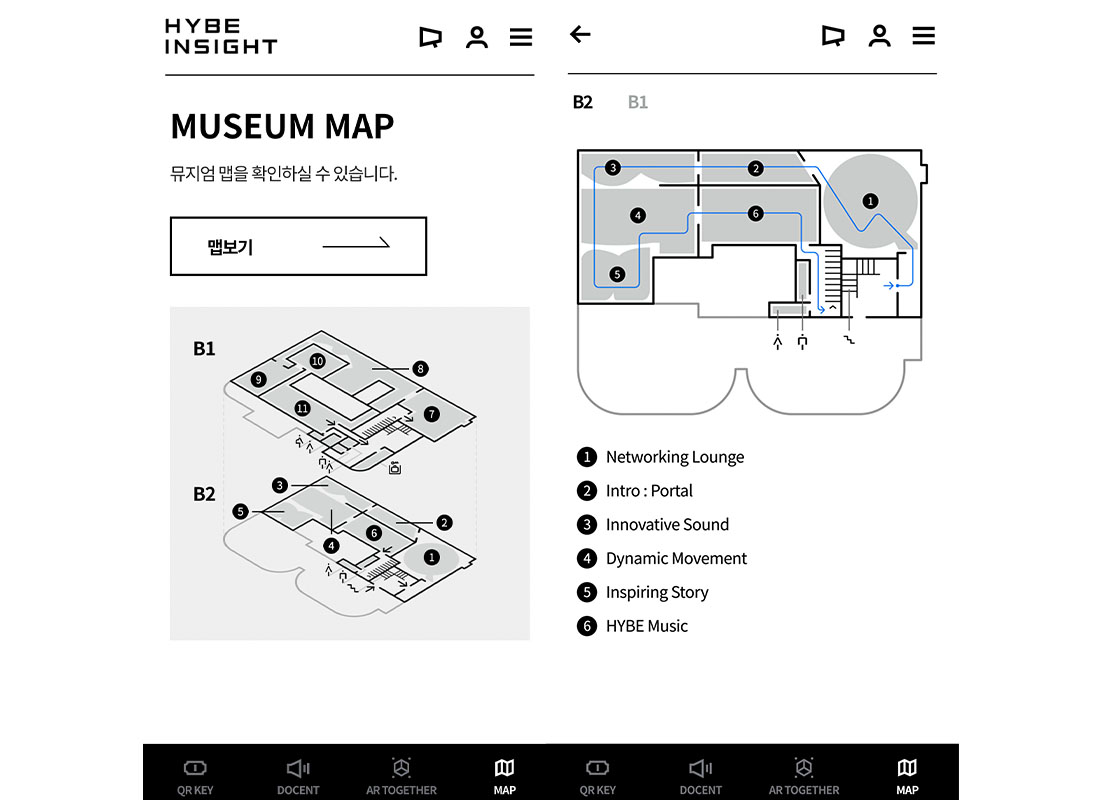 There is a map of the museum available on the HYBE Insight app.
There are also physical maps posted all over the museum in English, so feel free to get lost and explore.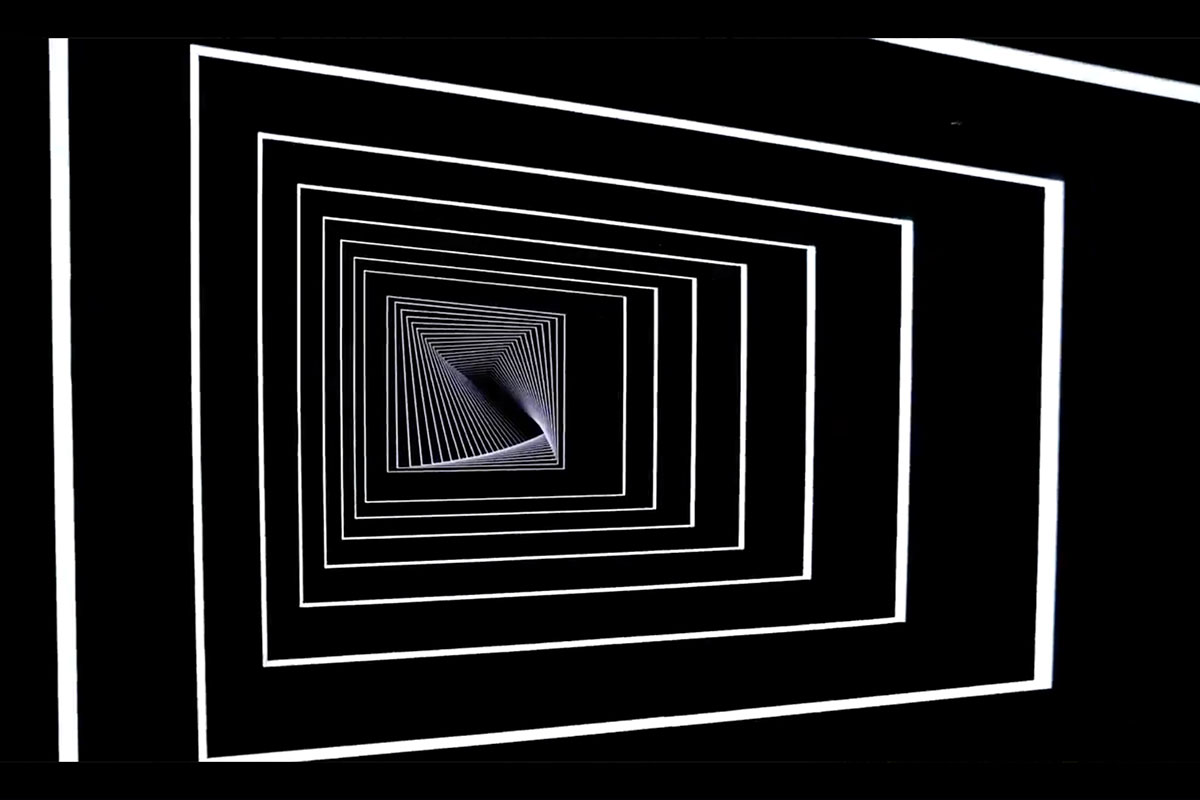 Source: Twitter @HYBEINSIGHTtwt
Since we weren't allowed to take pictures on the first floor, we'll show you footage from the HYBE Insight app and HYBE's social media accounts.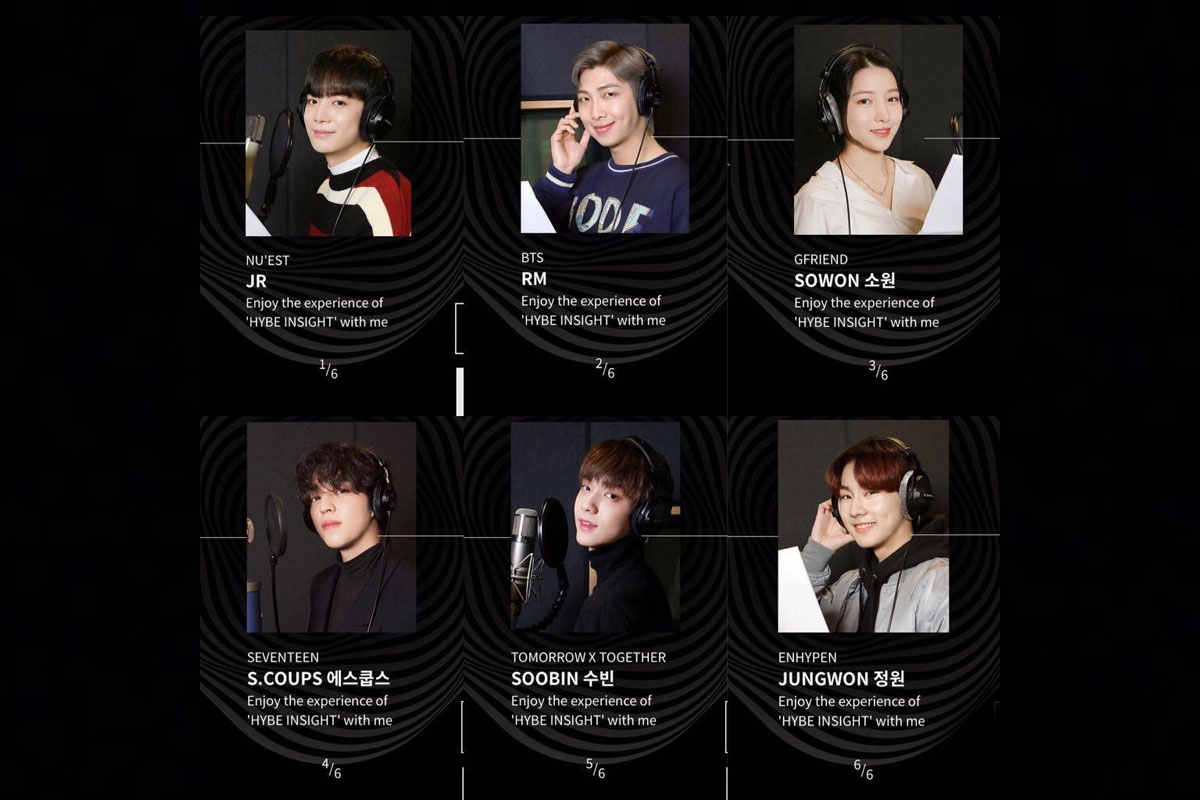 Be sure to bring your earphones because on the Docent mode in the app, you can listen to your favorite HYBE artist's description of each zone.
We picked RM from BTS!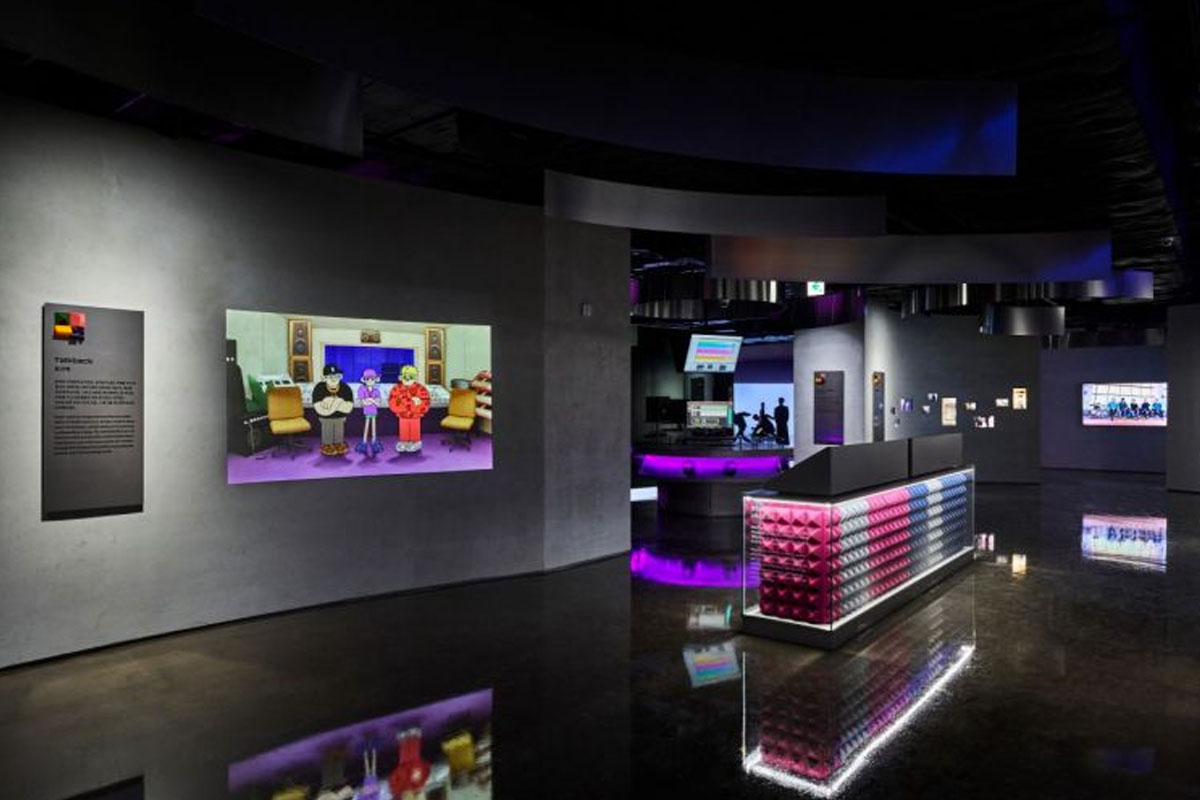 Source: bandwagon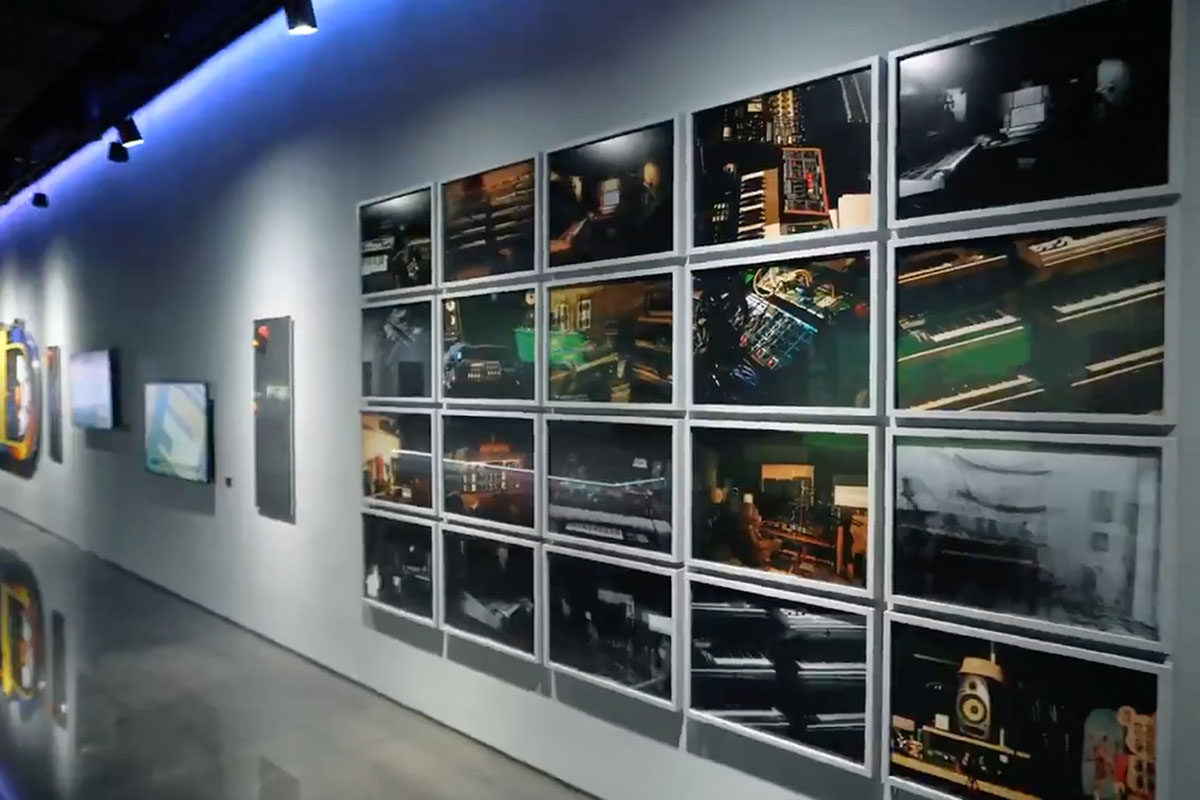 Source: Twitter @HYBEINSIGHTtwt
In Talkback and Finding Sound, we learned more about the artists and their process for making music.
These zones covered this entire process and gave us insight into how artists and producers work together to create music.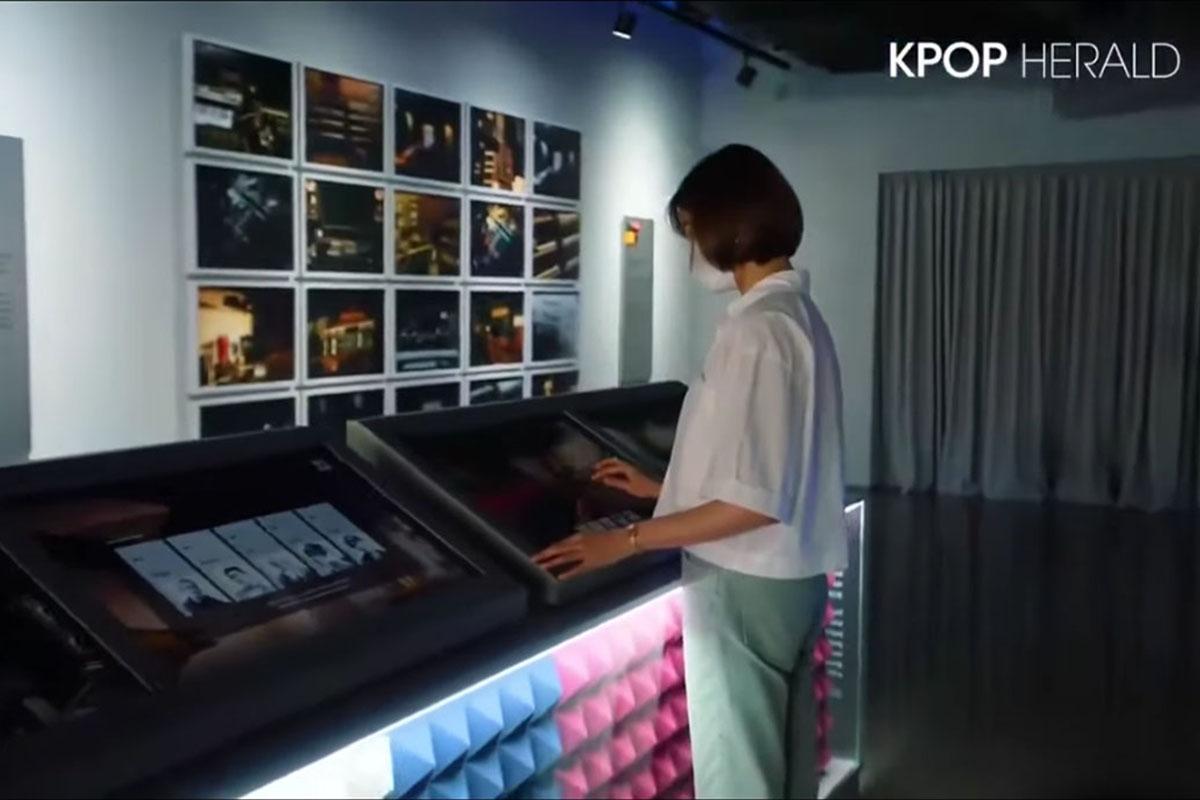 Source: Youtube @Kpop Herald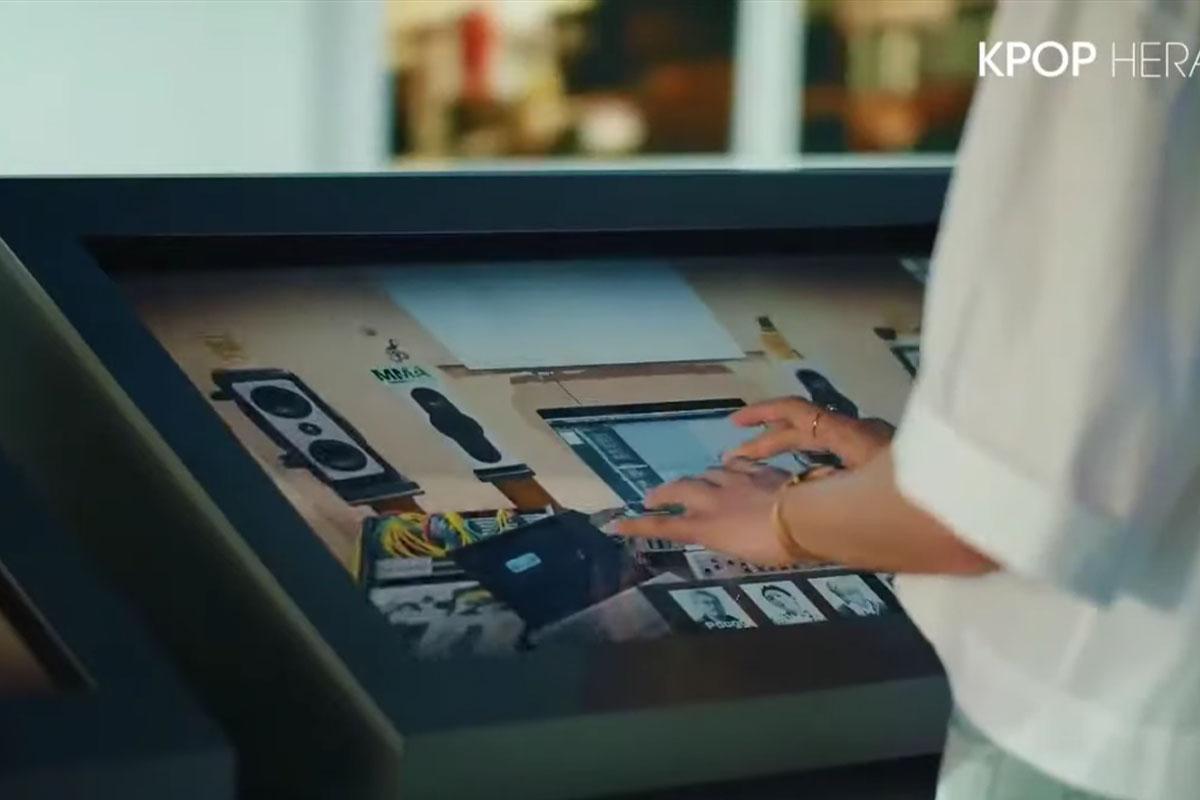 Source: Youtube @Kpop Herald
In Studio 360, we explored what the studios of famous producers such as Pdogg and Bumzu look like.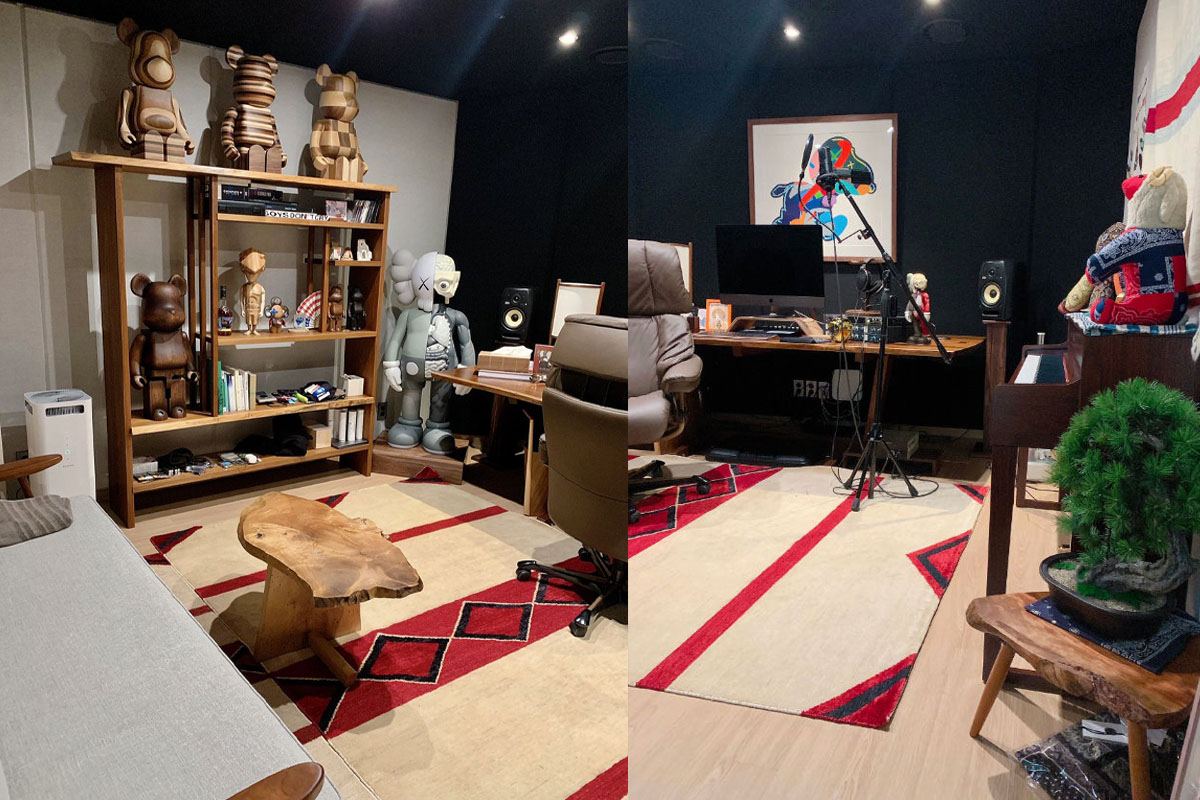 Source: Twitter @BTS_twt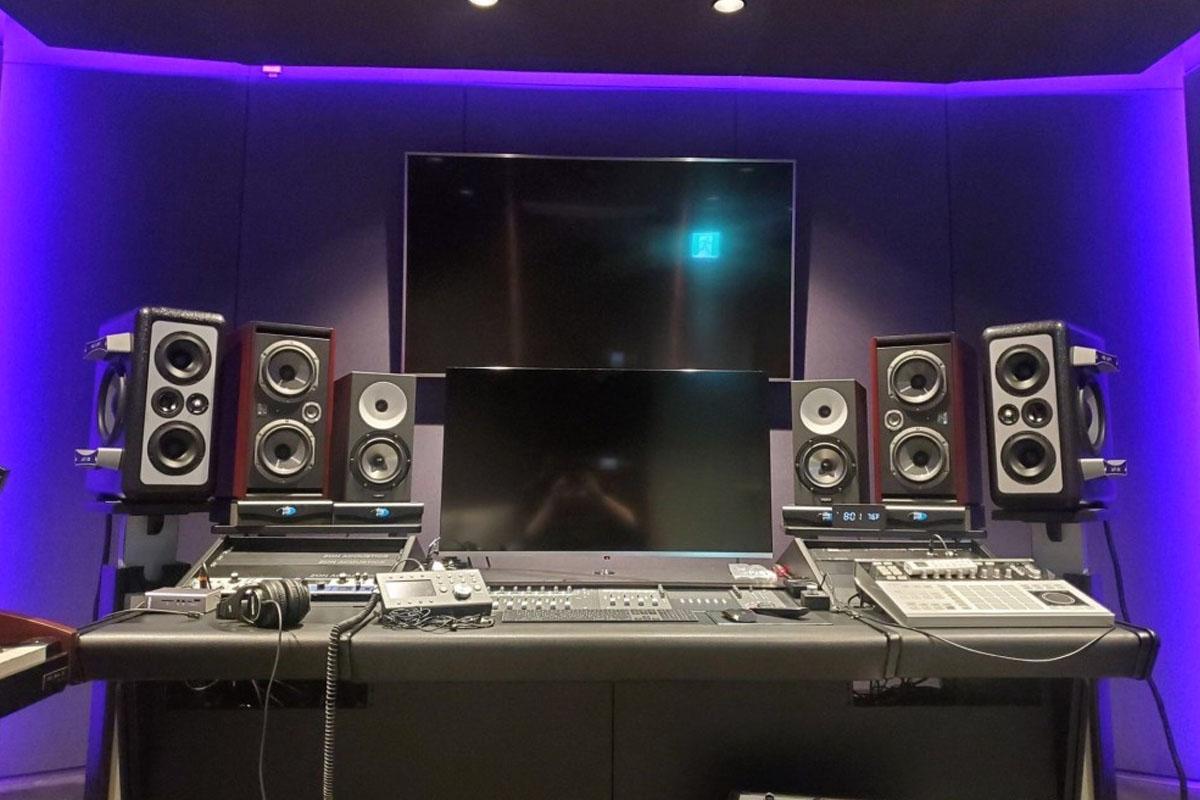 Source: Twitter @BTS_twt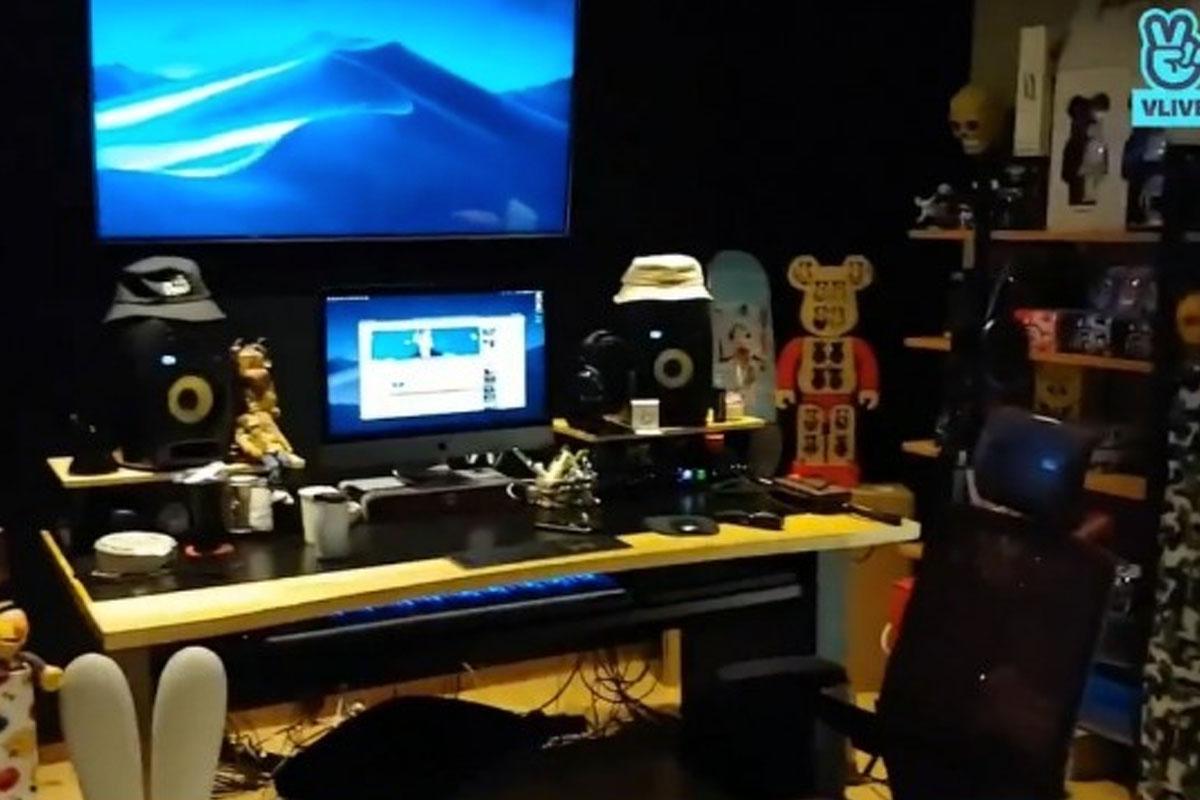 Source: VLIVE @BTS
We also got a 360 view of the working spaces of RM, Suga, and JHope from BTS.
We were able to experience these studios in a such a real and dynamic way.
It was fun to see not only all the toys and trinkets in these spaces but also the different types of instruments used to make music.
For anyone who's curious about what HYBE's studios are like, Studio 360 is a must.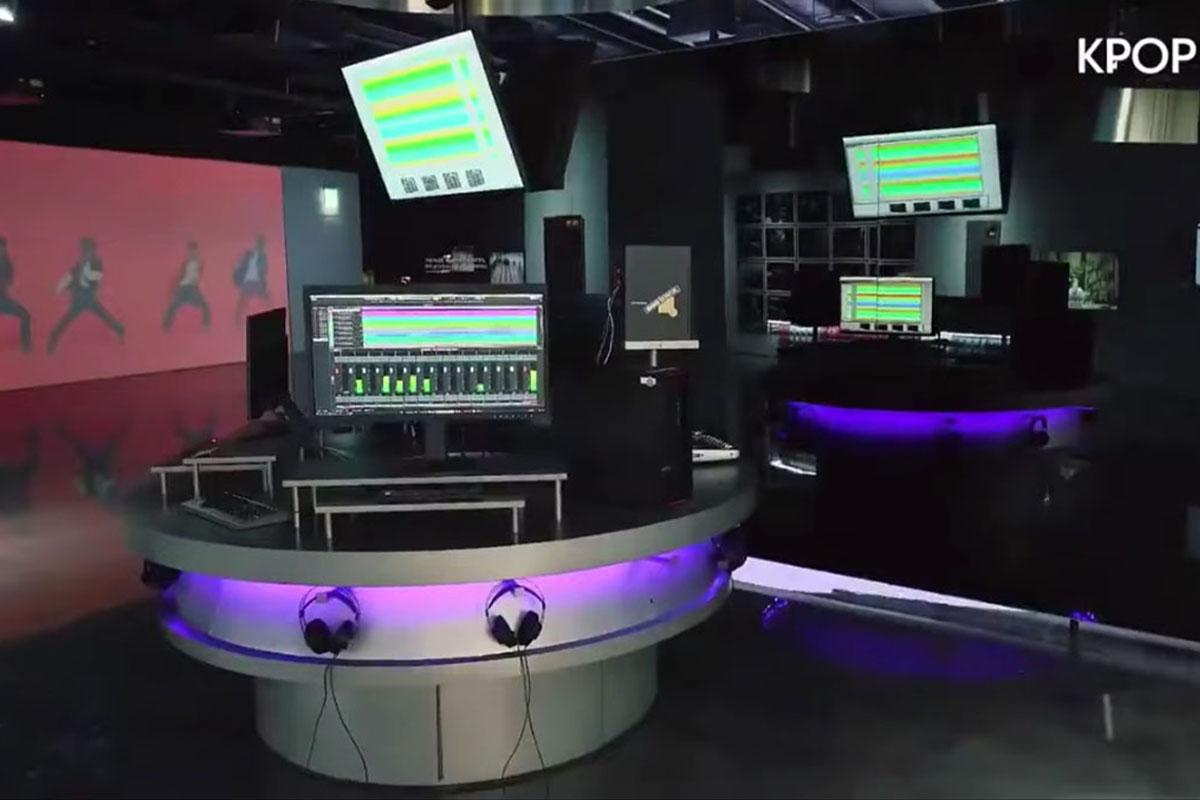 Source: Youtube @Kpop Herald
Source: Youtube @Kpop Herald
This is the Sound Layers zone.
This zone is really cool because you can listen to every vocal and instrumental layer of a song separately.
We really got an understanding of how songs are made and recorded.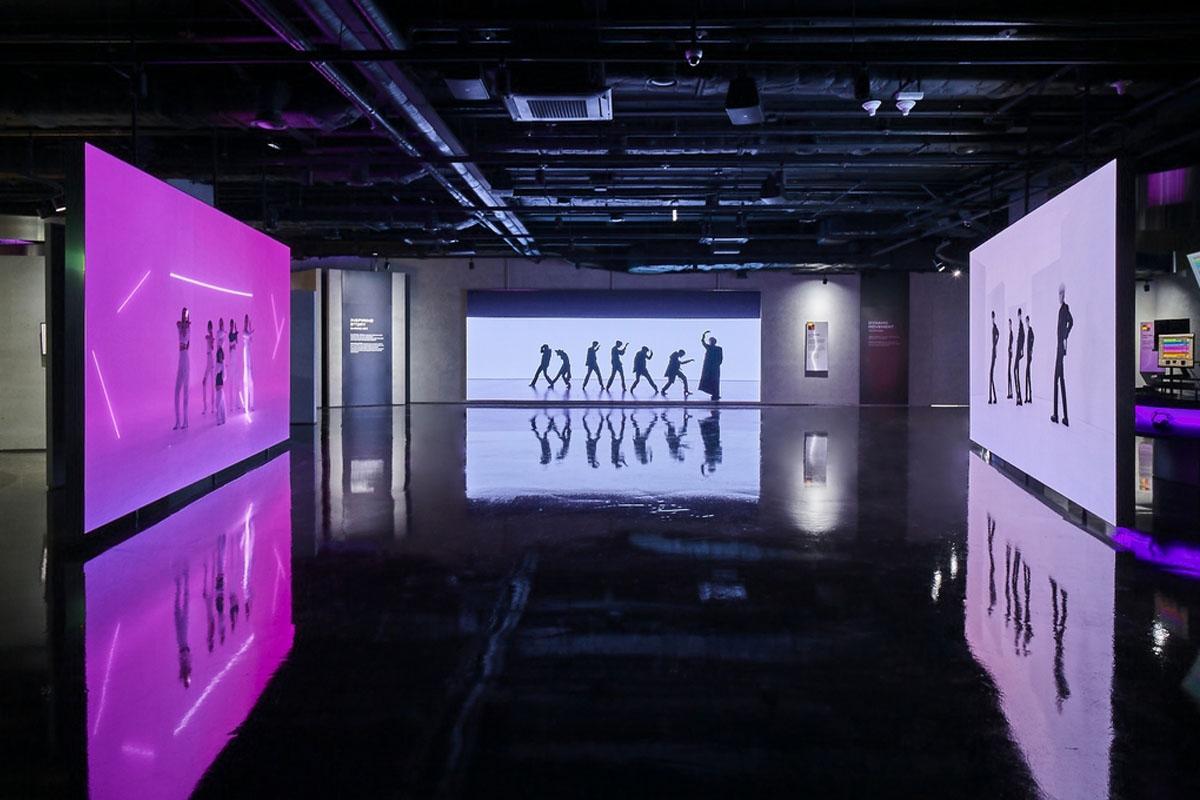 Source: Yonhap News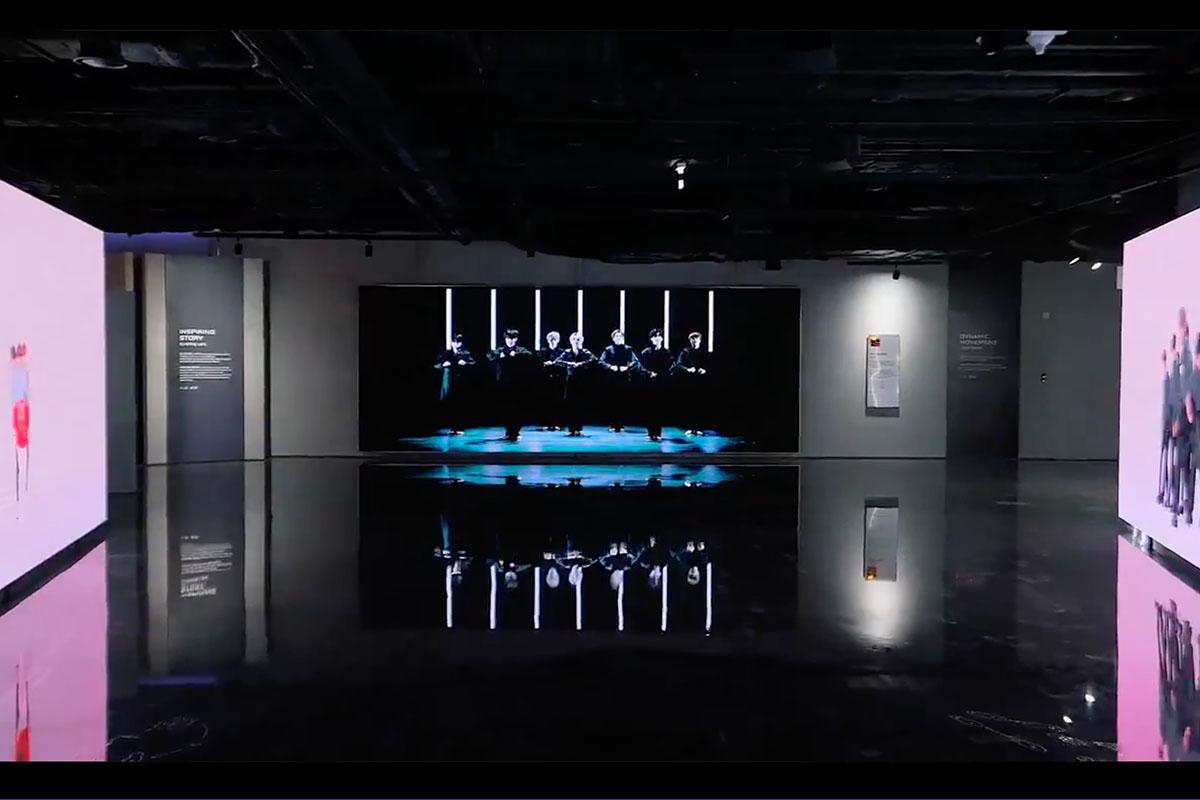 Source: Twitter @HYBEINSIGHTtwt
These zones, Moving Body and In Motion, were our favorites.
The videos here gave us a clear view of each dance step that HYBE artists take to create their unique and dynamic choreography.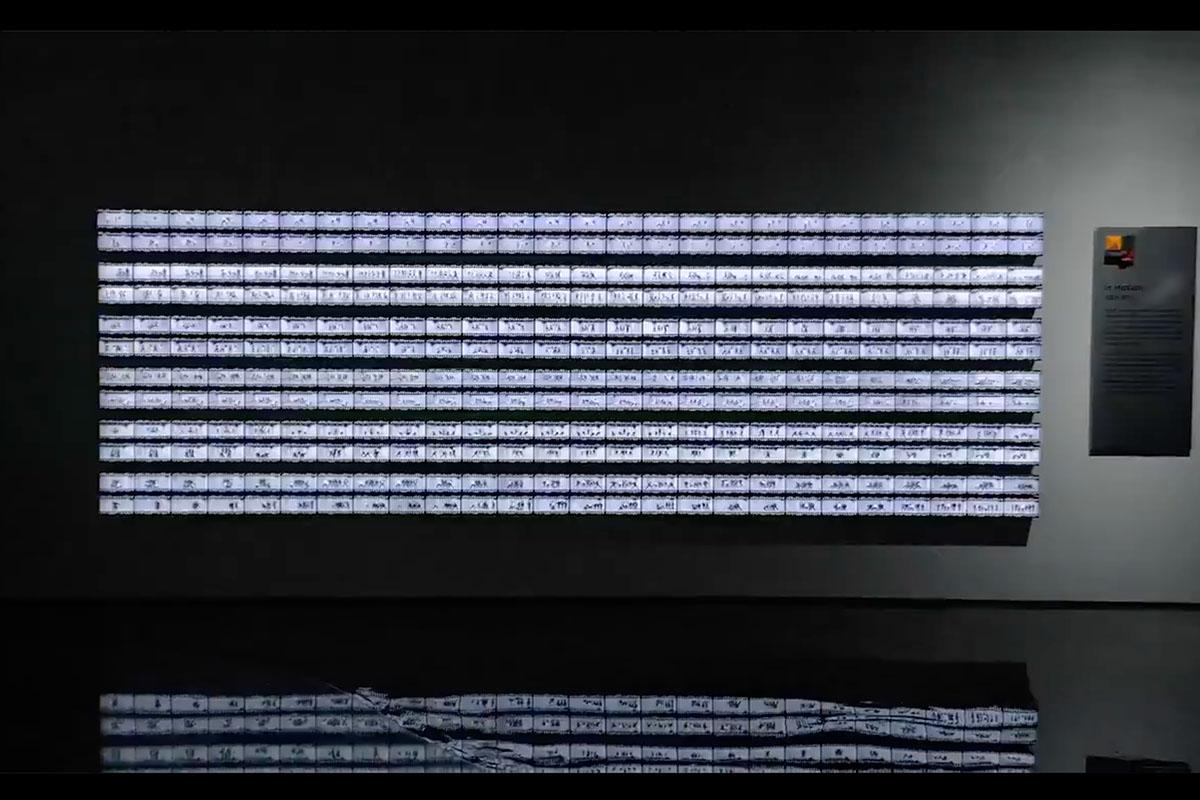 Source: Twitter @HYBEINSIGHTtwt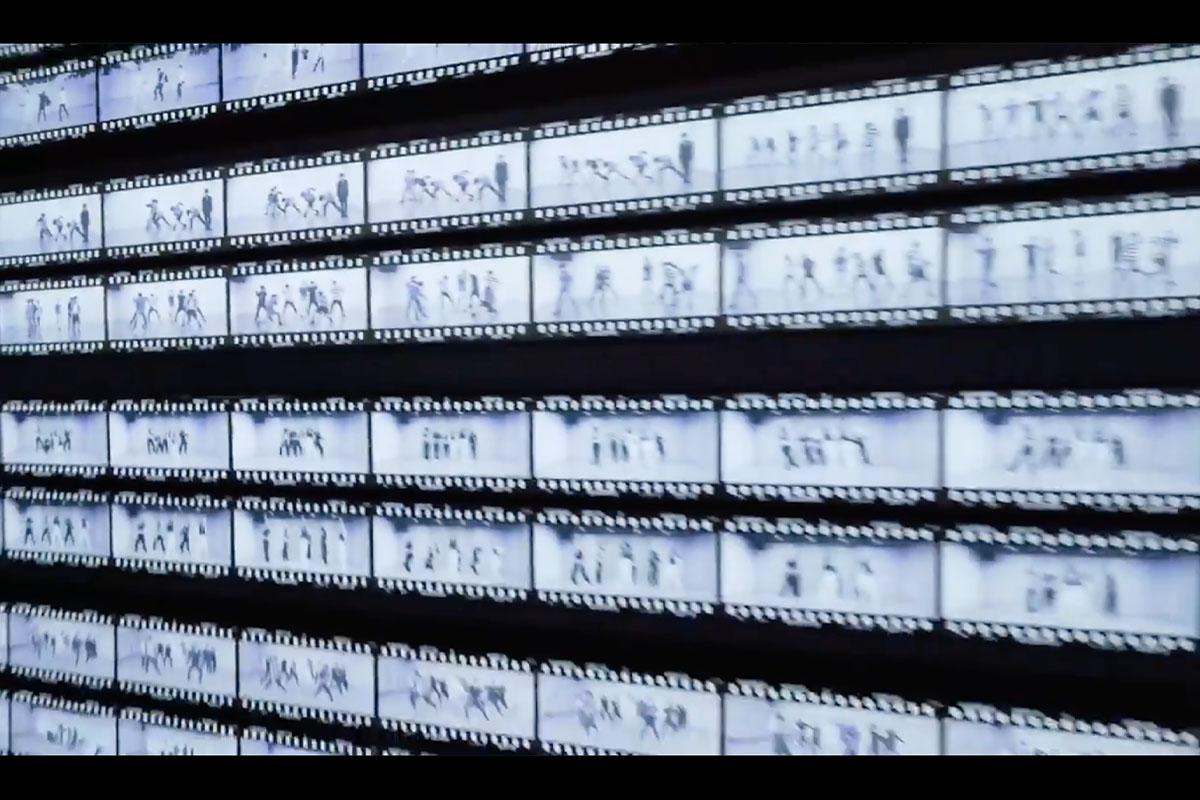 Source: Twitter @HYBEINSIGHTtwt
Because there is no music or special effects accompanying the videos, you can really focus in on the artists' dancing.
We could really see how each artist has their own style when it comes to dancing and interpreting the choreography.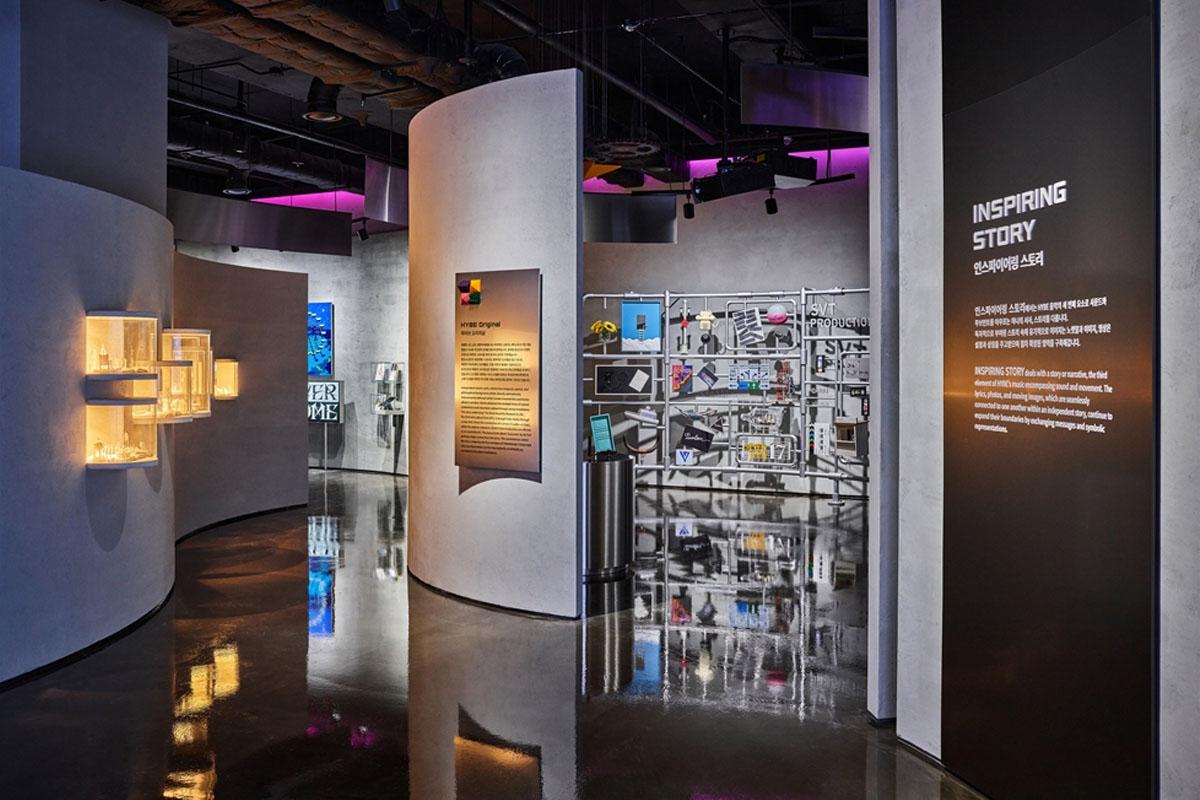 Source: The Korea Times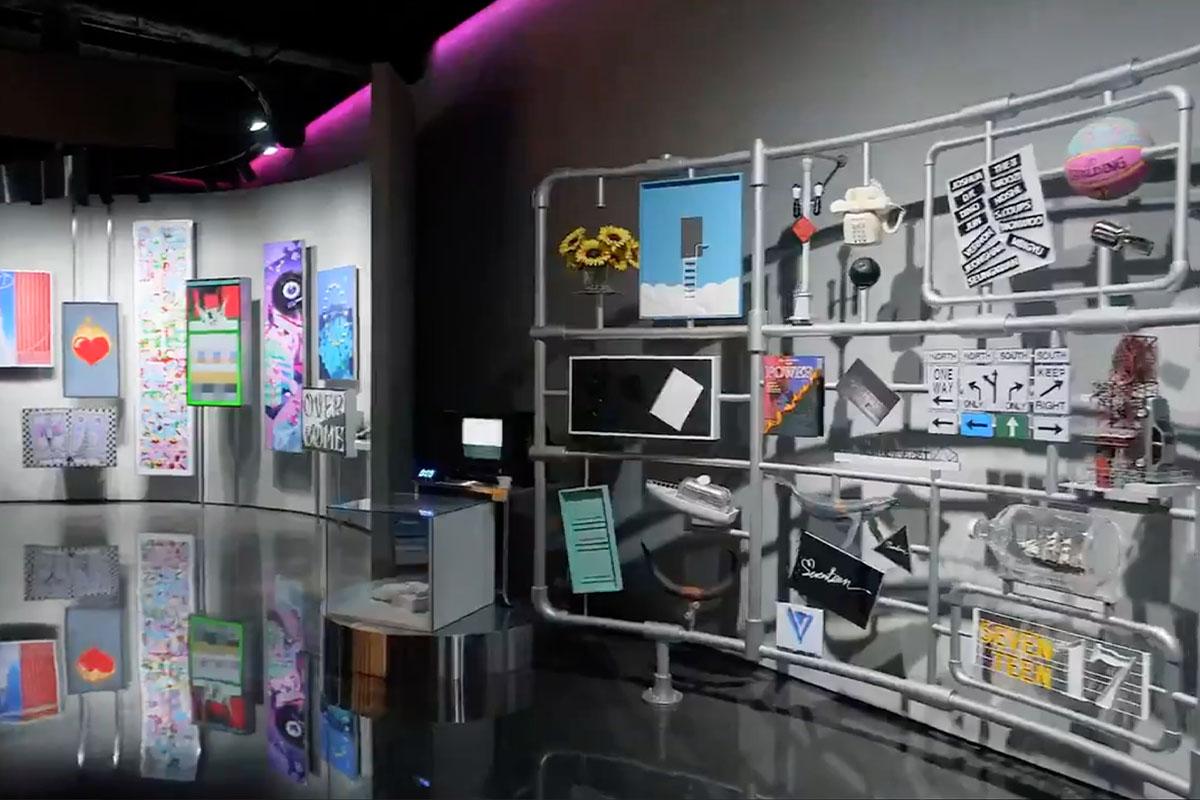 Source: Twitter @HYBEINSIGHTtwt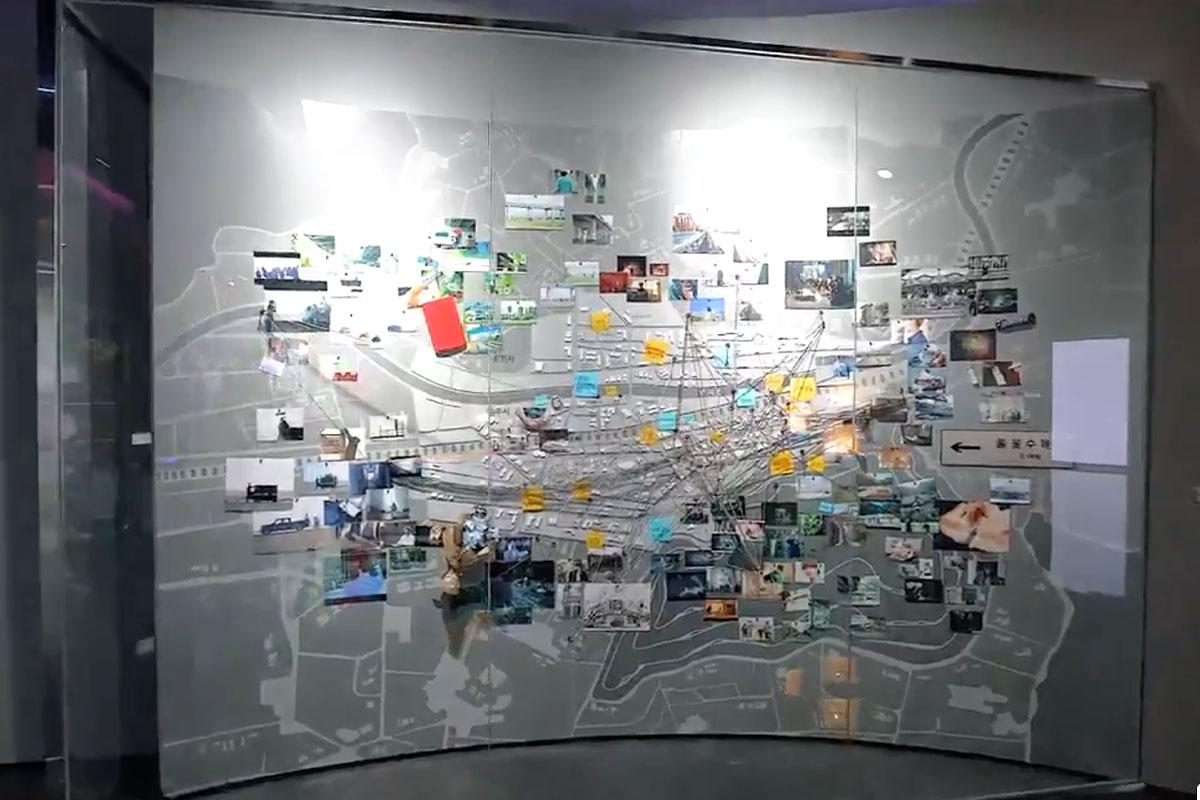 Source: Twitter @HYBEINSIGHTtwt
We think that HYBE fans will really enjoy this zone, Inspiring Story.
Whenever a new song by your favorite artist comes out, do you wonder what the inspiration behind this song is or start analyzing its connection to previous songs?
This zone will answer all of these wonderings.
These giant storyboards gave us a detailed look into what inspires the artists when creating music.
Source: Youtube @Kpop Herald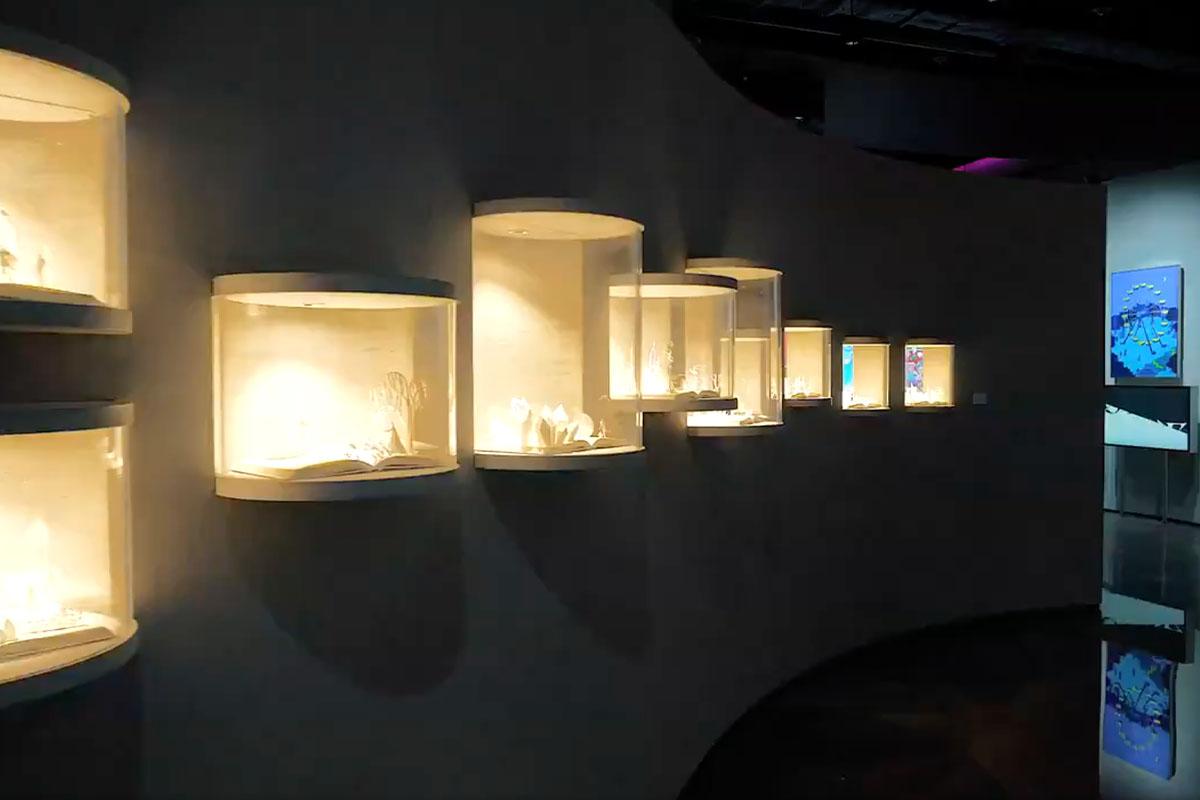 Source: Twitter @HYBEINSIGHTtwt
There are various installations that you can engage with and look at.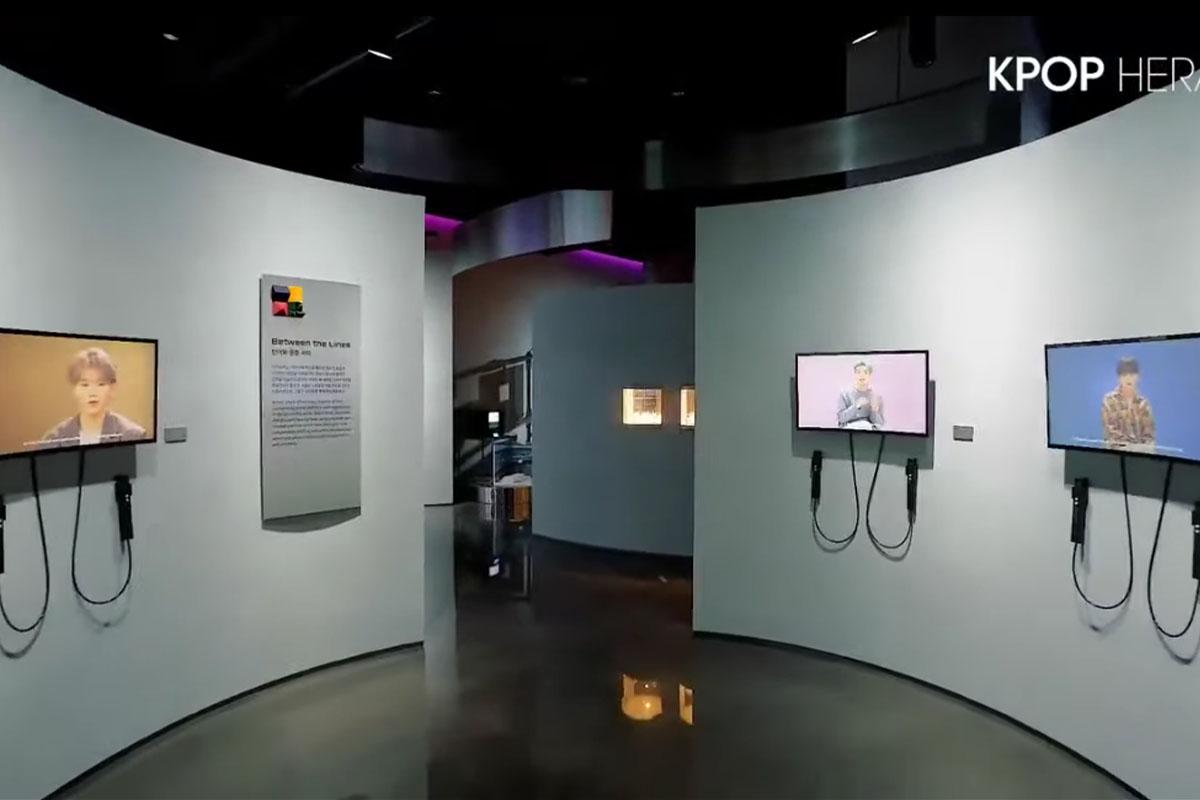 Source: Youtube @Kpop Herald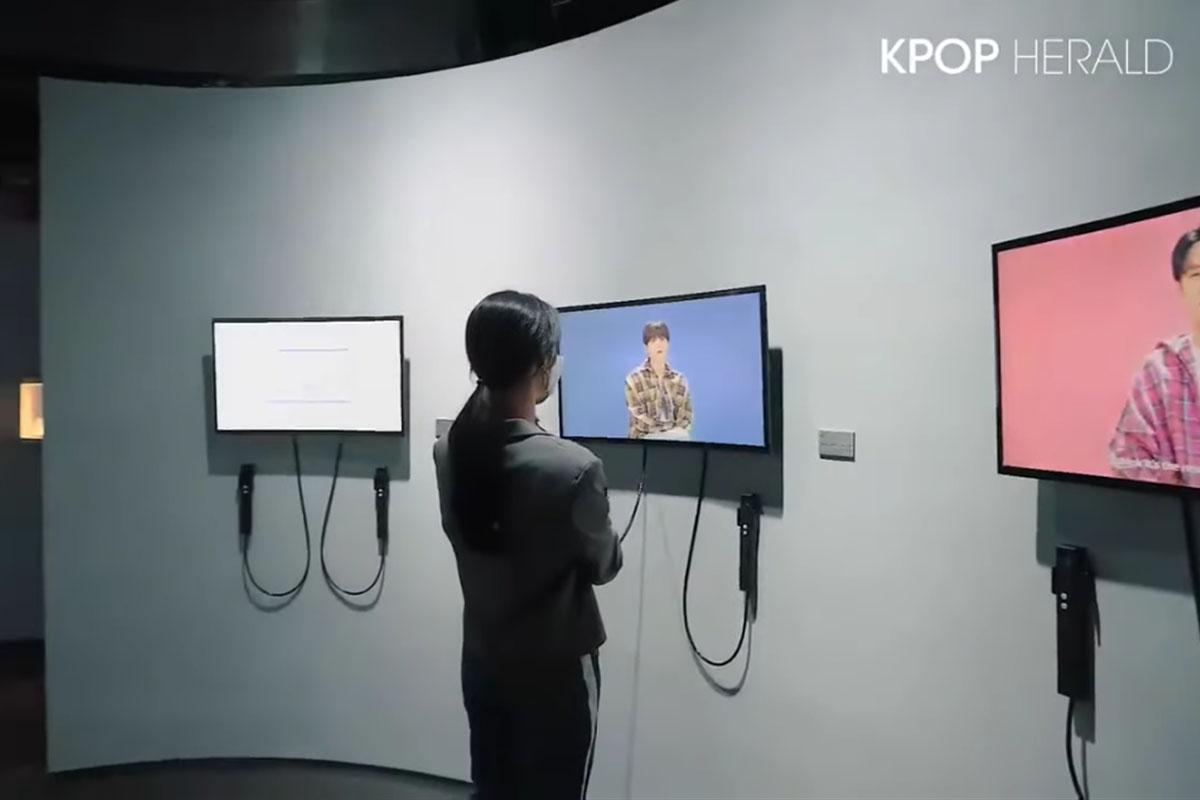 Source: Youtube @Kpop Herald
For anyone who loves to hear directly from the artists, the Between the Lines zone is a must!
We listened to interviews with our favorite artists via telephones.
It felt like we were just having a conversation with them on the phone!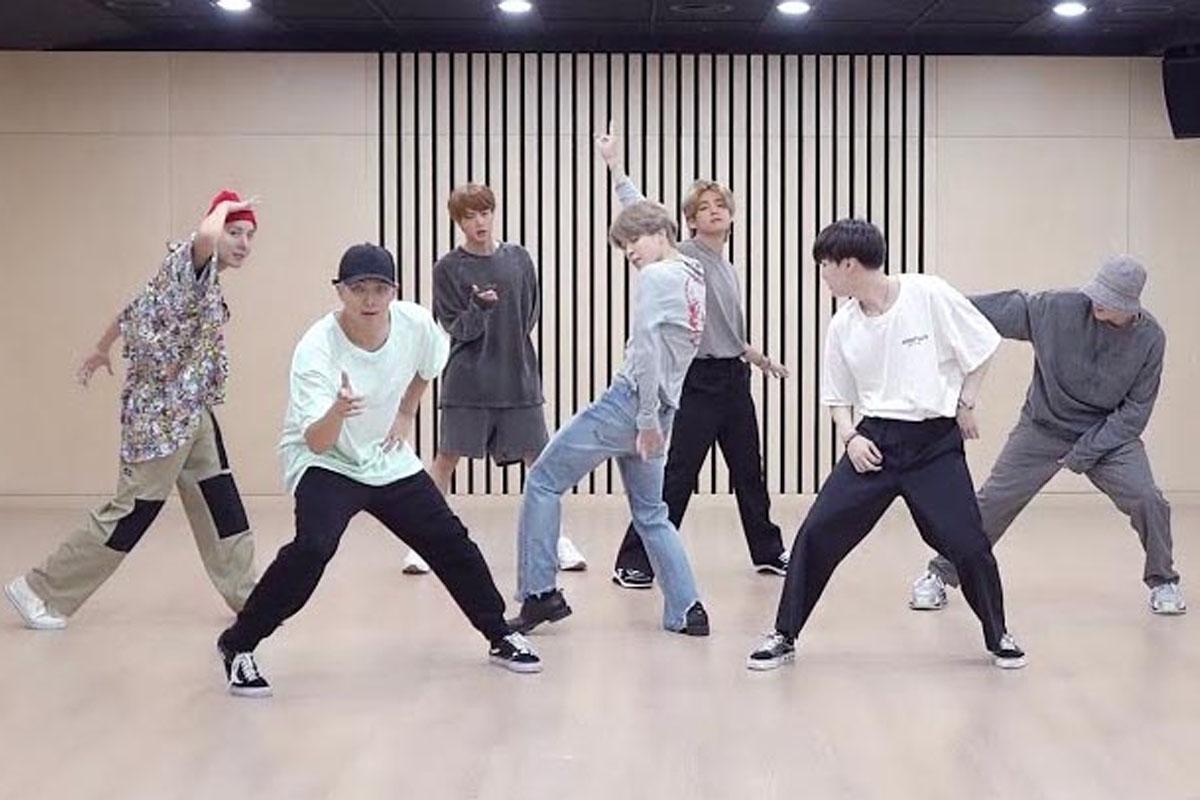 Source: Youtube @BANGTANTV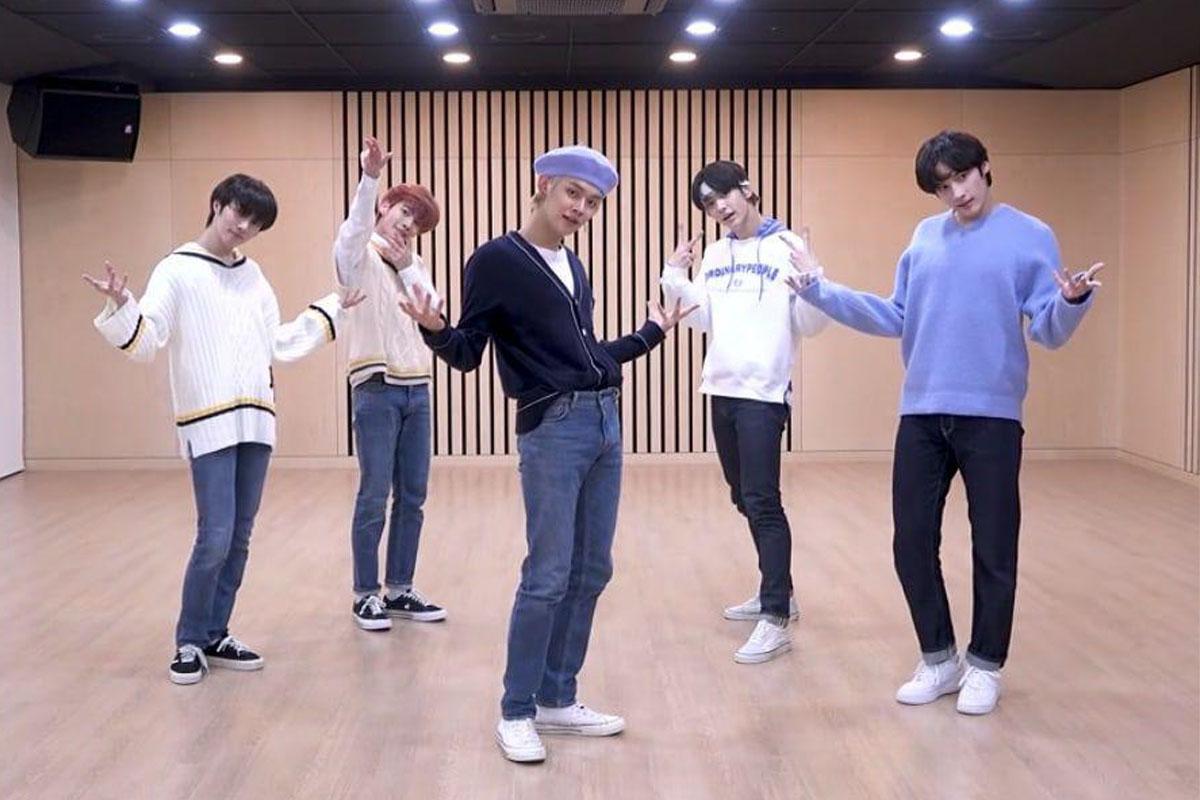 Source: Youtube @TOMORROW X TOGETHER OFFICIAL
In the Behind the Sweat zone, we got a front row seat to the artists' dance practices.
We could really see how hard artists work to perfect their dancing and bring the choreography to life.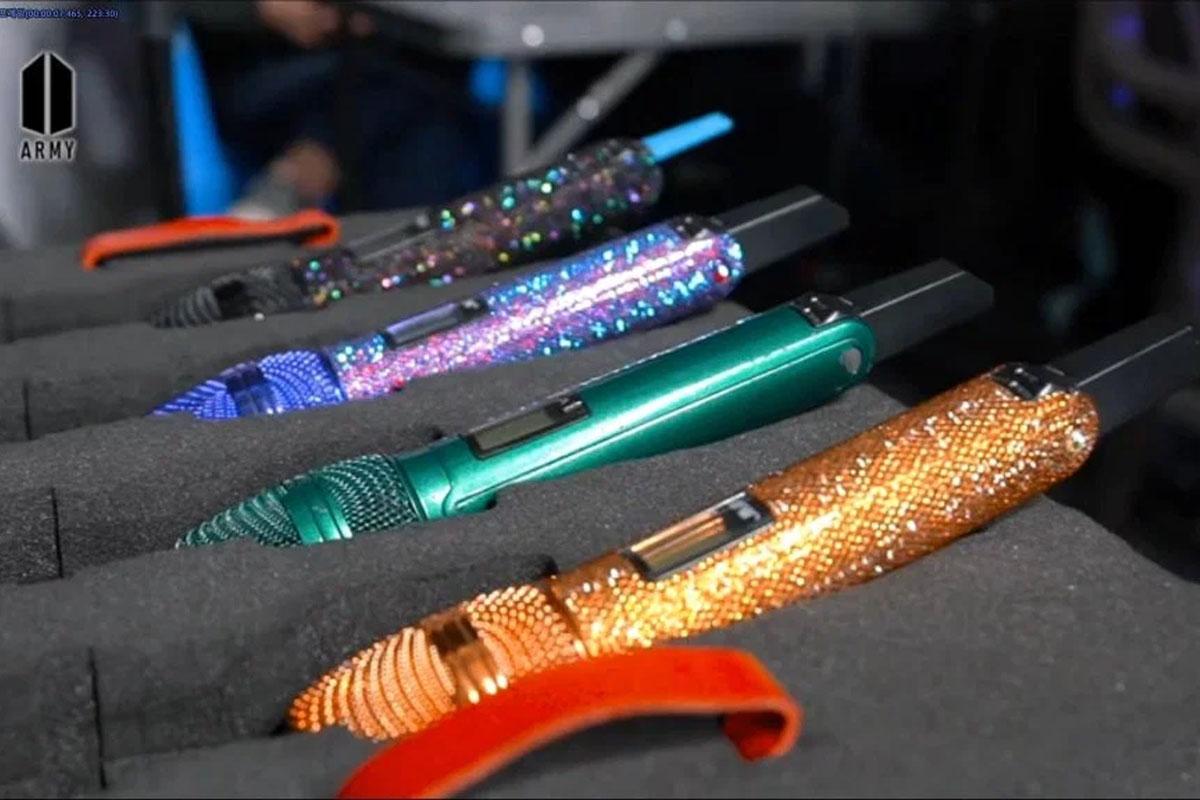 Source: Weverse @BTS_twt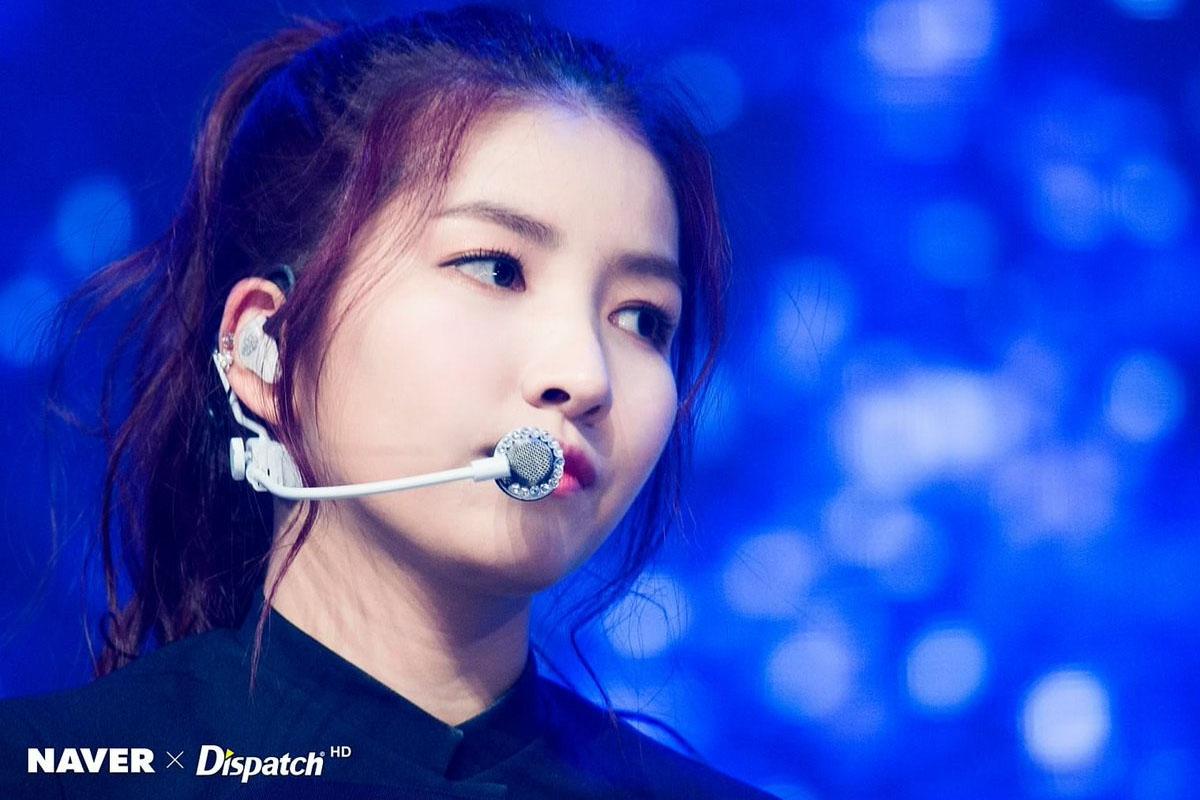 Source: Naver x Dispatch
We got to see the different mics that our favorite artists use when they perform live.
We loved how bright and unique each of these mics were.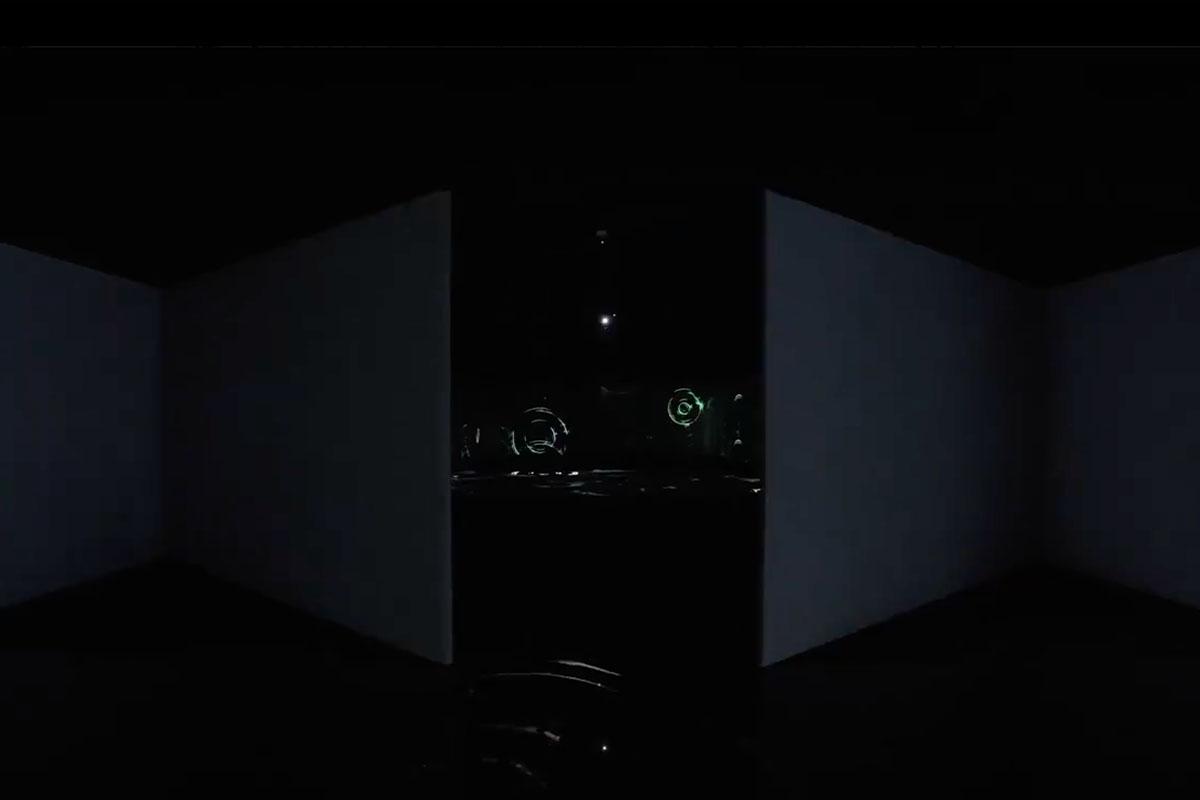 Source: Twitter @HYBEINSIGHTtwt
Afterwards, a staff member asked the visitors to gather in front of a giant screen that showed videos of ENHYPEN.
The screen then split in two and opened into the next zone, Story.
It was so cool!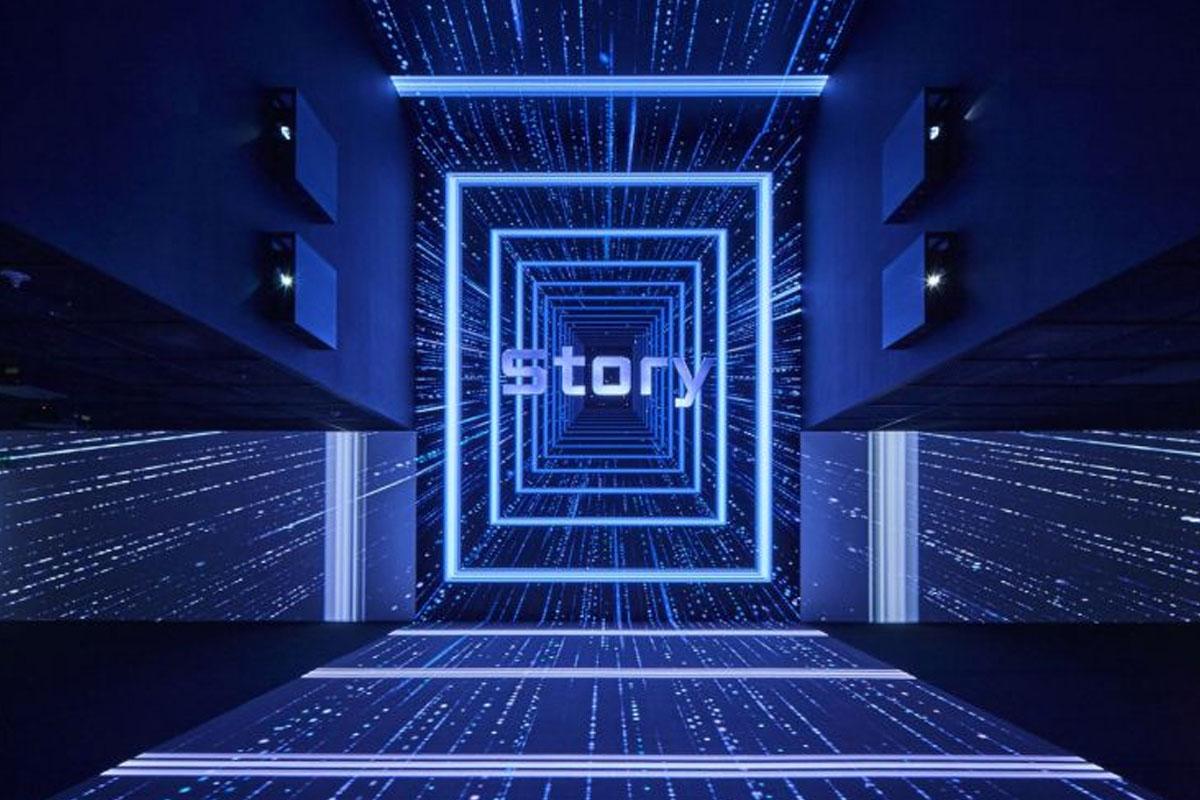 Source: 뉴스컬처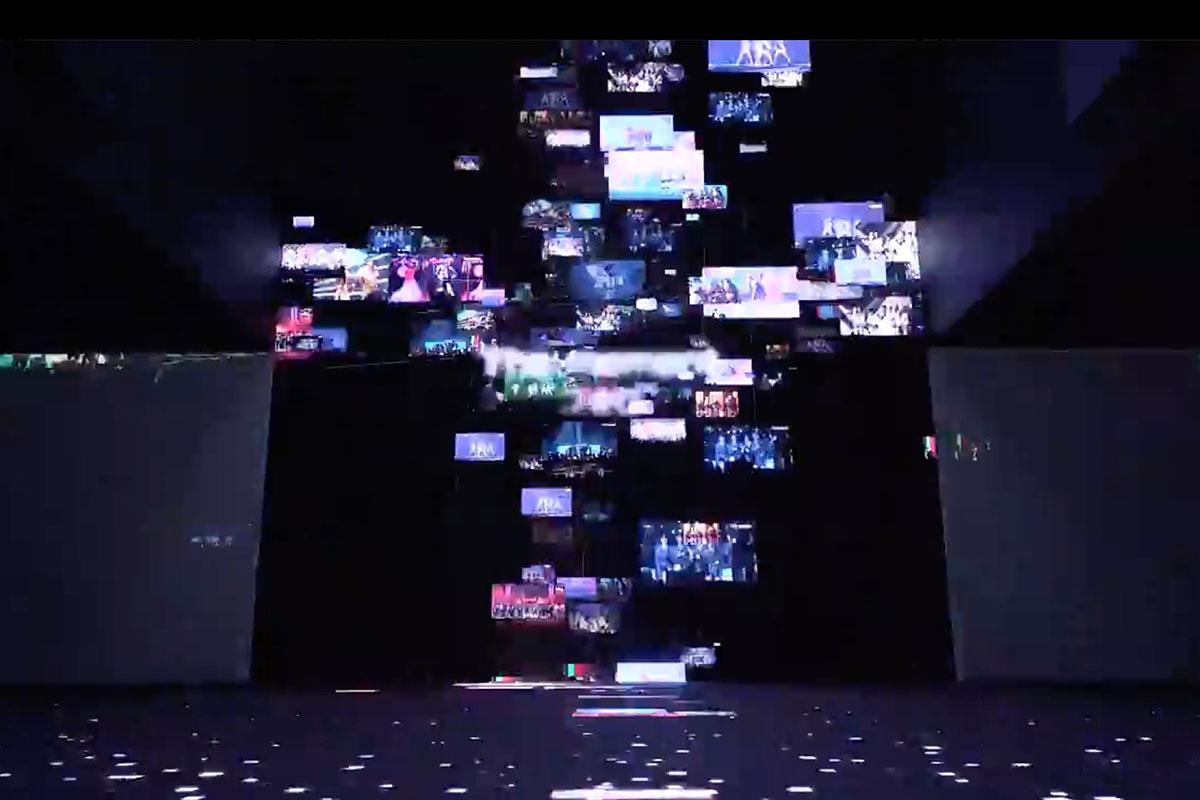 Source: Twitter @HYBEINSIGHTtwt
This is considered the ultimate highlight of the museum.
The story of HYBE and its artists is told here.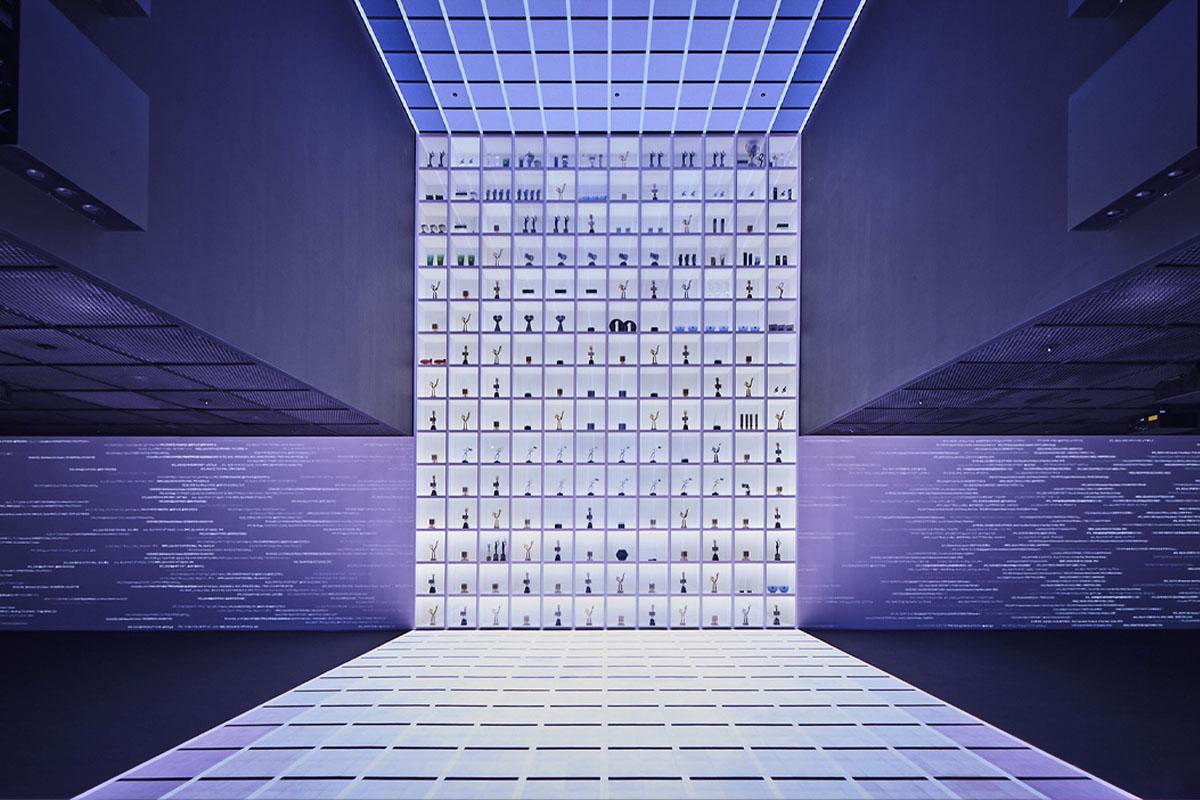 Source: Twitter @HYBEINSIGHTtwt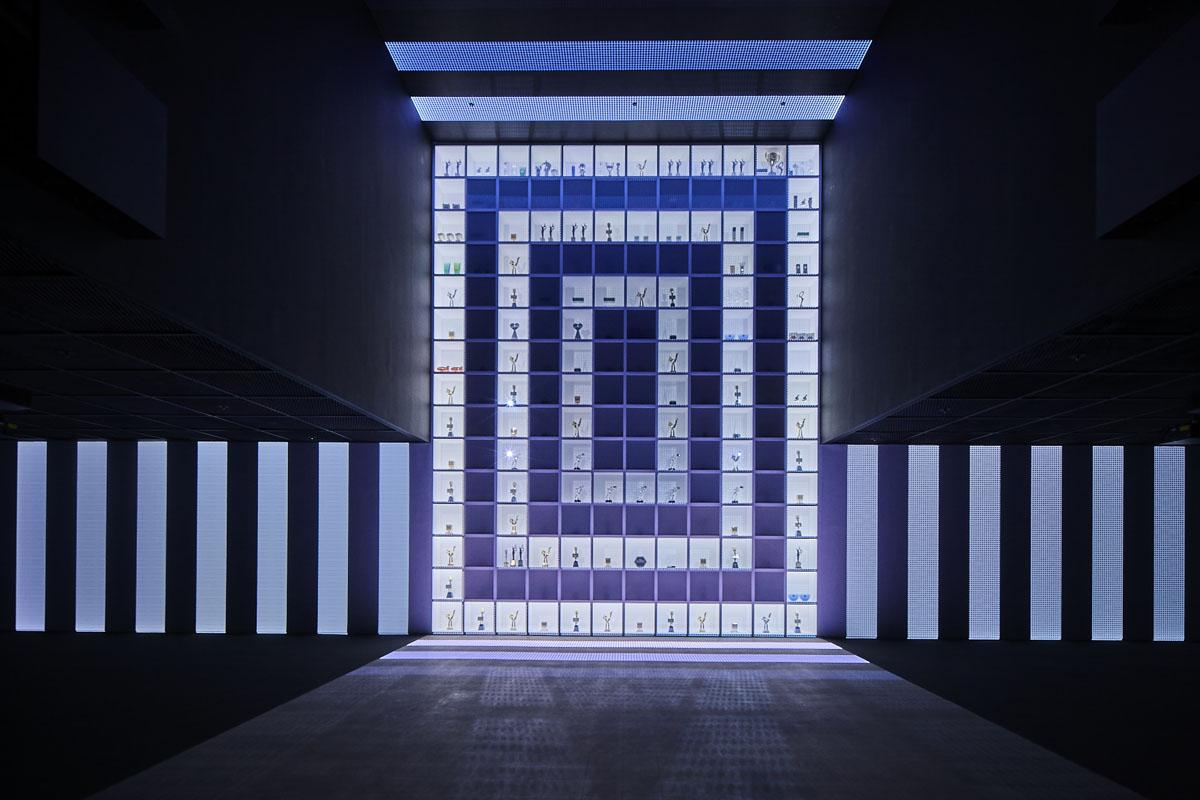 Source: Twitter @HYBEINSIGHTtwt
We were so moved by this particular installation.
It showcased all of the awards HYBE and its artists have won.
It was really touching, especially when we saw the Billboard Music Awards!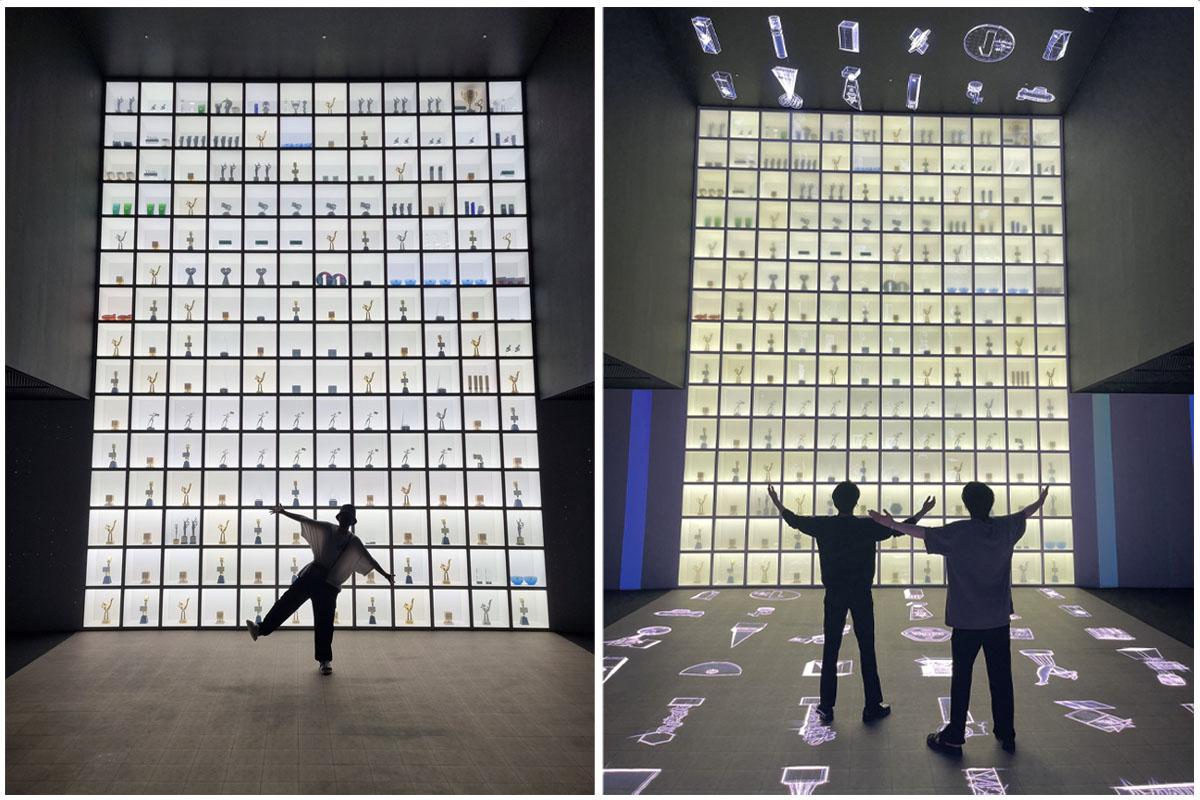 Source: Twitter @BTS_twt
Photos aren't allowed to be taken in this zone.
But we wanted to show you some pics of BTS posing in front of this installation.
You can see just how big this installation is!
We finally made it to the designated areas where we could take pictures!
Please keep in mind that you can only take photos in these areas; video recording isn't allowed.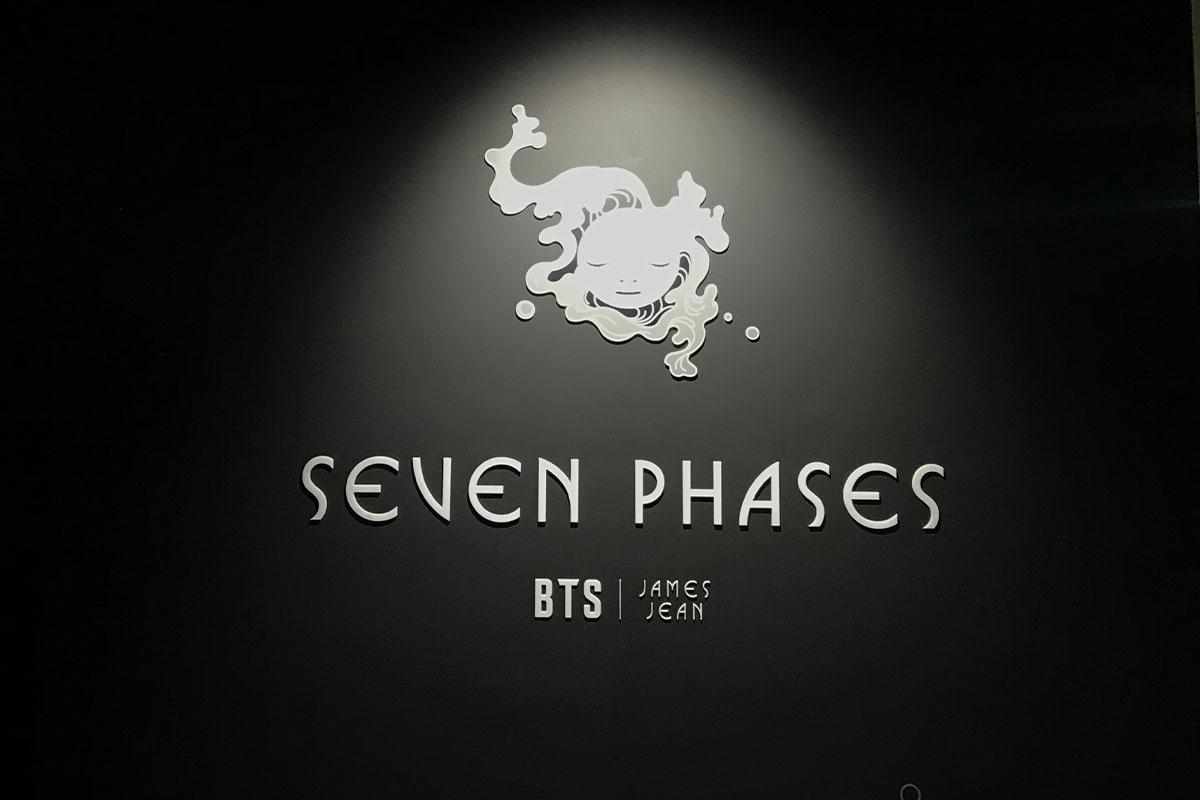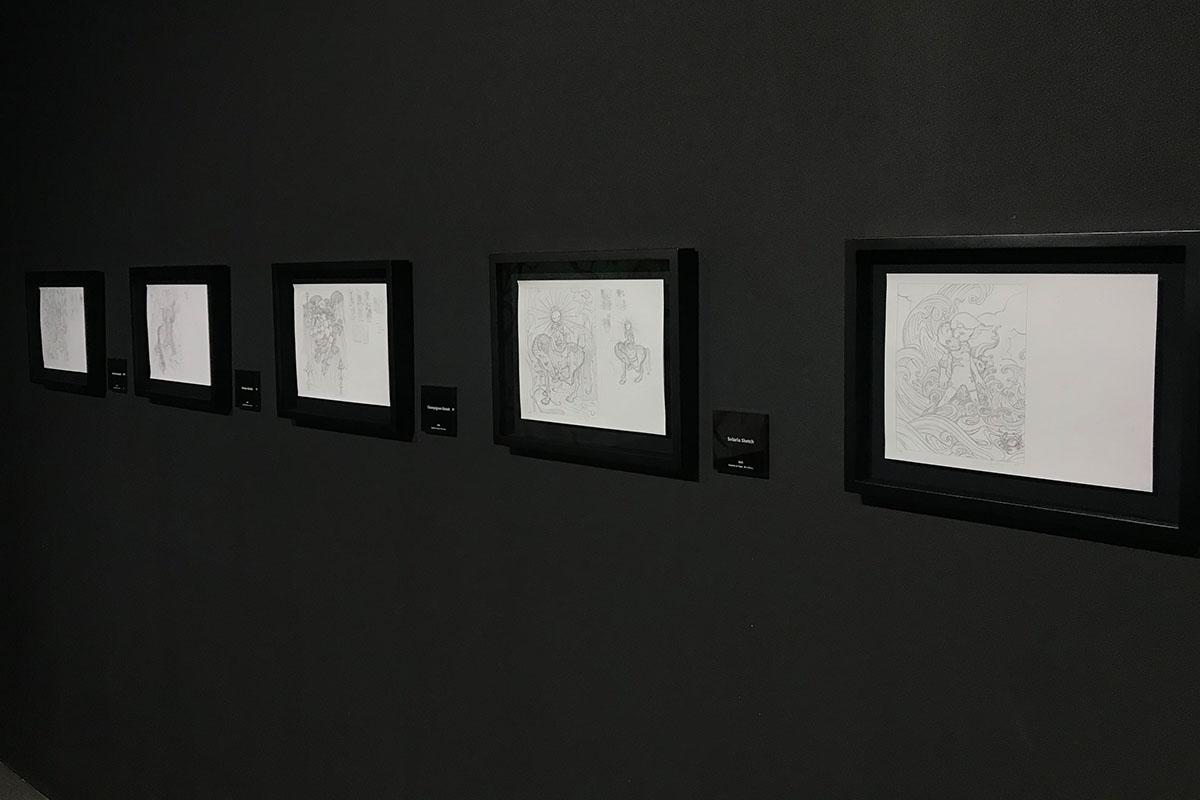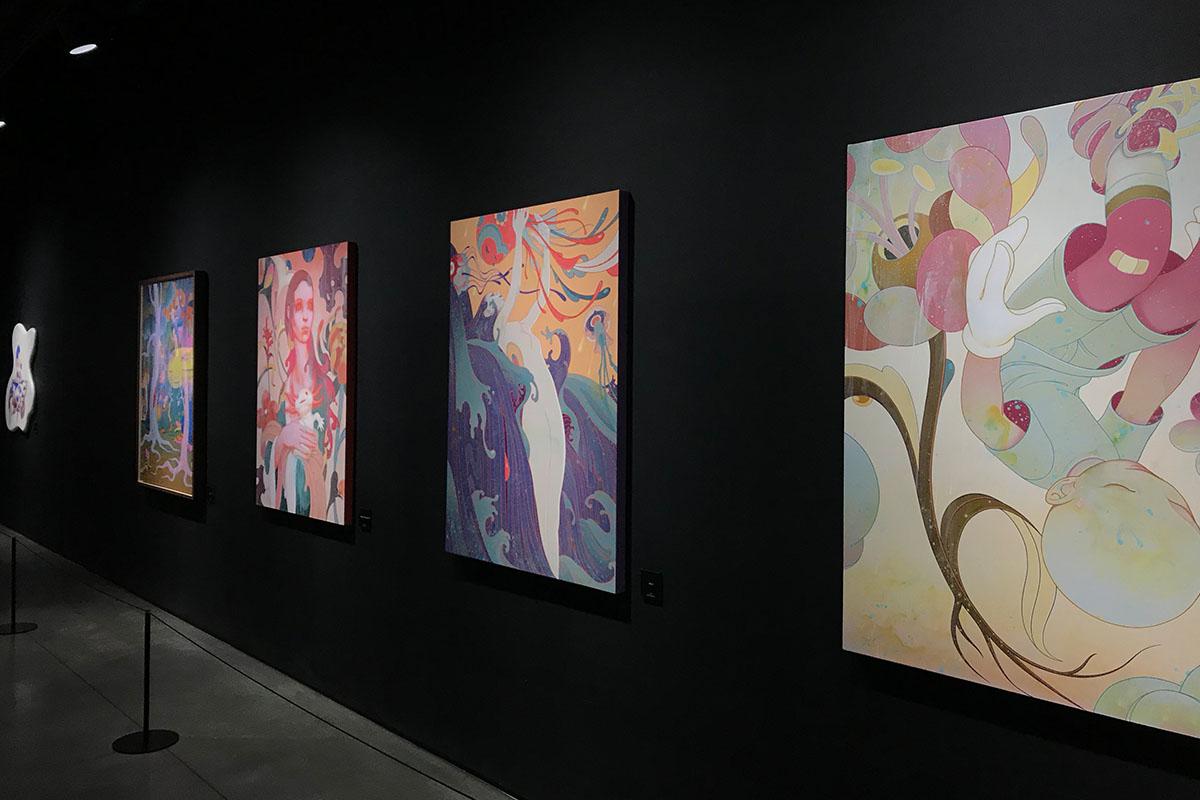 This a special exhibition of paintings called Seven Phases by James Jean.
RM of BTS is a fan of James Jean's work, and these paintings were inspired by BTS and their music.
There is a even a painting based on RM's song, "moonchild."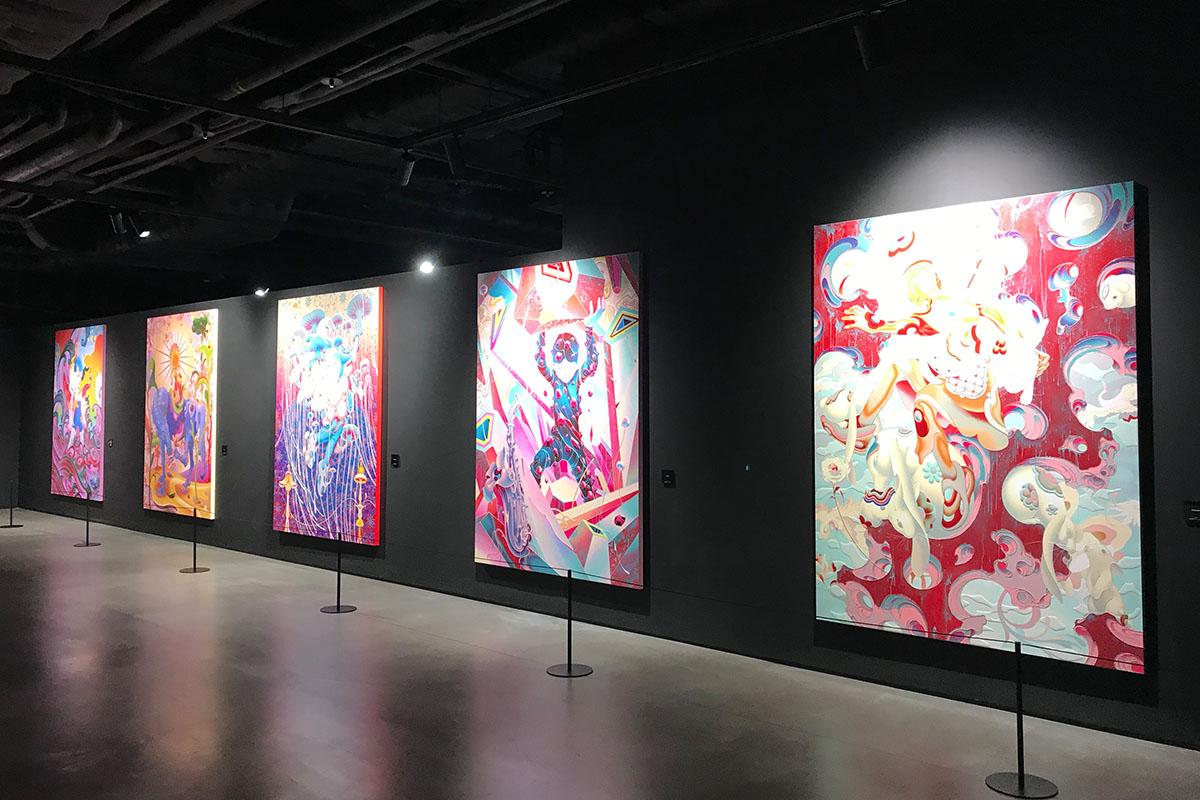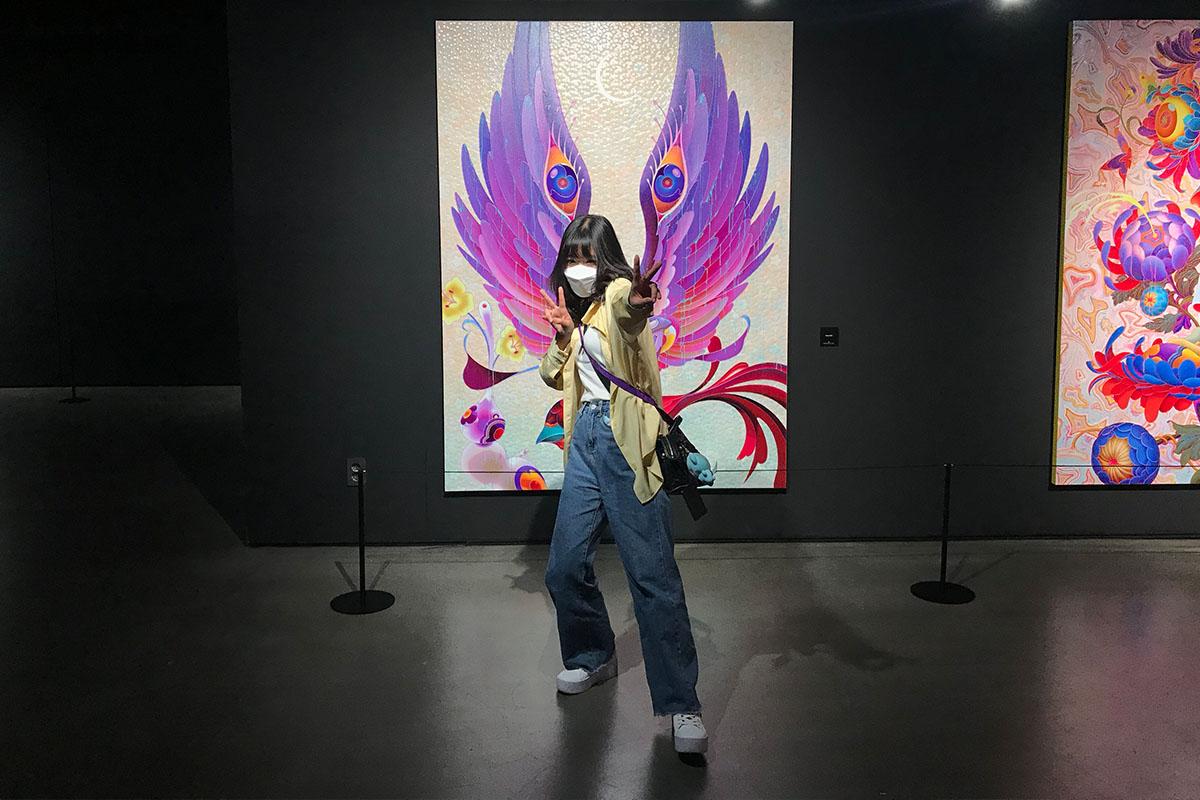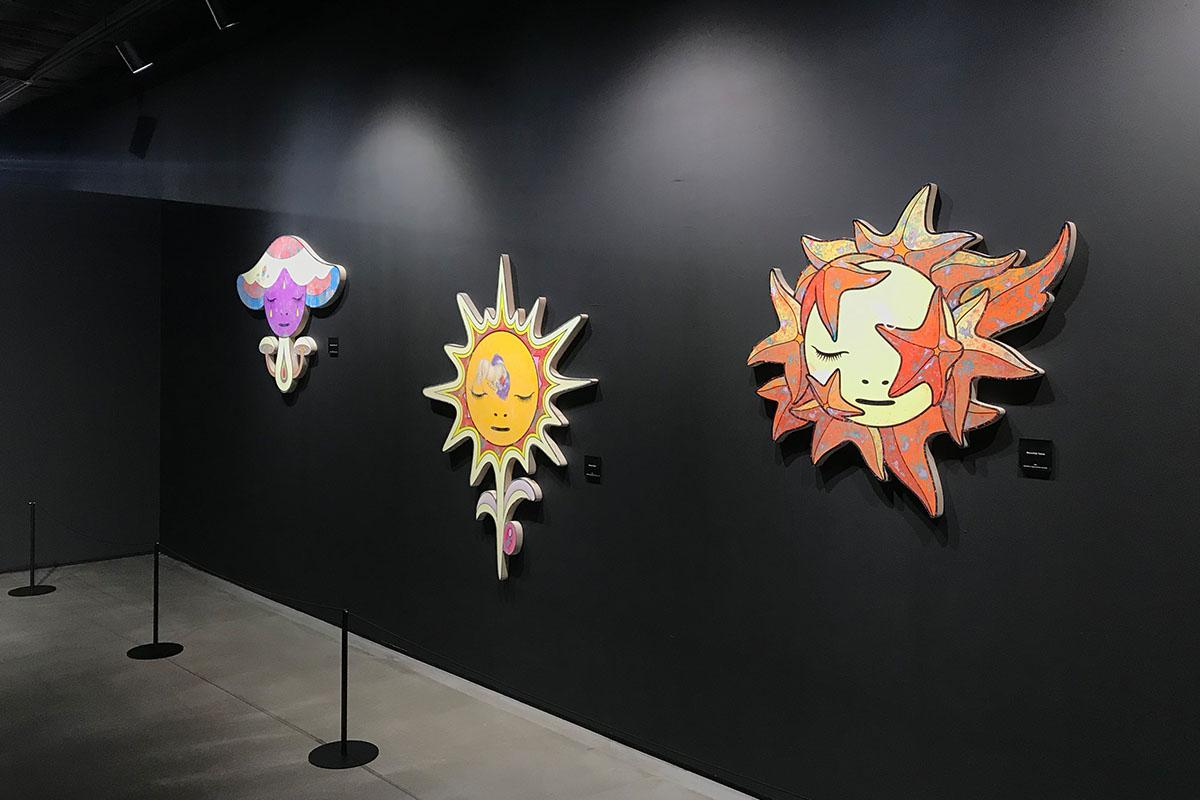 All of the pieces were vibrant and full of color.
We thought that the artist captured the spirit of BTS in a dreamy and playful way.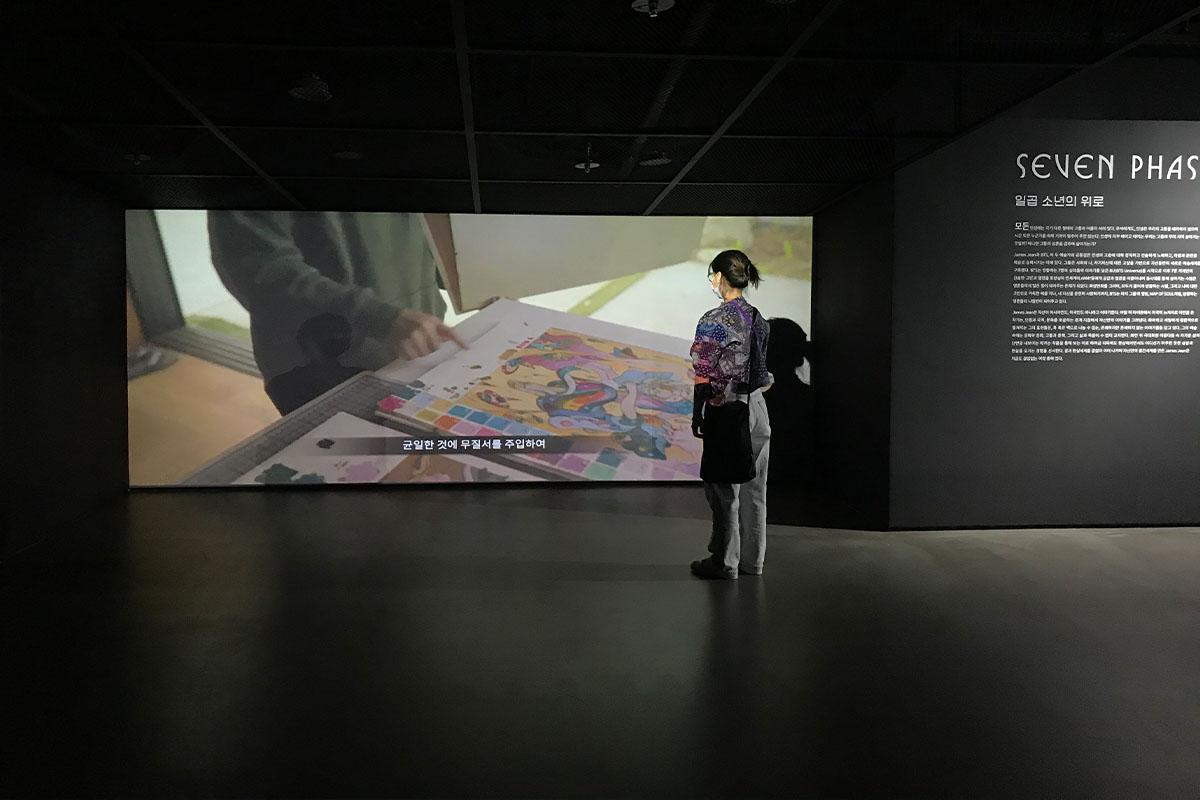 You can watch an interview with James Jean regarding his process in creating these pieces.
This exhibition will be available until November 14, 2021.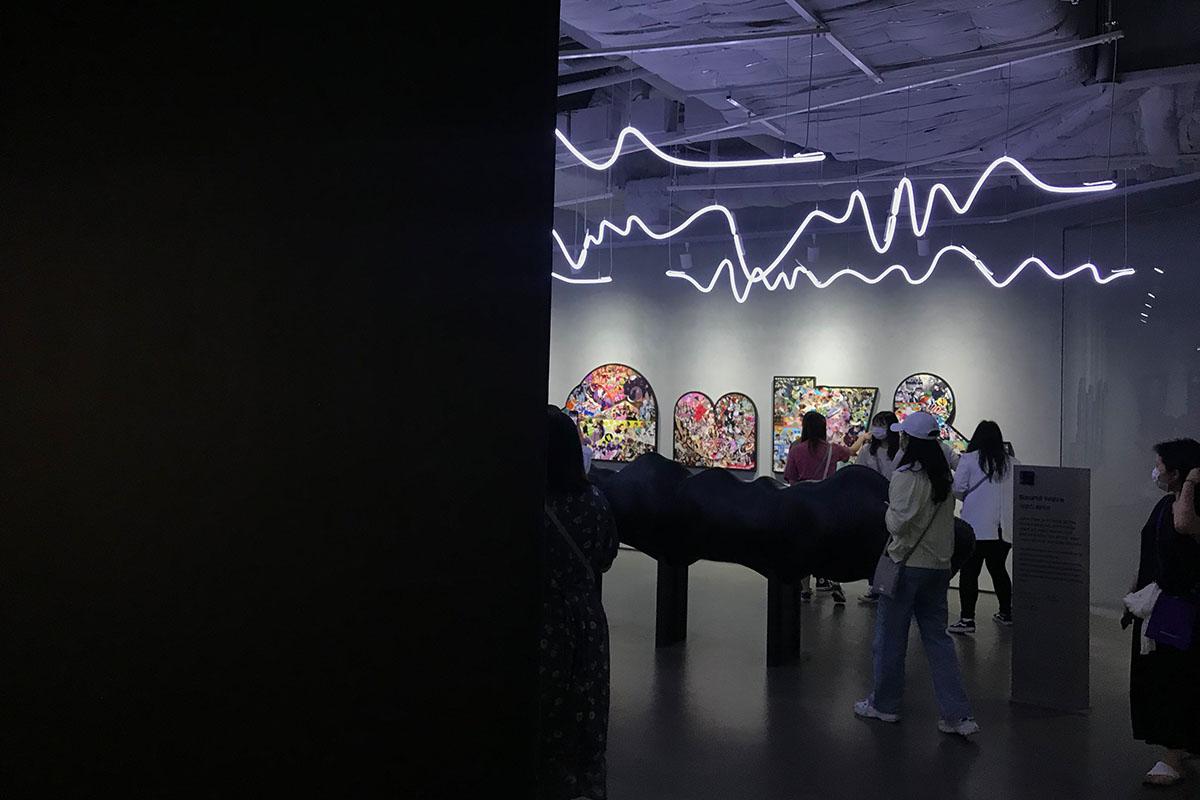 After Seven Phases, we ventured on to Ways of Listening.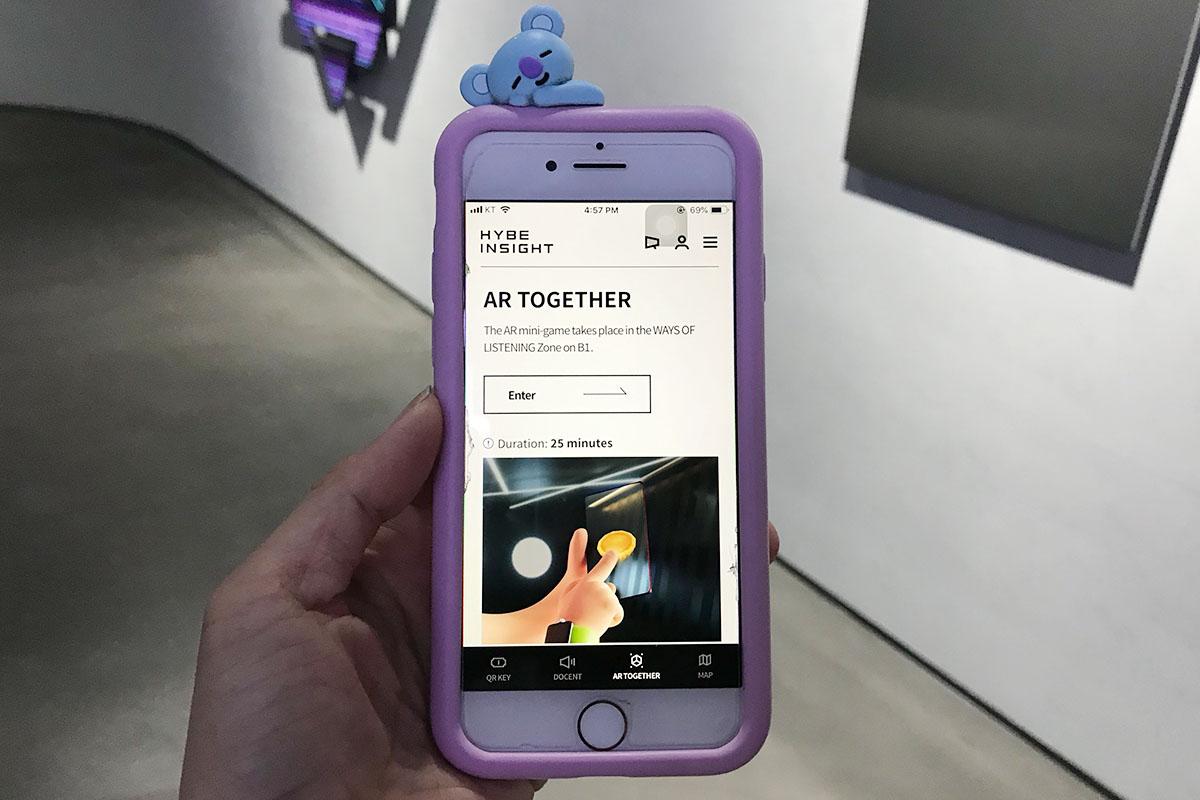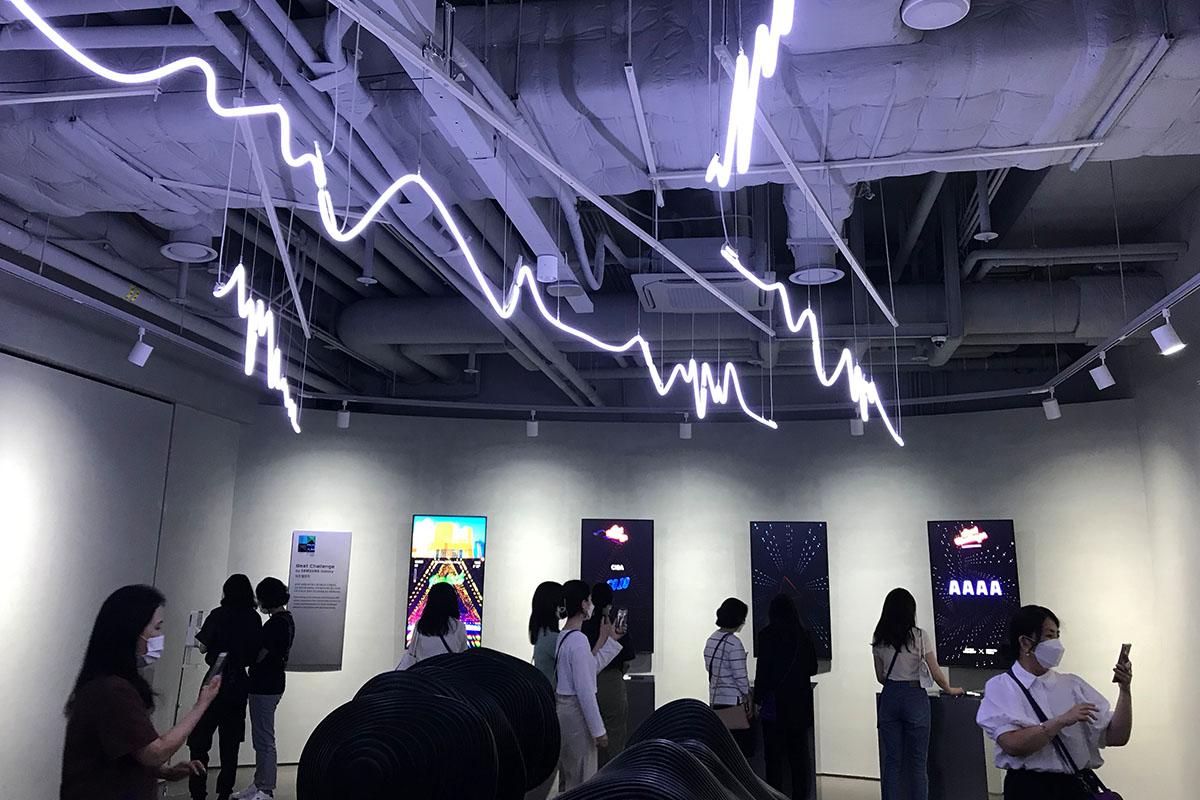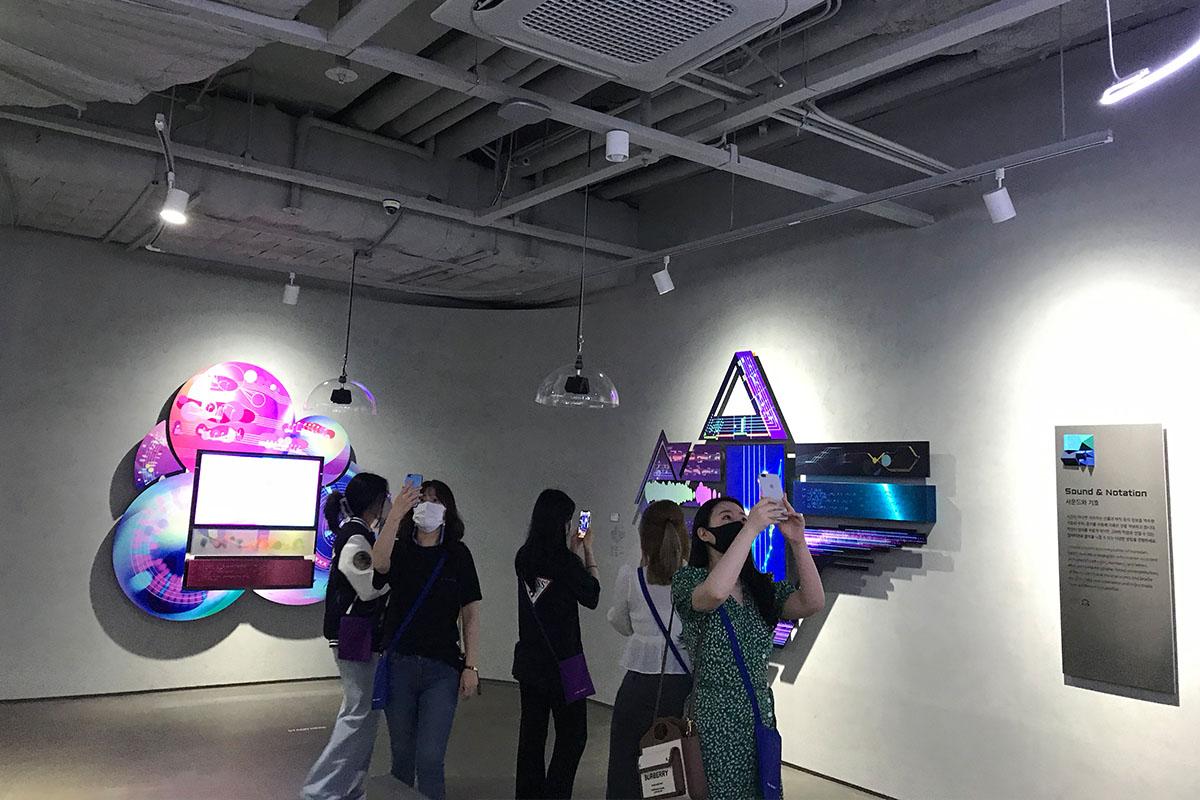 There is an augmented reality (AR) game that you can play in this zone via the HYBE Insight app.
If you find all of the treasures, you'll get a prize, so everyone was super focused on winning the game.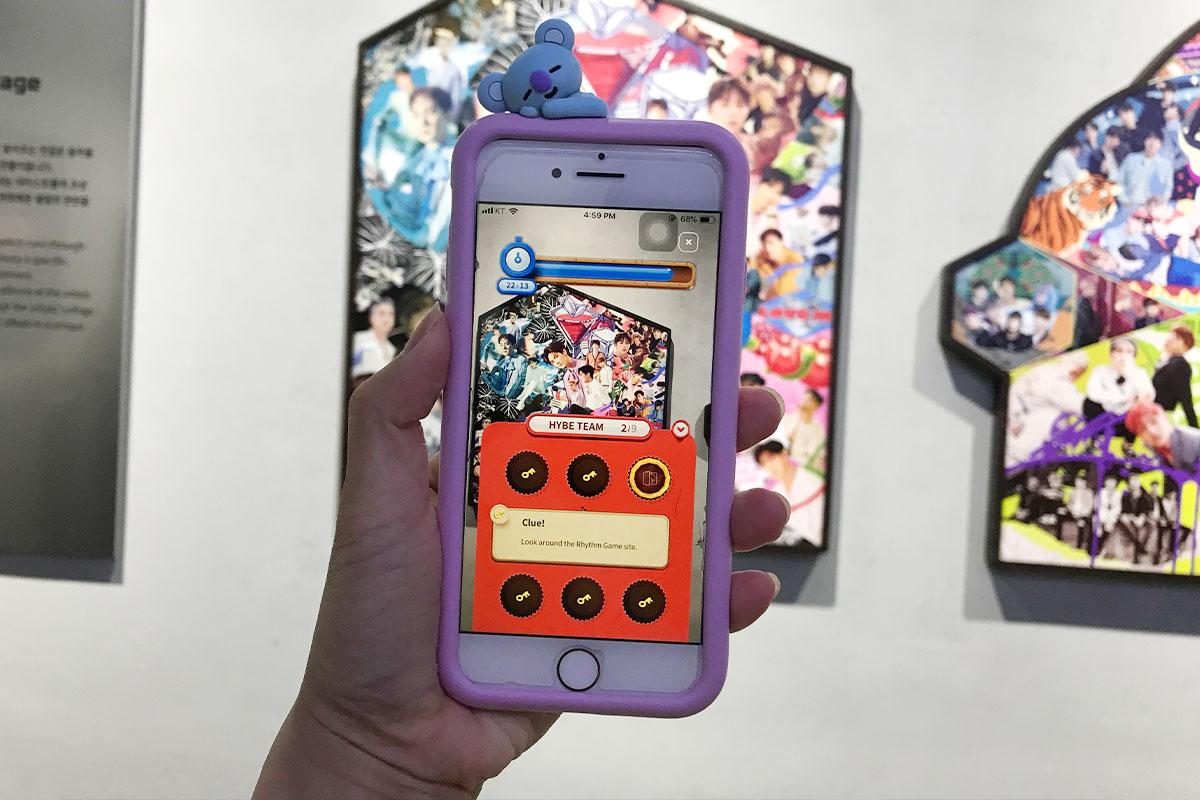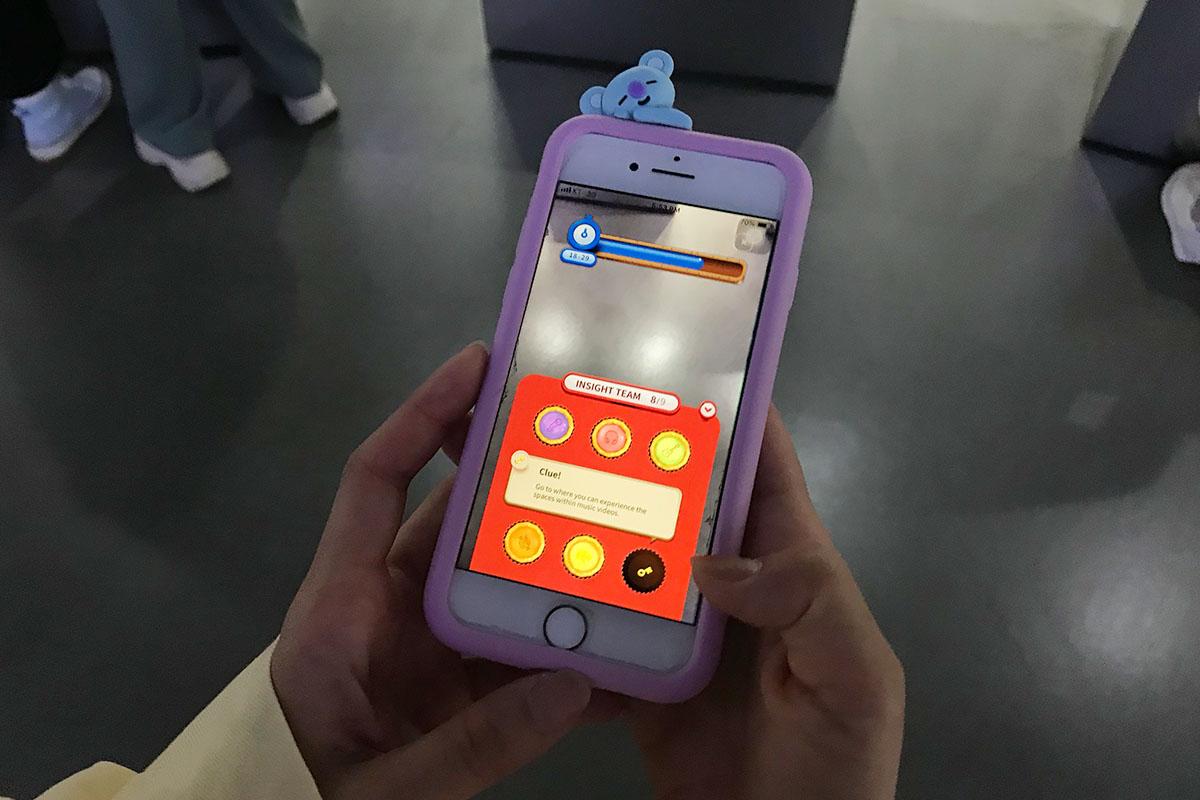 It's really easy to play.
Each item that you need to find has a clue.
You just follow the clue, and once you find it, you use the app to "collect" these items.
Make sure you find each clue quickly though because there is a time limit!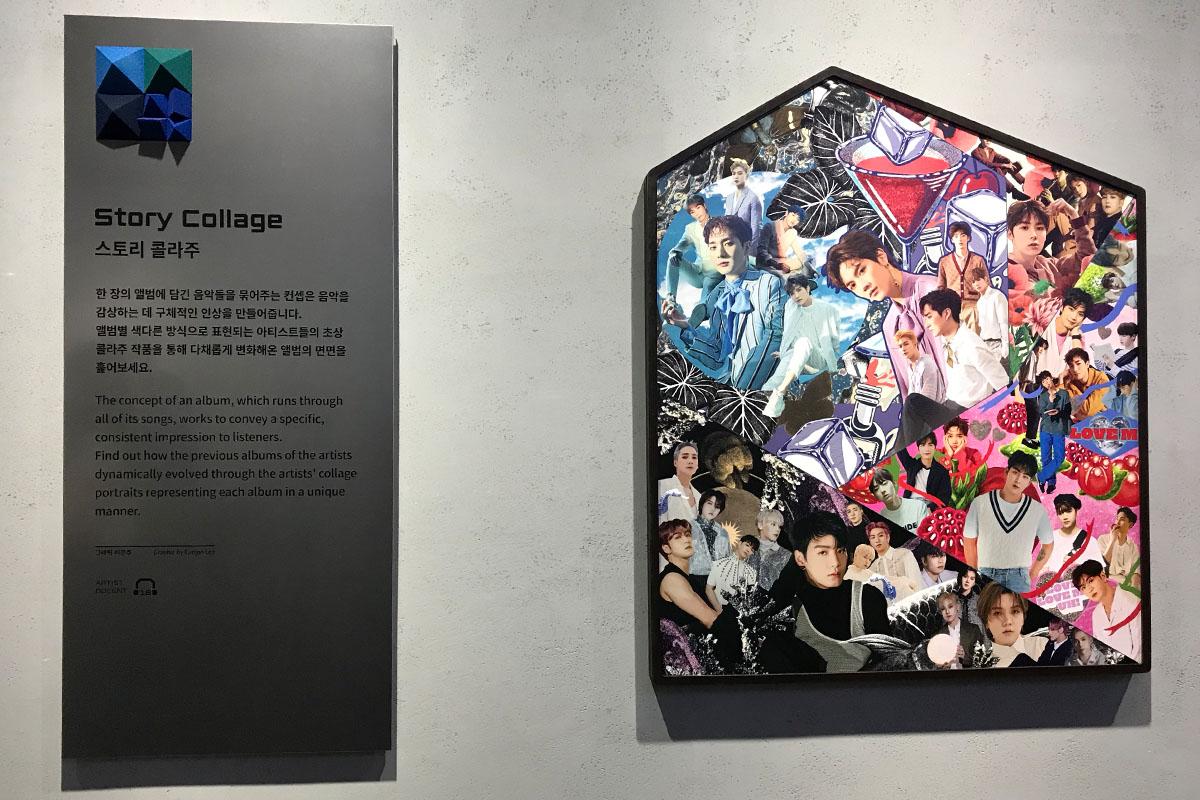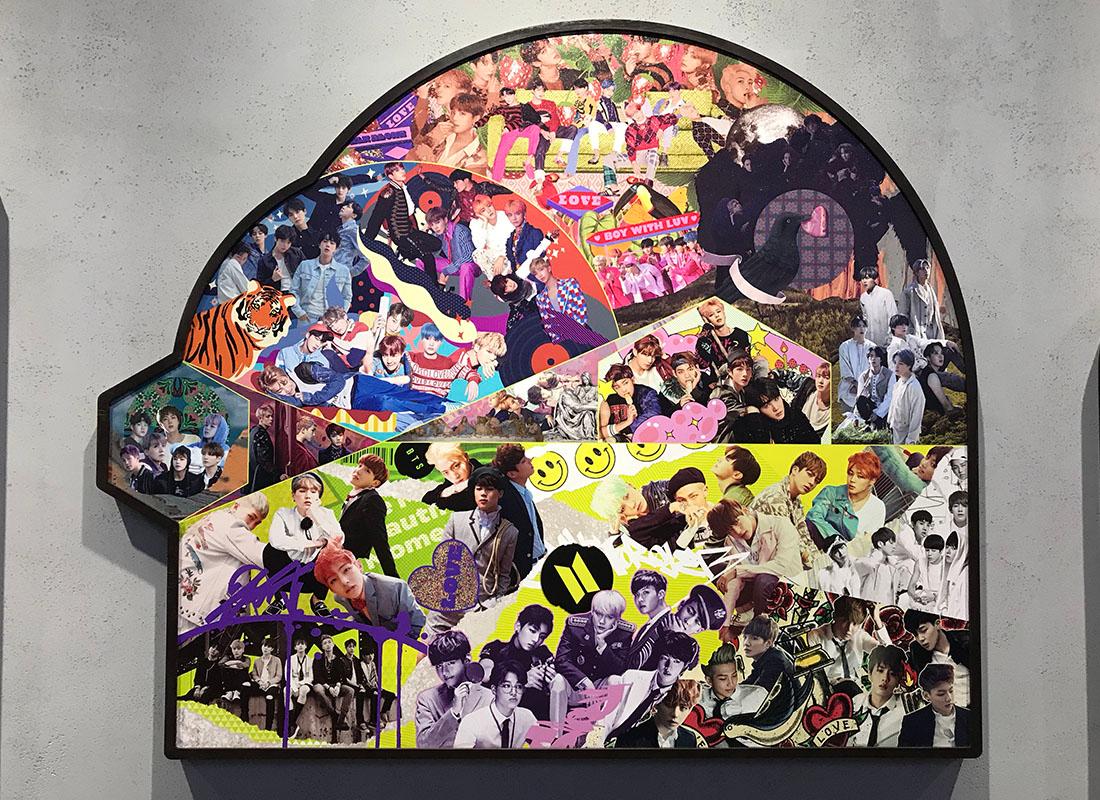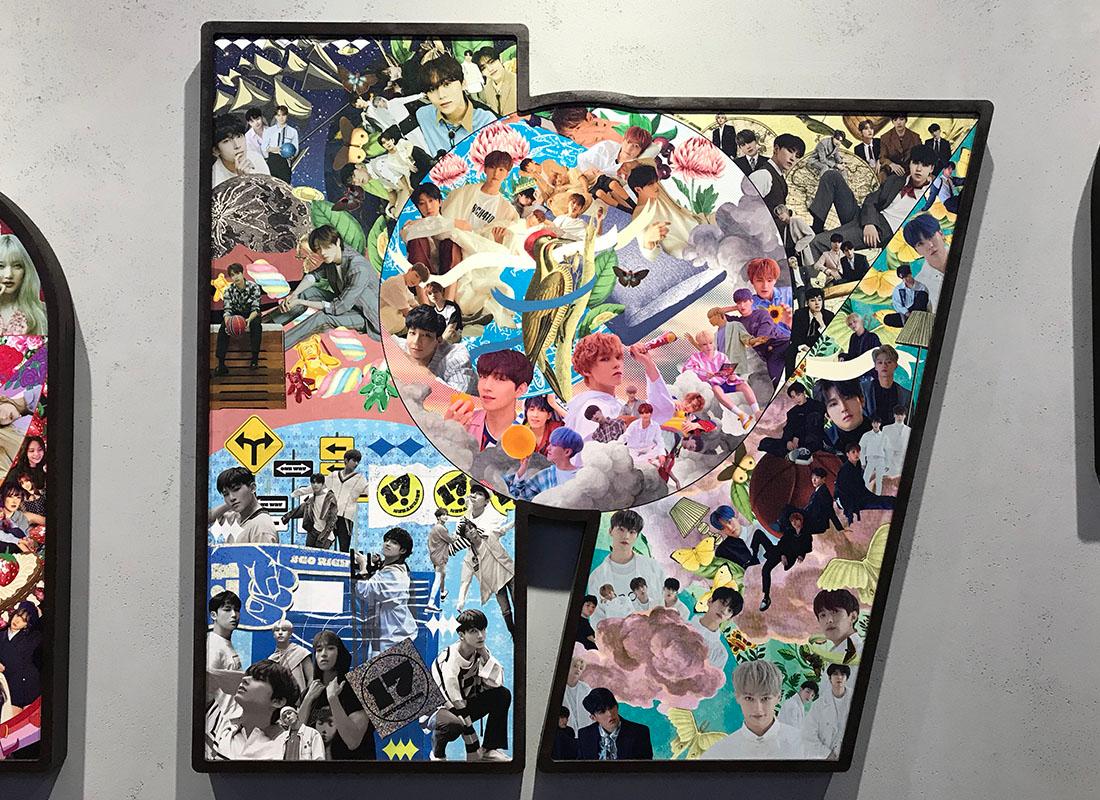 After playing the game, be sure to check out Story Collage.
These collages capture of the essence of each artist and the different album concepts they've had over the years.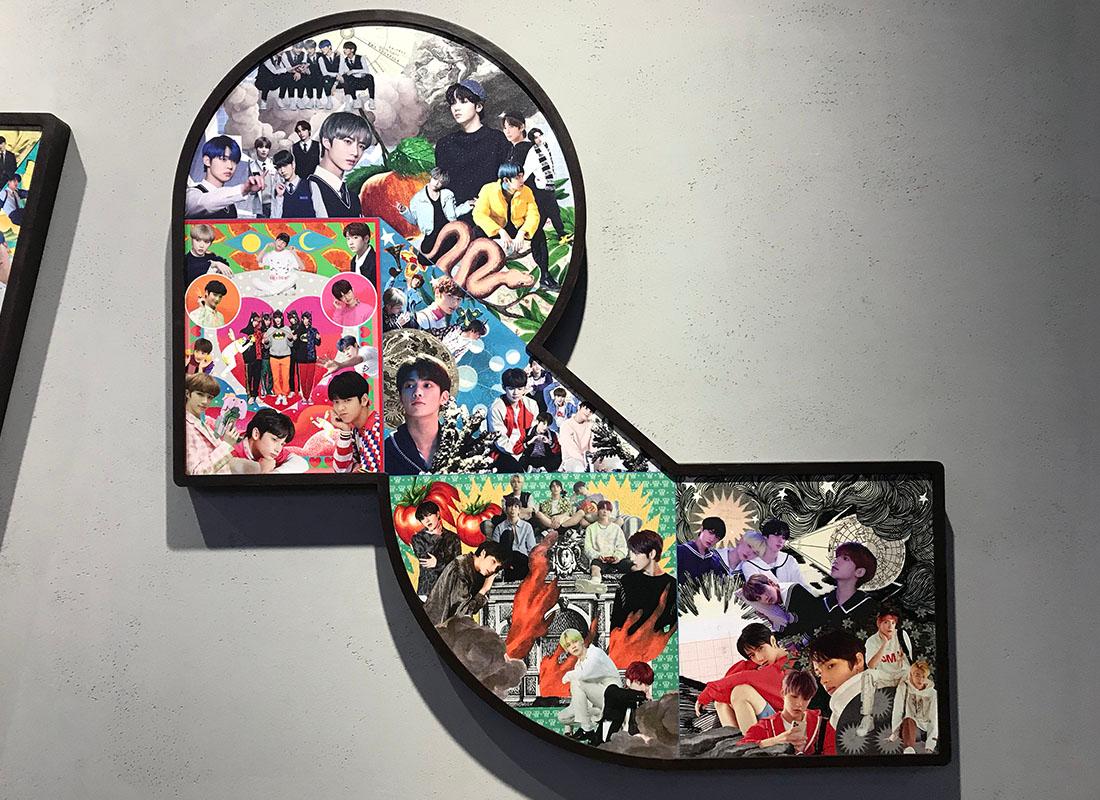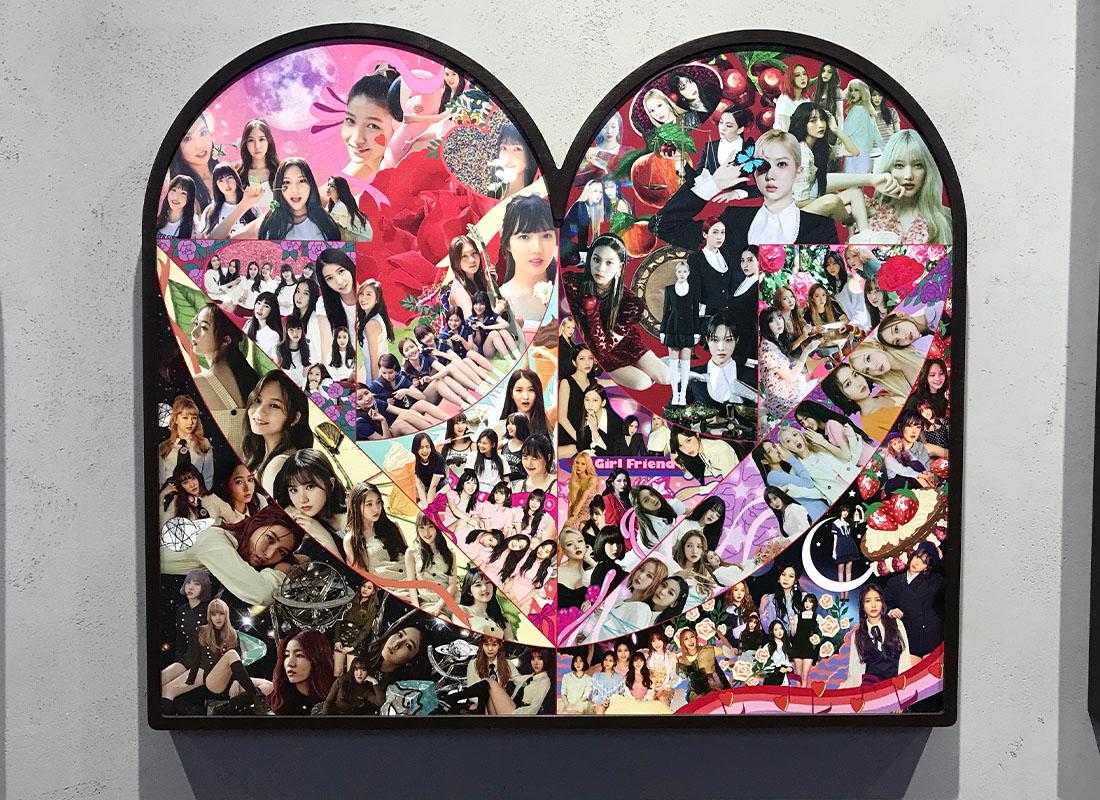 Looking at these collages reminded us of the first Kpop albums that we ever bought.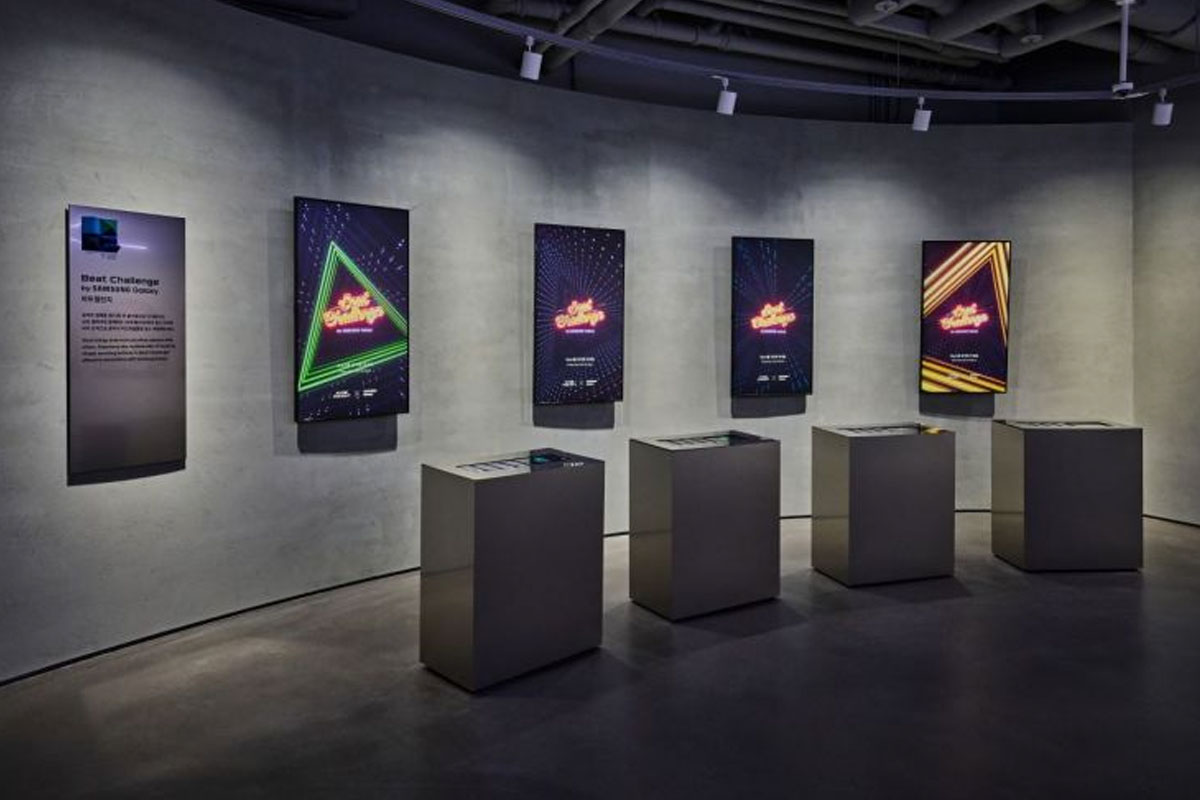 Source: 뉴스컬처
This part of the exhibit is called Beat Challenge, and it's really fun and interactive.
You have to match the beat to the songs on display.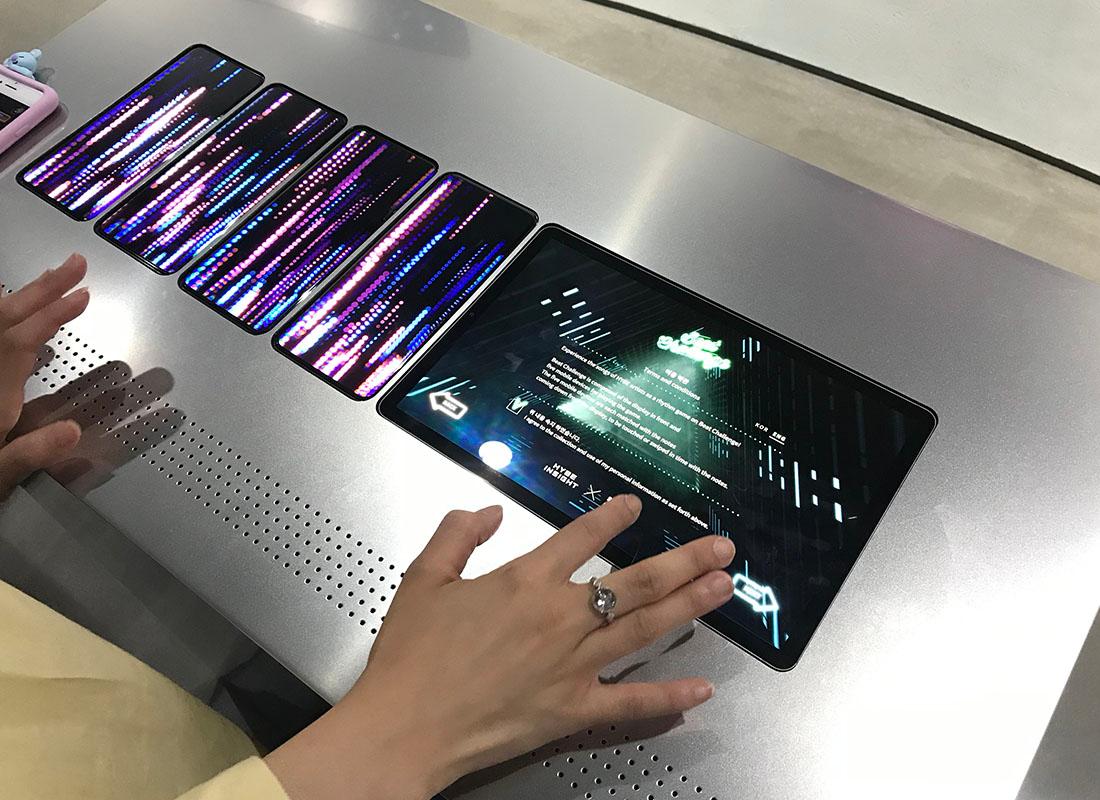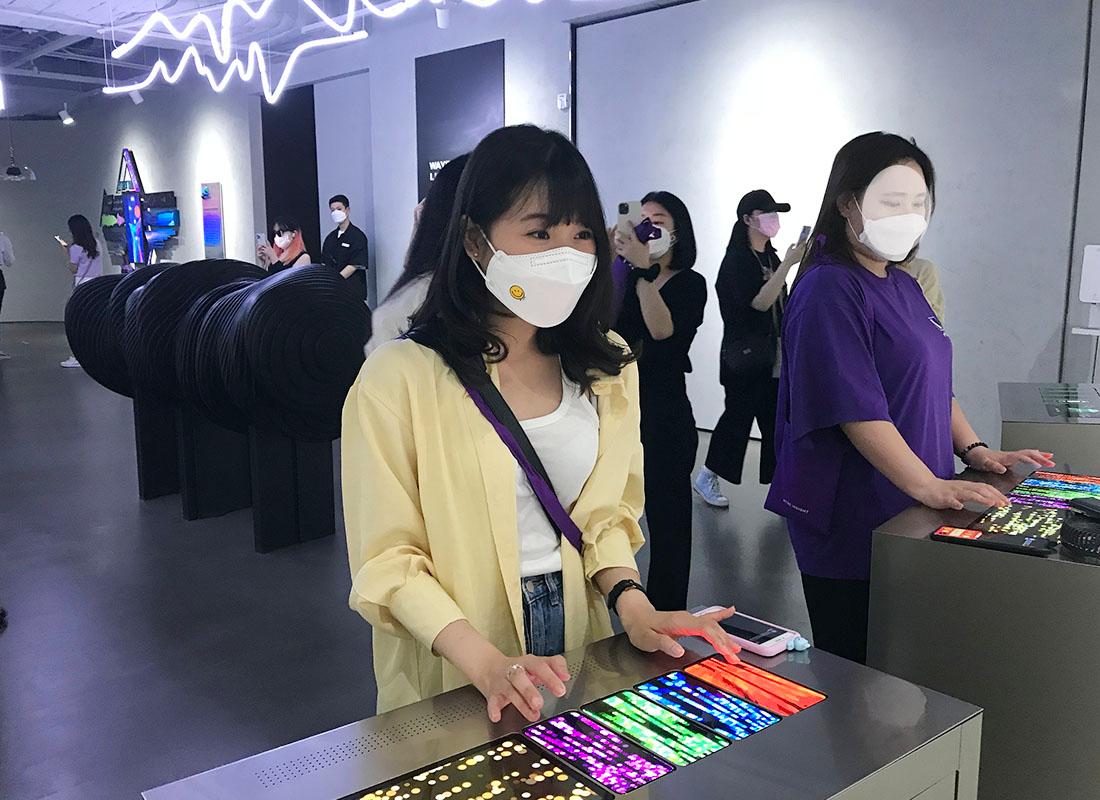 We totally nailed this!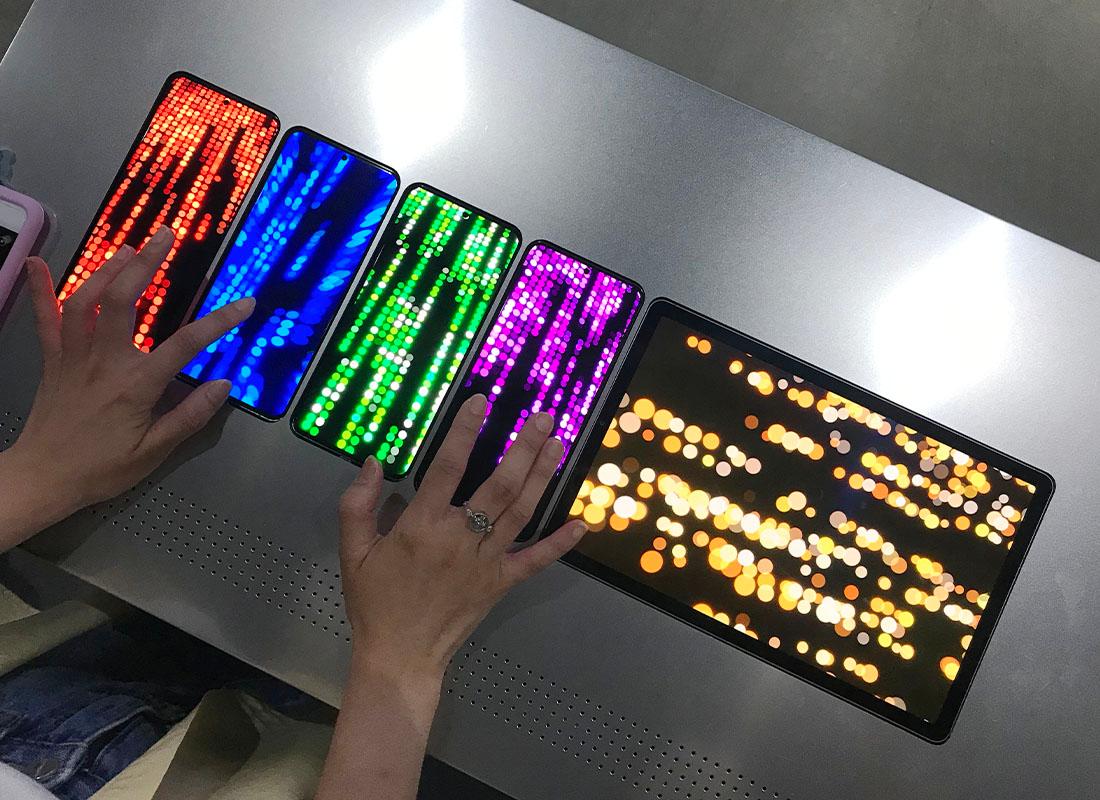 This game is similar to playing Superstar on your phone, but there is a big screen across from you and five smaller screens in front of you.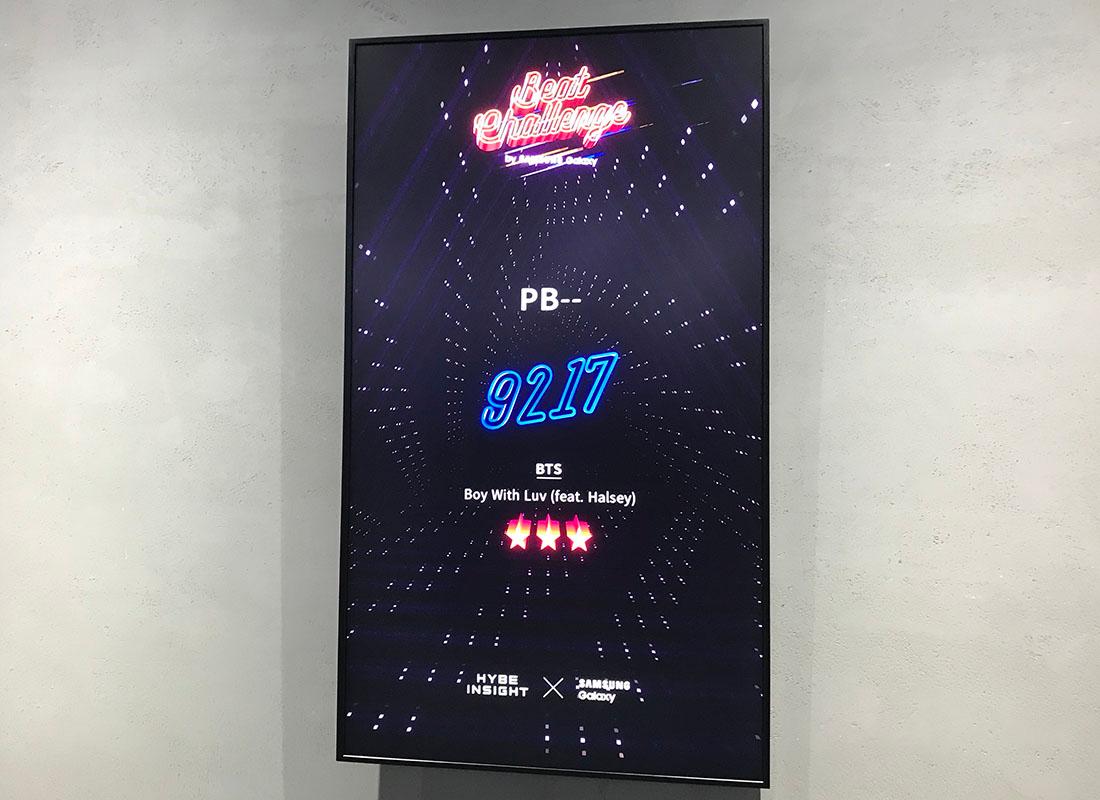 After we finished the challenge, our score came up on the big screen.
Our score was actually pretty low. Haha!
We still had fun playing this.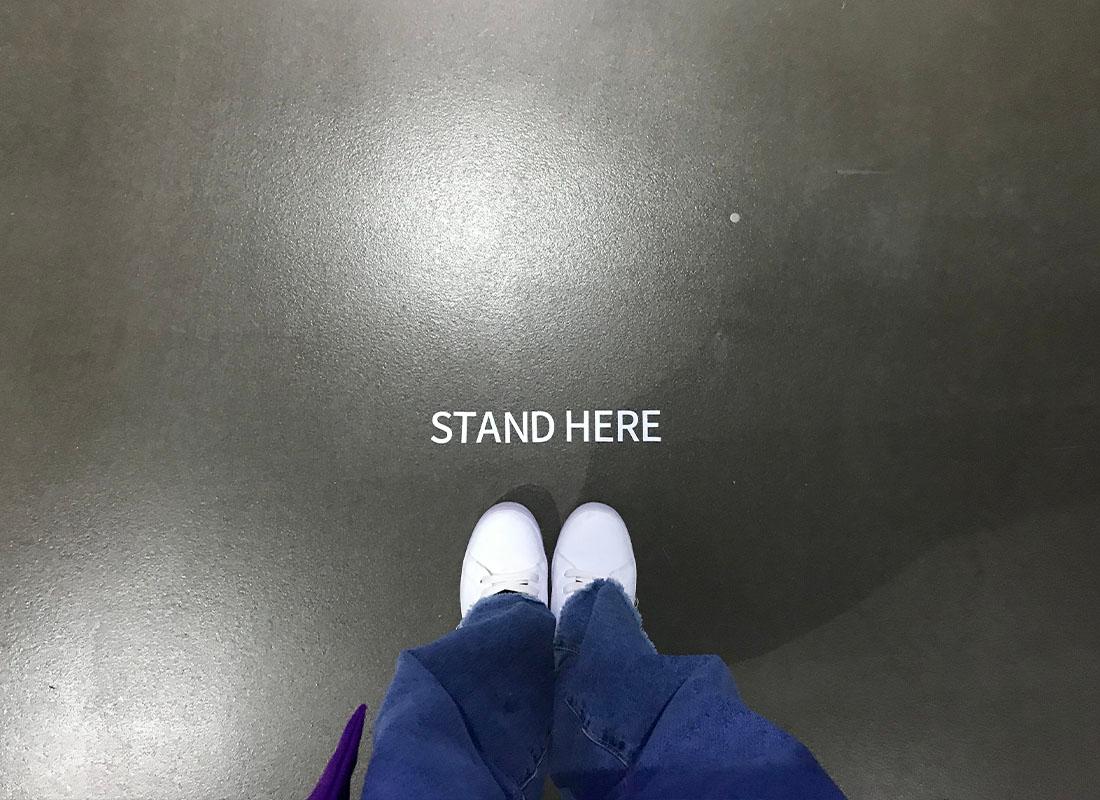 There were video installations to check out as well.
They even told you the perfect place to stand to maximize this experience!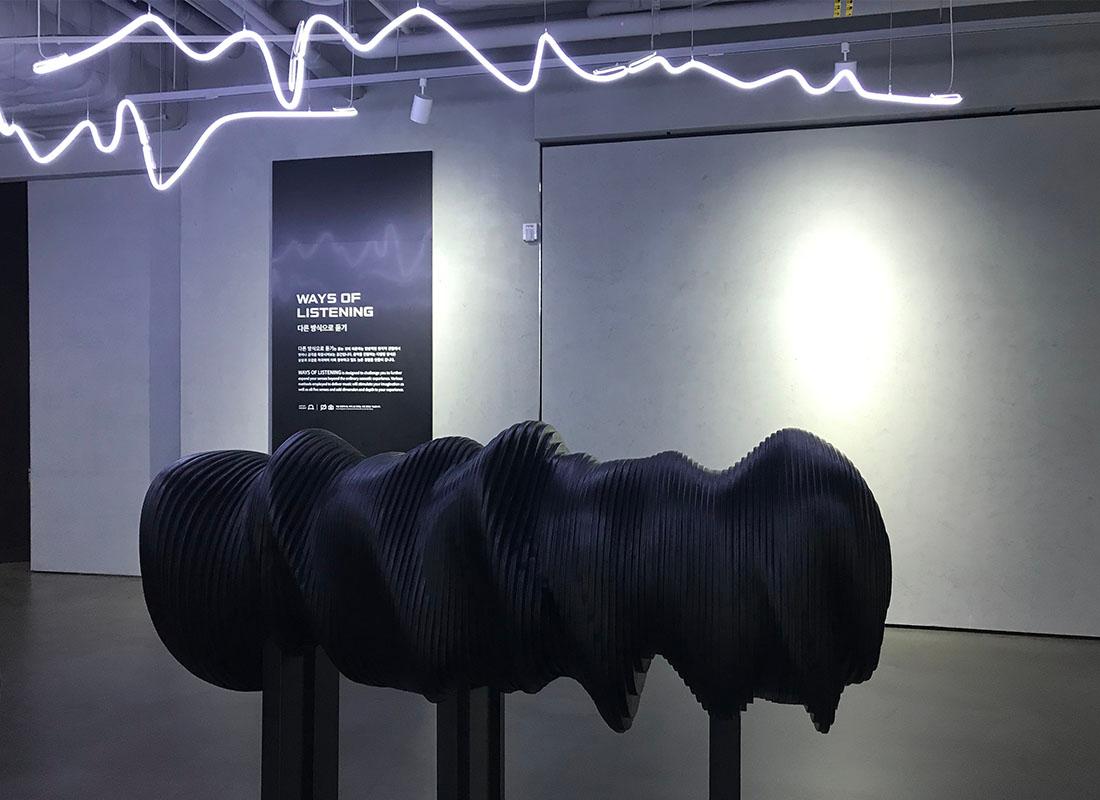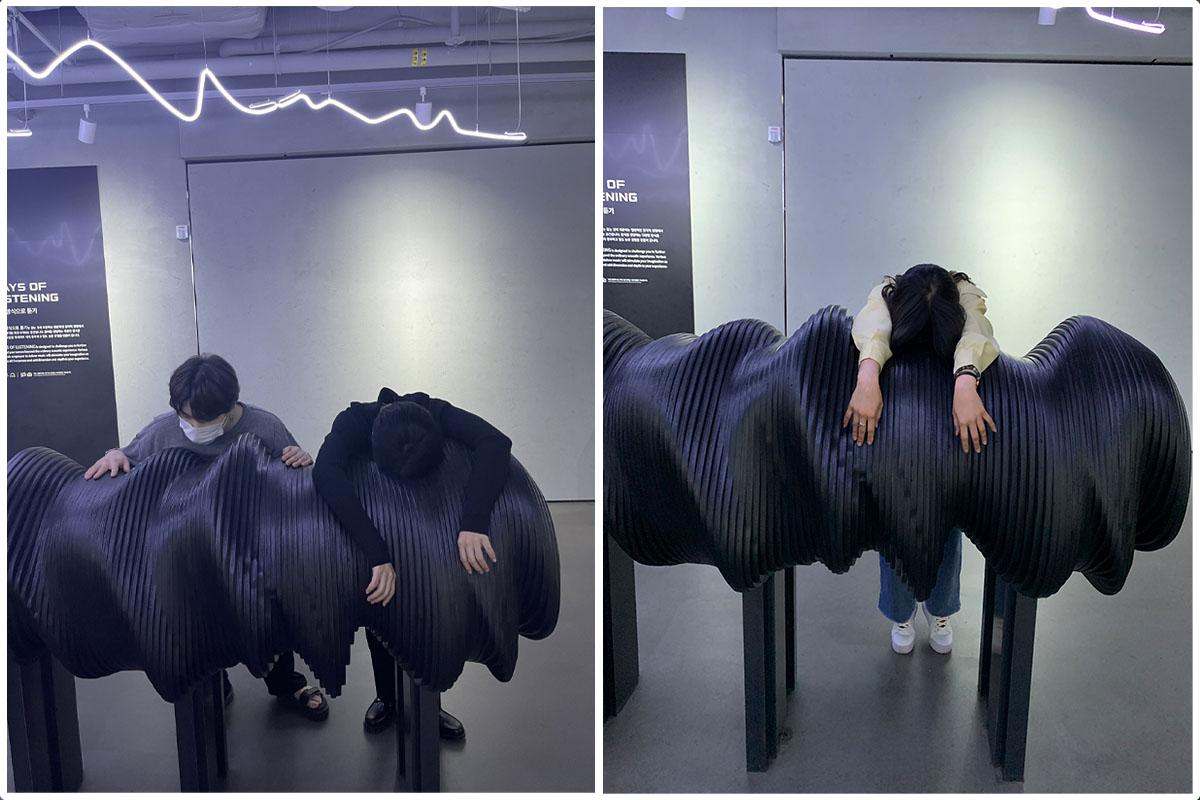 Source: Twitter @BTS_twt
This statue resembles the shape of a sound wave.
Be sure to take a picture here like Suga and Jimin did.
We tried to recreate their picture!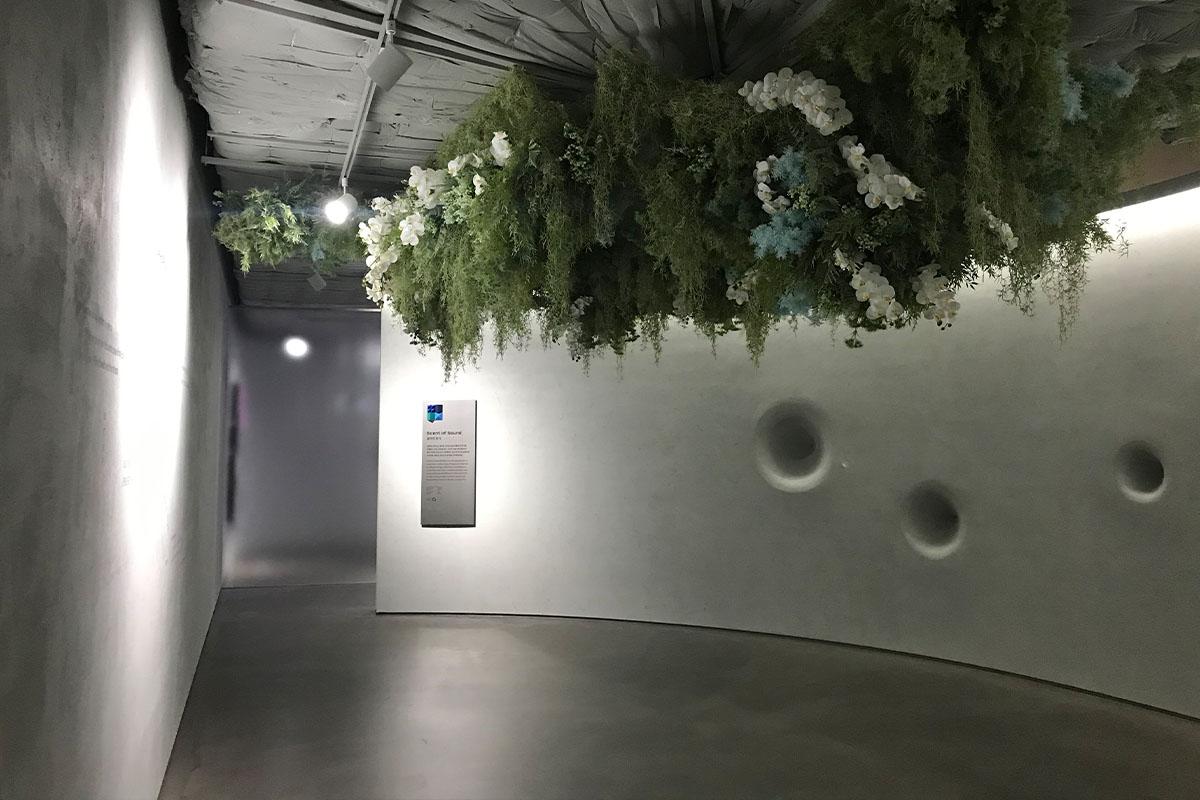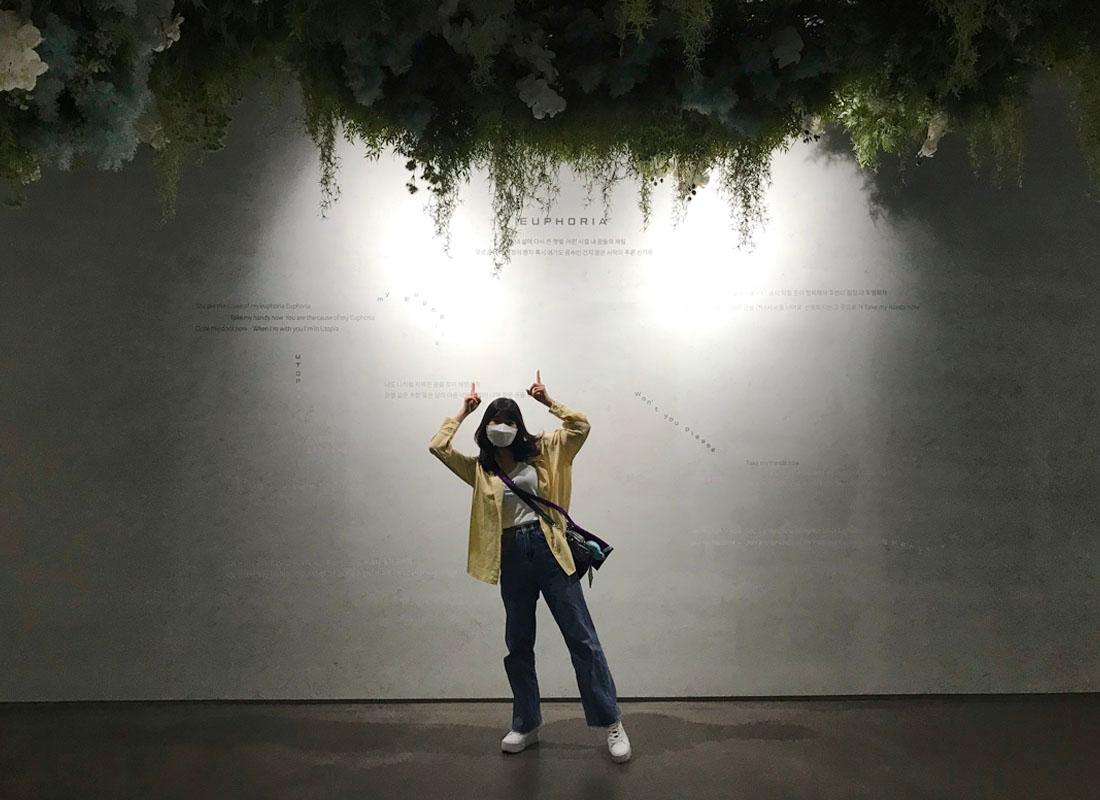 This zone is where we can feel the music through our five senses.
For Jungkook's "Euphoria", the scent of fresh flowers filled this area.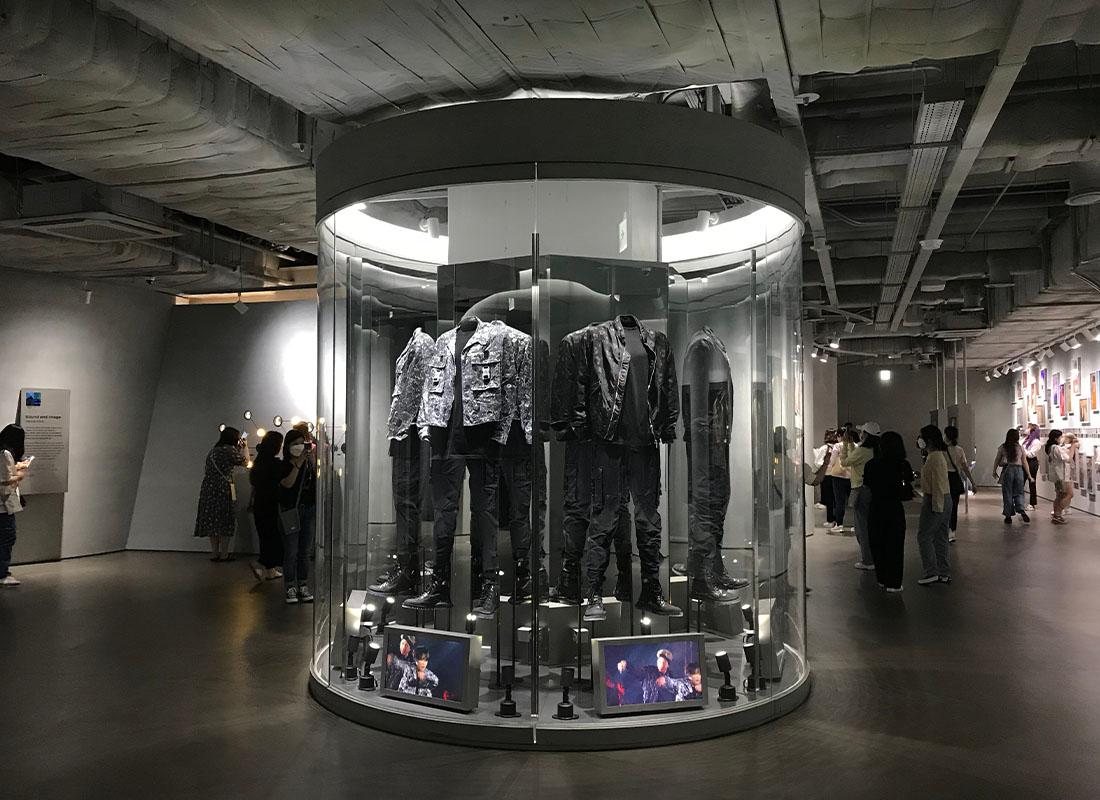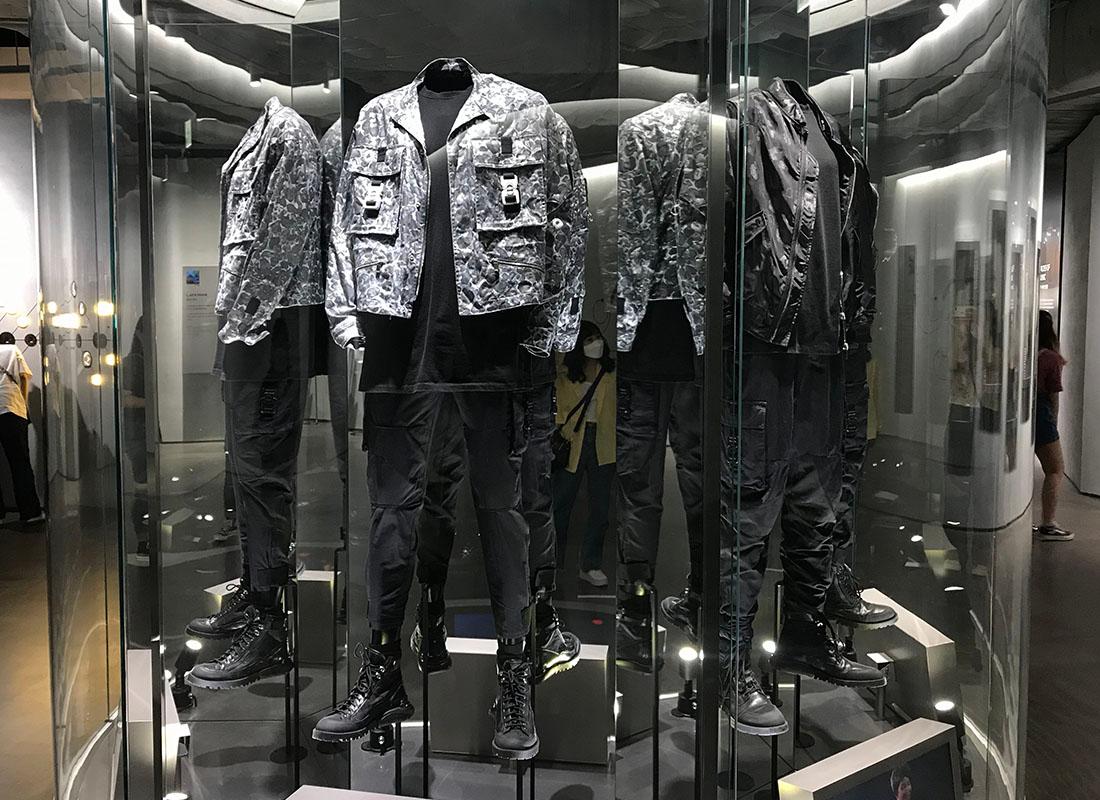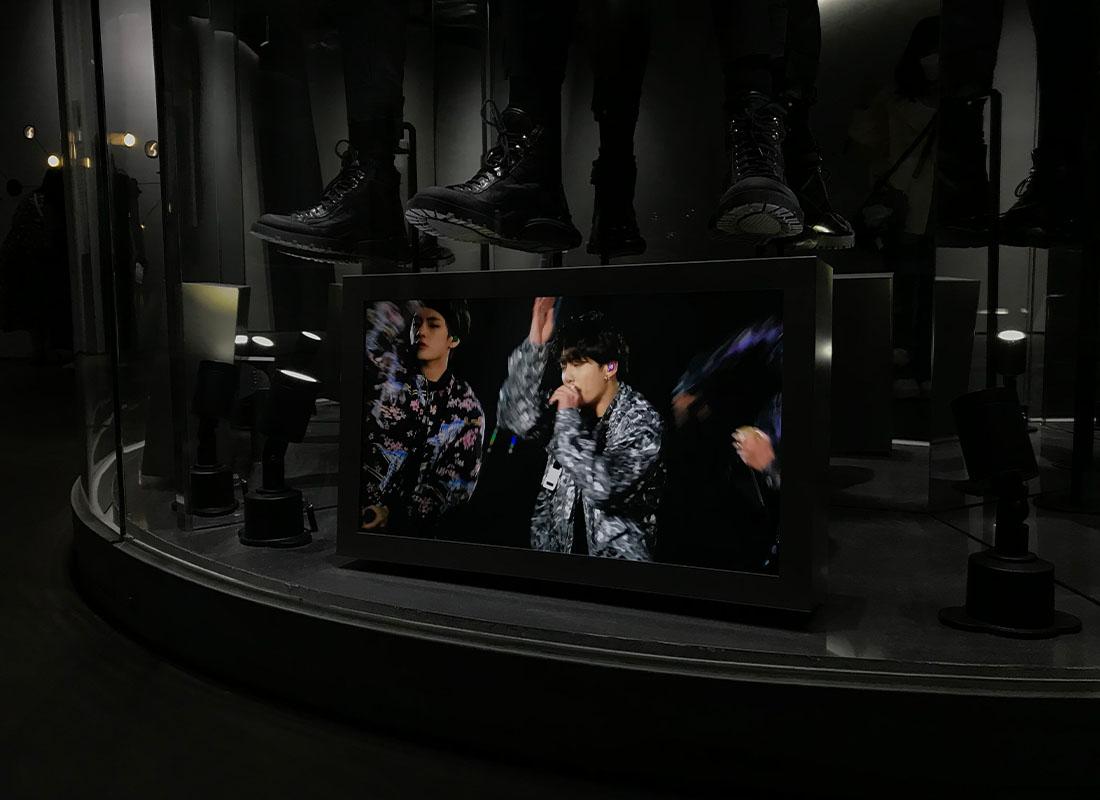 Here you can see performance outfits worn by the artists.
We were so stoked to see this outfit worn by BTS!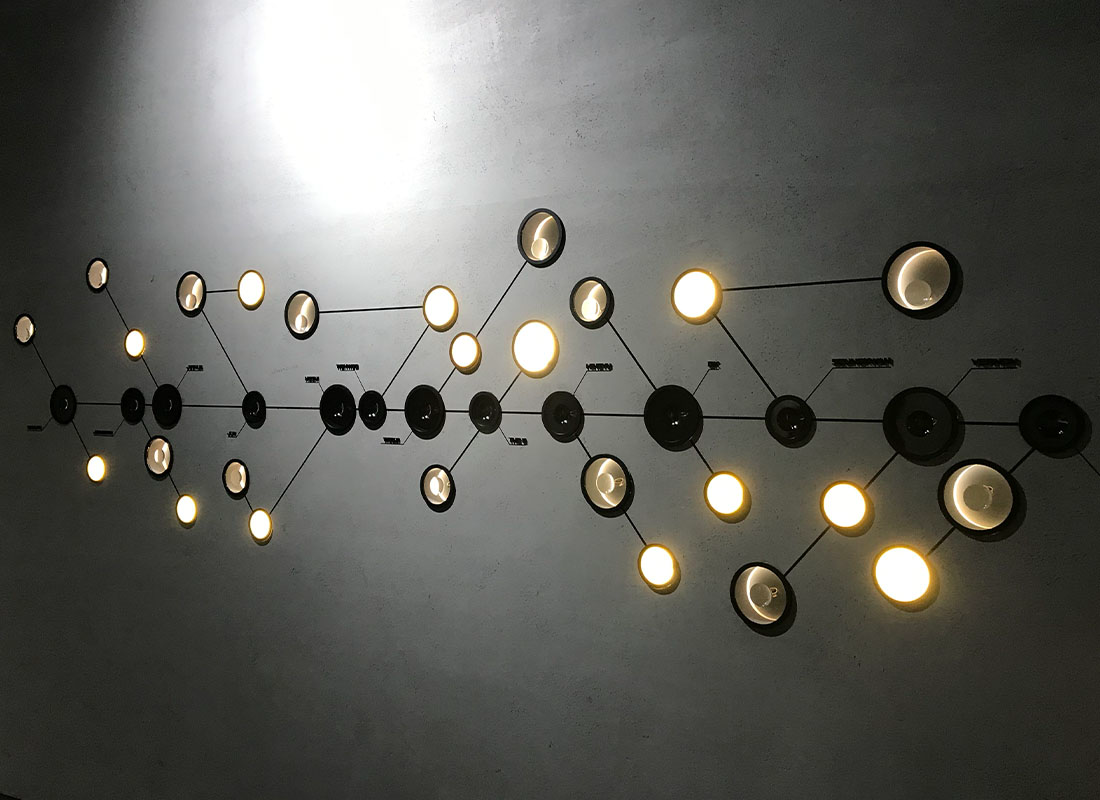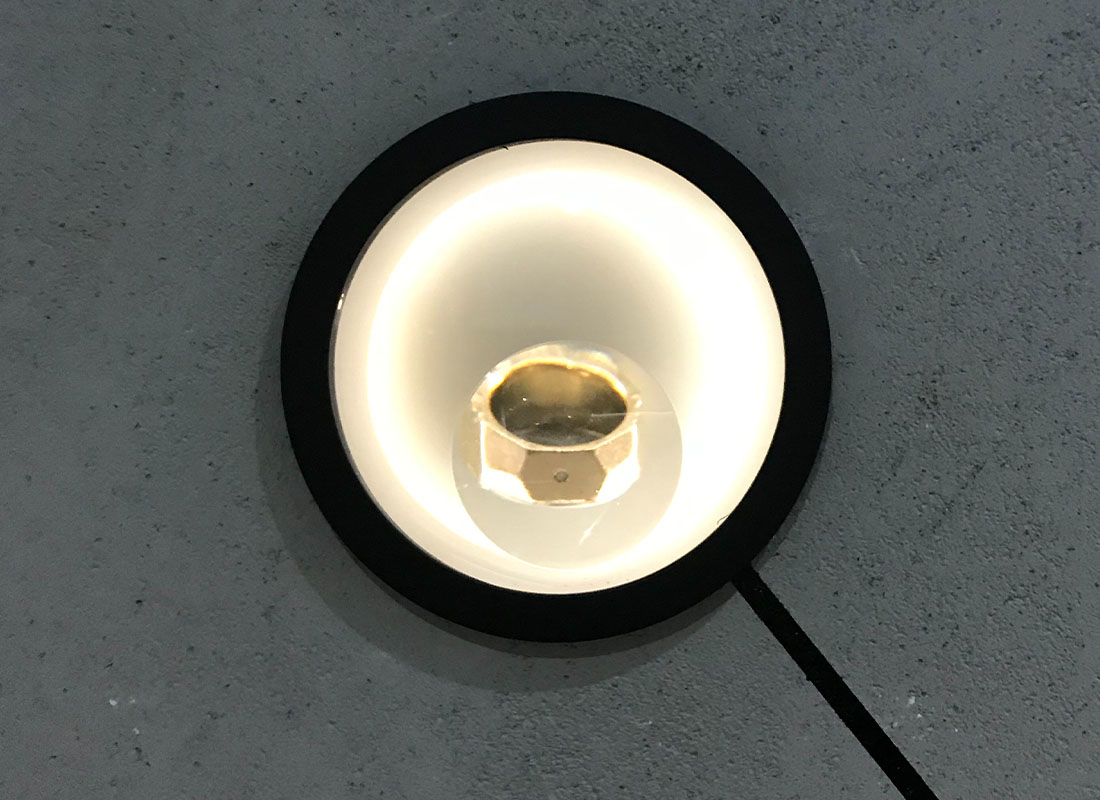 Rings worn by SEVENTEEN were on display here.
We thought this was such a cool way to display these rings.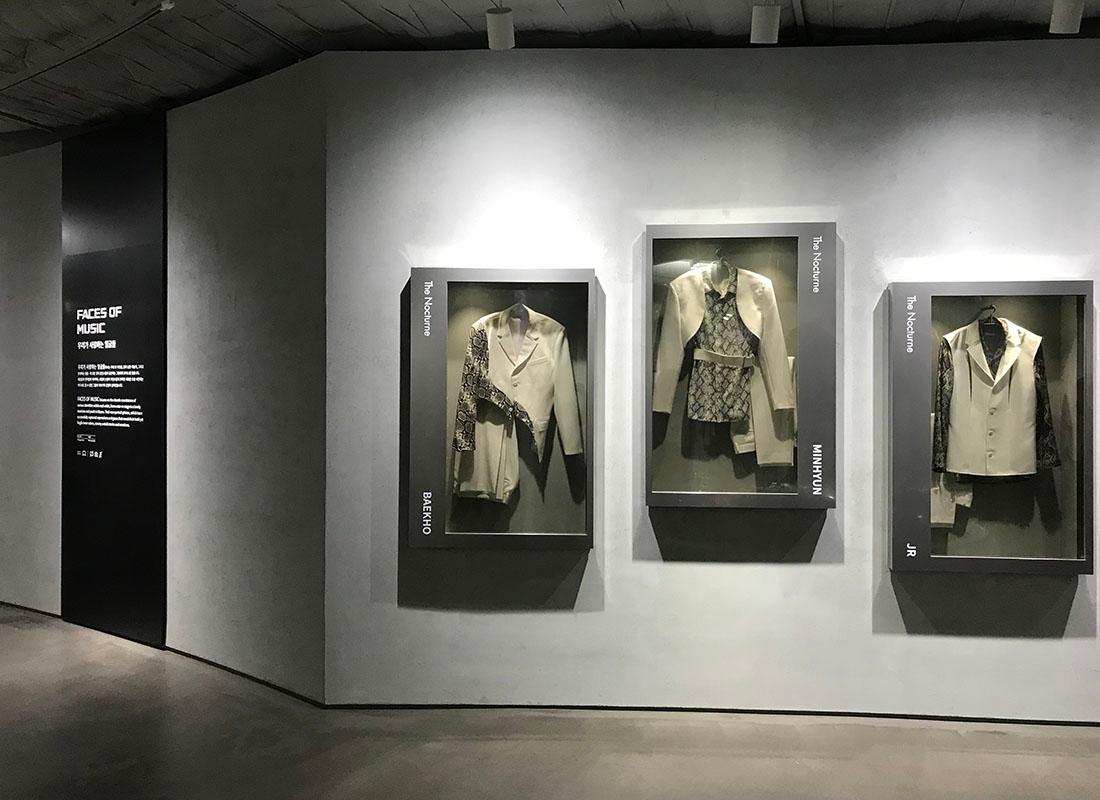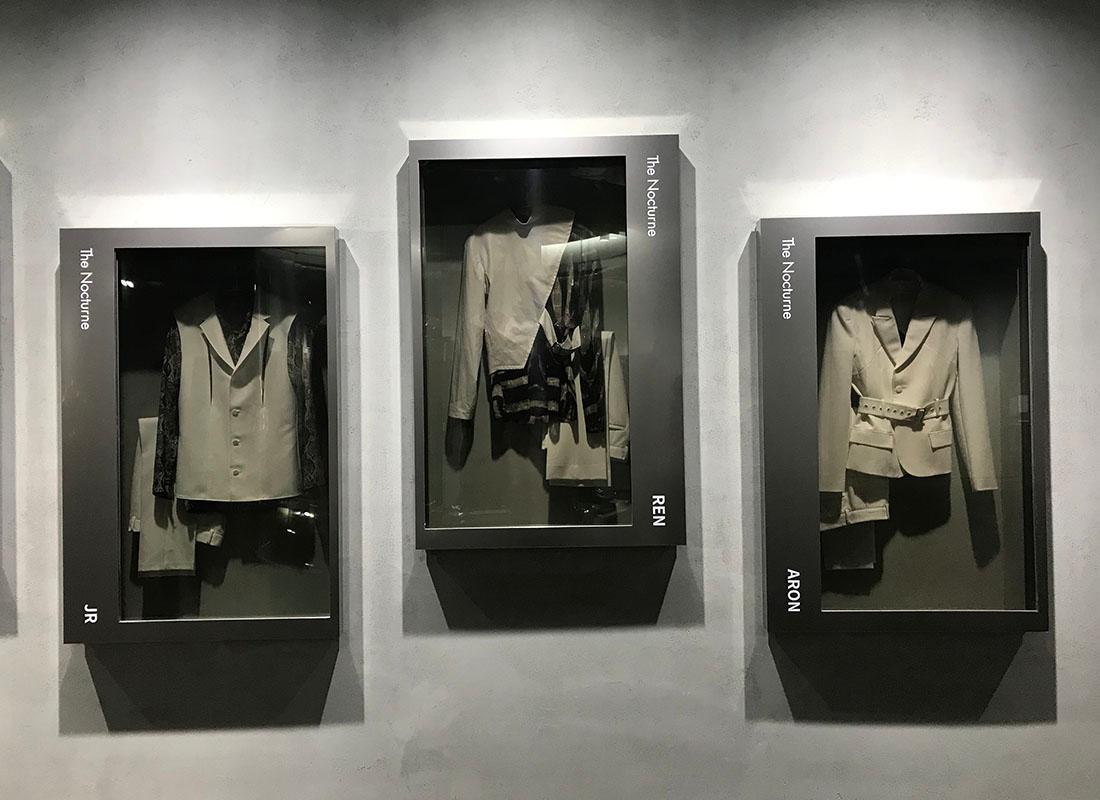 These are performance outfits worn by NU'EST for "I'm in Trouble."
We loved being able to see the details of these outfits up close.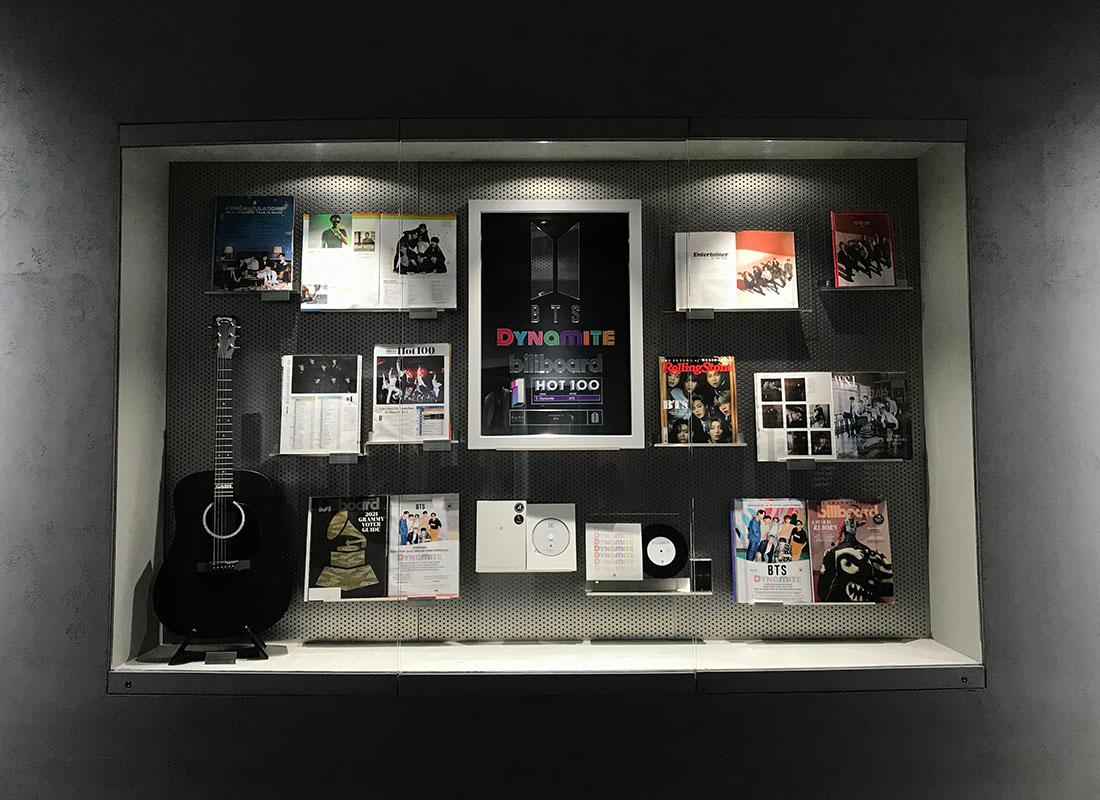 Various news and magazine articles written about HYBE artists are on display here, too.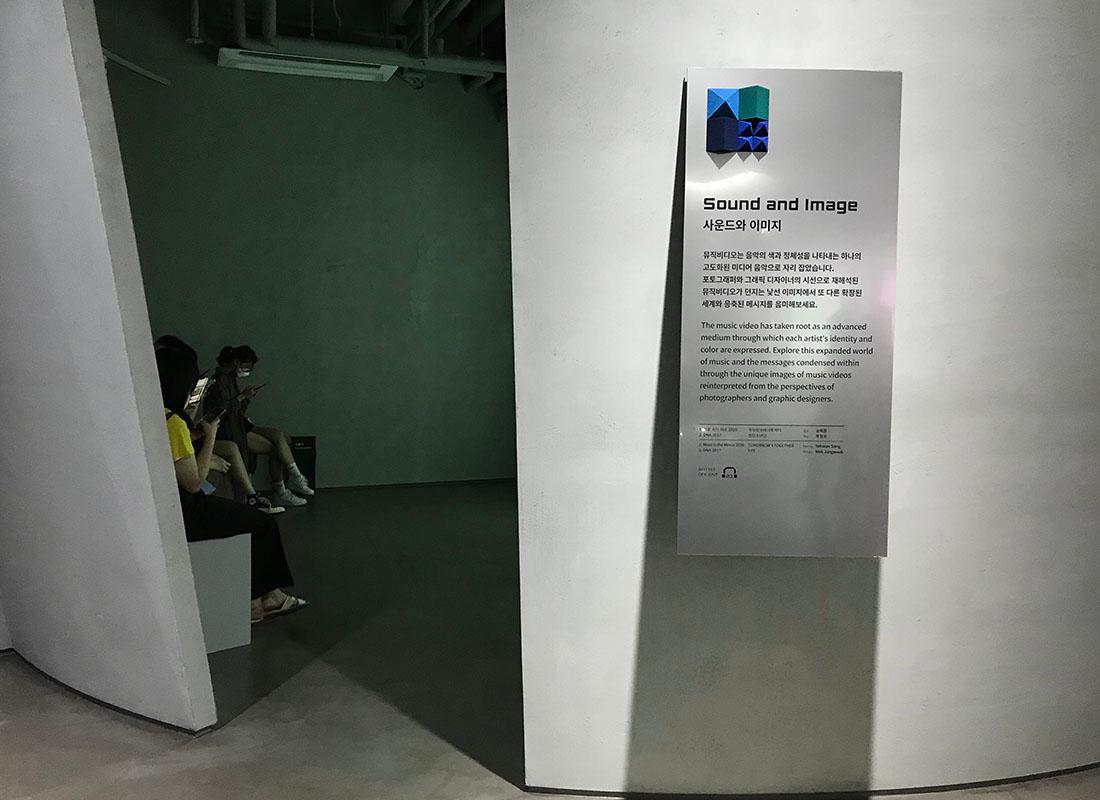 In this room, Sound and Image, you can watch music videos of different artists.
The sound quality in this room was really nice.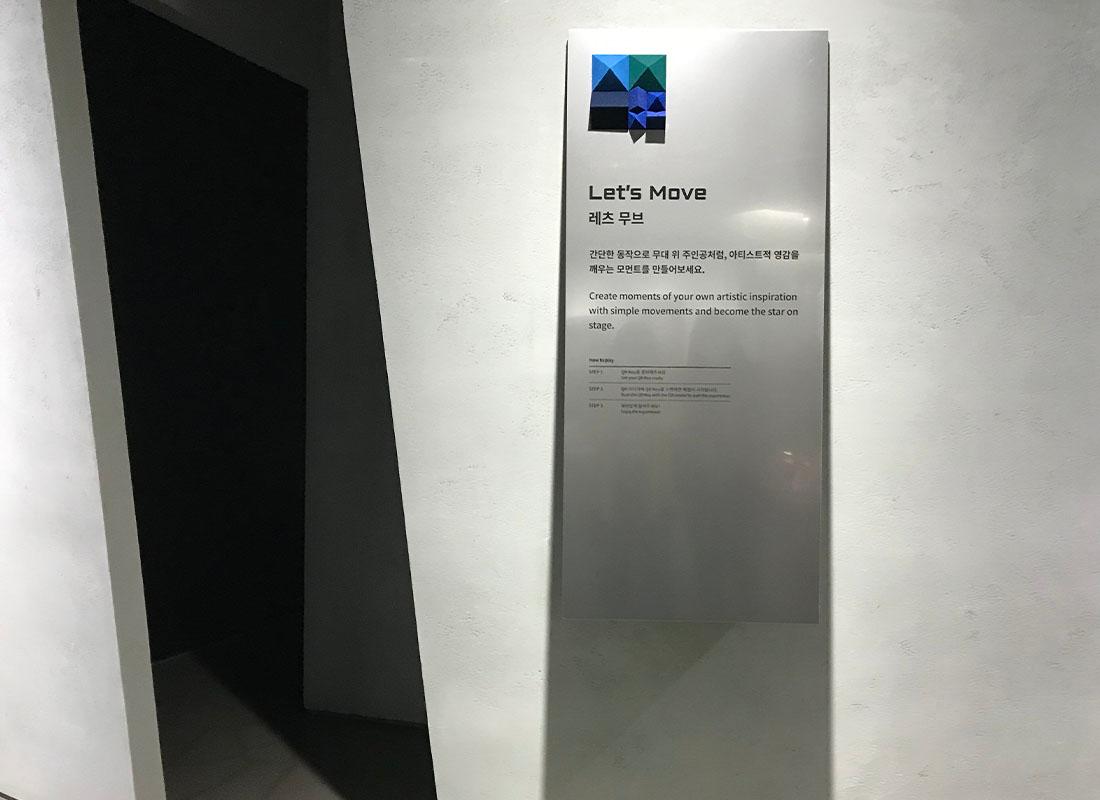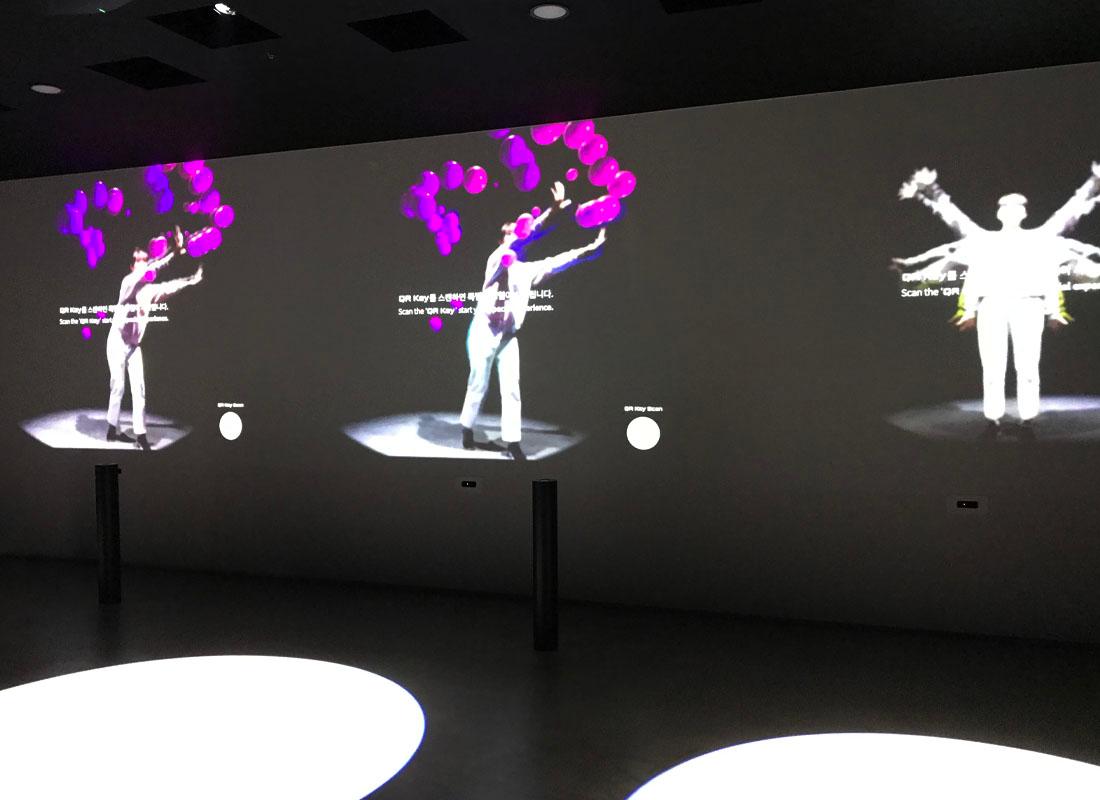 In Let's Move, you can experience songs through physical movement.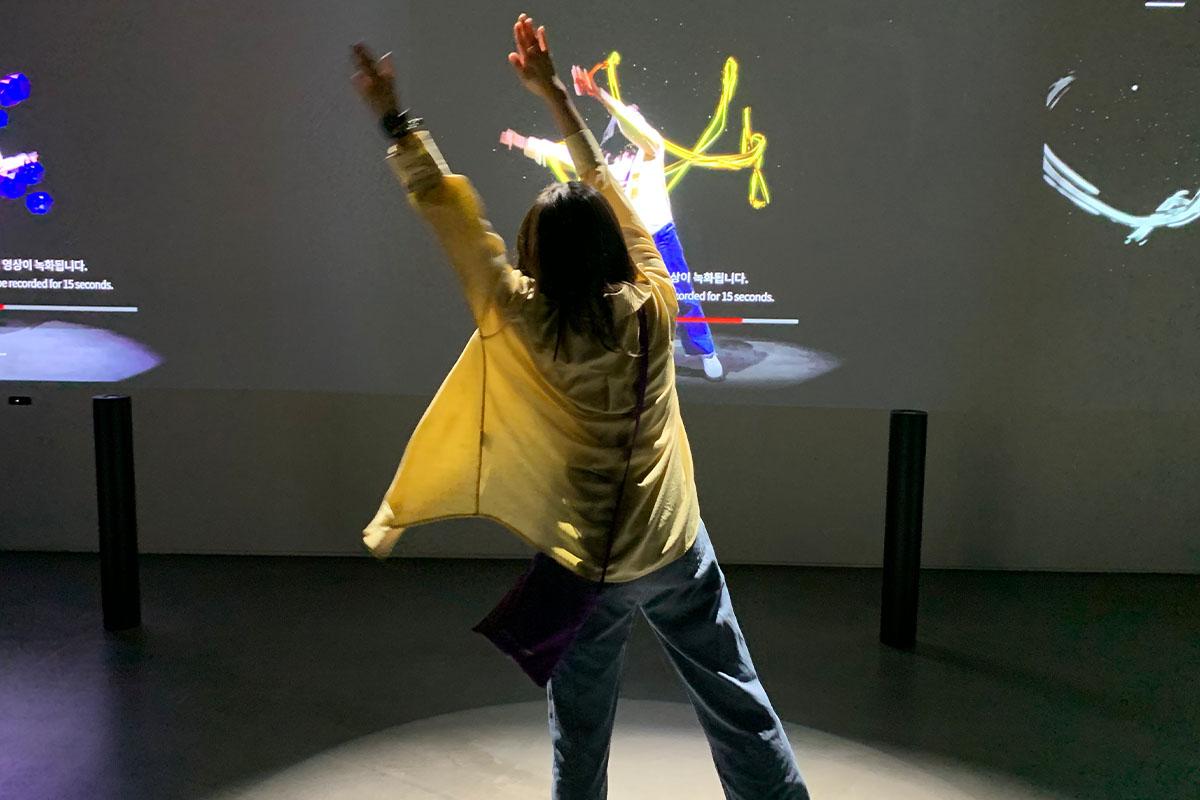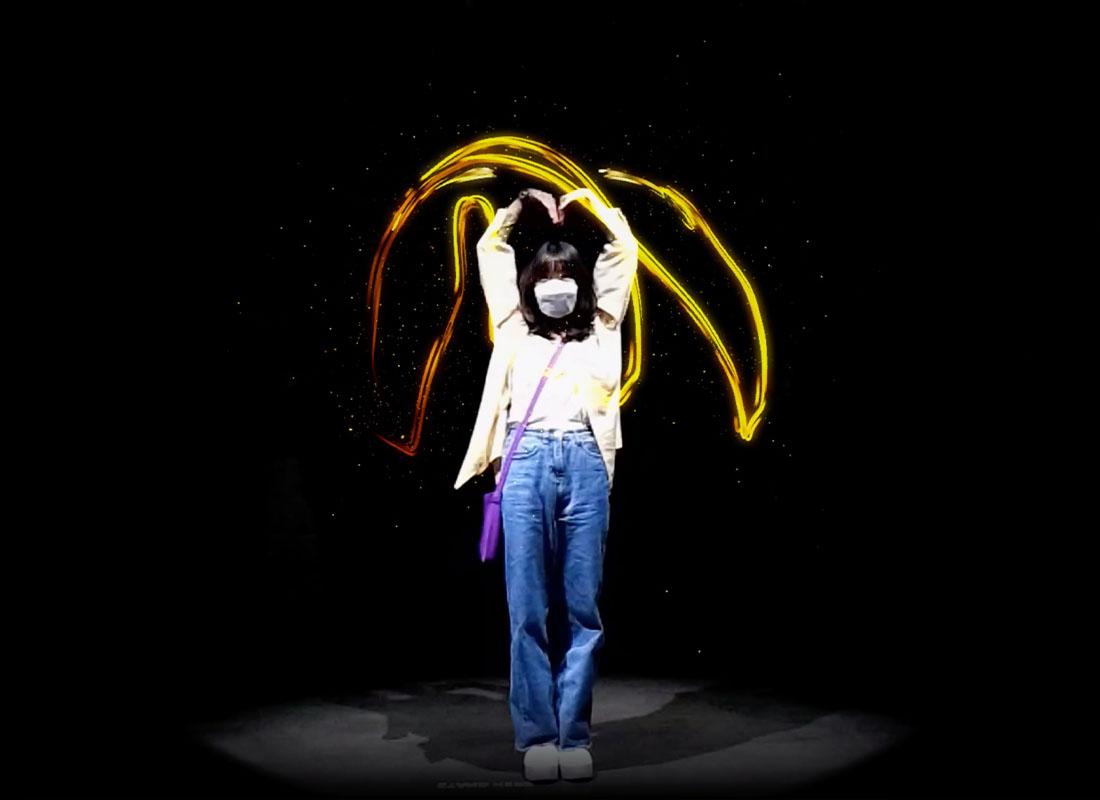 After the song is over, you can send a video of this experience to yourself as a souvenir.
All you need to do is scan the QR code available in this zone.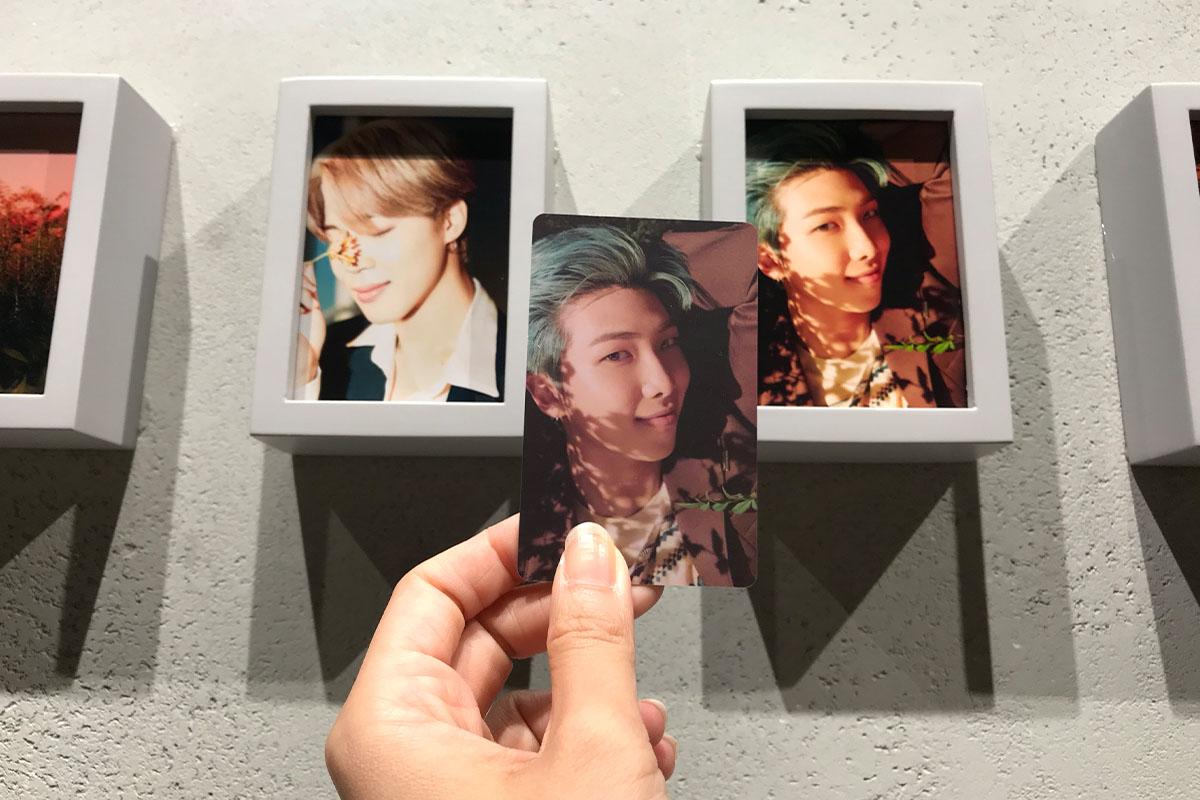 This next area, Face of Music, is where we could see images of the artists at HYBE.
We found the inspiration for our photo ticket of RM!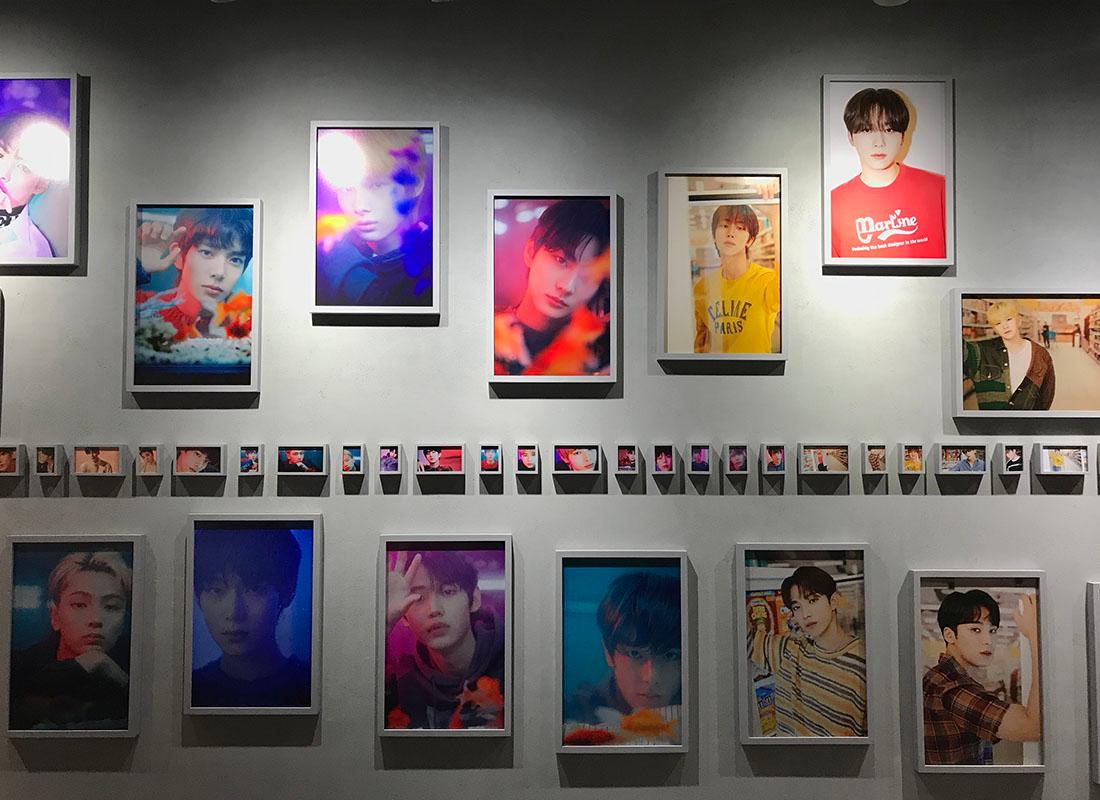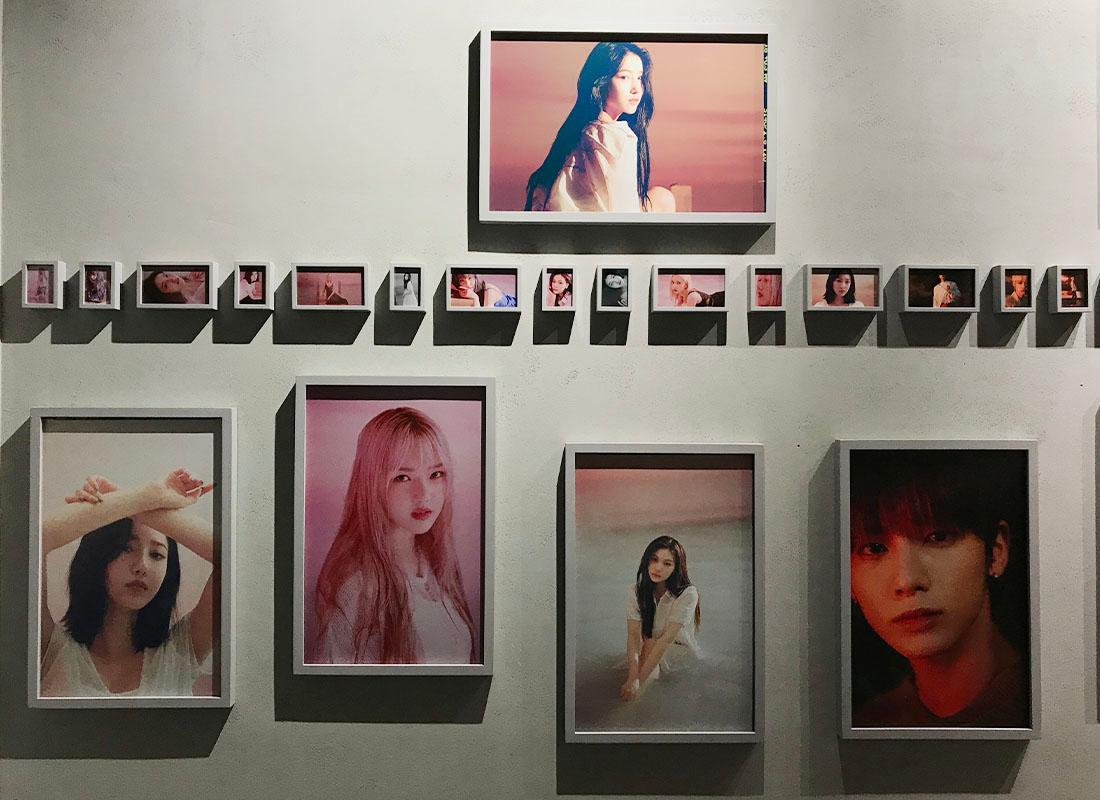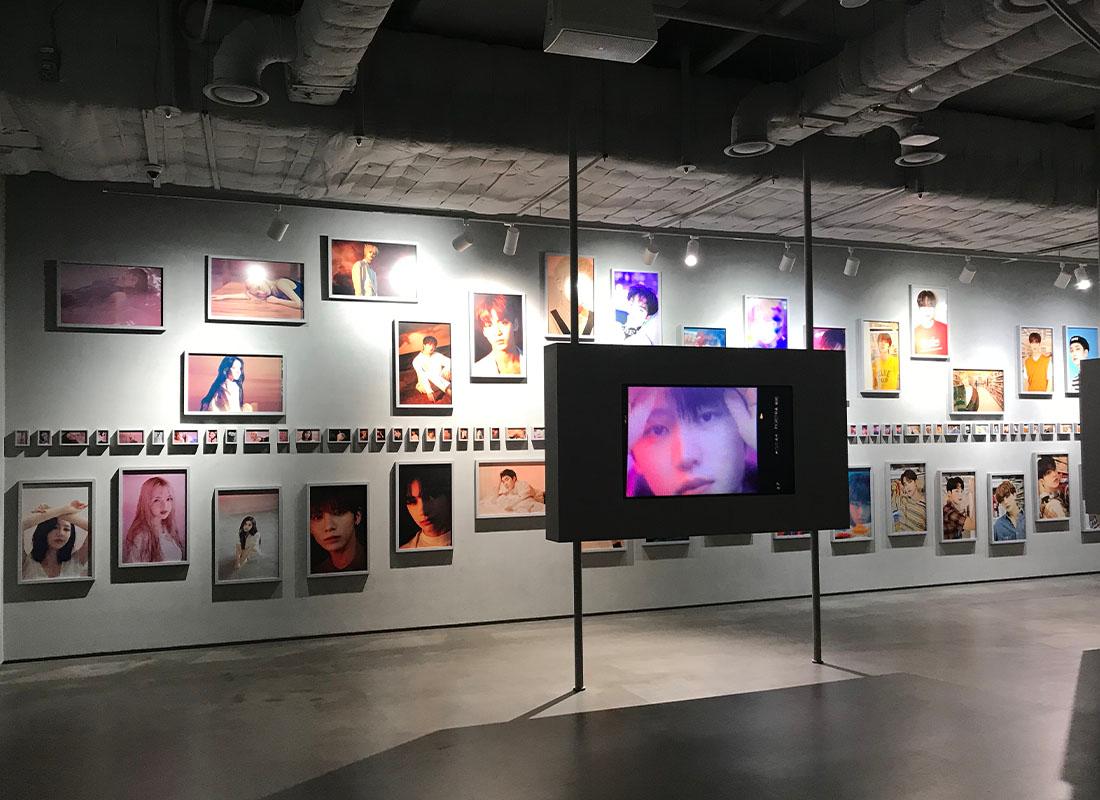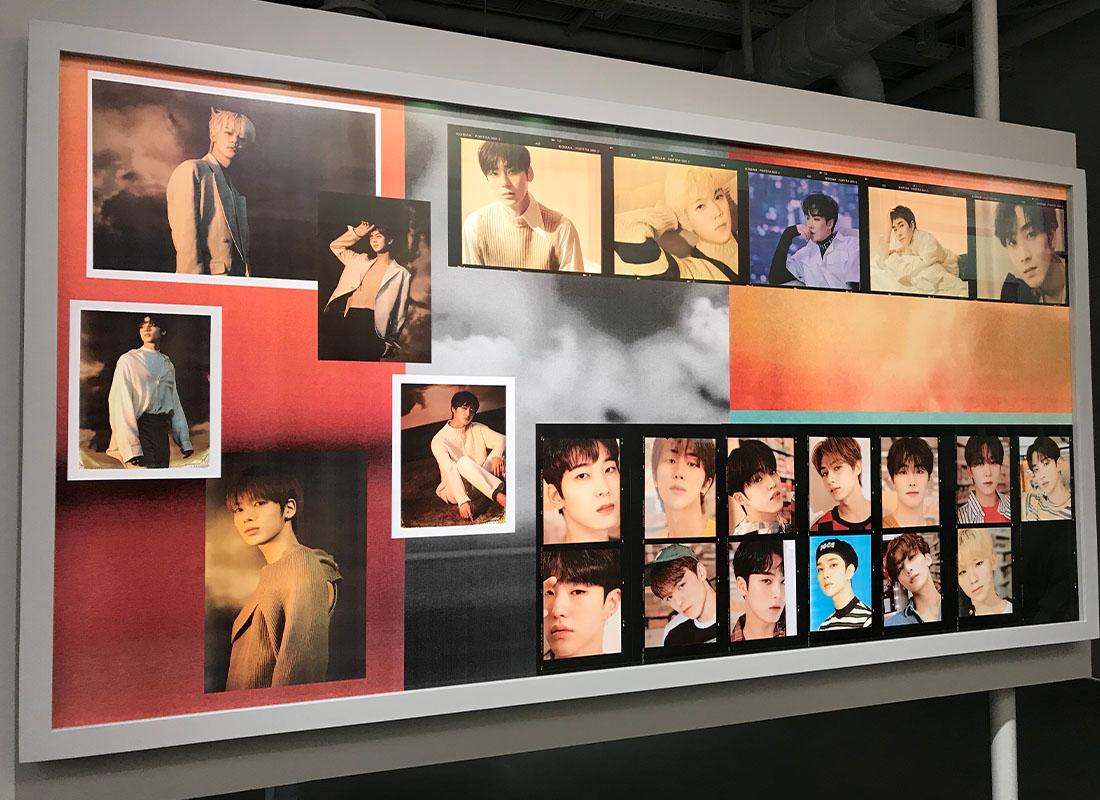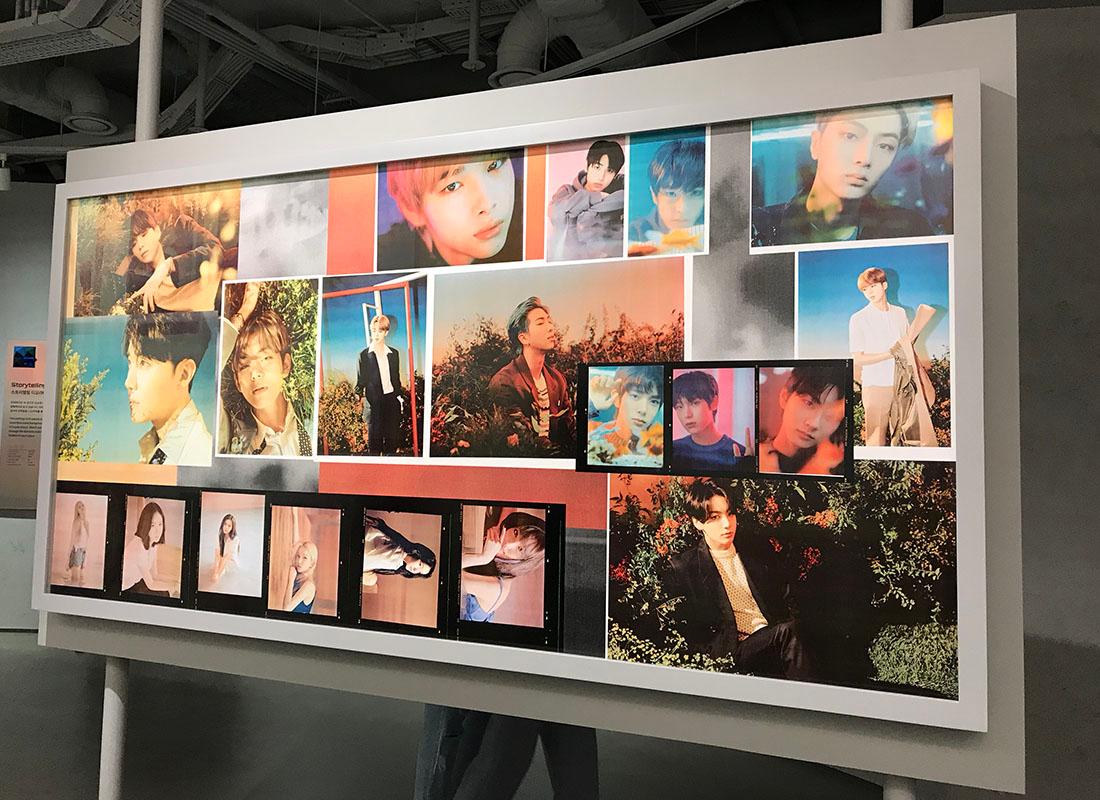 All the images on display in this area were beautiful.
It was so much fun looking at all of these photos from different angles.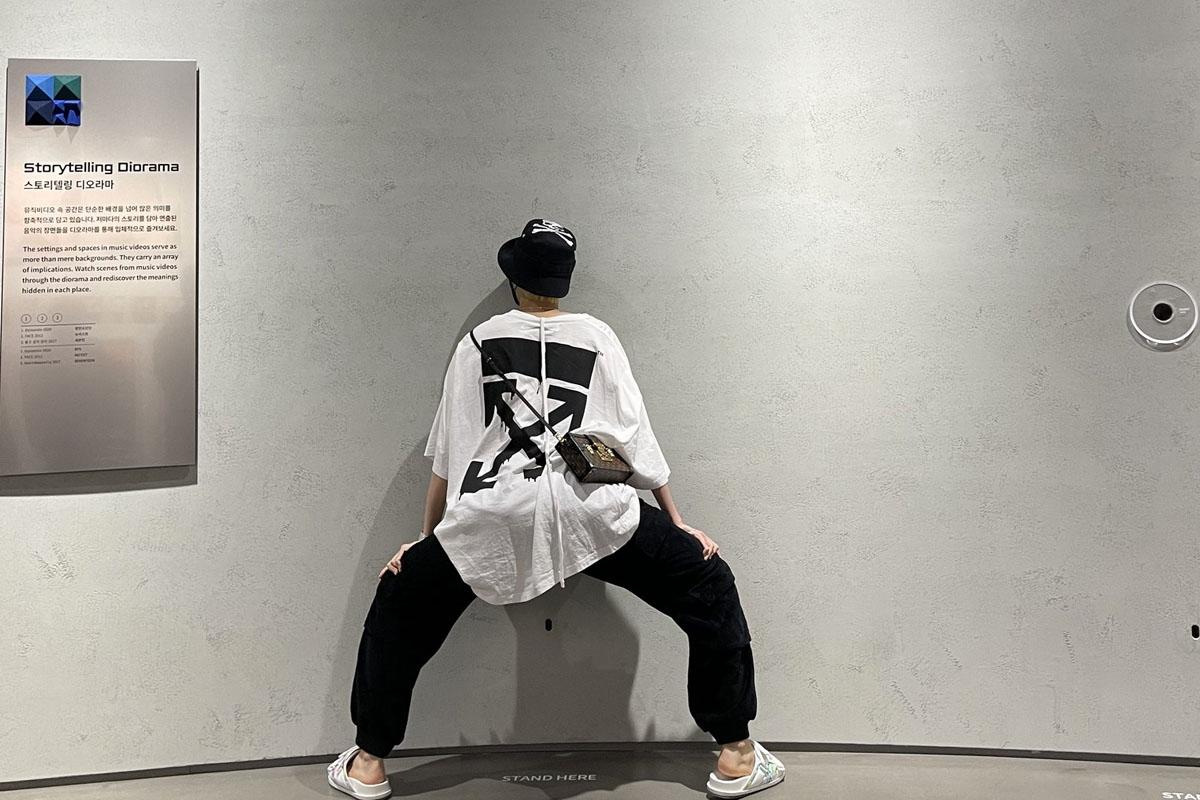 Source: Twitter @BTS_twt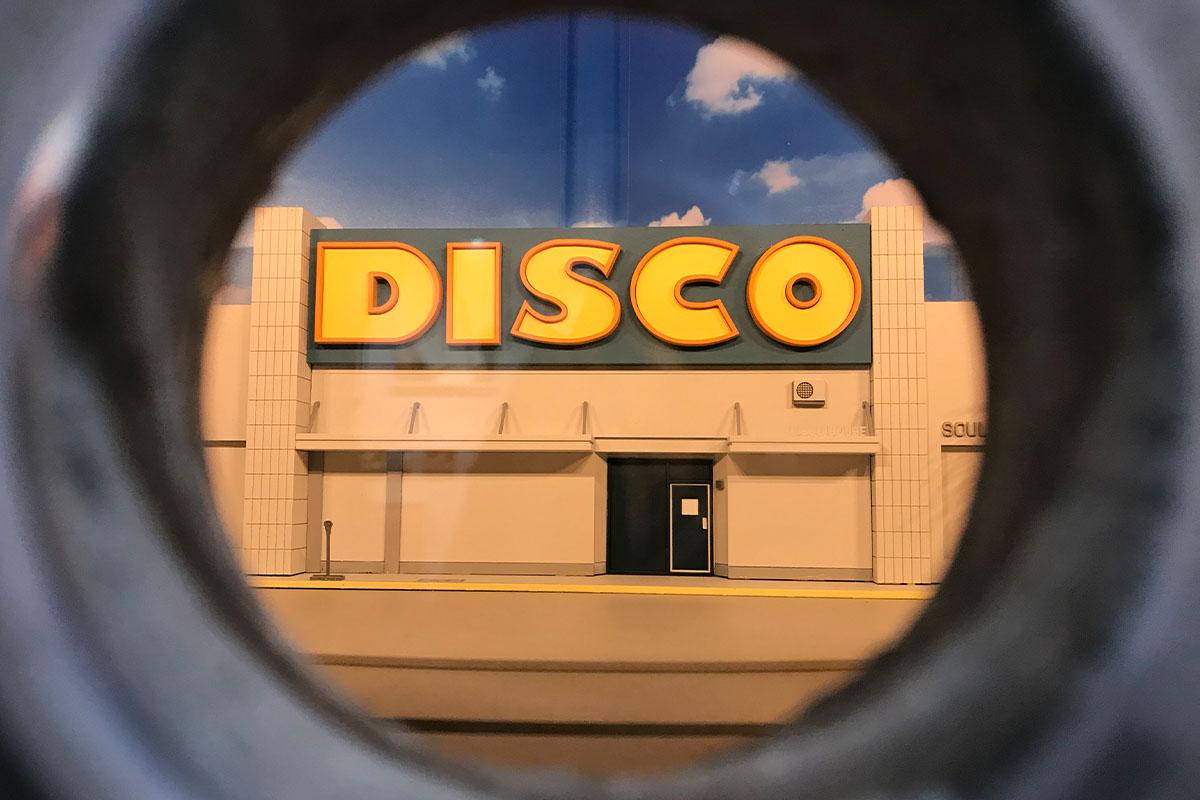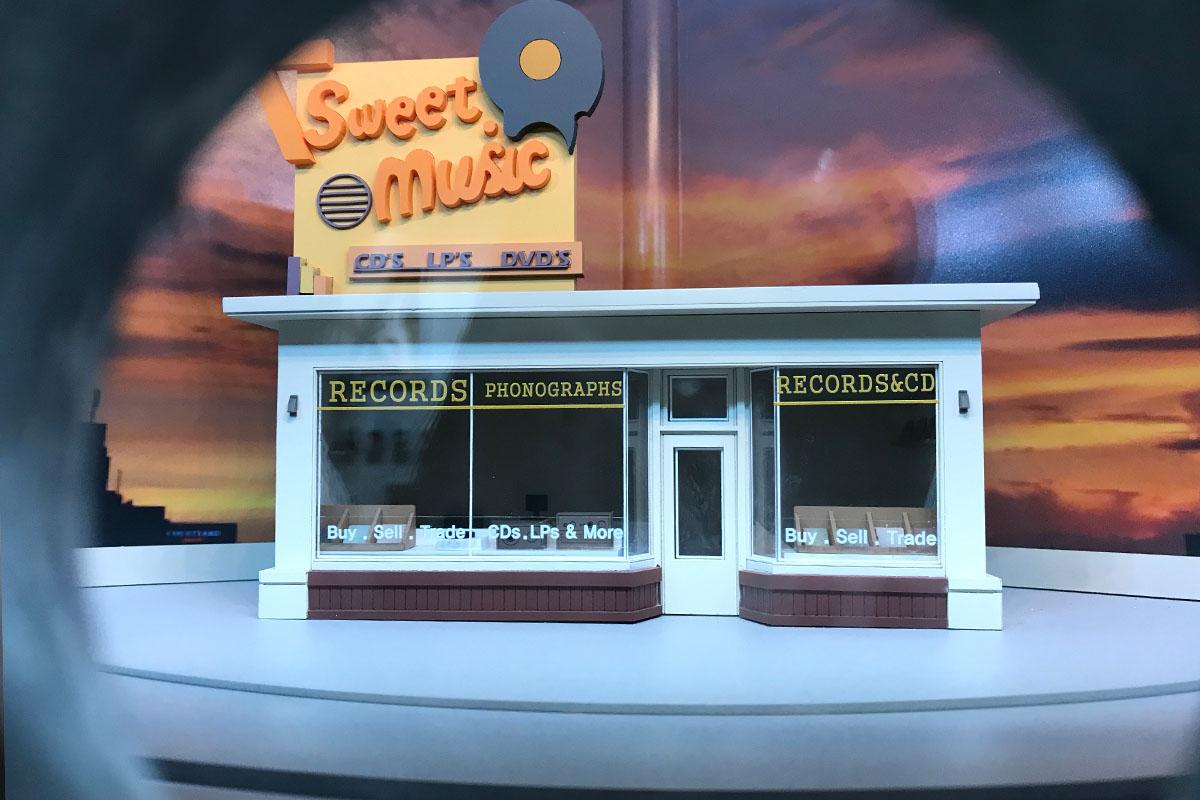 Storytelling Diorama is another fun zone.
We watched scenes from music videos and learned more about the details of these scenes.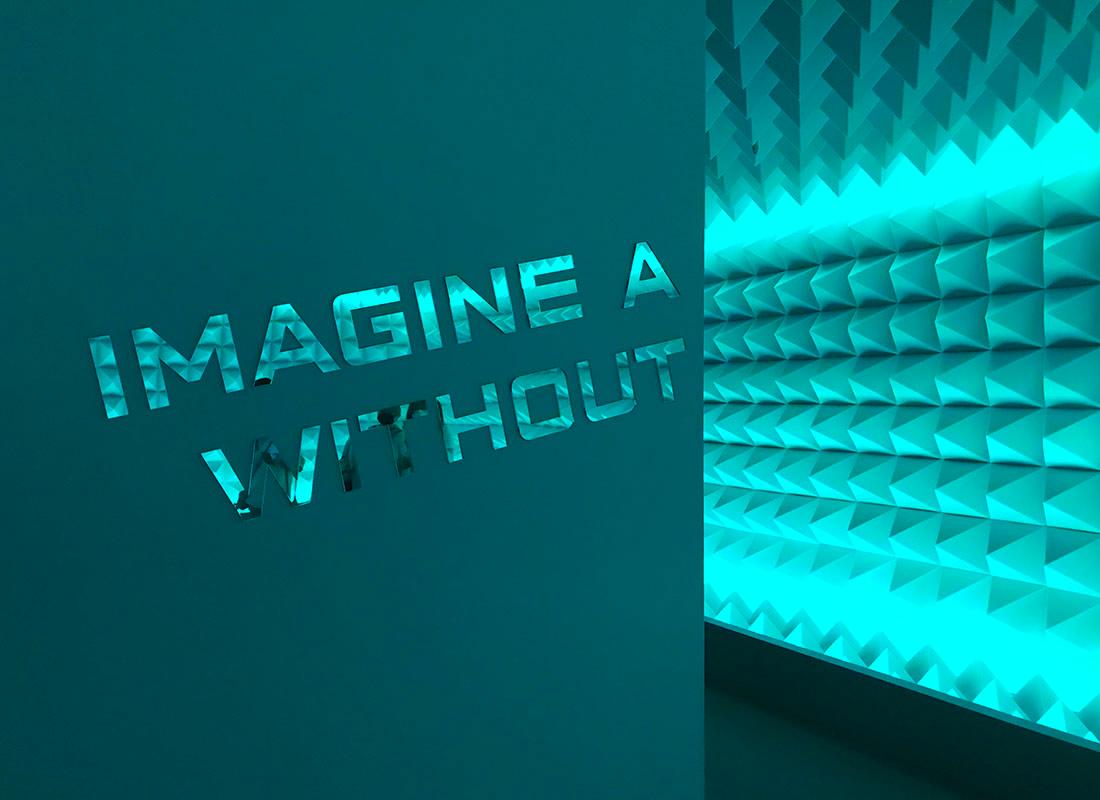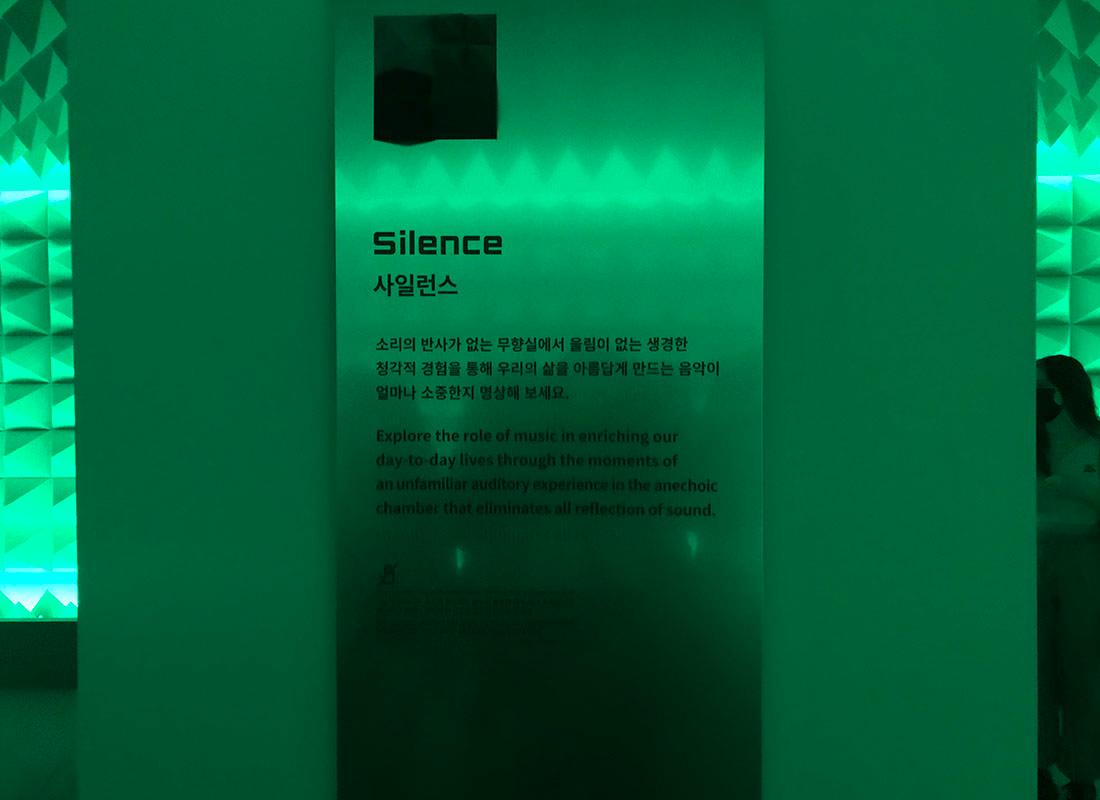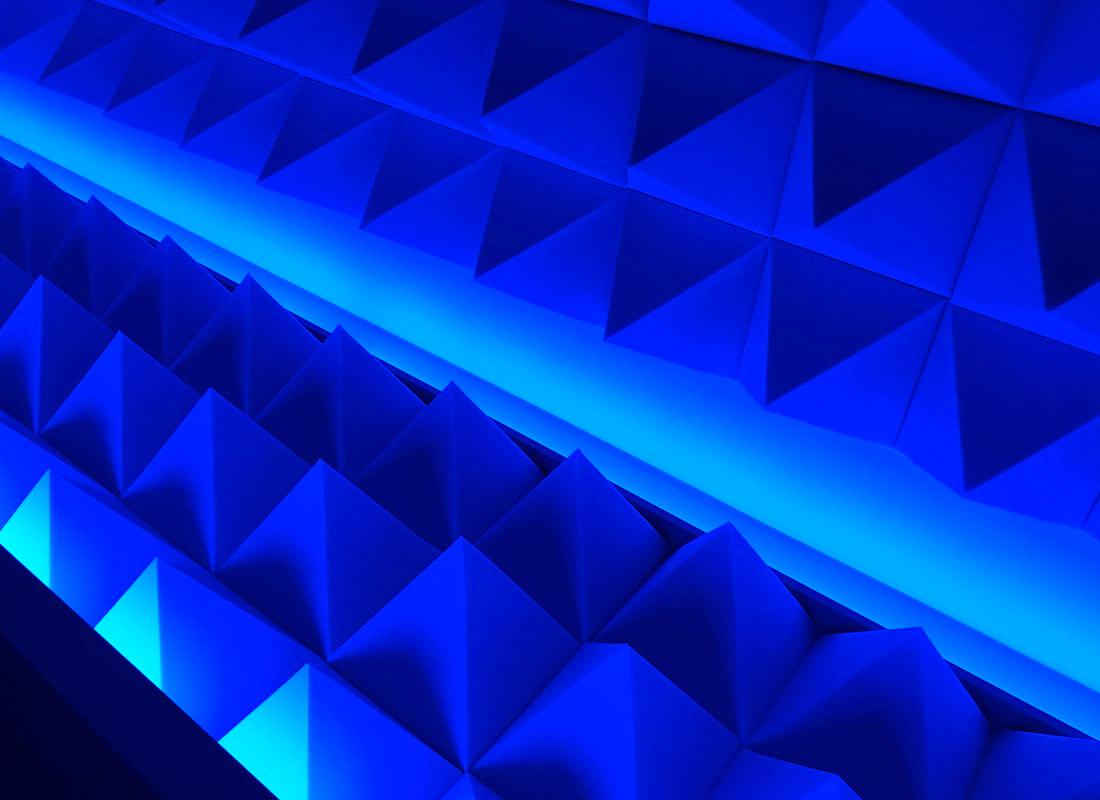 This zone, Silence, was inspired by the soundproofing equipment that keeps outside noise from coming into a studio.
This equipment also helps magnify any sound that is created inside a recording studio.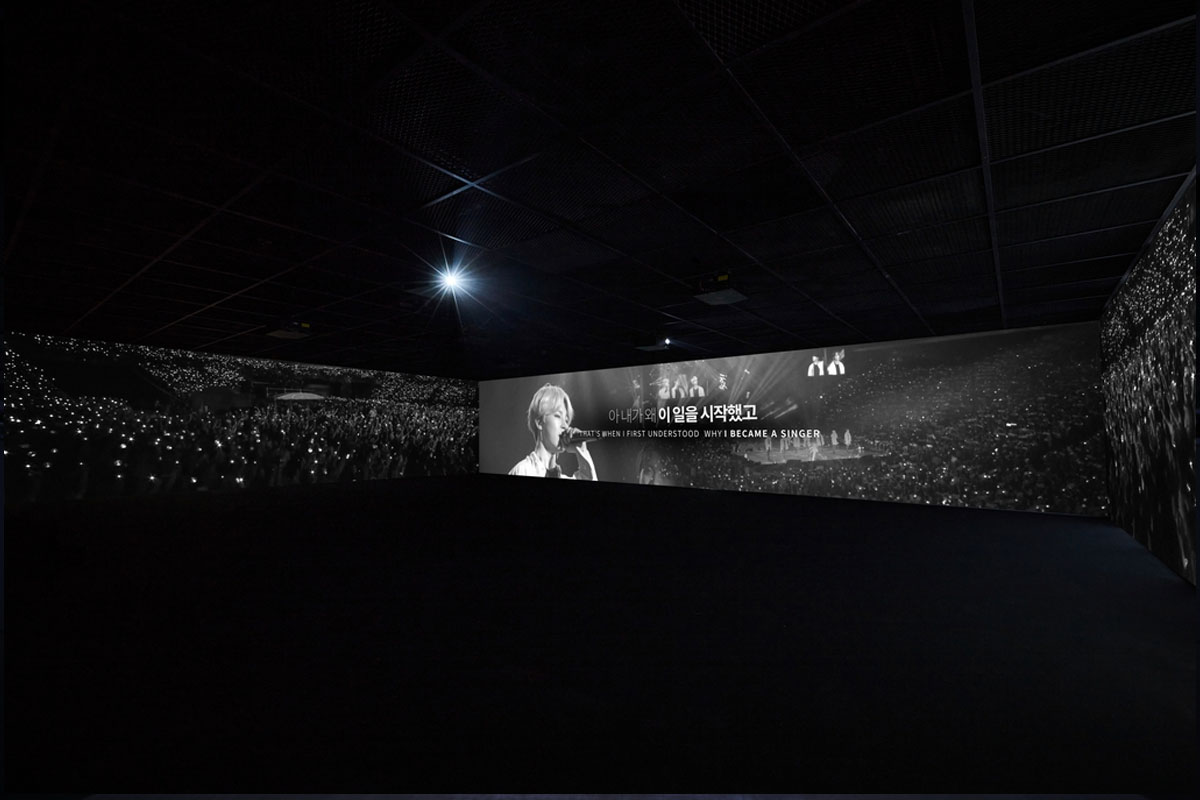 Source: Yonhap News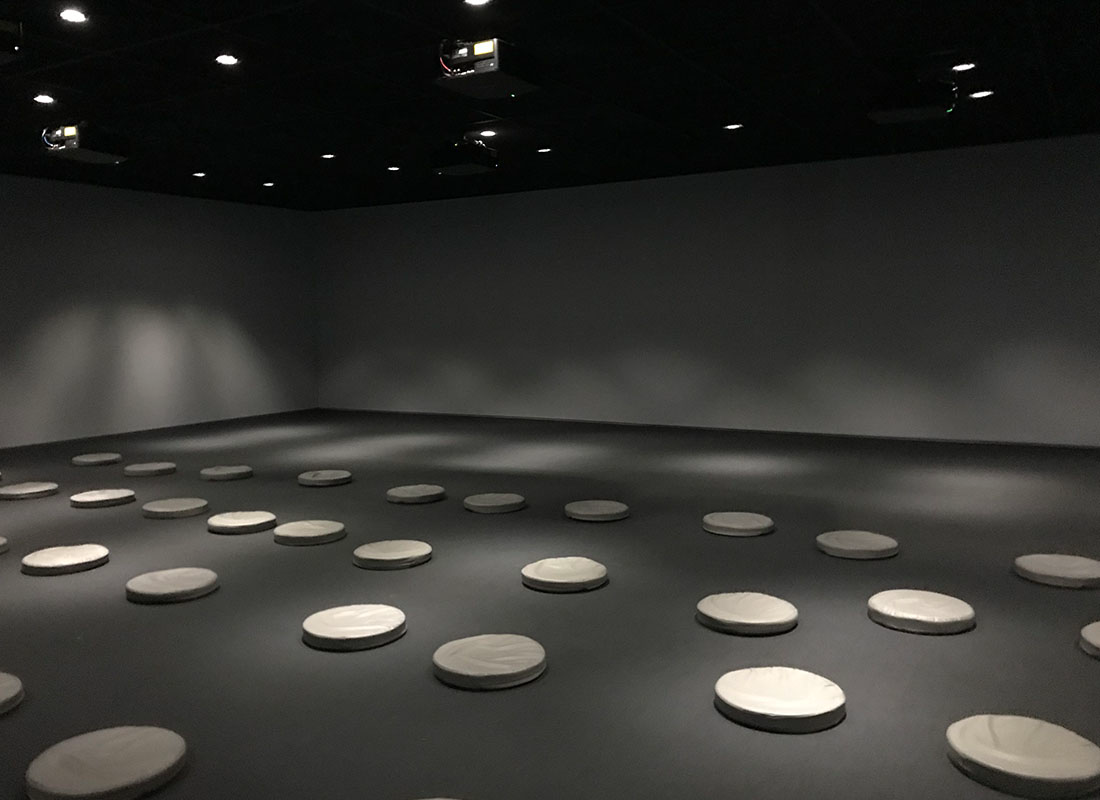 This is the final room, where a video was projected onto three of its walls.
There was a socially distance seat for each visitor.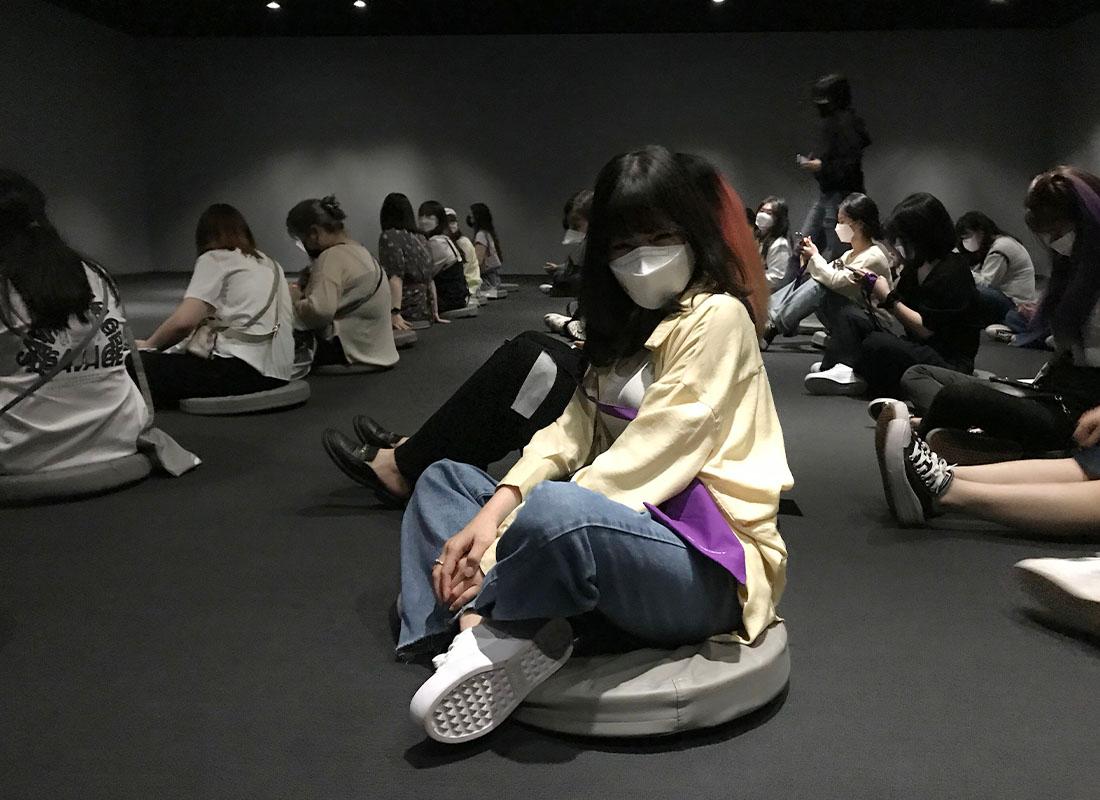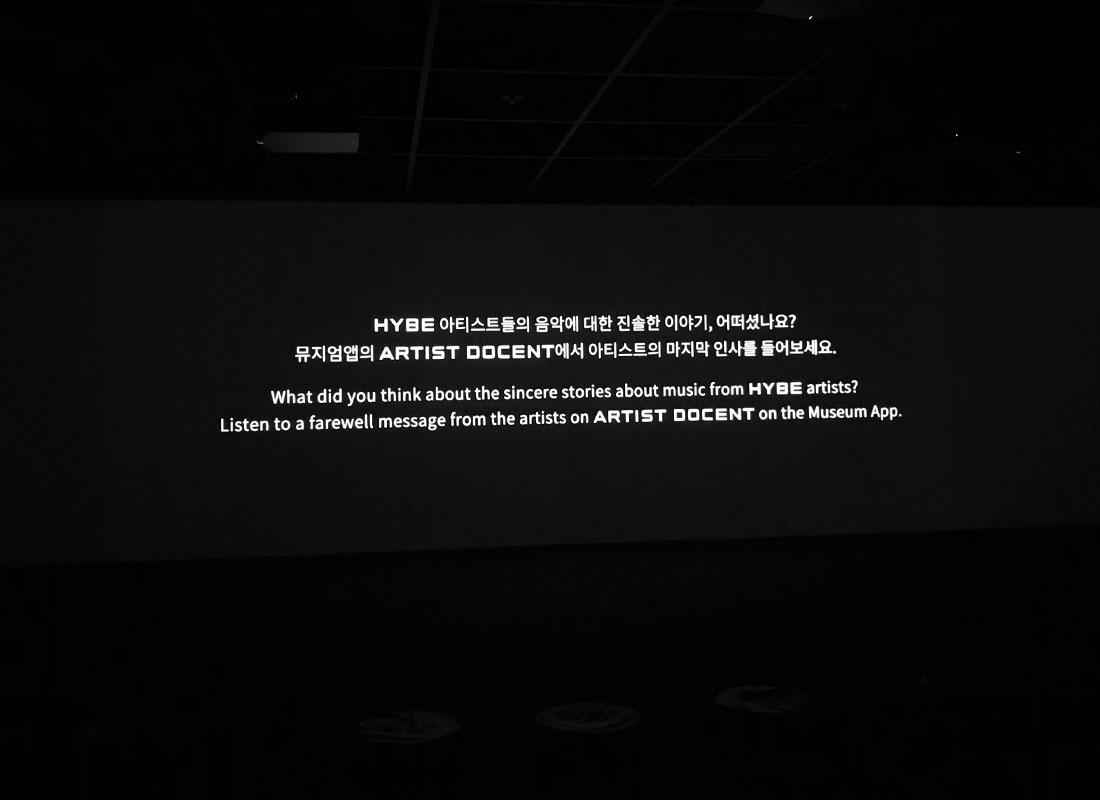 This video showed interviews with artists about their journey in becoming Kpop idols.
They shared moments of hardship, stress, and happiness.
We were incredibly moved by each artist's personal story.
This really made us appreciate that much more the incredible work these artists put into creating music.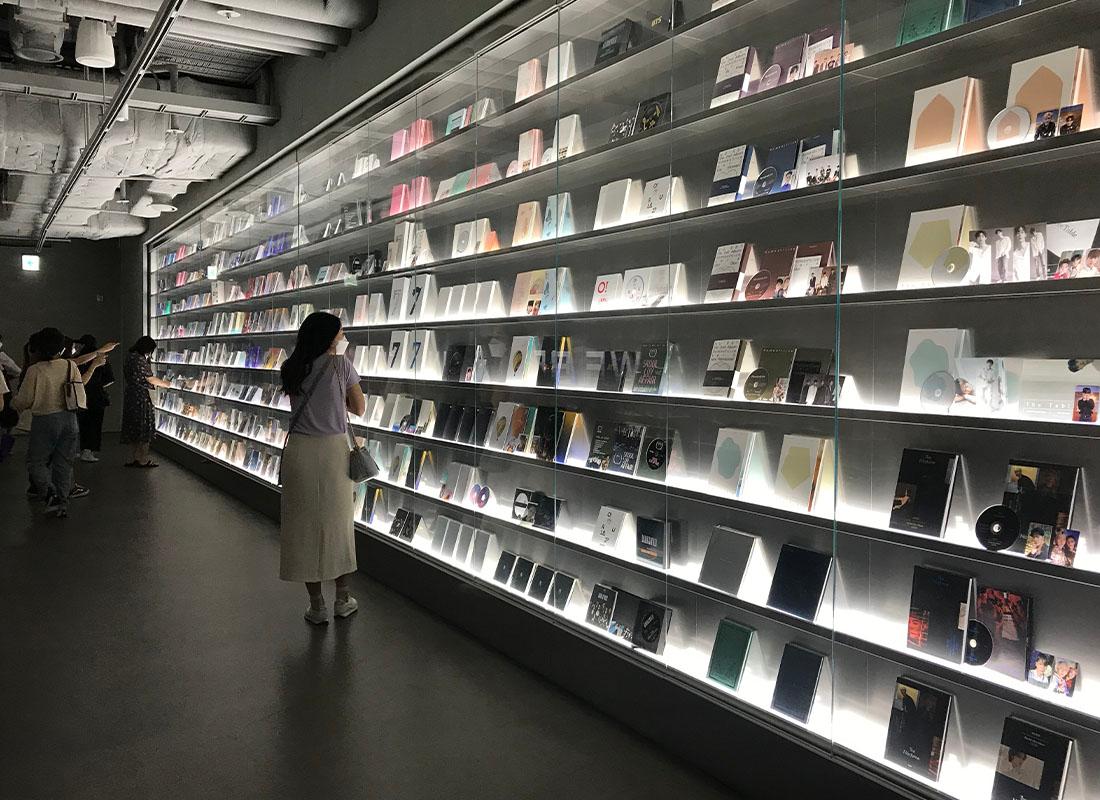 After the video, we made our way to an area that showcased every album ever released by a HYBE artist.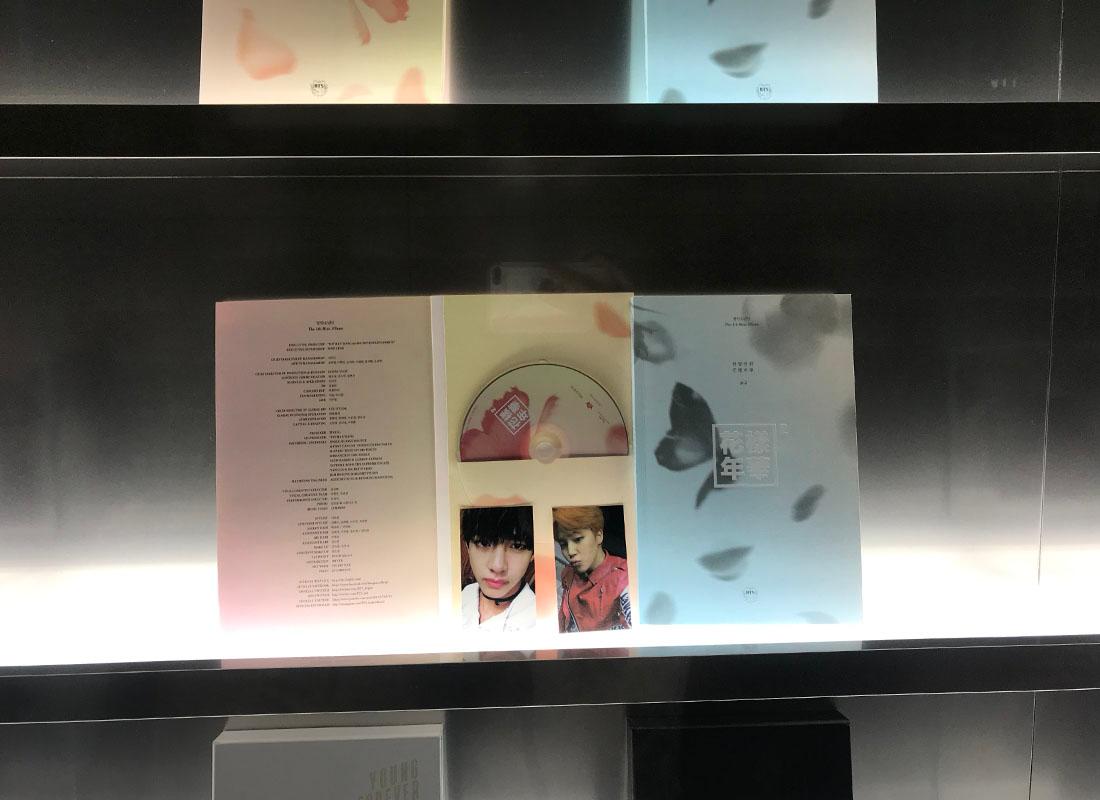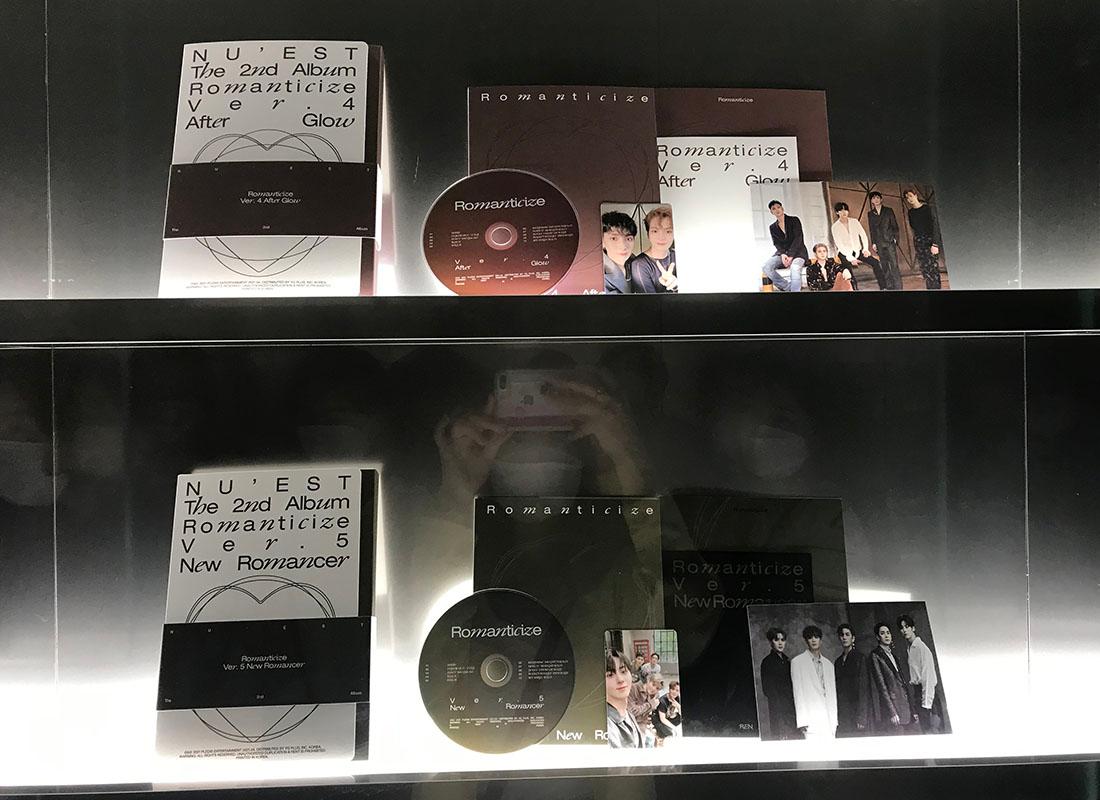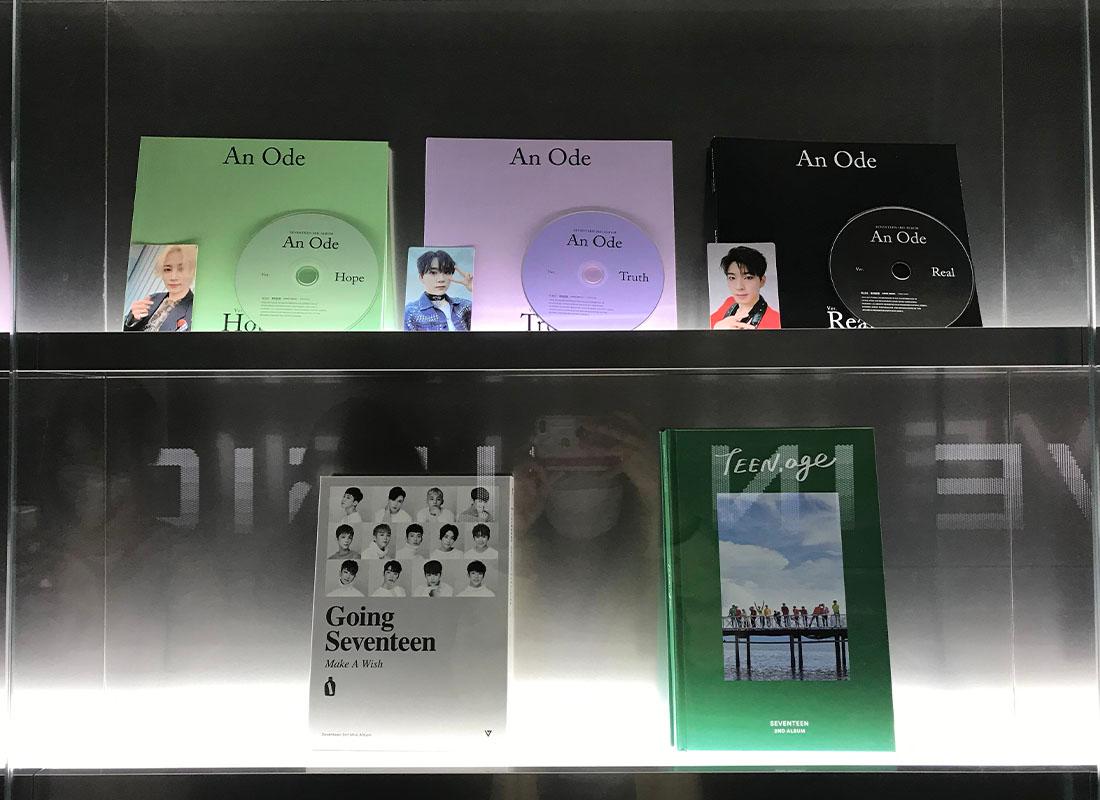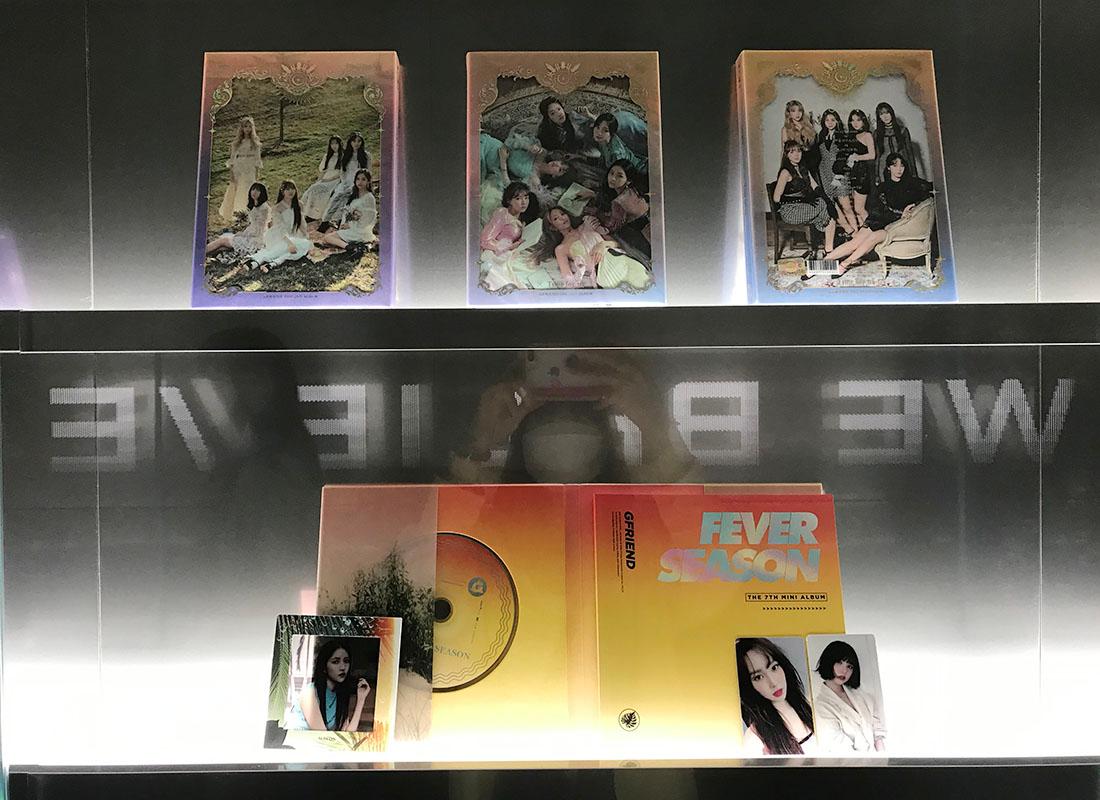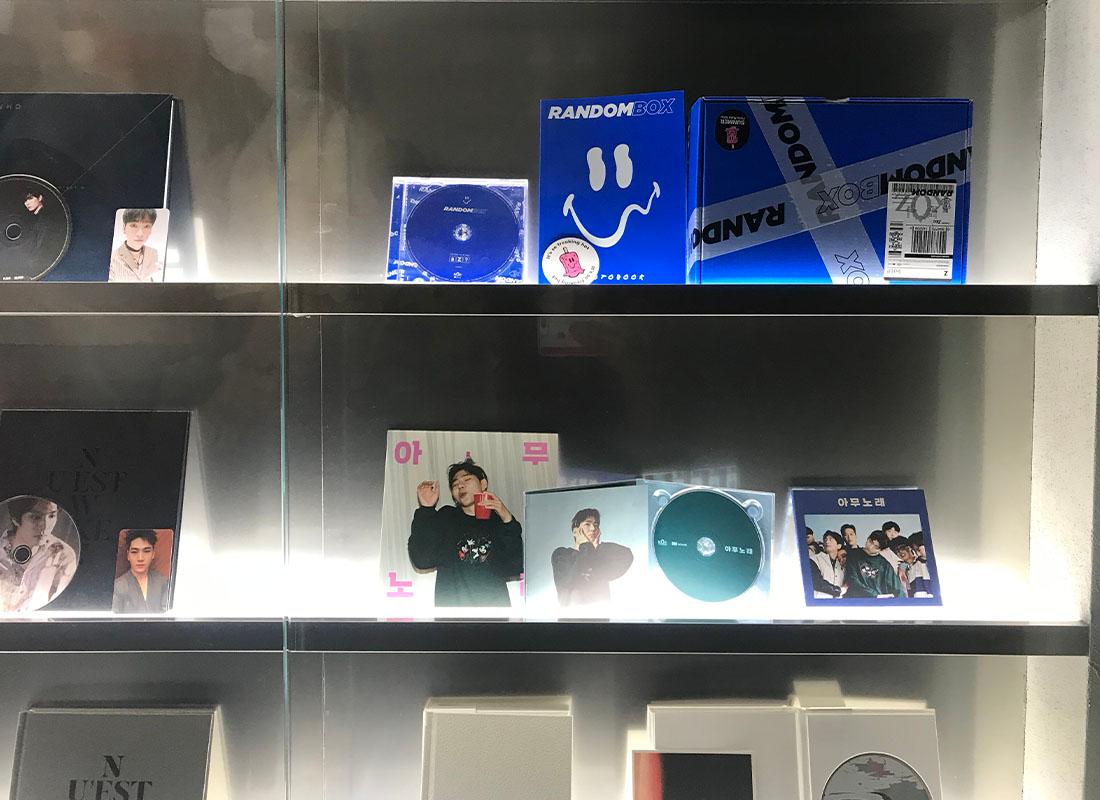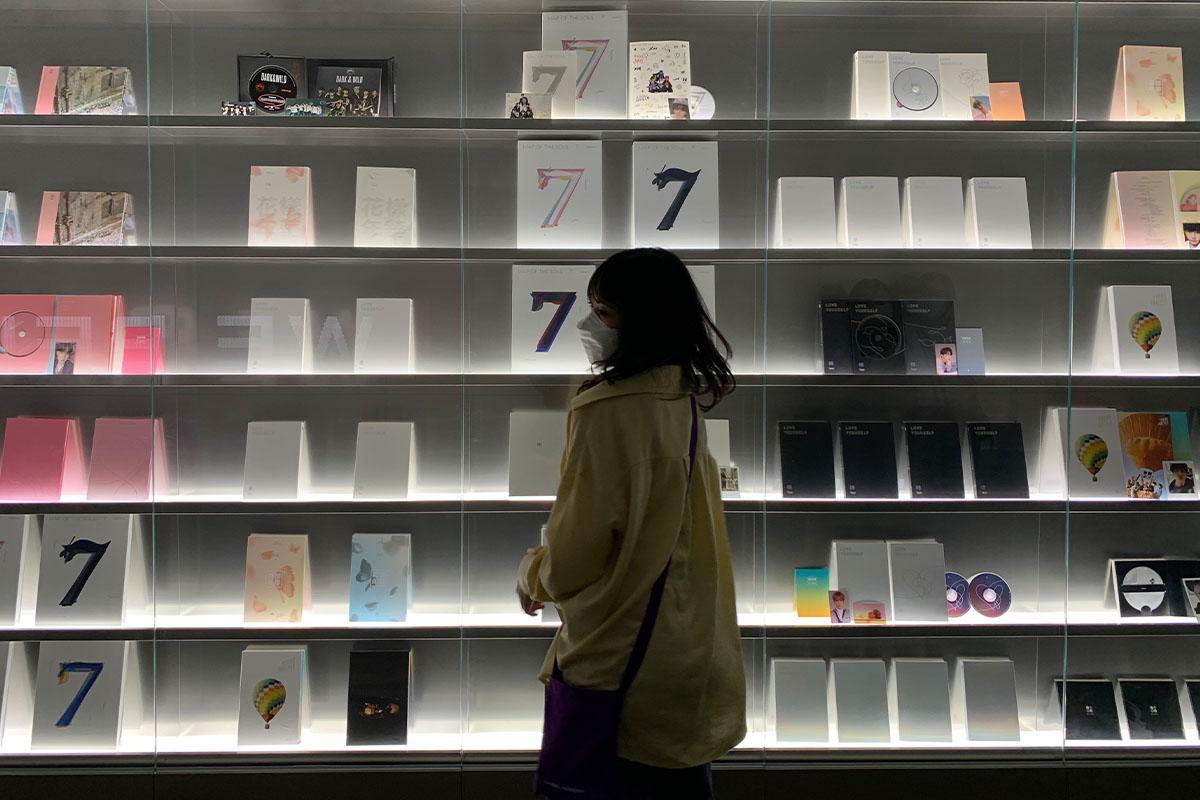 Be sure to take a photo in front of your favorite artist's album!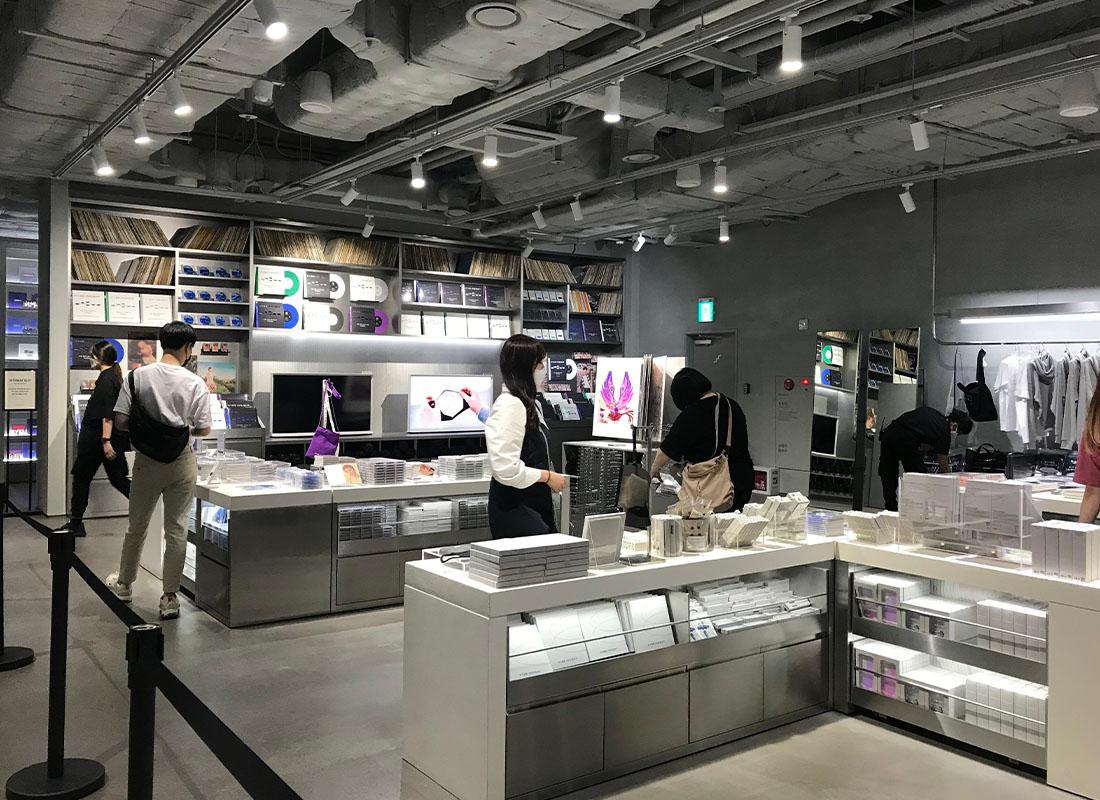 And now for the HYBE Insight shop!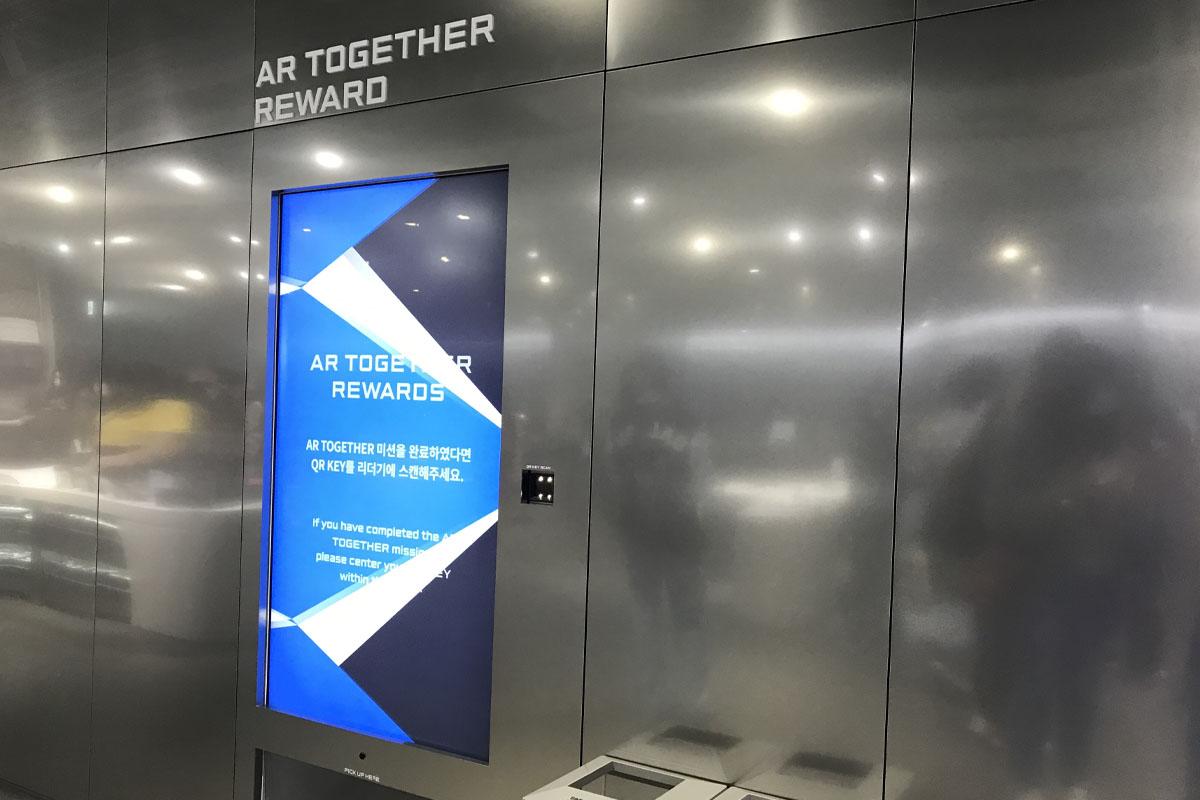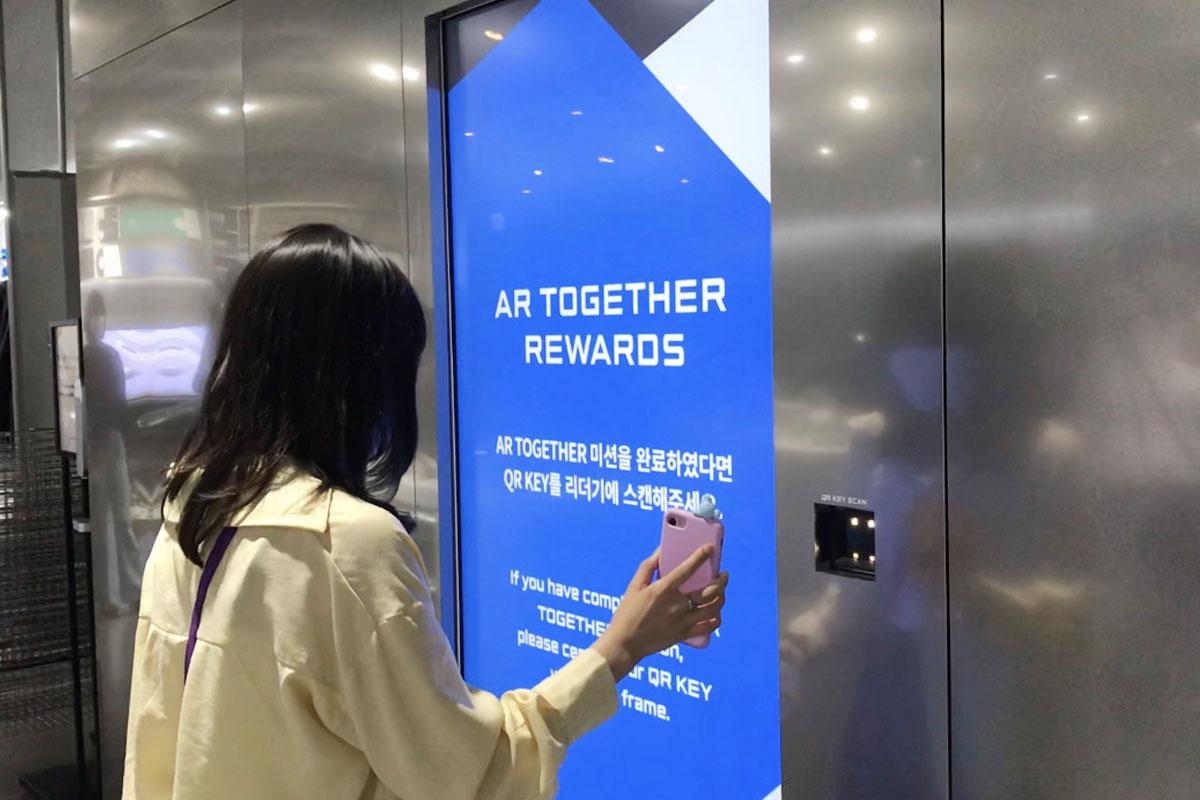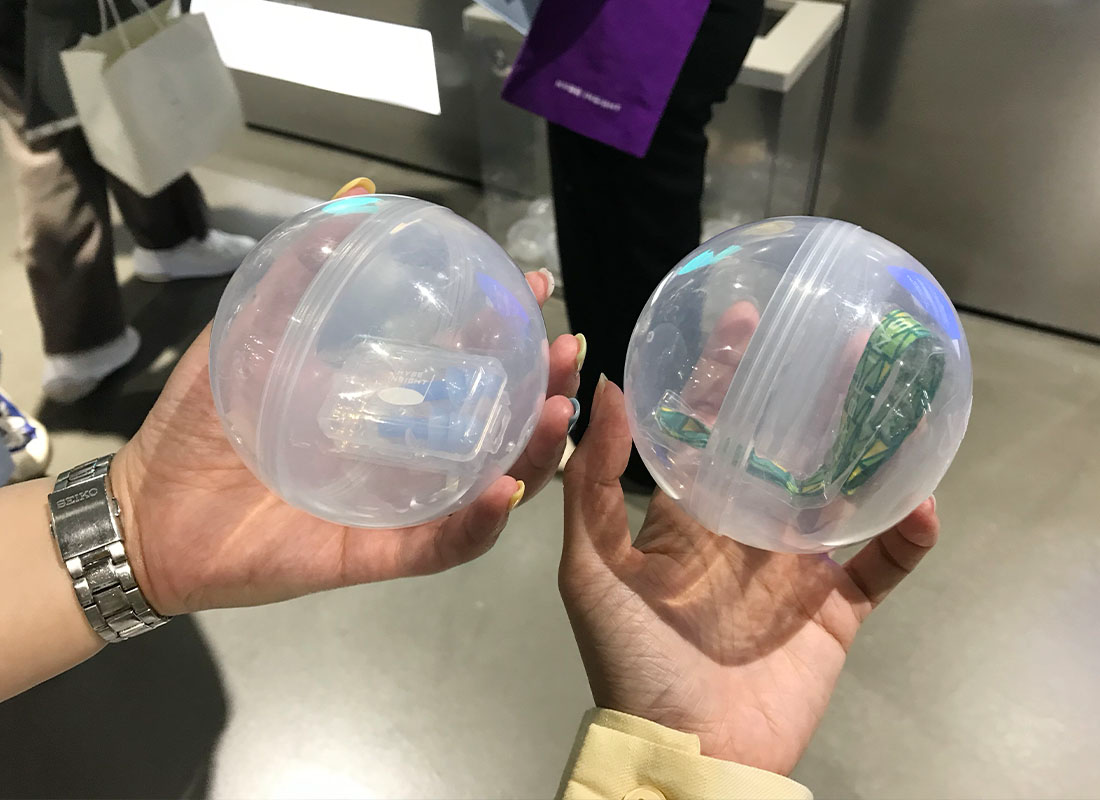 Don't forget to collect your prize from the AR game!
Just scan the QR code at the AR Together Rewards kiosk.
We got HYBE bracelets!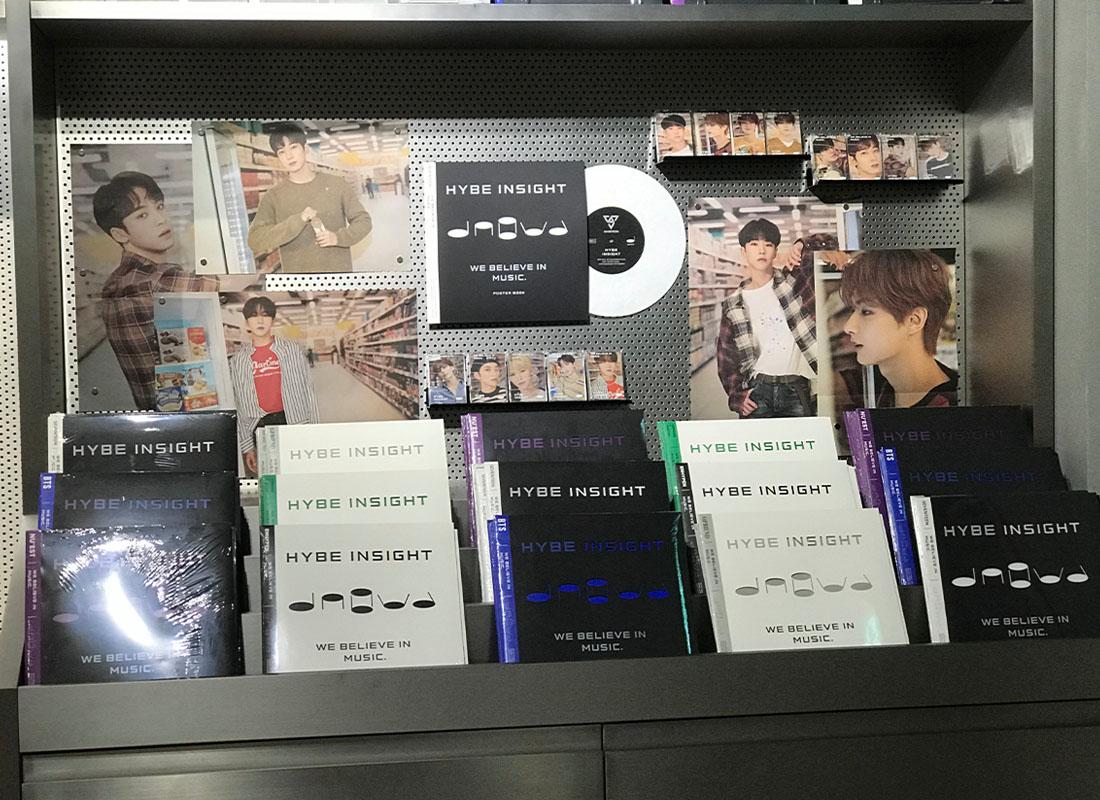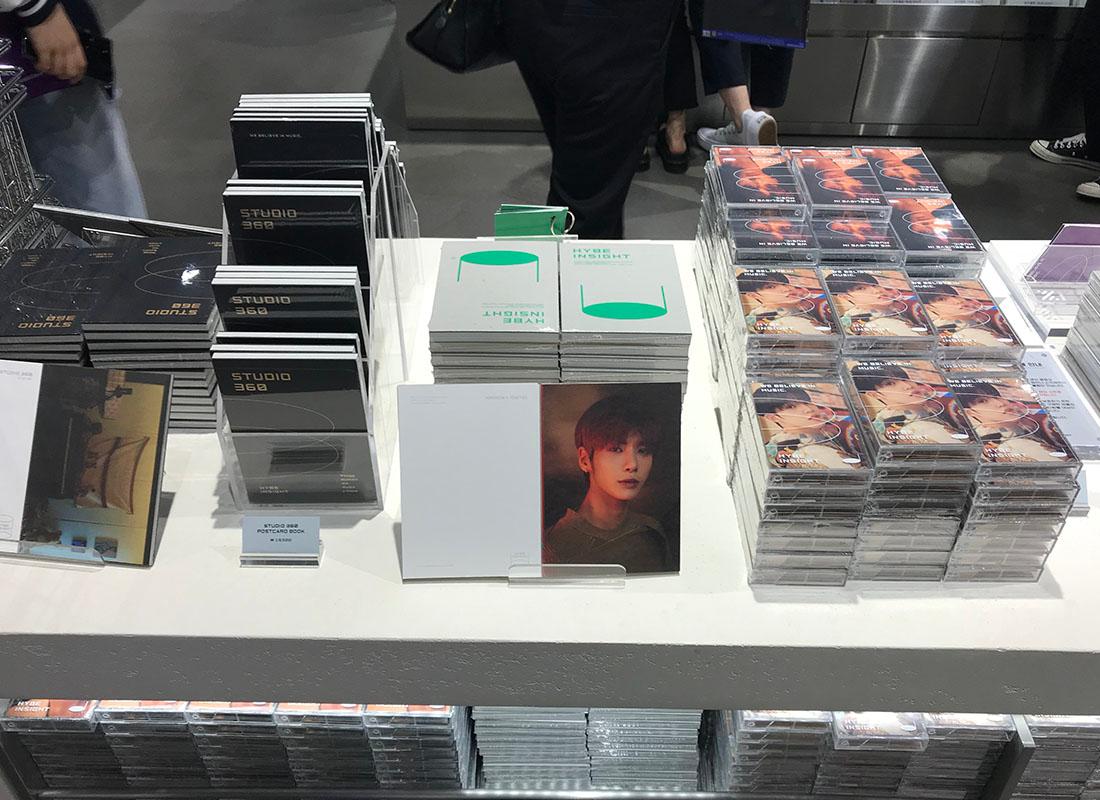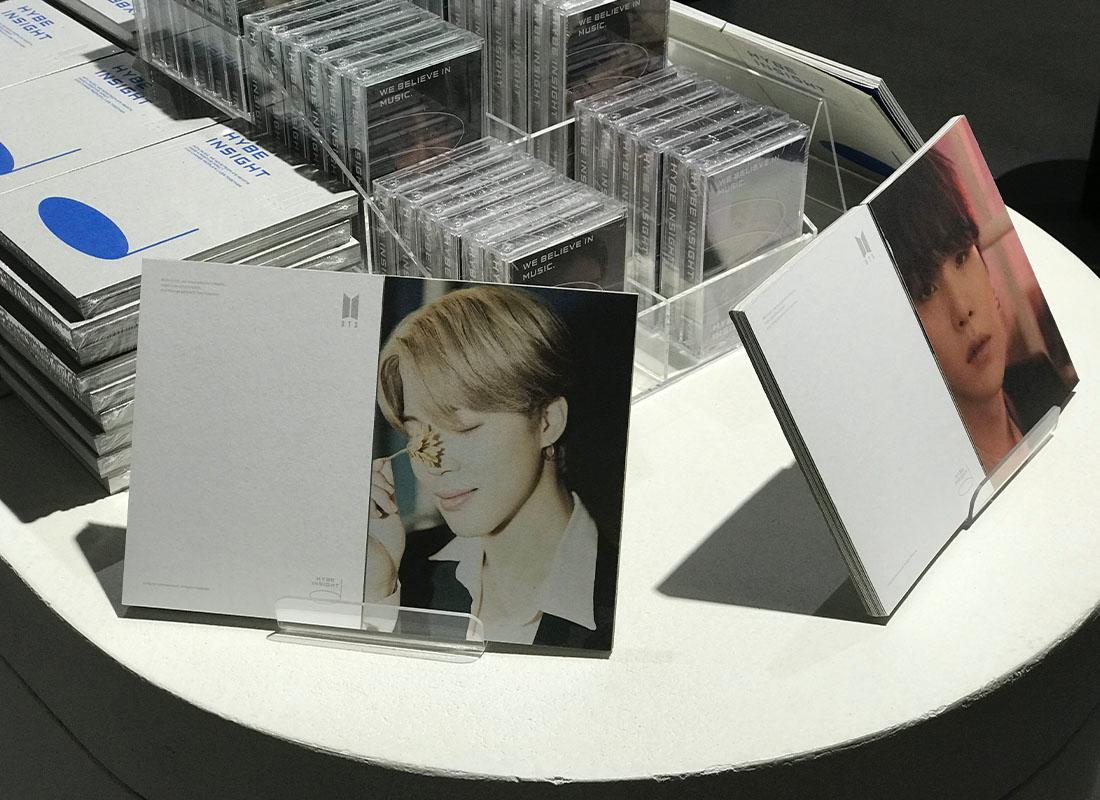 Here is some of the merchandise, which includes photo cards, postcards, posters.
It all looked amazing!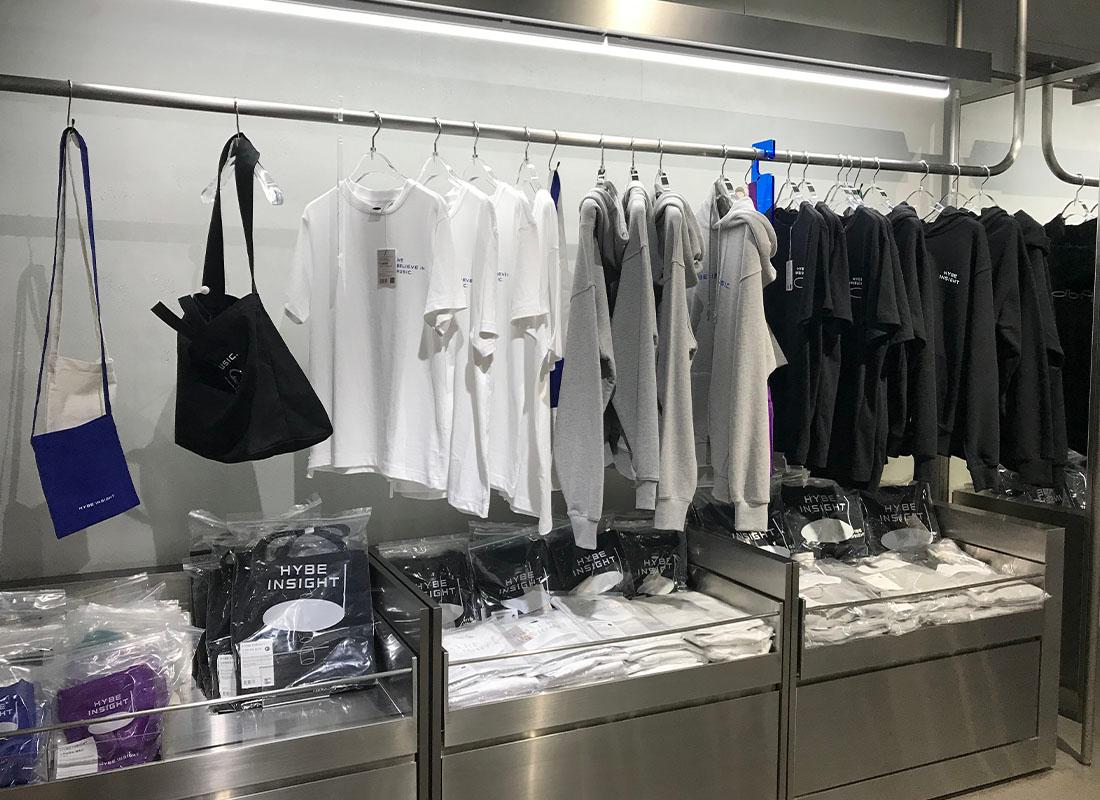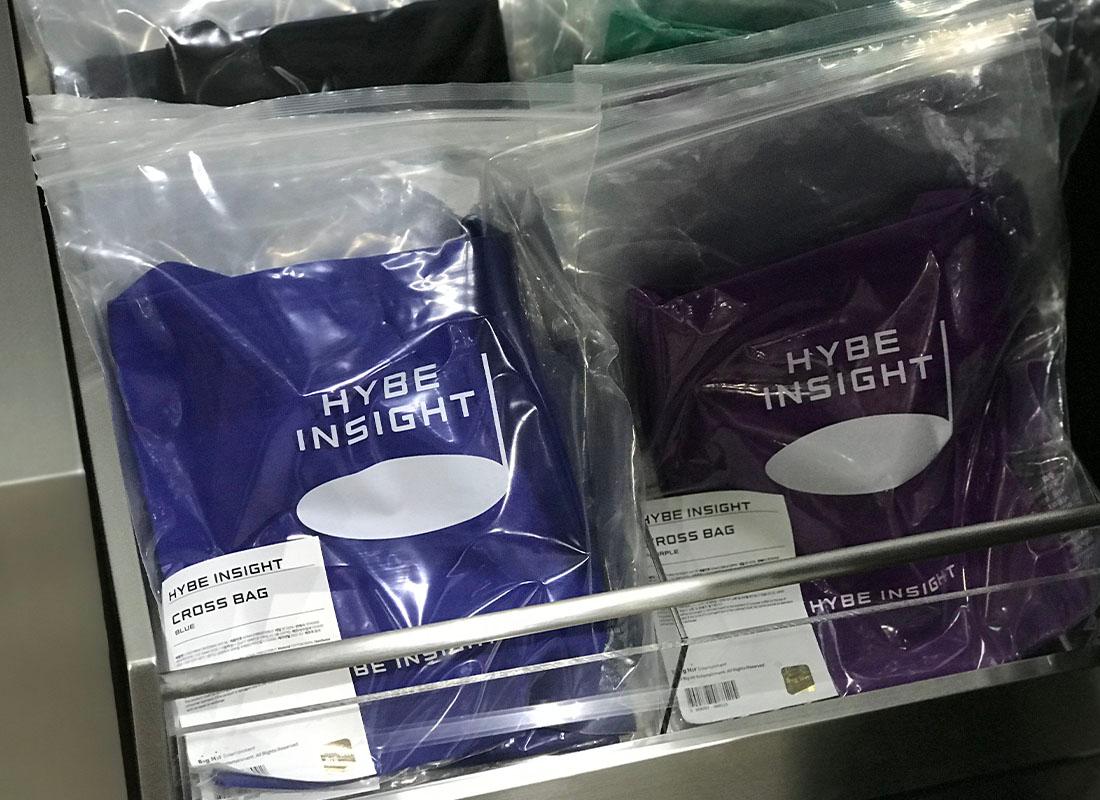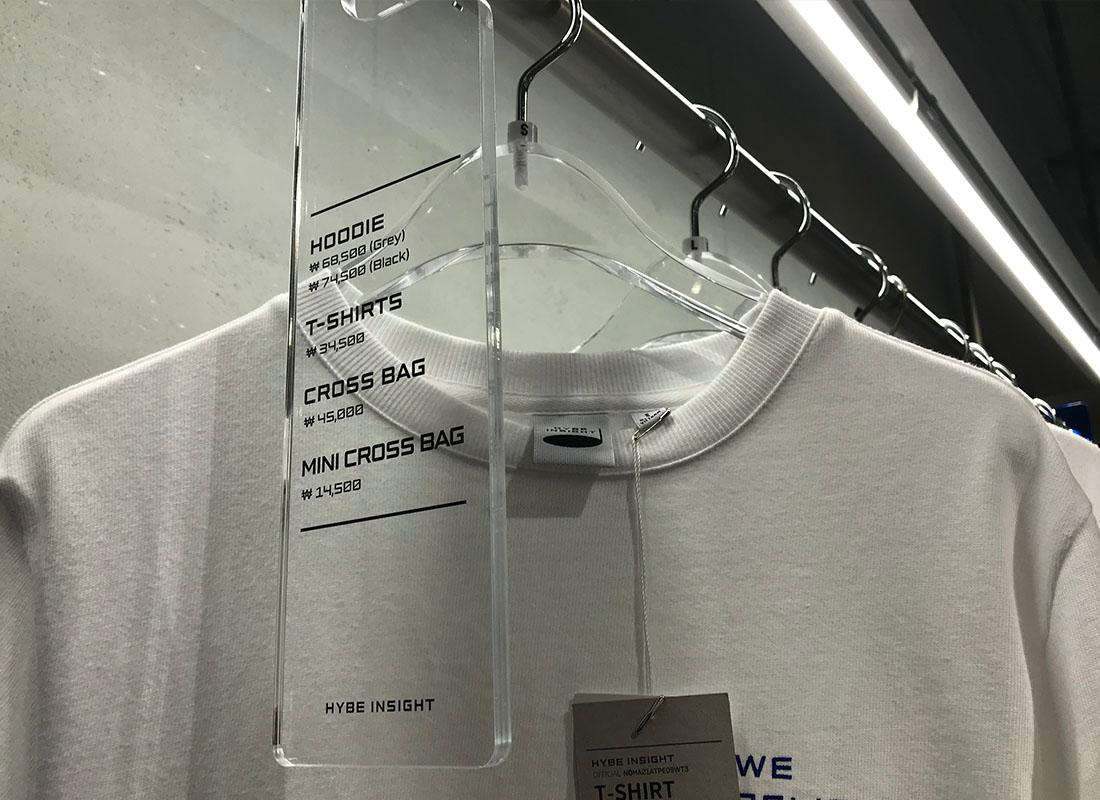 There was HYBE gear available, too, like t-shirts, hoodies, and cross bags.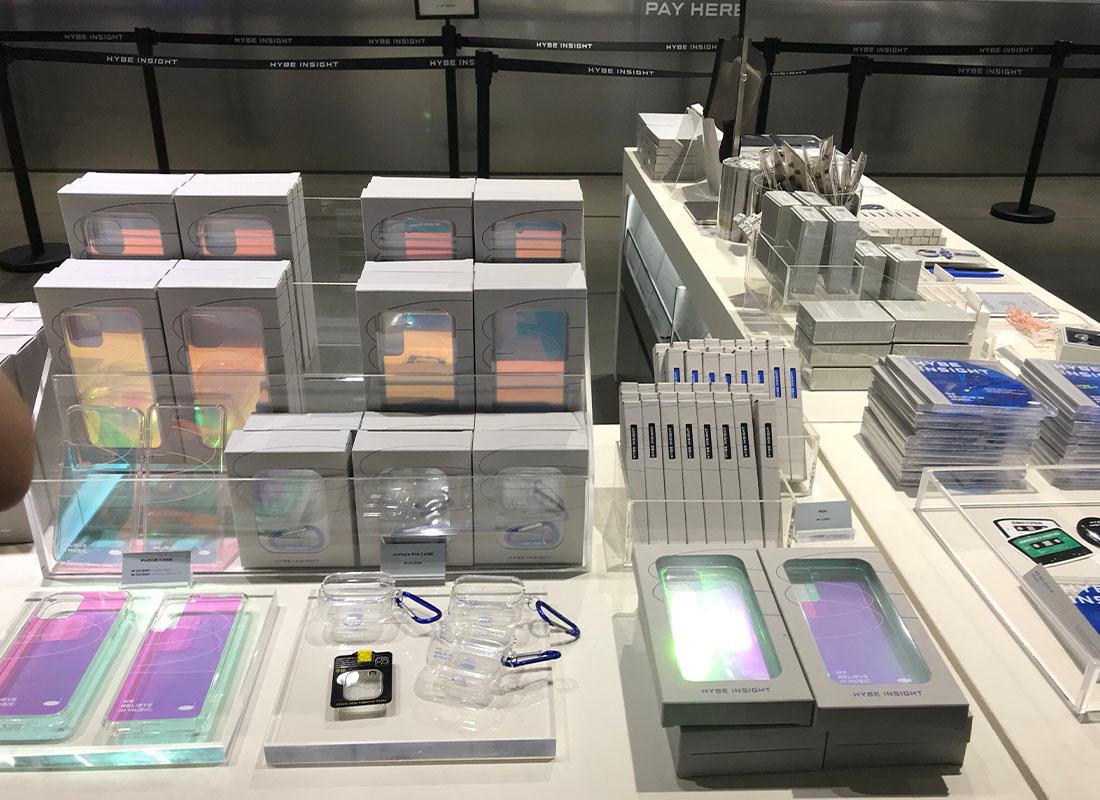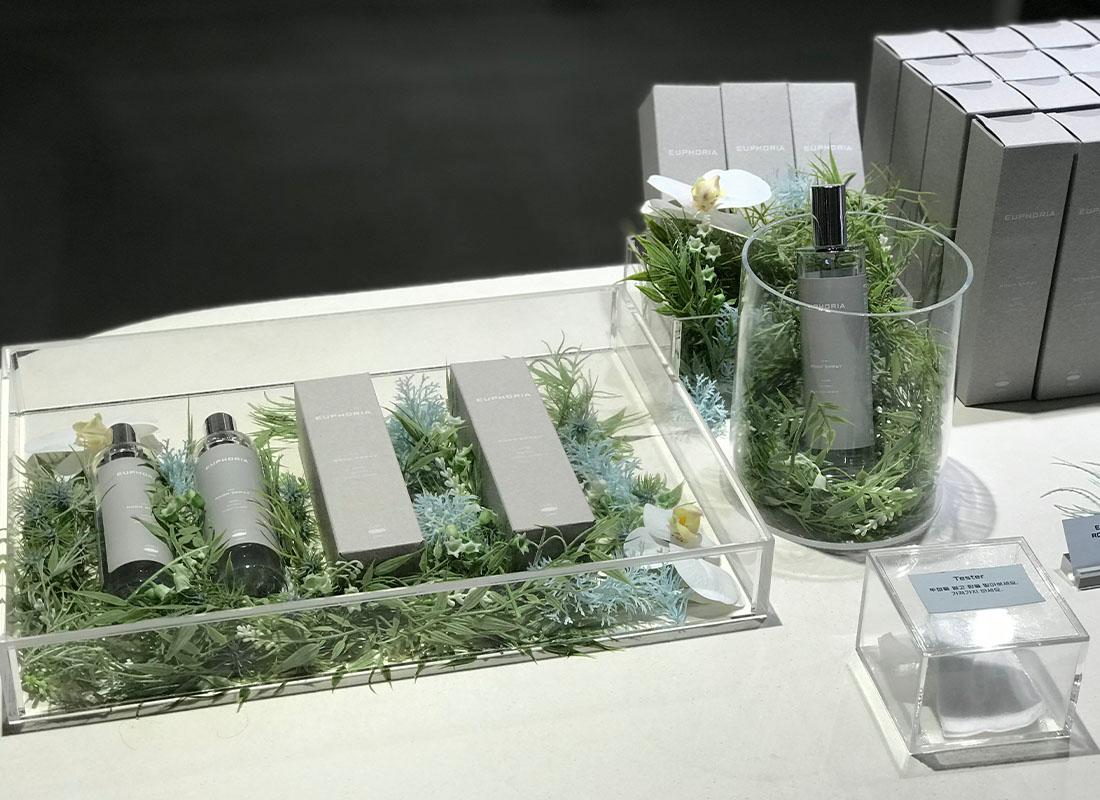 There was also HYBE stationery and phone accessories on sale.
You could also purchase the Euphoria scent.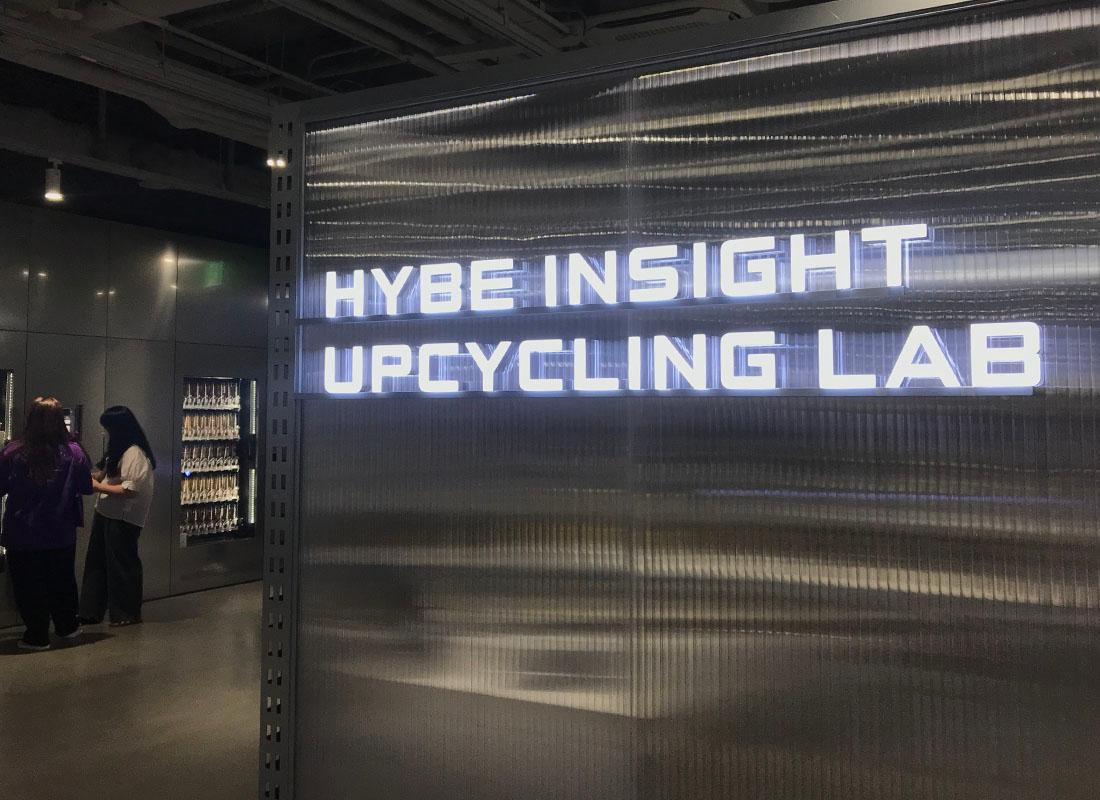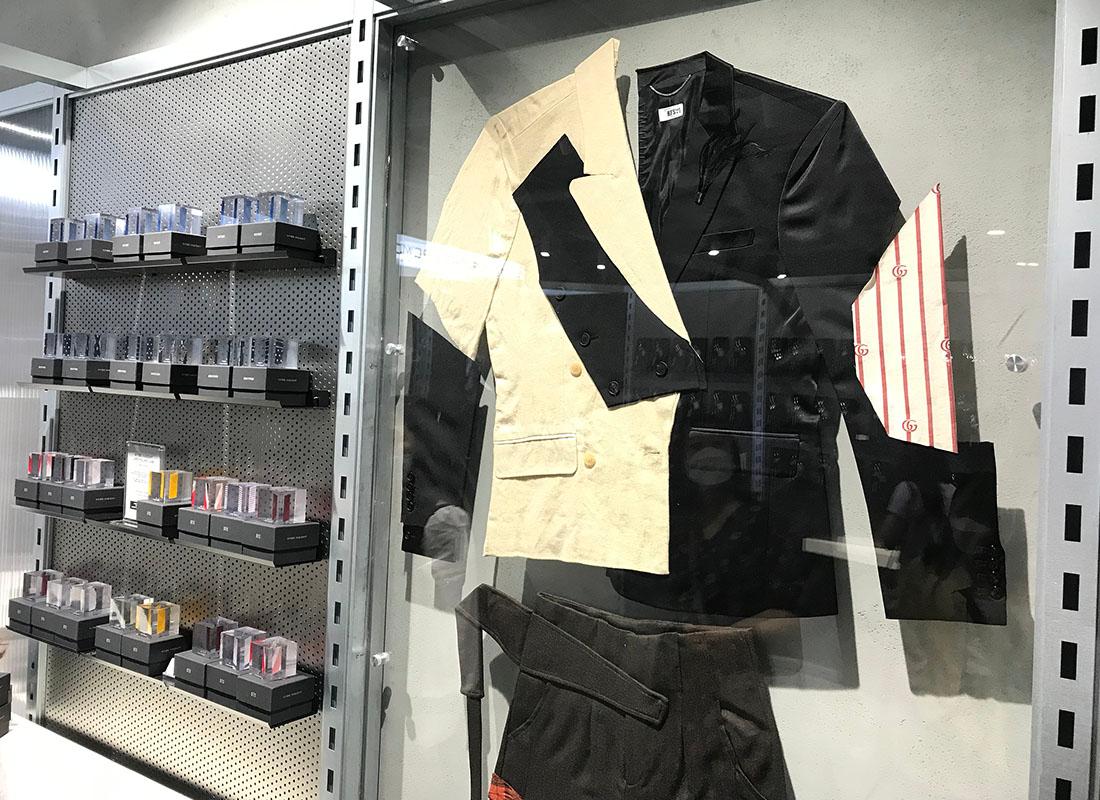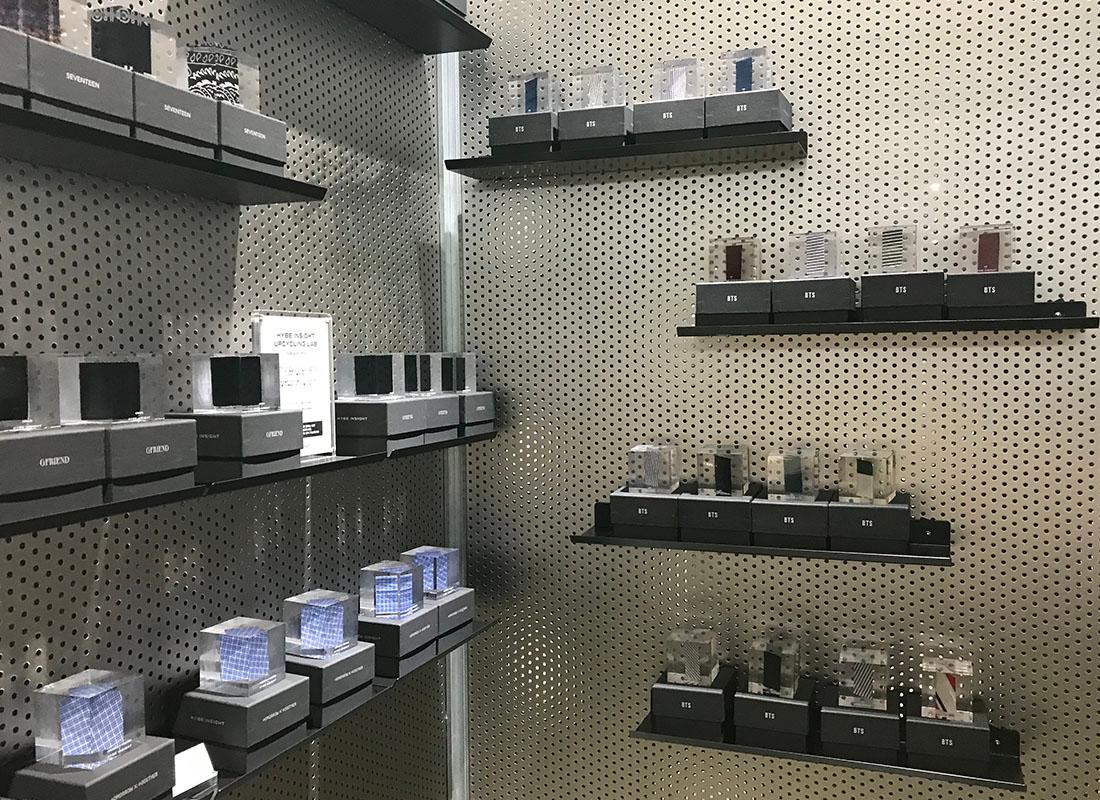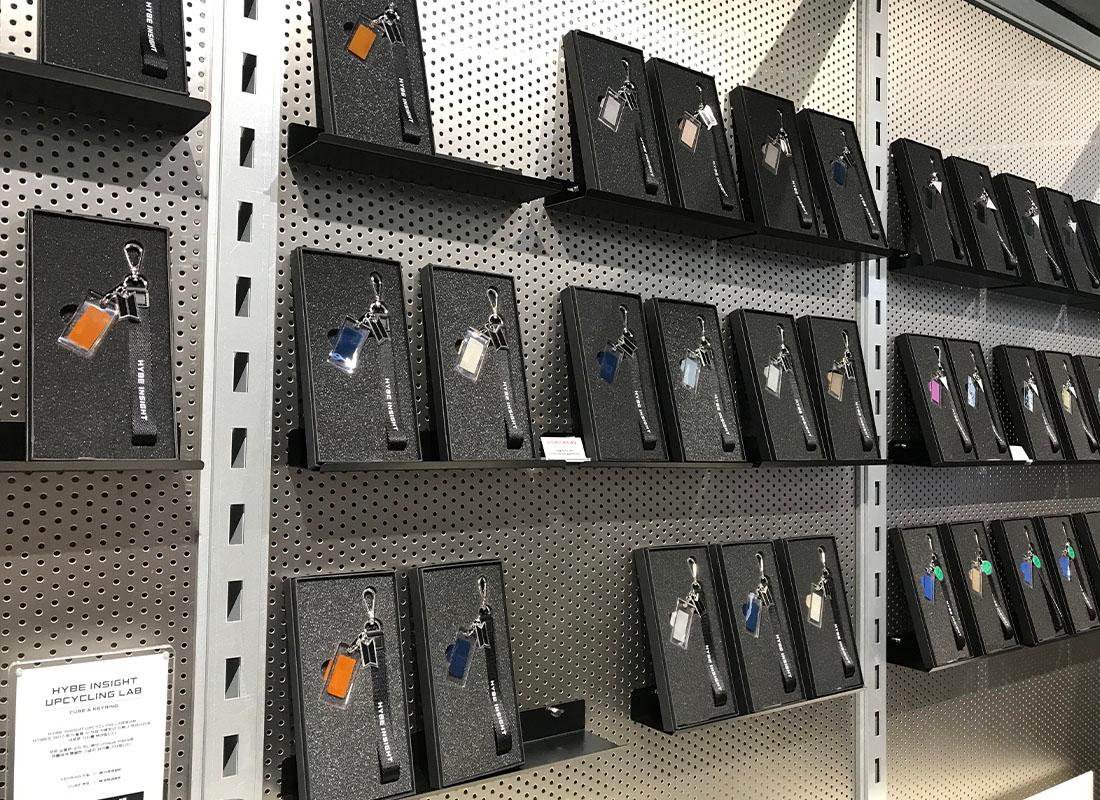 This is the Upcycling Lab, which sells items made from clothing worn by the artists.
What an amazing idea!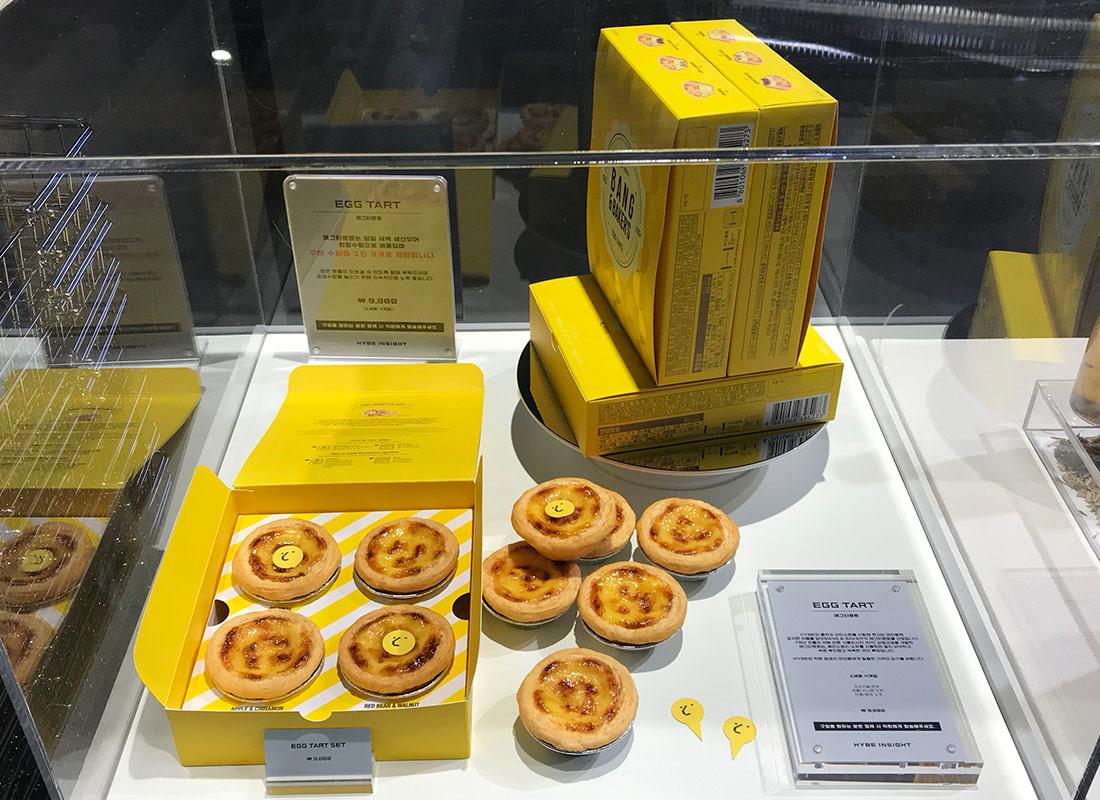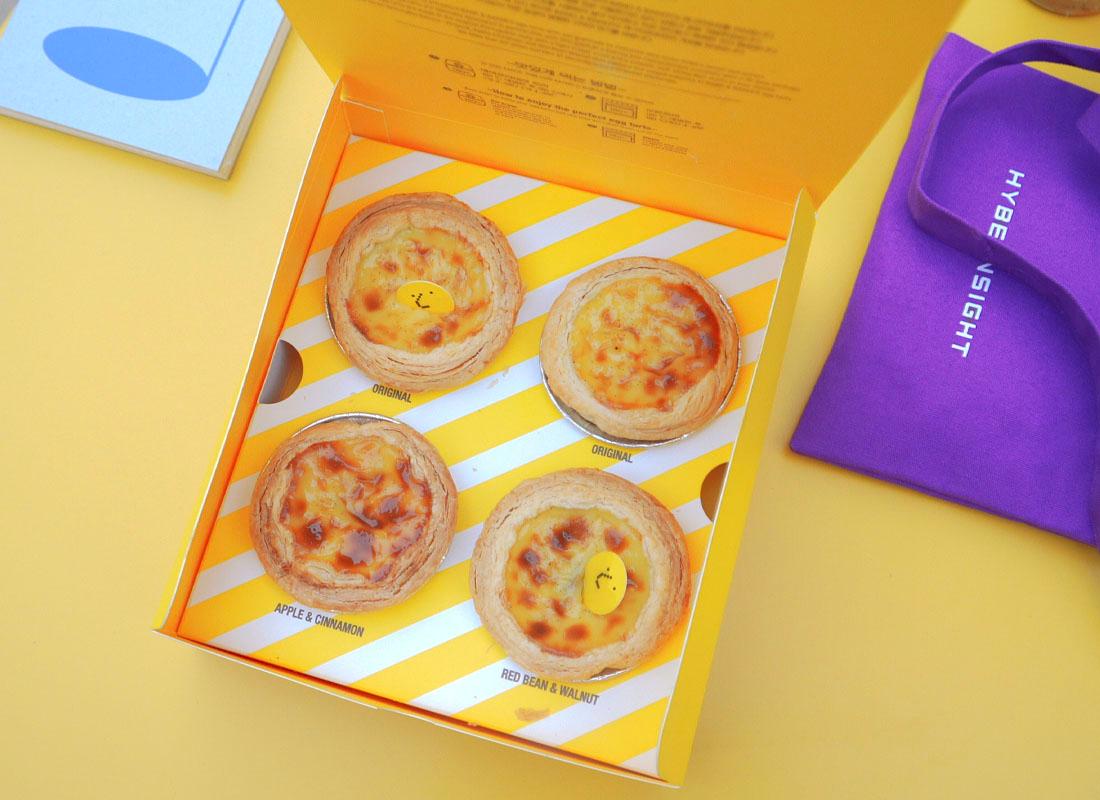 Eggs tarts were available for purchase.
You can buy four for 9,800 KRW.
There were three flavors: original, apple cinnamon, and red bean and walnut.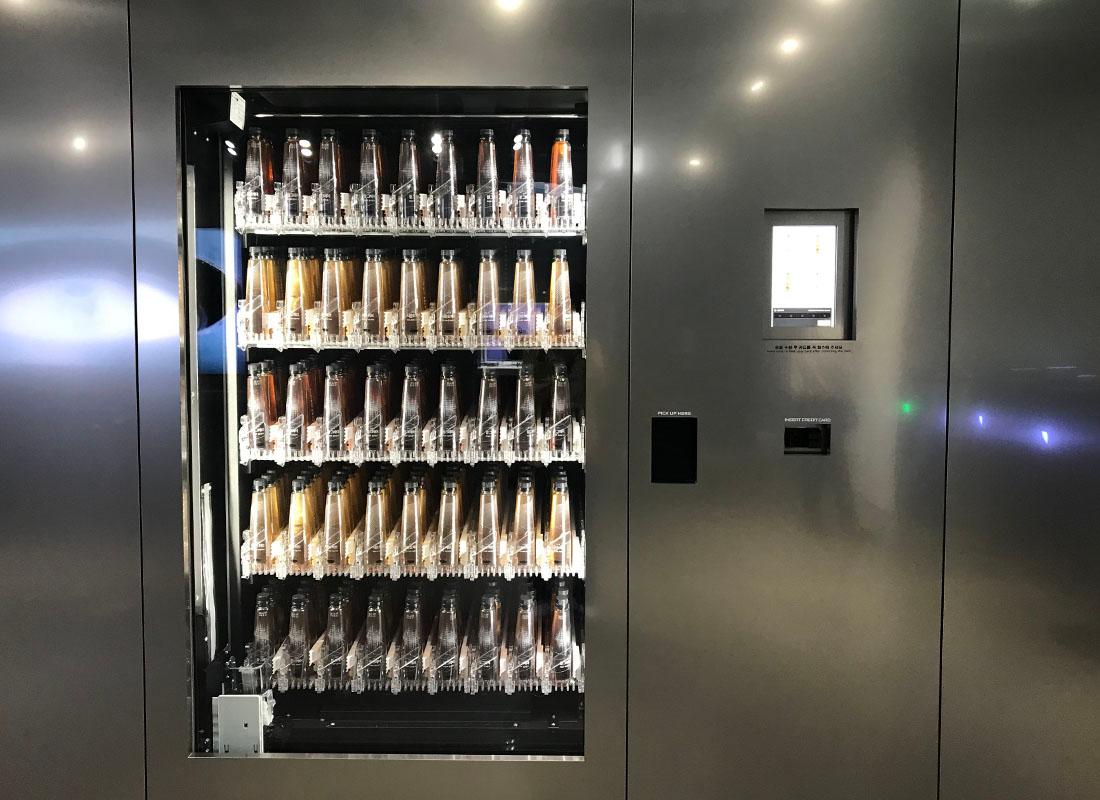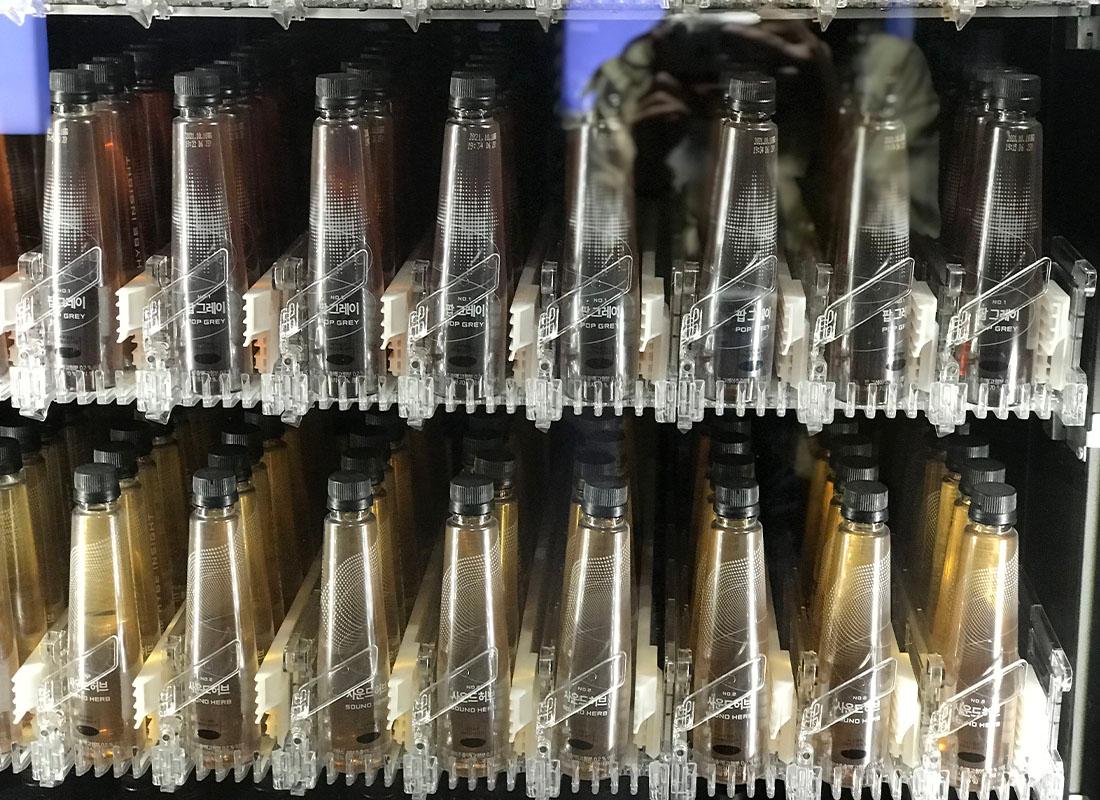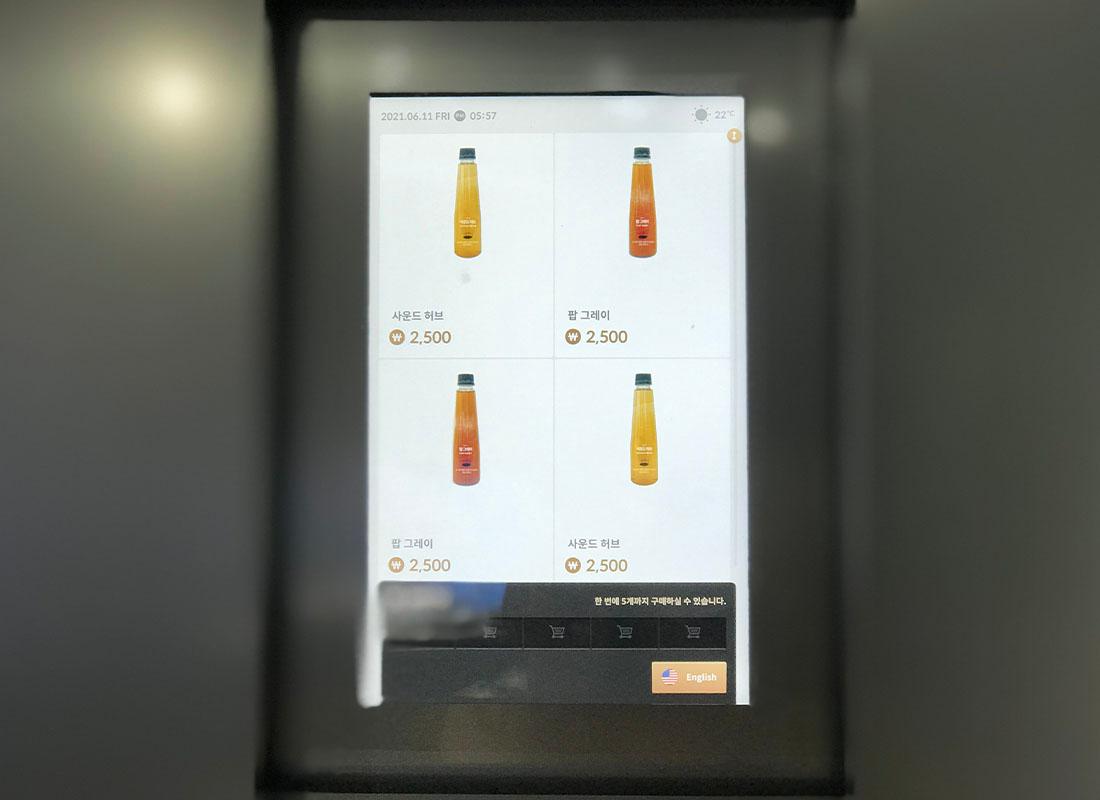 Drinks were also available for purchase.
We got Sound Herb and Pop Grey, which were both teas.
Sound Herb was fruity while Pop Grey was sweet.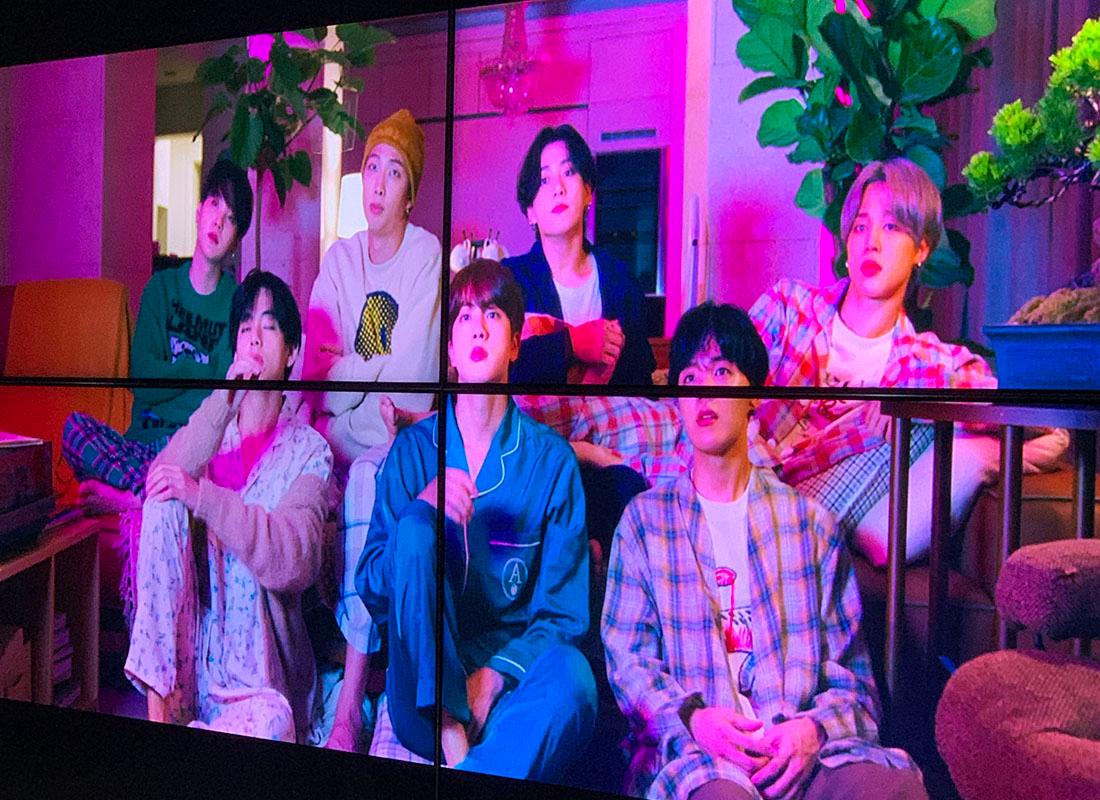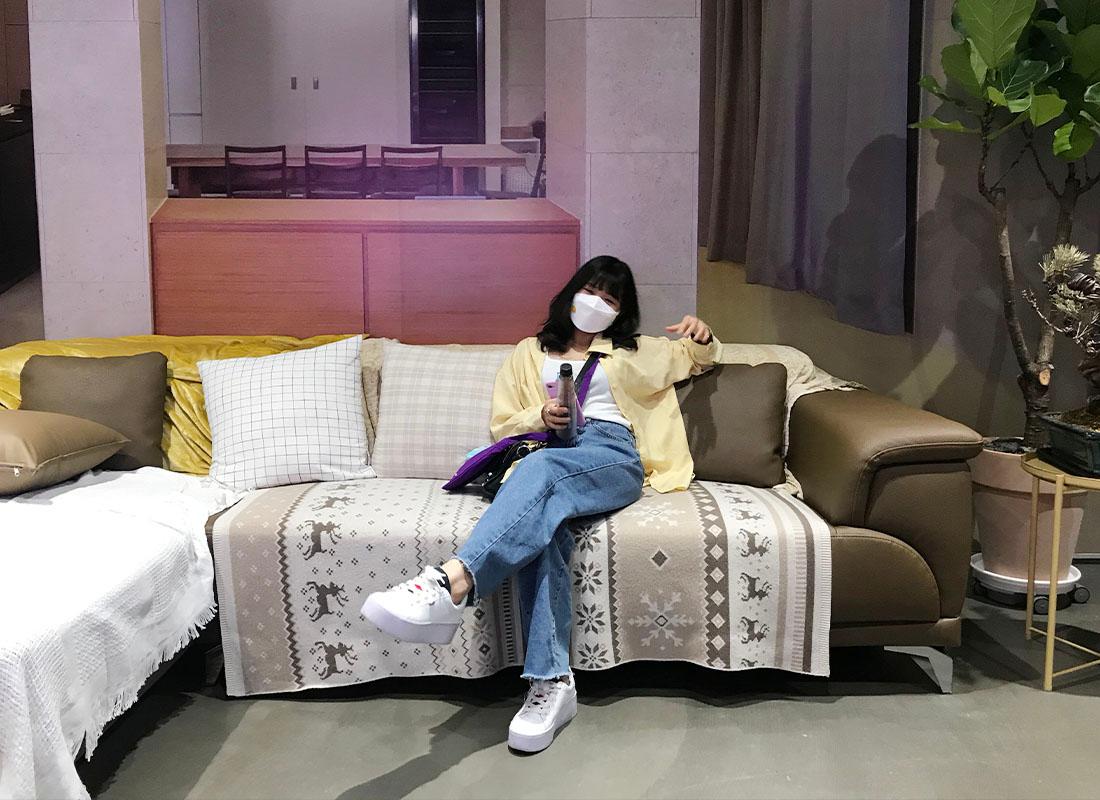 After getting your shopping on, don't miss the Life Goes On Lounge.
This space is a snapshot from a scene in the "Life Goes On" music video by BTS.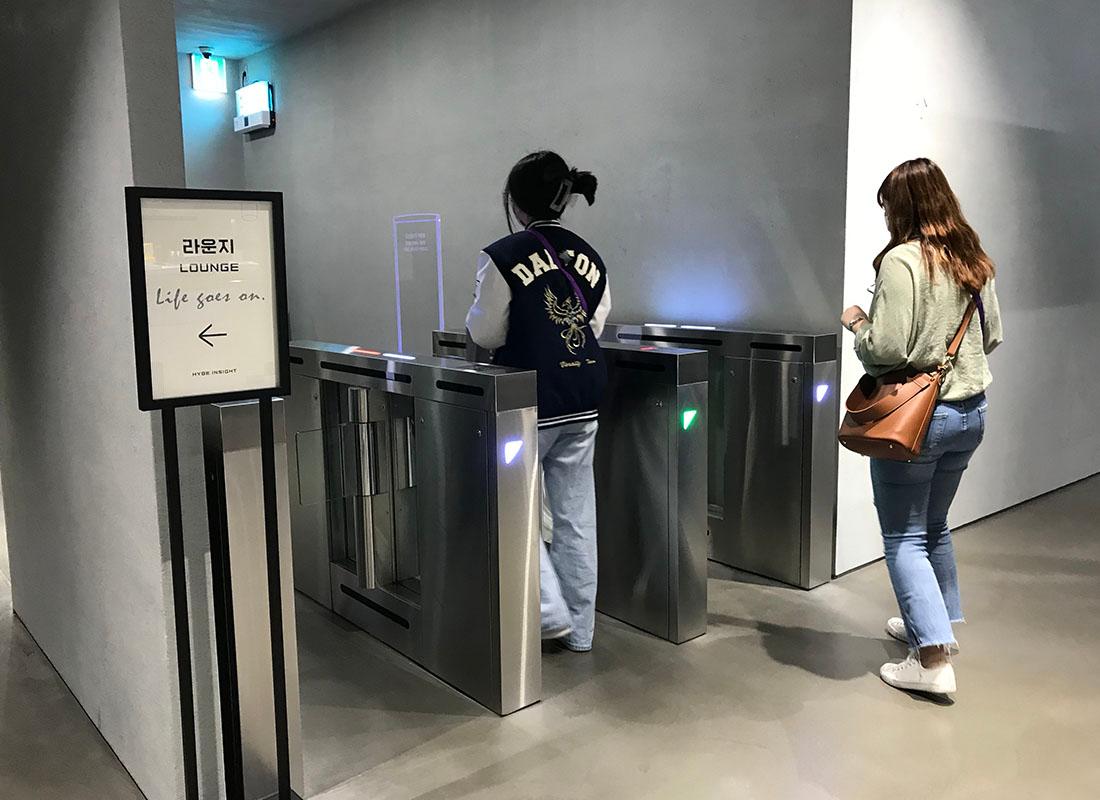 This is where you can exit the museum.
Just use scan your QR code to open the gate.
We were so sad to go!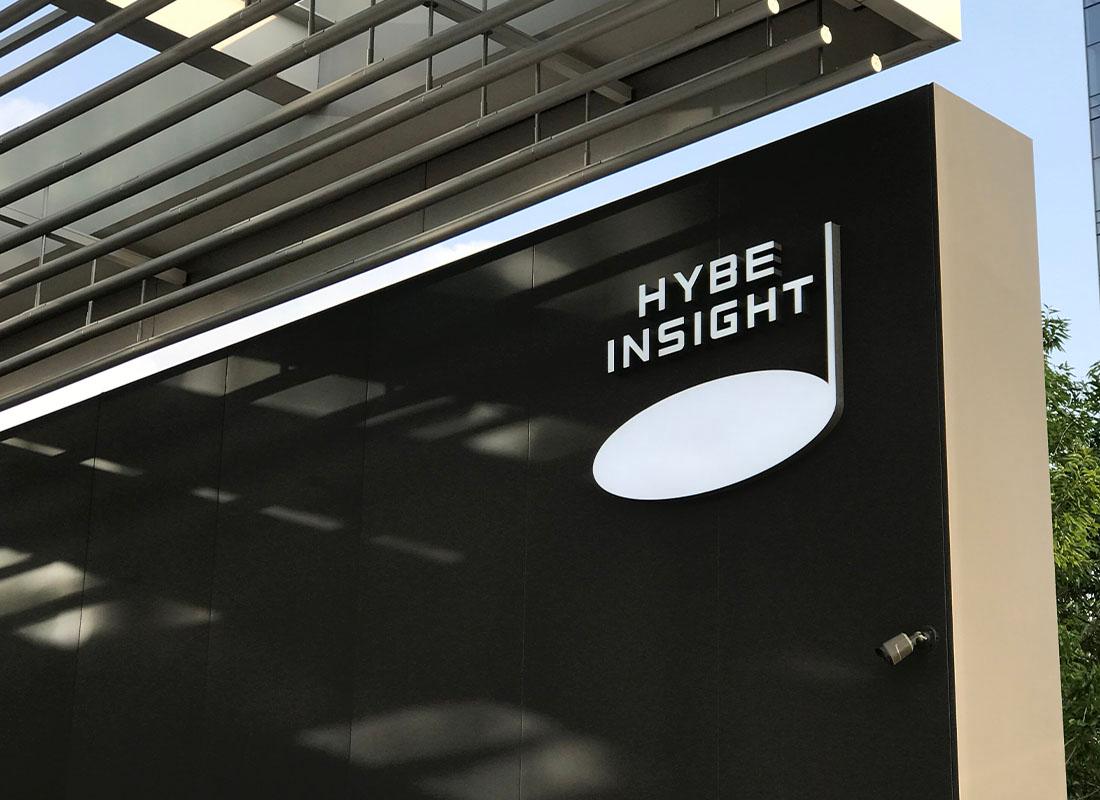 We were so impressed with HYBE Insight!
So much work went into creating this space, and we appreciated the incredible care and energy that went into every detail.
Please note that all of the signs and explanations in the museum are available in both Korean and English.
If you a HYBE fan, then HYBE Insight in Seoul is a must for you!
---
Information

Address: 서울 용산구 한강대로 42 B1
42 B1, Hangangdae-ro, Yongsan-gu, Seoul
Hours: 11:00-21:30
Mon: Closed
Transportation: 13-minute walk from Yongsan Station Exit 1
Ticket price: 22,000 KRW or including a photo card 25,000 KRW
Website: https://hybeinsight.com/
---
We hope you enjoyed our visit to HYBE Insight as much as we did!
---