Busan Trick Eye Museum
Different from all the other trick eye musuems! Experience a different dimension through AR!
Hello, everyone! We are Creatrip, a group of travel experts.
Trick eye museums are boring, all you do is go around murals and paintings taking pictures, right?
Not this one.
The museum we're going to be talking about today uses AR to enhance your viewing experience. It's not as childish as other similar museums can be, so a lot of couples actually frequent it as a date spot.
As the first museum to use AR Technology, the artwork here almost comes alive, providing viewers with a spectacular and fantastical artwork viewing experience.
---
Due to the spread of COVID-19, the number of people allowed and business hours may be limited, or a vaccine pass may be required.
Please refer to the linked blog for the latest social distancing restrictions.
Latest Social Distancing Restrictions
---
Busan Attractions | Busan Trick Eye Museum
---
Busan Attractions: Busan Trick Eye Museum | Information
Address: 2F, Busan Museum of Movies, 12 Daecheong-ro 126beon-gil, Donggwangdong 3(sam)-ga, Jung-gu, Busan

Hours: Tues-Sun 10:00-18:00; Closed on Monday
Last entrance at 17:00
---
Busan Trick Eye Museum | Ticket Prices
Price

Details

₩8,000
₩6,000

Both adults and children
[Included]
AR Trick Eye Museum Entry Tickets

[Excluded]
VR Experience
*Children under 3 yrs. are free of charge with passport.
*VR tickets must be purchased separately at the ticket office.
---
Busan Trick Eye Museum | Recommended Reasons
You can view artwork that actually moves via AR
These artworks can be interacted with (might sound boring, but actually super fun lol)
Not the biggest trick eye museum, but you can enjoy it at a huge discount when booking through Creatrip.
Located in Nampodong, great to kill some time if you have an awkward gap in your itinerary.


---
Busan Trick Eye Museum | Notes
Closed Mondays.
Last entry is at 17:00.
No re-entries allowed.
No food allowed inside.
No refunds available after purchase.
---
Busan Trick Eye Museum | How to Book
Click the box above to be redirected to the booking page.
Please enter all details and relevant information.
Click My Reservations to check your booking status.
Once the booking is complete, you'll get a voucher via email within 24 hours.
Please show this voucher to the ticket office to get your entry tickets.
---
Busan Trick Eye Museum | Refund Policy
Tickets are non-refundable.
---
Busan Trick Eye Museum | Preview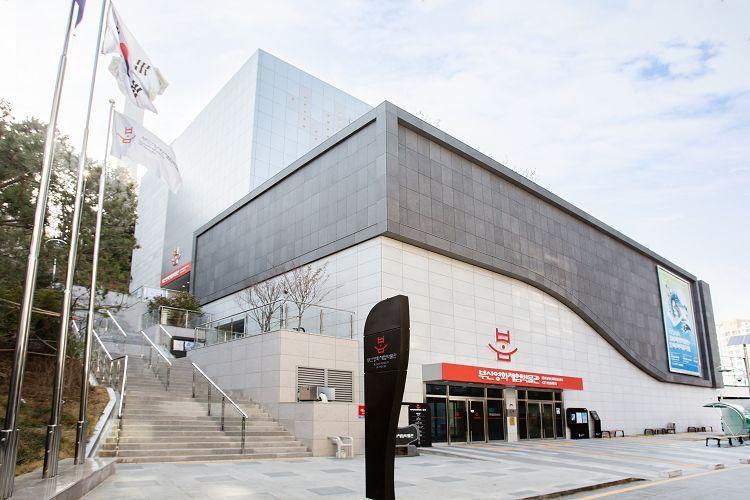 Building exterior
These are the entry tickets you get after you show your email voucher to the ticket office.
You'll need to download an application to your phone in order to experience the AR. The employees will kindly answer any and all inquiries.
I guarantee that this is way more fun than normal trick eye museums. Time flies as you're having fun taking videos
If this is boring old, normal trick eye art,
once you get the application,
this is the new and imporved trick eye! The art becomes animated on screen!! You'll have so much fun just being silly with your friends haha.
The angle to take your AR videos are marked on the floor!
When you are out of things to do while you're on your Busan trip, or if you're around Busan Station looking to kill some time, the Busan Trick Eye Museum is a cool place to check out
Busan Trick Eye Museum | Directions
Address: 2F, Busan Museum of Movies, 12 Daecheong-ro 126beon-gil, Donggwangdong 3(sam)-ga, Jung-gu, Busan

Directions: A 5-minutes walk from Jungang Station Exit 5
---
The above was a post on the Busan Trick Eye Museum. If you have any further inquiries, please feel free to comment below or shoot us an email at help@creatrip.com
---