Pung New | Up-and-Coming Modern Korean Bar in Sindang-dong
Have a drink at this trendy casual Korean dining bar that was once a hanok in Sindang-dong!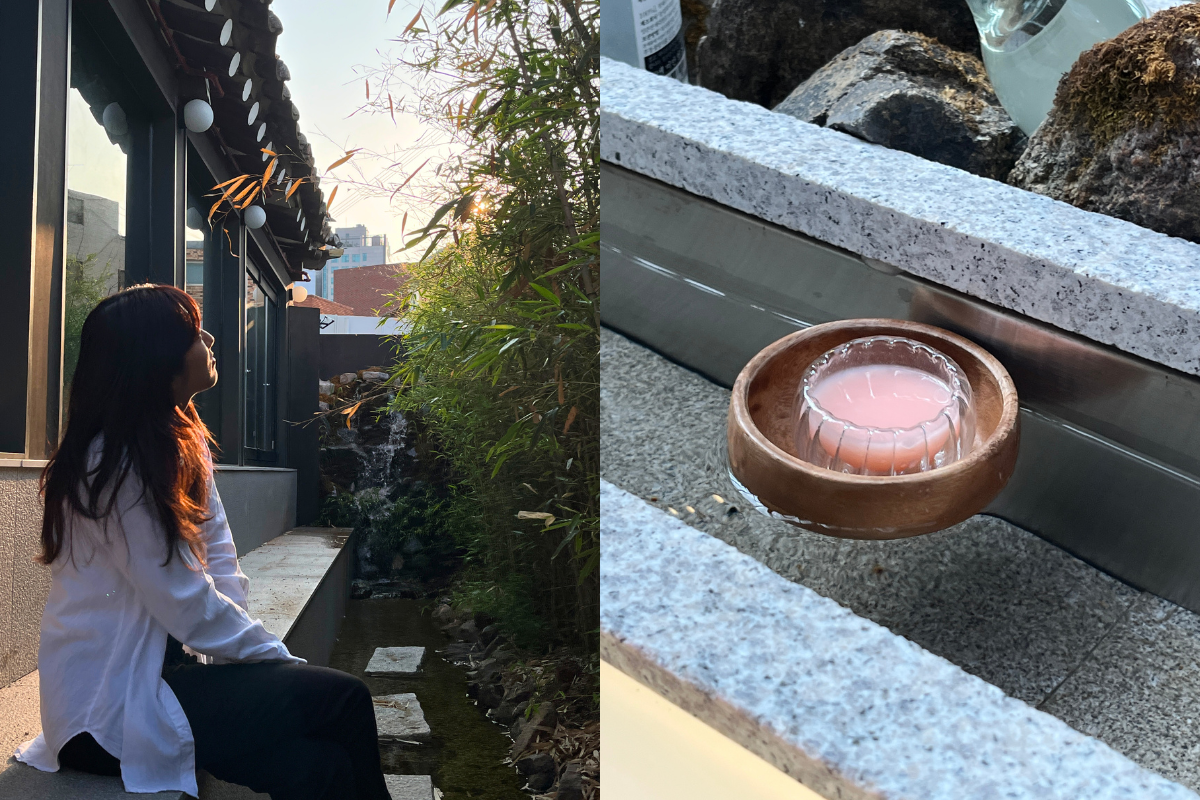 In recent years, Sindang-dong, a neighborhood not typically known for its nightlife, has undergone a remarkable transformation, with new cafes and bars springing up in its alleys. Among these newly established spots is Pung New, a bar that opened its doors in June 2023. Its rapid rise to popularity has led locals to line up eagerly for a chance to experience what it has to offer. Curious to see if Pung New lives up to its hype, we ventured there to conduct a review. Read on to discover our thoughts on this trendy gem!
---
Information
Hours: 12:00-23:00 (Closed on Tuesdays; Break time from 15:00-17:00)
Address: 10-3 Toegye-ro 70-gil, Jung-gu, Seoul
서울특별시 중구 퇴계로70길 10-3
---
Menu
Bukwheat Noodles with Beef Brisket and Perilla Leaves**
깻잎듬뿍 차돌 들기름 막국수

Chamnamul Perilla Seed Cream Pasta
참나물 들깨 크림 서양국수

Yuja(Yuzu) Doenjang Shrimp Ceviche**
유자된장 새우 쉐비체

Steamed Clams with Broth (Add Pasta for 3,000 KRW)
바지락 술찜 (파스타면 추가 3.0)

Tofu Cabbage Stew
두부 배추전골

Hanwoo Beef Tartare with Seaweed Rice Ball with Cod Roe**
명란 감태주먹밥(4p)을 곁들인 한우 육회

Hanwoo Beef Tartare in Cold Chili Broth
물회 소스의 시원한 한우 육회 물회

Avocado Hanwoo Beef Tartare Bibimbap**
아보카도 한우 육회 비빔밥

Kimchi Pancake topped with Beef Brisket**
김치전 차돌볶음

Potato Pancake topped with Cheddar Cheese**
체다치즈 감자채전

Dureub & Shrimp Tempura
두릅 새우 튀김

Seasonal Vegetable Tempura**
제철 야채 튀김 (연근, 버섯고기소)

Seaweed Rice Balls
감태주먹밥 4p
**Items that are popular & what we think would suite a foreigner's palate.
*The menu items and prices are subject to change as this is a fairly new establishment and also because they use seasonal ingredients.
Pung New requires each table to order at least one bottle of liquor. The drinks menu is quite long and we cannot translate everything but here are a few that we recommend!
Tokki Soju 토끼소주 - 39,000 KRW
American-made soju that uses both modern and traditional soju production methods. Has spicy, peppery notes and pairs well with Korean flavors.
WooHeeYeol Hansan Sogokju 우희열 한산소곡주 - 35,000 KRW
Traditional Korean Soju with a rich history of 1,500 years. Ever so slightly sweet and tart, with lasting notes. (Editor's note: During our visit, this was the most common bottle we saw at other tables.)
Ilpum Jinro 일품진로 - 35,000 KRW
Korea's most popular high-end soju. On the dry side and pairs well with foods with broth, stir fries, or noodles dishes. You can order tonic water and lemon to enjoy as a mixture, which is commonly done in Korea.
Seoul Night 서울의 밤 - 19,000 KRW
Soju with an aroma of green plums. Pairs well with meat dishes.
Dowon Gyeoleui 도원결의 - 18,000 KRW
Made with peaches from a Korean city called Yeongdeok. Has the characteristics of soju with peach notes.
Nimome 니모메 - 17,000 KRW
Made with rice and tangerine peel. Full-bodied and has a lingering tangerine aroma. (Editor's Notes: The three groups around us tried to order this but they were sold out.)
*Mixers - Tonic Water 2,000 KRW + Lemon Slices 2,000 KRW
---
Our Visit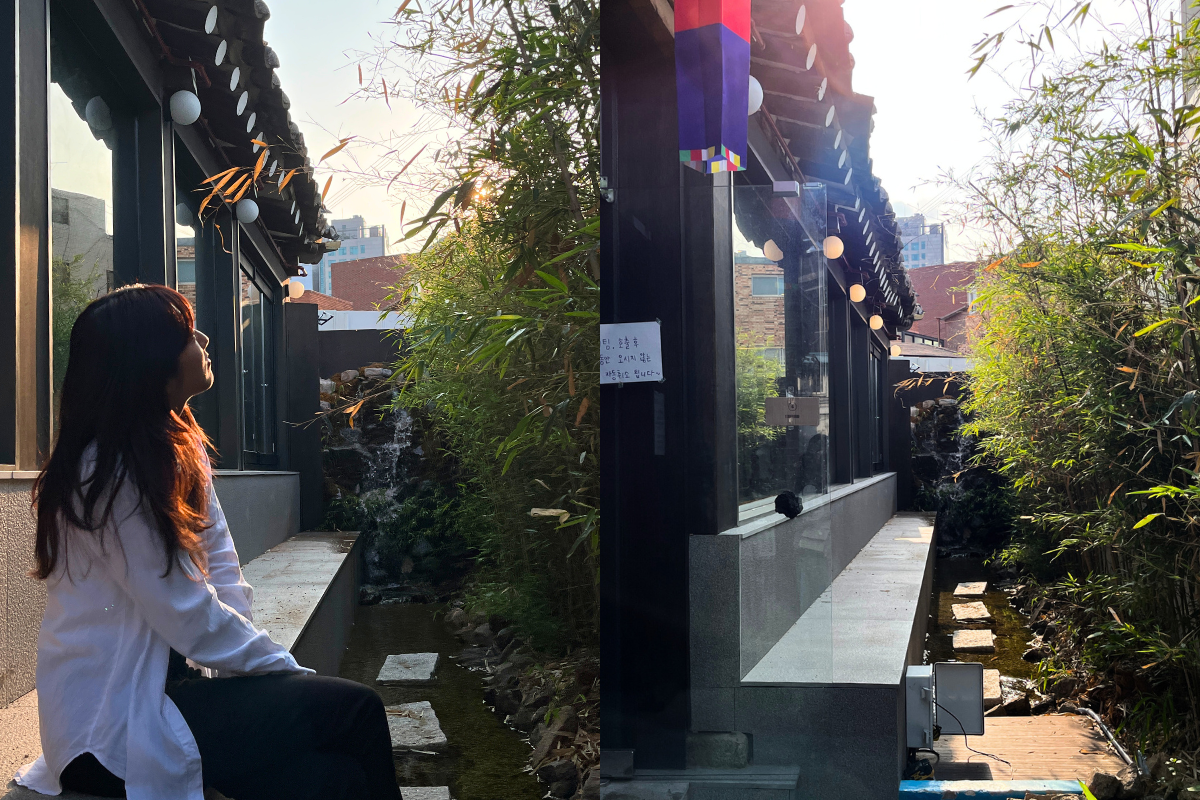 Pung New stands out with its eye-catching exterior which has touches of modern architecture added to a traditional hanok. The entrance alone exudes an inviting atmosphere, drawing in passersby with its unique charm.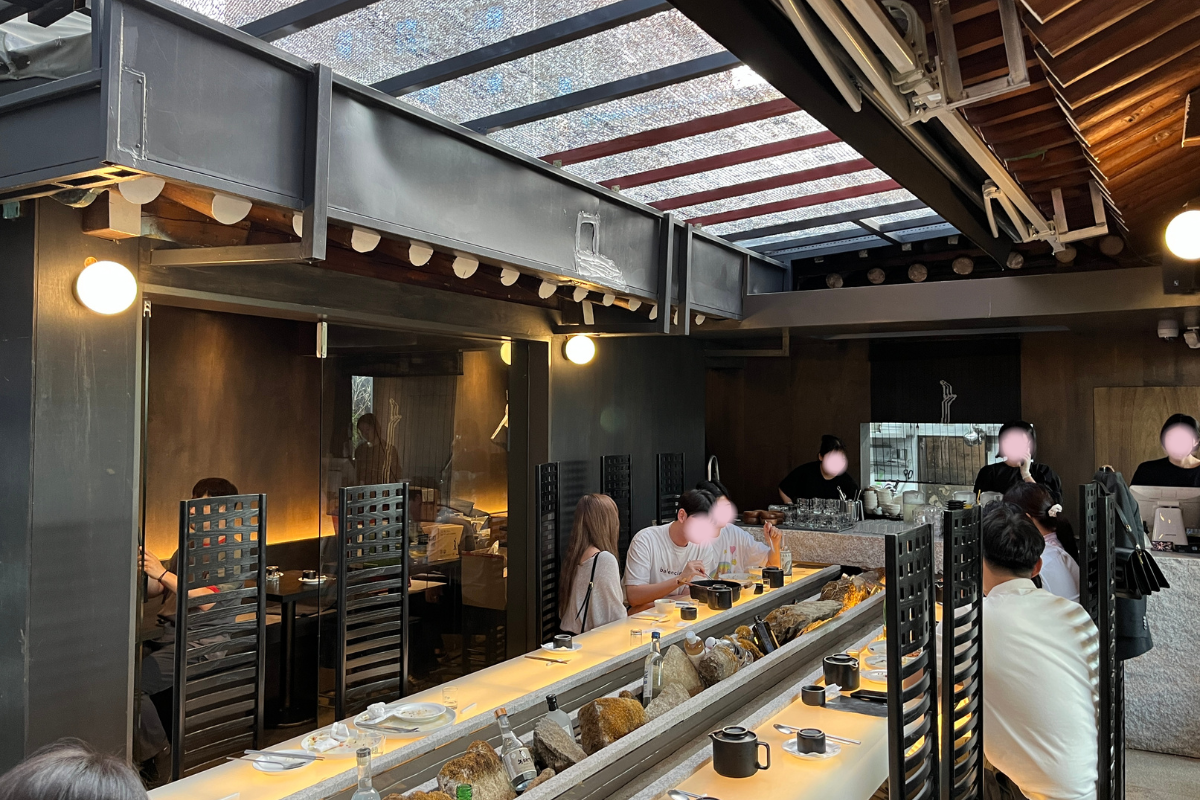 Once inside, the bar's interior is equally captivating. The designers have skillfully combined modern aesthetics with a touch of traditional Korean elements, creating a cozy and Instagram-worthy space. The walls and furniture are a smoky dark grey but the light coming through the open ceiling brightens the space. The middle table seats several people and has a river flowing along the seats, which is what captivates people the most. When you enter the room, you are told to choose a seat available. The middle seats fill up fast, so you'll have to be really lucky or get there right when it opens for a seat at the middle table.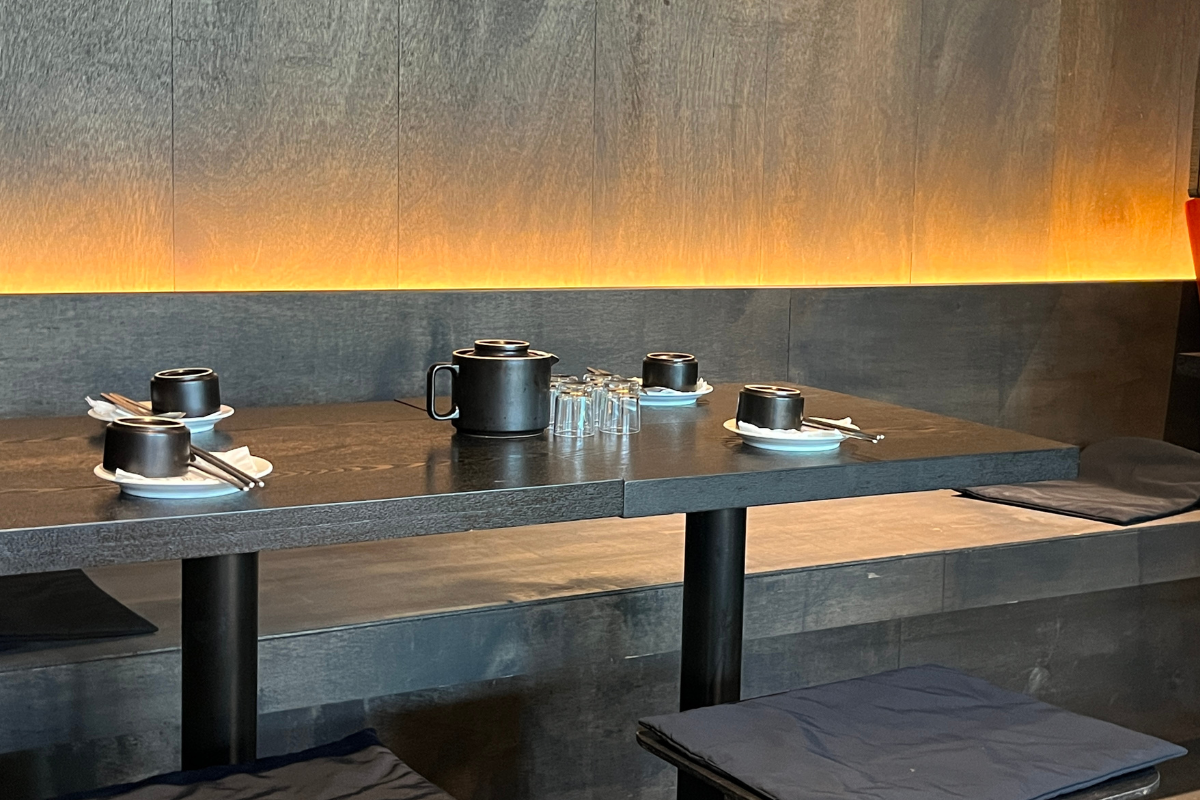 As you are seated, you are given a menu booklet. The menu consists of traditional Korean dishes with a modern twist. Unfortunately, the menu is only available in Korean. However, we've translated everything for you above! When you are ready to order, make sure to flag down a waiter. They will not approach you first. (Editor's Notes: We saw a group of foreigners leave because they weren't approached. In Korea, it is more common to flag down the waiter to place your order.)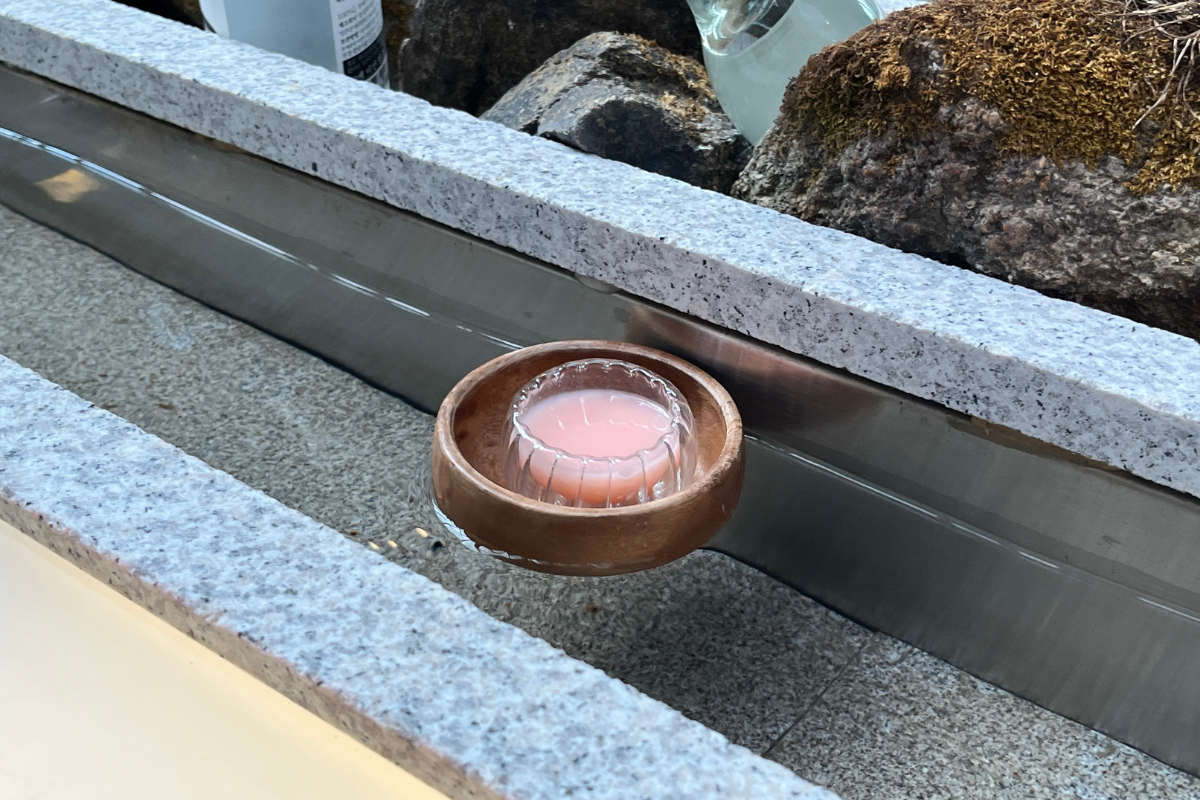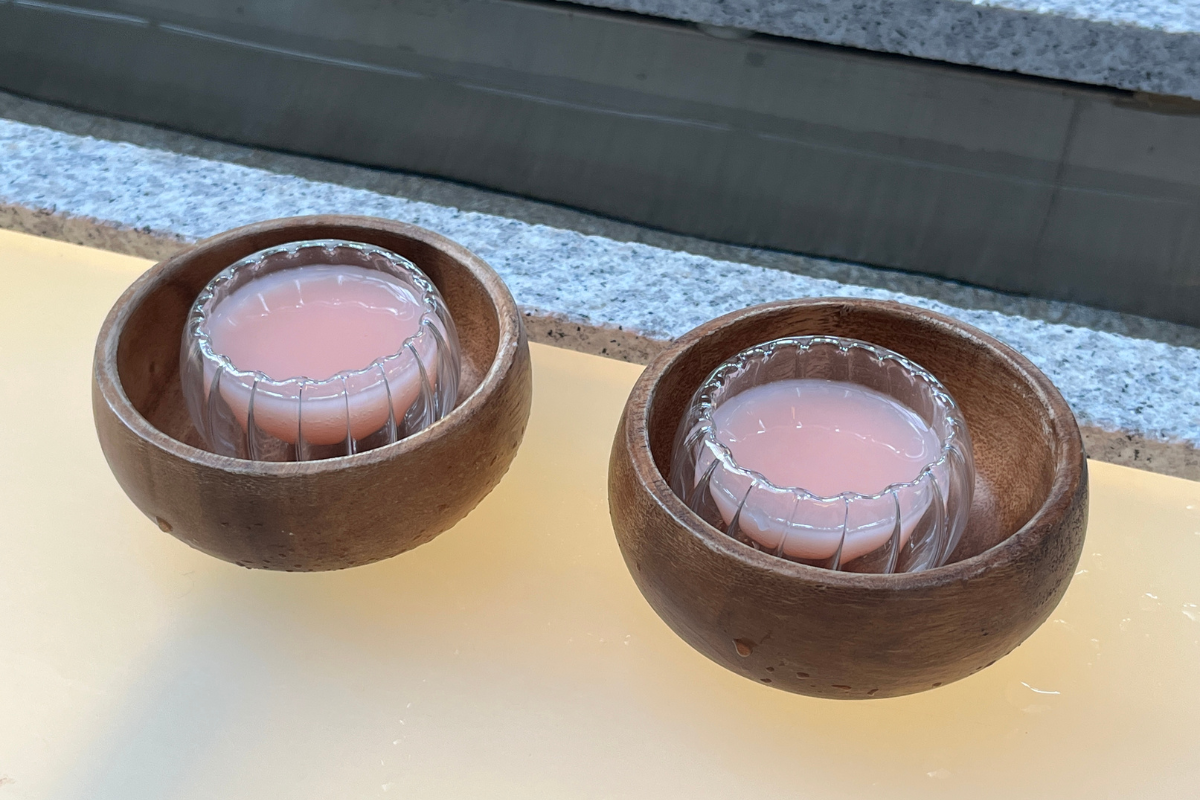 After you place your order, a welcome drink will be placed at the end of the flowing stream. Once it comes to you, you can pick it out of the water and enjoy your drink. The welcome drink is a refreshing strawberry makgeolli that was so tasty, we wanted to order the bottle.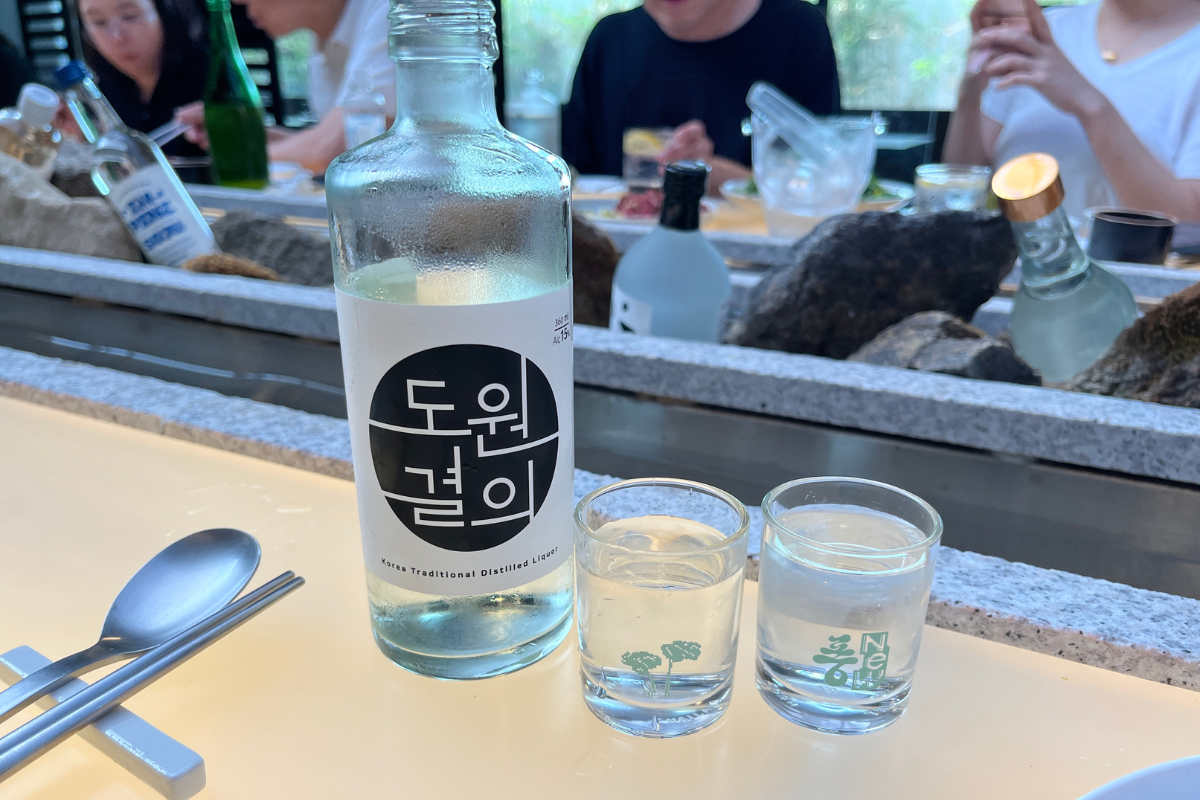 From the drink menu, we got a bottle of Dowon Gyeoleui after reading that it tasted like peaches. Contrasting to the welcome drink we had before, this drink was not sweet at all. It tasted like soju with lingering notes of peach flavor, without the sweetness. People who enjoy soju by itself or don't like their drinks sweet would love this drink. As people who don't prefer drinking soju by itself, it had too strong of an alcoholic taste for us. However, you can ask for ice and tonic water(for an additional 2,000KRW) to make your own soju tonic which is commonly done in Korea.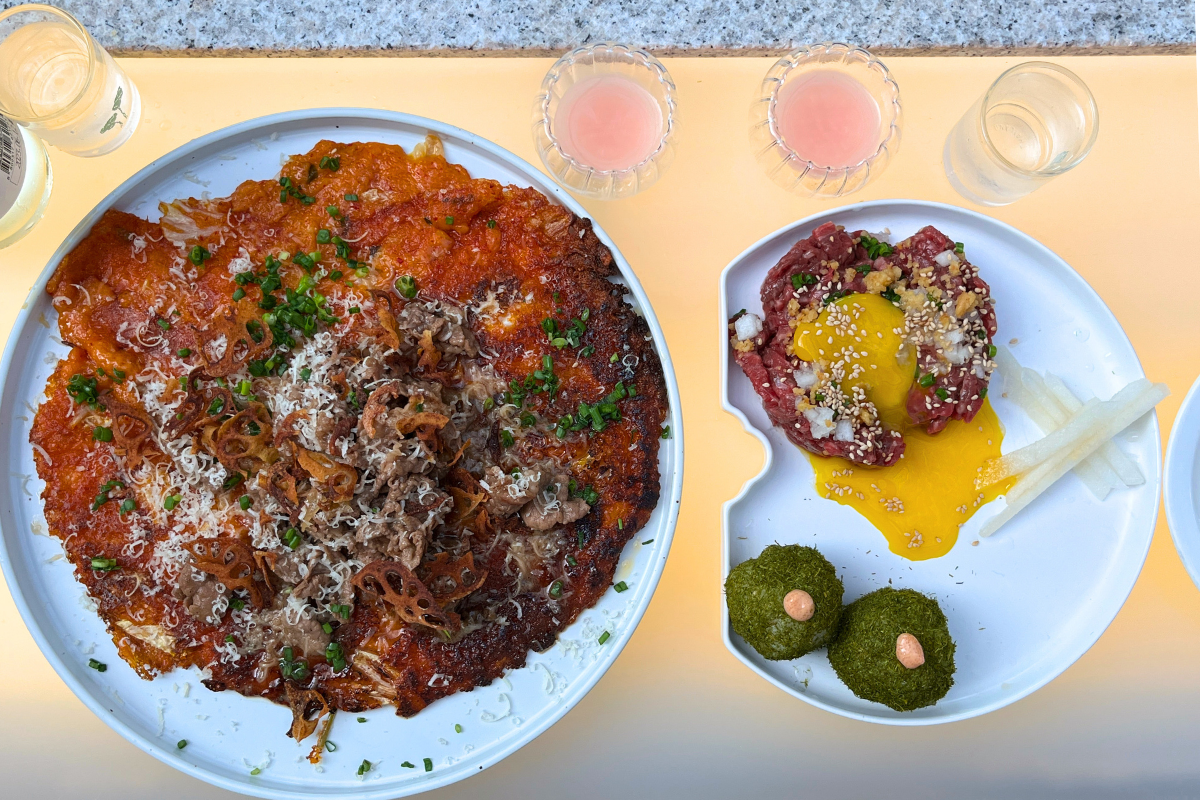 Before we even saw the menu, we had already decided to order the Hanwoo Beef Tartare with Seaweed Rice Balls and the Kimchi Pancake topped with Chadol. While we were researching Pung New, the photos of these dishes looked too tempting to pass up.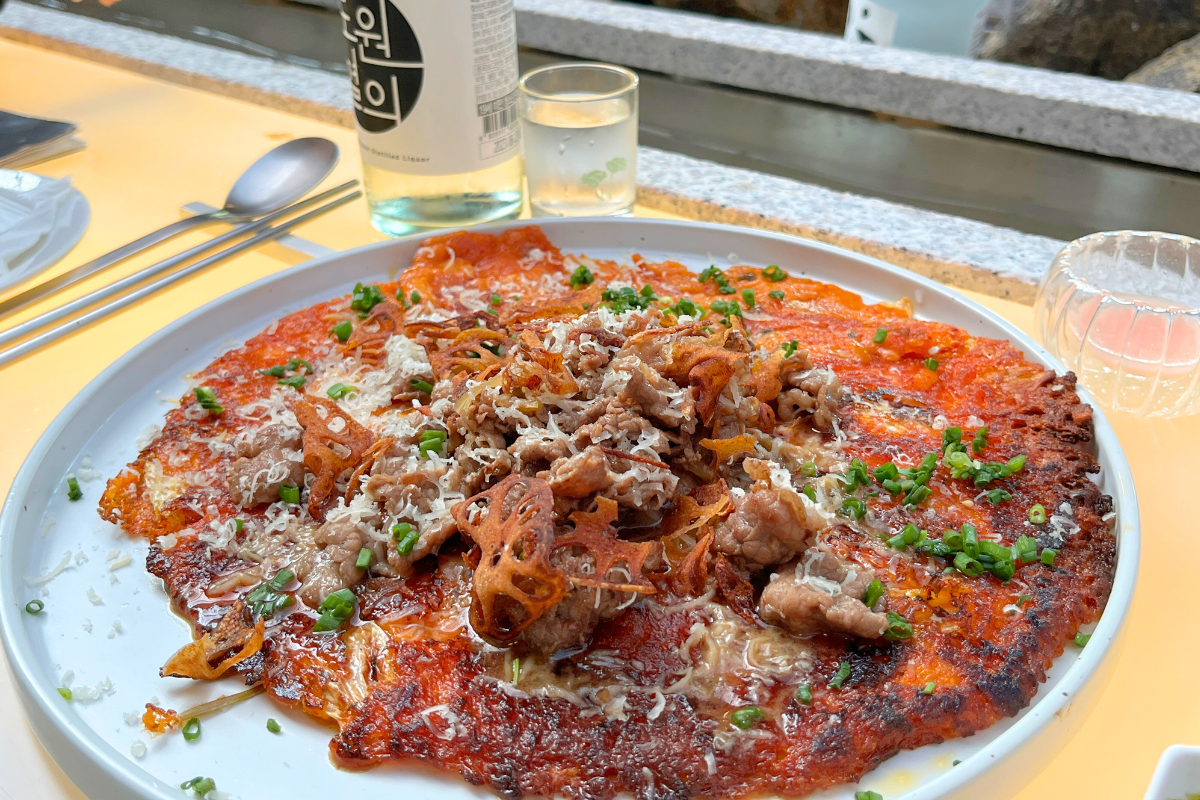 The highlight of our meal was right here in this Kimchi Pancake. It had everything that makes the perfect Kimchi Jeon(other word for pancake). The pancake was perfectly cooked to a crispy oblivion and the generous amount of chadol(thinly sliced beef brisket) perfected the dish even more. We had a fun time combining everything into the ultimmate bite, including the fried thinly sliced lotus root.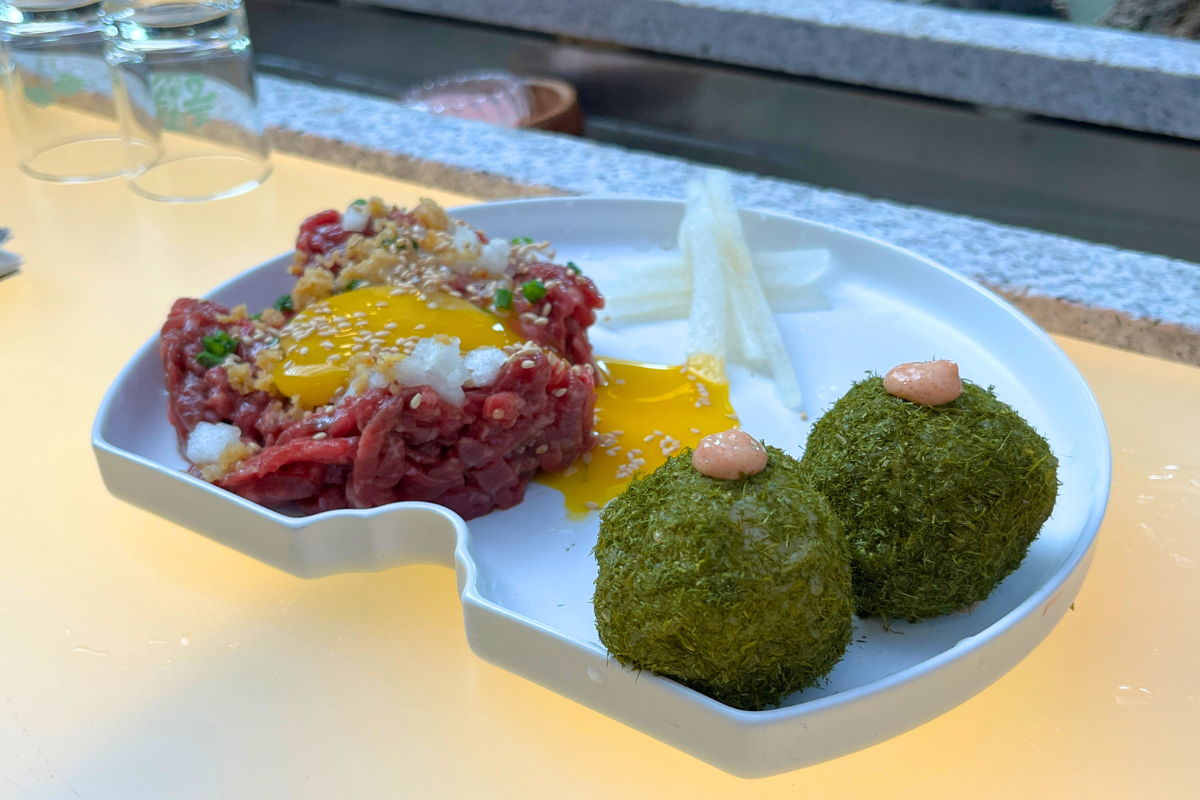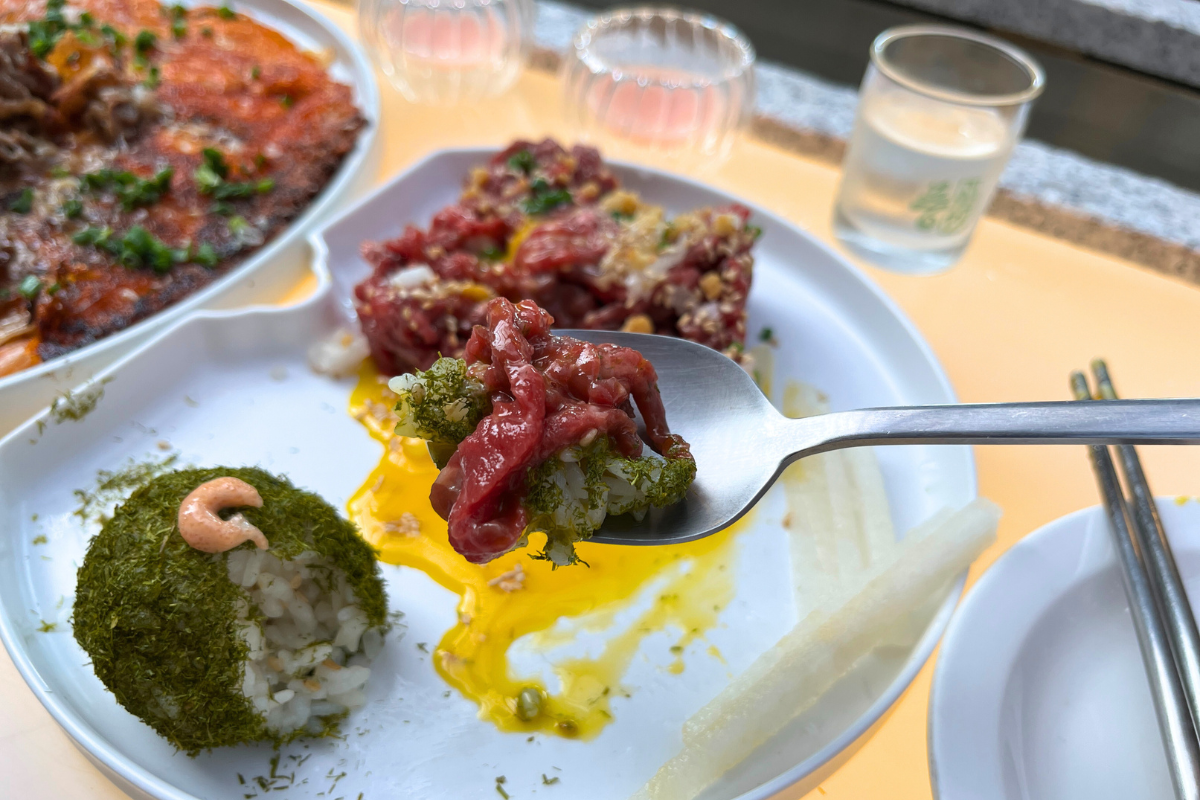 We have other things to say about the the Hanwoo Beef Tartare, otherwise known as yukhoe in Korean. When we think of yukhoe, we think of perfectly seasoned hanwoo beef, but this was the complete opposite. The yukhoe was under seasoned to a point where we wanted to ask for more soy sauce. We were almost done with our dish so we let it go, but the couple in front of us did ask for more soy sauce to mix into their yukhoe. This dish was one of the things we anticipated to be great, but it was very underwhelming.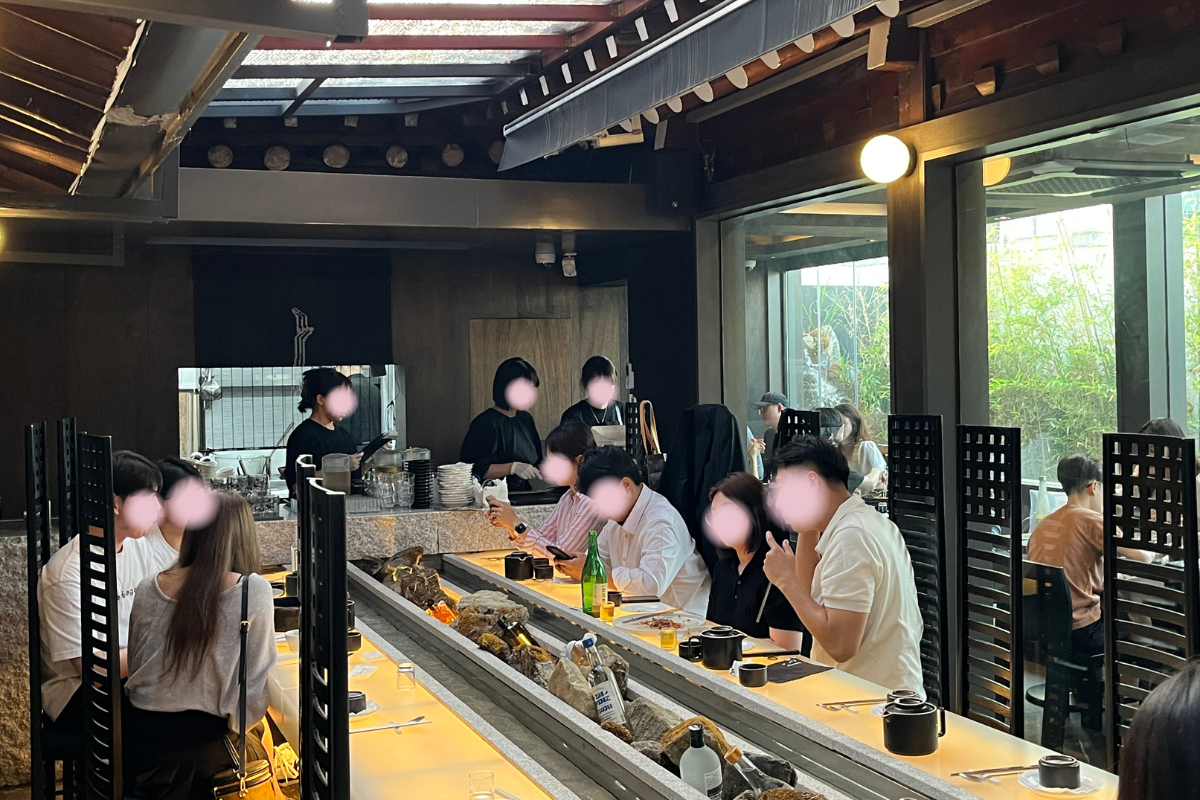 Overall, our experience at Pung New was very satisfactory. The food paired well with the drinks(excluding the under seasoned yukhoe) and the vibes and atmosphere itself was enough to make us want to come back. We give the entire experience a 8.2 out of 10.
---
How to Get There
*We found it very difficult to look for Pung New, as it is hidden in a narroiw alley in a random area of Sindang-dong. Here are the directions you can use as a guide to find the bar from Dongdaemun History and Culture Park Station Exit 3.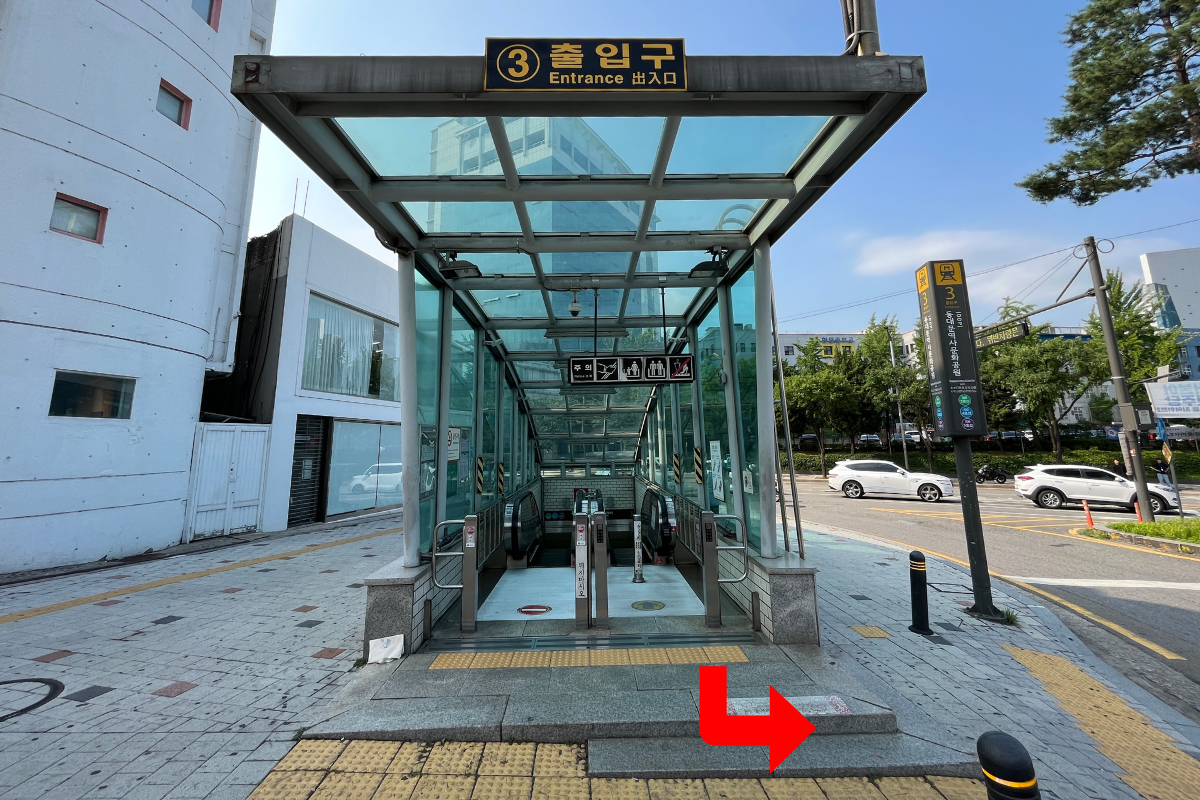 Come out of the Exit 3 of Dongdaemun History and Culture Park Station and turn left. Cross the road and turn right to cross the main road.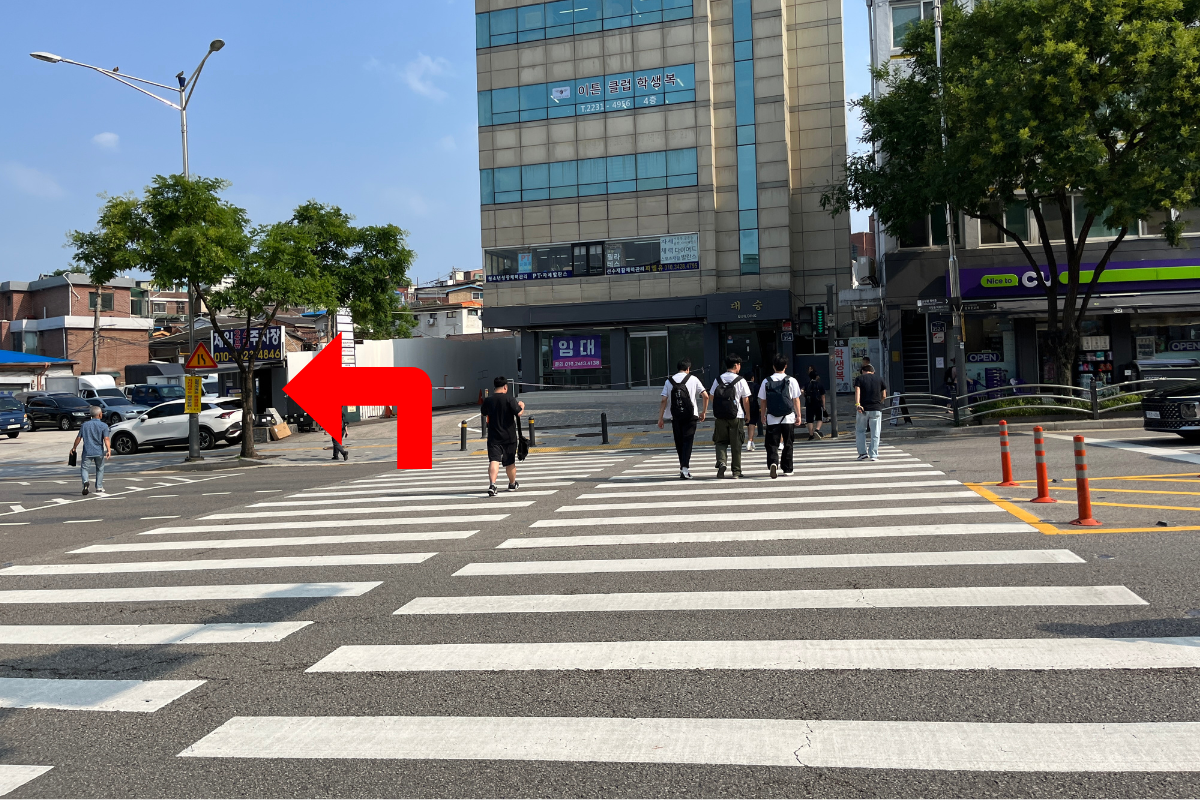 Cross the main road and turn left.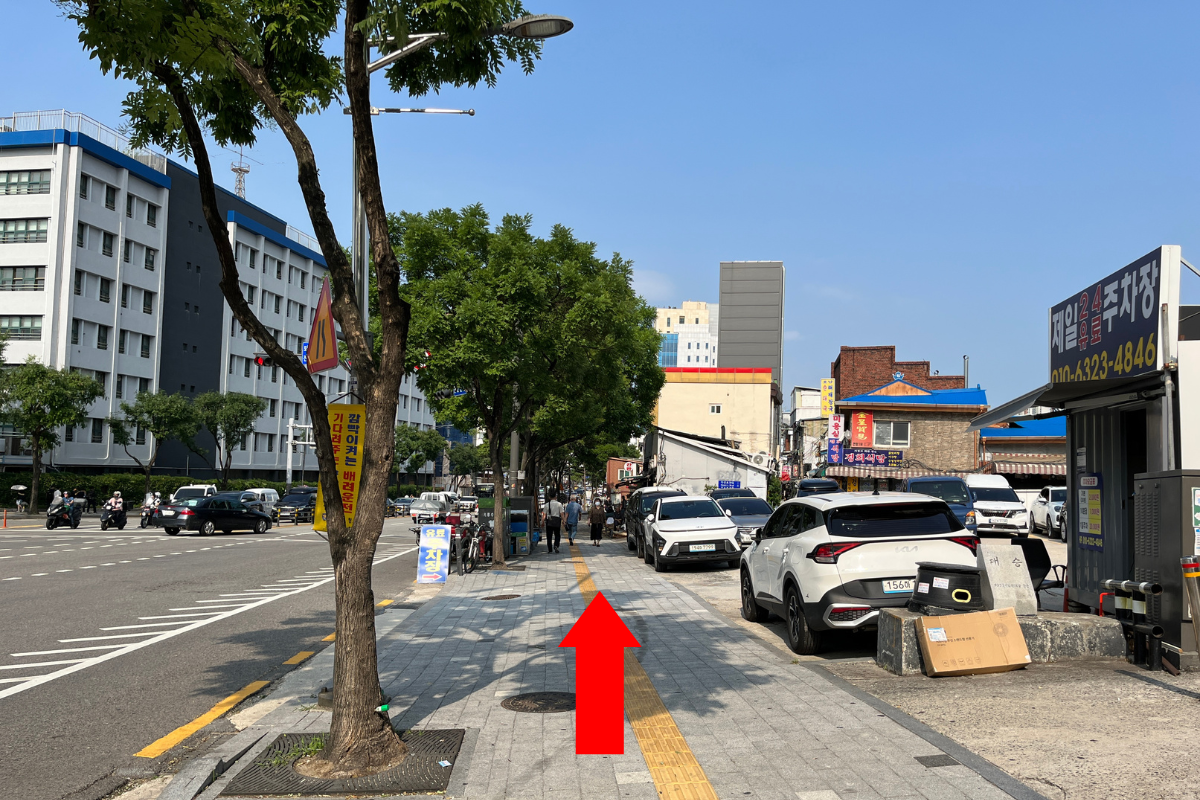 Walk straight past the parking lot.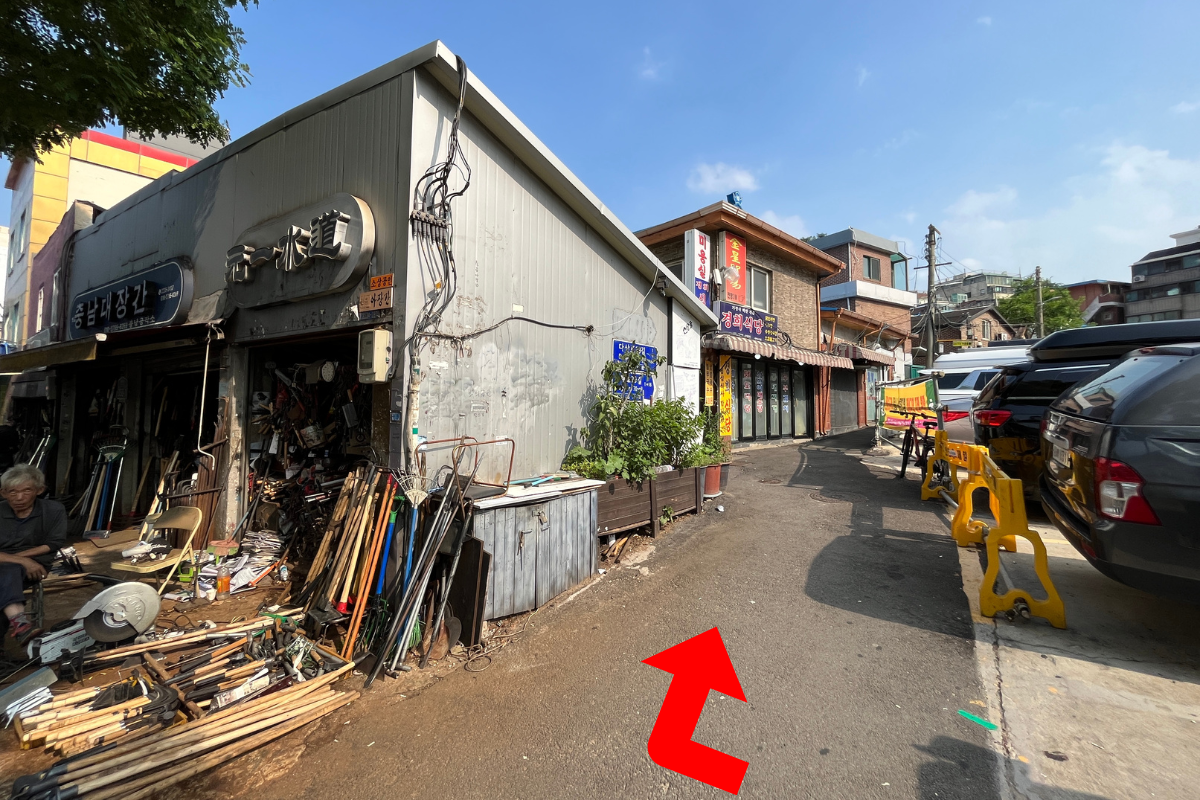 Turn right into the alley in the picture above.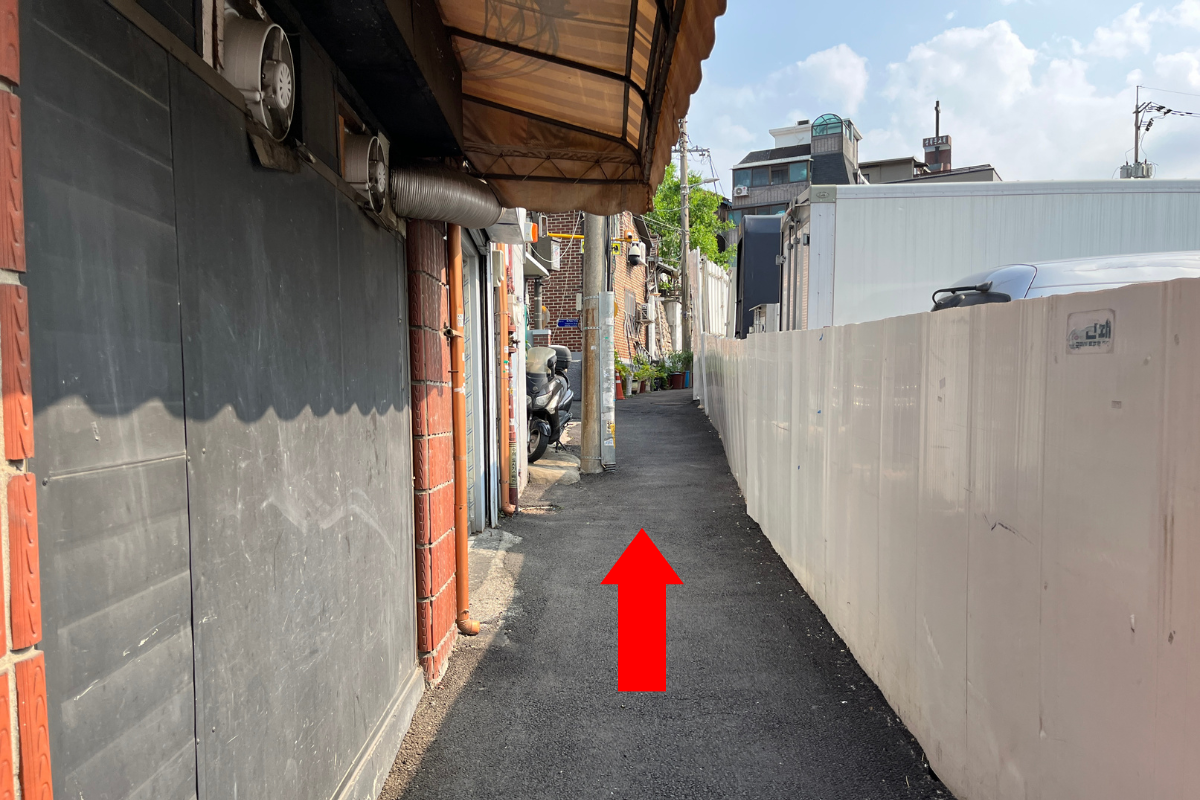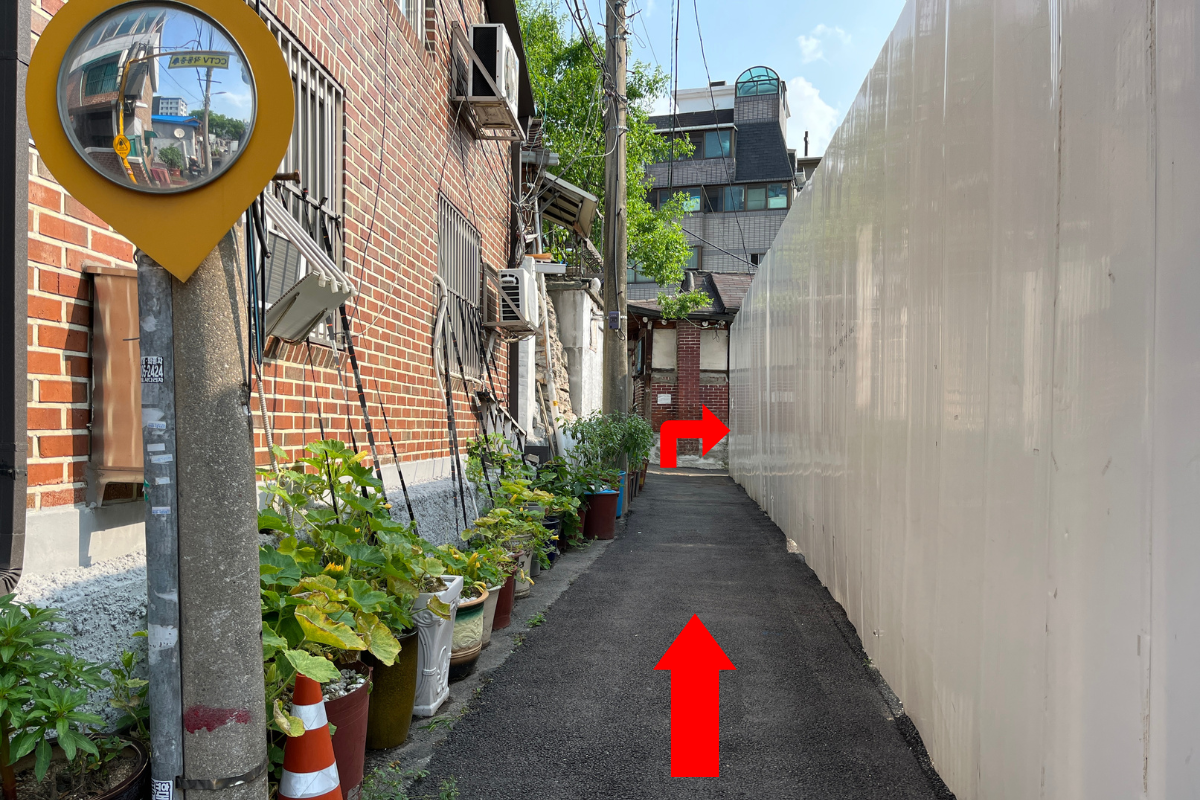 Walk straight and turn right.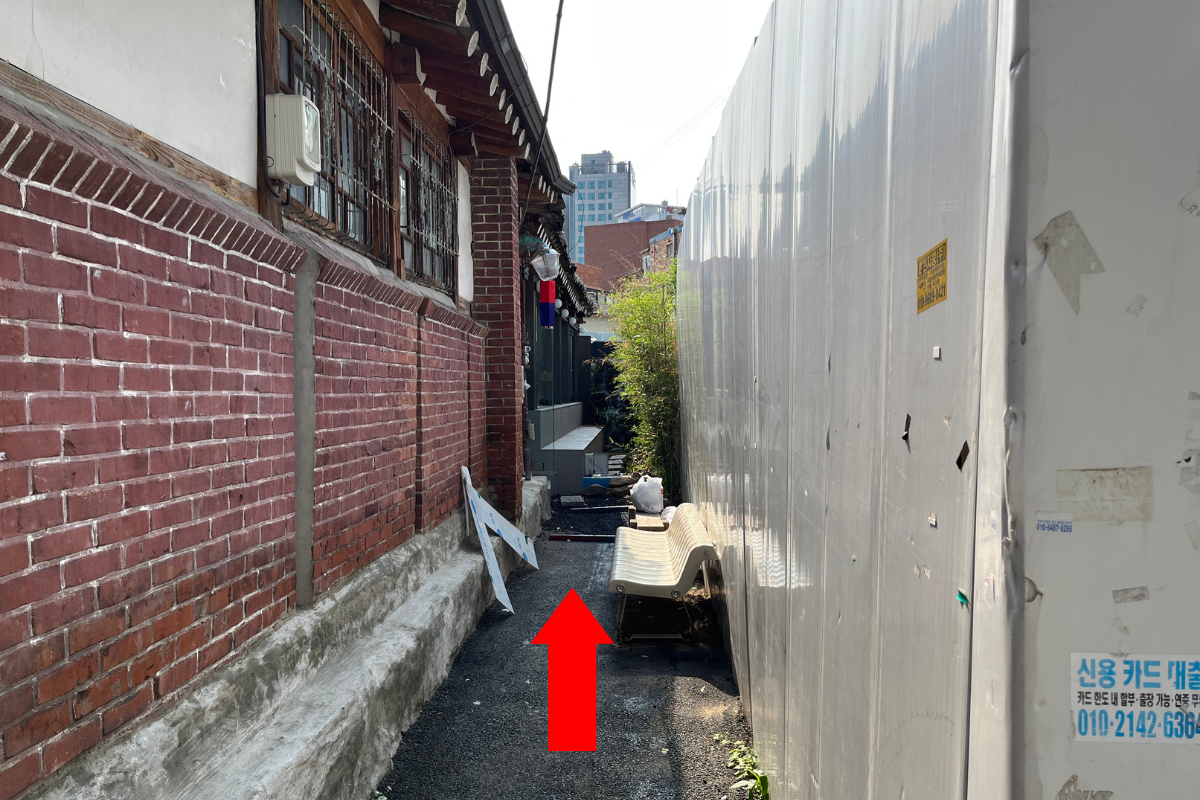 Walk straight and you'll see the entrance to Pung New.
---
We hope that you can enjoy a great time at Pung New! If you have any questions or concerns, please leave a comment below or send us an email at help@creatrip.com! You can follow us on Instagram, TikTok, Twitter, and Facebook to stay updated on all things Korea!
---