Our Visit to Korea's Very First Wingstop Location in Gangnam
Try the famous Lemon Pepper Wings and get a taste of American-style chicken wings!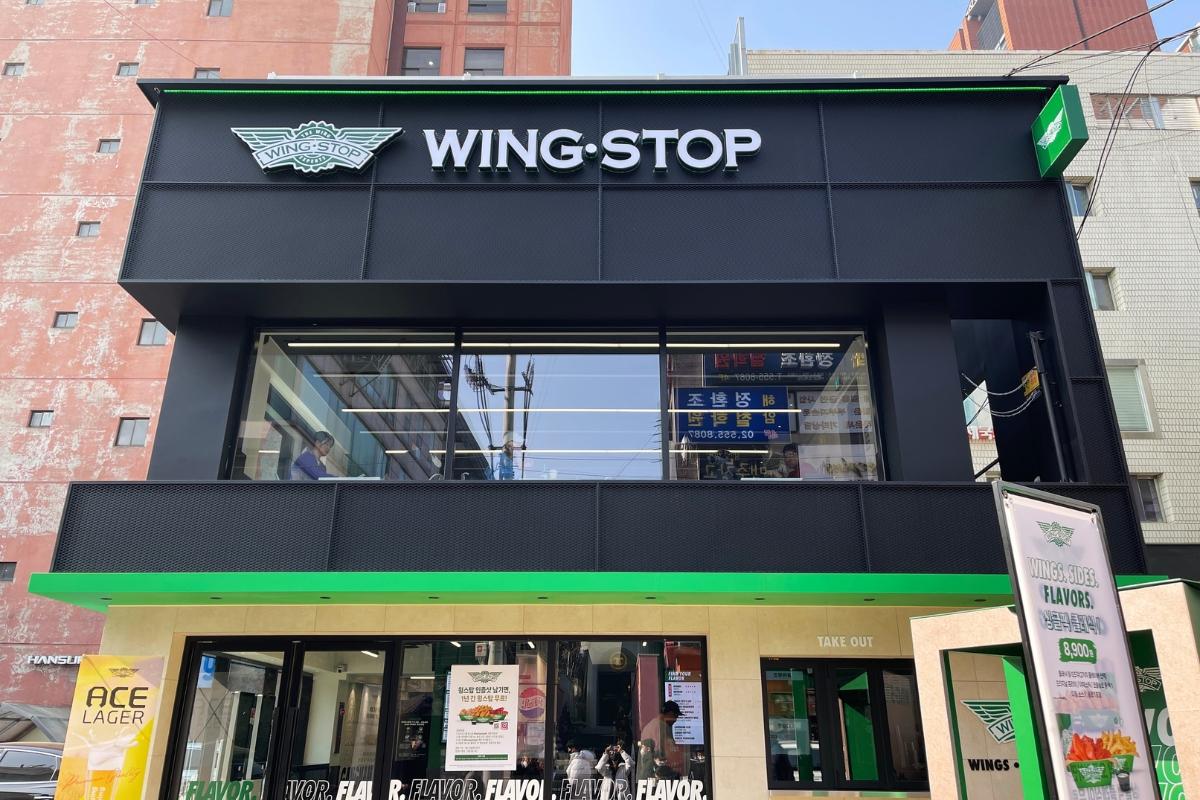 South Korea finally introduced the famous Texan franchise 'Wingstop' this year on January 13th, 2023! Widely popular in the U.S. for its delicious and unique flavors of chicken wings, Wingstop is now available at its first location in Gangnam, Seoul! In 2022, Wingstop signed an agreement for development rights with South Korea to open an initial 60 stores nationwide over the next 10 years, with hopes of growing to 200-250 locations.
The grand opening of the first Wingstop location in Korea was met with great excitement, especially from foreigners! As an American and a Wingstop fan myself, I had to take a few of the Creatrip team members with me to try it out! Check out our experience at Wingstop's first location in Korea!
---
Information
Hours: Every Day 11:00-23:00 (Last Order 22:30)
Address: 20 Bongeunsa-ro 2-gil, Gangnam-gu, Seoul (서울 강남구 봉은사로2길 20)
Official Instagram: @wingstopkr
---
Our Visit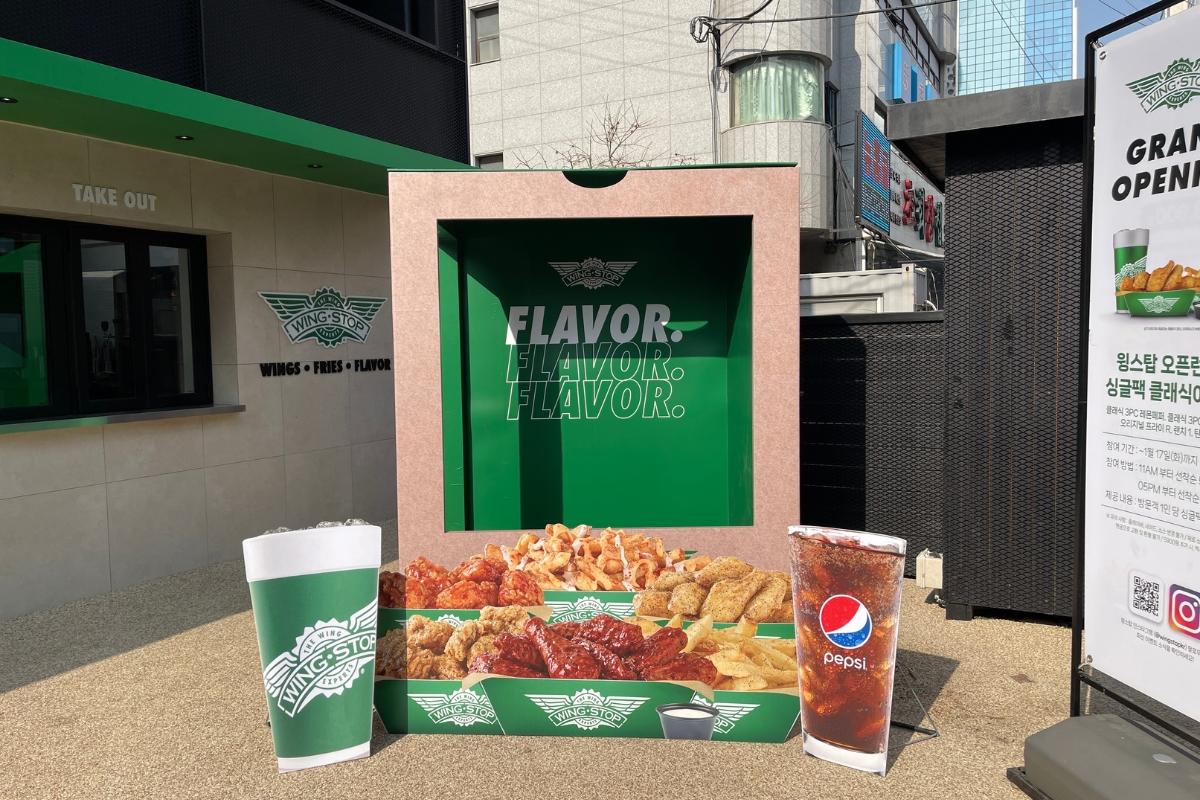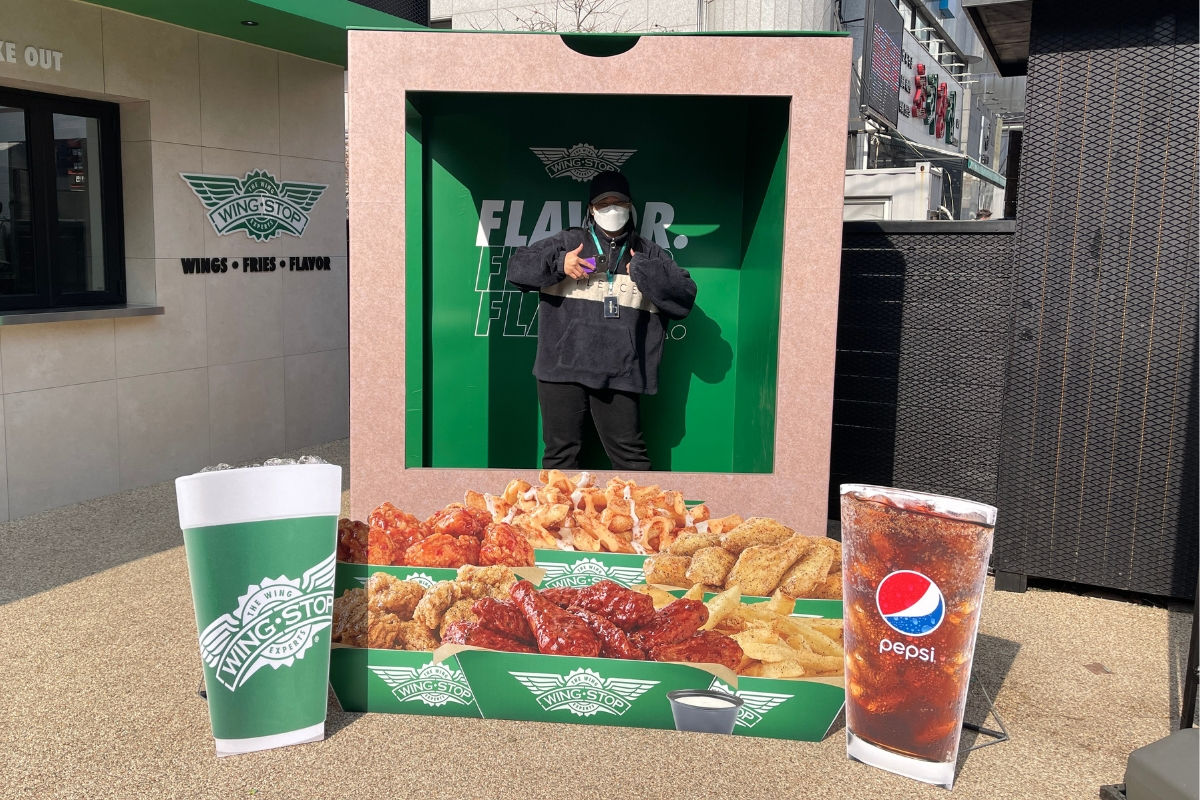 At the entrance, there's a cute photo booth area decorated with chicken wings and the Wingstop logo!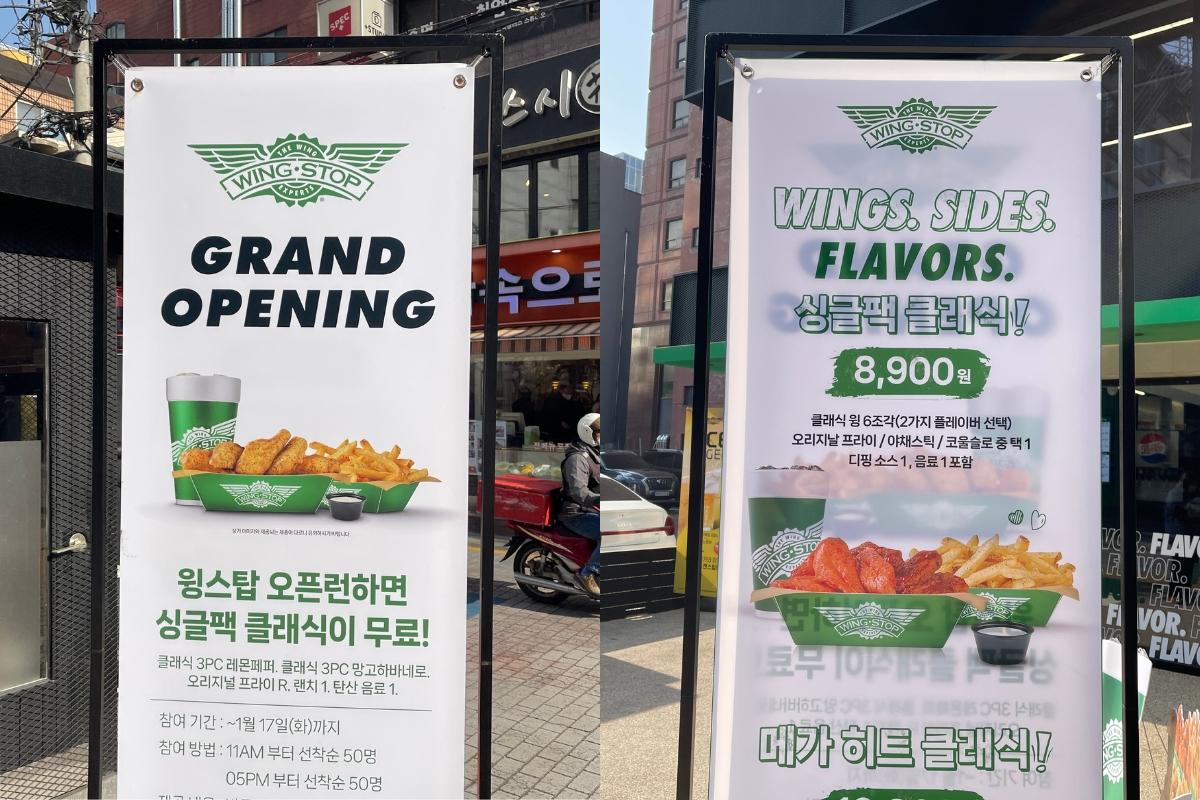 They also had a few signs up commemorating the grand opening and promoting a popular menu item! Let's go inside and check it out!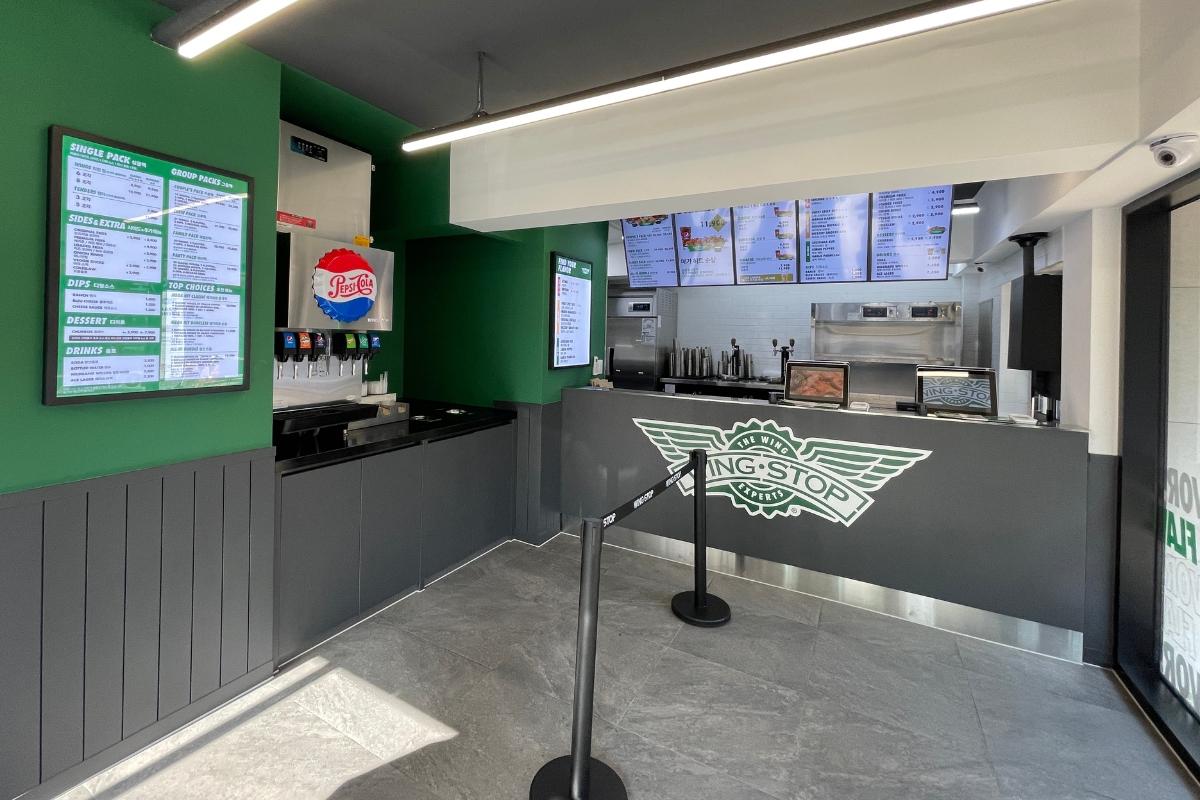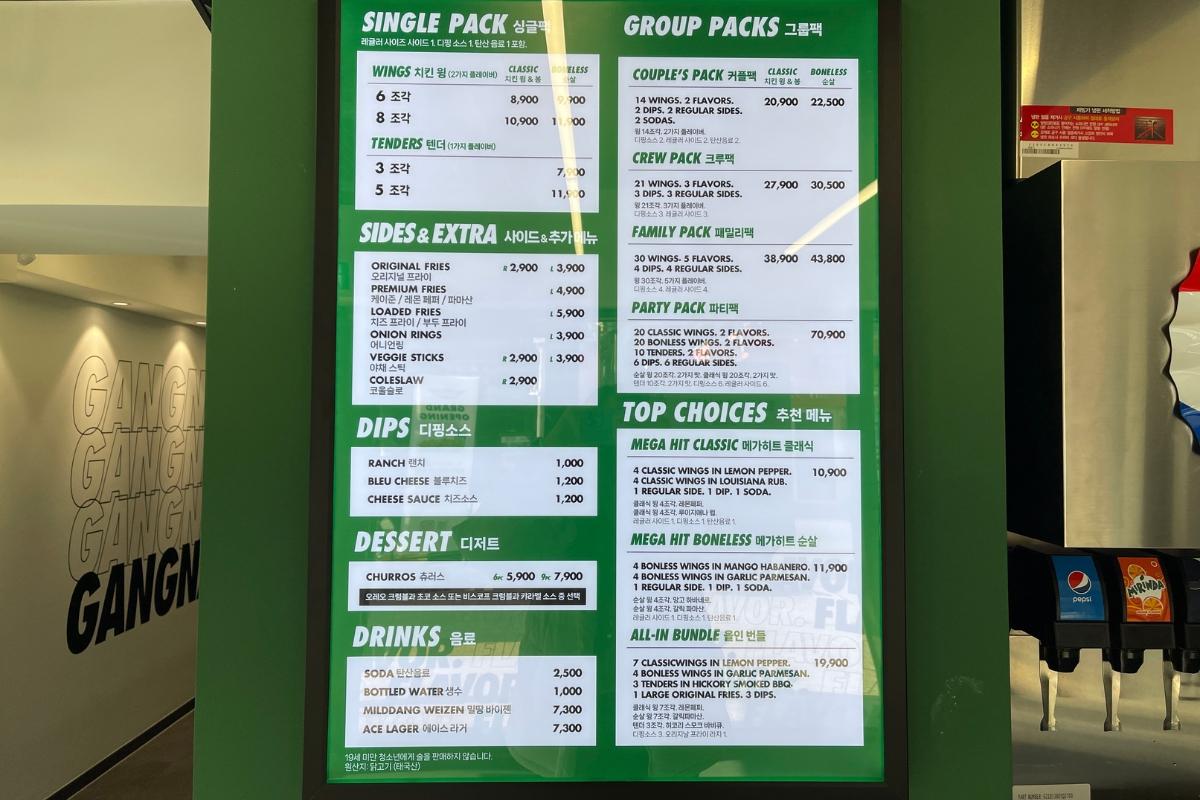 The interior is just like that of a Wingstop franchise back in the States, with the bold green Wingstop color and a large logo on the counter. The full menu is available in both English and Korean!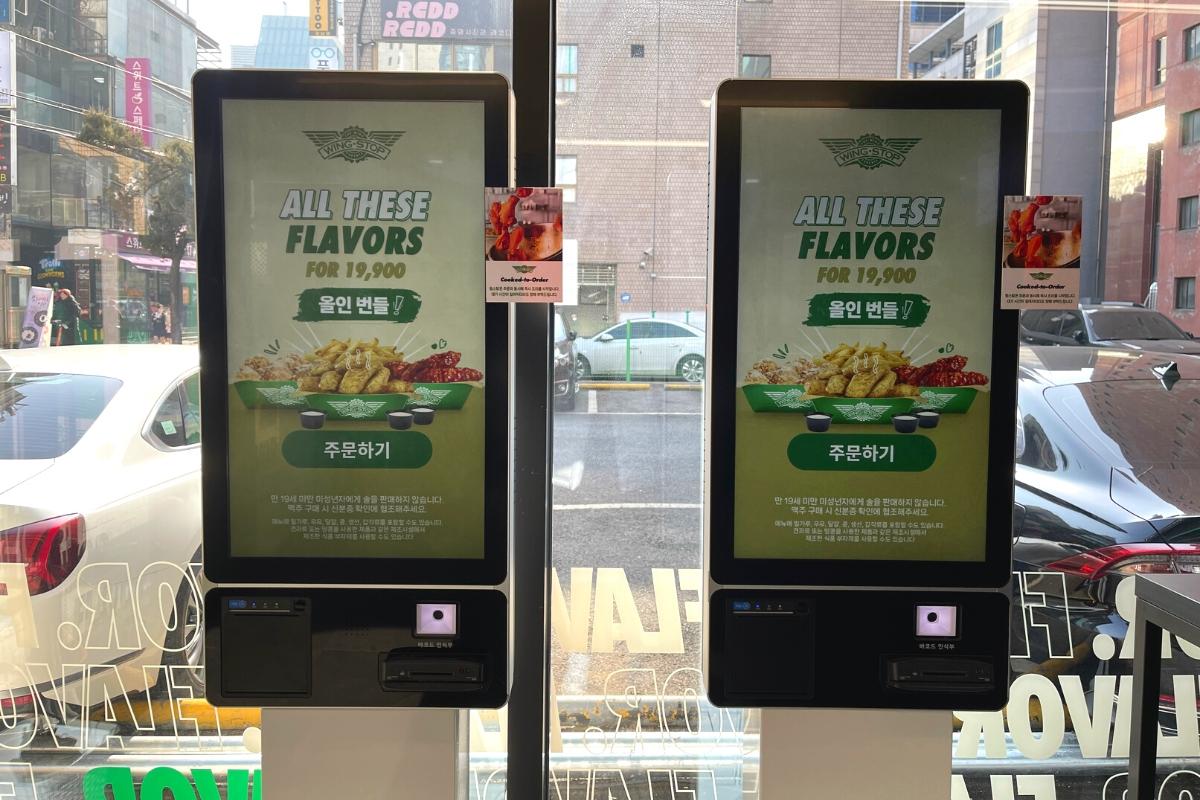 There are 2 kiosks on the left side by the entrance where you can order and pay. The kiosk menu is also available in English! You can also order and pay at the counter, so feel free to do so if you need to pay in cash! After ordering at the kiosk, be sure to keep your receipt so you can keep track of your order number. Let's check out the seating!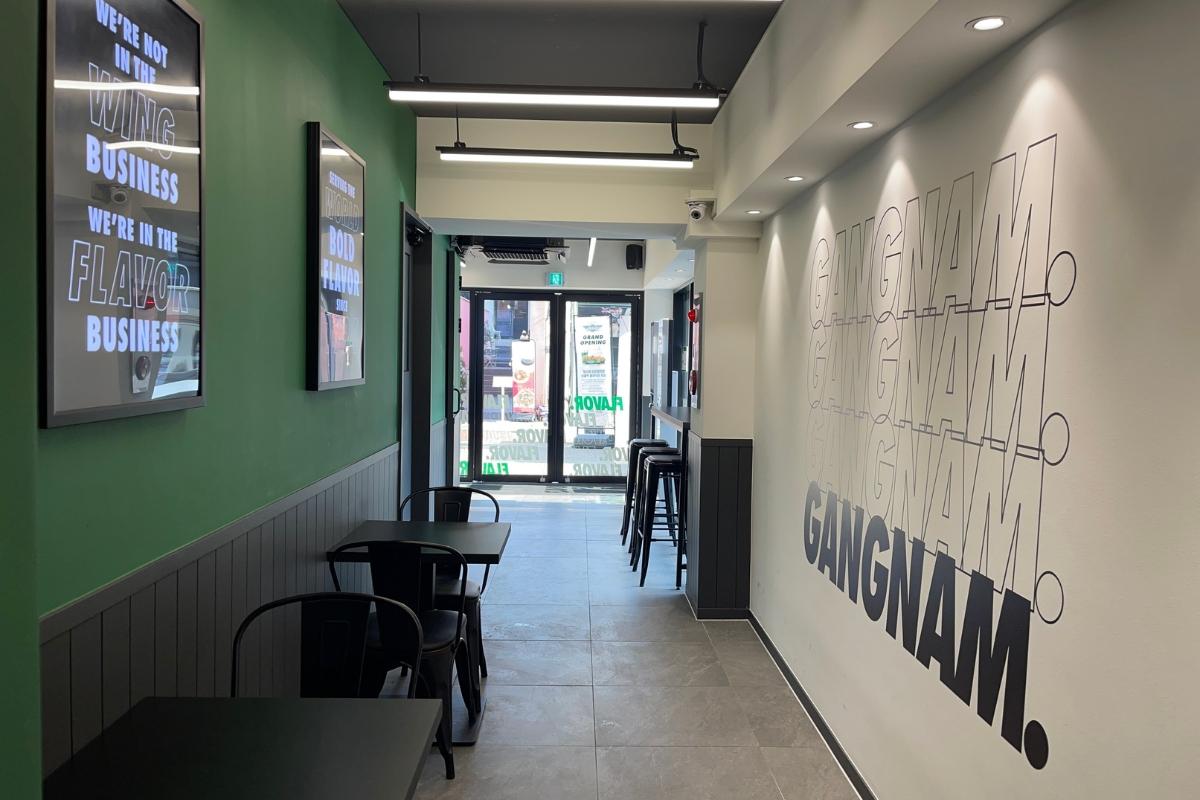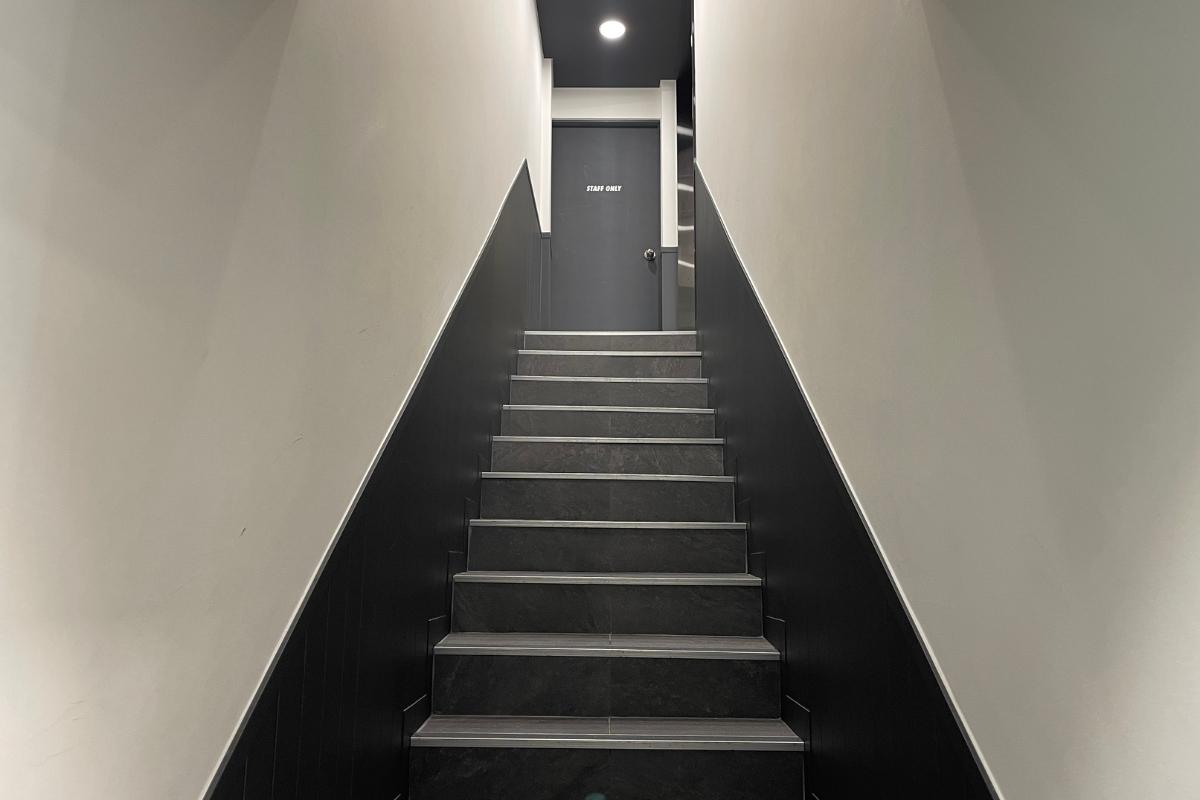 There are a couple of small 2-person tables and a small counter with barstools on the first floor. We recommend heading up to the second floor for better seating!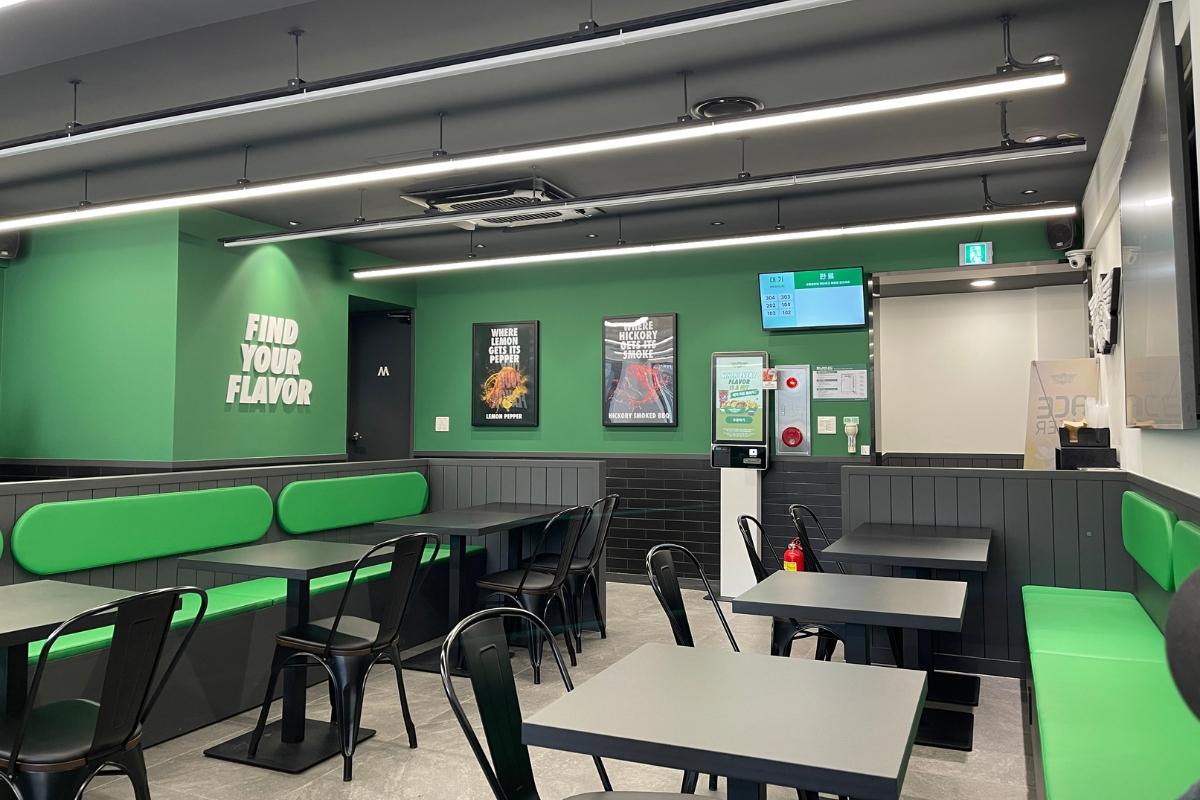 On the second floor, there is much more seating available and tables for bigger groups! There is also a display screen on the wall where you can see when your order is ready. Once your order number pops up, you can head downstairs to pick it up your food.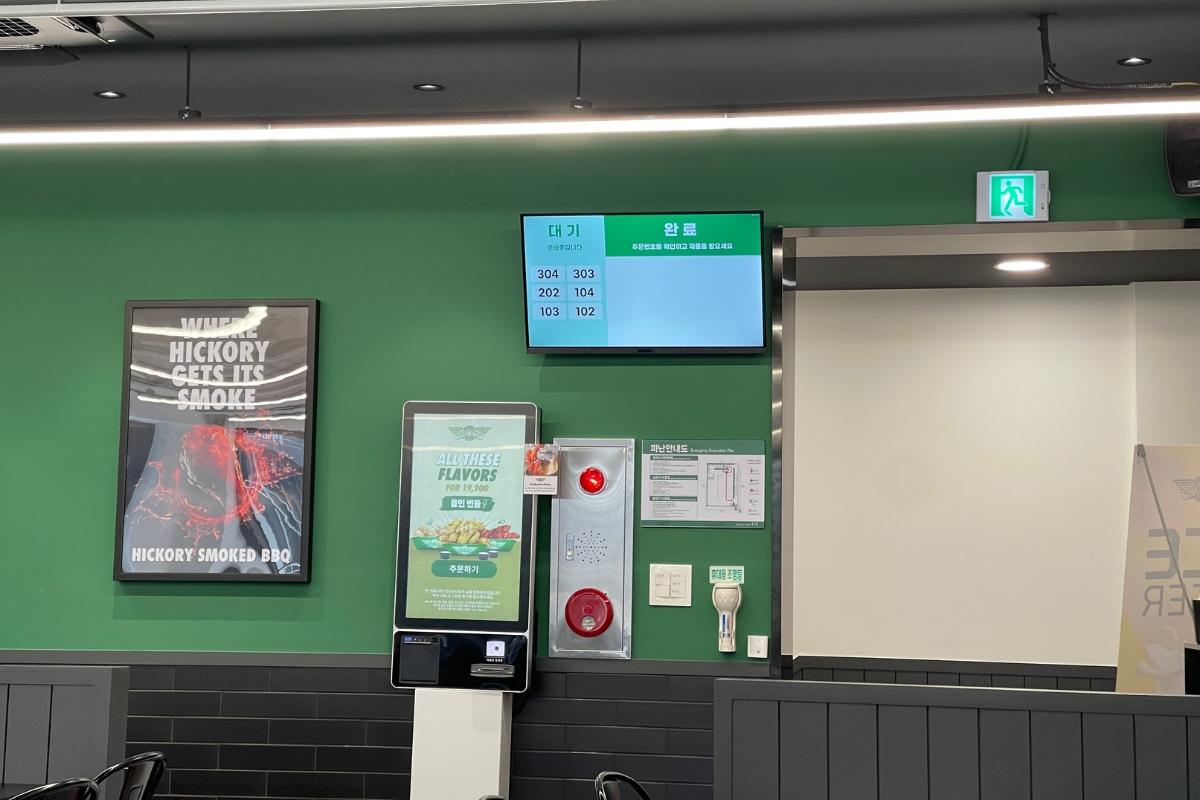 There's also another kiosk available on the second floor, so if you're not satisfied with your initial order, you can always get more! If it's a little crowded and you want to secure a seat, you can also come up to the second floor and grab a spot first, then order at the kiosk from the second floor.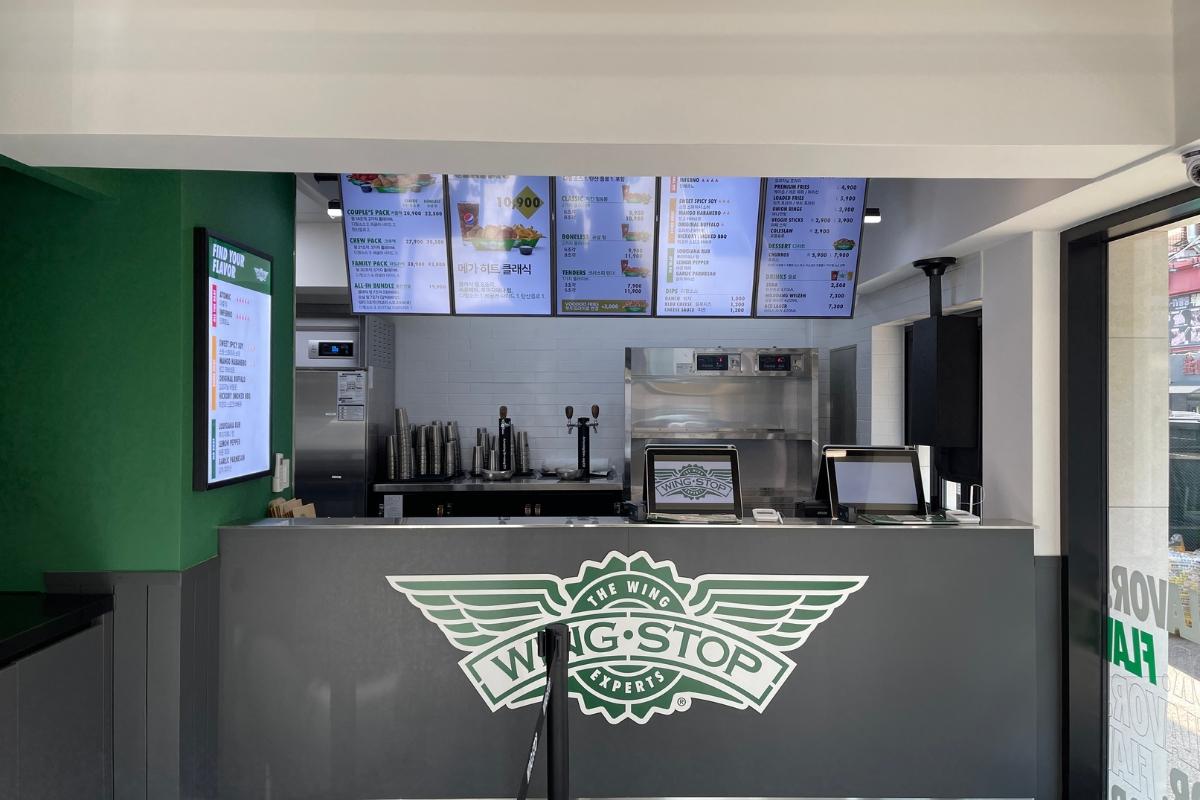 Once your order is ready, you'll need to pick it up from the counter downstairs. If you ordered a drink, you can use the soda fountain downstairs on the left side of the counter. Drinks can be refilled once!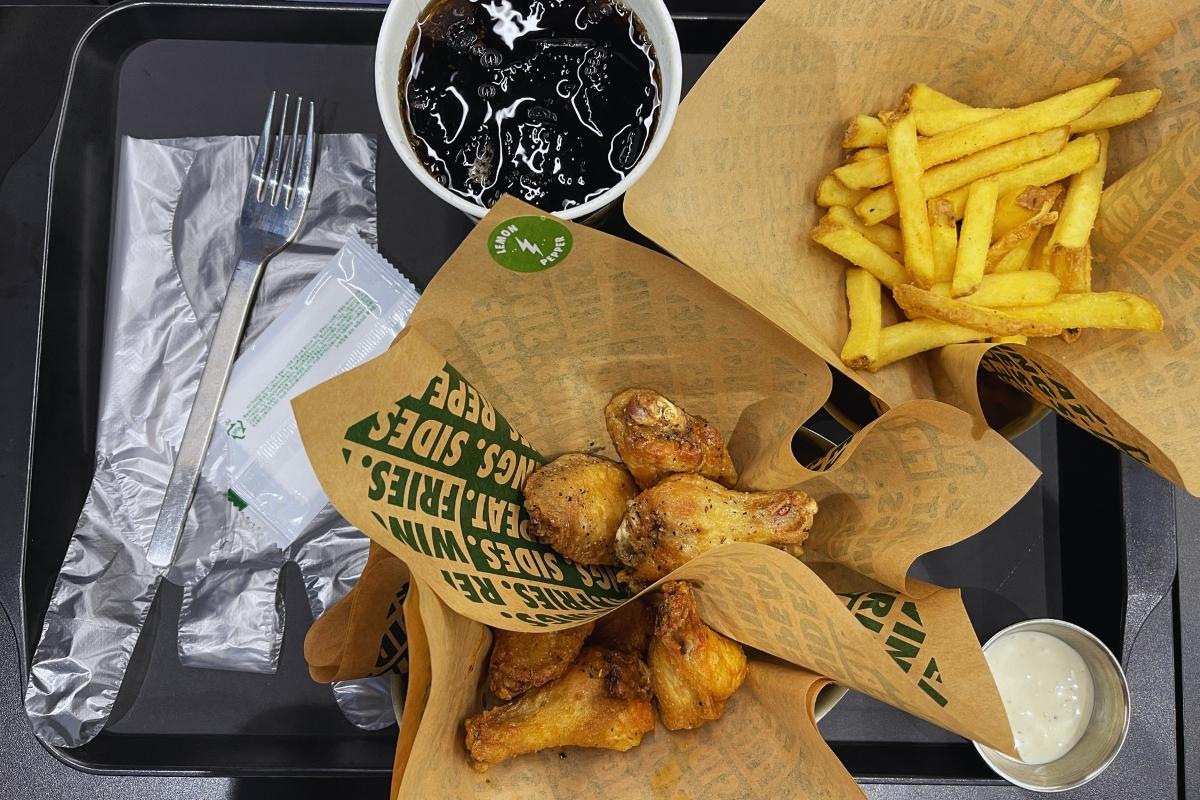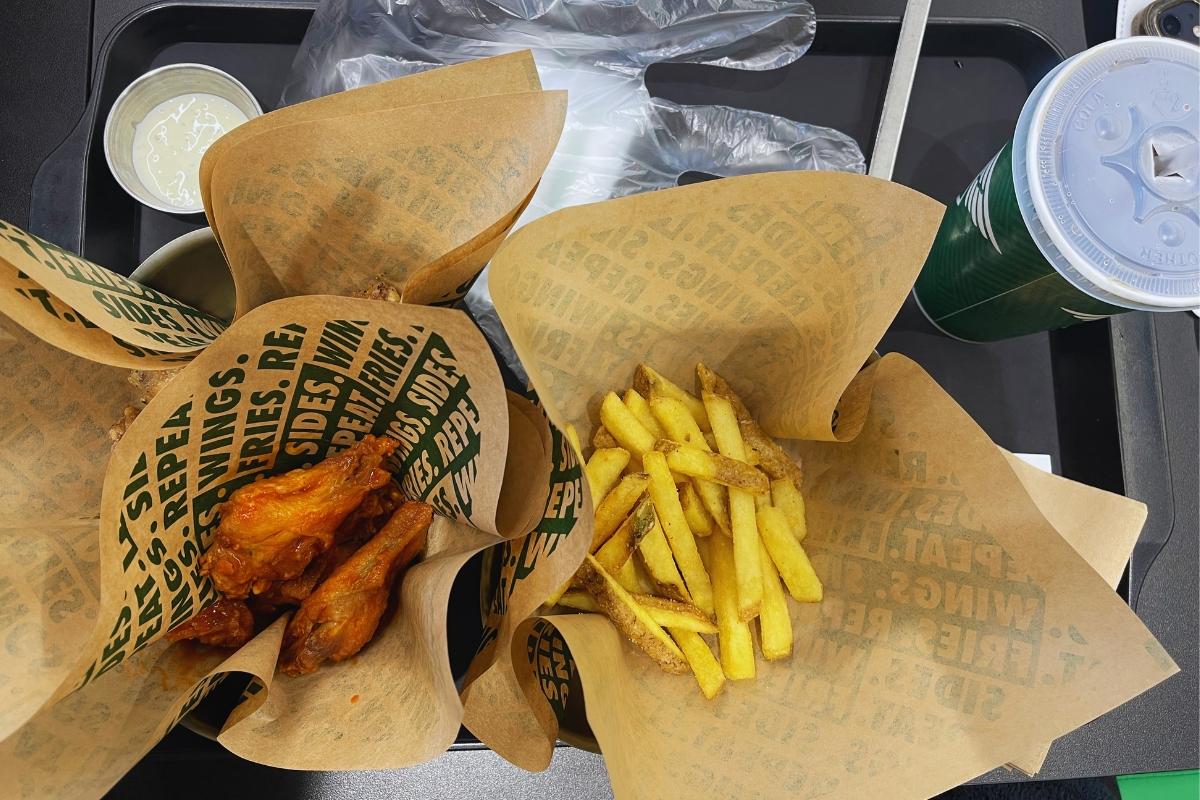 Since we went on a weekday, it wasn't crowded at all and we received our orders pretty quickly! We were super excited to try it out! We all ordered a Single Pack Set of wings, which comes with your choice of 6 or 8 classic or boneless wings (up to 2 flavors), 1 regular-sized side, 1 dipping sauce, and 1 fountain drink.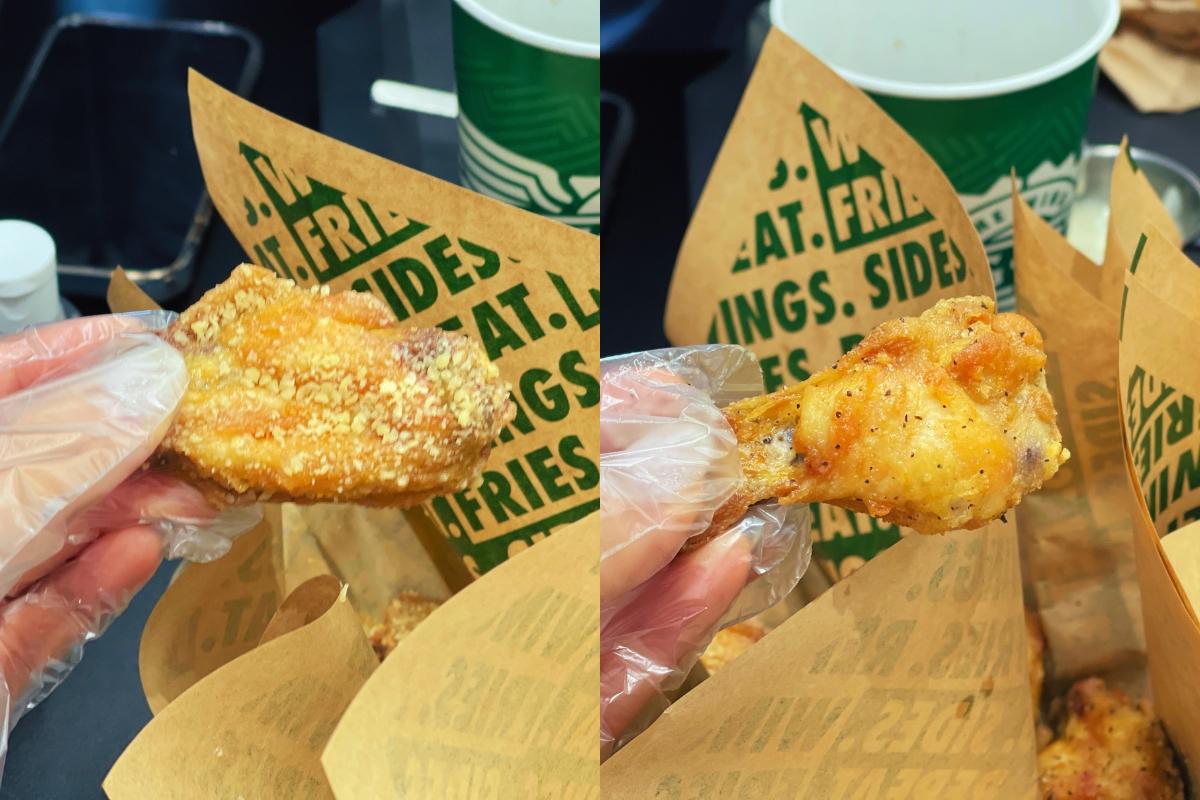 I ordered a 6-piece Single Pack of Classic Wings, Original Fries, and Ranch for just 8,900 KRW. In the photo above you can see Garlic Parmesan on the left and Lemon Pepper, Wingstop's most well-known flavor, on the right. Both flavors were delicious and super flavorful! They tasted pretty much the same as the Wingstop franchises in the U.S.! Here in Korea, they provided us with gloves, making it easy and mess-free to eat with our hands!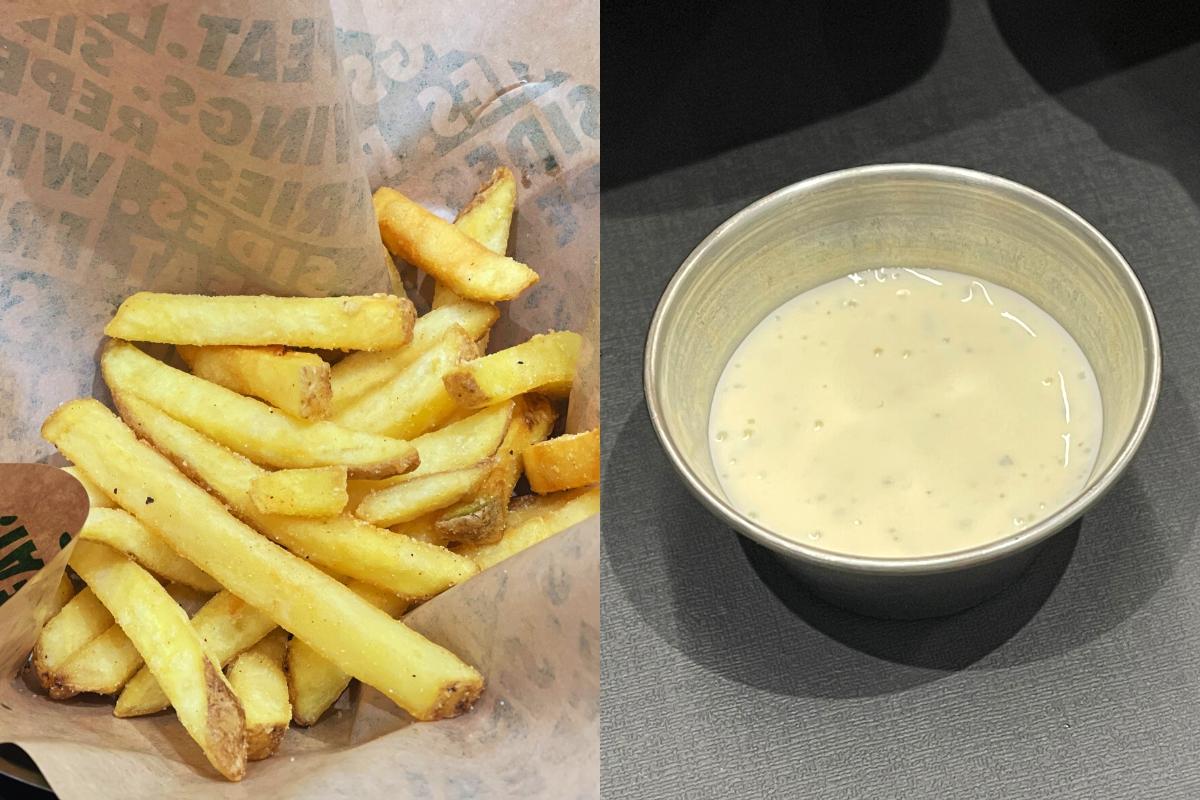 The Original Fries were great as well! Wingstop's Original Fries are seasoned with Wingstop's signature seasoning, which is slightly salty and garlicky. The ranch was pretty similar to the real thing as well, but if you're a ranch lover, definitely get two because one was not enough!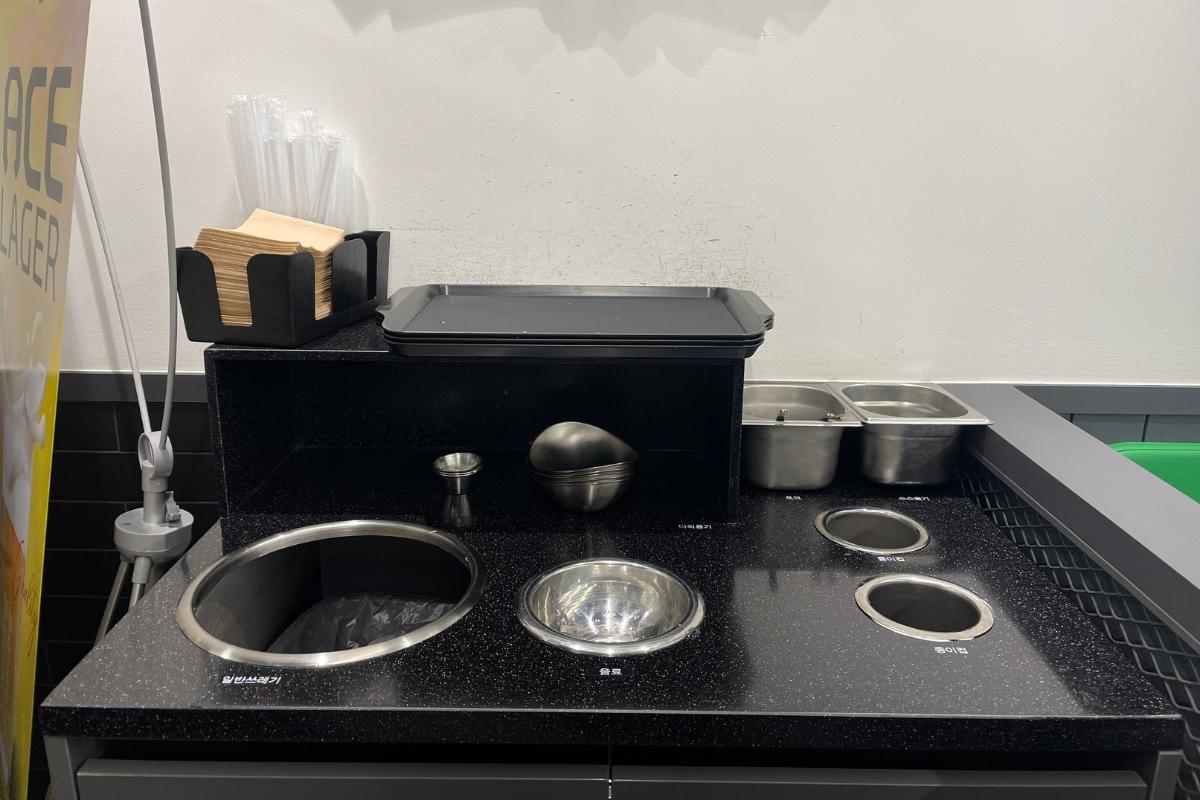 Afterward, be sure to separate your trash at the trash counter and put away your tray and any other dishes or utensils!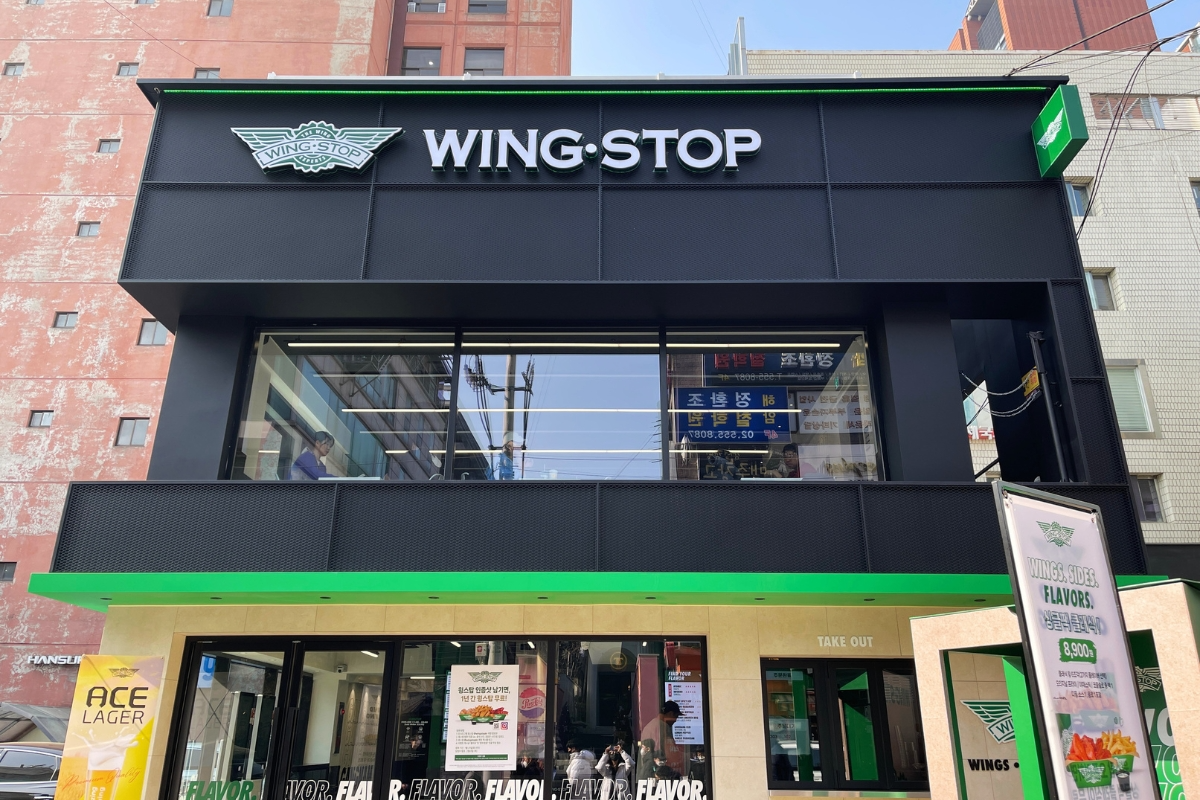 Overall, we really enjoyed our meal here at Wingstop! The prices were surprisingly low despite it being a popular overseas franchise, and the flavors were pretty on-point! We did feel that it was a bit salty overall, so if you are not used to American-style wings it may be a bit salty for your taste (but still delicious)! We will definitely be stopping by again to try more Wingstop flavors! For all the Wingstop flavors, check out their official site here.
---
We hope you enjoyed our review of Wingstop's very first location in Korea! If you have any questions or concerns, please leave a comment below or send us an email at support@creatrip.com. You can follow us on Instagram, TikTok, Twitter, and Facebook to stay updated on all things Korea!
News Source: QSR Magazine
---