Winter Travel Bucket List 2023 Edition
Add these things to your Korea travel bucket list before it's too late!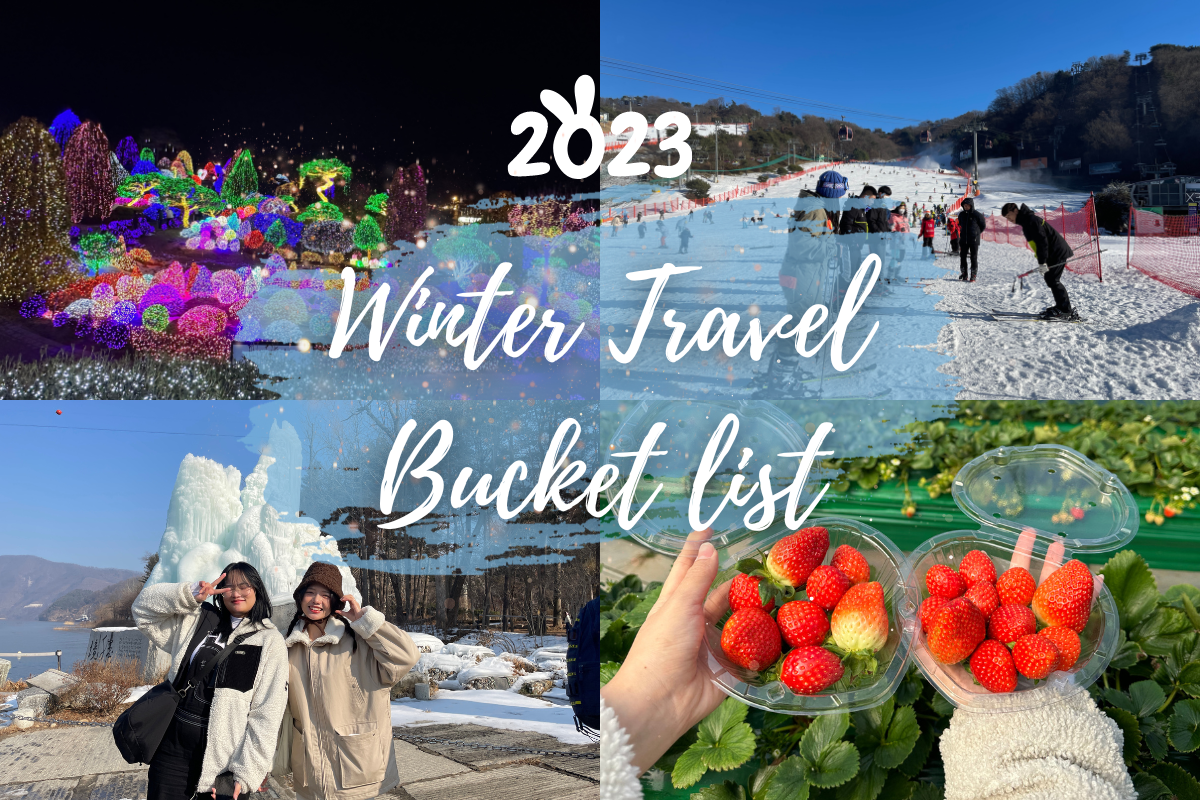 Anyone that is familiar with Korean weather knows that Korea has 4 distinct seasons. We get white blankets of snow after snowfall at the start of the year. Then follows the cherry blossoms that bloom in every corner. Hot, humid summers welcome increased electricity bills from turning on the AC 24/7, and then we're blessed with vibrant hues of red, orange, and yellow in the fall.
Winters in Korea can be tough. Temperatures reach below 0 degrees Celcius, which may be hard to adjust to for our friends who are visiting from countries with hotter climates. However, there are various attractions that come alive in the winter and activities that can only be enjoyed during colder weather! Check out this list of winter travel must-do's that you can add to your travel bucket list to enhance your winter Korea trip.
---
Visit Nami Island
Nami Island, especially during the colder months, may seem unappealing to some. It's an outdoor park and the signature pine trees and ginkgo trees are nearly barren. But did you know that Nami Island is most famous for being featured in the OG K-drama, Winter Sonata? The park is covered in a white blanket of snow and the main characters share their first kiss on Nami Island.
One thing you have to do is take pictures in front of the infamous pine tree road! Make sure to get length-wise pictures to get the tall pine trees in the full shot!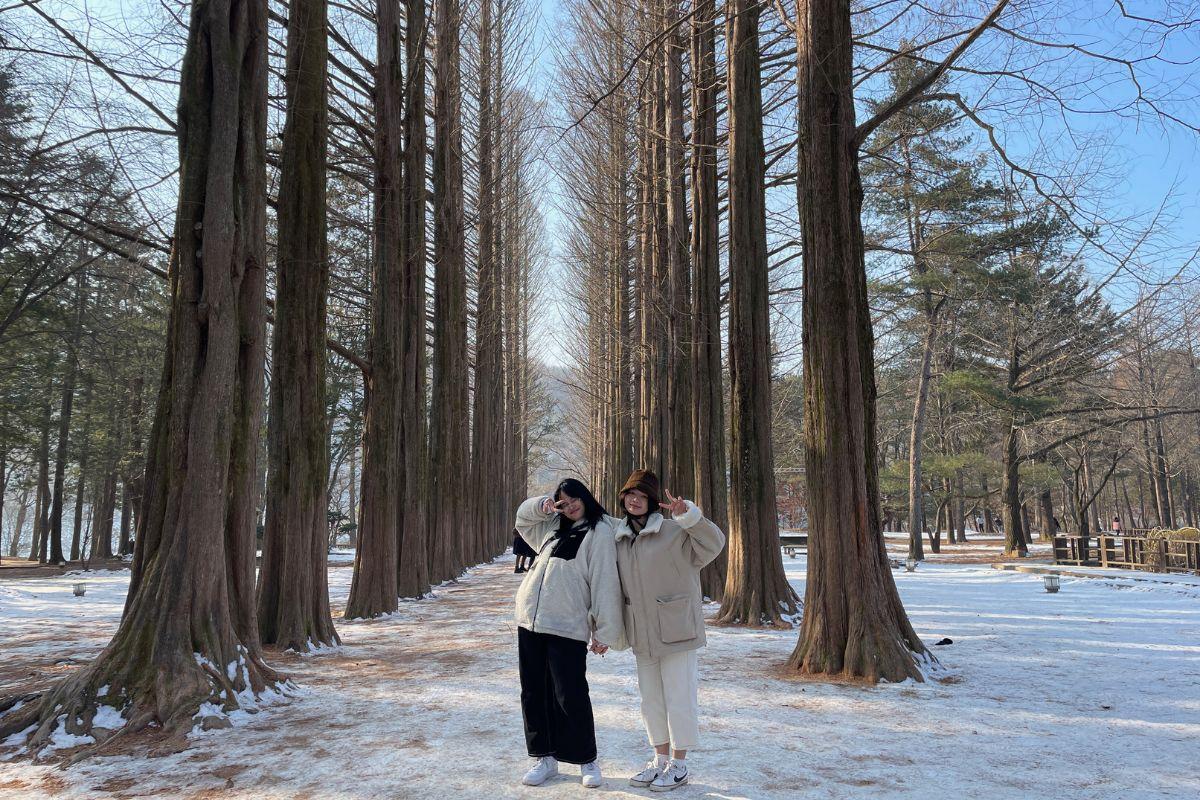 Anyways, during the winter months, the island has campfires all across the park where you can huddle up and warm your bodies from the cold. They also have snack stalls that sell marshmallows and sticks, so you can roast the marshmallows around the campfire!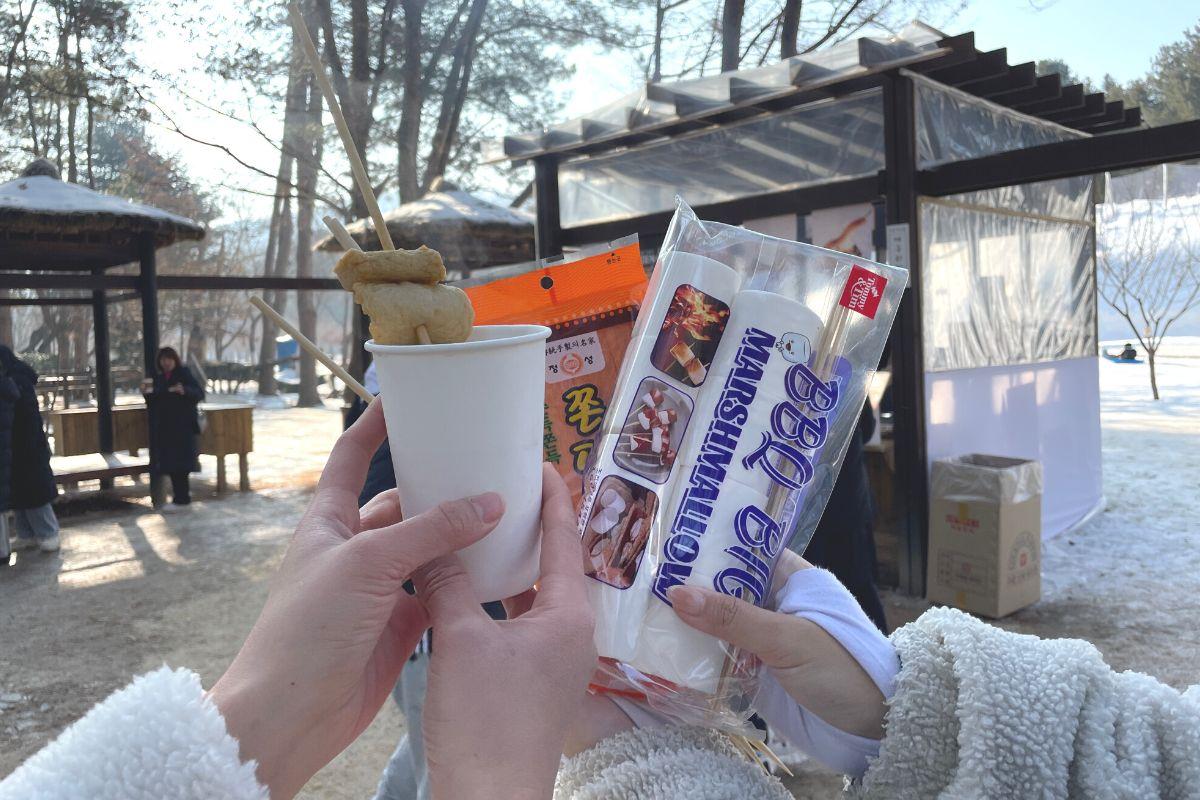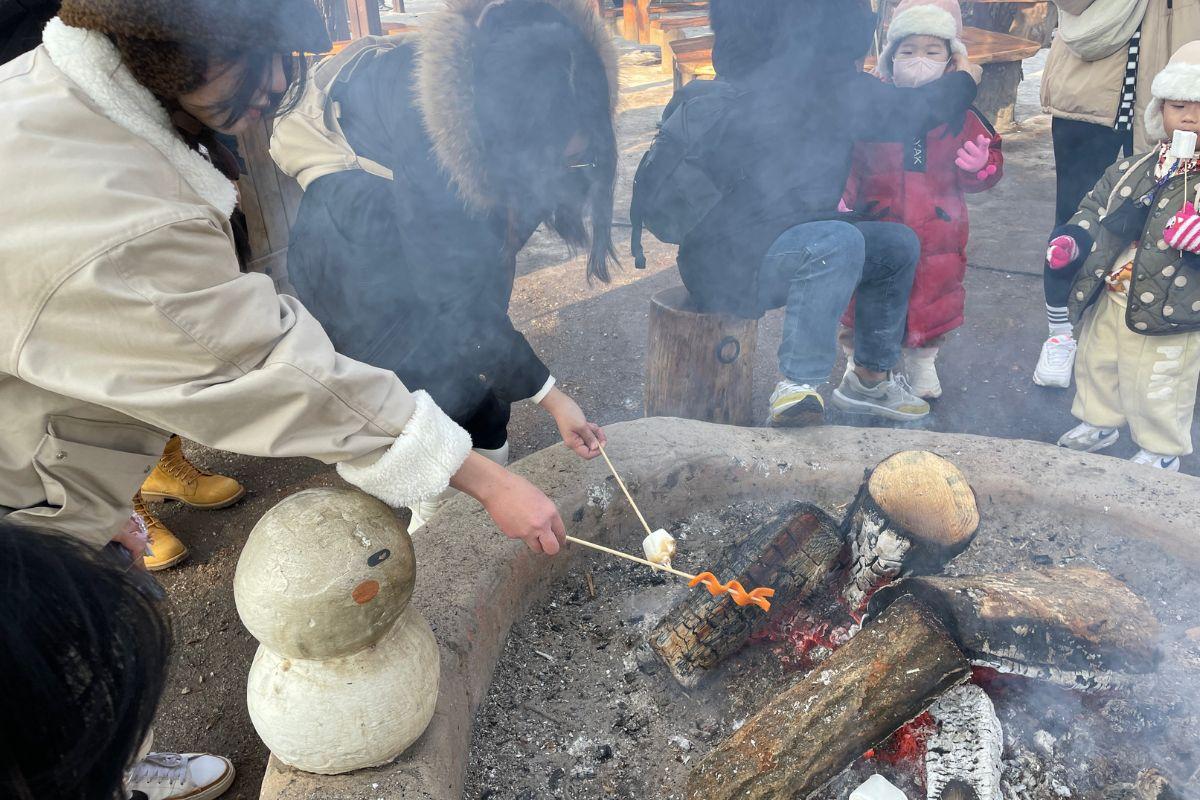 Peacocks and rabbits are seen roaming around freely which reminds you of why you came to the island in the first place, to disconnect from urban life and be one with nature.
---
Go Strawberry Picking
Strawberries are usually a summer fruit in most countries. However, they are the sweetest and burst with flavor in the winter here in Korea! Foreigners are often left in shock after tasting how good Korean winter strawberries are.
Both Koreans and international tourists like to go strawberry picking in the winter!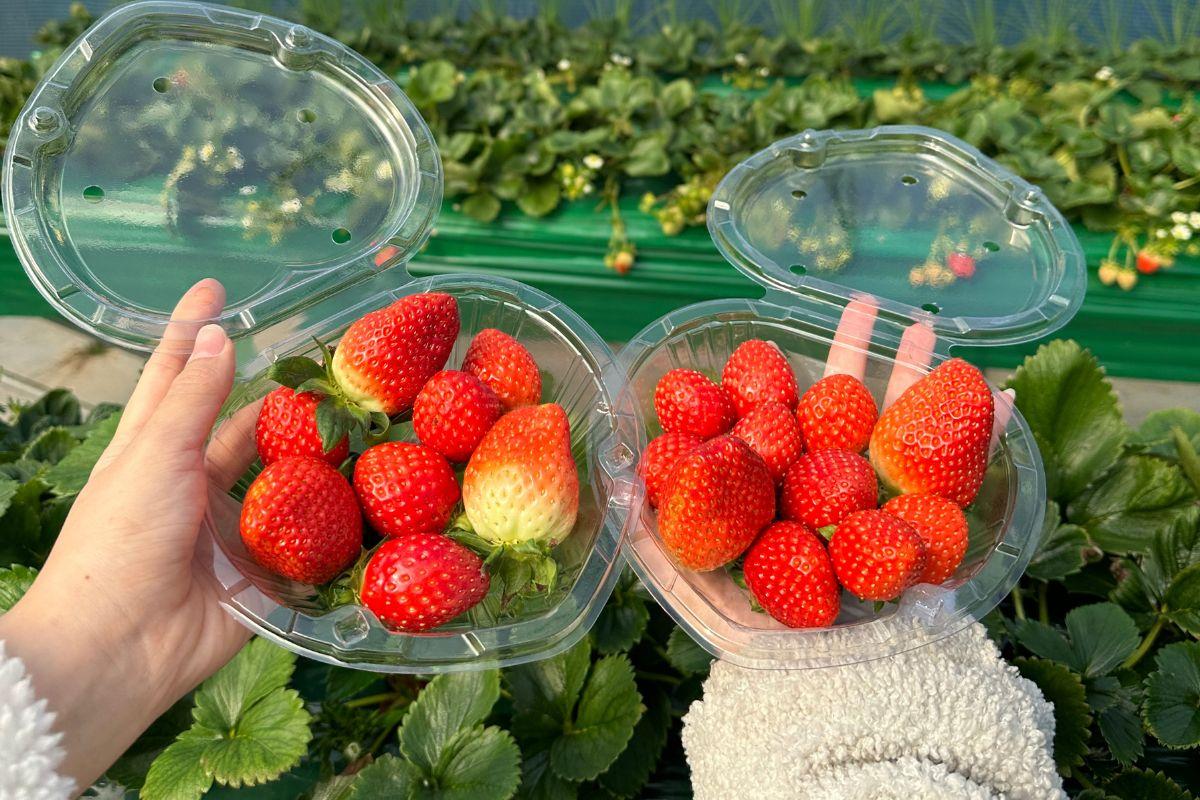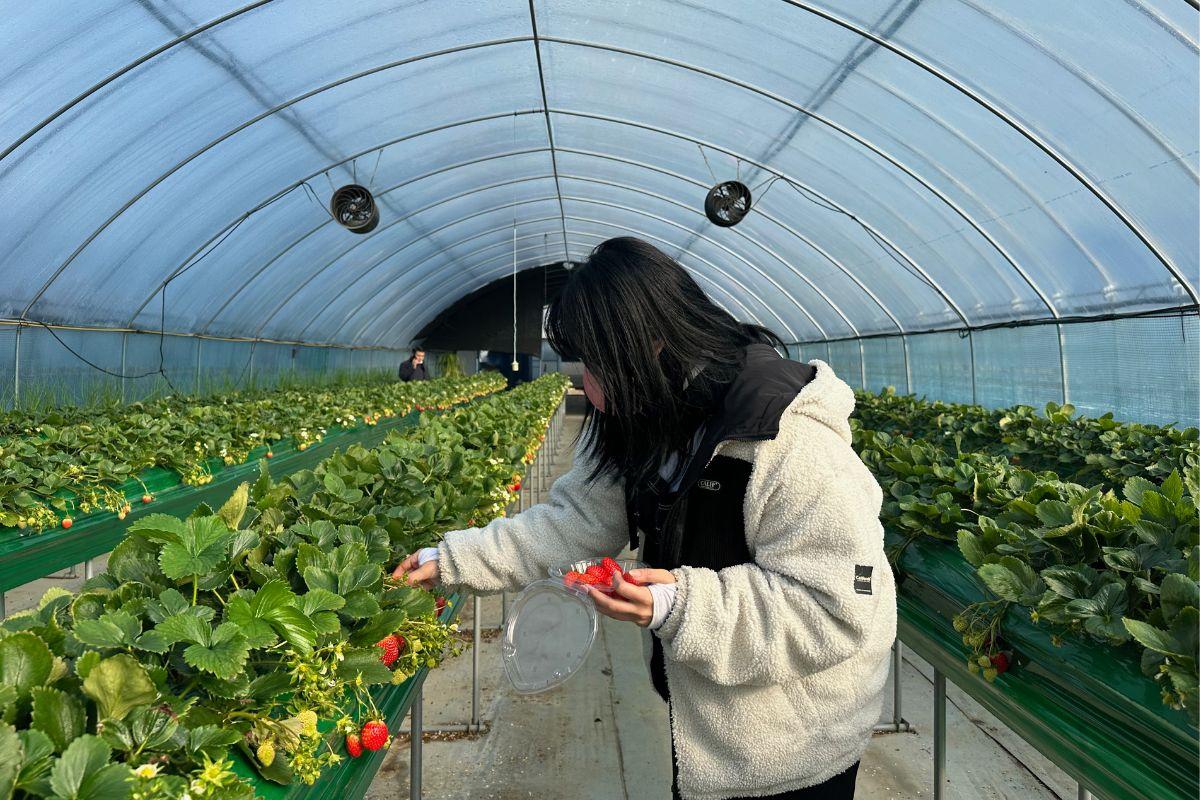 Be extra and bring your own Nutella, whipped cream, and condensed milk to eat with your strawberries!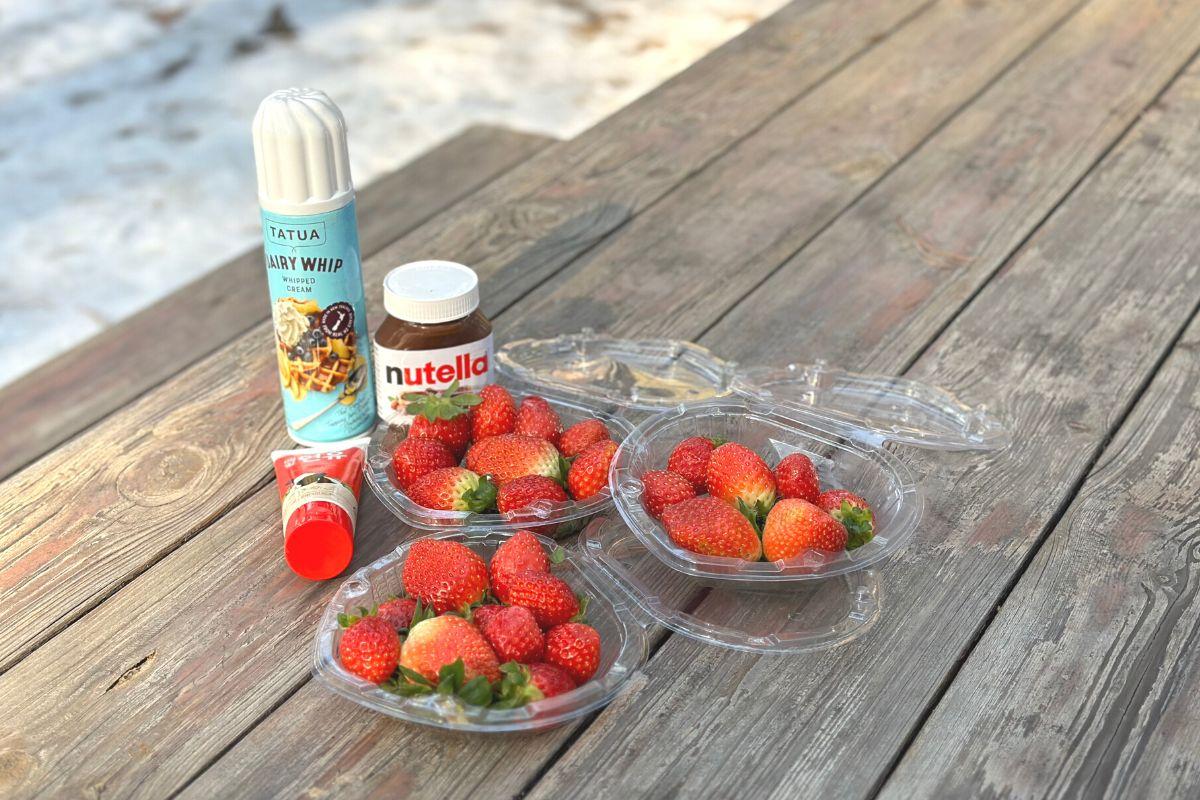 You can experience strawberry picking for yourself in the tours below.
Strawberry Picking & more tours
---
See the Light Festival at Garden of Morning Calm
Garden of Morning Calm holds a light festival in the winter months when the flowers are not in bloom. The nights are illuminated with bright lights with different themes in each section of the garden.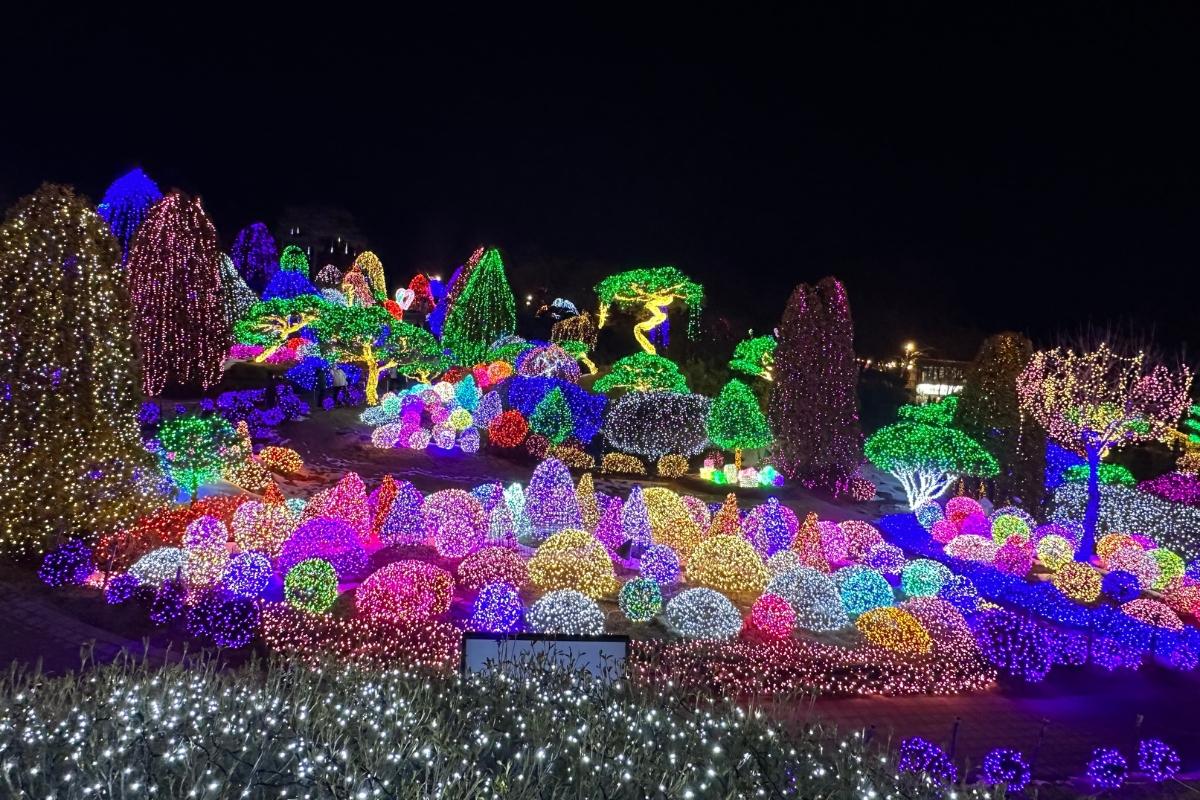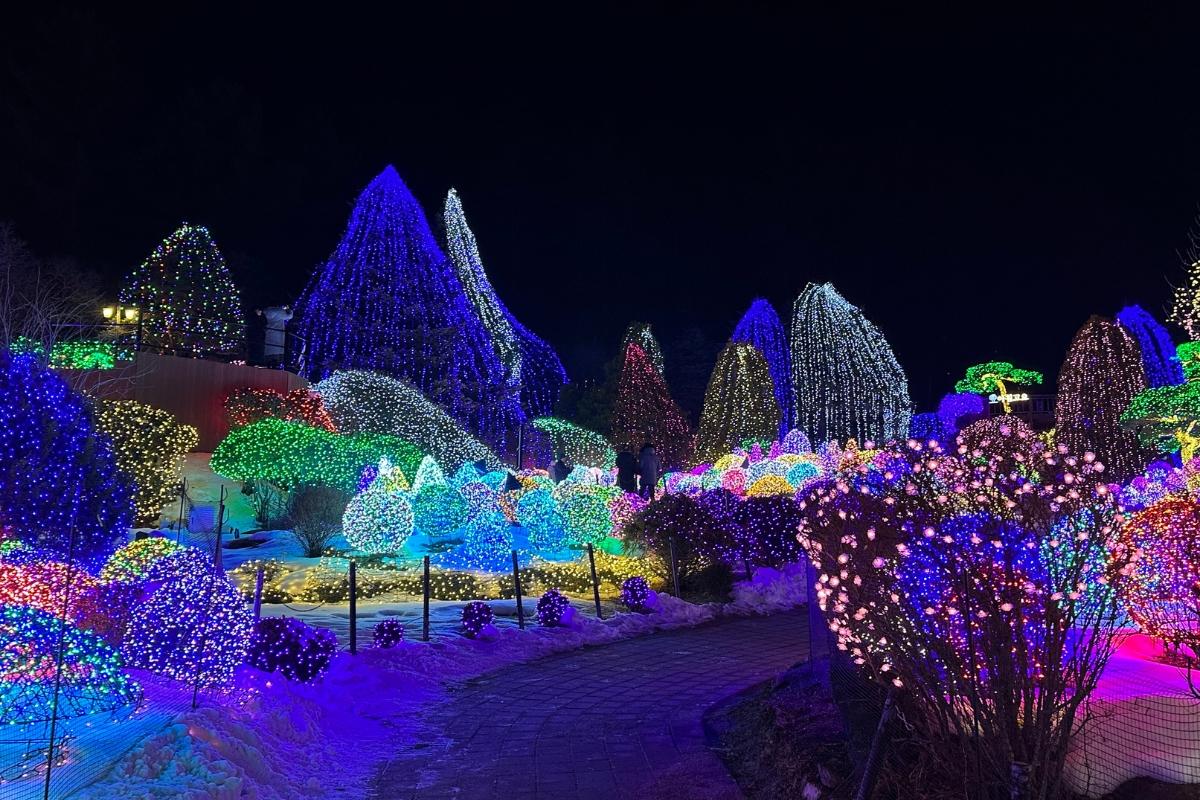 This is one of the places that you wouldn't expect to enjoy but end up as one of your favorite moments in Korea!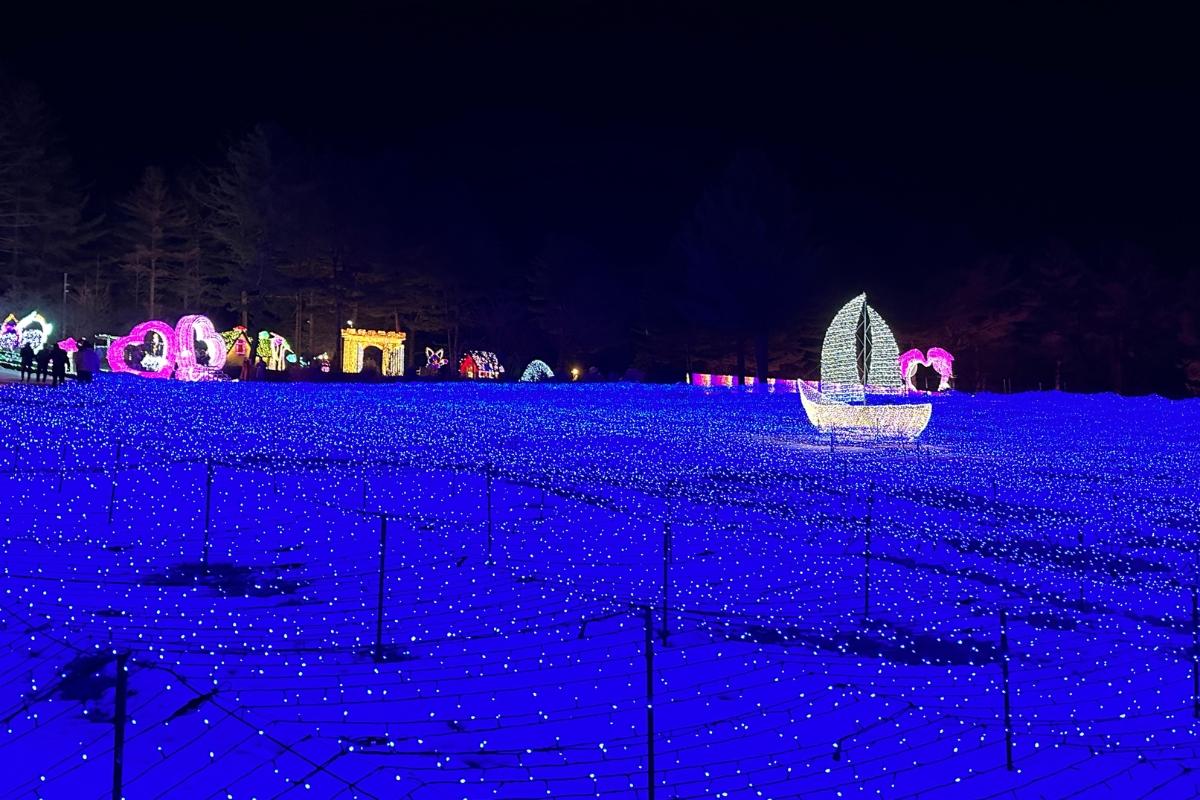 Check out the link below for tours to the Garden of Morning Calm!
---
Go Skiing
Korea may be a small country but it is made of mountainous terrains so there are several great ski resorts not far from Seoul. Sure, the slopes aren't as long as the ones in the Rockies or the Alps, but if it's your first time skiing, the slopes here are perfect for you!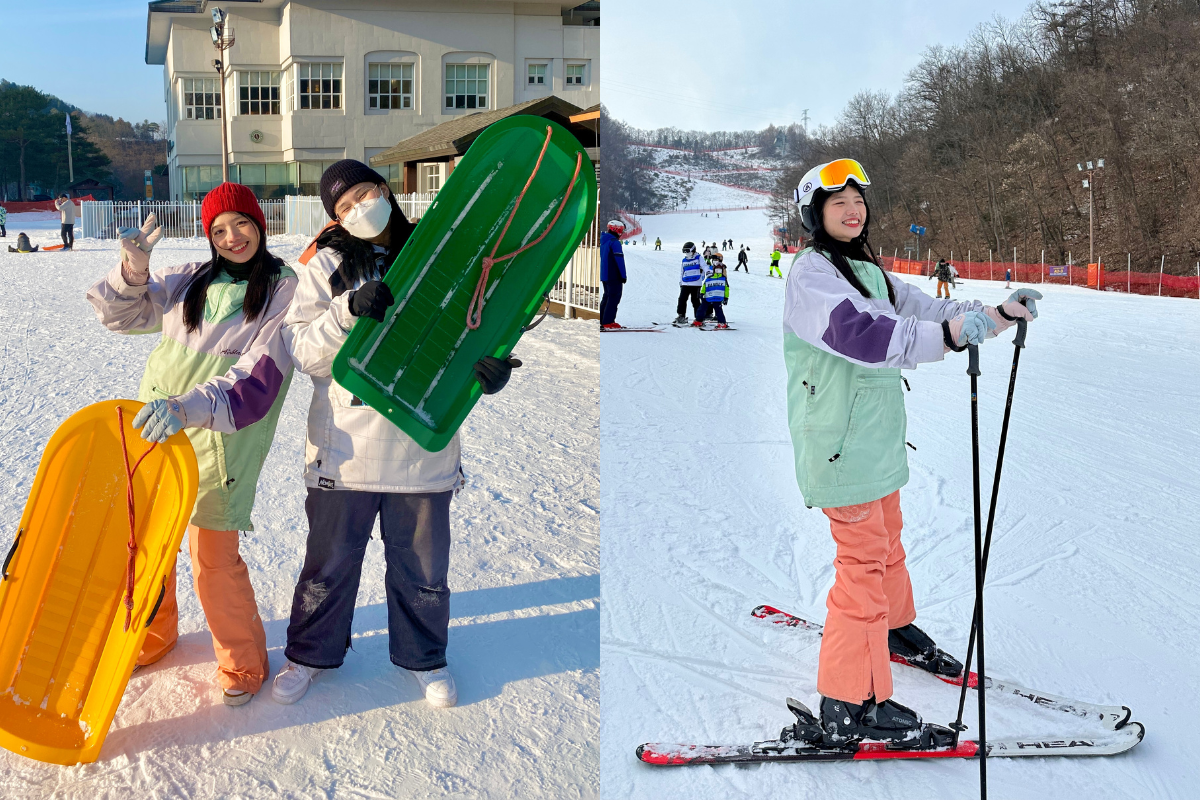 There are also expert-level slopes that real Olympic skiers competed on at the 2018 Pyeongchang Olympics! Ski resorts like Vivaldi Park have top-notch facilities like saunas, karaoke rooms, bowling alleys, and more!
On the other hand, if you're a ski beginner or if your skiing is a little rusty, basic ski lessons are included in all ski tour packages listed on Creatrip!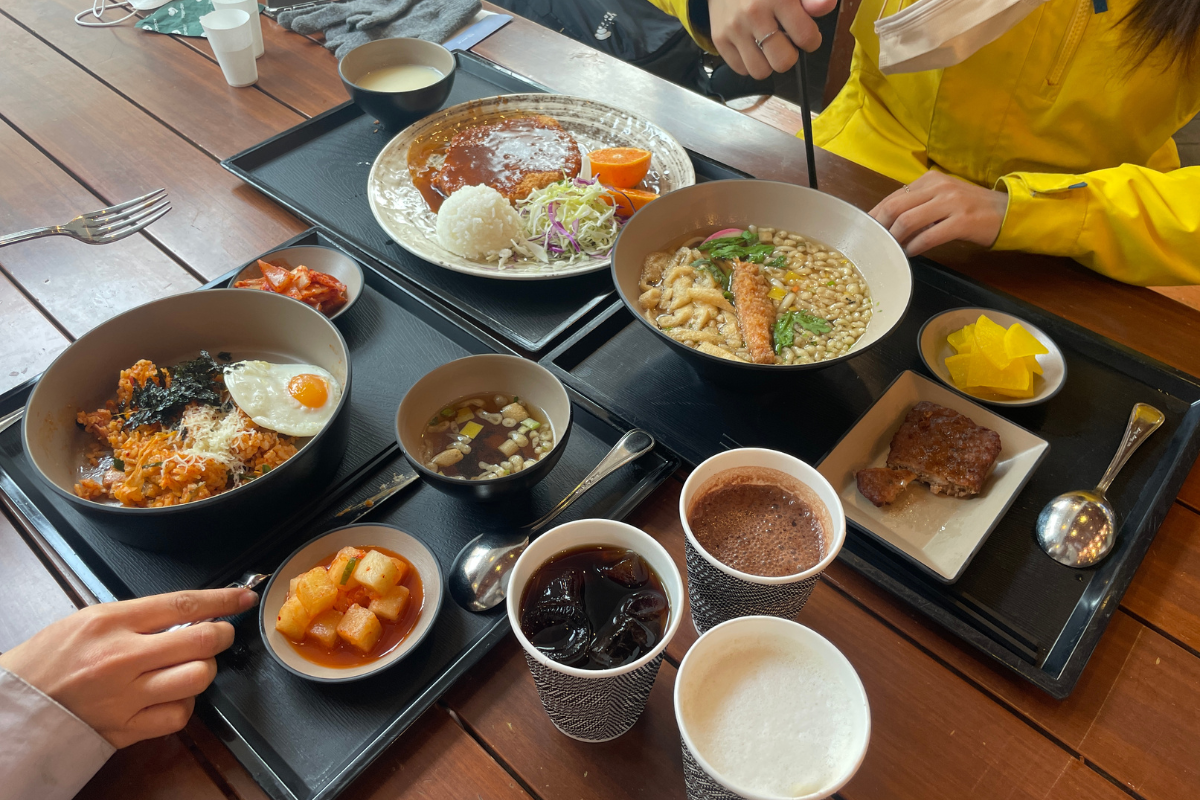 Most of the ski resorts may be hard to get to on your own but our tours all have transportation included! Check out the link below to see what options we have!
*Creatrip Exclusive* If you book a ski trip to Elysian Gangchon Ski Resort through Creatrip, you can get 10% off at the Snow Garden Cafe!
---
Ride the Gangchon Rail Bike
Gangchon Rail Bike is also a hidden gem. You either get on a 2-person or 4-person bike and cycle along the railroad.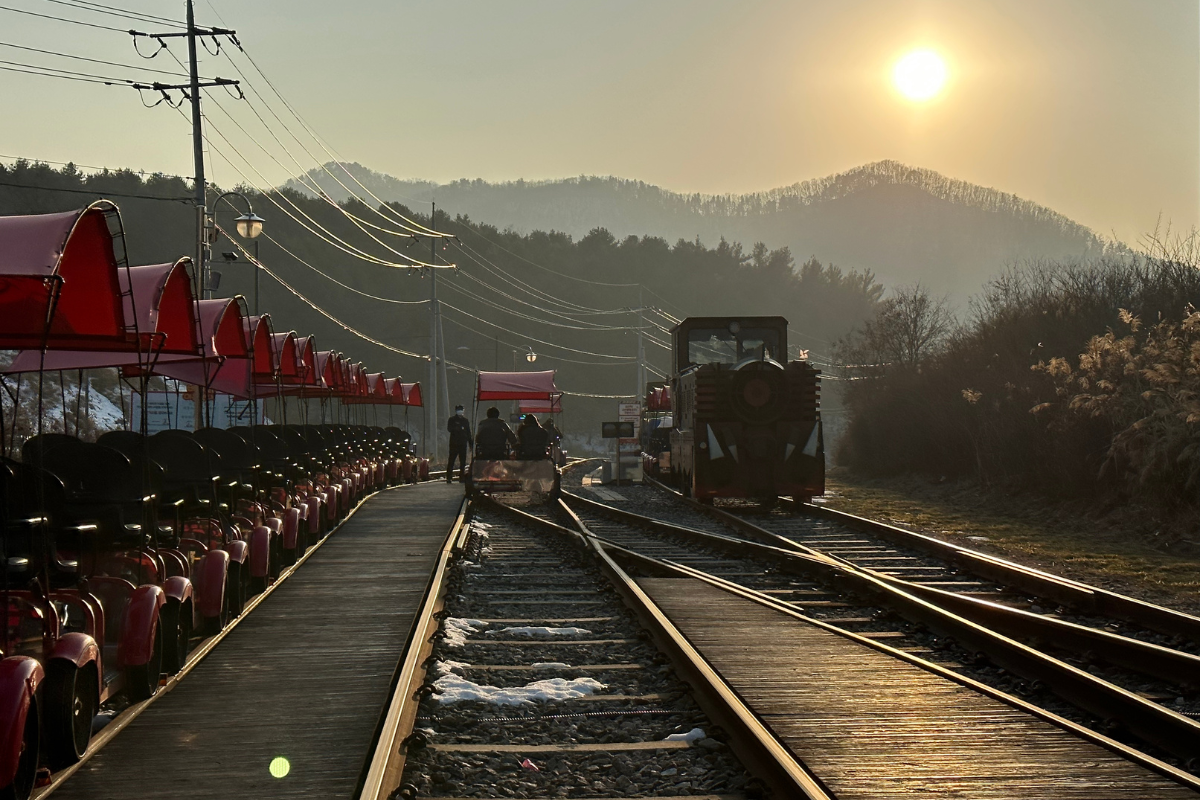 Don't be fooled by the scenic views along the railroad! It is quite a workout for the legs! However, the incredible view of the Bukhan River does make up for the rather laborious ride. Plus, there isn't a better way to get a glimpse of the true Korean countryside of Chuncheon!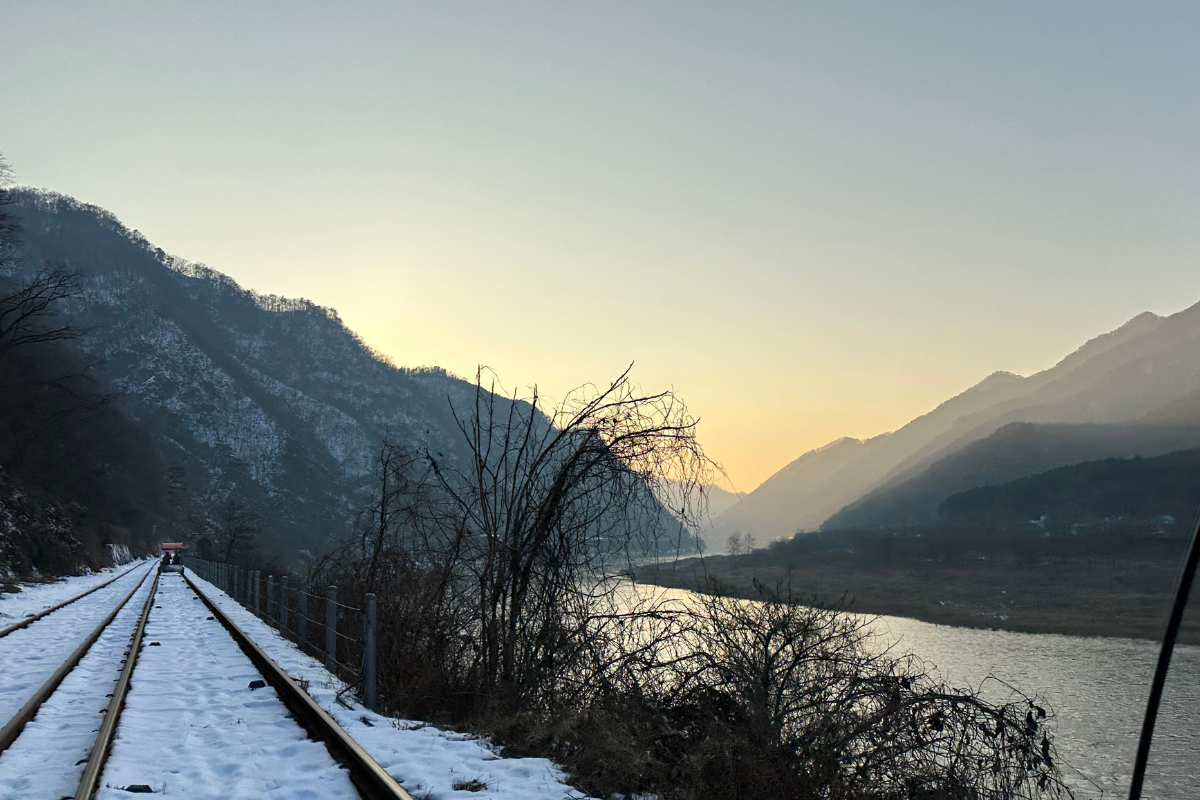 You'll take some of the best pictures of Korea's serene side during this ride! I mean, look at that sunset!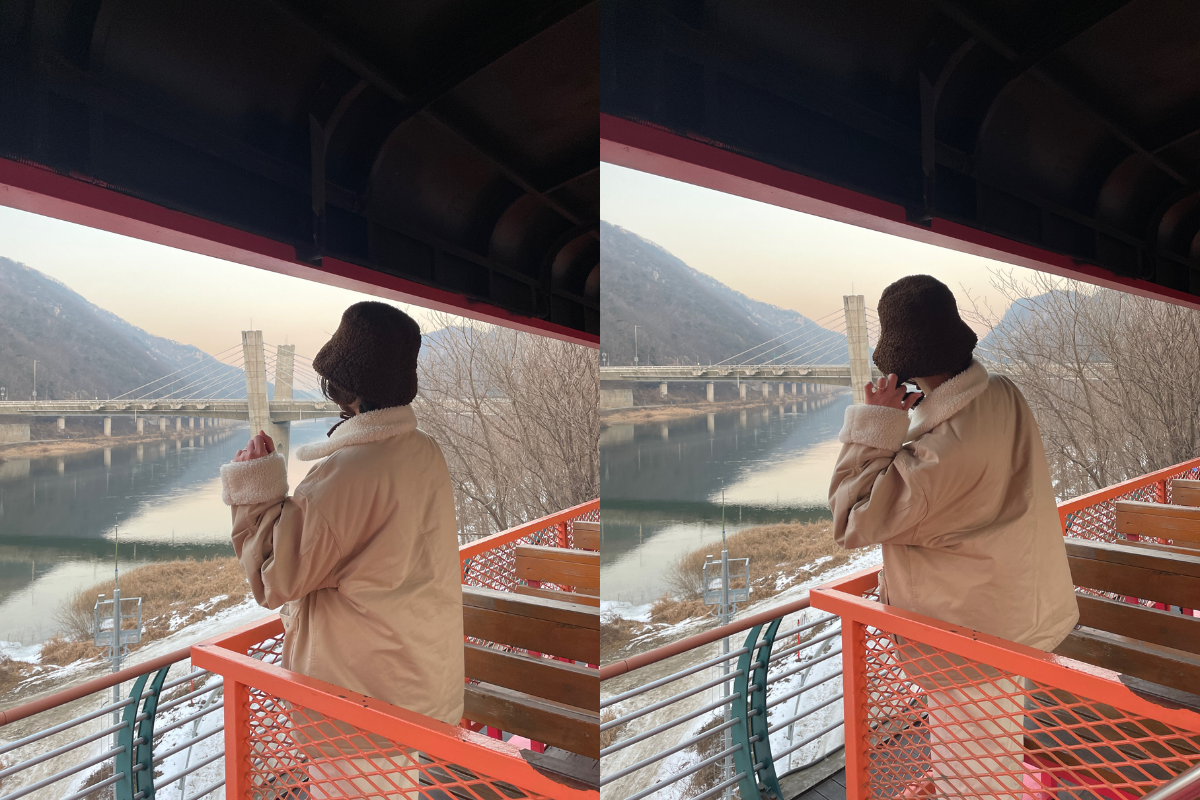 For more information, check out the detailed blog post below!
This attraction is also often included in tours, so check out the link below to join one!
---
We hope that this has helped you plan out your winter Korea trip! If you have any questions or concerns, please leave a comment below or send us an email at help@creatrip.com! You can follow us on Instagram, TikTok, Twitter, and Facebook to stay updated on all things Korea!
---