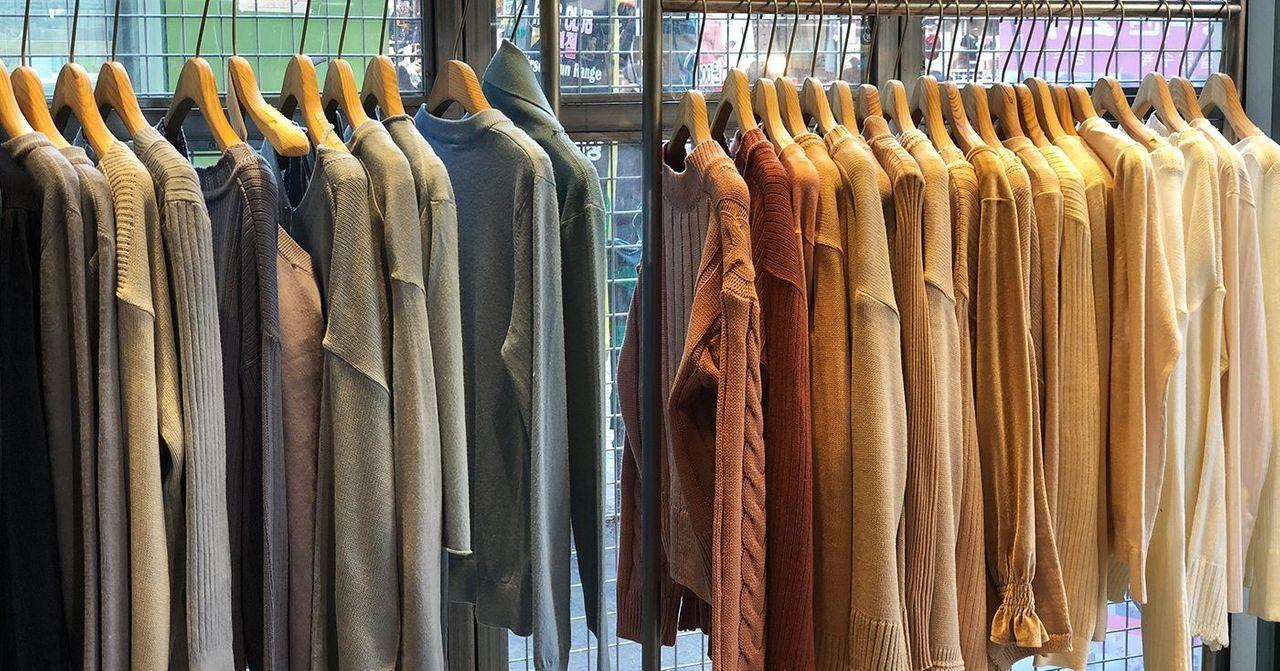 Hello,everyone! We are Creatrip, a group of Korean travel experts.
We proudly present you the latest, useful Korean travel information and tips every day.
Hongdae is known as the popular shopping district among the tourists.
In addition to shopping, this area is like a full package for those who want to fully experience Korean culture. Hongdae has many great restaurants and cafes. It also has awesome nightlife and you can experience Korean music clubs and drinking culture. It is a must-visit spot when you are traveling to Seoul.
Walk with me and learn about Hongdae's best shopping spots.
I will also let you know of the most up-to-date fashion trends in 2019 in Hongdae!
---


Shopping in Hongdae:Introduction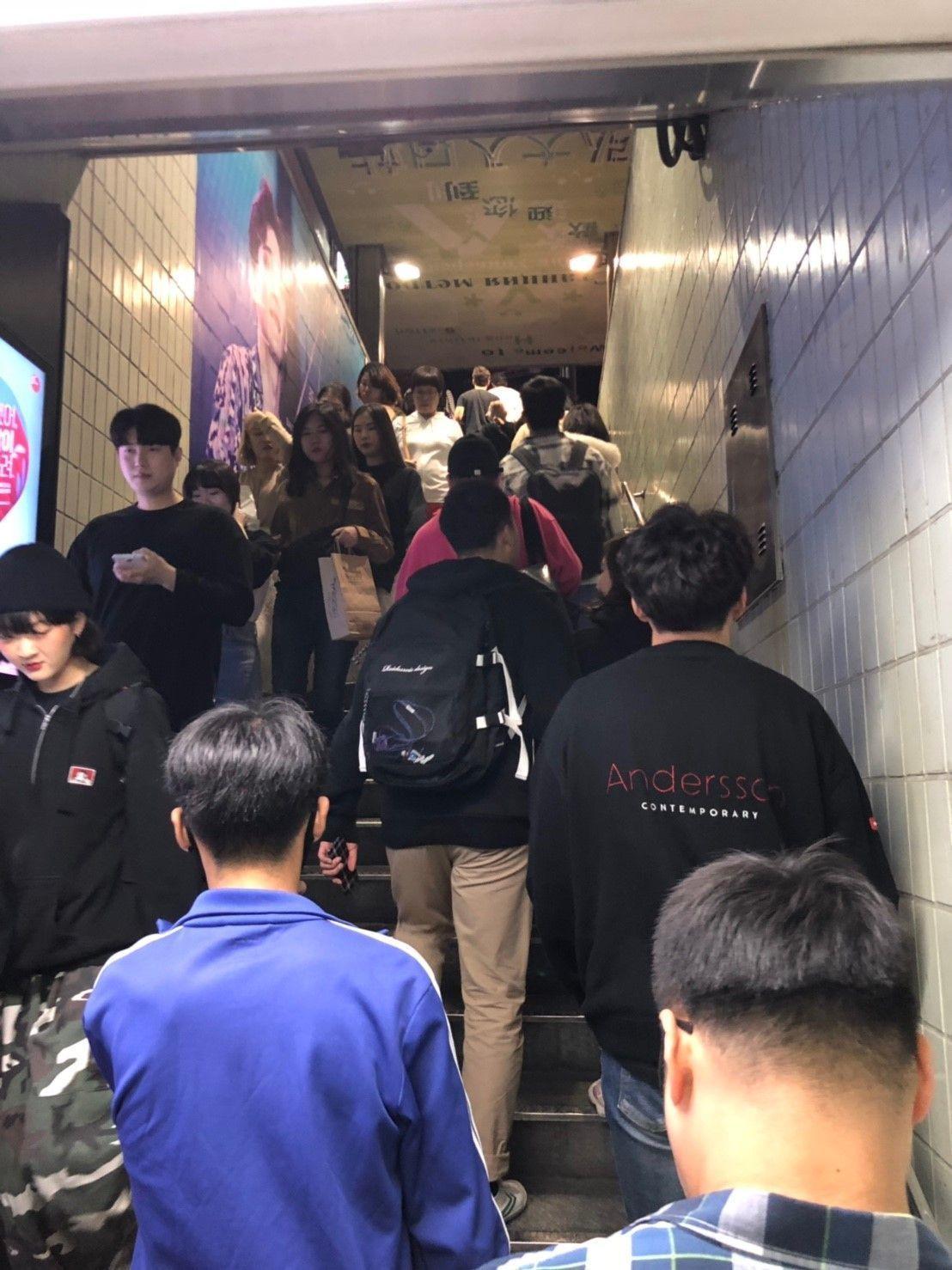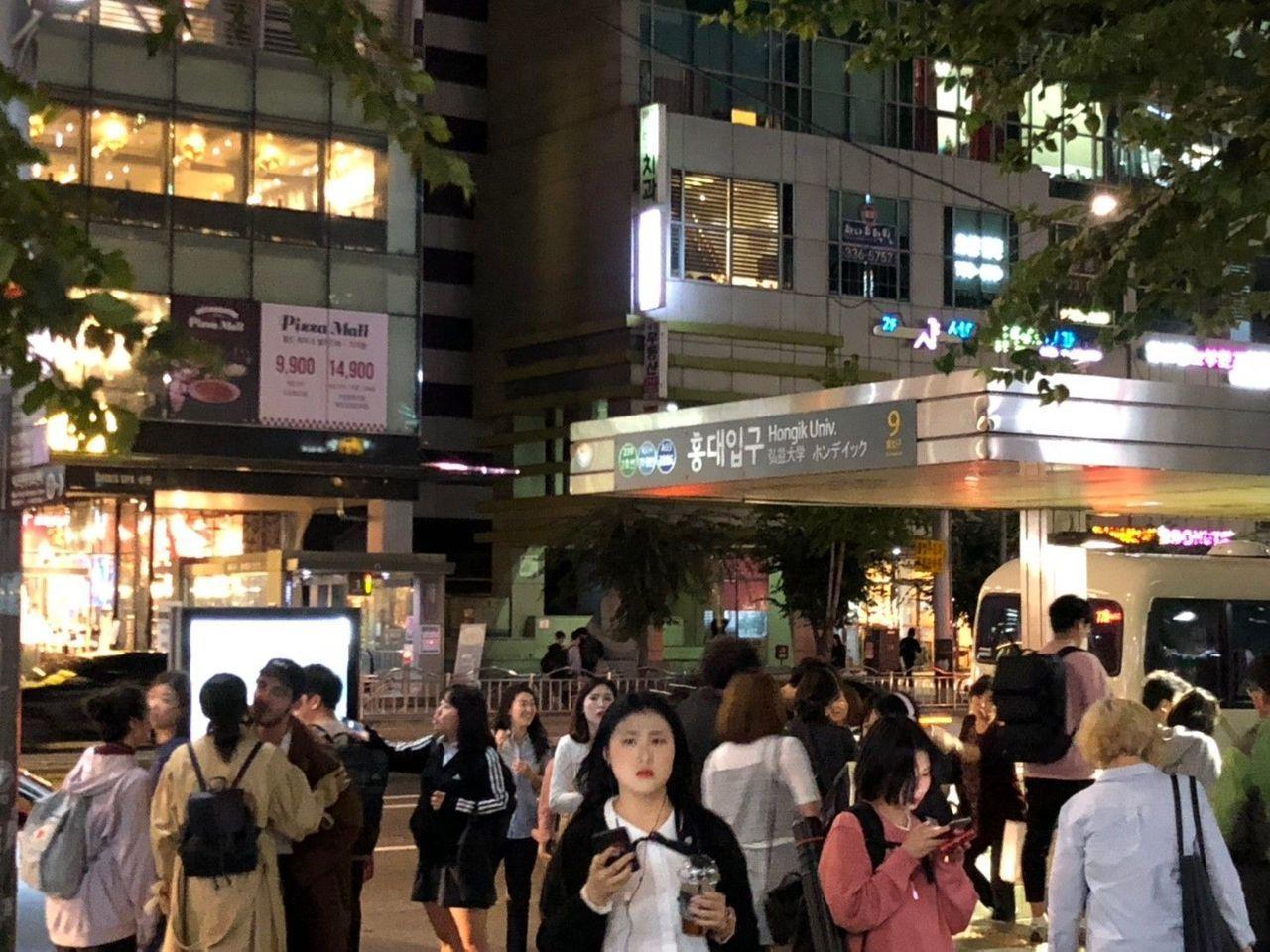 The Hongdae business district is always full of people. Both during the weekdays and holidays, the No. 9 exit is full of pedestrians. Exit 9 is where you can encounter the heart of Hongdae business district. All the major shopping places, including the stores, cafes, and restaurants are concentrated near Exit 9. The exit itself is small and is linked with the overground via a long, walk-up only staircase.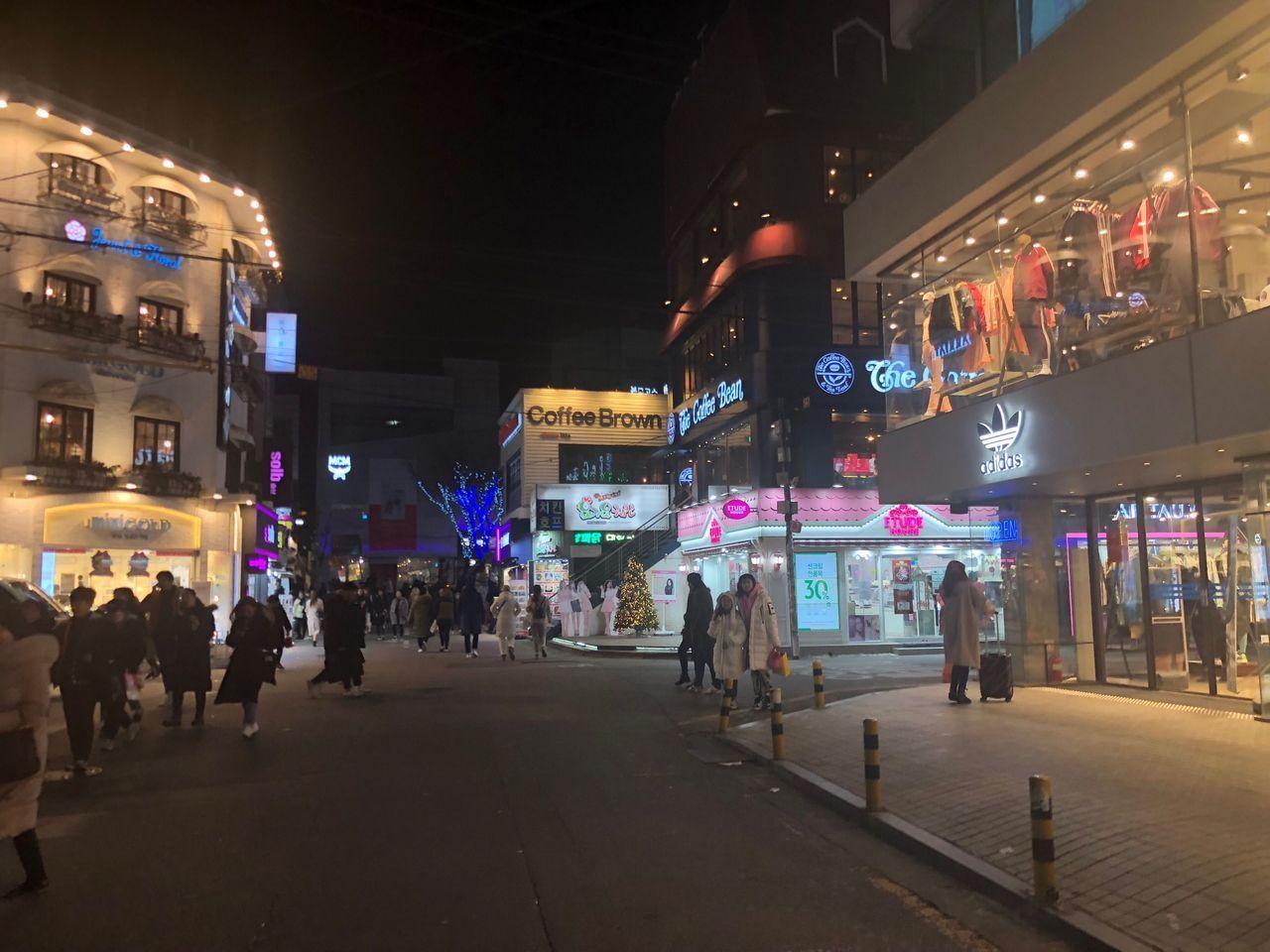 As I stepped out of Exit 9, I was able to see fewer people than usual. It was a bit weird because this area is almost always very packed. I think it was purely because of the weather, as it was freezing cold. The most popular Hongdae KAKAO FRIENDS flagship store is also located in between Exit 8 and Exit 9 of Hongik University Station. Make sure you pay your visit before you leave Hongdae.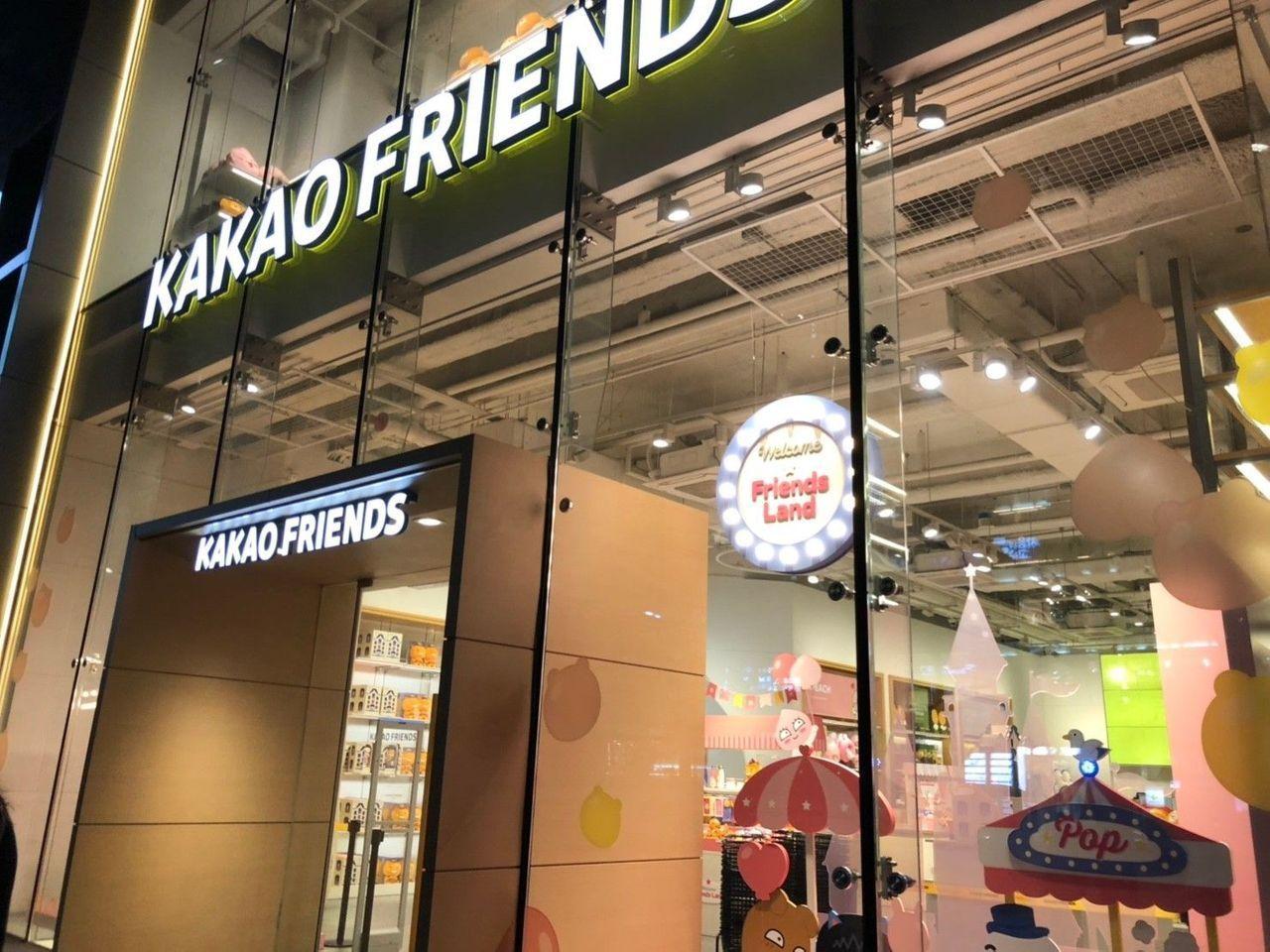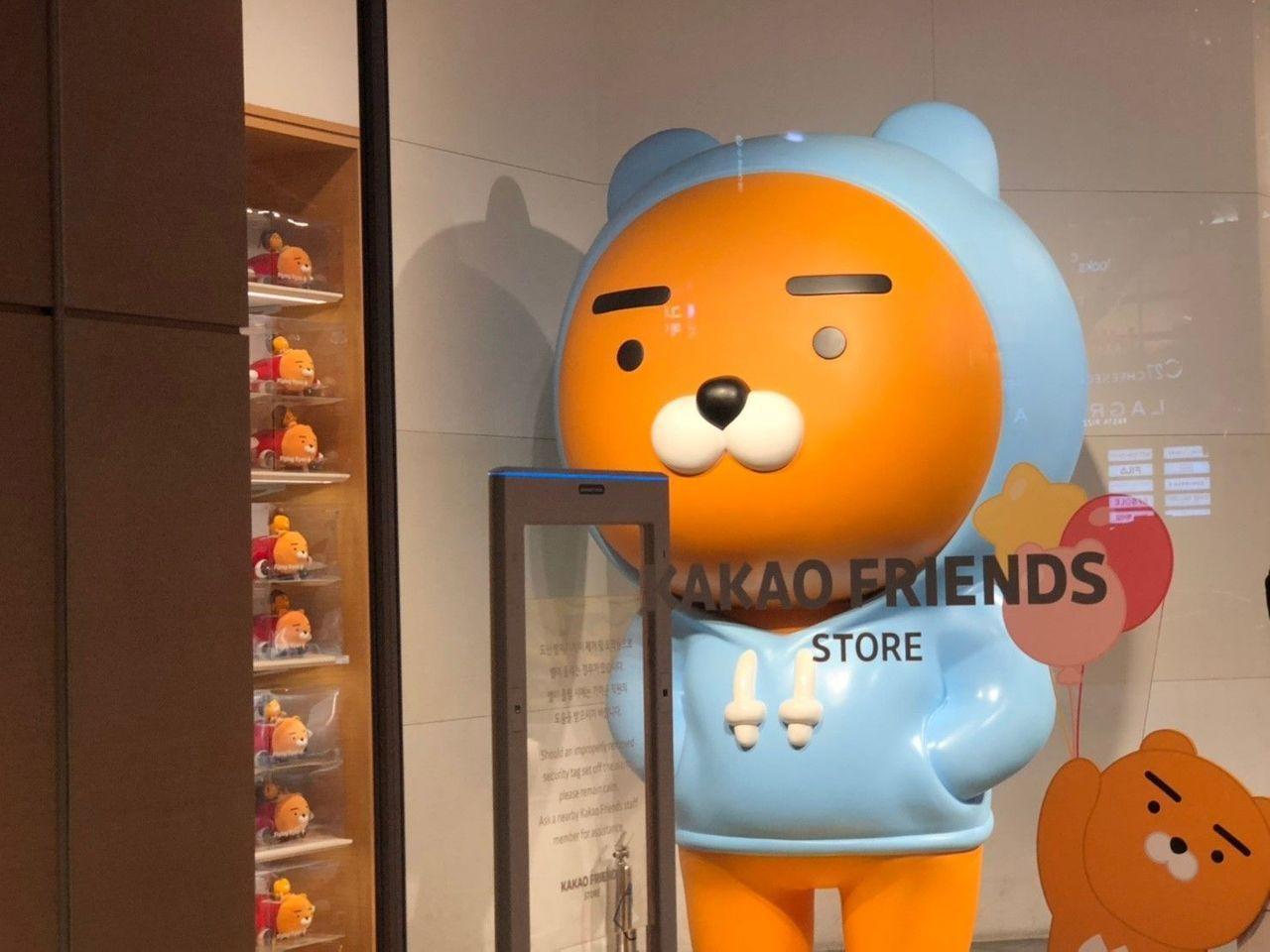 After getting out of Exit 9, look to the left. You will see a huge ABC Mart. From this point, the real Hongdae shopping district begins.
The winter in South Korea is freezing. The pedestrians in the Hongdae business district were all geared up with thick winter coats and heavy down jackets. This also means, there will be promotions and sale on off-the-season items. Especially autumn clothes will go out fast. If you want to buy autumn clothes in the Hongdae business district, be sure to visit Hongdae for Shopping.
Near the Hongdae subway station, you can find many franchise clothing and cosmetics stores. When you come to Hongdae for buying cosmetics, you can start browsing from exit 9 as well. There are also some major chain brands like NIKE, ADIDAS, H&M, FOREVER21, etc. in Hongdae.
Hongdae Nike Jordan
Address : 서울 마포구 서교동 양화로 161
Hongdae Adidas Originals
Address : 서울 마포구 서교동 홍익로6길 27
Compared to Myeongdong, there aren't that many clothing stores in the Hongdae shopping district. Most of the stores are either vintage clothing shops, cosmetics stores, jewelry stores, cafes, and restaurants when you enter the major shopping street.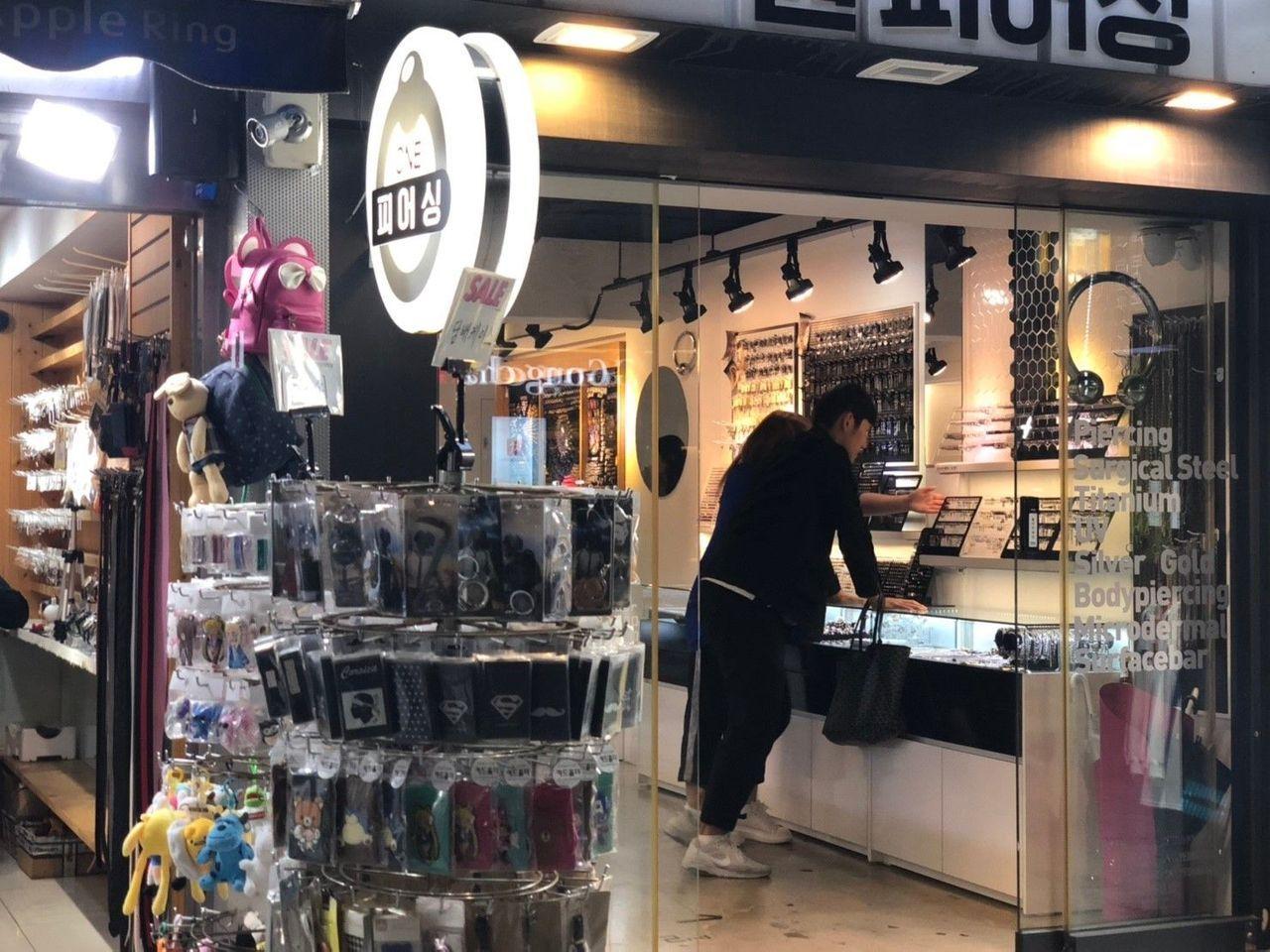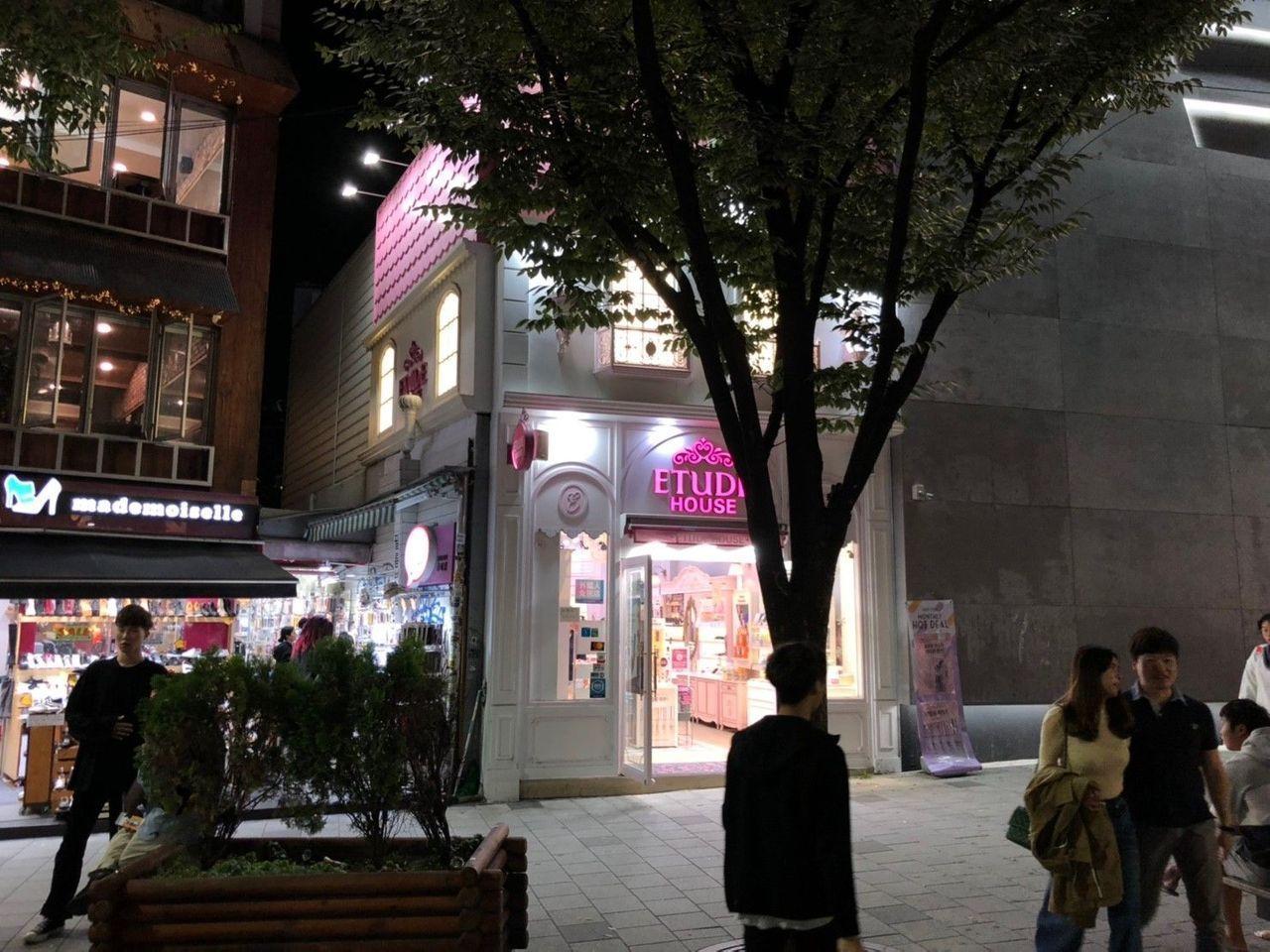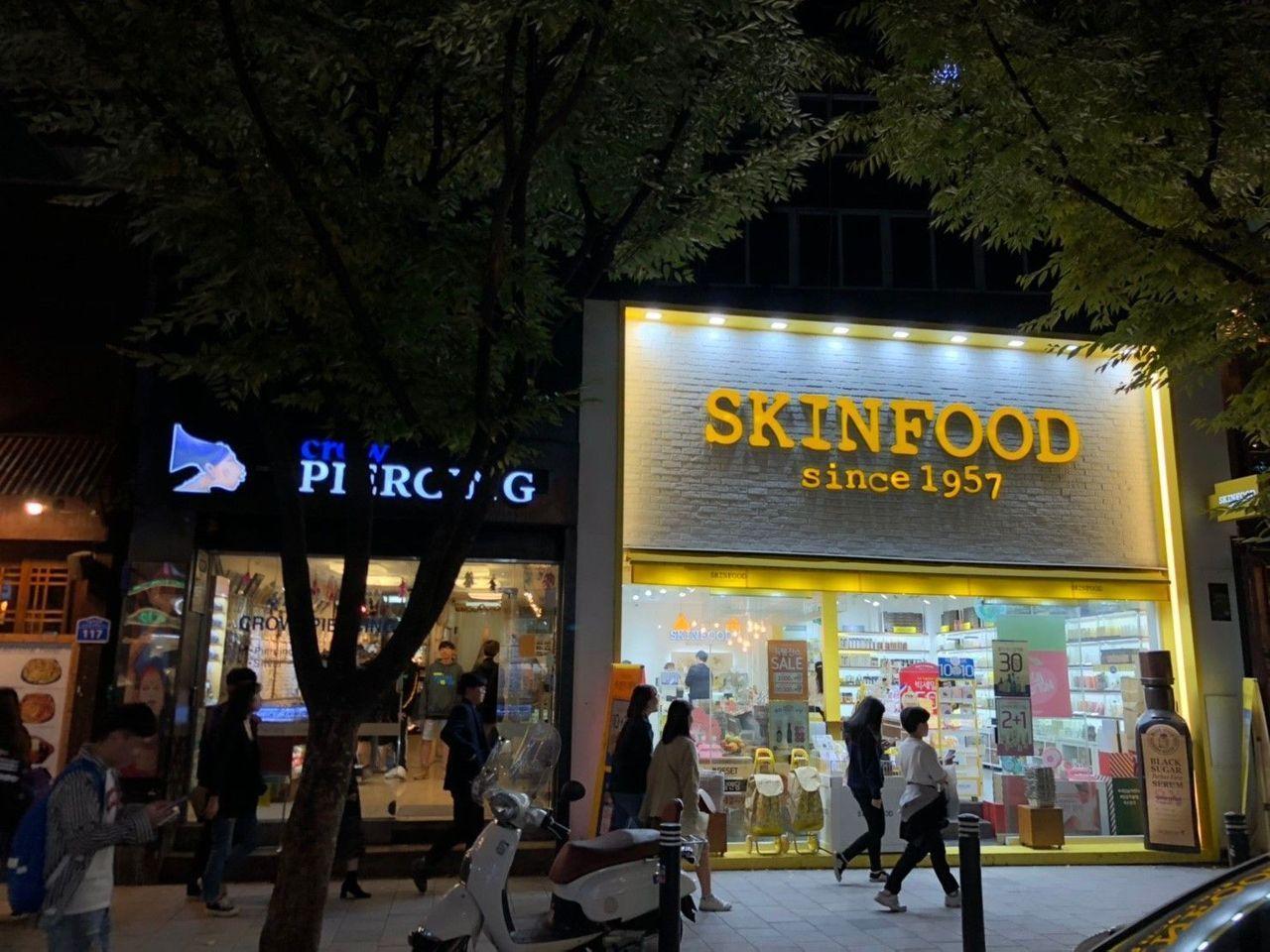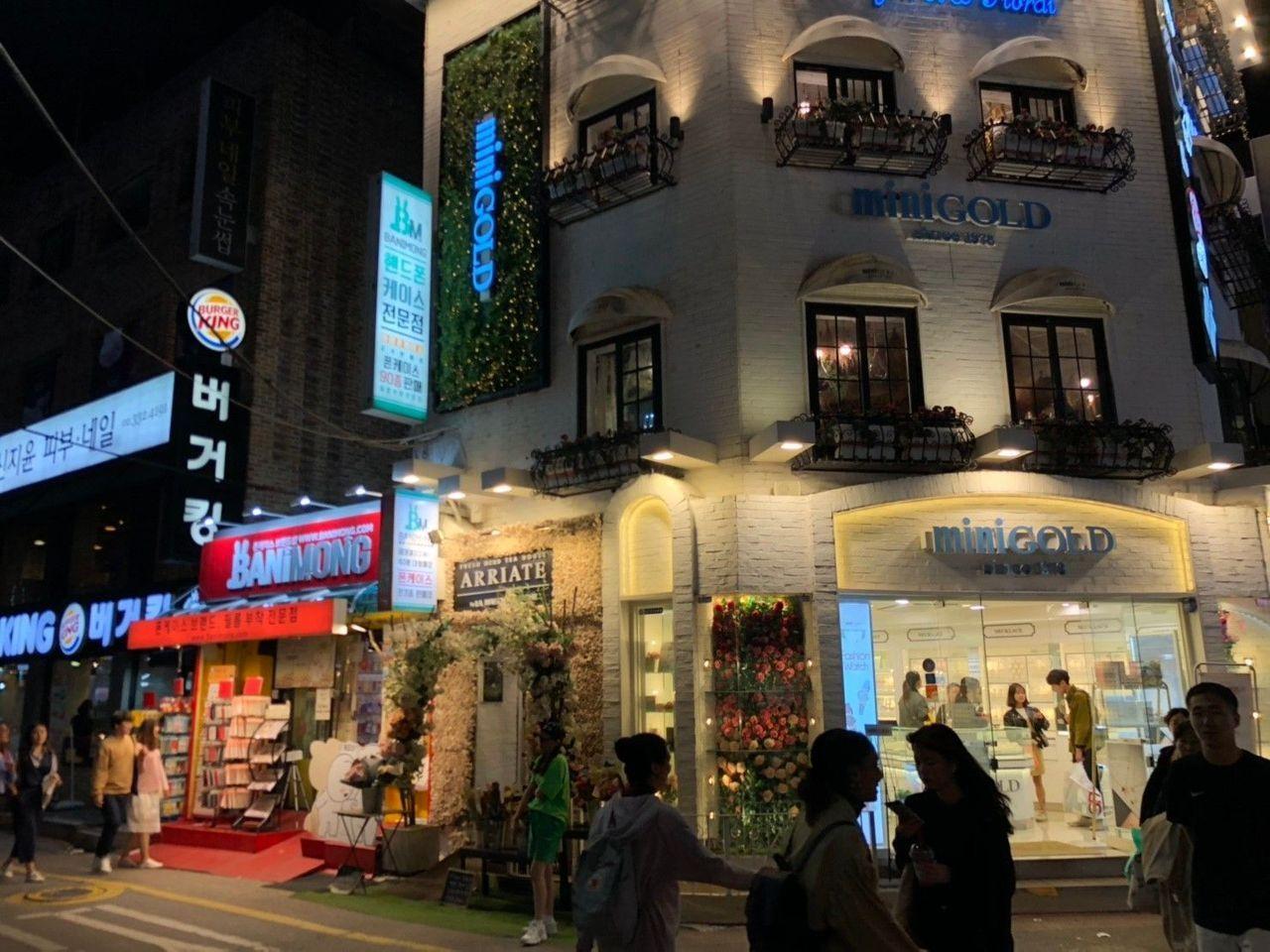 All kinds of brands and various styles are waiting for you in Hongdae! Even if you don't have any particular items in mind, you can still see many people's unique fashion coordination. There are lots of restaurants and cafes where you can just chill and have a great time with your friends. You don't have to put too much pressure on yourself to shop in Hongdae. Basically, it is just a matter of relaxing and shopping.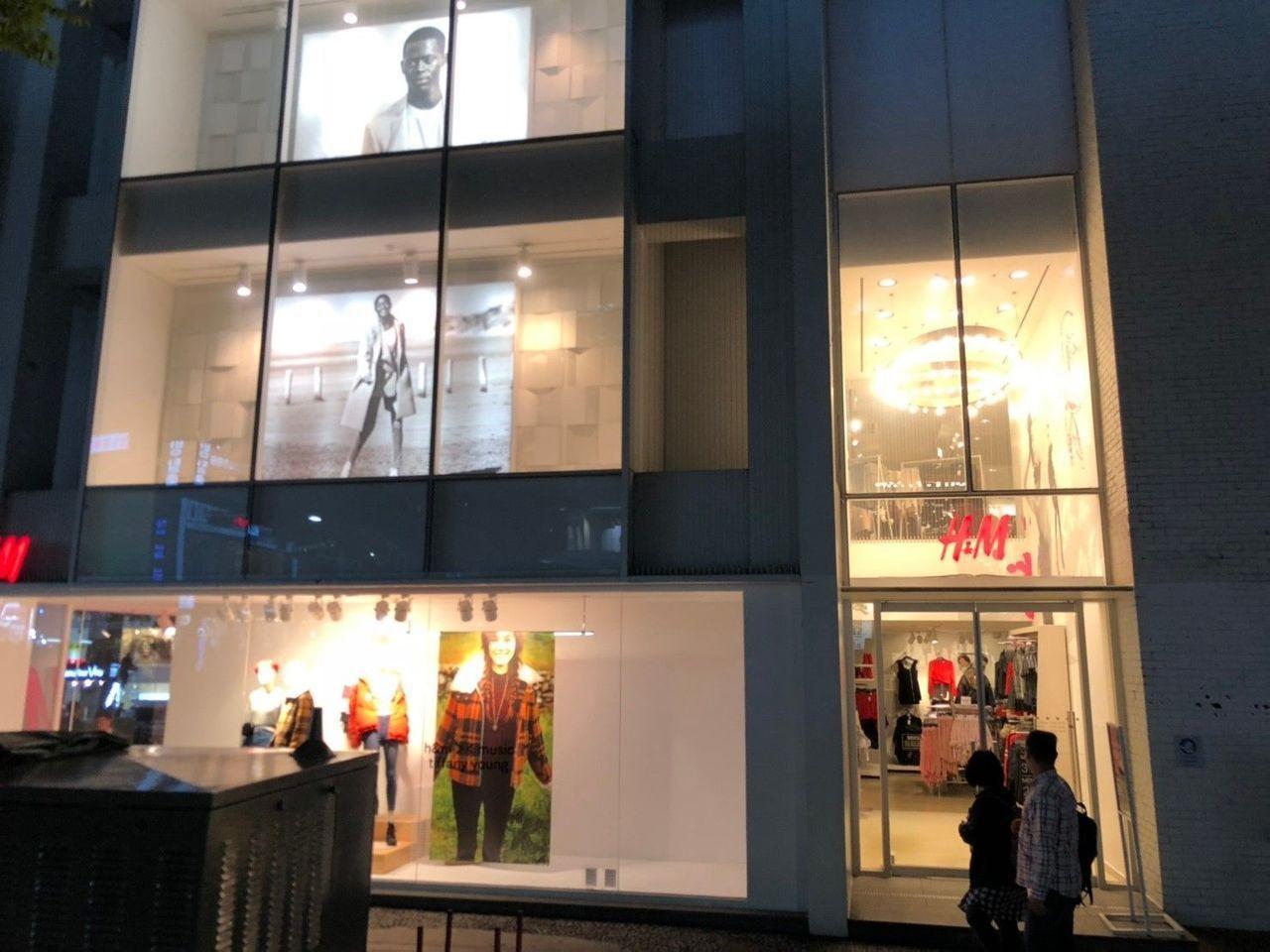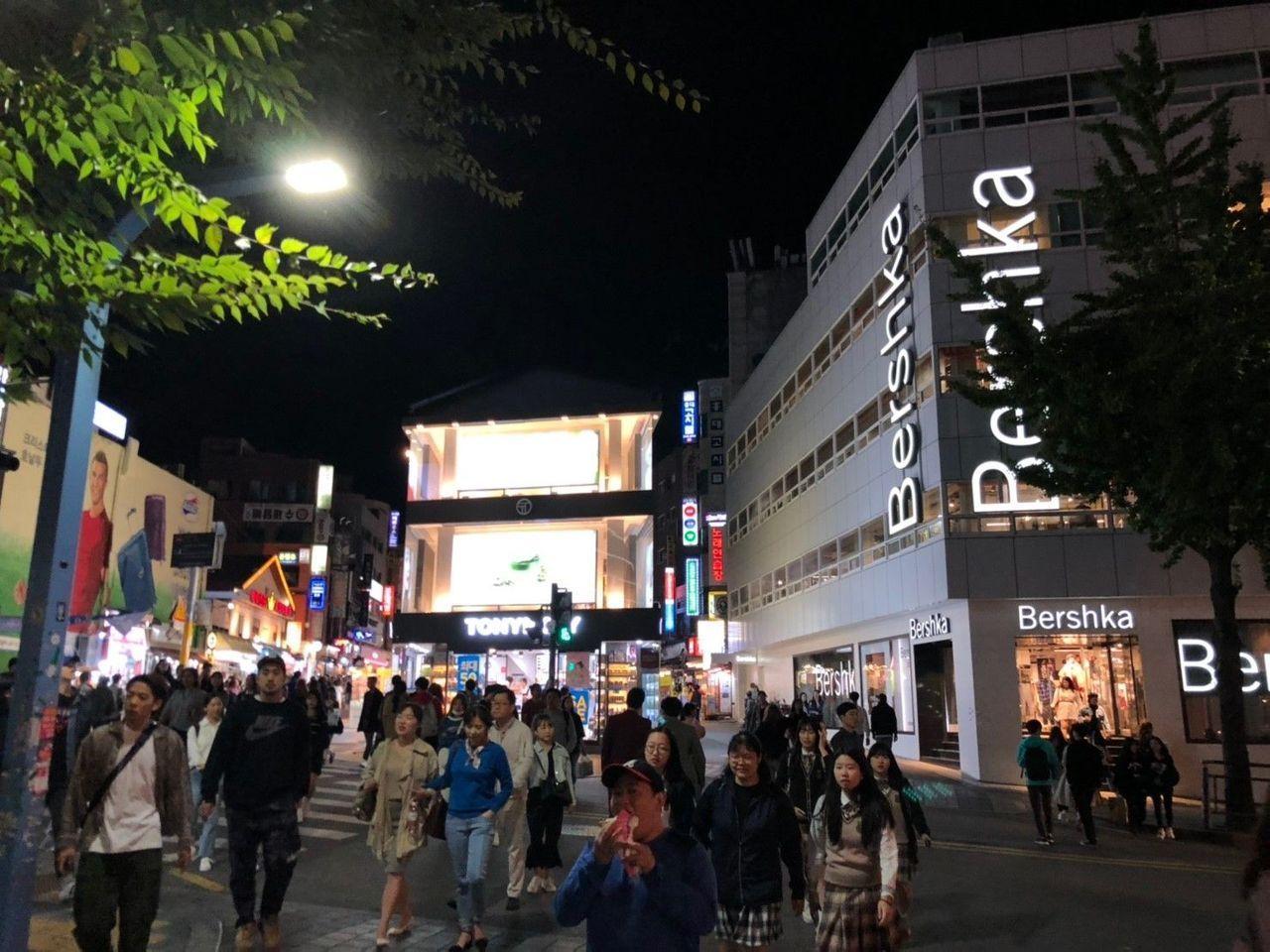 From H&M leading to Bershka is the essence of Hongdae shopping. There are many must-visit stores in this area, and I took a lot of photos for your reference. Check out the latest trends in Hongdae.
Shopping in Hongdae:Creatrip Editor's visit to Hongdae in Winter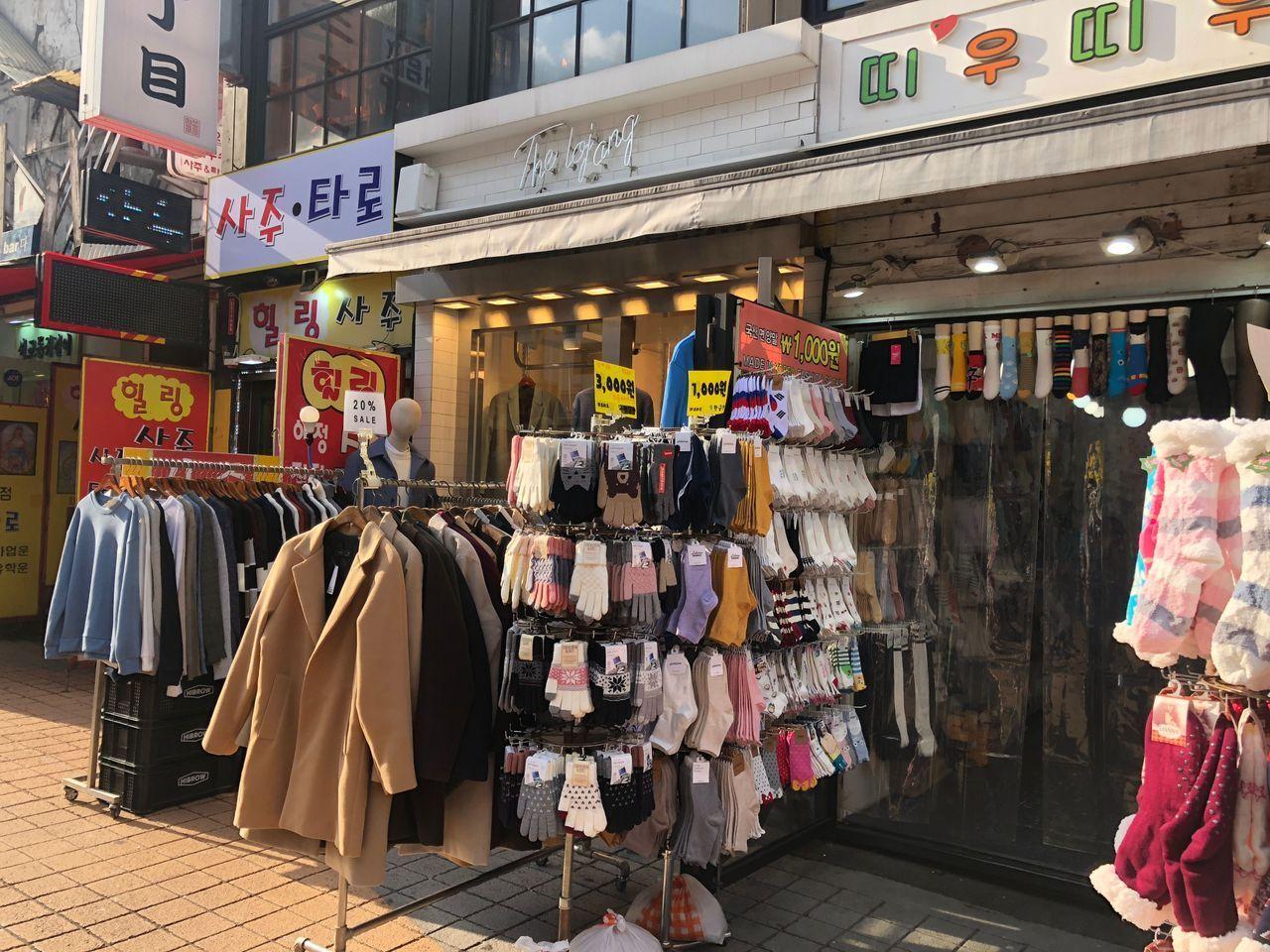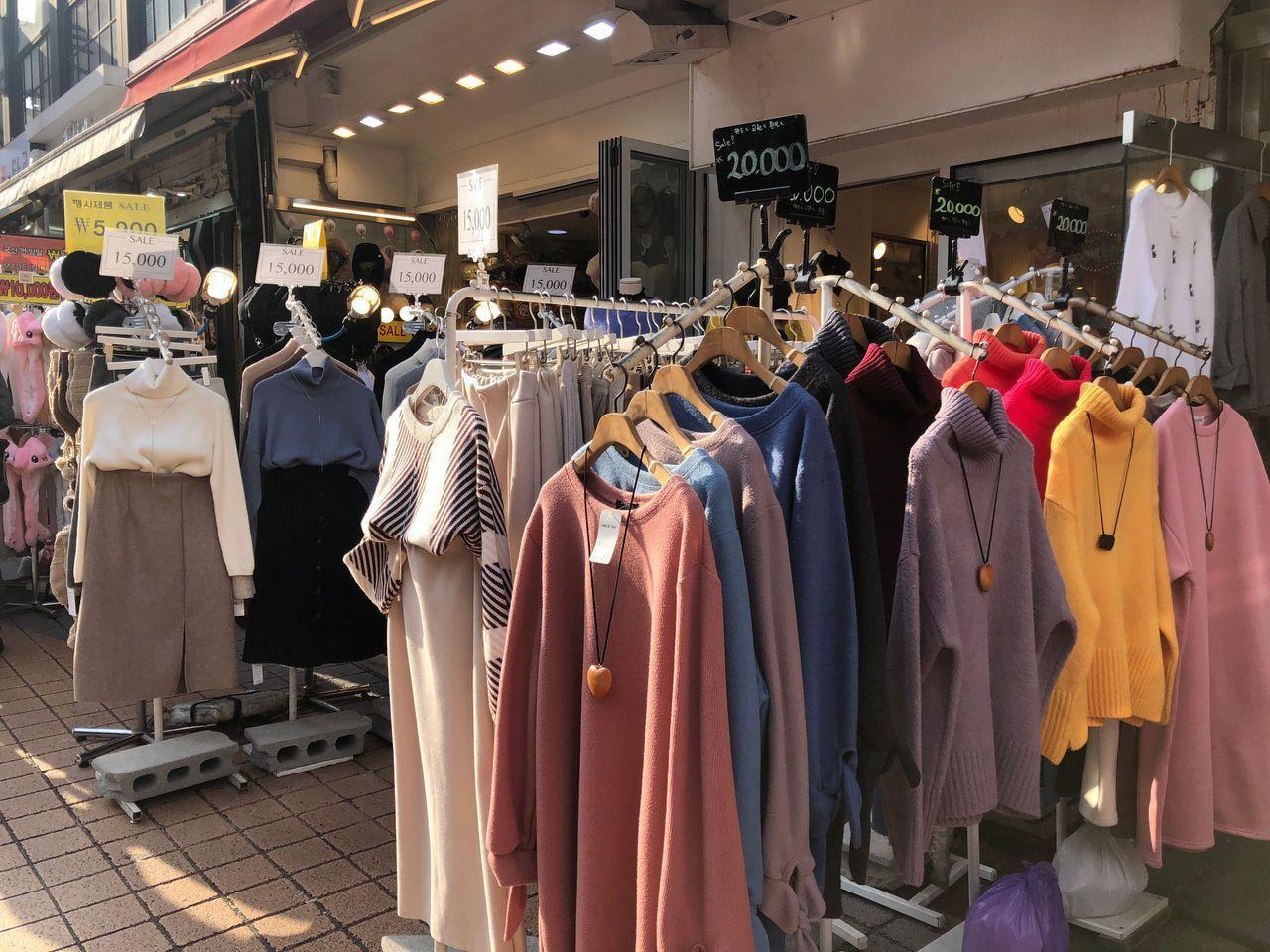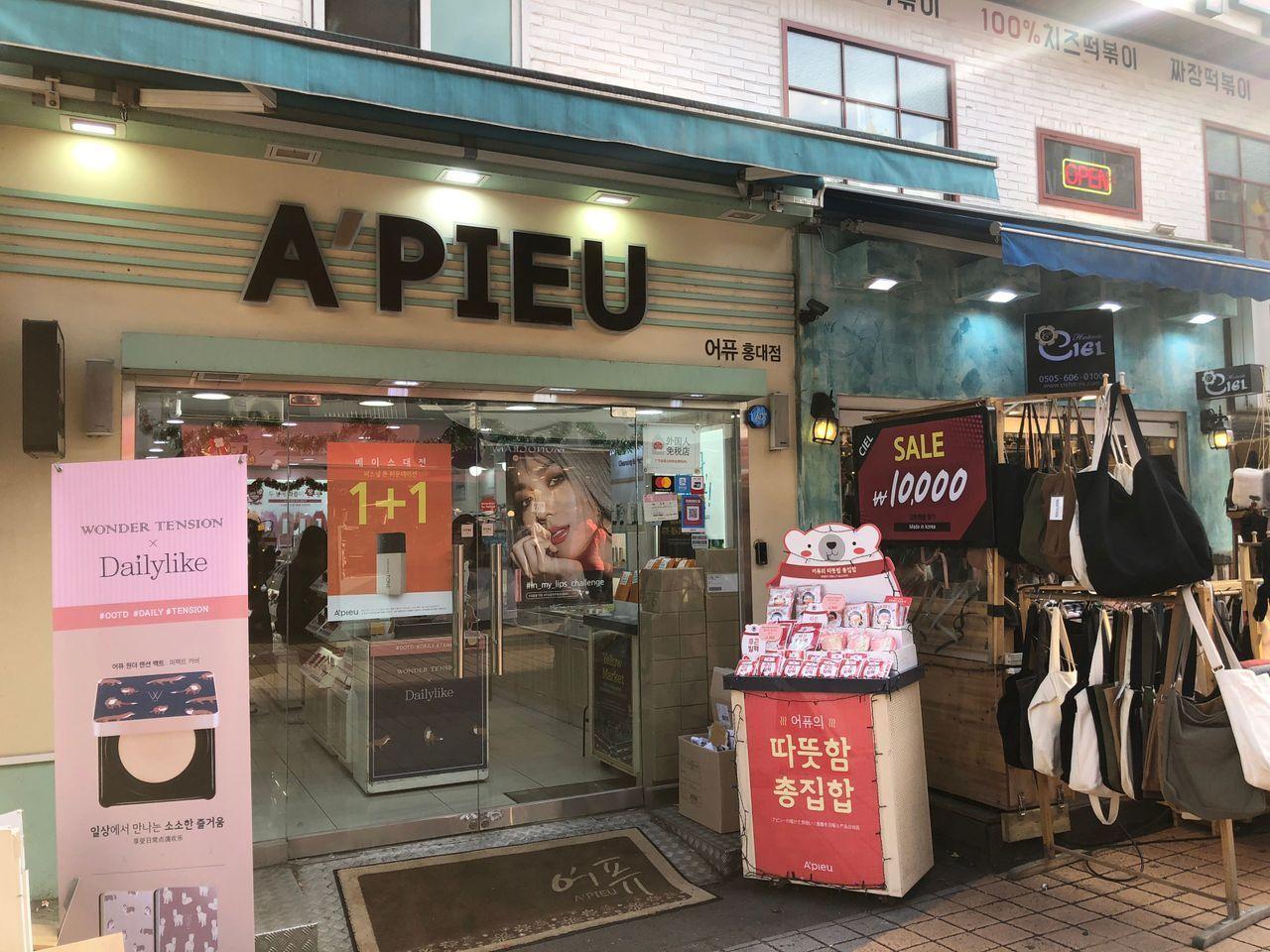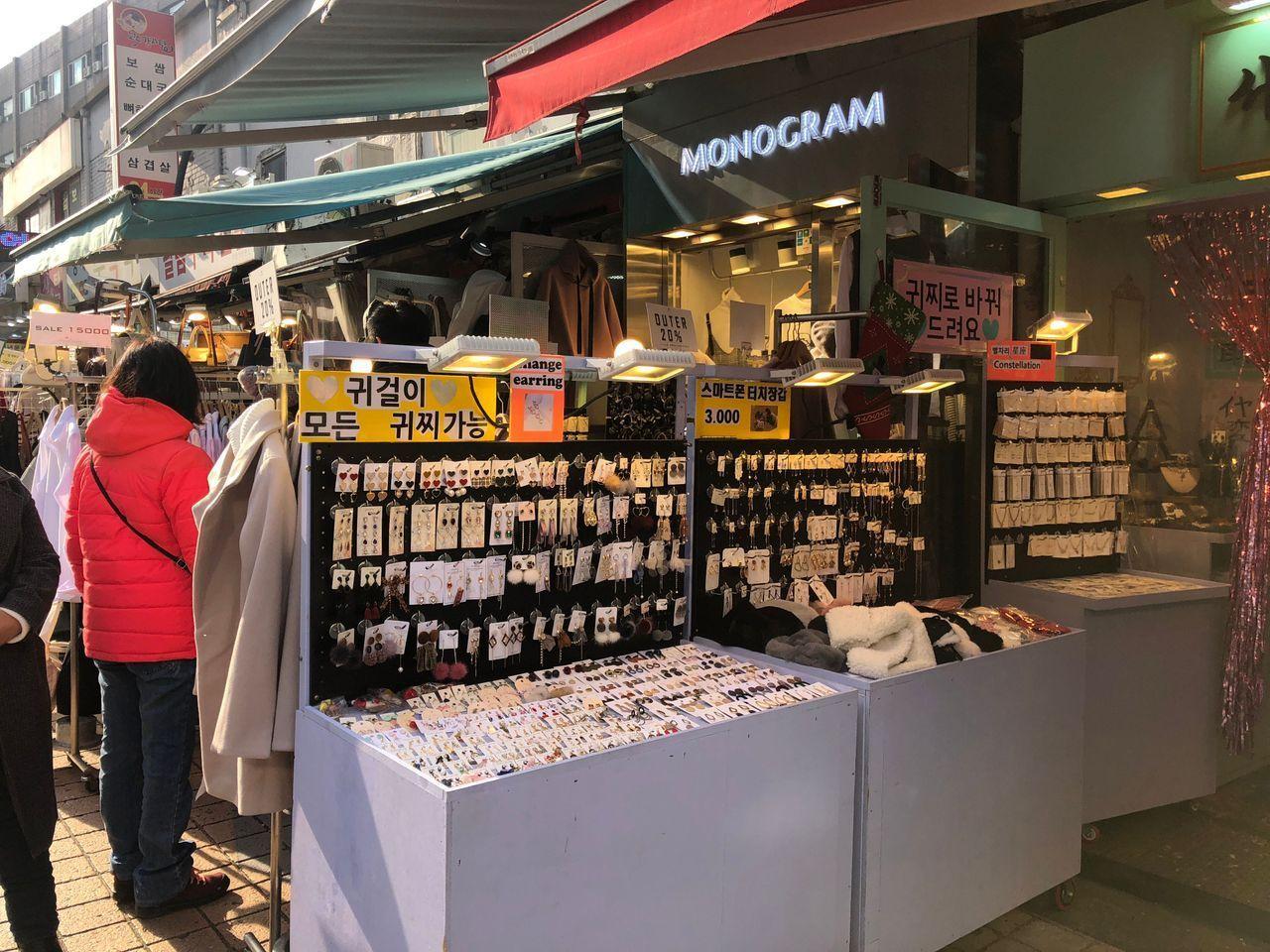 The main street in Hongdae, as you see in the photo, has many cosmetics stores. You can find the stores on both sides of the street.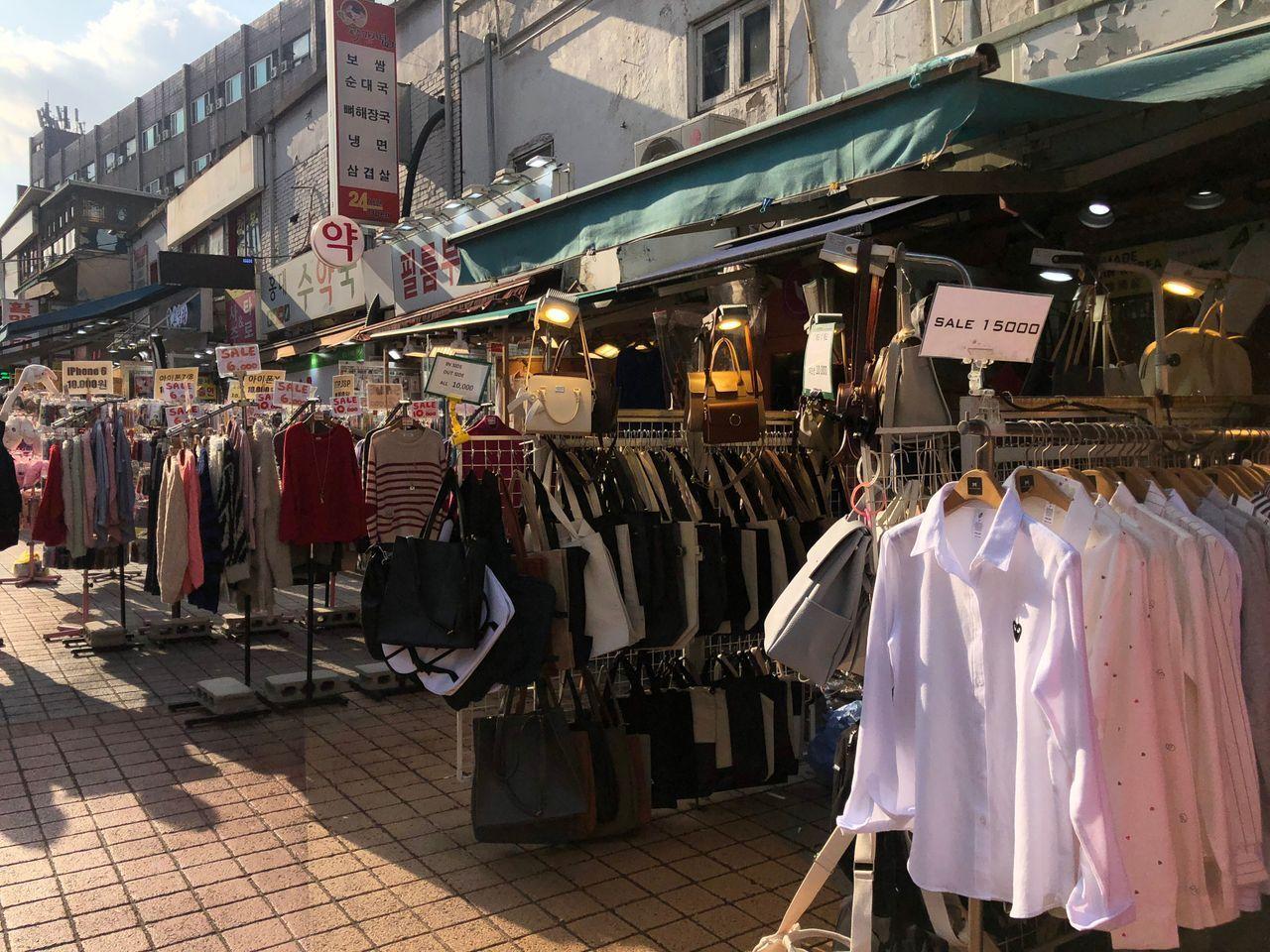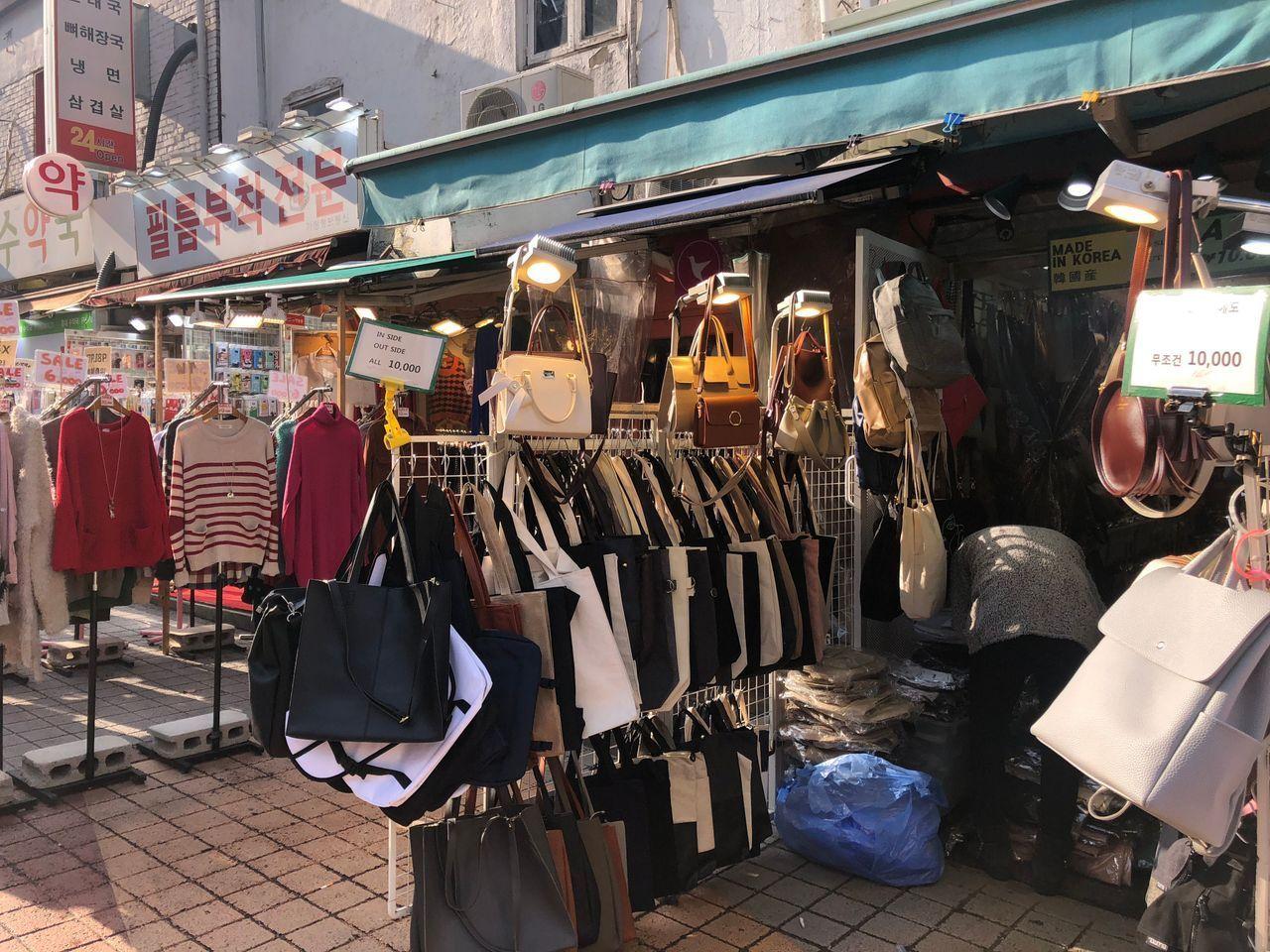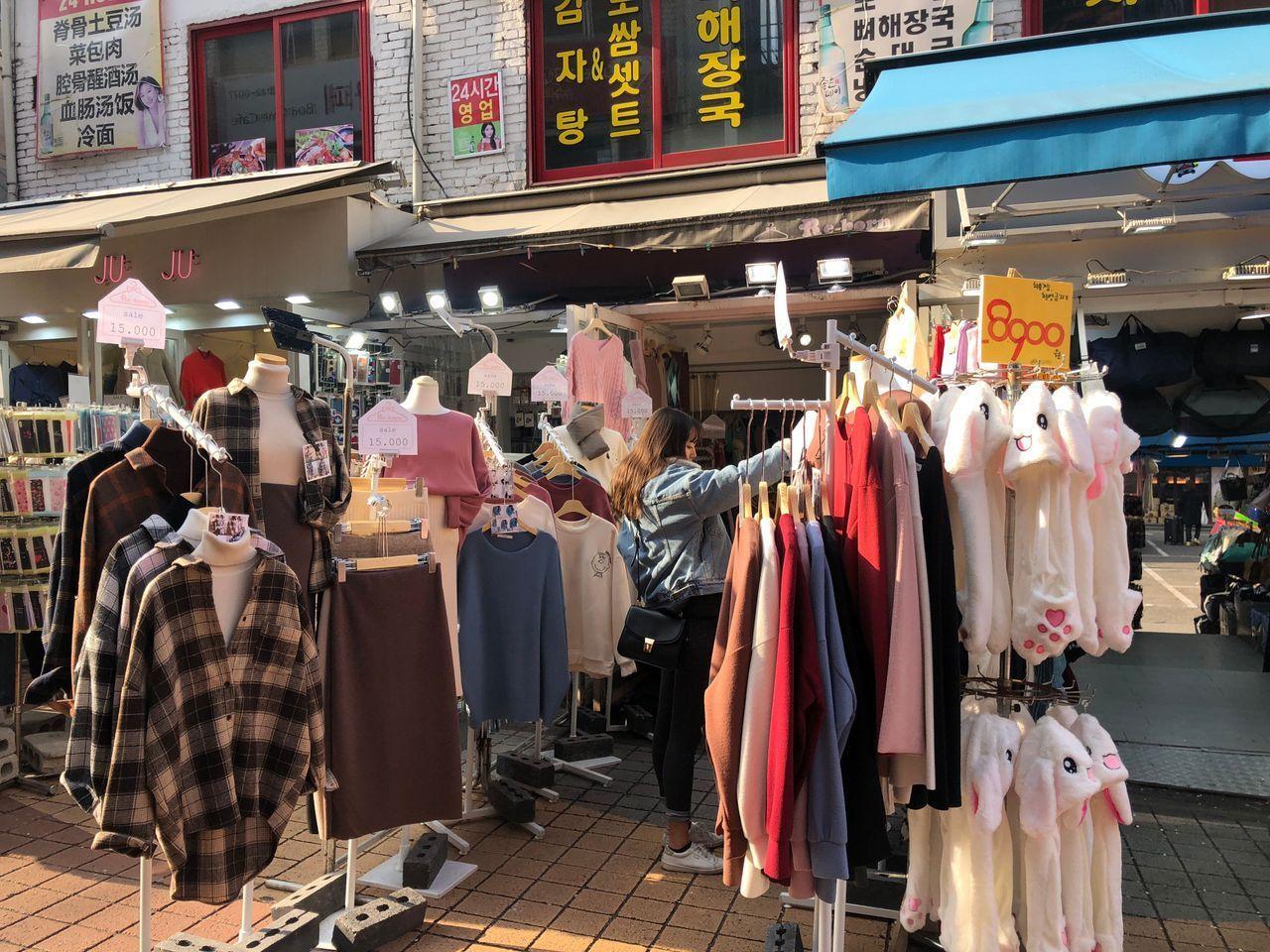 On the streets of Hongdae, there are many clothes displayed outside. Some of them are autumn clothes. These stores with vintage clothing offer unique clothes at cheaper prices.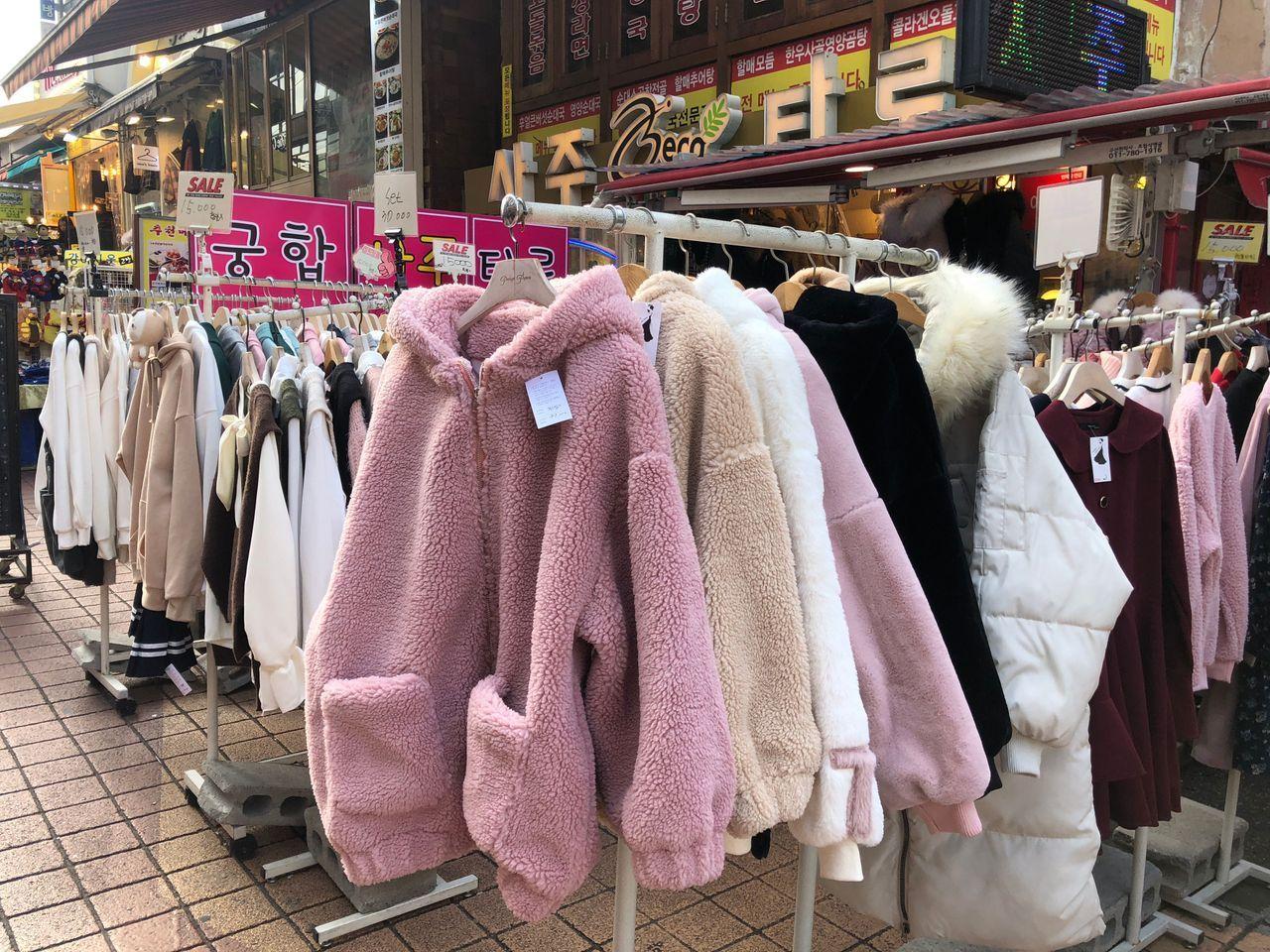 This winter, this type of fake wool jacket is super popular in Korea.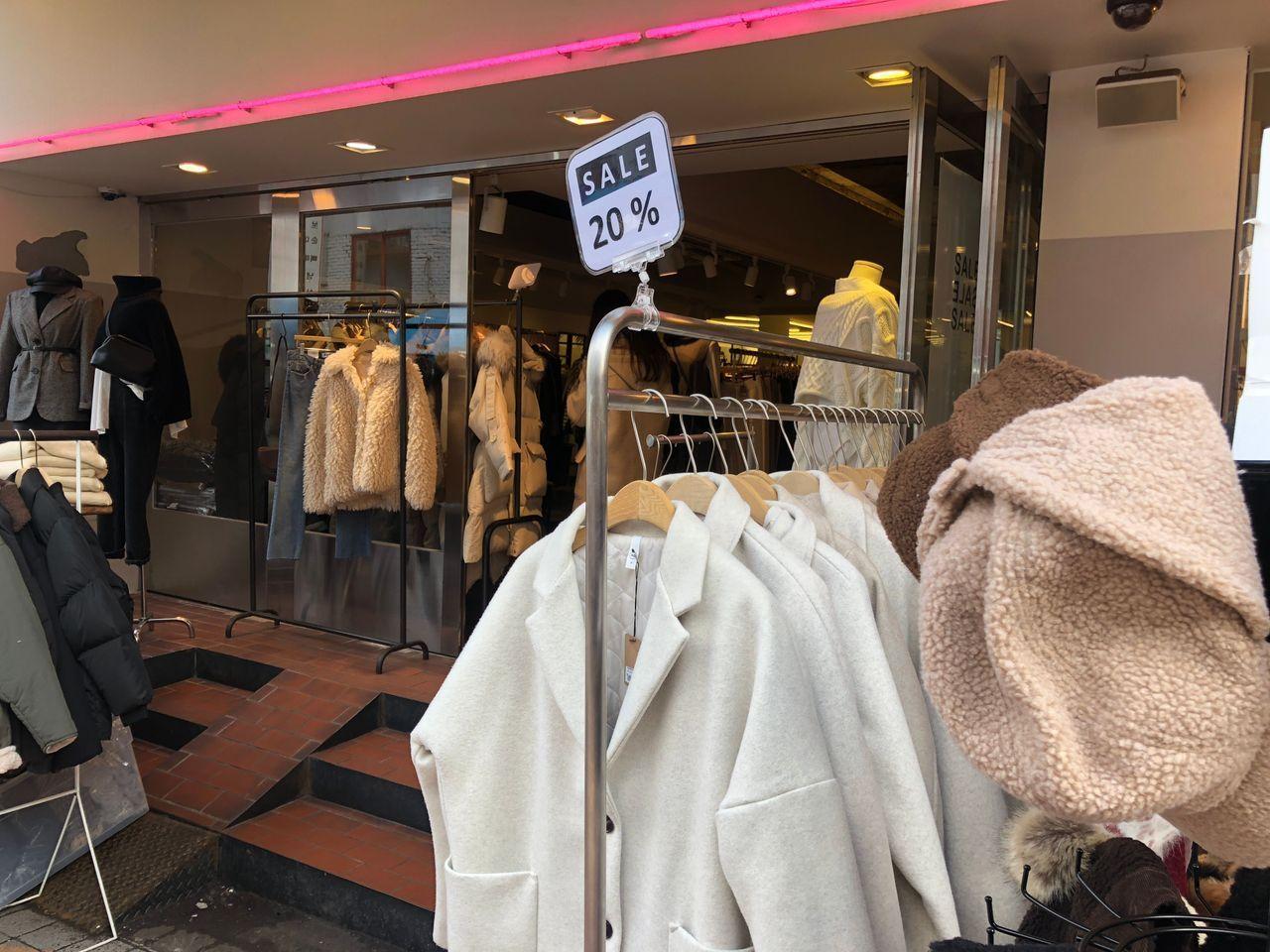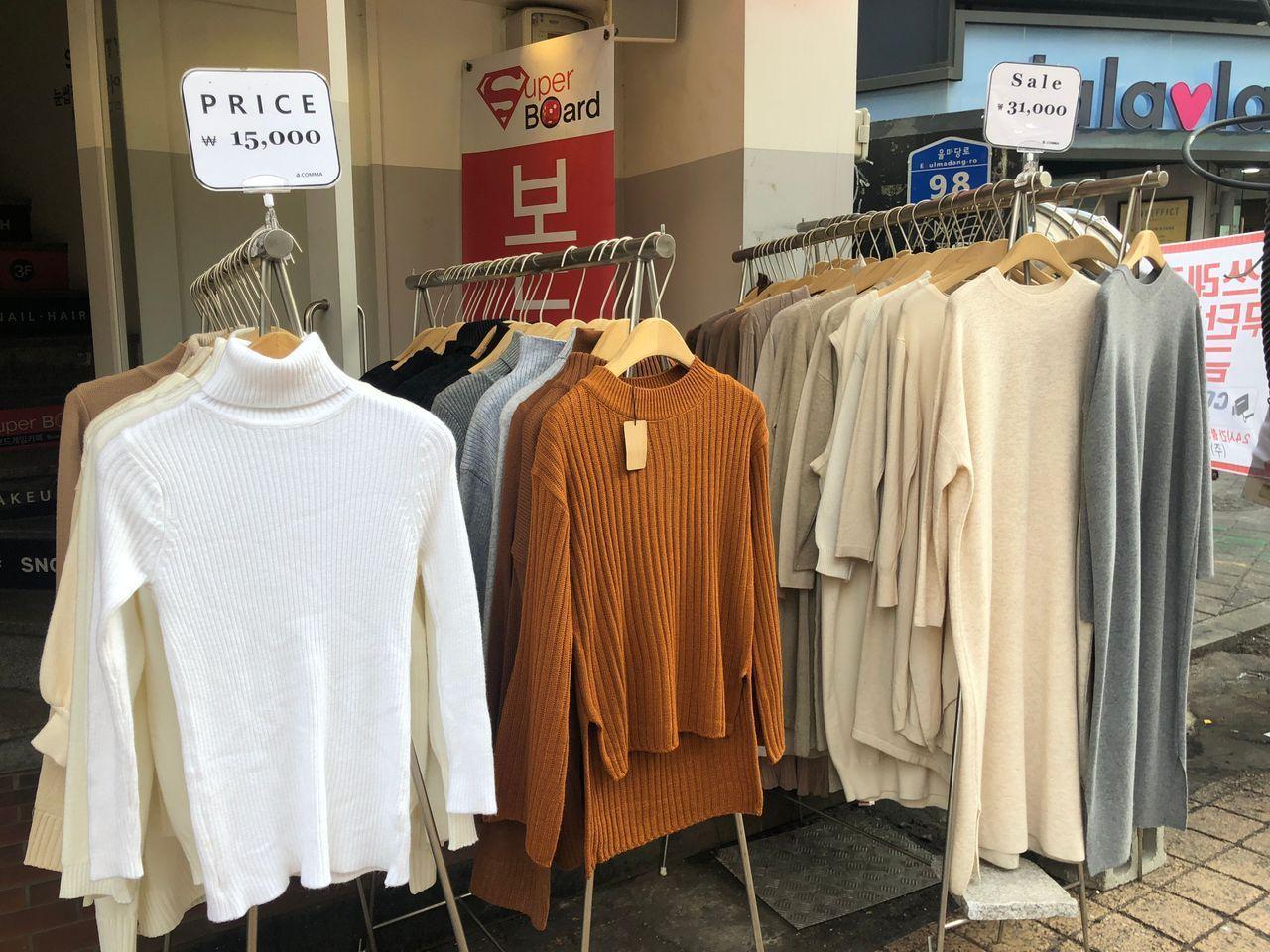 You can find coats, sweaters, and t-shirts in popular Korean style everywhere. The autumn clothes were at discounted prices, so take advantage of this massive promotion when you come to Hongdae.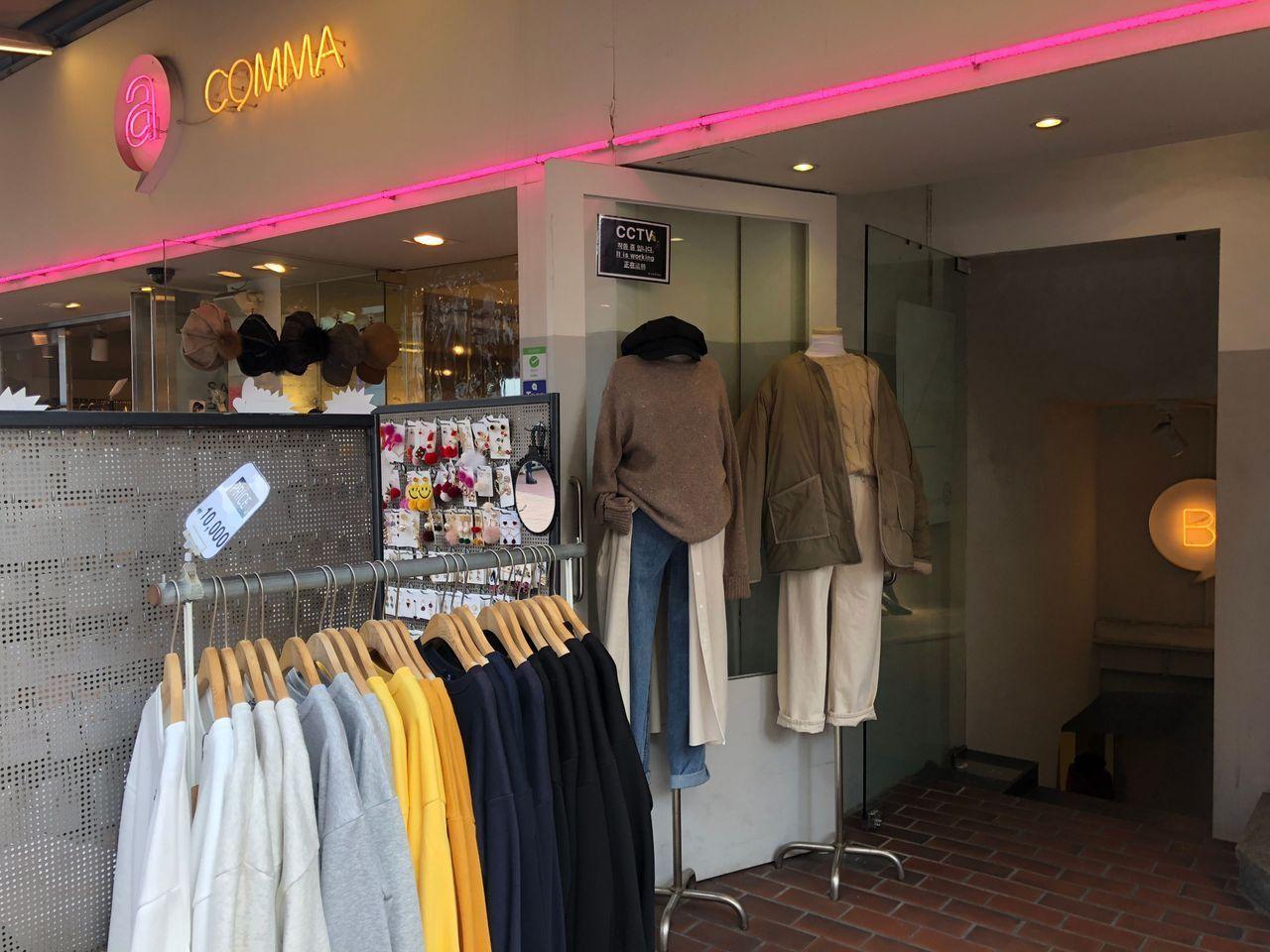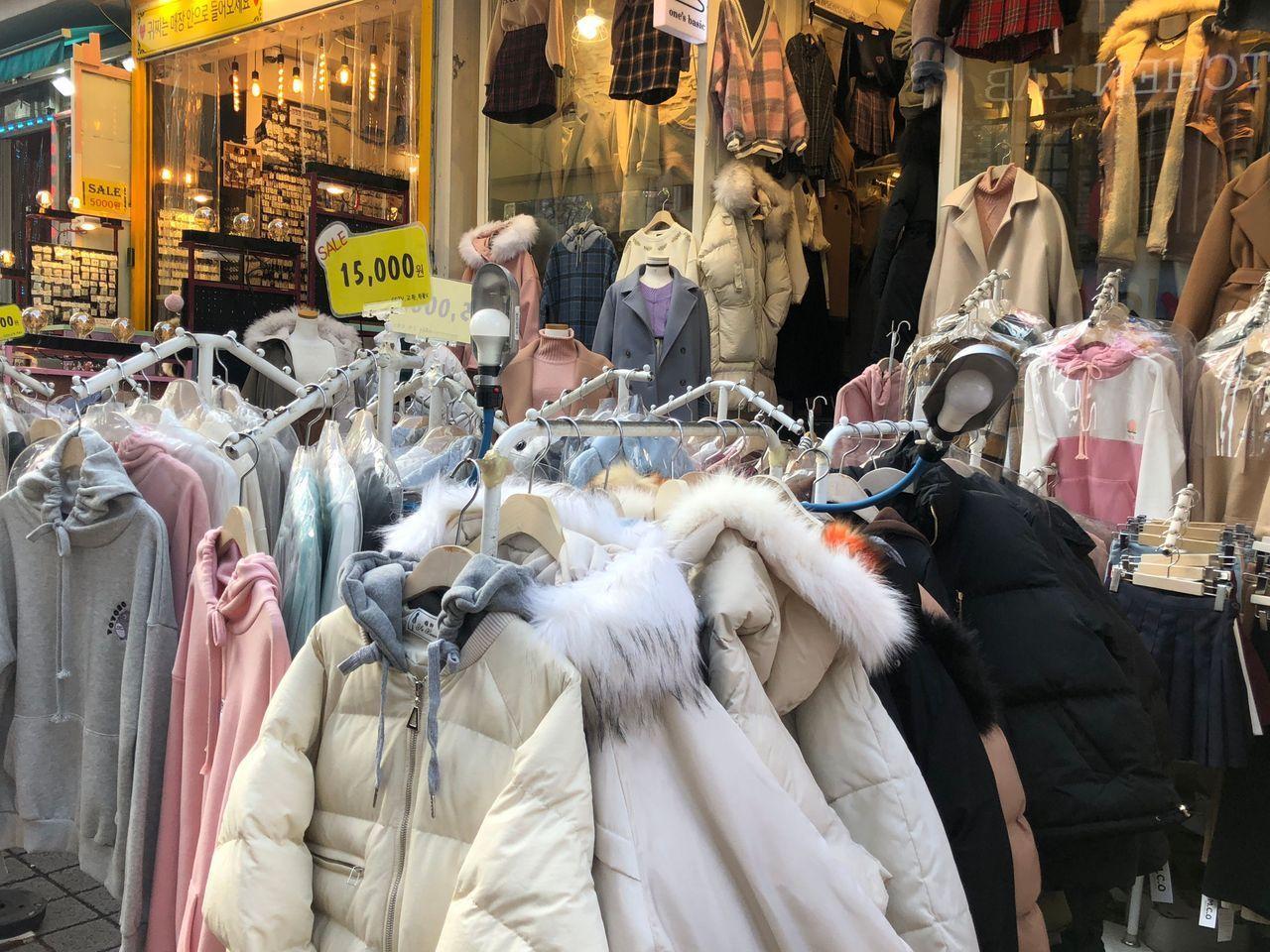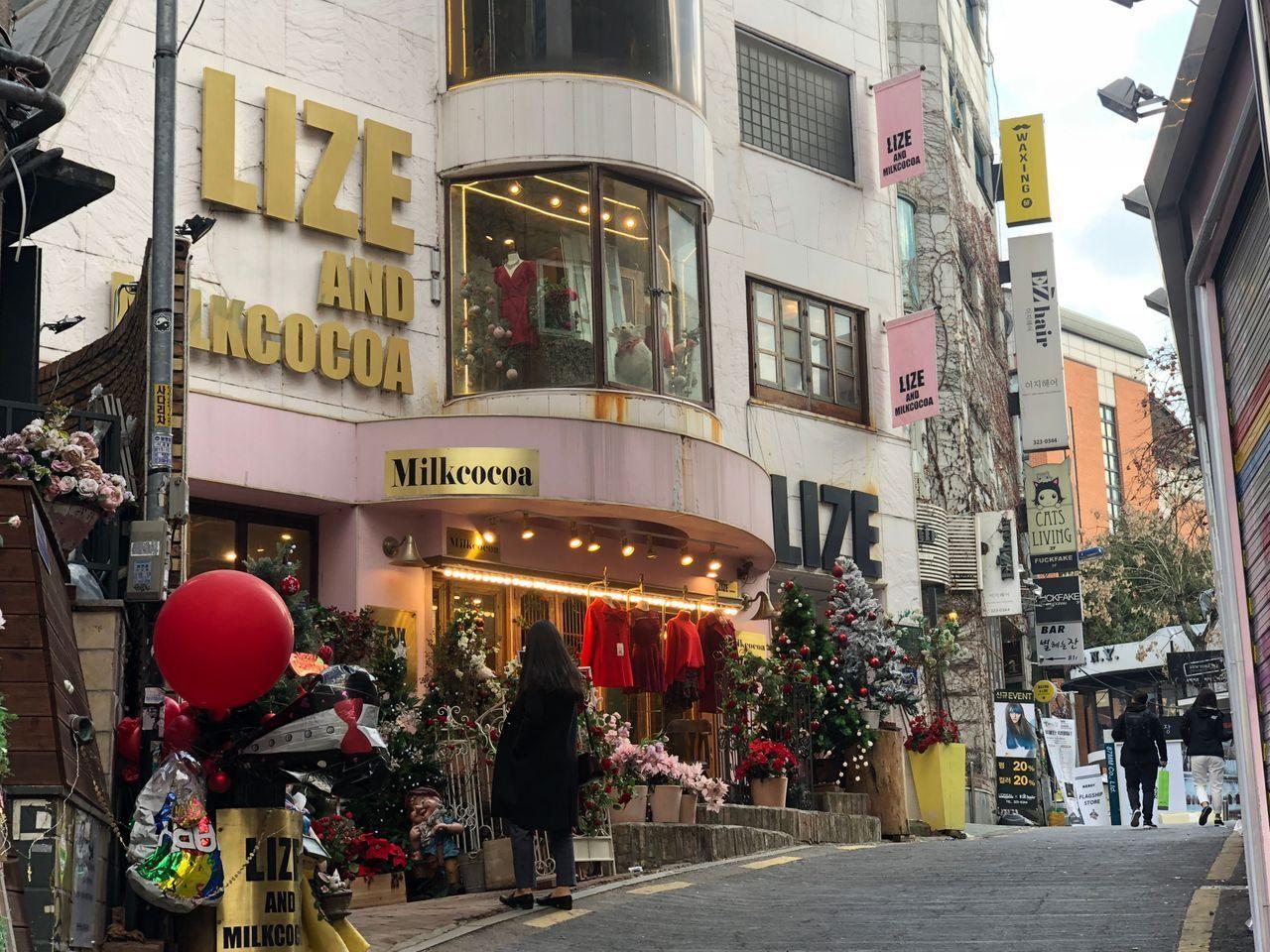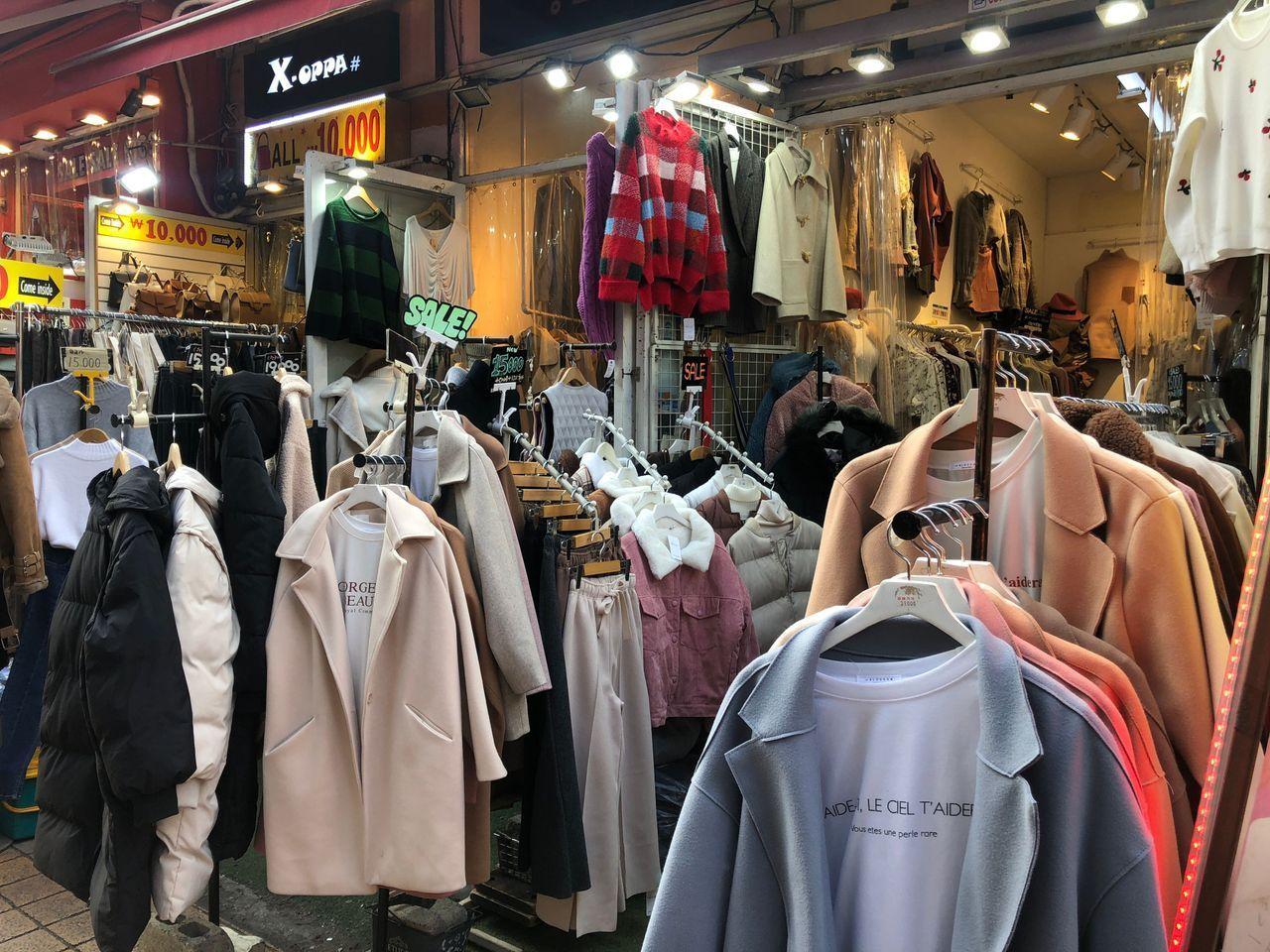 Shopping in Hongdae is all about the alleys. There are many hidden gems in the alleys. These stores can satisfy every shopper's needs. The shops are hidden in narrow lanes. Take some time to explore the narrow alleys. You will be able to find your perfect outfit.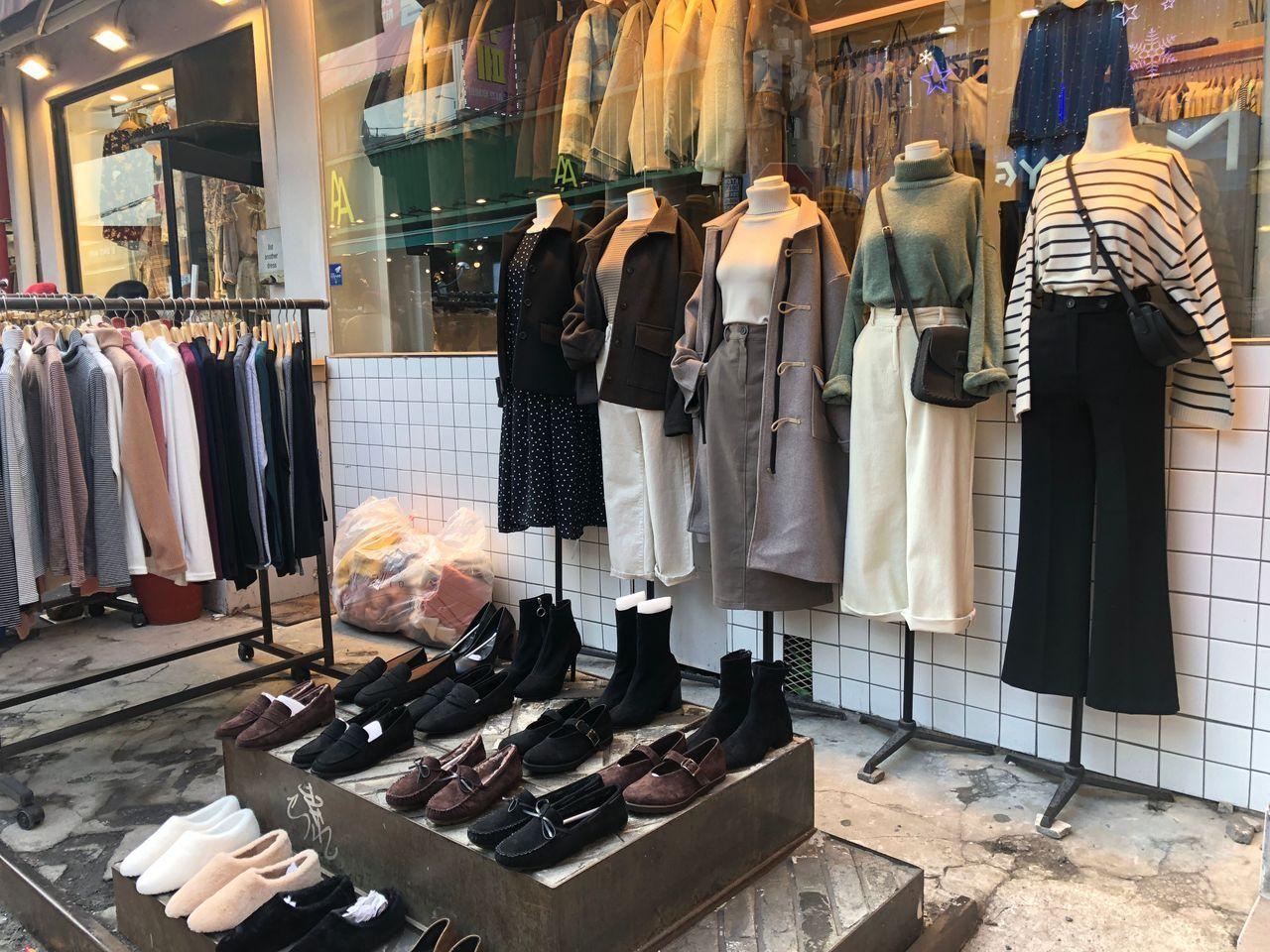 Some might ask the question, "Is Hongdae only suitable for shopping women's clothing?" The answer would be a no!!
In fact, there are also plenty of places where you can shop for men's wear. A few large stores are available for men's clothing in Hongdae. Please find the places below.
Hongdae Shopping|Hongdae Men's Clothing #1
Hongdae Shopping for Men|M PLAY GROUND
Address:서울특별시 마포구 어울마당로 94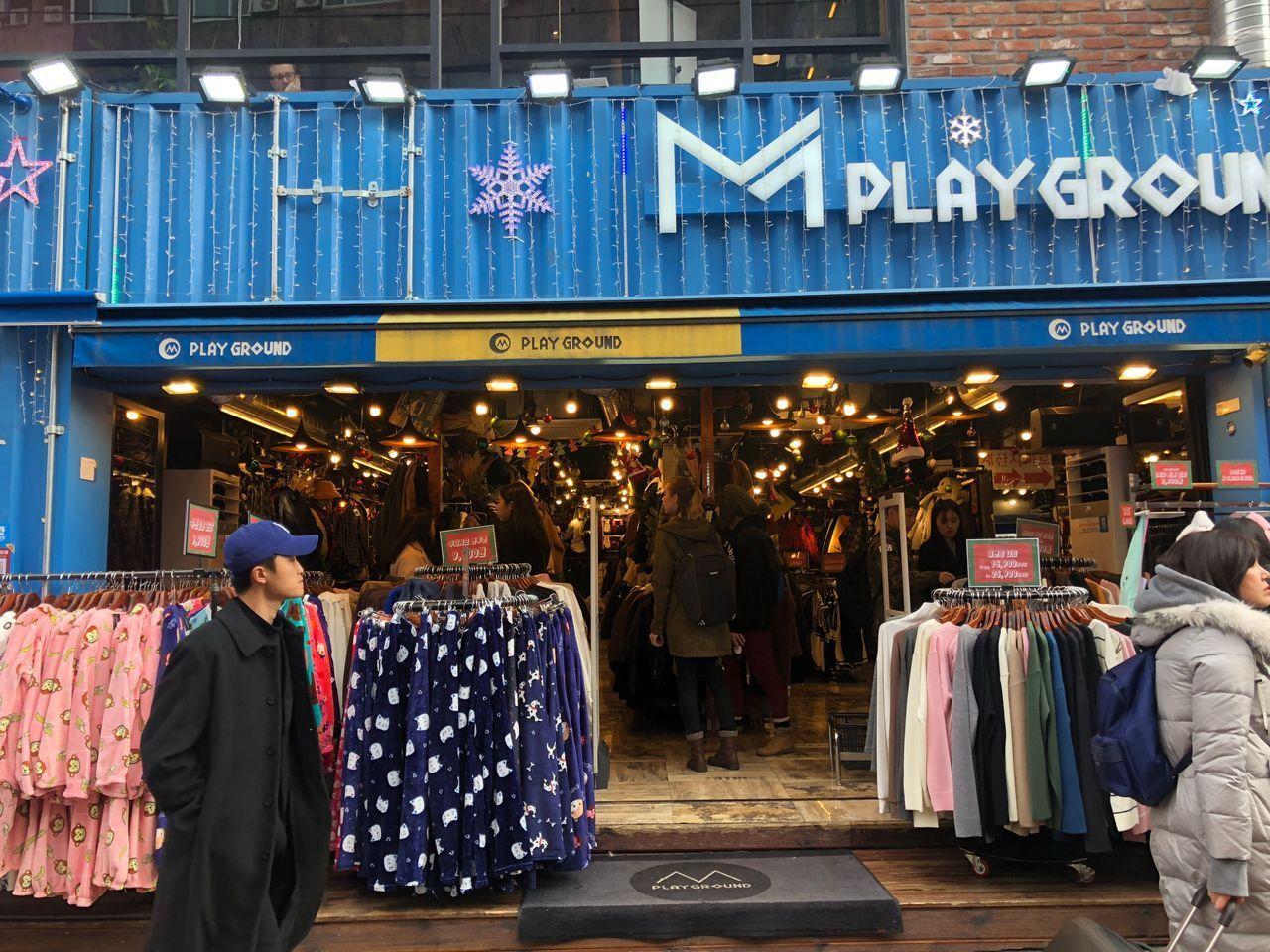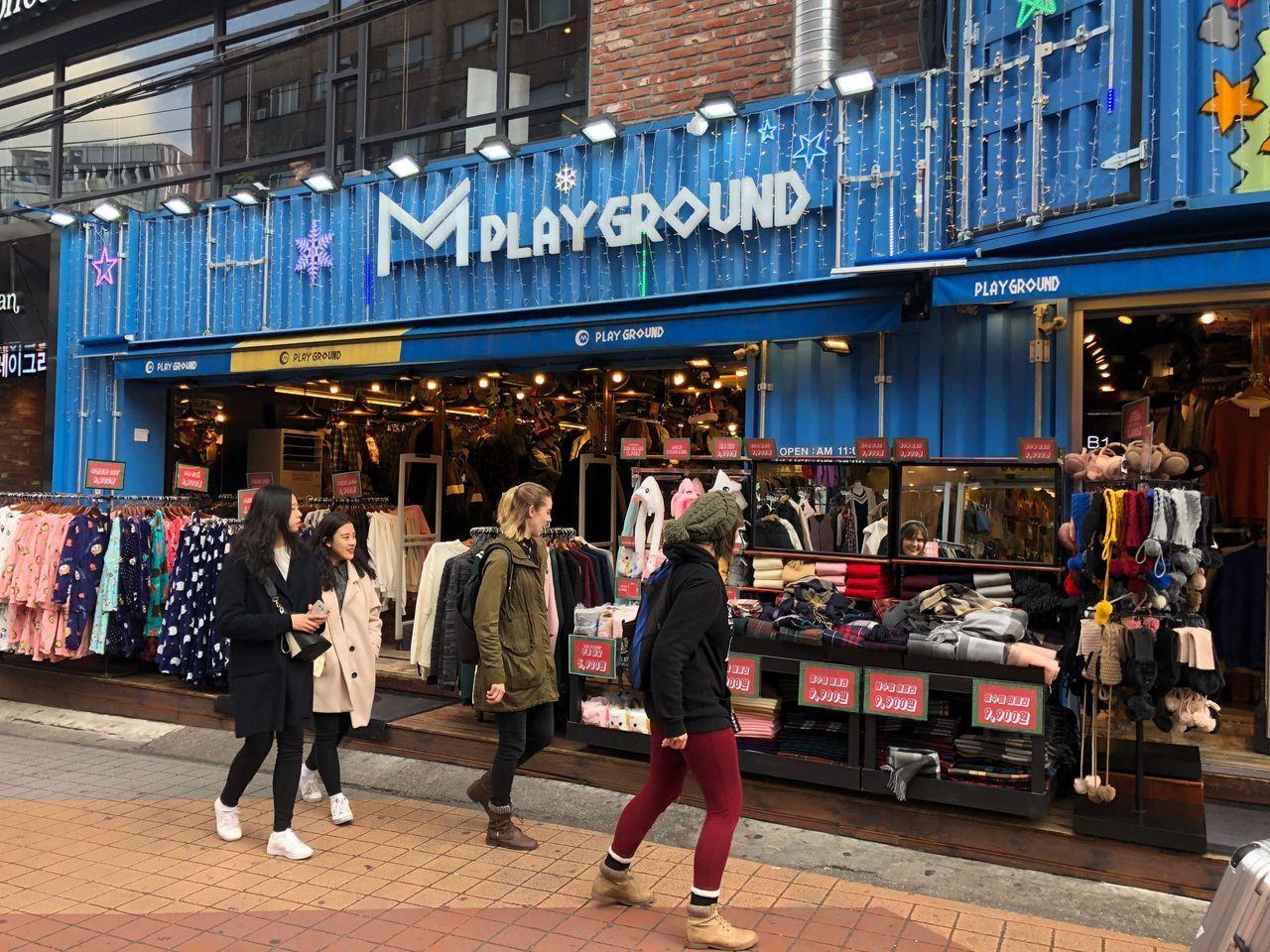 This store is located on the main street of Hongdae Business district. M Playground is a huge clothing store selling only men's clothing. There are a few branches in Seoul including Hongdae, Gangnam, and Shinchon. If you don't know where to go shopping for men's clothing in Korea, M Playground offers many casual outfits at reasonable prices. And the seasonal discount rate is great during the off-season.
Hongdae Shopping|Hongdae Men's Clothing #2
Hongdae Shopping for Men|AA
Address:서울특별시 마포구 어울마당로 92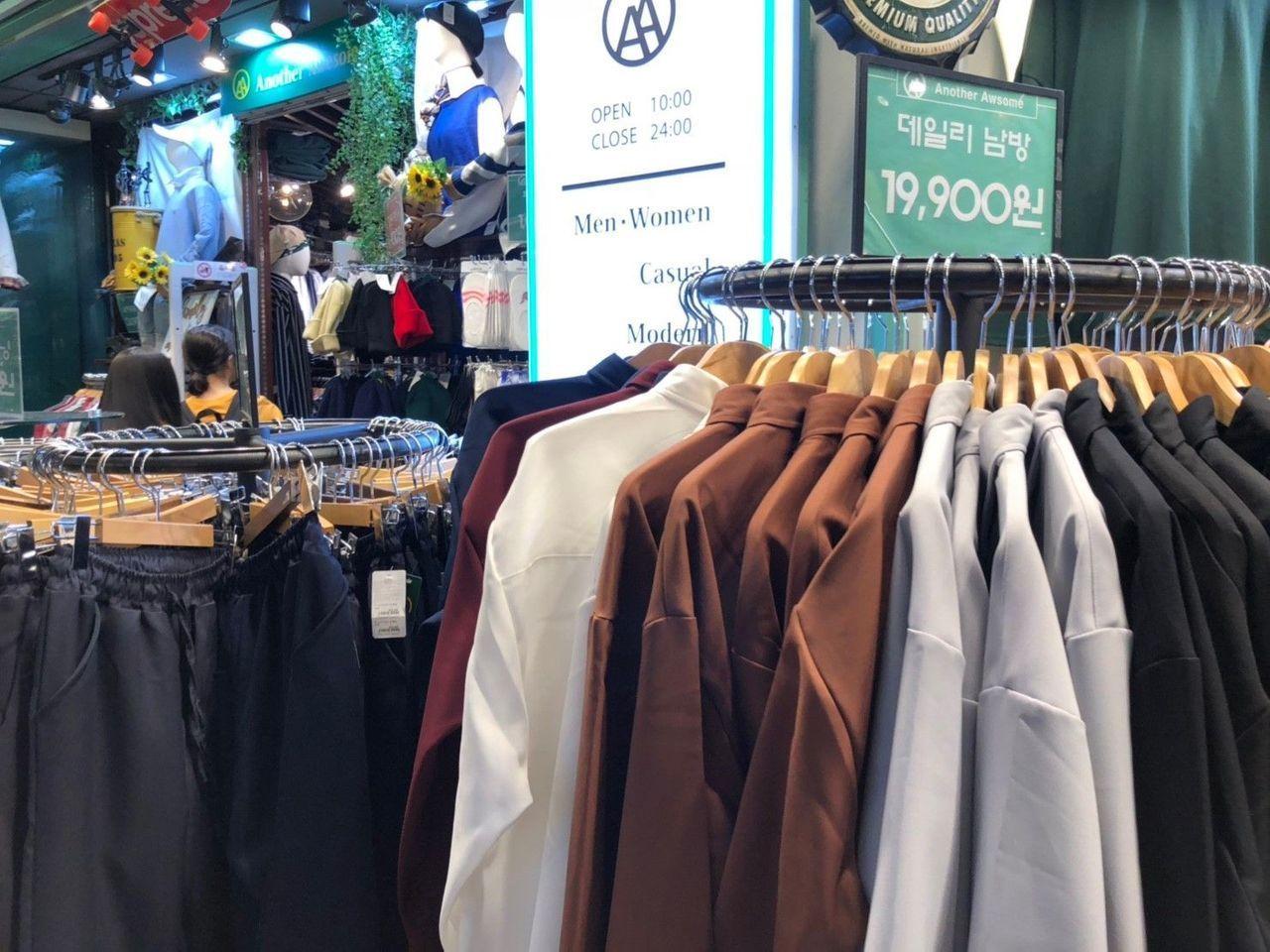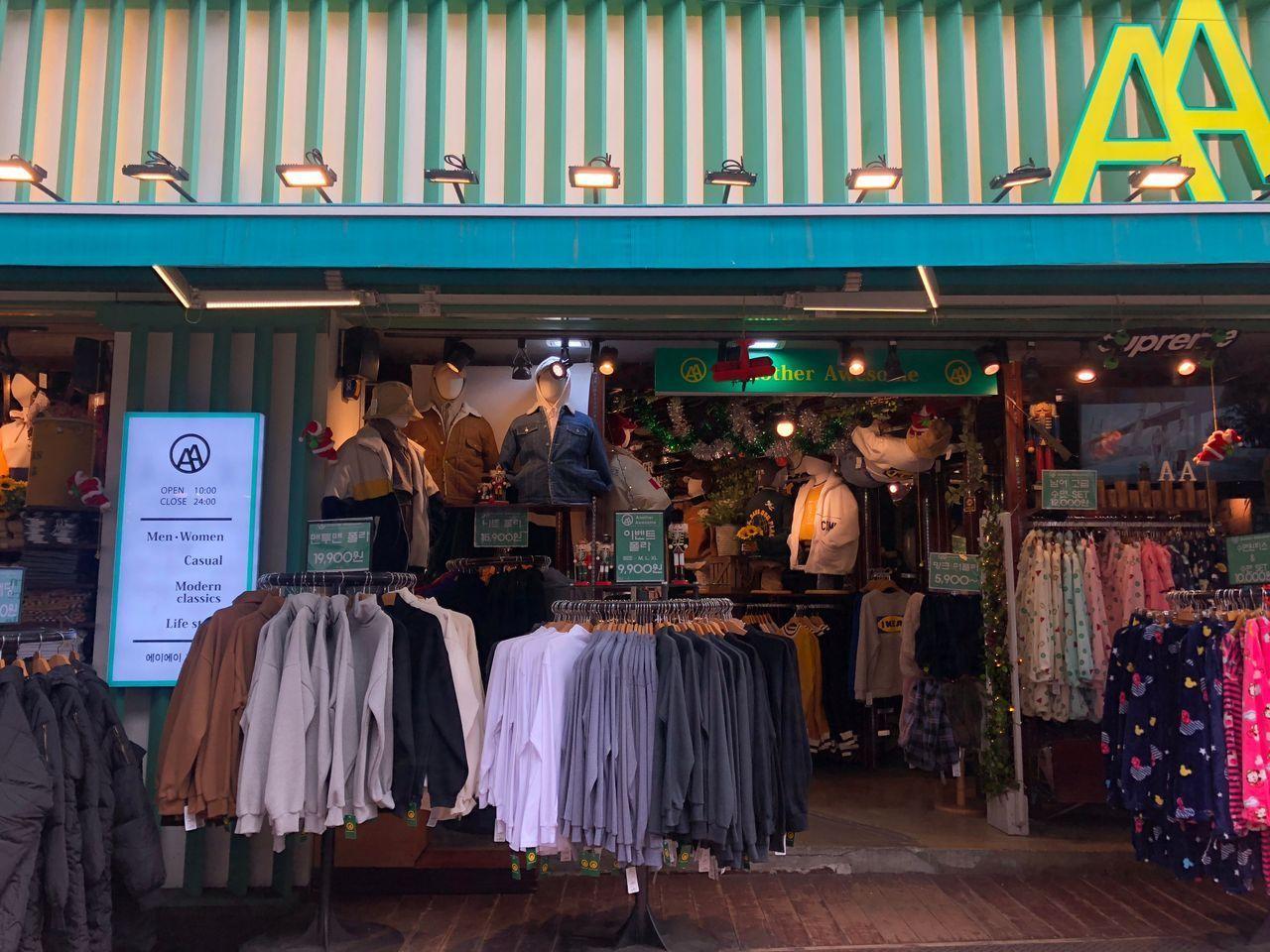 AA (Another Awesome) stands out with its blue-green decoration. This place also specializes in men's clothing in the Hongdae. You can get basic men's clothing item for less. It's also located right next to M Playground, so it is very convenient to compare the prices.
Hongdae Shopping|Hongdae Men's Clothing #3
Hongdae Shopping for Men|Market A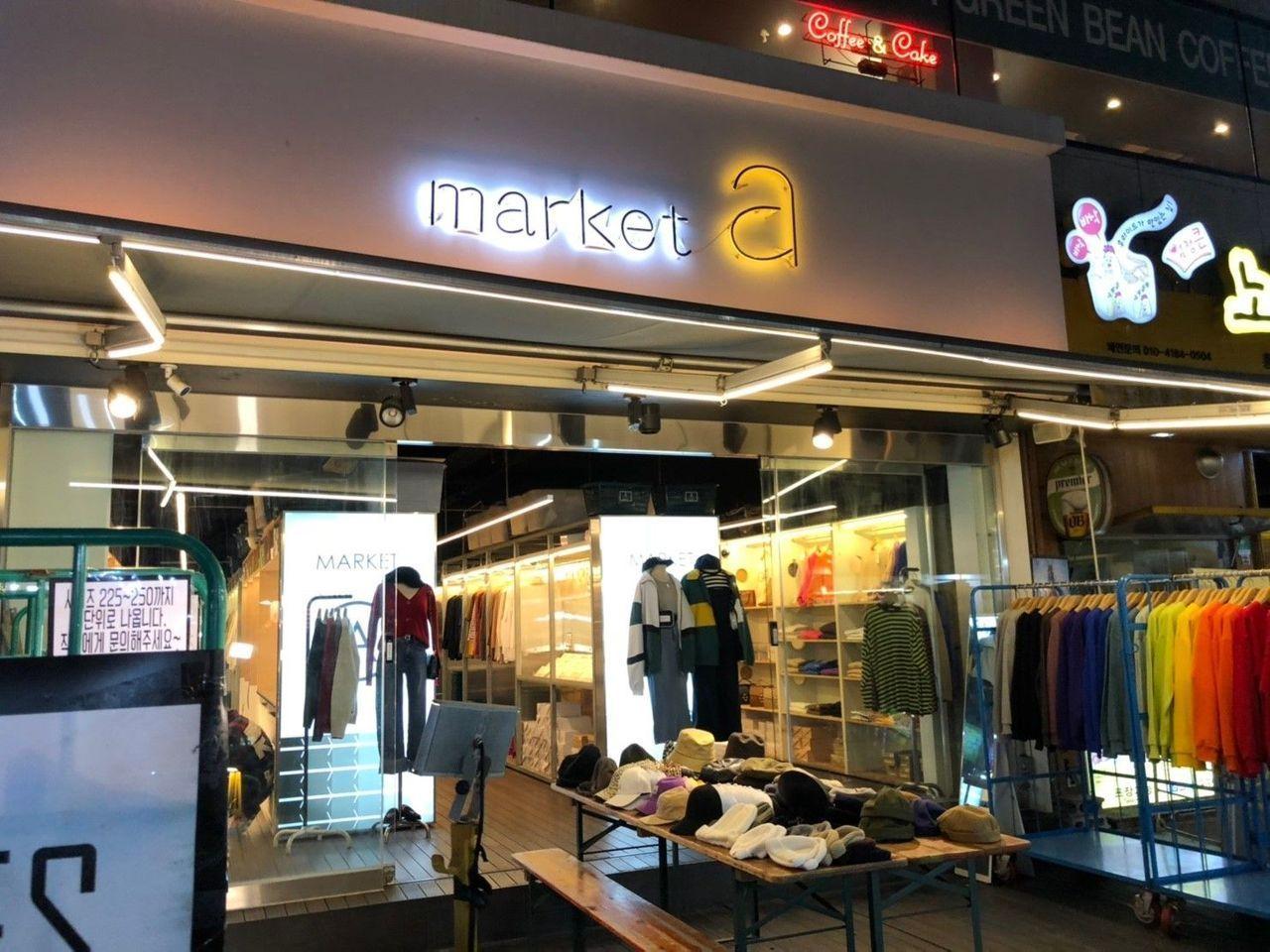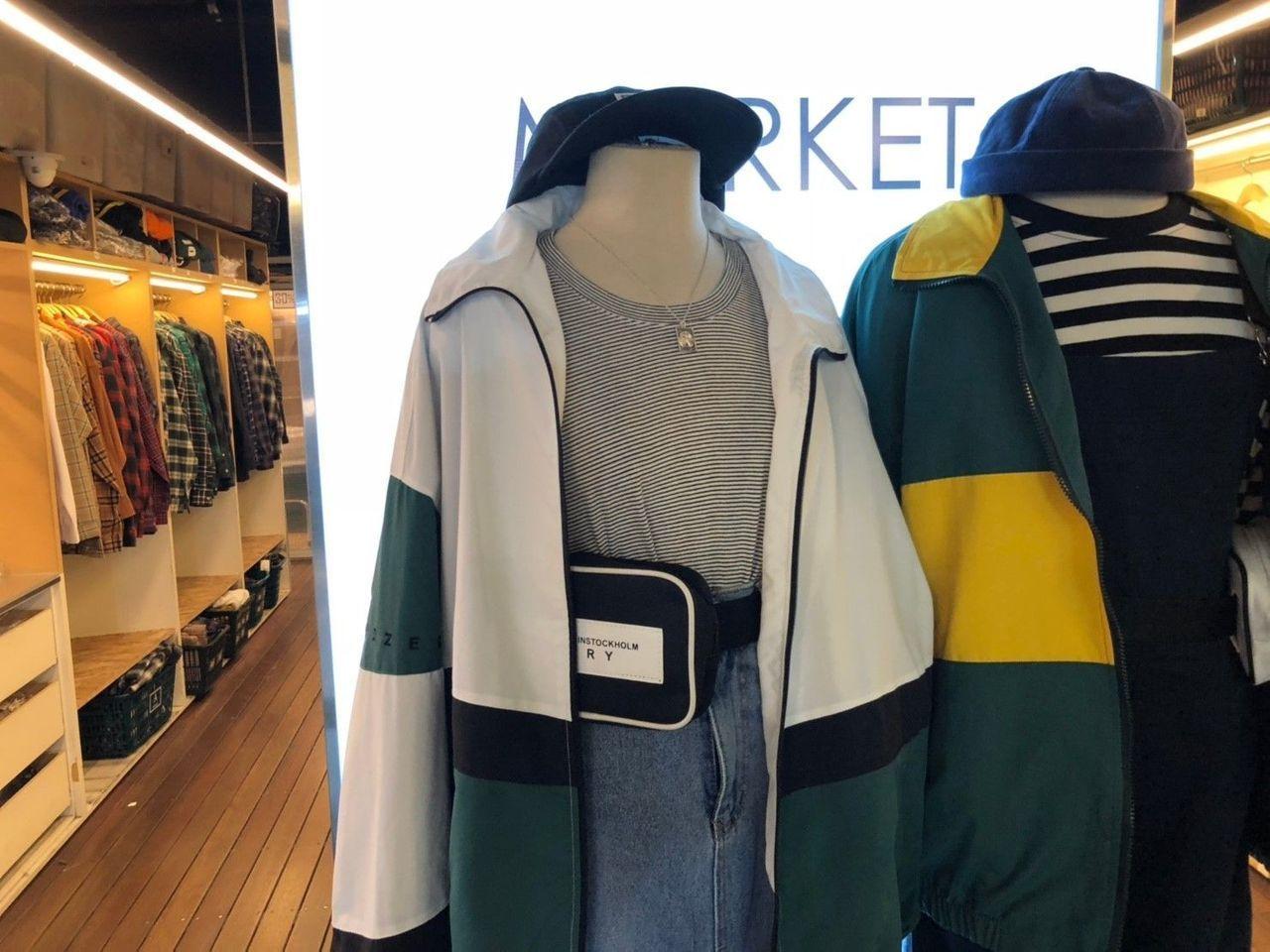 On the other end, there is a small but well-recognized Hongdae clothing store: Market A. This store is more like a small vintage store and the price range is usually very high. They offer both men and women's clothing, and the clothes have great texture and quality. Thanks to the off-season promotion, I was able to buy a decent quality winter coat for only 30,000 won in April this year. If you visit this store when there is no promotion, the price is usually very high. I suggest you buy a seasonal item at Market A.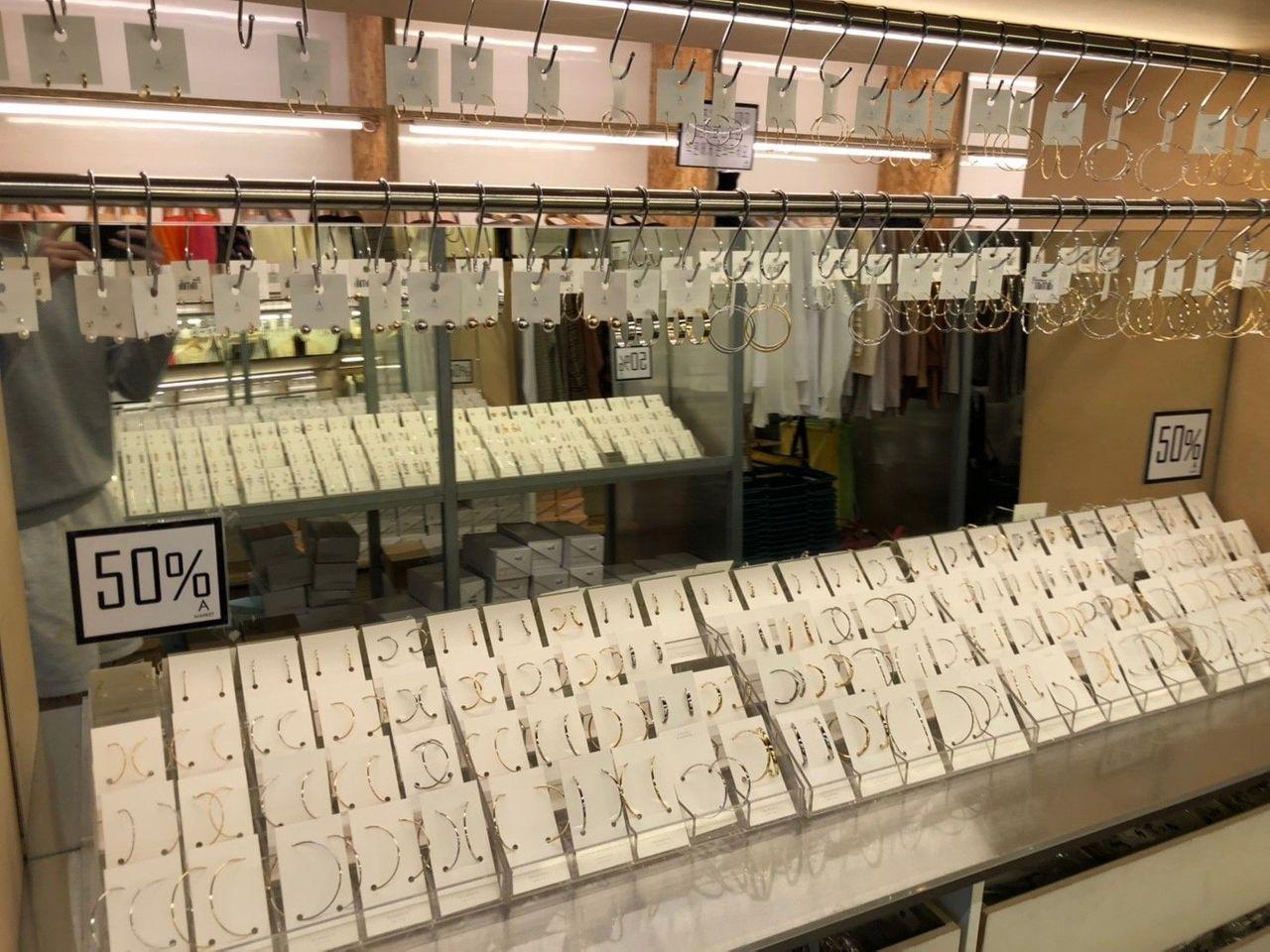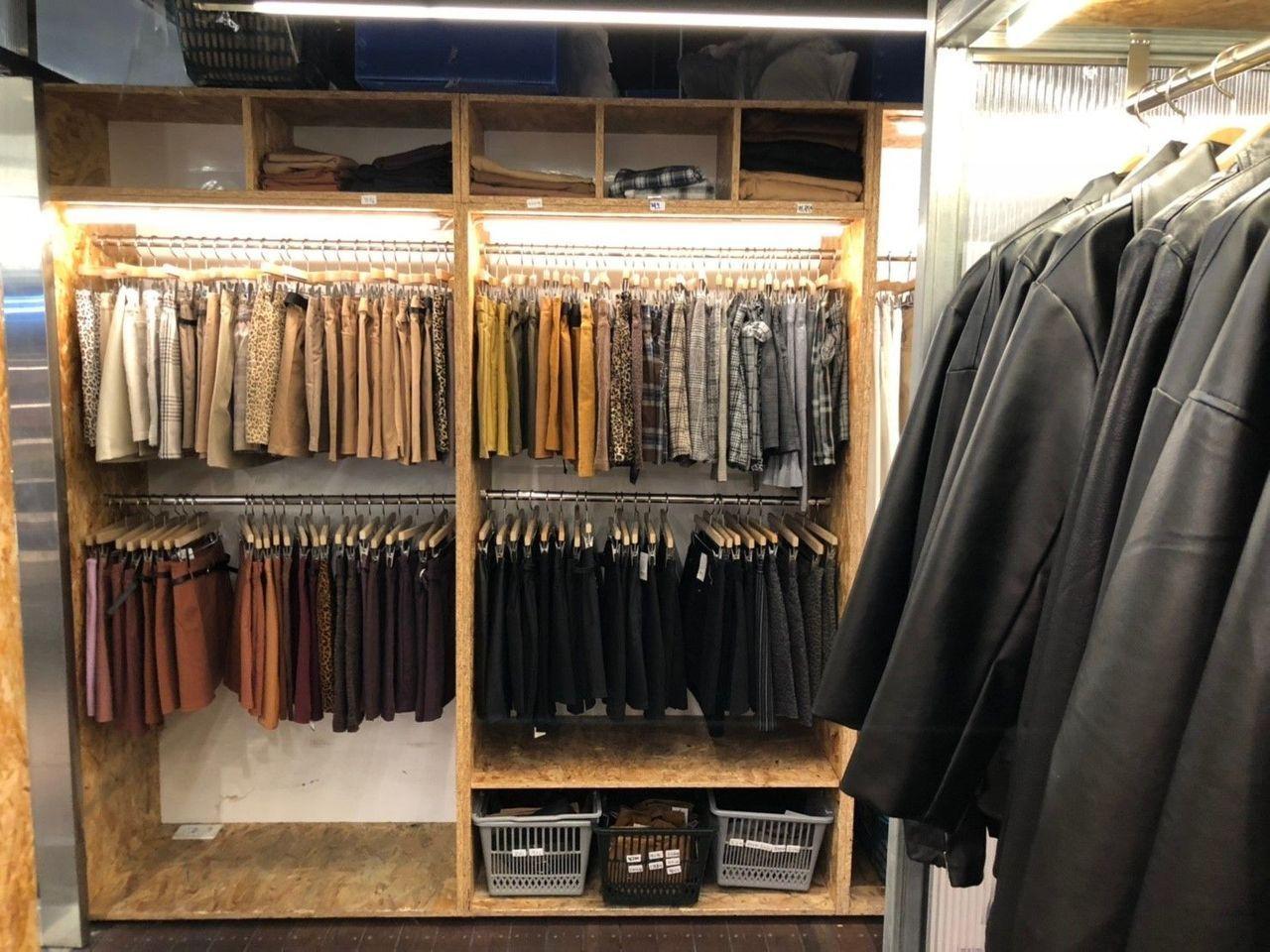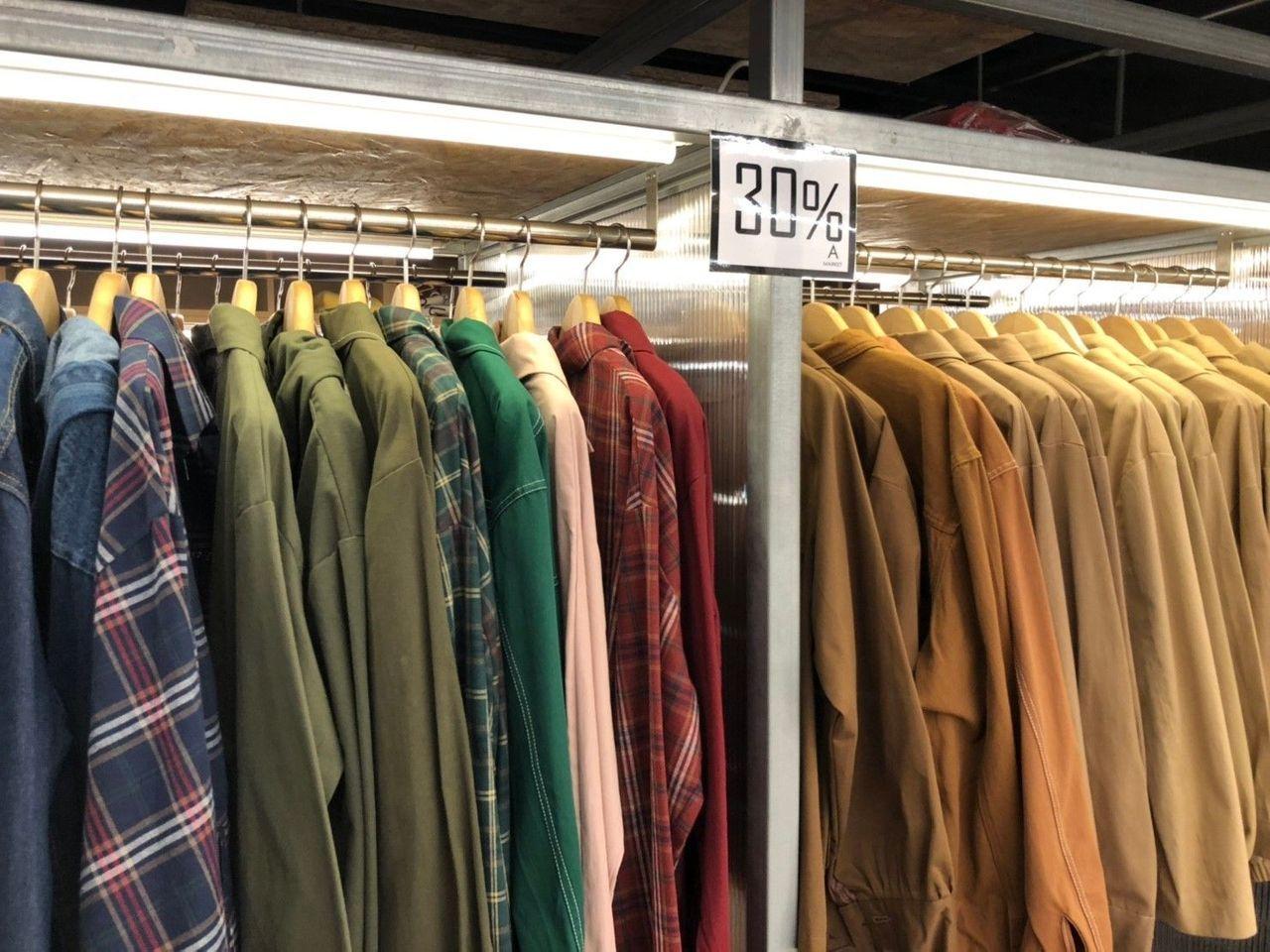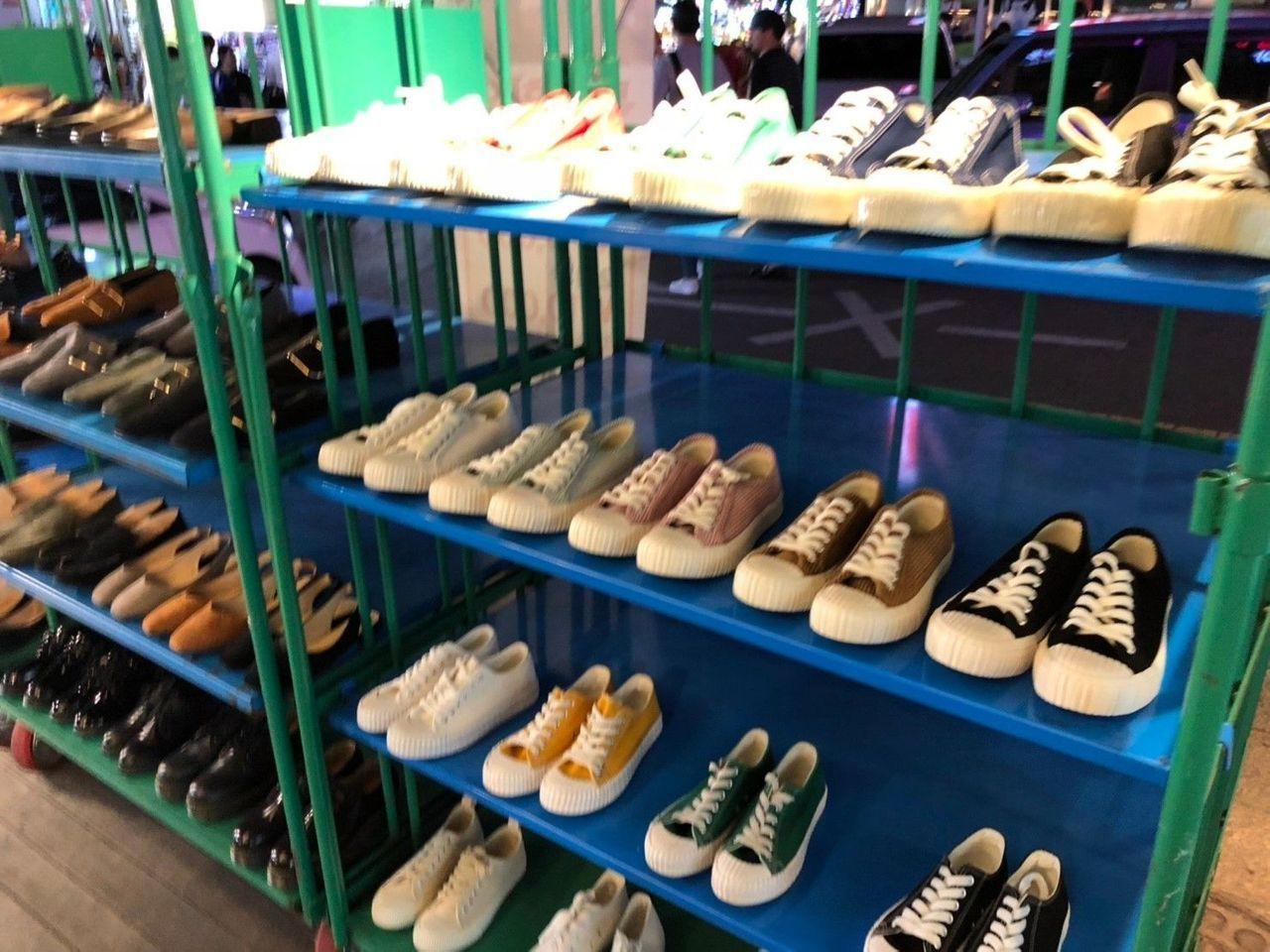 At the Hongdae shopping store: Market A, you can try on many different styles. You can do a one-stop-shopping for both men and women. I would recommend for those who want to catch up with Koreans' latest fashion trend to swing by.
Hongdae Shopping|Hongdae Accessory Shop
Jewerly Shopping in Hongdae|Shigonggan
Address:서울특별시 마포구 홍익로3길 44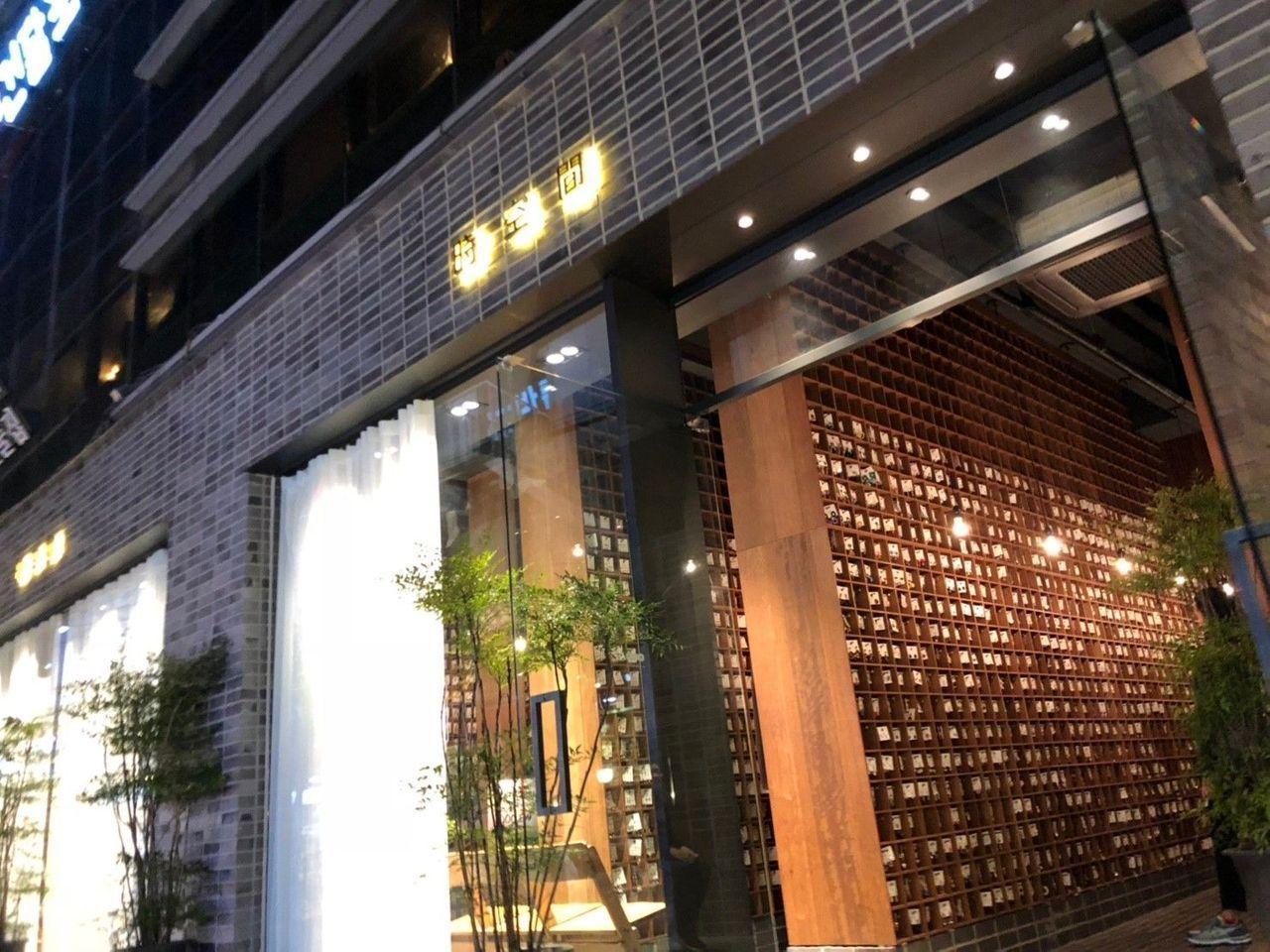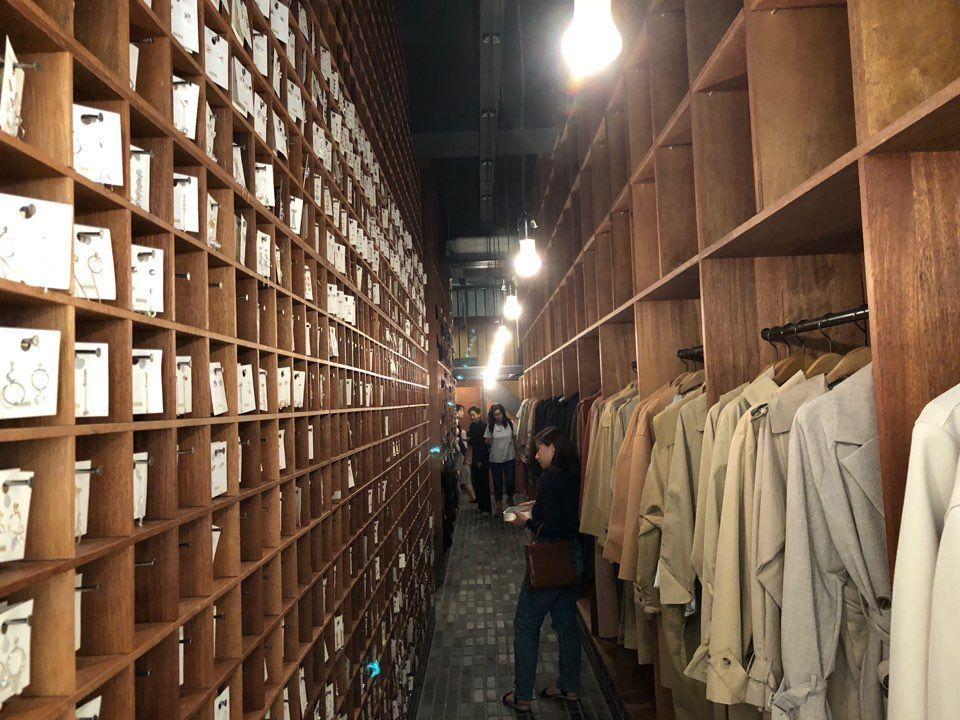 This is super famous Korean jewelry store in Hongdae. Shigonggan has a wide variety of jewelry. This store had a sensational reaction among Korean Women because of its unique style. Although the price range is higher than the other accessory shops, you can buy unique items with a discount.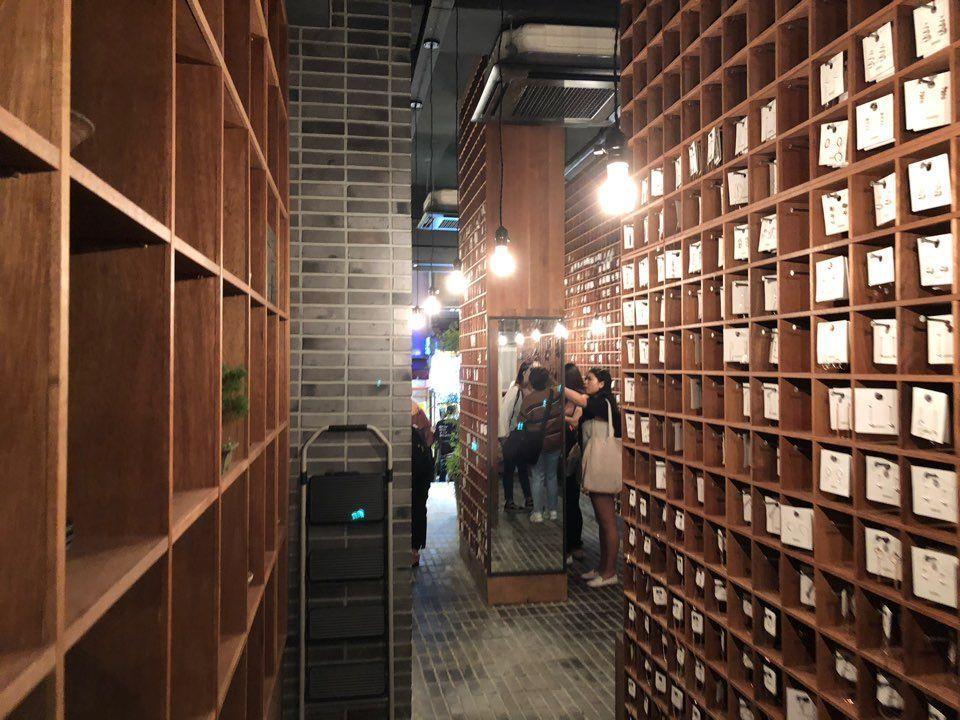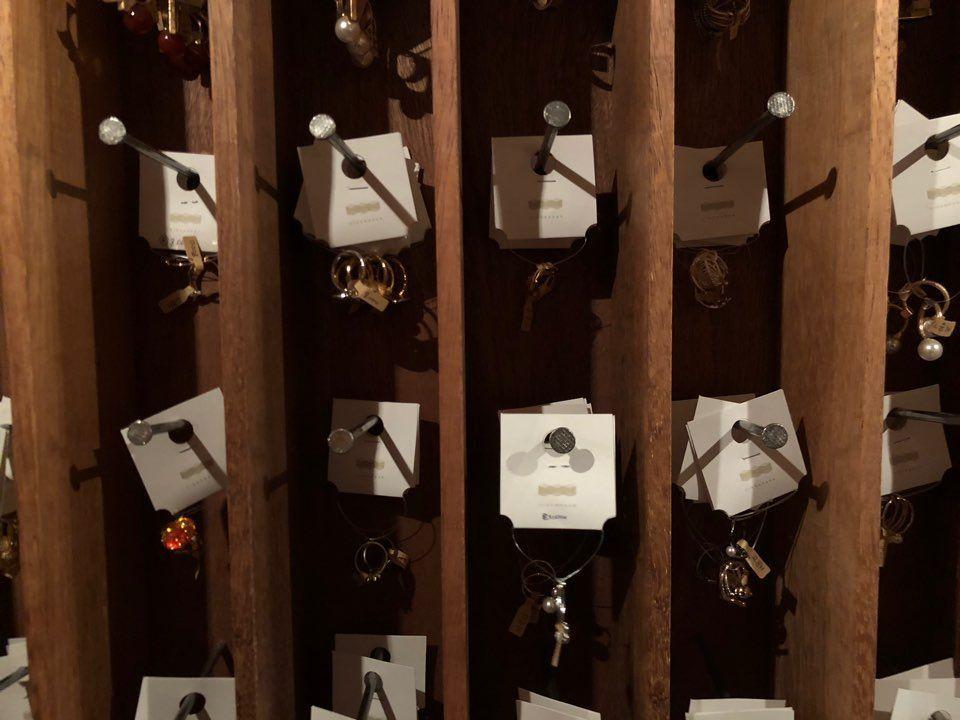 There are two branches in Hongdae. I recommend everyone to go to No. 2 shop (located near the Hongdae Business District) because this store has more variety in terms of the types of items and designs. The No. 2 store not only has basic accessories but also has beautifully designed women's clothes. The price range isn't so cheap, but this place is also a great place for taking an Instagram photo.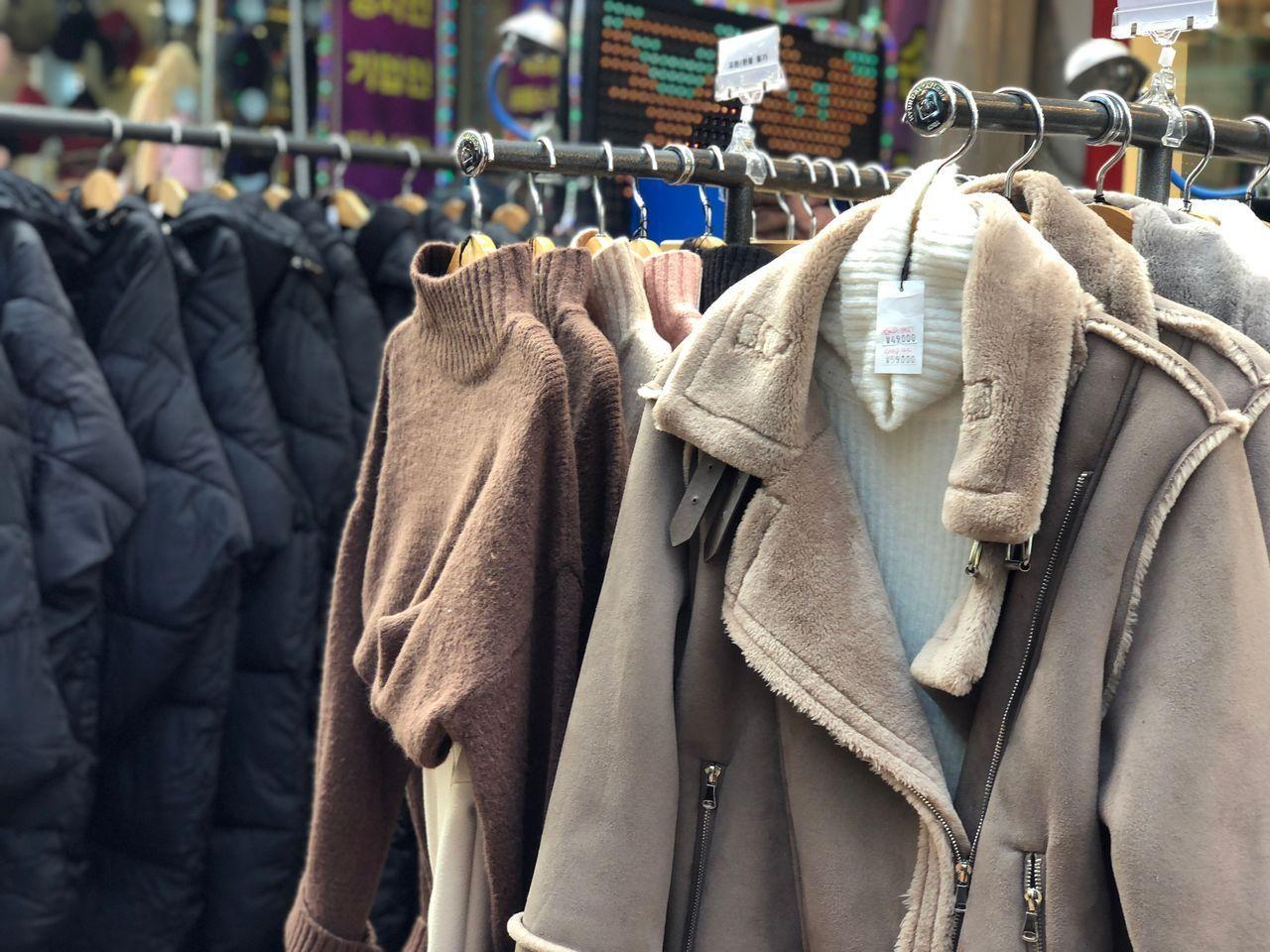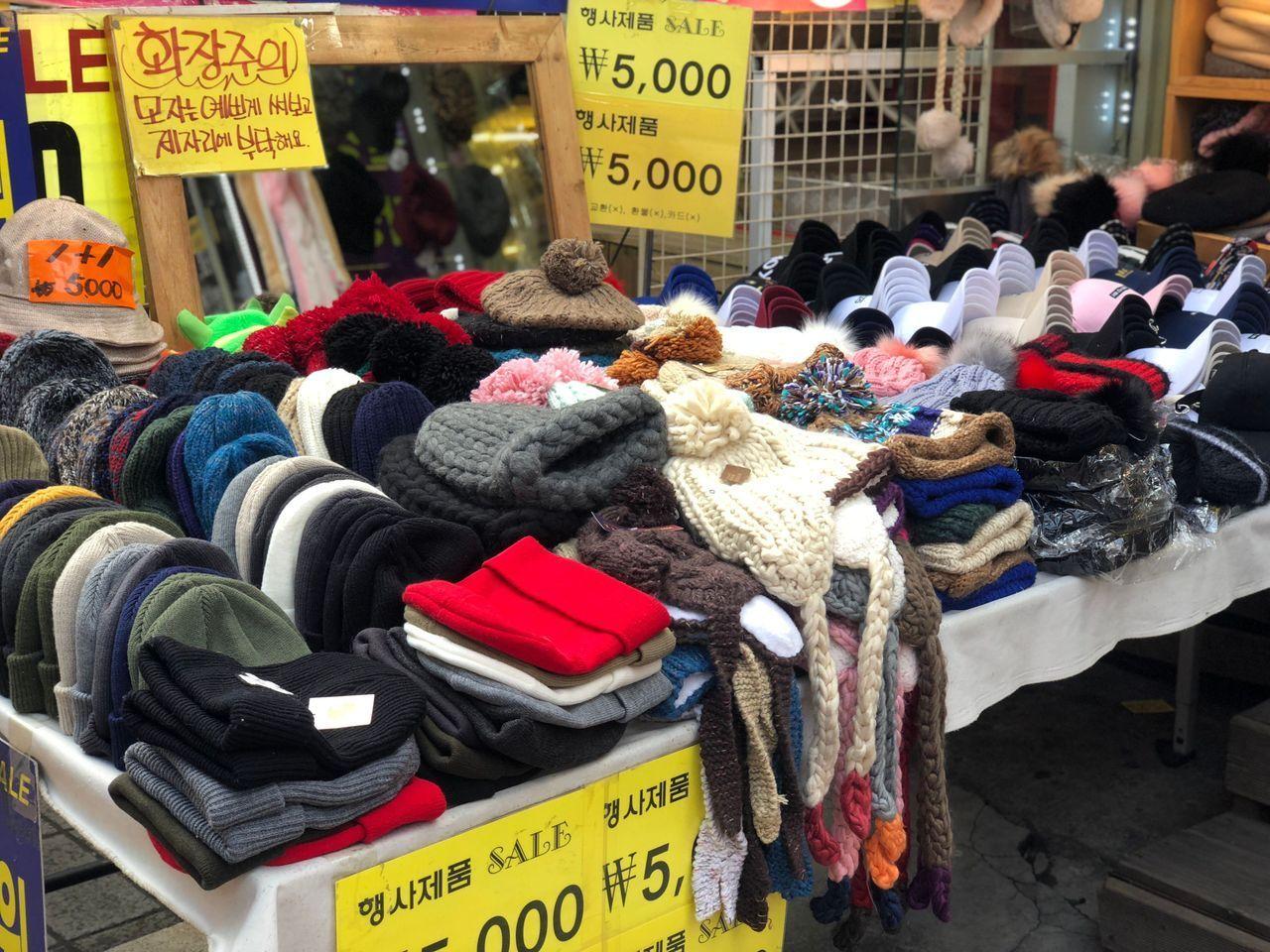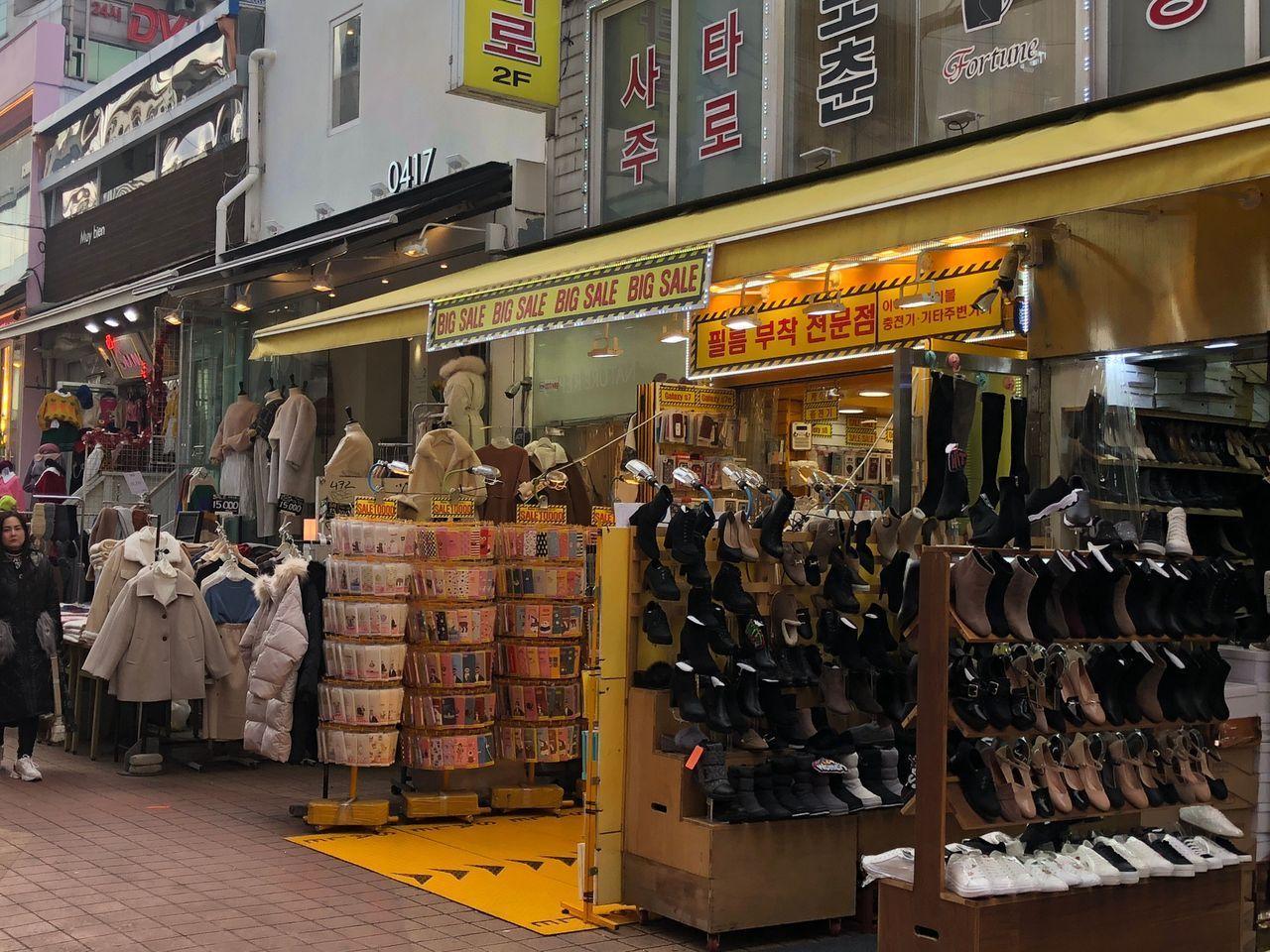 The Hongdae business district is always crazily packed with pedestrians. All kinds of clothes, accessories, shoes, and mobile phone cases can be bought here. Once you are used to this mayhem, it would be nearly impossible not to come back. There is this unique vibe that attracts people.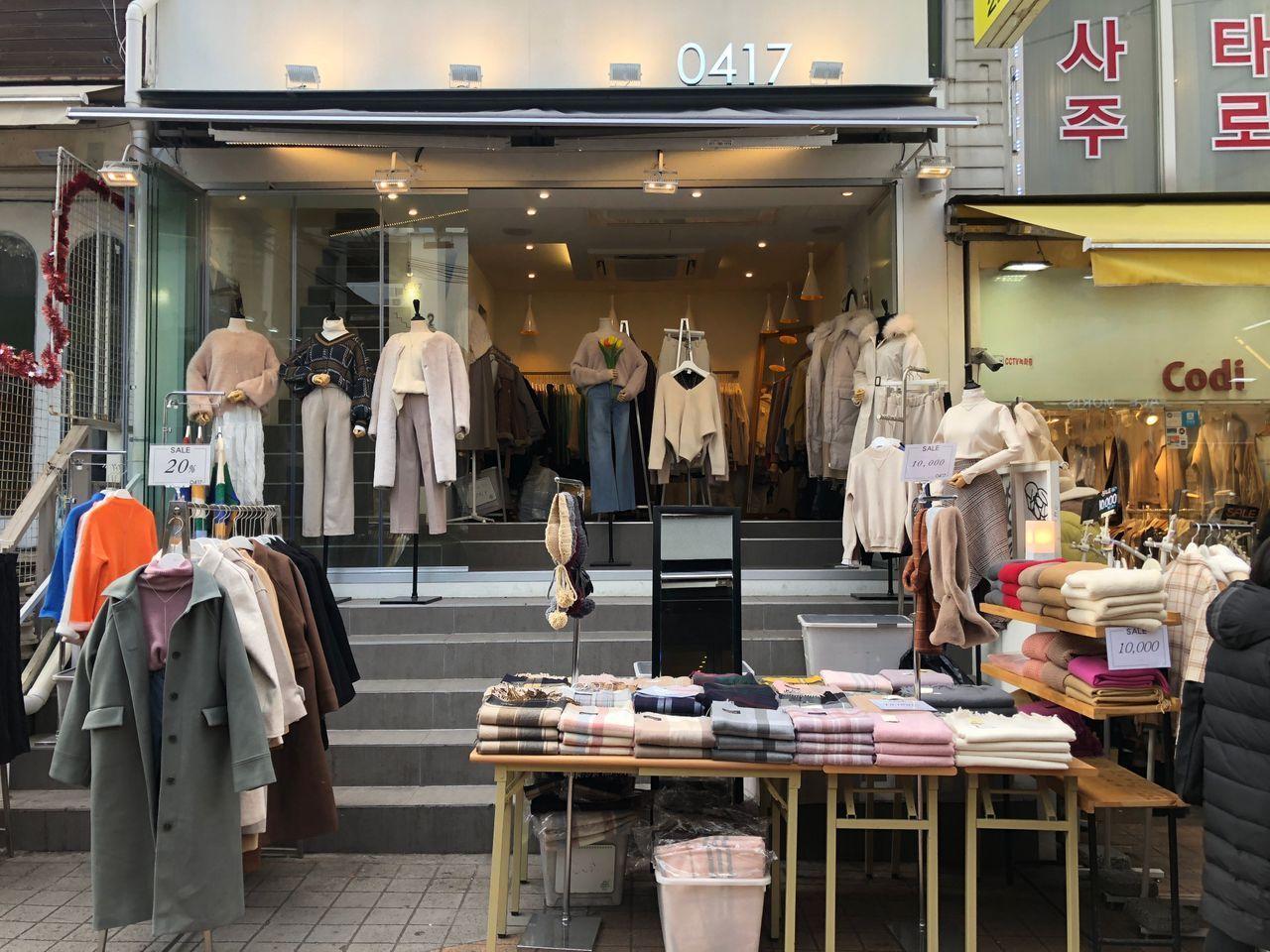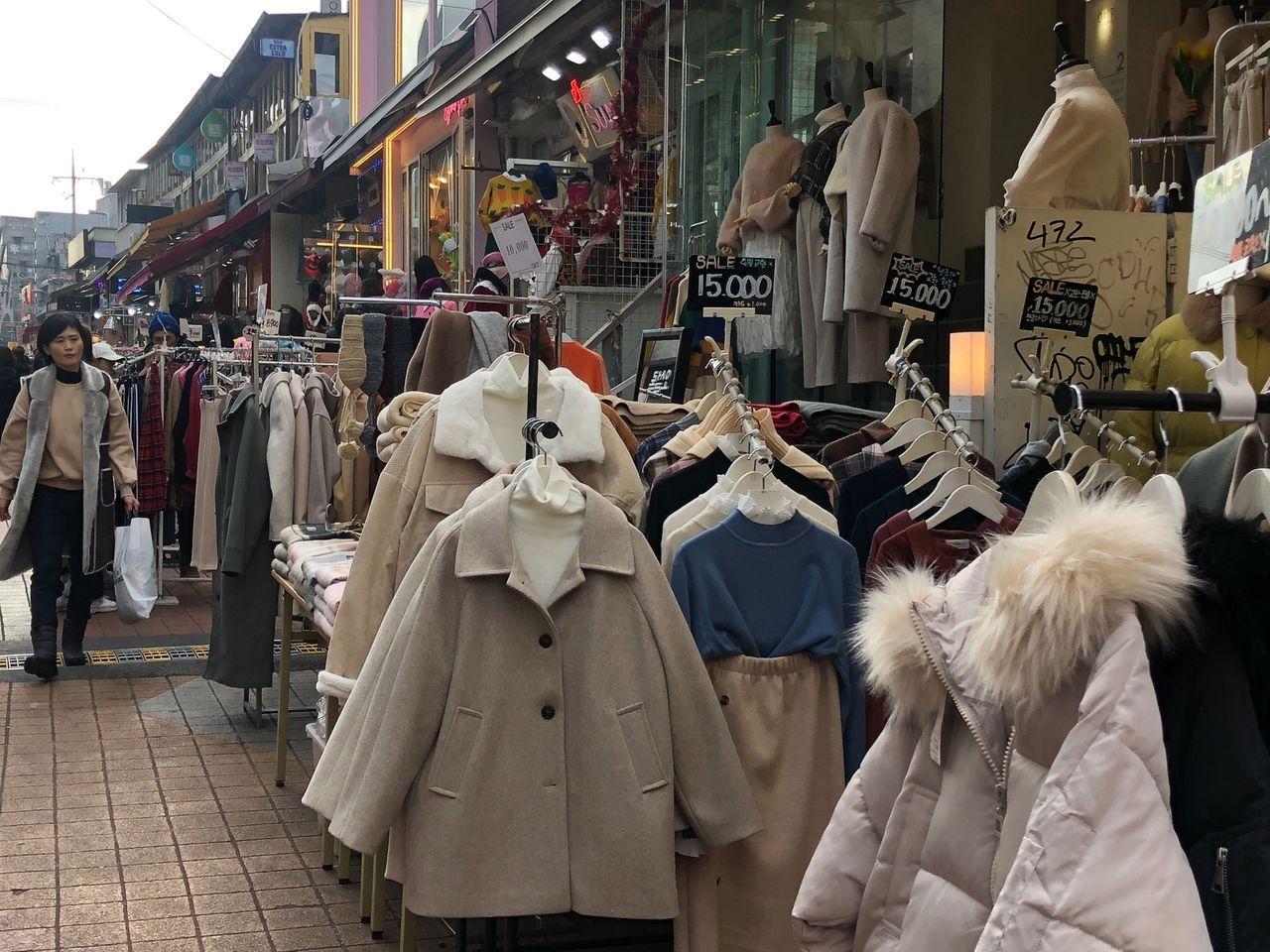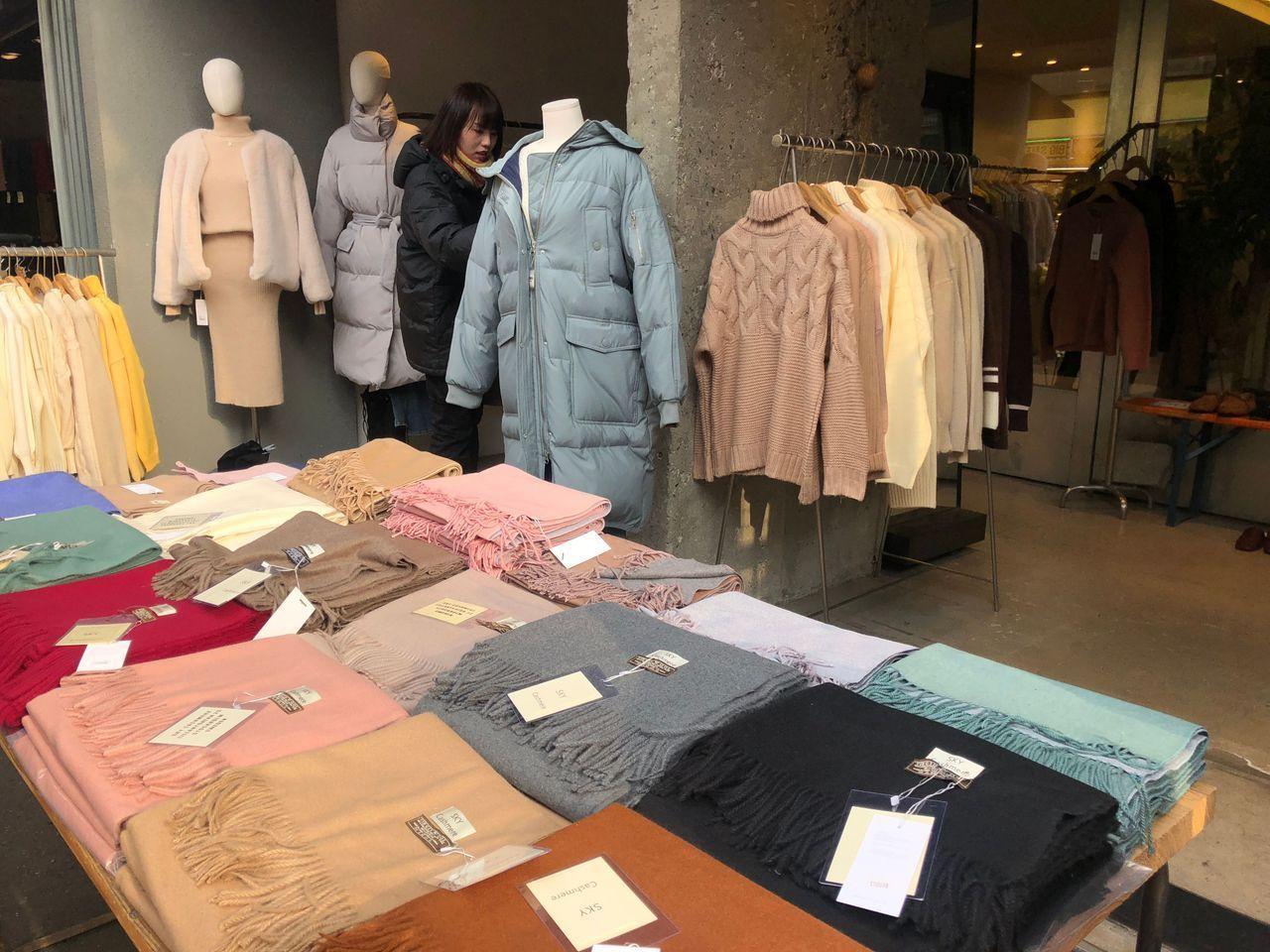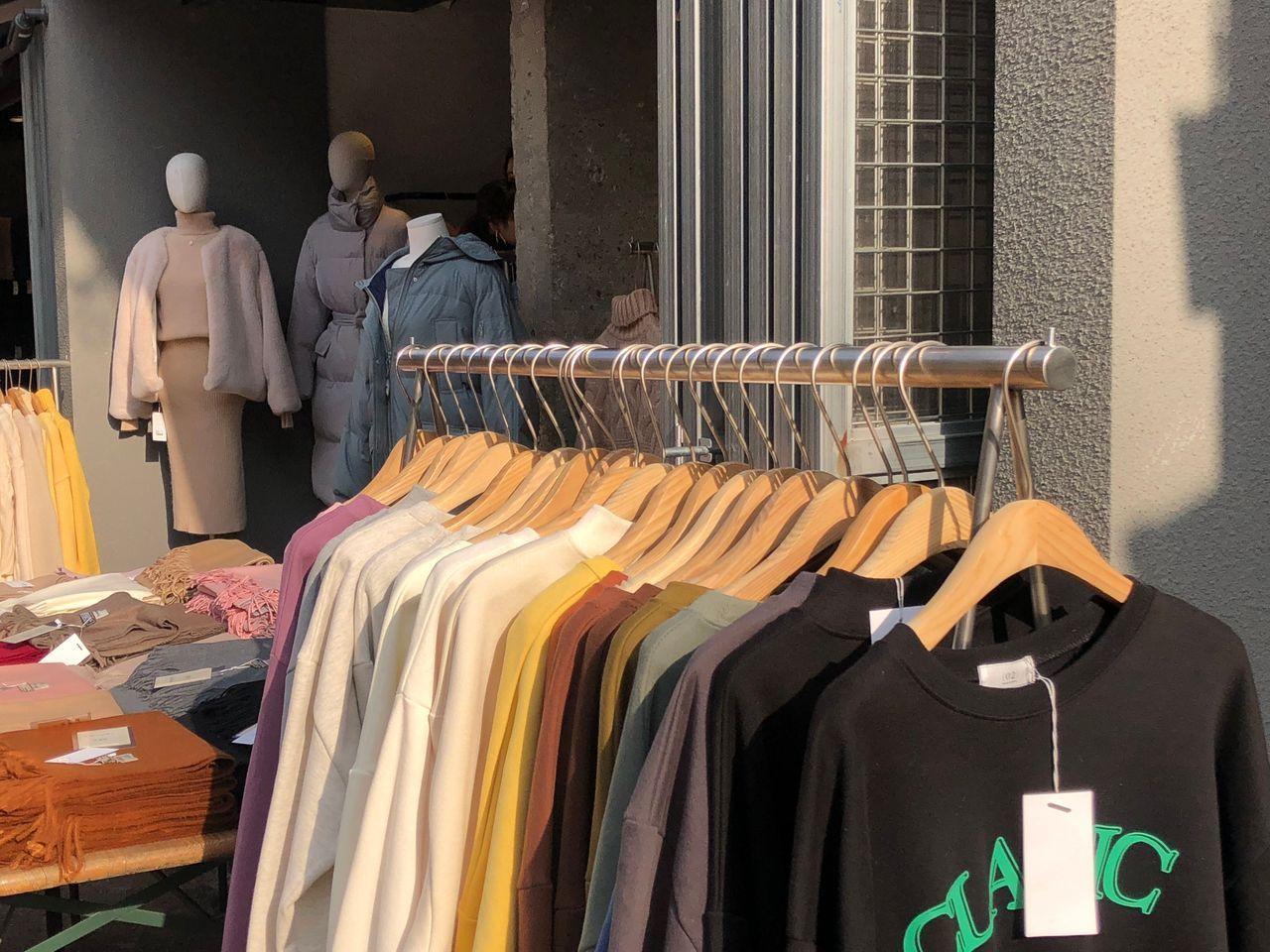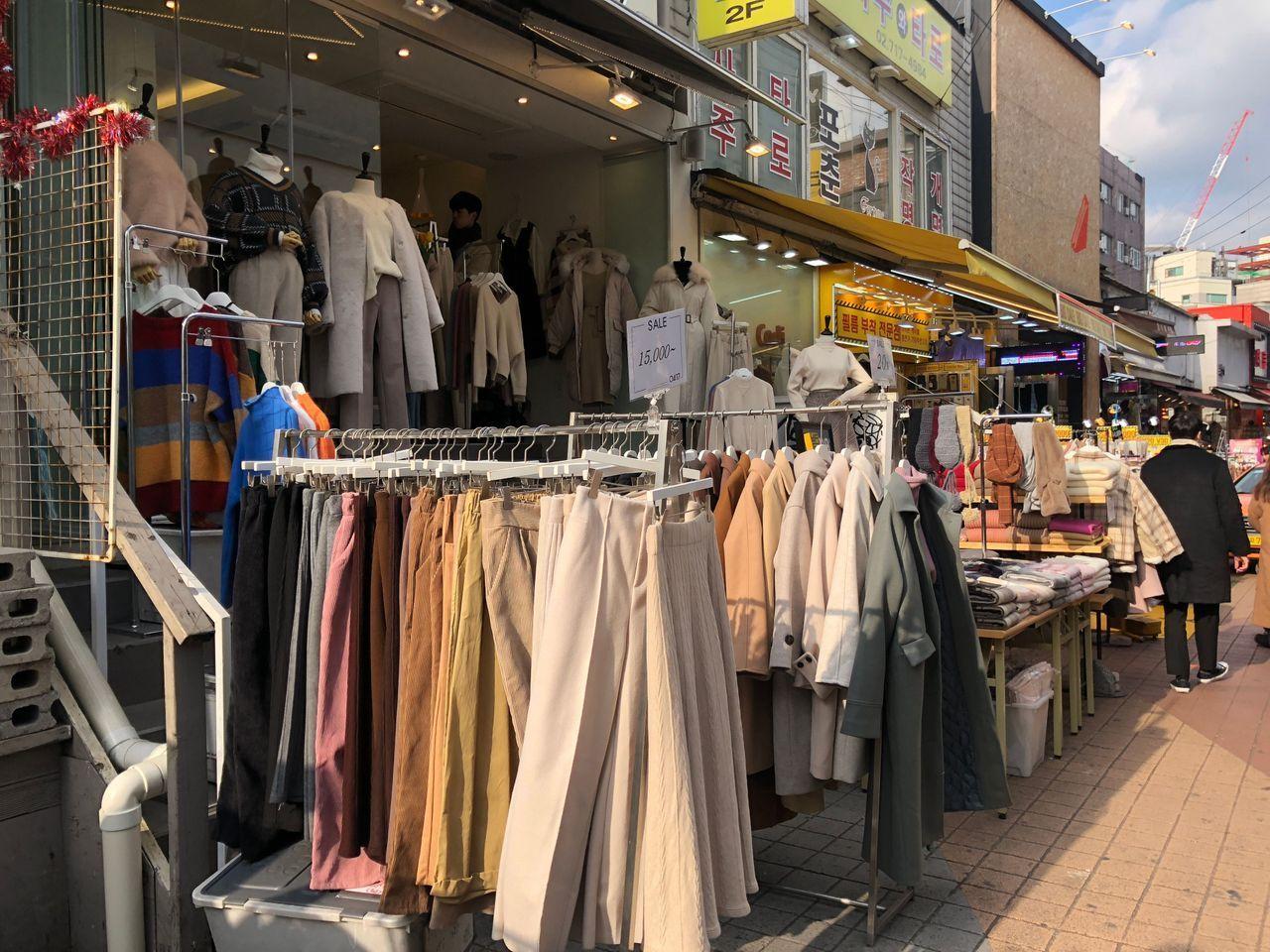 Winter in Korea is extremely cold. Actually, this winter was warmer than usual, so you can easily find many autumn clothing in Hongdae's business district. They are also on sale! If these clothes are what you've been looking for, drop by at Hongdae Business District and complete your shopping experience in Seoul.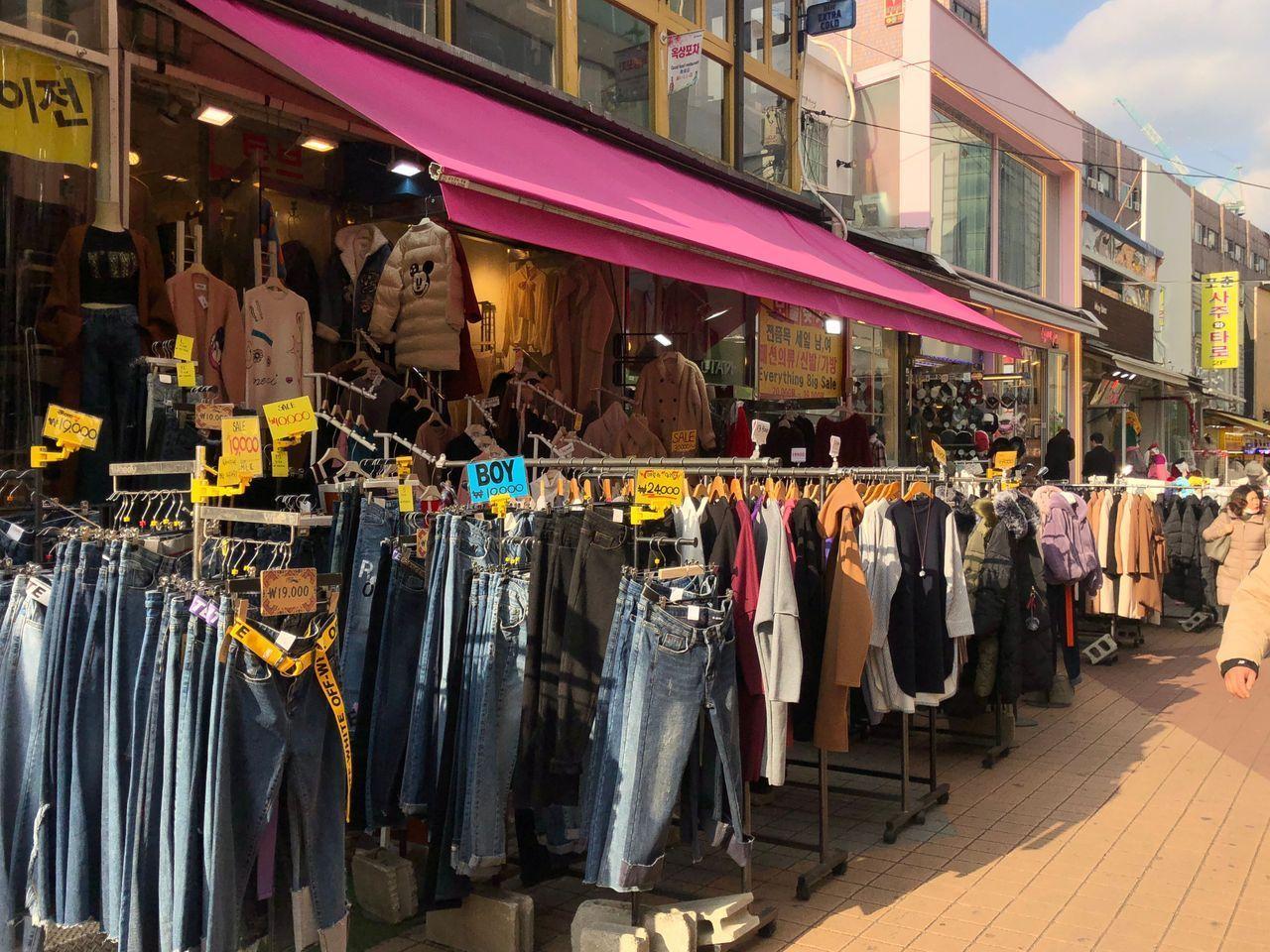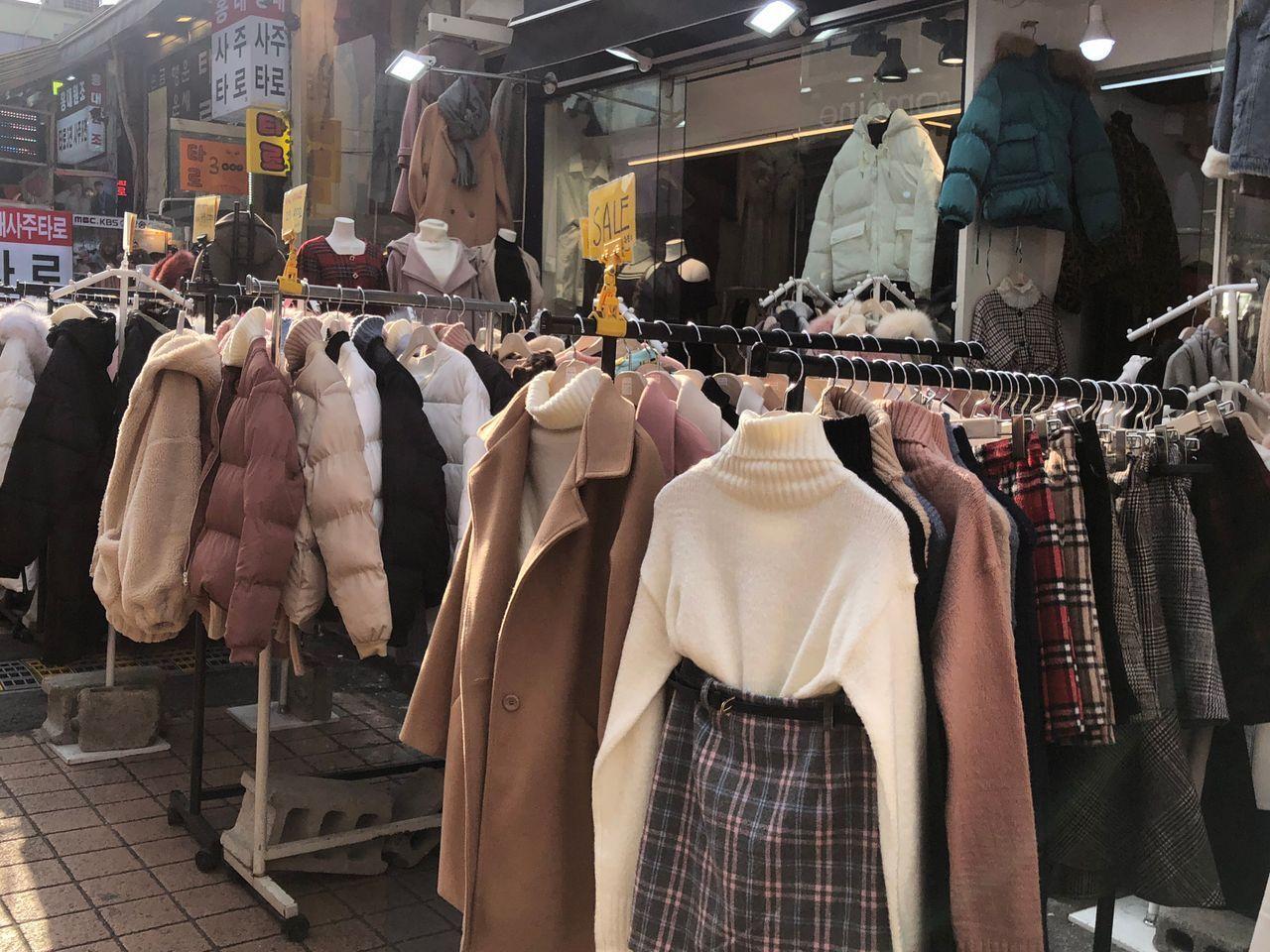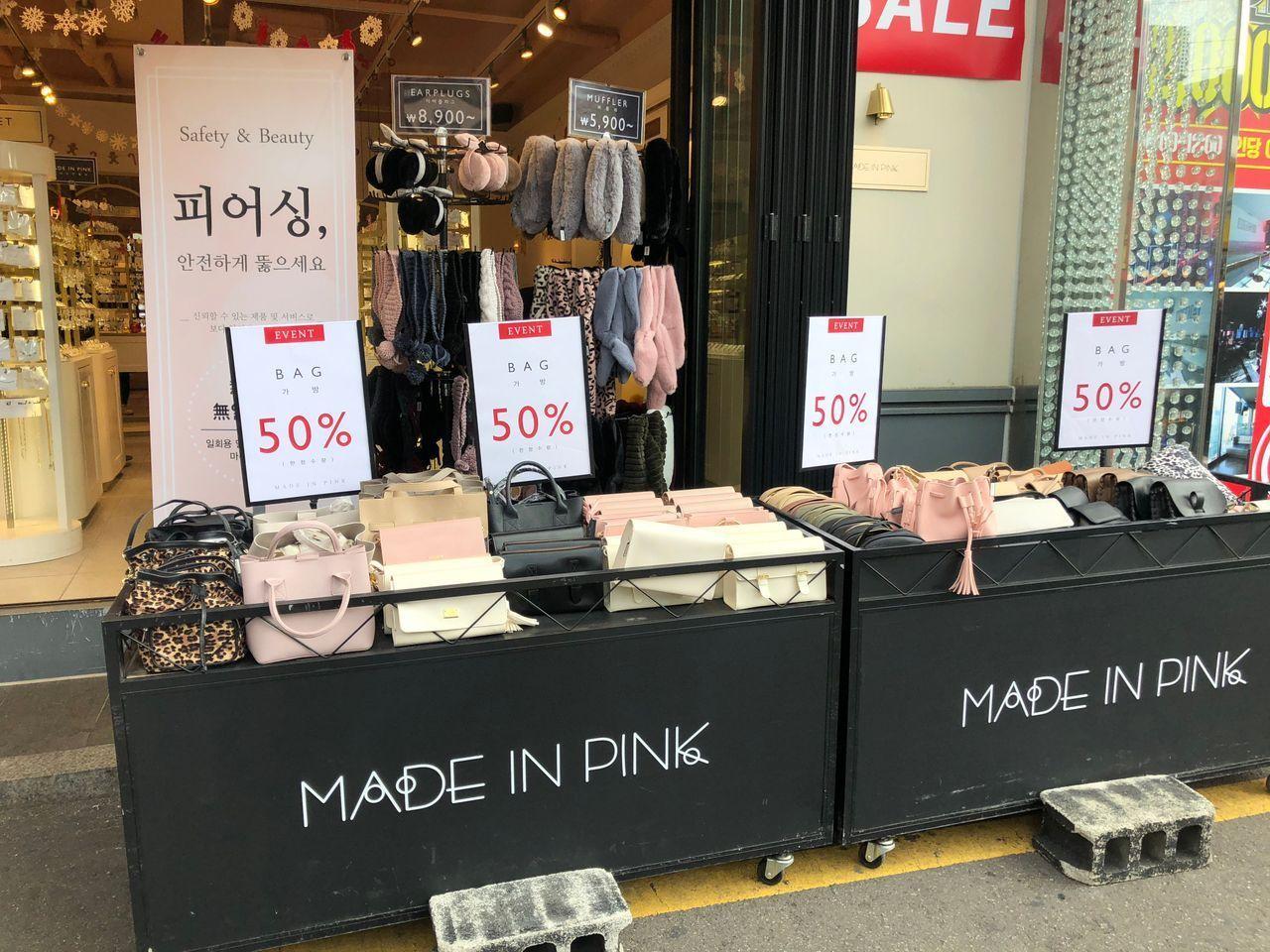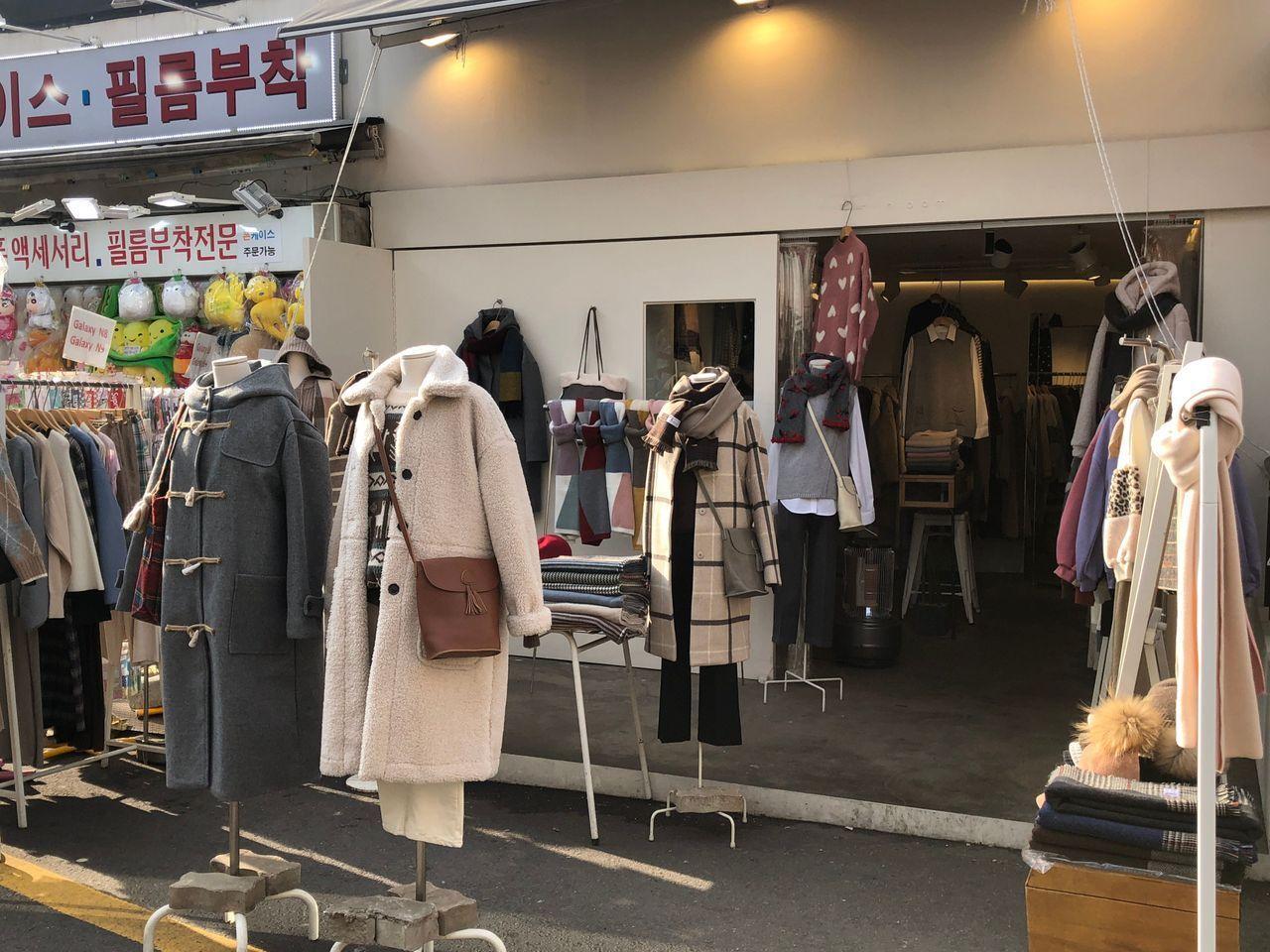 Let's take a look at these clothes. Don't you want all of them?
I don't know about you, but I was dying to buy all of them!! When you come to Seoul, you must go shopping in the Hongdae business district.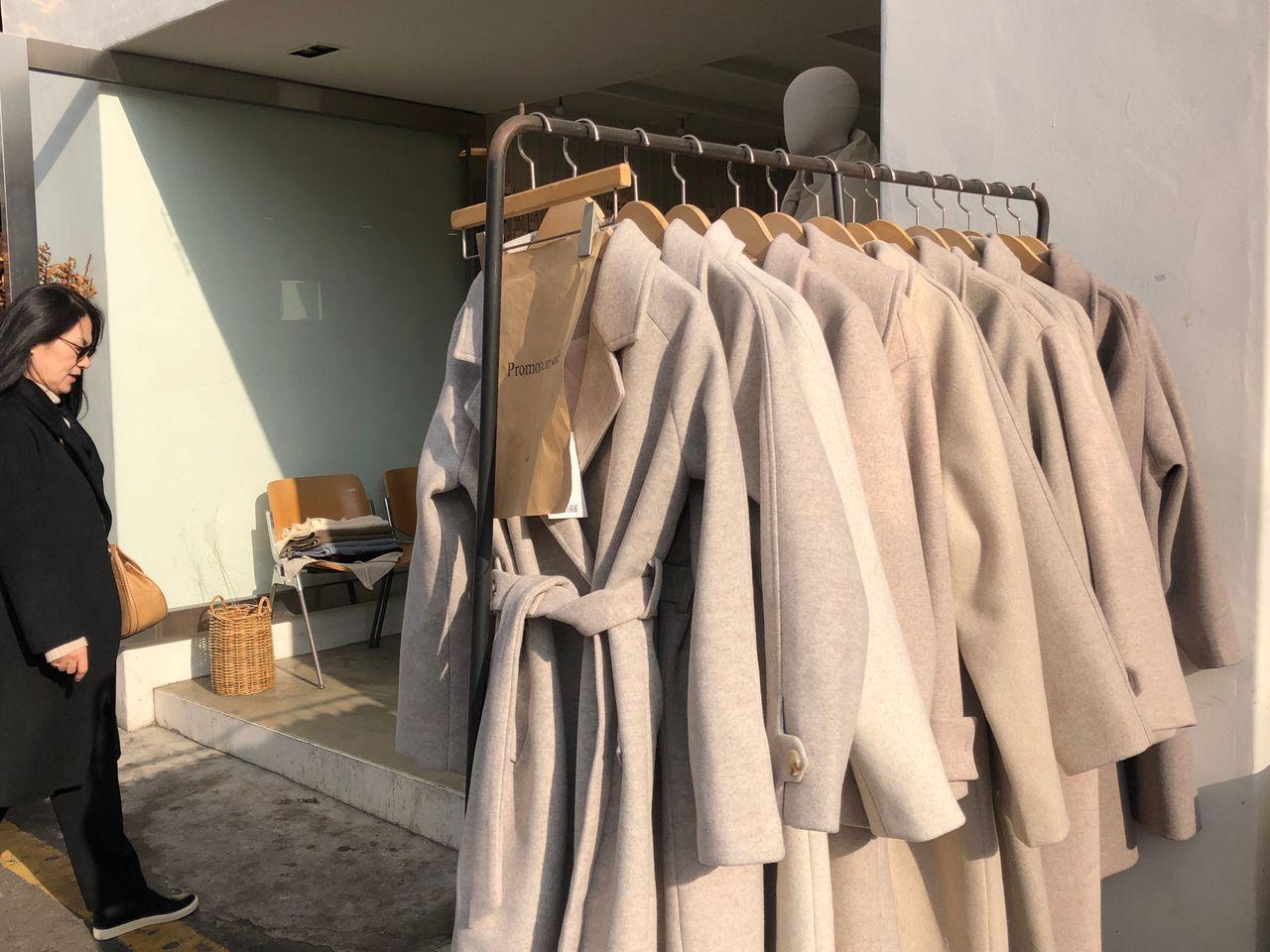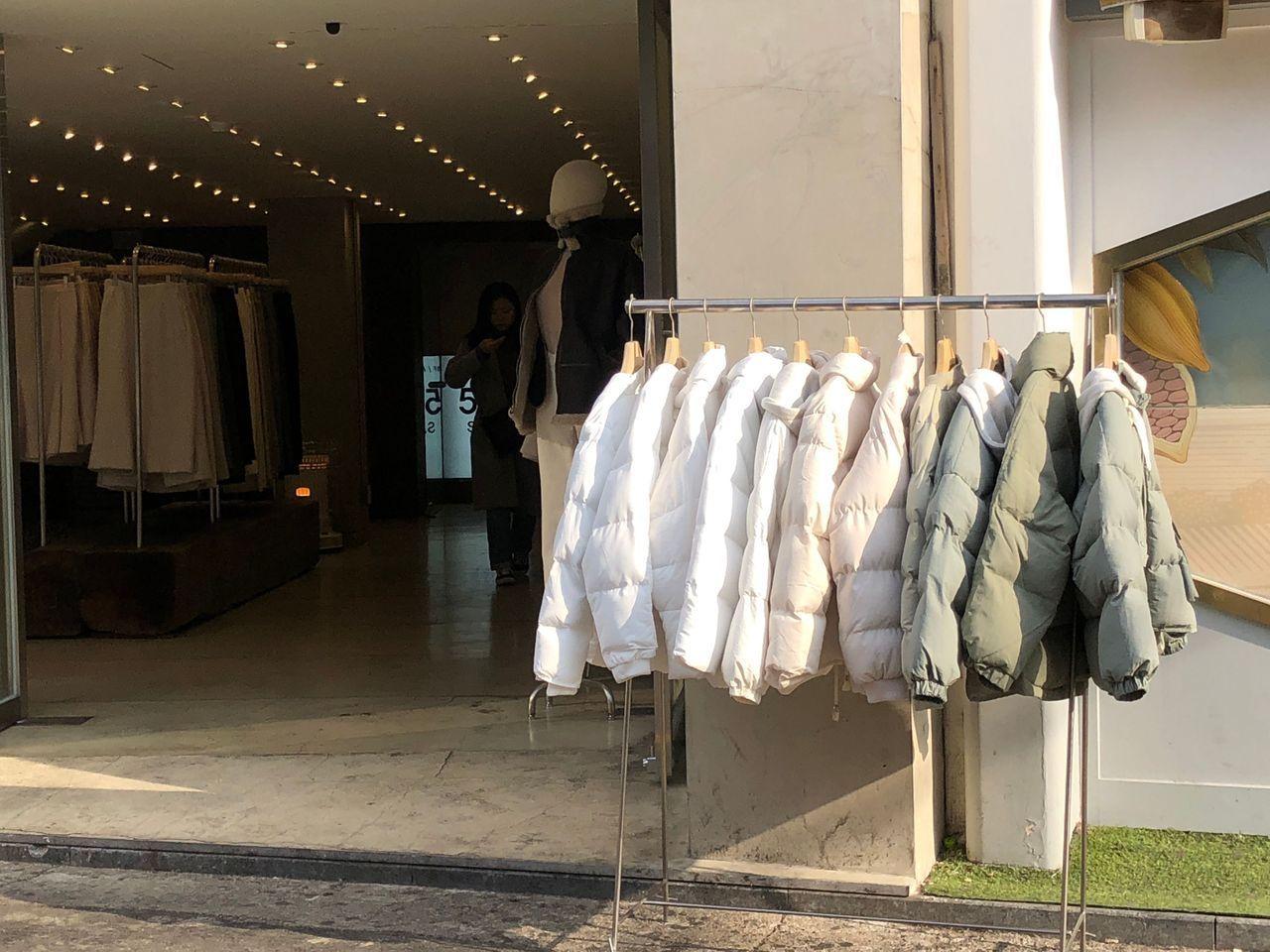 This type of light autumn coats is in soft pastel colors. They had soft texture too.
Plan your Hongdae shopping trip ahead!!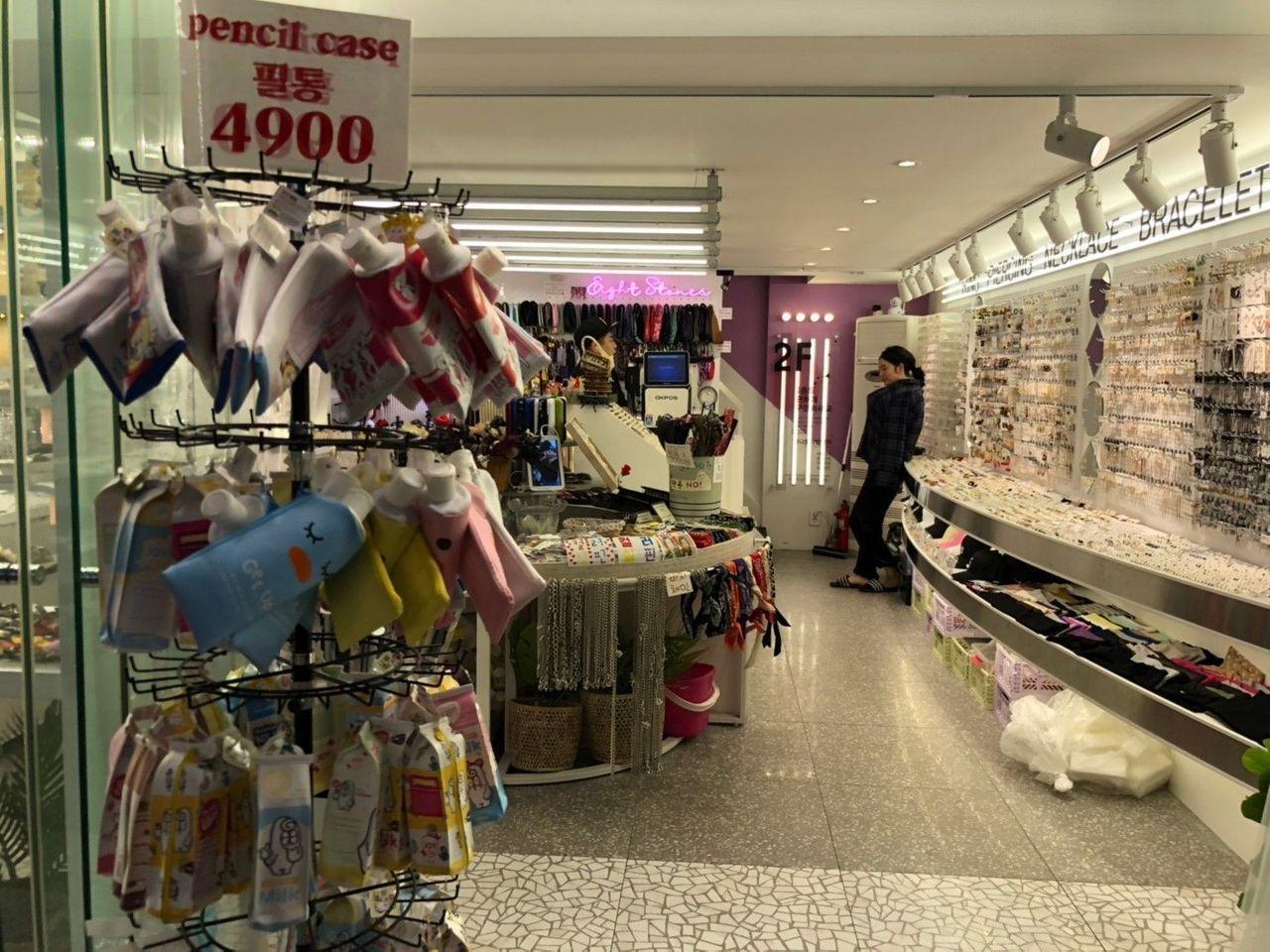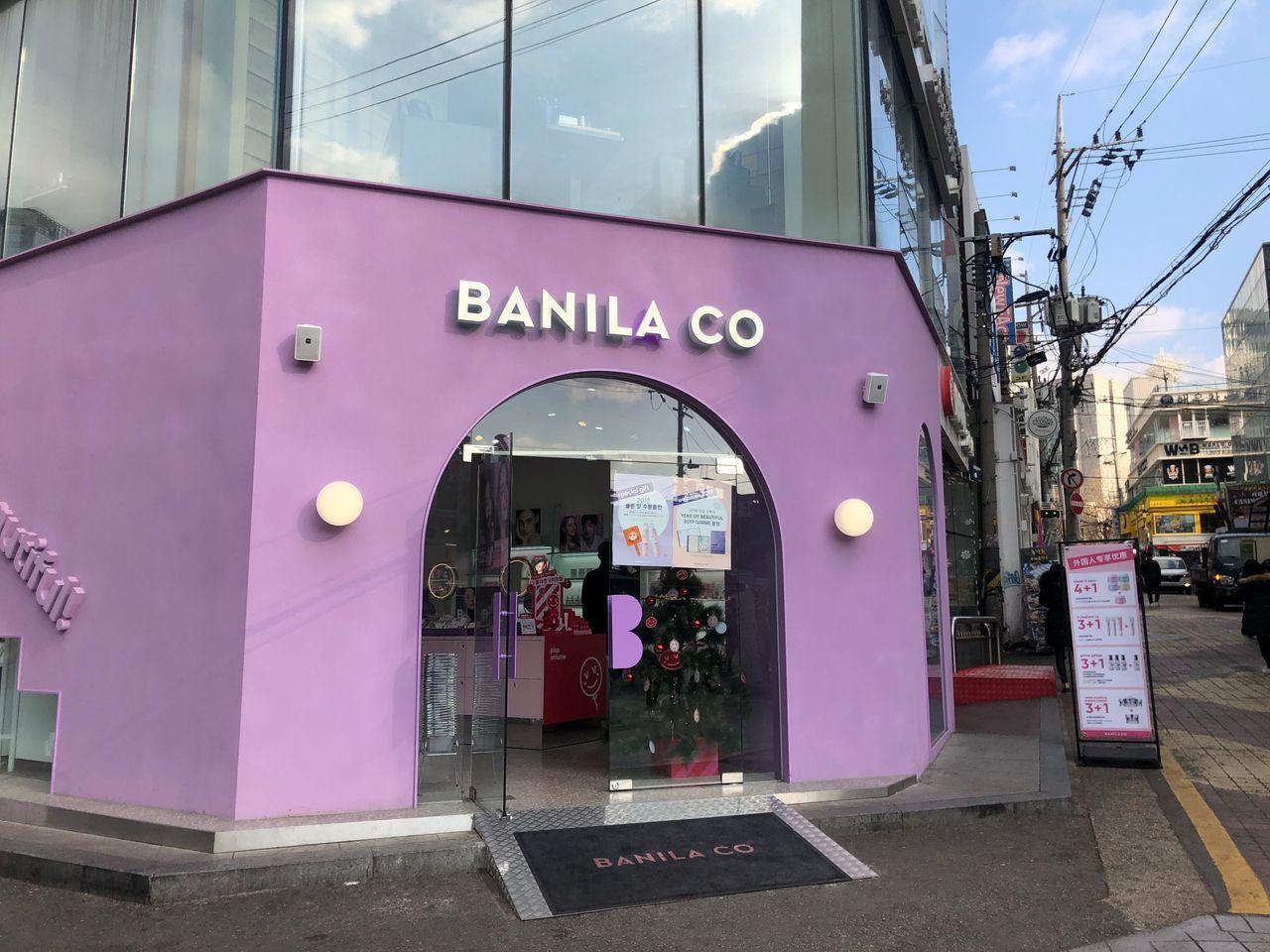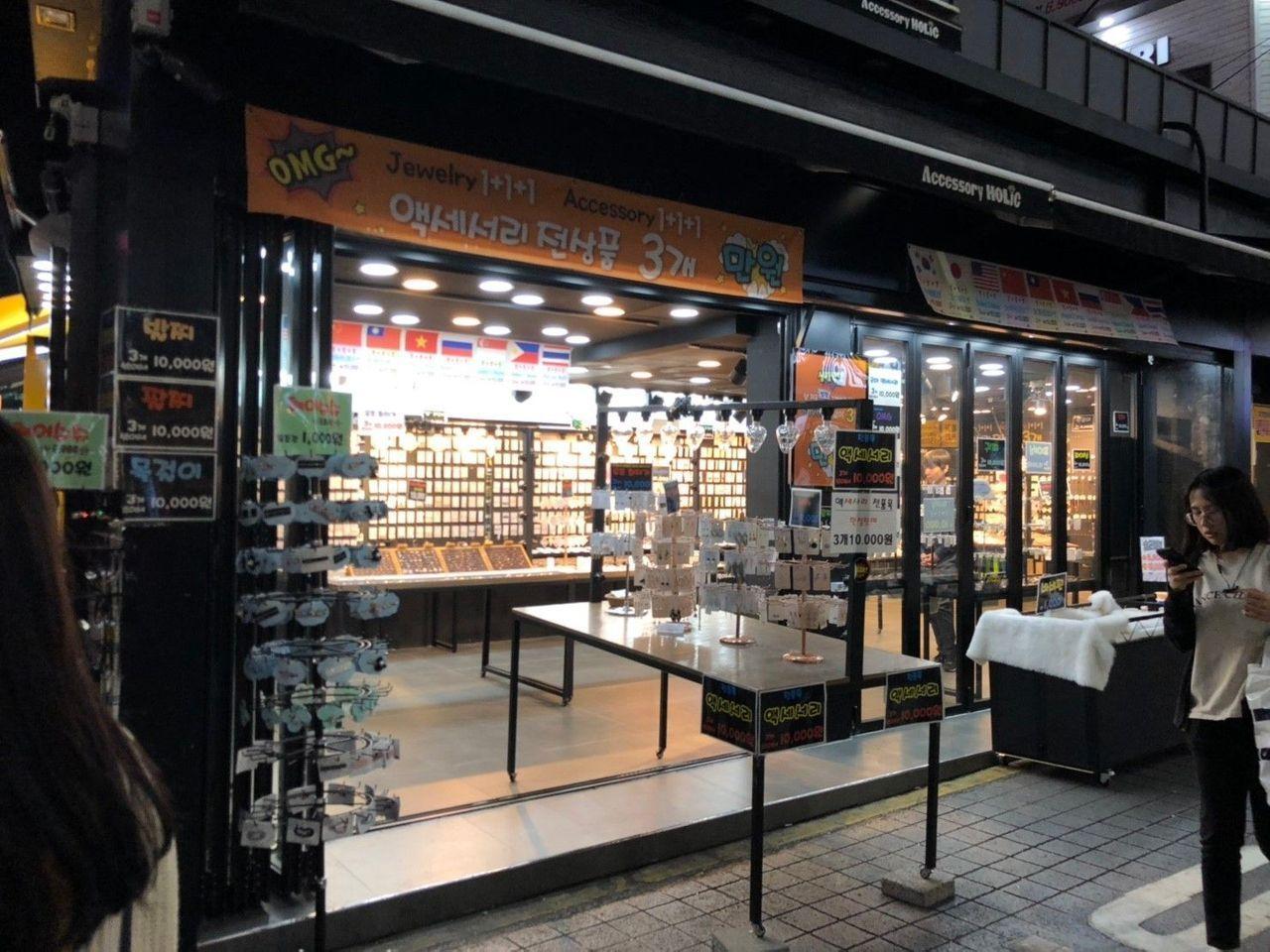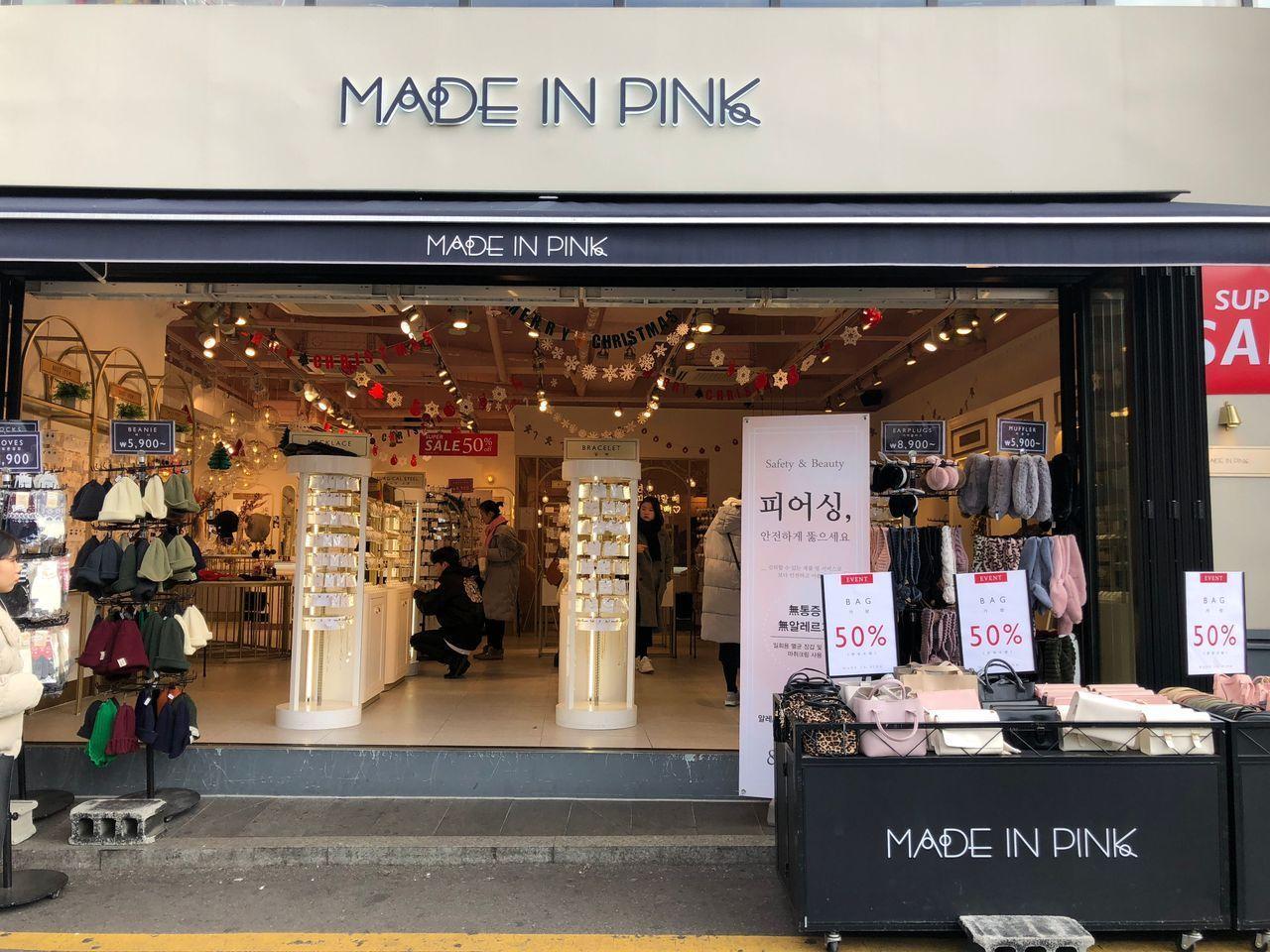 I could not take around every store in Hongdae. I could only show you the major stores. The reason why Hongdae is known for shopping is that you can find a variety of styles all in one place (regardless of men and women). Pretty much everything you are imagining can be found in the Hongdae business district.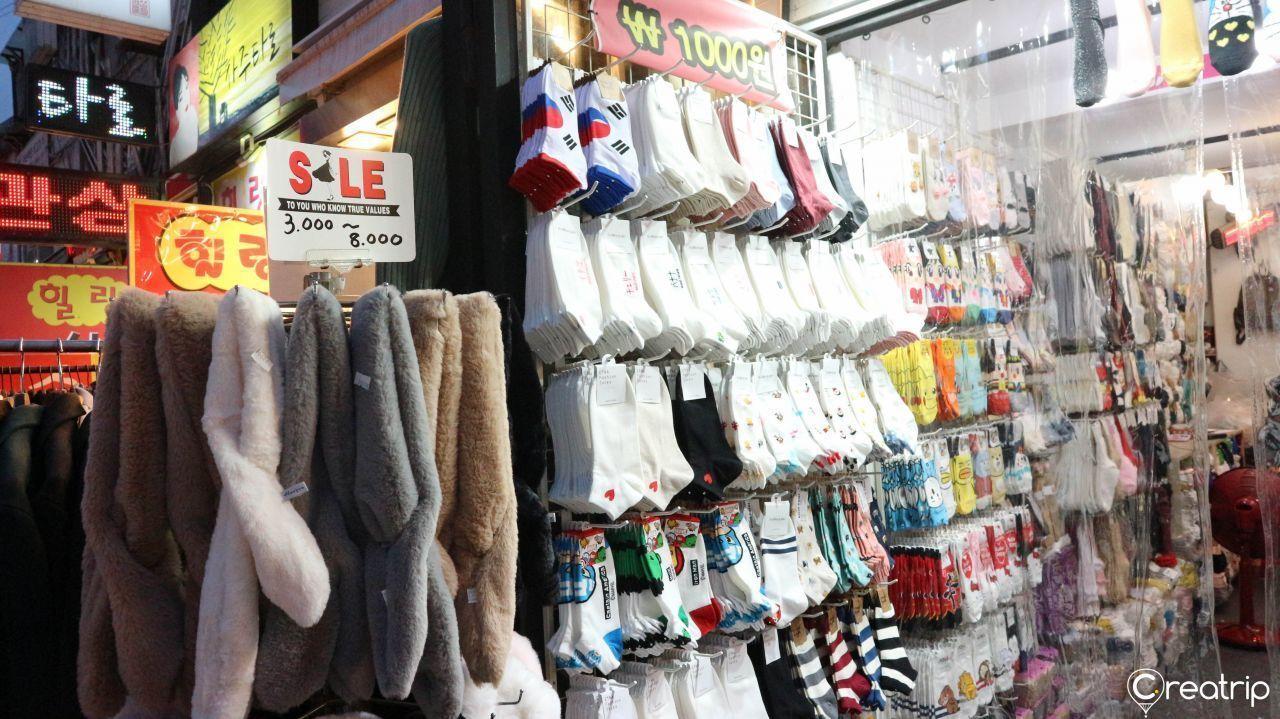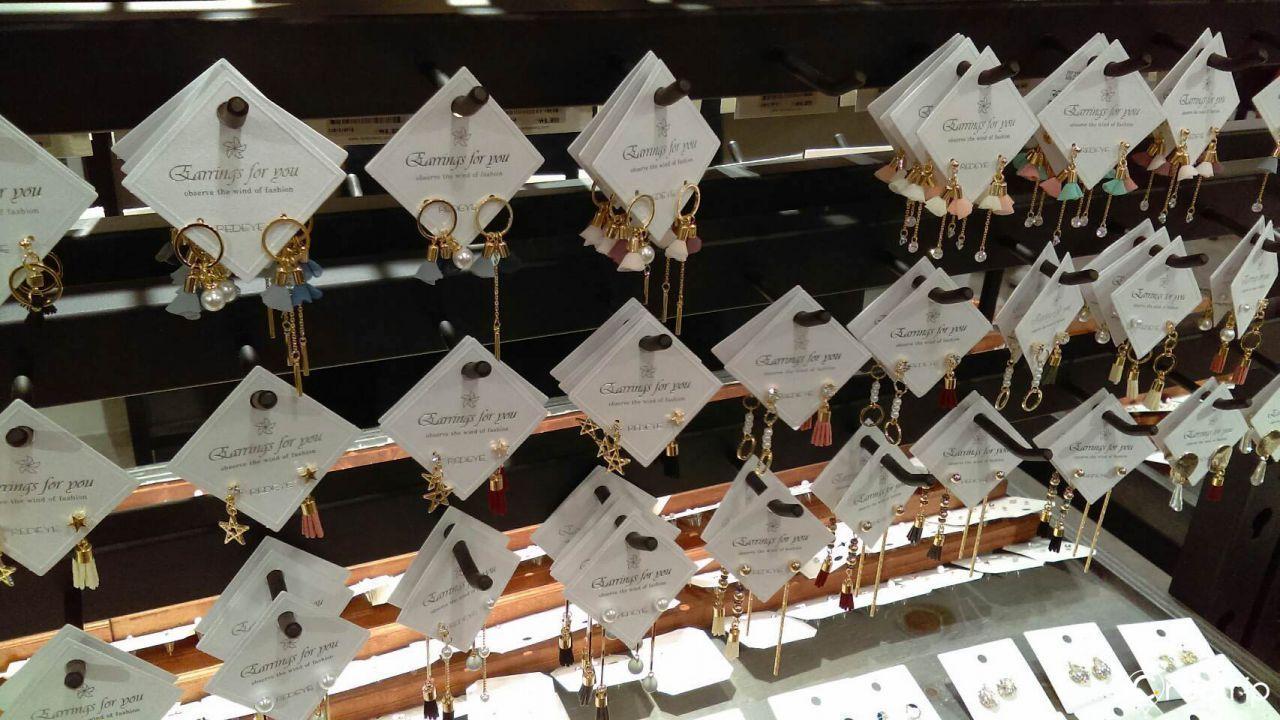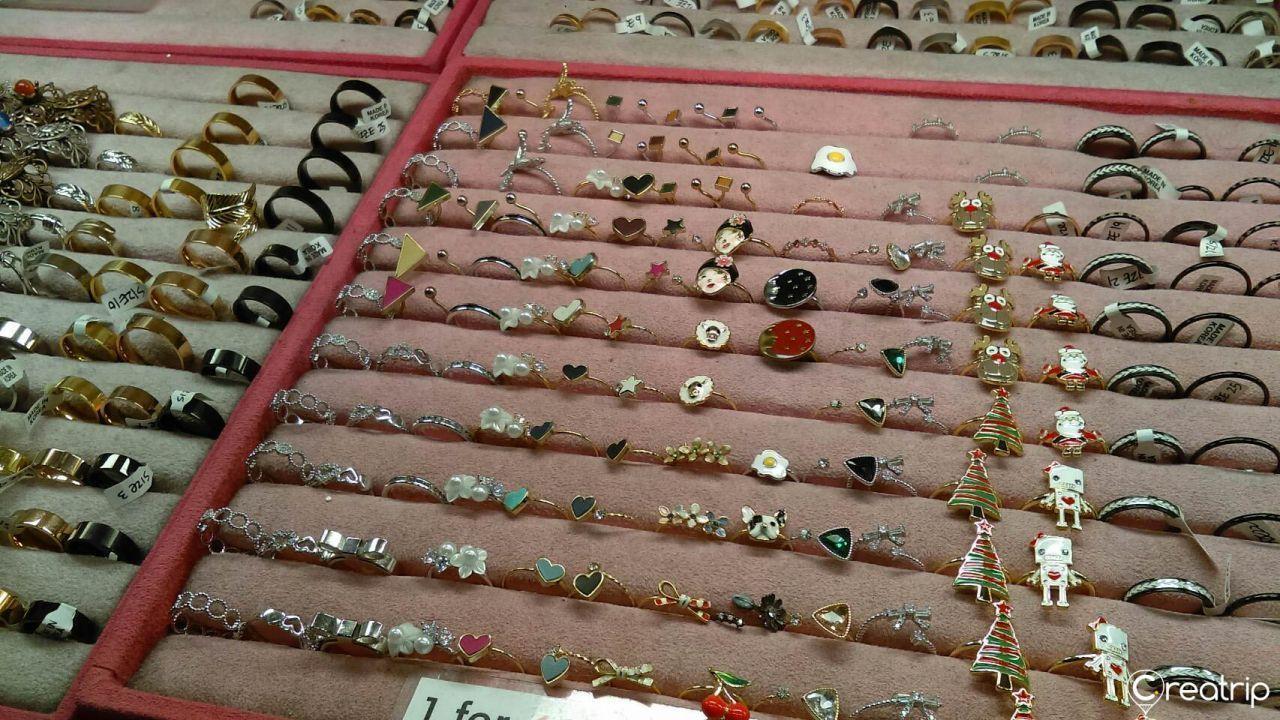 There are many socks vendors in the Hongdae business district as well. Personally, I prefer buying socks from Edae over Hongdae because the former has more options for design than the latter. Many jewelry and accessory stores have opened in Hongdae.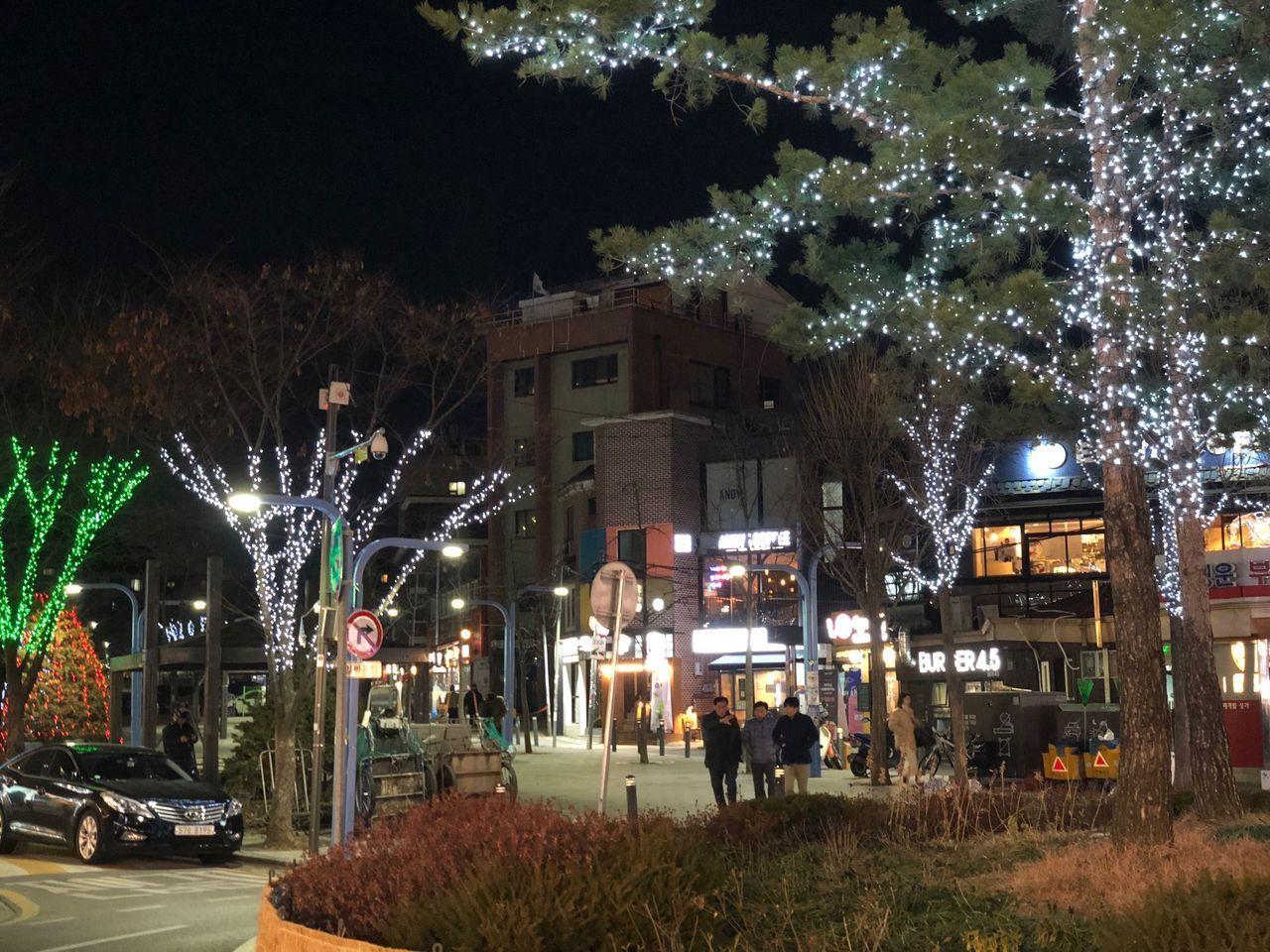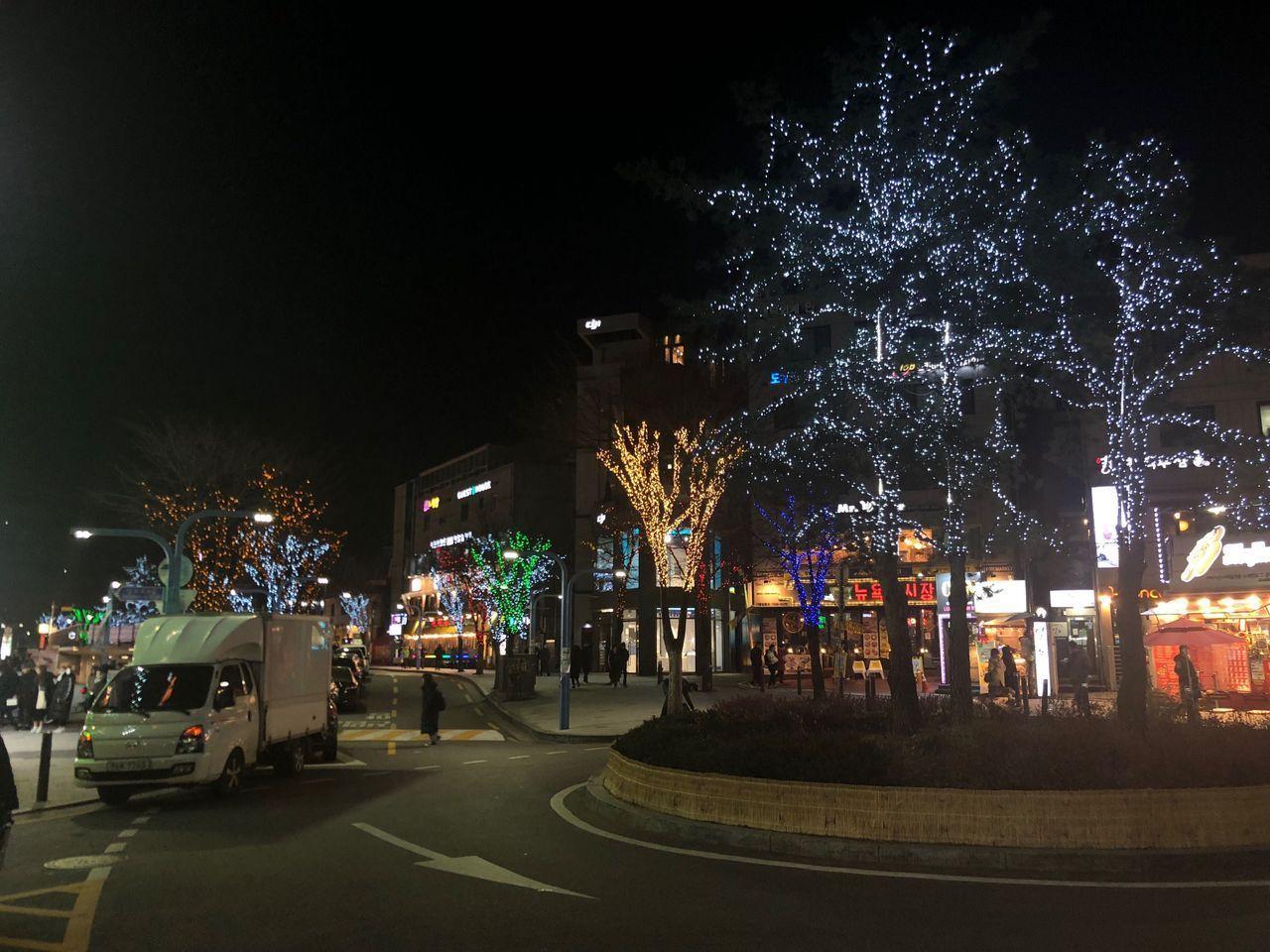 ---
Shopping in Hongdae:Hongdae Yeonnamdong
The Hongdae business district is huge and it can be divided into four major subareas. Each area has distinctive features and vibes. Hongik University Station is one of the few popular stations in Seoul where it is surrounded by unique commercial districts. Other business districts lack this kind of unique vibes and features.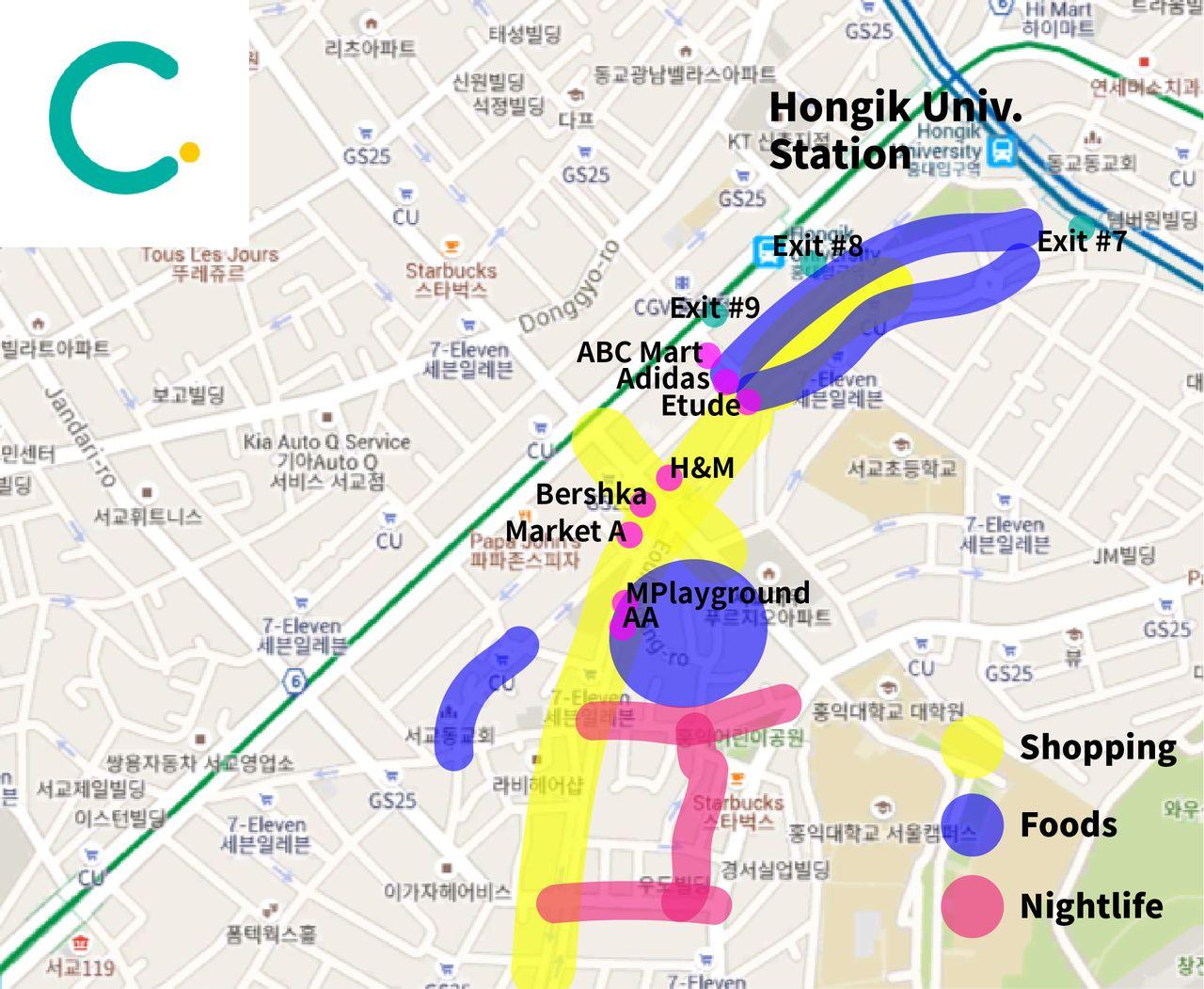 * Hongik University Station Exit 3: Hongdae Yeonnamdong
* Hongik University Station Exit 8 and 9: Hongdae Commercial District (H&M towards the subway station)
* The Central Area: From Bershka to the Su Karaoke (수노래방)
* Hongik University Station 7 Exit: Hongdae's major restaurants are concentrated in this area
* Hongik University Station to Sangsu: Hongdae Nightlife (Bars and Clubs)
---
During the Christmas season, Hongdae transforms into a winter wonderland.
When you come to Seoul in winter, take a quick tour around the Hongdae business store for shopping. You will be able to find many unique fashion items at very affordable prices.
I will see you again in my next post!