EULJIRO | Creatrip Locals' Guide
Complete Guide to Seoul's Trendiest Town, Hip-jiro!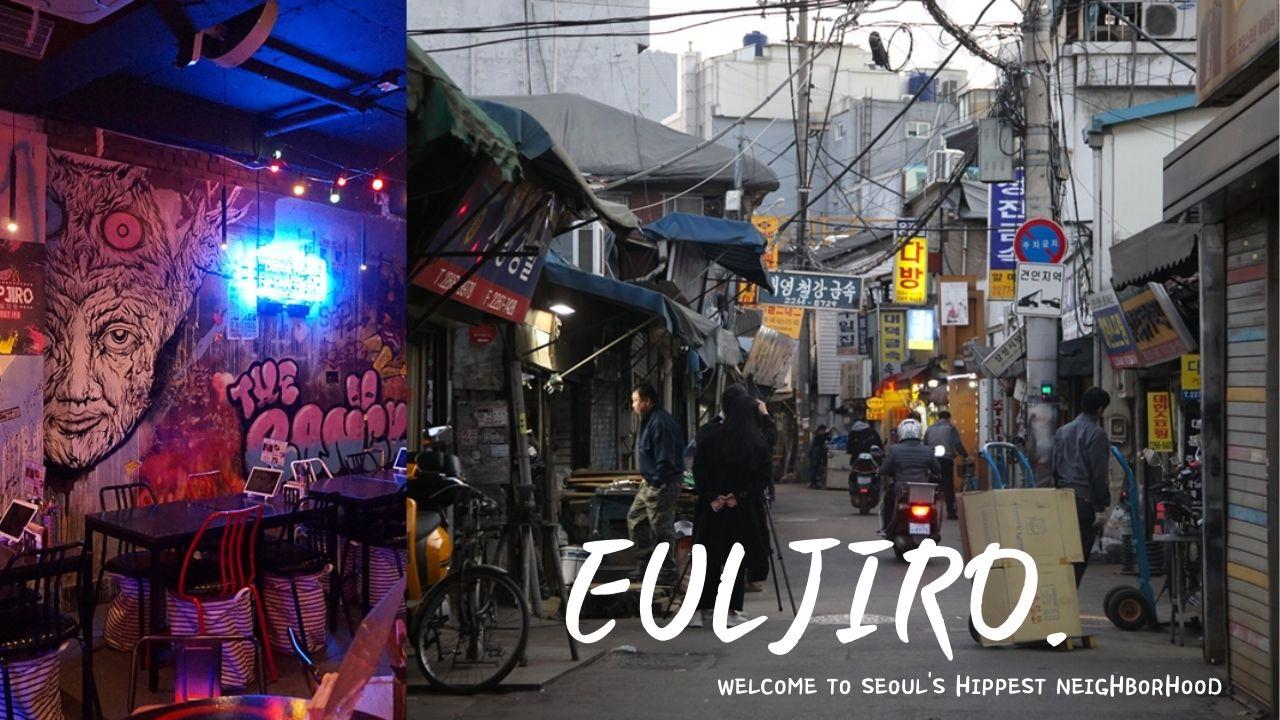 Before the whole Hip-jiro sensation started, Euljiro was nothing but a run-down, rustic Seoul neighbourhood occupied by local shops selling tools, lightings and tiles. Starting in 2018, young Seoulites started getting drawn to the unique charms of this little area, so small cafes and restaurants started filling up the old buildings, marking its place as one of the up-and-coming areas in the city.
Euljiro is now considered one of the must-visit, most scenic spots in the city of Seoul.
For those of you who want to explore vibes loved by hip locals, head on over to Euljiro. We've organized some of the best bars and restaurants worth visiting in Euljiro!
---
Euljidarak
을지다락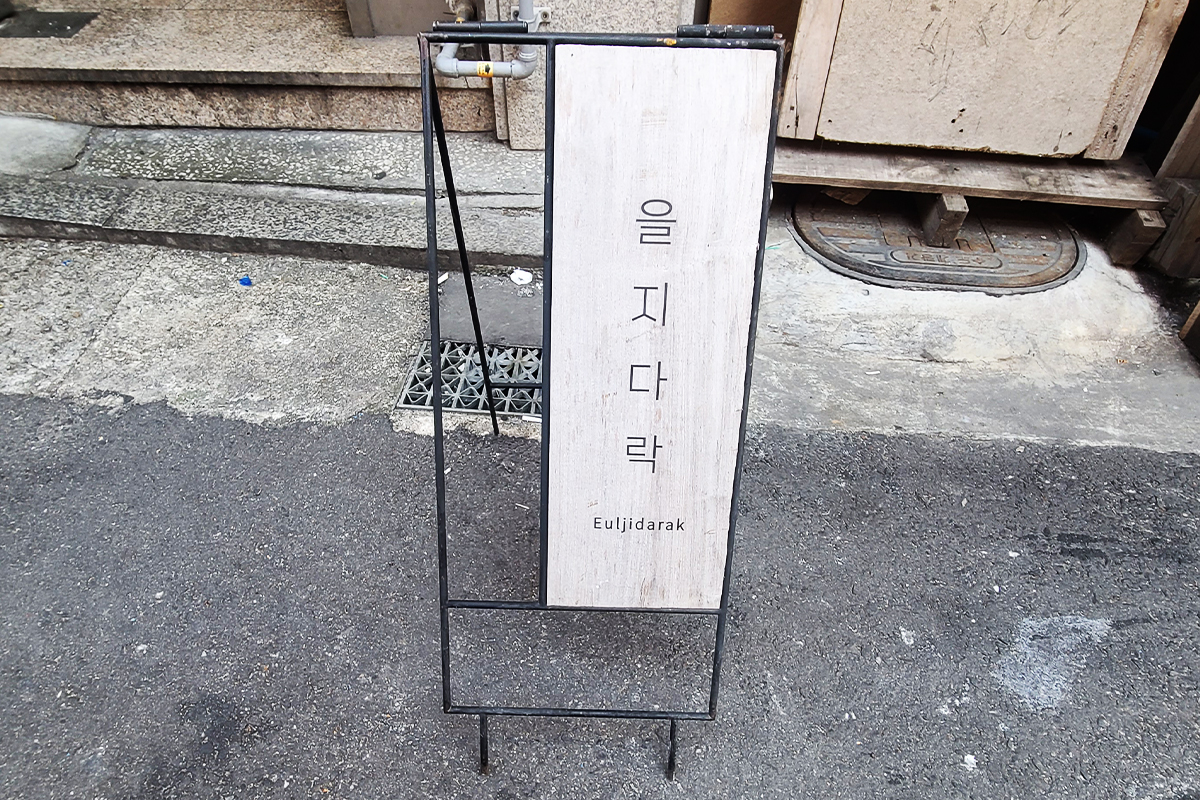 Euljidarak is a western restaurant and wine bar located in the midst of many hardware stores. From the outside, the building may seem old and run down, but if you take a step inside, you will be greeted by a sophisticated and very clean atmosphere.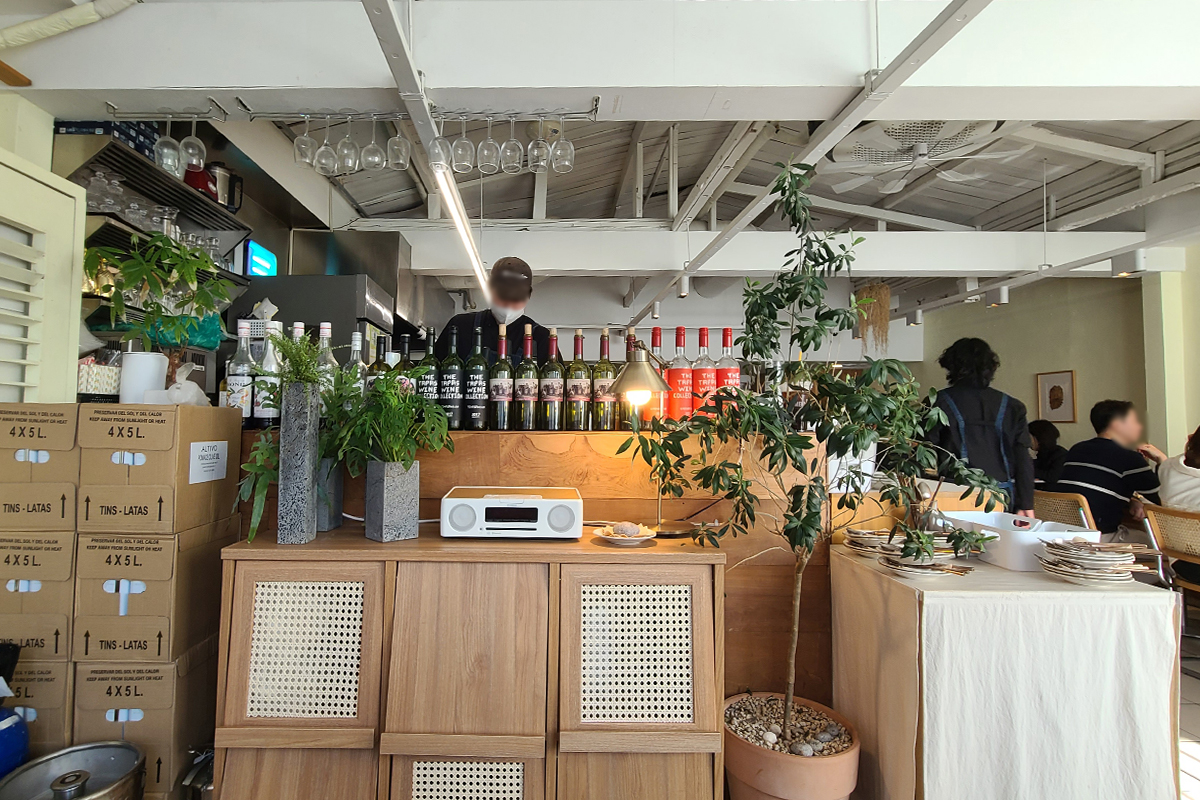 Euljiro is known to be a neighborhood with run down buildings that pleasantly shock visitors, as the interiors of these buildings are much more modern and put together. The true charm of Euljiro can be experienced at Euljidarak.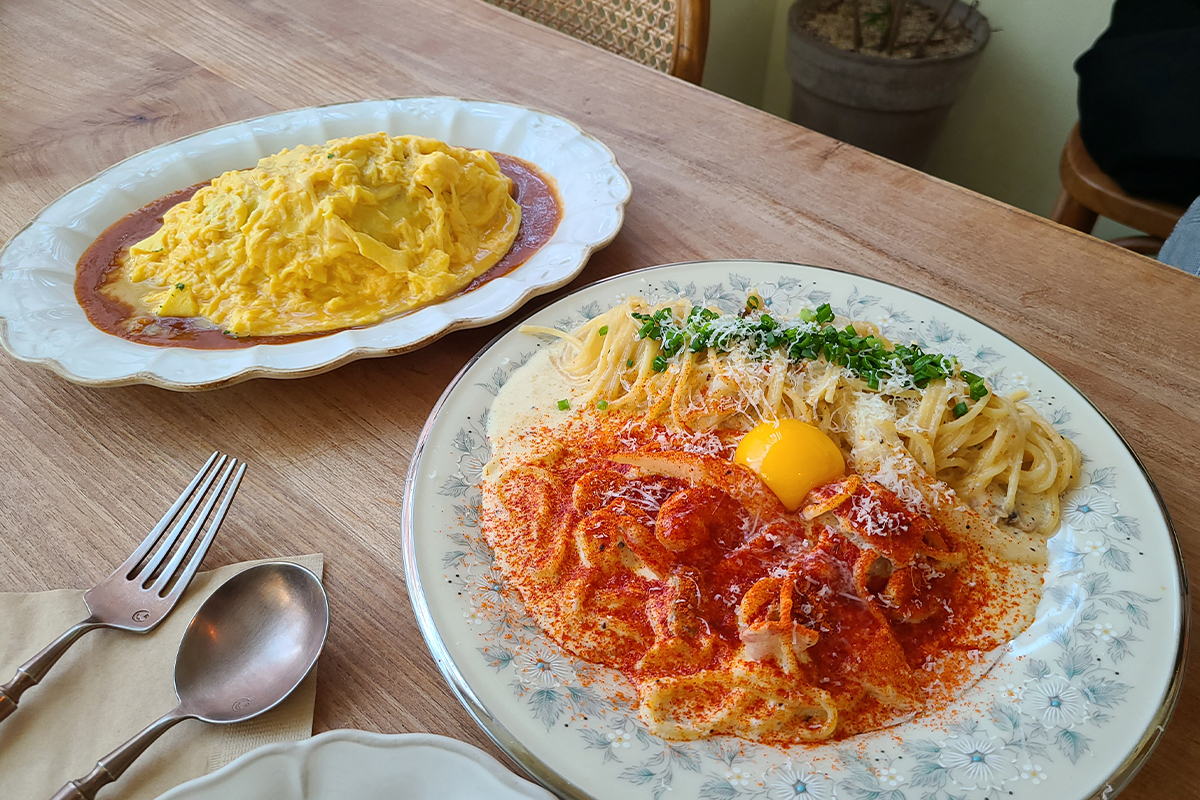 We decided to try the two most popular menus, the Omurice (14,000 won) and the spicy cream spaghetti (15,000 won). Although Euljidarak is considered a western style restaurant, there are many hybrid menus such as the spicy cream spaghetti, which combine's Koreans love for spice with the internationally loved dish, spaghetti. Many fusion dishes like Spicy Cream Spaghetti are unique to Korea, so make sure to try them out when in Euljiro for a Korean take on Western Cuisine!
Address: 서울 중구 수표로 10길 4층 Mon-Sat:11:30- 21:00
4F, 19 Supyo-ro 10-gil, Jung-gu, Cho-dong, Seoul
Hours: Mon-Sat: 11:30- 21:30, Sun 11:00-21:00 Break Time: 15:00-17:00
---
Duckhu x The Ranch Brewin


맥주덕후 더랜치 브루잉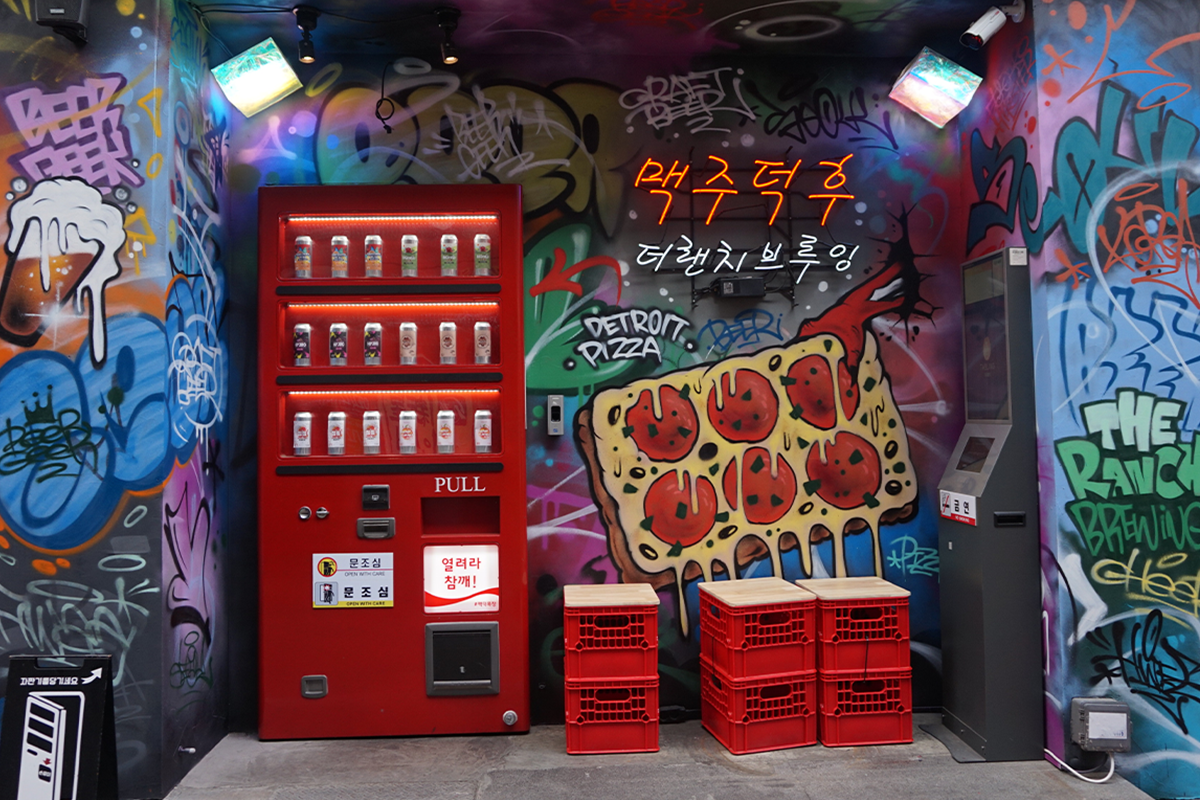 Beer lovers, we have some good and bad news for you! Firstly the bad news- this unfortunately is not an operating beer vending machine. 😔 But the good news? This is actually a door that leads to The Ranch Brewin Pub! 😆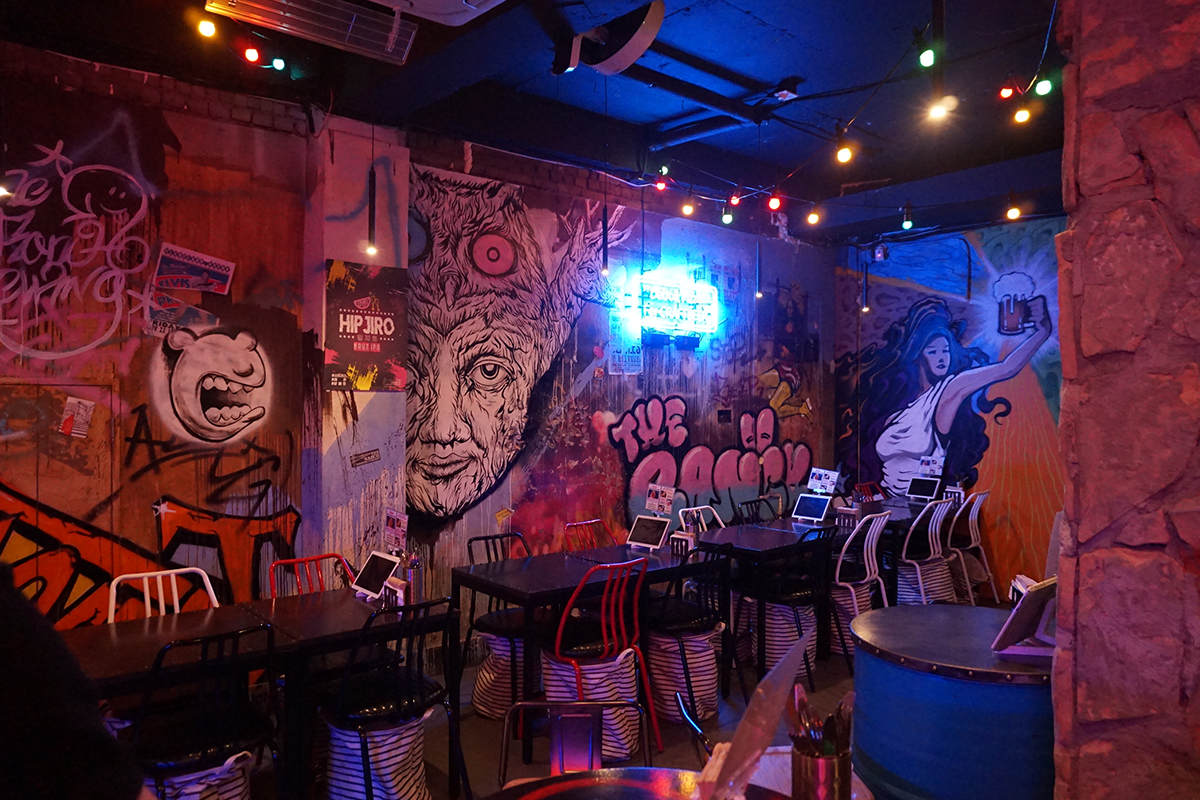 When you open the vending machine door, you will be met by a hip atmosphere from the inside of the pub. Art lovers will appreciate the lovely street art inspired walls.
You can enjoy Korean-Western fusion dishes and experience a bit of Korean drinking culture at this pub! Koreans always make sure to munch on some delicious food called anju (안주) while they drink. This pub offers many cool fusion anjus and many craft beers worth trying!
For all the beer lovers that are interested in learning more about this pub click here for our in depth review!
Address: 서울 중구 을지로 12길 11
11 Eulji-ro 12 gil, Jung-gu, Seoul
Hours: Mon-Fri: 17:00-24:00, Sat-Sun: 15:00-24:00
---
Dressing Room
드레싱룸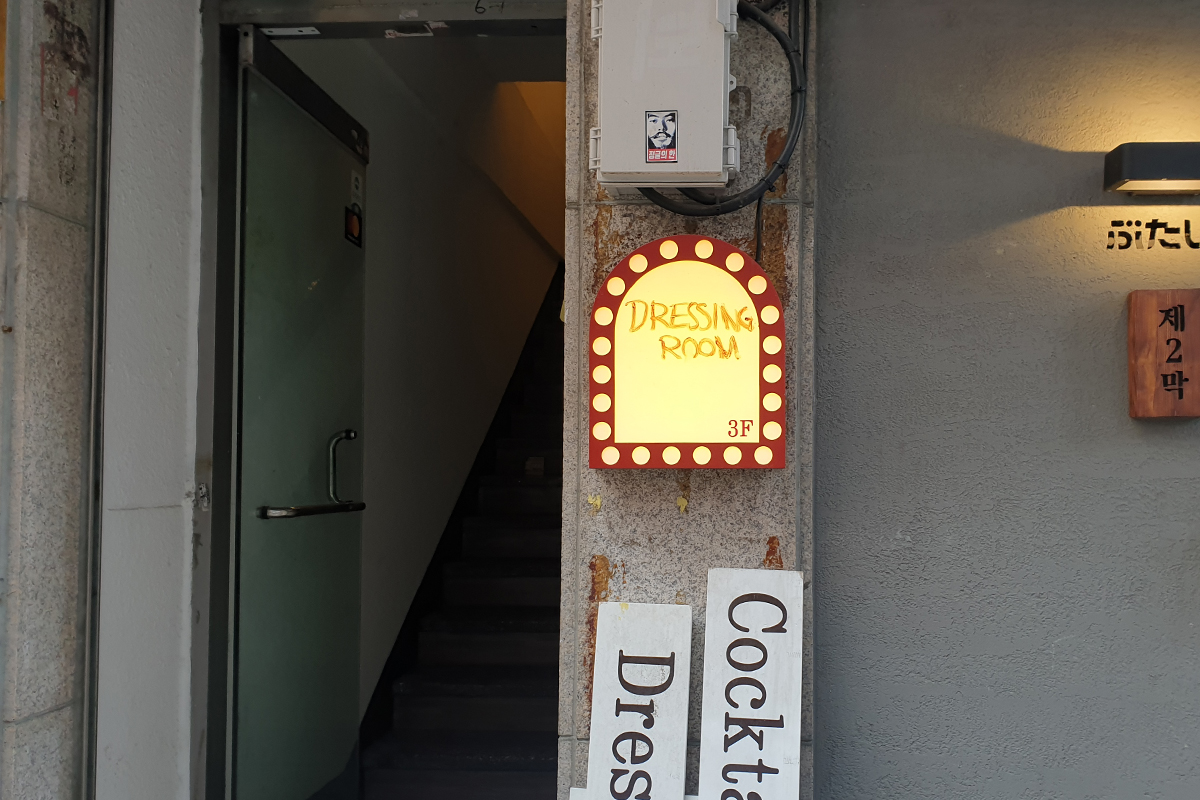 Dressing Room is a themed restaurant and cocktail bar in Euljiro. You can find it by their cute retro mirror sign!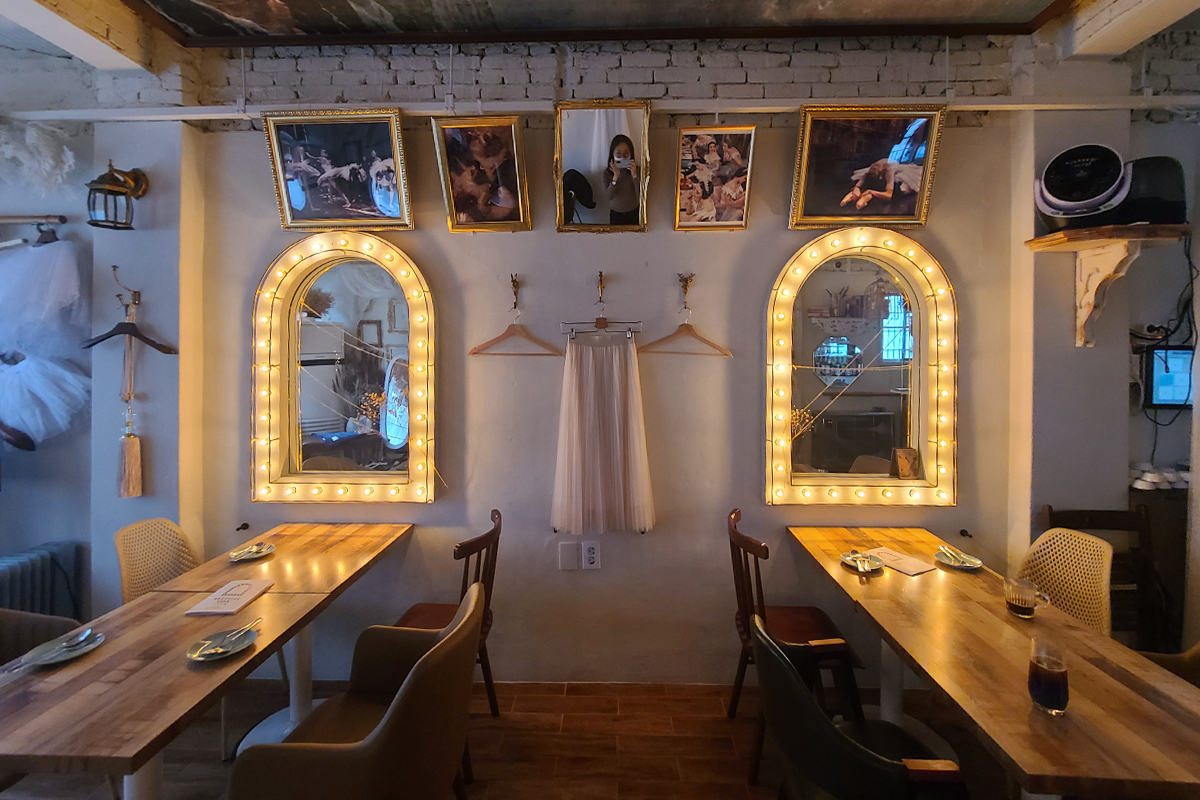 Dressing room is Swan Lake themed and the gives off the vibes of being a dressing room with performance props, dressing room mirrors, and ballet shoes. The bright lights on the mirrors create fun lighting in the restaurant and create a unique concept throughout. The whole cafe is perfect for taking photos for those looking to refresh their Instagram feed!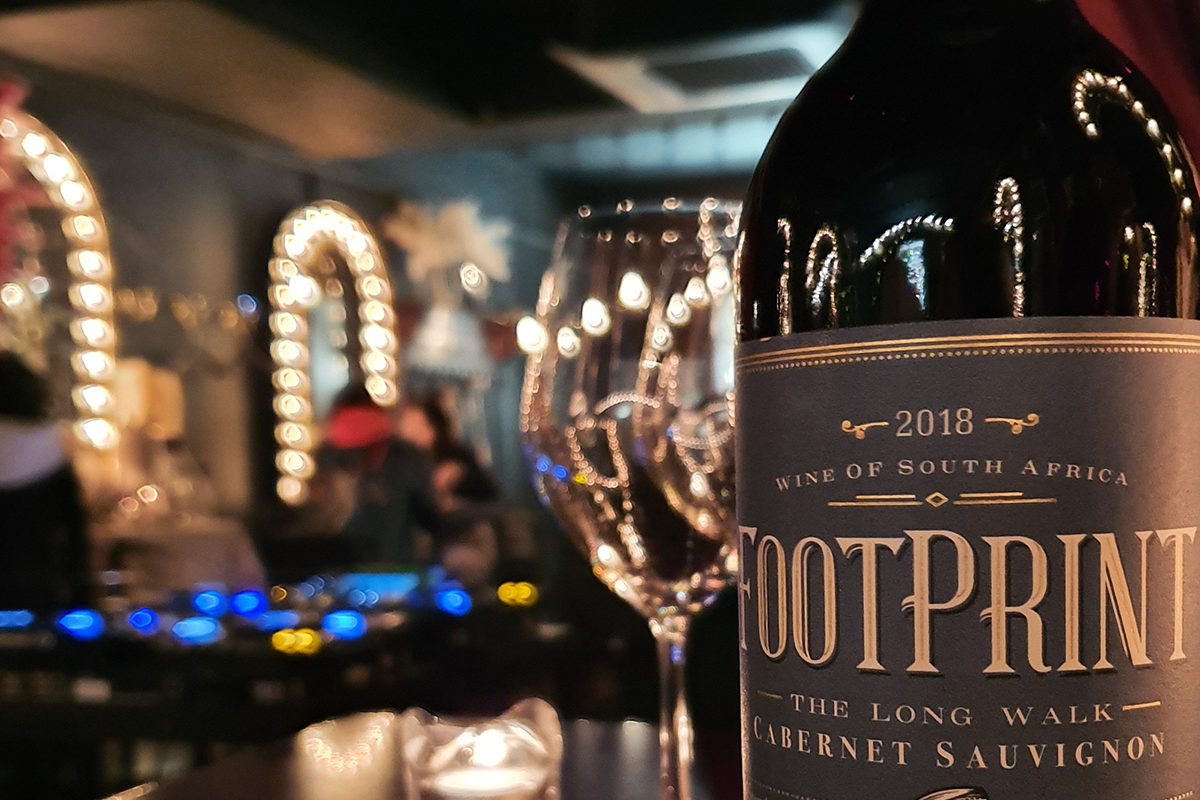 In the evening, you can enjoy a glass of wine (7,000 won and up) or a cocktail (9,000 won and up) and take in the atmosphere of the bar! We had fun pretending to be backstage, getting ready for a ballet show!
Address: 서울 중구 충무로 5길 6-1 3,4층
3 & 4 F, 6-1, Chungmuro 5-gil, Jung-gu, Seoul
Hours: Mon-Fri: 11:30-23:00, Sat-Sun: 13:00-23:00
---
Euljiro Brewing
을지맥옥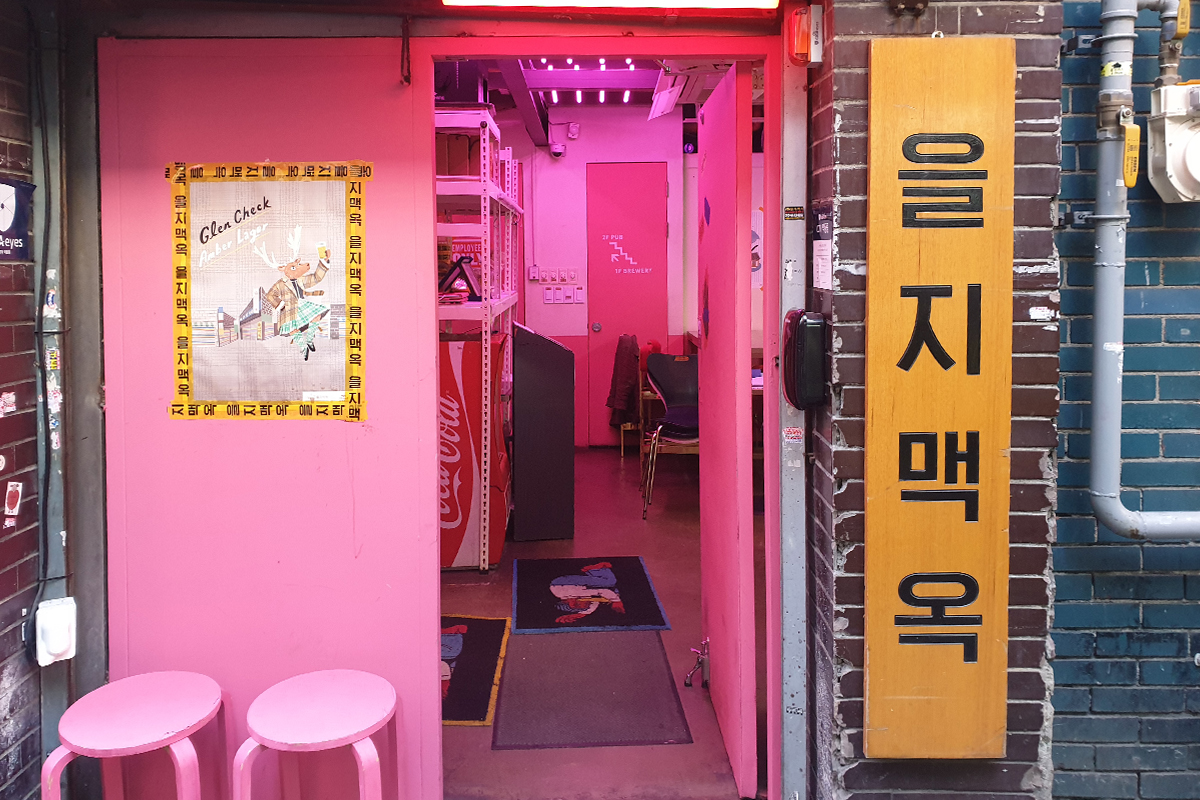 The large wooden signboard is a traditional Korean style sign placed next to a fun pink entrance, and the balance of the traditional with the bright and bold colors are a fun way to truly grasp the characteristics of Euljiro!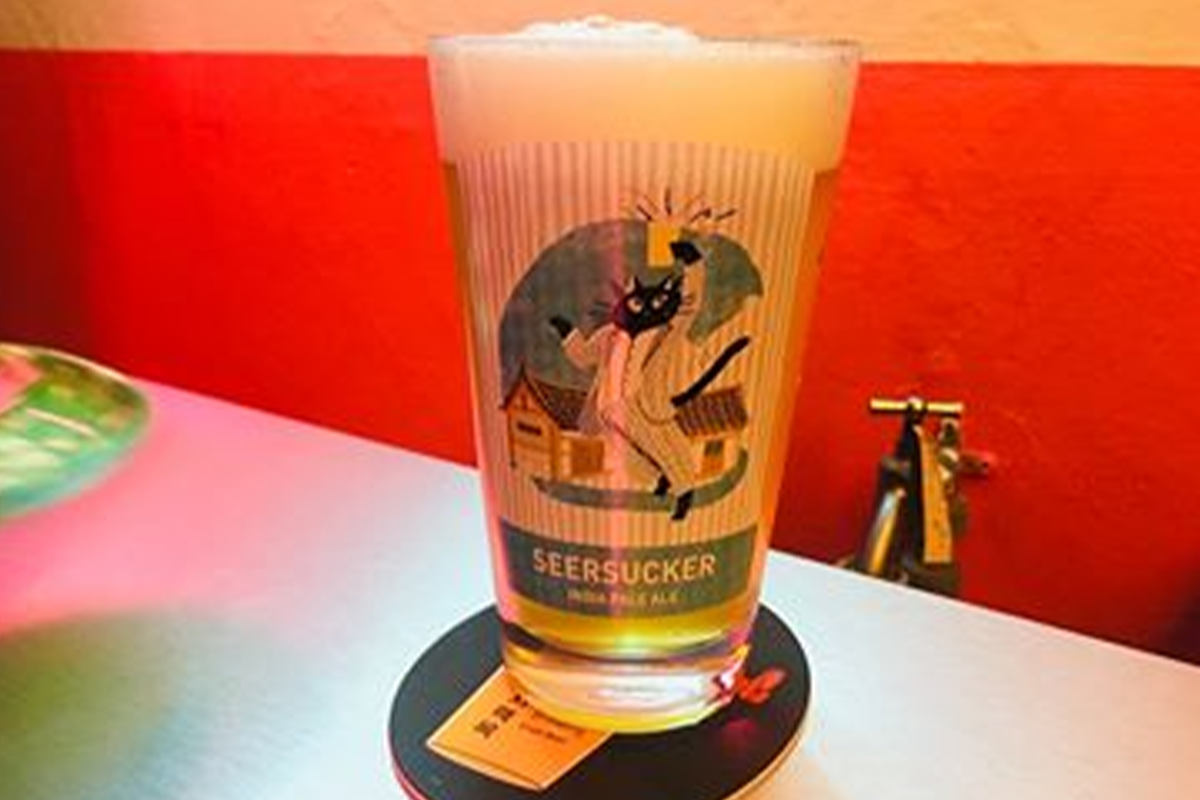 You can try craft beers that are served in fun glasses. The craft beers start at 7,500 won and prices go up depending on the drink. You can choose from a large selection of beers so you can find one that perfectly matches your preference!
Address: 서울 중구 수표로 28-16, 2층
2F, 48-16, Supyu-ro, Jung-gu, Seoul
Hours: Main Building: 15:30- 00:30, Secondary Building: 17:00-02:00
---
Nogari Alley
노가리 골목
Back in the 80s, printing industry workers in Euljiro would come to pubs after a long day of work and drink beer and eat nogari. Nogari (노가리) is a snack made from dried pollack, and was known for being very cheap, making it a favorite snack for low-wage workers.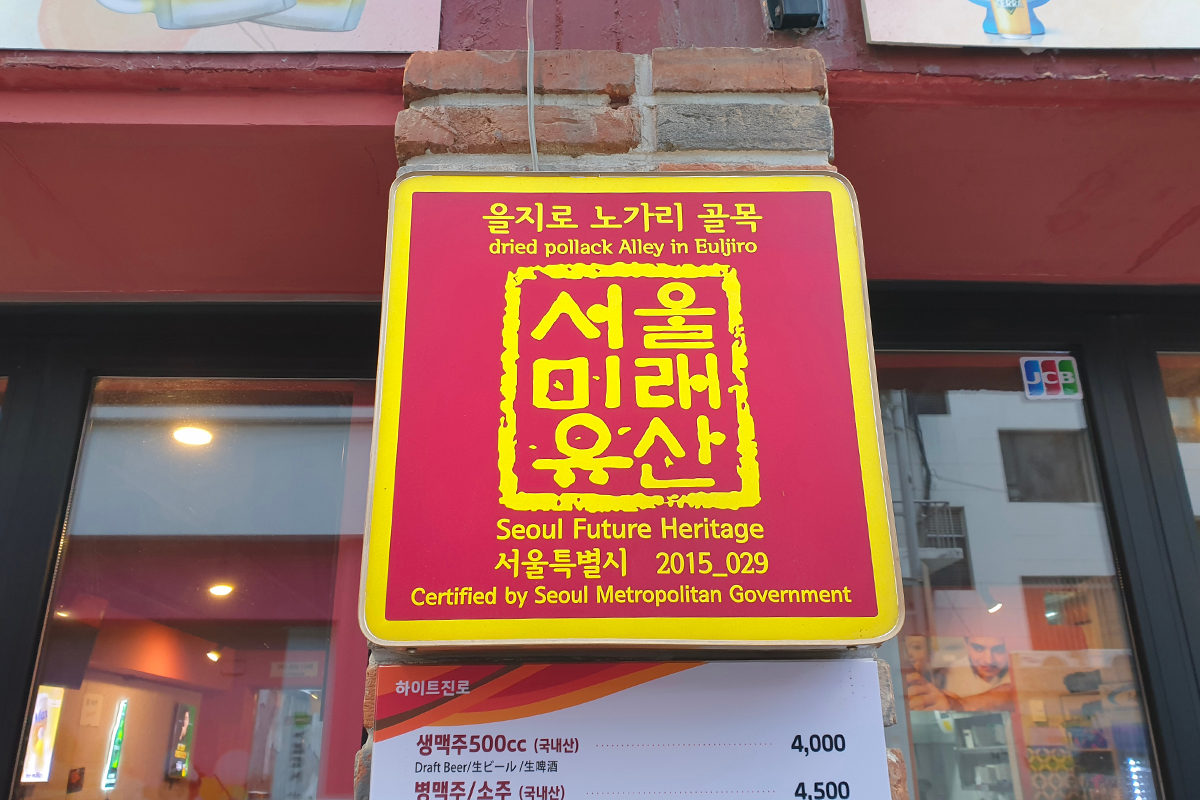 Therefore, many pubs in Euljiro began to sell norgari snacks and slowly became established and known for their nogari snacks and pubs. Present day, this alley way is filled with many pubs that sell nogari and tourists and locals alike still flock to this alleyway to experience a bit of the past! Due to it's historical value, this alleyway was registered as a Seoul Future Heritage Site in 2015.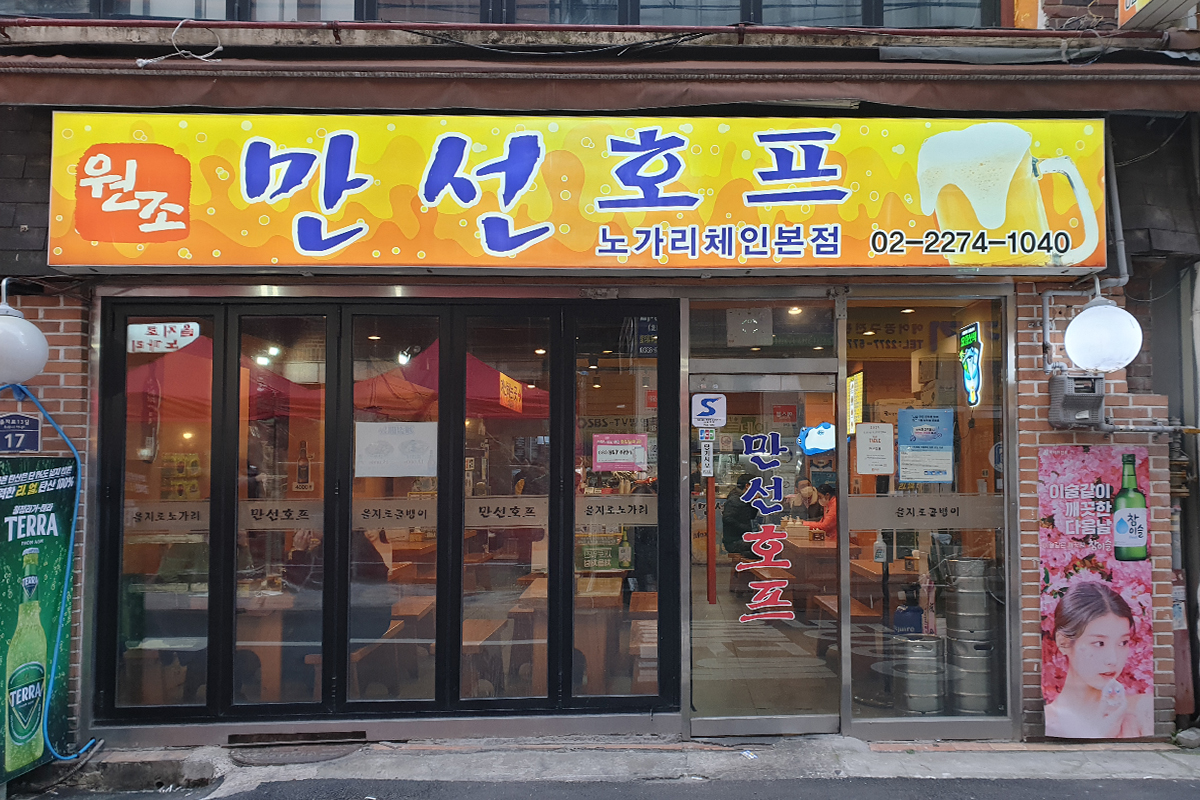 Manseon Hof is one of the largest pubs in this alleyway and is very easy to find as they have several branches of their store spread out within the alleyway. On summer nights it is difficult to even pass through this alleyway because it is so crowded with people sitting outside at tables enjoying drinks and snacks. This alleyway is filled with a rich history and we highly recommend coming here to take part and experience this unique part of not only Korea's history but Euljiro's unique past.
Address: 서울 중구 을지로 13길 19 1층
1F, 19 Euljiro 13-gil, Jung-gu, Seoul
Hours: 12:00-24:00
---
Golbaengi Alley


골뱅이 골목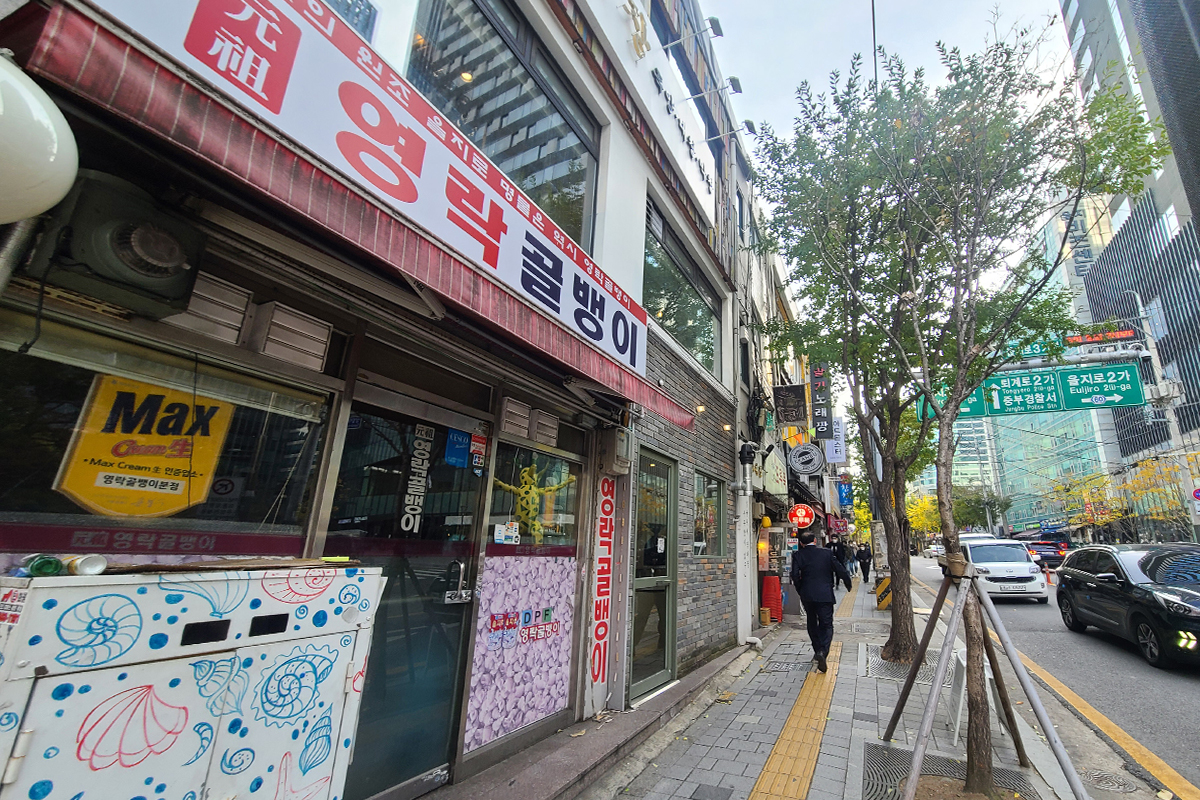 Like Nogari Alley, Golbaengi Alley is another alley that showcases the unique past of Euljiro. This was another alley where workers used to come to drink beers and golbaengi (골뱅기) which is made from moon snails as a snack.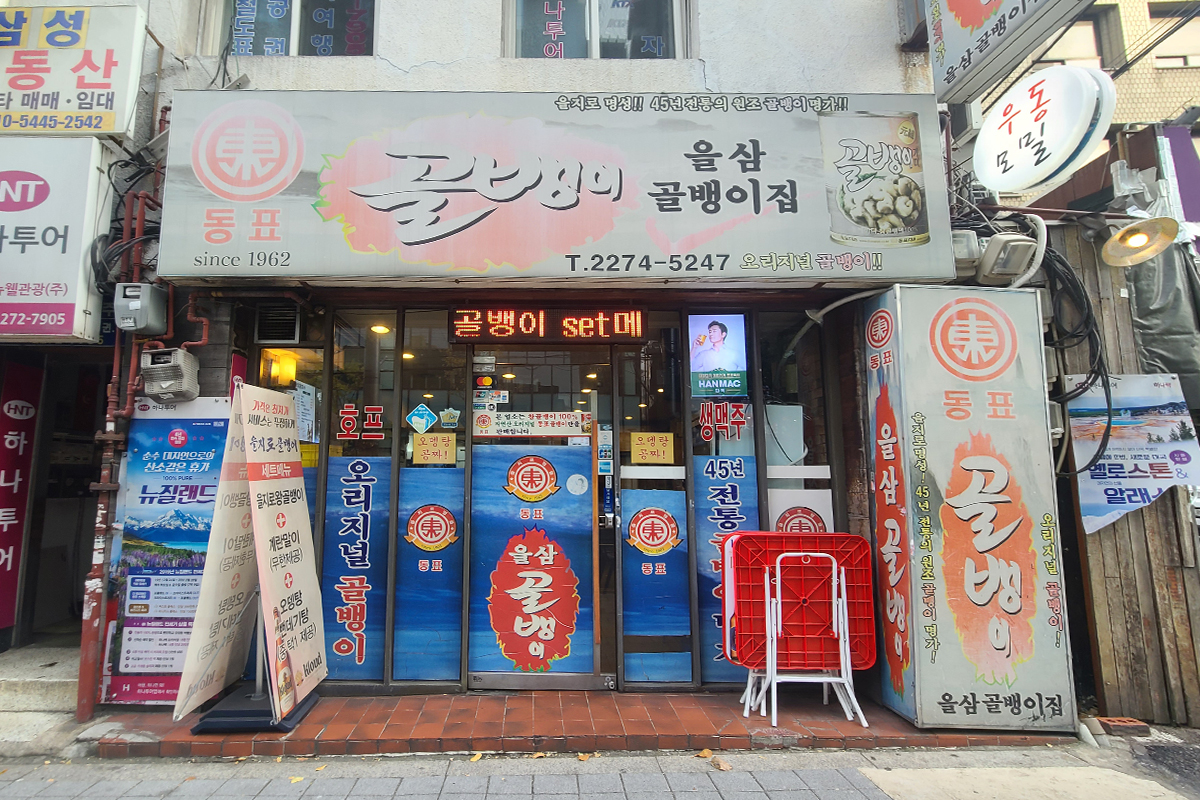 If you walk out of Exit 11 of Euljiro 3-ga Station you can see many draft beer bars lined up. Out of these bars, you can find Dongpyo Eulsam Golbaengi Restaruant, which has been in operation since 1962! This gives you a sense of how old this alley is right?
Address: 서울 종로구 종고 199
199 Jong-ro, Jongno-gu, Seoul
Hours: 14:00-00:00
---
Youngrak Golbaengi
영락 골뱅이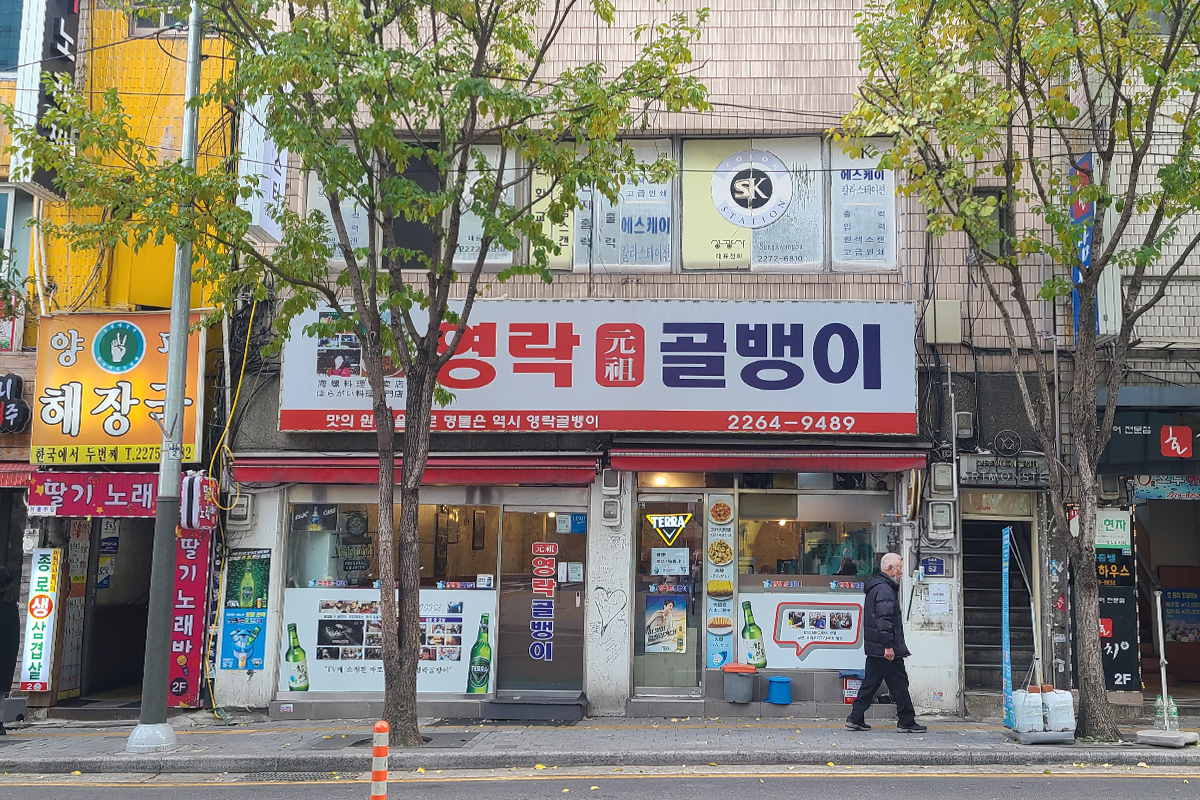 One of Golbaengi Alley's star restaurants is Yeongnak Golbaenji. The owner is known for being extremely friendly and the menu is extensive with endless options!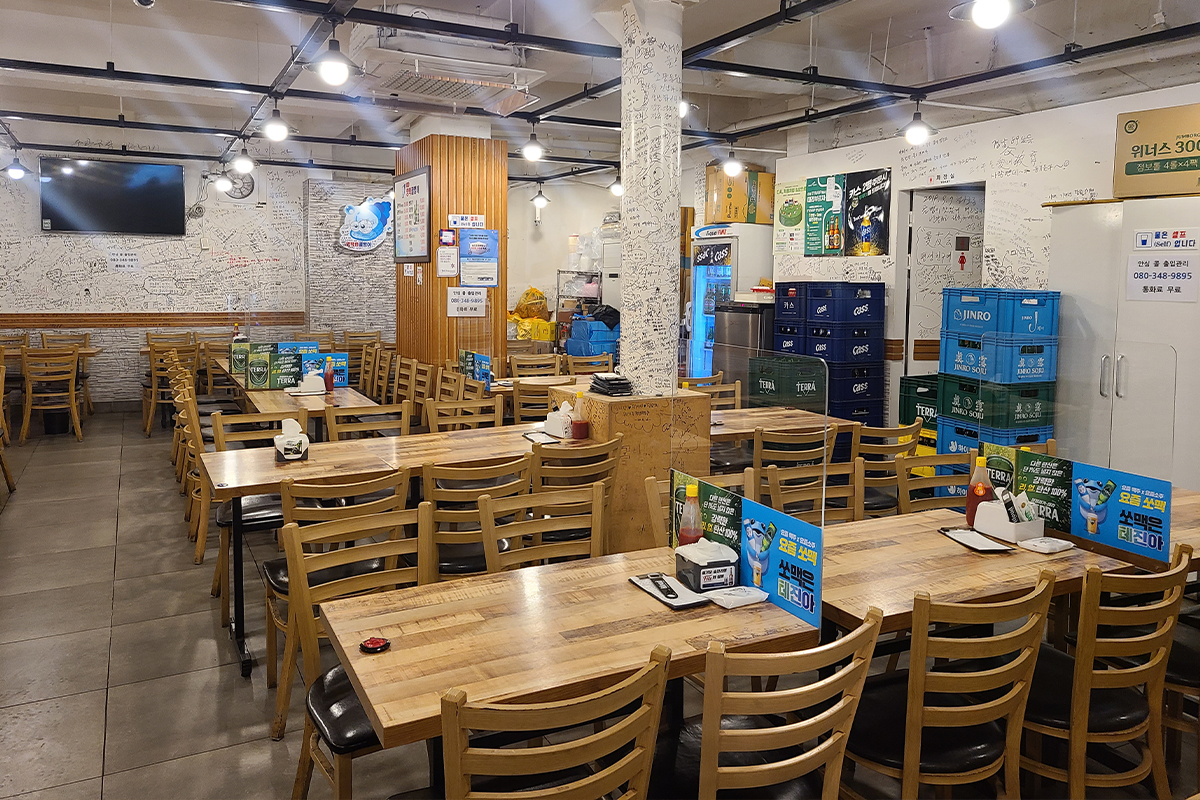 Many restaurants in Golbaengi Alley have a long history and are very old, however Yeongnak Golbaengi, although old is very tidy and clean inside!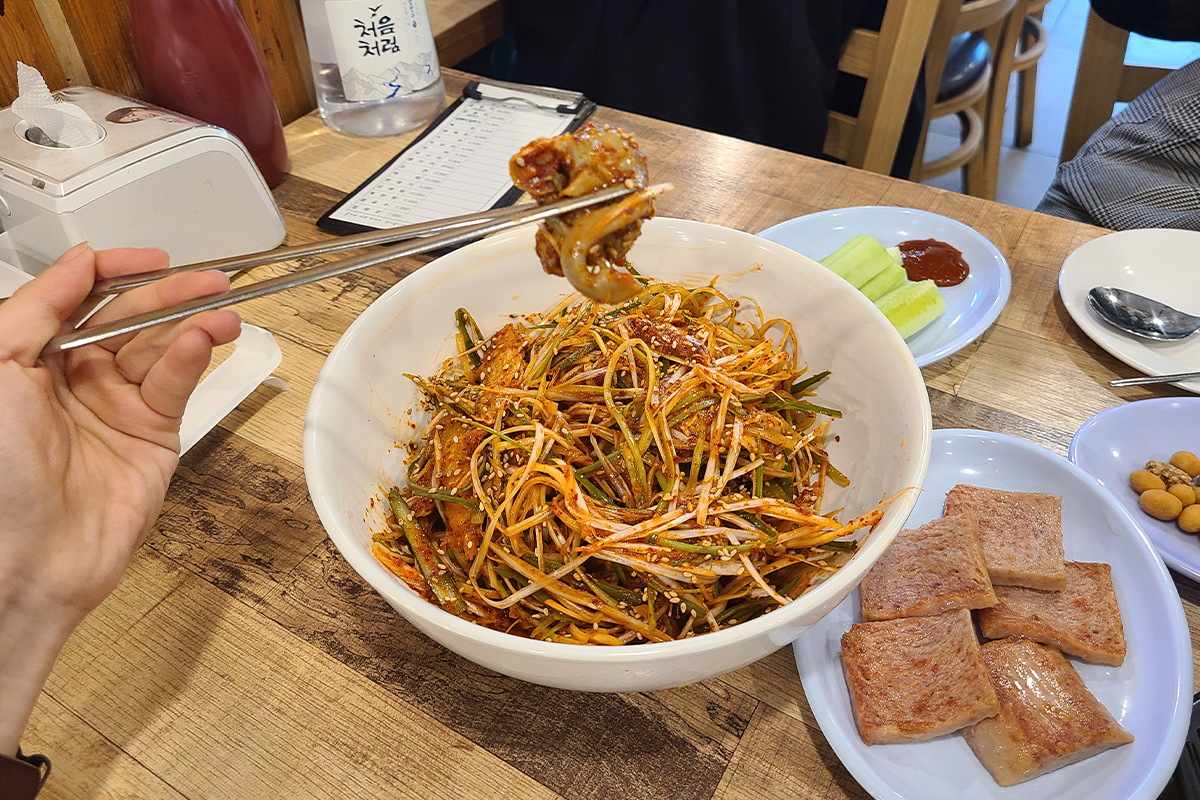 We ordered a golbaengi with onions (29,000 won)! The portion size was very generous and there were lots of golbaengi and veggies in it! There are also many delicious side dishes that are served with the main dish such as roe, fish cake soup, fried ham and cucumbers just to name a few! Sipping on a glass of beer while eating this delicious food is a great way to wind down and relax.
Address: 서울 중구 수표로 52
52 Supyo-ro, Jung-gu, Seoul
Hours: 14:00-12:30
---
Sarangbang Kalguksu


사랑방 칼국수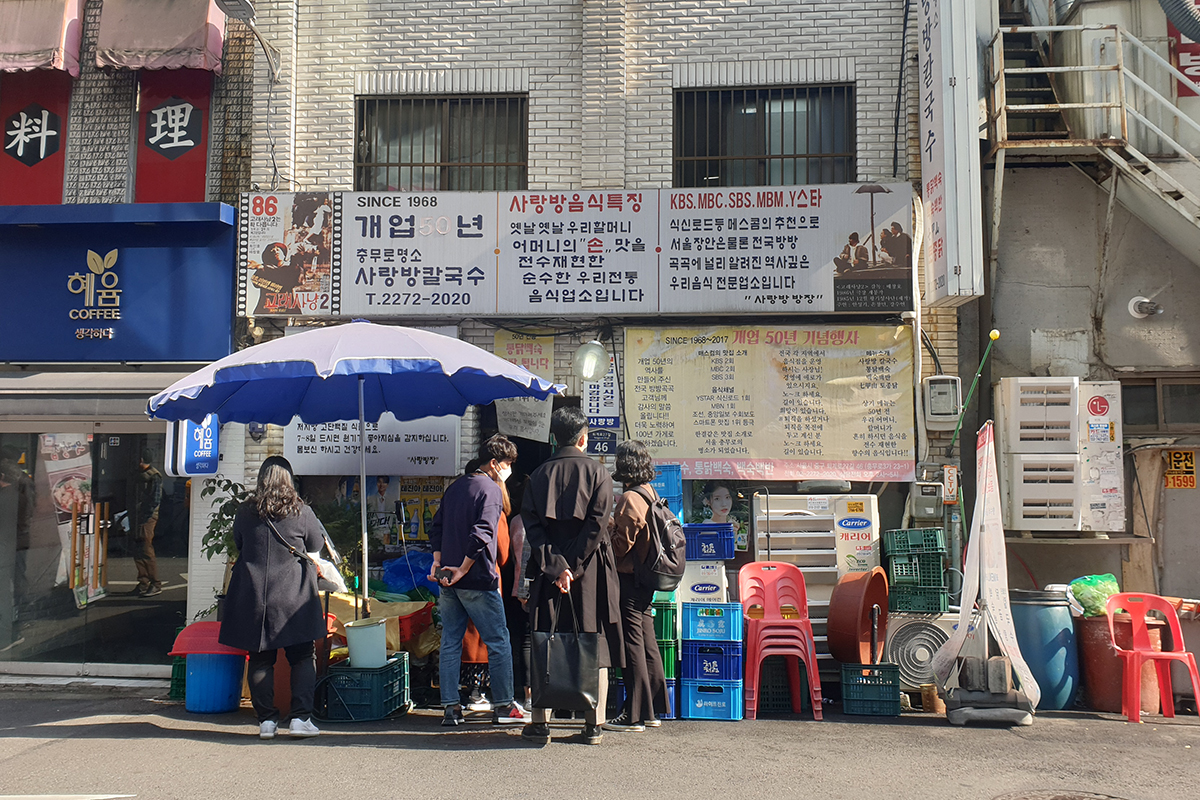 During lunchtime, you might find the locals of Euljiro flocking and lining up at this rather old looking restaurant! This restaurant has been operating since 1968 and has featured on many T.V. sows and is very well known locally!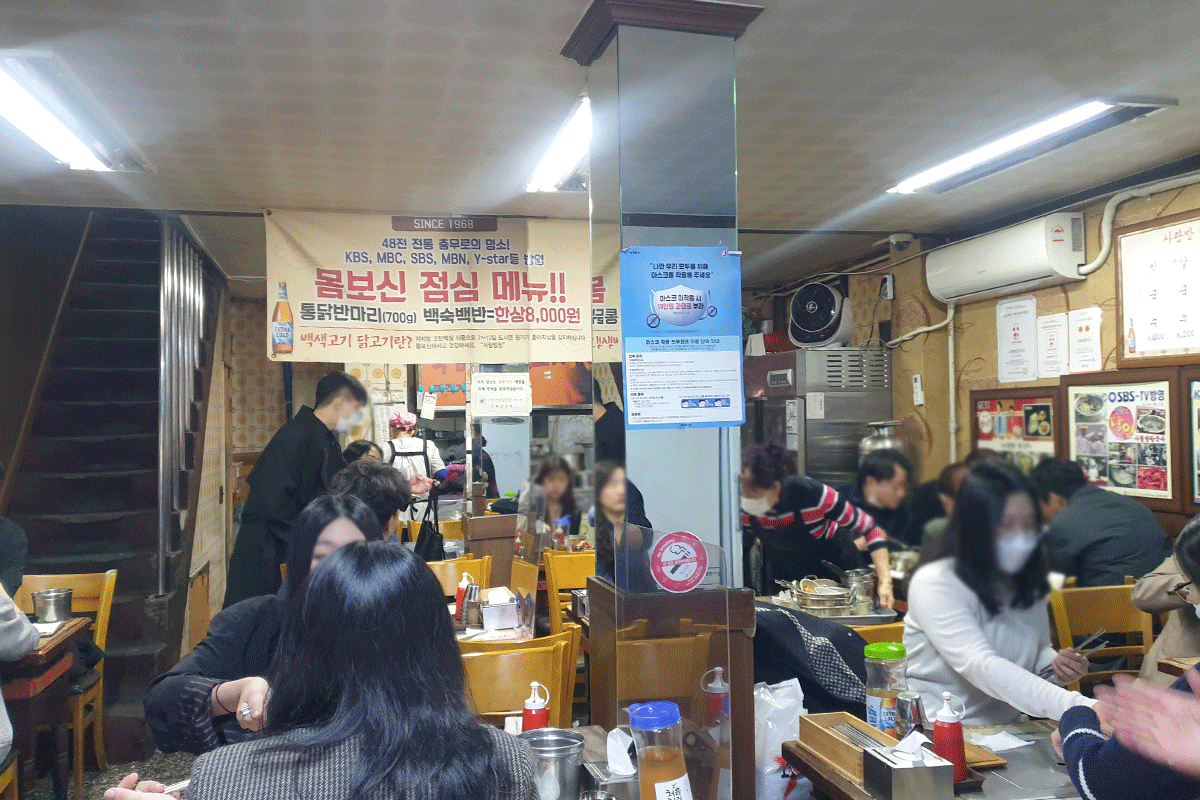 Inside the old and somewhat cramped restaurant you can find customers of all ages, ranging from elderly folks to young couples! This restaurant is known to have something on the menu that will satisfy you regardless of age!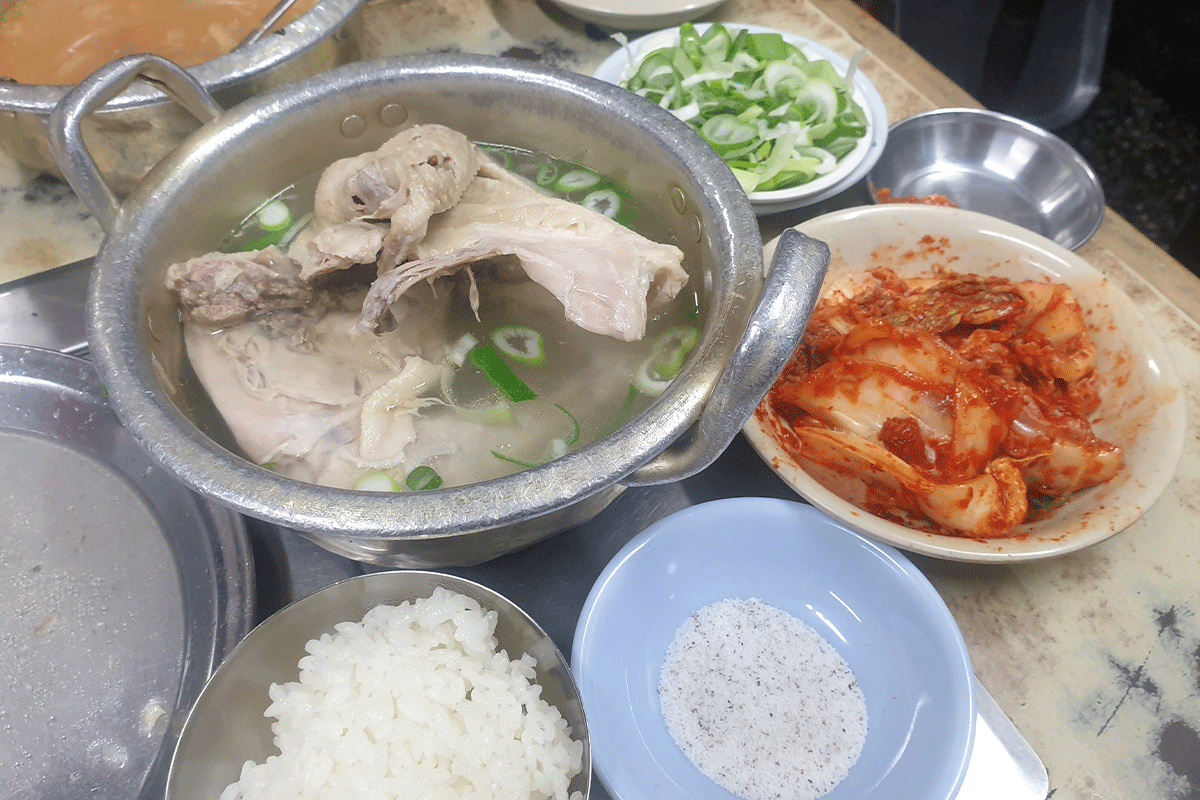 If your party consists of 2 people, we recommend that you order a Baeksuk Baekban (9,000 won) and a Kalguksu (7,000 won) to have a delicious and filling meal!
Address: 서울 중구 퇴계로27길 46 1층
1F, 46 Togye-ro 27-gil, Jung-gu, Seoul
Hours: Mon-Fri: 10:30-21:40, Sat: 10:30-21:00, Sun 10:30-16:00


---
Woolaeok
우래옥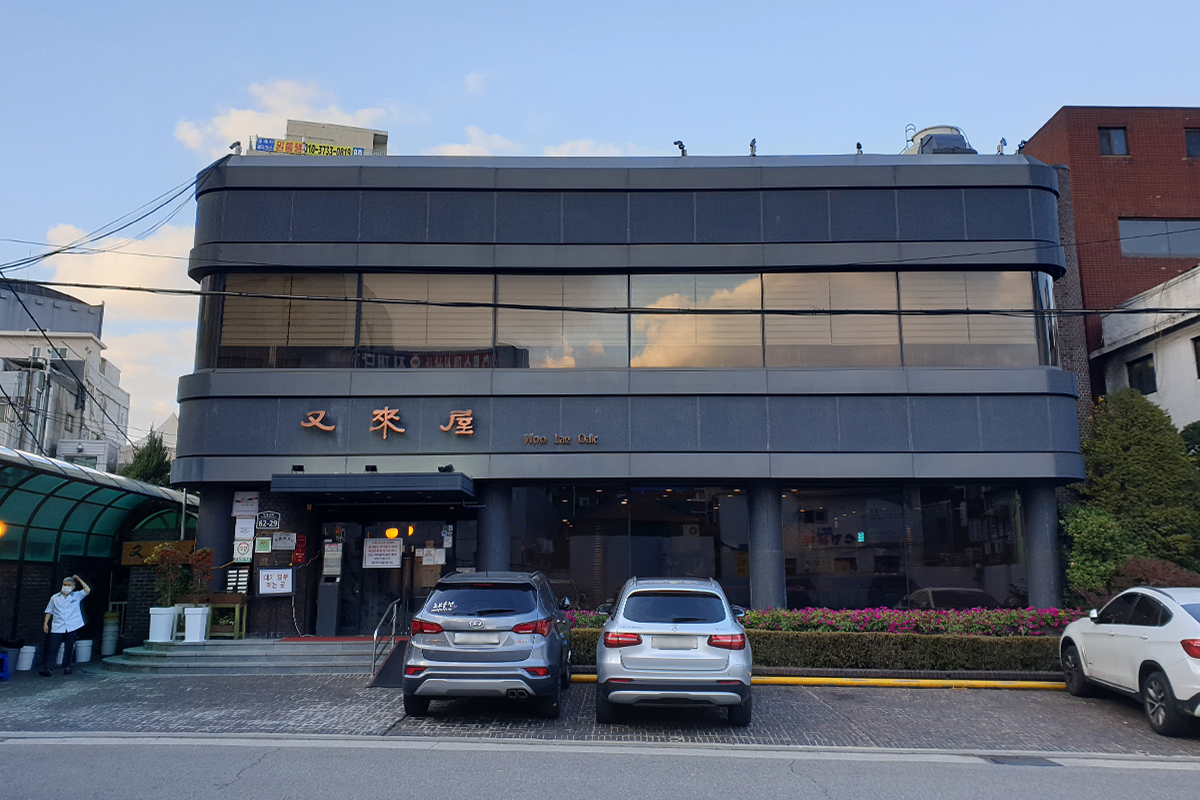 Amongst the endless options of Pyongyang Cold Noodle restaurants in Euljiro, Woolaeoak is a high-class restaurant and has been awarded 3 Michelin stars.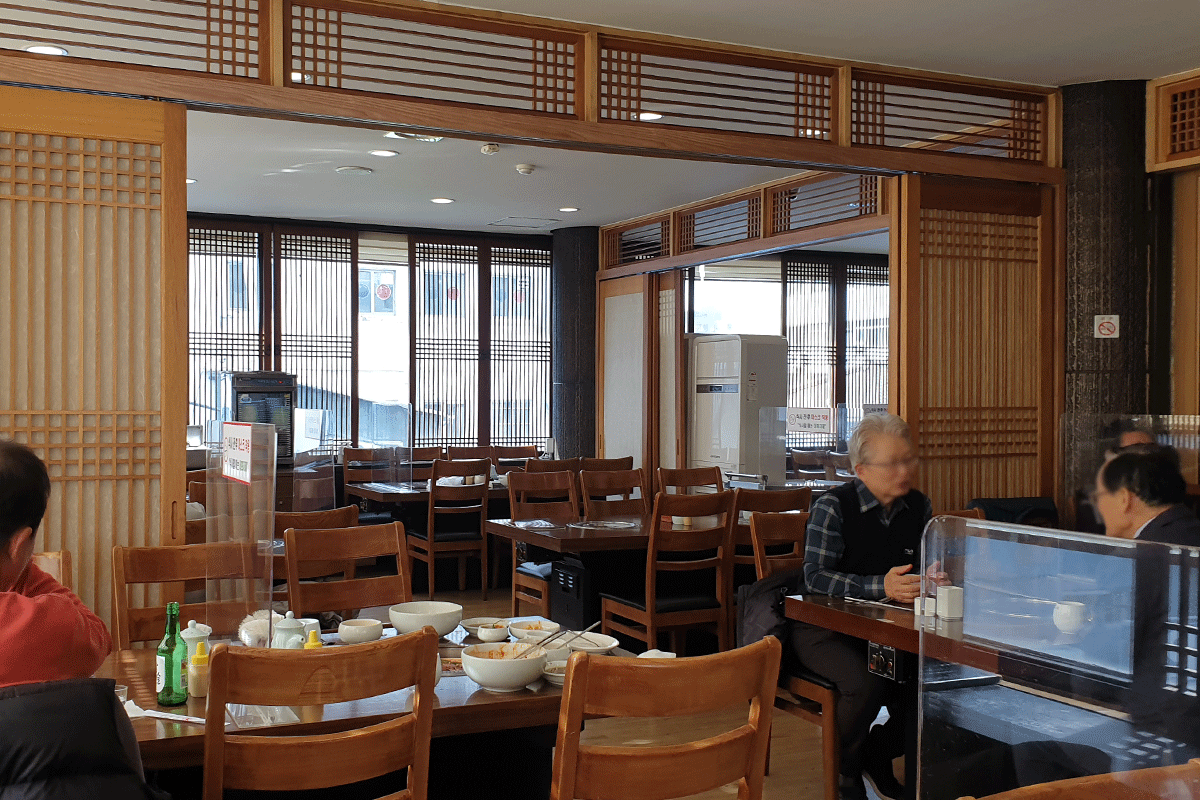 Although the restaurant is very spacious, with 2 floors, due to it's popularity, you should expect a wait if you go!
We ordered a bowl of cold water noodles (mulnaengmyeon 물냉면), which were 16,000 won. This bowl of noodles is eaten by using chopsticks to stir the noodles so that the meat and buckwheat noodles are properly mixed in with the refreshing broth. The noodles pair really well with pickled radish and kimchi. This is a dish normally enjoyed as a way to cool down on a hot summer day in Korea. Cold noodles are not as common in many countries, so we suggest trying out this unique dish during your stay in Korea!
Address: 서울 중구 창경궁로 62-29
62-29, Changgyeonggung-ro, Jung-gu, Seoul
Hours: Tues-Sun: 11:20-21:00, Closed on Mondays
---
Pyeongnaeok
평래옥
Pyeongaeok is a famous restaurant in Euljiro so you can always expect a line at basically any time of the day! This restaurant sells healthy, nutritious traditional Korean foods.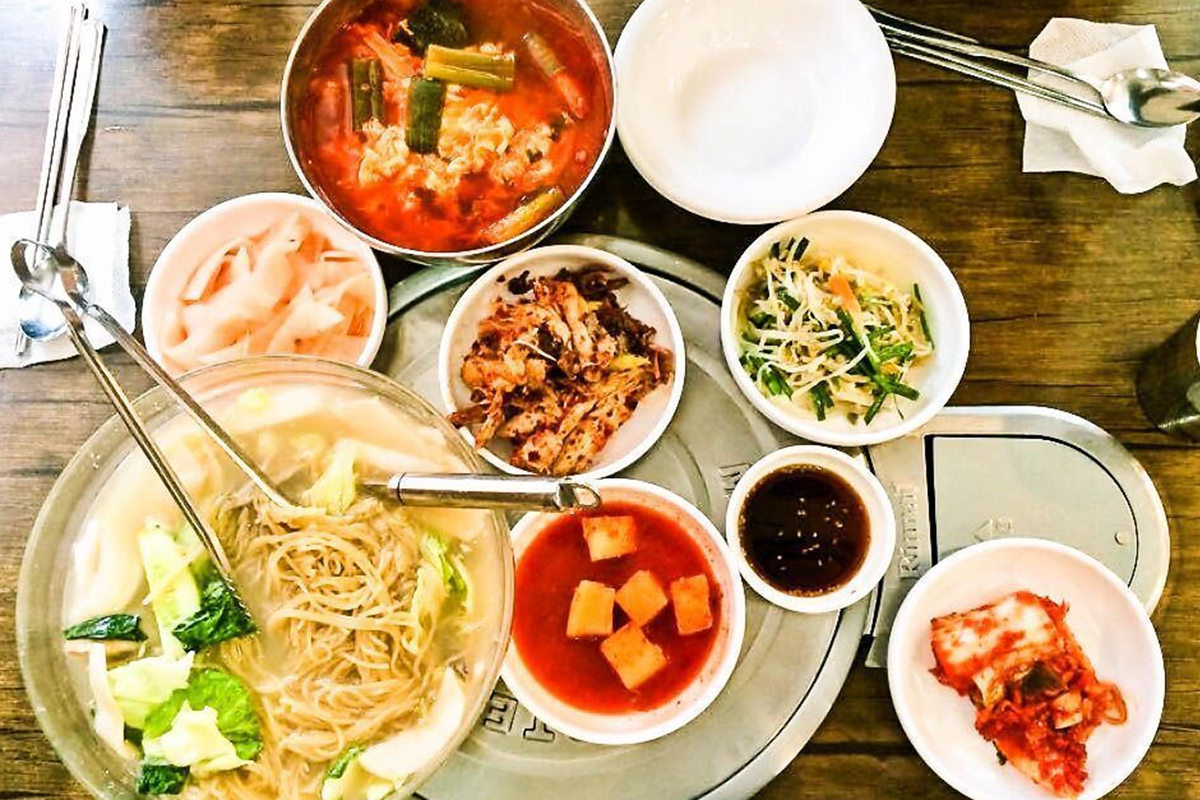 If you order the Chongytang (the basic menu for 2 people is 30,000 won) you can enjoy a healthy summer Korean dish. This dish is different from Samgyetang as both the broth and chicken are cold. If you add some mustard and vinegar, the flavor of the dish is enhanced and your meal will be even more delicious.
Address: 서울 중구 저동2가 마른내로 21-1
21-1 Maraeunnae-ro, Jeodong 2- ga, Jung-gu, Seoul
Hours: 11:00-22:00, Break Time: 15:30- 17:00
---
Cheongwaok
청와옥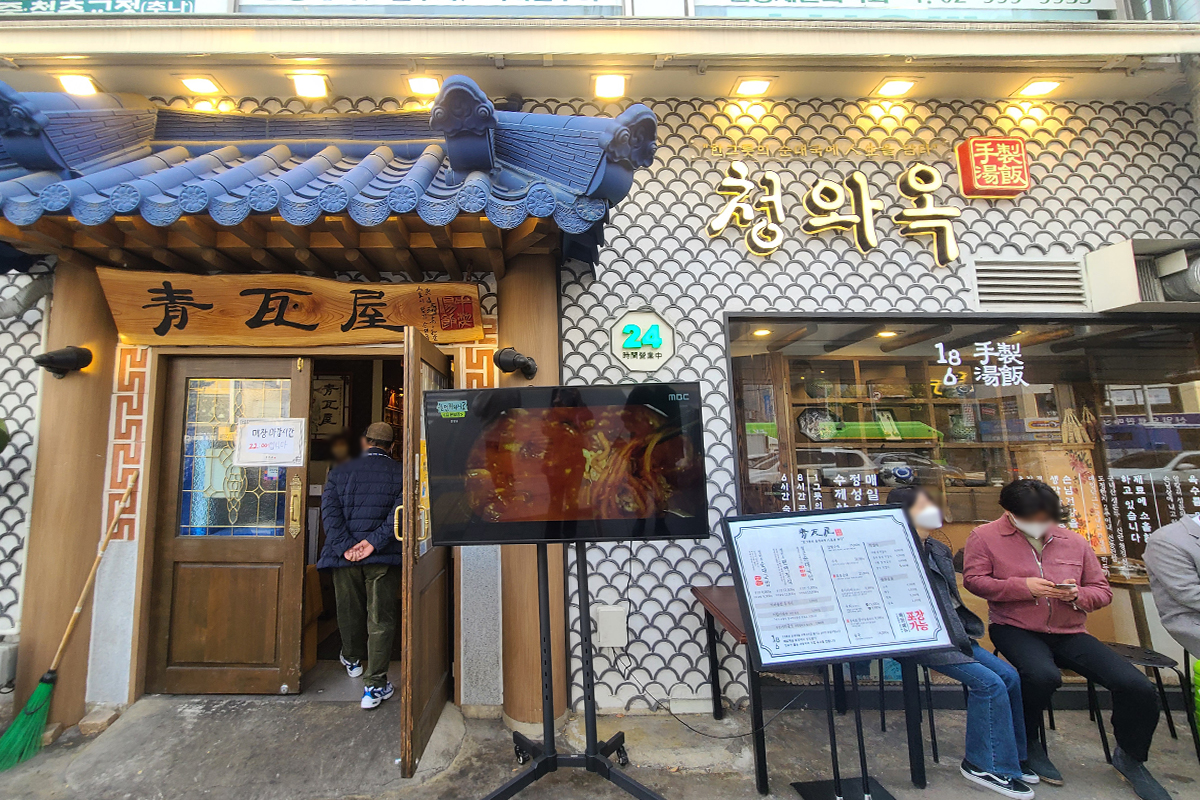 You can find this gem, Cheongwaok, after coming out of Exit 11 of Euljiro 3-ga Station. It is hard to miss due to the lovely traditional blue roof exterior. You can munch on some delicious Korean sausages, known as Soondae (순대).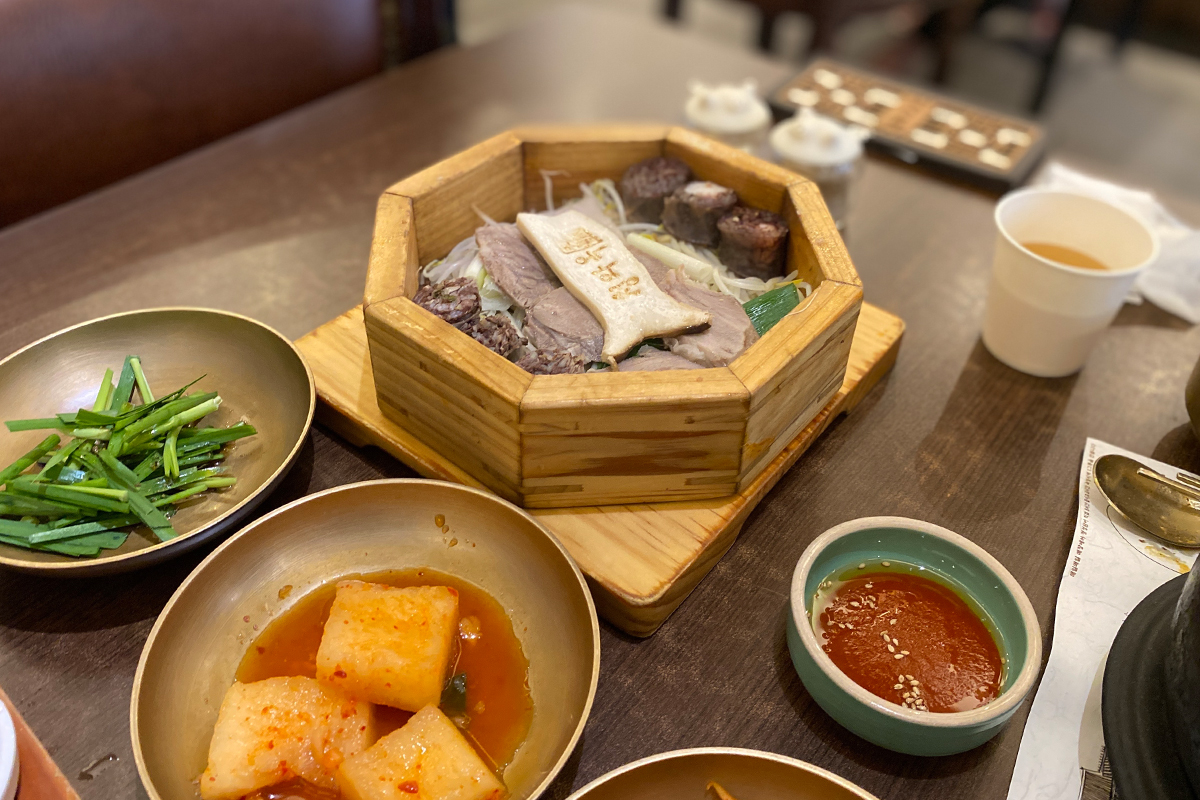 The food here are served in traditional Korean dishes so you can get a feel of the way that the higher class used to dine back in the days. We opted for the Cypress Lunch Set (13,000 won) which was served in a wooden steamer and made from cypress trees, mushrooms, soondae, bean sprouts, boiled meat and rice.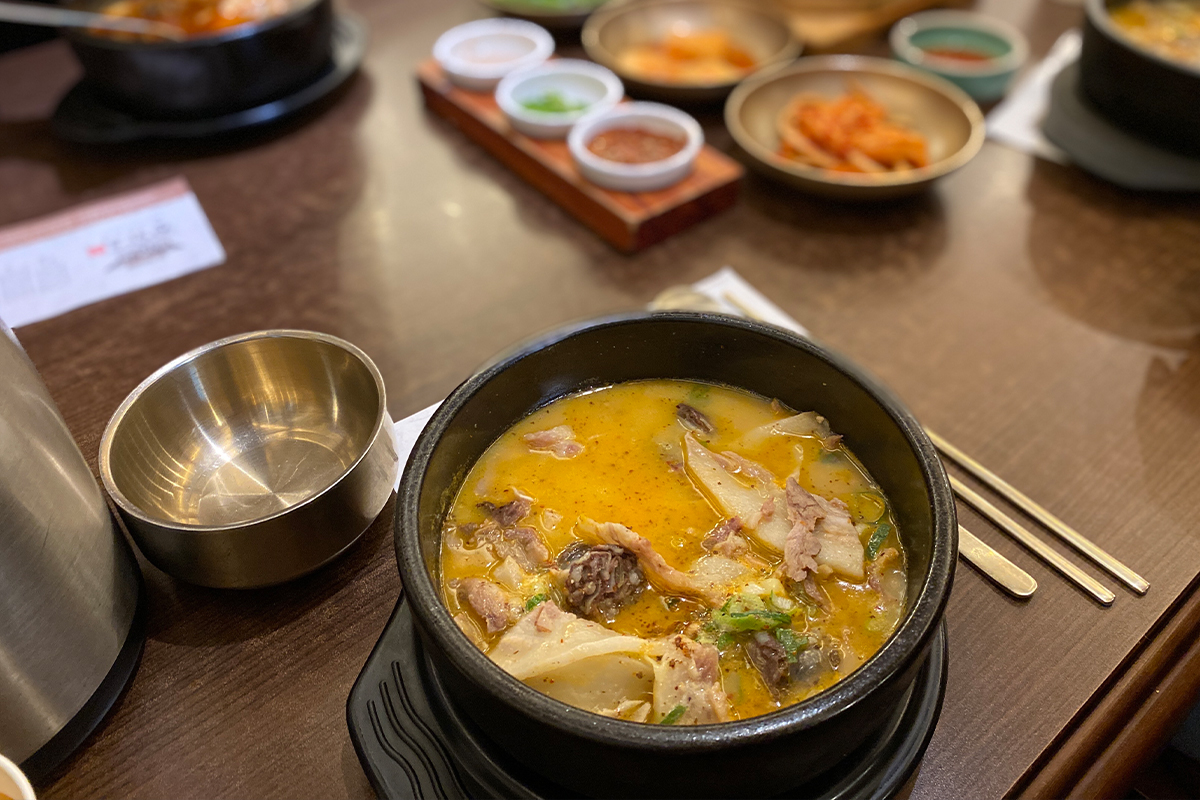 We also got Soondae-Gukbap (순대국밥) for 9,000 KRW, which is a Soondae stew and rice set. The stew with the Soondae are served in an earthenware bowl that keeps the stew warm throughout your meal! This dish is a classic Korean meal for cold winter days and is enjoyed by many for being filling and delicious. You can add salted shrimp and season to fit your taste.
Address: 서울 중구 을지로 110 1층 1호
1F, 110 Eulji-ro, Jung-gu, Seoul
Hours: 08:00-22:00
---
Ohdoe Myeonok
오도면옥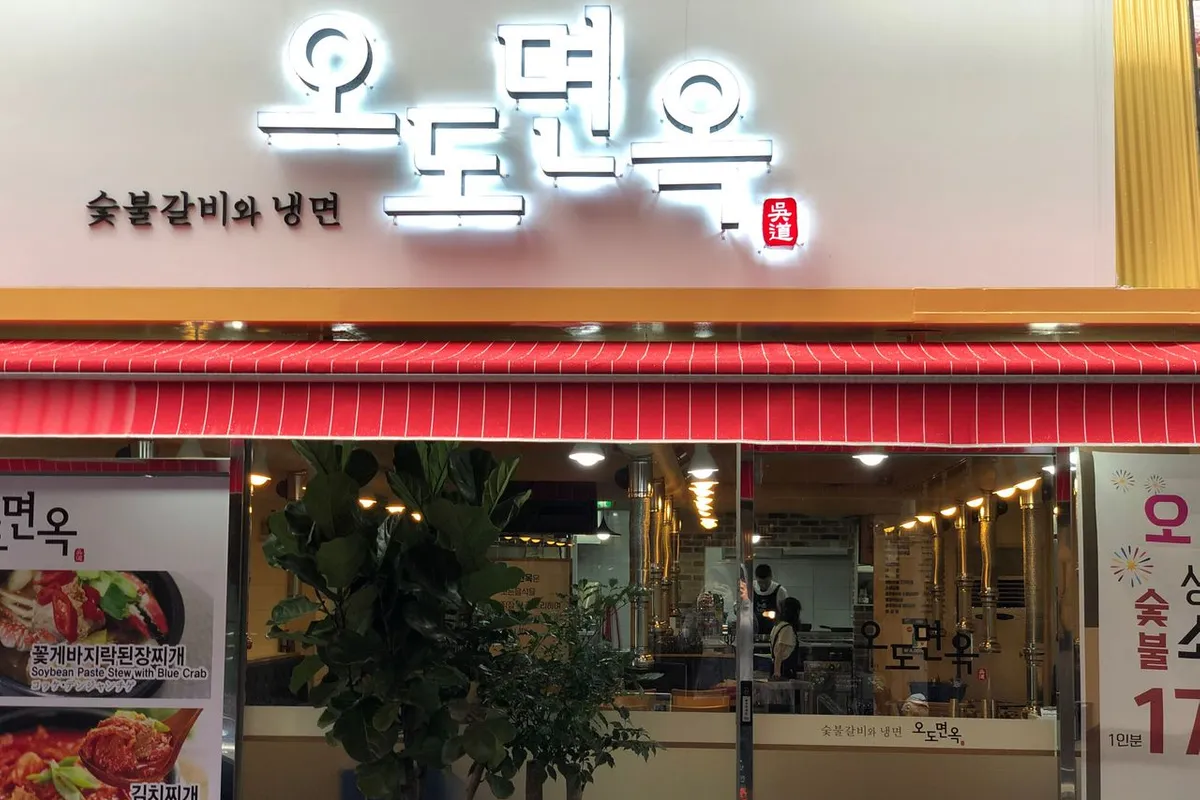 Located between Euljiro and Chungmuro, Ohdoe Myeonok is a popular choice for many office workers in the area.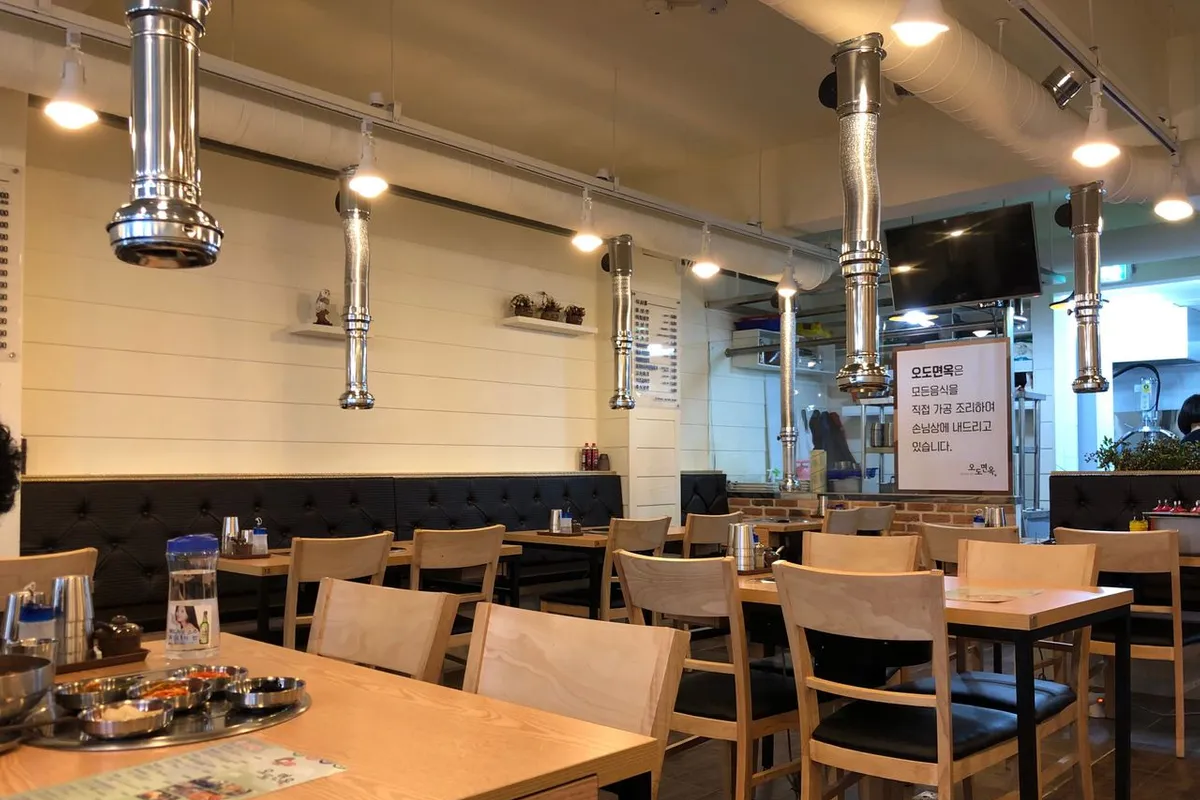 Ohdoe Myeonok offers a very clean and neat interior and setting unlike other KBBQ places, which makes it desirable to many office workers and to people that would like a delicious meal without much hassle.
We got the beef ribs, otherwise known as Kalbi (갈비) which was 19,000 won per person for 190 grams. They are grilled over charcoal making it very flavorful. The meat is marinated in a sweet, yet salty sauce and is perfect wrapped in vegetables and with rice!
KBBQ has been gaining much popularity internationally and we are sure that many of you have already tried delicious KBBQ before. However, if you want to try some KBBQ at a place that Koreans love, we recommend stopping by here on your trip! You can check out a more detailed menu and download a 10% discount coupon here.
Address: 서울 중구 수표로 6길 27
27 Supyo-ro 6-gil, Pil-dong, Jung-gu, Seoul
Hours: 11:00-22:00, Break Time: 15:00-16:00
---
Hwangsogojib
황소고기집

Hwangsogojib is another popular restaurant in Euljiro for a cheap, yet filling meal! At lunch, they sell a Gochujang Bulgogi set that is only 7,000 won!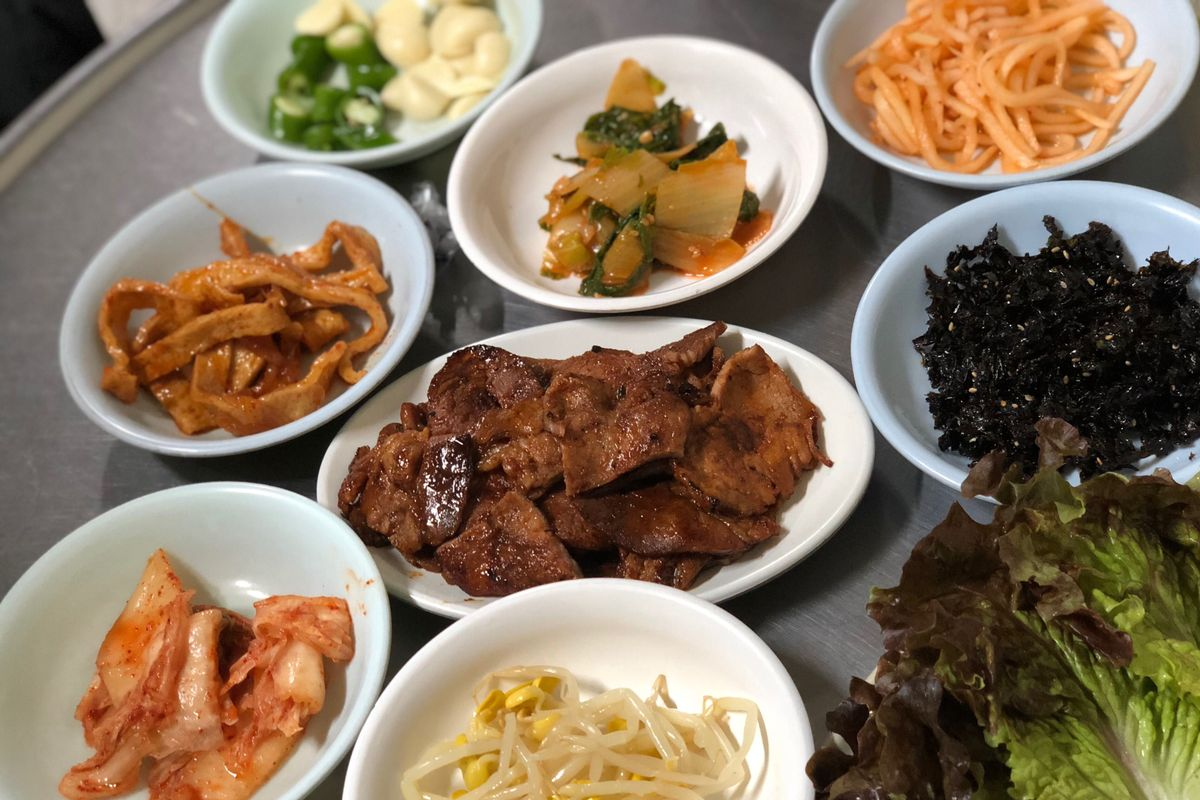 This delicious lunch set comes with thick slabs of sweet and spicy meat grilled on charcoal, adding a fragrant grilled flavor. It also comes with various side dishes such as bean sprouts, kimchi, fish cakes, and a pile of veggies to wrap your meat in! This is a delicious, affordable, and nutritious meal that you do not want to miss out on.
Address: 서울 종로구 청계천로 75-1
75-1 Cheonggyecheon-ro, Jongno-gu, Seoul
Hours: 10:30-21:00, Closed on Sundays
---
Sansu Gapsan
산수갑산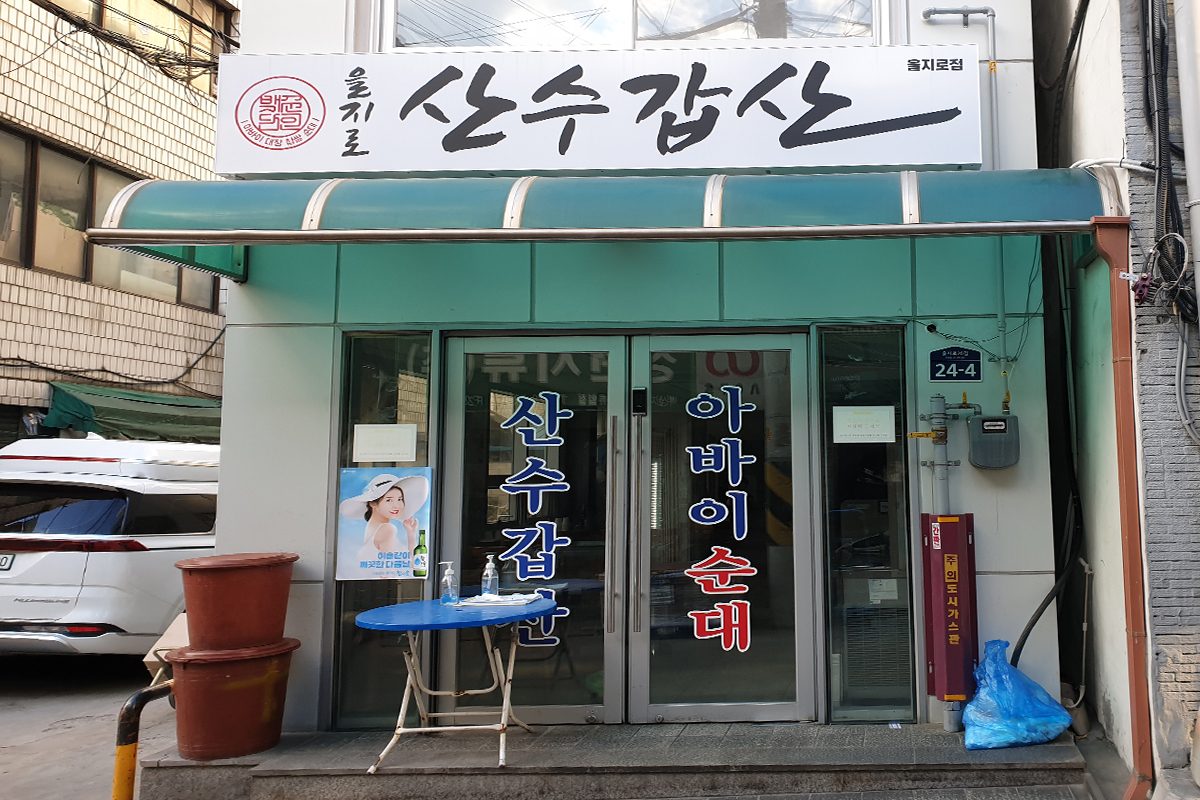 From the outside, it may look as though Sansu Gapsan is narrow and old, however, this restaurant is extremely popular and well-known for its delicious food! Additionally, many people come here to day drink! 🍹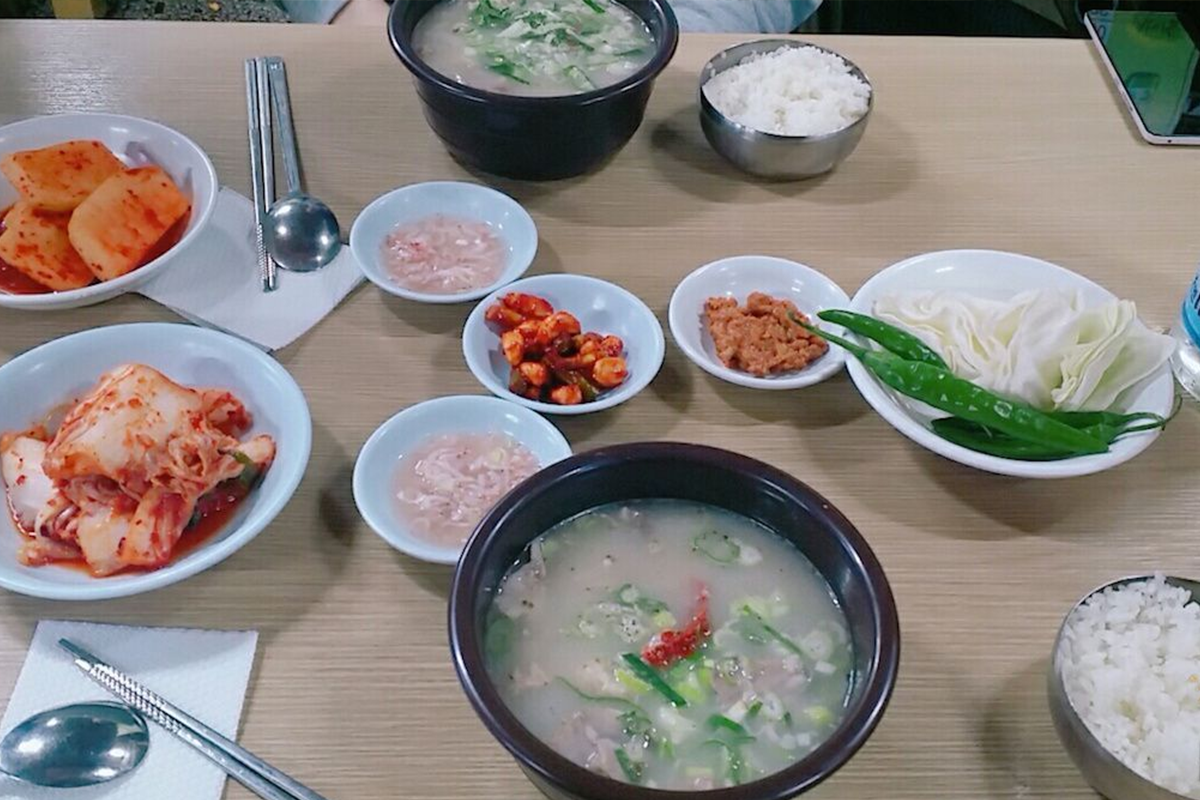 If you like Soondae Gukbap (8,000 KRW), make sure to order some here as well and enjoy a delicious casual meal enjoyed by many Korean elders!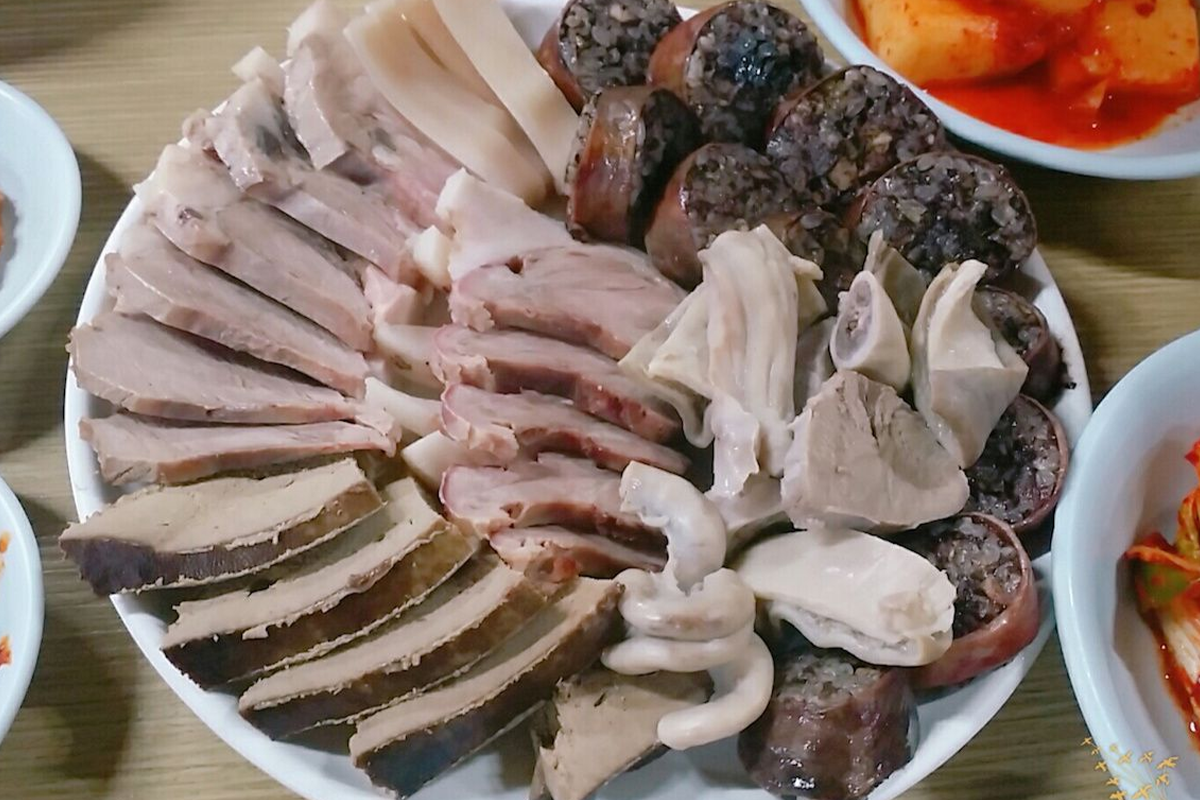 Sansu Gapsan is also famous for their delicious Korean sausage assortment (24,000 KRW). Although it may look intimidating, this dish is loved by Koreans, old and young! It is eaten in various ways such as an afternoon snack, or in stews as a meal!
Address: 중구 을지로 20길 24
24 Eulji-ro, 20- gil, Jung-gu, Seoul
Hours: 11:30-22:00, Break Time: 15:00-17:00, Closed Sundays
---
Dongwonjib
동원집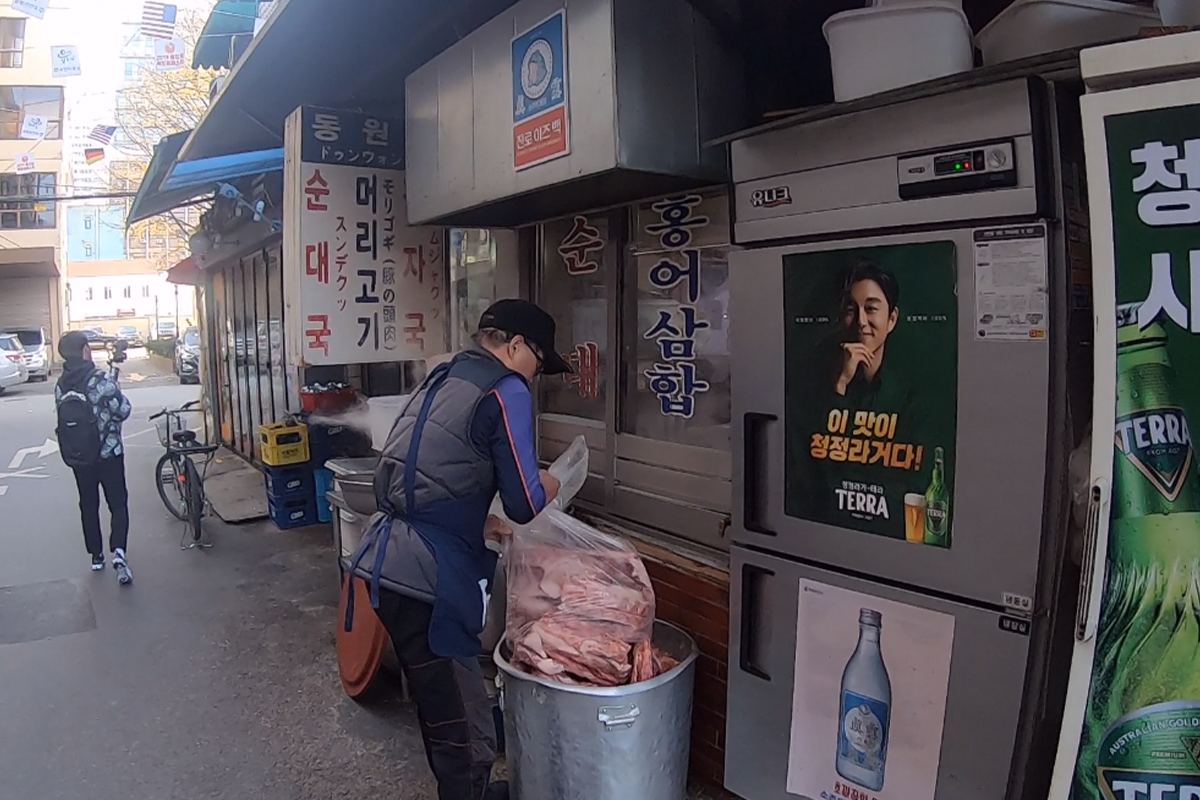 Dongwonjip is well known in Euljiro for their amazing Gamjatang (감자탕)! Gamjatang is a Korean stew made of pork ribs, potatoes, and a special spicy broth! Dongwonjip has been specializing in traditional Gamjatang for the past 40 years, and have truly perfected the recipe.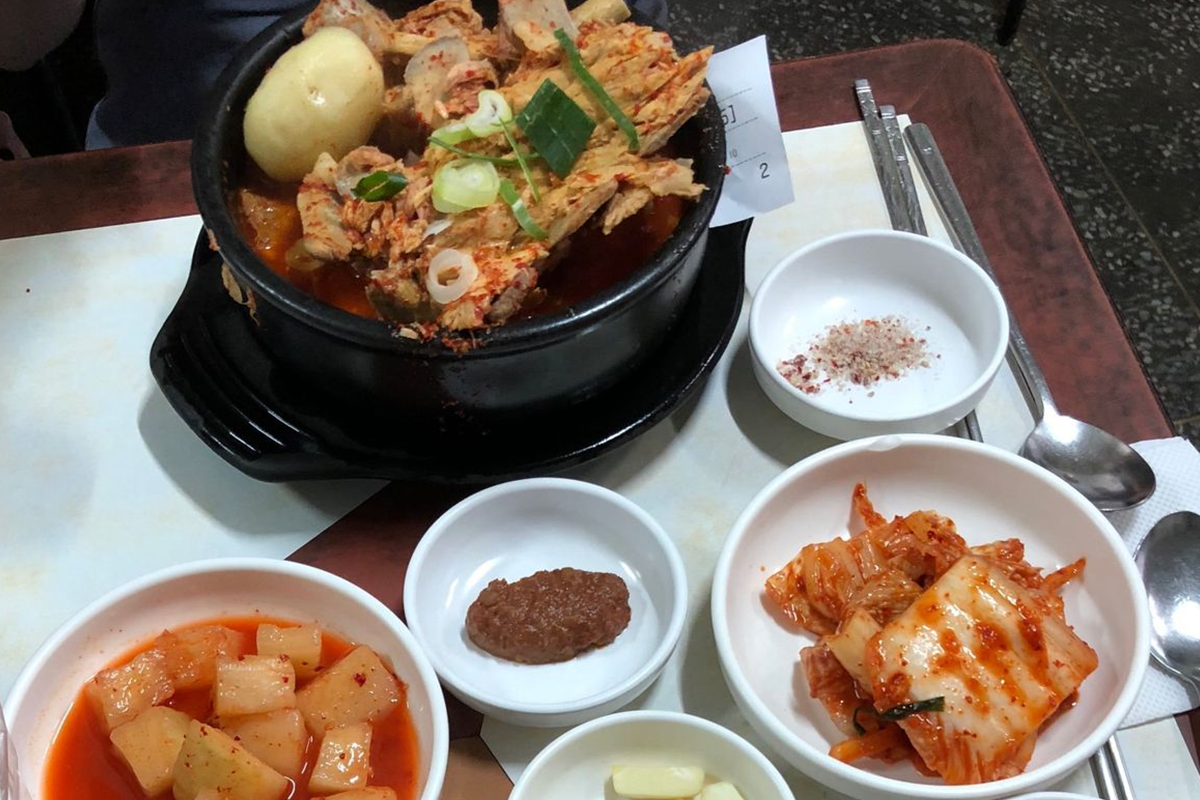 One serving of Gamjatang is around 8,000 won and is filled to the brim with meat and potatoes. This meal is guaranteed to fill you up!
Address: 서울 중구 을지로 11길, 22
22 Eulji-ro, 11-gil, Jung-gu, Seoul
Hours: 09:00-22:00, Closed on Sundays
---
Mugyo-dong Bugeo-guk
무교동 북어국집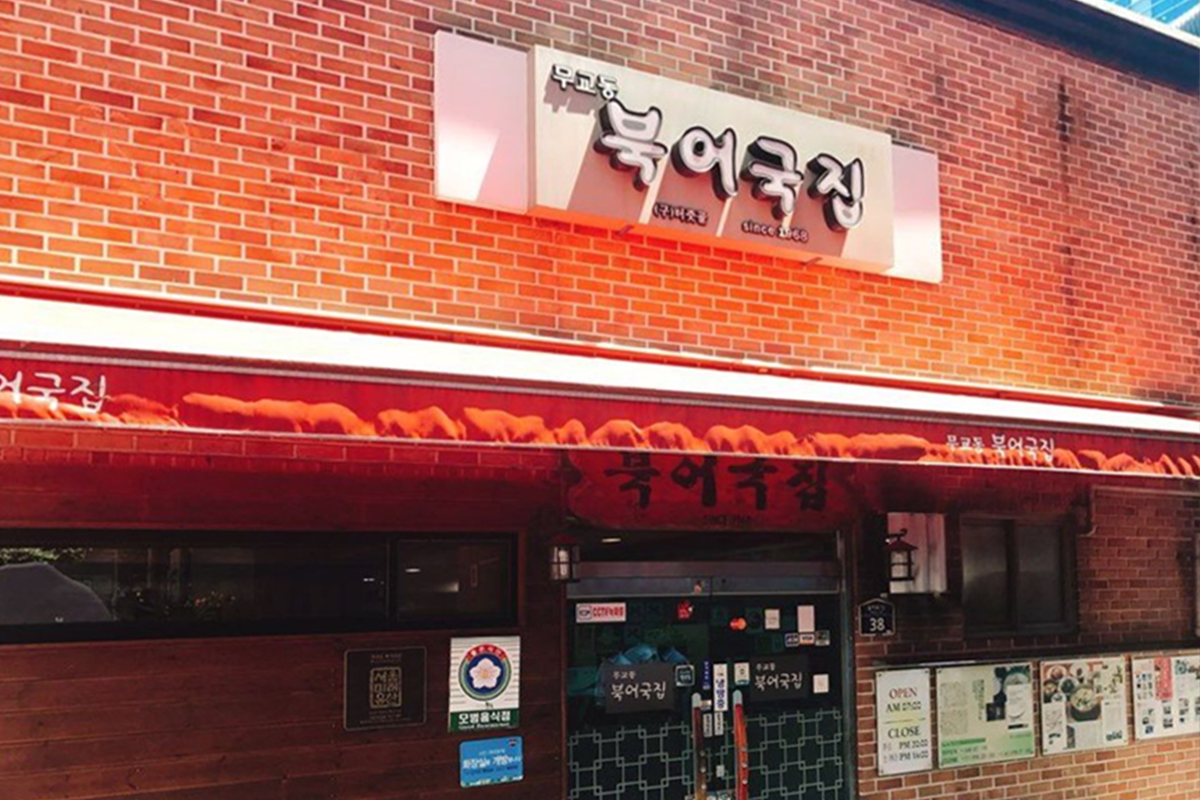 In the alley between Euljiro 1-ga and Jonggak station lies this Korean restaurant which is always packed with office workers, and locals.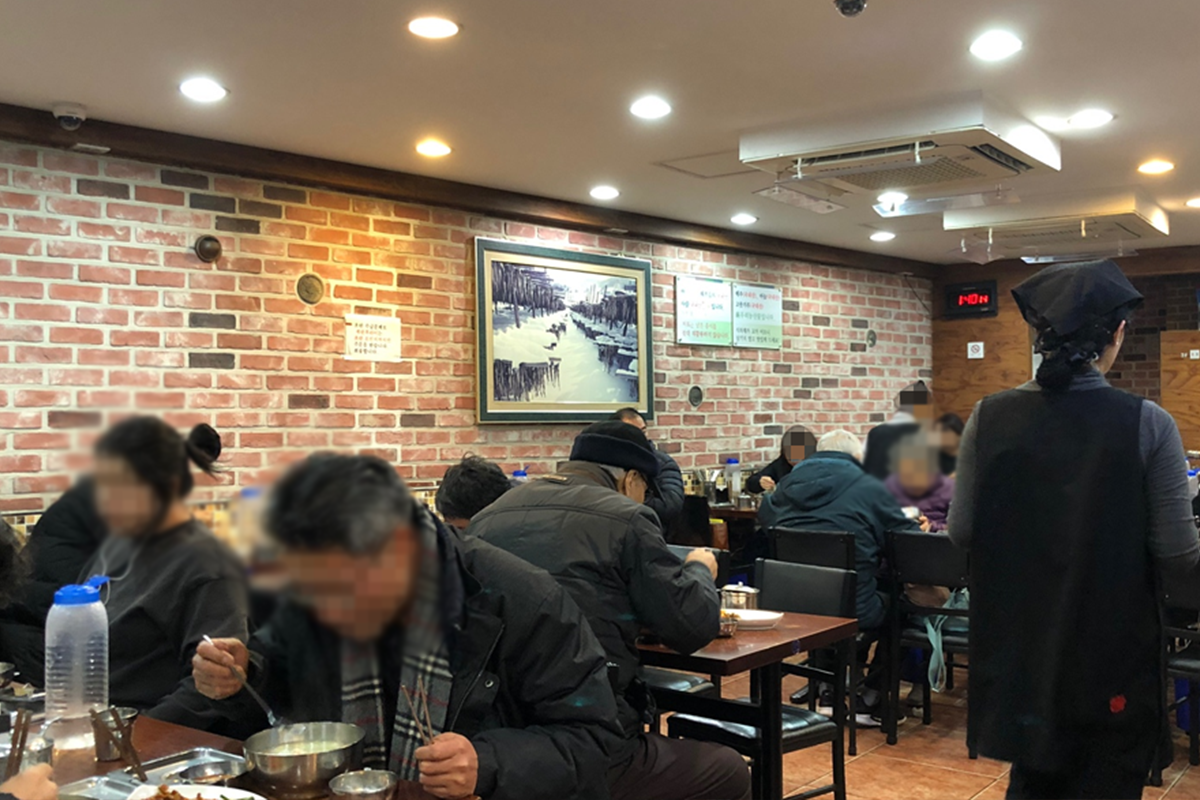 This restaurant is famous for their pollock soup, otherwise known as bugeo-guk (북어국). It is very authentic and loved by the local diners.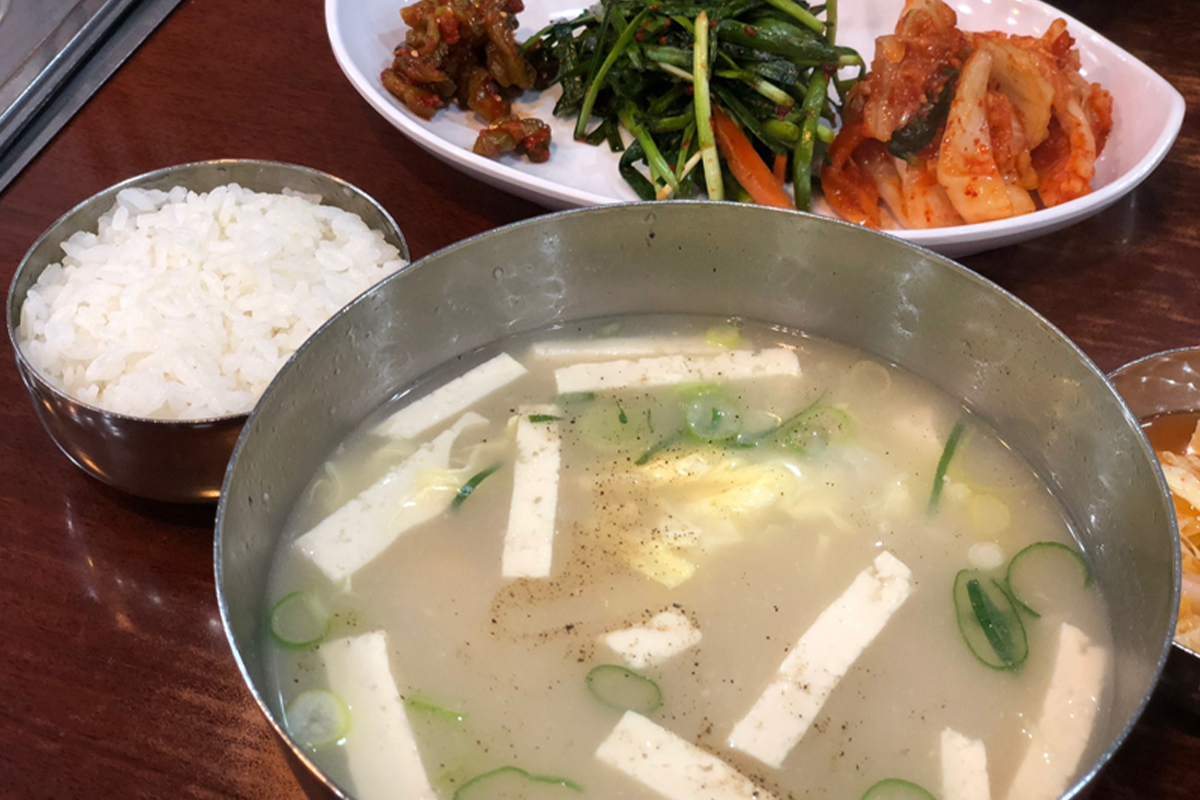 Pollack soup (9,000 won) is made with beef broth and dried pollock, creating a soup that is extremely rich in flavor. This is a hot meal that many Koreans love to eat when the weather gets cold, as it is both warming and filling.
Address: 서울 중구 을지로 1길 38
38 Eulji-ro, 1-gil, Jung-gu, Seoul
Hours: Mon-Fri: 07:00- 20:00 Sat-Sun: 07:00-15:00
---
This brings us to the end of the Euljiro guide. We're going to keep updating this page, so check back often before you head over to the area. We hope you can enjoy a delicious meal at these various locations! If you have any questions or concerns, please leave a comment below or send us an email at support@creatrip.com! You can follow us on Instagram, TikTok, and Facebook to stay updated on all things Korea!
---