Sinsa & Apgujeong Food Guide | Locals' Recommendations
Where to eat in the Sinsa & Apgujeong areas of Gangnam, Seoul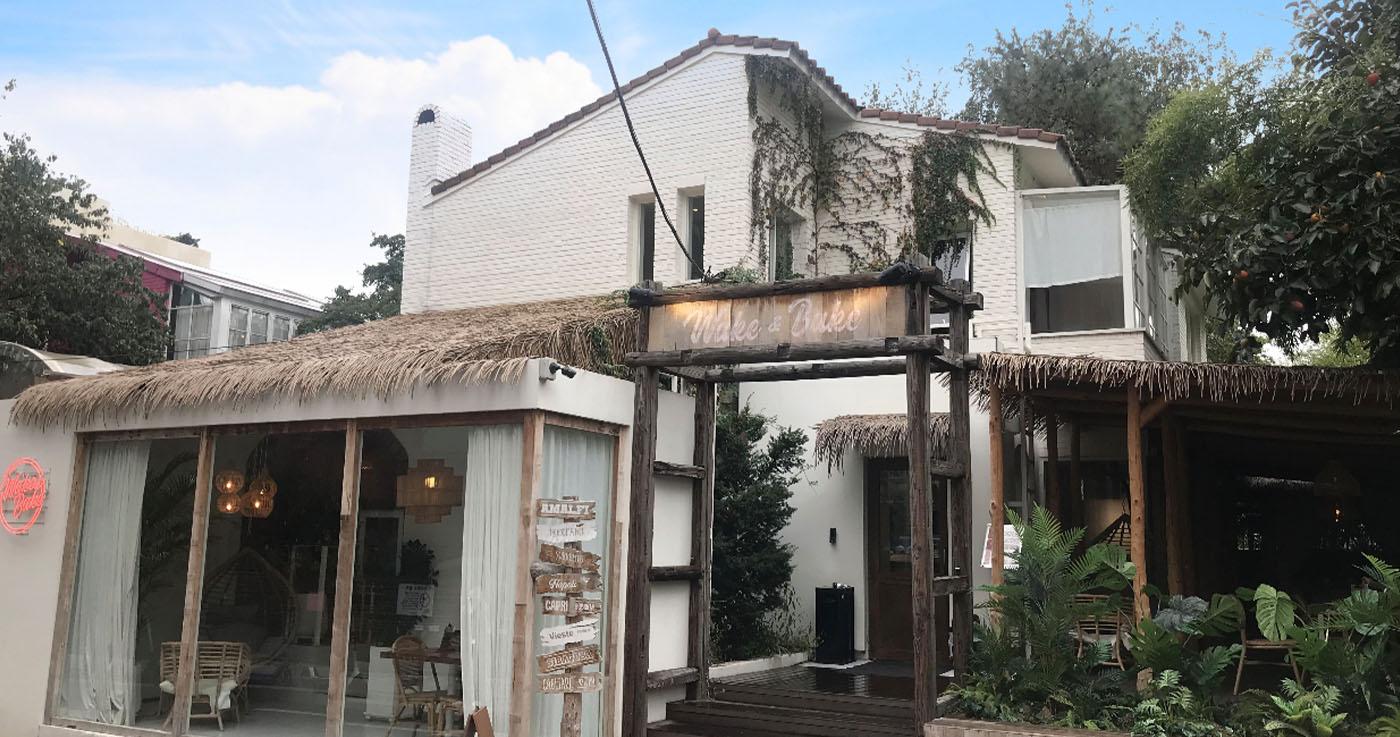 There's plenty to do in the Sinsa and Apgujeong areas of Gangnam, Seoul! Today we're going to introduce you to some of the best places to eat in the area. There's a wide variety from Chinese, to Italian, to Korean, and plenty of insta-worthy places of course!
---
DingDim 1968
딩딤 1968

DingDim 1968 is perfect for people who are looking for authentic Hong Kong food in Korea. It has even been featured on Hong Kong Weekly.
You can also use Creatrip's discount coupon and receive 10% off.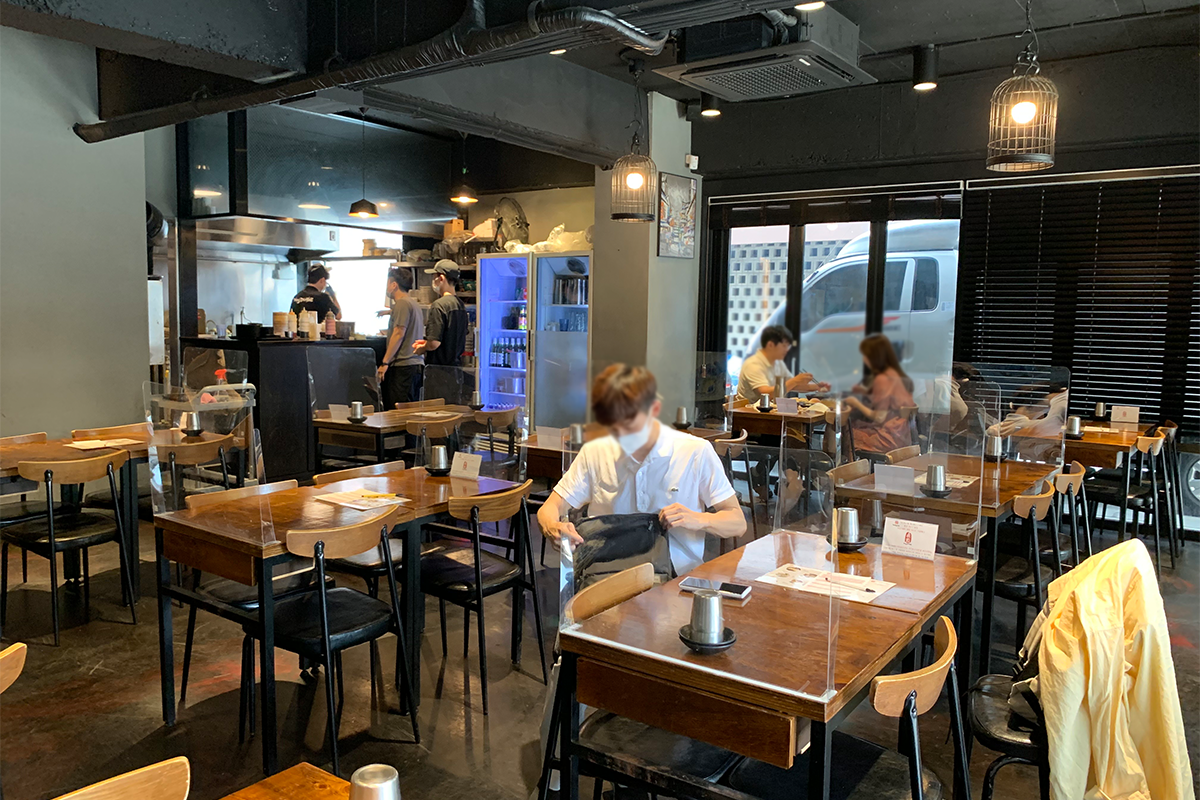 The inside is quite spacious and has plenty of seating, including window seats so you can people watch while you dine.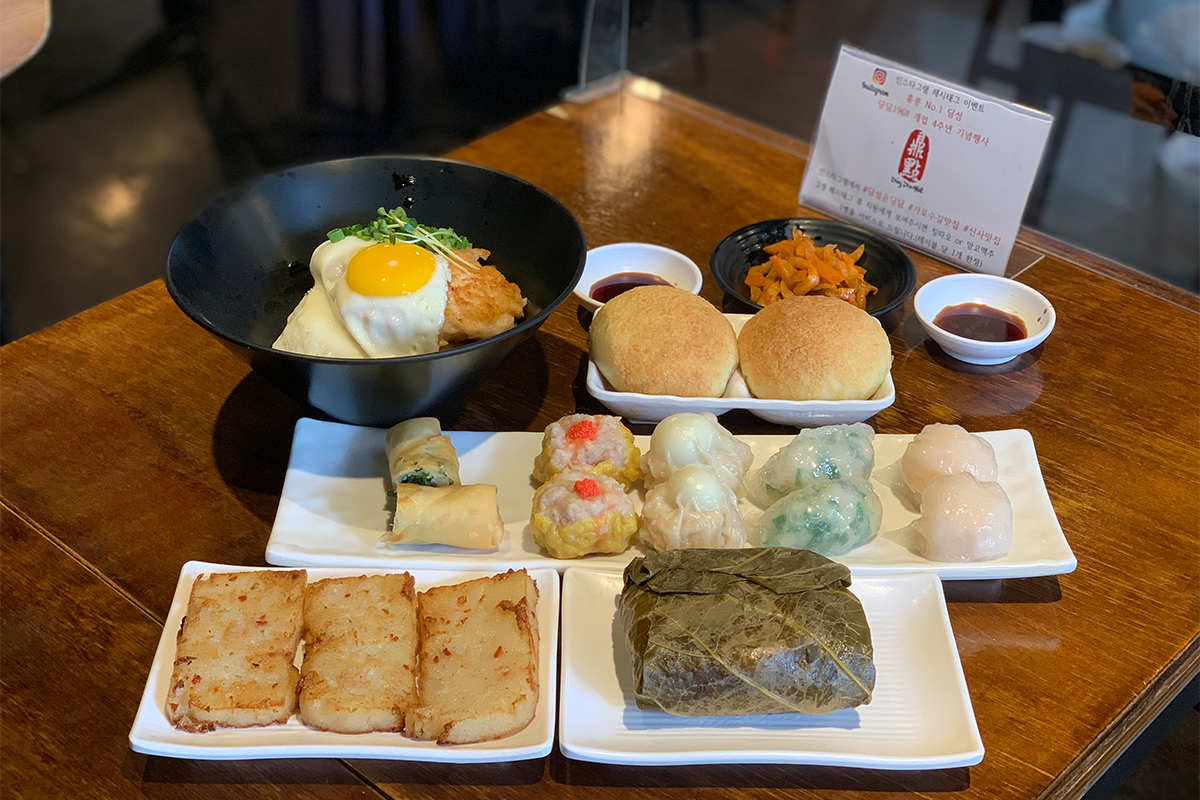 Our recommendation here is the DingDim Deluxe (Set B) which includes 2 har gow (shrimp dumplings), 2 shumai (shrimp and pork dumplings), 2 gao choi goa (shrimp and chive dumplings), 1 spring roll, 2 baked char siu bao (barbecue pork bun), and 1 lo mai gai (lotus leaf wrapped sticky rice with chicken).
We also ordered lo bak go which is turnip cake and the DingDim rice bowl which contains a shrimp cake and egg over rice.
Check out the full review here.
Address: 서울 강남구 강남대로160길27
Hours:
Mon-Sun 11:00-22:00 (break 15:00-17:30, last order 20:50)
Price:
DingDim Deluxe Set B 28,000 won
Lo Mai Gai 5,500 won
DingDim Rice Bowl 7,000 won
How To Get There: Sinsa Station (신사역) Exit 8
Promo: 10% off coupon for Creatrip members
---
Krap Pom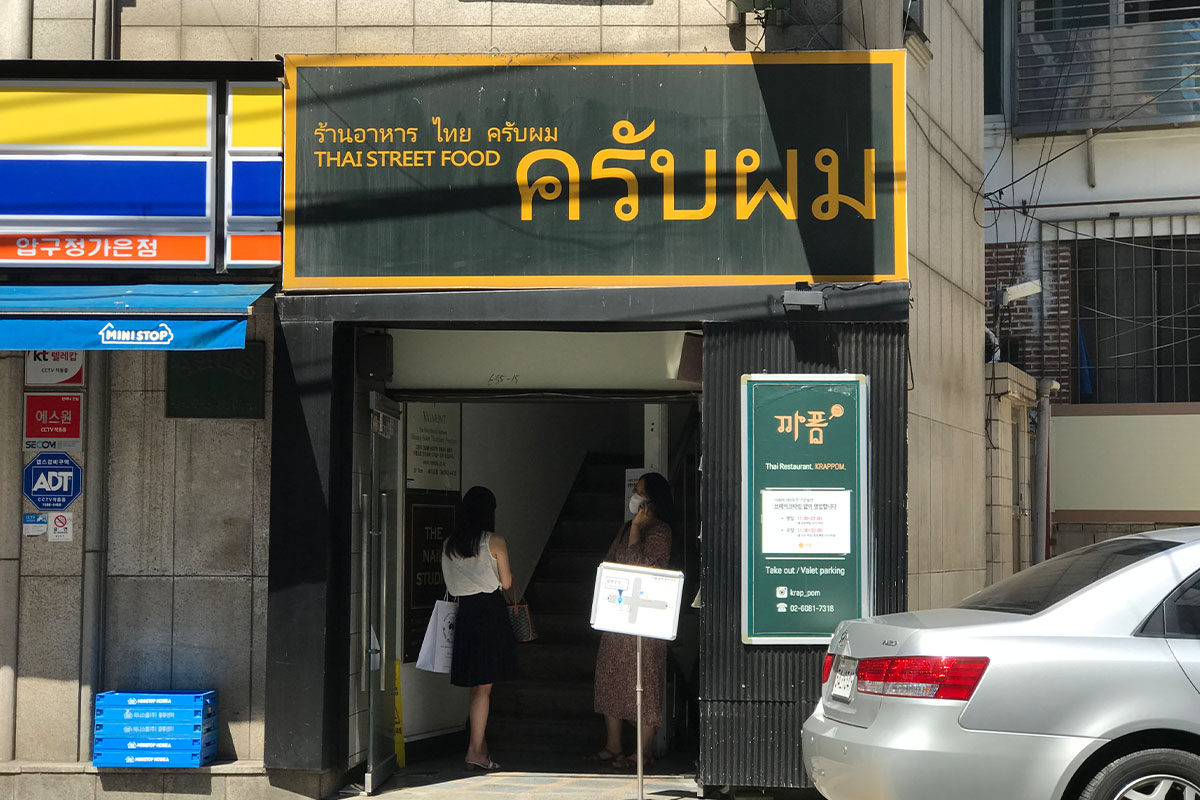 Krap Pom is a very famous Thai restaurant in the Apgujeong area popular amongst Koreans.
Blackpink's Lisa, CLC's Sorn, and (G)I-DLE's Minnie came here to enjoy a taste of home together.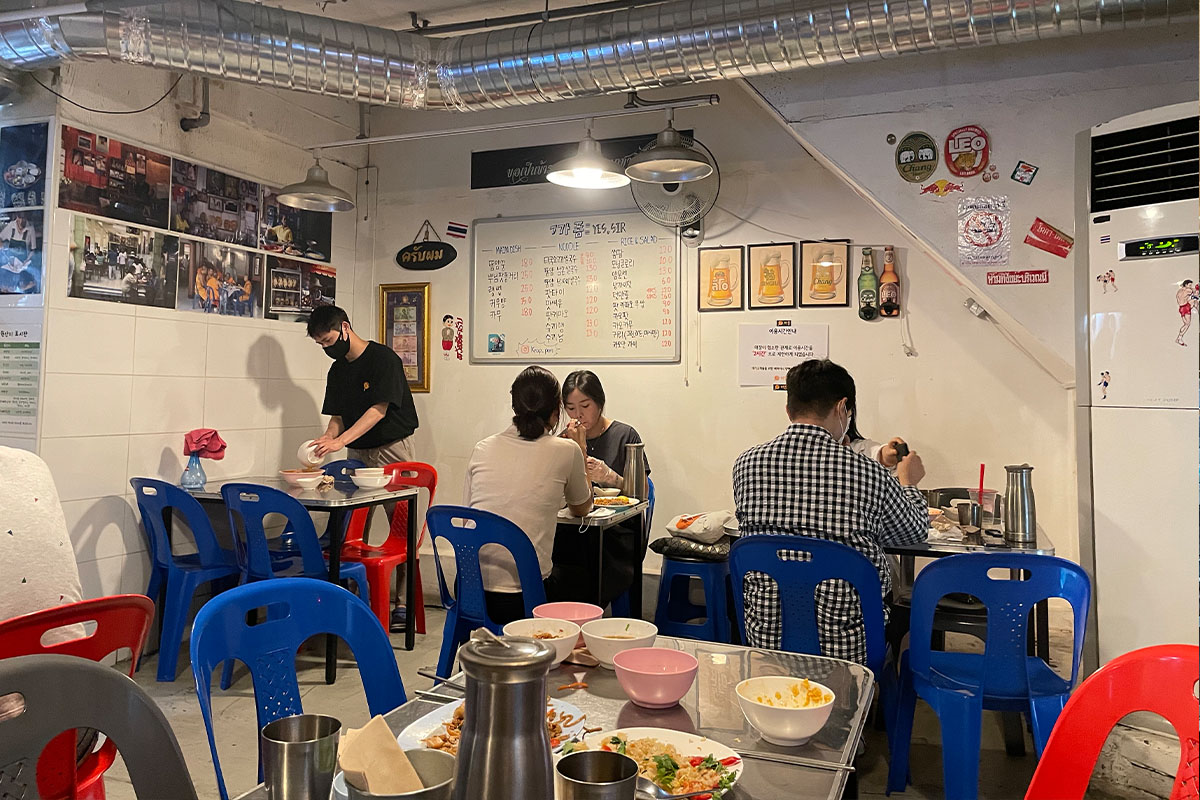 The atmosphere inside makes you feel like you've been transported to Thailand. From the tables and chairs to the signs, everything here feels authentically Thai.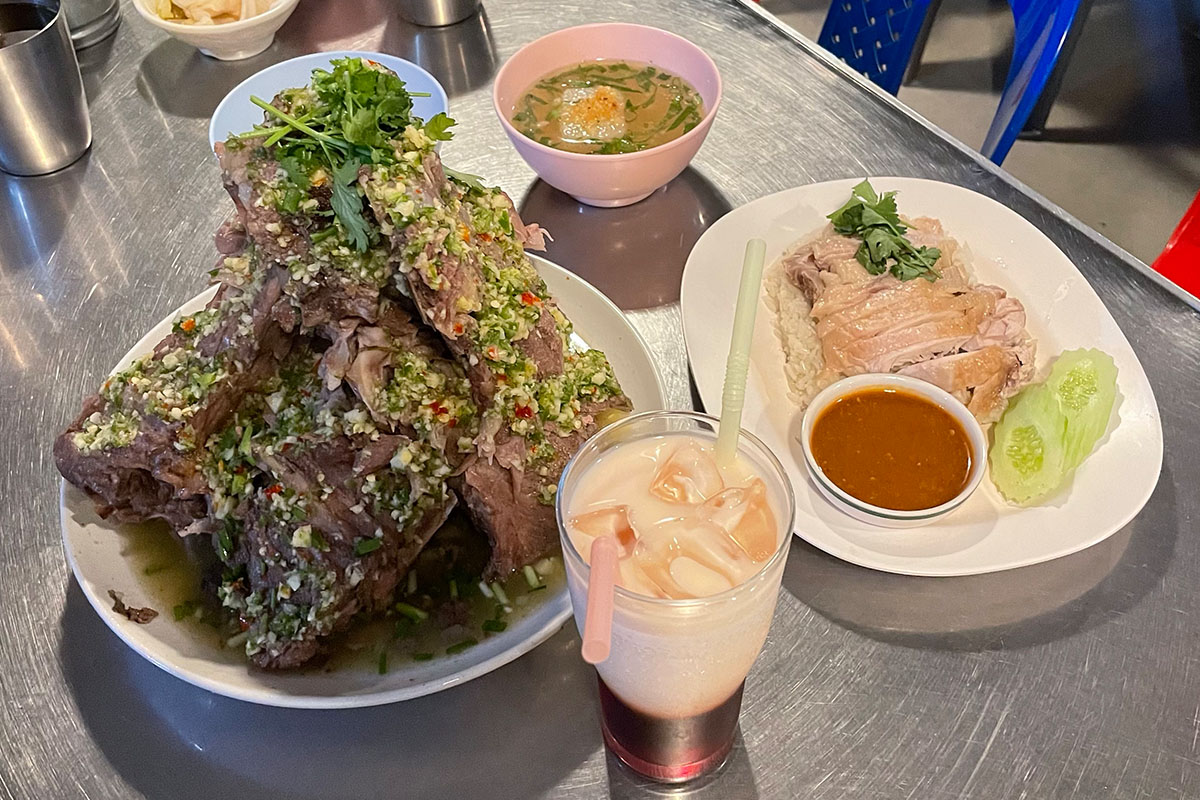 We ordered the spicy pork rib soup and Hainanese chicken rice to eat. To drink, we of course got the Thai milk tea!
These foods can be hard to find in Korea, so if anyone is craving authentic Thai food in Seoul, this is the place to go.
Address: 서울 강남구 선릉로153길 18 지하1층
B1 18 Seolleung-ro 153-gil, Gangnam-gu, Seoul
Hours: Weekdays 11:30 - 22:00; Weekends 11:30 - 23:00
Price:
Spicy Pork Rib Soup 30,000 KRW
Tom Yum Kung 20,000 KRW

How To Get There: Apgujeong Rodeo Station (압구정로데오역) Exit 5
---
Chupungryeong Kal Samgyeopsal
추풍령칼삼겹살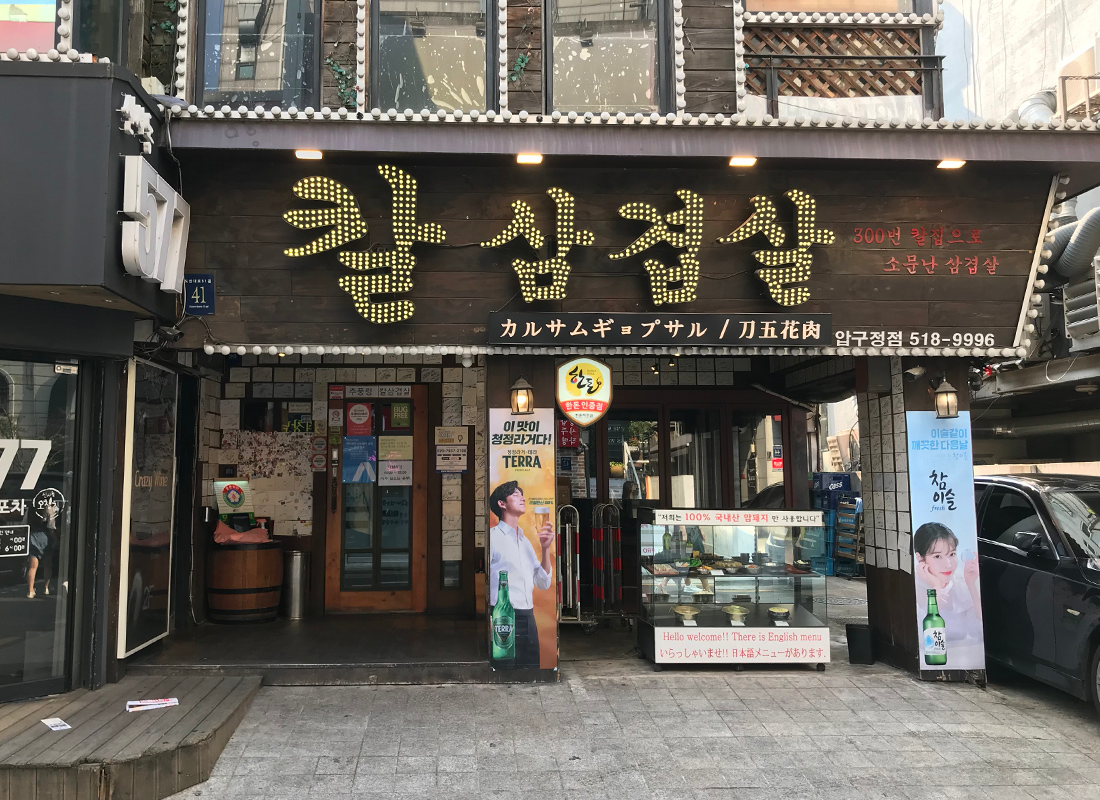 Because this restaurant is located near a lot of music companies, a lot of idols come here to eat.
In particular this restaurant is very popular among NCTzens, but other big names in K-Pop also visit this restaurant including TWICE, GFRIEND, SHINee, CNBLUE, Super Junior, and Wonder Girls.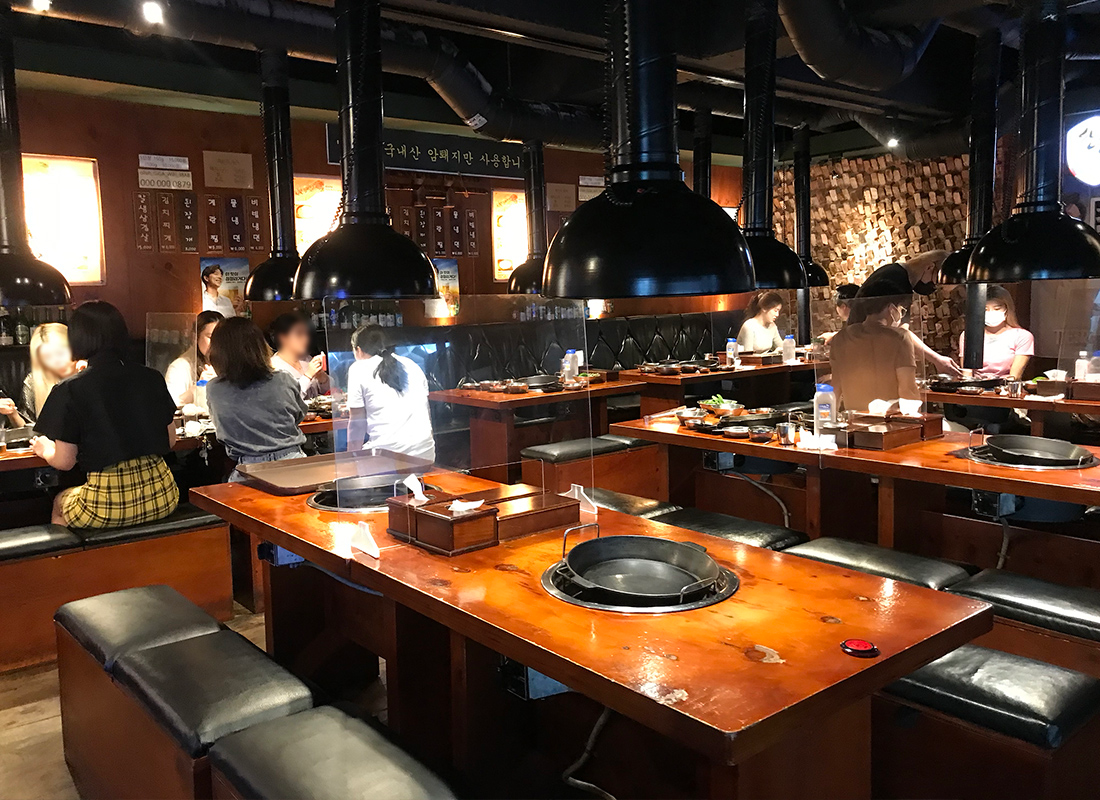 There is a seating to accommodate many people.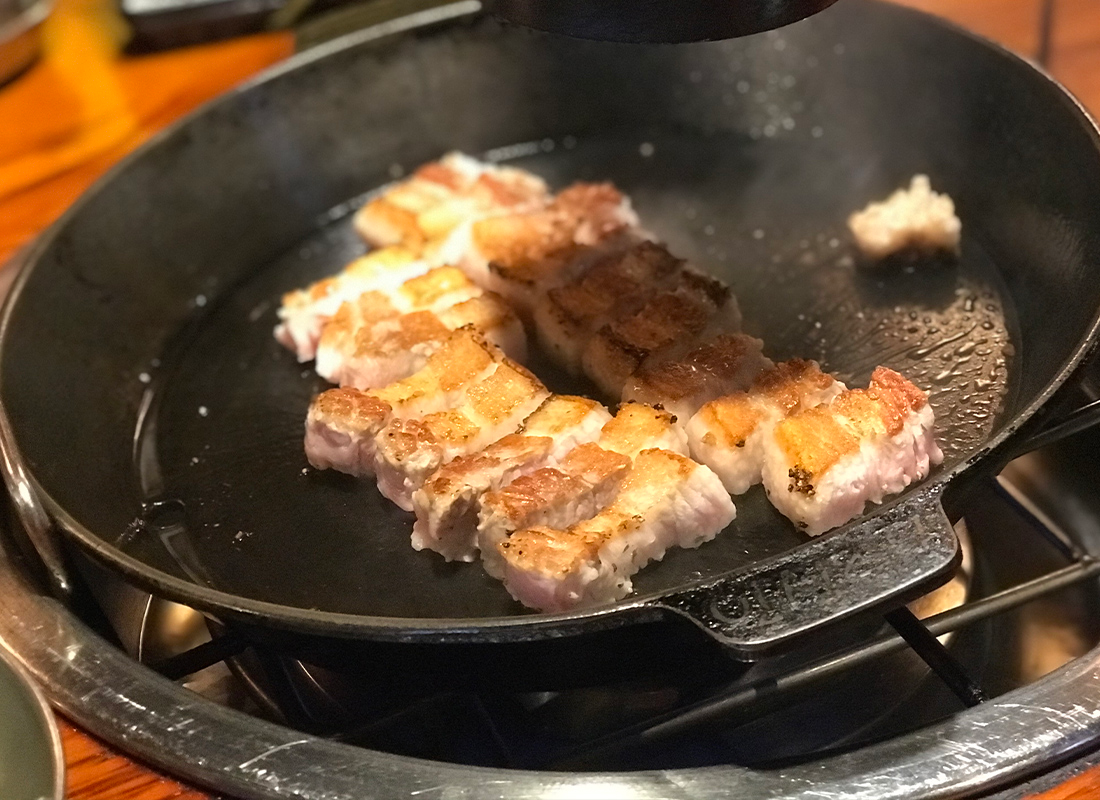 The way to eat this delicious pork belly is to wrap it in a lettuce leaf with grilled kimchi, green onion salad, and ssamjang.
If you want to follow in the footsteps of your favorite idols and eat samgyeopsal, add this spot to your list.
For more info, we have a full review you can check out here.
Address: 서울 강남구 도산대로51길 41
41 Dosan-daero 51-gil, Gangnam-gu, Seoul
Hours:

Mon-Fri 11:30-23:00 (Last Order 22:40, Break time 14:00-17:00)
Sat 16:00-23:00 (Last Order 22:40)
Closed on Sundays
Price:
Samgyeopsal (삼겹살) 16,000 KRW
Kimchi Jjigae (김치찌개) 8,000 KRW
How To Get There: Apgujeong Rodeo Station (압구정로데오역) Exit 6
---
Yoojung Sikdang
유정식당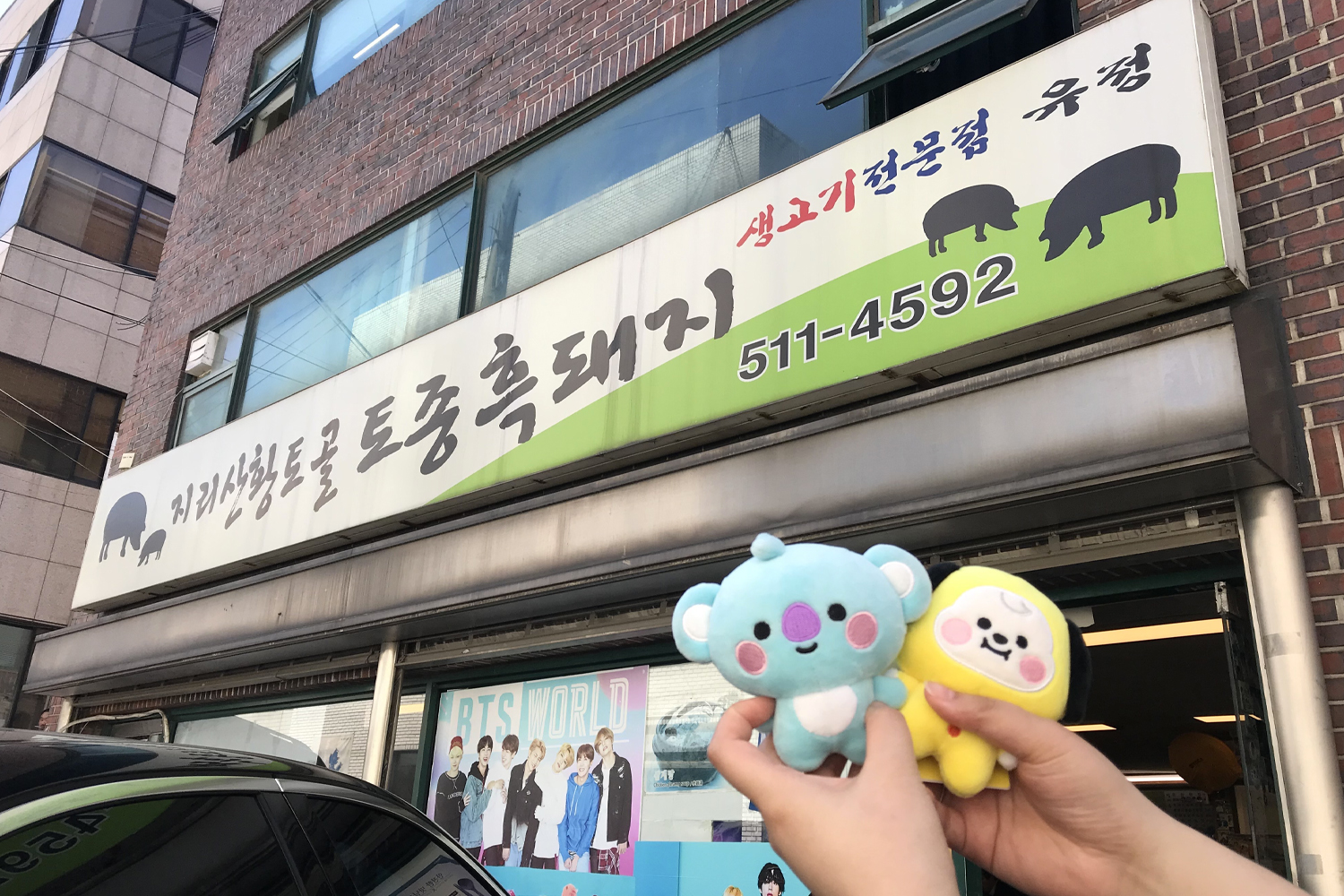 Many ARMYs are familiar with this restaurant because it was BTS's favorite place to dine back during their trainee days and made an appearance on their reality show Rookie King.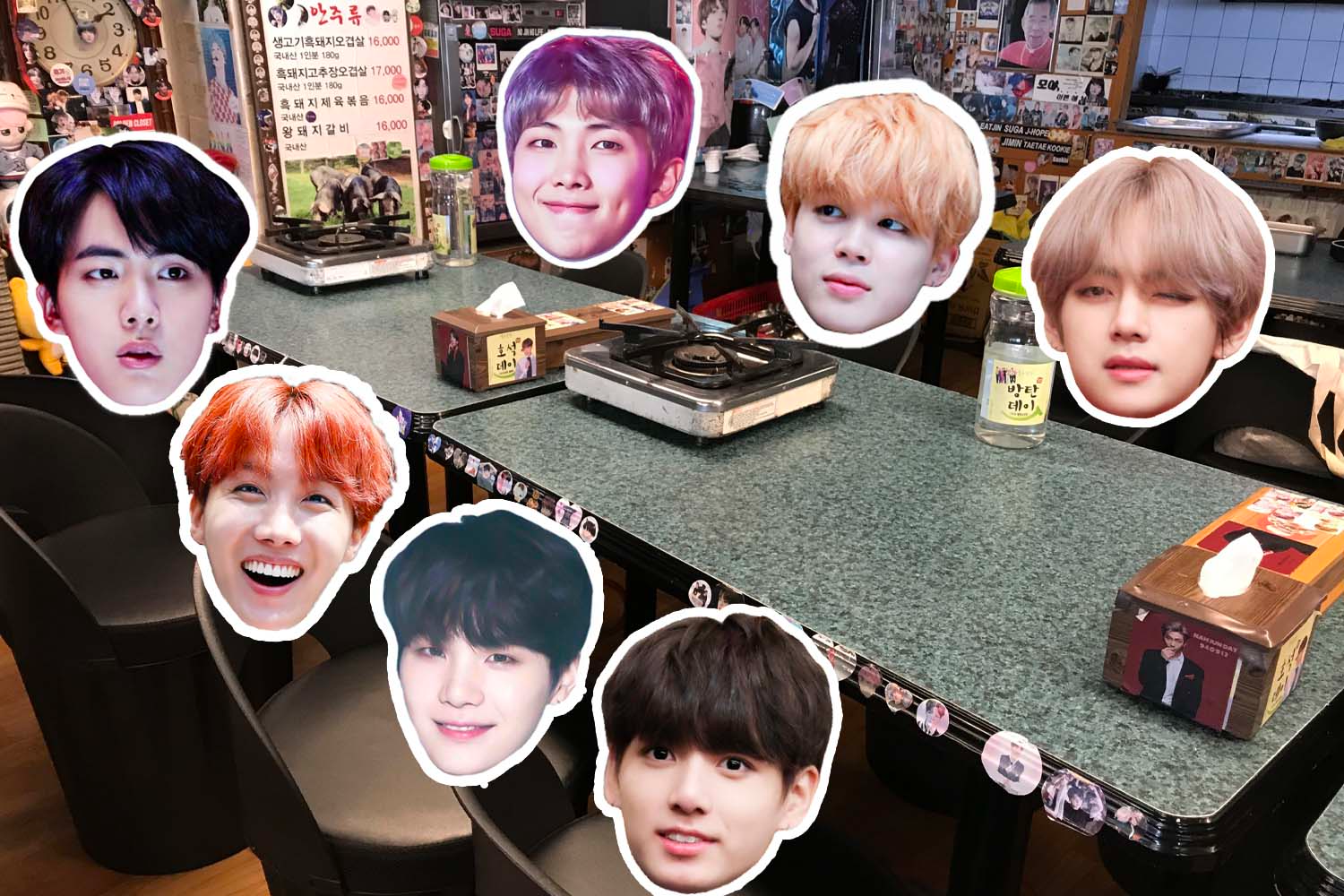 This is the exact table that BTS would sit at! Many fans that come leave stickers of the members here at the spot. There are BTS photos, cardboard cutouts, and merch all over. ARMYs can't miss this when they come to Seoul!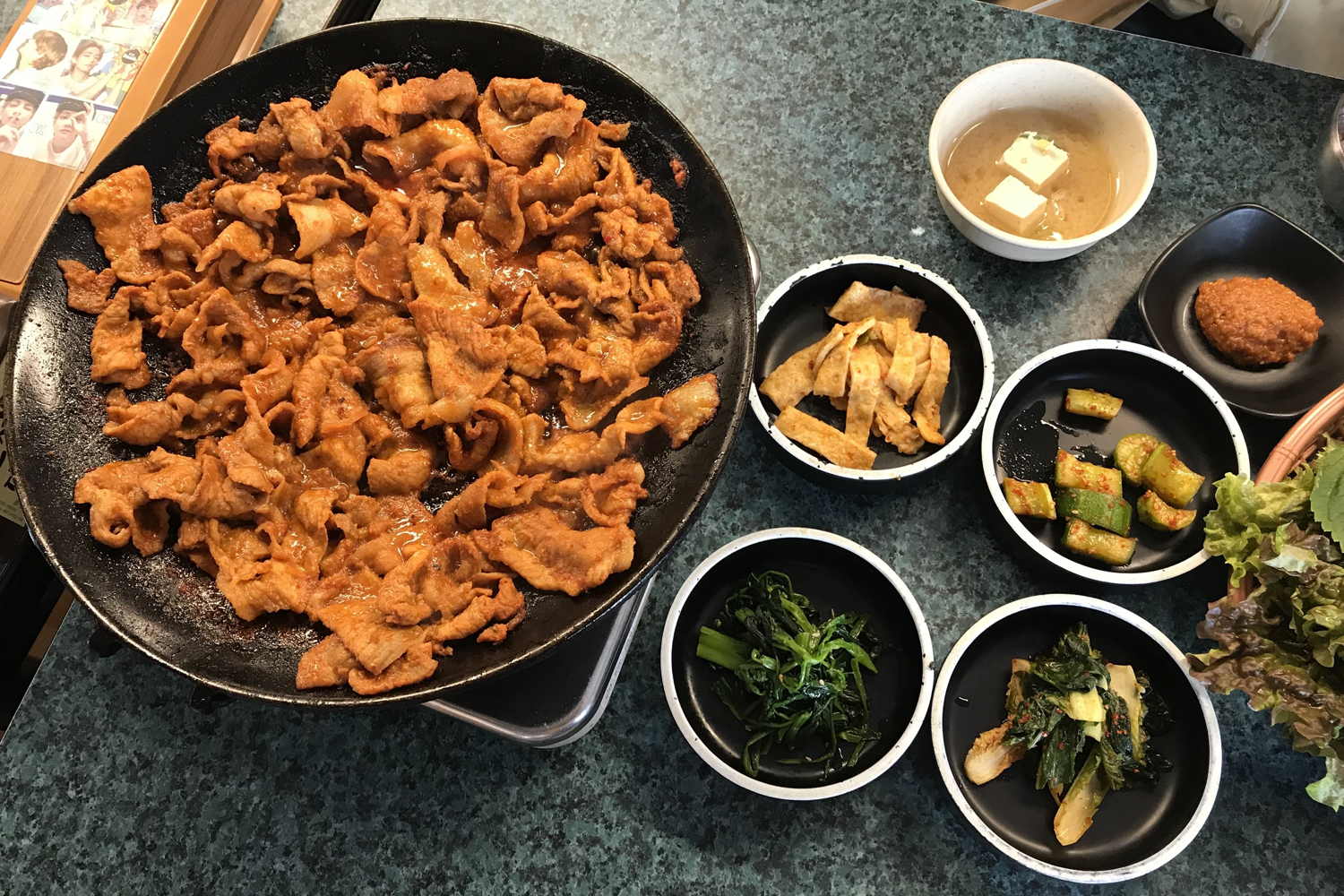 We ordered a spicy stir fried pork dish called jeyuk bokkem. It is sweet, salty, spicy and delicious! The portion sizes were also very generous which was an added plus! The best way to eat this dish is to wrap the meat in lettuce with rice and side dishes of your choice.
Address: 서울 강남구 도산대로 28길 14
14 Dosan-daero 28 gil- Gangnam-gu, Seoul
Hours: Mon-Fri: 10:00-22:00, Sat-Sun 10:00-20:00
---
Euljidarak Dosan Park Branch
을지다락 도산공원점

Source: instagram @euljidarak_dosan
Euljidarak Dosan Park is a famous brunch restaurant in the Sinsa-Apgujeong area. The shop is located not he second floor and the entrance is on the righthand side.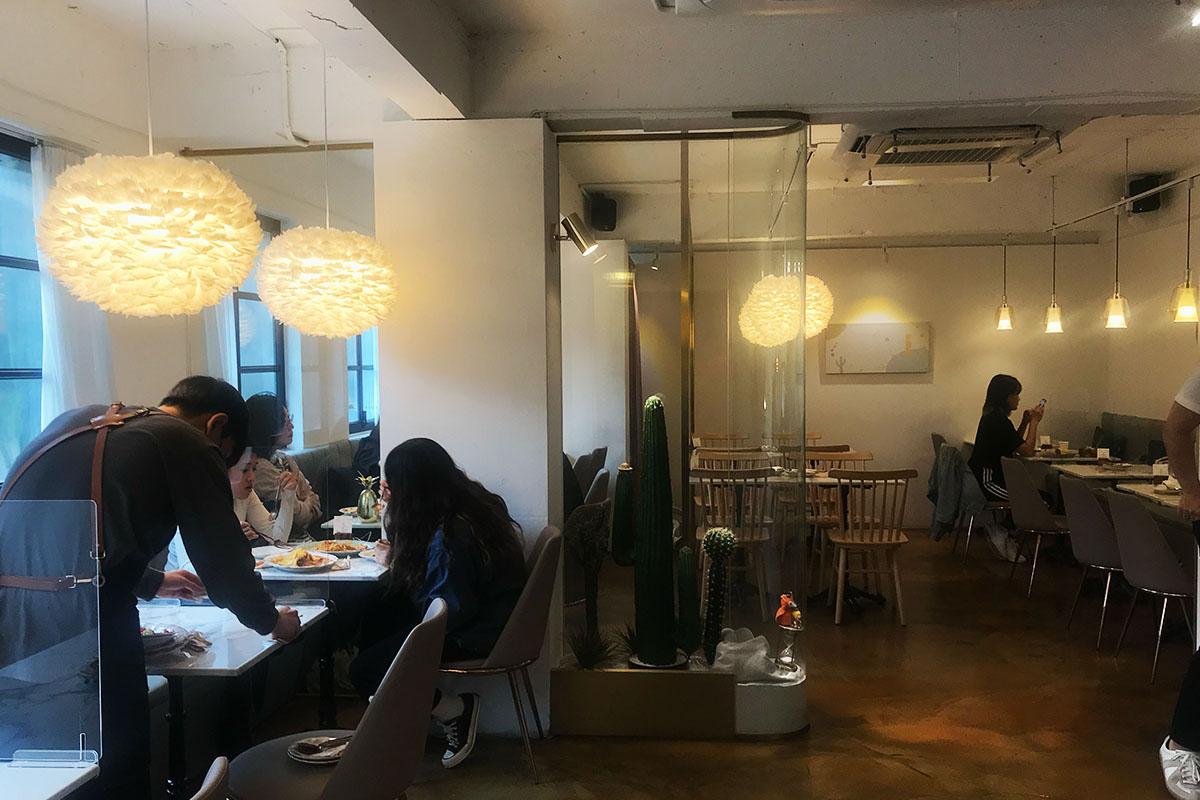 There are not many seats inside, so if you want to grab spot during lunch, you'd better get there before noon.
This eatery offers a wide variety of dishes such as salads, steak, and rice dishes. If you're not sure what to order, the menu notes which dishes are most popular with clientele to help you decide.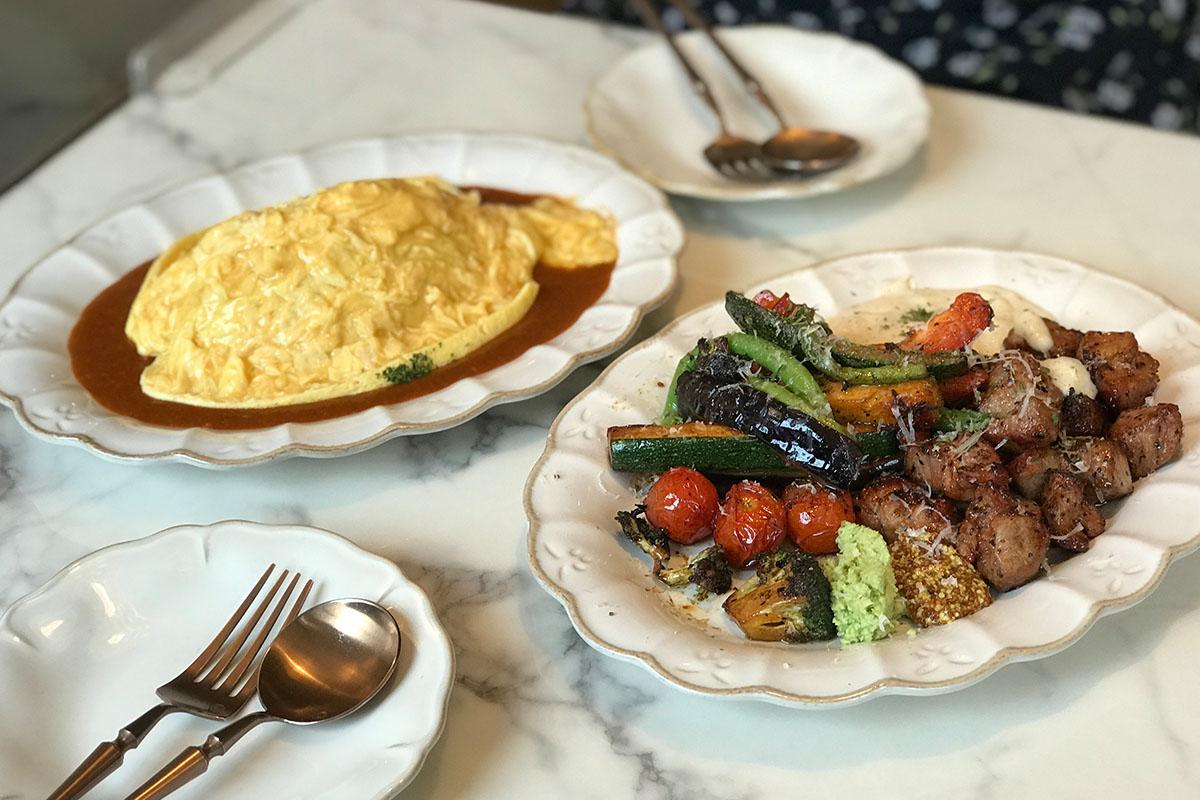 We ordered the most popular selections, Omurice and Pork Neck Steak, which are also signature menu items.
The egg of the Omurice was melt-in-your mouth soft and the fried rice tasted great with it, and with each bite, it got better. But if you don't care for chili peppers, you probably want to try another dish.
The Pork Neck Steak is conveniently chopped into bite-size pieces and is perfectly complemented by the assortment of grilled veggies and wasabi served alongside it.
Address: 서울특별시 강남구 신사동 언주로168길 25
25 Eonju-ro 168-gil, Sinsa-dong, Gangnam-gu, Seoul
Hours: 11:30 - 21:30; Break 15:15-16:30
Price:
Omurice (다락오므라이스) 15,000 KRW
Chop Pork Neck Steak (찹목살스테이크) 20,000 KRW
How To Get There: About 10 minutes walk from Apgujeong Rodeo Station (압구정로데오역) Exit 6
---
Gamsun Taco
감성타코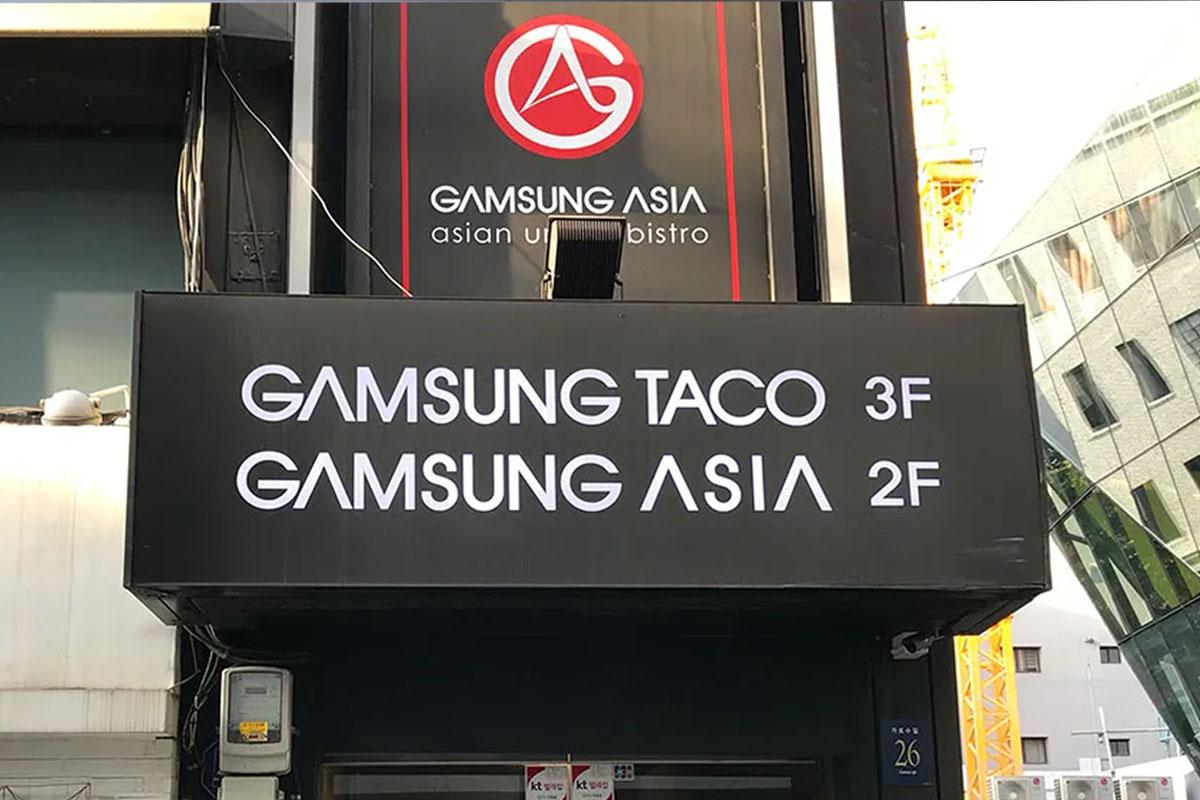 Gamsun Taco is super popular on social media, so if you search for places to eat in the area, it will probably be one of the top results.
They serve Mexican-inspired food such as tacos, burritos, and quesadillas, so if you're craving a little Latin flavor, then check this place out.
The interior is quite spacious and there are plenty of seats to chose from.
In addition to the food, they also have many kinds of alcoholic beverages here.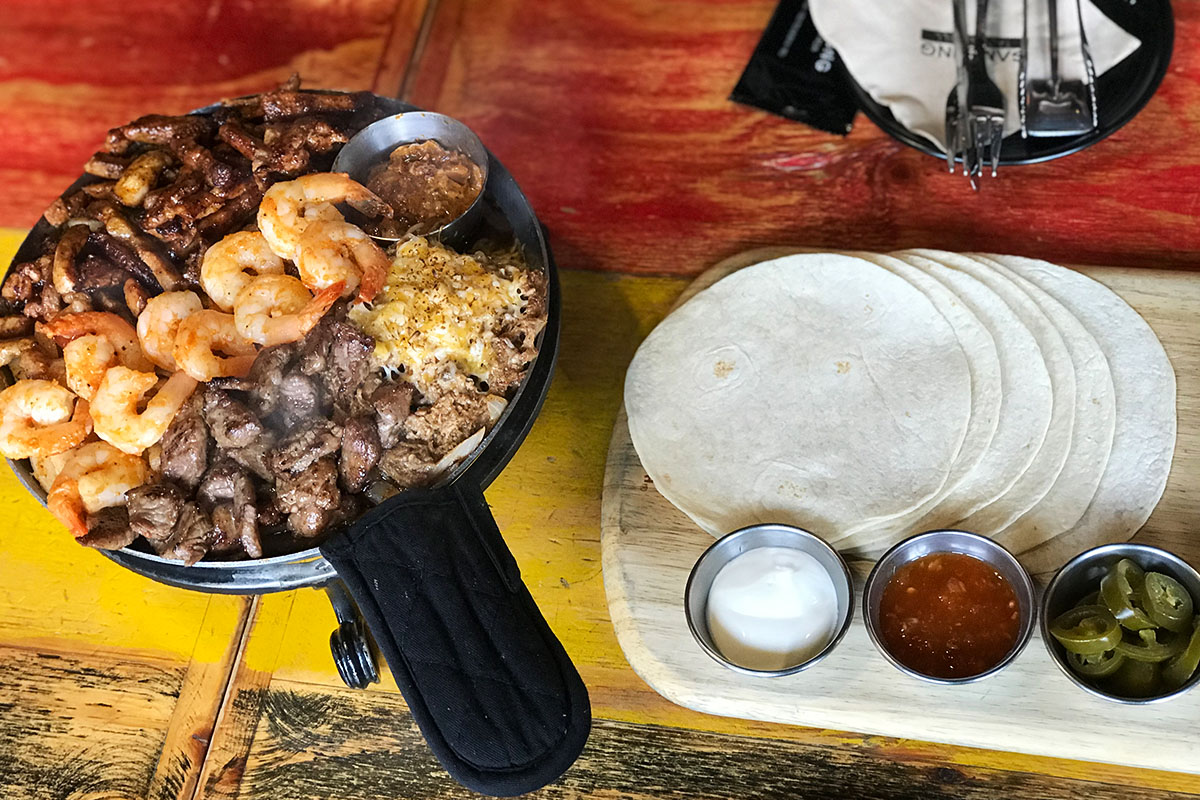 The Gamsung Grilled Fajita comes with tortillas, sour cream, chipotle sauce, pickled jalepeños, and coleslaw. What's great is that the tortillas, sauces, and condiments are all refillable if you run out.
Address: 서울 강남구 강남대로162길 31
31 Gangnam-daero 162-gil, Gangnam-gu, Seoul
Hours:
Regular 11:30-22:00
Holiday 12:00-22:00
Last order 21:00
Break 15:00-17:00
Instagram: @gamsungtaco
Price: Gamsung Grilled Fajita 38,000 won
How To Get There: About 10 minutes from Sinsa Station (신사역) Exit 8
---
Geumbyeol Maekju
금별맥주
Geumbyeol Maekju, meaning "gold star beer", is a restaurant and bar specializing in, you guessed it, beer!
But besides alcoholic beverages, they also have amazing food that you don't want to miss out on.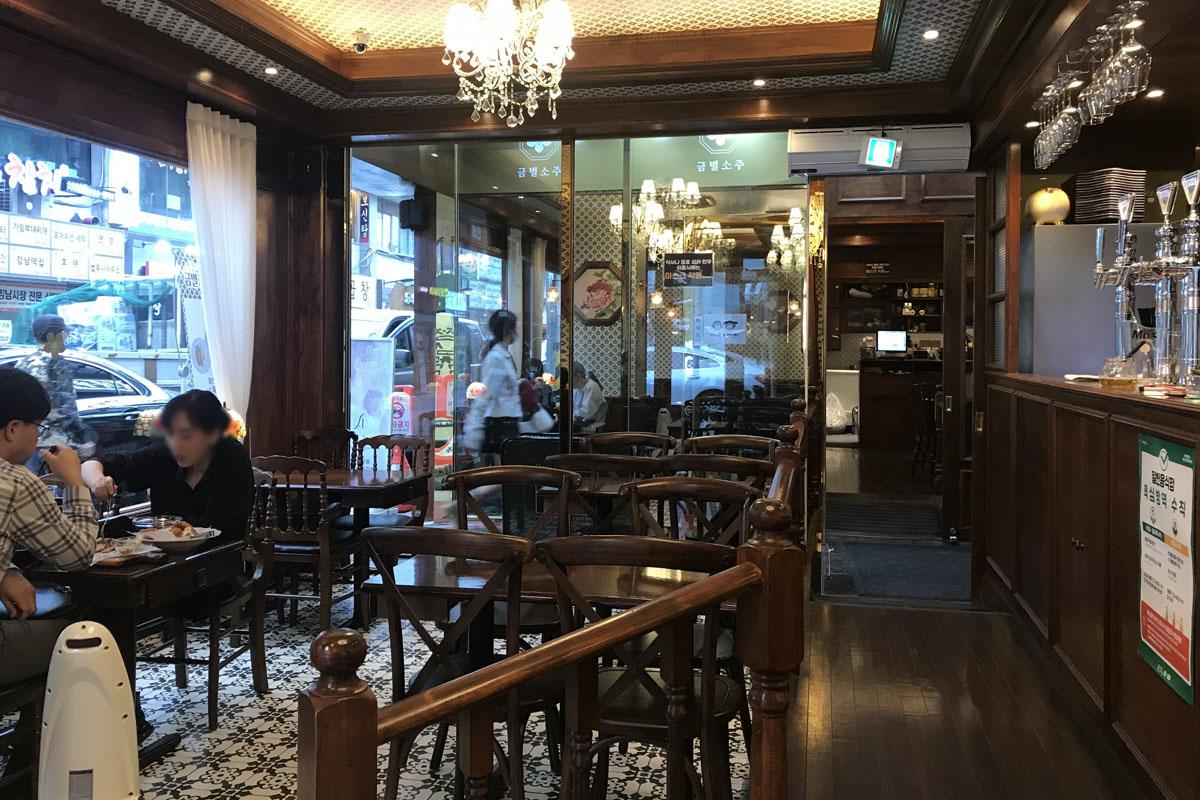 The atmosphere in the restaurant is like a 90s hotel and there are quite a lot of seats available in the two different parts of the establishment.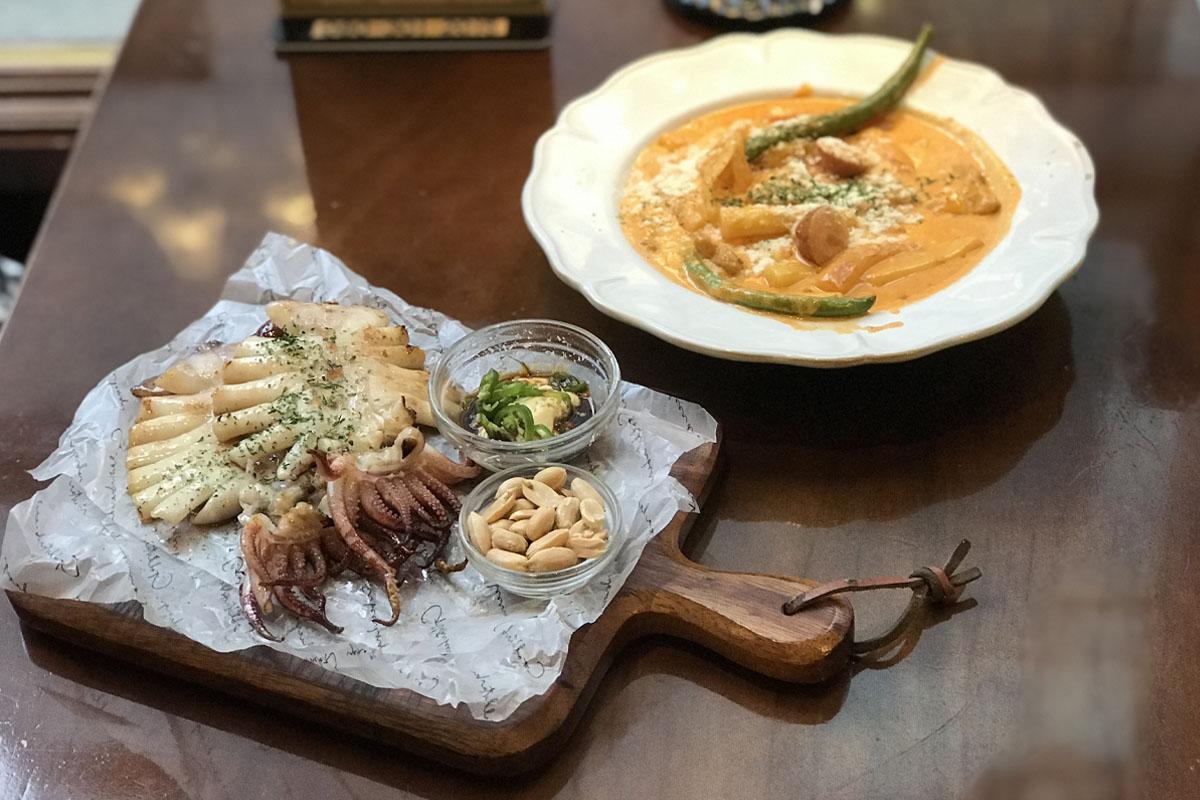 We ordered the Butter Grilled Squid and Spicy Cream Tteokbokki, which are the most highly recommended menu items.
The tteokbokki was really good and just the right amount of spicy and the size was perfect too. The squid was fragrant and flavorful and not overly chewy.
Keep in mind through, you will have to order some type of beverage because there is no water service.
Address: 서울특별시 강남구 신사동 517-7
517-7 Sinsa-dong, Gangnam-gu, Seoul
Hours:
Sun – Thurs (11:30 – 02:00)
Fri – Sat (11:30 – 03:00)
*Last order is 30 minutes before closing time.
Price:
Spicy Cream Tteokbokki (매콤 크림 떡볶이) 9,900 won
Butter Grilled Squid (오징어 버터구이) 13,900 won
How To Get There: 5 minutes from Sinsa Station (신사역) Exit 8
---
Mujigae Pocha
무지개포차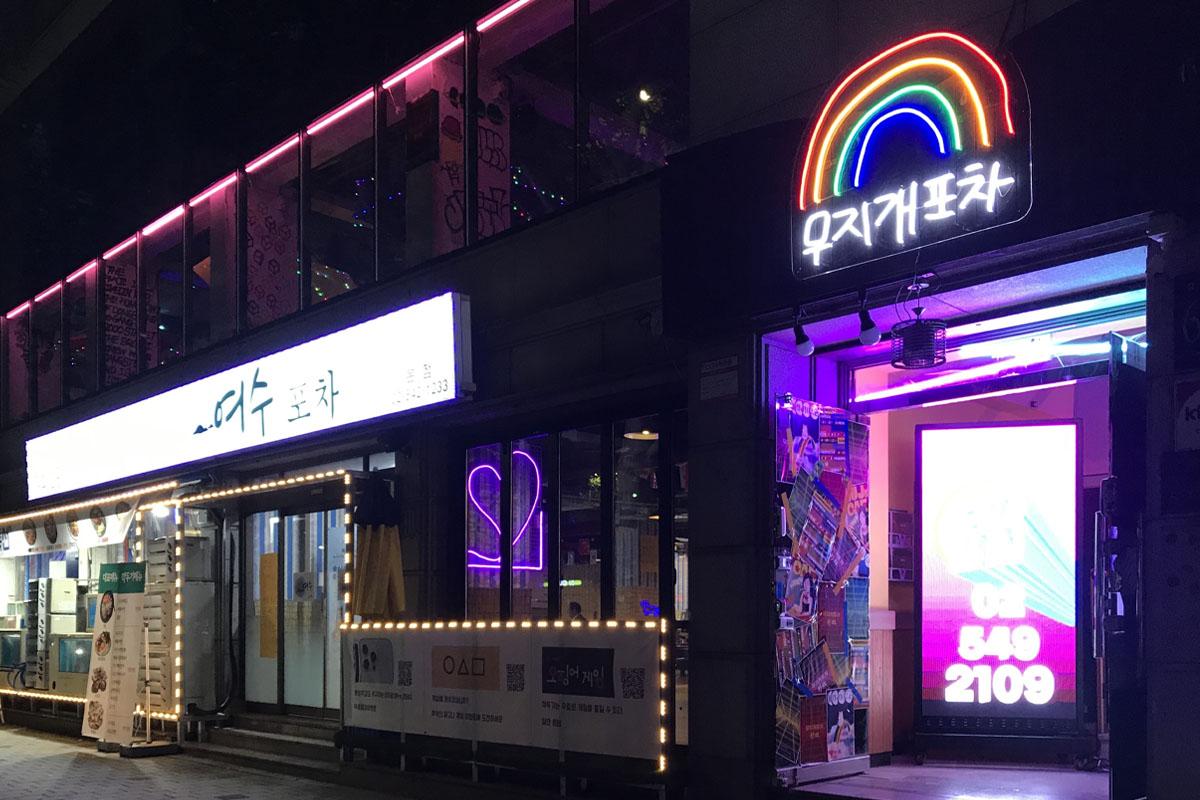 Mujigae Pocha is a traditonal Korea restaurant and bar. Usually, in winter there are tent shops or pojang macha (포장마차), but here they have modernized the traditional concept to make it more convenient.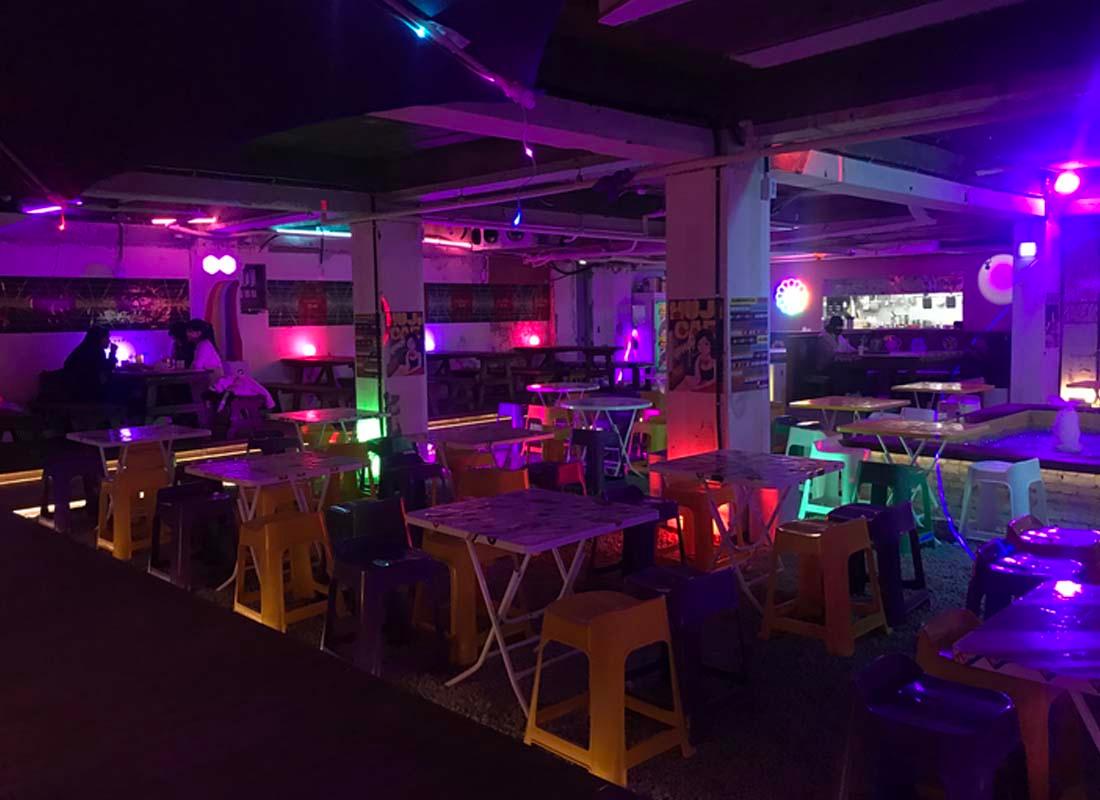 The atmosphere inside is very chic. They utilize the same types of chairs and tables as the traditional pojang macha to keep some authenticity and in the middle of the shop, there is a fountain.
There are plenty of seats here so you can hang out with your friends in the evening and enjoy the vibe. They play hip-hop and EDM so if you want to dance even, feel free!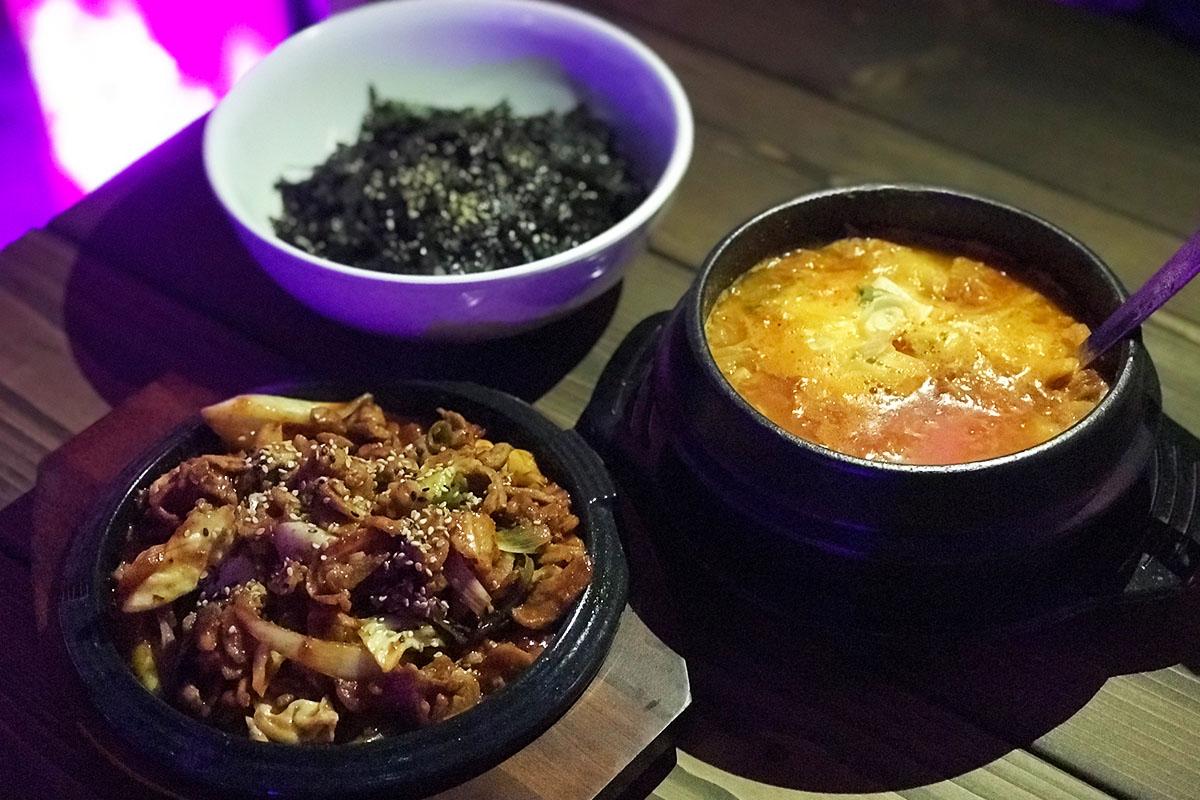 They sell both food and drinks here, with most of the menu being Korean, including fried foods and stews.
If you're looking for a relaxed atmosphere to chill with friends in the evening, we recommend Mujigae Pocha.
Address: 서울 강남구 강남대로 628, 2층
2F, 628 Gangnam-daero, Gangnam-gu, Seoul
Hours: 16:00-22:00

Price:
Odolppyeo & Rice Balls (오돌뼈 & 주먹밥) 10,000 won
Tuna Kimchi Stew (참차김차찌개) 9,000 won
How To Get There: 5 minutes from Sinsa Station (신사역) Exit 6
---
The Famous Burger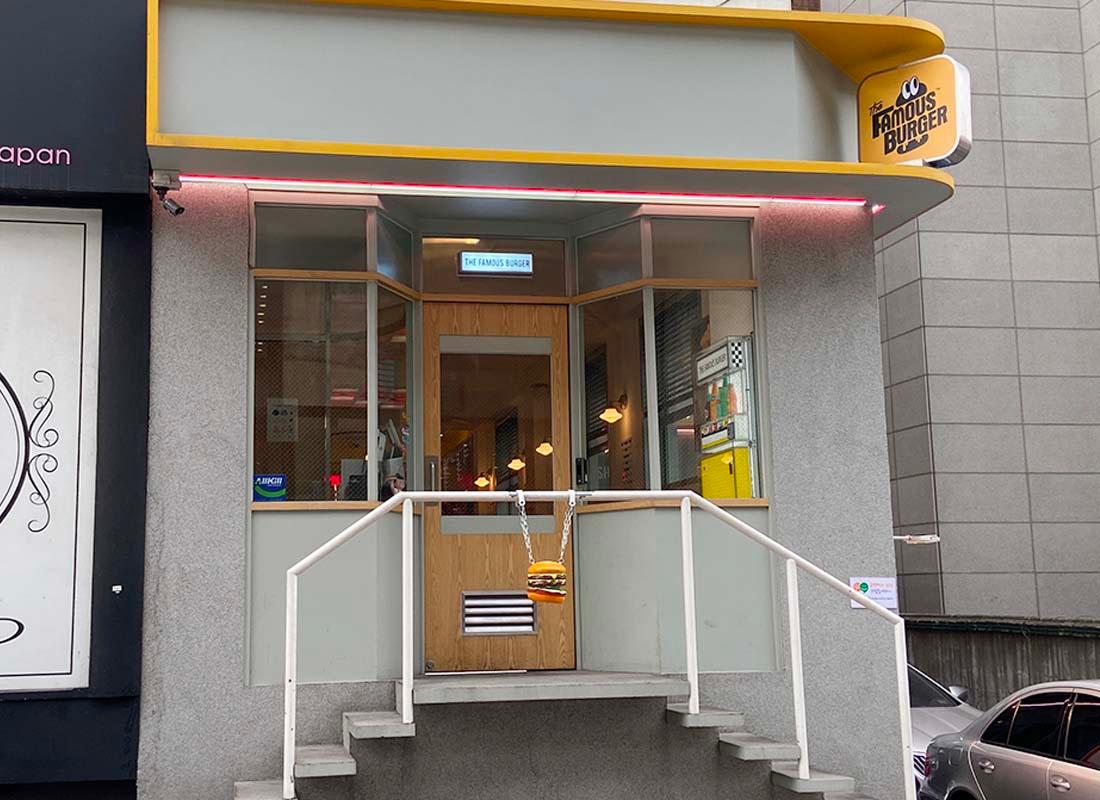 The Famous Burger was first established in 2017 in Hongdae by Korean rapper LOCO of "Show Me The Money" fame. It later expanded to Sinsa, the location we're introducing you to.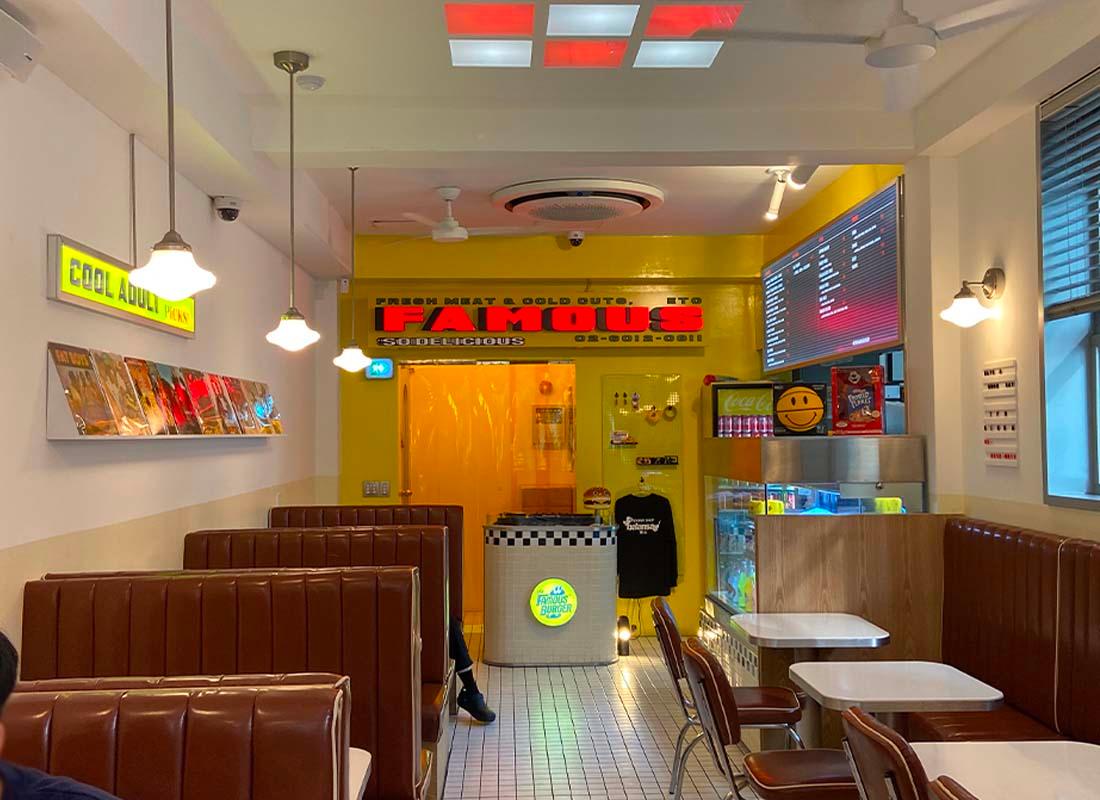 The shop is rather small, but the decor is spot-on 50s diner retro, perfect for Instagram pics.
There are nine burgers to choose from and they can be ordered as a set with fries and a drink for an additional 5,000 won. The price may seem steep, but the taste is worth it.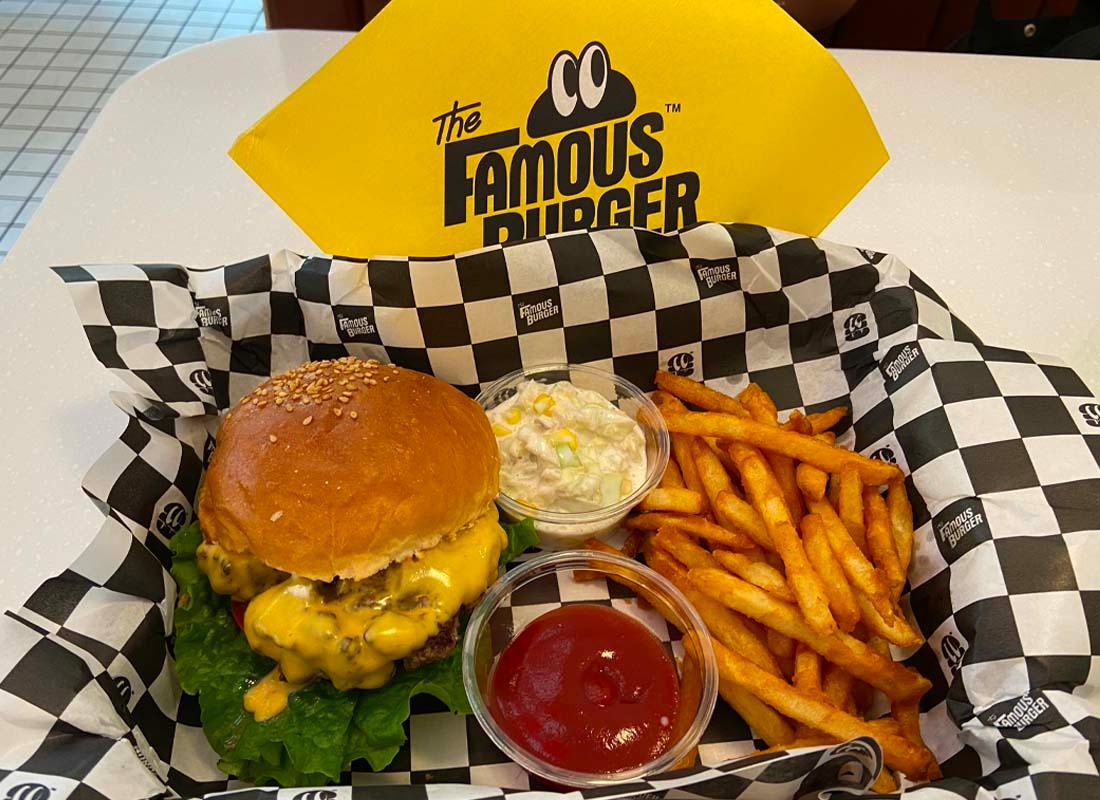 We ordered the Famous Burger, and honestly, it really set itself apart from other fast food joints. The meat was so juicy and everything was seasoned just right. We really can't recommend it enough!
Address: 서울 강남구 도산대로 113
113 Dosan-daero, Gangnam-gu, Seoul
Hours: 11:30-21:30
Price:
Famous Burger 8,000 won
Famous Chicken Burger 8,500 won
How To Get There: 5 minutes from Sinsa Station (신사역) Exit 8
---
Yeongdong Gyojib
영동교집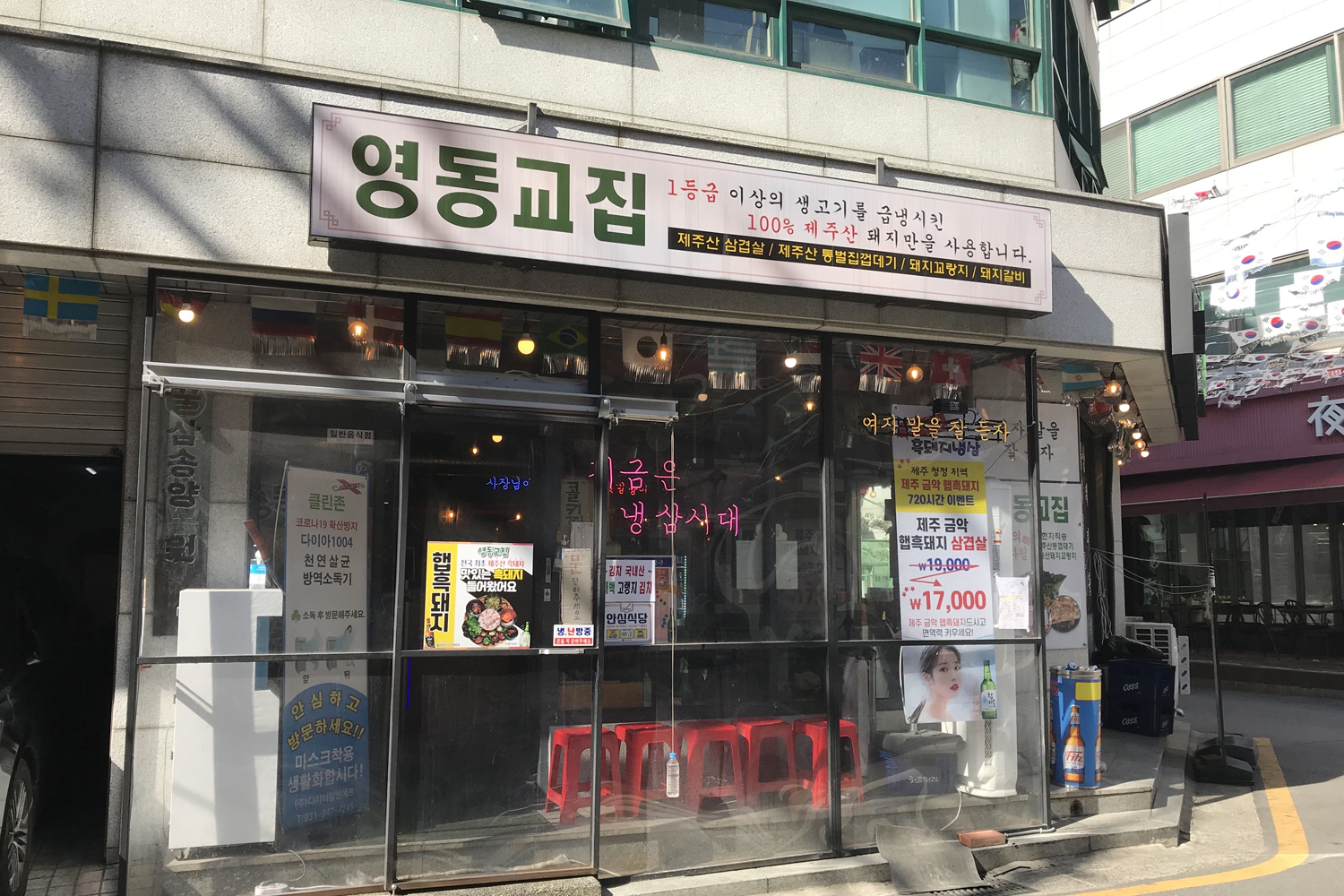 Yeongdong Gyojib is a barbecue restaurant that is very popular with Koreans and Korean celebrities, most notably with members of EXO Sehun, Kai, and Baekhyun.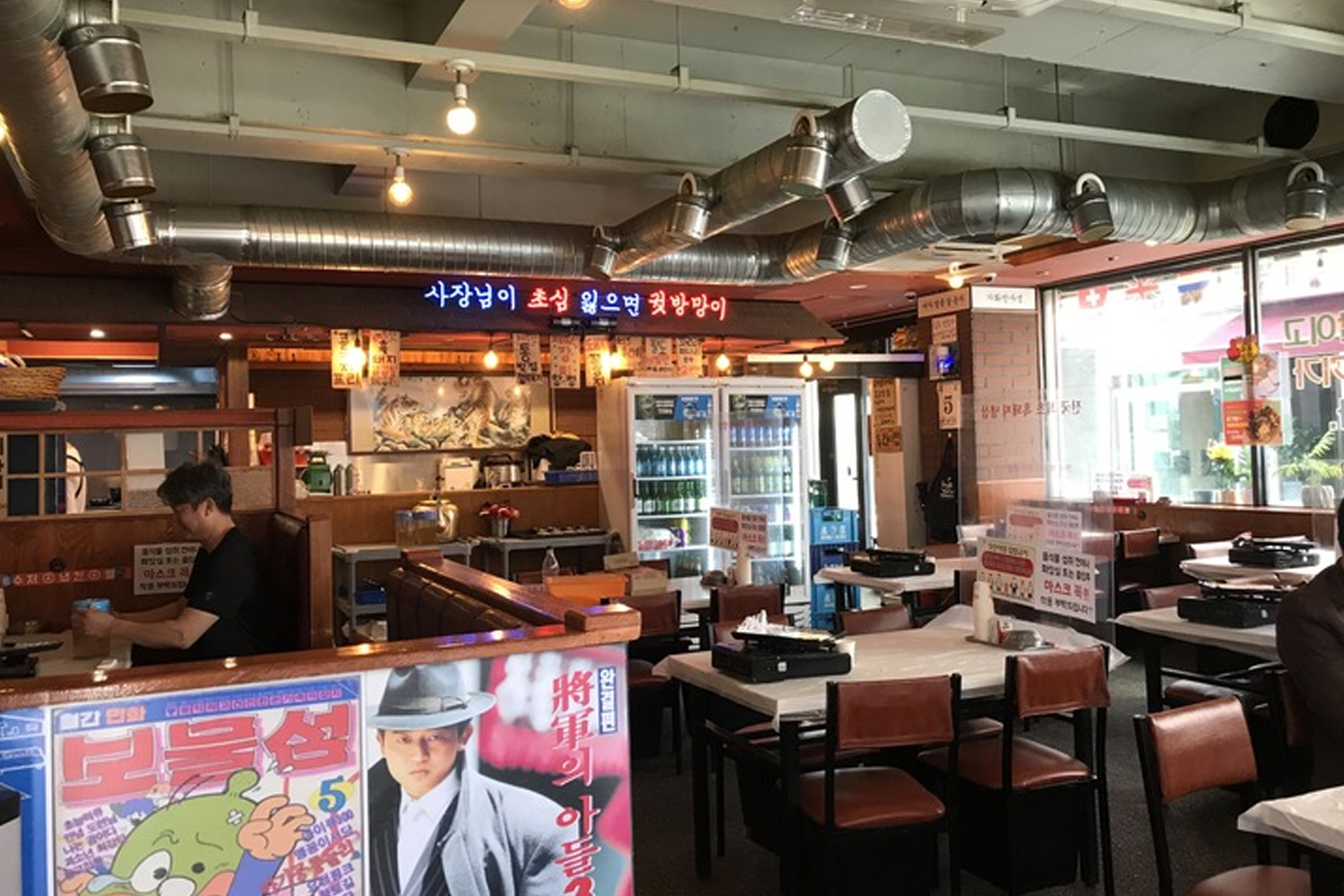 The shop is not very large, so we recommend to avoid coming during peak meal times, especially dinner, or else you may be waiting for an hour.
One cool thing is that the chairs open so that you can store your jacket and belongings without worrying about the smell of grilled meat permeating them completely.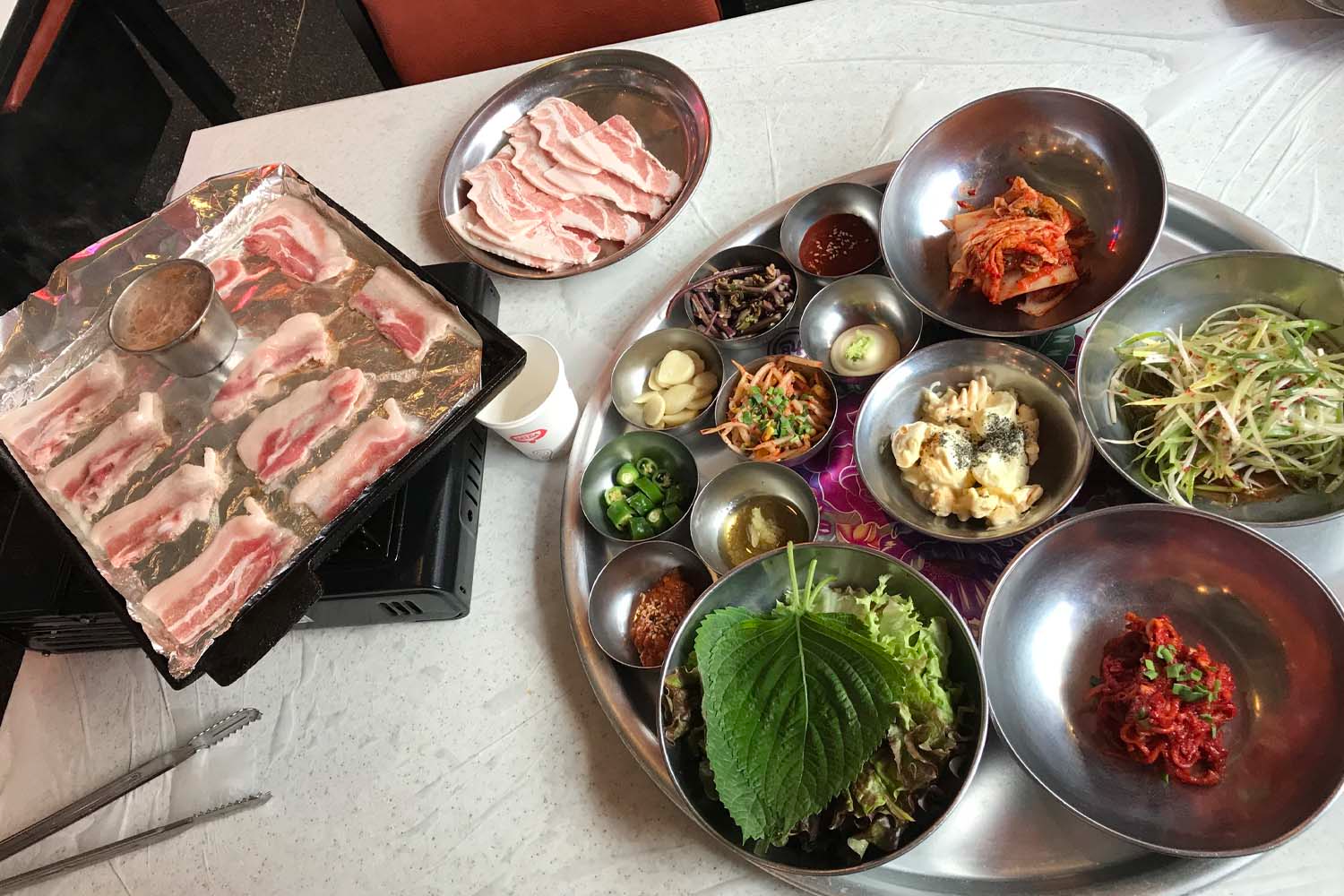 We ordered the pork belly, which is not as thick-sliced as at some restaurants. It gives it a different mouth-feel and is very delicious when grilled. The cost is 13,000 won per person, with a minimum of two orders.
We recommend grilling some kimchi and garlic as well and topping your pork with that, plus the green onion salad.
Address: 서울 강남구 선릉로148길 11
11 Seolleung-ro 148-gil, Gangnam-gu, Seoul
Hours: Every Day 11:00-23:40 (Last Order 23:20)
Price: Jeju Pork Belly 160g (제주산 삼겹살) 14,000 KRW
How To Get There: 15 minutes by foot from Apgujeong Rodeo Station (압구정로데오역) Exit 4
---
That's it for our restaurant recommendations on the Sinsa and Apgujeong area.
Feel free to reference this post next time you're in the area and looking for somewhere to eat!
---