Incheon Airport Food Guide
Incheon Airport actually has some really good food options! Seize the opportunity to have one last delicious meal in Korea before flying out with this full-fledged food guide!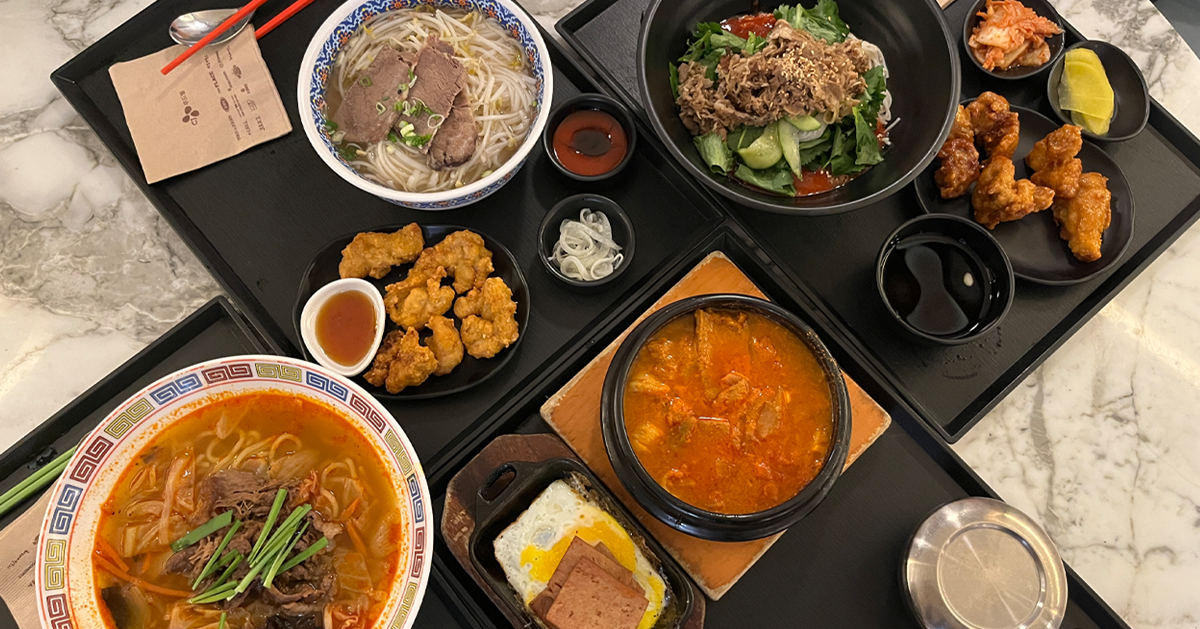 Taking a flight can be stressful and tiring after all that packing and planning, so you'll definitely need a yummy meal to refuel! Incheon Airport is so huge that you might not be sure where the best places to eat are. No worries! We've compiled a full list of the best restaurants, cafes, and food courts in Incheon Airport! Let's check it out!
---
Need to exchange money? Click here ⇩
Incheon Airport Currency Exchange
---
Terminal 1 Food Guide
CJ FOODWORLD
Location: T1 B1 Central Area
Hours: 6:30-21:30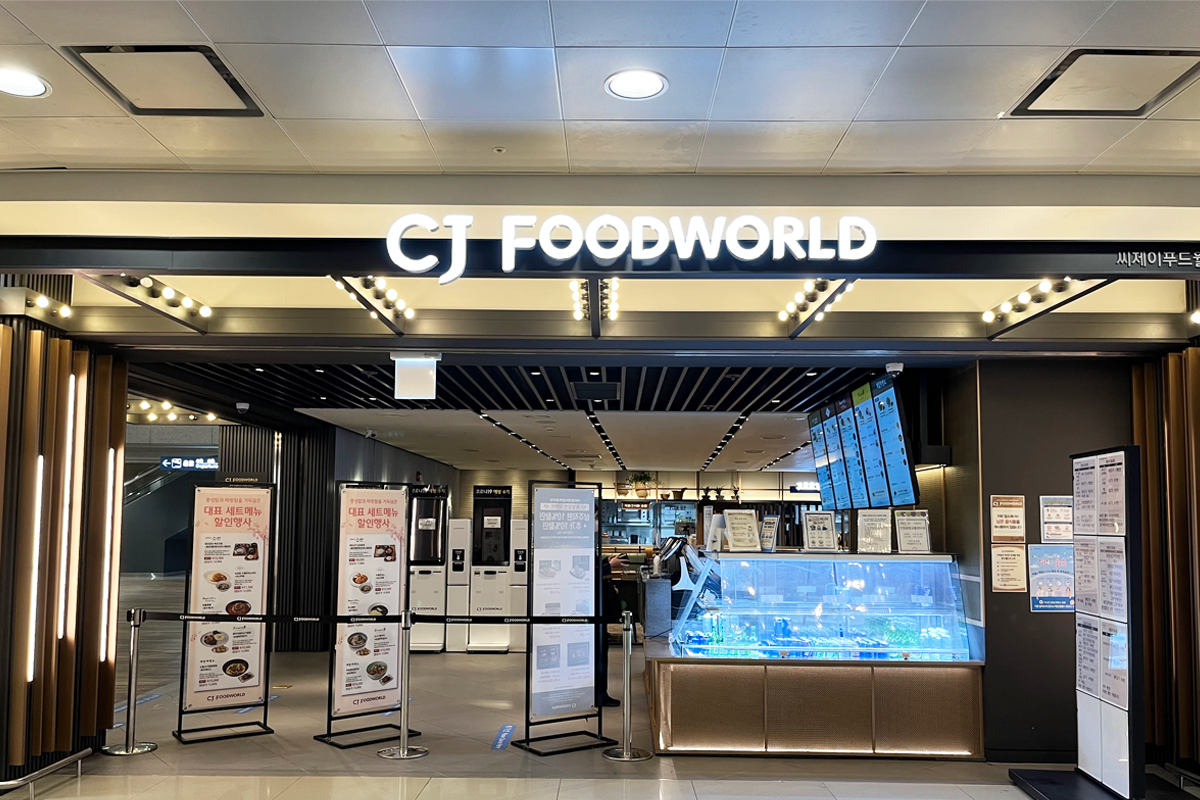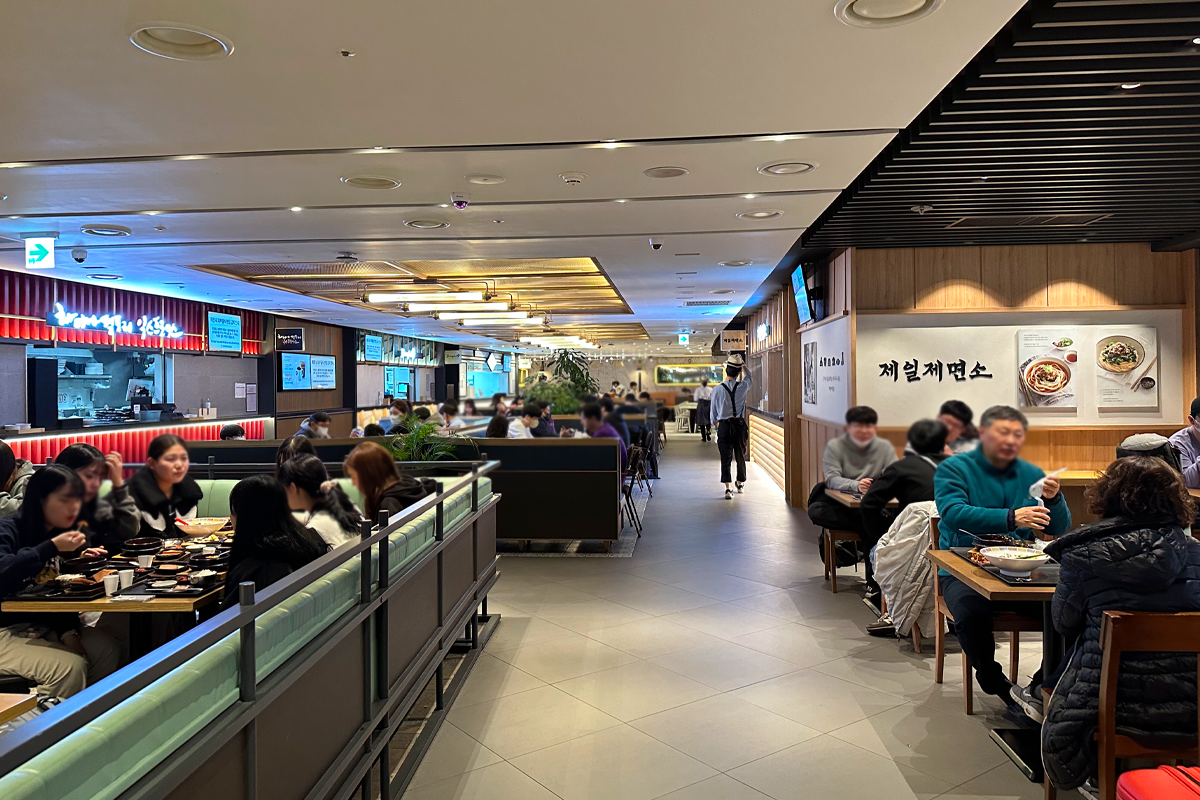 Looking for affordable and delicious food? Check out CJ Food World at Terminal 1 of Incheon Airport! It's a food court with many chain restaurants serving Korean, Japanese, Chinese, Thai, and Western cuisine, with plenty of seating and a clean environment! You can enjoy a delicious, hearty meal and wait for your flight with ease.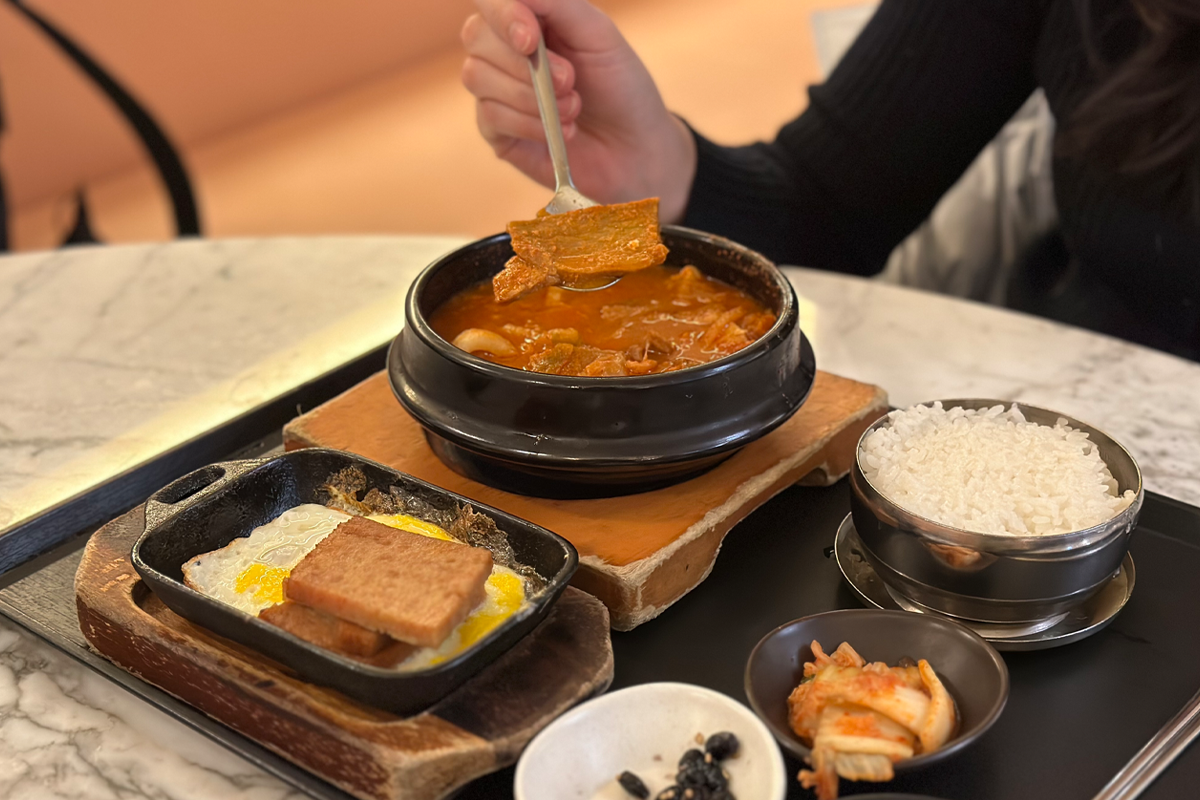 Pork Kimchi Stew + Fried Egg & Spam Set (13,500 KRW)
돼지고기 김치찌개+ 철판 계란 후라이&스팸세트
The kimchi stew I ordered was filled with various ingredients and large pieces of pork that were very satisfying to eat. Although the broth was slightly sour, the tender tofu that accompanied it was very refreshing and paired well with rice. The fried egg and spam were a good contrast as well!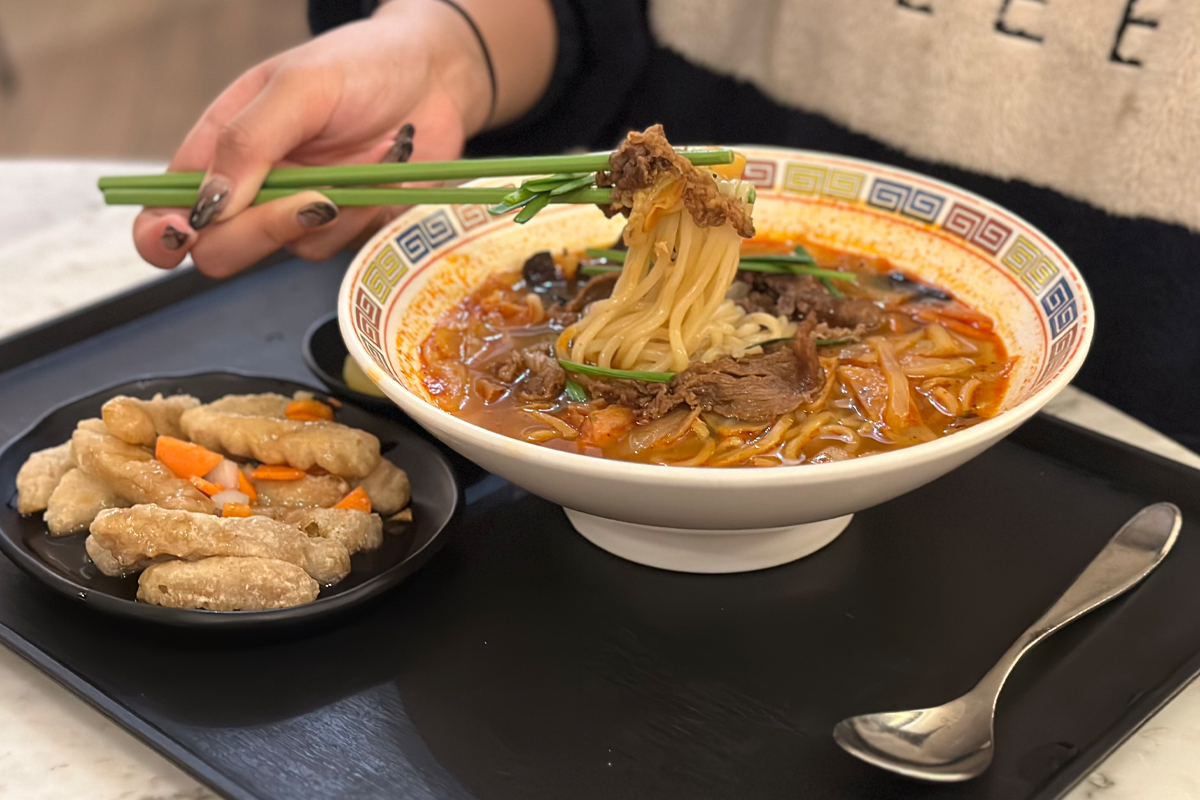 Beef Brisket Spicy Noodle Soup + Sweet & Sour Pork Set (14,000 KRW)
차돌 짬뽕+ 탕수육 세트
The spicy noodle soup (jjambbong) here is a little different from the usual dish, with a few pieces of seafood, beef slices, a layer of leek, and wood ear mushroom on top. The noodles have a very different texture compared to the usual spicy noodle soup dish, and it's a little less spicy than usual! The portions are quite generous, making it a satisfying meal!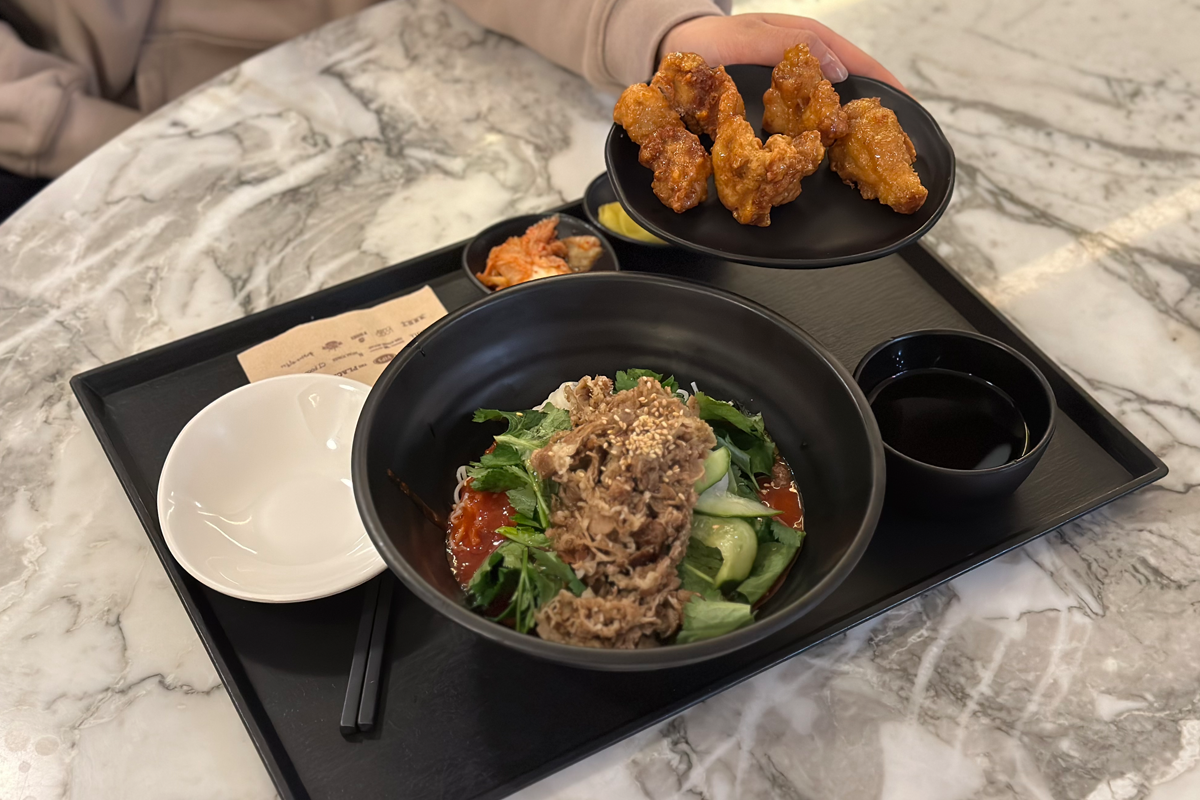 Beef Belly Spicy Mixed Noodles + Popcorn Chicken Set (13,500 KRW)
우삼겹 비빔국수+ 닭 강정 세트
Getting a little tired of traditional Korean cuisine? Then the beef belly spicy mixed noodles will be the perfect choice for you! The dish is loaded with vegetables on top of the noodles, accompanied by a cold, refreshing sauce. If you're still hungry, it comes with popcorn chicken coated in sweet sauce. The sauce is not too thick, making it crunchy and satisfying to eat.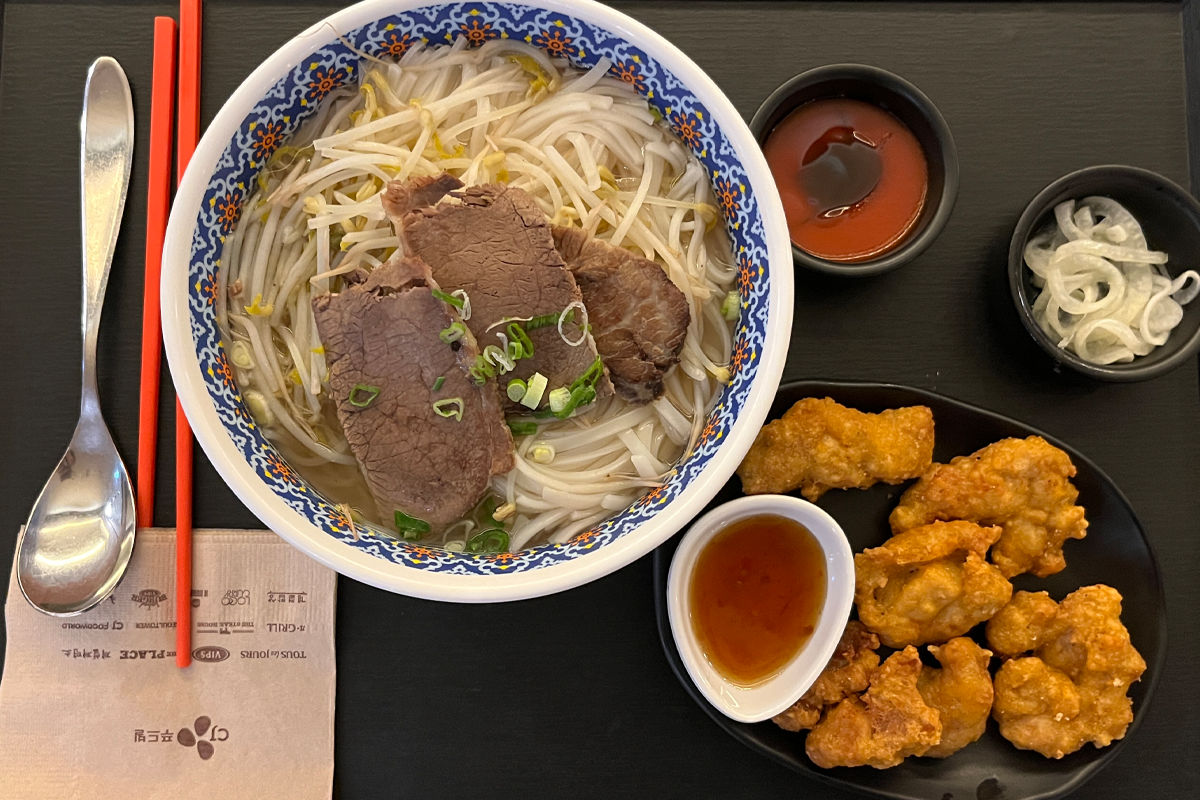 Beef Pho + Popcorn Chicken Set (13,500 KRW)
소고기 쌀국수+닭강정 세트
The beef pho was a bit underwhelming, as the soup was almost entirely absorbed by the rice noodles. The beef chunks were a bit tough as well. Personally, I would not recommend this dish.
Starbucks
Location: T1 B1 Central Area
Hours: 6:30-22:00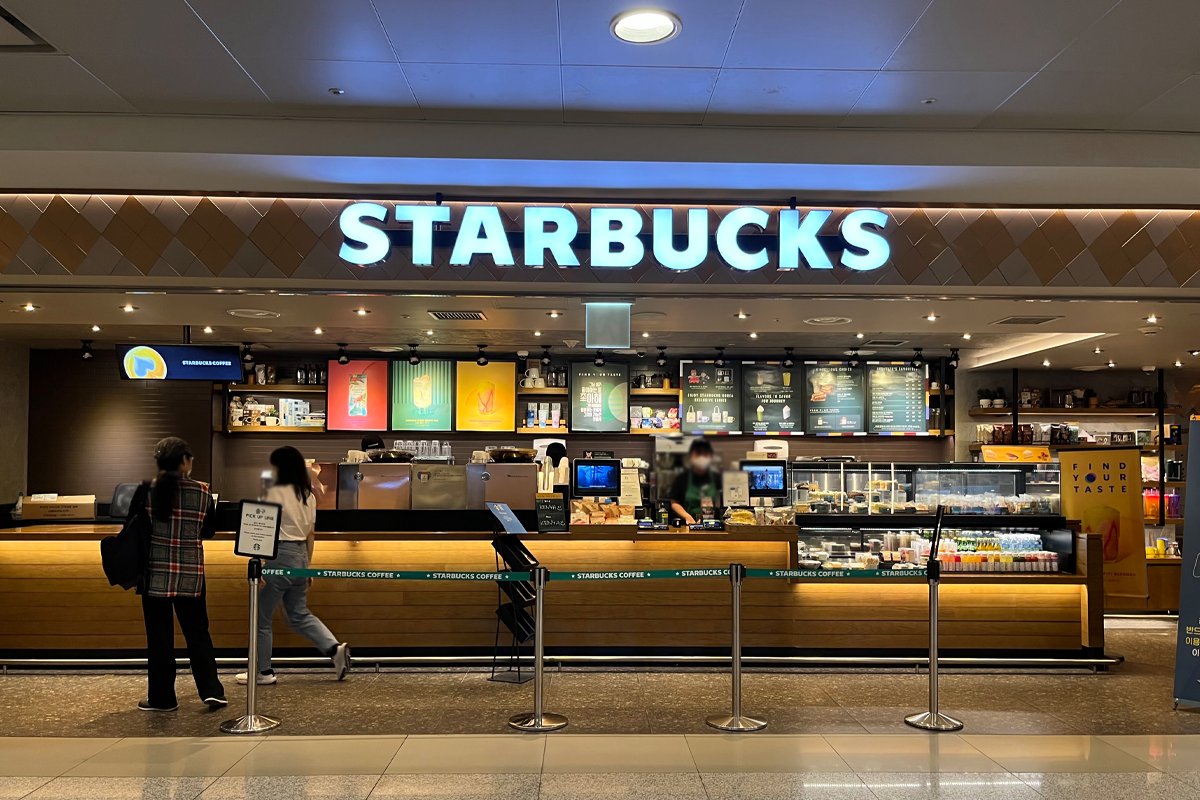 There is a Starbucks located in Terminal 1 B1 of Incheon Airport, where you can seize the opportunity to buy a cute souvenir cup before departing. There are also more Starbucks locations and other cafes near the departure gates, providing additional options.
A TWOSOME PLACE
Location: T1 B1 Central Area
Hours: 6:30-20:00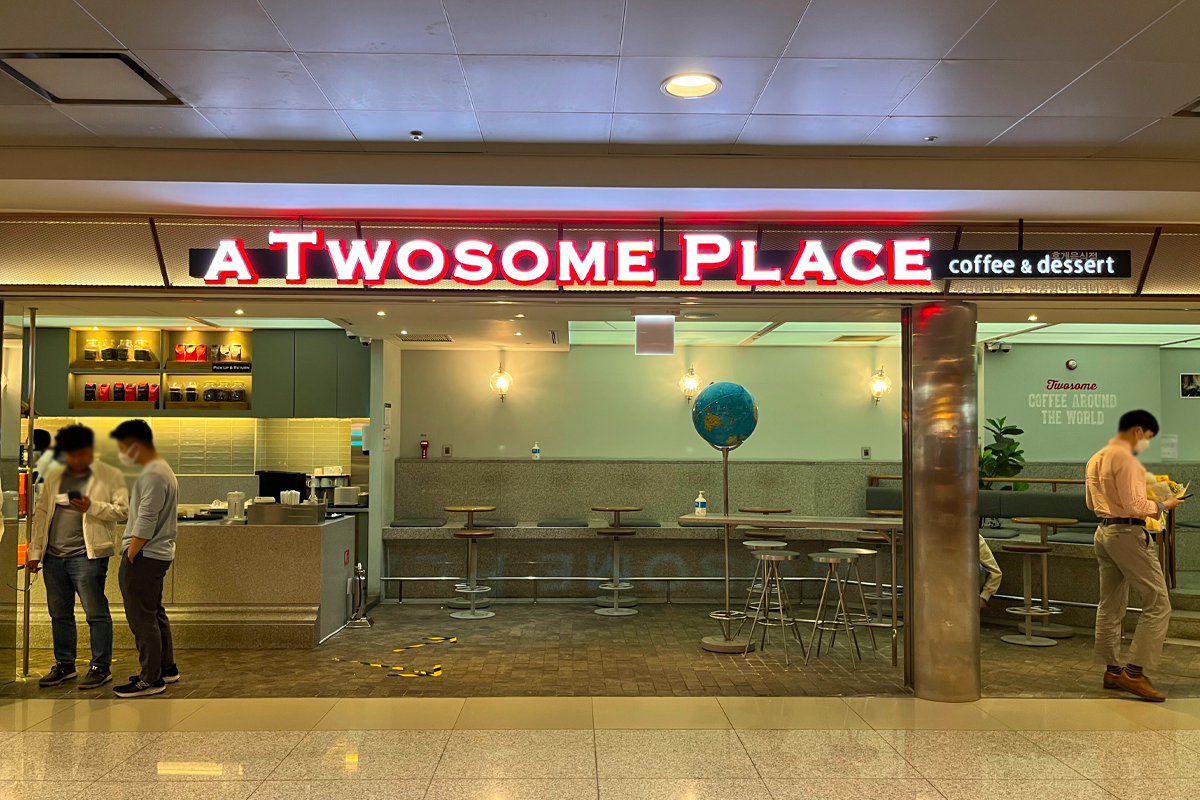 Next to Starbucks is A Twosome Place, where you can browse and choose from a variety of desserts if you're in the mood for something sweet after your meal.
소문 (Somoon)
Location: T1 4F West Side
Hours: 07:00-22:00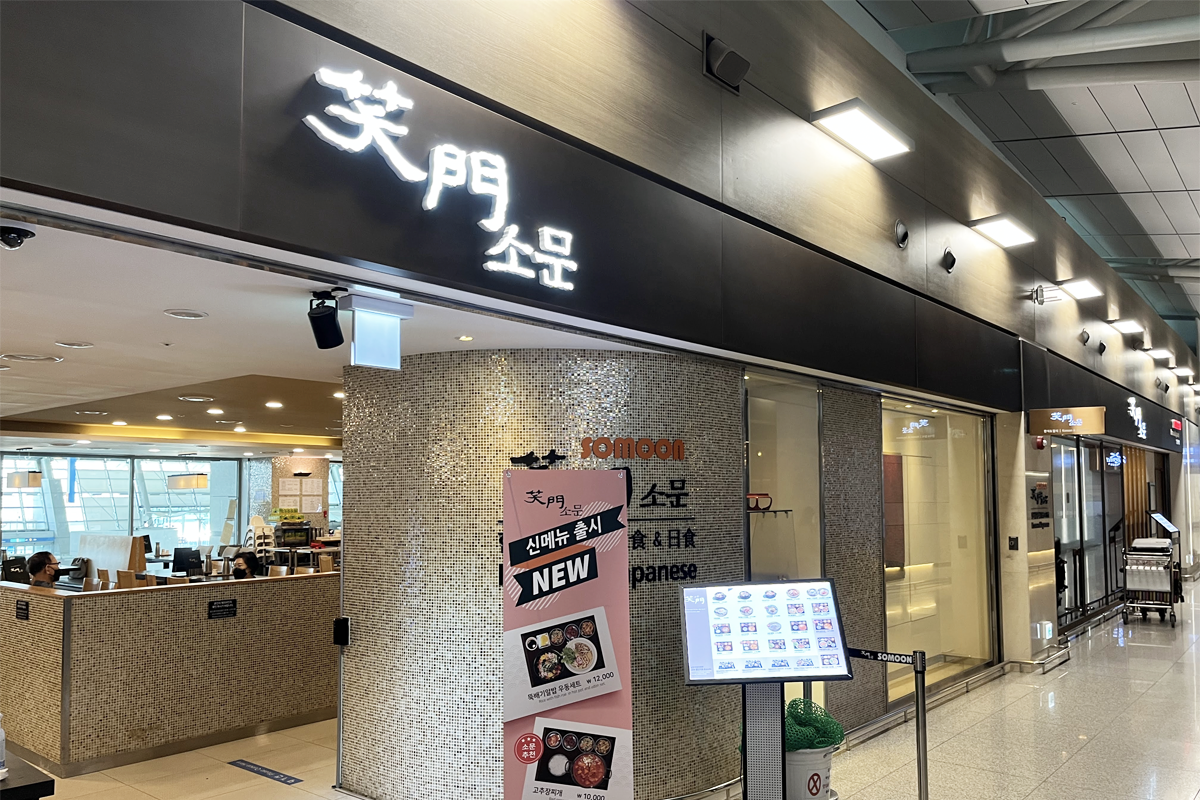 There are many Korean, Japanese, and Chinese restaurants in the food area on the fourth floor of the terminal. Because of the location of the food area, you get a nice view of the whole terminal that you can enjoy while eating.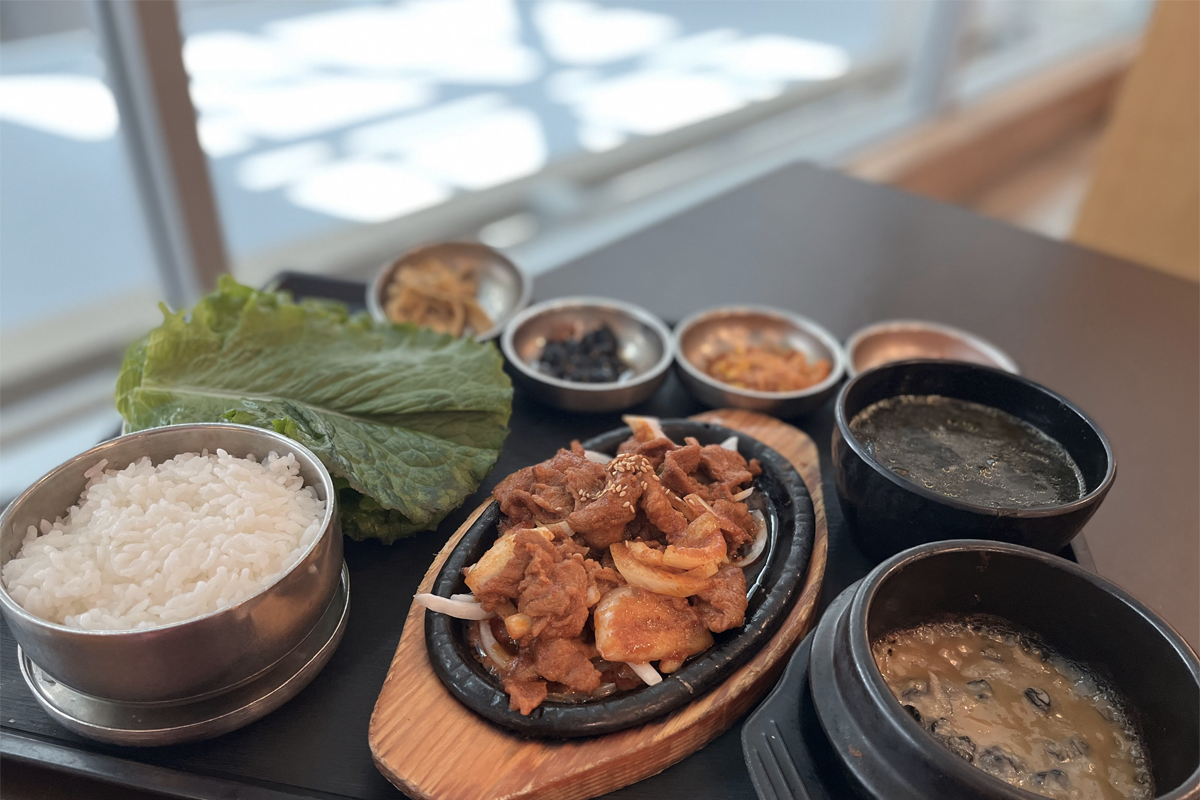 Spicy Stir-Fried Pork Set Meal (12,900 KRW)
Make sure to grab some delicious Korean food before you board your flight! You can get a variety of options from spicy stir-fried pork, side dishes, rice, and veggies for a fulfilling and healthy meal before your travels.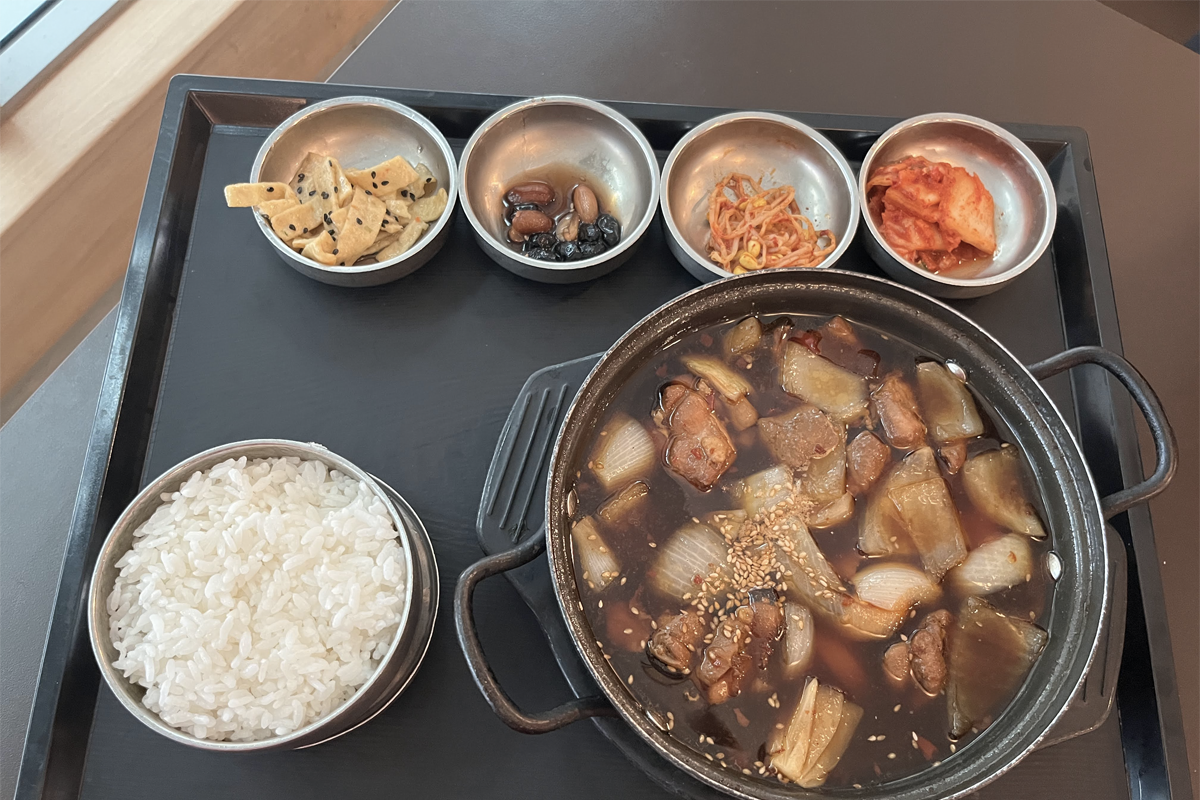 Soy Sauce Steamed Chicken (12,900 KRW)
찜닭정식
You can also buy Soy Sauce Steamed Chicken here which is another popular Korean dish. If you are not the best at eating spicy food, we recommend that you try out this dish, which is more salty and sweet!
Pho Bay
Location: T1 4F West Side
Hours: 7:00-21:00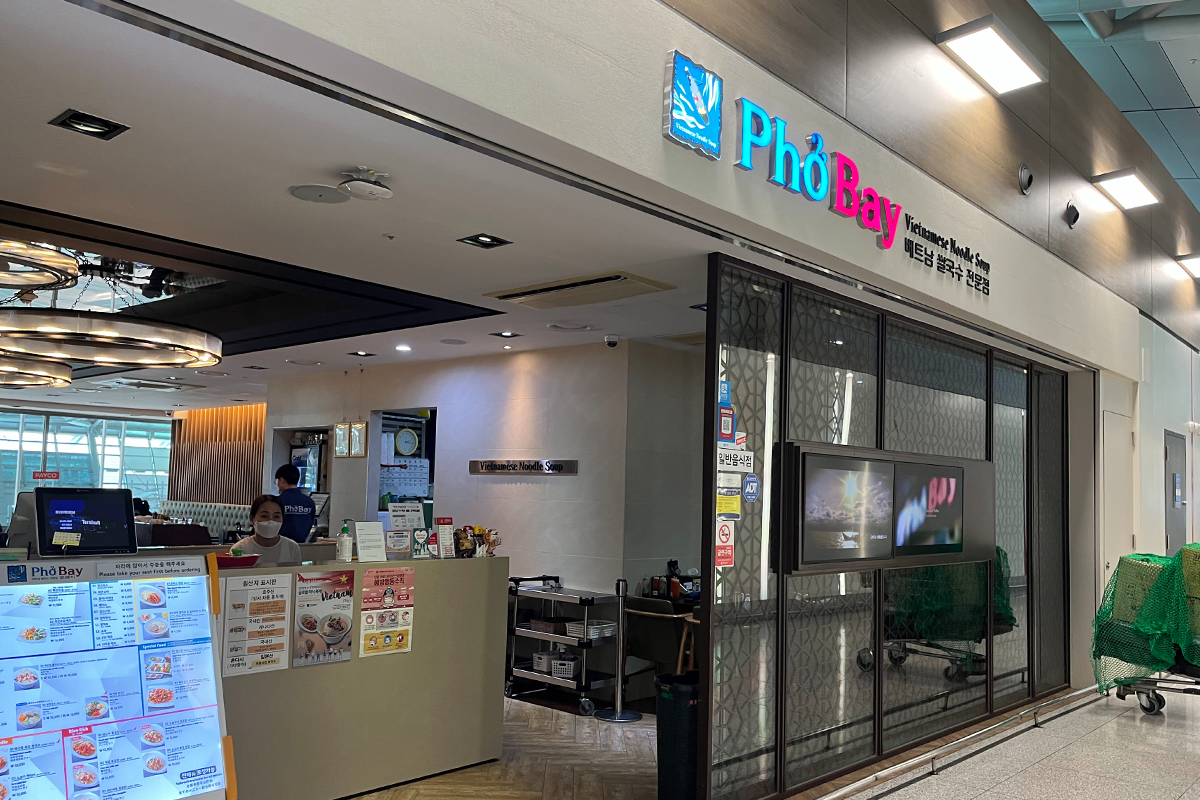 Omuto tomato Dining
Location: T1 4F West Side of Food Court
Hours: 7:00-20:00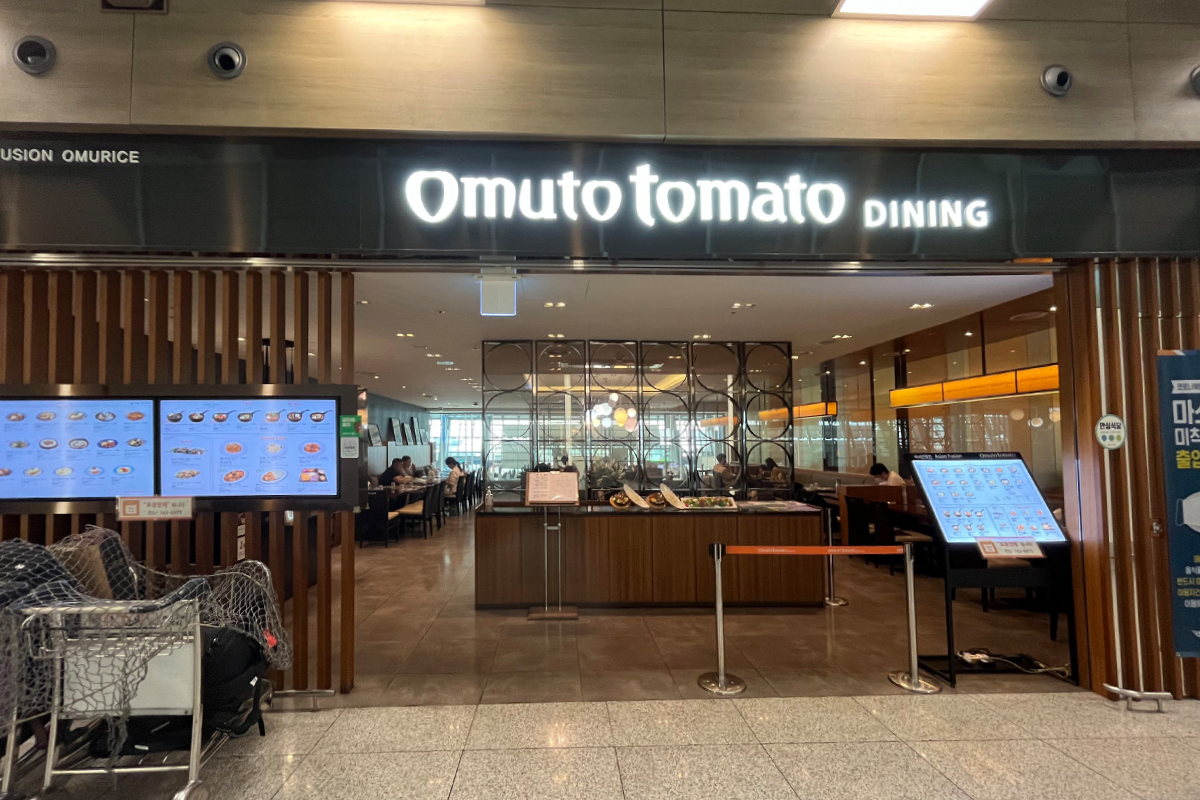 Chinese Restaurant (메이하오짬뽕)
Location: T1 4F West Side of Food Court
Hours: 11:00-21:00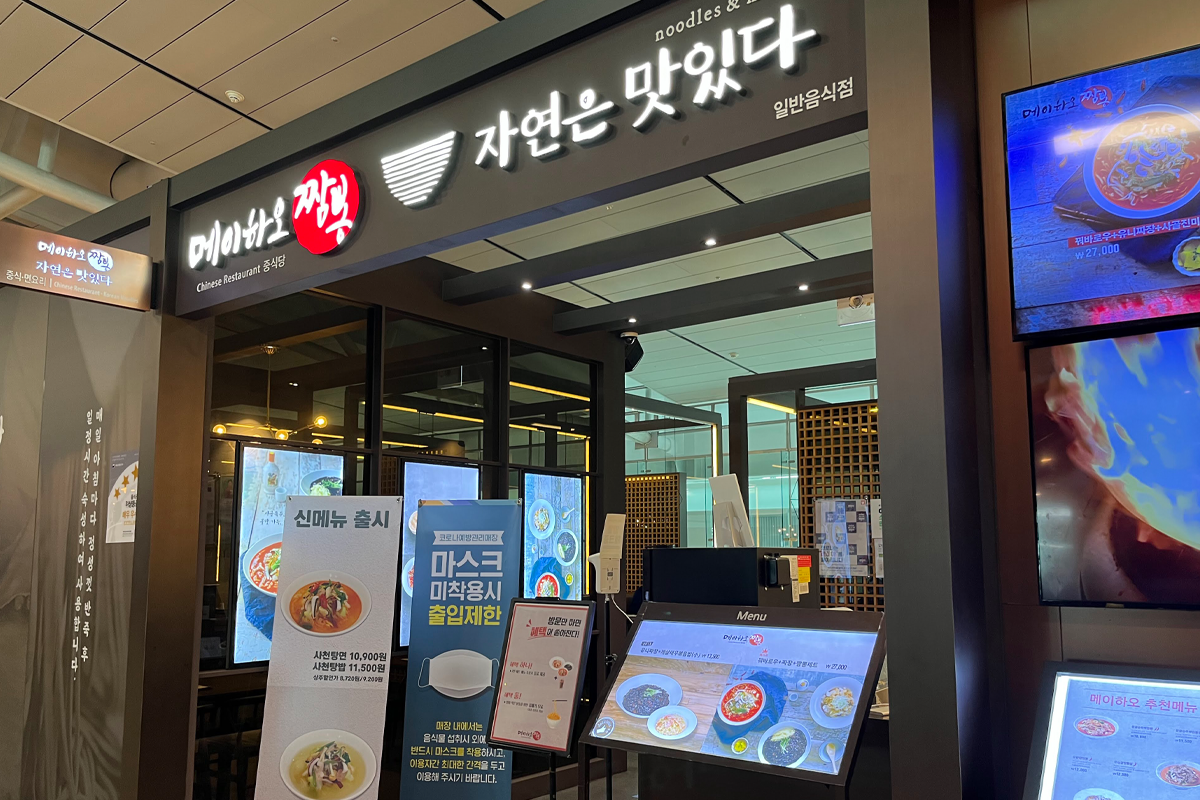 Seoul (서울)
Location: T1 4F West Side of Food Court
Hours: 6:00-21:00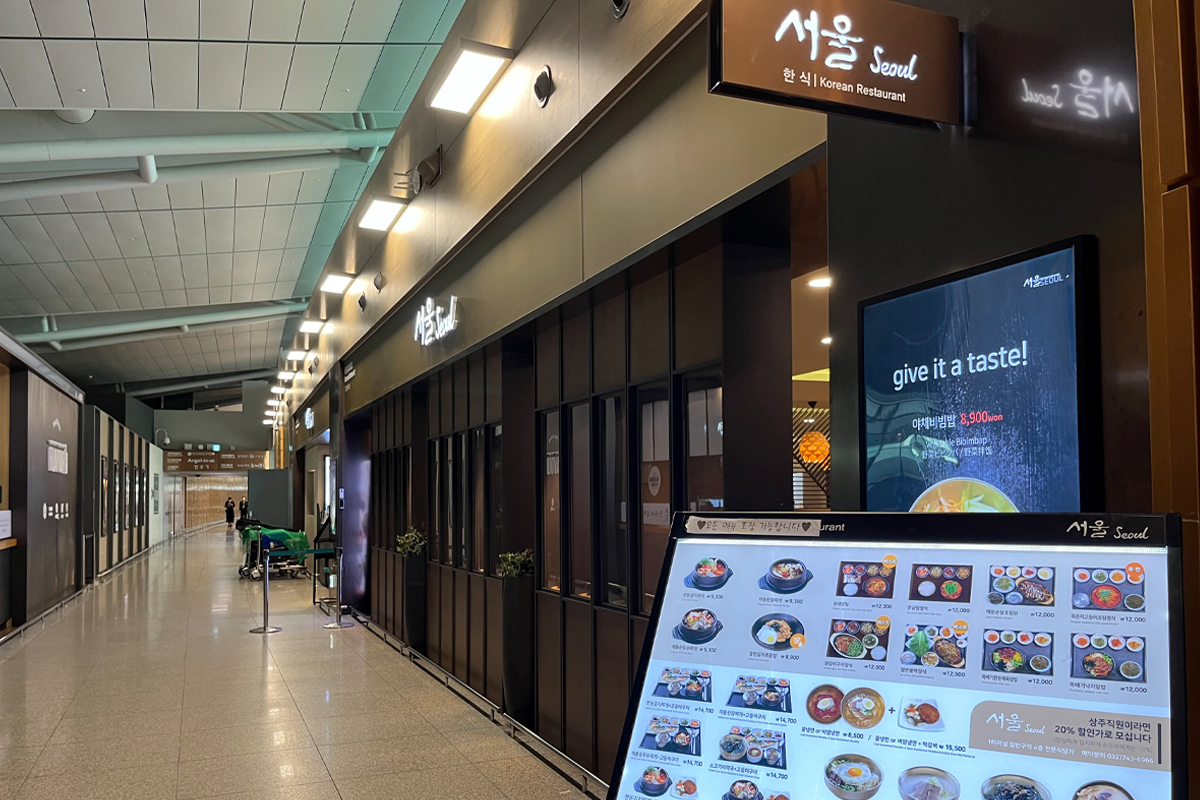 ---
Terminal 2 Food Guide
한식미담길 (Korean Food Street)
Location: T2 B1
Hours: 7:00-22:00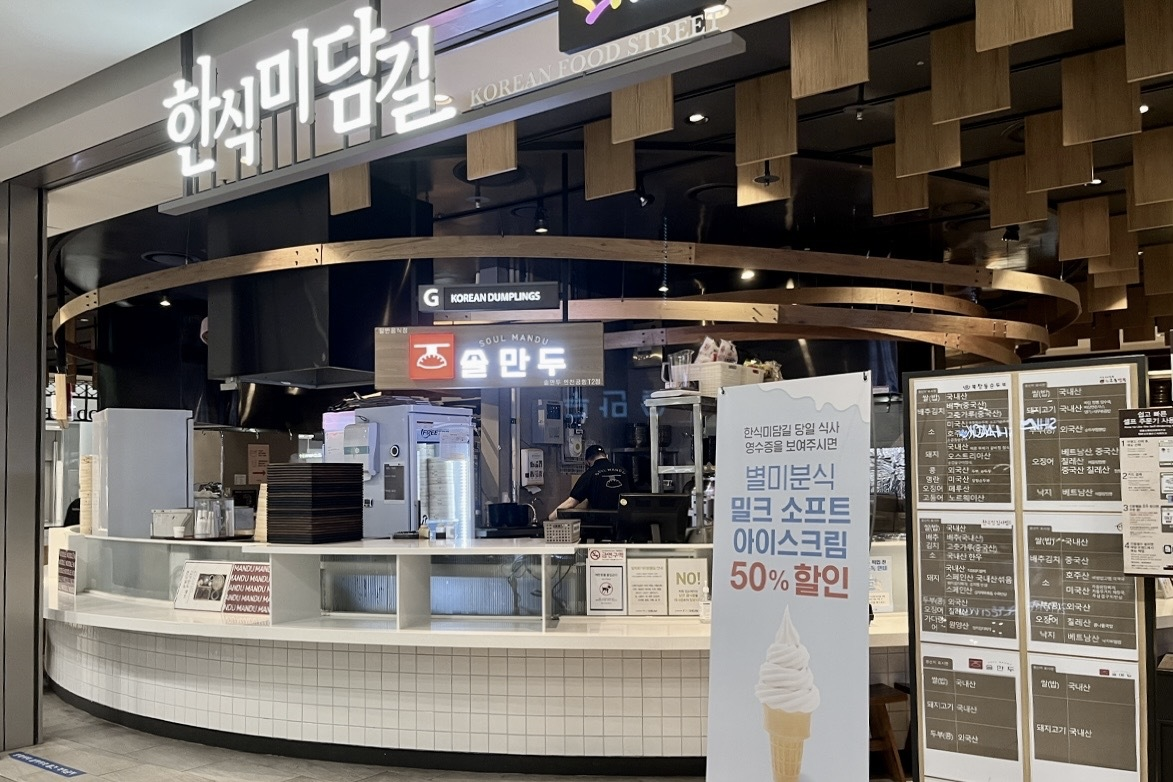 In Terminal 2 on B1, there is a restaurant called "Korean Food Street" (한식미담길), which means 'a street full of delicious food and stories'. This restaurant features famous Korean dishes from various regions, such as seafood noodles from Gyeongju and silken tofu (soondubu) from Bukchon-dong. With a wide selection of Korean cuisine available, it is sure to satisfy everyone's taste buds!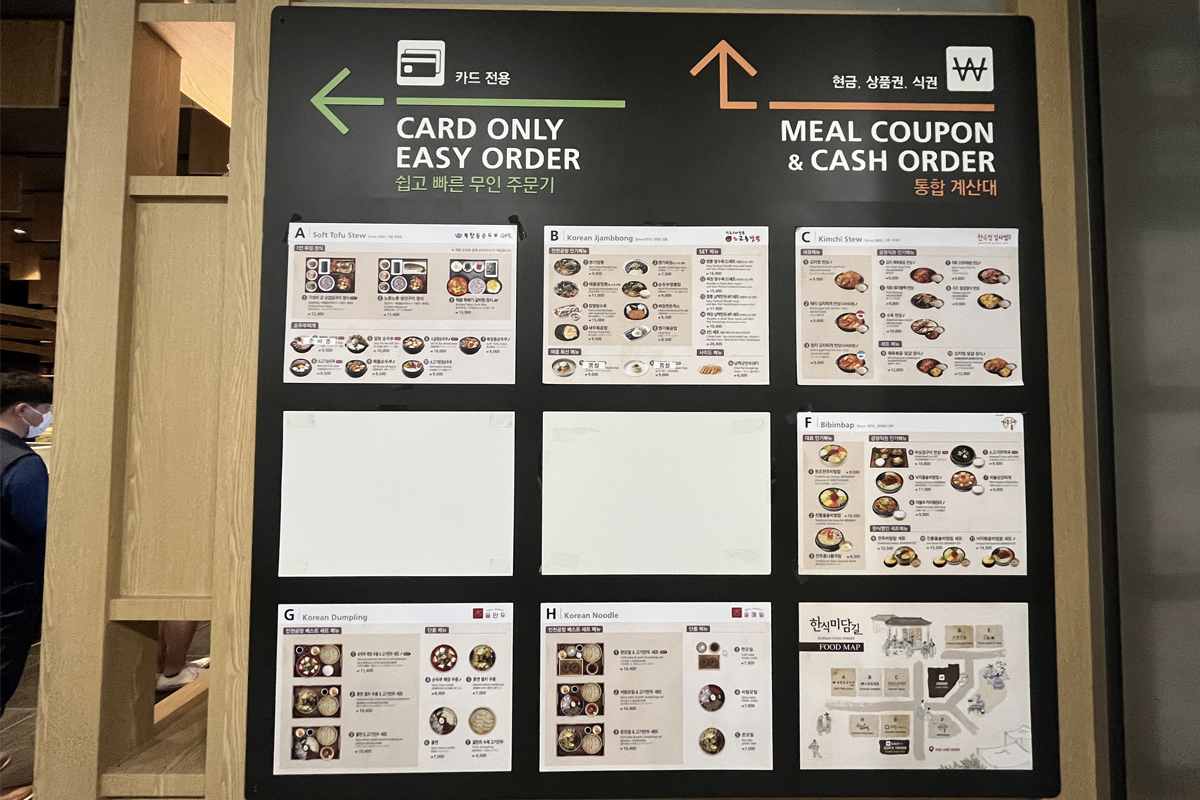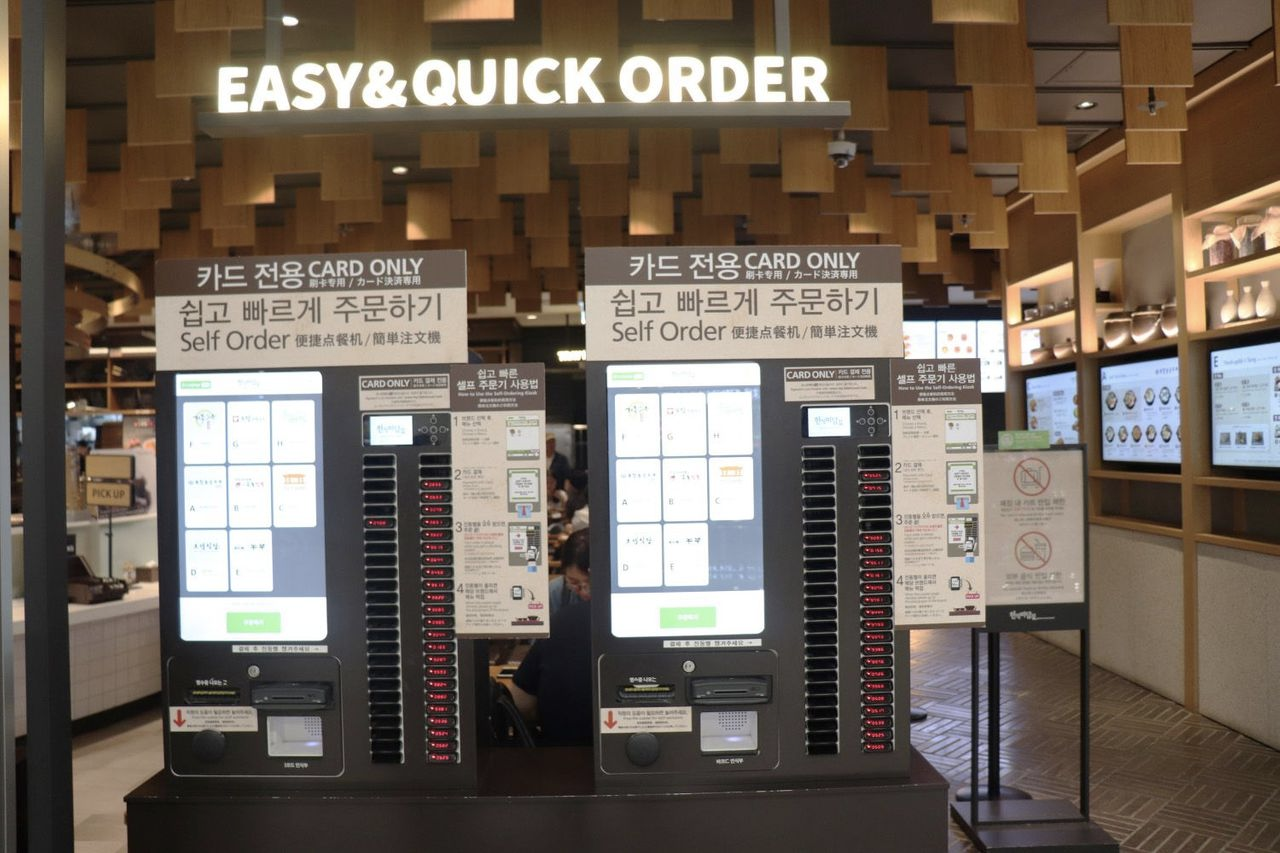 The menus at the restaurants are translated into various foreign languages, making it very convenient for foreign travelers! If you're worried about any issues with ordering, you can try using the self-kiosks, which also provide the menu in multiple foreign languages and accept credit card payments. You'll also get a device that will alert you when your order is ready, making the process very convenient.
Baskin Robbins 31
Location: T1 B1 Central Area
Hours: 9:00-21:00
Paris Baguette
Location: T2 1F Central Area
Hours: 6:00-20:00
On the 1st floor of Terminal 2, there are coffee shops such as Paris Baguette, Angel-in-us, and Starbucks, providing a place for travelers to enjoy some coffee or dessert and take a break before entering or exiting Korea.
Coffee@Works
Location: T2 3F Central Area
Hours: 6:00-21:00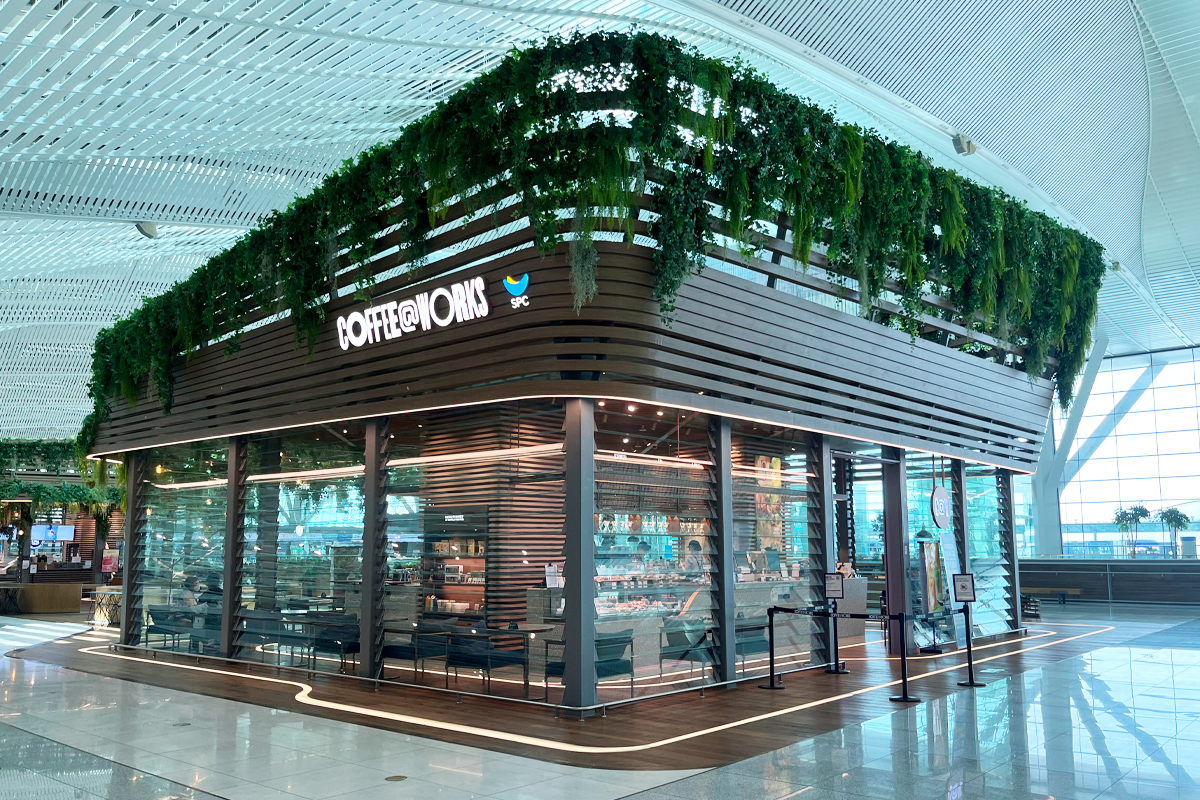 On the 3rd floor of Terminal 2, there is a cafe called Coffee@Works, which is suitable for business travelers to rest and work. It is located in the departure hall (for leaving Korea), so be sure to finish your drink before going through customs.
FOOD STOP
Location: T2 4F Central Area
Hours: 6:00-20:30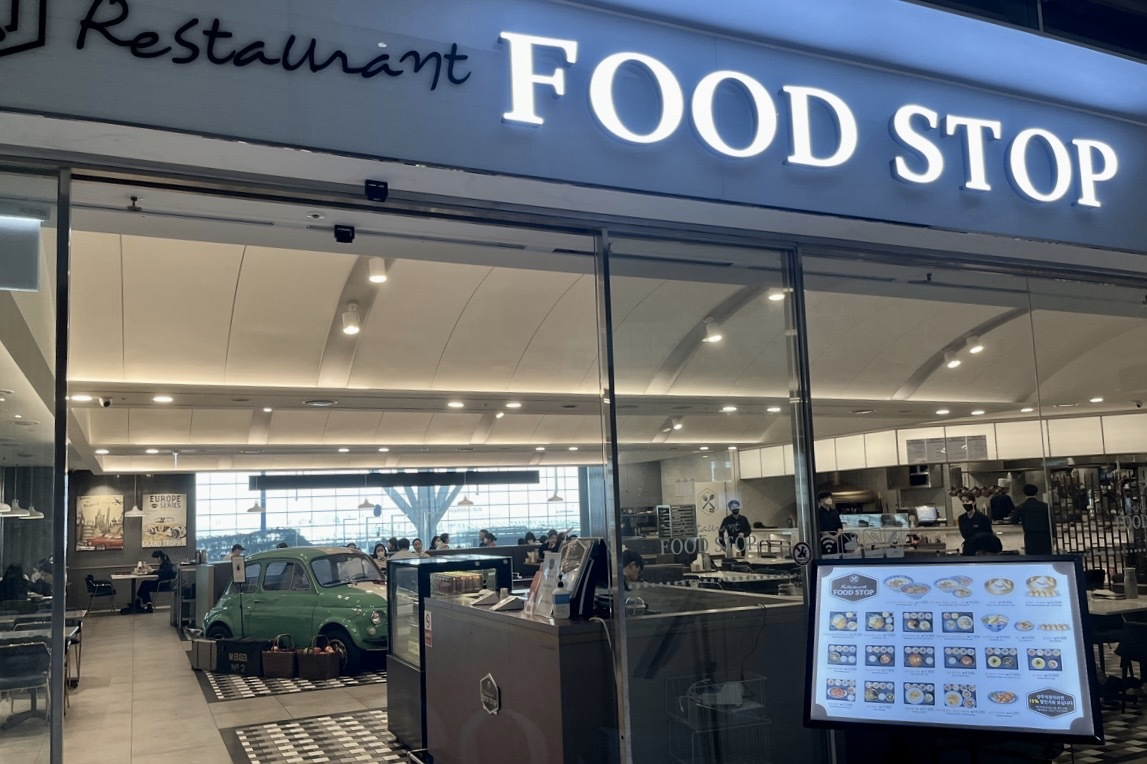 The 4th floor of Terminal 2 also has several Korean, Japanese, and Vietnamese restaurants. FOOD STOP is a restaurant that sells rice bowl dishes, pork cutlets, and rice noodles. If you choose to dine on the 4th floor, you can enjoy a panoramic view of the airport as well!
---
Incheon Airport Guides
---
We hope you can enjoy a delicious meal at Incheon Airport whether you're just arriving or heading back home after a wonderful trip! If you have any questions or concerns, please leave a comment below or send us an email at help@creatrip.com. You can follow us on Instagram, TikTok, Twitter, and Facebook to stay updated on all things Korea!
---