Top 5 Giant Toners You Should Buy At Olive Young
Get your money's worth with these GIANT bottles of toners that will be sure to keep you happy for a long time!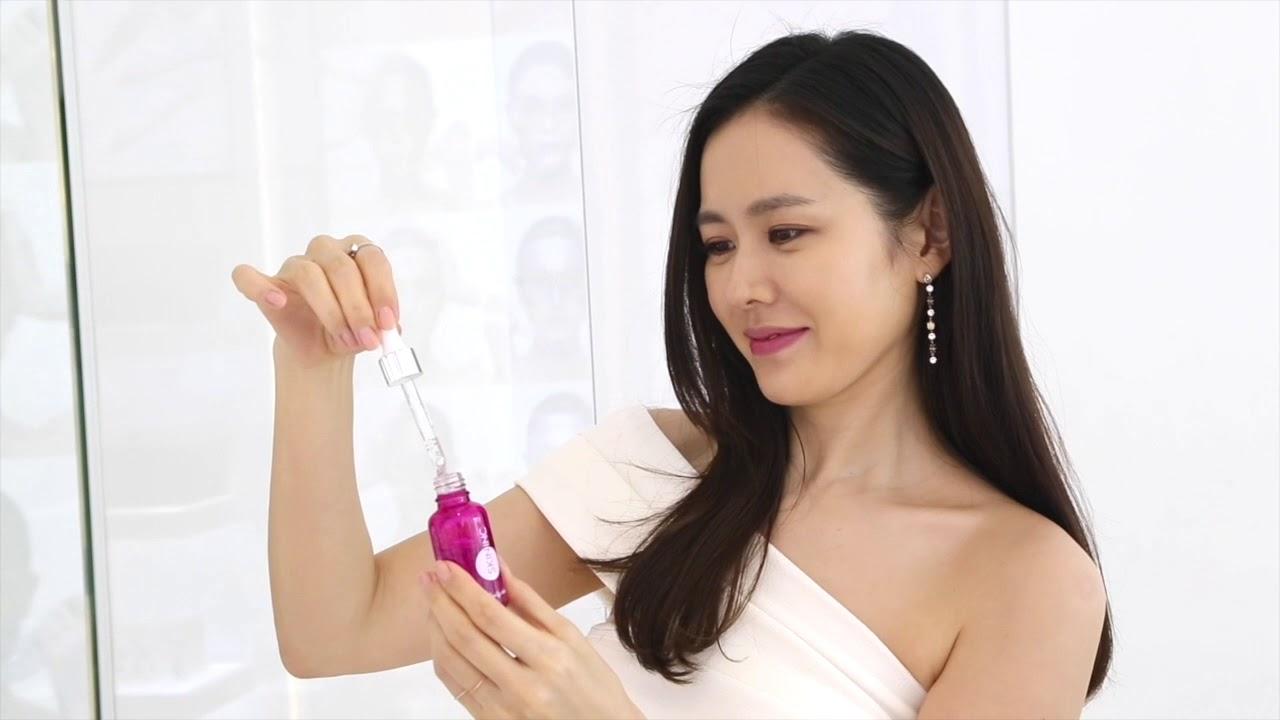 Source: Amazon
Toner is a MUST in every girl's skincare routine. It helps remove any remaining dirt or excess oil that the cleanser fails to wash off. It's recommended for all skin types and especially for those that love to wear makeup on a daily basis.
Finding the right toner for your skin type can help tighten pores, prevent acne and helps balance pH levels on the face.
Today we will be going through the top 5 biggest and most loved toners in Korea that are all the rave in Korea's giant cosmetic chain - Olive Young.
---
1. Round Lab 1025 Dokdo Toner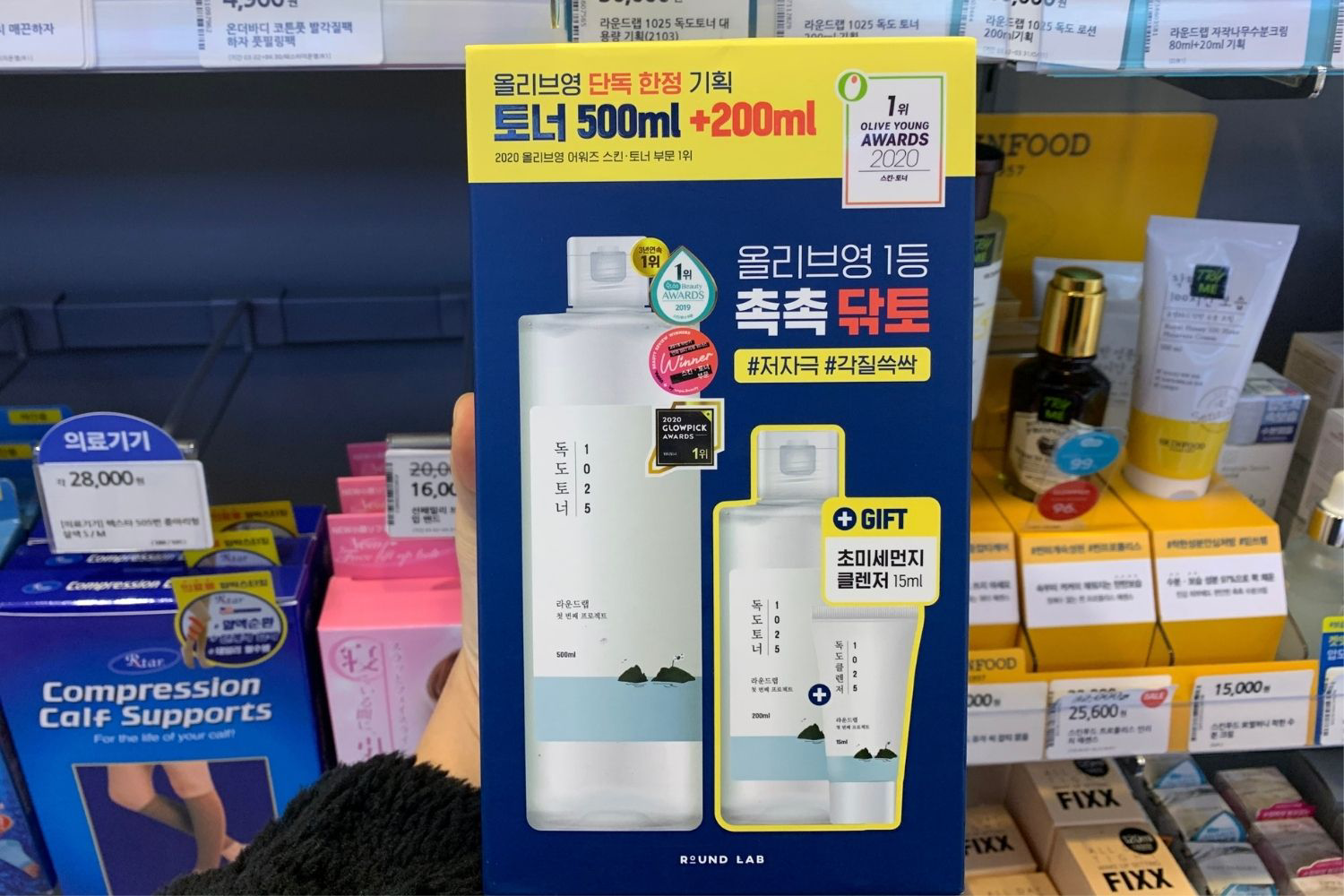 Price: 45,000 won
Capacity: 500ml
Starting with the best, this is the number one toner rated at Olive Young.
Round Lab is a Korean cosmetic brand that mainly uses natural ingredients to restore the skin. This 1025 Dokdo Toner is for dry and sensitive skin that is in need of some deep moisturizing! The product have a user rating of 97% that will continue to use the product.
Currently, this toner line has a promotion for 30,000 won, and you can additionally get 2 bottles of 200ml toner and a 15ml cleanser. This deal is too good to pass!
---
2. Anua Heartleaf 77% Soothing Toner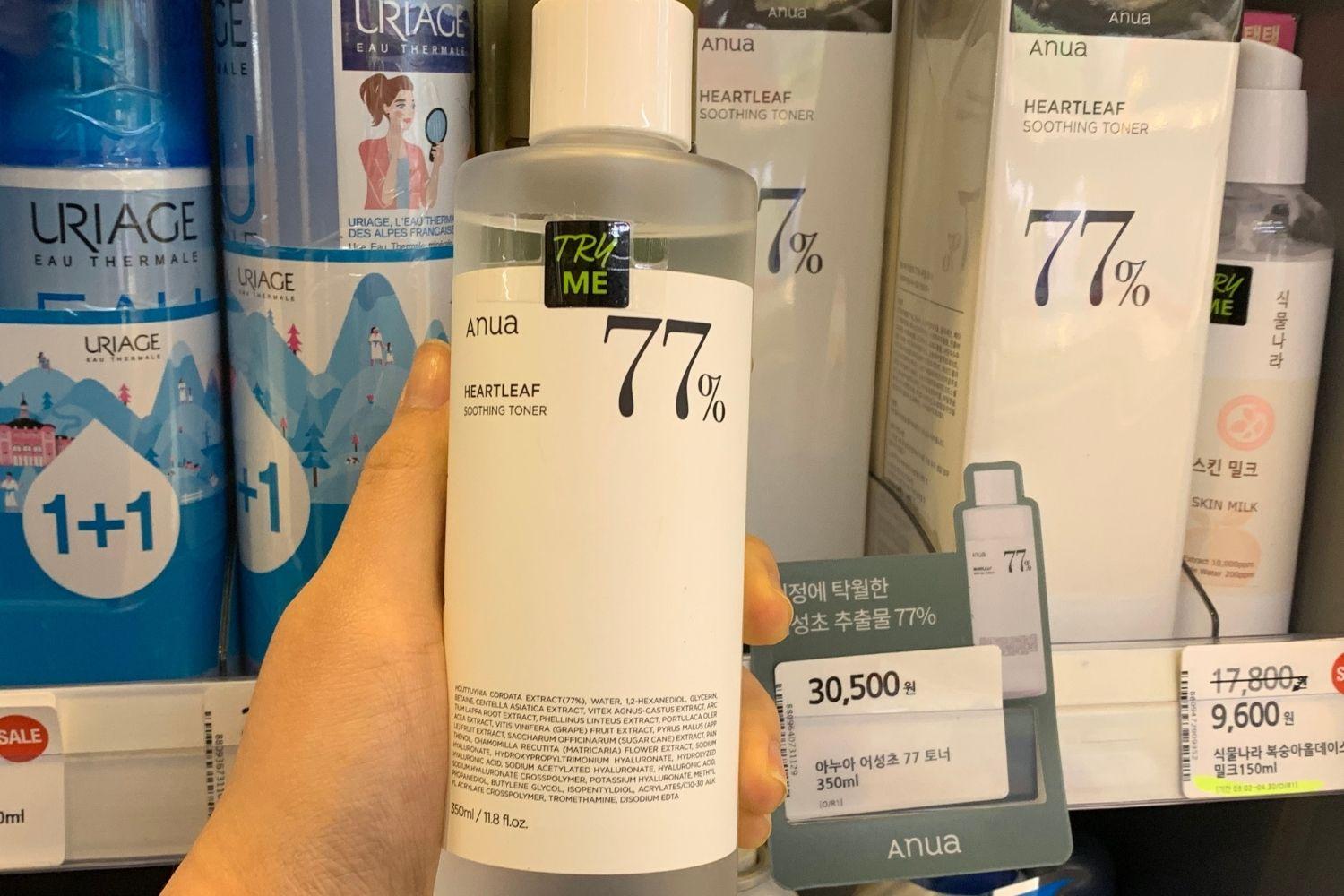 Price: 45,000 won
Capacity: 500ml
Coming right behind Round Lab is Anua's toner. This toner bottle contains up to 77% houttunynica cordata extract, which has the ability to soothe damaged skin, reduce inflammation, and is suitable for sensitive and acne prone skin types.
In addition to all this, it has the B5 ingredient that helps skin regeneration as it keeps your skin moisturized and prevents dry skin or flakiness.
The price is more on the pricier end, but its large bottle definitely makes it worth the price. This product is also on sale at Olive Young!
---
3. The Lab Oligo Hyaluronic Acid 5000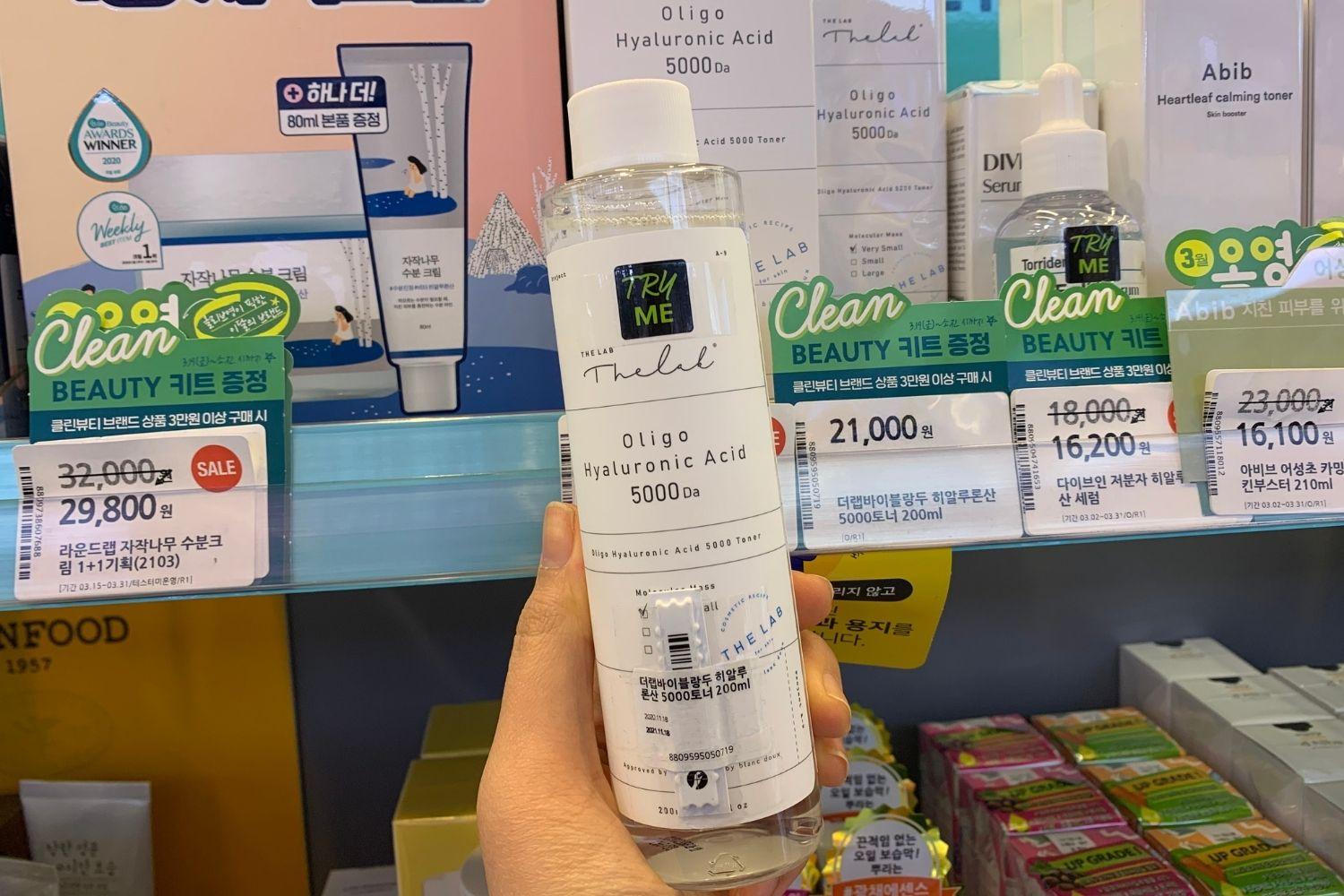 Price: 34,000 won
Capacity: 500ml
The third giant toner that I want to introduce next is The Lab Oligo Hyaluronic Acid 5000. This product contains active ingredients such as witch hazel and allantoin to help tighten pores and smooth skin.
Proven safe for sensitive skin, it also has the ability to moisturize and deep clean the skin.
In addition, this toner also contains vitamins E and B5 to help regenerate the skin!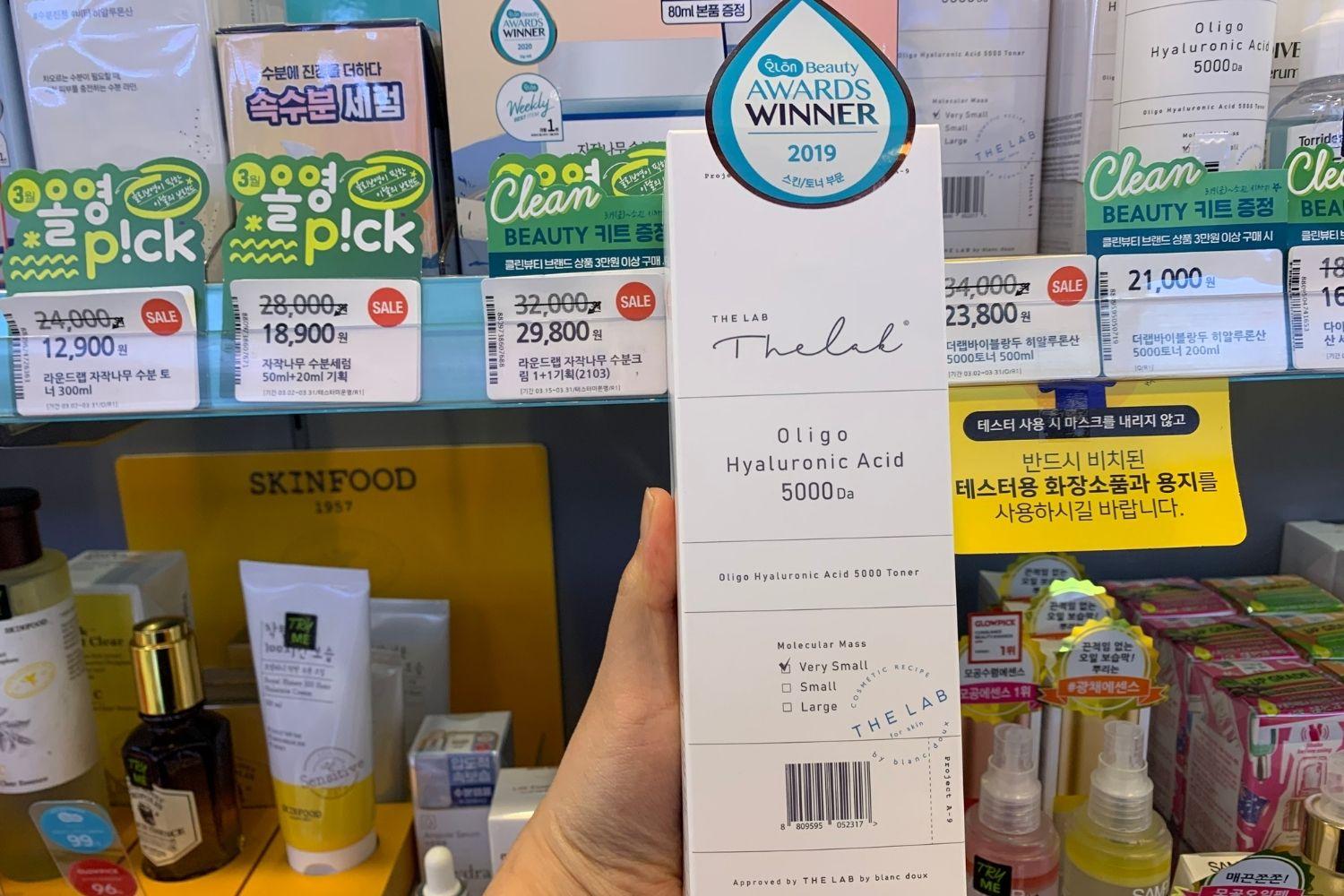 This toner bottle has won the Hwahae's Beauty Award in 2019 and 2020. It also won the Glowpick Awards in 2020 and there are over 30,000 user reviews on Naver (updated March 2020).
Currently, Olive Young is offering a discount of 23,800 won for the 500ml bottle and on top, you also get a FREE 100ml bottle. This is your sign to grab one before the deal is over!
---
4. Ma:nyo Bifida Biome Ampoule Toner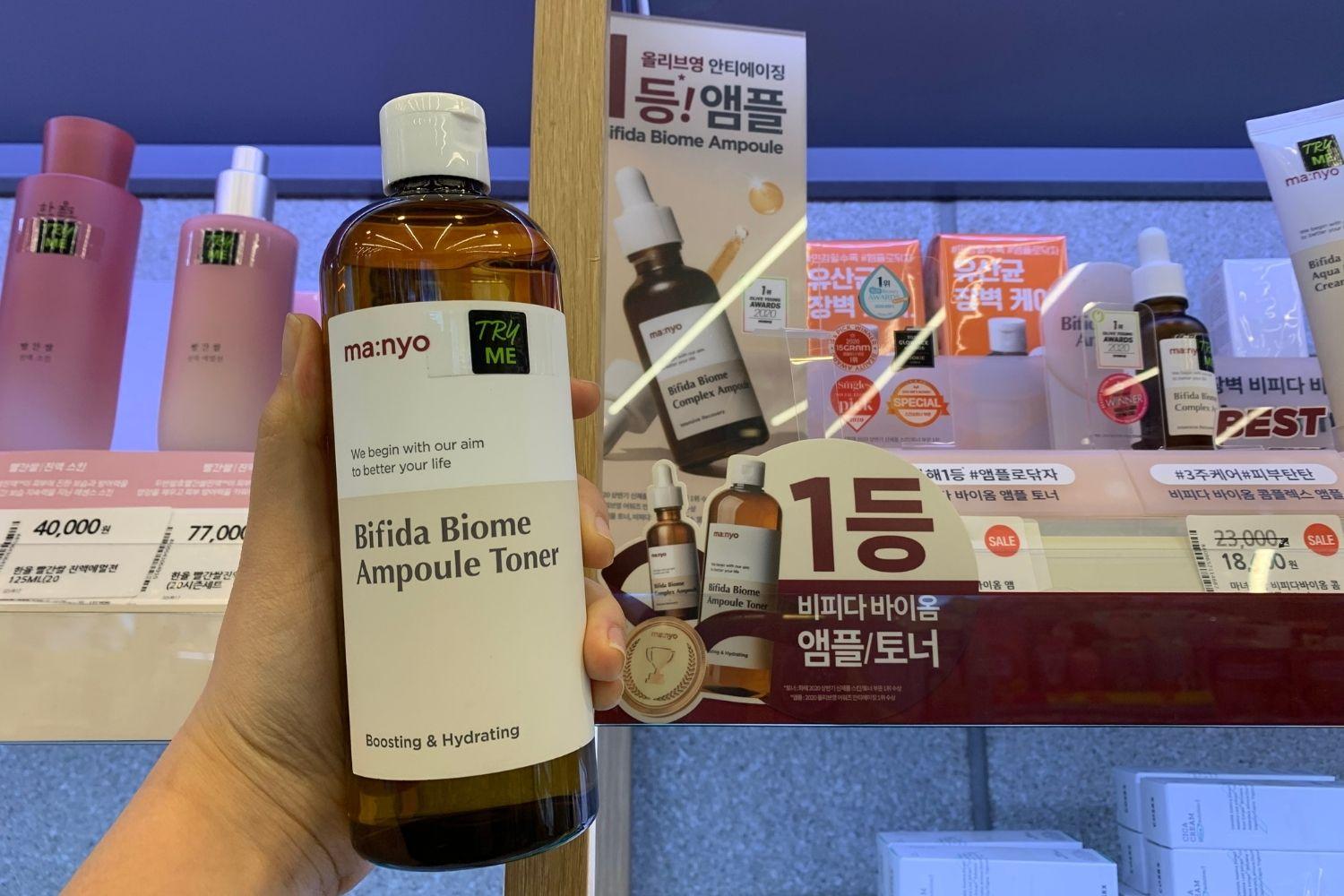 Price: 25,000 won
Capacity: 400ml
Ma:nyo has the face of model Son Ye-jin as their representative and it has gained the hype of many Koreans. In addition to the toner, you can also use the Ma:nyo Bifida Biome Ampoule Toner as a mask for its full effect.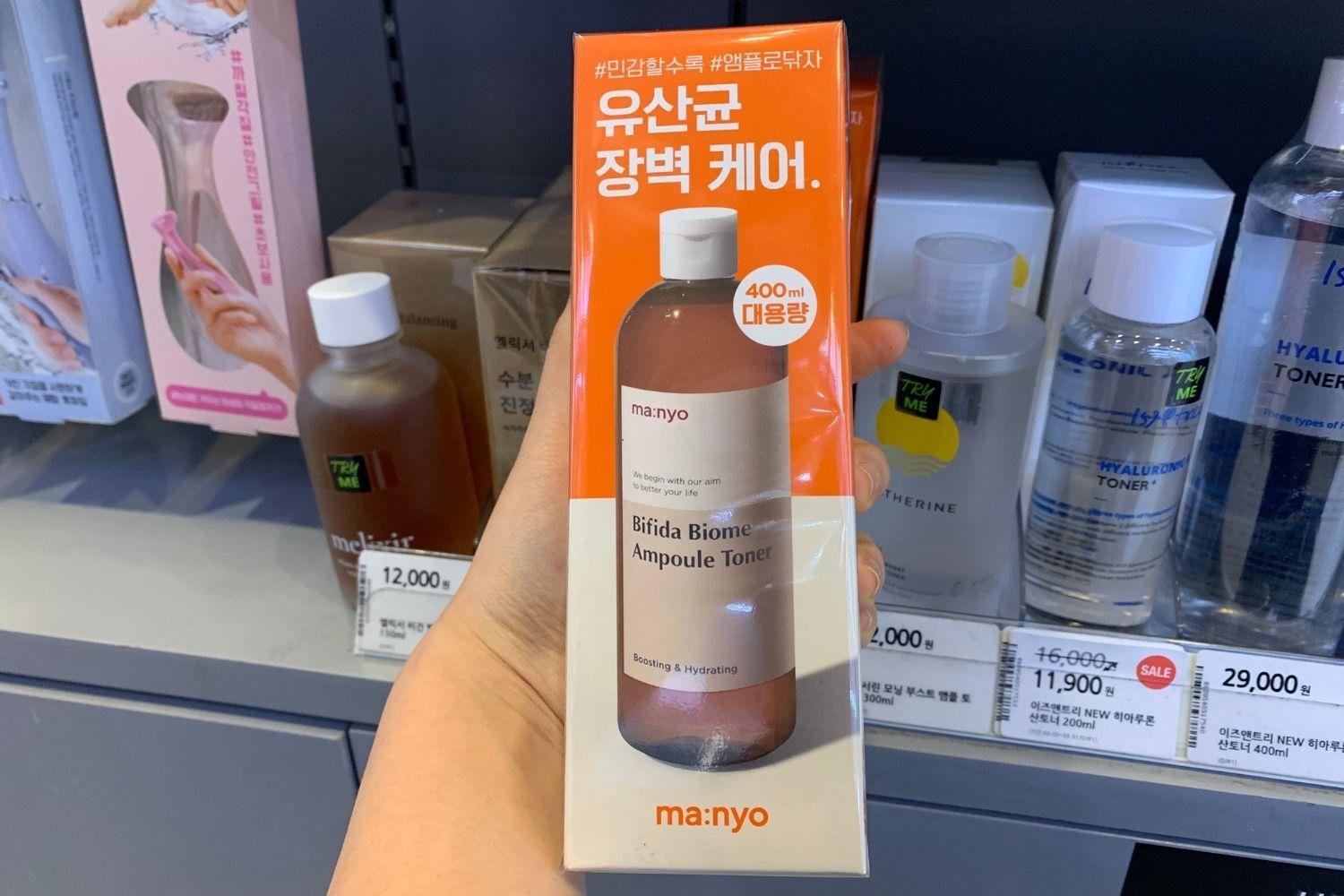 With the 5-layer moisturizing technology it uses, it helps prevent dehydration, which helps the skin stay healthy and glow for a long time. This product has a pH level of 5.5 which makes it suitable for sensitive skin as well.
In addition, it also contains natural BHA from milk that helps remove sebum and minimize clogged pores. It helps activate skin cells, strengthen the protective layer and improve the skin overall.
Currently, Olive Young is doing a promotion for only 17,500 won and also gives you a FREE 100ml bottle with purchase.
---
5. Bring Green Tea Tree Cica Soothing Toner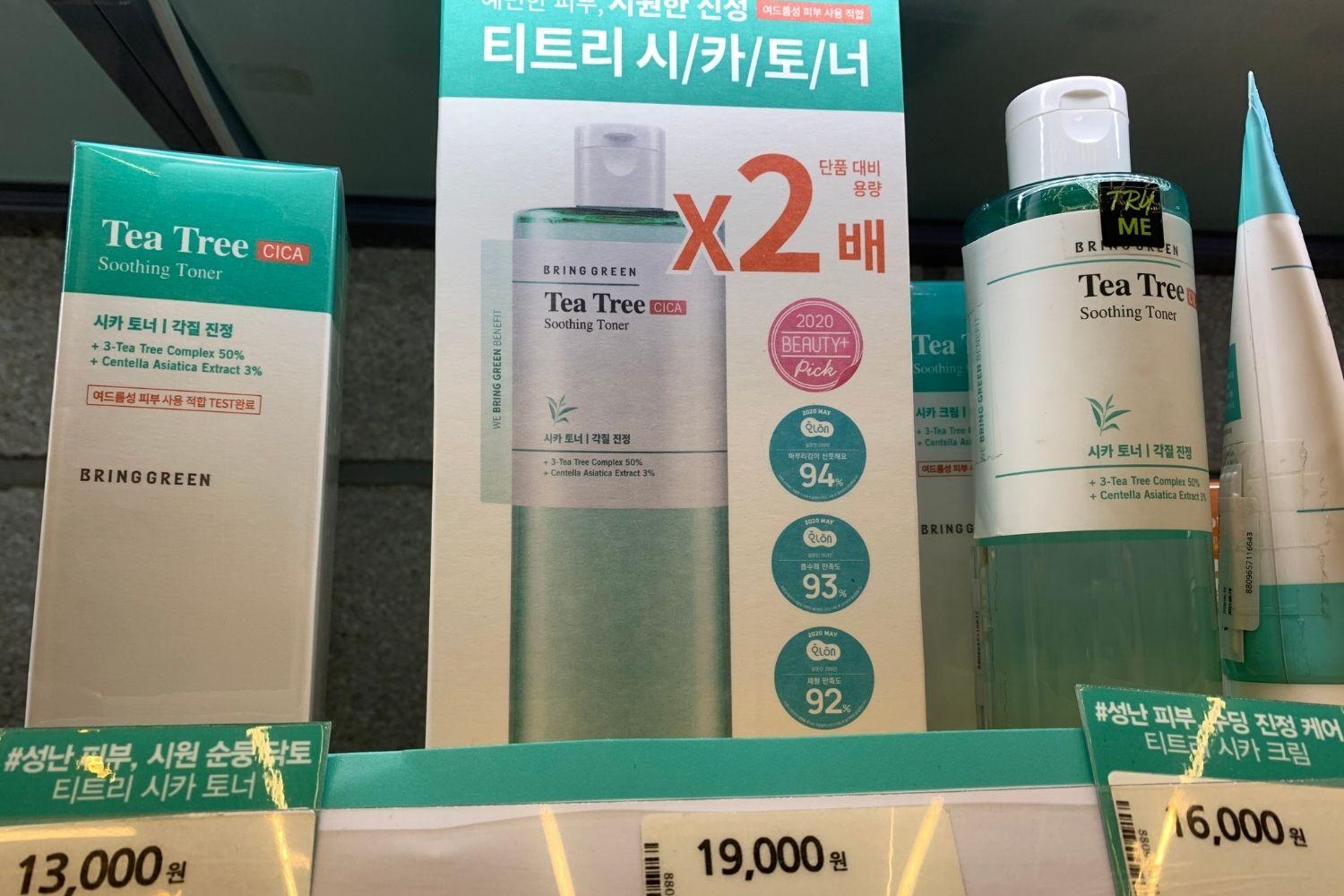 Price: 19,000 won
Capacity: 510ml
The next giant toner I want to introduce next is the Bring Green Tea Tree Cica Soothing Toner. This is probably the cheapest toner on our list today. And right away from the name "tea tree", you already know that it's amazing for acne and oily skin!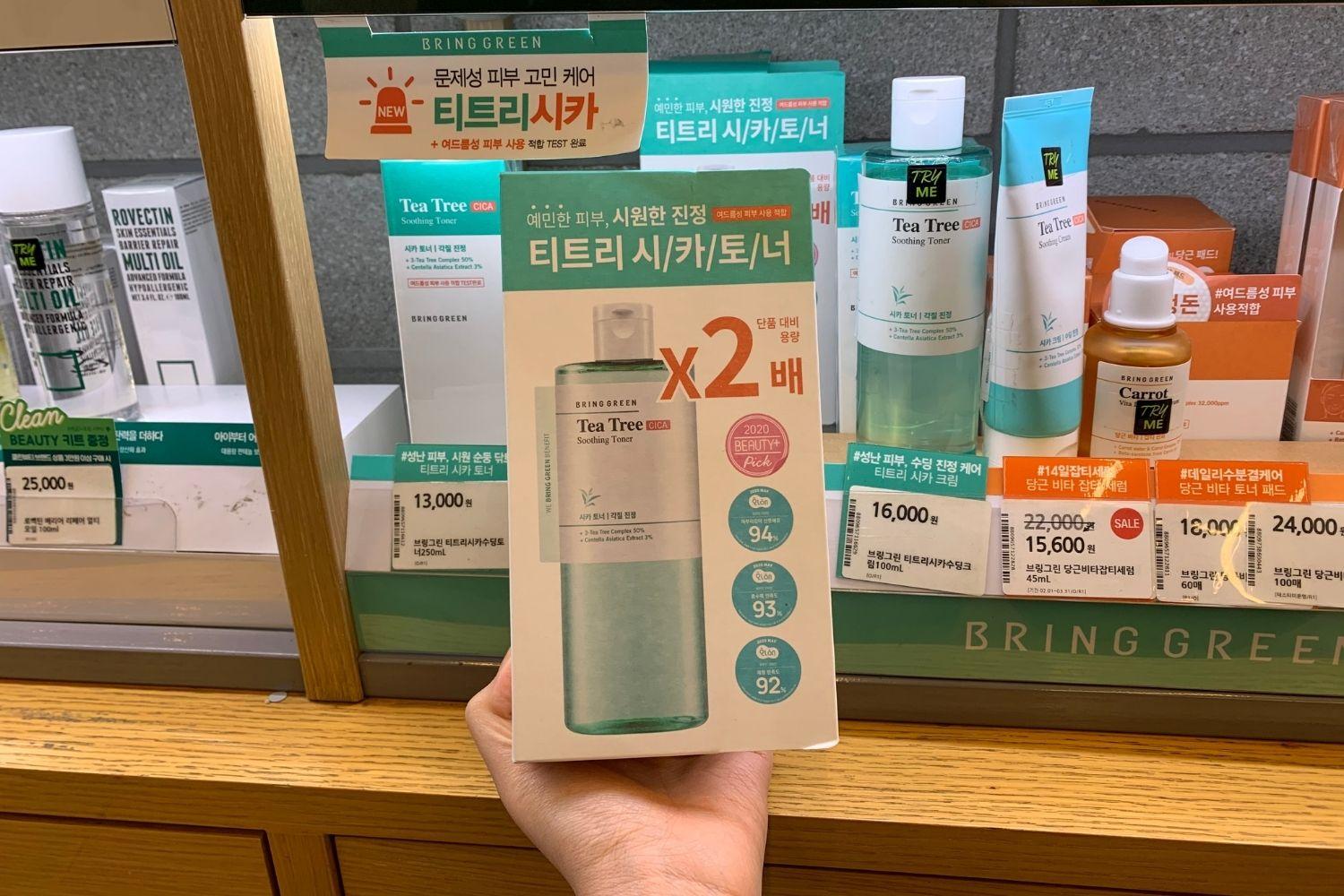 With its tea tree ingredients from Jeju Island + CICA, this toner solves a lot of acne problems. According to research, after 4 weeks the toner helps reduce 39% whiteheads, 38% blackheads, 27% reduction in sebum, and reduce oil secretion up to 30%.
The pH is also between 5.5 ~ 6.0 and has been proven safe for sensitive skin.
---
In addition to the 5 bottles above, I also found 2 giant toners that I wanted to include! The first is Instree Hyaluronic Acid Toner, priced at 29,000 won for a 400ml bottle.
It's fragrance-free for those that are sensitive to scent and has a gorgeous design for its list of ingredients. The texture is a bit thick, but it absorbs into the skin quickly and isn't sticky. It is suitable for sensitive skin!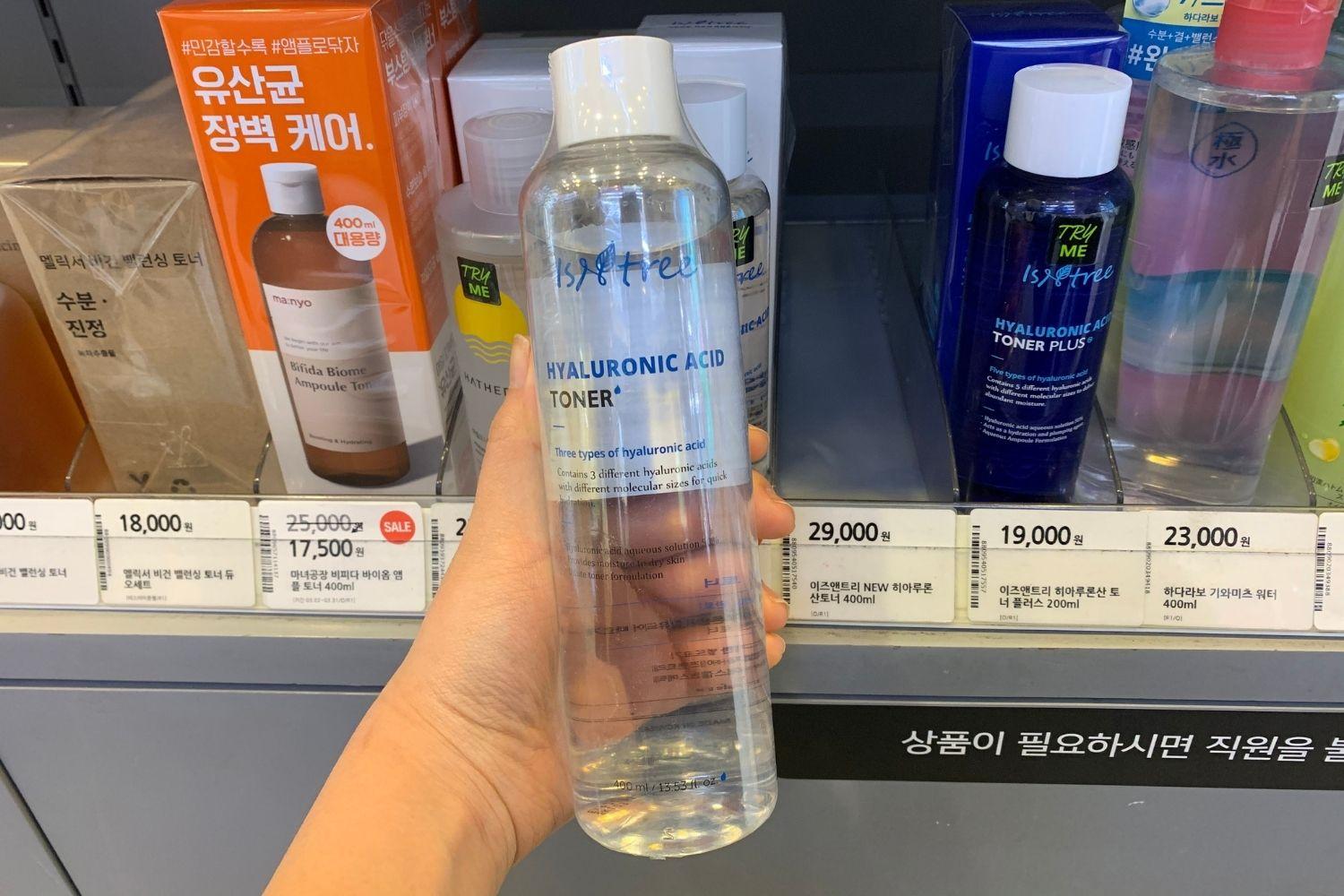 The next toner that caught my eye was the SHINGMULNARA Peppermint Refresh Toner because it comes in a giant bottle, and it's super affordable. A 500ml bottle is only 15,800 won!
This item also has some great reviews, and is made from natural ingredients such as chamomile, lavender and sage so it has a very pleasant scent. It also helps soothe pimples so anyone with acne-prone skin can try it out.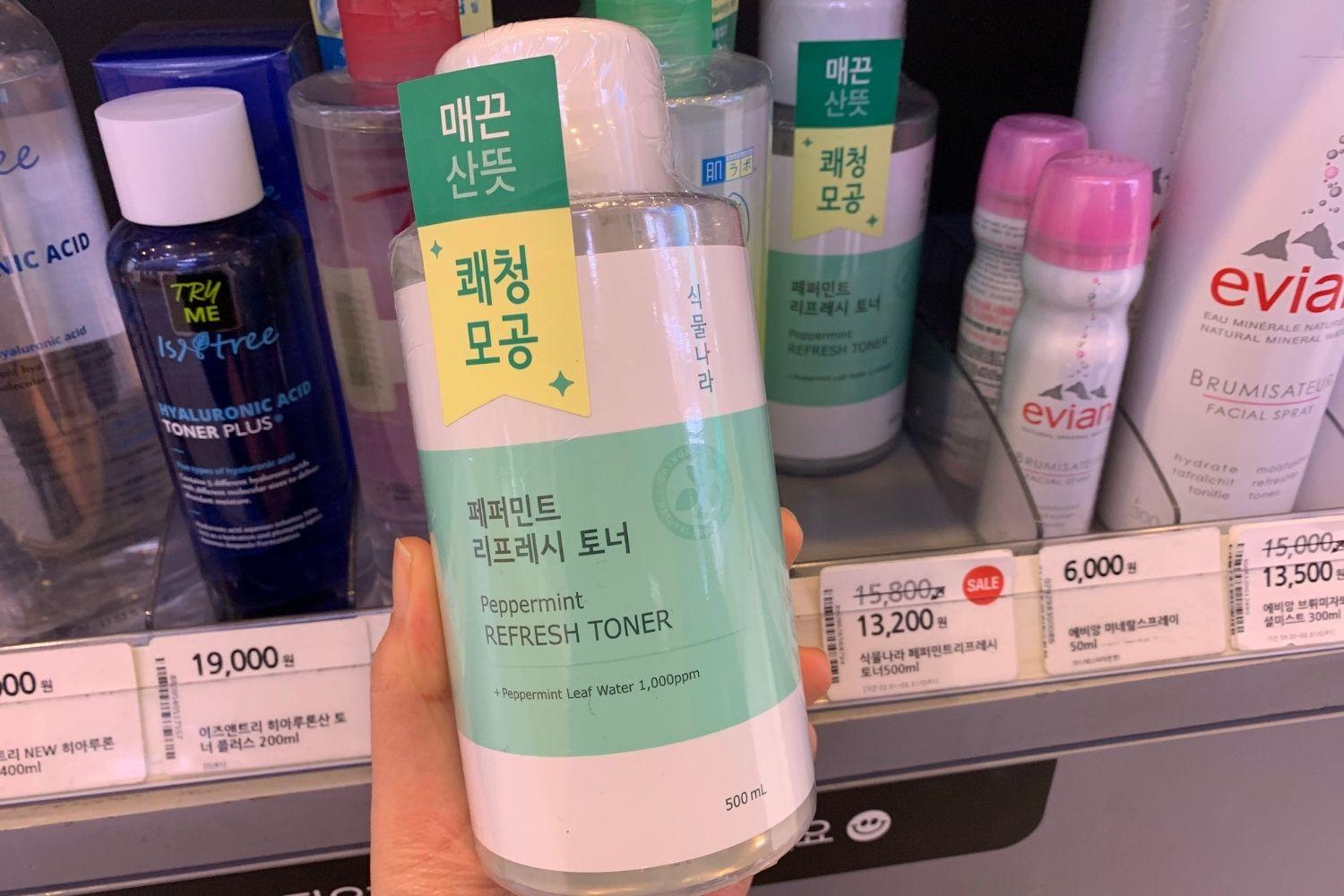 ---
If you are interested in buying any of the products, you can consult Creatrip's Korean Ordering Service! Click here to view some new hot items!
That's all the information we have for today regarding the various types of super-sized toners that are selling at Olive Young. We hope that this article has brought you some useful information. If you have any questions please feel free to leave a comment below.
---