BTS Season's Greetings 2021 Filming Locations
Lets Follow BTS On A Retro Tour Through Euljiro, Seoul!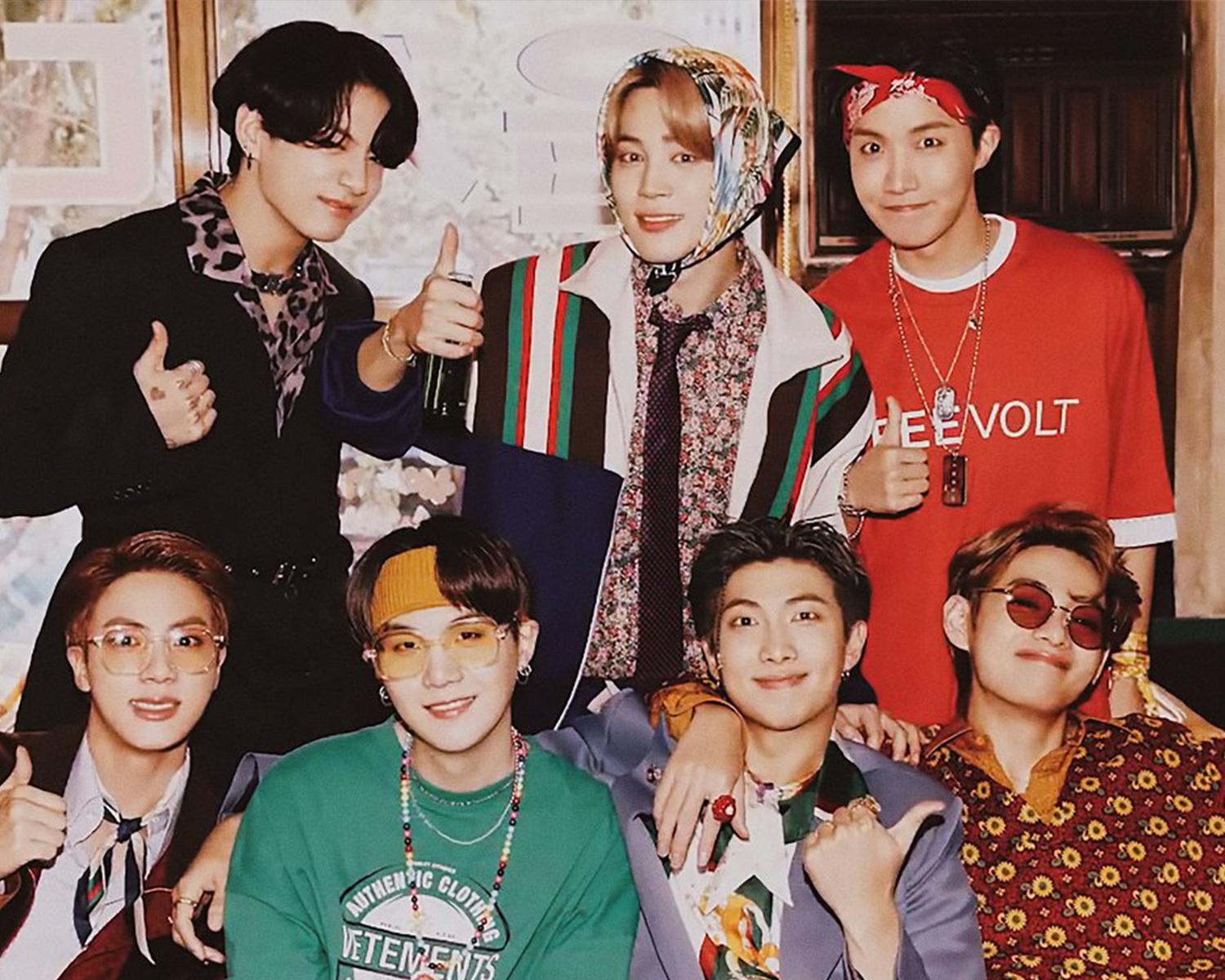 Have you seen the preview for BTS 2021 Season's Greetings released last November? As a fan and editor I definitely watched it.
But, as I was watching the video, I noticed a lot of familiar places. Turns out Season's Greetings was filmed in Euljiro which also happens to be where Creatrip is located!
I ran straight over to the filming sites to cover them for you all. 😃 Now I will introduce you all to the Euljiro and Jongro filming locations of BTS 2021 Season's Greetings!
---
Following Dynamite's disco concept, BTS Season's Greetings returns with a retro concept!
This concept was well-received by ARMY since it was different and entertaining. It was very fun to see the combination of the retro concept and the member's confident acting abilities.
Since some of the locations were not filmed in a studio, but old stores that fir the retro concept in Euljiro, we were able to directly visit them.
Many of these locations in Euljiro and Jongno are close in proximity (about 10minutes walking distance). So if you are looking for a good day trip in Seoul, consider the following places!
---
1. JEONJU JIB


전주집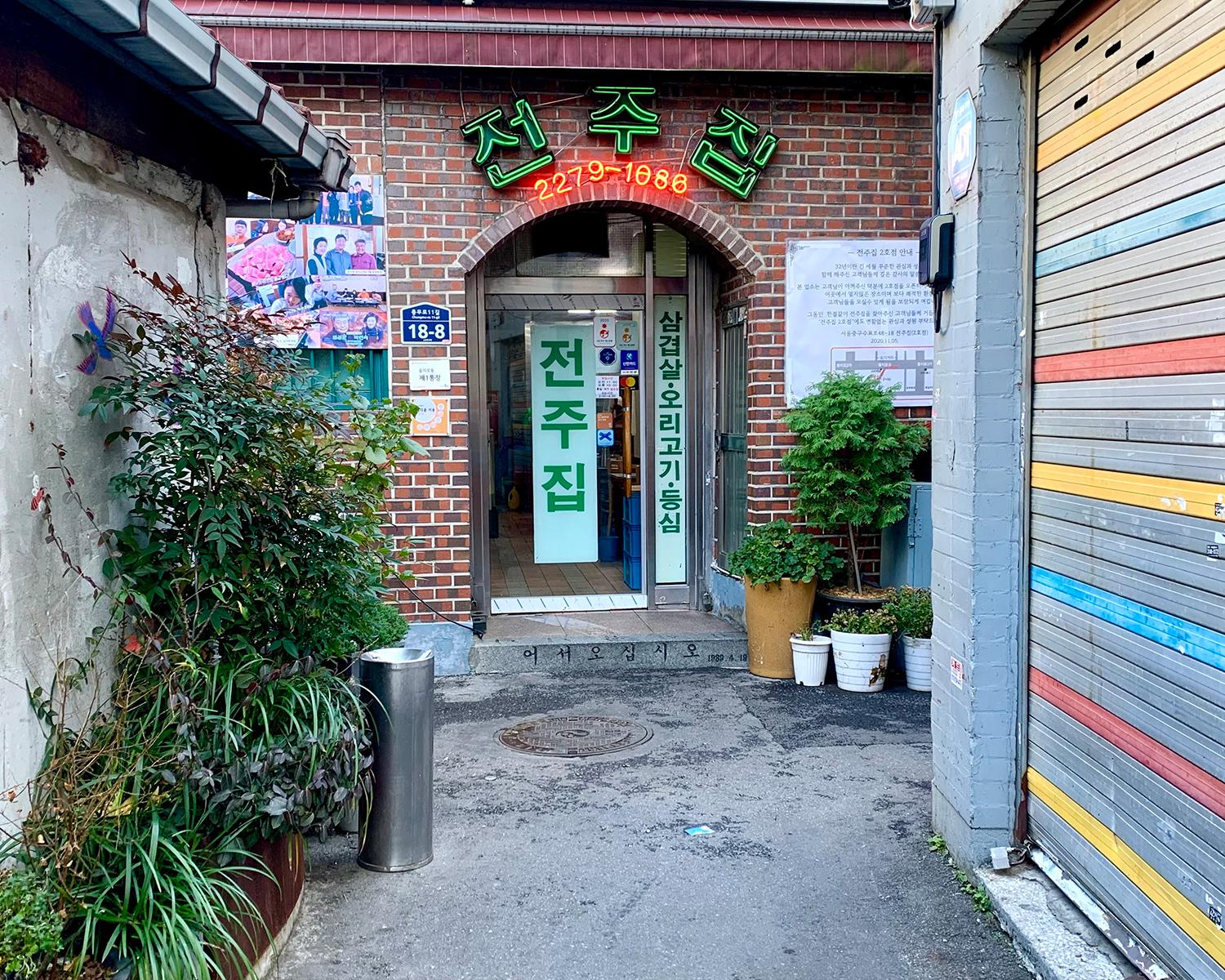 Jeonju Jib is a restaurant well- known for their frozen pork belly (samgyupsal) and duck meat!
This is where Jimin took his solo shots. It is now a rising photo hot spot amongst ARMY.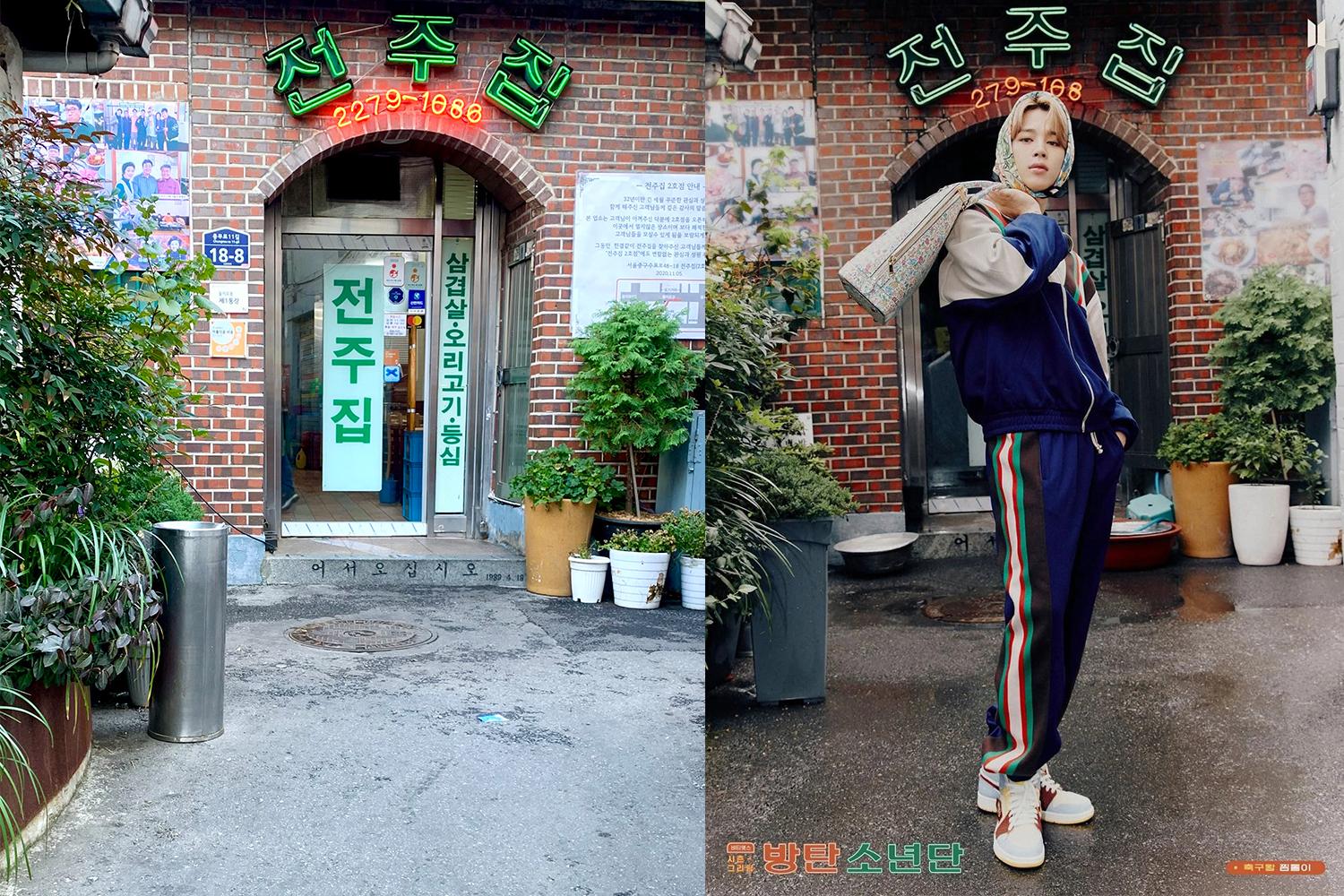 Also, in the preview video, Jungkook danced with a yellow umbrella in front of Jeonju Jib!
The neon sign that spells Jeonju Jib in Hangul, and the red brick walls add a retro atmosphere that is reminiscent of old Seoul.
Here you all can take cute and retro photos like Jimin and Jungkook!
Address: 서울 중구 충무로 11길 18-8
18-8 Chungmuro 11-gil, Jung-gu, Seoul
---
2. OBOK & CHANGHWA


오복식당 & 창화루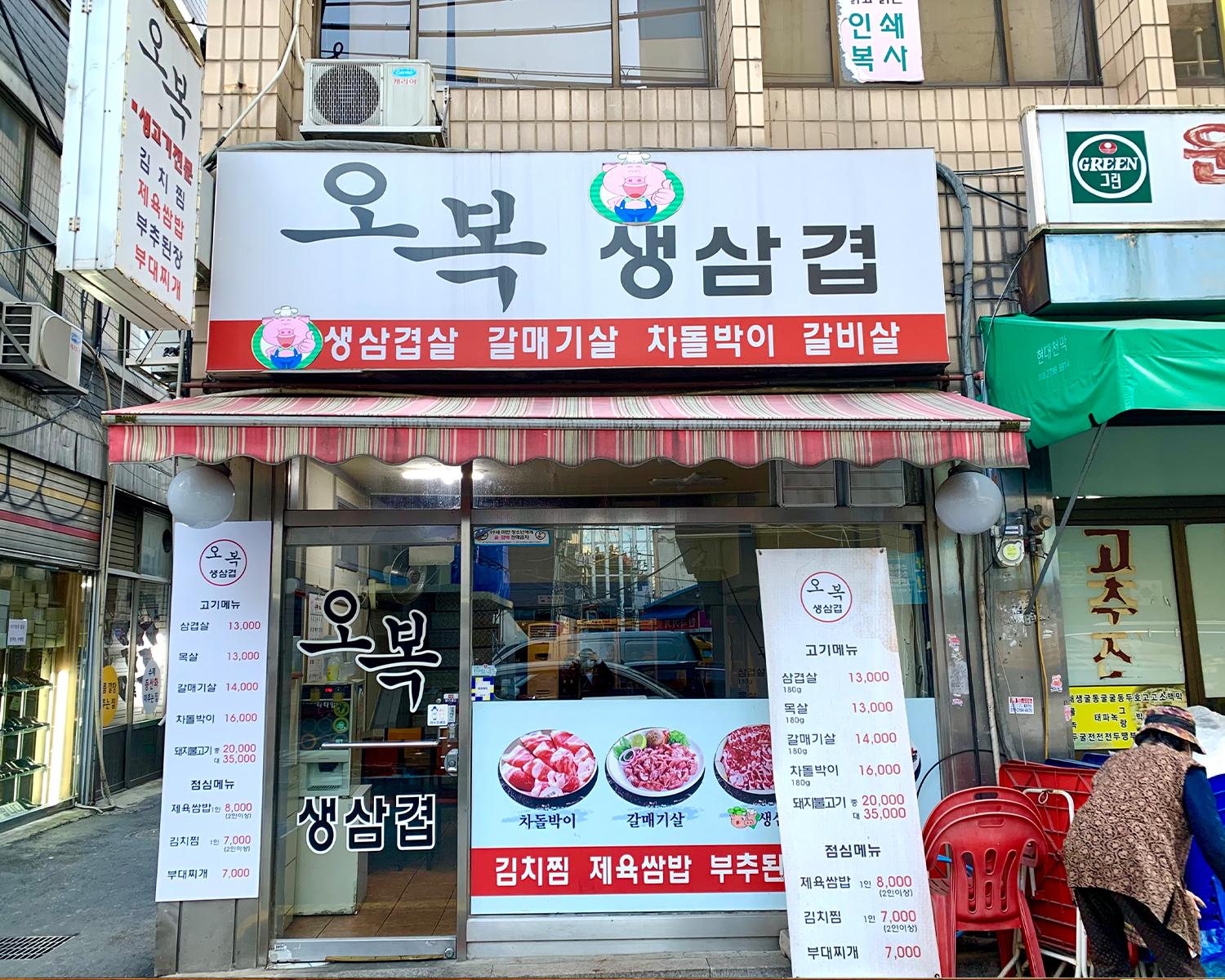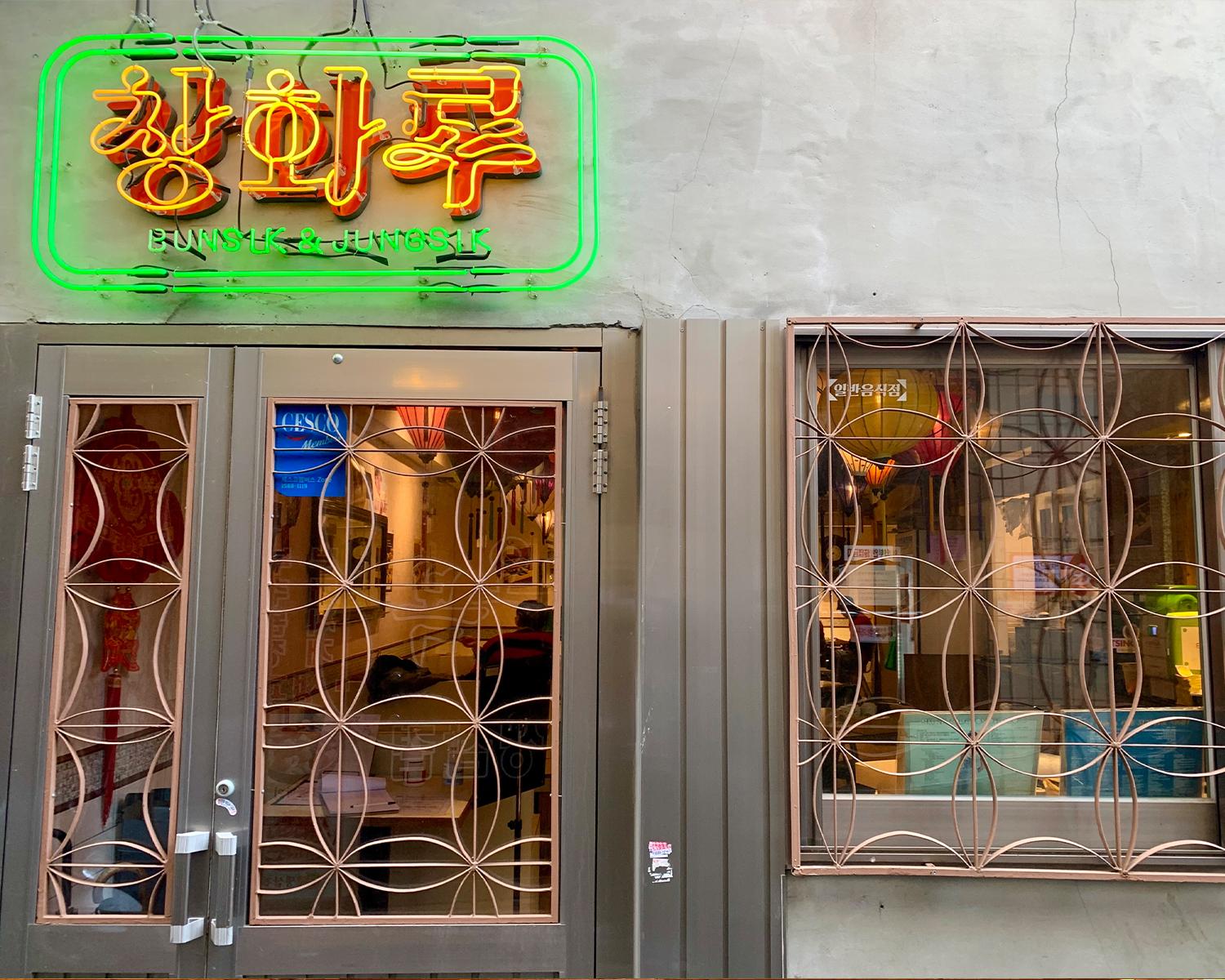 These restaurants are in the same alley as Jeonju Jib, just turn your head and you will find them!
Obok (오복식당) and Changhwa (창화루) are a pork belly restaurant, and Chinese restaurant, respectively! This is where Jungkook took his solo shots.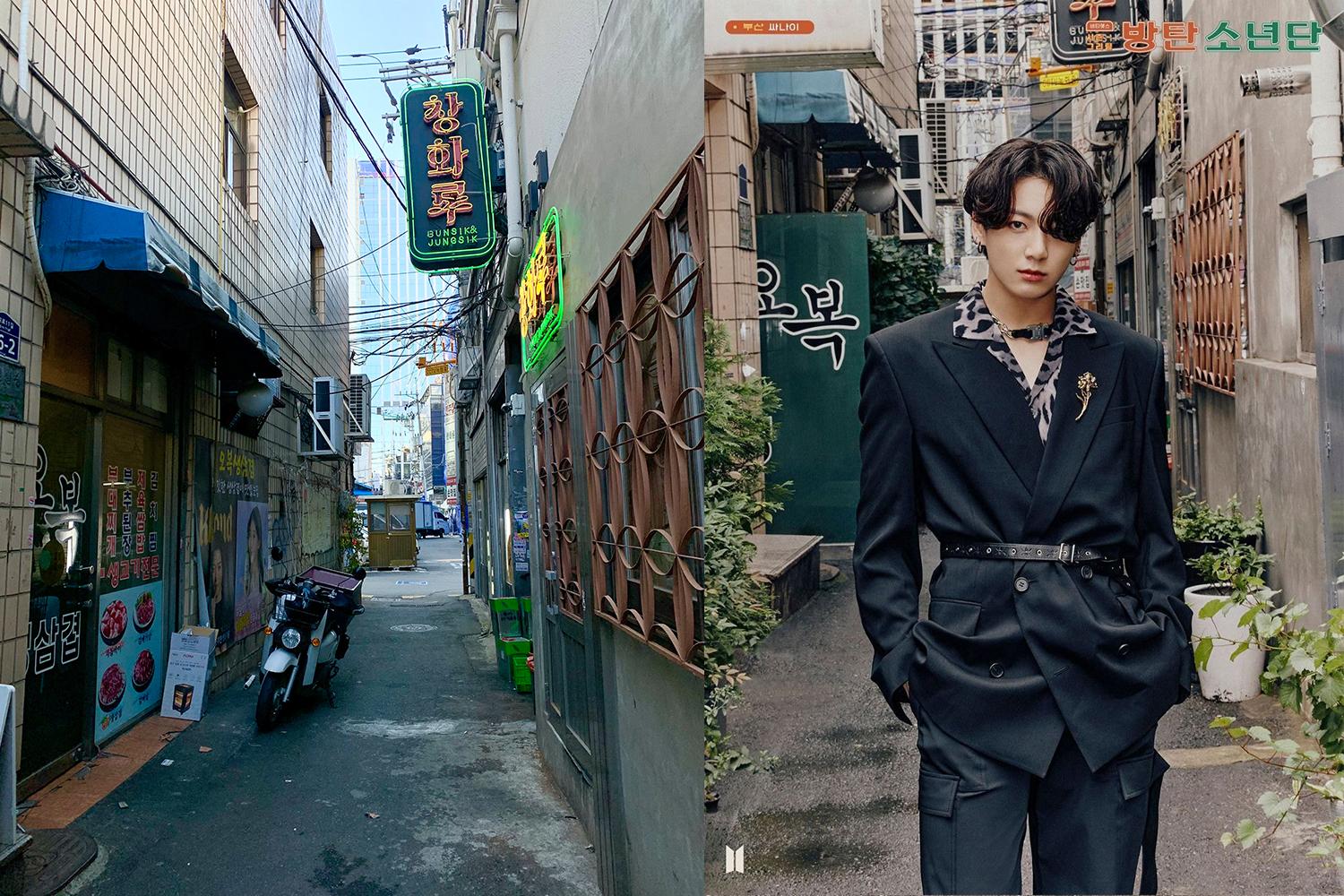 Behind Jungkook you can see the glass door with the writing '오복', and a bit of Changhwa's neon sign!
We knew the secret behind this photo...! The glass door originally says '오복 생삼겹' which means Obok, raw pork belly.
But in Jungkook's photo it is just written as '오복' (Obok), considering Jungkook's charismatic vibe we think raw pork belly ('생삼겹') was erased.
Address: 서울 중구 을지로 11길 26-2 1F
26-2 Euljiro 11-gil, Jung-gu, Seoul
---
3. DAEJI RESTAURANT & O KAGURA


대지식당 & 오카구라 라멘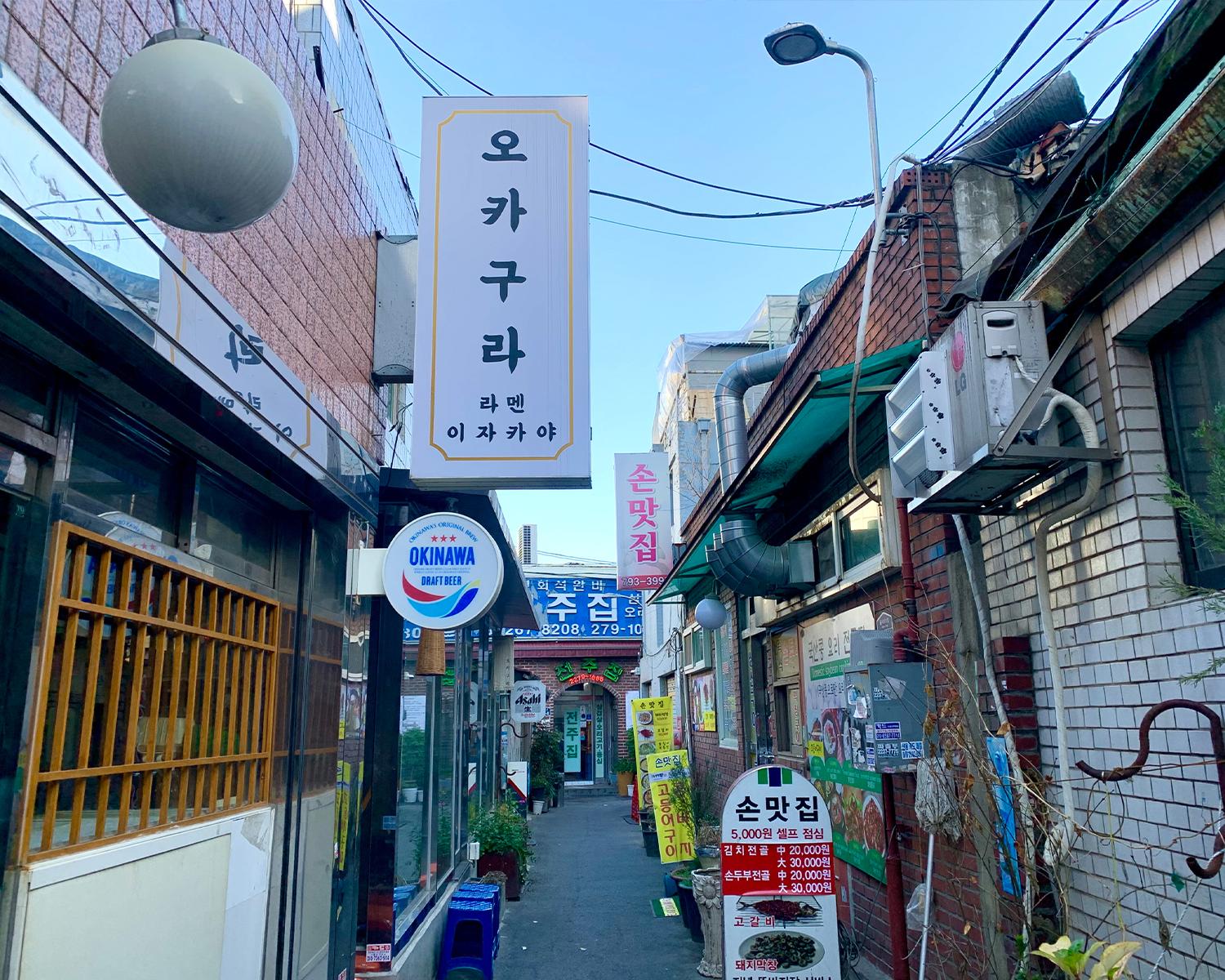 The third spots, Daeji Restaurant (대지식당) and O Kagura (오카구라 라멘), are located in the same alley as the previous two. So it is easy to find these locations!
These two places are a Korean restaurant and Izakaya, respectively.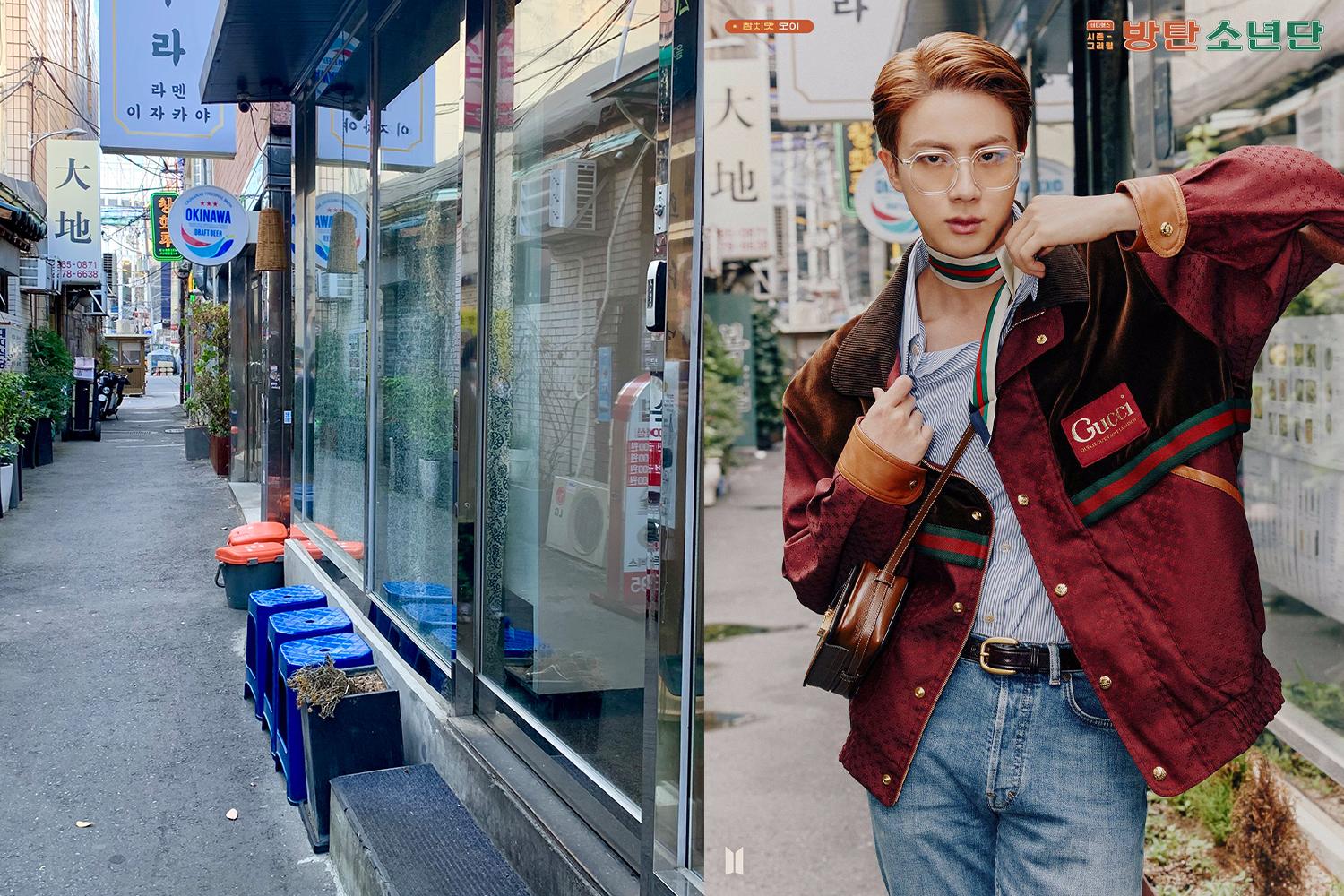 Jin took his solo shots in with the signs of O Kagura (오카구라 라멘) and Daeji Restaurant (대지식당) in the background.
Since these locations do not have bright neon lights in the background, I wondered why they filmed here.
But after seeing this picture of Jin, I am wondering if the reason they did not have a flashy background is because Jin's face and vibe is already bright enough...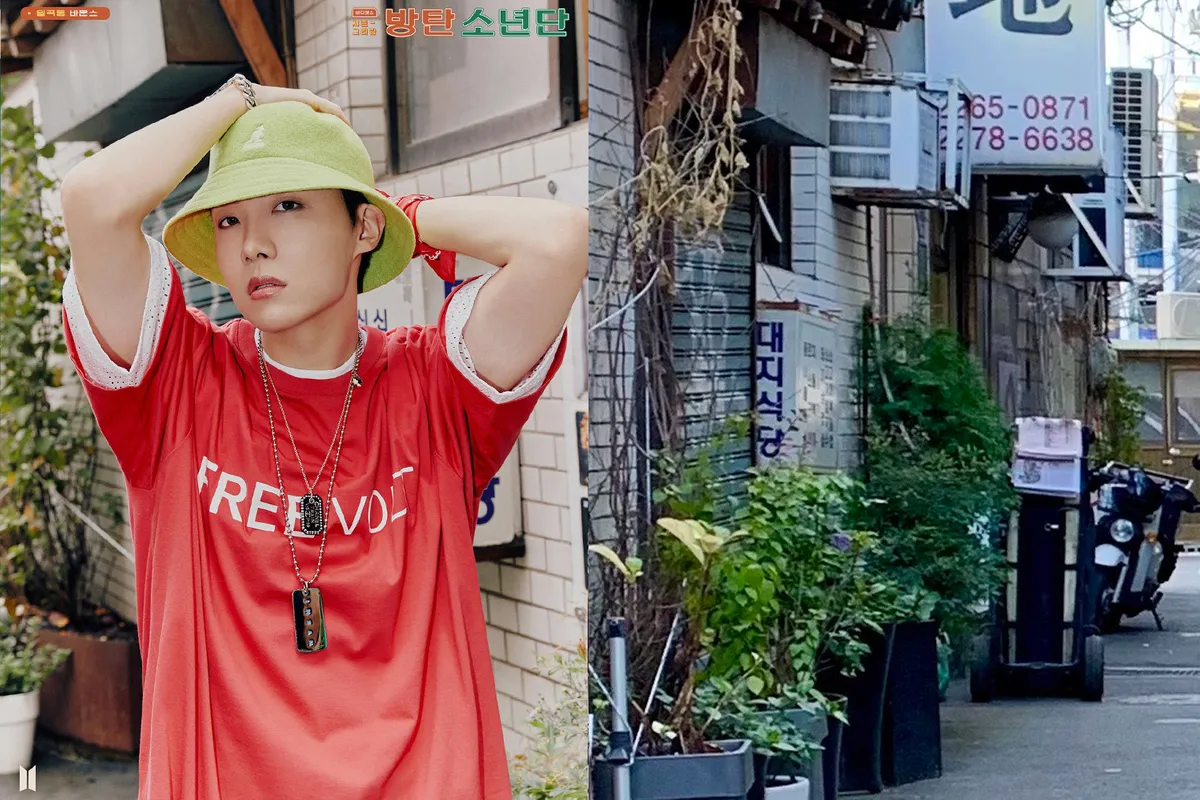 This alley is like a buy 1 get 1 free deal because J-Hope also took his photos here!
Look very closely once you get in the alley and you'll be able to find the exact spot.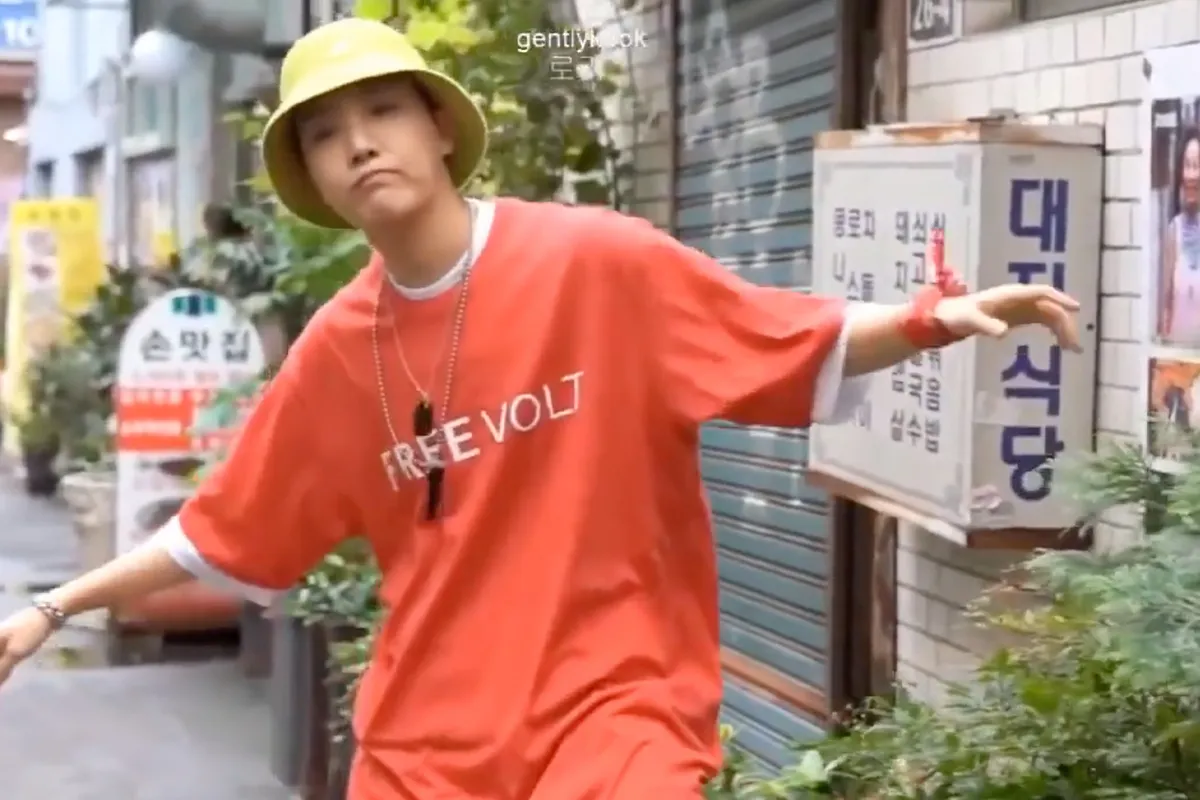 YouTube @vantekim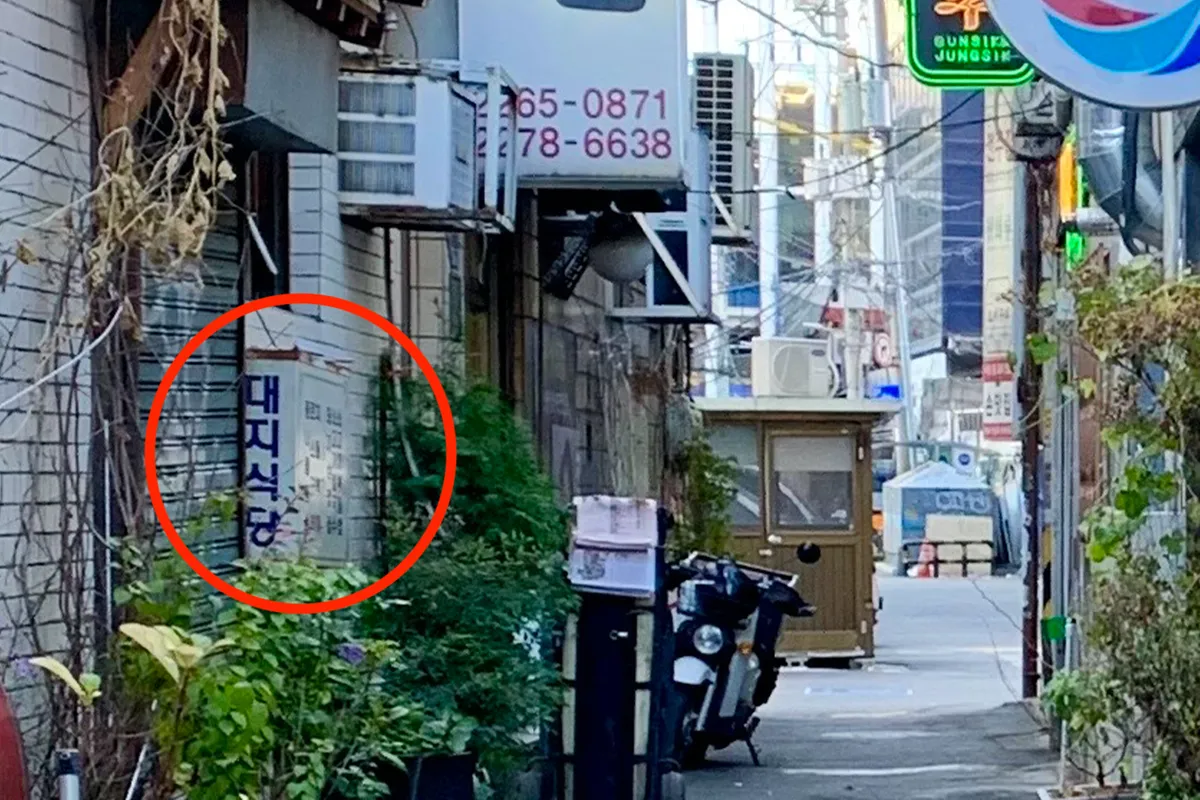 The reason we said it's difficult to find only based on the photo is because J-Hope hid the noticeable sign with his handsomeness. Look for the sign that we circled in the picture above, that's the place!
Address: 서울 중구 을지로 11길 26-4 대지식당
26-4 Euljiro 11-gil, Jung-gu, Seoul
---
4. EULJI DABANG


을지다방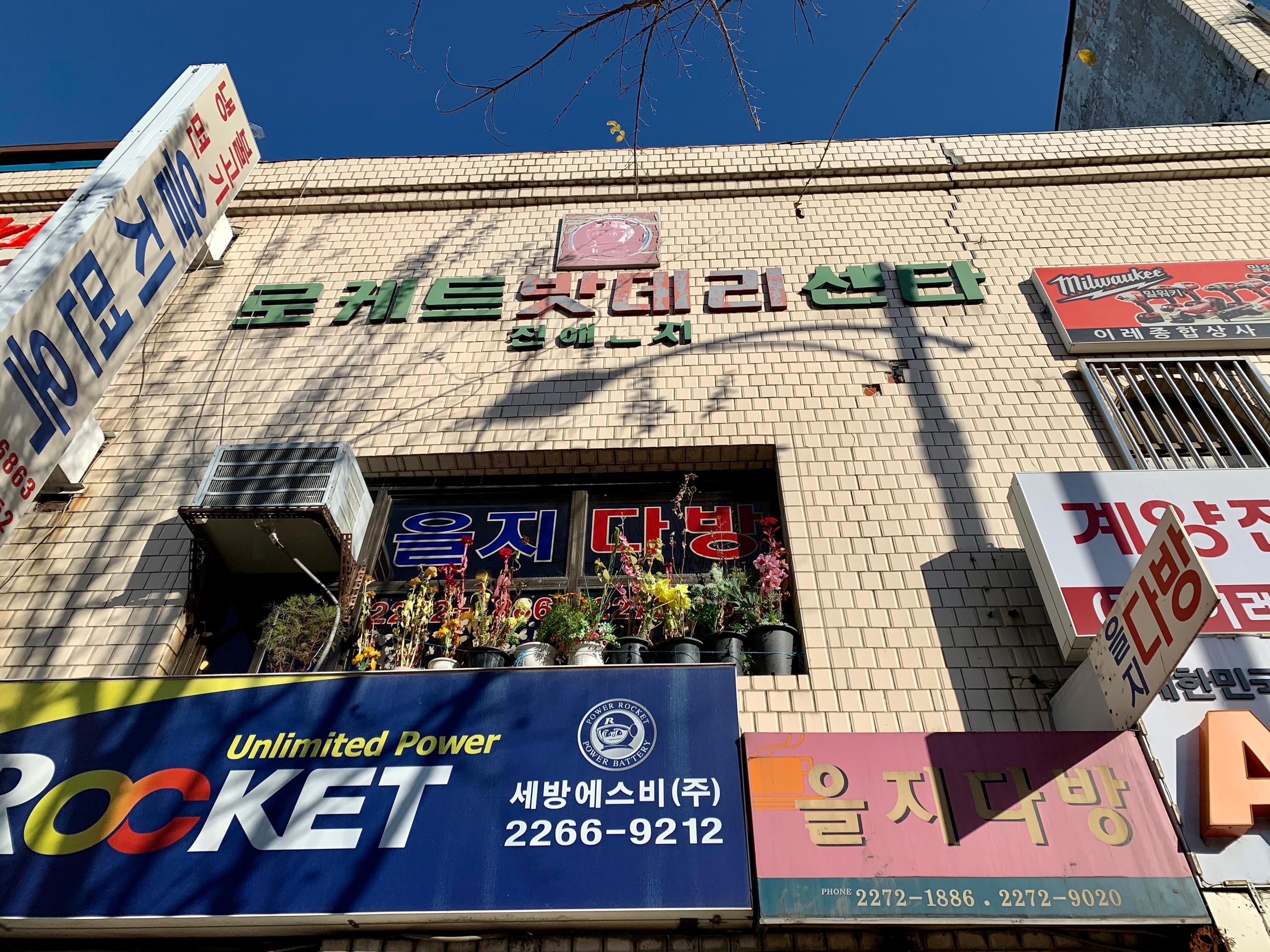 Eulji Dabang (을지다방) is a old cafe that has been in business since 1980! A group shot of BTS and V's solo shots were taken here.
Eulji Dabang was always a more traditional place, but since the filming of BTS Season's Greetings, lots of young people have come to enjoy visited this traditional spot!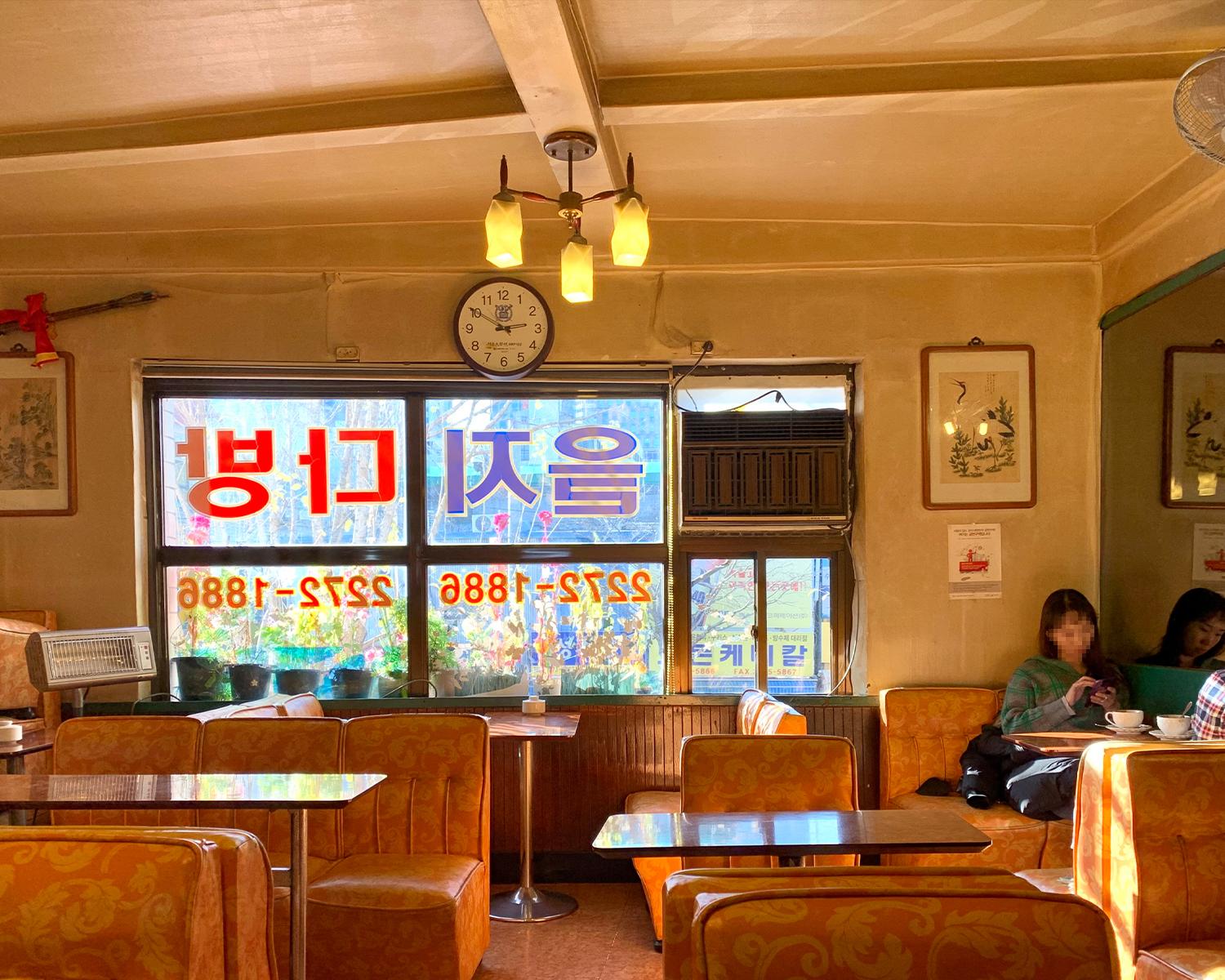 The atmosphere of a 1980s Korean cafe is perfectly captured at Eulji Dabang!
Since there are PLENTY of pretty and new cafes, we expected the place to be fairly empty. However there were lots of people even in the morning.
Up until recently, it was thought that places like Dabang (다방) were for older people. Eulji Dabang has become a hot spot among ARMY due to the influence of BTS.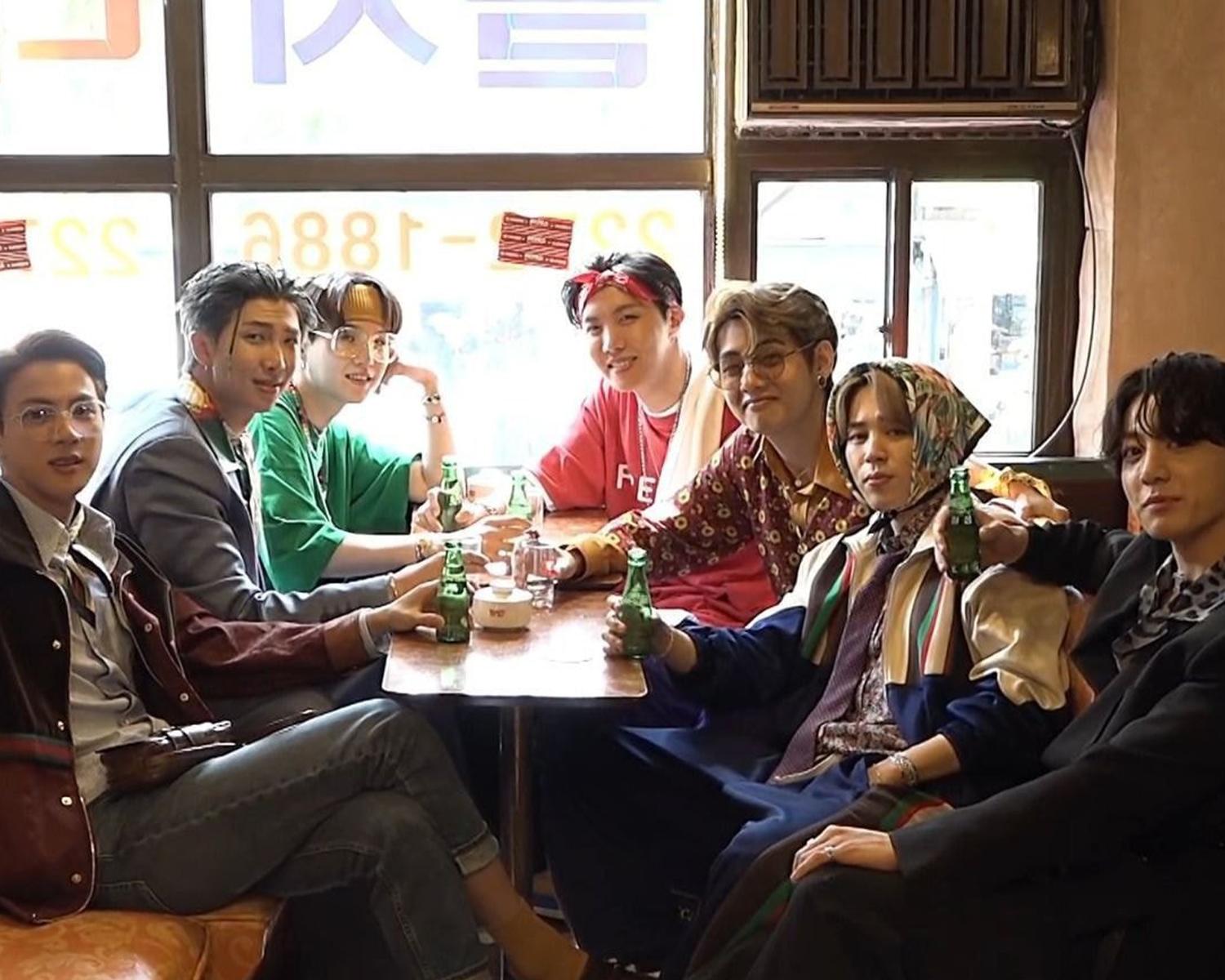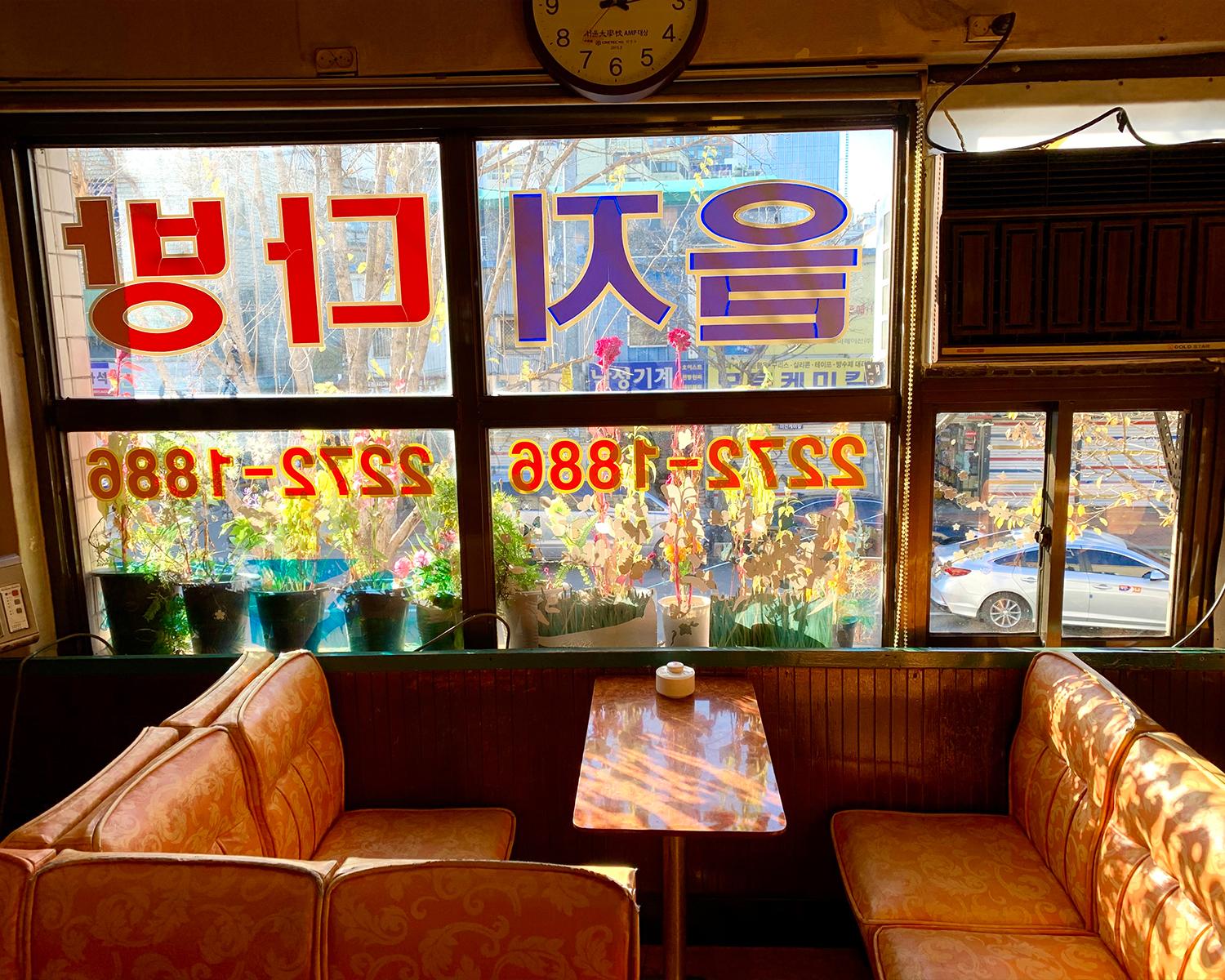 This is the exact spot members of BTS sat in their group photos. You have to take picture here!
But since Eulji Dabang is not big and there were a lot of customers, we were not permitted to take concept photos!
Instead, it would be cute to take pictures with BTS goods or photos as proof of visiting
While you are here, it's only natural to eat right? Since I need to represent Eulji Dabang, I ordered the Sswanghwa tea like what V drank in the preview!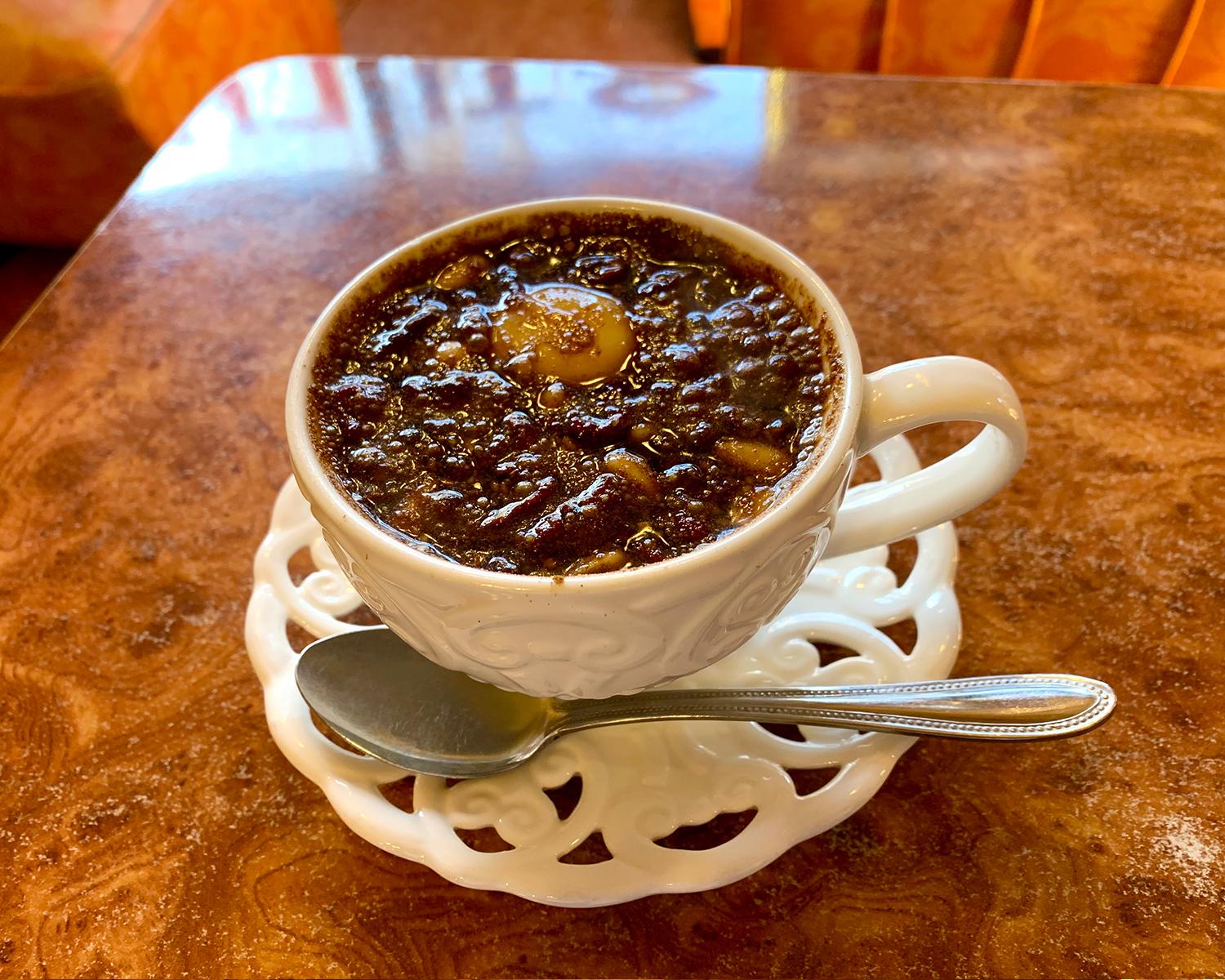 Ssanghwa tea (5,000 KRW) is an herbal medicine made of ingredients like milkvetch, cinnamon and licorice ground into a powder, combined with hot water, jujubes, and/or pine nuts, and an egg yolk on top.
It relieves of any tiredness by making your body warm.
I asked the owner how to eat it, and they recommended that I scoop the warm tea onto the top of the yolk.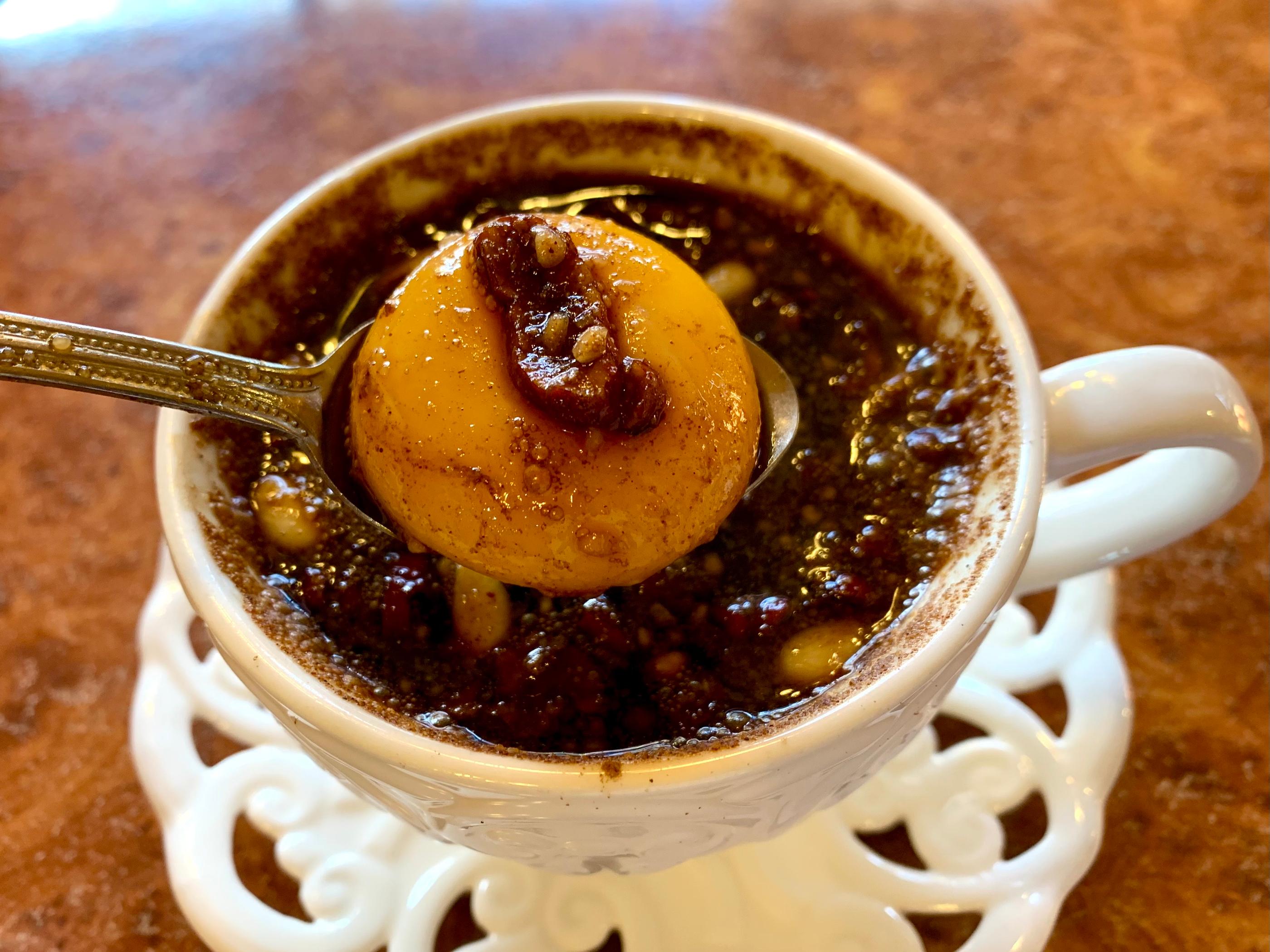 This way, when the egg yolk is slightly cooked, you can eat it in one spoonful.
It was my first time trying sswanghwa tea so I was expecting it to be greasy, but it was actually warm, savory, and delicious as it spread throughout my mouth!
Address: 서울 중구 충무로 72-1
72-1 Chungmy-ro, Jung-gu, Seoul
---
5. WONJO HAMHEUNG NAENGMYEON


원조함흥냉면본관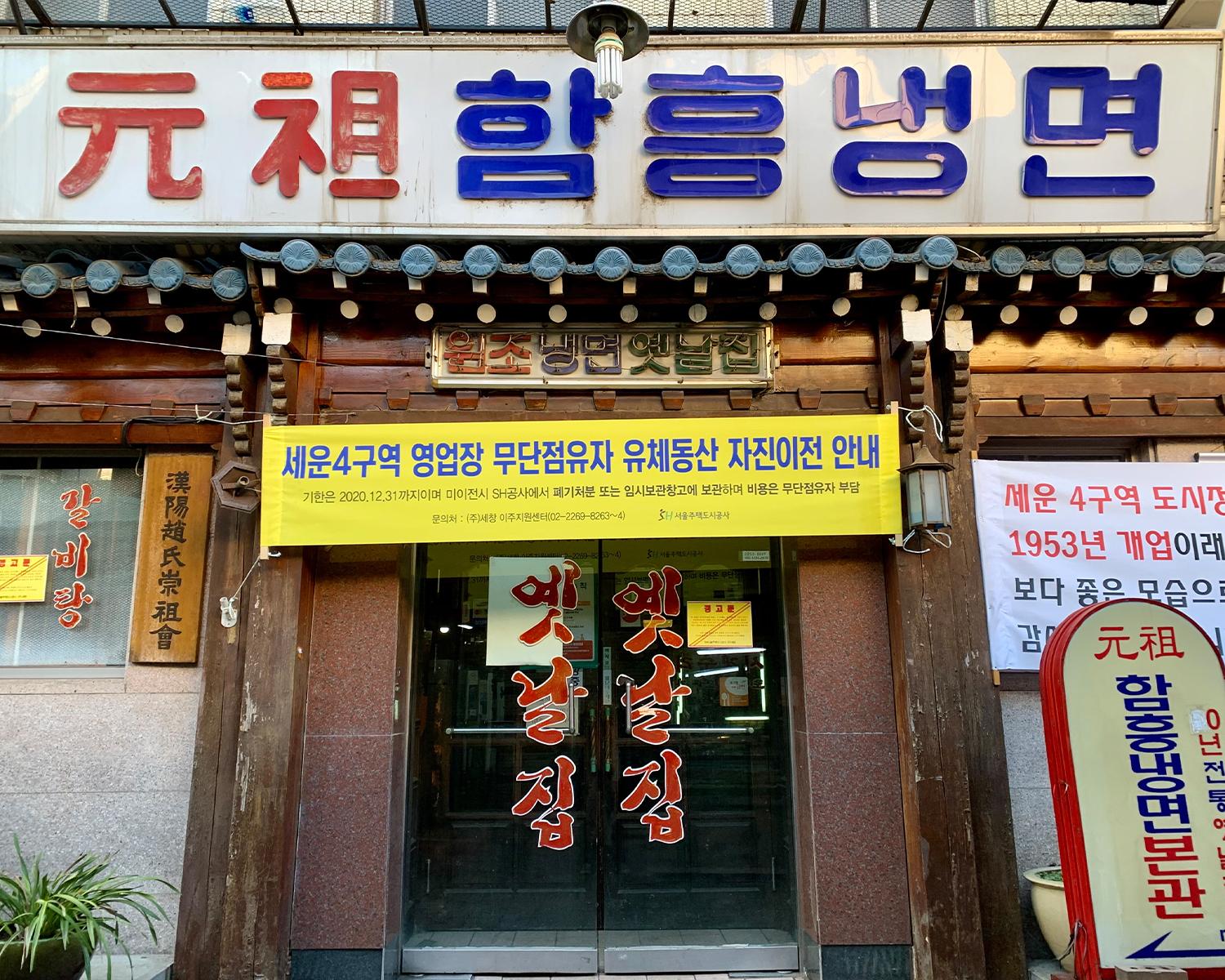 Wonjo Hamheung Naengmyeon (원조함흥냉면본관) is where V took his solo shots.
Unfortunately, this alley is scheduled to be redeveloped so when I went there was a sign announcing it's relocation.
So it seems like they are not in business, but like the previously suggested places, Wonjo Hamheung Naengmyeon has a long history since it started in 1953.
It is a shame that it will be hard to see these places in the future!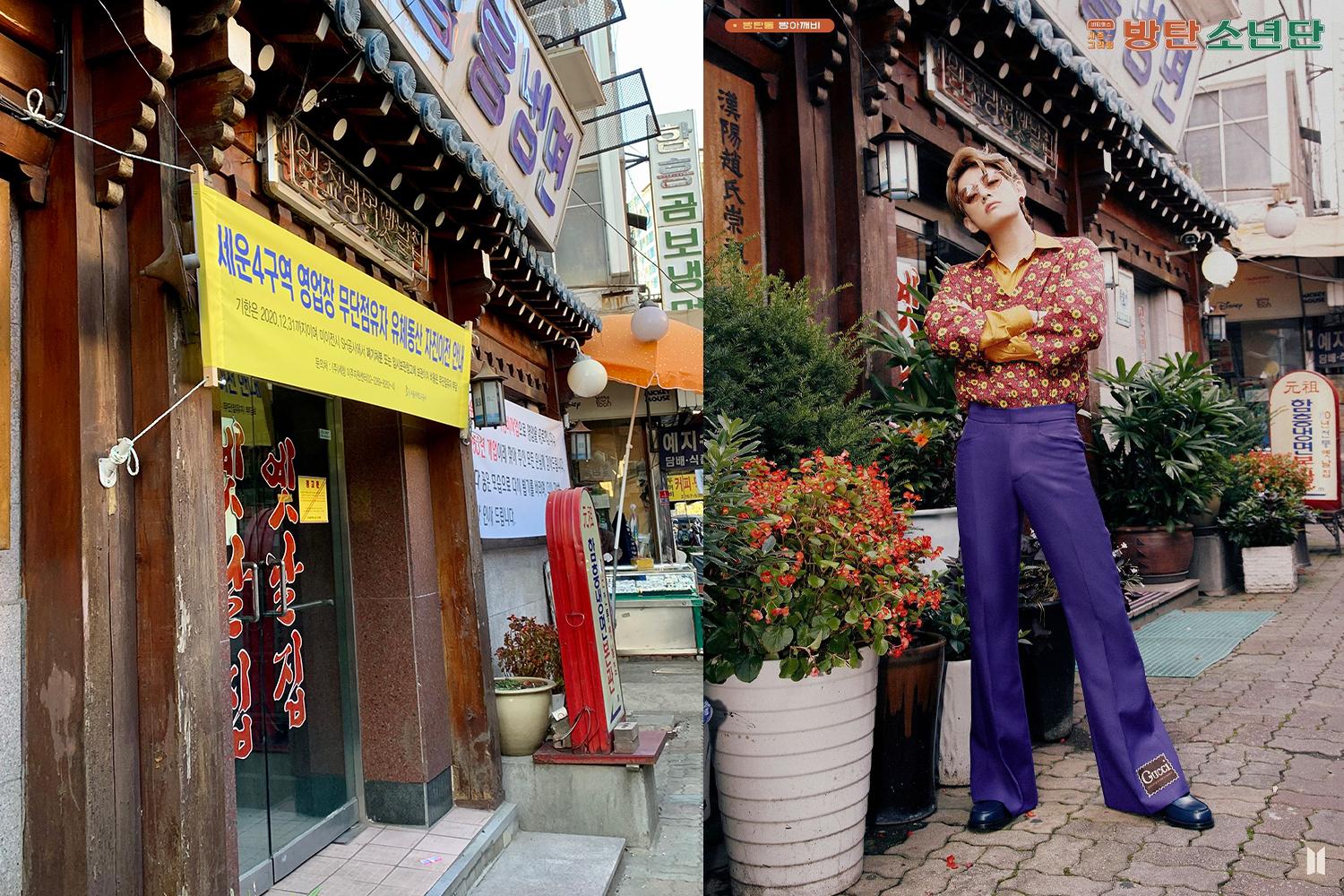 While filming this location was decorated, so V, combined with the flower pots, and hanok vibes makes for a very handsome picture.
Address: 서울 중로구 창경궁로 13길 16
16 Changgyeonggung-ro 13-gil, Jongno-gu, Seoul
---
6. DAEWON YANGHAENG


대원양행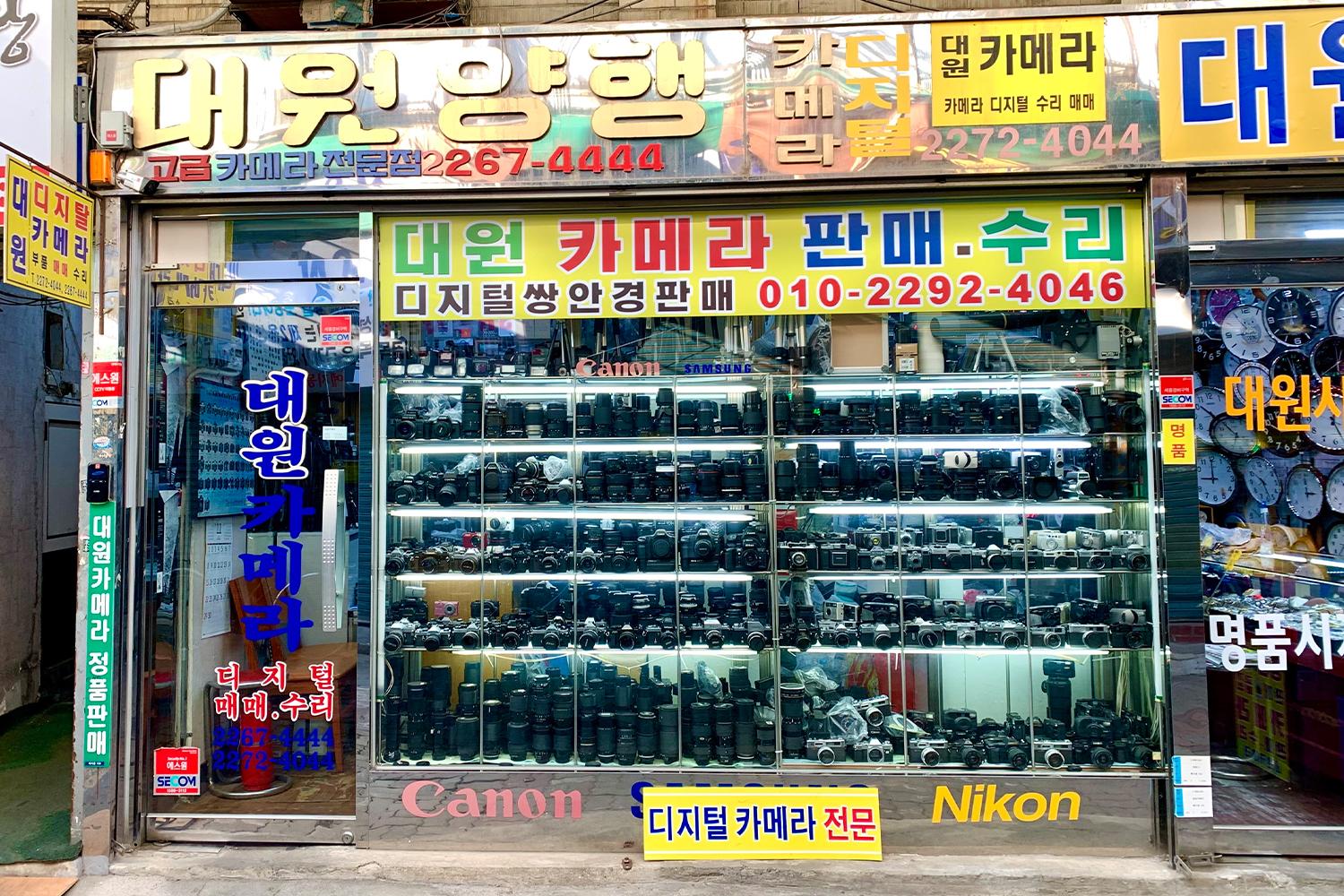 This location is where RM took his solo shots!
At a first glance, the well displayed camera lenses and a sign that reads '디지털 카메라 전문' (Digital Camera Professional), is a space that gives off a unique and retro atmosphere.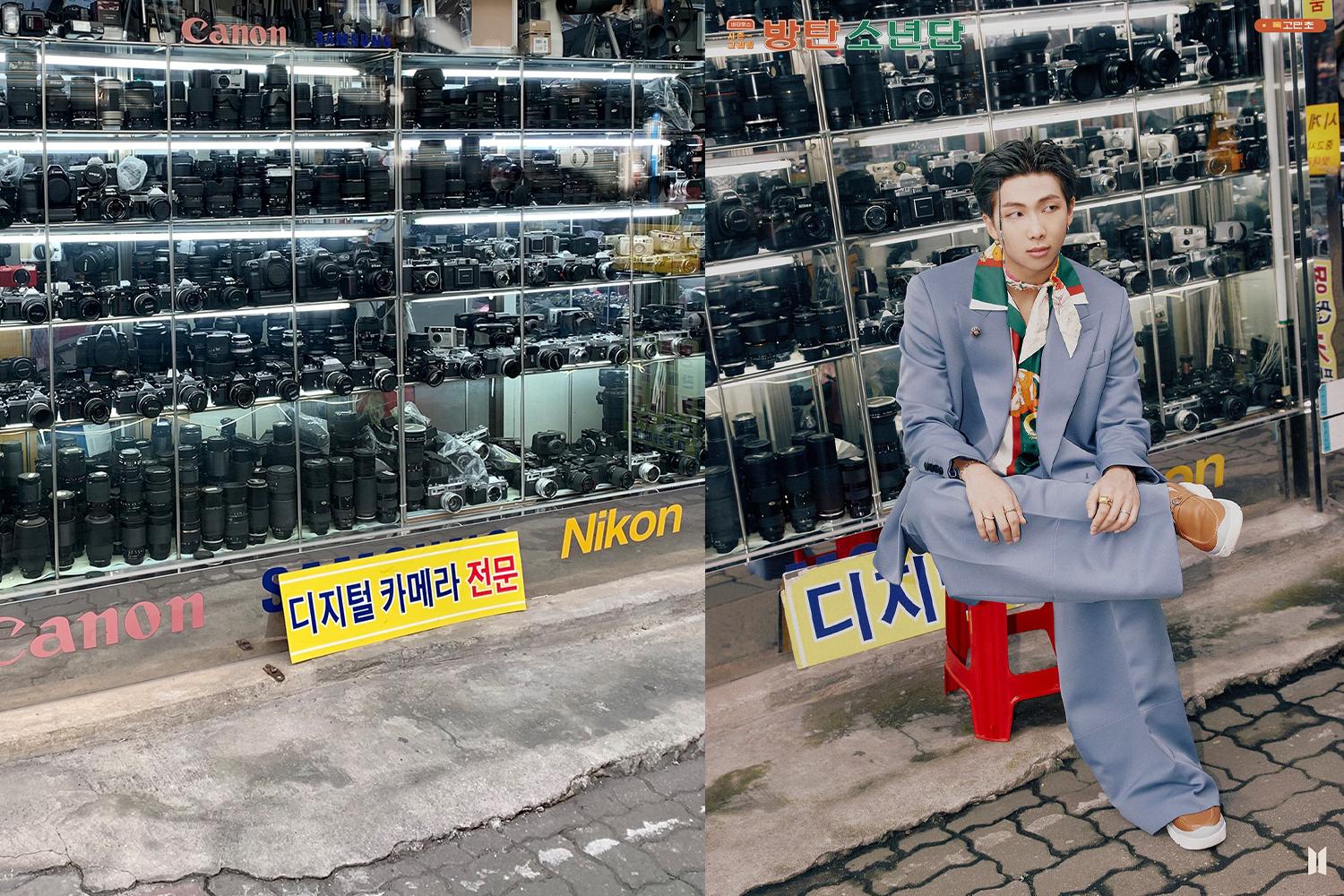 I was stunned at RM's pose sitting on the red plastic stool here.
The stool is not there anymore, but what do you all think about pretending to sit here like RM and taking a picture?
Address: 서울 종로구 창경궁로 13길 26
26 Changgyeonggung-ro 13-gil, Jongno-gu, Seoul
---
7. JEIL PRECIOUS METALS TOWN


제일귀금속타운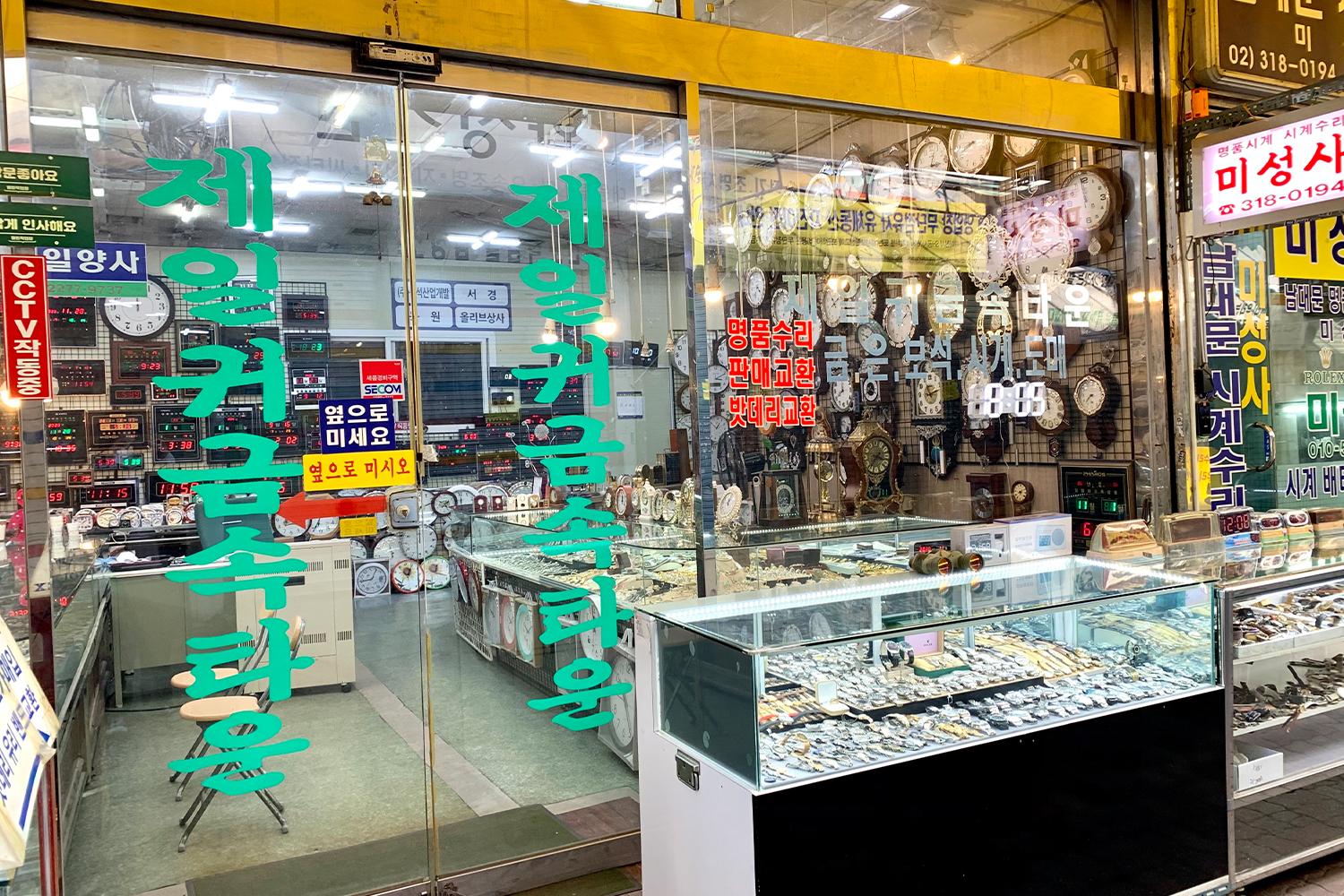 The last spot is Jeil Precious Metals Town (제일귀금속타운)!
This is a store that sells jewelry, clocks, watches, etc. It is also where RM filmed his character introduction, and SUGA's solo shots were taken here.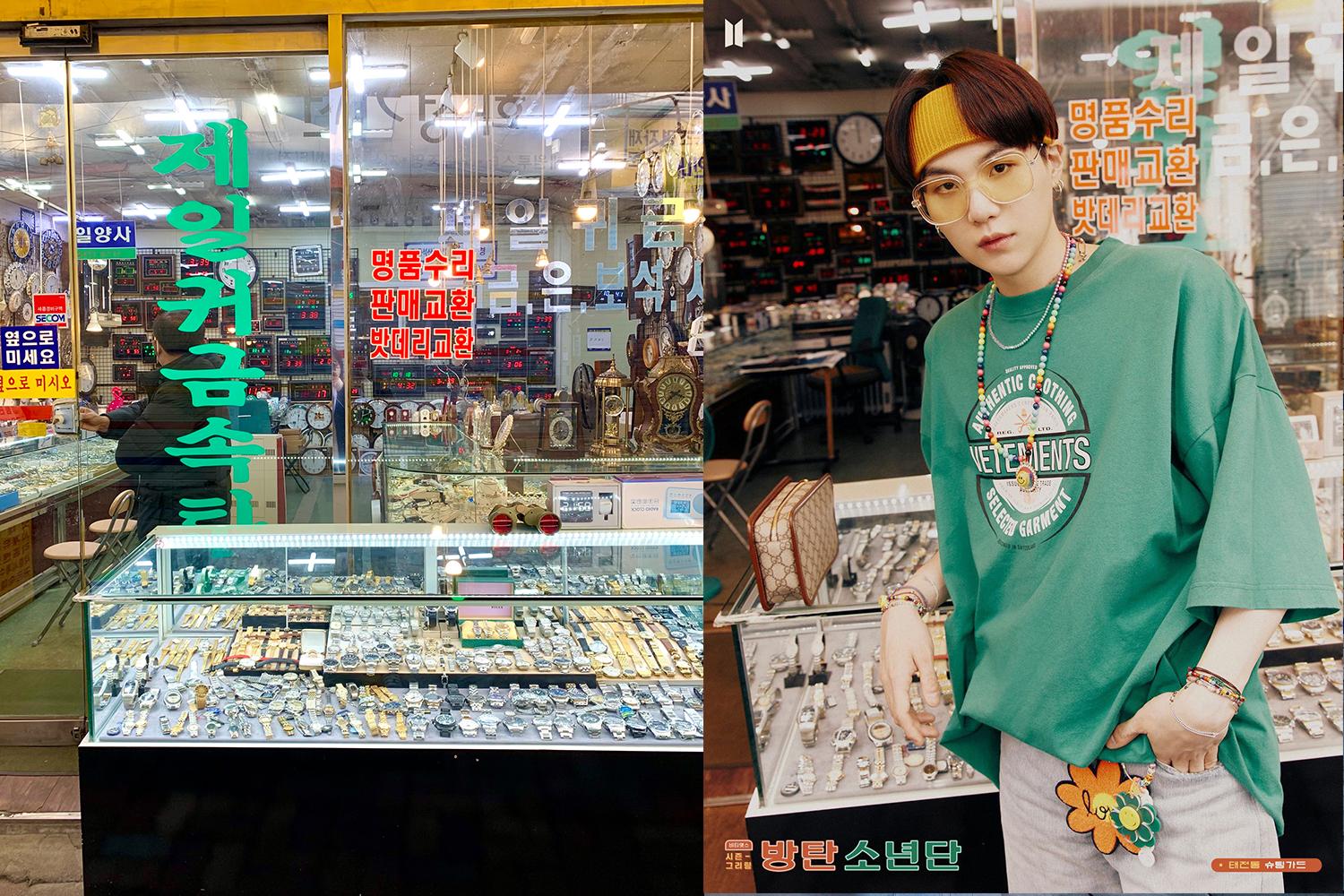 The watch display case that is outside the store is the same case that SUGA placed his arm on in his picture!
The flashy watches inside the display case, digital clocks in the background, and SUGA's cute retro style makes for an even better picture.
This is also where RM filmed his introduction as Dokgo Mincho (독고민초) introduction for the preview!
An old and retro vibes, with lots of clocks, and even a mint colored fan!
Very fitting for RM (독고민초)
Address: 서울 종로구 창경궁 13길 30
30 Changgyeonggung-ro 13-gil, Jongno-gu, Seoul
---
That's it for BTS 2021 Season's Greetings filming locations!
All the locations are in the same area or alley, so it's great to go and take pictures.
Everyone can go to these locations in Euljiro and Jongno with BTS goods, and photos to recreate the member's pictures!
---