What To Get From Lotte Mart
Instant ramen and snacks galore! 50 things that you need to get from Lotte Mart!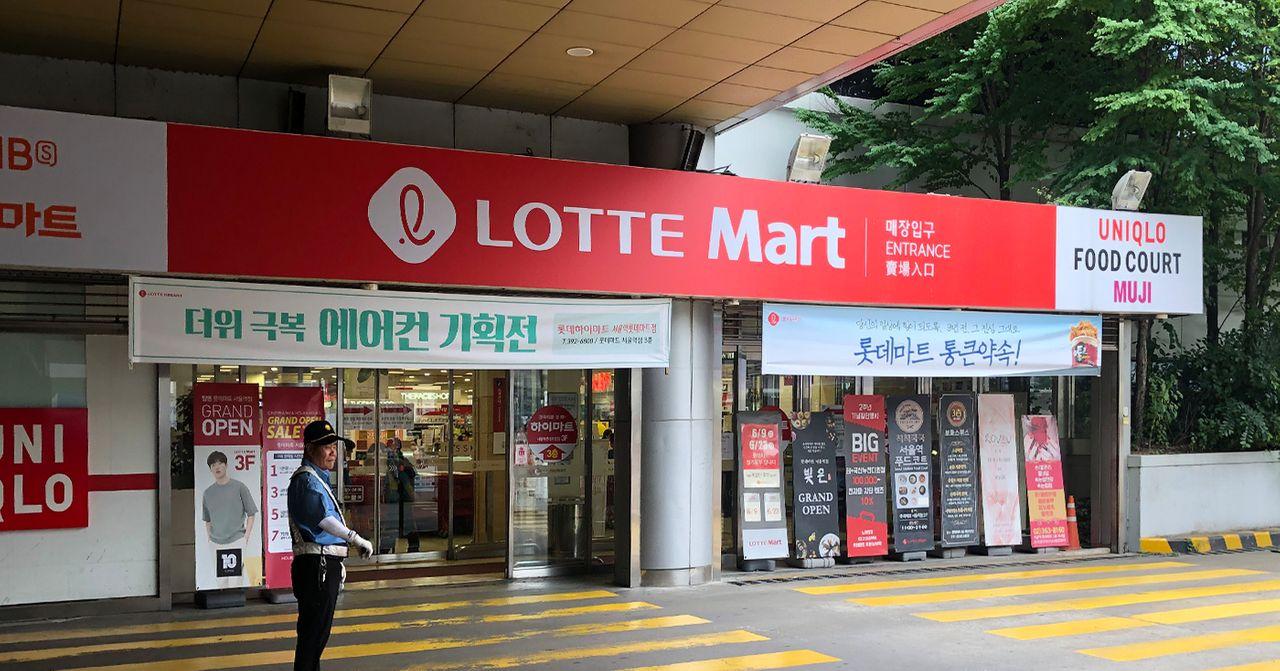 Hello, everyone! We are Creatrip, a group of travel experts.
Korea travel tips and tricks brought to you by Korean locals.
You need to squeeze in a trip to a Korean mart into your itinerary.
But what should you really get out of the thousands of things there?
This post is here to help you out if you're feeling overwhelmed.
---
What To Get From Lotte Mart
1. Cham Boongeubbang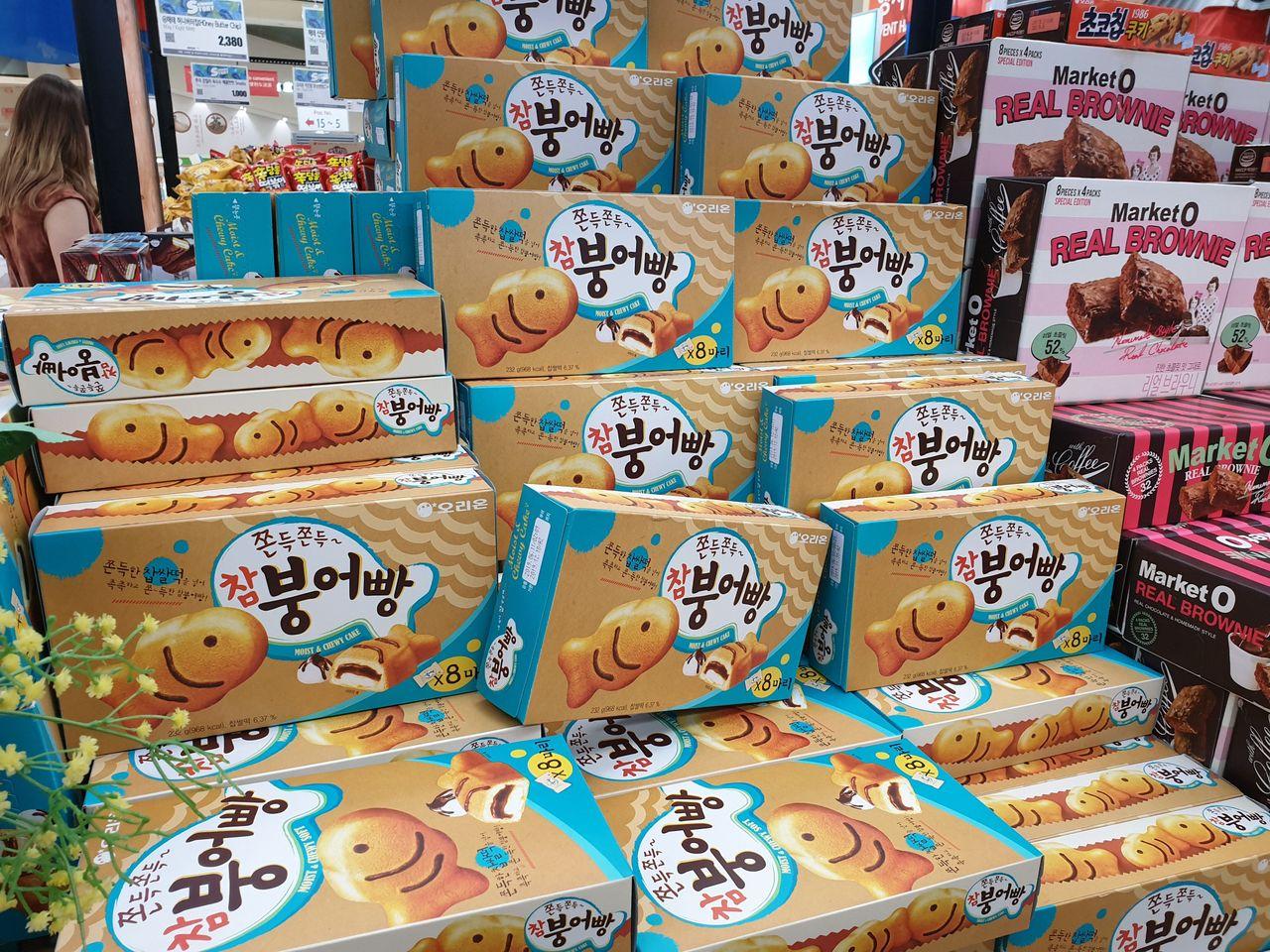 A super interesting snack that's a break with rice cakes inside. Chewy and delicious.
---
2. Marekt O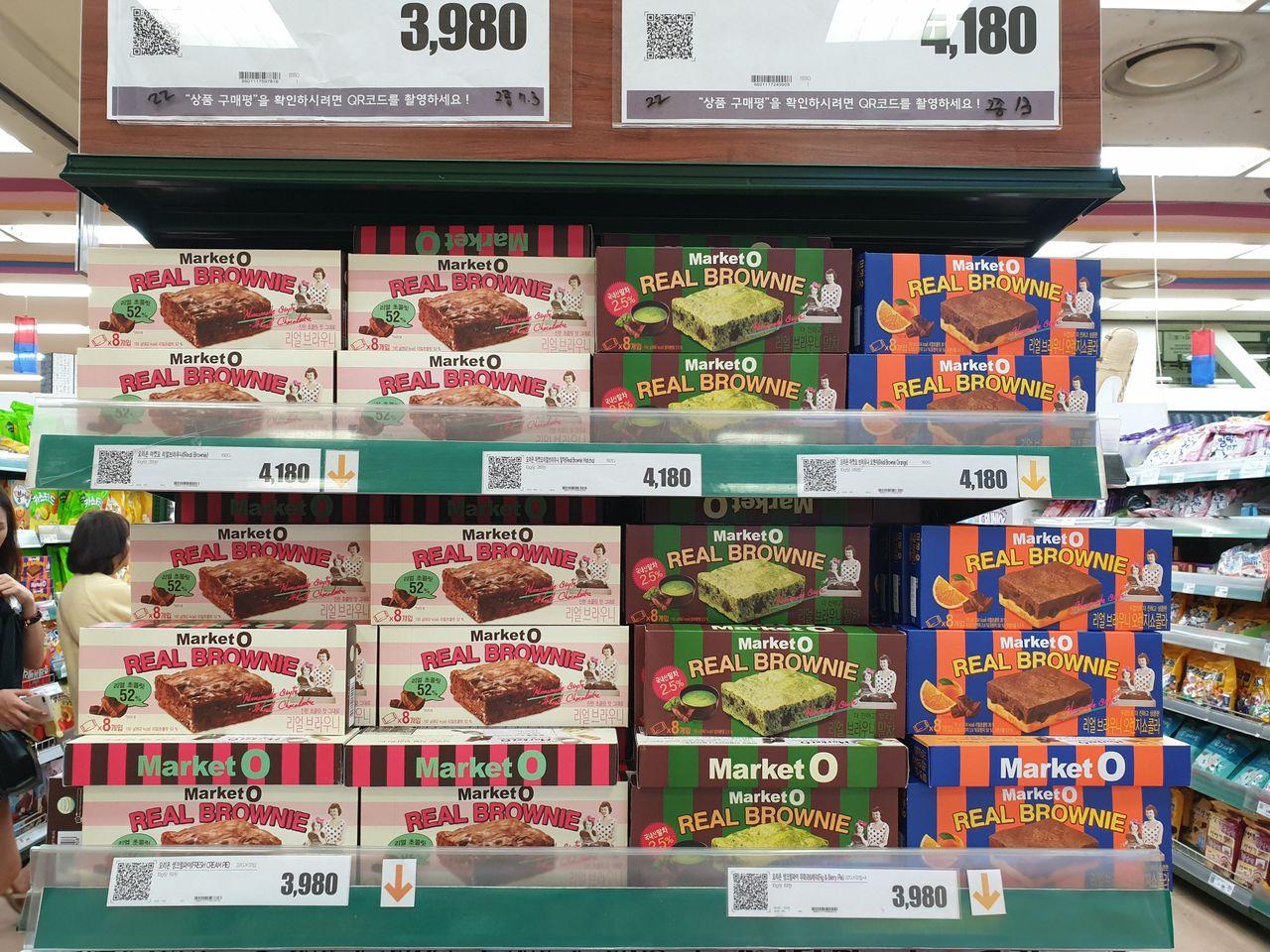 Everybody loves chocolate brownies.
Market O's brownies come in chocolate, green tea, and orange flavors, and they are super chewy, gooey, and good.
---
3. Haemul Ramen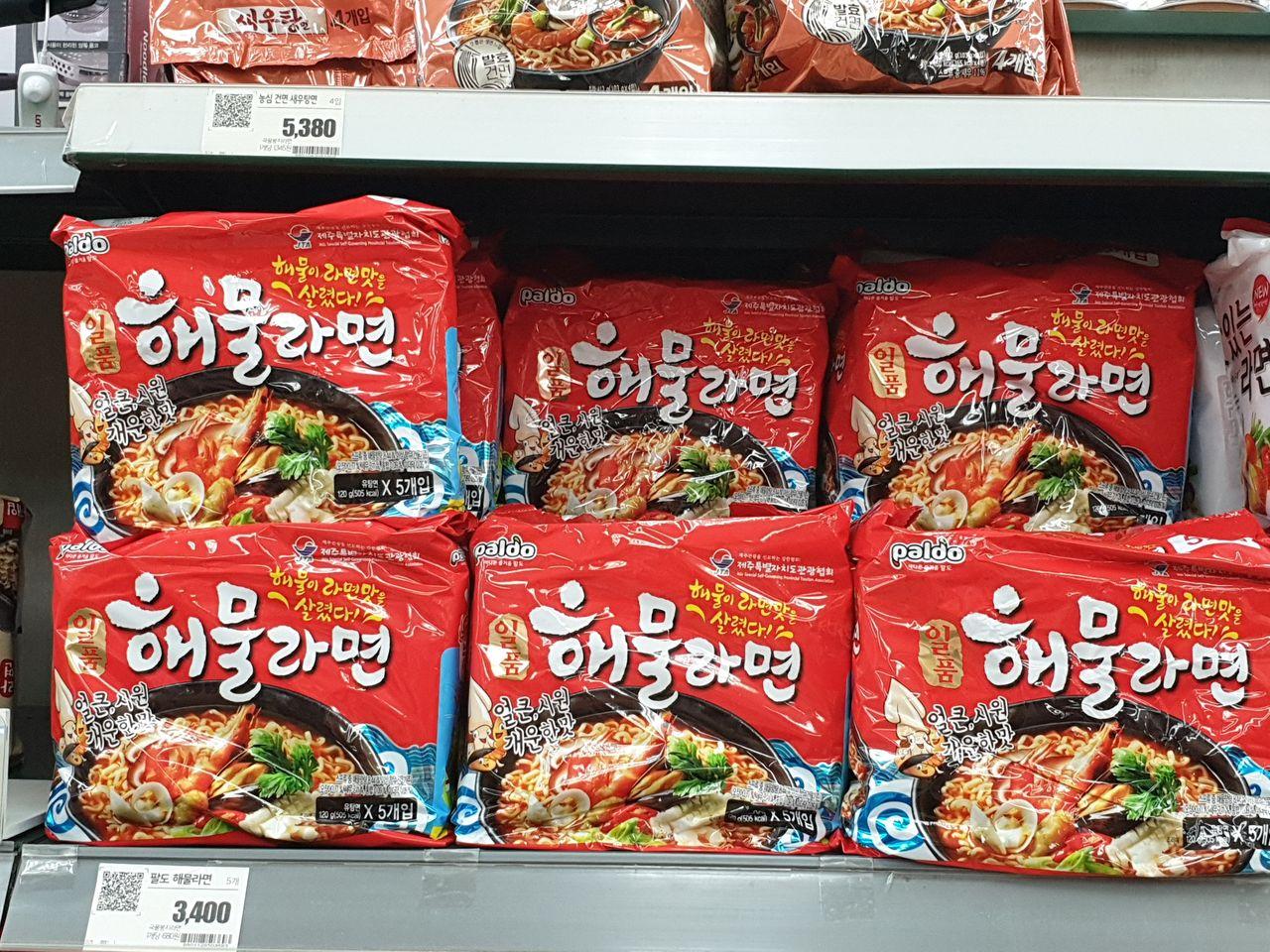 Korea's Maemul Ramen has a seafood in it, and it's only 3,400 KRW.
Super good and super cheap.
---
4. Jjambbong Ramyun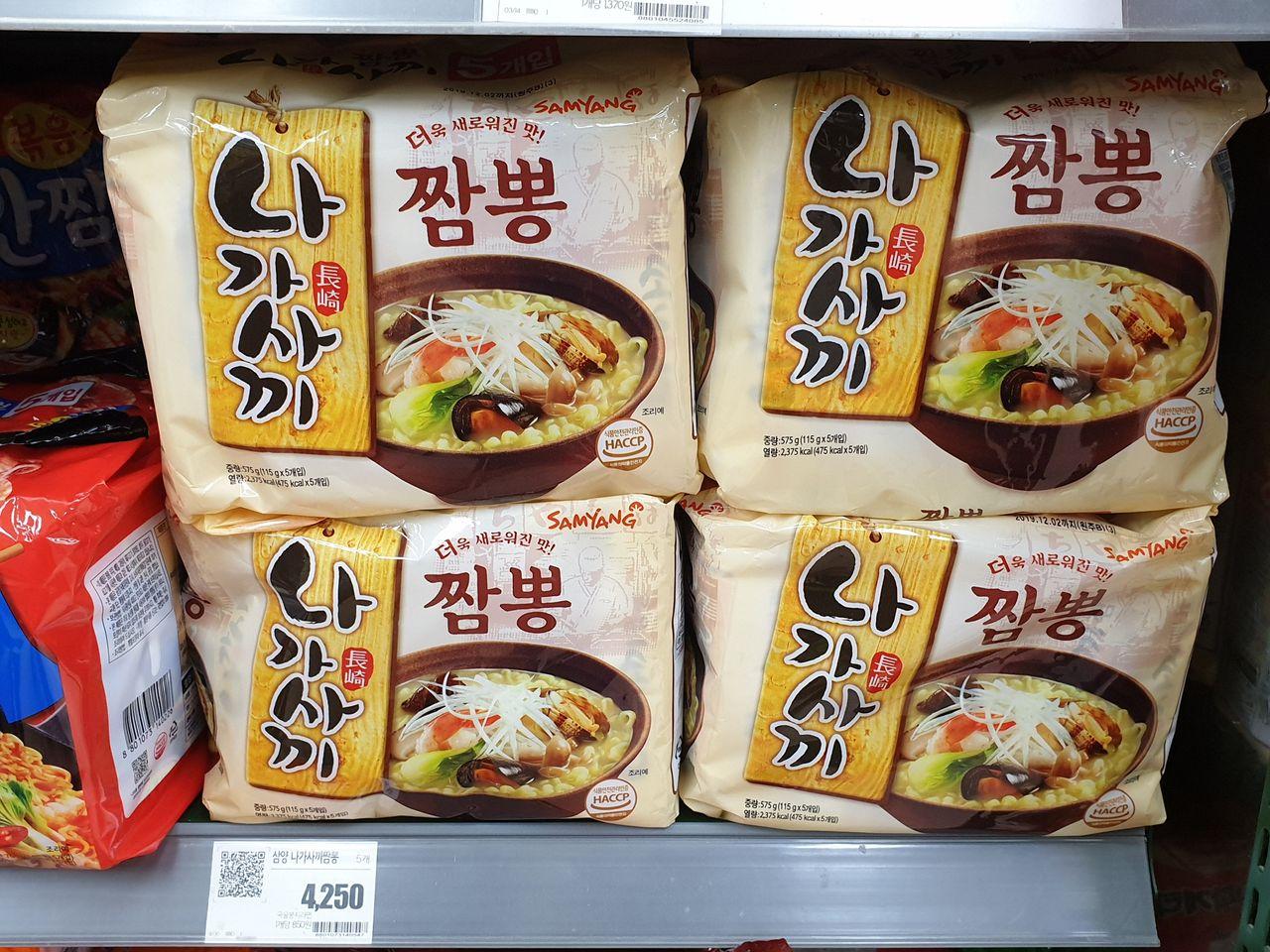 This is not your normal red jjampbbong (chinese noodle soup).
The white soup Nagasaki jjambbong is one of the things that my Korean friend highly, highly recommended that people try.
---
5. Jin Jjambbong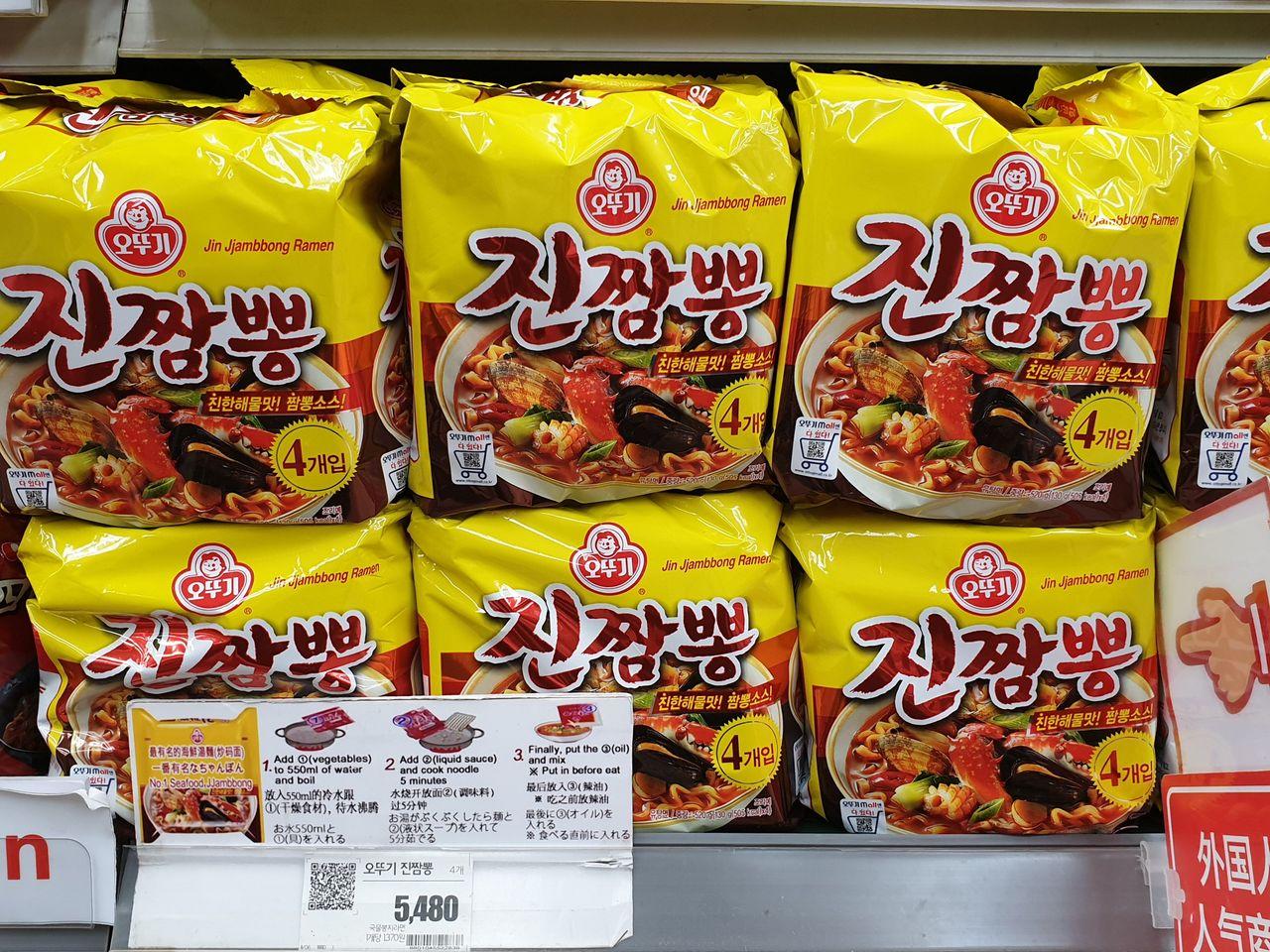 Jin Ramyun is as famous and well-loved as Shin Ramen by Koreans. They came out with a spicy jjambbong ramyun, which is good.
---
6. Sesame Ramen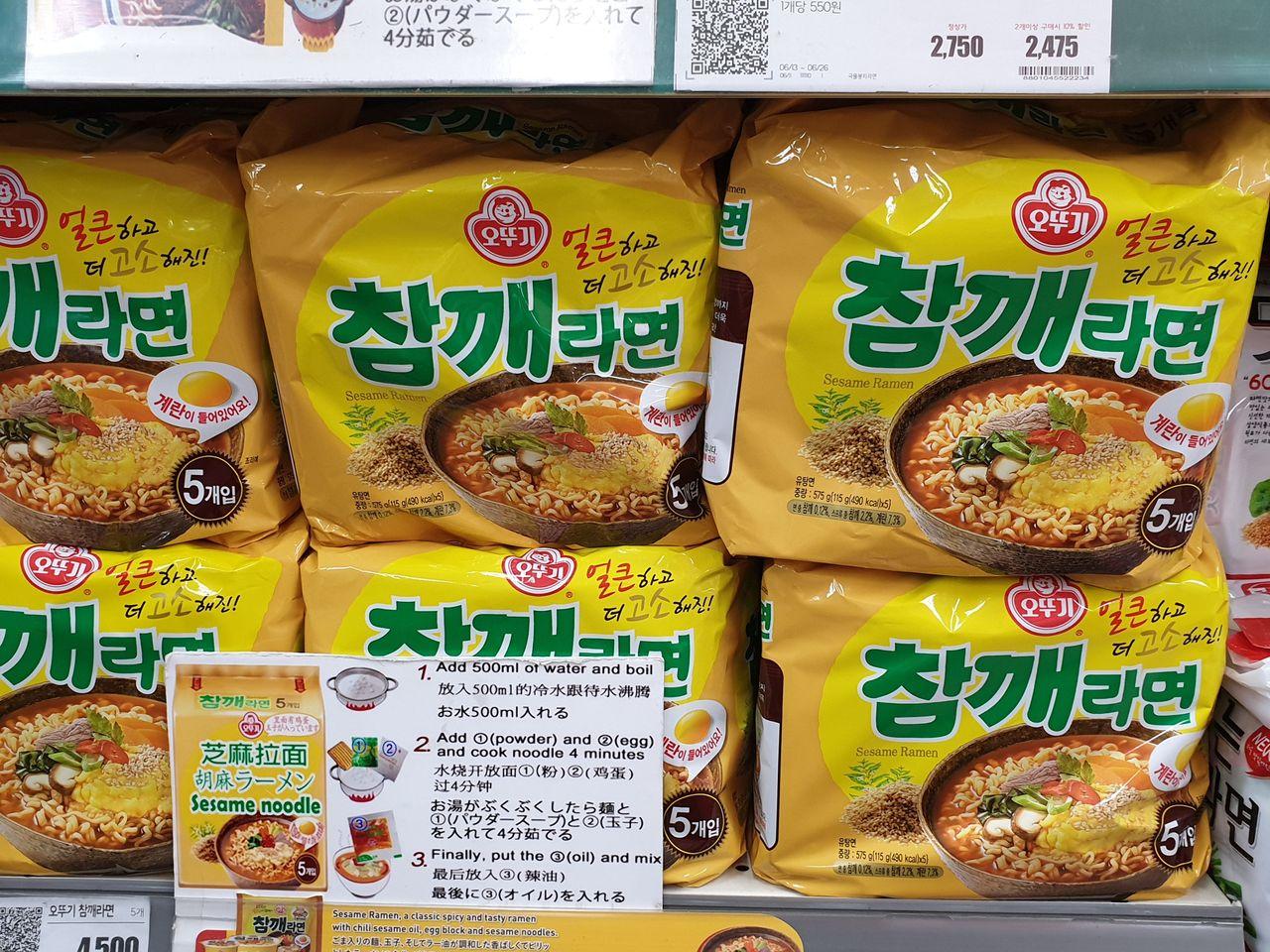 The Sesame Ramen needs to be eaten with an egg cracked in. Super rich and good.
---
7. Bibigo Dumplings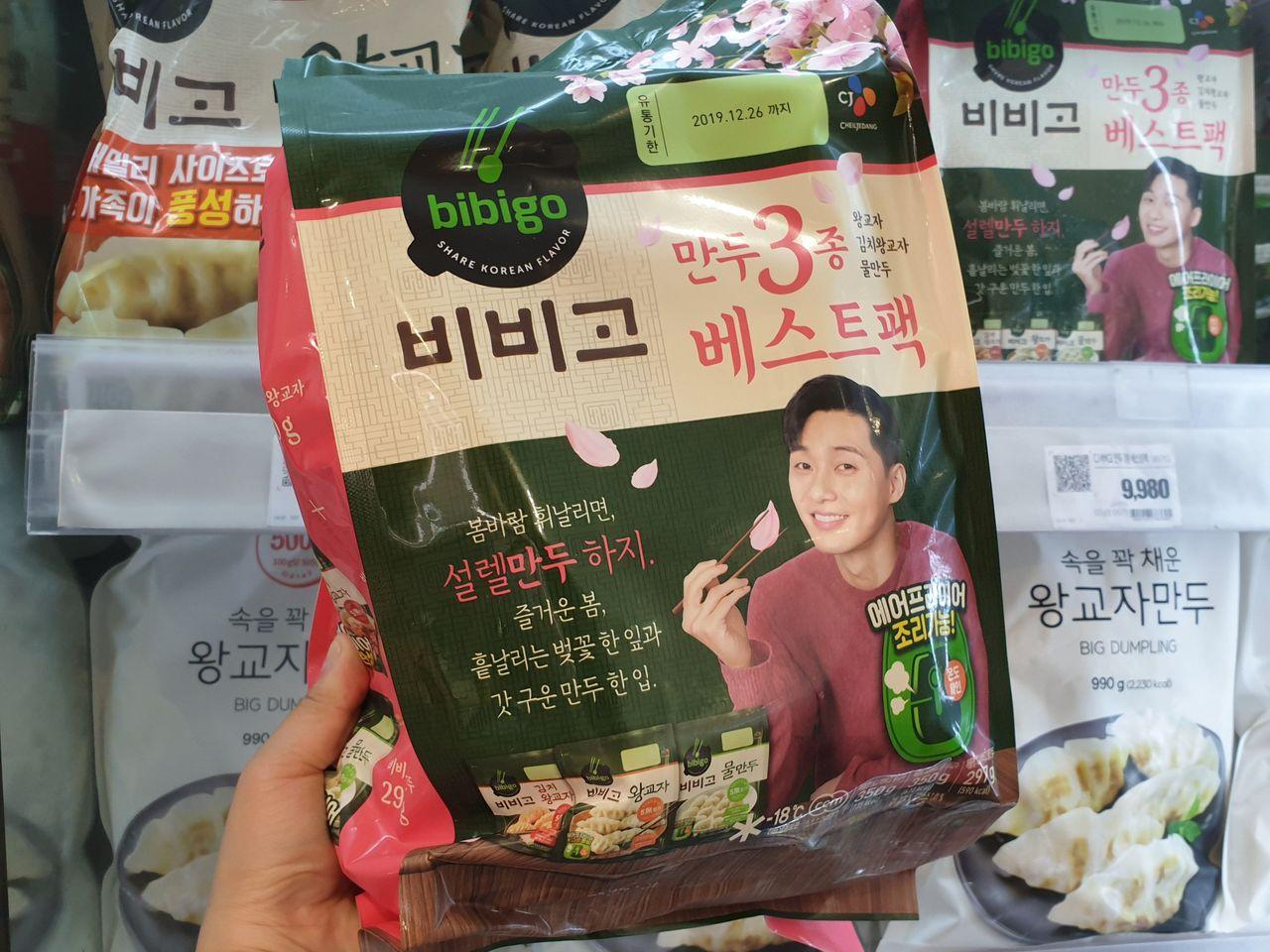 Bibigo is a popular Korean frozen foods brands. Unfortunately, the African pig fever ban doesn't allow any meat products to be taken outside of the country, but if you're looking for a late-night snack to eat while in Korea, this is the perfect thing.
---
8. Cheese Sausage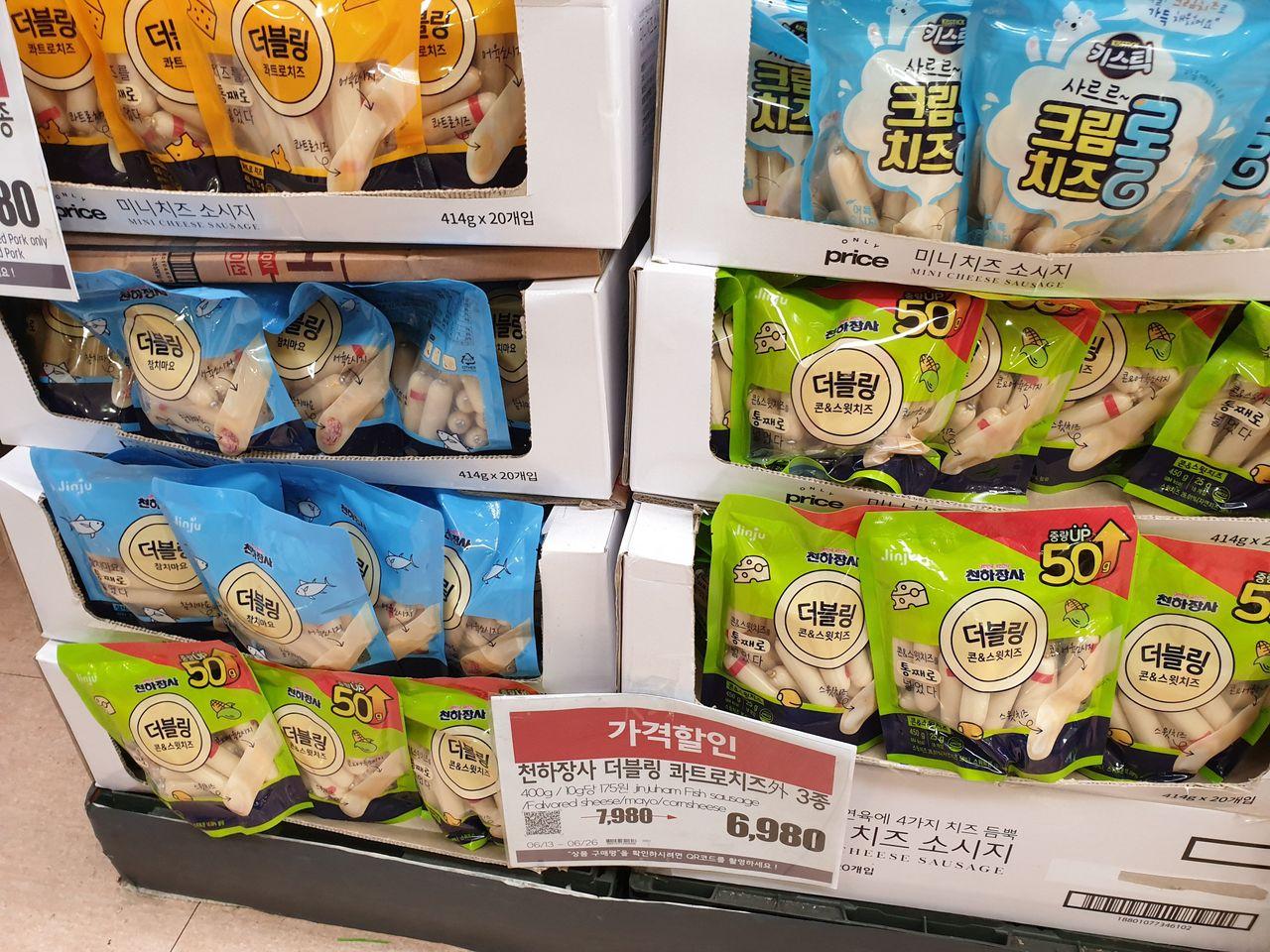 The cheese sausage also cannot be taken abroad. But another recommendation that Koreans will make to you, great to eat as is or to heat it up in the microwave
---
9. Paldo Bibimyun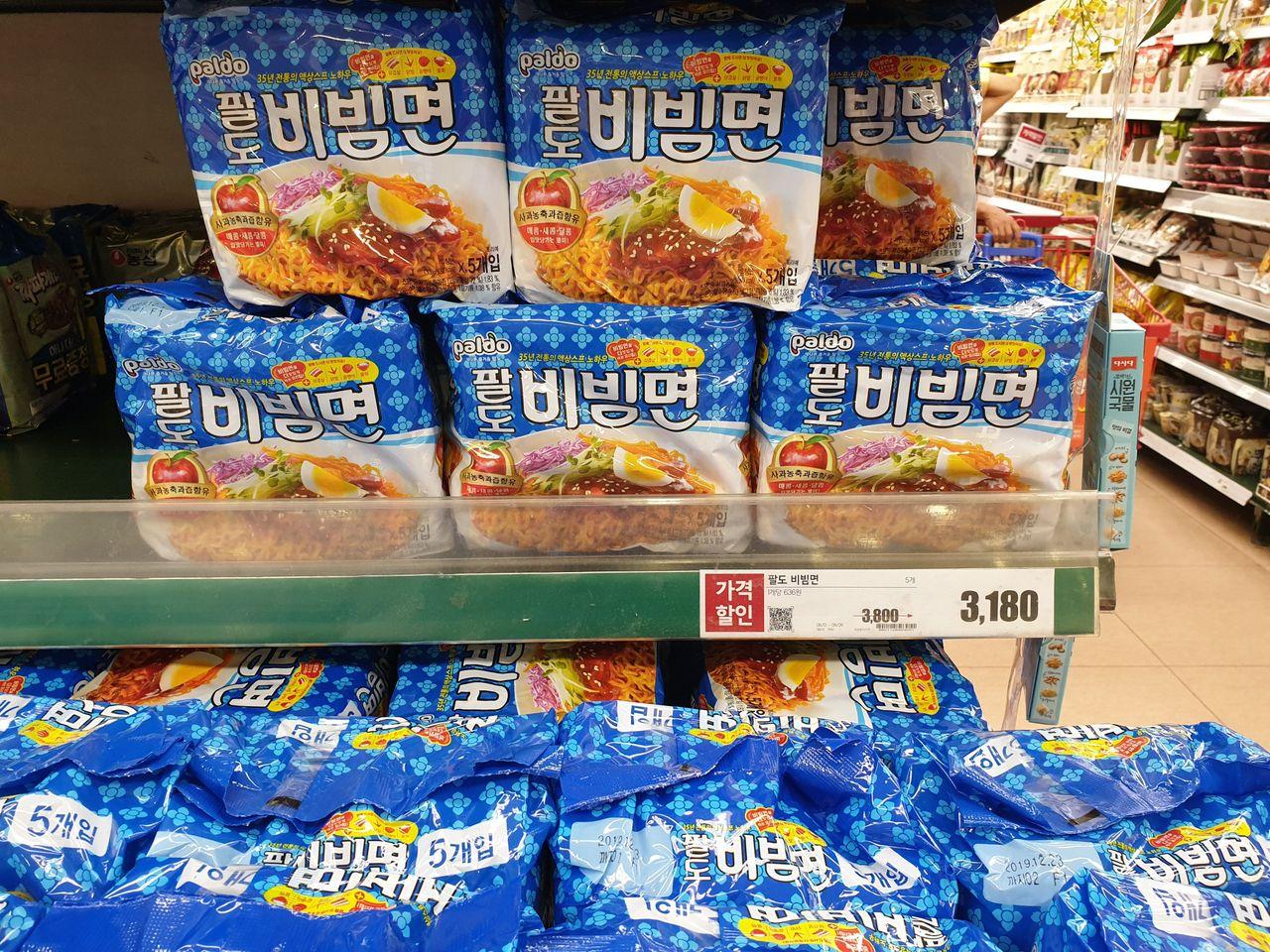 Paldo Bibimyun is one of my personal favorites. You boil the noodles, rinse them in cold water and mix the sweet and sour sauce in with the noodles with some boiled eggs and veggies. It's a perfect summer meal.
---
10. Crab Matsal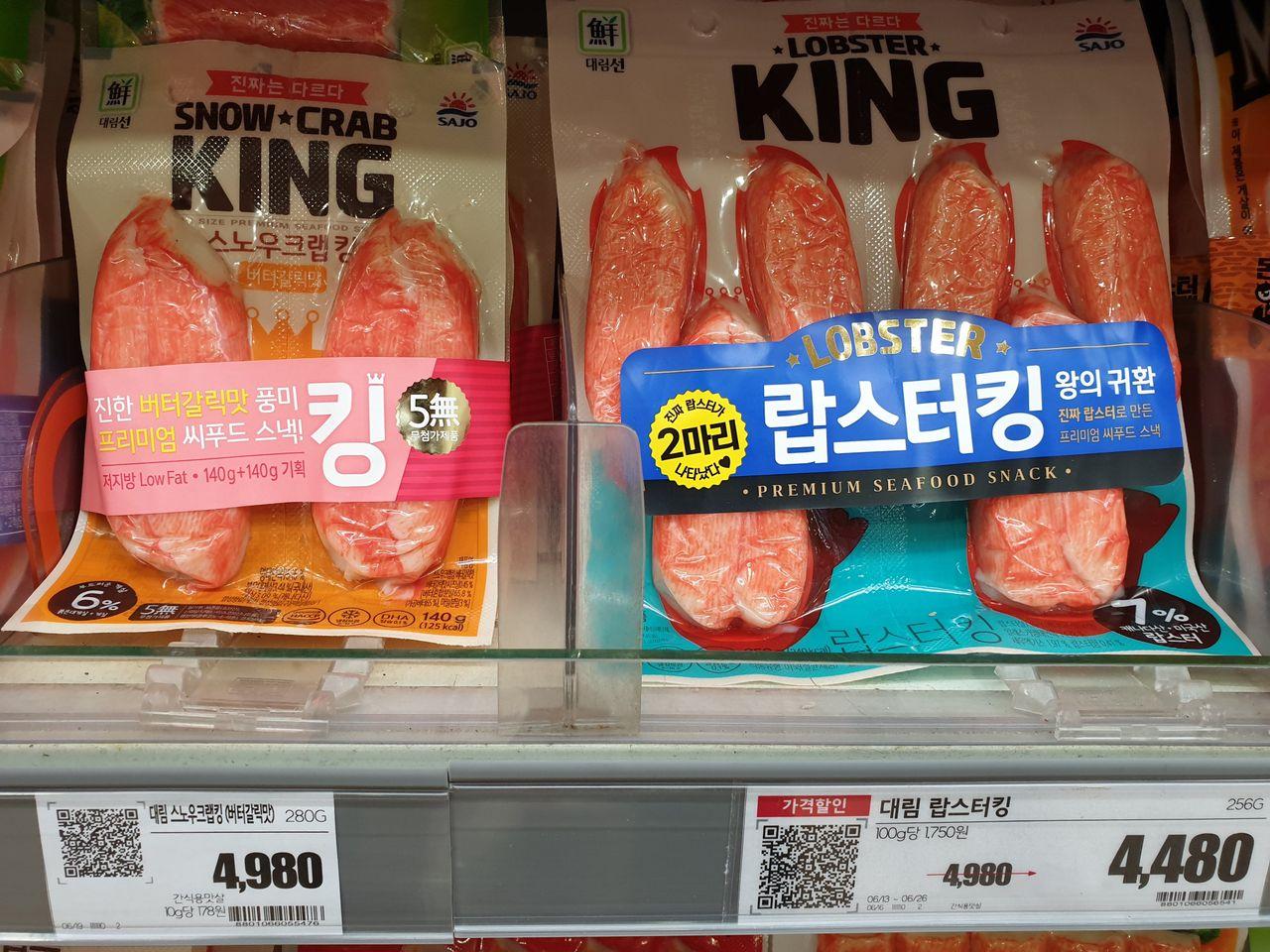 Crab Matsal is a Korean favorite that usually have about 7% lobster meat. It's better to just finish this one while you're still in Korea rather than try to keep and take it. My friend tells me that it's actually great in ramen.
---
11. Oreo O's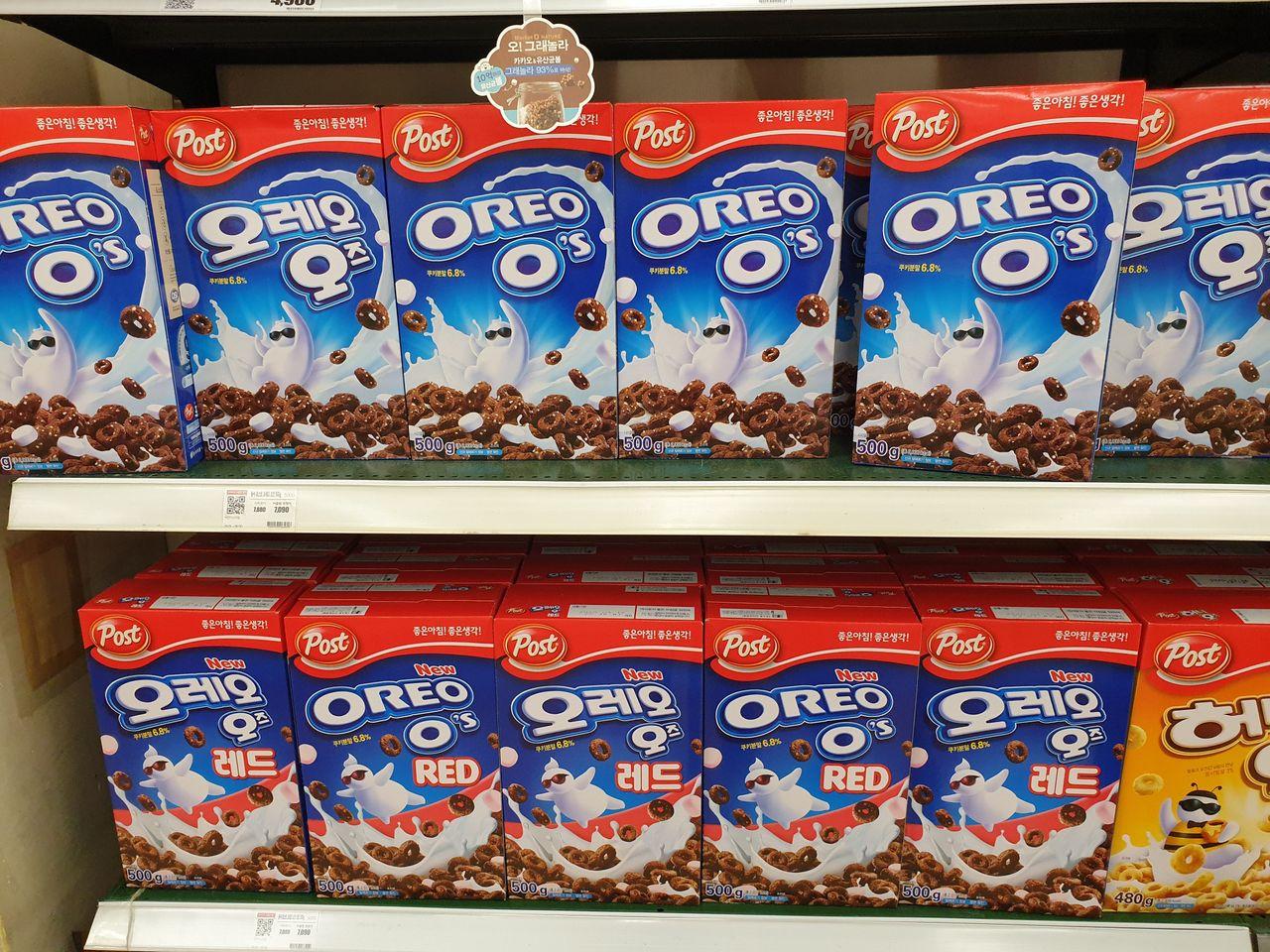 I think Oreo O's is a must get from Lotte Mart. You can eat them like a snack or as cereal for breakfast.
---
12. Roasted Laver with Perilla Oil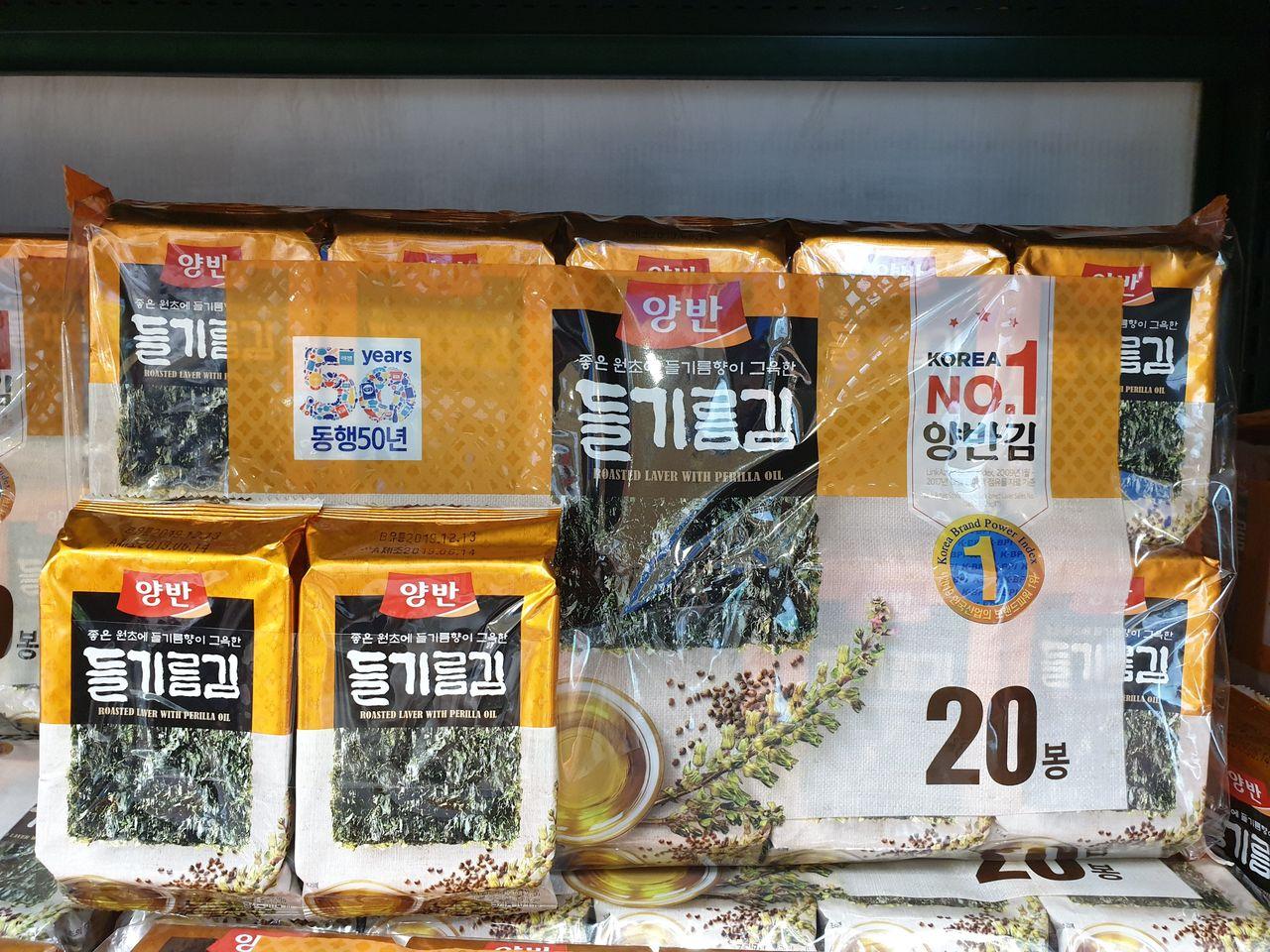 Dried seaweed that is full of perilla scent, a Korean-approved brand!
---
13. Stir-Fried Kimchi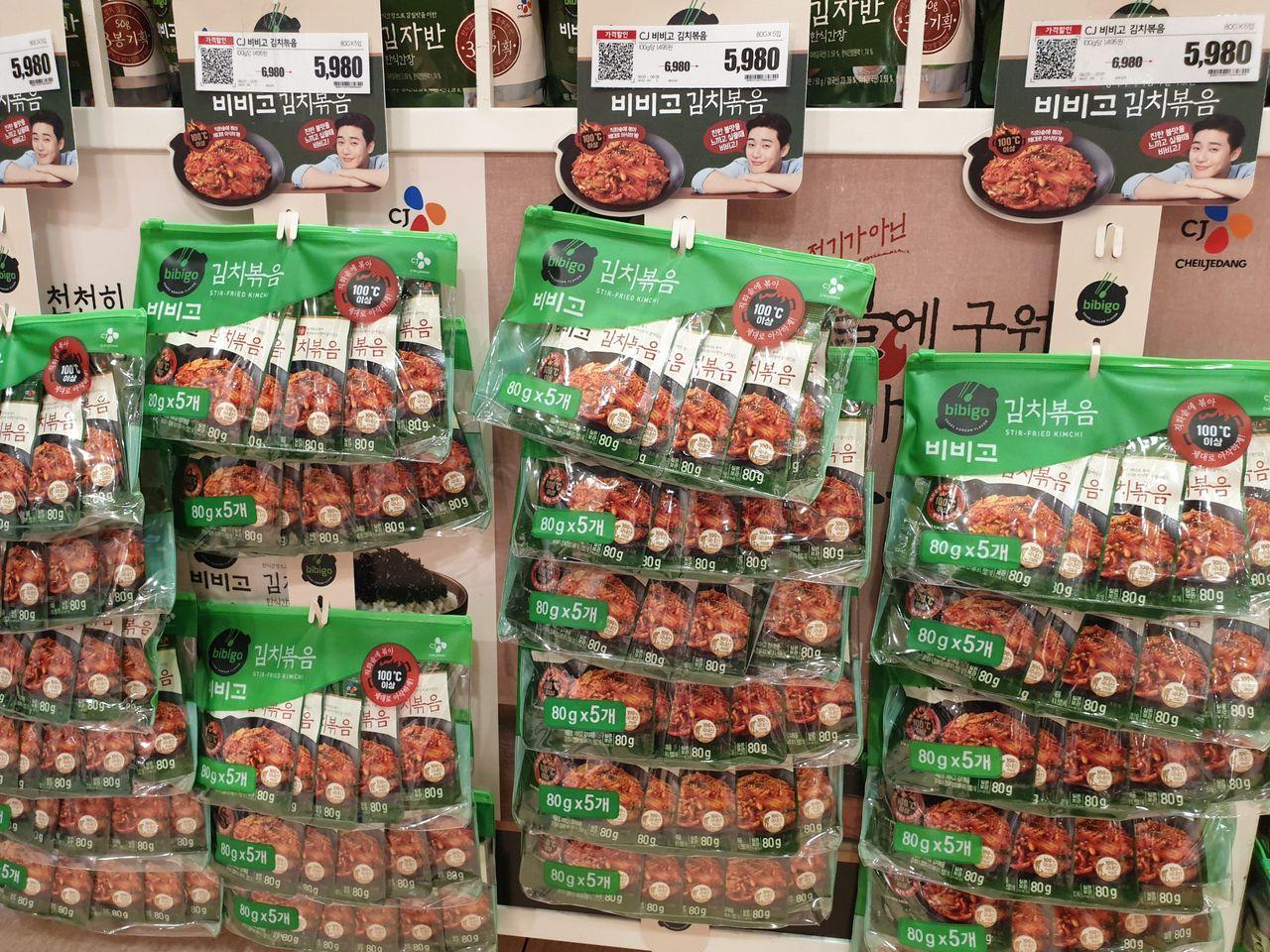 Want to take Korea's flavors with you back home? Then this is the thing for you! This packaged stir-fry kimchi can be taken with you and kept for a long time.
---
14. Bibigo Gamjaban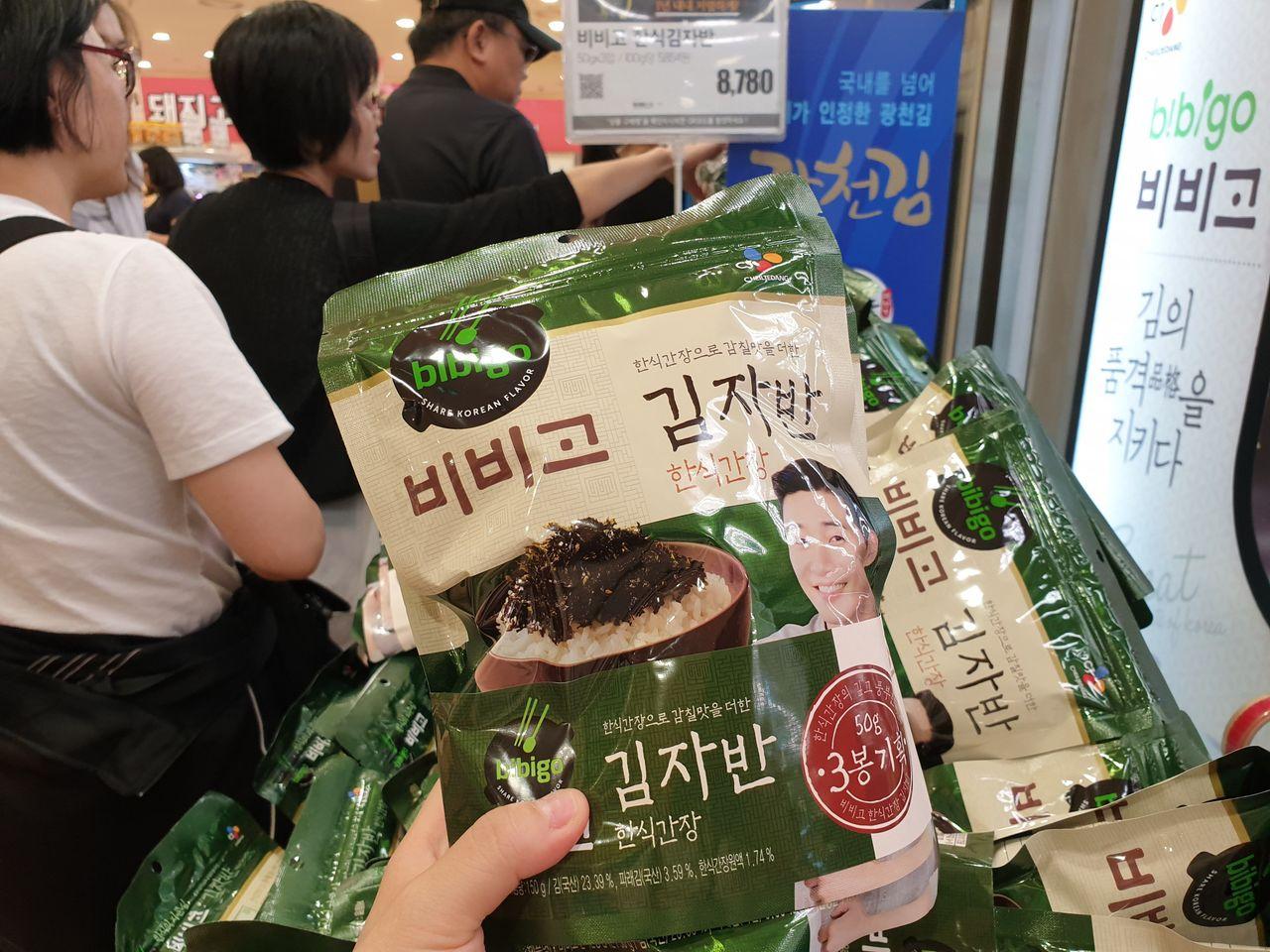 Shredded dried seaweed (laver) from Bibigo. This is what Koreans always put in when making fried rice.
---
15. Choco Pie (Mango Banana)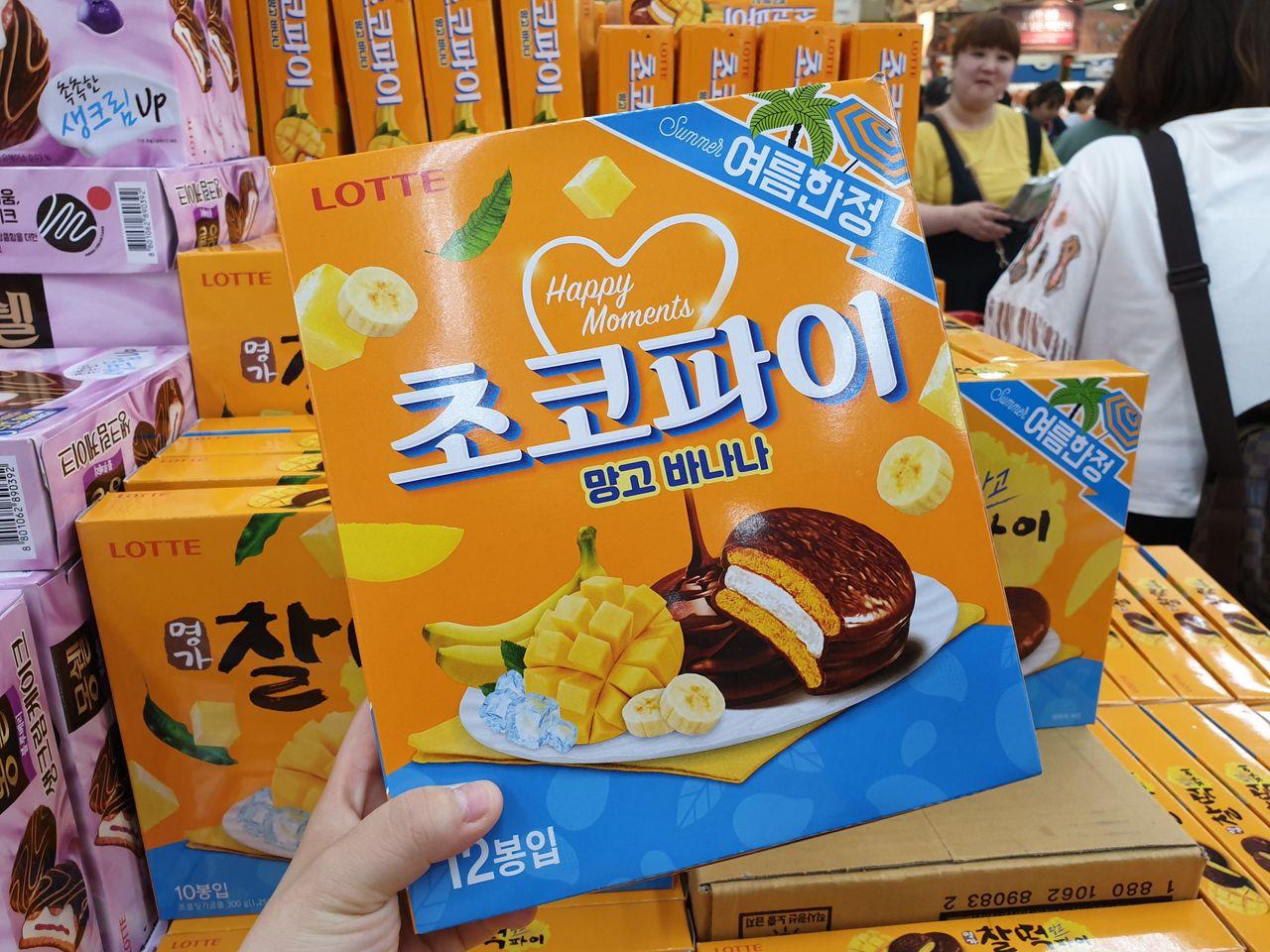 A fairly new release, the combination of mango and banana should be quite interesting.
---
16. Rice Mango Pie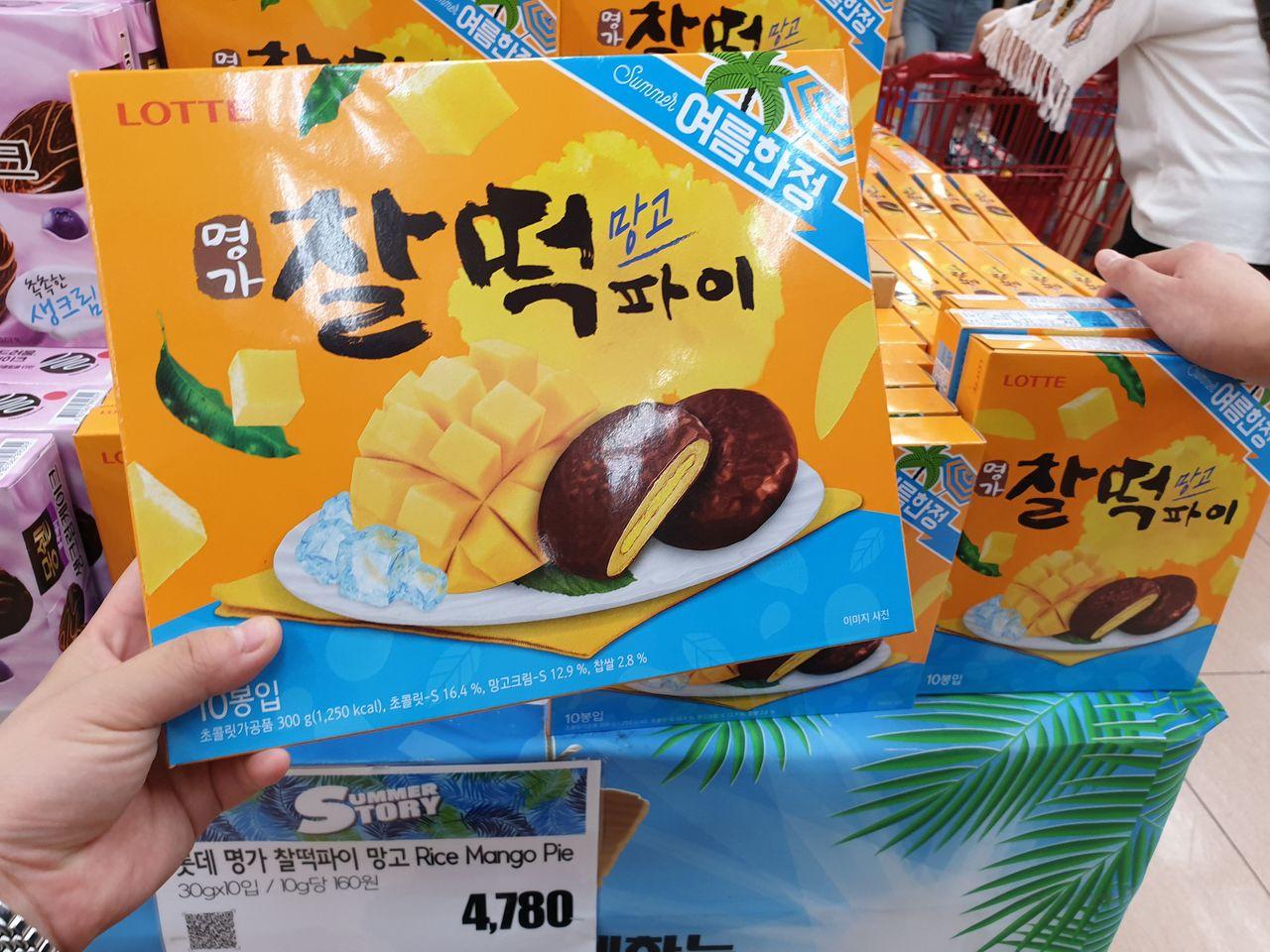 Rice pie is a snack with rice cakes in the middle. Koreans like it for its chewiness. I recommend trying the mango flavor.
---
17.Mat Chestnuts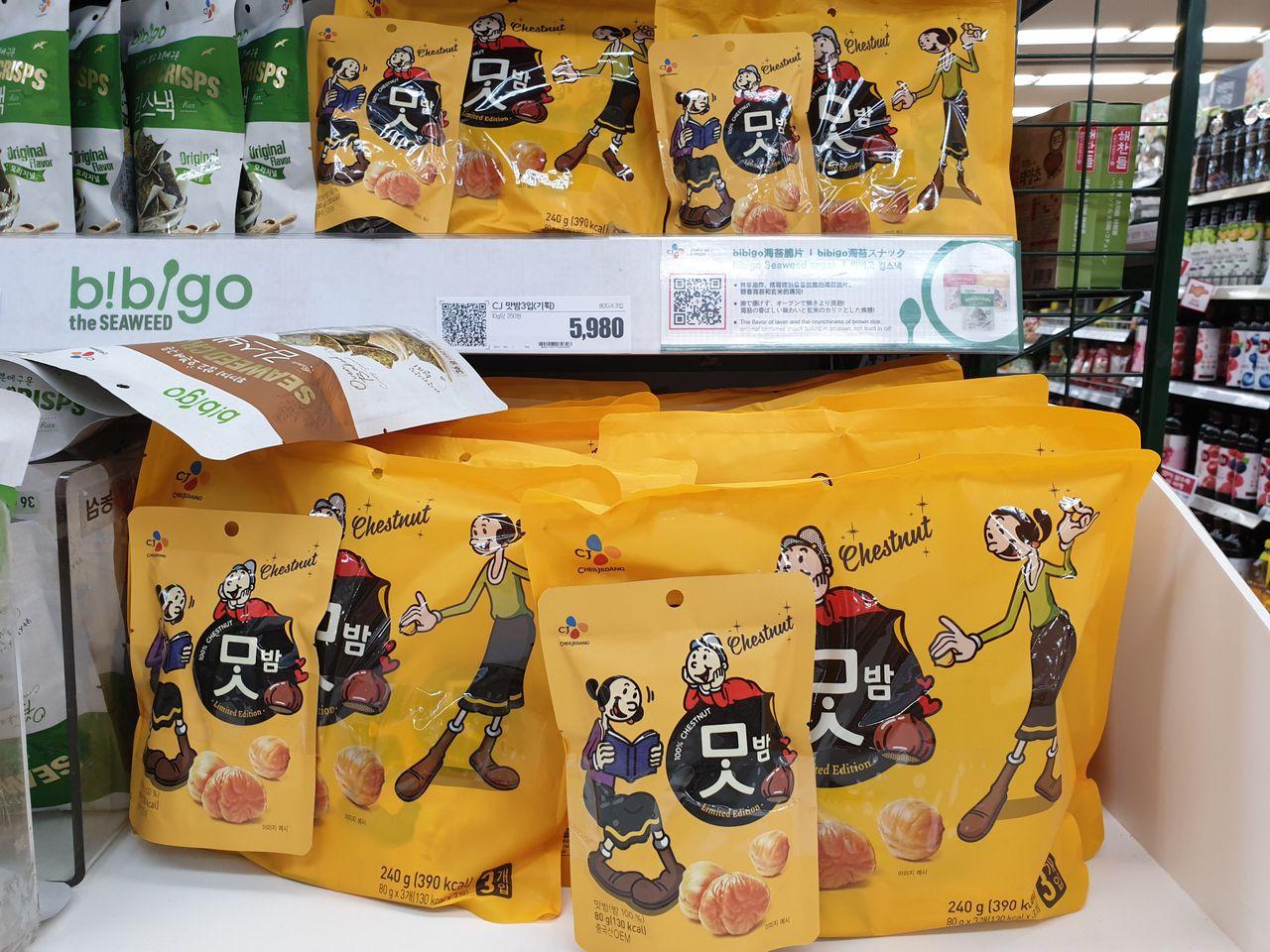 In its new and improved packagaing, the roasted and glazed chestnut is another snack that's well loved by Koreans. It has pretty low calories, so there's not as much guilt with this snack.
---
18. Korean Ssamjang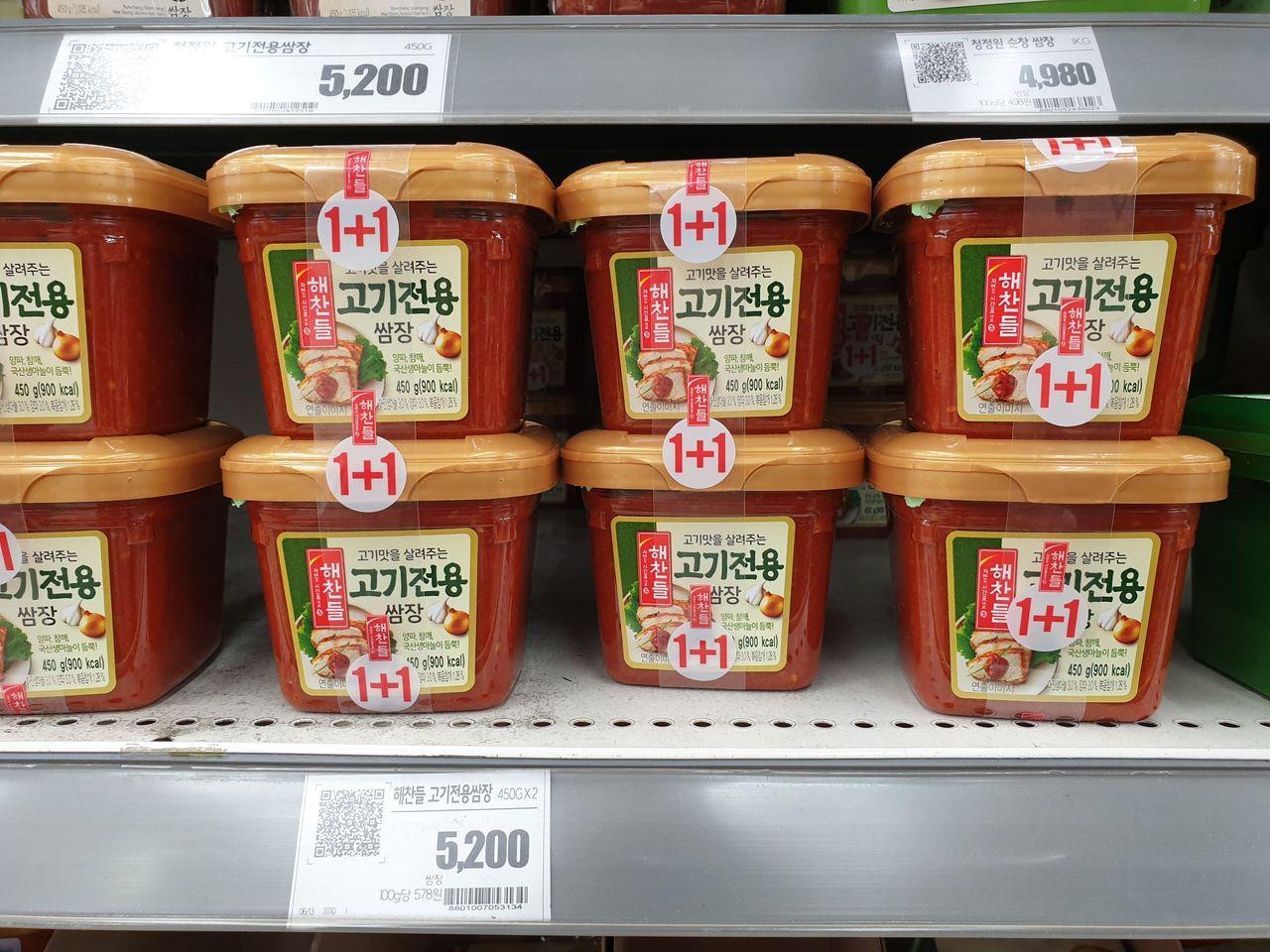 Other than stir-fried kimchi, many people come to Lotte Mart to grab other Korean ingredients like sauces and seasonings. For those, look out for sales or 1+1 deals.
---
19.Honey Butter Almond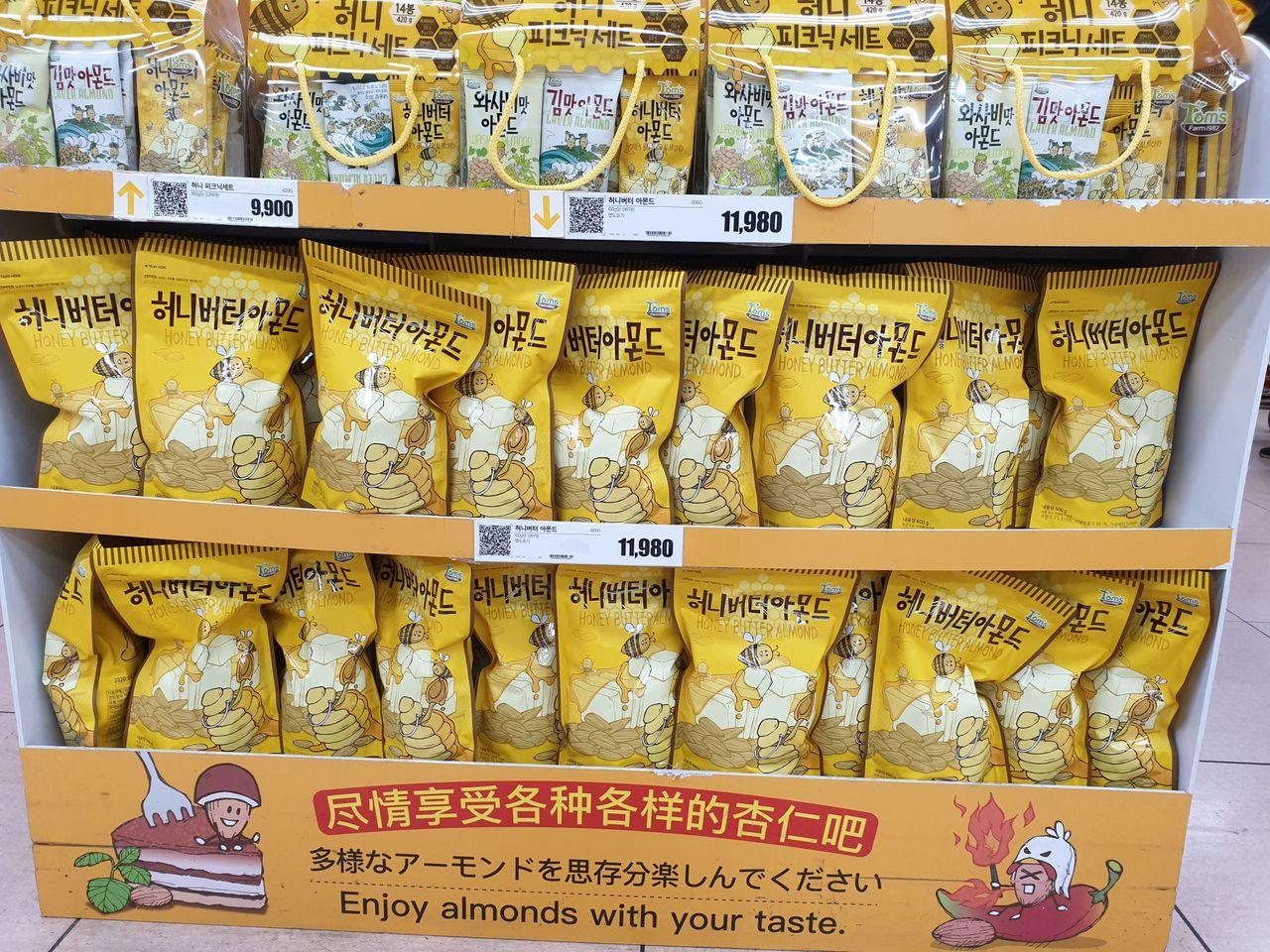 If you want light snacks, I recommend getting something like almonds. The Honey Butter series's almonds are the most popular.
---
20. Abalone Porridge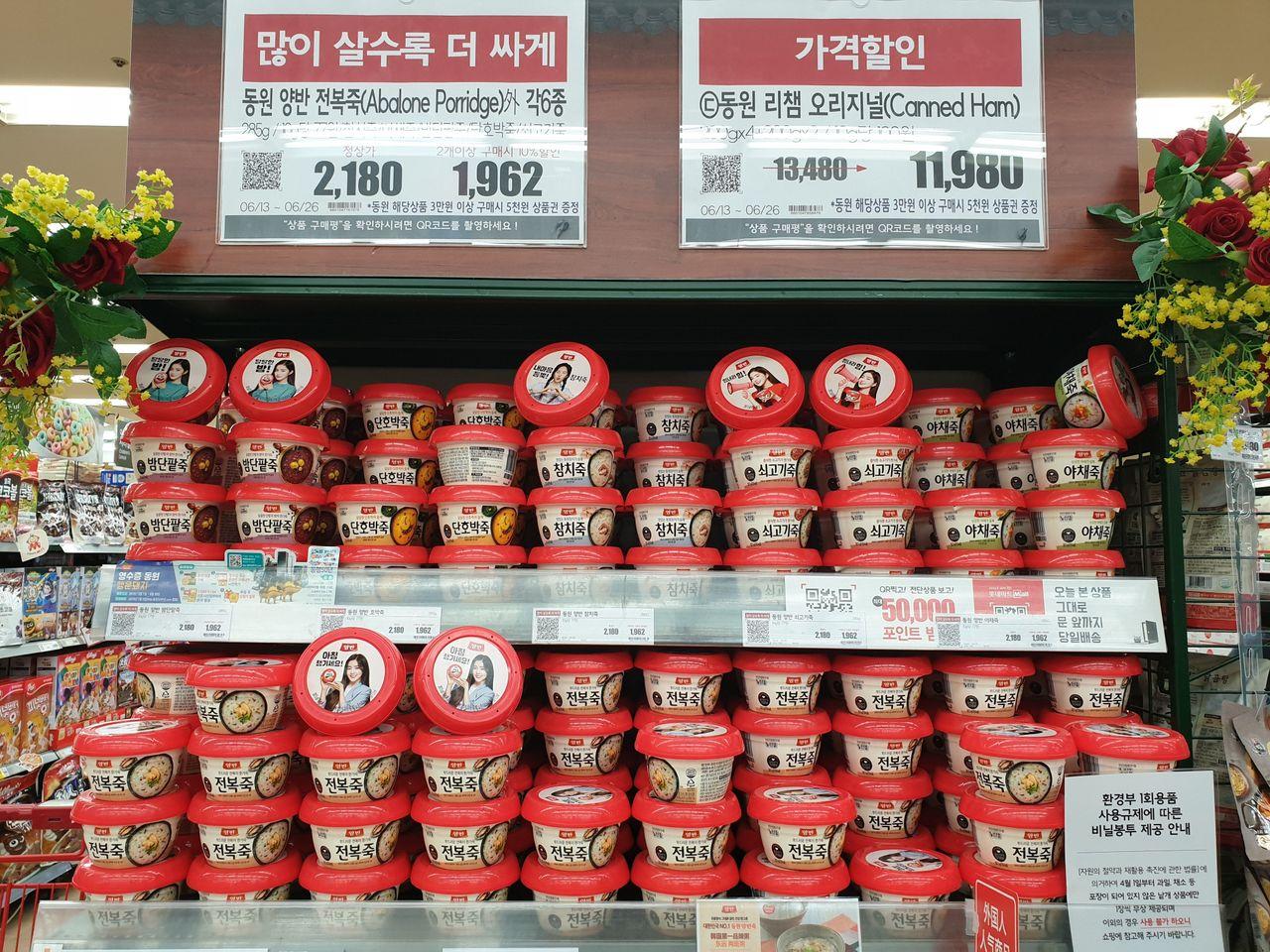 When I tried these abaloen porridge, I was shocked at how good it was! If you don't know what to eat from Lotte Mart, I highly recommend this one. 저
---
21. Swing Chip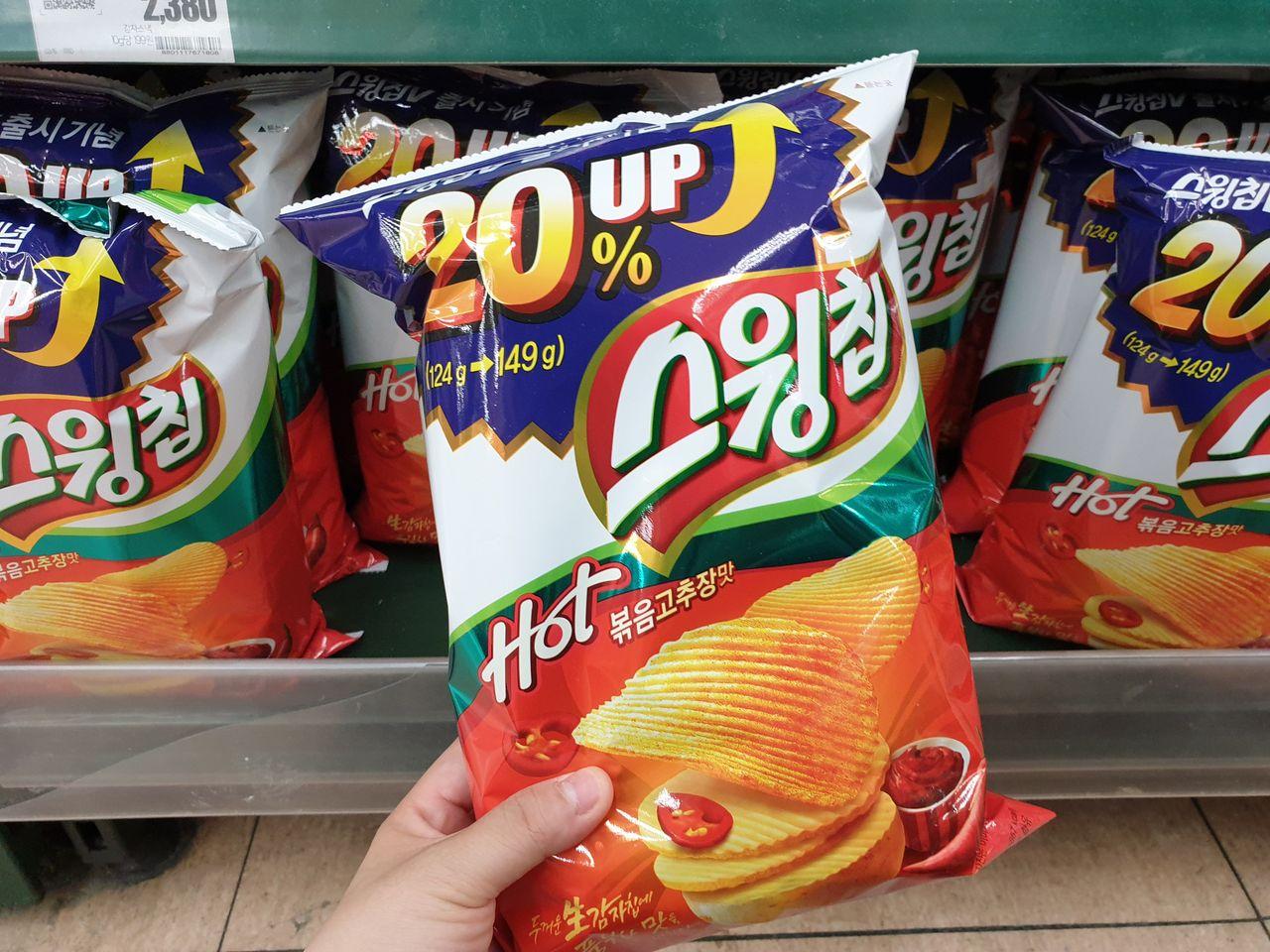 The spicy flavor Swing Chips are often the Korean's potato chip of choice.
---
22. Sauce Potato Chips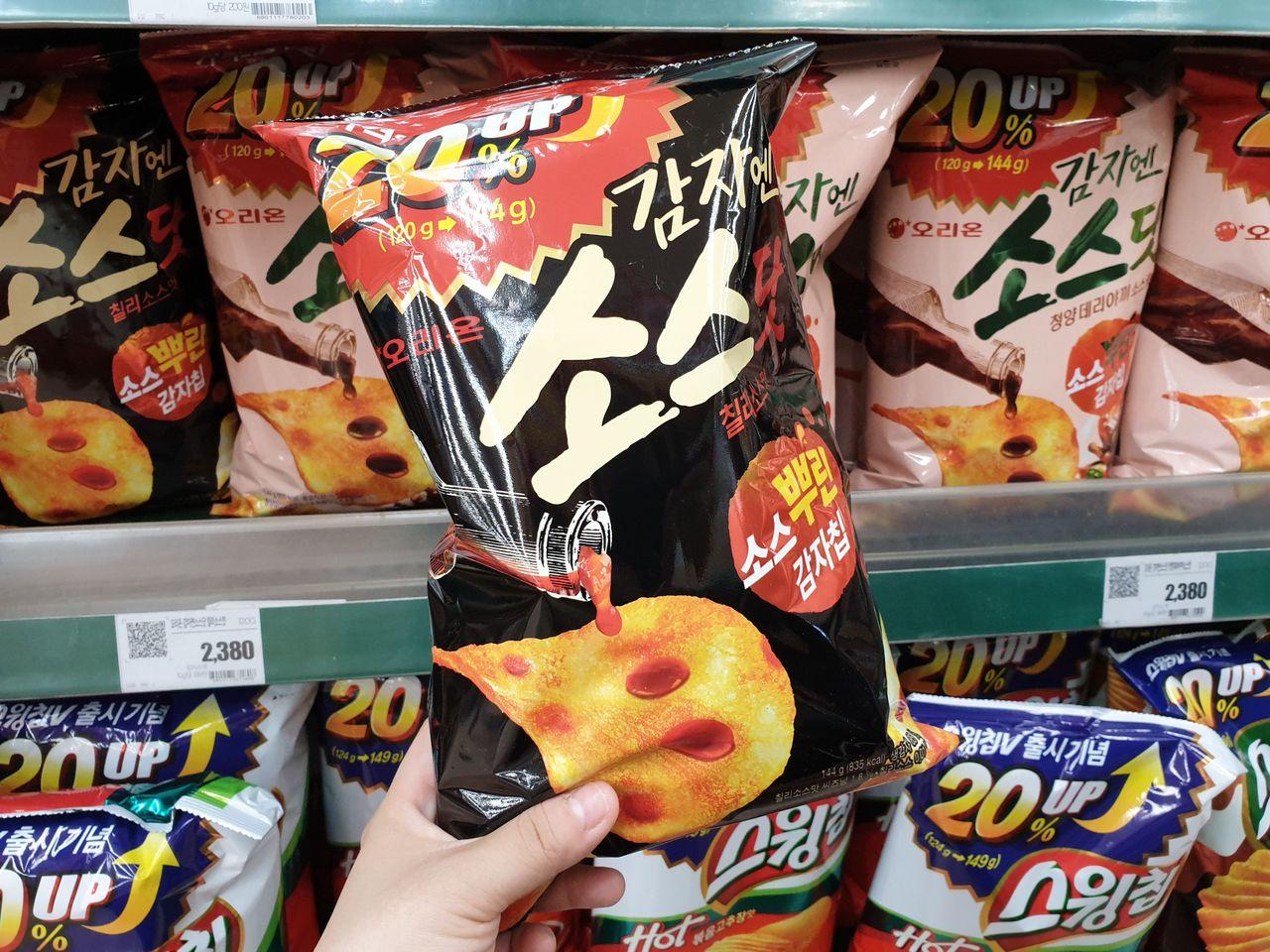 If you're getting bored of normal potato chips, try these sauce chips. Each chip has a dollop of sauce on it and it's pretty good. 기
---
23. Nongshim Potato Chip (Yukgaejang, Corn cheese)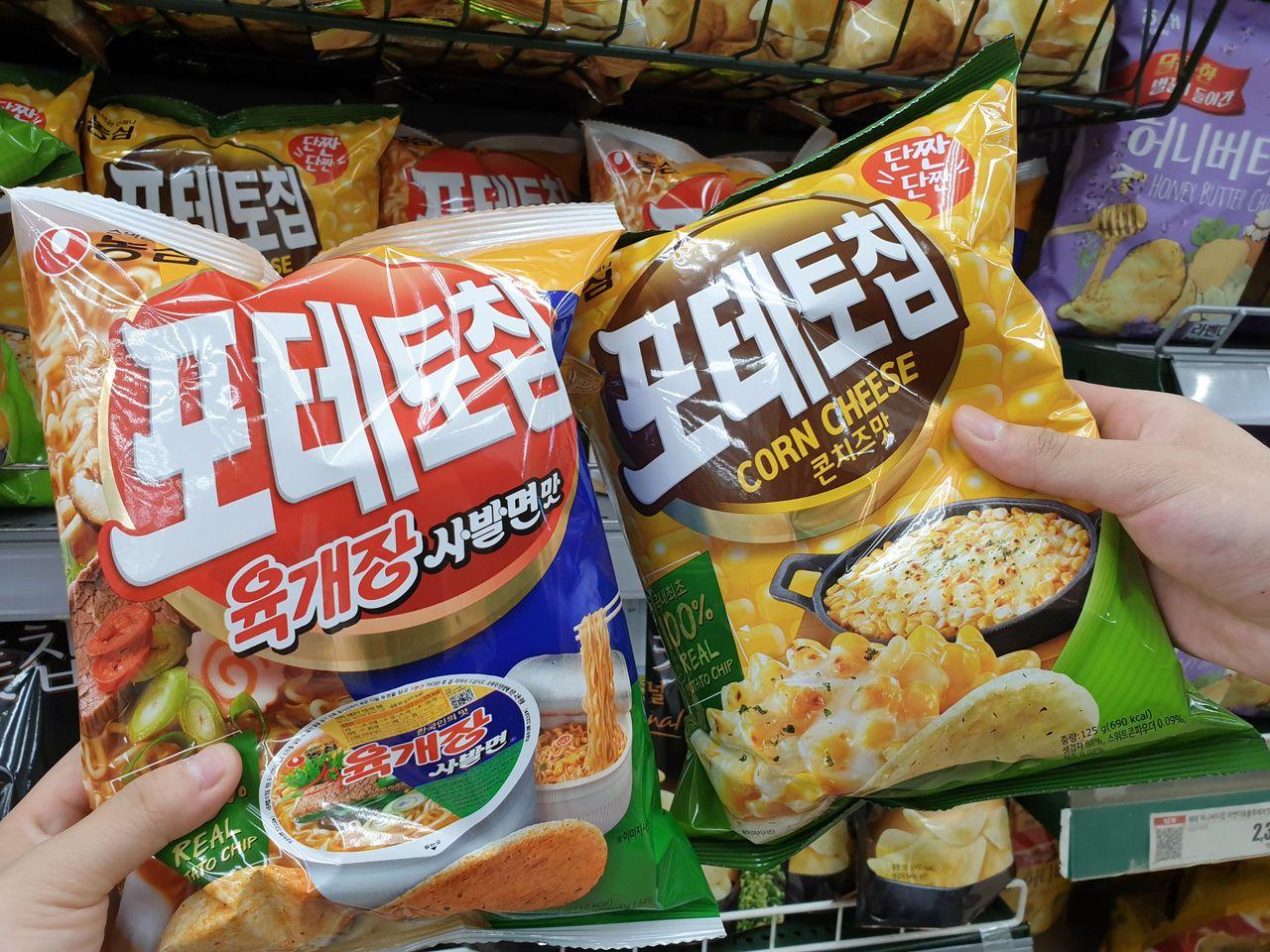 Nongshim potato chips come in a variety of super interesting and curious flavors like Yukgaejang and corn cheese. Try it out!
---
24. Nongshim Potato Chip (Original)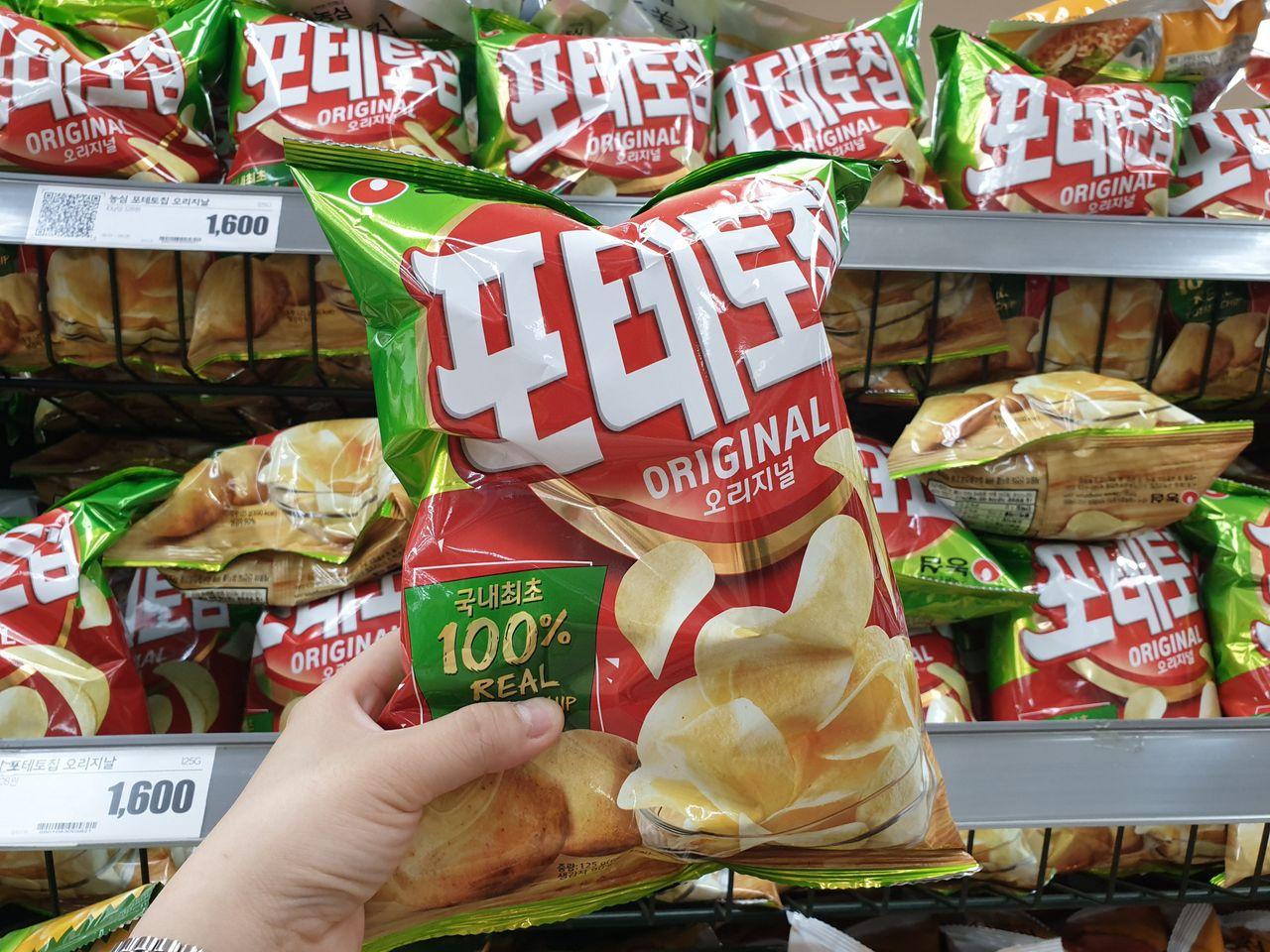 Other than the odd flavors mentioned above, there's also the good old original. There are so many good potato chips to get in Korea.
---
25. Honey Butter Chip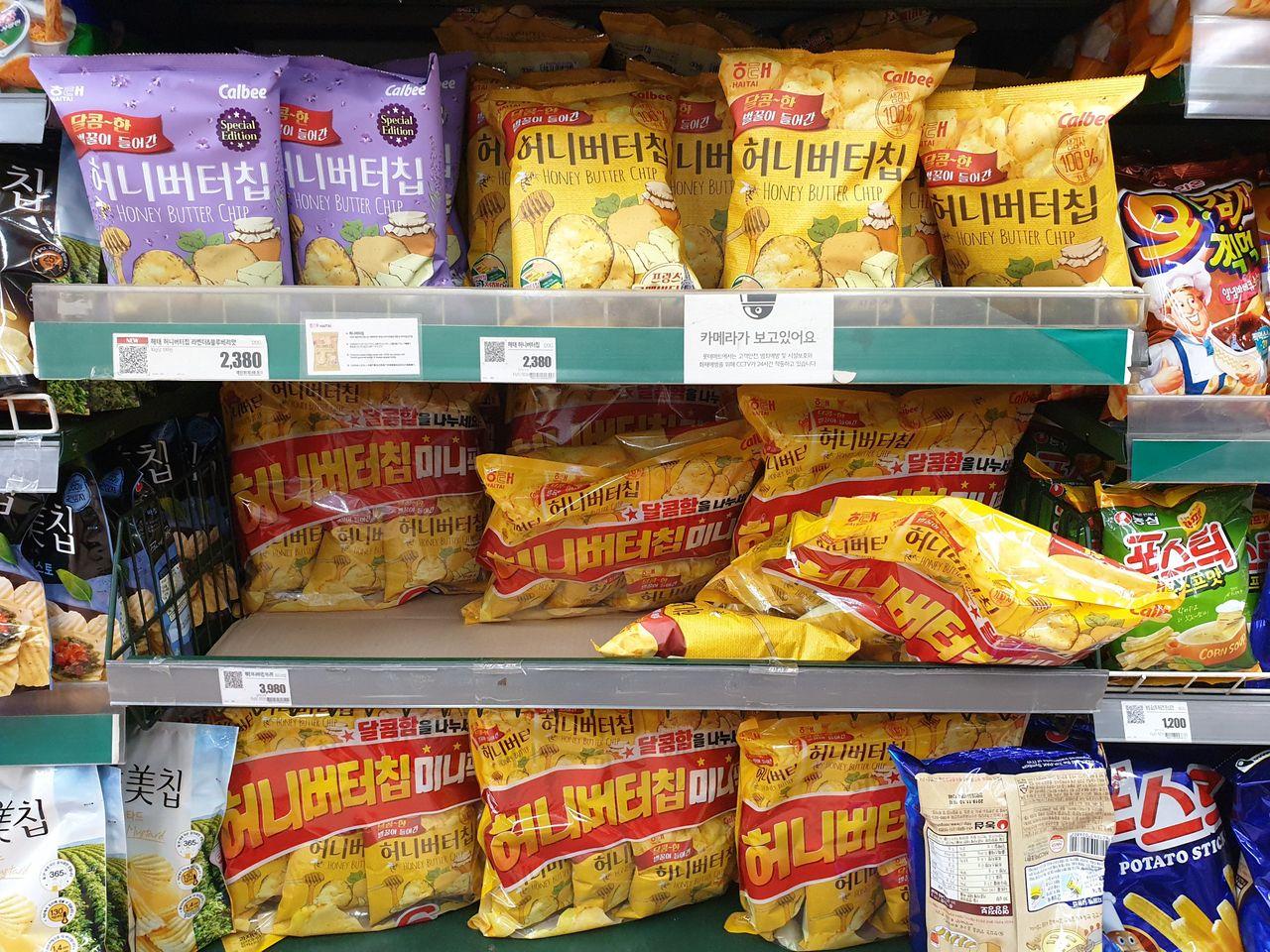 You can't not mention the Honey Butter Chip. It's insanely popular, so make sure to pick this up from the mart.
---
26. 오! 감자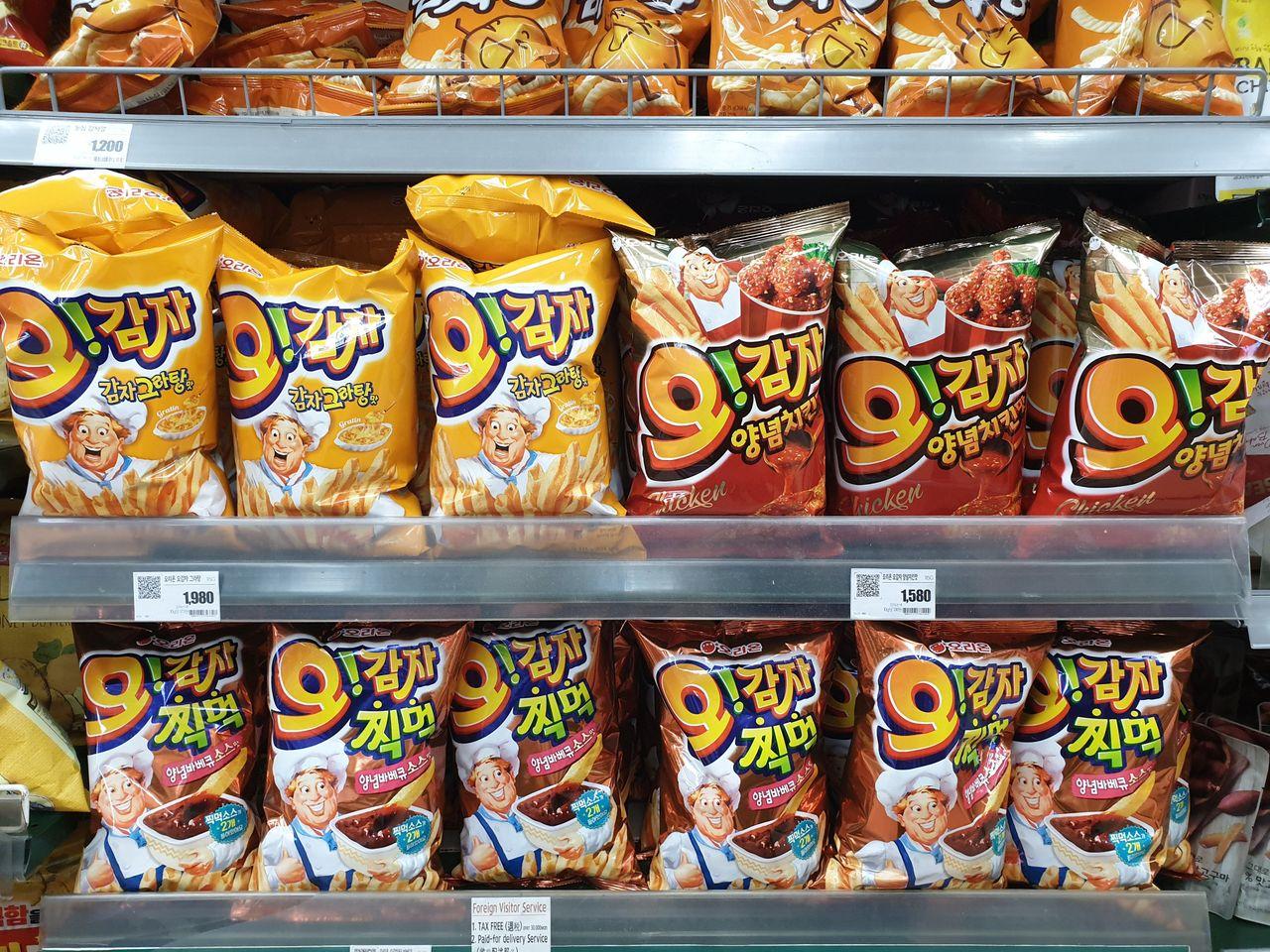 This is the perfect snack to munch on while watching TV. There are two flavors, my favorite is the BBQ sauce one on the right.
---
27. Grilled Onions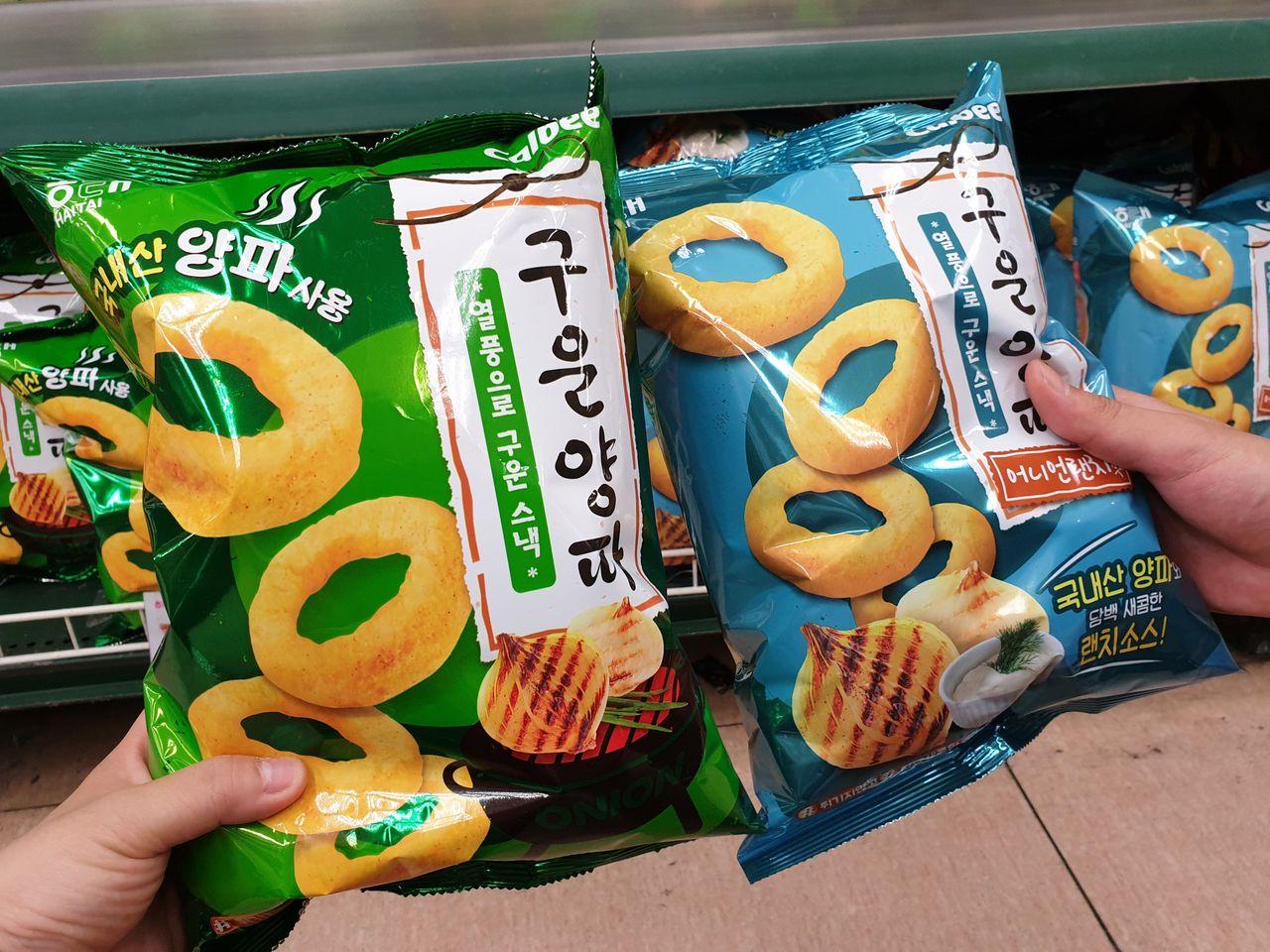 This isn't your normal onion ring snack! It's a grilled onion ring snack!
---
28. Yogurt Jelly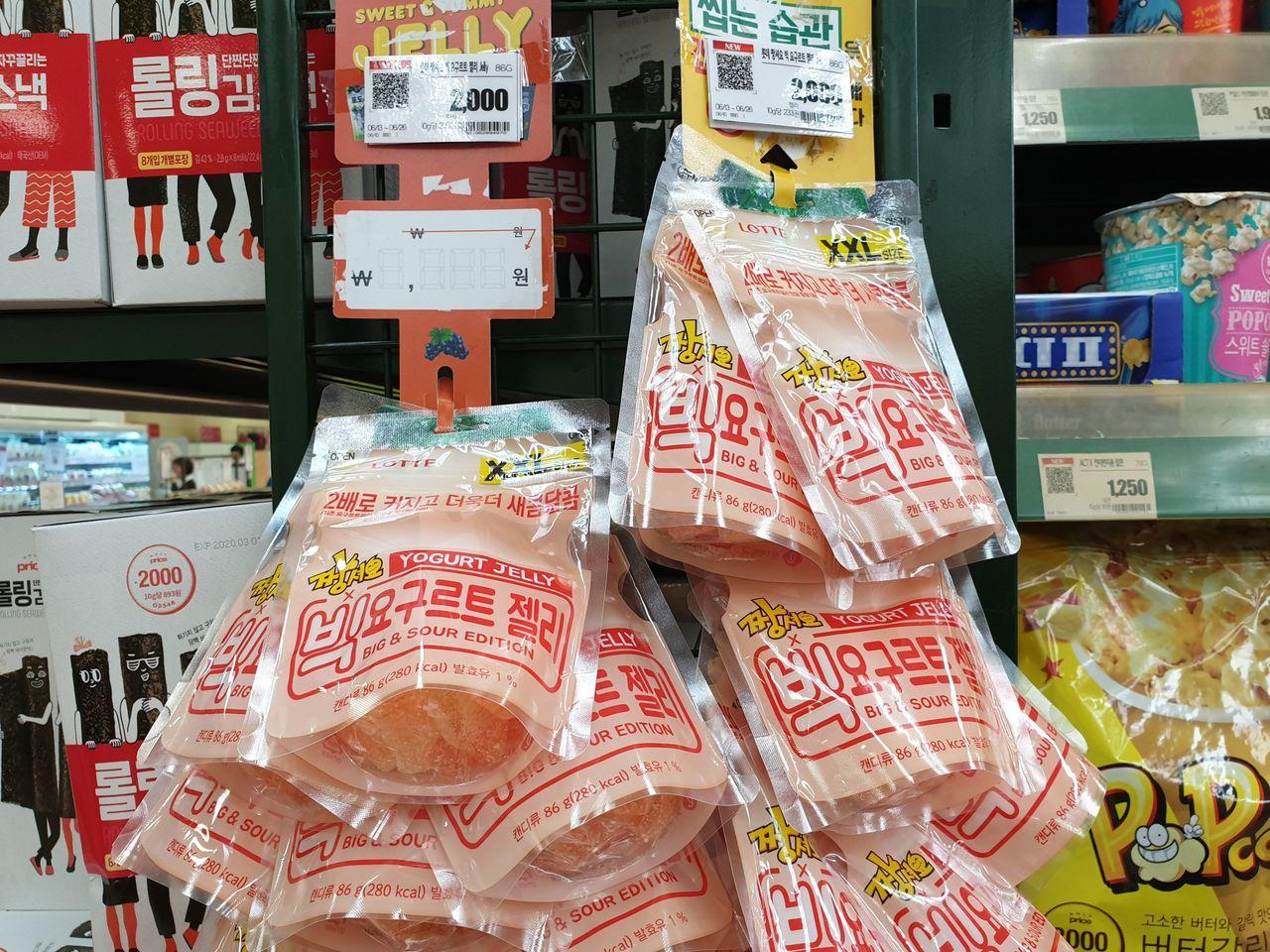 You guys probably already know about this one. I always see people stocking up anytime I'm at Lotte Mart.
---
29. Ohsajjeu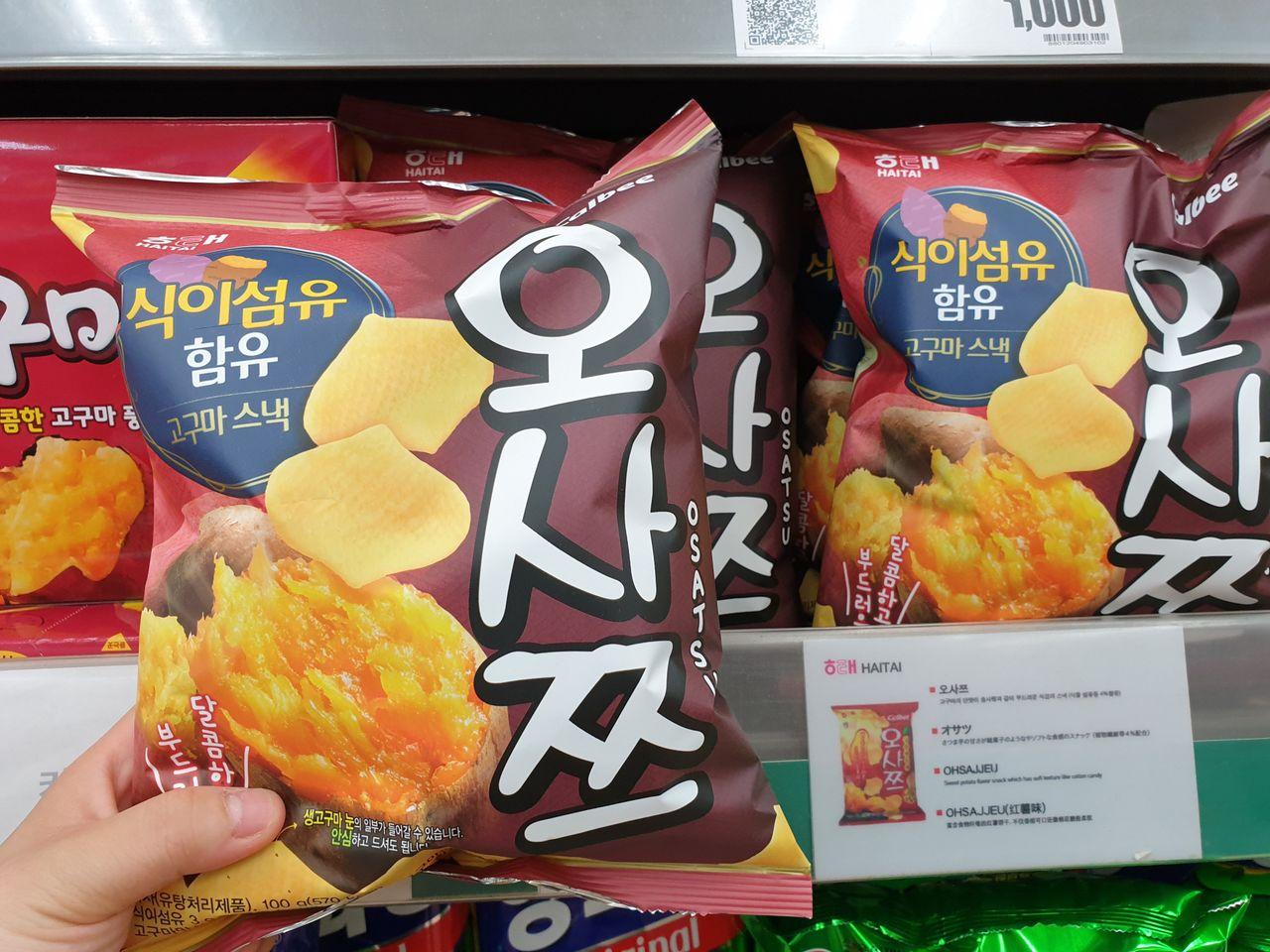 Ohsajjeu is sweet potato chips that's slightly thicker than your normal potato chips, and sweet. I love this snack.
---
30. Sumsum Corn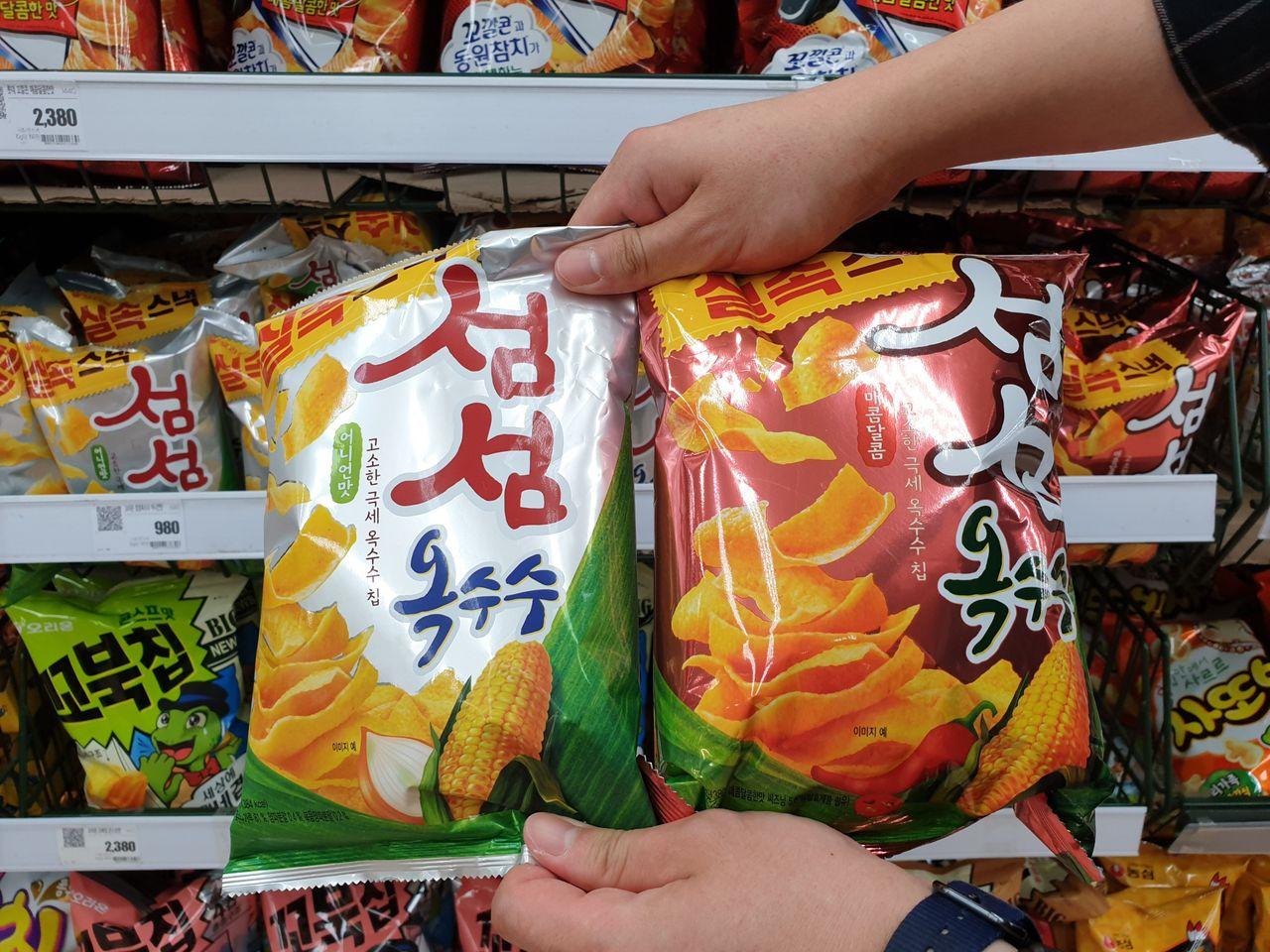 Sumsum Corn is another popular Lotte Mart snack. If you don't know which flavor to get, I recommend going with the spicy flavor.
---
31. Ggobuk Chip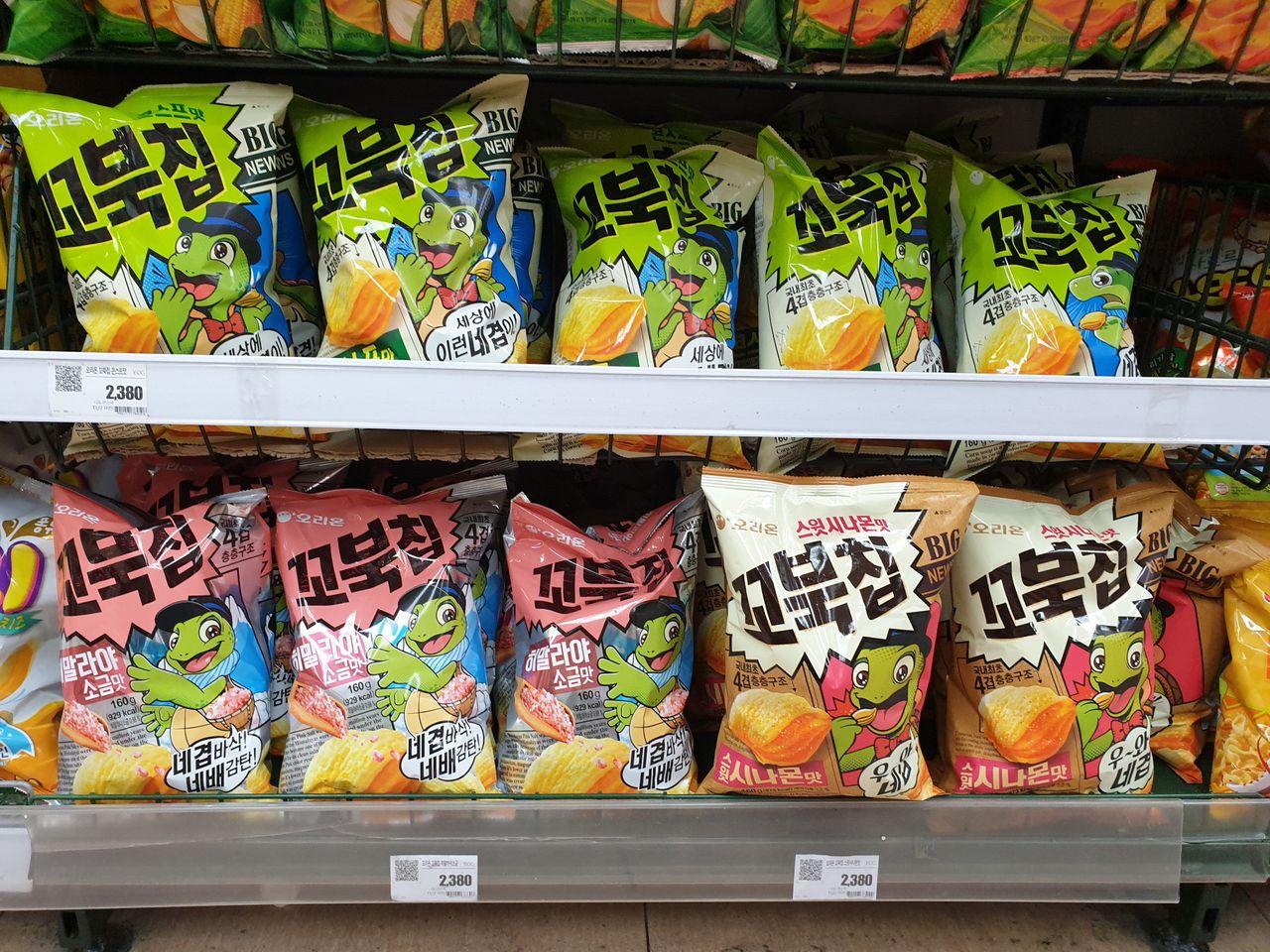 Ggobuk Chip is already super famous. If you're already familiar with the corn soup flavor, try the Himalayan Salt or the Cinnamon flavors.
---
32. Jyoripang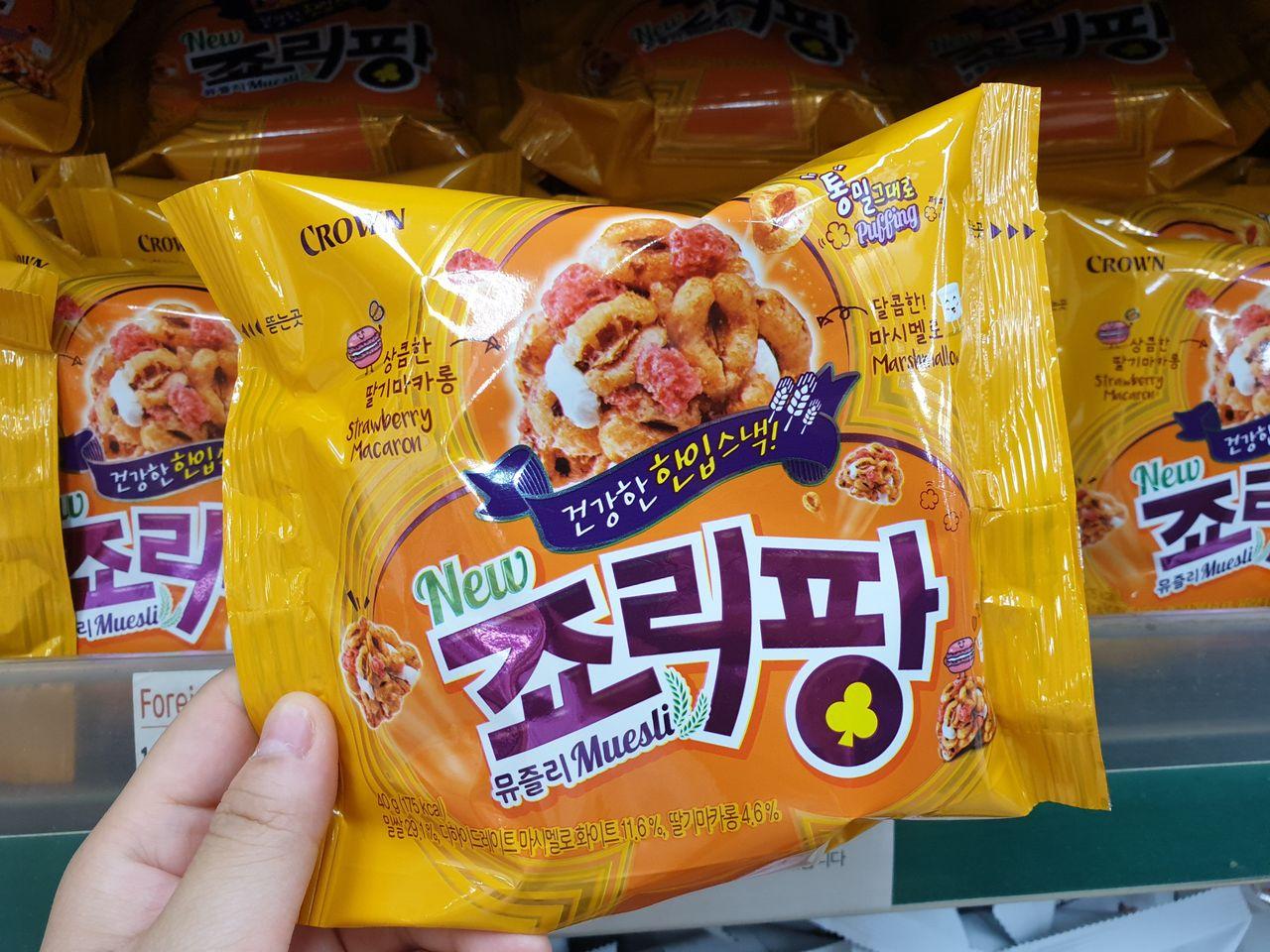 Do you know Jyoripang? You can eat this like cereal with milk, or you can have it as a snack. This one here is the strawberry macaron flavor.
---
33. Binch Chocolate Cookie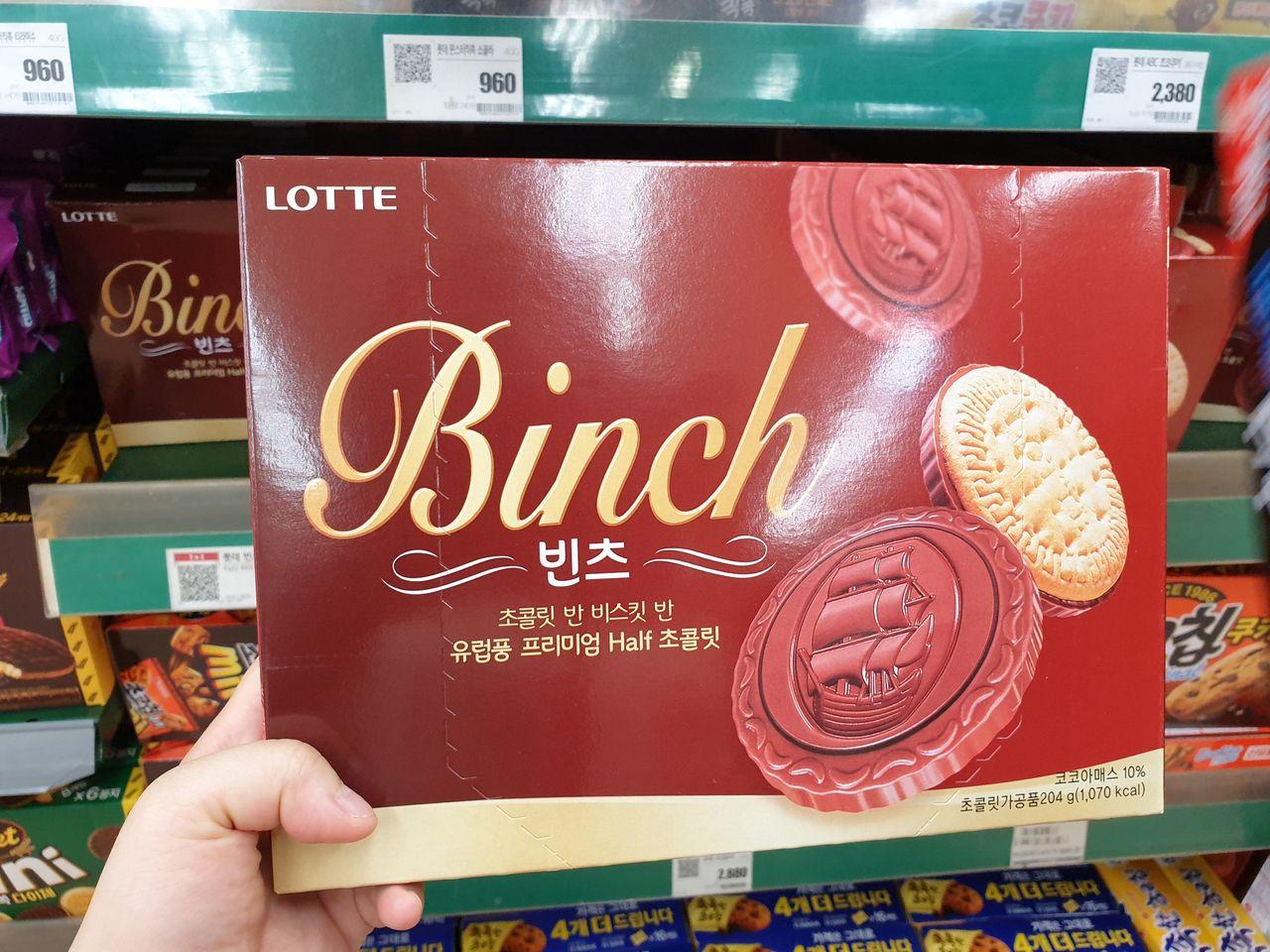 Binch is a Creatrip favorite! One side of a plain biscuit is covered in chocolate. It's super addicting, take care that you don't finish the entire box in one sitting.
---
34. French Pie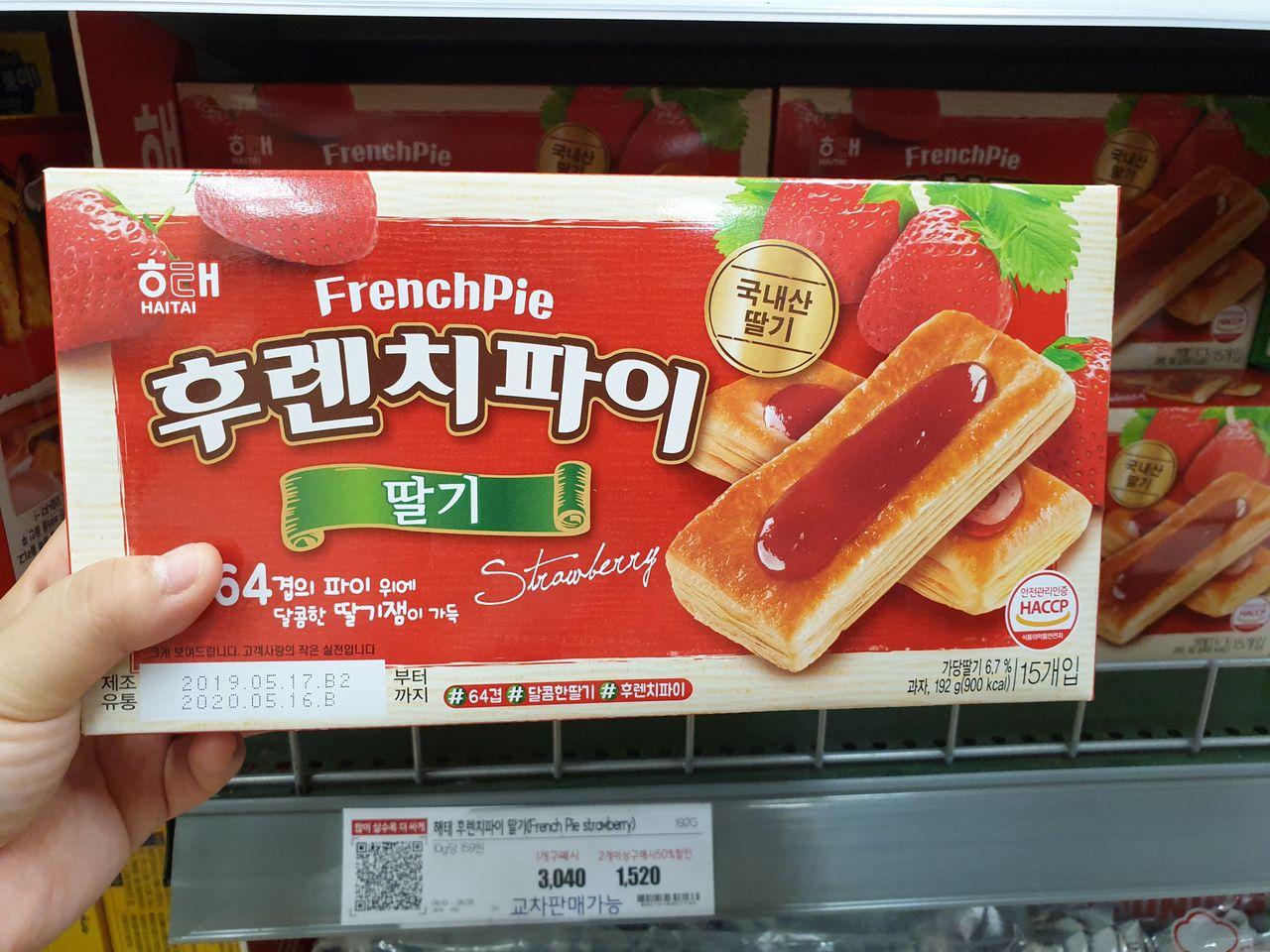 French Pie is a french pastry-like snack with real strawberry jam in the middle. There are apparently 64 layers to the pastry, which makes is crunchy and flakey and delicious.
---
35. Creamy Chew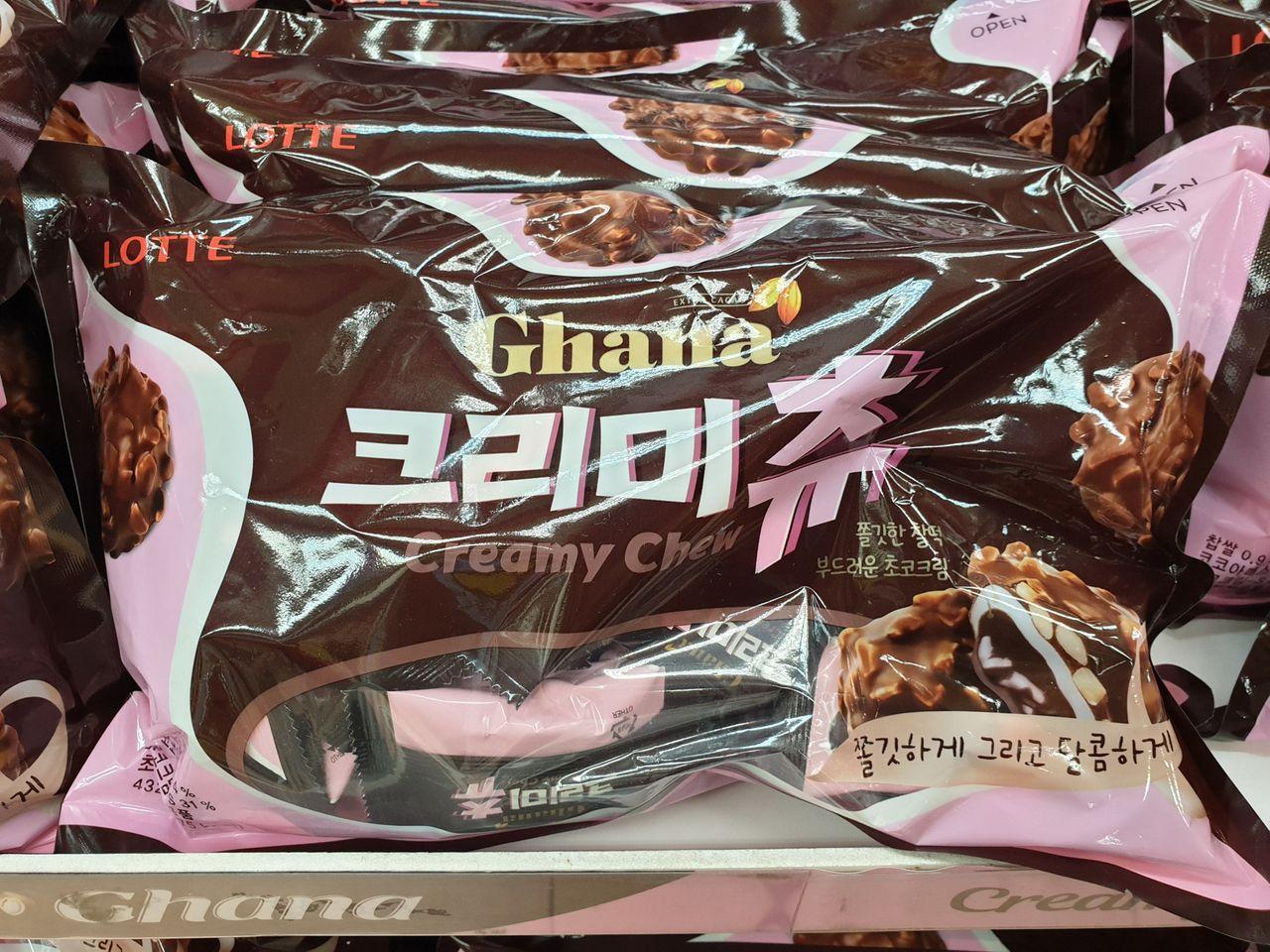 The Creamy Chew is a soft and fluffy chocolate snack that's super sweet.
---
36. Fresh Cream Pie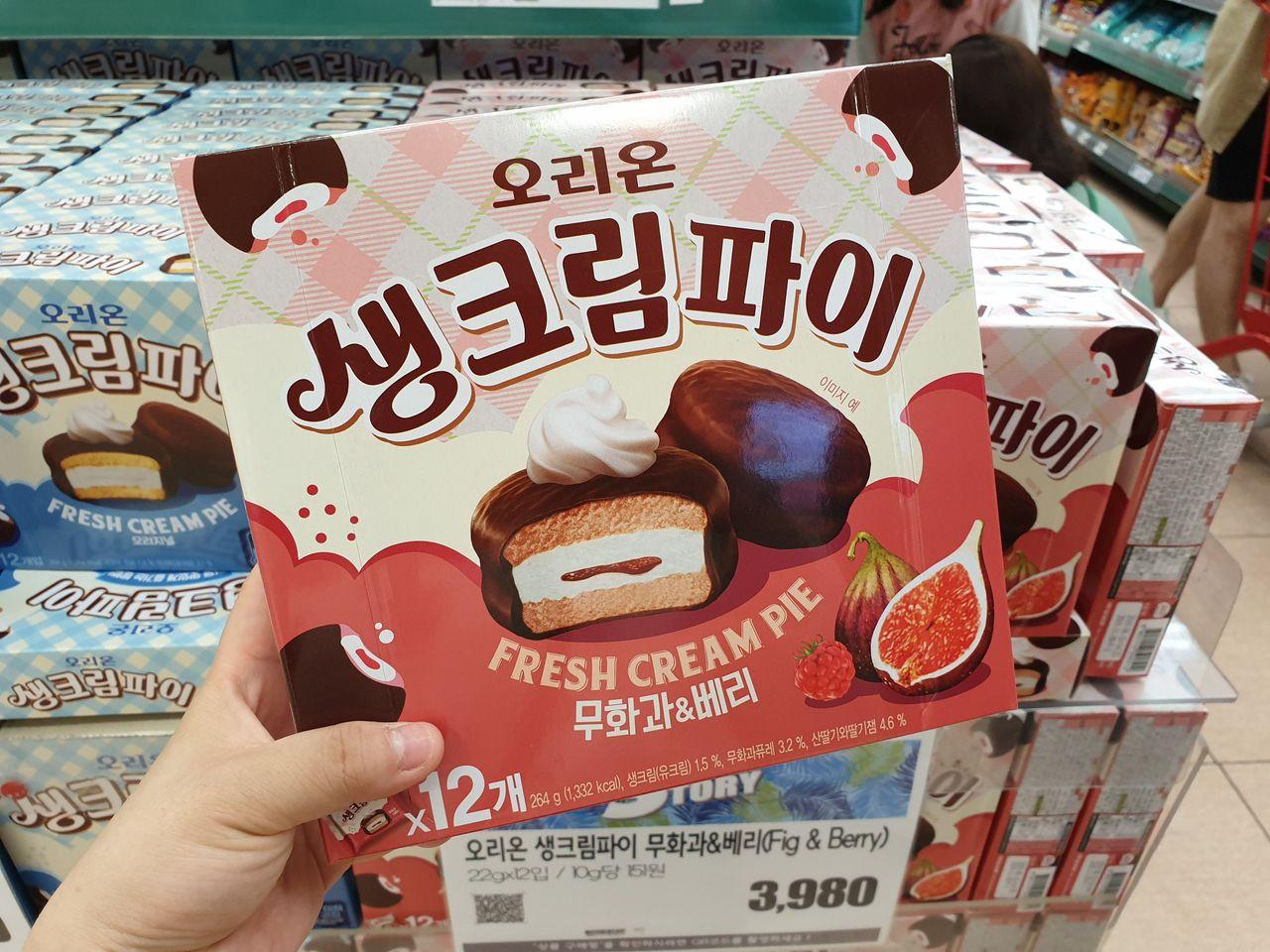 Koreans love a sweet snack. This chocolate pie snack has been popular for a long time. If you're bored of the original chocolate pie flavor, then try this fig & berry flavor for a change.
---
37. ABC Choco Cookie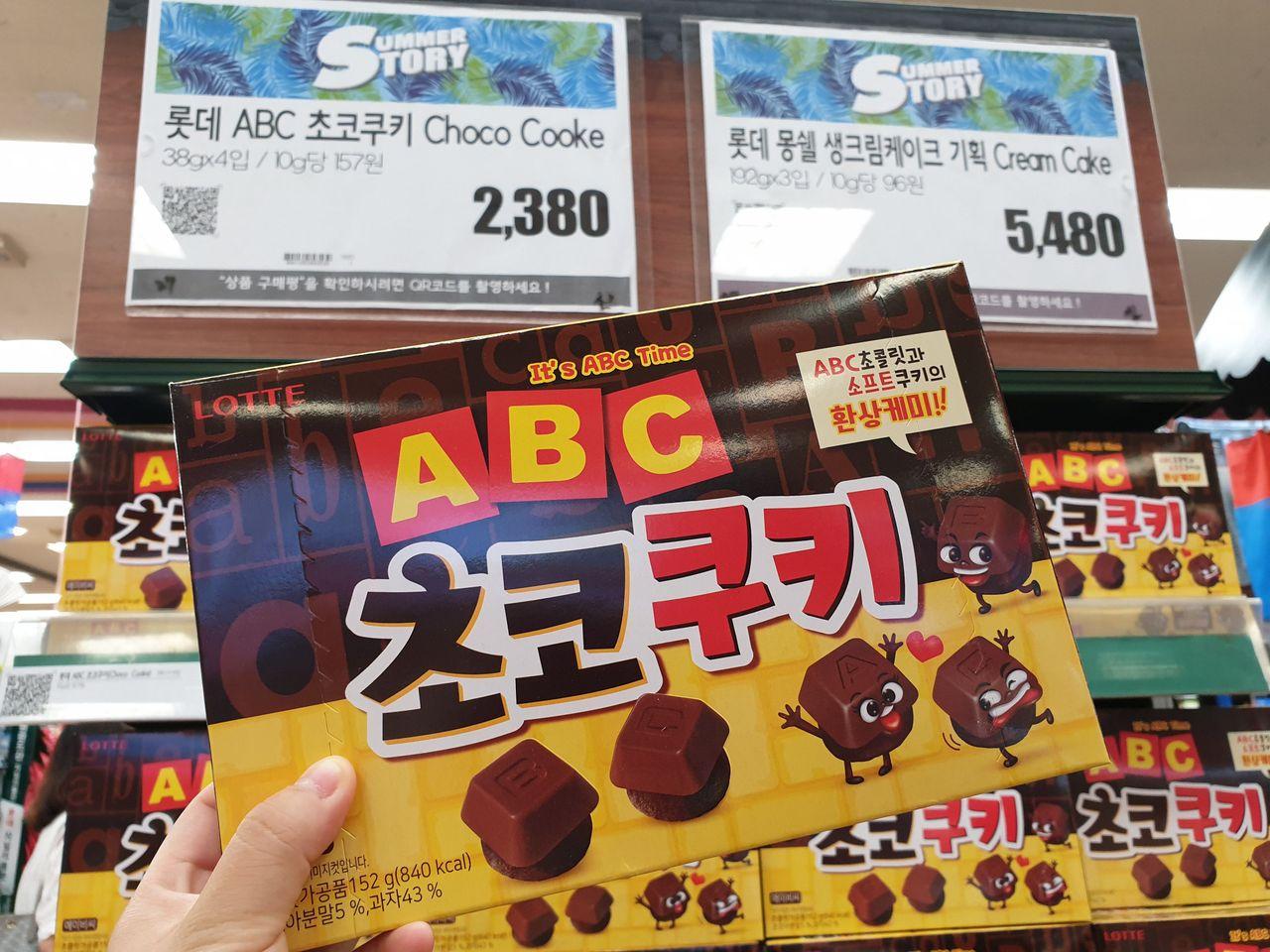 This is an interesting snack that's neither chocolate nor cookie. I tried it randomly one day and fell in love. It's super good so make sure to pick it up!
---
38. Hershey's Cacao Pie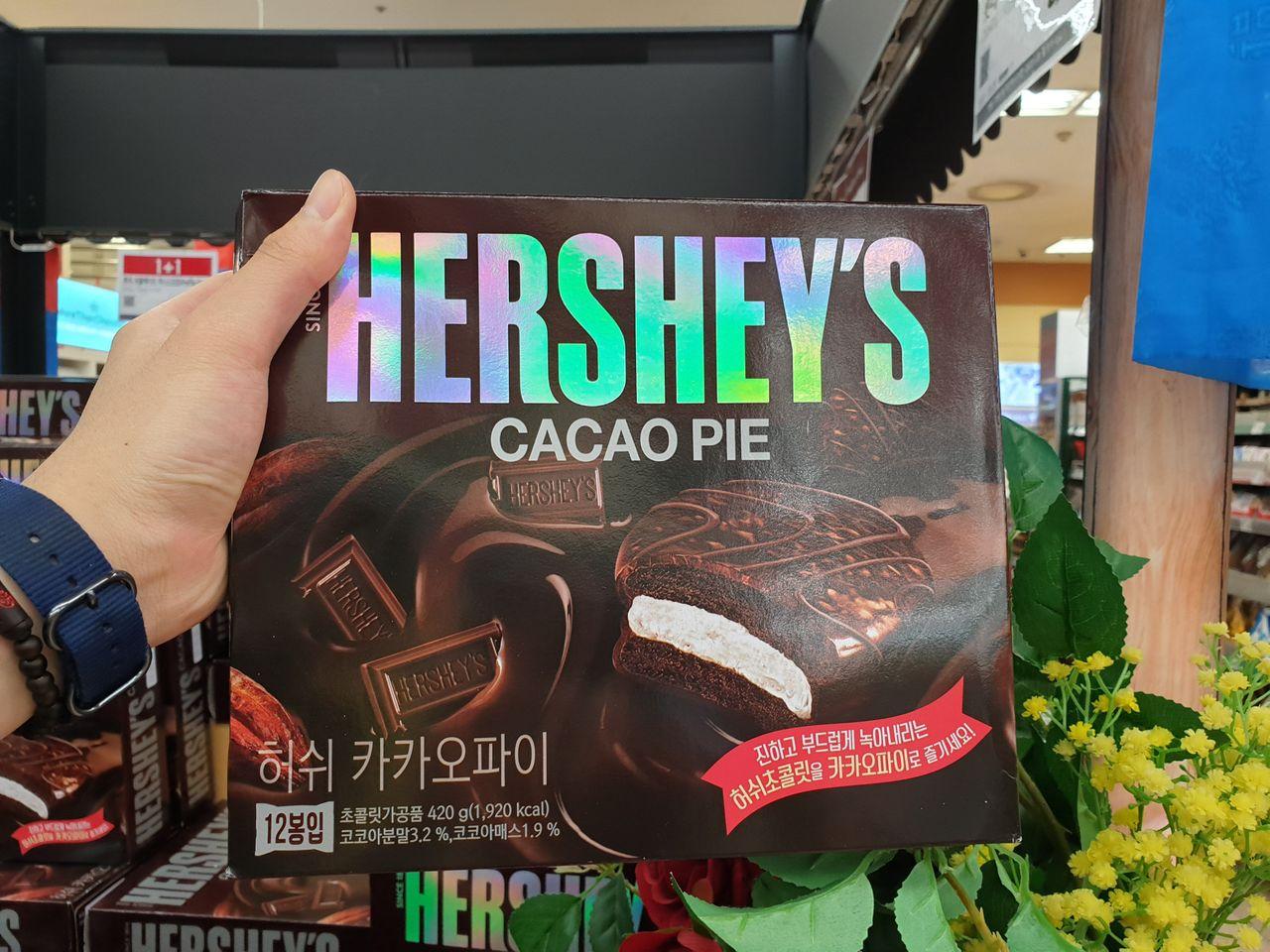 Hershey's already mega famous. There's a Hershey pie snack you can try here in Korea!
---
39. French Cafe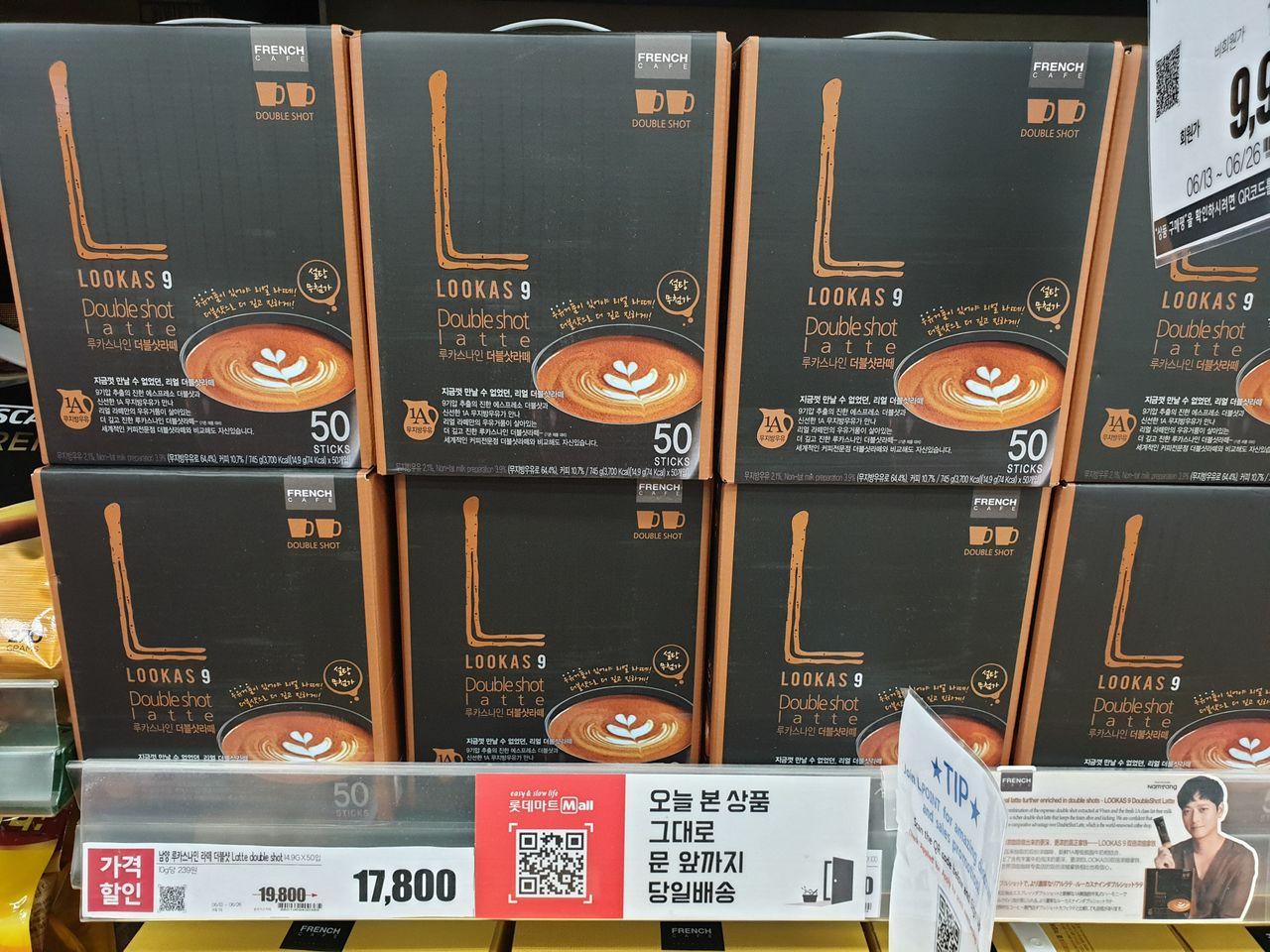 Lookas is the most popular instant coffee brand after Maxim. It's not too sweet and has a stronger coffee scent.
---
40. New Jelly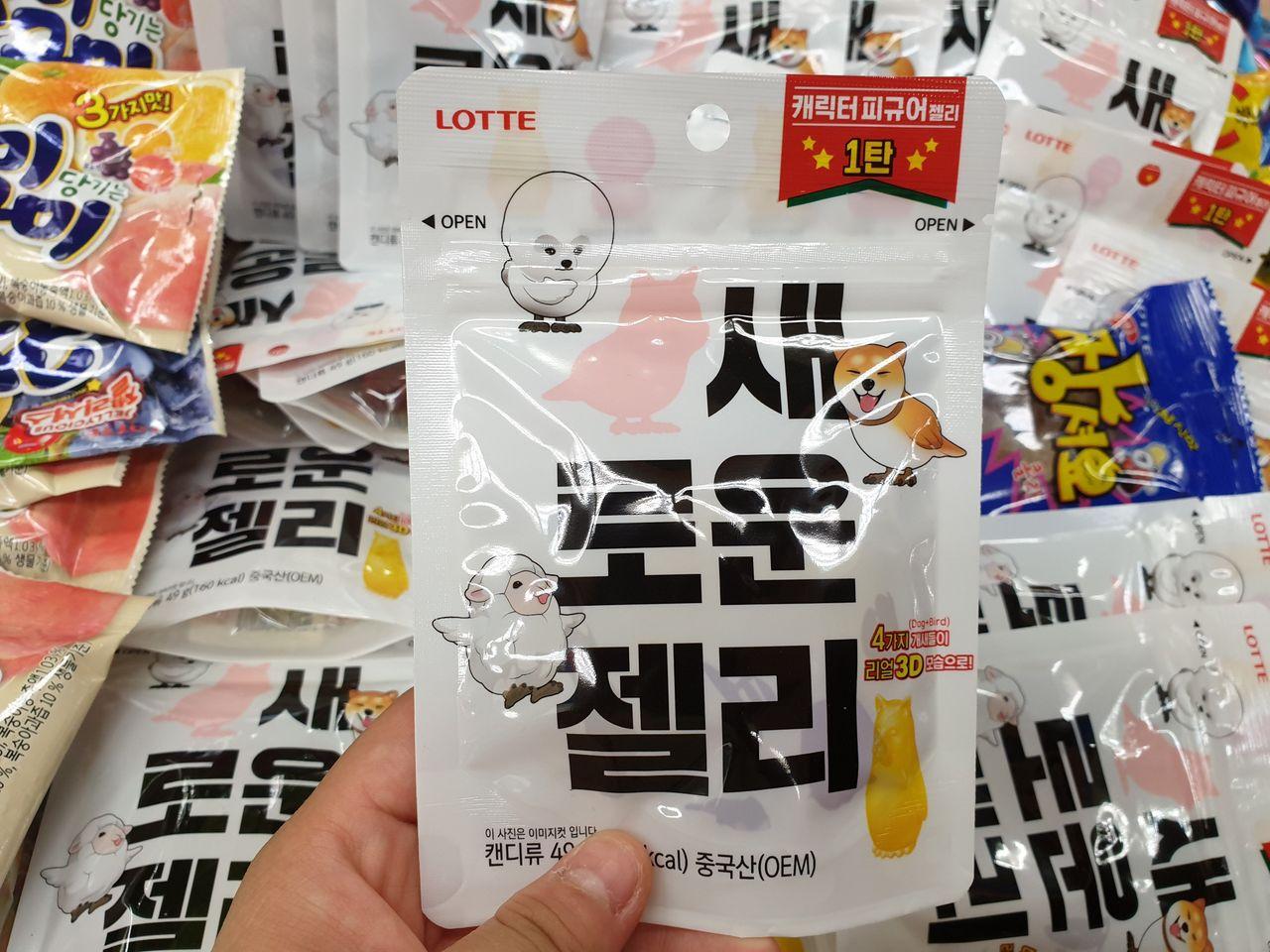 Wondering why this one is on this list? The packaging is super cute and bird-ifies any animal (Korean word play).
---
41. ChicChoc Choco Chip Cookie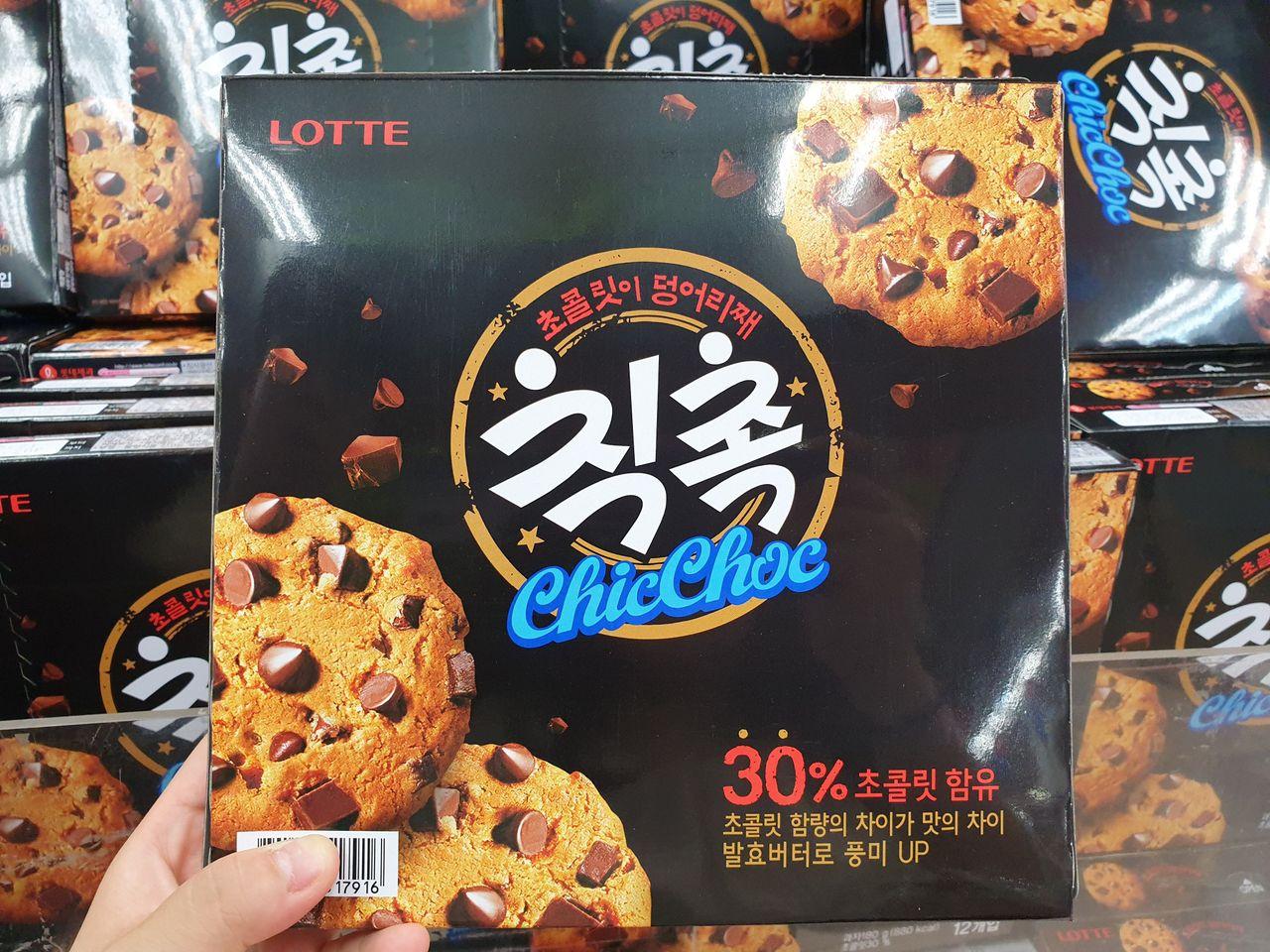 ChicChoc is 30% chocolate, and a must buy from Lotte Mart. The cookies are quite similar to the Subway cookies.
---
42. Umma Son Pie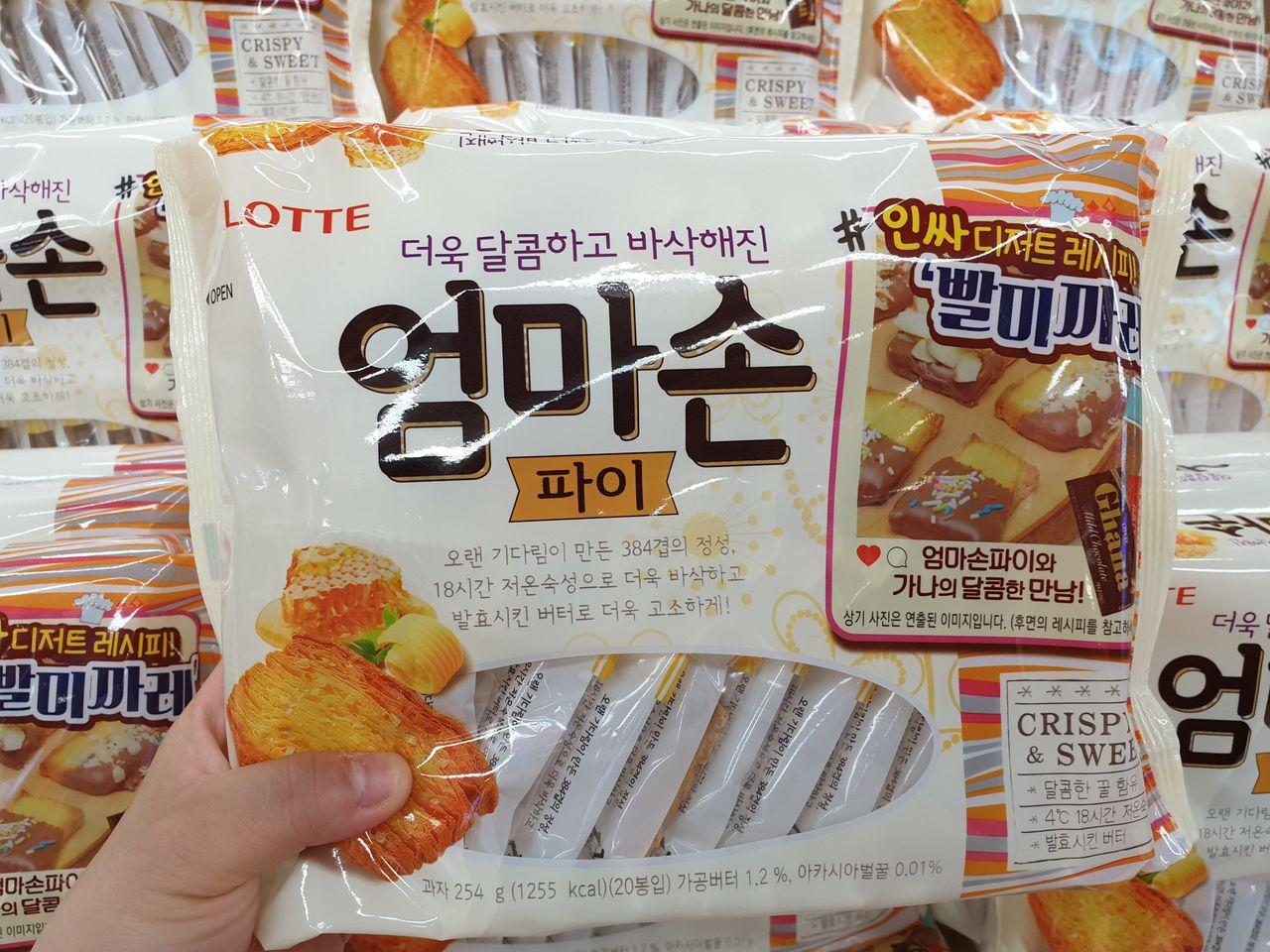 Not really a pie, but rather a flakey, Palmier-type pastry snack. The flavors are basic, but according to the packaging, apparently goes well with some chocolate. Don't think that it's going to be chocolate flavored though. I love this snack.
---
43. Hershey's Choco Crunch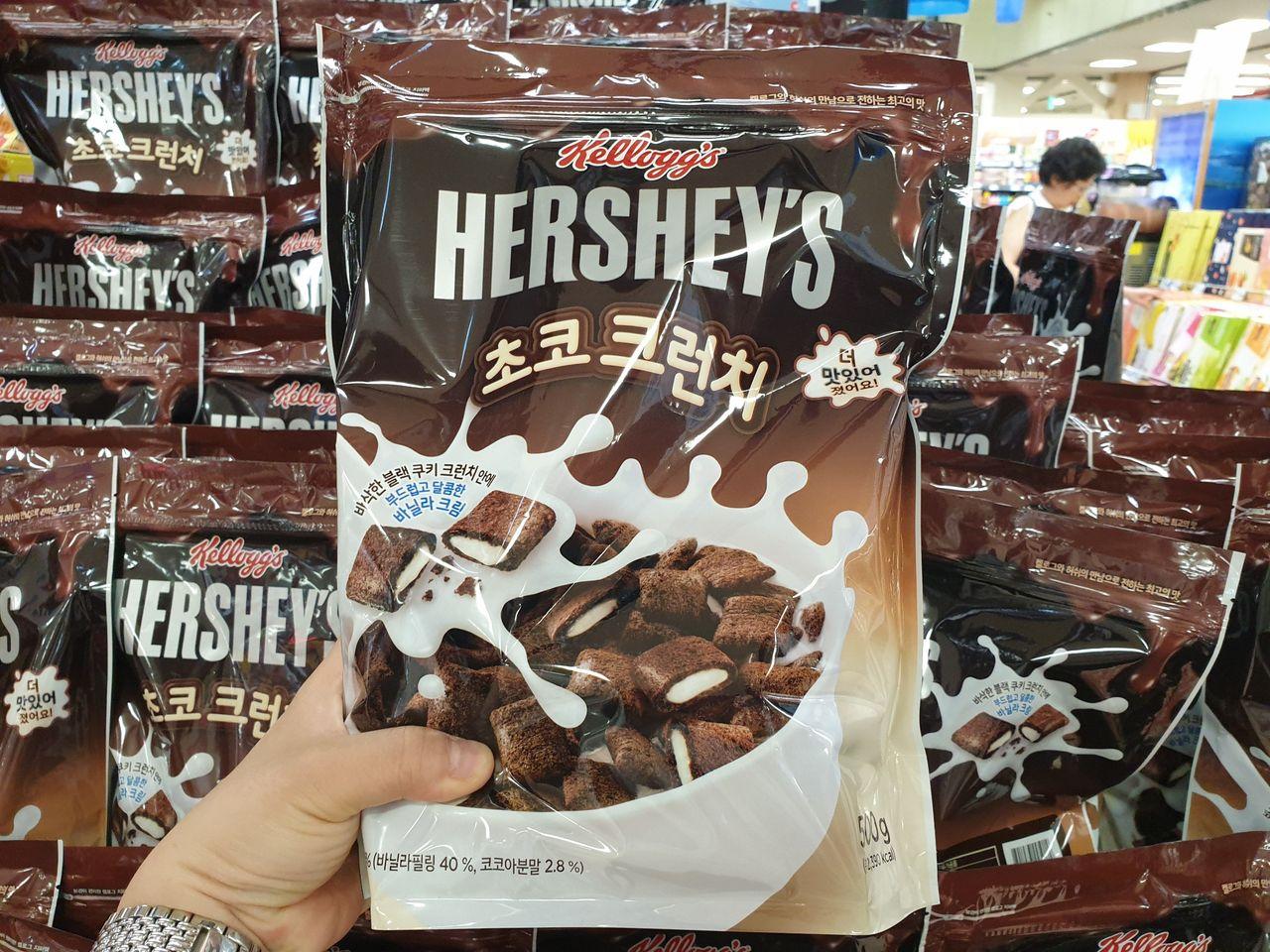 Another Hershey's snack, it is a chocolate biscuit filled with vanilla cream. You can eat this like cereal as well!
---
44. Garlic Baguette Sun Chips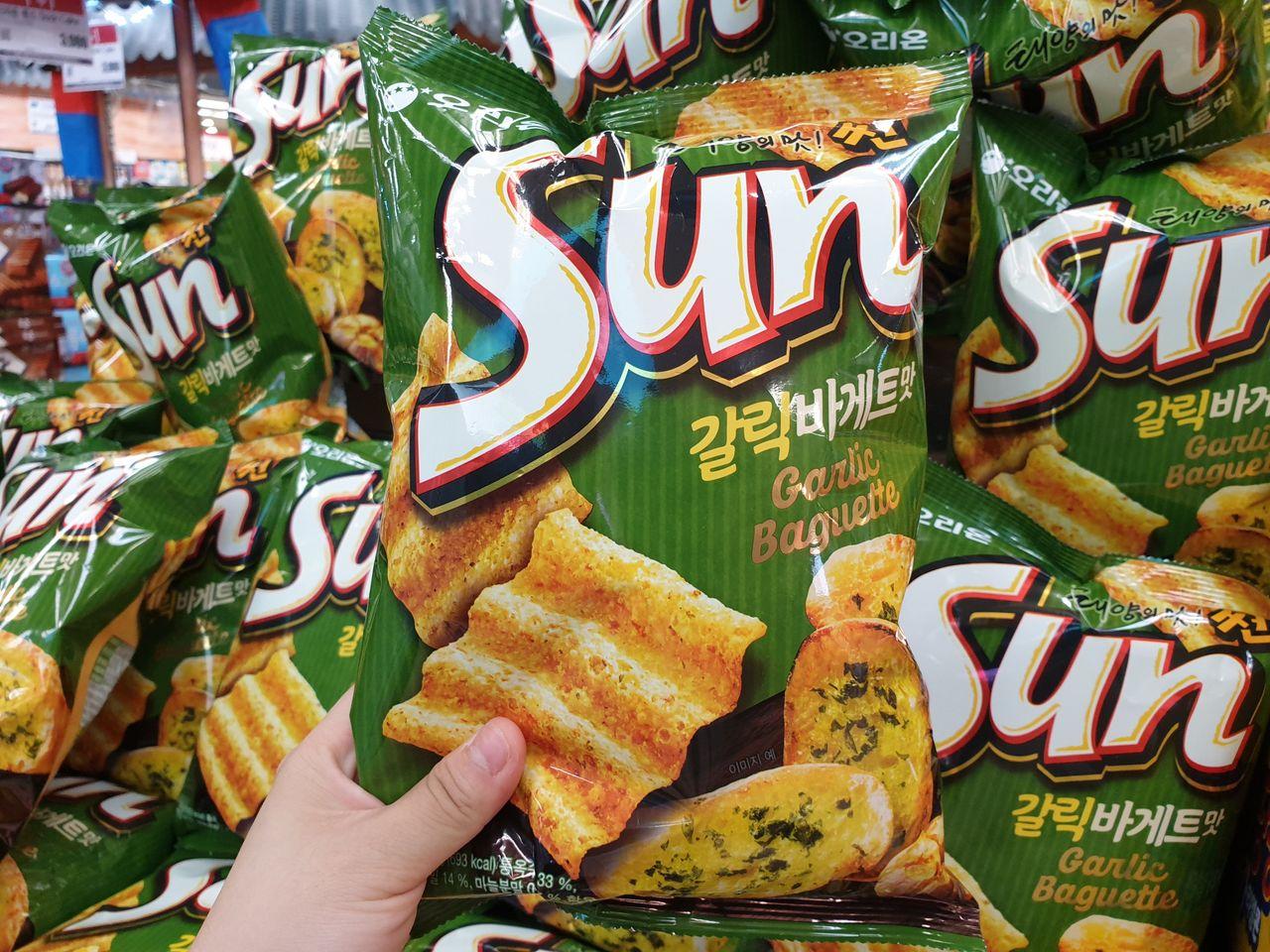 Garlic isn't a super popular food among Koreans, but garlic-flavored foods, we love it.
This snack isn't a super famous snack or anything, but it's pretty tasty. So if you like garlic flavors, this one's your pick.
---
45. Banana Milk Series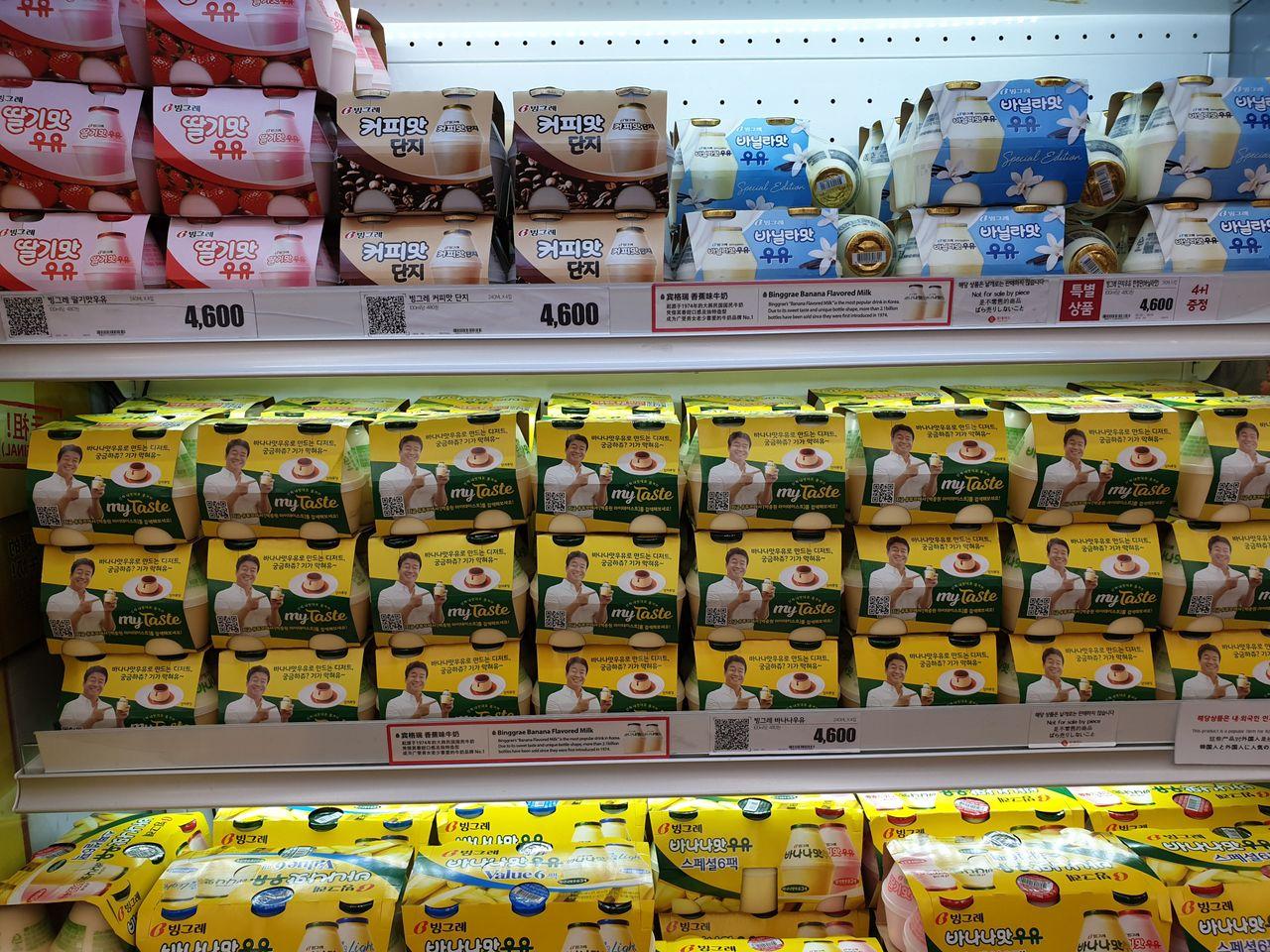 Do you guys like this milk? It's a drink that you should most definitely try when in Korea, but it's pretty pricey at convenience stores. You can get it for cheaper at Lotte Mart.
---
46. Sumi Chip (Honey Mustard flavor)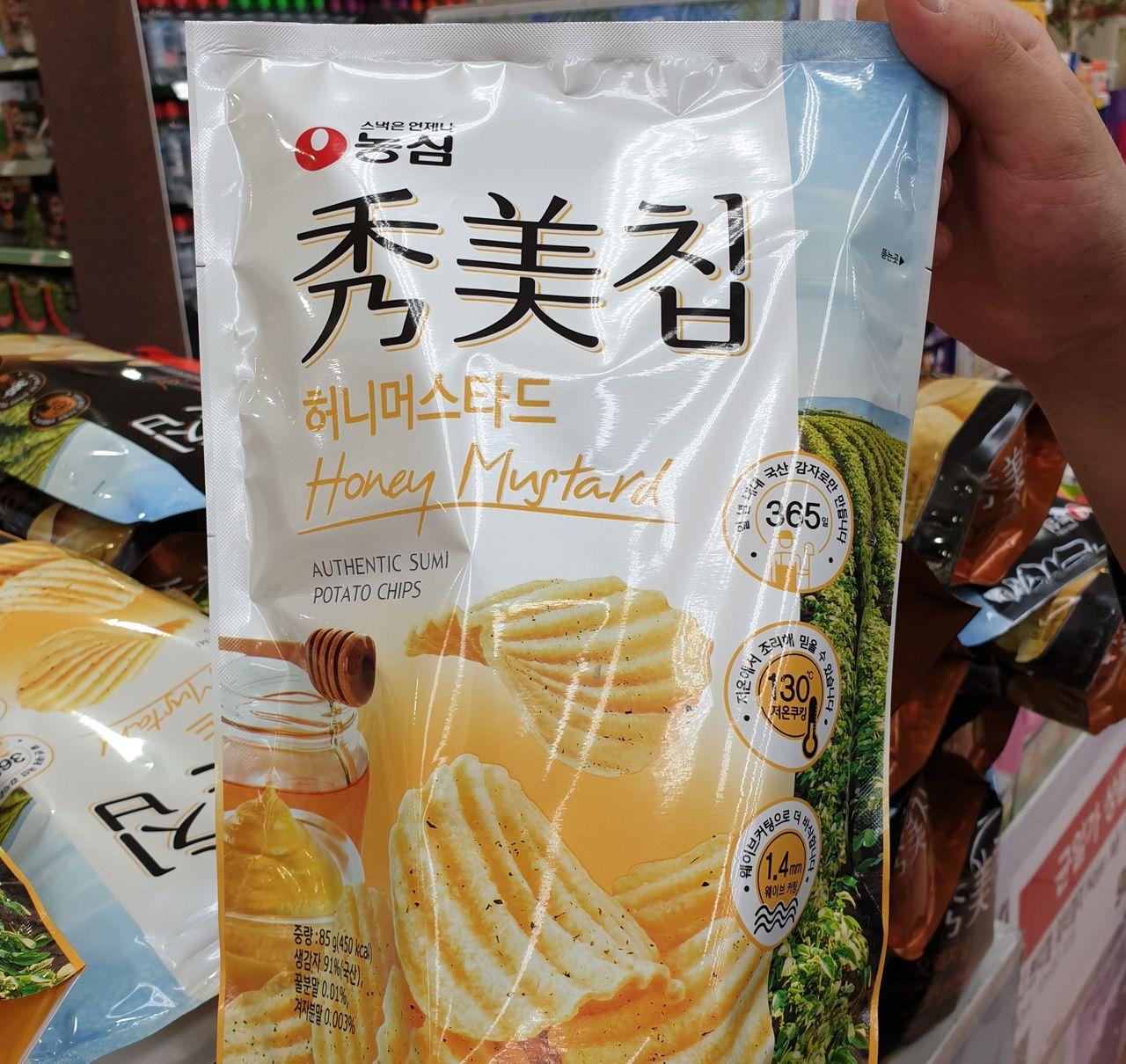 This is honey-flavored Sumi Chip, so it's not too salty. I love this flavor.
---
47. Sumi Chip (Original)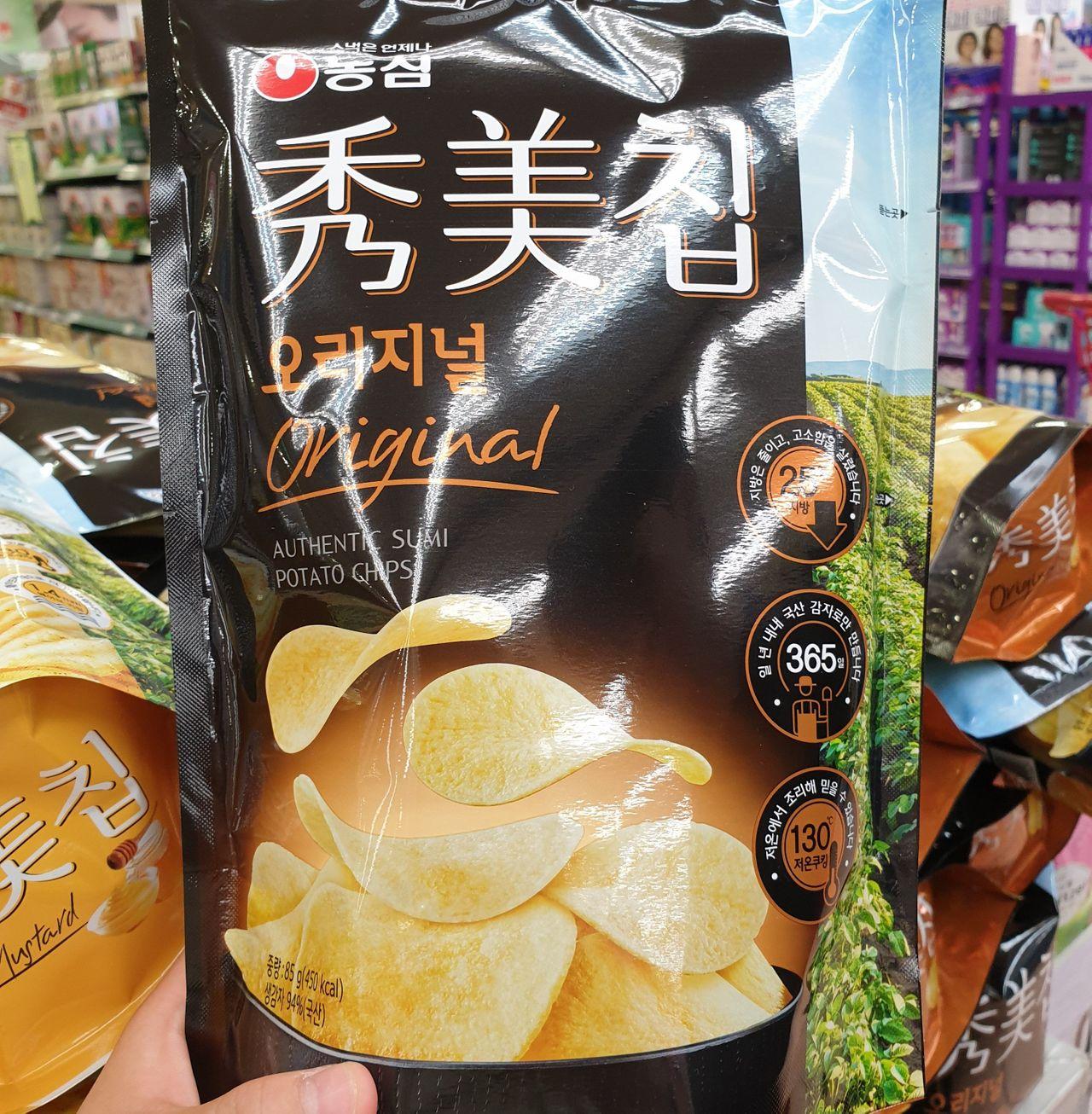 You can't forget the original Sumi Chip flavor.
---
48. Canned Silkworm Pupa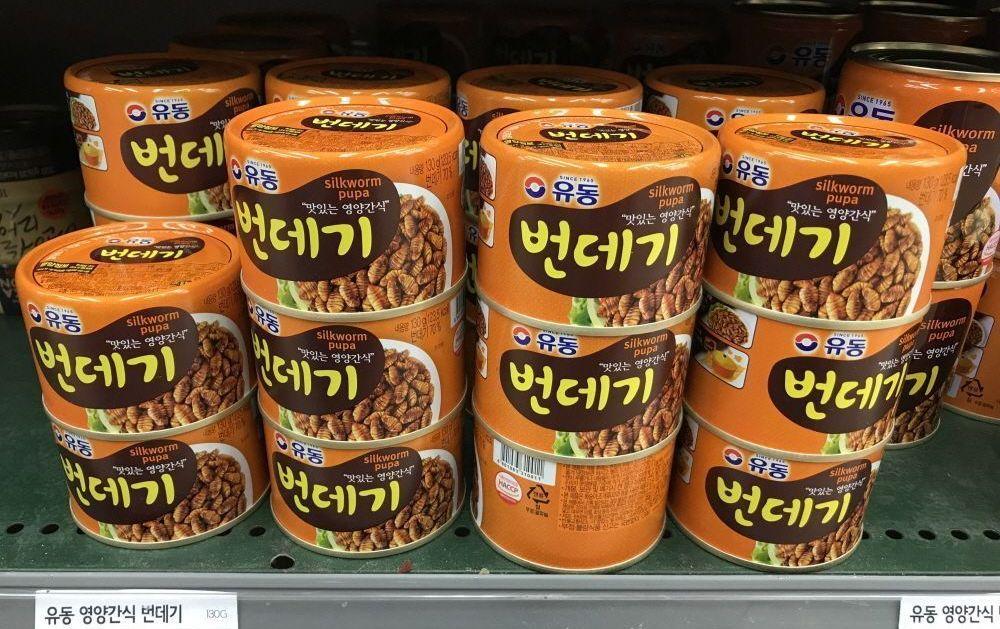 Canned silkworm pupa is a real love-it-or-hate-it thing. People who love it LOVE IT and people who hate it can't even bear to look at it. If you truly want to get something special and really interesting, get this.
---
49. Sesame Oil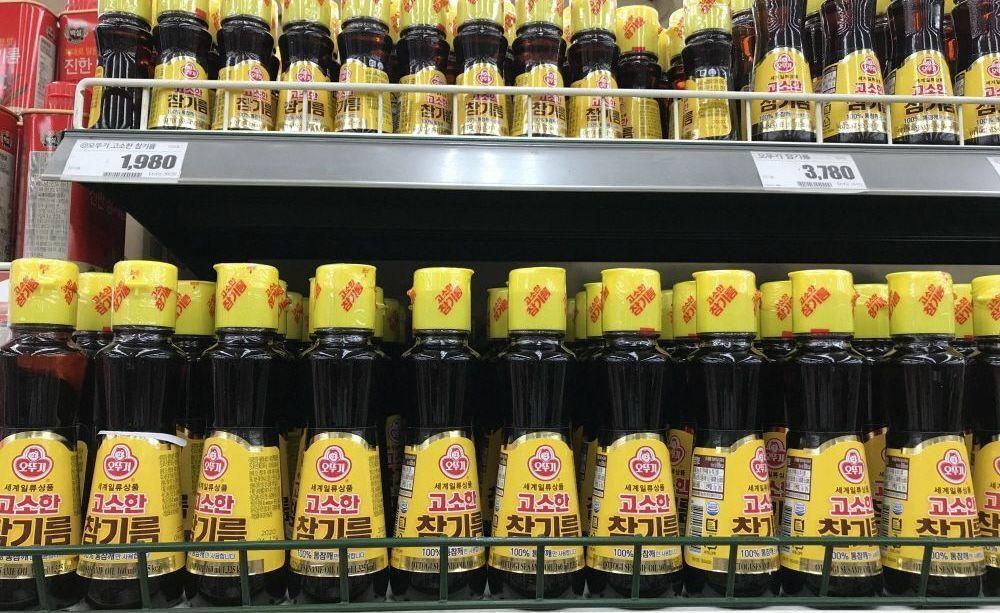 You have to get sesame oil! I'm not entirely sure why but Korean sesame oil is so much richer and more aromatic than the sesame oil from other places. That's why you'll see a lot of people stocking up on sesame oil from Lotte Mart.
---
50. Hoddeok Mix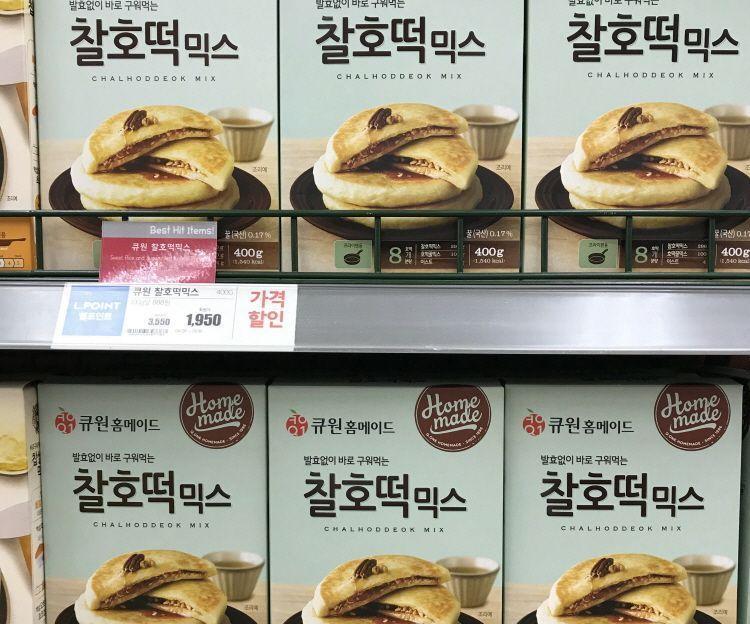 Korea's hoddeok is delicious and will probably bring up fond memories of childhood for most Koreans. This is one of those uniquely Korean foods that you won't ever find in other countries.
But don't worry, you can take home your very own box of hoddeok mix to make at home!
---
This has been 50 items from Lotte Mart. Which ones are you going to get?
---