Foreign Currency Exchange Guide for Travel to Korea 2022
Where should you go for the best possible rates? Check and compare our currency exchange rates updated daily and don't pay more than you should for Korean Won!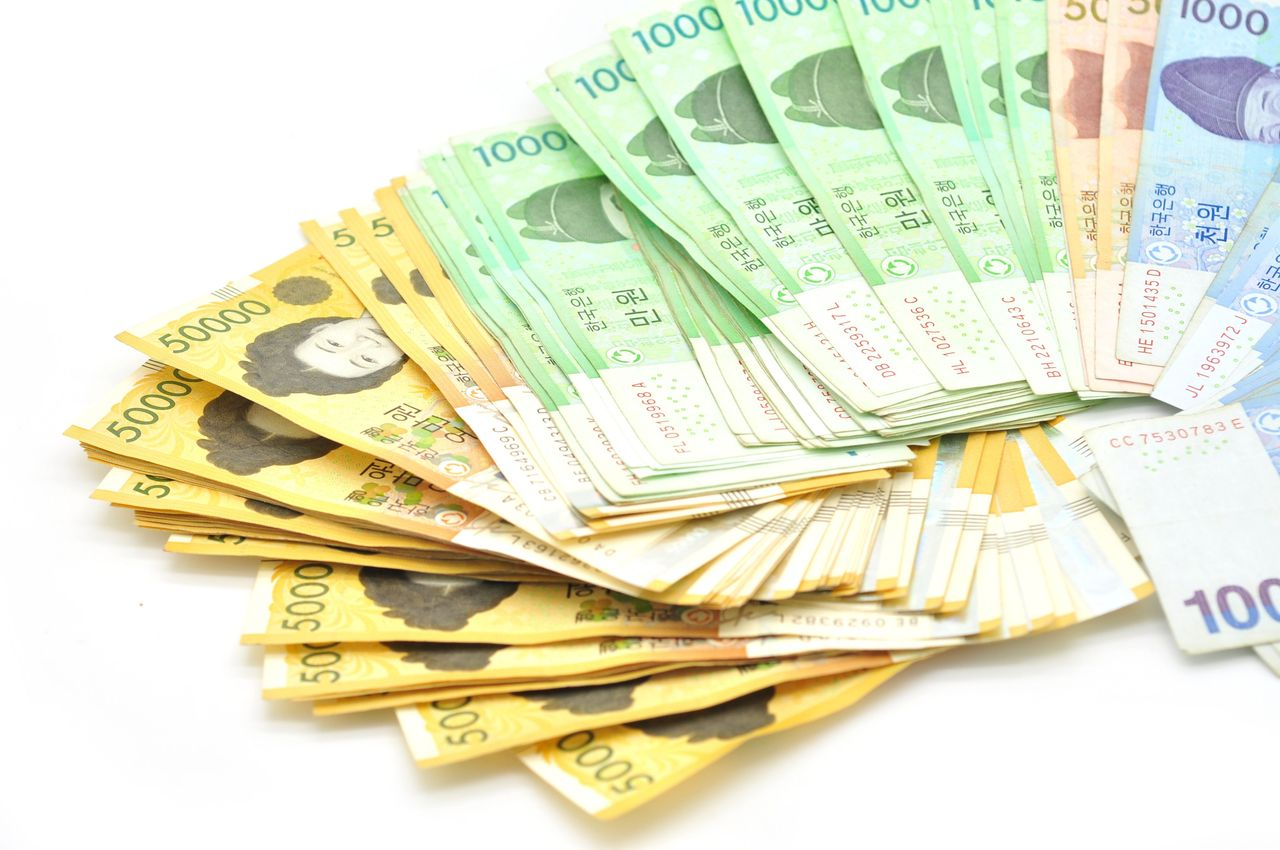 When going on a trip to Korea, one important thing to consider will be the currency conversion rate and the best way to exchange your currency to Korean Won. Will it be more convenient to exchange your currency beforehand? Maybe it might be easier to just use USD? Where can I exchange my currency? These are probably all questions that you have had while planning your trip to Korea. It can all be overwhelming, so let's review it one step at a time!
Firstly, before you head to any of the exchange centers, check the updated daily rates.
---
Korean Currency Overview
There are four types of bills in Korean Won. ₩50,000 , ₩10,000 , ₩5,000 , ₩1,000 . There are also 5 types of coins, ₩500, ₩100,v₩50, ₩10, and ₩1.
---
Should I exchange money in Korea or abroad?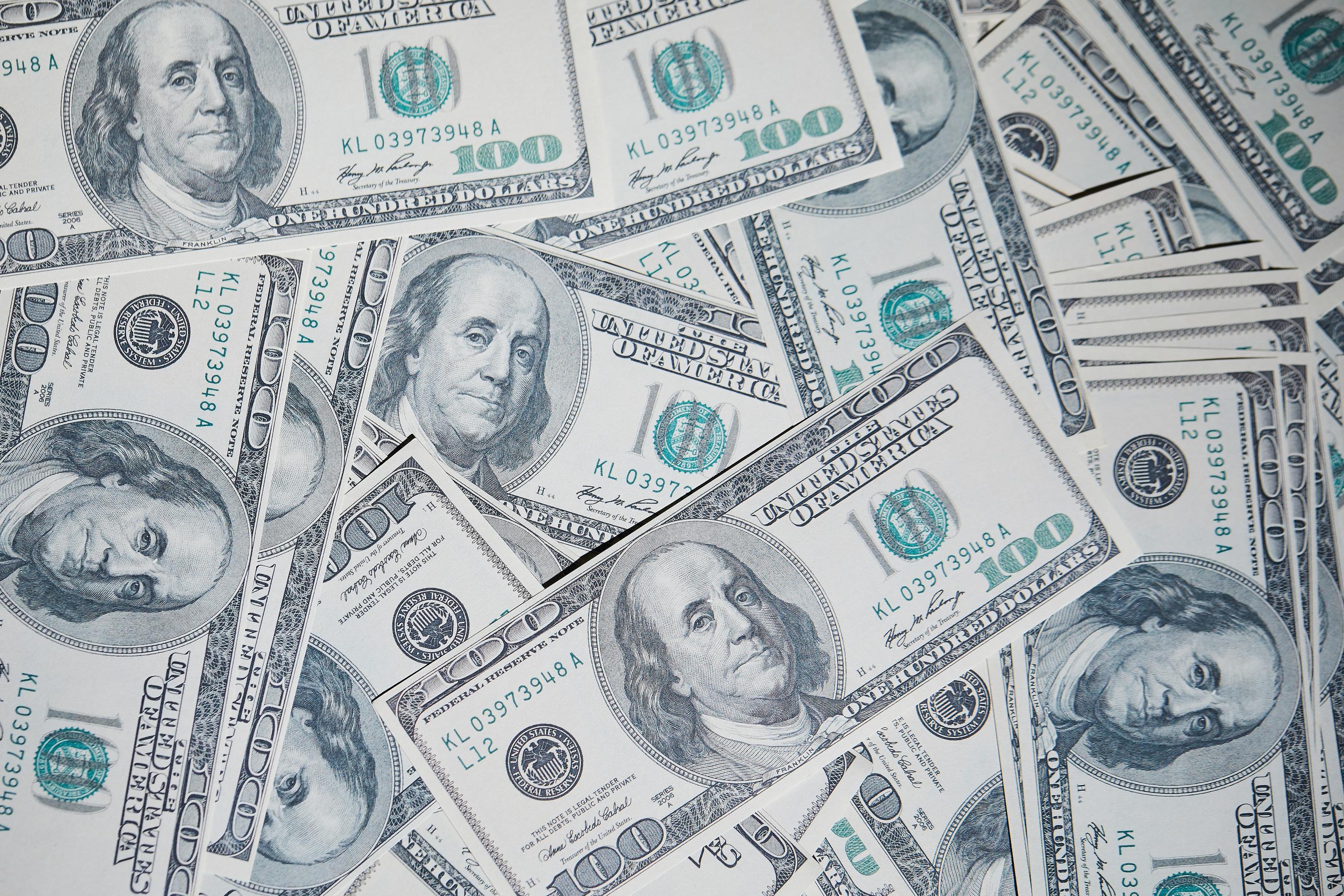 It can be quite stressful to try to think about where you should exchange your money. Some people try to exchange their money in their home country before heading to Korea, while others may deem it fit to exchange it in Korea. To get the best rates, you're going to want to exchange currency in Korea, rather than your home country!
We recommend that you bring your home currency to Korea and exchange some of it at the airport first because you'll want to have cash on you as soon as you arrive. Rates at the airport banks can be expensive, so avoid those! Then where can you exchange money at a good rate at the airport? With Creatrip! We have a currency exchange service where you can make a reservation ahead of time, then exchange the money right at the airport!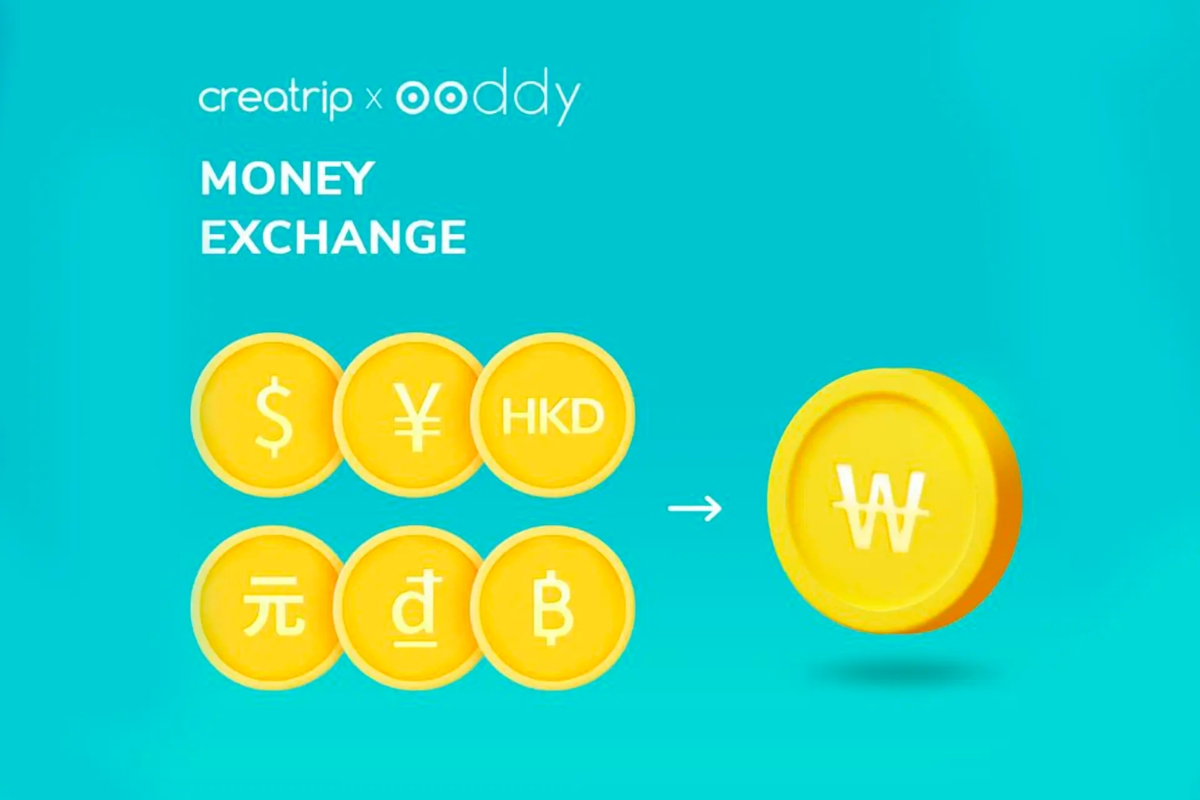 How does it work?
Basically, you can make a reservation ahead of time to exchange money at the airport and simply pick up the agreed amount on a fixed date (at least 26 hours (KST) in advance). Here's how it works:
First, you can check the Creatrip Airport Exchange Rate Calculator to compare rates and see how much you can save through Creatrip's service.

Then, make a reservation and let us know the time and date of the exchange (within operating hours), and how much you would like to exchange.

Lastly, prepare the agreed amount in your local currency and meet with a representative at Incheon Airport (near the Airport Railroad Ticket Gate) to pick up the promised amount.
Make the most of your Korea trip by saving time and money on unnecessary fees through the Creatrip Airport Currency Exchange Pickup Service! Read all about it and make a reservation using the link below:
Creatrip Airport Currency Exchange Service
Popular and Unpopular Currencies
The most popular Korean won currency exchange is the US dollar, Taiwan dollar, Hong Kong dollar, and Japanese Yen. Other currencies can be exchanged as long as they are "marketable securities", but the rate may not be as good. The exchange rates provided by Creatrip are a good reference!
---
Best Places to Exchange
Incheon International Airport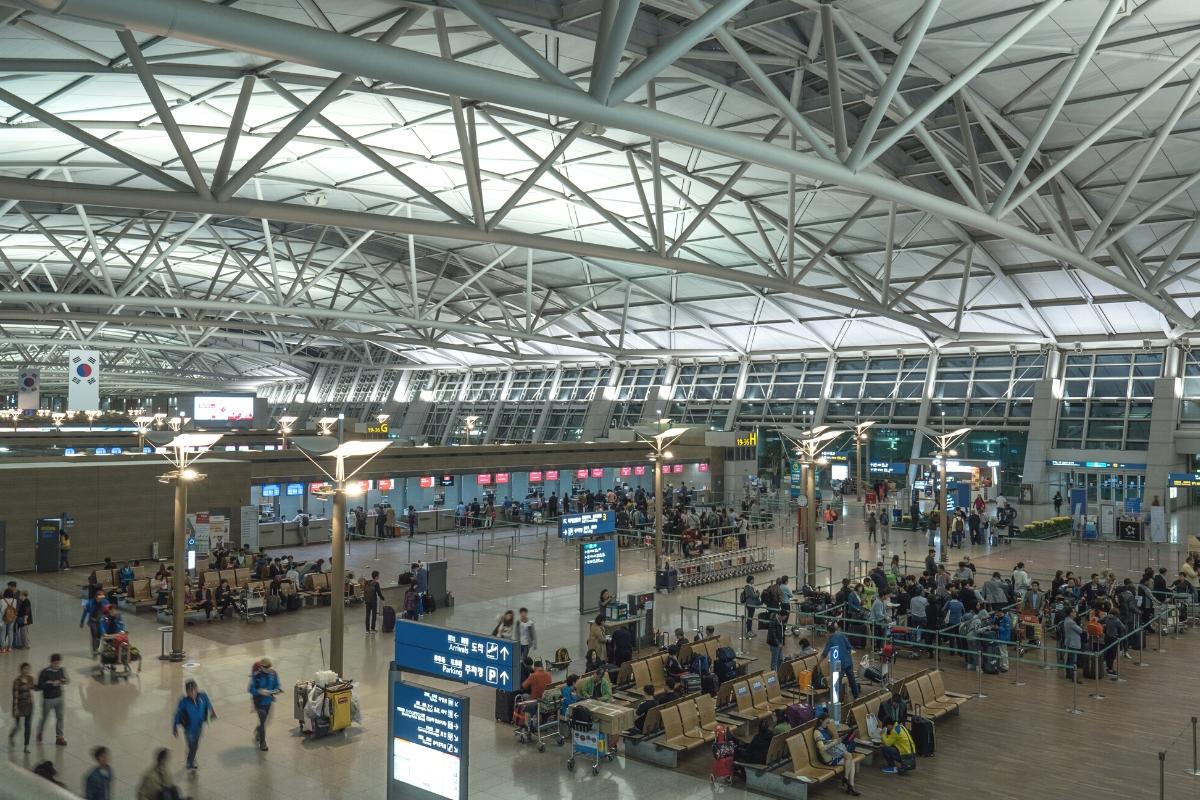 With the Creatrip Airport Currency Exchange Pickup Service, all you have to do is pay a deposit of 10,000 KRW (which will be refunded on-site), select the amount you'd like to exchange, and then you can exchange your money right away at the airport, saving you time and unnecessary fees! The Creatrip exchange rate is significantly better than the banks available at the airport, and while local services in areas like Myeongdong and Dongdaemun may have better rates, it's not worth the extra time, money, and planning needed to find a local exchange service! Get your money exchanged right at the airport and start your trip right away!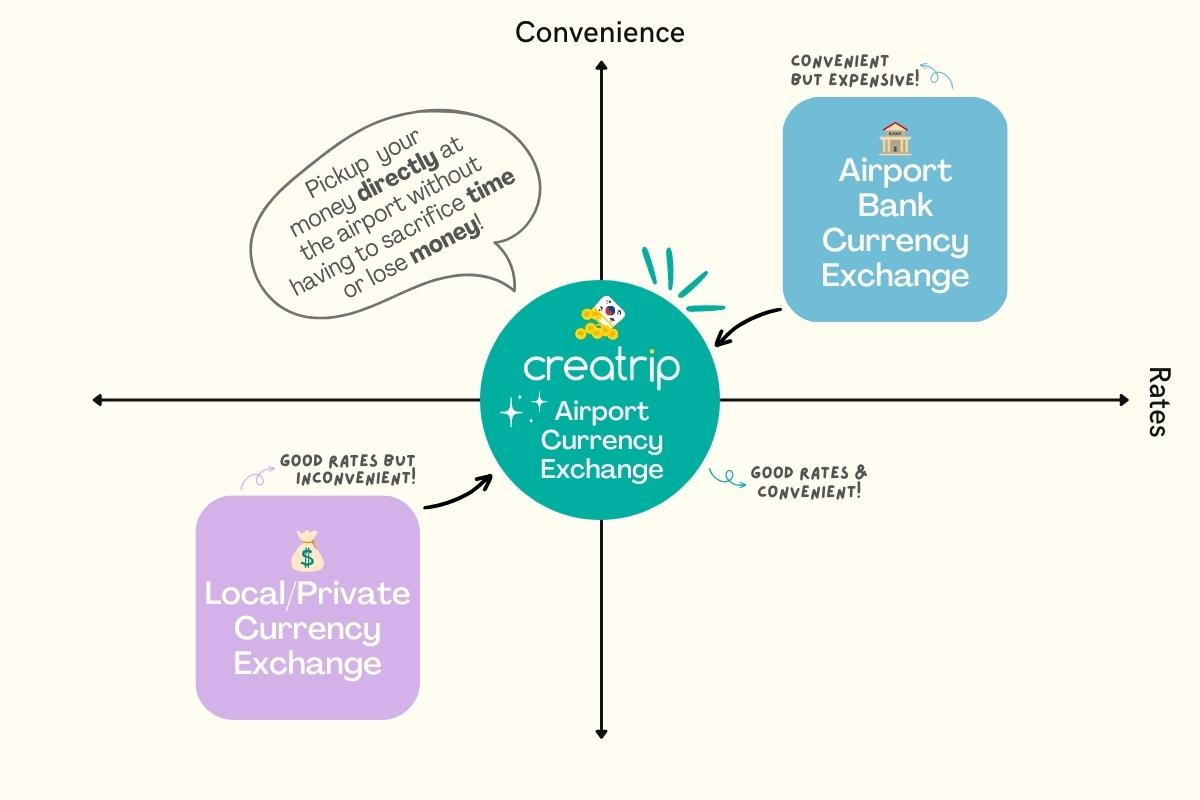 Find our more about our airport currency exchange service here:
Airport Currency Exchange Pickup Service
---
Myeongdong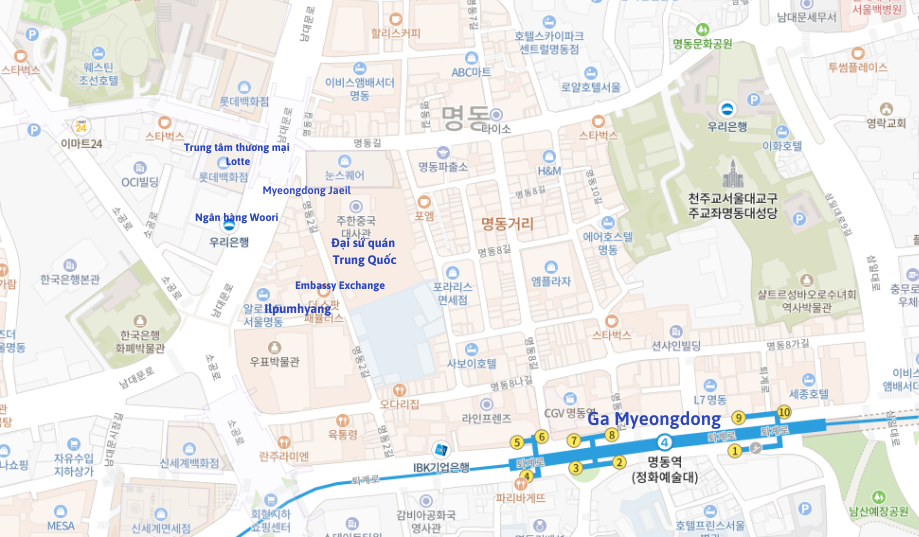 If you'll be heading to Myeongdong straight away anyways or you end up needing more cash while on your trip, you can also exchange currency here! Many tourists will exchange money in Myeongdong as there are many options available. As you can see from the map above, the currency exchanges are all near Exit 5, 6, or 7 of Myeongdong Station.
Money Box Myeongdong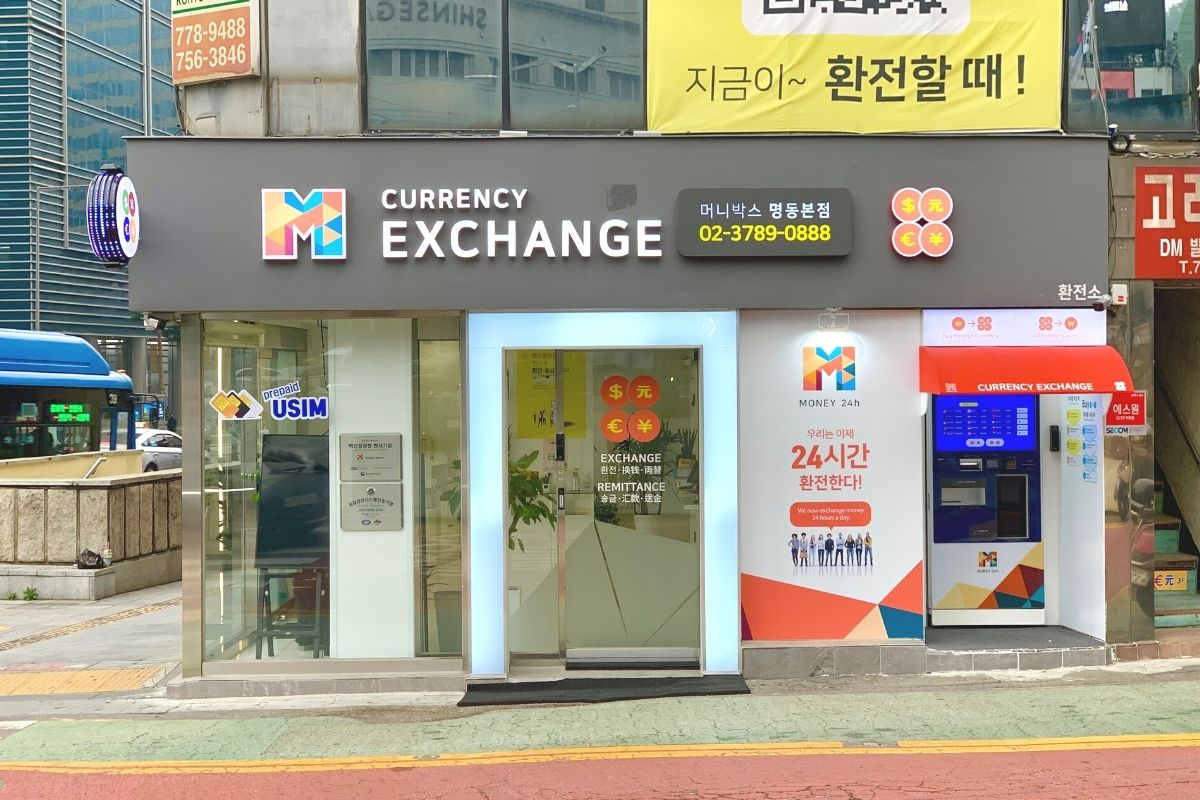 Address: 서울 중구 남대로 52-1
52-1 Namdaemun-ro, Jung-gu, Seoul
Hours: 09:00 - 21:00
Automatic Currency Exchange Machine: 24 hours
Money Box specializes in foreign currency exchange and has 8 branches all across Korea. Money Box Myeongdong can exchange up to 18 different forms of currency and has one of the best rates in Myeondong. Their staff also can speak Korean, English, Japanese, and Chinese so there should not be any difficulty communicating. Creatrip members can also present a coupon and they will be provided with the best exchange rate at Money Box, ( 90% discount on currency exchange fees for USD, JPY, and EUR and 75% discount on currency exchange fees for TWD, HKD, THB, and VND).
You can check out the detailed review of Money Box for more information.
We also have a coupon for Money Box Dongdaemun, so check it out at the link below!
Myeongdong Ilpumhyang Money Exchange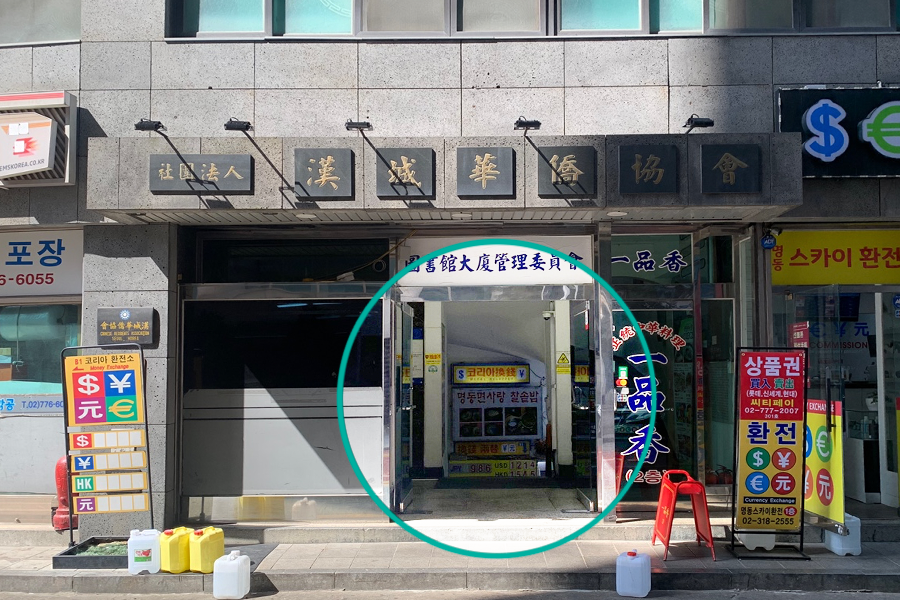 Address: 서울 중구 명동 2가 105 B1
B1, 105 Myeongdong 2-ga, Jung-gu, Seoul
Hours: 09:00- 20:00 (Hours are subject to change)
Myeongdong "Embassy Exchange" (in front of the Chinese Embassy)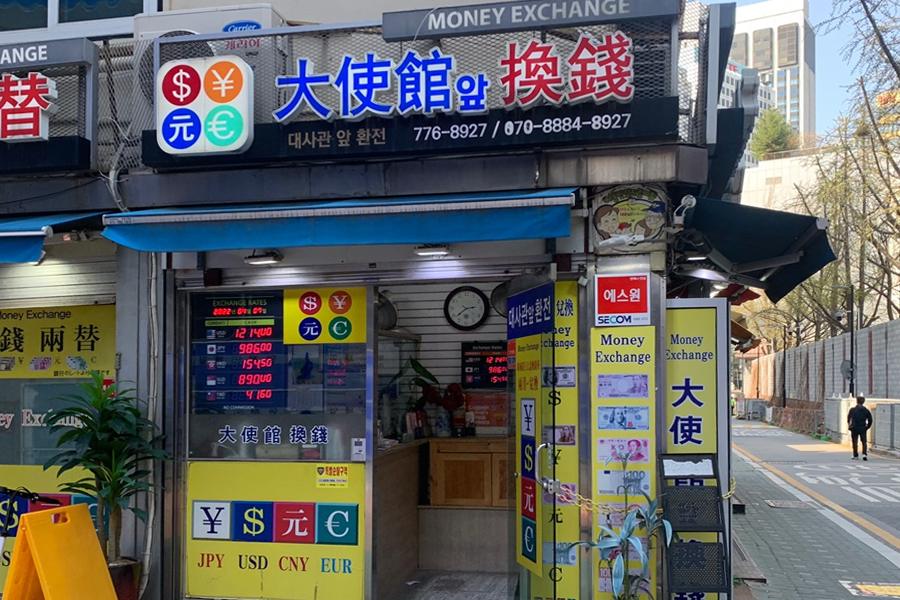 Address: 서울 중구 명동 2가 26
26 Myeongdong 2-ga, Jung-gu, Seoul
Hours: 09:00-21:00 (Hours subject to change)
Jeil Money Express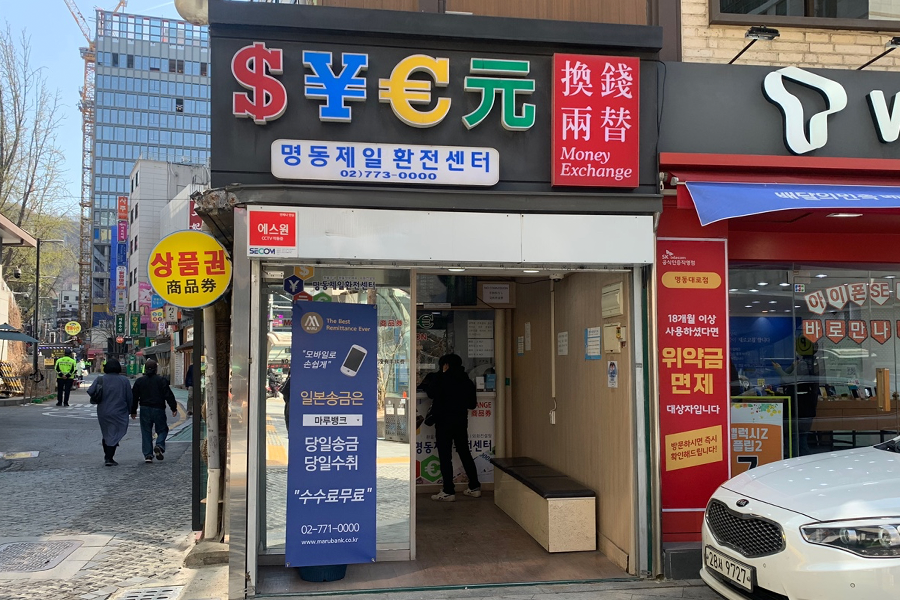 Address: 서울 중구 명동2가 85-6
85-6 Myeongdong 2-ga, Jung-gu, Seoul
Hours: 09:00-23:00 (Hours subject to change)
---
How can I know today's exchange rate?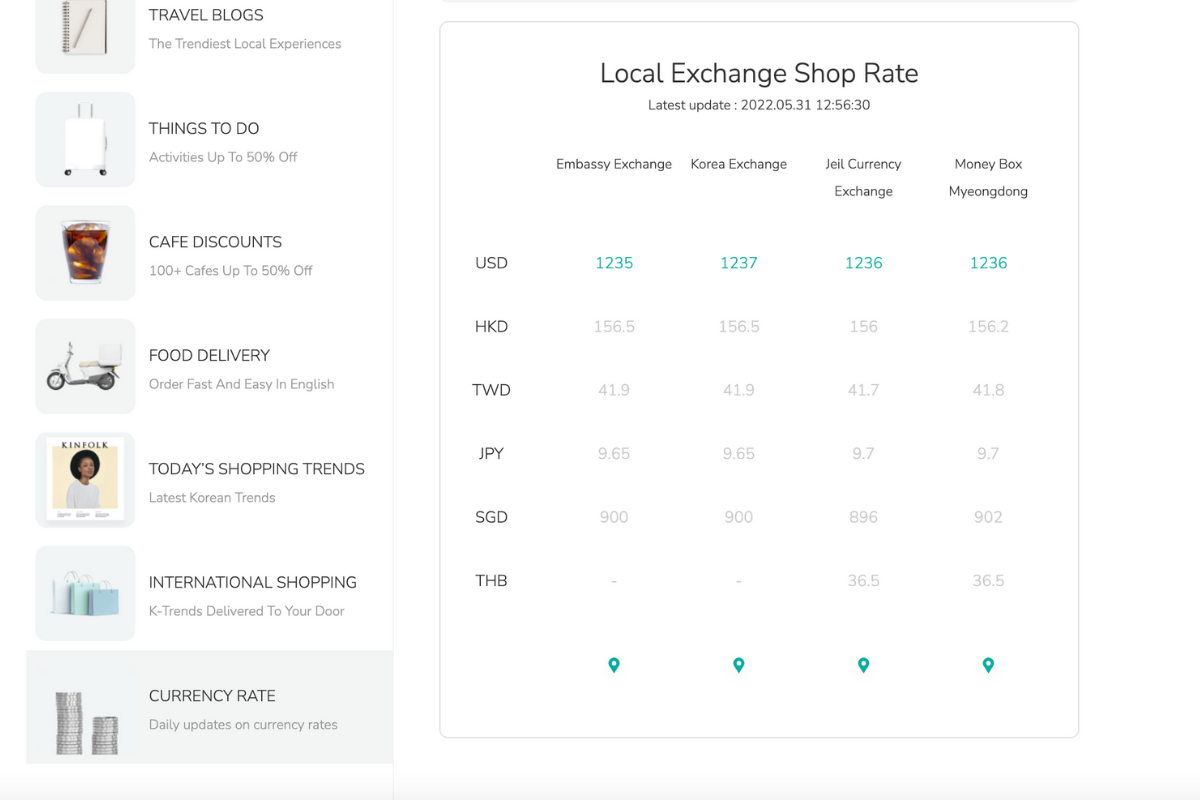 You can see the updated rate daily on our website. Foreign currency prices change often, so please make sure to consistently check the website. You can access the page to see the current exchange rates here. It is also available on our app!
---
WOW Exchange Automatic Money Exchange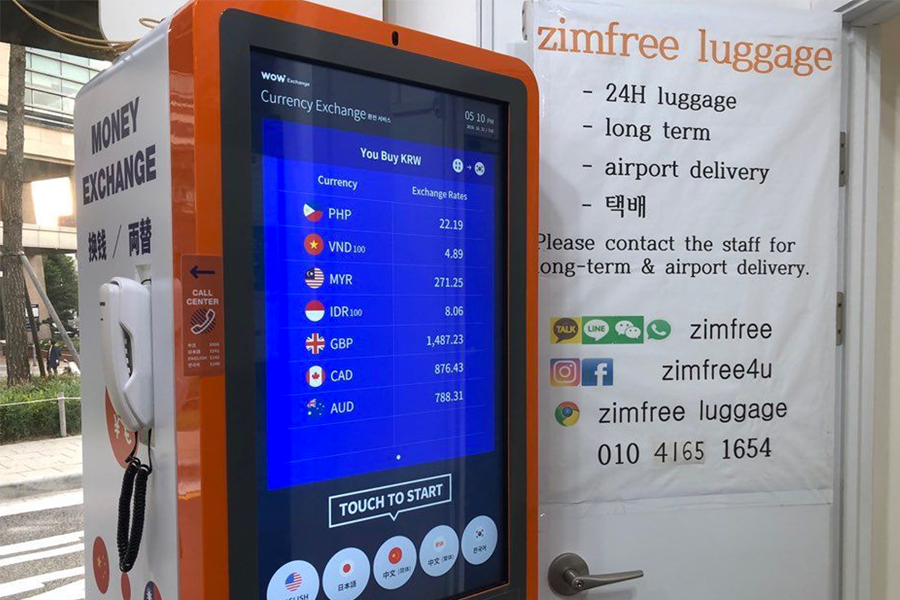 In addition to currency exchange services in Myeongdong, Seoul has a very convenient automatic currency exchange machine called WOW exchange. For those that cannot make it to a currency exchange in Myeongdong, you can search for these automatic currency exchange machines around Seoul. You can exchange USD, TWD, HKD, and JPY here. They are perfect for those that do not have much time or are not willing to travel all the way out to Myeongdong.
---
Other Currency Exchange Locations in South Korea
Seoul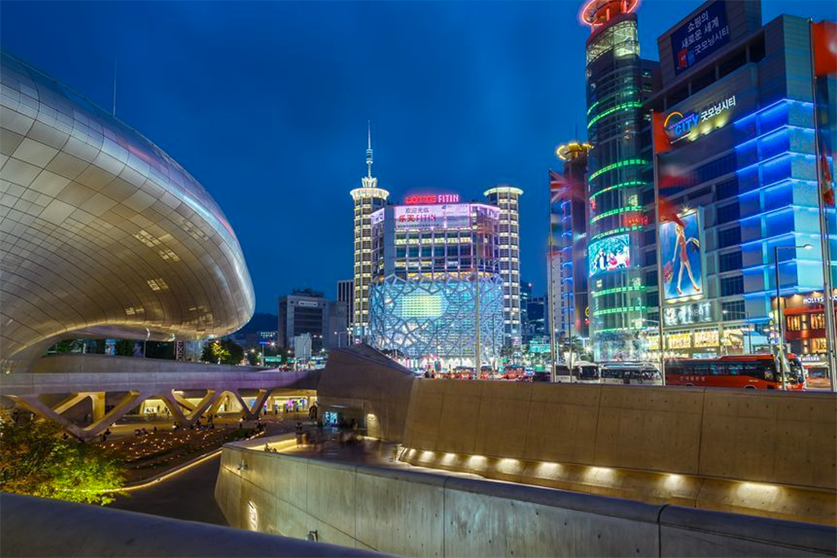 For those that cannot make it out to Myeongdong, do not worry! There are plenty of other currency exchanges in Dongdaemun, Hongdae, and Itaewon. However, the exchange rate may not be as good as it is in Myeongdong! If you are looking for the best rates in Seoul, Myeongdong is the way to go!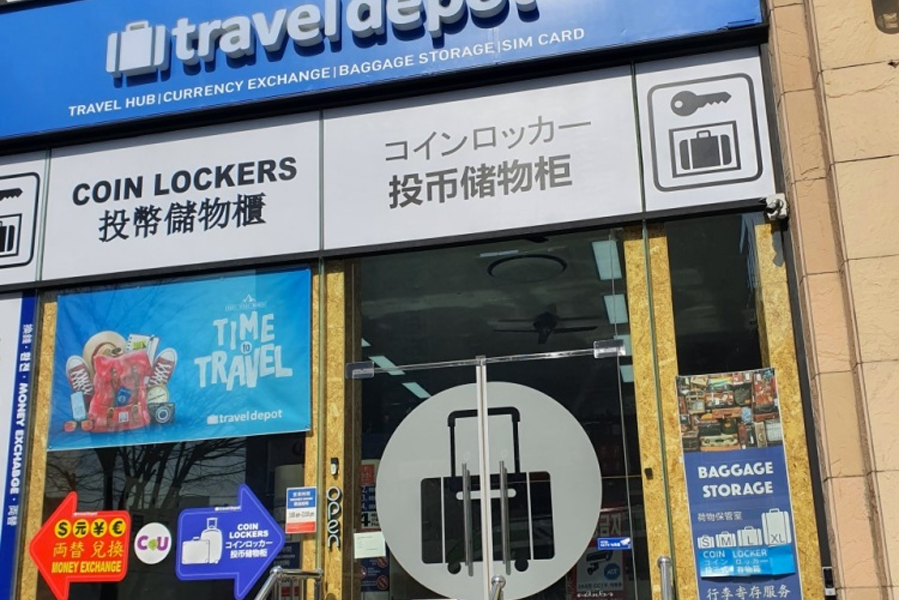 There are also some currency exchanges that also have SIM cards for sale around Seoul. That may be another thing to consider when you are exchanging money. However, if that is a hassle, you can also reserve a SIM card with us!
Busan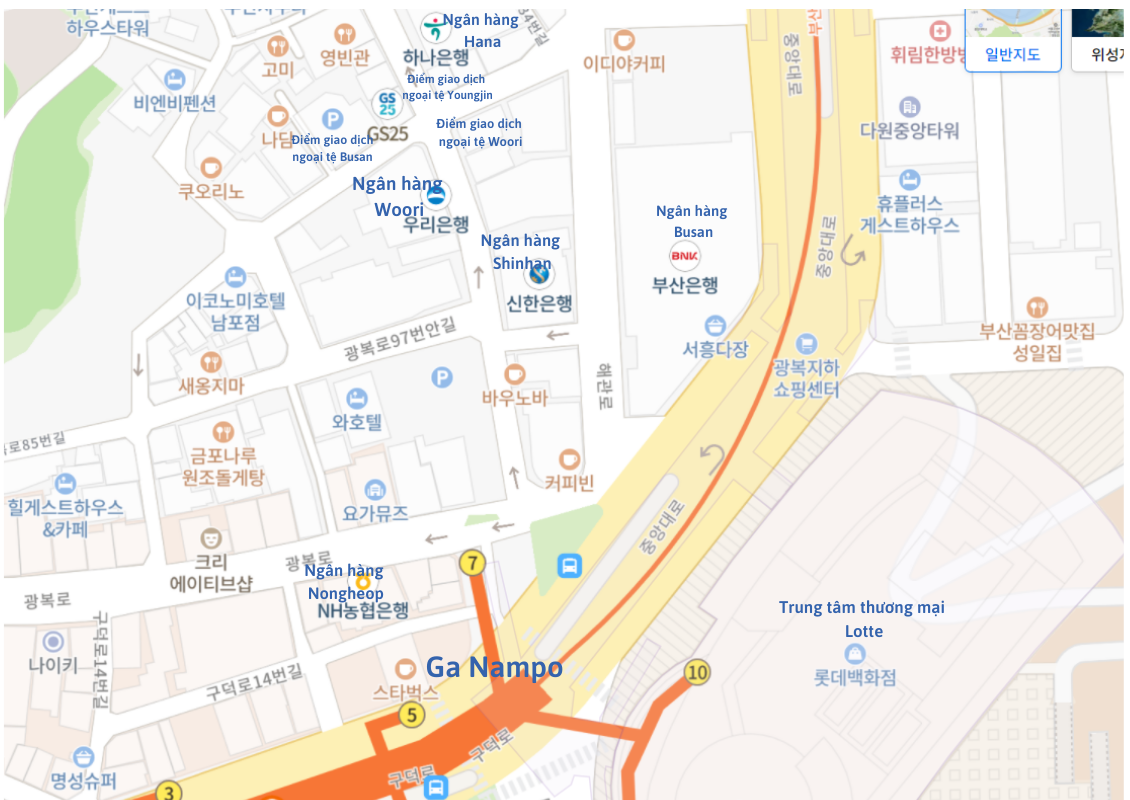 If you come to Busan, you can exchange currency at Nampo Station on Busan Metro Line 1, Exit 7. Although there are multiple currency exchanges across Busan, Woori, and Youngjin Currency Exchange are the most well-known points in Busan.
Daegu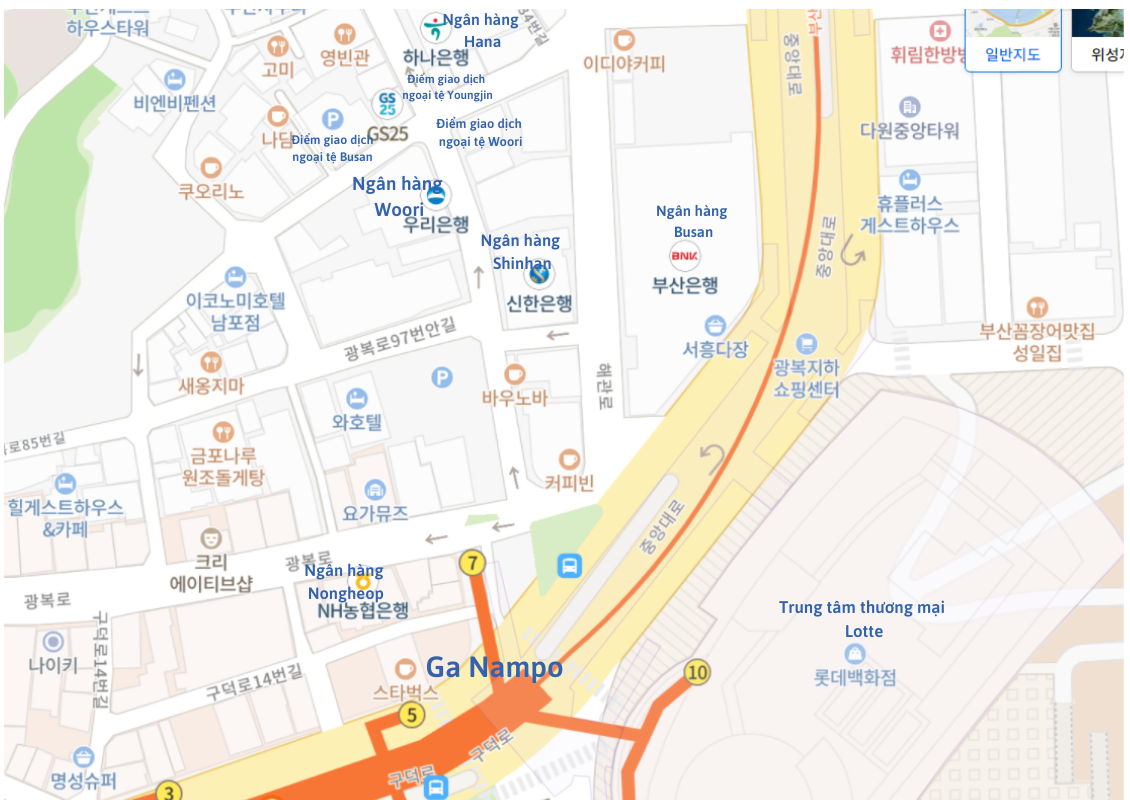 In Daegu, people often come to exchange currency at Jungang-ro. The two most famous foreign exchange points here are "Daesin Currency Exchange" and "Daemi Currency Exchange". They may not be working on weekends, so make sure to call before coming and ask if they are open!
Cheongju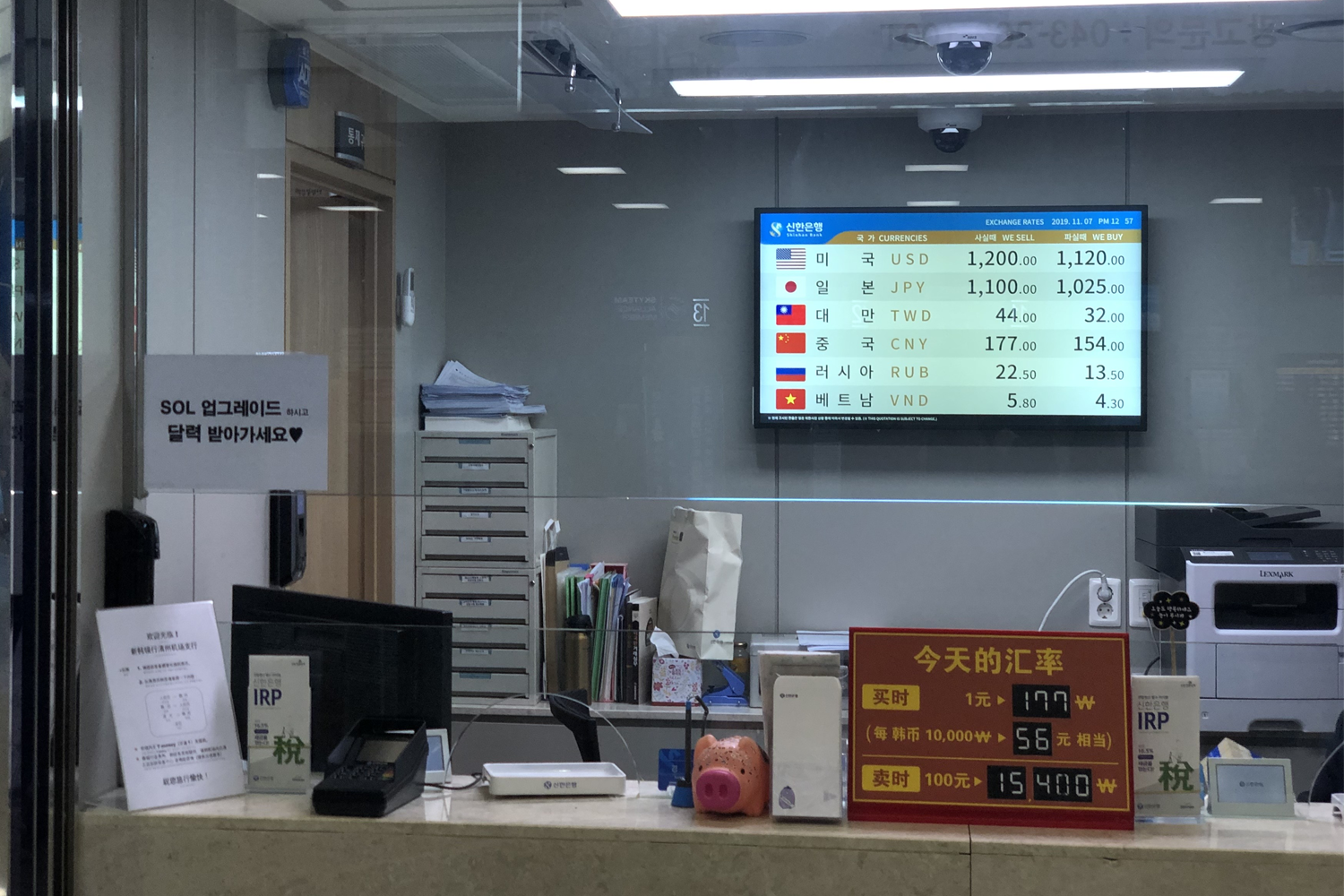 Shinhan Bank Currency Exchange at Cheongju Airport is located next to gate 3 of Cheongju airport. Their hours of operation are 09:00-16:00. They only operate on days that international flights occur.
---
We hope that this offered some valuable insight into exchanging currency in Korea for your next trip! If you have any additional questions, please leave a comment below or send us an email at help@creatrip.com. You can also follow us on Instagram, TikTok, Twitter, and Facebook to stay updated on all things Korea!
---