Finding Your Personal Color | Spring Warm, Winter Cool
Not sure what your personal color is? Let's find out together!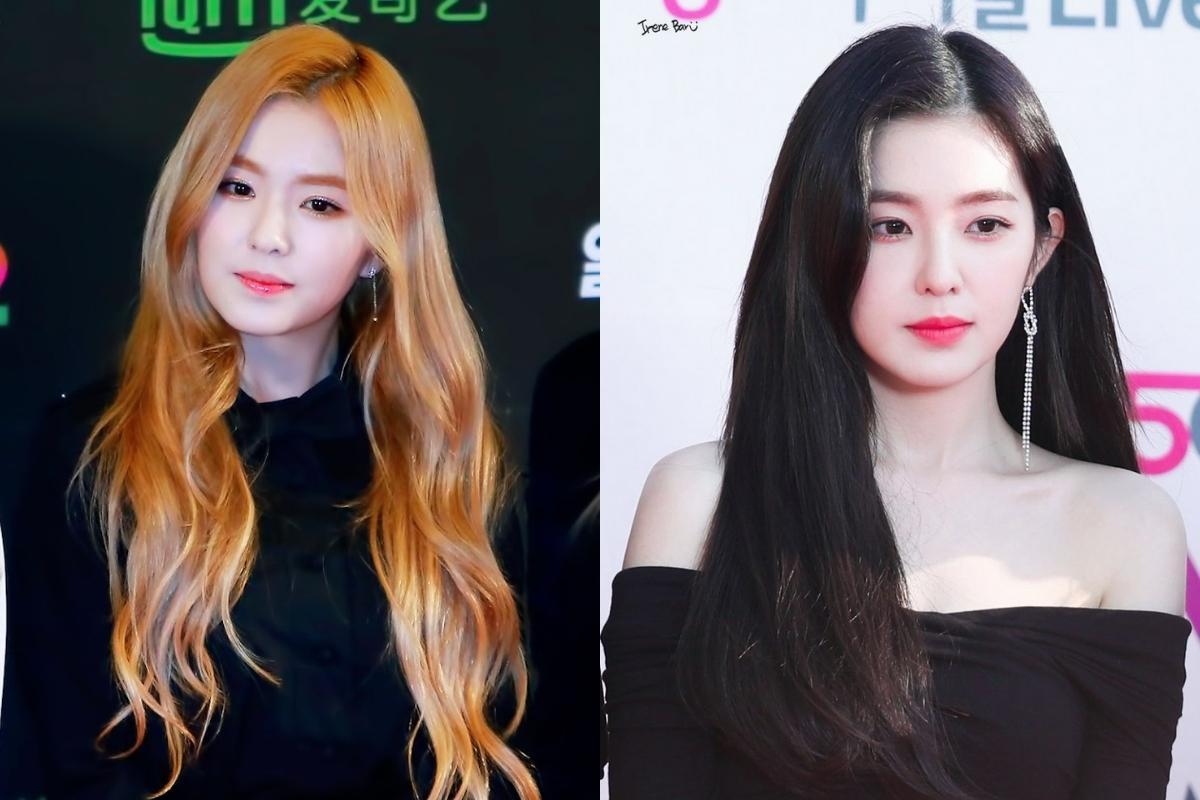 Warm Tone / Cool Tone
Have you heard of the term 'Personal Color'? If you're into K-beauty, you probably have! Basically, everyone has their own personal color based on the underlying tones of their skin, hair, eyes, etc., so there are certain colors that will match your skin tone better. This has been trending widely in Korea within the past few years and there are lots of places you can even get a personal color analysis done by an expert!
As you can see in the photo above, Red Velvet Irene is definitely a Cool Tone. She looks beautiful in both photos, but the combination of her makeup shades and hair color in the photo on the right compliments her natural complexion and highlight her features much better! On the left, her hair color and lip color are a bit too bright and seem to clash with her skin tone. This is a great example of how knowing your personal color can make a huge difference in your physical appearance!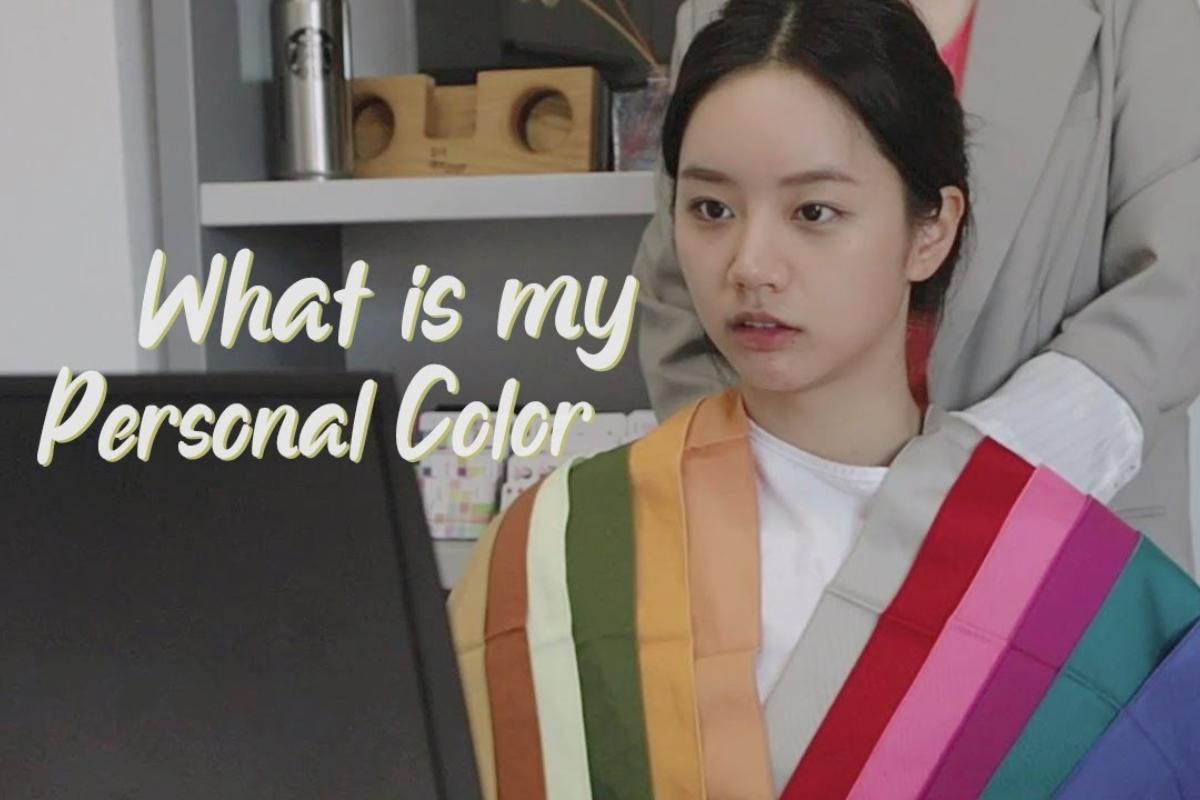 While there are variations, these are the 4 main categories when it comes to personal color: Winter Cool, Summer Cool, Spring Warm, and Fall Warm. It's super important to keep your personal color in mind when you're shopping for K-beauty or getting your hair/nails done in Korea!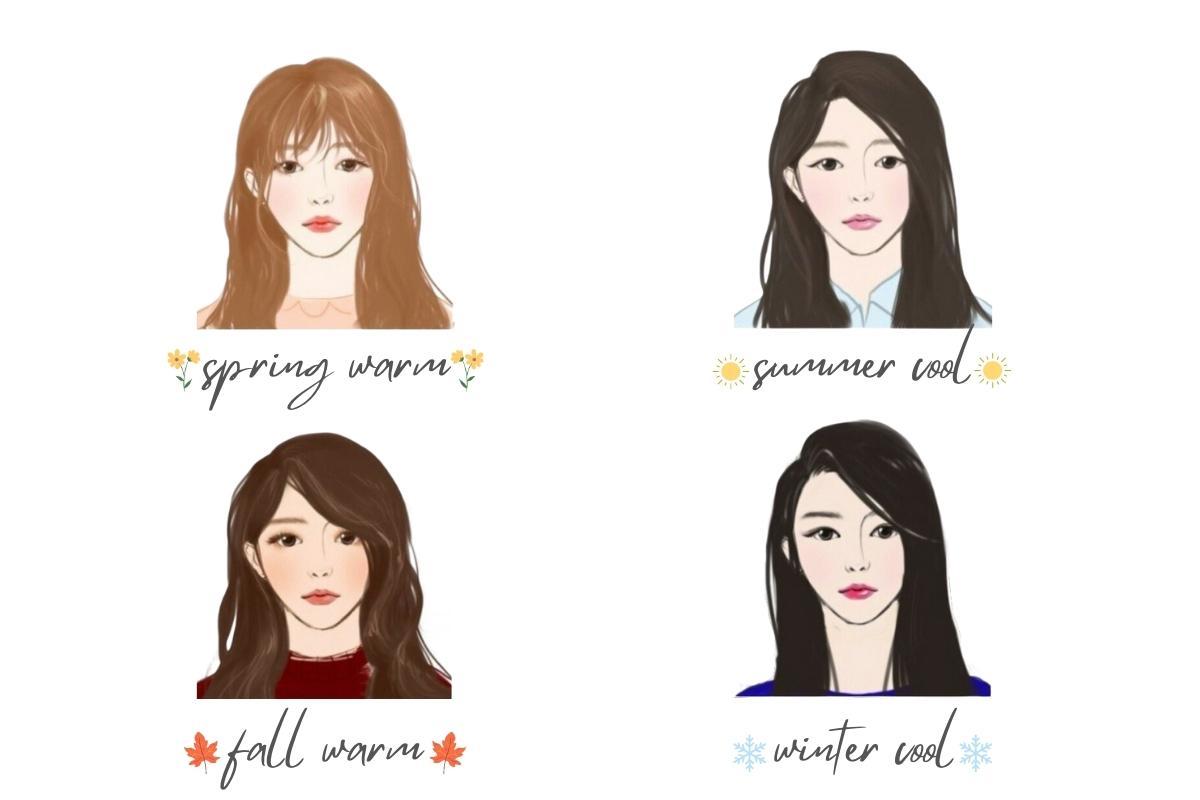 While it's best to stick to makeup/clothing shades or hair colors that fit your personal color, there's no rule that says you can't venture out into other shades; personal color is more a matter of what fits you best. Most people are naturally aware of their personal color as they know what colors tend to look better on them after trial and error.
If you're able to have a more accurate idea of your personal color though, you'll be much more aware of what you should stick to or avoid. Not sure what your personal color is? No worries, let's find out together!
---
Warm Tone v. Cool Tone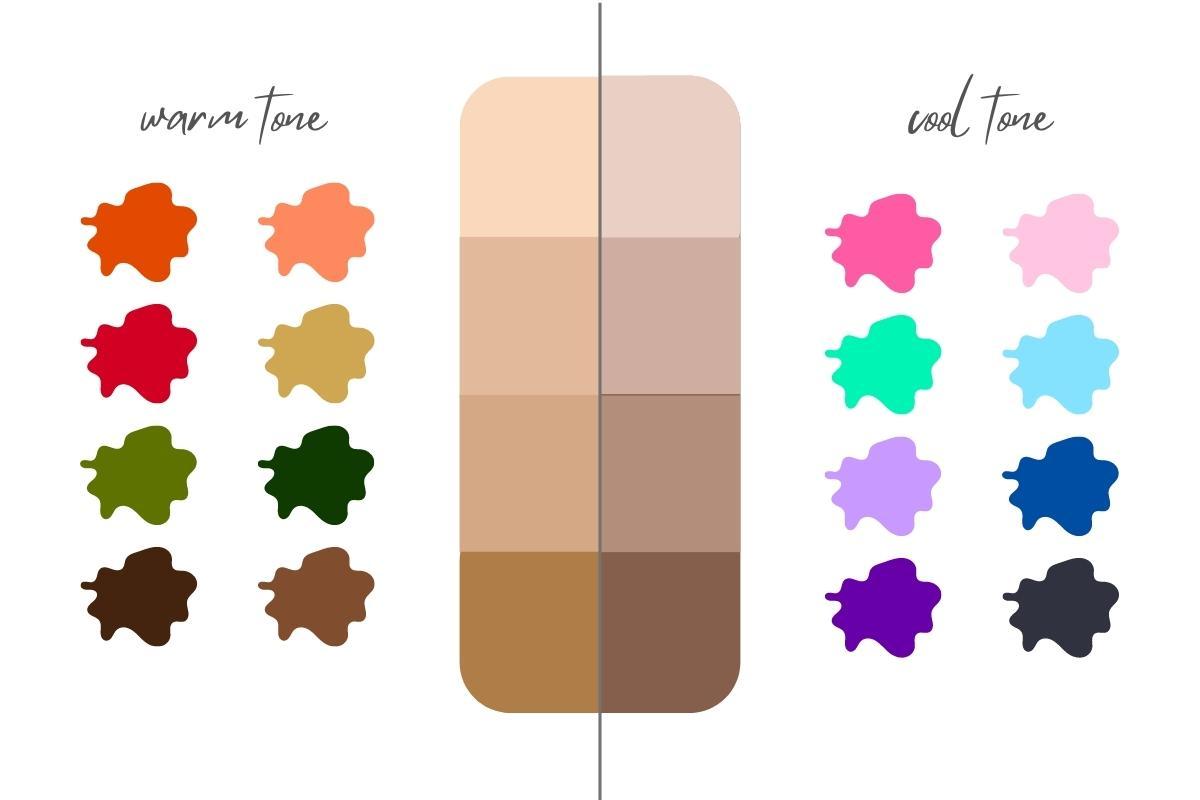 So what is the difference between Warm Tone and Cool Tone? Warm Tone consists of colors that have a yellowish undertone, while Cool Tone consists of colors that have a pinkish undertone. People that are Warm Tone match better with more earthy, toned-down shades like orange-brown, deep yellow, khaki, and reddish-brown. People with a Cool Tone, on the other hand, tend to match well with brighter shades of pink, lilac, blue, and pastels. Can you spot the difference?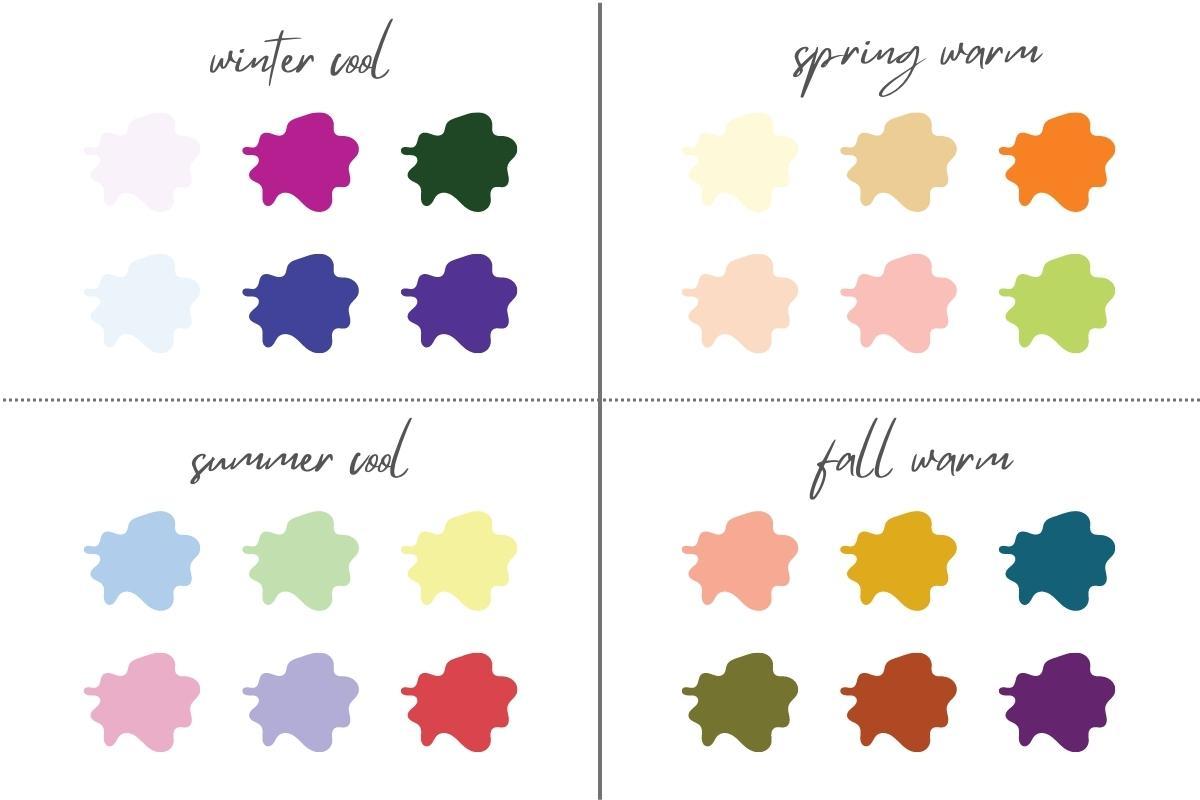 In the picture above, you can see examples of some colors that match each of the 4 personal color types! There might be a certain color palette that you prefer over others; this is probably close to your actual personal color. So don't worry about having to change your entire wardrobe or makeup collection!
Knowing your personal color is just a way of helping you understand which colors match your natural tone better, which could save you some time at the mall when you're shopping and help you put together more aesthetically pleasing outfits and makeup looks!
---
How To Find Your Skin Tone
1. Observe your natural skin color, hair color, and eye color.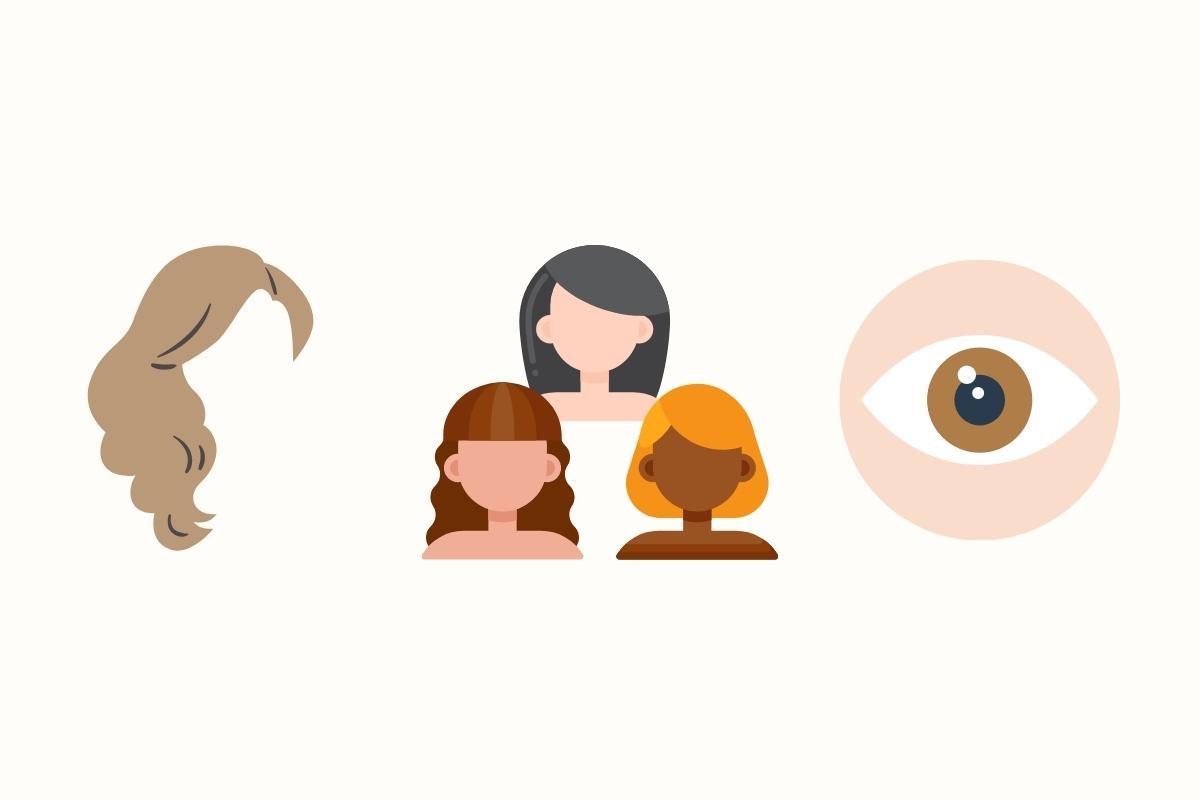 Check the chart below and see which side you relate more with to determine whether you are Warm Tone or Cool Tone!
| | |
| --- | --- |
| Warm Tone | Cool Tone |
| My skin has yellow undertones. | My skin has some redness. |
| I can't easily see the veins through my skin. | I can easily see the veins through my skin. |
| My skin gets tan easily in the sunlight. | I turn red or get sunburnt easily in the sunlight. |
| Lighter hair colors are more flattering on me. | I can have a pretty dark hair color without it looking off. |
| My eye color is brown, hazel, or green. | My eye color is black, blue, or gray. |
| Gold jewelry looks better on me. | Silver jewelry looks better on me. |
2. Check the color of your veins.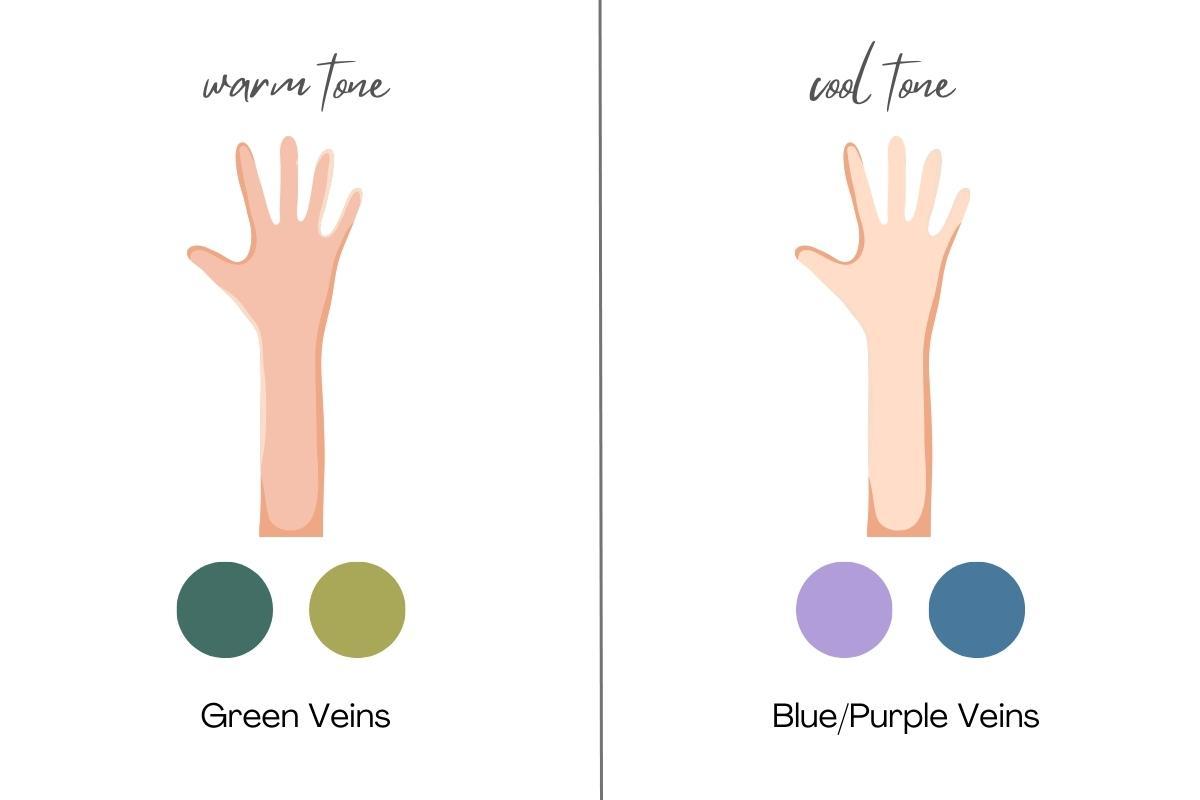 If your veins are a shade of green, you are most likely Warm Tone. If they are a shade of blue or purple, you are probably Cool Tone!
3. Test different shades of makeup and clothing in natural lighting.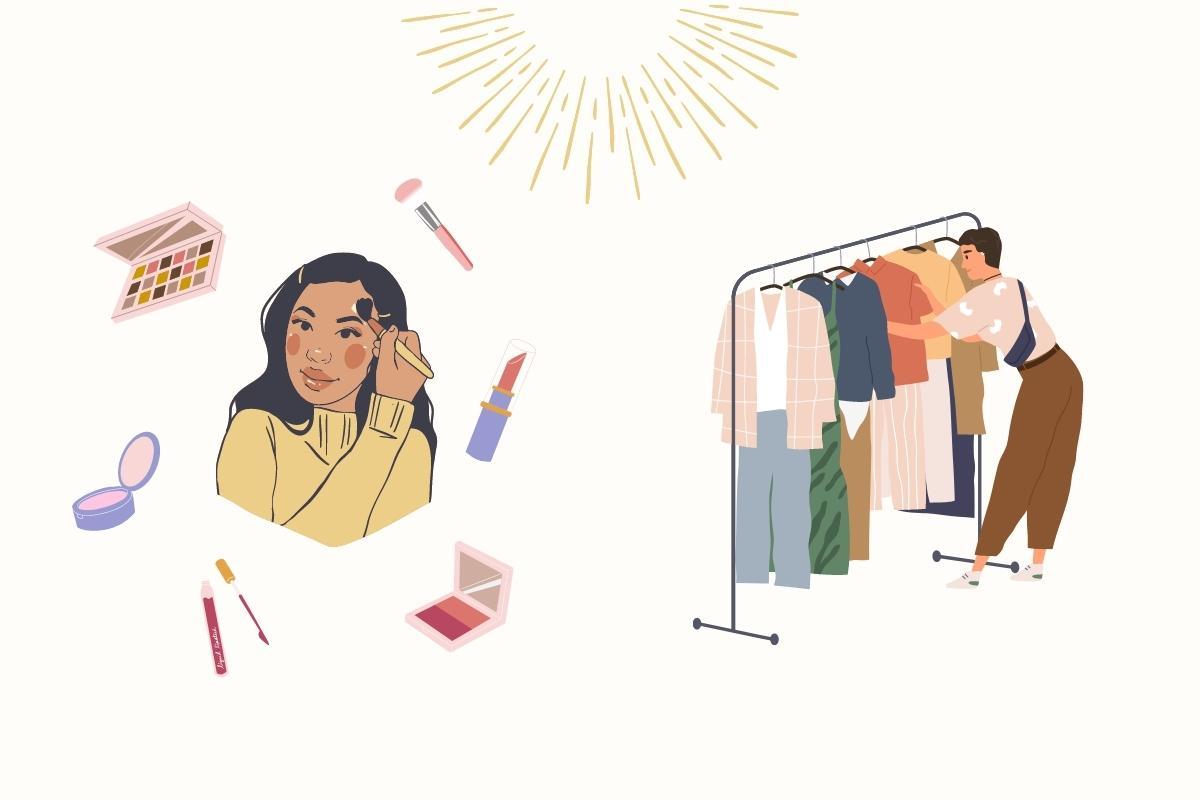 Again, most people are probably aware of their personal color based on their personal preferences and after trial and error. For example, you might not prefer wearing certain colors and find yourself gravitating towards the same shades of lipstick or eyeshadow because you know what looks better on yourself!
So, get out your makeup collection and take a look at your wardrobe and see which color palette they seem to match with! You can try on different pieces of clothing and test lipstick and eyeshadow shades on your skin under natural lighting to see how they may change your overall skin tone.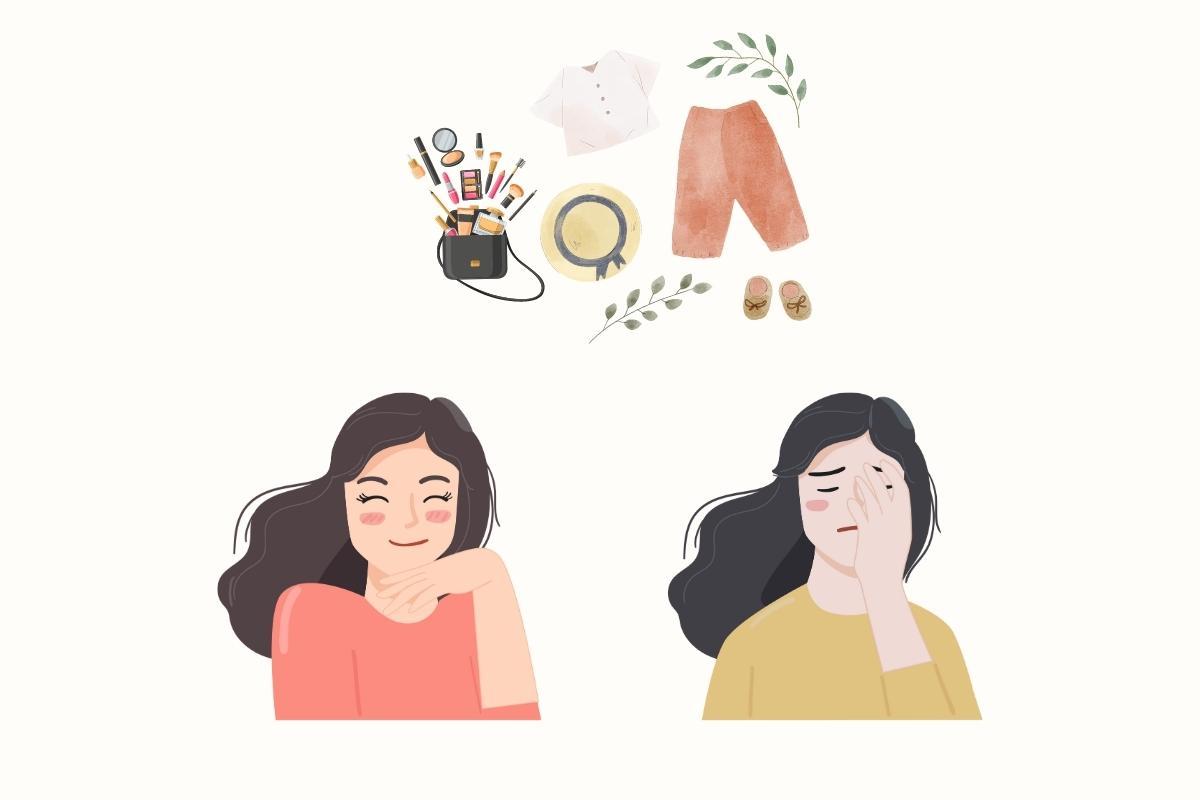 You might notice that certain colors brighten up your complexion, while others make your dark circles stand out more or make your features seem less prominent. Separate your clothes and makeup into 2 different categories, and with the clothes and makeup products that brighten up your features and complexion, you can come to a conclusion about what your personal color is! Let's take a look at a breakdown of Winter Cool Tone and Spring Warm Tone for more details! (Summer Cool Tone and Fall Warm Tone coming soon! Follow us on Instagram for an update!)
---
Spring Warm Tone (봄웜톤)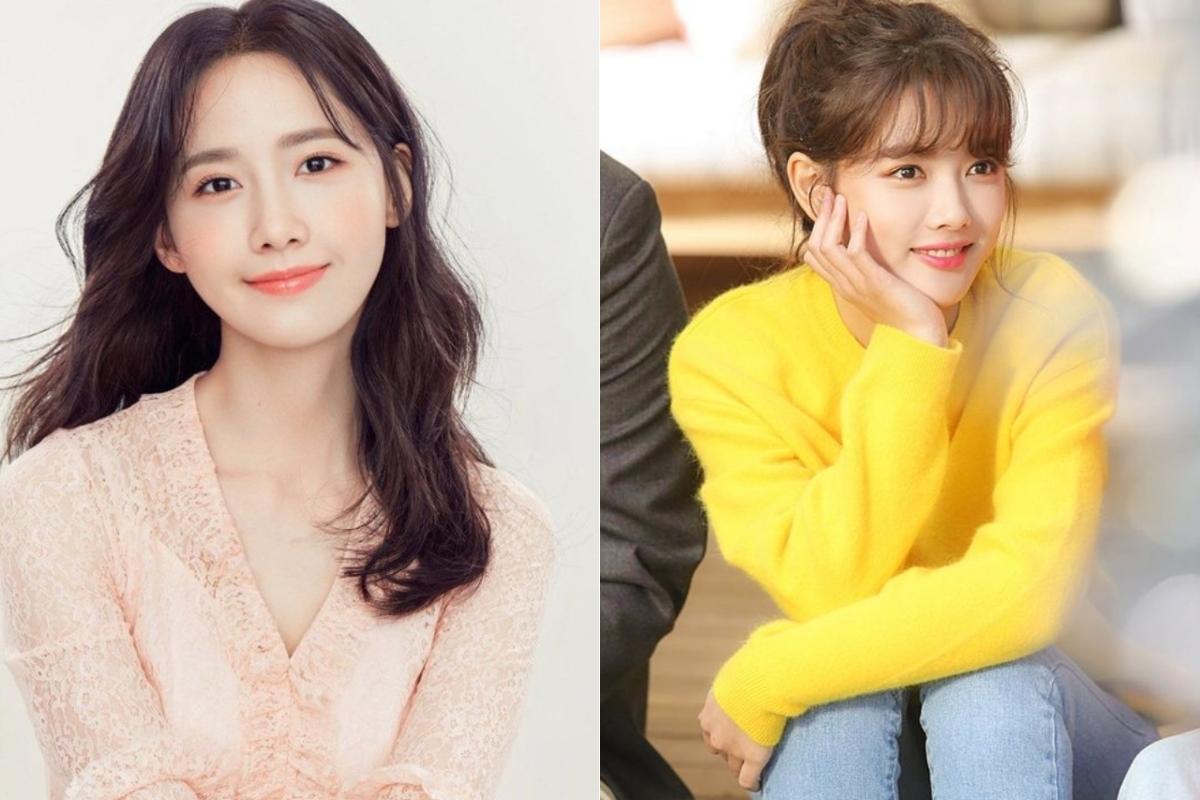 If you are Spring Warm Tone, you probably have hair with brown undertones and your skin is closer to a shade of yellow than red or pink. For those that fall in this category, rather than bold, dark colors, it's better to stick to lighter, peachy shades and soft browns. This will really enhance your complexion and complement your features more!
Girls' Generation (SNSD) Yoona is known to perfectly pull off the Spring Warm Tone look and is commonly referred to as a representative of this category. Actress Kim Yoojung, the main female lead in Backstreet Rookie and Netflix's 20th Century Girl, is also a great example of the Spring Warm Tone category, especially with her bright and youthful appearance. Check out all the recommendations we have below!
Makeup Recommendations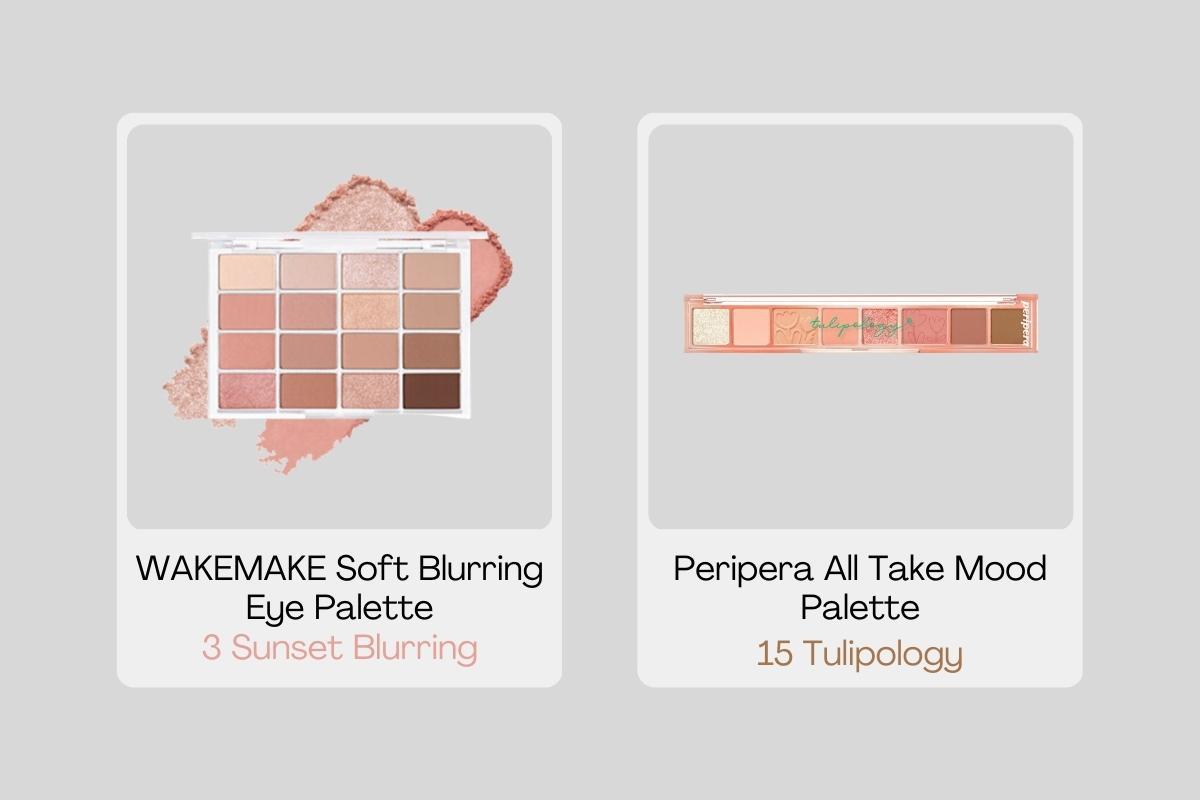 WAKEMAKE Soft Blurring Eye Palette: 3 Sunset Blurring / Peripera All Take Mood Palette: 15 Tulipology
These peach-toned, pink-brown eyeshadow palettes are perfect for the Spring Warm Tone look! You can use the lighter shades for a soft eye makeup look and the browns to emphasize the eye line. These palettes are both newly released, so definitely try them out!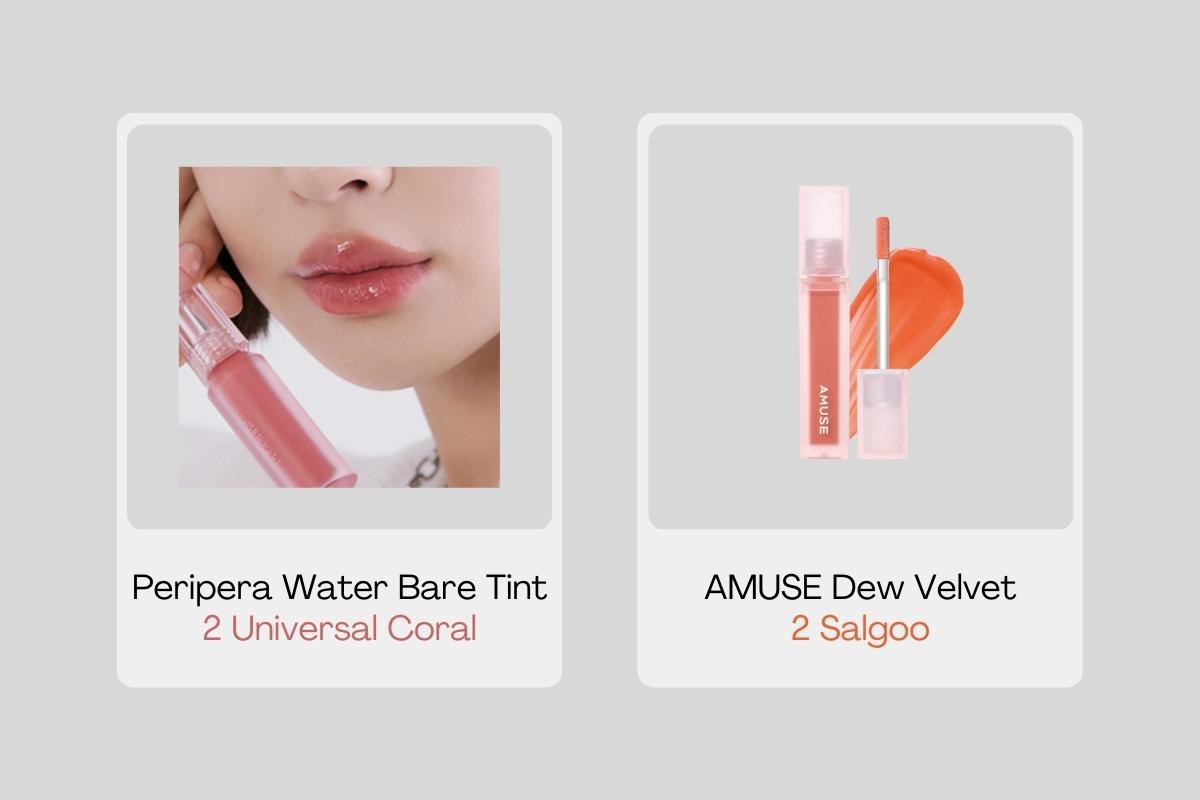 Peripera Water Bare Tint: 2 Universal Coral / AMUSE Dew Velvet: 2 Salgoo
For Spring Warm Tone, the best lip colors to use are any shades of coral, orange, or beige! These colors will bring out the lips in a natural way, as they will match with your skin tone best! Try out these beautiful lip tints to perfect your spring look! You can purchase the AMUSE tint on our site here!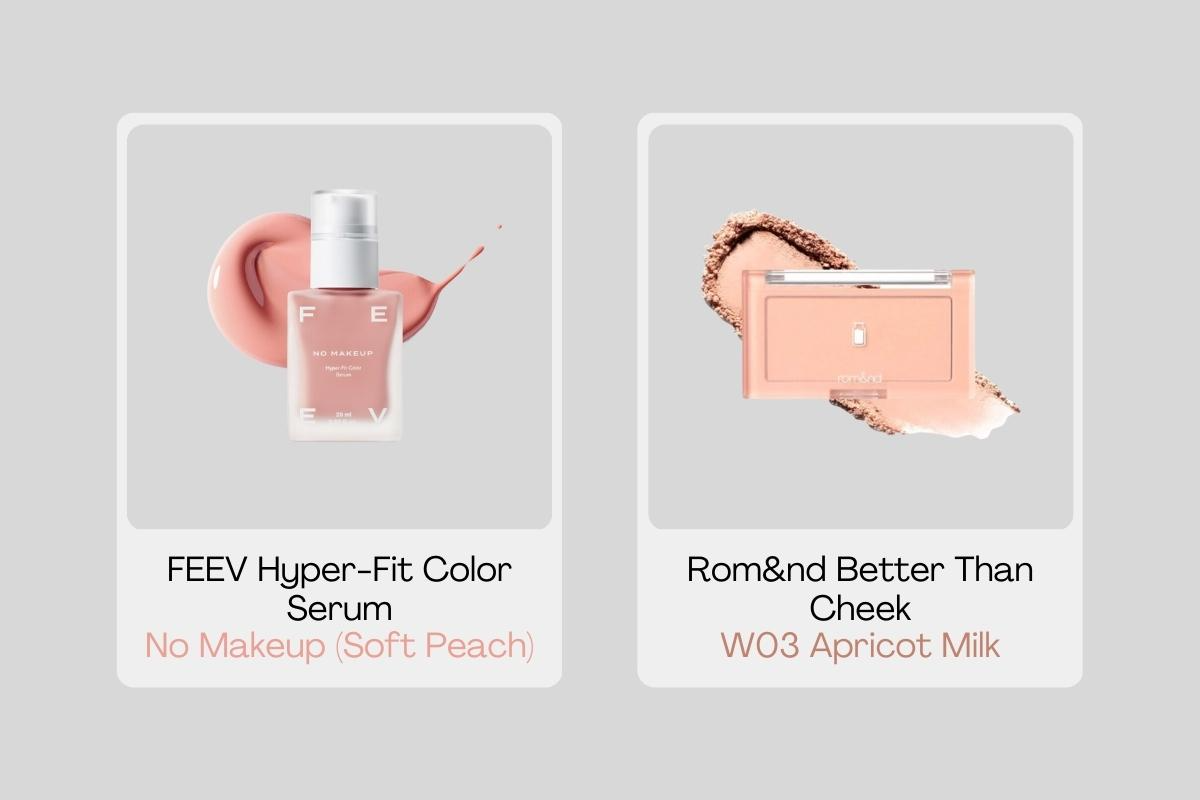 FEEV Hyper-Fit Color Serum: No Makeup (Soft Peach) / Rom&nd Better Than Cheek: W03 Apricot Milk
Blush might be the most important aspect for people that are Spring Warm Tone! Again, peach or apricot tones will work best to brighten your skin tone. The right shade of blush will really make the biggest difference in your overall look, so don't skip out on it! These blush products are currently very popular in Korea, so we recommend you try them!
Hair Color Recommendations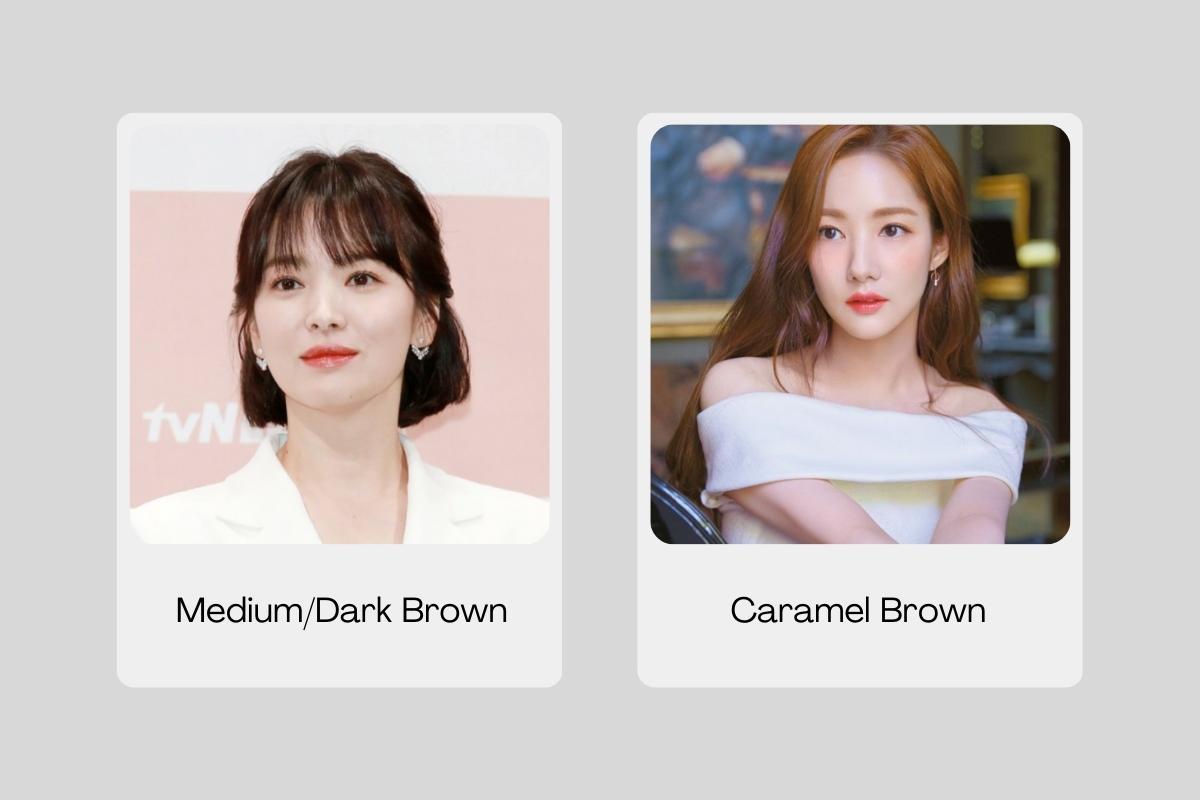 For hair colors, you'll want to avoid anything too extreme as a Spring Warm Tone, as the category is generally focused on light and bright colors. Therefore, it's best to stick to a neutral brown color, such as dark brown or caramel brown. You can go as dark as black if the undertones are brown, but you'll want to avoid jet black or muted colors with ash tones. Curious about more spring hairstyles? Check out our blog on 2023 spring hairstyle trends in the link below:
Korean Hair Salons | Reserve Here
Clothing Color Recommendations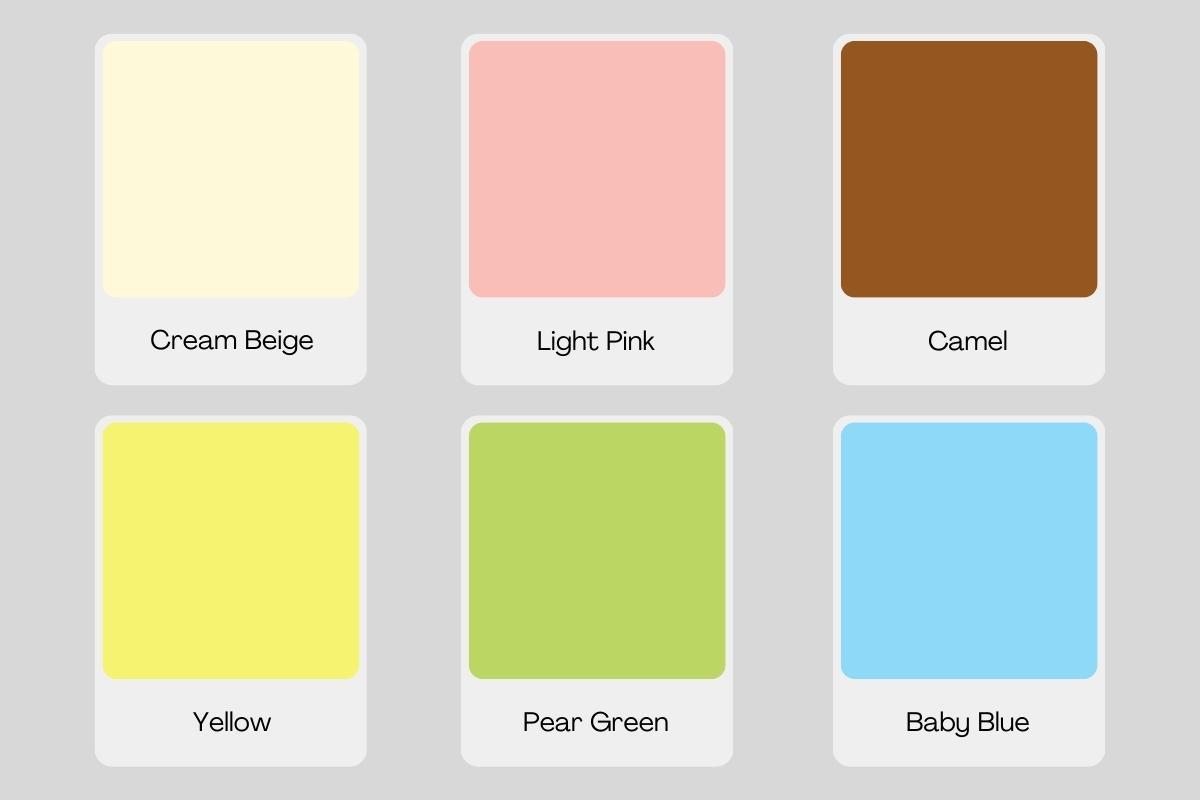 Don't the colors above just scream 'Spring'? These warm and bright colors are perfect for those that are Spring Warm Tone and we recommend picking up a top or light sweater in one of these colors on your next shopping spree!
---
Winter Cool Tone (겨울쿨톤)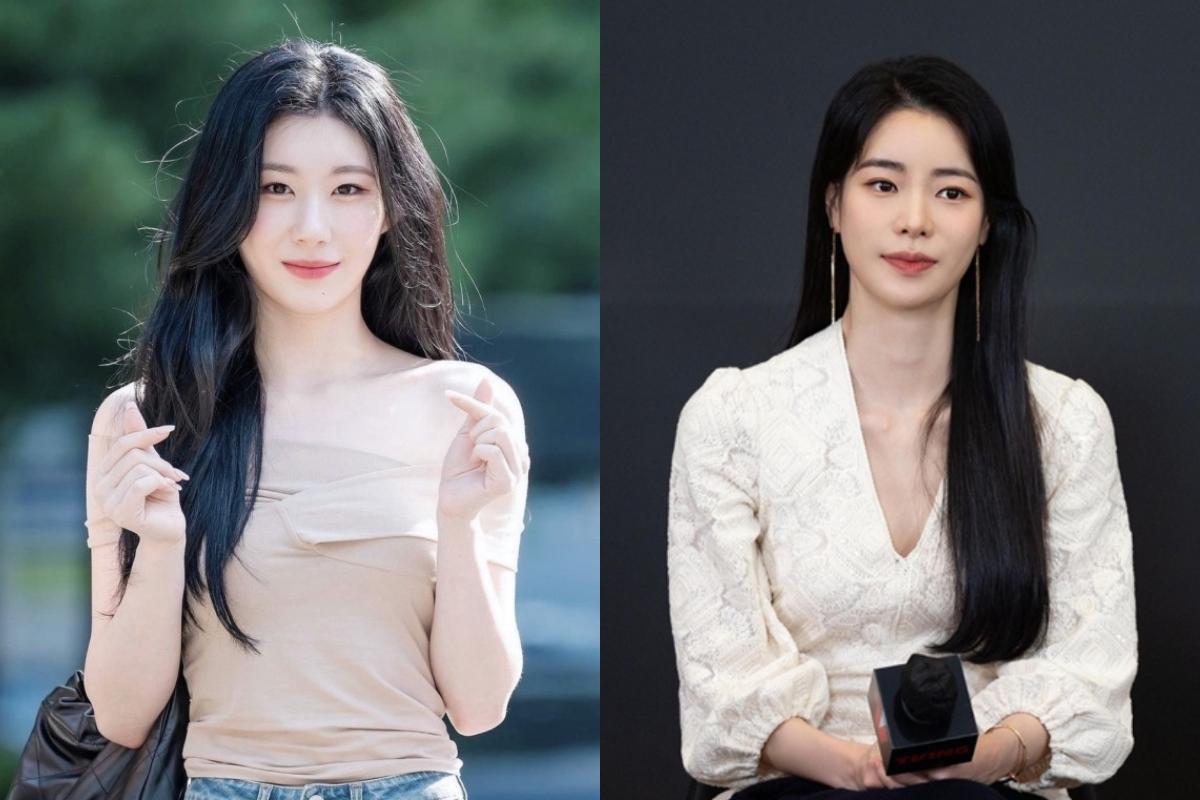 If you are Winter Cool Tone, you are probably more on the pale side with darker hair and eye color. People in this category fit well with strong eye makeup and a bold lip color. Doing so can help bring out the features more and brighten the complexion!
ITZY's Chaeryeong went viral in Korea for how beautiful she looked after switching her makeup look to fit the Winter Cool palette, and actress Im Jiyeon, famous for playing Park Yeonjin from Netflix's The Glory, is trending on social media for having the ideal Winter Cool tone look! Check out the recommendations below for some options or see if you have any similar products!
Makeup Recommendations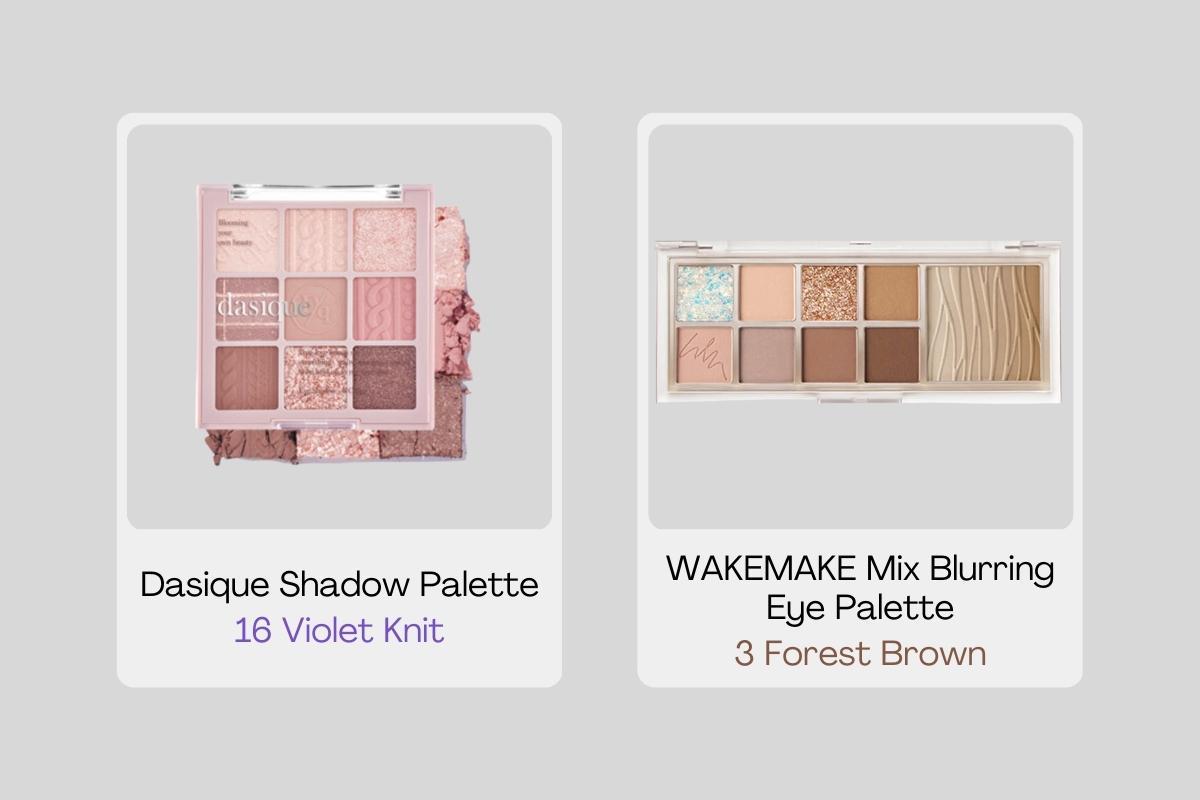 Dasique Shadow Palette: 16 Violet Knit / WAKEMAKE Mix Blurring Eye Palette: 3 Forest Brown
For the Winter Cool Tone look, you need eyeshadow shades that have tints of cool pink, purple, and ashy browns. Try out these palettes that are popular for cool-tone makeup! Get the WAKEMAKE Palette on our online shop here!
Melixir Vegan Lip Butter: 7 Plum Peony / Rom&nd Juicy Lasting Tint: 28 Bare Fig
Lip color can be considered the most important part of the Winter Cool Tone look! Brick red, muted mauve, or purple-ish pink is a great way to go. We recommend these lip products!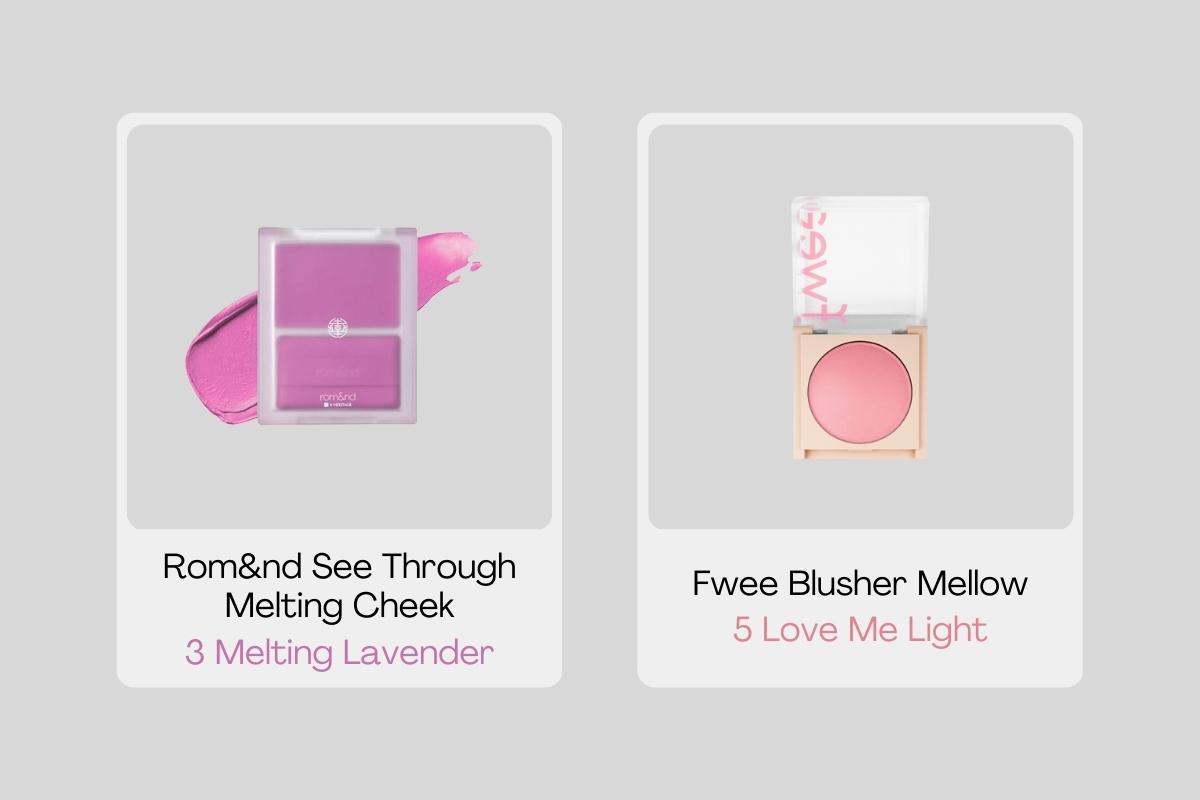 Rom&nd See Through Melting Cheek: 3 Melting Lavender / Fwee Blusher Mellow: 5 Love Me Light
It's essential to pair a cool-tone lip with a similarly-toned blush! Cream-type blushes are popular in the winter because they are moisturizing & create a seamless look. These blushes are perfect to complete the Winter Cool Tone look! If you like the Rom&nd blush, go to our online shop to purchase it here!
Hair Color Recommendations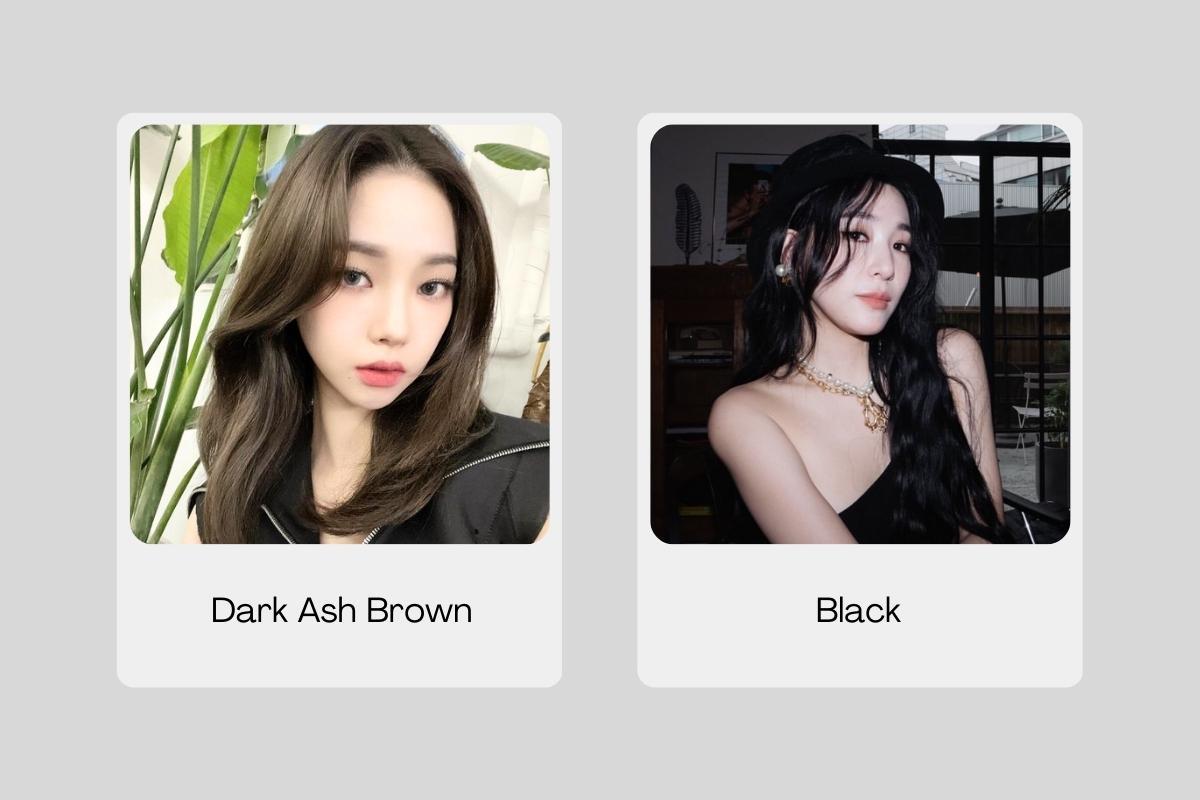 To really put everything together, you'll want a hair color that falls in place with the cool tone palette. Black, ash or khaki brown, or a dark blonde usually go best with the cool-tone look! You'll want to avoid any reddish browns or golden blond colors.
Korean Hair Salons | Reserve Here
Clothing Color Recommendations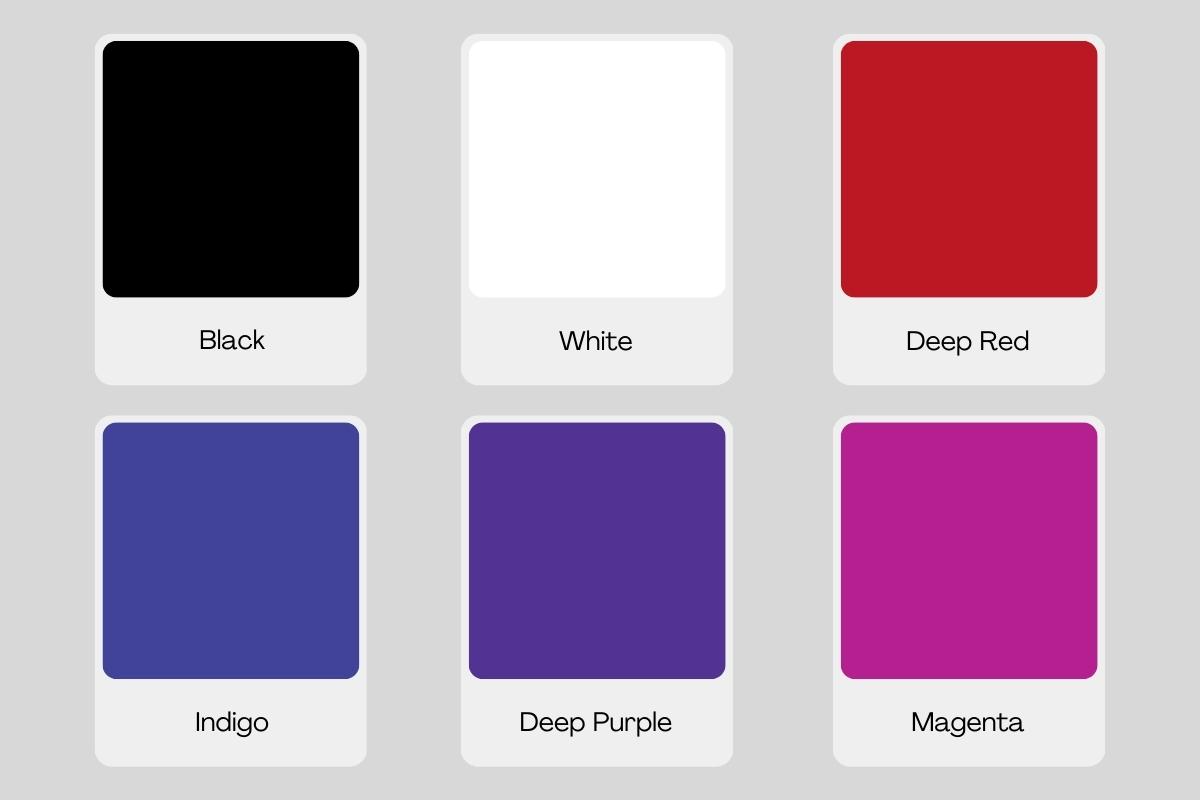 If you're a true Winter Cool Tone, these colors will look absolutely stunning on you. You can center your outfit around these colors or use them as a pop of color!
Korean Clothing Brands | Purchase Here
---
English Personal Color Analysis Services
Since Personal Color is such a huge trend in Korea, there are many places where you can get your personal color analyzed by an expert, who will test out how different colors affect your complexion using color drapes. Many foreigners like to try this service out when they visit Korea, but it can be difficult to find a place that has English-speaking services. Here are a few popular spots we've compiled in case you'd like to try getting a personal color analysis while you're here!
Keep in mind that these places are very popular amongst foreigners, so it can be difficult to get a reservation on short notice, as there are only a few spots open per day.
1. Cocory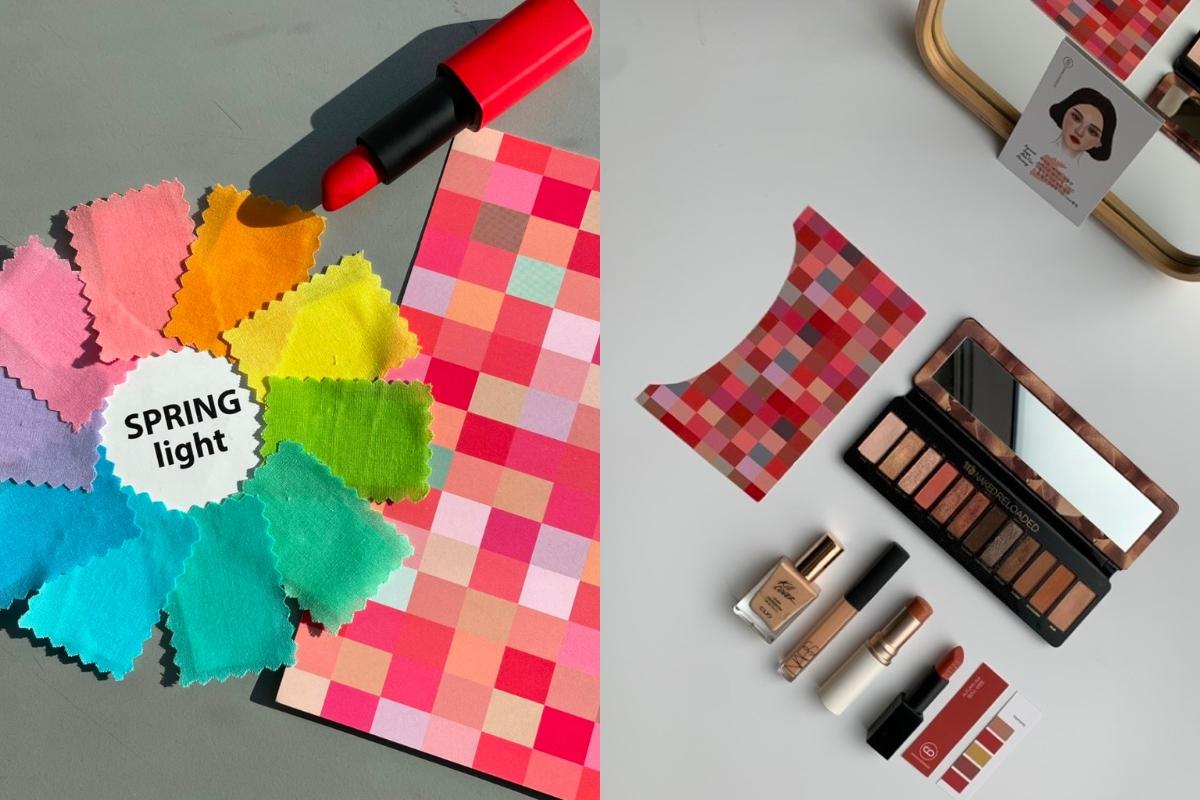 Cocory has been very popular on social media as many foreigners have been visiting the store to get a personal color analysis done! They are known to be very detailed in their analysis and foreigner-friendly!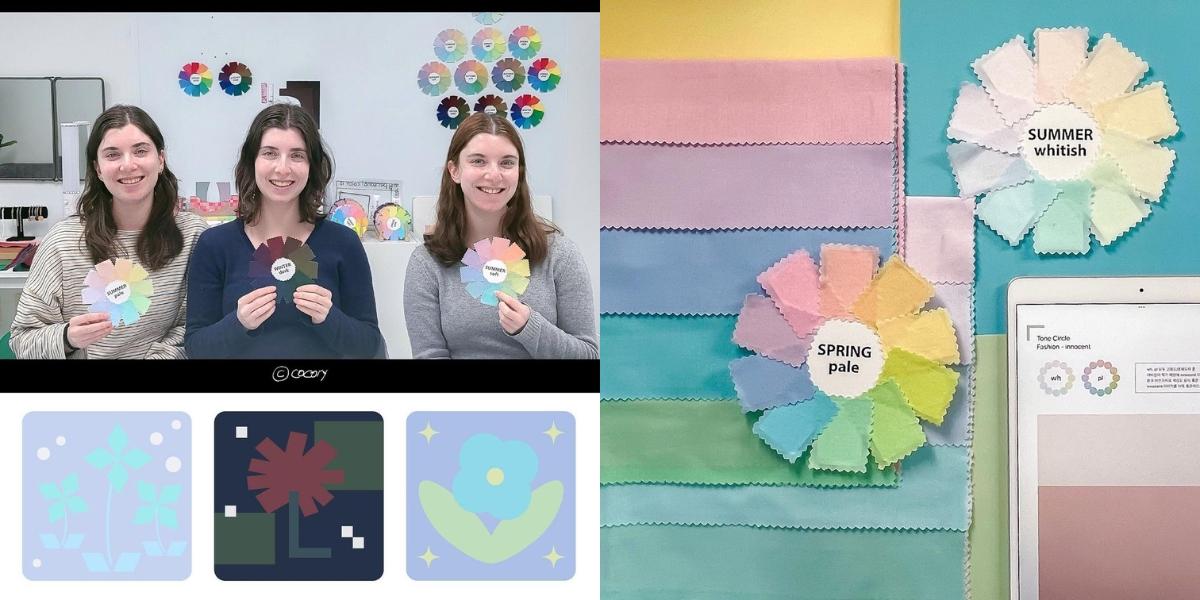 Credit: Instagram @cocory_personalcolor
Hours: Every Day 9:00-20:00 (Reservation Required)
Address: 6F, 19 World Cup Buk-ro 12-gil, Mapo-gu, Seoul (서울 마포구 월드컵북로12길 19 6층)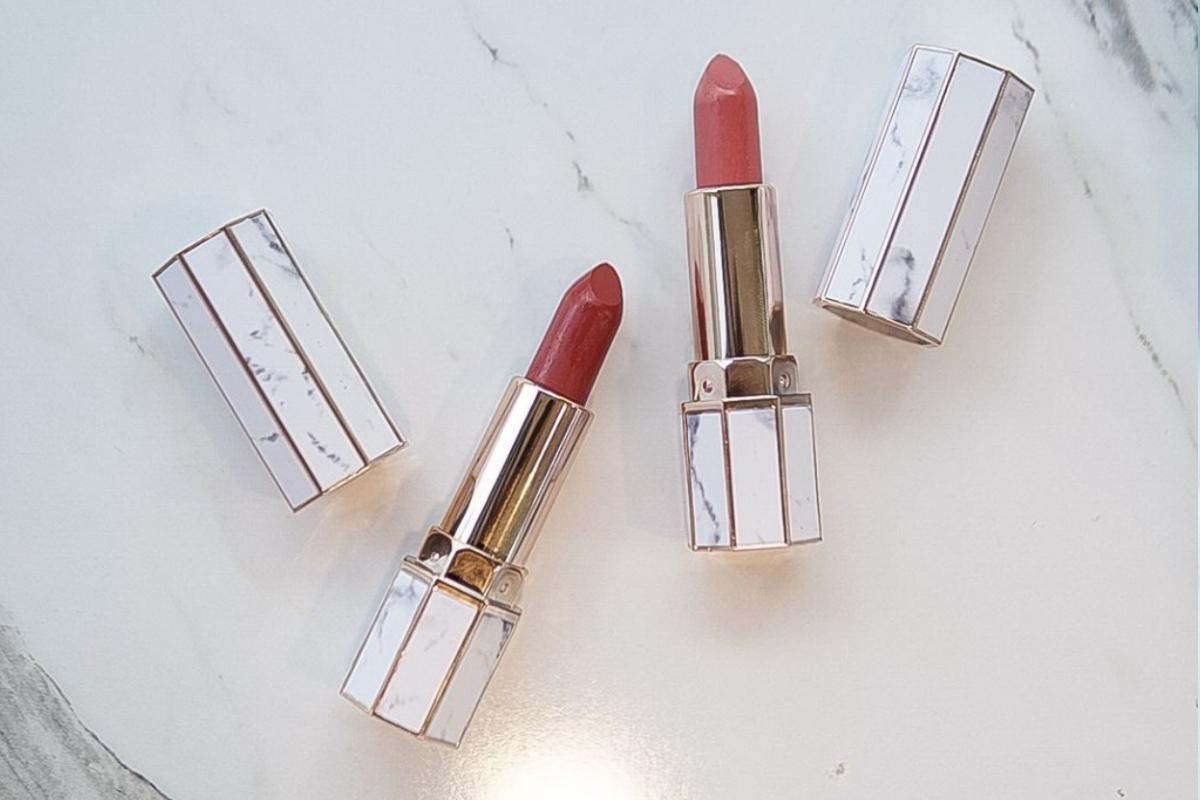 At Vic's Lab Korea, not only can you get a personal color analysis done, you can also make your own personalized skin care products and lipsticks! Click the link below to see our visit to Vic's Lab and to make a reservation for the skincare or lipstick service!
Vic's Lab Korea | Reserve Here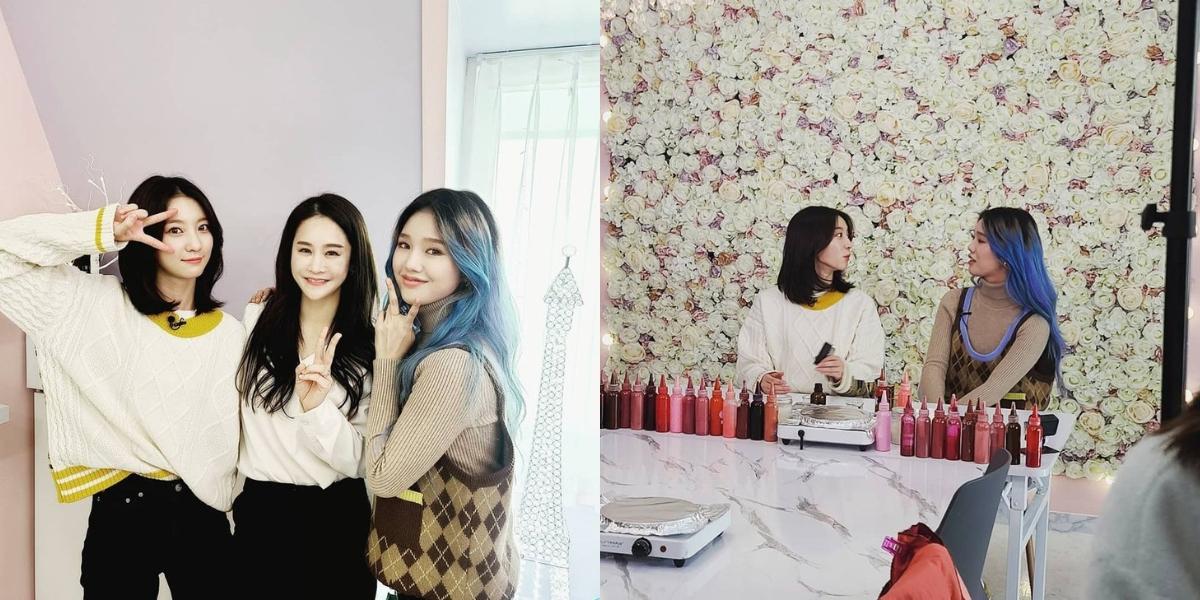 Credit: Instagram @vicslabkorea
Oh My Girl's Mimi and Yubin even made a visit for a collaboration promotion between Seoul Tourism Organization and KBS!
Hours: 13:00-20:00 (Reservation Required)
Address: 4F, Donggyo-ro 248-2, Mapo-gu, Seoul (서울 마포구 동교로 248-2 4층)
3. Color Wings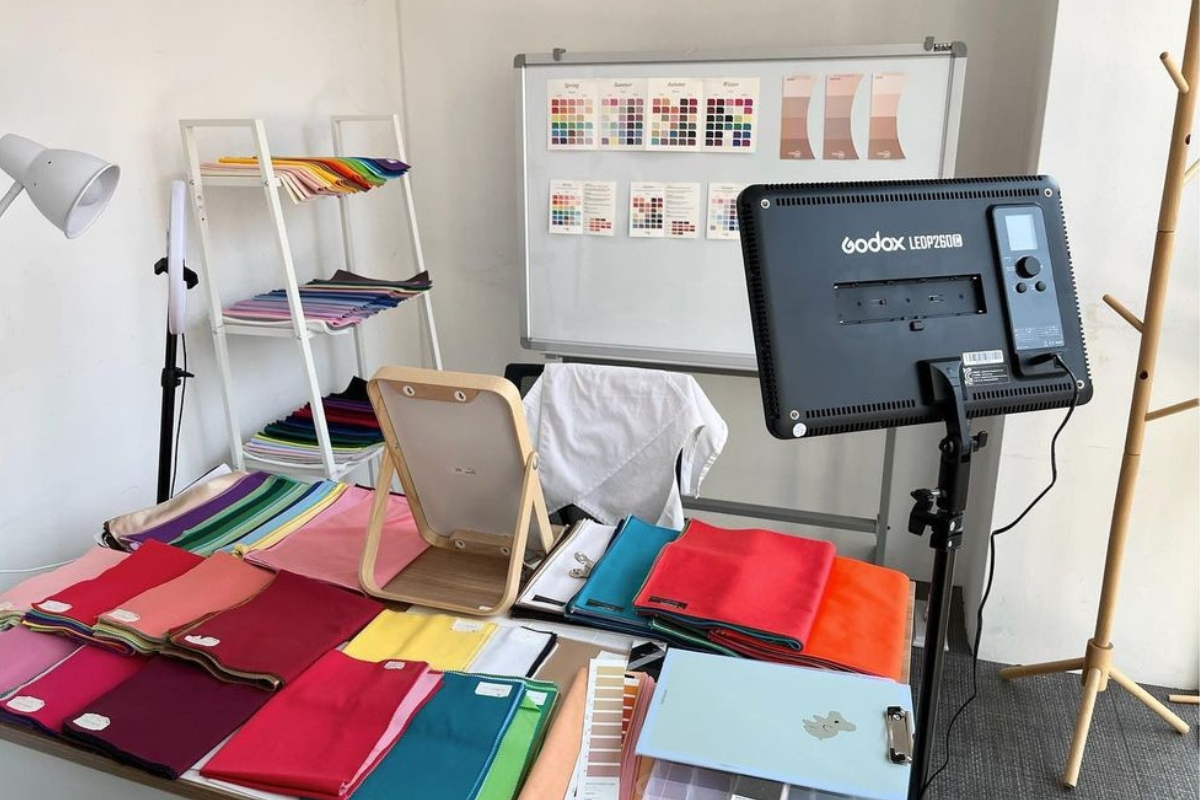 Credit: Instagram @colorwings_official
Color Wings is also very popular among foreigners for providing services in English!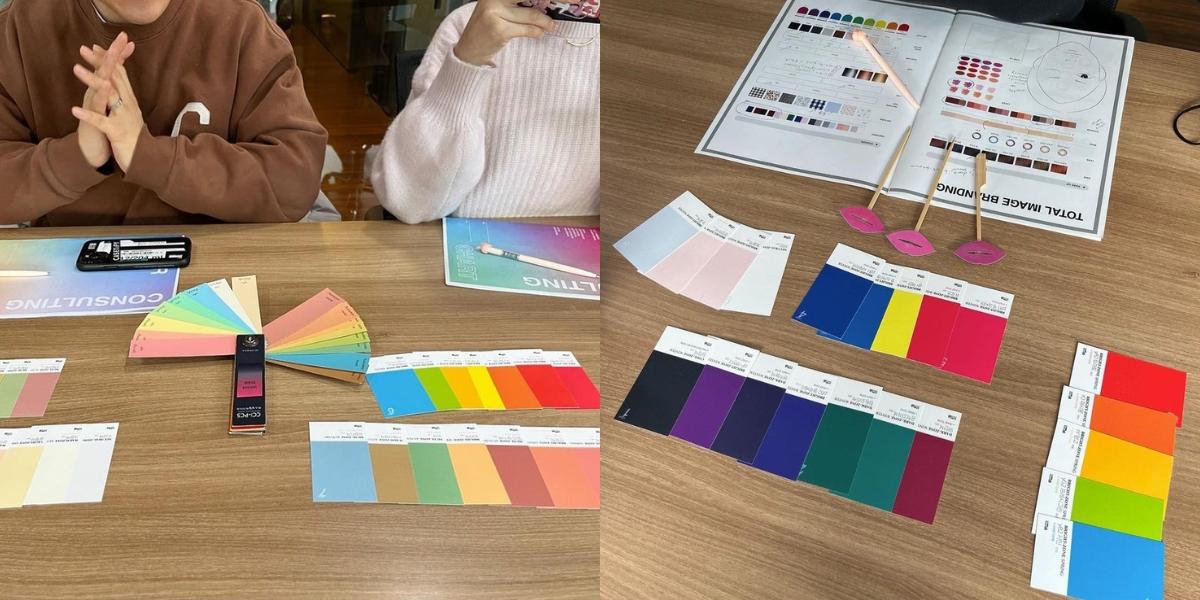 Credit: Instagram @colorwings_official
You can even bring some of your makeup products and get recommendations for which products work best for your personal color!
Hours: Mon-Fri 10:30-18:30 / Sat-Sun 10:30-15:30 (Reservation Required)
Address: 12 Mapo-daero 10-gil, Mapo-gu, Seoul (서울 마포구 마포대로10길 12)
---
We hope this helped you find your personal color! We'll be updating the blog soon, so check back! What's your personal color? Let us know in the comments below! If you have any questions or concerns, please leave a comment below or send us an email at help@creatrip.com. You can follow us on Instagram, TikTok, Twitter, and Facebook to stay updated on all things Korea!
Sources: Hailey Daily
---