Spring 2022 Limited Edition Spring Items
This spring is filled with pink, pink and more pink!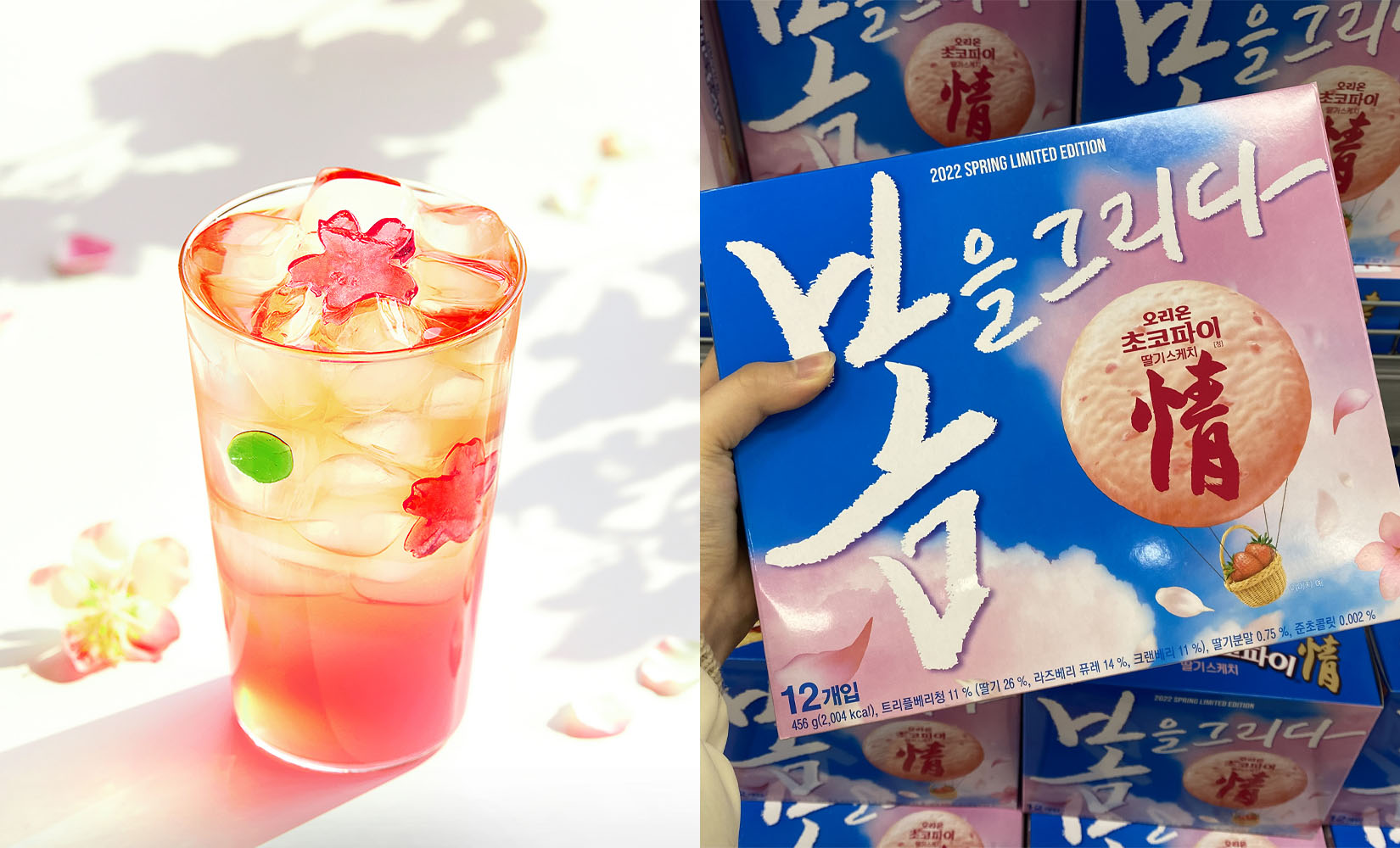 What comes to mind when you think of spring? For many Koreans, spring is the season of cherry blossoms, strawberries, and the color pink! With the arrival of spring also comes a shower of spring themed items! From spring- themed drinks to pink Choco-pies, this season is no different with the new release of spring edition items! Seeing these lovely spring edition items make us fall even more in love with spring in Korea!
---
Starbucks Spring Edition Release
스타벅스 스프링 2 프로모션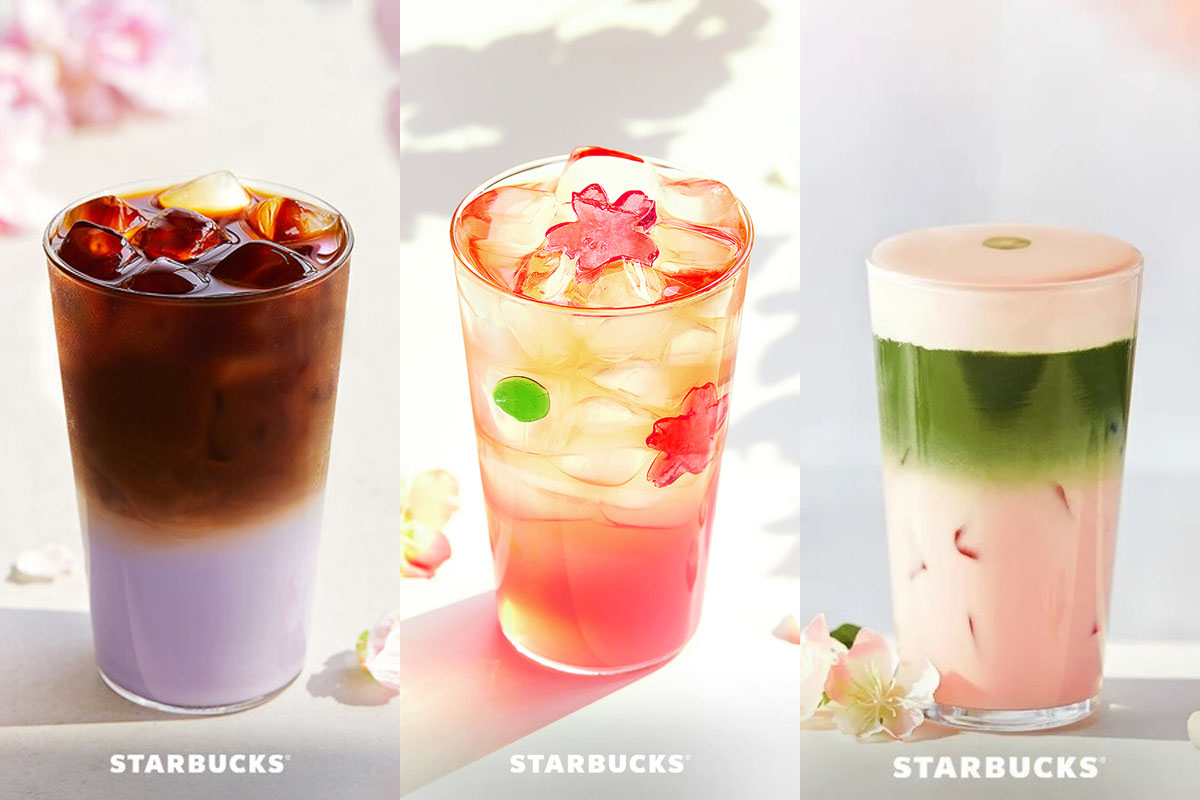 Source: Starbucks Korea
Starbucks Korea's new Cherry Blossom Limited Edition Items were released on March 22, 2022. Their new Cherry Blossom line will be available until April 11. This season Starbucks introduced three spring drinks. The first one is the 'Midnight Bergamot Cold Brew' which perfectly captures the night views of spring with a moody purple and brown combination! The second drink is the 'Pink Crystal Chamomile Tea' which is a beautiful shade of pink and filled with lovely flowers resembling all the new flowers that are about to bloom! Lastly, Starbucks released a Strawberry Dream Matcha Latte which is a pink and green drink which gets us in the perfect mood to go look at cherry blossoms!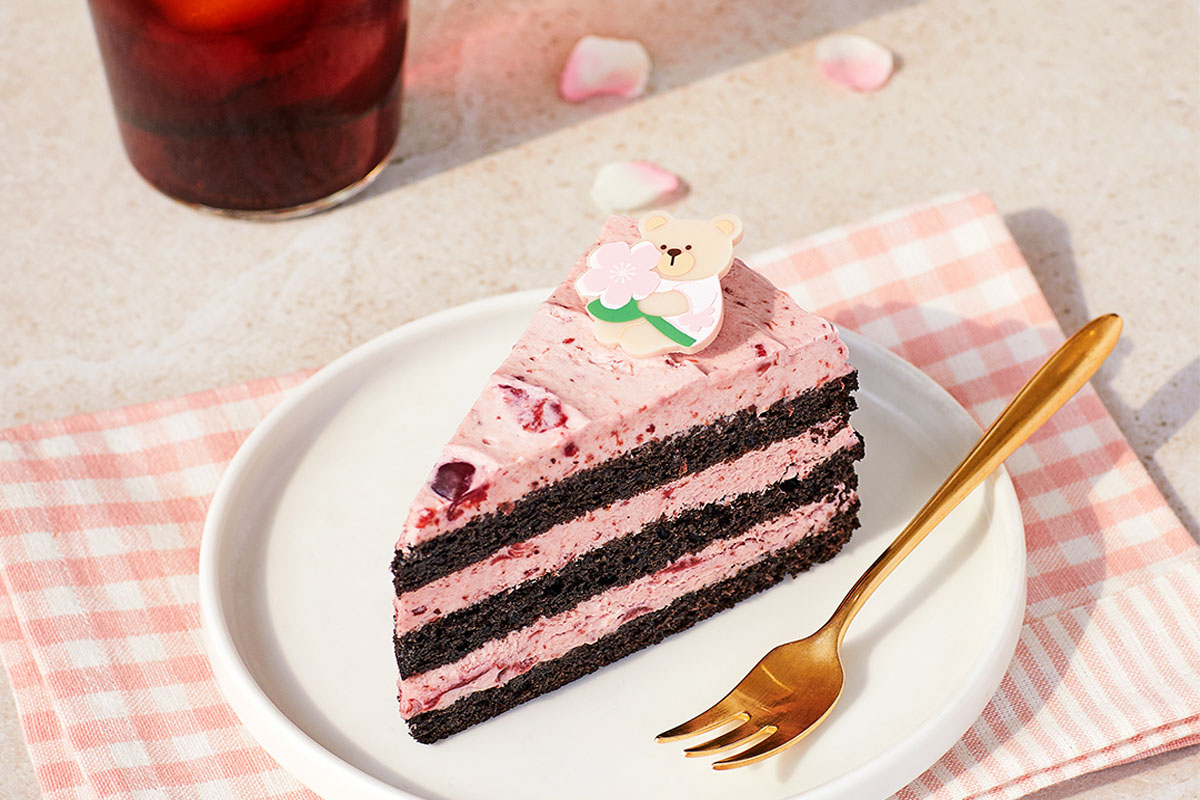 Source: Starbucks Korea
It does not end with drinks! Starbucks also released a new cake called 'Cherry Blossom Chocolate Cake' which is a beautiful fresh cherry cream cake with dark chocolate sheet cake! The combination of pink and brown is absolutely beautiful and the mini Bearista holding a flower on the top of the cake is the perfect touch!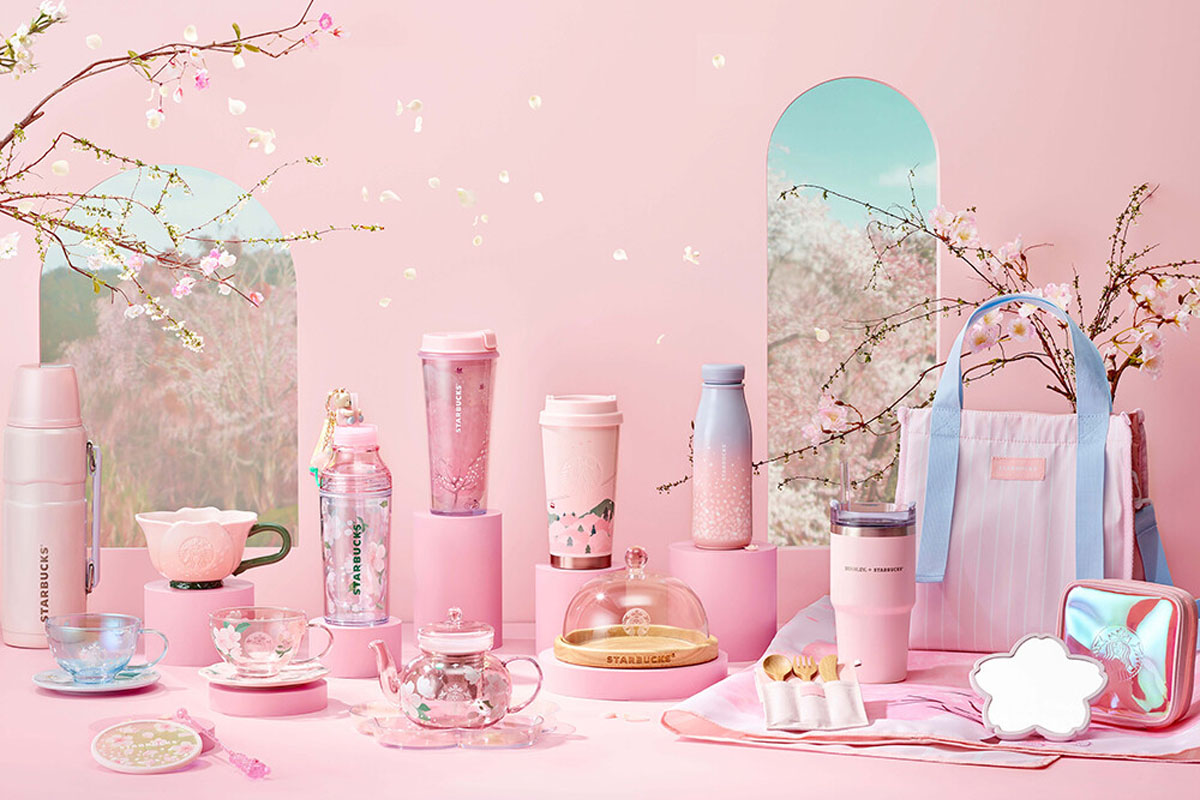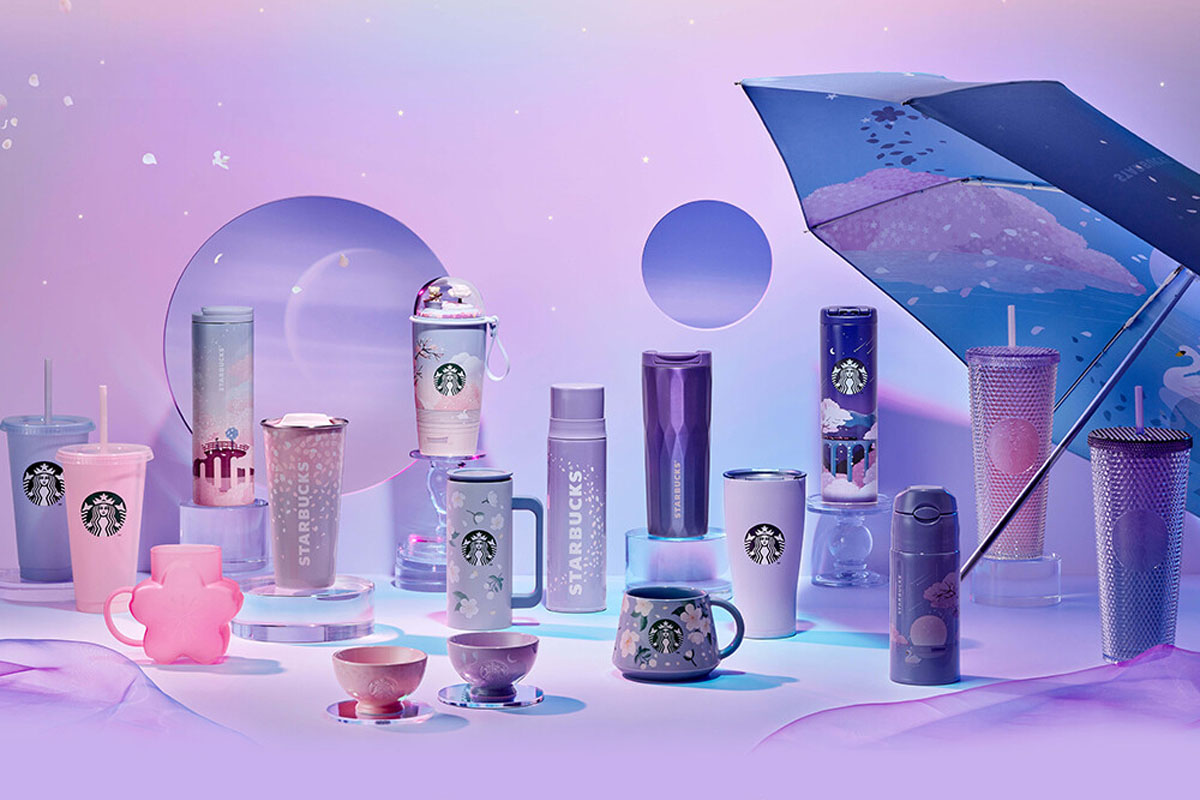 Source: Starbucks Korea
Lastly, Starbucks has released a whole line of merchandise including tumblers, mugs, teapots, and water bottles. There are two different styles that have been released with the concept of night and day! The day concept line is filled with tones of baby pink resembling cherry blossoms blooming in the day while the night concept is filled with touches of moody purples creating a beautiful line overall. This season, Starbucks included many recycled materials into making these items so you can feel good and look good with their items!
---
Choco Pie Strawberry Sketch
초코파이 딸기 스케치
Orion has released a limited edition 'Choco Pie Strawberry Sketch' this spring! This limited edition item is a pink version of the beloved choco pie. Instead of the original chocolate covering, this item is covered in a strawberry chocolate, giving it a pink color. The inside is filled with a strawberry and raspberry puree with marshmallow! The combination is very delicious and makes it feel as though you are eating a luxurious dessert.
Price: 4,980 won
---
Mongshell Seolhyang Strawberry
몽셀 설향딸기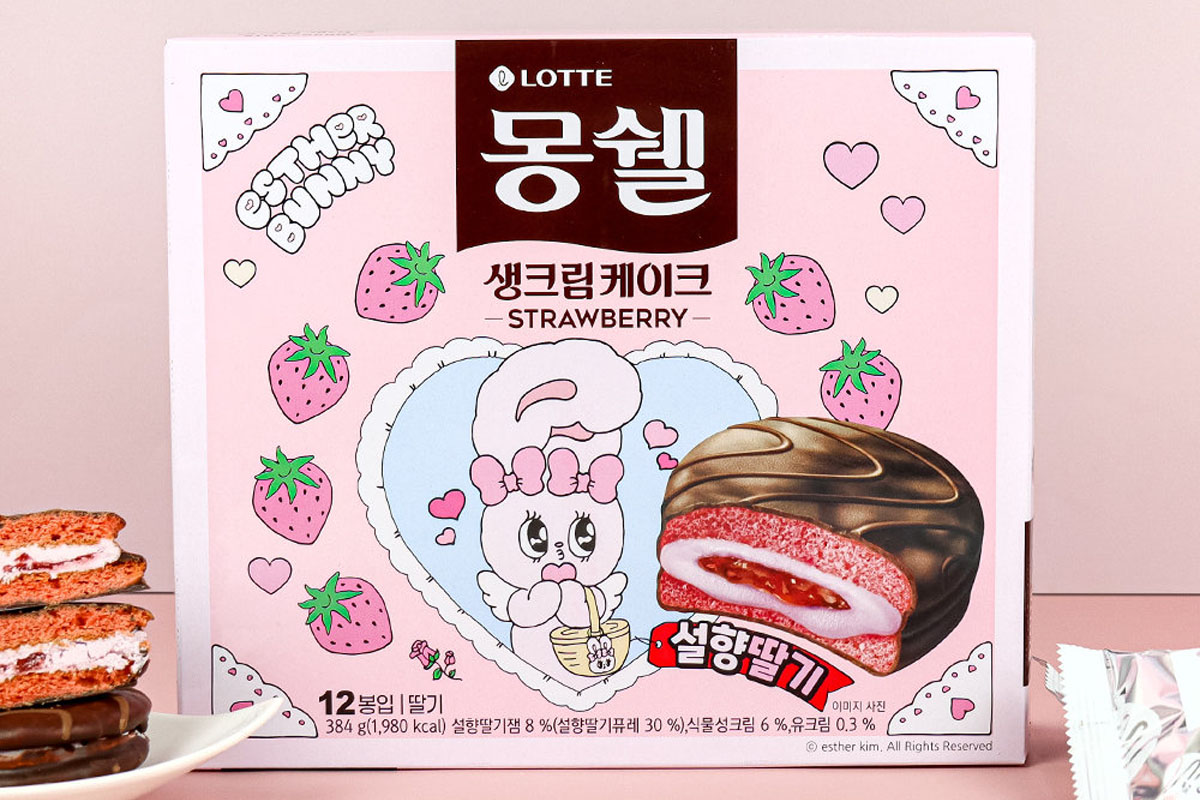 Source: Lotte Confectionary
The beloved Mongshell snack has also been reinvented and released for a limited spring item edition! This version is said to be made of Seolhyang Strawberry, which is a type of Korean strawberry that tends to be sweeter than normal strawberries! Unlike the Choco pie which was all strawberry, this limited edition version of Mongshell is chocolate on the outside and strawberry on the inside! The inside is filled with a soft strawberry cream and sweet strawberry jam! This dessert is said to be very sweet so we suggest it for all those with a bad sweet tooth!
Price: 4,980 won
---
Strawberry Songi
딸기송기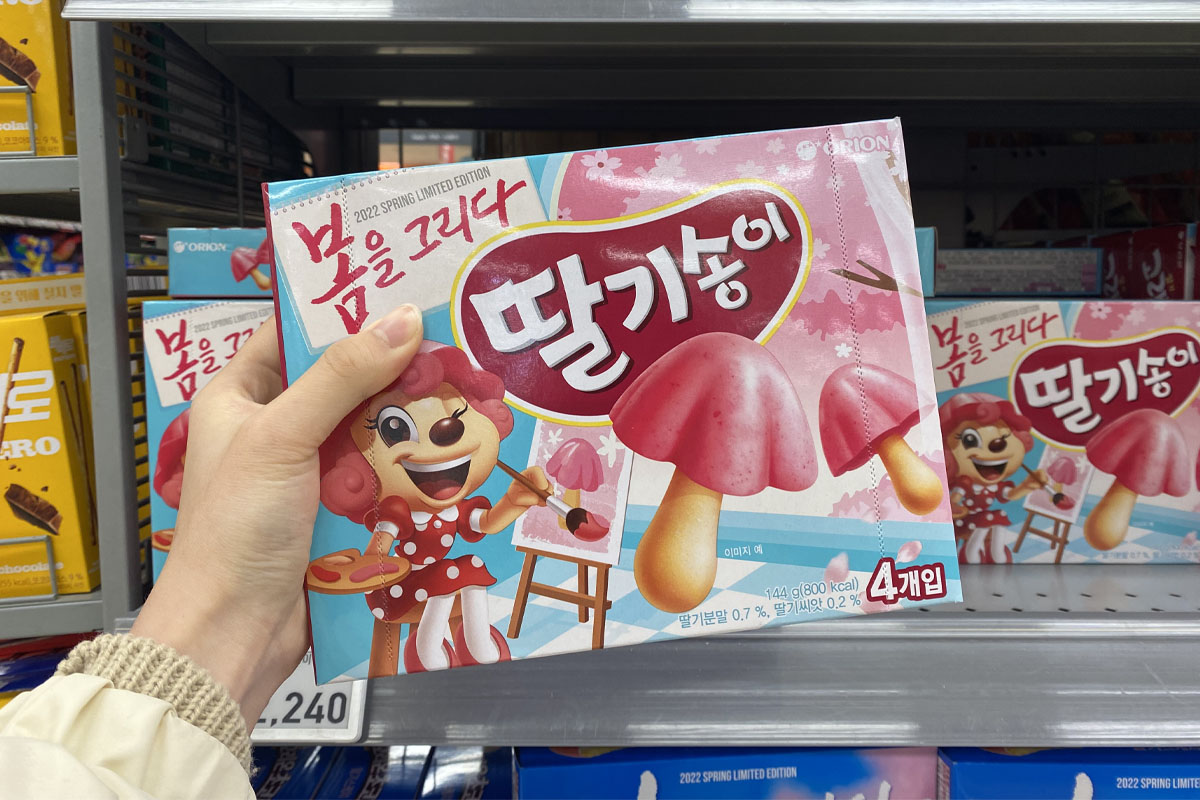 This strawberry songi is another fun pink snack! This limited edition is a cute take on the original choco songi! Instead of the original chocolate mushroom top, this edition features a strawberry top! If you look closely there are black spots on the top that look like strawberry seeds! This strawberry mushroom top is said to be made of both strawberry puree and a white chocolate mix so it also has a sweet chocolate taste to it!
Price: 2,240 KRW
---
Custard Seolhyang Strawberry
카스타드 설향딸기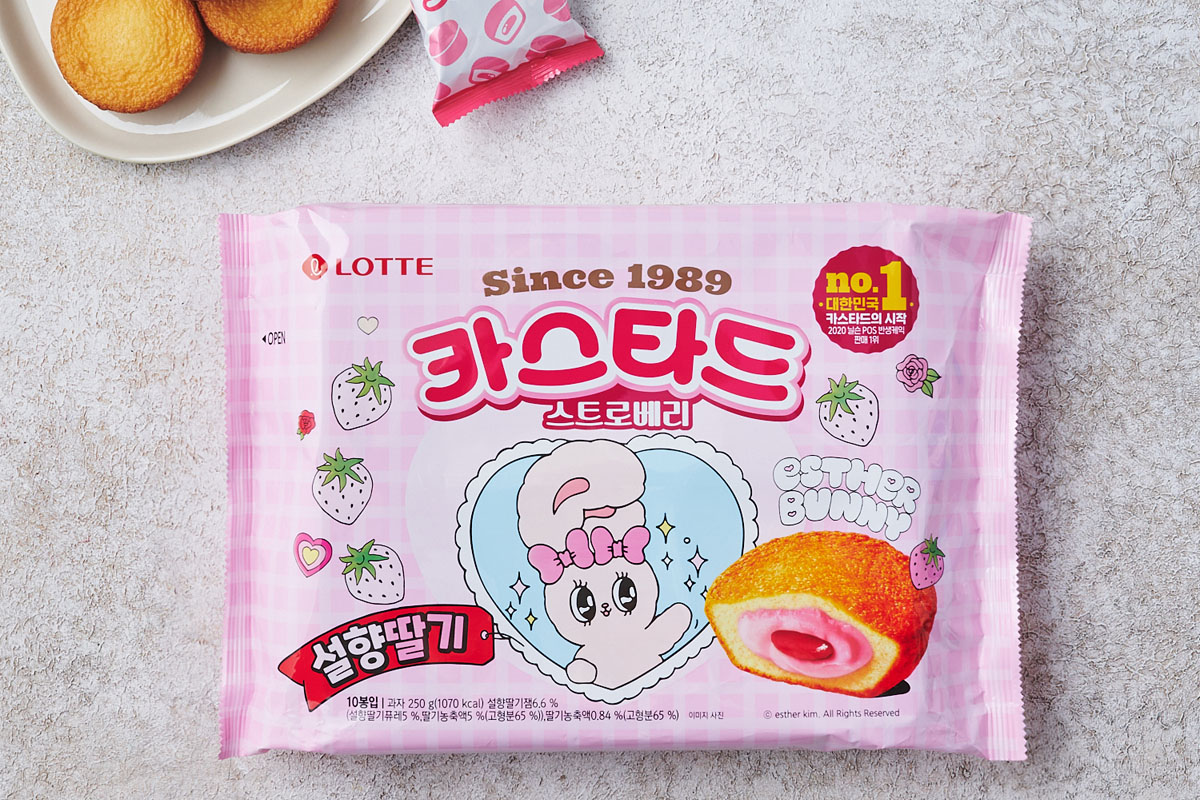 Source: Lotte Confectionary
This is another Seolhyang strawberry flavored spring edition item! This custard is now filled with a strawberry cream made. up of Seolhyang strawberries! This cream adds a fresh and sweet taste! The custard is especially soft and melts when eaten with milk so we highly recommend grabbing a class of milk when eating this.
Price: 4,780 won
---
Sand Ace Strawberry
샌드에이스 딸기 라떼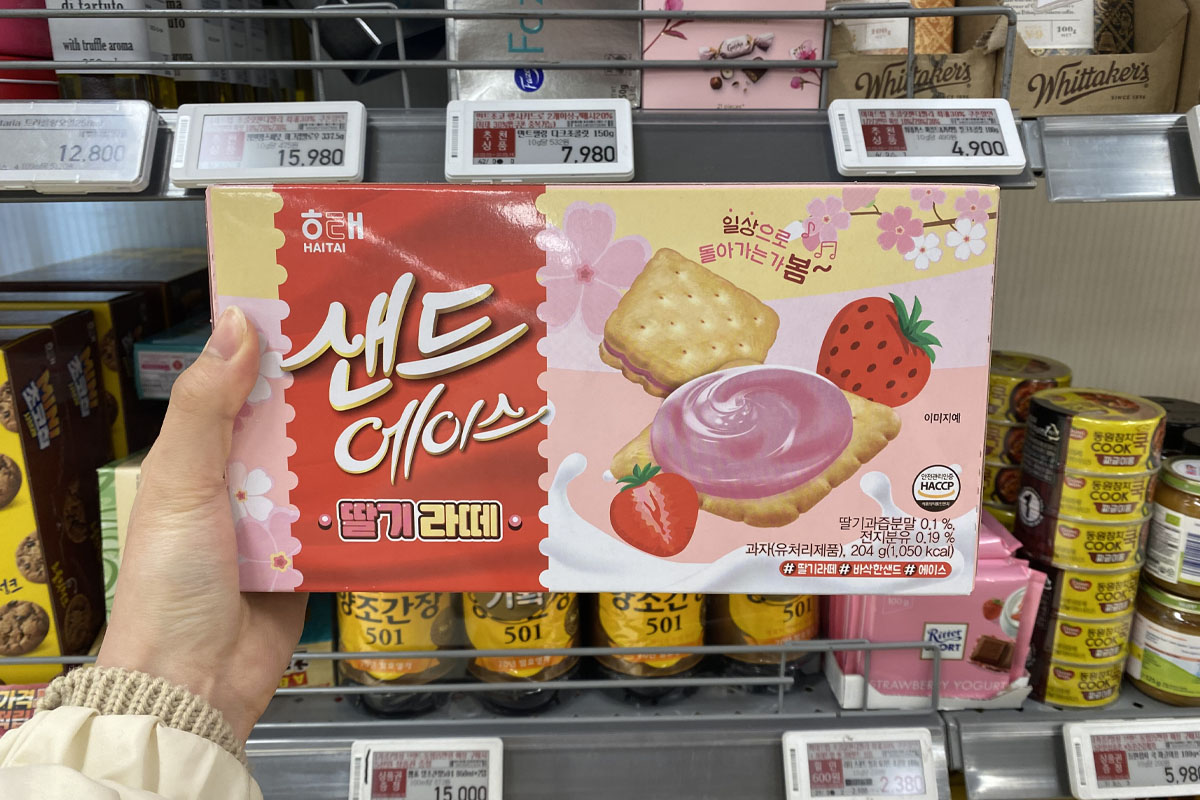 Source: Crown Confectionary
Ace is one of those snacks in Korean known for being delicious when paired with coffee. Ace must have realized this as well as they have released a limited edition strawberry latte cream flavor for the spring season. We love that now we can get Ace sandwich instead of just the individual crackers! After all, more is better isn't it?
Price: 3,300 won
---
Couque D'asse Strawberry Yogurt
쿠크다스 딸기 요거트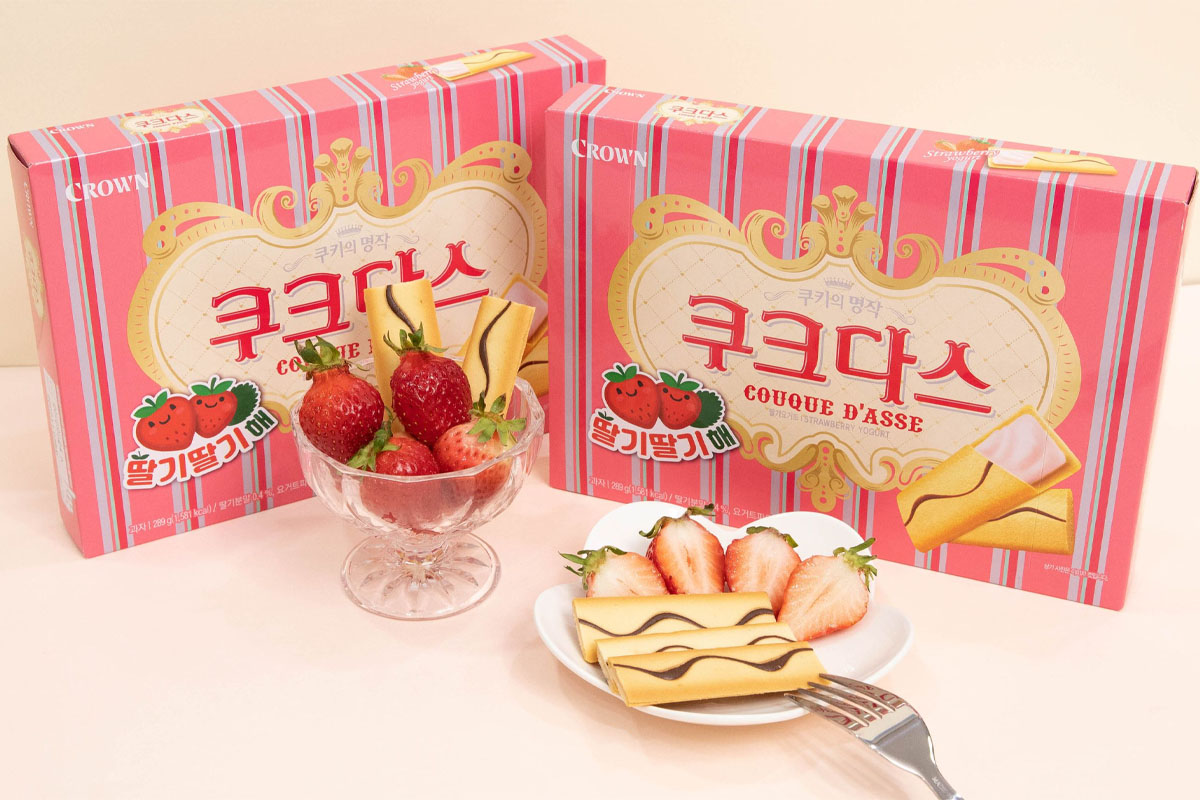 Source: Crown Confectionary
This item is not a new release for this spring. However, it is a spring only item that has been released since spring, 2016. The Strawberry Yogurt Couque D'asse set a record for 7 consecutive years by selling over 200,000 pieces of this limited edition item! It is obviously a hit and loved by many and you should make sure to try it out! Hurry or else you will have to wait another year. 😢
Price: 3,000 won
---
Strawberry Gorae Bap
딸기 고래밥

Goraebap, or "Whale Food" in Korean is a classic savory snack in Korea! Normally is comes in a cardboard box and is filled with savory seasoned ocean creature shaped goodies! This year, our favorite sea animals are coming in strawberry flavor and pink! When you open the snacks you can see the strawberry pink crabs, squids, and starfish. For those that are expecting a salty flavor due to the original, the sweet flavor might come to you by surprise during that first bite. However, many people have been saying that dunking this in milk and eating it like cereal is a great way to enjoy this snack.
Price: 2,880 won
---
Strawberry Pepero
스트로베리 빼빼로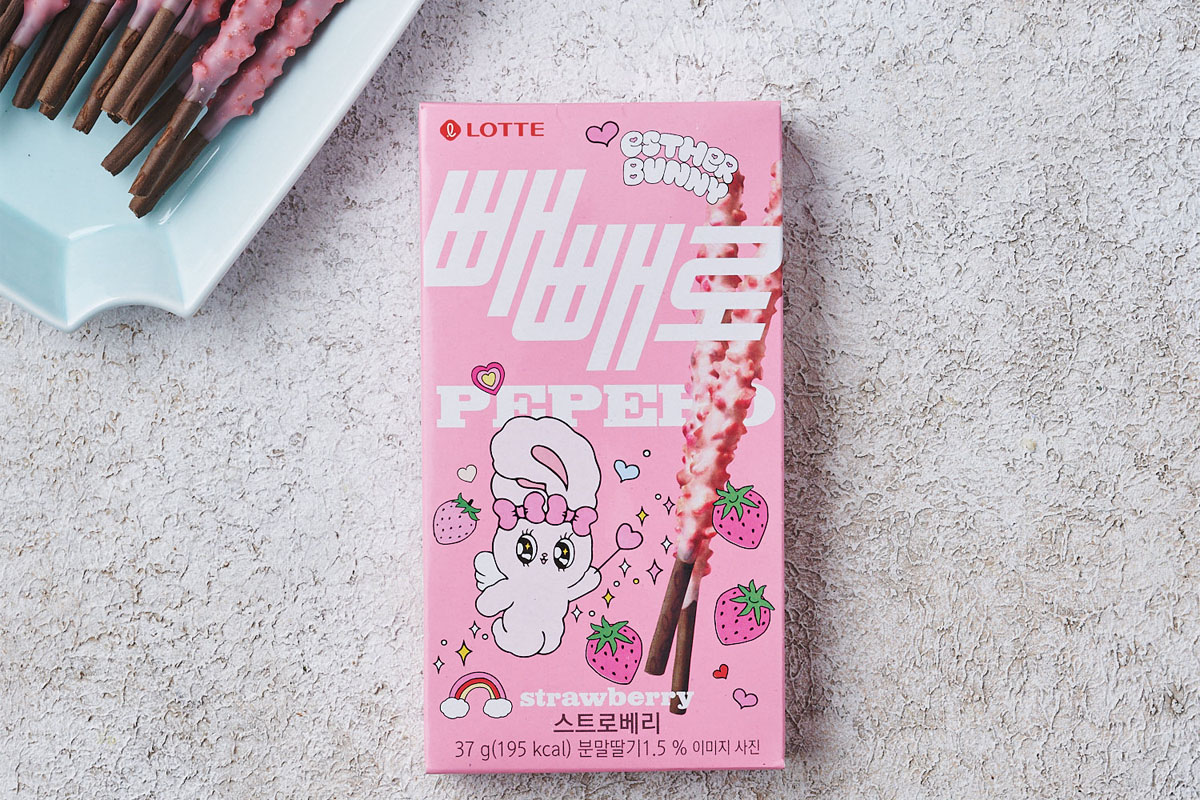 Source: Lotte Confectionary
This classic snack has gone pink for spring! This year Pepero and the Easter Bunny are holding hands for the release of this pink strawberry Pepero. The stick is made up of a chocolate biscuit that is coated in a crunchy strawberry coating. There is also little strawberry chocolate pieces that are stuck on to it for additional flavor and texture. We think that people that lovae a sweet and sour combination will love this limited edition snack!
Price: 1,290 won
---
Oh Yes Strawberry Cheese Cake
오예스 딸기 치즈케이크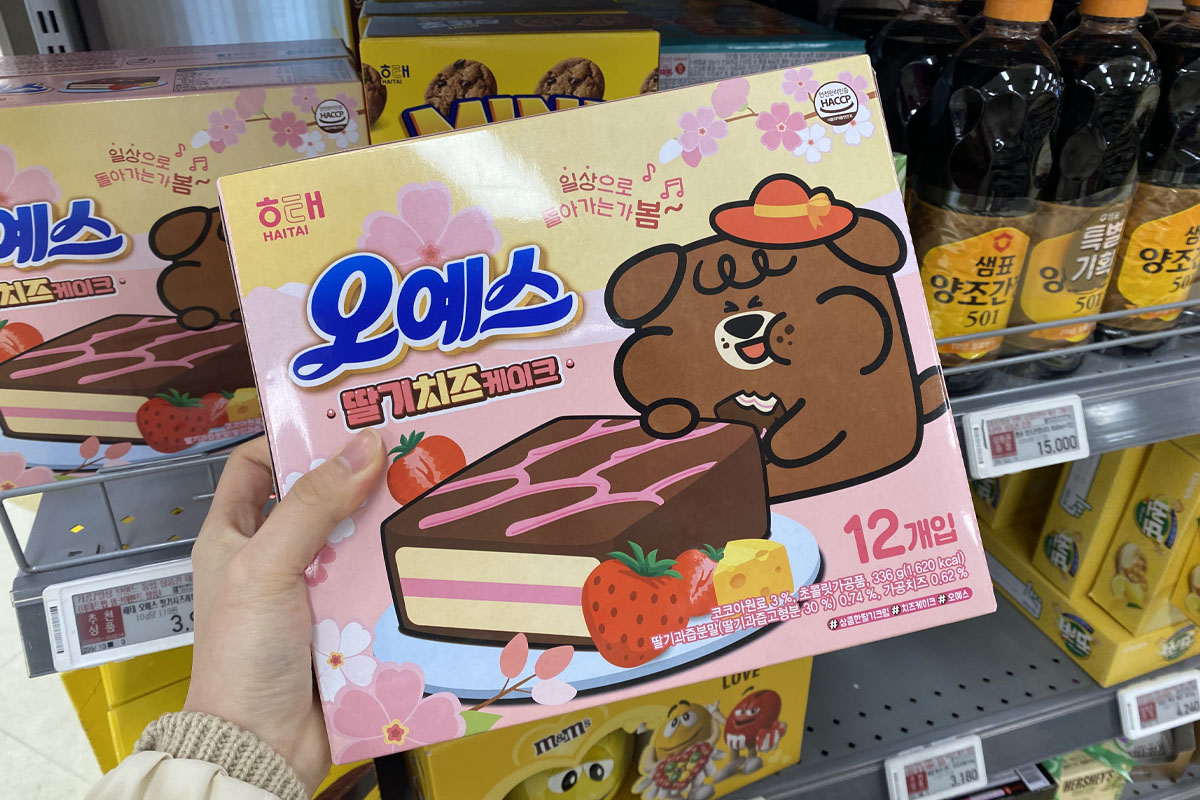 Any cheesecake lovers here? Well this is you time to shine! Let us tell you about this heavenly looking strawberry cheese cake flavored Oh Yes! In this limited edition release, strawberry cream and cheesecake sheets are sandwiched between the chocolate coating creating a delicious snack! The reviews are saying that this taste even better than the original. One bite into these and you will be saying "Oh Yes!"
Price: 3,980 won
---
Binch Strawberry Formage
빈츠 딸기 포로마쥬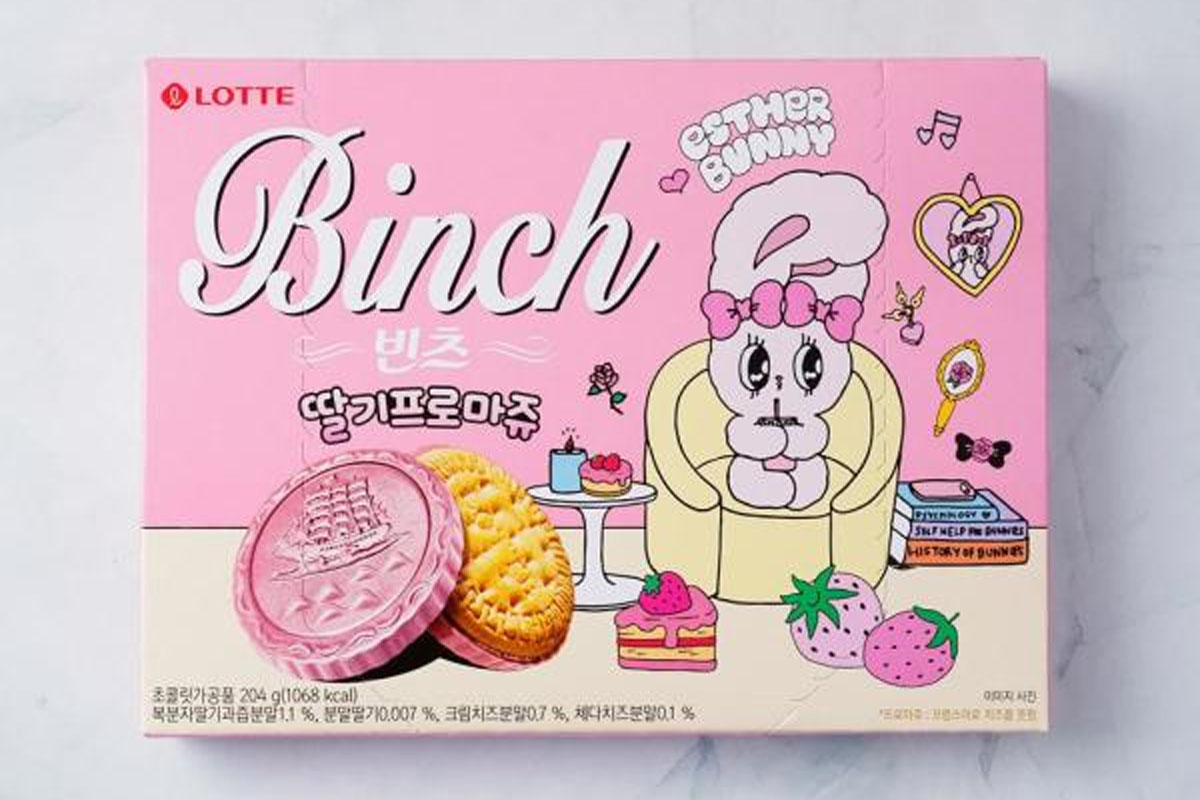 Source: Lotte Confectionary
Binz Strawberry Formage contains cream cheese and cheddar powder in with strawberry and chocolate for the outsides instead of the classic chocolate. There are also two types of cream cheeses that were said to have been used in this so it makes it much more softer and creamier. This also had great reviews...maybe it will become a permanent item?
Price: 3,990 won
---
Purchase Korean Goodies
You can purchase Korean goods off our website here. For those that spend over 80 dollars, you can get free shipping! Also if there are any products that you would like to purchase but do not see on our website, you can request it here! You can request any of these lovely limited edition spring items. 😍
---
Korea is filled with so many fun and creative spring merchandise and limited edition items! Which one are you looking forward to trying? Let us know in the comments below and make sure to follow us on Instagram, Tik Tok and Facebook to stay updated with all things Korea! You can always email us as well at help@creatrip.com
---