Haha & Kim Jong Kook's 401 Restaurant
Visit the Korean Barbecue Restaurant In Hongdae Owned By Haha & Kim Jong Kook!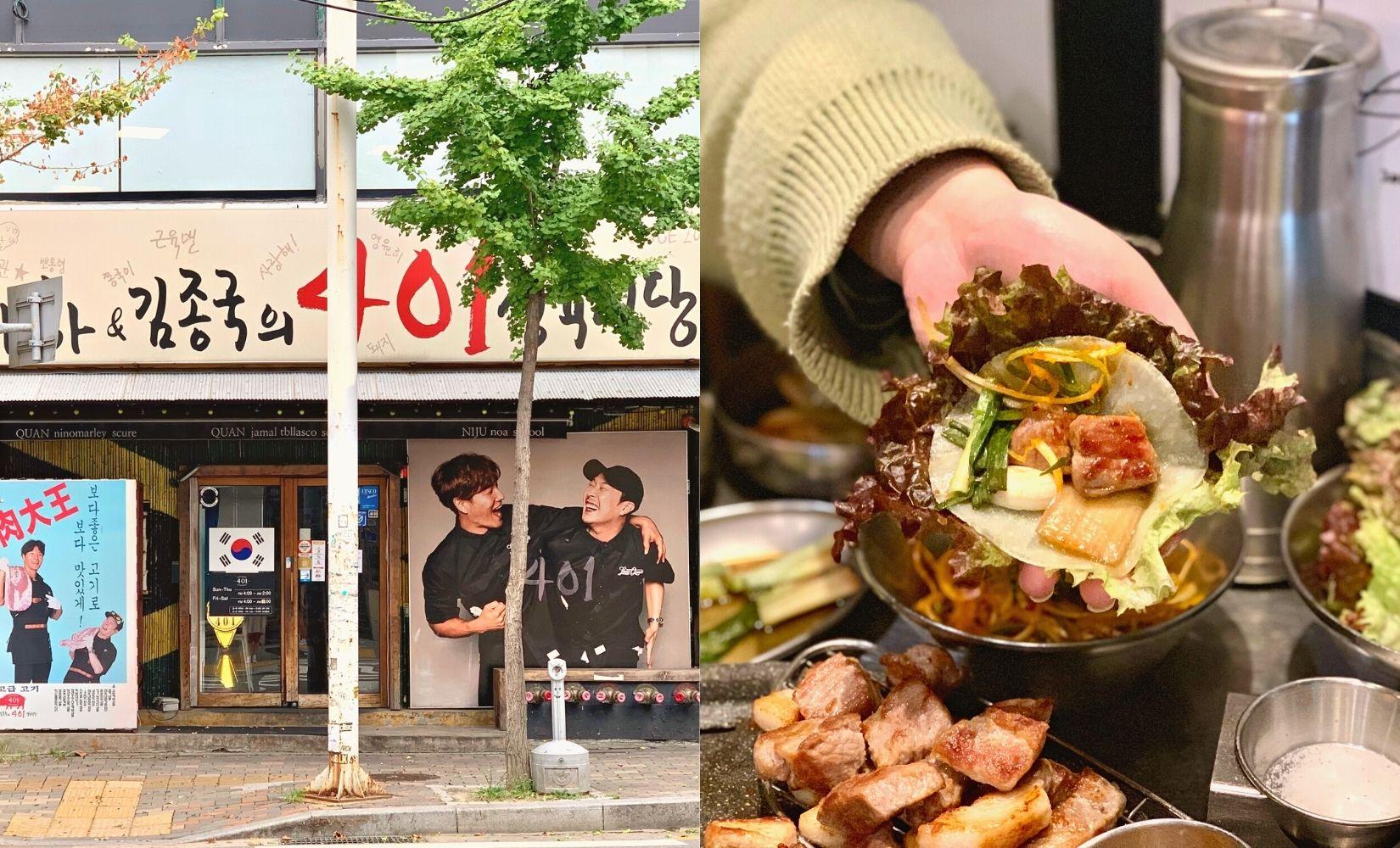 How many 'Running Man' fans do we have out there? Haha and Kim Jong Kook, two 'Running Man' panel members opened a Korean barbecue restaurant in Mapo-gu. For fans of both KBBQ and 'Running Man', this place is worth the visit!
Come and enjoy delicious grilled meat while supporting your favorite cast members!
---
Information
Korean Name: 하하&김종국의 401 정육식당
Address: 서울 마포구 잔다리로 23
23 Jandari-ro, Mapo-gu, Seoul
Hours: 16:00-02:00
---
Menu
Menu
Price (KRW)
Samgyeopsal
산겹살

14,000/serving KRW

Moksal
목살

14,000/serving KRW

Hangjeongsal
항정살

14,000/serving KRW

Gabeurisal
가브리살

14,000/serving KRW

Mul/Bibimnaengmyeon
물/비빔냉면

5,000 KRW

Chadol Doenjang Jjigae
차돌된장찌개

6,000 KRW
---
Our Visit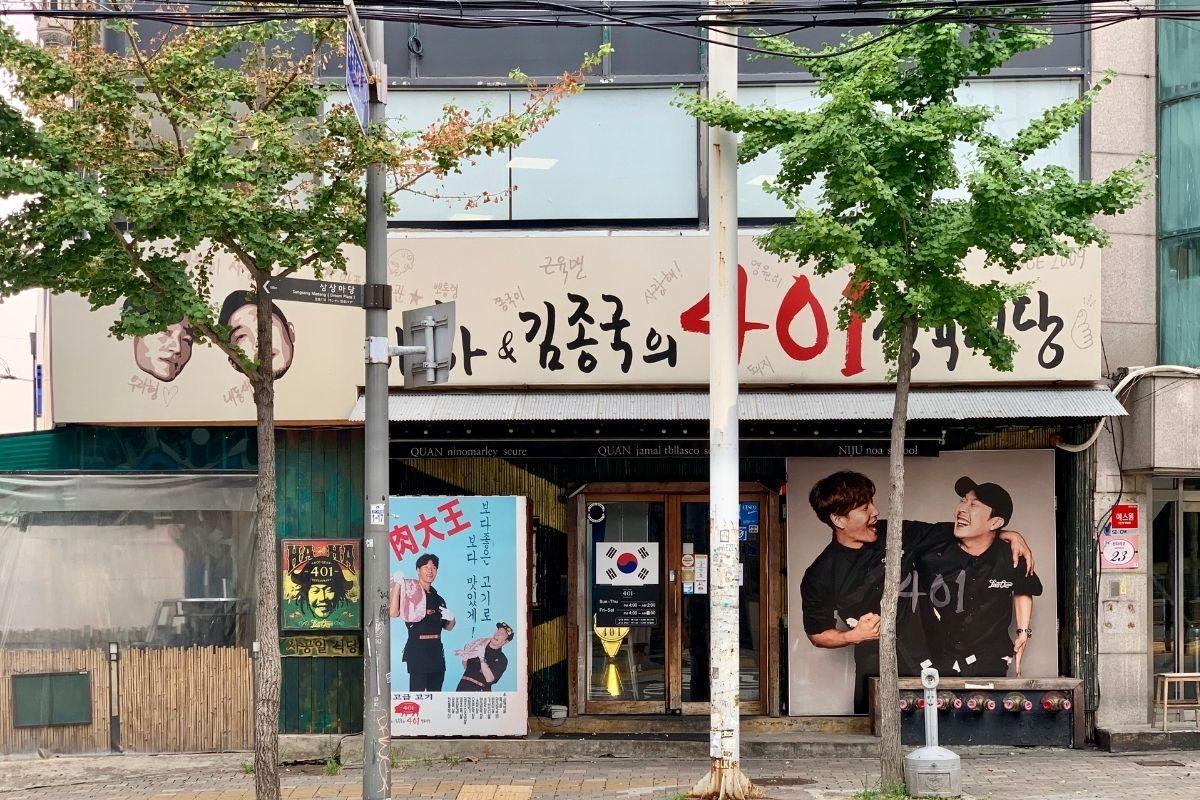 In 2009, Haha established his own restaurant under the name Palja Makchang (팔자막창), specializing in grilled intestines. In 2015, the restaurant was renovated and re-branded, altering the menu and changing the name to Loco Quan 401.
At the beginning of June 2017, Kim Jong Kook became Haha's business partner and the name was changed again to Haha & Kim Jong Kook's 401 Restaurant.
If you come here, you will see the large photos of the duo on the storefront.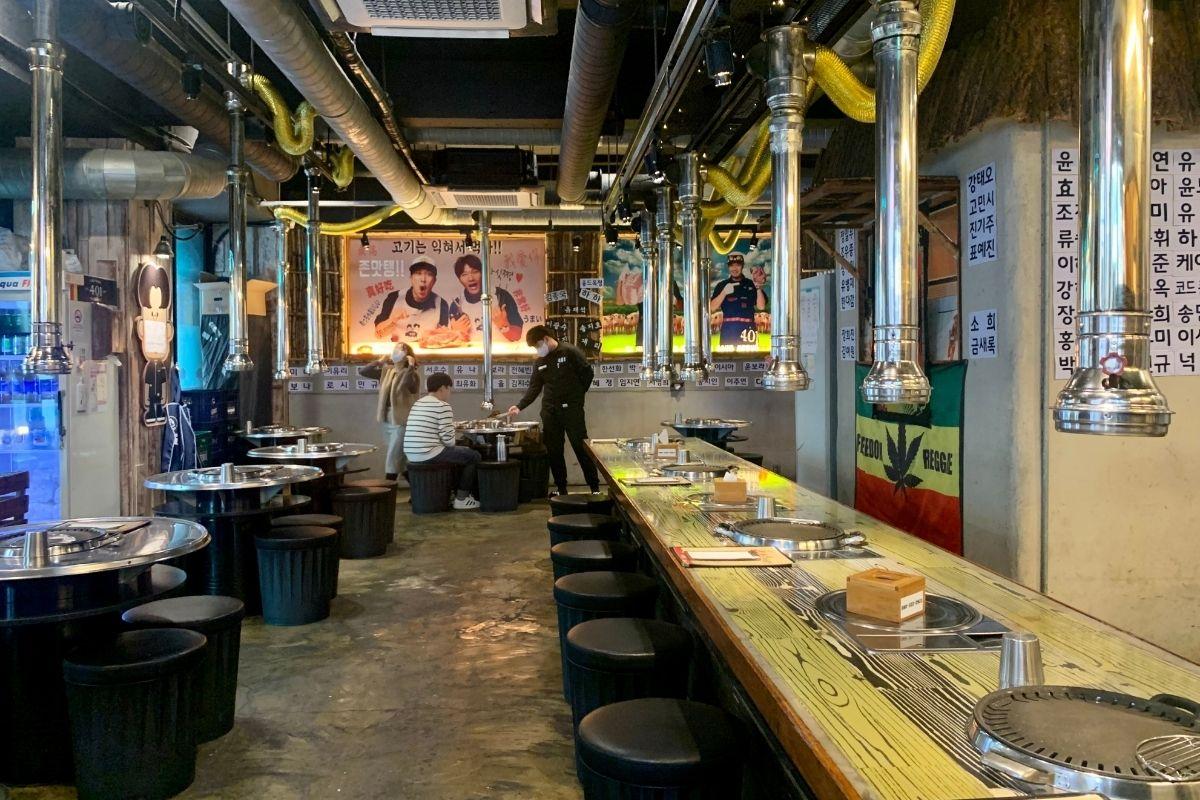 The interior looks like many other barbecue spots in Korea, with round stainless steel tables and black leather seats. You can open the seats to store jackets or other personal items so they don't absorb the all the meat odor.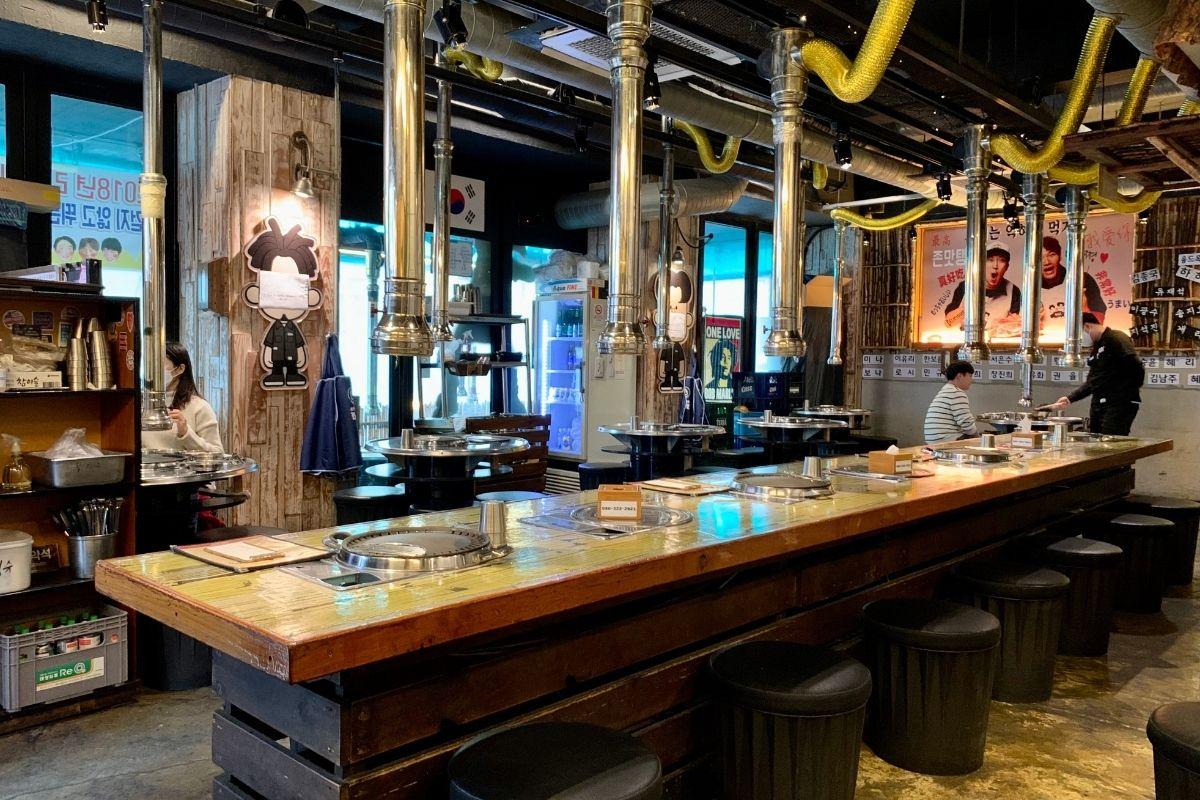 The restaurant is quite spacious and has many seats. There is also long table in the middle for large groups.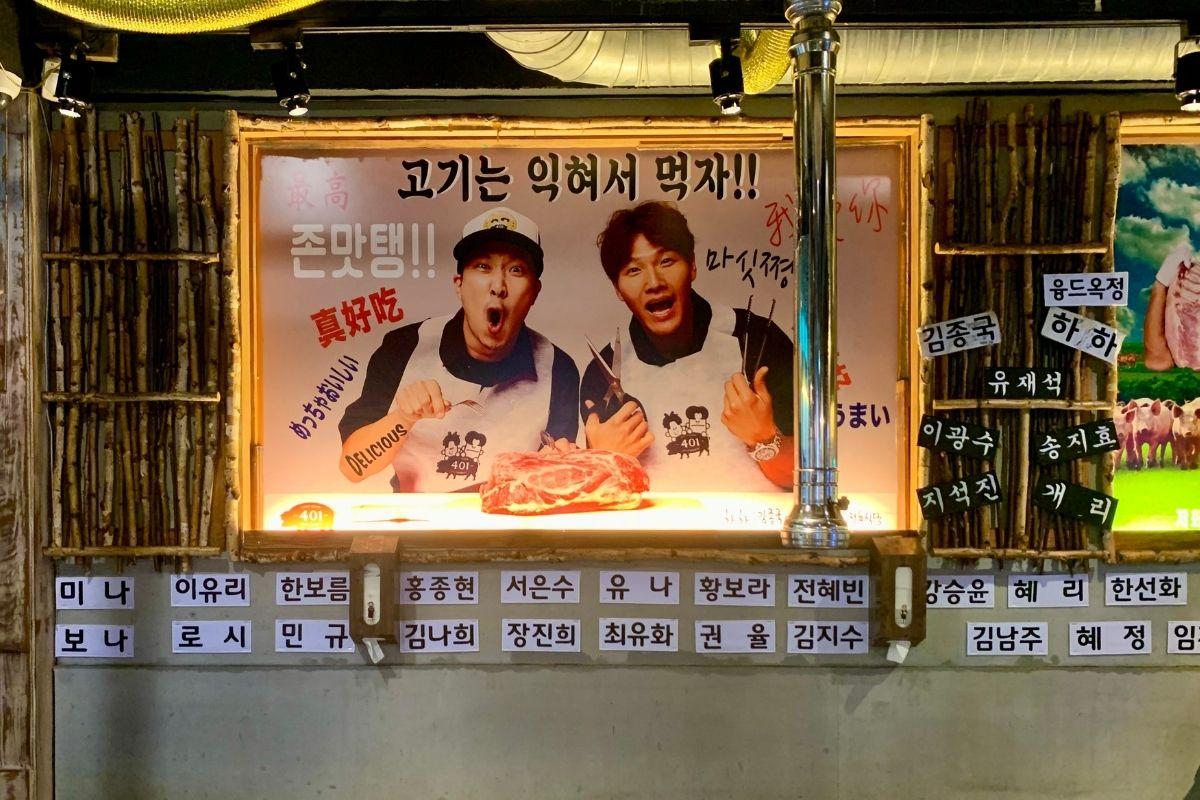 On the back wall of the restaurant you will see a huge picture of Haha and Kim Jong Kook.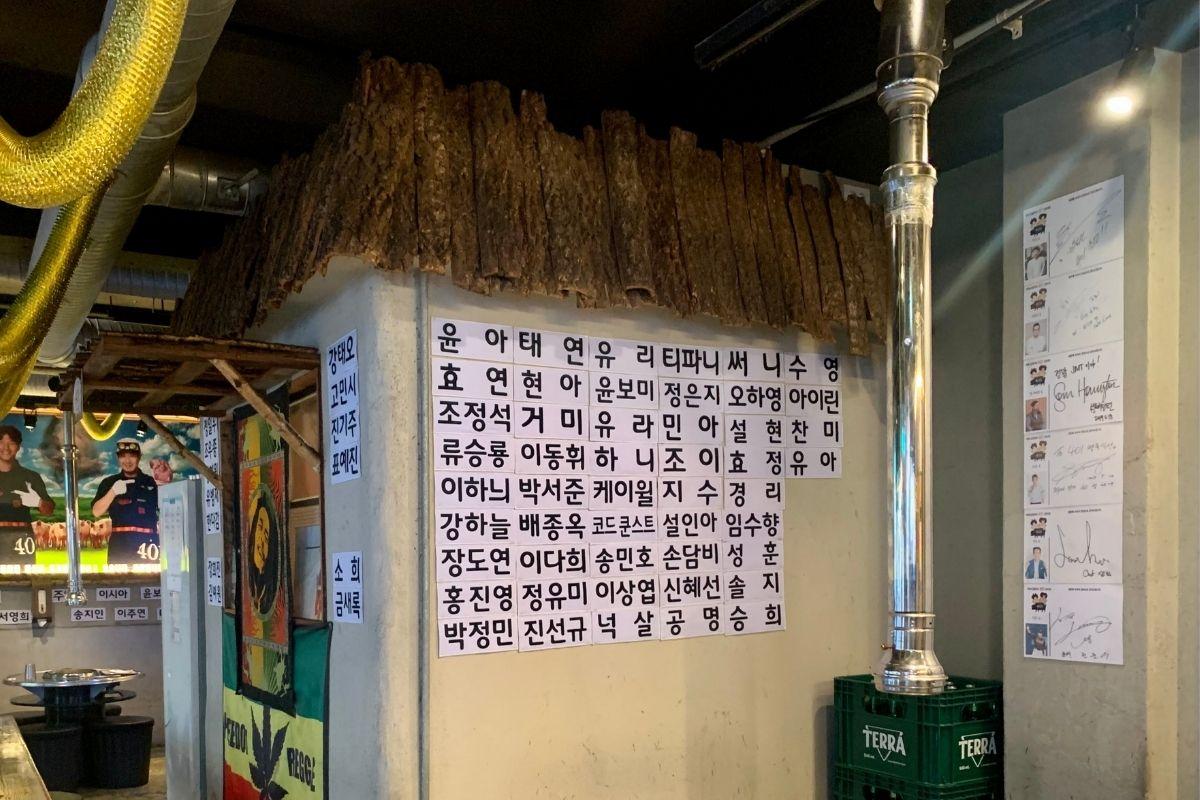 Something special about this restaurant's interior are the Running Man name tags hung all over the place. You can look for your favorite idol!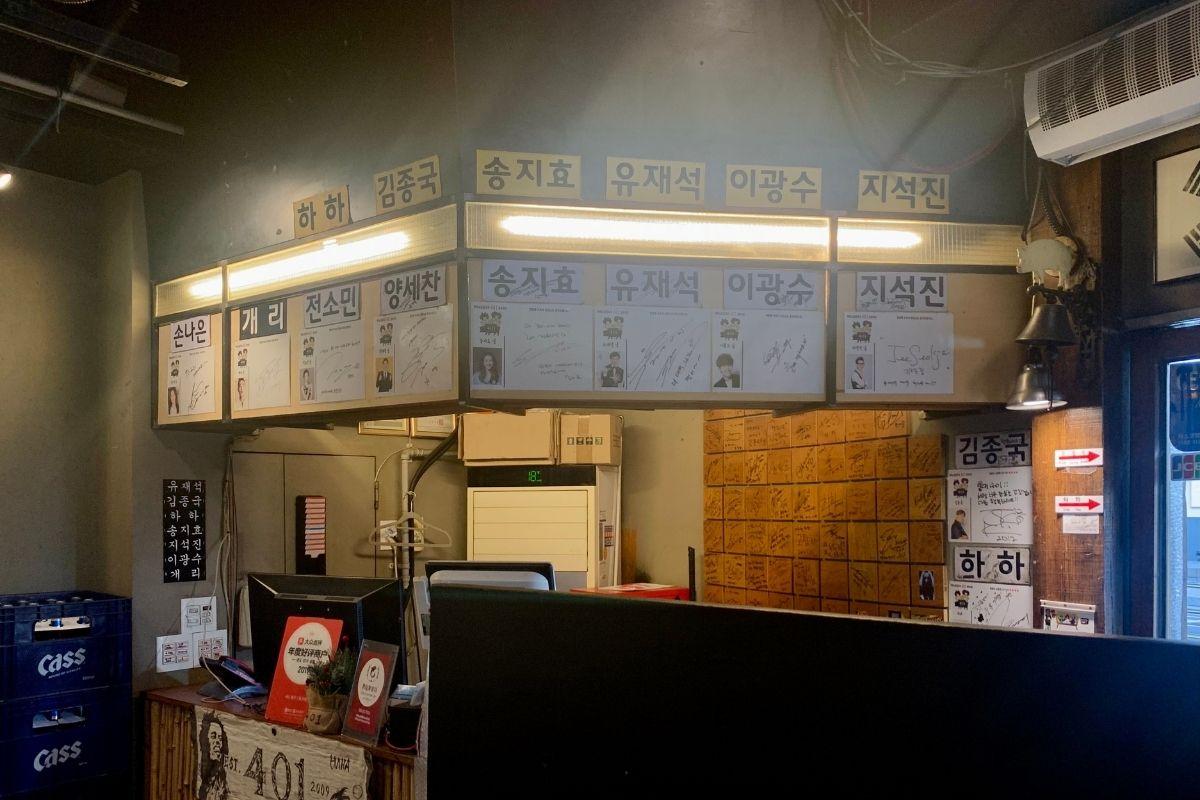 By the cashier counter, you can see golden name tags of the main members of Running Man.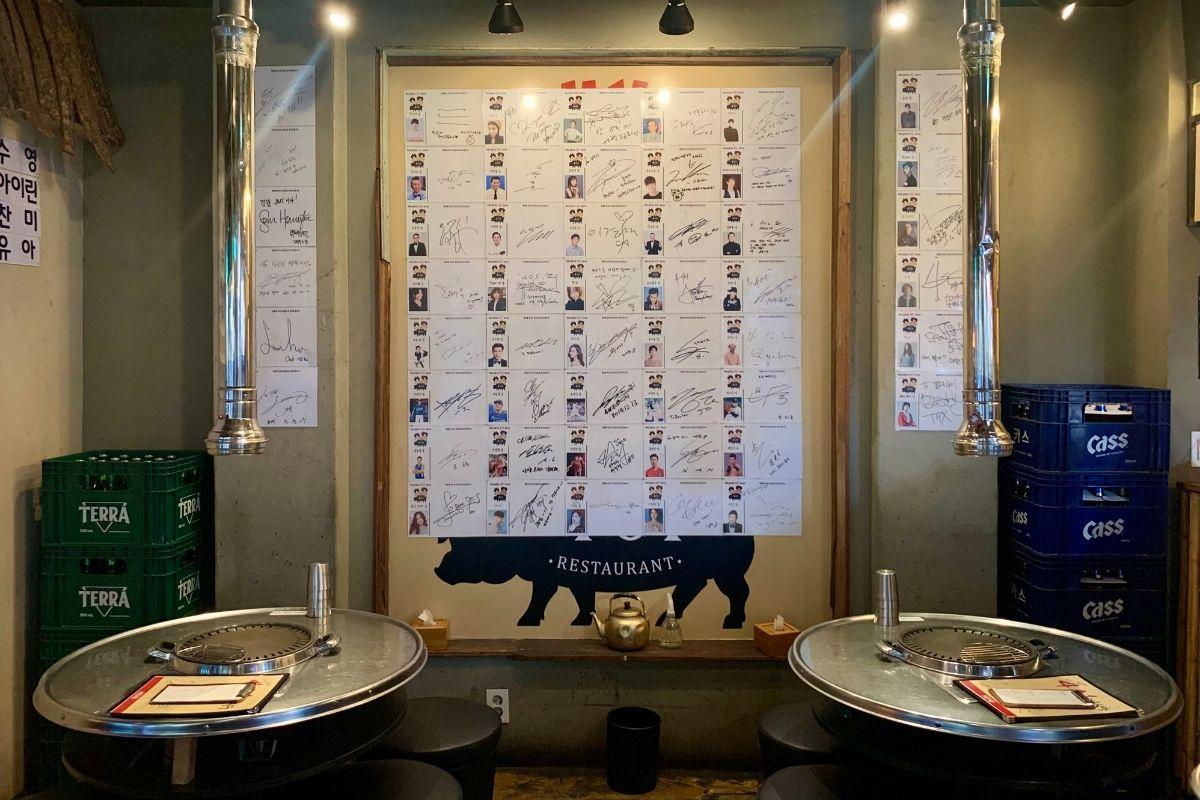 In addition, there are also a lot of autographs from famous celebrities who have eaten here. At peak hours, it is very crowded here, so it is best to come early and get a good seat.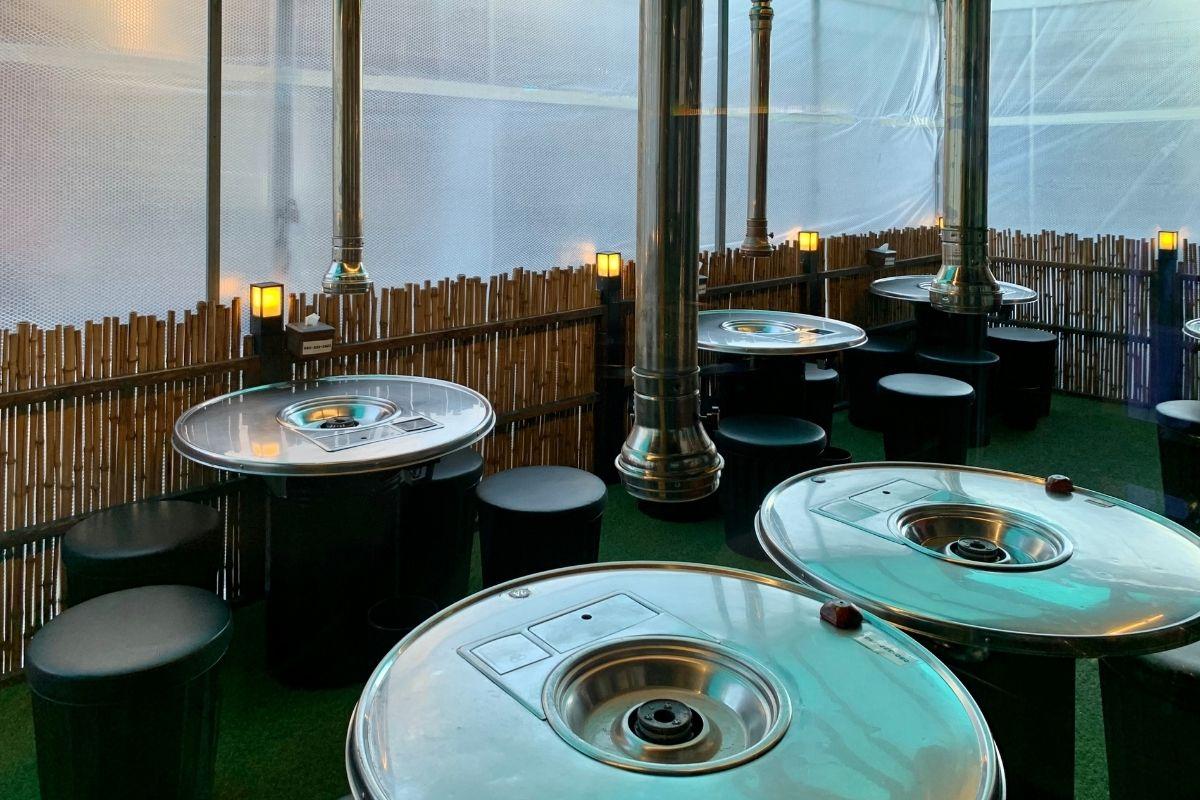 There are also some tables outside that are surrounded by a tarp so you don't get cold in the winter.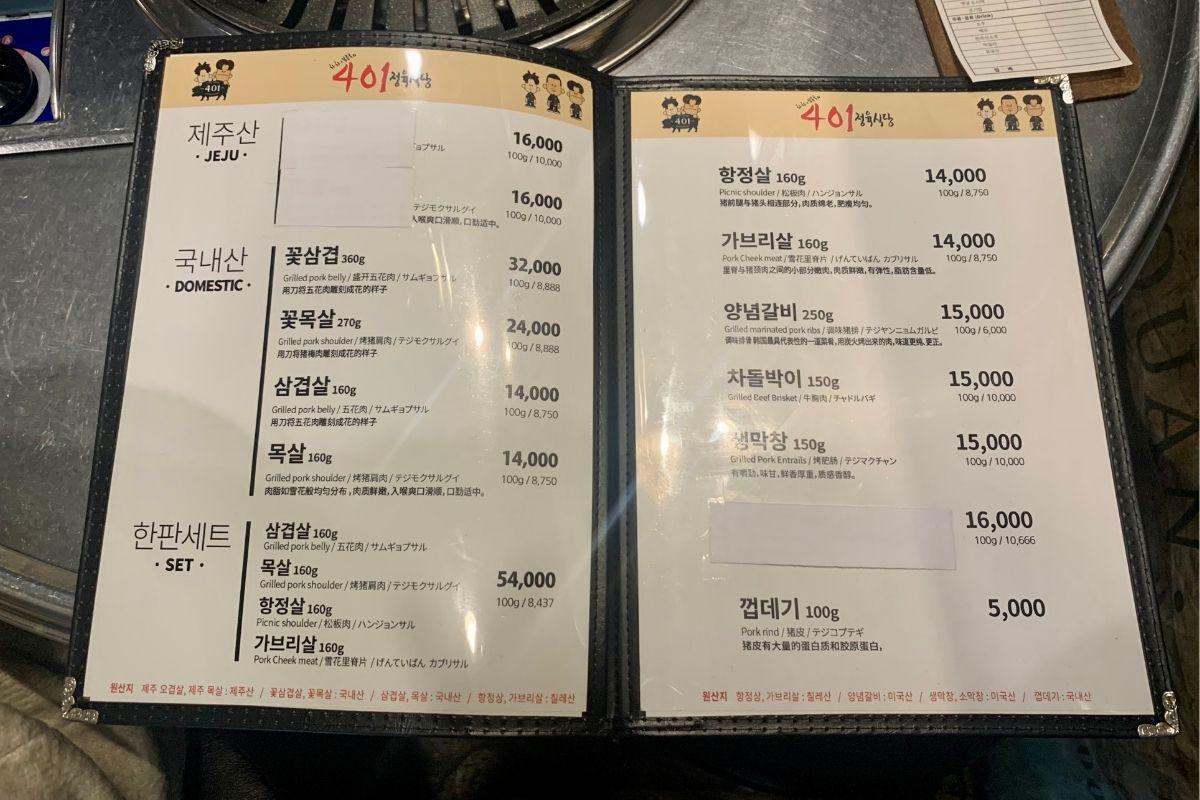 The menu here offers a variety of popular cuts of pork. You can choose a set or choose individually. In addition to pork belly and shoulder, there are also things like cheek meat, pork skin, and intestines available.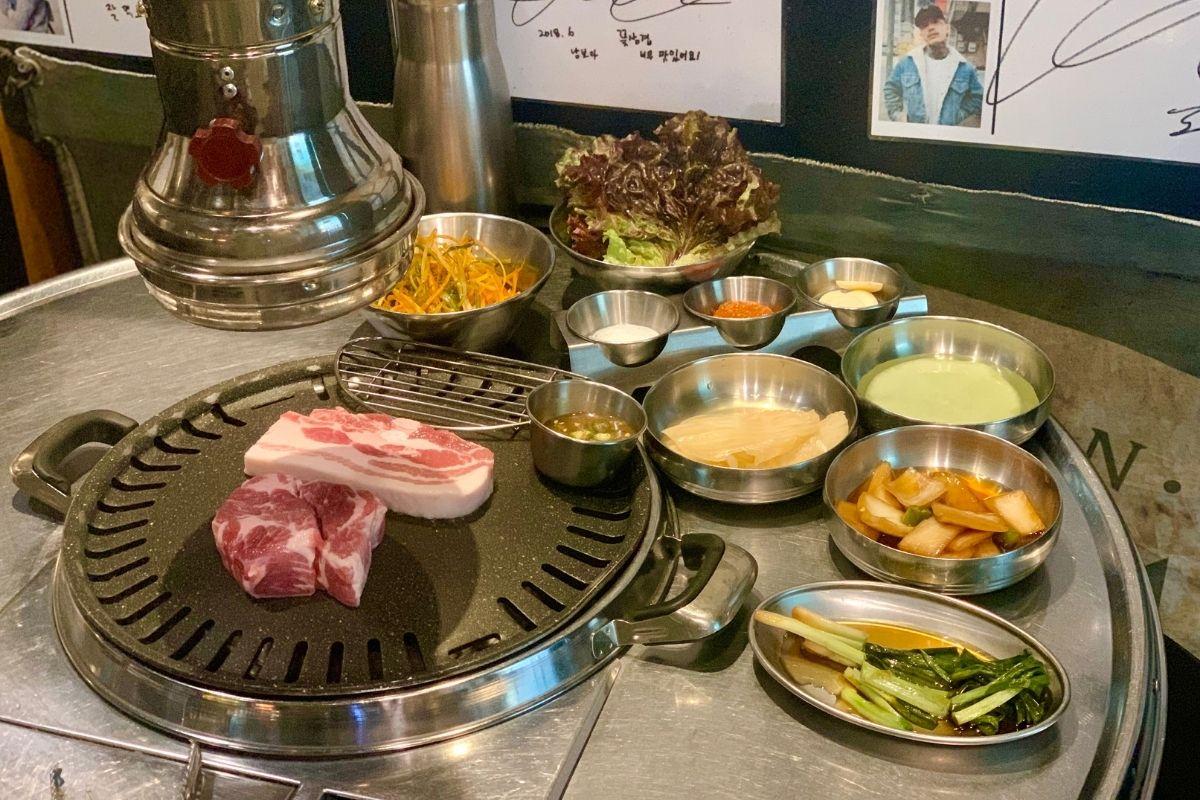 We ordered 1 serving of pork belly and 1 serving of lean shoulder meat, plus 1 cold noodle soup. It's very convenient here that you can order single servings since many restaurants in Korea require at least 2 servings of the same type of food.
Our meat and side dishes were brought out very quickly, within about 5 minutes of ordering. The cold noodle soup will be brought out when the meat is close to done.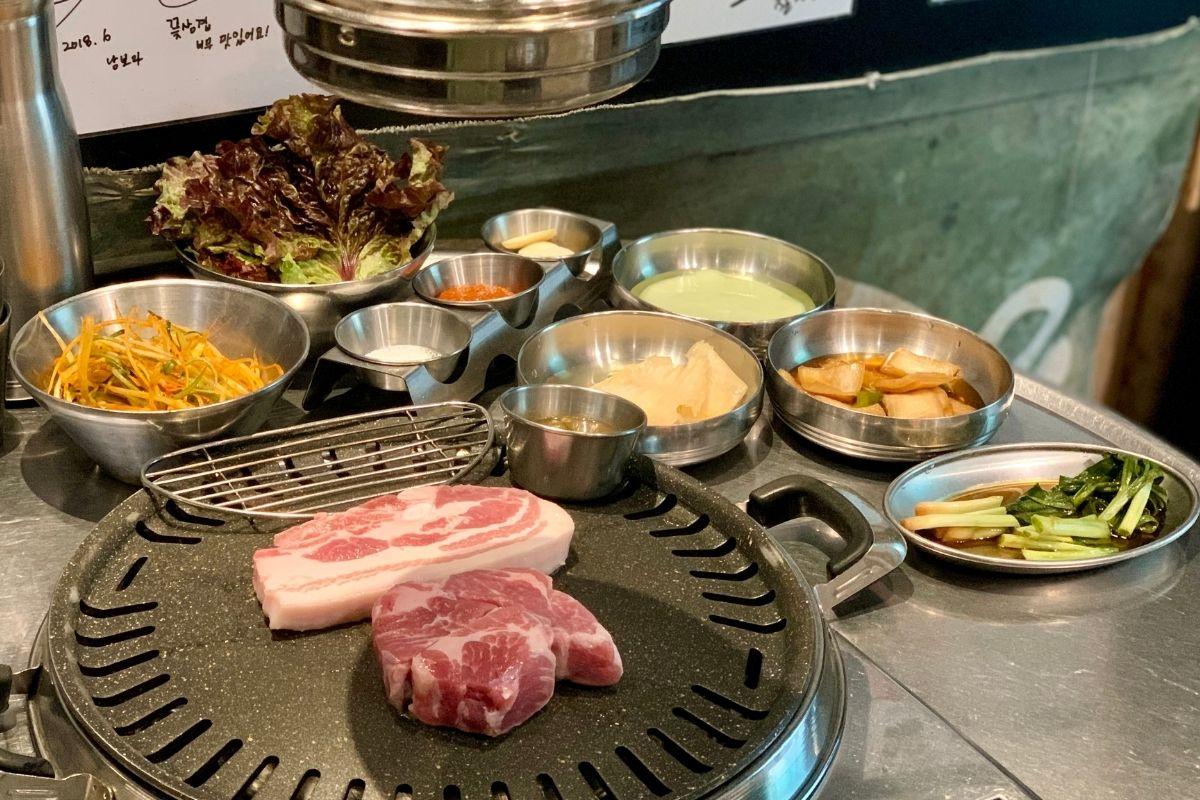 Samgyeopsal (삼겹살) 14,000 KRW/ serving
Moksal (목살) 14,000 KRW/ serving
As you can see, the meat here is very fresh and thick, with a perfect ration of lean meat to fat for each cut. However, the serving sizes are a bit small, so you may need to order 3 servings for 2 people.
The fattier cut is the samgyeopsal and the leaner one is the moksal.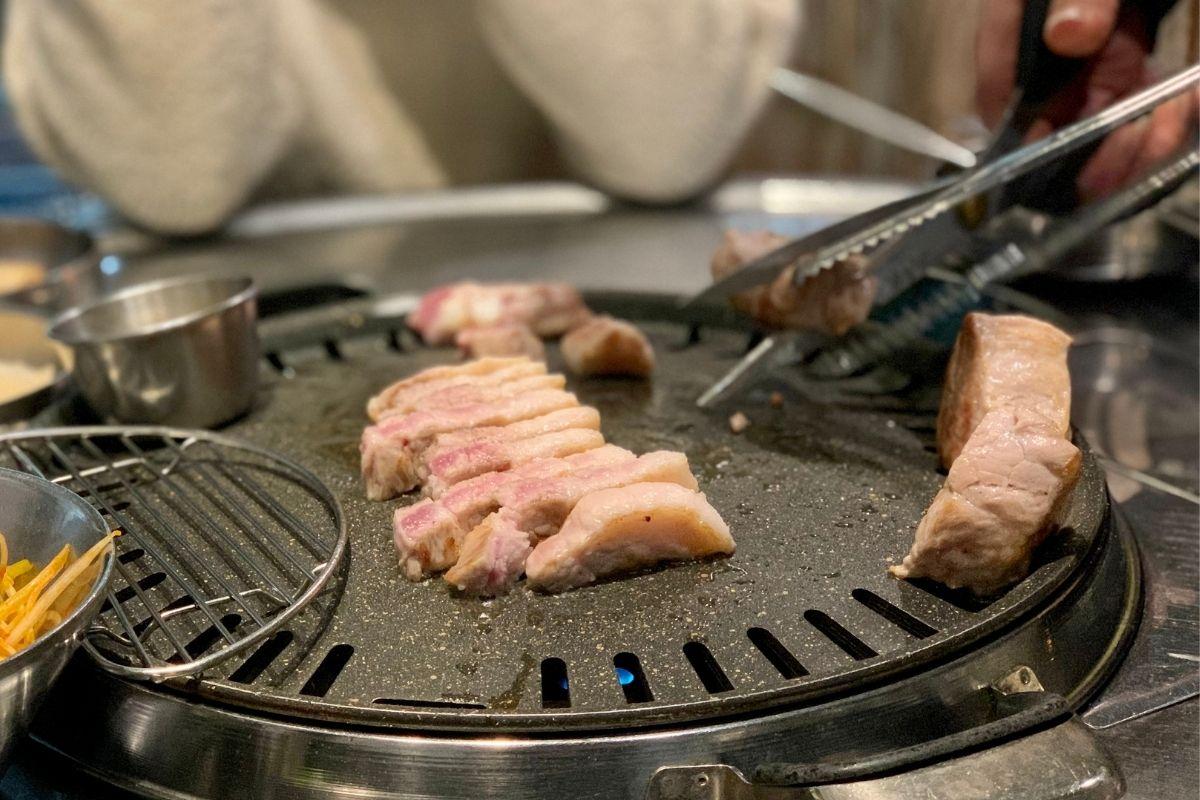 Don't worry about being inexperienced, the restaurant staff will assist in grilling till it's almost done and cutting, then you just have to eat it when it's ready!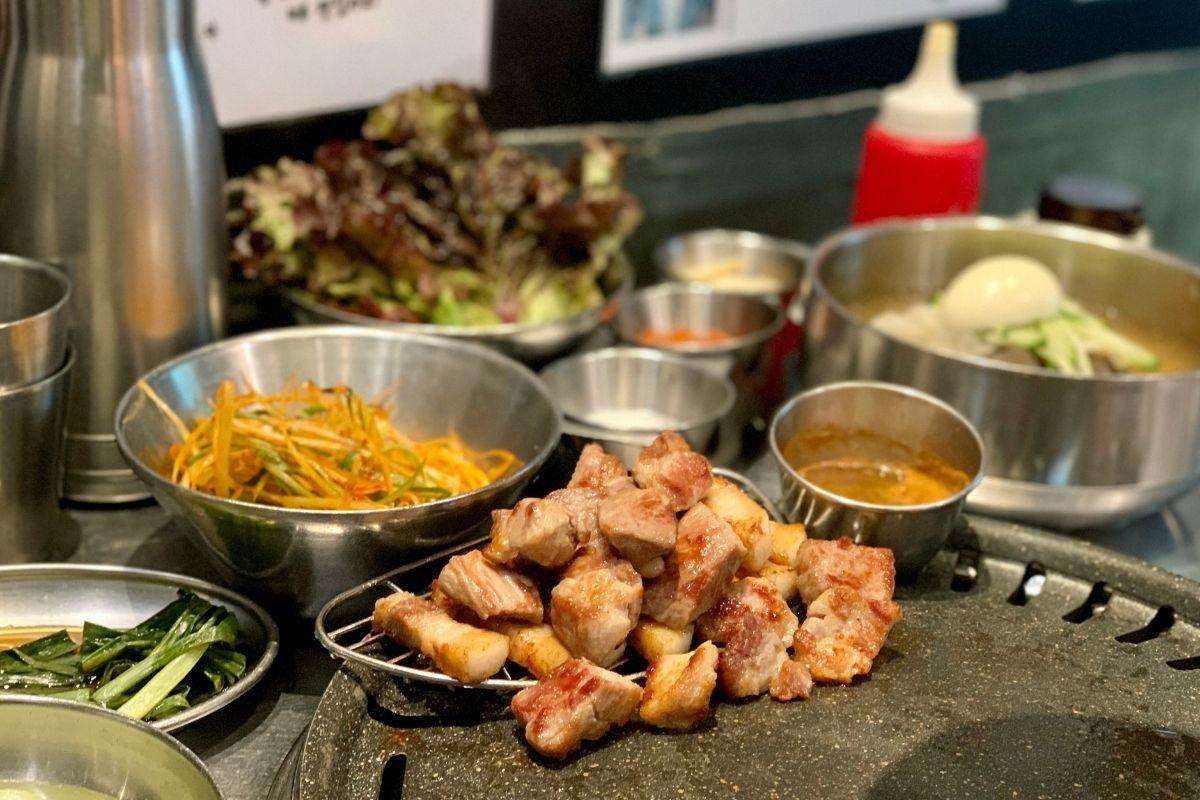 After your meat is cooked through, you can place it on the provided wire rack to drain the excess grease. The golden pieces of perfectly grilled pork look very appealing.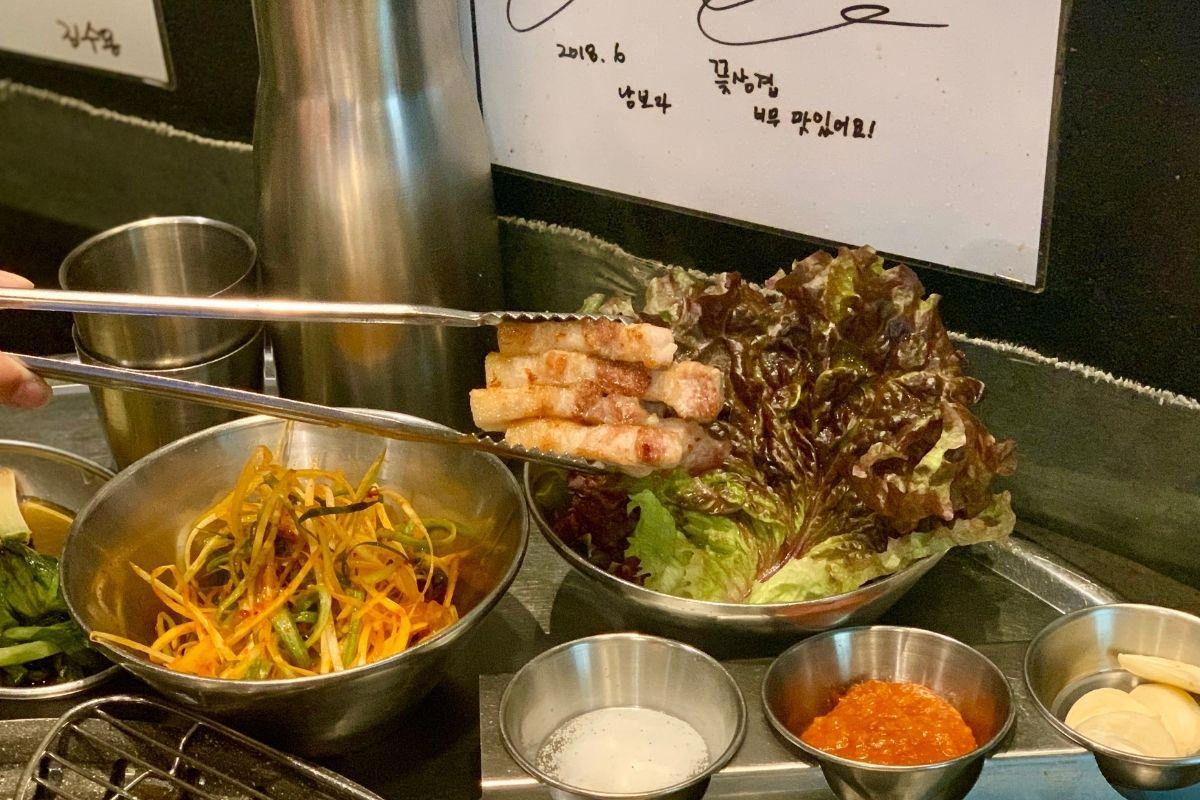 Because the meat is very fresh, it has a fragrant and succulent smell when grilled. When you bite into it, you will find it to be very tender and sweet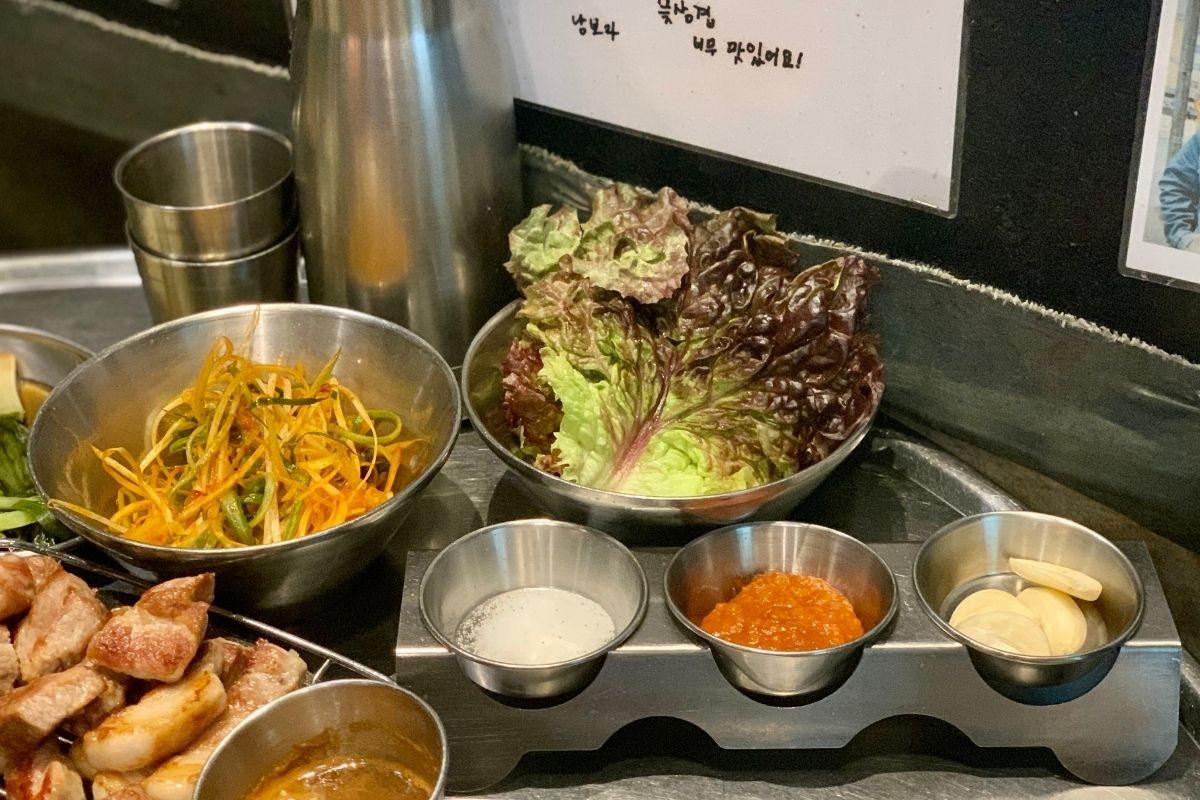 Banchan dishes are also served to accompany the meat, such as lettuce and green onion salad. You can dip your meat in salt or ssamjang.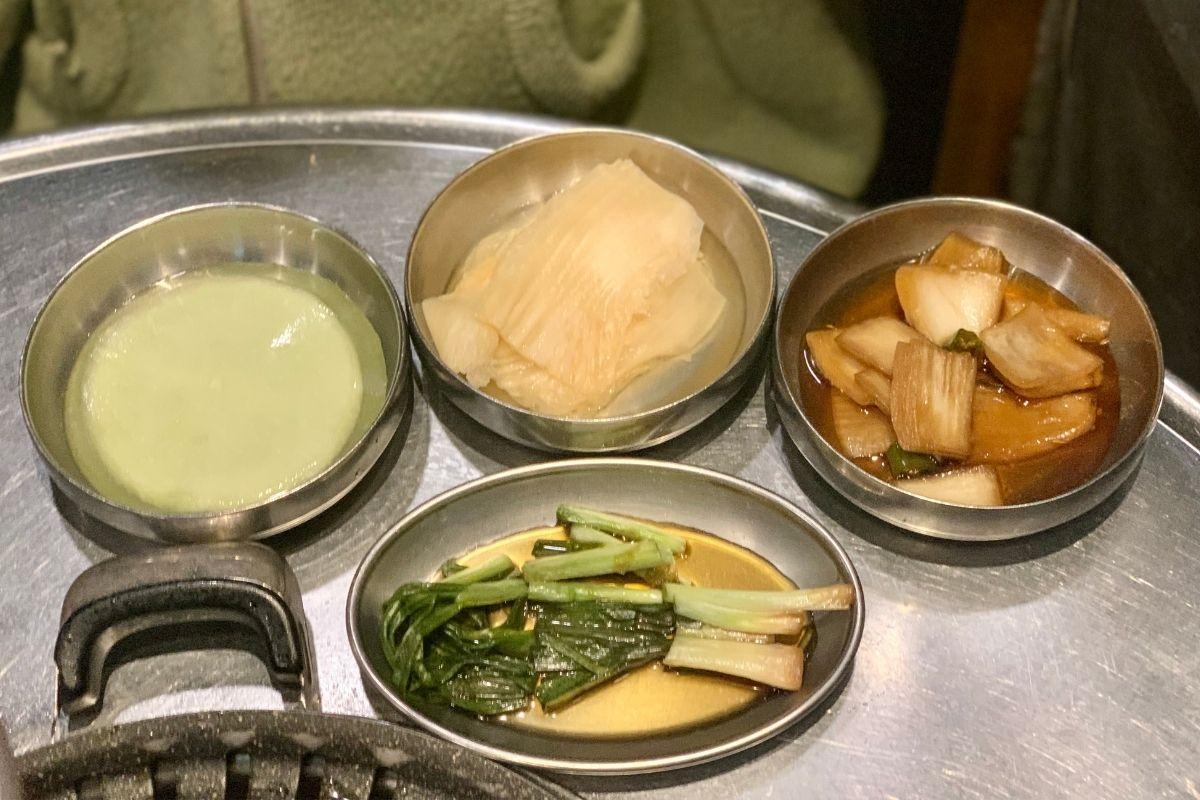 There are also thinly sliced pickled radish, soy sauce green onion, pickled onion, and white kimchi. These accompaniments help cut the fattiness and richness of the meats so they don't become too overpowering.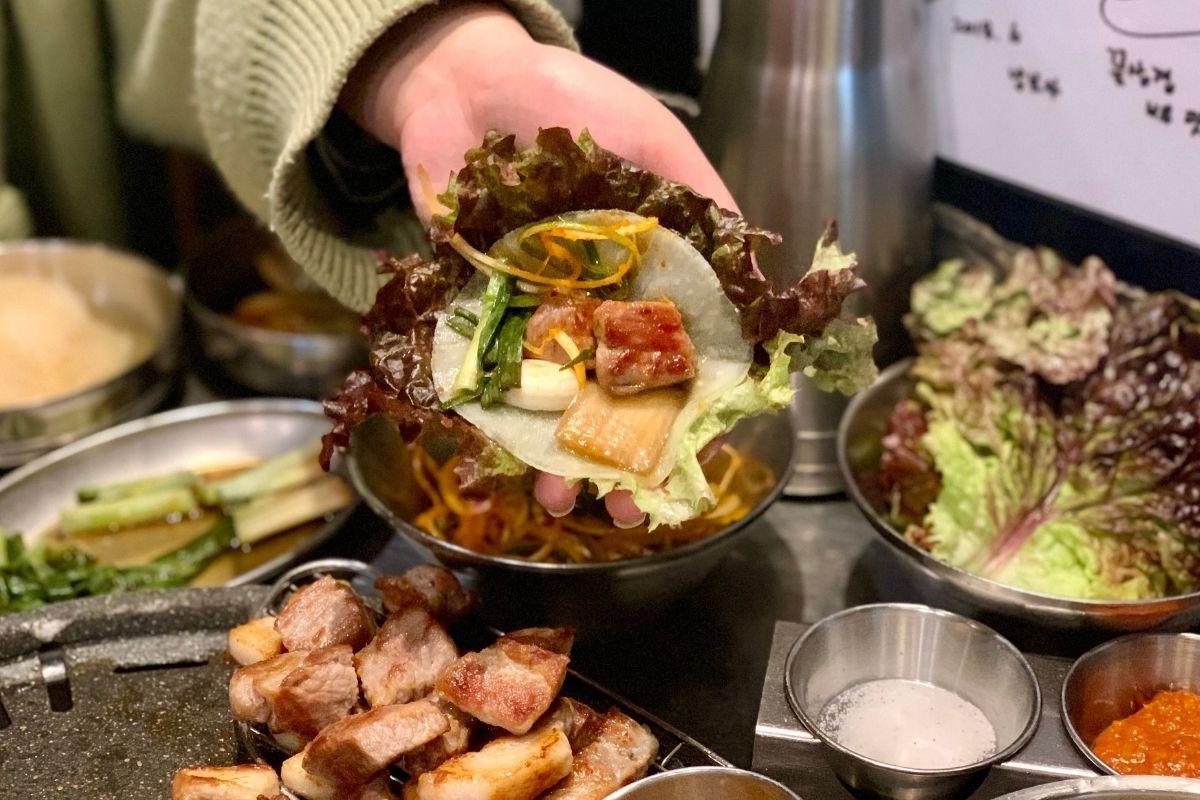 The standard way to eat your grilled pork is to warp the meat in lettuce with banchan dishes and eat it all in one bite. The rich flavor will flow through your mouth, coating your tastebuds.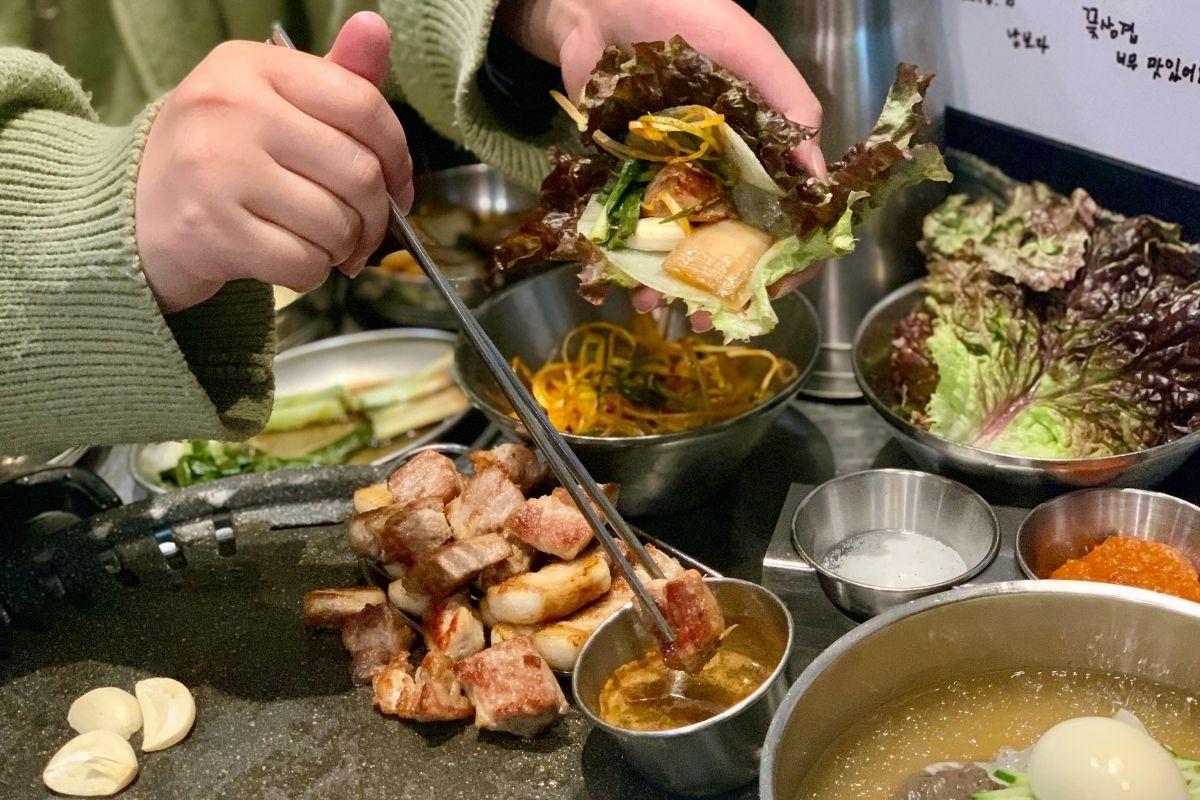 You can also dip your meat in salted shrimp. This fish sauce made of brined shrimp is super salty, so be careful not to overdo it. If you eat a lot of meat, you may start to feel heavy and greasy, so to wash that away, Koreans will often order naengmyeon, cold noodles.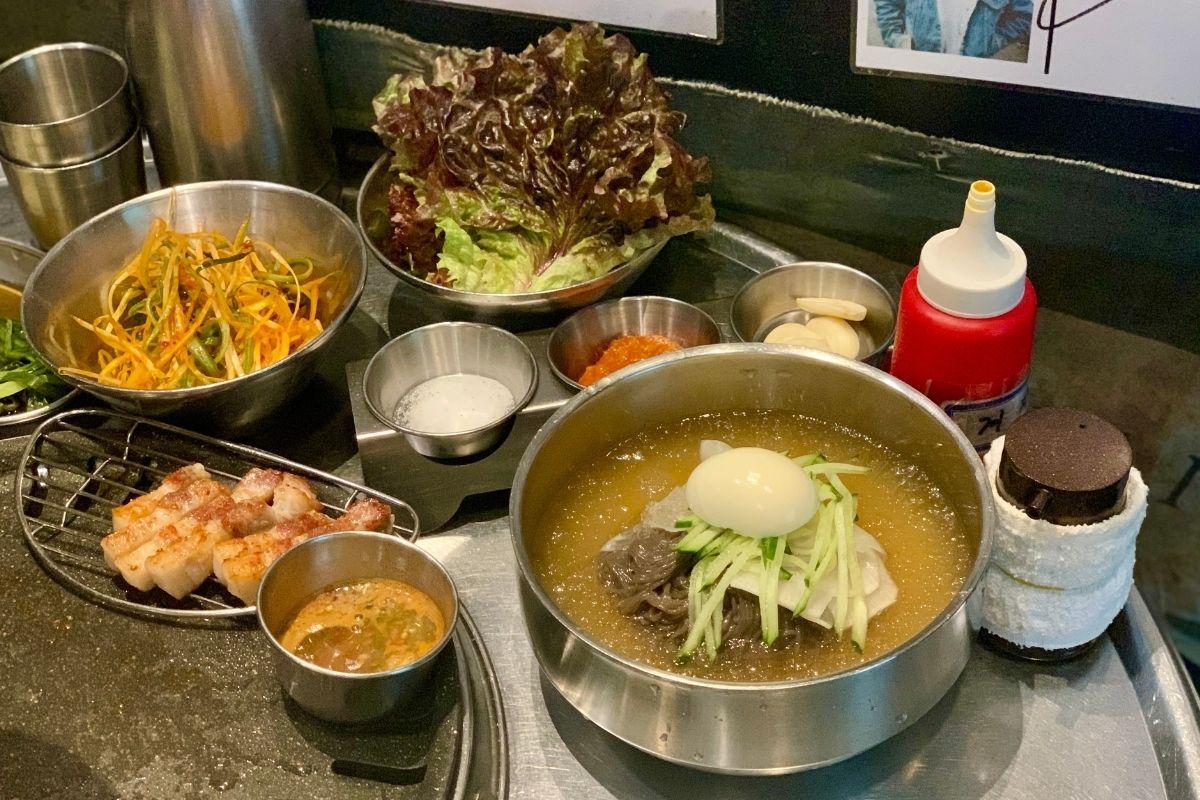 They offer two different kinds of cold noodles here, we order the watery version that comes in an icy broth. The watery one in the broth is called Mul Naengmyeon (물냉면) and was 5,500 KRW.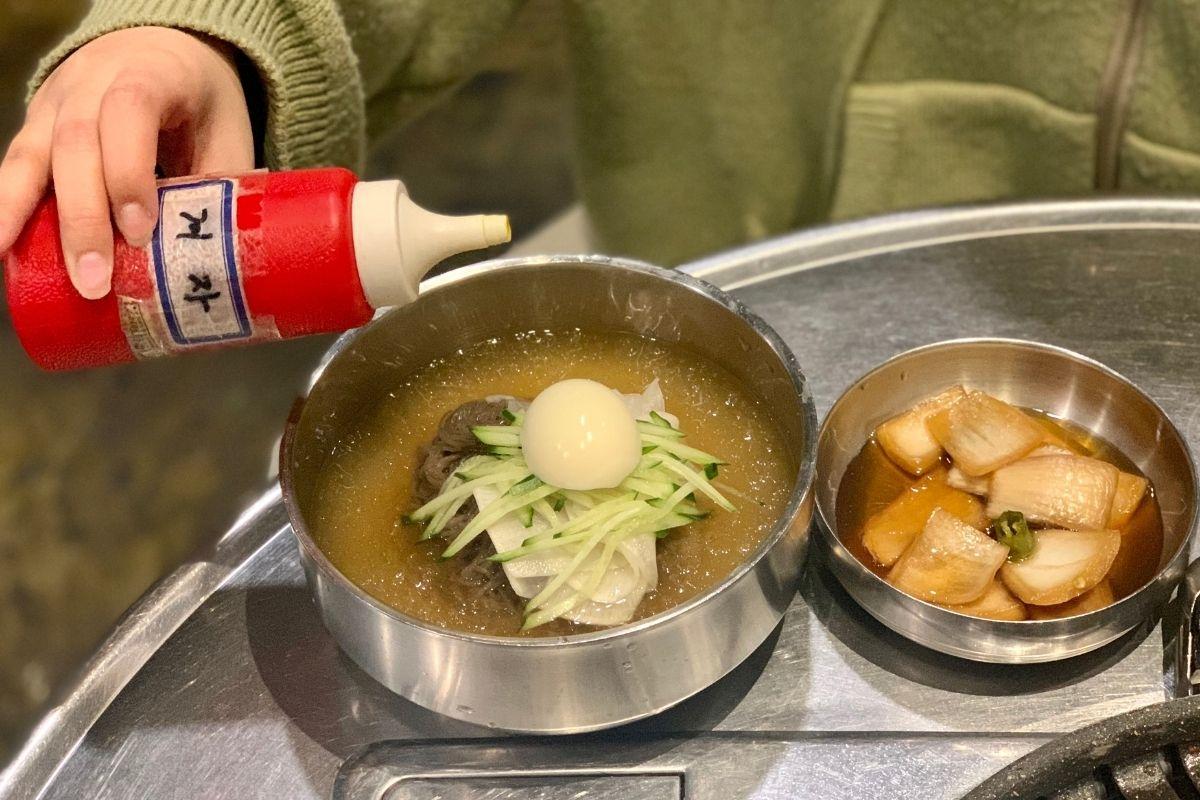 We were really impressed by the mul naengmyeon here. The broth was super delicious, with a sweet and sour taste that wasn't bitter at all. It was probably one of the best mul naengmyeons we've tried, plus the price was very reasonable.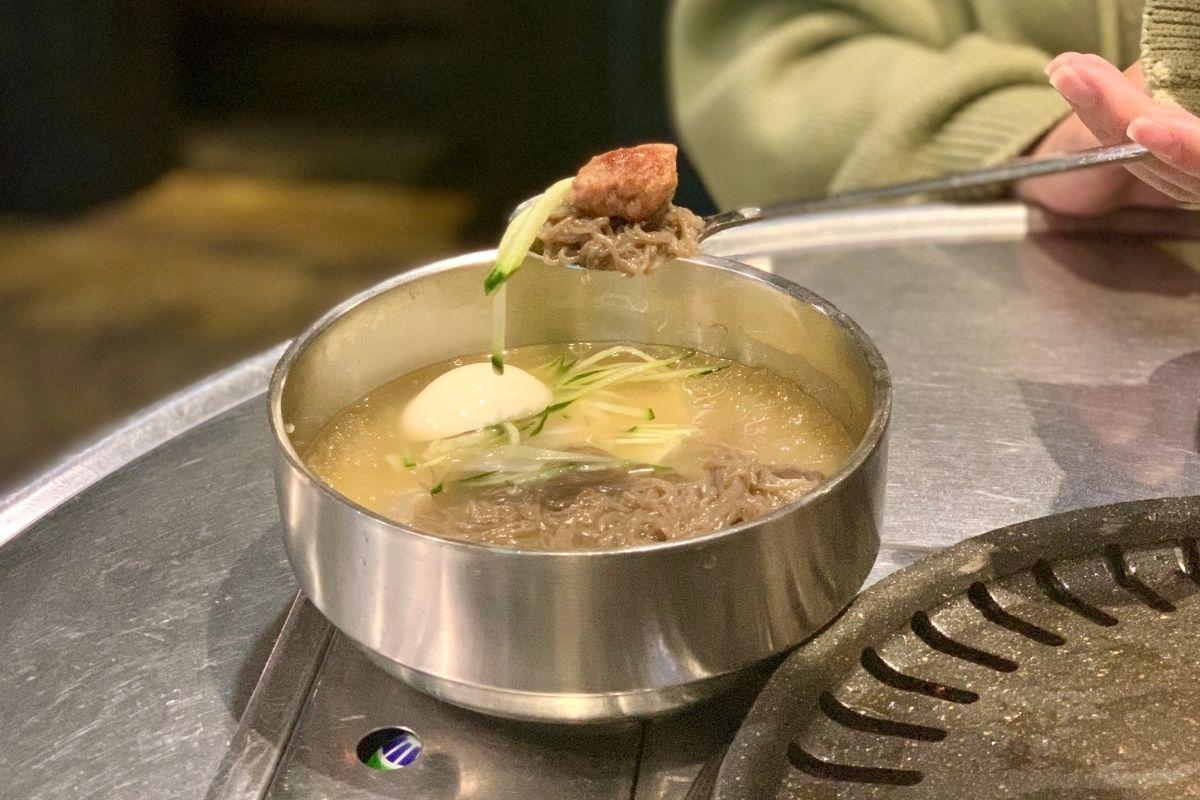 You can even eat the meat with the noodles for a delicious bite that isn't greasy feeling at all.
We have to say, the food at Haha & Kim Jong Kook's 401 Restaurant was delicious! We didn't go in expecting too much, but were pleasantly surprised by the quality of the food here.
If you have the opportunity to come to Hongdae, remember to stop in for a bite. Maybe you will even meet a famous celebrity.
---
How To Get There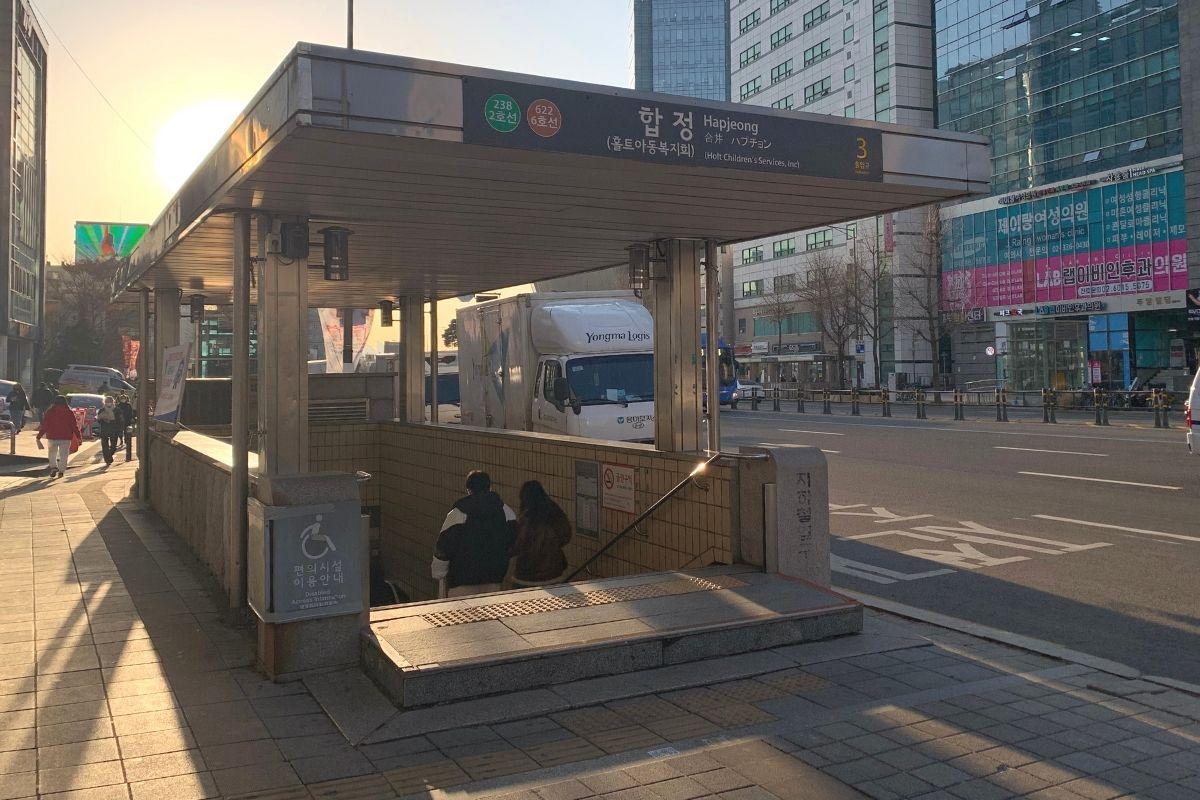 Come out of Exit 3 at Hapjeong Station (합정역).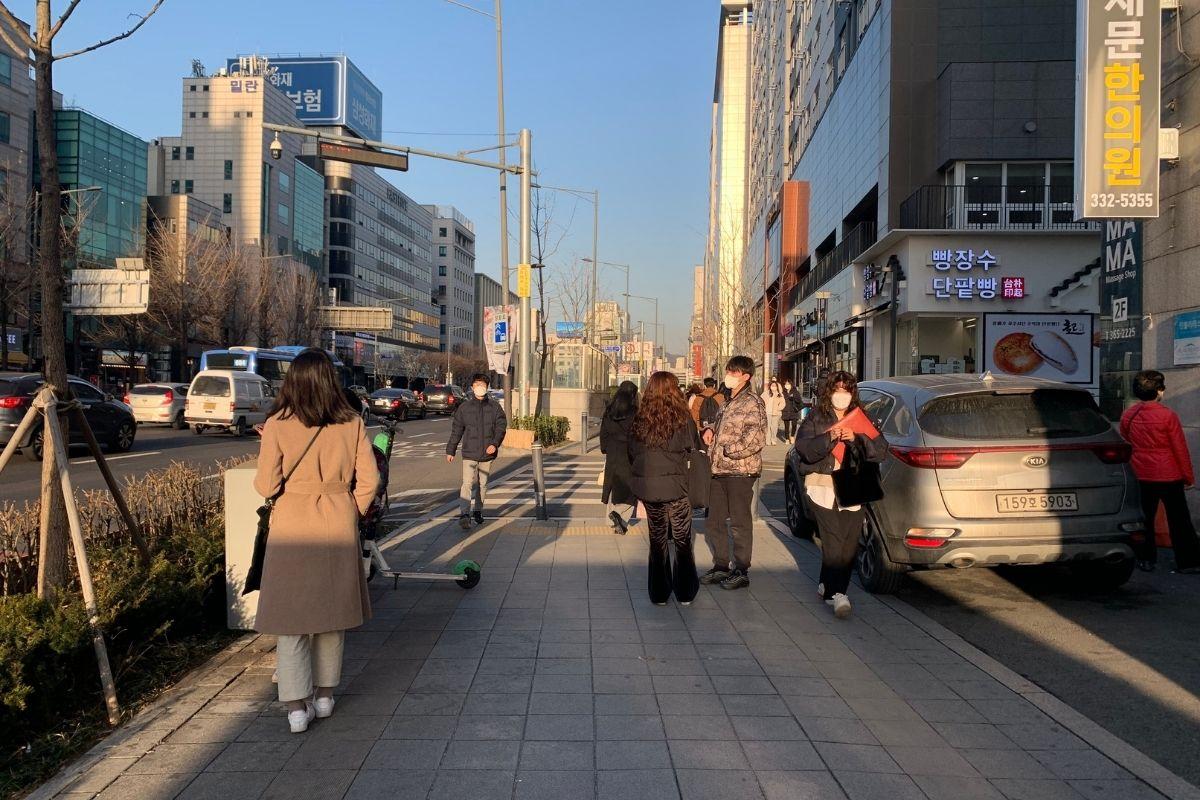 Go straight when you come out of the station.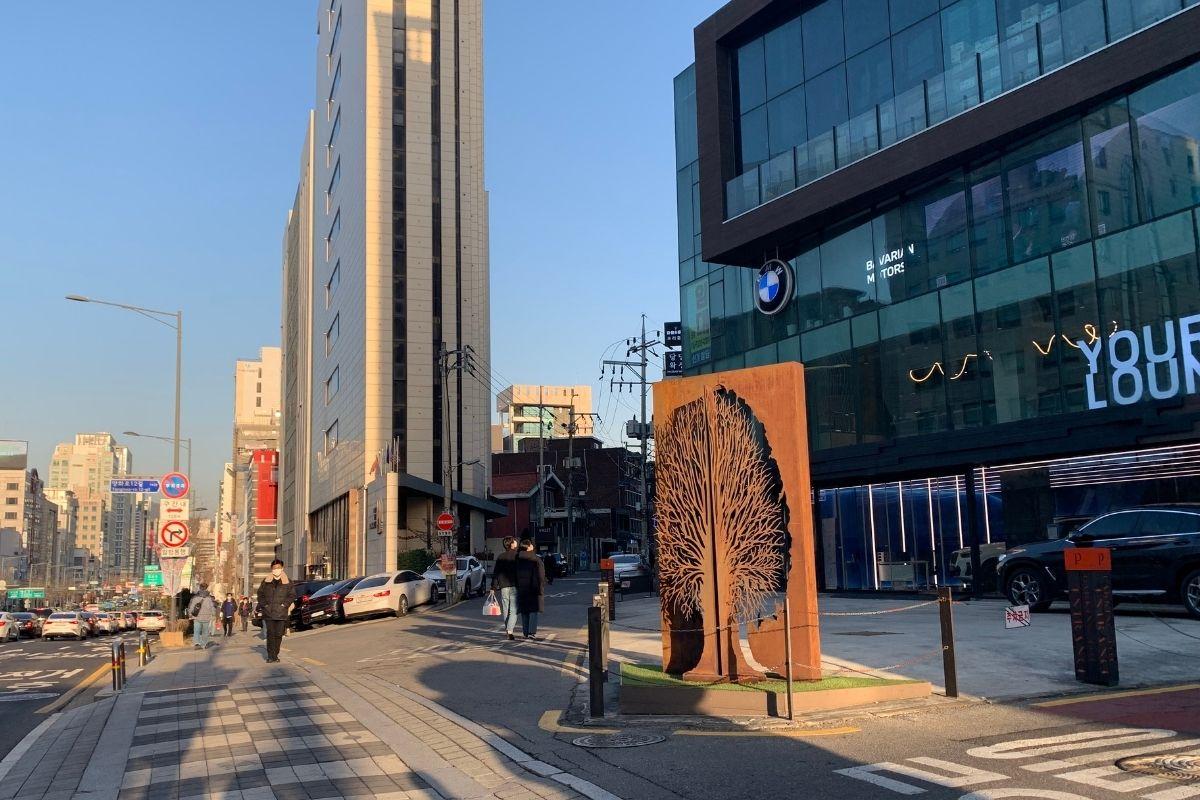 At the 3-way intersection, take a right down the side street next to the BMW store.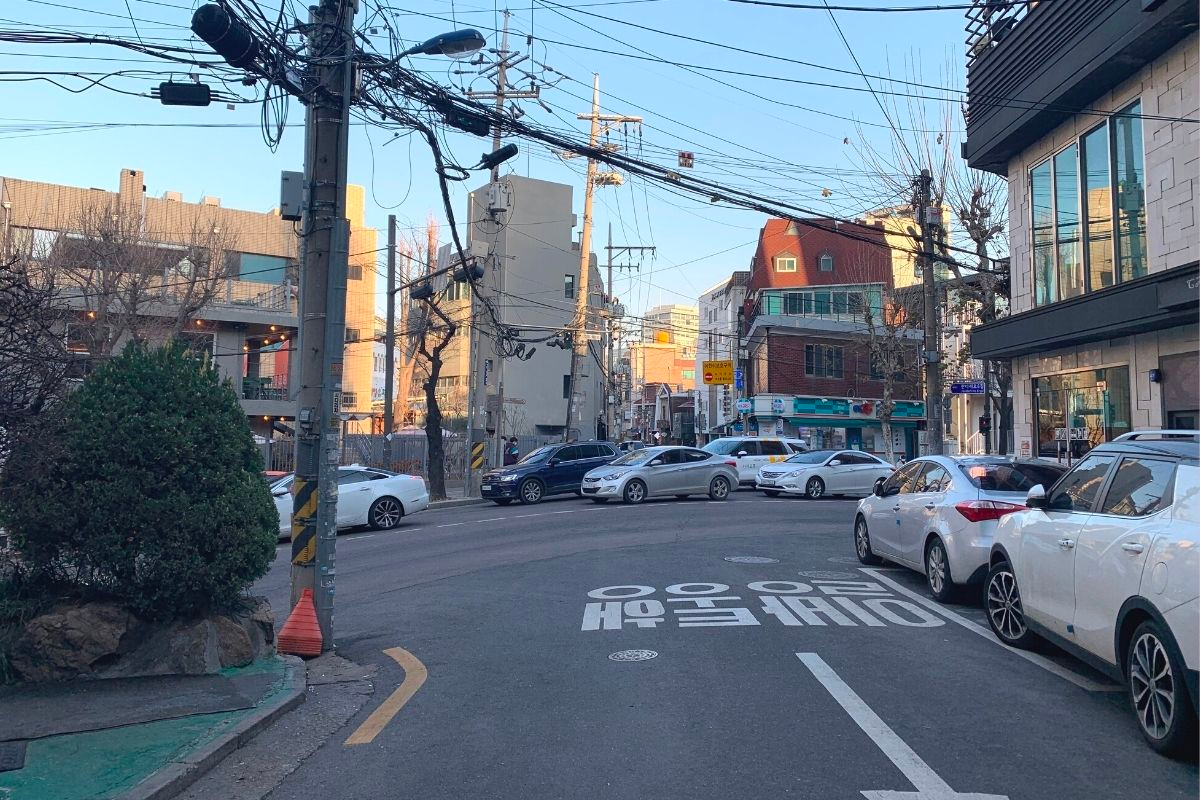 At the end of the road, turn right.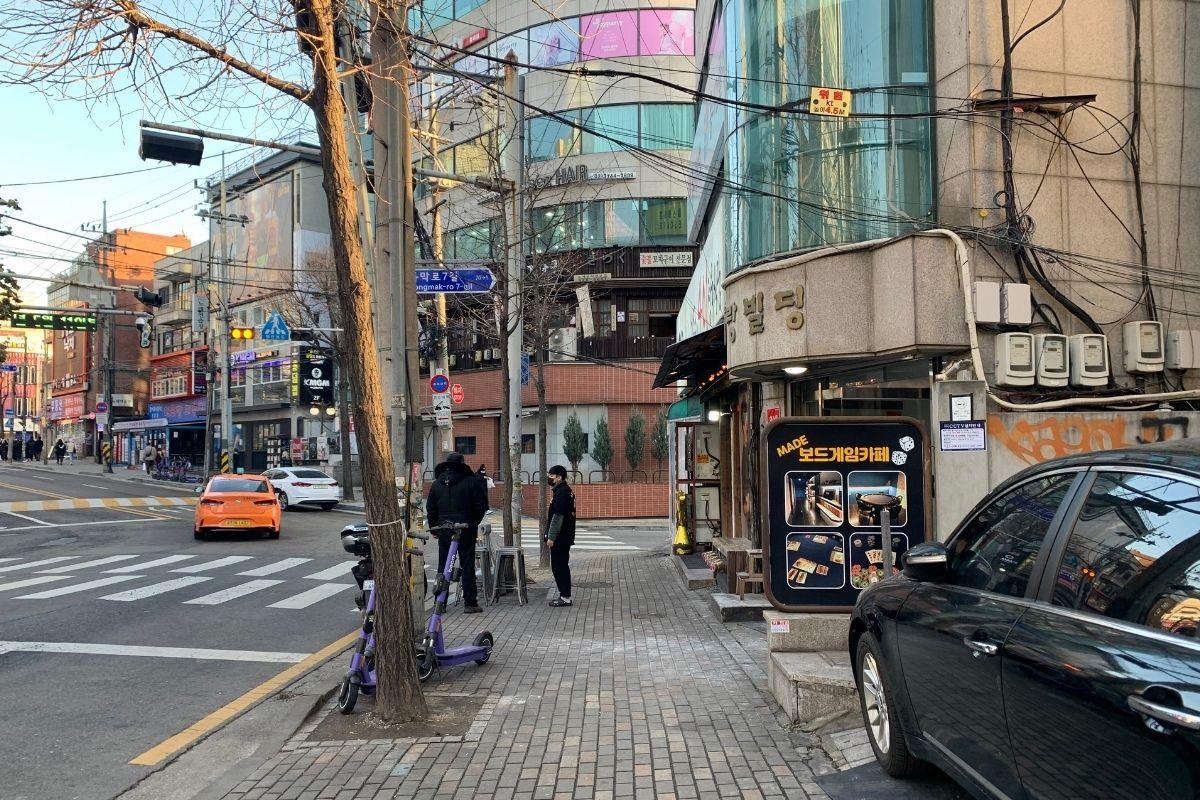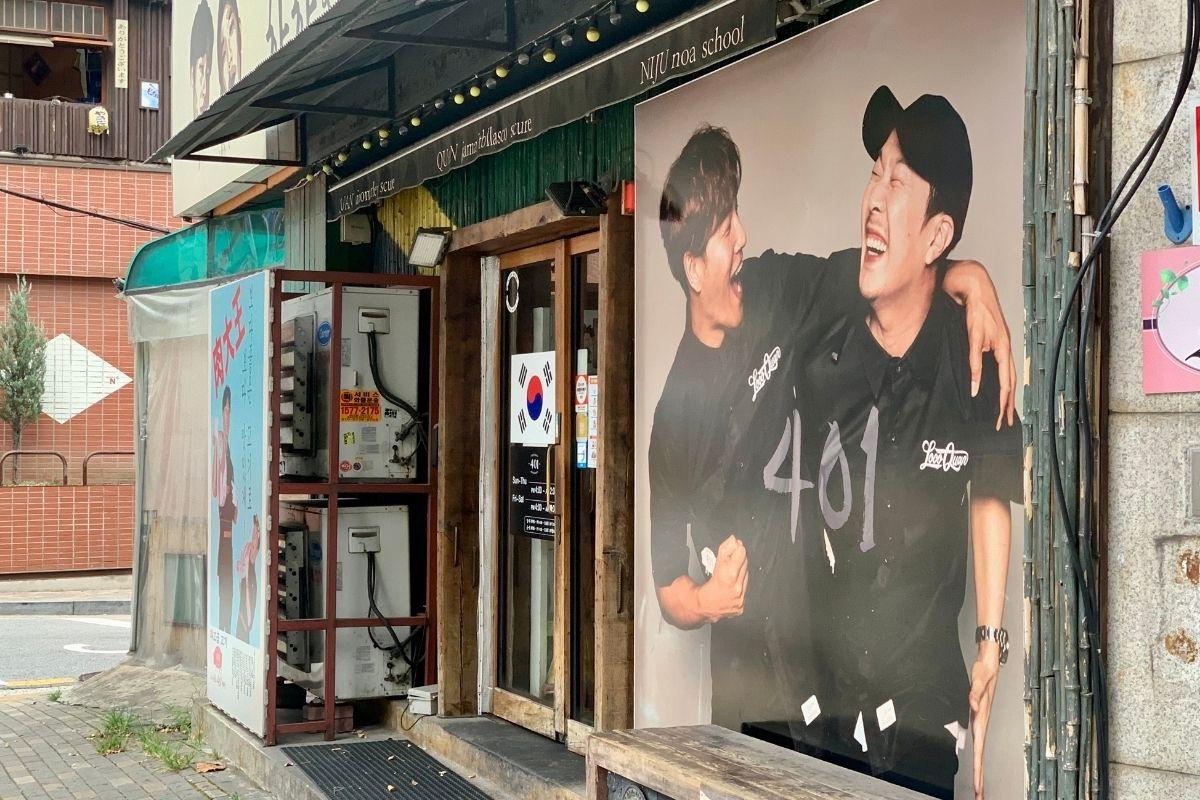 Go straight for a while, at the intersection you will see the restaurant on the right hand side.
---
We really enjoyed our experience, and think you will too when you come to Seoul! This is a place that fans of the show can come and enjoy as well as have a delicious meal! If you have any additional questions, please leave a comment below or send us an email at help@creatrip.com! You can also follow us on Instagram, Tik Tok and Facebook to stay updated on all things Korea!
For more restaurants in the Hongdae area, click here.
---