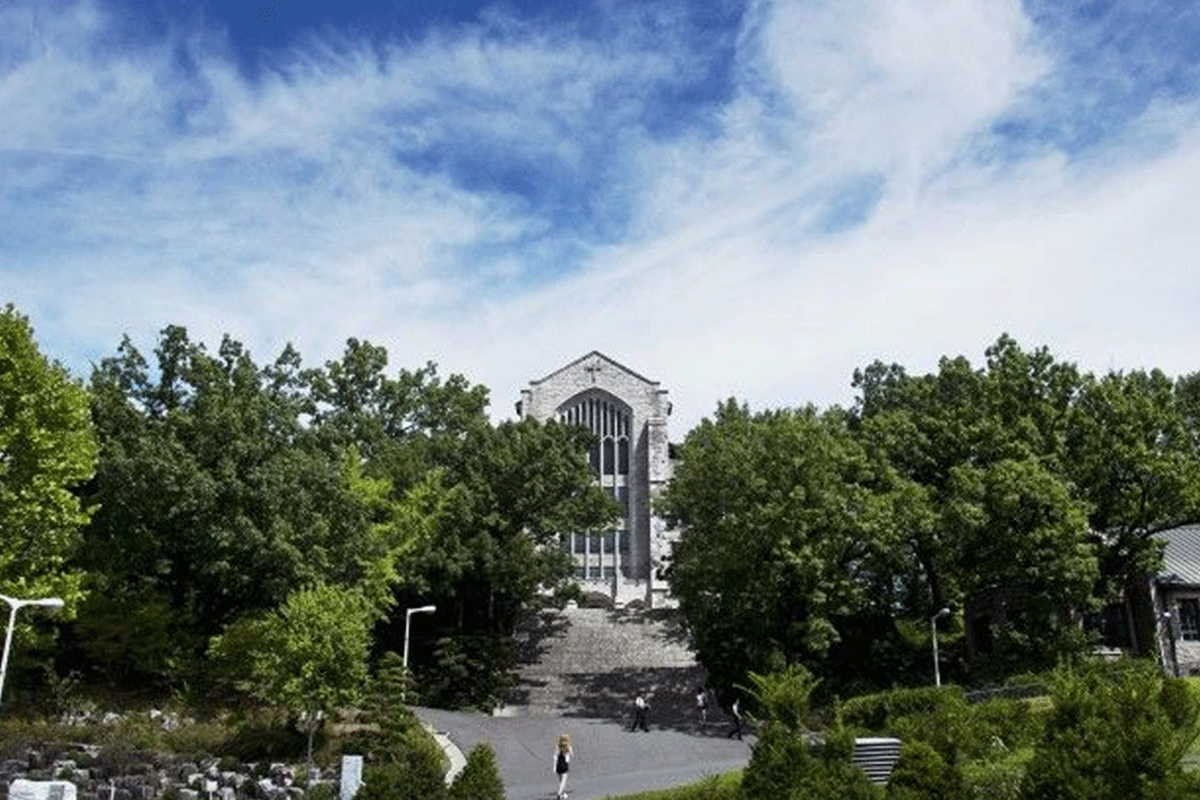 Today, we will introduce the language school at Ewha Womans University, the best women's university in Korea. If you have always wanted to take Korean classes, but had a hard time researching and applying, this blog is for you. Creatrip offers a very useful service for those who want to apply to the language school at your desired Korean university.
---
Benefits
We will inform you in great detail about all the documents needed for the application process.
We will fill out the application form for admission to the language school based on the personal information and documents you provide.
If you pay for the language school admission fee and tuition through Creative, we will deliver it to the school right away. You don't have to use the expensive and long-term overseas remittance service.
---
Things To Keep In Mind
If you are interested in applying for the language school, we highly recommend accessing it on your computer.
Only regular courses at the language for the student work visa.
Creatrip is not responsible for student visa work. You should refer to the embassy's website of your country and prepare it carefully.
---
Overview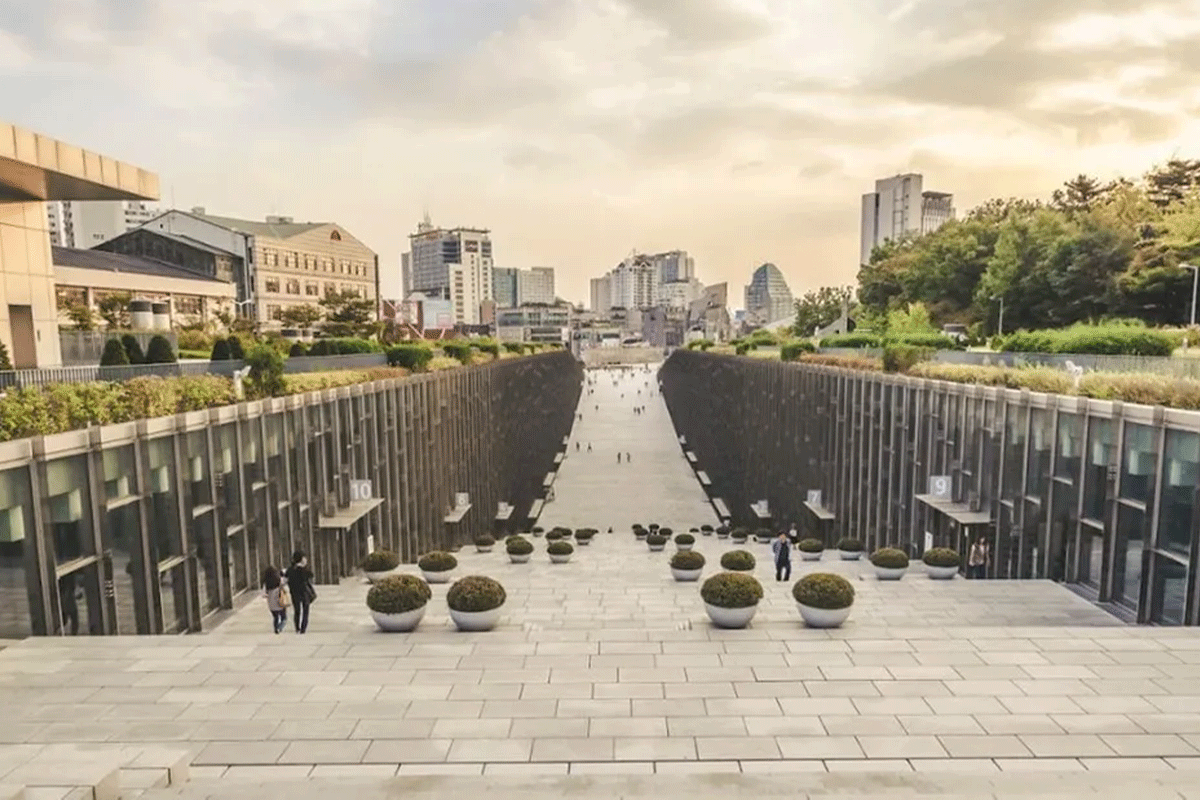 Ewha Womans University campus is known for its beauty and is visited by numerous tourists and is also used as a filming location for dramas. Take high-quality Korean classes on these beautiful campuses!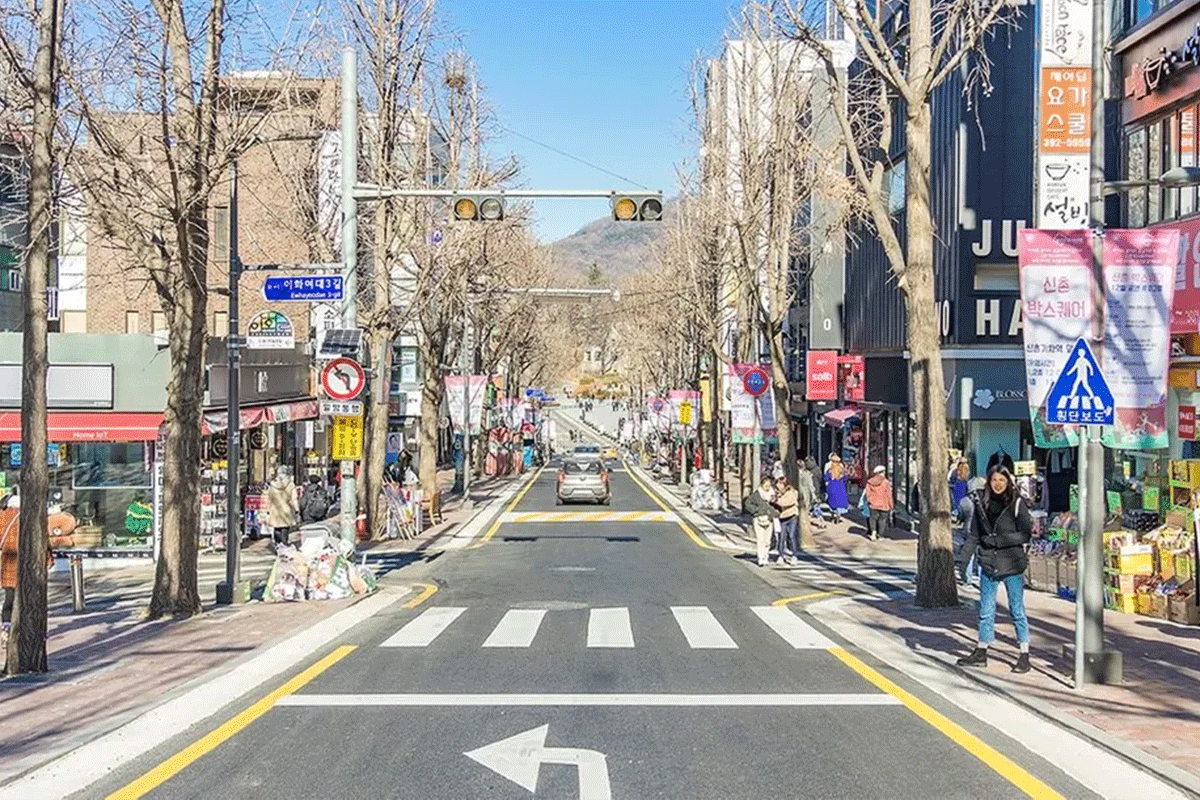 The area commonly known as 'E-dae' (short for Ewha Womans University) is downtown in front of Ewha Womans University. There are so many restaurants, cafes, shops, and things to see here that you can experience the culture of Korean college students very closely.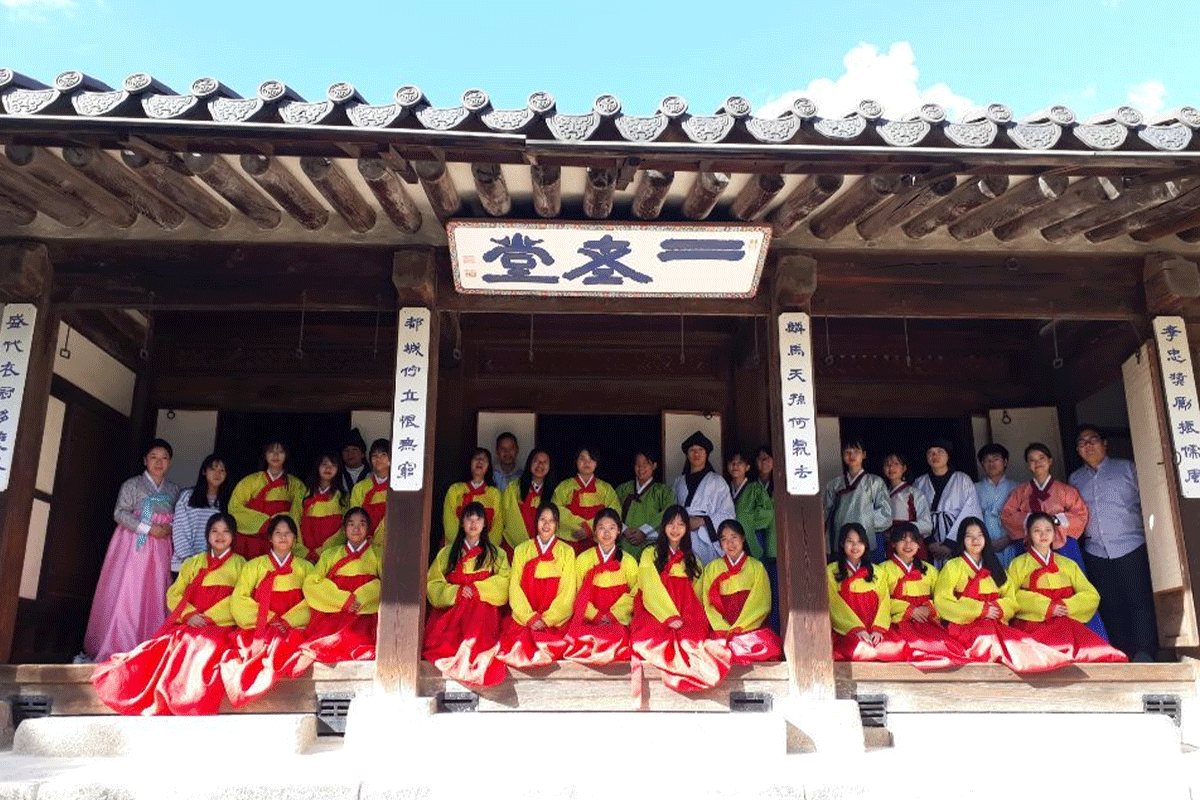 Ewha Womans University Language Center conducts various Korean cultural activities as well as Korean language education. Actively participate in hands-on activities and make meaningful memories
---
Why We Recommend It
You can take great Korean classes at Korea's top women's university. (However, in the case of language schools, male students can also apply!)
The transportation is very good because it is located in Sinchon. Also, the downtown area is well developed, so you can enjoy a pleasant life in Korea.
They provide various benefits and programs for foreign students, such as scholarships for outstanding students and various cultural activities.
---
Application Eligibility
A person that has graduated high school or high school equivalent educational background
---
Creatrip Service Procedure
STEP. 1

Fill out the application form
Please select the semester, dormitory application, and basic information.
Based on the information you entered, Creatrip will fill out the application form for you so please fill out every single one carefully.


STEP. 2

Upload scanned copy of the submission
Please refer to the list below for the list of documents.
Depending on the situation, the school may request additional documents for you to submit.


STEP. 3

Pay admission fee
* The admission fee is paid to the school when registering, separate from the tuition fee.


STEP. 4

Required information and submission documents are reviewed by Creatrip. (It takes 2-5 business days).
* if there is a problem with the information you submitted, we will contact you by email.


STEP. 5

If you receive an online document confirmation email from Creatrip,
submit an offline document by mail (EMS, DHL, etc).
(Postal charge will be paid by the applicant).

* If there is no problem with the online submission document, we will request you to submit it offline by email.
*When the documents arrive at Creatrip, we will review them one more time and deliver them to the school.

Address to send document: 서울 특별시 강남구 강남대로 484 7층 702호 (06120)
Room 702, HK B/D, 484, Gangnam-daero, Gangnam-gu, Seoul, Republic of Korea (06120)


STEP. 6

Fill out the application form and deliver the documents to the school
After completing the offline document screening, Creatrip will complete the admission and deliver the documents to the school. (The school takes 2-3 weeks to screen each application).



STEP. 7

Notification of acceptance and payment


STEP. 8

Visa and dormitory applications


STEP. 9


Enter the country, take the admission test and attend orientation. Take Korean classes!


---
Things to Keep In Mind
Reviewing the required information and documents takes about 2-5 business days.
The school's document screening takes 2-3 weeks from the date of receiving the documents.
If there is a problem with the materials you have submitted, or if you have any other questions, you can contact us by email. Please check your mailbox regularly.
If the school requests additional data, you may have to send additional documents. All postage costs will be paid by the applicant.
The original document is kept by the school, so it may not be returned to the applicant. (Different by school).
The applicant must apply for the visa themselves.
If you have any additional inquiries, such as applying for quarantine or applying for a dormitory, please contact us at help@creatrip.com or the school you applied to.
---
Application Checklist
Document

Notes

Online Application Form




If you enter the basic information, Creatrip will fill out the application form on your behalf.



ID Picture




White background, taken in the last 6 months.



Copy of Passport




Colored copy recommended. The passport number must be clear.



Copy of Alien Registration Card




Only applicable if you already have one.



Latest Academic Graduation Certificate




Submit an English original certified copy, or Apostilled.



Bank Statement




Submit the original English version.

Issued within 30 days.


Applicant's own account only.



Explanation of Gap




If the gap is more than 6 months after your graduation.
Any type of job certificate, etc.
* The submission documents vary depending on the nationality. Please inform your nationality to help@creatrip.com before applying and inquire about the specific list of submission documents.
* In addition to the required submission documents, additional documents may be requested by schools or government agencies without prior notice.


Document Notarization Guide
What is document notarization?
It refers to the public recognition of the credibility of documents as they come and go between countries. Notarized documents will be effective as official documents in both countries A and B.
If you wish to use documents issued in country A in country B, you should generally obtain 1) certification from the government agency in country A and 2) certification from the ambassador (consul) of country B in country A.
As the number of Apostille members increases, the above general document notarization process is used only for document exchange with non-apostille members.
The notarization process of documents and the department in charge of notarization may differ by country. Make sure to check the exact process with the information appropriate to your nationality
What is Apostille?
In order to facilitate the international use of official documents among the members of the Convention, instead of abolishing the consular verification process of foreign missions, the official document issuing country certifies the reliability of the documents. Therefore, in the case of documents certified by the issuing country between the member countries, the official document can be recognized in the other country (the country of use).
Each country has a different government department in charge of issuing apostille. Please contact your local embassy to prepare for the detailed Apostille issuing agency and the issuance process.
List of countries that have joined Apostille as of 2022/04



Region

Country

Member of Apostille




Asia/Oceania (19)




New Zealand, Niue, Marshall Islands, Mauritius, Mongolia, Vanuatu, Brunei, Samoa, Australia, India, Japan, some parts of China (Macao, Hong Kong), Cook Islands, Tajikistan, Tonga, Palau, Fiji, Philippines



Europe (52)




Greece, Netherlands, Norway, Denmark, Germany, Latvia, Russia, Romania, Luxembourg, Lithuania, Liechtenstein, Macedonia, Monaco, Montenegro, Moldova, Malta, Belgium, Belarus, Bosnia and Herzegovina, Bulgaria, San Marino, Serbia, Sweden, Spain, Slovakia, Slovenia, Armenia, Iceland, Iceland, Lithuania, Uzbekistan, Uzbekistan, and Turkey, Uzbekistan, and Turkey



North America (1)




United States (including Guam, Maurice Islands, Saipan, and Puerto Rico)



Latin American (30)




Guyana, Guatemala, Granada, Nicaragua, Dominican Republic, Dominican Federation, Mexico, Barbados, Bahamas, Venezuela, Belize, Bolivia, Brazil, St. Lucia, St. Vincent, St. Kitsunevis, Suriname, Argentina, Ecuador, El Salvador, Honduras, Uruguay, Chile, Costa Rica, Colombia, Peru, Panama, and Panama



Africa (12)




Namibia, South Africa, Liberia, Lesotho, Malawi, Botswana, Mépríncipe, Seychelles, Swaziland, Caboverde, Burundi, Tunisia



Middle East (4)




Morocco, Bahrain, Oman, Israel


What is a notarized translation?
If the document is in a language that is not recognized by Korea, the first thing you need to do is translate it and get a notarization for the translation.
For students applying for Korean language schools in Korea, translation into "Korean" or "English" is the most appropriate, and generally, the two tasks are entrusted together to an administrator who is qualified for translation and notarization.
Translation notarization is a procedure to prove that the translated content is not different from the original document.
---
Dormitory
How To Apply
Eligibility: Regular course students for the relevant semester
Apply by checking the notice on the school website 1 months before the start of school.
Schedule
| | | | | |
| --- | --- | --- | --- | --- |
| | 2023 Spring | 2023 Summer | 2023 Fall | 2023 Winter |
| Semester | | | | |
| Placement Test | | | 11/29 | |
| Period of Residence | | | | |
Refund Policy
| | |
| --- | --- |
| Period | Refund |
| Cancellation three week before moving in | |
| Cancellation after moving in | |
| Cancellation for the vacation period | |

Things to Keep In Mind
If you do not register for the intensive course of the language education center or cancel it in the middle, the dormitory will be automatically canceled and you will have to leave.
Rooms will be allocated on a first-come, first-served basis according to the order of application.
If you do not pay the dormitory fee within the period, the application will be automatically canceled.
If there is a problem with the chest X-ray finding or the COVID-19 test results, you cannot enter the dormitory.
Price
Dormitory Type

Room Type

Price

(per semester)

Notes




for 2 - A (shared bathroom)




for 2 - B (private bathroom)





The dormitory fee above is based on the 2022 spring semester and may be subject to change.
This amount includes the Creatrip fee
---
D-4 Visa Information (issued by the Korean embassy)
Things to Keep In Mind
Creatrip does not offer visa issuance services.
The following information can be used for personal reference by Creatrip members when preparing visas, and please note that the contents may vary depending on the time of application.
If you don't prepare thoroughly, you may not get a visa even if you are admitted. Creatrip and universities cannot guarantee visas, so they need to be reviewed thoroughly.
Please refer to the embassy website (click) in your country for the latest information. Please check the documents required to issue a D-4 visa and submit them without fail.
Information
The D-4 visa is a student visa for students who plan to study the Korean language for more than 6 months (2 semesters).
You are allowed to stay for 6 months, and you must extend your visa every 3 months after entering the country.
You can get it from the Korean Embassy in your country.
Students who apply for only the first semester can receive a C-3-1 short-term comprehensive visa and stay for 90 days.
You can get a D-4 visa after receiving the school standard admission letter.
The issuance period takes at least two weeks to a maximum of two months. (You must check the time it takes to issue a visa with the local Korean embassy in advance.)
The necessary documents below are those that must be submitted when applying for a visa and do not need to be submitted to Creatrip.
Documents Required
*College-affiliated language school (D-4-1): A person who has a high school diploma or higher and intends to study Korean at a language school affiliated with a higher education institution or foreign education institution established under the Higher Education Act.
The following is a document that a U.S.A. student must submit to obtain a D-4 visa.
The contents of the documents to be submitted may vary depending on the nationality, so please refer to the notice on the website of the Korean Embassy (or representative department) in your country for accurate information.
Document

Notes

Application form

Must be signed by the applicant

Passport




1 ID picture

Visa application fee




Business license of identification number of the school

Standard admission letter from the school

Provided by the school. (Issuance by the president or dean of the university)

Scholarship students will be replaced by invitation letters issued by the head of the Institute of Education.

Documents providing the contents of one's attendance or final educational background

Certificate of enrollment or graduation certificate (for proving final educational background), etc

Degree certificate notarization (Apostille/document of proof of degree, etc. that has been confirmed by the consul of Korea in the country or the consul of the Korean embassy)

Example: balance certificate, bankbook, scholarship certificate, deposit, and withdrawal statement, etc

The balance certificate is only valid if it is issued within 30 days.

Submit additional family relationship certificates when submitting balance certificates in the name of parents

You must include a curriculum of the school, training content, etc
---
We hope that this information was helpful for those looking to study in Korea. If you have any additional questions or concerns, please send us an email at help@creatrip.com!