Scene Of Daehwa | A Daegu Cafe With Charms And Artistic Elements
Download your 10% off Creatrip member coupon and head on over to Daegu! Whether it's a cup of coffee or a glass of wine, Scene of Daehwa's unique spaces will make it a one-of-a-kind experience.
Many know that Korea's filled with cafes each with their own style and vibe. In Daegu, we stumbled upon a truly charming space, a combination of a cafe, atelier and workspace.
The name Scene of Daehwa, daehwa meaning 'conversation' in Korean, truly reflects its purpose of providing a comfortable space for conversing and connecting.
If you're looking for a relaxing tea time with a friend or two in the city, definitely pay Scene of Daehwa a visit.
---
Information
Address: 대구 중구 북성로 104-15
104-15 Bukseong-ro, Seongnae 2(i)-dong, Jung-gu, Daegu
Hours: Tue-Sun 11:00-22:00
Mon: Closed
Public Transit: Jungangno Station Exit 4
---
Reasons For Recommendation
Scene Of Daehwa, a new cultural space in Daegu, is different from other cafes with their art exhibitions, small craft conferences, and markets.
A popular cafe that creates a comfortable and beautiful atmosphere with its various spaces and that can satisfy everyone with their food, drinks, and desserts.
---
Things To Keep In Mind
Creatrip members get a 10% discount on all drinks and desserts if they present their coupon.
The coupon can only be used on cafe drinks and dessert (bakery) menu items.
You do not need to make a reservation before using the coupon.
Please let us know if you have any issues with your coupon at support@creatrip.com!
---
Menu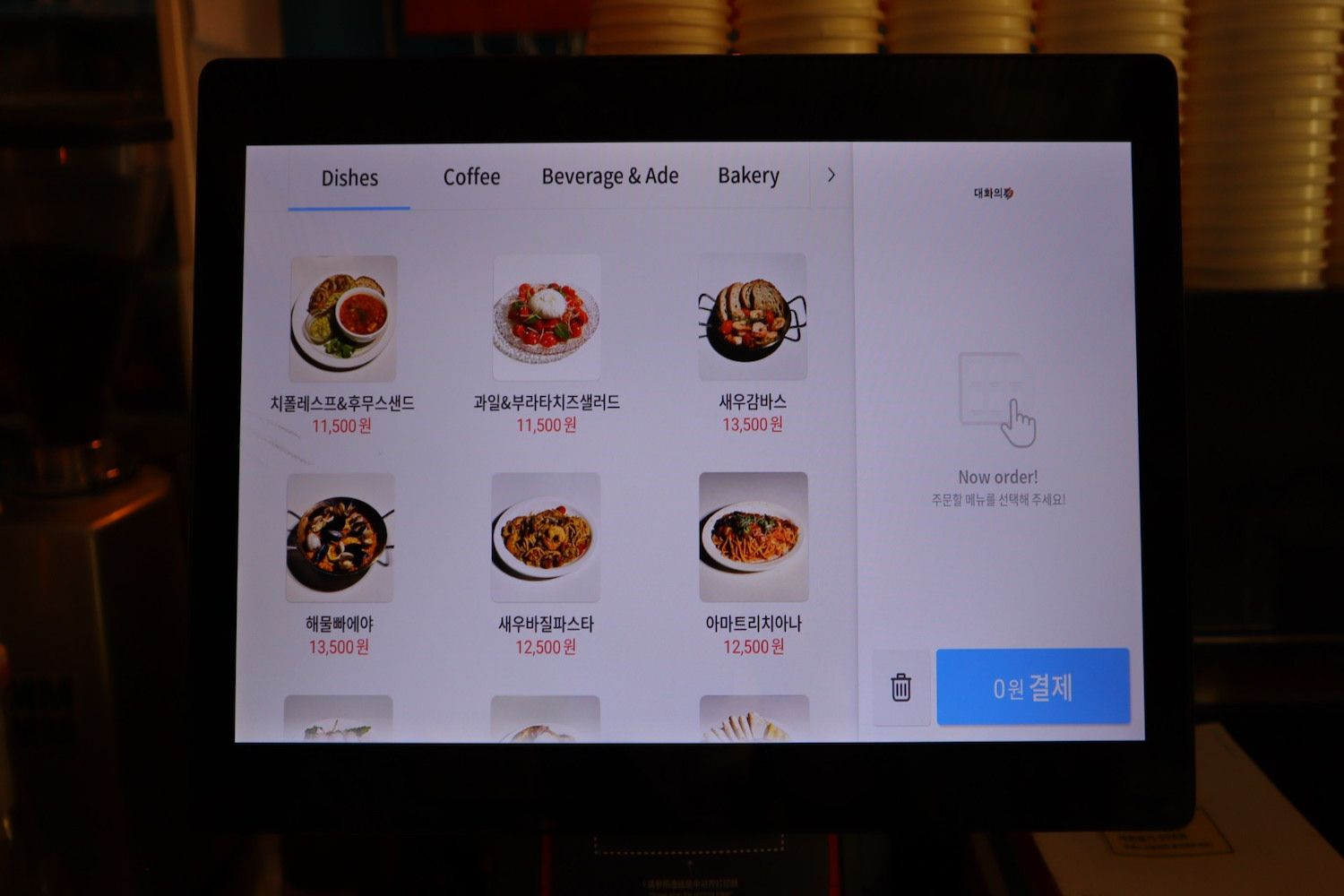 At Scene of Daehwa, you can conveniently order through kiosks. There are pictures in the menu, so it's easy to choose what to order! Creatrip members can get a 10% discount on the price using the coupon below. There are many other items available besides the ones listed below.
Beverages

Green Tea Latte, Chocolate Latte

Lemon Ade/Tea, Grapefruit Ade/Tea

5,500

Bakery

Berry Berry Pavlova, Berry Berry Victoria Cake




베리베리 파블로바, 베리베리 빅토리아케이크

Dishes

Chipotle Soup & Hummus Sandwich


치폴레스프&후무스 샌드


11,500

Fruit & Burrata Cheese Salad




과일&부라타치즈샐러드

Shrimp Basil Pasta


새우 바질 파스타


12,500

Amatriciana




아마트리치아나

Shrimp Gambas


새우 감바스


13,500

Seafood Paella




해물 빠에야

Beer&Drink

Red Rock (Draft Beer)
레드락(생맥주)


5,000

Sangria




샹그리아

Hoegaarden (Bottled Beer)


호가든(병맥주)


6,000

Stella (Draft Beer)


스텔라(생맥주)


8,000

Blanc (Bottled Beer)




블랑(병맥주)

Sangria Bottle




샹그리아 바틀

19,000

Sprite, Cola




사이다, 콜라

2,000
---
Our Visit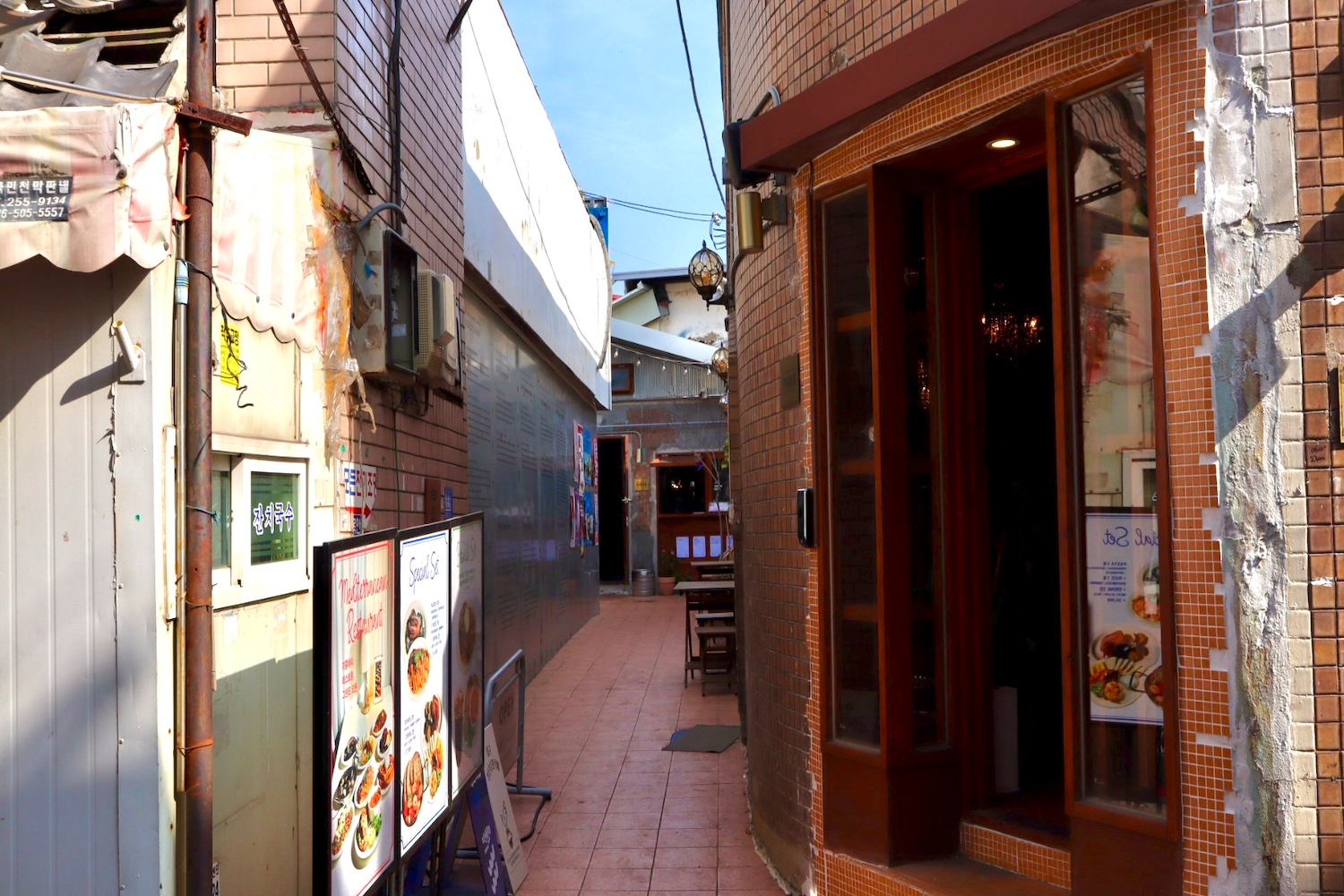 The place is less than a 5-minute walk from Jungangno Station with lots of famous shops along the way. Feel free to browse around and make this your destination for recharging and relaxing.
Although Scene of Daehwa is tucked away in a small alleyway, those who have been to the place say once you get within a close proximity, you can spot the place right away. Upon entering, not only will you find a cafe, but you'll be presented with uniquely decorated spaces, each different from others.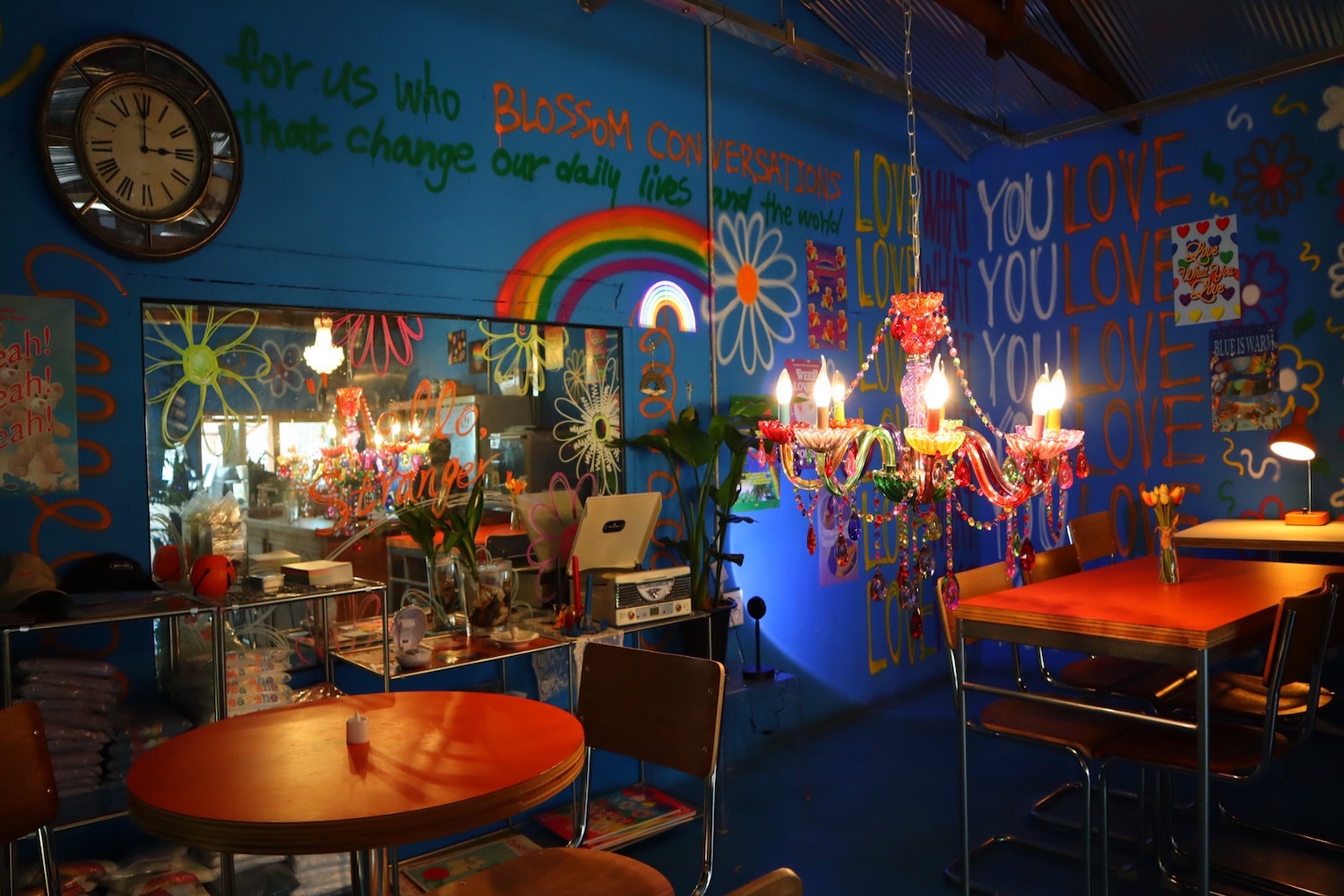 Scene of Daehwa had a large interior with several themes inside, so it was fun to choose a spot to sit down. Pick a spot at your favourite space and get ready for your daehwa! This space with kiosks for ordering was impressive. We naturally felt at ease because of the freely decorated atmosphere that seemed more like an art exhibition than a cafe.
In the back, there was a floor where people could sit comfortably and talk. You can see this kind of floor in an old hanok. We think it's cool they incorporated traditional elements in their interior design.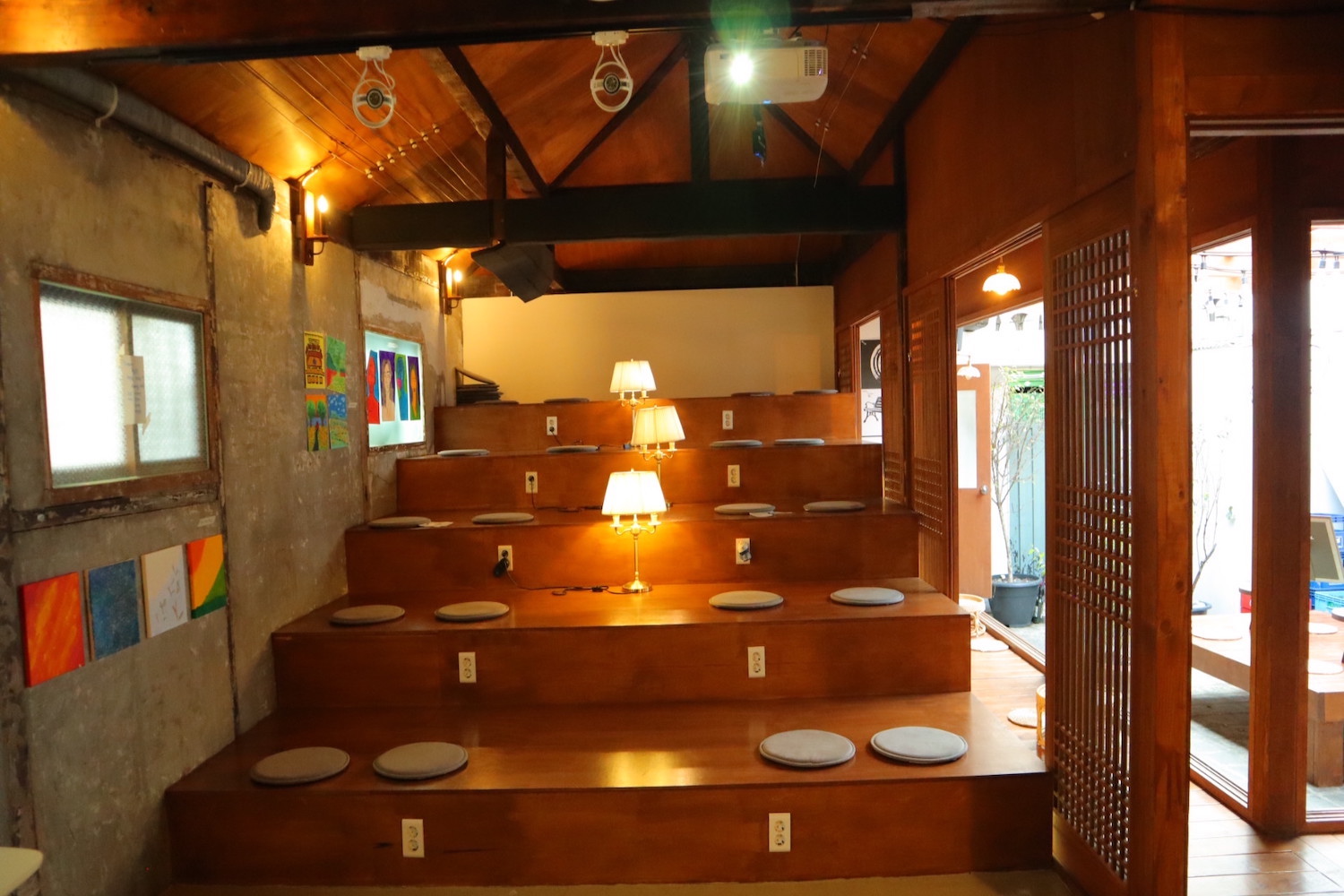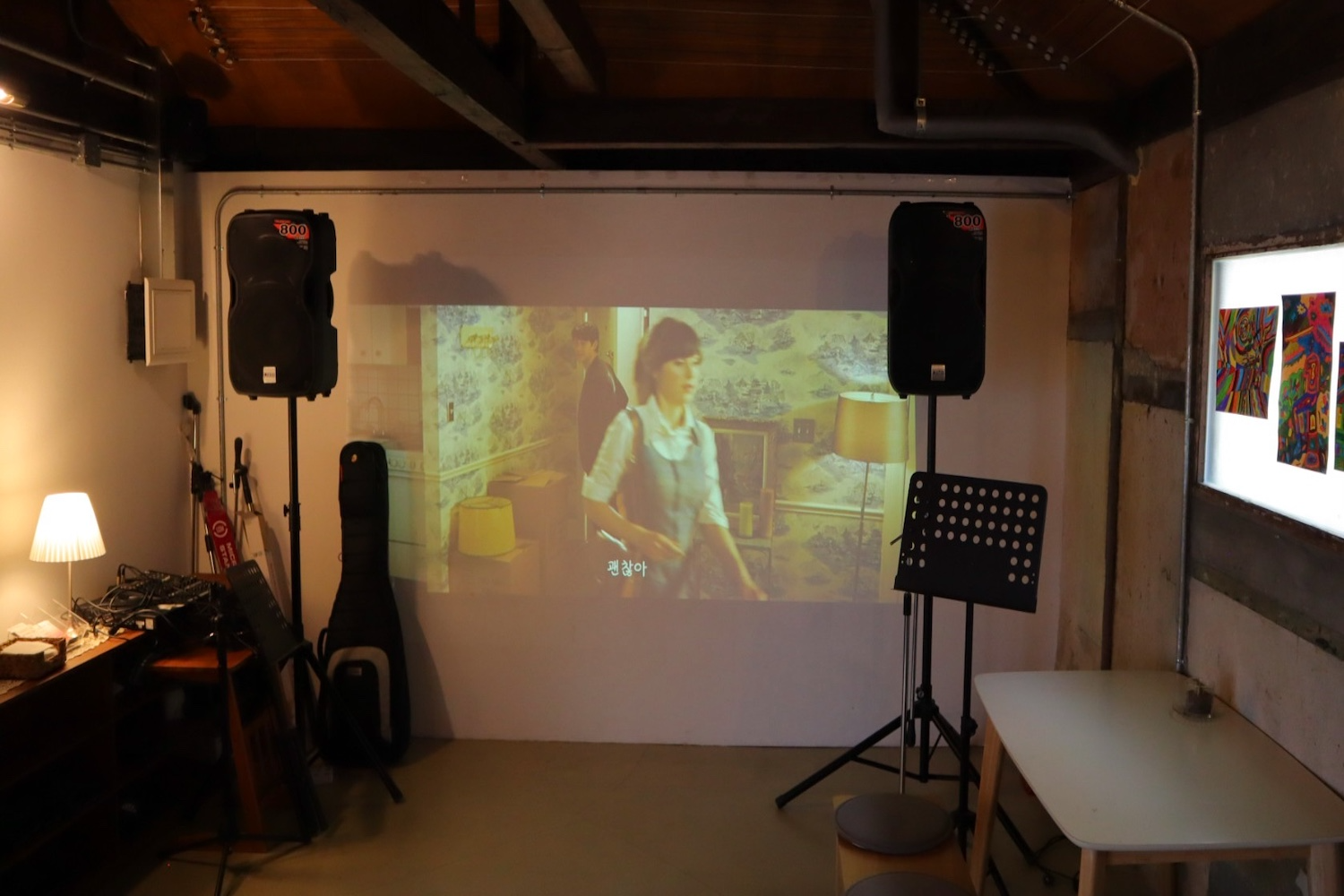 If you face away from the floor and go in, there is a space decorated like a small movie theater. Movies the cafe selects are played, so it would be nice to chat while watching the movie!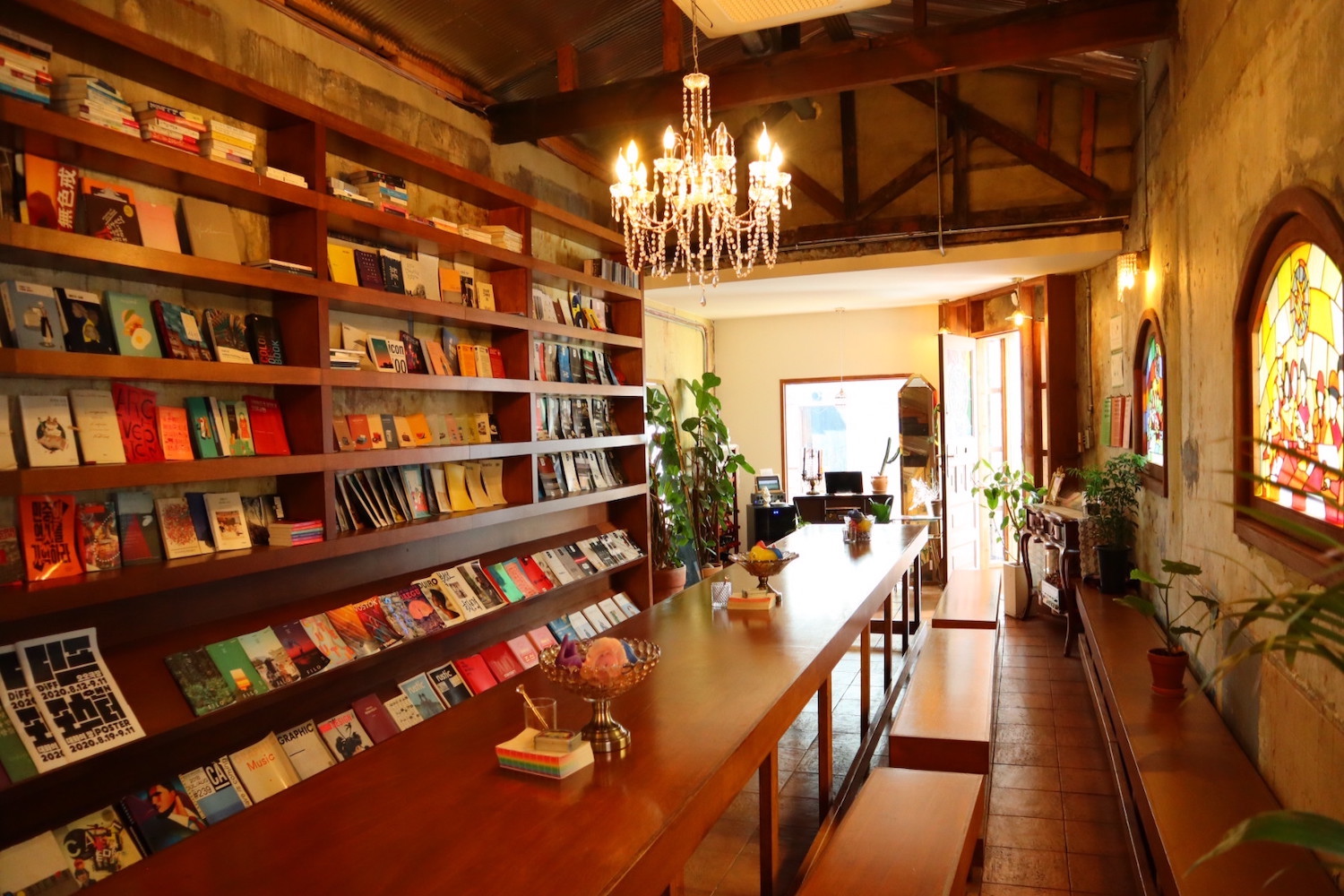 The wide open space with book shelves along a wall is perfect for getting some reading done too. It was also fun to look at books that were carefully curated to match the aesthetic of the cafe! It's a perfect place to sit at a table with a book and take some Insta-worthy pictures.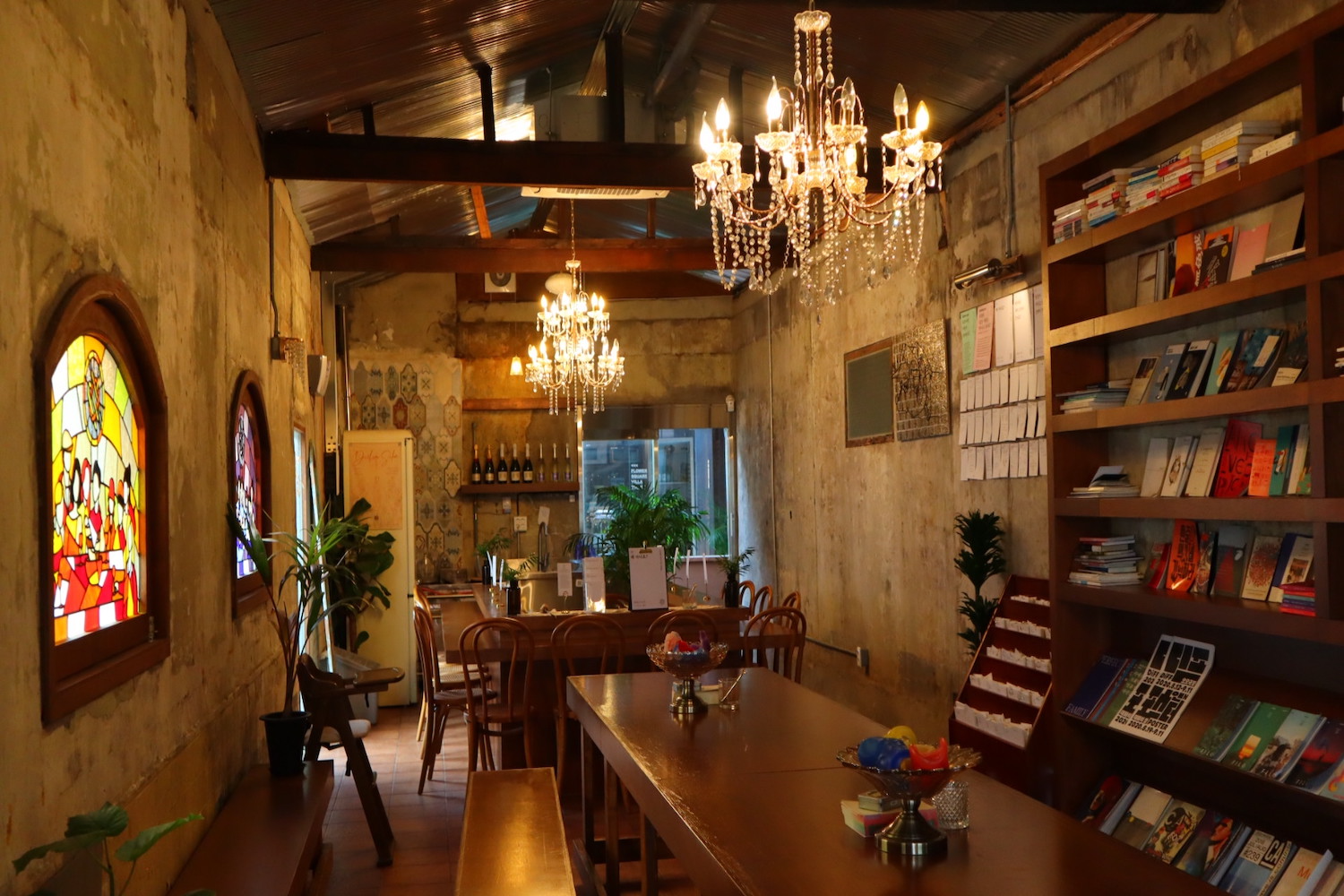 In addition, just like the cafe's name suggests, we felt there were lots of things that could be conversation starters in this room. On the table and the wall, there were cards with random questions written on them.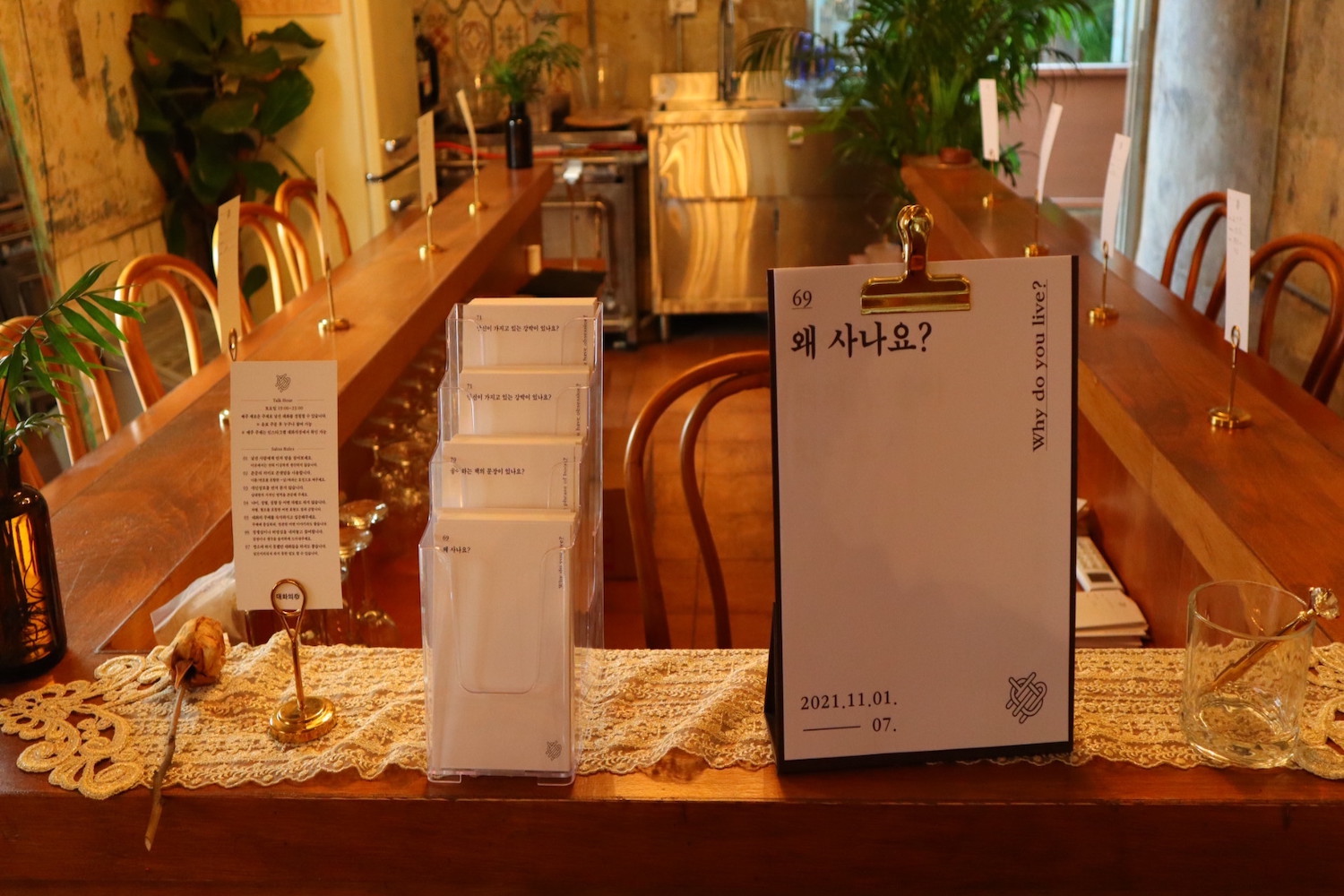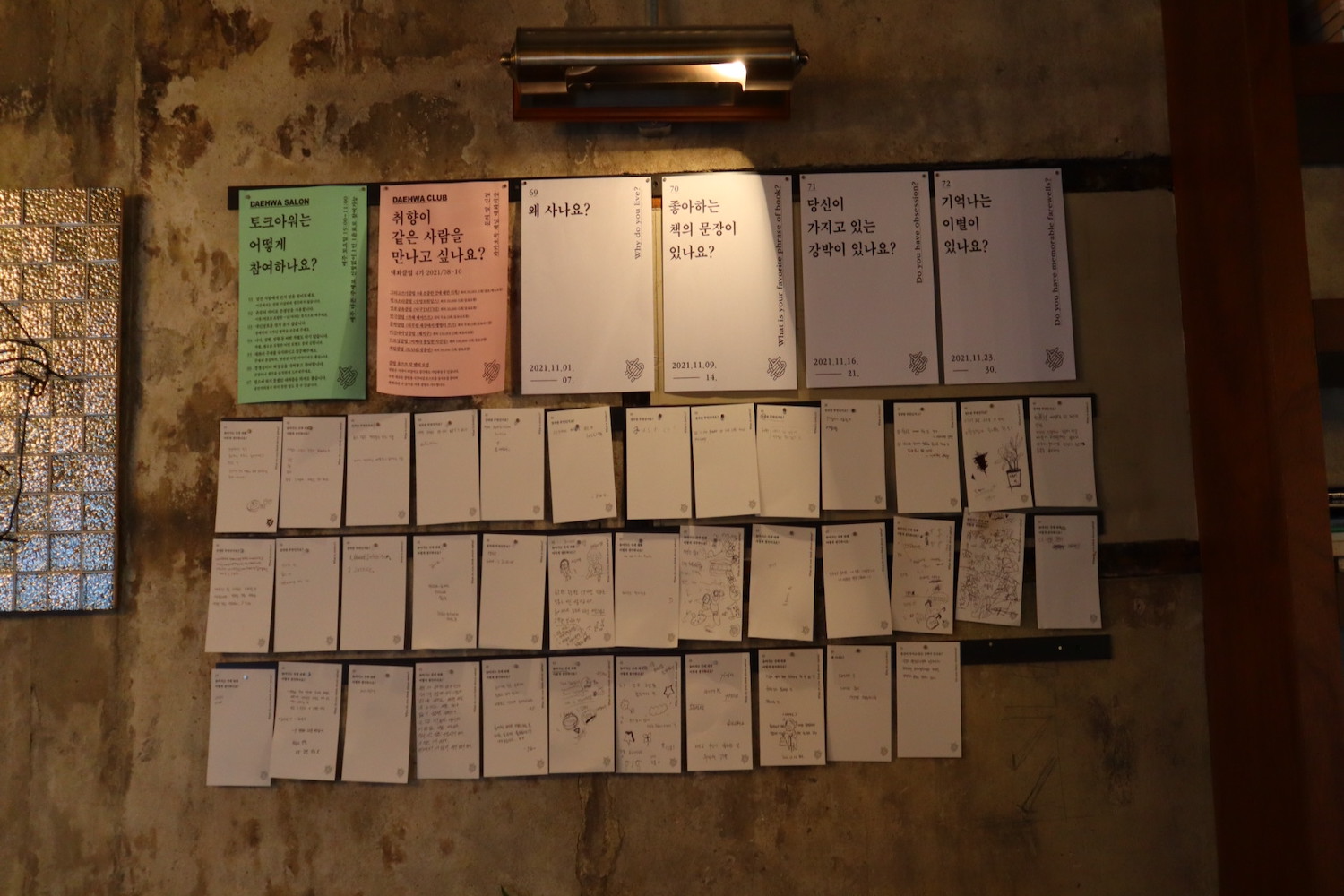 There are questions that you don't usually think about that you can take your time answering, such as, "What's your favorite sentence from a book sentence?", and, "Do you have a memorable breakup?" Unlike usual, don't you think you can talk to and get to know strangers here?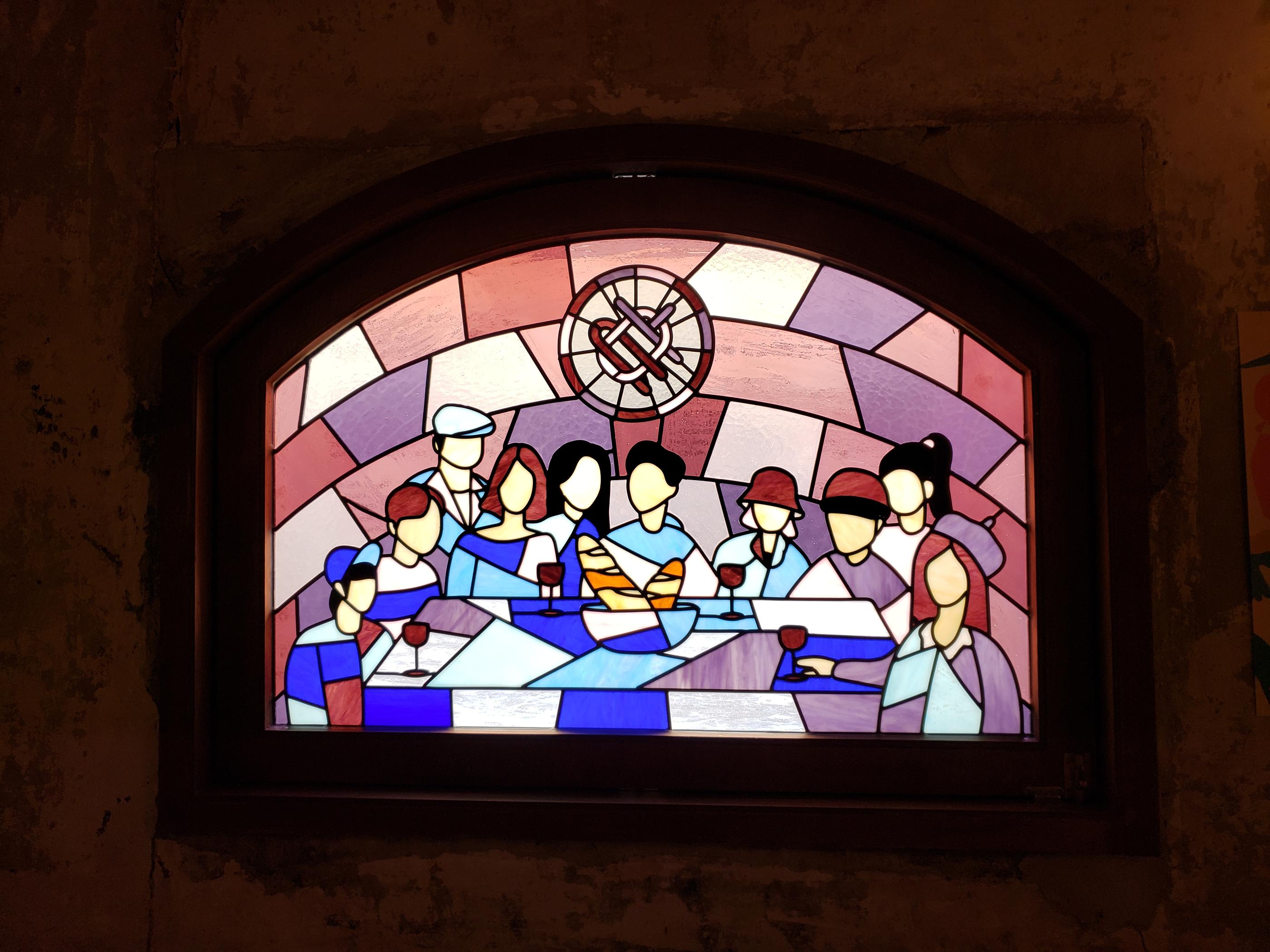 You'll find stained glasses that recreated works of famous artists with a twist.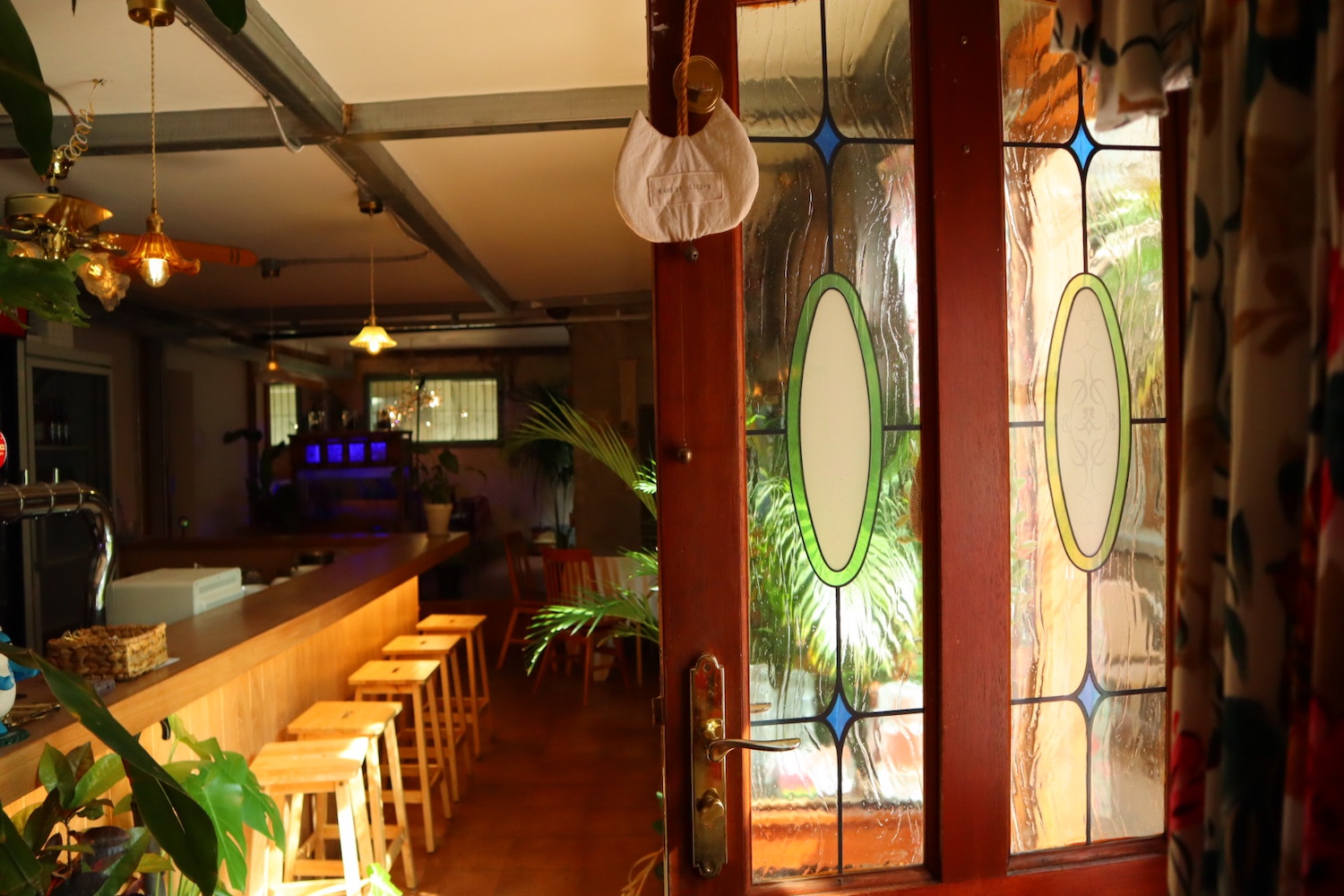 These are the various spaces on the first floor. Since we've seen the open spaces, now let's look at the more private spaces on the second floor.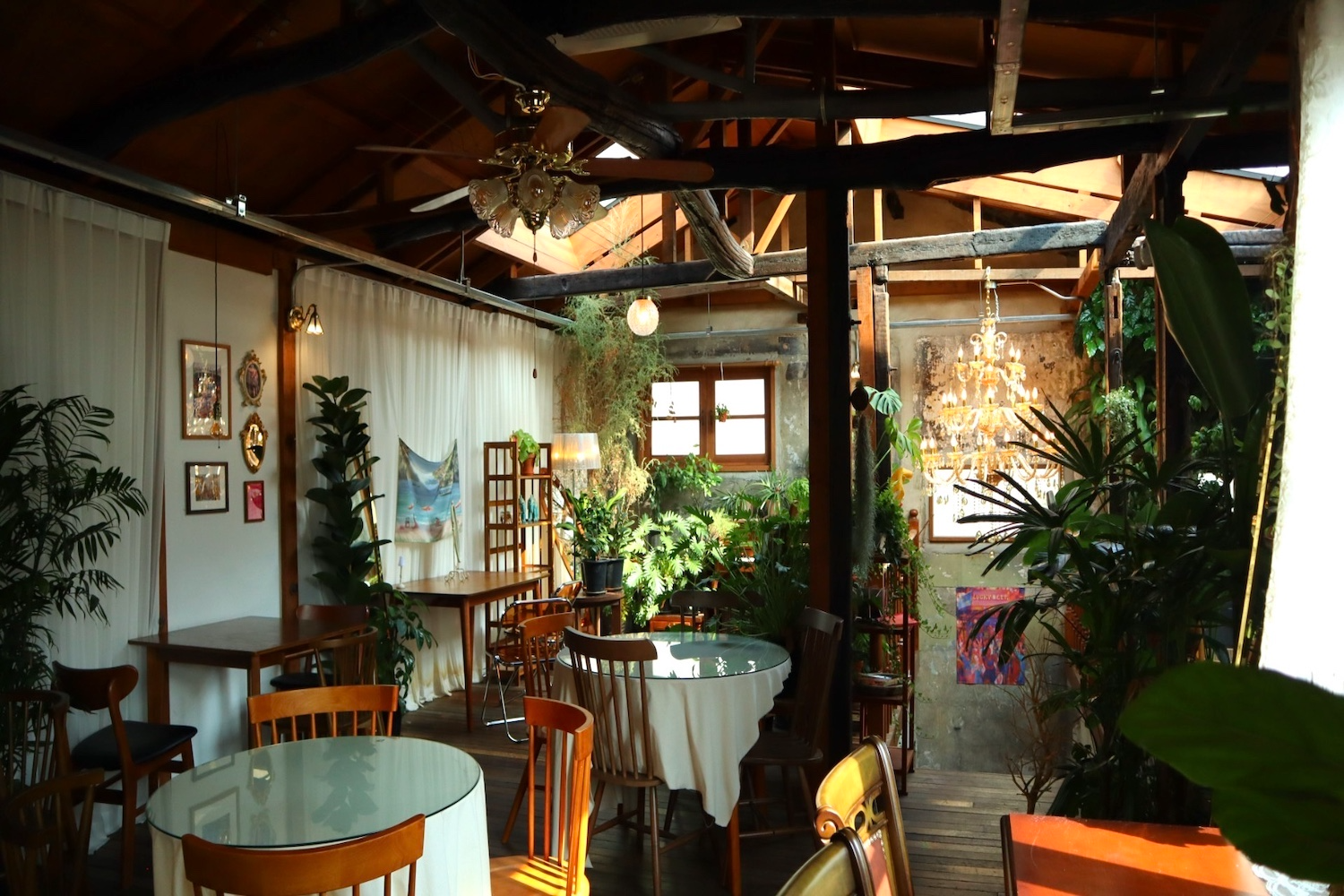 The second floor feels like you're entering a secret garden in a fairy tale! The unique items and plants everywhere give it a more story-like atmosphere.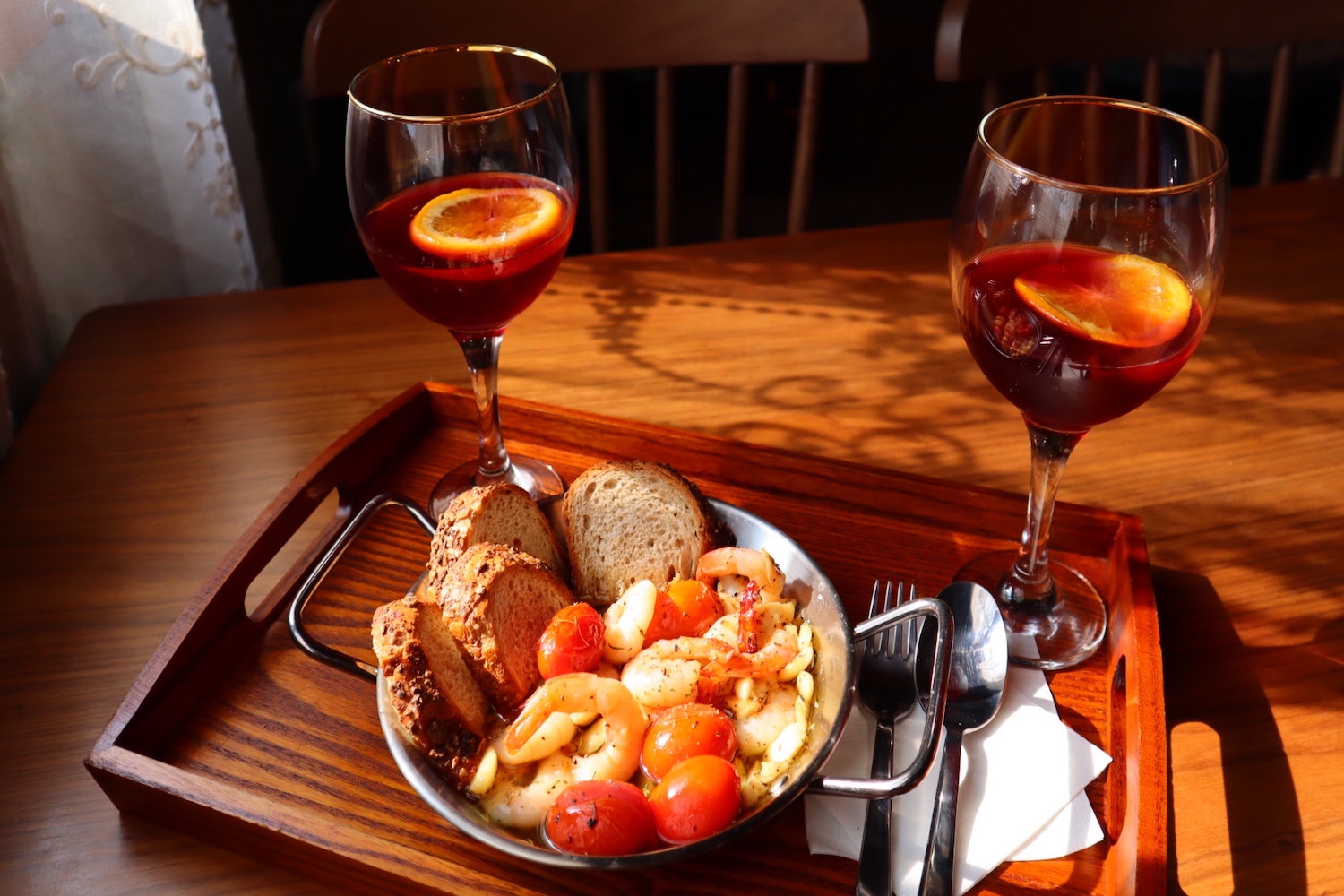 We ordered shrimp gambas (15,000 KRW) and two glasses of sangria (5,000 KRW each) to go with it. The shrimp gambas was cooked with fresh and healthy ingredients, so it was very delicious. The sangria was sweet enough to go well with any side dish. We strongly recommend them both!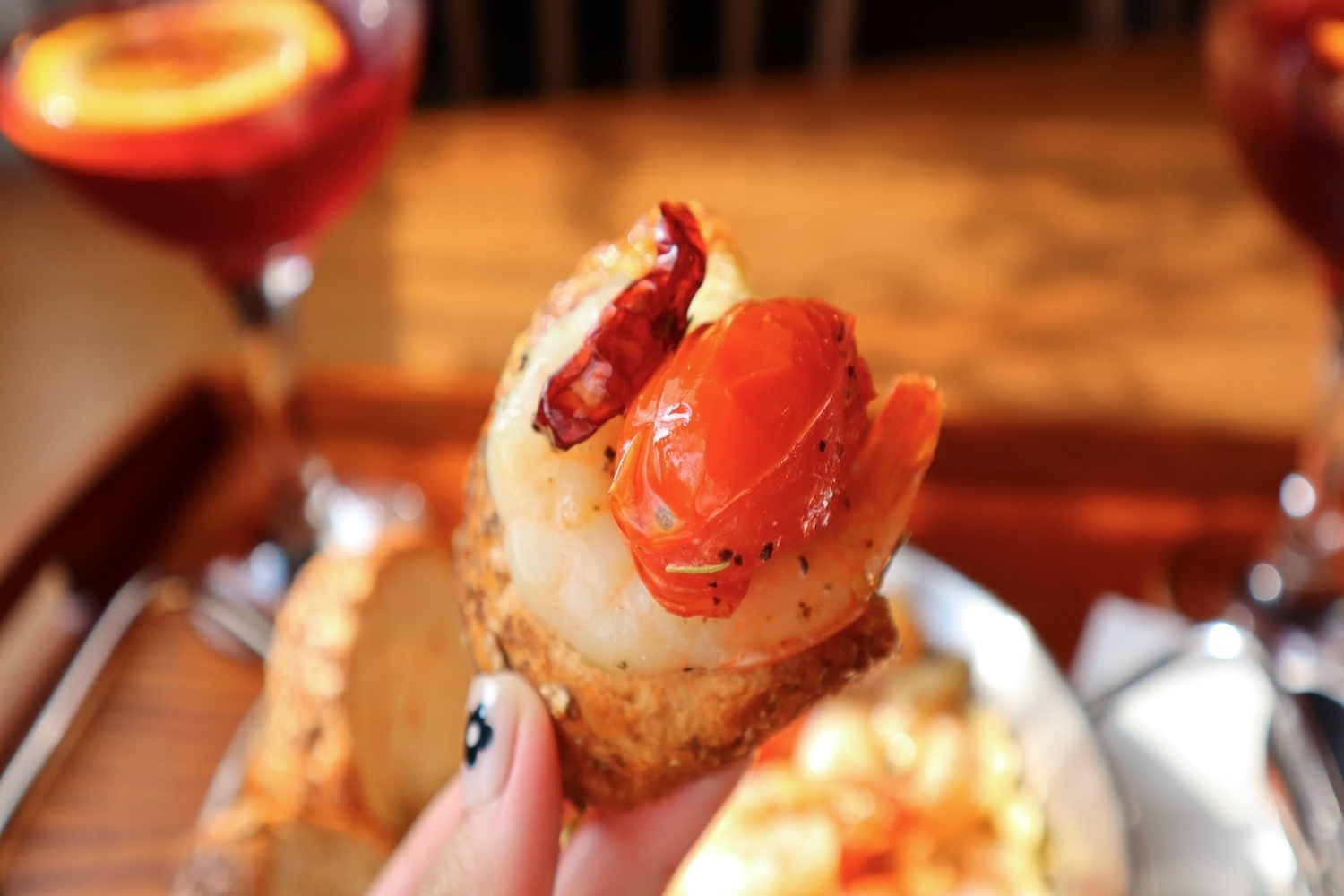 We ate the shrimp and garlic on top of the bread. Doesn't this make you crave beer or wine? Since there are so many delicious dishes, it's nice to visit in the daytime, but it would be even better to sit here in the evening and have a drink under the lights!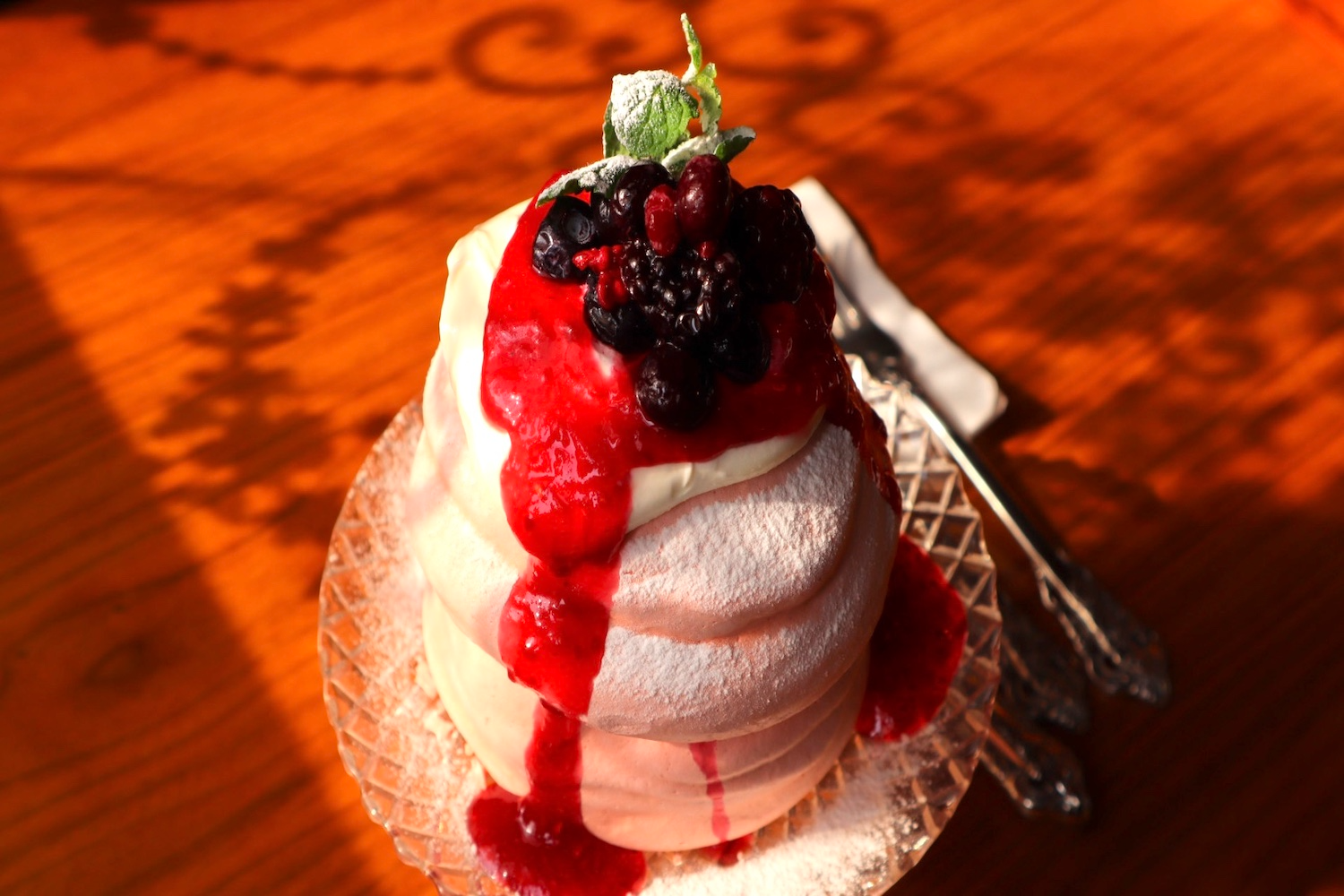 There are many good items to enjoy for lunch and dinner, but wouldn't it be sad to visit a cafe without eating dessert? This pavlova is a very popular desert at Scene of Daehwa. It is called the Berry Berry Pavlova and was 9,500 KRW.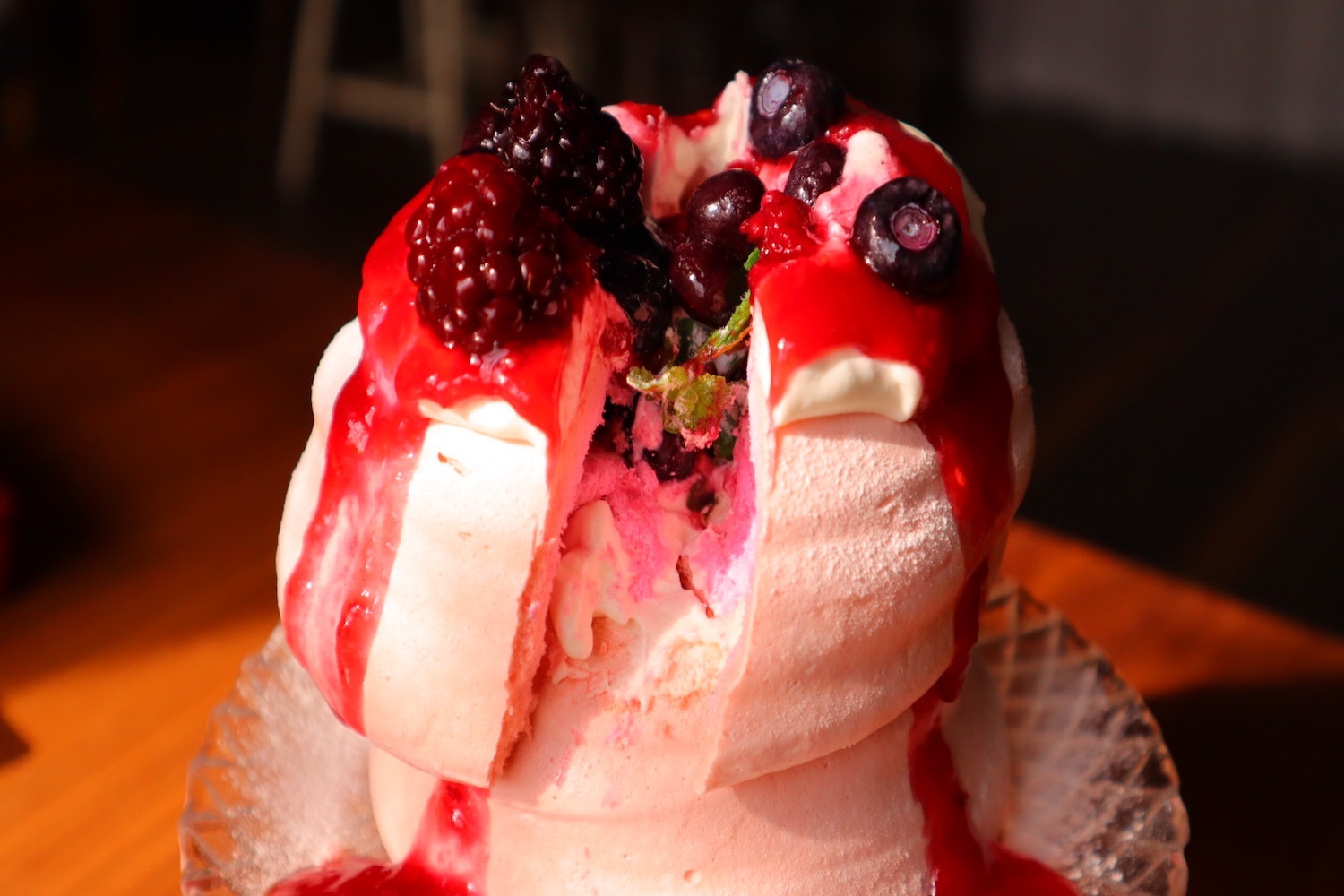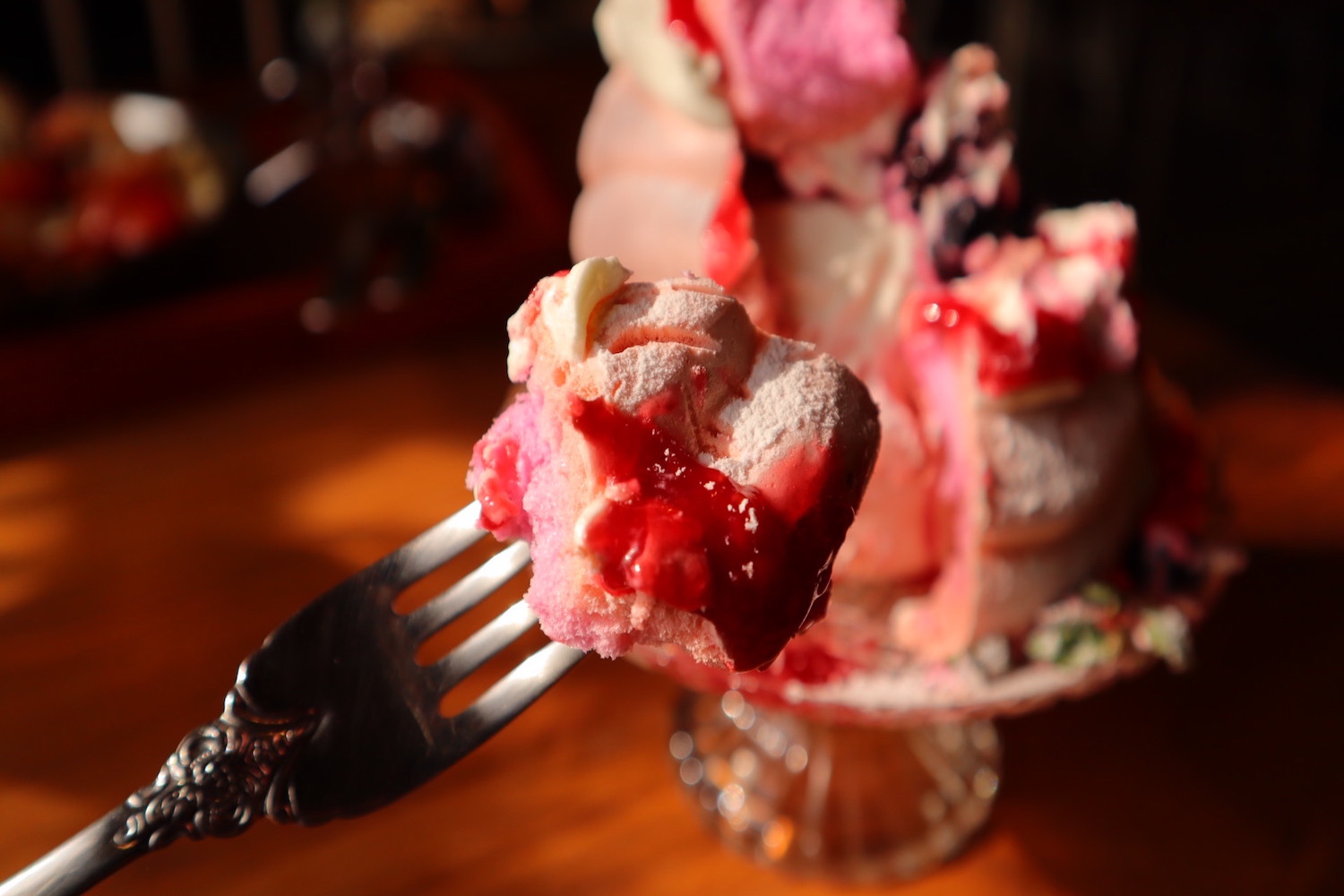 Inside the melt-in-your-mouth meringue cookie, there was a lot of sweet berry jam. At first, I was worried that it would be too sweet, but when we took a bite, it was the perfect combination of sweet and tart.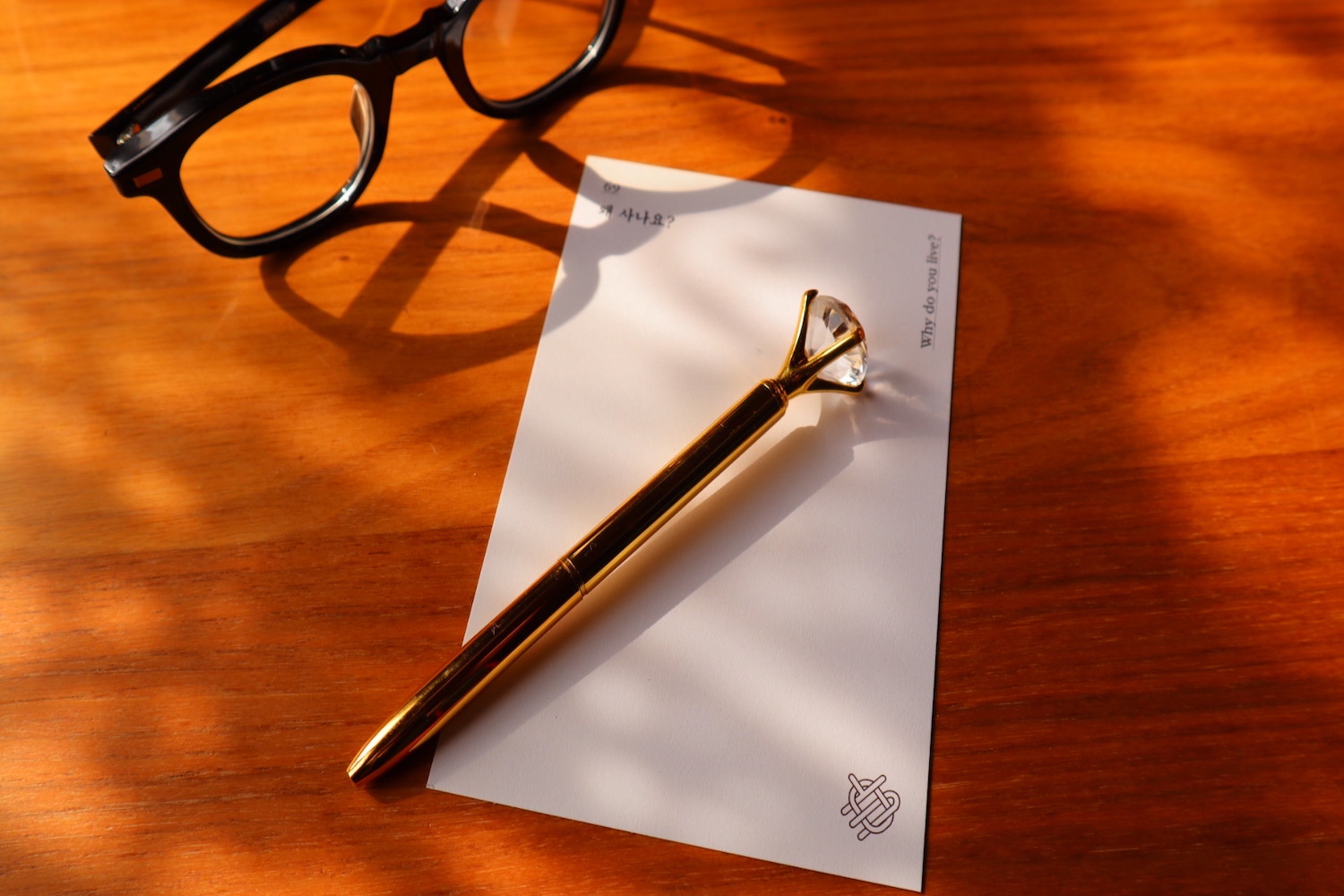 Also, there's another thing we got that we didn't order. It was this postcard and pen. The postcard had the question, "Why do you live?" Why or what do you live for? You can take some time to think about meaningful questions here.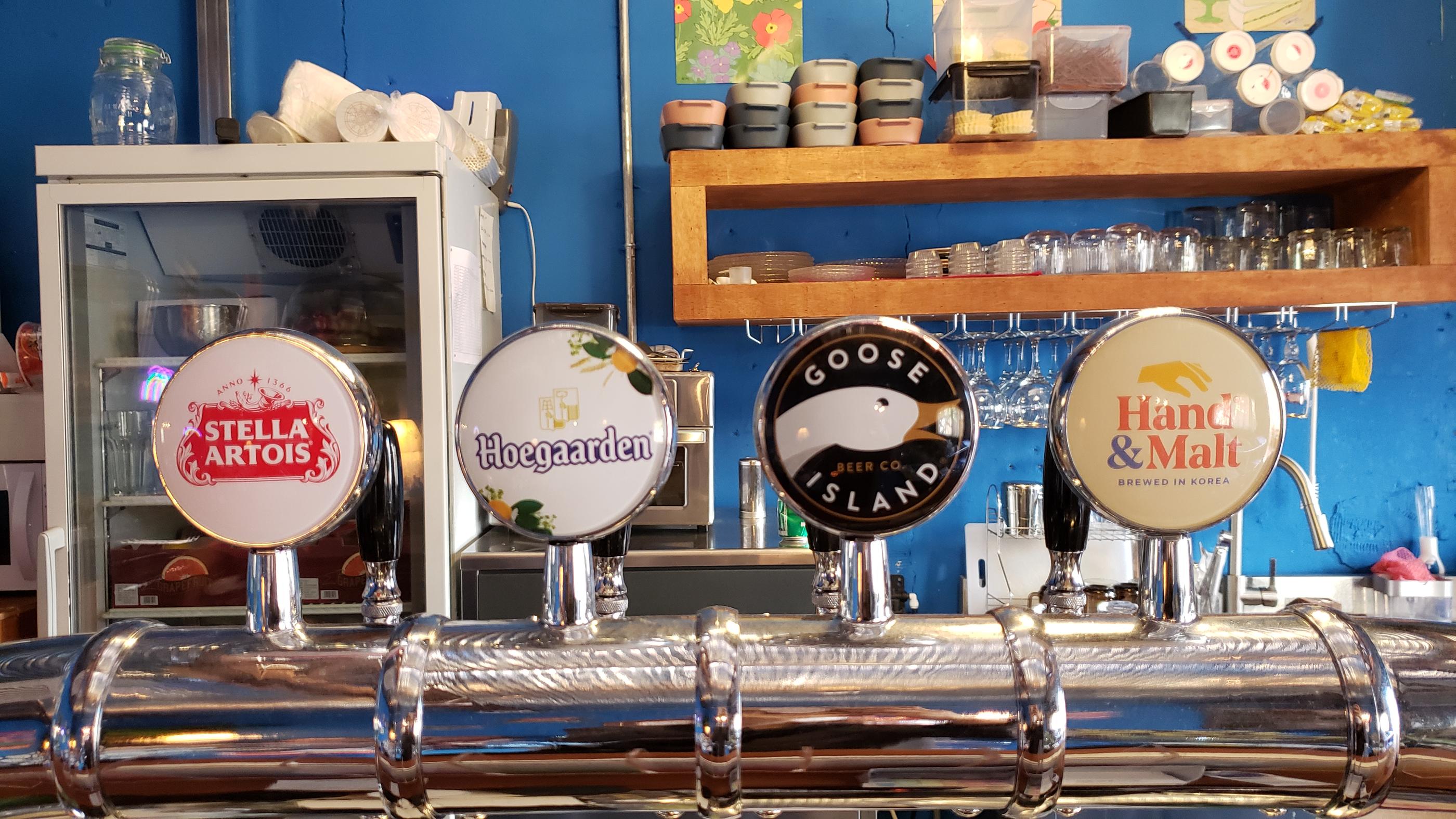 Starting at 6 in the evening you can order alcoholic drinks and food, their main being red wine. The four draft beer options are also great for getting your evening daehwa started.
If you're not a coffee lover but still want to experience the unique cafe vibes in Korea, Scene of Daehwa has these great non-coffee options!
Enjoy a variety of non-coffee drinks, ranging from wine, green tea latte, chocolate latte, and ade, as well as various kinds of draft beer.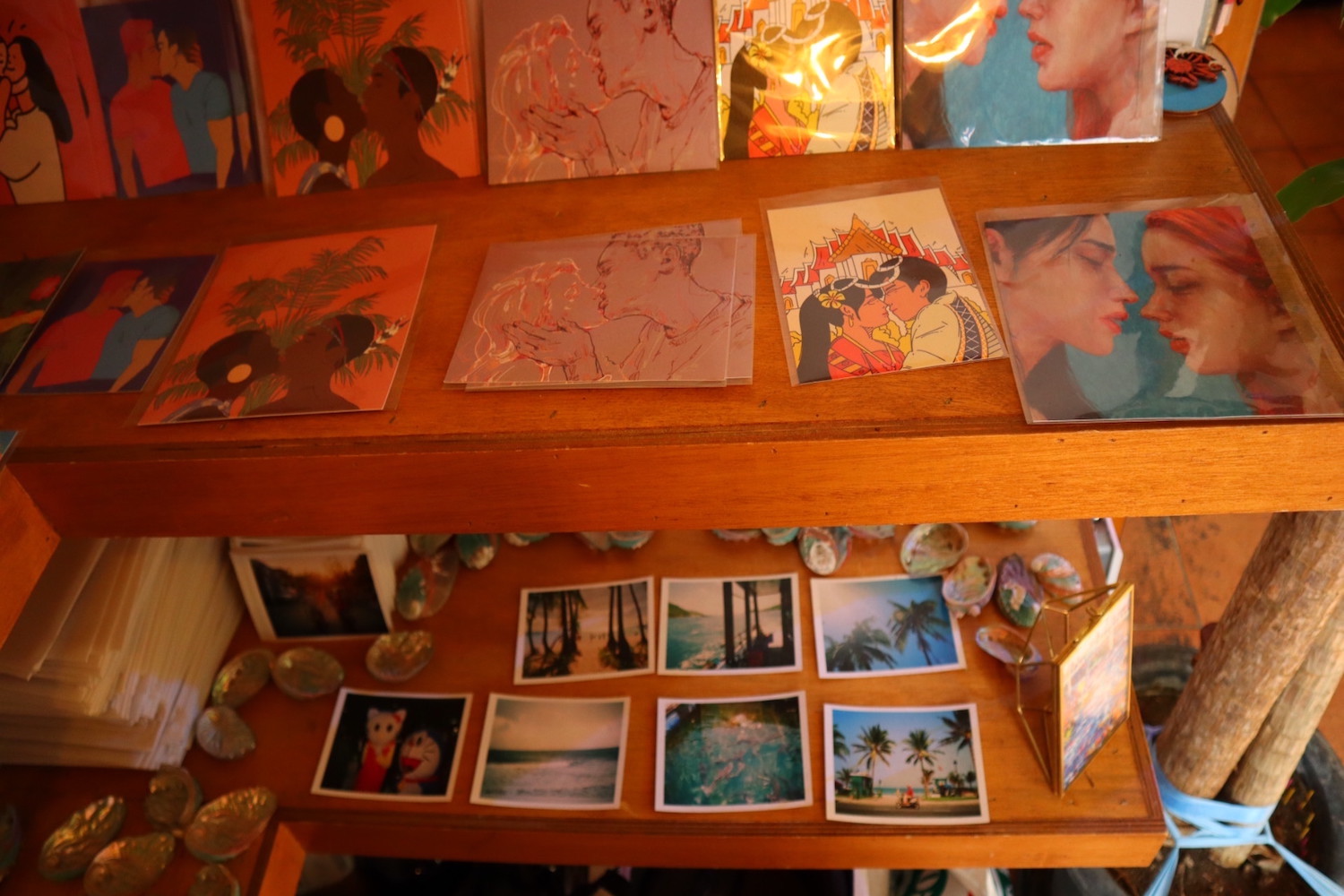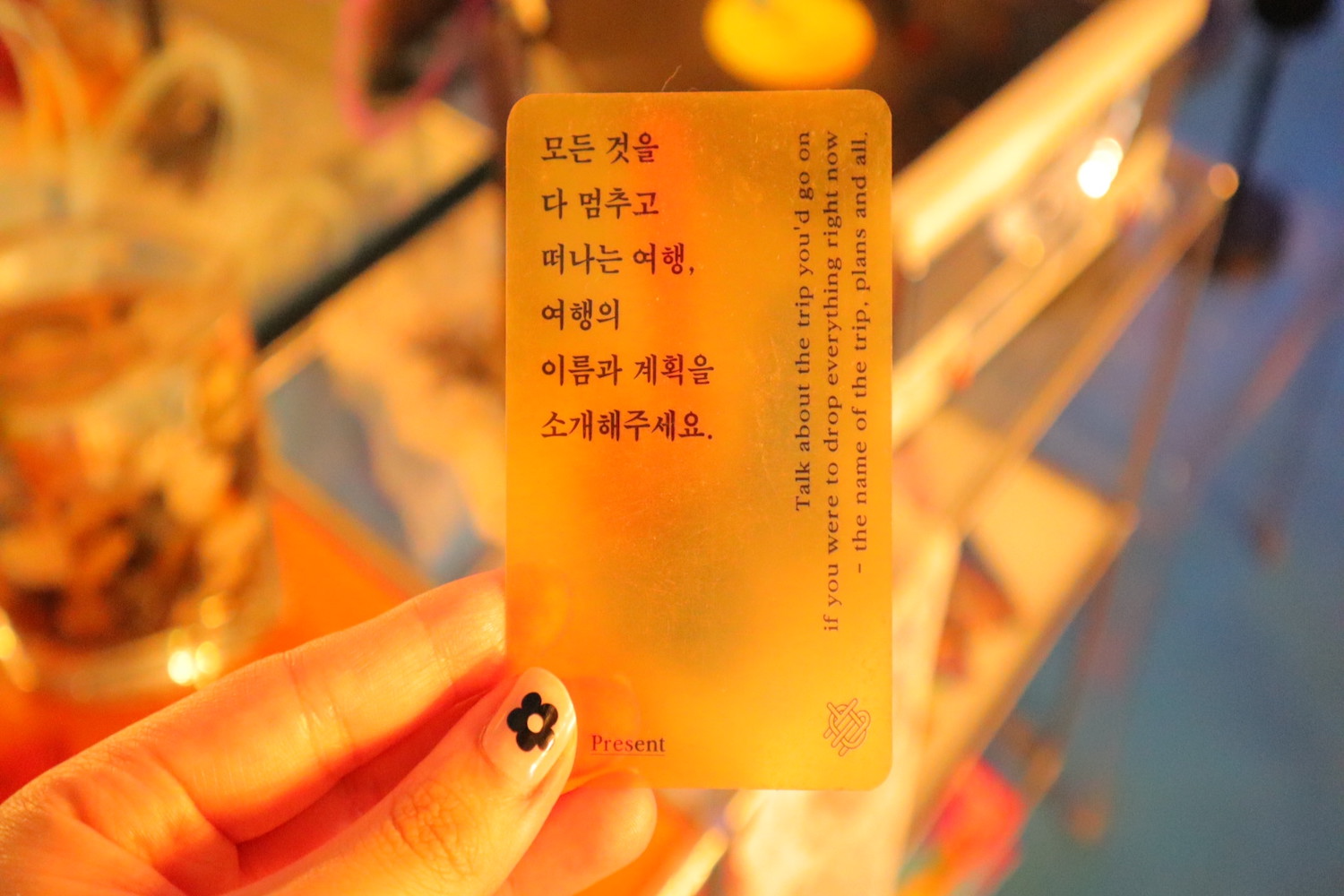 Inside the cafe, there's an area to purchase cafe merchandise. When we visited, there were postcards, t-shirts, hats, as well as Scene of Daehwa's signature conversation cards, conversation diaries, and pins. We think these items will be good as souvenirs, too!
---
Coupon
Click the 'COUPON' button at the bottom to claim yours now!
---
If you have any additional questions or concerns, please leave a comment below or send us an email at support@creatrip.com! You can also follow us on Instagram, Tik Tok, or Facebook to stay updated on all things Korea!
---