Korean Zombie Movies & Dramas To Binge-watch 2021
Modern Day Korean Cities And Suburbs To Ancient Joseon Settings! A Complete List Of Korean Zombie Movies And Dramas That Will Make Your Binge-watching Worthwhile.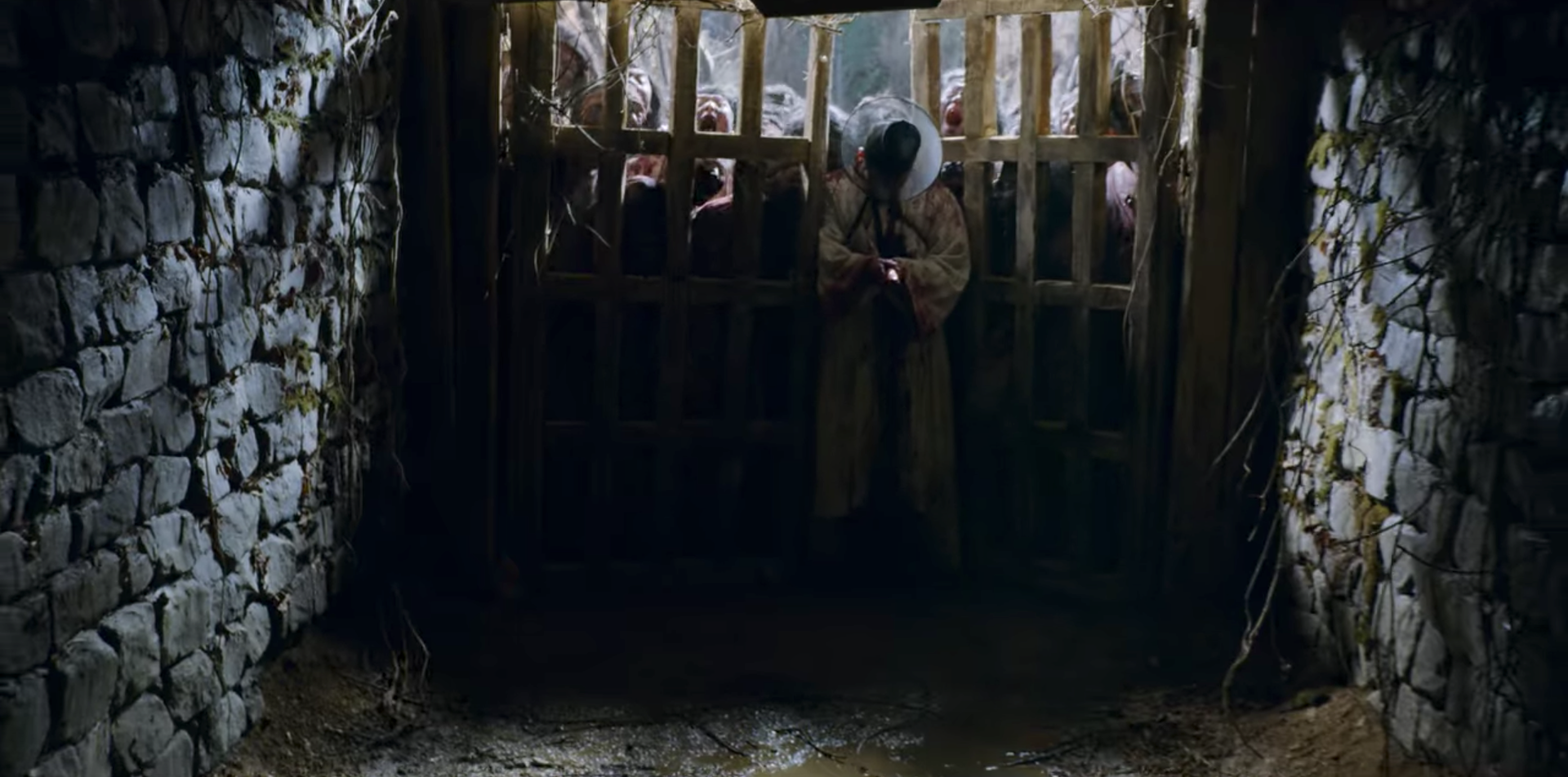 If you're looking to spook up your watch time with zombies and want to take Korean zombies into consideration, keep reading as we have all of the options listed below!
The dramas are listed at the top, sorted by year in descending order.
Below the list of dramas, we have ranked the movies by Korean netizens' ratings on Naver for your reference. Do keep in mind that everyone's opinion differs so the ones with low ratings might still be worth a watch.
At the bottom of the list, you'll find movies and dramas that are not yet released and planned for release in the future. Don't forget to add them to your future watchlist!
*This article may contain spoilers and graphic scenes from the movies and dramas.
*Please also keep in mind that Netflix, YouTube and Google Play content availability may differ by country.
---
HAPPINESS (2021)
해피니스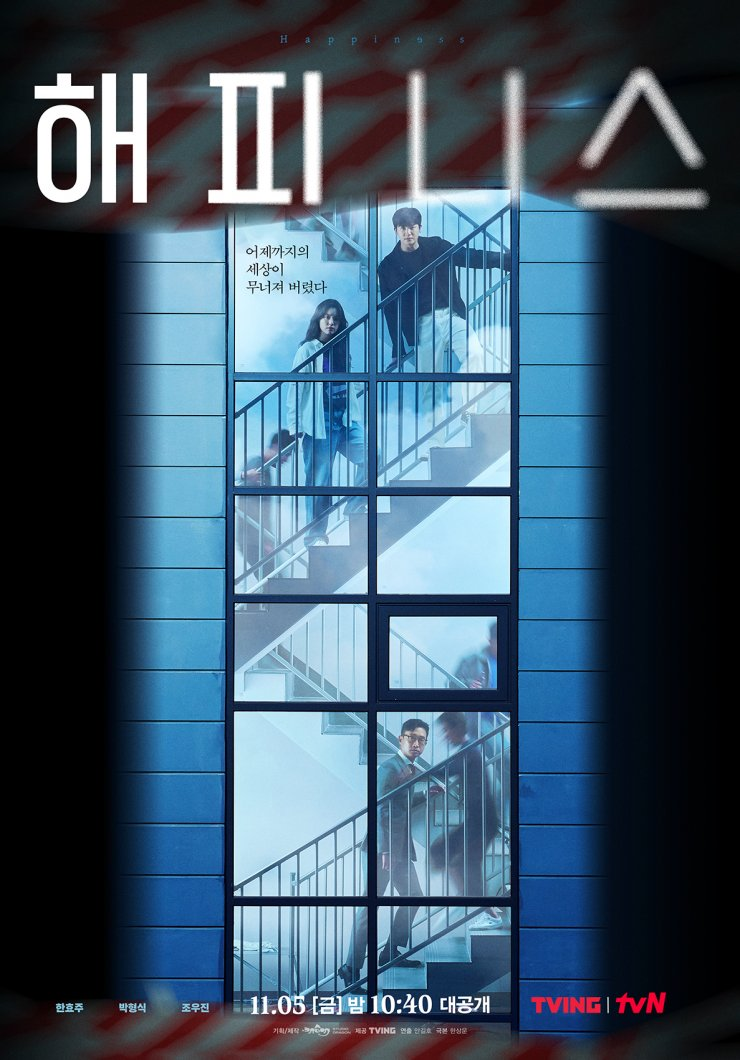 Source: tvN
Running Time: 70 minutes
Season: 1 / 12 Episodes
Release Date: November 5, 2021
Director: Ahn Gil-ho
Cast: Park Hyung-sik, Han Hyo-joo, Jo Woo-jin
Where To Watch: tvN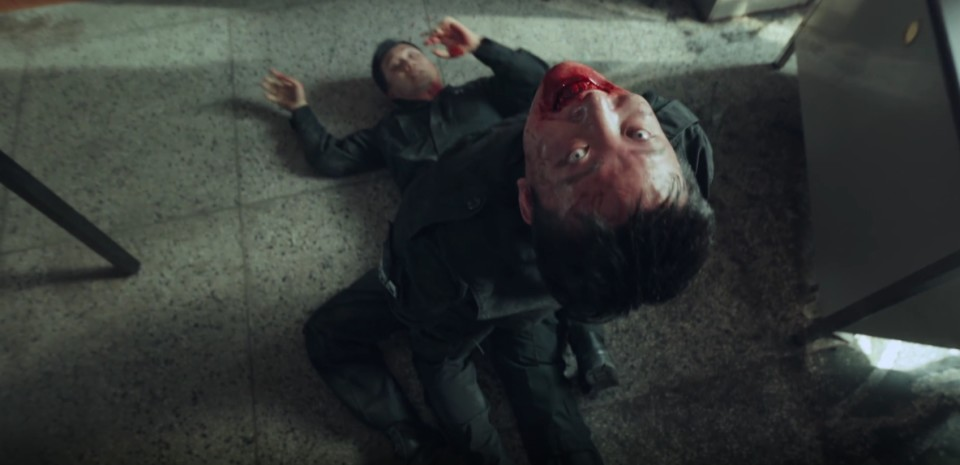 Source: tvN
Unlike the title suggests, this drama is actually an apocalyptic thriller show that explores class discrimination.
Set in the near future where infectious disease have become the norm, a high-rise apartment building has been newly constructed in the big city. The apartment building has residents from diverse backgrounds who must struggle to survive when a new infectious disease breaks out.
---
DARK HOLE (2021)
다크홀

Running Time: N/A
Season: 1 / 12 Episodes
Release Date: April 30, 2021
Director: Kim Bong-joo
Cast: Kim Ok-bin, Lee Joon-hyuk
Where To Watch: OCN, tvN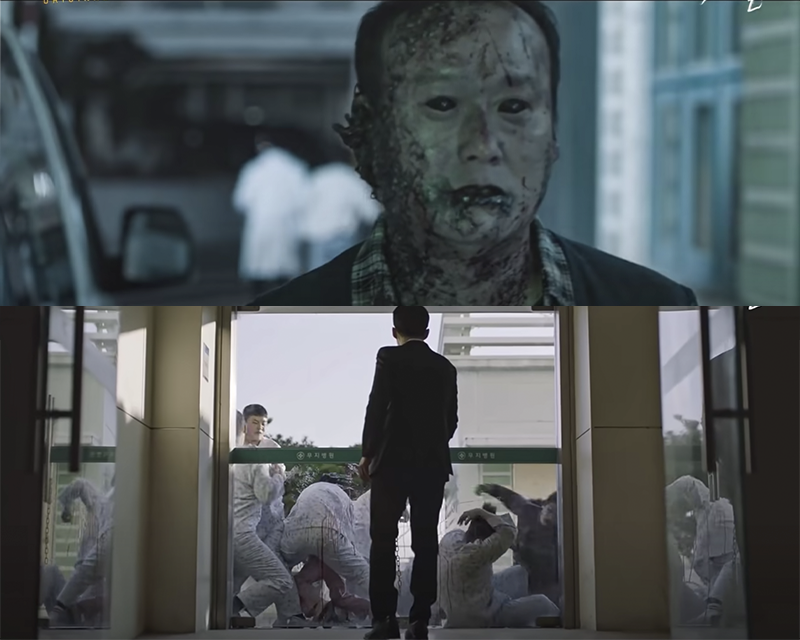 Strange smoke from a sinkhole turns people into human variants where they bleed black blood and hunt for human flesh.
The story shows survivors who fight together in the epidemic, one of whom did not turn into a human variant even though she inhaled the smoke.
---
KINGDOM (2019)




킹덤





Source: Namu Wiki
Running Time: 45 minutes
Seasons: 2 / 6 episodes each
New Season: In Production
Director: Kim Sung-hoon
Cast: Ju Ji-hoon, Bae Doona, Jun Ji-hyun
Where To Watch: Netflix
Original story from webtoon The Kingdom of the Gods, the story takes place in Joseon Dynasty a few years after the Japanese invasion. Although it's not a movie, we wanted to add it to the list because it is highly recommended!
A mysterious plague overtakes the country and the people look to the Prince to contain the plague and save the kingdom.
The Joseon architectures, mannerisms and outfits make the drama even more eyecatching. The zombies run when they see and smell human flesh and are smart enough to climb up to the top of the roof. They squeak like mice when attacked.
The drama received great reviews globally, making it worthy of your binge-watching time.
As for season 3, Ju Ji-hoon who plays the beloved Prince will not appear, while Jun Ji-hyun, an actress who has an army of international followers, is confirmed to appear in the new season.
---
Running Time: 50 minutes
Seasons: 1
New Season: Not Yet Confirmed / Highly Likely
Director: Lee Eung-bok
Cast: Song Kang, Lee Jin-uk, Lee Si-young
Where To Watch: Netflix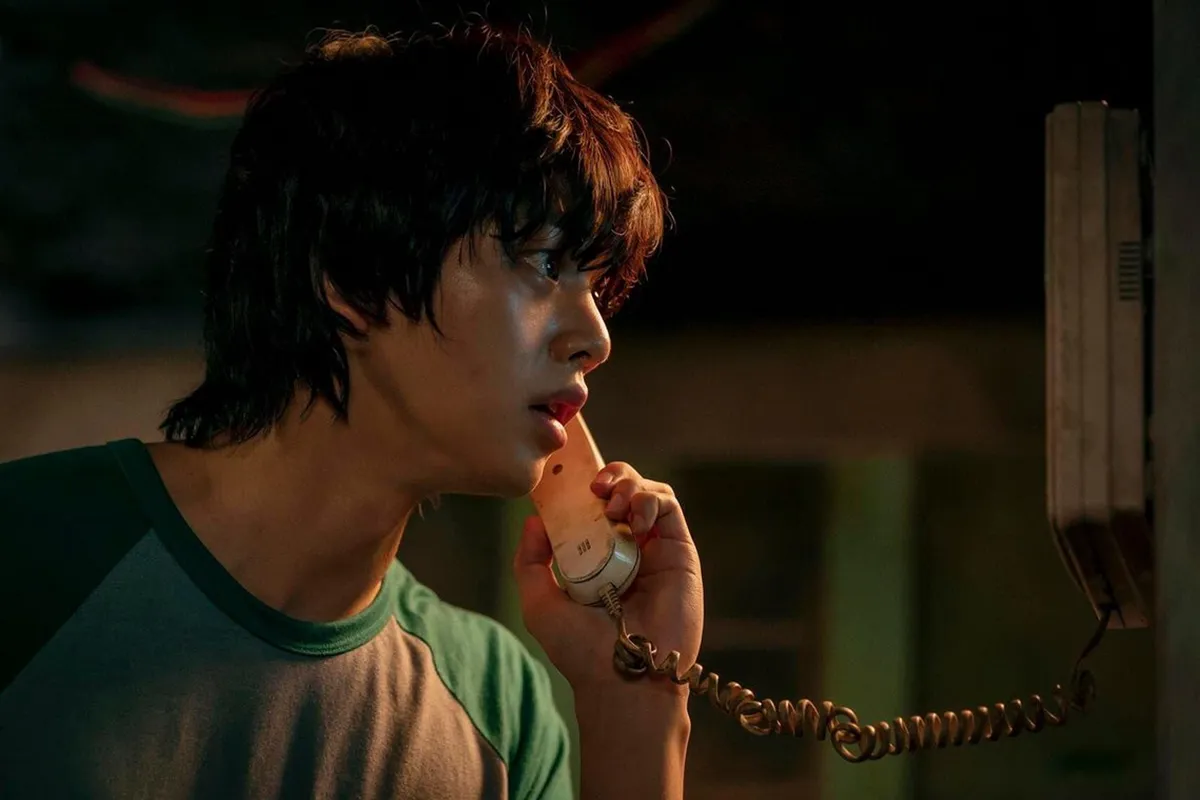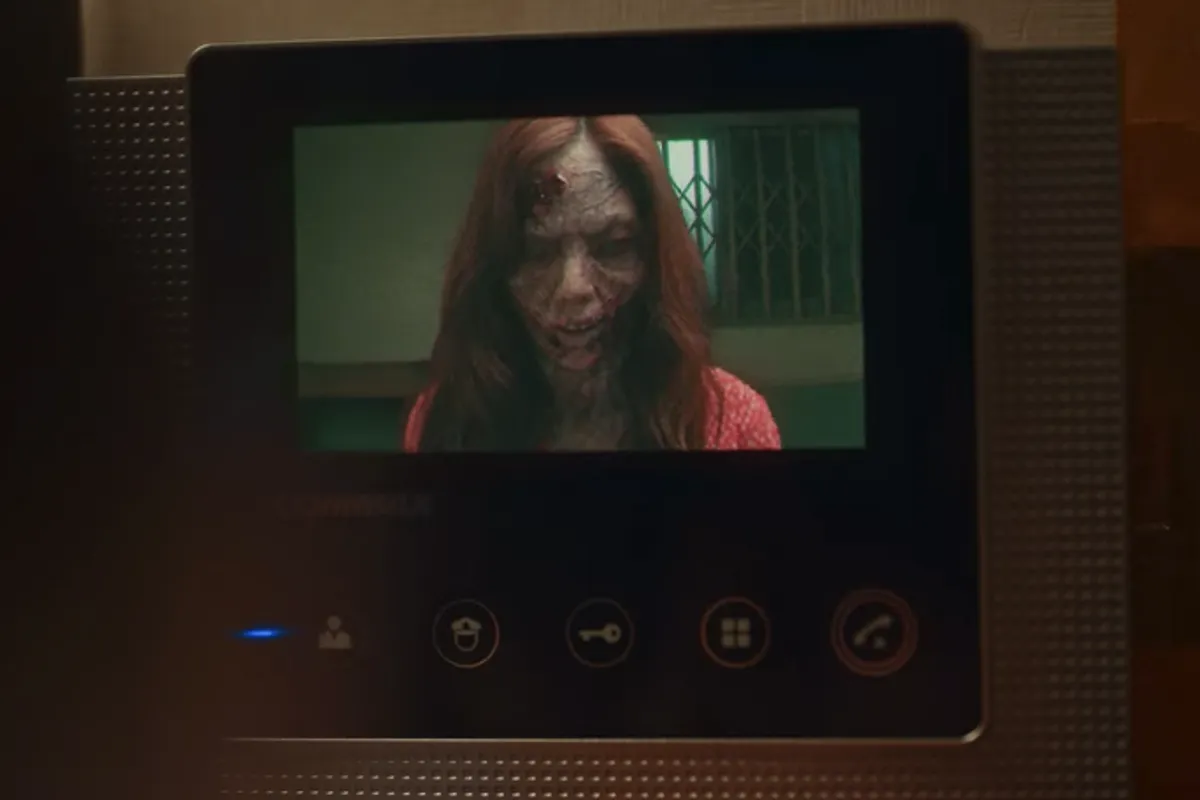 Original story from webtoon with the same name, Sweet Home shows the residents of an apartment building get stuck due to a monster apocalypse. Soon after dealing with a number of monsters, they learn that humans can turn into monsters after they've been infected.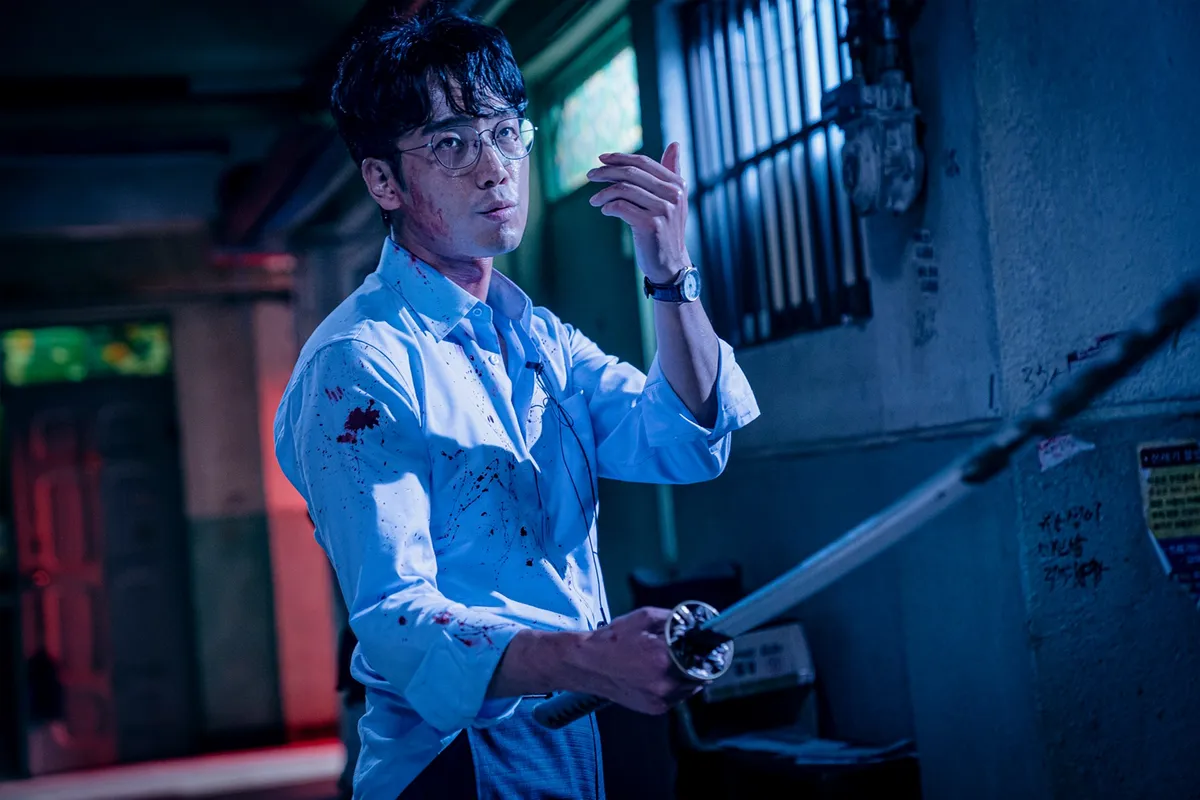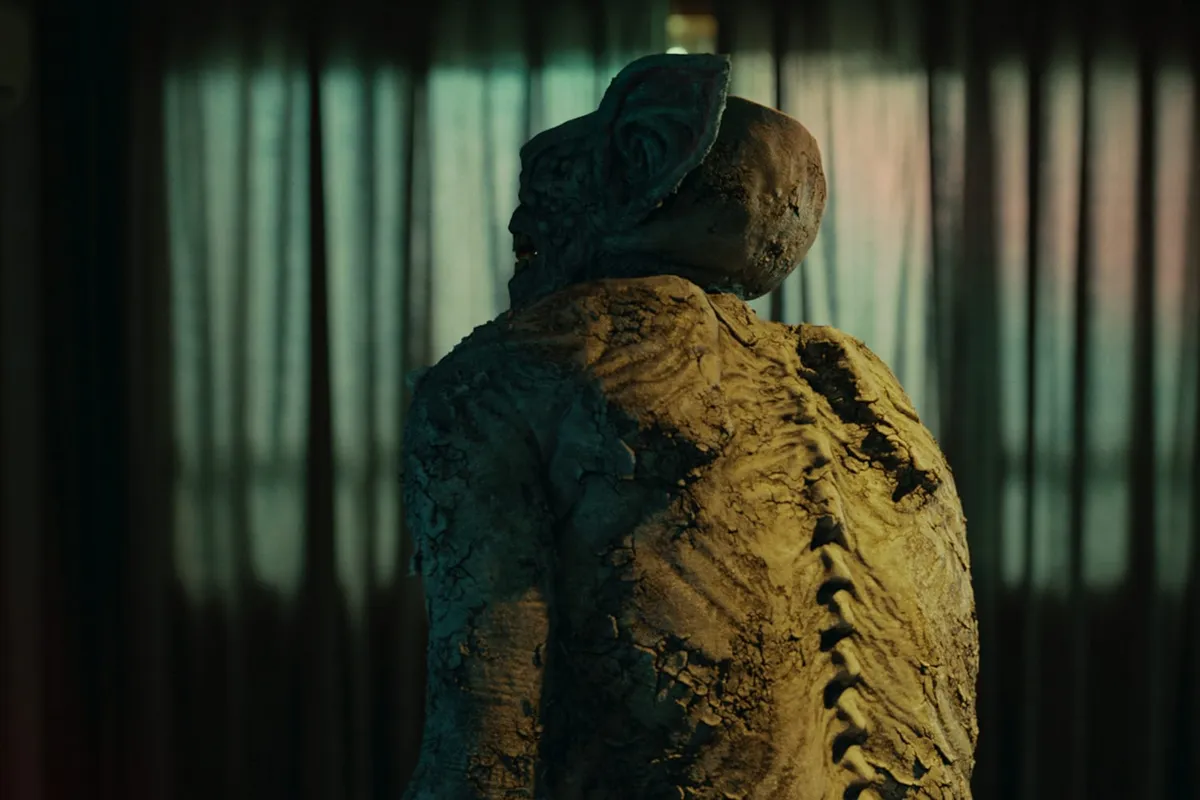 Although the drama is not exactly a "zombie" drama, we thought it deserved to be on the list given the apocalyptic theme and scenes of monsters resembling zombies. If you've liked some of Korean zombie contents, give this drama a try!
---
ZOMBIE DETECTIVE (2020)


좀비탐정




Source: Namu Wiki
Running Time: 70 minutes
Seasons: 1 / 12 Episodes
New Season: Not Yet Confirmed / Likely
Director: Shim Jae-hyun
Cast: Choi Jin-hyuk, Park Ju-hyun, Kim Yo-han
Where To Watch: KBS, B tv, Wavve (No English subs)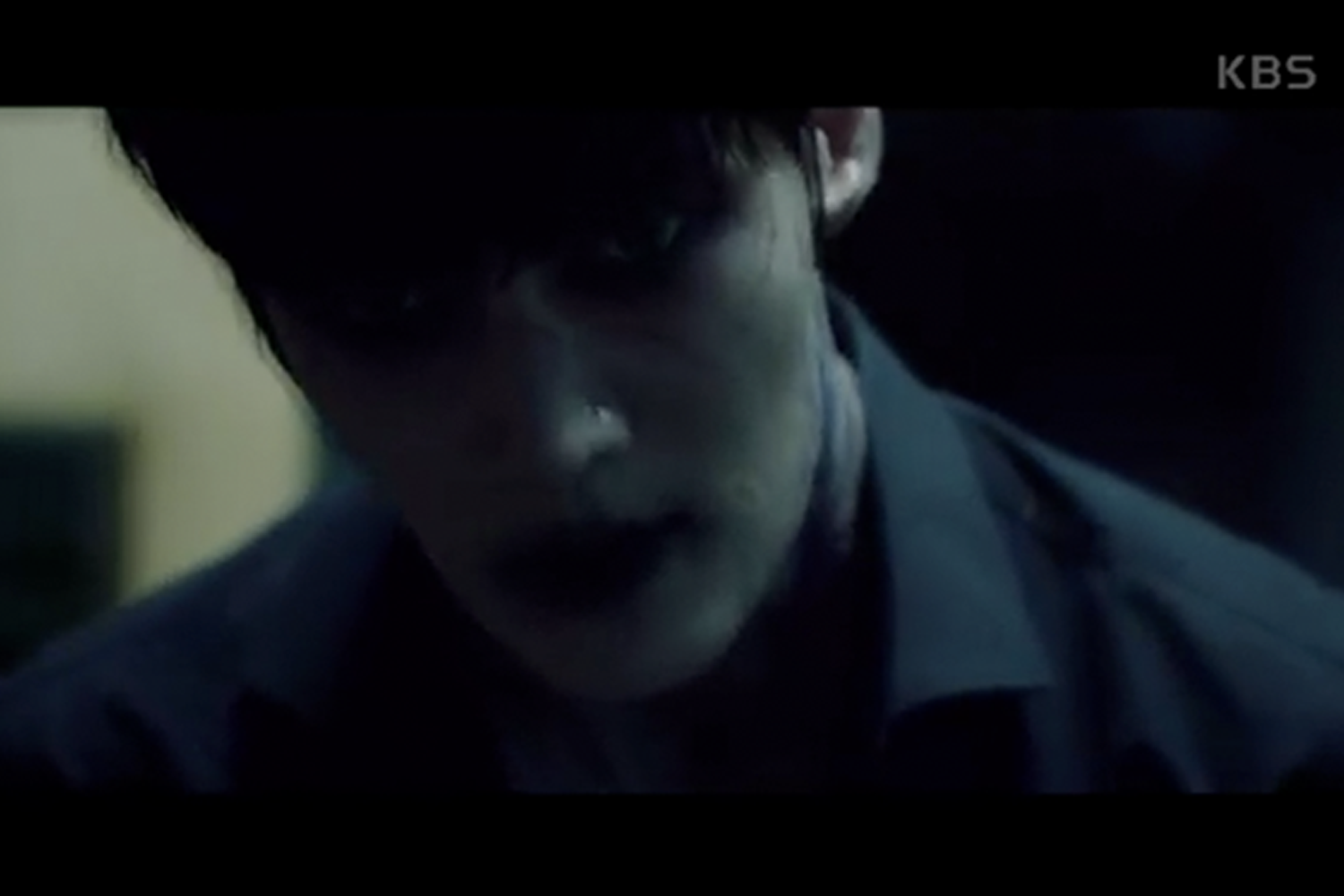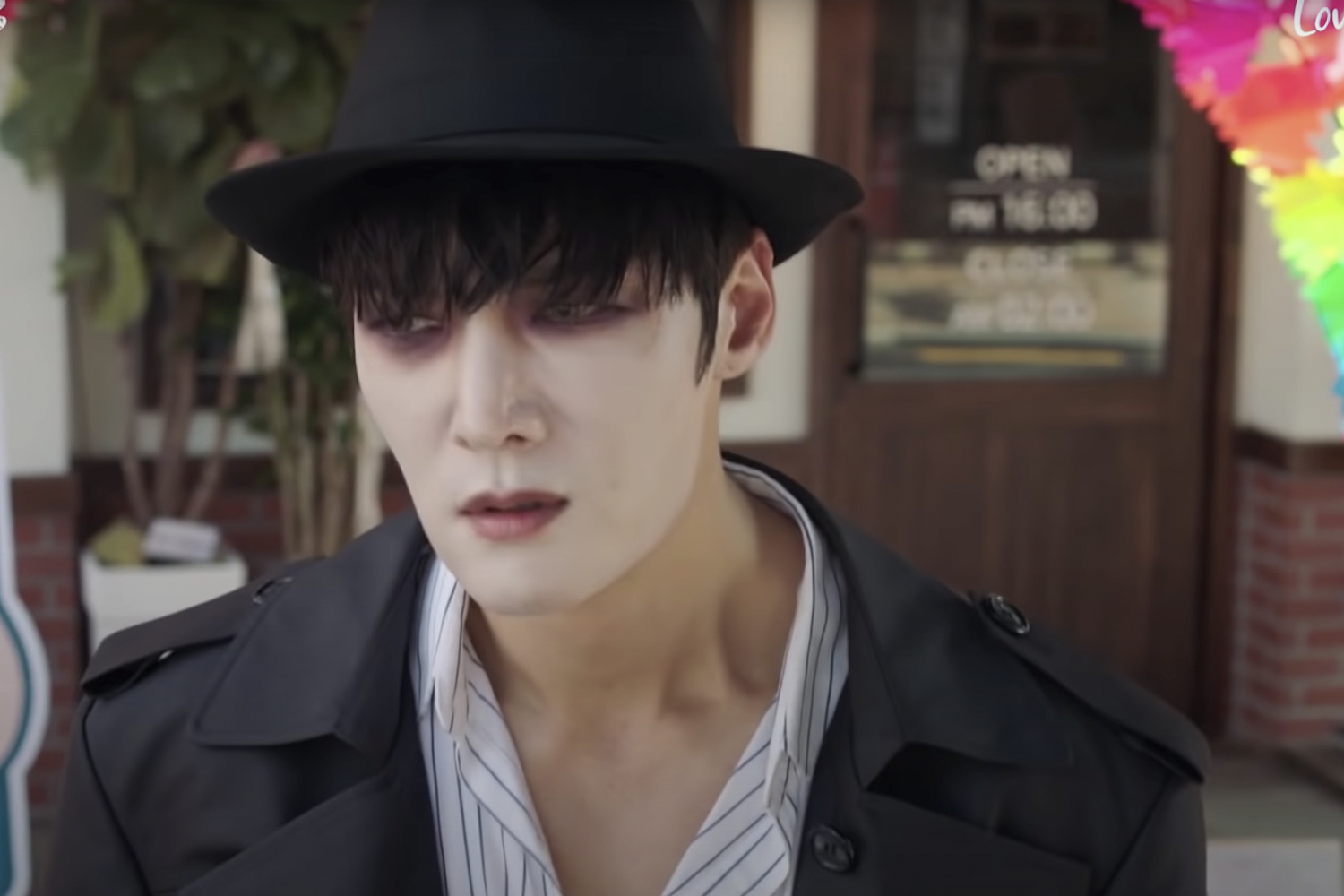 He's been a zombie for 2 years and runs a detective office. When he first became a zombie, he couldn't talk or move like humans, but after a lot of practice, he's now immersed into the human world.
The drama is a mix of genres including action, comedy, romance, thriller, and supernatural.
The main zombie in the drama is quite unique that he is a relatively humanized version where he can think before acting.
---
TRAIN TO BUSAN (2016)




부산행




Source: Namu Wiki
⭐️ 8.6
Running Time: 118 minutes
Director: Yeon Sang-ho
Cast: Gong Yoo, Jung Yu-mi, Ma Dong-seok
Where To Watch: Netflix, YouTube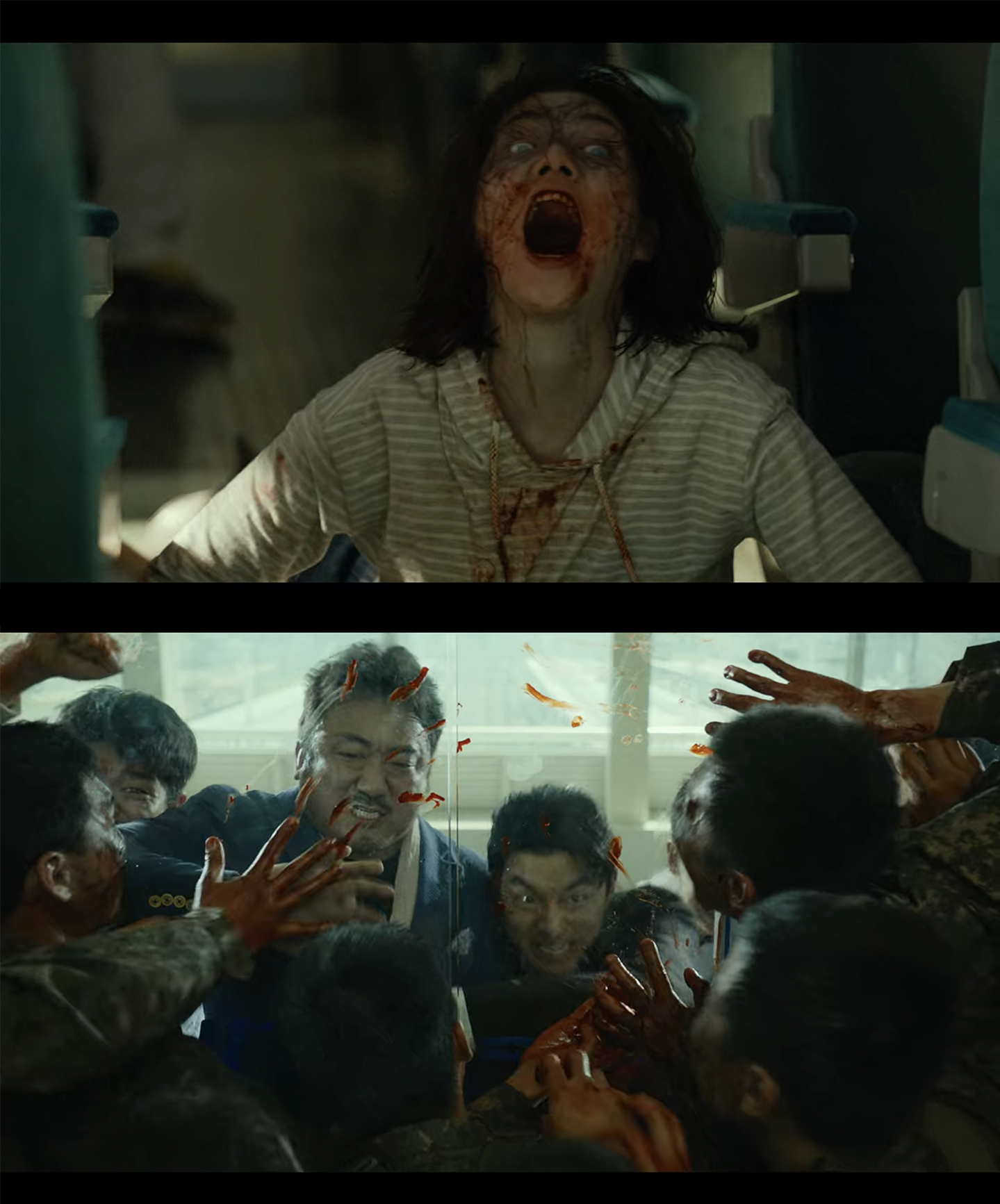 A zombie virus breaks out when a girl passes out on the train from Seoul to Busan and bites a stewardess.
It's all a chaos from there while Seok-woo (Gong Yoo), Sang-hwa (Ma Dong-seok) and Jin-hee (Ahn So-hee) struggle to survive while each attempts at protecting their loved ones.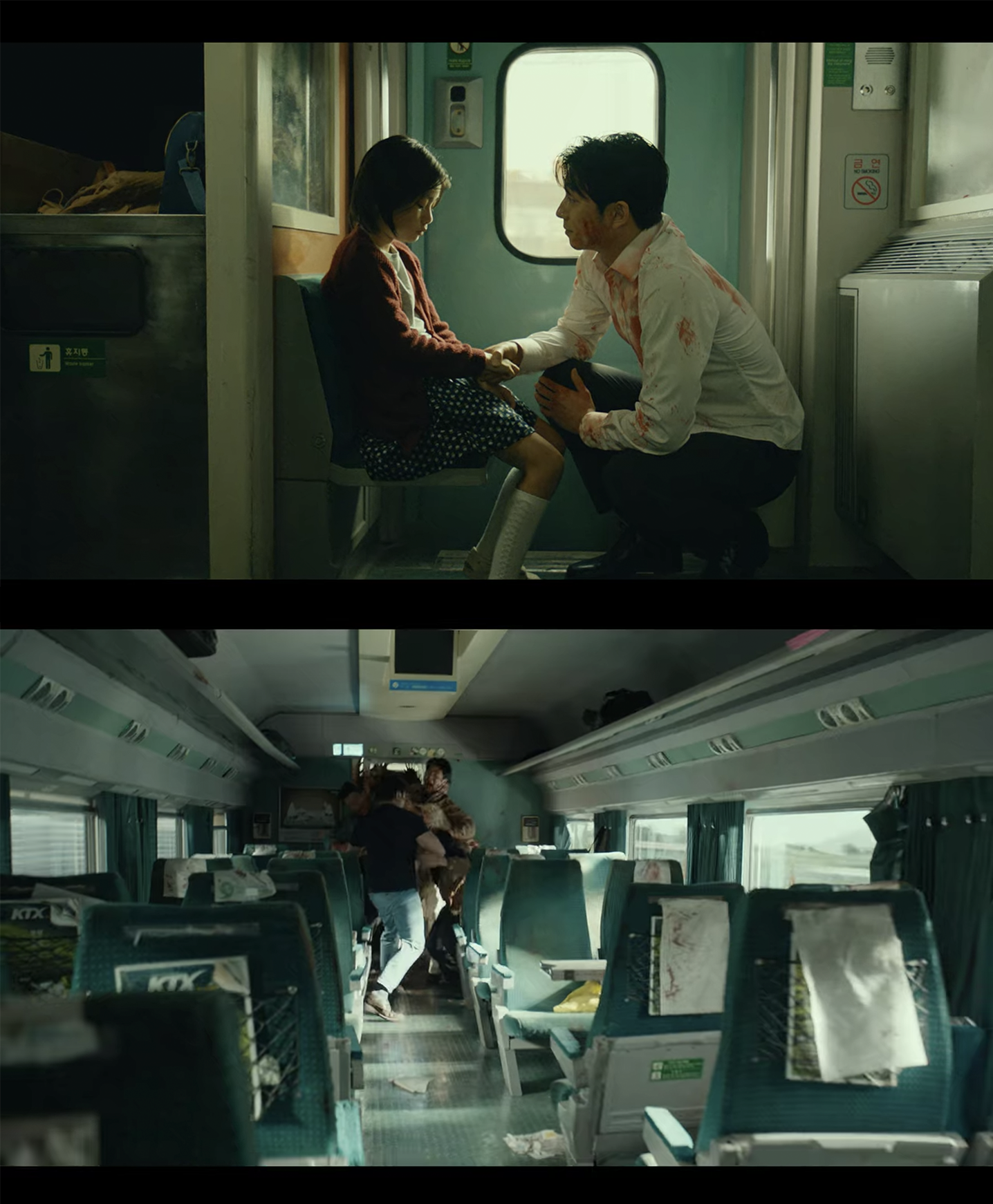 A well-renowned film,Train To Busan is the very first Korean zombie blockbuster and raked the second highest profits among Korean movies after Bong Joon-ho's Parasite in worldwide box office.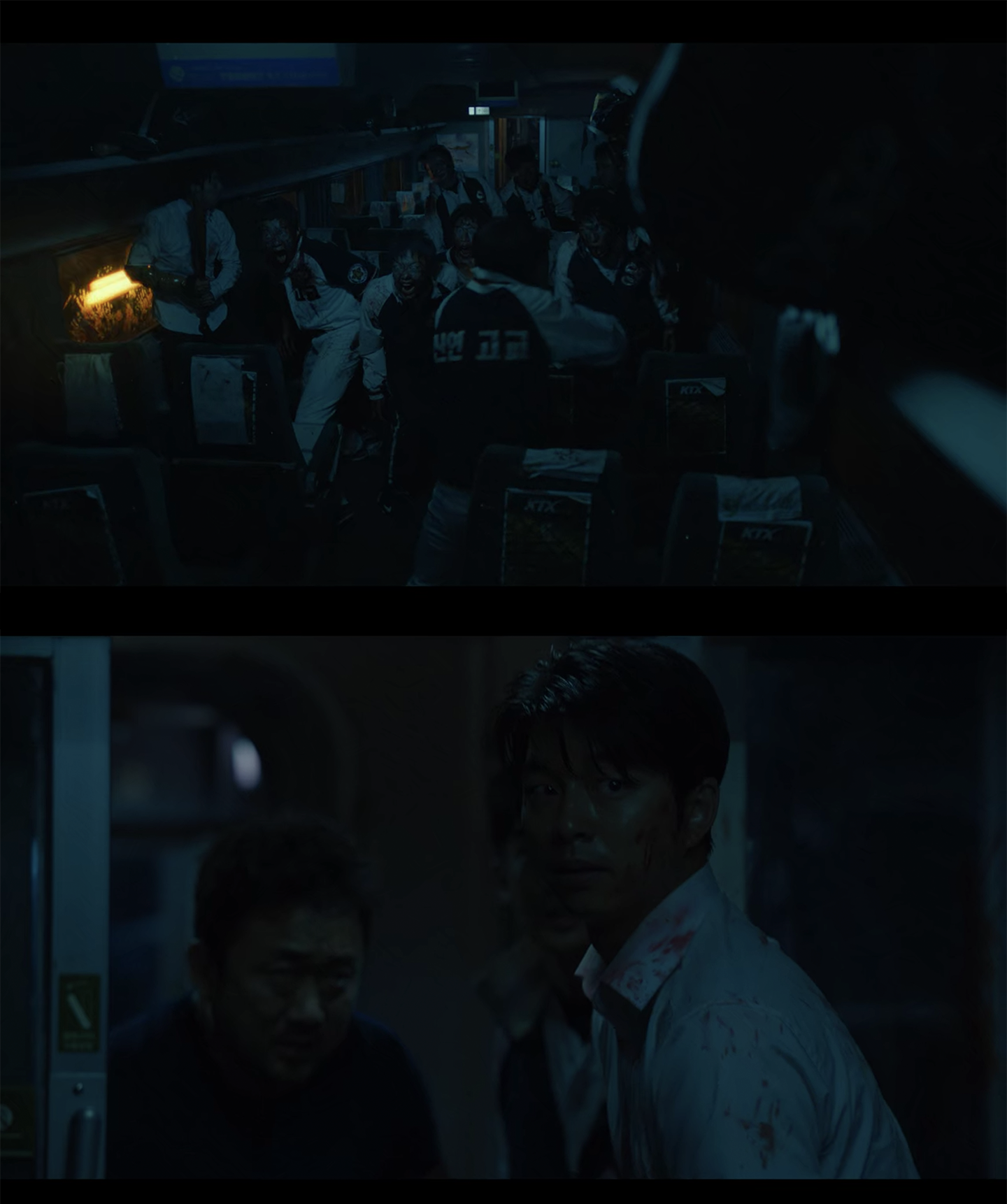 The zombies in Train To Busan are capable of running fast and even jumping on top of the train, but once the train goes under a tunnel and it becomes dark, their vision gets completely lost and they only know to follow sounds.
---
THE ODD FAMILY:


Zombie On Sale (2019)
기묘한 가족


Source: Google
⭐️ 7.46
Running Time: 112 minutes
Director: Lee Min-jae
Cast: Jung Ga-ram, Kim Nam-gil, Jung Jae-yong, Uhm Ji-won
Where To Watch: Netflix, Google Play, YouTube
In a peaceful suburban town in Korea appears a zombie. The Park family, who run a local gas station, end up adopting the mild-tempered zombie and names in Jjong-bi.
When words spread of Jjong-bi's bites having effects of providing youthful energy, the family plans on profiting from him, which later turns the quiet village into a mess.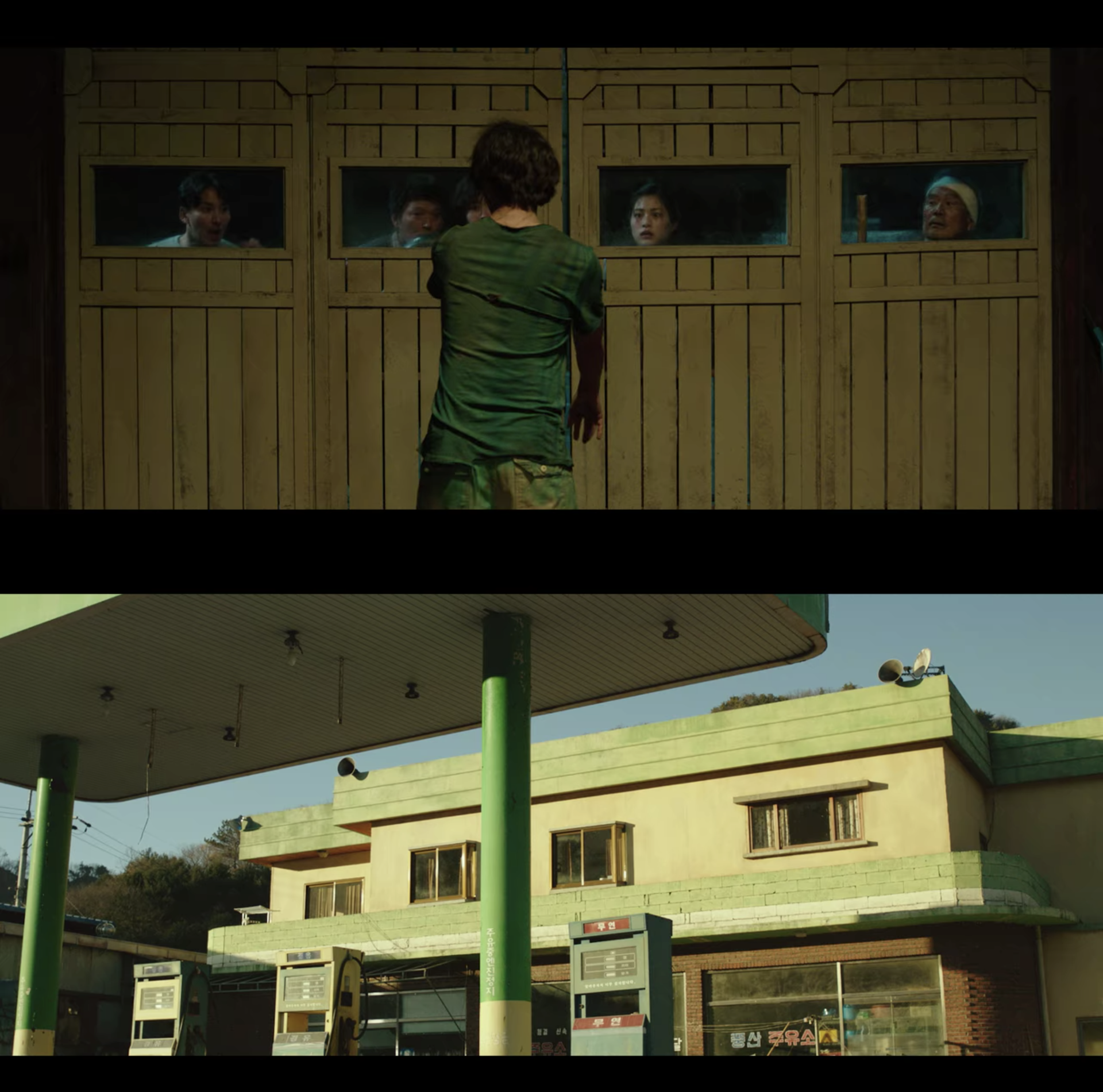 Unlike the somewhat serious zombie contents listed above, The Odd Family has comedic elements like a zombie getting chased by a dog and getting beat up by an old man with a toilet plunger. The story also shows a tiny bit of romance, too.
The zombies in the movie aren't too frightening. They know to follow sounds and lights, but don't seem to be able to run or jump. They roam and trudge slowly. This movie is it for those who want a good amount of comedy with zombies.
---
THE PENINSULA (2020)


반도


Source: Namu Wiki
⭐️ 7.22
Running Time: 116 minutes
Director: Yeon Sang-ho
Cast: Gang Dong-won, Lee Jung-hyun, Koo Kyo-hwan
Where To Watch: YouTube, Google Play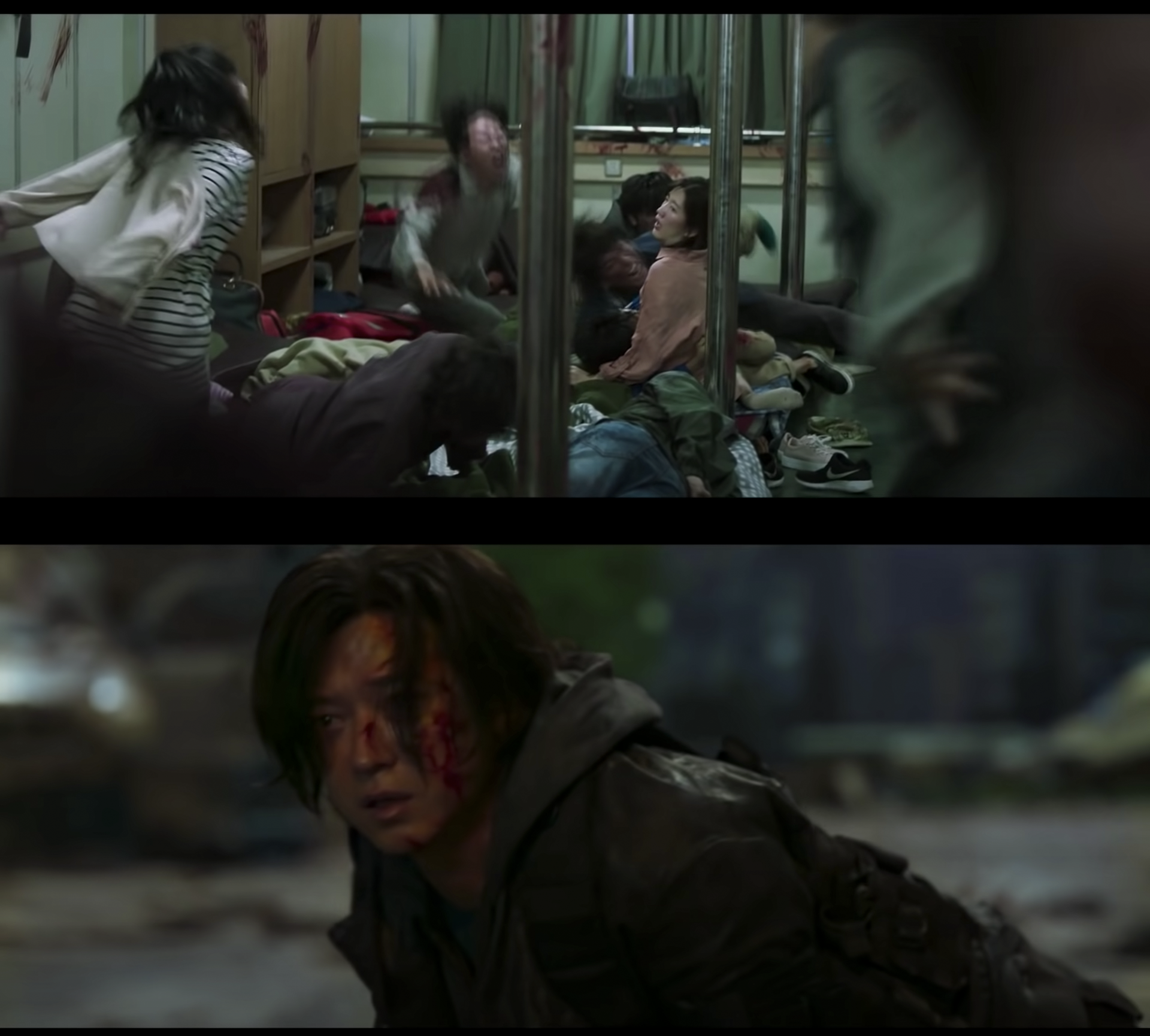 This movie, a stand-alone sequel that tells a separate story from Train To Busan, takes place 4 years after where everything in Korea is dark and completely infected.
Jeong-seok, who has escaped Korea and has been living in Hong Kong, gets offered a large sum of money under the condition that he goes back to the Korean peninsula and completes the assigned mission.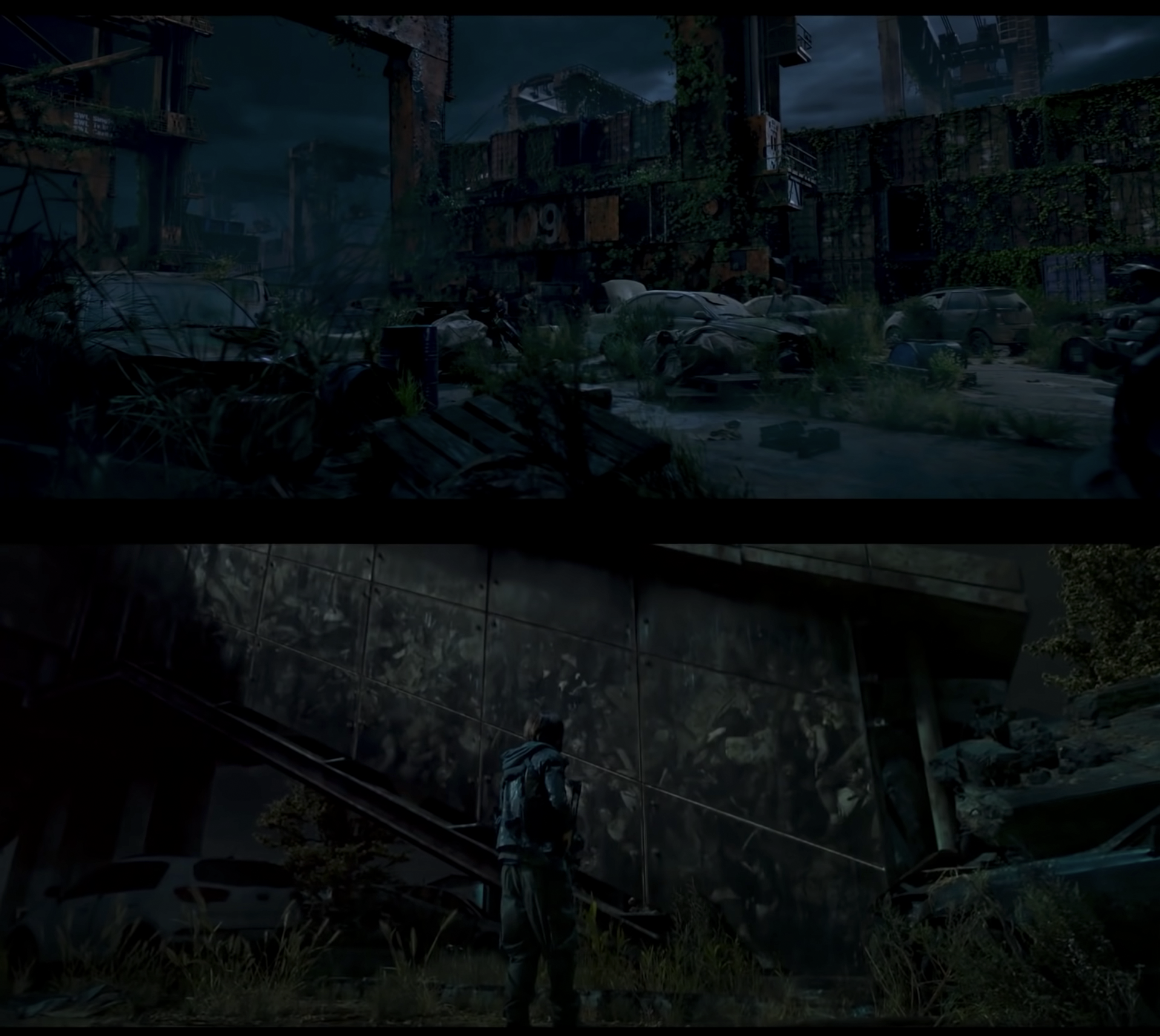 When he reaches the peninsula, not only does he discover large hoards of zombies, he also meets survivors. Among the survivors are members of the military unit 631 who have all turned insane and villainous, perhaps from their distressing circumstances.
Jeong-seok, working with other survivors, now has to fight both the zombies and the military unit 631 if he wants to complete the mission and make it out of the peninsula safely.
Similar to Train To Busan, the zombies in The Peninsula are sensitive to sounds and lights, while they run and jump to attack human flesh. Some of them, once infected, can turn and bend their bodies in strange angles, too.
The reviews of the sequel hasn't been forgiving for reasons including the story not connecting with the first movie, corny lines, and overly emotional scenes that the audience can't relate to.
Personally, the fast gun scenes and great-looking actors make this film still worth it!
---
#ALIVE (2020)




#살아있다


Source:

Wikipedia
⭐️ 7.03
Running Time: 99 minutes
Director: Cho Il
Cast: Yoo Ah-in, Park Shin-hye
Where To Watch: Netflix, YouTube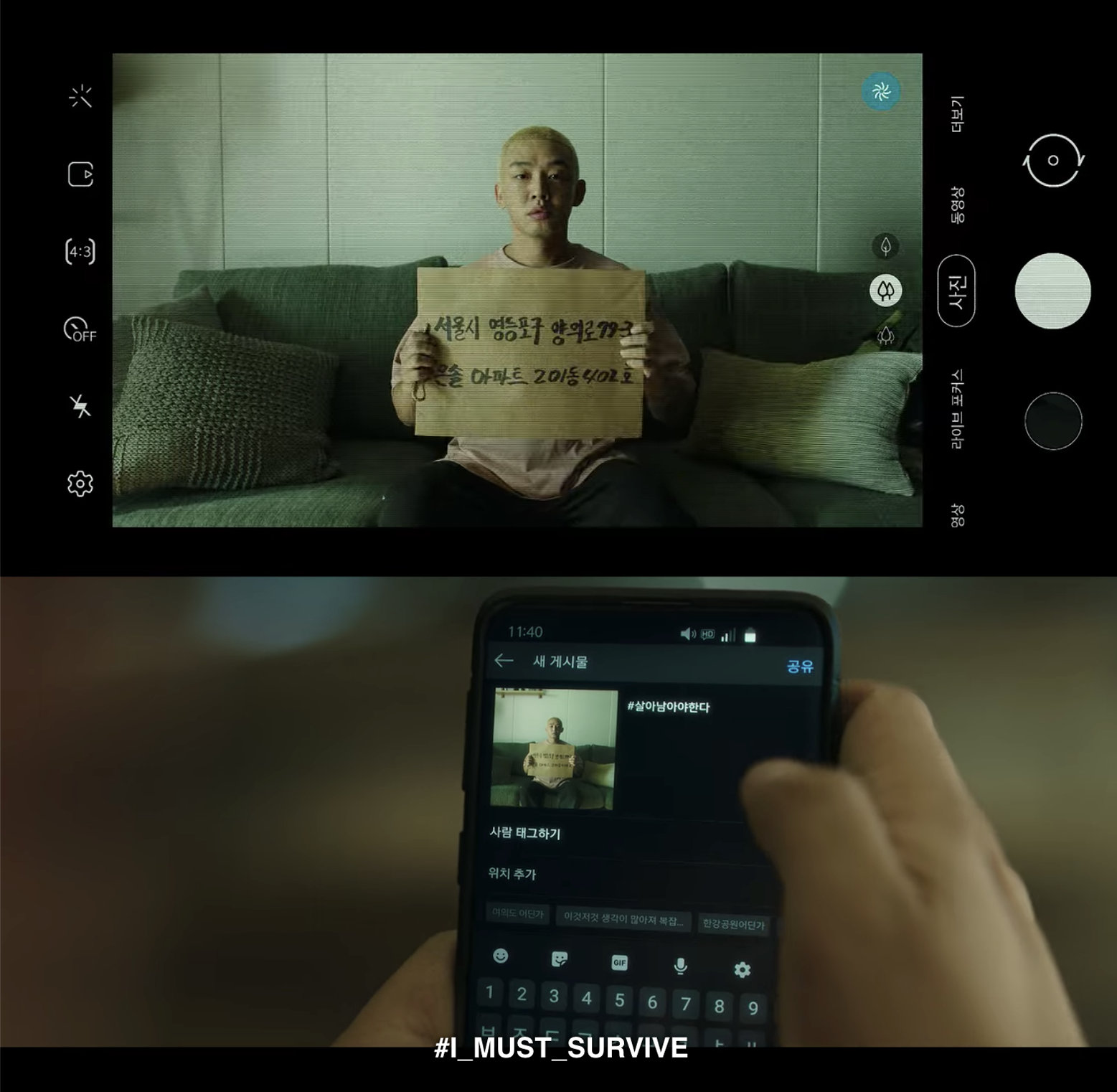 Based on the American film Alone written by Matt Naylor, Joon-woo (Yoo Ah-in) gets stuck in his apartment when mass zombie infections break out in his apartment complex. Without wifi, data and phone, he tries to survive by himself while zombies roam around.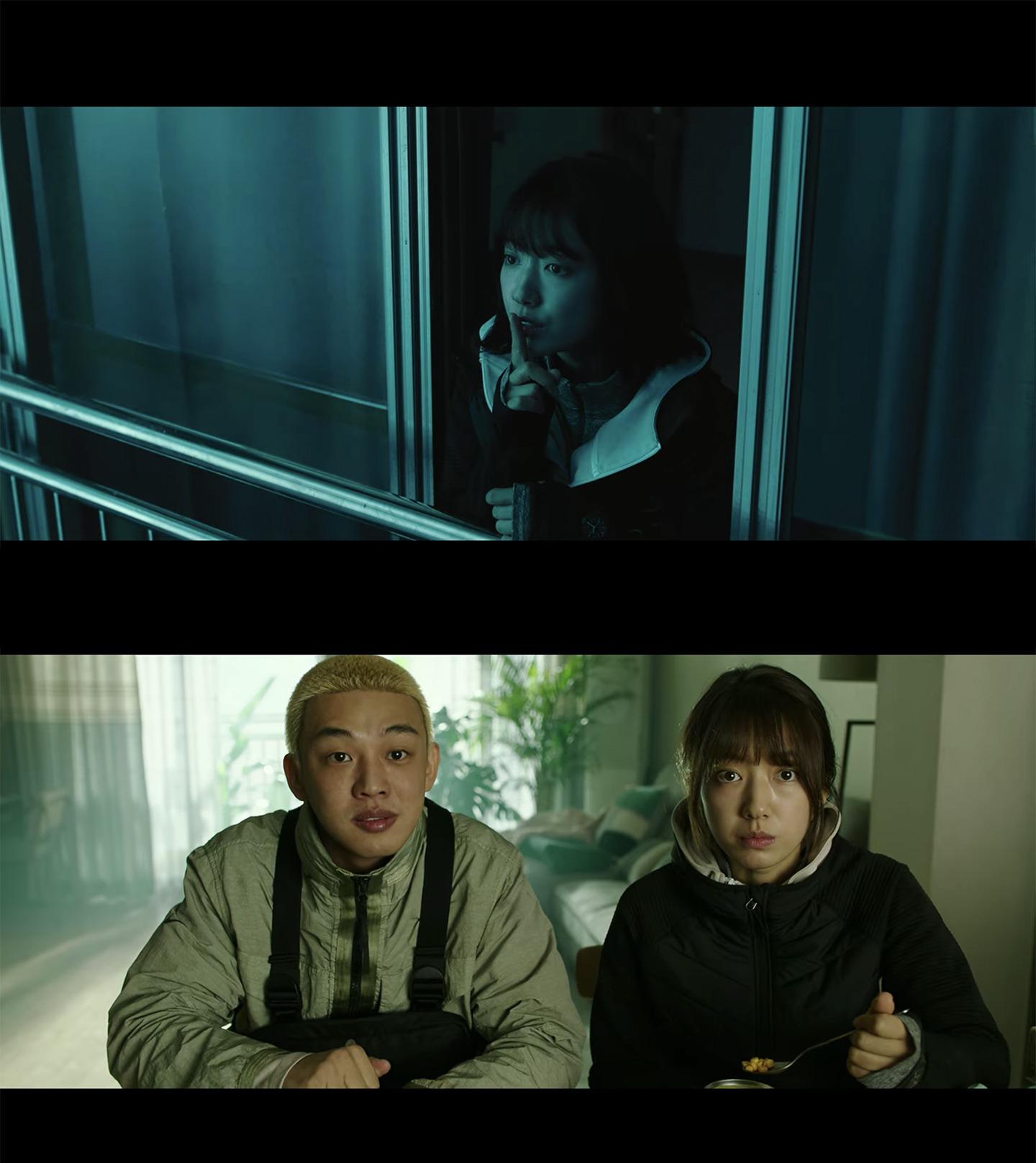 One day, Joon-woo finds out he's not the only survivor when someone from the apartment building across his gets into contact with him. Joon-woo and the fellow survivor Yoo-bin (Park Shin-hye) work together to escape the apocalypse.
The zombies in #Alive remember skills they learned as humans, so you even catch a spine-chilling scene of a zombie, who once was a firefighter, climb up the exterior wall of the apartment building to break into a survivor's home.
---
HORROR STORIES (2012)




무서운 이야기




Source: Naver Movies
⭐️ 6.69
Running Time: 108 minutes
Directors: Lim Dae-wung, Min Kyu-dong, Jung Bum-shik, Kim Gok, Kim Sun, Hong Ji-yeong
Cast: Kim Ji-won, Yoo Yeon-seok, Kim Hyun-soo
Where To Watch: YouTube, Google Play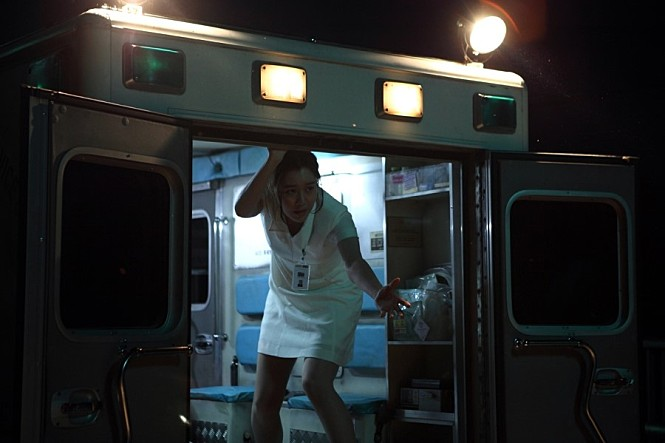 Source: Naver Movies
When a high school student gets kidnapped by an unknown man, she starts telling horror stories to draw his attention elsewhere and buy herself some time.
She tells 4 separate stories, the last one called 'Ambulance' where 5 survivors remain in an ambulance and have to sort out the one infected individual among themselves.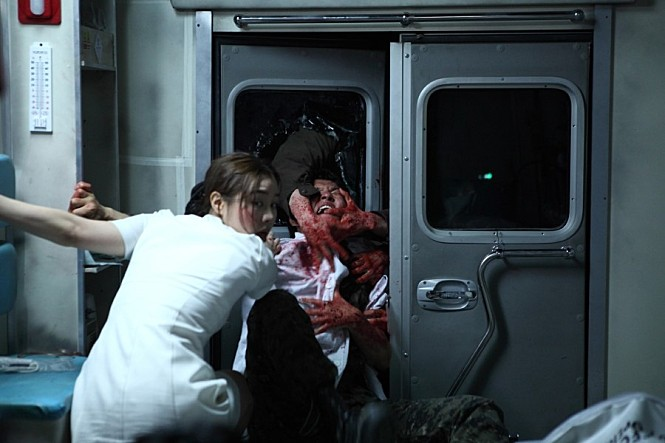 Source: Naver Movies
It's a great movie that compactly packed 4 horror stories in less than 2 hours!
Horror Stories features Korea's key actors including Yoo Yeon-suk from Hospital Playlist and Mr. Sunshine, Kim Ji-won from Descendants Of The Sun and Nam Bo-ra from Moon Embracing The Sun.
---
RAMPANT (2018)




창궐




Source: Daum Movie
⭐️ 6.46
Running Time: 130 minutes
Director: Kim Sung-hoon
Cast: Hyun Bin, Jang Dong-gun, Lee Sun-bin
Where To Watch: Netflix, YouTube, Google Play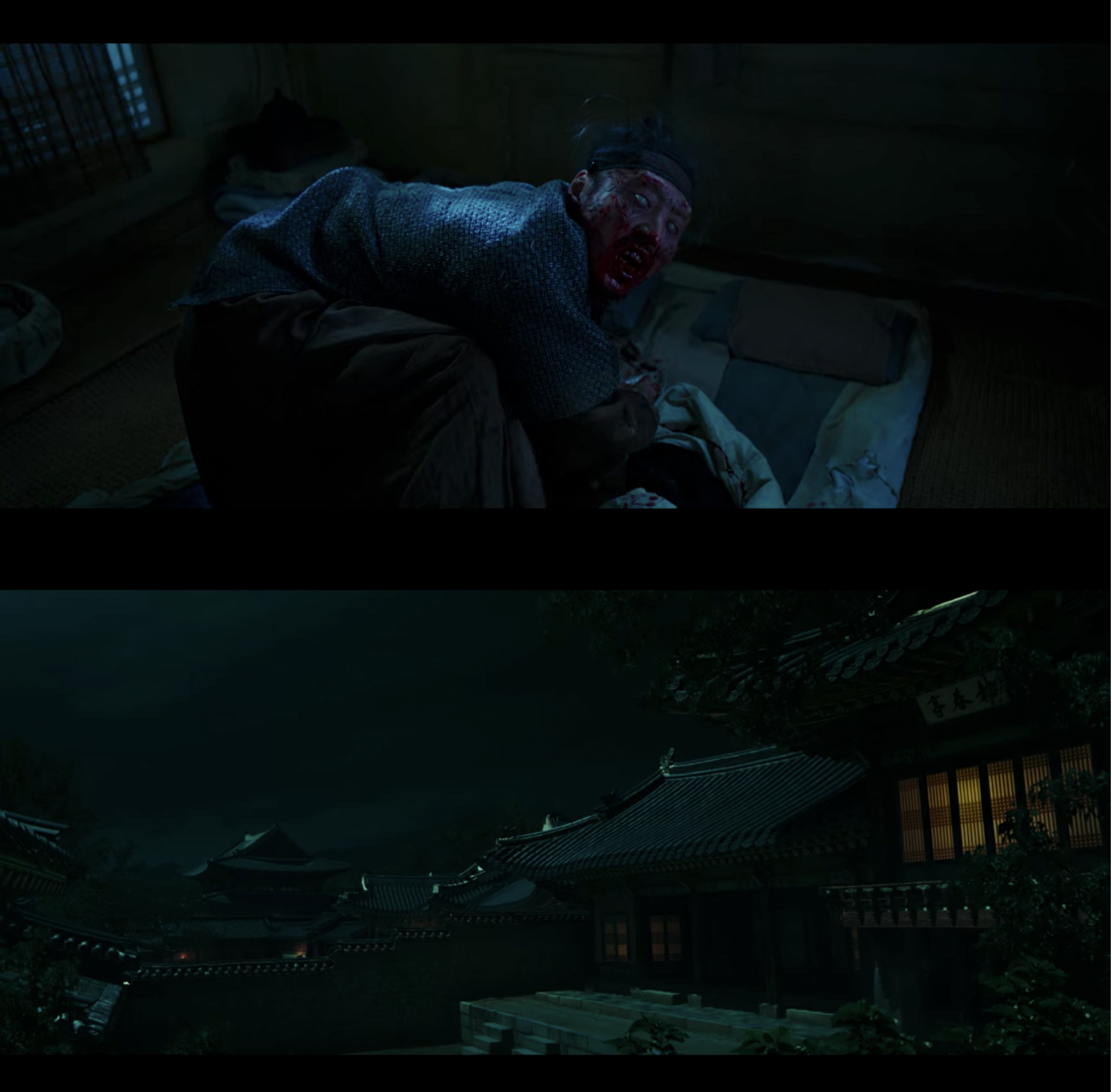 A Joseon soldier gets bitten by a zombie carried in by Europeans and later infects his own child and wife. From thereon, the zombie virus goes rampant, deserting major areas of Joseon.
The virus spreads into the palace and is used by Kim Ja-joon as a plot to destroy the current King and take over the throne. The movie's interesting in a way that it depicts what a zombie virus would've looked like in the olden times of Korea.
The setting and outfits are quite similar to those on the hit K-drama Kingdom.
The zombies in Rampant seem to leap and fly quite well, making their range a bit more expansive. Overall, the reviews from the Korean netizens haven't been super forgiving, but it's a good one-time zombie movie to watch.
---
ZOMBIE SCHOOL (2014)




좀비스쿨




Source: Naver Movies
⭐️ 6.12
Running Time: 87 minutes
Director: Kim Seok-jung
Cast: Ha Eun-seol, Baek Seo-bin, Kim Seung-hwan
Where To Watch: YouTube, Google Play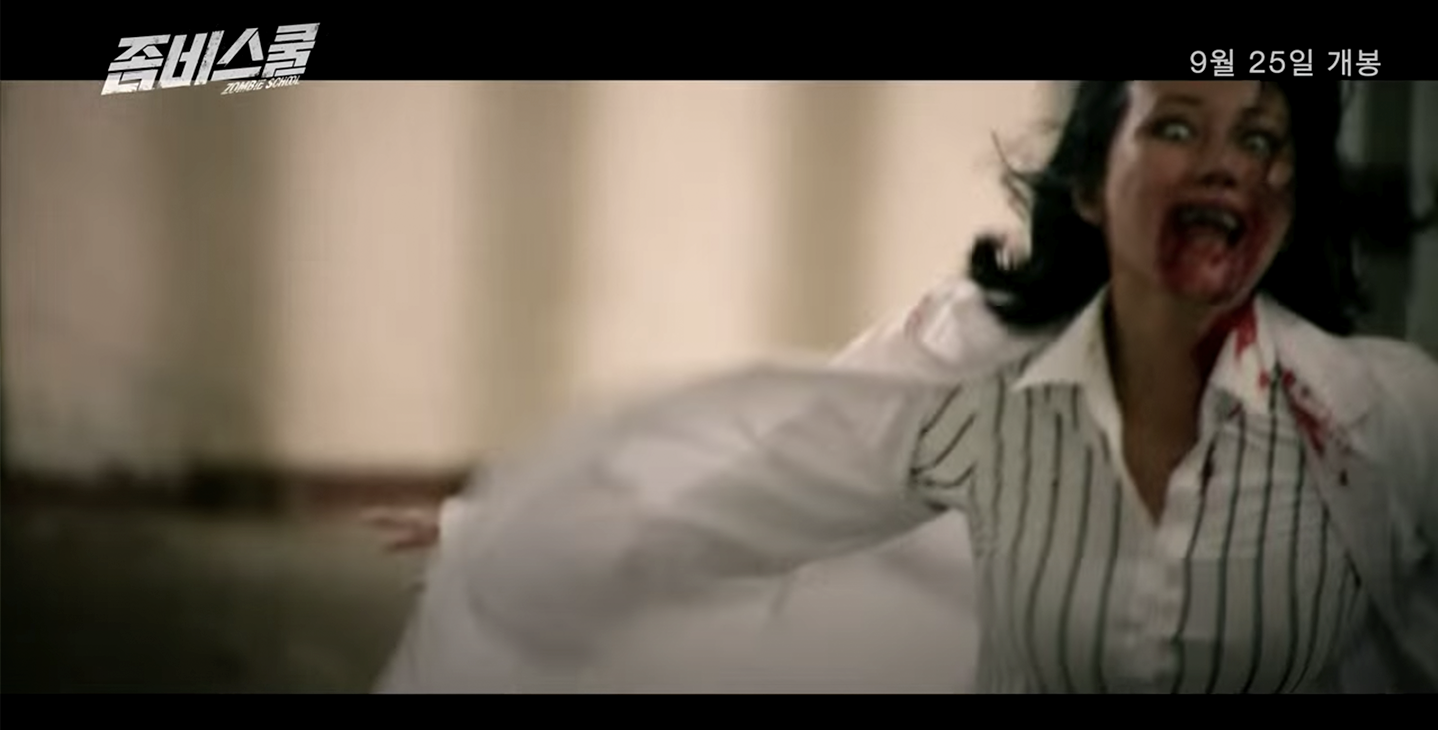 On the peaceful campus of Chilsung High School, where Korea's many troublemakers attend, suddenly gets rowdy with teachers who have turned into zombies. The students gather together to fight the zombies and survive.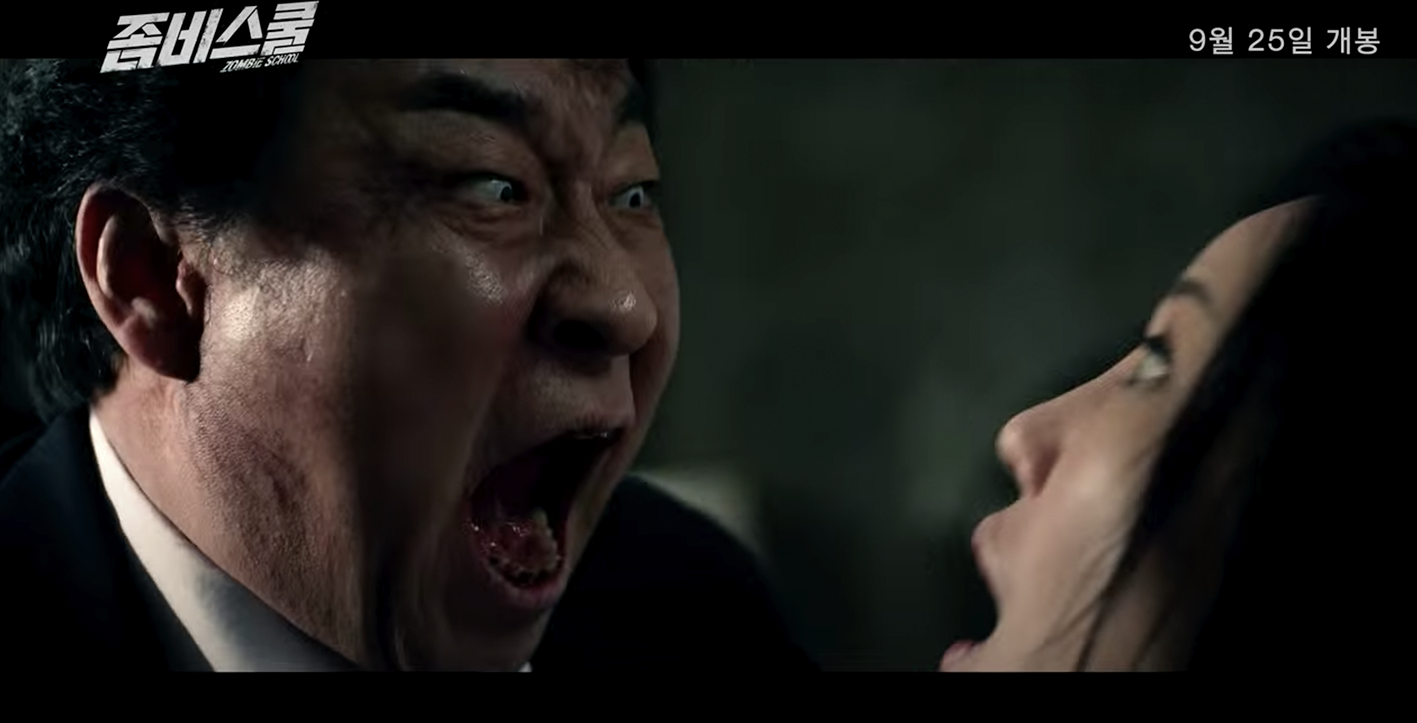 Zombie School is the first-ever teen zombie movie to be produced in Korea. Some netizens sarcastically stated that the horror movie was the funniest comedy movie they've ever seen, poking fun at how some of the scenes were poorly made.
---
THE 8TH NIGHT (2021)
제8일의 밤

Source: Wikipedia
⭐️ 5.62
Running Time: 115 minutes
Release Date: July 2, 2021
Director: Kim Tae-hyung
Cast: Lee Sung-min, Park Hae-joon, Kim Yoo-jung
Where To Watch: Netflix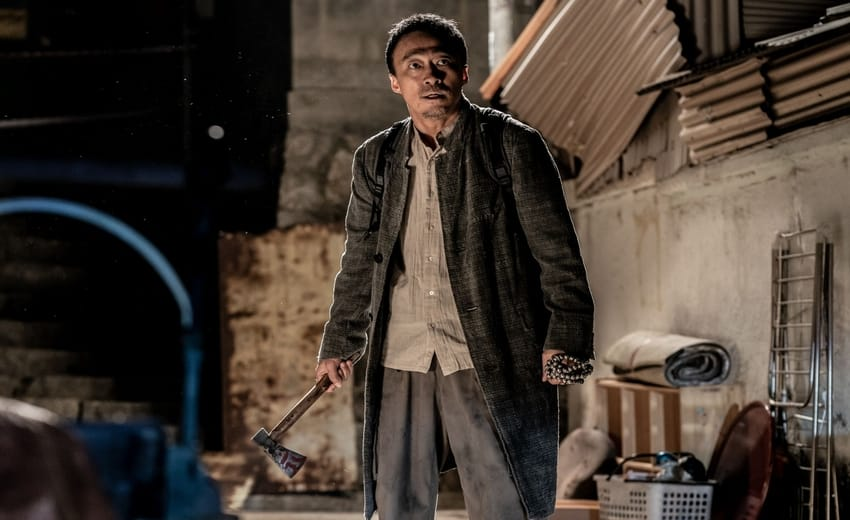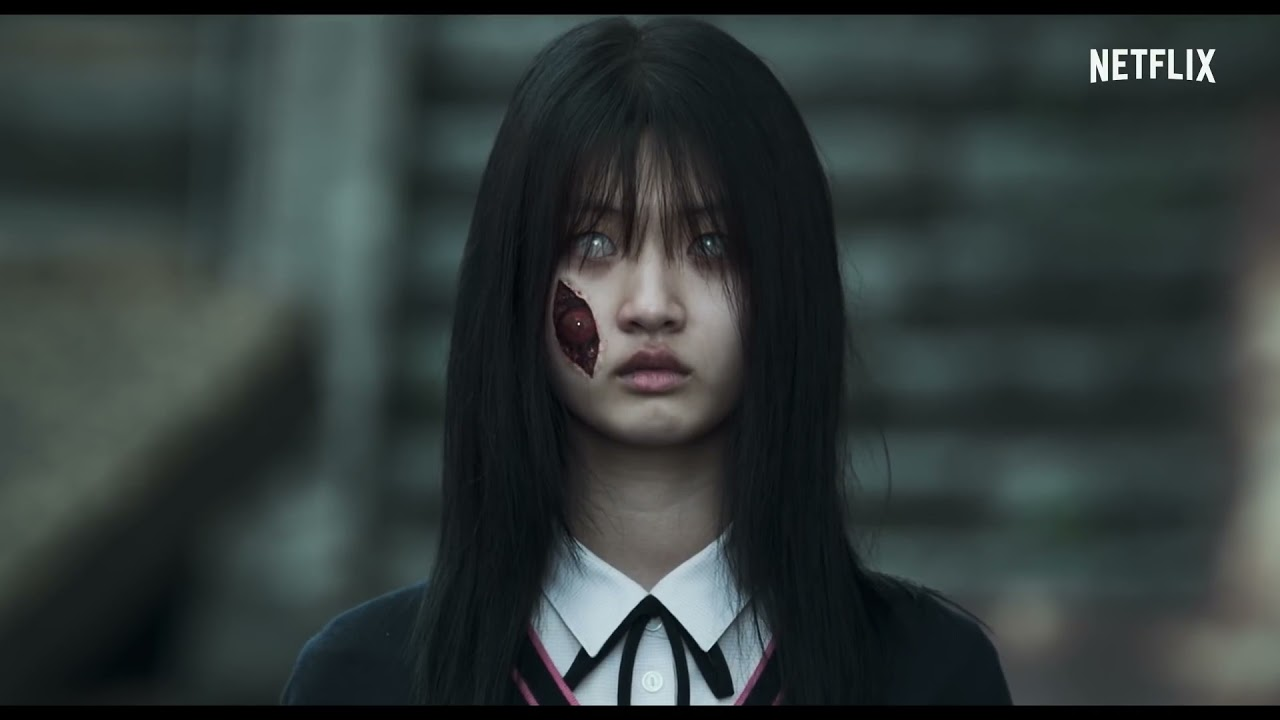 2,500 years ago, a mysterious sprit that planned to create eternal suffering was locked up by the Buddha.
In the present day, a monk works to prevent its resurrection so that it can't cause any more torment.
It has mixed reviews from netizens on Naver, with some saying it's very scary and exciting, while others say the actors did well, but the storytelling style was too old and boring.
---
Seoul Station (2016)




서울역




Source: Namu Wiki
⭐️ 5.27
Running Time: 92 minutes
Director: Yeon Sang-ho
Cast: Ryu Seung-ryong, Lee Joon, Shim Eun-kyung
Where To Watch: YouTube, iTunes, Netflix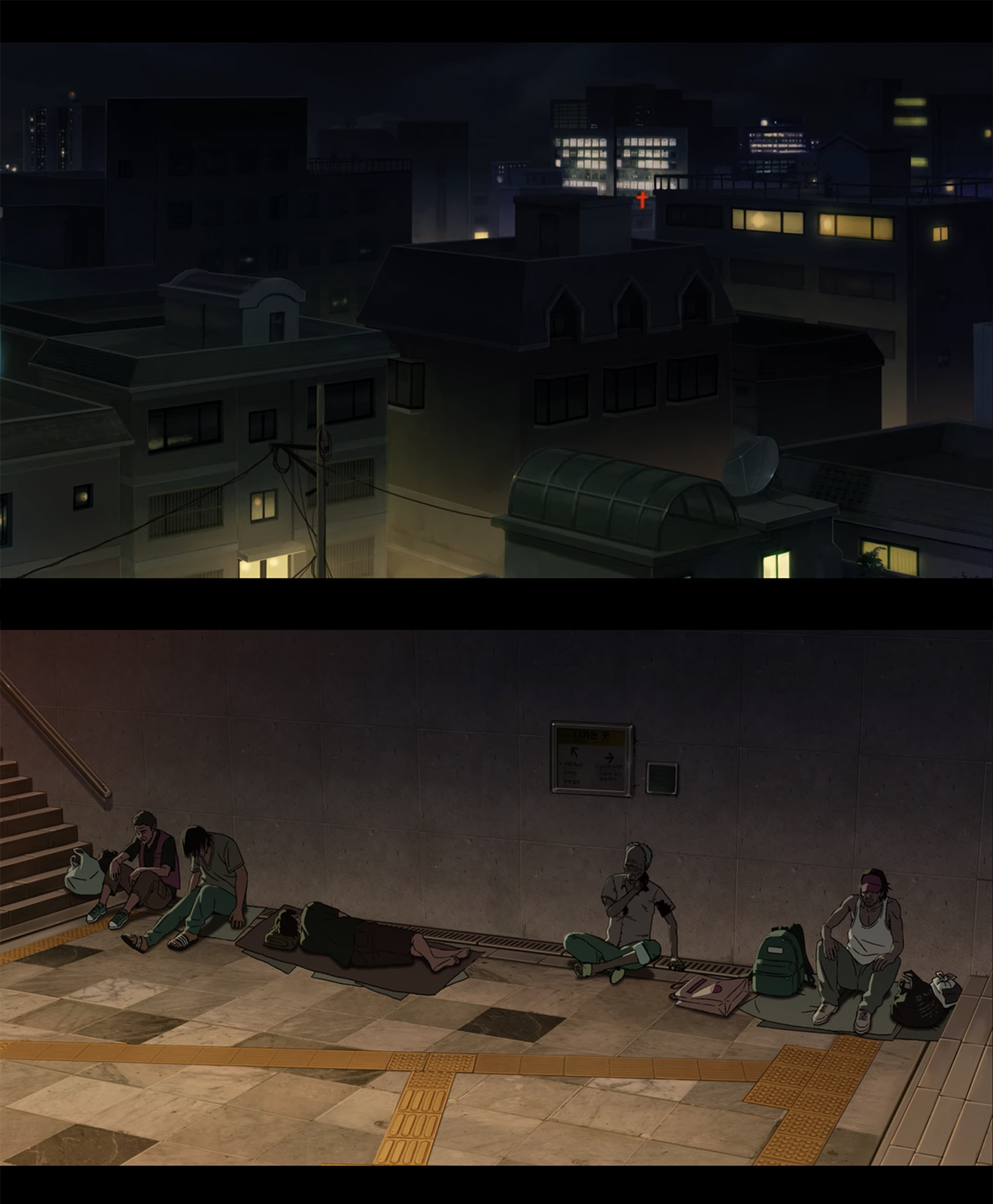 A homeless man bleeding in the neck slowly dies, suddenly comes back to life as a zombie, and starts attacking passers-by. Three survivors struggle to overcome the epidemic.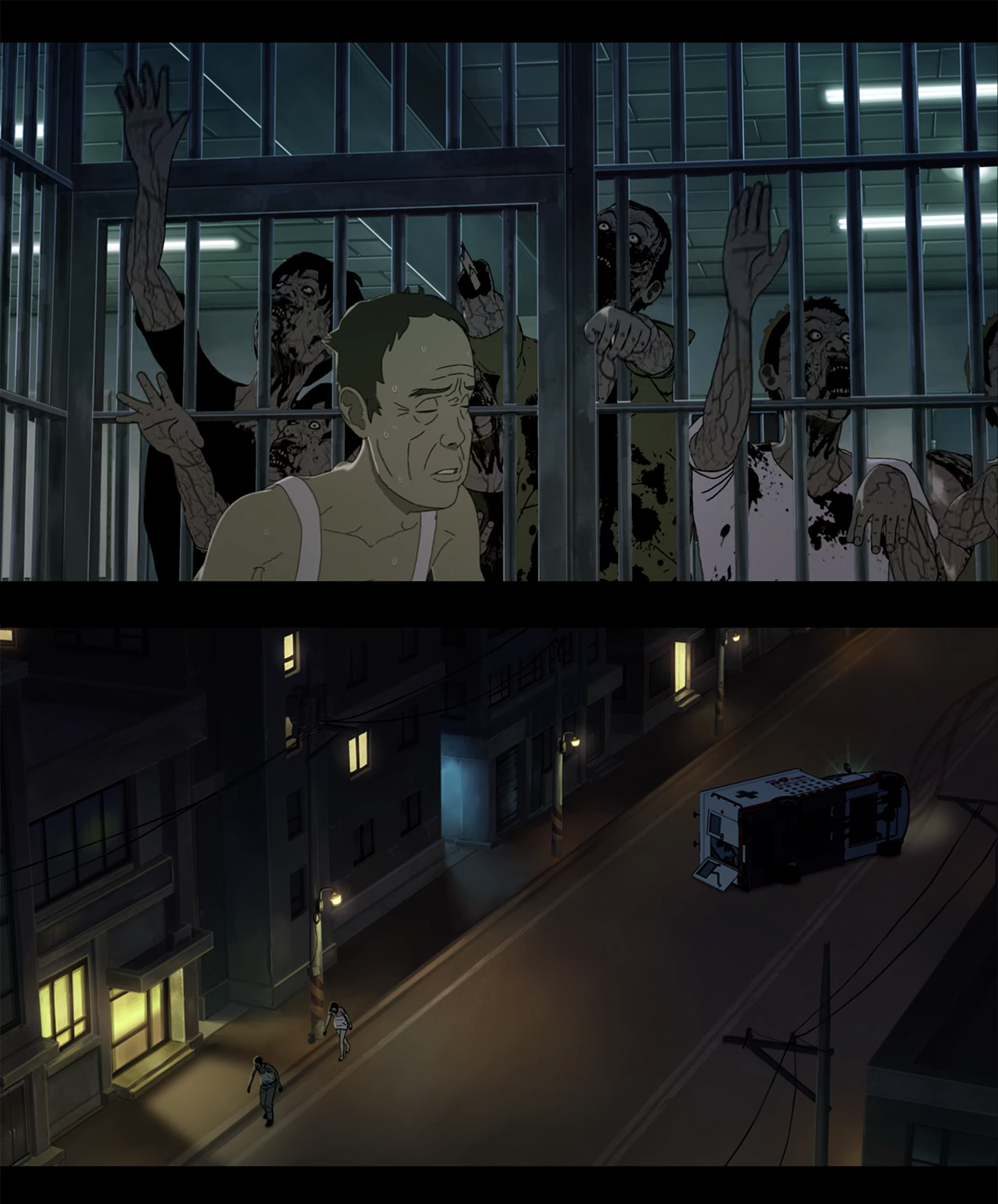 Seoul Station was advertised as the prequel animation of Train To Busan and was directed by the same director Yeon Sang-ho.
It received some criticism for not having a solid connecting storyline that transitions naturally to Train To Busan, but the animation on its own is an interesting watch. Plus, the illustrations of Seoul are quite accurate and portrays the unique Seoul vibes well.
---
ON THE WAY TO THE GYNECOLOGIST (2021)
산부인과로 가는 길

Source: IMDb
⭐️ Not rated on Naver
Running Time: 60 minutes
Release Date: March 31, 2021
Director: Kim Yang-hee
Cast: Park Ha-sun, Bae Yoon-kyung
Where To Watch: tvN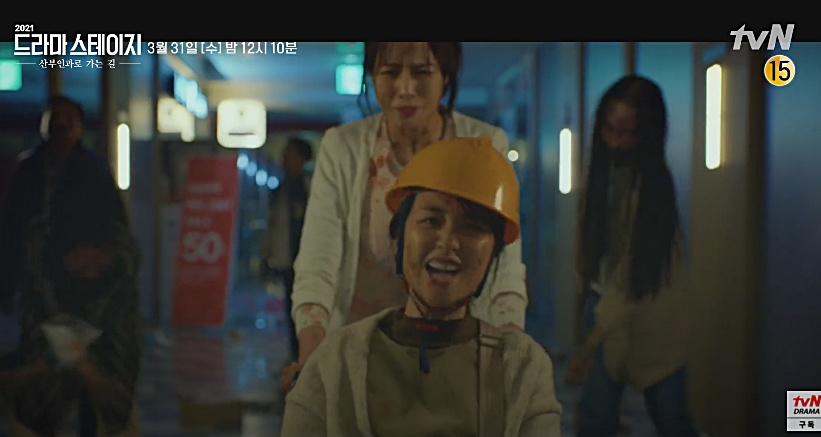 This is a dark comedy that takes place in a world where zombies are slower than people.
In this world, a pregnant woman who is slower than the zombies fights her way to the gynecologist to give birth.
---
Upcoming Korean Zombie Contents In 2021

ALL OF US ARE DEAD
지금 우리 학교는
Director: Lee Jae-gyu
Cast: Park Ji-hoo, Yoon Chan-young, Kim Ji-soo, Kim Byung-chul, Lee Kyu-hyung
Where To Watch: Netflix

Adapted from a webtoon, All of Us Are Dead tells the story of a high school being ravaged by a zombie virus. These students and those trying to save them work together to survive.
However, in a school with nowhere to escape, how will the relationship between the students develop? Who will live and who will die?
---
Sources: Wikipedia, Namu Wiki, Netflix, YouTube, NAVER
---