Hosujib | Seoul Station
Locals Line Up For This Amazing Braised Chicken In A Boiling Pot And Fire-Grilled Chicken Skewers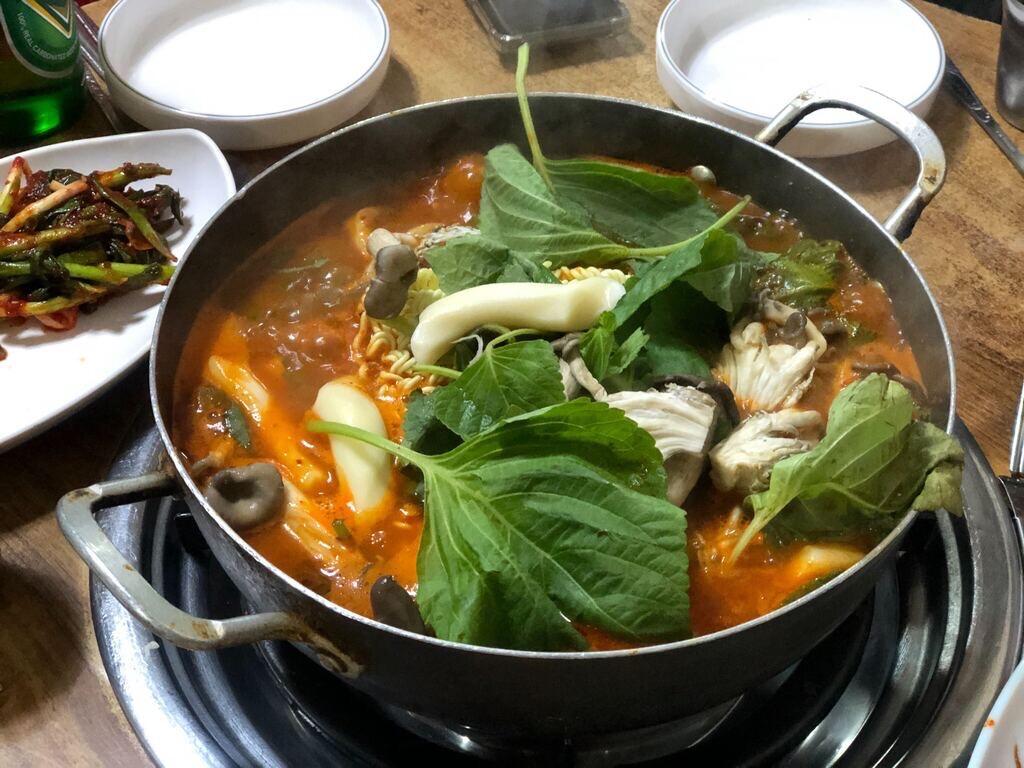 Since its opening in 1986, this old school restaurant has been big around the food scene near Seoul Station for over 30 years.
This restaurant sees long queues of patrons waiting to fill up on their savoury braised chicken and flavourful fire-grilled chicken skewers every day during lunch hours and dinner time.
We were no exception to the usual queue and waited over an hour to get a table. Was it worth the wait? You'll find out!
---
Information
Address: 서울 중구 청파로 443
Hours: 11:30-22:20, Break 14:00-17:00
Public Transportation: A 6-minute walk from Chungjeongno Station exit 4, a 9-minute walk from Seoul Station exit 3
---
Menu
Food

Price

Dakbokkeumtang (Braised Spicy Chicken)
Extra Large
₩33,000
Large
₩28,000
Medium
₩23,000
Small
₩18,000
Others
Add-ons (Rice Cake, Vegetables, Ramen Noodle)
₩2,000 Each
Chicken Skewer
₩2,000
Rice (1 Bowl)
₩1,000
Fried Rice (Ordered By Portions)
₩2,000 Per Portion

Drinks

Price

Chamisul (Soju)
₩4,000
Hite (Beer)
₩4,000
---
Review
My friends and I, a group of four, headed over to Hosujib on a rainy summer evening and arrived at the restaurant at around 6. The place was already bustling with hungry customers inside and outside.
The smell of their dakbokkeumtang (braised spicy chicken) from the restaurant filled me with anticipation. We wrote our name down on the waitlist and waited outside for a little over an hour.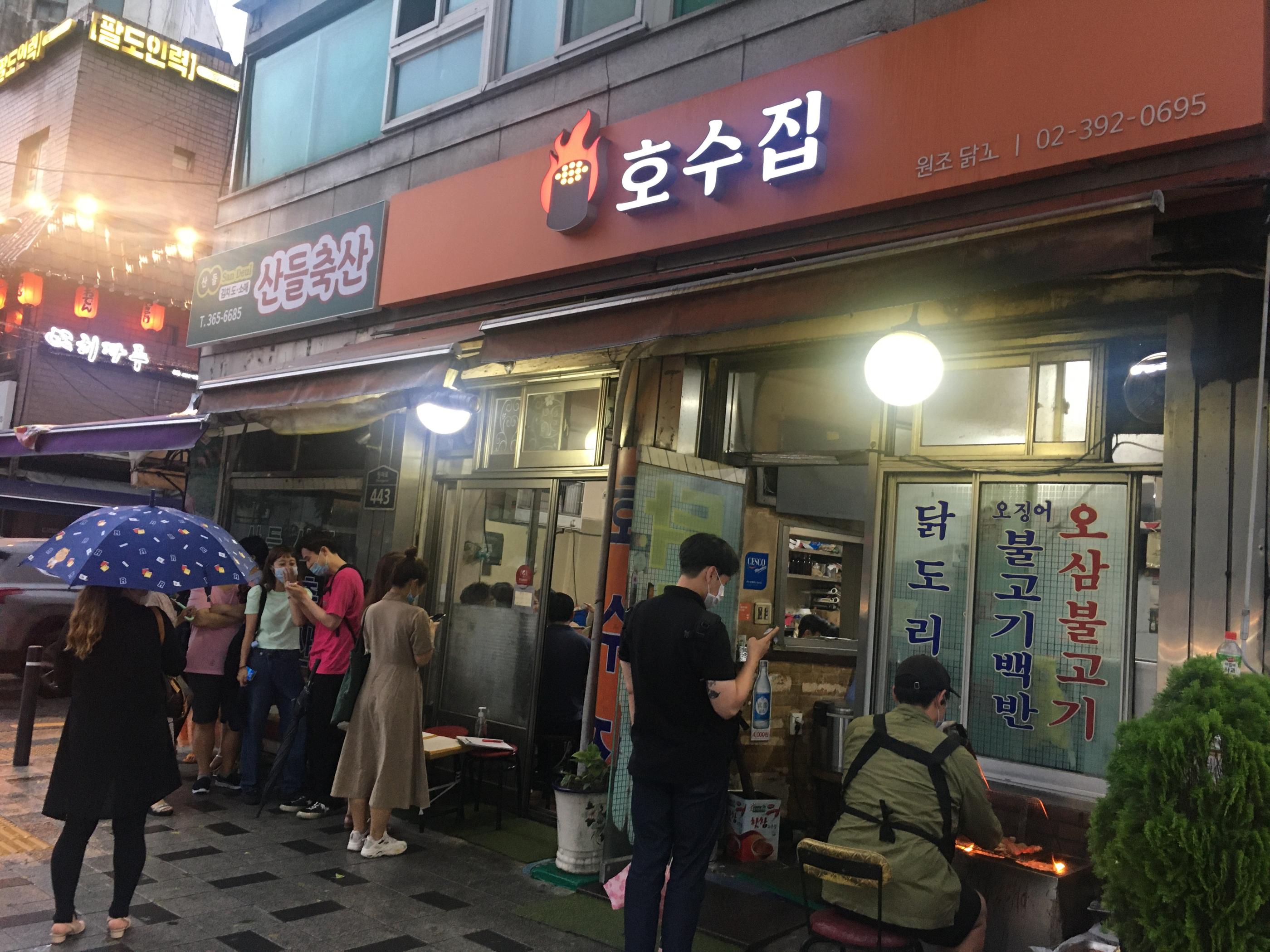 On one side of Hosujib outside, you'll spot the fire grill and the juicy chicken skewers getting grilled on the spot.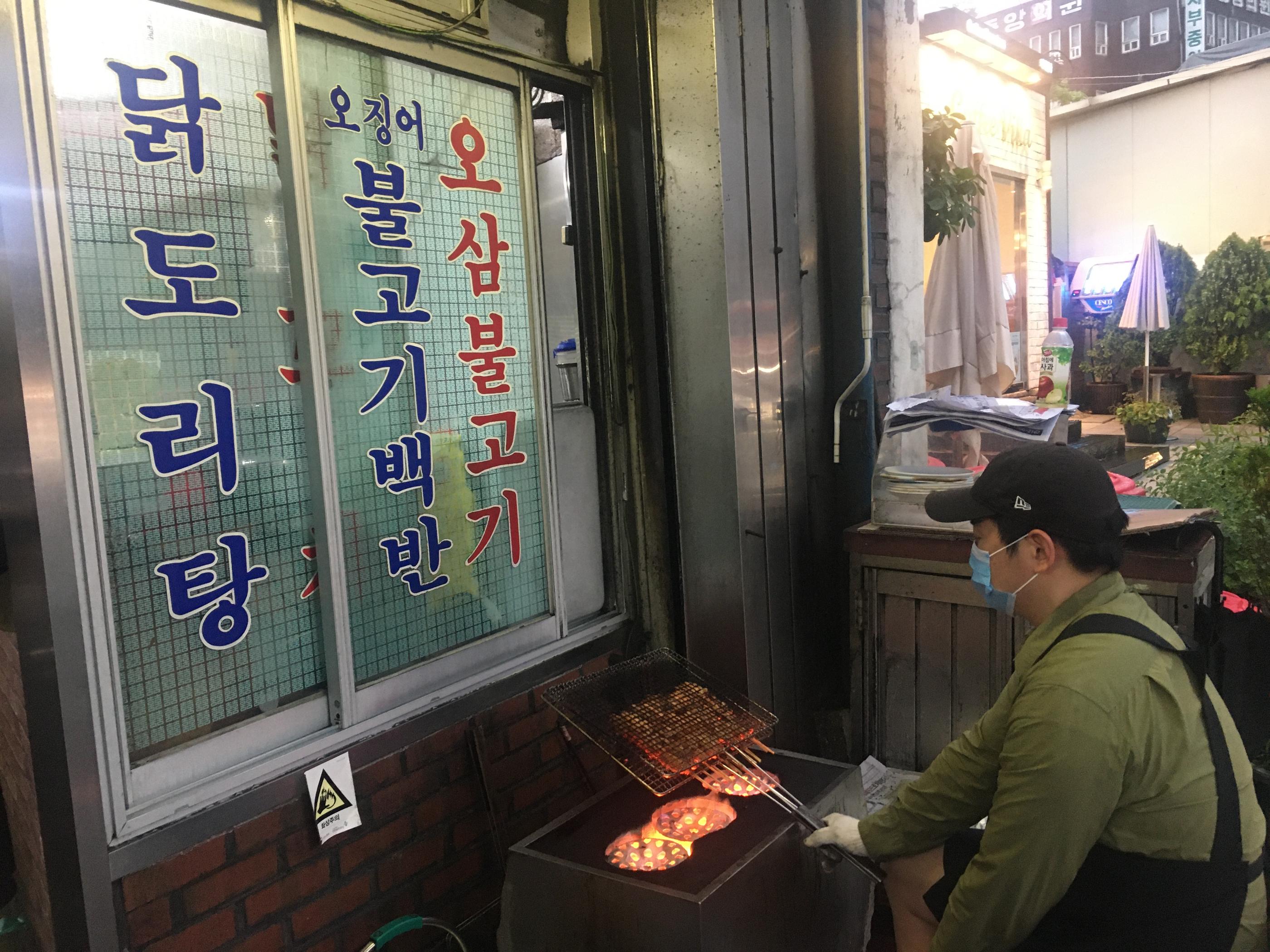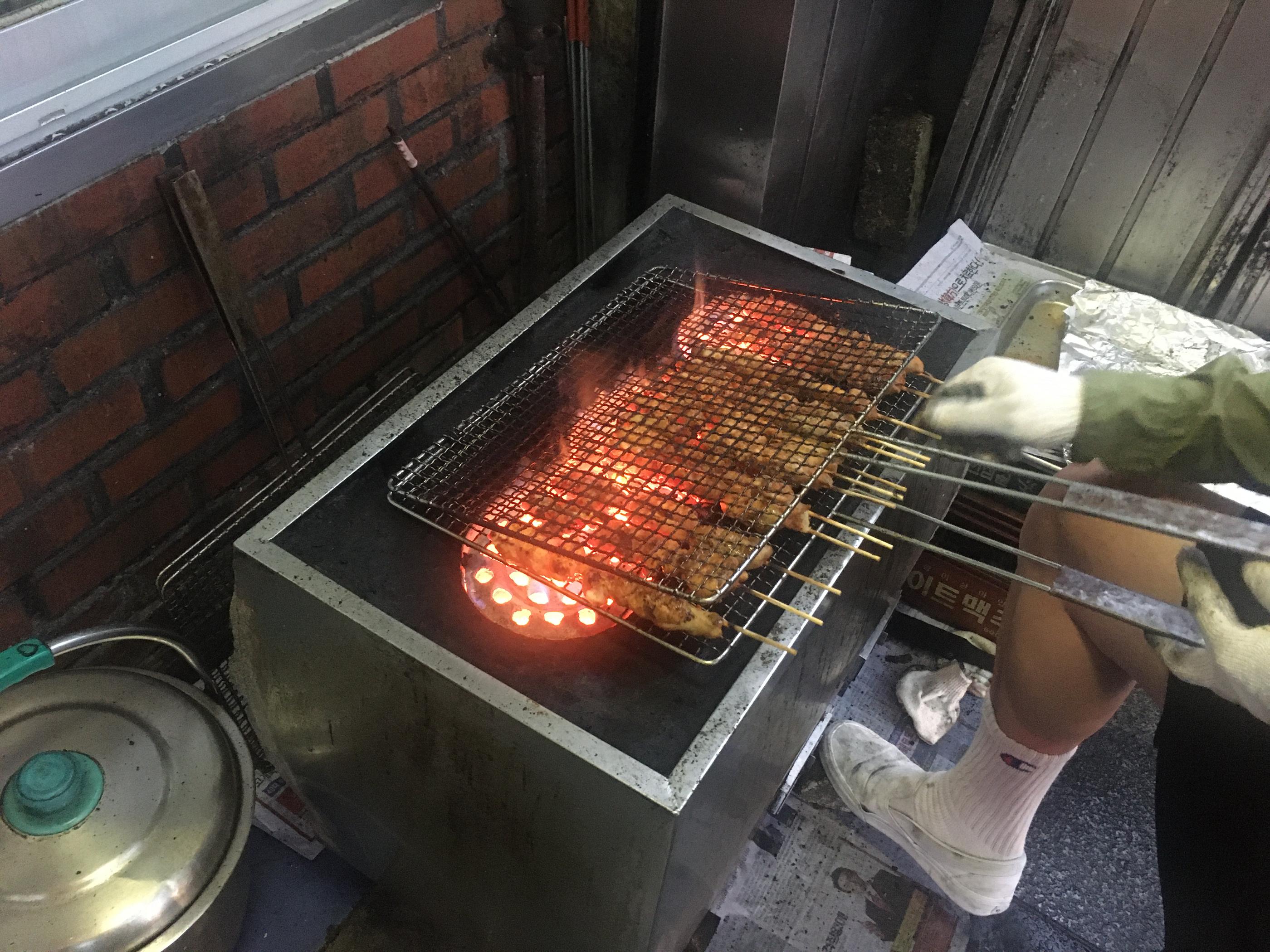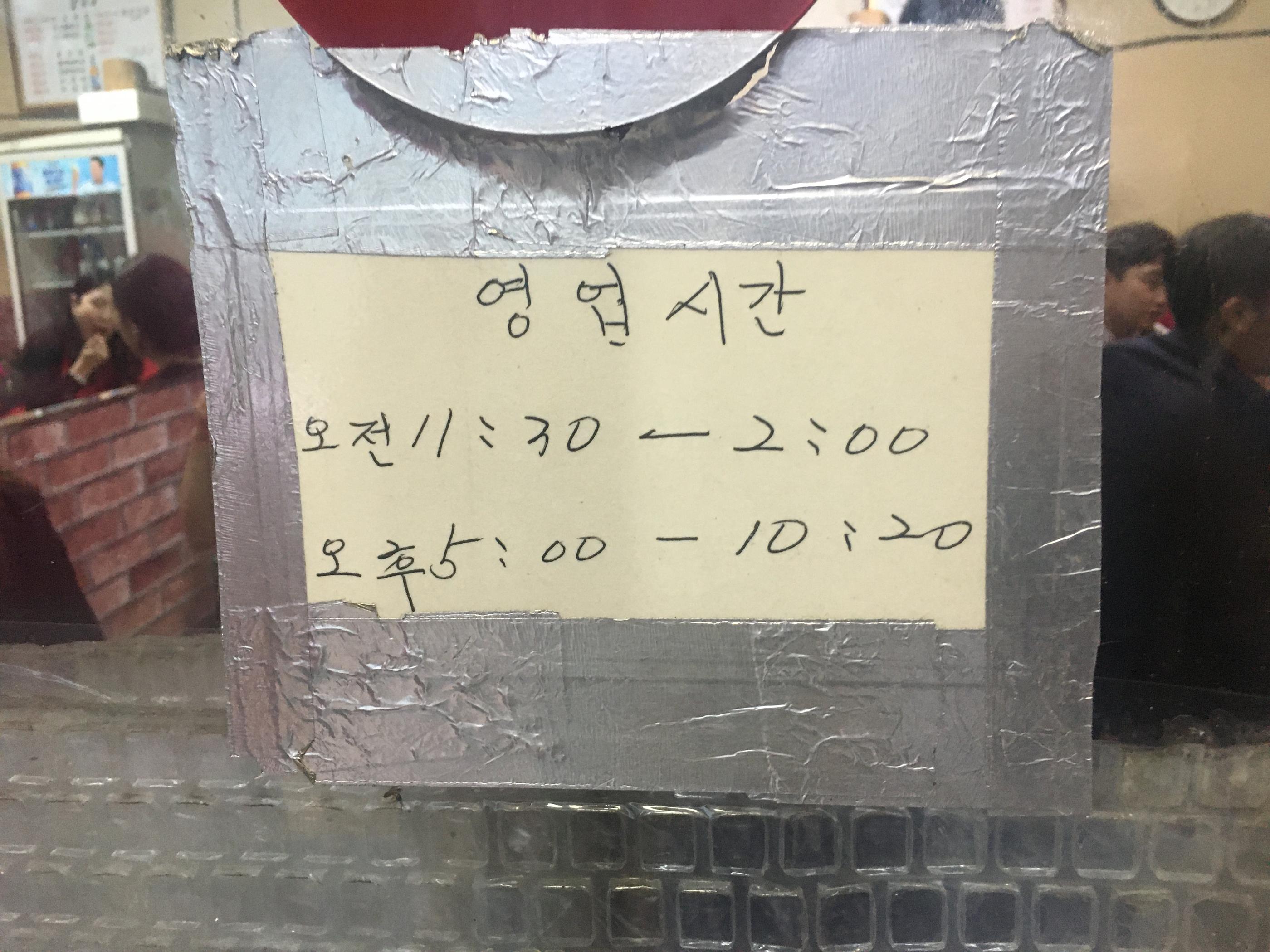 Right when we sat down, we ordered a large dakbokkeumtang with ramen noodles, two bowls of rice, one bottle of soju and one bottle of beer. What's local dinnertime fun without *somaek, right?
*Somaek: Refers to a widely loved combination of soju and maekju (meaning 'beer' in Korean).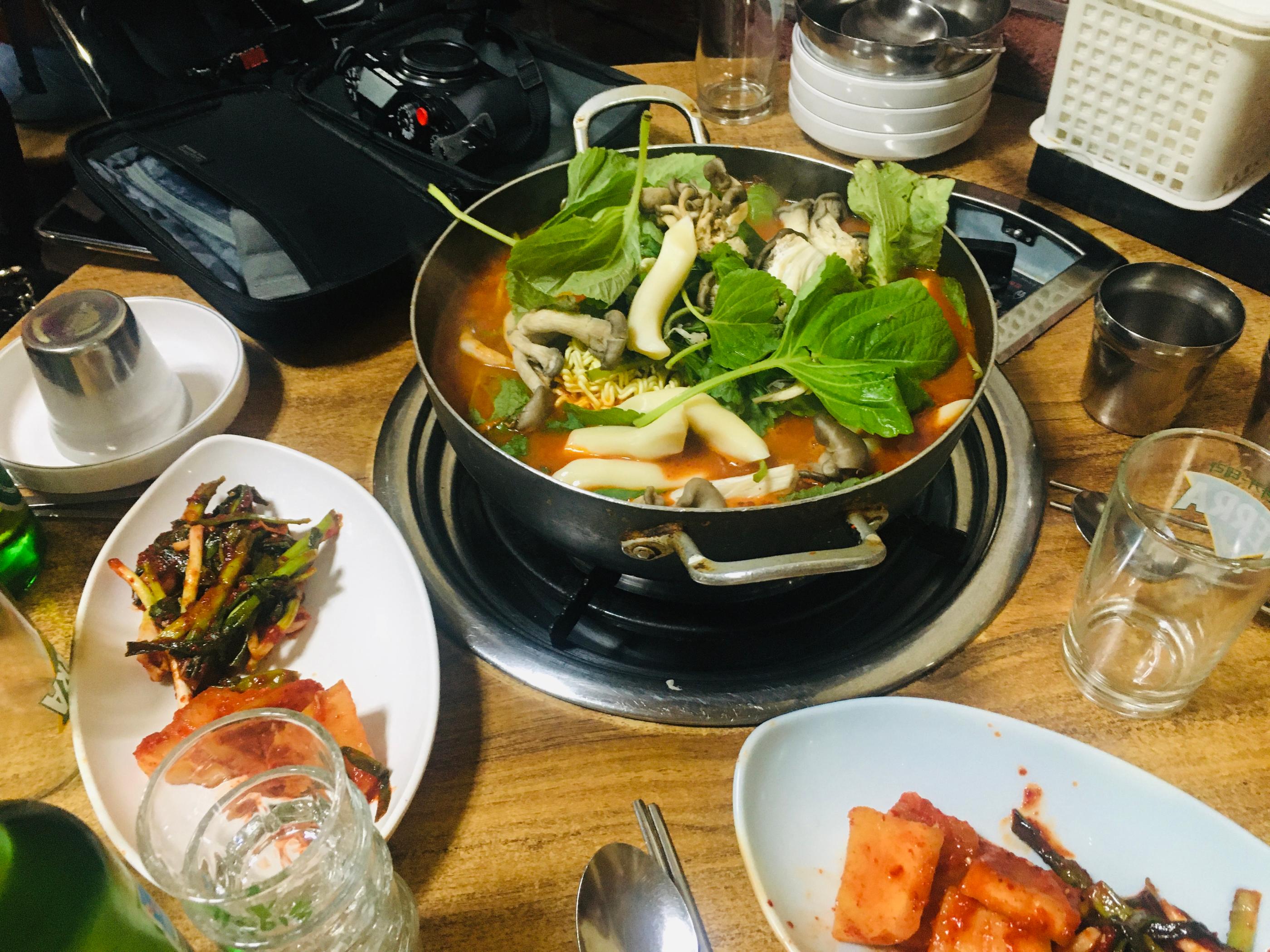 You don't get a lot of banchans (side dishes) at Hosujib. In fact, you only get served two kinds of kimchis which are mu-kimchi (radish kimchi) and pa-kimchi (green onion kimchi). They are both delicious but the piquant pa-kimchi especially tastes out of this world!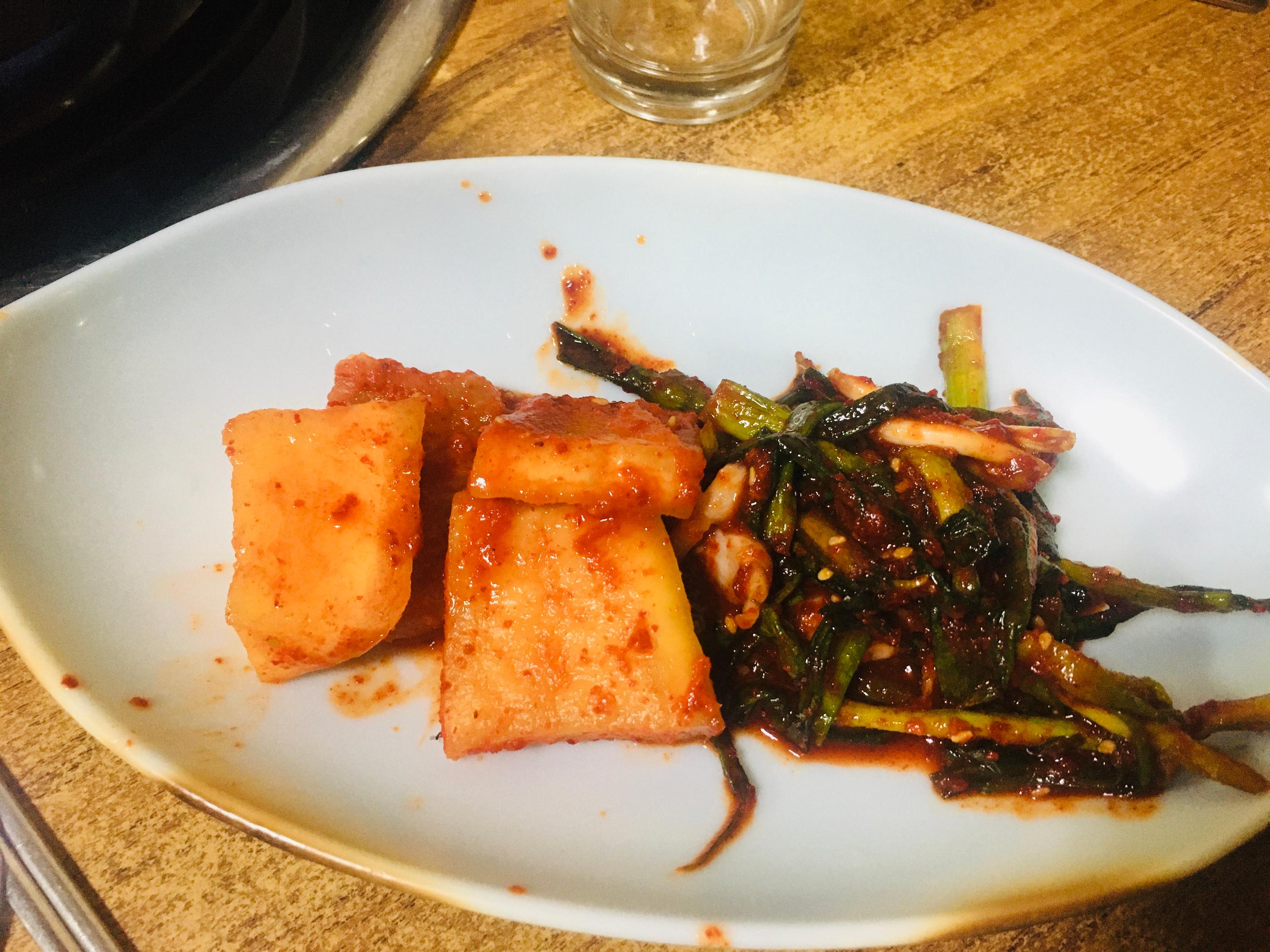 Dakbokkeumtang, Large (₩28,000) & Ramen Noodles (₩2,000)
Once the soup starts boiling, eat the ramen noodles first once they seem soft and nicely cooked. The noodles cooked in the slightly spicy soup kick off the feast right.
In the pot, you get generous amounts of chicken, mushrooms, potatoes and perilla leaves. Wait for everything to boil down for around 5 minutes.
The dakbokkeumtang tasted amazing! The savoury, but not-too-spicy soup tastes amazing with rice and other toppings. Don't forget to top everything off with a slice or two of kimchi too. A definite must-eat!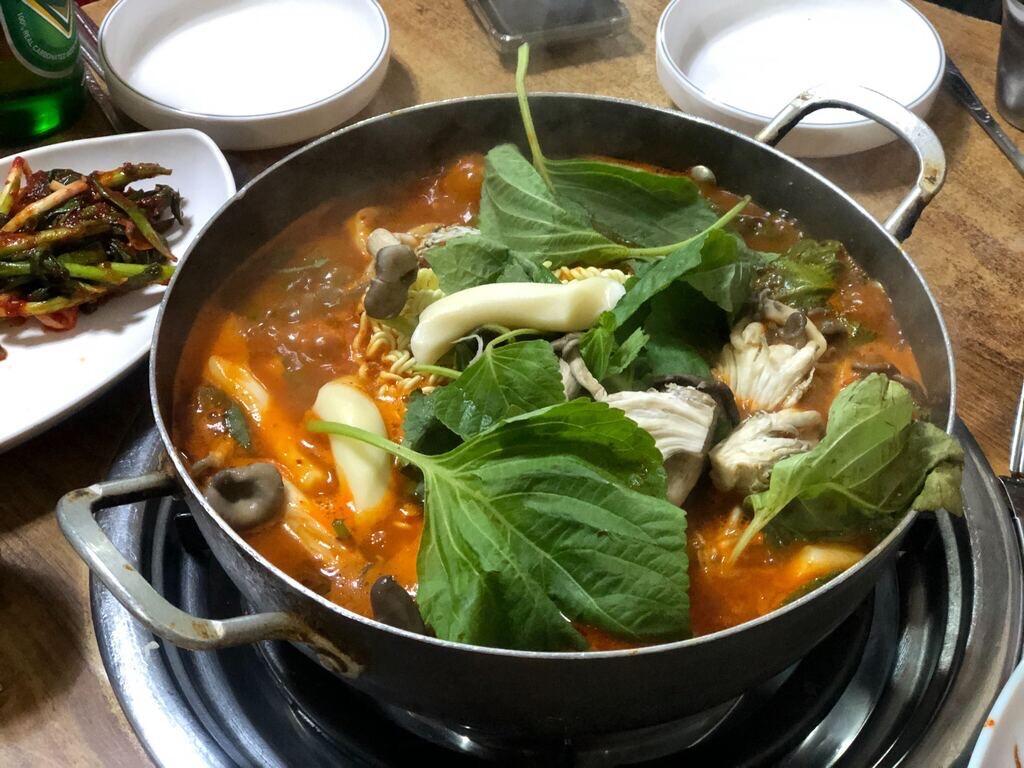 Chicken Skewers (₩2,000 Each)
The chicken skewers are served in limited quantities daily, so be sure to place your orders fast when you sit down. Usually, a maximum of 2 skewers can be ordered per person, but on the day of our visit, they were selling out so fast that we could only get 1 skewer per person.
The seasonings and the distinct flavour from the fire grill of the fat, juicy chicken were simply heavenly. Another definite must-eat!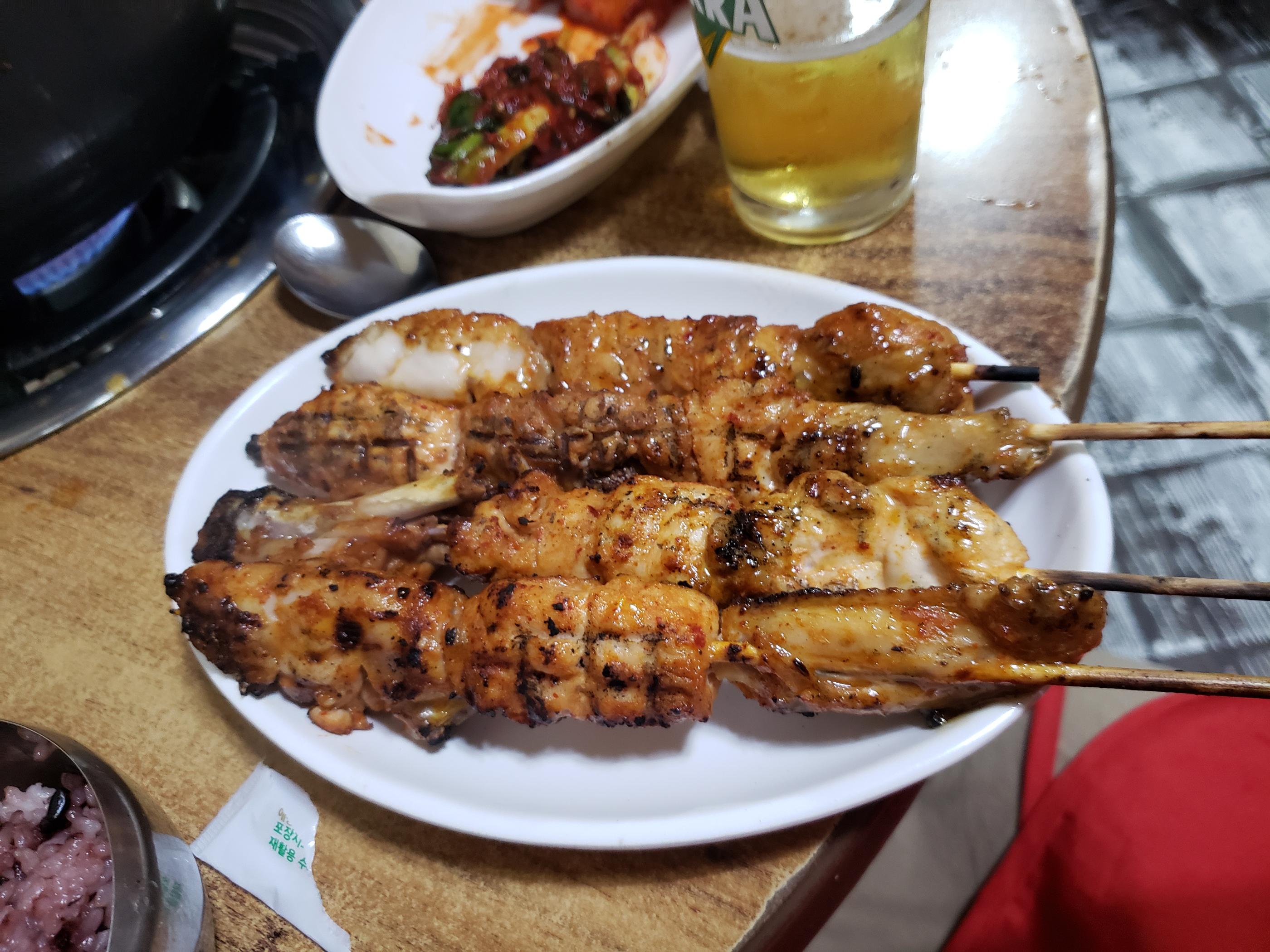 Somaek
Mix your soju and maekju together into glasses. There are many interesting ways Koreans mix the two drinks which involve different proportions and measurements, but really, there's no set way. So mix them in a ratio that tastes the best for you!
The drinks washed down the spiciness of the chicken and kimchi so well that we found ourselves keep going back for more chicken.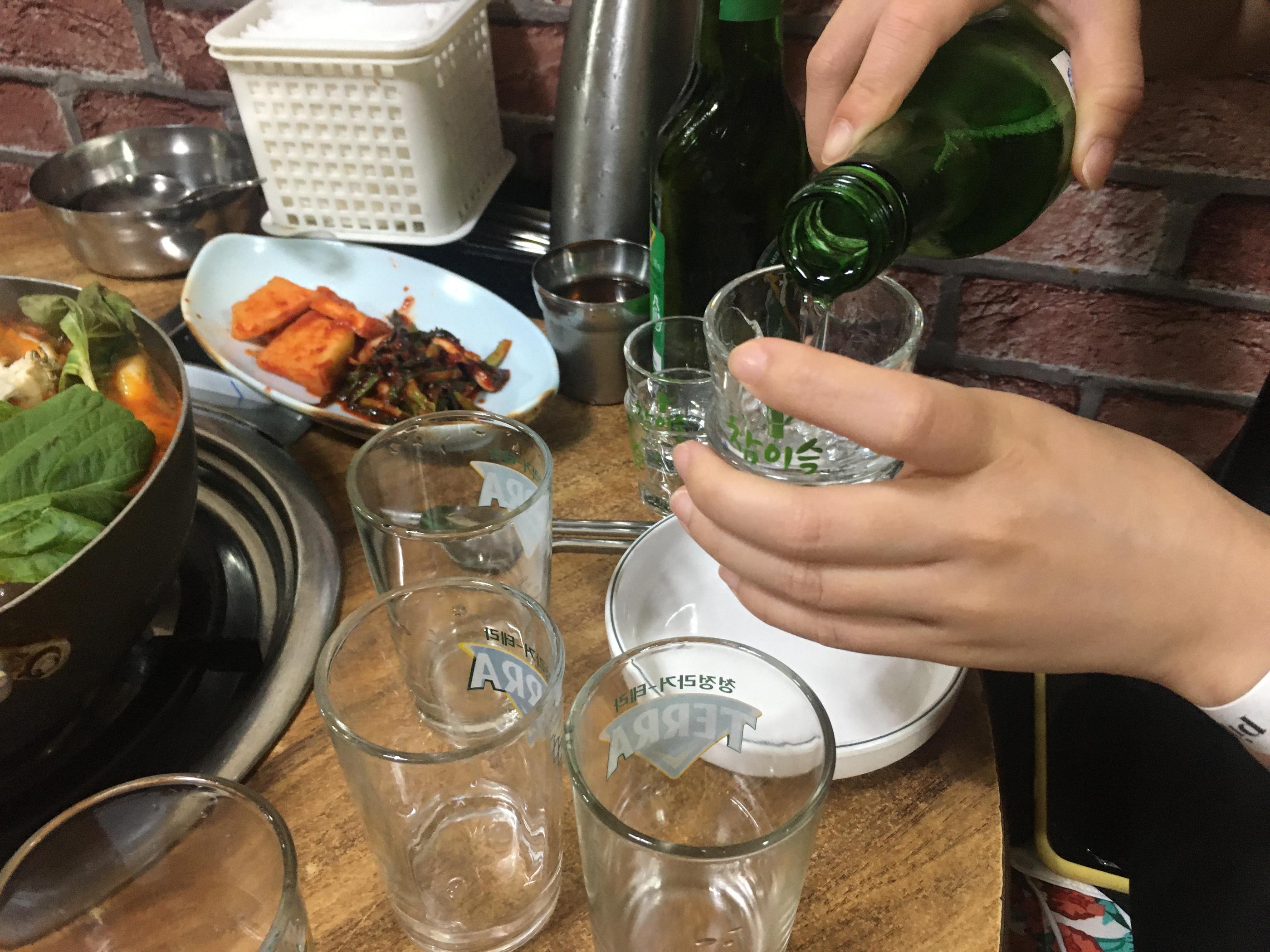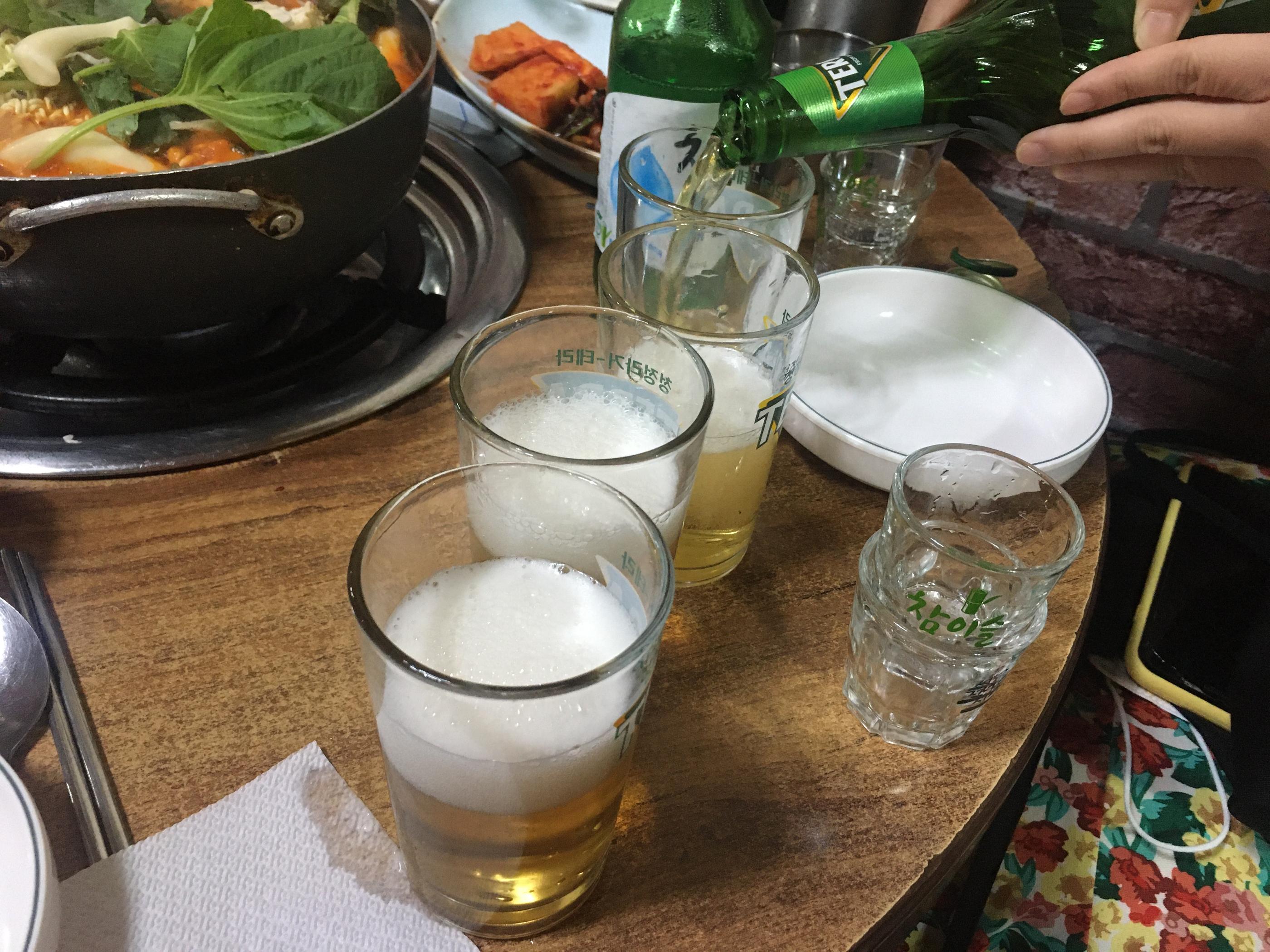 Fried Rice, 2 Portions (₩4,000)
The fried rice at the end is a must!
When you're feeling ready for fried rice, take all the toppings out, nicely distribute it among your group and hand over the pot to the server. The dakbokkeumtang sauce is nicely boiled down and starchy towards the end will be cooked again with rice and perilla leaves, finished off with generous amounts of seaweed and perilla seeds.
Take a spoonful of the fried rice with leftover potatoes and chicken, top it off with a piece or two of the green onion kimchi for an amazing bite full of savoriness.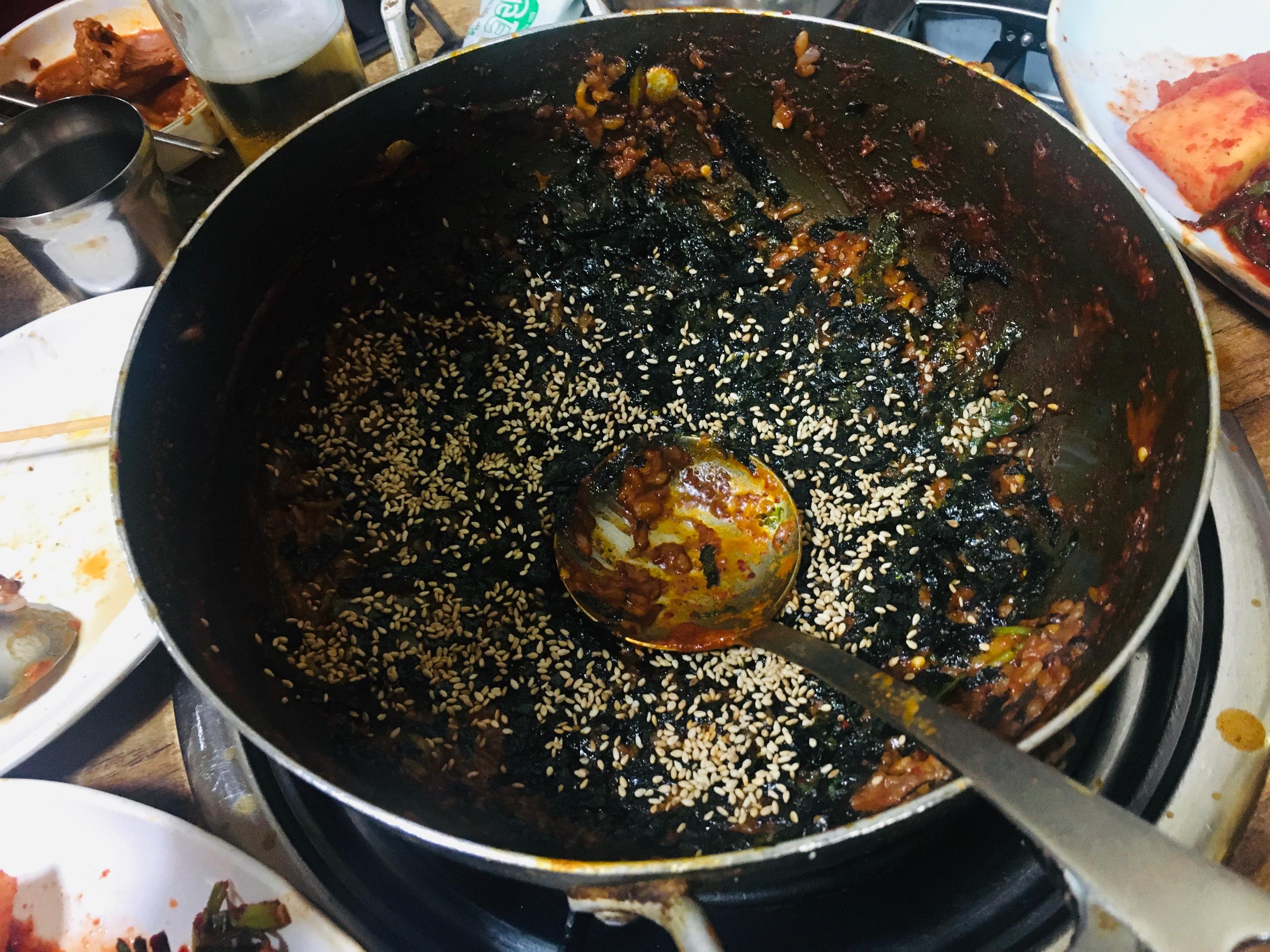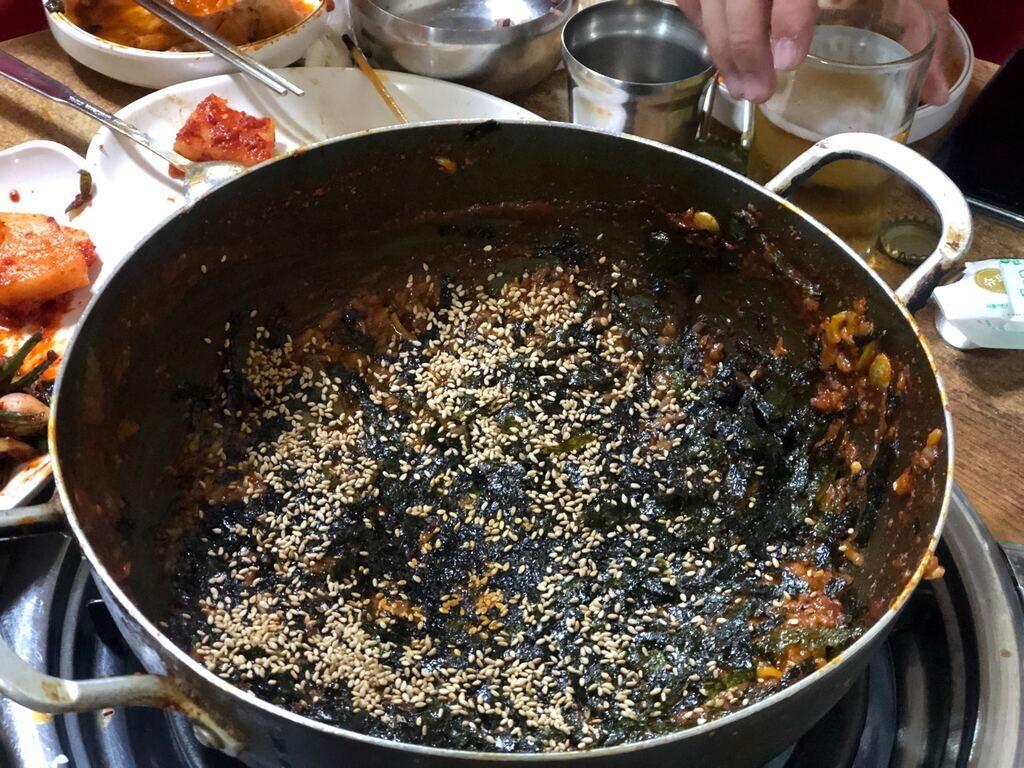 ---
Was It Worth The Hour Wait?
Yes, a hundred times yes! If you're looking to try a truly local Korean dish that's exceptionally tasty or simply a chicken enthusiast, Hosujib is a must-visit. I've tried a good number of dakbokkeumtangs in my life and this is by far the best ever for me.
It's also a convenient place to stop by for a meal before or after your travel to another city from Seoul Station.
After your satisfying meal at Hosujib, be sure to check out other interesting places near Seoul Station including Seoullo 7017, Namdaemun Market and unique cafes like Hyunsangso.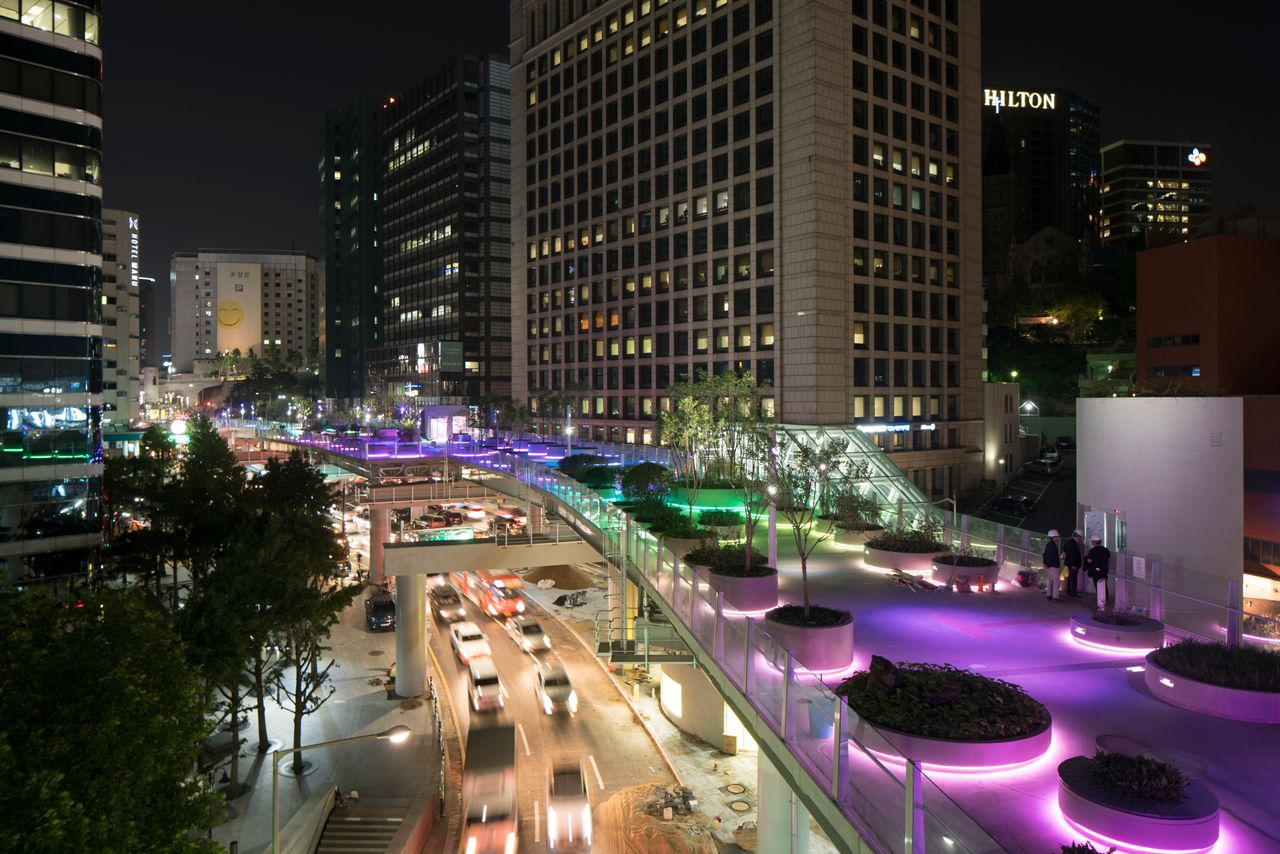 <Nightscape of Seoullo 7017>
---
If you have questions or comments about the blog, please leave them down below or email us at help@creatrip.com.
---