2021 Seoul Traditional Market Tips
Authentic and cheap Korean snacks! 8 traditional markets in Seoul, but which one to visit? Gwangjang, Mangwan, or Namdaemun?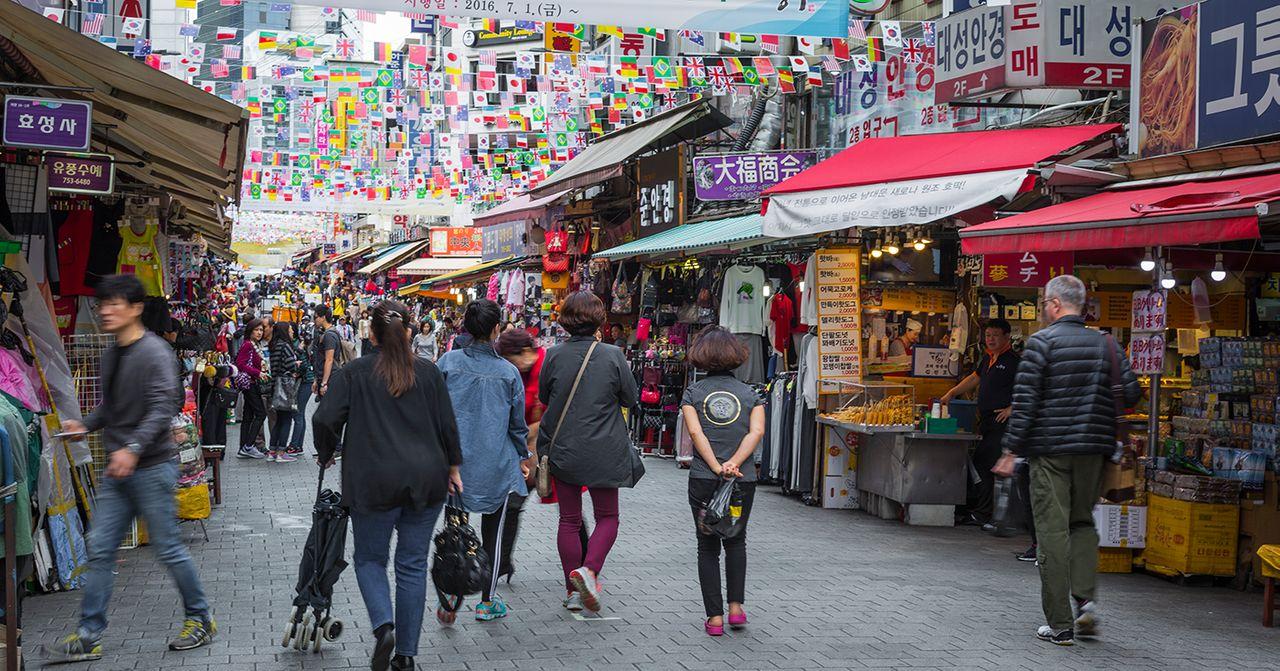 Hello, everyone! We are Creatrip, a group of Korean travel experts. We proudly present you the latest, useful Korean travel information and tips every day.
When many people come to South Korea, one of the most anticipated thing is to visit the local traditional market. This is a place to experience the evolution of the times. It is also a favourite place for locals. It has a strong local style, and the food is super cheap. I'll introduces 8 popular Seoul traditional markets, which ones have you been to?
---
Map Of Seoul Markets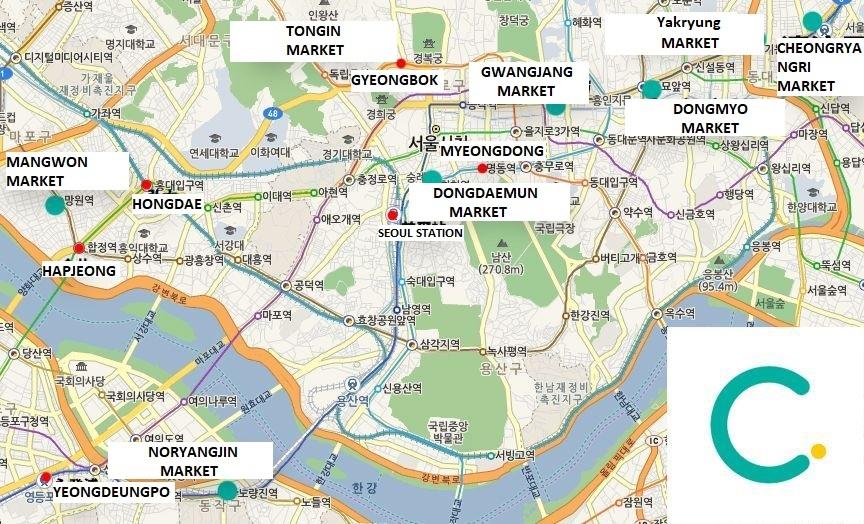 ---
Transportation: Go straight to the alley next to Exit 2 of Mangwon Station (망원역), Seoul Metro Line 5
Among the Seoul markets, one of the constantly popular market is the Mangwon Market. Many locals frequent this place. Because of this, it has the appearance of a traditional market but at the same time very clean, living up to the city standard.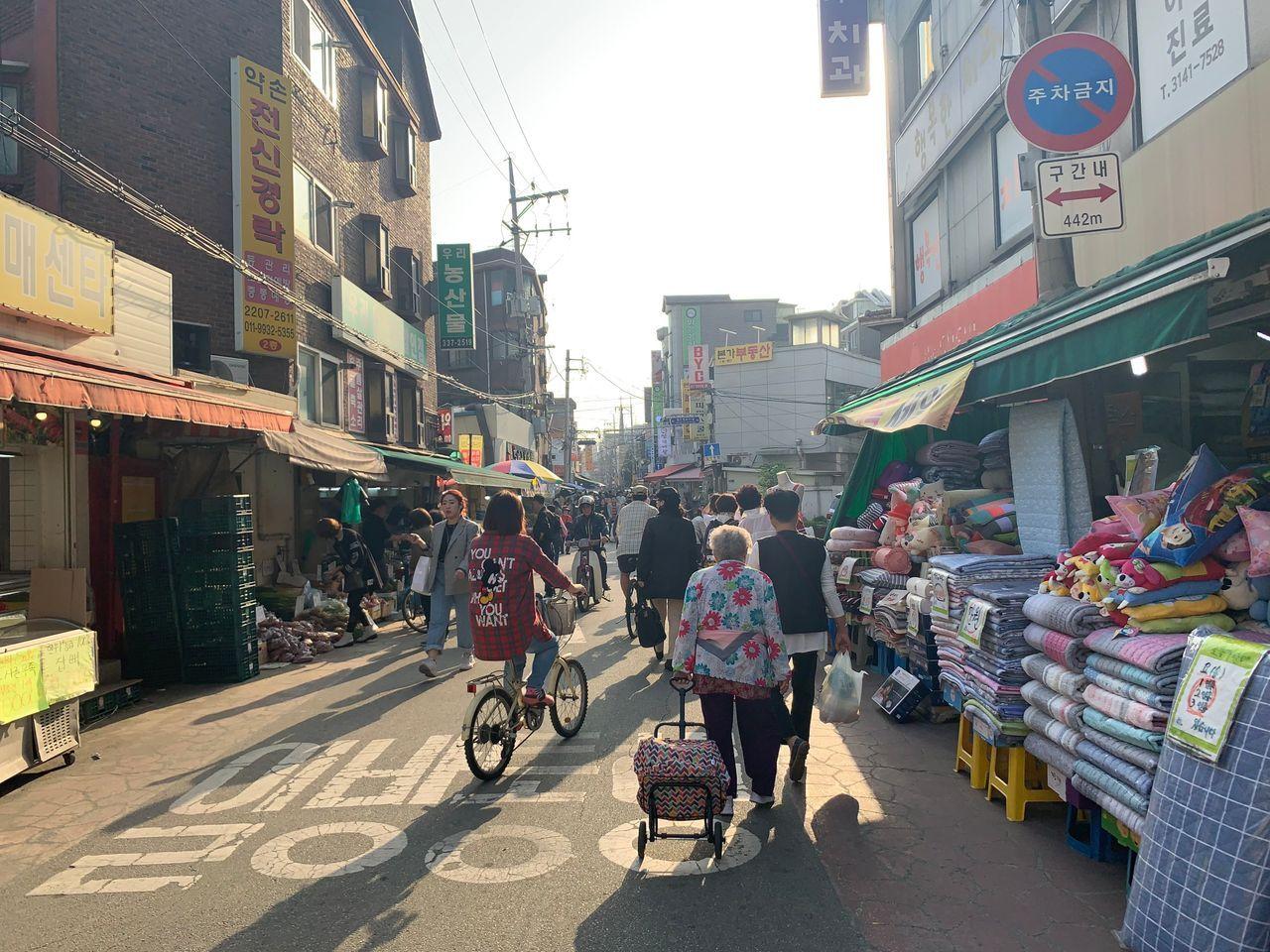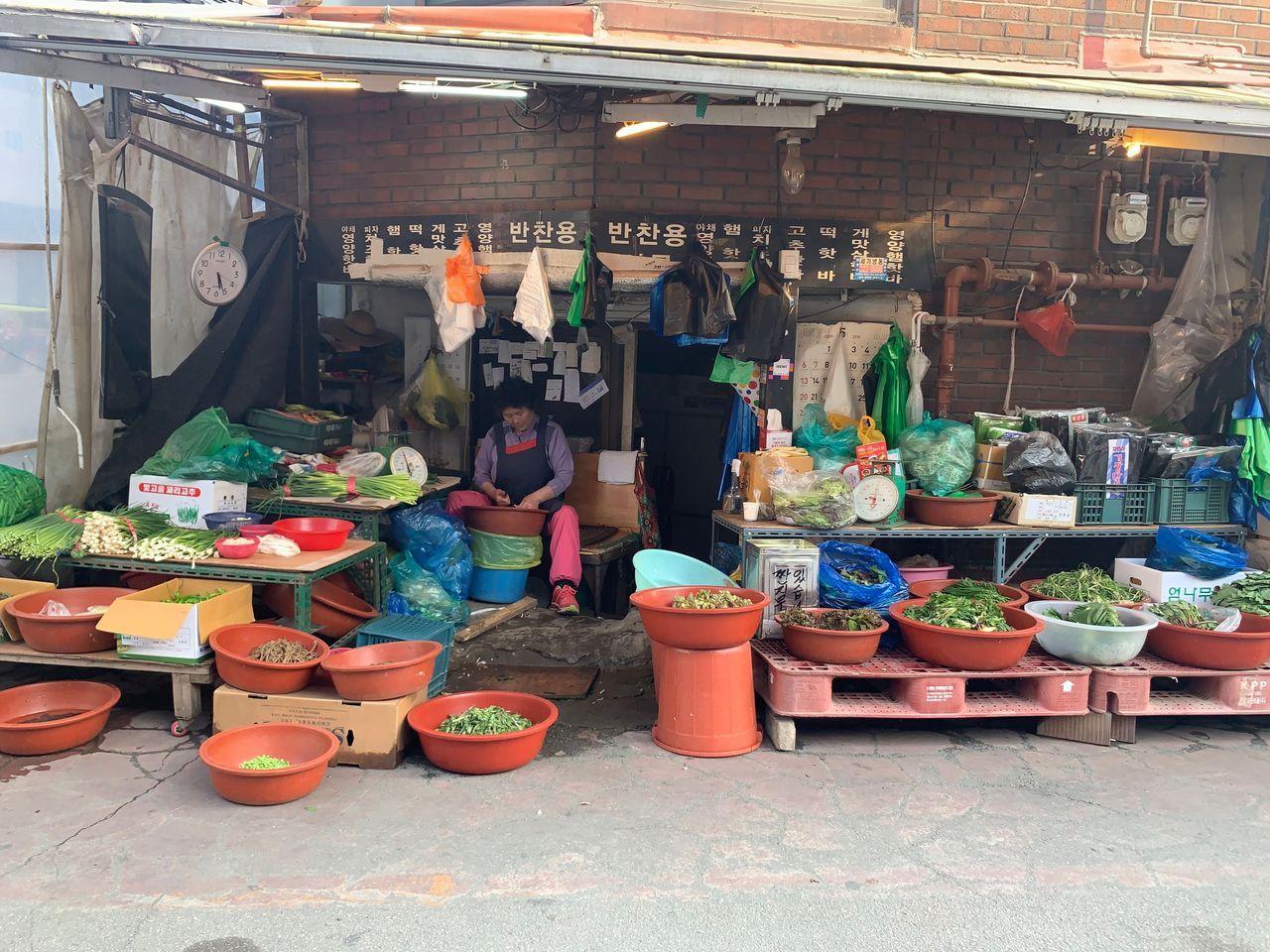 In Mangwon Market, you will see the gourmet shops along the street. Hope you don't forget the track of time here. There are also a lot of cafes in Mangwondong, and it's good to be walking around after visiting the market.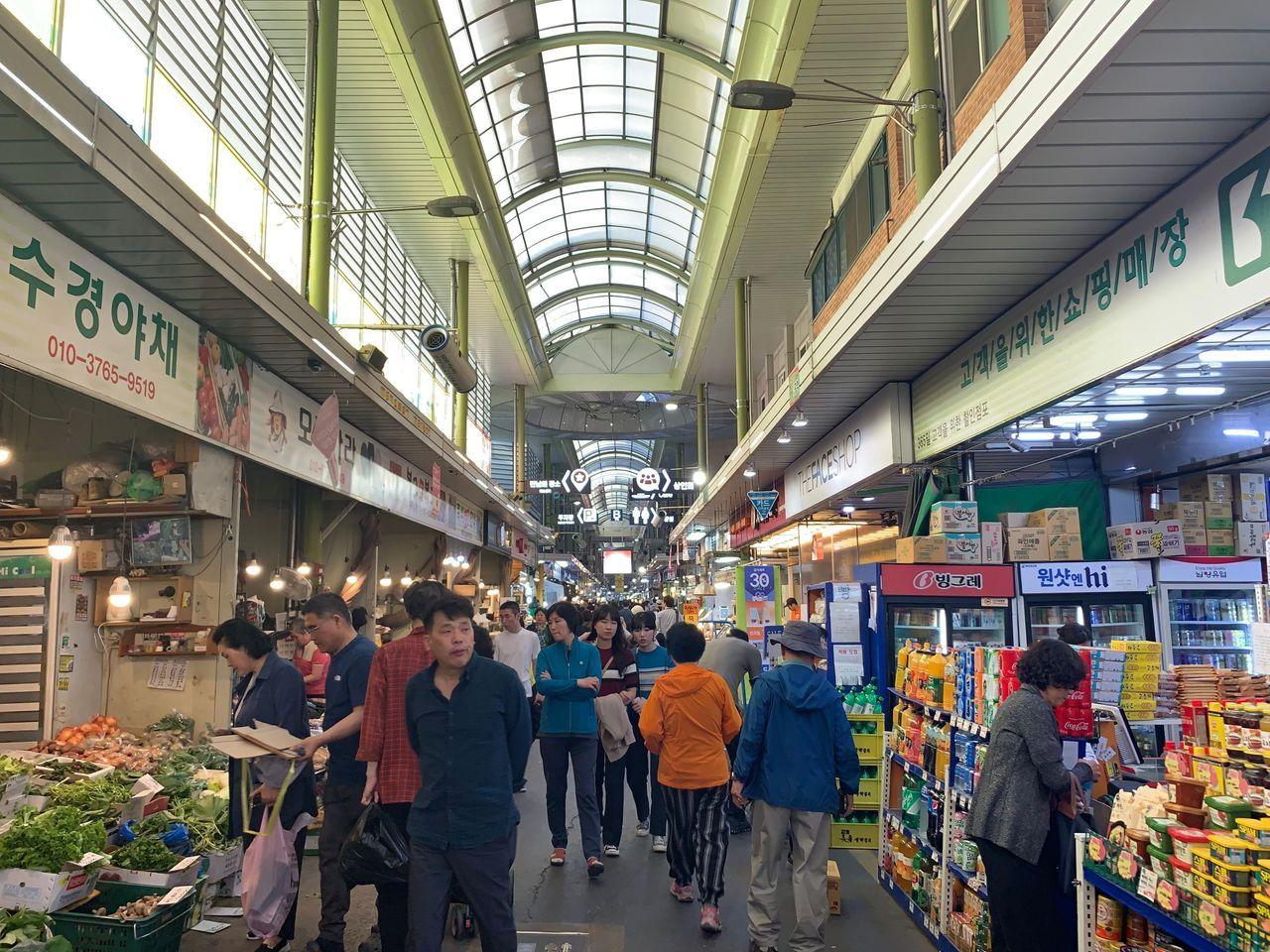 Mangwon Market is an indoor market, but overall it isn't hot or uncomfortable. Whenever you come, it is full of street vendors and food. The reason why I love to look around everywhere is because there are so many traditional foods and cheap snacks.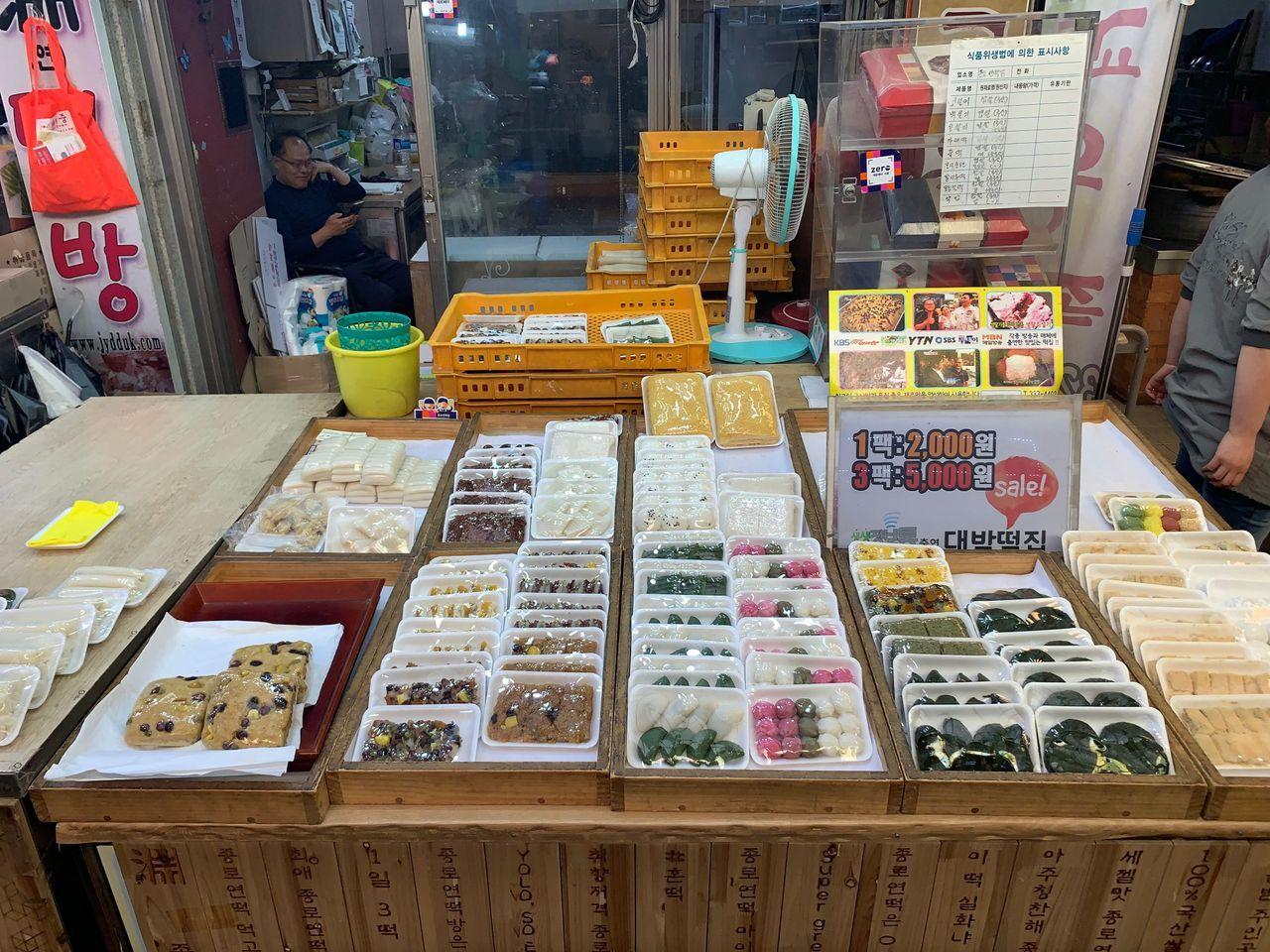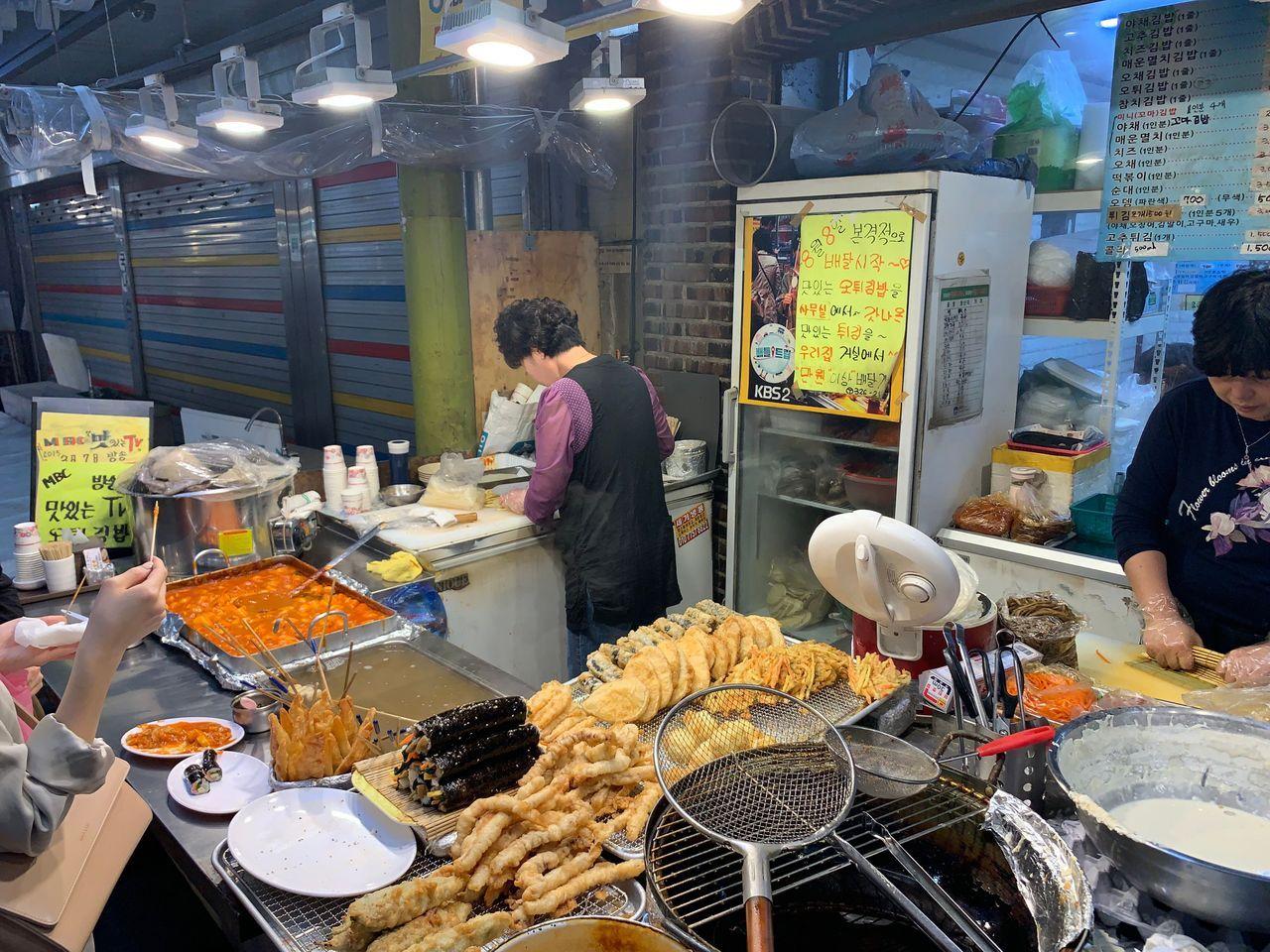 Unlike other tourist areas, the people who really live near this place have truly laid a great local vibe of the Mangwon market, showing a real life appearance. There are many vendors selling small desserts here, and I recommends everyone to come and try.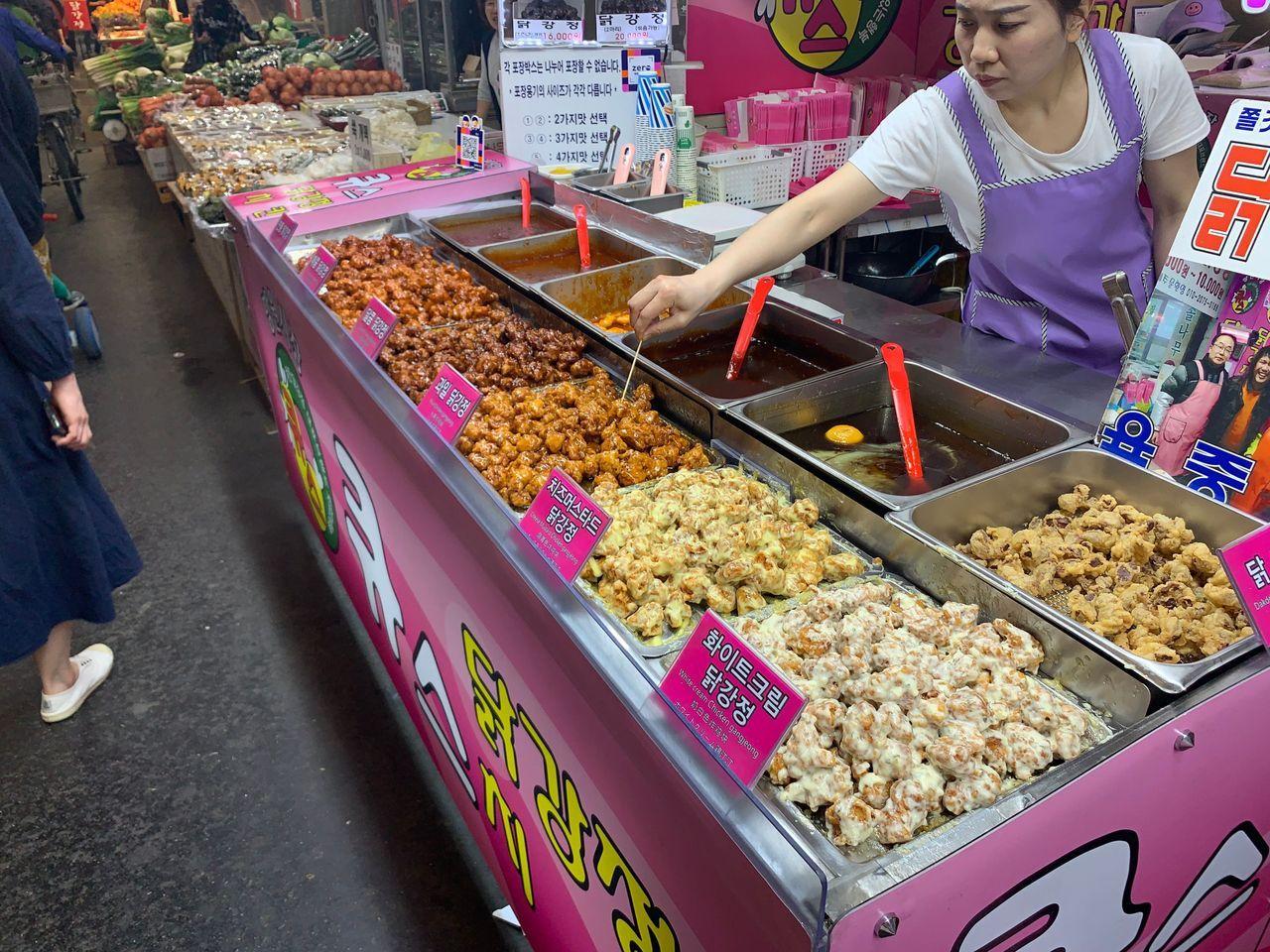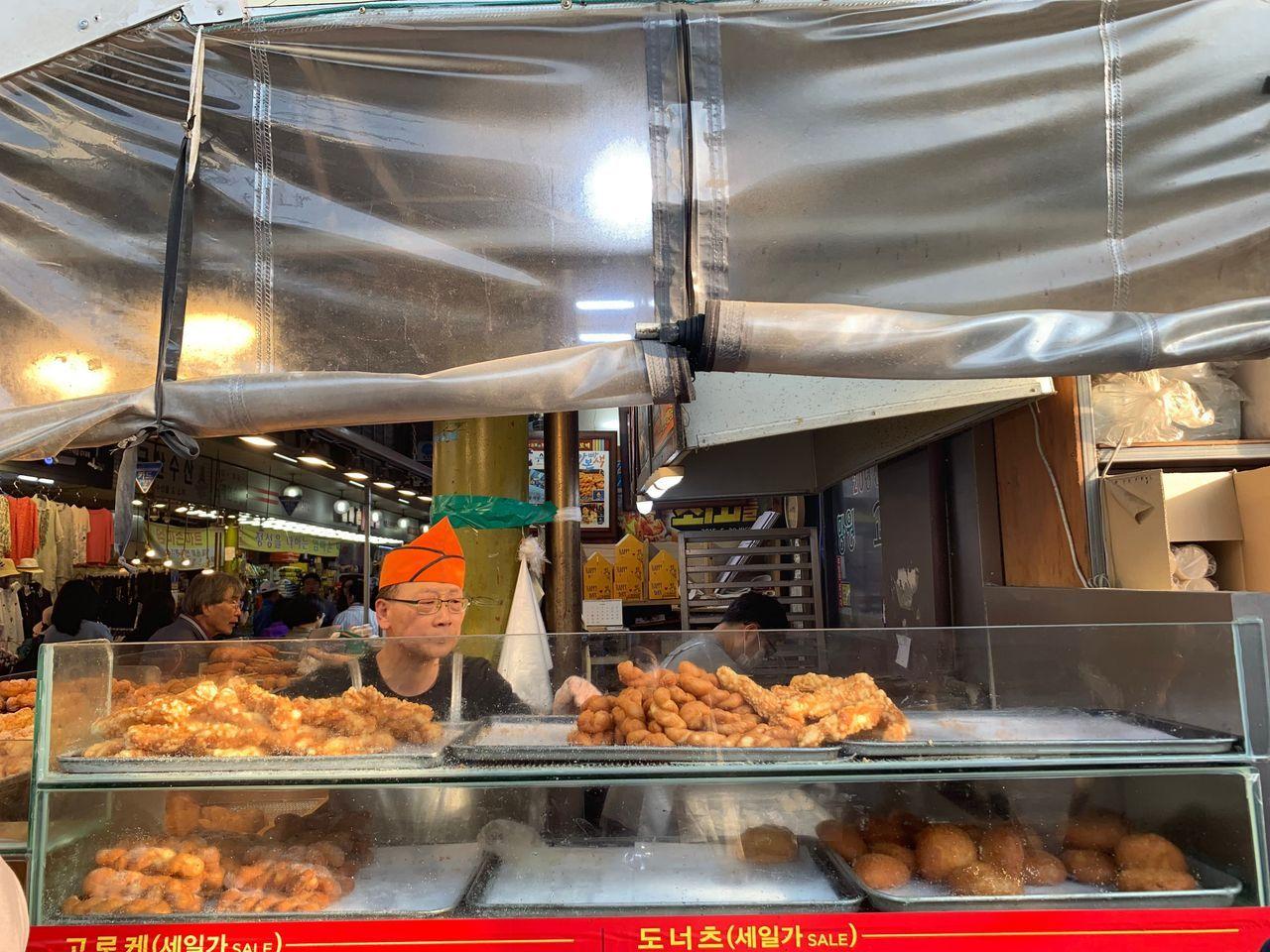 Patisseries, chicken, donuts, beef patties, kalguksu, etc. can be found in the Mangwon market at very cheap prices. There are also a lot of Koreans who come to the market for these snacks, and every one of them is a must eat classic.
---
Transportation: Jongno 5th Street Station (종로 5 가역) Exit 8 and go straight for 2 minutes
Hours: Market 09:00 - 18:00 (Closed on Sundays); Clothing stalls 10:00 - 19:00 (Closed on Sundays)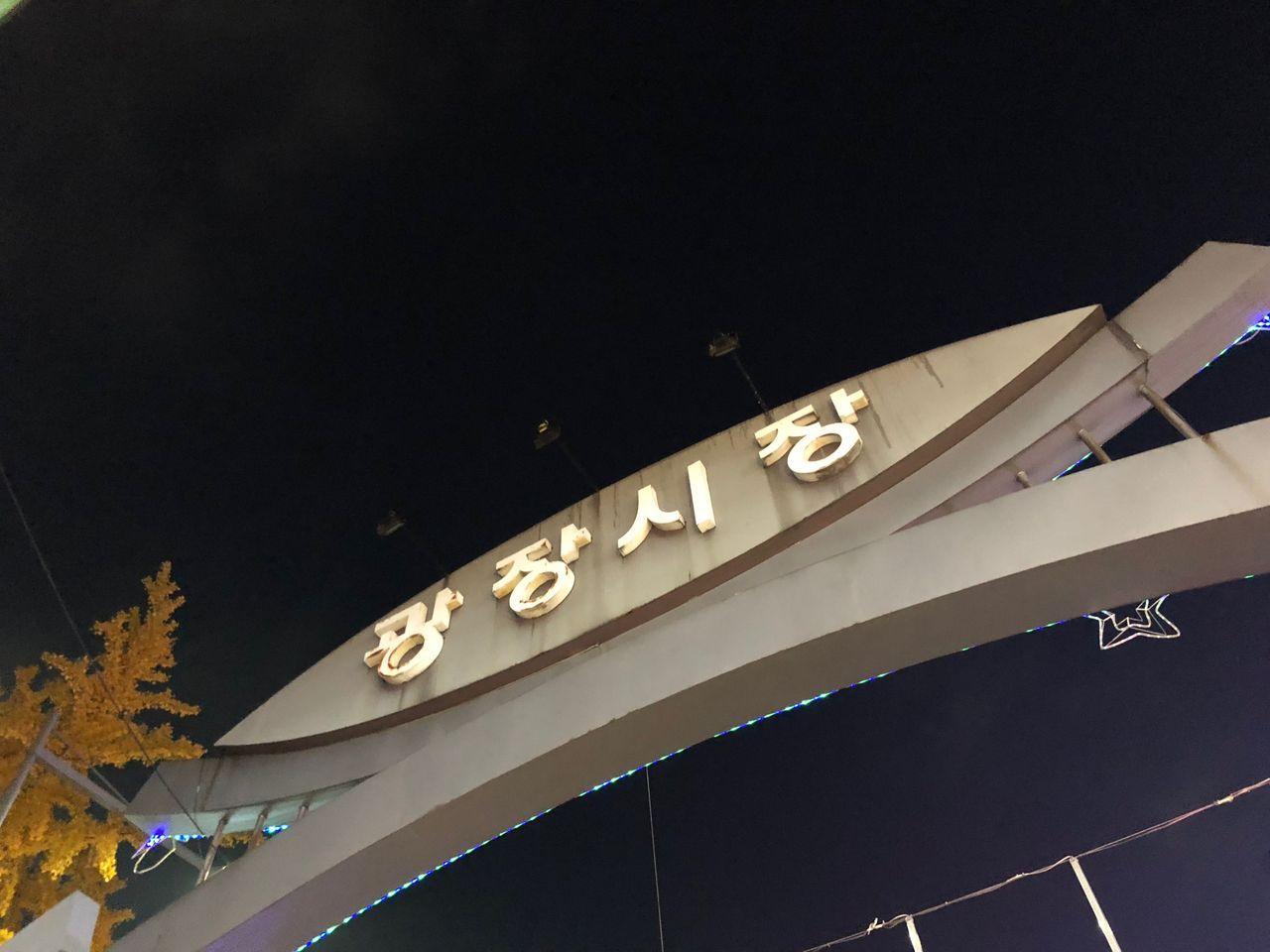 Probably the most representative Seoul market is the "Gwangjang Market" located in the center of the city. It has a very good reputation. "Running Man" and many other TV programs have visited it.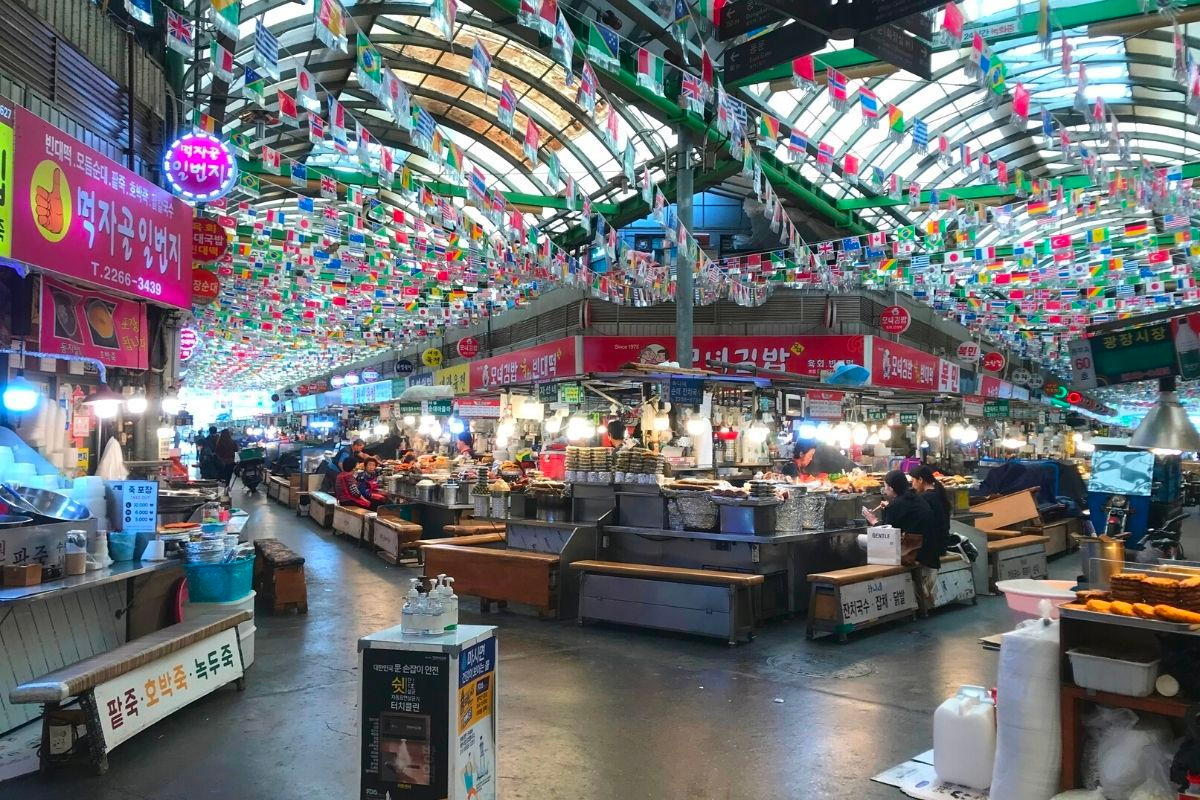 Not only foreigners, but the Koreans themselves also love to come. Every night, many Koreans are seen with their friends and family, sitting in front of stalls enjoying food with makgeolli.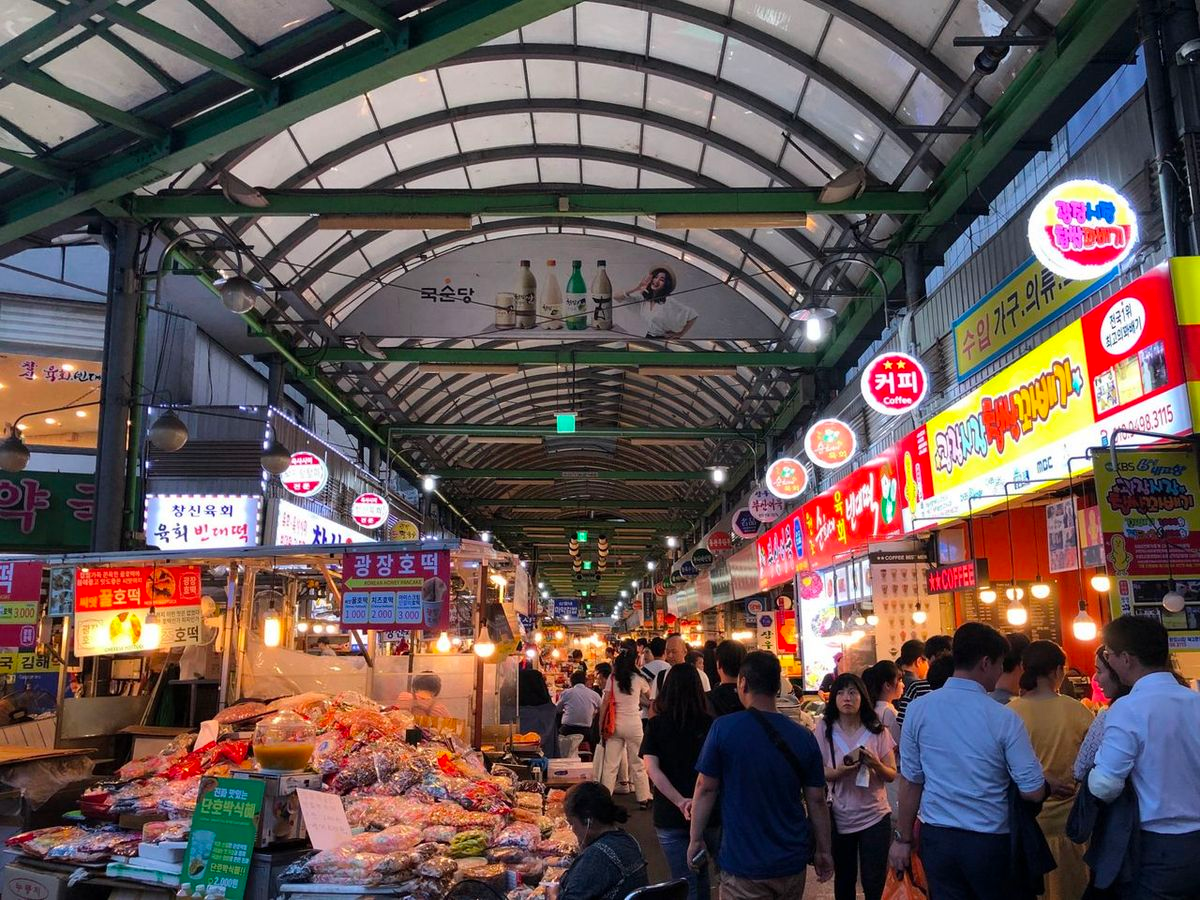 But what is the most famous and recommended food in this market? It's kalguksu, raw beef, raw octopus, and pajeon.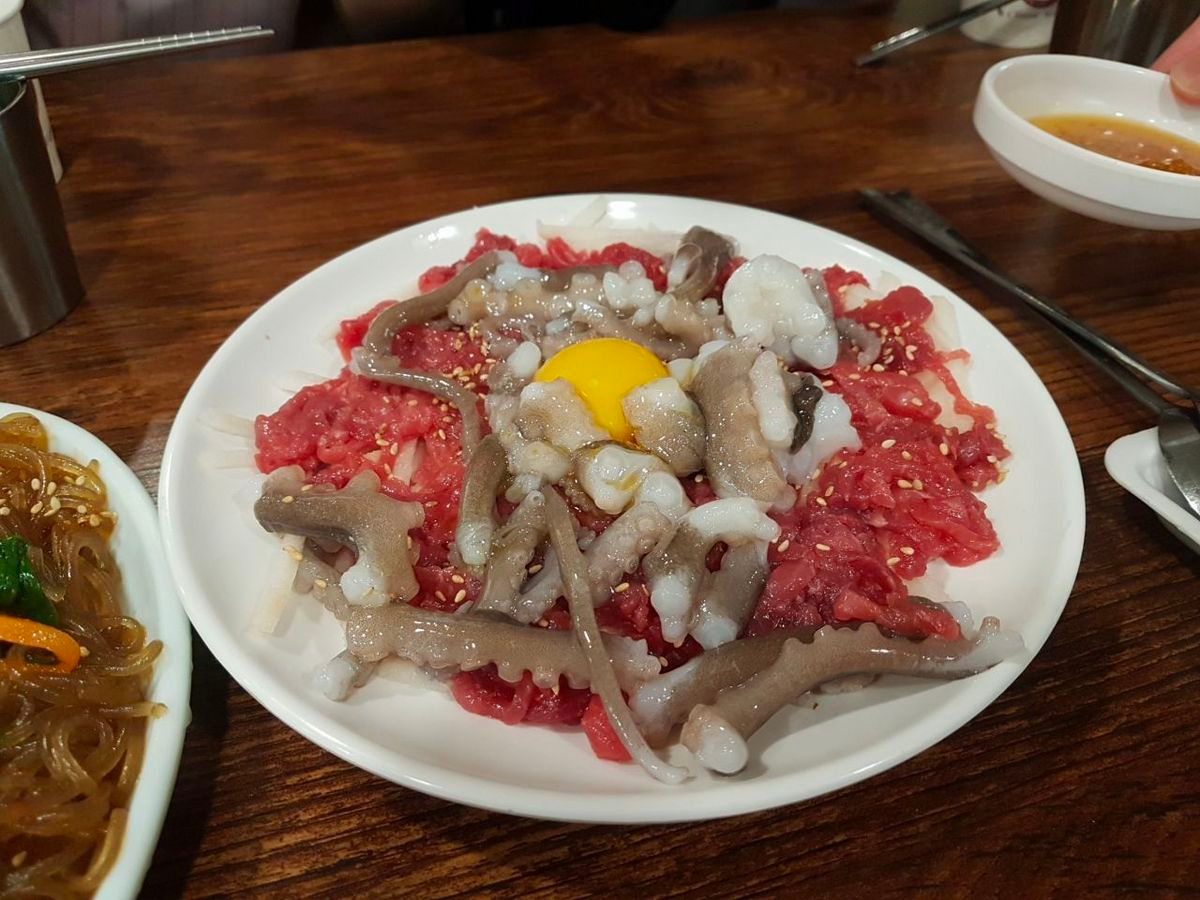 Many people come to Gwangjang market to enjoy the famous raw beef. Although the whole plate is red and it looks a bit scary, the taste does not have the stinky smell that you expect, but it tastes sweet and has all the qualities of beef.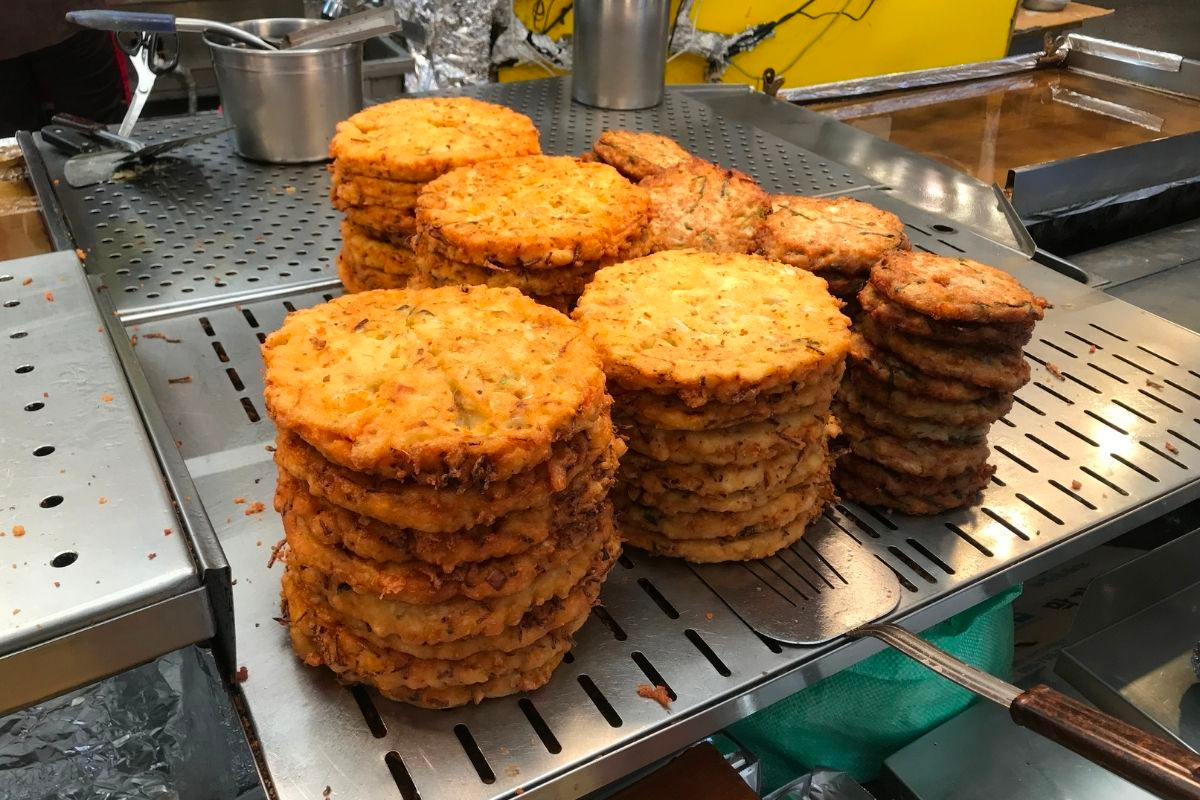 However, I believe that the most representative food in the Gwangjang market in Seoul is probably the bindaetteok, because it is delicious no matter how you eat it (but you might need some makgeolli to wash down the grease).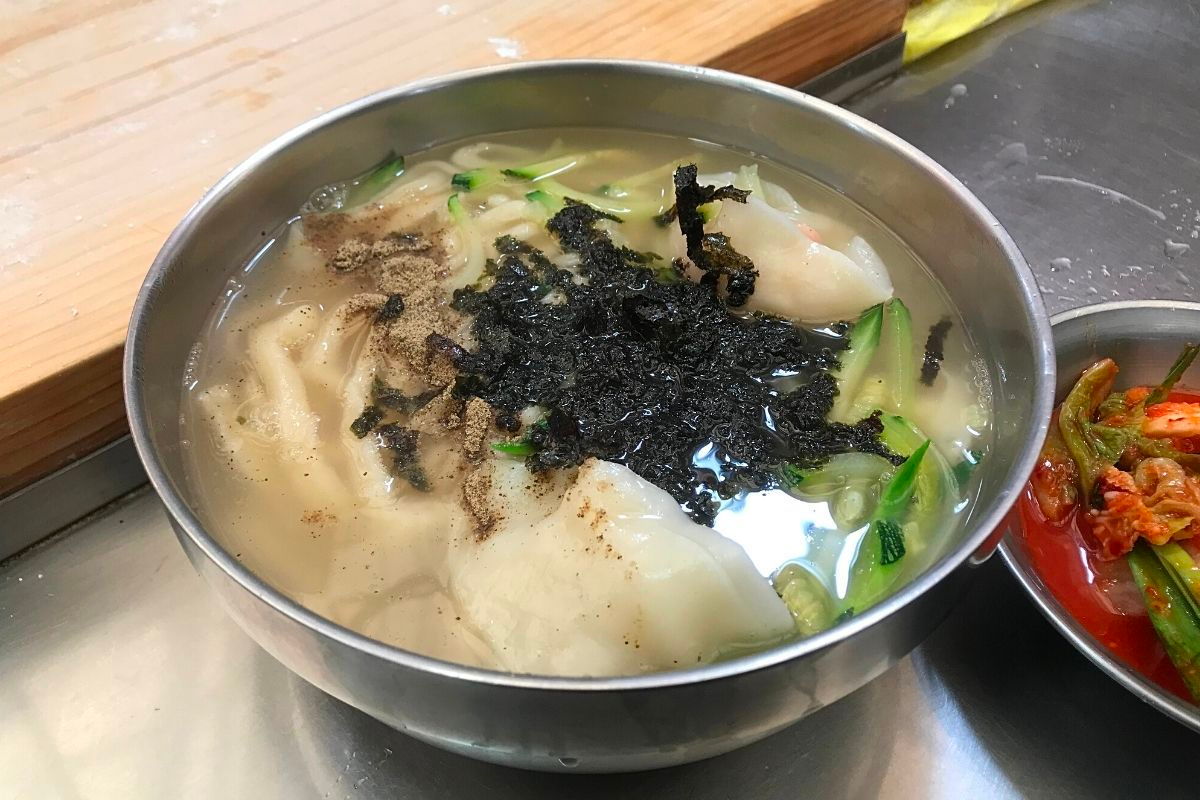 There is a popular noodles stall that was featured on the Netflix documentary series, 'Street Food: Asia'. They have the best noodles and dumplings at a crazy affordable price.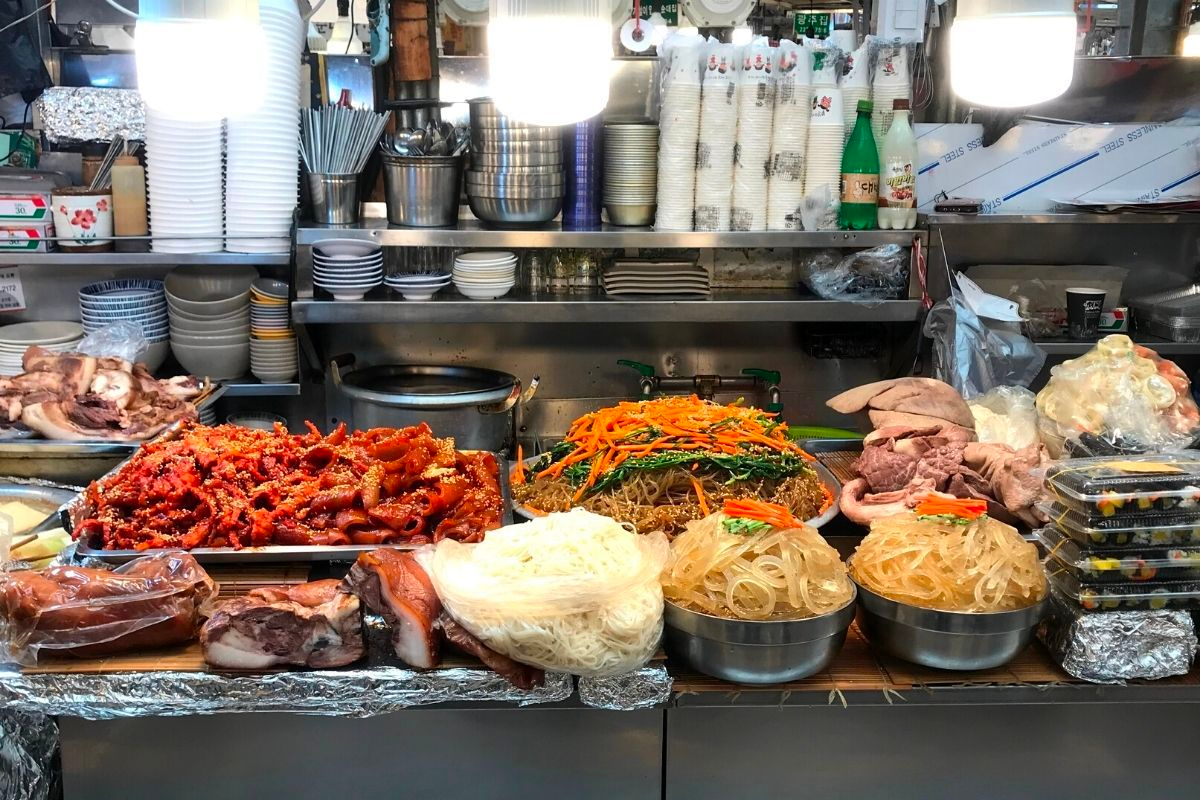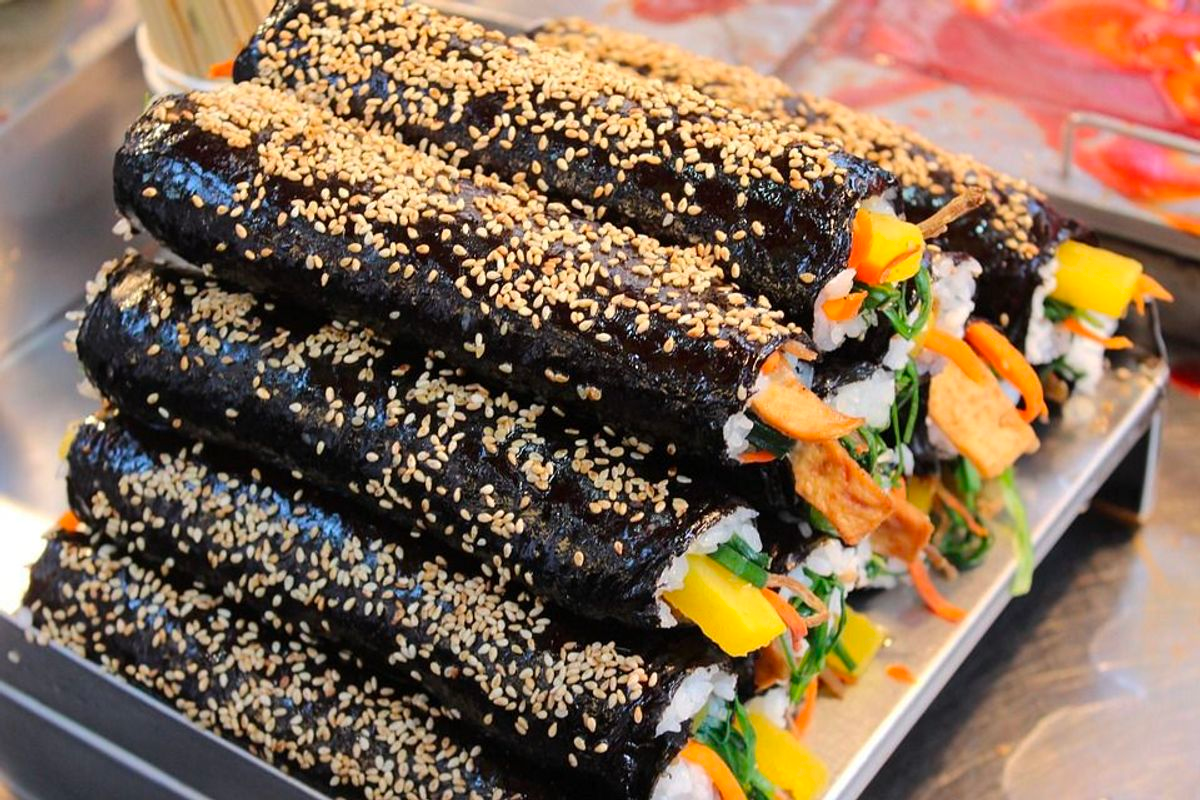 In addition, when visiting the Market, other dumpling soups, sesame rice rolls, etc. are also very famous. It is recommended that everyone sit in these small stalls in the Gwangjang market and bring enough cash to flex.
---
Transportation: Go straight from Gyeongbokgung Station (Seoul) Exit 2 of Seoul Metro Line 3 for 10 minutes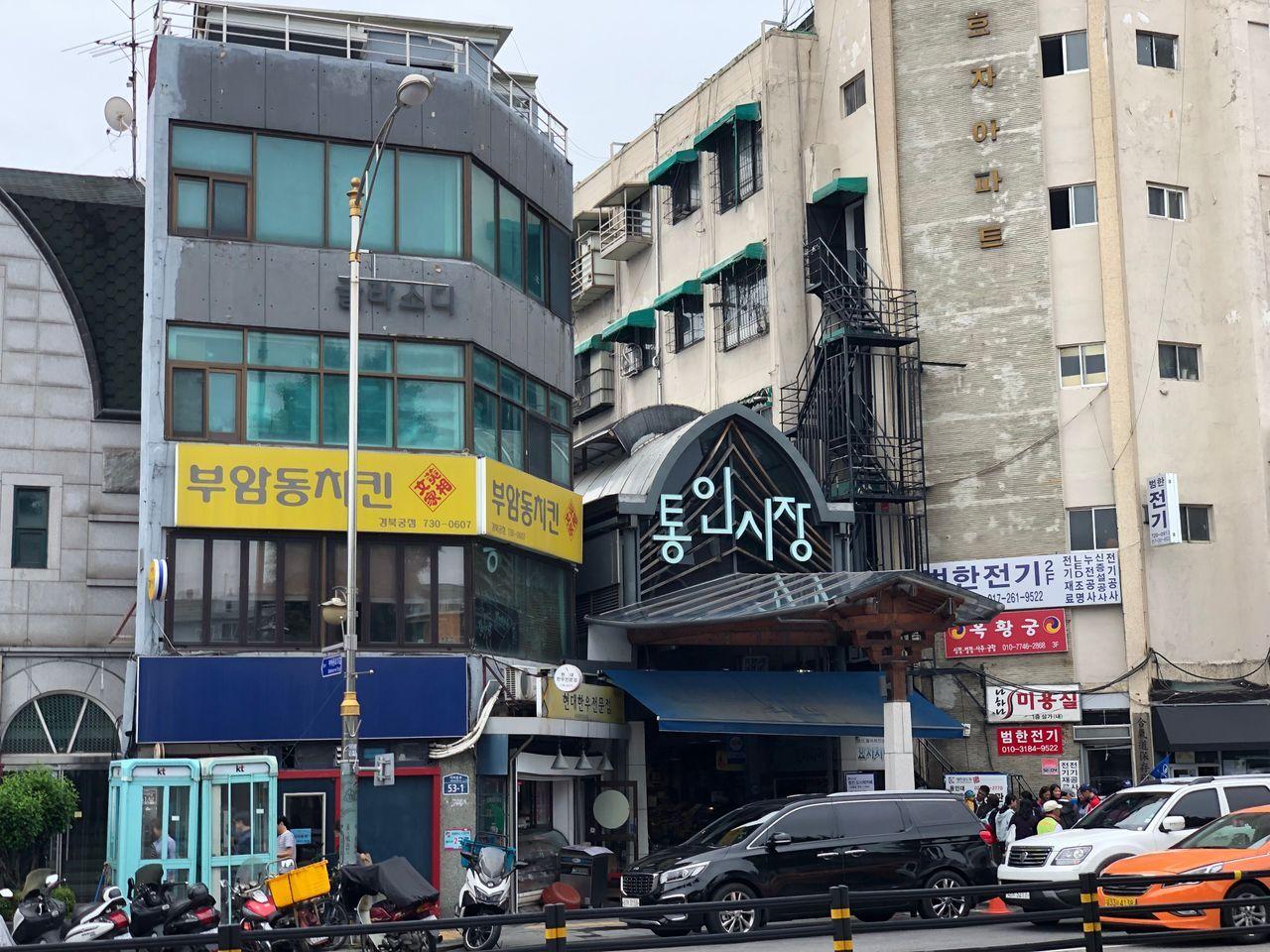 The Gwangjang Market is the most popular. But still the Tongin Market being near Gyeongbokgung is probably the most miraculous and business-minded market.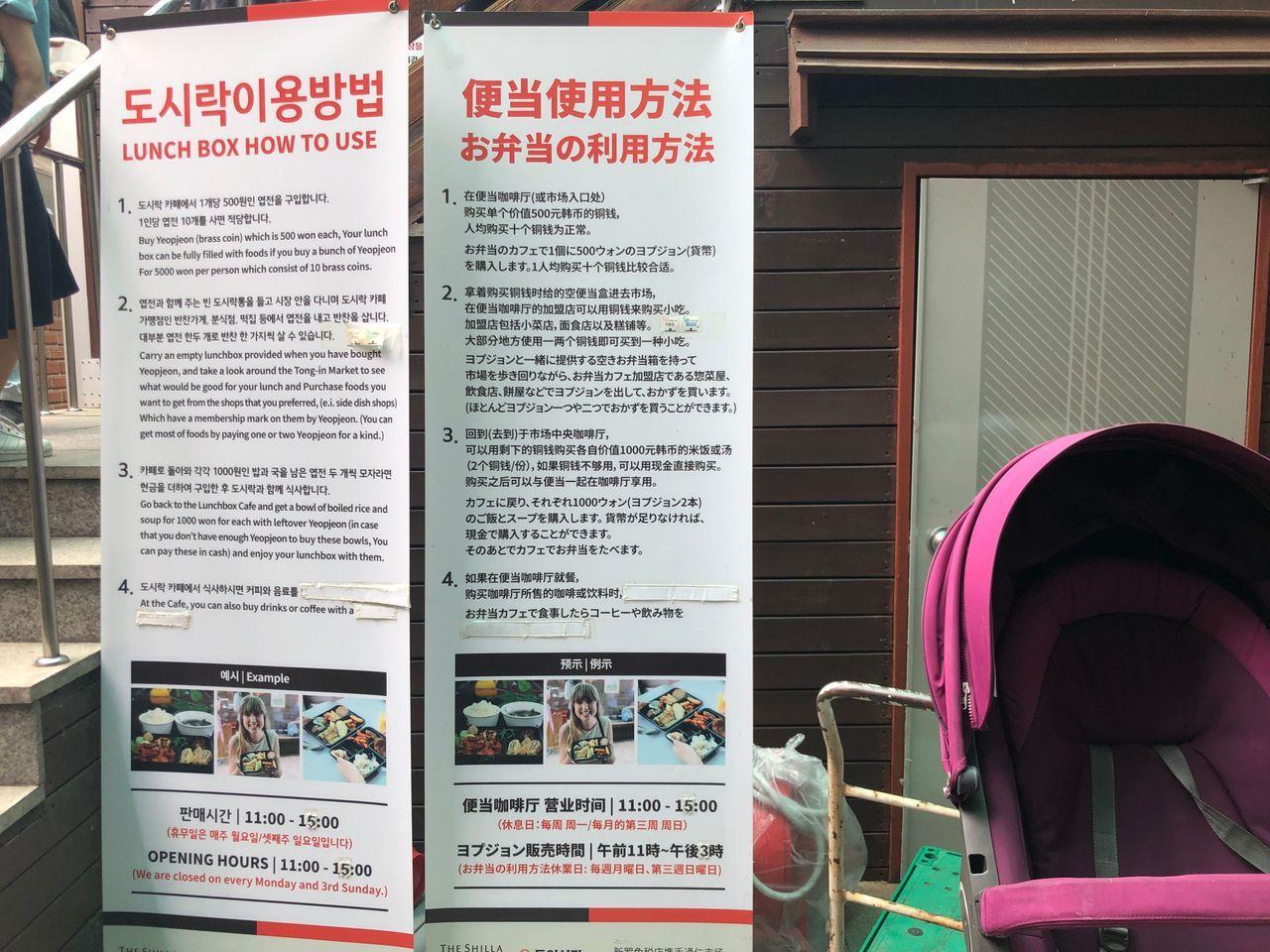 Why? There is a very special event in Tongin Market. You can use special shaped copper coins to buy food and put them in the payment boxes.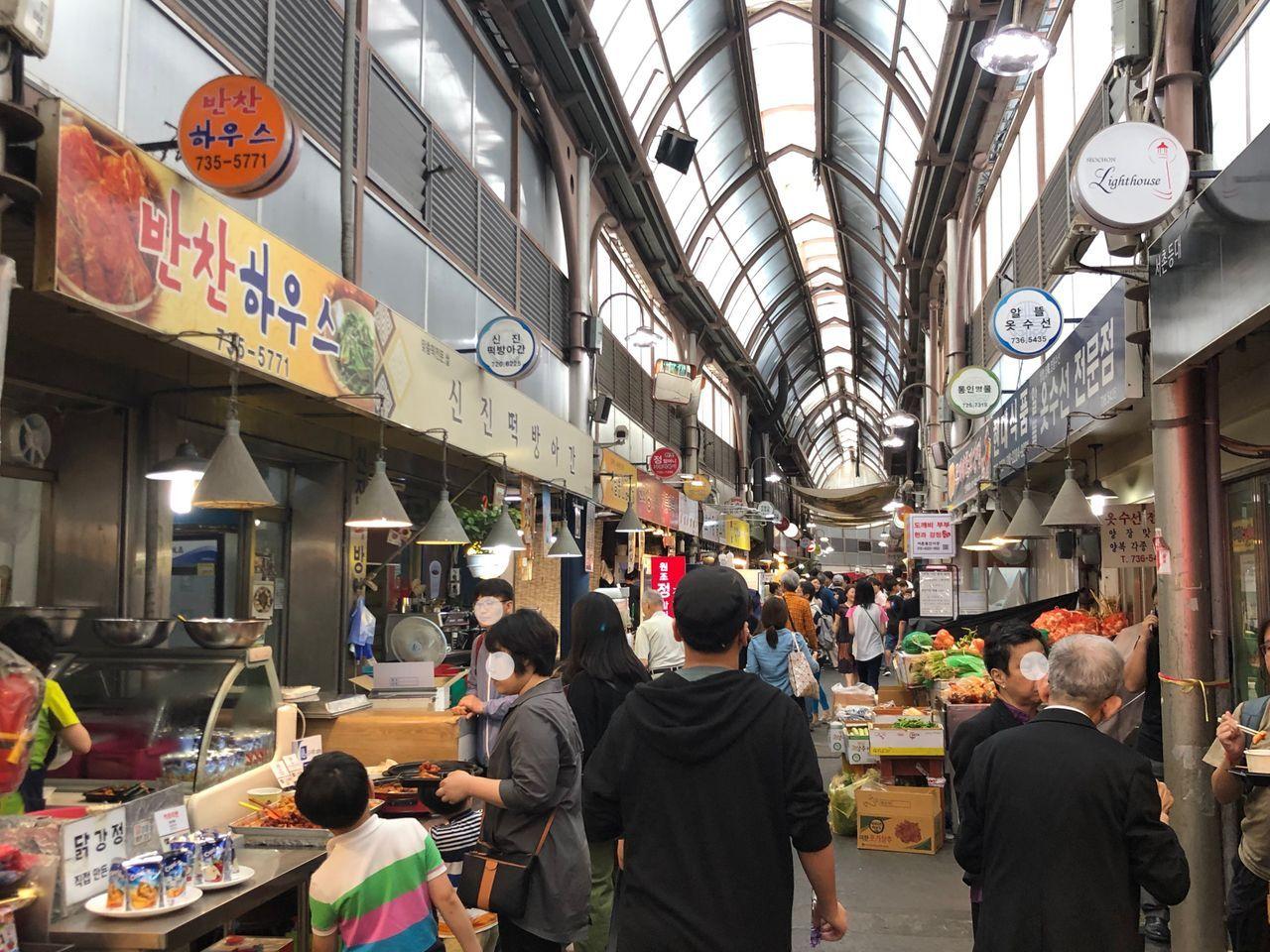 Different from the consumption pattern of the ordinary market, Tongin Market is very popular among tourists. Tongin Market began the relationship of the "copper coin" game, and the entire street vendor's consumption business model also changed a lot.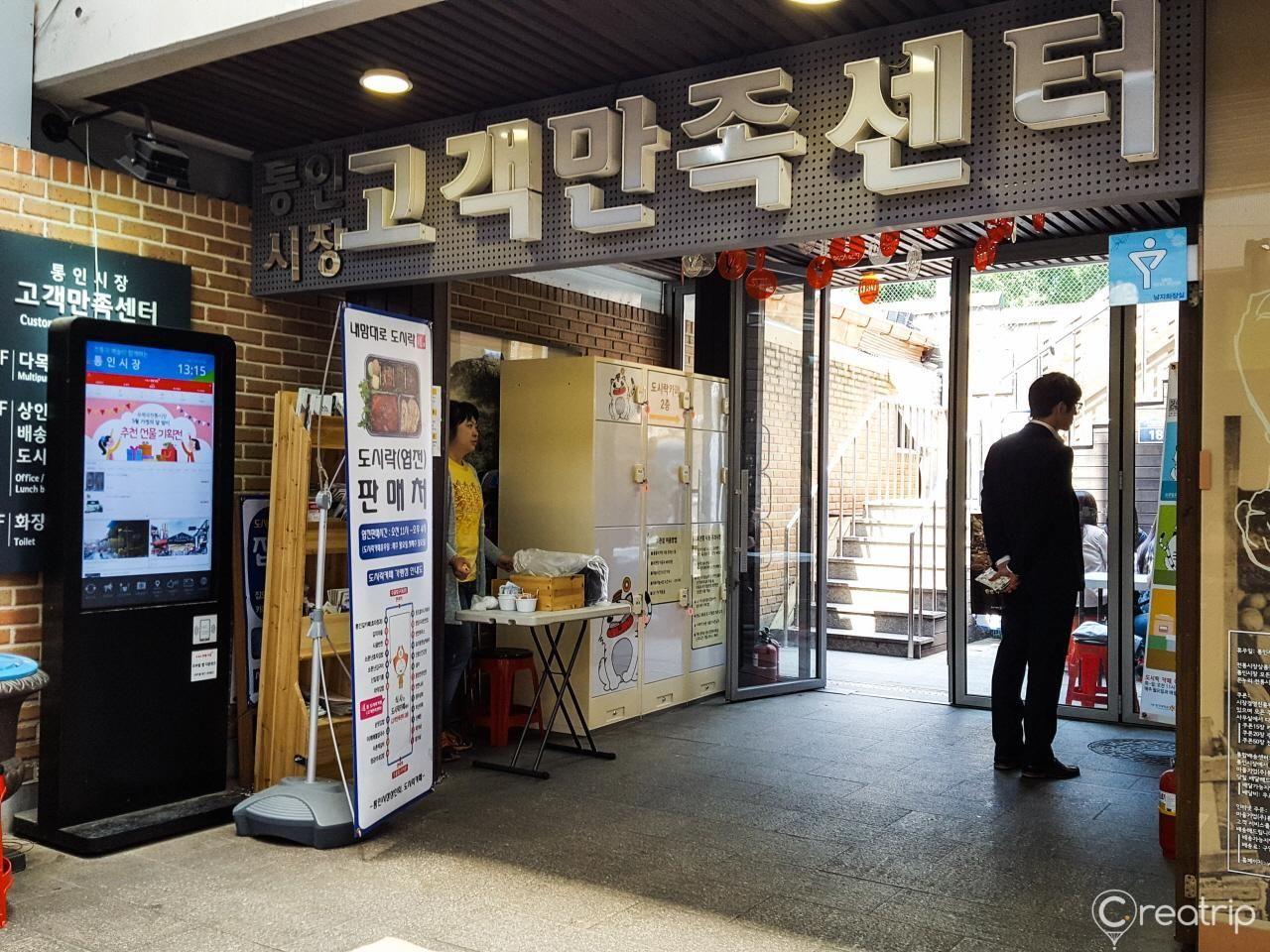 Tongin Market Copper Coins Sales Office
However, there will still be some merchants or some products that you won't be able to make transaction with these copper friends. So you can refer to the pink sign in the picture below.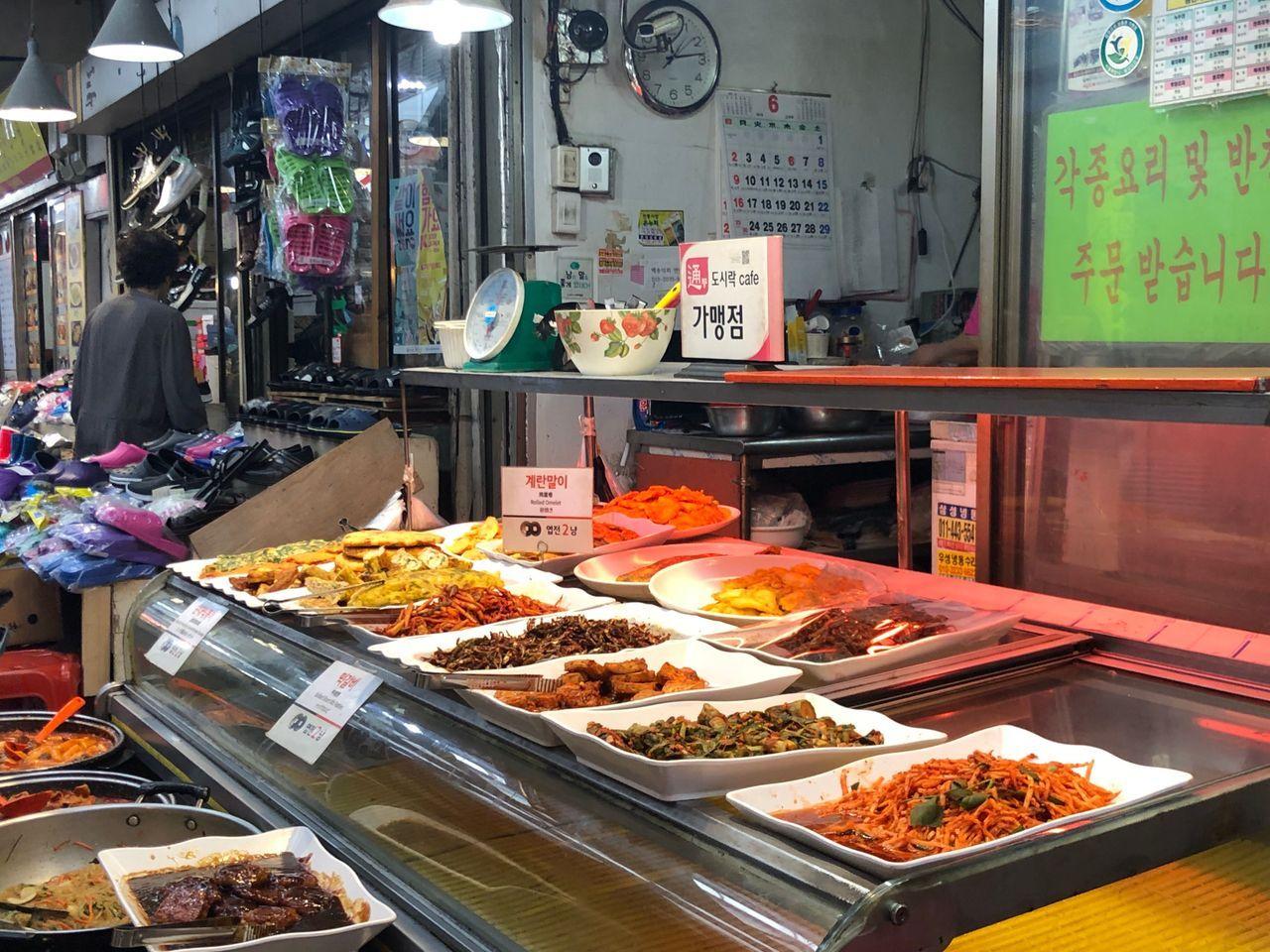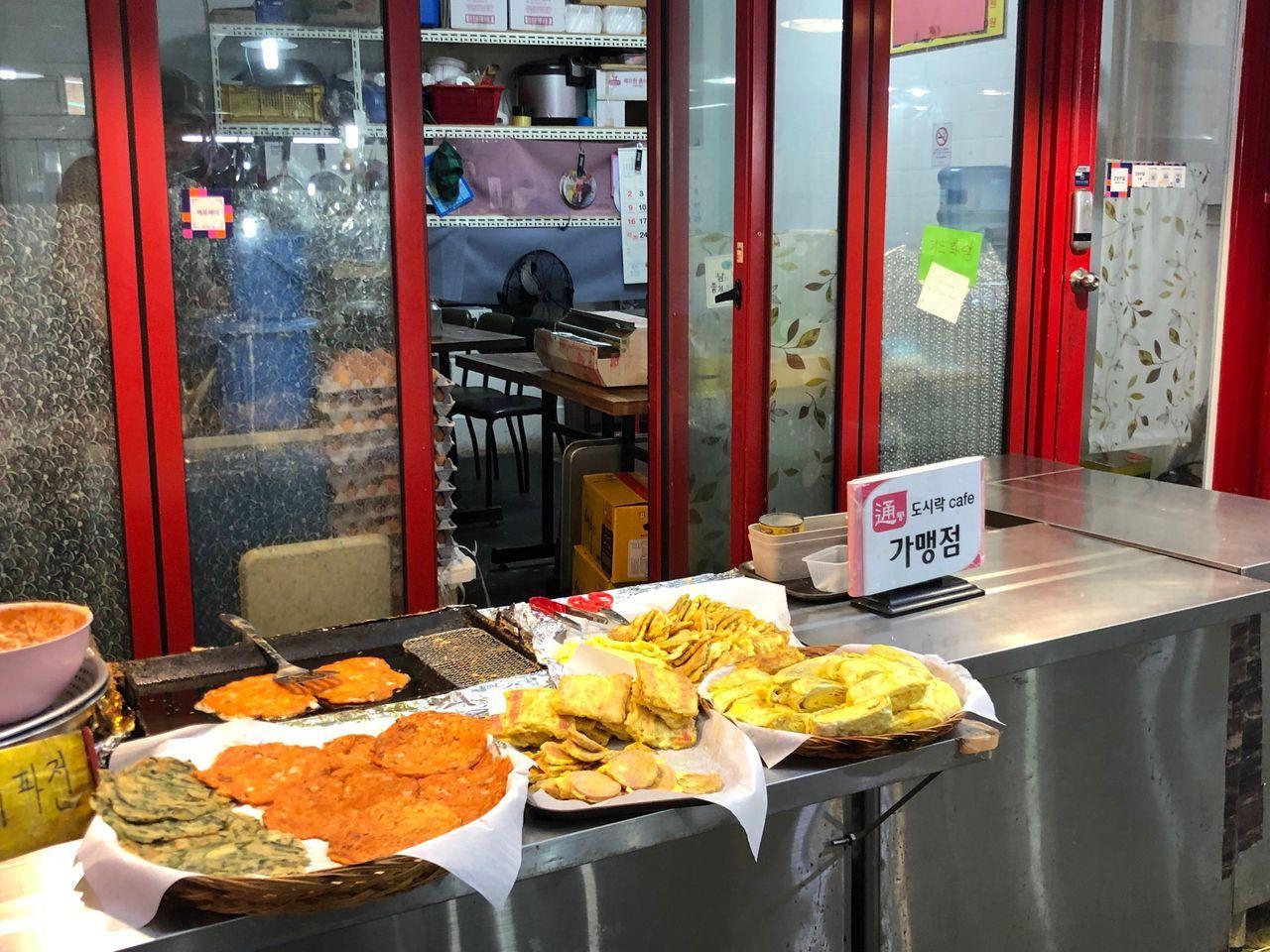 I respect the people who came up with this event and successfully led the dying Tongin market to escape a disastrous fate.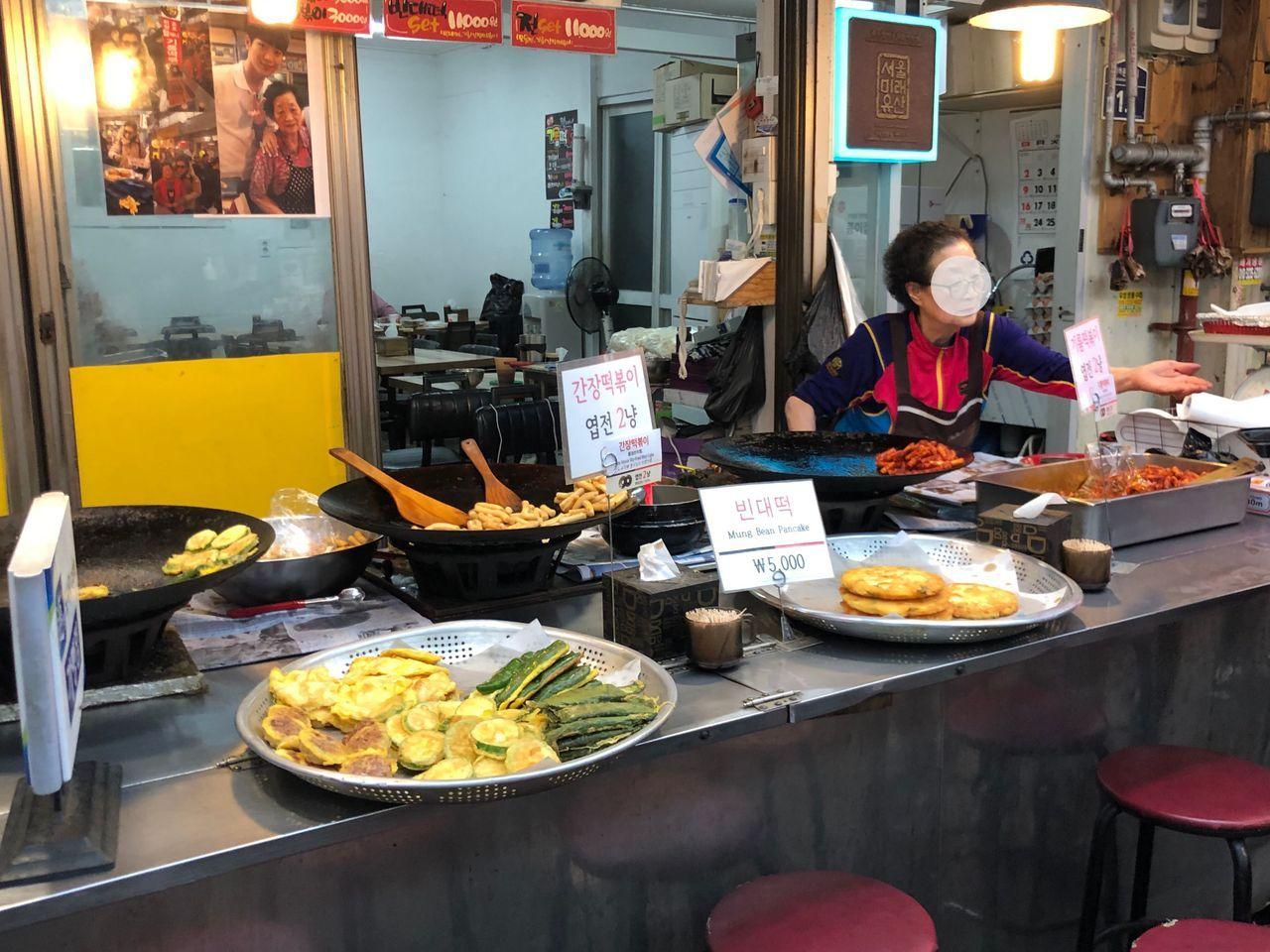 I just heard that Tongin Market has to increase the number of copper coins, because many tourists don't actually use them after getting them. As a souvenir, Tongin Market 's copper coins are not expensive, but I hope everyone can respect the rules at Tongin Market.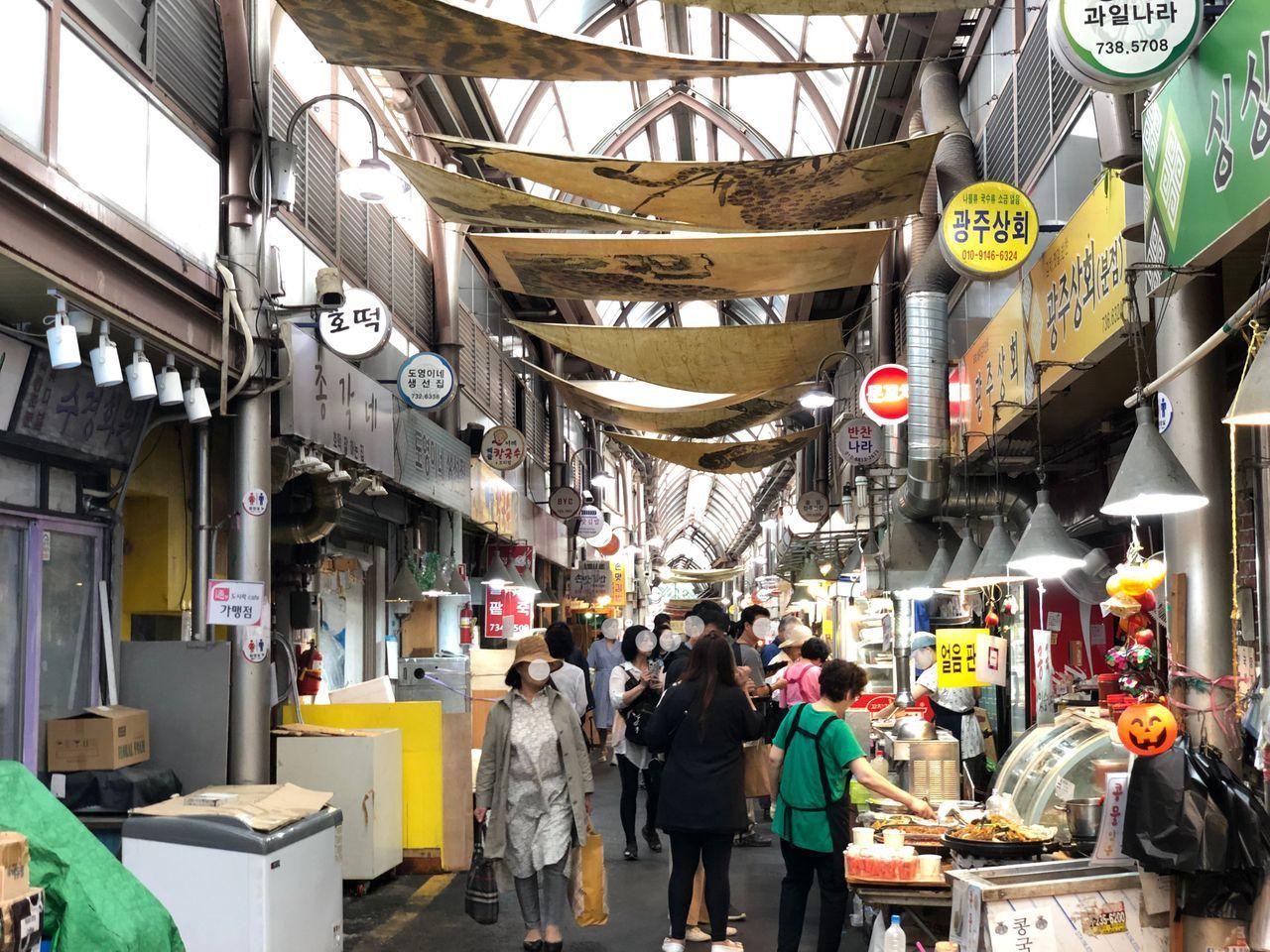 ---
Transportation: Seoul Metro Line 1 Noryangjin Station (노량진역) Hou Station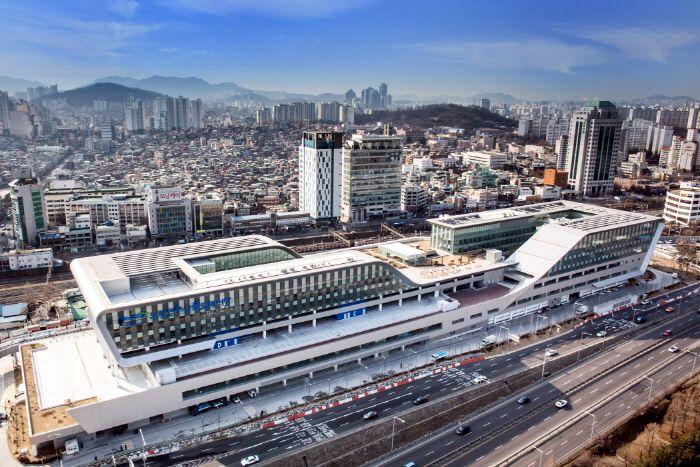 Noryangjin is the place with the most private academies in Seoul. Here, there are countless number of civil servant candidates and other students preparing for various exams, so the prices are generally cheap. It is also the place where Seoul has the highest youth ratio.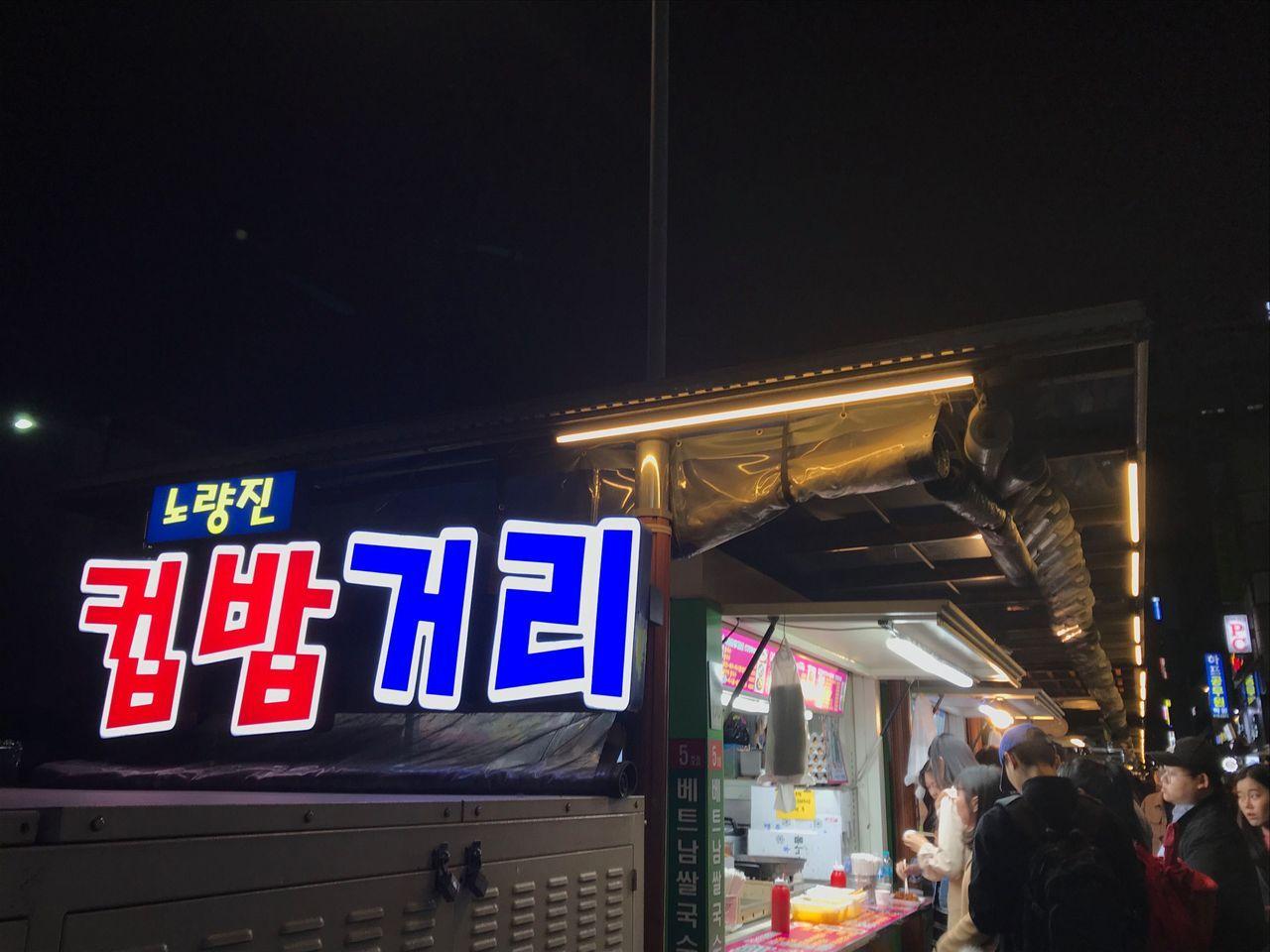 In order to relieve stress, many exam takers frequent a large number of bars, karaokes, and gyms. Another argument is that people here are more open-minded, and there will also be so-called exam couples. During the test preparation period they are together, but they break up after the test.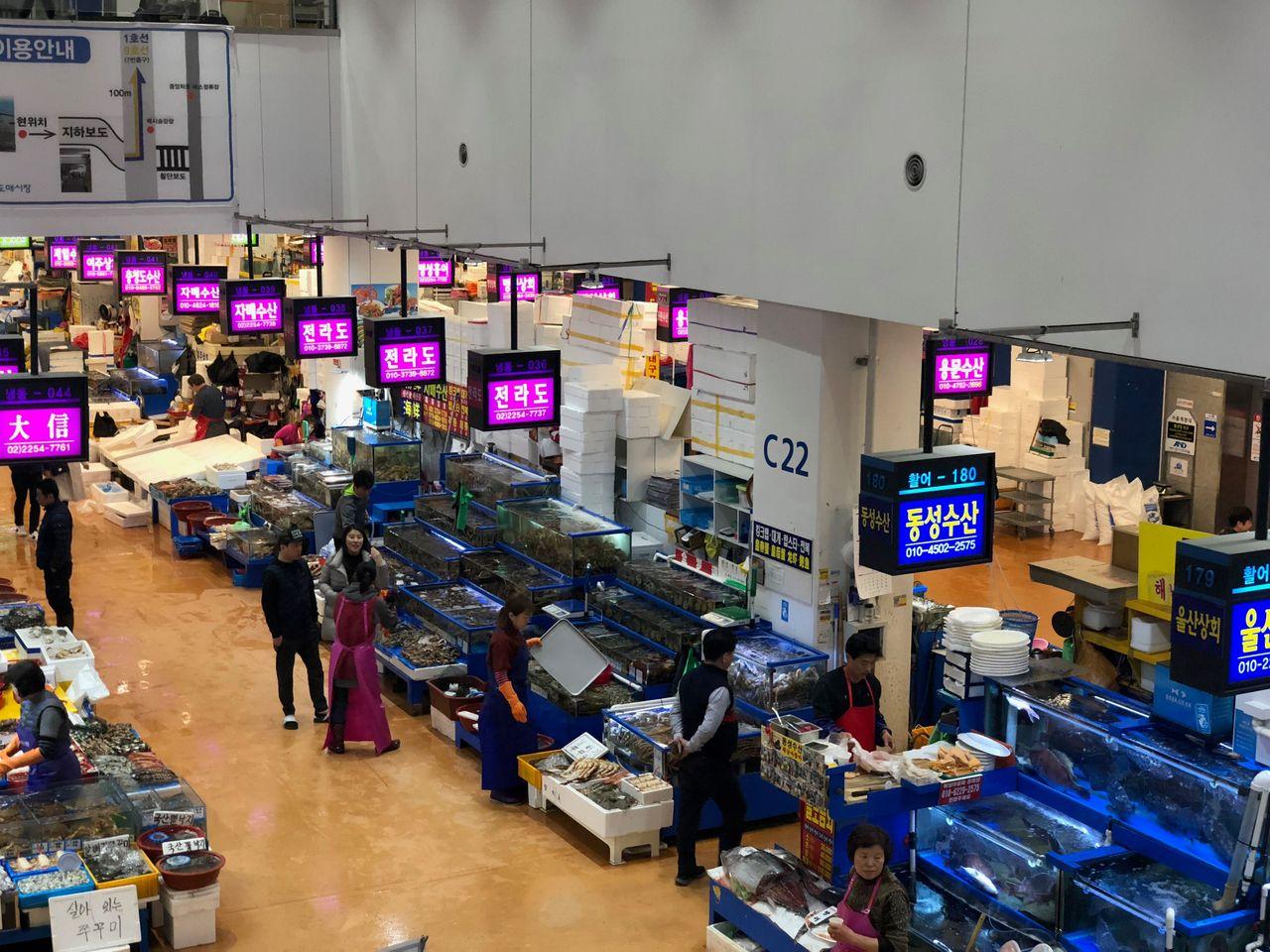 And at the back street, there is Seoul's largest seafood market, "Noryangjin Seafood Market". The building is very large, and it is divided into dining areas (second floor) and the sales area. Grab yourself some food.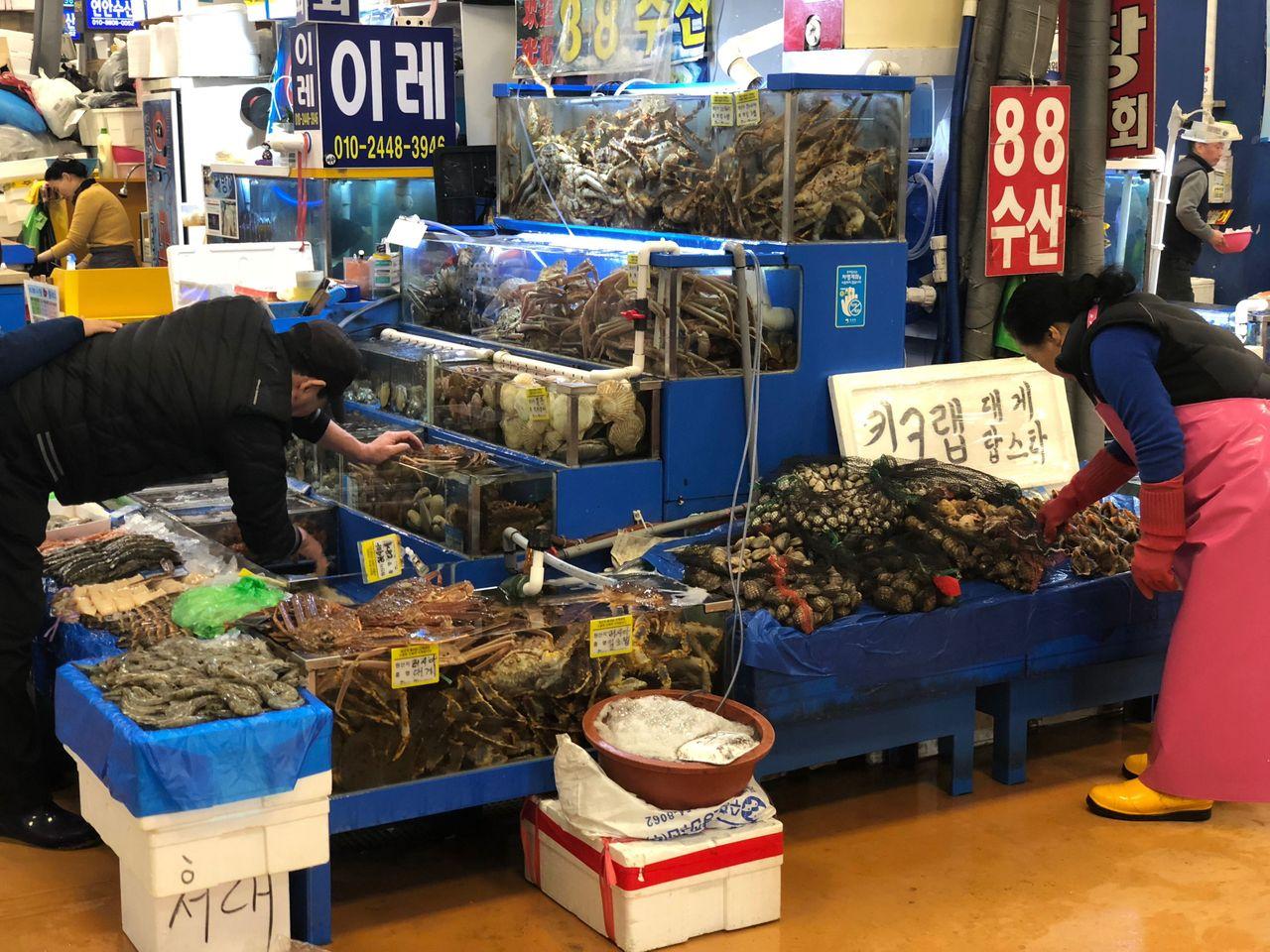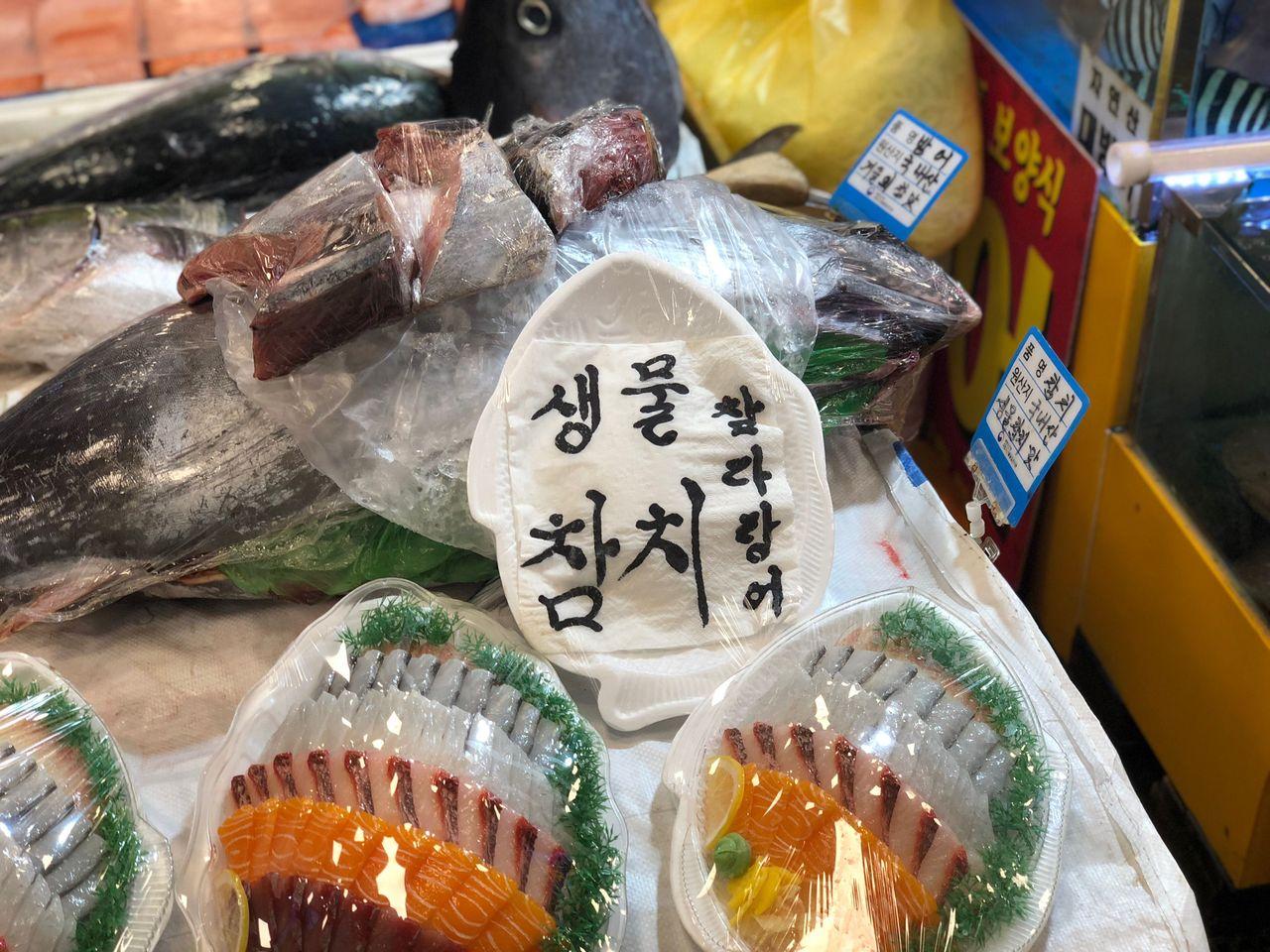 But next to this brand-new Noryangjin Fisheries Market, there is an old market in ruins just next to it. It is a sign of the Seoul government's unsuccessful and deadlocked coordination with the old vendors for the urban planning updates.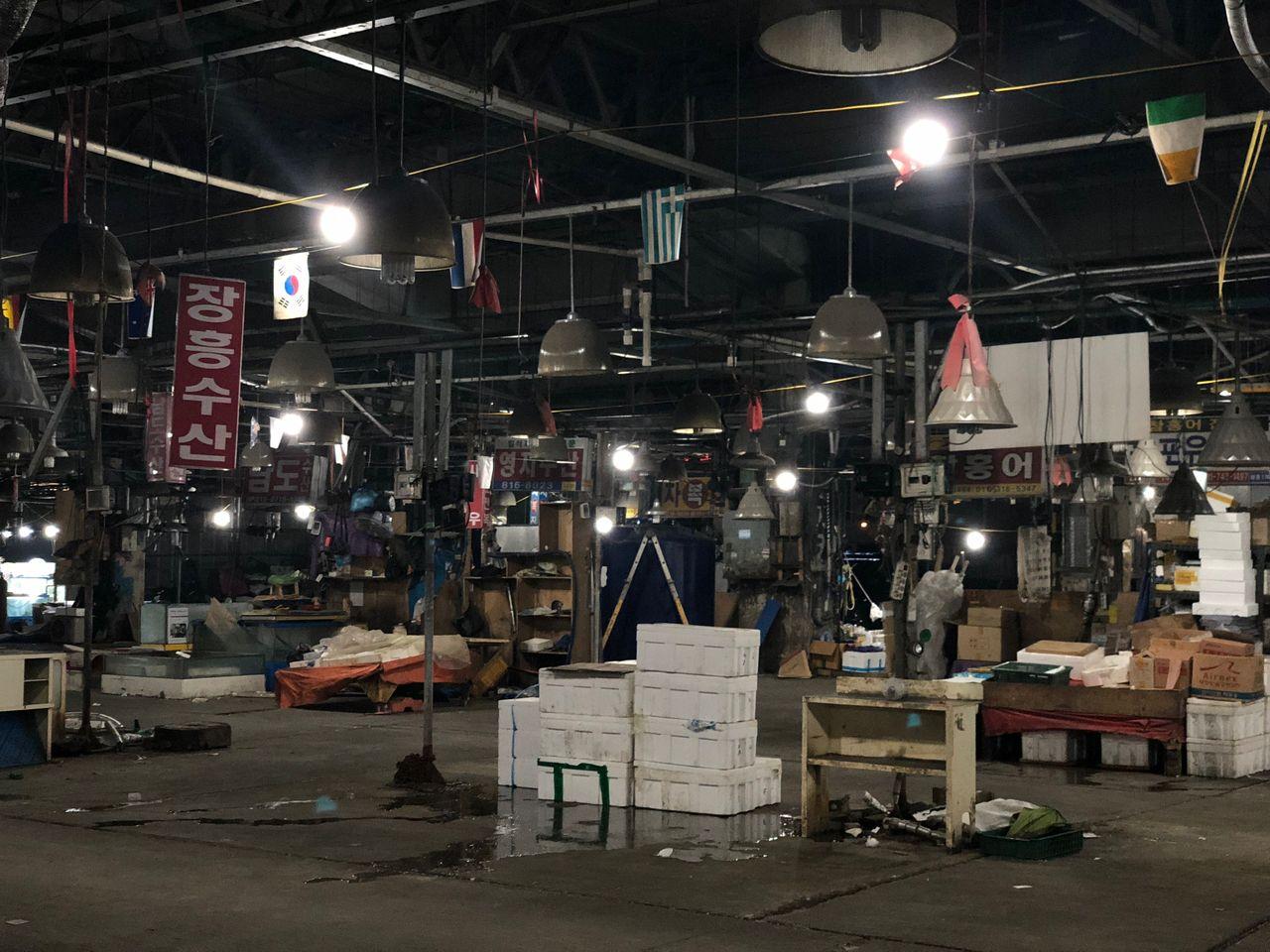 Worn out and even a little precarious, some street vendors still do their business here, which is a very different traditional Seoul market landscape.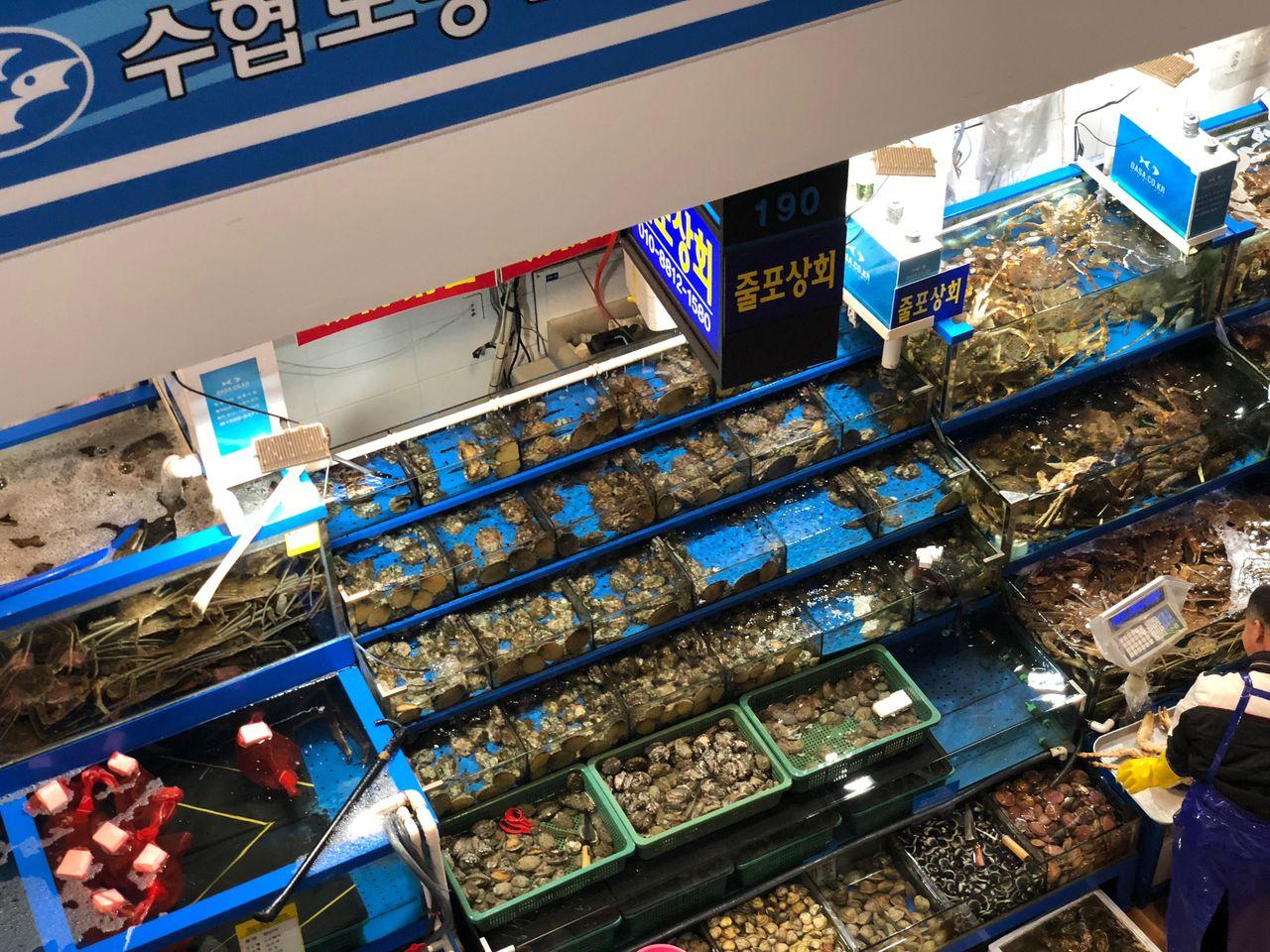 However, many people still visit the new Noryangjin Market, because it is bright, clean (but wet everywhere), the price is open for negotiation, and many vendors can speak Chinese. Once you order seafood, someone will bring you your fish ready to eat.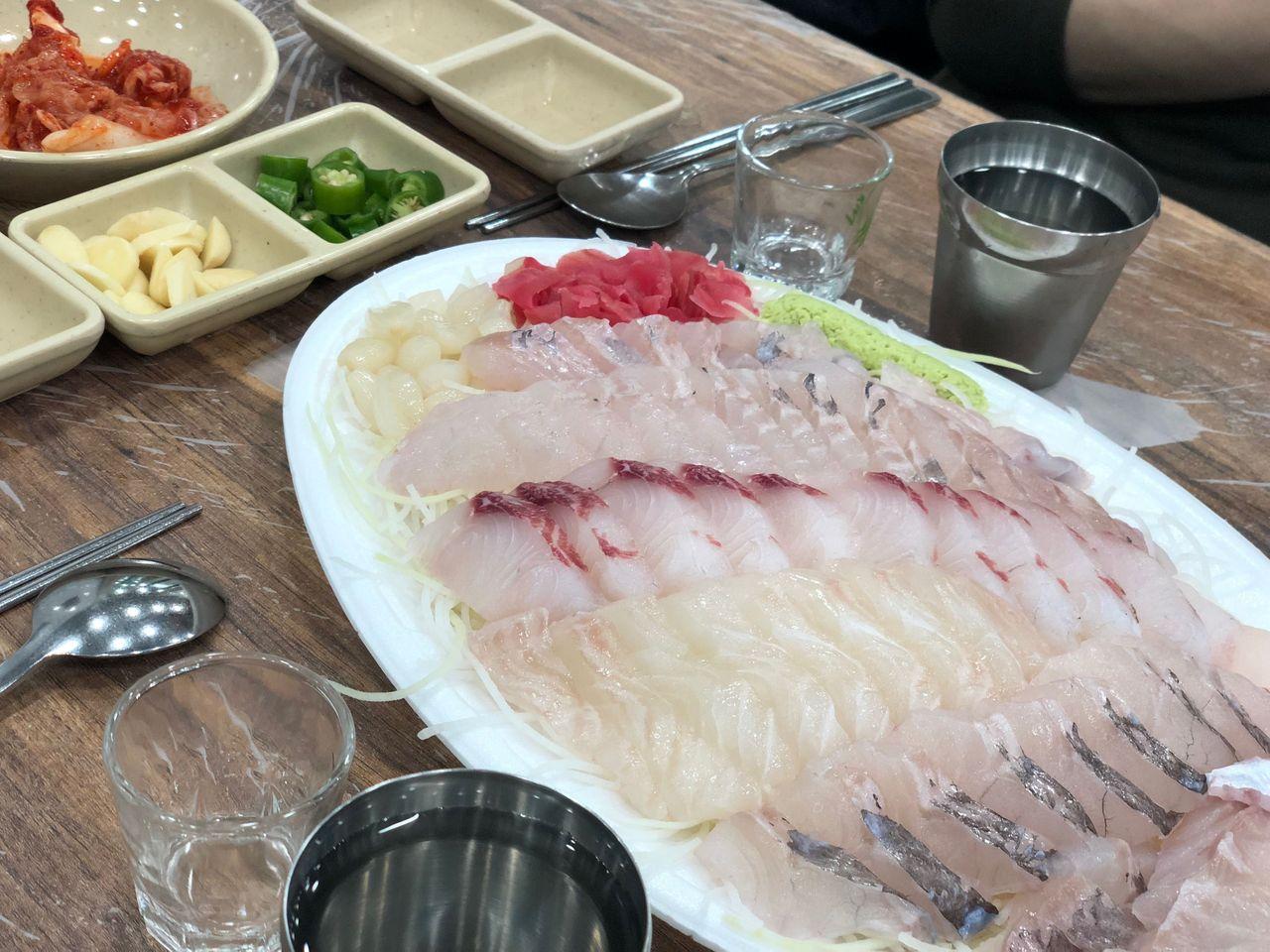 However, most of the businesses will additionally charge by the person. It is recommended that you ask more before dining to avoid unnecessary misunderstandings. However, Noryangjin Market is really the largest seafood market in Seoul. Seafood is also very fresh. If you want seafood you must come and taste it.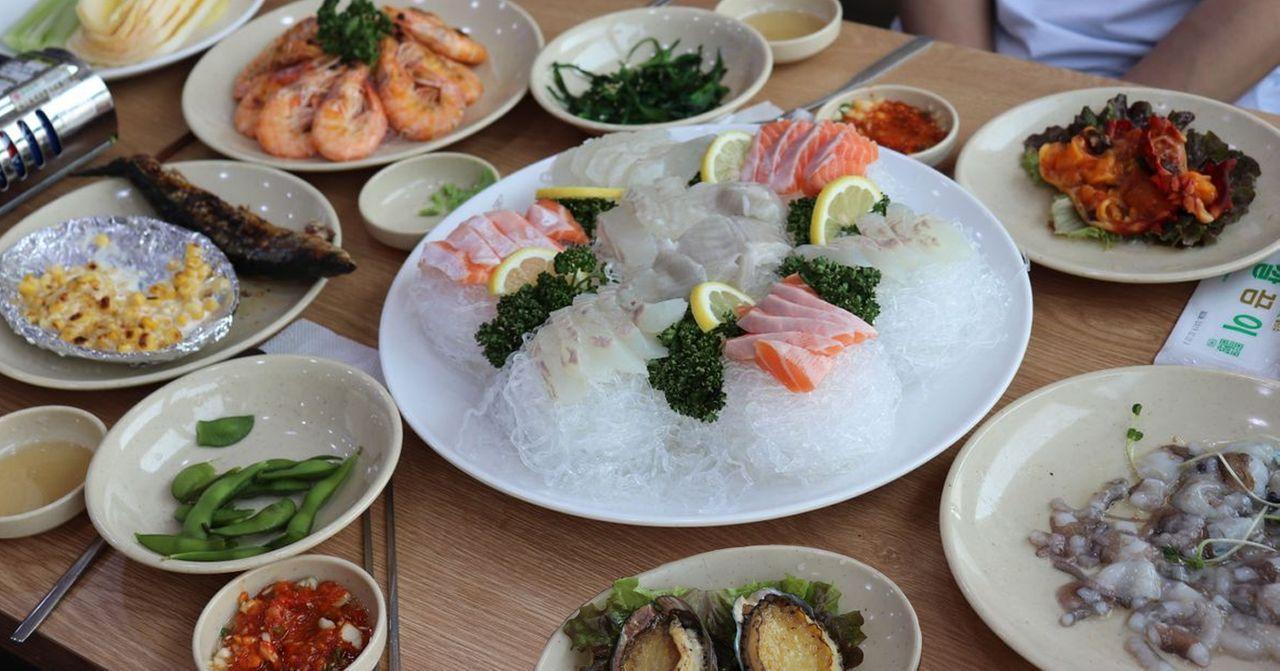 ---
Transportation: 3-minute walk from Exit 2 of Jegidong Station (제기 동역), Seoul Metro Line 1.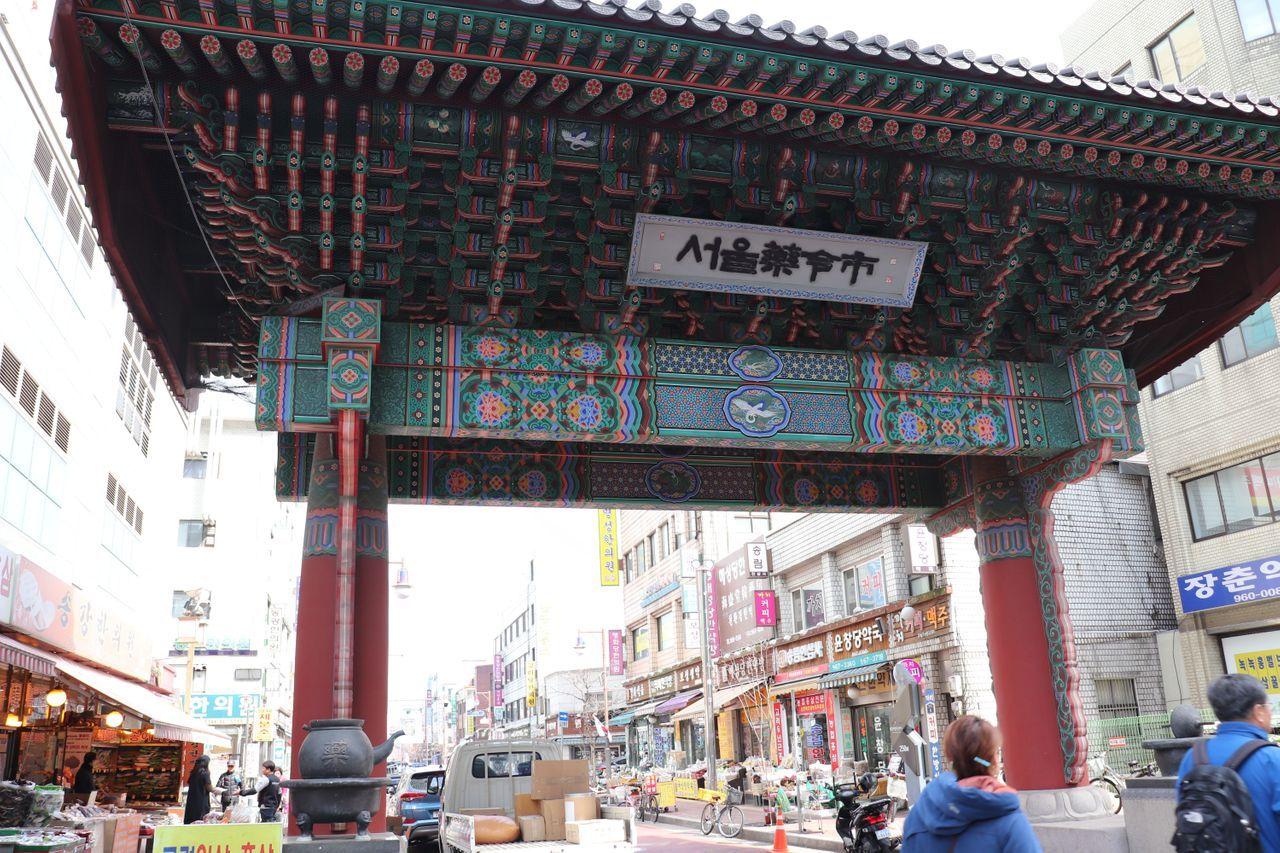 There are many tourists who go to the traditional markets in Seoul, and most of them try the gourmet food. My next introduction is of a more local market.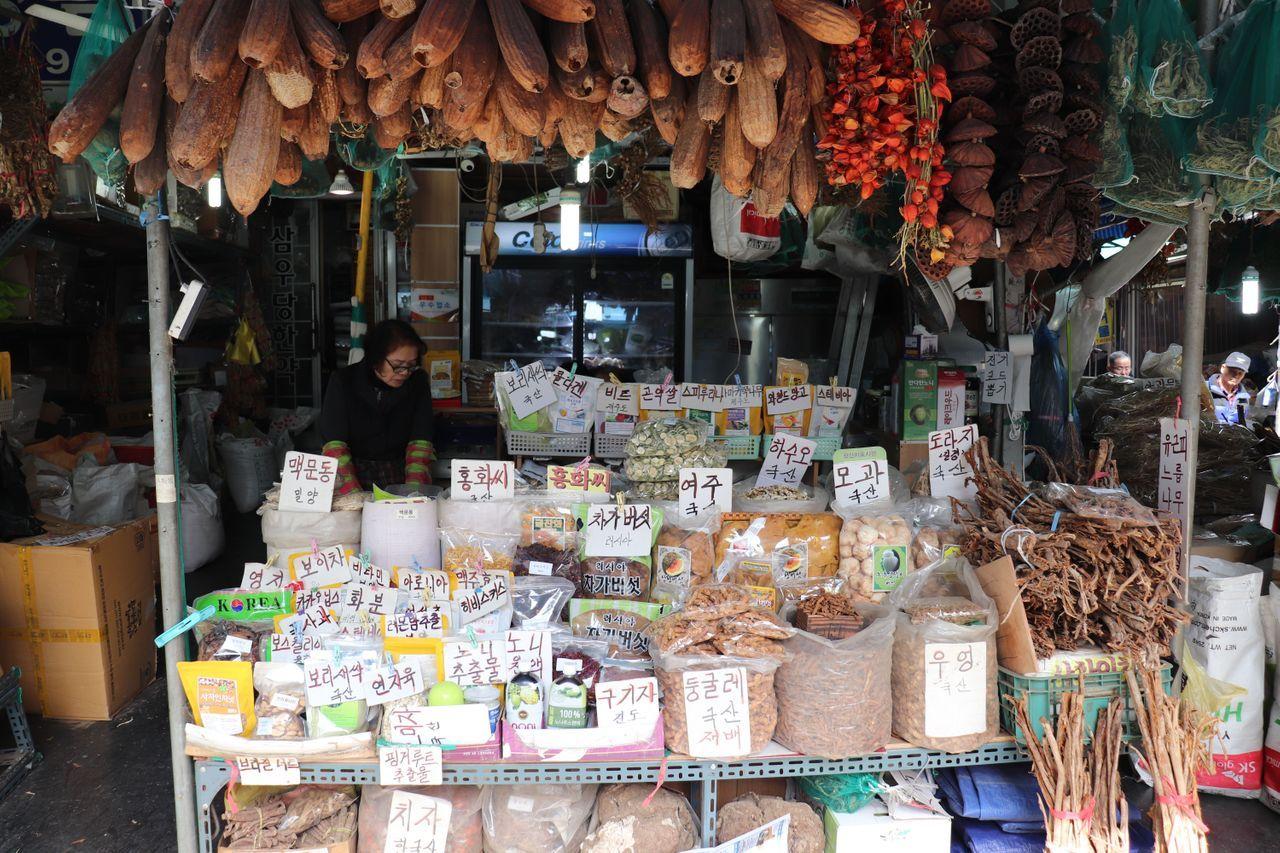 Are you curious if there is a Korean medicinal market in Seoul? It is the "medicine market". With its distinctive characteristics, you can smell the strong scent of medicinal herbs as soon as you get here. It is the largest medicinal herbs market in Korea. You can feel healthy when you smell the scent.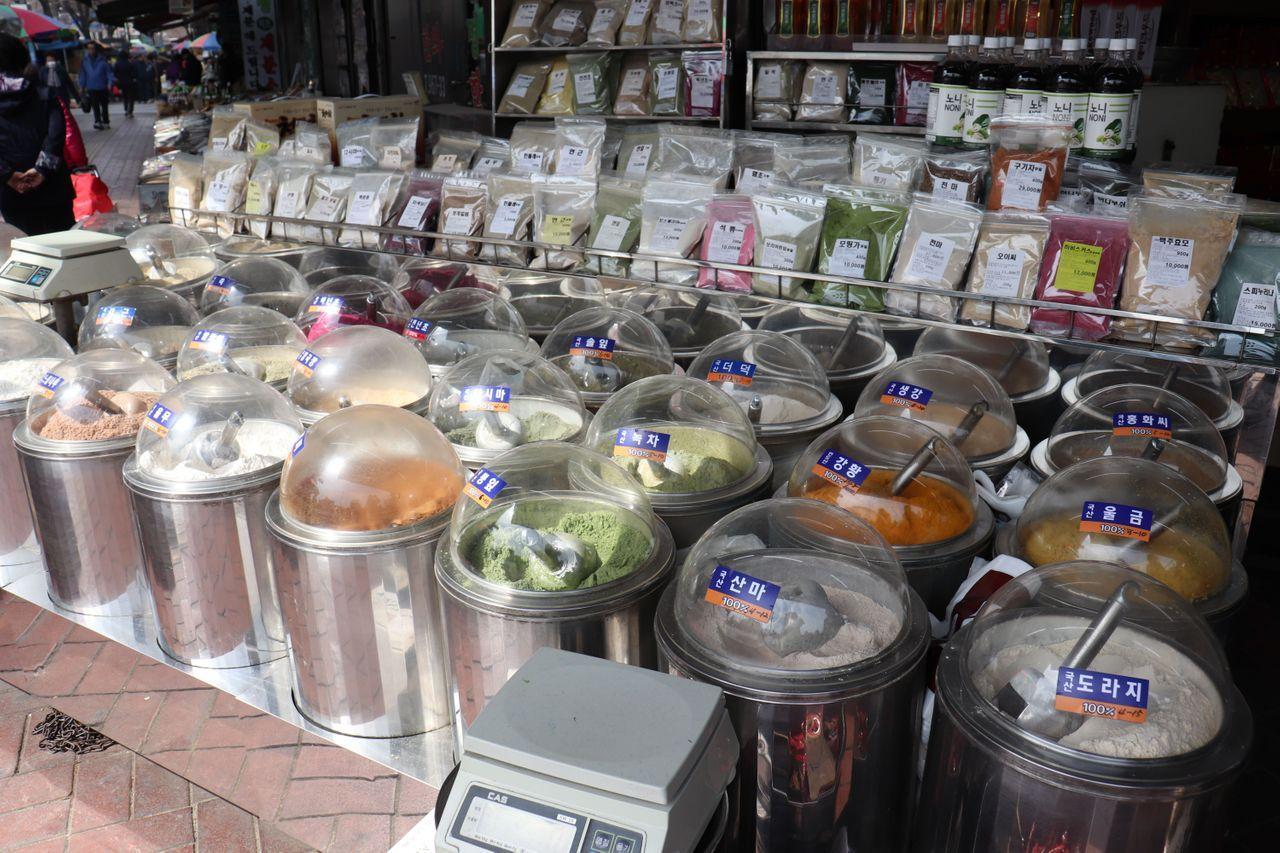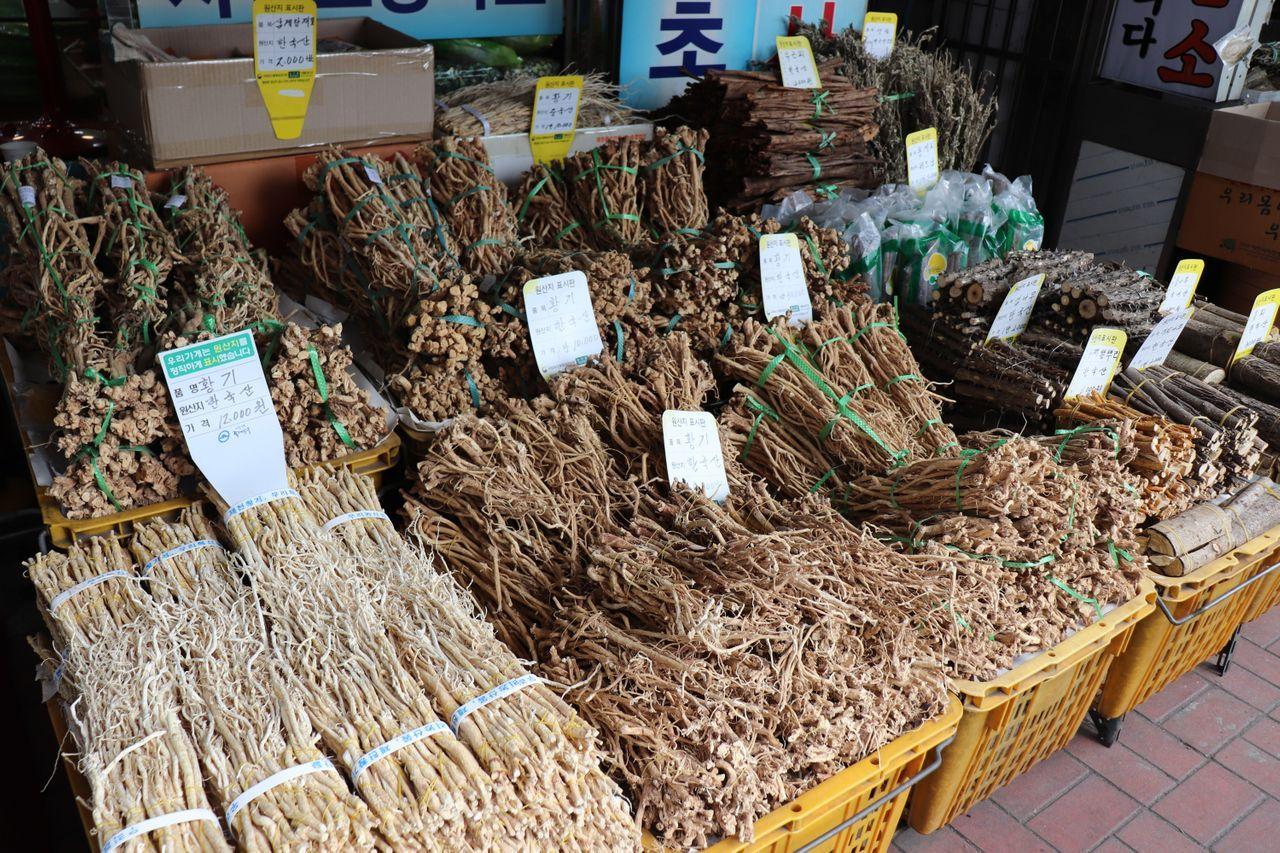 It's okay even if you don't have the relevant knowledge of Korean medicinal materials. When you come to this medicinal market that specializes in Korean medicinal materials, it is great to just walk around and experience this different feeling. You'll see the scenery is quite unique.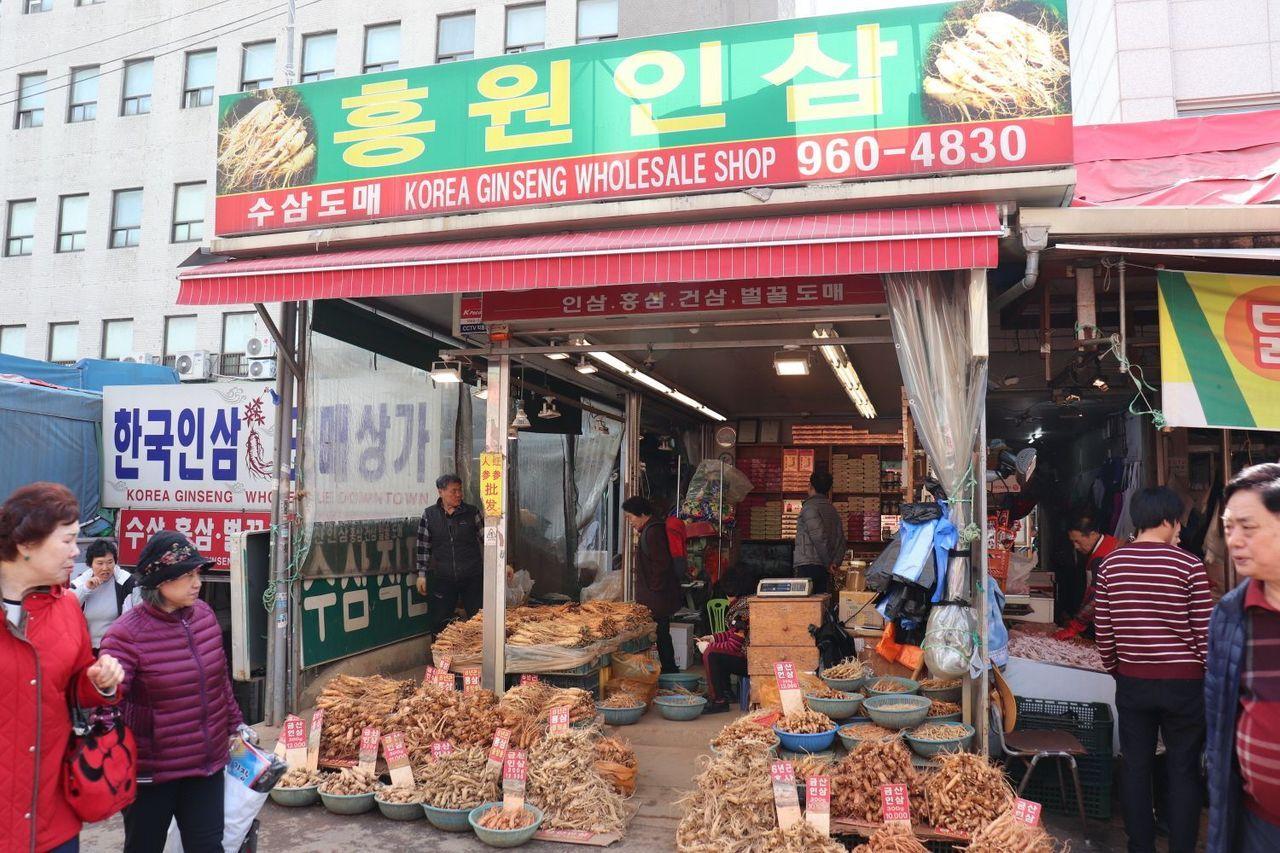 There are a lot of medicinal materials, so there is a difference between good and bad. It is recommended that if you really want to buy authentic Korean medicinal materials in South Korea, you must ask a Korean friend you know to ask and negotiate for you. You definitely won't get the best of the merchants here.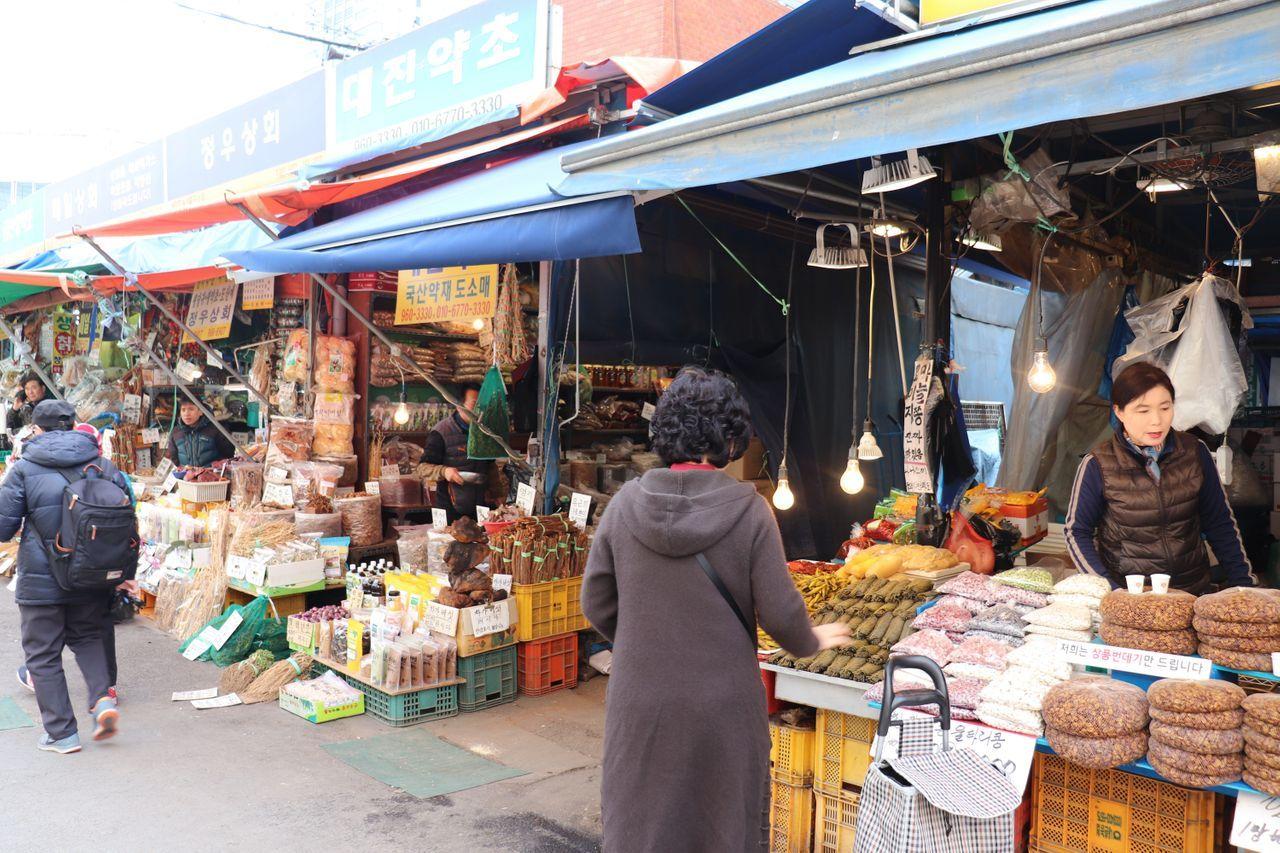 Is this the only market for Korean traditional medicines? No, there is another traditional market "Jingdong Market" next to Yakryung Market, and the whole street is full of ginseng.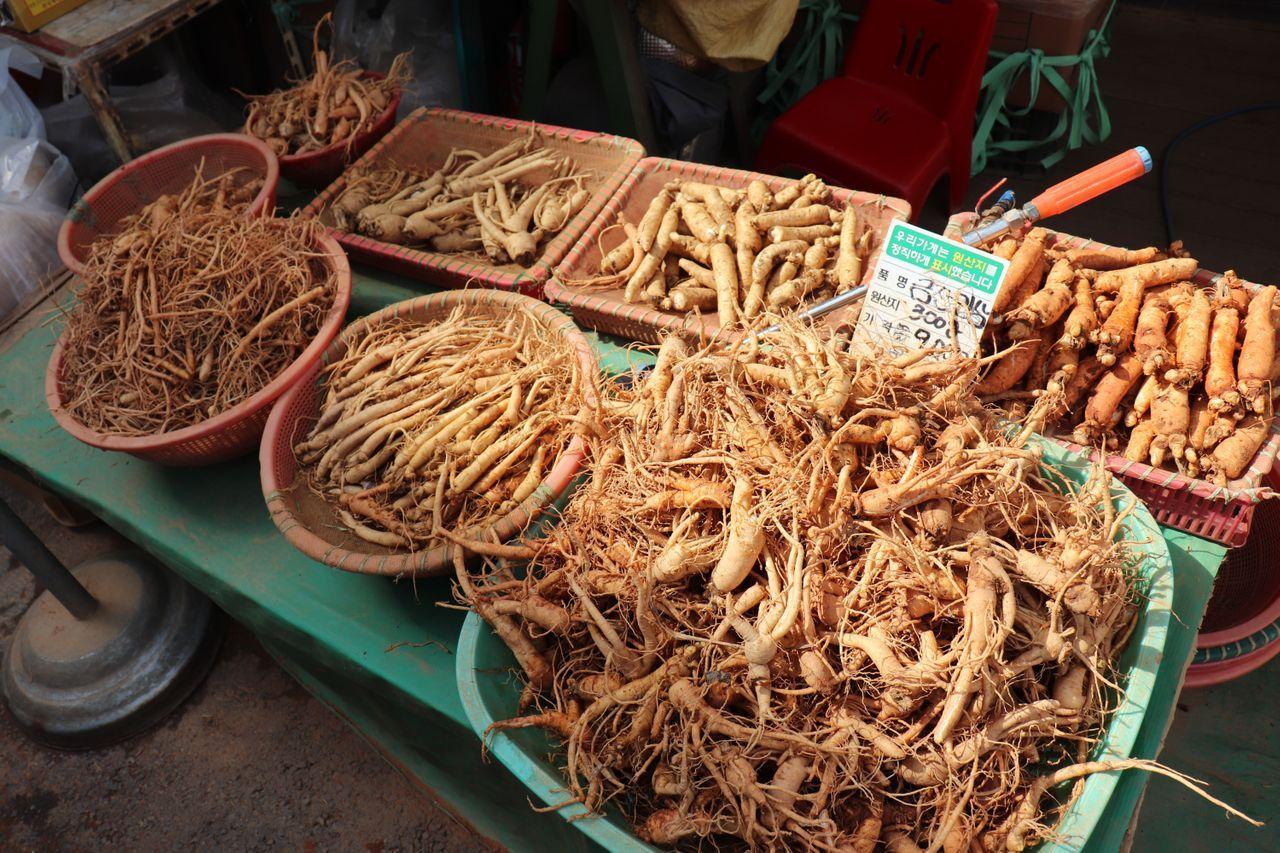 A whole bunch of fresh ginseng is placed here, and the price is much cheaper than expected. It is also the largest ginseng market in Seoul. Many restaurants selling ginseng-related dishes are here.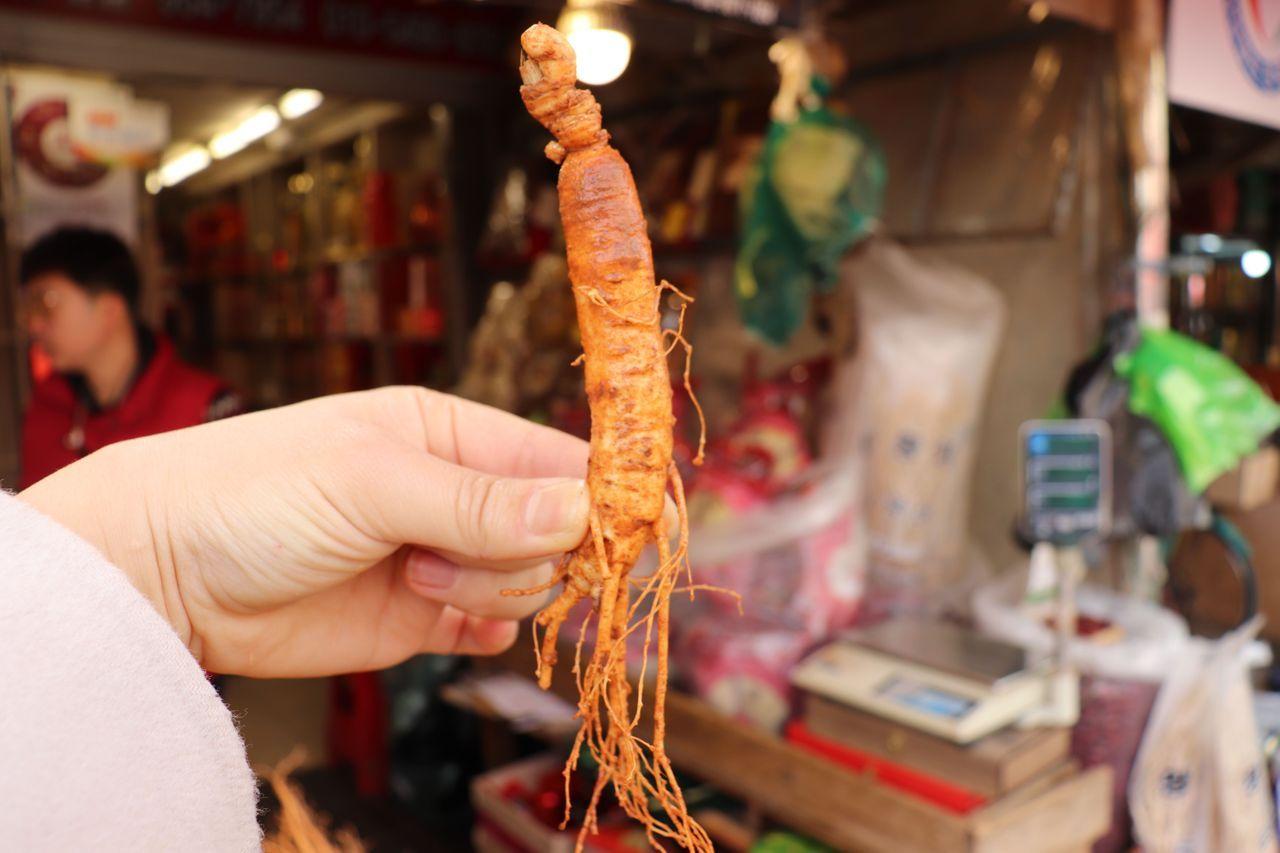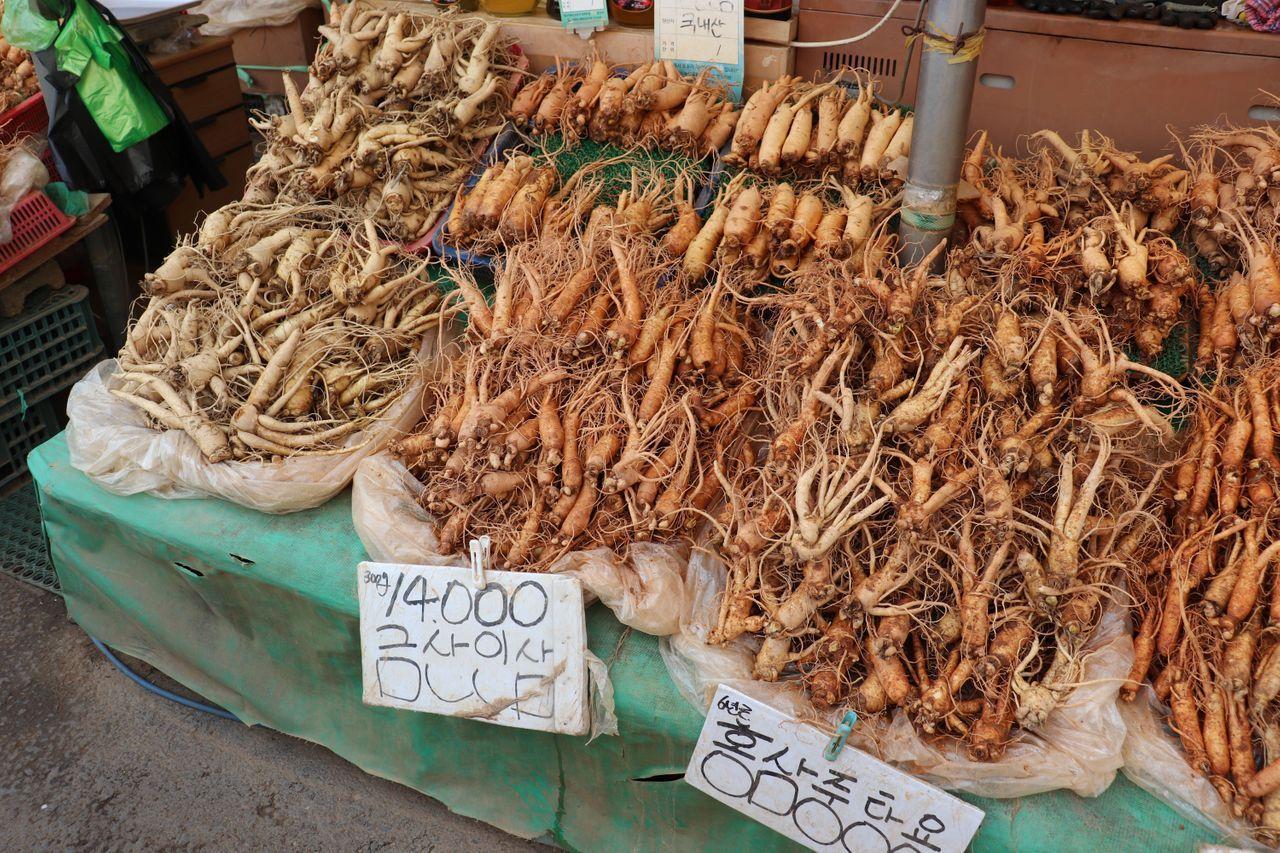 Although the law says that fresh and native ginseng are prohibited from leaving the country, the ginseng shops in the market (Jingdong Market) all sell dry and processed ginseng that can be taken on board your flight. Friends who are interested can stay here for a bit more, buy some souvenirs and go back.
---
Transportation: Seoul Metro Line 1 and Line 6 Dongmyo Station (동묘앞 역) Exit 3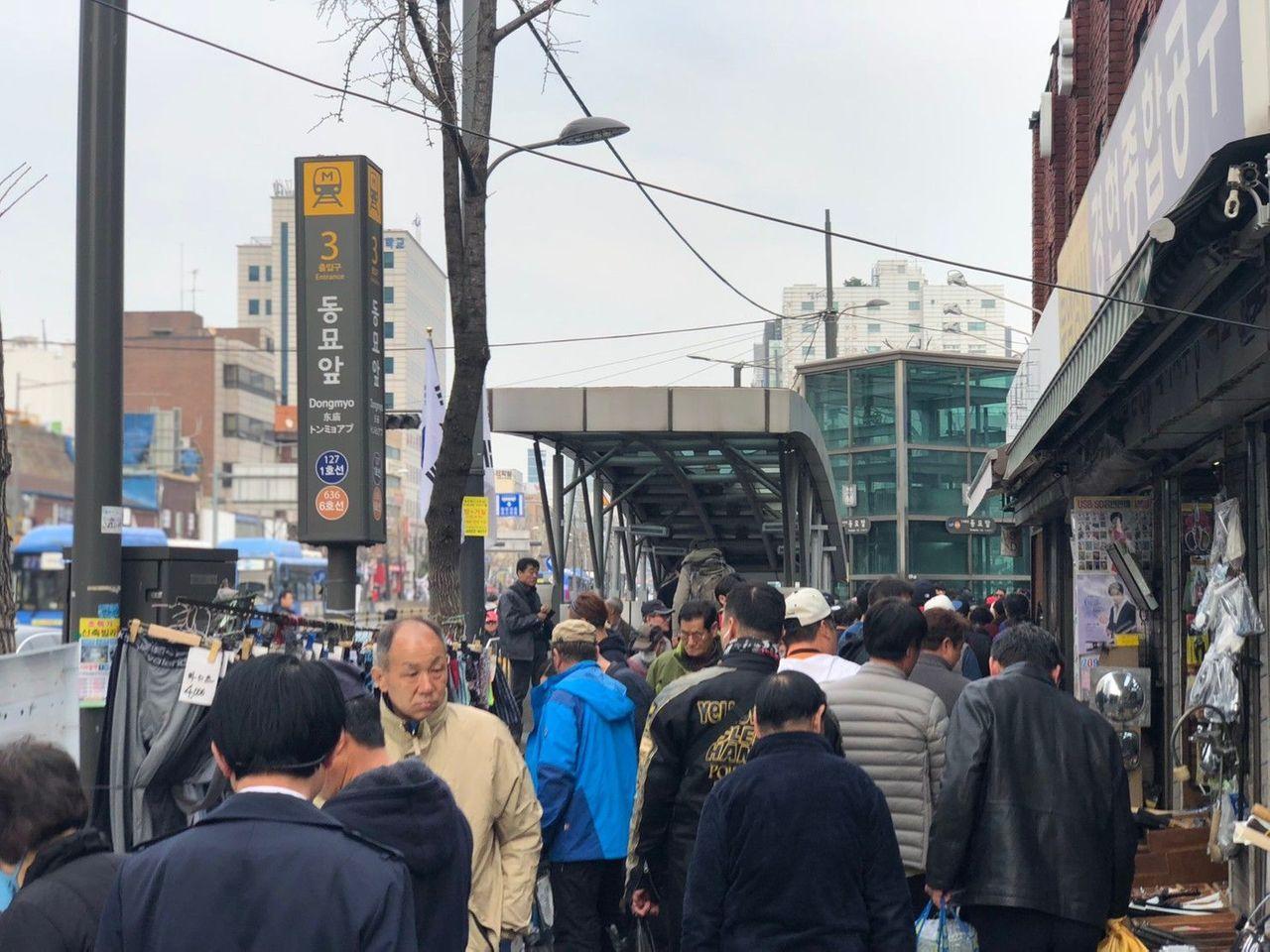 The Dongmyo market near Dongdaemun is like a flea market. But is it? It's like going back in time with a time machine, full of second-hand goods and auctions, like an endless treasure hunt.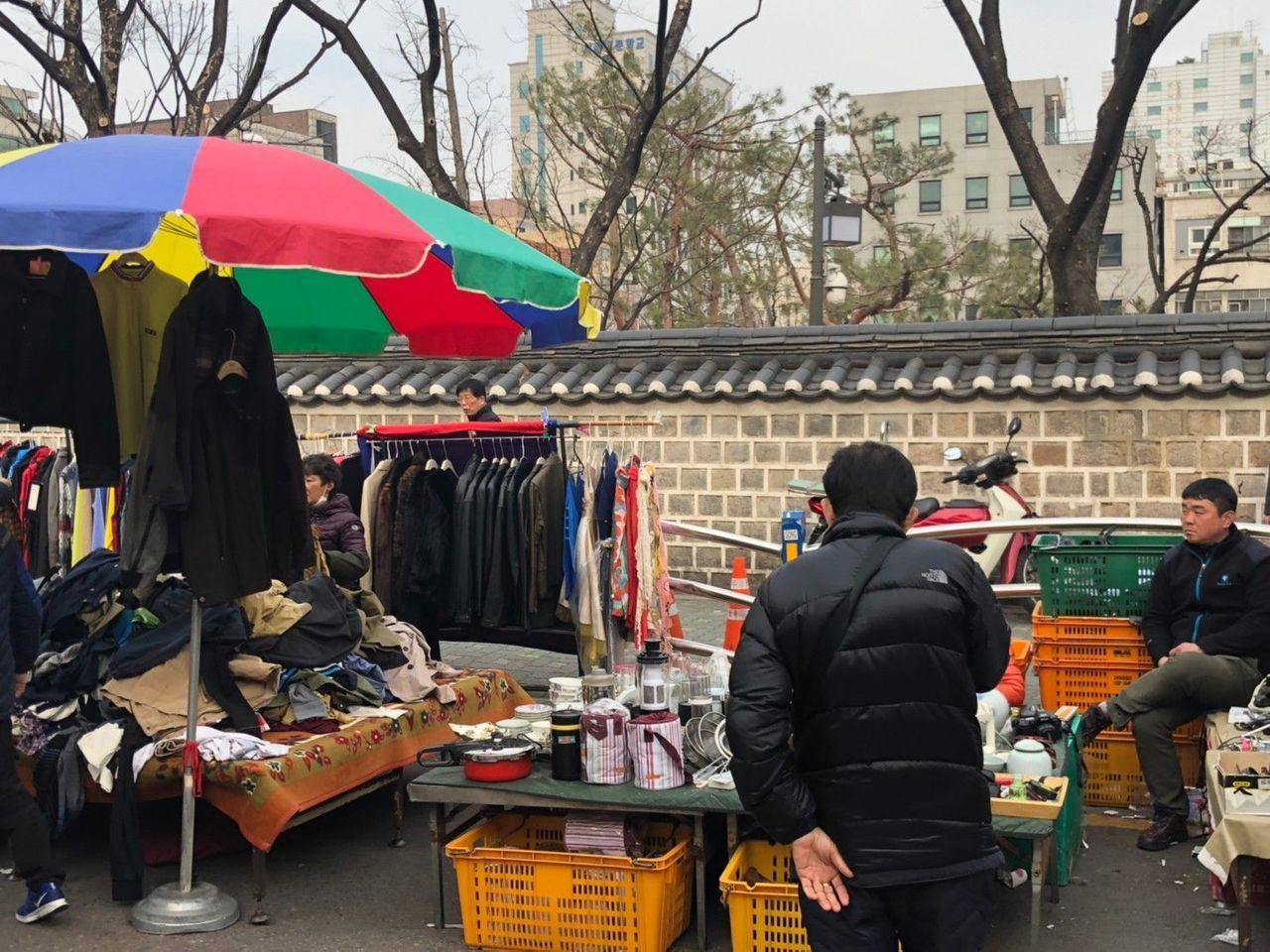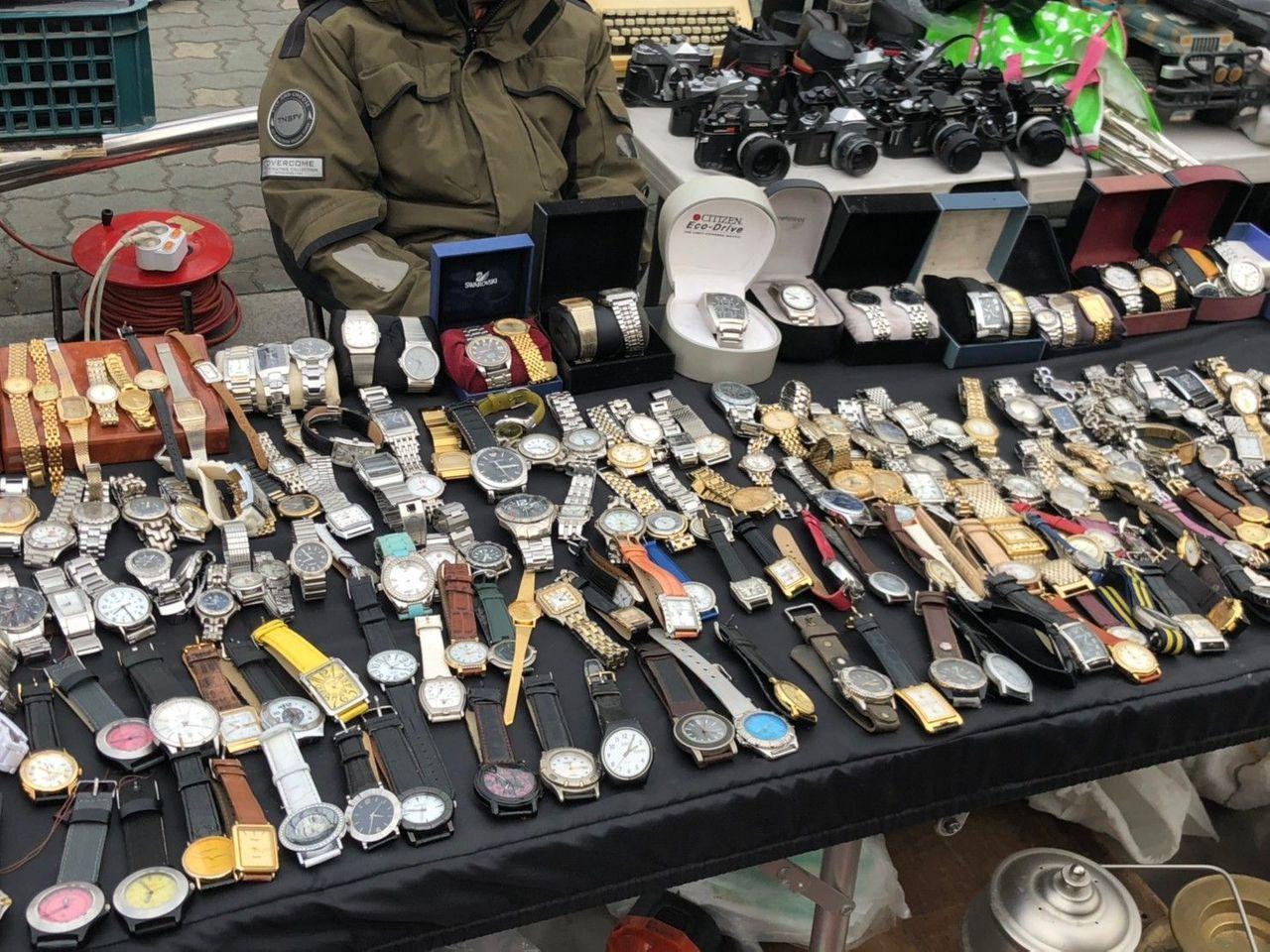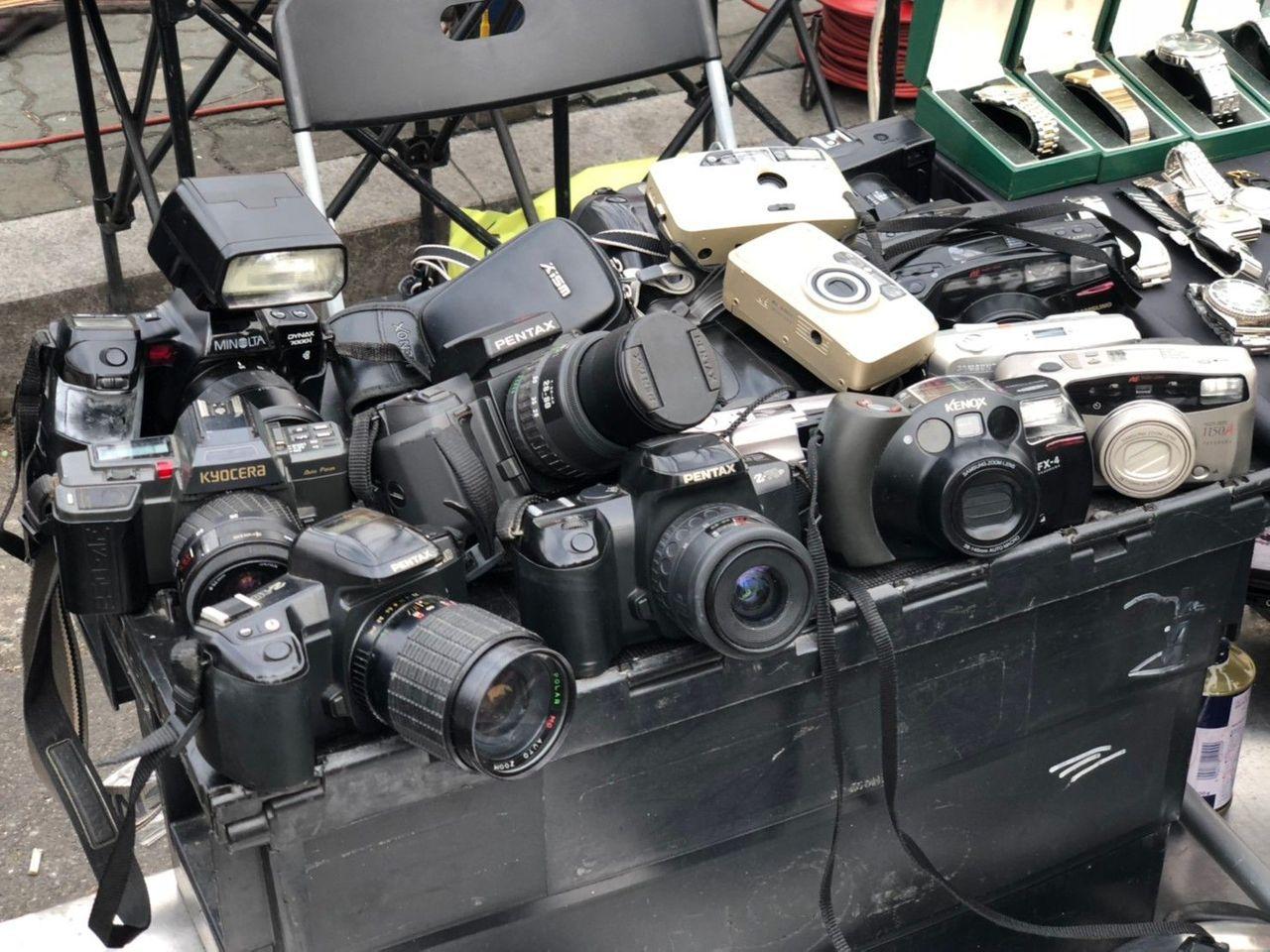 Dongmyo Market has a very magical feeling. For those who like this style, be sure to visit this Dongmyo Market which is different from other Korean markets.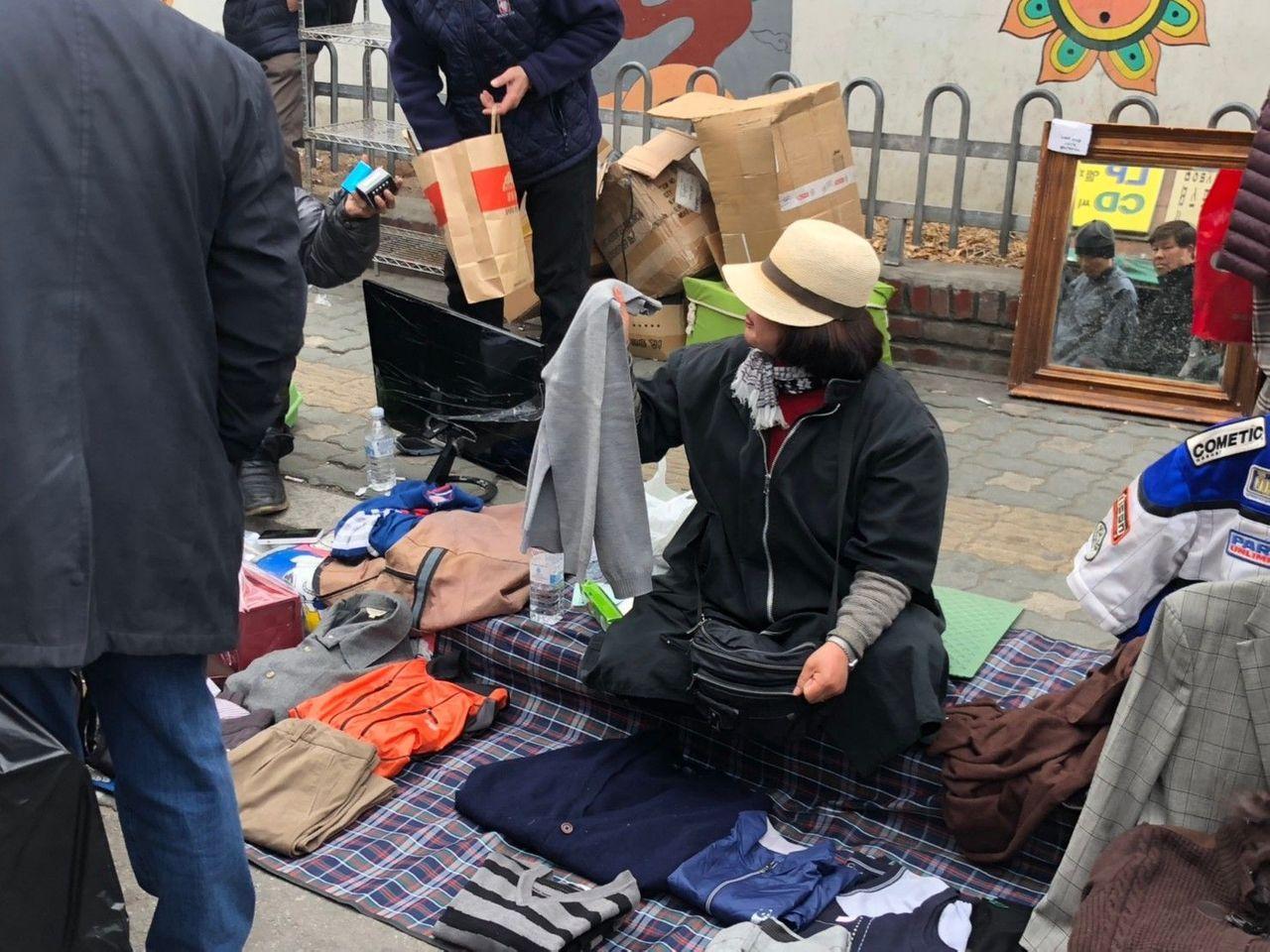 Compared to ordinary shops, there are more vendors in the Dongmyo Market. They sell clothes on the ground. Some people think that most of them are elderly , but I like it here and it's full of crazy vibes. In addition, I've been shopping here three times, and every time I buy beautiful second-hand clothes, I get to like this Seoul market more.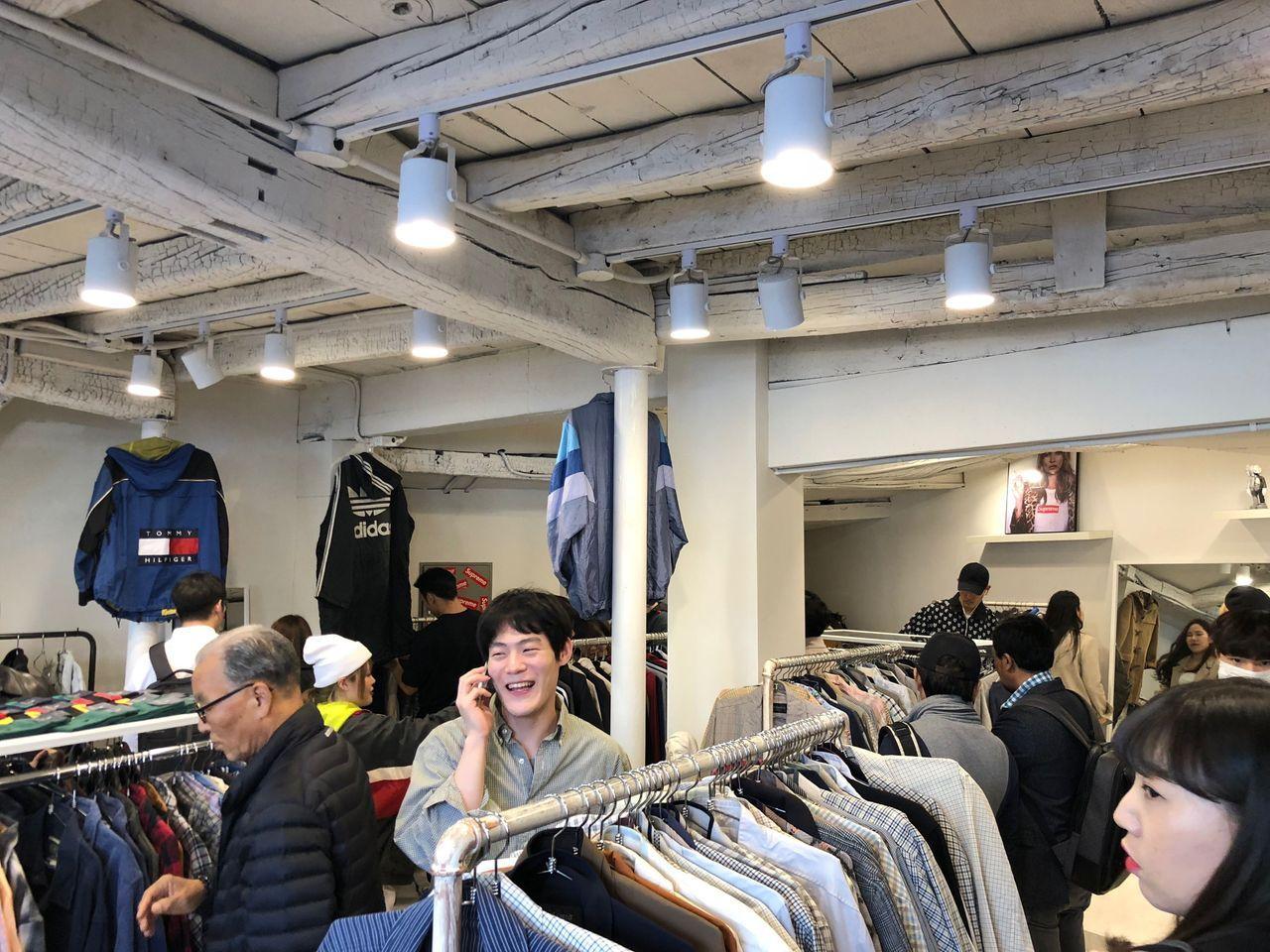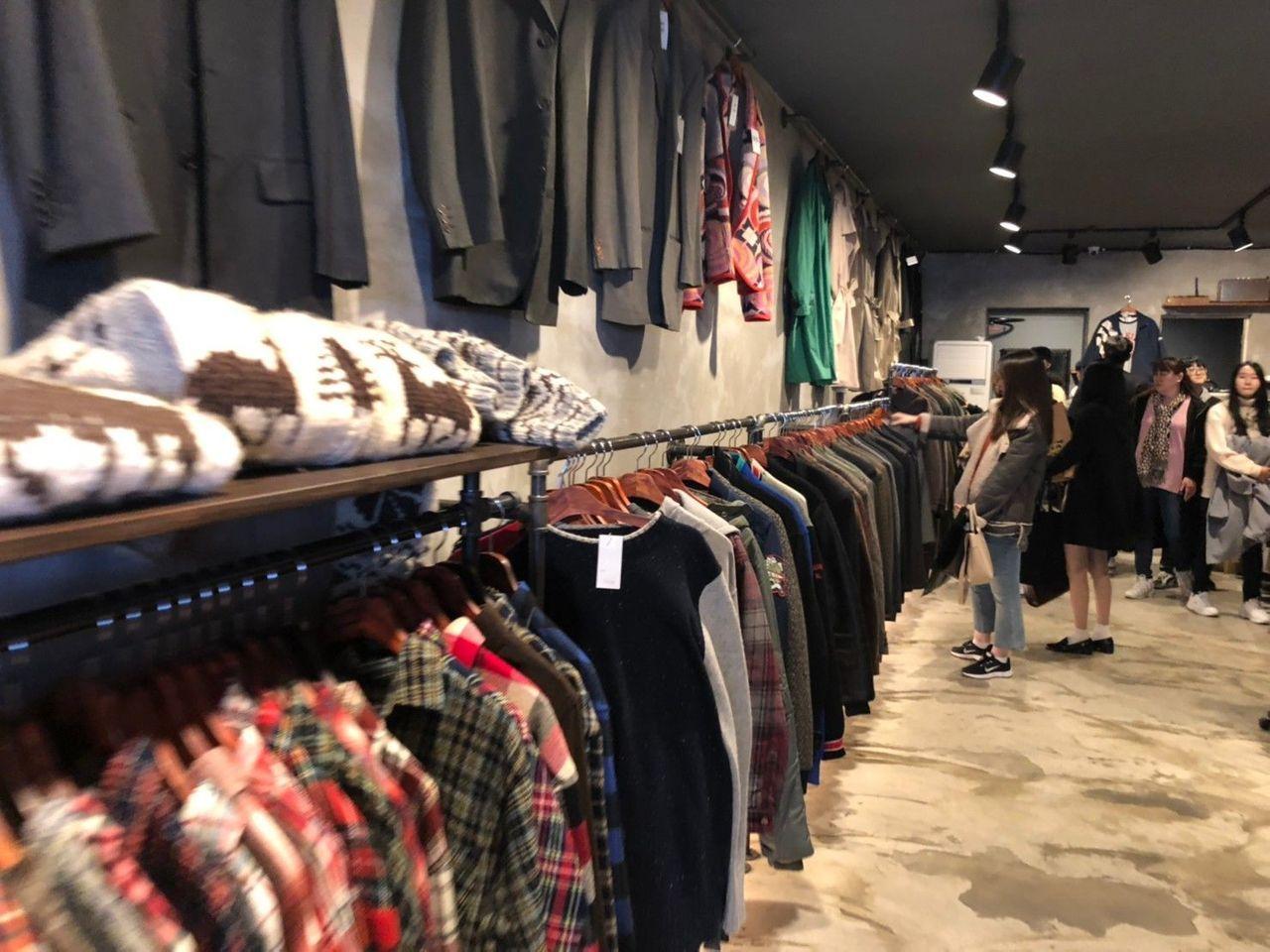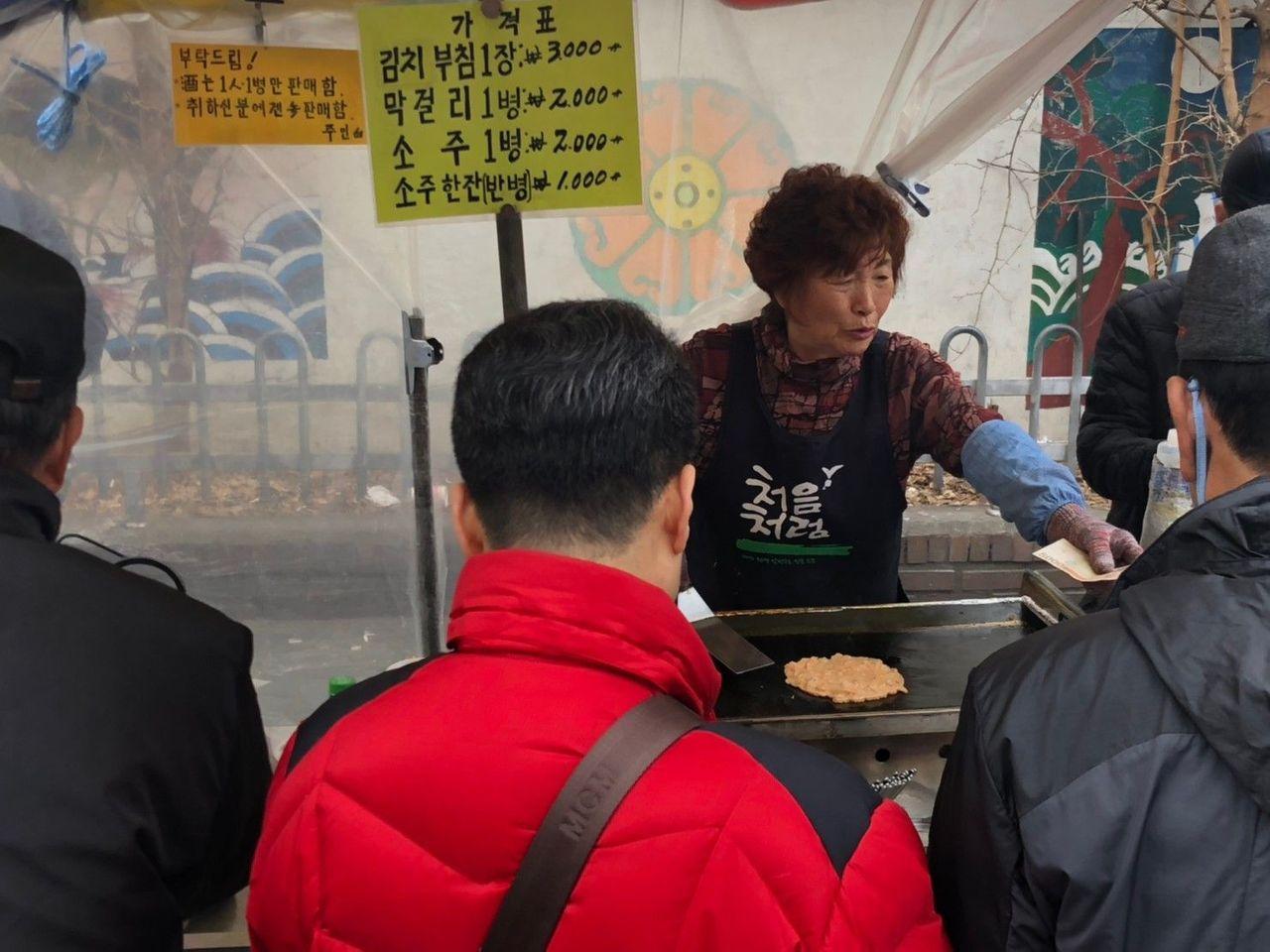 In Dongmyo Market, there are also some small vendors, grocery stores, etc., selling traditional snacks and strange life style items. Is it a sense of adventure? It feels more local.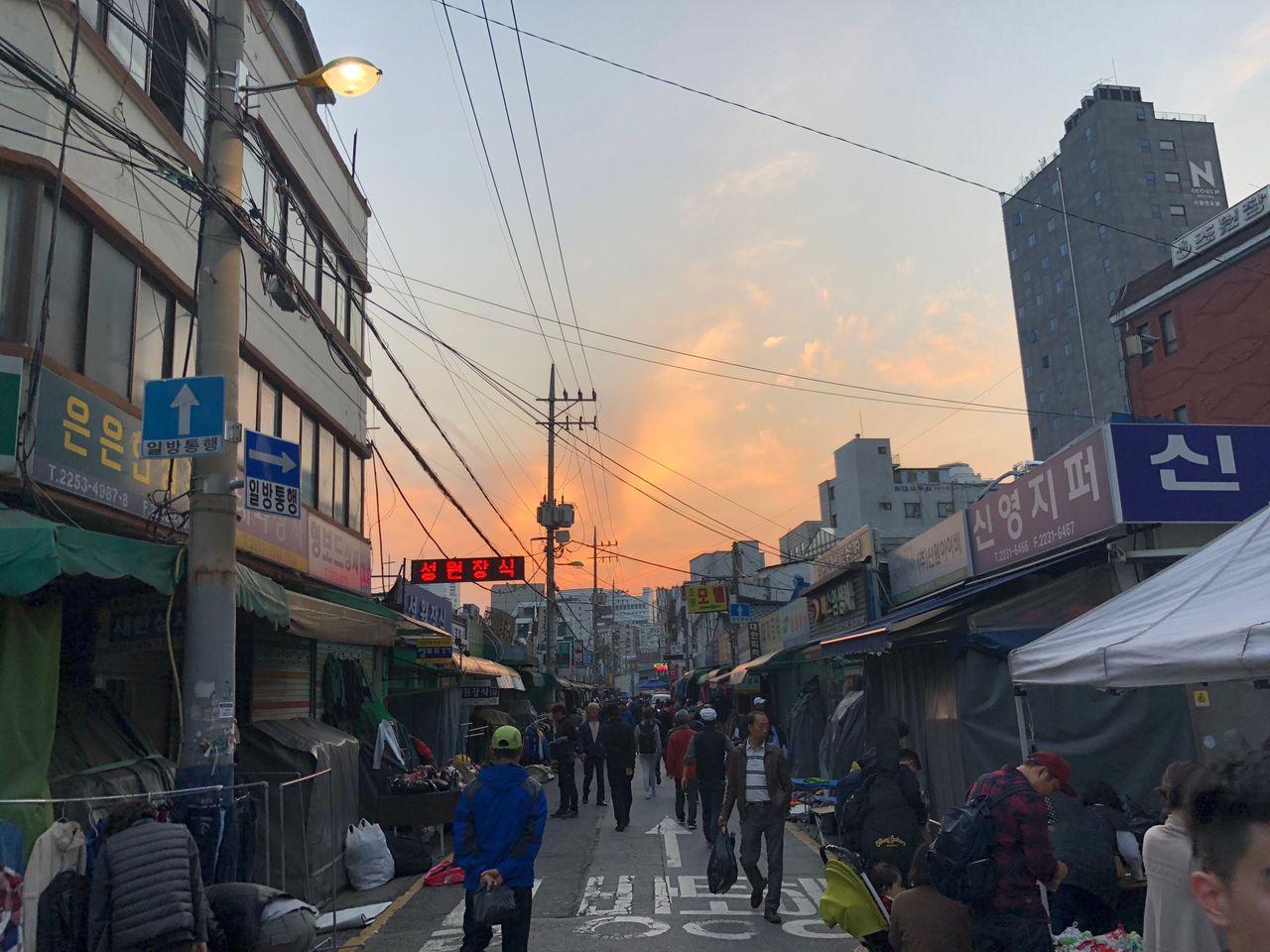 Dongmyo Market does not have a specific area here. The area from Exit 3 to Exit 5 of Dongmyo Station is all where the second-hand market is located. Don't be afraid to get lost because people are really everywhere on holiday afternoons.
---
Transportation: Seoul Metro Line 4 Hoehyeon Station (회현역) Exits 5 and 6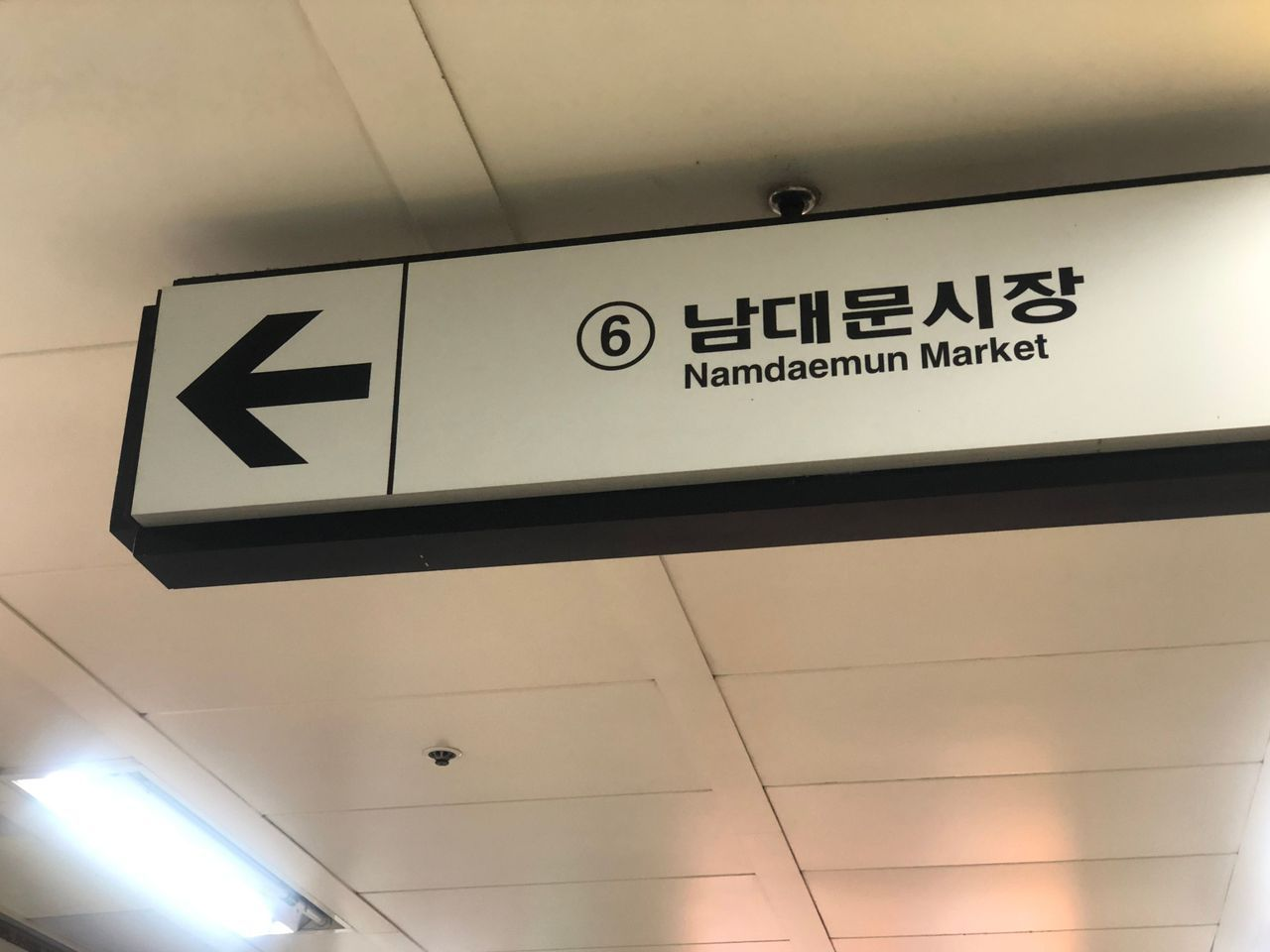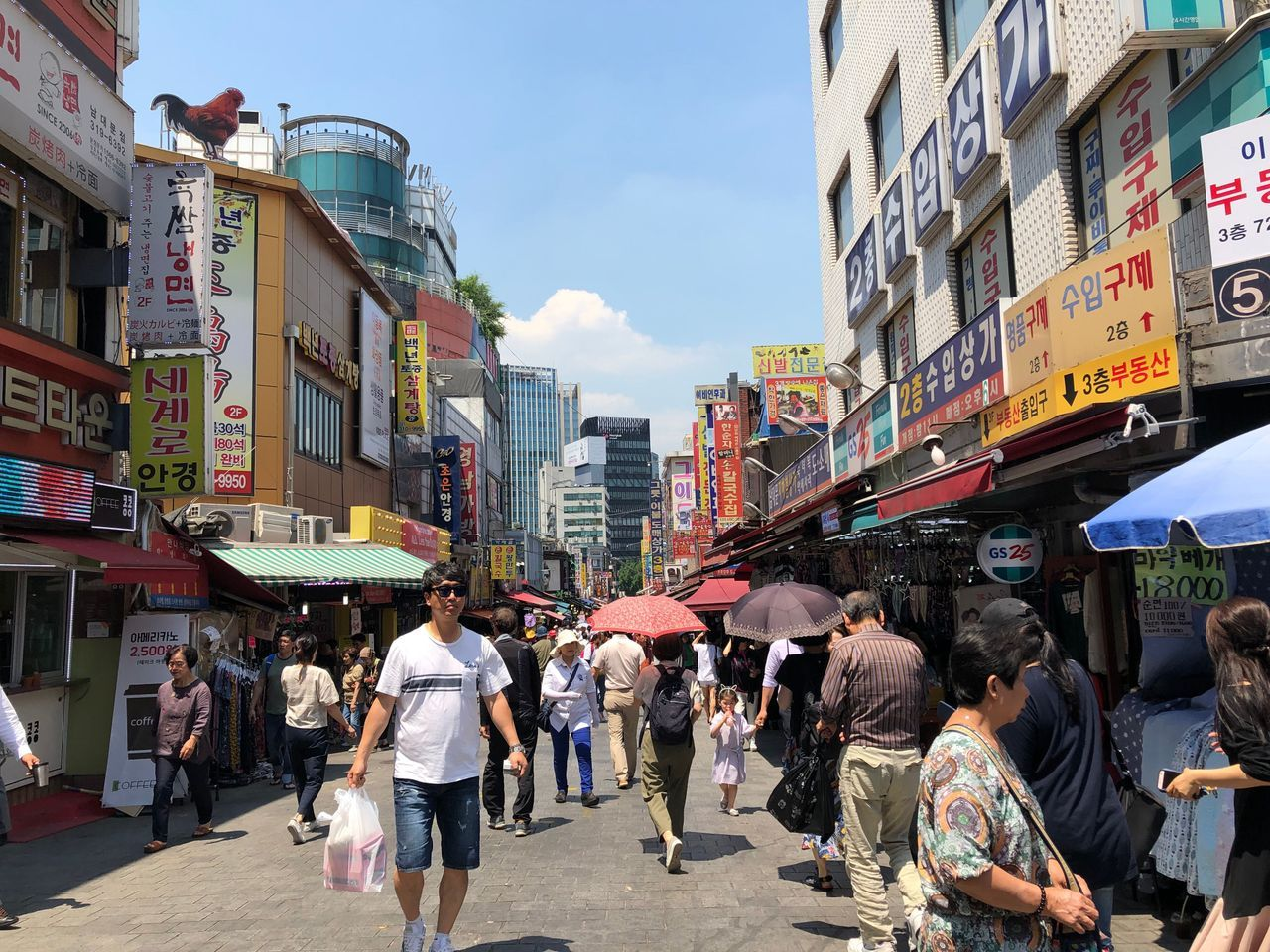 Namdaemun Market, located near Myeongdong, Seoul Station, and Hoehyeon Station, is a popular traditional market. It's like a combination of all the markets just introduced, so it is larger and takes longer to visit.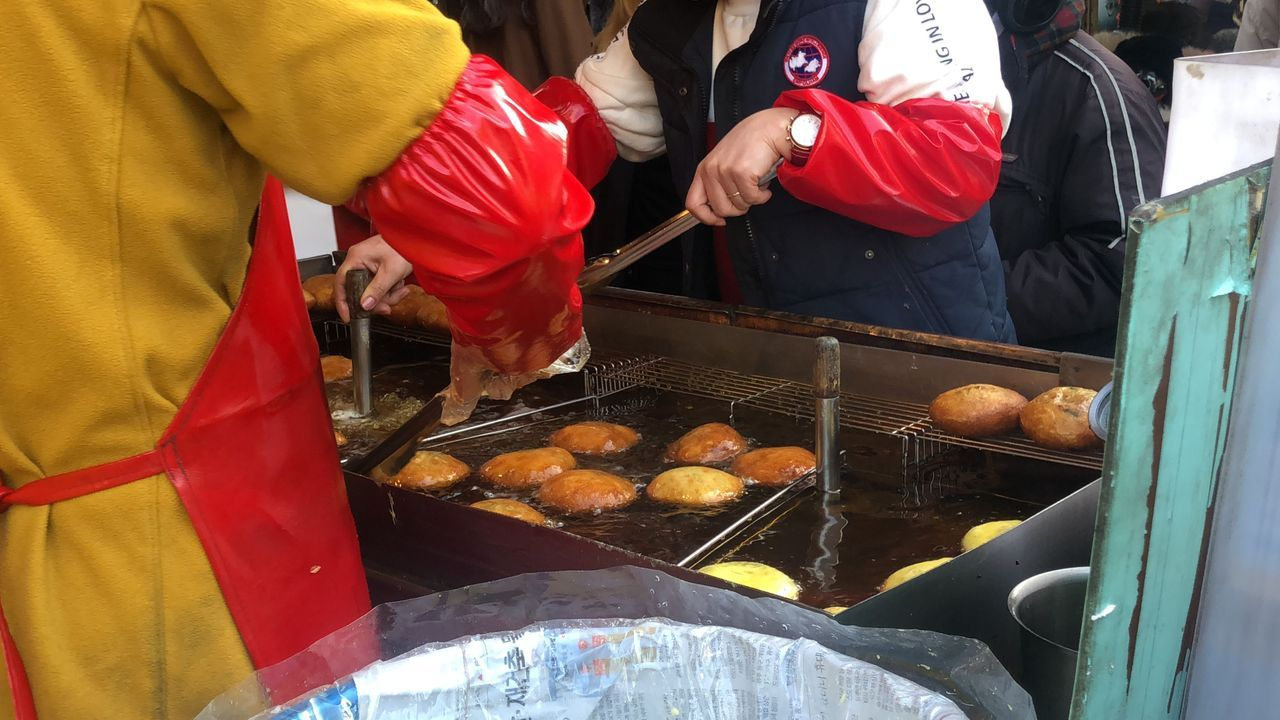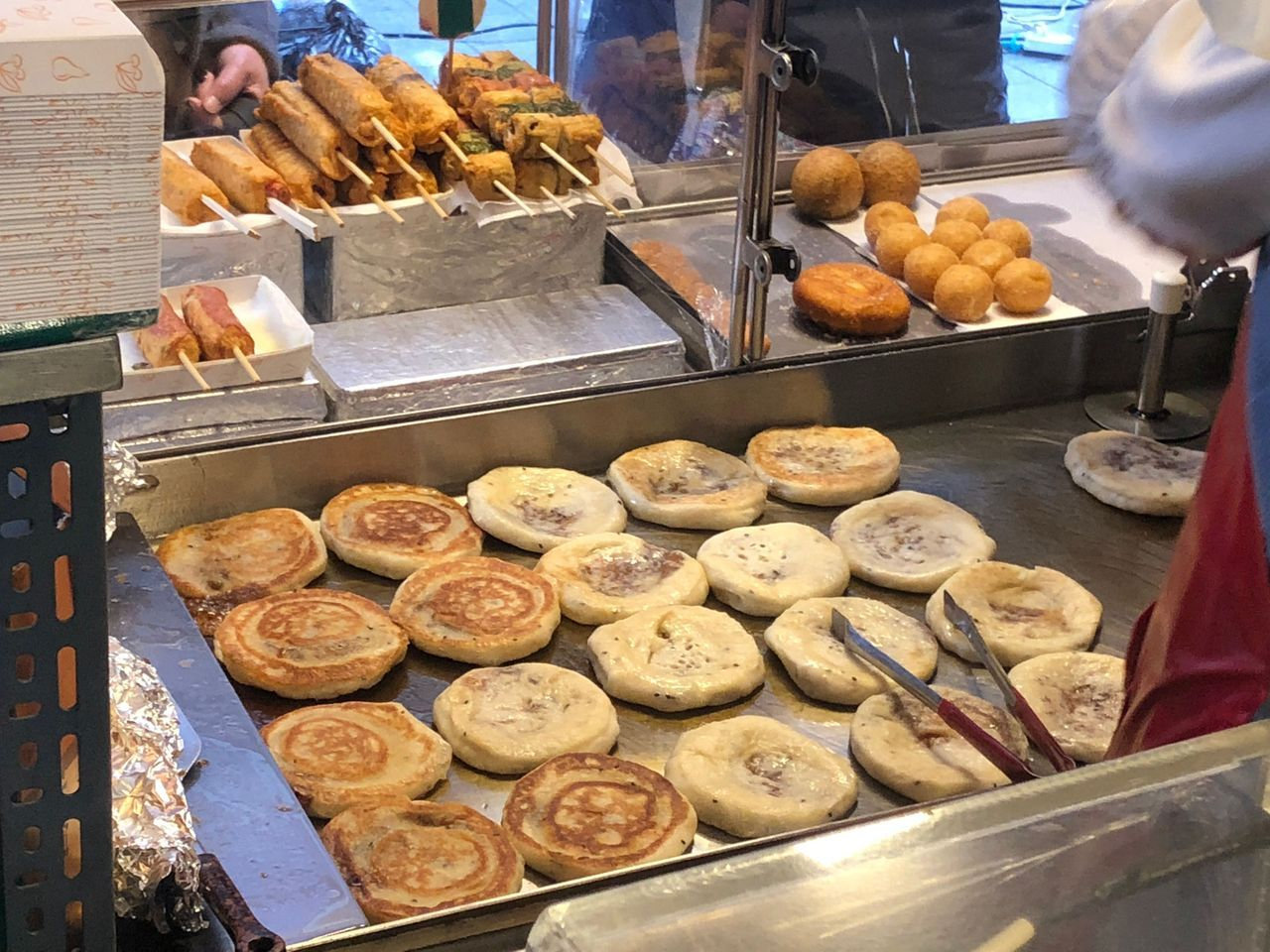 Many popular Korean traditional dishes can be found in Namdaemun Market. In contrast, Nandaemun cuisine is very cheap with many choices. There's no way you can taste every thing without having 5 stomachs.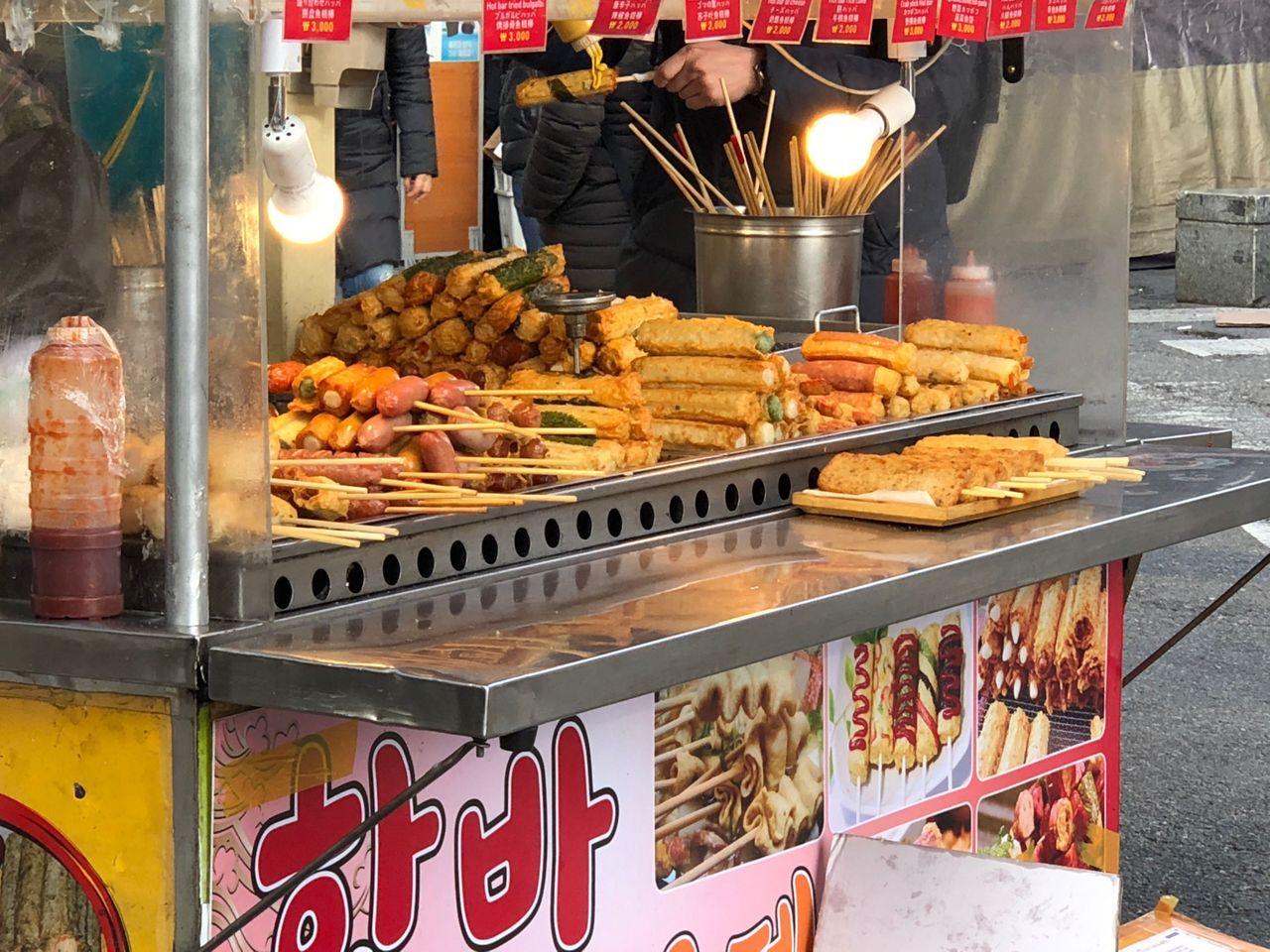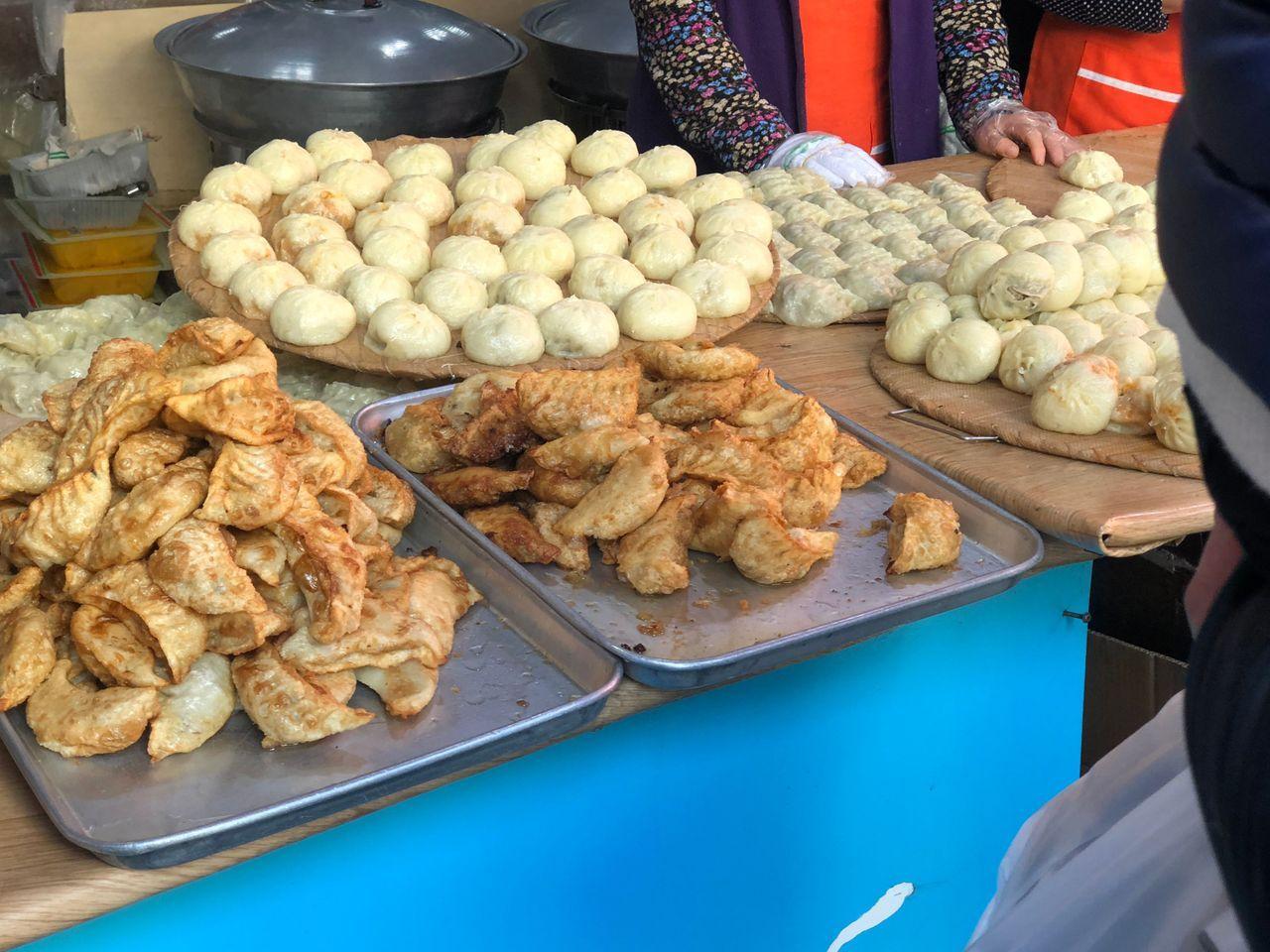 Moreover, among the South Koreans, there is a saying, "If you can't find it here, you won't find it anywhere." You can see the scale of the Namdaemun market.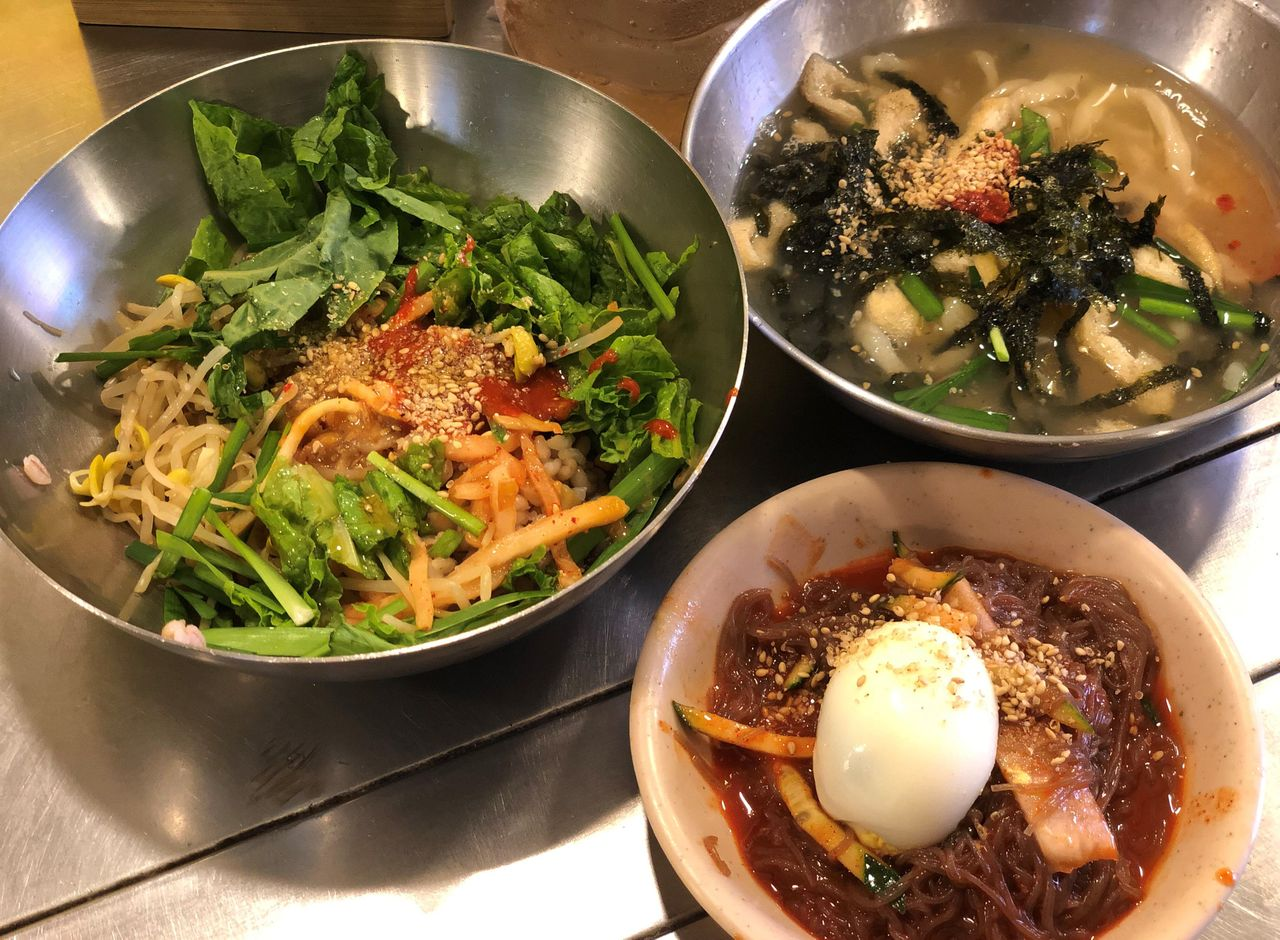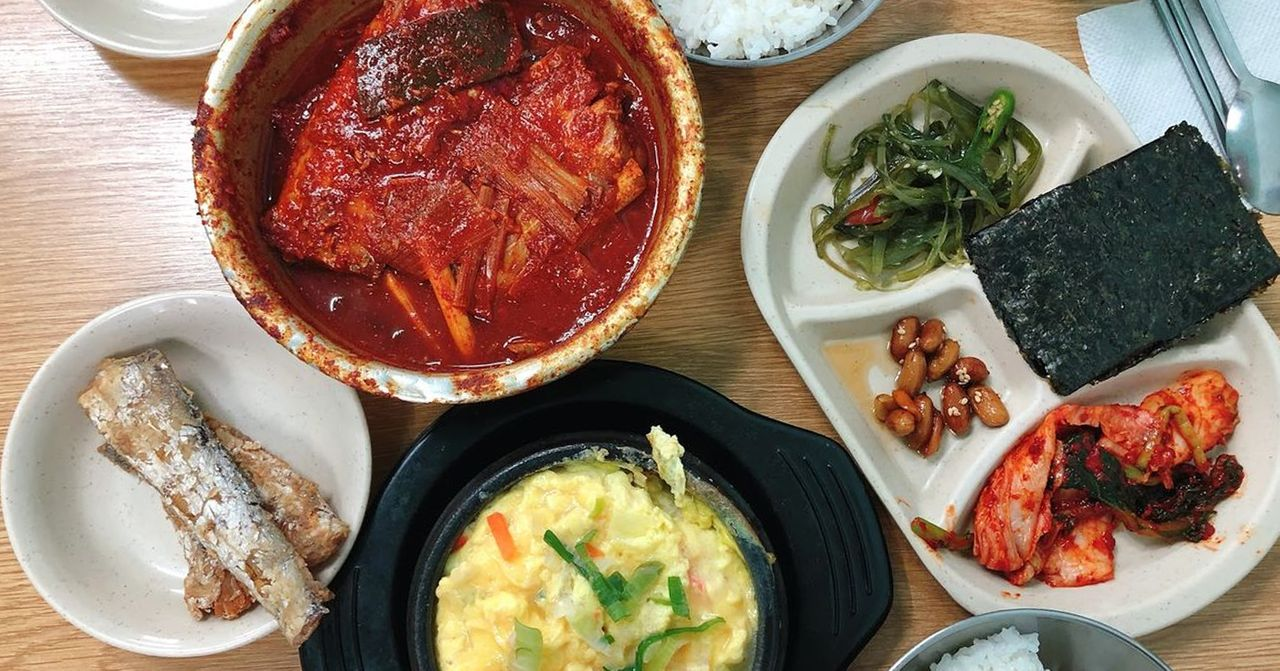 Makes you drool right? Finally, Namdaemun Market is most popular with tourists and Koreans for its dry goods and snacks. Especially for dry goods, unlike the medicinal market, which has only medicinal materials, ginseng, etc., the dry goods street of Namdaemun has everything it wants.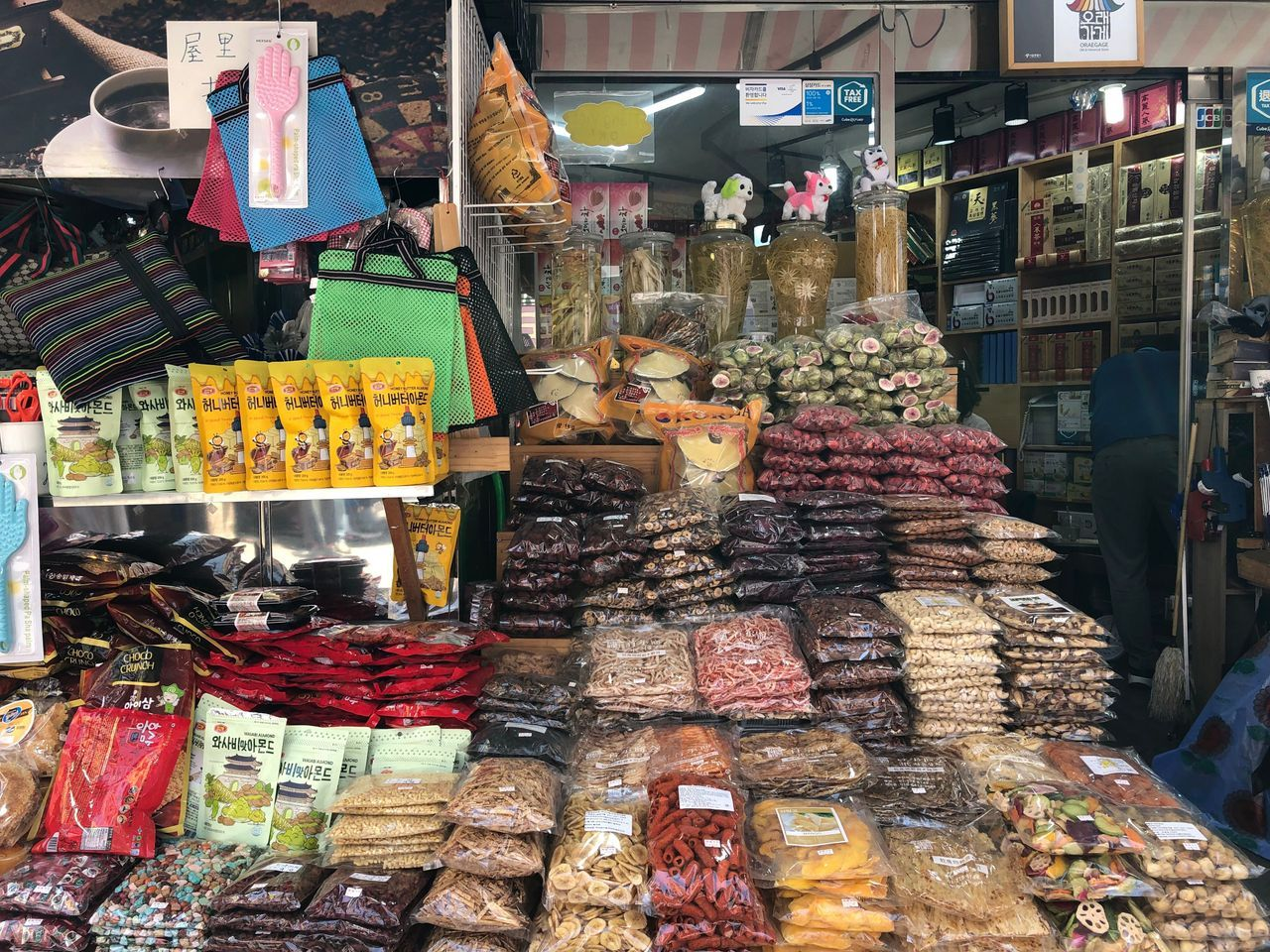 Ginseng, fish fillets, dried mushrooms, daily necessities, dried fruits, and even the most popular Korean dried strawberries recently, have flowed out from Namdaemun Market. Come to Namdaemun Market and buy a pack of the popular dried strawberries.
---
Transportation: Seoul Metro Line 1 Cheongnyang-ri Station (청량리 역) Exit 2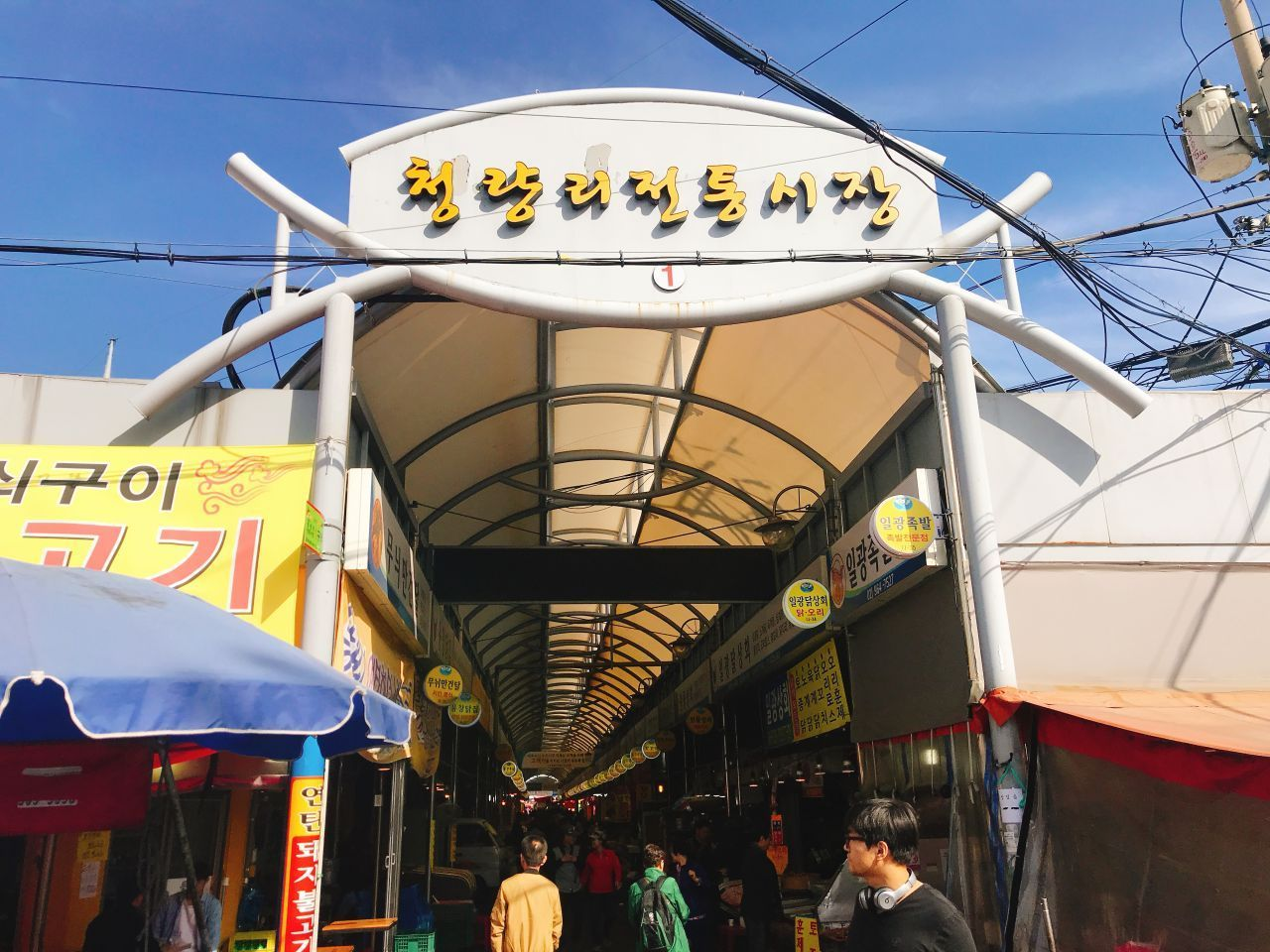 The traditional market in Cheongryangri is a market that no tourists would go to. Firstly, there are actually no attractions nearby, so the only people who will visit are the locals. Secondly, the food sold here is mainly fresh ingredients, vegetables and fruits.
For foreign tourists, not too appealing. But if you want to experience the traditional Korean market, I really recommend coming to the traditional market of Cheongryangri.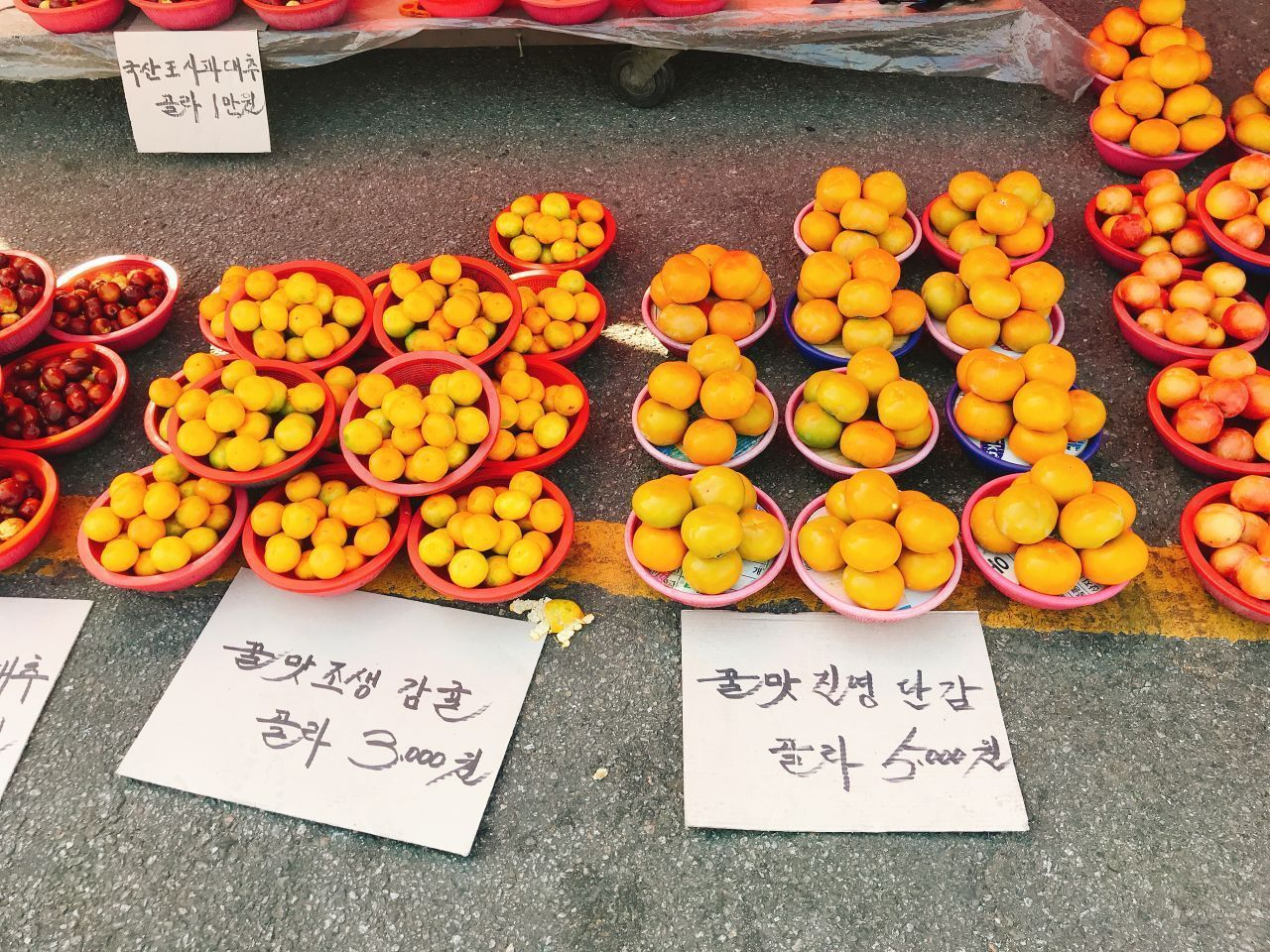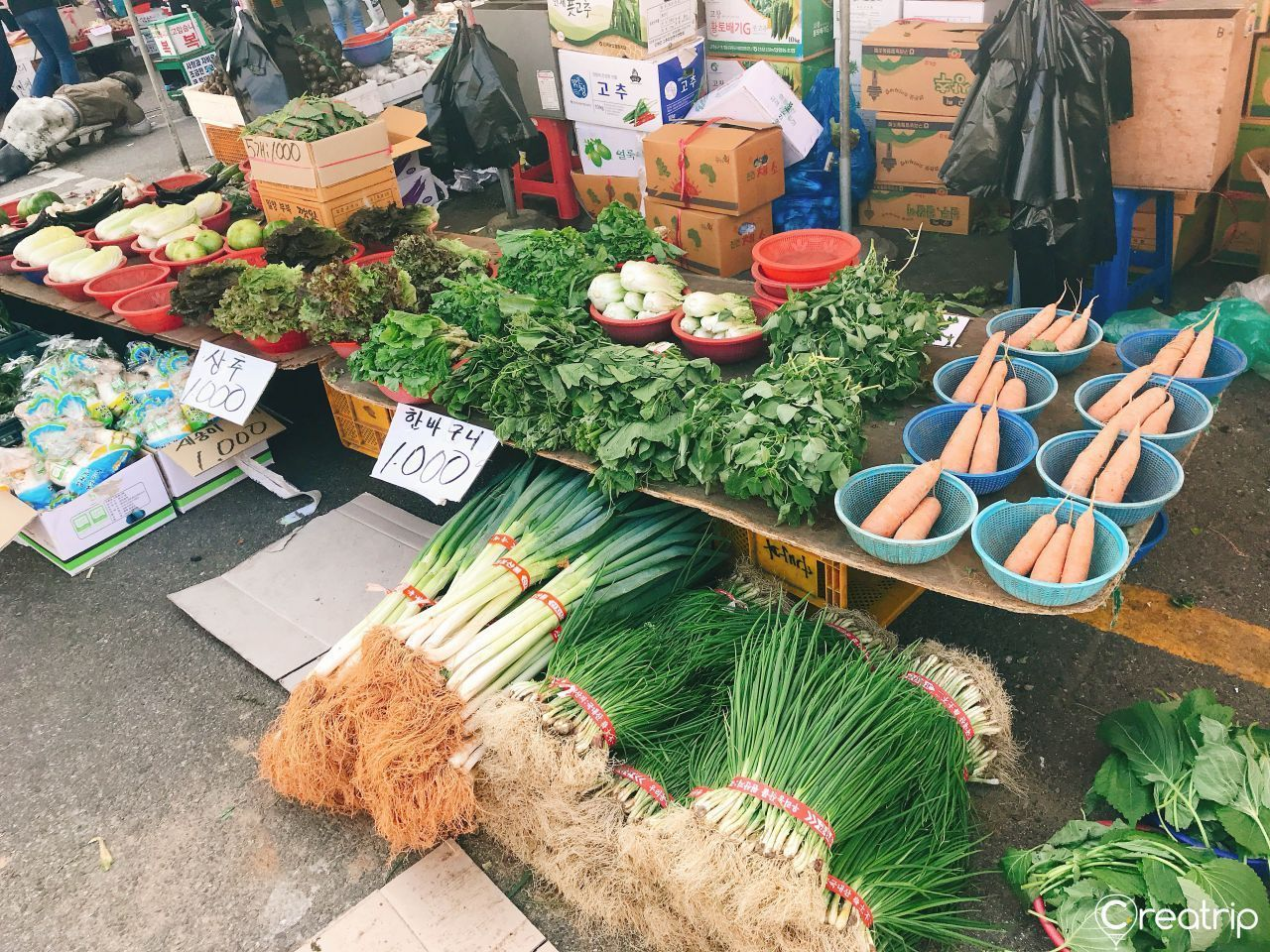 This traditional market have different fresh fruits and vegetables here all year round. The price is even cheaper compared to the supermarkets, adding a little human touch. However, the best reason to come to Cheongryangri Market is that you can buy packed side dishes at cheap prices.
I have been to Mangwon and Gwangjang, and the packed side dishes are a bit expensive there, but the side dishes in the traditional market in Cheongryangri are cheaper.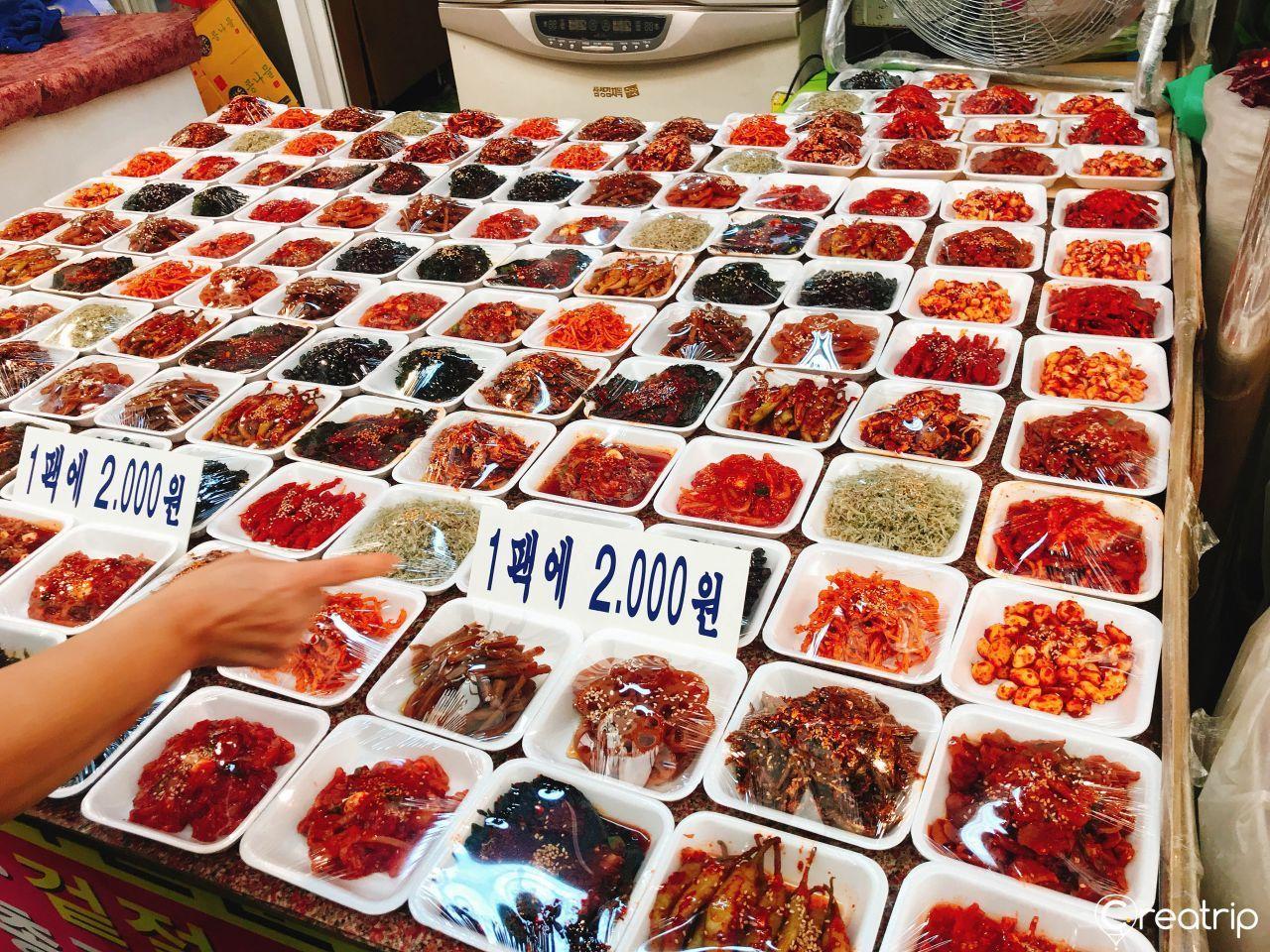 If you want to eat fresh seafood, you must also visit this place. I lived by this place before, and occasionally bought shellfish here to cook soup.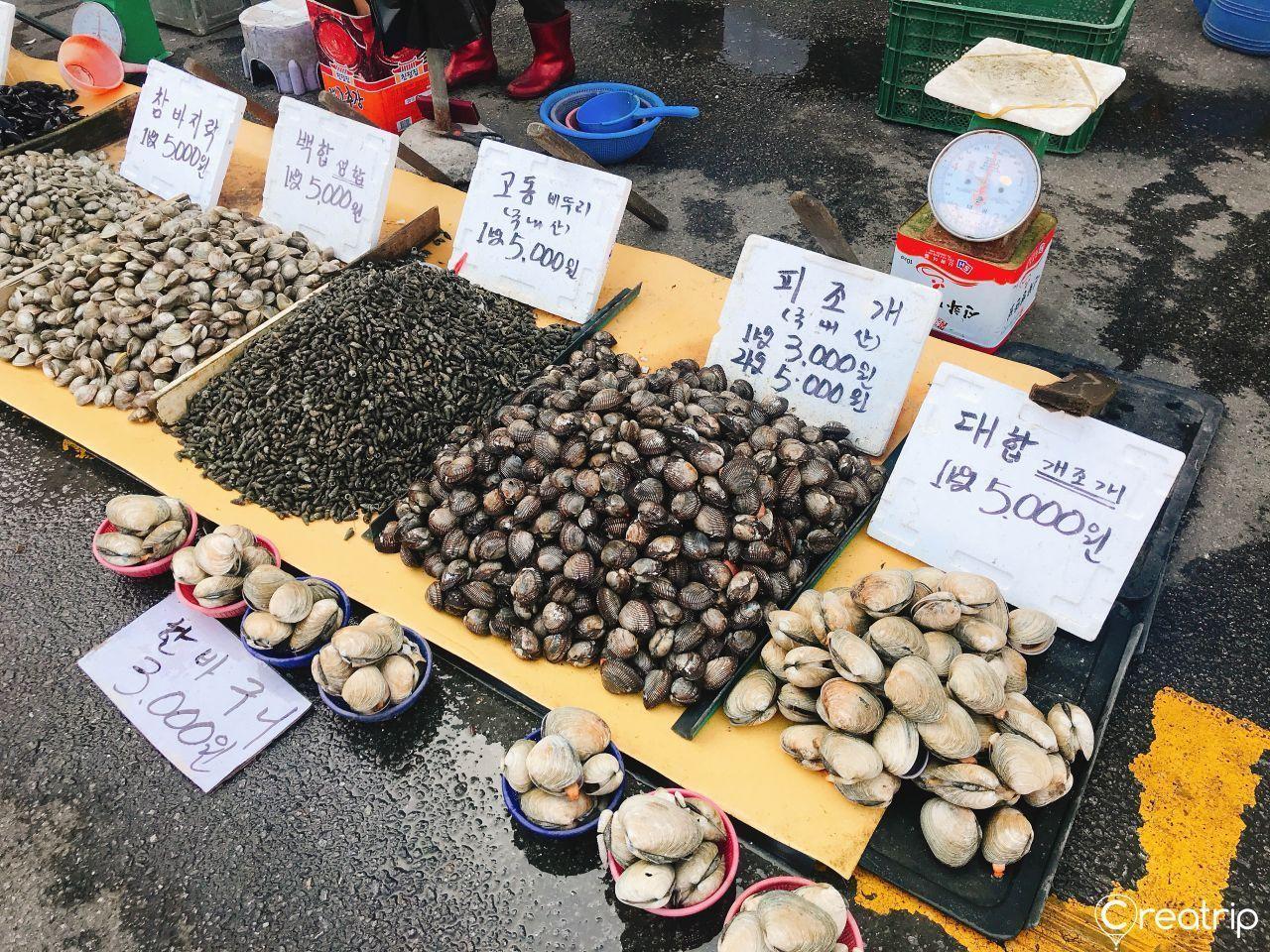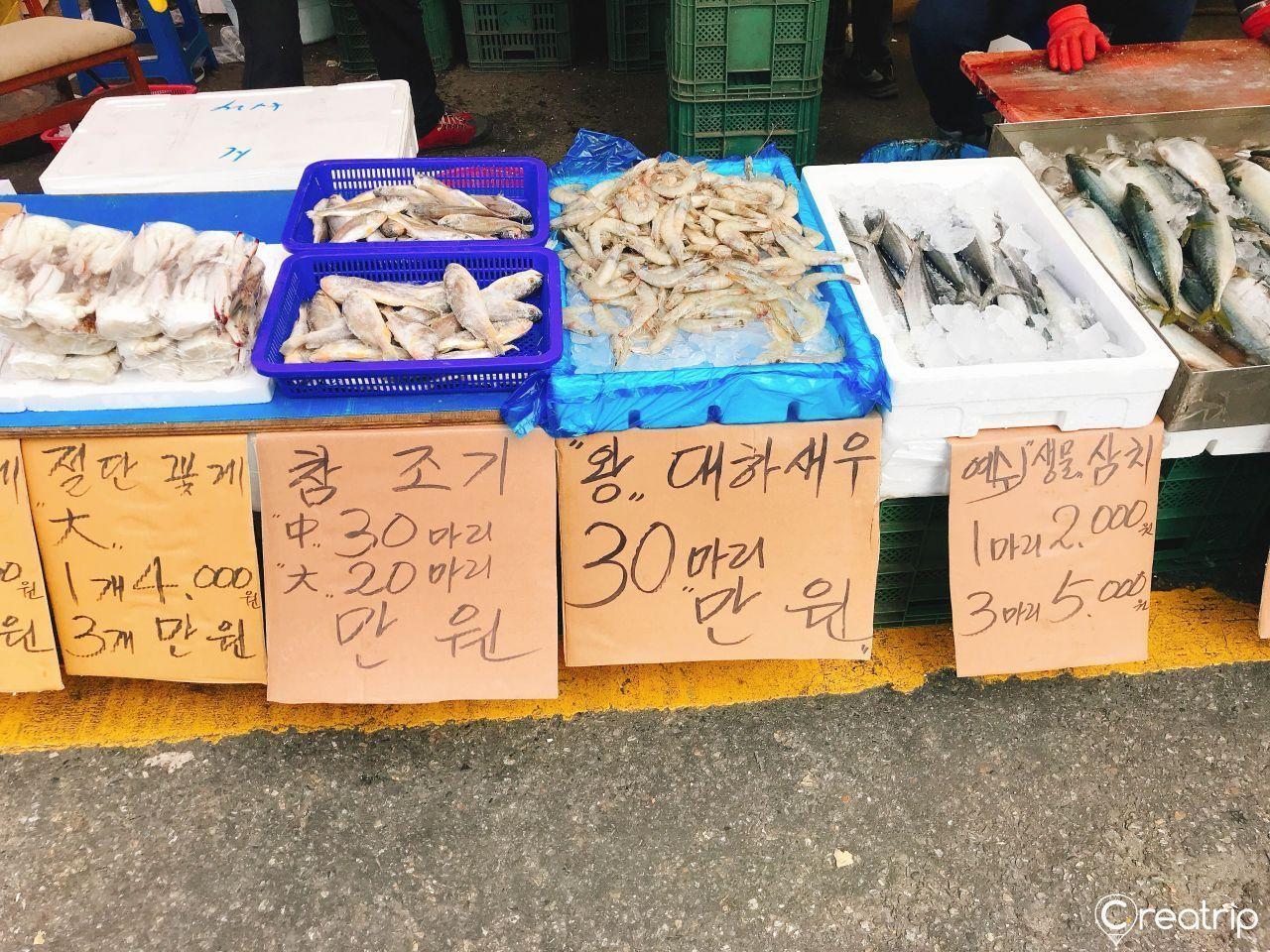 Is there a shop selling traditional snacks in the traditional market in Cheongnyangri? Don't worry, there are some merchants selling traditional Korean snacks at Exit 2 of Cheongryangri Subway Station. You can walk along the alley or the main road from Exit 1 to Exit 2.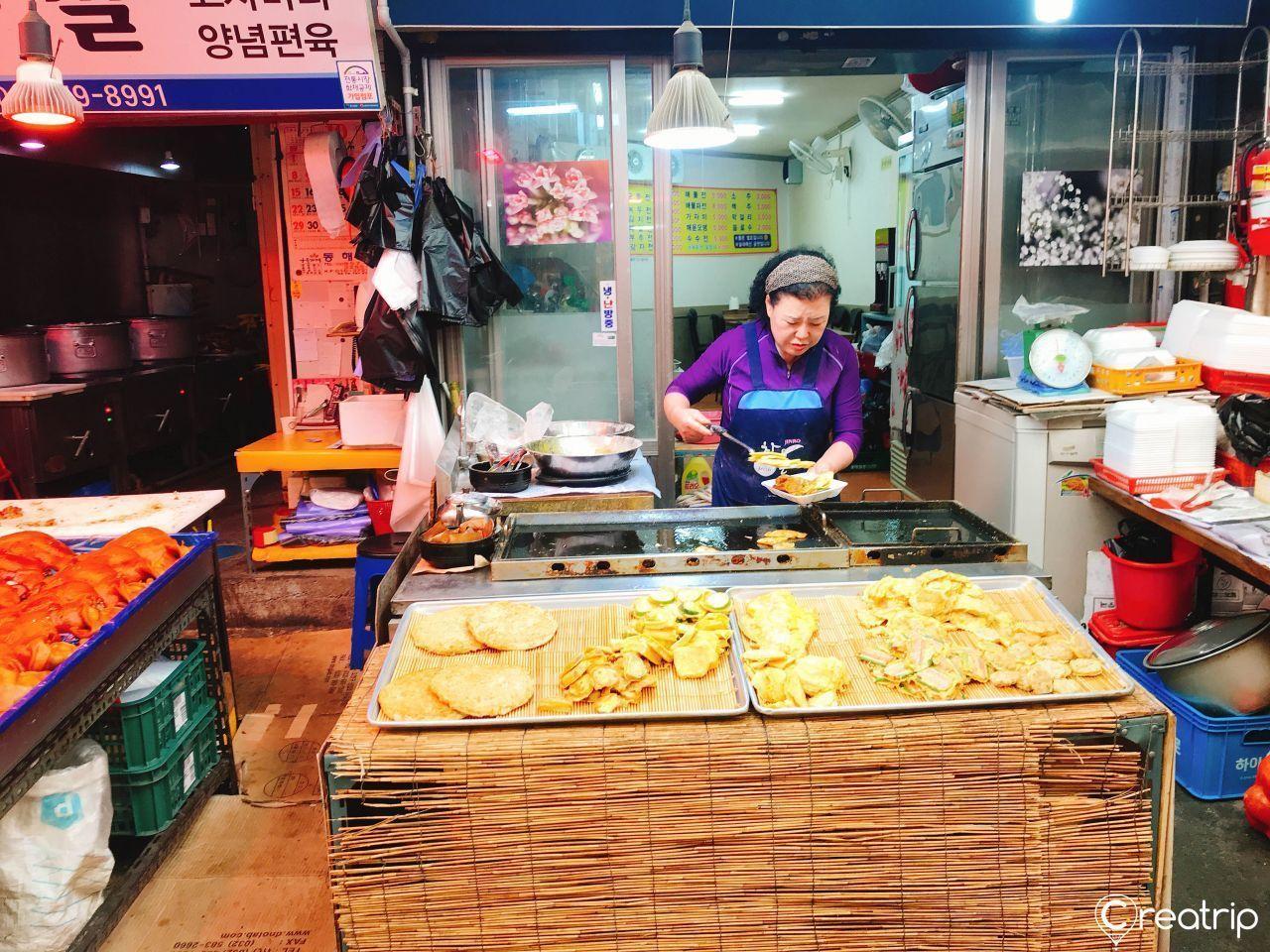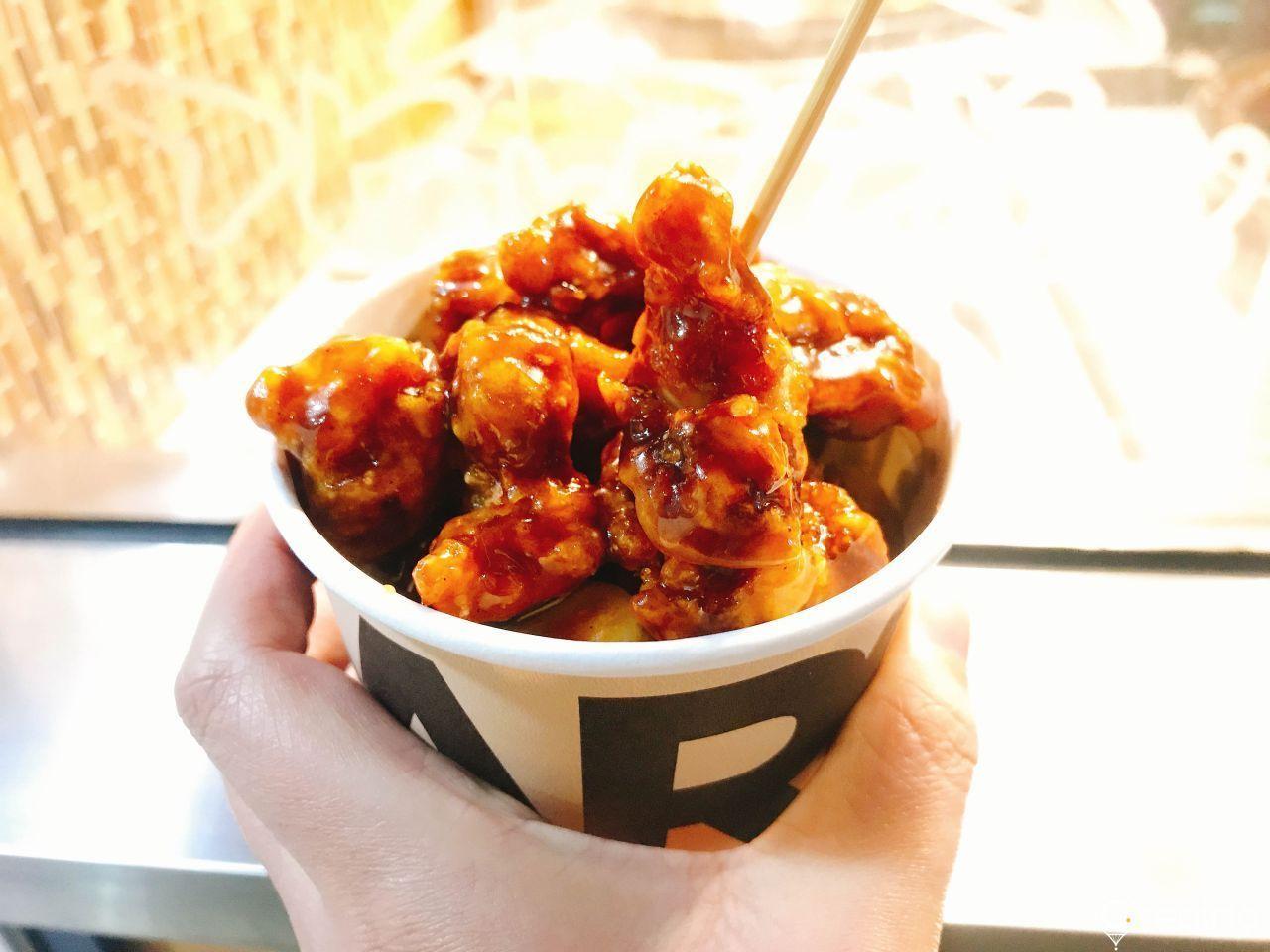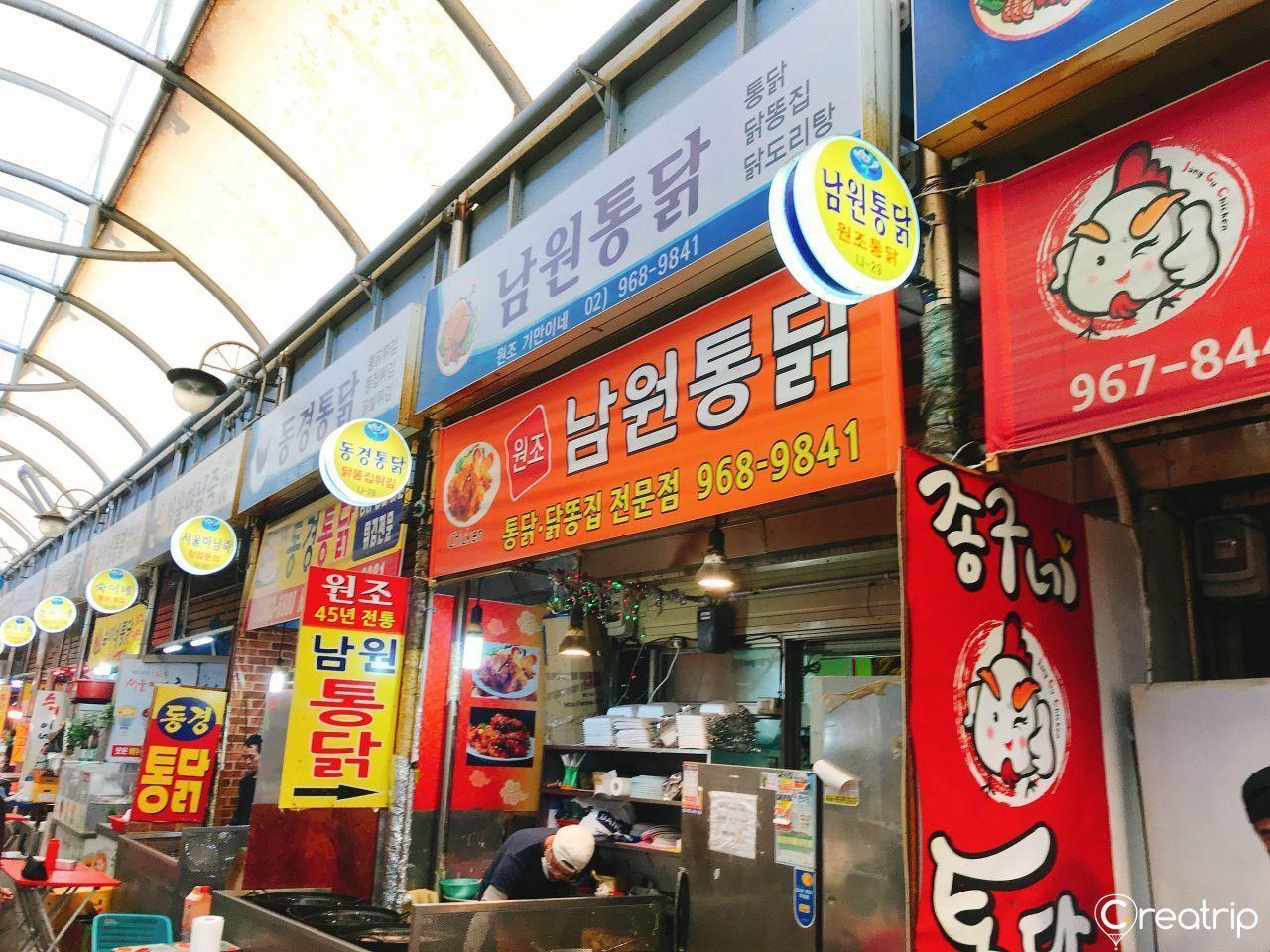 During my visit to Cheongryangri Traditional Market, my favourite was to buy such chickens in cups, which is convenient to eat while walking.
---
Gongdeok Market
Transportation: Line 5 & 6, Airport Express Line, Gyeongui-Jungang Line Gongdeok Station Exit 5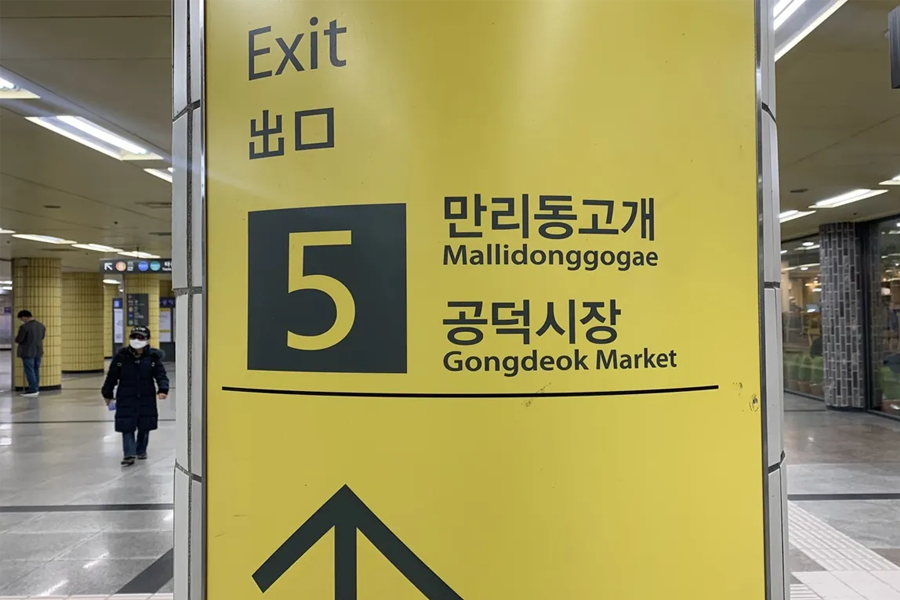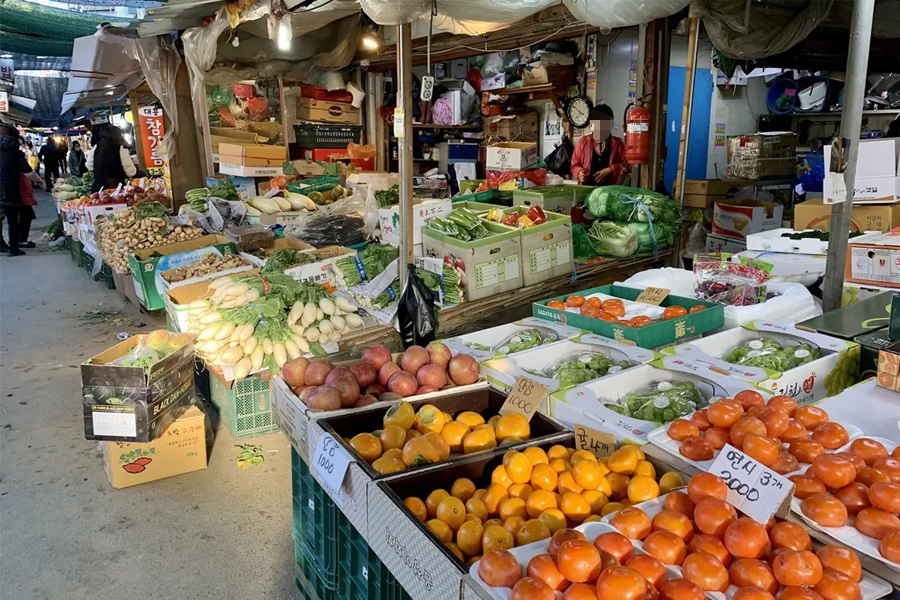 Although Gongdeok Traditional Market is not that big compared to Gwangjang Market and Mangwon Market and less crowded, I guarantee that you will still be able to experience the friendly atmosphere of a traditional market here. From seasonal fruits to delicious Korean side dishes such as kimchi, there are many things to see and taste.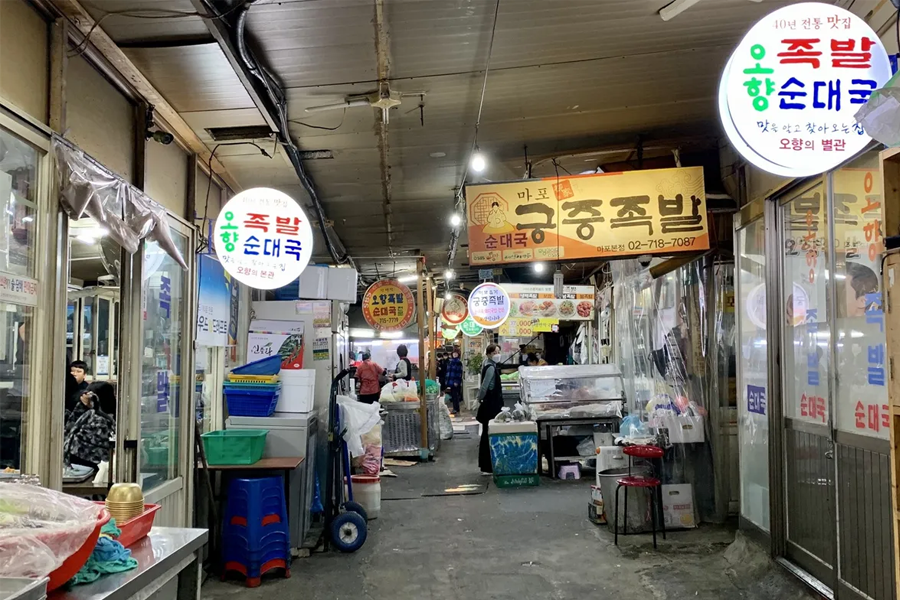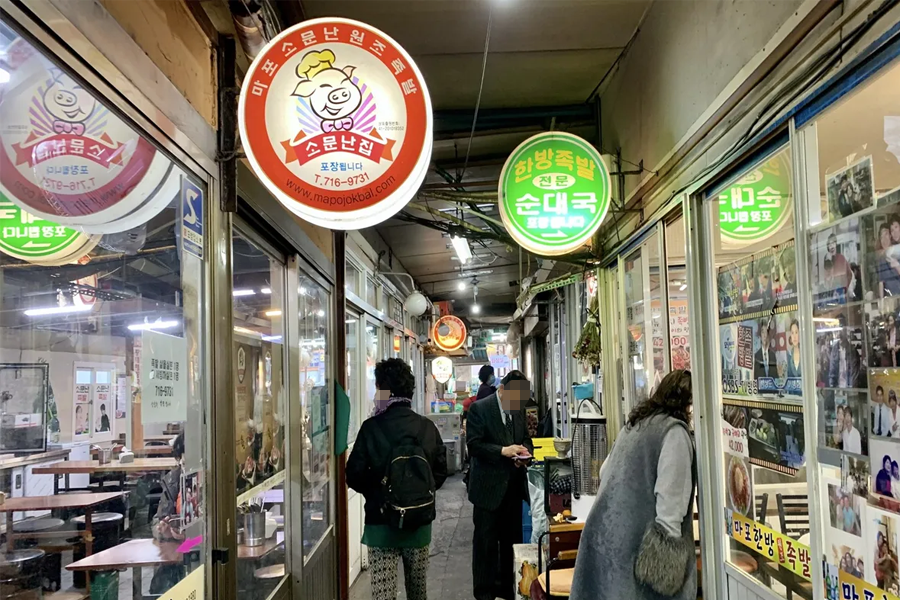 The highlight of Gongdeok Market is Jokbal Alley (족발골목), where stores selling jokbal (braised pig's trotters) are fill both sides of the market and attract many customers. The shop owners wait by the door to welcome customers. If you love jokbal, you have to stop by!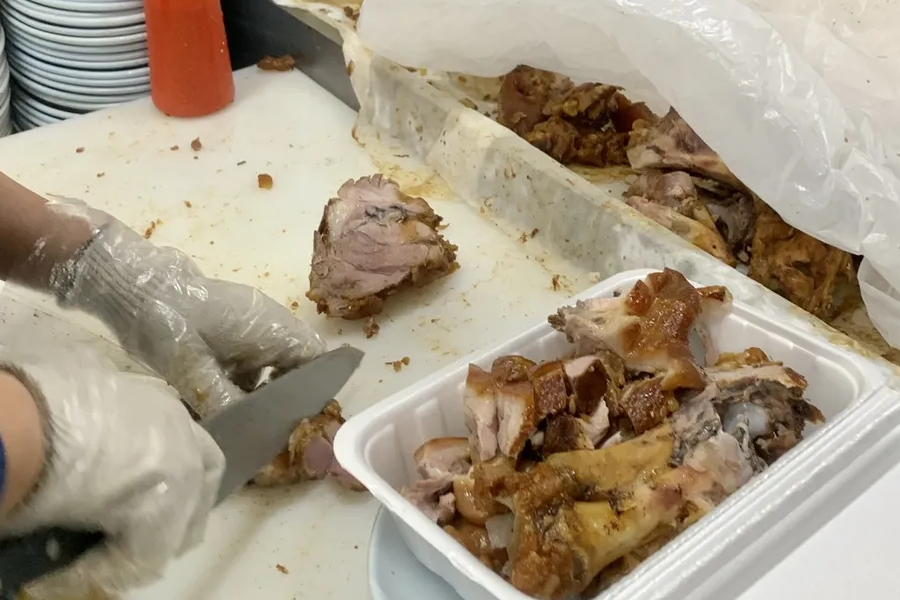 Some shops will cut the fresh jokbal in front of the shop and pack it neatly into take out containers for you. This shows the freshness and cleanliness of the food.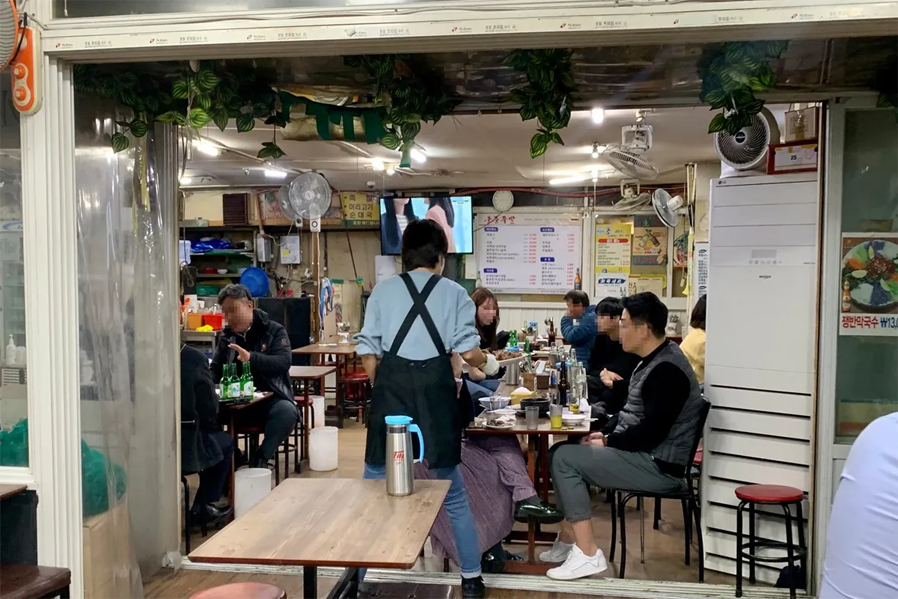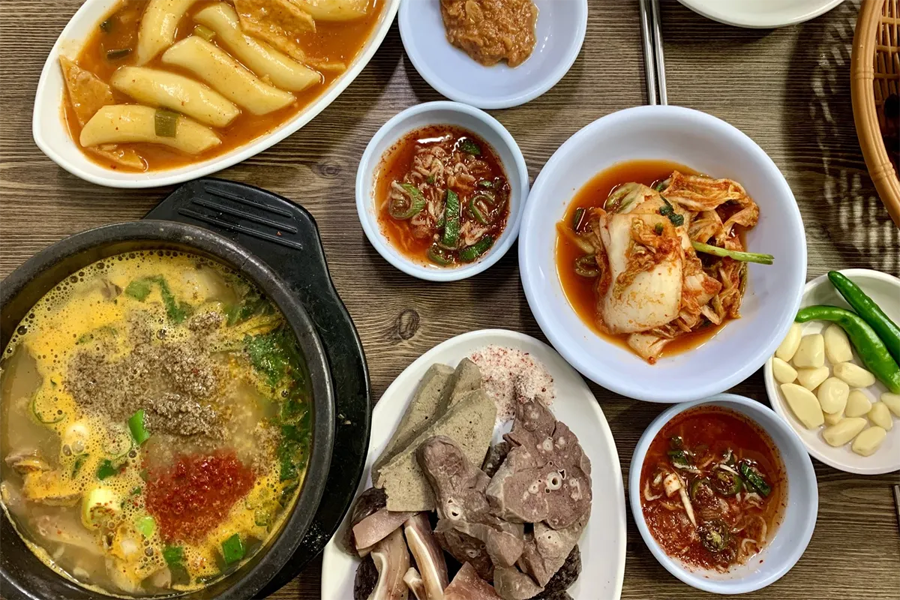 In addition to getting food to go, there are also many small restaurants to choose from at Jokbal Alley. Each shop is very delicious and even the side dishes will be enough to make your mouth water!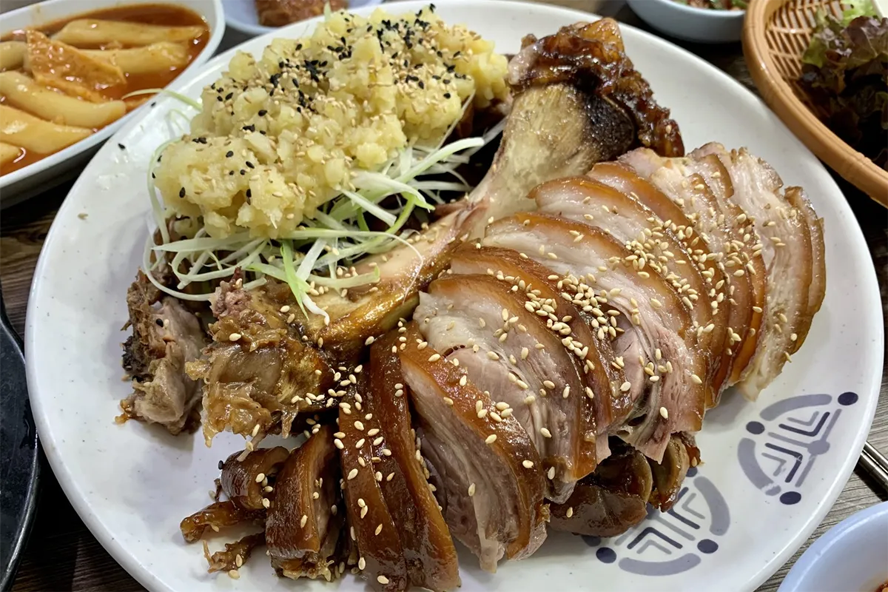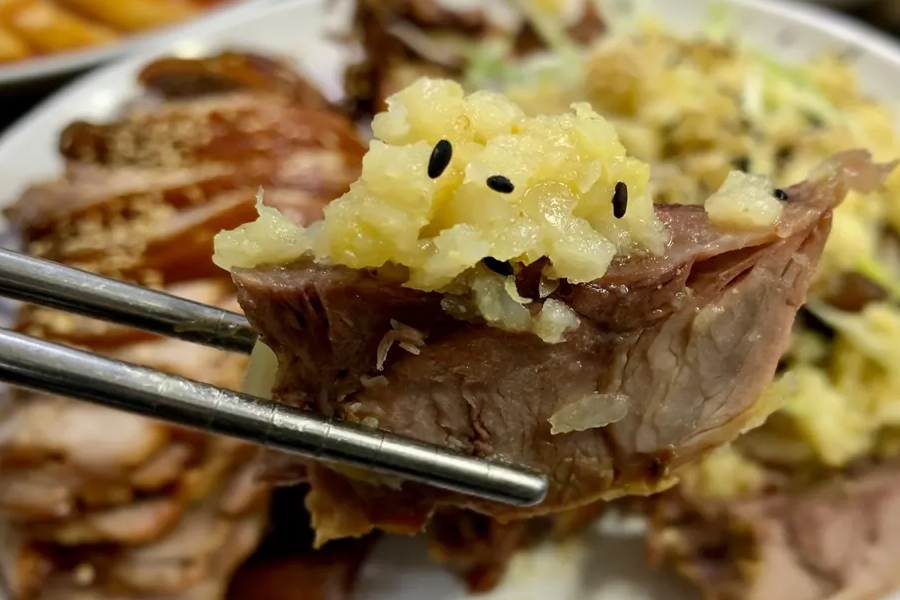 It didn't take long for the jokbal that we ordered was served! We ordered the garlic jokbal which had a beautiful color and was very fragrant and delicious.
The tender jokbal was delicious paired with garlic and is even tastier when wrapped in lettuce with kimchi. There's lots of other side dishes that go perfectly with the jokbal and make sure it doesn't feel too greasy.
---
The above is a summary of the traditional markets in South Korea. For those who come to Seoul for tourism and want to visit the traditional markets, you should know the concept of these markets, and let 's walk together!
Dear friends, see you next time.
---