Best Place for Hanwoo in Seoul
Premium Korean Beef at Majang Meat Market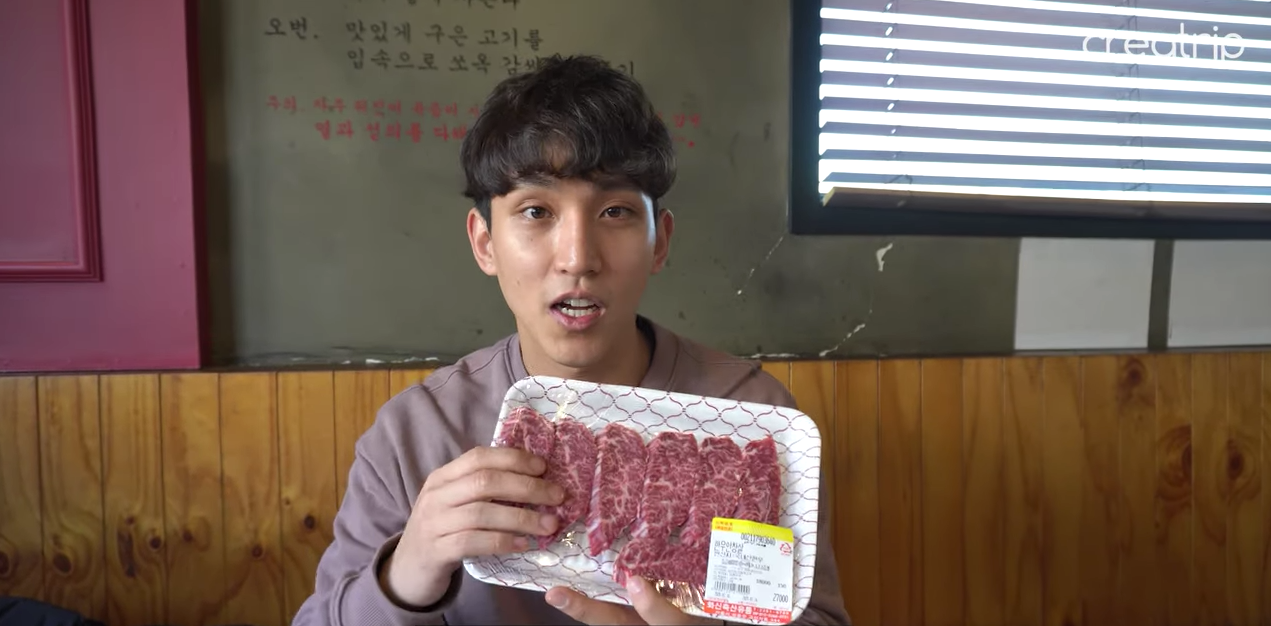 Hello everyone! We are Creatrip, your group of Korean travel experts providing the latest news about Korea on a daily basis.
In Korea, hanwoo, or premium Korean beef packed with flavours and tender in texture, is somewhat of a luxury cuisine. It comes with a high price tag due to the high demand and limited supply. Hanwoo's distinct flavour is like no other beef you'll find elsewhere, so we recommend visitors of Korea to try a taste of the extraordinary meat.
In tourist areas such as Myeongdong and Hongdae, you can expect to pay around 40,000KRW per 100g. We'll take you around the biggest beef market in Asia and show you where you can get 1++ grade hanwoo at a third of the price.
💁‍♂️ Follow Oppa!
---
---
Majang Meat Market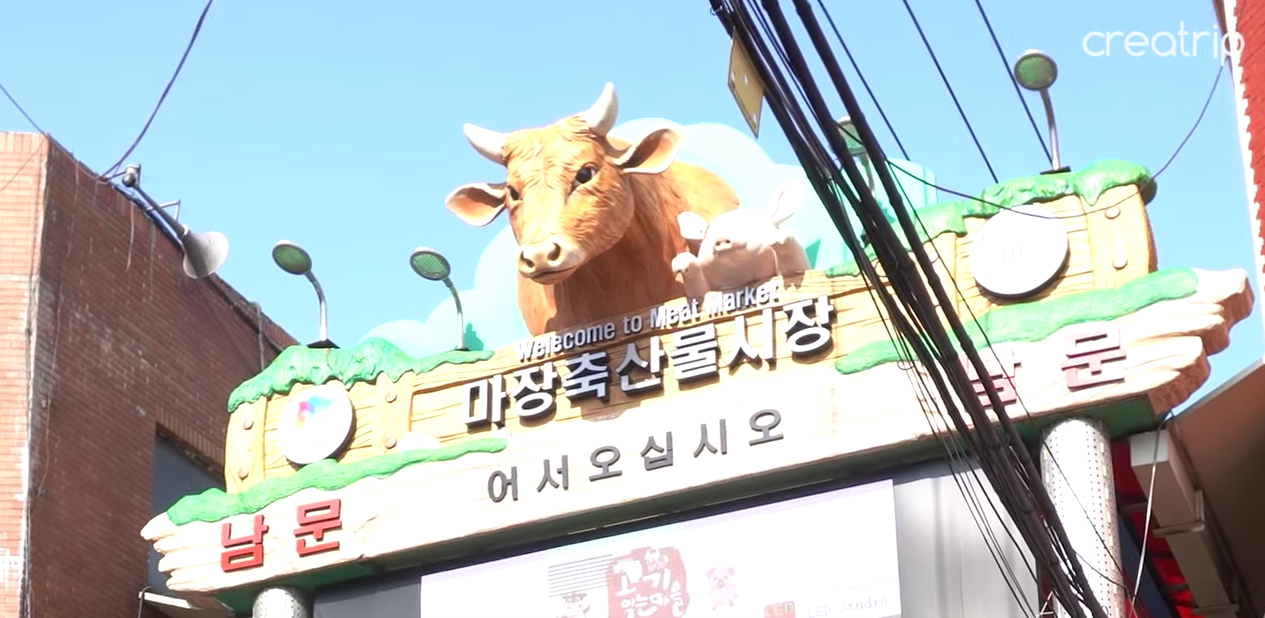 You'll know you've come to the right place when you see the huge cow head displayed above the market sign. As the biggest beef market in Asia, almost all meats in Korea get distributed from this market! You'll definitely be able to find the parts of fresh beef you're looking for. Locals come to this market to for a satisfying meal of hanwoo and banchans (side dishes) complemented by rice and refreshing drinks.
The major alleys of the market make a T shape and it's fun to look around before deciding on your choice of hanwoo.
---
1. Food Alley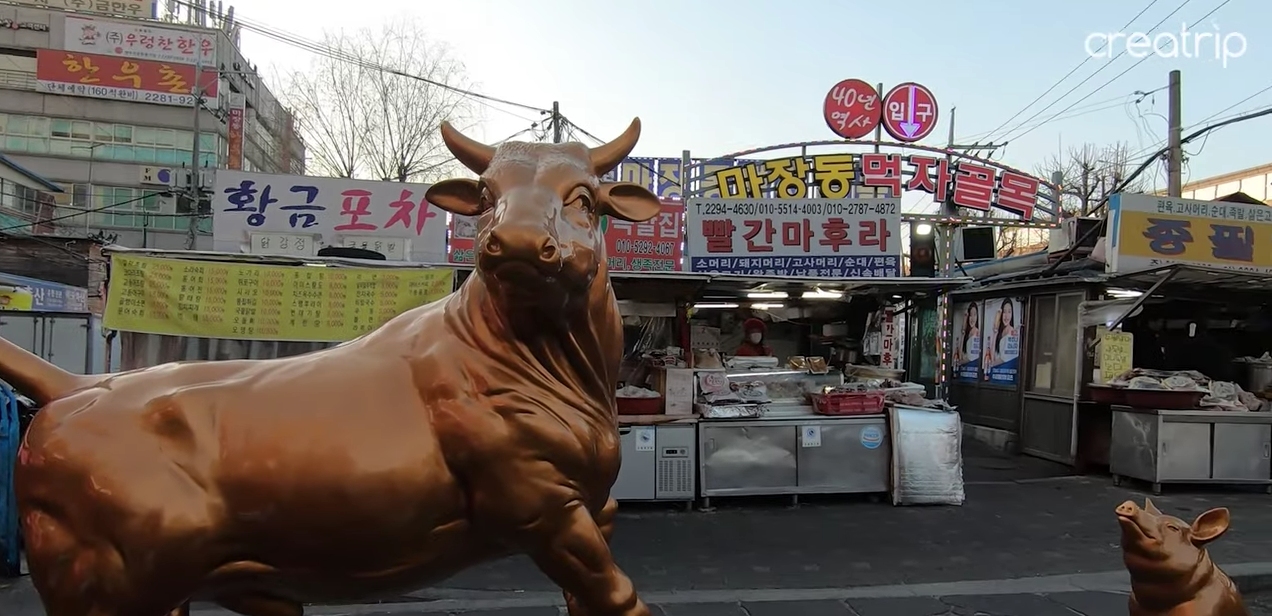 There are two ways you can enjoy hanwoo at Majang Meat Market:
1. Buying hanwoo at a local butcher shop, then getting it cooked at a restaurant in the Food Alley.
2. Buying hanwoo at the restaurant and having them cook the meat on the spot for you.
Juwon Oppa recommends doing it the first way!
It's a worthwhile experience taking a look around and picking out the meats yourself. You get to also determine the quality of the meat with your own eyes. You'll see lots of butcher shops lined up inside the market and we've got a couple of recommendations for you.
---
2. Hwasin Livestock Shop
Hwasin Livestock Shop only treats 1++ grade hanwoo, which is the highest grade.
The best 3 parts recommended by the owner are:
1. Anchangsal (thin skirt) : 18,000KRW/100g
2. Salchisal (flap tail) : 15,000KRW/100g
3. Ggotdeungshim (ribeye) : 12,000KRW/100g
If you don't have a specific part in mind, then just remember those three options!
Creatrip members get a portion of pork for free with a purchase of 50,000KRW or more with this coupon. You can choose from moksal (pork neck), samgyeopsal (pork belly) and gabrisal (pork cheek meat). If you go in a group of two or more, you'll easily spend over 50,000KRW so make sure you get your free pork too!
Once you've finished your purchase, one of the staff at the butcher shop will escort you to the restaurant where you can cook and taste your meat.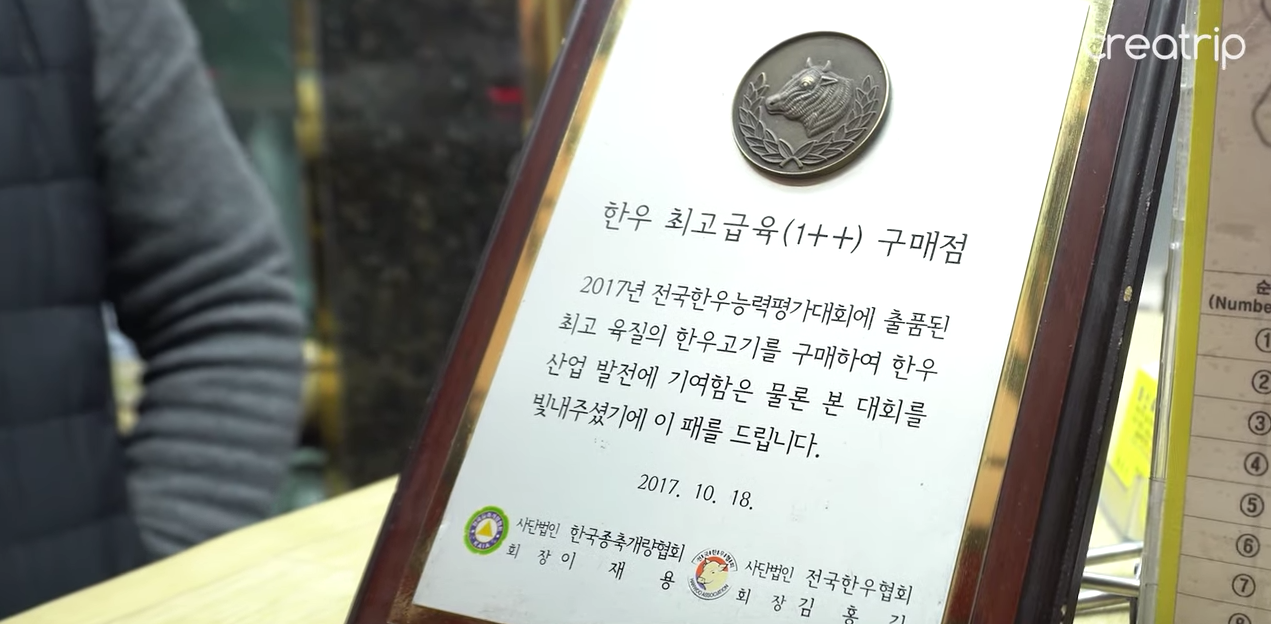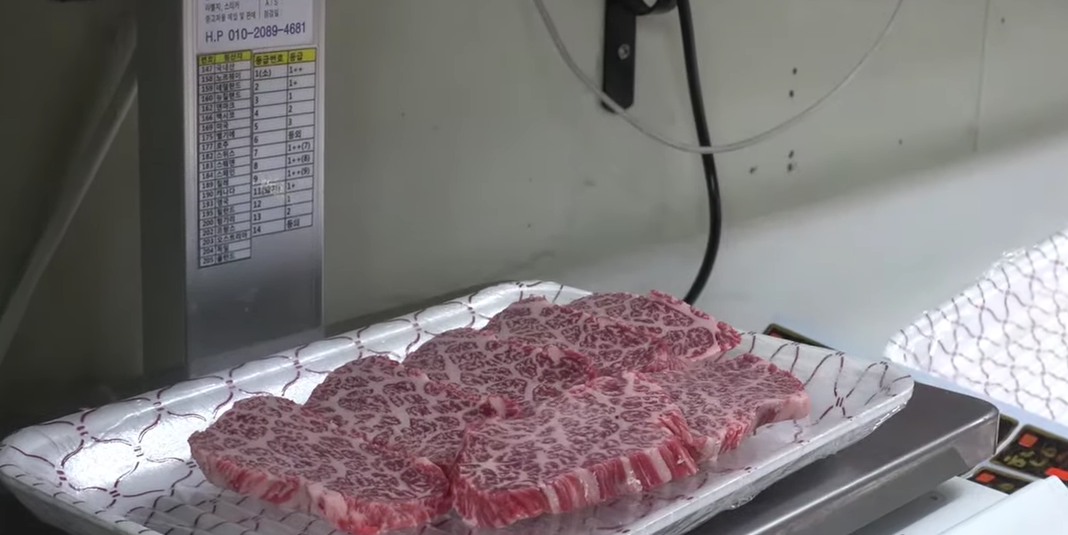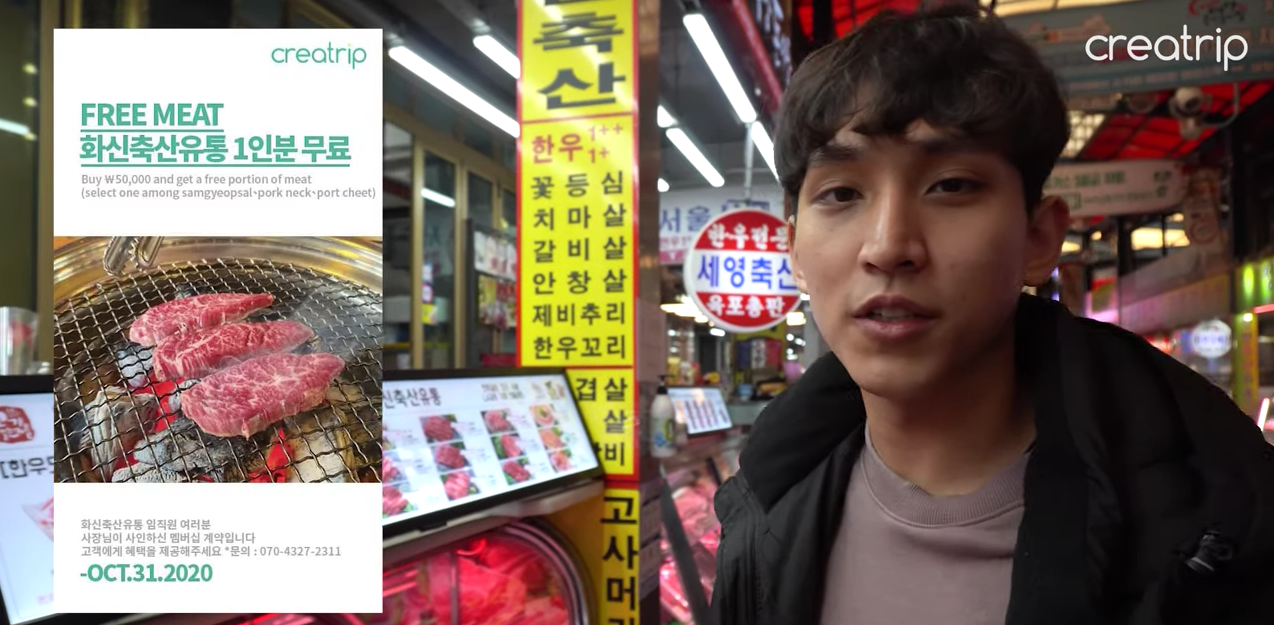 ---
3. Restaurant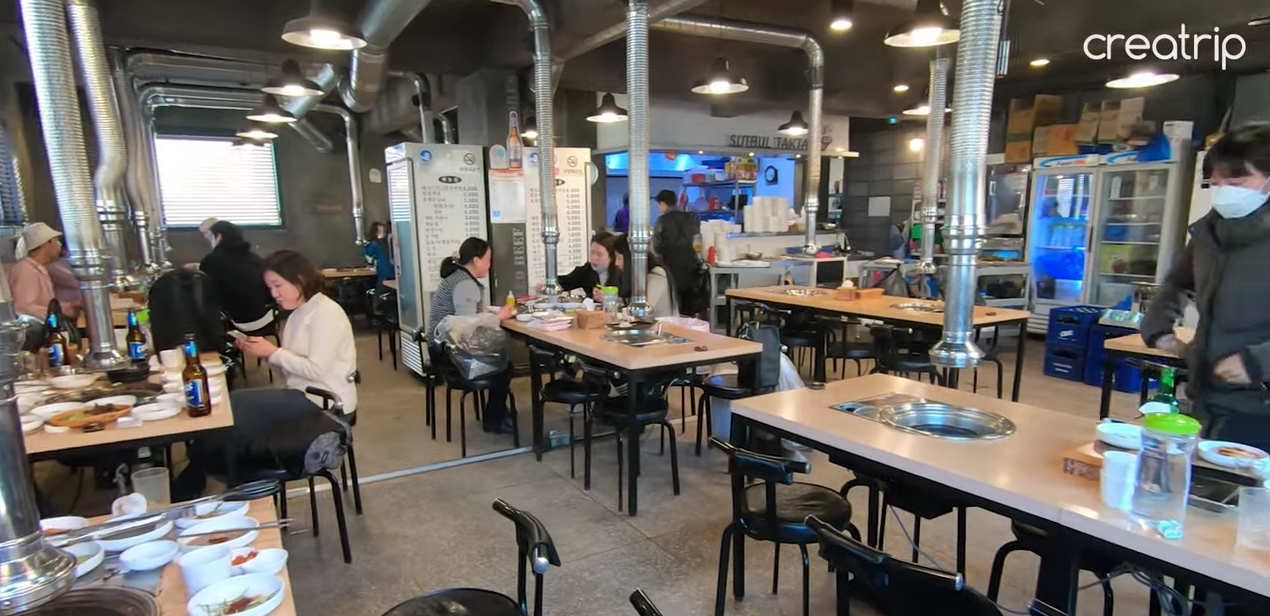 At the restaurant, you'll be asked to choose between charcoal and hot stone. Juwon Oppa recommends charcoal (6,000KRW per person) over hot stone (5,000KRW) because the flavour of hanwoo cooked over charcoal is especially exquisite. A basic set of banchans (side dishes) will be served with the grill as well.
Charcoal
Hot Stone
Oppa's Tips on Enjoying Hanwoo Part 1
You want to start at meats with the least fat and go up in order. That way, the meats don't start tasting greasy too soon. Juwon Oppa is going to go anchangsal (thin skirt), deungshim (ribeye), salchisal (flap tail) and pork.
Oppa's Tips on Enjoying Hanwoo Part 2
Juwon Oppa received beef briskets for free so he ordered doenjang-jjigae (soybean stew) and put the briskets in it! Mmm, so flavourful!
Oppa's Tips on Enjoying Hanwoo Part 3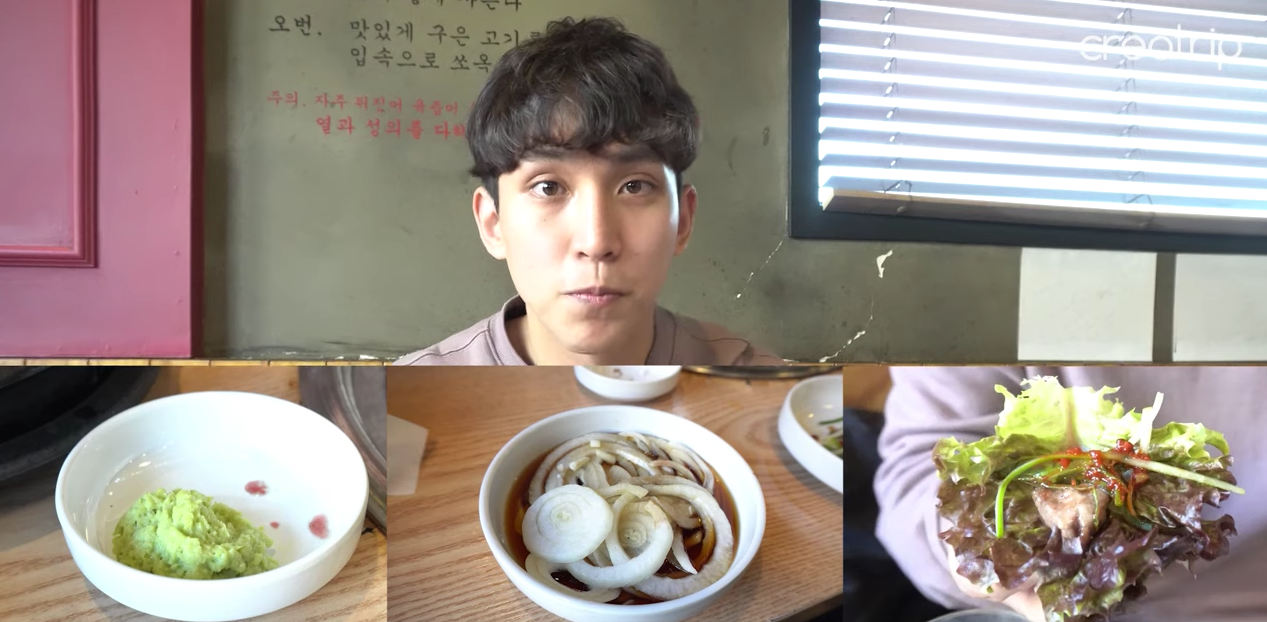 Try the meat by itself in the beginning, then start adding wasabi, onions, vegetable wraps for a variety of flavours that go so well with the hanwoo! Remember to ask for wasabi because you can get it for free at the restaurant. Check out how Koreans eat their KBBQ for more tips.
---
Majang Meat MarketㅣHow to Get There
1. Walk straight from exit 2 of Majang Station.
2. Walk two blocks until you reach the gas station and make a left at the gas station.
3. Walk past the school, walk for around 10 minutes straight and you'll reach the market!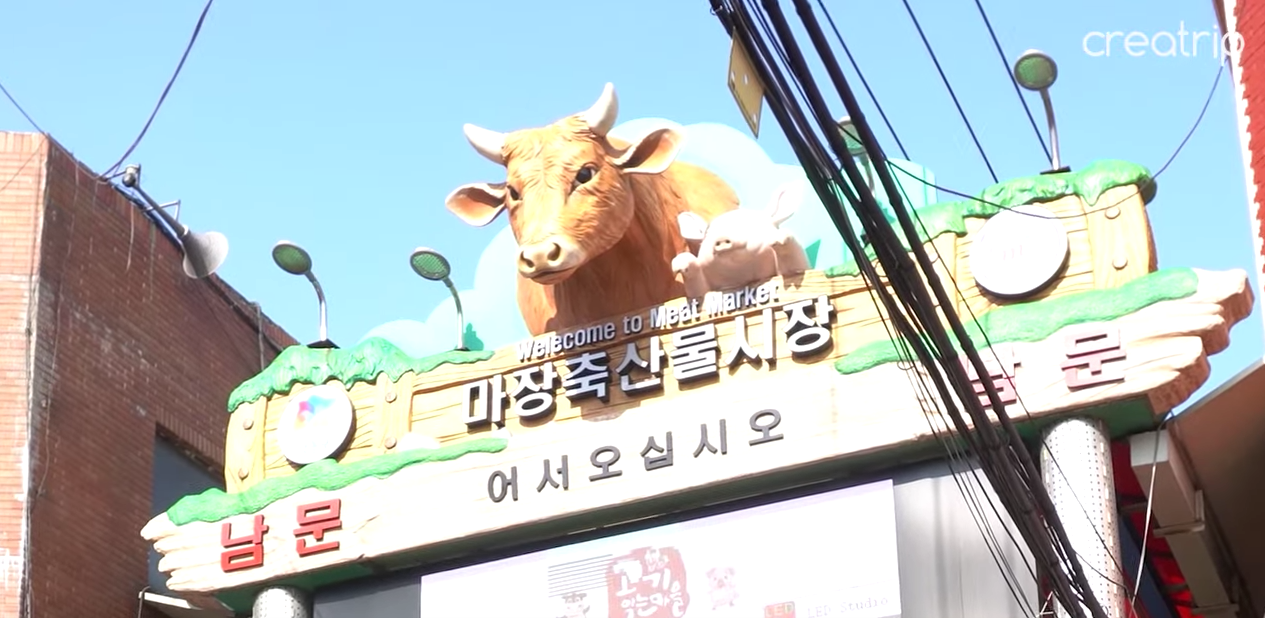 ---
Overall, it's a great way to taste premium beef you can only find in Korea. Majang Meat Market's prices are the cheapest you can find in Seoul, so we definitely recommend you take a trip up here! Pick out your own meat and get it cooked right on the spot for a truly local experience.
---
Check out Juwon Oppa's hanwoo mukbang too!
---
If you have questions about information not covered in the blog post, please email us at support@creatrip.com
---