Lotte World 2022
Our Favorite Amusement Park in the Heart of Seoul in Jamsil!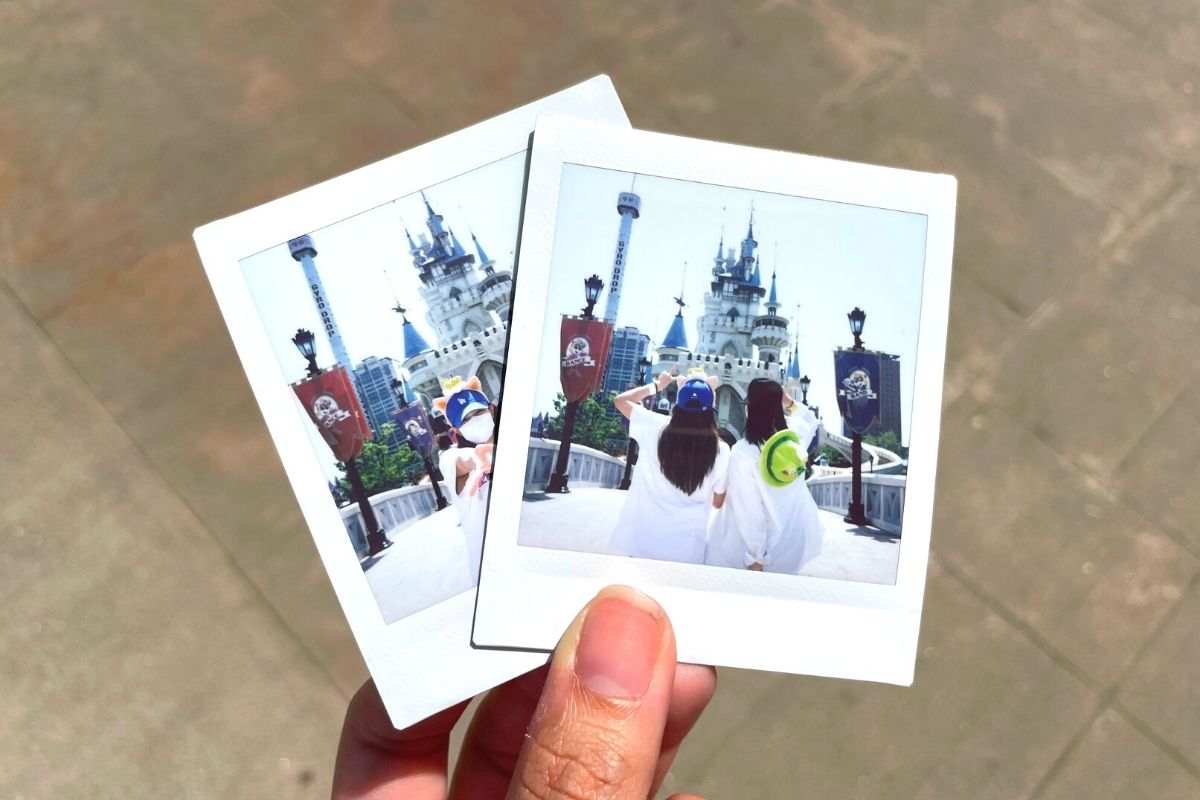 Lotte World is an amusement park located in the heart of Seoul and is not to be missed if you are coming on a trip to Seoul! This amusement park is located in Jamsil, near many other tourist attractions! Many of you probably recognize it from many K-dramas as well!
Let's dive into all that Lotte World has to offer!
---
Information
Address: 롯데월드 어드벤처 (서울 송파구 올림픽로 240)
Hours: 10:00 - 09:00 Daily (Hours can change so please check before your visit)
---
Why We Recommend It
It is an amusement park located in the center of Seoul and is easily accessible.
There is an outdoor and indoor section so it is suitable for any type of weather.
There is a variety of rides suitable for adults and children. The whole family can enjoy it here.
You can enjoy shows and performances here. There are many that go on through the day.
It is near Lotte Duty Free and the Lotte Mall so you can go shopping after.
It is also close to Seokchon Lake, so you can enjoy that as well after. You can take a walk around the lake and enjoy the Cherry Blossoms in the spring.
---
Price
Type

Lotte World + Folk Museum

1-Day

After 4 P.M

62,000 KRW

50,000 KRW

59,000 KRW

47,000 KRW

54,000 KRW

43,000 KRW

52,000 KRW

41,000 KRW

47,000 KRW

36,000 KRW

46,000 KRW

35,000 KRW

15,000 KRW

15,000 KRW

15,000 KRW

15,000 KRW
Please note that children under 36 months can enter for free but if they would like to get on any of the rides, they must purchase a ticket.
Creatrip Member Special Price
Pass Type

Price

LOTTE WOLRD 1-day pass

59,000 KRW
41,000 KRW
---
Things to Keep In Mind
Magic Island may be closed on rainy or snowy days. Please keep in mind that operating hours can change due to the weather or other unforeseen conditions. Please make sure to check the time in advance.
Tickets can be purchased both at the front of the park and online.
Activities and shows at different times may be a little different in content.
Some rides and areas may be closed due to maintenance. Please make sure to check beforehand.
Once you leave the amusement park, you cannot come back in.
---
Map
Lotte World is an amusement park located near Lotte Department Store in Jamsil. It is very easy to get to as it is close to the subway station. When you get off the subway station you can walk through the mall and get to the amusement park via the mall!
Once you get into Lotte World, it will be divided into two different parts.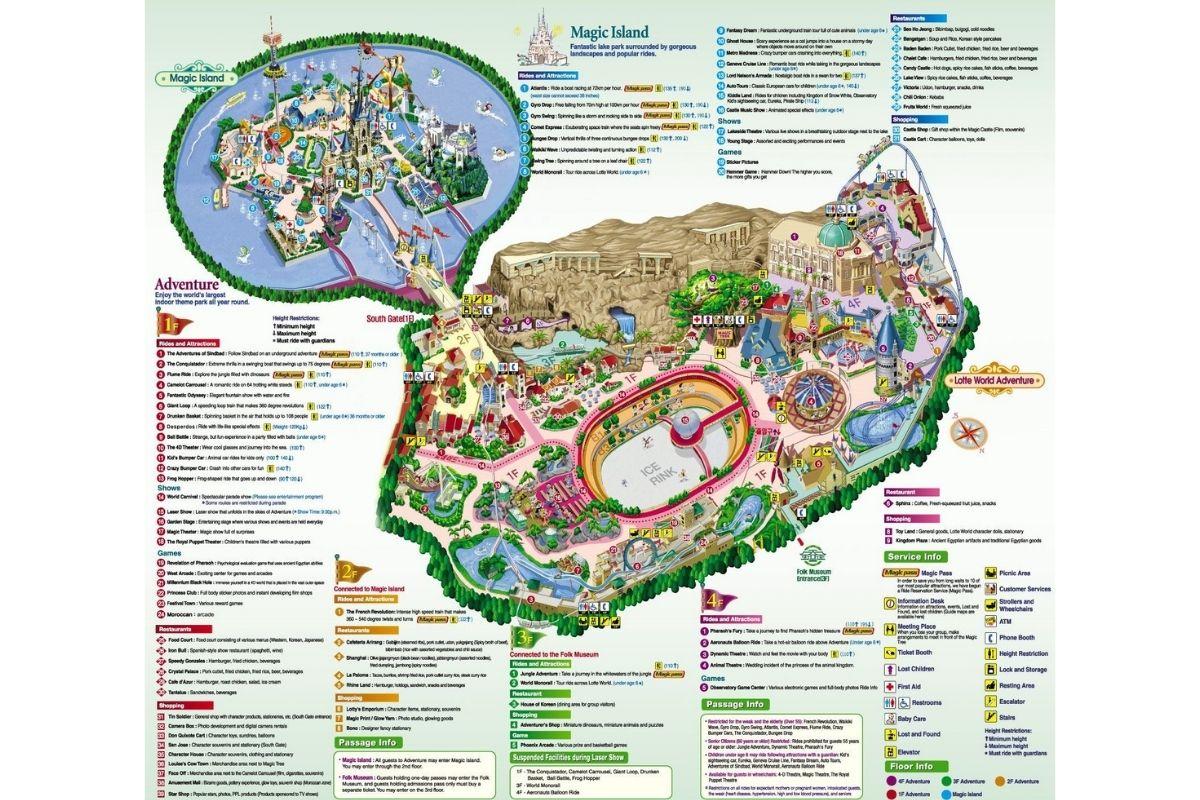 As you can see on the map, Lotte World is divided into the Magic Island (outside area) and the Lotte World Adventure (inside). Magic Island is closed on rainy or snowy days. Make sure to check the weather conditions before you head over!
---
How to Purchase Tickets and Use Fast Pass

When you go to purchase your tickets, there will be three different types of ways that you can purchase tickets. You can do so via online booking, purchasing at the front of the amusement park at the ticket desk, or at the KIOSK machines that are placed in the front of the amusement park.
You can purchase online tickets can be purchased on the Lotte World website through the Creatrip website at a discounted price!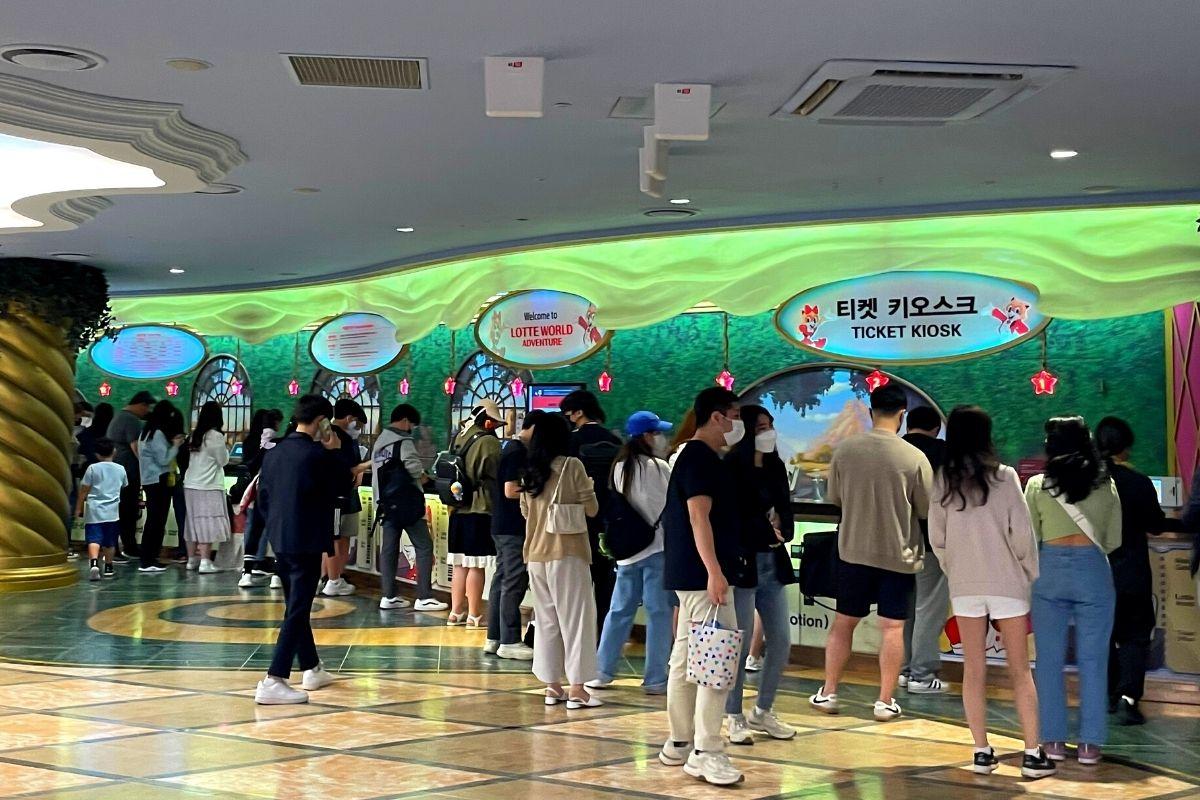 We suggest that you buy them beforehand online as getting the tickets from the machines may be a little inconvenient for foreigners. A Korean phone number, and a Kakaotalk account connected to the phone number is needed. Therefore, we suggest making sure to book beforehand!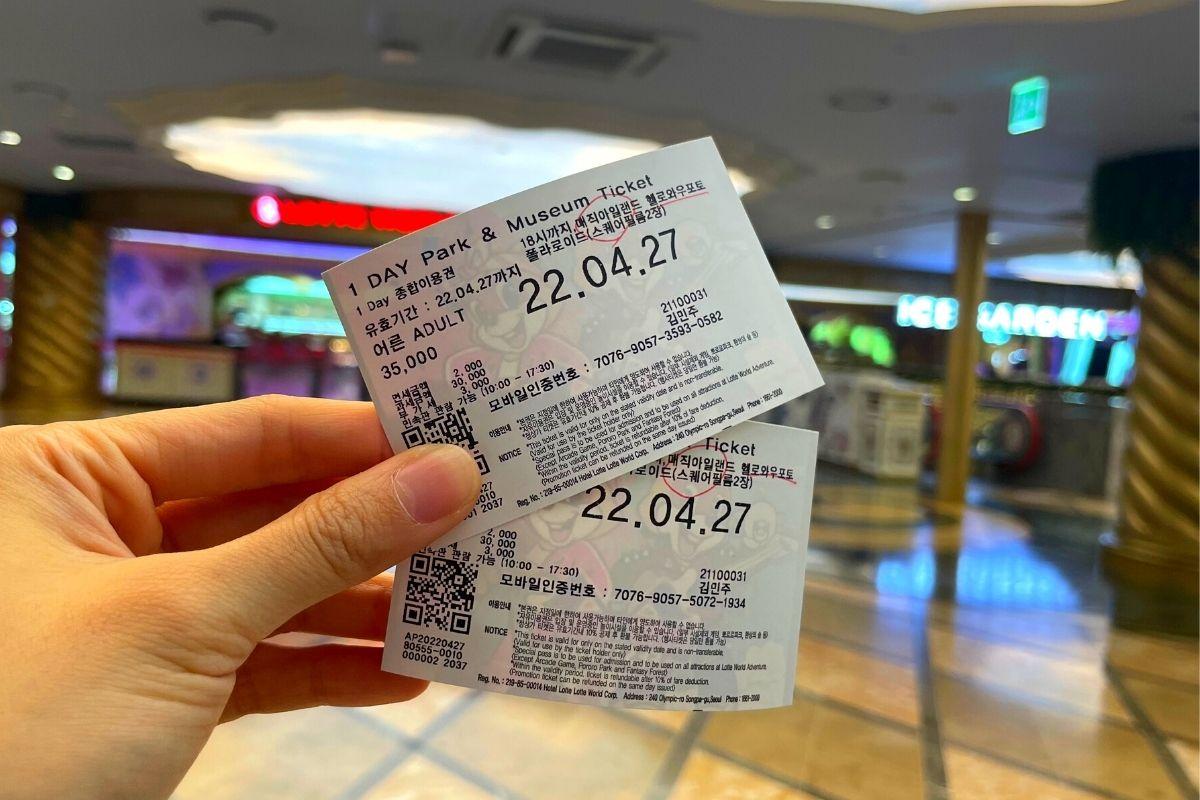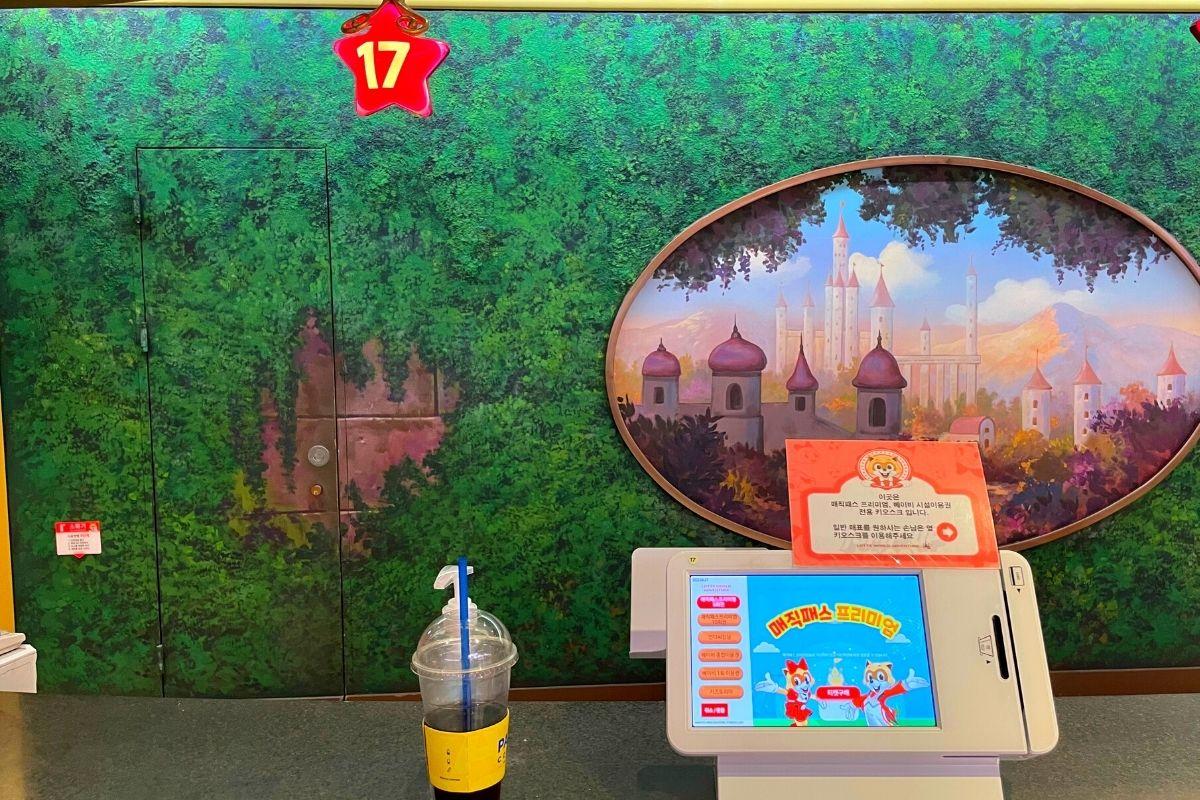 You can choose the number of times you want and enter your phone number on the Kiosk. When your payment is done, the system will send a code to your Kakaotalk. It will look like the following photos: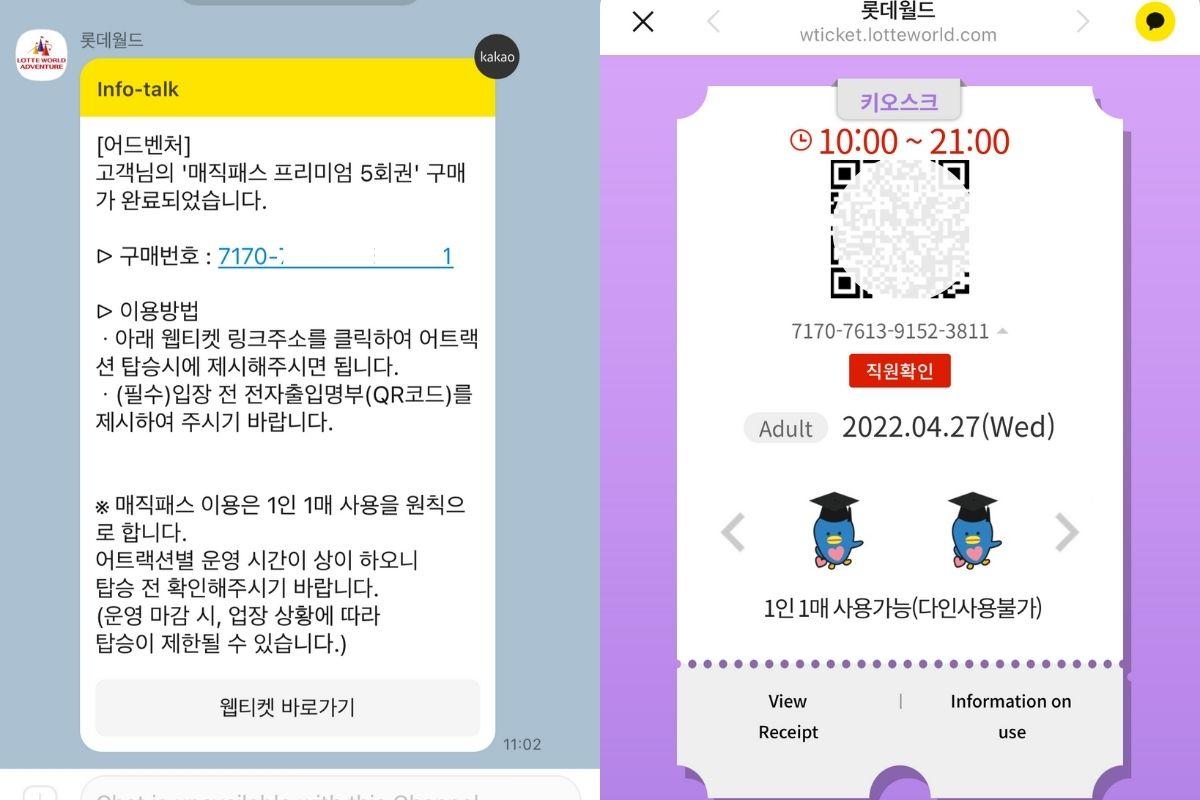 After that, you can open it and show it to the staff. The staff will make a stamp on it every time you get on the ride.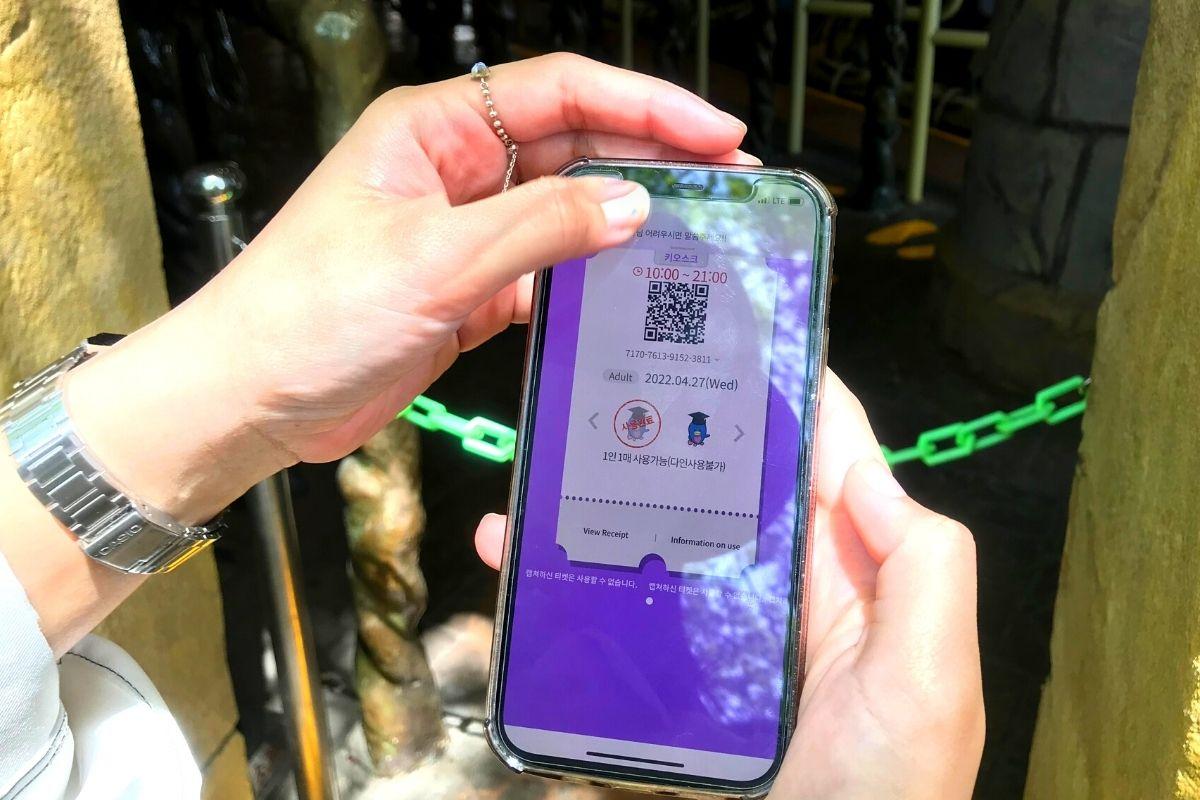 When the ticket purchase is complete, the staff will scan your QR code at the entrance. Then you can enter and have fun in the amusement park!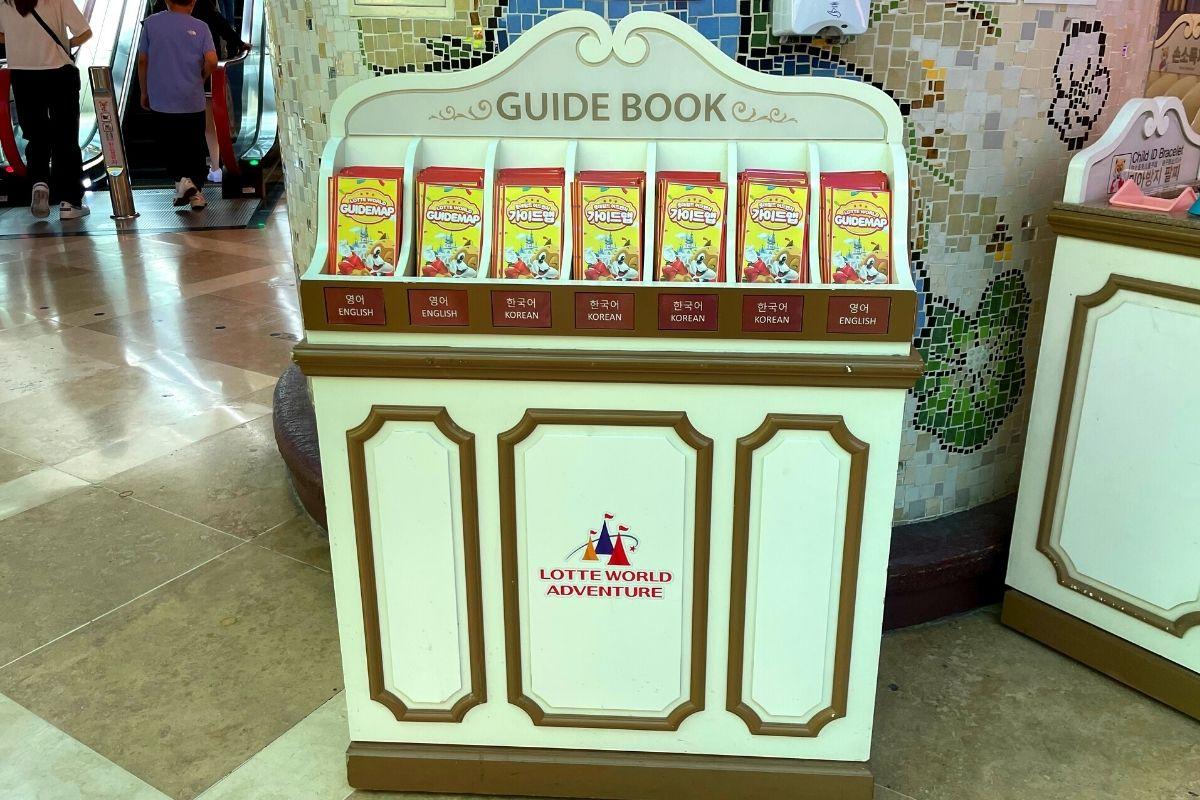 Also in the park's entrance area, there are guide books in Korean, Chinese English and Japanese. You can view a map of the amusement park and learn about the rides and shows!
---
Ride Guide
The rides at Lotte World include exciting rides for both adults and children! We will introduce some of the park's highlights and some of the most famous rides!
Magic Island
1. Atlantis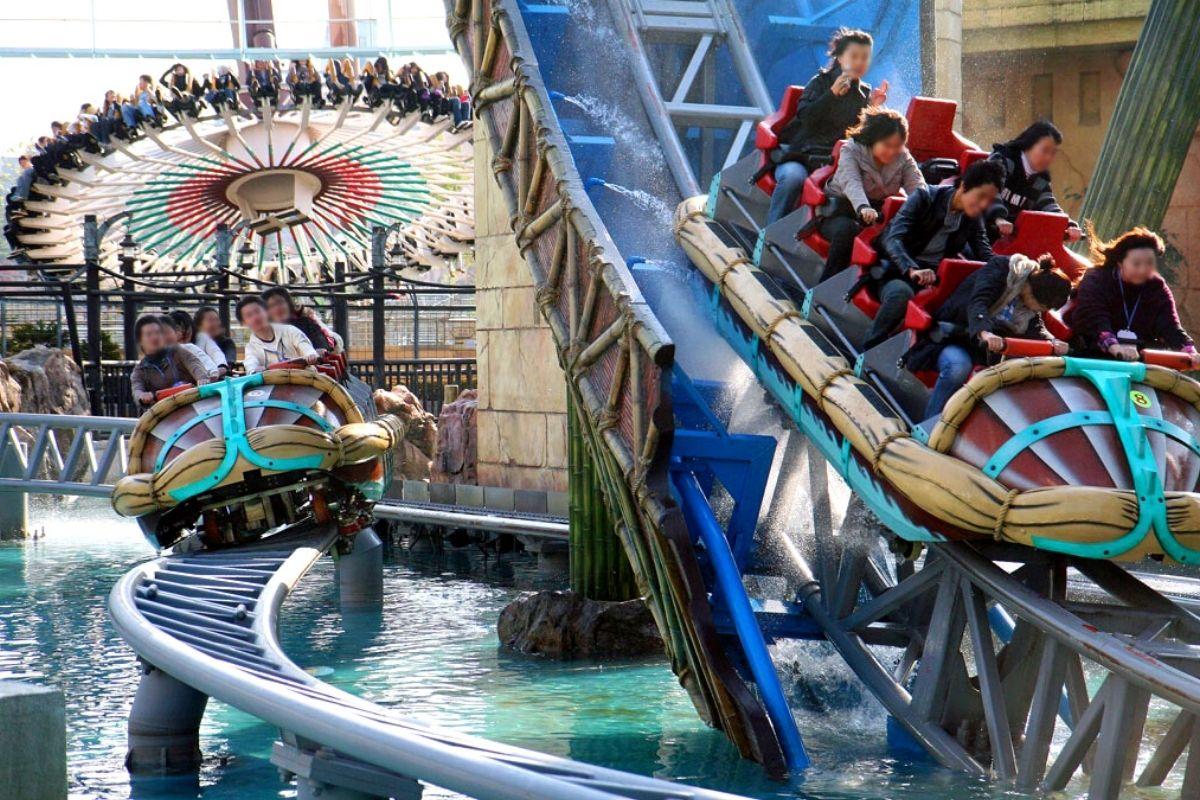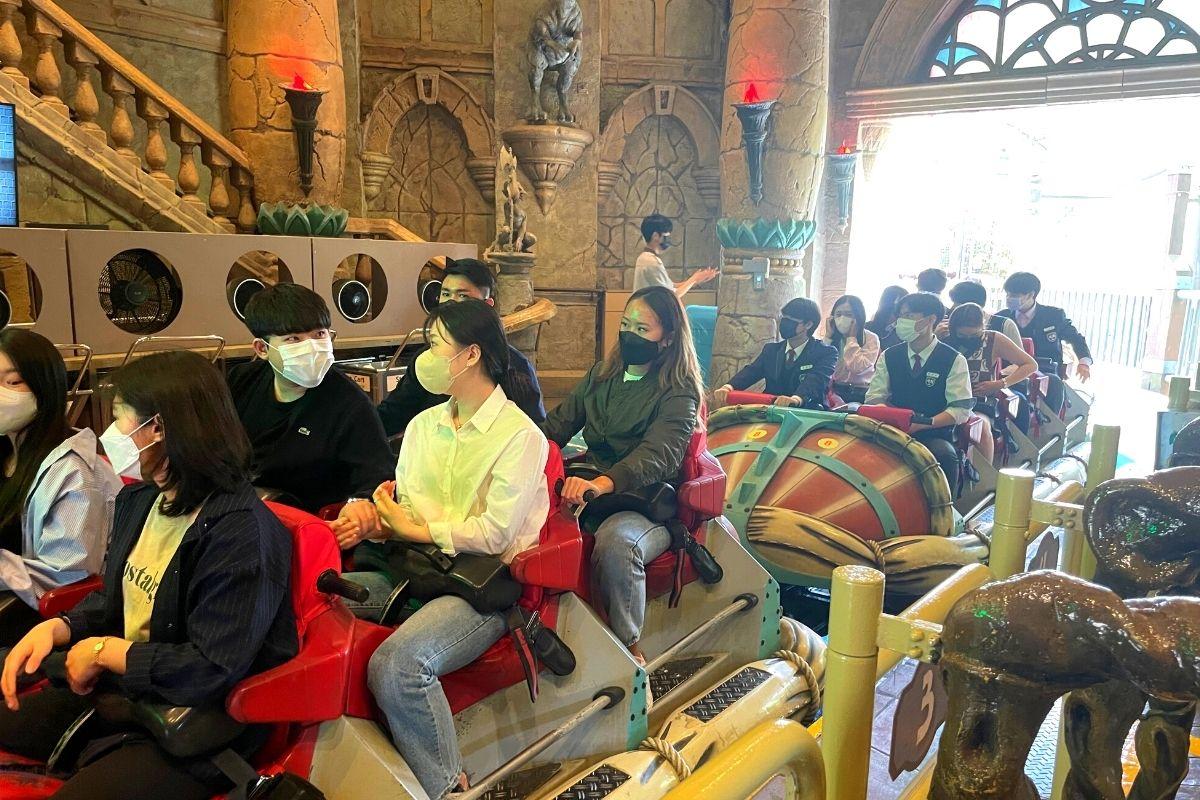 The Atlantis is a rollercoaster in the outside part of Magic Island. It is a huge ride with speeds of up to 72km/h and it has some extreme curves and descents. It is one of the most popular rides with average wait times of around one hour. This is our personal favorite ride! If you want to ride you need to be 135-190cm tall.
2. Comet Express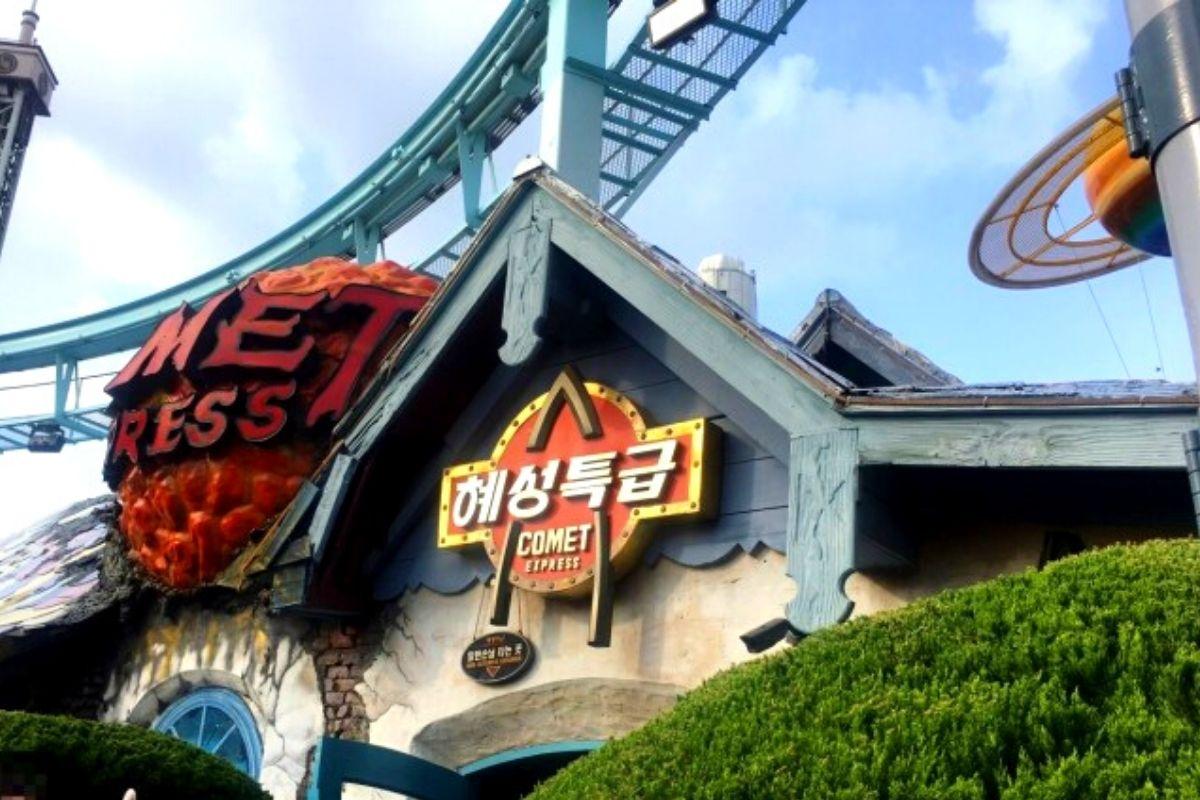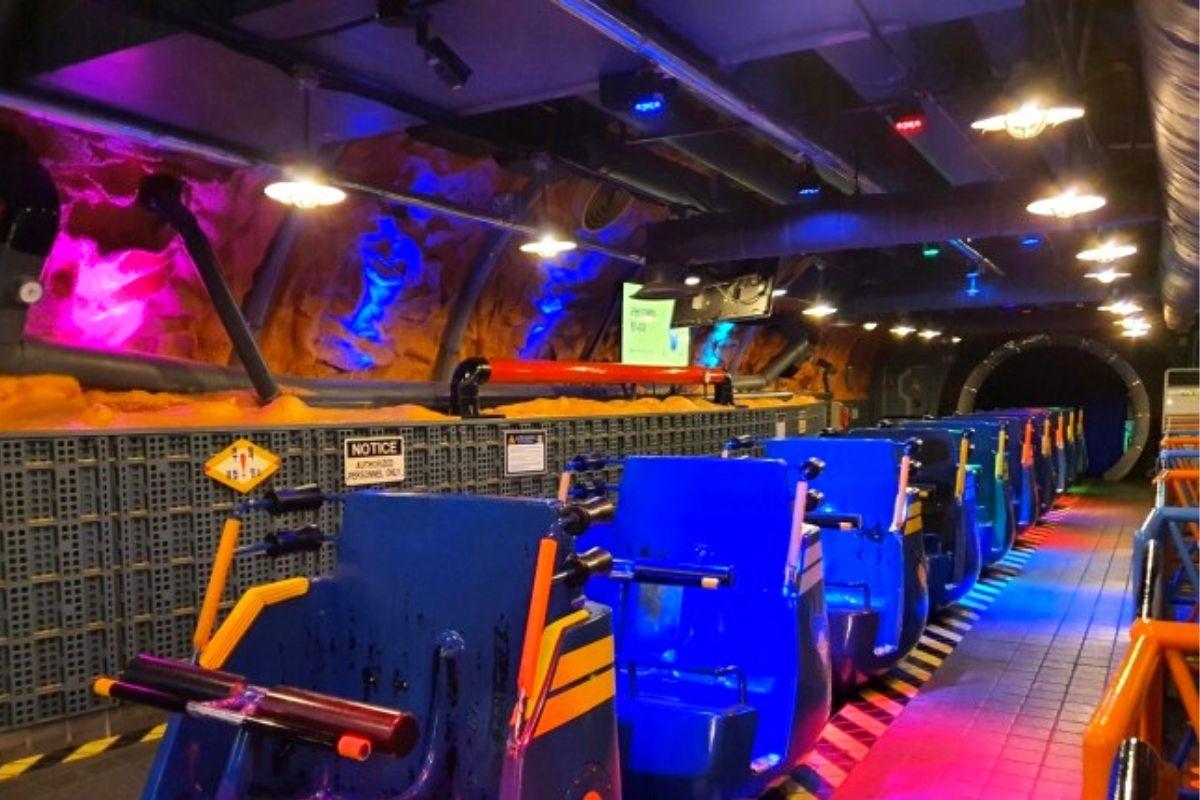 This ride is a rollercoaster ride that is underground on Magic Island. It is a ride that is meant to take you through space and travel through meteorites. In addition to the car running at high speeds. The seat also revolves around! It is also a very popular ride. You will see many people queuing in front as well. You must be taller than 120cm tall to ride as well.
3. Gyro Swing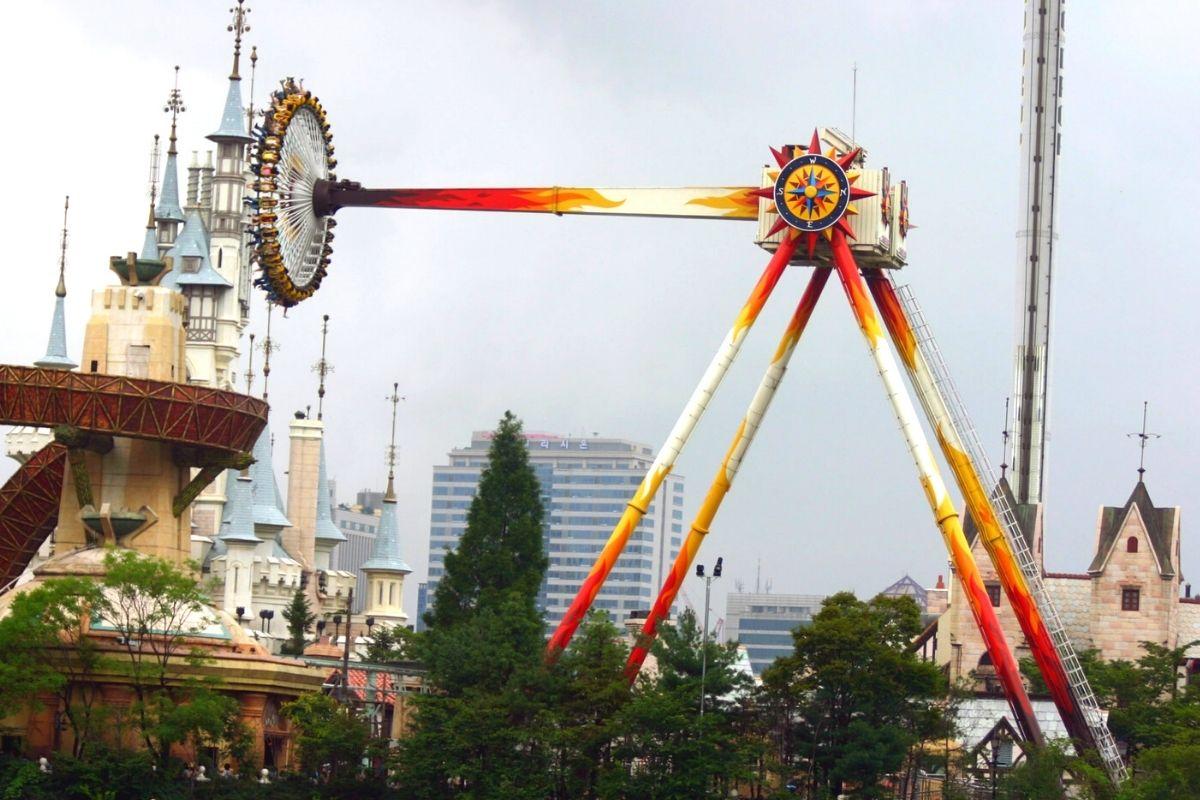 As the name suggests, Gyro Swing is a big swing that swings from left to right. In addition to swinging back and forth, the seat platform also revolves around in a circle. If you get sick easily or struggle with dizziness, we suggest you avoid this ride! You can ride this ride if you are 130 cm to 190cm tall.
4. Gyro Drop
This ride falls from unimaginable heights at crazy speeds! it is perfect for those that are adventure seekers! One round can seat up to 40 people so the lines tend to be much shorter than other rides. You can get on the ride if you are 130-190 cm tall.
5. Gyro Spin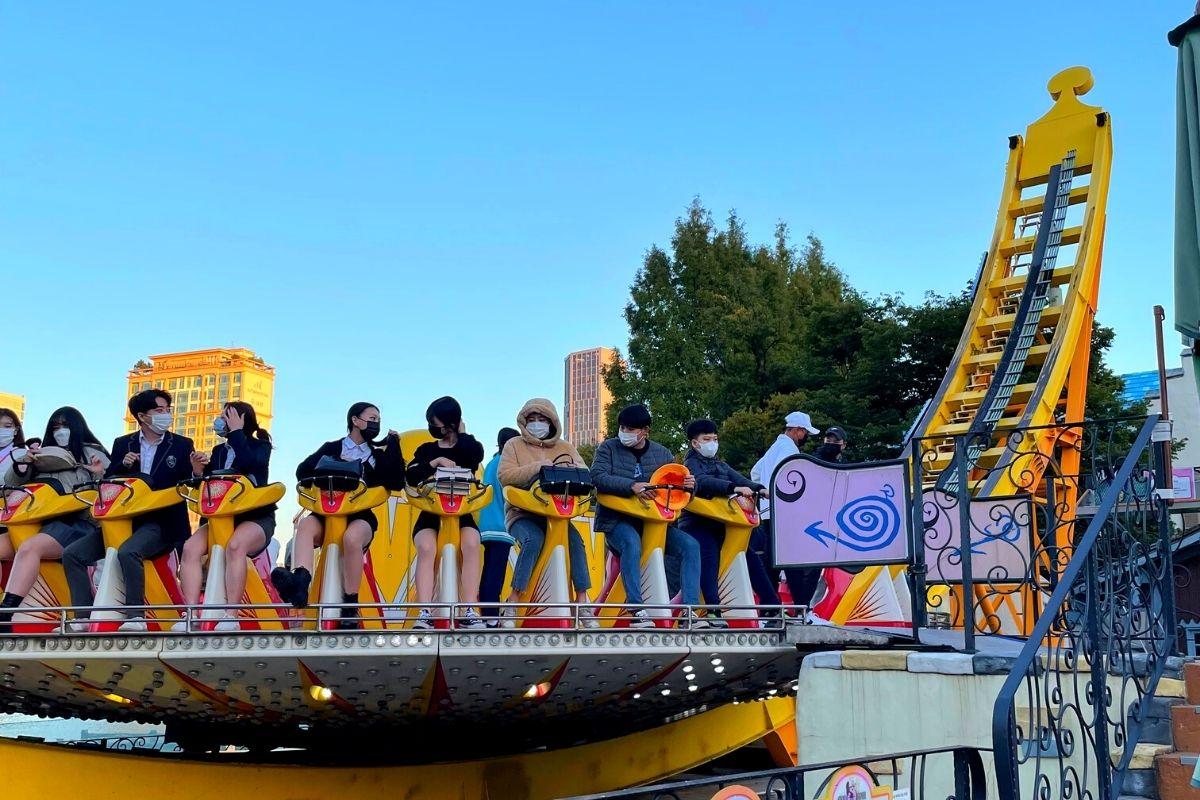 Another ride in the Gyro family is a ride that swings on the left and right rails. The seat platform itself will spin around as well. The machine is not very long. You can get on this ride if you are 125cm or taller.
6. Spin Tree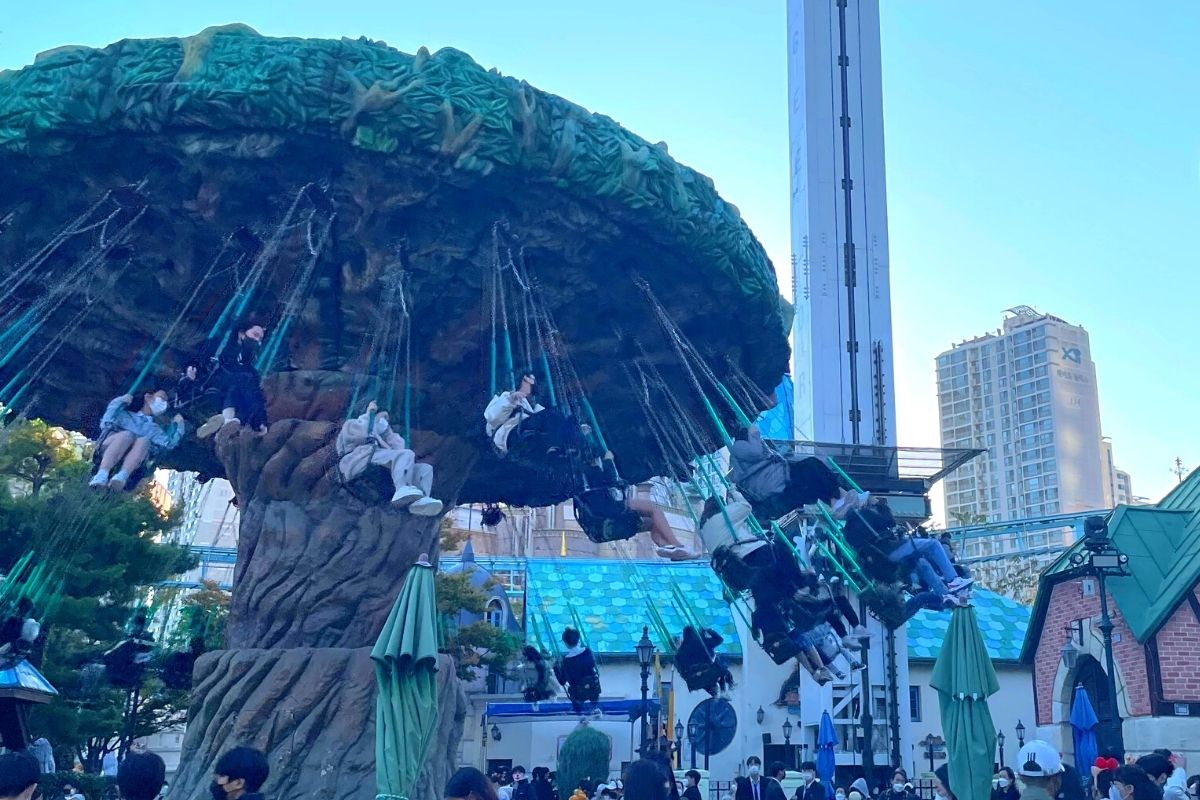 This ride swings around and spins around the tree. Anyone can get on the ride. It is more of a relaxing ride and it is fun to ride on a hot day as it can be very cooling. Additionally, the queue is not long. You can get on and ride very easily. You should be at least 120cm to ride it.
7. Bungee Drop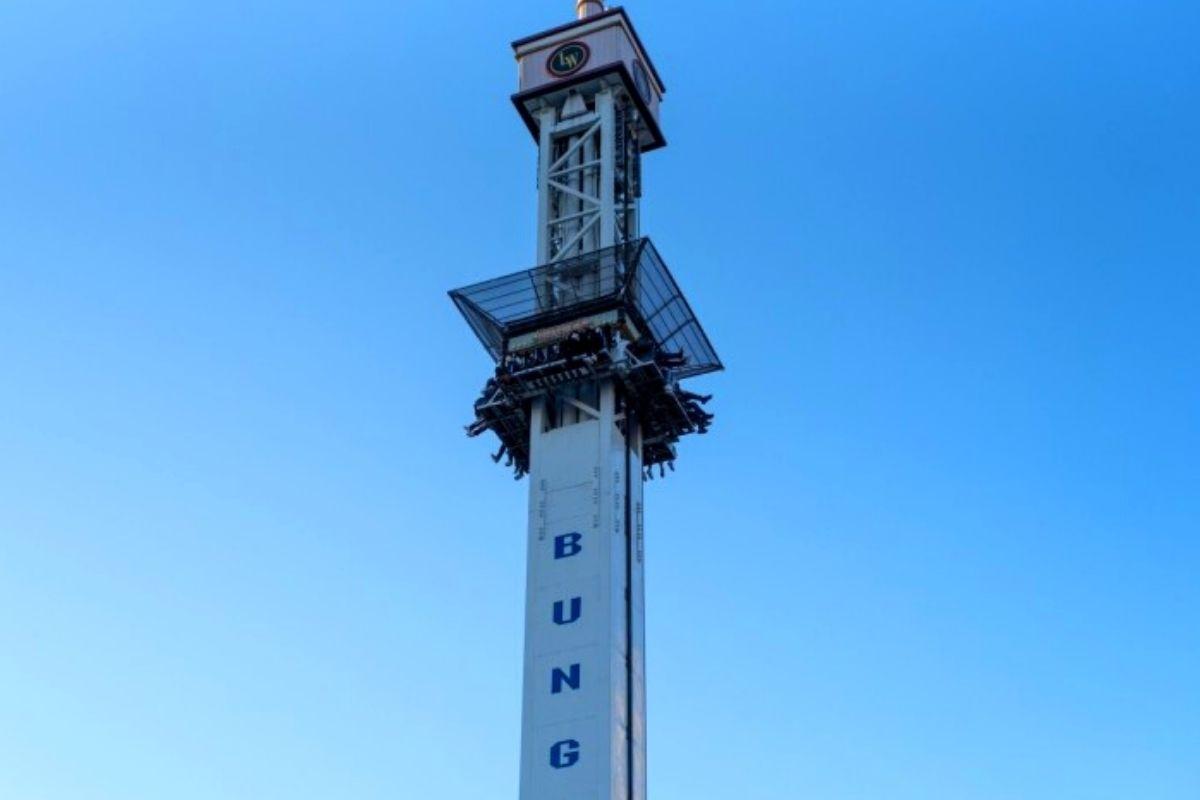 This is also known as a mini-version of the Gyro Drop. It is not that high. You should be at least 130-190cm tall to get on this ride.
Lotte World Adventure Area
1. French Revolution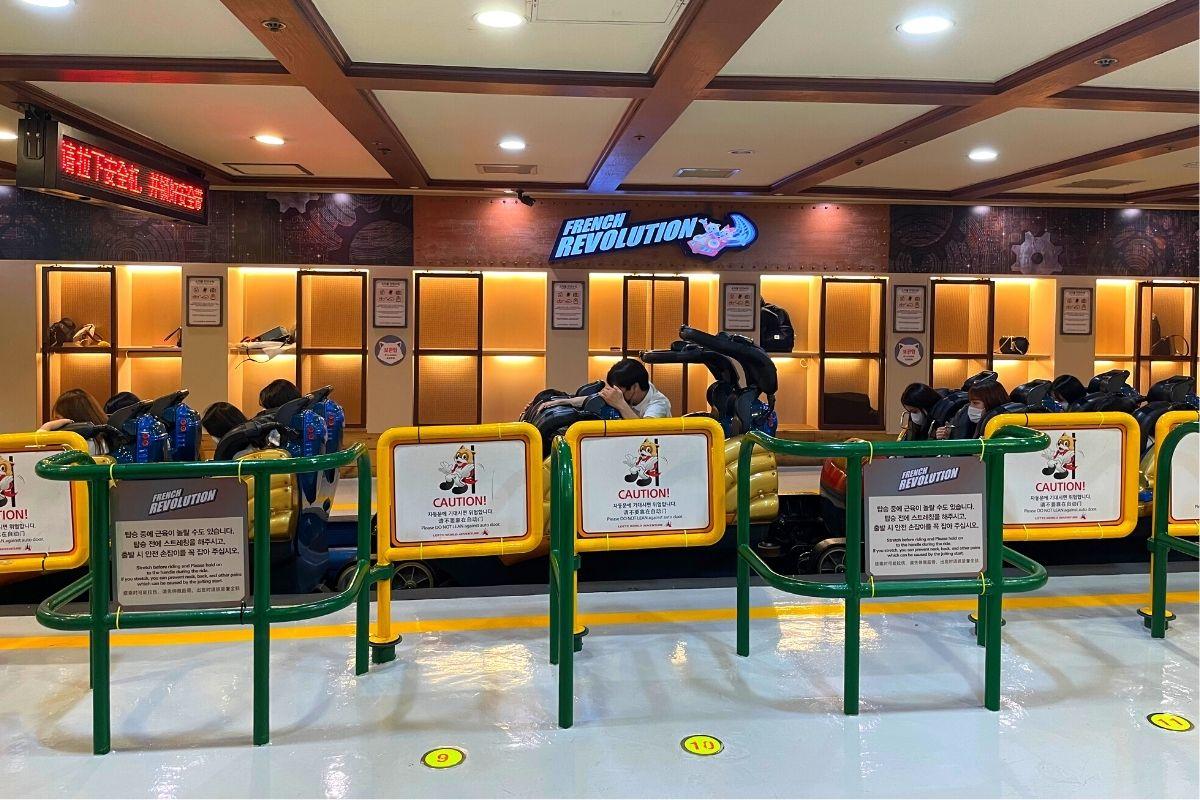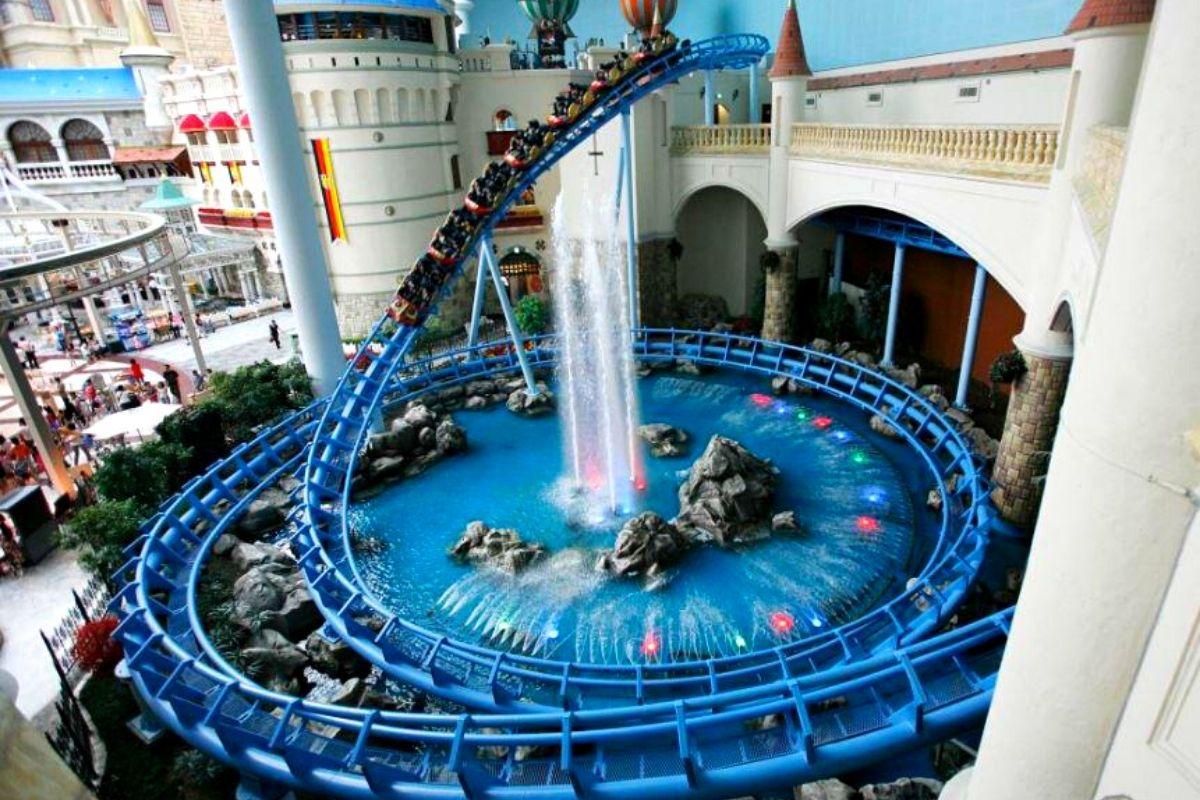 This is another one of our favorite rollercoaster rides! It is a high speed ride with 1 round of 360 degree ups and downs! It is very popular amongst Korean people as well. If anyone likes speed, we recommend this one! The wait time can get up to 2 hours long. If you want to ride this, you can ride it if you are 120cm or taller.
2. The Conquistador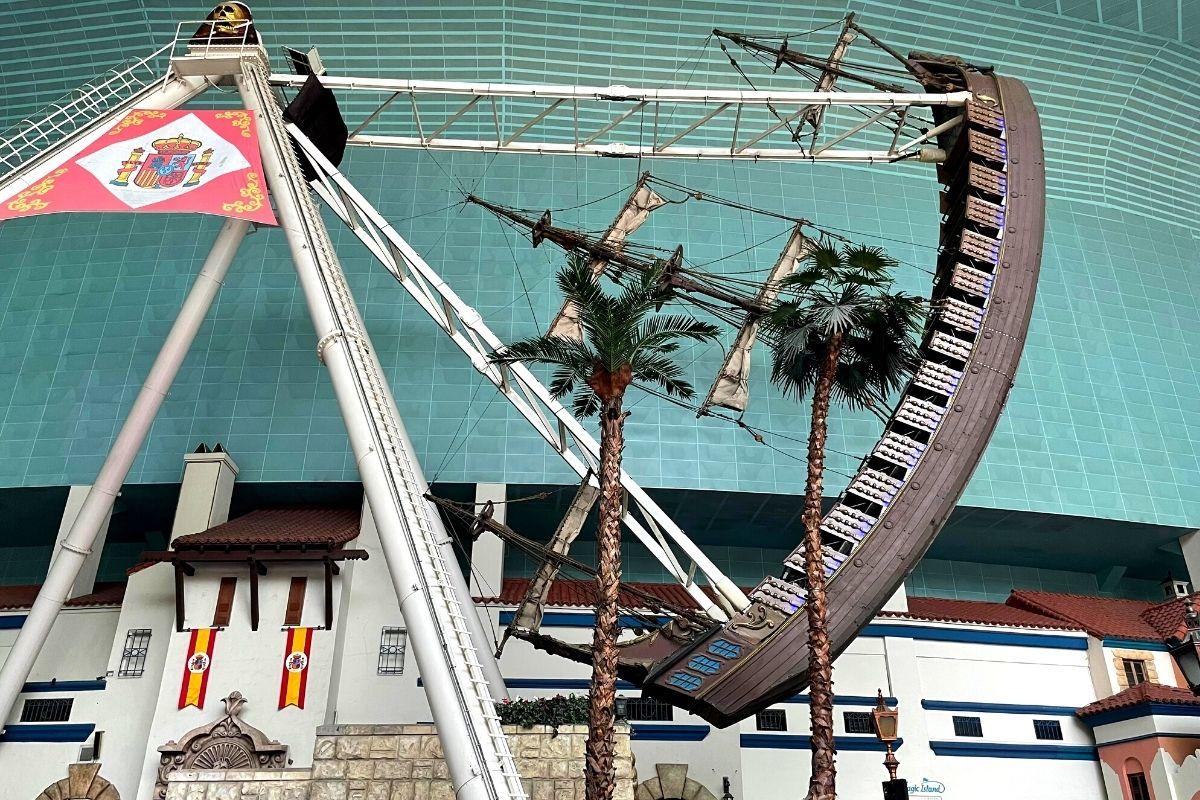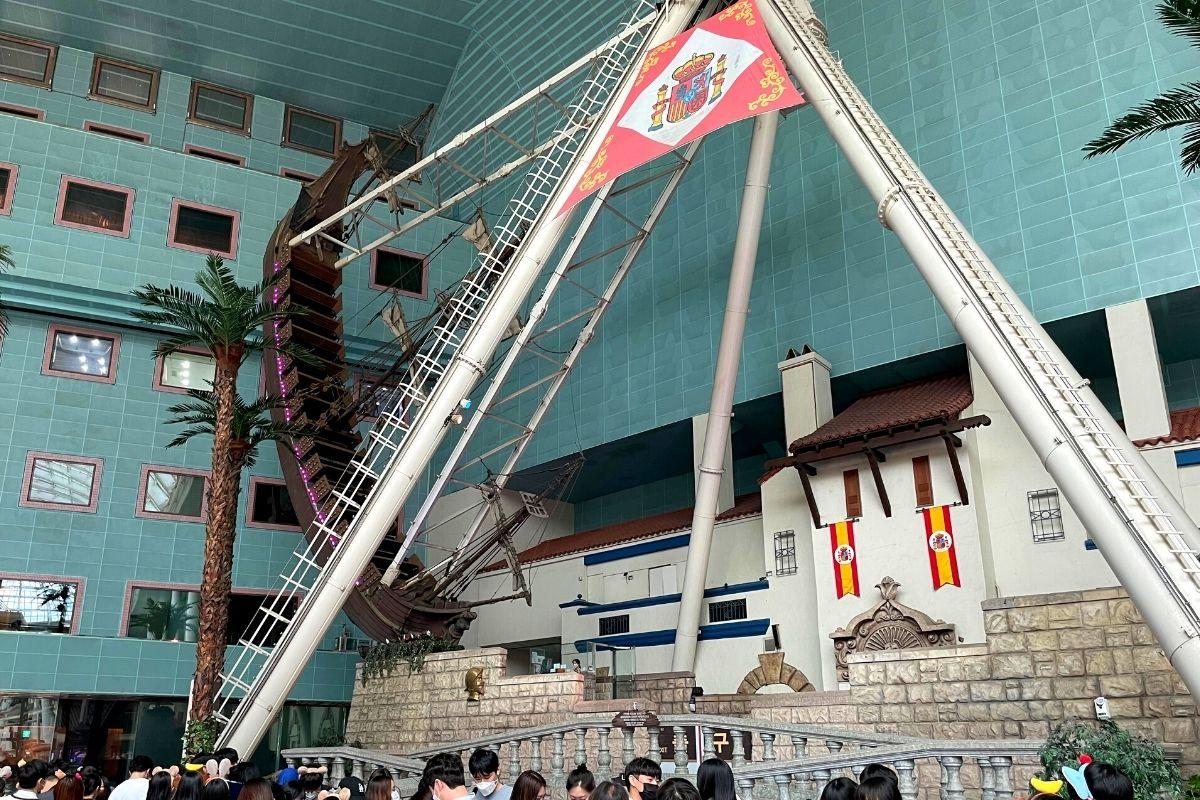 The viking ride is also extremely popular for both children and adults. If anyone likes the thrills of excitement we suggest that you sit at the very end! You need to be at least 110cm to get on the ride.
3. Flume Ride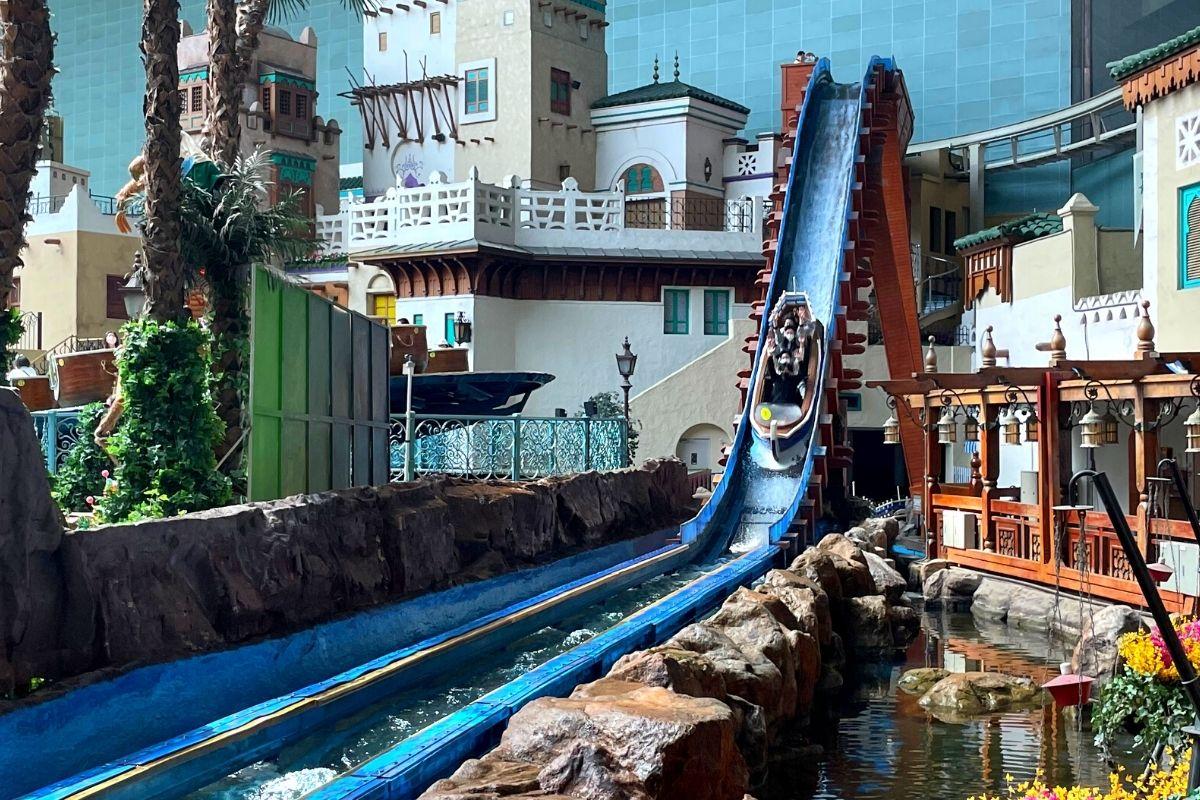 This is a ride that is propped along the water! When you are on the ride, you can feel the splash of the water as you enjoy the ride. If anyone does not want to get wet, we do not suggest going on this ride. There are many times where you might get splashed around here if you are on the ride. You should be 110cm to get on the ride.
4. Balloon Ride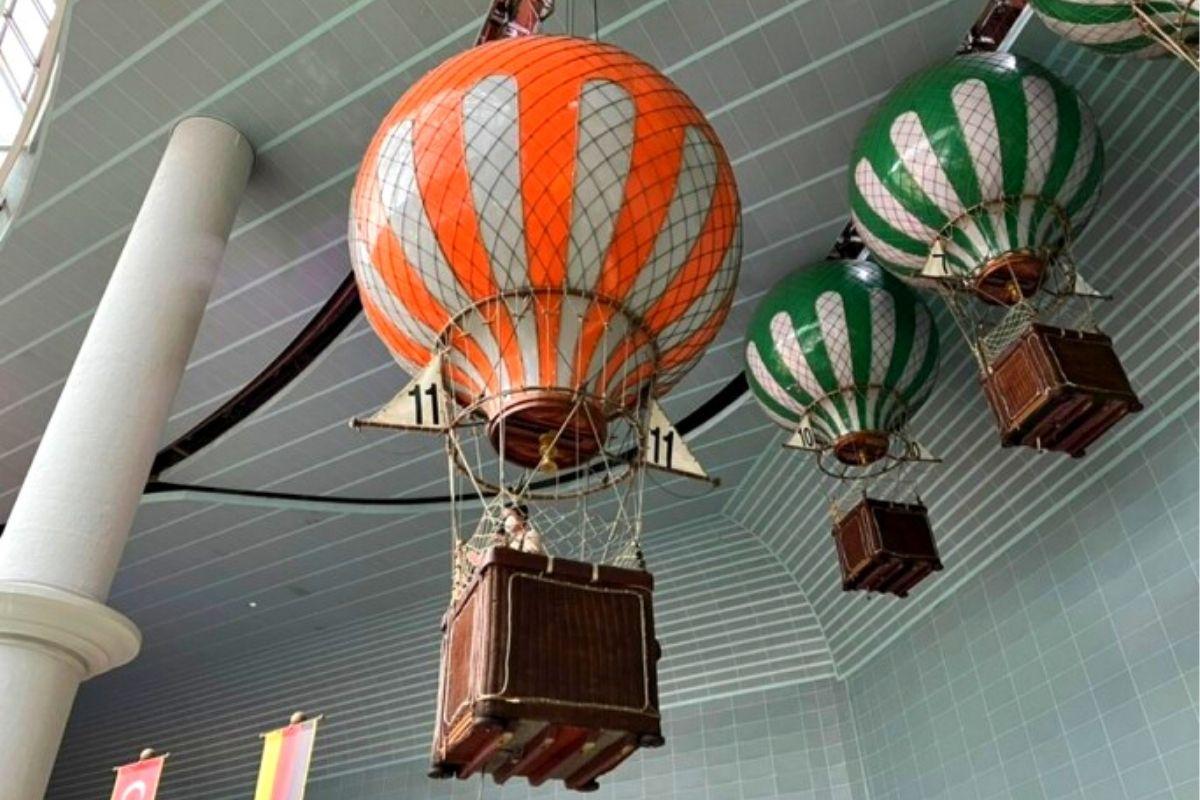 The hot air balloon is a highlight ride that will allow everyone to see the view of Lotte World from the top. You can take the ride that allows us to take a balloon ride around the inside. At first we thought that this would be a very chill and relaxed ride, however you have to stand in the balloon and it did get a little scary! If you are afraid of heights, we do not recommend this! You must be over six years of age to get on the ride.
---
Recommend Photo Spots
1.Camelot Carousel (Lotte World Adventure)

Lotte World's classic rides can be enjoyed by the whole family. It is also a great popular photography spot. During the night, the whole ride lights up and becomes a beautiful and romantic spot.
2. Magic Castle (Magic Island)
When walking out to Magic Island, which is the amusement park outside, you can walk straight behind the escalator and you will be greeted with a photo zone. This photo spot is on the walkway and gives you a clear view of the castle.

Since it is a very popular spot, there is usually a queue to take photos here.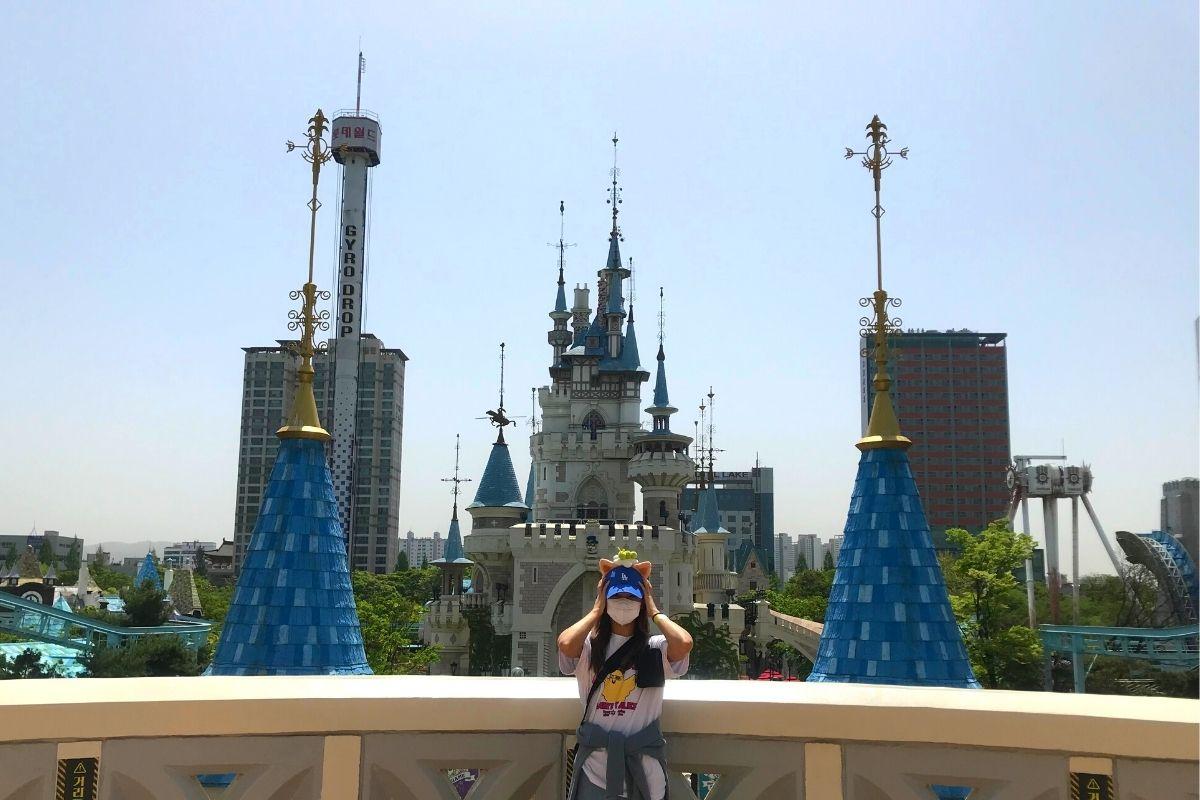 ---
Food and Souvenir Guide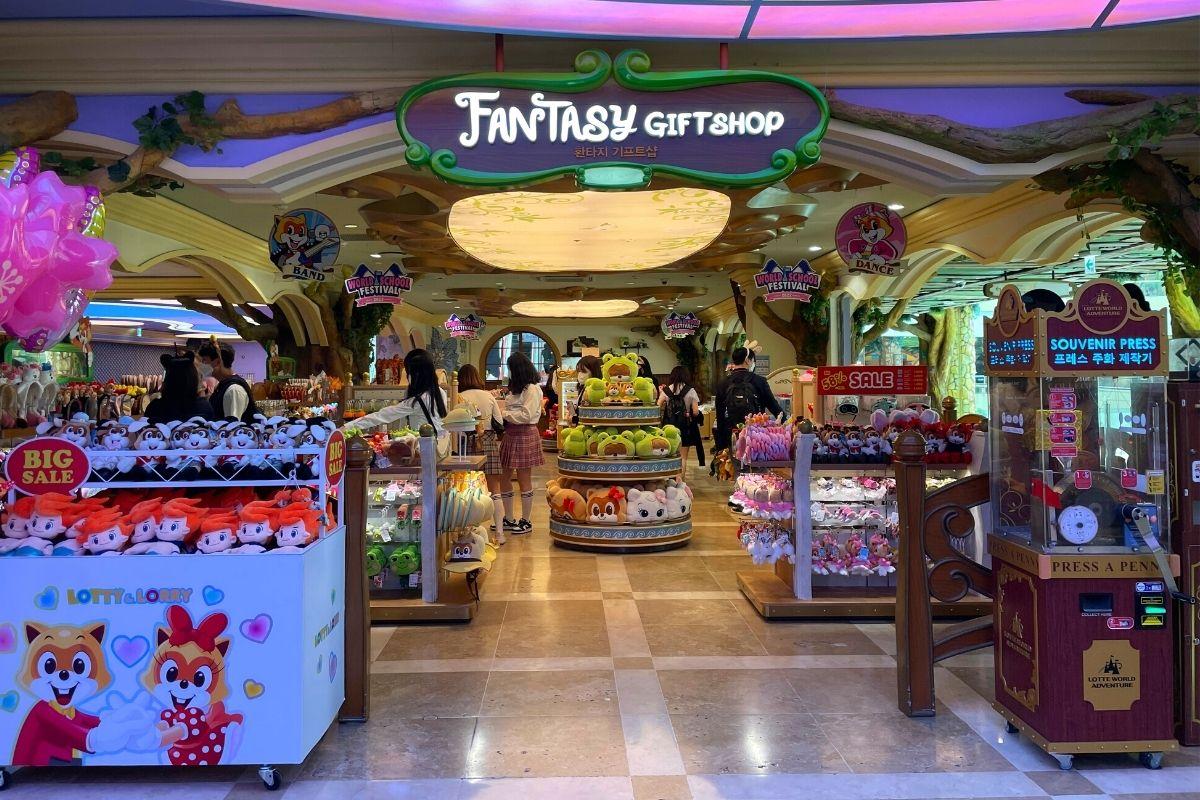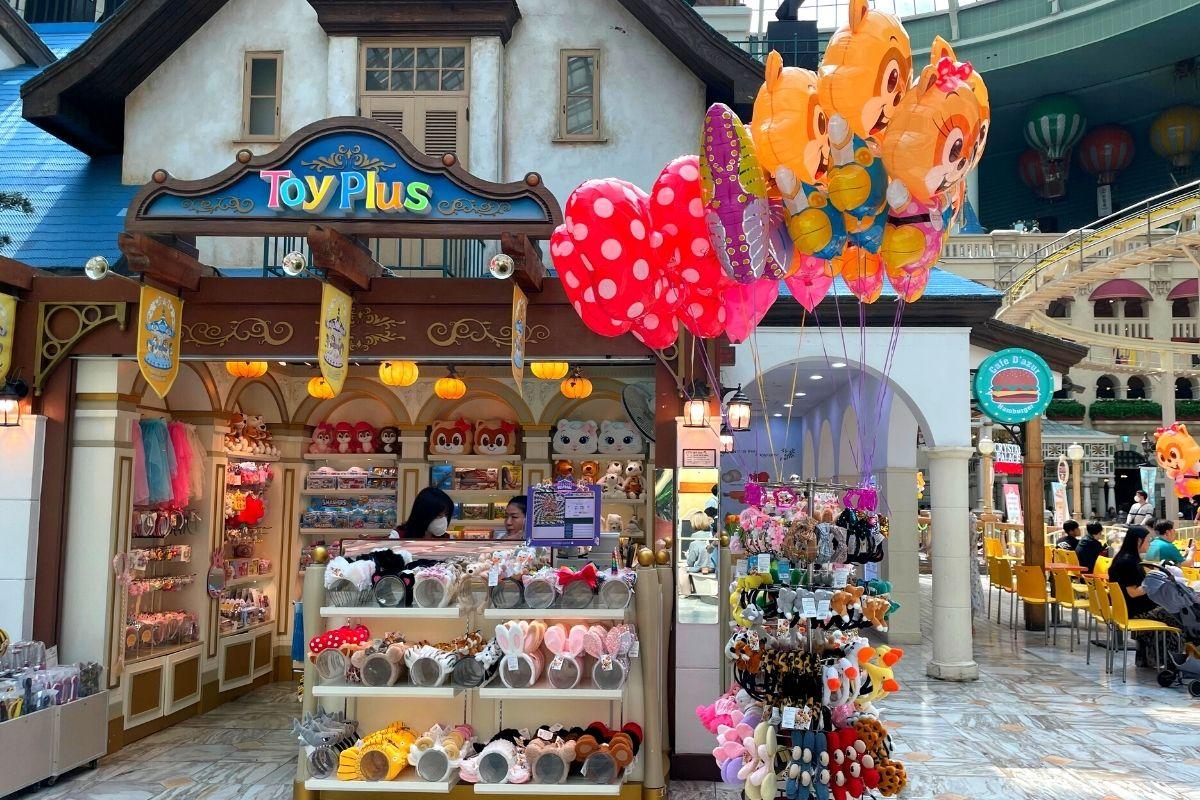 When entering the amusement park, the first thing you will see is the souvenir shop. The first shop that we saw was a small shop that sells popular items such as headbands, dolls, and balloons to people who come in.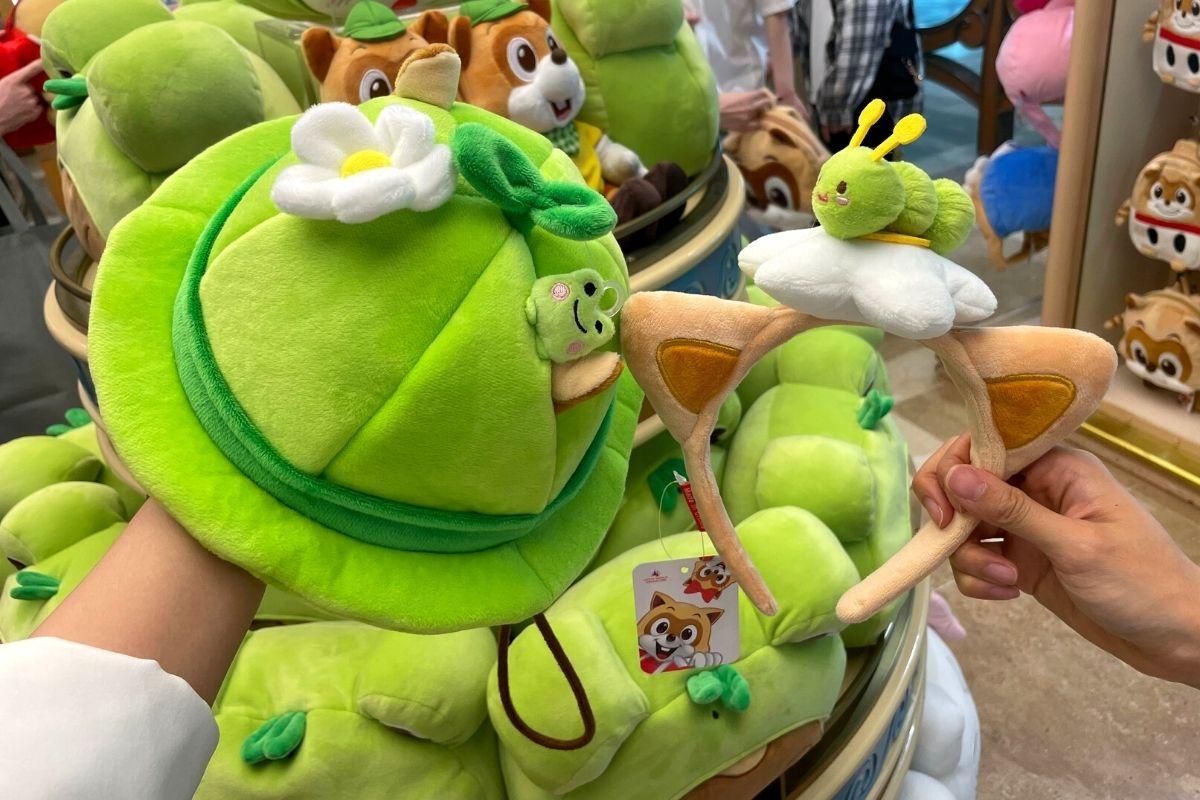 The price of these are around 7,000 KRW to 10,000 KRW, depending on the type. These are popular purchases to get when coming to Lotte World. Many Koreans match headbands and wear them around when you get to Lotte World.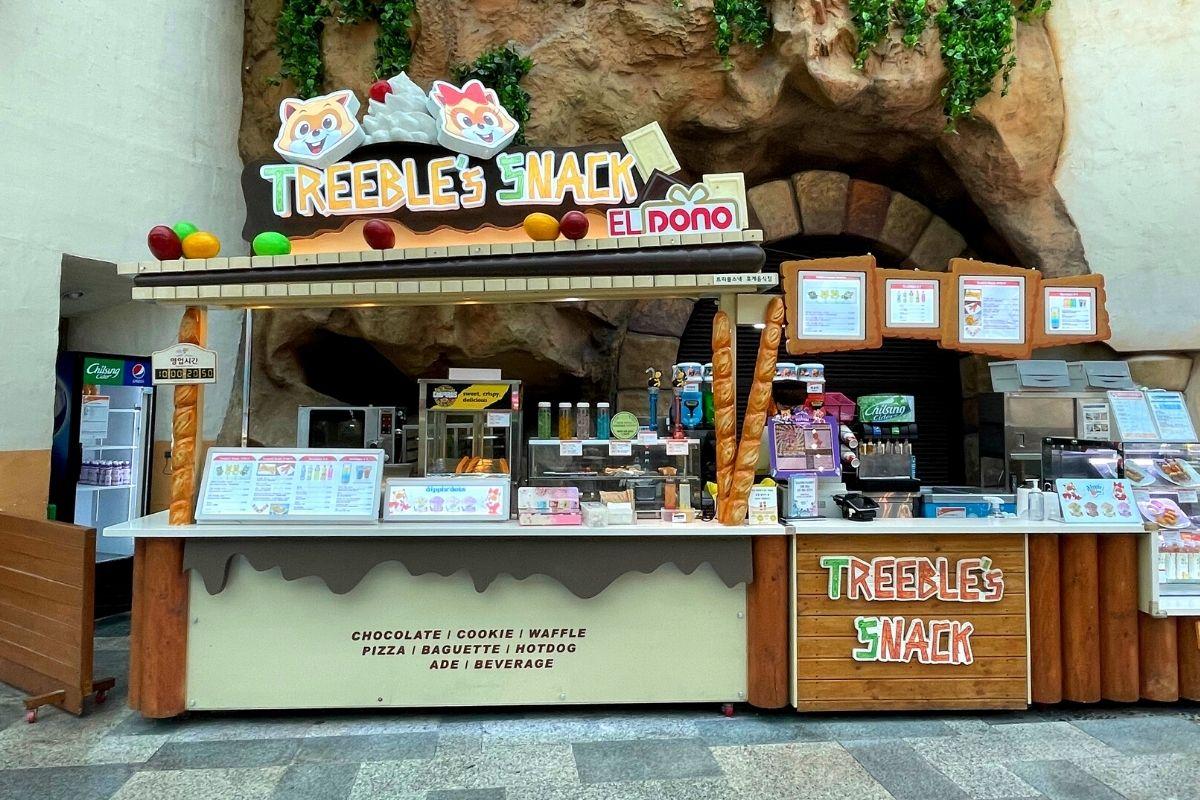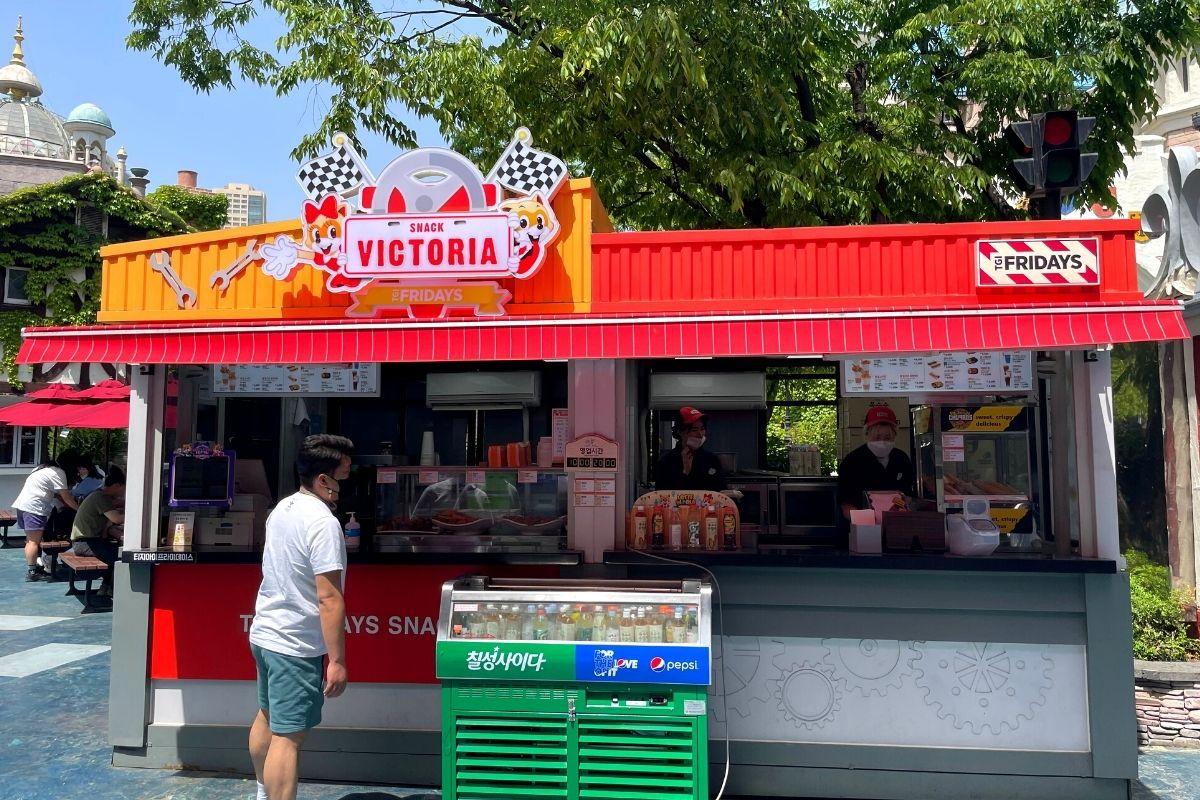 After walking through the first zone and go up the escalator, you will find many restaurants and shops. In each restaurant there will be both food menus and snacks for walking in the garden. The menu ranges from simple fast food to Korean food such as Tteokbokki!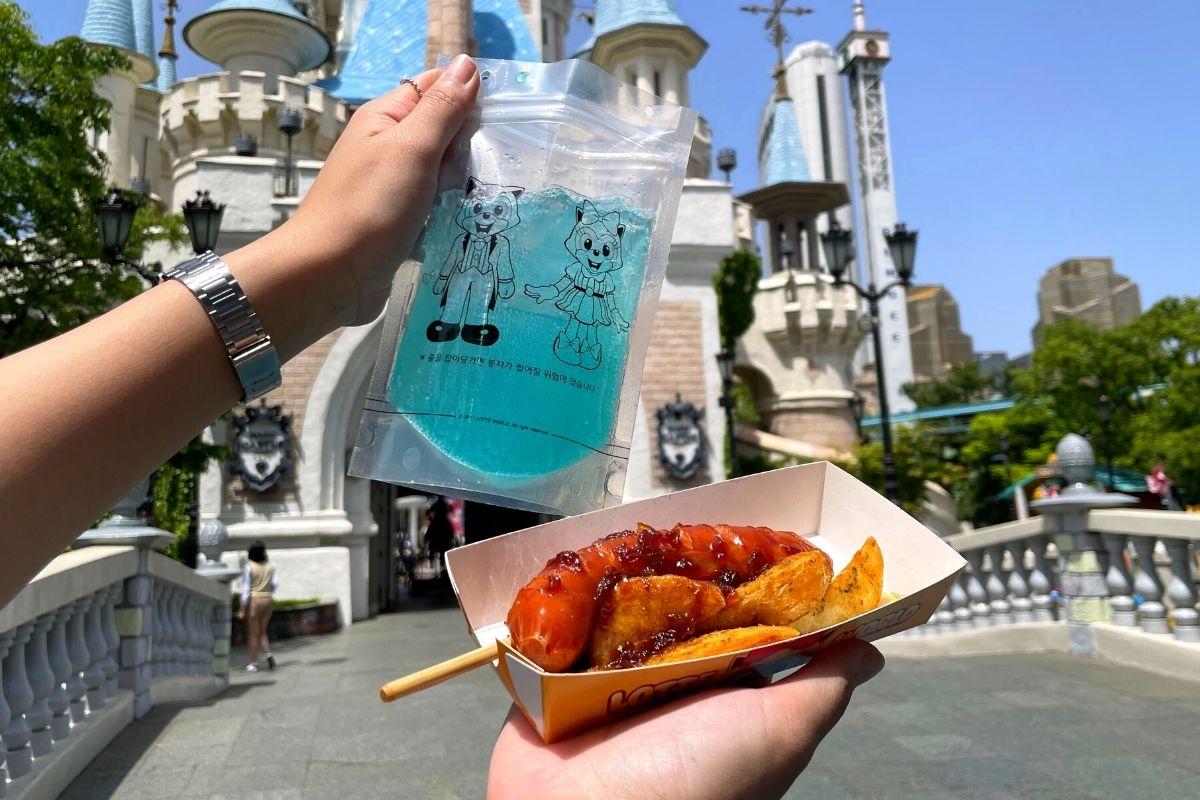 We ate sausages, fries, smoothies, and churros. It is a small set that is easy to eat. The prices are quite affordable as well.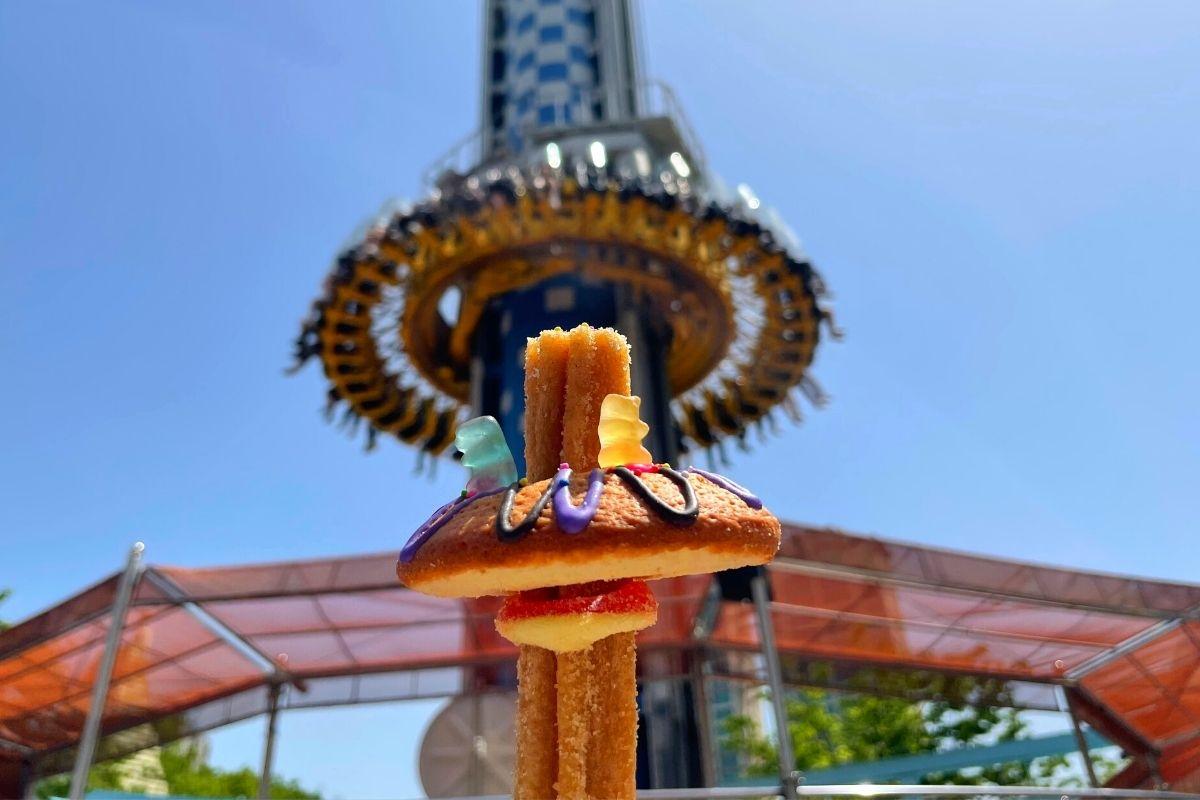 These churros are sold in front of the Gyro Drop so cute gimmicks are made to look like this kind of ride. In addition to the normal menu, there are also menu items that are special items based on specific festivals near by. For example, we were able to get some Dalgona in the shape of the character's face in Lotte World. The snacks are from around 2,000 to 5,000 KRW.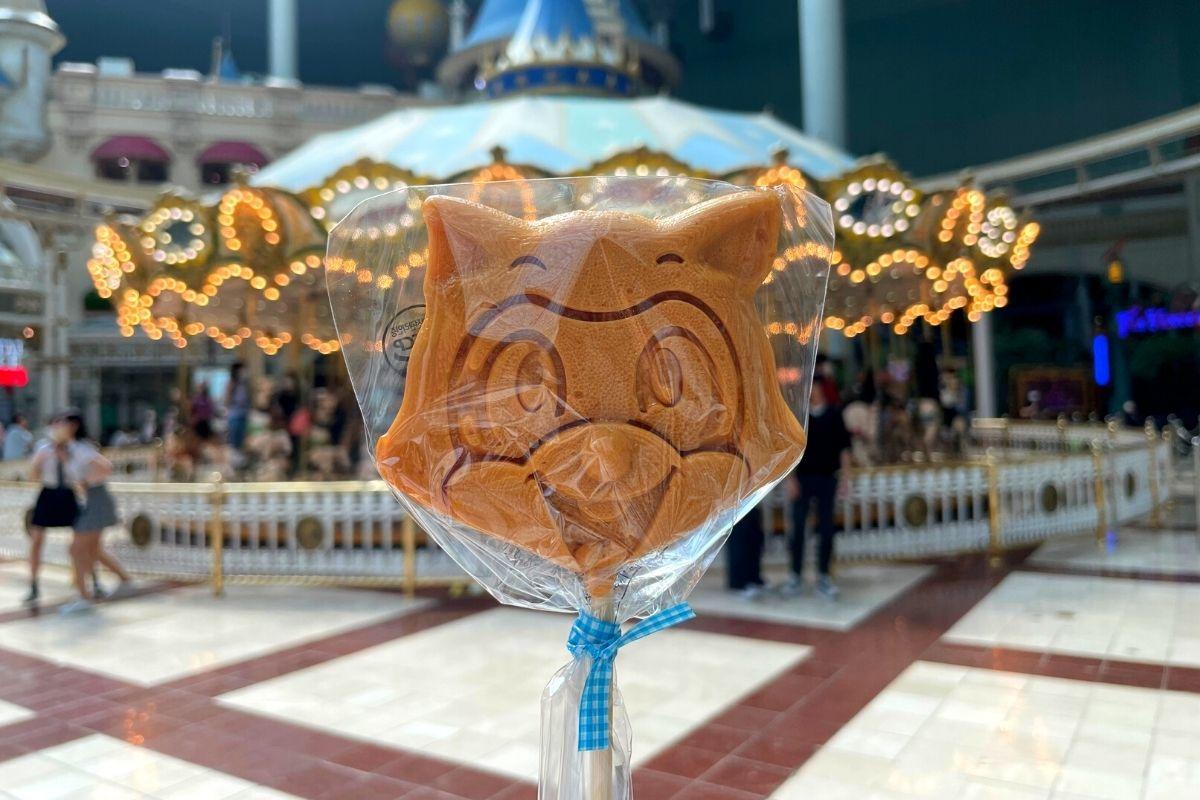 ---
Shows, Parades, and Special Events
In addition to the various rides, there are also many shows and parades that take place in the Lotte World Adventure section, there are many shows and parades. You can view the show schedule here.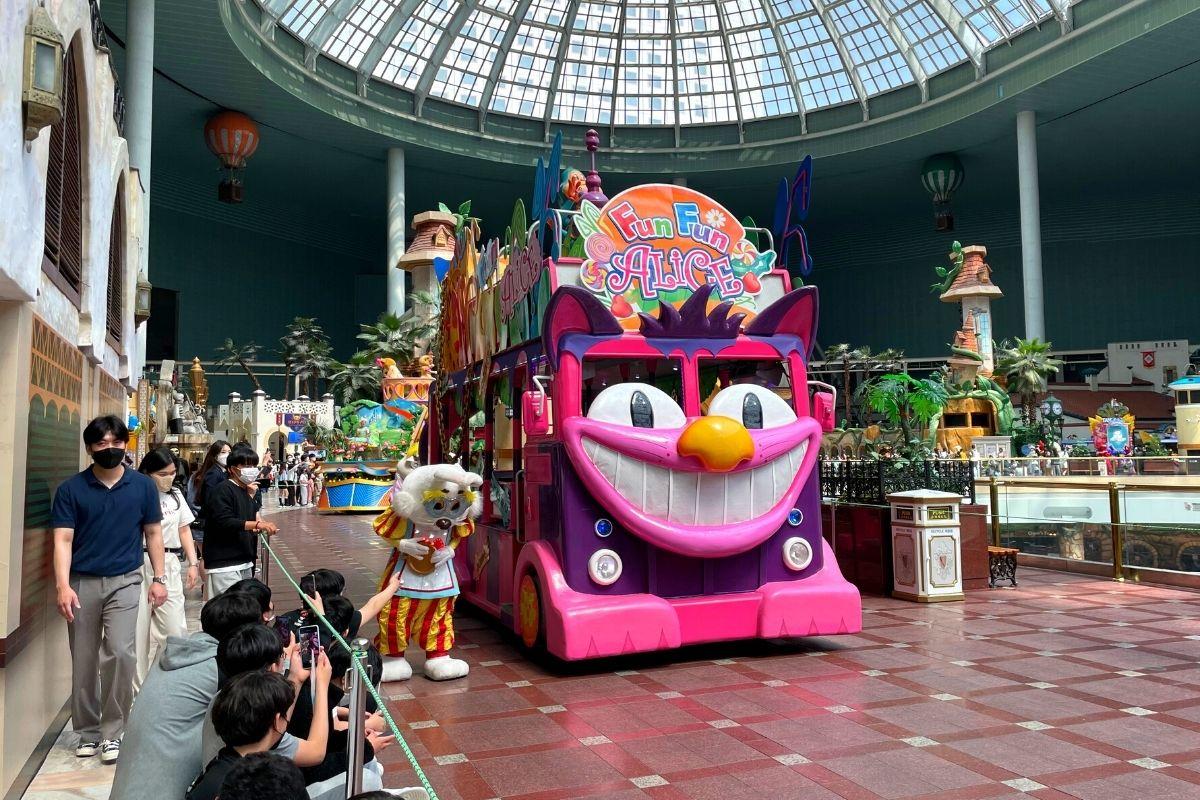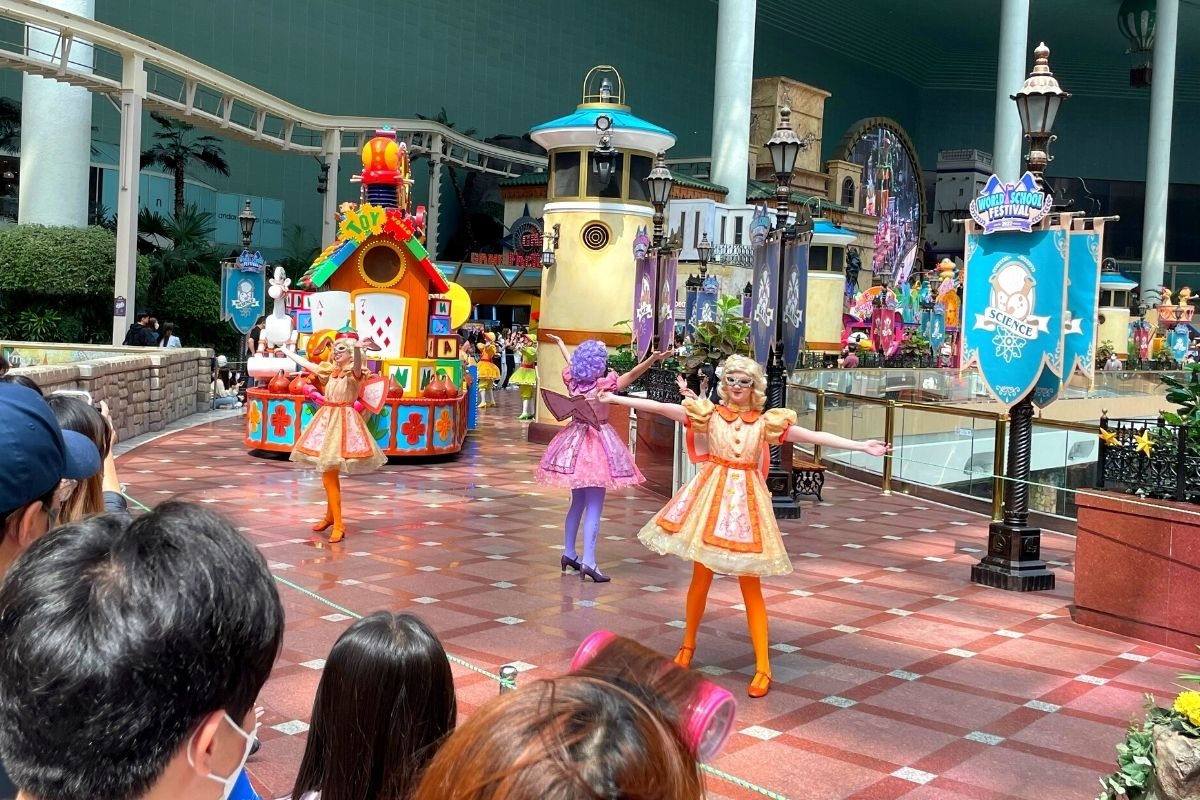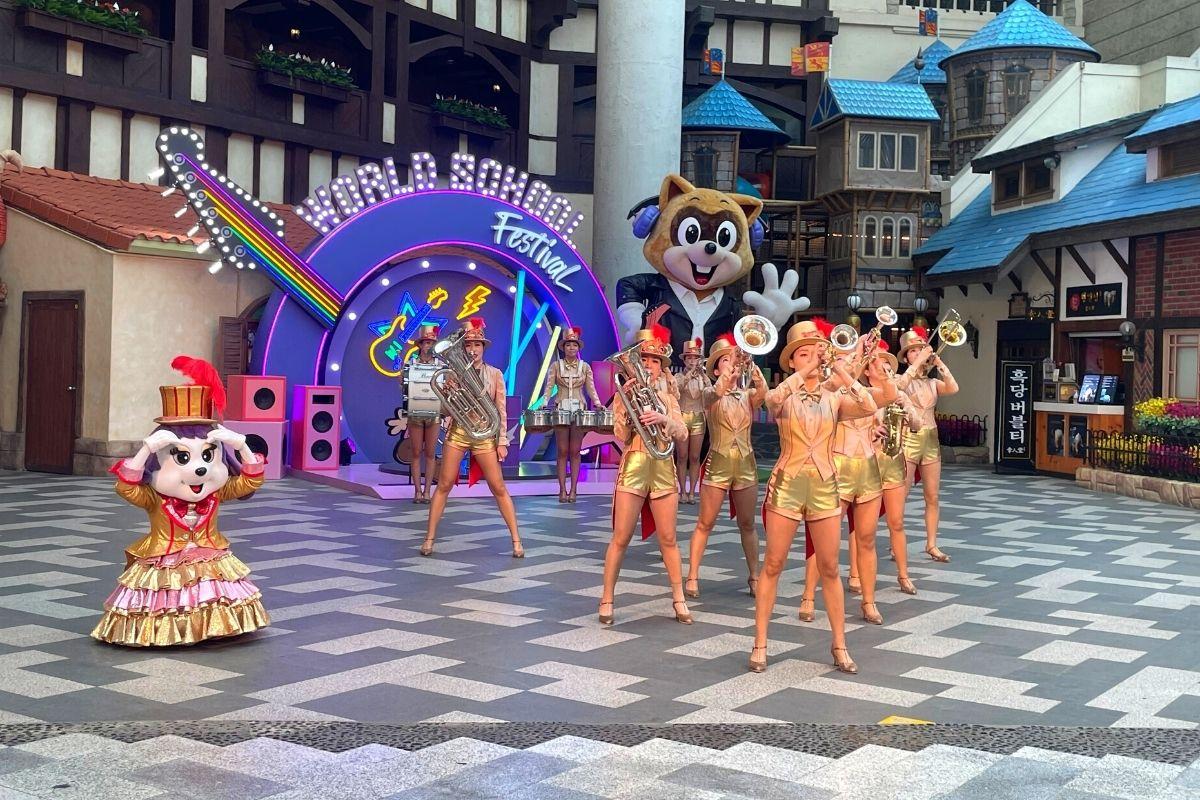 In addition, Lotte World theme parks are often themed or festivals during different times of the year. Each theme has different souvenirs, snacks and foods. The days we went together matched the theme of the World School Festival itself, which was held from 03/11/2022 to 06./06/2022. If you want to check what the theme will be during the trip, you can check beforehand here.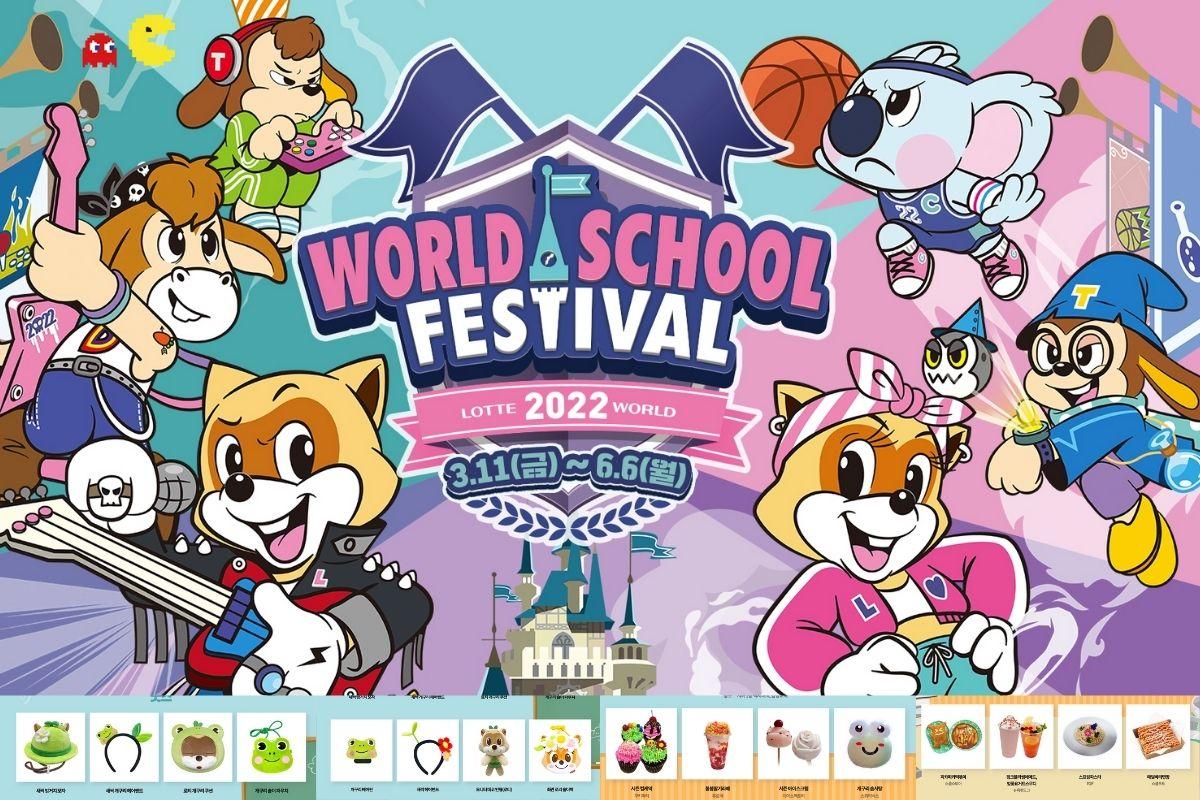 Ride a Moon Boat and UFO Boat
The latest event that was held at Lotte World in the Magic Island each boat is decorated with different colored lights.
Venue: Port of Geneva in Lotte World Theme Park Magic Island Zone
Opening hours: 12:00- 21:00 (30 minutes before Magic Island closes, so opening hours may change)
Price: Moon Boat 25,000 KRW (up to three people) / UFO Boat 35,000 KRW (up to 5 people)
Pedal boat usage time: 20 minutes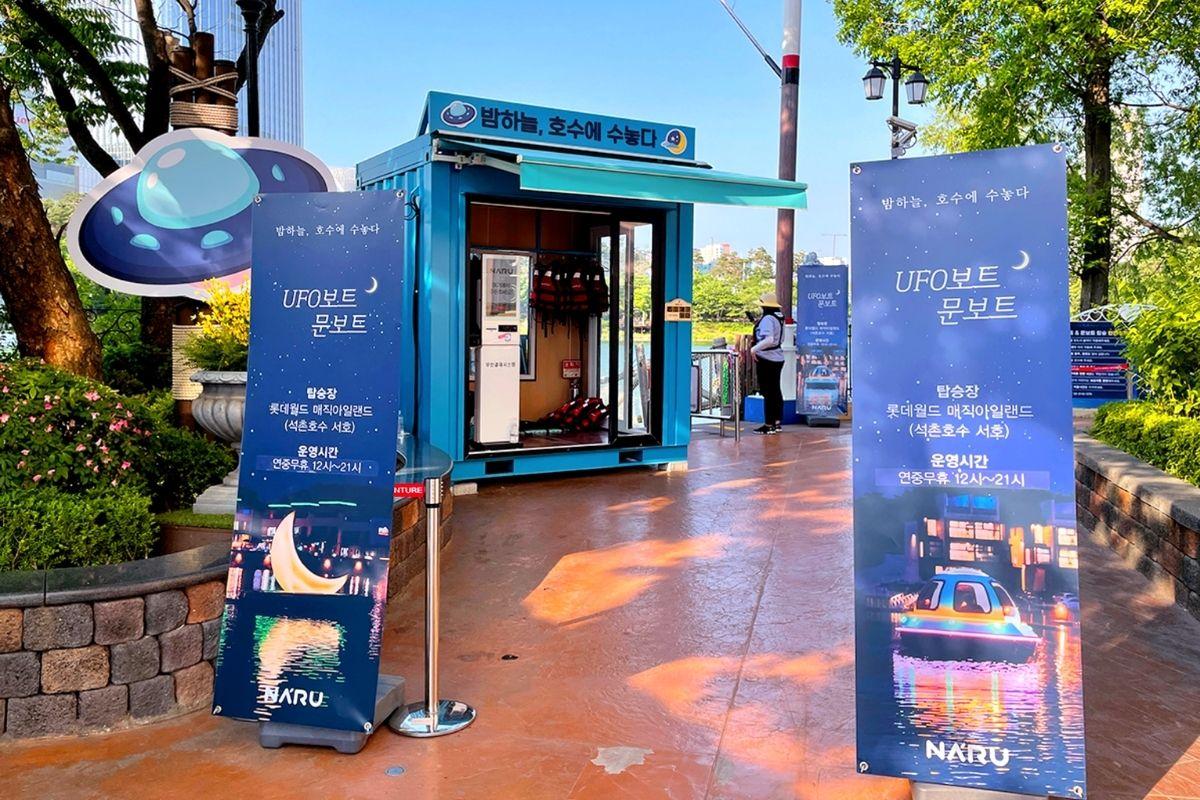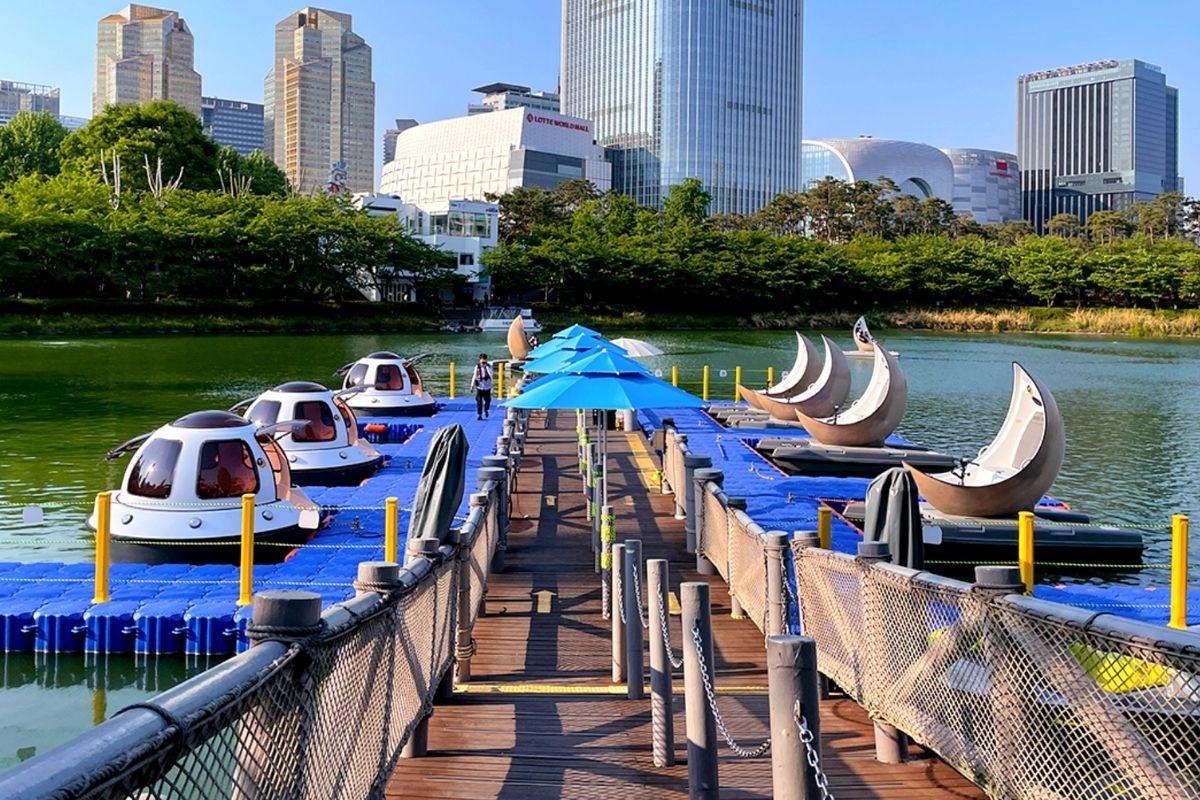 ---
Lotte World Theme Park
1. Rent a school uniform
Renting a school uniform and going to an amusement park is a very popular combo among both foreigners and Koreans. Creatrip recommends this school uniform rental shop that offers a wide variety of cute uniforms to choose from.
Hours: 09:00 - 22:00 (for all day rentals uniforms, and they must be returned by 9:30 PM on the rental date. For rentals more than 2 days, the uniform must be returned by 09:30 on the specified date)
Price: All day rental 19,000 KRW / All night (2 days) 24,000 KRW / All night (2 days) 29,000 KRW.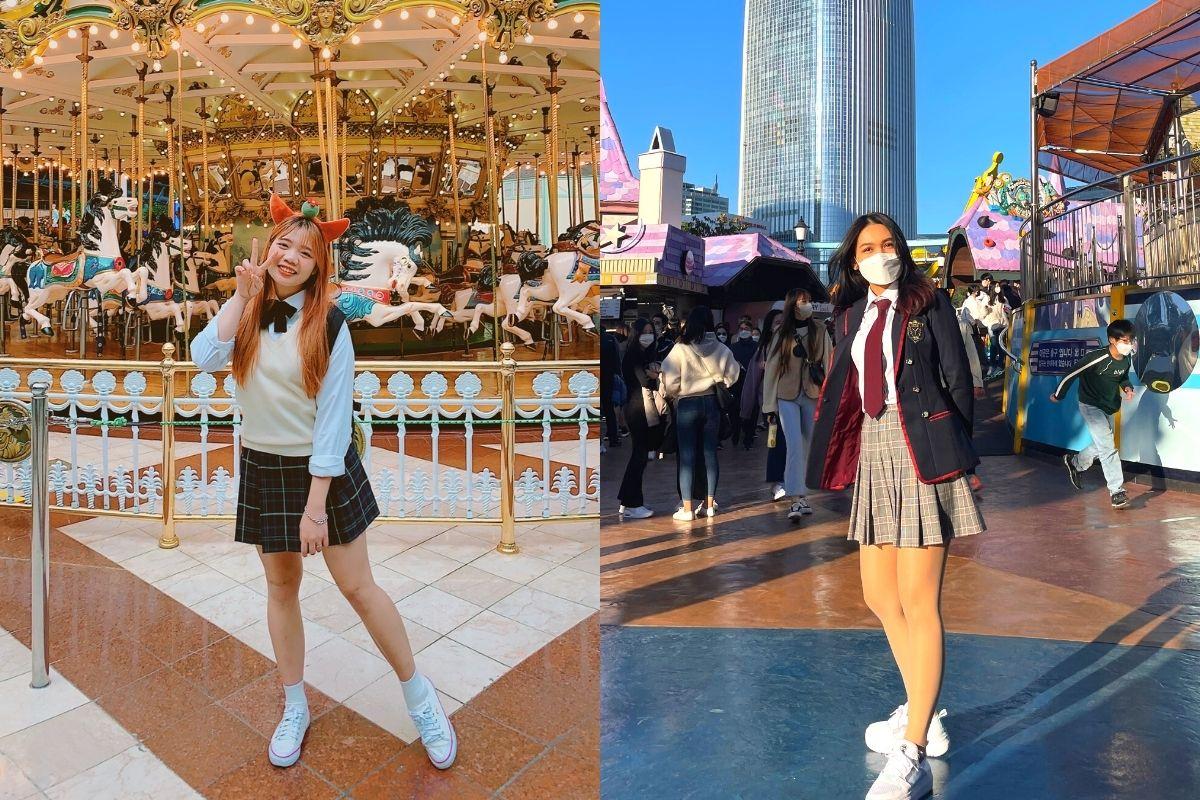 You can also rent a school uniform from Gamseong Kyobok in front of Lotte World but because it is located in front of the amusement park there are many people waiting in line. We recommend that you give yourself proper amount of time to wait in line as well.
Hours: Weekdays: 09:00 - 21:00 / Holidays 09:00 - 21:30
Price: Deposit 10,000 KRW, rental price starting from 20,000 KRW (cash or card)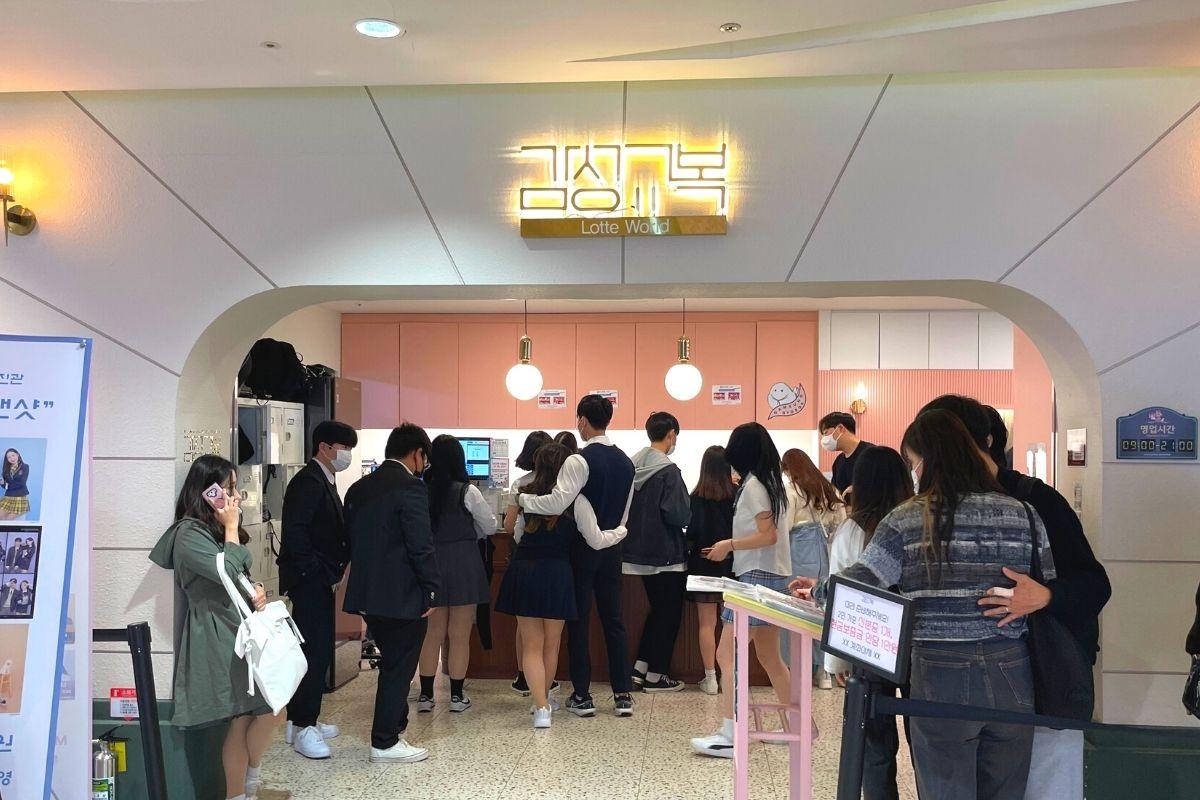 Inside Lotte World, there is also another place where you can rent school uniforms called Pixie Magic.
Hours: Weekdays 009:L00 - 21:00
Holidays 09:00 - 21:30 (Uniforms must be returned by 8:00 PM)
Price: Children: 20,000 KRW / Adults: General School Uniform starting from 20,000 KRW, Premium school uniform starting from 25,000 KRW.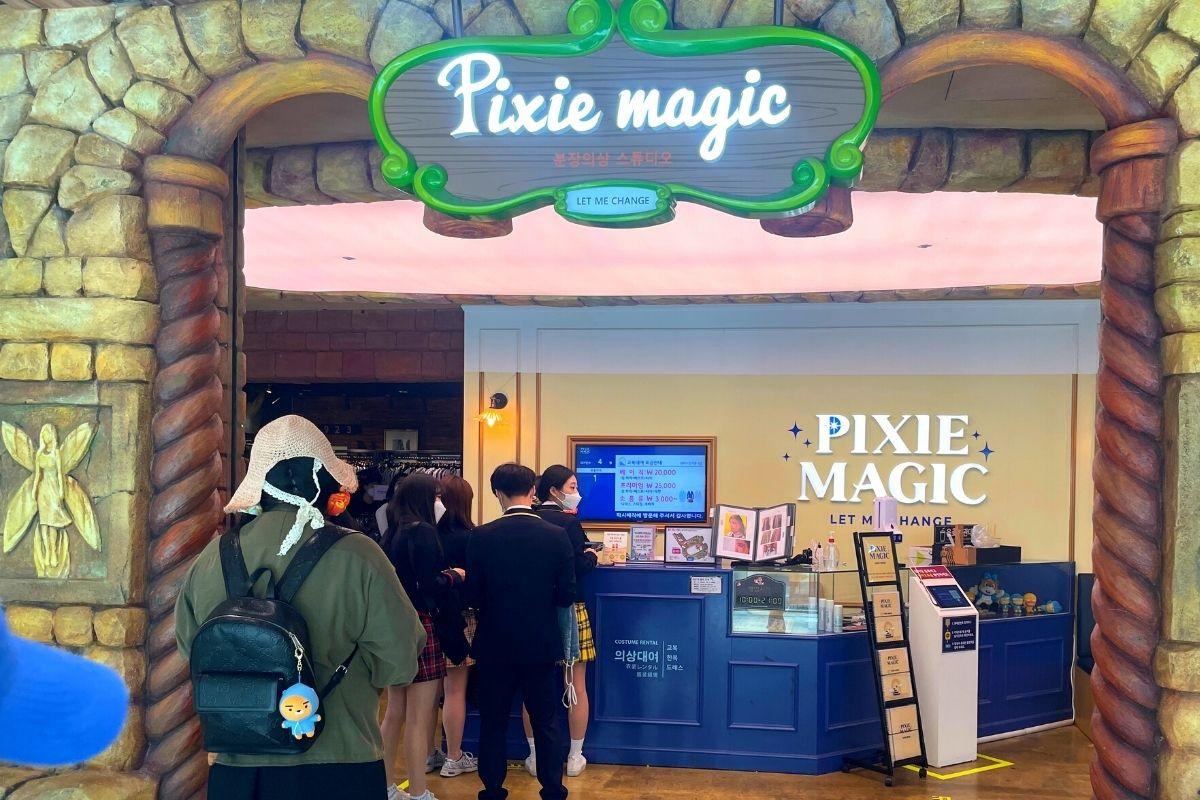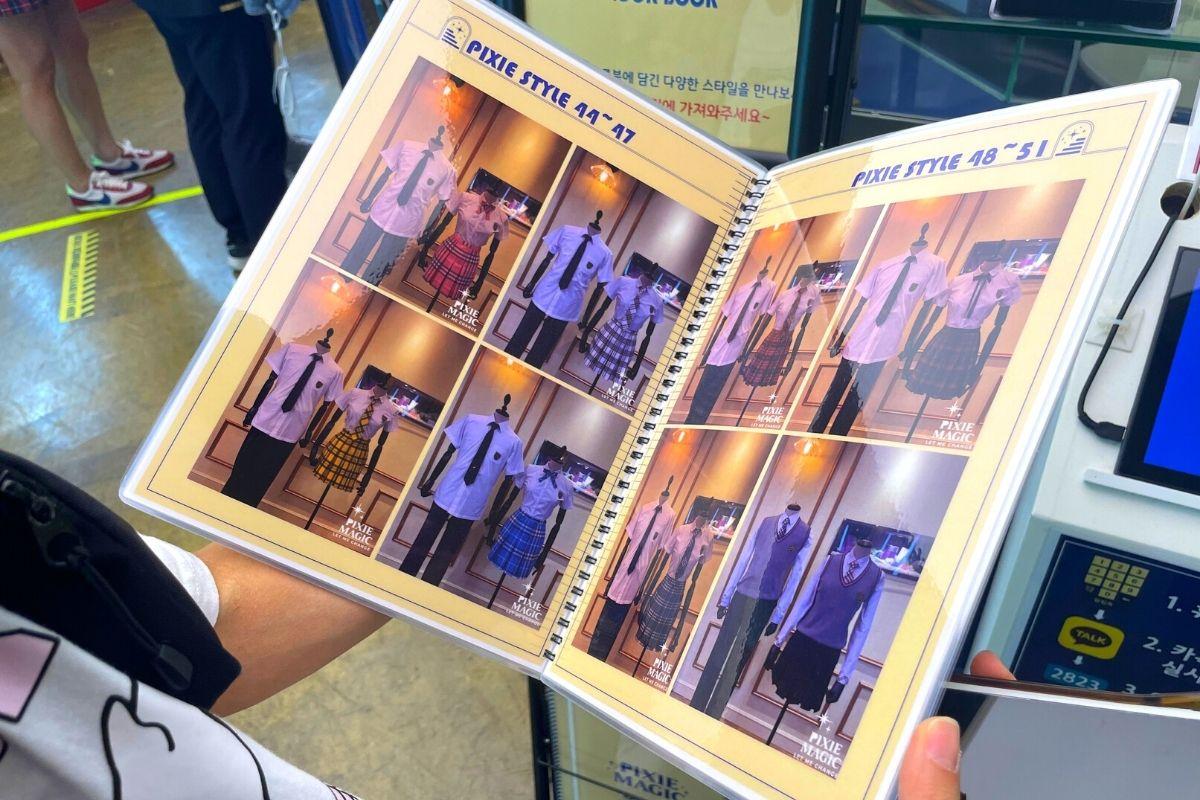 2. Download the Lotte World App to reduce the waiting time for rides
Lotte World application will help us to see which device has to wait how many minutes.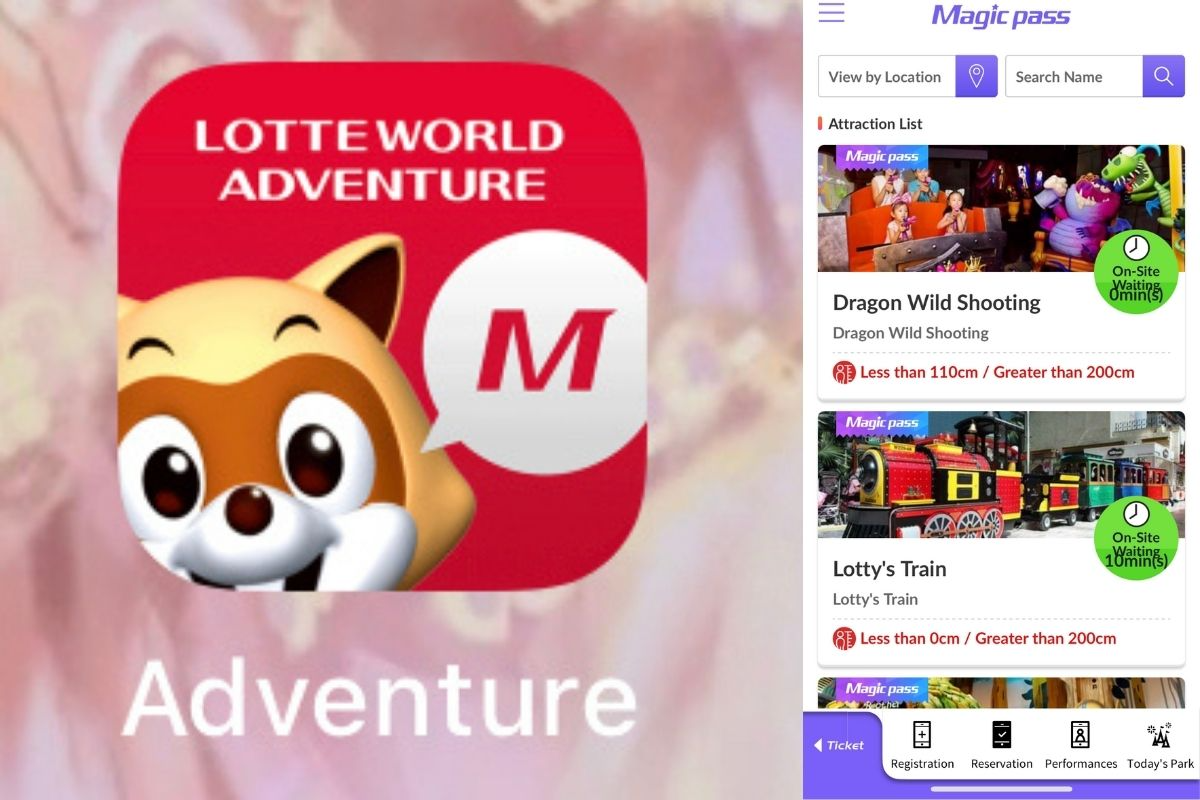 3. Take a Polaroid Photo with Magic Castle
In the Magic Island area, you can take polaroid photos and enjoy the good view. You will find the photo booth at the bridge in front of the castle. The price is 4,000 KRW for 1 photo and 7,000 KRW for 2 photos.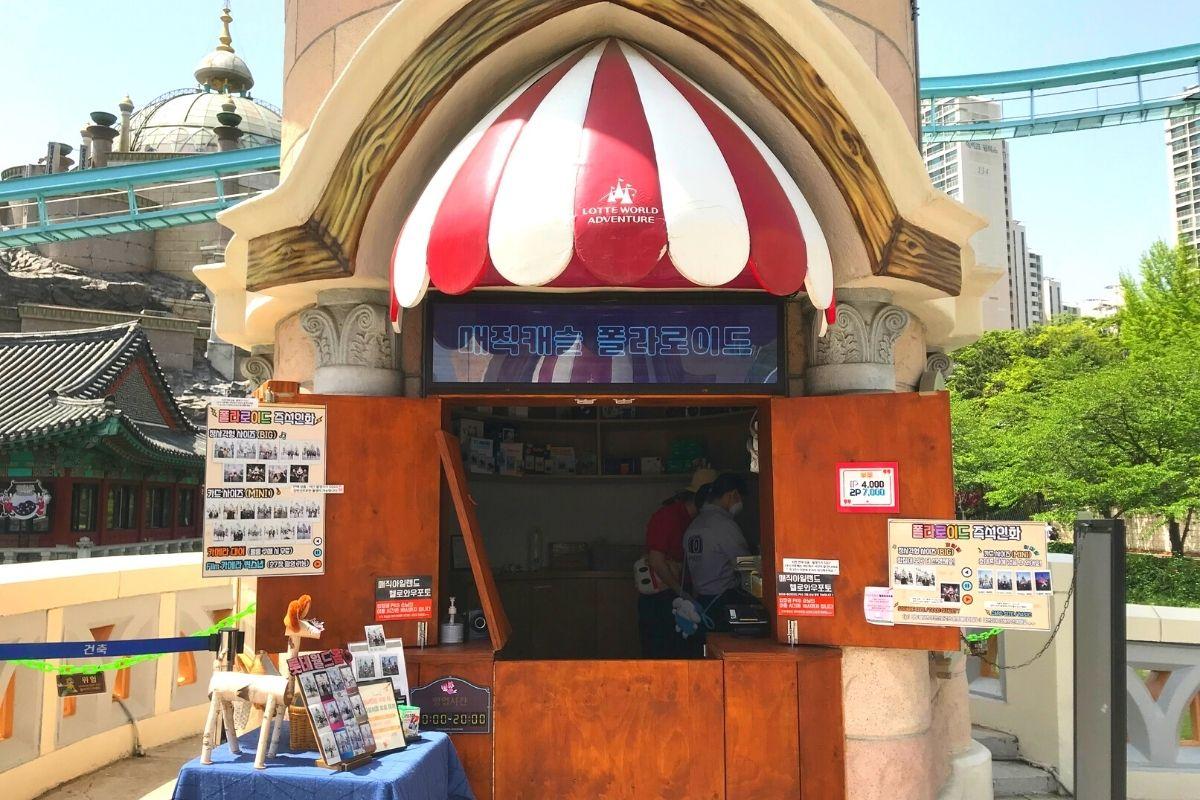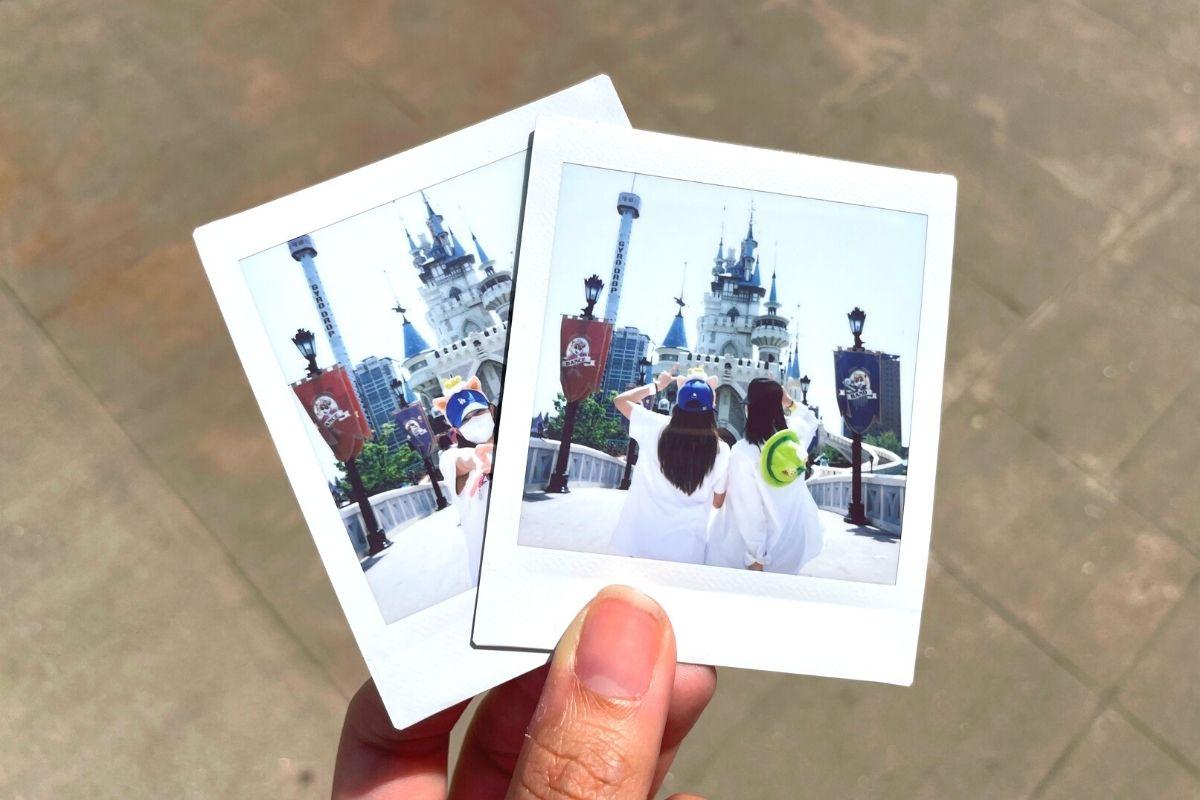 Our photos came out really cute didn't they?
4. Storage lockers and power banks in Magic Castle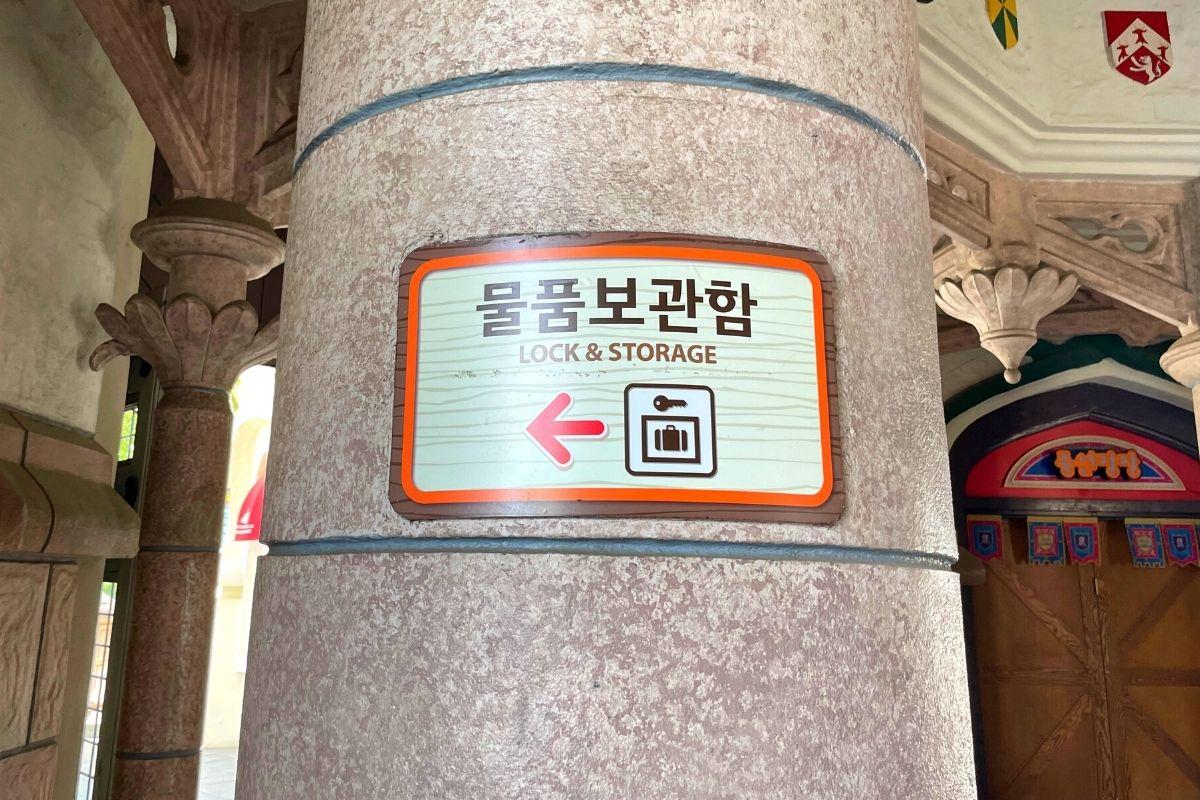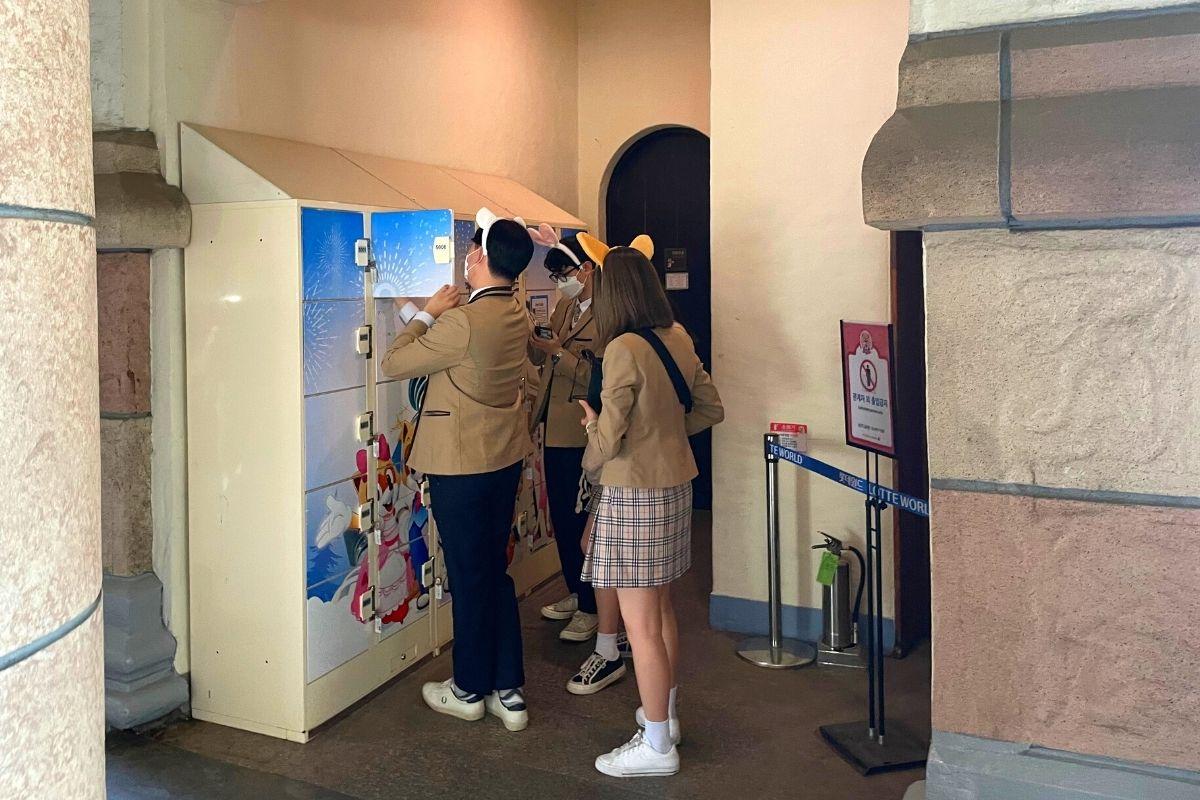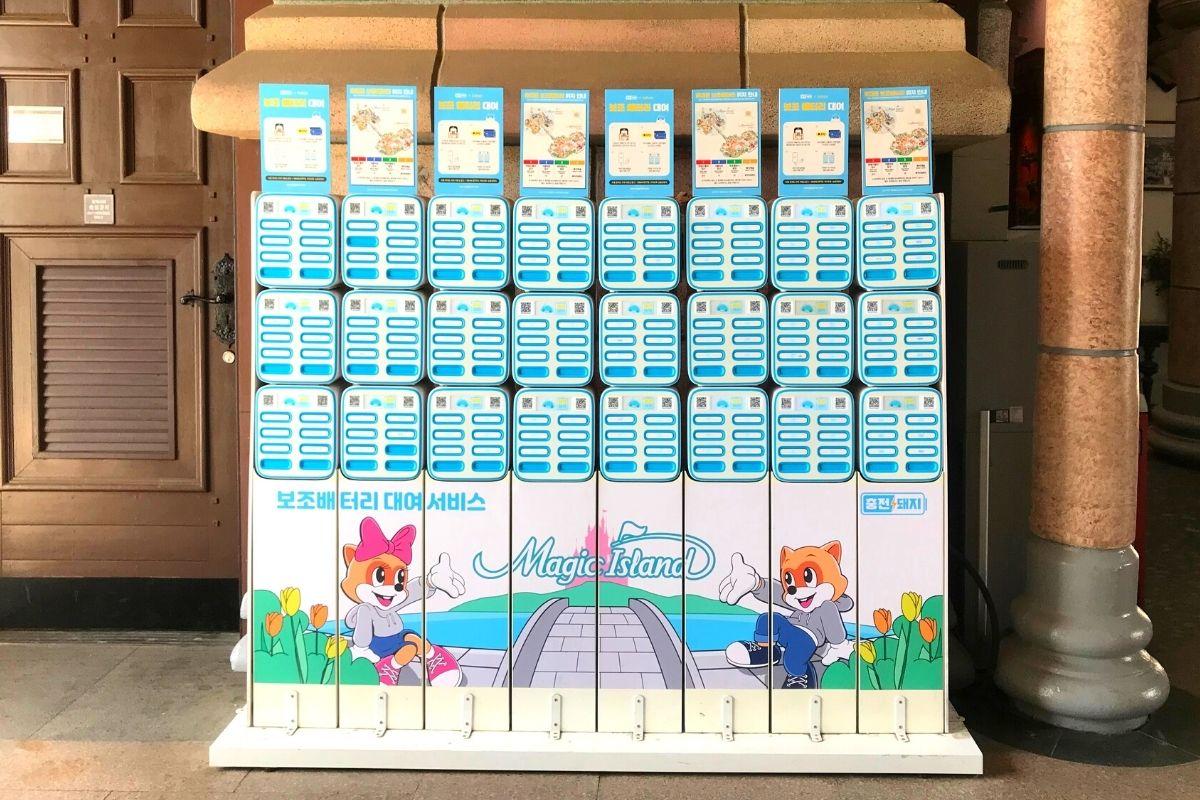 5. Food Options
There are many lovely reasonable priced foods at this area of the amusement park. It is no secret that the food at amusement parks can be very high without being that tasty. However, the options here are reasonably priced and delicious.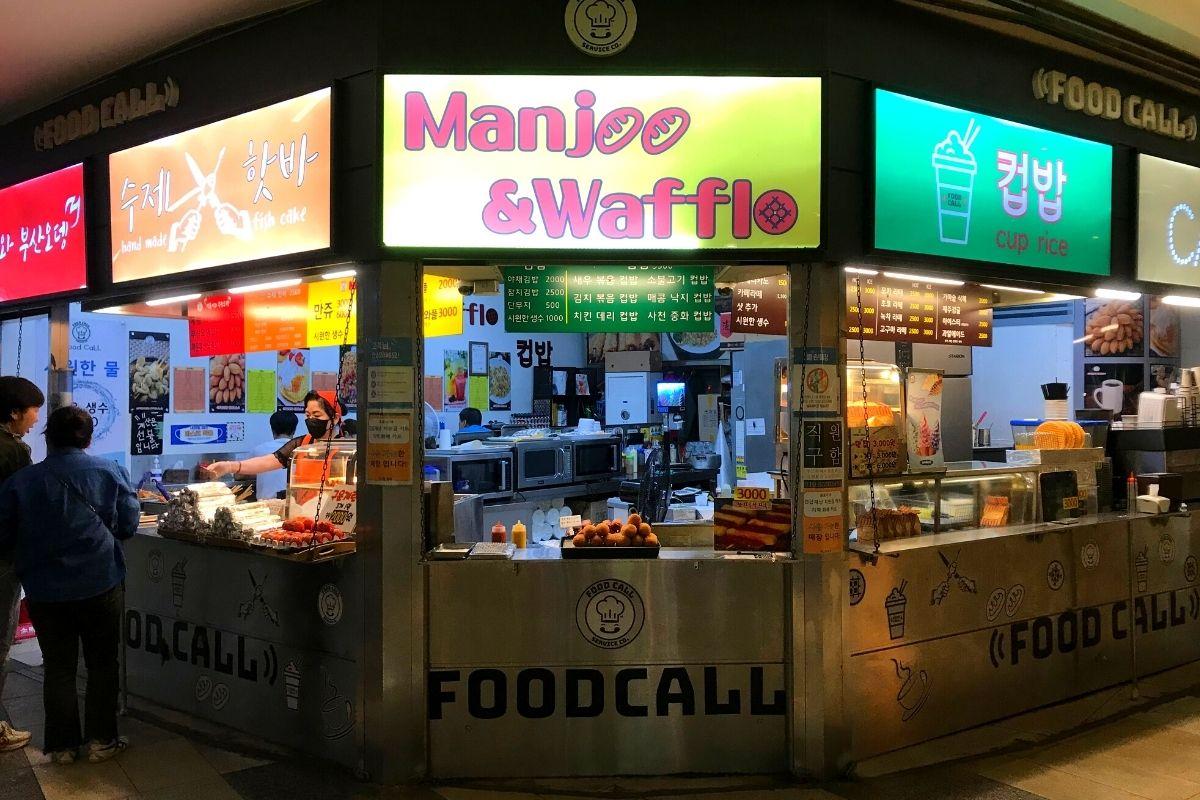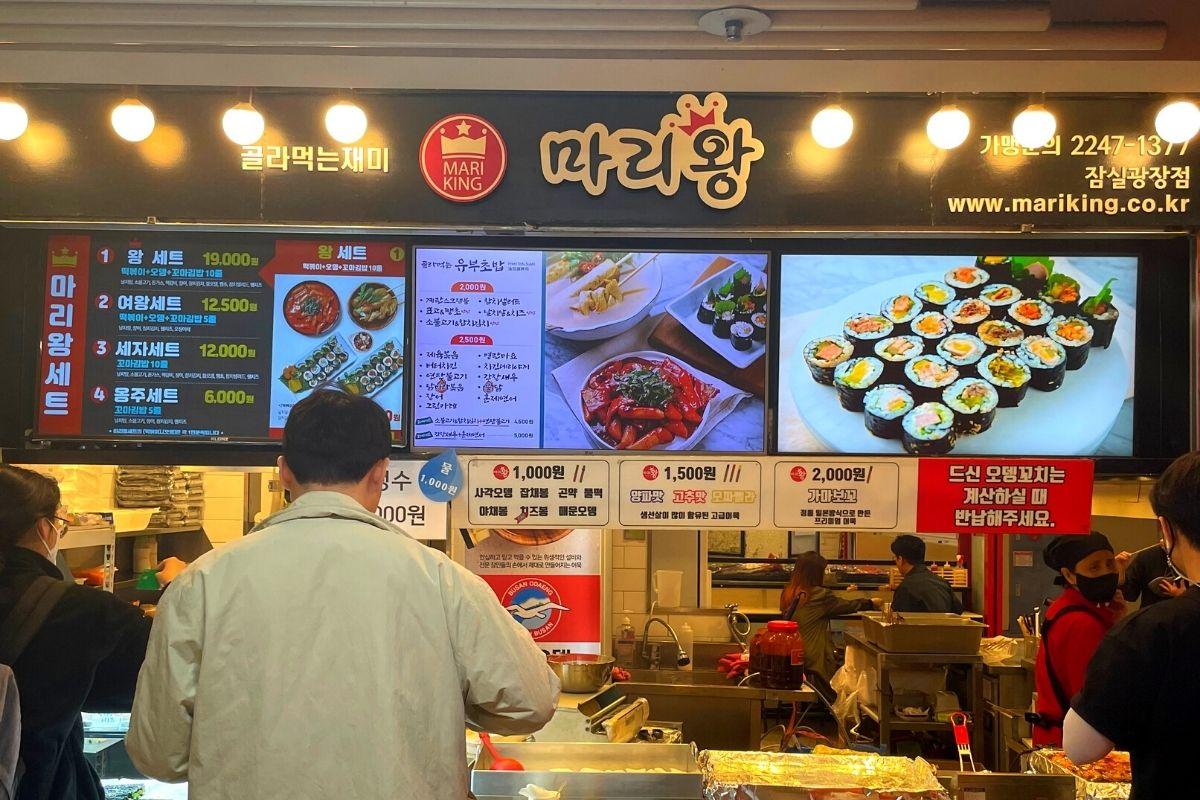 ---
Nearby Activities
Ice Garden
Price: Adults: Weekdays: 19,000 KRW, Holidays: 21,000 KRW
Children: Weekdays 17,000 KRW, Holidays: 18,000 KRW
In addition to the Lotte World theme park, if you go downstairs you can rent skates and enjoy ice skating here. The way to get here is simple. You do not need to buy a ticket, you can walk around to see the kids skating.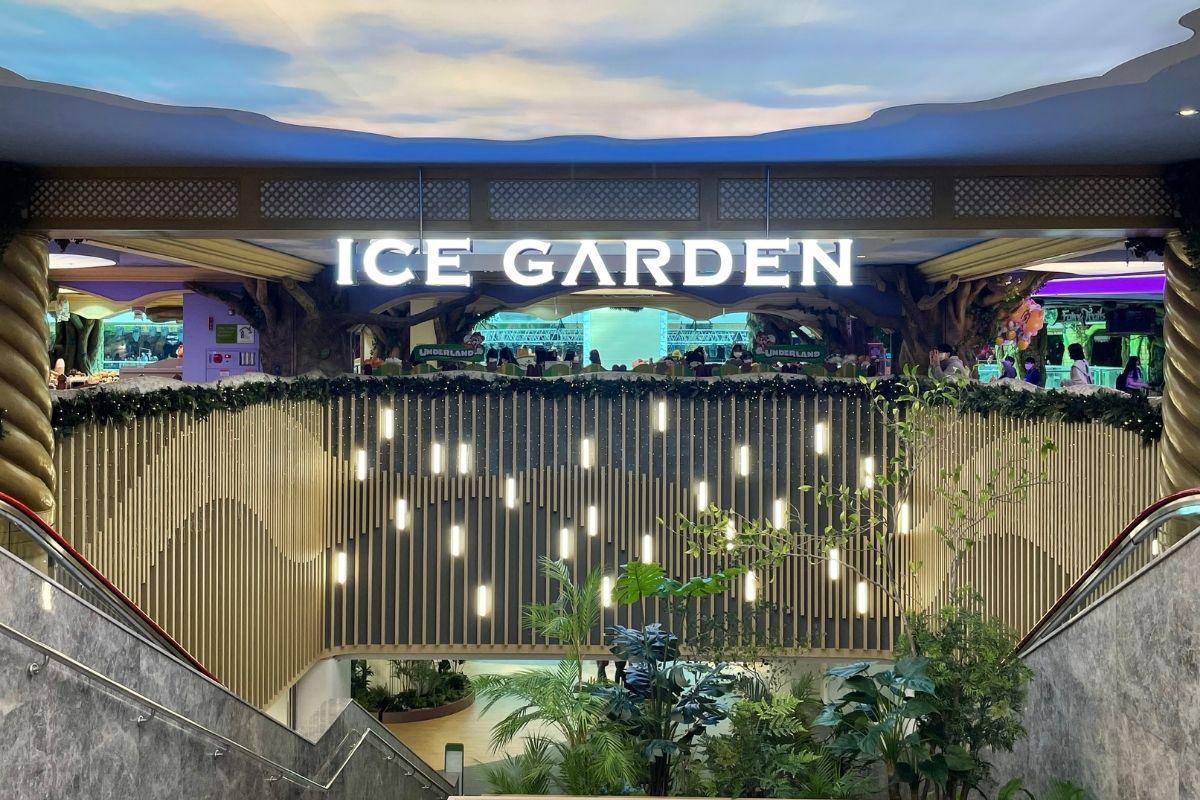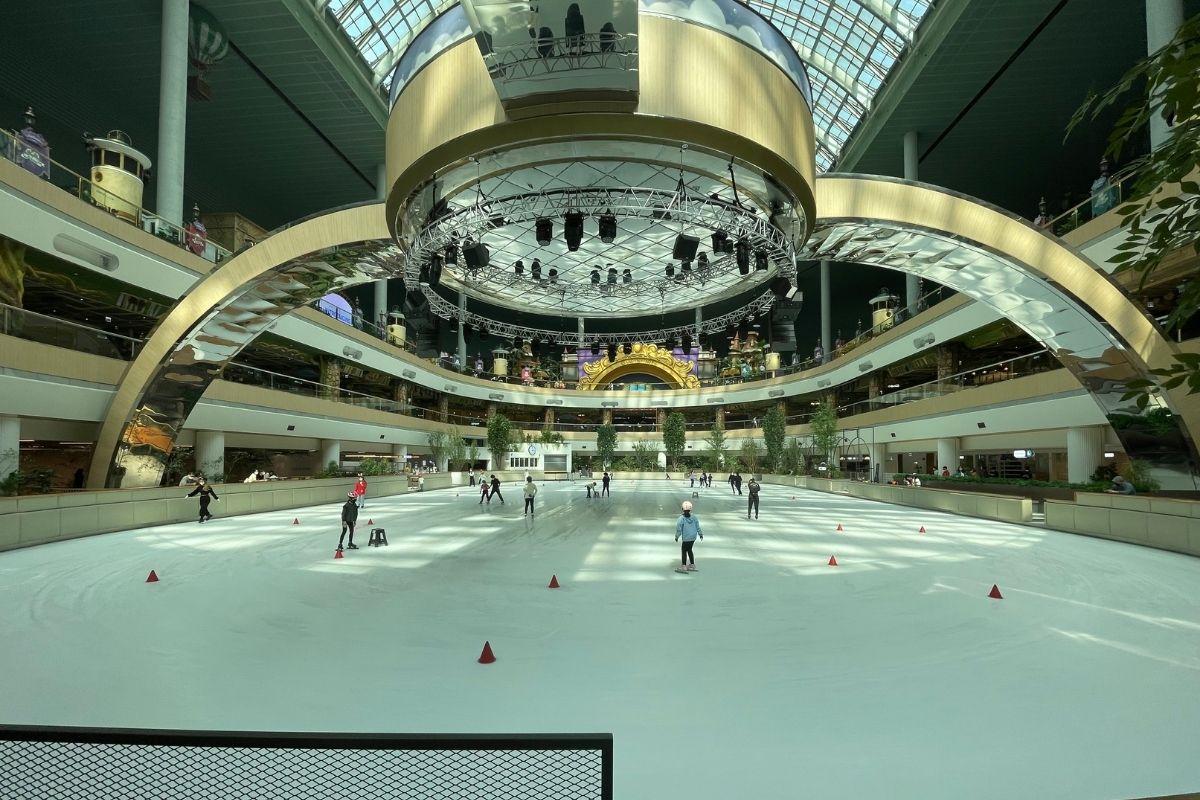 Lotte World Aquarium
Hours: Mon- Thu: 10:00 - 20:00 / Fri- Sun, Public Holidays: 10:00- 22:00
Price: 33,000 KRW, but if you book through Creatrip, you can get tickets for a special price of 19,000 KRW.
The museum houses a total of 55,000 marine creatures from 650 different species. You can enjoy a large variety of species such as sea lions, penguins, stingrays, pirañas, and jellyfish.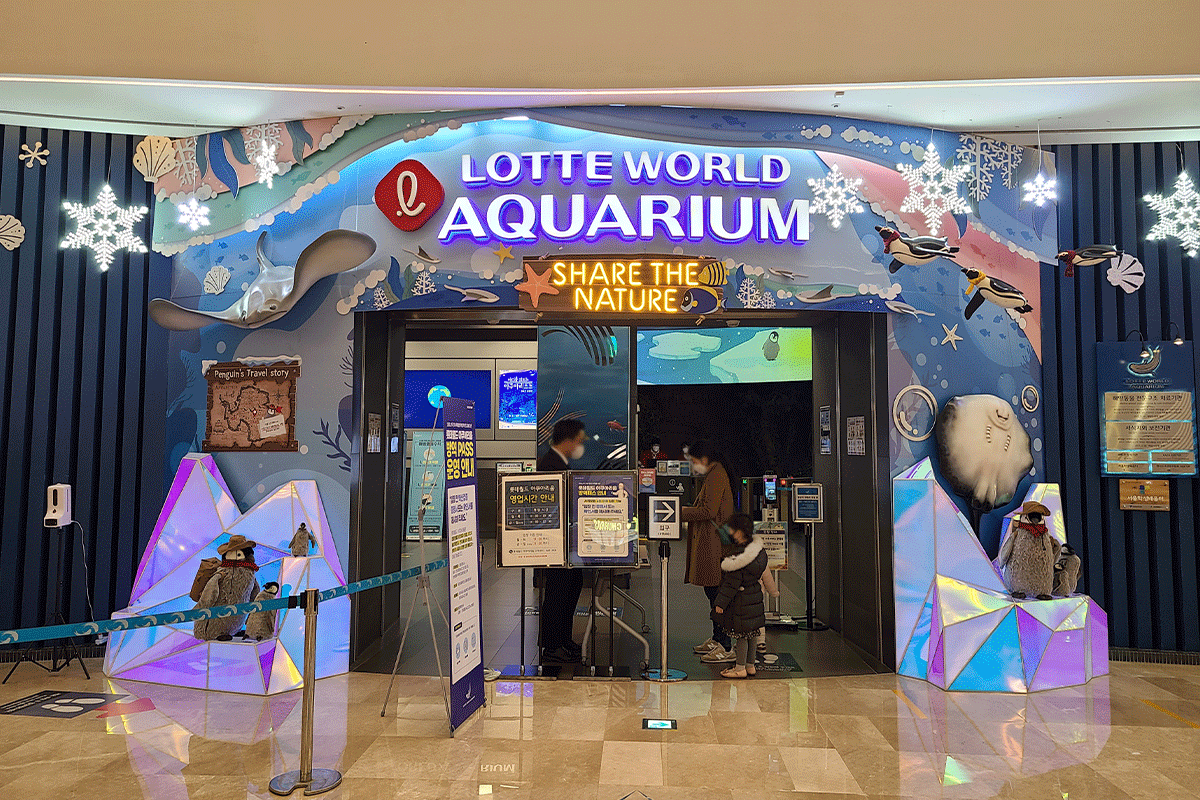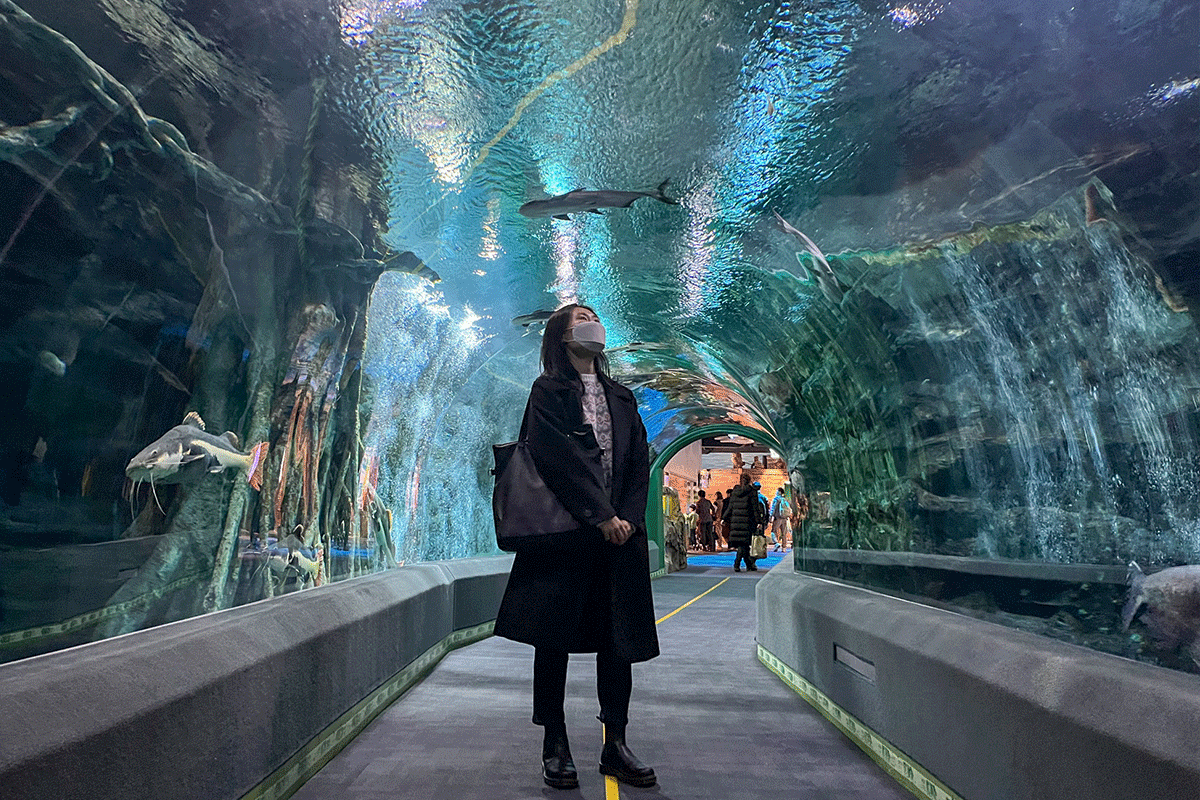 Reserve Lotte World Aquarium Tickets
Lotte World Tower & Seoul Sky
Lotte World Tower is a shopping district in Jamsil District with the largest duty free in Korea. There is also Seoul Sky, a 123-story building that has a tower view of Seoul on floors 117-122. There are many fun activities such as the ultimate extreme activity like the Seoul Sky and the Sky Bridge Tour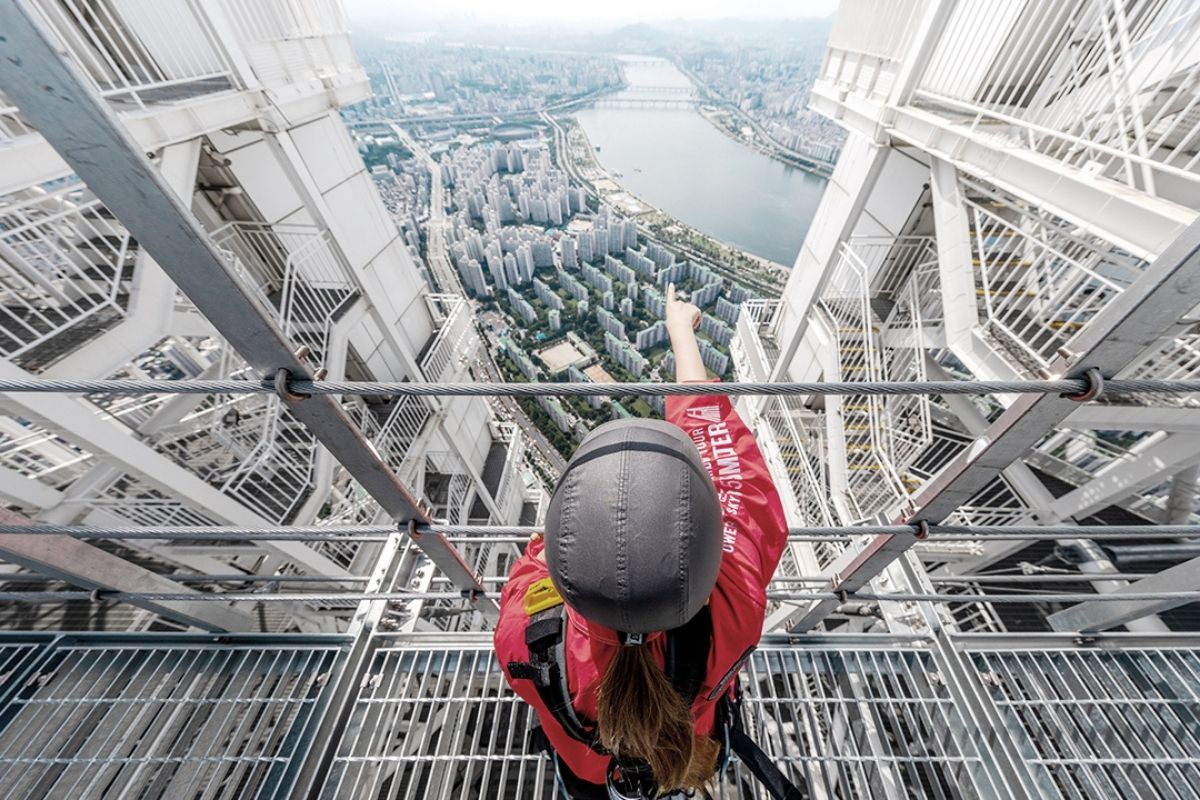 ---
How to Get There
After getting off at Jamsil Station, walk towards Exit 4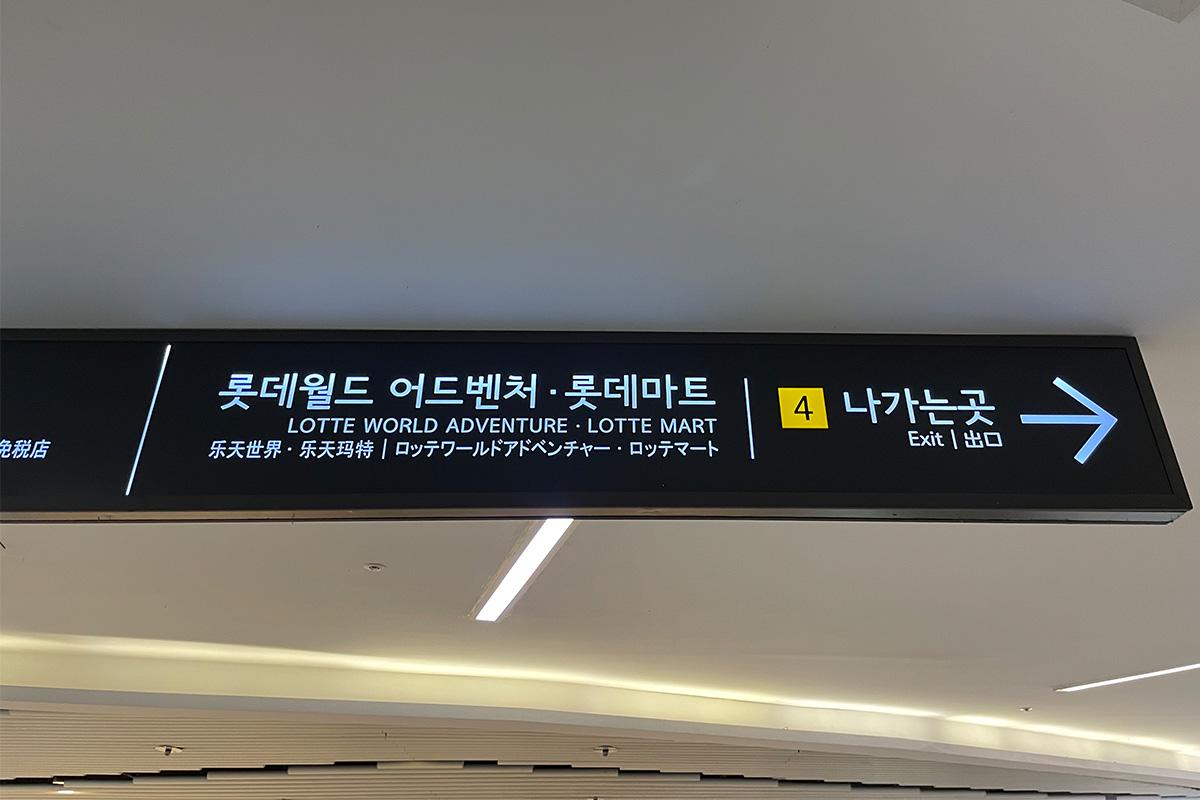 When you see the entrance like shown above, keep walking straight.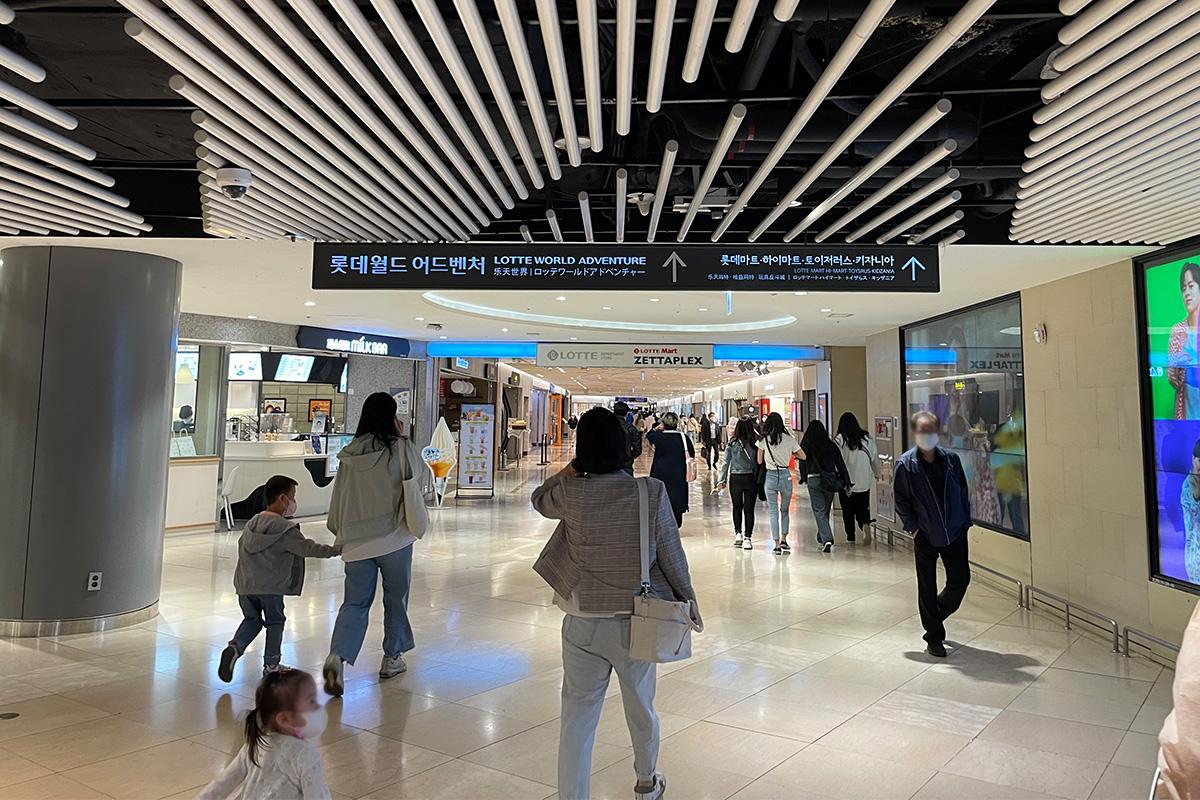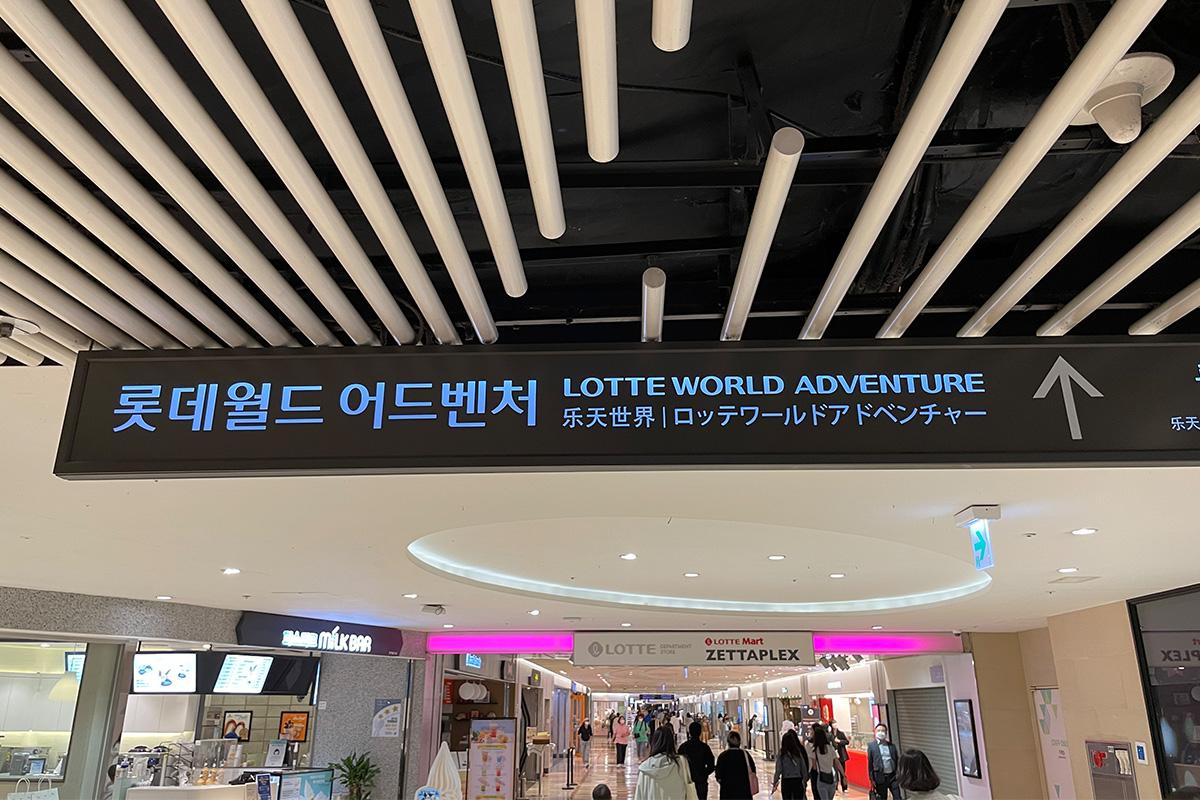 Keep walking straight.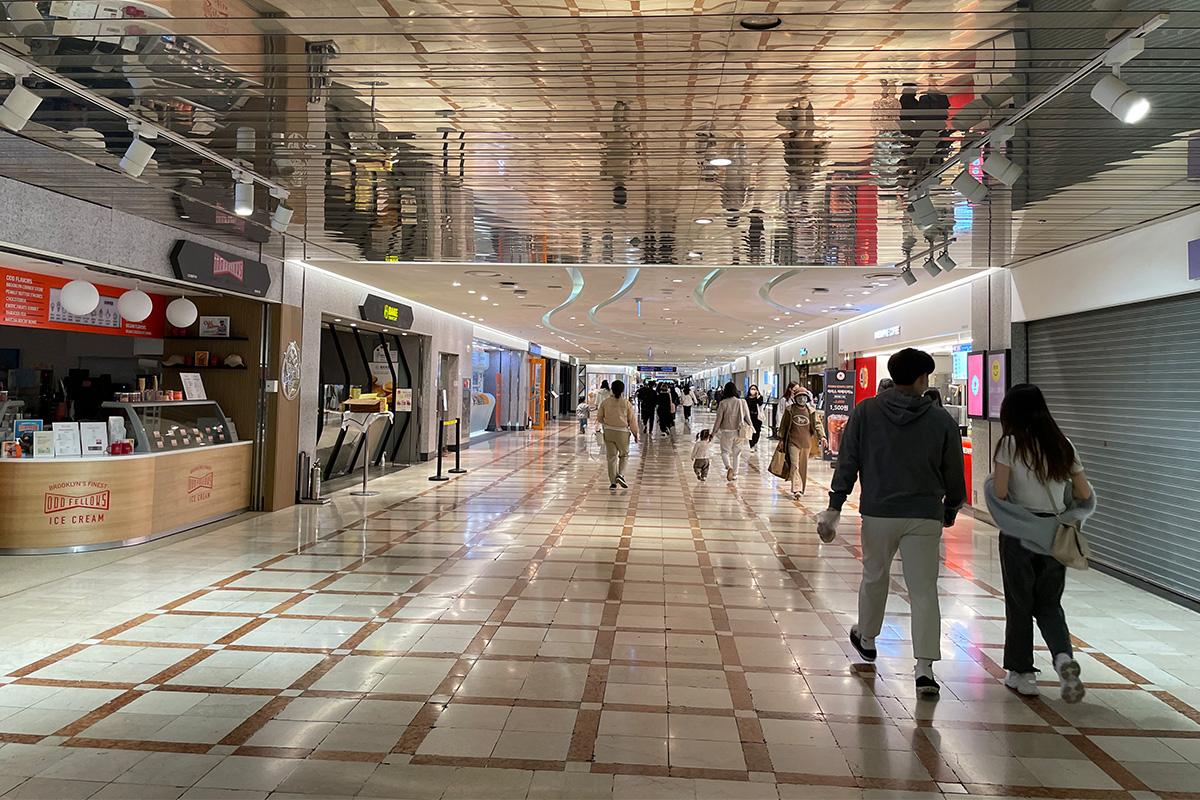 When you see the Open Dining Pub, continue straight ahead.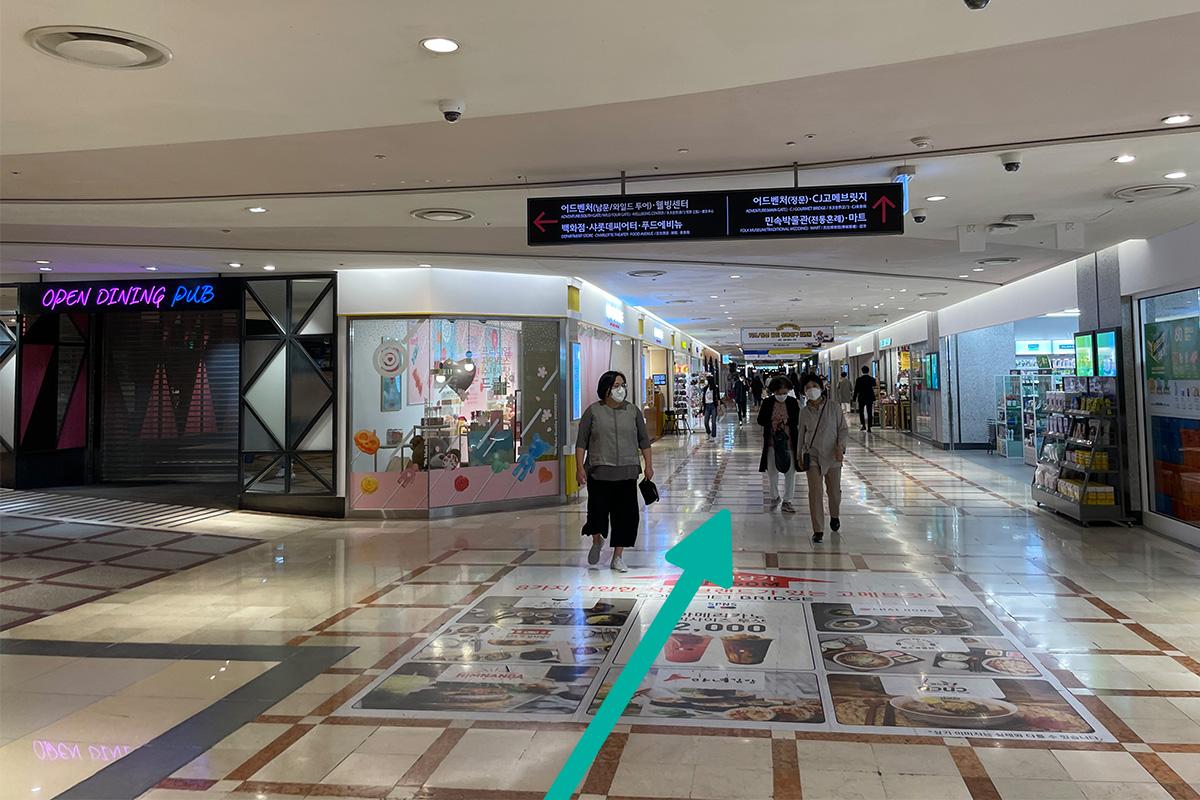 Turn right when you see a pink pillar that leads to Lotte World. If you walk straight, you will find the Kamsung Kyobok Uniform rental store.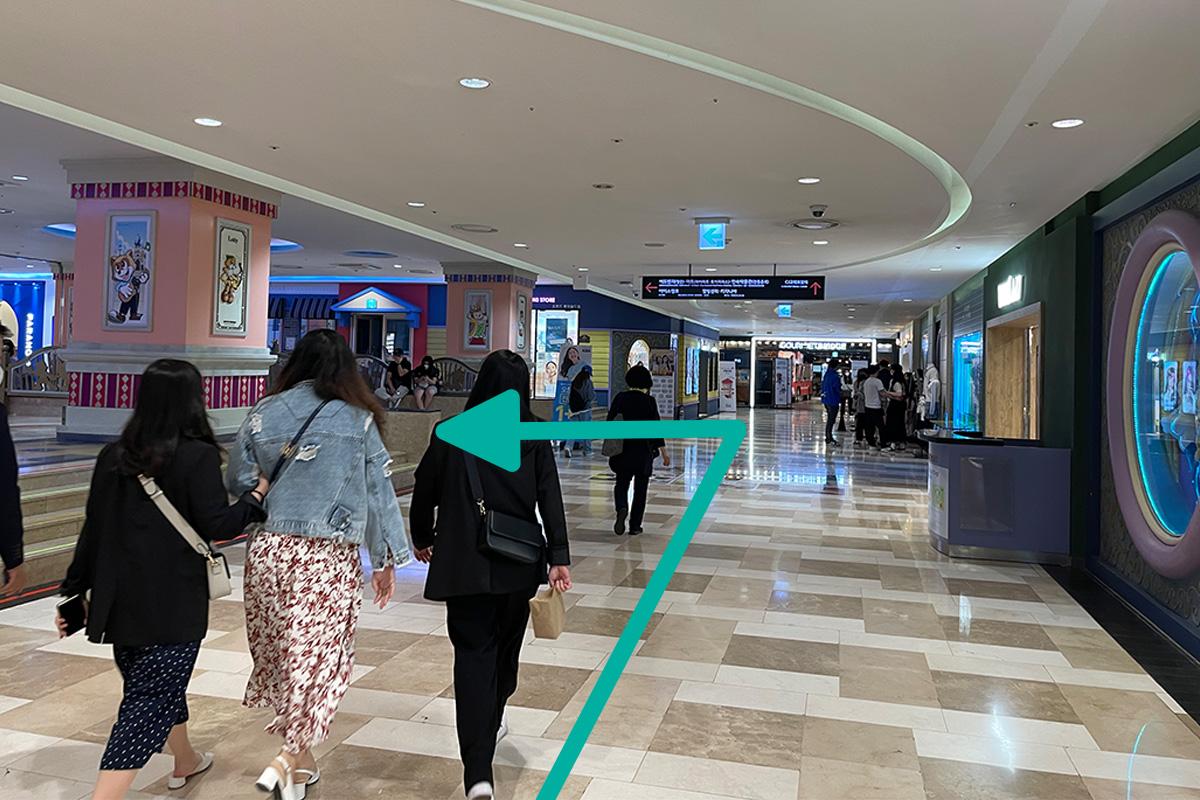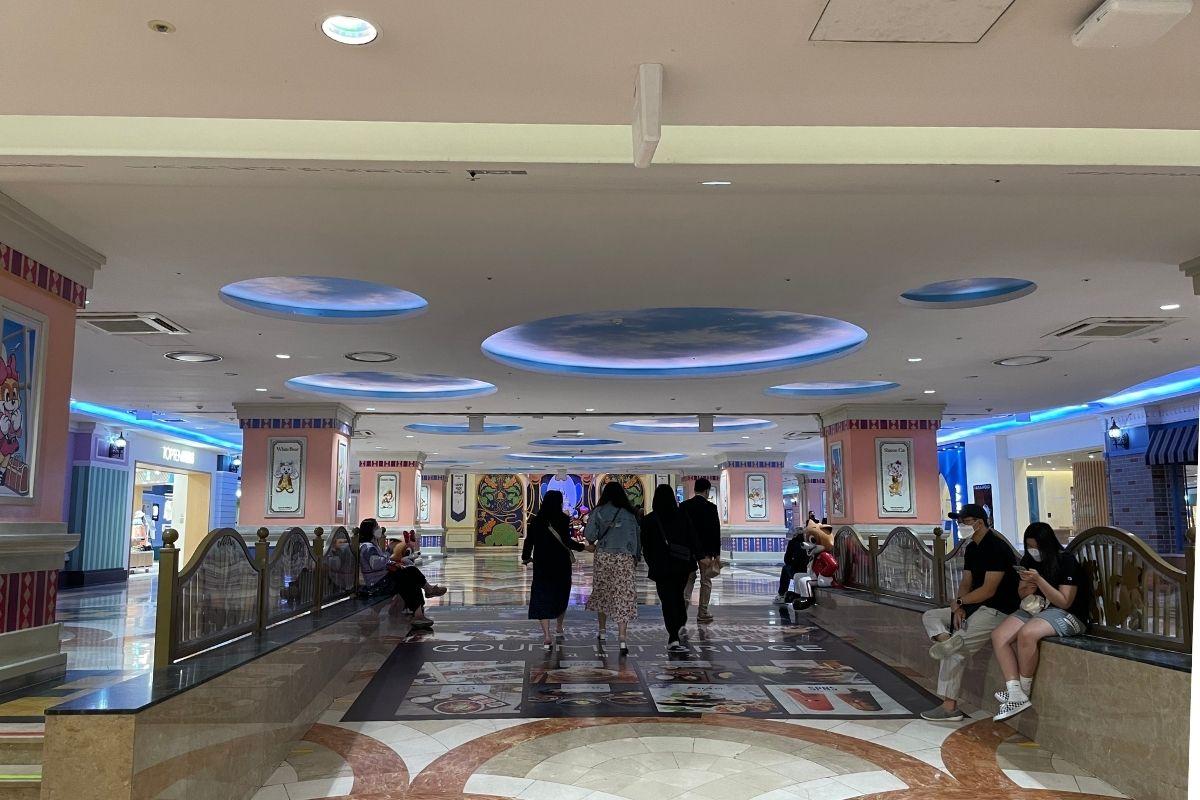 And when walking to the end of the corridor, you will find the entrance to Lotte World.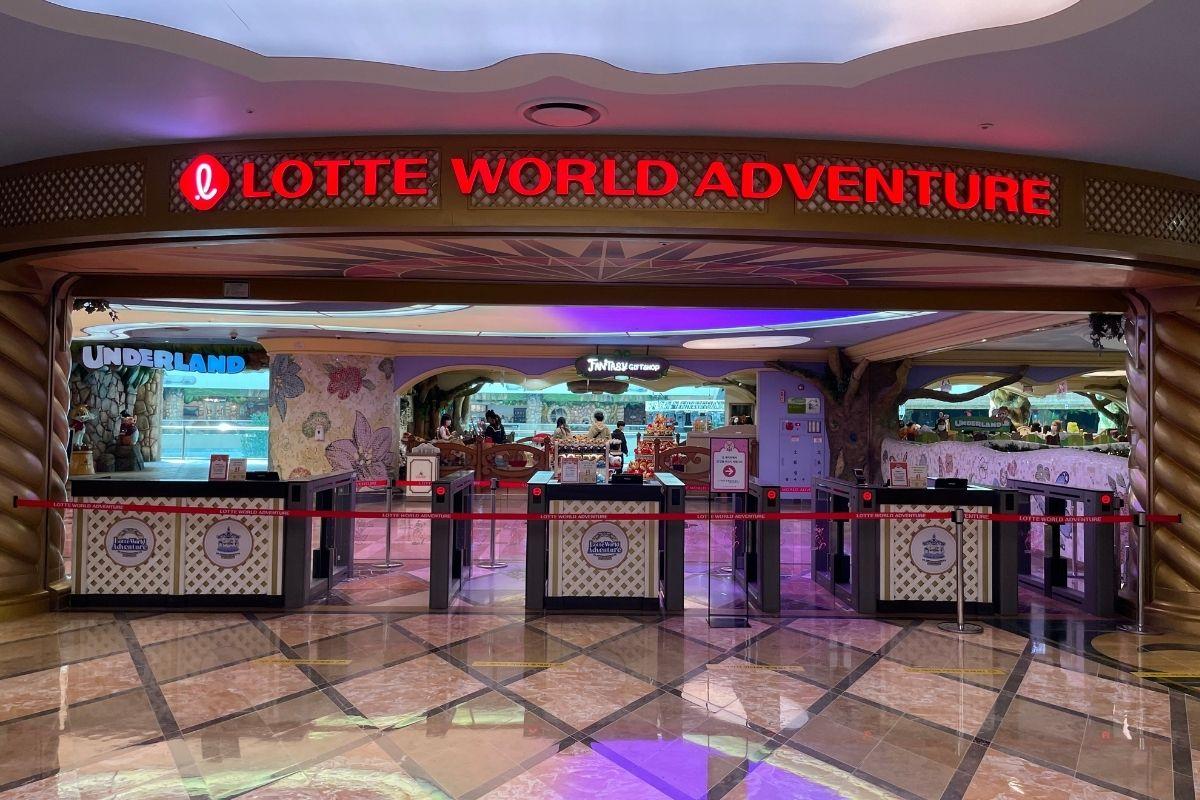 ---
Book Lotte World Tickets
---
We hope that you can enjoy a fun day out at Lotte World! If you have any questions, please leave a comment below or send us an email at help@creatrip.com! You can also follow us on Instagram, TikTok, and Facebook to stay updated on all things Korea!
---